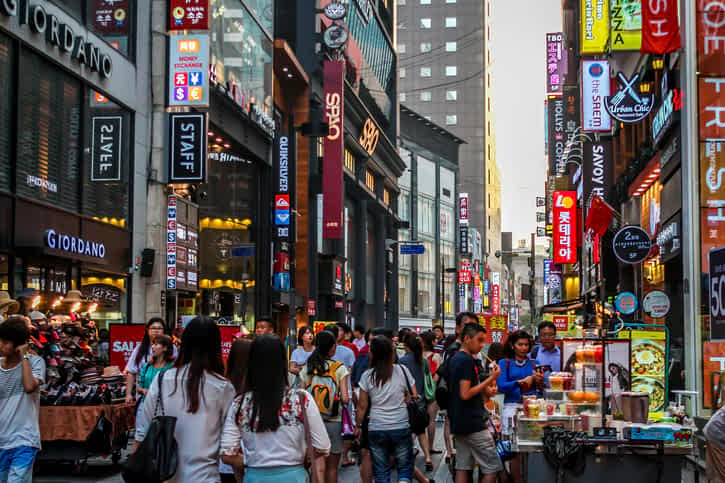 Check out the guide here to know best places to shop and eat in Seoul. This page will share to you where to buy trendy clothes, Korean cosmetic and skin care brands and souvenirs with cheap price to save your pocket money.
Other than attractions, Seoul is a great place for shopaholic to buy fashionable apparel and beauty products.
If you want to know where can shop for luxury and cheap goods meanwhile can taste the yummy foods, then read through the below information so that you won't miss out to visit famous shopping districts and street foods in Seoul.
In addition, you will become more knowledgeable about ways to get to these popular shopping areas and tasty street foods.
Below are the top 7 places for you to shop meanwhile able to try out different kinds of yummy foods during shopping.
Hence, try to allocate some time to visit these all vibrant places if you come to Seoul.
1. Myeongdong – Famous Korean Cosmetic Brands and Skin Care Products
---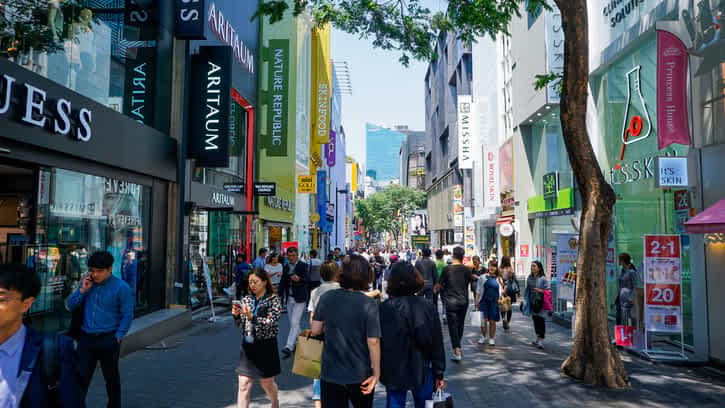 Highlights:
Beauty and Cosmetic Products
Fashionable Clothes, Bags and Shoes
Sparkling Accessories
Many Eateries
Myeongdong is one of the famous shopping spots and eat in Seoul. A lot of tourists will come to this popular shopping street for buying Korean cosmetics products.
There are countless of shops selling cosmetics, skin care items and fashion apparel in these shopping district.
In here, you will find many well-known brands of Korean cosmetics and skin care products at affordable price.
The beauty products offer in these streets are innisfree, Nature Republic, The Face Shop, TONYMOLLY, Missha, Aritaum, Holika Holika, Etude House and many more.
Thus, it is the best shopping destination for you to buy facial masks, cleanser, lipstick, cleansing foam, toner, serum, makeup items and other skin care products.
Apart from this, you can shop for popular international clothing brands like H&M, ZARA, Uniqlo, GAP, Forever 21 and others.
The best part to shop in here is you can directly claim back your taxes in the store if you spend more than 30,000 Won so that you can skip to do tax refund in the airport.
During evening and night, there are many food carts lined-up in this shopping district to offer plenty of street foods for you to eat and try it out.
In short, it is a vibrant street for shopping, nightlife and taste variety of street foods such as egg buns, grilled octopus, shrimp skewers, sweet potatoes, lobster, ice cream, fruit juices and other delicious foods.
Best Times to Visit:
Evening and Night
Address:
Myeongdong-gil, Jung-gu, Seoul
Subway Stations:
Myeongdong Station – Subway Line 4and Exit 6
Euljiro 1-ga Station – Subway Line 2and Exit 5, 6
Myeongdong Shopping District Guide
2. Dongdaemun – From Cheap to Luxury International and Local Brands of Fashion Clothes, Bags and Other Trendy Goods
---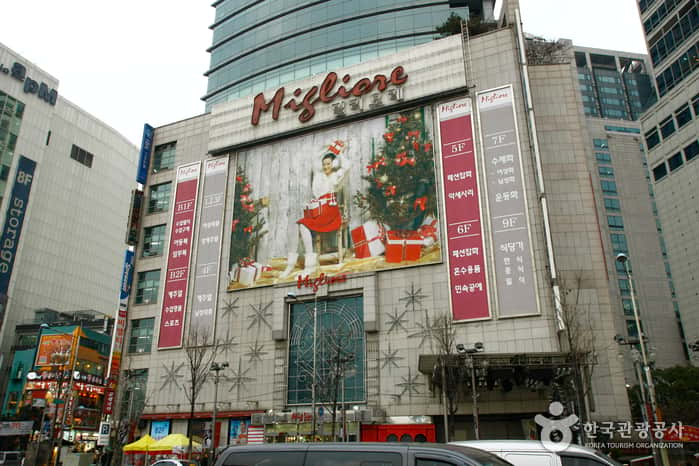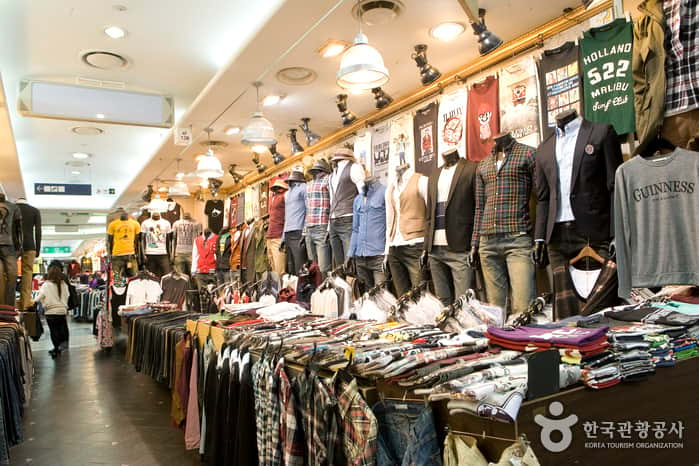 Highlights:
Trendy Clothes and Shoes
Cheap & Luxury International and Local Handbags
Women Accessories
Many Choices of Souvenirs
Many Eateries
If you are looking to buy the latest fashion clothes with low-price and other trendy apparel with decent quality then Dongdaemun is the best choice for shopping.
It is the largest wholesale and retail shopping area in Seoul. Therefore, it becomes a shopping heaven for shoppers because it offers tons of fashion items with cheap price and open for bargaining.
This place always crowded with local, foreigners and tourists.
Besides, there are 26 shopping malls in this area. Some shopping complex even will open until midnight.
The shopping malls are mainly selling trendy clothes, shoes, bags, women accessories and souvenirs.
You can go to shop at Migliore, Hello apM and Pyoung Hwa Fashion Plaza if you interested to get cheap fashionable items. These 3 malls are allowed for bargaining the price.
On the other hand, Doota shopping mall is mainly selling mid-range to expensive trendy goods and luxury bags.
The best part about this area is you not only able for shopping but you can try variety of street foods in there too.
This is definitely must visit place for shopaholic to find trendy clothes and other fashion items at cheap price.
Best Times to Visit:
Evening and Night
Address:
Migliore – 263, Jangchungdan-ro, Jung-gu, Seoul
Hello apM – 253, Jangchungdan-ro, Jung-gu, Seoul
Pyoung Hwa Fashion Plaza – 274, Cheonggyecheon-ro, Jung-gu, Seoul
Doota – 275, Jangchungdan-ro, Jung-gu, Seoul
Subway Stations:
Dongdaemun History & Culture Park Station – Subway Line 2/ Line 4/ Line 5and Exit 1, 14
Dongdaemun Station – Subway Line 1/ Line 4and Exit 8
3. Ewha Womans University Shopping Street – Cheap to Reasonable Prices of Fashion Clothes and Items
---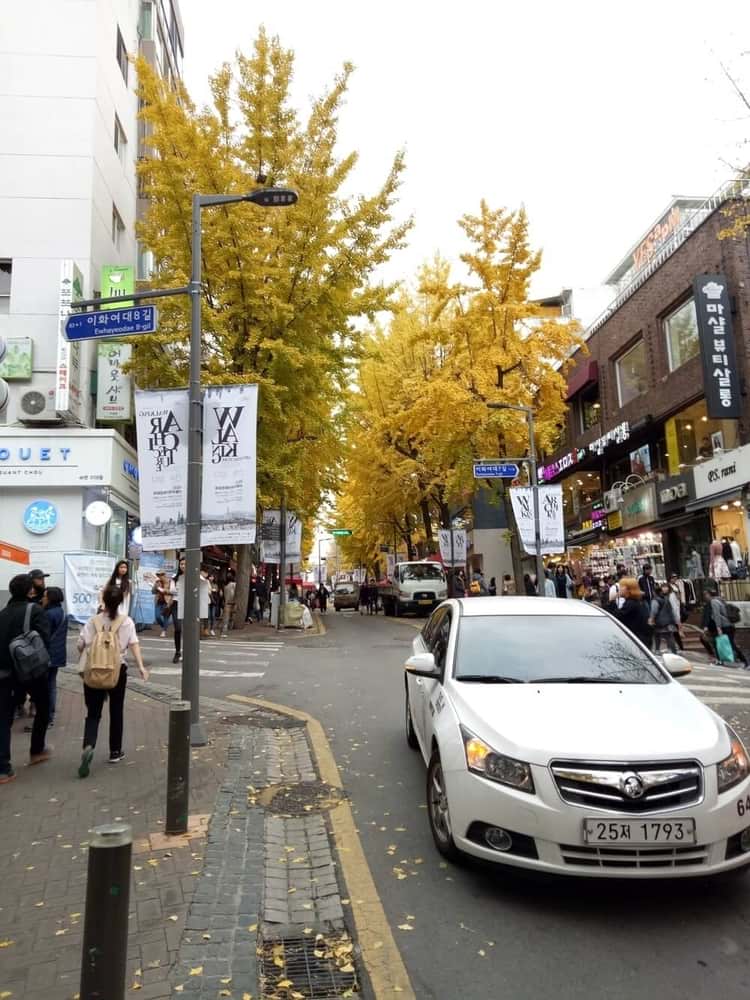 Highlights:
Beautiful Fashion Clothing at Budget Price
Several Cosmetic and Beauty Products
Offer Variety of Street Foods
Ewha Womans University is one of the famous shopping destination in Seoul. Some of them called this shopping area as Ewha Woman's University Fashion Street.
The popular shopping district just located in front of the main entrance of Ewha Womans University.
This is the place where you can shop for trendy goods like clothing, bags, women accessories, socks and hand phone accessories.
You will find many affordable price of fashion items in here because it is mainly catered for university students.
Furthermore, this area also filled with best known Korean cosmetics and skin care branded like Etude, Holika Holika, The Face Shop, Innisfree and Tony Moly in there too.
Besides, there are many popular street foods lining the streets if you like to get some snacks such as chicken skewers, muffin, sausage, fruit candy, fruit juice, ice cream and many more. Thus, you can taste on it while wandering around these vibrant streets.
In addition, you can take a rest in the adorable little cafes to drink some coffee or juice and experience the university environment.
Hence, it is a good place to enjoy shopping and eating with not too crowded.
Best Times to Visit:
Afternoon and Evening
Address:
10, Ewhayeodae 1-gil, Seodaemun-gu, Seoul
Subway Station:
Ewha Womans University Station – Subway Line 2and Exit 3
4. Hongdae (Hongik University Street) – Fashion Apparel, Art Markets and Handmade Products
---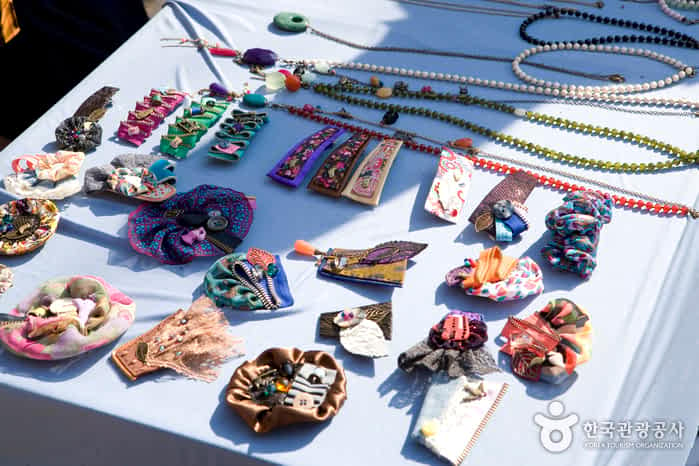 Highlights:
Art Galleries
Street Performances
Many Selection of Foods to Eat
Cafes, Coffee Shops, Bars, Pubs and Restaurants
Shopping
Hongdae is also known as Hongik University Streets and it is a happening place hang out for local youngsters. These famous streets are very close to the well-known arts' university in Korea which is Hongik University.
Therefore, this area always filled with college students for shopping and show their talented skills. In there, you will see some students selling their artistic wallpapers and handmade accessories.
During night, you will discover many young boys and girls doing live dancing, singing songs and other performances along the streets.
There are many accessory stores, fashion shops, shoes shops, cafes, bars and restaurants. Thus, make this place always packed with people because can shop, eat and explore the murals painted by the local students.
The fashion shops and shoes you can find in this popular shopping district are Forever 21, H&M, Nike, Adidas, New Balance and many more.
It is good for you to roam around in these lively streets during night-time for shopping, eating and experience the youthful environment.
Best Times to Visit:
Evening and Night
Address:
Hongik-ro, Mapo-gu, Seoul
Subway Station:
Hongik Univ. Station – Subway Line 2and Exit 9
Hongik University Street Guide
5. Namdaemun Market – Cheap Apparel, Traditional Korean Clothes, Souvenirs and Household Items
---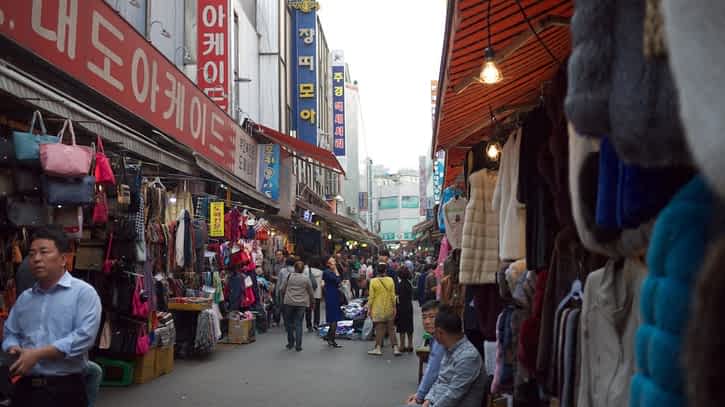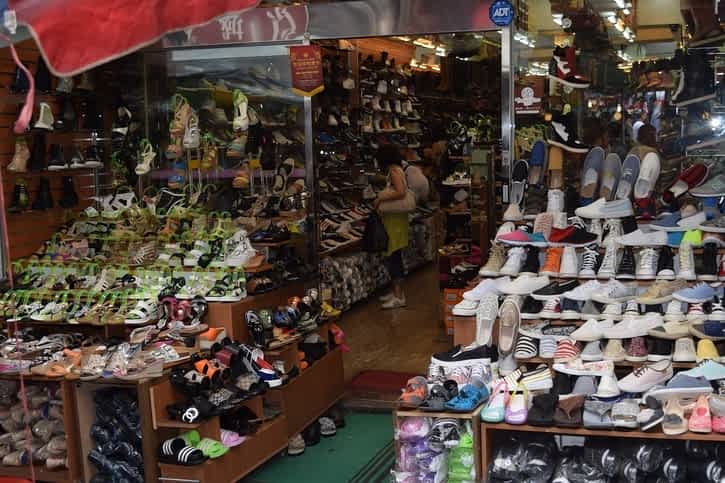 Highlights:
Korean Souvenirs
Traditional Korean Dress
Clothes, Bags, Socks, Hats, Accessories
Household Items and Kitchenware
Street Foods, Alley Foods, Restaurants
Namdaemun Market is one of the popular destination for local and tourists because it is the largest traditional market in Korea.
The reason why so many people will come to this busy market is because there are more than 10,000 stores which sell countless of clothes, bags, socks, kitchenware, household items, toys, stationery, accessories, hats, carpets, ginseng, flowers and eye wear with affordable price.
This is the place you can find large collection of Korean products such as traditional Korean dress (Hanbok attire) for kids and adults, Korean chopsticks, spoons, dishes and cups.
Other than this, there are plenty of Korean souvenirs suitable for tourists who willing to take some of them back to home.
In here, you don't need to worry about where to eat when you feel hungry because there are tons of street foods, alley foods and alley restaurants to fill up your stomach.
The foods offer in this place are fried dumplings, egg bread, potato with sausage, BBQ meats, pancake, fishcake skewers, chicken skewers, octopus, noodles and many more.
In summarize, Namdaemun Market is a perfect place for buying Korean items, clothes, kitchenware, household items and other things with great deal and allow for bargaining with the seller.
Best Time to Visit:
Daytime and avoid visiting on Sunday
Address:
21, Namdaemunsijang 4-gil, Jung-gu, Seoul
Subway Station:
Hoehyeon Station – Subway Line 4and Exit 5
6. Samcheongdong Street – Fashion Apparel and Art Galleries
---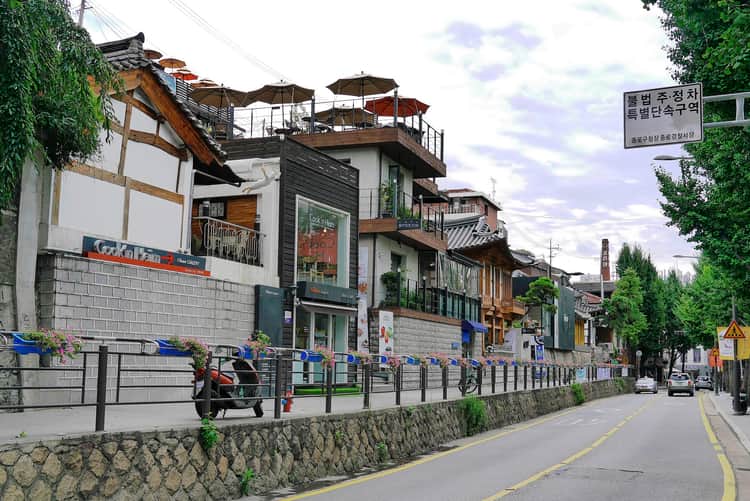 Highlights:
Clothes, Bags, Accessories, Gifts
Art Galleries
Mixture of Old and New Style Shops, Houses and Buildings
Cafes, Coffee Shops, Bars and Restaurants
Street Foods
Samcheongdong is the best known of historic and traditional neighborhood filled with different pattern of buildings, shops and houses.
It is an artistic place which contains of Korean traditional houses, unique shops and European-style Cafes.
This is the place where you can get a chance to see the attractive buildings, colorful shops and houses that used to serve as cafes, bars, restaurants, craftsmanship, artisan shops, gift shops, boutique shops, museums and art galleries.
When you wander around this place, you will see cafes and coffee shops sell ice cream, red bean soups, desserts, ice cream waffles, coffee and tea.
Hence, don't forget to visit some cafes in there to try out some coffee, tea and desserts.
In here, you can find cafes or coffee shops provided open-air on the top floors. So, you can sit at the top floor to enjoy the surrounding view with nice coffee.
Thus, it is relaxed place for you to take a nice stroll, eating, shopping and sightseeing.
Best Time to Visit:
Daytime
Address:
Samcheong-dong, Jongno-gu ~ Seongbuk-dong, Seongbuk-gu, Seoul
Subway Station:
Anguk Station – Subway Line 3and Exit 2
7. Insadong – Souvenirs, Handicraft and Traditional Korean Clothes
---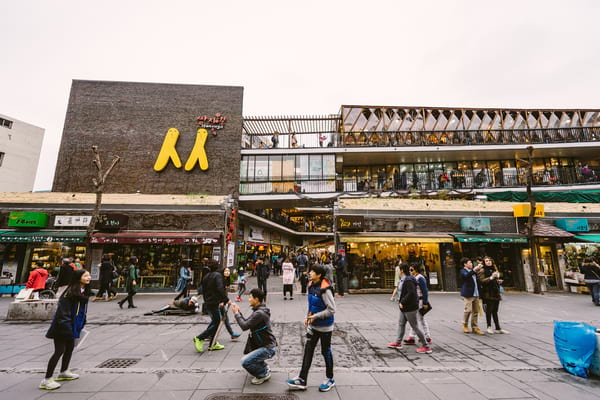 Highlights:
Antiques
Traditional Korean Fine Art
Traditional Handmade Products
Traditional Shops, Houses and Restaurants
Many Selection of Traditional Foods
Insadong is a famous cultural and artistic neighborhood and situated in the center of Seoul city. This is a popular place for tourists to explore and experience precious of Korean traditional culture and arts.
There are many traditional houses and shops in the alleys and streets of Insadong that sell traditional Korean fine art, traditional teas, traditional costumes (hanbok), crafts, traditional stationery, souvenirs, pottery and porcelain.
In addition, it is a beautiful street for you to see the old but precious traditional things and crafts.
Other than this, you can find many street food carts, wooden tea houses, traditional cafes, and restaurants in Insadong as you walk around in here.
Thus, you can buy some snacks to eat meanwhile stroll along the street to experience the feel of traditional Korea.
When you plan to visit Insadong, don't forget to visit Ssamjigil Mall which is just located in the main street of Insadong.
This 4 level mall has offered many things in there such as souvenirs, pottery, traditional handicrafts, folk crafts, cafes, restaurants, wall paintings and others.
It's worth for you to allocate some time to visit this mall in Insadong.
In short, this is a pretty location for you to explore and shop for traditional fine arts, handicrafts and antiques goods. Besides, you even can get a chance to taste the local traditional foods in this amazing place.
Best Times to Visit:
Saturday – 2:00 PM to 10:00 PM
Sunday – 10:00 AM to 10:00 PM
Address:
62, Insadong-gil, Jongno-gu, Seoul
Subway Stations:
Anguk Station – Subway Line 3and Exit 6
Jonggak Station – Subway Line 1and Exit 3