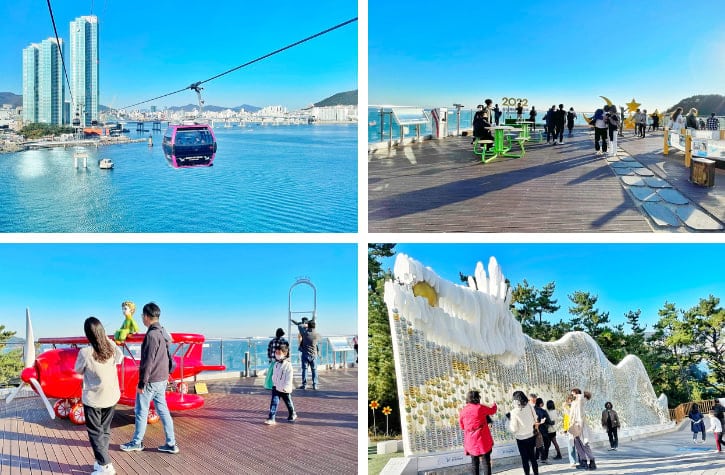 Songdo Cable Car (Busan Air Cruise) is surely a breathtaking destination that offers you a scenic ride. Surrounded by the beautiful sea, this also comes with a gorgeous park for you to wander around.
In this guide, I'll provide a full info on how to go to Songdo cable car station by bus. These will include the best things to do there so you can plan ahead.
There are a total of 13 popular sights that you shouldn't miss when visiting the attraction. So, let's check them out now! 😊
But one more thing before I forget, make sure you see my Busan itinerary post as well. This a very useful article that covers the most important attractions you need to explore during your trip to Busan.
1. Crystal Cruise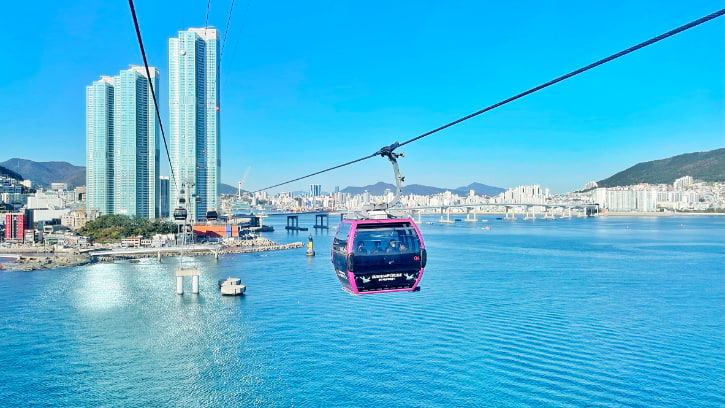 The Crystal Cruise is no doubt the highlight of your visit to Songdo Cable Car.
Get on the cable car and witness the beauty of the entire city from your seats. While onboard, be dazzled by the turquoise waters below and the surrounding mountains.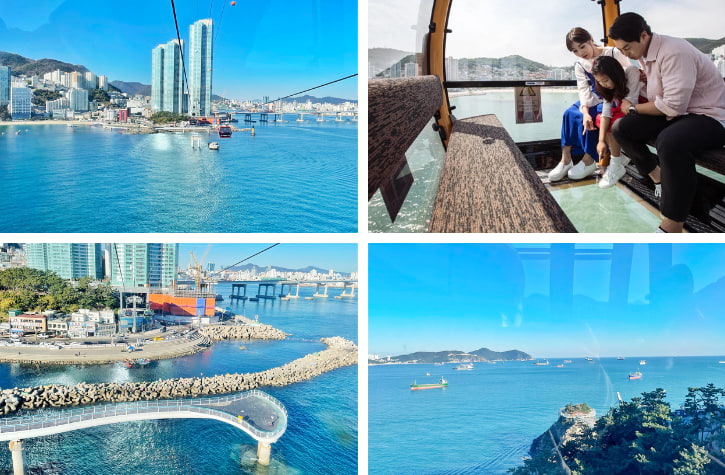 Don't forget to
buy your cable car tickets here
and get up to an
extra 10% discount
.
Remember to choose the "Crystal Cruise" type when purchasing online so that you'll be able to ride the cable with a transparent floor.
2. Bay Terrace Observation Deck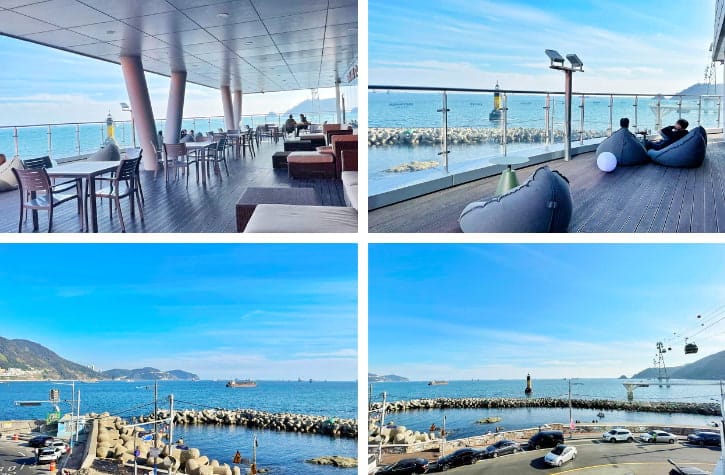 Unwind with your family and friends at Bay Terrace Observation Deck. This is such a soulful spot to relax and see the beautiful surroundings.
You can sit at one of the bean bags stationed along the ledge. There are also several tables and chairs for added convenience.
3. Dino Adventure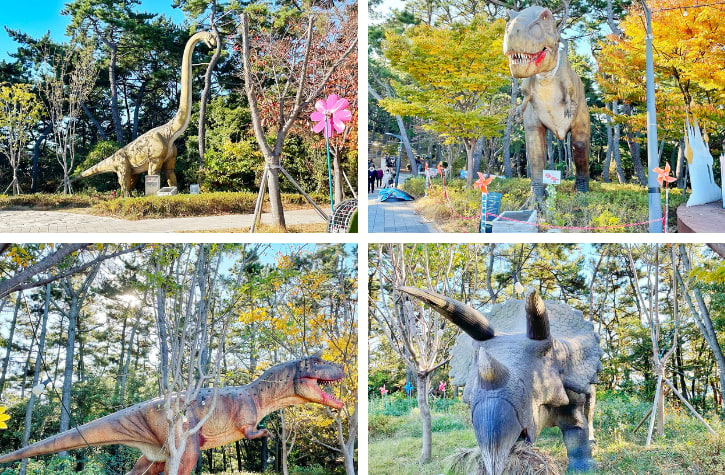 Dino Adventure welcomes you to the land of the almighty dinosaurs. Meet these realistic statues that dominate the place.
And as you look at them closely, you'll be mesmerized by their true-to-life designs. Try to snap as many photos as you want and cherish this one-of-a-kind encounter with these prehistoric animals.
4. Dragon of Wishes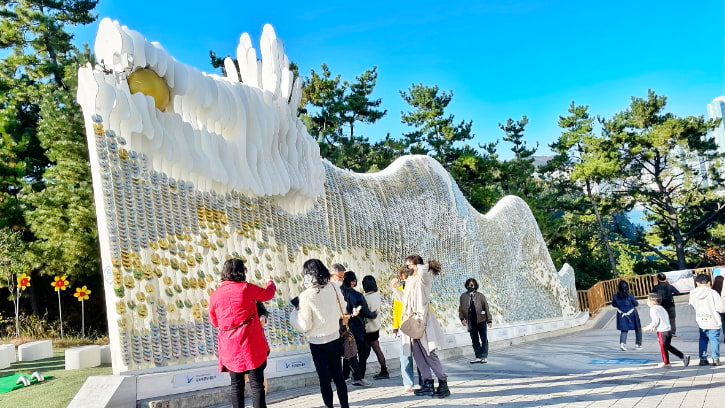 Say your intentions at the Dragon of Wishes. It is believed that the dragon can help in making your wishes come true.
So, write your hopes and put them into the body, serving as the creature's scales. From afar, you won't even notice that all the thousands of messages were the scales of the dragon!
5. Moment Capsule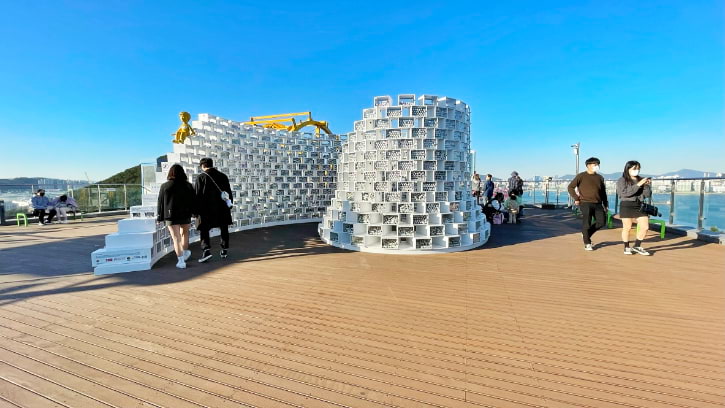 Get a chance to keep your favorite memories in a Moment Capsule. Featuring a stack of transparent boxes, this is where you'll save your moments.
Then, the boxes are arranged in a spiral style with their own coordinates. This means that you can actually remember where you place your time capsule when visiting them again.
6. Sky Habor Observatory Platform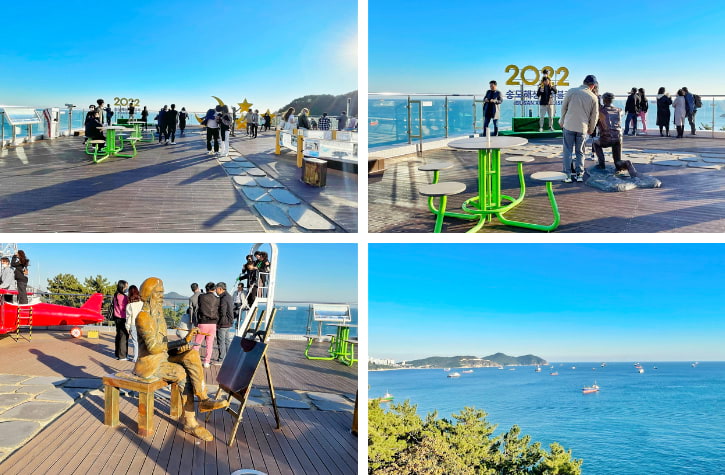 Another top-notch spot you shouldn't miss is the Sky Habor Observatory Platform. This is a gorgeous place to see the dramatic motion of Songdo Cable Cars, moving from one end to another.
Here, you'd also see the breathtaking Songdo Sea. So, if you want to catch some panoramic views, the observatory area is highly recommended.
7. VR Sky Swing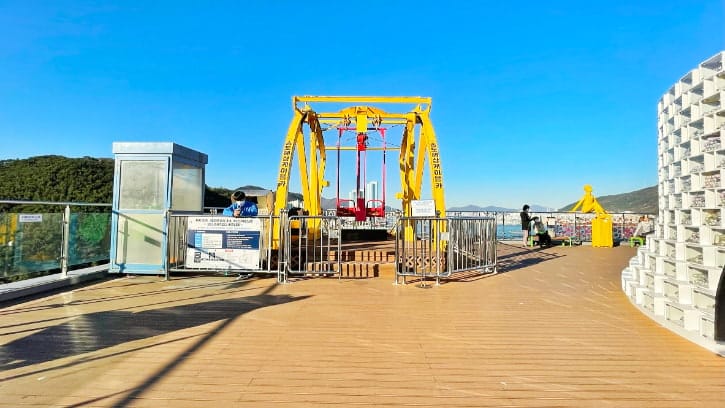 Pump up your adrenaline as you ride the VR Sky Swing. This is truly a great way to raise your energy as you get thrown up in the air.
And if you can, try not to close your eyes and dare to see the gorgeous views of the entire place.
8. Ocean Terrace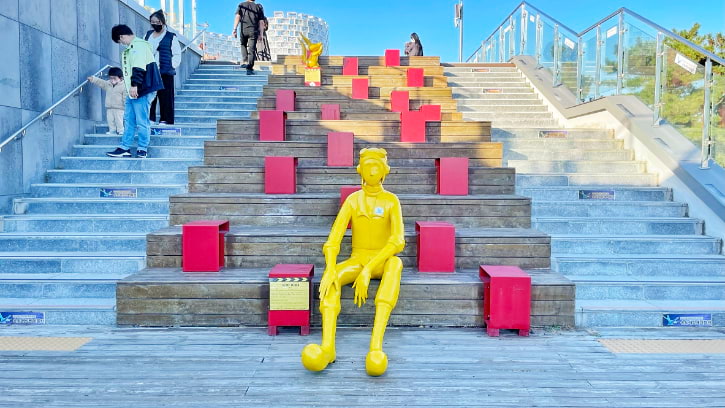 If you're looking for another location with lovely views, then head to Ocean Terrace. It's easy to spot this because of the design that led to the area.
Just look for the yellow-colored statue sitting on the stairs with some red boxes. From there, take the stairs and see the spectacular views above.
9. Snail Garden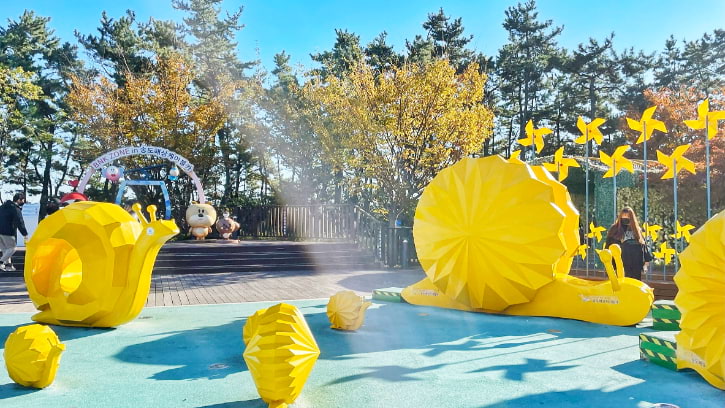 The Snail Garden is definitely a unique destination that also deserves a visit. Loaded with all sizes of snails, you'd be captivated by these structures in bright, yellow color.
Check out each of the pieces in the garden and have fun under the sun.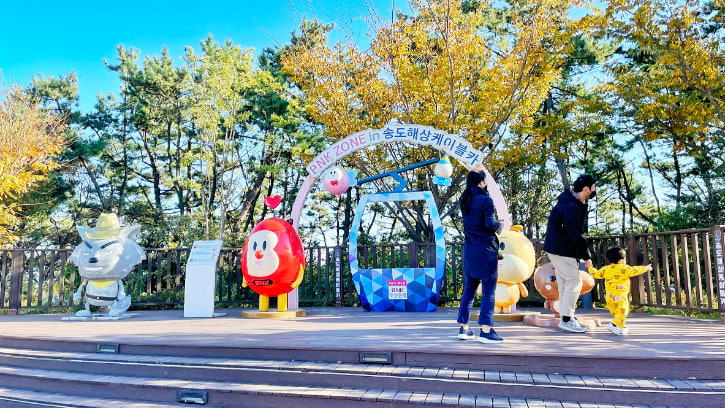 Aside from the snails, there's another section of the garden that you should visit. Don't forget to drop by this spot, where adorable characters are on full display.
10. Love Lock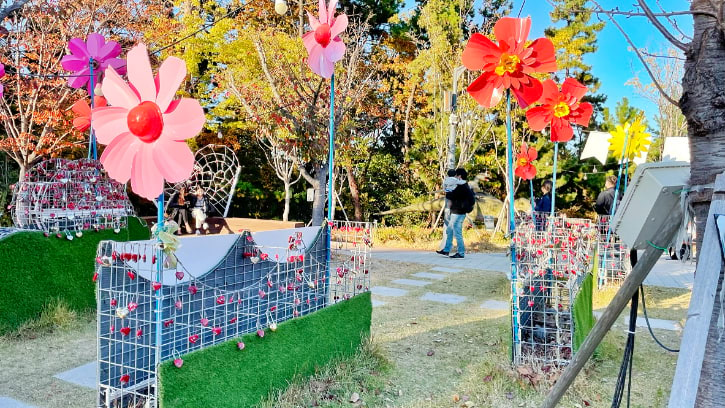 Keep your promises forever with the Love Lock. This area is filled with different locks clipped by people around the world.
And of course, it's one of the most favorite spots among couples! So, if you're travelling with your special someone, try to seal your wishes here for long and everlasting love!
11. Le Petit Prince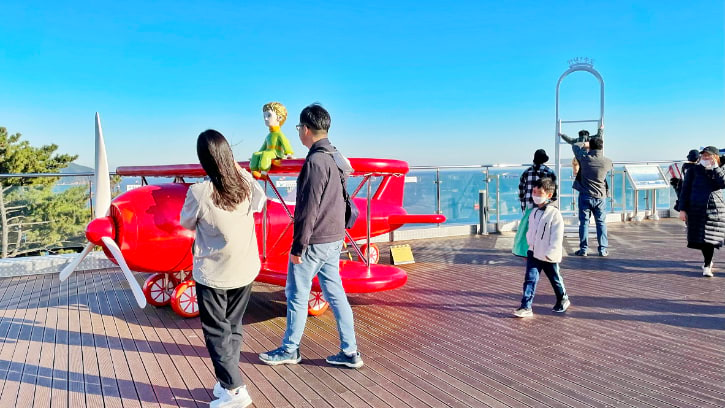 Le Petit Prince is truly one of the stars in the place, especially among kids and even adults. See this famous character stationed on top of his red plane, watching from afar.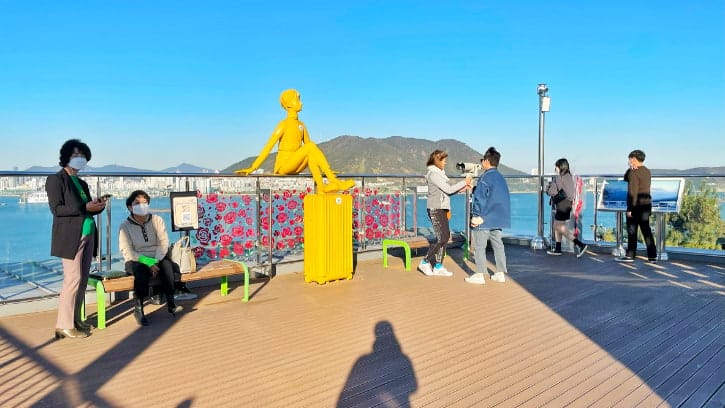 There are also benches around so you can sit down. So, while waiting for your turn, take your seat and relax while enjoying the views.
12. Moon and Stars of Busan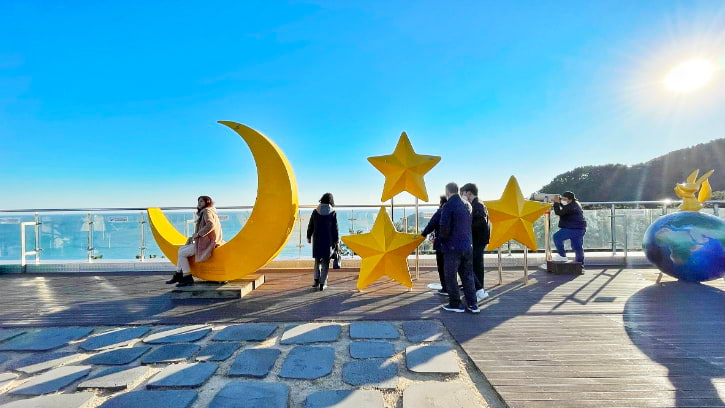 Snap a picture of the iconic Moon and Stars of Busan. With its bright color and towering height, for sure you can't miss this landmark.
Plus, the location of this attraction is set just beside the sea, adding up to its charms. So, take a pose together with these structures as a souvenir.
13. Songdo Yonggung Cloud Bridge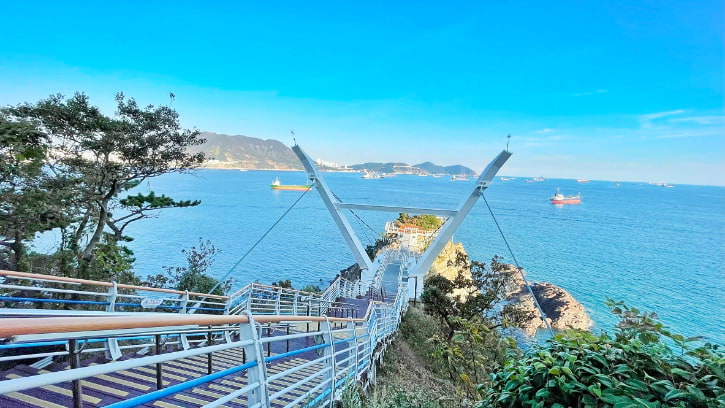 Cap off your day's adventure with a walk to Songdo Yonggung Cloud Bridge. This is a scenic place with rock formations and blue waters underneath. So, while trekking, catch a glimpse of the views below.
Once you reach the tail of the bridge, you'd come across an uninhabited island. Circle around before you head back to your starting point.
Overview of Songdo Bay Station to Songdo Sky Park

For a more memorable experience, it's highly recommended to take a round-trip cable car. This means you'll be travelling from Songdo Bay Station to Songdo Sky Park and vice versa.
Money-Saving Tip: Go to book the cable car tickets here and enjoy up to 10% OFF. You simply select the "Crystal Cruise (Crystal Cabin)" type and get ready for the trip!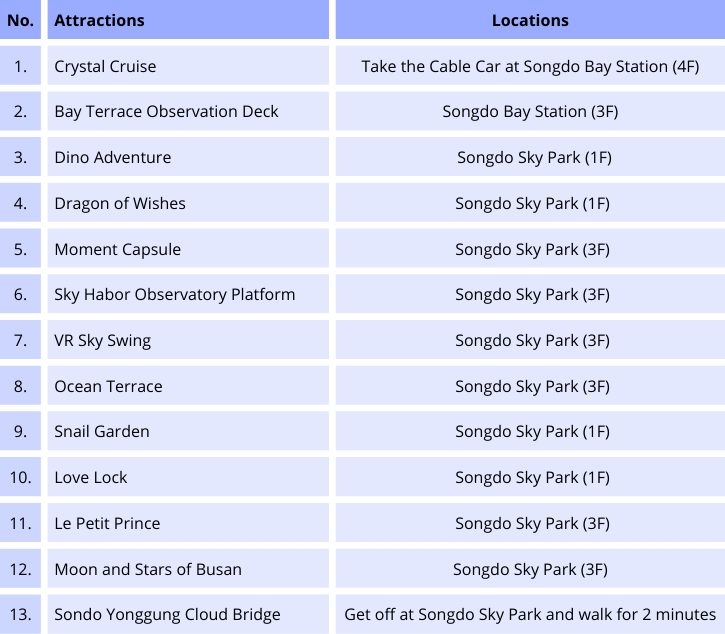 Official Website: http://en.busanaircruise.co.kr/main/main.html
How to Go to Songdo Cable Car Station (Songdo Bay Station)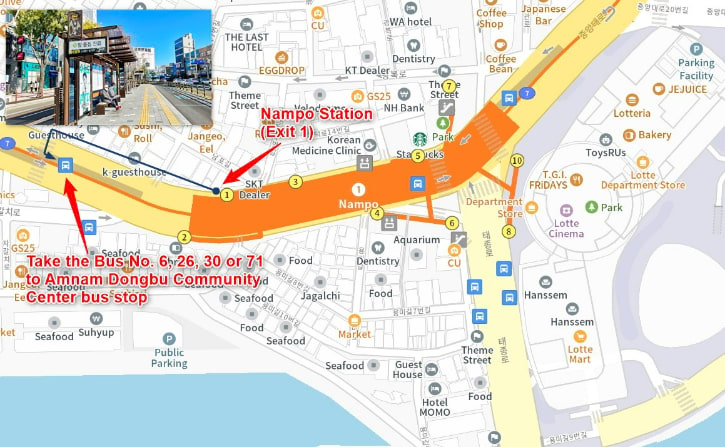 To get to Songdo Cable Car Station, you need to first take Metro Line 1 to Nampo Station. Then, go out of Exit 1 and ride Bus No. 6, 26, 30, or 71 to the Amnam Dongbu Community Center bus stop. It's 8 bus stops away with a travel time of around 10 minutes.
As to the bus fare, it costs 1,200 won. Once you arrive at the bus stop, walk to the cable car station for 10 minutes. You can find the cable car on the 4th floor.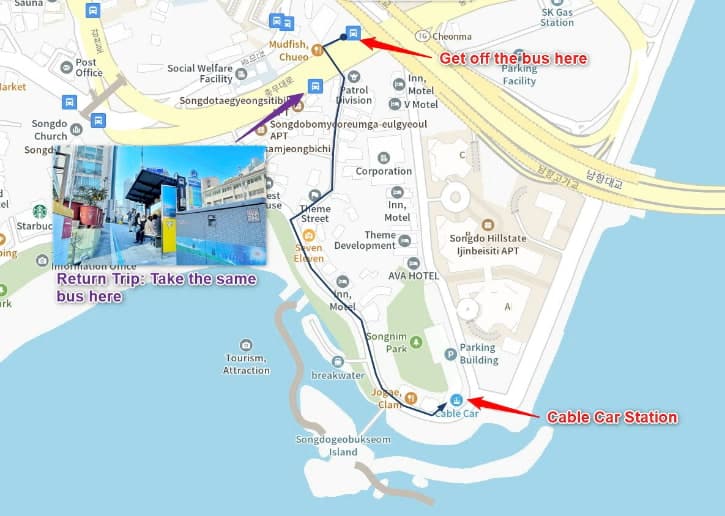 Here is the step-by-step guide going to the cable car station: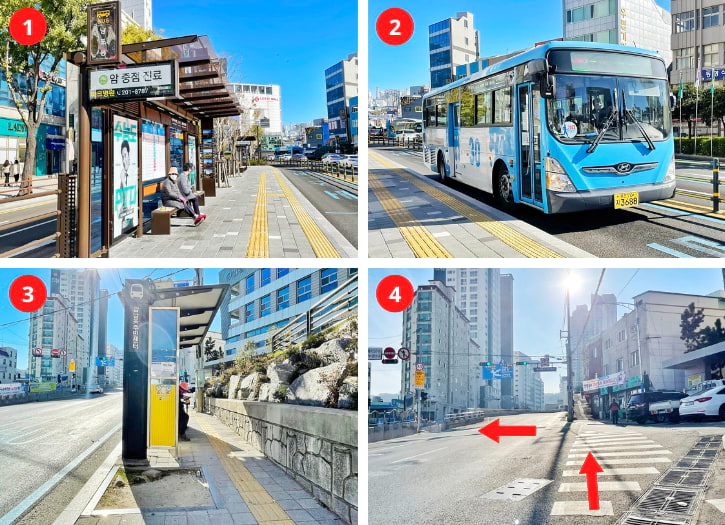 1. The first step is to take Bus No. 6, 26, 30, or 71 from Exit 1 of Nampo Station.
2. Board your preferred bus.
3. Alight at Amnam Dongbu Community Center bus stop.
4. Cross the road.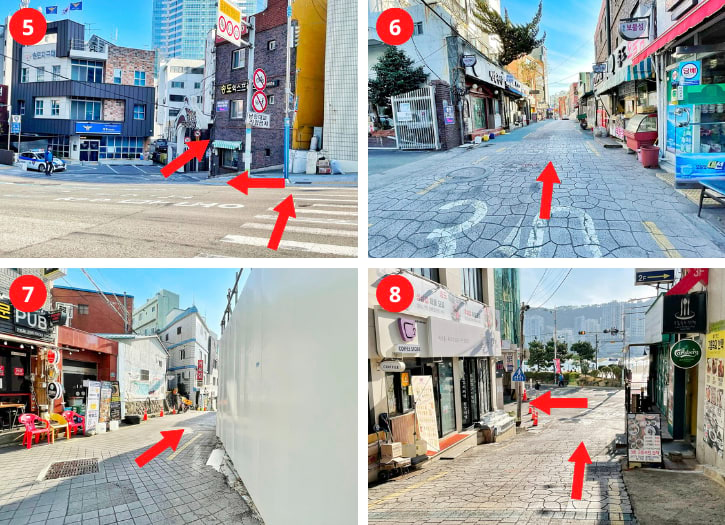 5. After crossing the road, you will see a police station on your left with a blue signboard. Enter the alley next to the police station.
6. Go straight for a couple of minutes.
7. Then, at this point turn right.
8. Head straight and turn left.

9. After turning left, you will see a 7-Eleven shop. Go straight until the end section.
10. From there, you'll reach Songdo Bay Station.
Alternative Method:
Another option is to join this Busan Bus Tour. This will bring you directly to Songdo cable car station, making it very convenient.
The bus tour also covers two famous tourist spots in Busan. The first one is Gamcheon Culture Village, which is known for its colourful houses and vibrant murals.
The second one is Haedong Yonggungsa, a very scenic temple stationed along the sea.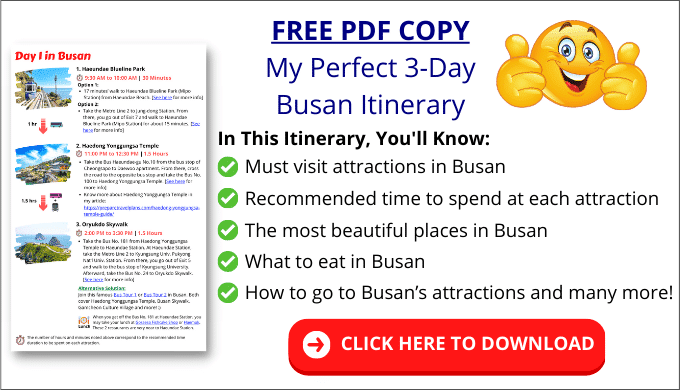 Related Posts