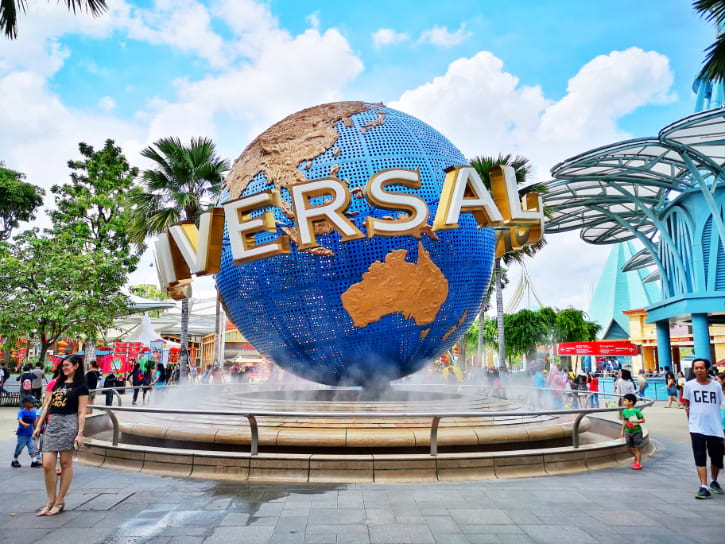 Universal Studios Singapore is such a fun destination for all ages. It offers a lot of rides and attractions, from nerve-wracking to family-friendly roller coasters. On top of that, it's a place loaded with fantastic shows to watch out for.
My wife and I have visited this famous theme park at least five times. And each visit is undeniably entertaining and memorable. In this article, I will share the best Universal Studios Singapore rides and attractions, along with its must-watch shows.
If you also want to know how to reach this theme park, don't worry. You can just check out my complete guide on getting to Universal Studios Singapore by MRT or cable car for detailed directions.

Pro-tip
Top Rides
1. TRANSFORMERS The Ride: The Ultimate 3D Battle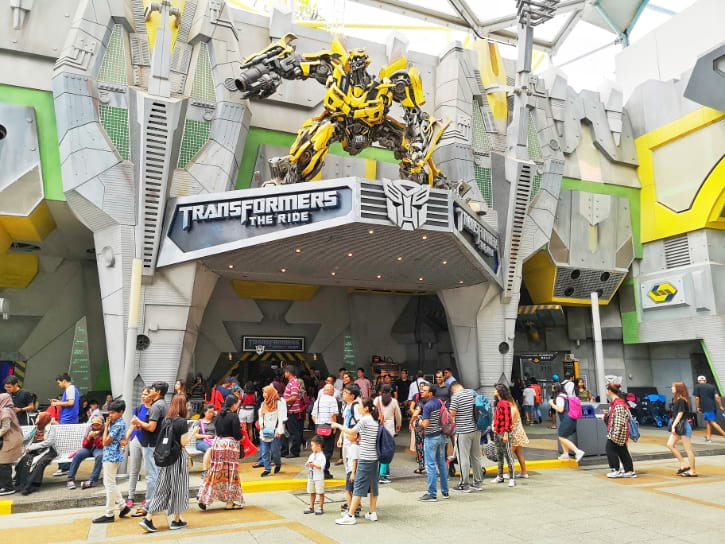 Get swallowed with the mind-bending effects of the 3D dark ride! The dizzying ride features your favorite Autobots and Deceptions while entangling you between their thrilling intergalactic wars.
The Transformers the Ride is one of the best rides at Universal Studios Singapore. This is always chock-full with people waiting for their turn. So, better visit early or get your express pass ready to avoid the crowd.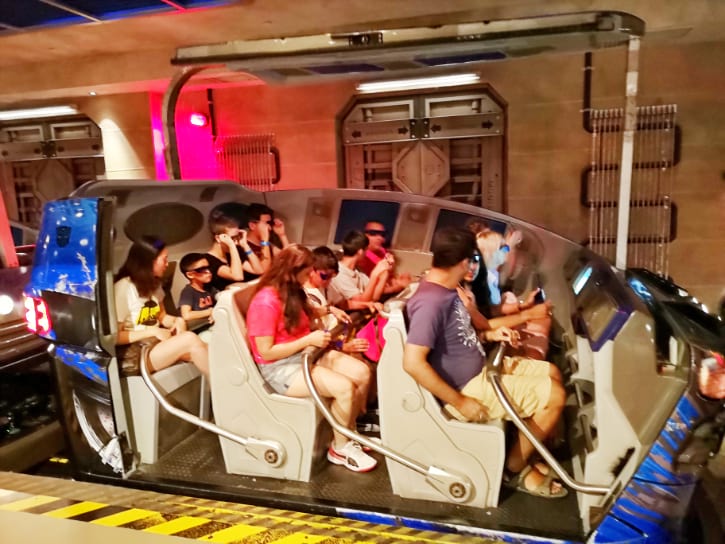 Be prepared for some jaw-dropping effects that will take you in full blast. Let the electrifying voices of the characters envelop you as you travel through the animating ride vehicle. Without a doubt, the classic robot-turned-cars will put you in a lifelike and stirring Transformers film that's worth the second ride!
2. Battlestar Galactica: HUMAN vs. CYLON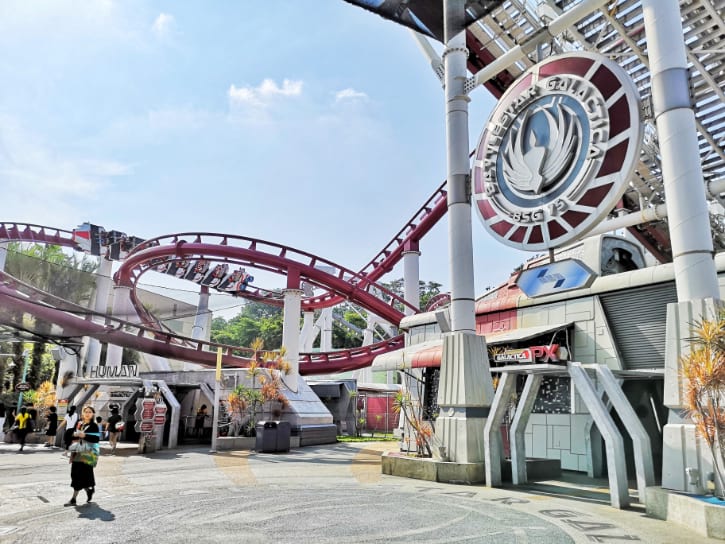 At 42.5 meters high, this dueling roller coaster will send you to literal heights. This top Universal Studios Singapore attraction is impossible to say no, especially for the hit series fans. Be swept away for a rip-roaring 90 kilometres per hour speed while rooting between Humans and Cyclons!
The red roller coaster stands for the Humans while the inverted blue roller coaster awaits the Cyclons aficionados. Are you ready for the battle of the century? Or better yet, the battle to face your fear of heights?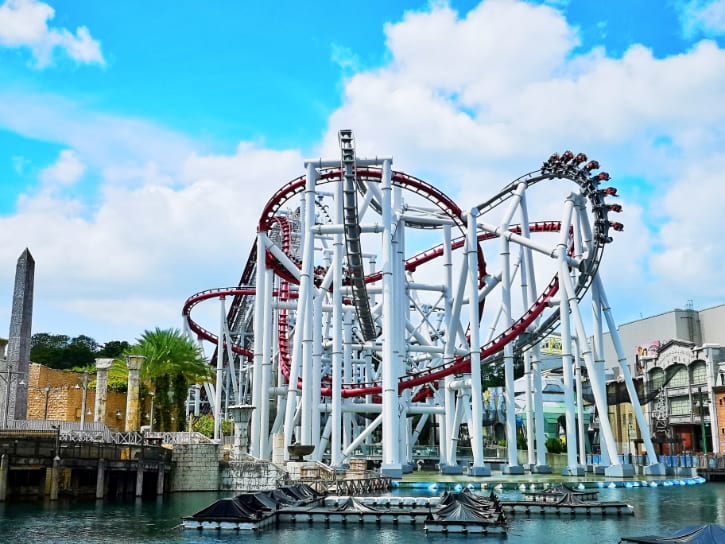 So, if you're up for the ultimate ride to stimulate your excitement then this is probably the best heart-stopping attraction for daredevils! Not for the faint-hearted though! Prepare for endless crazy spins and whopping drops that will take you to the highest of highs and lowest of lows.
3. Revenge of the Mummy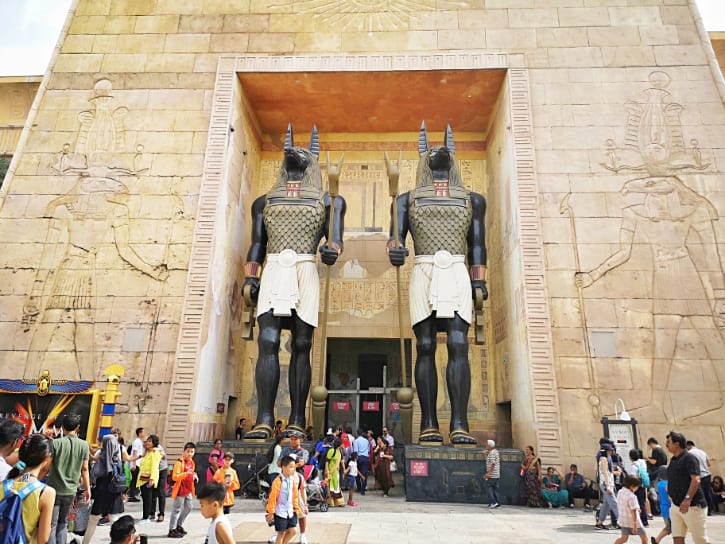 Teleporting to Ancient Egypt is just half the thrill you'll get in this high-speed roller coaster. What you'll bring home are loads of dramatic screams from you and the rest of the riders. Highlighting some fast-speed tilts, twists, drops, and extreme motion, get ready for another soul-stirring expedition to the past.
The great thing about this ride is it features some touches of history, on top of the stimulating drops and twists. So, it's definitely one of the best rides for thrill seekers and history buffs.
But beware because, at one moment, the place will be covered in darkness. Then, you'll be welcomed by enormous-looking warrior mummies, fireballs, and beetles as you survive through the ride's final destination. Undeniably, you'll have your heart racing after this ride!
4. Jurassic Park Rapids Adventure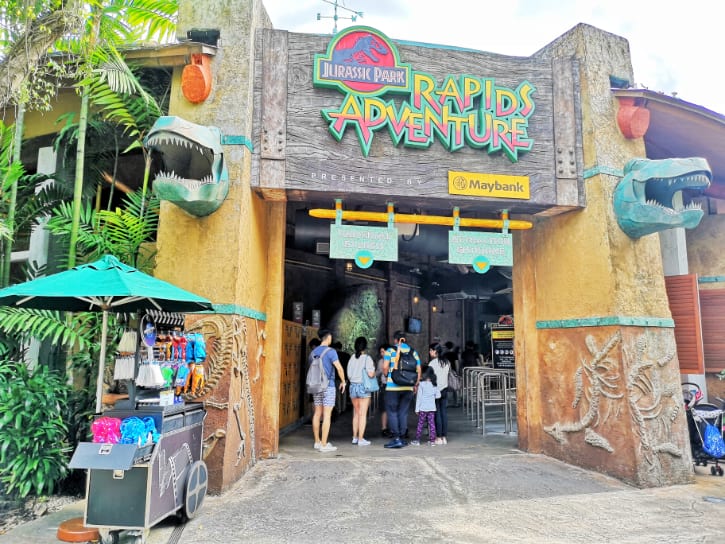 Altogether, the gigantic prehistoric creatures, the water plunges, and the rousing circular rafts will straight up put you in a free-flowing 10-12 minute trip into the Jurassic Park compound. Indulge yourself in a river rapids ride that will surely pump up your excitement.
And while you are screaming your hearts out and wiping the water splashes off your body, the gigantic dinosaurs are roaming around freely!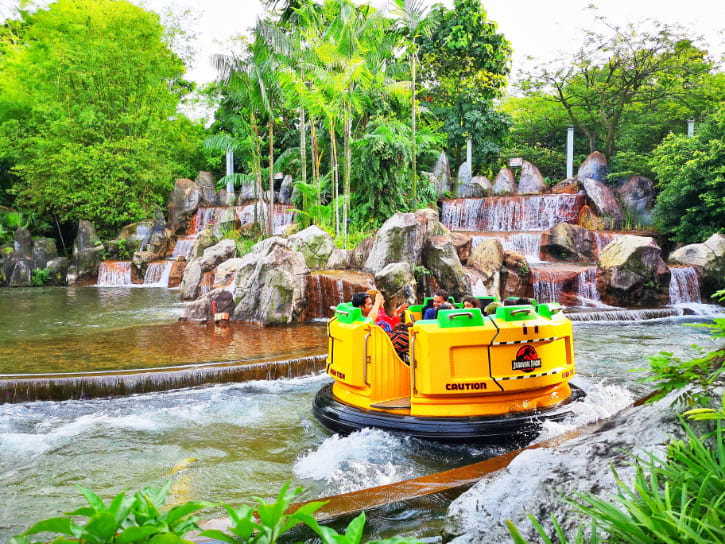 You'll be joined by other riders as you maneuver your way from the adventurous and splashy outdoors to the hair-raising, dark elevator of the hydroelectric plant! Don't miss this superb ride that will take you the primeval world in a rather squelchy way. So, if you and your family are looking for something unique, then this one is for the books!
5. Enchanted Airways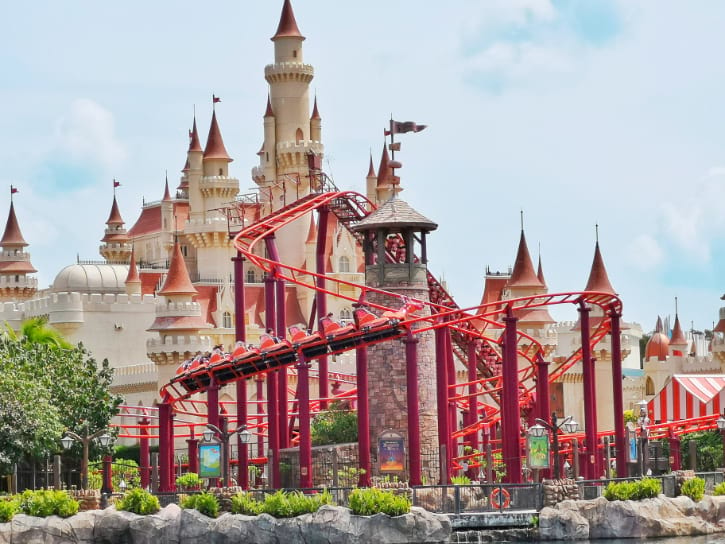 Take a lift over Far Far Away inside the dragon-shaped train headed by the majestic dragon! Unlike the heart-stopping Revenge of the Mummy and Battlestar Galactica, you can stomach this exciting ride through the sight of some iconic fairy tale creatures!
If you are attentive enough, you can sight the big bad wolf acting as the air controller or the three little pigs taking a good rest.
Simply, this one lets you face your fears in a magical way. The scenic castle backdrop even adds up to the enthralling ride filled with surprises. But still, don't underestimate its charms because it can be deceiving! It is tagged as an outdoor steel junior rollercoaster, so fast twists are expected to still rule your journey.
6. Puss In Boots' Giant Journey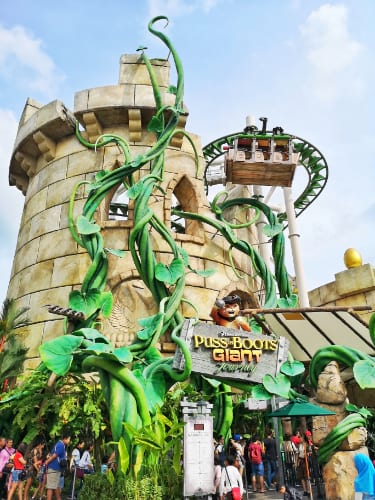 More than its seven flying machines, this is among the must-try journeys you should experience because of its awesome animatronics. How cool is it to see familiar faces in your childhood come to life?
Puss and Boots have teamed up to give you a short but memorable and enjoyable rail-suspended ride at Universal Studios Singapore. Aside from these notable characters, watch out for mother goose too!
7. Shrek 4-D Adventure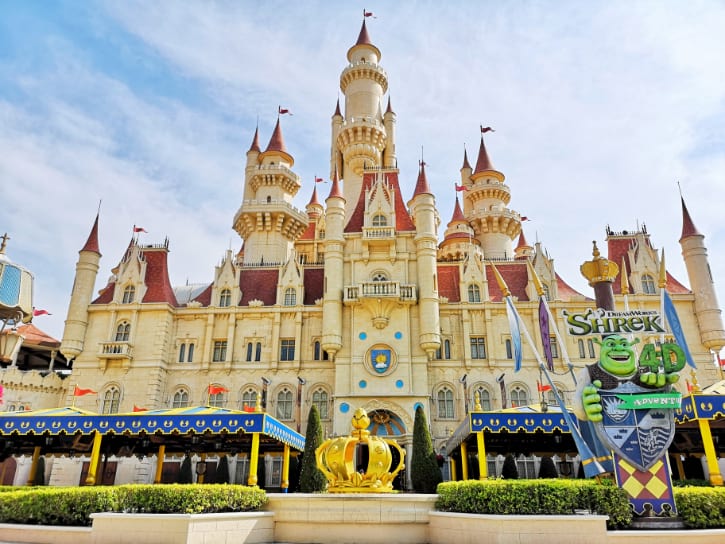 For an awesome 4D experience with a great storyline, bring the entire family to watch Shrek 4-D Adventure at Far Far Away Zone! This isn't just a normal movie but rather an epic 4D simulator ride! Featuring 4D technology, be one with Shrek and Fiona as they spend a fairy-tale adventure with a thrill.
Move together with the characters and revel in the impressively synchronized special effects, which will surely give you a whole level of excitement!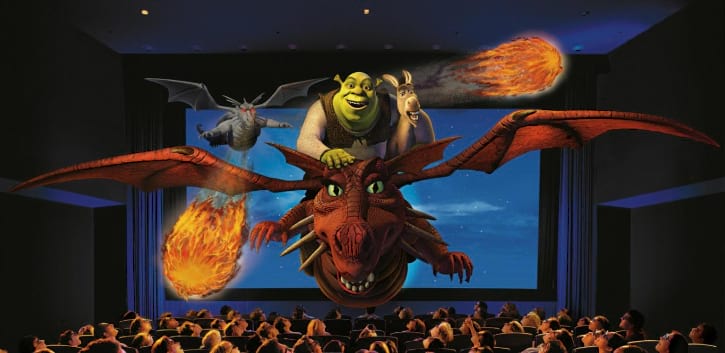 This in-theatre fun features the kingdom of Duloc, together with its comical characters brimming with lovable jokes! It's like walking straight into the world of magic and experiencing real-life water squishes and breath-taking leaps.
8. Sesame Street Spaghetti Space Chase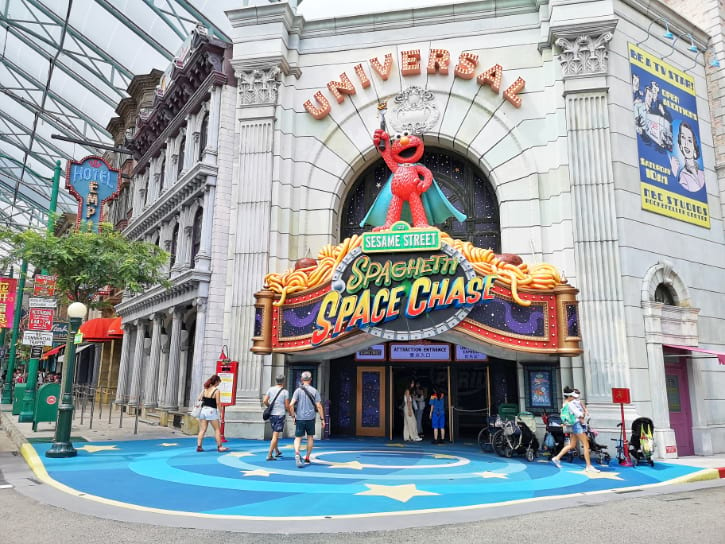 A gentler and indoor dark ride inside the animated Sesame Street Spaghetti Space Chase awaits visitors. For child-at-heart adults and Sesame Street-loving children, a flood of sweet memories will be brought back as you enter the place.
Expect for a nostalgic sight of childhood memories that will grace your presence! Say hi to Elmo, Super Grover 2.0, Oscar the Grouch, Big Bird, Count von Count, Bert, and more!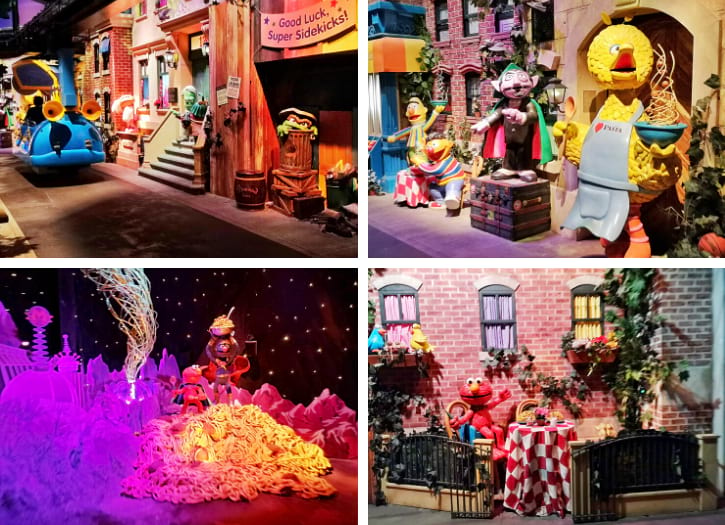 After the first part of the ride, you'll be transported to a dark, slow drive, featuring another round of your favorite Sesame Street characters in animatronic features. Doubling the fascinating indoor experience are the galactic effects and music. For sure, the entire family will fall in love with this charming attraction!
9. Madagascar: A Crate Adventure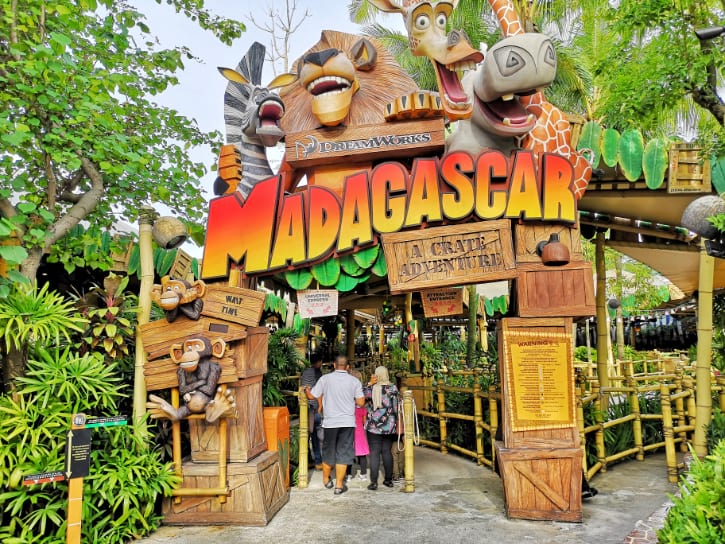 Get carried back into one of the nostalgic scenes of the blockbuster Madagascar film! At Madagascar zone, you can spend quality leisure time with your loved ones while encountering Alex, Marty, Melman, Gloria, and other talking and moving characters!
Madagascar: A Crate Adventure is one laid-back attraction perfect for the kids, and even the parents will love it. Plus, the tropical vibes enhances the entire water expedition.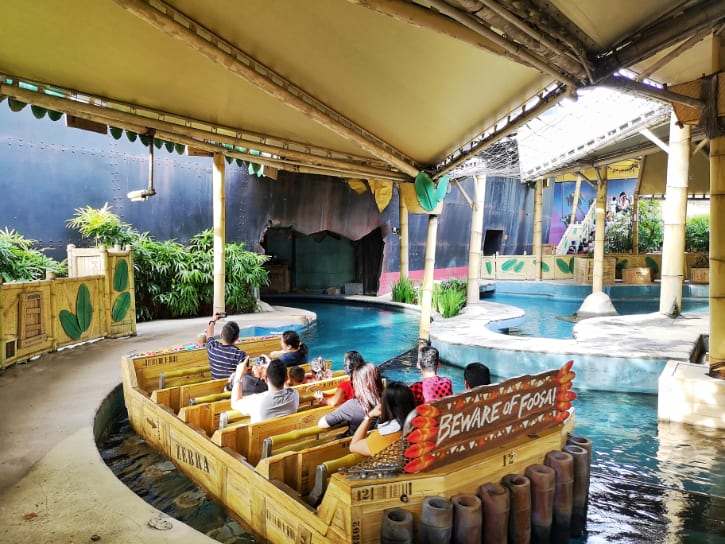 Compared to the speedy, watery, and outdoor experience brought by the Jurassic Park Rapids Adventure, this riverboat ride lets you enjoy indoors with the rest of the film characters. It's like meeting your favorite Madagascar characters in one, stirring water expedition.
10. Dino-Soarin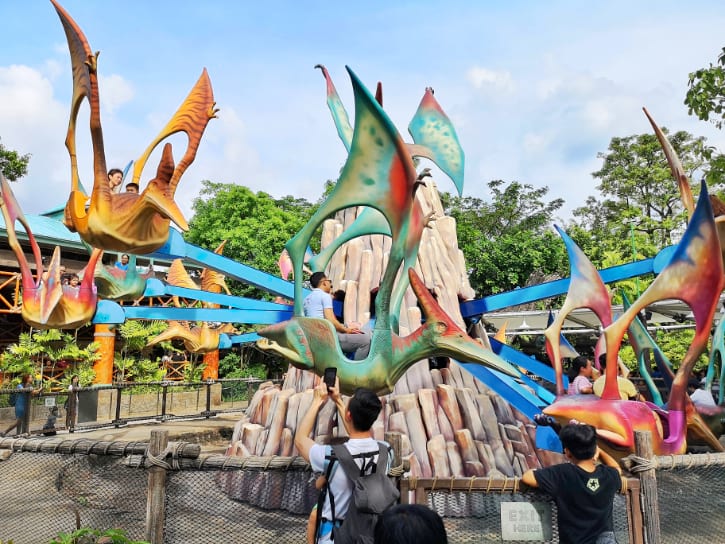 Ever wondered how it felt being at the back of an enormous dinosaur while the smooth winds caress against your human skin? Dino-Soarin will grant that for you! This ride gives you that once in a lifetime chance of being one with these prehistoric creatures.
Here, you're soaring with some of the earth's colorful giants at a moderate pace. The dinosaur-winged-shaped seats can hold two people—a perfect parent-child bonding activity! So, if you are with your kids, don't miss this drifting ride.
Top Shows
1. Elmo's TV Time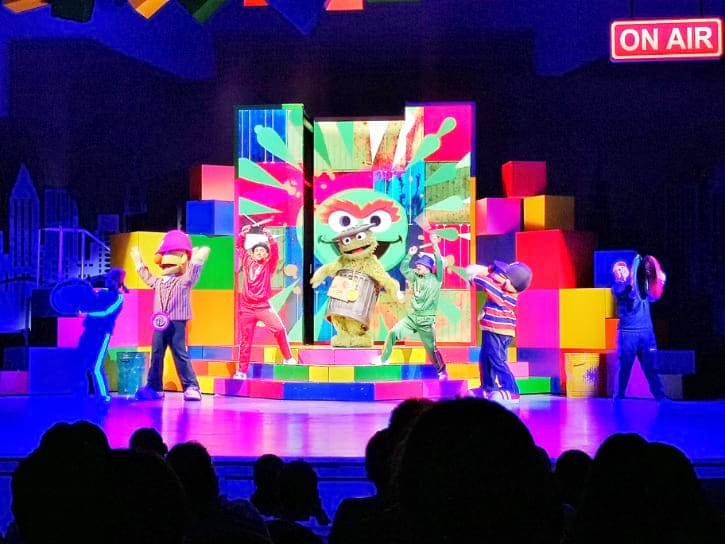 Duration: ~ 20 minutes
Walk down the memory lane and re-live your childhood with Elmo and the rest of the Sesame Street characters in a 20-minute live and merry show. Bringing humor and talent into the Pantages Hollywood Theater, everyone will love their crazy antics and comical taglines!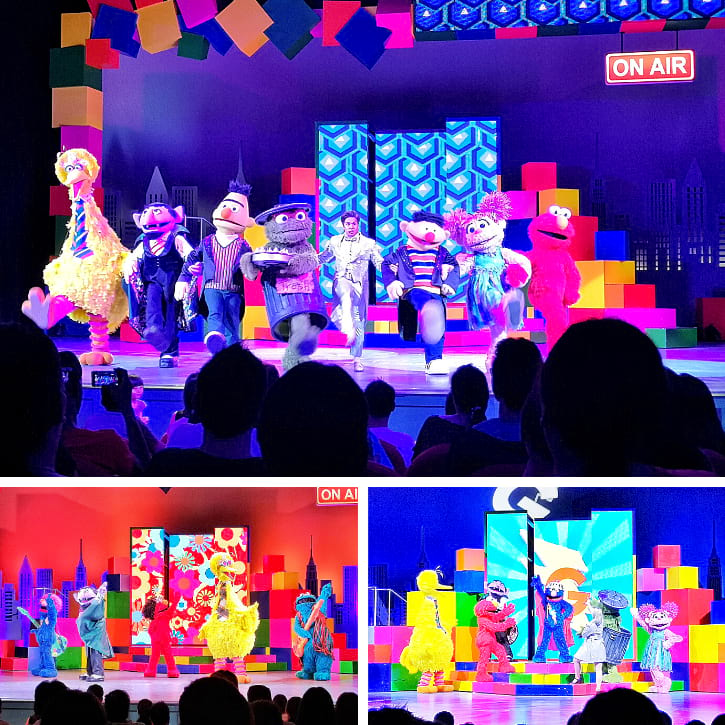 Elmo's TV Time is such a great treat for everyone―and even a perfect icebreaker after all the stimulating rides! So, if you need a hearty laugh with some classical and contemporary songs, then move along with the entire Sesame street casts!
2. WaterWorld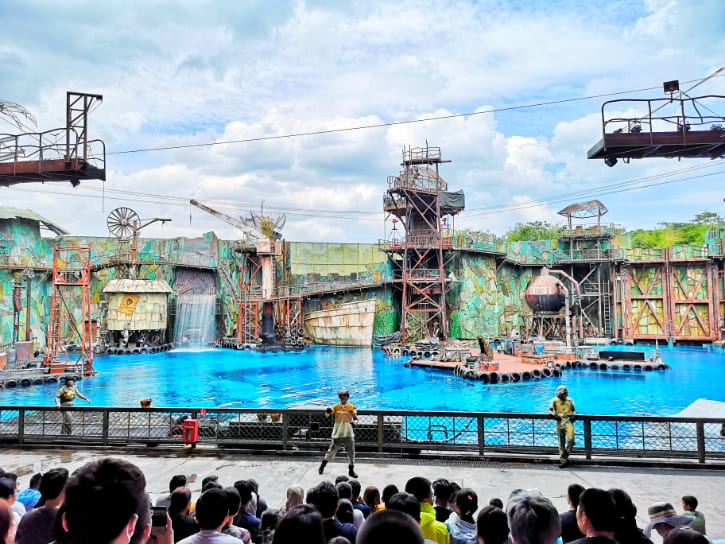 Duration: ~ 20 minutes
WaterWorld is one of the best Universal Studios Singapore shows. This is a breath-catching stunt show that always a force to reckon with when it comes to death-defying action.
It is takes the plot of the blockbuster movie "'WaterWorld", but in a more stirring way. The story revolves around a world filled with all water, except for a mythical destination called the Dry Land.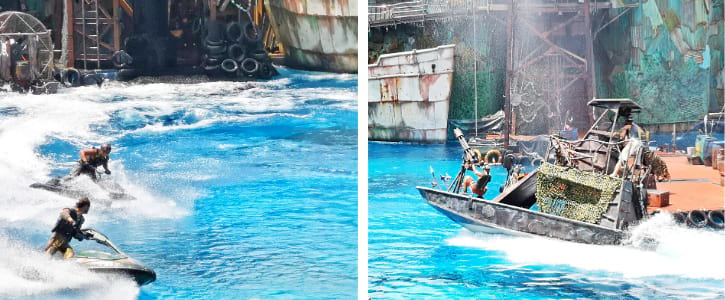 In WaterWorld Singapore, it shows how the villains chase the girl with the map of the legendary, dry place. Together with the hero, they fight the bad guys to save their friends, who were left in the floating island.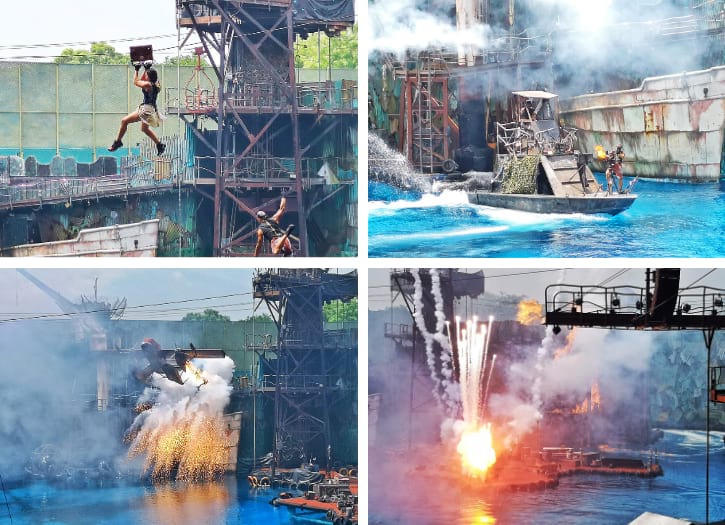 Behold this amazing live water spectacle that outlines a series of thrill and spill. Watch in awe all the electrifying stunts and actions that include the girl in a dramatic rope escape.
Follow the dramatic water chase featuring an exhilarating jet ski pursuit between the hero and the bad guys. And if you want to truly feel the thrill, sit near the front seats or the splash zone. Let the waters consume your excitement!
Fire and water explosions are also everywhere, creating more suspense to the entire performance.
Without a doubt, Waterworld is a must-watch for families and friends eyeing for a superb, real water action.
3. Lights, Camera, Action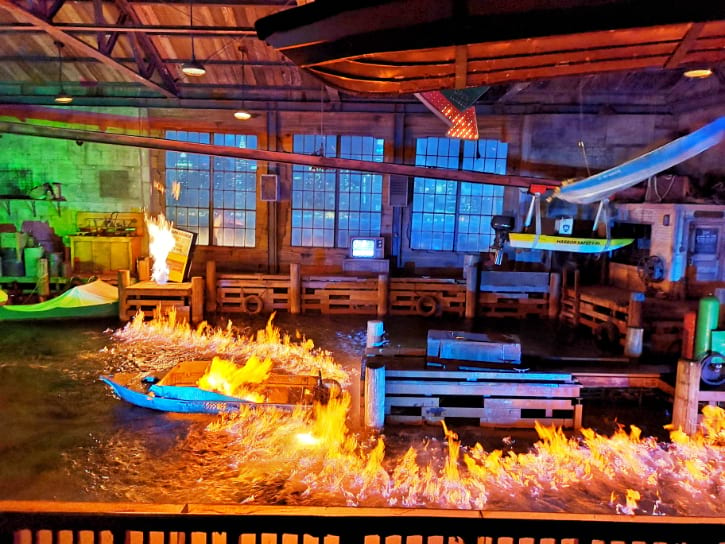 Duration: ~ 7 minutes
This fantastic behind-the-scenes show hosted by Steven Spielberg is something to look forward to for film enthusiasts. Brace yourself with the impressive special effects that take you to the setting of a major hurricane in New York City.
Be blown away with the realistic hurricane-force sweeping the sea, going towards the boathouse you are in. Watch as the fires engulf the waters and the wreckage devours the scene. For the best special effects and some water splashing, take the front row spots! This live demonstration is short but definitely worth the visit!
4. Donkey Live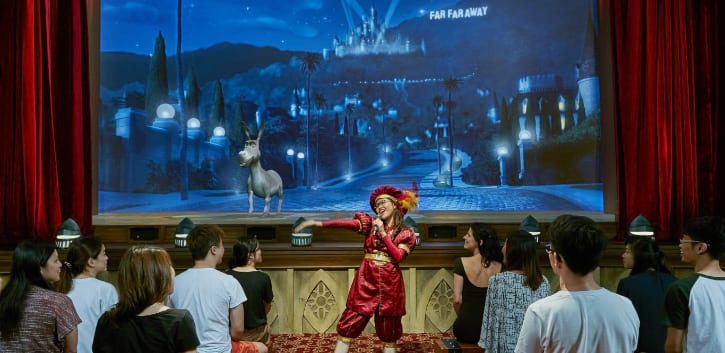 Duration: ~ 10 minutes
Donkey is a fan favorite too! No wonder this animated, live show continues to be a sought-after attraction among the audience! Sing along with Donkey as he amazes the crowd with his natural charm and funniest jokes.
At Donkey Live, Shrek's adorable buddy hosts his own interactive show in a naturalistic theater setting. He talks, responds, sings, and even jokes around! So, if you and your family are looking for a fun and intimate show with Donkey himself, then this is by far the closest you can get!
Top Street Entertainment
1. Hollywood Dreams Light-up Parade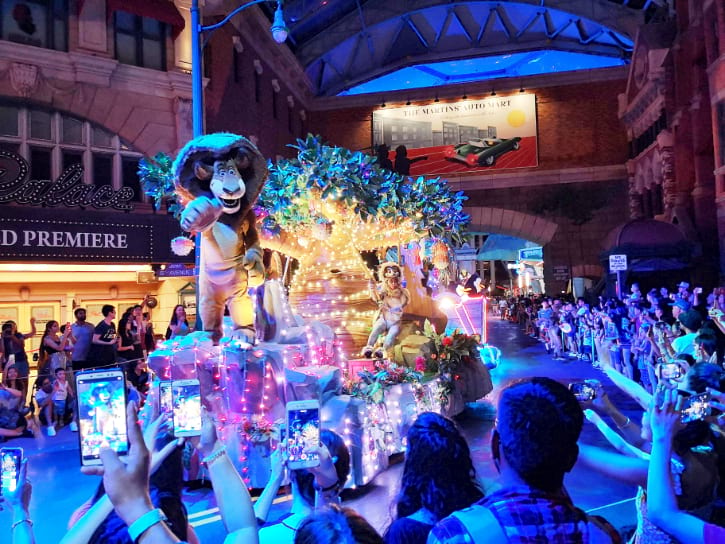 Duration: ~ 30 minutes
As soon as the sun retreats back to its horizon, the Hollywood Dreams Light-up Parade illuminates the park with enthralling lights perfectly synced to the lively beats. This evening parade, lasting up to 30 minutes, gathers all your favorite characters into one, fun get-together.
Groove and sing along together with the charming casts from Madagascar, Revenge of the Mummy, Jurassic Park, Shrek, and more! Starting from Waterworld, catch a glimpse of the massive and bright floats as they make their way to New York Zone.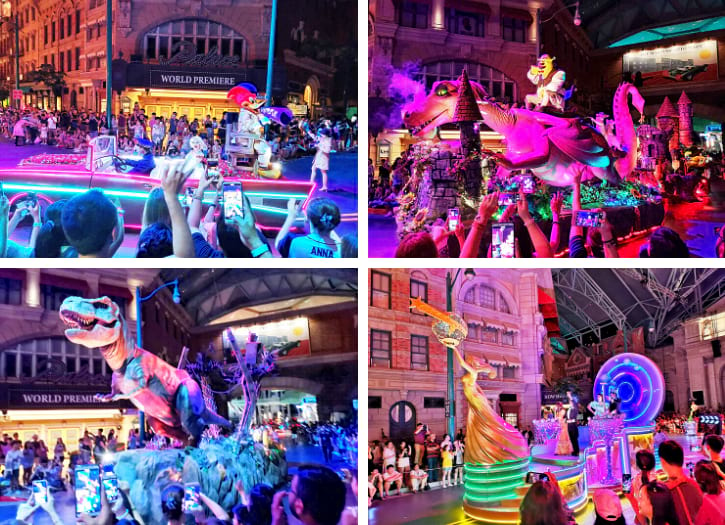 Get star-struck with the floats carrying the ever-alluring women―Betty Boop and Marilyn Monroe. Wave at all the real-life and lifelike characters beaming with happiness. Truly, this is the best way to cap off your fun-filled day!
2. Rhythm Truck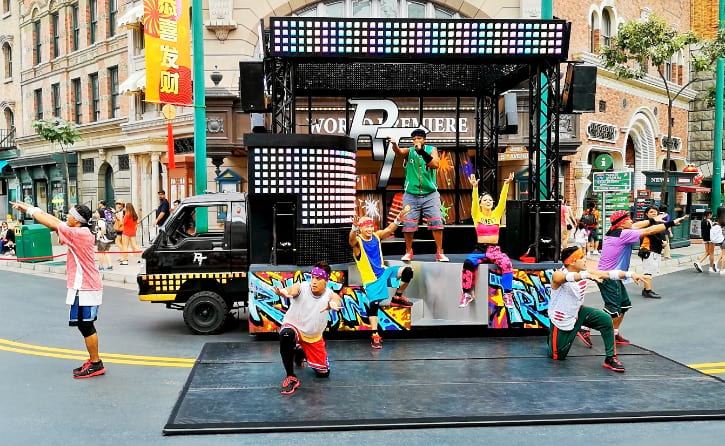 Duration: ~ 20 minutes
Make way for the Rhythm Truck! This 20-minute dance show features epic dancing and drumming skills, all coiled up in catchy songs that will surely make you groove in a heartbeat. Marvel at how the dancers move in harmony with the rhythm.
At one point, you'll see two dancers showing their impeccable dancing skills inside a boxing-like stage formed from elastic bands. Plus, you can even be part of their team and show your drumming ability! Bring on the funky street vibes and enjoy some dynamic poses with the dancers after the show.
3. The Dance For The Magic Beans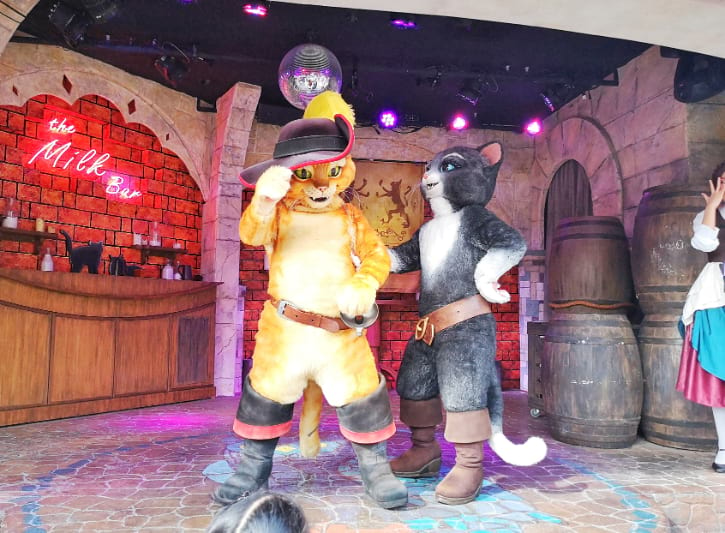 Duration: ~ 10 minutes
Starring Puss in Boots, Kitty Softpaws, and the milk bar attendant (with incredibly long middle and last names), it's time to witness the 'Dance Fight of the Century'. Stomp and clamp as Puss and Kitty prepare for the battle to win the magic beans that lay golden eggs.
Showing their smashing moves and even interacting with the guests, watch 'til the end to know who wins the dance competition and the magical prize! Plus, get a chance to take a picture together with these adorable characters after the show.
4. Madagascar Boogie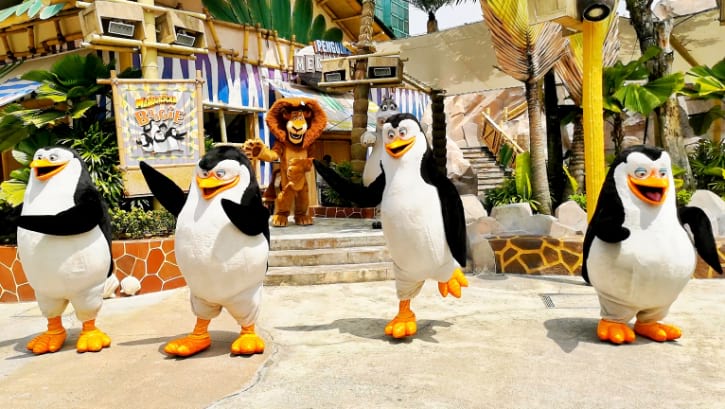 Duration: ~ 5 minutes
If you and your kids are self-confessed lovers of the film Madagascar, then it's time to meet them up-close in a rather comical way. Get entertained by your favorite Madagascar characters, and watch as Gloria the hippo, King Julien the lemur, Alex the lion, and the adorable penguins rock their playful moves!
Madagascar Boogie is such an amusing treat for kids and kids at heart! And to complete the fun, character meet and greet is done after the show, where you can put-on a pose with Madagascar gang.
Character Meet and Greets
1. Bumblebee Transformer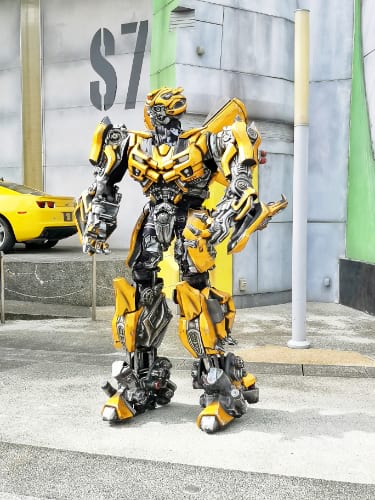 Take the best shots of the 2.9m tall Bumblebee, along with the Autobots leader, Optimus Prime, while walking at Sci-fi City. Make sure you check the programme sheet ahead so that you can spot them on time!
They'll usually hang around opposite to the TRANSFORMERS The Ride, so you must keep your phones ready. You can even dance with the popular transformer as robotic music fills the air!
2. Gru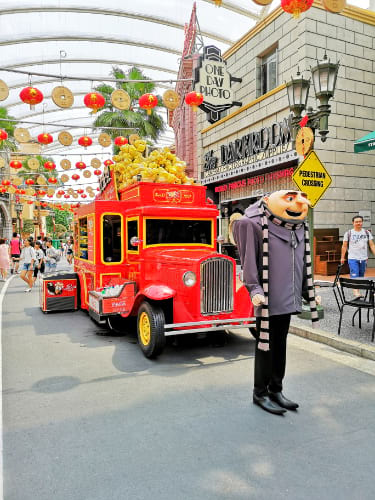 Get silly with the despicable icon, Gru! Yep, he's not as despicable as he looks. In fact, he'll even greet you with a huge smile as you walk to him!
3. Minions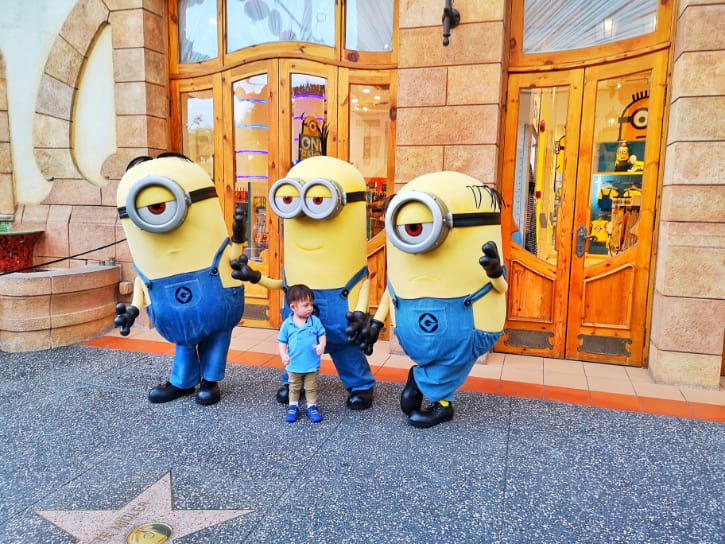 If there's the wicked but tender at heart Gru, there's always a set of loveable minions ready to melt everyone's hearts. Since they can't talk, they'll bomb you with their cute little dance moves. These energetic, yellow creatures will size up your entire theme park experience!
4. Elmo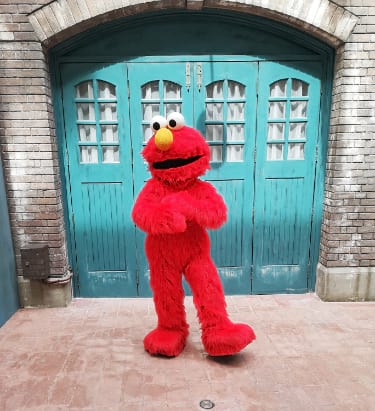 Roaming around Universal Studio Singapore is an attention-grabbing pursuit. With one marvelous destination here and another on the other, endless sights of attraction will steal your eyes and time.
But before you get swooped by other fairly magical zones, grab the chance of meeting and greeting one of your well-liked Elmo character!
5. Pinocchio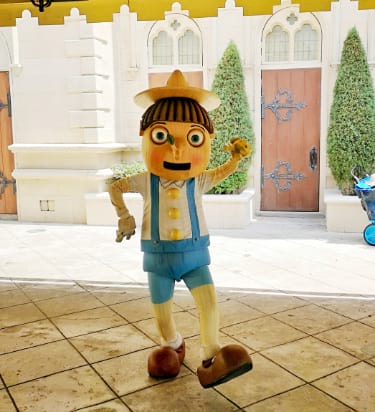 Perhaps the human-sized Pinocchio is the most generous when it comes to giving hugs. But like all the other characters you'll encounter, he'll show you his lively and silly dance moves! Share a bubbly dance together and bring home a memorable souvenir!
6. Egyptian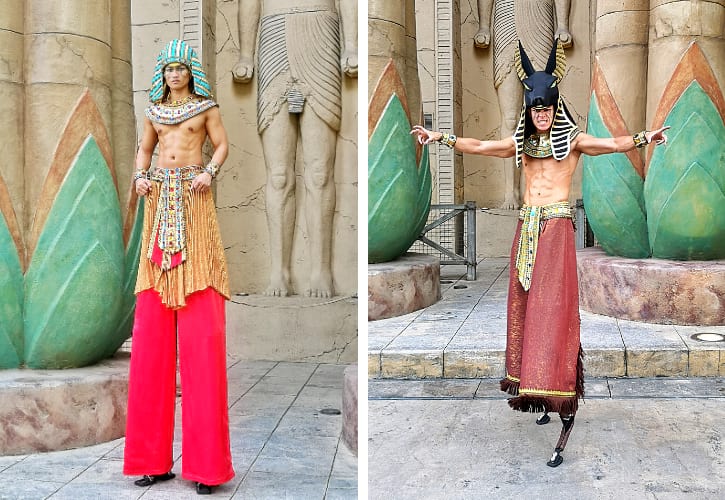 These strong-built Egyptian characters can dwarf you in an instant. Though not half the size of the colossal mummies, you'll stand in the same height as the famous minions when pictured beside them.
On top of that, you can reminisce the Golden Age by socializing with these Egyptian royalties! So, if you want to meet these tall, cunning-looking, yet harmless characters, see their schedule prior to going to their zone.
My Suggested Attractions
Universal Studios Singapore (USS) is truly one of the beautiful theme parks in Singapore that brings happiness, entertainment, and excitement to every visitor.
To make the most out of your visit, here's my suggested list of rides and shows according to their categories.  All the attractions mentioned below are equally entertaining so don't miss them out.
Most recommended rides at Universal Studios Singapore: TRANSFORMERS The Ride, Jurassic Park Rapids Adventure, Enchanted Airways, Puss In Boots' Giant Journey, Shrek 4-D Adventure, Sesame Street Spaghetti Space Chase, Madagascar: A Crate Adventure
Most thrill rides at Universal Studios Singapore: Battlestar Galactica: HUMAN vs. CYLON and Revenge of the Mummy
Best rides for kids: TRANSFORMERS The Ride, Puss In Boots' Giant Journey, Shrek 4-D Adventure, Sesame Street Spaghetti Space Chase, Madagascar: A Crate Adventure and Dino-Soarin
Most recommended shows and parade at Universal Studios Singapore: Elmo's TV Time, WaterWorld, Donkey Live and Hollywood Dreams Light-up Parade
Best characters to meet at Universal Studios Singapore: Bumblebee Transformer, Minions, Elmo and Pinocchio
Recommended reading:
There are several attractions surrounding Universal Studios Singapore. You can check out this article on the top things to do in Sentosa Island for more ideas on where to explore next.
If you're planning to stay in Sentosa or you prefer a hotel near Universal Studios Singapore, you've got a lot of choices. Simply check out my blog post on the best places and hotels to stay in Singapore for different options.
Important Tips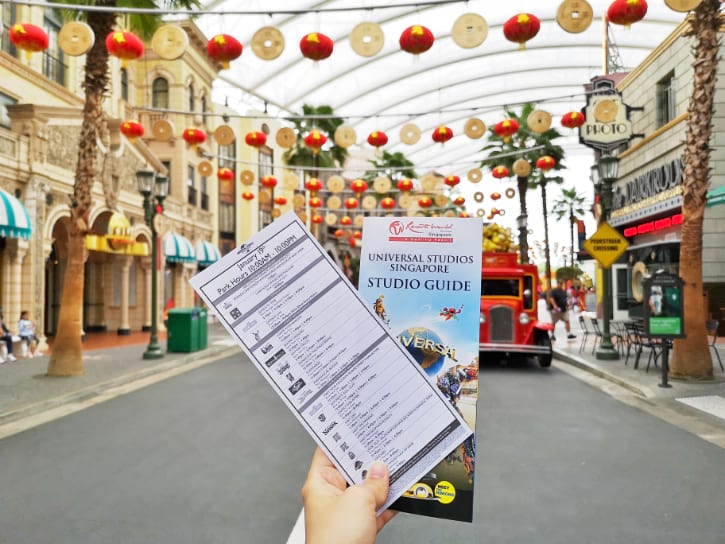 Opening Hours:
10:00 AM to 10:00 PM
*For the latest operating hours, kindly visit the official website of Universal Studios Singapore.
Upon your entry, grab the day's programme sheet and plot your schedule in advance. This will give you the schedule of the Universal Studios Singapore attractions like the street performance and other show times. Take note that the characters meet up have their specific scheduled time, so better yet visit their areas when they come out.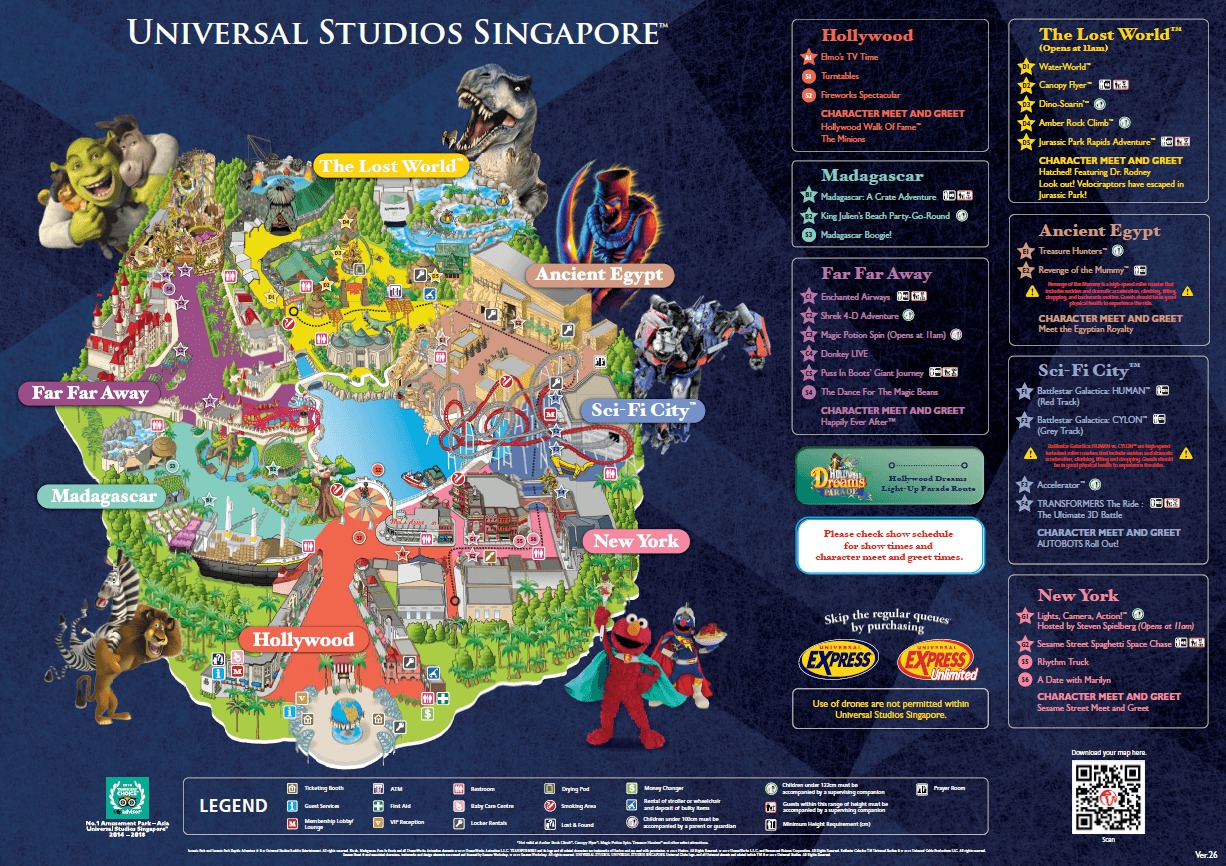 Also, take with you the Universal Studios Singapore Map so that you'll have a smooth sailing flow of activities. You can also download the Universal Studios Singapore Map here.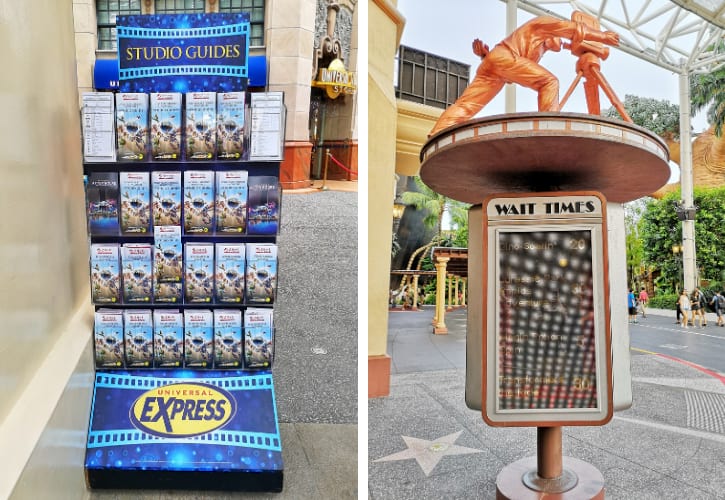 Both the programme sheet and map are put in the display brochure rack, which is located after the entry gate.
And before you get going, make sure to check the queue time board of the attractions ahead, so that can plan your trip around and visit those with shorter lines first.
Soft-Reminder:
The actual time of shows at Universal Studios Singapore are different every day. Hence, you are only able to know the actual show time and characters meet up time through the programme sheet on that day.
So, don't forget to take the programme sheet on that day when you enter the Universal Studios Singapore. 🙂
The day's programme sheets and map are located just after the entry gate of Universal Studios Singapore. If you can't find them, consult the friendly staff at there. They will show you where to get the programme sheet and map.
Where to Buy Discounted Tickets
Normal Ticket Prices
Adult (13-59): SGD $79
Child (4-12): SGD $59
Senior (60+): SGD $41
Highly recommended to buy your Universal Studios Singapore tickets online. Here's why:
1. Skip the long queue
Long queue at the counter will never be a pleasant sight. It takes so much of your precious time, especially during peak seasons, weekends,  public holidays and school holidays, when the park is jam-packed with visitors.
For less hassle and more time to explore the theme park, buy your tickets online. You'll not just save time but also skip the long queue! And with your online tickets, no need to reach the park early just to get to the counter first!
2. Enjoy a cheaper rate
Just in case you do not know, buying your tickets online is actually cheaper than buying at the counter. Yes, this means you can spend your extra money on more important things like food and drinks!
3. Enter the Universal Studios Singapore directly
Using your printed voucher, you can enter the Universal Studios Singapore with ease. Or, just present the soft copy tickets on your mobile phone and enjoy! Easy-peasy, right?
4. Enjoy open dated tickets
Online tickets are open-dated, hence giving you more flexible to visit Universal Studios Singapore. These tickets can be used for a few months, at any time. With no fixed date, you can check the validity of the tickets from Klook, a trusted and well-known travel booking platform.
So, do you want to know more about availing tickets online and all its corresponding benefits like cheaper rates and open-date validity? Or, simply just know if online tickets are guaranteed through checking the feedback of previous travelers? Don't worry because we got you covered!
Know more of these by checking the link below:
Universal Express Pass
On top of the regular admission rates, you are given two express pass options:
Universal Express
Universal Express Unlimited
These two Express Pass are making your visit more convenient through fast access to the attractions and the rides.
Universal Express at SGD $90 allows visitors to cover each attraction only once. On the other hand, Universal Express Unlimited at $120 gives unlimited access to each attraction.
The express passes are dynamic, which means the rates are not fixed. These vary depending on the season.
Take note that Universal Studios Singapore Express Pass is different from the entrance ticket. So, you need buy the entrances ticket first, and then get the optional express pass once you get to the park. Don't forget to buy the entrance tickets online to get a cheaper rate and gain direct entry into the theme park.
It is recommended to buy express pass at one of the stores inside the park so that you can check the crowd first. There are lots of stores inside the park selling the express pass. All are priced the same, so no need to worry. Just check the map to know which stores are selling express pass.
Ultimately, getting an express pass gives you faster and easier access to the following rides and attractions:
Elmo's TV Time
Lights, Camera, Action!
Sesame Street Spaghetti Space Chase
TRANSFORMERS The Ride: The Ultimate 3D Battle
Accelerator
Revenge of the Mummy
Battlestar Galactica: HUMAN
Battlestar Galactica: CYCLON
Jurassic Park Rapids Adventure
Dino-Soarin
WaterWorld
Shrek 4-D Adventure
Donkey LIVE
Enchanted Airways
King Julien's Beach Party-Go-Round
Madagascar: A Crate Adventure
Puss In Boots' Giant Journey
Theme Park's Lockers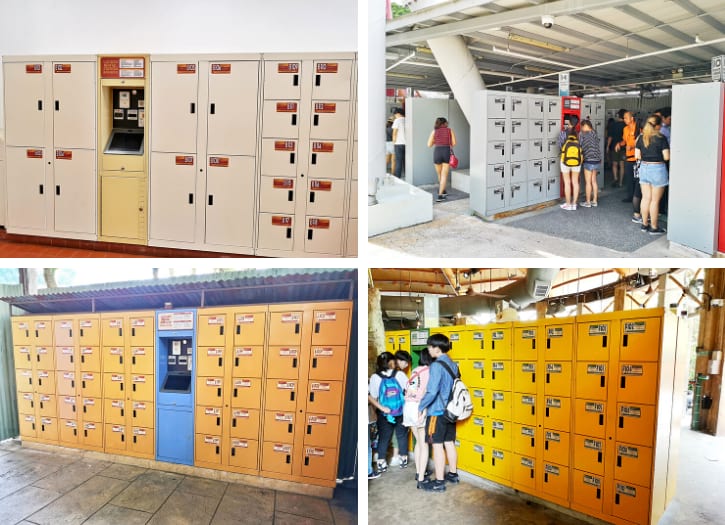 While indulging all the adventures, you must also need to secure your belongings. For the safety and convenience of all visitors, the park is loaded with plenty of lockers at different zones. Each zone has its corresponding rates per hour or per full day.
So, if you want to leave your stuff secured and accessible, opt for the locker area that you are most convenient at.
i. Lockers at Hollywood Zone
These are the only lockers inside the park with bigger storage space. Thus, if you are bringing more stuff, like those for your kids, then this is pretty the best place. Plus, it's located just right at the side of the park entrance.
Small locker
4 hours for $12
1 day for $15
Large locker
4 hours for $24
1 day for $30
ii. Lockers at Sci-fi City Zone
Another locker area is positioned within the Sci-fi City Zone, below the Battlestar Galactica ride. Luckily, the first 45 minutes is free of charge. After 45 minutes, you will then be charged $4 for the next 20 minutes and $2 for each additional 20 minutes. Maximum of $20 per day.
iii. Lockers at Ancient Egypt Zone
There are two locker storage spaces in Ancient Egypt, located on the left and right sides of Revenge of the Mummy ride. You are given 60 minutes free storage, then $4 for the next 20 minutes and $2 for each additional 20 minutes. Maximum of $20 per day.
iv. Lockers at The Lost World Zone
If you are near or within the Lost World Zone, you can avail of the lockers located on the left side of Jurassic Park Rapids Adventure ride.
1 hour for $4
2 hours for $8
3 hours for $12
4 hours for $16
1 day for $20
Where to Go after USS
After your visit to Universal Studios Singapore, explore other attractions in the country. Here's my list of the most popular places to visit in Singapore that you can use as a guide.
For your reference, below are some of the most famous attractions in Sentosa and Marina Bay. The first and second attractions are located very close to Universal Studios Singapore. The third one, on the other hand, is situated in the Marina Bay area.
S.E.A. Aquarium
Explore the breath-taking aquariums and sea habitats of S.E.A. Aquarium. This is the best place to visit if you're interested in different sea creatures and marine life as a whole. Here are some of my tips for visiting SEA Aquarium Singapore and review that you can use when planning.
Madame Tussauds
Meet your favorite stars at Madame Tussauds Singapore. In this attraction, you'll get a chance to see the wax figures of celebrities, sports legend, and political leaders. You can refer to my full review of Madame Tussauds Singapore to get more information about this unique museum.
Gardens by the Bay
Walk around the scenic gardens of Gardens by the Bay. This place is known for its Flower Dome and Cloud Forest, along with its Supertree Grove and OCBC Skyway. For all must-visit spots in the area, here's my complete guide to Gardens by the Bay to help you along the way.
Aside from Singapore, you can also spend your vacation in Japan, which another top-rated tourist destination. And if you plan to visit Tokyo, you shouldn't miss Tokyo Disneyland as well as DisneySea.
These two magical theme parks have many amazing rides and attractions. Plus, they have plenty of Disney characters in action. You can simply check out my guide to Tokyo Disneyland and DisneySea to get better information about these famous places.
Related Posts