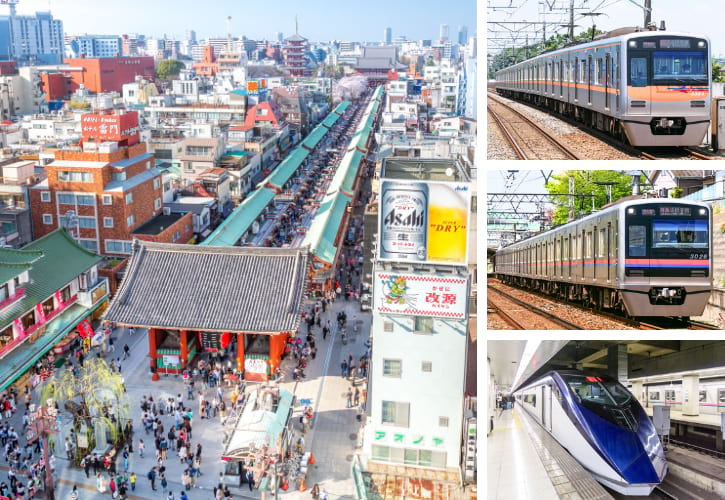 Traveling from Narita Airport to Asakusa? This easy-to-understand guide shows you 4 simple ways to get there without hassle.
Let me quickly guide you through choosing transport, starting at Narita and ending comfortably in Asakusa.
I'll point out the quickest, simplest options, detailing differences in travel time and one-way fares. This way, you can easily pick what's best for you.
Let's explore how to get from Narita to Asakusa now. 😊
The 4 Ways to Go from Narita Airport to Asakusa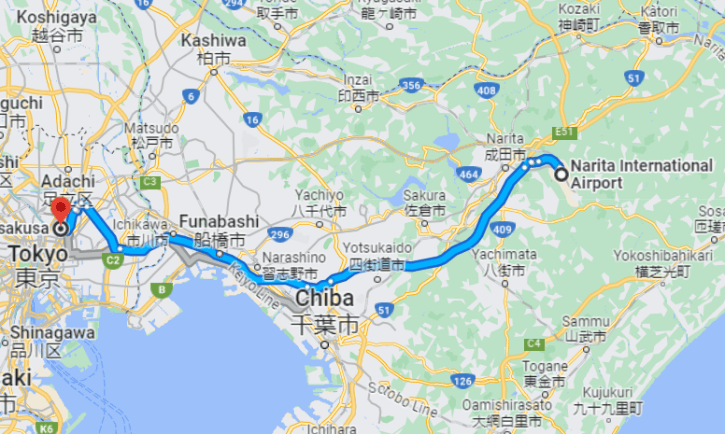 Narita Airport is about 65 kilometers from Asakusa, and the travel time to reach the central area is typically around 1 hour.
You have 4 convenient options to reach the destination: the Keisei Access Express, the Keisei Main Line Rapid, the Skyliner, and a Private Airport Car Transfer.
Depending on your preference for comfort, speed, or cost, the prices for these options can range from 1,170 yen to 20,000 yen.
Don't worry; I'll provide detailed explanations of each choice below to assist you in making the best decision for your journey.
Oh, before I forget, be sure to check out my blog post about the best things to do in Asakusa, where I show you the most efficient route to visit the attractions without wasting your time.
1. Keisei Access Express – Fast, Direct, Convenient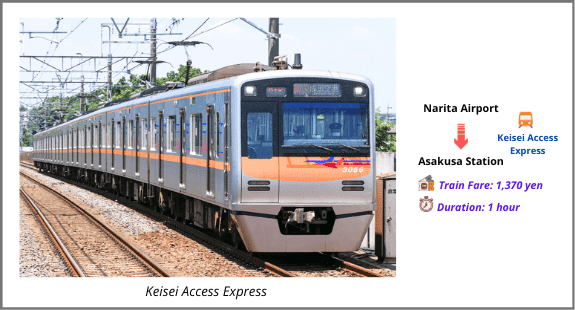 The fast way to get from Narita Airport to Asakusa is by taking the Keisei Access Express train. You can board the train at Terminal 1 or 2 of the airport, and it will take you directly to Asakusa Station in about 1 hour without any transfers. The one-way trip costs 1,370 yen.
Although the Keisei Access Express is a fast mode of transport, it provides limited luggage space.
Boarding Locations: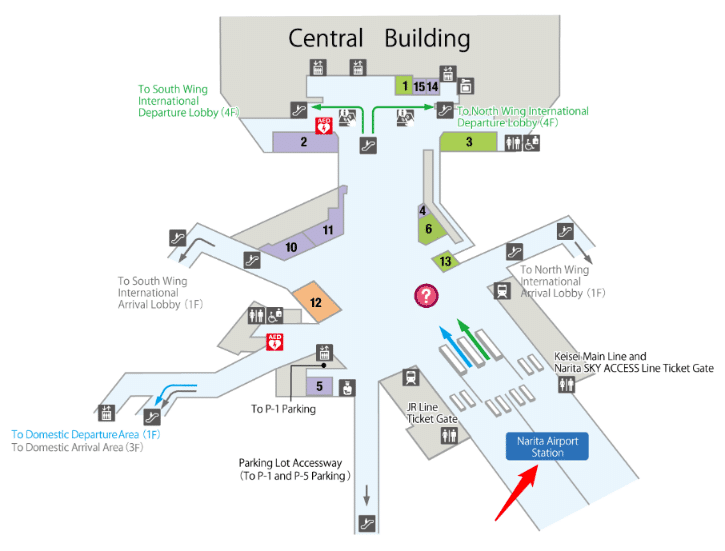 For Terminal 1, the train station is located in the arrival hall on basement level 1, marked as "Narita Airport Station".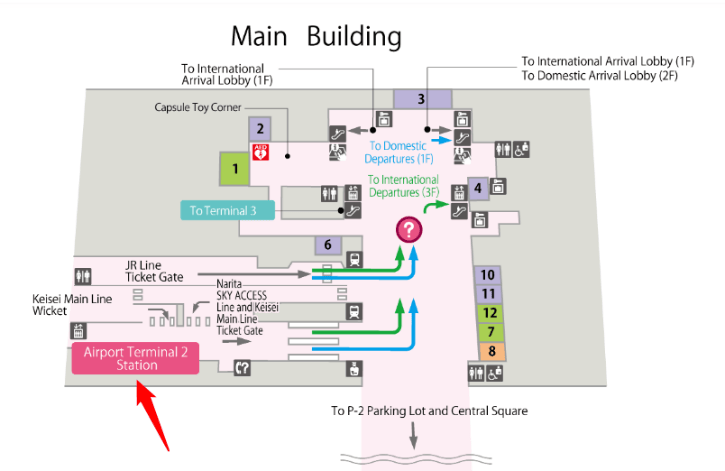 If your flight arrives at Terminal 2, you can find the train station on Level B1 of the arrival hall, labeled "Airport Terminal 2 Station".
2. Keisei Main Line Rapid – Time-consuming but Cost-saving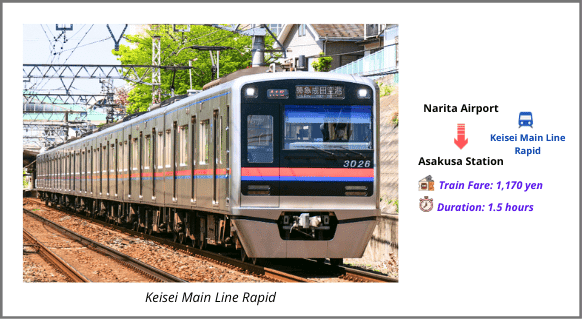 If you are on a tight budget, the Keisei Main Line Rapid is the most affordable option to reach Asakusa. You can board the train at Narita Airport Terminal 1 or 2, and it will take you to Asakusa Station in approximately 90 minutes for a cost of 1,170 yen.
However, this train is slower than the express because it stops about 26 times after leaving Narita, before it gets to Asakusa.
Another drawback is the limited space for your luggage and bags.
But on the good side, the single trip fare is cheaper, which is 1,170 yen. You can purchase this train ticket at the airport ticketing counter.
3. Skyliner and Oshiage Line – Quickest but Requires Transfer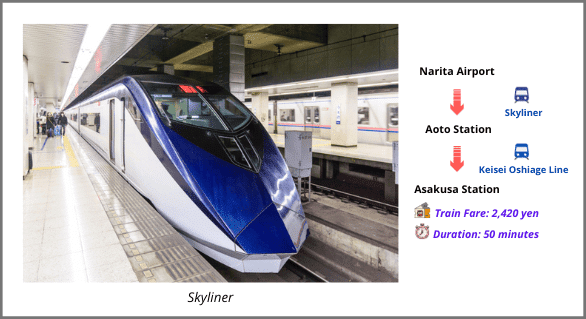 The quickest route to get to Asakusa from Narita is by using the Skyliner and Keisei Oshiage Line.
First, board the Skyliner at either Terminal 1 or Terminal 2 of the airport to reach Aoto Station. From there, transfer to the Keisei Oshiage Line, which will take you to Asakusa Station. The entire trip takes about 50 minutes, with a total train fare of 2,420 yen.
Advantages:
This option is slightly faster than option 1, and the Skyliner is a high-speed train that offers comfortable seating and luggage storage.
Disadvantages:
Although it's faster, you need to transfer, which I think is not so convenient, especially when you are carrying luggage. Additionally, when transferring to the Keisei Oshiage Line to Asakusa, there are no designated spaces to store your luggage.
4. Reserved Private Airport Car – Seamless Transfers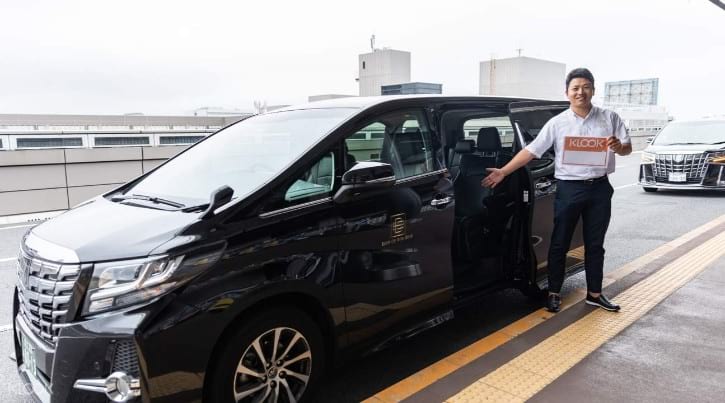 Looking for the most convenient way to transfer between Narita Airport and Asakusa? Then consider booking a Private Airport Car in advance.
This airport car service operates 24 hours a day, so you won't have to worry about your schedule. However, it's important to make a reservation in advance before your arrival at the airport.
It's a door-to-door transfer, which means there's no need to transfer from one vehicle to another. You'll arrive directly at your preferred hotel.
This option is highly recommended for families with kids, senior citizens, or groups of friends with a lot of luggage. So, all you have to do is hop aboard and relax as you head to your destination.
Narita to Asakusa: Transport Options Compared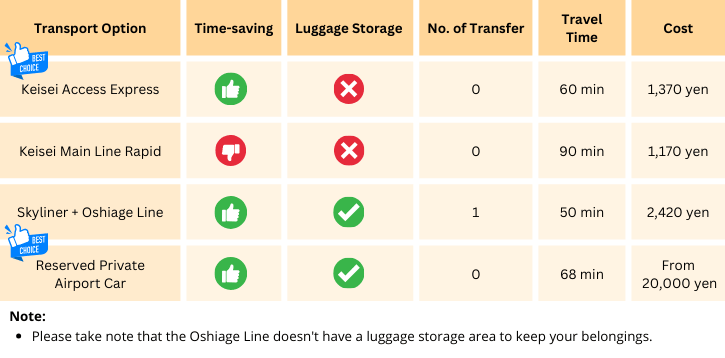 Luggage Delivery Service between Narita and Asakusa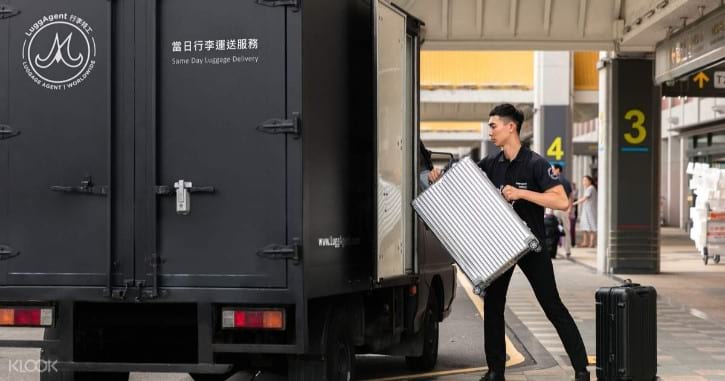 Would you like to kick-start your Asakusa adventure as soon as you touch down at Narita Airport?
If so, go ahead and book a luggage delivery service here. They can assist in transporting your luggage from the airport to your hotel.
This service saves you from the trouble of carrying your bags on public transport and ensures that your belongings reach your hotel quickly.
It has recently gained popularity, offering travelers a way to save time in their Tokyo itinerary and making it easier to explore attractions.
Related Posts