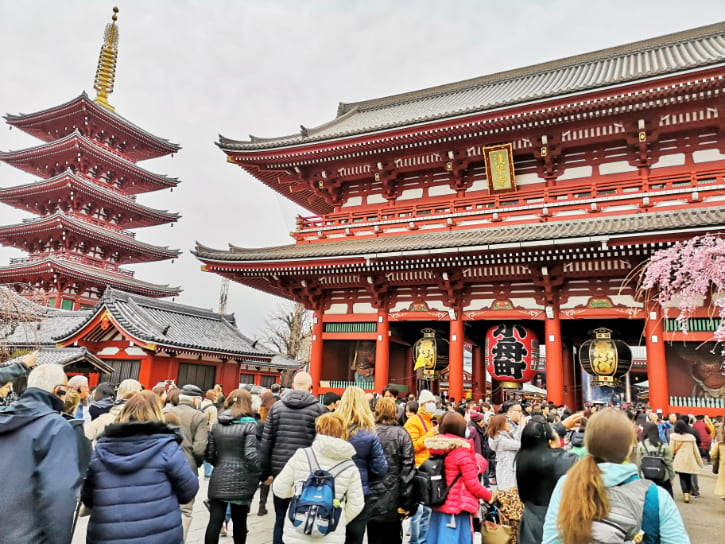 When in Asakusa, Tokyo, you will be bounded by interesting sights and beautiful attractions. So, to guide you, here are the 12 best things to do in Asakusa along with the most beautiful photography spots that you shouldn't miss.
Asakusa is simply one of the most vibrant districts in Tokyo. It's overflowing with restaurants, traditional shops, ancient temples, historic shopping streets and Japanese street food. This is where you get to enjoy the charm historical vibe.
It's like a place full of places. You are not limited to one attraction but rather exposed to different sorts of memorable experiences and exciting activities.
So, let me share with you my best picks of things to do and see in Asakusa that can make your trip even more special! 🙂
12 Best Things to Do in Asakusa
---
1. Sensoji Temple – Say a little prayer at Asakusa's main attraction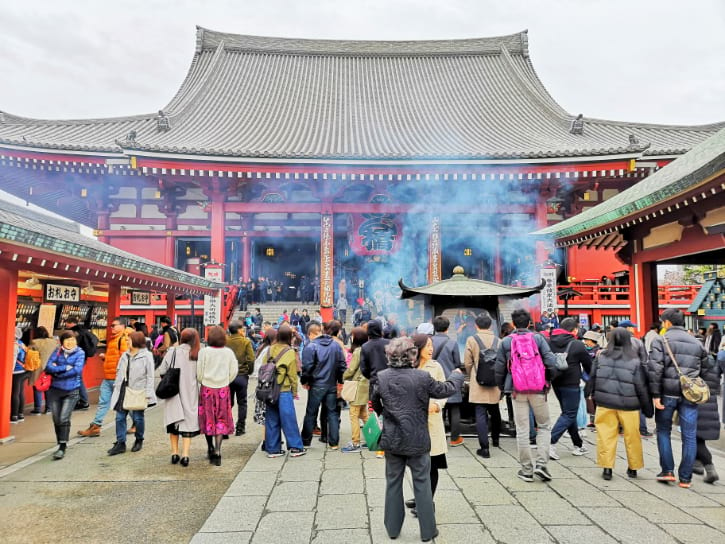 Visited by millions of travellers around the world, Sensoji Temple is no doubt the most popular attraction in Asakusa.
Did you know that this famous tourist spot was built in 628? With its long-running history, it serves as the oldest temple in the capital city of Tokyo.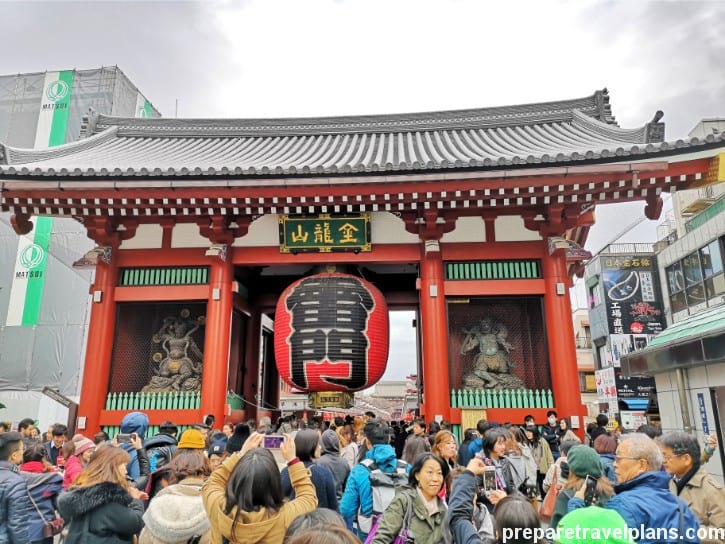 Before you enter the temple complex, you will pass through the famous Kaminarimon Gate, which means the 'thunder gate'. But of course, because of its popularity, getting a decent picture of this structure is quite a struggle. Still, it is worth the capture!
Kaminarimon Gate is the first gate of the Sensoji Complex. It's not hard to miss the Kaminarimon Gate because of its huge, dangling piece at the entrance. Just look for the large, red lantern, which opens up to the famous Nakamise shopping street.
And once you pass through it, you will enter the second gate, which is the Hozomon.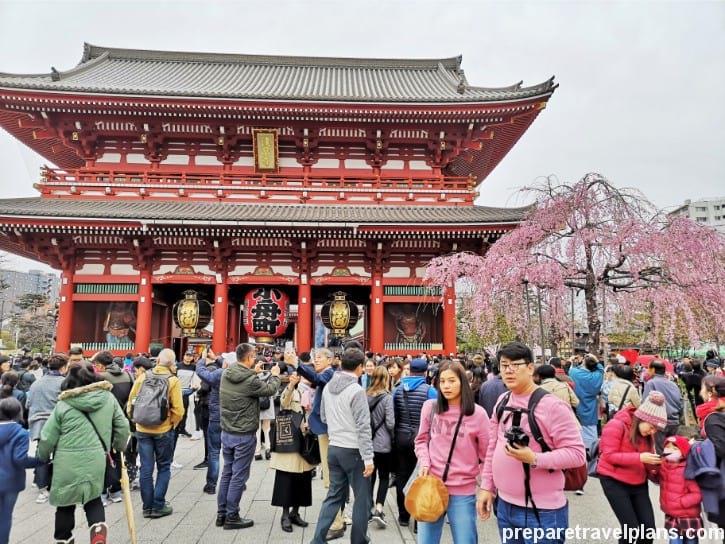 Hozomon Gate is the inner gate that leads to the entire Sensoji Complex. This gate is more spacious compared to Kaminarimon Gate, so strike a pose with this two-storey gate as your backdrop. Hozomon Gate shelters some of the most precious assets of Sensojis', including lanterns, statues, and large sandals.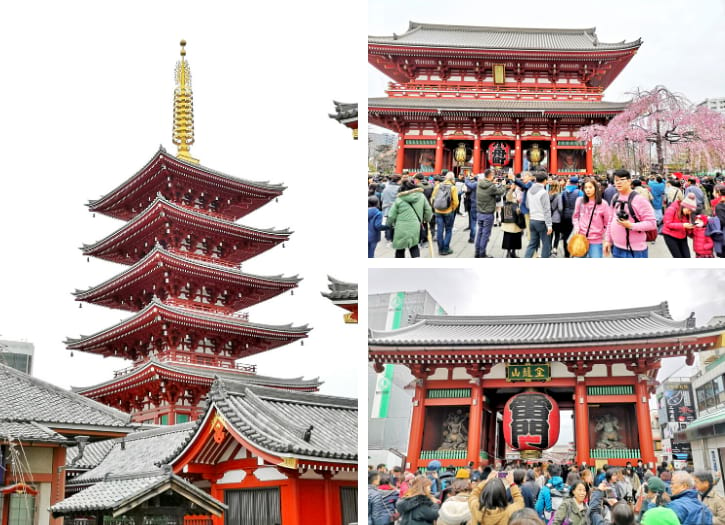 Just beside the Hozomon Gate is the striking Five-Story Pagoda. These two are the most photographed spots in Asakusa not just because of its striking architectural design. In particular, the soaring Five-Story Pagoda holds a rather significant history in the place.
It's one of the 'Four Edo Pagodas', which was said to be built back in 942 A.D. The five levels represent the five elements of the universe―land, fire, wind, water, and sky.
At present, this magnificent structure stands at 53.32 metres, making it one of the tallest pagodas in Asakusa. Because of its historical significance, no one is allowed to enter the pagoda.
Even if the Five-Story Pagoda in Sensoji Complex is permanently closed, you can still appreciate its exterior view. Take a photo outside and marvel at this towering site even from afar.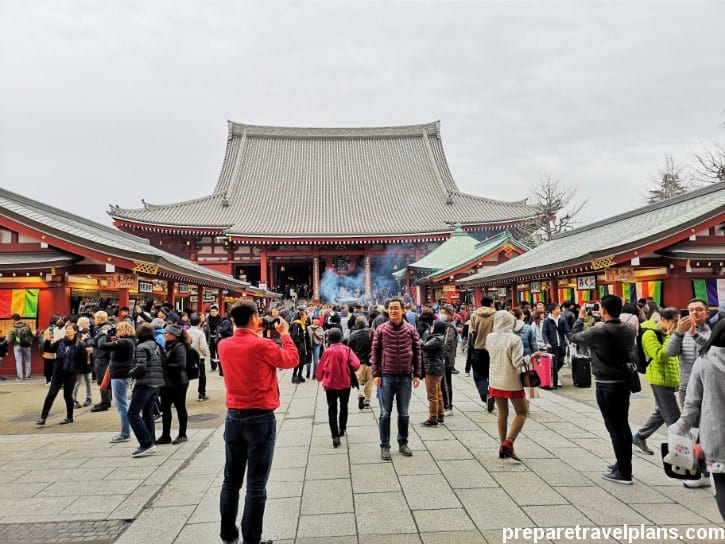 Continue your historical trip at the main hall of Sensoji Complex and you will be transported into another dimension. With all the temples and ancient features surrounding the place, it's like you set foot into the prehistoric Japanese period.
As soon as you go inside the Sensoji Temple, you will see the incredible architectural charms framing the temple. History says that this religious structure was dedicated to Kannon, the goddess of Mercy.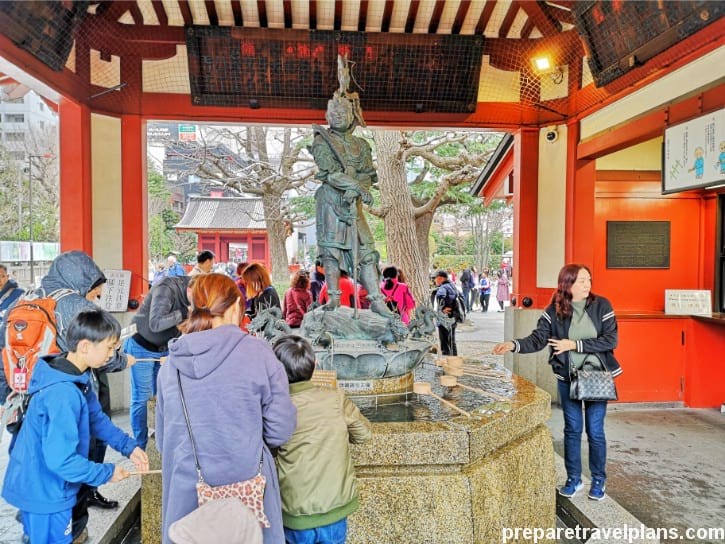 Experience the beautiful and rich history of Asakusa as you stop by the Sensoji Purification Fountain. This architectural spot is not just any other fountain. Water comes out from the stone dragon designs as a way to purify your being.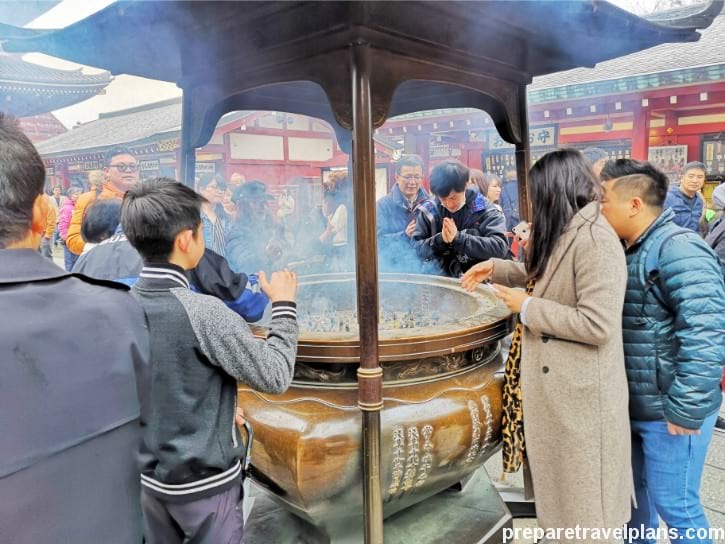 Make your way to the Jokoro or incense burner, and take part in one of the traditional temple ceremonies. Buy incense from the nearby shop, light it up at the incense burner, and let the smoke cleanse your body.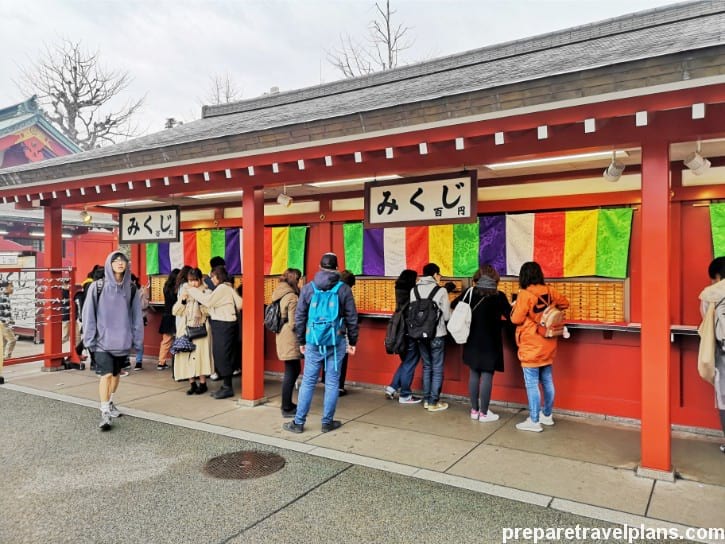 The Omamori Amulets Merchandise is also worth the mention. Here, you can see lots of beautiful Omamori amulets, which are meant to guard you from bad spirits. These are often a promise of good luck and protection.
Take your pick from one of the woven lucky charms and carry it wherever you go.
After admiring all the breath-taking sites and checking out some great finds, don't miss the Omikuji. This is where you can read some rolled, fortune-telling strips for the day.
Get your daily quotes from Omikuji Street and ponder upon it while you continue your trip.
2. Asakusa Jinja Shrine – Pay homage to Sensoji's founders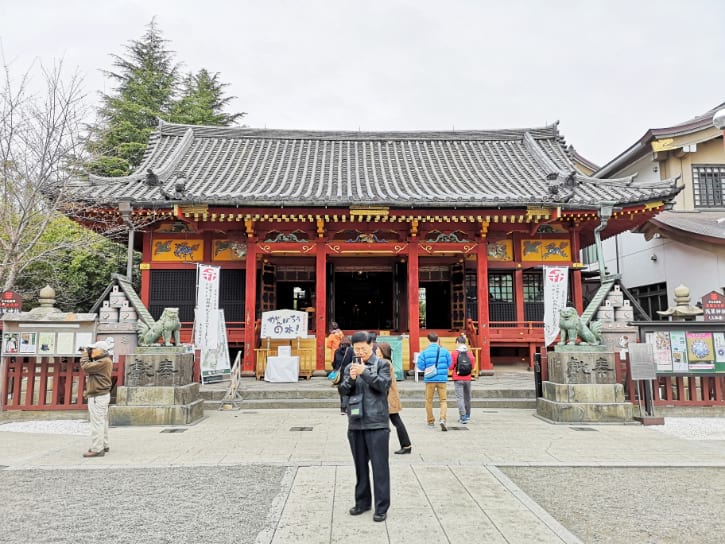 Just beside the Sensoji Temple is laid-back site of Asakusa Jinja. This might not be as popular as the other attraction but surely it deserves a visit. Once you enter the Tori Gate, you will be drawn to its beautiful setting that radiates a more relaxing ambience.
The main hall of Asakusa Jinja Shrine is not too crowded. This means you can easily stroll around the place and have enough time to take pictures or enjoy the view.
So, even it's not as striking as Sensoji Temple, you will still appreciate the nostalgic atmosphere surrounding the shrine.
Not only that, the Asakusa Jinja Shrine is considered as a cultural treasure of Japan. It's one of the two buildings that survived the massive bombing of Tokyo during the Second World War. So, if you prefer a less jam-packed attraction with interesting history, this is a great option.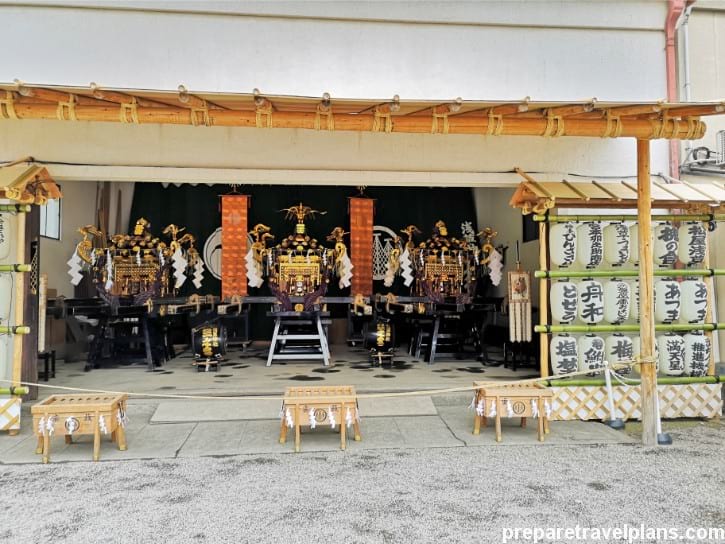 Some of the most unique finds you can discover here are the portable shrines, which are called as Mikoshi.
Mikoshi shrines are often used during the Sanja Festival, a wild and famous Shinto festival in the country.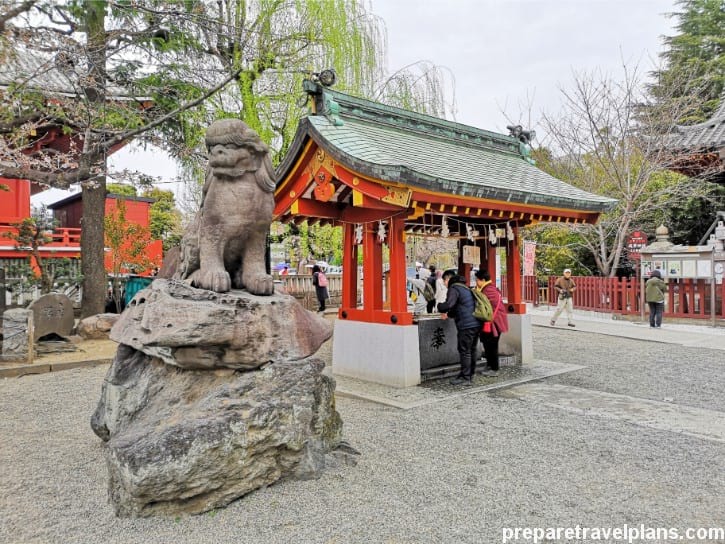 There's another Purification Fountain in Asakusa Jinja Shrine. So, in case you miss the one at Sensoji Temple, you can pray and cleanse yourself here. And just beside it is the Komainu Statue, a lion-like symbol that guards the shrine.
3. Nakamise Shopping Street – Stroll and shop at Sensoji's iconic lane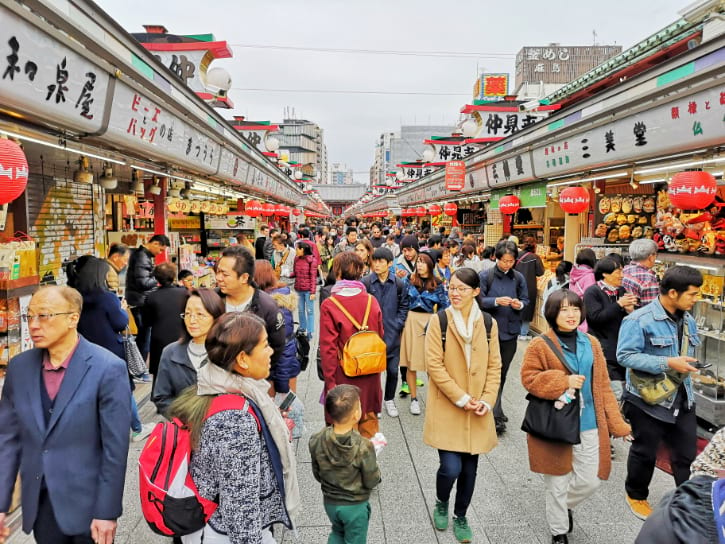 As soon as you enter the Sensoji complex via the Kaminarimon Gate, you will pass by this historic shopping lane. Nakamise Shopping Street dates back to 1716, making it one of Japan's oldest shopping areas.
Measuring up to 250 meters, Nakamise has a total of 89 stores. Most of these are selling street food, souvenirs, and personalized crafts.
Nakamise is more popular among tourists when it comes to street food. So, make sure to try some of the delicious foods on display.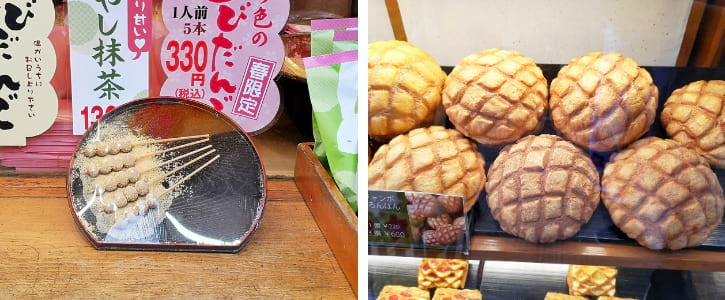 The Kibi Dango (traditional rice cake) and Kagetsudo Kaminarimon (melon bread) are tourist favourites.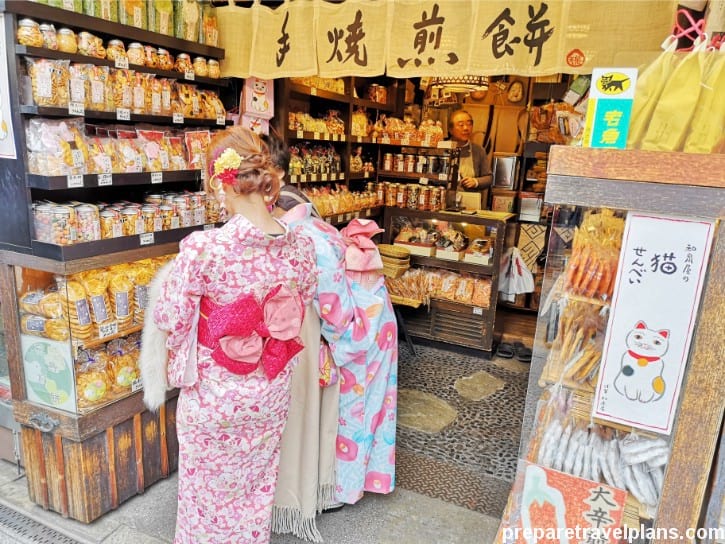 There's more to love in this famous market. If you're eyeing for some take-home snacks, pop by this stall that sells delicious crackers. And of course, this shop offers crackers of all sorts, giving you an overwhelming selection of treats.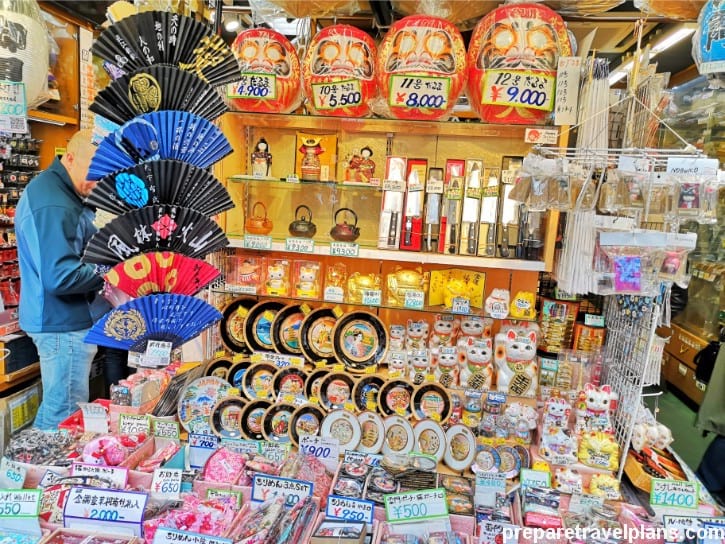 What about some authentic Japanese souvenirs?
You have several choices at Nakamise Street, from artsy pieces to practical finds. Some of the options you have include traditional wallets, masks, magnets, and key chains.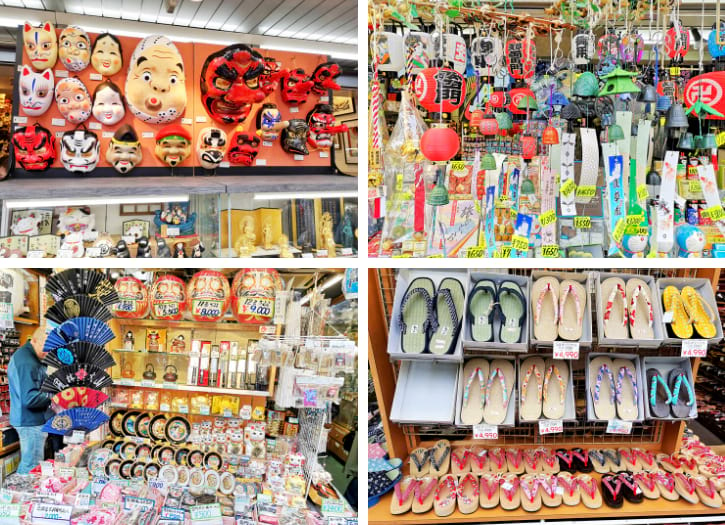 For those who want cheaper yet unique souvenirs, pick from this impressive display of Japanese lantern magnets. There are several designs for those with different preferences, from old-style pieces to vibrant colours.
If you think souvenir magnets are too mainstream, don't worry because there are more options at hand.
Check out these good-luck ring bells, which are perfect gifts to your family and friends. These bells come in various sizes, from small, medium to large!
For a more distinct souvenir, see this exhibit of Japanese masks and good-luck cat souvenirs. The Japanese masks, in particular, are quite striking as these are customized, painted masks of different local characters.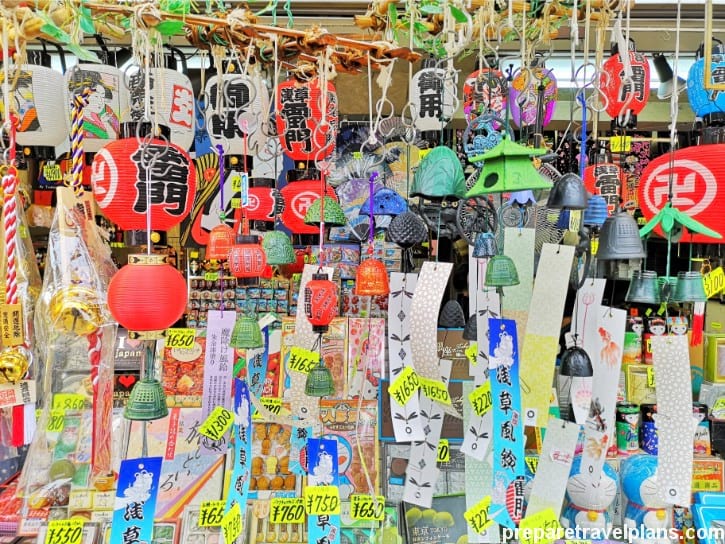 Dangling all over this stall are these cute customized mini lanterns. These are adorable souvenirs in Nakamise Street that won't hurt your budget.
So, if you're on the hunt for some charming and cheap items, you're on the right spot.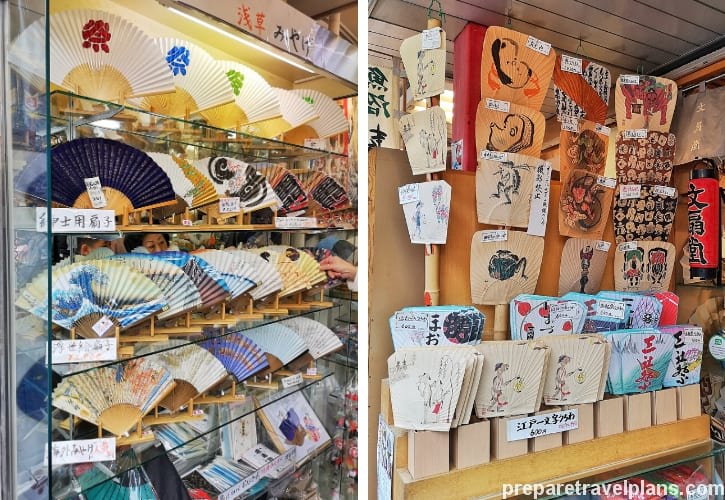 Feeling fancy? Purchase one of the many traditional Japanese folding fans on display. These sophisticated pieces are perfect additions to your home. And of course, these are very practical when exploring around Asakusa under the heat of the sun.
If you can't afford the fancy, folding fans, relax, because you have other options to choose from. Pick from this selection of traditional Japanese paper fans and continue your shopping comfortably.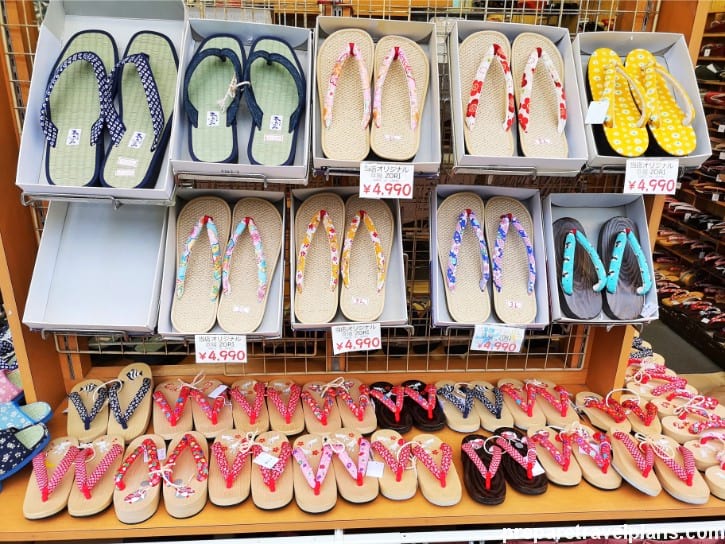 Get your very own Zori sandals from Nakamise Street. Zori sandals are old-style Japanese footwear used by ancient locals. These are mostly handcrafted pieces made of excellent materials so getting one is such a great investment.
And conveniently, they have small sizes for your little ones! So, if you want a distinct slipper for your kids, might as well get them their first-ever Zori sandals. For sure, they'll love this rather unique footwear from Japan!
4. Asakusa Culture Tourist Information Center – Getting the best view of Asakusa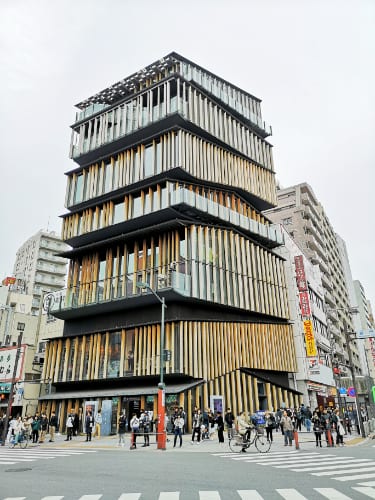 Want to get that winning shot of the Sensoji complex, specifically that of Nakamise Street?
Then head straight to the Asakusa Tourist Information Centre, which is located just in front of the Kaminarimon Gate.
It's easy to find this place because of its unique exterior that looks like stacks of boxes. Apparently, Asakusa Tourist Information Centre itself is one of the most unique photo shooting spots in Asakusa.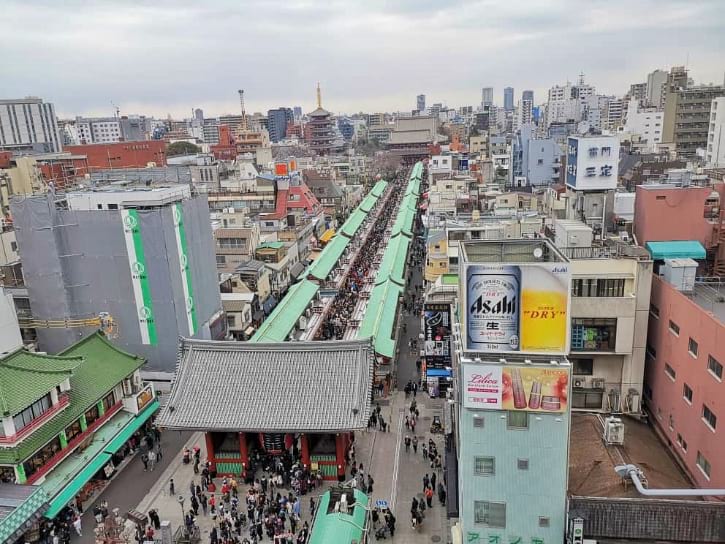 Move your way to the observation deck on the 8th floor, which offers the best view of Asakusa. This soaring structure with a striking design gives you some gorgeous sights of the Nakamise, along with the Five-Story Pagoda.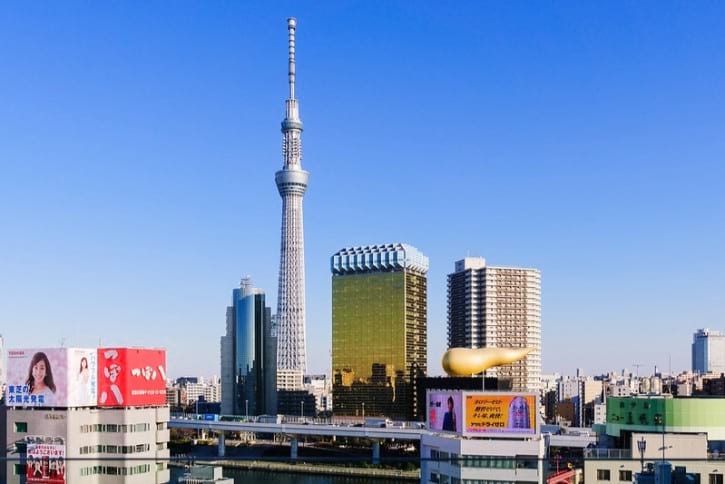 From Asakusa Tourist Information Centre, you can witness the entire Sensoji Temple and its surrounding attractions. These include two well-known buildings―the Tokyo Skytree and the Asahi Beer Hall, which also deserve a visit.
5. Tokyo Kimono Experience – Stroll around Asakusa wearing Japan's traditional clothing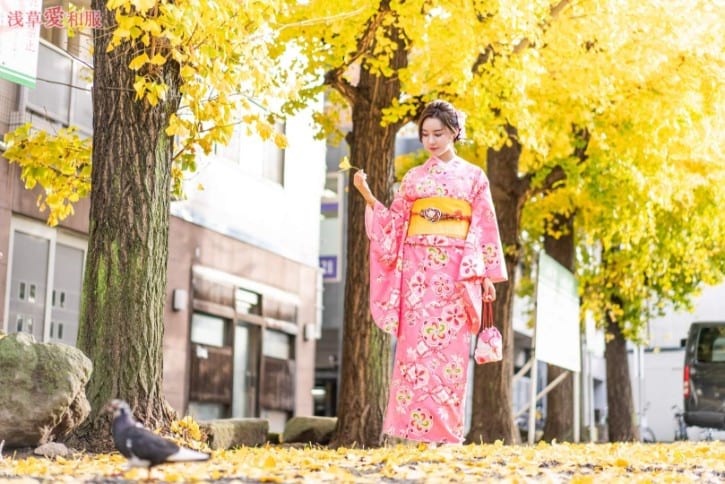 For an authentic Japanese experience, you should not miss the chance of wearing a kimono! When in Asakusa, strolling around the attractions in a kimono is a normal sight.
As Japan's national costume, the kimono is a national identity. Hence, wearing one will certainly make your trip to the country more fulfilling and unforgettable. It's a once in a lifetime opportunity of blending in with the locals! So, don't forget to add this into your list of things to do in Asakusa.
Kimonos are known to be expensive but wait, you can certainly rent them for a few hours as you take a walk around the historic streets of Asakusa.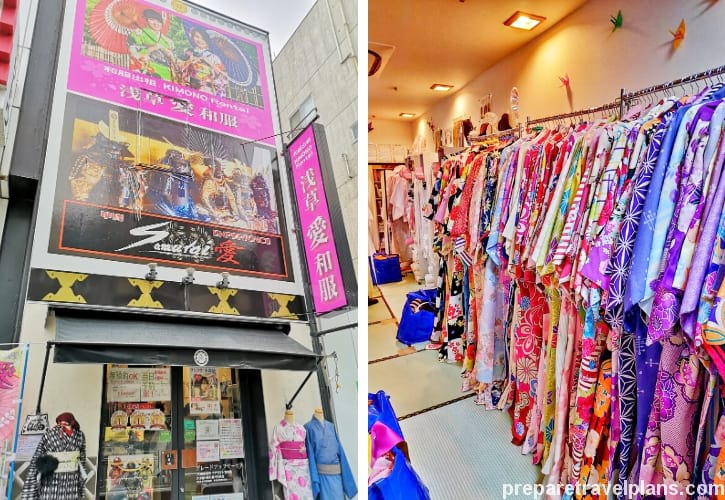 If you like to rent a kimono, better go for this shop because you can select your preferred piece that matches your style. Not only that, the staff over there are very friendly and provide excellent service!
Walk through this gorgeous rack full of beautiful women's kimonos.
Aside from wearing these traditional attires, this rental shop also included hair styling for women. This means that you will not just look like ancient Japanese but also feel like one while wandering around Asakusa.
Other than women's kimonos, there are also options for men. The collection of men's kimonos is also loaded with vibrant styles and unique patterns. So, nothing to fret because you have several choices!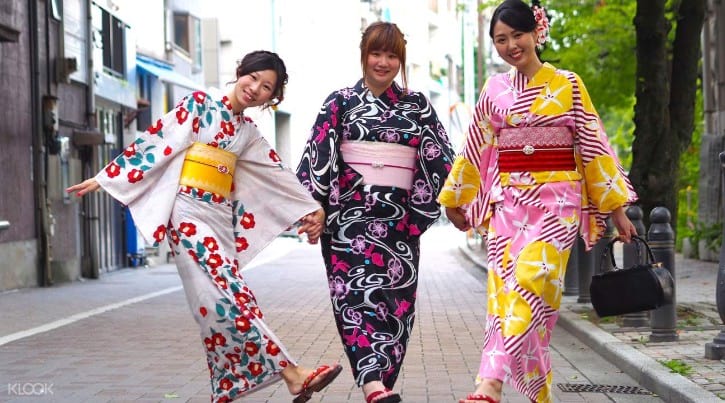 Surely, wearing a kimono, especially around Sensoji temple complex, is one the best experiences of your Japan trip.
So, if you want to feel this once in a lifetime experience, it's best to book your kimono online.
Take note that morning timeslots are often fully booked by travellers that's why it's recommended to secure your slot ahead. Complete your reservation online, particularly if you travel during peak seasons like spring and autumn.
If you rent your kimono online, you won't just secure a morning slot but also get amazing discounts. With a 38% markdown, booking your kimono online is much better and cheaper compared to renting on-site.
So, check the latest prices of kimono rental for singles, couples, and a group of travellers through the link below.
6. Rickshaw Ride – Hop aboard an ancient vehicle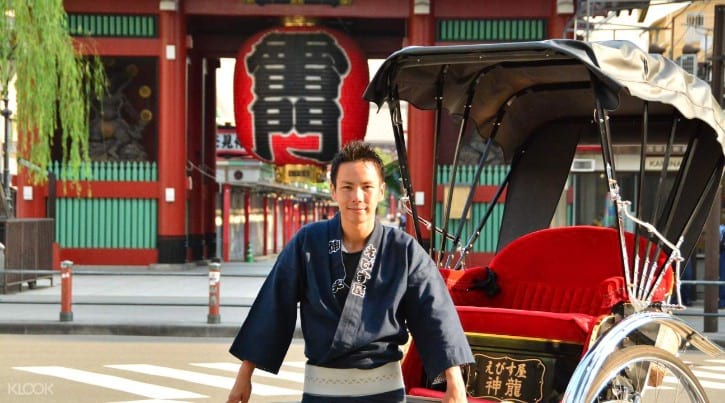 Long before cars and trains, Japan was filled with rickshaws. This ancient mode of transportation features a bamboo-made cart with rubber tires.
But instead of a horse, these vehicles are often run by humans. Over the years, this manual transportation has been replaced with auto rickshaws.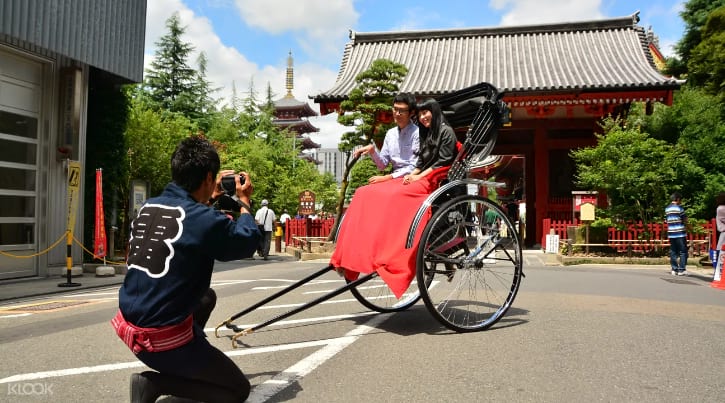 Even if rickshaws have been phased out, you can still try this unique experience through the rickshaw tour in Asakusa.
This is a great way to know more about the Japanese culture and history. Plus, you can see iconic attractions like Kaminarimon Gate, Denboin Street, and other Asakusa attractions.
The rickshaw person, in particular, is also very accommodating and well-versed in English. This makes it easier for you to communicate and get better insight of this historical district. With a friendly and knowledgeable tour guide, this will make your tour more engaging and interesting.
There are several Rickshaw tour packages on offer―30 minutes tour, 1-hour tour, and 2 hours tour. If you want to know the prices and itineraries ahead, check out here for rickshaw tour packages.
7. Asahi Beer Hall – Take a photo of this golden, towering building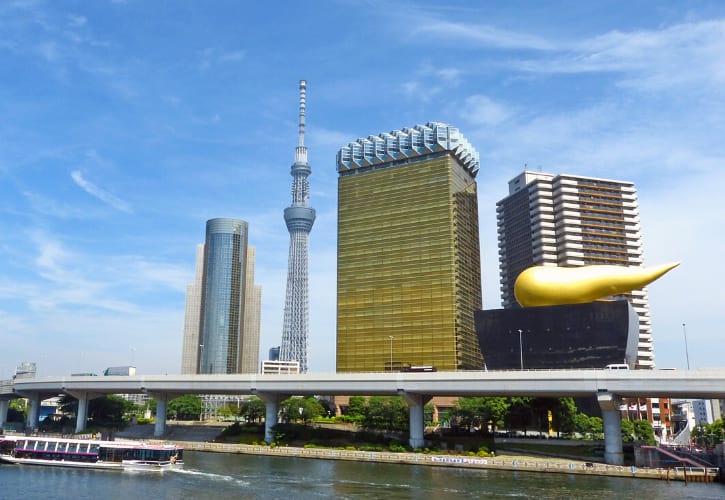 Wrapped in gold exteriors, this towering attraction is quite a sight to see. Even if there are many giant buildings scattered around the area, Asahi Beer Hall continues to be a remarkable structure.
And because of its unique exterior, it is often one of the most well-known photo shooting spots in Asakusa.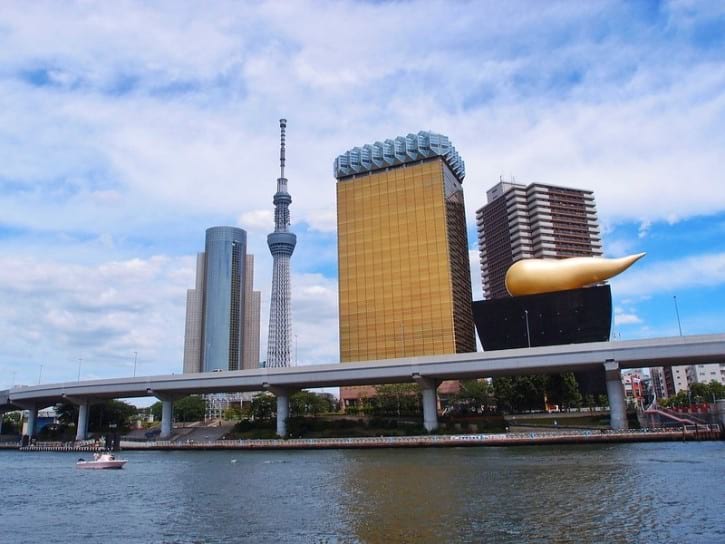 Aside from its striking structure, Asahi Beer Hall, together with the Asahi Beer Tower offers both dining and drinking amenities. And just beside Asahi Beer Hall is another prominent site in Asakusa, which is the Tokyo Skytree.
8. Shin-Nakamise Shopping Street – Go for shopping at the New Nakamise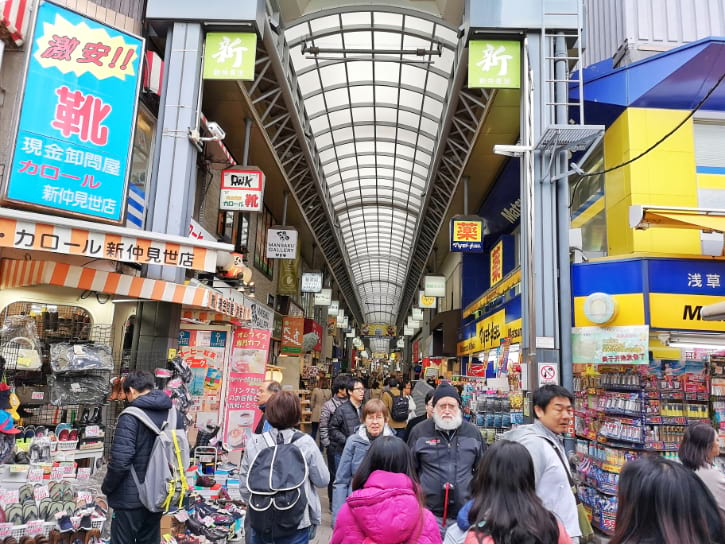 Shin-Nakamise literally means the 'New Nakamise'. This new shopping street runs perpendicular to the iconic Nakamise Street of Sensoji Temple.
In contrary to the other Nakamise Street that is an open street, this one is a covered shopping area. Plus, the stores and spaces in Shin-Nakamise are much bigger compared to older Nakamise Street. And, it is clothed with more restaurants and full-standing shops.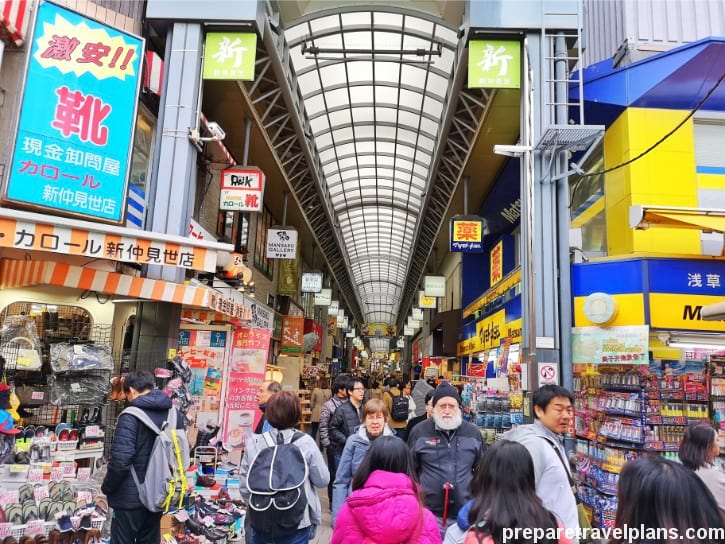 If you want to avoid the crowd at Nakamise (though it can get crowded as well), you can retreat to this shopping street instead and have a calmer shopping experience.
What can you expect from Shin-Nakamise Shopping Street?
A lot actually! Various local shops and even restaurants surround the pathway. Because of the broad selection of shopping treats, it's a favourite spot for tourists who go souvenir shopping. Hence, this place is always loaded with locals and tourists.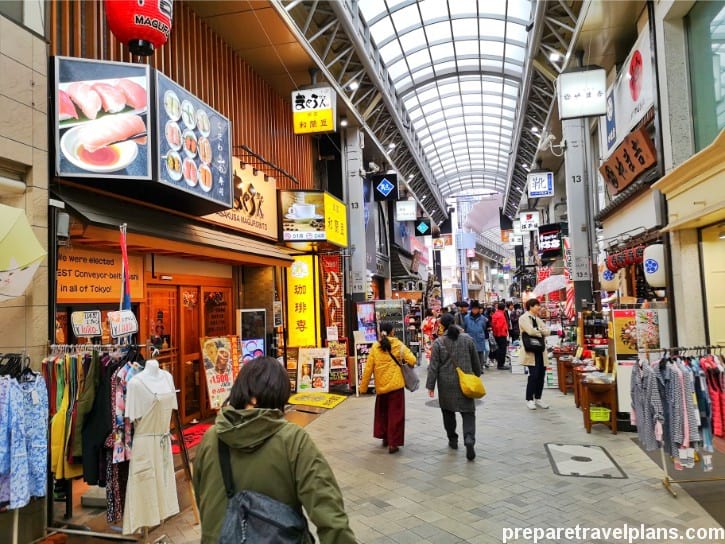 Walk around the busy lane bordered with many shops selling all sorts of items, from clothing to shoes to ceramics.
Moreover, this street is also great for shopping Japanese delicacies. With many things on display to attract passers-by, better prepare your wallets beforehand!
While Nakamise offers street food and small bites, come here if you want to sit down for lunch or dinner. You can find all kinds of restaurants and dessert shops in Shin-Nakamise Street that are comfortable enough to dine in.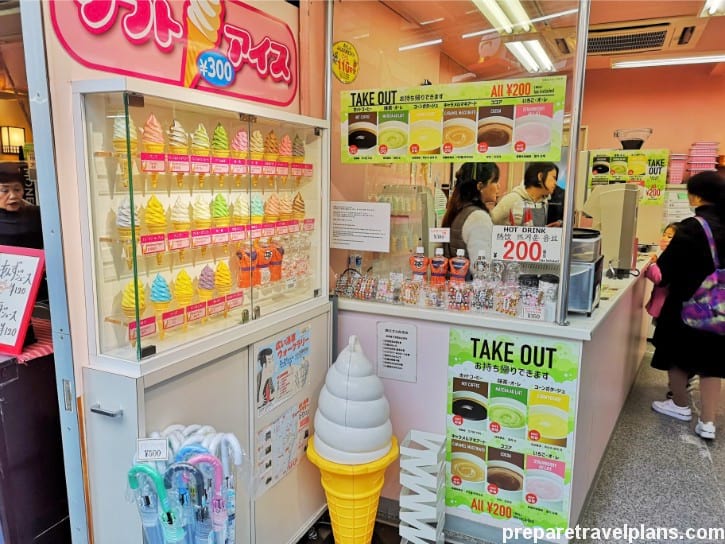 While shopping around Shin-Nakamise Shopping Street, stop by this ice cream stall and enjoy a cold dessert. This is such a perfect treat after a full day shopping adventure!
9. Asakusa Denboin-Dori – Experience an old-style shopping adventure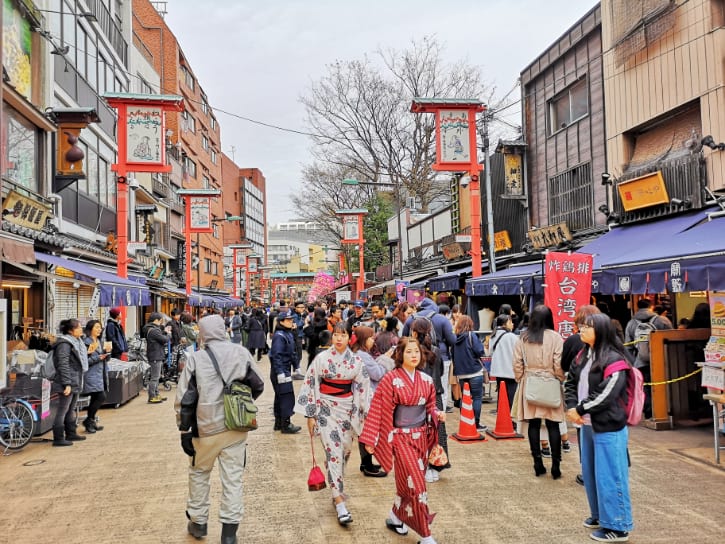 Asakusa Denboin-Dori is unlike most shopping streets in Asakusa. It radiates a rather distinct atmosphere because of its old-style charms.
Upon entering the red-coloured gateway, you can distinguish a strong Edo style ambience enclosing the street. Featuring banners with samurai designs and stores with steel swing doors, it's like you're transported back to the Edo period.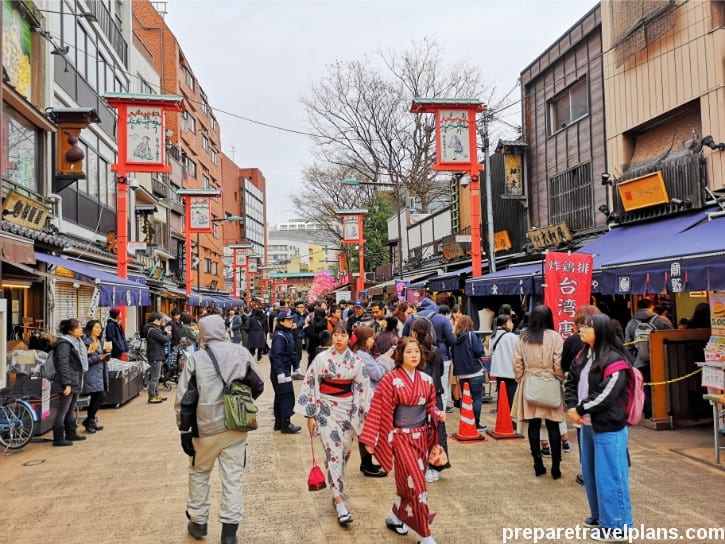 For the millennials and generation Z travelers, this historical street offers plenty of Instagrammable spots in Asakusa. Hence, Denboin-Dori is one of the best places to take iconic Tokyo photographs.
At 200 meters long, you can spot different stores selling crafts and food. And many of these stores bear the traditional and beautiful Edo architecture.
The street is also home to picturesque restaurants like soba and ramen restaurants. So, if you want an ancient-like shopping and dining adventure, this one does not disappoint.
10. Asakusa Don Quijote – Shop your hearts out inside this all-in-one mall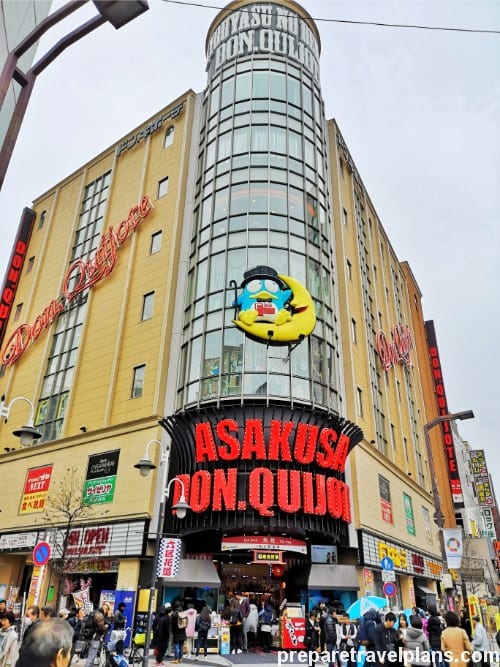 In terms of shopping conveniently, Asakusa Don Quijote probably tops the list. It is one of the biggest shopping stores in Japan with several branches in the country.
Donki, as it is nicknamed by the Japanese, has been synonymous with cheap shopping―similar to 100 Yen shops. However, the big difference is its size.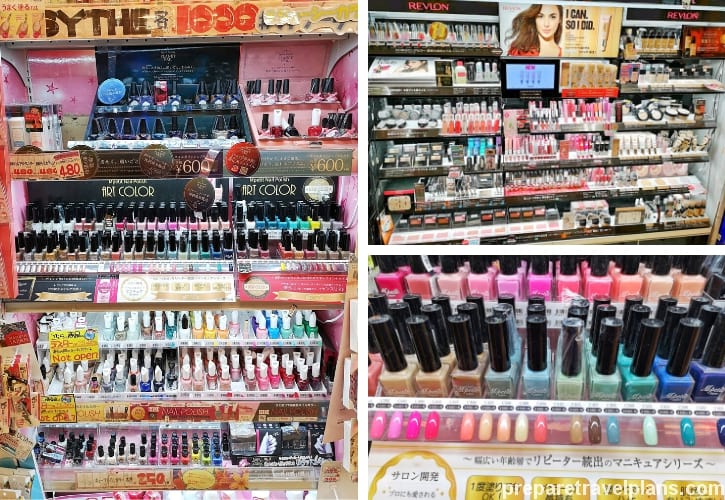 In one multi-story Don Quijote store, you can shop for gadgets, food, cosmetics, and a lot of kawaii goodies. There are many trinkets to give to your friends as well. That is why Don Quijote is considered as one of the top places to shop in Asakusa among travelers.
Part of the cosmetic department is this colourful display of nail polish. So, in case you need new nail paint, you've got yourself lucky here in this giant shop.
They have various colours of nail polish to choose from. Whatever your nail style, there's a high percentage of you getting your favourite colour.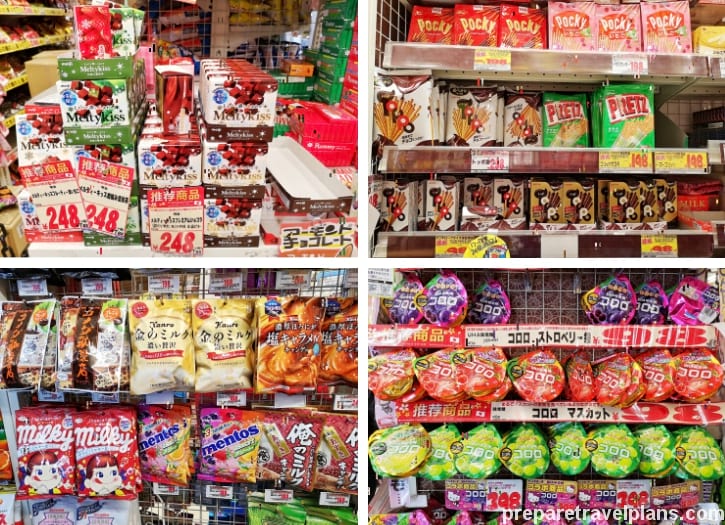 Are you a sweet tooth?
You're fortunate because aside from cosmetics and such, Asakusa Don Quijote is stacked with sugary treats. Bring home a pack of these Meiji and Melty chocolates and other Japanese sweet delicacies.
For Muslim travelers, Asakusa Don Quijote offers halal goods too. They have some halal-friendly Pretz goodies. And for chocolate lovers, they have Pocky chocolate-dipped sticks.
Other sweet treats are waiting for your arrival! More snacks occupy this section of the mall, including some famous brands like Fujiya Milky and Mentos. Here, you'll have plenty of candy choices for you and your kids.
Other local candies that you should try are the Kokoro gummies. These are fruit-flavoured gummies in various options such as grapes, blueberry, strawberry, and muscat. Take all the flavours and pick your favourite!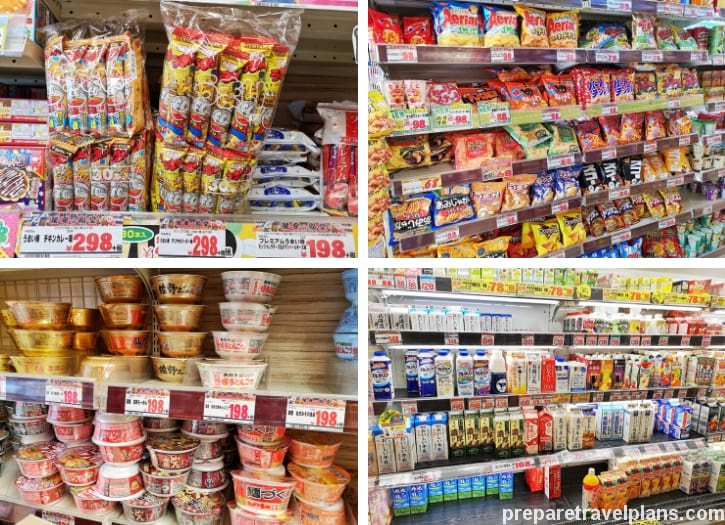 For some cheap yet tasty snacks, grab a pack of these Umaibo Cylindrical snacks and share it with your friends!
Don't forget to add these Japanese chips to your cart! Luckily, you've got several flavours on selection.
In need of some cheap yet tasty noodles? These Japanese instant cup noodles can still satisfy your hungry tummy without spending a lot of money!
There's also a beverage section filled with milk and fruit drinks. Clearly, this huge shopping mall has everything you need. So, if you have a long list of people back waiting for their Japan souvenirs, then Don Quijote got you all covered!
11. Kappabashi Street – Invite yourself to Tokyo's kitchen town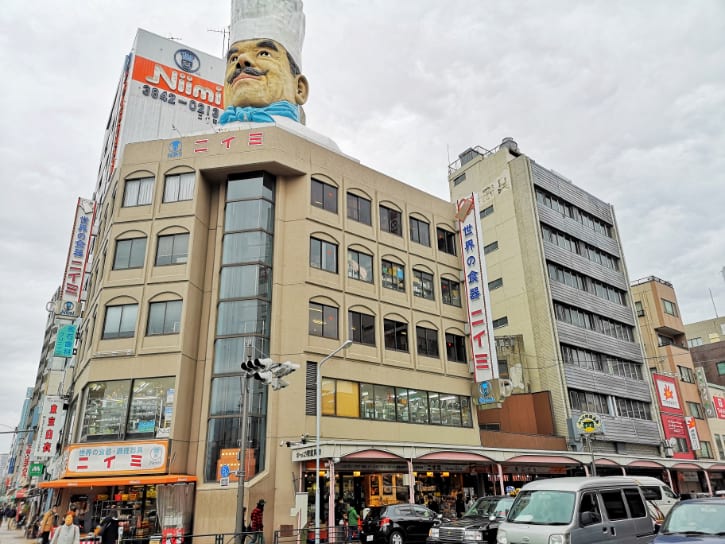 Sandwiched between Asakusa and Ueno, Kappabashi Street is the place to go for all sorts of Japanese kitchenware. Look for that giant chef mascot on top of a building, and from there, you will uncover the ever-famous Kappabashi.
Japanese tableware is considered as an art in the country, hence the abundant stalls selling various local kitchen essentials.
Most Japanese restaurants, especially multi-course diners known as kaiseki, have an array of kitchen utensils. And often than not, you can find these pieces along the shops of Kappabashi Street.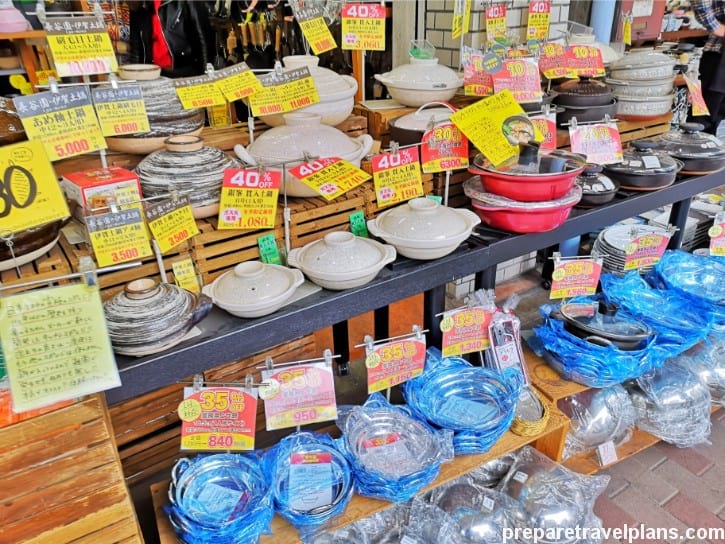 Ceramic and stainless-steel cooking pots are just some of the things you can discover here. You've got to be practical though because you have lots of options to choose from.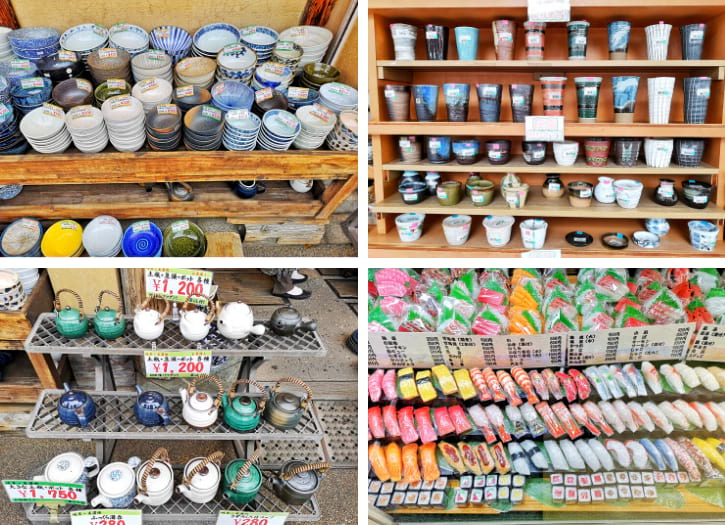 As always, tableware plays a major part in Japanese dining. So, take home one of these tablewares and share this Japanese tableware to your next dinner parties back home.
These ceramic cups with striking colours and intricate designs are worth the investment too! Purchase these kitchen items and have a piece of Japan in your daily meals.
Aside from ceramic pots, plates, and cups, you'll see a display of ceramic teapots. Whether you want those with plain colours or those with covered with design, you've got something to take home.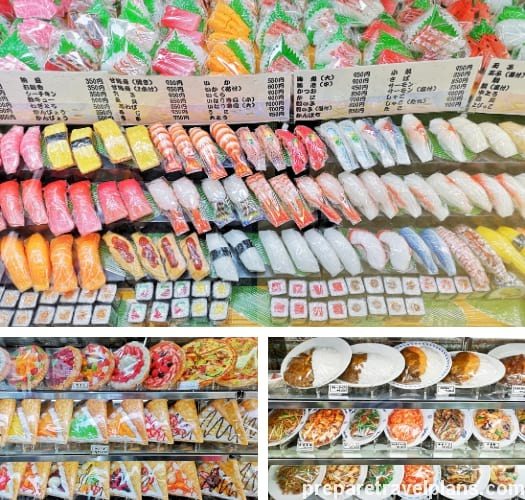 Are you interested in opening your own snack business? Take inspiration from these fake Japanese crepes and pizzas.
Or, if you're planning for a sushi restaurant, check out this fake sushi display beforehand. This will surely help you easily re-create your own sushi design in the future.
What about other plastic food samples? There's an array of these on display too! If you've decided to visit this shopping area, steady your gaze above the series of towering buildings.
12. Tokyo Skytree – Marvel at the entire cityscape from above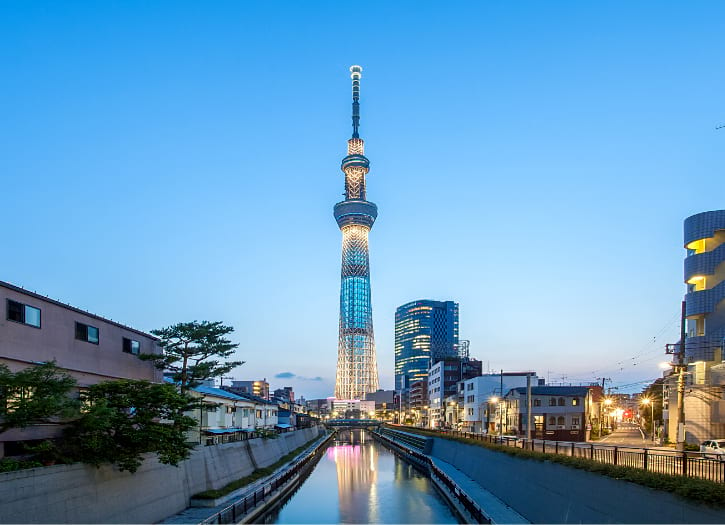 Behold the tallest building in Japan―the Tokyo Skytree! A centerpiece in Tokyo Skytree Town, this lofty broadcasting tower is considered a landmark in the country. And there's more to love with this impressive structure.
Even from afar, you can feel its uniqueness and elegance that lights up the entire Tokyo area at night. Its exterior beauty is truly a sight to marvel at. It even has a slight resemblance of the iconic Eiffel Tower of Paris.
Tokyo Skytree offers 2 main observation decks namely: Tembo Galleria and Tembo Deck. The major difference between them is their height, with Tembo Galleria at 450 meters and Tembo Deck at 350 meters.
Below, I will write in detail each of these observation decks, including some of its features.
Tembo Galleria Observation Deck (Height of 450 meters)
---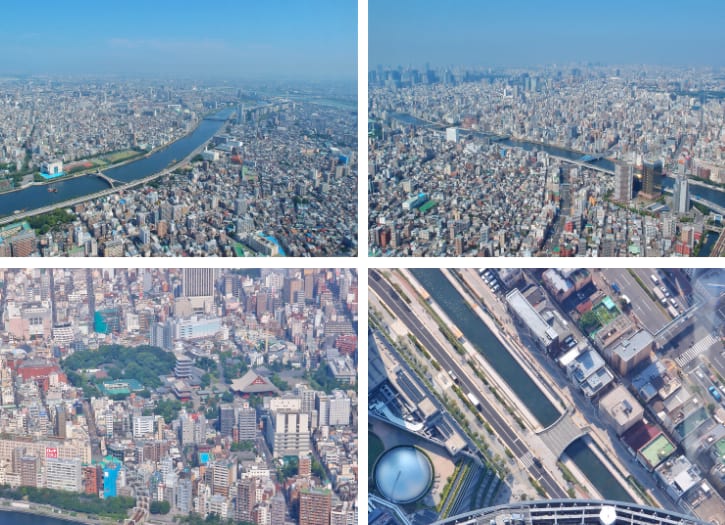 Walk inside the Tokyo Skytree and head to Tembo Galleria, which is dubbed as the highest observation deck in Japan. Clearly, this isn't for the faint-hearted! But if you've got a heart for heights, then keep going and you'll see more of its beauty!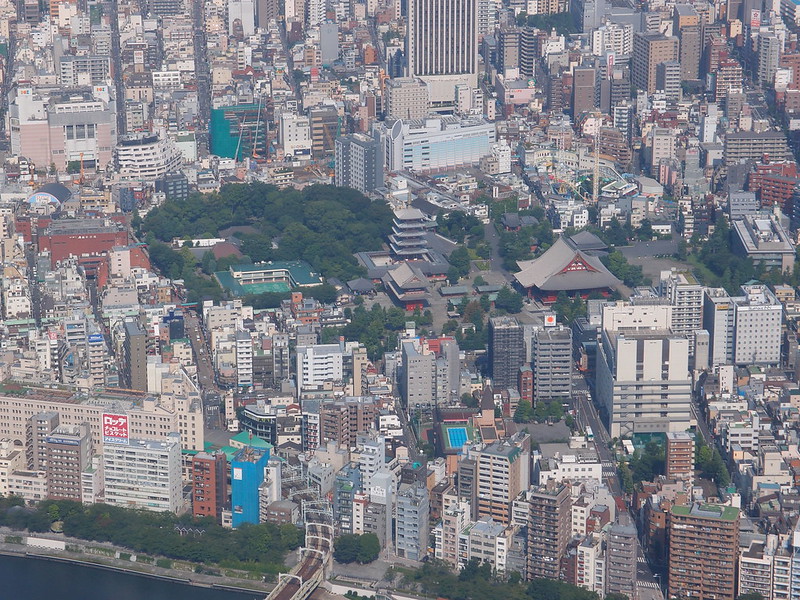 Take in all the spectacular views from the Tembo Galleria. Up above, you will see an aerial shot of the entire cityscape filled with towering buildings. Catch a glimpse of the vast Sumida River that encloses the city expanse.
Also, the Tembo Galleria offers breath-taking sights of the top Asakusa attractions. From the thousands of building scattered below, try to pinpoint where Sensoji Temple and Five-Story Pagoda are located.
Come night time, the view from Tembo Galleria becomes more enchanting. See all the city lights brighten the entire Tokyo. The scene from where you are standing makes all these building appear like a spots of dust.
Tembo Deck Observation Deck (Height of 350 meters)
---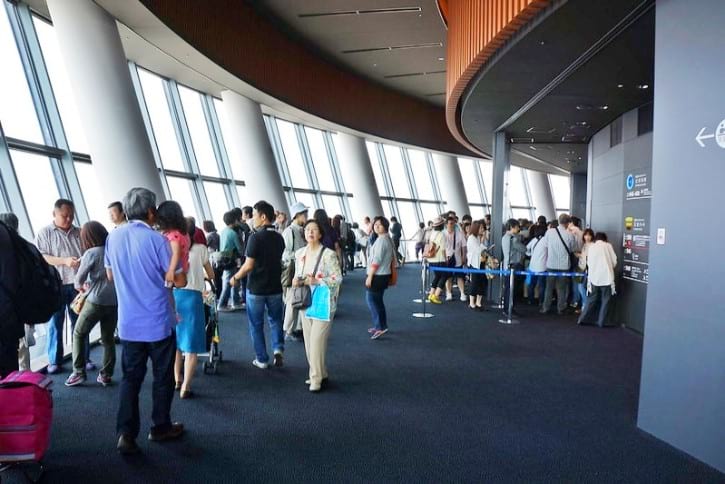 The Tembo Deck of the Tokyo Skytree is another striking spot to see the city views at 350 meters high. It's the lower of the two decks (the other one is the Tembo Galleria). So, if you want to assess your fear of height beforehand, you can start here.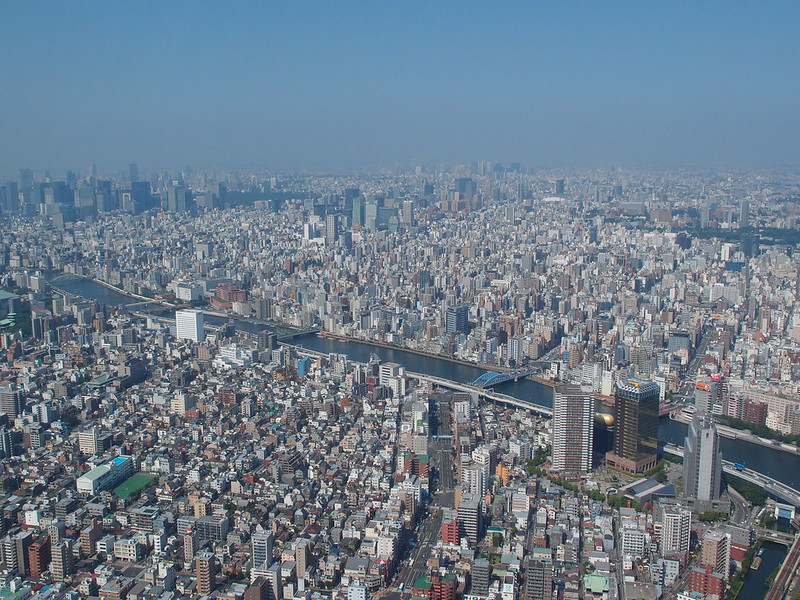 Still, you can't underestimate its height! From here, you can have a view of the entire city through its 3 different viewing levels. There's the Floor350, Floor345, and Floor340―each of them has its own attractions.
The scenes from all levels are all breathtakingly beautiful. All the buildings add up to the picturesque Tokyo landscape.
Floor350, in particular, features the Skytree Cafe and Tembo Deck Commemorative Photography. Grab a bite from the snack shop while exploring the picturesque view below.
On the other hand, Floor345 comes with a panoramic restaurant and shop. So for dining and shopping options, simply head to this area. Shop for some souvenirs and enjoy your food while taking all the spectacular sights!
Lastly, Floor340 highlights its glass floor that surely attracts those with daring personalities. This one also has a cafe and commemorative photography just like at Floor350.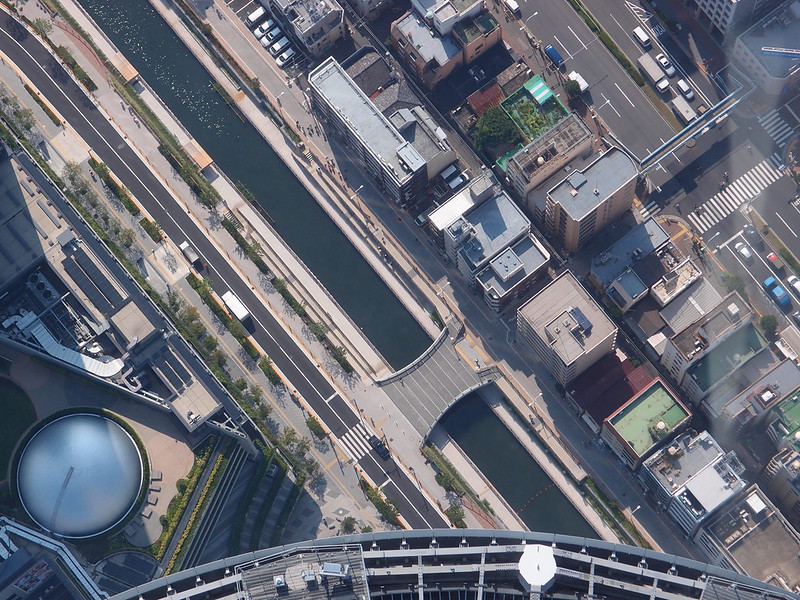 If you've got a thing for heights, step into this glass floor and focus your gaze at the view below. If you aren't unmoved, then congratulations―you're certainly a brave soul!
But of course, looking down through the glass floor is quite a terrifying experience for some. So, if you've got a weak heart, you might want to skip this glass floor spot.
And to get cheaper Tokyo Skytree rates, book your tickets online. Buying your tickets online is much affordable compared to purchasing it on-site.
More than that, this will surely help you save time. The queues for buying Tokyo Skytree tickets are often super long because of the jam-packed crowd.
So, for those who book online, you simply head to the fast-lane ticketing counter and collect your physical entry ticket.
Get to know more about the latest discounted ticket prices of the Tokyo Skytree through the link below.
6 Best Things to Eat in Asakusa
---
1. Tendon Tenya – Have the best tempura in town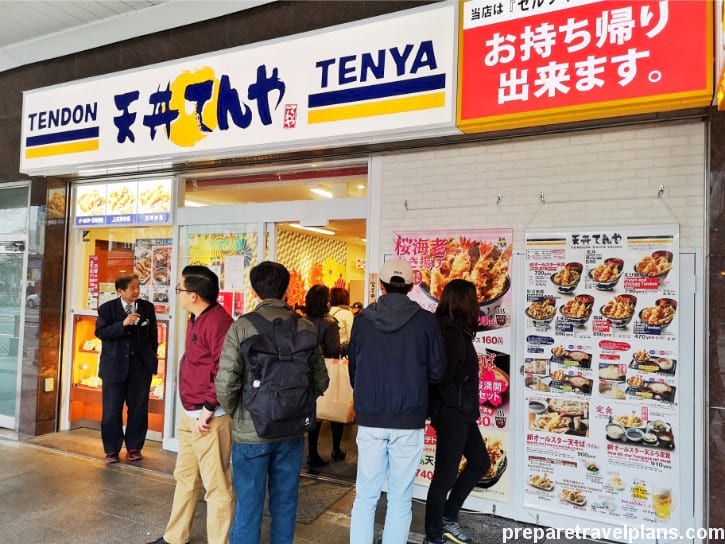 Tendon Tenya, or simply, Tenya, is one of the popular restaurant chains in Japan, with 150 stores in the country. It's a sought-after dining spot among tourists because of its delicious dishes at affordable rates.
Not only that, well-known celebrities like Lady Gaga and Justin Bieber have visited the place, making it even more popular.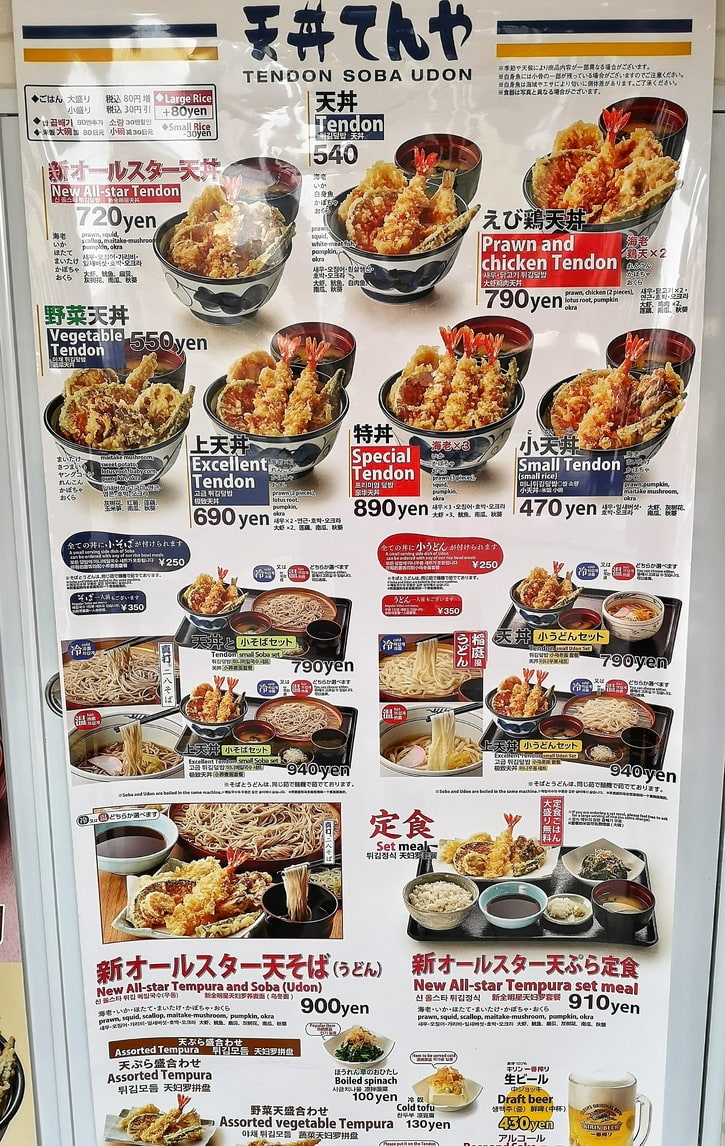 They have actually lots of meals on offer, but their main dish is tempura don―in short, Tendon. This is a bowl of tempura on top of steaming rice.
Tendon is normally priced from $5 to 10 in Asakusa, and what you get here is quite cheaper. So, if you're on a budget, this is your go-to place. Plus, this restaurant has an English menu, hence more appealing to foreign diners.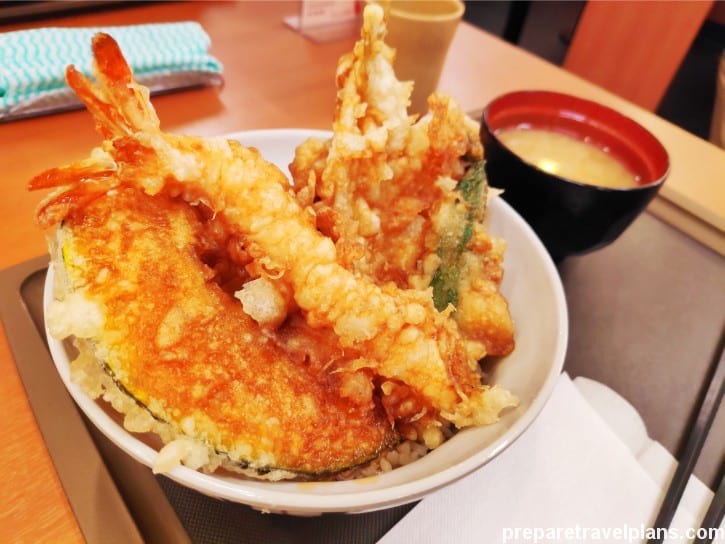 Feeling hungry? Try their All-star Tendon, which is a massive serving of tempura, like prawn, scallops, squid, mushroom, and pumpkin.
When visiting this place, take advantage of their hot and cold green tea and water for free! Simply get them from the dispenser.
2. Ippudo – Japan's most popular ramen place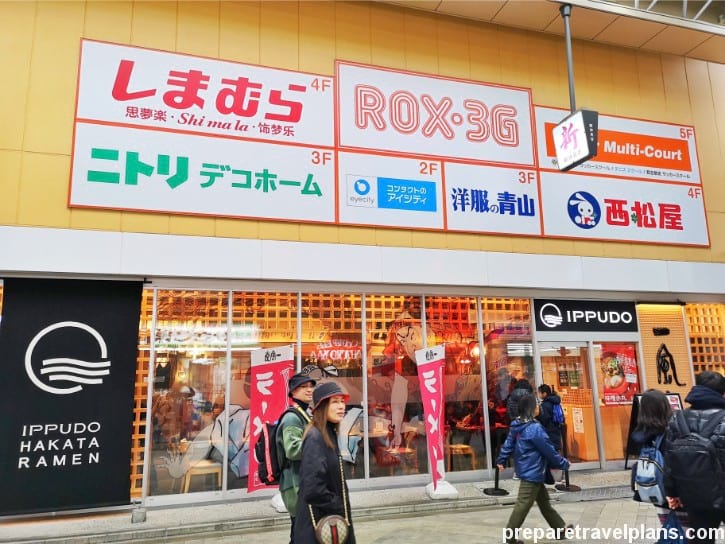 Different food stalls and restaurants can be overwhelming, especially if you're a first-time visitor. But no need to worry because you can always begin your food adventures at Ippudo.
Ippudo is a familiar name and one of the best places to eat in Asakusa. Famous for their ramen, they have been around for the past 30 years and have over 100 stores in Japan.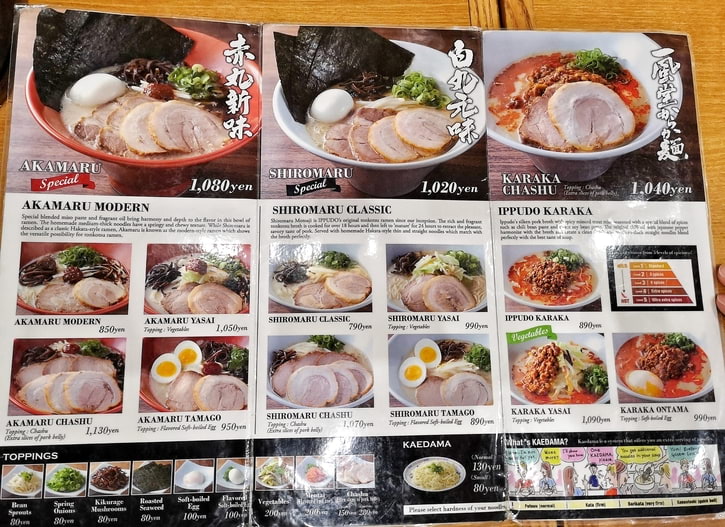 Even if it's your first time to eat in a ramen place, you won't feel intimidated in Ippudo. It's because their staff are very tourist-friendly. Plus, they can converse in basic English, making them more popular among international travellers.
And of course, they have plenty of delicious ramen on selection. For new flavors, try the spicy Ippudo Karaka Ramen. And for side dishes, you can never go wrong with gyoza.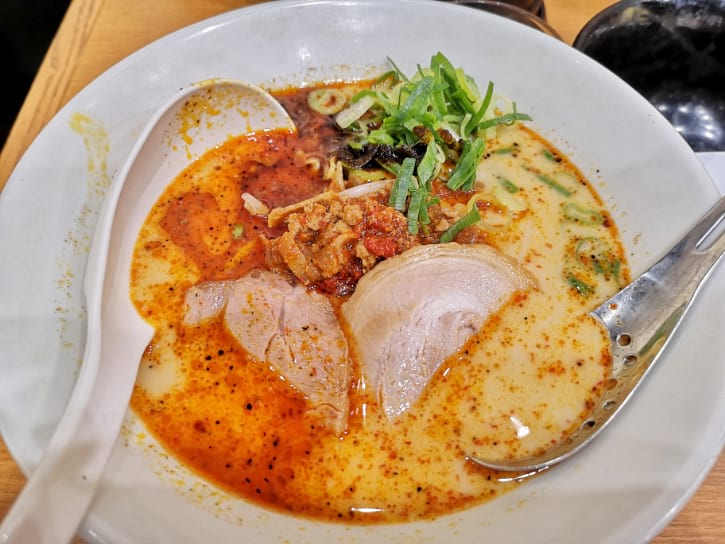 The Karaka Chashu is another must-try ramen in this restaurant. Enjoy a bowl of tasty, spicy miso topped with thin noodles, hot spices, and pork belly. Ippudo also serves complimentary water and iced tea.
Since Ippudo is one of the most popular restaurants in Japan, the place can get jam-packed, especially during peak hours. So, expect some lines when you go there.
3. Unatoto Asakusa – Enjoy an electrifying meal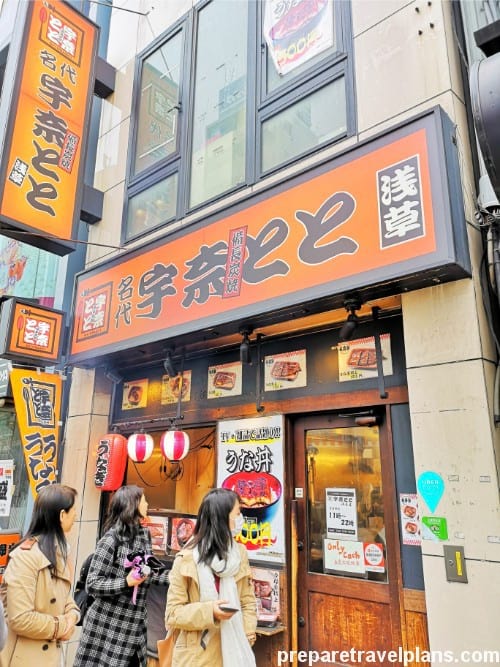 Are you on the hunt for an exciting yet equally-satisfying meal? Head over to Unatoto Asakusa and try some grilled eels. Unagi, as it is called, is another food you must try when in Japan.
You may consider it as an unusual dish, but grilled eel is a delicacy in the country. Japanese believe eels or unagi improves one's vitality.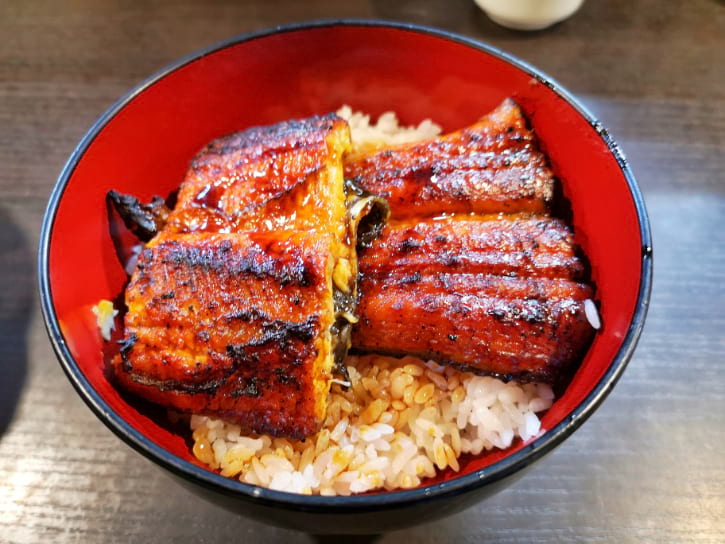 Unagi restaurants are one of the many dining spots surrounding Sensoji Temple and Asakusa.
However, the best among the many Unagi restaurants in Asakusa is no doubt Unatoto Asakusa. And if you want the best grilled eel, try their Unagi Freshwater Eel dish.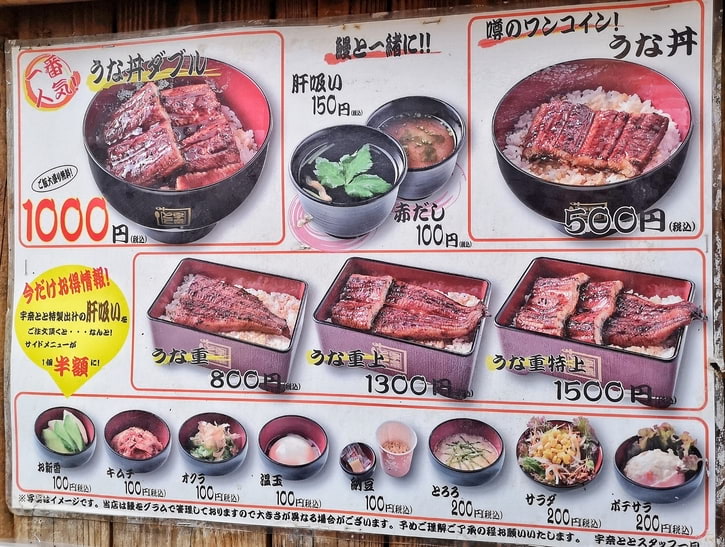 Like other Unagi restaurants, they serve Unadon, which is a grilled eel dish on top of a bowl of steamed rice. Another crowd favourite is their grilled and glazed eel fillet that comes in bigger servings. Both dishes are not just appetizing but also affordable!
You also have the option to have it in a box for you to truly enjoy this Japan's stamina-boosting delicacy.
4. Kagetsudo Kaminarimon – Be amazed by the fabled melon bread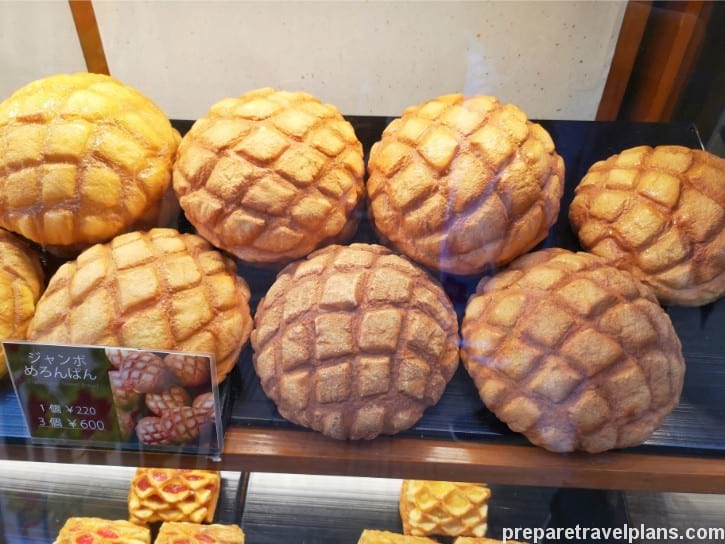 Kagetsudo Kaminarimon is the go-to place for those who love the ever-famous melon bread. But don't get fooled by its appearance because this isn't literally a melon-tasting pastry! These are only melon-shaped bun often stuffed with ice cream.
In this little street, you get to enjoy this uniquely-formed bread with a crispy crust and soft loaf. The flavours of butter and milk perfectly complement the crystallized sugar.
And of course, because of its popularity, queues can be longer but tolerable because the lines move quickly.
Satisfy your sweet tooth in this popular food stall in Asakusa. Both plain melon pan and melon stuffed with matcha ice cream are simply irresistible!
5. Kibi Dango – Don't miss the famous sweet dumpling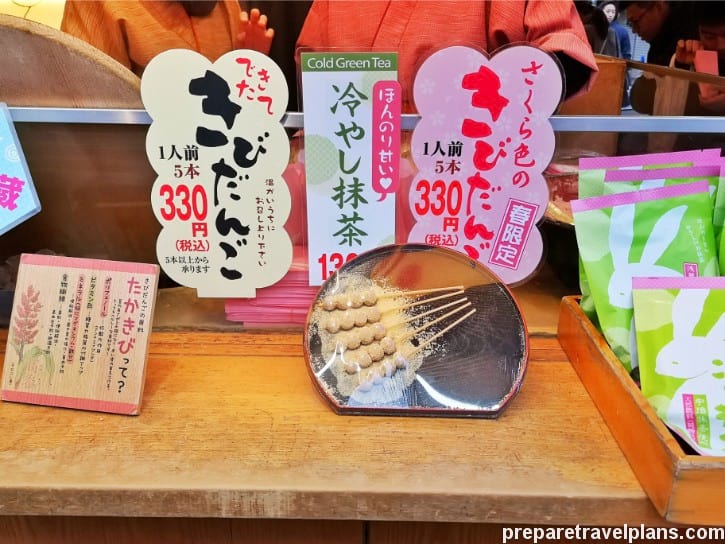 Ever heard of sweet dumplings? Head to Asakusa and take a bite of these sweet Japanese delicacies made from mochi rice flour and millet. Kibi Dangos are one of the easy-to-munch foods while wandering around Nakamise Street.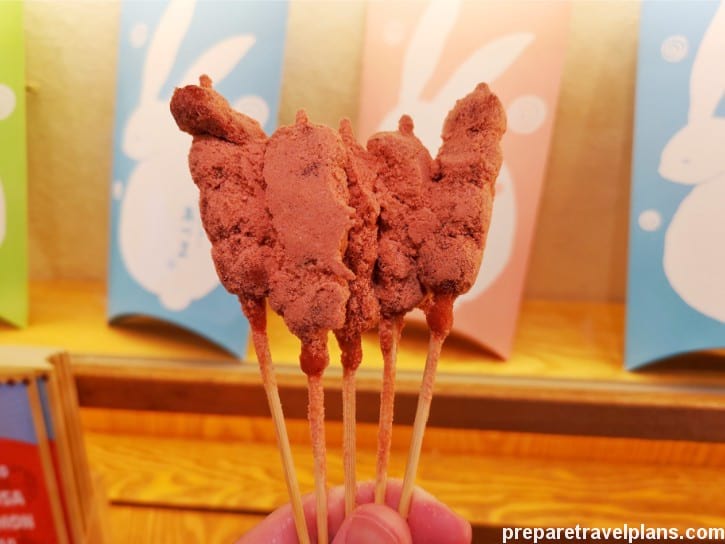 There are several stalls serving these warm and tasty snacks. Some offer plain yet still delicious Kibi Dango while some also serve soybean-coated Kibi Dango. Whatever your choice, you get to eat something unique and appetizing.
6. Suzukien Asakusa – A heaven for matcha lovers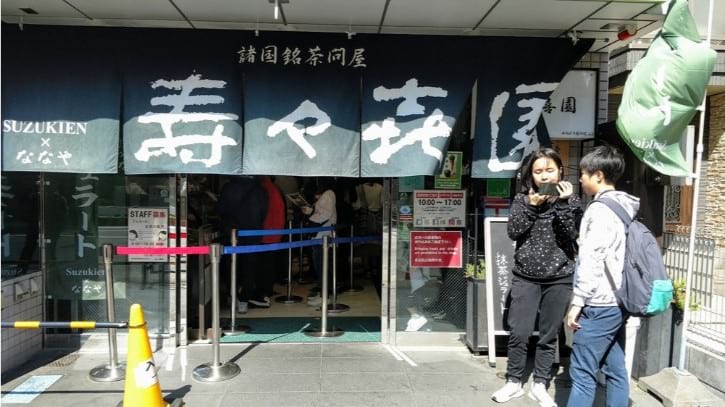 Are you a self-confessed matcha lover? Don't think twice and take some time to visit Suzukien Asakusa. When it comes to tasty matcha ice cream, this popular restaurant never fails to surprise tourists.
There aren't many shops in Tokyo that offers an impressive selection of matcha gelato. So make sure to pop by this store and choose from their extensive matcha levels on display.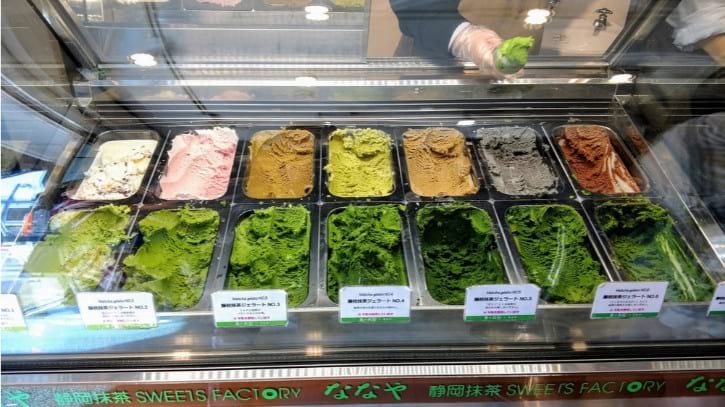 This sought-after ice cream shop is just behind the famed tourist spot, Sensoji Temple. Hence, there's never a day that you would see this store with no people waiting outside.
Suzukien Asakusa offers seven intensity levels for all sorts of matcha lovers. This place is truly the perfect spot to experience and taste authentic matcha flavour.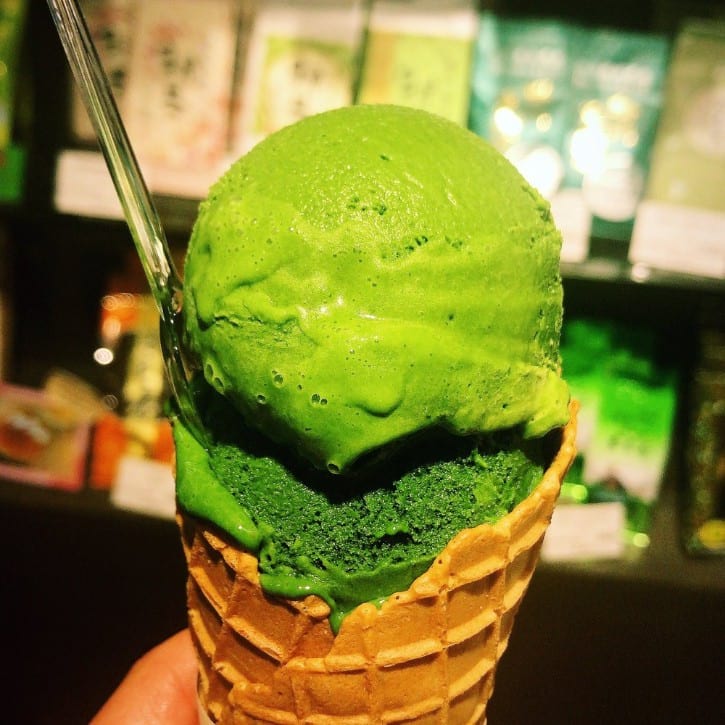 Try to pair matcha level 7 together with matcha level 5, and it was amazing! The herbal and sweetness level is on-point! If you've got more room for ice cream in your tummy, they have other flavours too.
My Itineraries on What to Do in Asakusa
---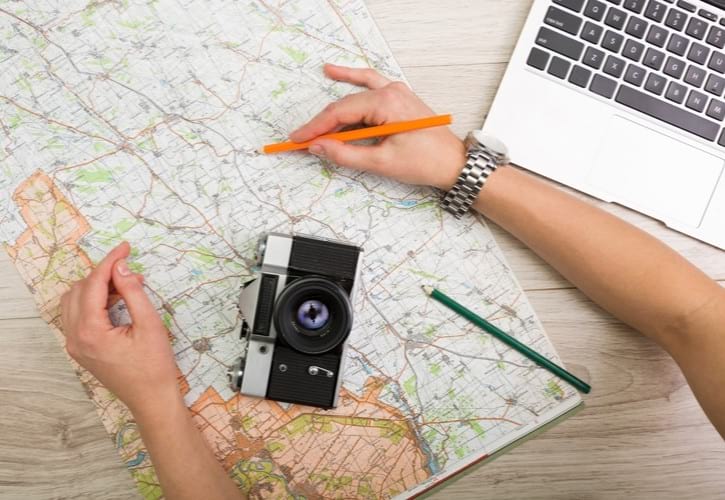 I truly understand that your first time visit to Asakusa and busy work schedule might cause you difficult to properly plan your Asakusa trip.
But don't give up because I'm going to give my suggested half-day and full-day itineraries of Asakusa to you in here. Each attraction comes with recommended time you should spend at there.
Depending on your preference, there are 2 different sections, either half-day or full-day itineraries. And for the full day trip, I have created three options to help you easily plan on the activities to do in Asakusa.
Hopefully, at least one of my prepared itineraries will complement your preferred ideas.
Let's dive right in.
Asakusa Attractions Map
---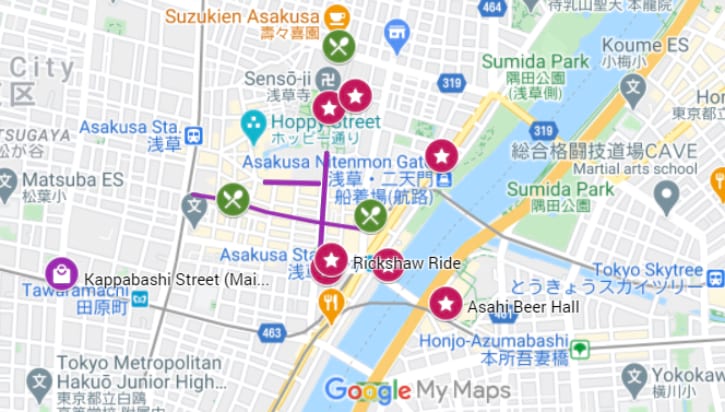 I have marked all the best things to do in Asakusa as well as top-rated attractions, dining spots, and nearby train stations on the Google Maps above.
Through this customized Google Maps, you will have a bigger picture of Asakusa for easy navigation. And I hope this will save your research time and make your trip more convenient.
Train Station Exits for Asakusa Tourist Spots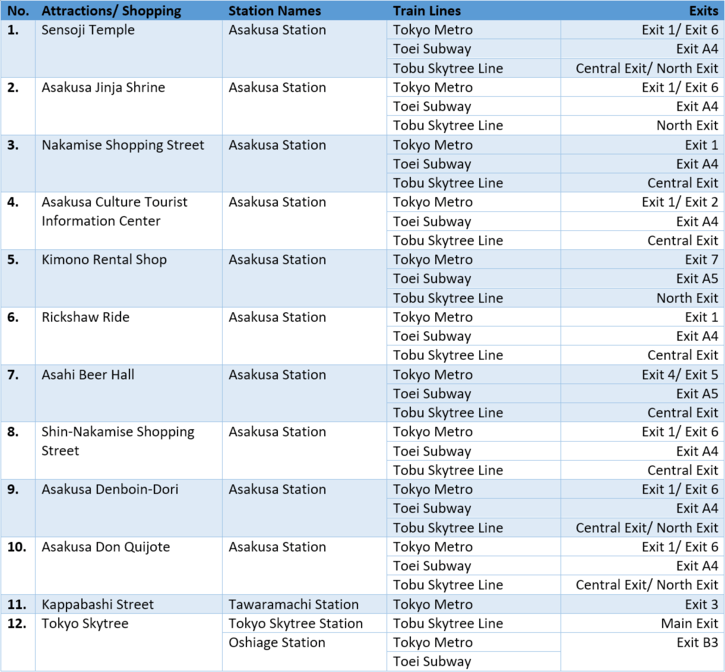 Train Station Exits for Asakusa Eateries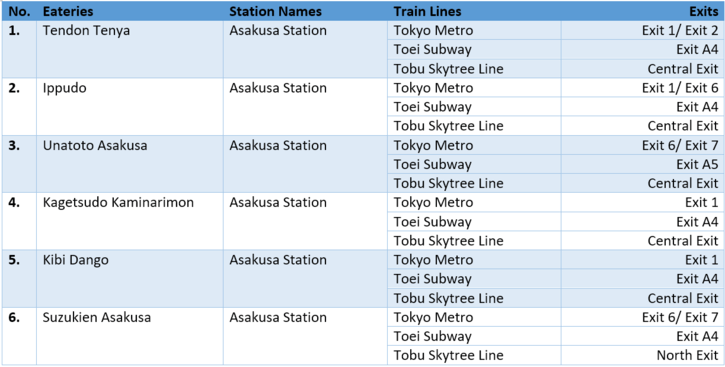 My Final Thought
Truly, Tokyo is home to many beautiful districts and that includes the ever-interesting Asakusa. It's a famous spot that combines historical attractions and modern landmarks with its temples, shrines, and shopping streets.
With all these amazing things to do, Asakusa is definitely a must-visit district that should be part of your Tokyo itinerary.
Thank you so much for taking your time to read my Asakusa blog. Hopefully, you gain valuable insights and able to apply on your future trip to Asakusa.
For easy reference, you can simply bookmark my page.
Or, you can share it with your family and friends to help them as well. Re-post this via social media apps like Facebook, Twitter, and Pinterest, along with top email and messenger like Gmail and WhatsApp.
Once again, thank you and I sincerely hope you'll have a fun-filled and unforgettable trip to Asakusa!
Discover Other Famous Attractions in Tokyo