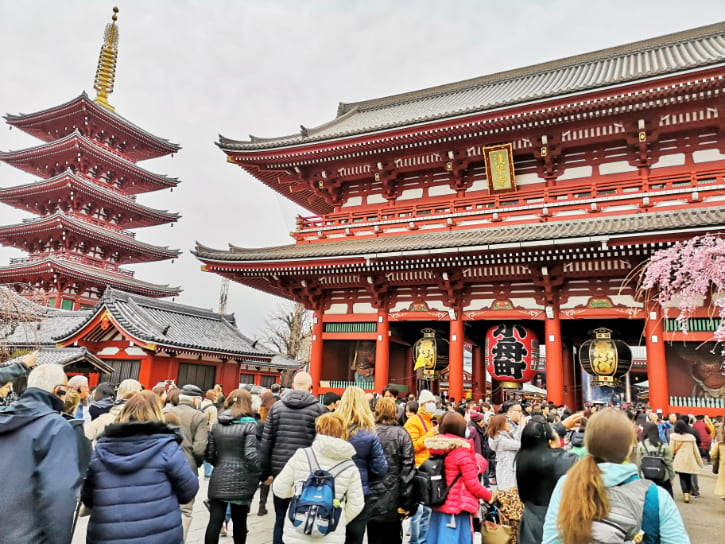 When in Asakusa, Tokyo, you will be bounded by interesting sights and beautiful attractions. So, to guide you, here are the 15 best things to do in Asakusa.
Asakusa is simply one of the most vibrant districts in the capital. Overflowing with restaurants, traditional shops, ancient temples, and historic shopping streets, this well-known spot is a famous destination among tourists.
This is where you get to enjoy the charm of historical vibe. So, let me start sharing the things you shouldn't miss on your first trip to Asakusa! 😊
Aside from reading my current article, I suggest to also see my post on 35 things to do in Tokyo. This covers the places that you must go during your Tokyo holiday.
1. Start the Adventure at Sensoji Temple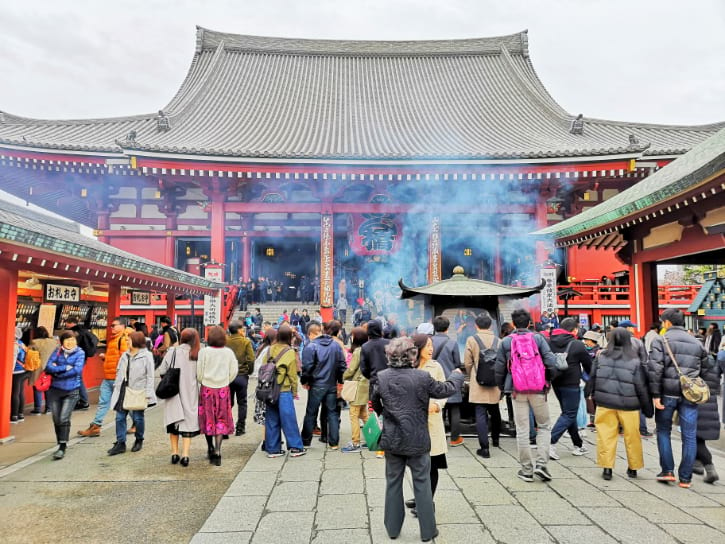 One of the top things to do in Asakusa is to explore the Sensoji Temple.
This famous cultural spot is visited by millions of travellers around the world because of its long-running history.
As you navigate the oldest temple in the capital city of Tokyo, you will discover a lot of incredible sights.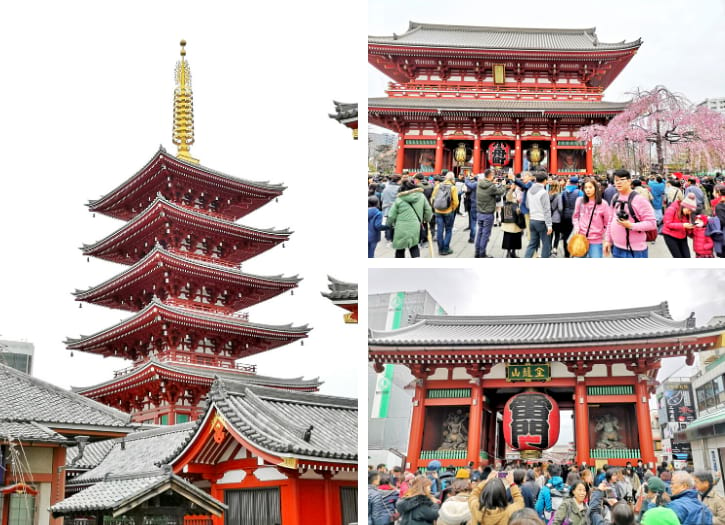 There are 3 main attractions you should see during your visit. And remarkably, all 3 are the most photogenic sights of Asakusa.
Kaminarimon Gate: Enter the first gate of the Sensoji Complex and be amazed by its large, red lantern. Because of this iconic feature, it is often called the "thunder gate". Getting a decent picture of this structure is quite a struggle. Still, it is worth the capture!
Hozomon Gate: Go through the second gate and use the two-storey gate as your backdrop. This section shelters some of the most precious assets of Sensojis', including lanterns, statues, and large sandals.
Five-Story Pagoda: Get mesmerized by this magnificent structure that stands at 53.32 metres. Because of its size, it's considered one of the tallest pagodas in Asakusa. Moreover, the architectural design of the pagoda represents the five elements of the universe―land, fire, wind, water, and sky.
2. Go Shopping at Nakamise Shopping Street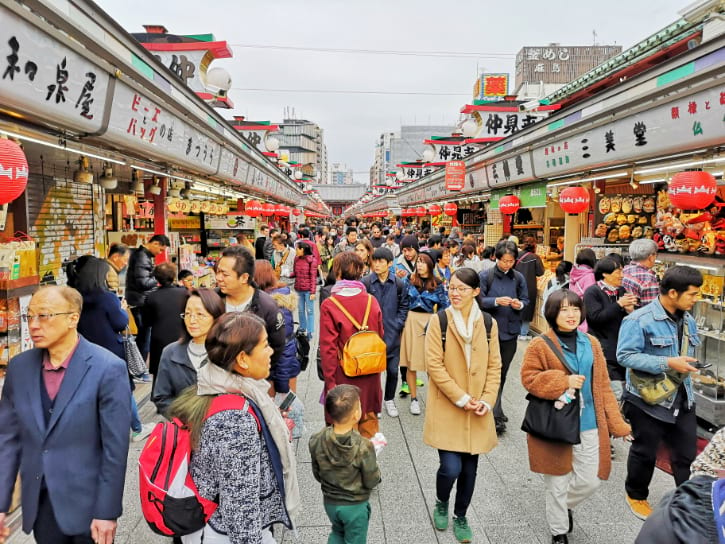 No list of the best attractions in Asakusa can ever be complete without mentioning Nakamise Shopping Street.
This historic shopping lane dates back to 1716, making it one of Japan's oldest shopping areas.
Wander around the 250-meter street that comes with a total of 89 stores. Most of these are selling street food, souvenirs, and personalized crafts.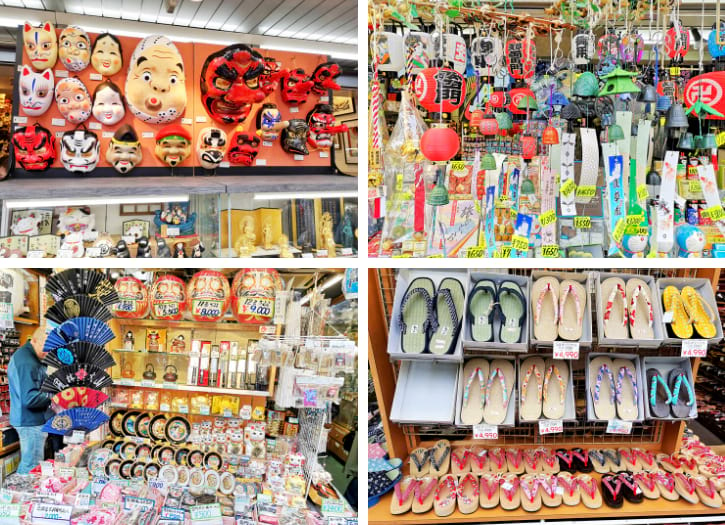 Look into different stalls and check some authentic Japanese souvenirs. There are plenty of masks, lantern magnets, and key chains available.
Plus, you'll find good-luck ring bells, which are perfect gifts to your loved ones.
Continue with your exploration and uncover some traditional Japanese paper fans. These are very practical when exploring around Asakusa under the heat of the sun.
A number of shops also sell Zori sandals, which are considered old-style Japanese footwear.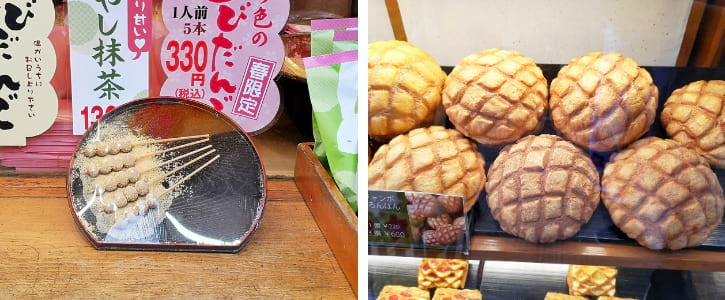 And when it comes to street food, Nakamise is more popular among tourists.
Here are some of the foods you should try when strolling around the area.
Kibi Dango: Take a bite of this traditional rice cake that is made from mochi rice flour and millet. This easy-to-munch food is not just tasty but also cheap, costing just 330 yen per piece.
Kagetsudo Kaminarimon: Don't miss the famous melon-shaped bun with unique variations. A plain melon pan costs only 220 yen while a melon stuffed with matcha ice cream is 500 yen. Queues here can be longer, though tolerable because the lines move quickly.
Kurikoan: For just 180 yen, you can enjoy some of these fish-shaped snacks filled with red bean paste.
3. See the beauty of Asakusa Jinja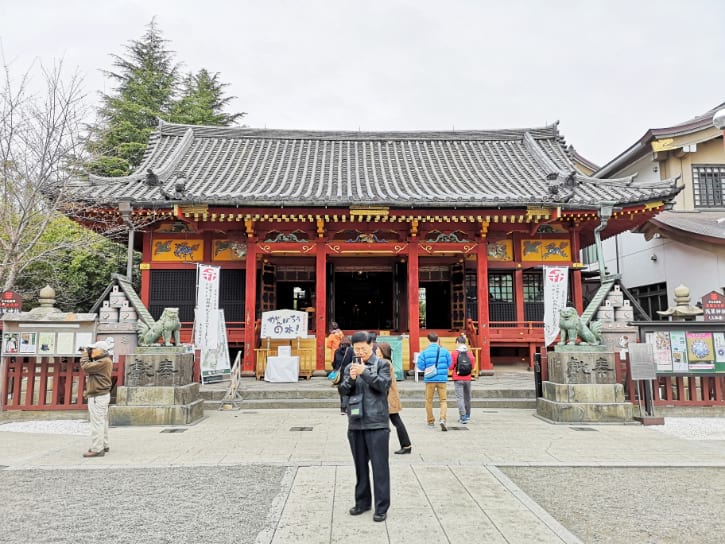 Asakusa Jinja is very special because it's one of the two buildings that survived the massive bombing of Tokyo during the Second World War.
As a cultural treasure of Japan, you can definitely feel the nostalgic atmosphere surrounding the shrine.
Enjoy this beautiful setting that radiates a very relaxing ambience.
There are plenty of amazing sites to capture here. The most popular of them all are the portable shrines, which are called Mikoshi.
Take a closer look at the Mikoshi shrines. These are often used during the Sanja Festival, a wild and famous Shinto festival in the country.
4. Dress Up with a Kimono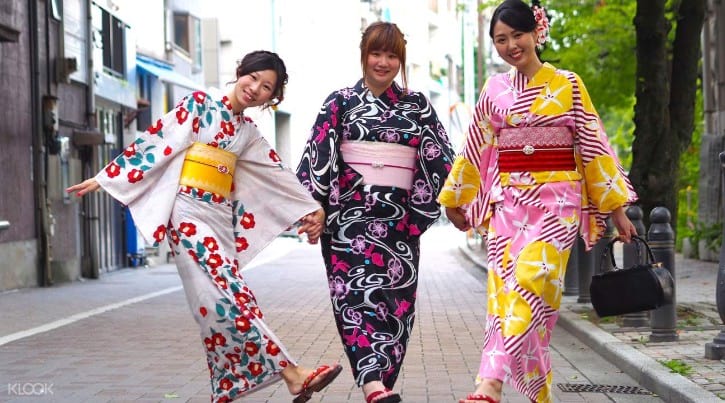 When visiting Asakusa, make sure you try wearing a kimono for an authentic Japanese experience.
This traditional costume is considered a national identity among the locals.
Hence, wearing one will certainly make your trip more fulfilling and unforgettable.
Grab this once-in-a-lifetime opportunity and walk around the historic streets of Asakusa. This is such a remarkable way to blend with the locals!
Though Kimonos are known to be expensive, there's nothing to worry about because you can actually rent them for a few hours.
So, if you want to wear one, it's highly suggested that you rent from this shop. Offering a wide range of options, it's easy to pick something that will match your style.
Plus, they can provide unique hairstyling for women.
Their staff are also very friendly and accommodating. Just don't forget to reserve early because they are often fully booked.
5. Capture the Asakusa Culture Tourist Information Center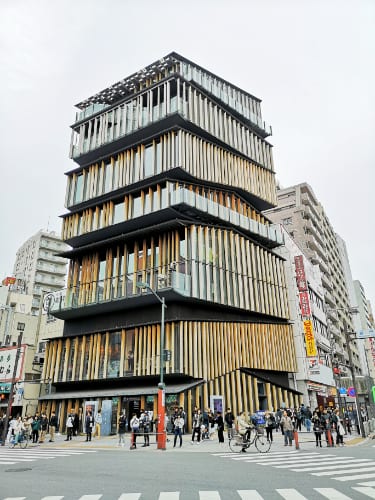 If you're looking for an iconic structure to photograph, head to Asakusa Culture Tourist Information Center. From the outside, this building looks like stacks of boxes.
Because of its unique architectural style, it is one of the most unique photographed spots in Asakusa.
So, be sure to take photos of this spectacular structure.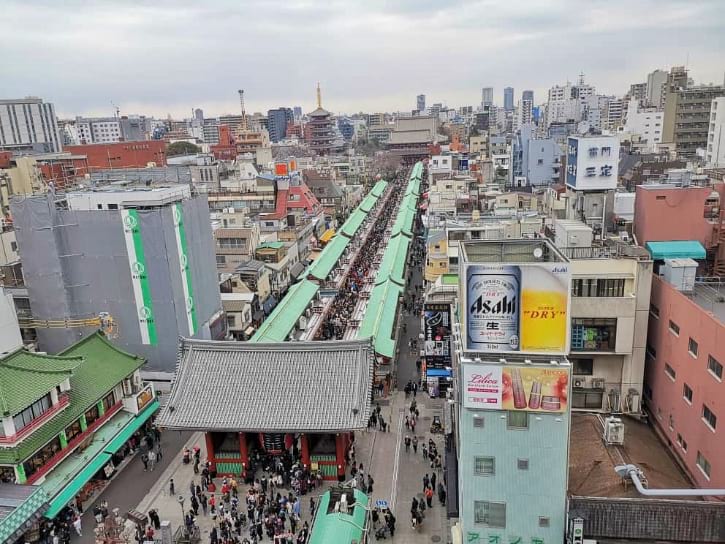 Make your way to the 8th floor of the building and see the best view of Asakusa city from the observation deck.
From the top, you will catch some gorgeous sights of the Nakamise, Five-Story Pagoda, and Sensoji Temple.
6. Visit the Tokyo Skytree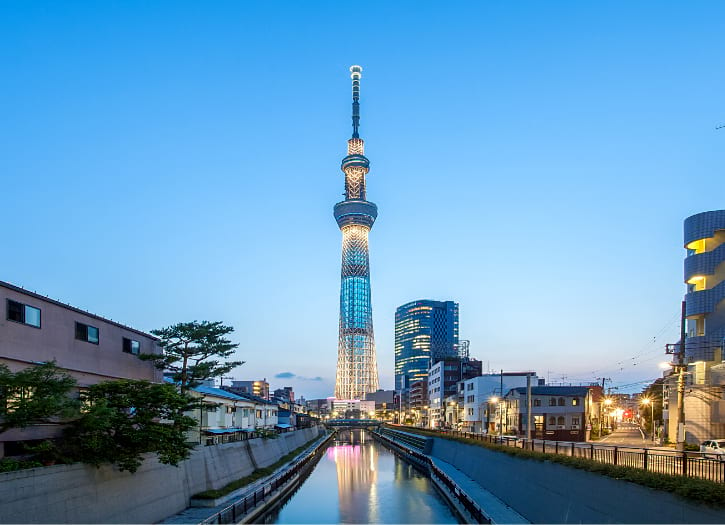 Although there are many things to do in Asakusa, I think Tokyo Skytree deserves to be one of your priorities.
As the tallest building in Japan, this structure is no doubt very impressive.
Even from afar, you can feel its uniqueness and elegance. Marvel at the beautiful scenery as it lights up the entire Tokyo area at night.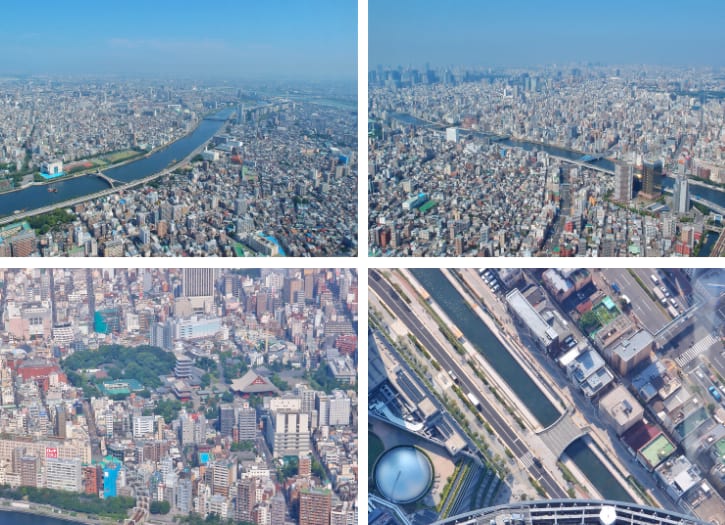 Tokyo Skytree offers two main observation decks namely:
Tembo Galleria: At 450 meters high, this is the highest observation deck in Japan. Up above, you will see an aerial shot of the entire cityscape filled with towering buildings. This place offers breath-taking sights of the top Asakusa attractions. Here, you will find Sensoji Temple and Five-Story Pagoda. While enjoying the scenes, don't forget try to locate Mount Fuji, which is another popular site in the country.
Tembo Deck: Situated at 350 meters high, this is another spot to capture the whole city. There are 3 different viewing levels―Floor350, Floor345, and Floor340. The Floor350, in particular, features the Skytree Cafe and Tembo Deck Commemorative Photography. If you want to catch some breath-taking views while eating or shopping, head to Floor345. This section comes with a panoramic restaurant and shop. On the other hand, you can visit Floor340 and walk around its marvelous glass floor.
Tip:
7. Grab a bite of the Matcha Gelato at Suzukien Asakusa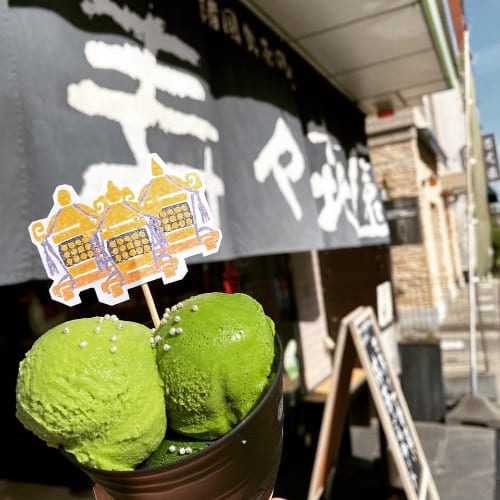 Are you a self-confessed matcha lover?
Don't think twice and take some time to visit Suzukien Asakusa. When it comes to tasty matcha ice cream, this popular restaurant never fails to surprise tourists.
There aren't many shops in Asakusa that offers an impressive selection of matcha gelato.
So make sure to pop by this store and choose from their extensive matcha levels on display.
Suzukien Asakusa offers seven intensity levels for all sorts of matcha lovers.
Try to pair matcha level 7 together with matcha level 5, and it was amazing! The herbal and sweetness level is on-point!
8. Navigate around Shin-Nakamise Shopping Street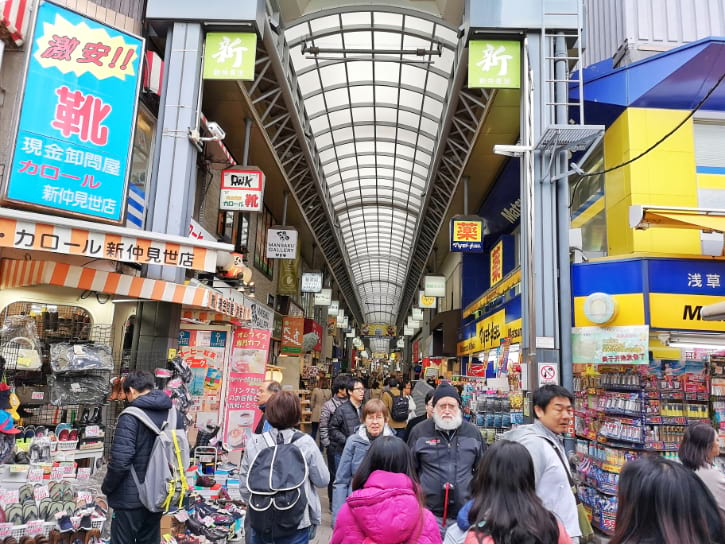 Shin-Nakamise is a new shopping street in Asakusa that you shouldn't miss out on. This runs perpendicular to the iconic Nakamise Street.
Go over the local stores that are often much bigger compared to the older Nakamise Street.
The restaurants and full-standing shops here are also way more vibrant.
Walk around the busy lane bordered with many shops selling different kinds of items.
Then, check out the incredible variety of clothes, shoes, and even ceramics.
After shopping, take delight in some tasty Japanese delicacies.
You can also find all kinds of restaurants on this street, making it a great place for lunch and dinner.
9. Spend Time at Asakusa Denboin-Dori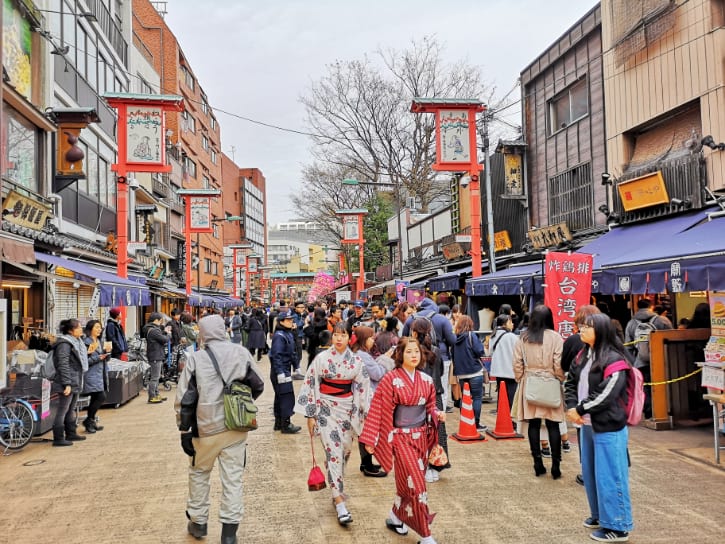 Asakusa Denboin-Dori Street offers a distinct atmosphere because of its old-style charms.
Once you enter the red-coloured gateway, it's easy to distinguish the Edo period from the surrounding spots.
Be amazed by the traditional architecture that is widespread around the place.
Aside from that, this historical street offers plenty of Instagrammable sites in Asakusa.
At 200 meters long, you can spot different stores selling crafts and food. Go from one local store to another and discover the traditional and beautiful Edo scenery.
During your exploration, you will come across some picturesque restaurants. Step in one of the many soba and ramen restaurants in the area.
So, if you want an ancient-like shopping and dining adventure, add this to your list.
10. Ride a Rickshaw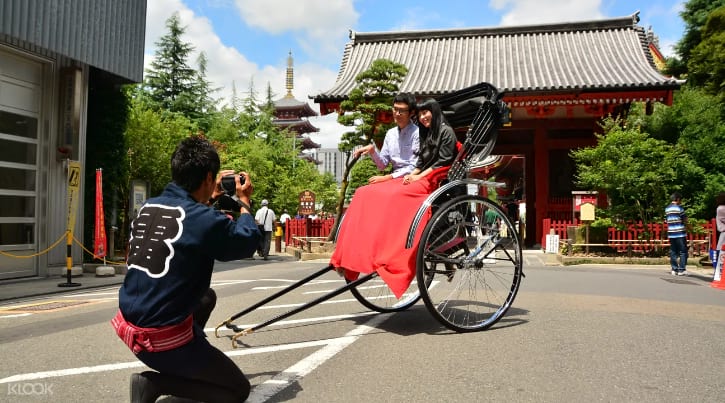 For a unique Asakusa experience, you can tour around Asakusa with a rickshaw.
This is one of the most distinctive ways to see Asakusa's iconic tourist spots like Kaminarimon Gate and Denboin Street.
And, you will enjoy the ride even more because
the rickshaw person is very accommodating and is well-versed in English
.
This makes it easier for you to communicate and get better insights of the historical district.
There are several Rickshaw tour packages on offer―30 minutes tour, 1-hour tour, and 2 hours tour. Check out here for the rickshaw tour packages.
11. Take a Snap of the iconic Asahi Beer Hall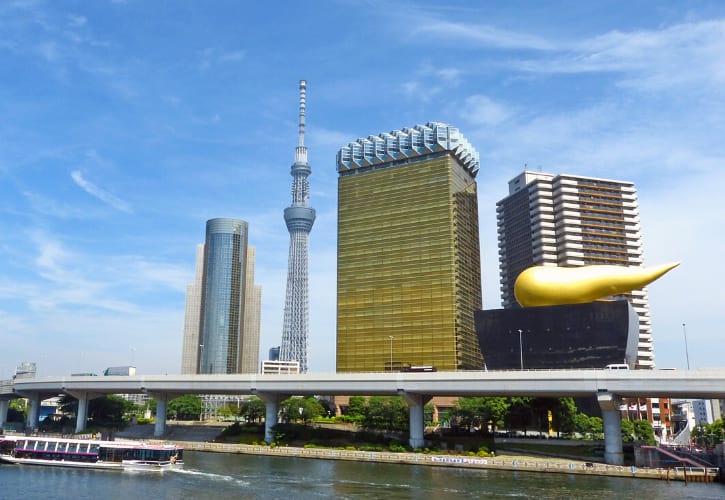 Asahi Beer Hall is definitely one of the most famous photo backdrops in the district. This renowned local beer company is known for its Asahi Super Dry beers.
Even if there are many giant structures scattered around the Asakusa area, this beer hall is such a sight to see.
Admire the gold exteriors of the building and use it as a photography backdrop, along with the Tokyo Skytree.
12. Don't Miss the Unagi from Unatoto Asakusa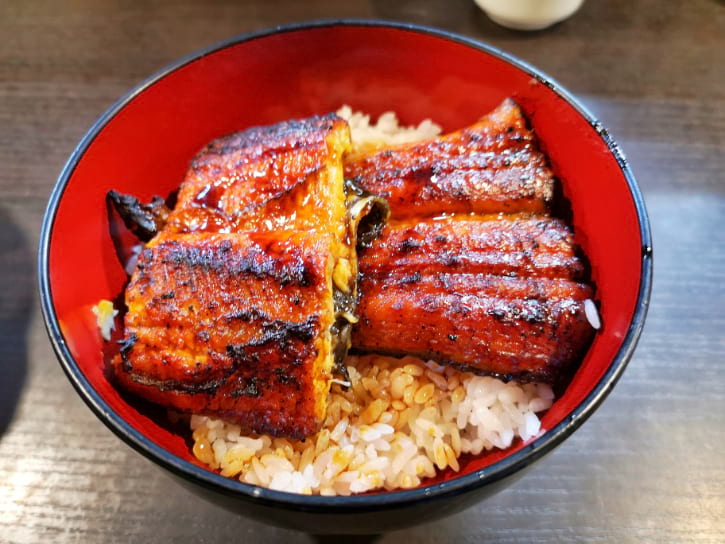 Are you on the hunt for an exciting yet equally satisfying meal?
Head over to Unatoto Asakusa and try some grilled eels.
This may be considered an unusual dish, but grilled eel is actually a delicacy in the country.
Japanese believe eels or unagi improves one's vitality. So, if you want the best among the many Unagi restaurants in Asakusa, visit Unatoto.
You can try their top-seller dish, which is the Unagi Freshwater Eel dish. The price range is just around 500 yen to 1500 yen.
13. Walk your Way to Kappabashi Street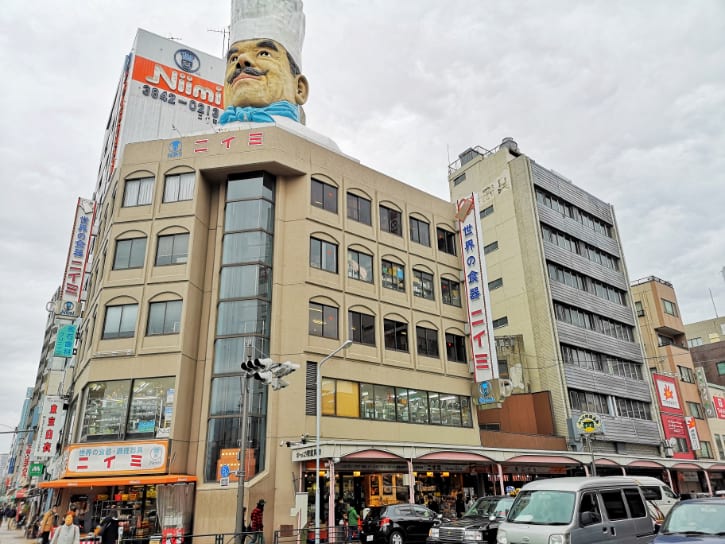 Sandwiched between Asakusa and Ueno, Kappabashi Street is the place to go for all sorts of Japanese kitchenware.
Look for that giant chef mascot on top of a building, and from there, you will uncover the ever-famous Kappabashi.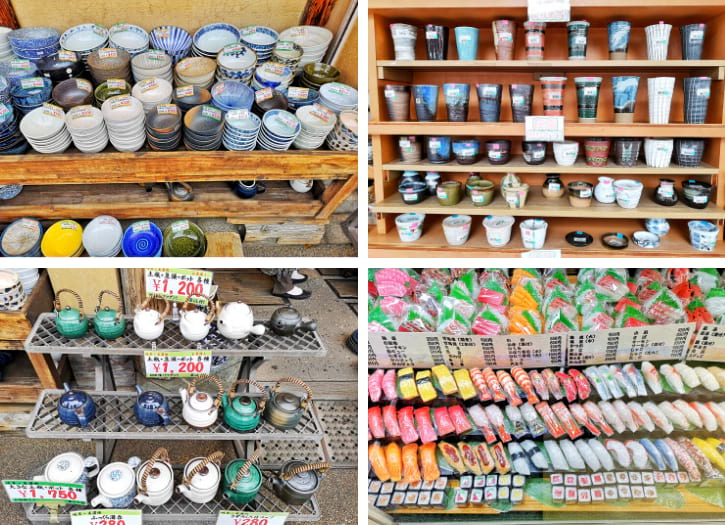 Scan through the amazing display of kitchen items and bring home some new stuff.
Because of its incredible collection, it's definitely part of the not-to-miss things to do in Asakusa for kitchenware lovers.
14. Try the Ramen at Ippudo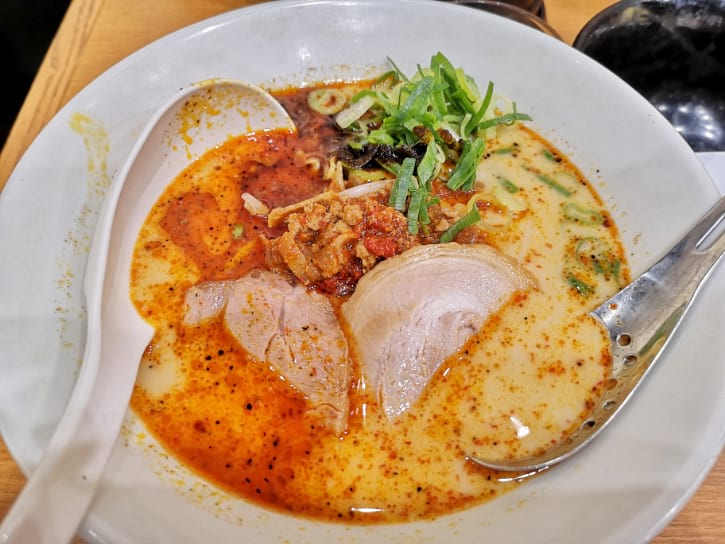 Famous for their ramen, Ippudo has been around for the past 30 years. They have over 100 stores in Japan, making them one of the best places to eat in Asakusa.
Take a look at their ramen selection and you'll be surprised with the variety of choices.
For new flavors, try the spicy Ippudo Karaka Ramen at 1040 yen. And for the side dishes, you can never go wrong with gyoza.
Their Akamaru is another must-eat ramen. For only 950 yen, you will enjoy this bowl of tasty, miso topped with medium-thick noodles, soft-boiled egg, and pork belly.
In addition, Ippudo serves complimentary water and iced tea.
15. Relax at the Sumida River Cruise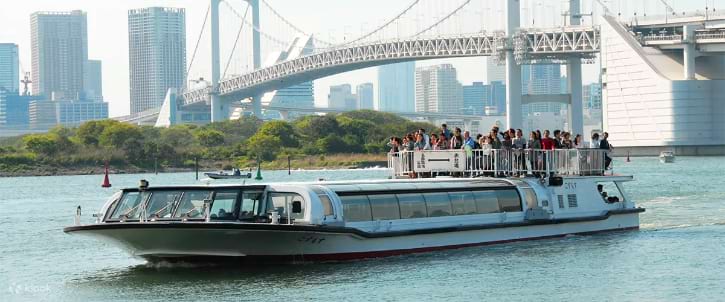 There's no better way to cap off your trip than to take the Sumida River Cruise.
This is a scenic water ride that offers amazing city views. Here, you can just unwind and capture the beautiful surroundings.
To board the cruise, you have to go to Asakusa pier. And then, you will get off at Odaiba, Toyosu, Hamarikyu, and Hinode Pier.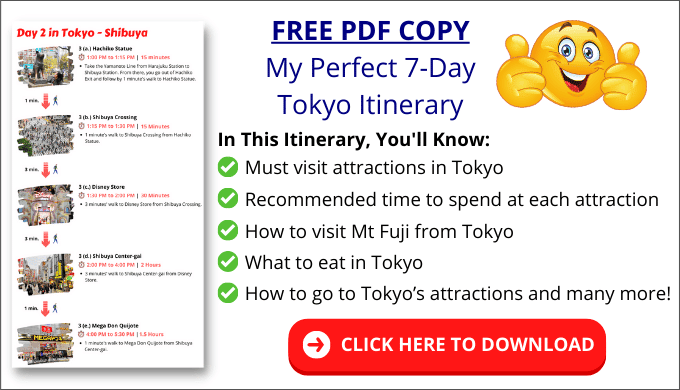 My Suggested Itinerary for Asakusa
I have personally created a suggested half-day and full-day itineraries in Asakusa, which you can use as a reference.
And hopefully, this can assist you when you plan for your Asakusa itinerary.
If you stay in Tokyo for several days, you should read my Tokyo itinerary here that will give you a lot of ideas of how to spend your time efficiently in the city.
Option 1: Half-Day (7 Hours – Morning to Afternoon)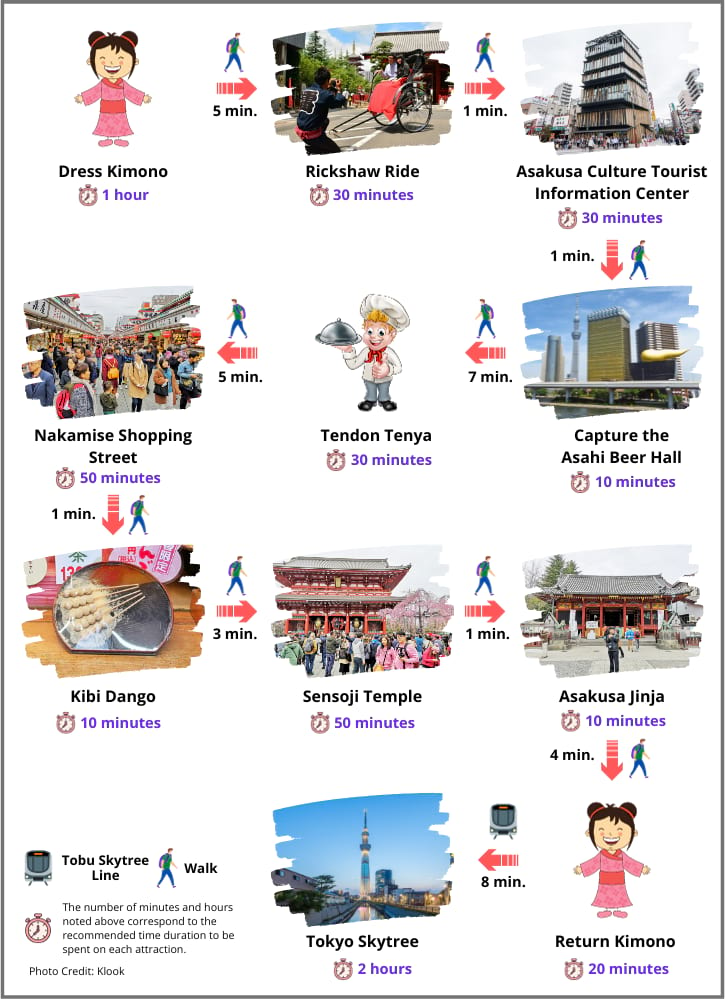 Option 2: Half-Day (7 Hours – Afternoon to Night)
Option 1: Full-Day (11 Hours)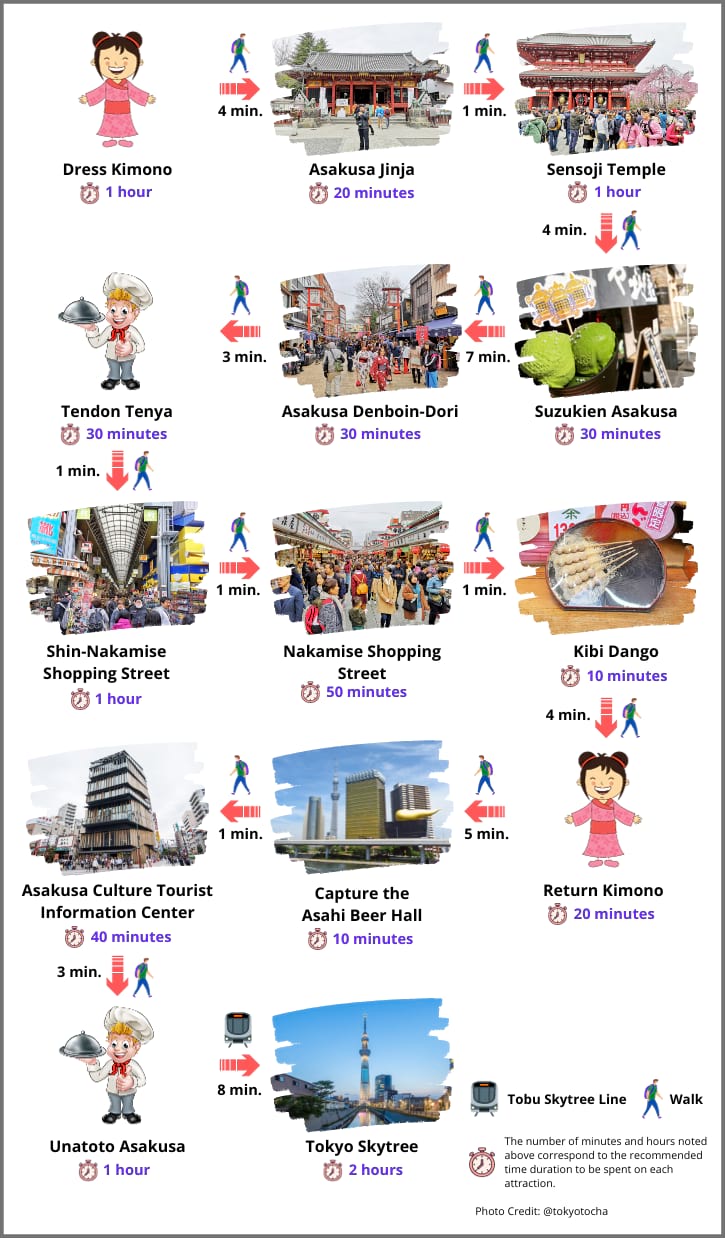 Option 2: Full-Day (11 Hours)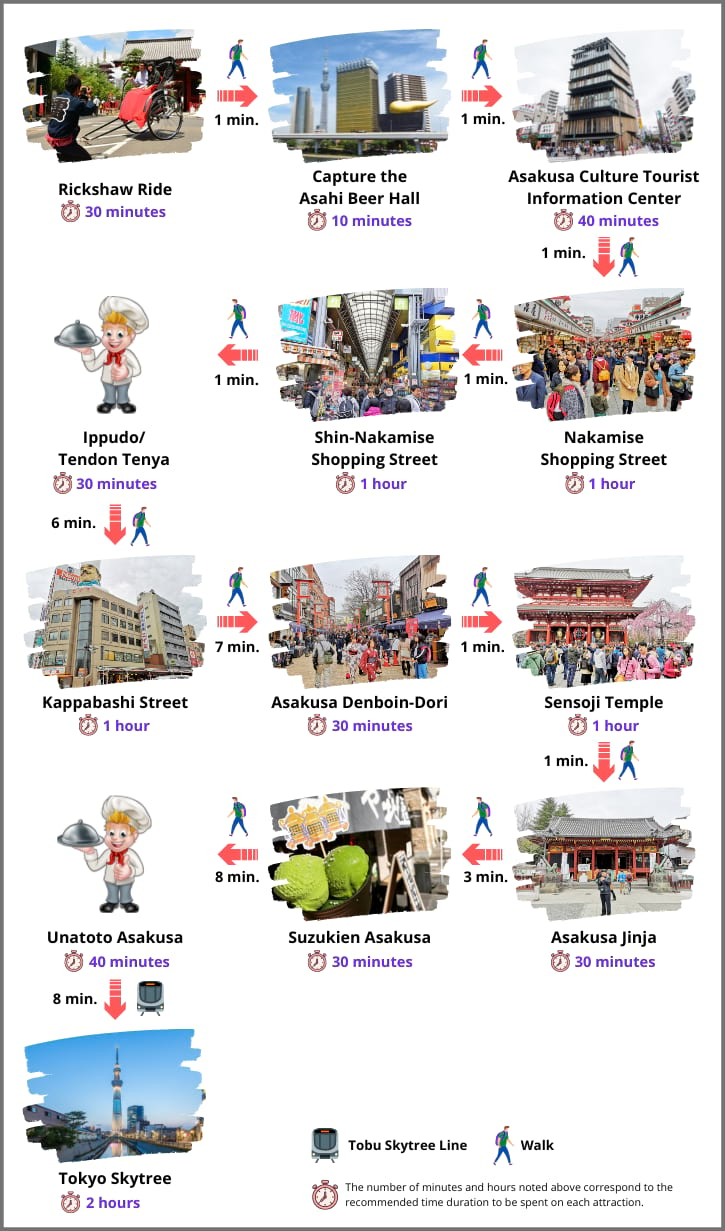 Where to Visit Next
Other than going to Asakusa, there are several interesting places to visit in the country.
For instance, you can tour around Shinjuku and then explore the famous Tokyo DisneySea with your family and friends. These destinations are very popular and highly recommended for first-time visitors.
Things to Do in Asakusa (Map)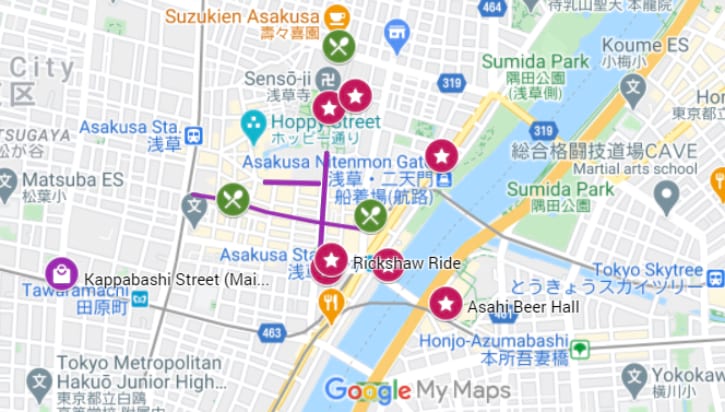 I have marked all the top-rated attractions, dining spots, and nearby train stations on the Google Maps above.
Through this customized Google Maps, you will have a bigger picture of Asakusa for easy navigation.
And I hope this will save your research time and make your trip more convenient.
Train Station Exits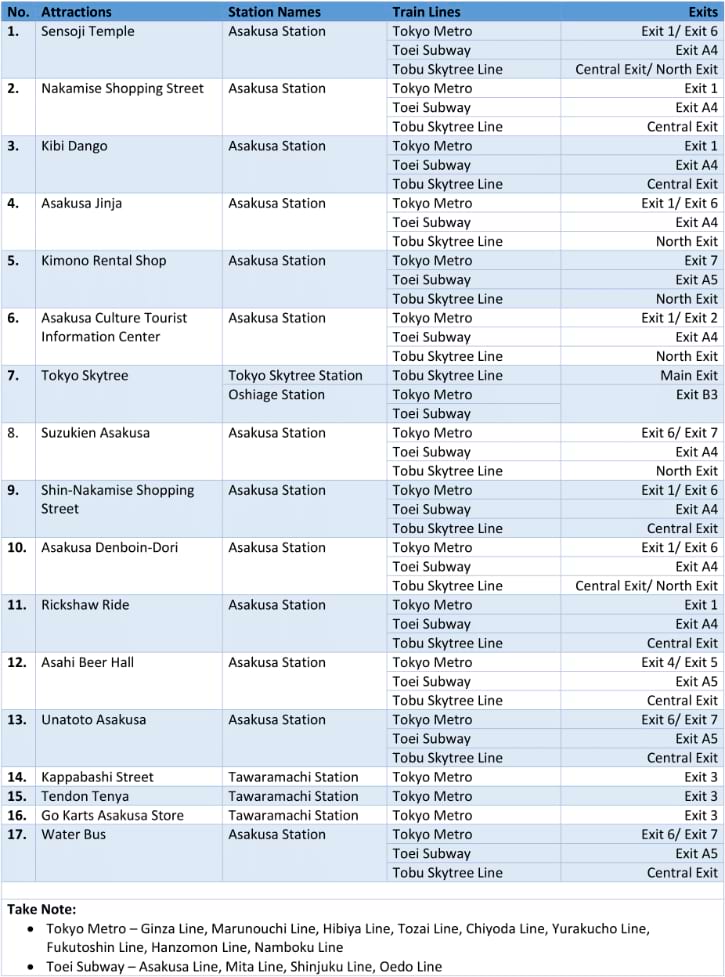 Related Posts