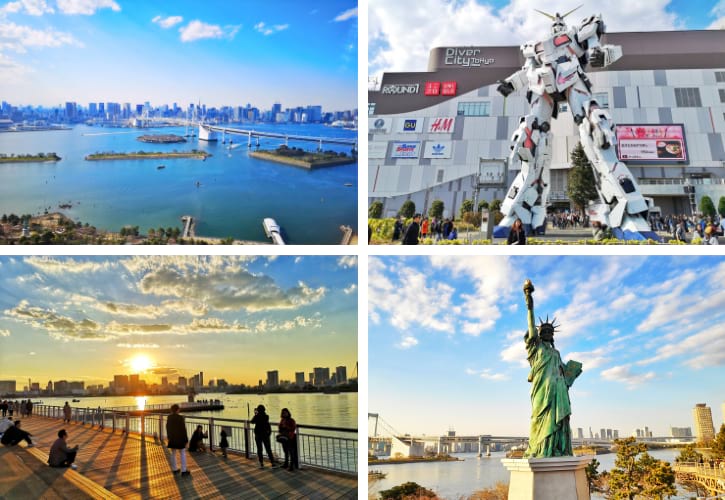 Out to explore Odaiba in Tokyo? Here's a list of the best things to do in Odaiba, along with the most Instagrammable sites that are definitely worth the visit!
Odaiba is definitely one of the highly-visited attractions in Tokyo. Unlike other tourist locations, you'll be surprised that this artificial district has almost everything under the sun.
Wander around and you'll discover a super relaxing hot spring park, an ultramodern entertainment hub, and a lot more! There are also excellent dining options for everyone. And of course, the scenic and relaxing seaside views make the location a great backdrop for your photos.
So, let me introduce you to the top 12 things to do and see in Odaiba, which is specially designed for first-time travellers. 😊
1. Go to the Fuji Television Building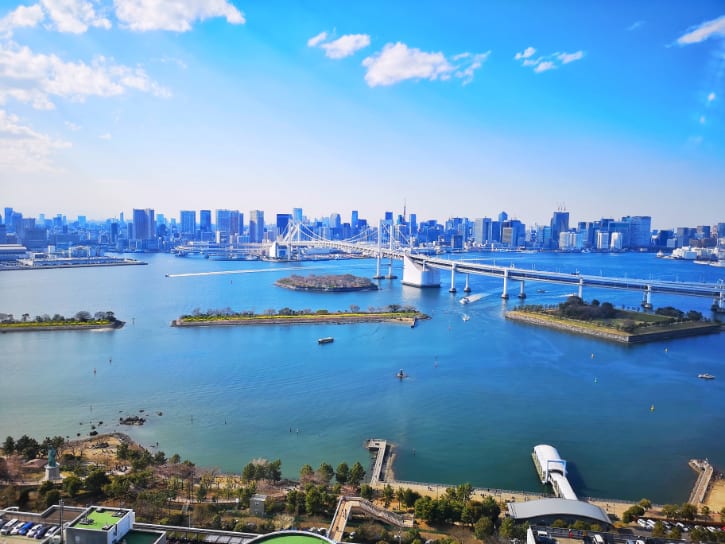 If you're looking for the best things to do in Odaiba, head to the Fuji Television Building. This is dubbed as Japan's largest commercial TV network, which features an observatory sphere called the "Hachitama".
While at the top, capture the 360-degree panoramic view of Odaiba, which is surrounded by the vastness of Tokyo Bay.
Make sure you also catch a glimpse of the Tokyo Tower, Rainbow Bridge, and other top-rated sites. And if you visit the place on a clear day, you might see the ever-beautiful Mount Fuji from afar.
2. Spend time at teamLab Borderless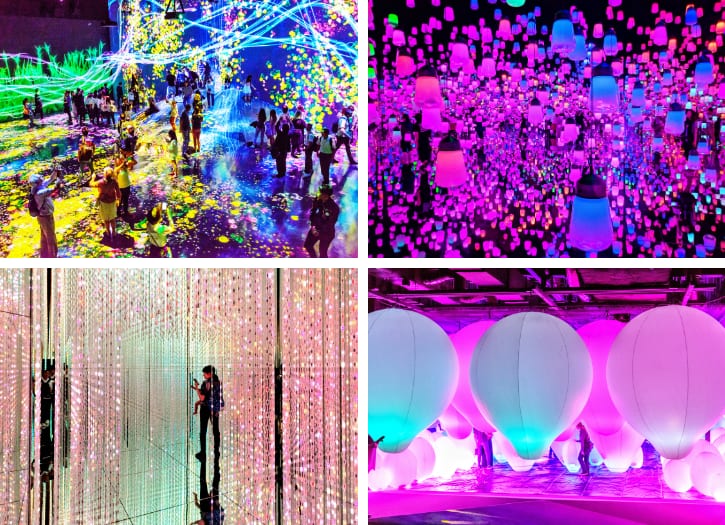 One of the top Odaiba attractions is teamLab Borderless. This first-ever digital art museum in the world has plenty of art installations to fascinate you.
Discover spectacular art exhibits and take as many photos as you want. You can start the adventure at the famous Borderless World and then continue the fun at the Athletics Forest. And of course, you should pop by the Future Park as well as the Forest of Lamps.
You should know in advance that the tickets to the museum sold out almost every day. That is why it's advisable that you book the admission tickets online before going.
Highlights:
Borderless World: Features a collection of dreamlike attractions, which include artworks that you can freely touch and interact with. These include the famous Universe of Water Particles on a Rock where People Gather, Memory of Topography, and Transcending Space.
Athletics Forest: This artsy space highlights the importance of the development of the brain's hippocampus. Hence, in this fun and 3D area, you get to be active and be educated about the various brain activities. This is place is great for those with kids.
Future Park: It's where you can find a colourful collection of fun activities. This amusement park follows the essence of cooperation and creativity in learning and enjoying new things.
Forest of Lamps: A mirrored room that is filled with bright, colourful lamps. As you move around, the colour also changes, either in one solid colour or in various blocks of colours.
EN Tea House: Do you want to create your own tea served with some digital flowers? Go to EN Tea House and make your personalized tea. Watch as the flowers inside the tea bloom magically.
3. Drop by the Odaiba Statue of Liberty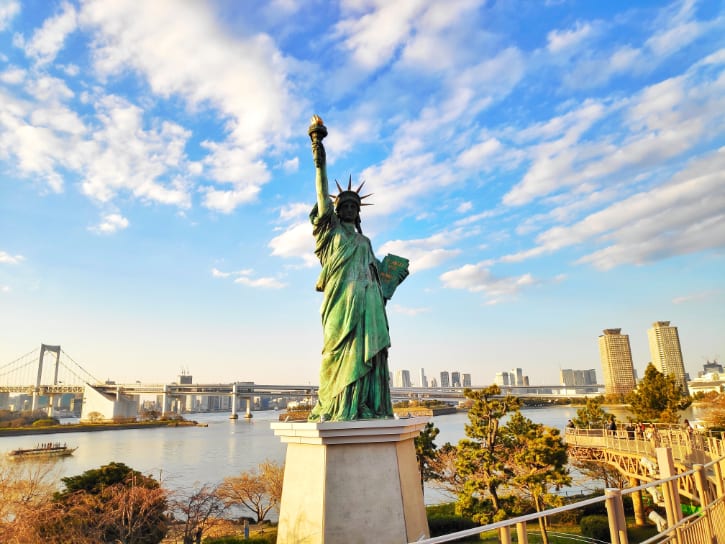 There's no need to go to New York just to witness the ever-popular Statue of Liberty. You can find a replica of this well-liked structure in Odaiba.
Every day, you can find lots of people, waiting for their turn to capture that winning-shot of the famous statue.
In this place, you can also get a glimpse of the Rainbow Bridge. So, make sure you feature the bridge, together with the Statue of Liberty, when you take a photo.
4. Capture the Rainbow Bridge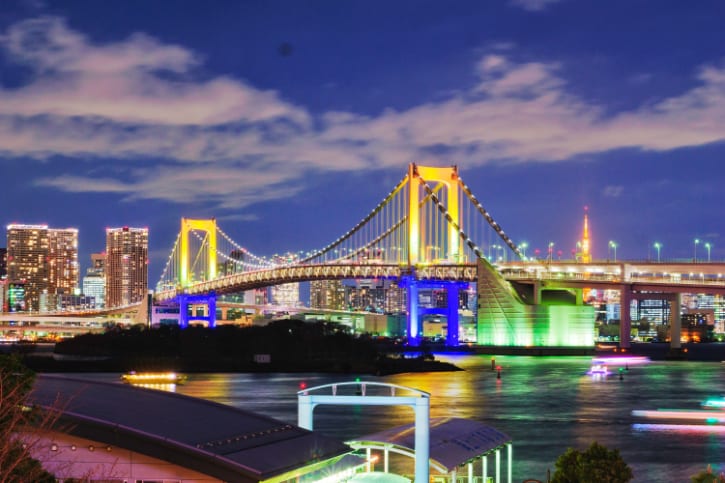 Rainbow Bridge is undeniably a must-see thing, especially if you're exploring Odaiba at night. This remarkable structure connects the high-tech island of Odaiba to mainland Tokyo. Because of this, it is often called the Tokyo Bay Connector Bridge.
So, be sure to take some photos while enjoying the beautiful views around.
There's no need to waste time walking across the bridge just to get a great picture. Just go to Statue of Liberty, Fuji Television, or Odaiba Seaside Park, which are the best spots to capture the colourful bridge.
5. Visit the Odaiba Oedo Onsen Monogatari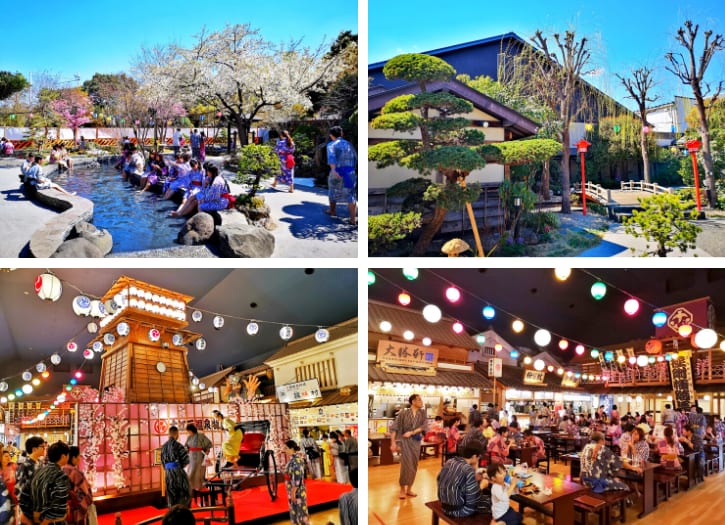 *Permanently closed 🙁
Oedo Onsen Monogatari is a very popular hot spring theme park in Odaiba that should be part of your list. Take a break from city life and revel in the beautiful views surrounding the onsen park.
Enjoy the gorgeous sceneries while exploring the amazing spots within the complex. Try one of the many baths they offer. And, don't miss the foot relaxation from one of their open-air footbath areas.
It's much better that you buy the entrance tickets online here so you save around 20% compared to buying the tickets at the ticketing counter.
6. Get mesmerized by the Giant Unicorn Gundam Statue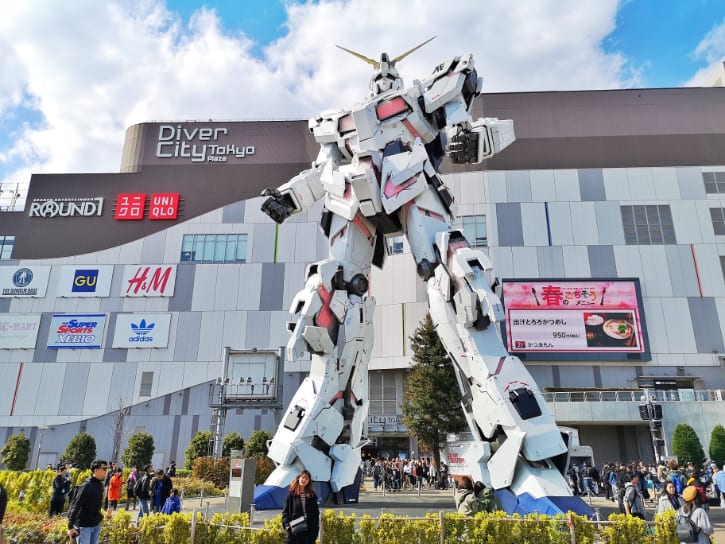 If you're searching for Instagrammable things to do in Odaiba, don't miss the Giant Unicorn Gundam Statue.  Be amazed by this towering structure and try to snap some photos.
Then, explore around and you'll find a landscape full of flowers. The expanse of colourful tulips gives a laid-back ambience to this fun and modern facility. Another thing to look forward to is the 21-metre statue Flame of Freedom Statue.
7. Relax at the Odaiba Seaside Park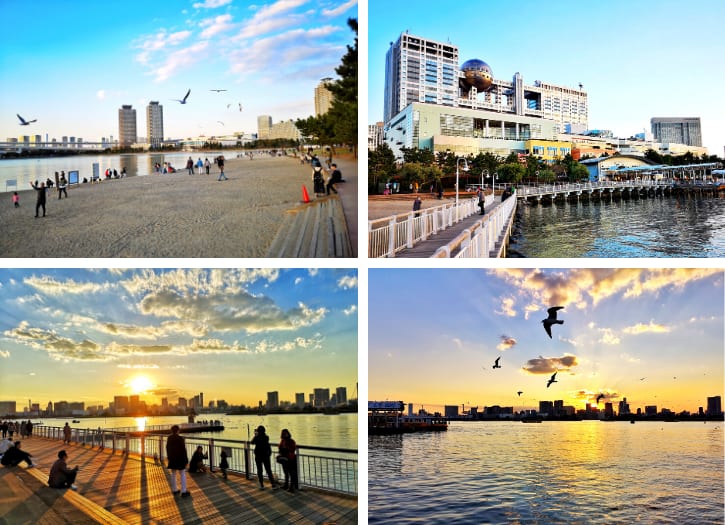 Odaiba Seaside Park is such a beautiful park to unwind. Here, you can see the spectacular waterscape as well as some impressive views of the Fuji TV. There are seats along the walkway so you can comfortably watch the beautiful scenes.
And if you visit late in the afternoon, try to catch the breath-taking sunset. At this time of the day, the beautiful birds fly freely across the beach and through the sky. Surely, this is a perfect place to see the sun fading from the skyline.
8. Dine in at Eggs 'n Things in Odaiba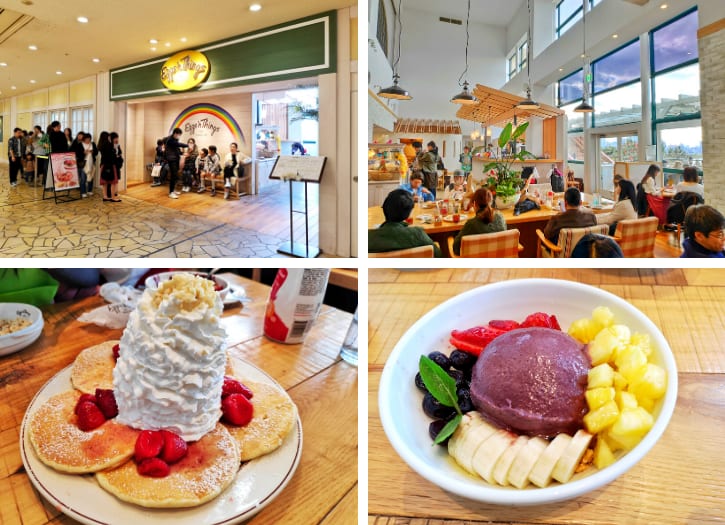 Eggs 'n Things is another must visit place in Odaiba, especially for foodies. This is one of the best restaurants to take your breakfast in the morning or snacks in the afternoon.
Take a look at their extensive variety of food choices, from waffles to omelettes and French toasts! Don't miss their bestsellers, which are the strawberry whipped cream and macadamia nuts pancakes. And if you want more sweet treats, try the fresh fruits topped with ice cream.
9. Explore Miraikan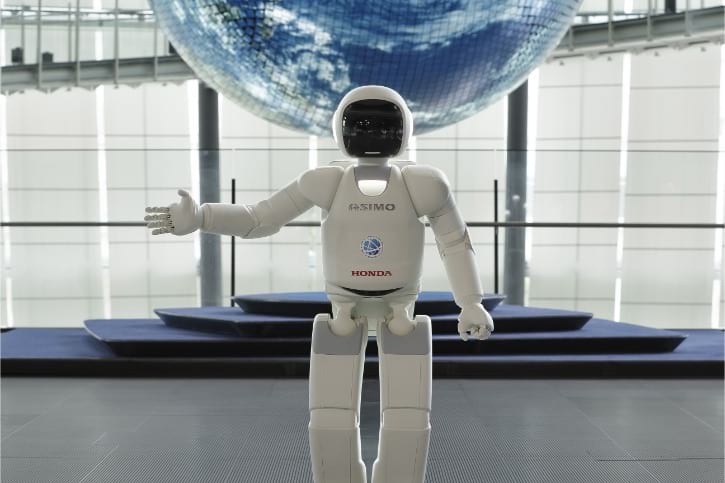 Miraikan or National Museum of Emerging Science and Innovation is such a fun destination to visit. In fact, it is the most educational museum when you tour around Odaiba. So, take your kids and discover the spectacular things inside this exhibition hall.
Explore the Frontiers: Learn more about the solar system, the Earth, and other scientific subjects in this section.
Create your Future: Welcome to a world where technology meets nature. Here, you'll catch a glimpse of the future and some human-like robots. Try to interact with Asimo, the Humanoid Robot.
Discover your Earth: If you're interested in discovering more about the Earth, head to this zone and uncover different exhibits. You'll also enjoy a lot of interactive activities related to Geo-. These include Geo-Cosmos, Geo-Scope, Geo-Prism, Geo-Cockpit, and Geo-Palette.
Dome Theater: Watch two incredible programs inside this 121-seater theater. The cinema features a very advanced image system to provide a high-precision 3D experience.
10. See some unique cars at Mega Web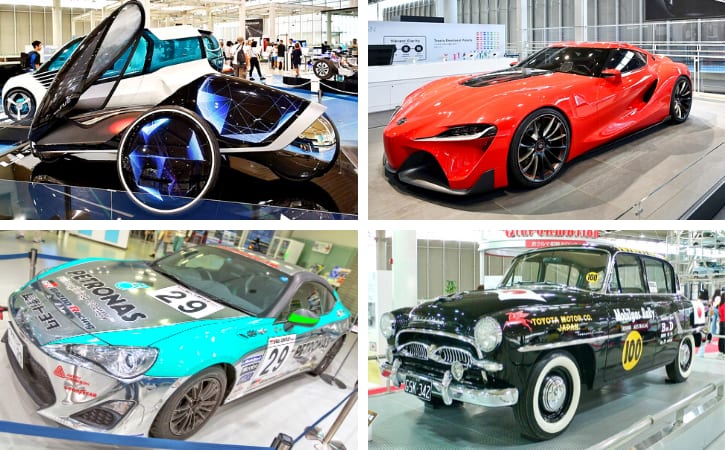 Mega Web is a remarkable place among car enthusiasts, making it a top spot when you visit Odaiba. Find out more about vintage units, race cars, and even future vehicles inside this showroom.
Surprisingly, this isn't your normal car exhibit. It comes with a lot of simulator experiences and test rides to fascinate every visitor.
Toyota City Showcase: See the future of cars through this exhibit. Here, you will come across a collection of advanced cars and luxury automobiles.
History Garage: If you have an eye for classic vehicles, then you'll fall in love with this section. Be amazed by the presentation of vintage cars and other limited-production models.
Ride Studio: Know more about the driving rules and traffic guidelines by checking out this area. Aside from that, they also offer E-Kart for those who want to enjoy the thrill of an electric go-cart.
Ride One (Test Drive): Try to apply your driving skills into action and do a test drive. This place requires you to present an international driver's license.
11. Satisfy your hunger at Odaiba Takoyaki Museum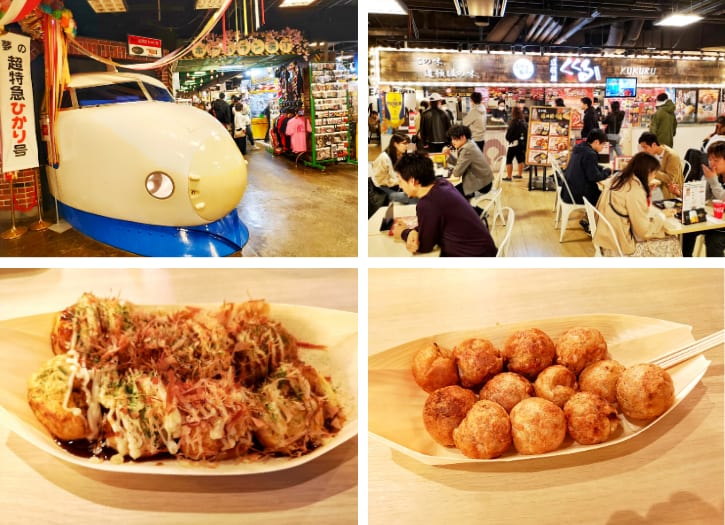 Head to Odaiba Takoyaki Museum and check out the yummy local treats. You might think this a real museum but it's actually a place for all Takoyaki lovers!
Takoyaki balls are definitely a staple when visiting the country, so be sure to grab a bite of these yummy and on-the-go snacks. Explore the different stalls and choose from the tasty variety of Takoyaki balls for everyone.
12. Take a ride at Ferris Wheel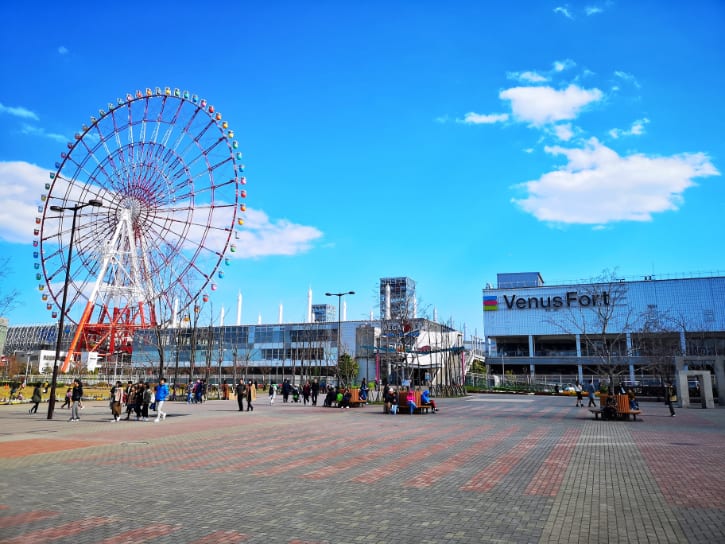 The Ferris Wheel in Palette Town is another favourite spot to see the entire Odaiba and the breath-taking Tokyo Bay. So, if you want to catch some gorgeous views, drop by this nice location.
Hop aboard the ferris wheel and enjoy some gorgeous sights like the Tokyo Tower, Tokyo SkyTree, and the Rainbow Bridge. Riding this towering structure at night-time is even more stunning because of its vibrant colours.
My Suggested Itinerary for Odaiba
I completely understand that preparing a proper Odaiba trip can be quite challenging, especially with your busy work schedule and first-time visit.
But don't give up because I'm going to give my suggested half-day and full-day itineraries of Odaiba to you in here.
And I hope that these itineraries below can assist you in creating a well-prepared plan on the activities to do in Odaiba without letting your partner get disappointed! For tips on how to tour around Tokyo without rushing on time, just look at my 7 days itinerary in Tokyo to help you out!
Half-Day (7 Hours)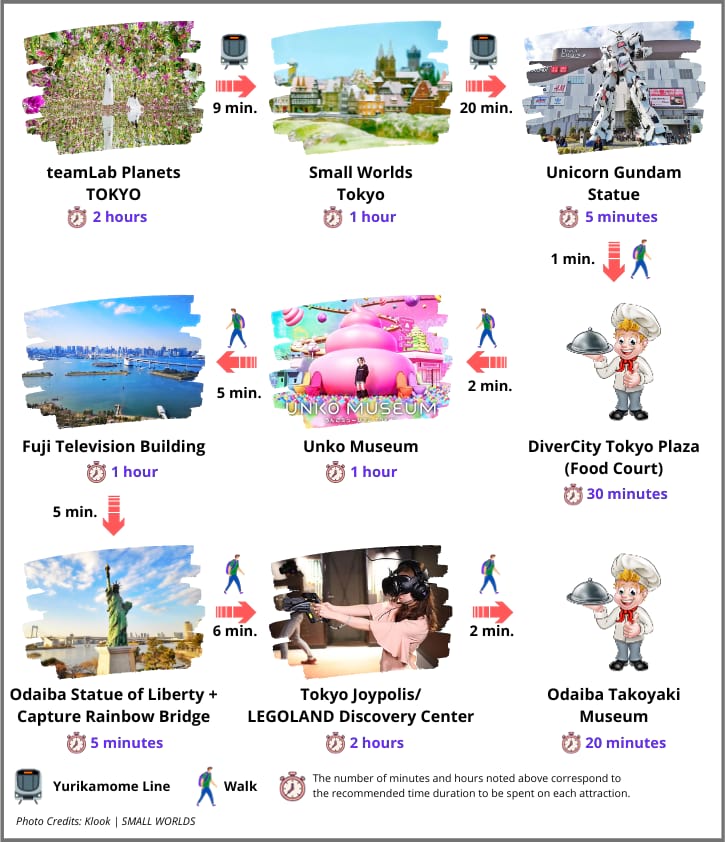 Option 1: Full-Day (11 Hours)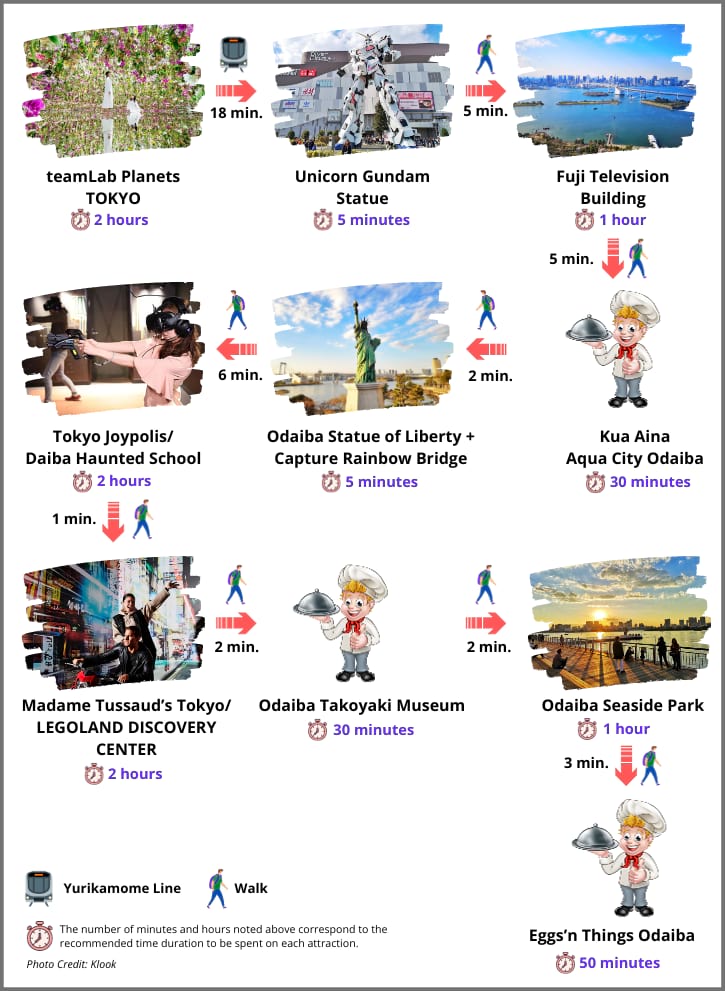 Option 2: Full-Day (10 Hours)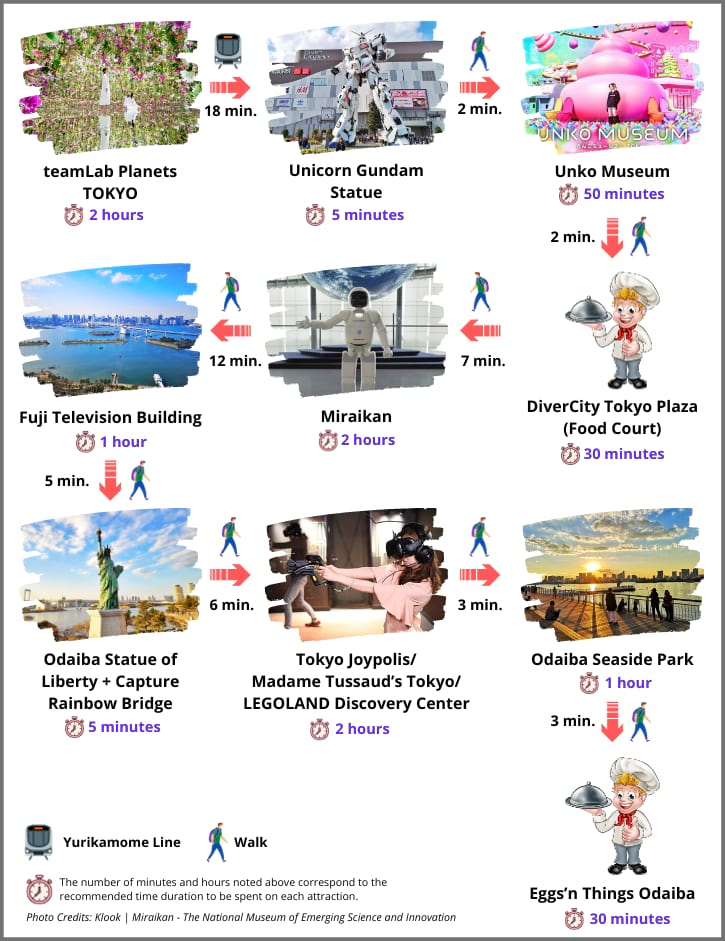 Where to Go Next
Aside from exploring Odaiba, don't miss to visit Tokyo Disneyland, which is a world-famous amusement park. This offers a lot of incredible roller-coasters for you to ride and plenty of adorable Disney characters for you to take photos with.
I also recommend you to visit Asakusa, a very beautiful historical location in Tokyo. So, go over my article on the best things to do in Asakusa and find out the must-see sights there.
Get a Japan SIM Card or Pocket WiFi
The reason why you should consider using a Japan SIM Card or Pocket WiFi in Tokyo is because you can instantly access the internet to help you search the train routes anytime you want. If you don't know which one is right for you to use it, simply check this guide on Japan SIM Card vs Pocket WiFi (Pros and Cons).
Things to Do in Odaiba, Tokyo (Map)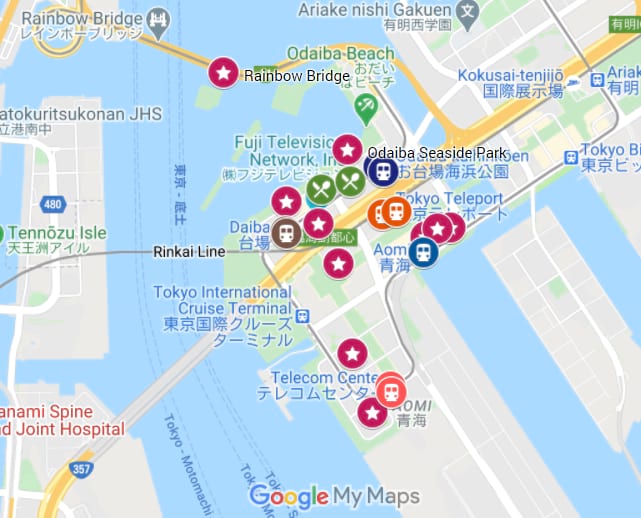 The above map highlights the top-rated attractions, best restaurants, and nearby train stations.
You can check it out prior to your visit for you to have information about its location ahead of time. Hopefully, this will help you get a bigger, clearer picture of Odaiba so you won't get lost while exploring around. 😊
Train Station Exits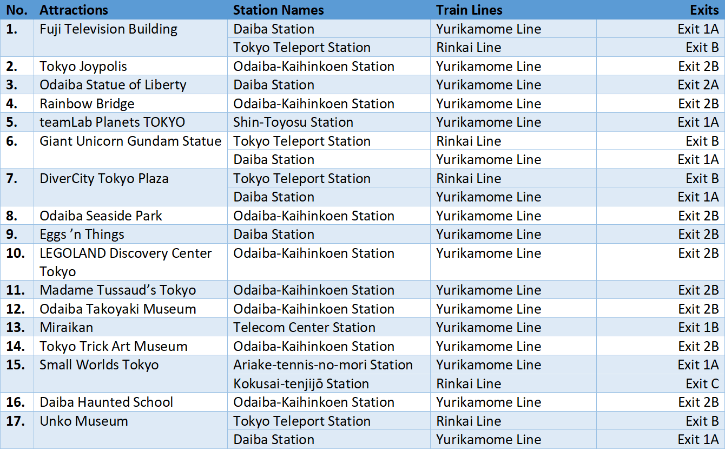 Related Posts