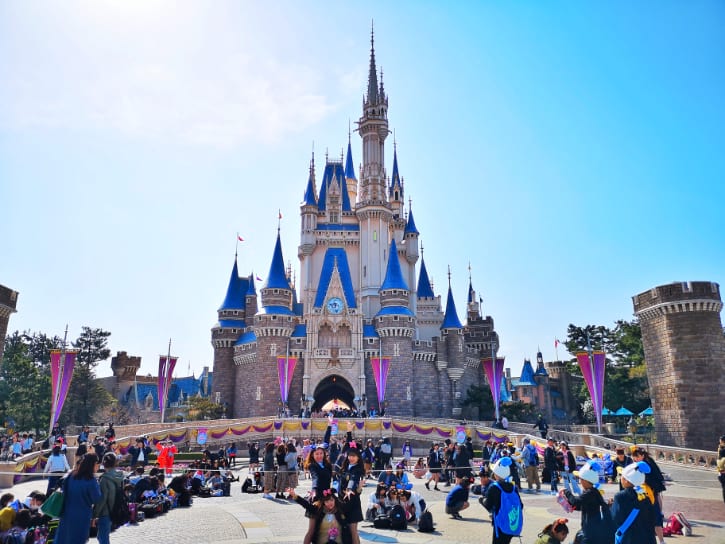 All Tokyo Disneyland rides make it one of the happiest destinations on earth. So, don't miss the fun and visit this amazing place!
I explored Tokyo Disneyland with my wife and it was truly enjoyable. In fact, it is high on my list of top things to do in Tokyo that you shouldn't miss.
There are plenty of iconic indoor and outdoor rides for you to play, along with different interactive attractions. All these offer you a fun and one-of-a-kind experience.
And in this Tokyo Disneyland guide, I'll share the 20 best rides and attractions for this year.
In addition, I will list down the shows that you should watch so you will be able to maximize your visit. Let's get started! 😊
1. Splash Mountain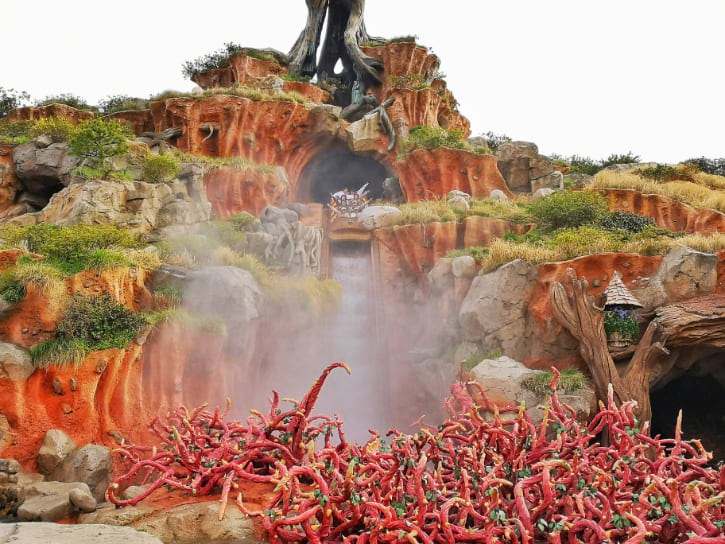 Splash Mountain is a spectacular ride that is very popular in Tokyo Disneyland. This splashing water ride comes with audio-animatronics and high-speed drops to entertain you.
Hop aboard the log boat that can cater up to 8 persons. The entire journey lasts for up to 10 minutes.
During your trip, you'll come across incredible sights that are actually based on the animated Disney film, Song of the South.
And be ready for the 45-degree drop at 64km/h. This feature definitely makes the ride more exciting and memorable.
2. Space Mountain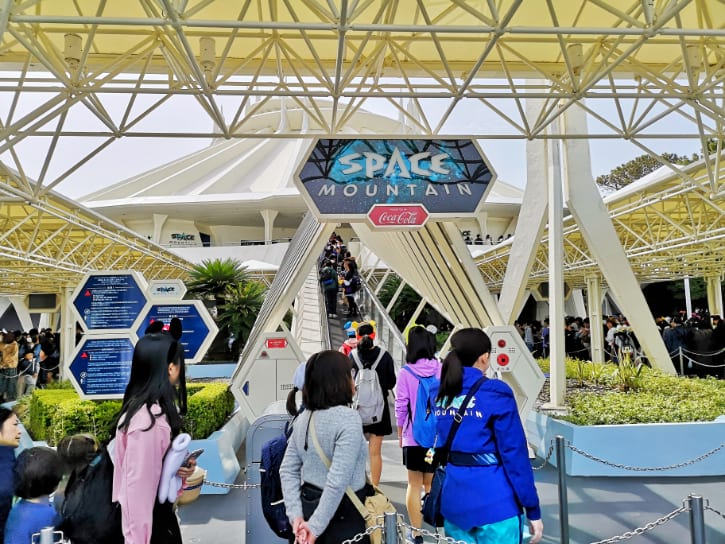 Space Mountain is one of Tokyo Disneyland's most scary rides that should be part of your must-try list.
This thrilling rocket ride is like an indoor roller coaster. It travels you through a galaxy scene at a shockingly high speed.
So, make sure to prepare yourself as the 12-passenger seat ride takes you to the ends of outer space.
Along the way, there will be sharp curves and even sudden falls to hype up the fun.
It might be a challenge to keep your eyes open, but try your best to catch the remarkable scenery.
3. Big Thunder Mountain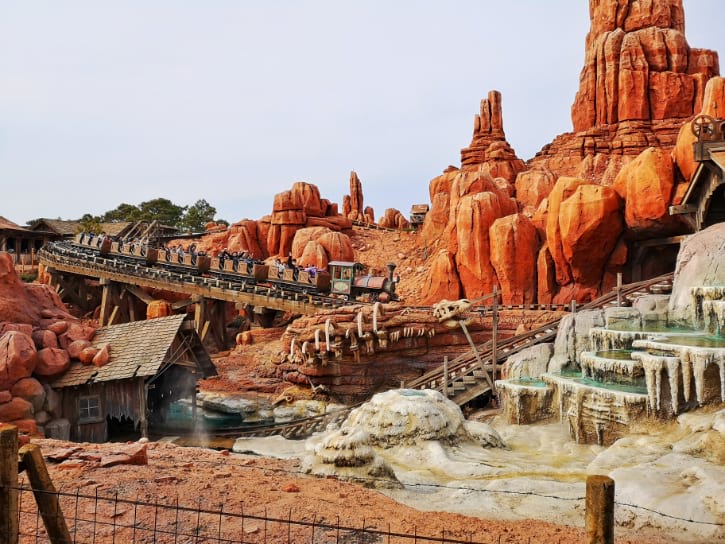 Big Thunder Mountain is a classic train roller coaster at Tokyo Disneyland that can accommodate 30 people per train. This high-speed train ride takes you on an electrifying cave adventure.
Enjoy the thrill while watching the spectacular landscape of the 19th century California gold rush era.
Throughout the ride, there will be a lot of thrilling tilts, drops, and even a 180-degree turn.
4. Star Tours: The Adventures Continue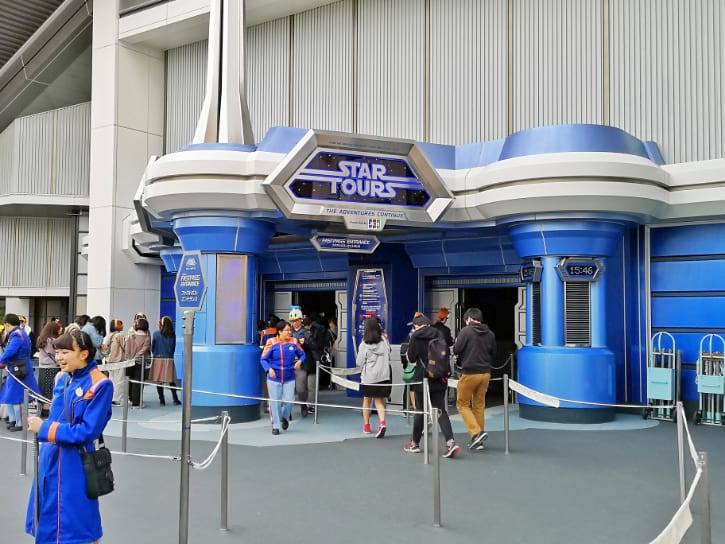 If you're a Star Wars fan, don't miss the Star Tours: The Adventures Continue. This amazing ride lets you experience a realistic Star Wars battle.
Get entertained by the epic galactic adventure filled with incredible tech designs. You'll even find yourself in the middle of an action-filled setting.
So, if you want to unleash your Star Wars fantasy, this 3D motion simulator attraction is top-notch.
The entire ride runs for 4 minutes and caters up to 40 people per vehicle.
5. Monsters, Inc. Ride & Go Seek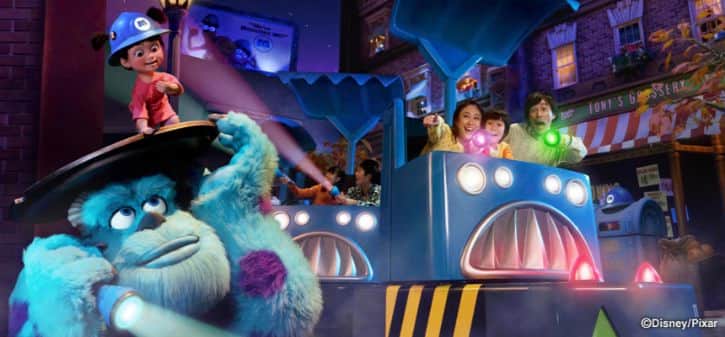 The Monsters, Inc. Ride & Go Seek is a 4-minute fun ride that is unique in Tokyo Disneyland.
It is a dark yet interactive attraction that is packed with sound effects and fuller-than-life animations.
Once you sit on the tram, you will be transported to the set of the famous movie, Monsters Inc.
Each car accommodates 2 persons. And since this ride-and-go-seek game is dark, you'll be using flashlights to capture the adorable movie characters.
6. Pooh's Hunny Hunt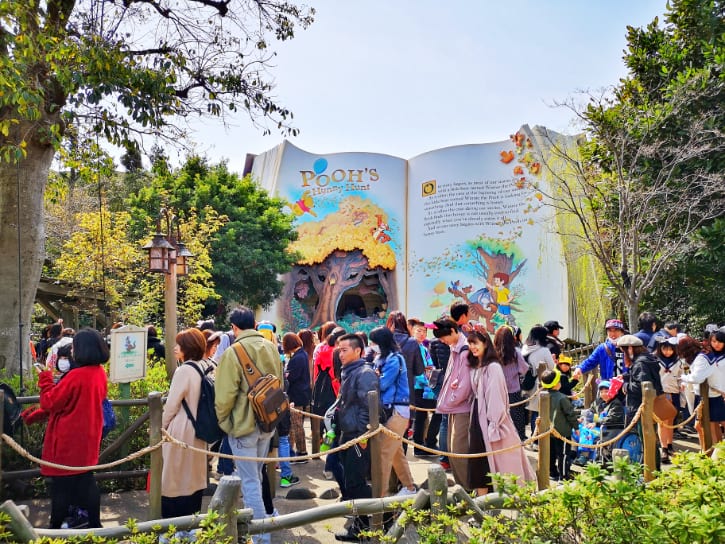 No list of top rides at Tokyo Disneyland will be complete without Pooh's Hunny Hunt. It's a trackless dark ride that rotates for about 4.5 minutes.
Uniquely, what you'll be sitting here is a honey pot that accommodates up to 5 persons.
Along the trip, there will be a fun story-telling that complements well with the 3D fine arts.
Relish the ride that transports you from one scene to another before reaching Pooh's most-awaited Honey Tree!
7. "it's a small world"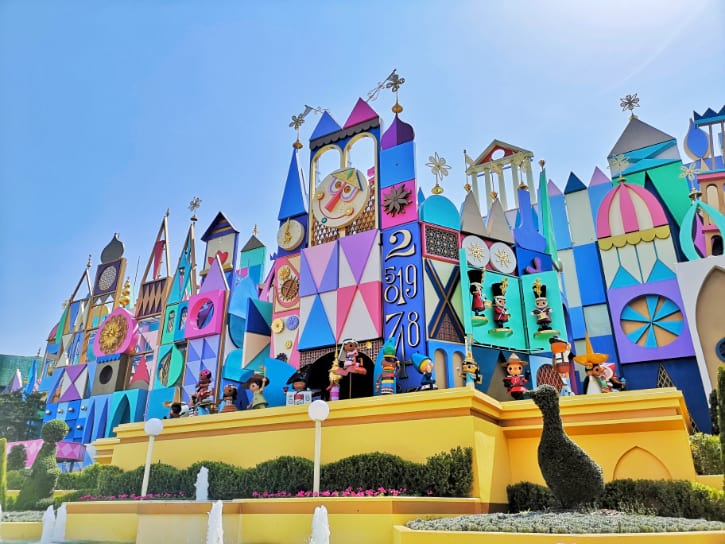 "it's a small world" is a water-based boat ride that is bursting with highly-animated designs.
Catch the audio-animatronic dolls dancing, spinning, waving, and even flying around. These adorable miniature statues add more color to the place.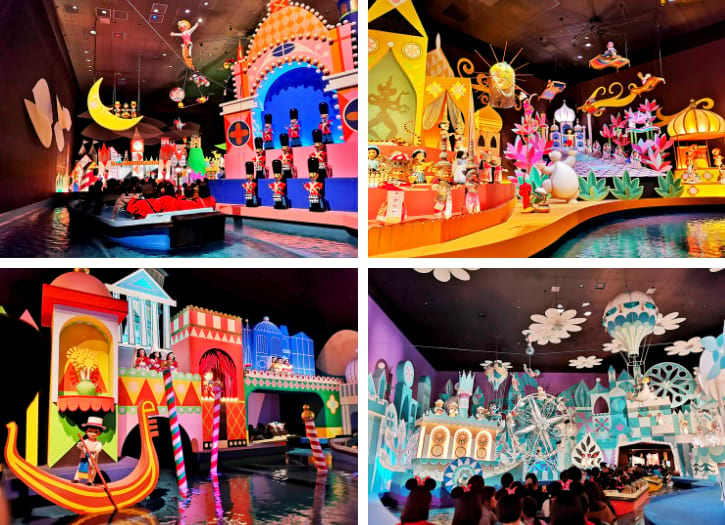 Throughout the 10-minute cruise, the playful chant of the song "It's a small world" is being played.
This definitely makes the ambience more entertaining. Each boat can take up to 20 people only.
8. Cinderella's Fairy Tale Hall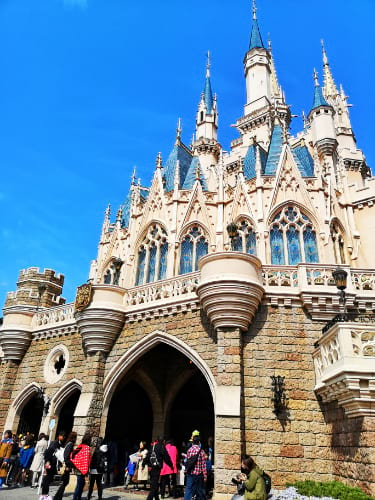 Step into the magical Cinderella's Fairy Tale Hall and get mesmerized by its sophisticated designs.
Inside this beautiful structure are pieces from Cinderella's life story. These include some dazzling chandeliers and intricate ceilings.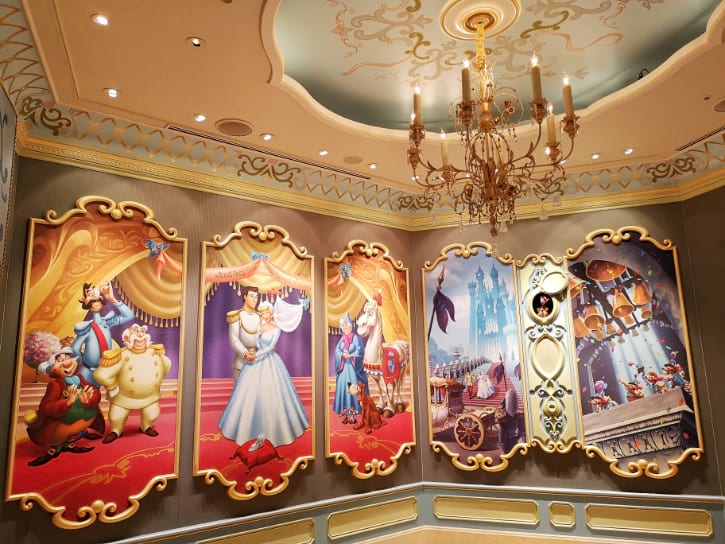 Along with that, you'll love the painting gallery that highlights different Cinderella scenes.
The walkthrough exhibit is also surrounded by stunning miniature statues. And of course, the famous glass slipper is also on display.
9. Buzz Lightyear's Astro Blasters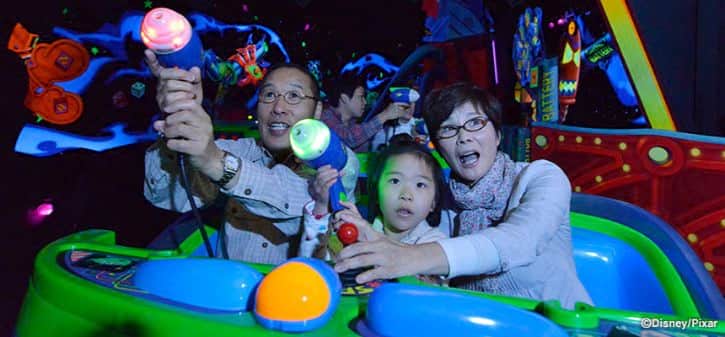 Buzz Lightyear's Astro Blasters is an interactive shooting attraction available in Tokyo Disneyland. This slow ride is very popular among tourists travelling with kids.
Here, you will go on board a space cruiser that can fit up to 3 persons.
Each vehicle comes with laser pistols and a joystick, which you can use along the way.
Experience a 360-degree rotation with the help of the joystick.
And then, shoot Emperor Zurg and his robots using the laser shooters.
10. Haunted Mansion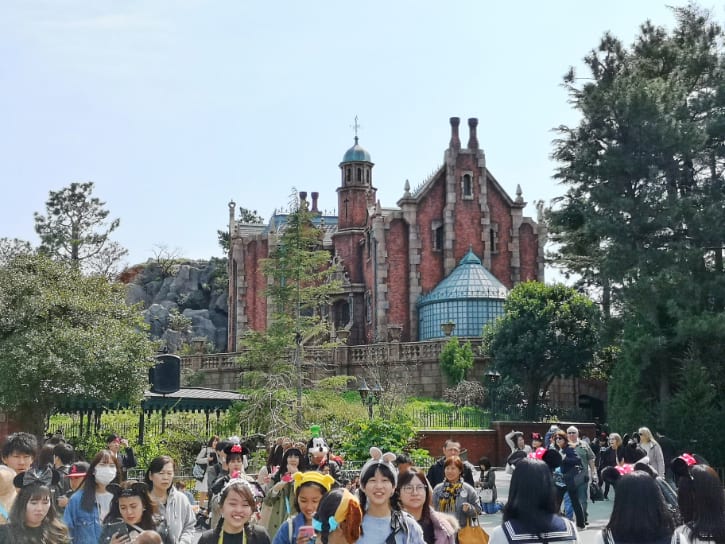 If you want a spooky, dark ride, try the Haunted Mansion. As soon as you enter this ominous gothic mansion, you can already feel the eerie vibes.
There are plenty of ghosts, ghouls, and goblins lurking around. Some of the scary characters are even dancing and hanging, so never let your guard down.
And since this is a slow-moving ride with creepy effects, lighting, and sounds, you won't get disappointed with the 15-minute adventure.
A total of 3 persons can seat on the Omnimover-style vehicle.
11. Peter Pan's Flight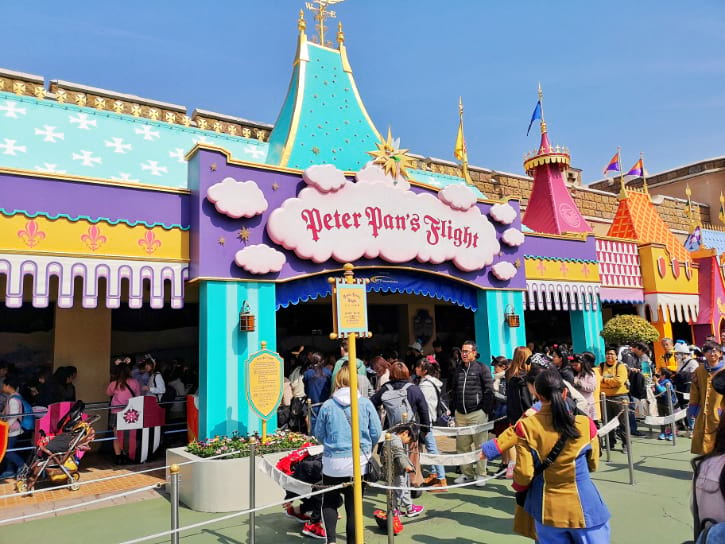 Peter Pan's Flight is also part of the must-visit Tokyo Disneyland attractions, so make sure to ride it.
This place captivates you with its flying ship, which will serve as your transportation to Never Land.
Come and see the many wonders of this rail-suspended dark ride that can fit 2 guests per vehicle.
Your adventure begins at the humble home of the Darling family and jumps next to the old, quiet London streets. Thereafter, you will meet Wendy Darling and Captain Hook.
12. Pirates of the Caribbean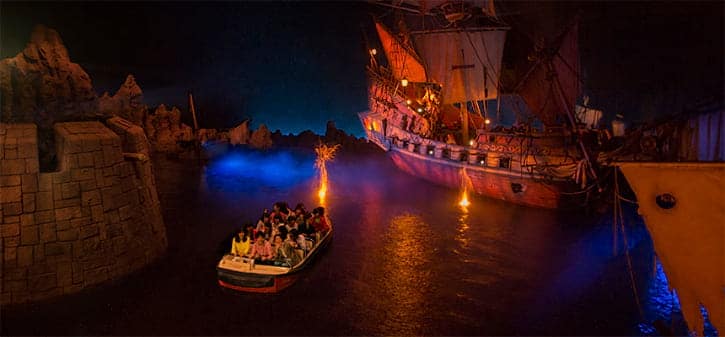 Pirates of the Caribbean is another dark boat ride that you shouldn't miss. Each boat can cater to 20 passengers.
From the name itself, this indoor cruise mimics the popular Disney movie, Pirates of the Caribbean.
You will travel through the world of pirates that is filled with realistic designs and incredible sounds.
Along the way, you will see a lot of creepy-looking characters as well as jolly figures. For sure, you will enjoy this classic water adventure.
13. Western River Railroad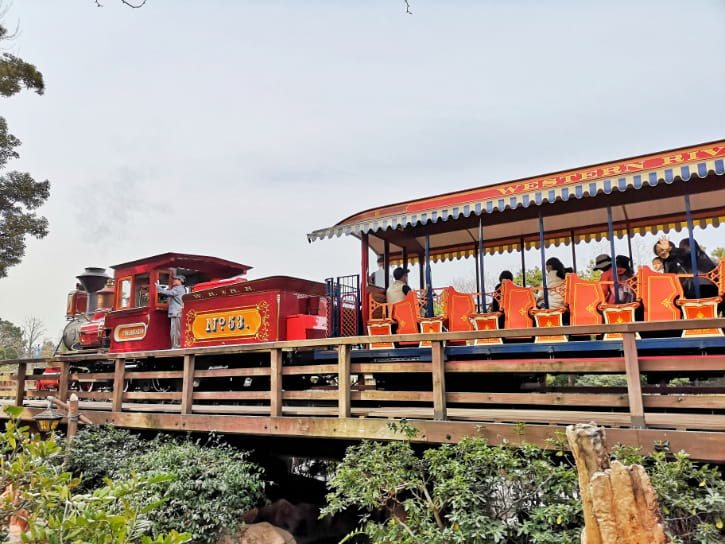 Western River Railroad is a steam train that can accommodate 140 persons.
Unlike other rides, this 15-minute outdoor expedition passes right through other areas in the park. These include Critter Country, Adventureland, Thunder Mountain, and Westernland.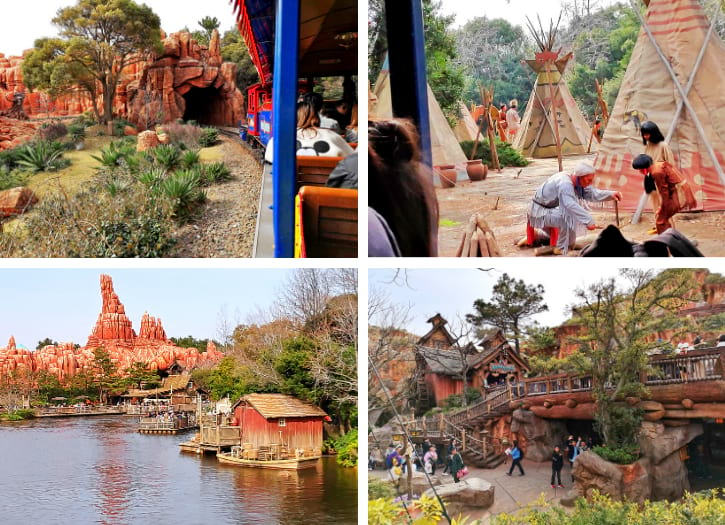 While onboard, you'll catch a glimpse of the daily lives of the Native Americans. The scenic views are also worth-capturing.
And near the end part of the adventure, you will enter a dark area with a lot of dinosaur figures.
14. Dumbo The Flying Elephant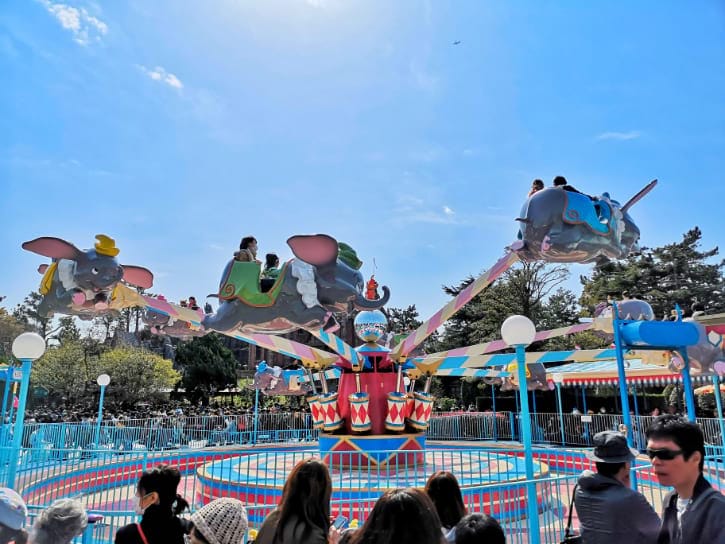 Marvel at the blue sky above you as you settle on top of Dumbo The Flying Elephant.
Not too slow and not too fast, this carousel-style ride is definitely a fun way to enjoy the outdoors.
Each Dumbo vehicle can accommodate 2 persons only.
So, whether you're with your partner or with your kid, you'll love this steady yet exhilarating trip.
15. Minnie's House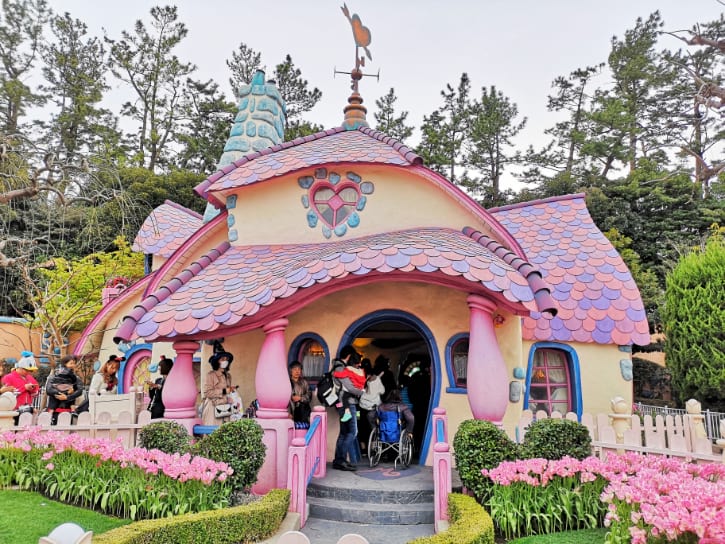 Has it crossed your mind to live in a cute, tiny Disney house?
It's time to make your dreams into reality and enter Minnie's House.
This gorgeous home is too cute to go unnoticed! Even from afar, you can feel the charm of this small structure.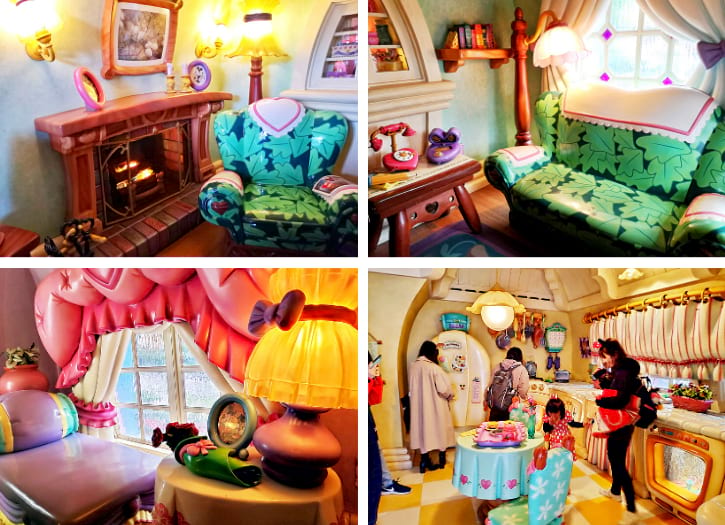 Go inside the house and be transported into the world of Minnie Mouse!
In the living room, you'll see pretty things like pink telephone, green sofa, and colourful stack of books. There's also a kitchen area, a bedroom, and a fireplace.
16. Enchanted Tale of Beauty and the Beast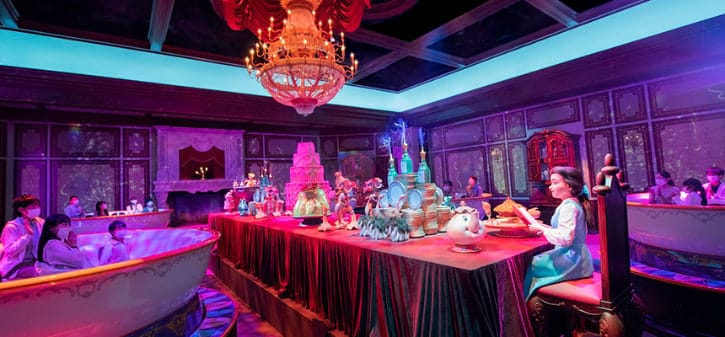 Enchanted Tale of Beauty and the Beast brings you to a new attraction in Disneyland for all ages.
Hop aboard the magical cups and enjoy the realistic acts from the famous movie, Beauty and the Beast.
Throughout the ride, you'll be enthralled by majestic scenes and magical music. Truly, this is like dream come true for die-hard fans of the animated film.
17. Mickey's PhilharMagic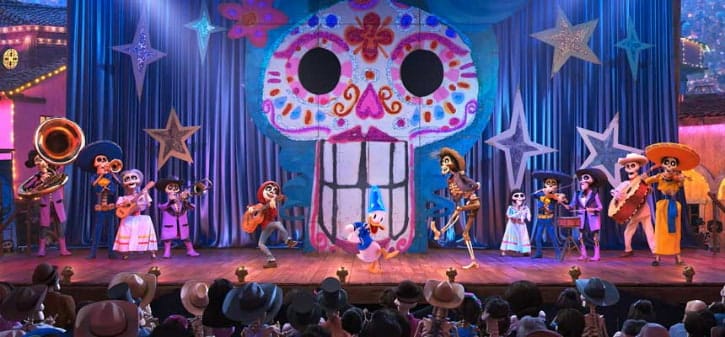 Watch Mickey's PhilharMagic and get a chance to see the fun-filled world of Disney.
This 12-minute show fascinates its audience with realistic scenes and animated effects.
It gathers some of the best animated Disney movies like Mickey Mouse, Coco, the Donald Duck, and more!
And during the 4D performance, you can sing along with your favorite characters. So, don't miss this spot and have a marvelous time with your family and friends.
18. Gadget's Go Coaster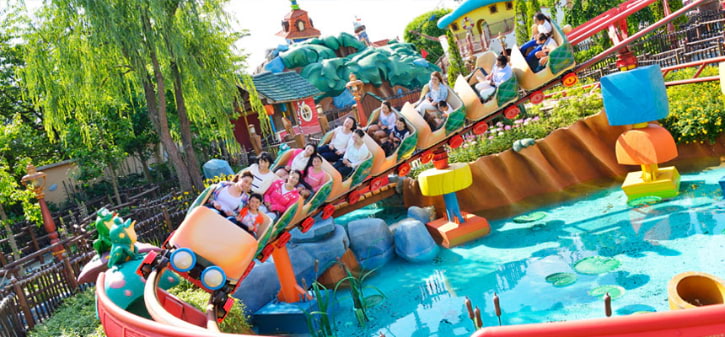 Gadget's Go Coaster is another fun spot for families. Adorned with vibrant colors, this ride may appear to be all mild and cheerful.
But don't underestimate the charming designs because this one is quite electrifying!
Get on a fantastic roller coaster journey and prepare yourself for a thrilling experience.
While aboard the seat, enjoy the twists and turns along with the colorful scenes around you.
19. The Enchanted Tiki Room: Stitch Presents "Aloha E Komo Mai!"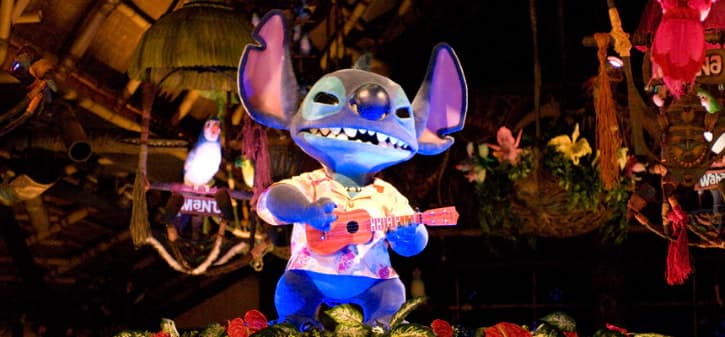 Drop by The Enchanted Tiki Room: Stitch Presents "Aloha E Komo Mai! and revel in this lively show.
Here, you get to see the four talented Birds of Paradise namely Manu, Mahina, Hau'oli, and Waha Nui.
Follow the entire performance, which is filled with remarkable audio-animatronics.
And of course, enjoy the act of the mischievous yet adorable Stitch from the famous Lilo & Stitch movie!
20. The Happy Ride with Baymax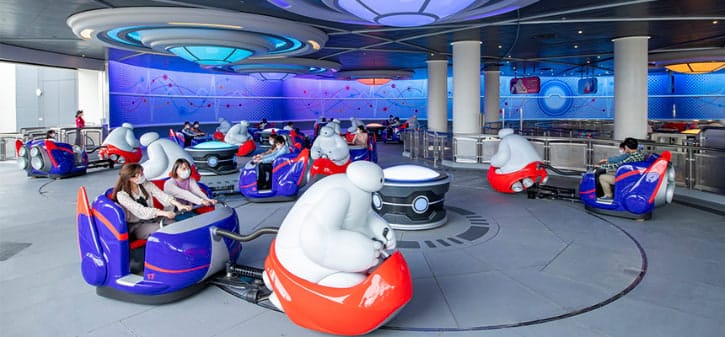 The Happy Ride with Baymax offers you the opportunity to get dragged by Baymax! This is such a rare chance of having this fluffy character as your driver.
And you'll love the ride even more because of the lively music. Be entertained by the enthralling loops while enjoying the musical vibes!
The Best Tokyo Disneyland Rides and Attractions (Summary)
Top rides for adventure seekers: Splash Mountain (#1), Space Mountain (#2), Big Thunder Mountain (#3), Haunted Mansion (#10)
Top rides for non-adventure seekers: Star Tours (#4), Monsters, Inc. Ride & Go Seek (#5), Pooh's Hunny Hunt (#6), "it's a small world" (#7), Buzz Lightyear's Astro Blasters (#9), Peter Pan's Flight (#11), Pirates of the Caribbean (#12), Western River Railroad (#13), Dumbo The Flying Elephant (#14), Enchanted Tale of Beauty and the Beast (#16), Mickey's PhilharMagic (#17), Gadget's Go Coaster (#18), The Enchanted Tiki Room (#19) and The Happy Ride with Baymax (#20)
Must-see attractions: Cinderella's Fairy Tale Hall (#8), Minnie's House (#15)
Something to Take Note Of:
For non-thrill seekers, give priority to Pooh's Hunny Hunt and Monsters, Inc. Rider & Go Seek because these rides easily run out.
And for thrill-seekers, then Splash Mountain, Space Mountain, and Big Thunder Mountain should be your top choices.
Time-Saving Tip:
The Disneyland ticketing area at the main entrance of the theme park may have long queues. This is very evident, especially during peak season and holidays.
That is why it's better to book the Disneyland tickets online here before you kick off your trip.
By availing of your tickets online, you will bypass the long queues and enter the park directly.
You simply present the e-ticket on your smartphone and start the fun as soon as possible.
My Recommendations:
Option 1: DisneySea
If you have more time in Tokyo, it's recommended that you also go to DisneySea. This is a super beautiful theme park that is located next to Disneyland.
However, I encourage you to allocate another day here because this is quite big and has a lot of attractions to visit.
Go check out my guide to the best Tokyo DisneySea rides to know all the rides and shows that you should try there.
Option 2: Sanrio Puroland
Another suggested place to visit is Hello Kitty Land. Though this is a bit smaller compared to DisneySea, it's a great place to meet Hello Kitty and Sanrio characters.
Plus, it comes with fun parades and performances that are very suitable for those travelling with kids. You can read my Sanrio Puroland article for more information.
Must-Watch Shows at Tokyo Disneyland
Aside from the thrilling and fun rides, there are also other things to expect that in this park.
So, I'll introduce the 4 must-see shows and parades that you should catch while in Tokyo Disneyland.
1. Mickey's Magical Music World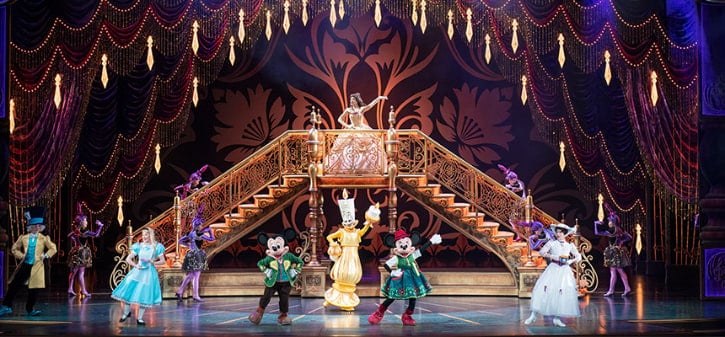 Mickey's Magical Music World welcomes you to a dazzling performance by Mickey Mouse and his friends.
Take joy in the fantastic live show filled with beautiful music and lively dances.
And of course, the magical stage sets make the show more memorable. So, make sure to add this attraction to your plan and be captivated by their brilliant charms.
2. Club Mouse Beat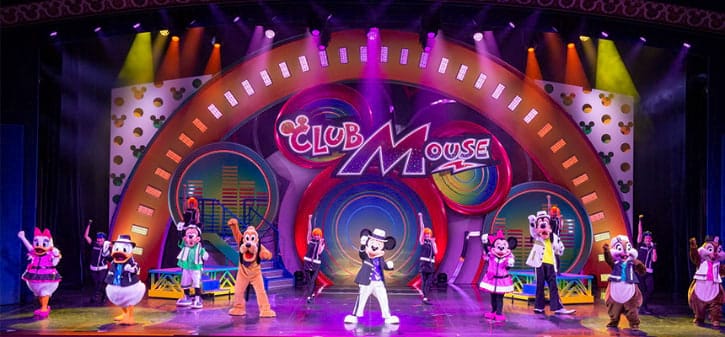 Club Mouse Beat is also an entertaining avenue for Disney lovers. Groove to the beat of the music while your beloved characters dance their hearts out.
Here, you can catch them showcasing their talents like there's no tomorrow.
See them highlight their dancing skills in hip-hop, pop, Latin, and more!
The show runs for around 25 minutes, so better prepare yourselves for a remarkable show!
3. Dreaming Up!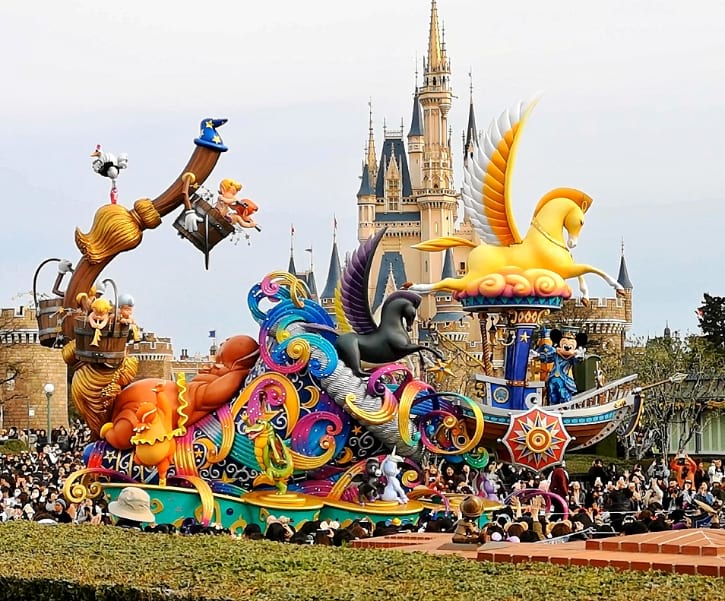 Be amused by the ever-colourful Dreaming Up! This is daytime parade relives your most beautiful childhood Disney memories.
In this spectacular show, you'll meet a lot of famous characters such as Mickey Mouse, Pluto, and friends.
Also gracing the parade are Pinocchio, Geppetto, Alice in Worderland, White Rabbit, Mad Hatter, and Cinderella.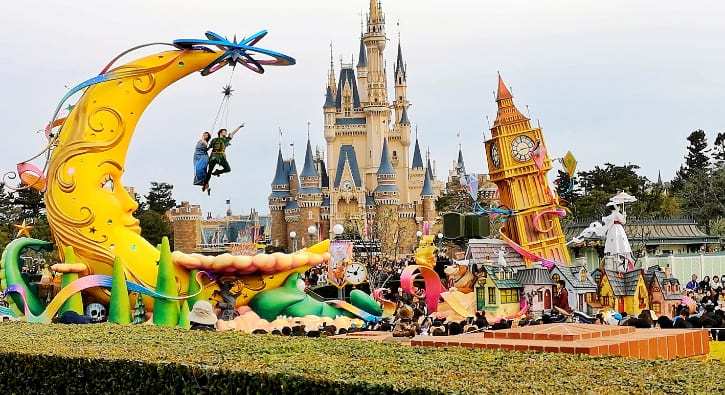 Other floats to look forward to are Winnie the Pooh, Baymax, and Peter Pan.
And to get an incredible view of the floats, make sure to head to the Park-wide at least an hour before the scheduled show.
4. Tokyo Disneyland Electrical Parade Dreamlights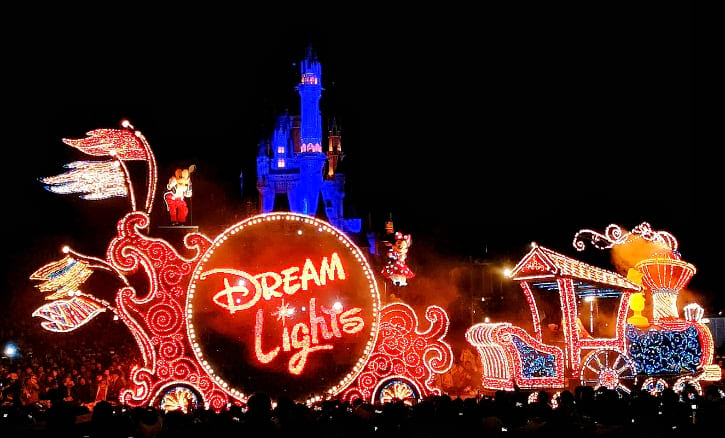 Cap off the adventure by watching the Tokyo Disneyland Electrical Parade Dreamlights. This night parade lights up the entire park with vibrant colours and beams.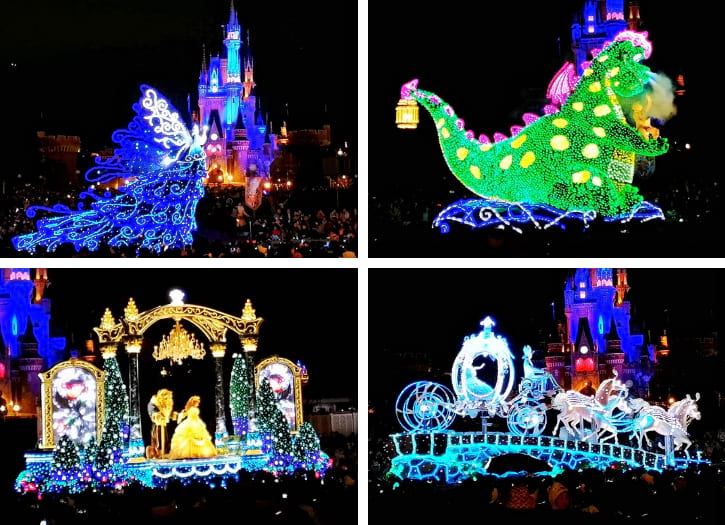 Here, you'll meet the Blue Fairy, together with the Knights of Light. The Casey Junior Train, on the other hand, is occupied by Mickey Mouse and Goofy.
Also crowd favourites are Alice in the Wonderland, Pete's Dragon, Toy Story, Genie, Cinderella, and Pinocchio.
All these floats are not just mesmerizing but also nostalgic. So, don't miss the parade and find your preferred location before it starts.
Meet Up with Disney Characters
While wandering around the park, you might come across your favourite Disney characters. Here are some spots to meet these adorable figures.
1. Mickey's House and Meet Mickey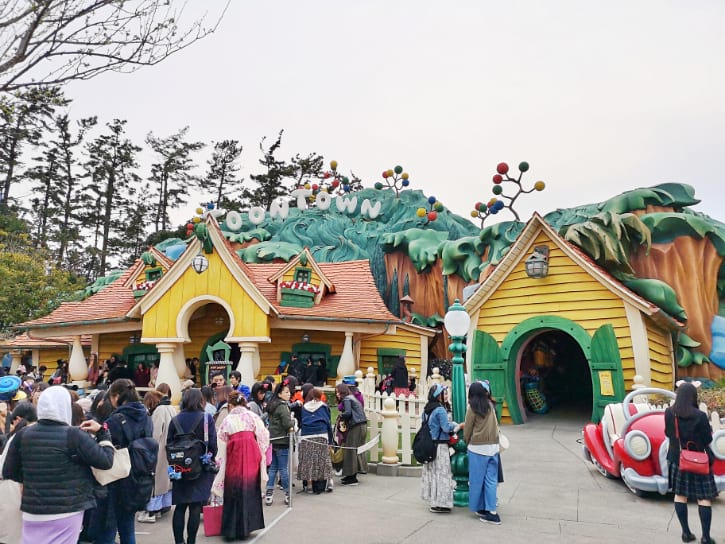 How about you spend time inside Mickey's House?
This is another renowned spot in Tokyo Disneyland because it allows you to see the life of Mickey Mouse.
Enjoy the walkthrough tour and learn more about this mischievous and jolly character.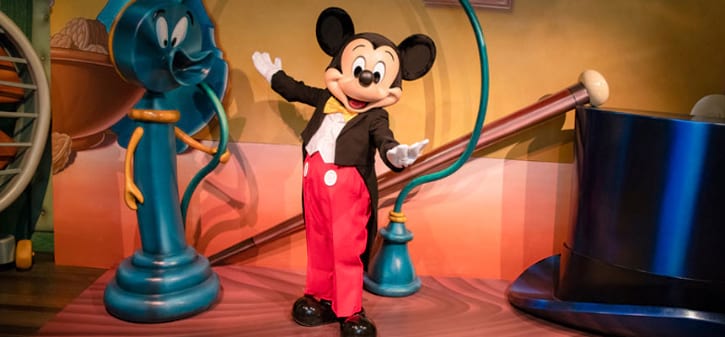 Check out his classic collectibles and bunch of treasured possessions!
After that, take a look inside his Movie Barn and watch some of his well-known movie scenes. Then, you're free to share a photo with Mickey Mouse!
2. Tigger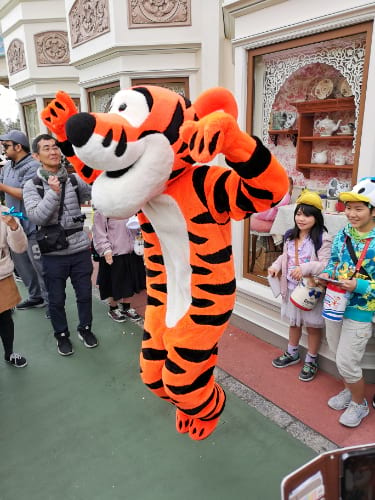 Tigger is very easy to spot because of his orange and black stripes. And of course, just like in the movies, he is also very energetic.
So, don't be surprised to catch him bouncing all over the place.
3. Eeyore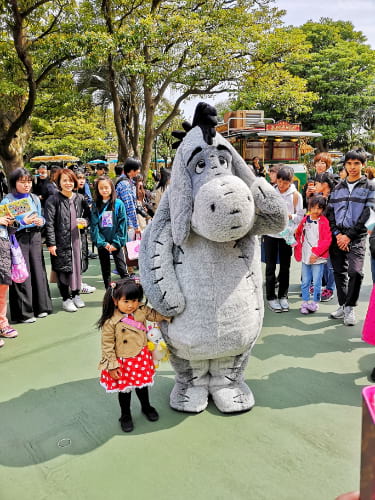 Don't get intimated with Eeyore's gloomy appearance.
His worry-eyed face may suggest sadness but he is actually very friendly. That's why many want to take a photo of him.
Oftentimes, you'll find him surrounded by a lot of people.
4. Rabbit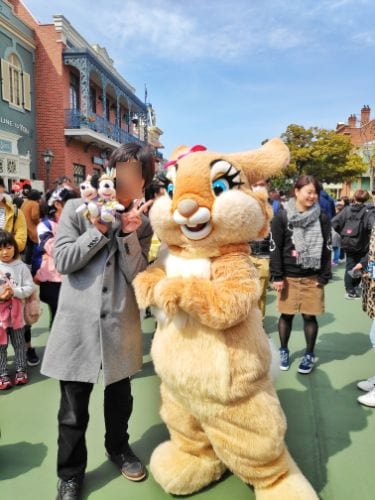 Interact with Rabbit and strike a pose before the crowd gets bigger. This adorable character is such a joy to watch as he entertains visitors with his charms.
5. Piglet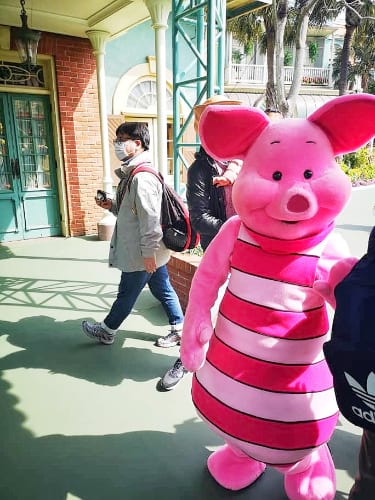 Another cute character that is always ready to brighten up your day is Piglet. His vibrant color makes him a standout even in a crowd of visitors.
So, admire his presence and don't forget to capture his delightful smile.
My Tips
There are 6 important things about this park that you should know in advance. These tips will help you make the most out of your visit.
So, let me highlight the key insights through the list below.
Take Note: Remember to go to this website to buy Tokyo Disneyland tickets, which will help you skip the line and go straight to the park!
1. Know the open and unavailable rides beforehand
There are times when some rides in the park are close for maintenance. So better check Disneyland's ride closure date in advance so you won't miss the rides that you want to try on that day.
2. Be informed of the schedule
You can also visit this Disney parade and show schedule website to know the exact showtimes. This will help you plan your trip ahead of time and maximize your tour.
3. Check the waiting time every now and then
To get the updated waiting time of the rides, refer to Tokyo Disneyland live wait time page. By looking into this, you can prioritize those with shorter lines and save time.
4. Assess the crowd level
Don't forget to check this crowd calendar website ahead to forecast the crowd level for the entire month.
This also gives you information on the crowd level history for the past months so you can avoid crowds.
Select the date that is highlighted in between "A" and "D" letters from the calendar. This is help you avoid the crowds.
5. Allot 1 day for your trip
To make your visit more efficient, allocate 1 day for Tokyo Disneyland because there are too many things to see and do there.
I personally spent the entire day in the park with my wife because of the abundant entertainment options.
More so, Disneyland is just part of my Tokyo trip. See here for my personal 7-day Tokyo itinerary, which will show you all the places that you should visit. I will also share here the suggested time duration for each place.
6. Transportation
There are 2 best ways to reach the theme park, either by bus or train.
Sometimes, taking the bus is the most convenient option. However, this depends on where you depart.
So, make sure to see this detailed article on how to go to Tokyo Disneyland to assist you in choosing the best transport mode.
Tokyo Disneyland FastPass
Maximize your visit to Tokyo Disneyland by taking advantage of FastPass tickets. These tickets are designed to help you queue up at fast lanes of popular rides.
And conveniently, the FastPass tickets are free for every visitor!
You can simply download the Tokyo Disney Resort App to help you in claiming the FastPass for attractions.
Likewise, if you want to know how to redeem the FastPass using an app, check out the Tokyo Disneyland FastPass guide here.
Recommended Hotels
There are 2 nearby hotels that are the best to stay while in Tokyo Disneyland.
Sheraton Grande Tokyo Bay Hotel: This hotel offering spacious rooms is just a 2-minute walk to Bayside Station. From there, you can ride the monorail going to Tokyo Disneyland in 9 minutes. It is also directly accessible from both Narita and Haneda Airports via the Airport Limousine bus.
Hilton Tokyo Bay: This is located beside Sheraton Grande Tokyo Bay Hotel.
Related Posts
Photo Credit:
Tokyo Disney Resort