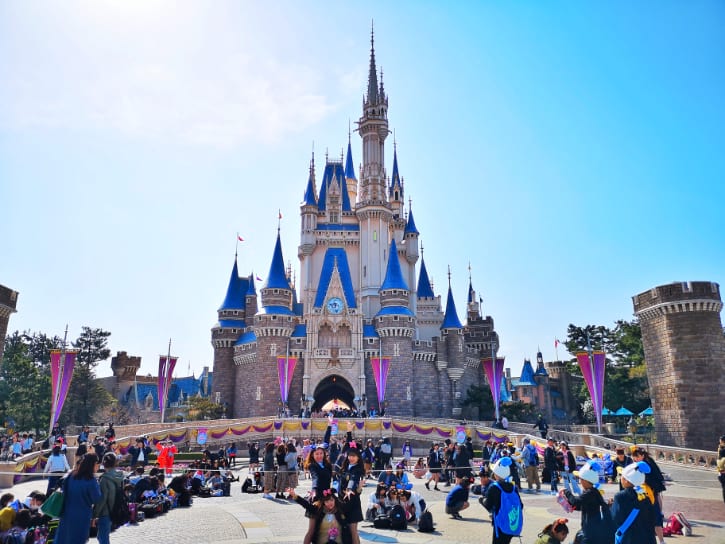 Here's a full list of the best Tokyo Disneyland rides and attractions for both thrill and non-thrill seekers. Plus, the best things to do and see at Tokyo Disneyland.
Before you set off to a magical journey, make sure to check out this guide so you'll master the popular rides at each zones of the theme park
Just in case you don't know, there are 7 zones at Tokyo Disneyland and each features many attractions, fun rides and thrill rides for you to experience. These 7 zones are World Bazaar, Adventureland, Westernland, Critter Country, Fantasyland, Toontown, and Tomorrowland.

Pro-tip
Are you ready to know the famous rides, beautiful attractions, and amazing shows at Tokyo Disneyland? Let's check out the list below. 🙂
15 Best Tokyo Disneyland Rides and Attractions
---
1. Splash Mountain

(Popular)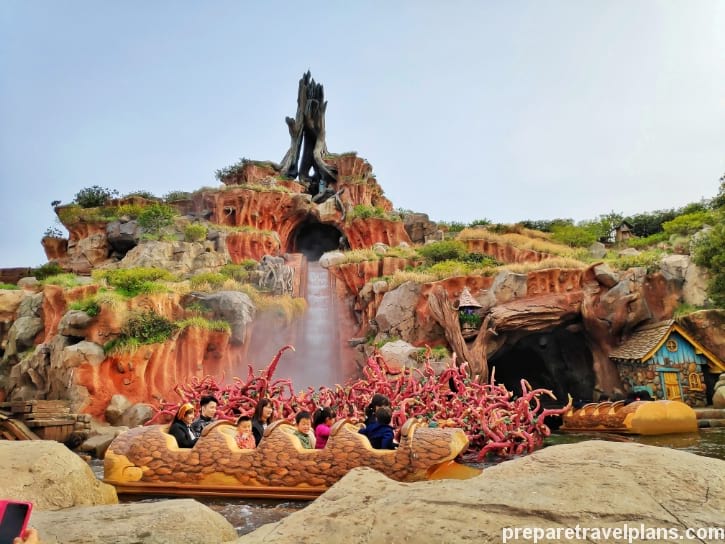 Zone: Critter Country
Is Thrill: Yes
A combination of both beauty and thrill, Splash Mountain is undeniably one of the best Tokyo Disneyland rides. Take the water journey through the classic Disney movie, Song of the South. The Splash Mountain is one of the biggest mountains nestled within the Tokyo Disneyland grounds.
At the beginning of the ride, gaze over the scenic park landscape from atop. The leisure stroll then brings you to the mountain, where sounds and colours unite to recount the classic tale.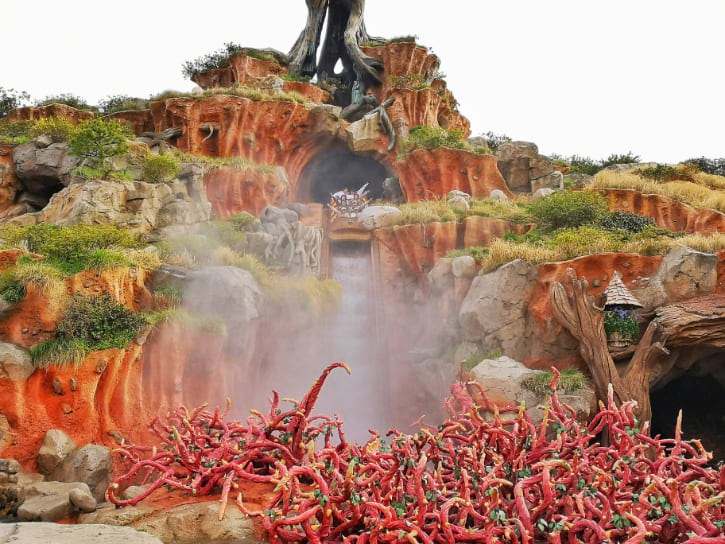 Along the lively trip, you will also meet some adorable Disney characters, dancing to the music and entertaining everyone. Then, darkness consumes the place to prepare you for an exciting twist.
This big, beautiful mountain at Tokyo Disneyland surprises visitors with its 45-degree drop at 64km/h―hence the name! The splashing feature definitely makes the ride funnier and memorable.
And, don't forget to enjoy the splash and try to strike your sassiest pose because your plunge will be captured! So, if you're looking for a perfect way to heighten your excitement, then this splashing water ride is never amiss!
The queue here is longer than other Tokyo Disneyland attractions, so be sure to avail of the FastPass ticket.
2. Space Mountain

(Popular)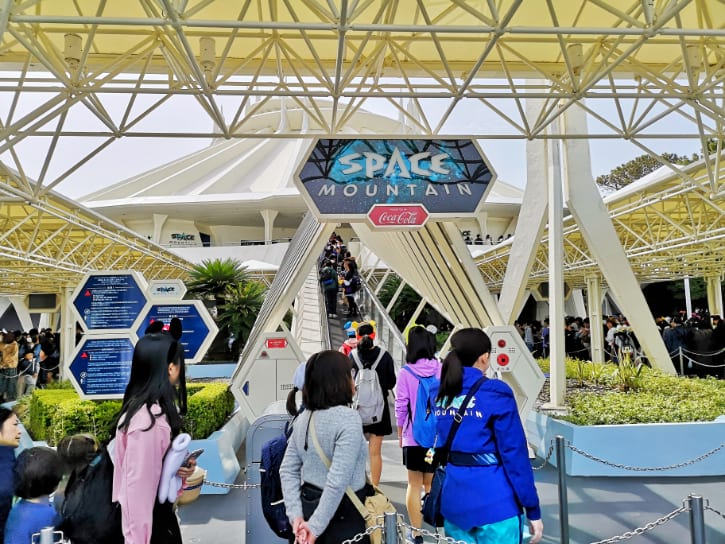 Zone: Tomorrowland
Is Thrill: Yes
Ever wondered what it's like to be an astronaut? Space Mountain gives you a once in a lifetime experience of travelling in a space-like setting―but with a twist.
This dark coaster ride brings you through the dusky mountain lightened up by stars, comets, and other brimming objects above. Beware though because this isn't your normal chill-and-stare trip. Travel across the galaxy in high speed that launches as soon as darkness consumes the place. Take a strong grip of your small rocket seat that takes you to the ends of the outer space.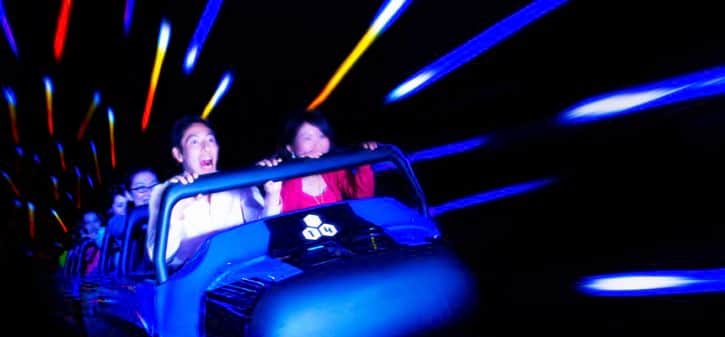 It might be a challenge to keep your eyes open because of the shocking speed, sharp curves, and sudden falls. Still, try your best to take a glimpse of the spectacular space scenery and relish this fast-paced expedition.
Since its opening, Space Mountain continues to be a sought-after attraction for those with a heart for thrilling rides. So, if you want something that keeps you on edge of your seat, make this as one of your priorities. It's worth the wait, promise!
3. Big Thunder Mountain

(Popular)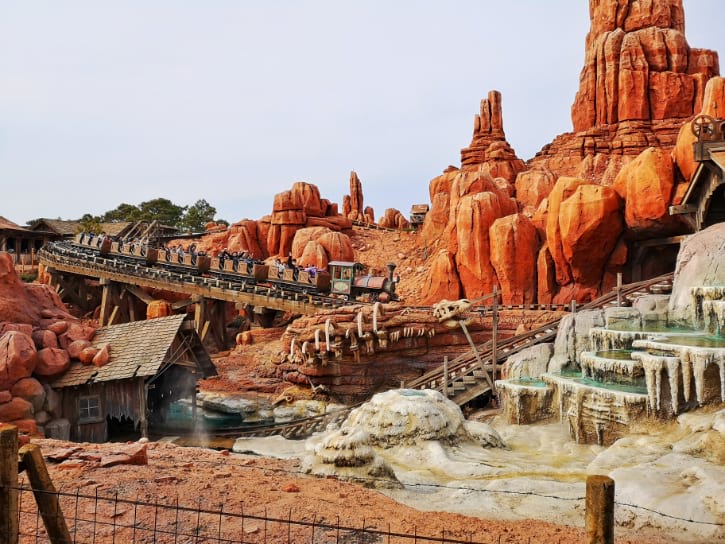 Zone: Westernland
Is Thrill: Yes
There's more to this abandoned yet magical gold mine than its towering rock boulders. Big Thunder Mountain is as big as it gets when it comes to thrill and adventure. It's such an amazing way to intensify your senses while watching in awe the spectacular landscape.
Instead of taking you to a space ride or a watery adventure, it brings you to California's gold rush era. Revisit the 19th century scenery as you head straight to the mountain and see the amazing view from above.
But of course, this is a classic rollercoaster ride, so expect for a high-speed expedition bursting with tilts and drops. Put your hands up on the air, scream your hearts out, and get ready for a 56km/h ride. At one point, you will go through a dark area filled with bats that'll make you pull your hands back. Don't worry because these are just project flying creatures to create a more intensifying drama.
Despite long queues, Big Thunder Mountain is still on top of the list of best thrill rides at Tokyo Disneyland. So, better get a FastPass ahead so that you can secure your seat.
4. Star Tours: The Adventures Continue

(Popular)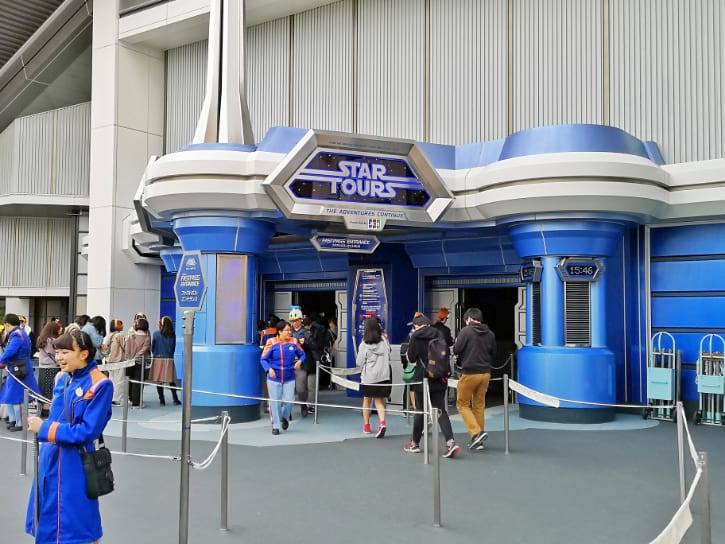 Zone: Tomorrowland
Is Thrill: Yes
Calling all Star Wars fanatics! There's something to look forward to at Tokyo Disneyland―the Star Tours: The Adventures Continue. Unleash your Star Wars fantasy and relish this amazing 3-D ride that features two of the Star Wars Trilogy.
Before the epic Star Wars adventure, you will pass by an impressive display of robotics and new tech creations This gives you a glimpse of what lies ahead―an exceptional motion-simulated attraction loaded with incredible effects and iconic Star Wars destinations.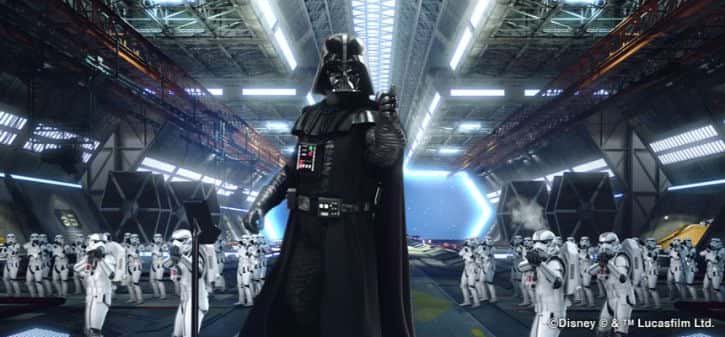 Let out your energy as you experience a life-like Star Wars battle. Find yourself in the middle of an action-filled setting, from Hoth to Coruscant to Death Star. Within the four-and-a-half-minute duration, you will see over 50 amazing story combos. This means that you get your time and money's worth!
In a random pick, you can meet your favourite Star War characters including Yoda, Princess Leila, and Darth Vader. Don't miss the fun and thrill brought to you by this iconic series. So, together with your family and friends, get here early or book your FastPass ticket. It's such a disappointment to leave the park without seeing this!
5. Pooh's Hunny Hunt

(Popular)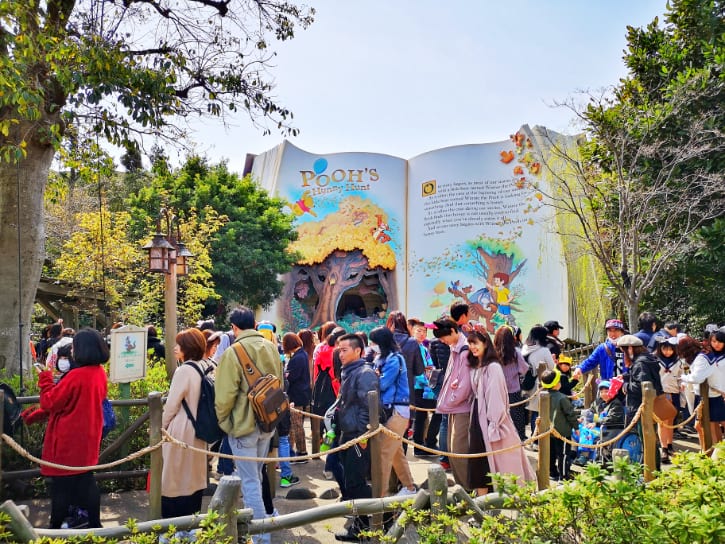 Zone: Fantasyland
Is Thrill: No
There's a spoonful of reasons as to why this Pooh's Hunny Hunt is one of the best Tokyo Disneyland attractions. To raise a few, it would be its one-of-a-kind storytelling and its 3D exterior and interior fine art. Of course, we can't miss the spot-on emotive characters and Pooh's entire honey-searching.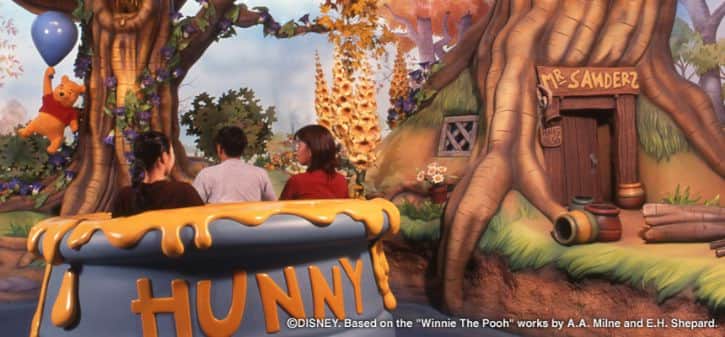 However, the central highlight of this attraction is the amazing satisfaction of its trackless ride technology. What you'll be sitting on here are ride vehicles made out of pots overspilling with honey. Then, you get transported to one storybook to another until you finally embarked on Pooh's most-awaited Honey Tree!
And although the crowd is not something to joke about, Fastpass ticketing will drop your worries away. Besides, the hassle of waiting in long queues will be saved by the splendid garden decorating the park's facade. Lush trees are there to snug you in a dreamy embrace as you anticipate Pooh's honey dwelling.
6. Monsters, Inc. Ride & Go Seek

(Popular)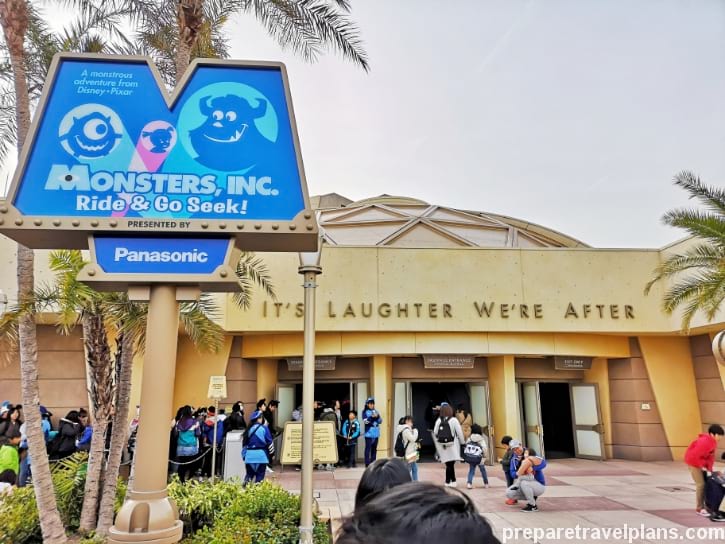 Zone: Tomorrowland
Is Thrill: No
In this popular park ride adventure, you will see Boo, Sulley, and Mike of the heart-wrenching film, Monsters INC. This is one of the rides that will bring out the child in you again. Get pulled by the ride-and-go-seek game that the characters are playing.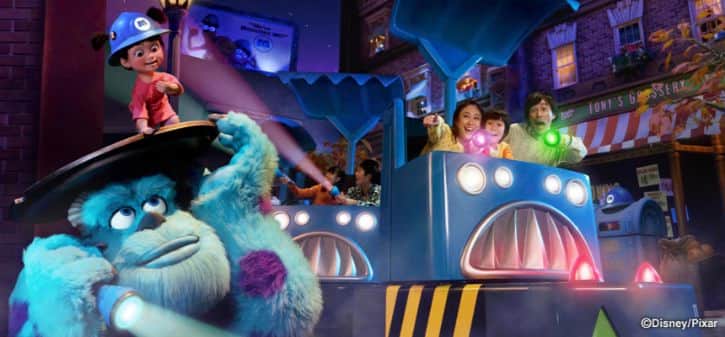 Since this is a dark, interactive ride, you'll be using a flashlight to have a better view of the monsters. As you meet each of your favorite hideous yet lovable characters, you'll feel like you're in the actual movie set.
This attraction is overwhelmingly cute and monstrous at the same time. With all its sound effects and fuller-than-life animation, you'll find your 5-minute stay around the streets of Monstropolis very memorable.
7. "it's a small world"

(Popular)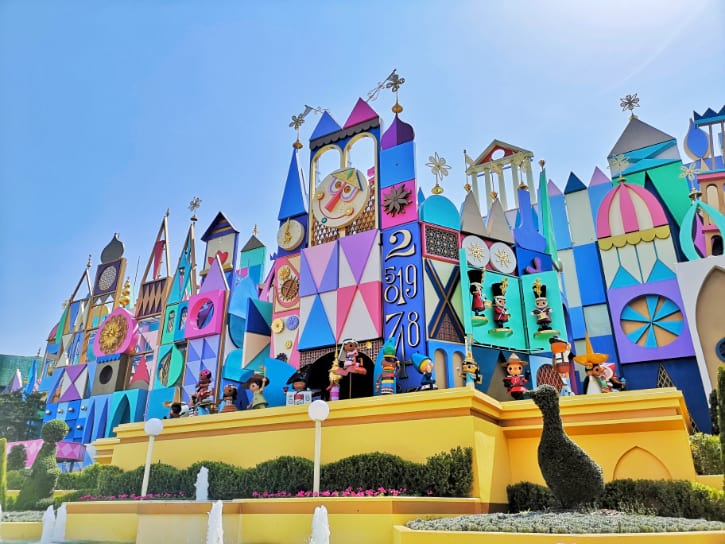 Zone: Fantasyland
Is Thrill: No
The burst of colours is evident as soon as you see the highly animated exteriors of "It's a small world."
Judging from its rich-coloured front area, you can already sense it's an awe-inspiring beauty inside. And do get your hopes up, because this one of the best attractions at Tokyo Disneyland.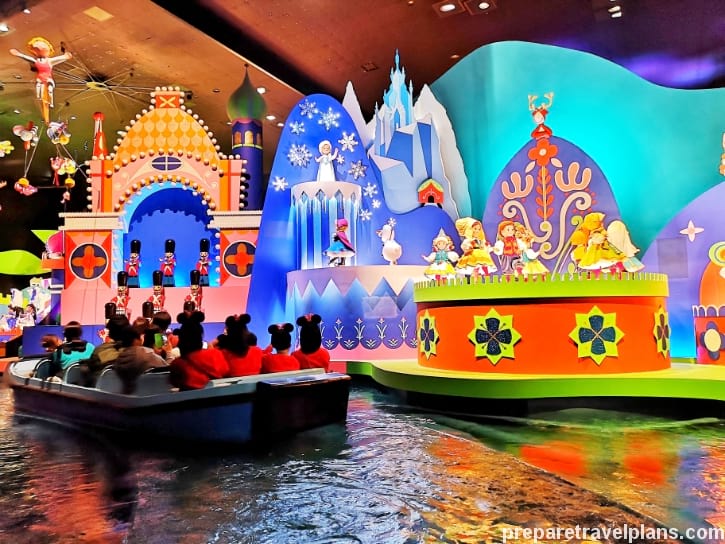 As the waterway ride begins, you'll wonder how such magic can be crammed in 10 minutes alone.
Immediately you will observe miniature children from different parts of the globe, wearing their vibrant and unique traditional costumes.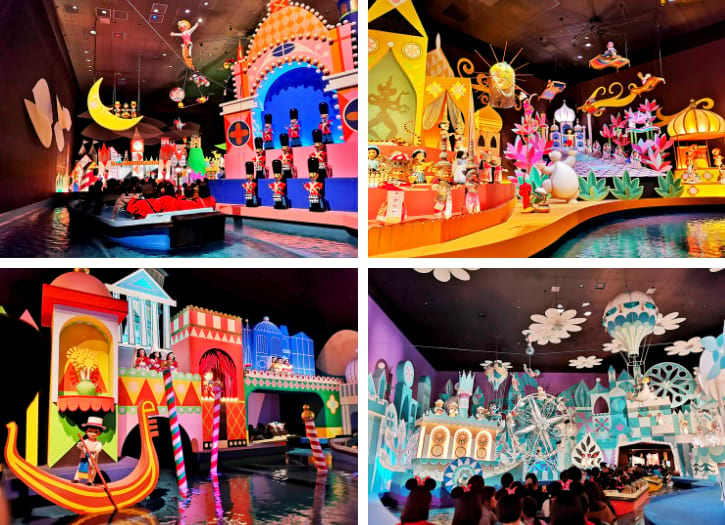 Child-like statues are seen dancing, spinning around, flying, waving, and enlivening the very scene of the entire place.
While other rides make you gasp, this place will leave you silently stricken by the magic flowing smoothly inside. All the colours, lights, and sounds make this place remarkably beautiful!
Other Disney princesses in their symbolic habitations can also be spotted here.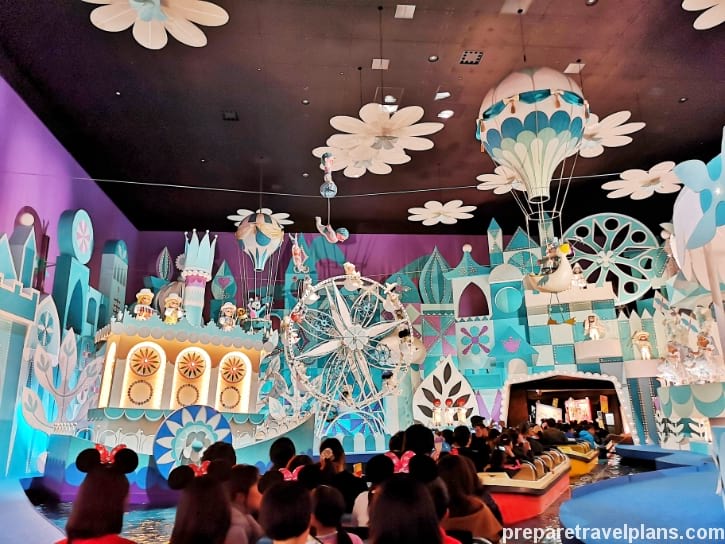 Throughout your cruise, the playful chant of the song 'It's a small world' will be beautifully accompanying you.
8. Cinderella's Fairy Tale Hall

(Popular)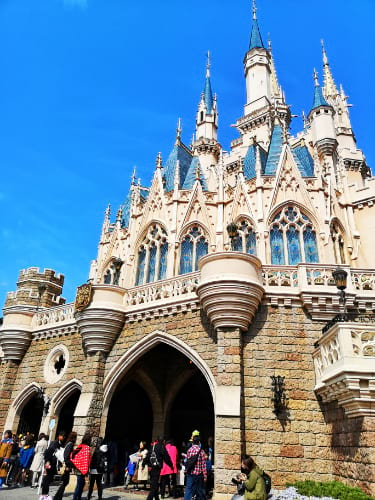 Zone: Fantasyland
Ever pondered how it feels like to walk candidly on Cinderella's castle? Be one of the guests and take a stroll at Cinderella's Fairy Tale Hall!
From the humble beginnings of the Disney princess until her most-awaited transformation, every enchanting detail of this film is spectacular.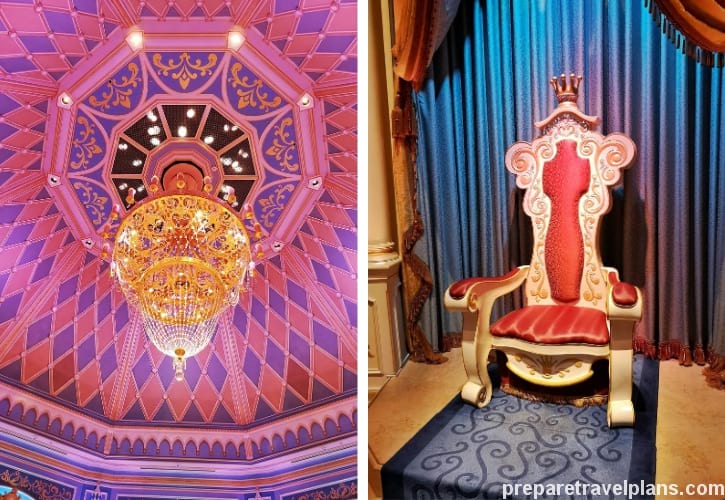 The Grand Hall is as beautiful as portrayed in the film. Its majestic chandelier and ceiling as well as Cinderella's popular glass slipper and throne are perfectly on point.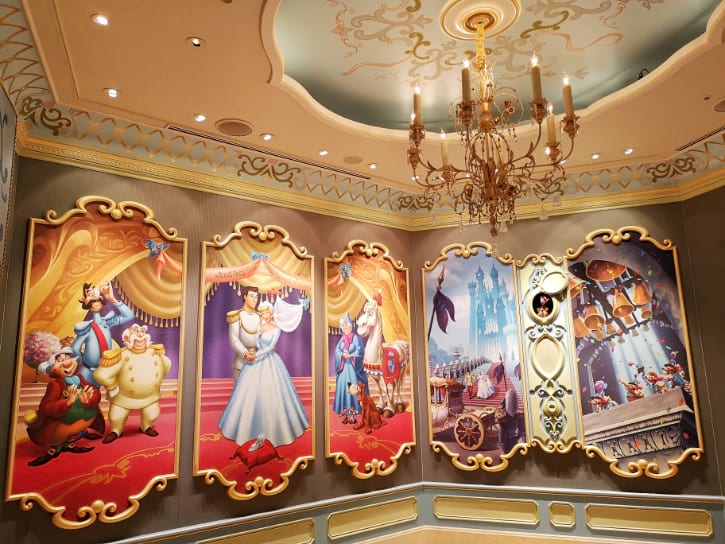 Cinderella's life story is plastered through large frames arrayed as the princess' gallery. Alongside these frames and miniature statues depicting Cinderella's main events are displayed along the corners of the hall.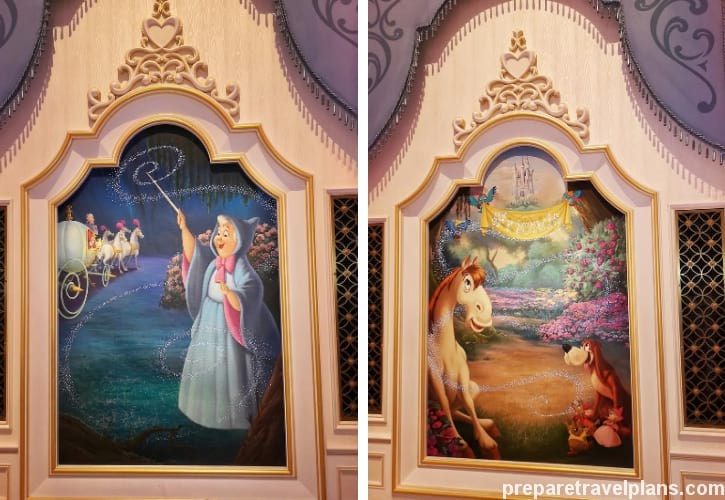 The painting gallery follows Cinderella's journey as a loving daughter until her life as an admired princess.
Her famous pet Bruno, along with her other friends, are also illustrated in the painting gallery. To uncover a secret message in the paintings, make sure to have your phone camera flash on. Besides, this makes reminiscing more special and especially vivid.
9. Buzz Lightyear's Astro Blasters

(Popular)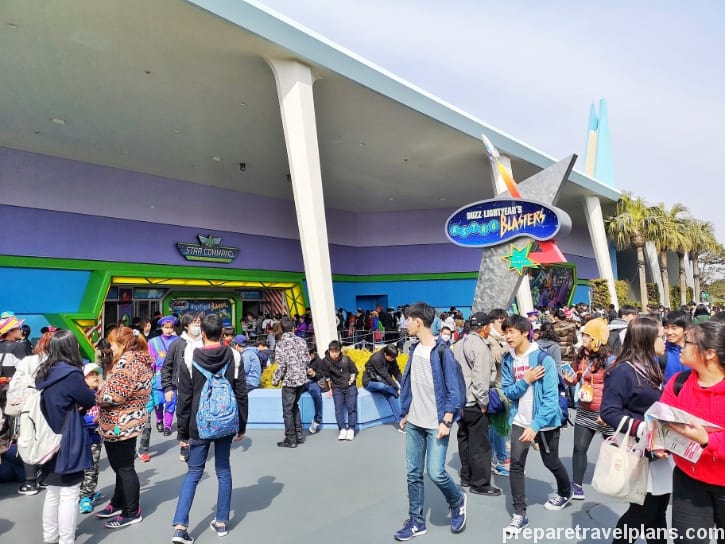 Zone: Tomorrowland
Is Thrill: No
If you're among the fans who can't get over the feels brought by Toy Story, here's a gift for you. Buzz Lightyear's Astro Blasters is definitely the best place to revive the emotions you've had from this childhood classic.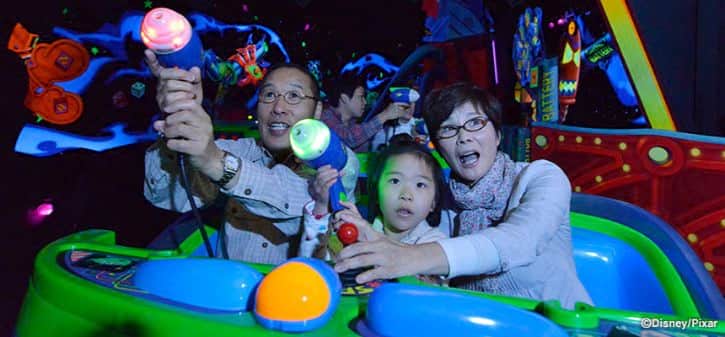 Even children who still haven't met Buzz Lightyear will love him and his heroic acts. Through this indoor ride, you and Buzz Lightyear are tasked to save the world from the hands of Emperor Zurg. As you spin your space cruiser, aim and shoot at Zurg and his robots using the laser shooters.
Due to its popularity, Buzz Lightyear's Astro Blasters is often swamped by visitors. However, using a FastPass saves you more time from the day's usual waiting line. With the ride's visual aesthetic and jam-packed action stunt, everyone is undoubtedly as excited as you are.
10. Haunted Mansion

(Popular)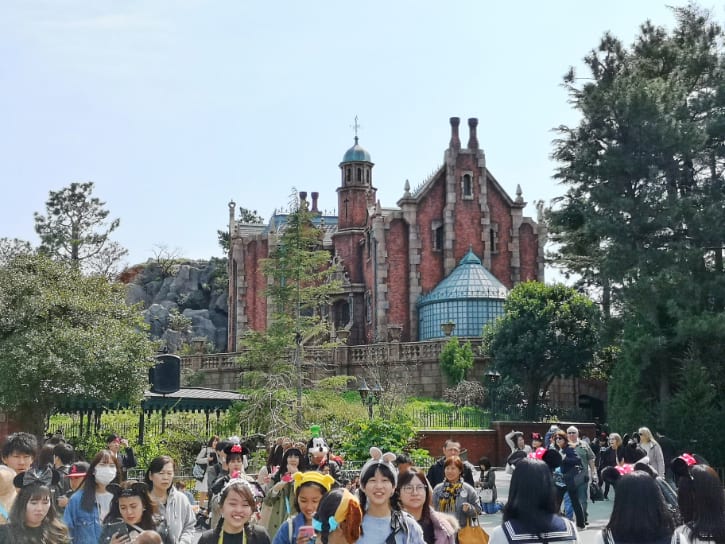 Zone: Fantasyland
Is Thrill: No
Sometimes a slow ride at a creepy park is all it takes to have your heart beating rapidly. Haunted Mansion is a spooky park that will raise your hair the instant you view the sight of its graveyard.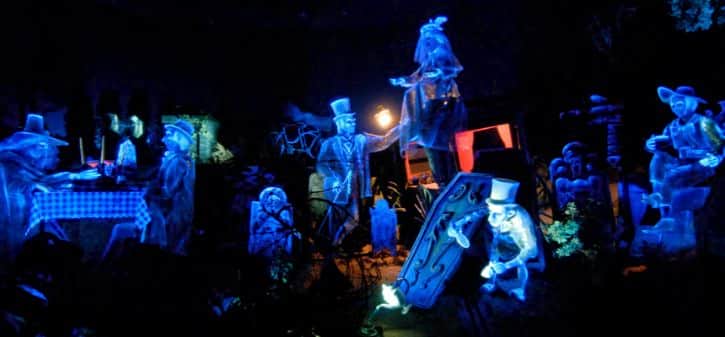 The dimly-lit attic and antique set of equipment encircled by cobwebs are more than enough to scare you. Not only that, the hanging and dancing ghosts will both impress you and make your skin crawl.
Although this attraction is supposed to haunt visitors, many leave the park rather awed by the mansion's whole set-up. The astonishing effects, lighting, and sound definitely set the bar high for many haunted theme parks.
Haunted Mansion is a classic, gothic attraction that is resided by hundreds of ghosts lurking at every corner. Overall, it is remarkably stylized, frightening, and worth revisiting.
11. Peter Pan's Flight

(Popular)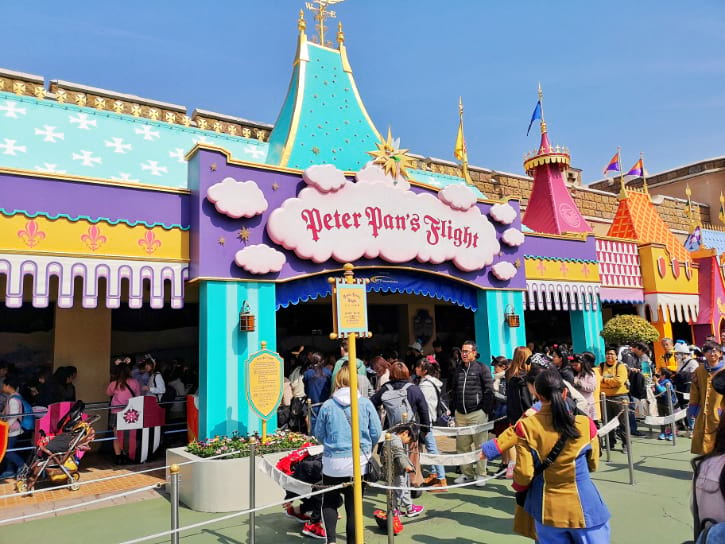 Zone: Fantasyland
Is Thrill: No
Come join Peter Pan's flight and see the many wonders right before his flying ship! It's among the top favoured attractions of many visitors, mainly for its enthralling design and starlit setting.
Although other parks highlight their technological extravagance, this place captivates its visitors through the childlike magic of Never Land.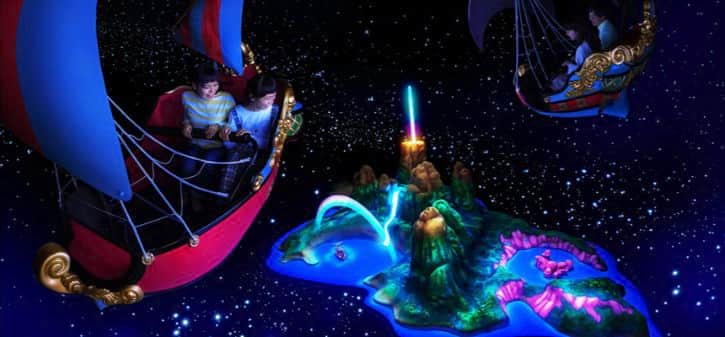 Your adventure begins at the humble home of the Darling family and jumps next to the old, quiet London streets. Thereafter, you will be transported to Neverland, where you will get to meet Wendy Darling and Captain Hook.
Yes, Peter Pan's Flight will not leave you running out of breath but it will surely water your deepest imagination. As high-spirited as the world of Peter Pan is, so will you be at the end of the day.
12. Dumbo The Flying Elephant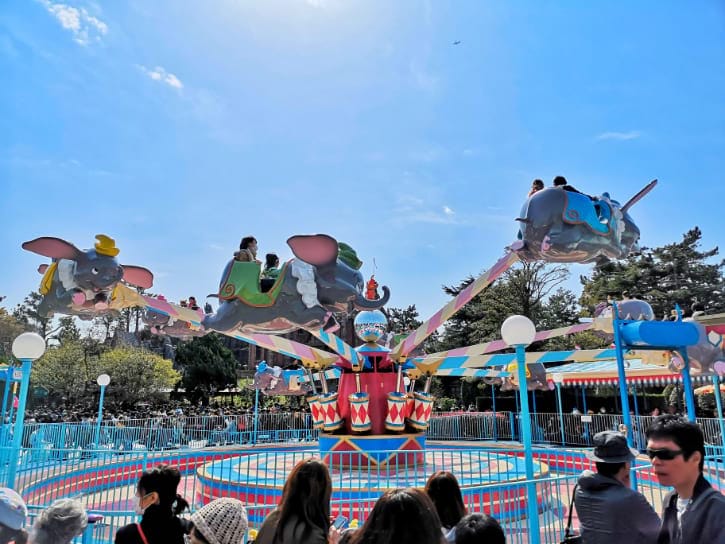 Zone: Fantasyland
Is Thrill: No
It's time you take a break from indoor rides. Marvel at the blue sky above you as you fly in circles on top of Dumbo. The powerful, oversized ears of the flying elephant will send you high enough to the sky.
If this beloved mammal holds a special place in your heart, then this ride should give justice to your emotions. Be inspired and fly high like Dumbo together with your loved ones! Not too slow and not too fast—this ride will set you in a steady enough yet exhilarating pace.
Oh, and there's more. Right at the center of the ride is Dumbo's famous sidekick, Timothy Q. Mouse. Not sure what he's up to above, though he's probably there to support his lifelong friend with his big heart!
13. Westernland Shootin' Gallery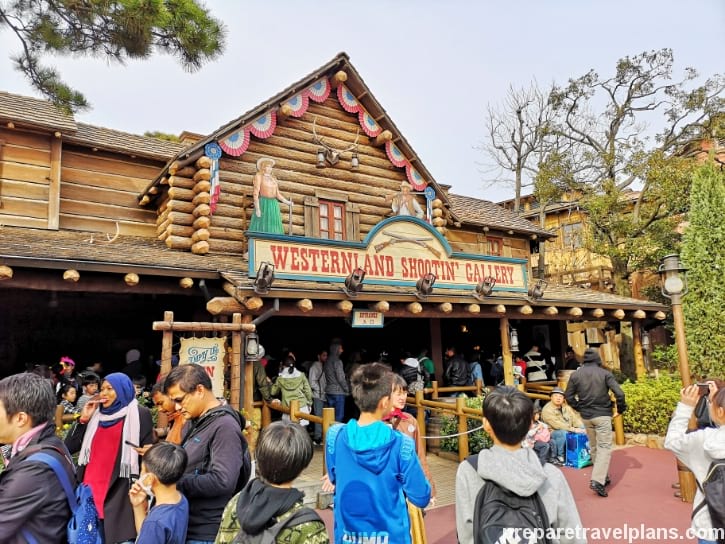 Zone: Westernland
If you're the type to look for an action-packed activity, you'll find many of your kind at Westerland Shootin' Gallery.
Take arms and shoot at a number of targets. Enjoy the array of bottle shake, piano, slot machine spins, and many others. Fashioned in a Wild West Saloon set, the inside is just as inviting as the outside.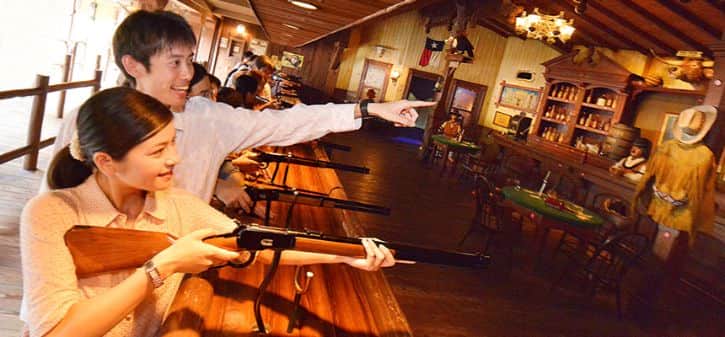 Let the sharpshooter in you take full charge! Take no hesitations and grab one of your Winchester rifles on the counter. Although you may have to slash some additional cash inside, the prize you will get in return is more satisfying!
If you release your shooting skills all in one go, you'll be coming home with a gold sheriff badge. Or, you can get a scorecard message from the iconic character Goofy!
14. Beaver Brothers Explorer Canoes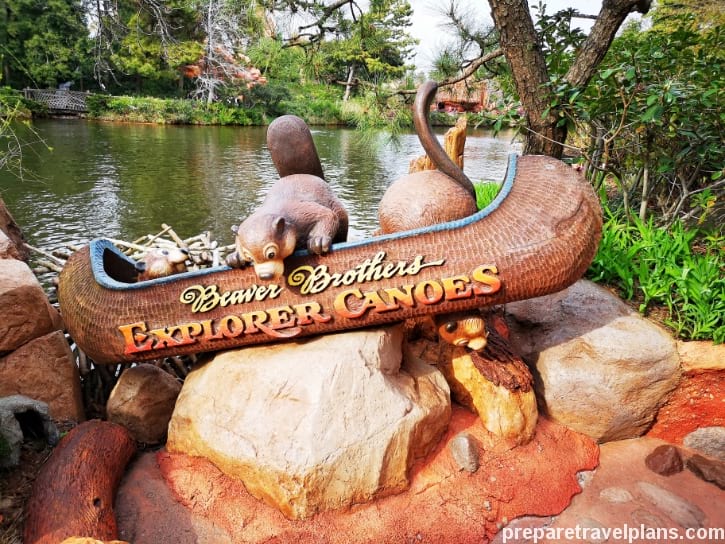 Zone: Critter Country
Go paddling through the great Rivers of America and paddle your way across Tom Sawyer Island. Beaver Brother Explorer Canoes is a laid-back kind of adventure with nature that lasts up to 10 minutes. Each canoe can cater up to 16 persons, just a perfect ride for the entire family.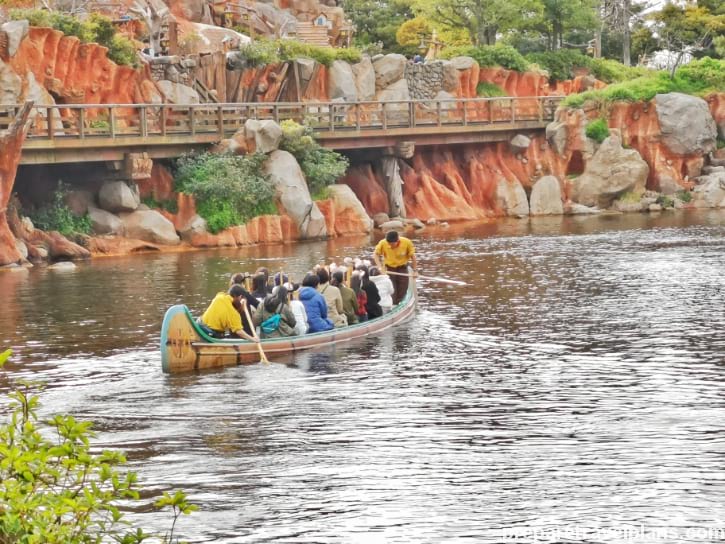 Together with the Beaver Brothers, catch sights of the soothing waters and lush landscapes. This paddle-powered expedition features the same route as the Mark Twain Riverboat, except you'll be working out your upper half.
So, if you want a quick workout, then you'll have a great time here. Don't worry because there's a pilot/ cast member assigned in each canoe.
Head your way to Critter Country and find the exit area of the Splash Mountain. And there, you'll see Beaver Brothers Explorer Canoes, which is truly a great choice while waiting for other popular rides.
15. Minnie's House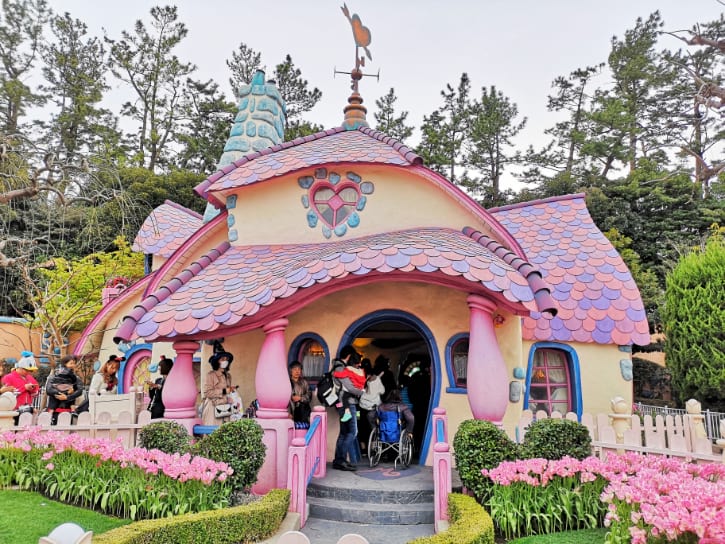 Zone: Toontown
Have it crossed your mind living in a cute, tiny Disney house? It's time to make your dreams into reality as you enter Minnie's House. This adorable home is too cute to go unnoticed! Even from afar, you can feel the charm of this small structure.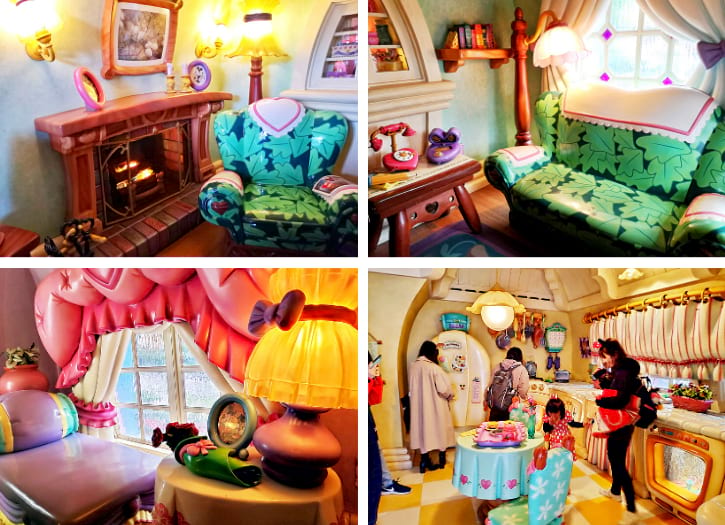 Go inside the house and be transported to life-like home filled with all sorts of cuteness! In the living room, you'll see pretty things like pink telephone, green sofa, and colourful stack of books.
There's also a fireplace and another sofa chair you can sit on. Plus, the kitchen area is such a delight! Open the fridge full of treats (not edible!) and prepare for a cosy meal inside.
And of course, don't miss the vibrant bedroom sprinkled with every bit of charm and colours. Take a quick break and lay down on Minnie's sassy bed.
3 Best Show at Tokyo Disneyland
---
1. Let's Party Gras!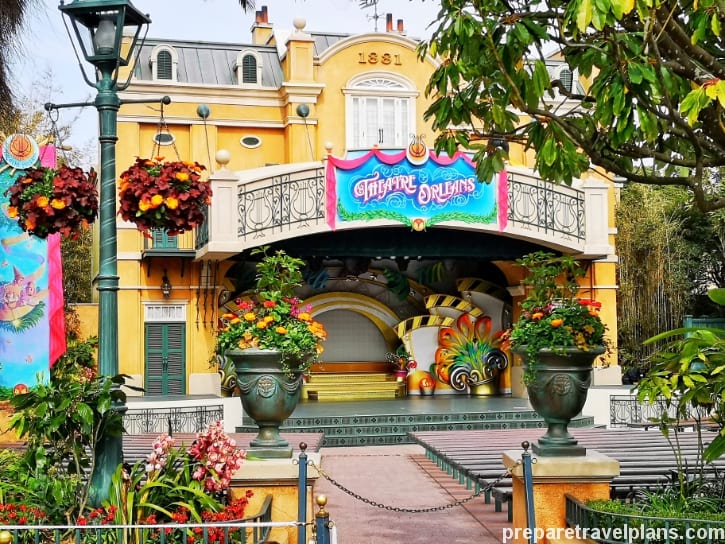 Zone: Adventureland
Show Duration: 25 minutes
The famous New Orleans' Mardi Gras celebration takes the entire Tokyo Disneyland by storm. Let's Party Gras is one of the best Tokyo Disneyland shows. All your favourite Disney characters are here to give you one, colourful, and memorable show.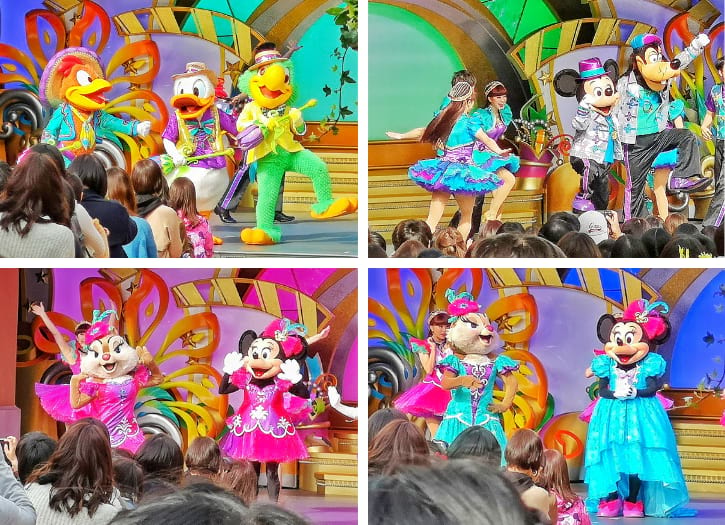 Participating the lively show are Jose Carioca and Donald Duck. These two are simply fun and charming to watch, not to mention very talented!
Mickey Mouse and Goofy are also in attendance to put their playfulness into display. And you'll not be dissatisfied because they are all out in giving everyone a spectacular show!
And of course, Minnie Mouse, Chip, and Dale can't go unnoticed! They make up the entire show, together with other Disney friends.
Let's Party Gras is one popular show, so better go here in the morning, ideally an hour before the show. The first and second showtimes are normally 10:25 a.m. and 11:55 a.m. So, even if you don't win the lottery, you can still watch this amazing show.
Check the exact showtimes of Let's Party Gras! by visiting the Tokyo Disney Resort website. Or, simply see the daily Entertainment Schedule Sheet.
2. Dreaming Up!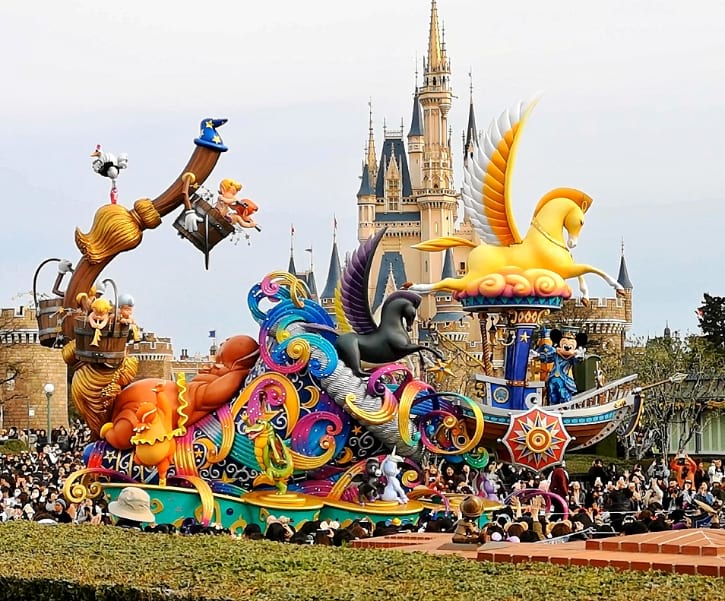 Location: Park-wide
Parade Duration: 45 minutes
For the happiest celebration at Tokyo Disneyland, find the perfect spot to see Dreaming Up! This daytime parade relives your most beautiful childhood Disney memories in one, lengthy, and spectacular show. Kicking off the parade is the striking Mickey Mouse float, together with Pluto and friends.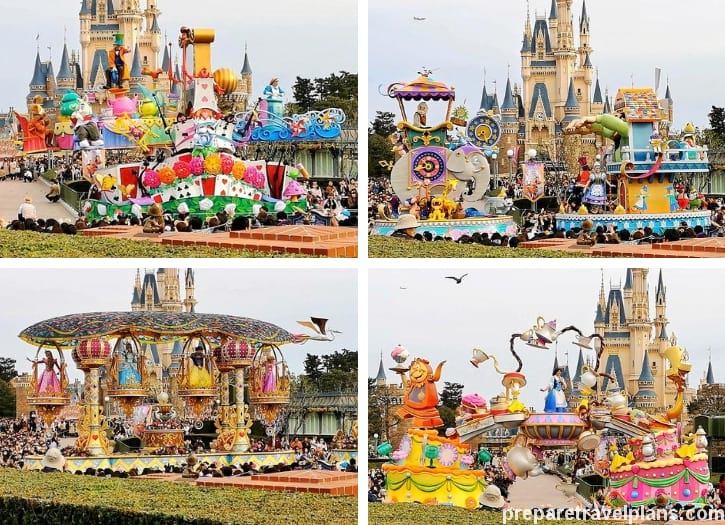 Get hooked with the famous characters from Alice in Wonderland, including, Alice herself, White Rabbit, and Mad Hatter. Also gracing the parade are Pinocchio and his talented creator, Geppetto.
For Cinderella fans, it's your time to get a closer look of Cinderella and her fairy god mother. Be amazed by Cinderella's graceful moves that will surely enchant all spectators.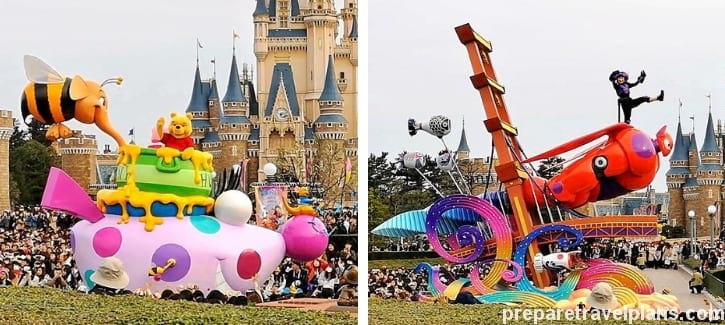 Winnie the Pooh and friends take you to another level of cuteness. Witness their adorable moves that are too hard to overlook.
The Baymax float is another fun and remarkable spot to look forward to.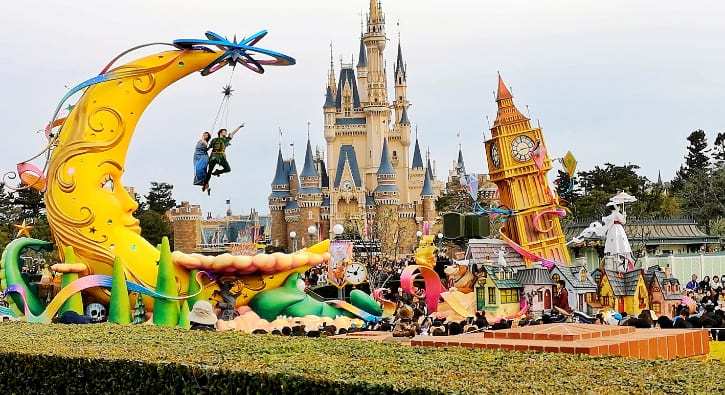 And of course, one of the crowd favourites is the float bringing both Wendy and Peter Pan.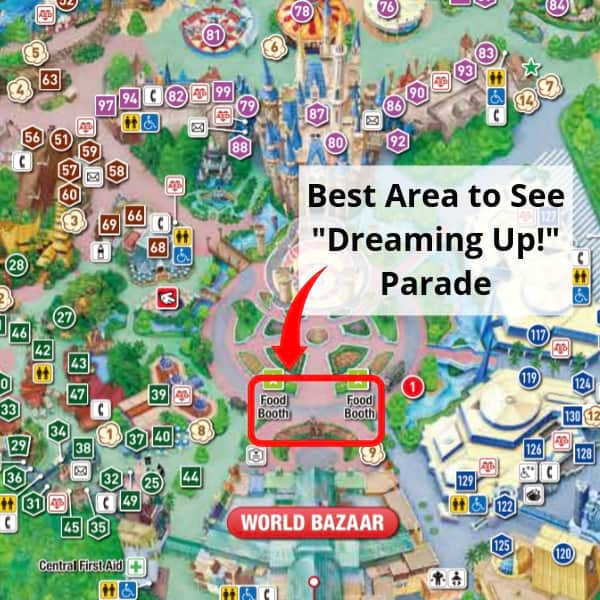 And, be sure to get to Park-wide at least 1 hour so that you can choose the best location. To have an incredible view of all the beautiful floats, go to the area shown on the picture above. But don't worry because the floats stop at highlight areas for everyone to see the entire show.
Know the exact time of the show and the parade route through the link below.
3. Tokyo Disneyland Electrical Parade Dreamlights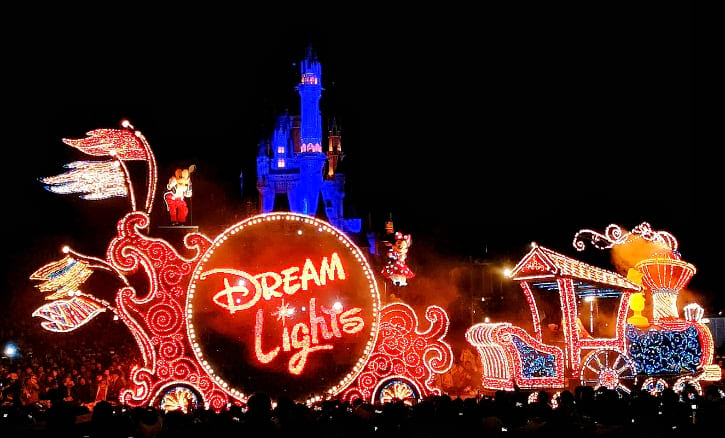 Location: Park-wide
Parade Duration: 45 minutes
In case you miss Dreaming Up!, don't worry because there's an equally beautiful parade at night-time. It's a great alternative for those who didn't get so lucky to see the Dreaming Up show. But of course, you can watch both!
Tokyo Disneyland Electrical Parade Dreamlights lights up the entire park with vibrant colours and beams. Welcoming the parade is the ever-magical Blue Fairy, together with the Knights of Light.
Riding the Casey Junior Train are Mickey Mouse and Goofy. These two buddies are notably fan favourites.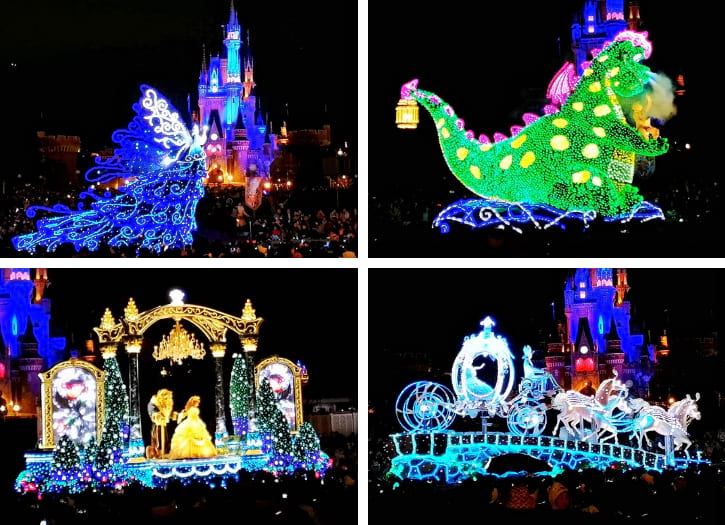 Alice and her Cheshire cat simply know how to light up the entire park! It's just difficult to take your eyes off from her cat's most mischievous grin.
Spelling out vibrancy is this mushroom float filled with animated colours, from flowers to butterfly to frog.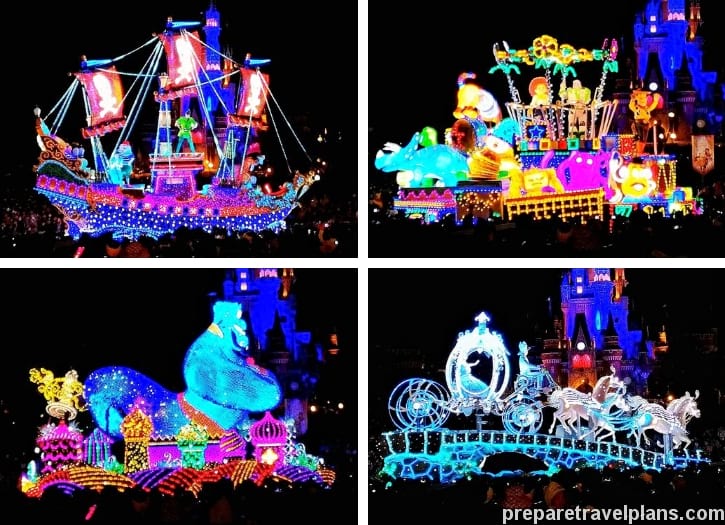 Pete's Dragon is another crowd favourite. This green-coloured giant even breathes out smoke-like stuff from his nose! This spectacular parade brings into action the Jolly Roger carrying Peter Pan and other ship crews.
Say hi to Toy Story's much-loved characters―Sheriff Woody, Buzz Lightyear, and Jessie! This charismatic, blue giant never fails to delight spectators! Genie is simply one memorable character from the classic Disney film, Aladdin.
The ever-famous carriage of Cinderella also made the cut. This classy float made from pumpkin is truly nostalgic!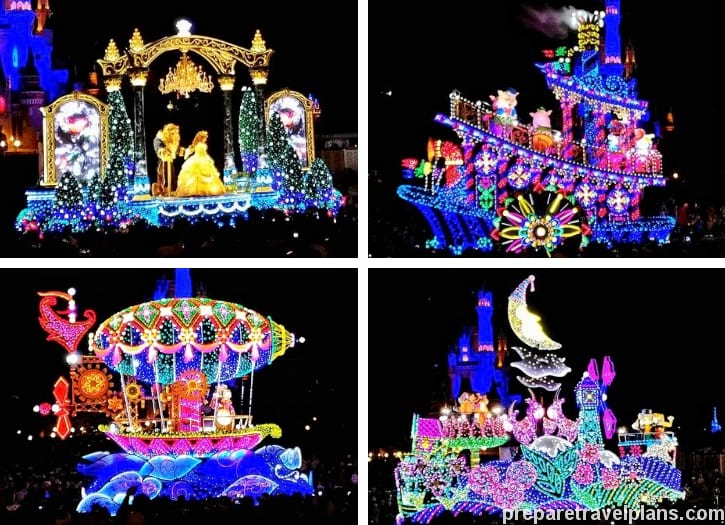 Get dazzled by Belle's and Beast's classical waltz dance.
Witness how the adorable duck duo―Daisy and Donald―give their most entertaining antics during the parade. The famous chipmunk brothers, Chip and Dale, couldn't afford to miss this colourful parade!
Also transforming your Disney dreams into reality are Pinocchio, Geppetto, and Jiminy Cricket.
And as one of the most famous shows at Tokyo Disneyland, better go the Park-wide area an hour ahead. This can give you the opportunity to choose the best location with the best view.
Check the link below to know the schedule and parade route of Tokyo Disneyland Electrical Parade Dreamlights.
Tokyo Disneyland Electrical Parade Dreamlights Show Time
Meet Up with Disney Characters
---
1. Meet Minnie Mouse Character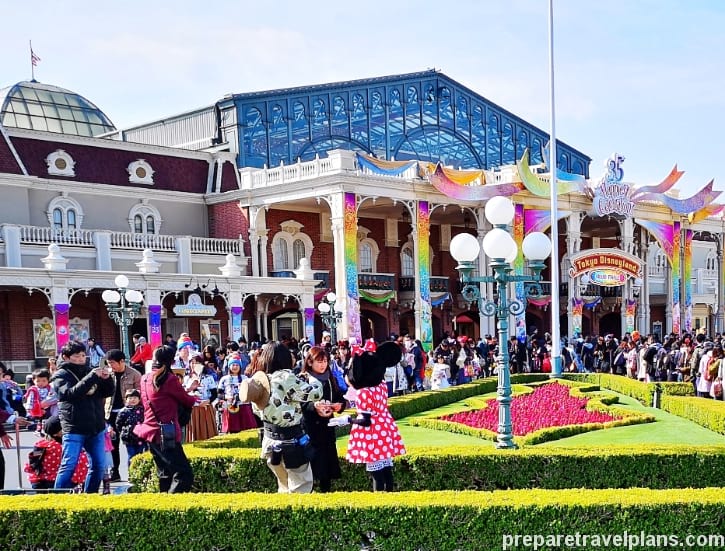 Location: Main Entrance of World Bazaar
She might pour all of her attention to Mickey Mouse, but this time she'll be willing to entertain you! Just be prepared to match her bombastic energy while she dances, sings, and hugs you!
The creature wearing that famous, stylish, polka-dotted bow is more than ready to show you her fun-loving side. You'll mostly spot her walking gleefully at the main entrance where she's all set to greet you and your company! Meeting Disney's one and only sweetheart is sure a bomb way to lighten your tour.
2. Mickey's House and Meet Mickey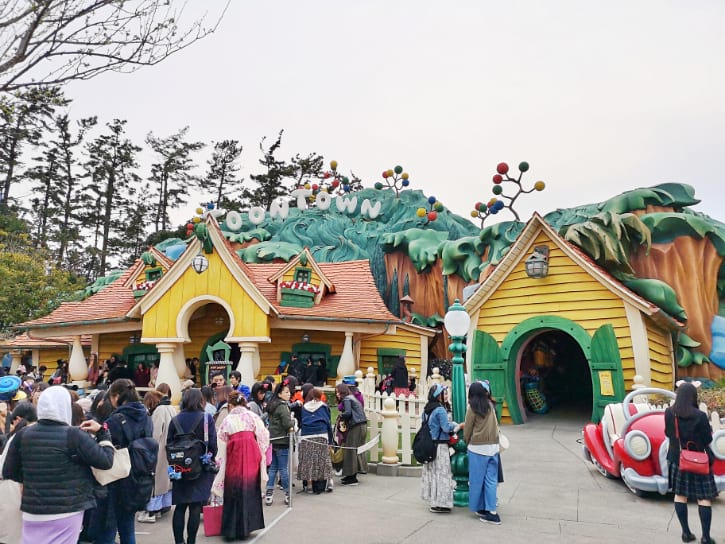 Zone: Toontown
Seeing Mickey Mouse on screen might have enthralled you back in the day. But seeing his beloved abode is as good as sharing a roof with him. Through a walkthrough tour of his house, you'll learn more about his mischievous and jolly character.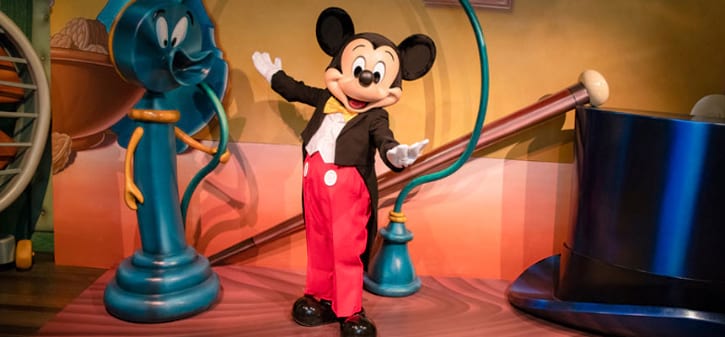 Check out his classic collectibles from his unbending career and a bunch of his treasured possessions! After you do so, take a look inside his Movie Barn and watch some of his well-known movie scenes.
Then, you're free to share a photo with Mickey Mouse once he finishes his daily endeavours!
3. Meet Tigger Character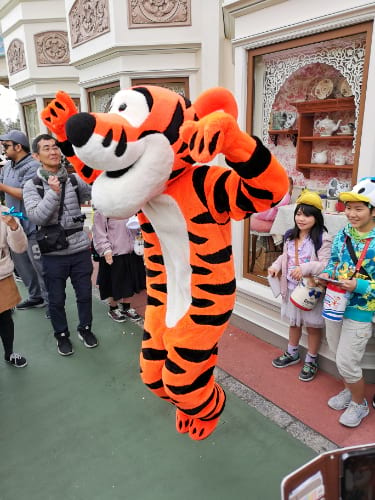 Zone: Adventureland
You won't have any difficulty spotting the orange-and-black-striped tiger at Disneyland. Tigger, which is as electrifying as the park itself. He will serve as your energizer if you're all worn out from all of the nerve-wracking indoor and outdoor rides.
Don't be too surprised to see Tigger continuously bouncing! He is totally as hyperactive as you see him onscreen.
As his way of greeting you, he will jump around and let his cheerful personality shine through. If there's anybody as energetic as you are in wandering Disneyland, it would be the one and only Tigger.
4. Meet Eeyore Character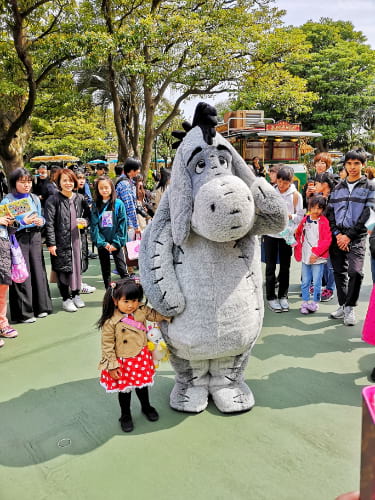 Zone: Adventureland
Despite Eeyore's reputation as a gloomy donkey, he has decided to adopt a happy disposition at Disneyland. His worry-eyed face may still suggest sadness, but his personality is totally the opposite up close.
Gone are the days when Eeyore used to sulk all day in his own circle. Now, he has learned to let go of his unwelcoming nature all for the visitors' happiness!
Who knows, he may have been influenced by the fun-loving people coming to and fro Disneyland!
5. Meet Rabbit Character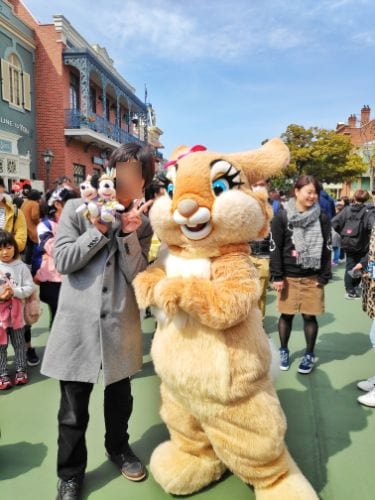 Zone: Adventureland
Rabbit has taken some time to leave his precious garden to engage with different folks around the park. He no longer is the same fussy bunny that hates being disturbed from his daily gardening duties.
At present, you can now easily interact with him and do all things imaginable! Before, the only thing that makes this bunny happy is his carrots.
Now, he's willing to give more room for the people of Disneyland! The only thing you need to be careful with is getting Tigger bouncing closely around him. This is about the only thing left to get on his nerves!
6. Meet Piglet Character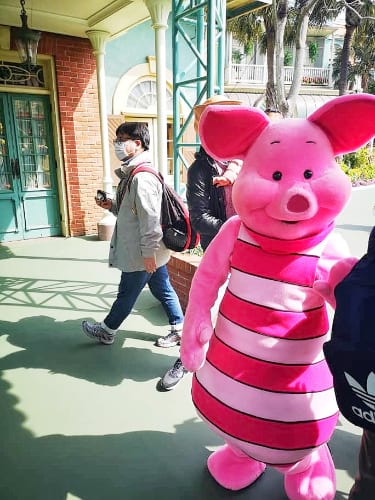 Zone: Adventureland
Piglet has managed to gather all his courage to personally greet you at Adventureland. Although it's not an easy job to hide his nervousness around people, Piglet is ready to interact with the crowd!
You won't spot even a trace of his edginess as he meets with visitors from all walks of life. Piglet will wear his signature smile all throughout the day and infect the mass of tourists with his kindness.
If you need somebody to simply enjoy each other's company, Piglet is always down for it.
Tokyo Disneyland Ticket Prices
---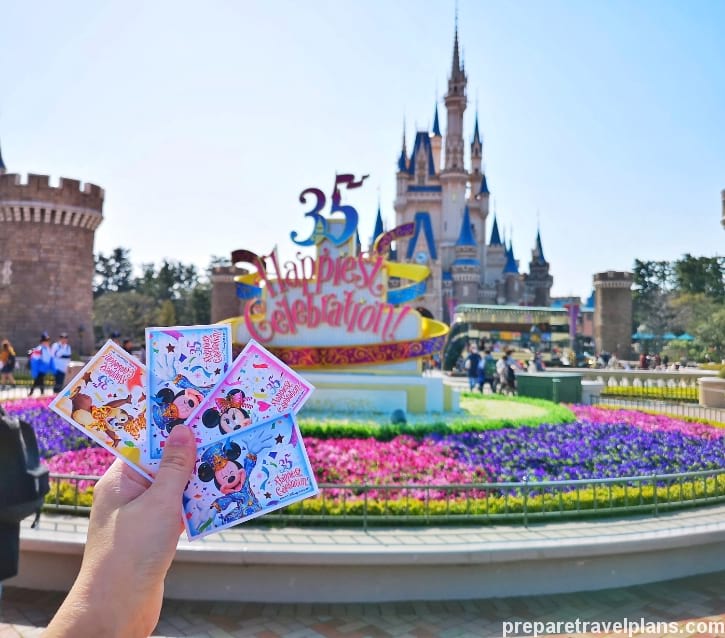 Ticket Prices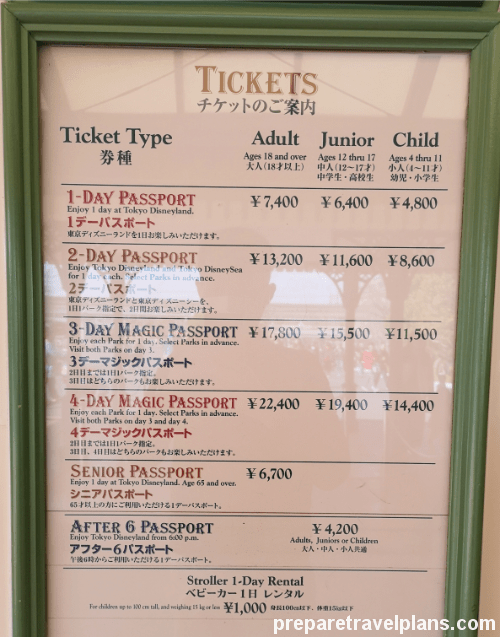 Buy at Ticketing Counter (1-Day Pass):
Adult (18+): 7,400 yen
Junior (12 – 17): 6,400 yen
Child (4 – 11): 4,800 yen
Buy at Ticketing Counter (2-Day Pass):
Adult (18+): 13,200 yen
Junior (12 – 17): 11,600 yen
Child (4 – 11): 8,600 yen
Tokyo Disneyland tickets are sold at the main entrance of the theme park. Sadly, there could be long queues at the counter in the morning. But fret not because there's another great option―buy your ticket online!
Highly Recommended to Buy Your Tokyo Disneyland Tickets Online. Here's Why:
Bypass the long queue. Buying your tickets online will actually give you more time to explore the park, particularly during peak season and holidays.
Easy-peasy entry to Tokyo Disneyland. No need to waste time lining up because you can enter the park directly with your e-ticket. Simply scan your e-ticket (softcopy ticket) at the entry gate and start the fun and adventure.
Meet Minnie Mouse character. Take more photos with Minnie Mouse at the entrance instead of wasting your time to line up for entry tickets.
So, spend less time on queues and more time on adventure by buying your tickets online. Plus, you'll discover the massive number of previous visitors who actually availed of online tickets through the links below.
How to Use the FastPass at Tokyo Disneyland
---
Maximize your visit to Tokyo Disneyland with FastPass tickets. These tickets are designed to give travellers opportunity to queue up at fast lane for popular rides and attractions.
This can help you to bypass the long queue at normal lane for famous rides and attractions at Tokyo Disneyland. Don't worry, the FastPass tickets are free for every visitor. You can easily to redeem it through the FastPass ticketing machines that are located near each attraction.
Take Note:
Do take note that you can only get one FastPass ticket for every two hours. Hence, use only your FastPass advantage for famous rides with higher crowd level.
Ideally, it's best to arrive early so that you capitalize on more FastPass tickets for different popular attractions.
For non-thrill seekers, give priority to Pooh's Hunny Hunt and Monsters, Inc. Rider & Go Seek because these rides easily run out. And for thrill-seekers, then Splash Mountain, Space Mountain, and Big Thunder Mountain should be your top choices for FastPass tickets.
A Step-by-step Guide to Claim Your FastPass Ticket
Step 1: Verify the FastPass Return Time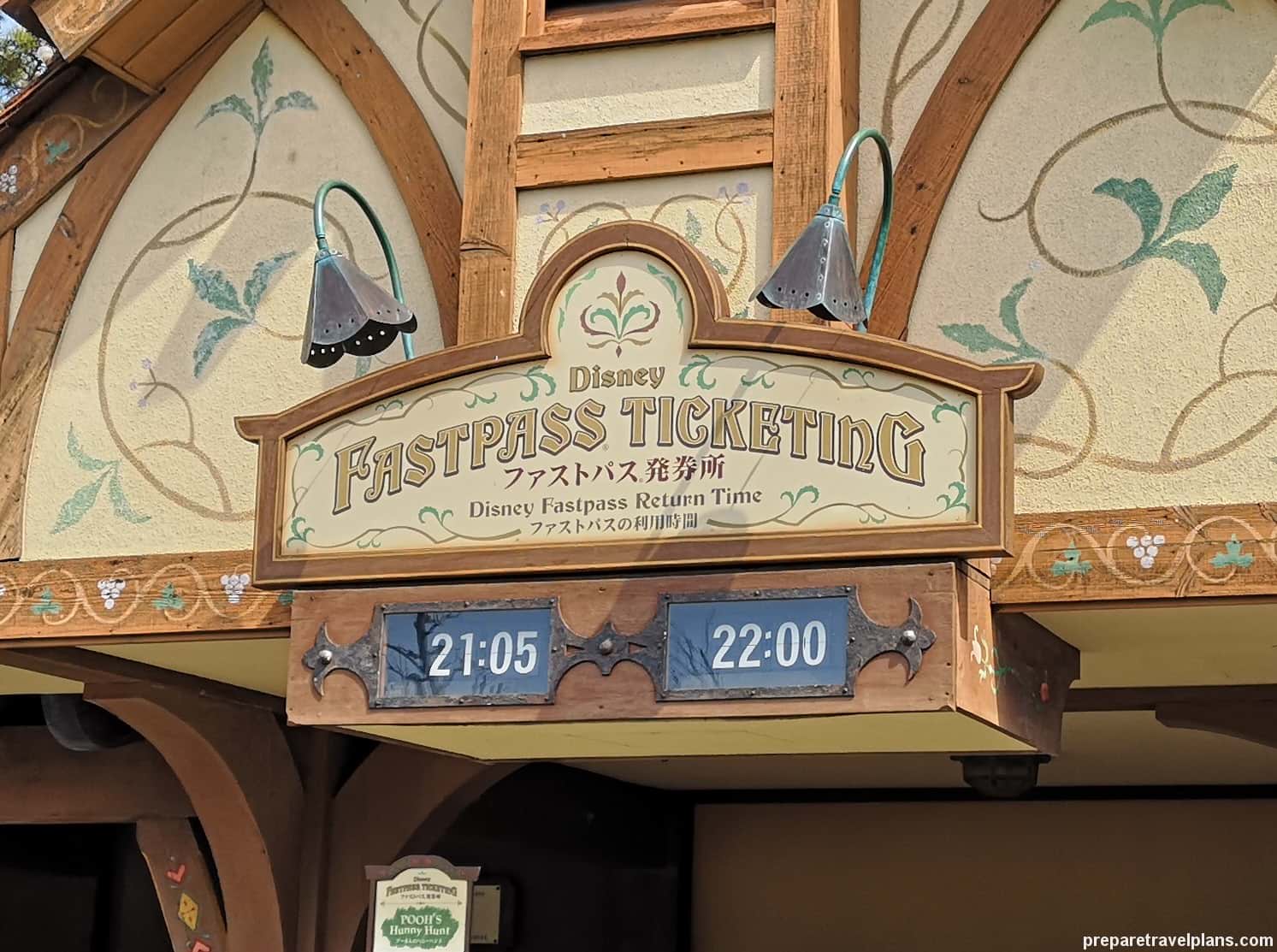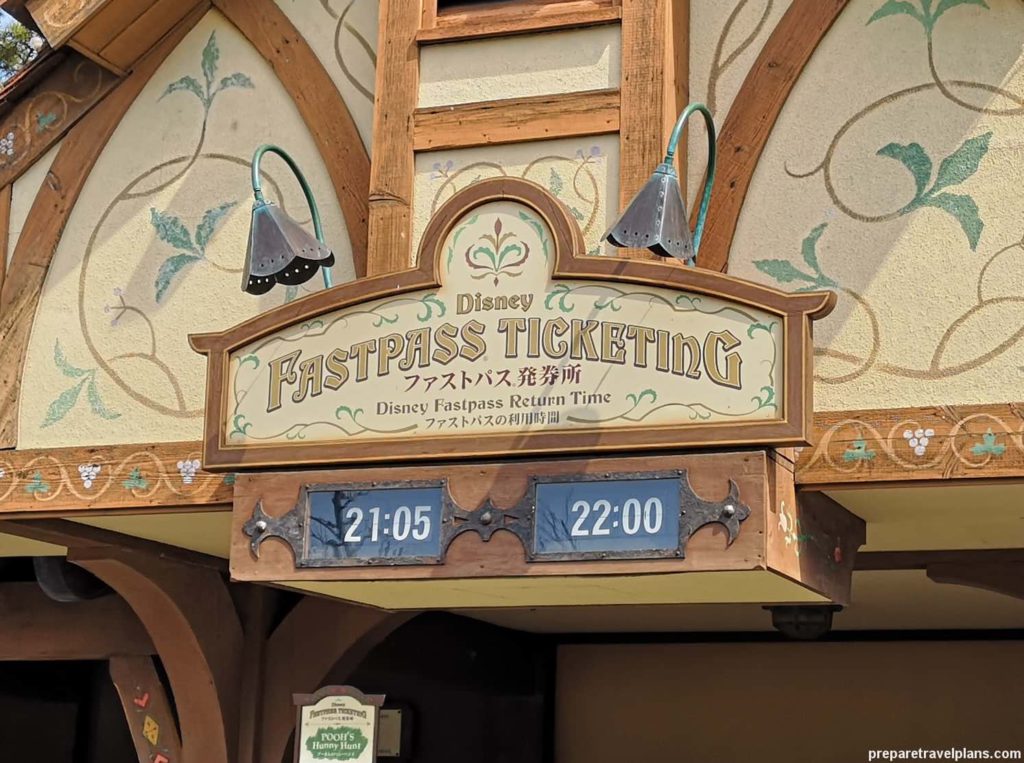 Most FastPass ticketing machines are located near each attraction in the park. From the time board of FastPass ticketing machines, you can see the FastPass return time. This is the time that you should return to the attraction and present your FastPass ticket to a Cast Member for you to line up at fast lane.
My Suggestion:
Only claim the FastPass ticket for rides that have longer waiting time for regular queue, ideally from 50 minutes and above. You can know the waiting time through the time board at the regular queue lane of each attraction.
So, for attractions with less than 30 minutes waiting time, then it's best to jump into the regular queue. This is because you can only avail of FastPass tickets every 2 hours. Hence, make sure you use them on more popular attractions with longer queues.
Mistake I Learned:
Take into account the return time of your FastPass ticket, especially that you can only claim one after 2 hours. If the return time is very late or not your preferred schedule, then don't get a FastPass ticket. This is one mistake I had during my visit, where I didn't check my return time for Pooh's Hunny Hunt.
When I went there around 10:45 am, I end up with a return time at 21:05 – 22:00. Plus, I had to wait for the next 2 hours to claim another FastPass ticket.
So, if you prefer Pooh's Hunny Hunt ride, then get your FastPass ticket once you enter the park. Remember to ensure the FastPass return time is acceptable for you before getting your FastPass ticket. You can check the FastPass return time through the time board of FastPass ticketing machines.
Step 2: Collect Your FastPass from Ticketing Machine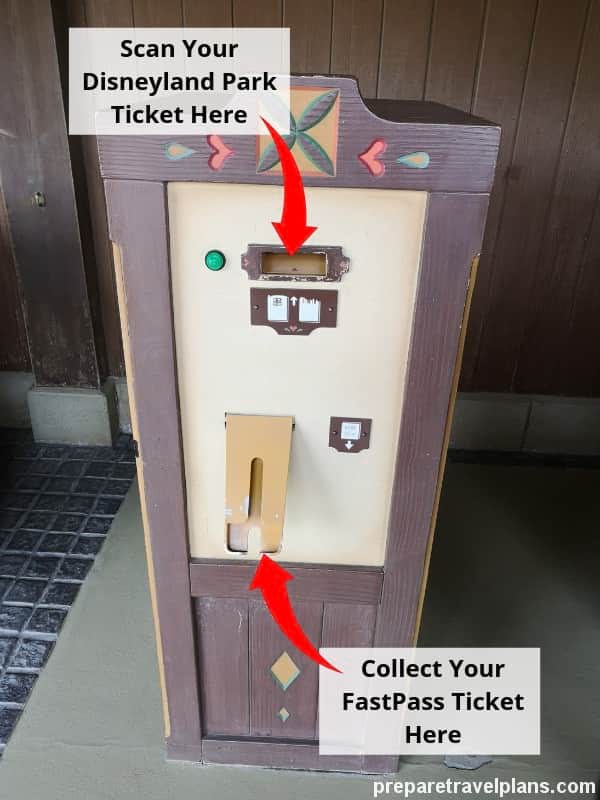 If you're okay with the return time, then it's time to maximize your FastPass advantage. Using your Disneyland park ticket, scan your QR Code at the FastPass ticketing machine.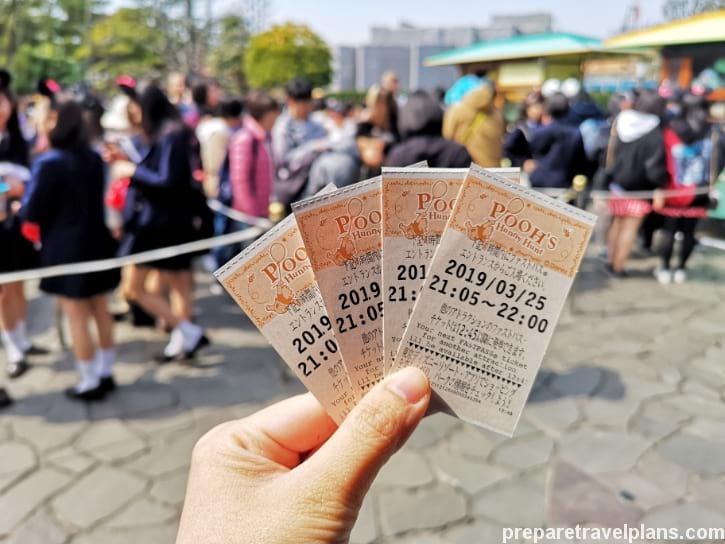 Based on the ticket above, you can see that the return time is 21:05 – 22:00. Accordingly, you need to get back to Pooh's Hunny Hunt ride within this period. While waiting, you can visit other rides that do not require FastPass tickets or those with shorter queues.
Also, if you claim your FastPass at 10:45 a.m., then your next FastPass will be from 12:45 p.m. onward. All tickets are printed in both English and Japanese texts.
Step 3: Don't Forget to Come Back to the Ride within the Return Time
At the FastPass lane, simply present your FastPass ticket to a Cast Member and enjoy the ride. The process is the same for all eligible FastPass rides and attractions.
Below are the rides that are allowed for FastPass Entry at Tokyo Disneyland:
Pooh's Hunny Hunt
Monsters, Inc. Ride & Go Seek!
Splash Mountain
Space Mountain
Big Thunder Mountain
"it's a small world"
Haunted Mansion
Star Tours: The Adventures Continue
Buzz Lightyear's Astro Blasters
All rides from 1 to 6 are very popular; hence their FastPass tickets run out in the morning. So, make them a priority.
*The process to get your FastPass Ticket is the same for all the rides that are eligible for FastPass Entry.
TDRAlert App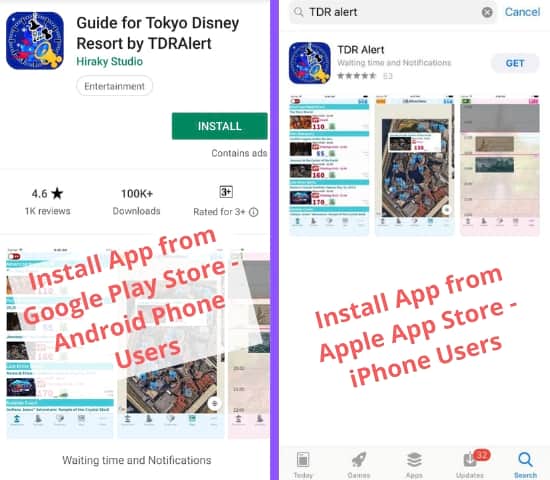 Get the updated waiting time of the rides as well as the FastPass Timing with the TRDAlert App.
Simply download the app from Google Play Store for Android users and App Store for iPhone users. The app is in English version so nothing to worry about.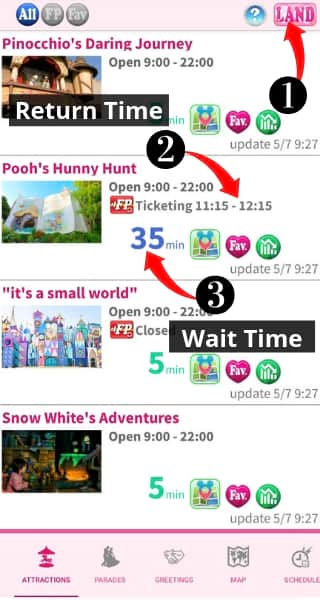 Using this app, you can spend more time exploring the theme park and give priority to those with shorter lines.
For your reference, the Wait Time is the current queue for rides without using FastPass. On the other hand, the Return Time is the time you should come back to the ride for those with FastPass ticket.
So, from the above picture, you need to return back to Pooh's Hunny Hunt between 11:15 – 12:15. This is only if you availed of the FastPass ticket to skip the regular queue.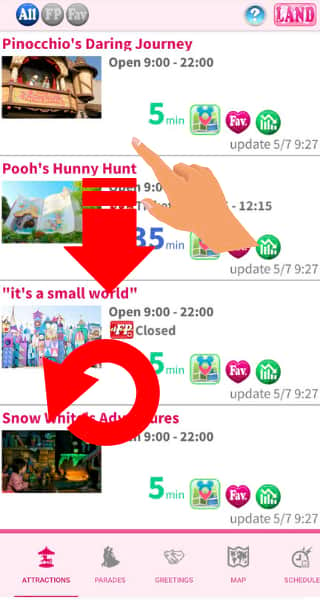 Don't forget to swipe down the app regularly for the latest updates. And since the app requires internet, make sure that you have a fast connection.
Apparently, there's still no free WiFi at Tokyo Disneyland. There have been plans of launching free WiFi in May 2019 onward. However, it's still advisable to get your own internet because the free WiFi can be very slow due to many visitors using it.
Get a Japan SIM Card or Pocket WiFi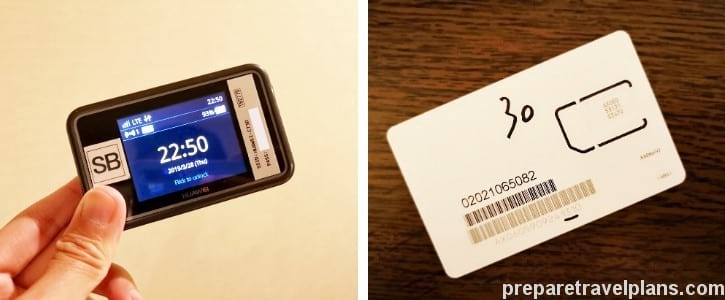 So, either you get a Japan Sim Card or rent a Pocket WiFi to keep you virtually updated. This will help you stay connected to your social media apps like Instagram, Facebook, Twitter, and Pinterest. Not only that, you can explore train routes and theme park spots with ease.
Avail of the Japan SIM Card or the Pocket WiFi below and pick-up them up at Narita and Haneda Airport.
Still unsure what to choose between the two?
Read my Japan SIM Card or Pocket WiFi review and compare and contrast the two accordingly.
How to Use the Lottery System at Tokyo Disneyland
---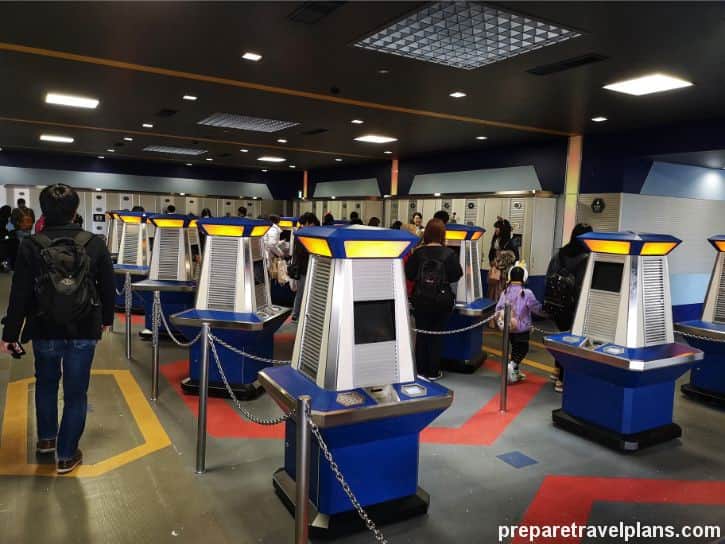 Lottery System is designed to give visitors the chance to see popular shows like the Let's Party Gras! Winning the lottery system means you skip the long queue and get reserved seating. This is definitely a great catch for all park-goers.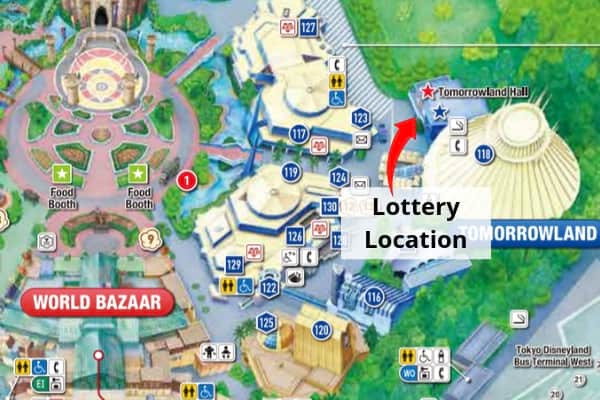 You can find the lottery at Tomorrowland Hall. Each visitor is given the chance to try the lottery once a day.
A Step-by-step Guide to Use the Lottery Machine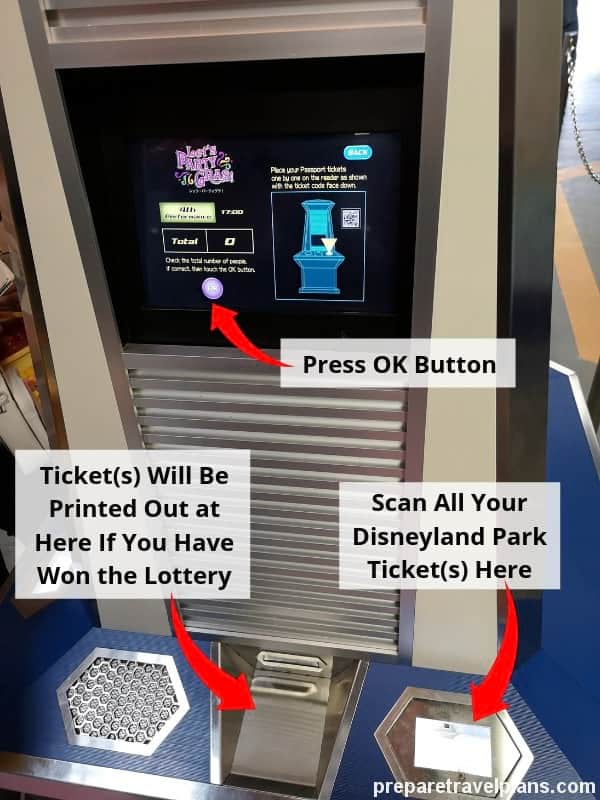 Choose English option on the screen
Gather all your member's Disneyland park tickets
Choose the showtime you wish to visit
Scan all your member's Disneyland park tickets
Press OK button on the screen
*The screen will show you whether you have won or not. There are staff in the lottery counter that can assist you if you have any question.
If you win:
What a great luck! For winners, a ticket will be printed featuring the show time and seat number in both English and Japanese texts.
The number of tickets will depend on the number of Disneyland park tickets scanned. For example, if you scan 2 Disneyland park tickets, then 2 tickets will be printed out from the lottery machine.
If you lose:
Better luck next time! Even if you do not win, you still have the chance to watch the popular shows. Go to the first and second shows an hour before the it starts. Most popular shows are already fully occupied during afternoon, especially on crowded days.
So, better go there in the morning. Normally, the first and second showtimes are 10:25 a.m. and 11:55 a.m. Check the exact showtimes of Let's Party Gras! at Tokyo Disney Resort Website. Aside from that, you can verify it on the Entertainment Schedule Sheet on that day.
How to Check the Crowded Level of Tokyo Disneyland
---
Knowing the intensity of the crowd during your preferred visit is a must. So, check out the crowd calendar website here ahead to forecast the crowd level for the entire month. Not only that, this allows you to get info about the crowd level history for the past months.
Using Google Chrome, on your computer or phone, will provide you with the translation from Japanese to English.
Browsing Crowd Calendar Website via Computer
Step 1: Click the Google Translate Icon on Chrome Browser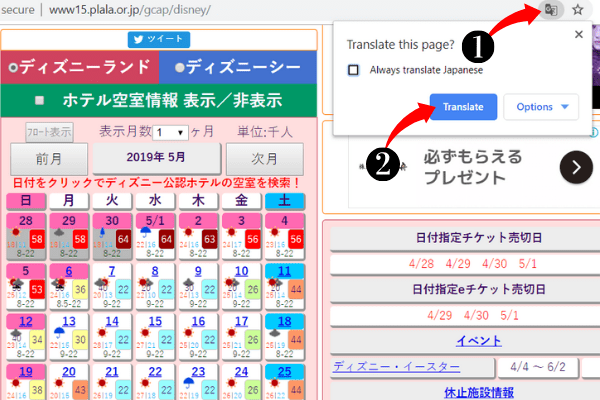 Step 2: Select Disneyland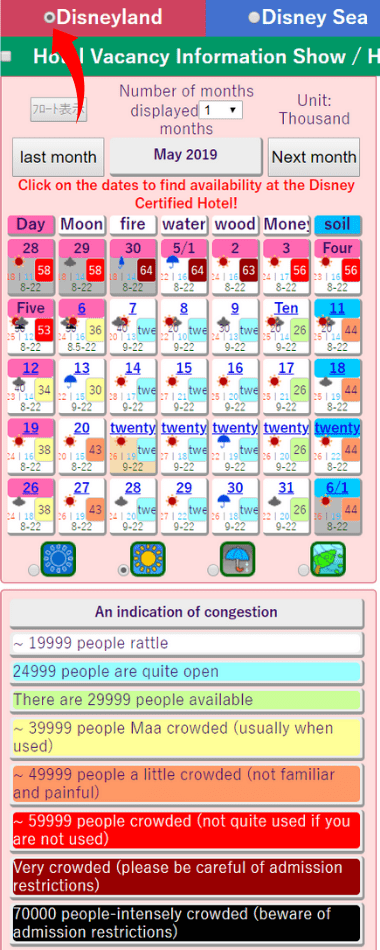 Browsing Crowd Calendar Website via Smartphone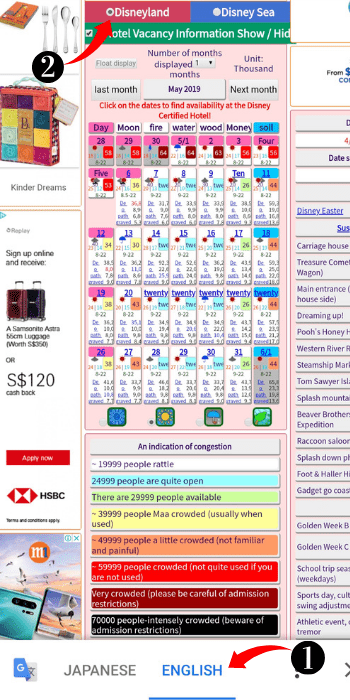 This is how you will see the crowd level via mobile browsing.
And for your reference:
Day – Sunday
Moon – Monday
Fire – Tuesday
Water – Wednesday
Wood – Thursday
Money – Friday
Soil – Saturday
Friendly Cast Members at Tokyo Disneyland
---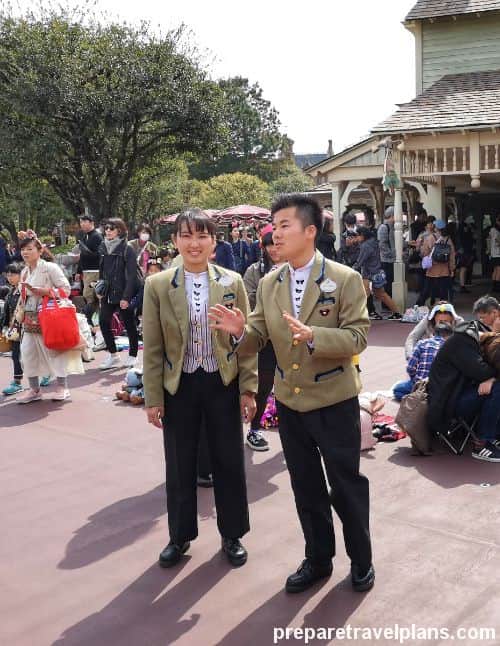 Making your exploration more convenient are the friendly and accommodating Cast Members.
They are all over the Tokyo Disneyland to assist all visitors. In case you need any help, then don't hesitate to ask them! Plus, they converse in English well so no need to worry even if you're not a local.
Tokyo Disneyland Map and Entertainment Schedule
---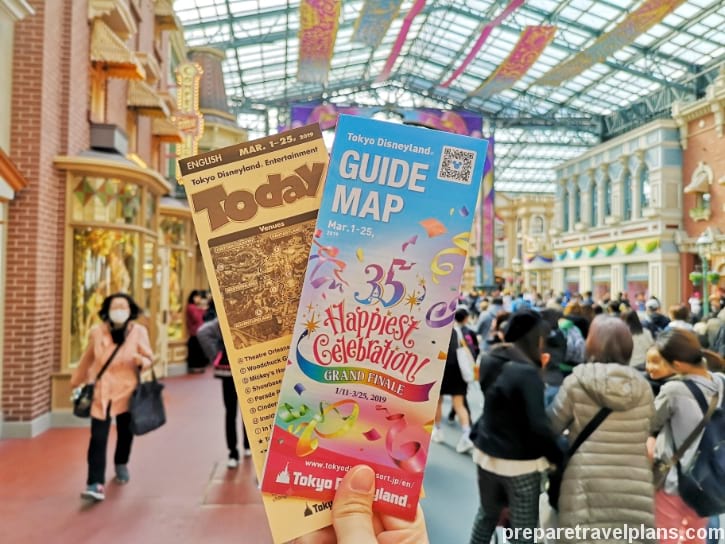 Know the show schedules ahead of time with Tokyo Disneyland Guide Map and Entertainment Schedule Sheet. These two guide sheets are important references for every Tokyo Disneyland visitor.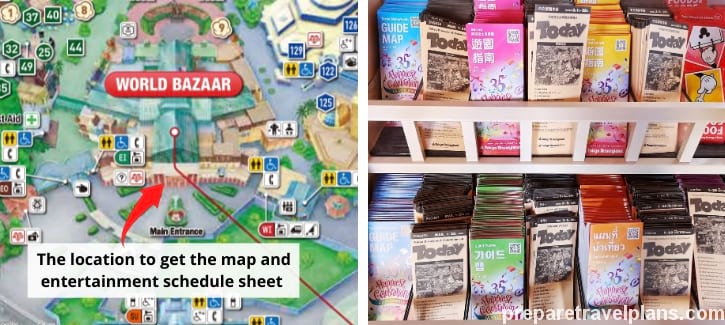 The Tokyo Disneyland Guide Map and Entertainment Schedule Sheet are all located at the entrance of the World Bazaar. You can see them on the brochure rack area.
It's not difficult to find the brochure rack location as many visitors flock to area to get these materials.
If you want to save time, you can simply download the Tokyo Disneyland Map here. Or, directly visit the Tokyo Disney Resort Website to know the schedule of the shows.
My Final Thought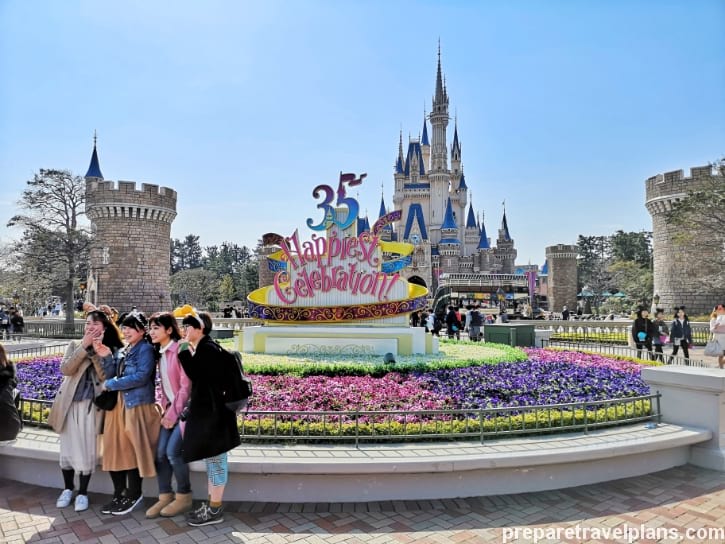 Tokyo Disneyland is truly an amazing place that brings happiness, entertainment, and excitement to everyone. Enjoy all the amazing rides and see familiar Disney faces in one magical setting.
So, if you want to make the most out of your visit, don't forget to book Tokyo Disneyland tickets online. Skip the long queue and spend more time in this amazing theme park by checking the link below.
Thank you so much for spending your time to read my blog. I sincerely hope this virtual tour can help you prepare for an epic Tokyo Disneyland adventure.
If you find this helpful, don't forget to bookmark this page for your future reference.
And, share it to your friends and family via Facebook, Twitter, Pinterest, WhatsApp or Gmail.
Have a blast during your Tokyo Disneyland trip! 🙂
Discover Other Famous Attractions in Tokyo