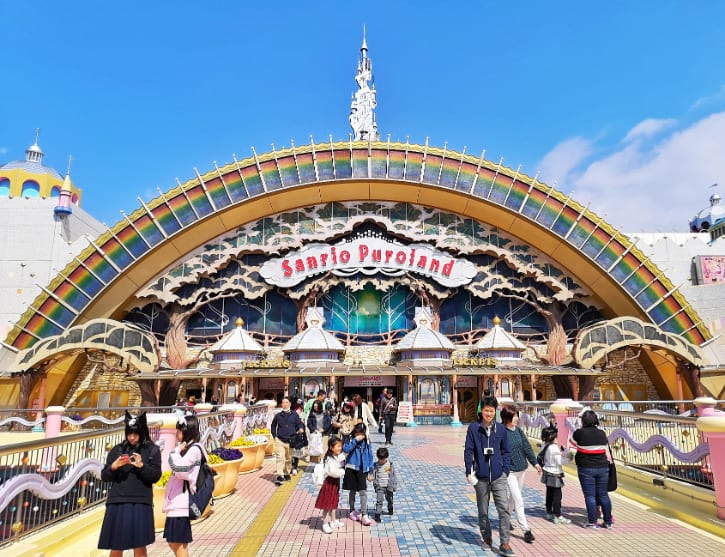 Sanrio Puroland in Tokyo is a 4-level park bursting with charming characters, lovable parades, and cutesy performances.
This Hello Kitty Land is no doubt one of the must do things in Tokyo for families with kids.
My wife and I had fun exploring different themed attractions such as Gudetama, Twinkle Star, Lady Kitty house, My Melody Ride and Sanrio Character Boat Ride. Our favourite was the Sanrio Character Boat Ride.
In this Sanrio Puroland review, I will share our personal experience and what attractions you shouldn't miss during your visit. 😊
Top Attractions at Sanrio Puroland in Tokyo
From enjoying the rides to seeing some adorable exhibits, Sanrio Puroland is truly an amazing place to visit.
There are a lot of things to look forward to in this lovely location and each of these has something to entertain you.
So, bring the entire family and explore the beauty of this park.
1. Sanrio Character Boat Ride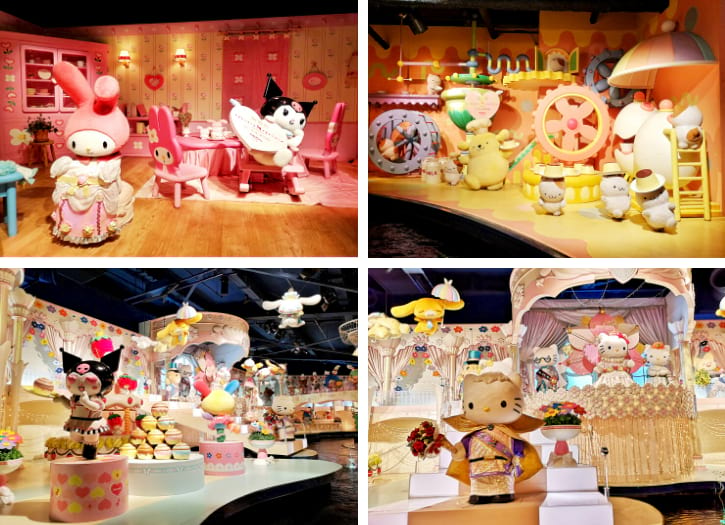 Start the journey with Sanrio Character Boat Ride. This 10-minute water ride is such a relaxing adventure that is full of charms.
Here, you experience a delightful water tour together with all your favourite Sanrio characters.
Be in awe of the adorable figures that are doing different acts. Some of them are busy baking while others are simply playing around.
There's a spot in the ride that takes you to a factory. Watch in detail the captivating and colourful food processes. And of course, the end products are simply too good to be true!
2. Lady Kitty House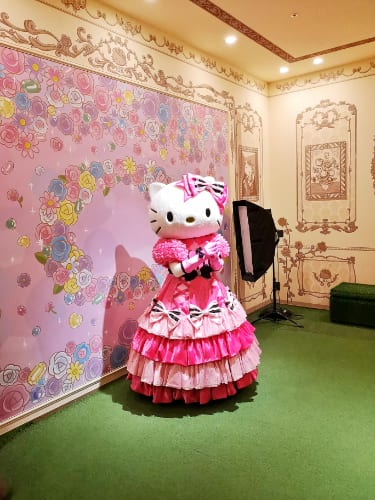 Welcome to the Lady Kitty House! This regal home is the perfect place to visit if you're a fan of Lady Kitty.
Spend your time inside this dreamy place and get a chance to see Lady Kitty in person!
At the main entrance, you can already feel its grandeur. See the large piano and the gorgeous paintings surrounding the area.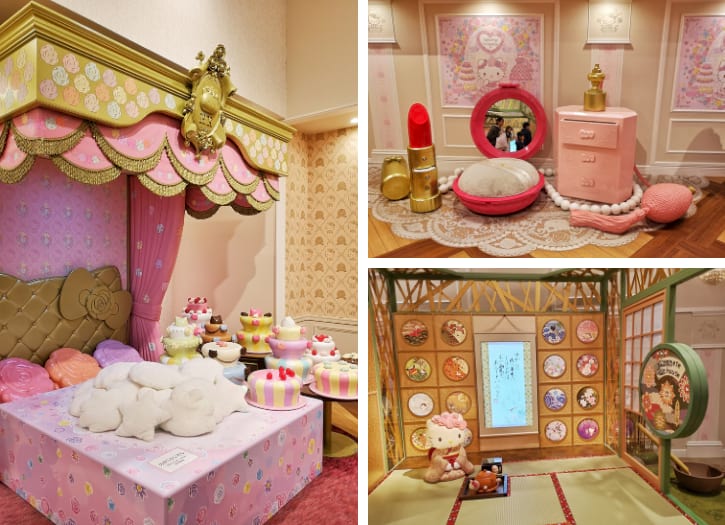 And as you step inside the elegant quarters of Lady Kitty, you will uncover all her gorgeous pieces.
Without a doubt, this is one of the most picturesque and animated spots in Sanrio Puroland.
3. ~My Melody & Kuromi~ Mymeroad Drive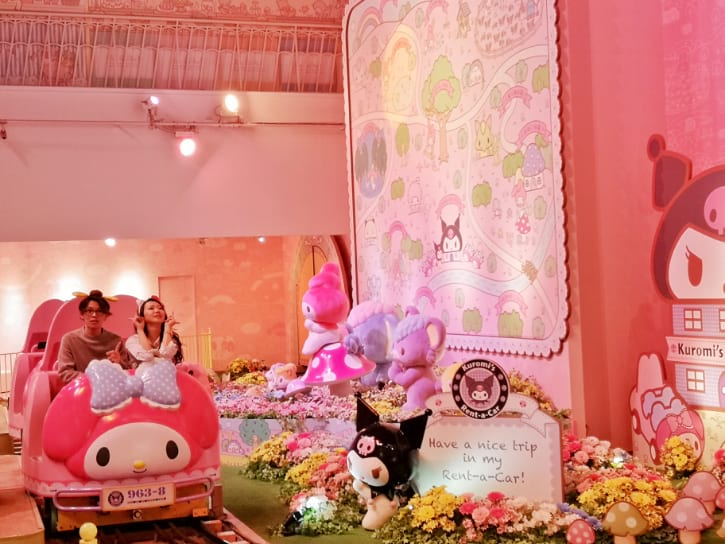 Hop aboard the ~My Melody & Kuromi~ Mymeroad Drive and relish your trip to Maryland.
This 5-minute trip is loaded with paper-like structures and life-sized statues. So, brace yourself for an amusing adventure.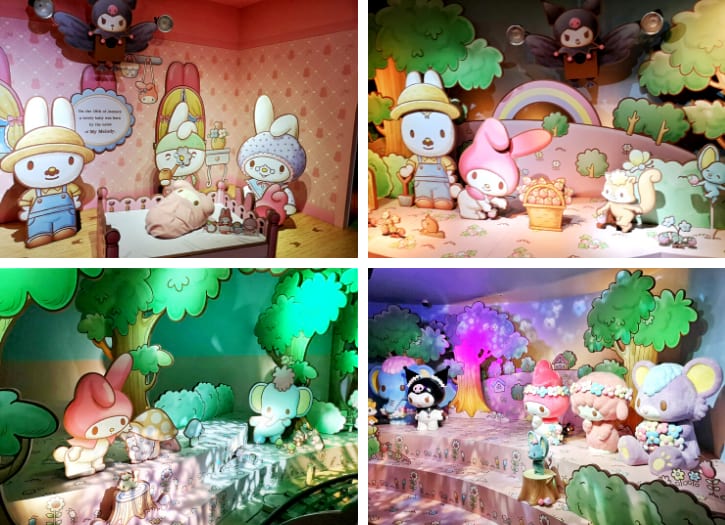 Along the way, catch sight of Melody and her friends and enjoy all six different photo areas. You'll surely have lots of options for picture taking.
And after the quick yet lovely trip, you can have your pictures decorated!
4. ~Kiki & Lala~ Twinklingtour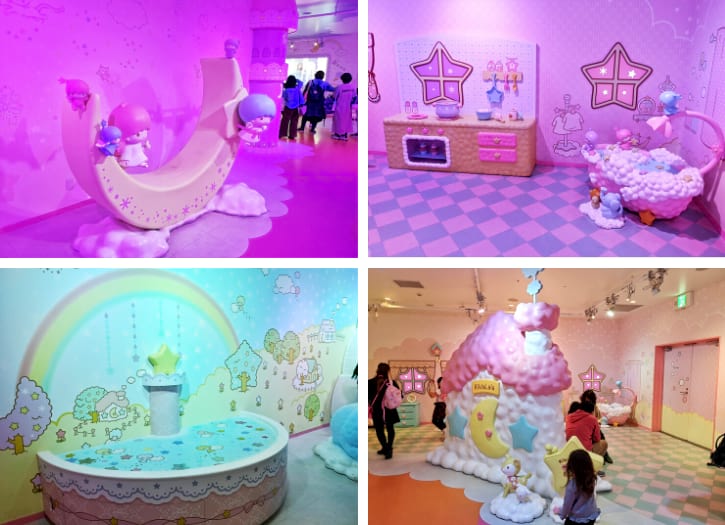 Explore the ~Kiki & Lala~ Twinklingtour and plunge into the pastel-coloured world of Yumekawaii.
The tour starts with a video presentation that shows the tale of these two little stars.
Follow the story of Kiki and Lala and get mesmerized by the charming collections inside.
There are plenty of photo opportunities here, so make sure to take many pictures.
And since this place has a very dreamy vibe, it's so nice to just wander around and appreciate the beautiful decorations.
5. The Wisdom Tree and Hello Kitty's Bell of Happiness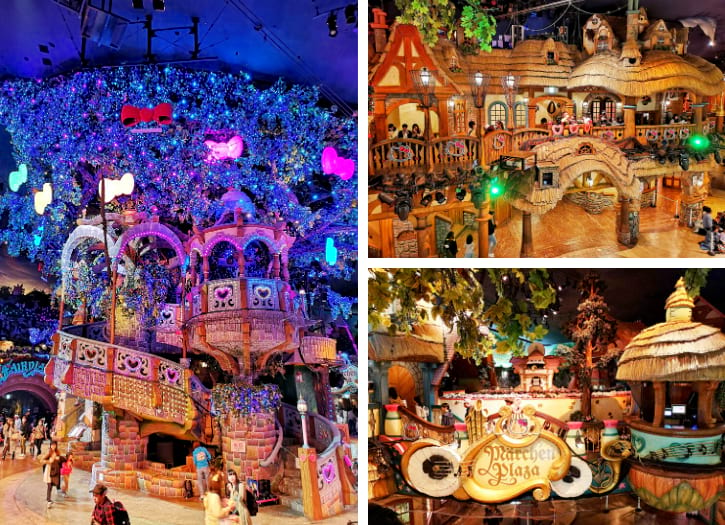 One of the things you will notice on the first floor is the Wisdom Tree.
This tree-like structure is something that you shouldn't overlook because it's actually Sanrio Puroland's symbol.
Enter the place and navigate around its large atrium. This is where most free performances are held.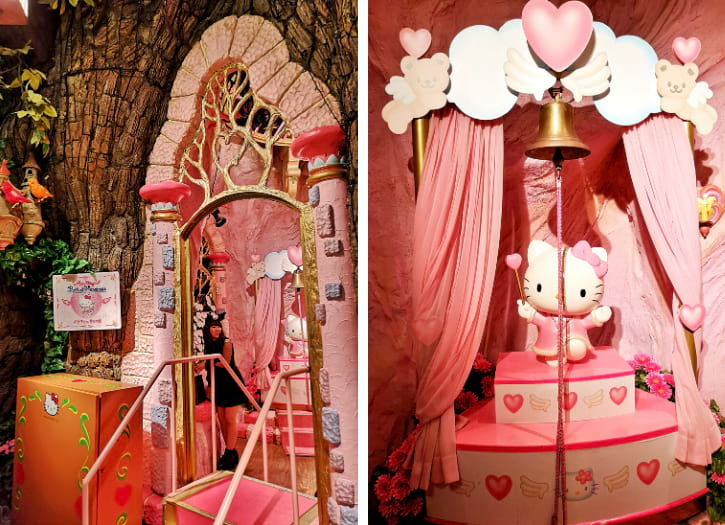 Then, climb your way up and you'll discover a magical spot called Hello Kitty's Bell of Happiness.
Here, you can send wishes of love, luck, and prosperity. So, try to ring the bell and hope for your personal intentions!
Must-see Parade and Show
Aside from the unique attractions, there are also parades and shows that you shouldn't miss while in Tokyo's Sanrio Puroland.
Keep an eye on these fun activities that will surely bring a smile to your face.
1. Miracle Gift Parade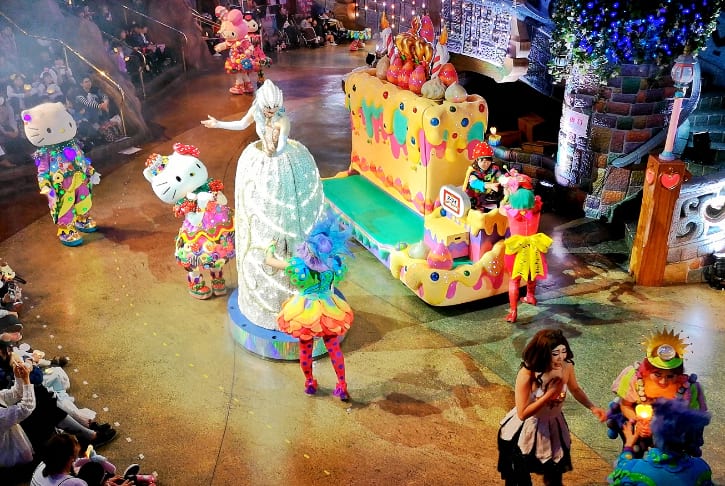 See some of the most beloved Sanrio characters through the Miracle Gift Parade. In this one, amusing party, adorable figures and a group of acrobats come together in unison.
Catch sight of Hello Kitty, Daniel, and My Melody as they move and dance around.
And while the spectacle goes on, colorful lights and music surround the area.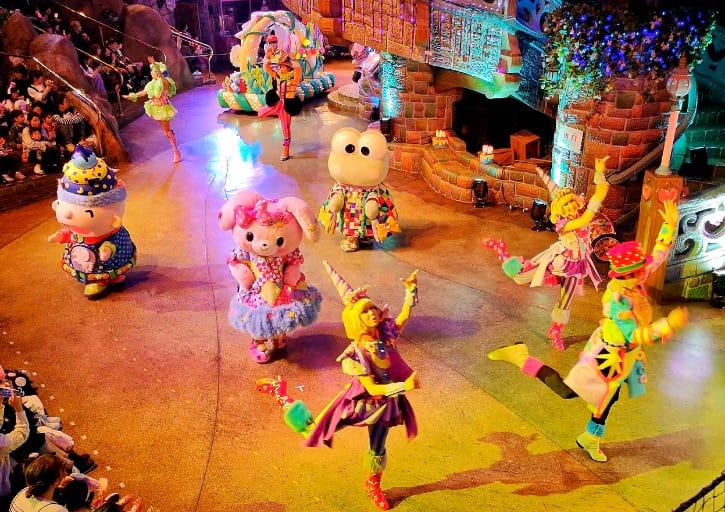 Be entertained by their talents and clap your hands as they groove their bodies to the beat.
Because of the comical vibes, it's quite hard not to sway along with these charming mascots.
Surely, this is one of Sanrio Puroland's must-see celebrations.
2. Miracle Illusion Happiness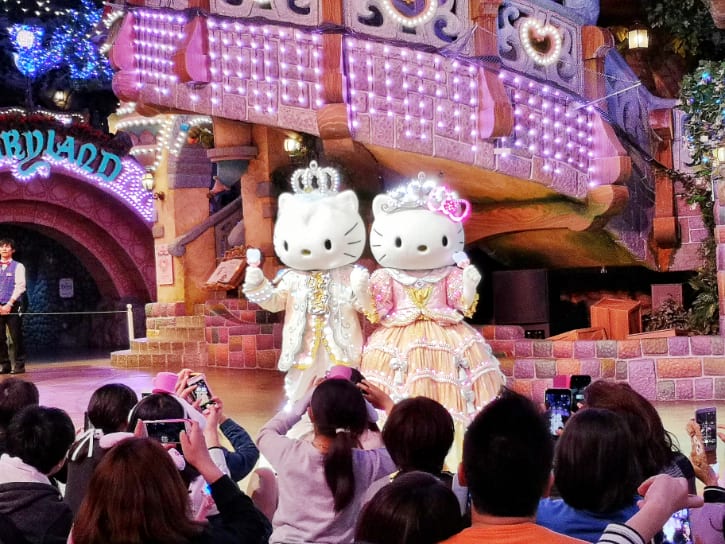 Fall in love with the adorable characters at Miracle Illusion Happiness.
This show highlights a heartening performance between Hello Kitty and Dear Daniel.
Watch in awe as Hello Kitty descends from the staircase and joins her sweetheart, Dear Daniel on the stage.
These two then share a delightful dance in sync with the sweet background music.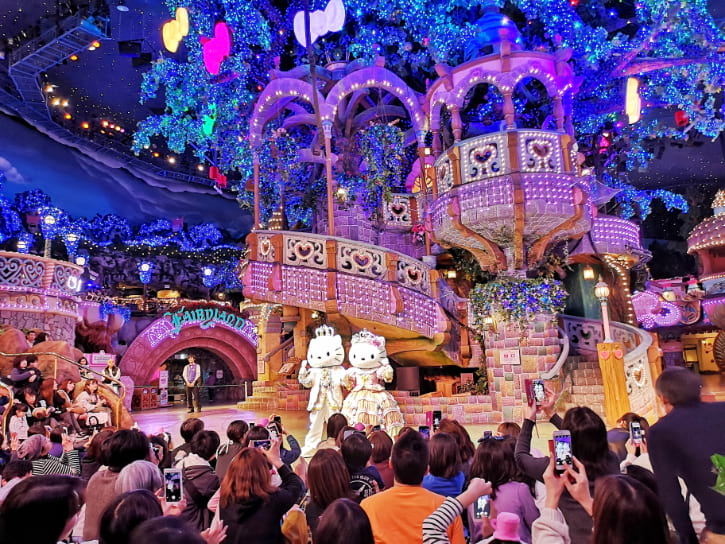 Along with the fascinating dance, the beautiful background makes the show more magical.
Don't miss the pulsating designs from the backdrop and capture this spectacular presentation.
Mini Factories and Plants
Go around Sanrio Puroland and discover some mini factories and plants that are very fun to see.
There are different exhibits to look forward to, from candies to chocolates to ice cream and more.
So, make sure to pop by these areas and take a photo of all its displays.
1. Candy Factory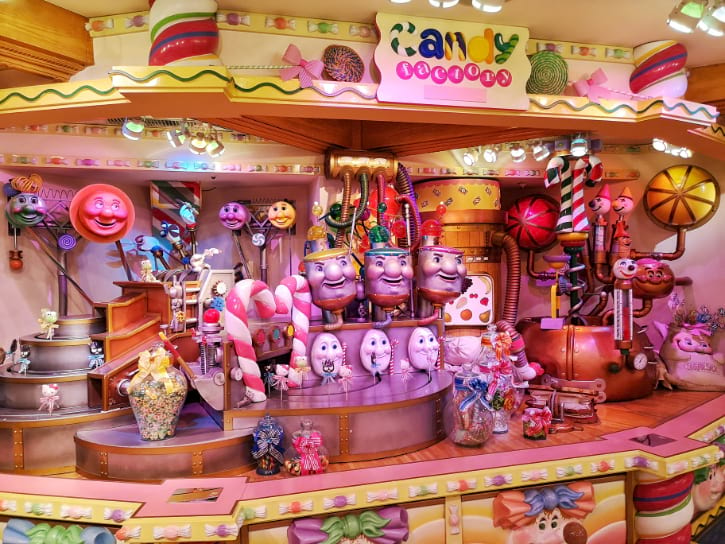 Check out the Candy Factory and see its animated candy machine. Though others may find this spot a little bit creepy, the colourful stick candies definitely save the day!
The stick candies have the sweet faces of Hello Kitty as well as her other friends. In addition, you'll also get to meet a lot of delightful designs.
2. Mini Photo Plant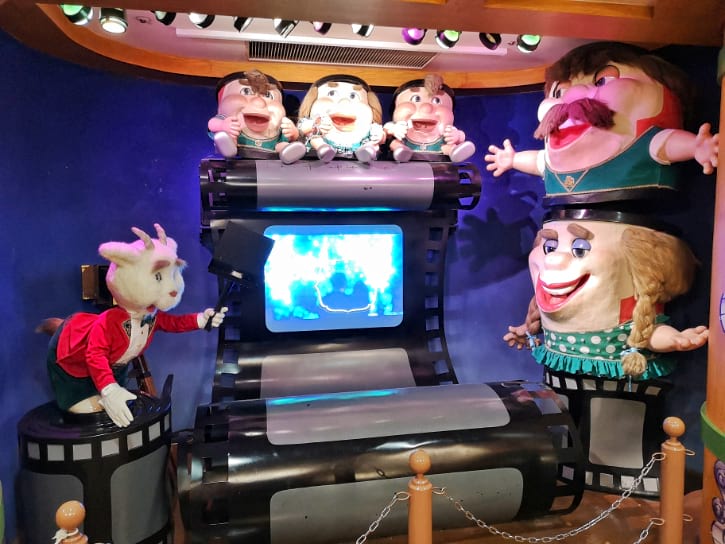 Spend your time in this small yet highly entertaining area. Here, you'll find a giant-sized photographic roll film surrounded by funny-looking characters.
Be attentive to the film being shown on the screen and for sure you'll enjoy your visit even more.
And try to capture the comical faces of the figures that make this place more interesting.
3. Ice Cream Factory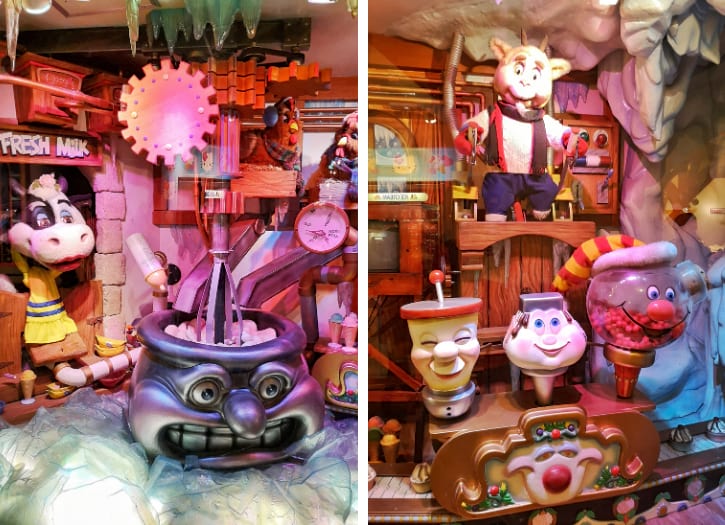 Witness a high-spirited presentation of how ice creams are created at the Ice Cream Factory.
This section is such a fun place to watch even though you won't be getting a real treat!
Observe the process and spot the comedic faces of the pots, machine buttons, and even some animals. Surely, this is a nice spot to cheer you up.
4. Bread Factory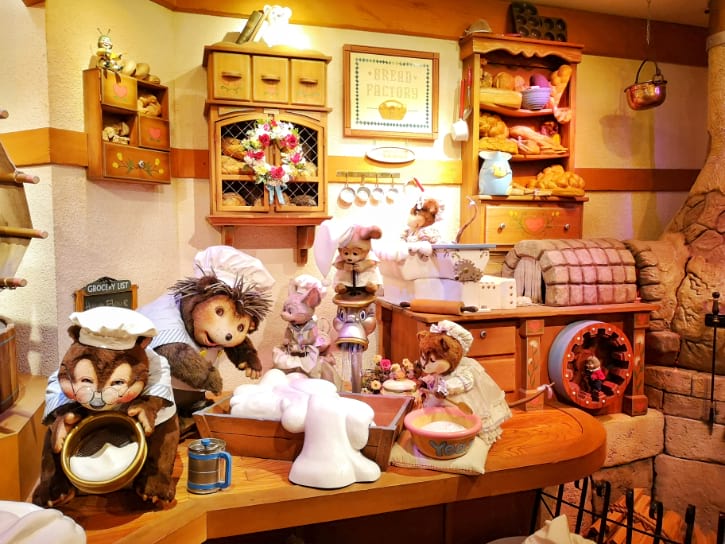 Pop into the Bread Factory and see the daily baking routine of these cute characters.
Each of these figures is busy doing their own task, from mixing ingredients to molding the dough.
Though the end products may look delicious, don't dare to steal one! These are for your eyes only.
So, if you want to see an endearing baking process, this area in Sanrio Puroland is the place to visit.
5. Juice Factory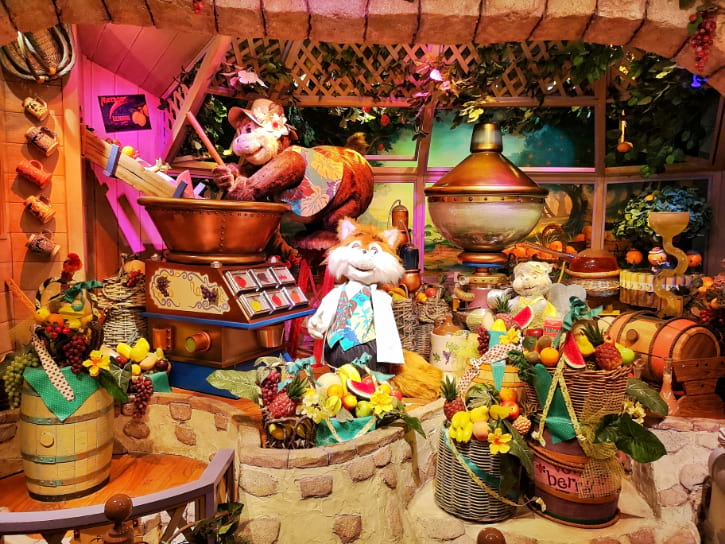 Roam your eyes inside the Juice Factory and you'll witness some vibrant fruits. Watch as these are turned into beverages by some cute characters.
The adorable machinery also adds more color to the entire collection. So, try to bring your friends and learn more about the juice-making process here.
6. Chocolate Factory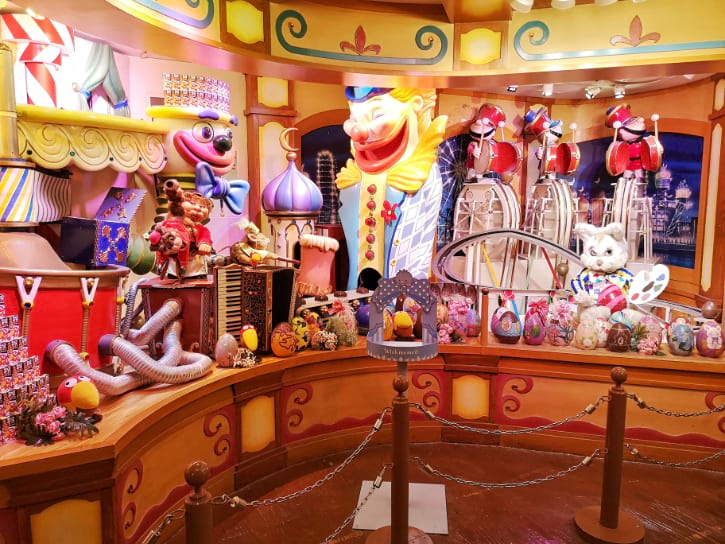 To complete the list, there's the Chocolate Factory, where you'll see a more realistic presentation of goodies.
See up-close the assortment of Easter eggs while catching a glimpse of some laughing clowns.
The factory itself is a combination of thrill and excitement. So, navigate around and enjoy the hypnotizing vibes that surround this spot.
Meeting Sanrio Characters
Sanrio Puroland is also a place to meet your favourite Sanrio friends.
Try to catch them during your visit and take some photos with these friendly mascots.
Do take note that there may be queues when taking their pictures, so be patient.
1. Cinnamoroll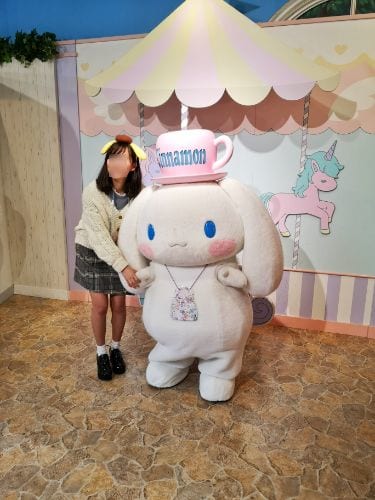 Let's start with Cinnamoroll, a cute boy dog that is extremely friendly to everyone.
Say hi to this chubby, pet-like character that welcomes visitors with his charming personality.
As the resident dog, he makes sure that you get entertained all throughout your stay.
2. My Melody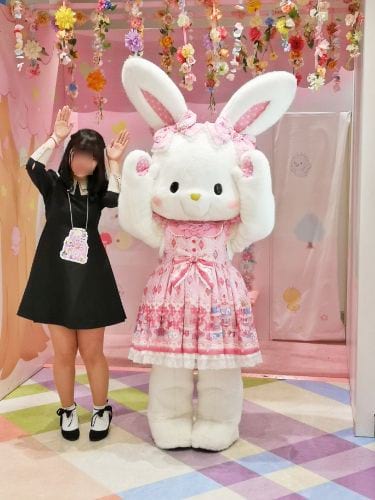 Meet My Melody, a loving figure that never fails to amaze visitors with her bright attitude.
It's easy to make friends with this cheerful character because she's very friendly.
Because of that, she's always one of the crowd favourites in Sanrio Puroland.
3. Pochacco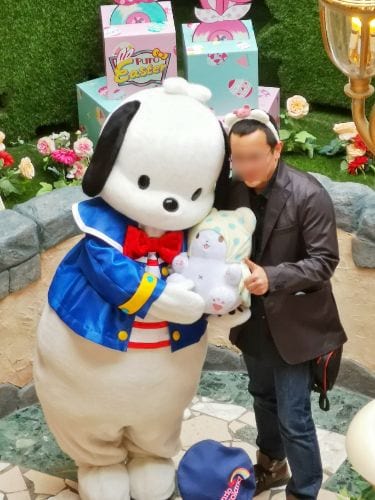 If you're the active type, for sure you'll fall in love with Pochacco in a heartbeat!
This energetic boy can go walking for hours, entertaining every visitor.
Stroll around the Rainbow Hall and capture Pochacco. Though he might be a little nosy at times, you simply can't resist his vibrant charms!
Recommended Restaurants
After all the rides, shows, and factory tours, don't forget to replenish your energy.
There are several restaurants in the park to choose from, and most of these have unique themes.
So, if you want to eat something, check out the options below.
1. Sanrio Rainbow World Restaurant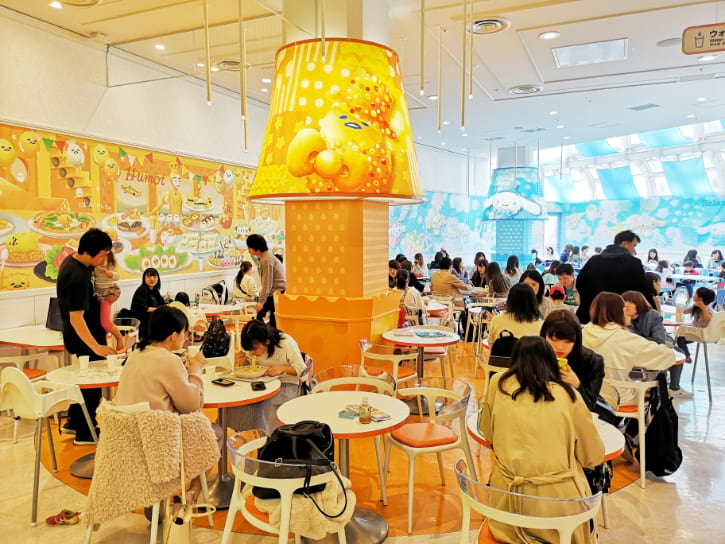 Take delight in the delectable treats offered by Sanrio Rainbow World Restaurant. They have something to make your kawaii cravings come true!
If you're a pasta lover, you can check out their various pasta dishes.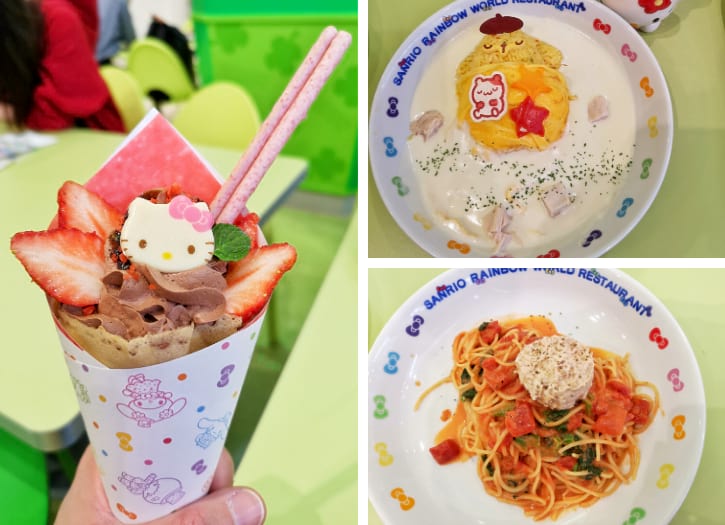 Along with that, you'll also find a lot of rice omelet selections. Try their famous omelet-style dish with hamburger steak.
Or opt for the tomato cream spaghetti with spinach if you want a healthier option.
Truly, this 350-seater restaurant is a must-visit spot in Sanrio Puroland.
2. Character Food Court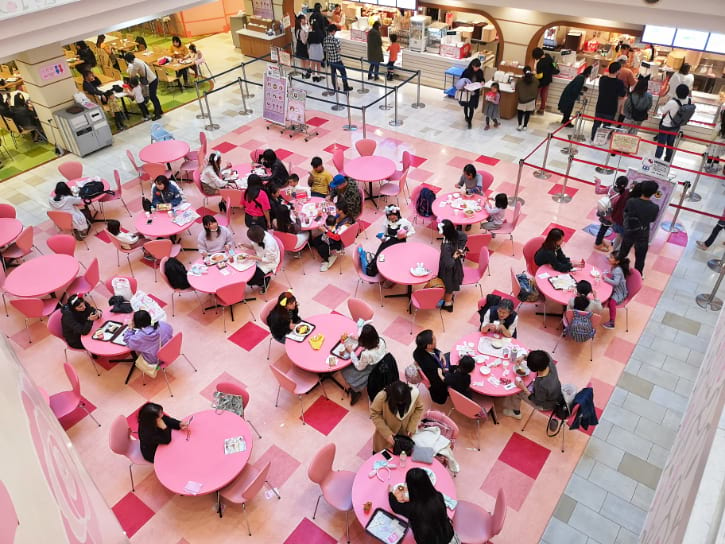 Get some cute and edible treats from the Character Food Court.
This food spot serves unique kinds of dishes that are based on your favourite Sanrio characters.
Choose from their famous ramen options that are topped with charming designs.
Or enjoy a platter of cute and tasty curry. They also have burgers and fries that are perfect snacks during a quick break.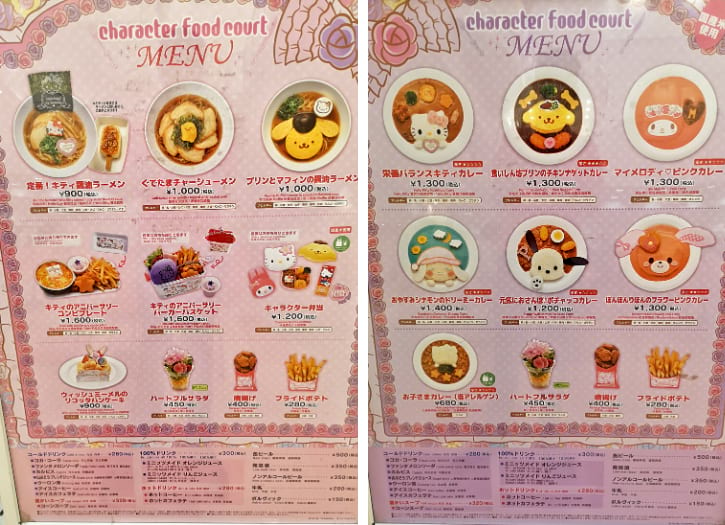 Before you take a bite, don't forget to snap some photos of your food. These dishes are definitely worth the shot because of their distinctive design.
3. Cinnamoroll Dream Cafe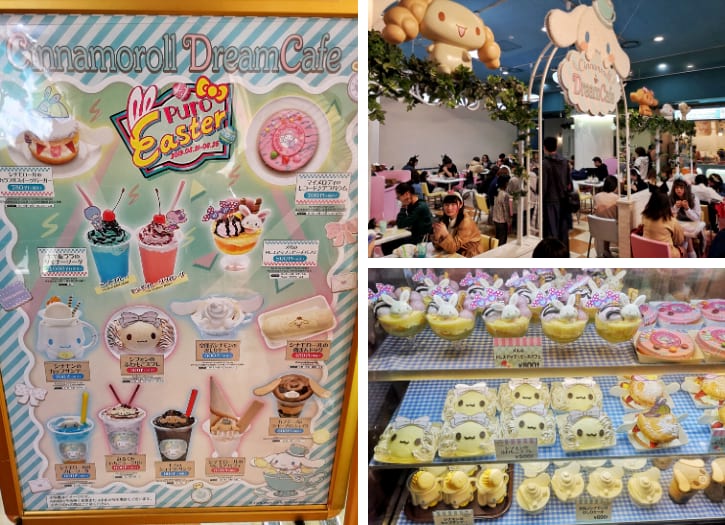 Grab a bite from one of the sweet treats at Cinnamoroll Dream Cafe. This pop-up shop has all you need for a cute snack time in the park.
Pick your choice from the pretty selection of Cinnamoroll-themed desserts.
They have pudding, cream puffs, shortcakes, and more. Along with that, they offer tasty beverages to complement your snacks!
Aside from the food and drinks, this dreamy cafe also comes with exclusive merchandise. So, try to check out their collection as well.
Shopping
But of course, a visit to Sanrio Puroland would not be complete without bringing home some cute stuff.
Don't worry because they got you covered. Explore different shops and look into the impressive array of items on display.
1. Entrance Shop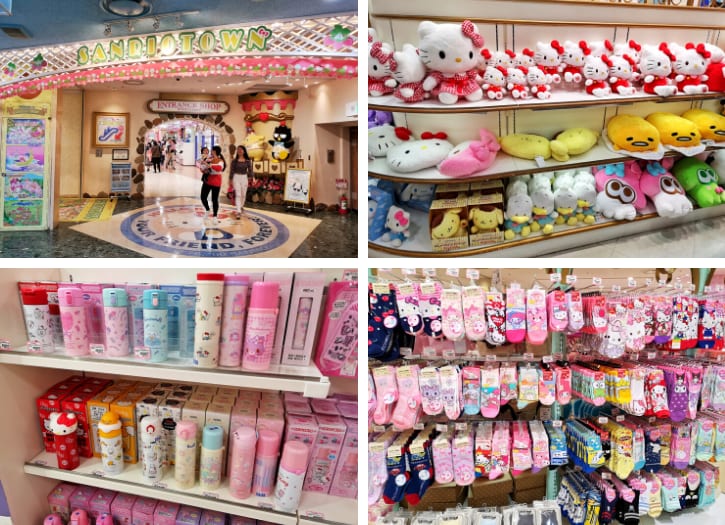 With so many products on offer, the Entrance Shop is the perfect start for your shopping adventures.
Get lost in the abundant variety of clothing, stationery, and accessories.
They also have some Gudetama dolls on offer, along with some plushies.
And don't miss to uncover the assortment of Hello Kitty, Pochacco, and My Melody stuff toys.
2. Lady Kitty House Shop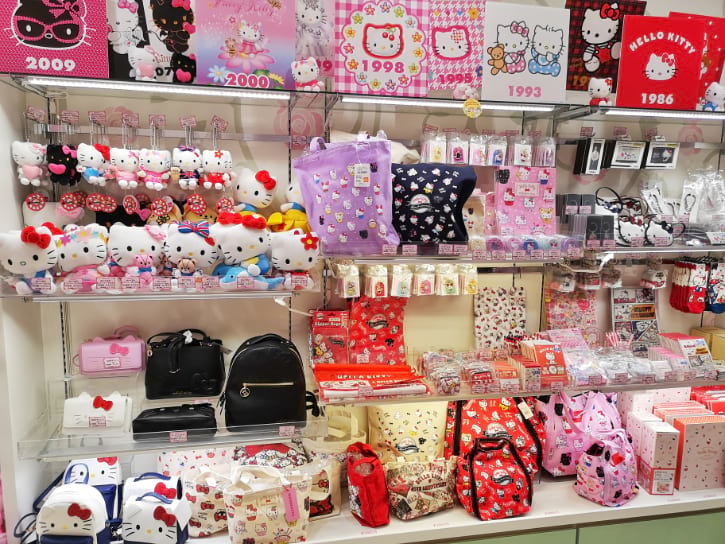 Lady Kitty House Shop is no doubt the best place for Hello Kitty fans.
Scan through the items that have all traces of Hello Kitty. They have bags, stickers, and plush toys available for everyone.
And if you need some kitchen essentials, check out their colourful mugs, bottles, and plates.
Surely, this shop is a great spot to start your Hello Kitty collection.
3. Cinnamoroll Anniversary Shop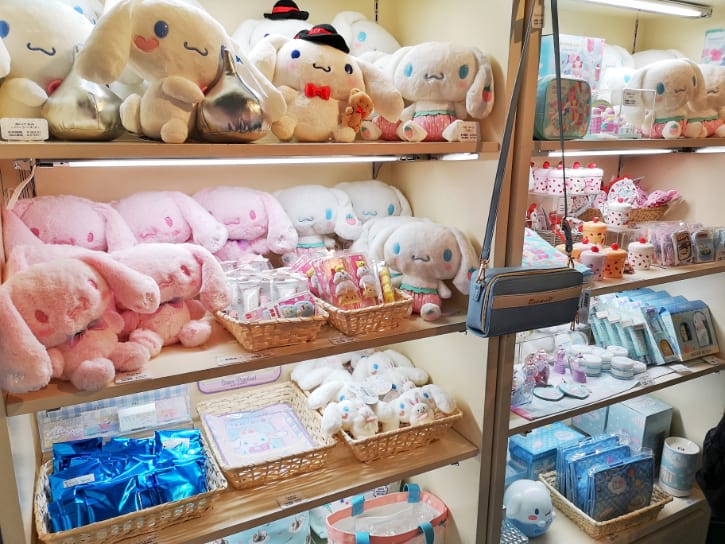 Enter the Cinnamoroll Anniversary Shop and discover all sorts of Cinnamoroll items.
Here, you'll come across adorable toys and accessories in different sizes. These products also vary in colour to give you options.
Without a doubt, this store got something for every Cinnamoroll fan. So, make sure to grab a hold of your favourite items on your way out!
4. My Melody Shop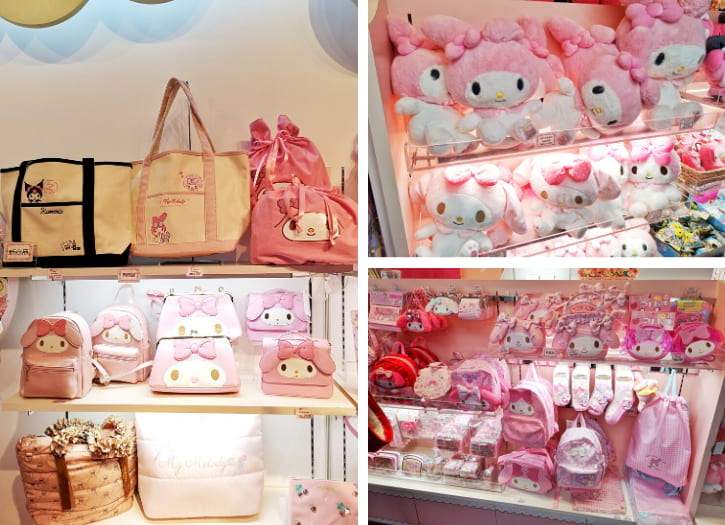 If you're a supporter of My Melody's one and only best friend, then pop by the My Melody Shop. This store supplies a range of My Melody bags and plush toys.
Aside from that, you'll be surrounded by a variety of purses and toys. And of course, the pink and white motif of the exhibit will leave you mesmerized.
5. Kiki & Lala Shop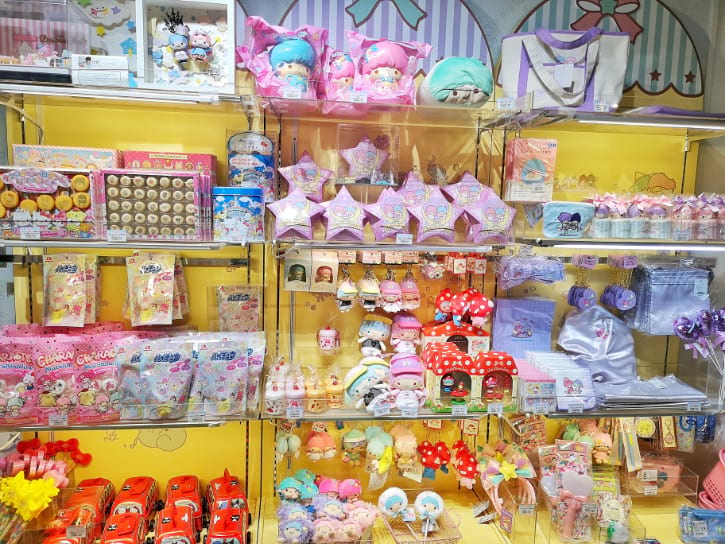 Come visit the Kiki & Lala Shop and get amazed by its remarkable collectibles.
Pick from their selection of tote bags, card bags, toys, and cosmetic pouches.
Then, take a look at the display of key chains, hairbrushes, mugs, socks, massage sticks, and lunch box sets. Each item has its own Little Twins Stars design that will definitely attract you.
My Comment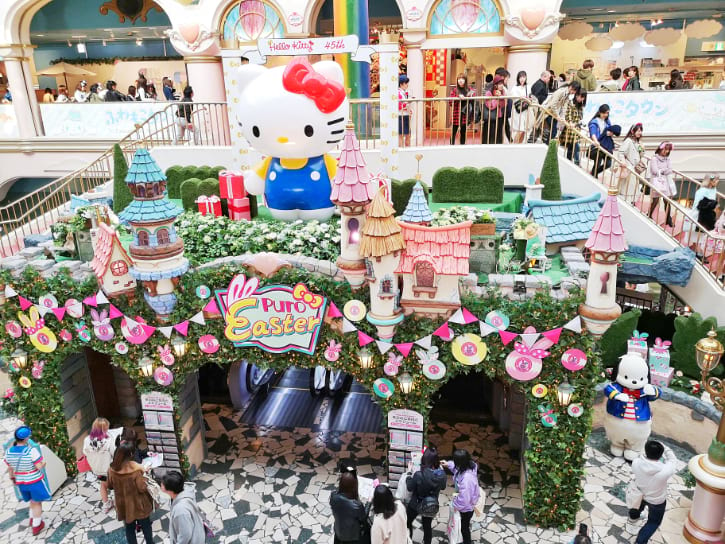 Our visit to Sanrio Puroland was certainly a highlight during our Tokyo trip. Truly, we didn't regret adding it to our Tokyo itinerary because it was all worth it.
We totally enjoyed the attractions, particularly the Sanrio Character Boat Ride and Lady Kitty house.
I also highly recommend Miracle Gift Parade and Miracle Illusion Happiness.
These two offer spectacular performances of Hello Kitty and other characters. Because of their popularity, these shows are often jam-packed.
Therefore, it's advisable that you go there at least 30-45 minutes in advance to have the best spot.
During our visit, we spent around 4 hours exploring the place.
Another suggestion to make your trip more convenient is to buy the Sanrio Puroland tickets online. This is very useful to give you speedy access as well as help you save up to 50% discount.
Where to Explore Next
After the fun at Sanrio Puroland, carry on with the adventure at Tokyo Disneyland and Tokyo DisneySea. Make sure you include this on your holiday vacation because these theme parks are remarkable.
So, try to read my complete guide to Tokyo Disneyland and DisneySea and get insights before you plan your visit.
Visitor Information and Ticket Prices
Opening Hours:
9:00 AM – 6:00 PM
Sanrio Puroland is often closed on Wednesday and Thursday. So, be sure to check the official website to get info of the latest operating hours.
Ticket Prices:
Weekends and Public Holidays
Adult (18 and Above): 3,800 yen
Child (3-17): 2,700 yen
Weekdays (Monday to Friday)
Adult (18 and Above): 3,300 yen
Child (3-17): 2,500 yen
Why do you need to buy your Sanrio Puroland tickets online?
Enjoy up to 50% discount. Online tickets are actually much cheaper compared to tickets at the ticketing counter.
No more waiting game. Don't need to queue up for buying tickets at the ticketing counter anymore.
Easy access to Sanrio Puroland. With your printed tickets or soft copy from your smartphone, you can directly enter the park with ease.
Save time, money, and effort by booking your Sanrio Puroland tickets here.
How to Go to Sanrio Puroland in Tokyo by Train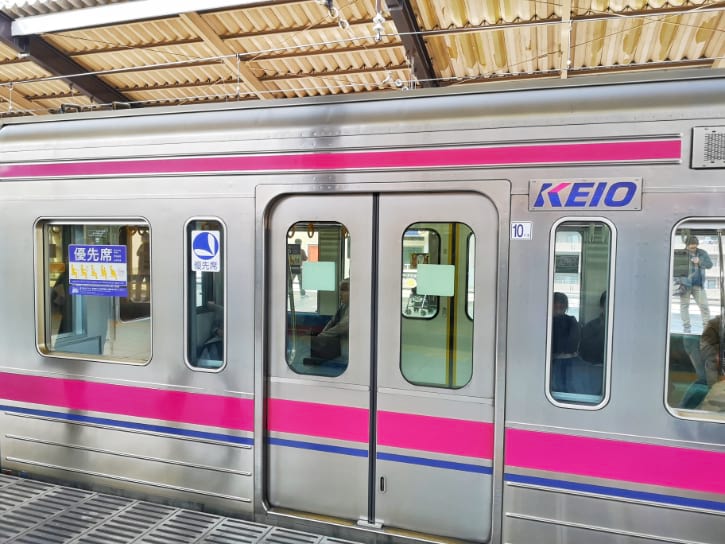 From Shinjuku Station, take the Keio Line Semi-Special Express to Keio Tama Center Station. The travel time is about 30 minutes and cost 320 yen for a one-way trip. At the station, go out the Central Exit and then walk to Sanrio Puroland in 6 minutes.
Here's a step-by-step guide to getting to the theme park.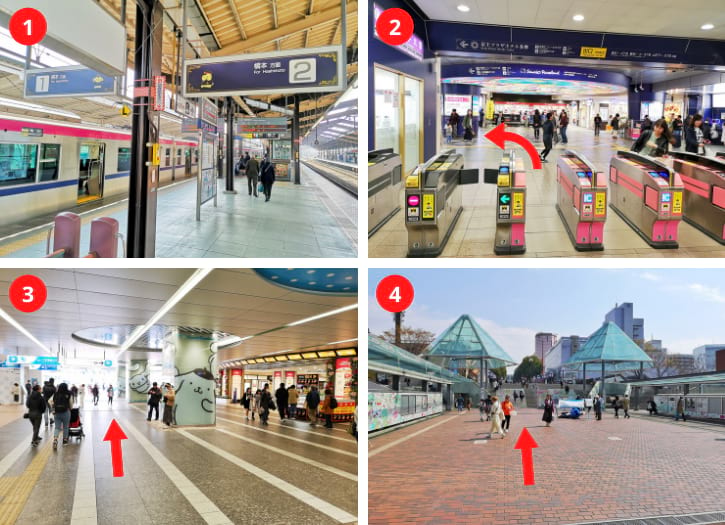 1. The first step is to take a train to Keio Tama Center Station. When you arrived at Keio Tama Center Station, you should take a lift or escalator to Level 2.
2. Once you reach the Level 2, you should go out the ticket gate of Central Exit and then turn left.
3. Go straight.
4. Continue straight and then go up the stairs on ahead.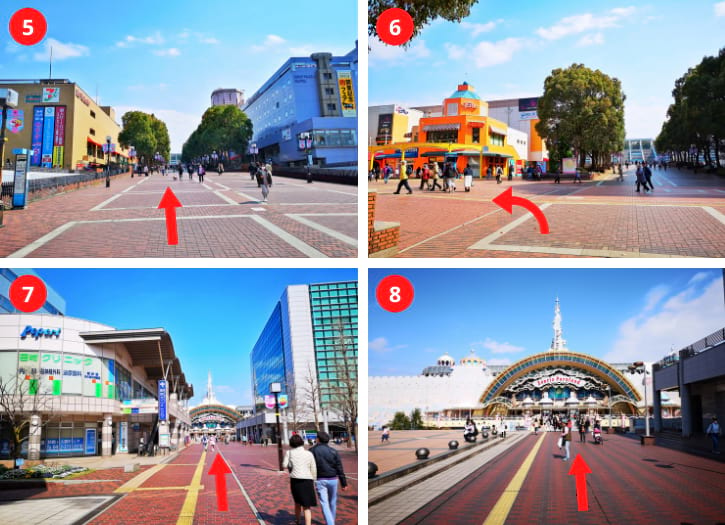 5. Walk through the link bridge and keep going straight.
6. At the cross-junction, you should turn left.
7. Continue straight ahead. Soon, you'll discover the Sanrio Puroland theme park on ahead.
8. This is the main entrance of the theme park.
Related Posts