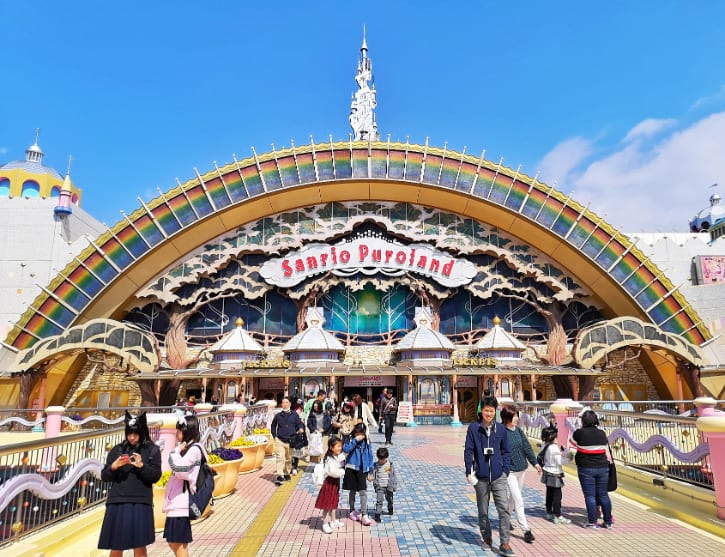 This is a full review of Sanrio Puroland (Hello Kitty Land) in Tokyo. Let me share with you my experience of visiting Sanrio Puroland in this blog to help you decide whether a visit to this Hello Kitty theme park is worth your time and money.
Is Sanrio Puroland Worth Visiting
---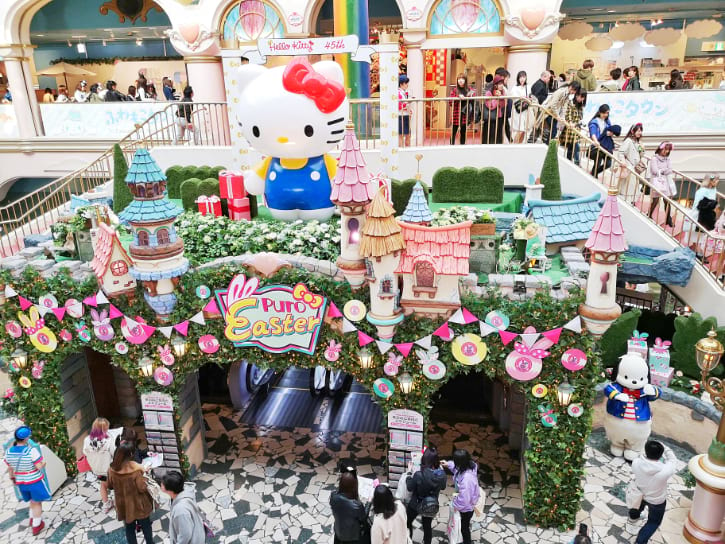 Sanrio Puroland is a 4-level park bursting with charming characters, lovable parades, and cutesy performances. This Hello Kitty Land is no doubt a fun and charming place to visit in Tokyo for families with kids. Because of its lovely attractions, my wife and I had a great time in this cute theme park.
We had fun exploring different themed spots such as Gudetama, Twinkle Star, Lady Kitty house, My Melody Ride, Sanrio Character Boat Ride. Our favourite was the Sanrio Character Boat Ride.
Other must-watch shows are the Miracle Gift Parade and the Miracle Illusion Happiness, which feature spectacular performances of Hello Kitty and other characters. These two amazing shows are always jam-packed, so you have to go there at least 30-45 minutes to have the best spot. Nevertheless, you'll not get disappointed with these attractions. We particularly loved their beautiful costumes that blend well with the lively music and vibrant colours.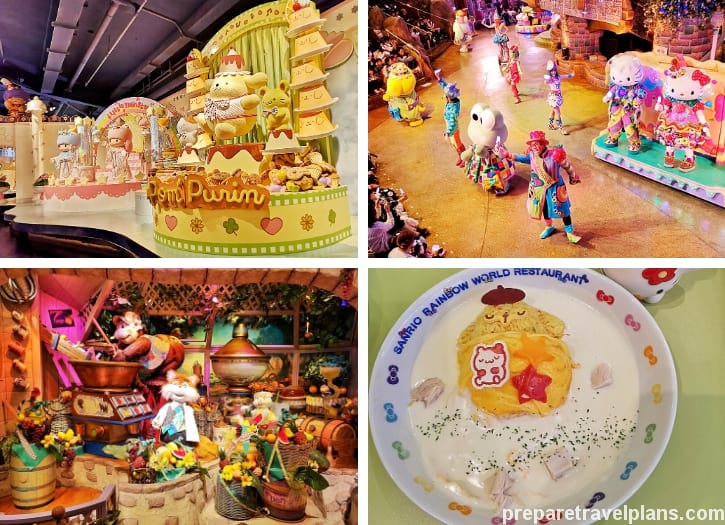 Aside from these, Sanrio Puroland is surrounded by a lot of photogenic spots and mouth-watering foods! The food options are not just delicious but are also very cute. There are also several charming souvenirs available. Because of the abundant and charming attractions, we spent 4 hours here.
The best thing about this theme park is that it's easily accessible via train. It took us just 40 minutes to reach the park from Shinjuku. And since we bought our Sanrio Puroland tickets online in advance, we saved 50% and were able to get in right away.
To help you further, simply check out my beautiful photos of Sanrio Puroland, together with the detailed list of attractions.
What Things to Do at Sanrio Puroland
---
Sanrio Character Boat Ride
---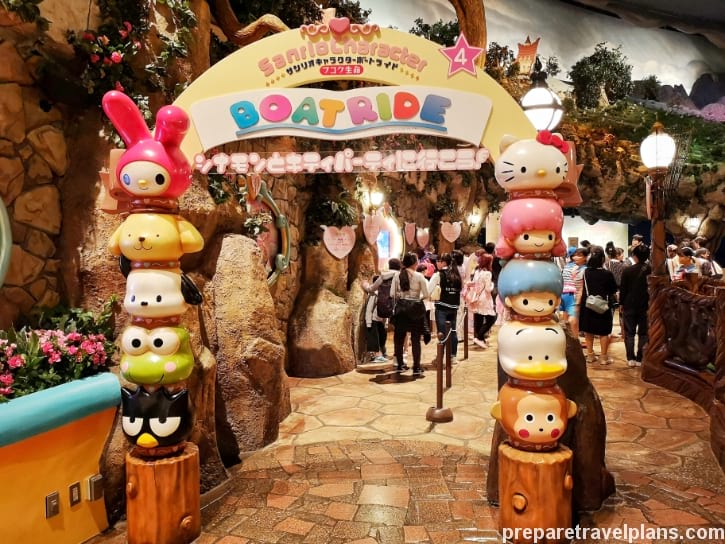 Location and Level: Puro Village 2F
Beware, too much cuteness in one ride! Sanrio Character Boat Ride is the place to beat if you want to sit back and just relax.
Experience a delightful water journey together with all Sanrio characters in their adorable state. This isn't a normal celebration as all of these cute characters are busy preparing for a party.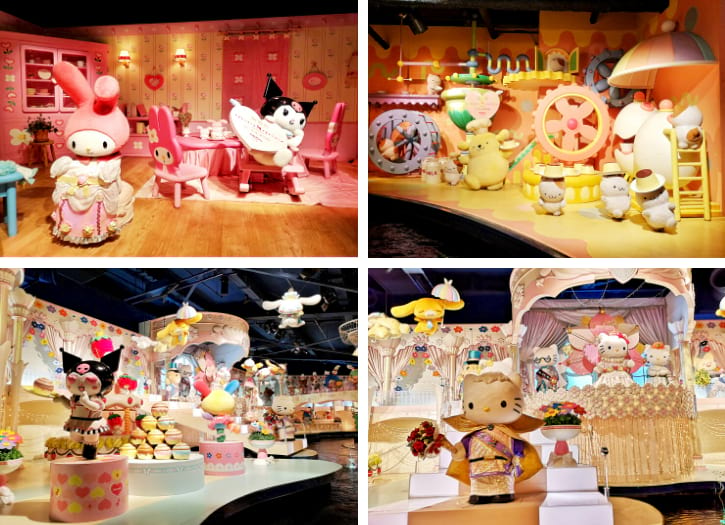 My Melody and Kuromi are too engrossed in getting ready for the upcoming festivity.
Relish the soothing aura of these creatures playing likes there's no tomorrow.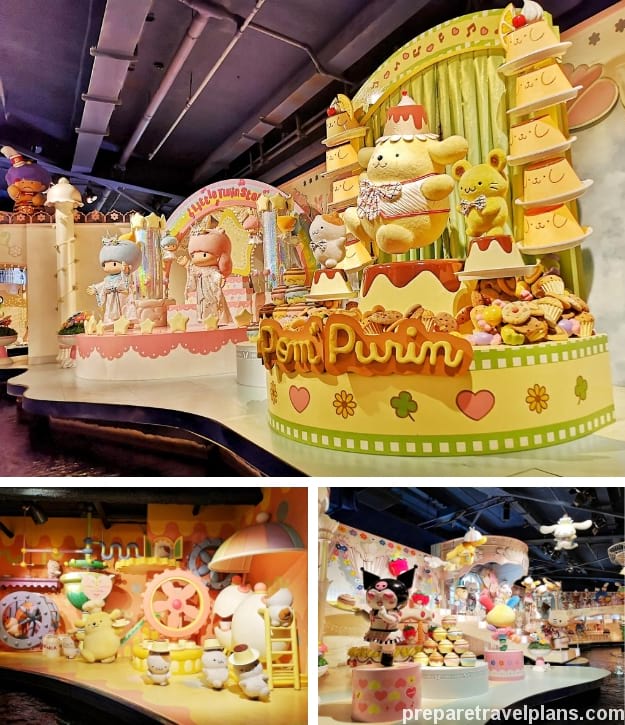 And, there's a spot in the ride that takes you to a factory. Watch in detail the captivating and colourful food processes. And, the end products are simply too good to be true!
Look at the endearing characters, popping out of nowhere.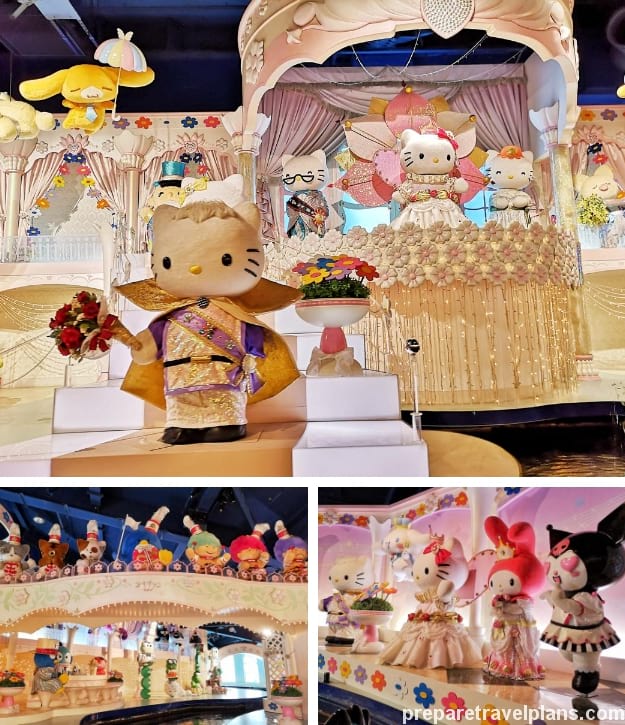 And the star of the ceremony―Hello Kitty and her family!
In addition, don't miss the smallest details during your ride like the colourful stuffed toys settled on top. All in all, this 10-minute water ride is simply a joy for everyone!
~My Melody & Kuromi~ Mymeroad Drive
---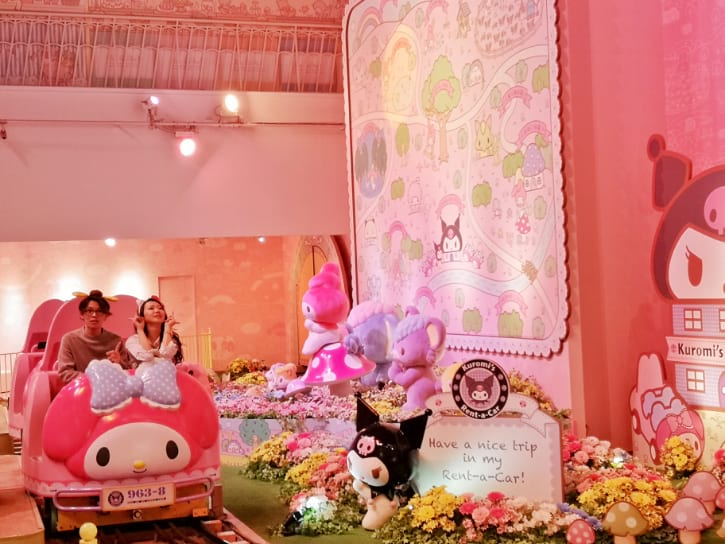 Location and Level: Sanriotown 1F
Another surreal ride awaits visitors in ~My Melody & Kuromi~ Mymeroad Drive. Taking you to Maryland, this attraction is like a dream come true.
Hop aboard your own Eco Melody Car and brace your seats for a super appealing journey. All the moving paper-like structures give more dimension to the tour.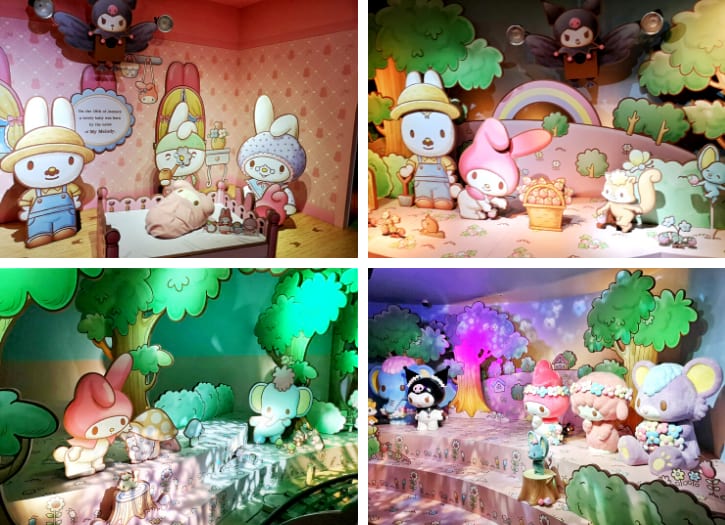 Catch sight of Melody and friends during the 5-minute trip. Featuring six different photo areas, you'll surely have lots of options for picture taking. And after the quick yet lovely trip, you can have your pictures decorated!
What to Expect at Sanrio Puroland Attractions
---
Lady Kitty House
---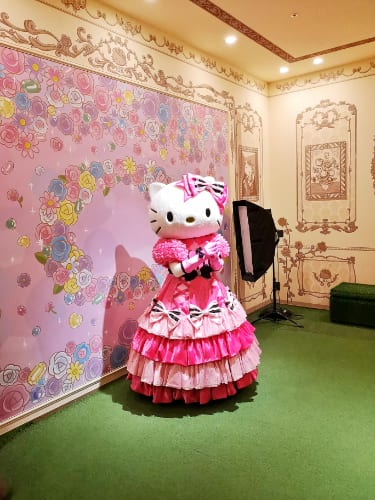 Location and Level: Sanriotown 2F
Behold, the abode of the ever-regal, Lady Kitty! This is one of the picturesque and animated spots in the park. Spend your extra minutes here in this dreamy place and you'll get a chance to see Lady Kitty in person!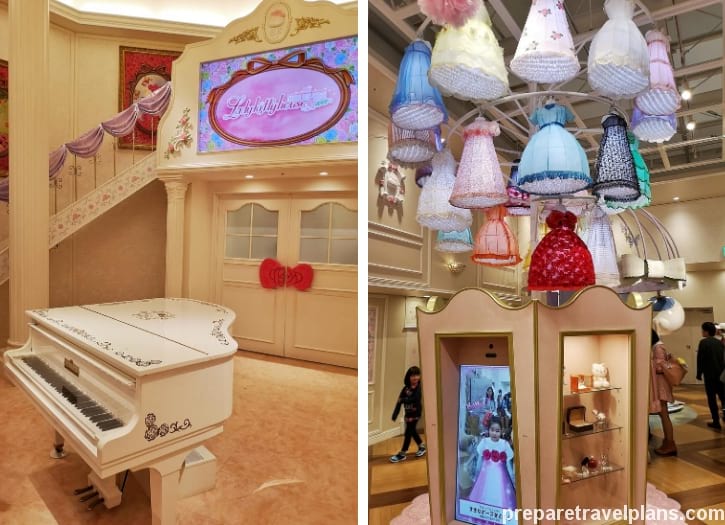 At the main entrance, you can already feel its grandeur as you see the large piano and the gorgeous paintings.
Step inside the elegant quarters of Lady Kitty and uncover all her gorgeous pieces.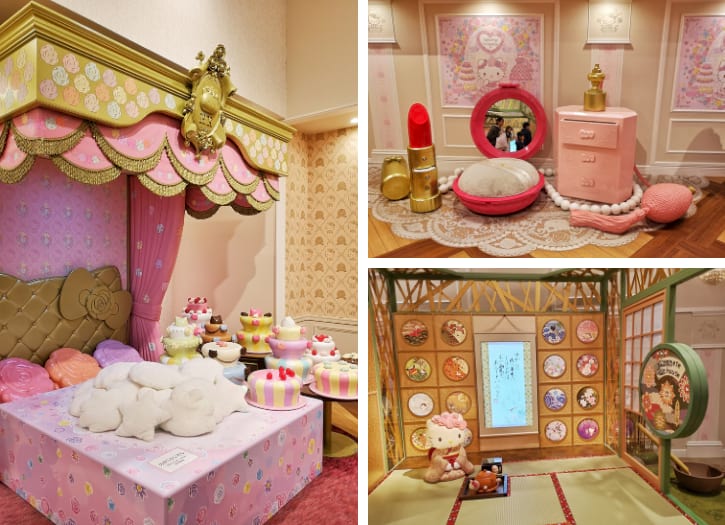 In her makeup area, you'll see some life-size collections like lipstick, powder, and perfume. Take a snap together with those cute cakes placed at the bedside.
There's a tea room that also translates into a picture-perfect spot for everyone.
~Kiki & Lala~ Twinklingtour
---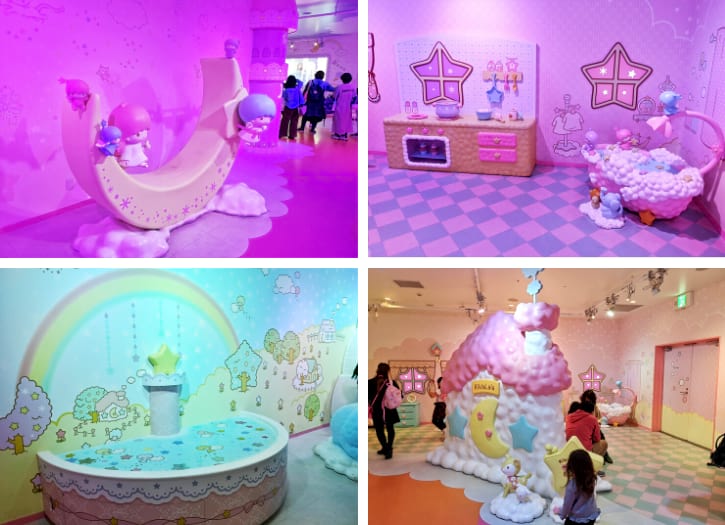 Location and Level: Sanriotown 2F
Plunge into the pastel-coloured world of Yumekawaii and let the dreamy vibes consume you. If you've always wanted to know the story of Kiki and Lala, this is the spot to be.
The tour starts with a video presentation that shows the tale of these two little stars.
Don't get drowned by the heaps of charming photo areas here. You have all the time to wander around the place and take some kawaii pictures. See their lovely birthplace that is bounded with clouds and colourful decorations.
The Wisdom Tree and Hello Kitty's Bell of Happiness
---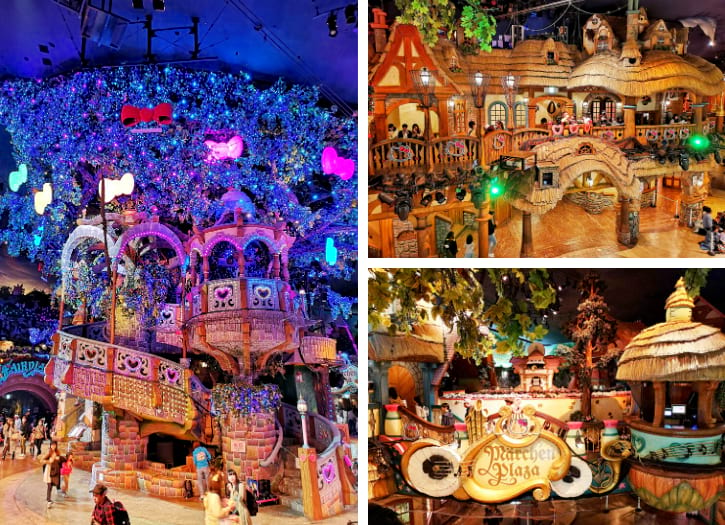 Location and Level: Puro Village 1F
When you get into the first floor, the Wisdom Tree is one of the things that you will notice. It stands in the middle of the area, like an attraction welcoming visitor.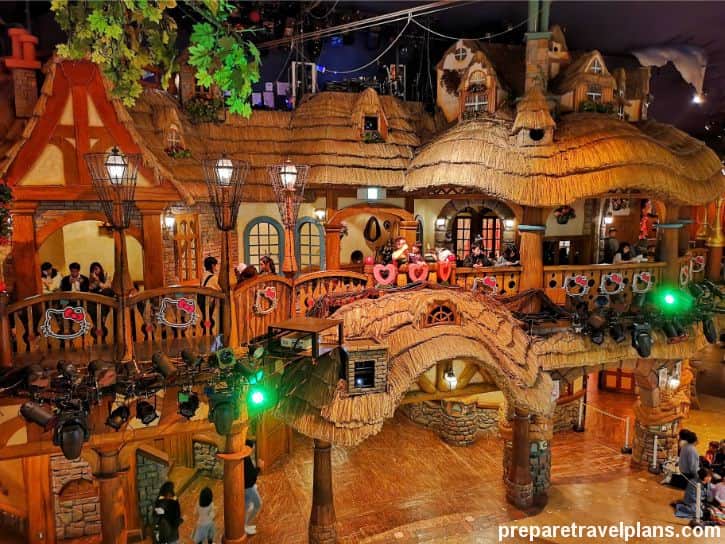 This tree-like structure is no ordinary tree as it is considered as Sanrio Puroland's symbol. In this large atrium is a stage where most free performances are being held. Climb up to the Wisdom Tree and you'll discover a magical spot.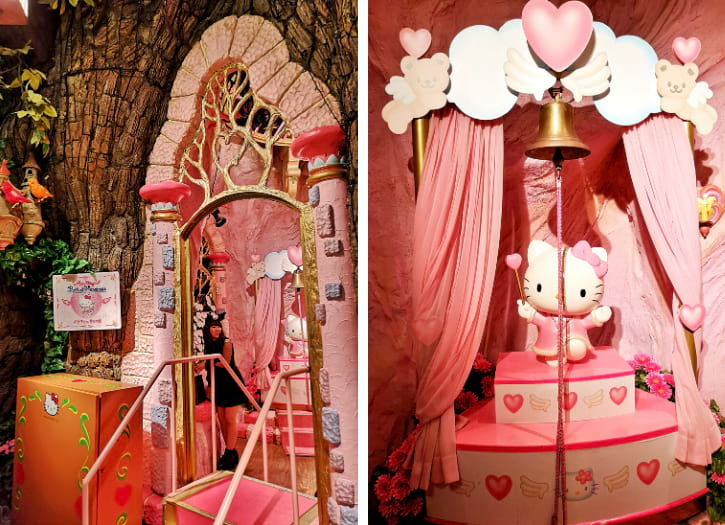 Lo and behold, there's also the Hello Kitty's Bell of Happiness―the place to make a wish of love come true! This cute spot is great for couples and even hopeless romantics.
Ring the bell and wish for luck and prosperity in love!
Game Corner
---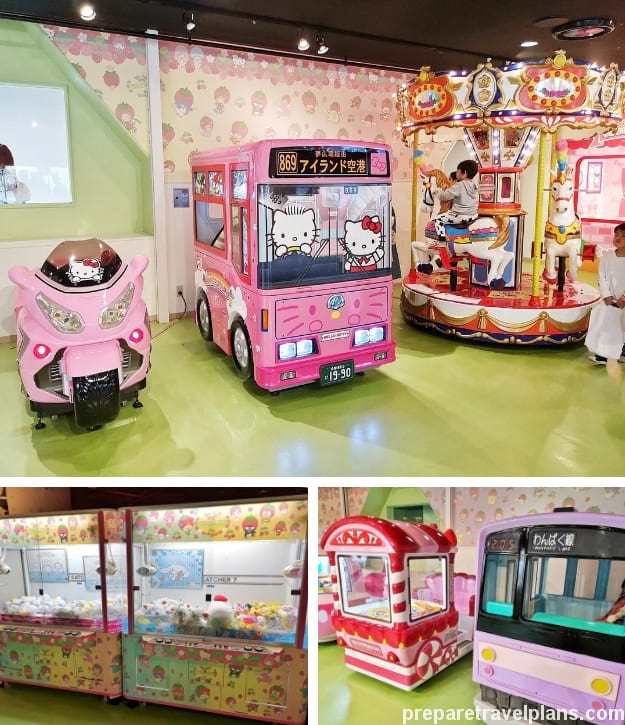 Location and Level: Sanriotown 2F (Near to KiKi & Lala Twinklingtour)
Take a time out from the rides and enjoy a quality game time. At the second-floor area, there's an array of crane games with your well-loved Sanrio friends as prizes.
Also, in this area are lots of rides and games aimed at kiddie audiences. So, if you're bringing a child, then you and your kid won't be disappointed.
What Parade and Show You Can See
---
Miracle Gift Parade
---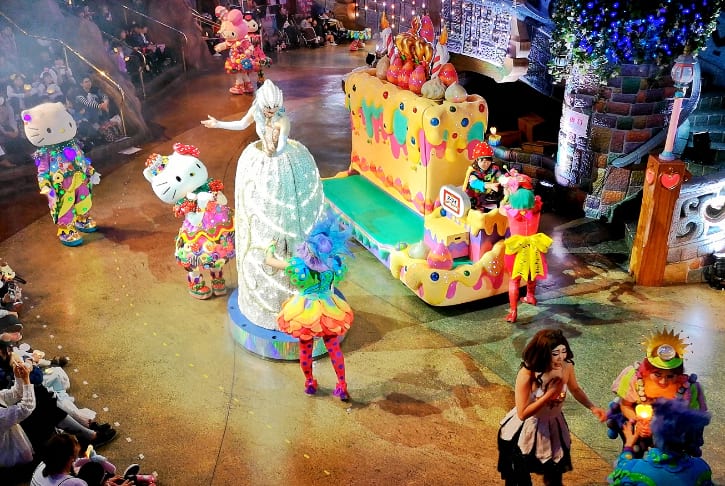 Location and Level: Puro Village 1F
Duration: 25 minutes
With a group of acrobats dancing their hearts out above you, you know you're in for something spectacular! Welcome to this miracle-themed parade where cute, heartwarming characters come together!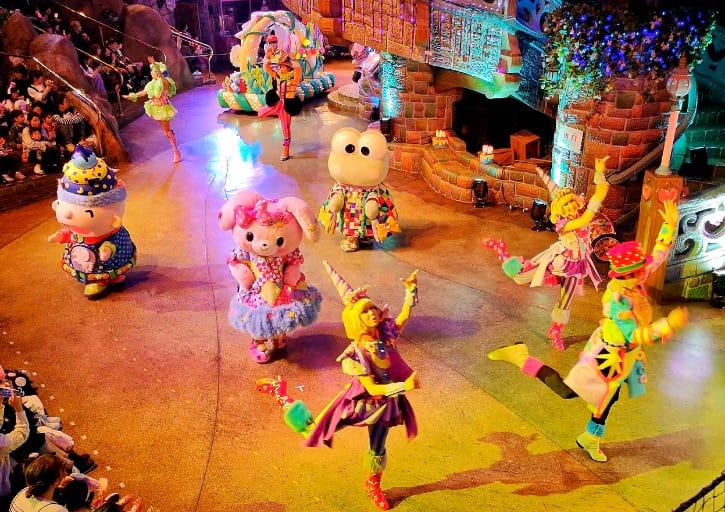 The likes of Hello Kitty, Daniel, and My Melody are to be seen moving around on vibrantly-coloured floats. While the spectacle goes on, the entire place is engulfed in fairytale-like music and lights.
But just when you thought the characters would only stay put on their floats….
Well, you're in for a surprise. These lovable characters are about to unleash their hidden talent—dancing!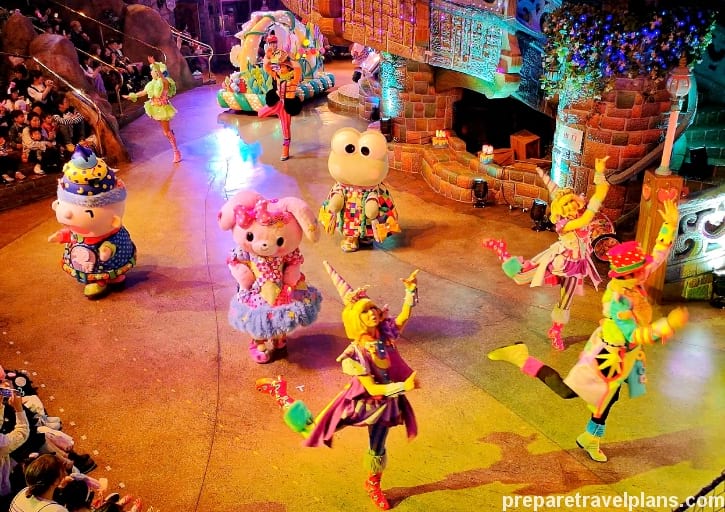 Apparently, they've got some moves too! Other Sanrio characters also take turns in gracing the stage along with other dancers. You won't ever spot a motionless body throughout the circus-like dance gala!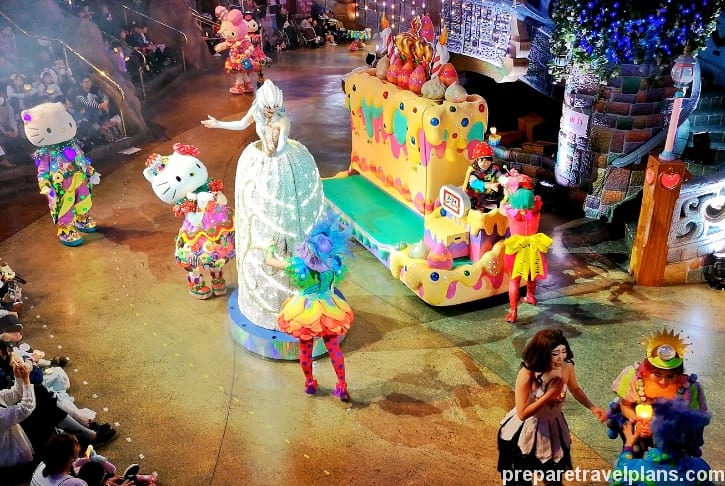 Overall, the breath-taking lights, music, design, and characters bring the parade to life. It's hard not to sway along with the adorable dance steps of Hello Kitty and her friends. This part of the theme park is simply overloaded with cuteness.
Miracle Illusion★Happiness
---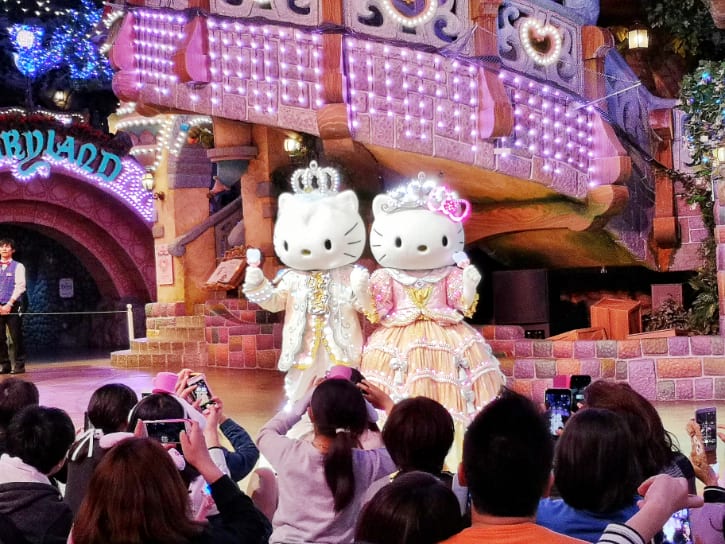 Location and Level: Puro Village 1F
Duration: 10 minutes
Hello Kitty and Dear Daniel keep their love burning at this captivating illusion show! If you adore these lovable bobtails, this show will make you fall in love with them all the way more!
Together, the two will share a delightful dance as a sweet song plays in the background.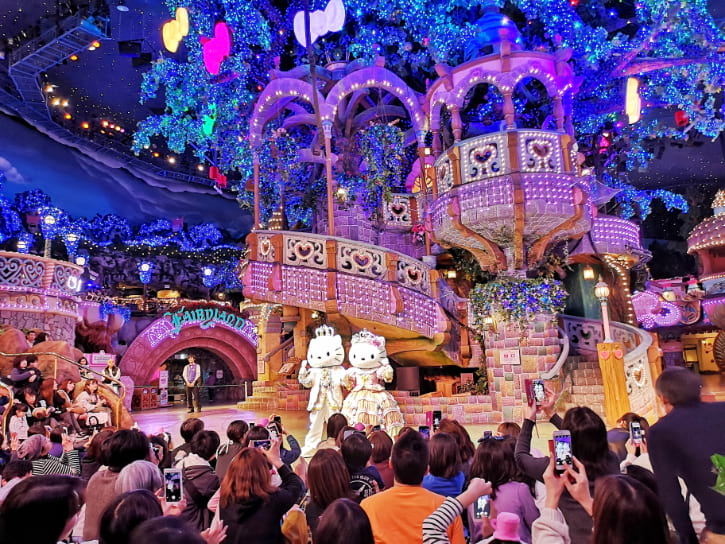 Aside from the characters' heartening performance, the entire attraction's project mapping is truly remarkable.
With a backdrop clothed in animated colours, the fantasy illusion show is simply magical in its purest sense. Plus, a variety of colours lights up the place and the Wisdom Tree.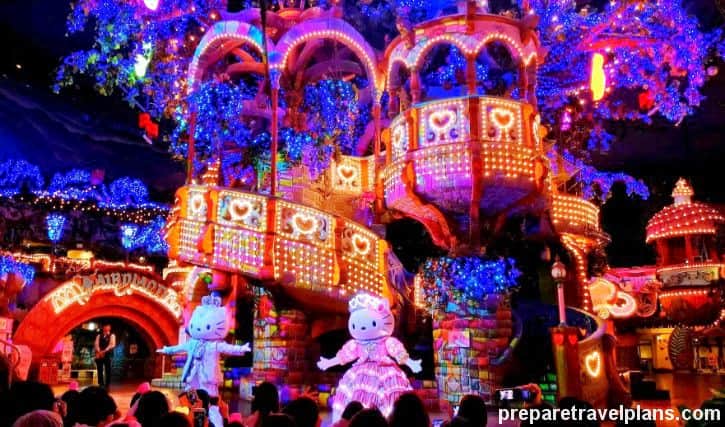 From up above the staircase, Hello Kitty will gracefully walk down to join her sweetheart, Dear Daniel, on the stage. All the way through their soothing performance, the spirit of friendship and love overflows. This fills the room and straight into the very hearts of the love-struck audience!
What to See at Mini Factories and Plants
---
Candy Factory – The perfect spot for the sweet tooth
---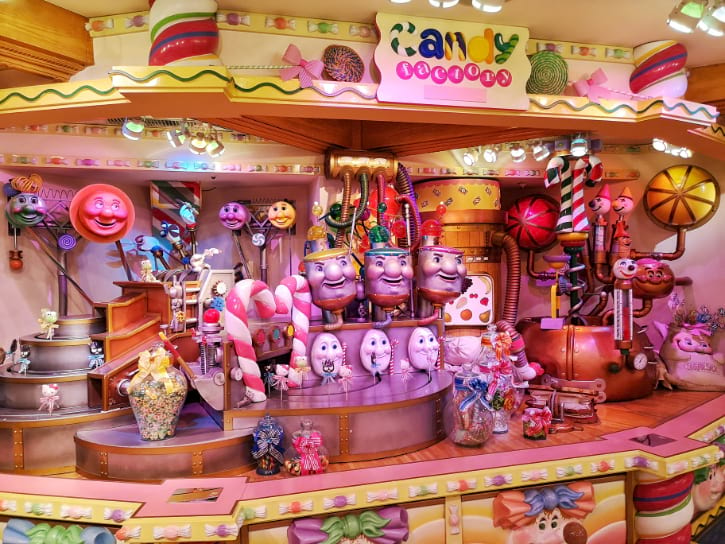 Location and Level: Puro Village 1F
Stop by at the Candy Factory and see its animated candy machine! Though others may find it a little bit creepy out here, the cutesy stick candies definitely save the day!
The stick candies have the sweet faces of Hello Kitty as well as her other friends. Amongst these other familiar figures, you'll also get to meet a bear on the left corner. Wait for him to speak out of the blue!
And of course, it's not gonna let you leave without letting you hear him sing a few lines! Let its cute and haunting melody play with your ears!
Mini Photo Plant – One of Sanrio's entertainment hub
---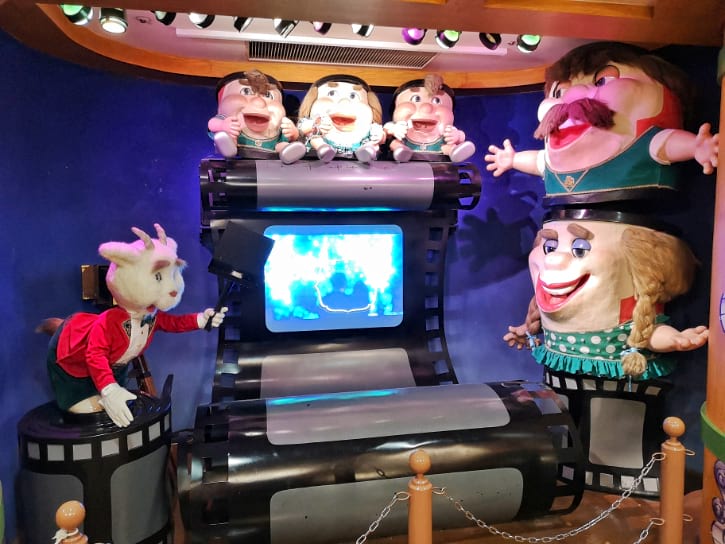 Location and Level: Puro Village 1F
Have you ever wish to see a giant-sized photographic roll film? Then, your wish is granted! Spend some time inside and watch how the magic begins.
Unlike other spots, this is obviously smaller in size. However, the enjoyment it provides, with the help of the funny-looking characters, suffices it all.
Ice Cream Factory – A delicious treat for the eyes
---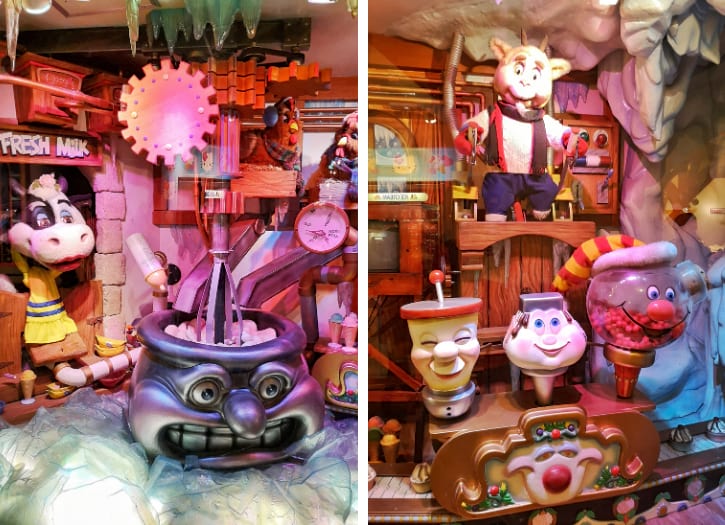 Location and Level: Puro Village 1F
Every kid has got their own version of how an ice cream factory looks like. At Sanrio's, you are bound to witness a high-spirited glimpse of what process these yummy desserts go through.
Although you won't get to have a taste of its ice cream, this one is still a must-visit!
Surely, this isn't really the best in all of Sanrio's attractions. Nevertheless, it's still a recommended site for visitors. The comedic faces of the pots and machine buttons are still bound to catch your interest. Besides, the bright faces of the animals also cheer the place up.
Bread Factory – The land of the bread
---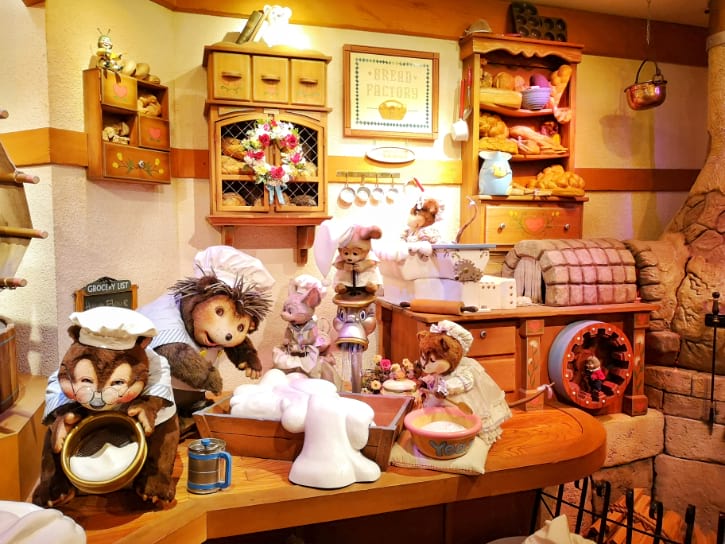 Location and Level: Puro Village 1F
Right inside this factory, you will find a number of lovely creatures going about their daily baking routine.
Don't try to disturb the team as they proceed in making some fluffy and appetizing loaves of bread. Though these treats may look real sumptuous, don't ever dare to steal one!
And if you ever have plans for a little chit-chat with the animals, just don't push it. They're too busy perfecting their recipes! Besides, as with the rest of the factories, this one also has its own child-like music. By the time you enter the place, you'll hear its loud tune playing inside.
Juice Factory – The juice secret is out!
---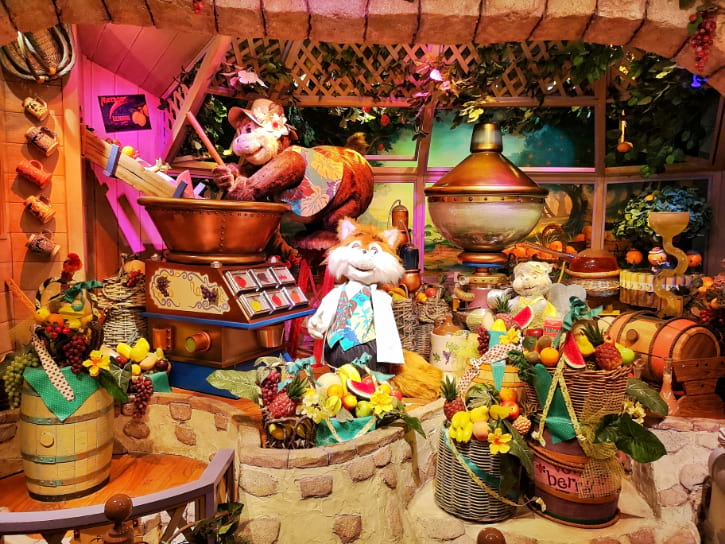 Location and Level: Puro Village 1F
If you have ice cream and bread factories, then, of course, you also have a Juice Factory. Roam your eyes around the machinations of the juice factory!
Although there is really not much to see here, it is still worth a try. The room is filled with the freshest fruits that make up your tastiest beverages.
Together with your friends, start to learn their juice-making process! This factory is all out in sharing their most-kept secret in producing the most toothsome juices!
Chocolate Factory – How chocolates are brought to life
---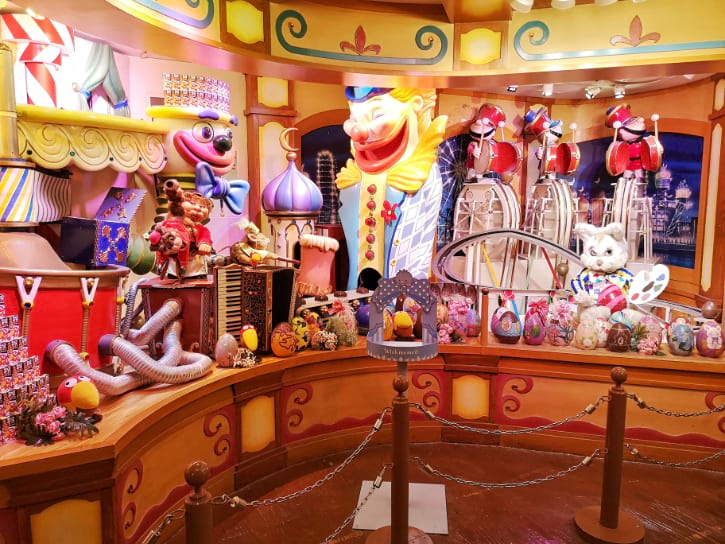 Location and Level: Puro Village 1F
Brimming with colourful Easter eggs, Sanrio's Chocolate Factory is delightful in many ways. Starting from its hypnotizing musical extravaganza up to its silly clowns, your attention won't simply rest on one thing. The tinkling of machine sounds will make you feel as if you're at a real factory.
However, there's only one thing that you should wrap your head around. While staring at the flow of the delicious chocolate bits, don't let the laughing clowns distract you! Who would have thought that a chocolate factory could be this lively, tasty yet scary all at the same time?
What Characters You Can Meet Up
---
Cinnamoroll Character
---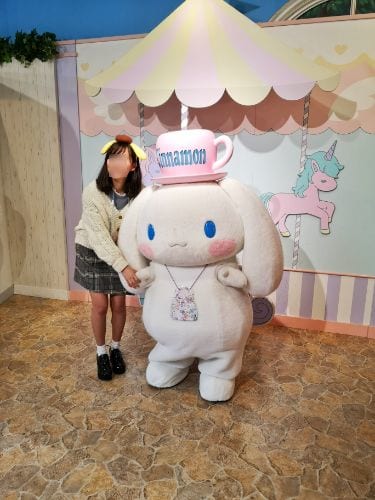 Location and Level: Rainbow Hall 4F
But of course, the theme park is also a place to meet your favourite Sanrio friends. Let's start with Cinnamoroll, a cute boy dog that is extremely friendly to everyone. At times, he gets too comfortable with his new friends. So, don't be surprised to see him taking quick naps, even on your lap!
This white, chubby pet born on a cloud now makes Cafe Cinnamon as his simple home. As the resident dog, he makes sure that you get entertained all throughout your visit. Because of his cuteness, it's just difficult to leave this chunky and sleepy mascot behind!
My Melody Character
---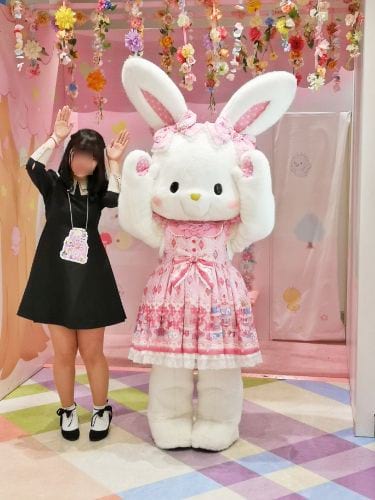 Location and Level: Rainbow Hall 4F
Meet My Melody, a loving and kind girl who never fails to amaze visitors with her bright personality. On top her kind-hearted nature, she's also into baking cookies. This hobby of hers is something she looks forward to, especially if she's with her mom. And her most treasured piece? The gorgeous hood made by her grandmother.
My Melody is not just a good daughter but also a great sister to her siblings! She'd always take into account the welfare of her siblings before herself.
Pochacco Character
---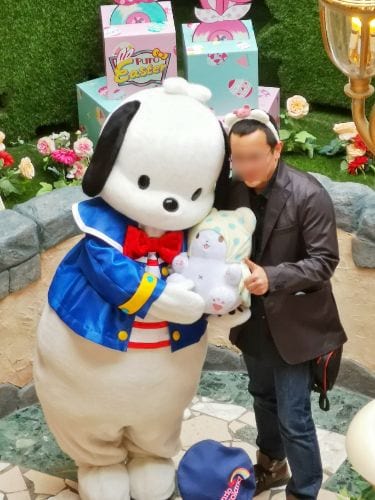 Location and Level: Rainbow Hall 3F
If you're the active type, for sure you'll fall in love with Pochacco in a heartbeat! This energetic boy can go walking for hours, maybe to deepen his curiosity or digest his favourite snack―banana ice cream. Yup, this is his go-to treat wherever he goes!
Though he might be a little nosy at times, you simply can't resist his vibrant charms! So, stroll around the Rainbow Hall together with Pochacco.
Aside from Cinnamoroll, My Melody, and Pochacco, there's plenty of characters to see at Sanrio Puroland. Meet and take photos of Pompompurin, George, Runrunlulu, Gudetama, Ruby, and a lot more!
What Things to Shop
---
Entrance Shop – All-in-one shop for kawaii needs
---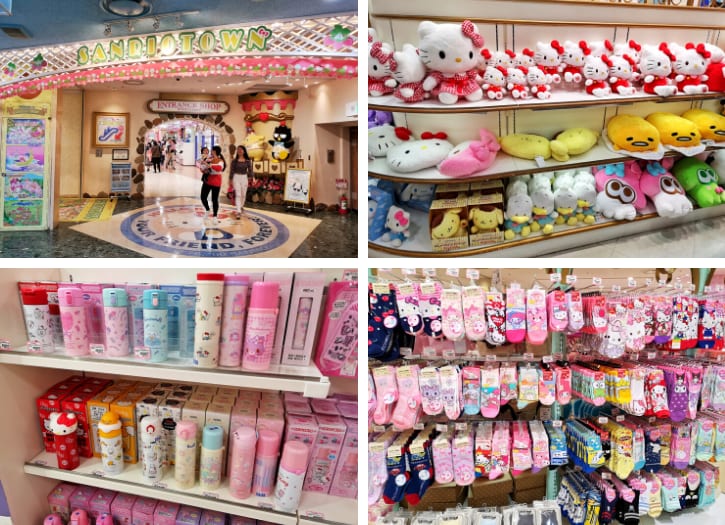 Location and Level: Rainbow Hall 3F
Entrance Shop will take too much of your travel time around Puroland. Why? Because it has too many selections of goods you can't say no to!
This is Puroland's largest shop, glittering with pieces of clothing, dolls, stationery and many more.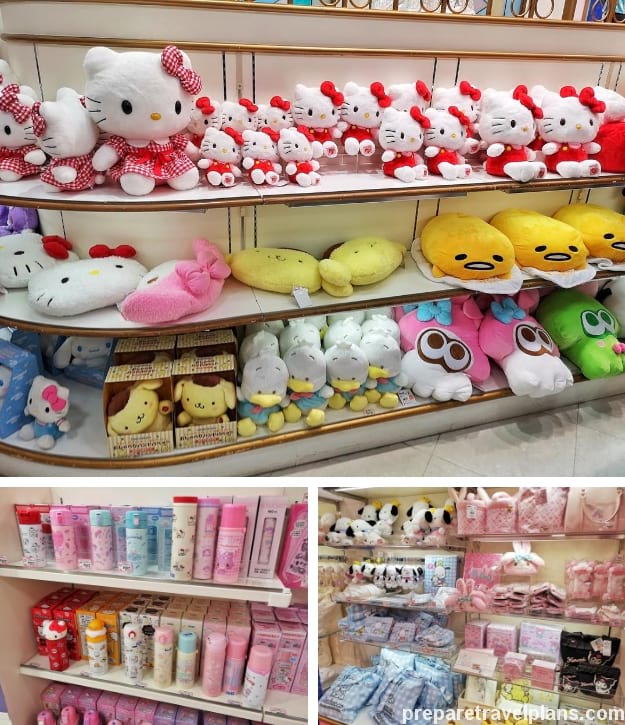 If you're a sucker for Gudetama, better hold your wallet tight before a Gudetama doll lands on your lap!
There's more! Alongside these Gudetama Dolls are Hello Kitty and other cutie patootie stuff toys. Other than this, you won't miss a bottle carved with Kitty's image.
Also, Pochacco and My Melody goodies can't be left behind from the scene. The adorable smile of My Melody stuffed toys will follow you on your way out!
Lady Kitty House Shop – A real oasis for Hello Kitty fans
---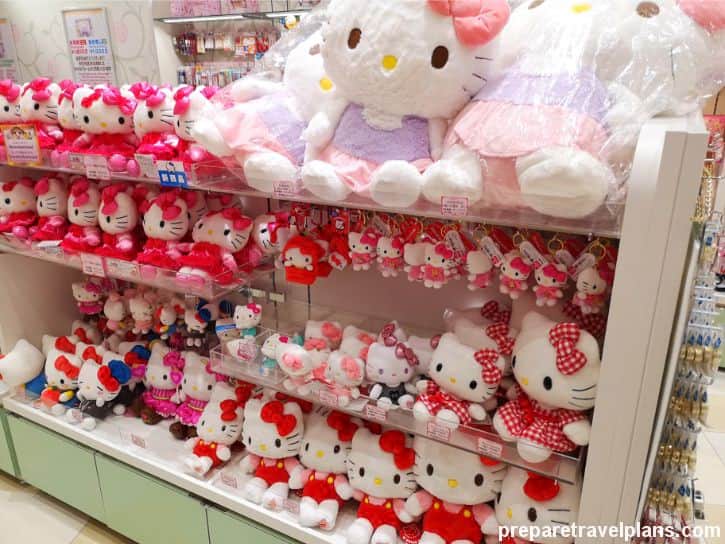 Location and Level: Sanriotown 2F
Lady Kitty House Shop is the perfect place for Hello Kitty fans. Traces of Hello Kitty simply occupy the entire area. Who knows, the next time you look in the mirror, it's the iconic character already staring back at you!
Hello Kitty breathes in every stuffed toy of the shop. You'll recognize it either in the mini or the gigantic Kitty that's half your size.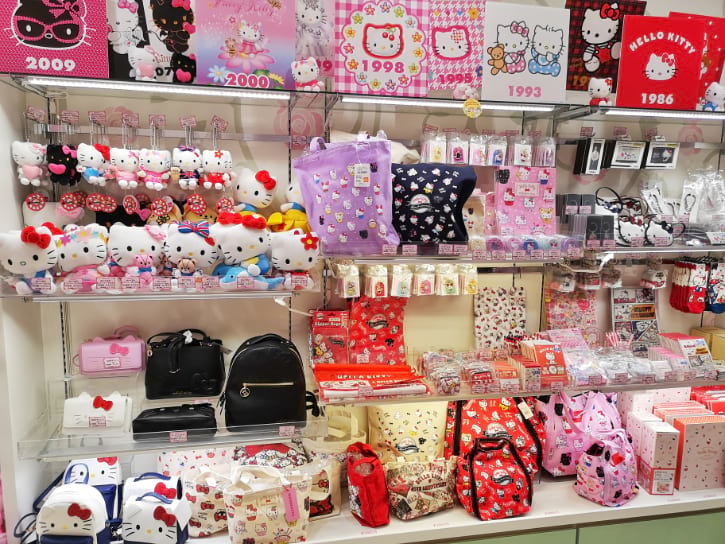 Not only toys but bags designed in Hello Kitty are also available in the shop. Even in mugs, bottles, and plates, Hello Kitty simply never leaves your sight. Purchase every item you like and make your own place another Hello Kitty sanctuary!
Cinnamoroll Anniversary Shop – A heaven for Cinnamoroll fanatics
---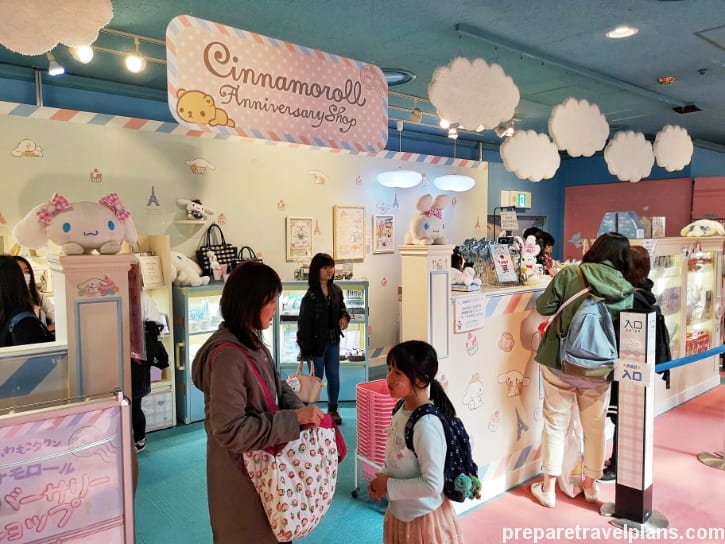 Location and Level: Rainbow Hall 4F
Join the ever-happy anniversary of Cinnamoroll at its very shop! With its lovable face plastered on every product, it gets quite hard to choose one out of the many.
This place is most ideal for every young and young-at-heart fellow! If you're not the type to wallow in excessively cute stuff, Cinnamoroll might just change your mind!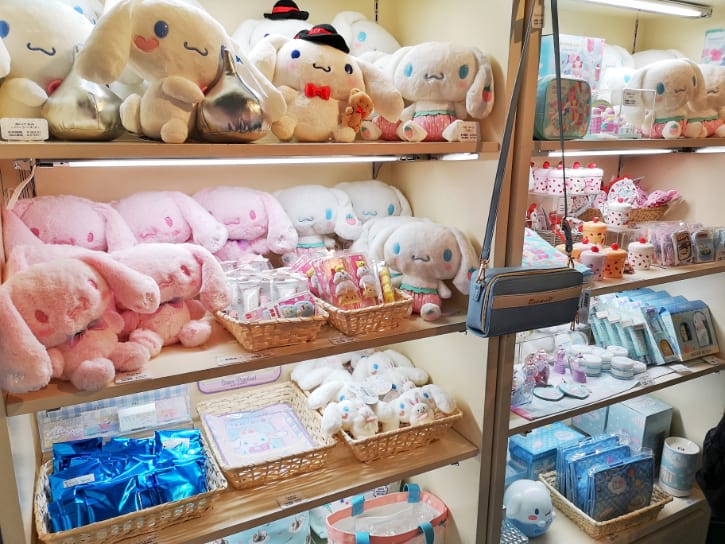 Cinnamoroll's huge, huggable form is sized down into a number of small adorable stuffed toys. These soft miniature mascots come into many colours but are all marked by the same pleading eyes. In addition, these eyes will make sure you'll grab a hold of them on your way out!
My Melody Shop – Into the world of My Melody
---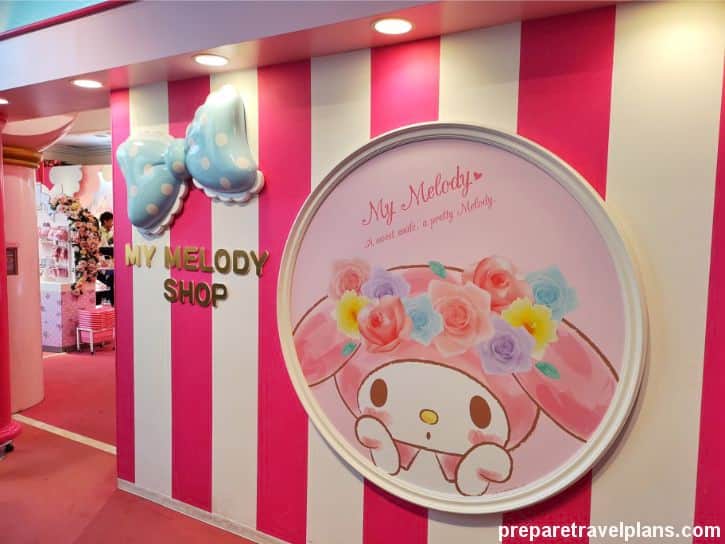 Location and Level: Rainbow Hall 4F
This shop has all sorts of lovely-looking items of Hello Kitty's one and only best friend. From the very entrance, you'll be welcomed by the good-natured sight of My Melody.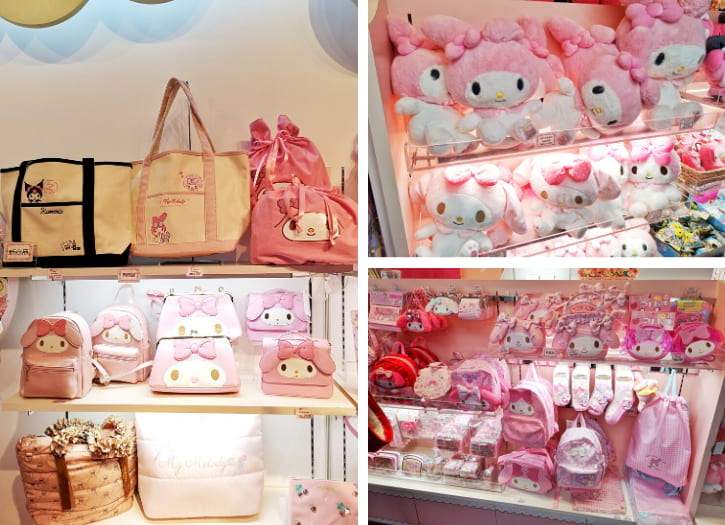 From an array of bags to plushes—you'll see the picture of the sweet white rabbit in every goodie!
On your way, a bunch of stuffed toys will stare at you straight with big-dotted charming eyes. A variety of purses and socks also flood before you—all in an overwhelming gush of the colour pink!
Kiki & Lala Shop – The shop of Sanrio's most adorable twins
---
Location and Level: Sanriotown 2F
The two little twin stars—Kiki and Lala—have their own ways of working their charm on you. Ta-da, it's none other than through its manifold of collectibles!
To welcome you are friendly and all-smiles gals ready to assist in your ordeal of searching and buying.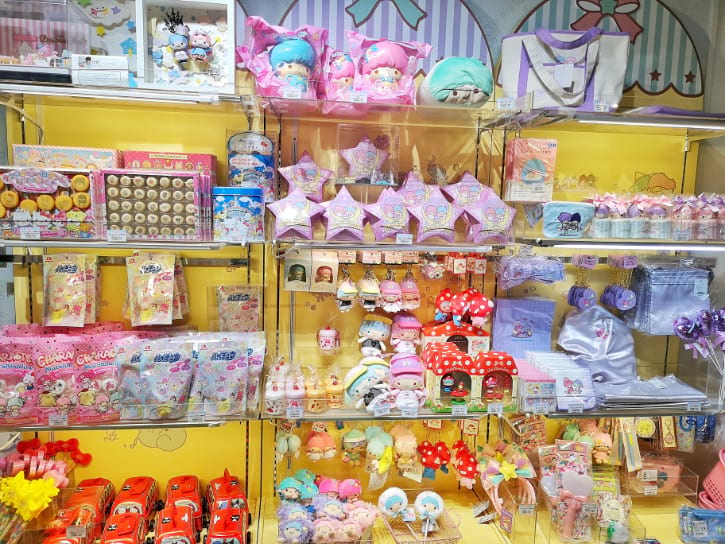 Pick from a variety of tote bags, card bags, toys and cosmetic pouches—each fashioned in Little Twins Stars design.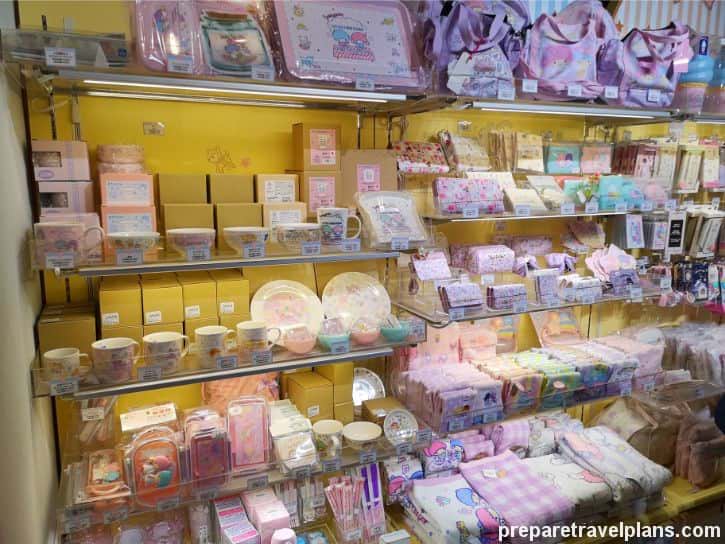 Grab a look at the collection of keychains, hairbrush, mugs, socks, massage sticks, and lunch box sets. Let the curiosity of the young Kiki enter in you while wandering off the shop! And don't forget to take your time!
Village Shop – Get your sugar fix at the Village Shop
---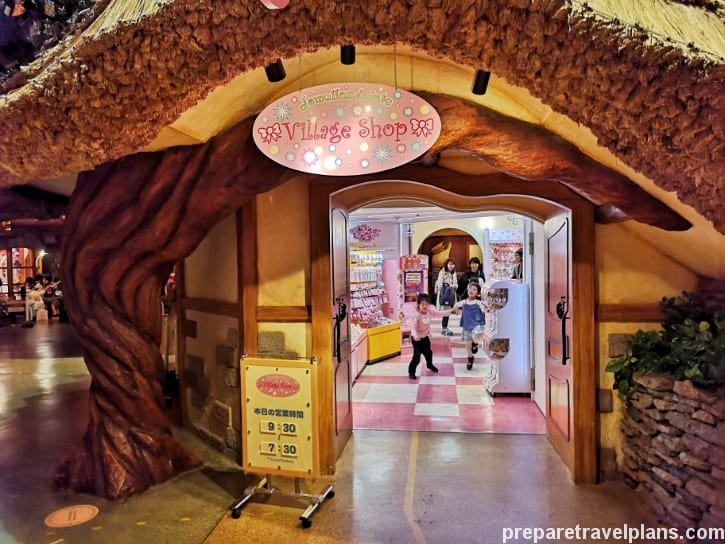 Location and Level: Puro Village 1F
Feed your thirst in hoarding by visiting this famous go-to shop for sweet and sugary items. But who says only lovers of girly collectibles can step foot on this well-known Village Shop?
Although this place may scream in pink from top to bottom, this shop is open to anybody.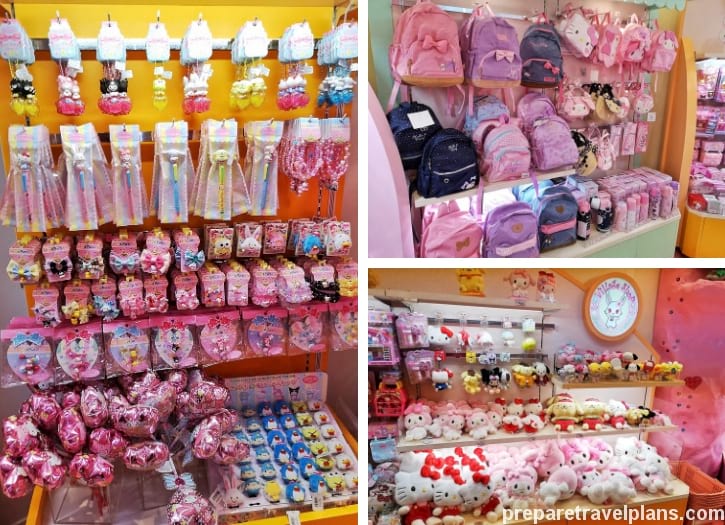 If you don't want anything for yourself, you can definitely leave some for your kid, sister, or friend!
Bursting in one direction is a pack of hairbands and clips. On another spot are dolls with faces of Hello Kitty, Gudetama and My Melody.
Tax-free Counter – Shop less at Tax-free Counter
---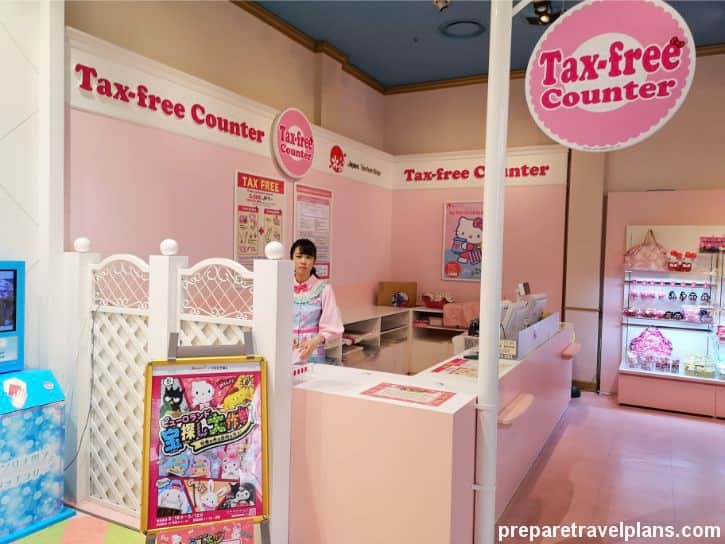 Location and Level: Rainbow Hall 4F
With the many shops lining at Sanrio, it may be quite impossible to keep your hands still. However, its tax-free counter must lift at least a little of your worries.
When you purchase items for a total 5,000 yen or more, enjoy a tax refund at the Tax-free counter! Here, you must show your passport and the receipt of your purchased product. Without these items, you are not eligible to avail the tax exemption. Furthermore, you can show your credit card if you're using one.
If you are interested in these perks, check out the tax guidelines here.
What Things to Eat
---
Sanrio Rainbow World Restaurant – Kawaii goodness in a plate
---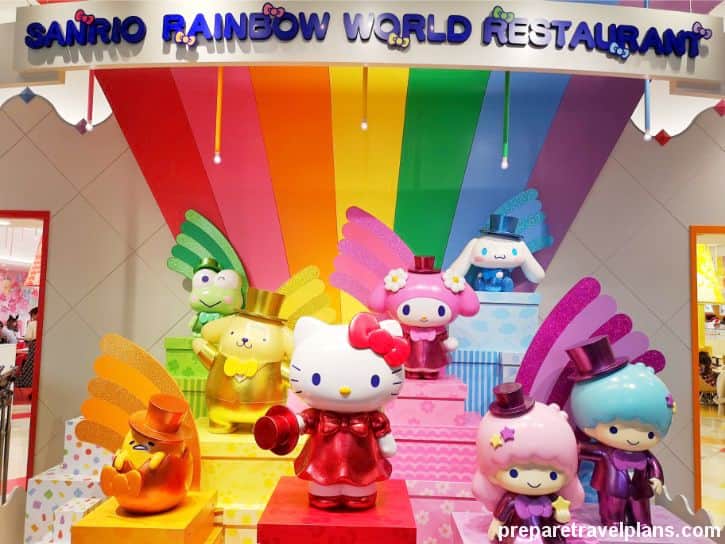 Location and Level: Rainbow Hall 4F
All the kawaii stuff will surely make you hungry. But don't you worry because Sanrio Rainbow World Restaurant has something to make your kawaii cravings come true!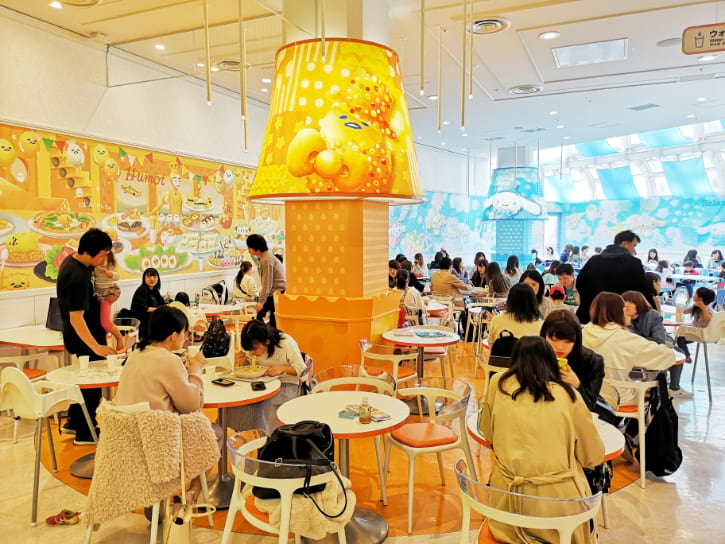 This rainbow-themed food spot on the fourth floor has a spacious setting with around 350 seats.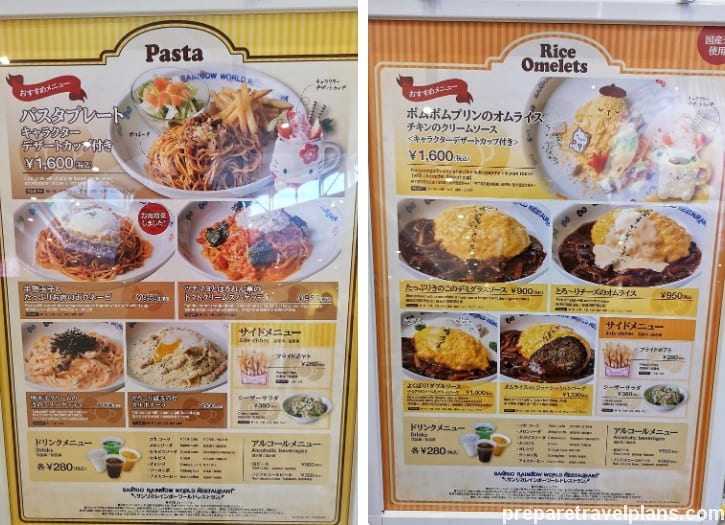 For pasta lovers, they've got a decent range of pasta dishes for different taste buds. They also have some rice omelets menu to choose from.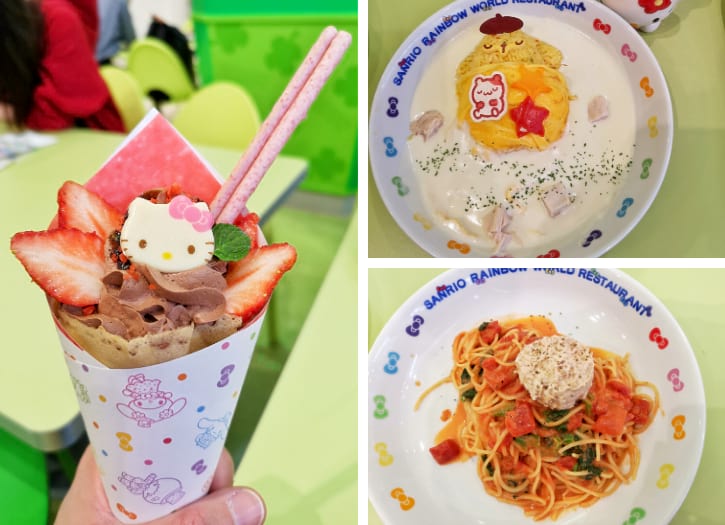 Here's a glimpse of what we've ordered―a Pompompurin Omelet on rice with creamy chicken sauce.
Another omelet-style dish with hamburger steak! For health-conscious eaters, take the tomato cream spaghetti with spinach.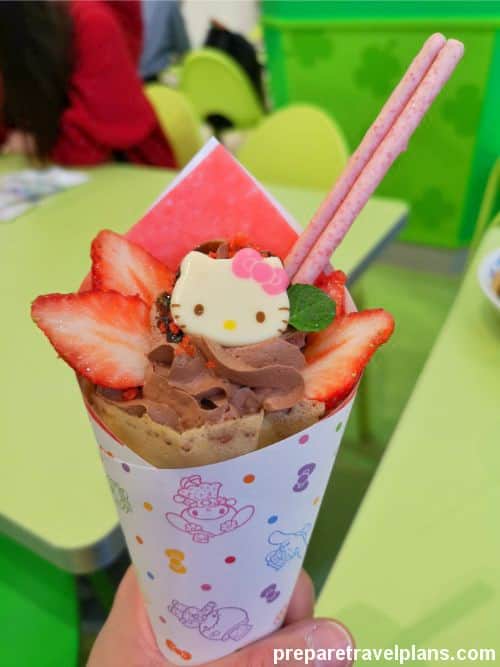 Don't forget the best part of the meal―desserts! Try the Hello Kitty strawberry chocolate crepe.
Character Food Court – Go-to avenue for eatable Sanrio characters
---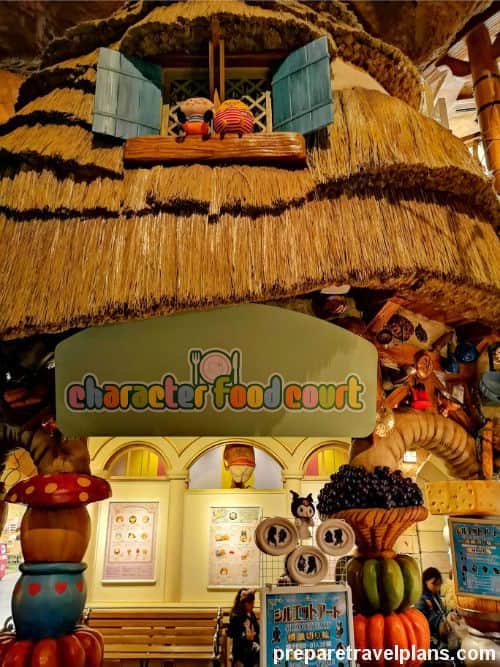 Location and Level: Sanriotown 1F
Exciting and tasty treats await behind this not-so-vibrant exterior. Character Food Court is a place where you can eat dishes modelled on your favorite Sanrio characters.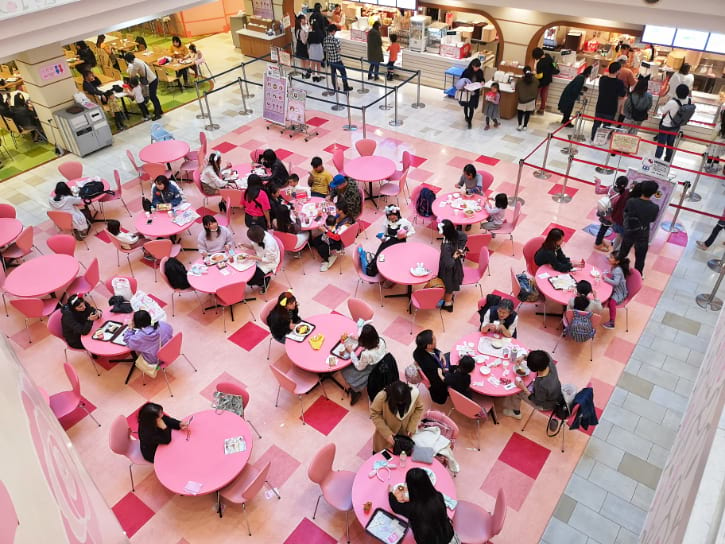 Seating up to 524 people, this expansive food area serves a lot of extremely cute and delectable foods.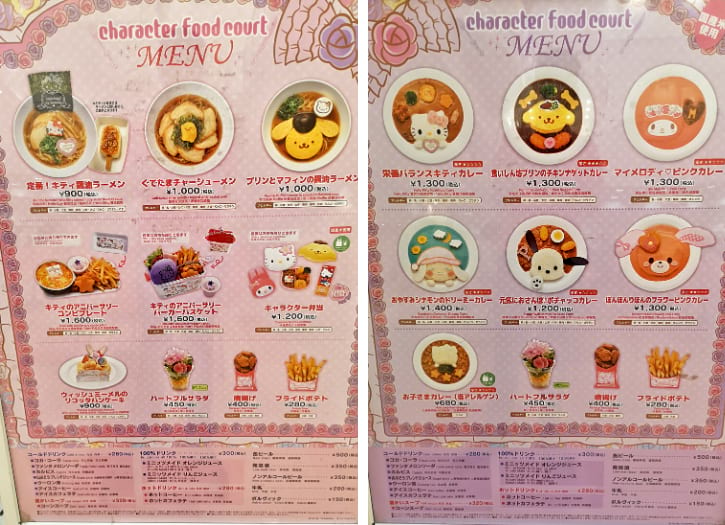 Their main dishes are ramen and curry, though they also have some snack options like burgers, fries, and such. So, if you want to have a quick food break, you can get it here.
Because of its cuteness, taking a bite might just be difficult because you'll ruin the Instagram-worthy presentation!
Cinnamoroll Dream Cafe – A dream come true for Cinnamoroll fans
---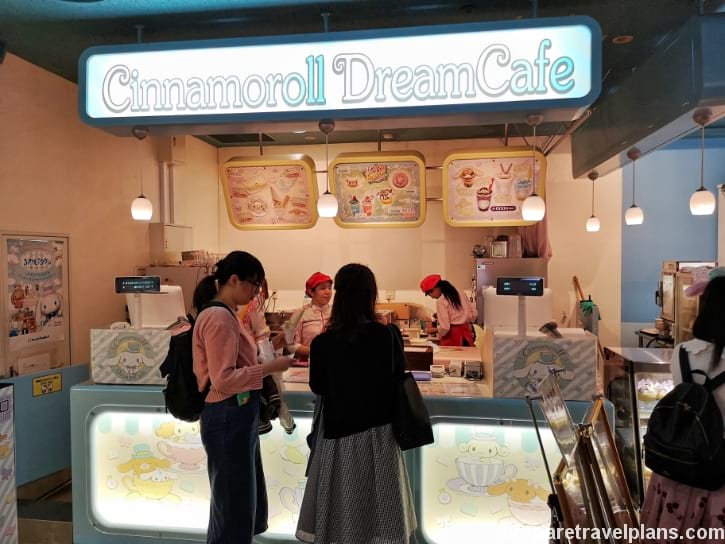 Location and Level: Rainbow Hall 4F
Grab a bite from one of the sweet treats at Cinnamoroll Dream Cafe. This pop-up shop has all you need for quick and cute snack time in Sanrio Puroland.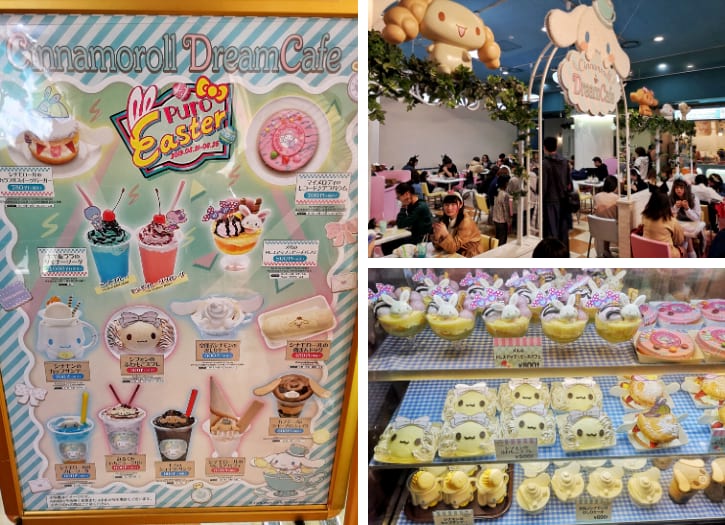 The cafe can cater up to 65 people and has a store offering exclusive merchandise. Pick your choice from the pretty selection of Cinnamoroll-themed desserts.
This dreamy cafe has pudding, cream puffs, shortcakes, and more. Plus, they also have tasty drinks to complement your snacks!
Ticket Prices
---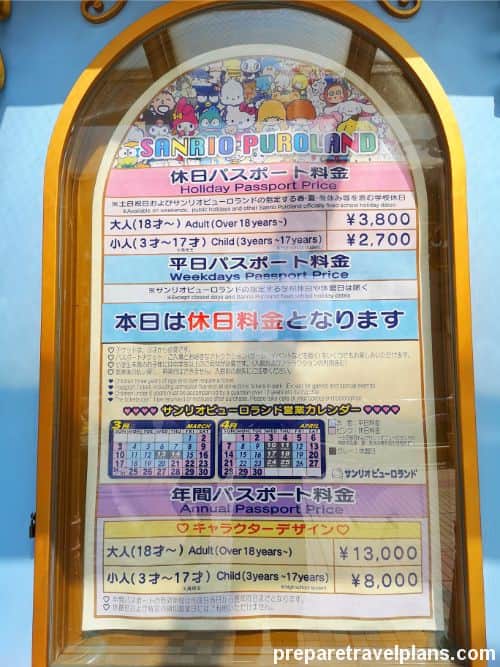 Normal Ticket Prices
Weekends and Public Holidays
Adult (18 and Above): 3,800 yen
Child (3-17): 2,700 yen
Weekdays (Monday to Friday)
Adult (18 and Above): 3,300 yen
Child (3-17): 2,500 yen
Why do you need to buy your Sanrio Puroland tickets online?
Enjoy 50% Discount. Online tickets are actually much cheaper compared to tickets at the ticketing counter.
No more waiting game. Don't need to queue up for buying tickets at the ticketing counter anymore.
Easy access to Sanrio Puroland. With your printed tickets or soft copy from your smartphone, you can directly enter the park with ease.
Open dated tickets. Enjoy the convenience of adjusting your Sanrio Puroland visit according to your needs.
Save time, money, and effort by booking your Sanrio Puroland tickets online.
Tips for Visiting Sanrio Puroland
---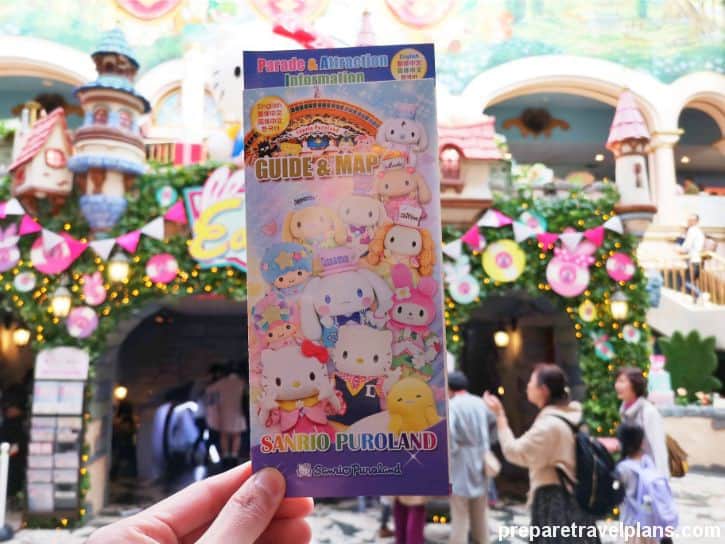 1. Grab a Sanrio Puroland Guide Map
It's so hard to resist this charming aesthetics outside the theme park. But before you step into the charming world of Sanrio, grab a guide map located at the park's main entrance.
This guide & map is helpful in exploring the theme park grounds. Not to worry because it's written in English for your convenience. You can also download the Sanrio Puroland Guide Map and start the adventure in no time.
2. Check the Schedule of Parades and Shows
But before that, don't forget to check the Sanrio Puroland website to see the schedule of parades and shows. Displayed on the website are the updated and actual schedules of every attraction for the specific day only.
Since there is no schedule for the future dates, remember to check the website again when you visit the park that day so you won't miss the fun.
The website doesn't provide the actual time of the parades and shows if the park's closed for a specific date. So, be sure to see the Sanrio Puroland Calendar ahead to know if the park is operating for that day.
3. Check the Sanrio Puroland Operating Day Before Visiting the Theme Park
Sanrio Puroland is often closed on Wednesday and Thursday. Don't forget to check the Sanrio Puroland Calendar in advance to confirm the date you planned to visit the park is open.
4. Visit the Park during Weekdays
If you want to enjoy the park with lesser crowd, avoid visiting during weekends and school holidays.
How to Go to Sanrio Puroland by Train
---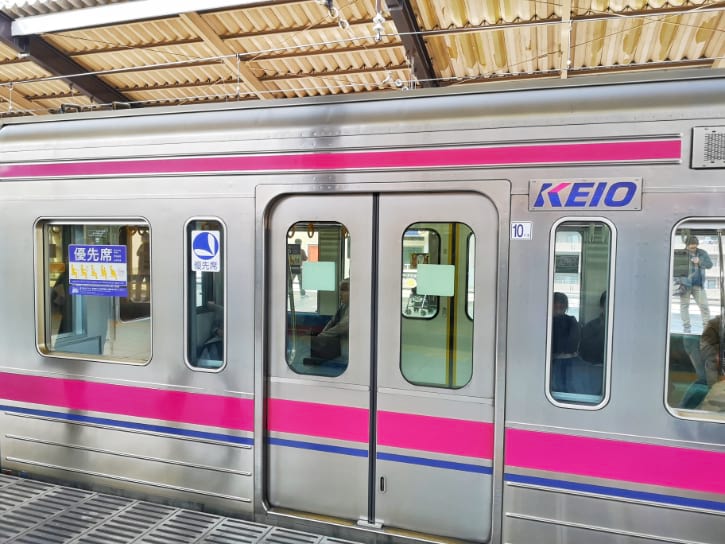 The cheapest way to go to Sanrio Puroland is by taking a train. Keio Tama Center Station is the nearest train station to Sanrio Puroland.
Let's start to see how to take the train to Sanrio Puroland from the following locations – Shinjuku, Tokyo Station and Shibuya.
1. Shinjuku to Sanrio Puroland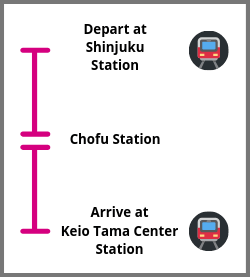 Take the

Keio Line

Semi-Special Express from JR Shinjuku Station to Chofu Station. [For Hashimoto Direction]
Remain on the same train from Chofu Station to Keio Tama Center Station via

Keio Sagamihara Line

Semi-Special Express. [For Hashimoto Direction]
Get off at Keio Tama Center Station and walk out at the Central Exit.
*Check here for a very detailed guide on getting to the sanrio theme park by train.
Travel Time (one way) = Train
= Around 30 minutes
Travel Cost (one way) = Train Fare
= 320 yen
2. Tokyo Station to Sanrio Puroland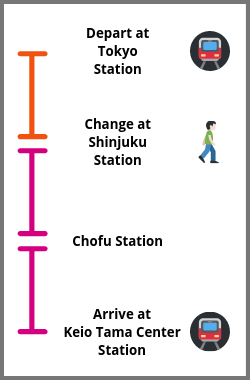 Catch the

JR Chuo Line

from Tokyo Station to JR Shinjuku Station.
Alight at JR Shinjuku Station and then transfer to

Keio Line

Semi-Special Express.
Catch the

Keio Line

Semi-Special Express from JR Shinjuku Station to Chofu Station. [For Hashimoto Direction]
Remain on the same train from Chofu Station to Keio Tama Center Station via

Keio Sagamihara Line

Semi-Special Express. [For Hashimoto Direction]
Get down at Keio Tama Center Station and look for the Central Exit.
*Check here for a very detailed guide on getting to the sanrio theme park by train.
Travel Time (one way) = Train
= Around 52 minutes
Travel Cost (one way) = Train Fare
= 520 yen
3. Shibuya to Sanrio Puroland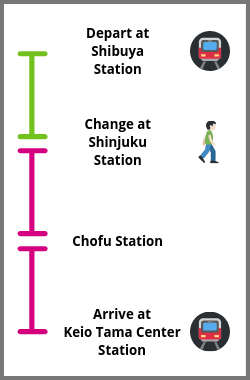 Board the

JR Yamanote Line

from Shibuya Station to JR Shinjuku Station.
Alight at JR Shinjuku Station and then transfer to

Keio Line

Semi-Special Express.
Catch the

Keio Line

Semi-Special Express from JR Shinjuku Station to Chofu Station. [For Hashimoto Direction]
Remain on the same train from Chofu Station to Keio Tama Center Station via

Keio Sagamihara Line

Semi-Special Express. [For Hashimoto Direction]
Get off at Keio Tama Center Station and take the Central Exit.
*Check here for a very detailed guide on getting to the sanrio theme park by train.
Travel Time (one way) = Train
= Around 44 minutes
Travel Cost (one way) = Train Fare
= 480 yen
Tips: Avoid Crowded Trains
The peak hours of train are 8:00 AM to 9:00 AM and 5:00 PM to 6:00 PM during weekdays. Try to avoid this period of time if you plan to visit or go back from Sanrio Puroland by train.
A Step-by-step Guide on Getting to Sanrio Puroland by Train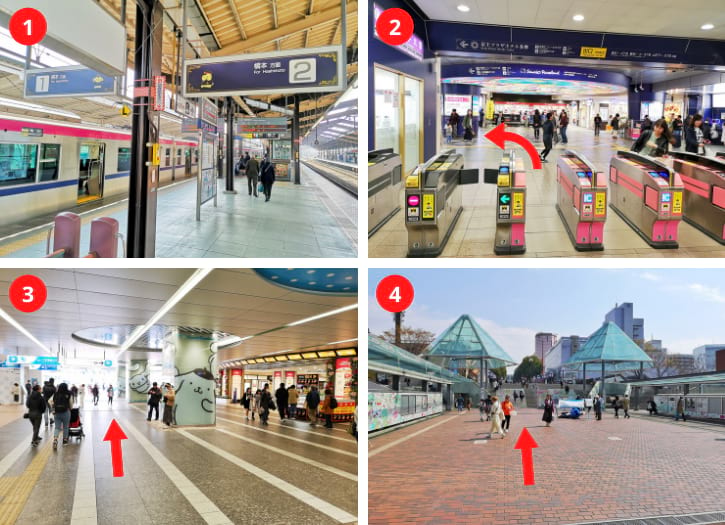 1. The first step is to take a train to Keio Tama Center Station. When you arrived at Keio Tama Center Station, you should take a lift or escalator to Level 2.
After that, take a short walk to Sanrio Puroland from Keio Tama Center Station in 6 minutes.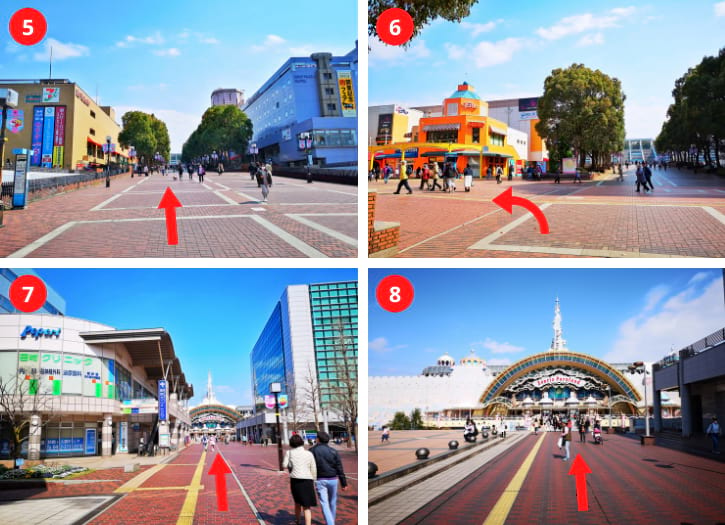 2. Once you reach the Level 2, you should walk out the ticket gate of Central Exit and then turn left.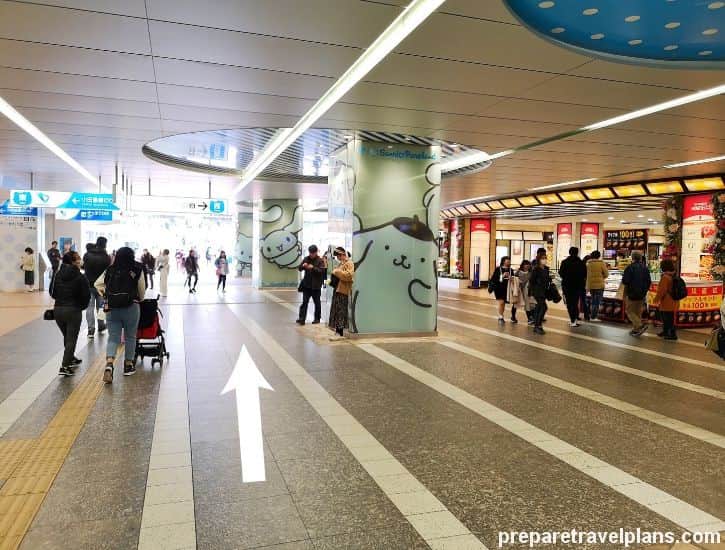 3. At this moment, you should go straight.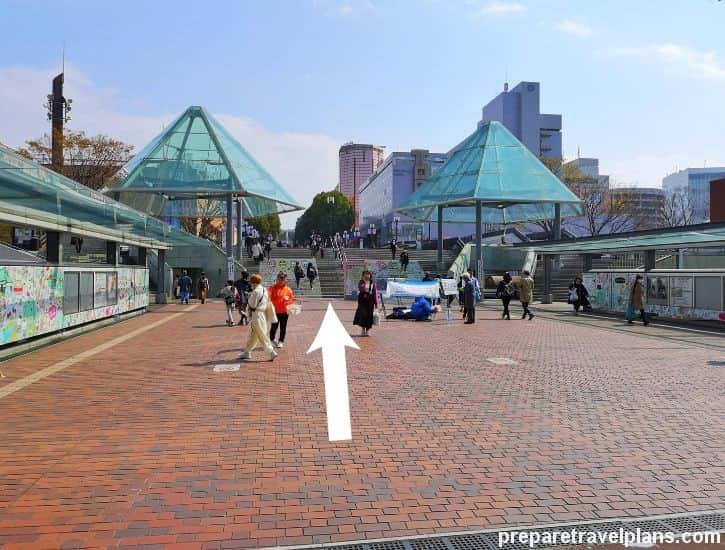 4. Continue straight and then go up the stairs on ahead.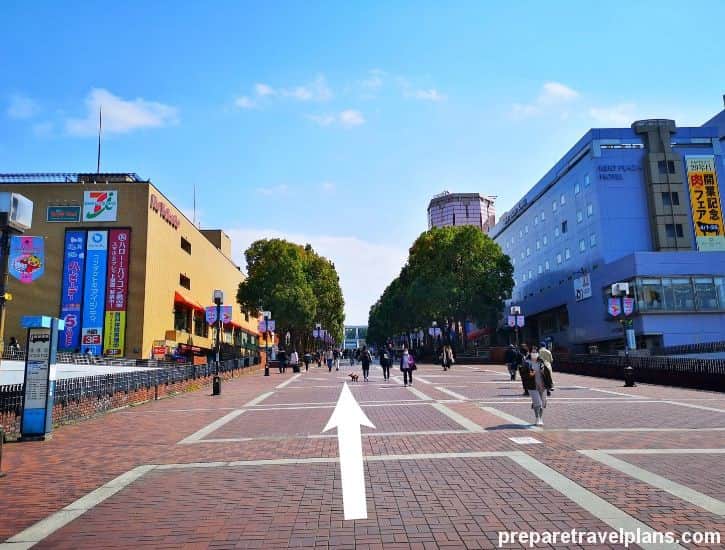 5. Walk through the link bridge and then keep going straight.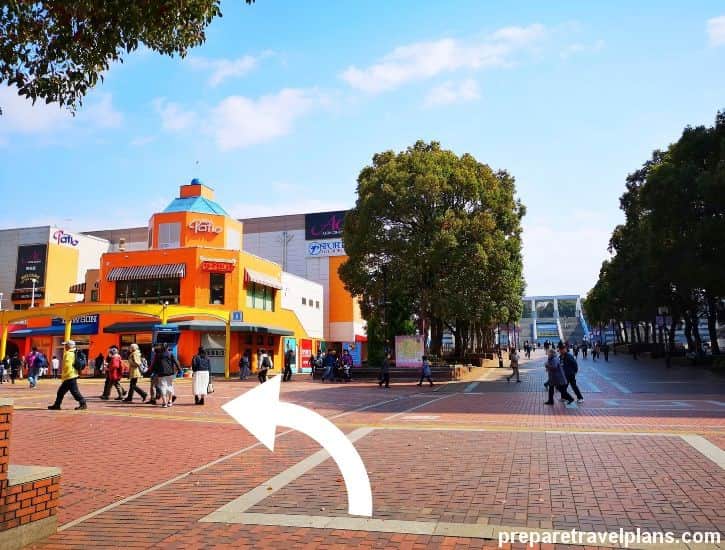 6. At the cross-junction, you should turn left.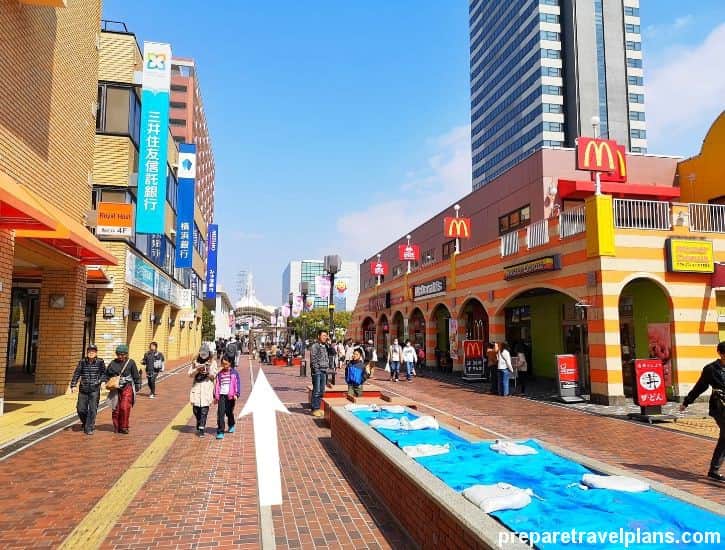 7. Then, continue straight ahead. Soon, you'll discover the Sanrio Puroland theme park on ahead.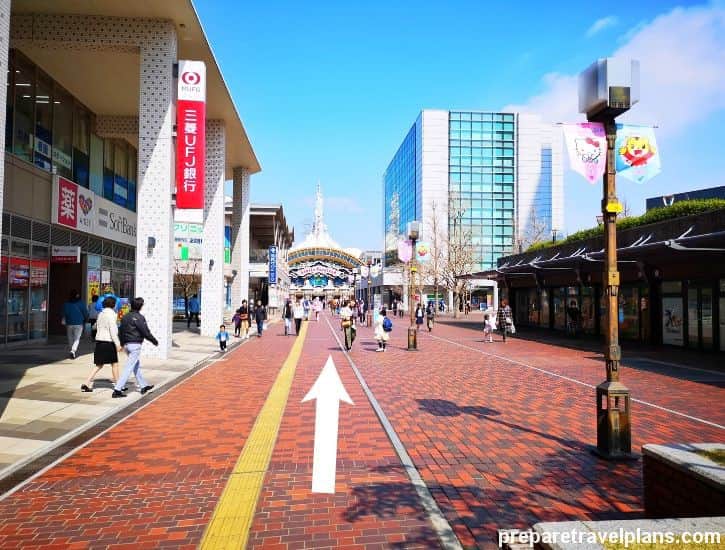 8. Sanrio Puroland is very close to you now.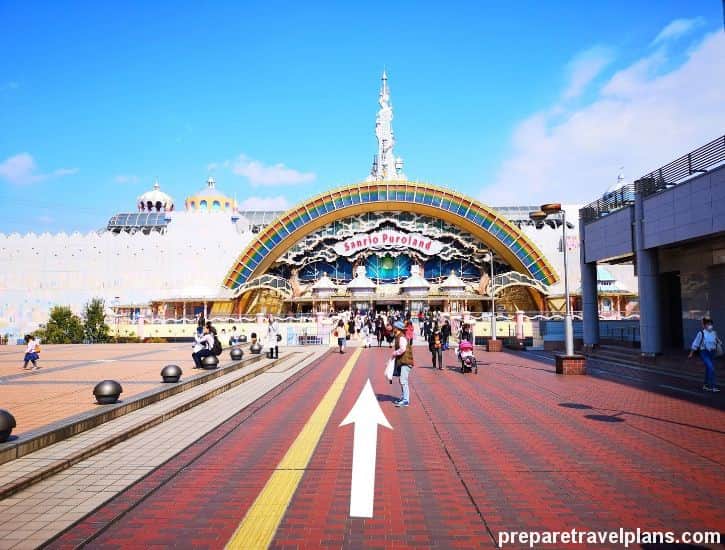 9. Wow! You already reached the main entrance of Sanrio Puroland.
2 Important Things Can Help You When Using Public Transport in Tokyo
---
1. Suica Card (All-in-one Transport Card)
Do you want to save time while exploring the attractions in Tokyo by trains?
Check out this handy transport card because it can help you to get around Tokyo by trains, buses and taxis conveniently. If you want to know more about this all-in-one transport card, you can refer here: Suica Card Guide
2. Get a Japan SIM Card or Pocket WiFi
It's advisable to get a Japan SIM Card or Pocket WiFi during your Tokyo holiday.
Whatever option you choose, both Japan SIM Card and Pocket WiFi lets you access the internet smoothly so that you can search for different train routes anytime you want. In addition, you can instantly check the location of Tokyo attractions via Google Maps.
No idea how to choose between these 2 items? Don't worry, here's a quick guide to help you: Japan SIM Card vs Pocket WiFi Comparison
My Final Thought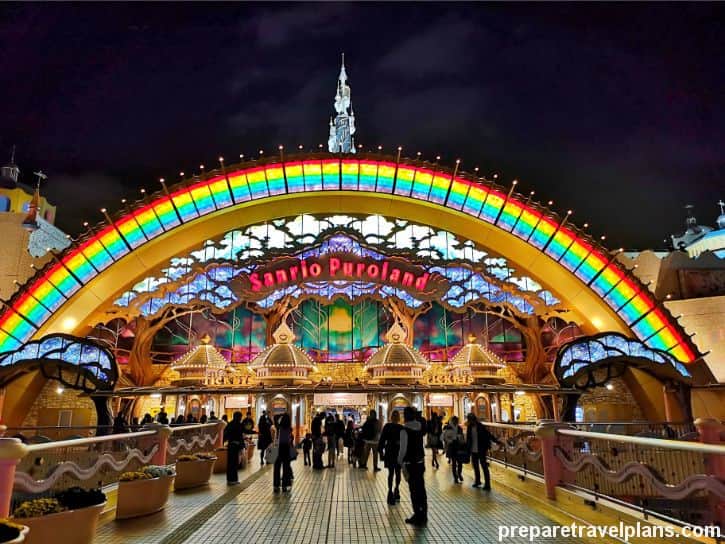 Sanrio Puroland is both for kids and adults who are in need literally cute adventures in Tokyo. This is the perfect place to unwind and see lovable characters, colourful attractions and parades, and charming food spots. So, don't miss a chance to visit this amazing theme park in Tokyo.
And if you want to save up to 50% for the ticket prices, book online via Klook. Online tickets are not just cheaper but also more convenient compared to buying at the ticketing counter.
Plus, these tickets will also give you easy access to the park! Simply show either the printed or soft copy of the tickets using your smartphone.
I hope you gain new insights after reading this Sanrio Puroland guide. And if you find this helpful, kindly bookmark this page for your future reference.
Or, share it with your friends through Facebook, Twitter, Pinterest, WhatsApp or Gmail.
Have a kawaii time at Sanrio Puroland! 🙂
Discover Other Famous Attractions in Tokyo