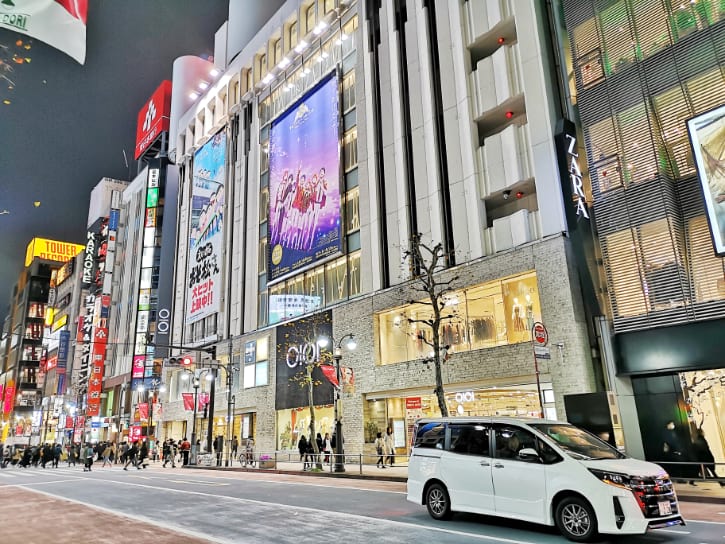 Are you planning to visit Shibuya this year? Don't miss the best things to do in Shibuya, Tokyo.
Shibuya is definitely one of the most favourite spots among travellers visiting Tokyo. Countless shops, restaurants, and entertainment spots all add up to its long-running popularity.
You have lots of shopping choices here, from indoor department stores to open-air shopping stalls! And without a doubt, this is the perfect place for shopaholics.
Aside from shopping, this jam-packed district is also a famous destination among foodies. Here, you'll find plenty of restaurants, stalls, bars, and pubs that give you extensive food selection. And also, it's a great spot for those who want to experience an unforgettable nightlife in the city.
Now it's time for me to share with you my best picks in Shibuya, including all the must-visit attractions and must-try restaurants.
Top 15 Things to Do in Shibuya
---
1. Shibuya Crossing Intersection – A walk to the world's busiest pedestrian intersection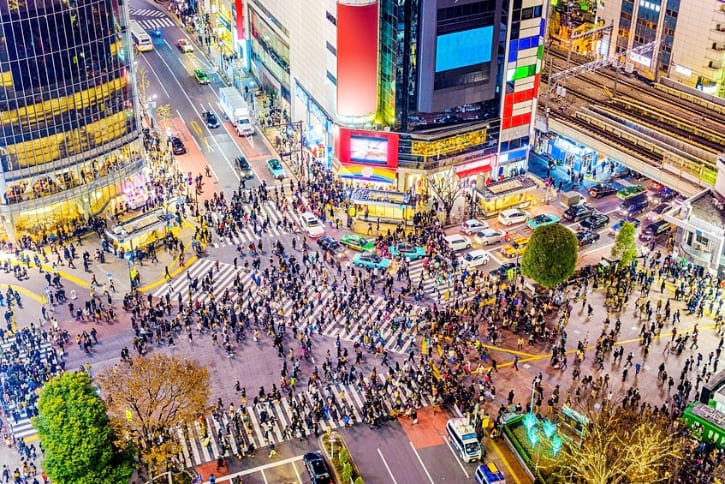 Whenever Shibuya is mentioned, it's always associated with its world-renowned Shibuya Crossing. Thousands of people from all walks of life would cross this busy intersection every day.
You can see this famous spot in many Tokyo social media posts and even award-winning international movies! It has appeared in films like Resident Evil: Afterlife, Lost in Translation, and The Fast and the Furious: Tokyo Drift.
Because of the number of people crossing the street from all directions, it's often referred to as the Shibuya Scramble.
If you really want a memorable experience, join the crowd and take a quick snap. Just be mindful of the time because, after all, this is still a road intersection.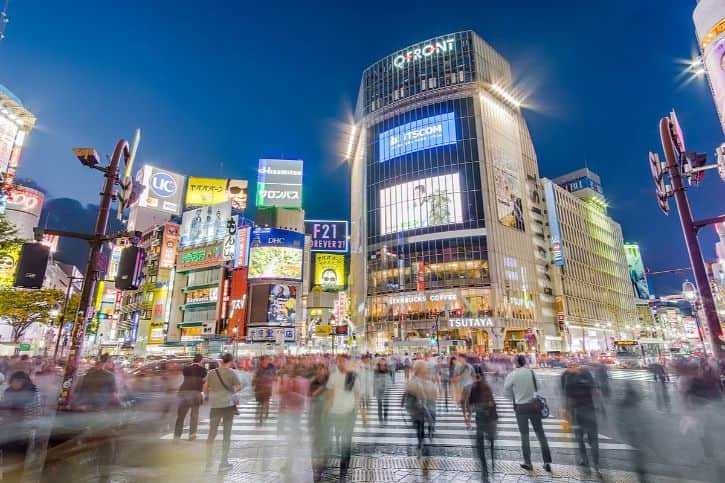 The Shibuya Crossing is more captivating at night, roughly after 6 PM. At this time, you'll be fascinated by the jam-packed crowd illuminated with the neon lights from the skyscraper structures.
And if you want to catch an amazing view of the crowded Shibuya Crossing, head to Tsutaya Building.
From there, navigate your way to the Starbucks at the ground floor level. Buy a cup of coffee, then relax at the 2nd floor that features a bird's eye scenery of Shibuya Crossing.
This Starbucks branch is perfectly located on the opposite side of Shibuya Station, giving you impressive views of Shibuya Scramble.
So, if you want to have a one of a kind experience in Tokyo, don't miss the Shibuya Crossing.
2. Shibuya Scramble Square – Have fun inside the tallest building in Shibuya!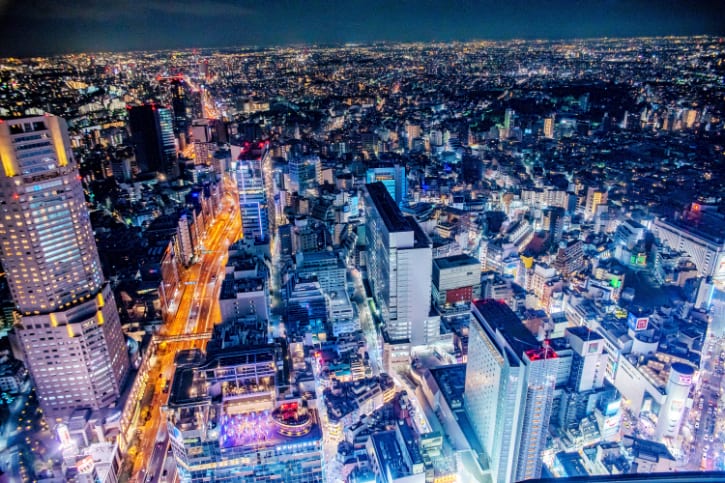 There's more to love in Shibuya than its famed Shibuya Crossing. Here, you'll find the Shibuya Scramble Square, which is considered as the tallest structure in the area.
This high-rise building is not just any other building. It's an all-in-one destination for shopping, dining, and all sorts of entertainment.
The Shibuya Scramble Square is definitely a highlight when visiting Shibuya. This 230-metre tower gives you a breath-taking view of the entire city and the famous Shibuya Scramble Crossing.
More than that, this lofty building offers plenty of stores and restaurants. Explore Floors B2 to 16 and you'll have an amazing assortment of fashion and dining choices. On the other hand, floors 17 to 45 are used as offices for various companies.
Furthermore, the Shibuya Scramble Square is well-known because of its array of interactive exhibitions for all ages!
And these include the ever-popular SHIBUYA SKY, which is a favourite among international tourists. The SHIBUYA SKY is an observatory where you'll see a 360-degree scenery of Tokyo and enjoy various exciting exhibitions.
SHIBUYA SKY has 3 zones:
SKY GATE – Main entrance on the 14F
SKY STAGE – Outdoor observation area on the 46F
SKY GALLERY – Indoor observation and exhibition area on the 46F
SKY GATE ― Kick off your visit on the 14F
---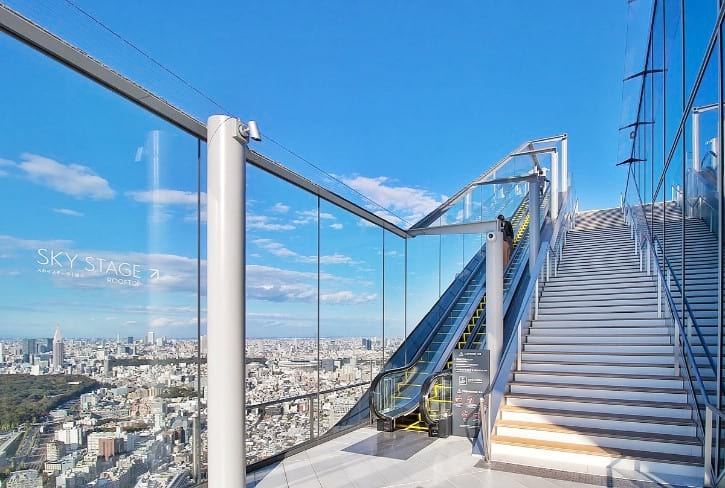 The ticket office for SHIBUYA SKY is situated on the 14th floor of the building. After purchasing your ticket, take the elevator that will lead you to the 45th floor, or the rooftop observatory entrance.
The Sky Stage is on the 46th floor, which is just an escalator away.
SKY STAGE – Capture the jam-packed Scramble Crossing from the building's highest point!
---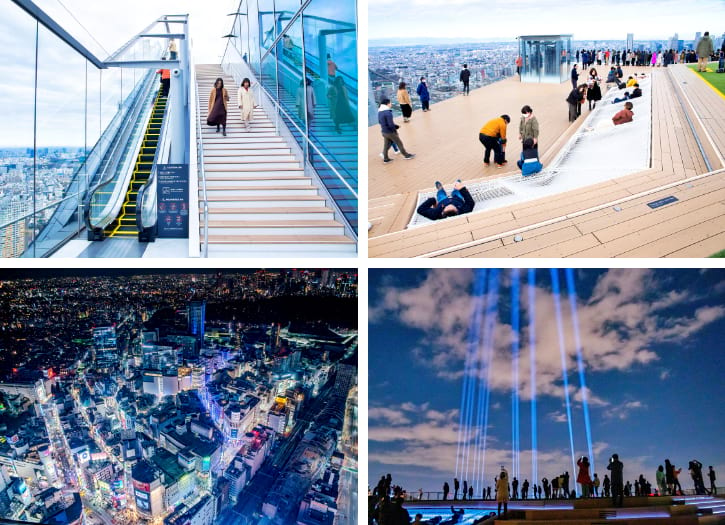 The SKY STAGE on the 46th floor is simply one of the best spots to see the entire cityscape. Up above, you'll see the soaring buildings of the Shibuya district as well as other Tokyo landmarks.
You can see top-rated attractions like Shinjuku, Tokyo Skytree, Tokyo Tower, Tokyo Bay, Roppongi, and more!
Seeing all these beautiful spots on a higher setting is not the same as seeing them from below. It's actually more breath-taking because these attractions blend well with all other striking Shibuya structures.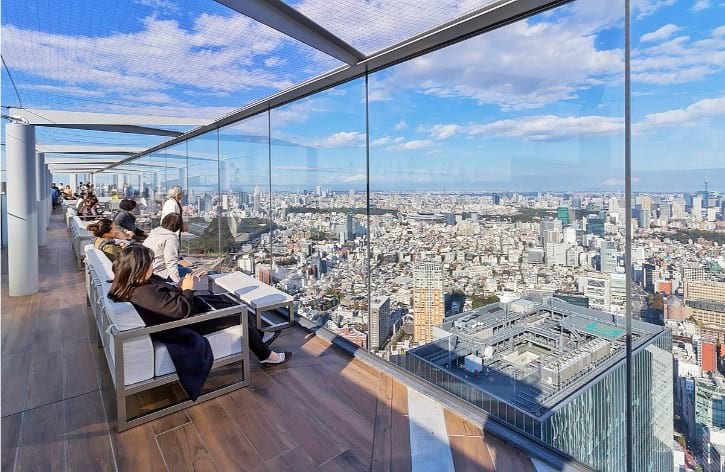 The towering buildings and spectacular skyline aren't just the sights you'll capture from the SKY STAGE. There's even a spot that allows you to catch a glimpse of Japan's tallest peak―Mt. Fuji.
The SKY STAGE offers a lot of spacious seating areas too. They have comfy sofas that provide panoramic views of the city. There are also hammocks that let you relax while witnessing the stunning cityscape.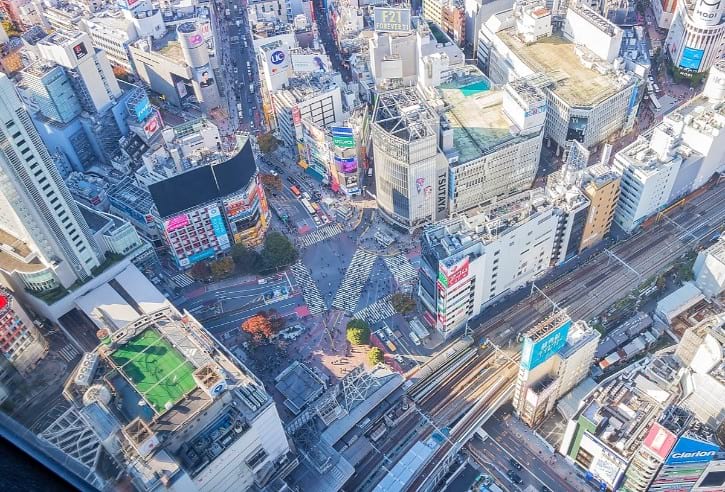 And from one of the corners, you can also see the striking Shibuya Scramble Crossing. Watch the mesmerizing scene of heavy crowds crossing from different lanes.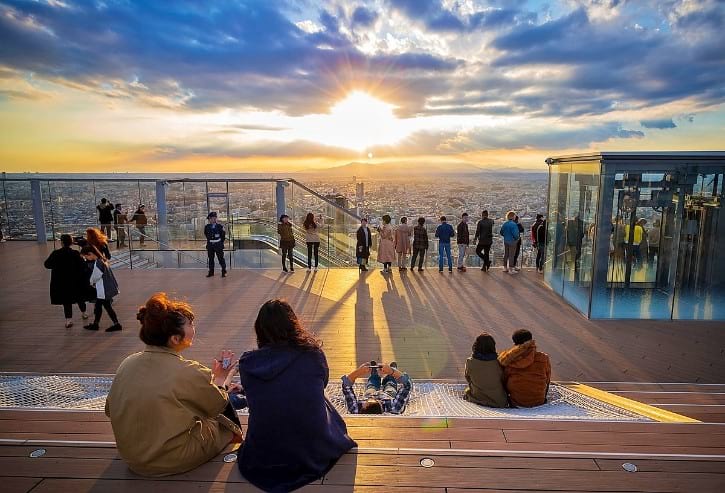 During evening, don't miss the beautiful sunset from one of the seating areas in the SKY STAGE. At night, the SKY STAGE becomes more magical as the city lights transform the scenery into a stunning, illuminated canvass.
So, if you just want to relax and see the panoramic beauty of Tokyo landmarks, this place is for you! The viewing experience that you get here is definitely one for the books.
SKY GALLERY – Know more about Shibuya through various high-tech and interactive exhibitions
---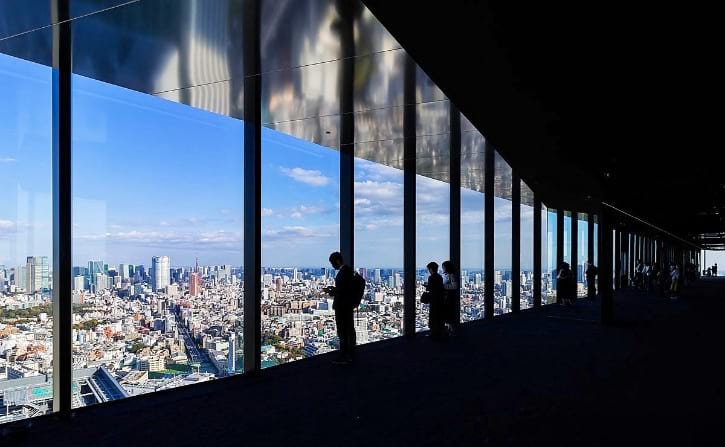 Aside from SKY GATE, there's another attraction in Shibuya Scramble Square that is worth the visit. SKY GALLERY is a famous indoor observation area that offers both panoramic views and futuristic experiences for everyone.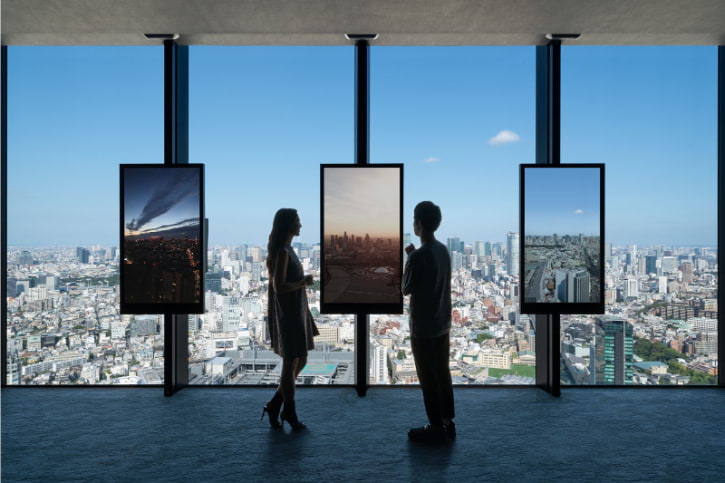 The high-tech art installations beautifully blend with the breath-taking city views. There are some interactive exhibits that allow you to visualize different activities happening in Shibuya at the present time.
With the statistical data, you'll have an idea of the number of people crossing the Shibuya Scramble.
Aside from the high-tech installations and interactive experiences, the SKY GALLERY also offers a souvenir shop filled with Tokyo-themed items.
There's also a cafe & bar lounge on this floor. This is a perfect spot to relax, enjoy your snacks, and watch the entire Tokyo cityscape.
3. Hachiko Statue – Pay a visit to the world's most famous and loyal dog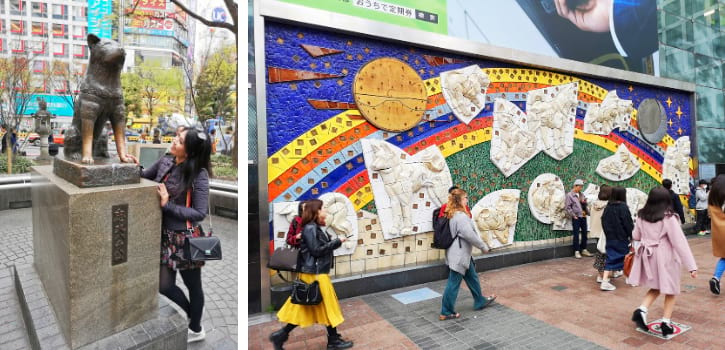 Along the busy Shibuya Crossing intersection, you can find the bronze statue of the world's most faithful dog. Hachiko is a manifestation of a dog's love and loyalty to his owner.
For many decades, Hachiko has been part of Japanese culture and history. This Akita breed dog became very popular because of his immense devotion to his owner.
Hachiko would wait for his owner every day at Shibuya Station. And even after his owner died, he continued to wait at the station for 9 years―until he passed away.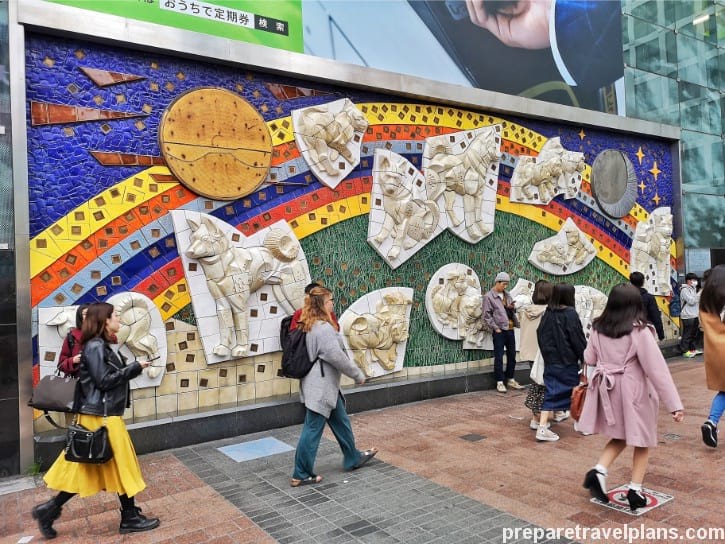 You can also find the colourful Hachiko mural at the Hachiko Exit of Shibuya Station. Don't forget to take a snap of Hachiko when you visit Shibuya.
This historical structure is definitely a reminder of the unique love and loyalty shared between a man and a dog.
4. Shibuya Center-gai Shopping Street – Go for an endless shopping experience!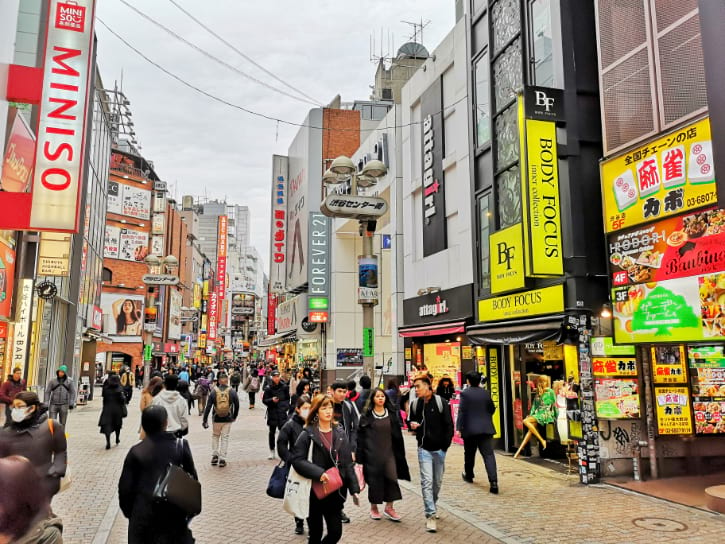 Shibuya Center Gai Street is the place to go for shopaholics. It's an iconic street bounded by various shops from one corner to another. This is where you'll find top fashion stores and local clothing stalls.
Here, you can find international brands like ZARA, Forever 21, and Bershka. And of course, top Japanese stores such as Uniqlo, Miniso, and Mega Don Quijote are also present.
Mega Don Quijote is one of the most visited stores in Shibuya Center Gai Street. It's because of its wide range of shopping choices, including clothing options, stationery choices, Japanese snacks, and more.
So, after you endlessly cross the Shibuya Scramble for a picture-perfect photo, walk your way to Shibuya Center Gai Street.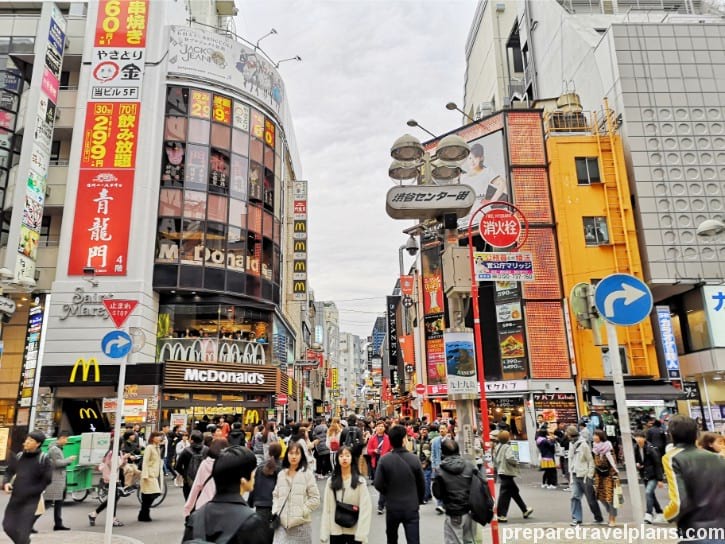 Shibuya Center Gai Street is not just a shopping paradise but also a foodie destination.
Hundreds of restaurants are scattered around the area, offering delicious Japanese local cuisines and snacks. They've got sushi, ramen, and even fast food options along the street.
And to cap off the night, visit one of the many bars and clubs. Izakaya, or the Japanese style pubs, are also available for those who want to try a local nightlife.
5. Shibuya 109 – Keep up with the latest fashion trends inside this famous fashion store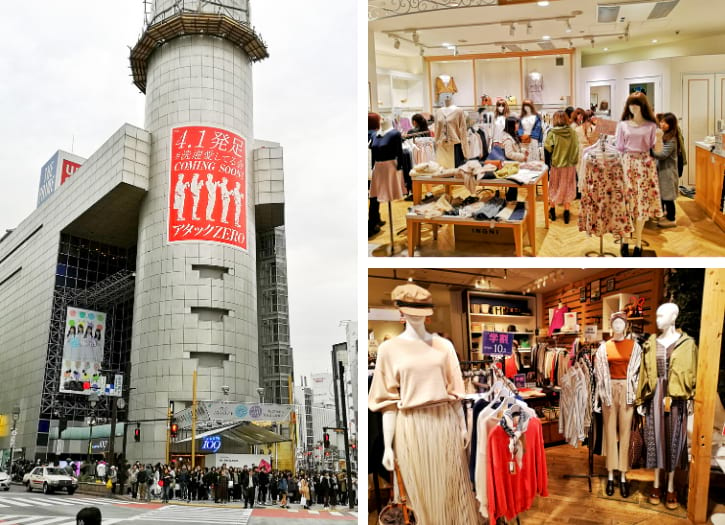 Shibuya 109 is the place to go for fashionistas and trendsetters. This fashion building is a famous destination for younger generations eyeing for the latest fashion trends!
There are 10 floors inside this popular Shibuya landmark. Each floor features different trendy options, mostly for ladies' fashion needs and other stuff.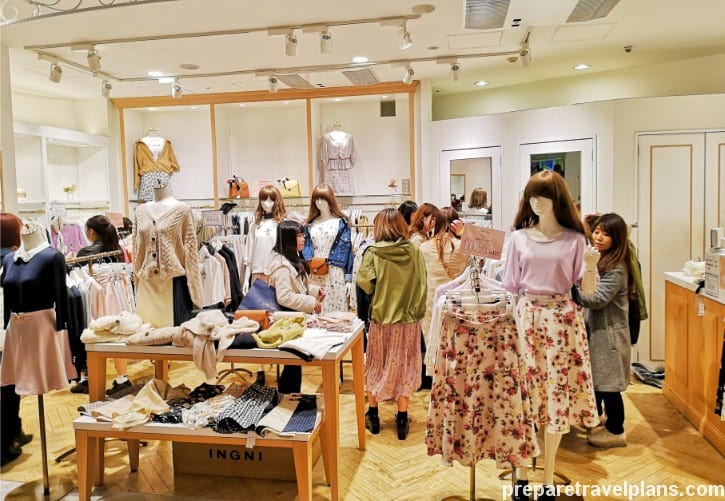 Inside SHIBUYA 109, you'll be at awe with the overwhelming stalls filled with captivating fashion essentials.
There are over 120 shops, offering the latest fashion items, including apparel, bags, shoes, accessories, and more! So, you have a great selection of styles and colours to choose from!
Aside from stylish tops, skirts, and dresses, you'll be happy with the assortment of fashionable bags and other accessories too. For sure, you'll end up with two shopping bags or more!
All these items are reasonably priced so you better prepare your budget ahead so you can buy everything you need!
Just across the Shibuya 109 is another fashion destination―but for men. It's no other than 109 Men's, which is a popular male fashion complex. So, after you shop at Shibuya 109, hop to 109 Men's!
6. Disney Store – Shop for cute stuff inside this castle-like store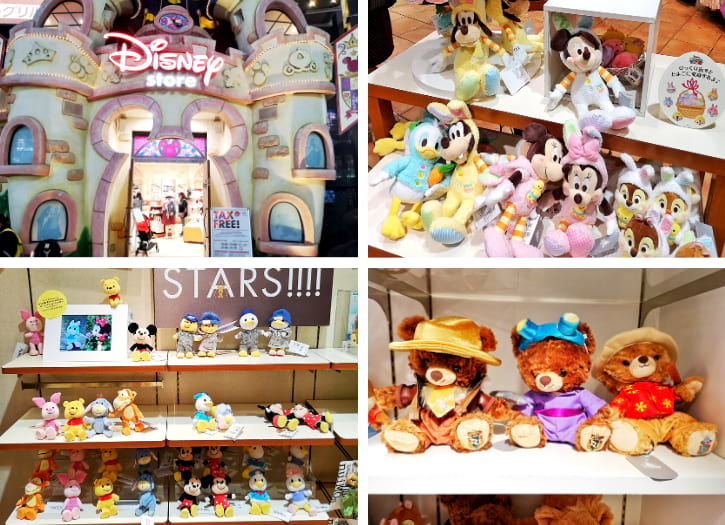 Who wants to enter a magical store filled with charming and cute Disney-related stuff?
Disney Store in Shibuya is not just a store; it's an attraction itself that deserves a visit!
This castle-like store is decorated with adorable pastel colours and designs that complement the attractive display of toys and more.
Because of its architectural style, this store is like a miniature version of the Tokyo Disneyland castle. So, if you don't have time to visit Tokyo Disneyland, this one can be a great replacement!
The Shibuya Disney Store has 3 floors, each of which features a spiral staircase―like those in fairy-tale movies.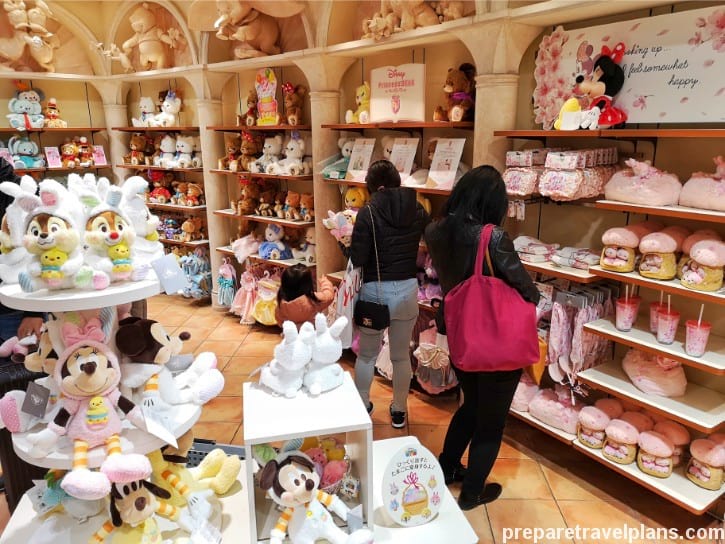 Once you enter the store, you'll find yourself circled by an amazing array of Disney items and merchandise.
From left to right, cute and charming Disney characters are everywhere so you won't run out of choices.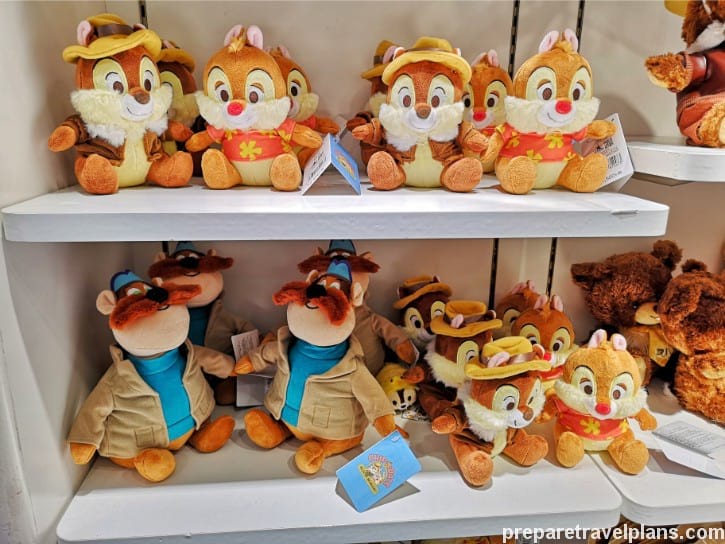 On one corner, you'll discover a large collection of Chipmunk dolls in various sizes and styles.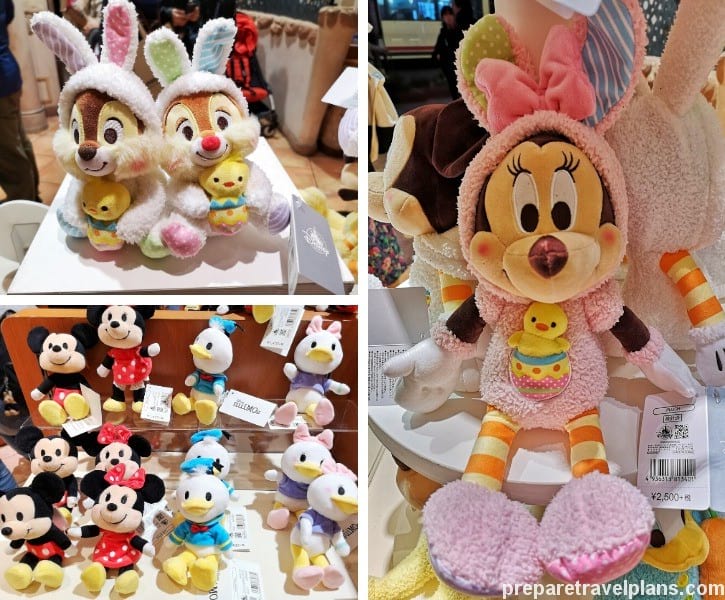 Aside from the Chipmunks, there's also a great selection of Donald Duck, Mickey Mouse, and Minnie Mouse stuffed toys.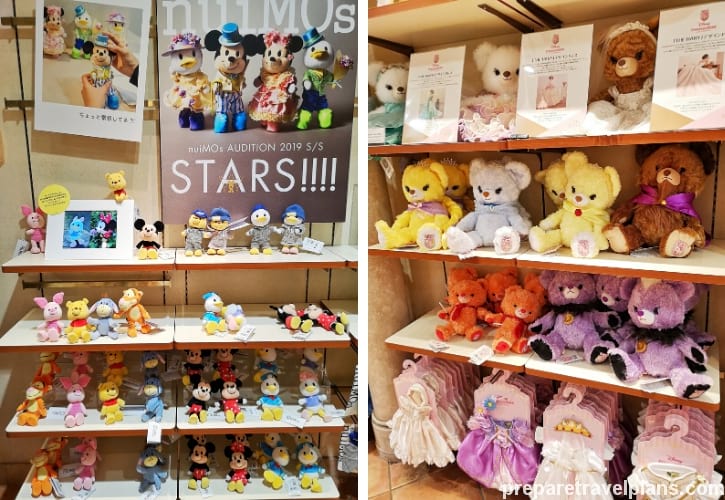 Pop by this Disney nuiMOs collection that comes with cute plush dolls from famous Disney characters. They have Winnie the Pooh and friends, along with Mickey Mouse and his gang.
If you have restricted space in your luggage, don't worry because there are also small-sized plushies. These mini stuffed toys will surely not take up a lot of space in your bags. Instead, it will just add a dose of cuteness!
And of course, completing the display of adorable plush toys are the characters from UniBEARsity. They even provide cute costumes for their UniBEARsity collection. So, if you're looking for your favourite Disney character, check out this amazing Disney store and have fun!
Make sure you bring your passport when you visit Disney Store so you can avail of the tax-refund services. This applies to those with a total spending amounting to more than 5,000 yen (before tax). So, instead of getting the tax-refund at the airport, you can have it done here to save time.
7. Mega Don Quijote – Shop your hearts out in the biggest store in Japan!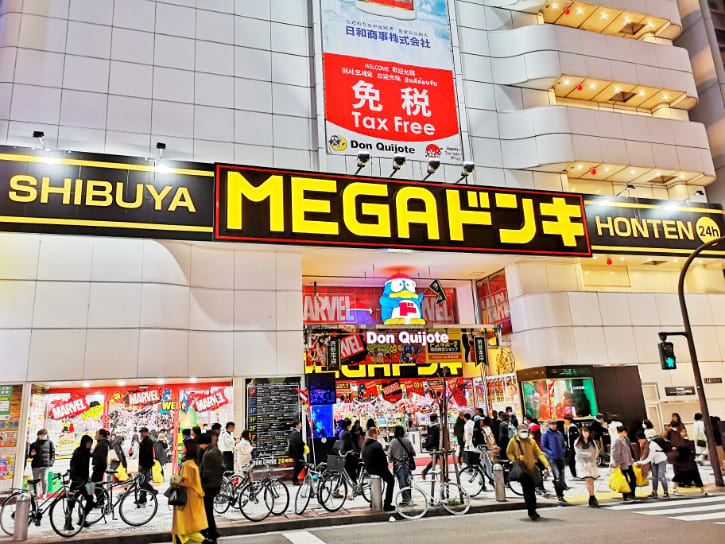 One of the best things to do in Shibuya is to visit Don Quijote. Although there are several Don Quijote stores in the country but the one in Shibuya is the biggest of them all. In case you do not know, Don Quijote is a well-known discount store in Japan.
The Mega Don Quijote located in Shibuya district is not just the largest but also the most famous. It's often called MEGA DONKI among locals and travellers alike. And because of its popularity, this 7-storey building is open 24 hours!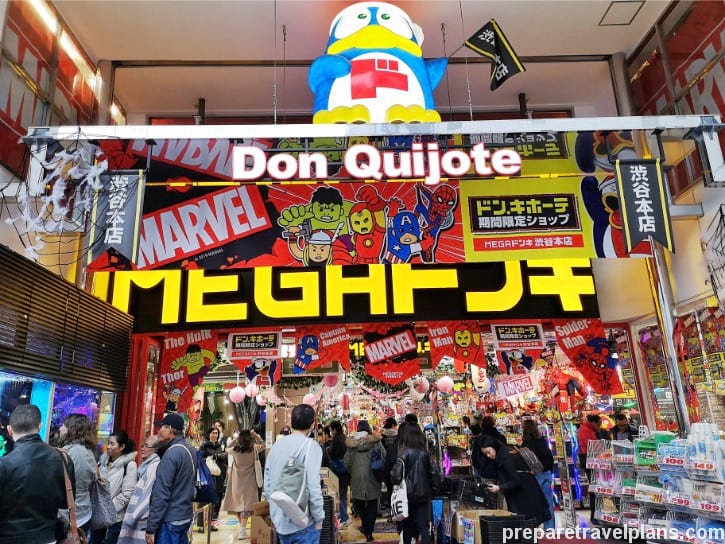 This store has an incredible selection of products and goods on offer. They have Japanese souvenirs, local snacks, beauty products, housewares, electronic gadgets, clothes, toys, accessories, and a lot more!
With its impressive array of items for sale, Don Quijote is definitely the perfect place to buy souvenirs. And, you will love this store even more because their rates are suitable for budget travellers!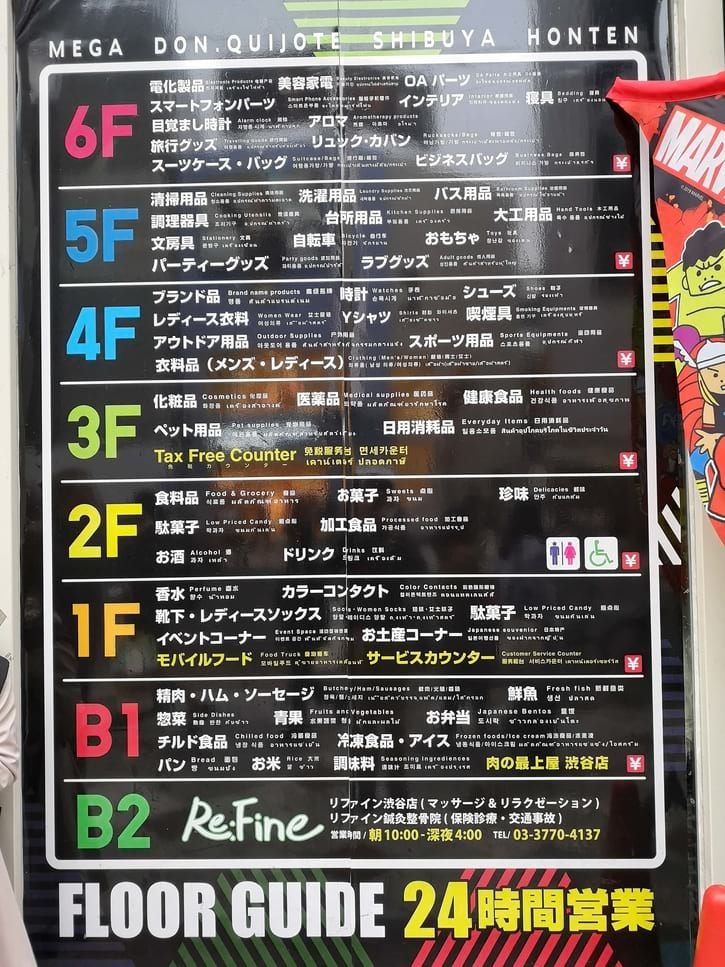 Before you enter this ultra-big discount store, check out the floor guide to know exact locations so you'll save time. There are 7 floors available, from B1 to 6F, with each floor offering unique kinds of products.
To give you an overview, here are the items and goods on each floor:
B1 is designated for all fresh and frozen foods, including fruits, vegetables, bread, and Japanese Bentos.
1st floor puts on display a collection of Japanese souvenirs, along with some perfume, women's leggings, and contact lens. This is where you can also find the Customer Service Counter.
2nd floor is for the grocery and food options. Here you can find plenty of Japanese snacks, sweets, drinks, and more.
3rd floor is loaded with different cosmetic products, medical needs, pet items, character goods, and other daily use essentials. This is also where the Tax-Free Counter is located. Since there is a Tax-Free counter, you won't have to get the tax redemption at the airport. You simply just got to the tax redemption area on the 3rd floor and present your passport. You can get a tax refund if your total spending amounts to more than 5,000 yen (before tax).
4th floor accommodates all shoes, clothing, sports equipment, and outdoor products.
5th floor is the area allocated for toys, bicycle, stationery, laundry essentials, bathroom supplies, and cleaning products.
6th floor caters to all electronic products, smartphone accessories, as well as some travelling goods, and smoking equipment.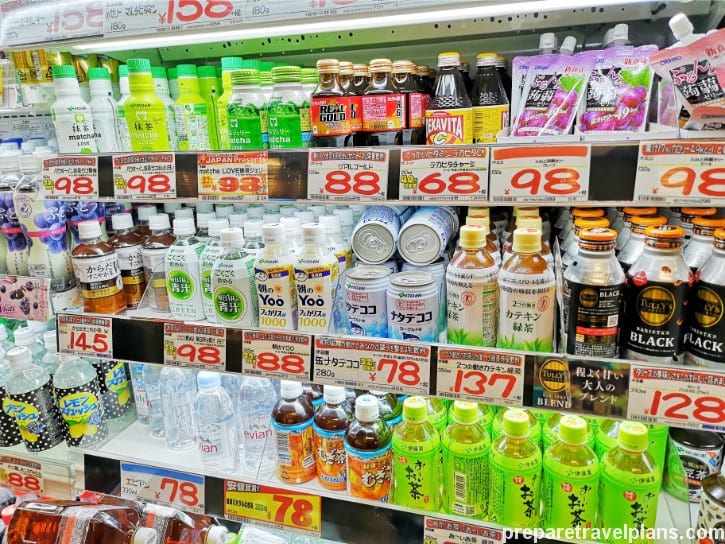 Most travellers would visit Mega Don Quijote to buy foods, drinks, and other stuff.
And, you won't be disappointed with their remarkable selection of canned juice drinks. They have all kinds of drink flavours to choose from, which means you'll never run out of options.
Tea lover? You got yourself lucky in this particular section. Pick from the hundreds of tea flavoured drinks and satisfy your thirst!
If you're looking for a refreshing soft drink, you have plenty of choices too! They have international soft drinks brands like Coca-Cola and Sprite, as well as products from local beverage companies.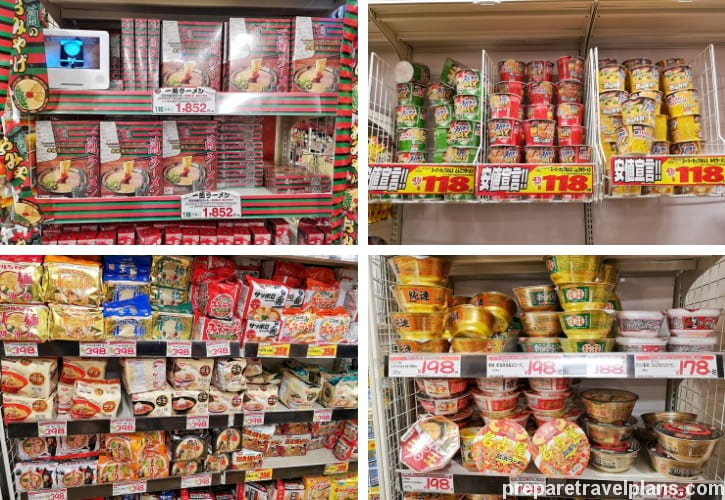 Aside from drinks, Mega Don Quijote takes pride in their abundant assortment foods and snacks. They have Ichiran Ramen instant noodles for those who want easy-to-cook snacks.
More Japanese instant noodles are presented in this area. They have lots of pre-packaged noodles in different flavours.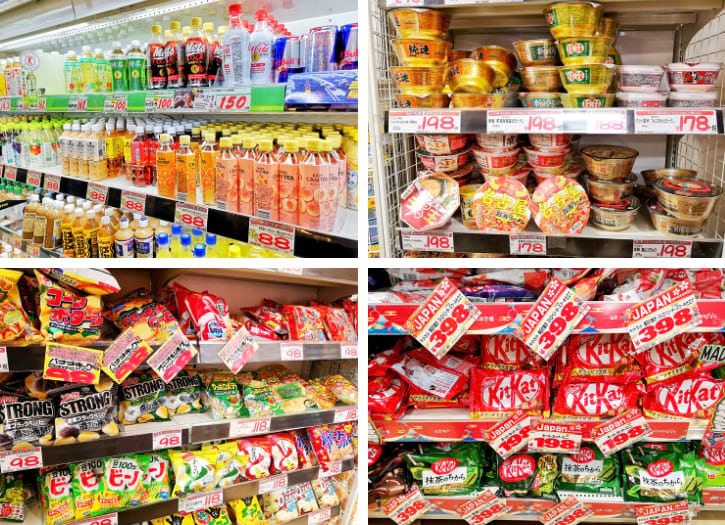 Of course, Japanese snack foods are all over this store. From biscuits to candies to chocolates, you'll have all the choices that you need!
Want to try a unique Japanese snack?
Check out this pre-packed Umaibo, a famous, puffed cylindrical snack. Or, you can give these Sennarido Crispy Wasabi Pistachios a shot.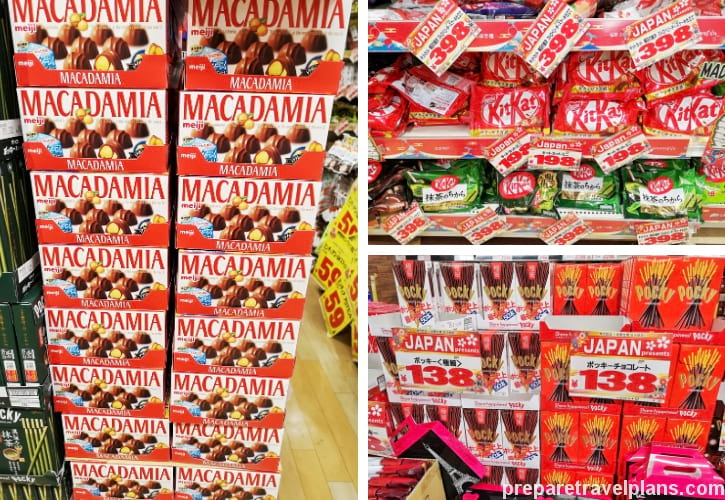 For chocolate lovers out there, you've got plenty of options here in Mega Don Quijote. They have almost all varieties of Kit Kat chocolates, from the classic ones to the green tea flavoured. These Kit Kat chocolates are great bring-home items to your loved ones at home.
If you're not a fan of Kit Kat, don't worry because you have other options. These big Macadamia in boxes are also available.
Aside from Kit Kat and Macadamia, the ever-popular Pocky biscuit sticks are also here. They also have lots of Pocky variants for everyone!
With all the amazing goods and cheap finds inside Mega Don Quijote, it's best that you prepare your budget ahead.
8. Matsumoto Kiyoshi – Get all your medicinal and beauty products in this famous Japan pharmacy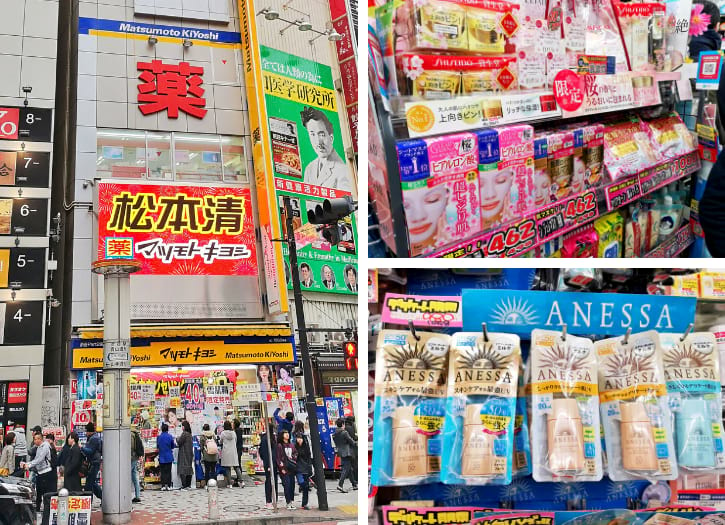 If you're looking for some medicines, supplements, and other beauty products, simply visit Matsumoto Kiyoshi.
This is the most popular pharmacy in Shibuya, selling all kinds of medicinal and beauty needs at reasonable prices. No wonder this is where most travellers and even locals buy their medicines.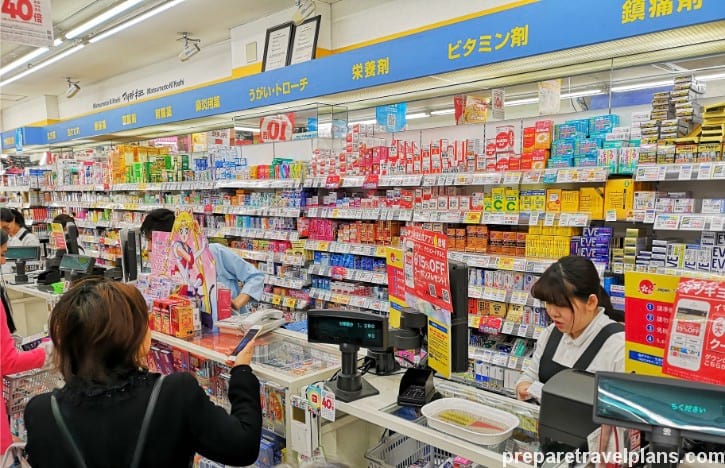 The staff can speak English and Chinese so you can easily inquire about the medicines, including the dosage and uses.
And, the staff are not just knowledgeable but also very friendly and accommodating. You can ask them the location of the product that you want to buy. They even provide you with important information about certain cosmetics.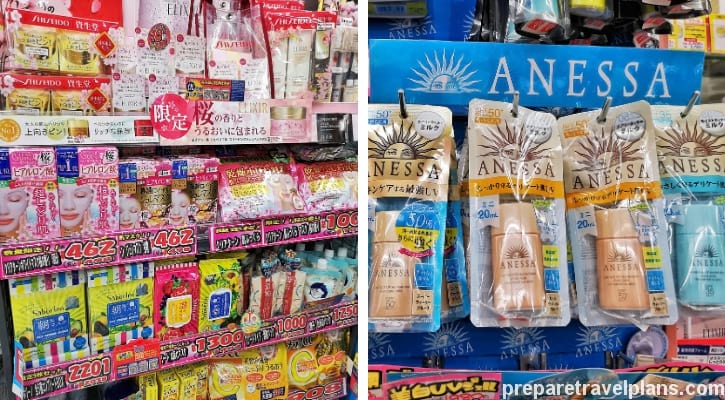 Their beauty products are very interesting to try. They have everything you need, from face masks to body scrubs and more!
They even have lots of sunscreen brands on offer so you'll have different choices. One of their top-selling sunscreens is Anessa UV sunscreen. This sunscreen comes in pre-packed version so you can easily bring it anywhere.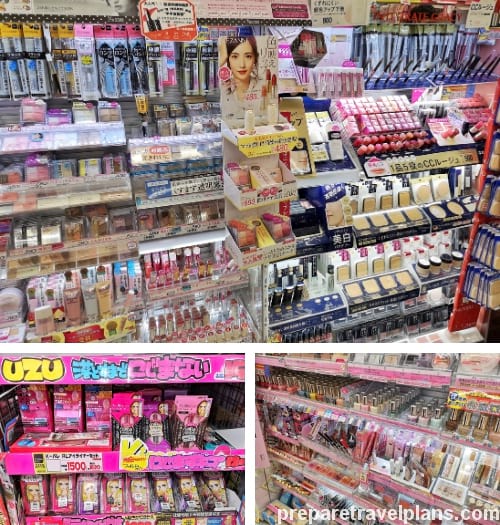 On top of sunscreens, they also have some makeup products, including some foundations, lipstick, blush-on, eyebrow pencil, mascara, and more.
Stop by this section that showcases some famous eye makeup products, including the popular 1-day eyebrow tattoo. This is definitely a great catch for those looking for different eyebrow pencils, eyebrow mascara, and eyeliner.
Of course, they have a wide-ranging collection of nail polishes too!
And if you spend more than 5,000 yen (before tax), you'll enjoy a tax refund! So might as well take advantage of this one if you want to save money!
9. Tokyu Hands Shibuya Store – The perfect DIY store in Shibuya!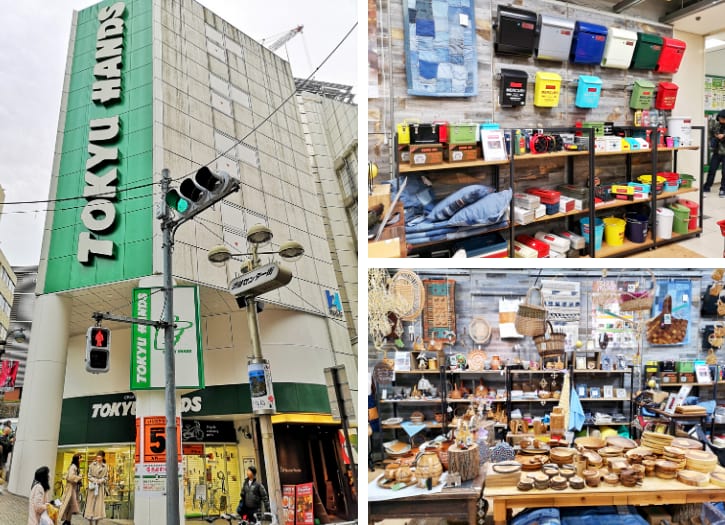 Looking for a one-stop-shop department store? Visit Tokyu Hands located in Shibuya. As the store of all other Tokyu Hands' in the country, this one provides you with all home essentials.
Shop around this 8-floor building that features all the things you need for DIY projects and other home improvement stuff.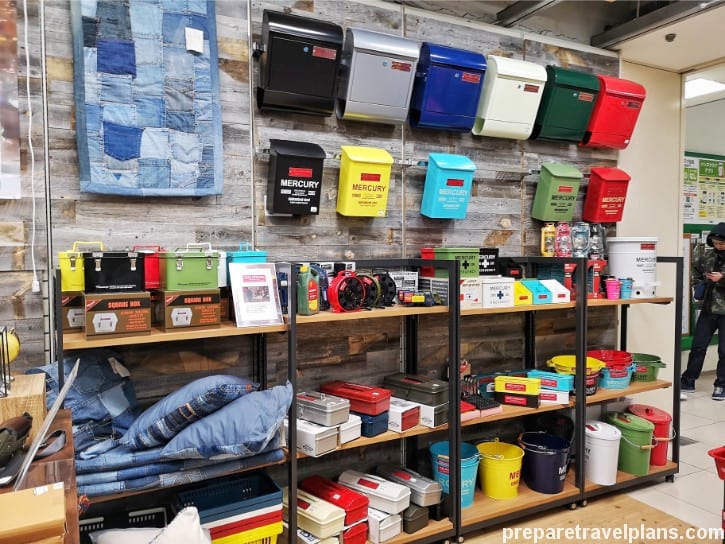 They have plenty of DIY products, including stationery, travel accessories, and more! They even have a collection of kitchenware, coffee drippers, beauty products, luggage, gardening tools, and sewing equipment.
With its impressive display of first-class, cultural products, Tokyu Hands has been featured in many local and international magazines.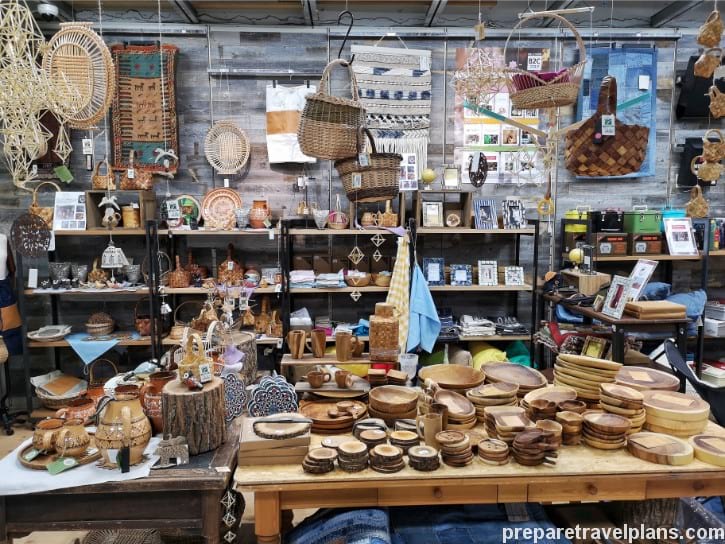 In this area, you'll be encircled by woodcraft items that are perfect for artistic home designs. Their lifestyle products are not just artsy but also in high-quality.
So, if you're a DIY lover, art enthusiast, and such, Tokyu Hands Store is the place to be.
Don't forget to bring with you your passport so you can take advantage of the tax refund. You'll enjoy a tax refund if you purchase more than 5,000 yen (before tax) inside this multi-story DIY department store.
10. Daiso (100 Yen Shop) – Enter this 100-yen shop and shop 'til you drop!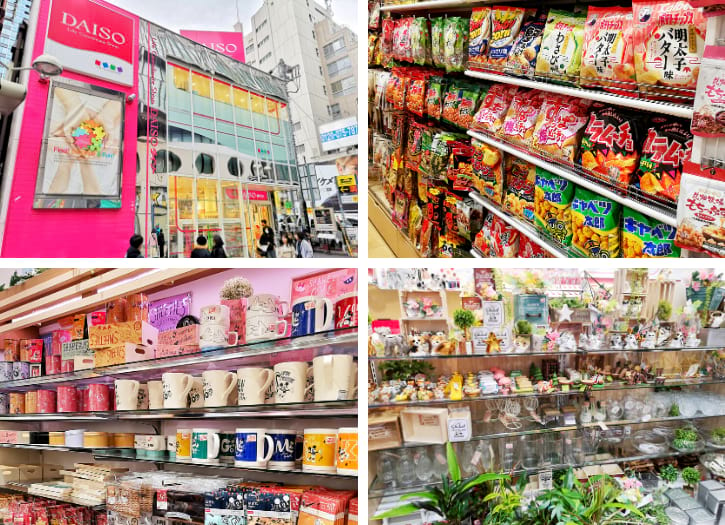 Daiso is no doubt one of the most popular 100-yen shops in Shibuya. With all their items sold for just 100 yen, you can definitely buy a lot and even save money.
Since these products are much cheaper, make sure you choose wisely or else you'll end up with a full cart!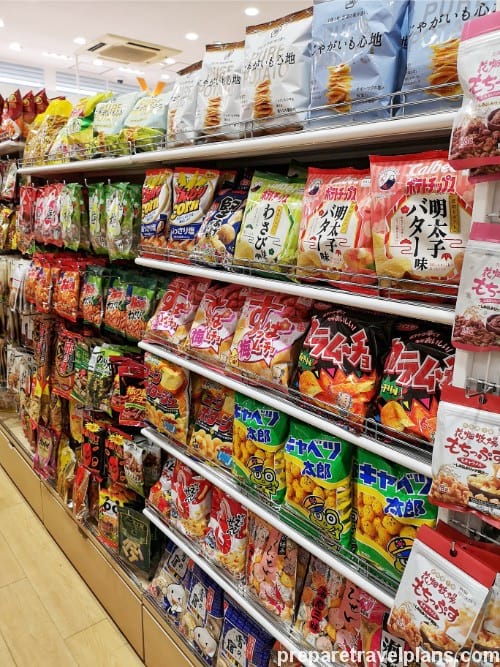 Daiso has almost all items for your daily needs. They have travel goods, decorative items, cosmetics, stationery, fashion accessories, toys, and all other stuff. They even have snacks and drinks on display!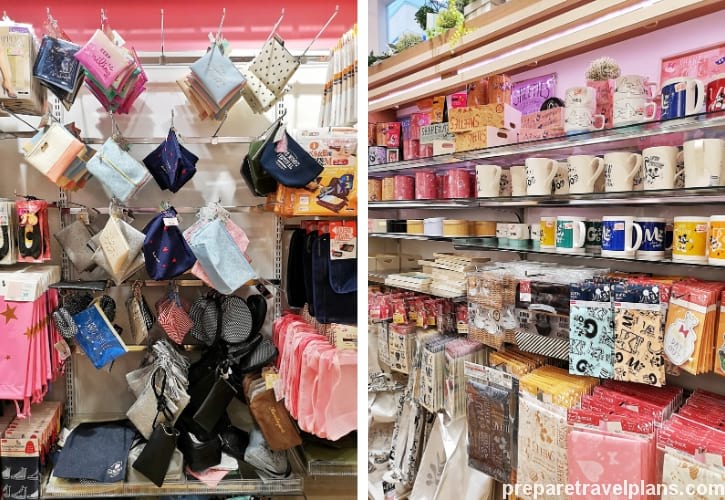 Explore this area loaded with coin wallets in different styles and colours.
In need of a new cup? Look over this array of fancy cups perfect for your coffee breaks or tea sessions.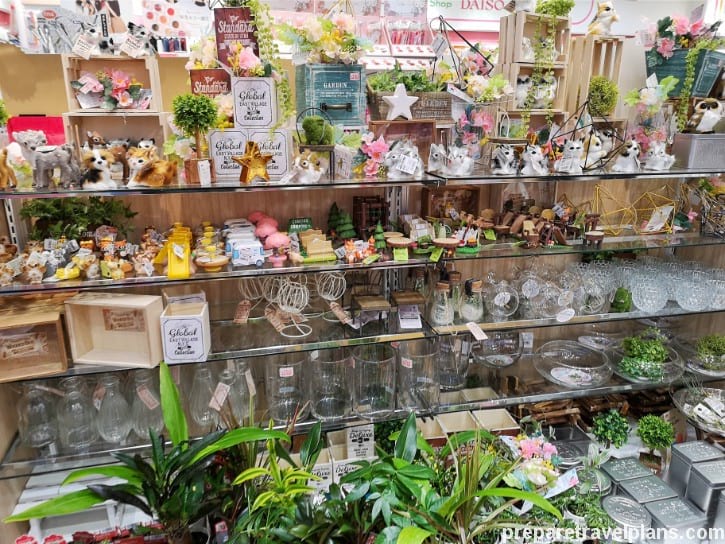 Home decors also take a lot of space inside this big Daiso shop. They have colourful accessories as well as vibrant artificial plants.
So, if you're looking for some practical and affordable products, don't forget to add Daiso in your itinerary. Daiso is definitely one of the best places to shop for cheap souvenirs and all other useful home items!
In case you'll end up with more stuff to bring home, they have vacuum seal bags for your souvenirs. So, nothing to worry about!
11. Can Do (100 Yen Shop) – Purchase quality items from a famous 100-yen shop!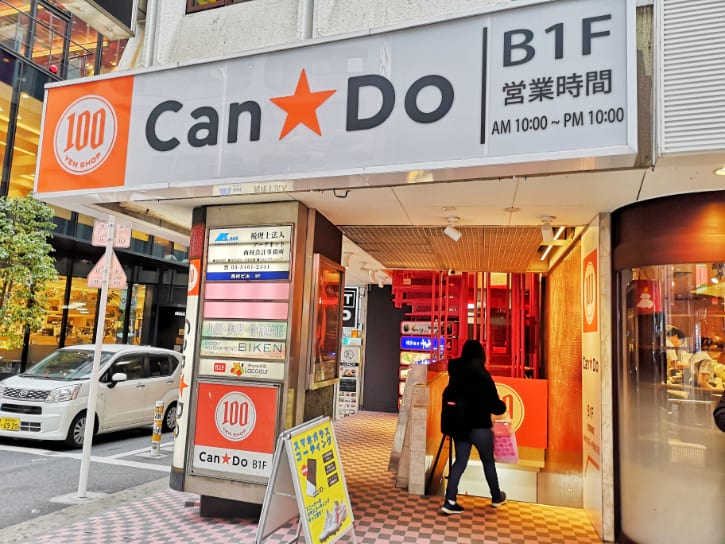 Another well-known 100-yen shop in Shibuya is Can Do. This store offers a wide variety of quality products at a reasonable price.
For girly stuff, they have hair ties, hair bands, clips, and curlers, and more.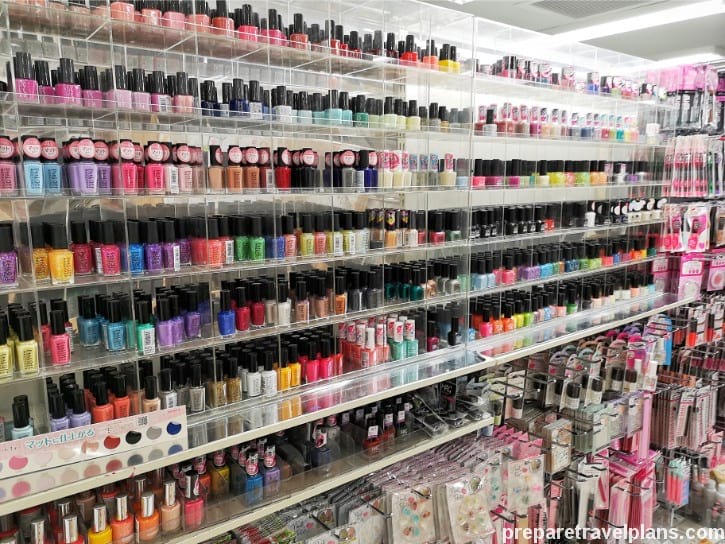 They also have a wonderful range for nail polishes, nail arts, and all other nail products.
And if you're planning to buy a pair of new socks, there are plenty of plain and colourful choices here.
12. Shibuya Loft – Walk into this highly-visited chain store and shop all you want!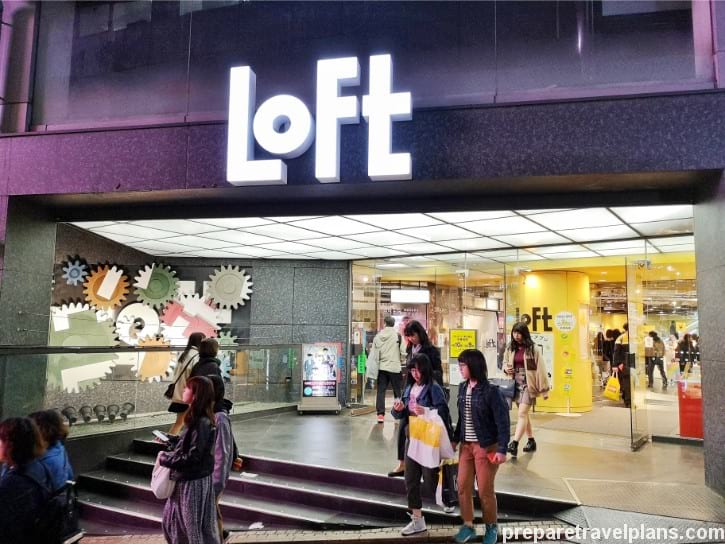 Shibuya Loft is loaded with different amazing products, from stationery goods to fashionable household items.
This big Japanese chain store has 7 floors, making it very popular among locals and international tourists. Their products are ideal for those looking for gifts, souvenirs, and all other everyday commodities.
Shibuya Loft is highly visited because of its top-quality, stylish products that are reasonably priced. Some of its sought-after items are colourful cards, along with some travel goods, accessories, kitchen utensils, cosmetics, and furniture.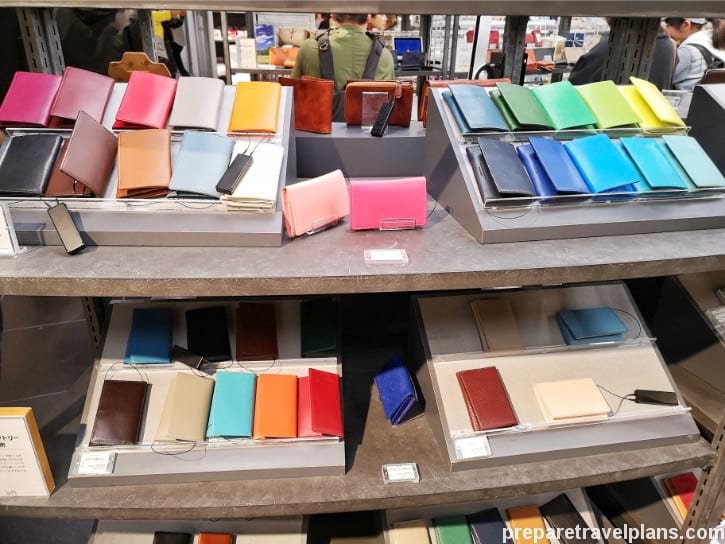 And of course, these beautiful wallets can be stylish additions to your wardrobe. These leather wallets come in all colours, from pink to brown to purple and grey!
So, you've got nothing to worry about because they have a wide range of leather wallets to choose from.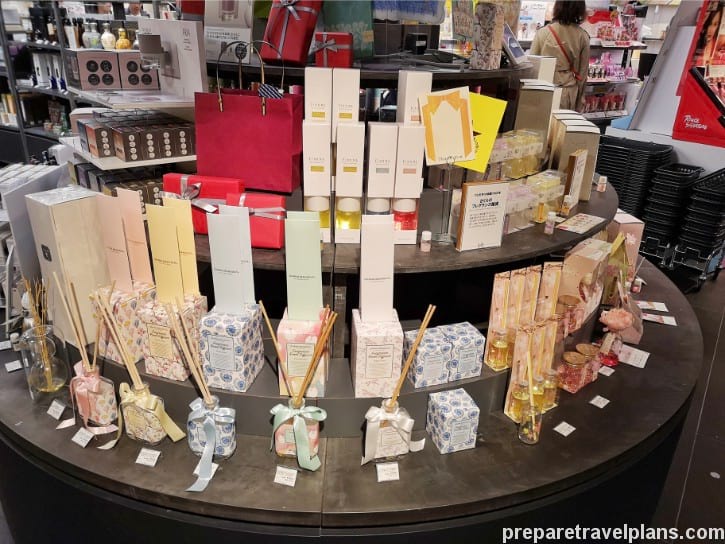 If you want a unique item as a souvenir, you can have this fragrance reed diffuser.
Truly, Shibuya Loft is one of the best chain stores that you should visit in Shibuya. And, don't forget to bring your passport so you can avail of the tax refund at the Loft's 6th floor. This will apply if your purchases are more than 5,000 yen (before tax).
13. MUJI Shibuya – A paradise for shoppers with a thing for simplicity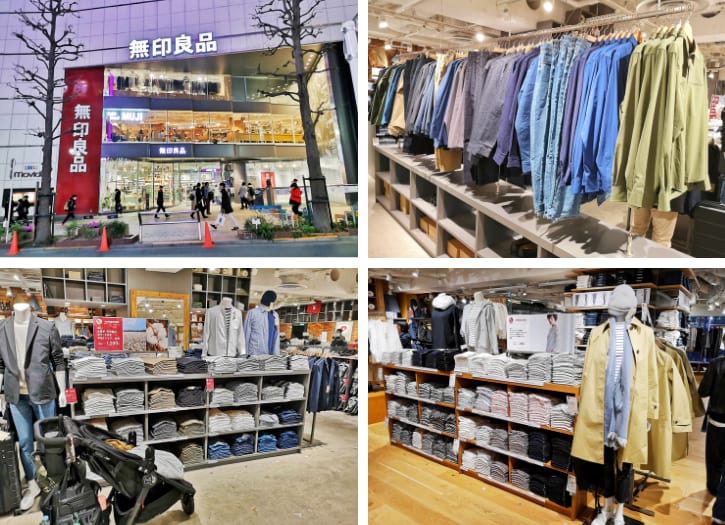 MUJI Shibuya is unlike any other local stores in the district. It targets a specific audience―those who prefer elegant designs and minimalist beauty.
This famous Japanese retailer is the perfect place in Shibuya for those eyeing for authentic Japanese culture and trends. This 8-level boutique is just a couple of minutes away from the busy Shibuya Station.
The store also has a tax refund counter. So if you want to take advantage of this one, bring your passport and cover the required total spending.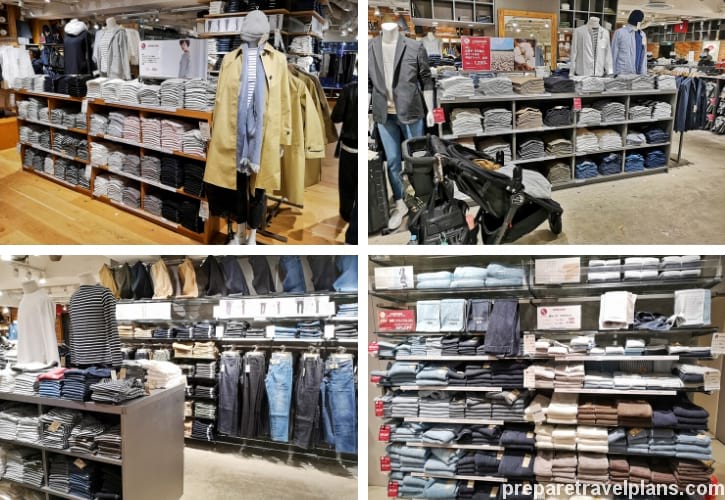 On the 3rd floor, you'll be impressed with the women's fashion collection. There aren't many striking colours and designs on display. Instead, most wardrobe essentials feature minimalist style and neutral colours.
Just like the women's fashion collection, the men's style is also loaded with simple and casual designs. These apparels are definitely suitable for those who don't want to mix and match colours.
The only prominent colours you'll see here are black, blue, grey, white, brown, beige, and such. The men's floor is located on the 4th floor.
So, if you want to shop simple yet sophisticated products, from apparel to home goods, MUJI Shibuya is the answer.
14. ABC-MART Grand Stage – Find the latest kicks inside Japan's most popular footwear store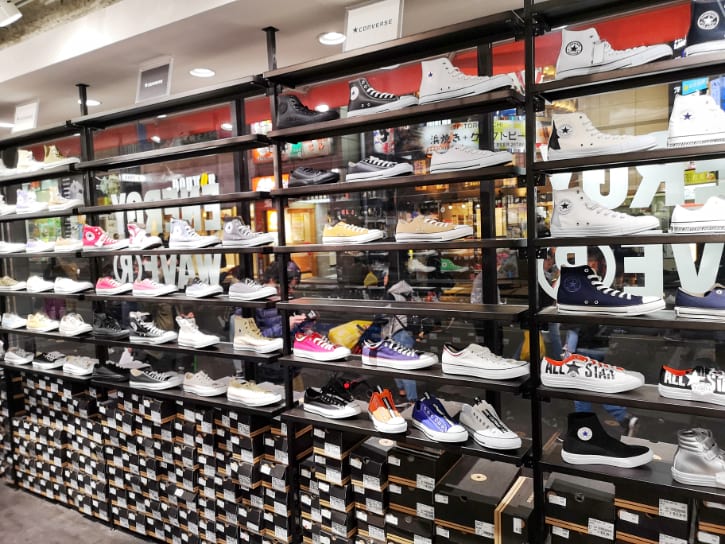 Shoe lovers would definitely fall in love with ABC-MART Grand Stage. It's considered as the shoe paradise in Shibuya, which is conveniently located in Center Gai.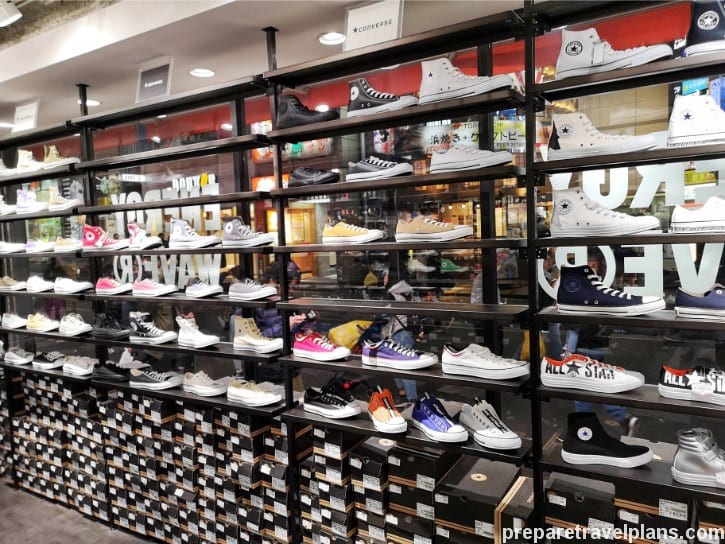 Look around for your favourites sneakers inside this famous footwear company. This well-known sneaker chain store gathers all top brands, including Adidas, Nike, Reebok, Converse, New Balance, and a lot more!
And of course, these kicks are priced affordably, making it more attractive to local and international tourists.
15. Nonbei Yokocho – Experience nightlife within this small, local neighbourhood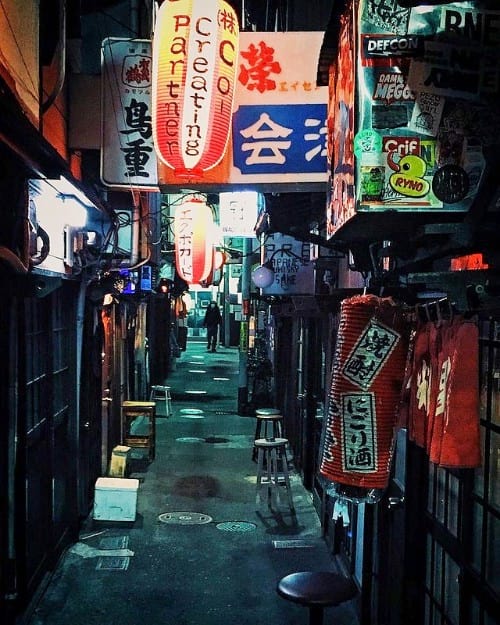 If Shinjuku has its famous Golden Gai, Shibuya has its very own Nonbei Yokocho. Nonbei Yokocho is the ultimate place to be if you want to experience a laidback nightlife.
It's conveniently located near the Shibuya Crossing. And within this small neighbourhood, you'll find yourself enjoying the scenes surrounding the local bars, restaurants, and cafes.
Walk around this nostalgic alley and get a taste of the older Shibuya. Most of the bars and restaurants here have red lanterns, which add up to the cozy ambience of the place.
These shops have been around since the 1950s, making it favourite hangout area among locals and tourists for many decades.
Nonbei Yokocho is actually an Izakay Alley or "drunker's alley", which is a famous Japanese style gastropub.
This area is the perfect spot to grab a bite or enjoy a glass of beer together with your friends.
So, if you want to drink like a local, Nonbei Yokocho is the perfect spot to experience authentic Japanese nightlife. Here, you can beautifully capture the ideal Tokyo mood along these tiny alleyways surrounded by vintage establishments.
3 Best Things to Eat in Shibuya
---
1. Uobei Shibuya Dogenzaka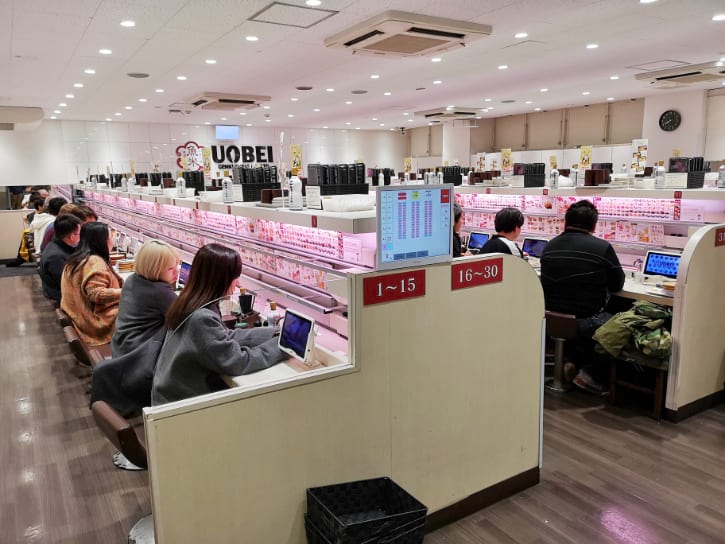 For the best and freshest sushi in Shibuya, go directly to Uobei Shibuya Dogenzaka. The options here are amazing. And the best part? These are budget-friendly options for every sushi lover.
Because of their tasty and affordable sushi options, Uobei Shibuya Dogenzaka is very popular in Shibuya. Hence, long queues can be quite normal in this famous sushi restaurant. But of course, the waiting game is definitely worth it!
Uobei Sushi is actually owned by Genki Sushi Co., Ltd, which is a chain of sushi restaurants in Japan. Genki Sushi is known for its high-quality yet affordable sushi.
This means, whether you go to Genki or Uobei Shibuya Dogenzaka, you'll enjoy their delicious and low-priced sushi.
But of course, if you're in Shibuya, Uobei Shibuya Dogenzaka is more recommended because they are slightly cheaper. For just 108 yen, you'll enjoy a platter of fresh, appetizing sushi!
And, their location is not very far from the world-renowned Shibuya Crossing.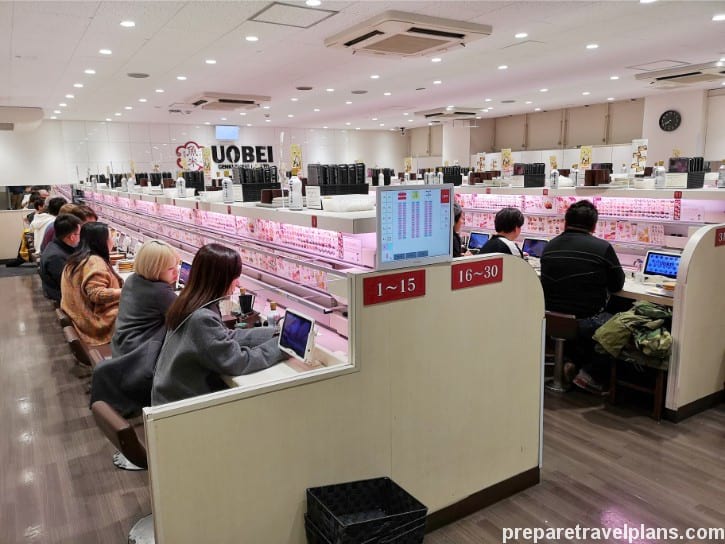 Uobei Shibuya Dogenzaka is a bit high-tech in terms of ordering. They are not your typical order-by-the-counter restaurant or rotating sushi restaurant, which is also known as kaiten-zushi.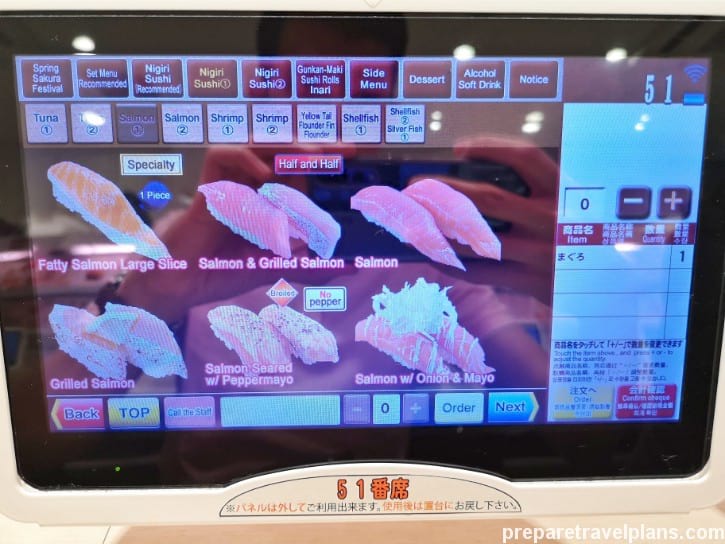 Instead, you will be taken into its digital dining area with a multi-language ordering tablet. Languages available in the tablet are English, Korean, Chinese, and Japanese.
Because of this, you won't have to worry if you don't understand Japanese because you have other language options.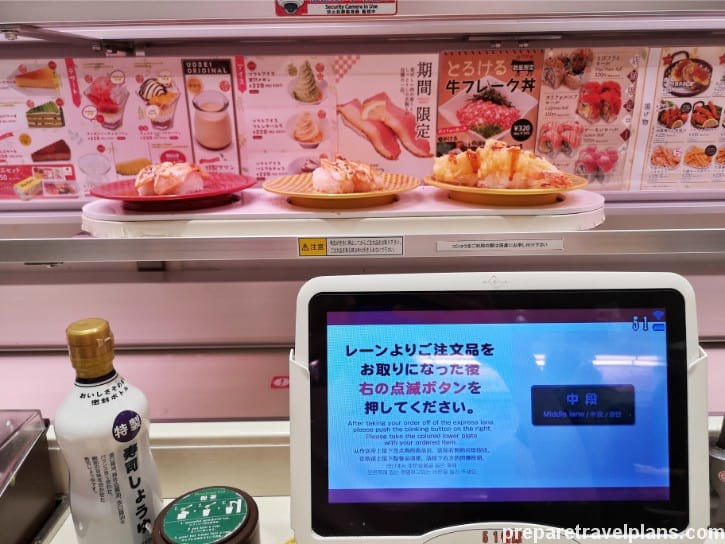 With the built-in tablet in your table, you can easily choose your orders. Once you're done, your order will be delivered conveniently using a high-speed conveyor belt.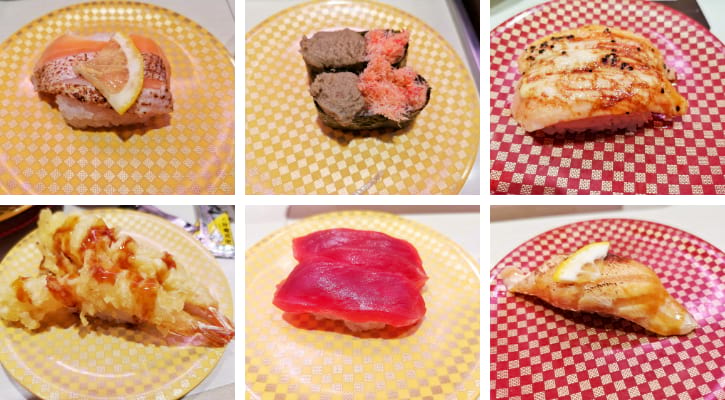 The picture above shows some of the sushi I've tried during my visit to Uobei Shibuya Dogenzaka.
All of them are very delicious but my personal favourites are the salmon sushi and Bluefin tuna sushi. So make sure you try these two when you visit this famous sushi restaurant.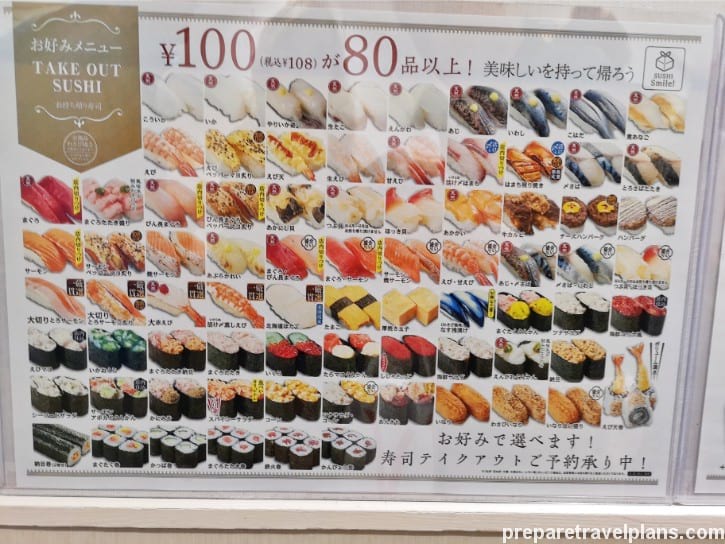 If you want more of this sushi goodness, Uobei Shibuya Dogenzaka offers take-out sushi too!
So, if you're looking for a budget-friendly, high-quality sushi restaurant, Uobei Shibuya Dogenzaka is definitely the best place to visit.
2. Ichiran Shibuya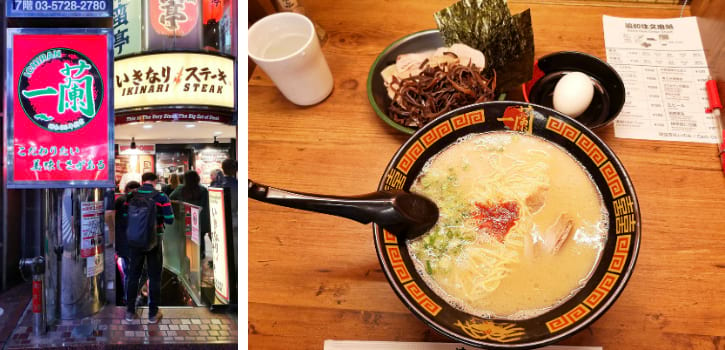 Craving for an authentic ramen experience? Go ahead and visit Ichiran, a very famous ramen restaurant in Tokyo.
Ichiran Shibuya is one of the most sought-after Ichiran branches in the city because of its convenient location. Plus, it's near top Shibuya attractions like MUJI Shibuya, Disney Store, and Shibuya Loft.
So, after all the shopping, you can head directly to Ichiran Shibuya and enjoy a bowl of tasty ramen.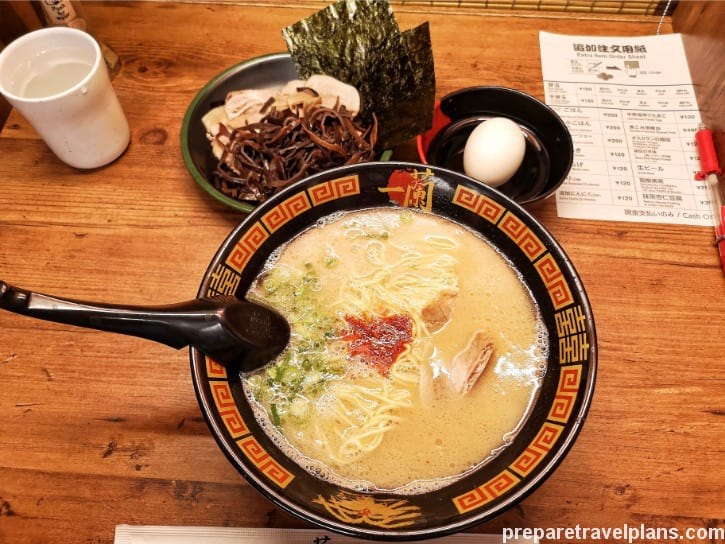 The ramen sold at Ichiran Shibuya is something that you'd certainly remember even after your trip.
Its soup is a fusion of milky, sweet, and spicy flavours. And the smooth, thin noodles perfectly complement the pork toppings and the original red sauce.
Because of their great-tasting ramen, Ichiran Shibuya is no question a top choice among locals and even foreign visitors.
3. Sushi-zanmai Shibuya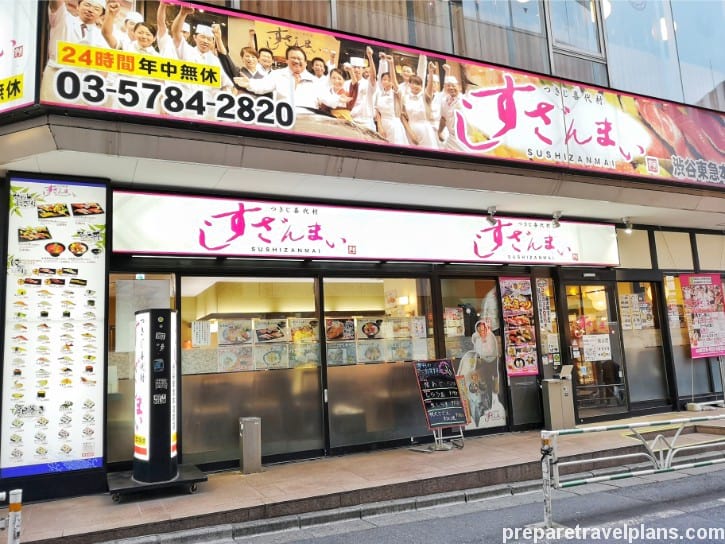 Another top-rated, affordable sushi restaurant in Shibuya is no other than Sushi Zanmai. This one is a well-recognized, Tokyo-based sushi chain restaurant with over 3 decades of service.
Because of its long-running service, they have expanded and now have 54 Sushi Zanmai stores all over the country.
Unlike other sushi restaurants, Sushi Zanmai is actually open every day, at any time of the day. Yes, they are available 24/7.
So, in case you're craving for sushi late at night or early in the morning, just go here. You won't have to worry about the time because Sushi Zanmai got you covered!
Plus, their menu is very extensive so you have lots of options to choose from. Their menu is available in both English and Japanese so you can smoothly order your favourite sushi.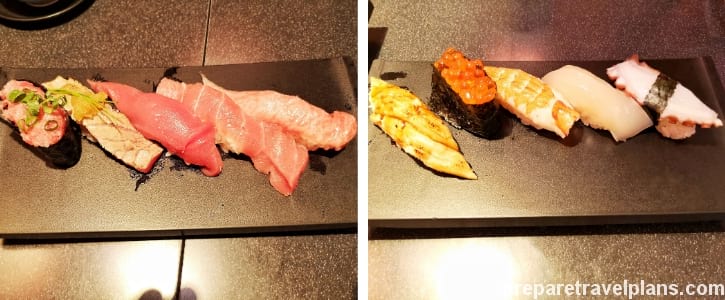 They offer fresh seafood ingredients for their sushi selection, making them more in-demand among locals and even international travellers.
One of their best sushi platters includes their minced tuna, red tuna, and salmon sushi. This sushi mixture is definitely a must-try in Sushi Zanmai.
Another satisfying sushi platter consists of sea eel, salmon roe, prawn, and squid sushi. All these are some of the restaurant's best picks.
So, if you want to relish in some tasty, fresh sushi at an affordable price, visit Sushi Zanmai and enjoy!
My Itineraries on What to Do in Shibuya
---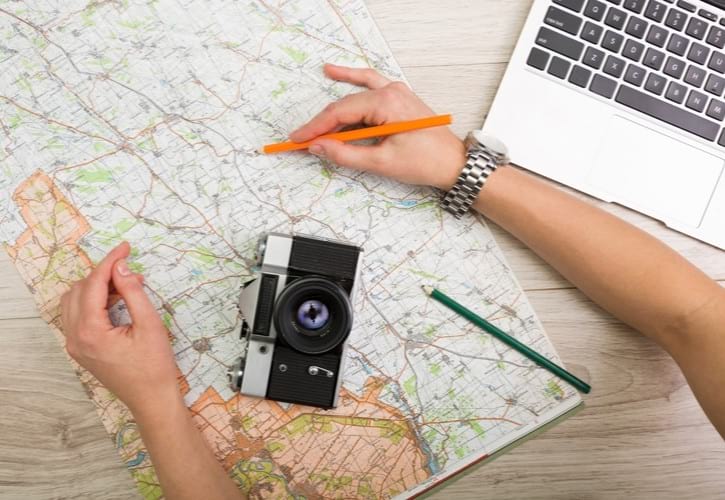 I understand that it might be difficult to create a detailed Shibuya trip, especially if you're a first-time visitor. And all the preparation could just be overwhelming because of your busy work schedule.
To make everything more convenient, I'm going to share with you my suggested itineraries for your Shibuya trip.
I've divided these into 2 sections so you can easily check it out and use it as a reference. These are half-day and full-day itineraries, which highlight all the places you need to visit.
For each itinerary, I also include the estimated time that you should spend at each attraction. This will surely help you plan on the activities to do in Shibuya in advance so you'll save both time and money.
I hope that my suggested itineraries below will assist you in making a well-thought-out Shibuya itinerary and lessen your time in doing research.
Let's dive right in.
Shibuya Attractions Map
---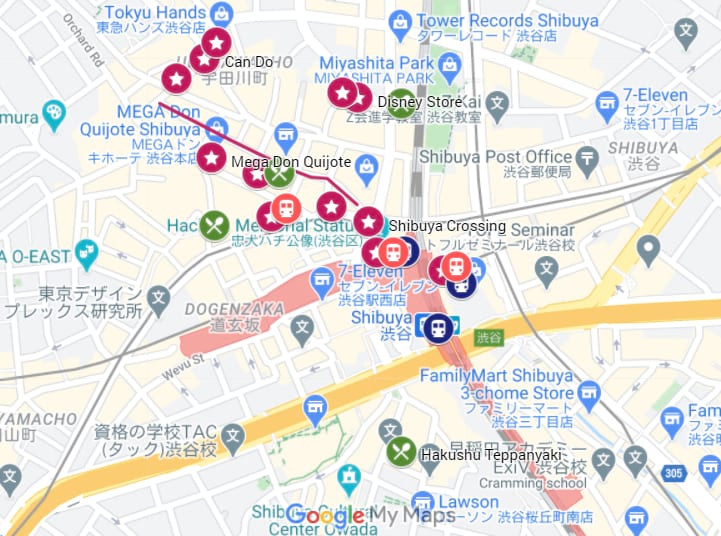 Aside from the suggested half-day and full-day itineraries, I have prepared a customized map that cover the best things to do in Shibuya.
The personalized Google Map above shows the specific locations of the top attractions, including the best shopping spots and restaurants. I have also included in the map the nearby train stations of the attractions for easier reference.
With this, you can easily navigate all the must-visit tourist spots because you already know their locations in advance.
Using this Google Map, you'll have a clearer view of the entire Shibuya district beforehand. This means you won't have to spend a lot of time finding the best attractions and top-rated foods in Shibuya.
Everything is already ready and all you have to do is check it out and start planning. Hopefully, you'll find the map very practical in creating your own Shibuya itinerary.
Train Station Exits for Shibuya Tourist Spots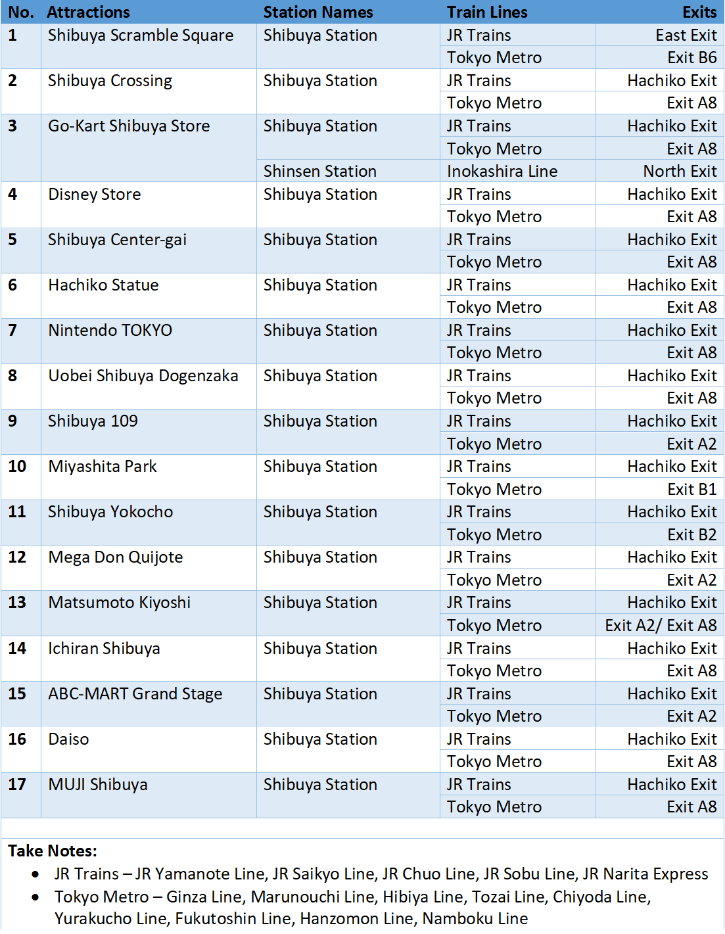 Train Station Exits for Shibuya Eateries

My Final Thought
From the famous Shibuya Crossing to the top-rated Uobei Shibuya Dogenzaka, Shibuya is definitely a must-visit district in Tokyo. So, if you're quite unsure on what to do in Shibuya, just revisit this page and you'll learn a lot!
In Shibuya, you can conveniently shop around with all the amazing discount shops, 100-yen stores, and open-air stalls.
Plus, it has its very own unique attractions like the Shibuya Scramble Square, Hachiko Statue, and Nonbei Yokocho. All these tourist spots showcase the rich history and culture of Shibuya that is still evident up to present.
And of course, Shibuya offers a great food experience through their well-loved sushi and ramen restaurants.
So, if you want an all-in-one adventure, consider visiting Shibuya.
It's recommended that you reserve half day, or best, the entire day for your Shibuya trip. This will help you cover all the attractions easily and even add room for other stuff.
Thank you so much for reading my Shibuya blog and I really hope that you find it useful and practical. Furthermore, I hope that this blog will help you once you prepare your own Shibuya itinerary in the future!
Don't worry because you can easily access this page in case you need it. Just bookmark the blog so you'll have a quick reference of all the important things about Shibuya.
Aside from pinning this page, you can also share it online to help your family and friends. This way, they will be knowledgeable even before they plan for their Shibuya schedule.
This blog can be re-posted via different social media sites, including Facebook, Twitter, and Pinterest. You can also share this via popular communication platforms like Gmail and WhatsApp.
Once again, thank you so much and I sincerely hope that you'll have the most wonderful and convenient Shibuya adventure!