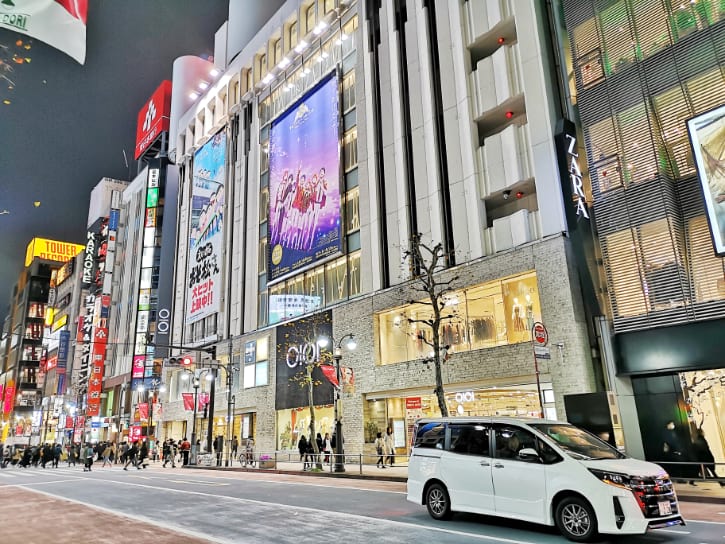 Thinking about what things to do in Shibuya on your Tokyo visit this year? Well, you've come to the right place because I've picked out the top things for you to do there!
Shibuya is a place that truly deserves to be added to everyone's Tokyo itinerary. Its countless shops, restaurants, and entertainment spots make it a popular destination that many travellers visit every year.
So, allow me to guide you through the 17 best things to do and see in Shibuya, including how to arrange them into your itinerary. 😊
Explore Shibuya: Key Things to Do in This Iconic Spot!
1. Spend time at the Shibuya Scramble Square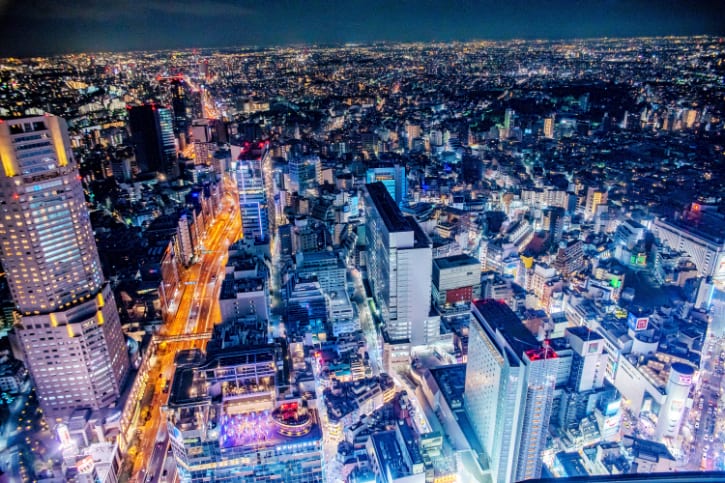 If you're looking for exciting things to do, don't miss the iconic Shibuya Scramble Square!
This modern skyscraper offers a Shibuya Sky Observation Deck on its top floor, which promises awe-inspiring, unobstructed views of Tokyo.
The scenery from the observation deck is exceptionally stunning, making it an ideal spot for photography, especially during the nighttime.
You definitely won't regret visiting this place.
Tip: To guarantee your entry to SHIBUYA SKY Observation Deck, I highly recommend buying your SHIBUYA SKY tickets here in advance, as they sell out quickly.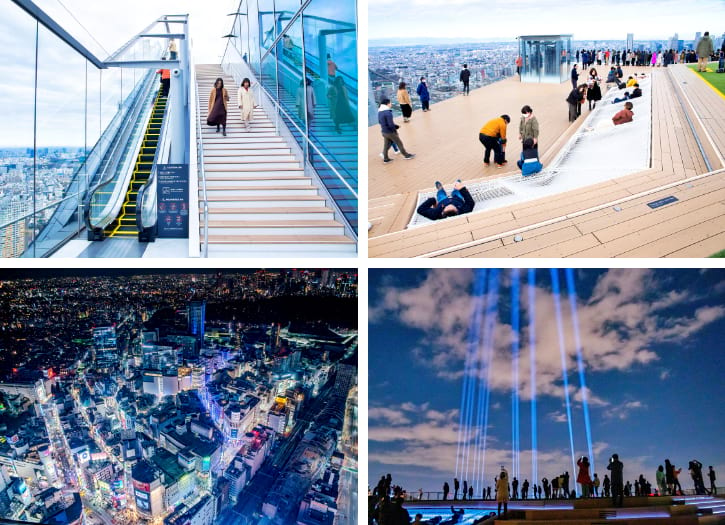 SHIBUYA SKY consists of 3 sections: SKY GATE, SKY STAGE, and SKY GALLERY.
SKY GATE: Start the adventure by buying your tickets at level 14. Then, ride the lift that leads you to level 45. From there, take the escalator going to level 46, where you'll see the famous observation areas―Sky Stage and Sky Gallery.
SKY STAGE: Experience breathtaking views of Shibuya's skyline from this outdoor observation area. You can also spot Shinjuku, Mount Fuji, Tokyo Tower, and more. Don't miss to see the busy Shibuya Scramble Crossing with lots of people crossing the road.
SKY GALLERY: Explore the renowned indoor observation area for panoramic city views and interactive exhibits showcasing Shibuya. And lastly, pop by the cafe & bar lounge and simply relax. This is a great location to just unwind while witnessing the stunning cityscape.
2. Catch the Shibuya Crossing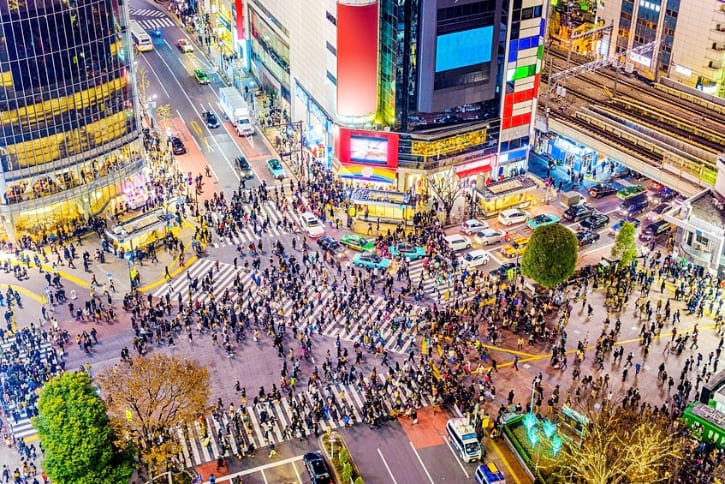 It is impossible to cover top things to do in Shibuya without mentioning the world-renowned Shibuya Crossing.
This popular spot often appears in many Tokyo social media posts due to its immense popularity.
It has even appeared in many international movies like Resident Evil: Afterlife, Lost in Translation, and The Fast and the Furious: Tokyo Drift.
Try joining the crowd and cross this busy intersection road for a fantastic experience.
You can also capture the bustling crowd as they cross this busy intersection in a fast-paced manner.
3. Drive a Go-Kart in Shibuya Streets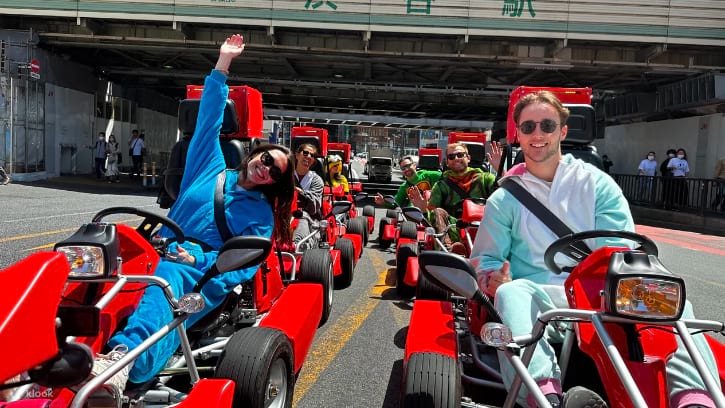 Want a unique and thrilling way to explore Shibuya? Driving a go-kart is the way to go!
Feel the thrill as you drive across the famous Shibuya Crossing and through the cool areas of Harajuku and Omotesando.
But there's more! Dress up as a superhero or cartoon character and stand out on the streets!
People will smile, wave, and even take photos of you as you drive by. It's a great way to see the city and enjoy a special experience all at once.
So why wait? Book your go-kart adventure here and enjoy the ride!
4. Drop by Disney Store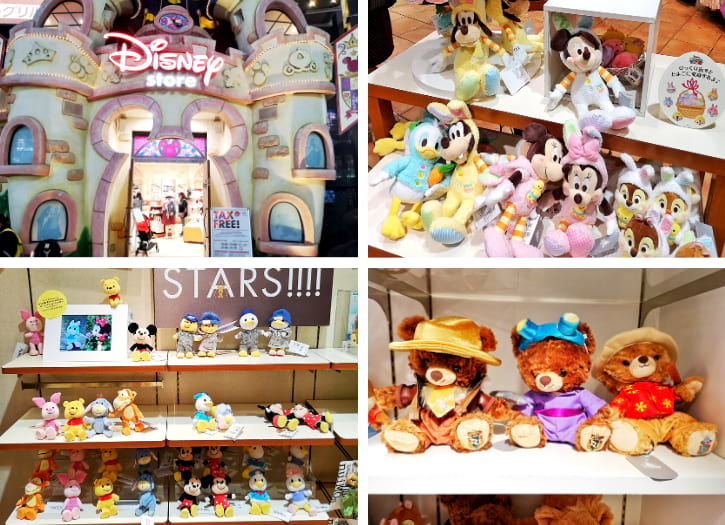 A trip to Shibuya should include visiting the Disney Store. Inside this miniature version of the Tokyo Disneyland castle, you'll discover many amazing finds.
Navigate all 3 floors that feature a spiral staircase―like those in fairy-tale movies. Each floor is filled with various Disney-related items.
Check out some adorable Chipmunk, Donald Duck, Mickey Mouse, and Minnie Mouse stuffed toys.
Tip: Make sure bring your passport to the Disney Store to access tax-refund services on purchases over 5,000 yen (before tax).
5. Explore the Shibuya Center-gai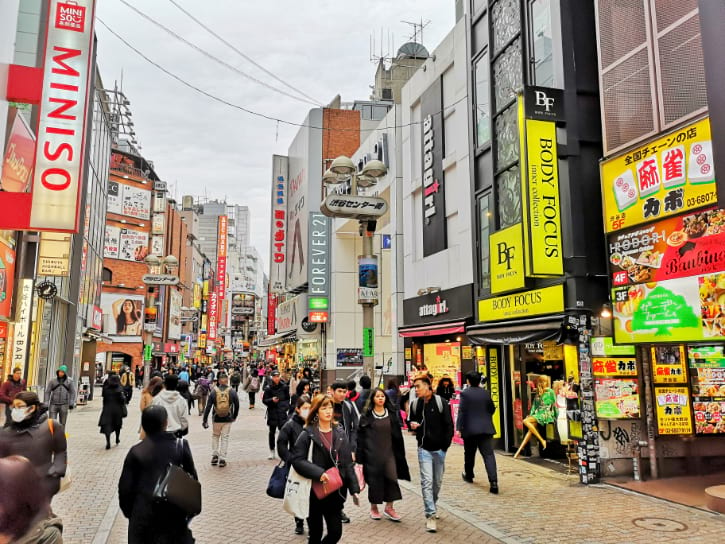 Shibuya Center-gai is the place to go for shopaholics. It's an iconic shopping street lined with various shops from one corner to another.
Here, you'll find top fashion stores and local clothing stalls, such as ZARA, H&M, and Uniqlo.
It's not just a shopping paradise but also a foodie destination.
Hundreds of restaurants are scattered around the area for you to explore, offering delicious local Japanese cuisines and snacks.
You'll find sushi, ramen, and even fast-food options lining the street.
6. Pay a Visit to Hachiko Statue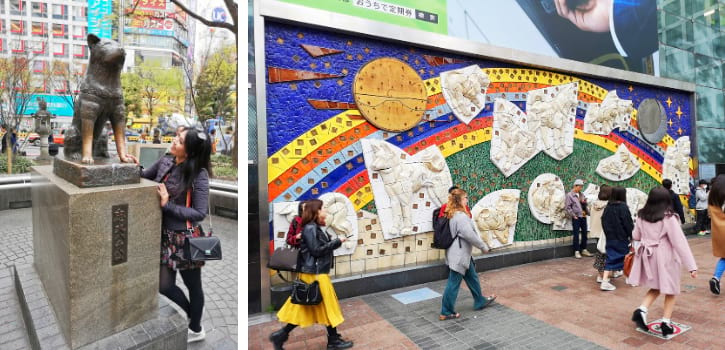 Don't forget to check out the Hachiko Statue!
It's a statue of a loyal dog named Hachiko, known for waiting at Shibuya Station every day for nine years for his owner, even after his owner had passed away.
The statue is a sweet reminder of the deep bond between dogs and their owners, symbolizing love and loyalty.
Be sure to capture the moment with a photo beside the world's most devoted dog!
7. Check out Nintendo TOKYO in Shibuya PARCO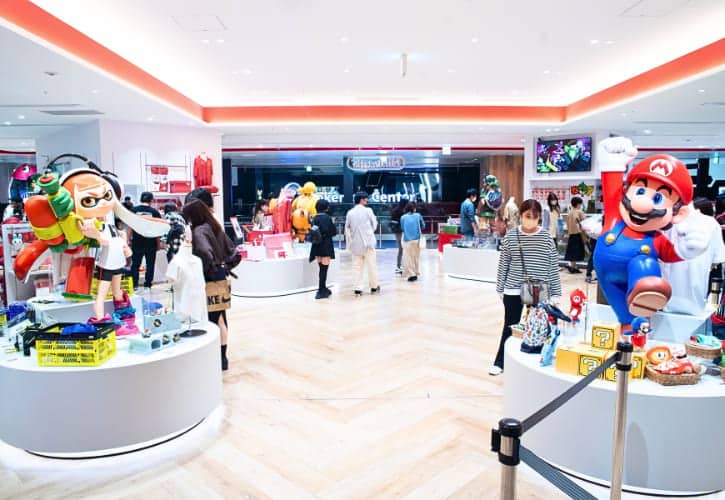 On your list of things to do in Shibuya, don't miss out on Nintendo TOKYO, especially if you're a Mario fan.
Located on the 6th floor of Shibuya PARCO, the store offers exclusive merchandise featuring Nintendo favourites like Mario, Zelda, and Splatoon.
You can browse through apparel, accessories, stationery, and plushies, with some being limited-edition items only available at this flagship store.
The store itself is a visual delight, featuring life-sized statues of Mario and Splatoon characters. These provide fantastic photo opportunities, allowing you to capture memories of your visit.
So, remember to add Nintendo TOKYO to your Shibuya itinerary — you won't regret it!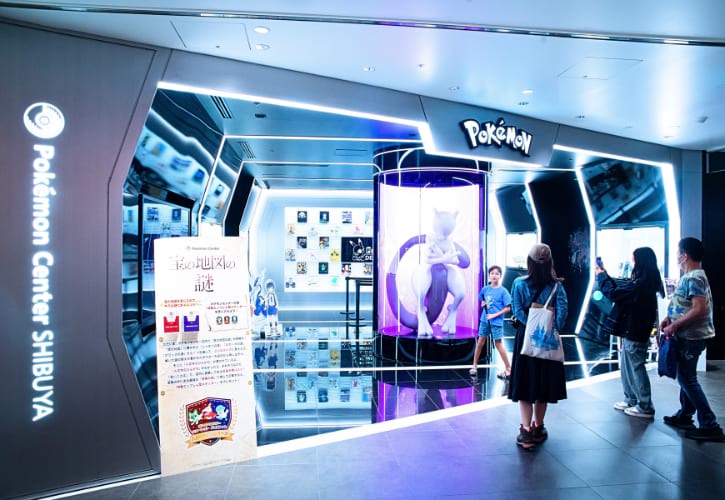 Adjacent to it, the Capcom Store offers merchandise from Megaman and Street Fighter, while a nearby Pokemon Center caters to all your Pokemon shopping needs.
8. Dine in at Uobei Shibuya Dogenzaka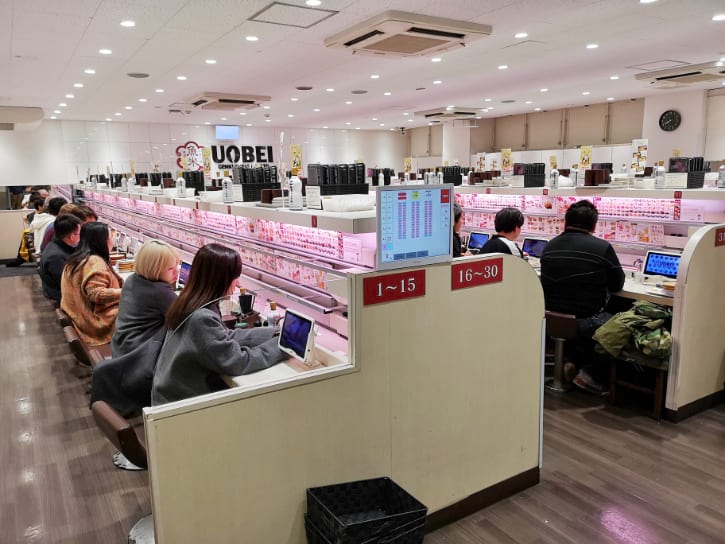 For the best and freshest sushi to eat in Shibuya, go directly to Uobei Shibuya Dogenzaka.
The options here are amazing. And the best part? They are budget-friendly for every sushi lover. For just 110 yen, you'll enjoy a platter of fresh, appetizing sushi!
This high-tech restaurant offers digital ordering through multi-language tablets, available in English, Korean, Chinese, and Japanese.
Once you've finished ordering, your food will be conveniently delivered via a high-speed conveyor belt.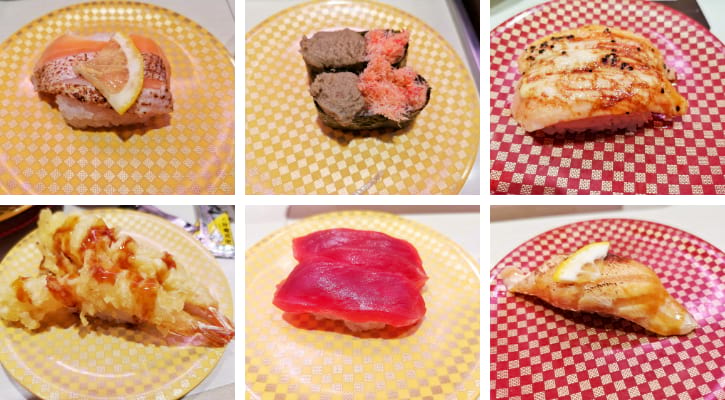 The picture above shows some of the sushi I've tried during my visit.
All of them are very delicious but my personal favourites are the salmon sushi and Bluefin tuna sushi. So, make sure you try these two when you visit this famous sushi restaurant.
9. Go Shopping at Shibuya 109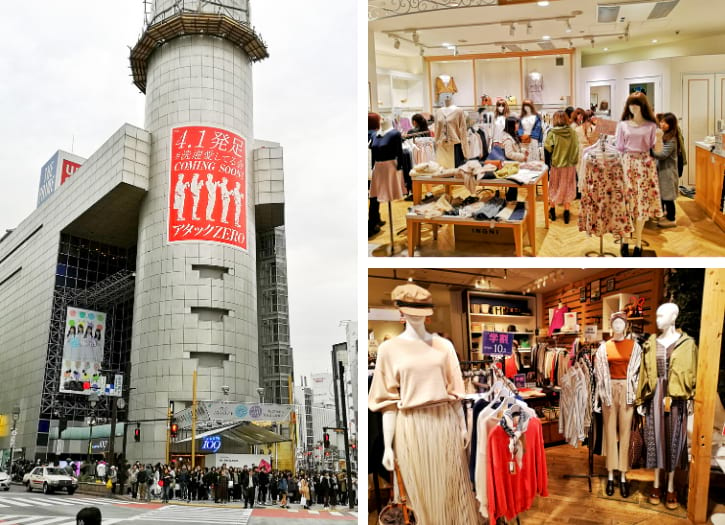 Shibuya 109 is a famous destination for fashionistas and trendsetters eyeing for the latest fashion trends!
There are 10 floors inside this popular building. Each floor features different trendy options, mostly for ladies' fashion needs and other stuff.
Over 120 shops offer the latest fashion items, including apparel, bags, shoes, accessories, and more!
All these items are reasonably priced so you better prepare your budget ahead so you can buy everything you need.
Just across the Shibuya 109 is another fashion destination―but for men. So, after you shop at this iconic spot, hop over to 109 Men's!
10. Wander through Miyashita Park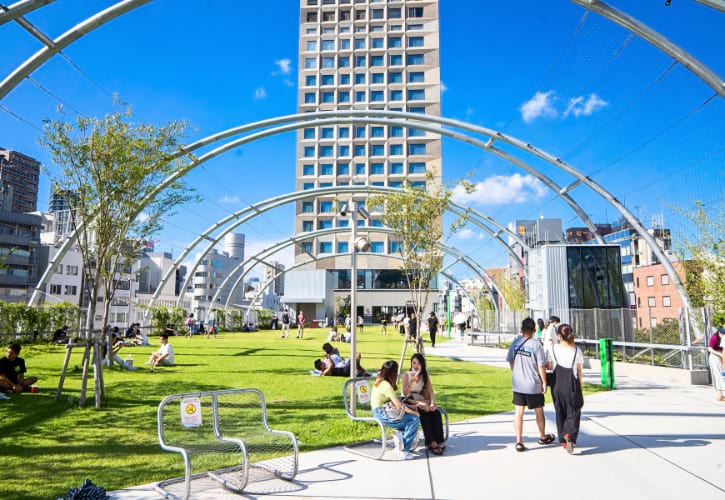 Once you get to Miyashita Park near Shibuya Station, there's a variety of activities to engage in.
Start by exploring the beautifully landscaped green spaces located at the top of the building, where you can relax and perhaps enjoy a picnic.
For a unique experience, try the bouldering wall, where you can engage in some light climbing activities.
When hunger strikes, Miyashita Park doesn't disappoint; it boasts a food court and several cafes and restaurants where you can enjoy a variety of delicious meals and snacks.
11. Savoring Shibuya Yokocho Cuisine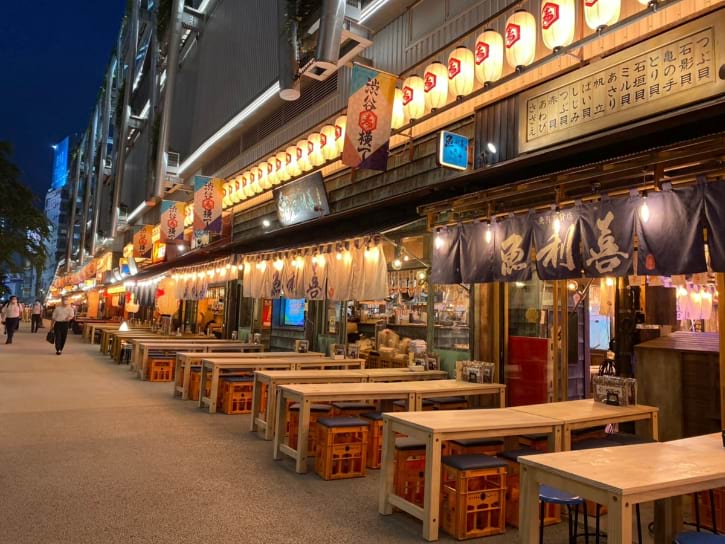 Craving an authentic Japanese food experience? Shibuya Yokocho is your go-to spot.
As you wander through narrow walkways lined with unique bars and restaurants, you'll notice each has its own special atmosphere.
With 19 eateries available, each offers a special taste of traditional Japanese cuisine.
Here, not only you can enjoy local ramen, rice bowls, gyoza, yakitori, and fried chicken, but also explore more of Japan's beloved soul food.
Indeed, every spot promises a unique and delightful taste adventure!
12. Enter the famous Mega Don Quijote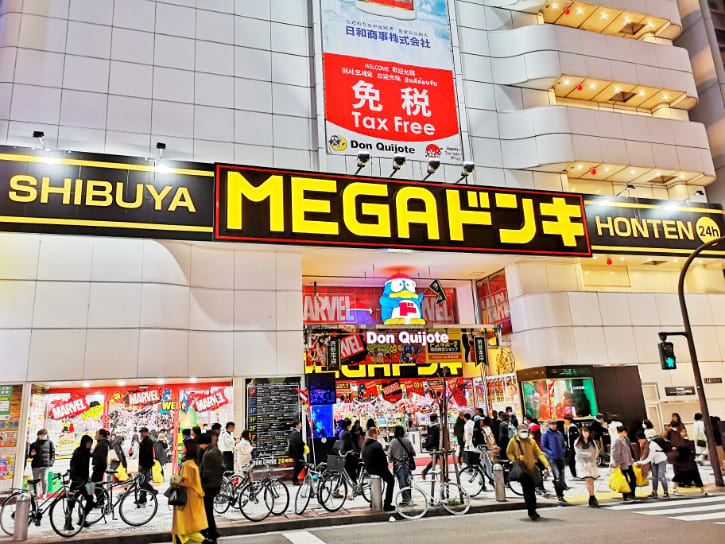 One of the great things you can do while in Shibuya is shopping at Mega Don Quijote.
This is a well-known discount store in Japan among both locals and travellers.
Though there are several stores in the country, the one in Shibuya is the biggest of them all.
You'll find a wide selection of items at the store, including Japanese souvenirs, local snacks, beauty products, gadgets, clothes, and toys!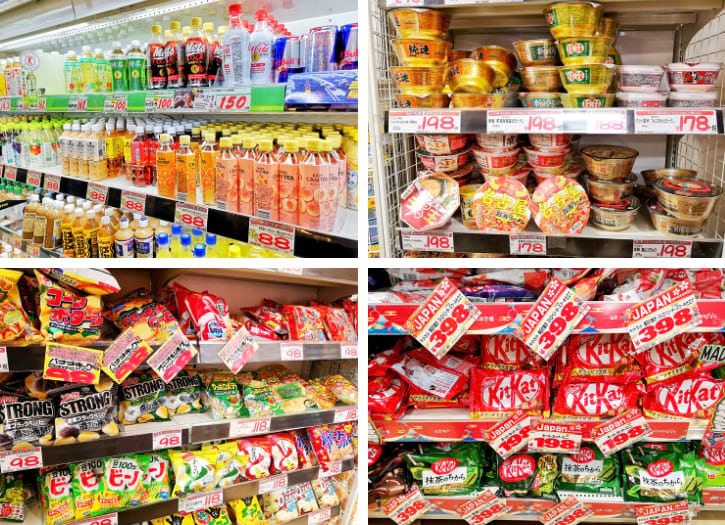 Grab a bite of some of the best Japanese snack foods like Umaibo, which is a famous, puffed cylindrical snack.
You can also try Sennarido Crispy Wasabi Pistachios, Kit Kat chocolates, and Pocky biscuit sticks.
13. Look into the Matsumoto Kiyoshi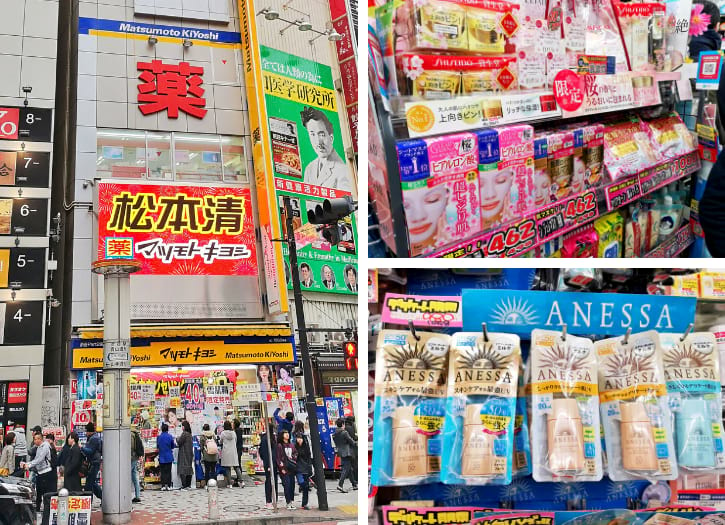 Matsumoto Kiyoshi is no doubt the most popular drug store within Shibuya. In fact, it is visited by thousands of travellers and even locals regularly.
Here, you'll discover an array of products, ranging from face masks to body scrubs and more!
For some makeup products, check out their foundations, lipstick, blush-on, eyebrow pencil, and mascara.
They even have various sunscreen brands, including the top-selling Anessa UV. This sunscreen comes in a pre-packed version so you can easily bring it anywhere.
14. Order a Ramen at Ichiran Shibuya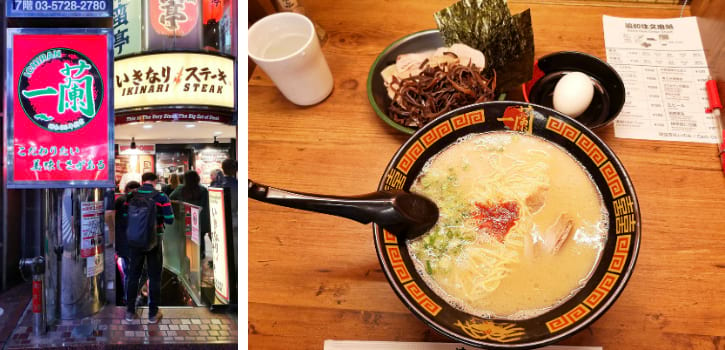 Craving for an authentic ramen experience? Head over to Ichiran Shibuya.
The ramen sold here is something that you'd certainly remember even after your trip.
Its soup is a fusion of milky, sweet, and spicy flavours. And the smooth, thin noodles perfectly complement the pork toppings and the original red sauce.
Plus, it's near top shopping spots like Shibuya 109, Shibuya Center-gai, Disney Store and Mega Don Quijote.
So, after all your shopping, you can head directly to the ramen restaurant and enjoy a bowl of tasty ramen.
15. Pop by ABC-MART Grand Stage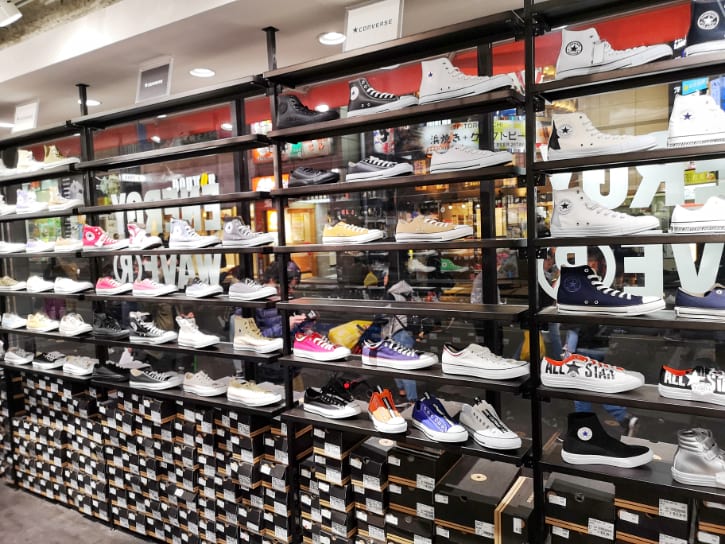 Shoe enthusiasts will definitely fall in love with ABC-MART Grand Stage. You can find this store in Center Gai shopping street.
Look around for your favourites sneakers inside this famous footwear company.
This well-known sneaker chain store gathers all top brands, including Adidas, Nike, Reebok, Converse, New Balance, and a lot more!
And of course, these shoes are affordably priced, making them more attractive to both local and international tourists.
16. Shop at Daiso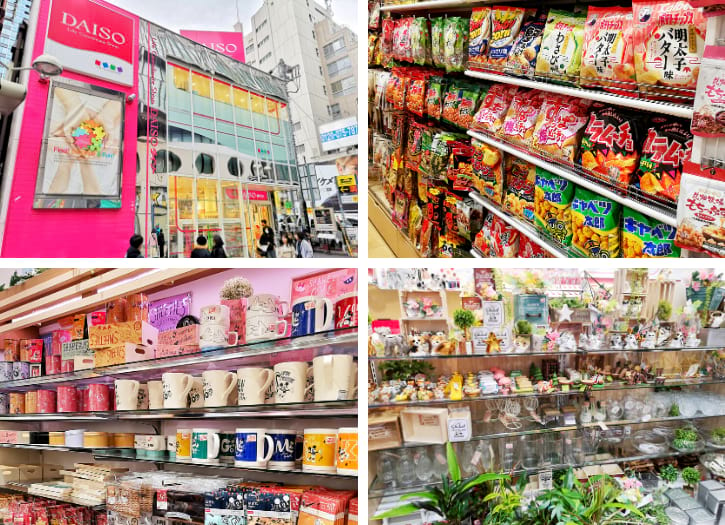 When jotting down things to do during your Shibuya exploration, consider stopping by Daiso.
This famous chain store is known for their extensive assortment of products and goodies that are generally sold for just 100 yen.
So, if you want to buy a lot without breaking the bank, go explore this store.
They have travel goods, decorative items, cosmetics, stationery, fashion accessories, and toys.
In addition, they sell snacks and drinks, along with some cheap souvenirs.
17. Get around MUJI Shibuya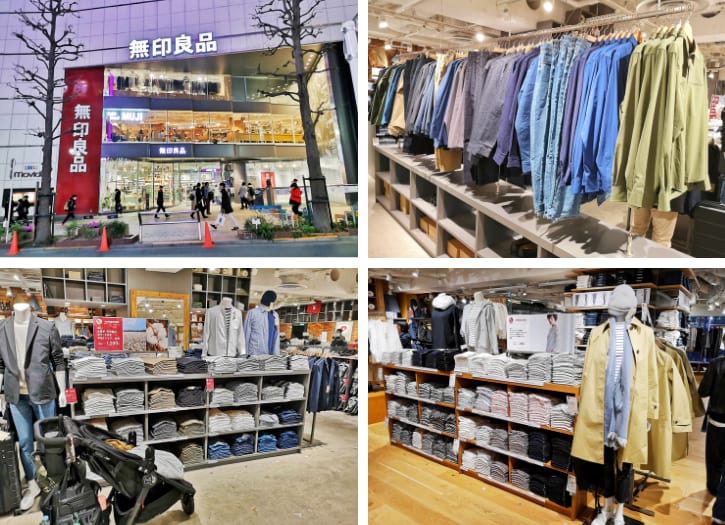 MUJI Shibuya is unlike any other local store in the district.
It targets a specific audience―those who prefer elegant designs and minimalist beauty.
This famous Japanese retailer is the perfect place to visit in Shibuya for those eyeing for authentic Japanese trends.
See the amazing women's fashion collection as well as men's style. There are plenty of choices available, from simple designs to casual ones.
My Suggested Itinerary for Shibuya
To help in organizing your personal Shibuya itinerary, I have provided some sample itineraries below.
I've divided these into two sections for your convenience: half-day and full-day itineraries.
Each section highlights essential places to visit and suggests how long you should spend at each location. Hopefully, this will save you some time in planning.
Option 1: Half-Day (7 Hours)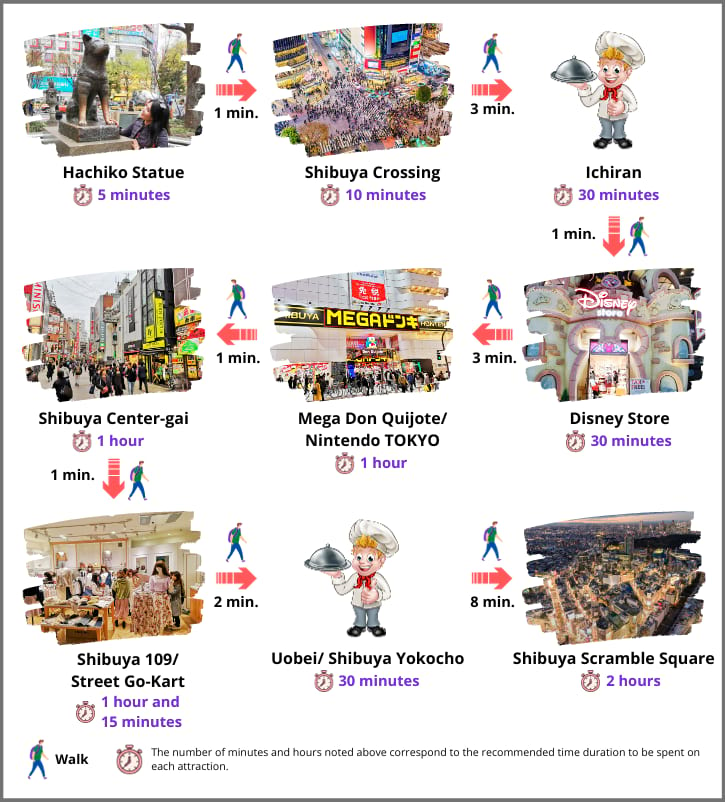 1:15 PM – Hachiko Statue
1:20 PM – Shibuya Crossing
1:30 PM – Ichiran
2:00 PM – Disney Store
2:30 PM – Mega Don Quijote/ Nintendo TOKYO
3:30 PM – Shibuya Center-gai
4:30 PM – Shibuya 109/ Street Go-Kart
5:45 PM – Uobei/ Shibuya Yokocho
6:15 PM – Shibuya Scramble Square
Option 2: Full-Day (10 Hours)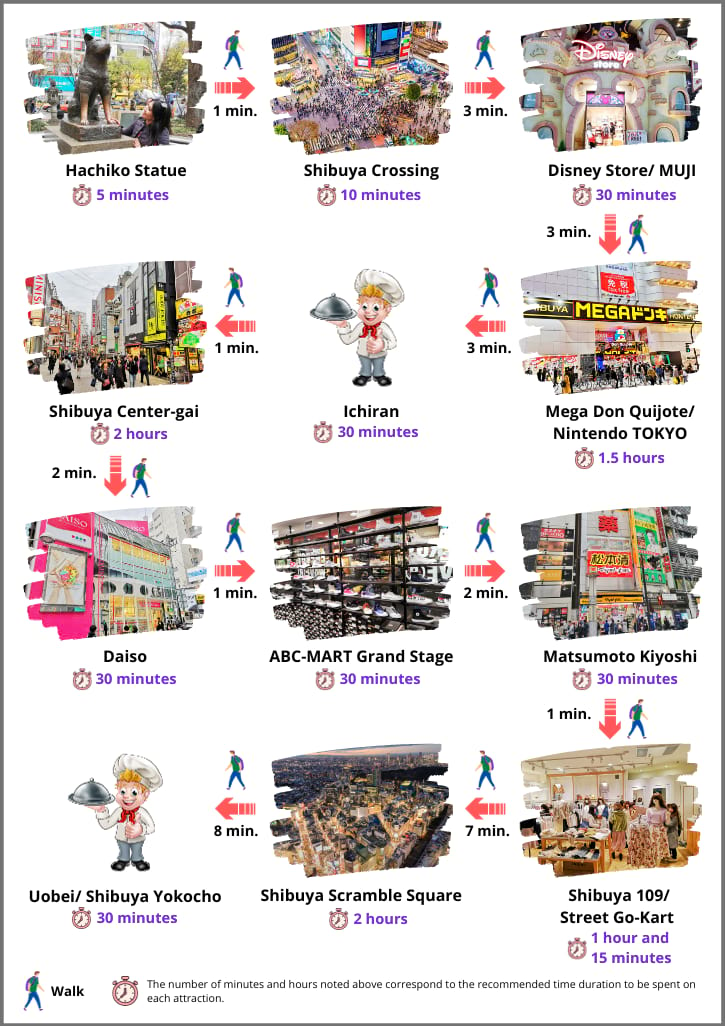 10:15 AM – Hachiko Statue
10:20 AM – Shibuya Crossing
10:30 AM – Disney Store/ MUJI
11:00 AM – Mega Don Quijote/ Nintendo TOKYO
12:30 PM – Ichiran
1:00 PM – Shibuya Center-gai
3:00 PM – Daiso
3:30 PM – ABC-MART Grand Stage
4:00 PM – Matsumoto Kiyoshi
4:30 PM – Shibuya 109/ Street Go-Kart
5:45 PM – Shibuya Scramble Square
7:45 PM – Uobei/ Shibuya Yokocho
Things to Do in Shibuya, Tokyo (Map)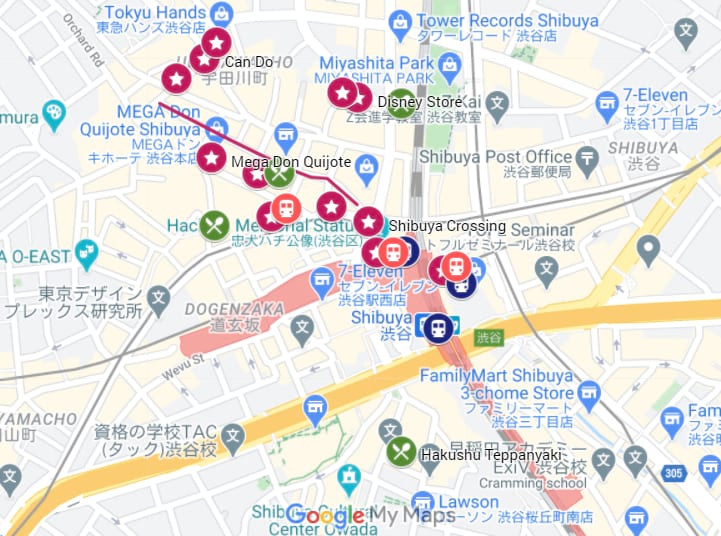 For a broad picture of must-do things in Shibuya, I have prepared a customized map above.
This map will show you the specific locations of top attractions, including the best shopping spots and restaurants.
It will also highlight the nearby train stations for each spot.
Train Station Exits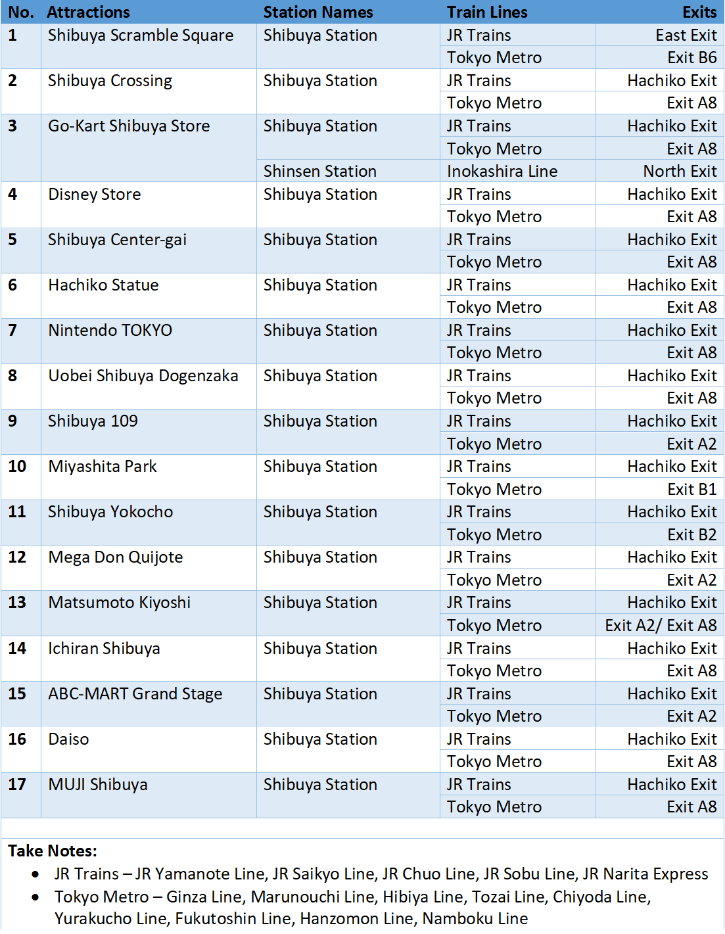 Related Posts