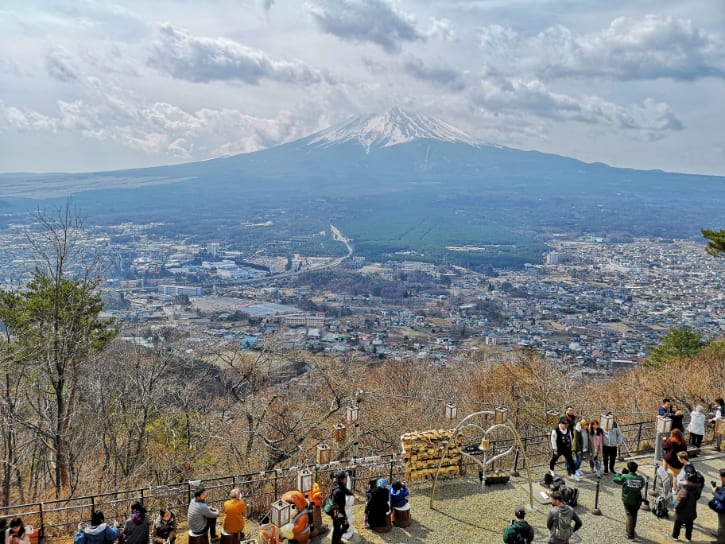 Thinking about a day trip from Tokyo to Mount Fuji? Let me share with you in detail the ways on how to go there and what attractions you must see upon arrival.
I did a day trip with my wife to Mount Fuji during our visit to Tokyo and we definitely had a great time. The place was surrounded by beautiful and relaxing views.
Luckily, most of the attractions are easily accessible via the sightseeing bus tour. You will get to know more about this later on, along with the best and easy ways to get around the area.
So, let's get started and look into the details about doing a Mount Fuji day trip from Tokyo. All the things covered below will surely make your trip more convenient and memorable.
3 Best Ways to Go from Tokyo to Mount Fuji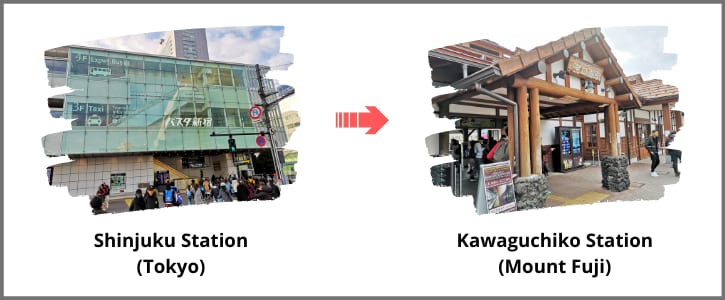 Mount Fuji is around 100 km from Tokyo and it takes about 2 hours to complete the journey.
There are 3 best transport options available ― Fujikyuko Bus (Highway Bus), Fuji Excursion train, and guided tour.
Depart: Shinjuku (Tokyo)
The easiest way to ride the highway bus or train going to Mount Fuji is by taking it at Shinjuku, Tokyo.
If you choose the bus, you can take it at Shinjuku Expressway Bus Terminal. For the train, you need to board it at Shinjuku Train Station.
Arrive: Kawaguchiko Station
Kawaguchiko Station is the main transportation hub within the Mount Fuji area. Most of the buses and trains depart and stop here.
There's a sightseeing bus tour available in Kawaguchiko Station. This is such a great choice if you want to tour around the area conveniently.
The options below are some of the public transports that will take you to the Kawaguchiko Station.
1. Fujikyuko Bus (Highway Bus)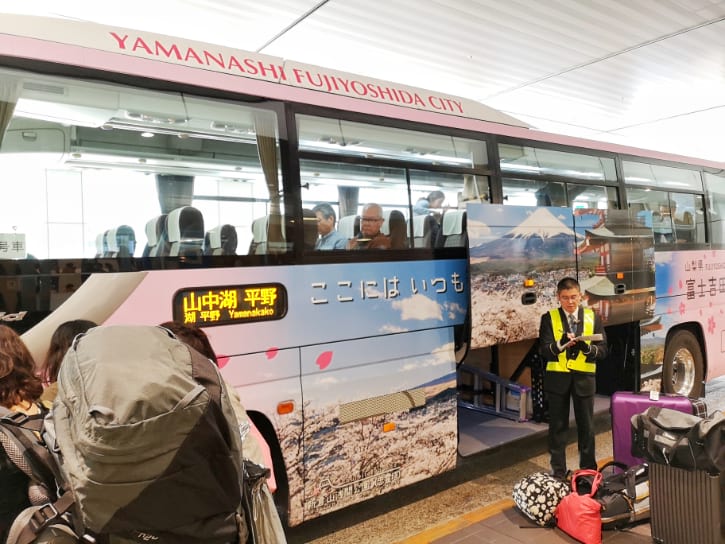 The Fujikyuko Bus is the cheapest way to travel from Tokyo to Mount Fuji. For a single trip, you just have to pay 2,000 yen per person for the bus ticket price. The ride takes around 1 hour 45 minutes.
You can take the bus from level 4 of the Shinjuku Expressway Bus Terminal in Tokyo. It's located beside the Shinjuku Train Station.
This is a direct bus route and it will stop at Kawaguchiko Station and Fuji-Q Highland.
Bus Information:
The buses leave every 10 to 30 minutes and they start at 6:45 AM and end by 8:15 PM. You can book the bus tickets online or directly at the bus terminal.
I personally prefer booking online because there are times the tickets at the bus terminal are fully booked.
2. Fuji Excursion (Limited Express Train)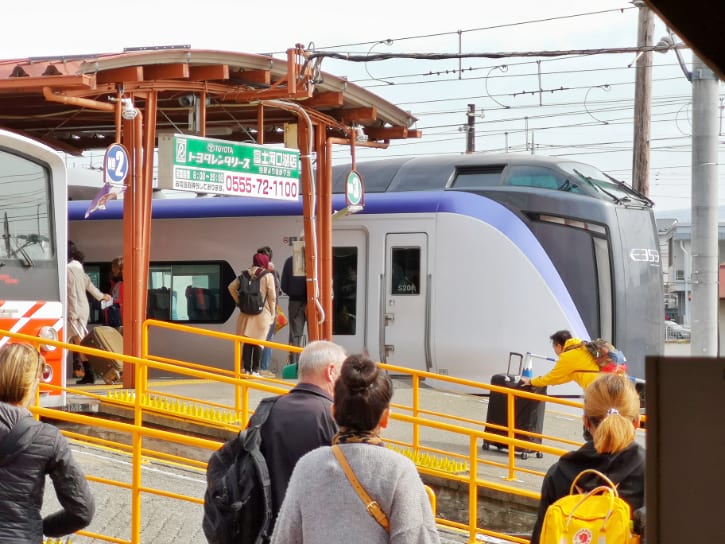 If you're staying in Tokyo, you can also take the Fuji Excursion (Limited Express Train) to Mount Fuji.
The single journey takes around 1 hour 53 minutes and it costs roughly 4,130 yen per person.
You can board the train at Shinjuku Station and it will send you directly to Kawaguchiko Station.
Train Information:
The train only provides 3 round trips every day between Tokyo and Mount Fuji. The departure times from Shinjuku Station are 7:30 AM, 8:30 AM, and 9:30 AM.
And for the return trip, the departure times of the trains from Kawaguchiko Station are 3:03 PM, 4:51 PM, and 5:36 PM.
You can buy your train tickets online or purchase these at the ticket office of Shinjuku Station.
If you opt for an online reservation, here's a step-by-step guide that you can follow.
Head to the JR-East Train Reservation website.
Choose "Purchase tickets" (Customers not using a pass).
Click on "Search by Line".
Line: "Chuo Line(Chiba/Tokyo – Matsumoto, and others)", Departure station: "Shinjuku", Arrival station: "Kawaguchiko" and Date of travel: Select the date you want to visit.
Click on "Search".
Choose FUJI EXCURSION 3 (Departure time is 7:30 AM)/ FUJI EXCURSION 7 (Departure time is 8:30 AM)/ FUJI EXCURSION 11 (Departure time is 9:30 AM)
3. Fuji Day Tour
If you don't have extra time to plan for your day trip, you may avail of the Mount Fuji day tour from Tokyo.
This is highly recommended if you just want to sit back, relax, and let the tour guide bring you to the main sights.
Aside from saving time from doing your research, this minimizes the possibility of getting lost during your travel. It's because everything is already accounted for during the day tour.
You can check out one of these Mt. Fuji Tour 1/ Mt. Fuji Tour 2/ Mt. Fuji Tour 3 if you're looking a stress-free trip.
To hire a private car charter with a professional English-speaking driver, you can go to this website to make a reservation.
Best Things to Do on Your Day Trip to Mount Fuji
Mount Fuji is such a gorgeous place to explore. It is loaded with beautiful views, breathtaking gardens, traditional sites, and a lot more.
So, let me introduce you to the 10 best things to do and see around Mount Fuji. All these are perfect for first-time visitors who want to discover this amazing place from Tokyo.
1. Oshino Hakkai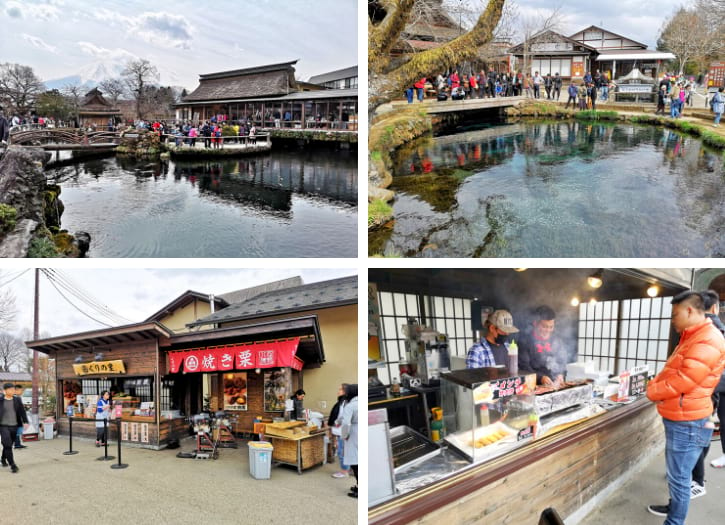 Visit Oshino Hakkai and discover the wonders of this small village.
Filled with eight scenic ponds, this place has a lot of gorgeous sights to capture. Walk around the beautiful pathways and enjoy the peaceful ambience.
As you explore the ponds, try to take a photo of Mount Fuji and the traditional sites surrounding the area.
Along the way, you'll come across various local vendors selling tasty snacks and drinks.
There are also plenty of souvenir shops that feature unique crafts and artistic products.
2. Kachi Kachi Ropeway (Mt. Fuji Panoramic Ropeway)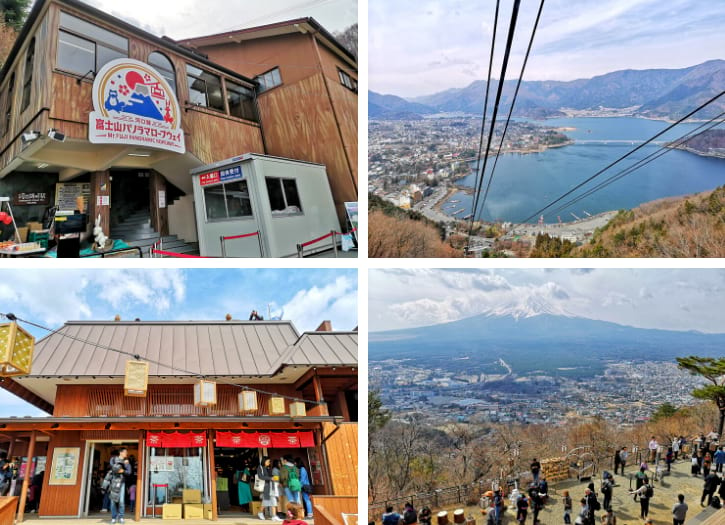 If you've got a heart for adventure, try to ride the Kachi Kachi Ropeway. This cable car offers you an exceptional journey bounded by breathtaking lake views and mountain sights.
Without a doubt, this is one of the best spots to take a photograph of Mount Fuji.
Glide your way from the shore of Lake Kawaguchiko to the observation peak along Mount Tenjo.
There's an option for you to avail of the round trip and simply just relax while the cable car travels back and forth.
But if you want extra fun, you may take off at the observation deck and then tour around the place.
3. Kawaguchiko Music Forest Museum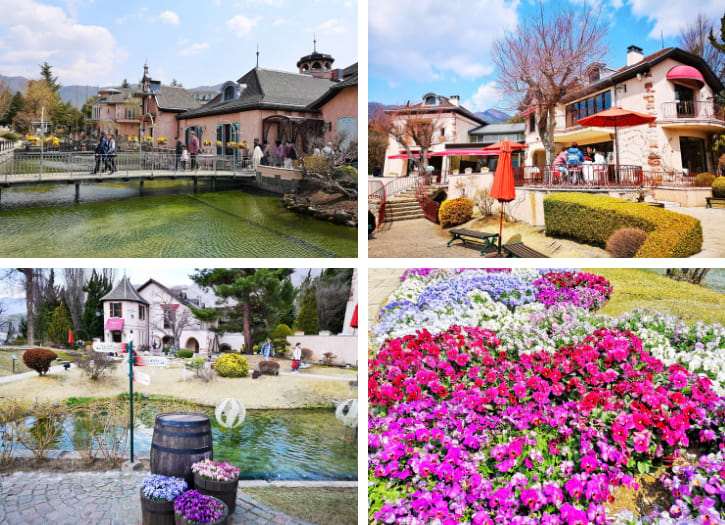 Visit the Kawaguchiko Music Forest Museum and be in awe of the European-inspired designs.
This beautifully styled theme park is known for its cosy atmosphere and unparalleled view of Mount Fuji.
Aside from its themed landscapes, the inside of the museum holds a special collection of musical instruments.
Navigate the antique exhibits and unravel the array of vintage organs.
There are also several musical experiences as well as instrument demonstrations for everyone. And, make sure not to miss the live performances and sand art storytelling shows.
4. Chureito Pagoda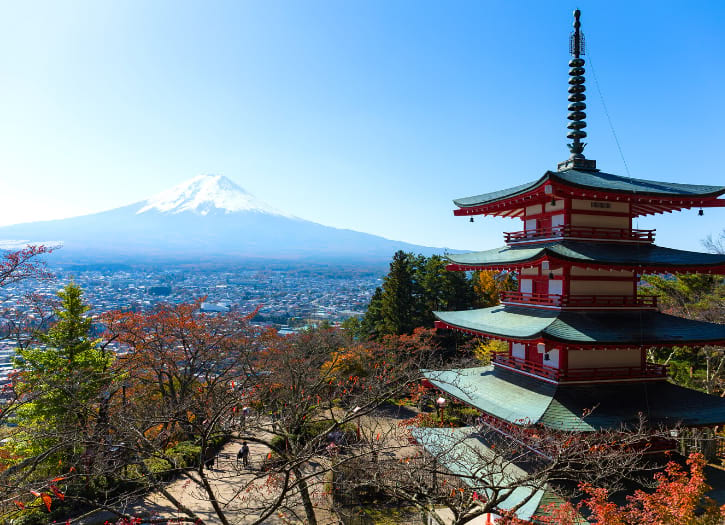 Head to the 5-storied Chureito Pagoda and see the spectacular Mount Fuji from afar.
This well-known shrine requires you to hike your way up the mountain. It takes around 400 steps to reach the top, so ready yourself in advance.
While at the top, explore the popular pagoda and capture the beautiful views of the iconic mountain and surrounding lakes.
If you visit the place during spring or autumn, the shrine's even more captivating because of the bright nature colors.
5. Fuji 5th Station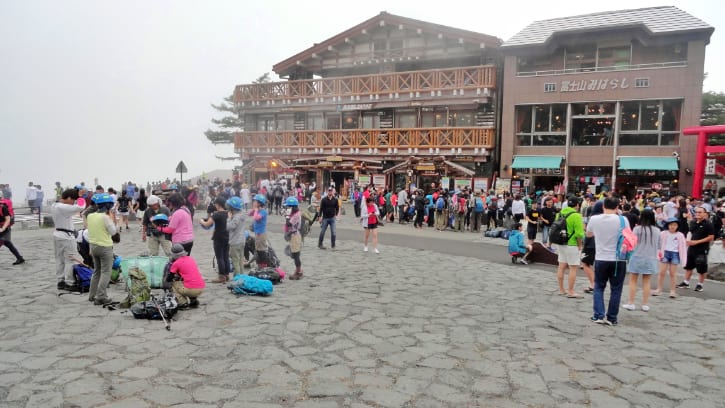 Take a trip to Mt. Fuji 5th Station or Fuji Subaru Line 5th Station. This is the starting point for those who want to see Mount Fuji up-close.
It is located near the Yoshida Trail, which opens up halfway to the summit of the famous mountain.
So, if you don't have extra time to climb the peak of Mount Fuji, simply visit this place and enjoy the incredible sights. Watching the hikers ascend to the top is already a remarkable experience.
6. Gotemba Premium Outlets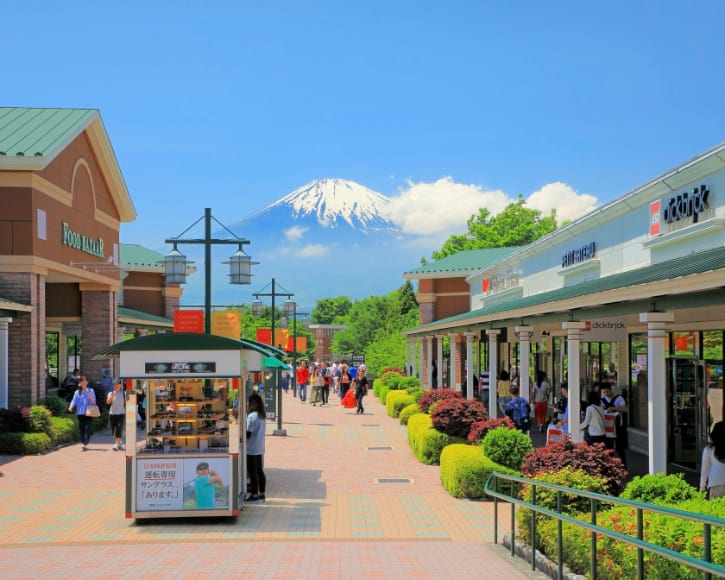 Shop your hearts out at Gotemba Premium Outlets. This flagship mall is situated in Gotemba, offering a remarkable view of Mt. Fuji.
Unlike other shopping centers, this one is very huge, featuring over hundreds of stores and restaurants.
Go around the different stalls and find various international brands. There are plenty of fashion items, household goods, electronics, and sports stuff.
Aside from the shops, this mall comes with its own Ferris wheel, hotel, and hot spring bath.
So, don't miss this outlet mall when visiting Mount Fuji from Tokyo if you like shopping.
7. Fuji-Q Highland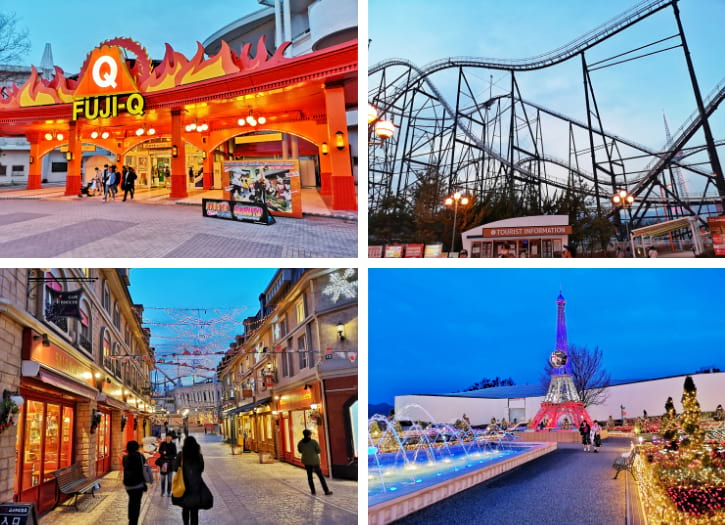 Fuji-Q Highland might not be as popular as Tokyo DisneySea or Tokyo Disneyland, but it's definitely a must-visit amusement park.
Try the thrilling roller coasters that cater to all kinds of adventure-seekers. There are fast-paced as well as steep ones to fuel your adrenaline.
If you're not a fan of scary rides, don't worry because there are other options.
Be entertained by the themed attractions that are mostly based on famous anime series. You can also complete some mazes and enjoy traditional rides like carousel, teacup, and more.
To top it all, there are restaurants, souvenir shops, and rest areas.
And before you visit the park, it's recommended that you book the admission tickets from website 1 or website 2 to save money.
8. Oshino Ninja Village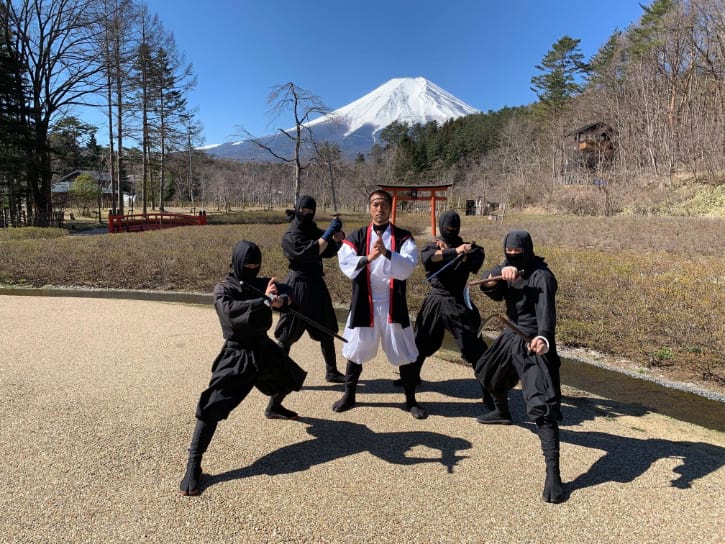 Drop by Oshino Ninja Village and witness some incredible ninja performances.
This scenic complex welcomes visitors with their one-of-a-kind presentations. And to make the shows even more exciting, they are all dressed up in character.
Be mesmerized by their amazing ninja fighting skills and techniques that are really fun to watch. While they are performing, you can also catch a glimpse of Mt. Fuji.
And if you have extra time, wander around the vast Japanese garden and enjoy the relaxing atmosphere.
9. Fuji Shibazakura Festival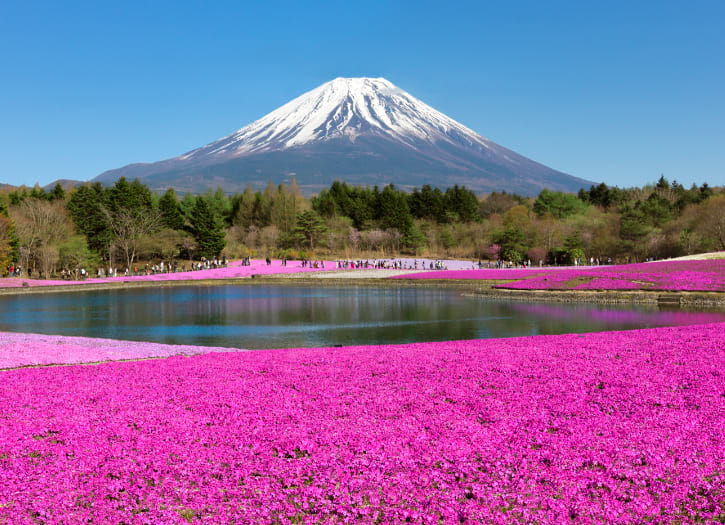 Held from April to May, the Fuji Shibazakura Festival is one of the most anticipated events annually. At this time, people flock to the Fuji Five Lakes area to witness the incredible landscape of Shibazakura.
Watch the beautiful combination of pink and purple hues that stretches up to 2.4 hectares of land.
The captivating flower scene is set against the unmatched backdrop of Mt. Fuji.
So, be ready to capture this spectacular sight or simply revel in the beauty straight from your eyes.
10. Oishi Park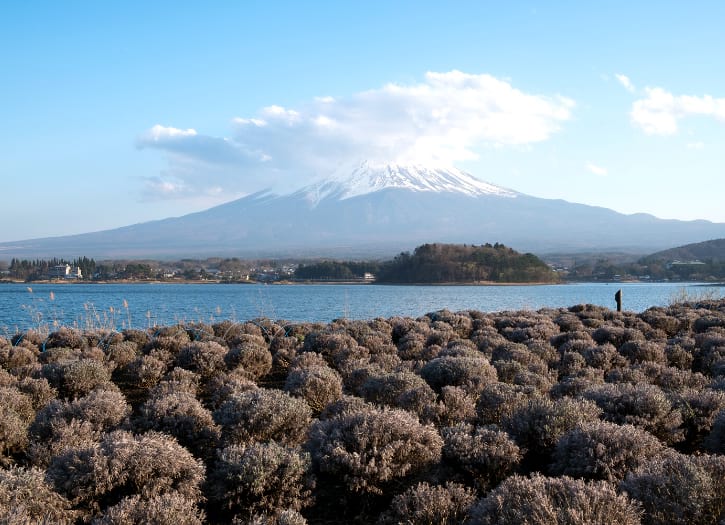 Stroll around Oishi Park and enjoy the picturesque nature views.
This park is very popular for its fields of lavender that are set near the panoramic Mt. Fuji and the pristine Lake Kawaguchiko.
Because of its gorgeous landscape, it has become a favorite among photographers.
And if you want to have a more amazing experience, try to visit the place during early summer. This is the best time to catch the Kawaguchiko Herb Festival and see the seasonal flowers in full bloom.
How to Tour Around Mount Fuji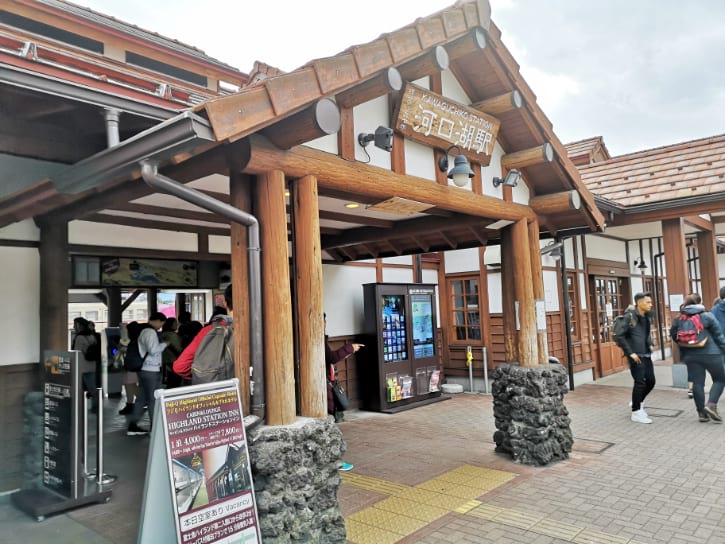 Once you reach Kawaguchiko Station from Tokyo, there are 5 types of buses to choose from. These buses help you get around the Mount Fuji area conveniently.
But be reminded that each bus covers different tourist spots. Don't worry because I'll explain everything in detail later on.
If you want to visit Chureito Pagoda, it's highly recommended that you take a train instead. It's the best and fastest way to reach the shrine. You can get more information about this option through point 6 written below.
1. Omni Buses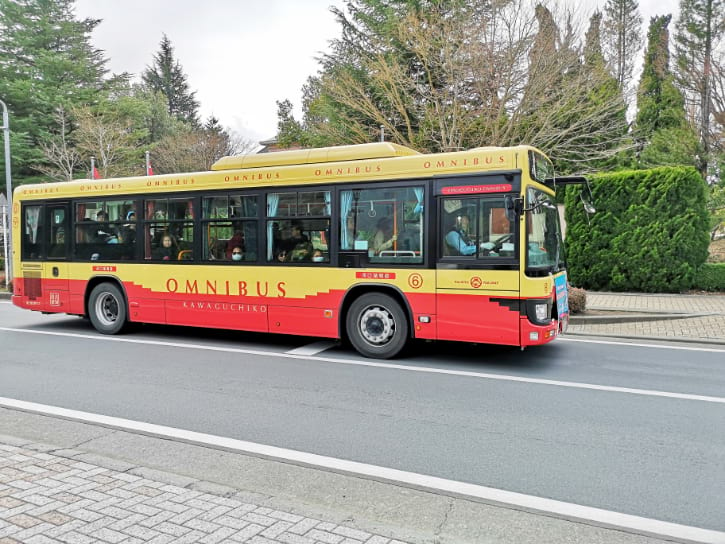 Omni buses have 3 lines, and these are Kawaguchiko Sightseeing Bus (Red-Line), Saiko Sightseeing Bus (Green-Line), and Narusawa/Shojiko/Motosuko Sightseeing Bus (Blue-Line). You can easily get on the buses upon arriving at Kawaguchiko Station.
If you want to save money, try to avail of the pass that offers unlimited use for all three lines.
You can use this pass for two consecutive calendar days. Each pass costs 1500 yen.
Red-Line: This bus covers major sights such as Kachi Kachi Ropeway, Kawaguchiko Music Forest, Oishi Park, and Fuji Q Highland
Green-Line: For attractions like Kawaguchiko Herb Hall, Saiko Bat Cave (Lava Cave), and Lake Saiko, choose this one.
Blue-Line: Take this if you want to visit Fuji Q Highland, Fujisan World Heritage Center, Fugaku Fuketsu (Wind Cave), Narusawa Hyoketsu (Ice Cave), and Lake Shojiko.
2. Fujikko-Go Bus
For those planning to go to Oshino Hakkai, Oshino Ninja Village, Fuji Q Highland, and around Lake Yamanakako, ride the Fujikko-Go Bus.
The two-day unlimited ticket for this bus is 1,500 yen per person.
3. Fuji-Subaru Line (Shuttle Bus)
If you want to reach Mt. Fuji 5th Station, take the Fuji-Subaru Line that is located at the Kawaguchiko Station. Then, get off the shuttle bus at the Fuji-Subaru Line 5th Station.
The one-way trip takes around 50 minutes while the bus fare is 1,570 yen. For the round-trip, it costs 2,300 yen.
4. Local Bus (Line A or Line C)/ Express Bus
Opt for the local bus (Line A or Line C) or express bus if you wish to go to Gotemba Premium Outlets.
If you choose the local bus, the single trip takes around 1 hour and 35 minutes and costs 1,540 yen.
For the express bus, the travel duration is about 1 hour and the price is 1,630 yen.
If the first or last stop of your trip to Mount Fuji is Gotemba Premium Outlets, you can visit this website. This will show you how to go from Tokyo and vice versa.
5. Shibazakura Liner (Shuttle Bus)
The last option is via the Shibazakura Liner (Shuttle Bus). This bus takes you from Kawaguchiko Station to Fuji Shibazakura Festival for roughly 40 minutes. The fare costs 2,200 yen, which already includes the entrance fee and round-trip.
Do take note that the Fuji Shibazakura Festival is only best to explore from mid-April until the end of May. The rest of the days are no longer worth the visit.
6. Fujikyu Railway Line
As mentioned earlier, if you want to explore Chureito Pagoda, you should take the Fujikyu Railway Line.
Ride the train from Kawaguchiko Station to Shimoyoshida Station, which takes around 15 minutes. You have to pay 310 yen for this one-way trip.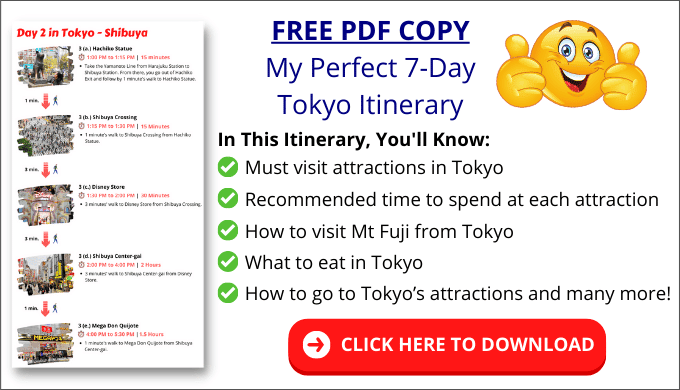 Mount Fuji Day Trip from Tokyo (Suggested Itineraries)
I have prepared some sample itineraries from Tokyo to Mount Fuji below to help you during your preparation.
Each itinerary will show you how long you should stay at each attraction. It also details out the ways on how to visit the places.
Also, don't miss to check out my perfect 7 day Tokyo itinerary, which is very helpful for first-timers!
Option 1: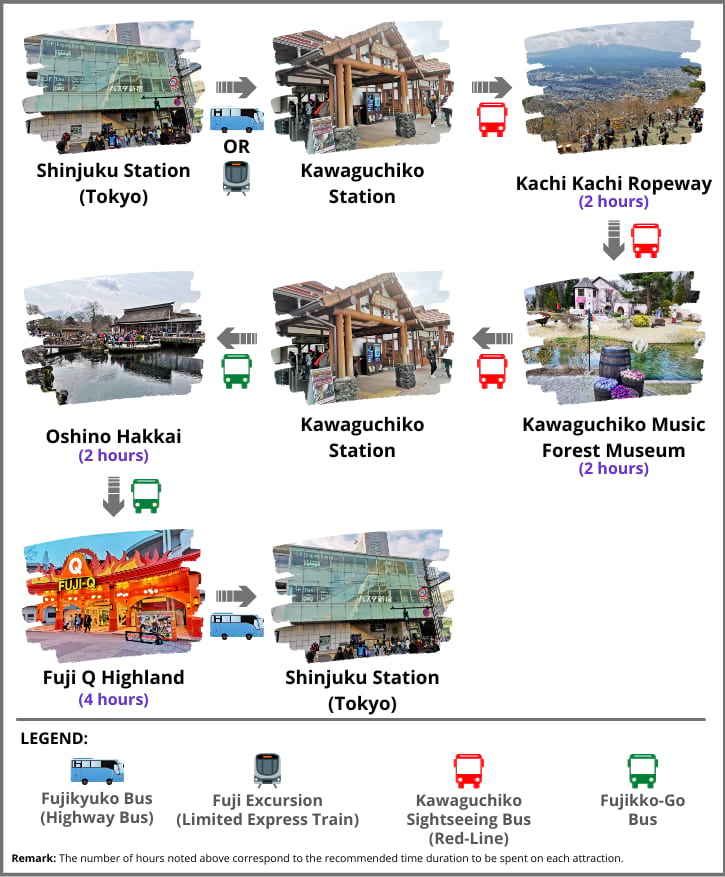 Option 2: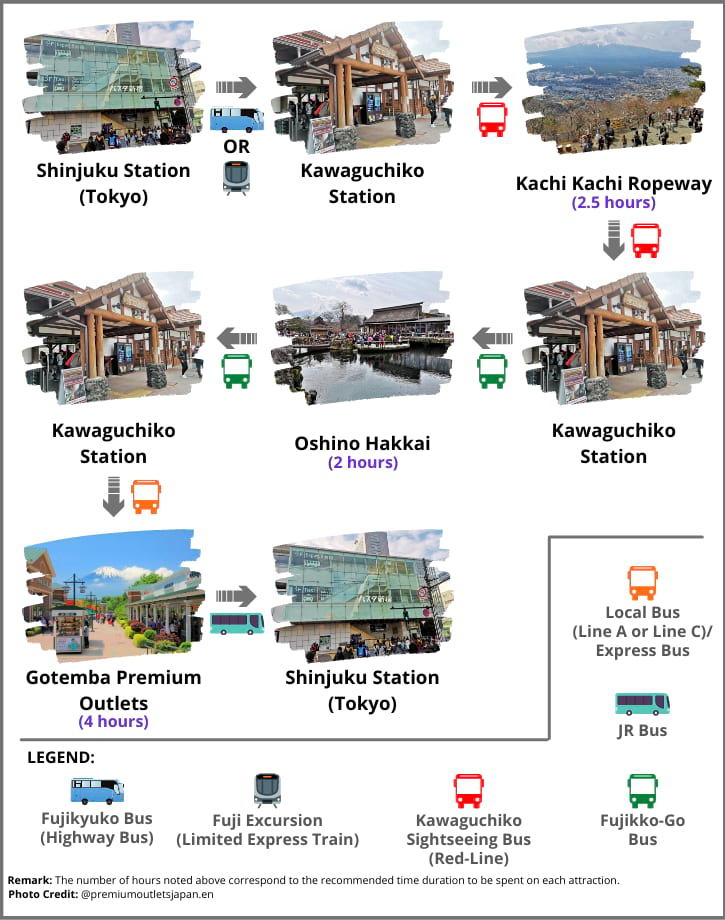 Option 3: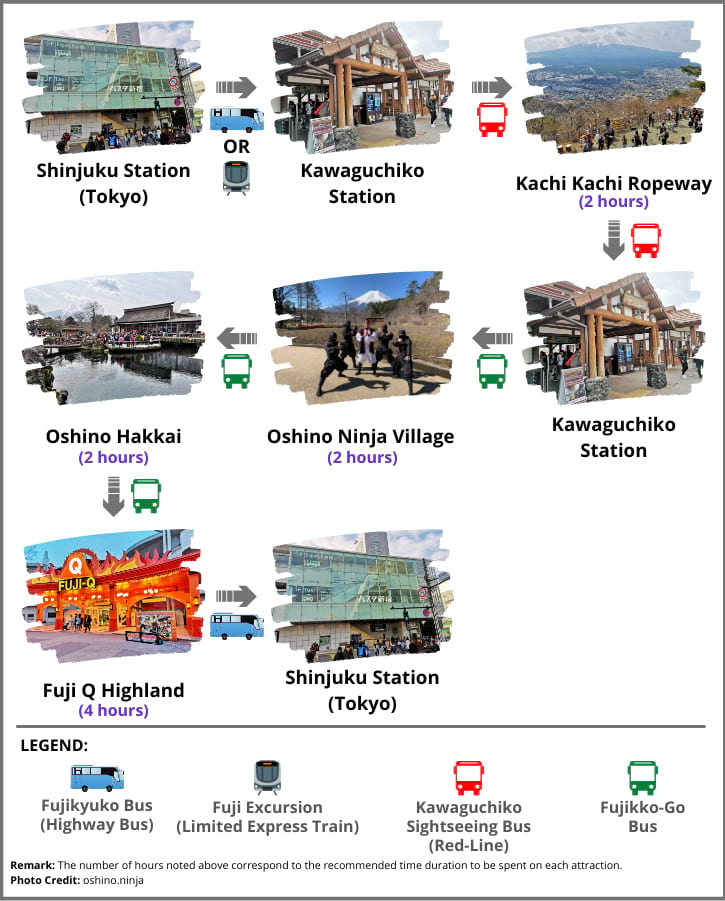 Option 4: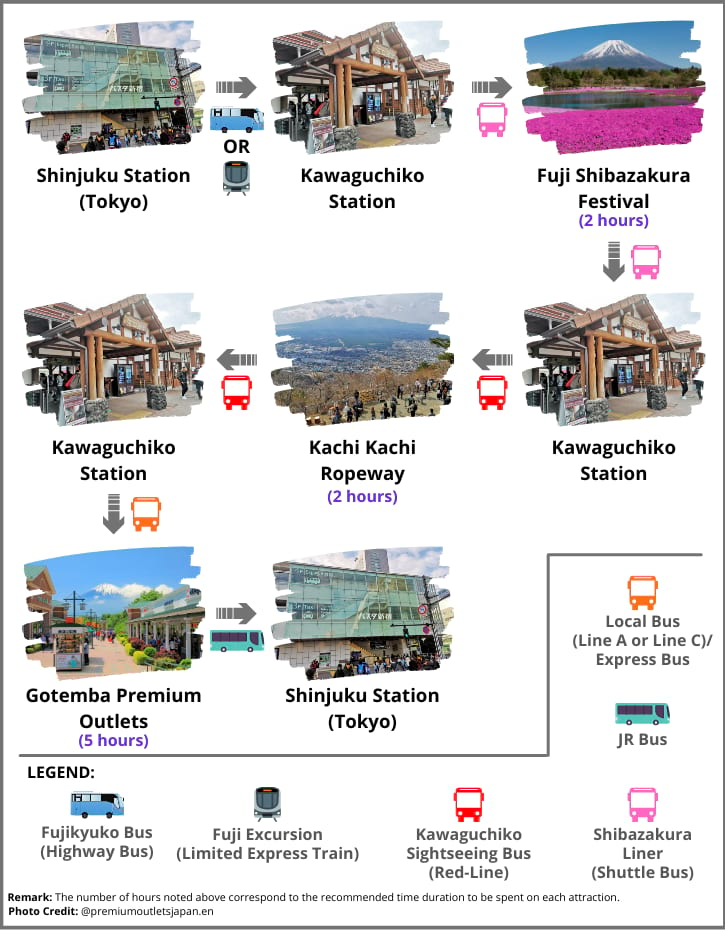 Option 5: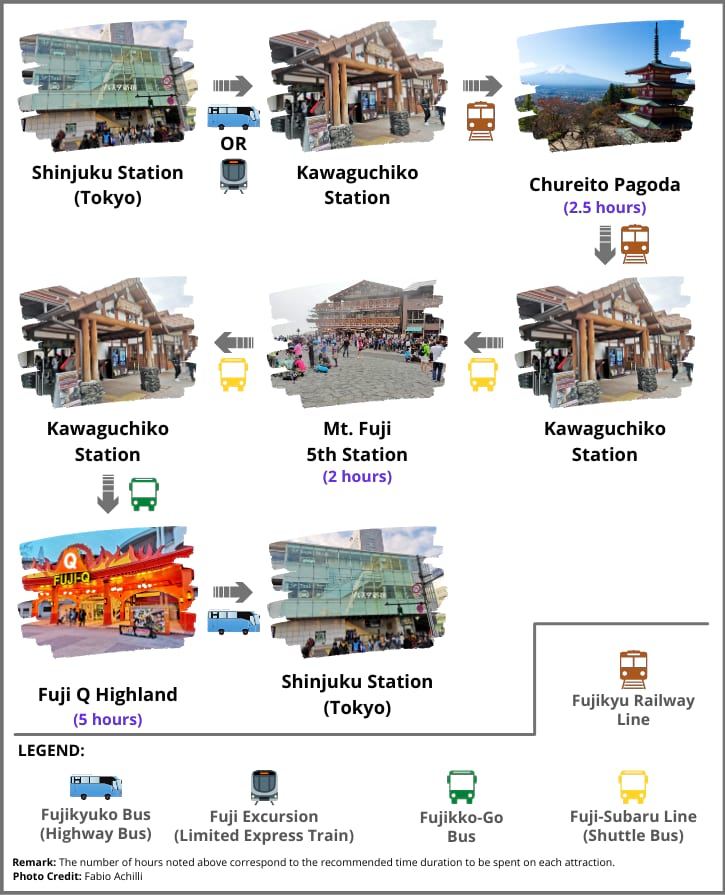 Related Posts