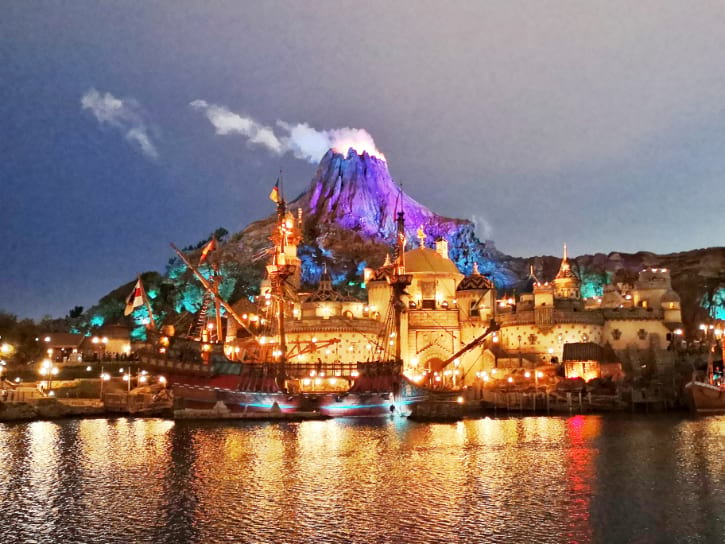 Is DisneySea your next vacation bucket list? If yes, this is the most complete guide to Tokyo DisneySea rides for you.
DisneySea is a very beautiful theme park in Japan that offers many attractions for you to experience. Enjoy the wide selection of rides, from thrilling to non-thrilling roller coasters. Make sure you also try the interactive 4D shooting games and a lot more.
So, let me introduce you to the 17 best Tokyo DisneySea rides and 2 must-watch shows through the list below. Also in this article, I will share some important things that you should take note of before visiting the site.
And if you have more days to spend in Tokyo, I highly recommend to read my article on top 35 things to do in Tokyo for other must-visit tourist spots. 🙂
1. Journey to the Center of the Earth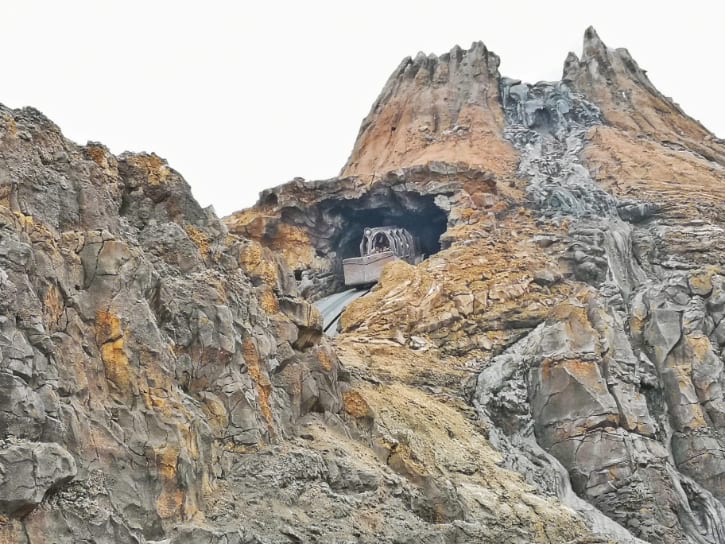 One of the most thrilling rides at Tokyo DisneySea is no doubt the Journey to the Center of the Earth.
Before you start with the epic journey, explore around the underground discovery and see the unique collection.
Right after, hop aboard the high-speed, slot car and be amazed by the dark yet spectacular ride. The entire journey is loaded with elements of thrill, bumps, and drops.
At some points, there will be scary characters to frighten you. And then, you will go through a series of backdrops and even feel a volcanic eruption.
2. Indiana Jones Adventure: Temple of the Crystal Skull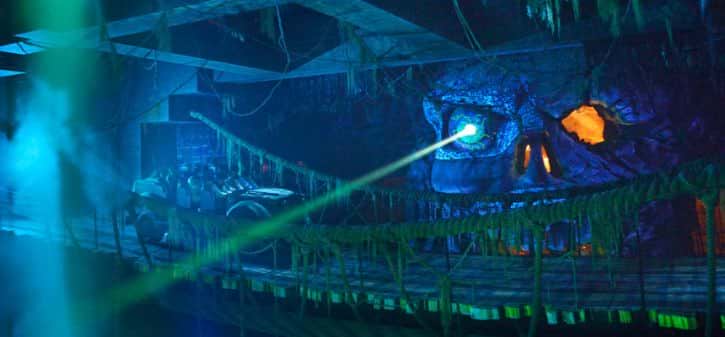 Indiana Jones Adventure is one of the worth-visit Tokyo DisneySea attractions for new tourists. This electrifying, high-speed ride welcomes you to an ancient temple exploration.
Go through the anger of the crystal skull and experience the loud sounds and thrilling lights.
Along the way, there will be lots of surprises, including a creepy section filled with beetles.
You will also come across a scary area with giant snake-like animation. To top it all, you will undergo a split second of darkness for more amazing revelations.
3. Tower of Terror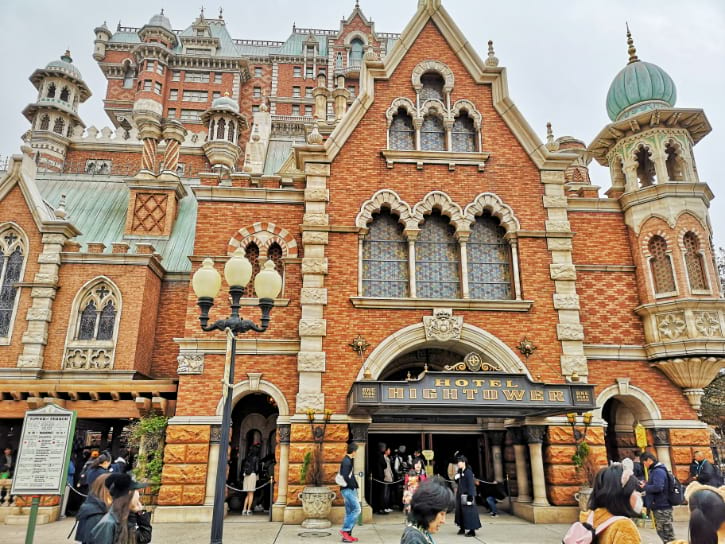 Tower of Terror is another must-try attraction that should be covered during your visit. Considered as DisneySea's scariest ride, this is such a fun place to conquer your fear and test your courage.
Navigate the tower and feel the creepy ambience surrounding the area.
And just a precaution―don't get too relaxed while inside the elevator because that's where the real thrill begins.
Endure the stimulating elevator adventure that is loaded with high-speed drops.
While keeping up with the intense falls, you will be bombarded with a lot of frightening elements.
4. Raging Spirits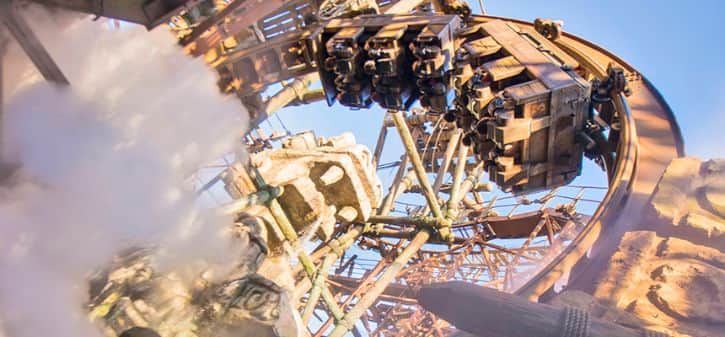 Raging Spirits is a short yet high-speed ride that transports you to an ancient ceremonial site.
This is highly recommended for anyone who wants to have an extreme rollercoaster expedition.
Witness the excavated ruins while enduring the breath-taking spins and quick drops.
And during the trip, there will be fire and smoke effects to make the journey more thrilling.
Additionally, it's the only coaster in Tokyo DisneySea that offers 360-degree inversion.
So, if you're looking for a ride that will turn your world upside down, add this to your list.
5. Toy Story Mania!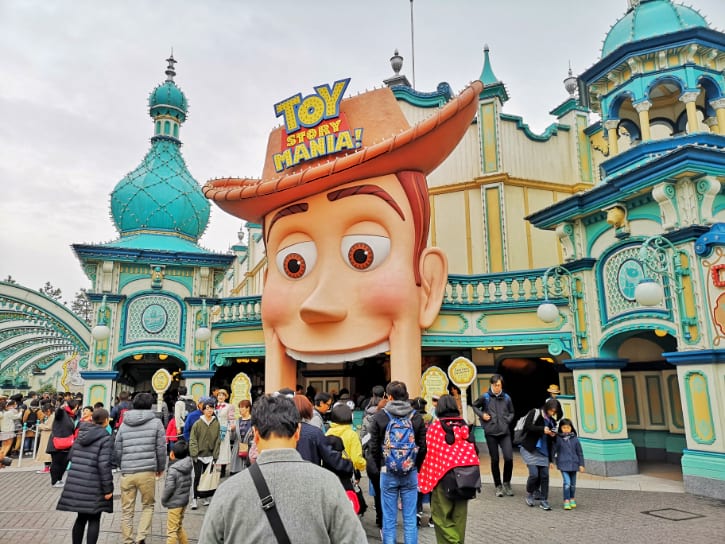 Who says Tokyo DisneySea is all about heart-thumping rides and nerve-wracking attractions?
Toy Story Mania is a great indoor experience that lets you play a virtual game while seeing your favorite characters.
Ready yourself as you delve into this fun, interactive ride that comes with a 3D projection. Shoot the targets while enjoying the special effects and sounds.
This indeed is a very entertaining and engaging activity for those travelling with their kids.
6. Soaring: Fantastic Flight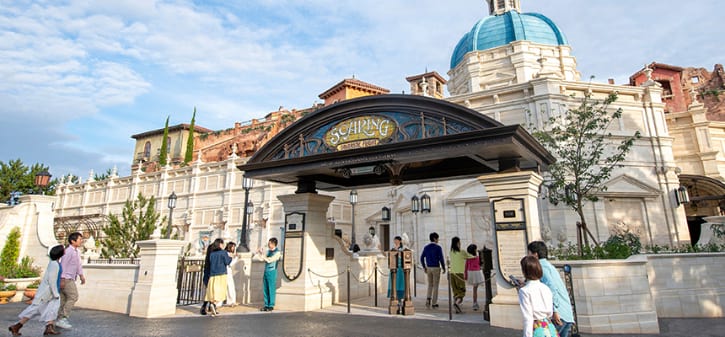 Soaring: Fantastic Flight is always part of the list of top Tokyo DisneySea rides because of its unique features. This flight motion simulator lets you virtually tour around the world.
Sit on the Dream Flyer and buckle up for a high-flying expedition. Here, you'll have the opportunity to visit the snowy mountains of Everest, Antarctica's sea of ice, and the opera house of Sydney.
Other iconic landmarks you'll see include the Neuschwanstein Castle, the Great Wall of China, and the hot air balloon in Cappadocia, Turkey. And then it takes you to Tokyo tower and lastly, DisneySea.
7. 20,000 Leagues Under the Sea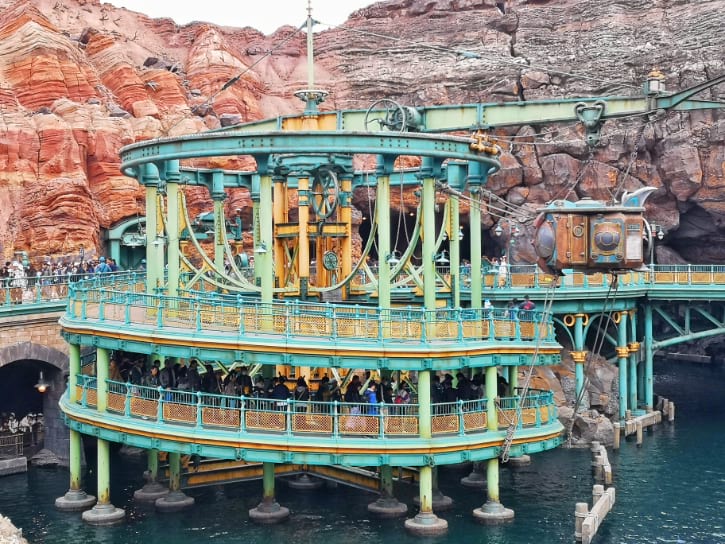 The 20,000 Leagues Under the Sea offers you an exceptional underwater ride.
Through this incredible expedition, you get to experience how it feels like to be submerged under the ocean.
Follow the memorable adventure of Captain Nemo as you settle yourself inside the 6-seater submarine. Join his quest as he discovers the lost empire of Atlantis.
And then, watch the very realistic water surface from the portholes and enjoy the thrill while onboard.
8. Sindbad's Storybook Voyage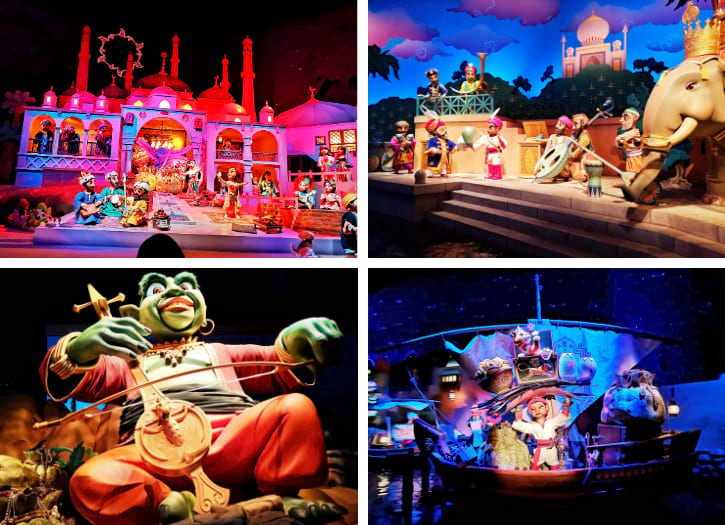 Spend a 13-minute adventure with Sindbad's Storybook Voyage. This spectacular boat ride journeys you through the Arabian coast.
And just like the movie, this outlines the adventures of Sindbad and his loyal tiger, Chandu.
There will be a lot of interesting sections to see here, starting with Sindbad's send-off from his village.
Track down his encounters with a giant, some mermaids, apes, and sultans.
During the cruise, you will come across local merchants and glittering treasures. And don't miss to sing along with the famous Japanese song, "Compass of your heart".
9. Fortress Explorations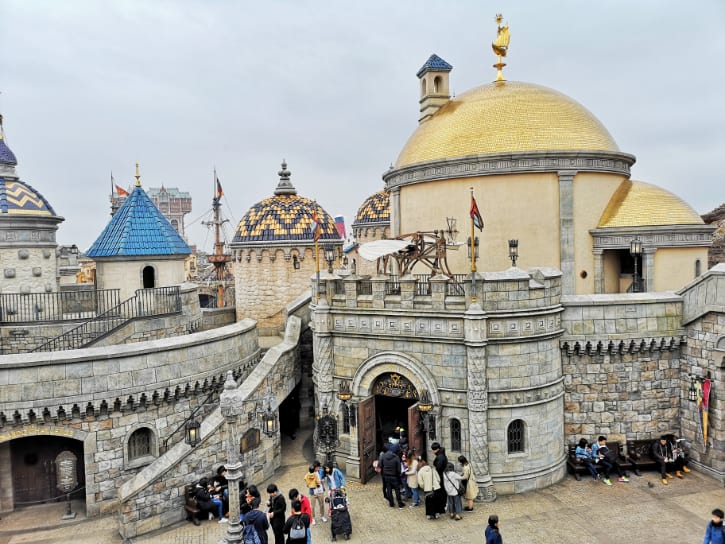 Fortress Explorations is such a unique spot that deserves a mention. Step into the historical area and discover the fortresses surrounding the complex.
There are two main areas here―the castle fortresses and the harbour dock.
See up close the towering castles and spectacular exhibitions while navigating around.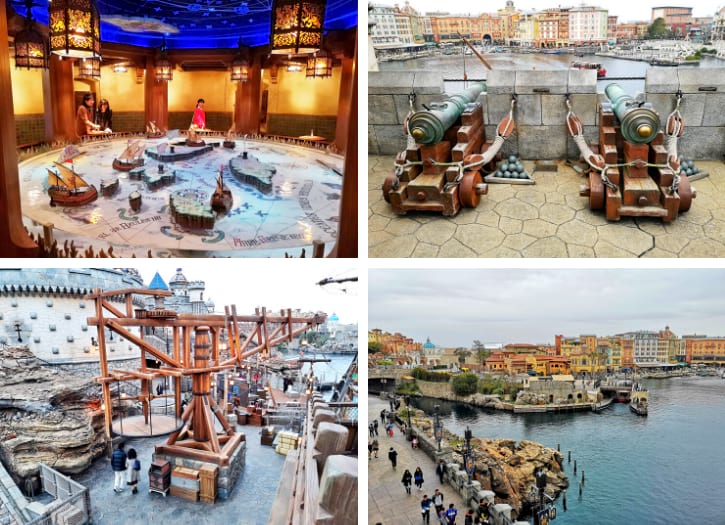 Continue with your exploration and uncover multiple hallways filled with unique collections. These include nautical instruments, galleons, and even cannons.
And while inside this site, you'll have a chance to catch the entire view of DisneySea.
10. Nemo & Friends SeaRider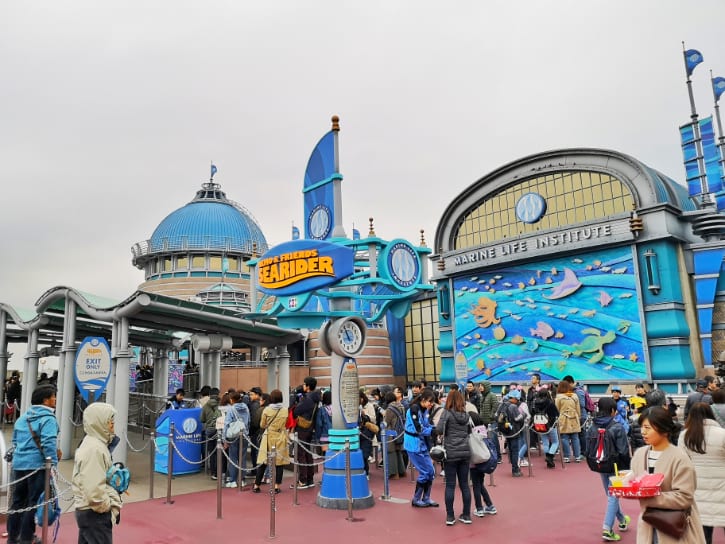 Nemo & Friends SeaRider is a fun ride for all ages. In this site, you are given the opportunity to explore the underwater domain.
Using the shrinking material called chiziminium, you will fit inside a fish-sized submarine or the SeaRider.
After your virtual transformation, you will be completely immersed in the colorful marine world. Meet various sea creatures such as Nemo, Dory, Marlin, Mr. Ray, Crush, and more!
11. Aquatopia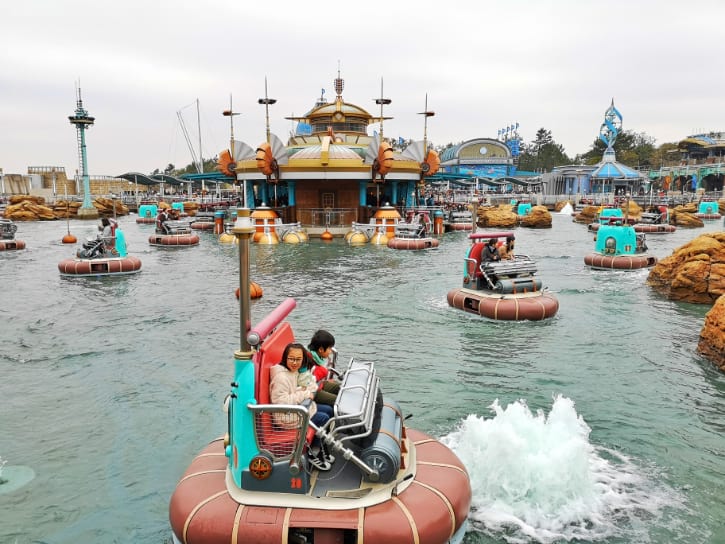 Enjoy the outdoors and ride the Aquatopia with your partner. This is like a bumper car but with a twist. Instead of coursing a certain road, you are just circling around the pool.
And since you are not pressured to do anything, you simply go with the flow. Kill time as the twirling watercraft revolves in any direction.
Surely, this is no doubt a nice spot to relax and have a uniquely pleasurable expedition.
12. Venetian Gondolas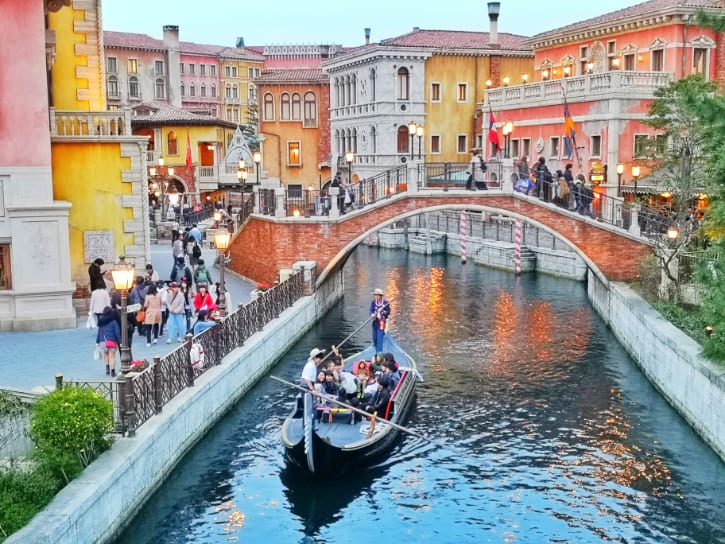 Venetian Gondolas is also a popular attraction in DisneySea among first-time visitors.
This boat ride transports you to a Venice-like destination. So, if you want to experience the famous water city while in Tokyo, this is your chance.
Sit on the gondola and get mesmerized by the surrounding landscapes that mimic the shophouses and lush scenery of Venice.
The best time to cruise the canal is during sunset when the golden lights shine across the buildings.
13. DisneySea Transit Steamer Line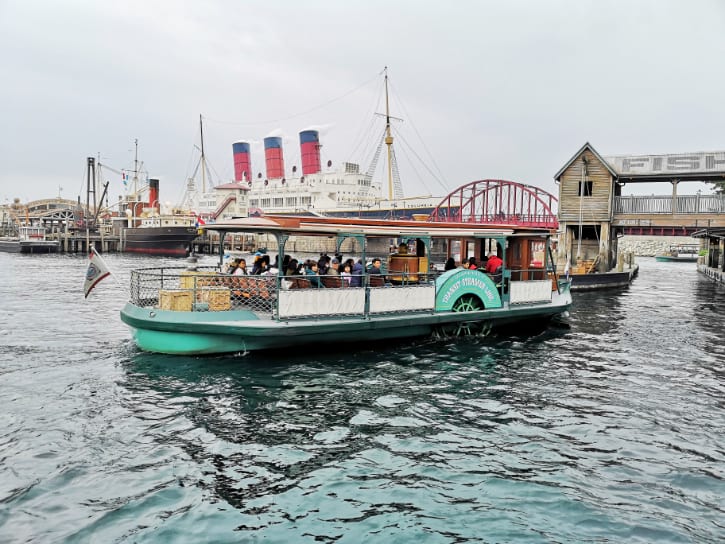 If you want to see more of the beauty of Tokyo DisneySea, then ride on the Transit Steamer Line.
This 49-seater steamer has three docks. These are located at the American Waterfront, Mediterranean Harbor, and Lost River Delta. And conveniently, you can choose your preferred starting point.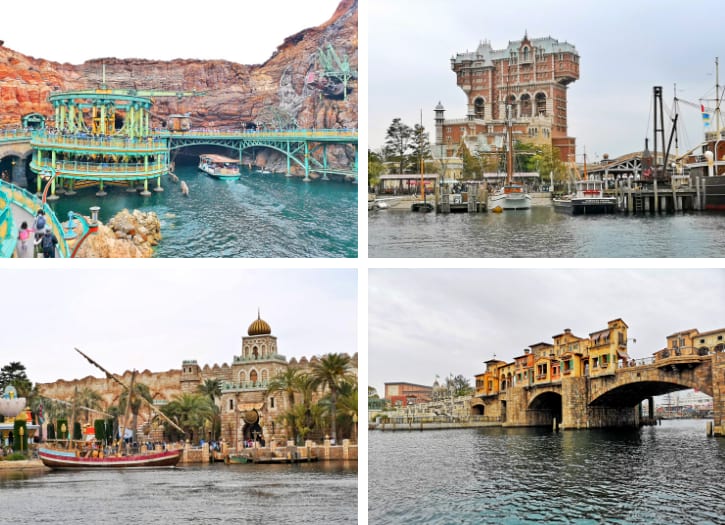 While aboard the boat, relax and enjoy the breath-taking views of the river. And of course, you can't miss the park scenery. Catch a glimpse of the towering structures and spectacular sites.
14. DisneySea Electric Railway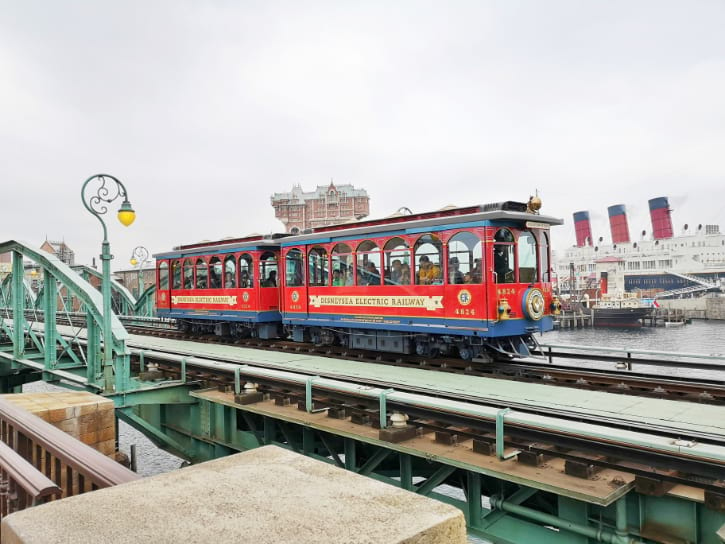 DisneySea attractions' wouldn't be complete without the Electric Railway. Ride the train and wander around the theme park with ease.
So, if you don't want to walk to a specific destination, simply catch this trip.
The train lets you see the beautiful spots in the park in one spectacular trip.
Make sure you add the DisneySea Electric Railway to your must-try transportation rides. For sure, you'll be in awe of the impressive scenes from your seat.
15. Jasmine's Flying Carpets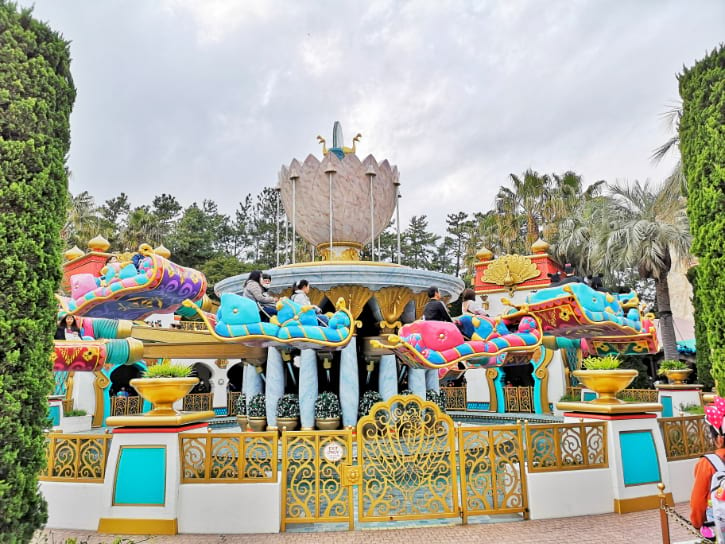 Jasmine's Flying Carpets takes you above the ground for a dumbo-like spinning ride.
This is absolutely a great coordination game for those with family and friends.
Witness the breath-taking park scenery as you soar high. And to make your ride more exciting, you can move your carpet up or down to avoid the water from the centre.
The front area controls the vehicle height while the back seat manages the tilt.
After the aerial trip, strike a pose together with Rajah, Jasmine's pet tiger. You can find this statue at the front.
16. Scuttle's Scooters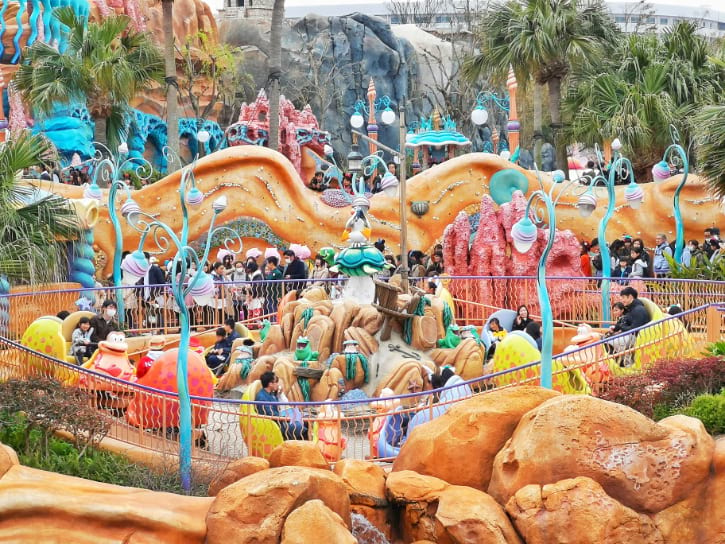 If you prefer a chill yet still entertaining trip, Scuttle's Scooters can grant your wish. Climb on top of the hermit crab seat and get ready for an amusing adventure.
This caterpillar type of ride is very suitable for travellers with kids.
Be charmed by adorable designs and slow-spinning of the coaster. Here, you just take a seat and go with the flow.
17. Triton's Kingdom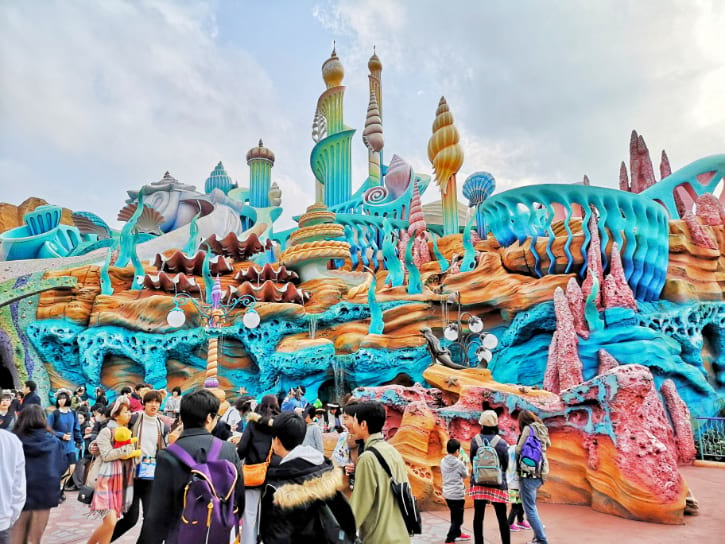 For those looking for the most iconic Tokyo DisneySea attractions, Triton's Kingdom is definitely part of the ranking.
Since this place is brimming with colors, make the most out of the abundant backdrops for photography.
Along with that, there are plenty of things to do inside the palace. So, let me walk you through the list below.
i. Blowfish Balloon Race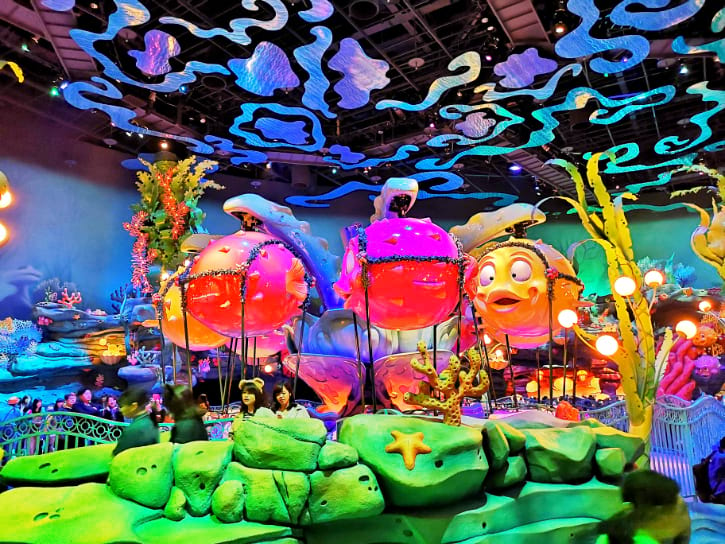 Hop into these scary yet charming sea creatures and experience an underwater spin.
The Blowfish Balloon Race gives you amazing swinging motion, just enough for you to awaken your senses.
Surely, the spinning of your seat makes this a unique experience.
ii. Mermaid Lagoon Theater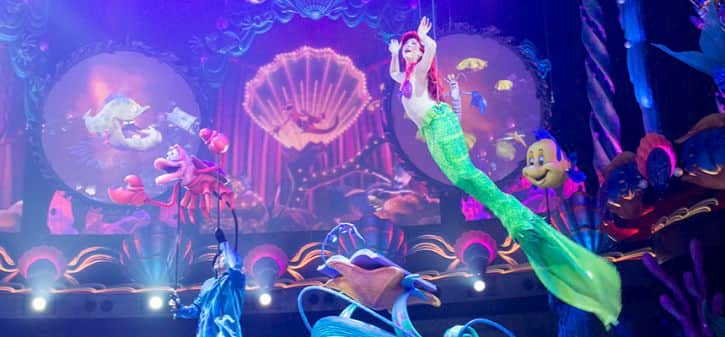 Mermaid Lagoon Theater is a crowd favourite because of its musicality and creativity.
Catch how the mermaid-dressed artist recreate some scenes from the Disney movie, the Little Mermaid.
One of the highlights of the performance is the realistic movements of Ariel.
Get mesmerized by her beautiful dancing that looks like she's underwater. See how she glides and flips, together with some gorgeous sea creatures moving around.
iii. The Whirlpool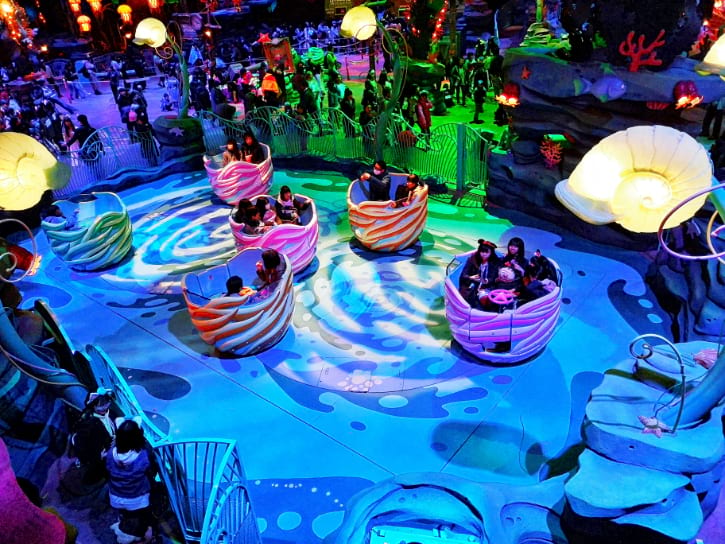 The Whirlpool offers you a distinctive teacup adventure same as Alice's tea party in wonderland.
But instead of under the tree venue, you will be underwater, surrounded by impressive sea designs.
Get charmed by the fast-paced twirling and treasure this one-of-a-kind whirlwind ride.
The Best Tokyo DisneySea Rides and Attractions (Summary)
Top rides for thrill seekers: Journey to the Center of the Earth (#1), Indiana Jones Adventure (#2), Tower of Terror (#3), Raging Spirits (#4)
Top rides for non-thrill seekers: Toy Story Mania (#5), Soaring: Fantastic Flight (#6), 20,000 Leagues Under the Sea (#7), Sindbad's Storybook Voyage (#8), Nemo & Friends SeaRider (#10), Venetian Gondolas (#12), DisneySea Transit Steamer Line (#13), Jasmine's Flying Carpets (#15)
Must-see attractions: Fortress Explorations (#9)
Time-Saving Method:
During our personal visit to the theme park, we booked our online tickets ahead of time. And we're lucky we did this because there were long queues at the ticketing counter on that day.
If you want to take a look and follow our method, book the DisneySea tickets here.
Once booked, you'll receive an e-ticket in advance. You simply scan your e-ticket at the entry gate and start your DisneySea adventure in no time!
My Suggestion:
Other than going to Tokyo DisneySea, I encourage you to visit Disneyland as well since this is just located beside the park.
Go check out my full list of Tokyo Disneyland rides here for an idea of the must-try attractions and must-see shows there.
However, it's suggested not to visit both parks on the same day. These two should be visited separately to avoid rushing your schedule. Ideally, you can complete both parks in 2 days.
And for those who travel with kids, you can visit Hello Kitty Land too. This park has many activities for your kids to play around.
So, make sure to see my guide to Sanrio Puroland if you want to get more ideas on what you can do and see there.
Planning a trip to Tokyo? Read my personal tried and tested 7 days in Tokyo Itinerary so you can know how to maximize your time while travelling!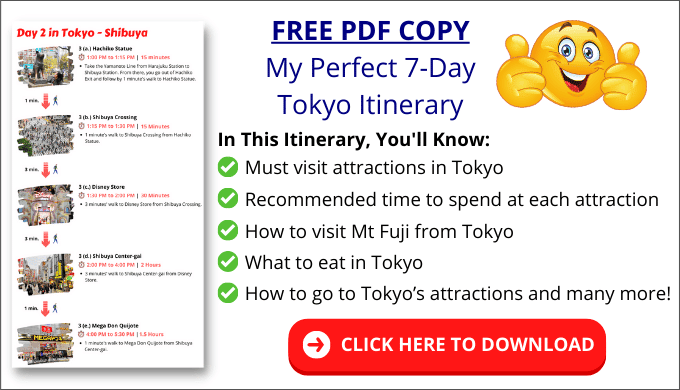 Top Shows at Tokyo DisneySea
1. Big Band Beat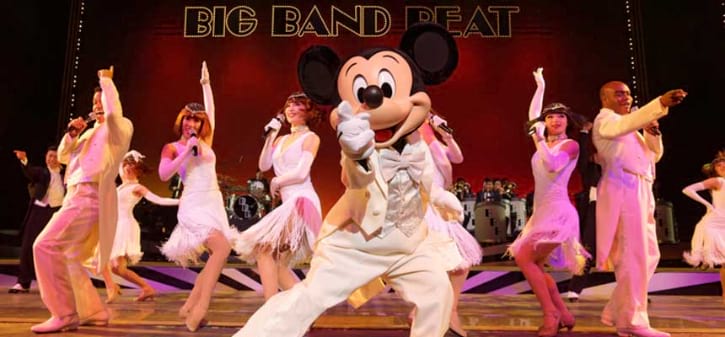 Big Band Beat is considered to be one of the very famous shows you should watch while in Tokyo DisneySea.
This live stage performance is a Broadway-like musical that showcases a lot of dancers and musicians.
But unlike normal shows, the main star here is Mickey Mouse. Be amused with his drum and tap-dancing performances.
Other anticipated Disney characters are Minnie Mouse and Daisy Duck. Watch them dance and sing to the lively beats, together with the talented artists on stage.
2. Mickey & Friends Harbor Greeting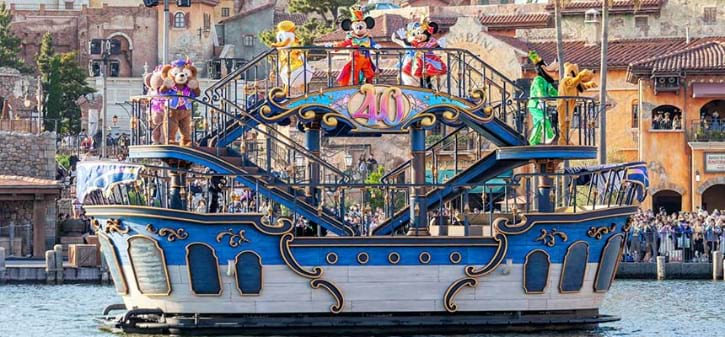 Say hi to your favourite Disney character at Mickey & Friends Harbor Greeting.
This is where you'll see Mickey Mouse and Minnie Mouse in their kimono-style clothing.
Watch them dance on top of the boat, along with their friends Daisy Duck and Donald Duck.
You'll also see Goofy, Pluto, Chip, and Dale grooving around and waving to the crowd.
And don't worry because the boat circles around the Mediterranean Harbor for 10 minutes to give you more time.
Disney Characters
From Mickey Mouse to Pinocchio to Gideon, the theme park is full of the popular Disney characters.
So, make sure to greet them along the way and strike a pose with your faves.
1. Mickey Mouse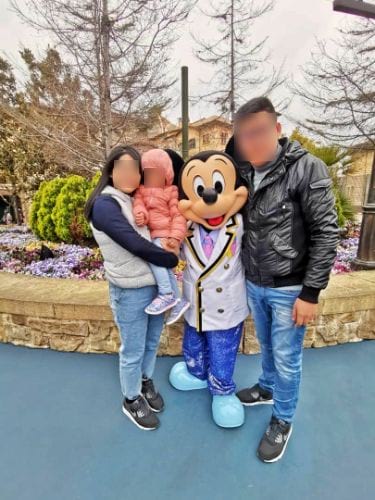 Interact with the ever-cheerful Mickey Mouse. This happy-go-lucky icon is as jolly as he is on the screen.
You can find him across different spots in the DisneySea Plaza. So don't miss him as he welcomes visitors with his bright smiles and open arms.
2. Goofy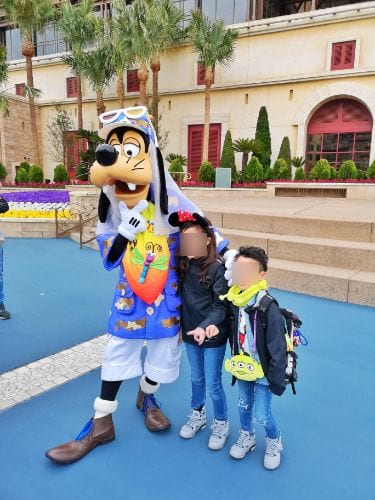 Spend time with the good-spirited Goofy while waiting for the rest of the gang!
This clumsy yet humorous dog is one of the crowd favourites because of his undeniable charms.
3. Pluto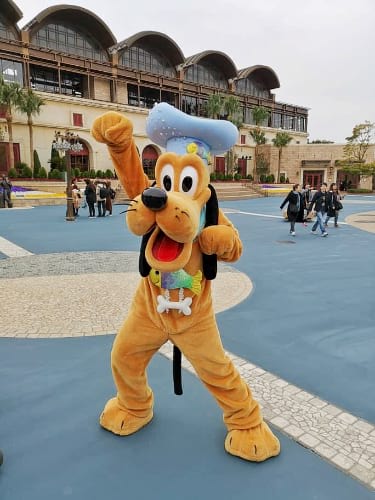 Take a picture with Pluto and get amused by his clever and animated antics. This yellow-orange dog is always in a bright mood to greet everyone.
4. Donald Duck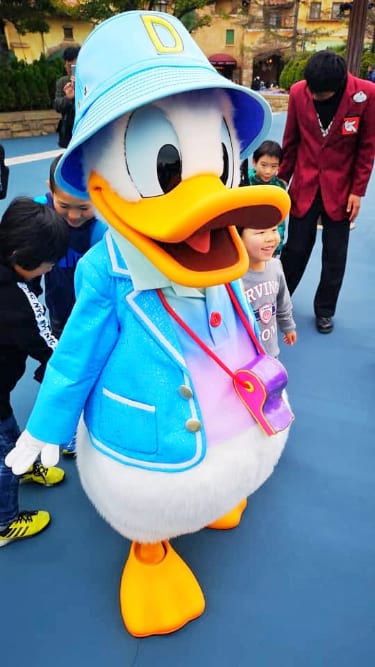 Spot Donald Duck as he walks around the park full of bright colors and cheerful attitude.
Since he is a beloved character among tourists, there's no shortage of his presence around the place.
You can find him not just at Disney Plaza but sometimes at Mermaid Lagoon.
5. Daisy Duck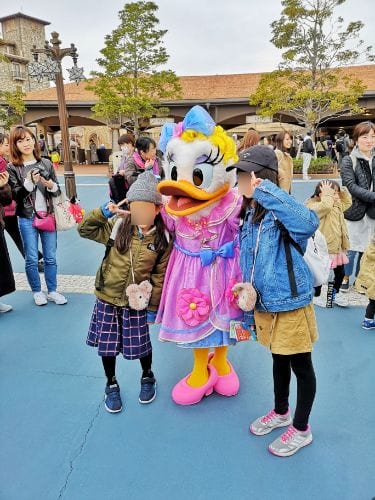 Get one comfy embrace from Daisy Duck. This bubbly and outspoken character is always known for her affectionate charms, so don't miss to snap a photo with her.
6. Genie and Jafar Aladdin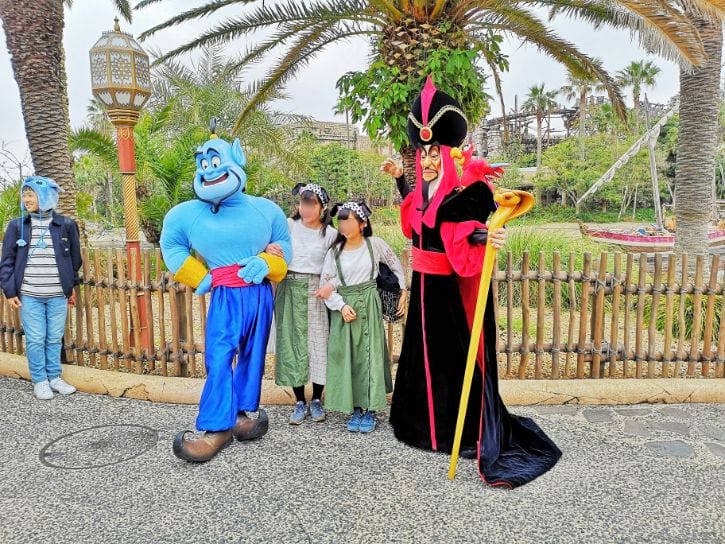 Run into Genie and Jafar from the famous movie, Aladdin. These two characters will surely grant your wishes―particularly if this is for photo shooting! Therefore, take advantage of this rare chance and see them up-close.
7. Pinocchio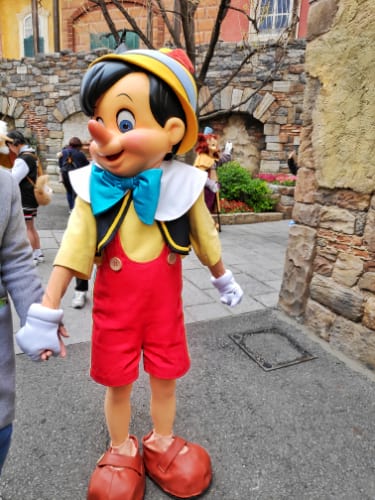 There's a high chance that you'll be meeting Pinocchio during your visit to the park.
Catch him dancing, hugging people, and doing just about anything to keep them entertained!
8. Geppetto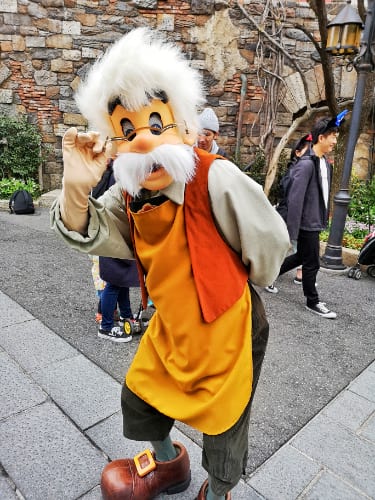 Geppetto is always available for photo shoots. With his cosy looks and soft character, he is definitely one of the most approachable mascots around.
9. Jiminy Cricket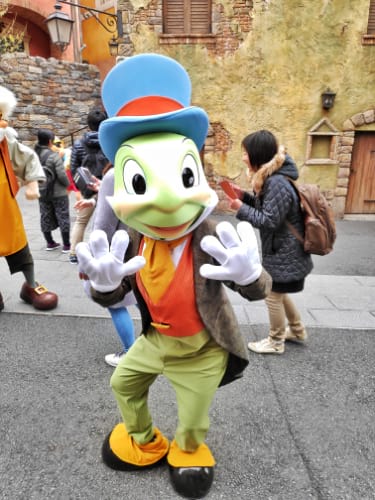 If you're a fan of Jiminy Cricket, this is the place to see him in person! Share some lines of his signature song "When You Wish Upon a Star" while you capture his adorable pose.
10. John Worthington Foulfellow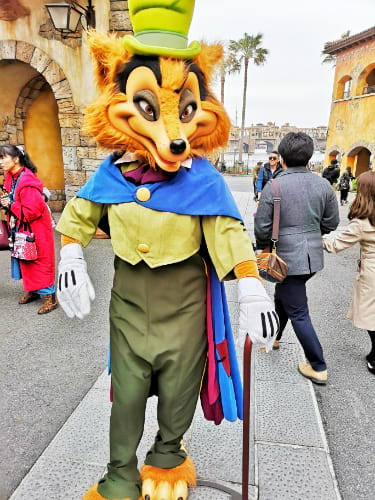 Don't be deceived by his villainous look because John Worthington Foulfellow is actually very friendly. Though he is known to be the antagonist in Pinocchio, he is a real-life charmer among tourists.
11. Gideon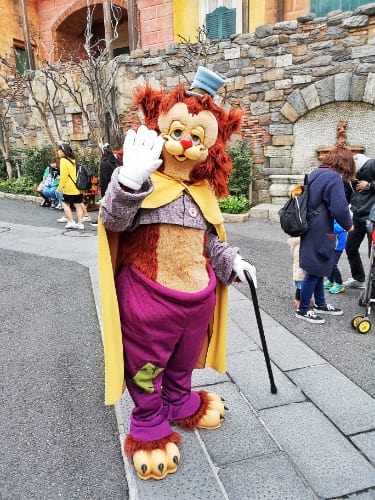 Gideon's drowsy face may appear as a letdown. But try to approach him and you'll be surprised by his polite nature.
So, spend time with this delightful character who loves to greet everyone in the park.
Something to Take Note Of
There are 5 tips I would like to share to help you navigate the theme park easily.
These key information and insights are very beneficial so take your time to know them and apply them during your trip.
1. See the park schedule in advance
Sometimes, the rides in the park will shut down for maintenance. Therefore, you should check DisneySea's ride closure date before going. With the help of this, you won't be missing the things that you want to ride on that day.
2. Know the live wait times
To save time, take a look at the Tokyo DisneySea live wait times page beforehand. This is important so you get an idea of the waiting time for every attraction and help you prioritize rides with shorter lines.
3. Check the official site
Before visiting the park, I suggest that you also visit the DisneySea's show schedule website to verify the exact showtimes. Having knowledge of the schedule makes it easy to plot your itinerary.
4. Evaluate the crowd level
Get the latest updates of the crowd level through the crowd calendar website. This online source gives a forecast and previous history of the crowd levels.
To know the crowd level, simply choose the date from the calendar that is label between "A" and "S". "A" is the one with the very least crowd while "S" is the most crowded. It's suggested to pick a date with a label from "A" to "D" to have a lesser crowd during your visit.
5. Getting There
Going to DisneySea is pretty simple. You just have to choose from the 2 options, which are train and bus.
If you depart from the Haneda or Narita Airport, taking a bus will be the best selection. But if you're from Shinjuku, Tokyo Station, and Asakusa, the train will be the perfect transport choice.
Don't forget to check my detailed guide to getting to Tokyo DisneySea for a more detailed list of steps. This will guide you in going to the theme park from different departure locations.
Tokyo DisneySea FastPass
The Disney FastPass is an efficient way to save your time and bypass the long queue for the popular rides. This is very helpful, especially during crowded days.
Using your FastPass ticket, you can jump up in the fast lane for the famous rides instead of lining up at the normal lanes. And the best thing is Tokyo DisneySea provides free FastPass to every visitor.
You can download the Tokyo Disney Resort App if you want to redeem your FastPass via an app.
To know more about the pass and how to get them, check out the DisneySea FastPass guide here.
One particular attraction with high in-demand FastPass is the Toy Story Mania. Because of its popularity, this often runs out an hour after the park's opening. So, make this ride as one of your priorities.
Related Posts
Photo Credit:
Tokyo Disney Resort