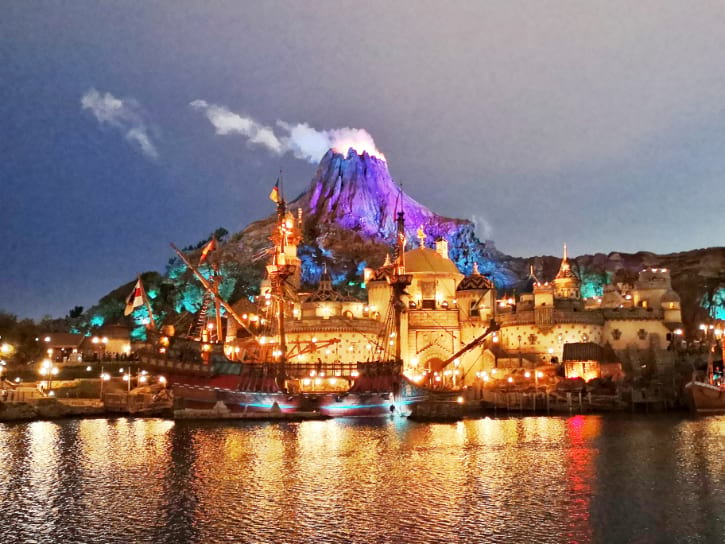 Is Tokyo DisneySea your next vacation bucket list? If yes, this is the most complete guide to Tokyo DisneySea rides and attractions for you.
This magical theme park has many thrilling and non-thrilling rides for you to experiences. If you want some action-packed entertainment, there are terrifying roller coasters as well as an interactive 4D shooting game.
Likewise, you can choose from the impressive collection of motion simulator attractions and scenic boat rides. Clearly, Tokyo DisneySea is full of fantastic experiences for every visitor. So, to make your planning easier, here are the best Tokyo DisneySea rides.

Pro-tip
Let's get started!
17 Best Tokyo DisneySea Rides and Attractions
---
1. Journey to the Center of the Earth

(Popular)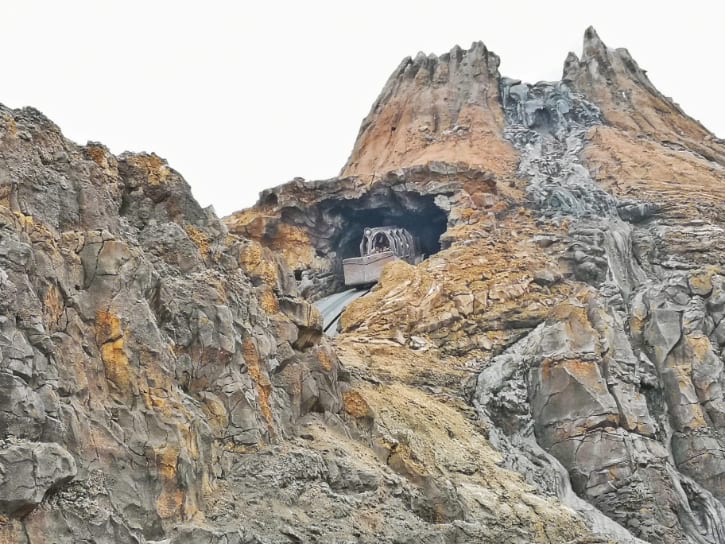 Is Thrill: Yes
One of most thrilling rides at Tokyo DisneySea, the Journey to the Center of the Earth is unlike no other. This is a great tune-up for those eyeing for legit excitement and fun.
Be ready for an epic journey with Captain Nemo―a mysterious genius who has uncovered a world within Mount Prometheus.
Before leaping aboard the high-speed, slot car, you can explore around the underground discovery. See the collection of books, tools, and creations displayed below the crystal caverns. Look into all the details and you will appreciate all the intricate workspaces bounded with lots of notes and artifacts.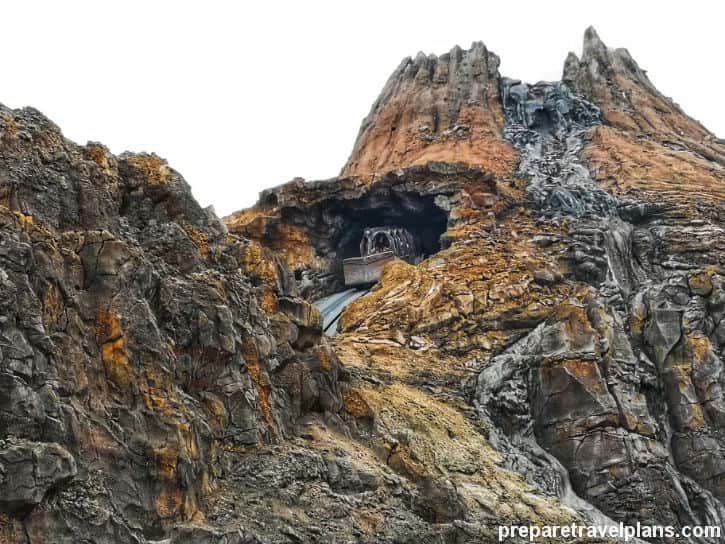 Go through a series of different backdrops, from fractional darkness to towering scenes. The thrill you'll experience in this ride is definitely one of a kind. At some points, you will encounter scary characters knocking your sanity. And then, you will feel a volcanic eruption shaking your senses.
All the lights, sounds, and special effects make this ride simply amazing. So, if you want a dark yet spectacular ride, then you won't be disappointed. Journey to the Center of the Earth has that complete element of thrill, bumps, and drops along the way.
2. Indiana Jones Adventure: Temple of the Crystal Skull

(Popular)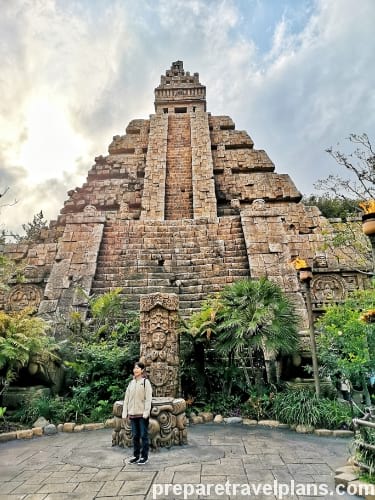 Is Thrill: Yes

Brave the journey to the Temple of the Crystal Skull and experience an electrifying, high-speed vehicle dark ride. This attraction takes you through an ancient temple filled with all sorts of excitement. Witness how the crystal's skull spirit unleashes its anger through loud sounds, thrilling lights, and a fast-paced ride.
But before putting yourself into this amazing journey, make sure you see the incredible stone carvings embellished outside the temple. Even the main pyramid chamber is a sight to see!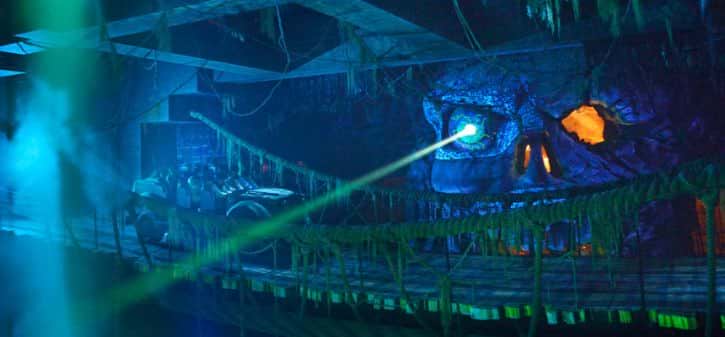 As you make your way to the temple, it's not hard to love the sheer expansiveness and spectacular design. It's like you are in a real Indiana Jones movie setting―ancient decorations, colorful murals, and intricate carvings.
There'll be lots of surprises all throughout the ride. Expect for a creepy section filled with beetles and a scary area with giant snake-like animation. To top it all, you have to go through a split second of darkness for another set of amazing revelations. And, you might even get lucky to see a Disney Cast Member dressed in a Harrison Ford costume.
So, keep an eye out for the famous Fedora hat! Indiana Jones Adventure: Temple of the Crystal Skull is definitely one of the worth-visit Tokyo DisneySea attractions.
3. Tower of Terror

(Popular)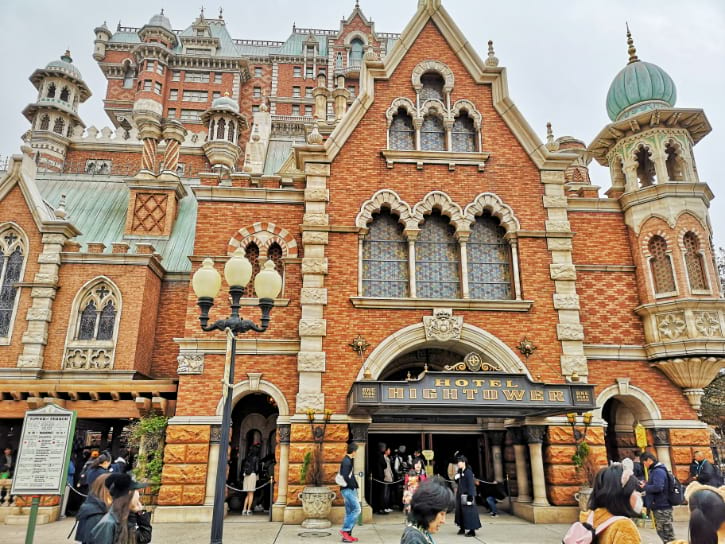 Is Thrill: Yes
Tower of Terror is definitely a must-visit attraction for the brave hearts. And for your information, this one is dubbed as DisneySea's scariest ride. So, if you've got an eye for horror, this is such an incredible adventure.
Surprisingly, this attraction isn't just all about scary elements or frightening sounds. It's actually a high-speed free-fall drop ride, which adds more thrill and terror to your visit. To give you a little preview, the Tower of Terror follows the story of the mysterious disappearance of the hotel's owner back in 1898.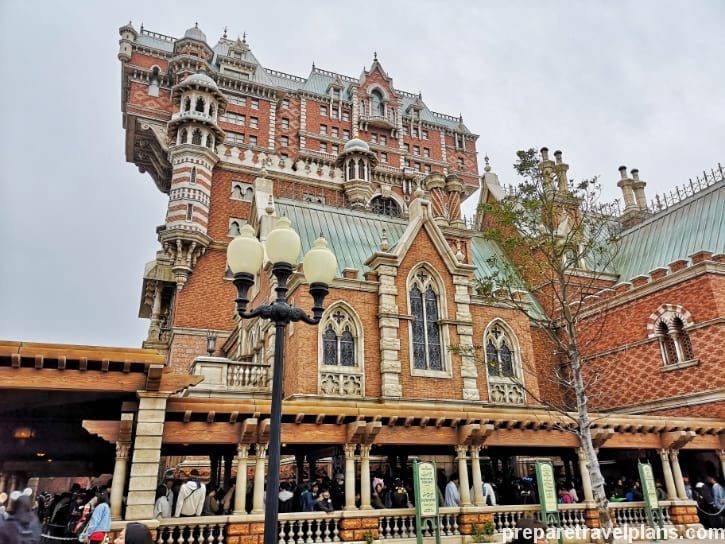 Therefore, if you are a scaredy-cat, this might not be for you! But of course, you can always challenge yourself and conquer your fears! Just prepare your heart beforehand for a terrifying ride loaded with creepy characters and more. And a precaution―don't get too relaxed while inside the elevator because that's where the real thrill begins.
4. Raging Spirits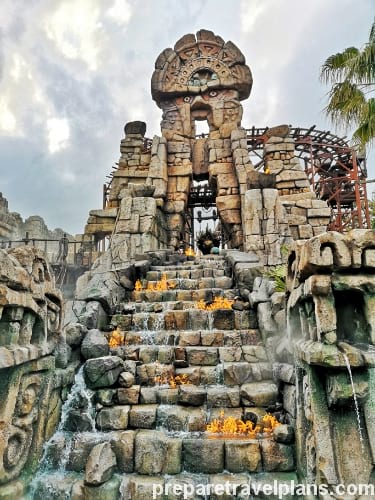 Is Thrill: Yes
Raging Spirits is as intense as its name. This short yet high-speed ride is ideal for those who want extreme adventure. But step back because this isn't your normal rollercoaster ride. Even from afar, you can feel its grandeur, not to mention its thrilling vibes.
Nestled in a prehistoric setting, the outdoor theme is really something to bewilder your eyes. You will be transported to an ancient ceremonial site bounded with excavated ruins. Plus, the fire and smoke effects add more drama to the climactic expedition.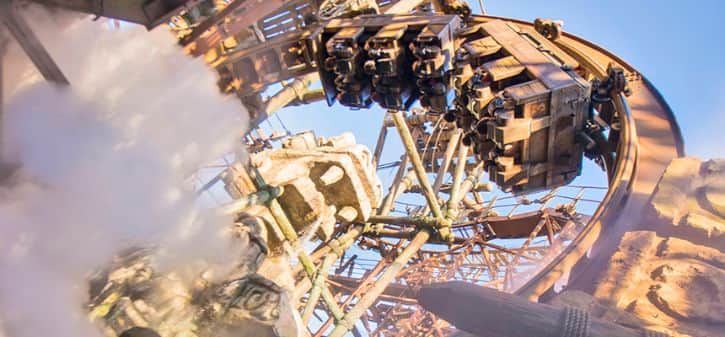 It is the only coaster in Tokyo DisneySea offering a 360-degree inversion. This means that your world will literally turn upside down for a matter of seconds! Not just that, it is loaded with breath-taking spins and quick drops for an ultimate sense of fun and adventure.
So, if you're a man of steel, then take on the Ranging Spirits and let the thrilling sensation embrace you! This is certainly a top-notch attraction worth the wait!
5. Toy Story Mania!

(Popular)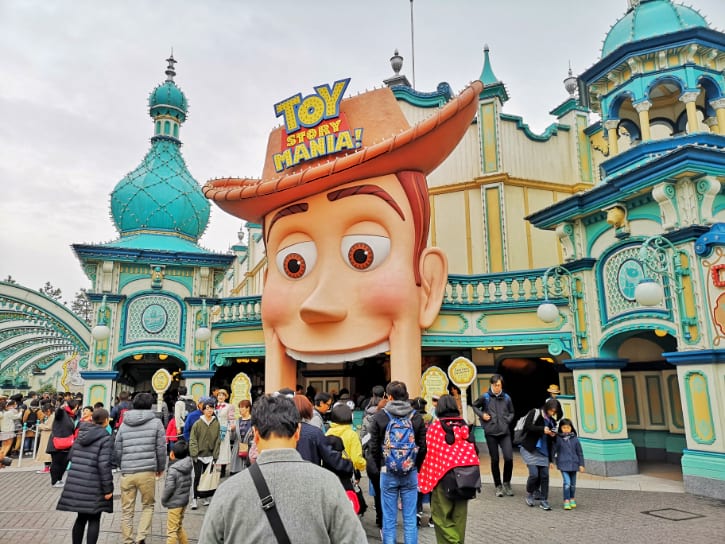 Is Thrill: No
Who says Tokyo DisneySea is all about heart-thumping rides and nerve-wracking attractions?
The theme park also welcomes you to a collection of chill yet equally-amazing tourist spots. And this starts with the ever-popular Toy Story Mania!
For Toy Story fanatics, this indoor experience is certainly not to miss! It's a fun, interactive ride with a twist. In addition, it's highly entertaining at the same time engaging, making it well-known among families and group of friends.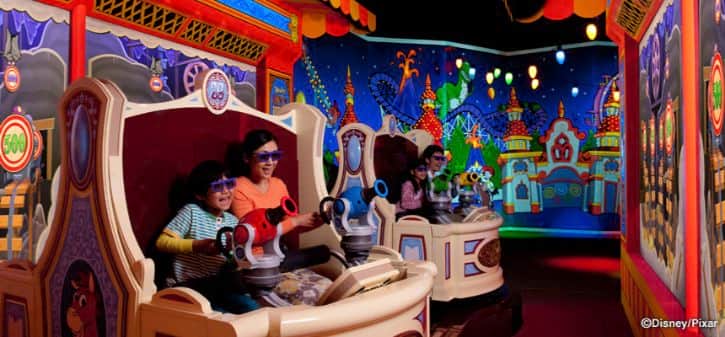 The 3D projection coupled with special effects and sounds allows you to shoot targets while keeping up with the ride. Plus, the bursting colours are spectacular!
Toy Story Mania! is one of the best Tokyo DisneySea rides and the queues here are unimaginable. Often than not, the wait time ranges from 120 to 180 minutes. And even the FastPass tickets sold out quickly. So, if you want this one, be in the park early and get there first.
6. Soaring: Fantastic Flight

(Popular)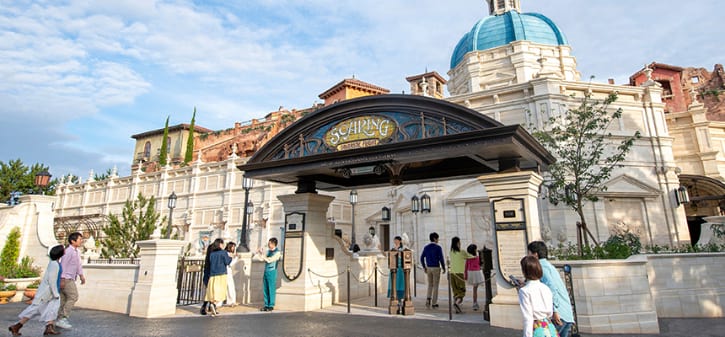 Is Thrill: No
Soaring: Fantastic Flight is an amazing flight motion simulator attraction that lets you tour around the world virtually. With this high-flying ride, you'll have the opportunity to visit some of the best tourist spots from different countries.
Hop aboard the Dream Flyer and buckle up for a realistic adventure that will last for approximately 5 minutes. Because of the impressive visual features, it's easy to let out your imagination and act like you're in the real place. Travel across breath-taking destinations such as the Great Wall of China, the Pyramids of Giza, Taj Mahal, Eiffel Tower, and a lot more!
Without a doubt, all the beautiful landscapes will surely fuel your thirst for travelling. So, make sure to add this newest attraction on your Tokyo DisneySea itinerary!
7. 20,000 Leagues Under the Sea

(Popular)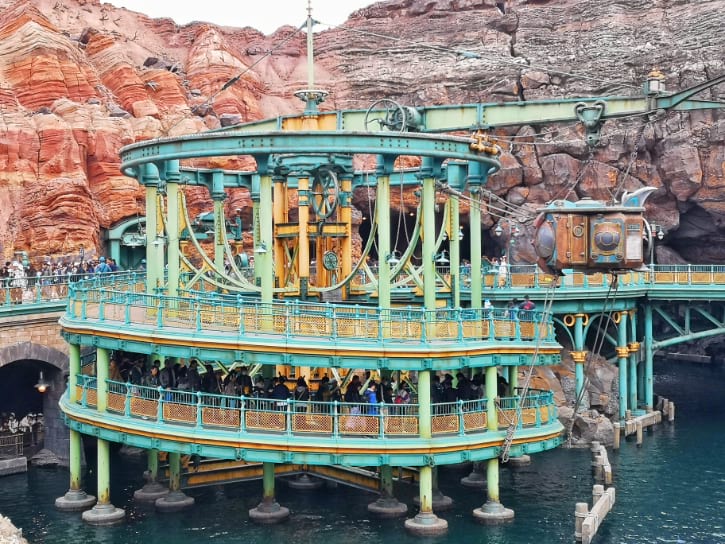 Is Thrill: No
There's literally no need to dive deep just to experience an underwater adventure. Get your FastPass Tickets for 20,000 Leagues Under the Sea, and enjoy this mesmerizing submarine ride. The water illusion is very on point! It makes you think that you are really under the water but you're actually just above the water surface!
This amazing attraction is based on Jules Verne's novel with the movie adaptation, Twenty Thousand Leagues Under the Sea. Together with Captain Nemo, follow the journey to the ocean bottom to find the lost empire of Atlantis.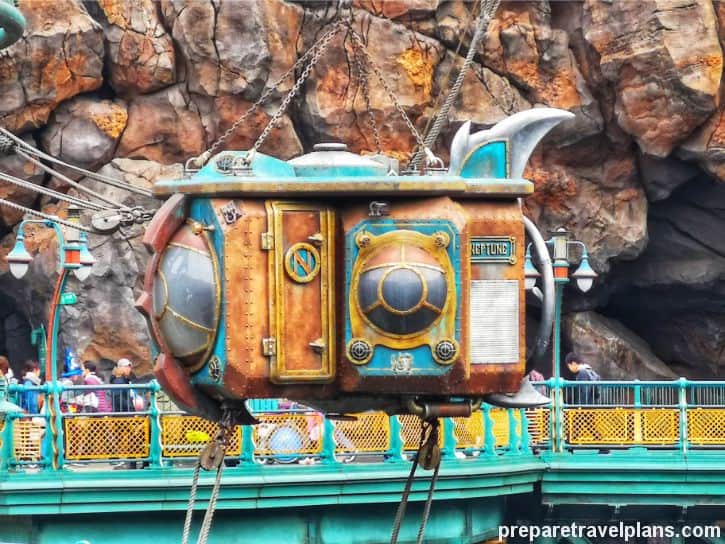 This submarine-type ride feels like you plunging under the sea for a rather unique and memorable underwater thrill. Up to 6 persons can ride inside Captain Nemo's submarine. This capsule-like structure is quite large with three portholes that allow you to see the sunken city.
All in all, 20,000 Leagues Under the Sea is definitely a must-try experience while in Tokyo DisneySea!
8. Sindbad's Storybook Voyage

(Popular)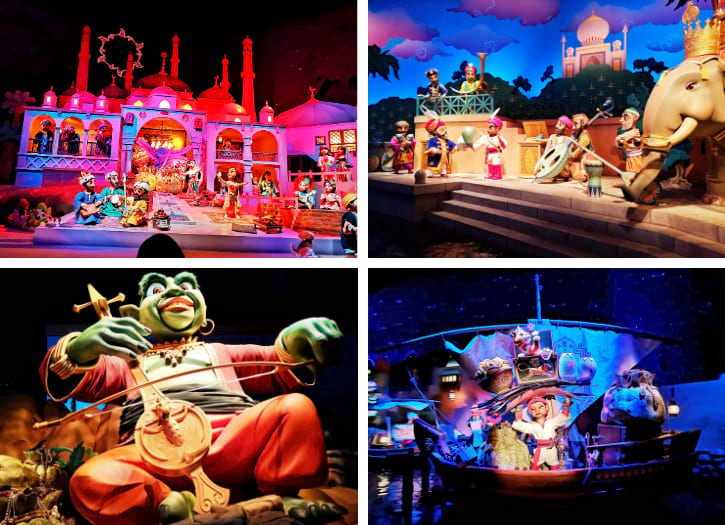 Is Thrill: No
Inside this towering site is a dark yet spectacular boat ride set in Arabian Coast. Sindbad's Storybook Voyage is a 13-minute journey brimming with colours and music.
Sing along with the famous Japanese song, "Compass of your heart". And just like the movie, the attraction follows the expedition of Sindbad and his loyal tiger, Chandu.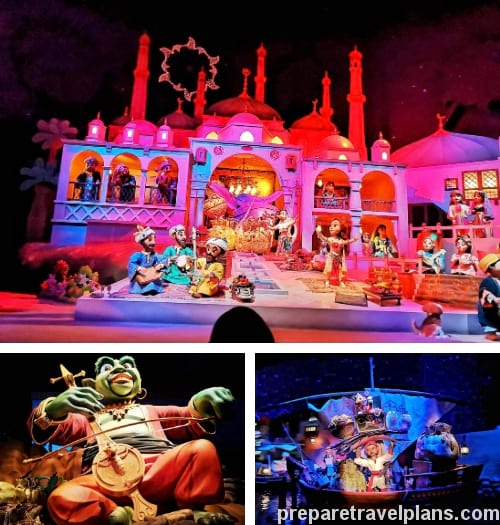 Starting with Sindbad's send-off from his village, the story continues to his encounter with a giant and some mermaids.
Then, you will then pass by the city of the apes and palace of the sultans. Throughout the ride, you will come across vibrant creatures, glittering treasures, and local merchants―all in amazing, life-like creations.
After a beautiful 13-minute journey, you will be transported back to Sindbad's village. Accordingly, this is one of the longest attractions at DisneySea. So, for movie fanatics of the timeless movie, Sindbad, getting here and experiencing the trip is a dream come true.
9. Fortress Explorations

(Popular)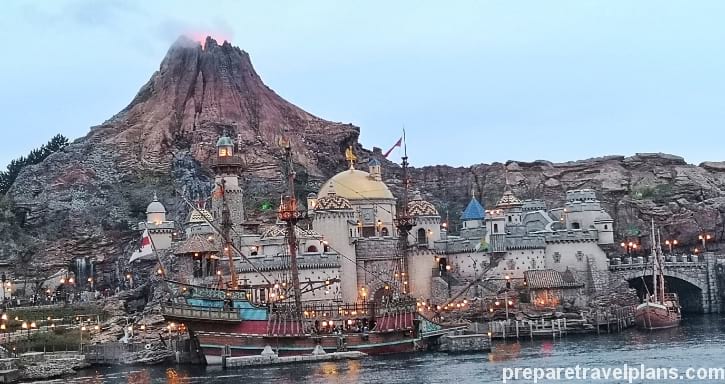 Fortress Explorations is like stepping into a historical era, where fortresses and ancient pieces are everywhere. Enter this magical land and it'd be difficult to leave.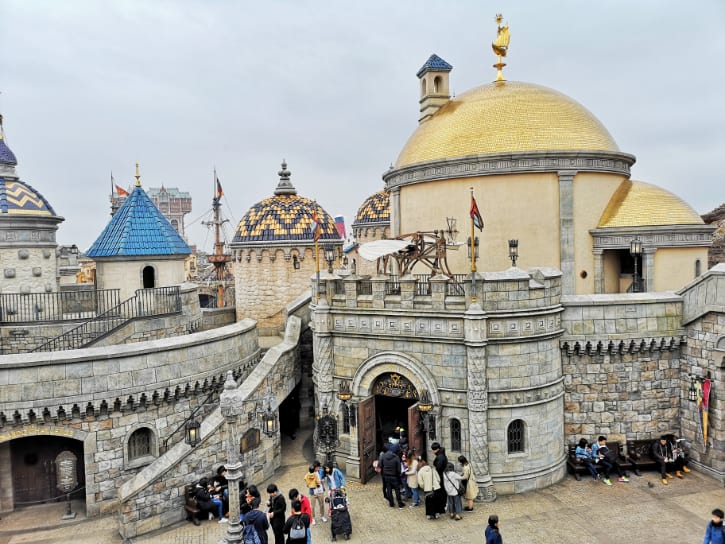 Because of its beauty and vastness, no wonder it's a favoured attraction at DisneySea for non-thrill seekers. Walk around at your own pace and see the towering castles and spectacular exhibitions.
There are two main areas―the castle fortresses and the harbour dock. Inside the castle are multiple hallways filled with unique and fanciful pieces and activities.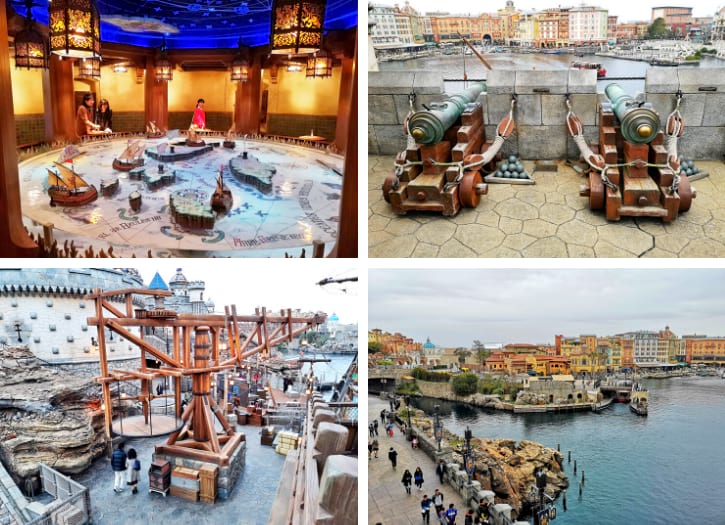 One room features a massive board-like structure with mini boats. Surprisingly, you can get to play this mini boat game. There's also a room outlined with a solar system, where you can also move the planets at your own preference.
Other spots contain a collection of nautical instruments, a display of galleons, and a range of cannons. If you're travelling with kids, they can wear the traditional flying machine and act like they're flying.
10. Nemo & Friends SeaRider

(Popular)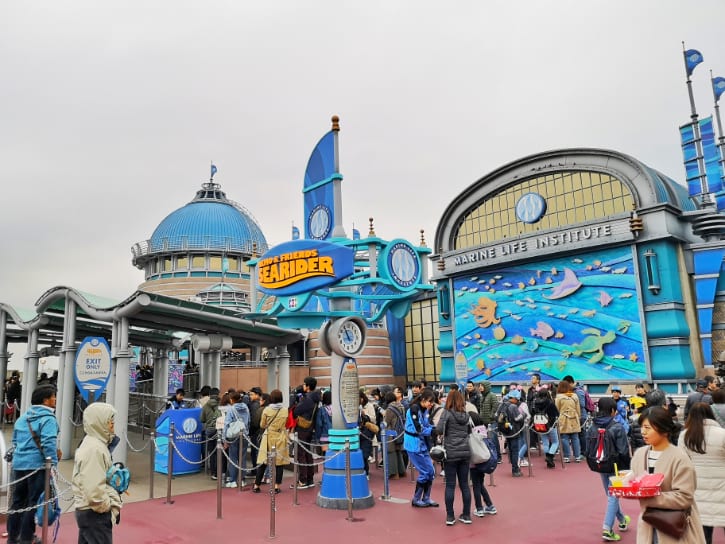 Ride Duration: 5 minutes
Nemo & Friends Searider is another charming diversion that is perfect for all ages. This is in-demand for kids and even those marine lovers who want to explore the world of Nemo and Dory.
Here, you have the chance to explore and go on an adventure, together with some jolly sea creatures. But before that fun-filled interaction, guests will be virtually transformed into tiny creatures. How on earth do they do that? Using the amazing shrinking material―the chiziminium―you will fit inside a fish-sized submarine called the SeaRider.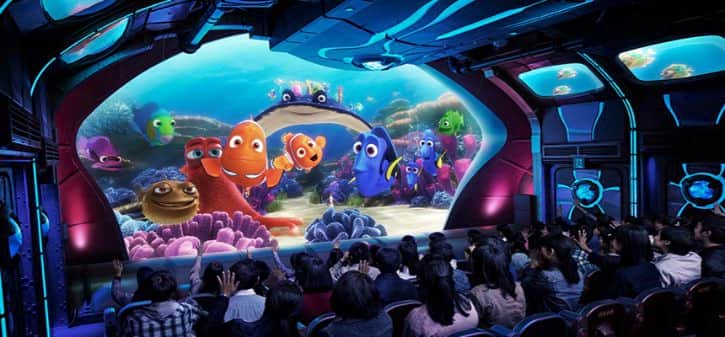 After the shrinking process, it's time to completely immerse into the colourful, marine world. Through your screen, you will meet adorable and lovable sea creatures from the famous Finding Nemo and Finding Dory movies. Wander around the mesmerizing sea world along with Nemo, Dory, Marlin, Mr. Ray, Crush, and more!
11. Aquatopia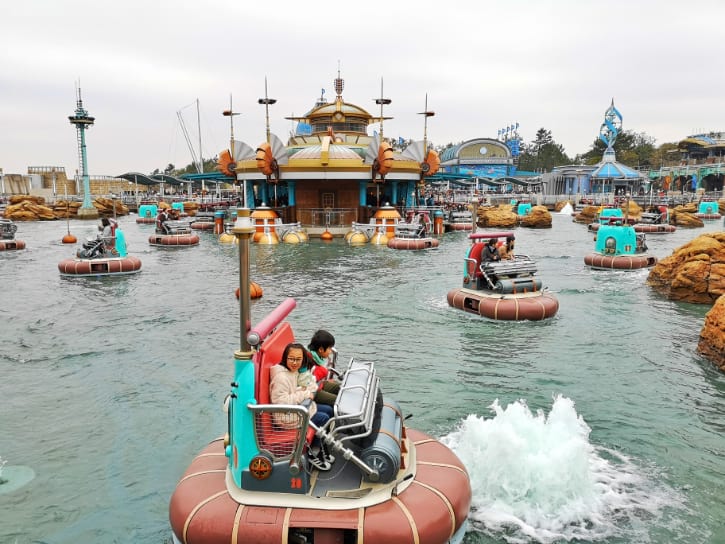 Is Thrill: No
Have a friend join you at Aquatopia and enjoy its twirling watercraft! Before anything else, nope, this is not the usual bumper ride you'll find at every theme park.
The watercraft can fit as many as three people who are down to experience a uniquely pleasurable ride. For people watching before you, it may look like you're killing time since it's definitely a trackless ride.
You don't go around driving towards a certain road, but simply allow the boat to encircle around the pool. So, yes—you're killing time—but in an unexplainably enjoyable and childlike manner!
You're not pressured to do anything but simply ride along as your watercraft revolves in any direction. What you'll have here is a stirring break from the regular amusement excursions, which are always way too predictable. Aquatopia offers no destination—it is the destination!
12. Venetian Gondolas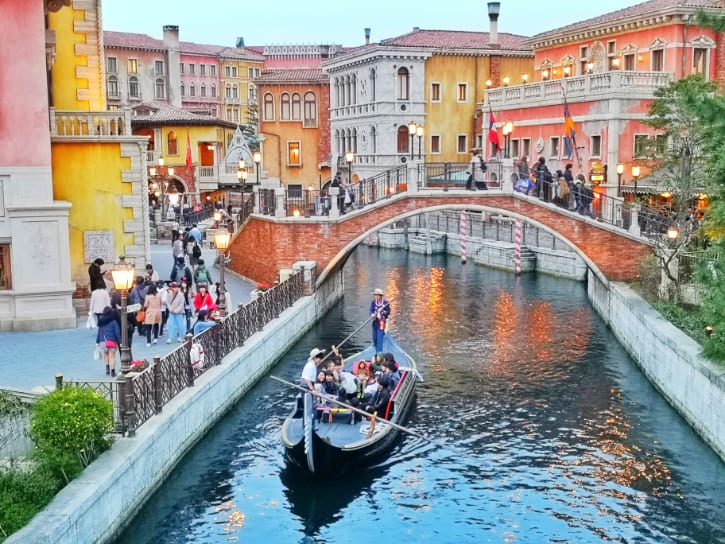 The Venetian Gondulas at DisneySea will take you out from Japan, and transport you straight to the heart of Venice. Well, not really! Still, you get the chance to experience Venice in Tokyo. Together with 15 people, you can calmly ride and allow the gondoliers course their way through the canals.
Normally, it takes about 11 minutes to reach the destination. So, while you're at it, say your Ciaos to other passengers and sing a song!
The best time to ride the gondola is at dusk when the beautiful rays blend in with the scenic landscape. You'll be surrounded by colourful buildings built like shophouses from Venice, with the lush green complementing the houses. All these create a romantically Venetian atmosphere for everybody.
Although there are other alternatives you can choose over the Venetian Gondulas, it's still worth the shot.
13. DisneySea Transit Steamer Line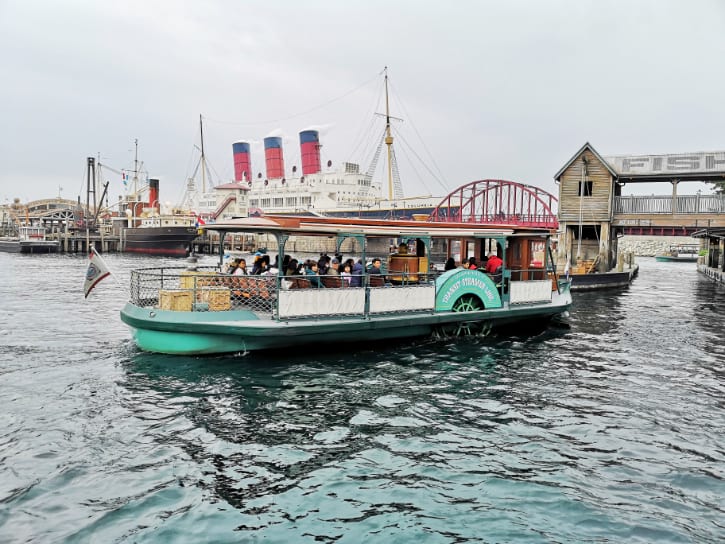 If you want to see more of the beauty of Tokyo DisneySea, then ride on the Transit Steamer Line. This boat can house about 49 people. And, it has a total of three docks designed to cater your choice of course.
Riding the Streamer Line lets you see the entire theme park crowded with attractions. All the sights offered during the cruise will constantly keep your eyes open! Plus, you get a chance to pass by the Arabian Coast Zone.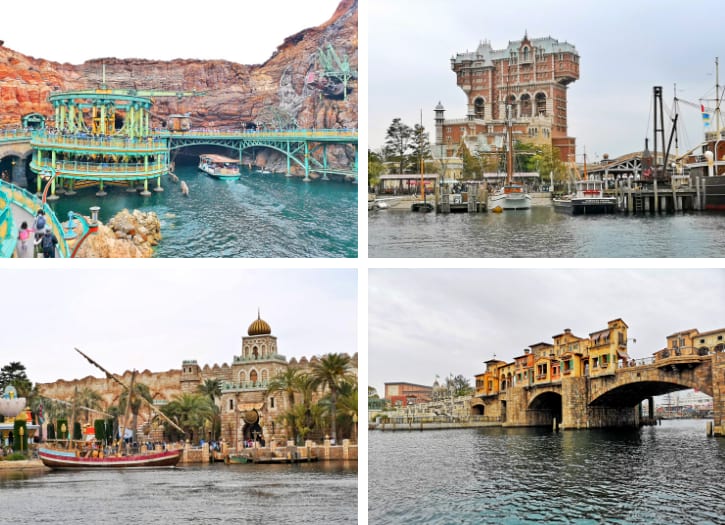 As your sea voyage goes on, you'll be greeted by the picturesque views of the Mediterranean Harbour Bridge. Not only that, you get to see a range from monumental buildings, beautiful rainforests, and sturdy rock structures.
The teamer will also offer you more room for jaw-dropping moments like the amazing spot of the Sindbads Storybook Voyage.
Truly, the trip will relax you in a very magical yet calming way! You may choose to ride on this charmed steamer at night or during the day.
14. DisneySea Electric Railway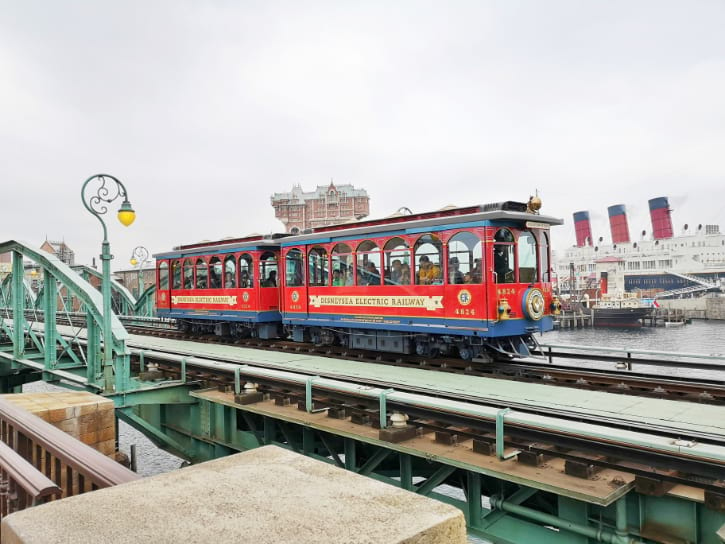 A railway is just a railway until you get introduced to DisneySea Electric Railway. You may wonder what this railway has in store for you. For some, they think that it's just another transportation to get you to your most-awaited destination.
But surprise, the DisneySea Electric Railway not only carries you to your designated destination, but it is an attraction in itself! It gives you almost the entire view of the panoramic attractions breathing within the park.
You will anticipate even more to visit your next attraction site as the view from the tram spoils you! Tokyo DisneySea's electric railway definitely stands out from the rest of the transportation rides offered at other Disney theme parks.
If the DisneySea attractions are the movie, then this railway ride is the spoiler alert. From the windows' view, you will come across different beautiful sceneries in one, breath-taking ride!
15. Jasmine's Flying Carpets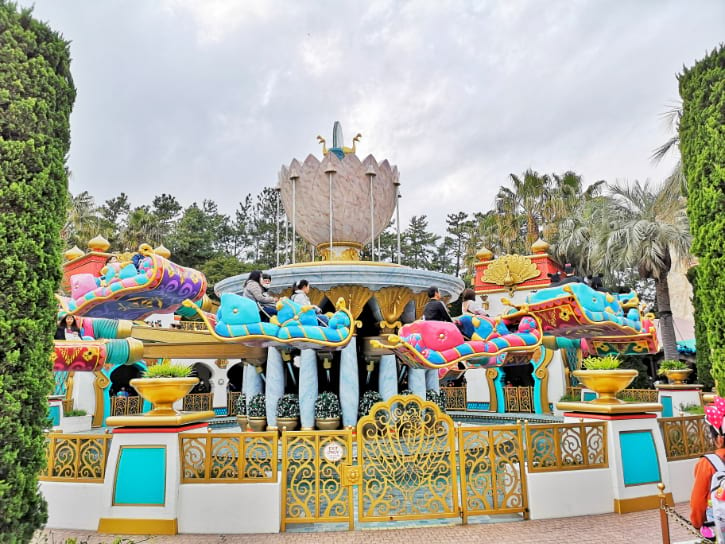 Jasmine's Flying Carpets can give you a once in a lifetime experience of flying your own magical carpet. Just like Aladdin and Jasmine, soar above the ground and see the breath-taking park scenery.
Before you start with this dumbo-like spinning ride, strike a pose together with Rajah, Jasmine's pet tiger. This charming statue is situated just in front of the attraction.
Each vibrant carpet seats up to four persons, two in front and another two in the back. And to make your ride more exciting, you can move your carpet―up or down―to avoid the water from the centre. The front area controls the vehicle height while the back seat manages the tilt. It's a great coordination game for family and friends!
At night, these beautiful carpets light up, creating a mesmerizing animation within the park.
16. Caravan Carousel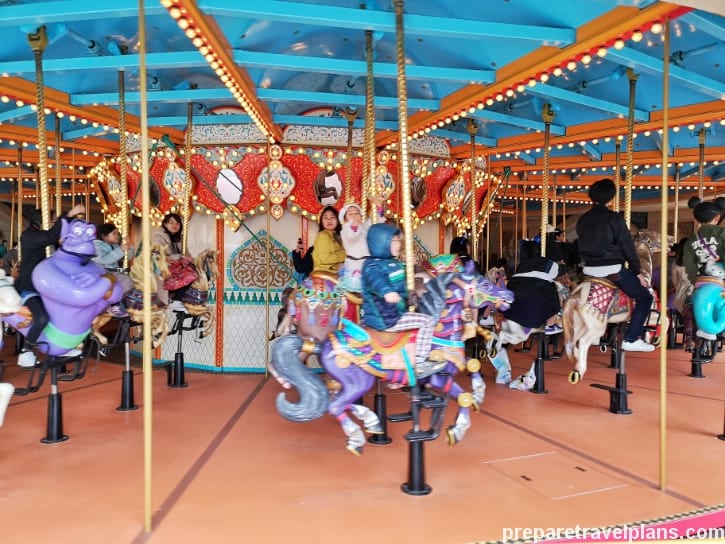 Bring the entire family to Caravan Carousel and enjoy an old-fashioned merry-go-round! This dome-like structure brings entertainment to everyone through its two-storey carousel. Yup, the exterior itself speaks for its immense size.
With two decks, the Caravan Carousel can accommodate lots of people at once―roughly around 190 persons per trip. Accordingly, it is one of the largest and most beautiful carousels you'll find in the park.
Fringed with sophisticated music and exotic beasts, this isn't your normal merry-go-round. So, instead of the traditional horseback riding, you have lots of fantastic options, all from the famous Disney film, Aladdin.
Hop aboard your favorite Aladdin characters―Magic Carpet, Genie, and the Lamp! Arabian animals such as elephants, camels, zebras, and griffons are also in range. And as you take your ride, let the beautiful music that goes in harmony with the movement consume you.
17. Triton's Kingdom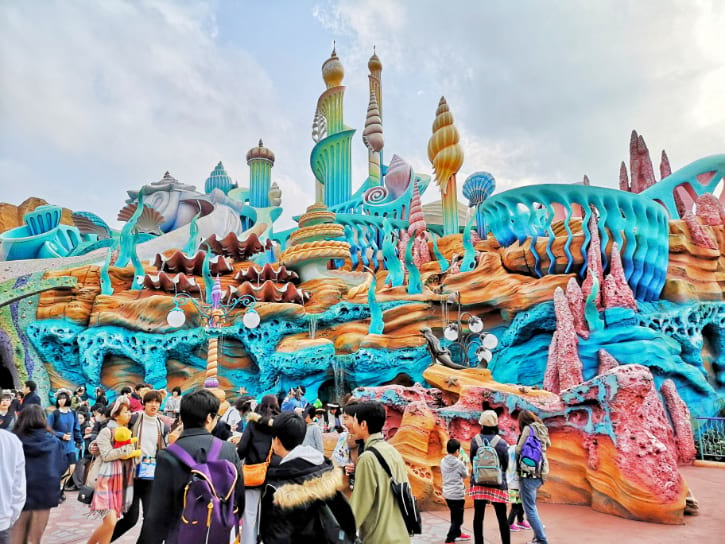 Welcome to Triton's Kingdom, a place filled with mesmerizing sea wonders!
Blowfish Balloon Race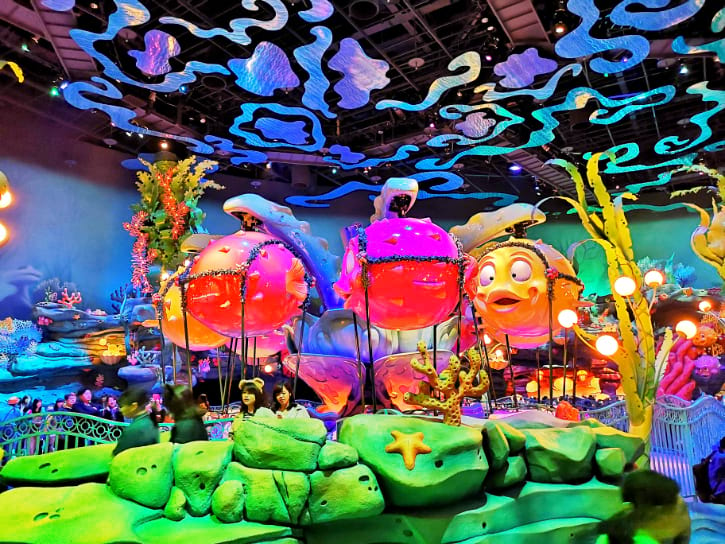 These scary-looking blowfish aren't bad as you think! Ride on them and experience a stirring underwater spin. This spinner attraction gives you that amazing swinging motion, just enough for you to awaken your senses. These colourful 4-seater blowfishes seat up to 4 persons.
Mermaid Lagoon Theater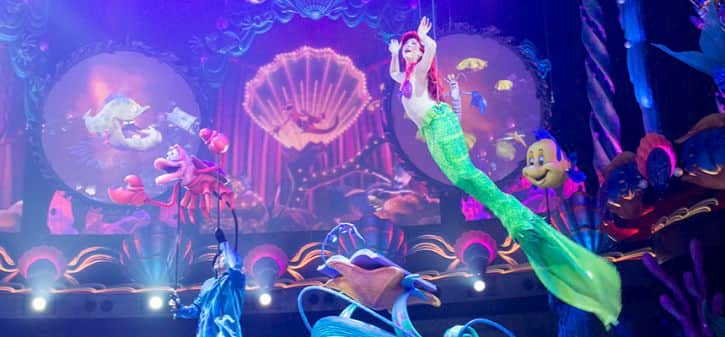 Show Duration: 14 minutes
A highlight in Mermaid Lagoon, this underwater show beautifully recreates some scenes from Disney movie, the Little Mermaid. Ariel herself acts like she's literally underwater. Be amaze how she glides and flips effortlessly, together with some gorgeous sea creatures moving around.
The Whirlpool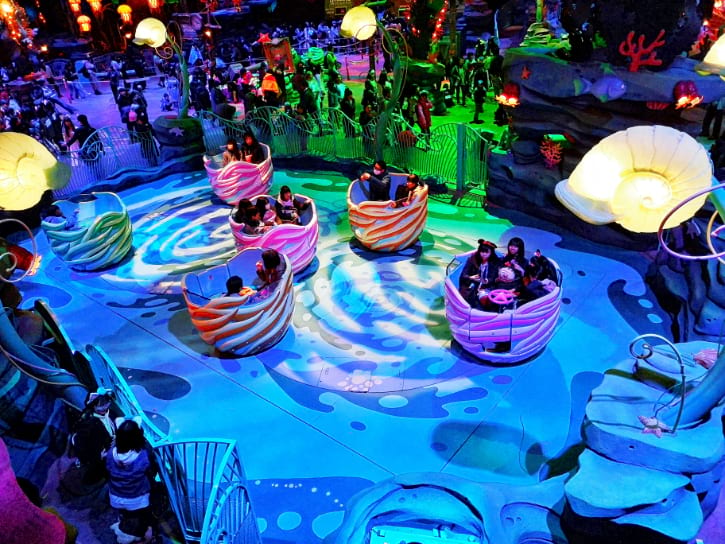 What about a teacup adventure same as Alice's tea party in wonderland? But instead of under the tree venue, you will be underwater, surrounded by impressive sea designs. And did I forget to say that this isn't just an attraction but also a ride? So, take your friends for a whirlwind-like kind of ride!
Top 3 Shows at Tokyo DisneySea
---
1. Big Band Beat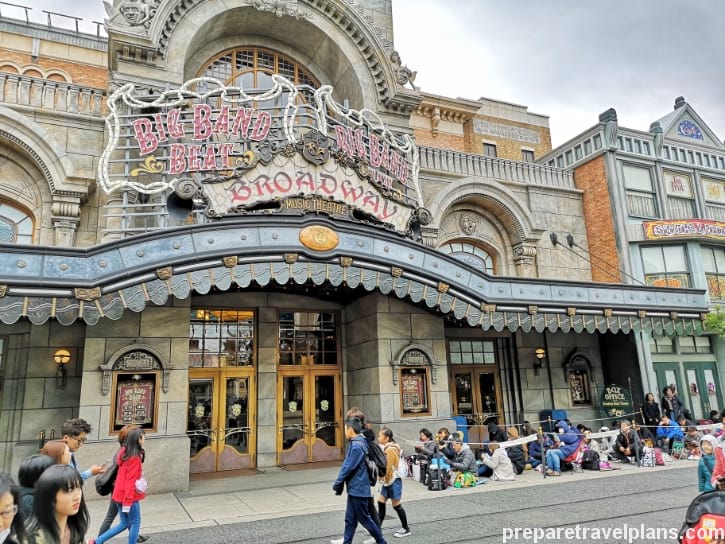 Show Duration: 30 minutes
Gracing the list of popular shows is the ever-amazing Big Band Beat. This live stage performance highlights the remarkable Broadway-like musical show. It is loaded with dancers and musicians, showcasing their talents in one, beautiful presentation.
Nothing is quite like seeing your favourite Disney characters in full action. Mickey Mouse is probably the star in this show as he displays his impressive drumming skills and tap dancing ability.
The Big Band Beat provides you with top-notch singing, dancing, and acting. You'll appreciate how everyone on the stage sings and dances in sync with the beat. Plus, it's in the English language so that it'd be easier for everyone to understand while watching the remarkable show!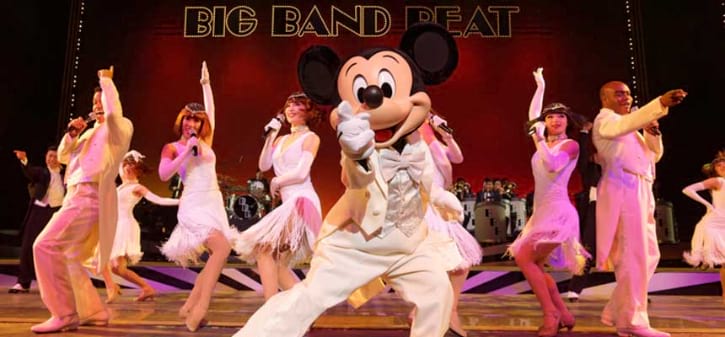 Because of its popularity, the Big Band Beat uses the lottery system. So, you can have the chance to see the show without lining up.
If you did not win the lottery, don't worry, because you can still watch it, ideally during its first show. Unfortunately, the subsequent shows are mostly full because of the lottery winners.
So, better make this a priority in case you didn't win the lottery. Normally, the first show is from 12:15 p.m. to 12:40 p.m. For reference, check the Big Band Beat at Tokyo Disney Resort Website or the Entertainment Schedule Sheet on that day.
2. Hello, New York!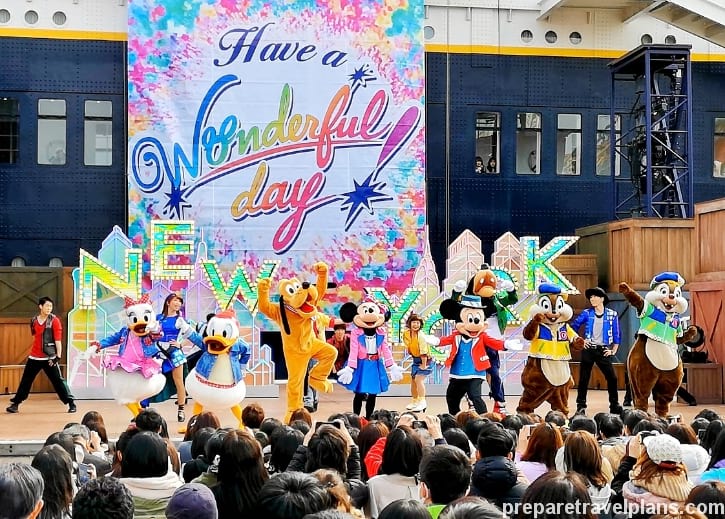 Show Duration: 25 minutes
Hello, New York! is another must-watch show for every tourist. Though not as sophisticated as the Big Band Beat, this 25-minute stage performance is still outstanding.
It presents some famous Disney characters, entertaining everyone with their amazing antics.
Watch in admiration how Mickey Mouse, Chip & Dale conquer the big city and the big stage! Minnie Mouse, Donald Duck, Daisy Duck, Goofy, Pluto are also present to keep you amused.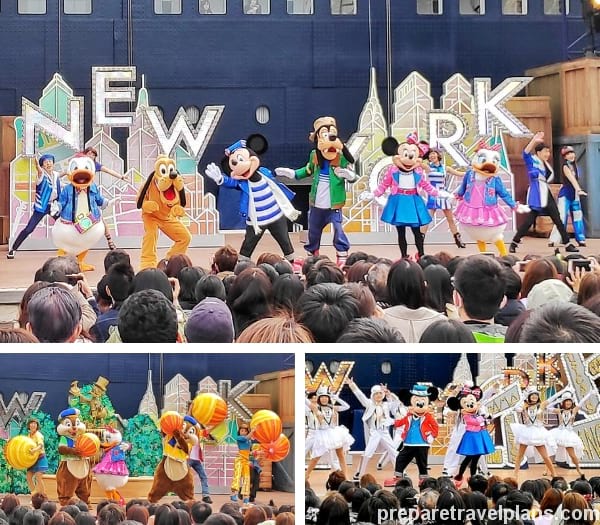 Leaning more on the beauty of cultural stereotypes, this quirky show deserves a time on your visit to the park. The bizarreness of some characters even makes the entire performance more amusing! They are seriously off to provide you with stress-free entertainment.
Plus, you will be thrilled with the amazing dance acts and acrobatics in between. Watch how these performers hype up the stage.
All in all, the music, the characters, and the theme add up to the distinction of Hello, New York!
Hello, New York! comes in multiple time slots every day at the American Waterfront. So, keep an eye of the exact time through Hello, New York! timetable here. Or, you can also check the Entertainment Schedule Sheet on that day.
3. Fantasmic!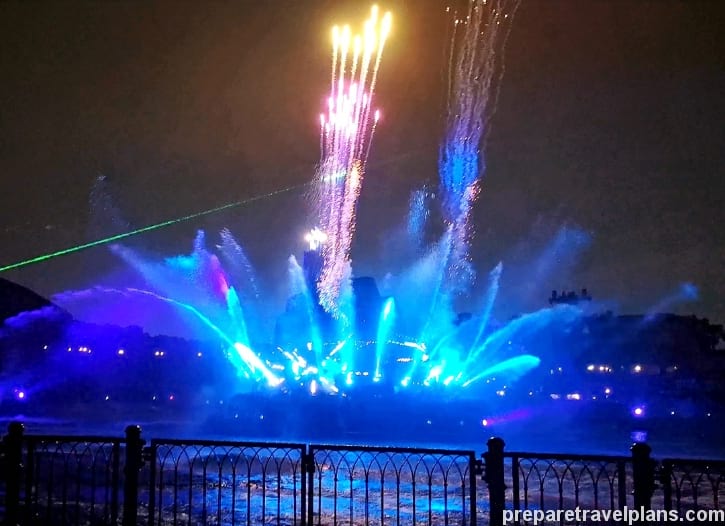 Show Duration: 20 minutes
Best Location to See the Show: Lido Isle
Show Time: 8:00 p.m
Gathering breath-taking effects, stunning pyrotechnics, and exceptional music, Fanta Fantasmic is as fantastic as it is!
But there's more to this awe-inspiring exhibition―a tale of good and bad encountered by the ever-famous Mickey Mouse. The show outlines a story that will surely hook your eyes and glue you to your seats.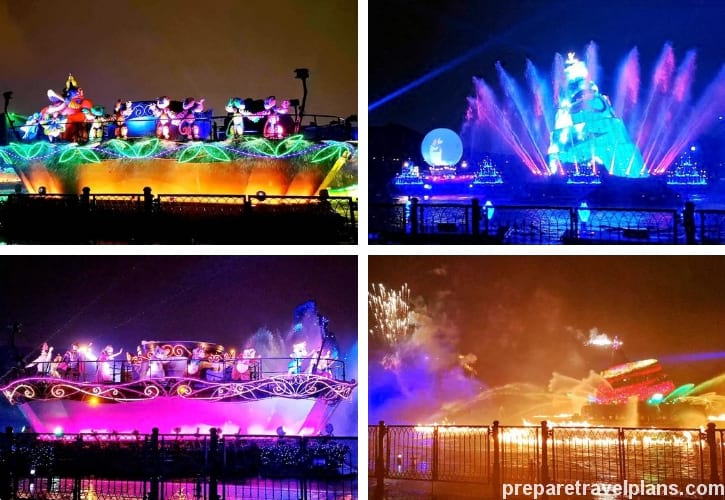 Track down the mesmerizing dream of Mickey Mouse as he battles out the Disney Villains. The dazzling lights give justice to the thrilling storyline. Surely, this extravagant night time musical knows how to surprise every tourist with their great theme and background effects.
Watch how Mickey Mouse overpowers the giant dragon with his own imagination. Adding more climactic drama to the show is the erupting volcano!
And to culminate the spectacular show, Disney characters are also in attendance. Wave to your all-time faves like Beauty and the Beast, Aladdin, Sleeping Beauty, Pocahontas, The Lion King, and more!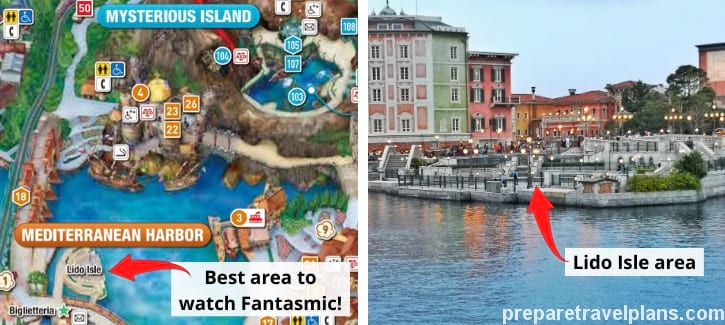 This outdoor exhibition is displayed on the magnificent waters of Mediterranean Harbour. Needless to say, Fantasmic is truly a great way to cap off your Tokyo DisneySea adventure! So, better go to the Lido Isle at least 1 hour so you can get the best view.
For the exact show time, check Fantasmic show time here or check the Entertainment Schedule Sheet on that day.
Meet Up with Popular Disney Characters
---
1. Mickey Mouse Character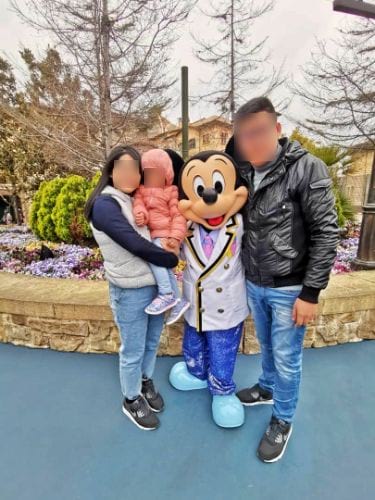 As happy-go-lucky and friendly Mickey Mouse is in the screen, so is he as you meet him closely at DisneySea!
Don't hurry to arrive at your next destination and miss the chance to interact with the mischievous and charming character! You can spot the cartoon icon freely roaming around for free hugs and pictures at DisneySea Plaza.
2. Goofy Character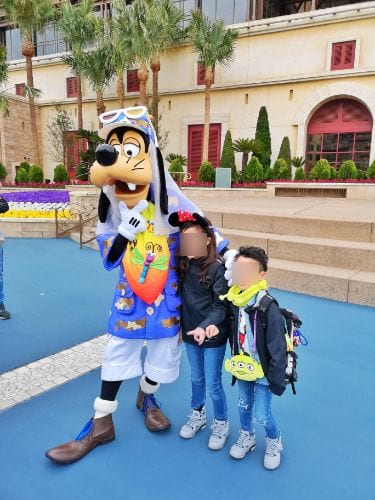 DisneySea Plaza is where your childhood cartoon legends mostly hang out. Goofy, the clumsy, humorous and undeniably likable toothy dog is one of the famous characters you can meet here!
Spend time with the good-spirited Goofy while waiting for the rest of the Mickey Mouse gang!
3. Pluto Character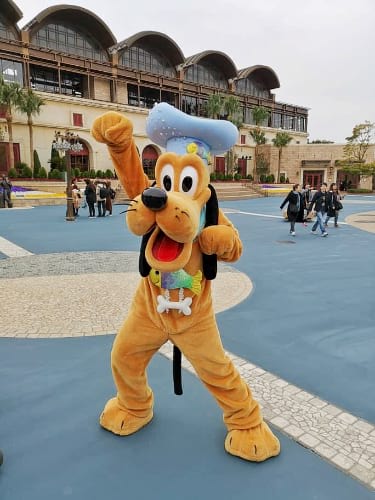 The instant you see a yellow-orange figure strolling at DisneySea Plaza, that's when you know it's Pluto. This clever and expressive animated dog is always on a bright mood!
Mickey Mouse may have allowed his obedient pet to keep company with the fun-loving visitors of the theme park! After you share a photograph with Pluto, it's time to find his mischievous owner!
4. Donald Duck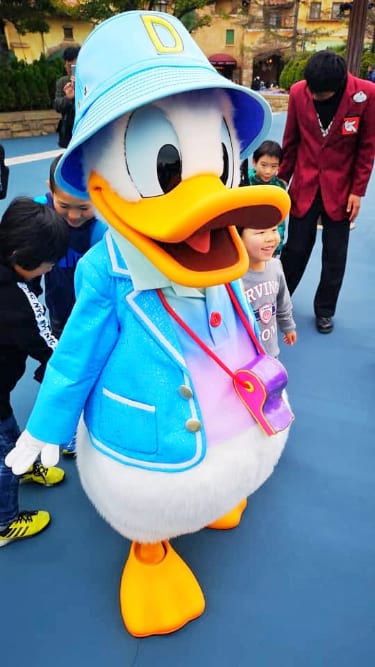 Since Donald Duck's magnetically funny personality is so loved by many worldwide, you can see him walking around the park. Tokyo DisneySea has made it certain that there's no shortage of his presence around the place.
After you get one affectionate embrace from Donald Duck at Mermaid Lagoon, you can get another at DisneySea Plaza from one more Donald Duck!
5. Daisy Duck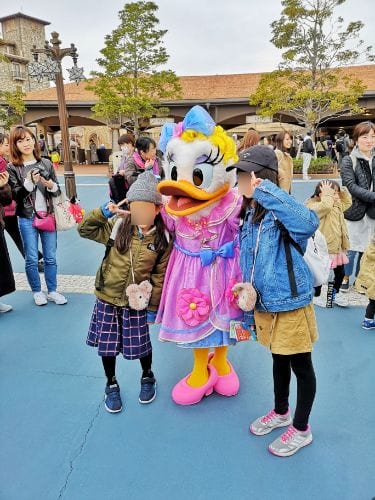 Although Daisy Duck is always attached to Donald Duck, you can still be with her for a couple of minutes. The bubbly and outspoken cartoon character will be showering all of her attention to you and to everyone she meets. Just don't let Donald Duck catch you though!
6. Genie and Jafar Aladdin Characters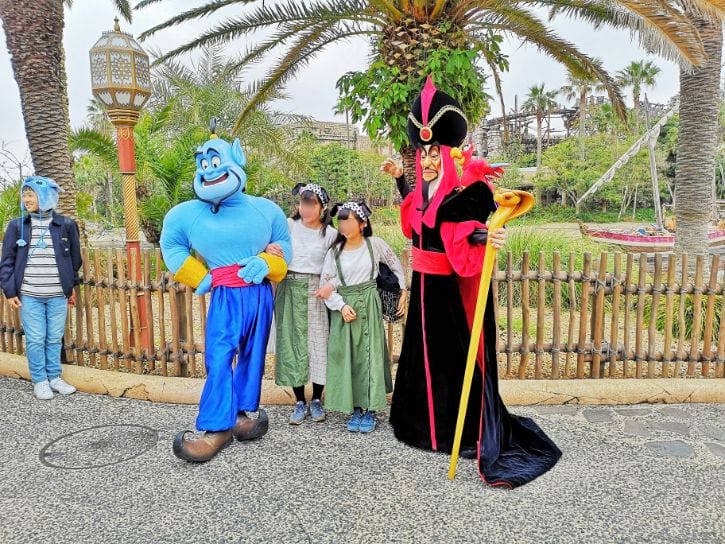 Run into Genie and drop your good wishes! Every once in a while, Genie comes out of his magical oil lamp to grant humans' wish to see him! Careful, though, since Jafar Aladdin is silently creeping around the corners—not to cause you harm, but to photobomb! Gather the two of them and have an Aladdin cast reunion!
7. Pinocchio Character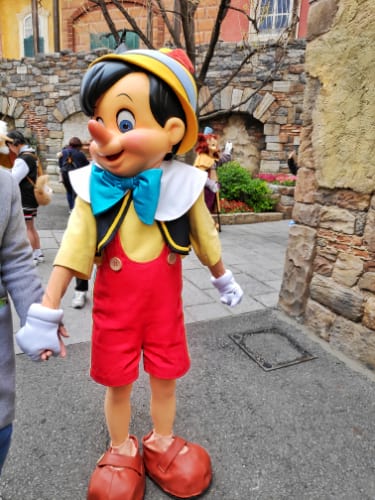 There's a high chance that you'll be meeting the most popular cartoon characters while going your way to Mediterranean Harbor. However, there's not a thin slice of possibility that you'll catch his famous nose grow long. And yes, I'm referring to Pinocchio!
Nonetheless, you can catch him dancing, hugging people, and doing just about anything to keep them entertained!
8. Geppetto Character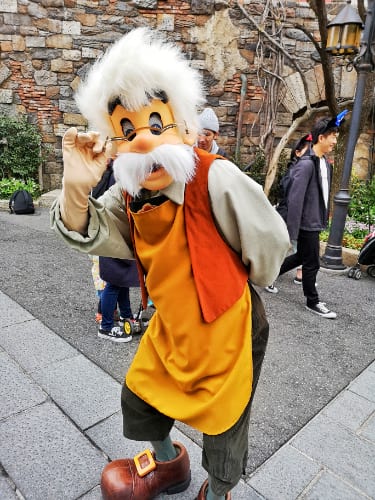 Geppetto has rained a generous amount of love and joy to everyone he has come across in the film Pinocchio. And, he always gives his big heart to you and to the rest of people looking for love! He may be old, but his heart is made of gold!
9. Jiminy Cricket Character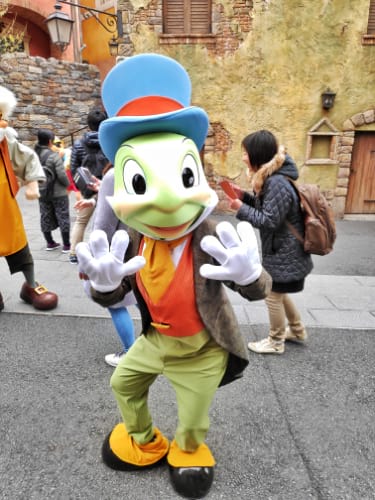 What good is meeting Jiminy Cricket without sharing some lines of his signature song "When You Wish Upon a Star"?
If you've followed Pinocchio's journey, then you're likely among the people who have admired Cricket for his values and uprightness. And, if you can, ask for his J-shaped autograph before leaving!
10. John Worthington Foulfellow Character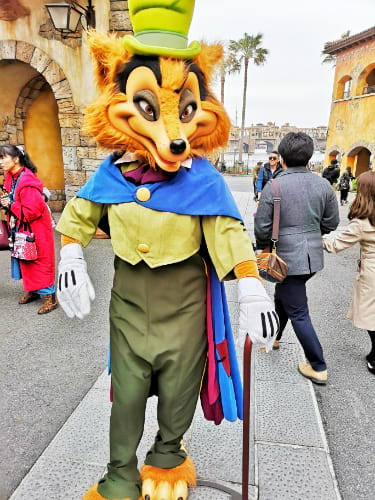 Fear not the cunning John Worthington Foulfellow calmly walking along the Mediterranean Harbor. Though known for his crooked ways as a swindling antagonist in Pinocchio, he is nothing but neighbourly at Mediterranean Harbor.
Don't get deceived by his villainous look and grin, his moniker Honest John now certainly speaks for itself!
11. Gideon Character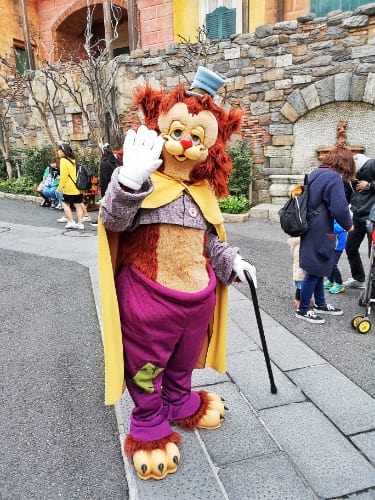 Like Honest John, Gideon is as good as renewed since he left his old ways. He is living his life harmoniously, greeting tourists in the park. No longer is he the sidekick of Honest John, but a polite friend to everyone!
With Gideon's ragged clothes and almost sleepy yet approachable persona, you're totally in safe hands.
Tokyo DisneySea Ticket Prices
---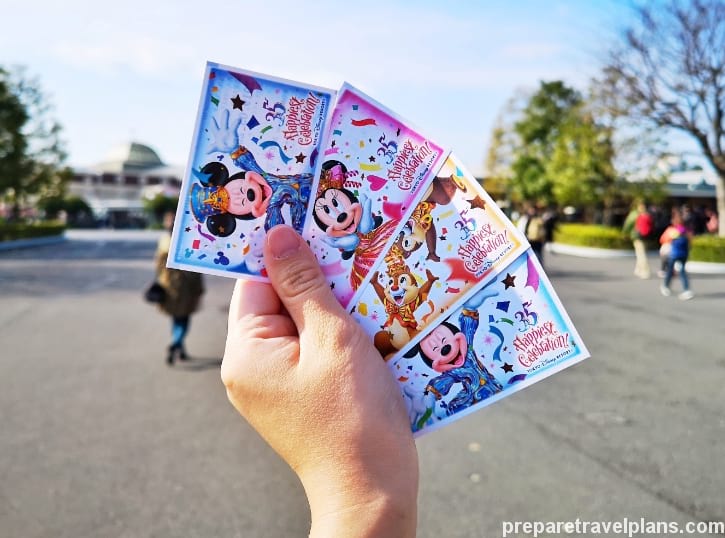 Ticket Prices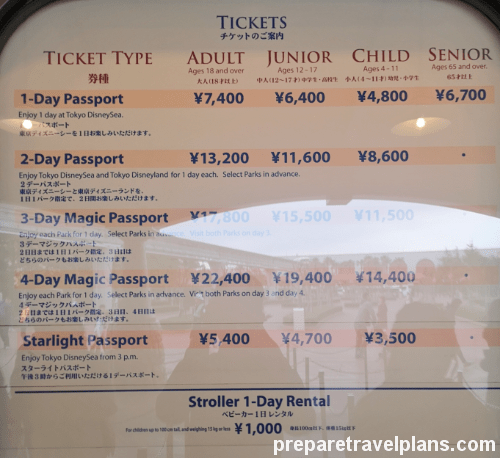 Buy at Ticketing Counter (1-Day Pass):
Adult (18 – 64): 7,400 yen
Junior (12 – 17): 6,400 yen
Child (4 – 11): 4,800 yen
Senior (65+): 6,700 yen
Buy at Ticketing Counter (2-Day Pass):
Adult (18+): 13,200 yen
Junior (12 – 17): 11,600 yen
Child (4 – 11): 8,600 yen
You can buy tickets at the main entrance of the theme park. However, there's a long queue at the ticketing counter in the morning. So, take advantage of getting your ticket online.
Why do you need to buy your Tokyo DisneySea tickets online?
Skip the long queue and save time. During peak seasons and school holidays, the theme park is crazily crowded. But if you already have your ticket booked online, then there's no need to wait for the line! Definitely less hassle and more time to explore the place!
Direct entry at Tokyo DisneySea. Once booked, you'll receive an e-ticket (softcopy ticket) in advance. Then, simply scan your e-ticket at the entry gate and you can start your DisneySea adventure in no time!
Spend more time in meeting popular characters. Some Disney characters like Mickey Mouse, Goofy, Pluto and Donald Duck are stationed before the entry gate. So instead of lining up for the ticket, why not spend it to take more photos of these adorable characters?
Great bonus, right? So, if you want to experience extra convenience like other Tokyo DisneySea visitors, then check the link below.
Tokyo DisneySea FastPass
---
The Disney FastPass is an efficient way to save your time and bypass the long queue for the popular rides. This is very helpful, especially during crowded days.
Using your FastPass ticket, you can jump up in the fast lane for the famous rides instead of lining up at the normal lanes. And the best thing is Tokyo DisneySea provides free FastPass to every visitor.
You can download the Tokyo Disney Resort App here if you want to redeem your FastPass via an app.
To know more about the FastPass and how to get them, check out the DisneySea FastPass guide here.
One particular attraction with high in-demand FastPass is the Toy Story Mania. Because of its popularity, this often runs out an hour after the park's opening. So, make this attraction as one of your priorities.
Below is the list of rides and attractions at DisneySea that are allowed for FastPass Entry:
Toy Story Mania! (FastPass Ticket run out faster in the earlier morning)
Journey to the Center of the Earth (FastPass Ticket run out faster in the earlier morning)
Indiana Jones Adventure: Temple of the Crystal Skull
Tower of Terror
Raging Spirits
Nemo & Friends SeaRider
Mermaid Lagoon Theater (King Triton's Concert)
20,000 Leagues Under the Sea
The Magic Lamp Theater
DisneySea Map and Entertainment Schedule
---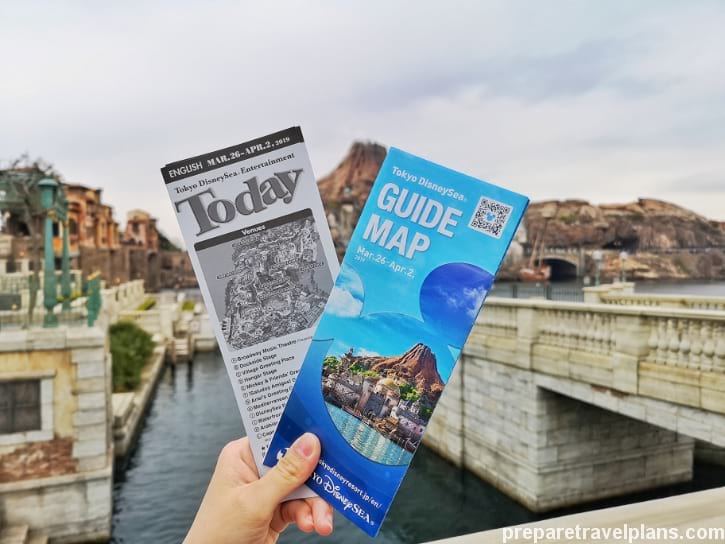 Before starting your adventure, grab a Tokyo DisneySea Guide Map and Entertainment Schedule Sheet. You'll be able to know the location of attractions and schedule of the shows on that day through these 2 essential documents.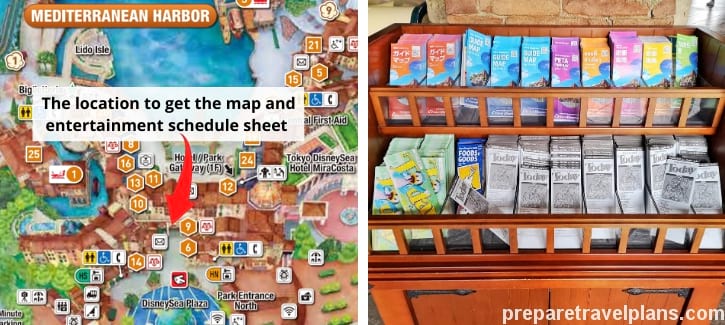 Don't worry because you can find these travel essentials easily. Just make your way to the entrance area of Passaggio MiraCosta. From there, you'll see an array of important references in display.
Alternatively, you can also download the Tokyo DisneySea Map here. Or, simply check the Tokyo Disney Resort Website to know the schedule of the shows.
Friendly Cast Members
---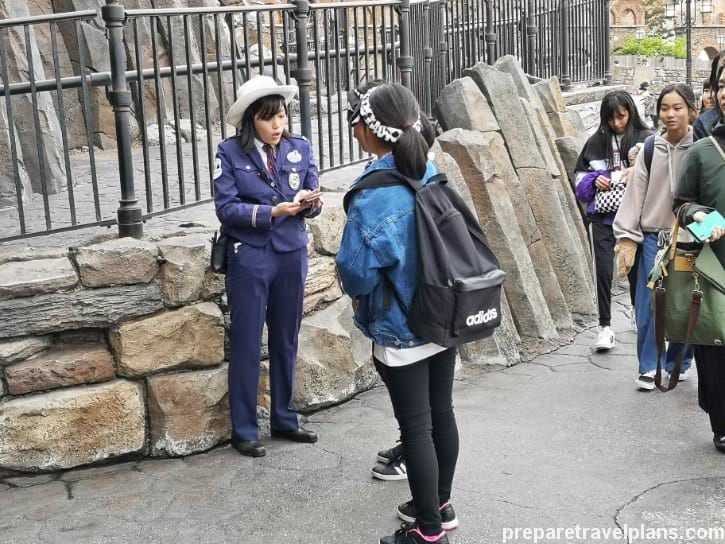 As you explore Tokyo DisneySea attractions, you will meet many Cast Members, who are willing to assist you. They are available at any time of the day to guide and provide you with instructions.
The Cast Members are not just nice and friendly but also speak English well! So, if you need help regarding your favourite ride or anything in the DisneySea park, just approach them.
My Final Thought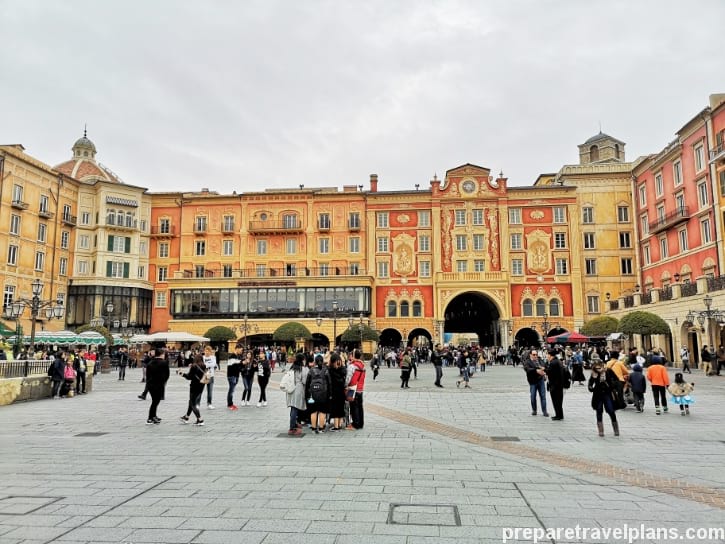 Tokyo DisneySea is no doubt one of the finest attractions, not just in Japan but in the whole world.
It's a great place for couples looking for a beautifully romantic place for photo shooting. This is an ultimate destination for kids wanting a fun-filled theme park.
Furthermore, it's a perfect spot for families and friends needing an amazing holiday. Truly, Tokyo DisneySea deserves all the attention and popularity it gets. And you gotta see it for yourself!
Save time and effort by booking your tickets online. See below link for the ticket prices.
Thanks a lot for taking your time to read my blog. I sincerely hope that the comprehensive guide can help you easy to prepare for your Tokyo DisneySea trip.
For future reference, don't forget to bookmark this page.
And if you find this blog helpful, you can also share this virtually to your families and friends through Facebook, Twitter, Pinterest, WhatsApp or Gmail.
Wishing you a wonderful and memorable holiday in Tokyo! 🙂
Related Posts