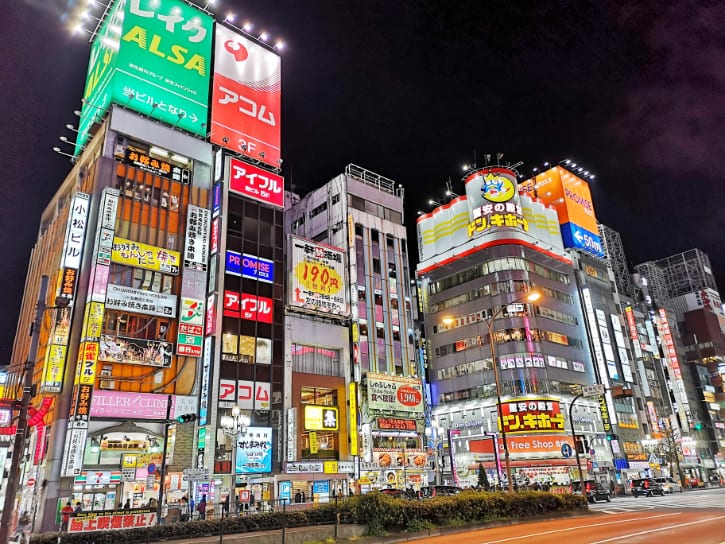 Shinjuku is definitely one of the most vibrant districts in Tokyo that is worth the visit. So, here are the best things to do in Shinjuku to help you make the most out of your visit.
Big, bright, and busiest train station in the world―these are the most striking features that make Shinjuku very popular among tourists. It's like a unique paradise within the capital. And in this paradise, you get to experience a variety of attractions, from beautiful parks to historical alleys and more.
And of course, Shinjuku wouldn't be complete without their amazing selection of dining spots, bars, shopping malls, unique buildings and skyscrapers. Clearly, you've got so much activities to do here, from daylight to night-time.
So, let me share with you my best picks of things to do and see in Shinjuku that will make your trip even more special and enjoyable.
15 Best Things to Do in Shinjuku
---
1. Shinjuku Gyoen National Garden – Breathe in the beauty of nature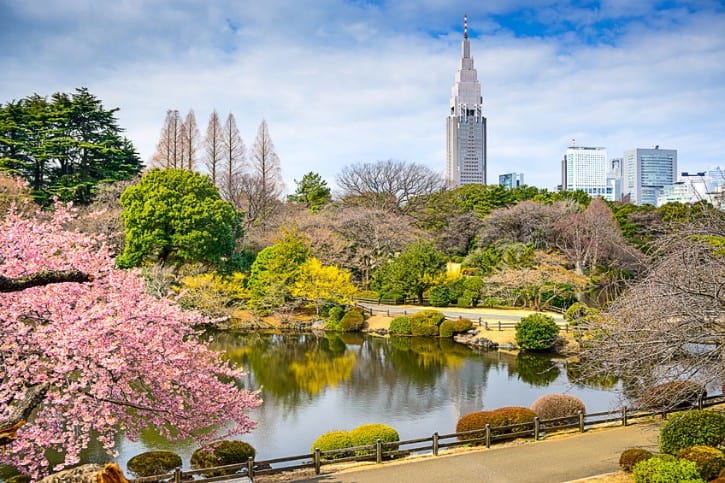 One of the best things to do in Shinjuku is to explore around this breath-taking natural park featuring the beauty of multi-cultural gardens, from Japanese to English to French garden designs.
Beyond its colourful landscape, Shinjuku Gyoen National Garden holds a rather significant history in the country. It was formed during the Edo period, roughly from 1603 to 1867. Unfortunately, this extensive garden was destroyed during World War II and was only re-opened again in 1949.
From there, it became one of the most important public parks in Tokyo with thousands of beautiful trees and flowers. The scenery in the garden changes each season, from cherry trees during spring to maple trees in autumn. Hence, you can visit the park all year round.
Spring Season
---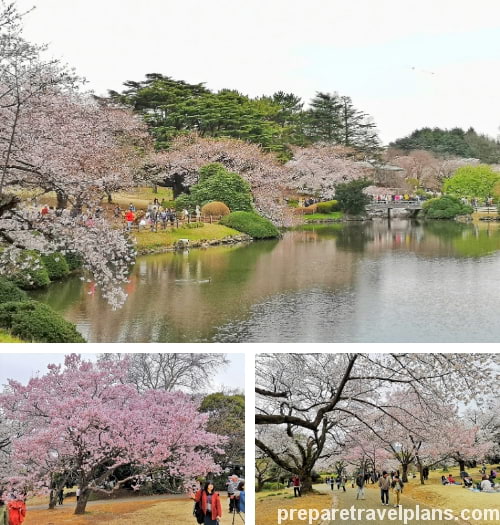 The best season to visit Shinjuku Gyoen is during springtime, where the place becomes a canvass of pink.
Cherry blossoms surround the entire park with its charm and beauty. From late March until April, you can find an array of flowering cherry trees.
Watch the captivating cherry blossoms in full bloom. For many years, the park has become a favourite spot to see ever-famous cherry blossom.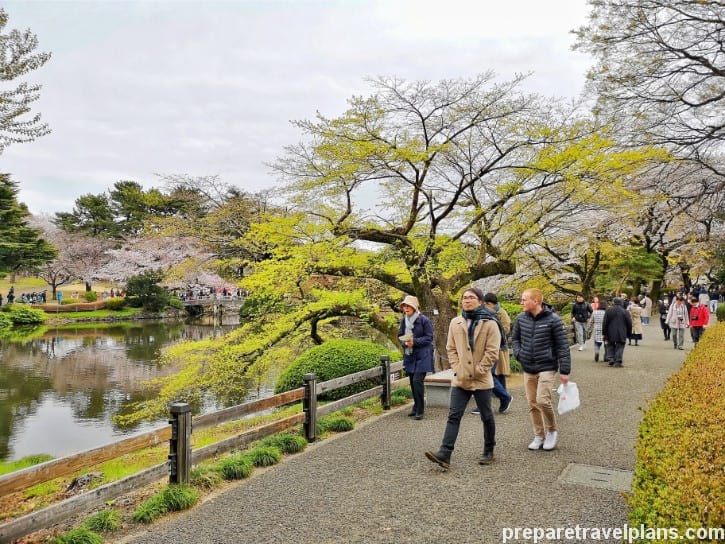 Take a seat from one of the many benches and relax under the charming shade of the cherry blossoms. Aside from watching the cherry blossom trees during springtime, you can simply walk around the gardens and enjoy the views.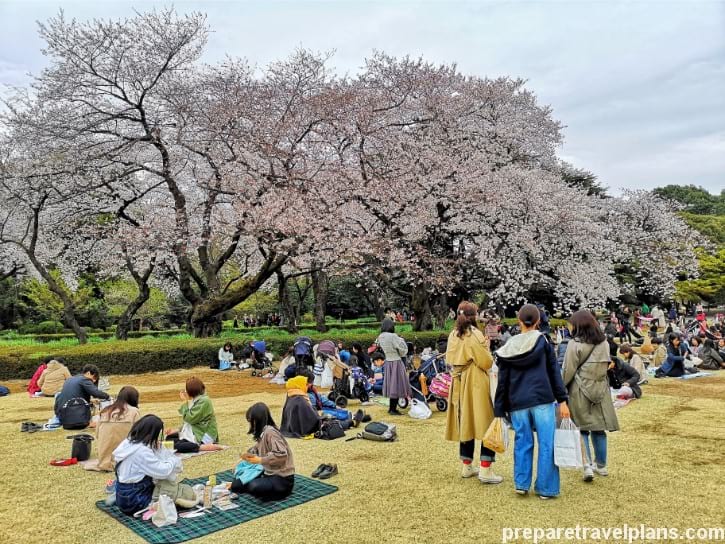 Or, you can take your family and friends for a picturesque picnic. The expansive gardens provide lots of space for everyone. Don't forget to bring your own picnic blanket and basket full of goodies!
Summer Season
---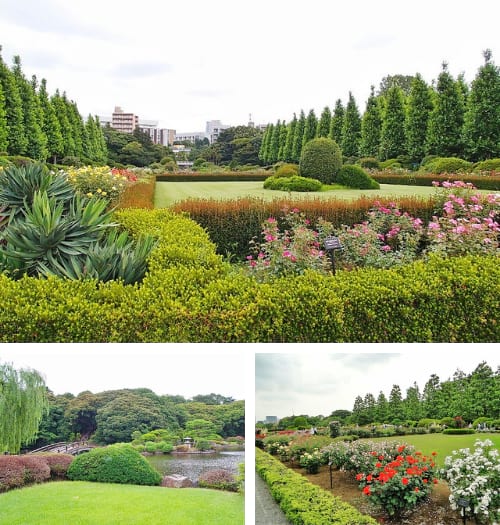 The summer season is another well-liked period for travellers visiting Shinjuku Gyoen National Garden. At this time of the year, you can catch the vibrancy of the French Garden bursting with colours.
The beautiful pond surrounded with lush landscapes is another sight to behold during summer. Take a stroll around the scenic gardens and revel in the peaceful vibes.
Of course, summer is season loaded with flowers of all colours. And some of the most striking flowers at this time are the roses.
Did you know that the colours of the roses have their own meaning?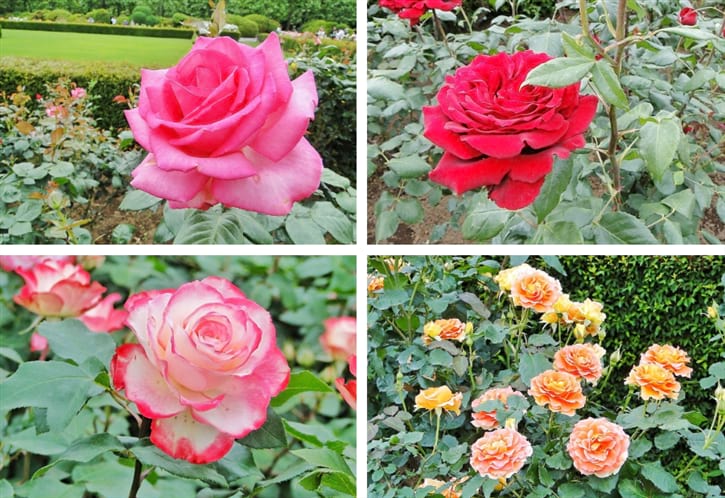 A pink rose represents elegance, sweetness, and femininity. Red roses often symbolize love and passion while the white ones signify purity and sympathy. Orange roses, on the other hand, are regarded as mark of friendship and gratitude. Yellow roses also portray friendship and joy that's why these are mostly used as "get well soon" flowers.
Autumn Season
---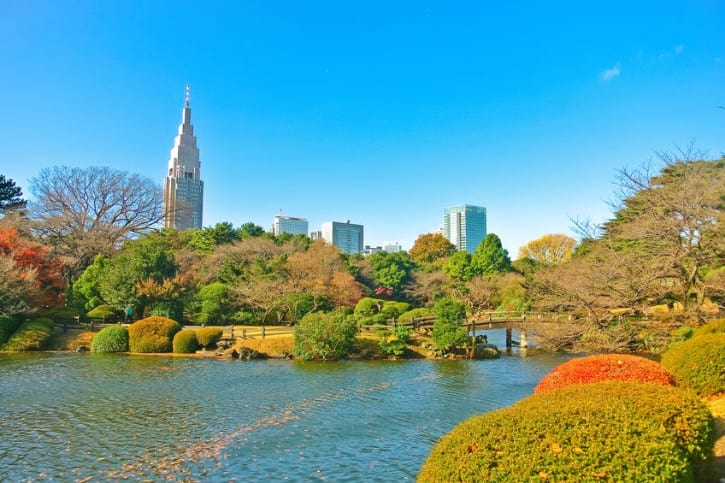 After summer, there's autumn, which is also a favoured season for tourists. Autumn is certainly a picturesque period of the year, where you can see the changing colours of the leaves.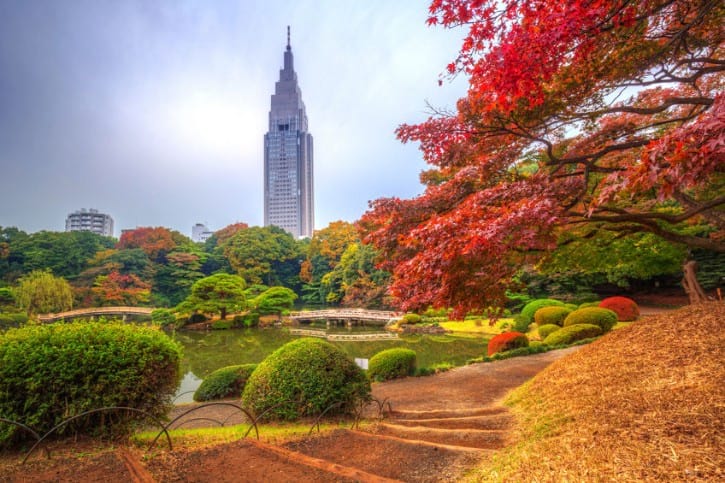 Autumn starts from late October and lasts up to December. So, if you want to witness the scenic fall landscapes, schedule your visit during these months. As the colours transform from green to yellow then dark orange, the entire park becomes more magical.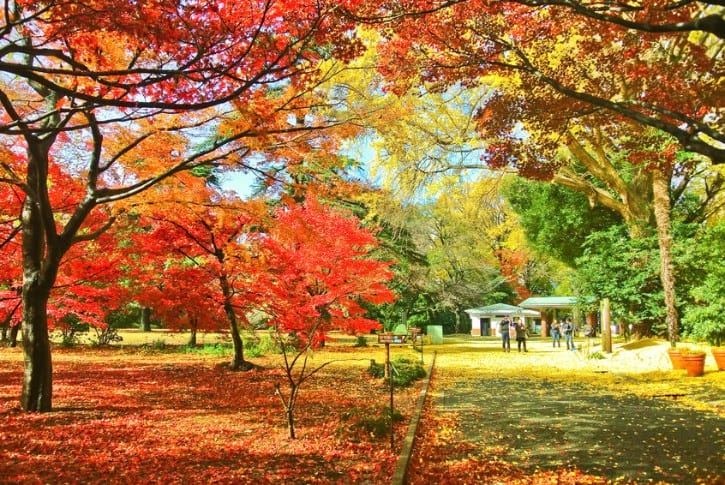 Though there are several trees in the park, the maple trees are probably the most scenic ones. During autumn, the maple leaves turn the garden into a sea of gold and red.
You can find most of the maple trees at the Maple Hill and around the Japanese garden. These red maple leaves signal the full arrival of the autumn season in the garden. And once these red leaves turn brown and fall from the trees, winter slowly begins.
During winter, the garden is still breathtakingly beautiful, though you need to consider the cold temperature on your visit. Sometimes, snow happens so this might be another thing to take into account.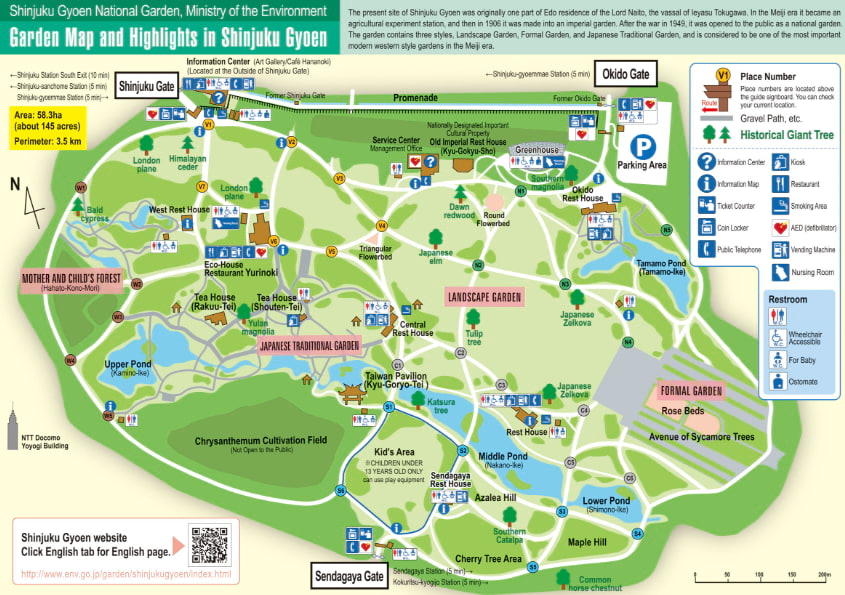 With its relaxing ambience and gorgeous gardens, it's best to spend at least 2 hours in this park. You can download the Shinjuku Gyoen National Garden Map here so you can prepare beforehand.
2. Tokyo Metropolitan Government Building Observation Decks – Catch some panoramic views of the capital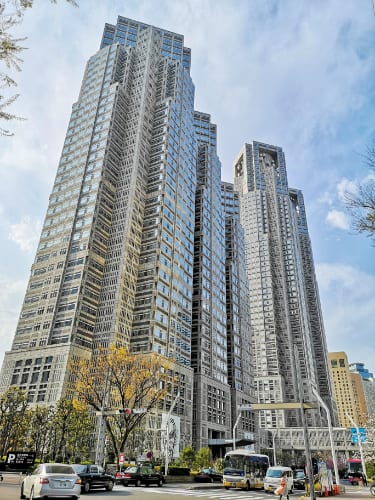 Situated along Shinjuku's busy business area, Tokyo Metropolitan Government Building Observation Decks is something not to miss.
At 243 meters tall, this impressive two-tower building features remarkable observation decks with a height of 202 meters. These are located on the 45th floor of both North and South Towers.
And the best thing about these towers is that these are for free. This means you can access the building and see the breath-taking city views from above with no extra charge.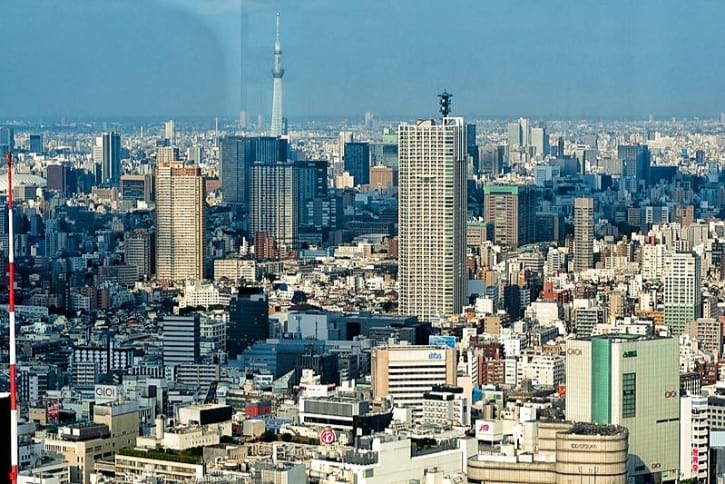 At daylight, you can capture an amazing 360-degree view of the entire cityscape. From above, spot the Tokyo Skytree, together with other Tokyo landmarks like Tokyo Tower and even Mount Fuji. These top attractions are highly visible from the observatories on a clear day.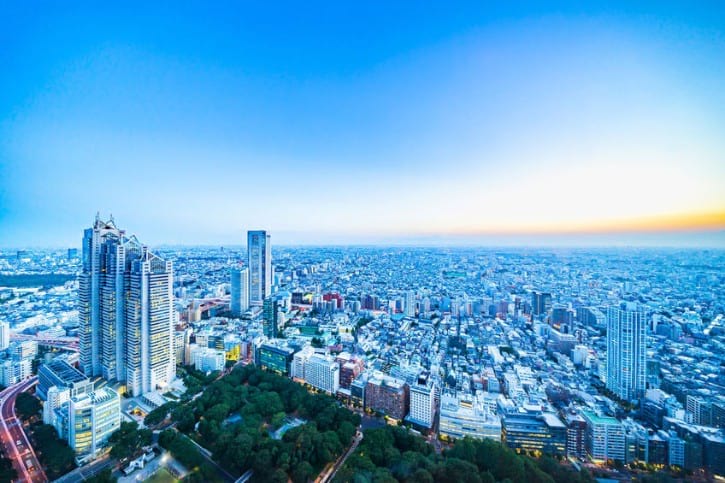 The sunset scene from the observation deck is definitely a must-see. Steady your gaze and watch how the expanse of blue turns into a breath-taking stretch of orange.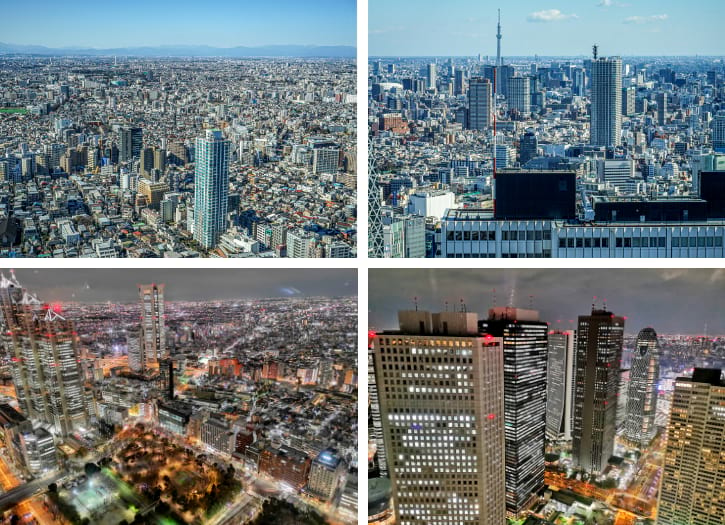 Of course, the night landscape from Tokyo Metropolitan Government Building Observation Decks is another incredible sight to capture.
When darkness takes over, the entire Tokyo city transforms into an illuminated landscape filled with dancing lights and colours.
With the panoramic city views, don't forget to bring your cameras and take a picture of the magical cityscape below.
Since there are two observatories, you can choose between the North and South Observatories. However, if you want to see more magical night views, head to the North Observatory.
3. Kabukicho – Enjoy the night away at the famous entertainment district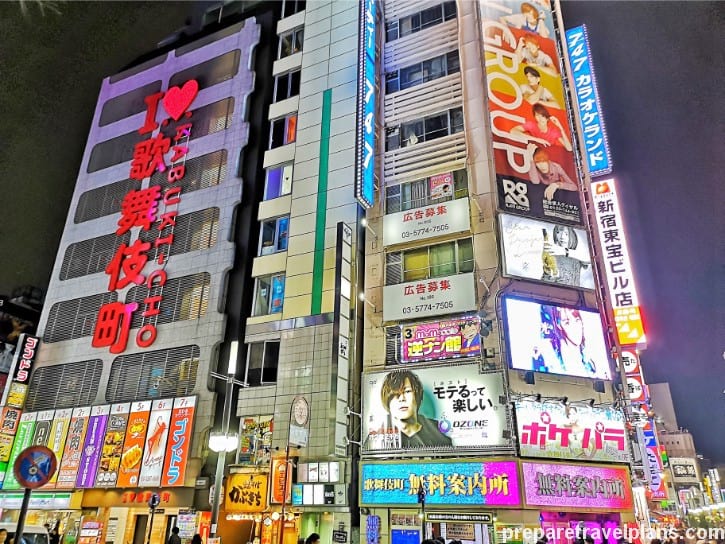 Kabukicho is no doubt the largest red-light district in the country and probably the liveliest downtown in the world. This makes this busy area in Shinjuku the most popular entertainment district among locals and travellers.
As a famous red-light district in Japan, Kabukicho shelters some of the country's best host and hostess clubs. More so, you can find many love hotels, nightclubs, restaurants, and shops here that are open the entire night. No wonder it's often called as the "Sleepless Town".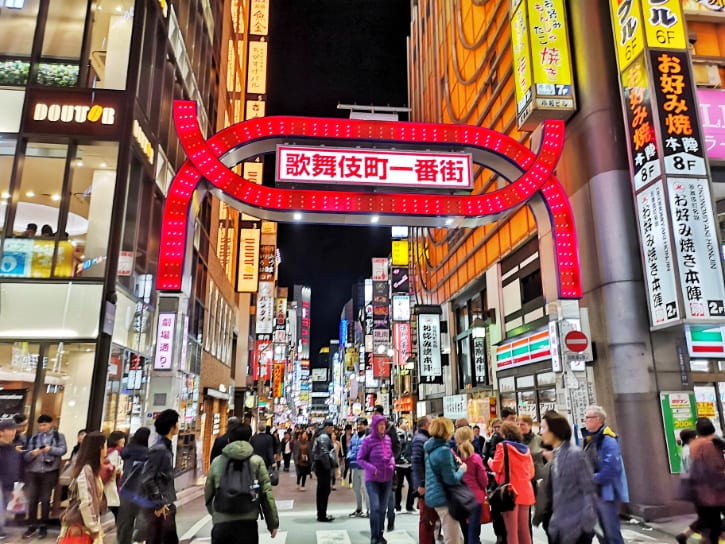 Among all other attractions on this list, Kabukicho is definitely the most touristy spot. So, be sure to take some photos, especially at the famous red Kabukicho gate.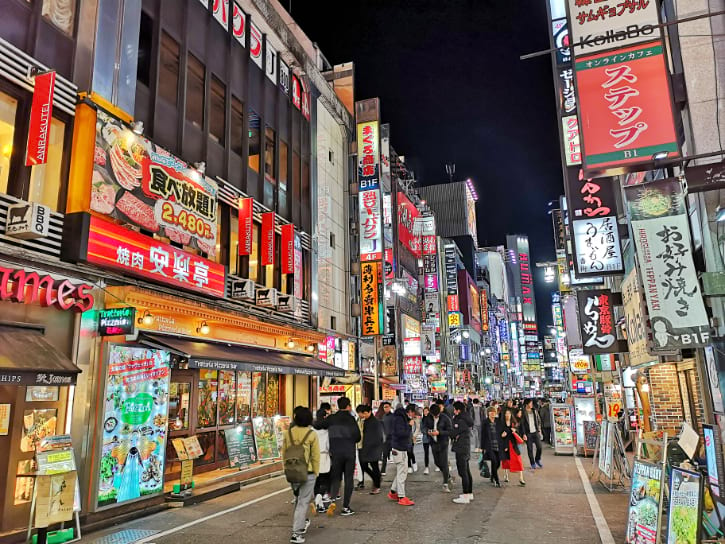 The best time to explore around Kabukicho is after dark when all the streets and buildings are lit up. Even if this is a red-light district, it's safe to walk around the area. After all, Japan is a very safe country.
Simply walk around the bright streets, capture some photos, and enjoy the night. Just a reminder though, it's normal for some people to lure you to get into the nightclubs and bars. In case this happens, just deny the offer respectfully and keep walking.
Most bars and nightclubs here are very pricey and mostly come with hidden charges. So, if you don't want to get tricked, avoid the bars and nightclubs here as much as possible.
If you really want some late-night parties, it's recommended to choose the regular bars and clubs outside the Kabukicho section.
4. Godzilla Head – Catch this giant beast nestled atop the building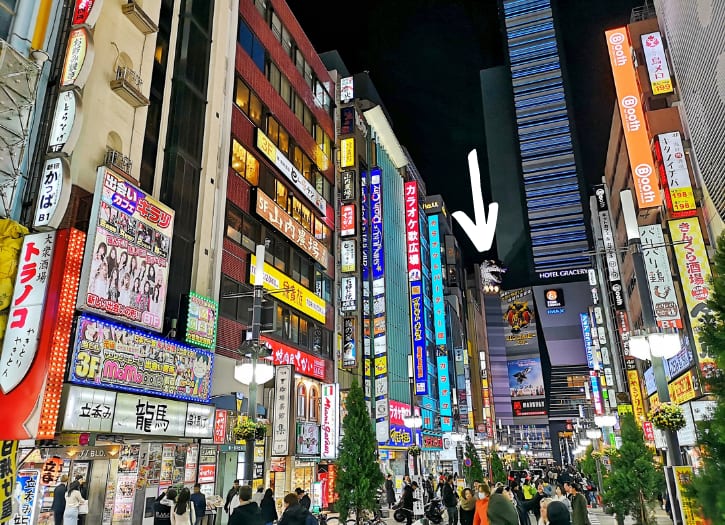 This isn't your normal Shinjuku landmark. The Godzilla Head in Kabukicho Street sits atop the 8th floor lobby of Hotel Gracery Shinjuku.
This unique character signifies the charm of Godzilla during the opening of the Shinjuku Toho Building in April 2015.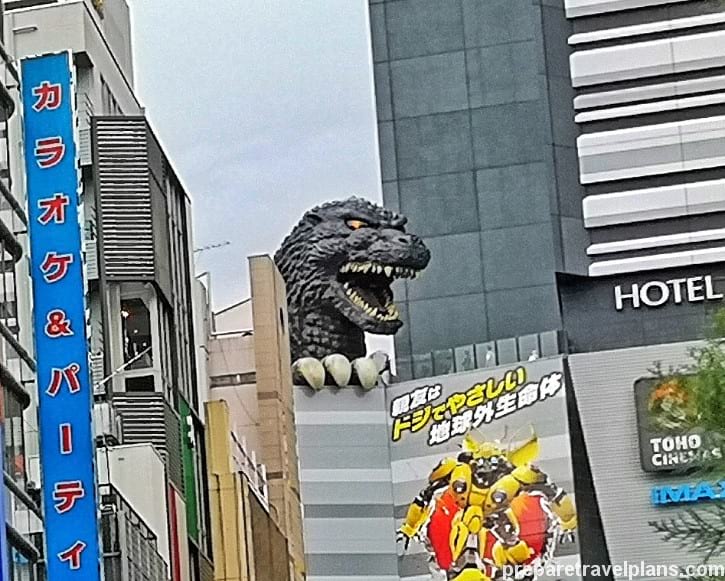 You can even take a selfie together with this famous character! Or, you can just watch and listen to this huge Godzilla that roars for 30 seconds.
The Godzilla Roar that comes with laser lights and smoke starts from 12 PM to 8 PM, every day.
And, the roar times are 12:00 PM, 1:00 PM, 2:00 PM, 3:00 PM, 4:00 PM, 5:00 PM, 6:00 PM, 7:00 PM and 8:00 PM. This means you can catch this striking attraction 9 times a day.
5. Robot Restaurant – Experience a cultural kind of late-night entertainment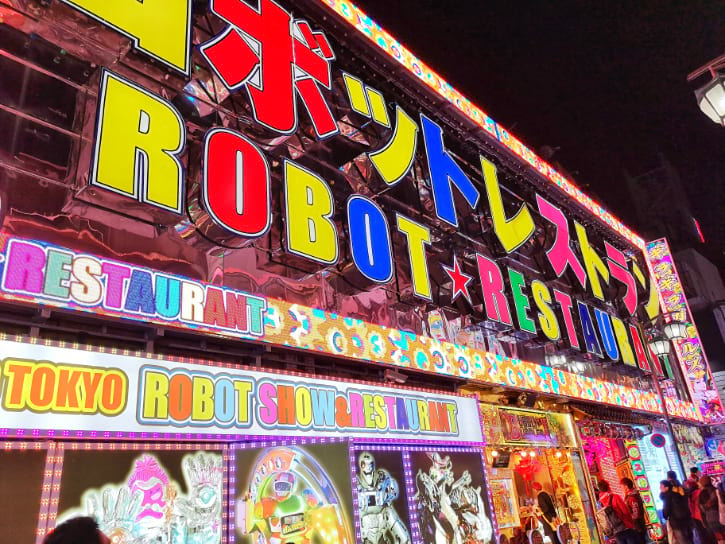 Robot Restaurant is not your typical restaurant. Well, it's actually not a restaurant; it's a unique entertainment spot filled with robotic dances, electric dance shows, and more!
This robot-themed restaurant is definitely one of the most amusing spots in Tokyo that deserves a visit.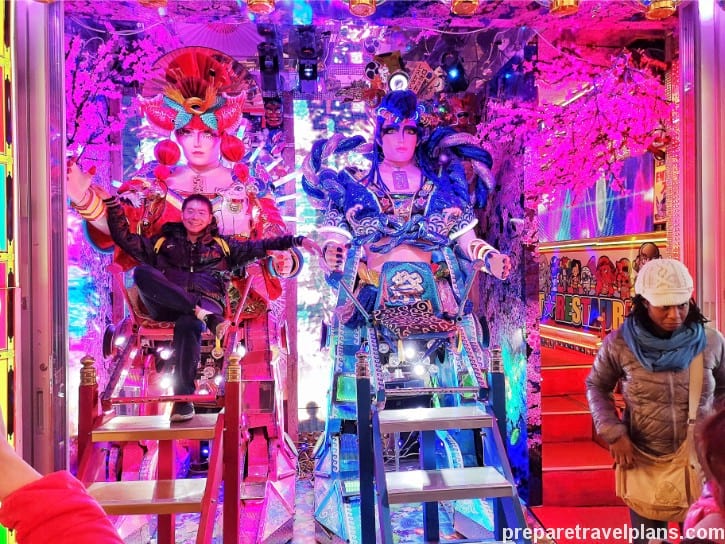 At the entrance of the Robot Restaurant, you will be greeted by grand and colourful interior designs. And there's nothing to worry about because everything inside is in English, from the performances to the announcements.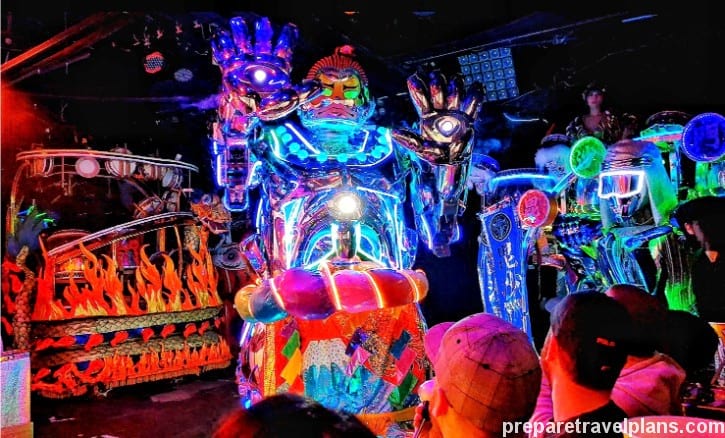 The Robot Dance is definitely the highlight of the event. Enjoy the fantastic moves of these illuminated, dancing robots that showcase the beautiful Japanese culture with a hint of technology.
All throughout the night, you will be entertained not just by robotic monsters but also beautiful performing girls.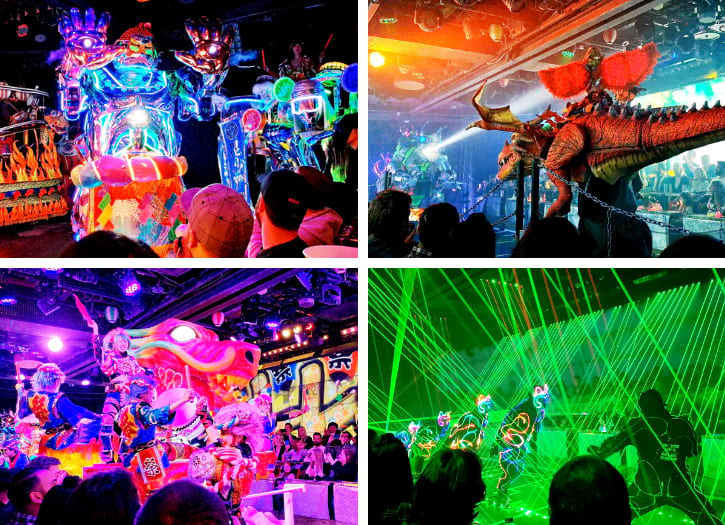 Aside from the robot and bikini-dressed entertainers, you can also witness giant mascots―like this dragon ready for battle.
Don't blink an eye as you watch this amazing fight between a robot and a giant snake. The live entertainment is truly remarkable as the music and lights fill the room like crazy.
Choose your bet and know who wins the battle!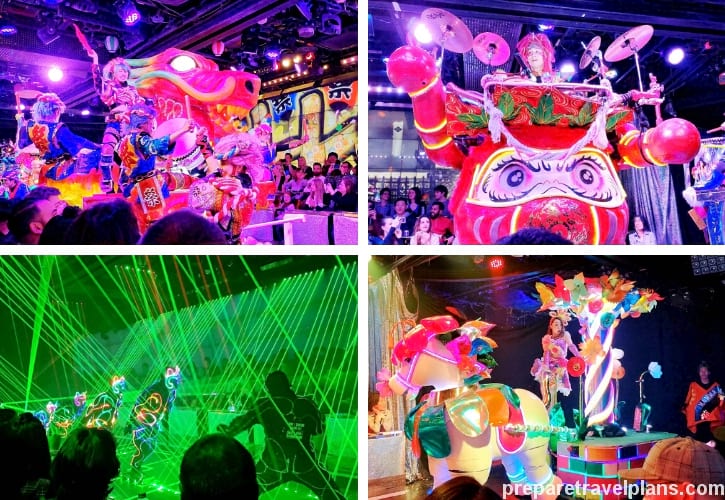 Be entertained by the local drum performances that feature the colourful culture of Japan. Most of these drum exhibitions are played on a dragon float, adding more life to the presentation. Get your groove as skilled drummers spice up the night with their insane skills.
All the drum performances don't just add music to the entire room but also more vibrancy! It's because the performers are clothed with all sorts of dazzling and artistic costumes. Surely, you will be at surprise with the perfect drum performances!
The laser dance is another crowd favourite. Enjoy the fusion of laser beams, neon lights, and electrifying music! And of course, you can't miss this beautiful and talented princess singing and entertaining the crowd!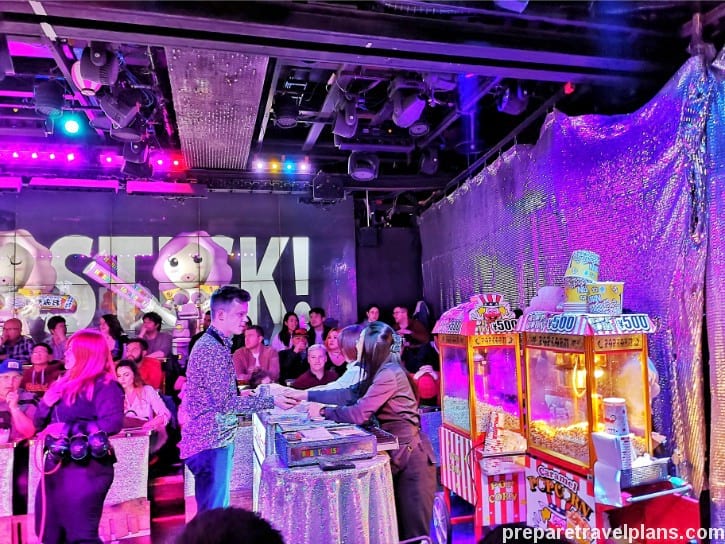 Since the show lasts around 90 minutes, there are 2 breaks provided so visitors can go to the washroom. At this time, promoters would sell snacks and drinks, including some Bento meals. Bento is a single-portion Japanese meal with lots of variants, including rice, cooked vegetables, fish, and meat.
The Bento meals here are actually optional and honestly not that tasty for its price. So, it's better to take your meals outside before or after the show. There are lots of nearby restaurants outside so don't worry.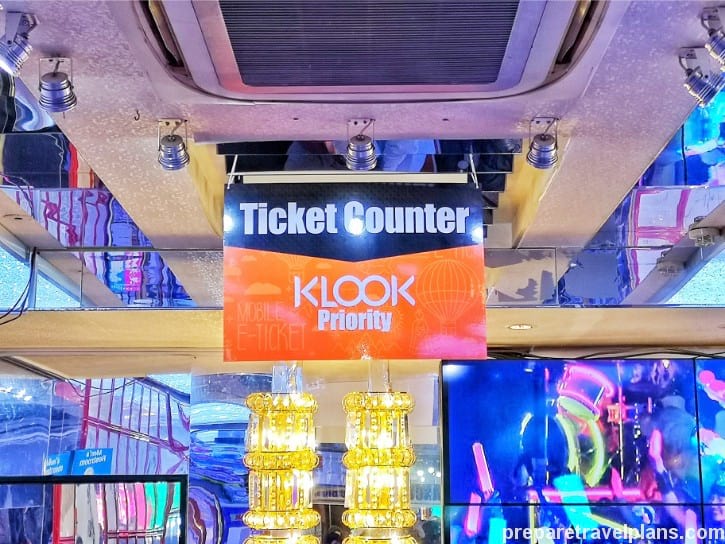 Since Robot Restaurant is a touristy attraction in Shinjuku, the tickets sold out fast, especially during peak seasons.
So, you're visiting the place during spring, autumn, and winter, it's highly recommended to book your tickets in advance. This will not just secure you a timeslot for the show but it will also give you the huge discounts.
To avail of the cheapest Robot Restaurant tickets, book online to get discounts from Klook.
By booking your tickets via Klook, you will enjoy 30 to 35% discounts compared to the ones sold on-site. Therefore, if you want to save lots of money, be practical and get them online.
Aside from cheaper rates, getting your tickets via Klook will also give you access to the priority lane. Hence, you won't be lining up to the normal queue, which is often long because of the crowd of tourists.
Because of these great features, I have personally booked my visit to the Robot Restaurant through Klook. And I can definitely say they are legit and valid.
Klook offers 3 packages for Robot Restaurant. These are Entry Ticket Only (No Meal), Entry Ticket with Popcorn + Drink, and Entry Ticket + Bento.
To save more money, you can choose between the Entry Ticket Only (No Meal) or Entry Ticket with Popcorn + Drink option. As I've noted earlier, the Bento meals inside aren't that satisfying. So, it's better to dine somewhere else, before or after the show. 🙂
For more information about the three combo packages as well as the latest show timeslots and actual discounted prices, check out the link below.
6. Hanazono Shrine – Visit historical temple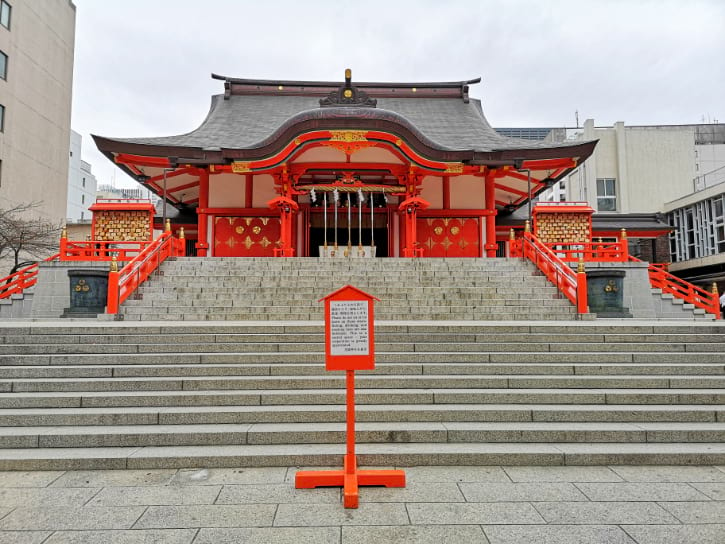 It's ironic how this shrine is surrounded by towering buildings and jam-packed streets. The Hanazono Shrine is like a peaceful, hidden gem within the bustling city centre.
Built during the 17th century, this retreat place was put up by the Hanazono ancestors as a dedication to Inari. Inari is presented as an androgynous (both male and female) god of fertility and prosperity.
Because of this, the Hanazono Shrine is a favourite spot among businessmen and merchants who pray for successful business dealings.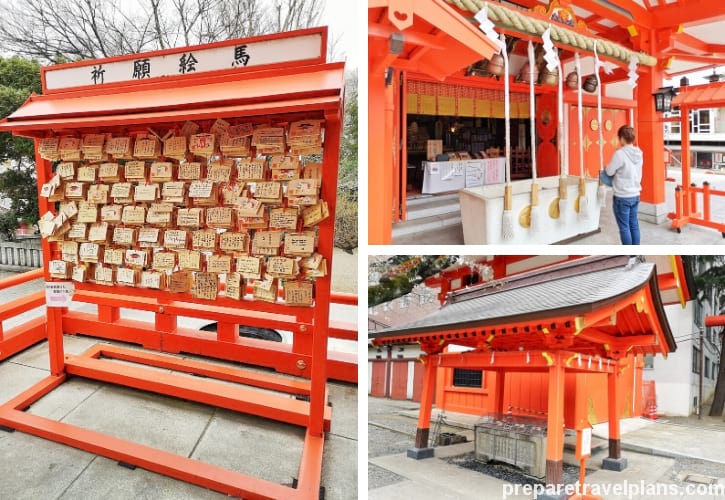 Once you enter the shrine, head to the purification fountain for cleansing. It's recommended to do this before entering the sacred grounds.
When visiting Hanazono Shrine, be polite at all times. Say a short prayer in front of a holy object or area to show your respect.
You can also find a wooden board filled with written wishes from various travellers around the world.
7. Shinjuku Golden Gai – Enjoy an authentic Tokyo nightlife along the narrow alleys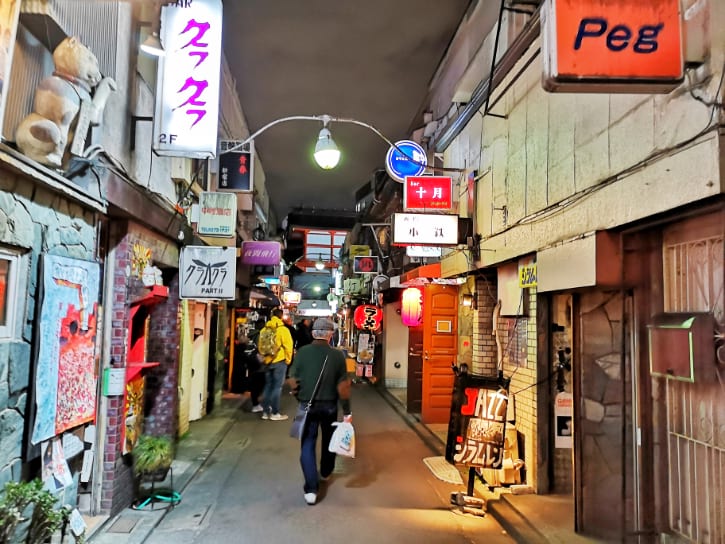 Shinjuku Golden Gai is one of the best ways to experience traditional nightlife in Tokyo. This attraction consists of six narrow alleys that shelter more than 200 bars in total.
There's more to love in this small yet interesting place in Shinjuku. Before becoming a famous drinking area, Golden Gai was known because of prostitution. This started in the 1950s when prostitution became illegal.
Golden Gai is also labelled as the "Golden Street" because it takes you the golden period of Shinjuku. For that reason, there are some bars along the alley that have existed for many decades.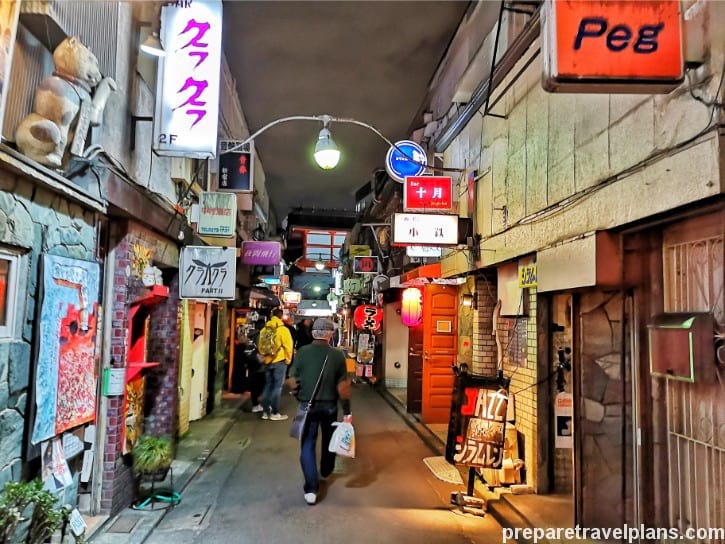 Almost all the bars here are very small; hence a limited number of customers can be served. Usually, one bar can accommodate about five people only.
Also, Golden Gai isn't a cheap drink place and most of their customers are well-off locals. That is why it's a favourite meeting place among artists, musicians, directors, writers, and even celebrities.
Clearly, Golden Gai is the perfect place to indulge after a day of busy work or jam-packed travels. The bars along the alleys serve great food and beers for locals and tourists wanting an epic nightlife.
Sometimes, you'll get denied by a bar owner to go inside their establishment even if there are empty seats. Don't get mad about this because it just means that their place is already reserved to their regular customers.
Continue exploring the alleys and focus on those establishments with English signs. Often than not, those bars with English signs are run by locals who can understand and converse in English.
If you're planning to include Golden Gai in your itinerary, it is located just beside Hanazono Shrine. Do take note that most of the bars will be open around 7 PM only. Hence, the area is very silent during the daytime until early evening.
8. Don Quijote Shinjuku Kabukicho – Go shopping inside one of the largest chain stores in Tokyo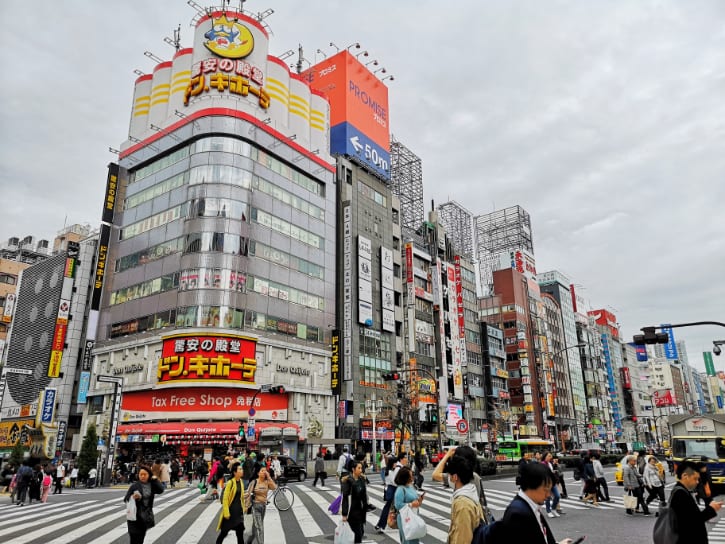 A trip to Shinjuku wouldn't be complete without a visit to Don Quijote.
Don Quijote is a very popular discount chain mall in Japan, with more than 160 branches all over the country. This well-loved store, which is also nicknamed as Donki, is a staple among tourists wanting an affordable shopping experience.
So, don't forget to add this place into your list of things to do in Shinjuku.
Don Quijote Shinjuku Kabukicho branch is quite famous because it is one of the biggest Don Quijote in Tokyo. Plus, it is open 24 hours a day and even has a tax-free counter!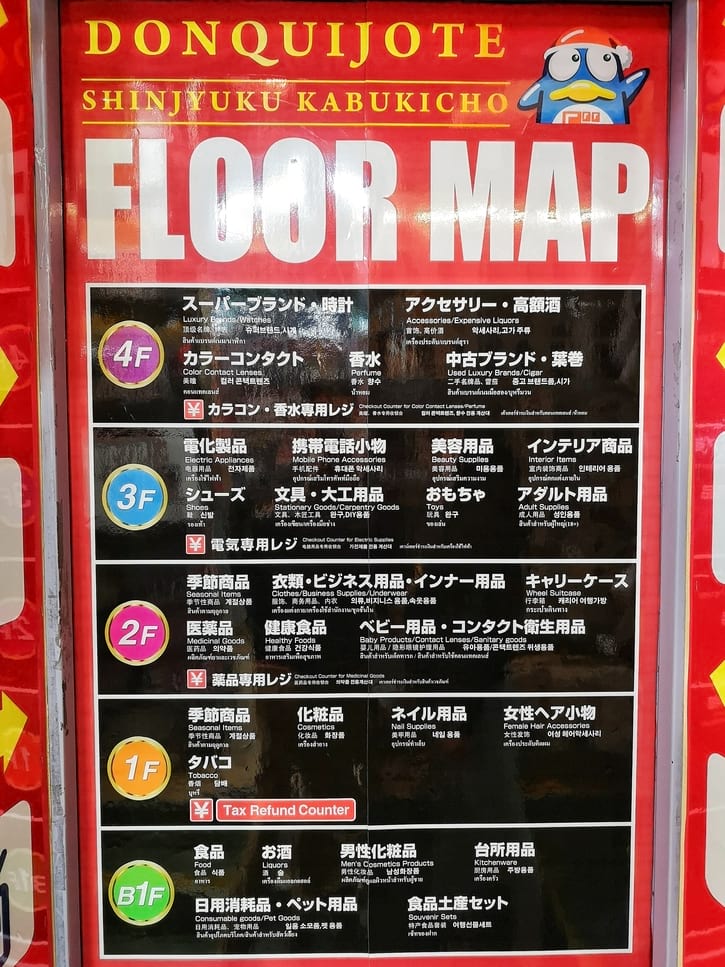 This Don Quijote branch comes with 5 floors, making it the ultimate place for all kinds of shoppers. This map shows the wide-ranging items and goodies that are sold at a much cheaper price. So, if you want to shop and also save money, a trip to Don Quijote is the answer.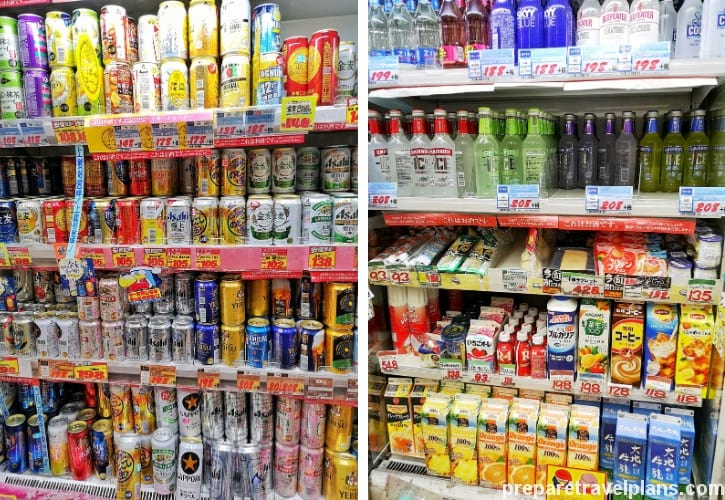 Don Quijote has everything under the sun. In one area, you'll find plenty of beverage options, including some Asahi beer cans. More canned juice drinks are offered on this section as well. There are a lot of flavours to choose from for everyone!
If you're not a fan of beers, no need to worry because you still have plenty of choices. Pick your favourite healthy drink from their amazing range of fruit juices. Not only that, there is also quite a number of soft drink options for you to choose from.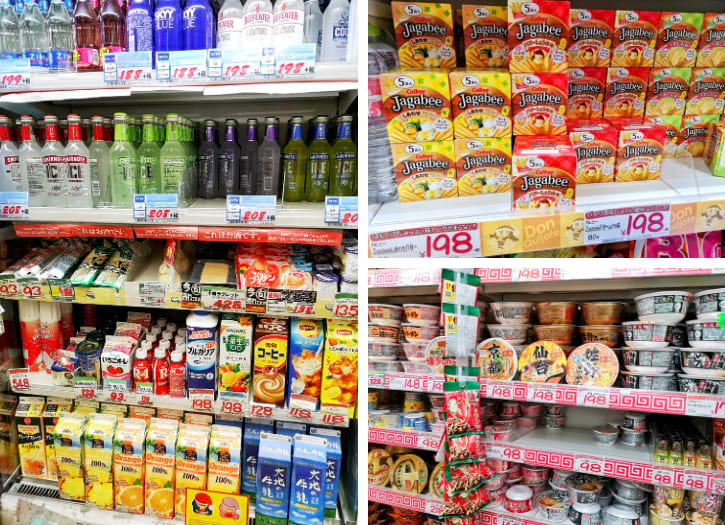 An impressive display of Japanese snacks and sweets can also be found inside the mall. Grab some of these Calbee Potato Sticks, together with some tasty treats at cheaper prices. These Calbee Potato Stick with Carrot snacks are just some of the hundreds of Japanese goodies for sale.
Try this Crispy Green Wasabi Pistachio and you might end up buying more!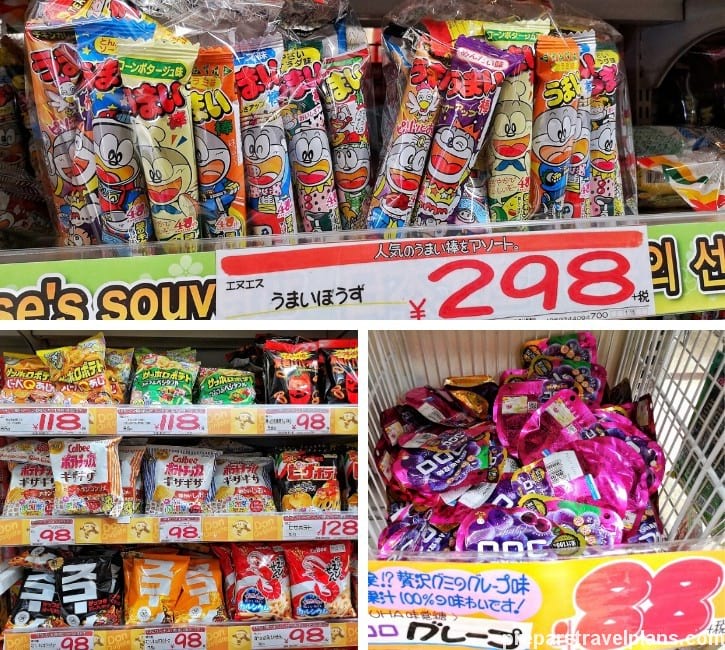 Among the extensive list of snacks are the Umaibo Cylinder Snack and Kokoro Gummy.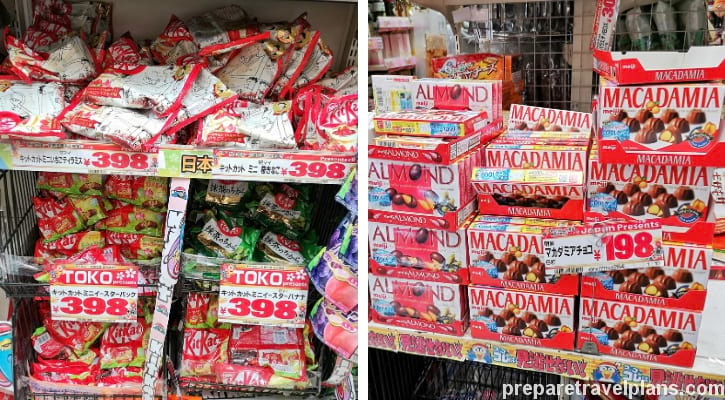 Chocolates also make up a portion of the snack section. Add into cart some of these famous Kit Kat matcha variants.
You can include these Macadamia chocolates in your cart as well!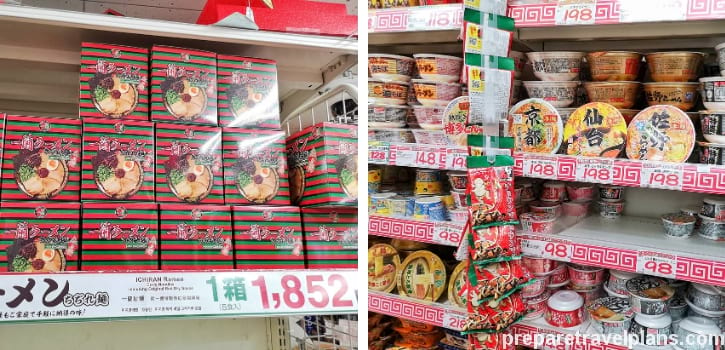 Packed food items like Ichiran ramen instant noodles are on display too. Other than this, the Japanese instant noodles are best-sellers for those who are on a tight budget.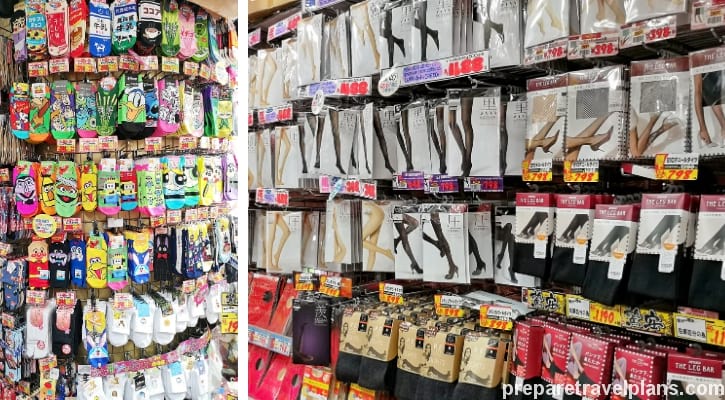 Aside from local foods and drinks, Don Quijote also has a range of clothing items for both men and women. These include leggings, cartoon socks, cosplay items, party needs, and more! Cosmetics, accessories, jewelry, and bags are also available.
So, if you're looking for different Japan souvenirs for your family and friends back home, Don Quijote is the answer.
9. Omoide Yokocho – Dine and drink like a local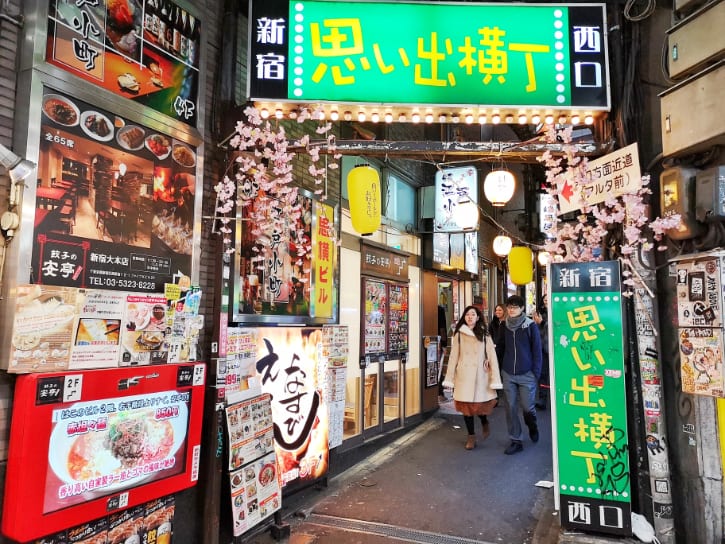 Omoide Yokocho is such a favourite spot for authentic Japanese dining and drinking sessions. This area filled with narrow alleys is stuffed with tiny restaurants, barbecue stalls, and bars.
Most of these establishments are old-fashioned shops and rundown buildings that add more traditional depth to the place.
Before Omoide Yokocho became a famous late-night zone, it was once a black market during the late 1940s. It was often called the "Piss Alley" because of its plentiful bars that lack public restrooms. And sometimes, it is referred to as the "Memory Lane" since it was established after World War II.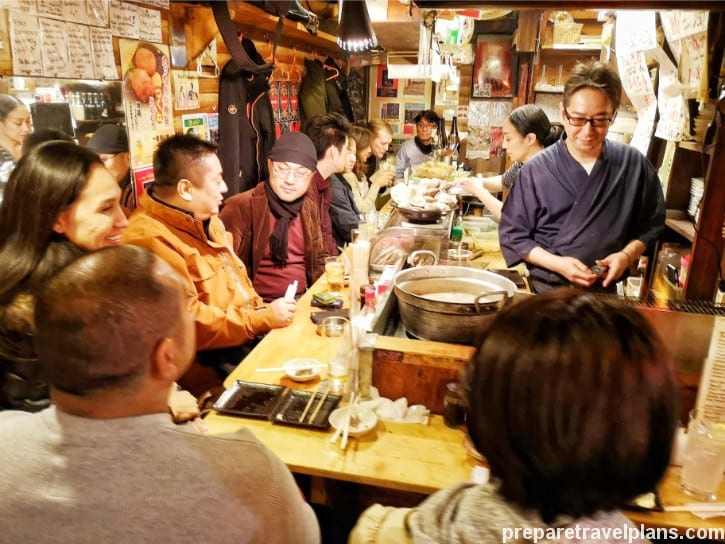 At present, Omoide Yokocho is a well-loved section because of its tasty yakitori (grilled skewers) and cheap drinks. All the narrow alleys here are loaded with various kinds of local foods and beverages.
You can find Omoide Yokocho at the west exit gate of the Shinjuku Station. Because of its strategic location, it's a top choice among locals and tourists, especially during dinner time.
At night, the alleys are occupied with all sorts of visitors, mostly office workers and travellers. Take a bite of the ever-tasty Yakitori chicken from one of the many food stalls. Then, enjoy a drink from the endless array of bars.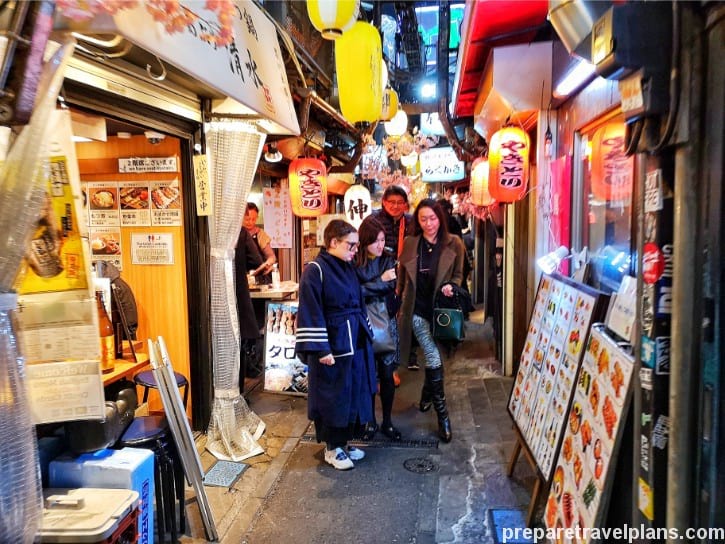 So, if you want to have a memorable late-night adventure, head to Omoide Yokocho and enjoy its laidback beauty. Whether you'd go bar hopping or food hunting, you'll never run out of options while you're here. And even strolling along the alleys is already a satisfying way to cap off your night!
10. BICQLO Shinjuku – Go shopping for the hottest electronics and trendiest fashion apparel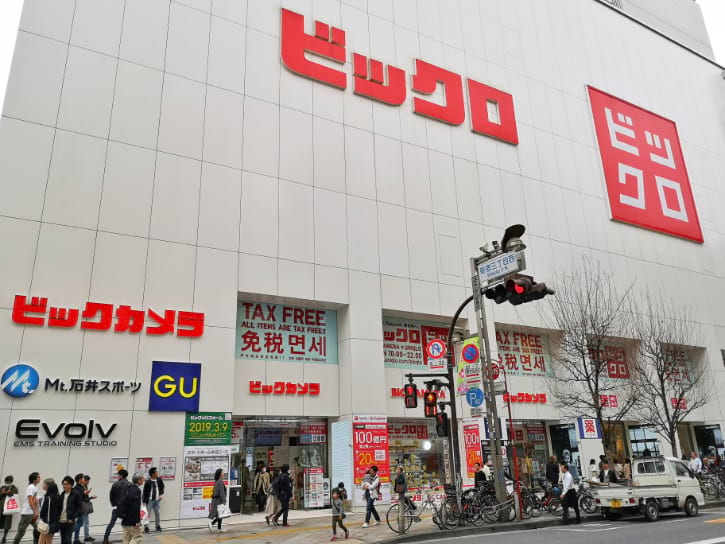 In case you not know, BICQLO Shinjuku is actually a fusion between two popular stores in Japan―Bic Camera and Uniqlo.
Bic Camera is a well-known retailer of home electronics while Uniqlo is a famous fashion brand name. With such collaboration, this store is quite unique among other malls in Shinjuku.
Inside, you get to shop the latest beauty appliances, cameras, computers, together with wide-range of trendy fashion clothes and accessories.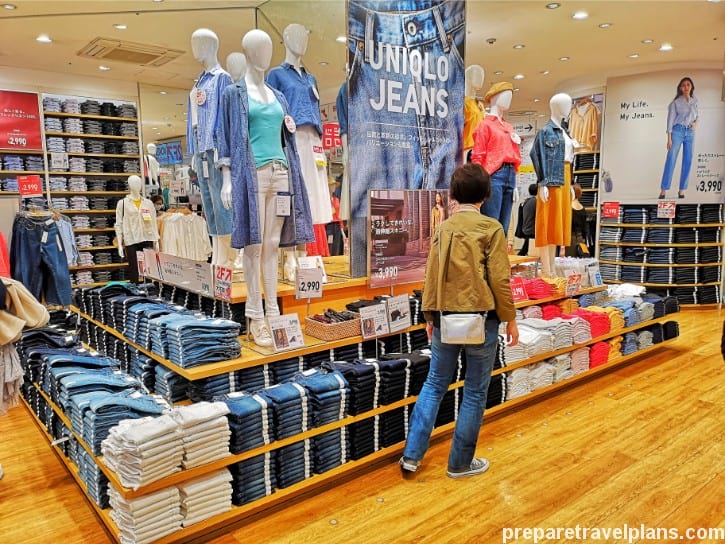 As one of the most visited shops in Shinjuku, you can find different kinds of technology and fashion-related stuff here. At the fashion section, you'll discover a pile of jeans for everyone.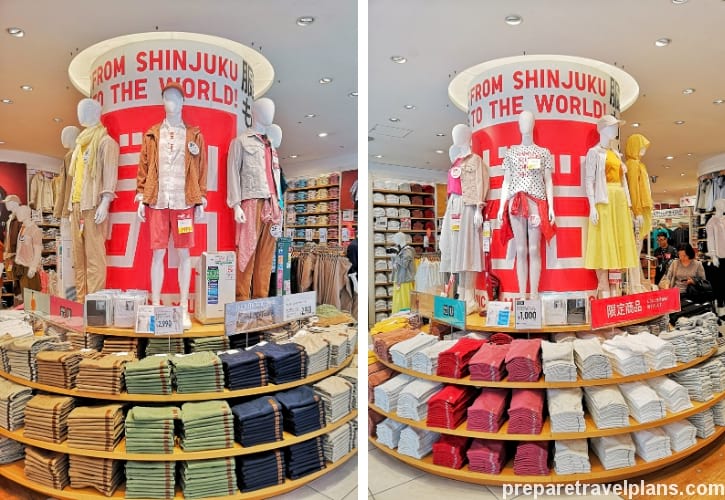 And of course, since BICQLO is a combination of two stores, you'll be getting a great deal of shopping options! For the Uniqlo selection, they have a larger range of men collection that comes with affordable prices.
The women section is also packed with many fashion essentials, from comfy T-shirts to stylish dresses and more! All floors from 1 to 3 are allocated for Uniqlo while the remaining floors are designated to Bic Camera.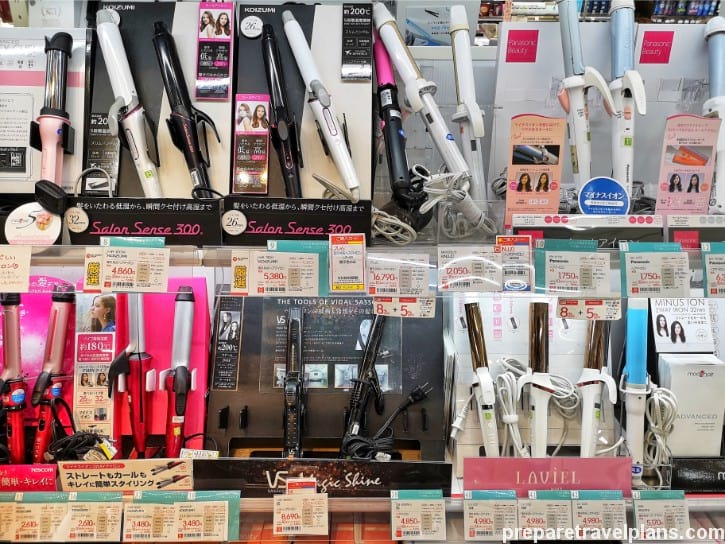 And, if you're looking for some quality electronics like curling iron and such, BICQLO Shinjuku got it for you too.
You'll love this shop even more because almost all of their staff can speak different languages. Their multilingual staff is definitely a plus factor, especially that they mostly cater to international visitors.
11. Takashimaya Times Square – Shop all you want inside this 16-storey department store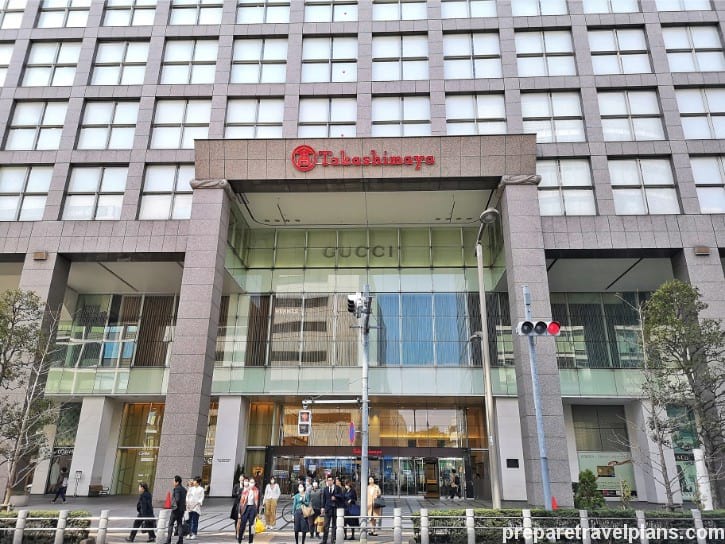 Takashimaya Times Square is undeniably the ultimate shopping heaven in Shinjuku. This towering complex consists of 16 floors, starting from level B2 up to Level 14.
As a large-scale shop, it has everything you want, including cosmetic shops, luxury boutiques, household stalls, foods and more!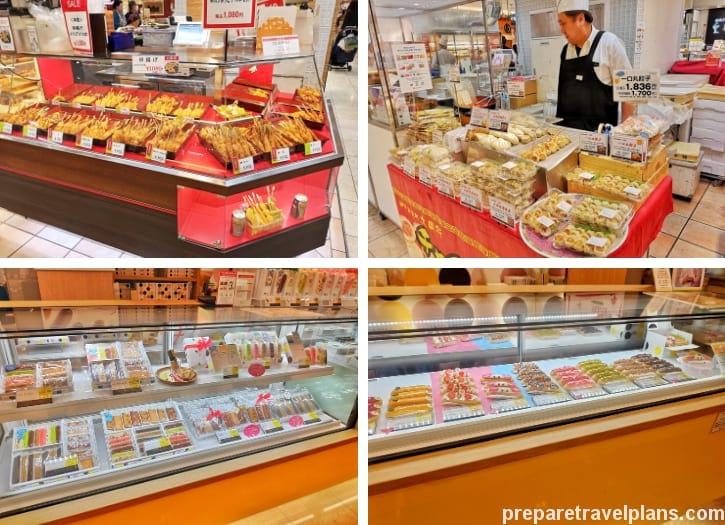 Before you start shopping your heart out, satisfy your tummy with the impressive selection of Japanese goodies at Basement 1. This entire floor is designated for all food lovers.
Within this food paradise, you'll get yourself stuck with amazing snack options.
Take delight in different Japanese foods like gyoza, sushi, dango, bean cakes, and other pastries. Aside from these local treats, there's a variety of Western foods, together with other international cuisines like Chinese and Korean.
The famous French pastry shop, L'Eclair De Genie, is also present inside the food corner. Don't miss their charming assortment of biscuits that come in various flavours. Of course, their best-selling éclairs deserve a bite too! Don't worry because these international goodies are definitely worth the extra calories!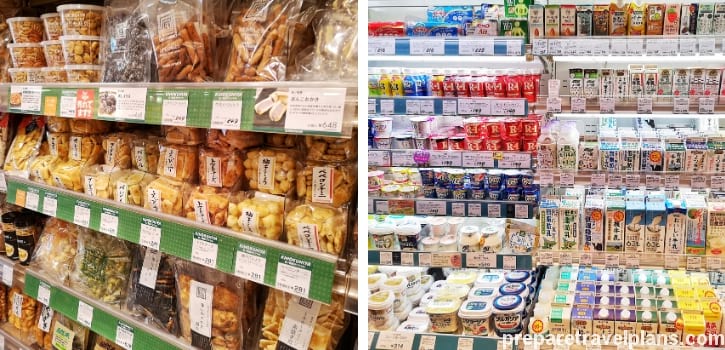 Aside from freshly-baked snacks, there are plenty of ready-packed goodies that you can easily bring home.
Complete your food adventures with some local drinks. In this section, you'll be loaded with a full-packed range of beverages and even yogurts.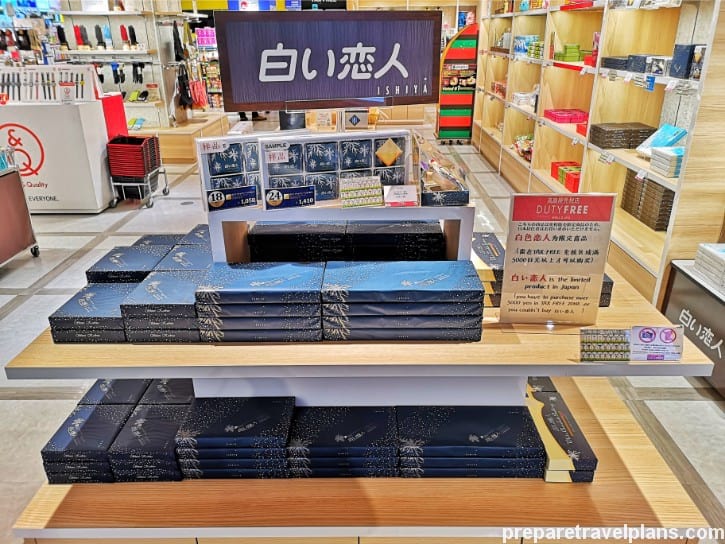 These elegant-looking boxes are actually tasty cookies named Shiroi Koibito. These are small cookies squeeze in with delicious chocolate jam.
You can find these European-style sweet treats at Takashimaya Duty-Free Shop SHILLA & ANA on the 11th floor.
The famous Takashimaya Duty-Free Shop SHILLA & ANA is very popular among tourists because it's tax-free, hence much cheaper.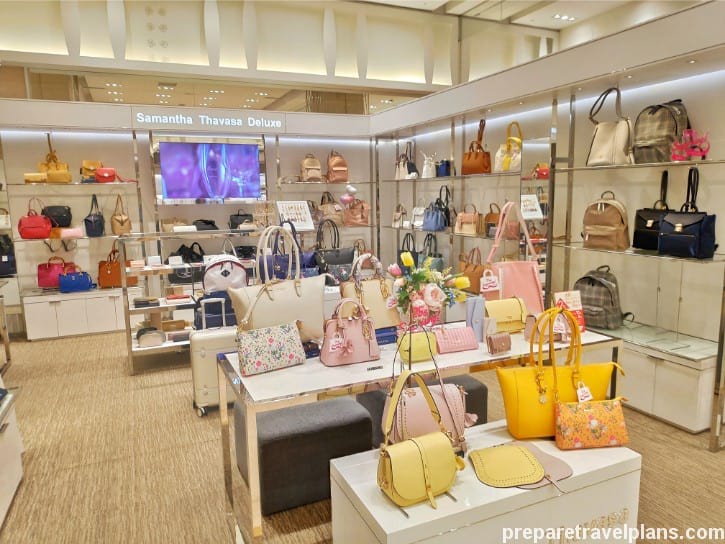 Takashimaya Shinjuku is not just about foods and drinks. On the first floor, you'll get yourself surrounded by an impressive selection of cosmetics, fragrance, and other ladies' stuff.
The second floor is still for the ladies' section. Here, you'll find bags, shoes, and accessories in full presentation.
And for the third floor, this is where you'll see a great range of luxury and international boutiques. Some of these international brands are Balenciaga, Gucci, Louis Vuitton, Coach, Hermes, Chanel, Jimmy Choo, Bottega Veneta, and Micheal Kors.
If you're looking for some business wear and formal shoes, head to the sixth floor. This section is also loaded with bags and other men's stuff. On this floor, there's a cafe for a quick snack break.
Because of the wide-ranging items on display, you might get lost while exploring this massive department store. So, better check out the floor guide of Takashimaya Shinjuku here ahead of time.
12. Matsumoto Kiyoshi – Get your beauty products from this popular pharmacy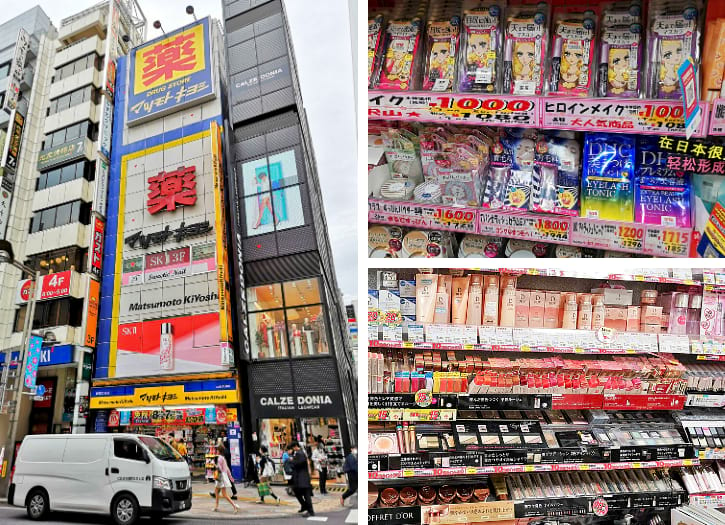 Travelling non-stop can take a toll on your health. In case you get sick while in Shinjuku, relax because there's a famous pharmacy around. Matsumoto Kiyoshi is the best place to go if you're in need of top-quality medicines and health supplements.
This famous pharmacy is your one-stop-shop for your health needs. Plus, it's easy to buy medicines and vitamins here because the staff can understand and speak in English and Chinese.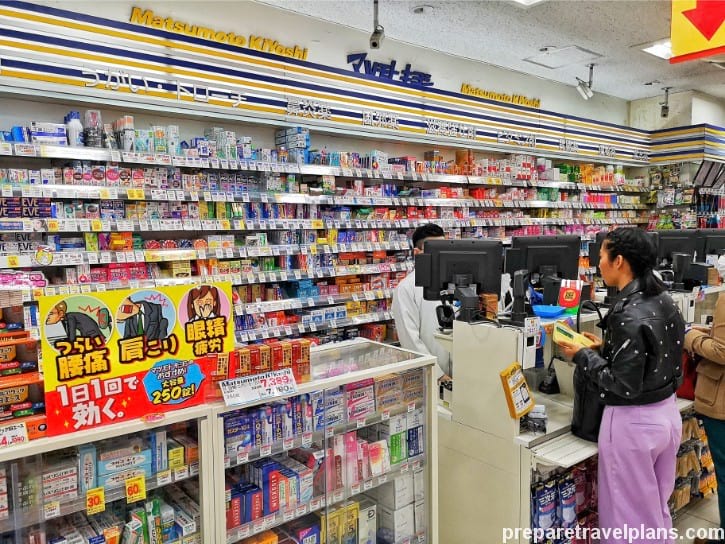 And if you're not sure what medicines to buy, you can ask recommendations or explanations from the drugstore staff.
Aside from pharmaceutical essentials, Matsumoto Kiyoshi has an awesome section for cosmetic products and local beauty items.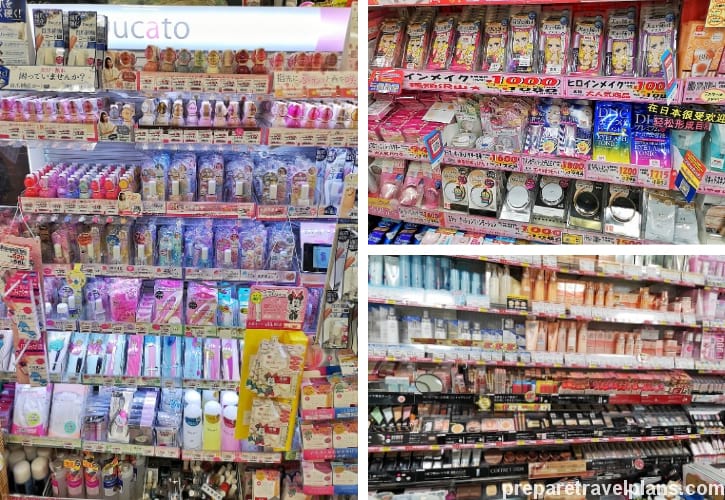 Replace your older cosmetic stuff with new ones from Matsumoto Kiyoshi Shinjuku. They have almost everything for your beauty and makeup needs. These include top makeup products like foundation, blush on, lipsticks, eyeliners, eye shadow, mascara, and such!
The staff here are not just multilingual but are also friendly and accommodating. So, if you're unsure with the souvenirs or cosmetics you're planning to buy, you can simply ask them. The staff inside will be very willing to help you.
Stop by this section full of cute nail polish and other nail stuff. The best thing about buying something from Matsumoto Kiyoshi is that these are priced reasonably! In addition, the products here are way cheaper because they offer tax-free services.
13. Isetan Shinjuku – Shop for luxury brands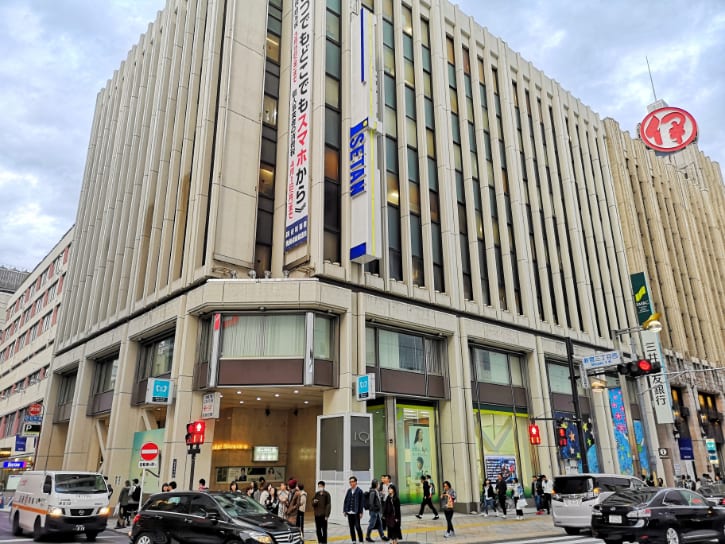 Another popular department store is Isetan Shinjuku. This full-service shop is a household name when it comes to various Japanese products and even international brands.
Most of the products here are high-end and luxury. Hence, it might not appeal to those who are on a tight budget.
Still, you definitely need pop by Isetan Shinjuku because of its amazing food selection that caters to all travellers.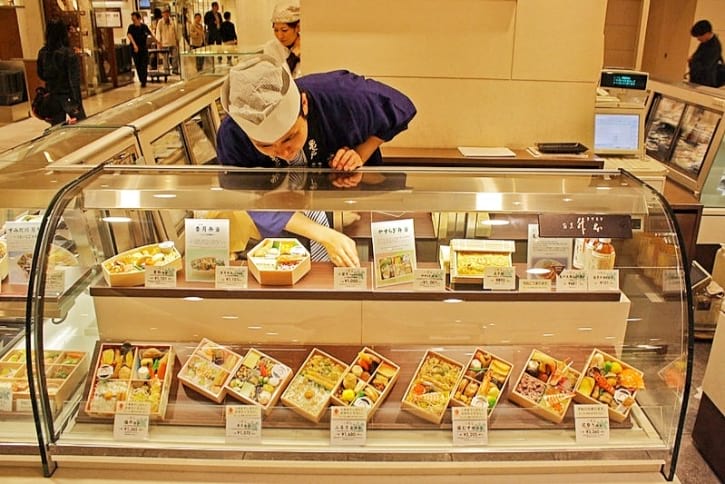 A trip to Isetan Shinjuku would be more fulfilling if you visit their food hall. Their food section, which is located at basement 1, is certainly the perfect spot for hungry shoppers.
If you're starving, pick one of the mouth-watering bento meals that come with everything you need.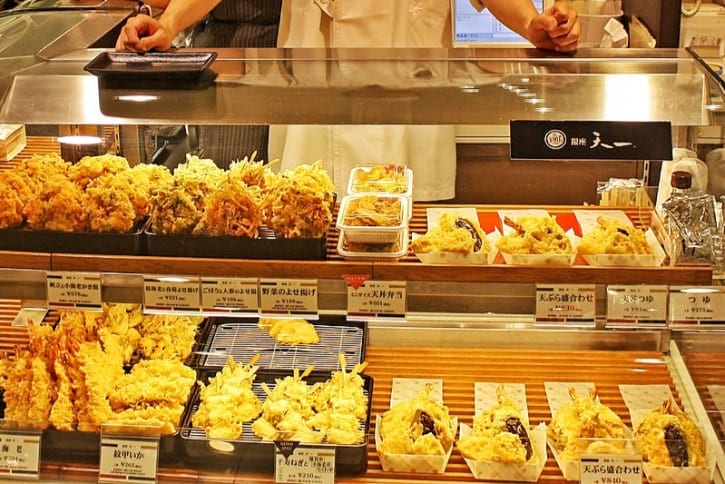 Or, you can check out their appetizing range of local snacks that are mostly presented inside clear glass counters. Some of the best foods in the food hall are tempura, sushi, tea, wine, and other local desserts.
All these food options are great treats after walking around Shinjuku.
Isetan Shinjuku is actually just a walking distance from BICQLO. So, after your shopping adventure in BICQLO, you can go to Isetan Shinjuku's food hall and enjoy their amazing foods.
If you want to know about the food locations inside Isetan Shinjuku, simply check the food hall map here.
14. MUJI Shinjuku – Satisfy your shopping needs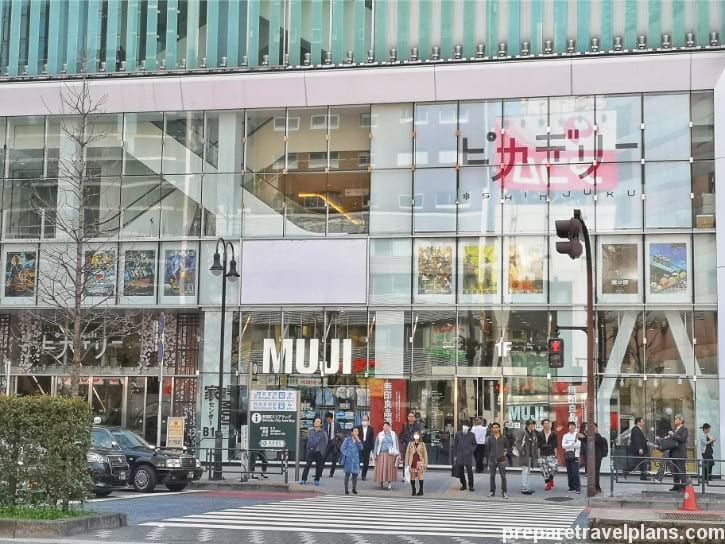 MUJI Shinjuku offers endless shopping options for every fashionista, makeup enthusiast, and food lover! Inside this big shopping complex, you'll be surrounded by a fantastic variety of shopping needs.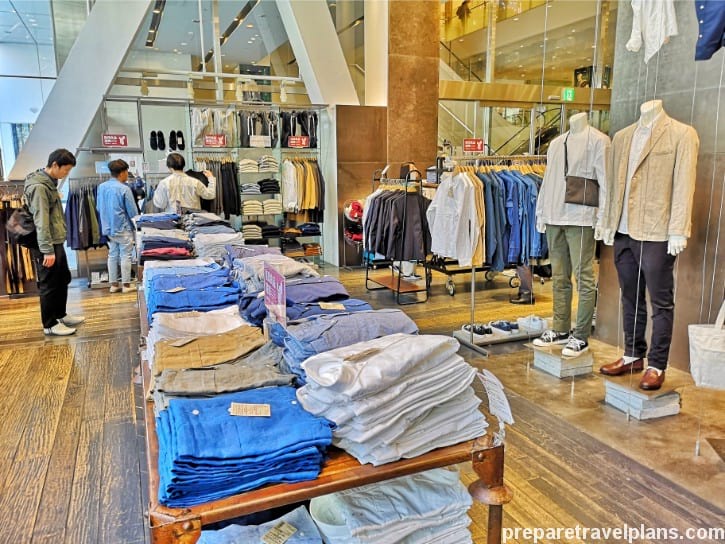 Cosmetics, clothing, furniture, stationery, and travel goods are all under the roof of MUJI Shinjuku.
Plus, you can easily take a break from all the shopping because they have a cafeteria in the basement. Their cafeteria serves delicious desserts and cold beverages for a quick, satisfying snack time.
15. ABC-MART Shinjuku Flagship Store – Fulfill all your shoe wishes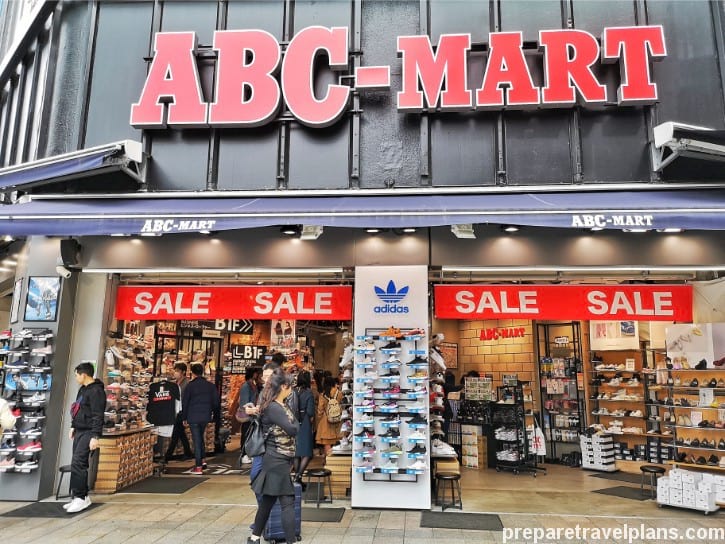 If you're planning to buy sneakers in Shinjuku, the best place to go to is definitely ABC-MART Shinjuku Flagship Store. This is the go-to store among shoe lovers because it has a massive number of sneakers on sale.
Inside ABC-MART Shinjuku Flagship Store, you'll be encircled by top shoe brands like Nike, Adidas, Puma, and more!
7 Best Things to Eat in Shinjuku
---
1. Ichiran Shinjuku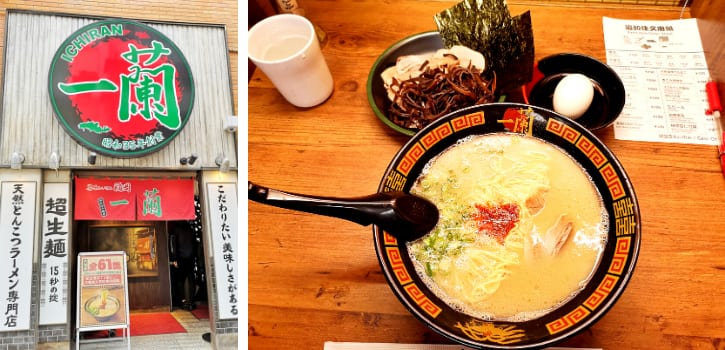 There's no doubt that ramen will always be one of Japan's most favourite foods. And for an authentic ramen experience, there's Ichiran Ramen Shinjuku.
Ichiran Ramen is definitely a must-try when you visit Shinjuku. Their ramen set meal costs 1,490 yen and 890 yen if you opt for ramen only without side dishes.
2. Tendon Tenya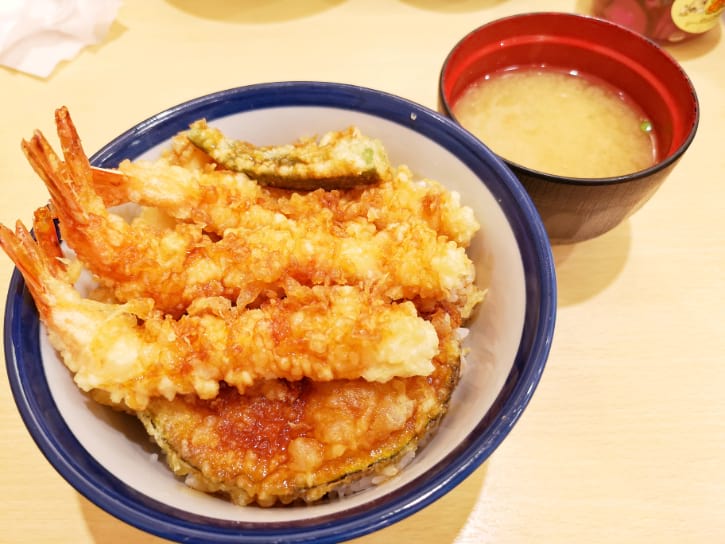 Enjoy a delicious tendon meal at one of the best tendon restaurants in Japan, Tendon Tenya. This popular restaurant chain offers flavoursome tendon dishes at affordable prices.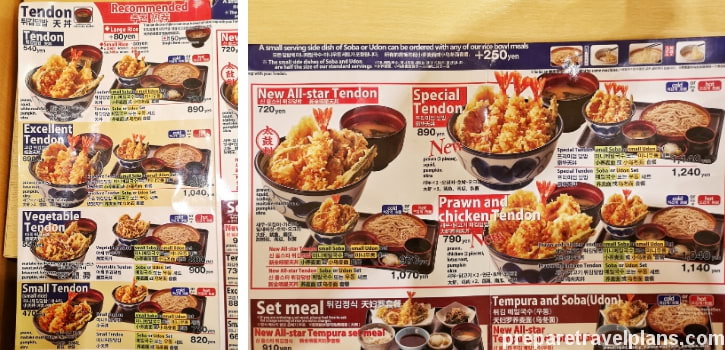 Tendon Tenya has an extensive set of meals on offer. These include New All-star Tempura set meal, Special Tendon set meal, Prawn and Chicken Tempura set meal and more!
If you're in a hurry, you can request for their recommended menu. They've got choices for different types of hungry eaters―Excellent Tendon, Vegetable Tendon, and Small Tendon.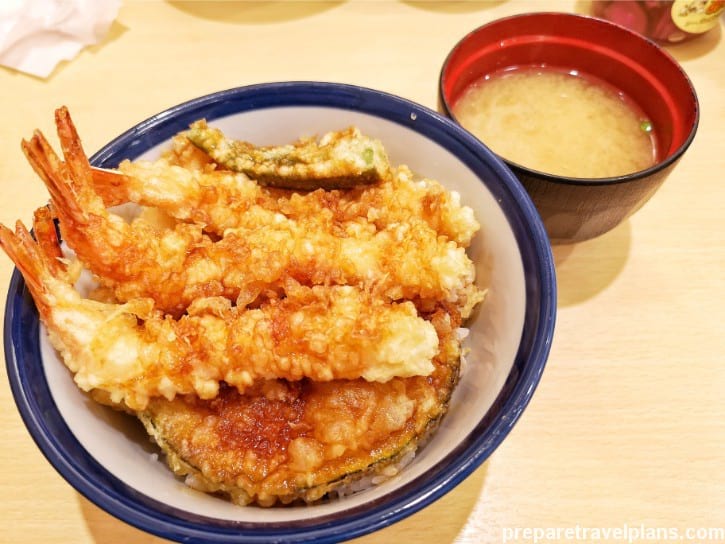 One of their best-sellers is the Special Tendon with prawn, squid, pumpkin, and okra. This one is such a satisfying meal that only costs 890 yen.
3. Sushi Zanmai Shinjuku Higashiguchi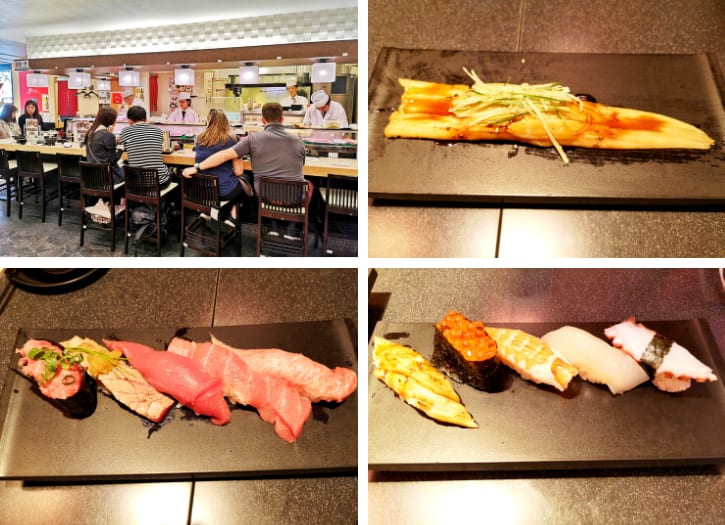 When it comes to the best and the delicious sushi in Shinjuku, nothing comes close to Sushi Zanmai Shinjuku Higashiguchi.
Located on the 3rd floor, this well-known restaurant offers an amazing selection of sushi at a cheaper price.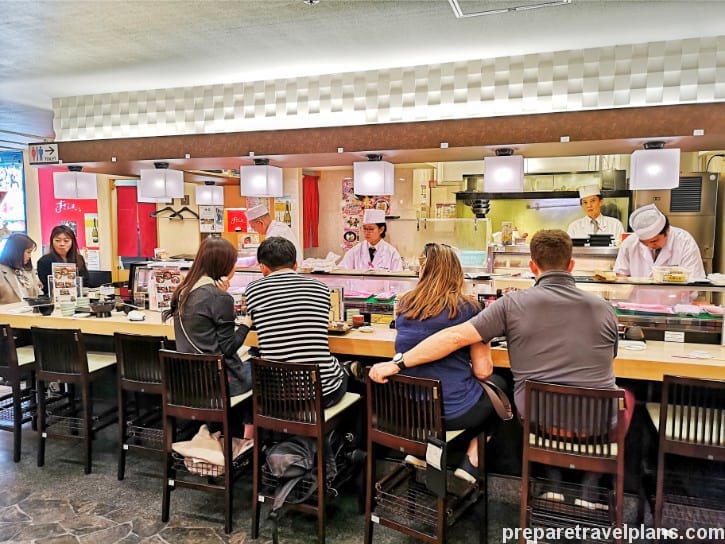 Since the place is quite famous, it's a normal sight to witness many customers every day. But relax because they'll never run out of delicious sushi meals for everyone.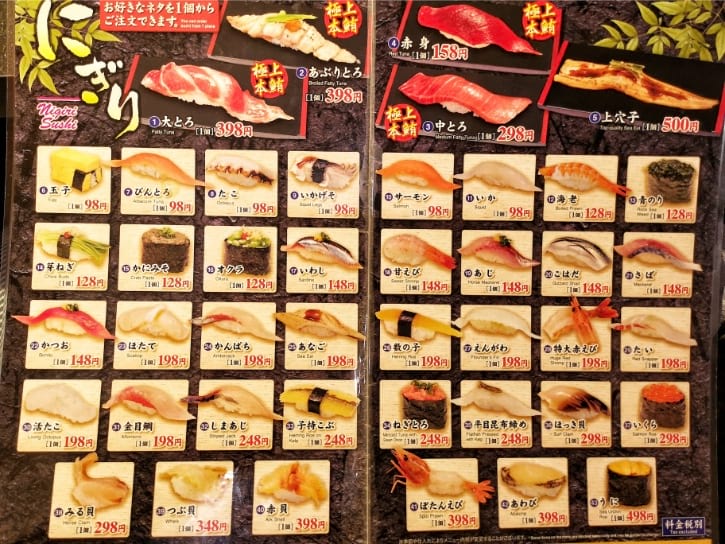 Take a look at their impressive sushi assortment that ranges from non-cooked to cooked dishes. With their huge variation of sushi choices, all their food will suit all types of sushi lovers!
Here's a picture of one of the many sushi menus they offer. The menu is written in English so nothing to worry about when ordering. Plus, the staff here can understand and converse in English, making it more convenient!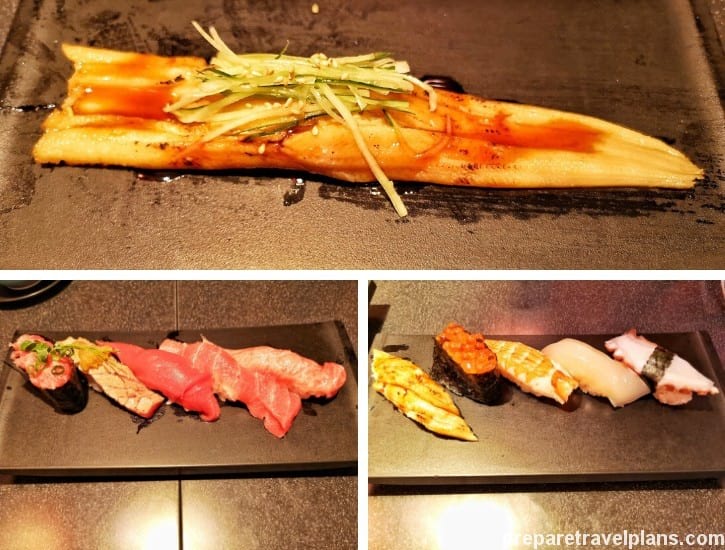 Enjoy this platter with top quality sea eel, boiled prawn, fatty tuna, roe, squid and more.
4. Matsuya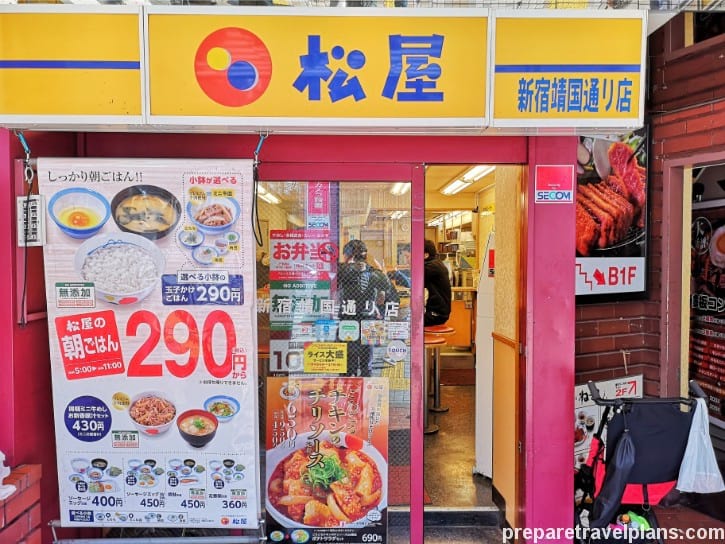 Matsuya in Shinjuku is another great place to dine in together with your family and friends. This fast-food chain highlights their tasty rice meals in different flavours.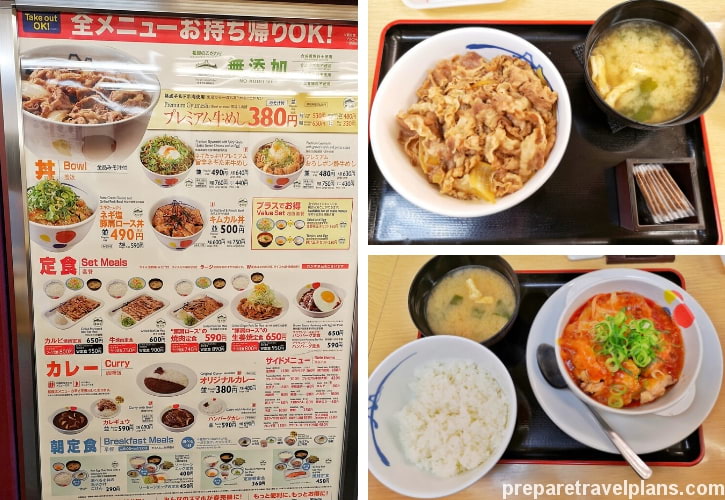 One of their must-try meals is the premium gyumeshi beef on rice, which is priced at 380 yen.
If you're craving for some chicken goodness, order their grilled chicken with chilli sauce. This flavoursome meal set only costs 620 yen!
5. Torikizoku Kabukicho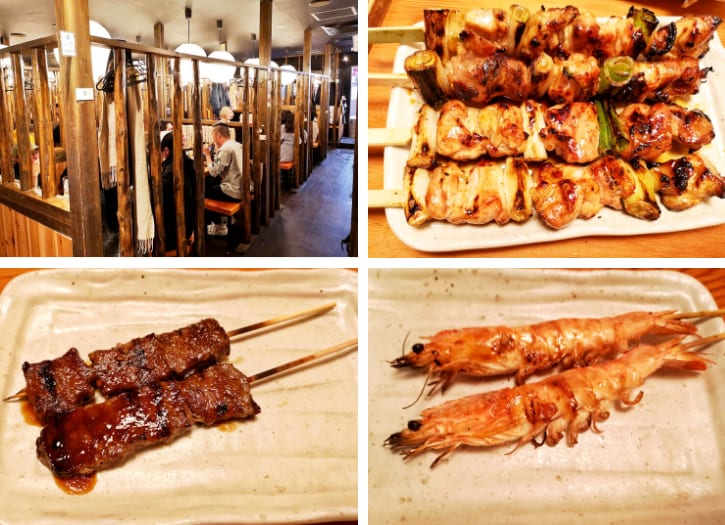 Torikizoku is the place to visit for tasty yet affordable skewers and drinks. This restaurant is well-known for their deliciously grilled chicken skewers or also called as Yakitori. Feast on their flavourful grilled dishes that are perfect for some late-night talks.
The Torikizoku Shinjuku dining area offers a laid-back ambience, making it more suitable for visitors wanting a relaxed dining experience.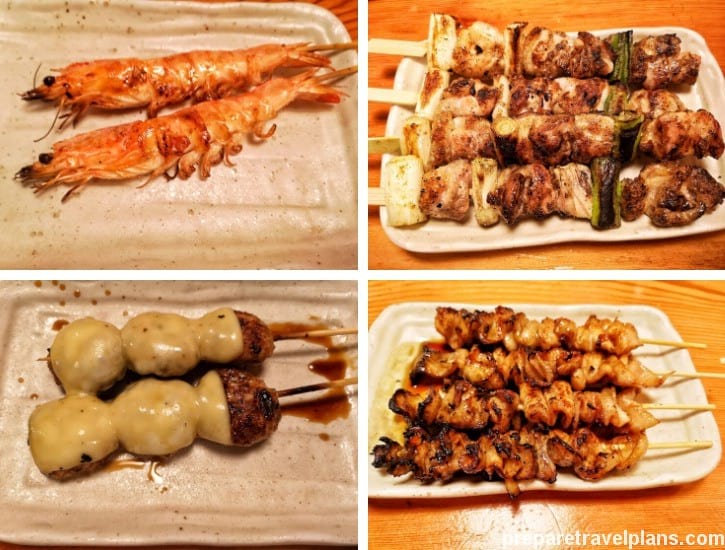 Some of the highly recommended choices are the fried prawns, grilled chicken, meatballs with cheese, and chicken skin skewers. And of course, the thigh meat kizokuyaki is a must-try too!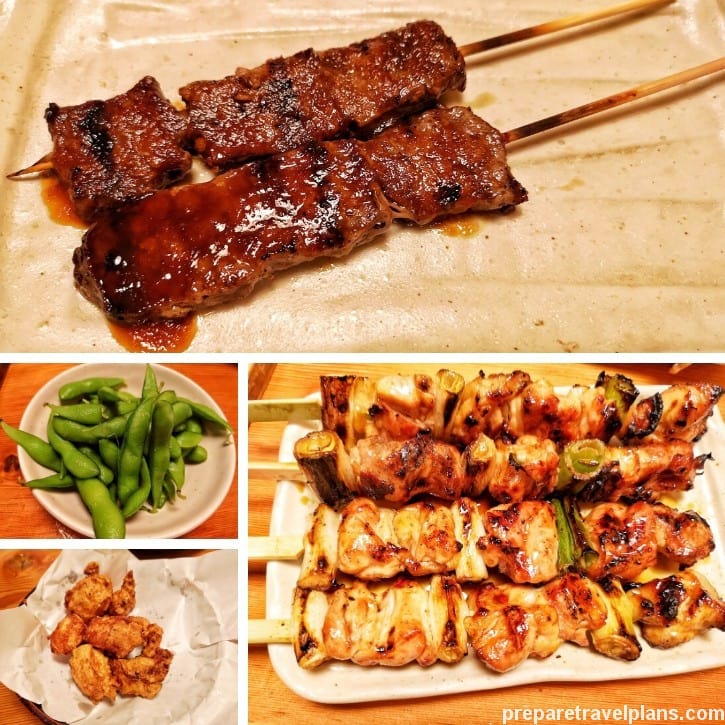 Also, on the best-seller list are the grilled steak skewer and Yakitori (chicken skewer). You can add some side dishes like fried cartilage and green soybeans.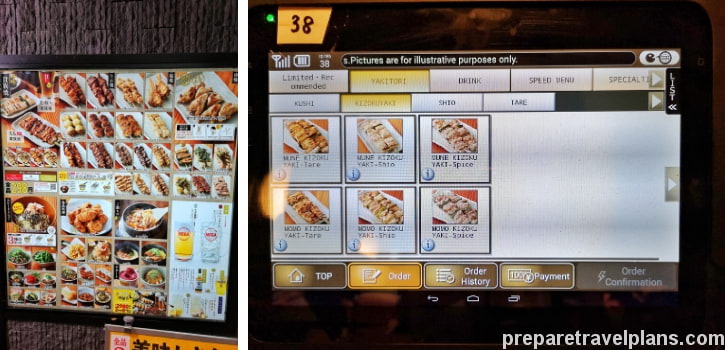 There are more grilled options in Torikizoku Shinjuku. And the picture above is just one of the many foods and drinks they offer.
Each dining table, there is an iPad installed so you can easily order foods. The menu on the iPad is written in English, so very convenient when ordering, especially for international travellers.
6. Niboshi Ramen Nagi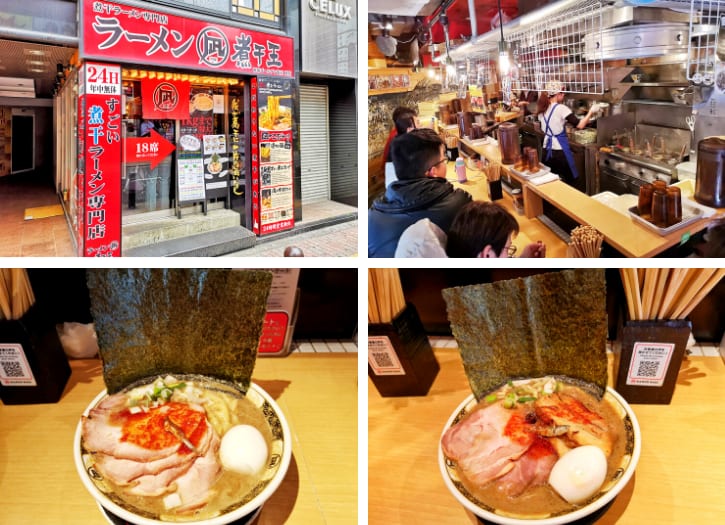 Another popular ramen spot in Shinjuku is no other than Niboshi Ramen Nagi.
The normal ramen in this top-rated ramen restaurant costs 970 yen. This is already a delicious ramen topped with boiled egg and roast pork.
If you want an upgraded ramen, you can try their Ramen All Topping with lots of add-ons. These include seaweed, 4 pieces of roast pork, green onion, and boiled egg. This all-in-one ramen is priced at 1,200 yen.
Are you super hungry? Then, the best choice for you is their Super Gold Ramen. At 1,600 yen, you'll enjoy a ramen topped with seaweed, green onions, 2 pieces of roast pork, big pork brisket, and boiled egg.
7. Hakata Tenjin Ramen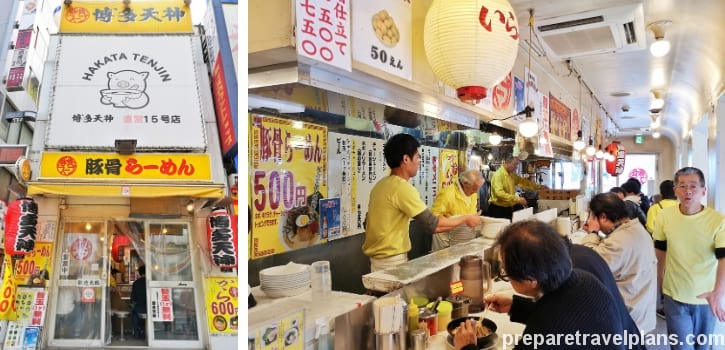 Completing the list of the best dining spots in Shinjuku is Hakata Tenjin Ramen. This is another ramen restaurant that surely deserves a mention.
Cheap yet extremely delicious, you won't regret spending your time and money here in this famous ramen restaurant.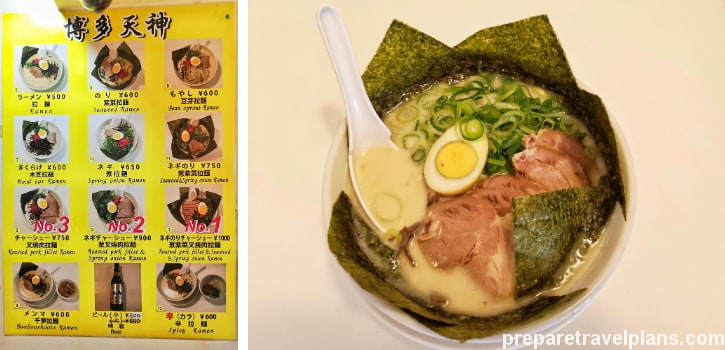 As one of the best ramen restaurants in the country, Hakata Tenjin Ramen offers an extensive menu for different travellers.
If you are to choose only one ramen, their Roasted Pork Fillet, Seaweed, and Spring Onion Ramen is simply amazing. This super tasty ramen costs 1,000 yen.
My Itineraries on What to Do in Shinjuku
---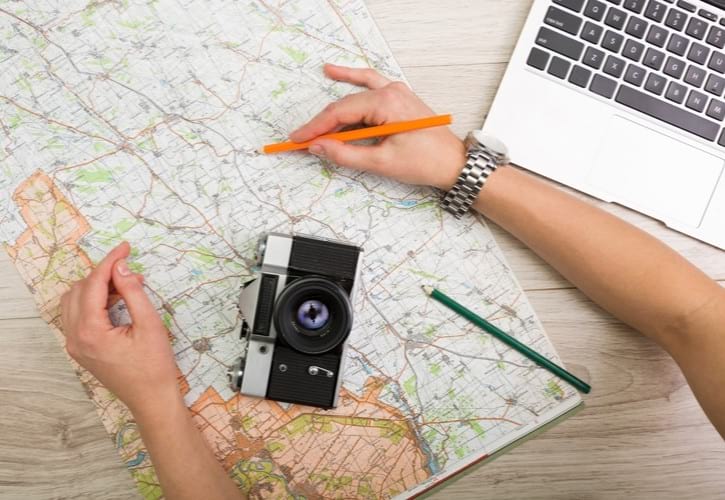 I completely understand that your first time visit to Shinjuku might be difficult for you to plan a proper Shinjuku trip.
Or, because of your busy work schedule might cause you don't have enough preparation time for Shinjuku itinerary.
But don't give up because I'm going to give my sample half-day and full-day itineraries to you in here. You can definitely use these as a reference when making your own Shinjuku itinerary so that you won't disappoint your partner!
In each itinerary, you'll know what activities to do in Shinjuku and how much time you should spend on each attraction.
Hopefully, these suggested itineraries will lessen your research time and help you create a memorable and convenient trip to Shinjuku.
And for added convenience, I have prepared two sections for you to choose from: Half-Day and Full-Day Itineraries.
Let's get started.
Shinjuku Attractions Map
---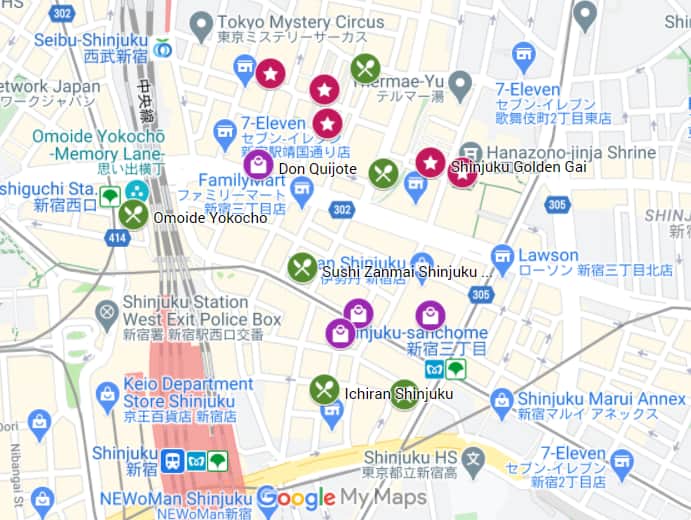 Aside from the half-day and full-day itineraries, I have also created a custom-made Google Maps that cover all the best things to do in Shinjuku. This map features all the top attractions to visit, best restaurants to try, and nearby train stations to take.
With the aid of the personalized Google Maps, you will be more familiar with the entirety of Shinjuku. Hence, you won't easily get lost while exploring around this big, busy district.
Since this map marks all the things you should visit in Shinjuku, there's no need for further research. Just refer to the map above and you'll gain valuable insights about the ins and outs of Shinjuku.
Train Station Exits for Shinjuku Tourist Spots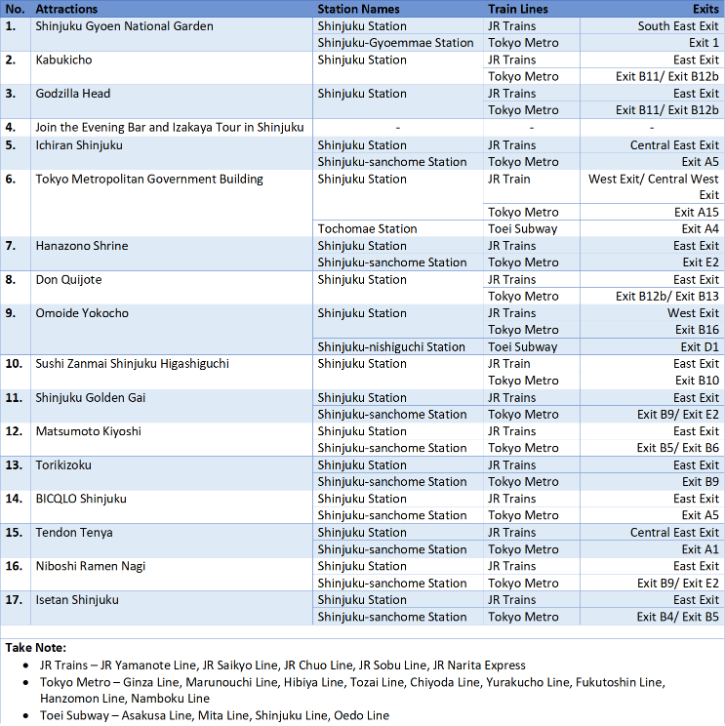 Train Station Exits for Shinjuku Eateries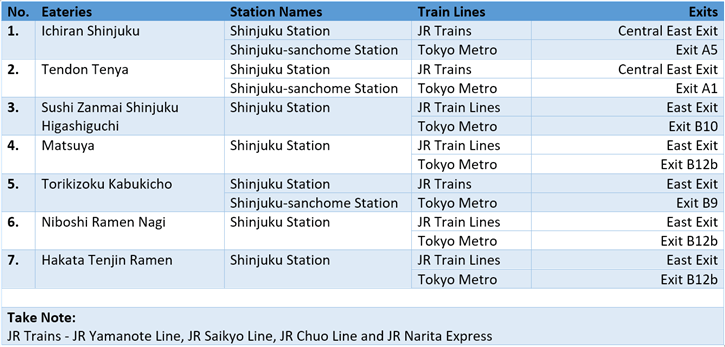 My Final Thought
Without question, Shinjuku is one of the best districts to visit in Tokyo. This famous ward in Tokyo has everything you need, including shopping centres, parks, restaurants, bars, free observation decks and more!
Now that you already know what to do in Shinjuku, make sure you spend half or the entire day here. This will help you cover almost every attraction within this exciting district.
So, thank you for reading my entire Shinjuku blog and I do wish you learn something. And hopefully, you can apply your learning when you personally visit Shinjuku in the future.
For reference, you can simply bookmark this blog.
Or, you can share it with your travel buddies to help them create their own Shinjuku itinerary with ease. This blog can be shared via Facebook, Twitter, Pinterest, Gmail, or WhatsApp.
Once again, thank you so much and wishing you the best Shinjuku adventure!
Discover Other Famous Attractions in Tokyo