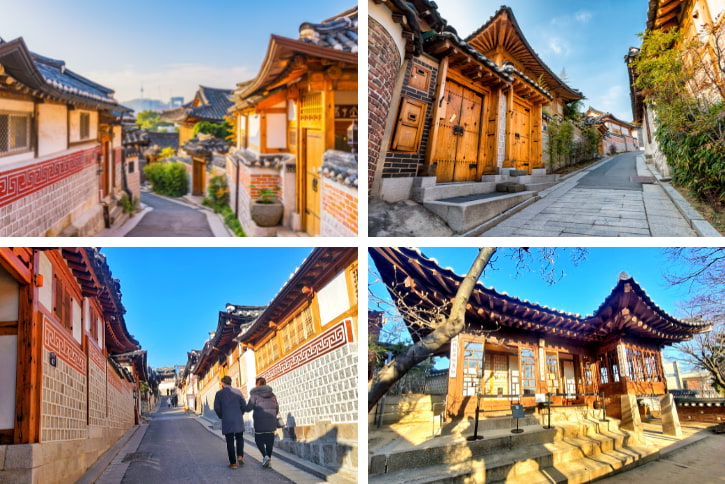 Bukchon Hanok Village takes you to a scenic and serene adventure in the heart of Seoul. So, when you visit the busy metropolitan, be sure to include this in your Seoul itinerary and enjoy its laidback vibes.
I have personally visited this charming traditional village together with my wife and it was such a memorable experience. We really love the place because of the peaceful ambiance and rustic charms.
I will share the Bukchon map and some tips on how to go to Bukchon Hanok Village by subway so you can explore the location comfortably.
Also, through the below guide, you will have an idea of the 10 things you must do and see in Bukchon. The list is very helpful so you won't miss the best spots during your visit.
So, let's kickstart now and learn more about this wonderful village. 🙂
1. Take a closer look at the traditional houses positioned downhill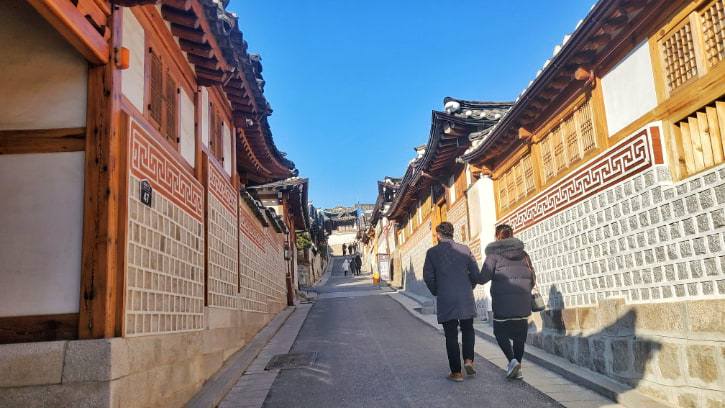 Exploring the beautiful houses in the Bukchon Hanok Village is definitely one for the books.
Walk around the neighborhood and see the ancient beauty of the older residences.
As you navigate around, try to stop by one of the many traditional houses.
Marvel at the architectural designs and don't forget to capture these with your camera!
2. Catch a glimpse of downtown Seoul from the top of Bukchon Village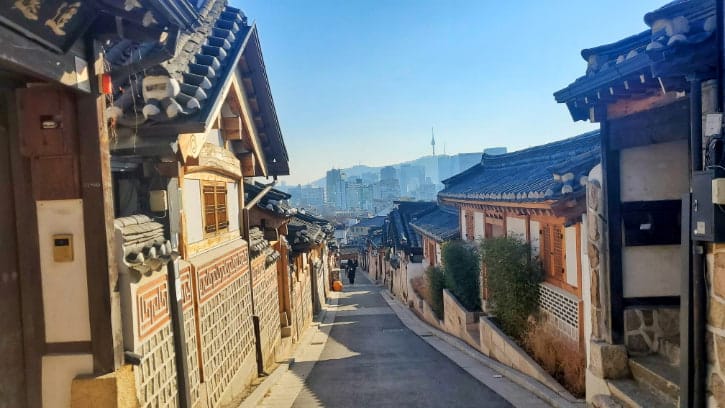 While wandering around the village, you can see the towering panorama of buildings.
Try to spot the Namsan Seoul Tower and revel in the towering cityscape from afar.
Watching the traditional houses together with the modern structures is such a unique experience.
So, look around the area peacefully and savor these memorable views.
3. Clothe in a beautiful Hanbok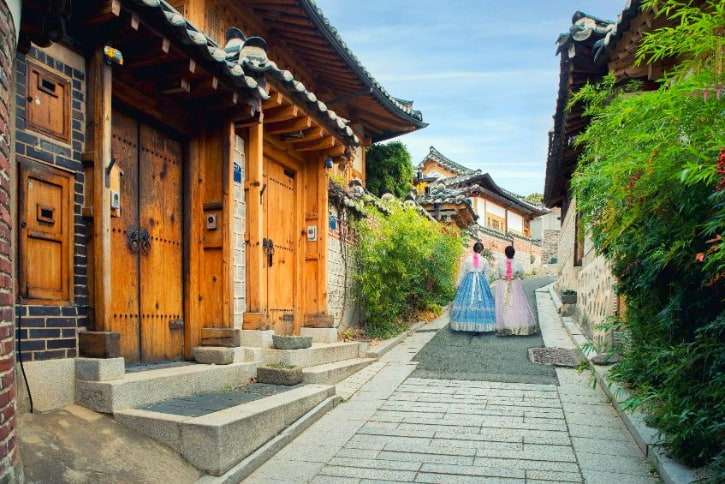 Make your trip to Bukchon Hanok Village more unforgettable by wearing the traditional attire of Koreans.
Hanboks are part of the country's history. Hence, it's very fitting that you try one for a unique exploration.
You may rent the hanbok from this shop because they've got a variety of options for men and women. Plus, they provide hair styling for women, ensuring an excellent service to customers.
To know more about their hanbok rates, check out the prices here and book in advance.
4. Relax along the peaceful alleyway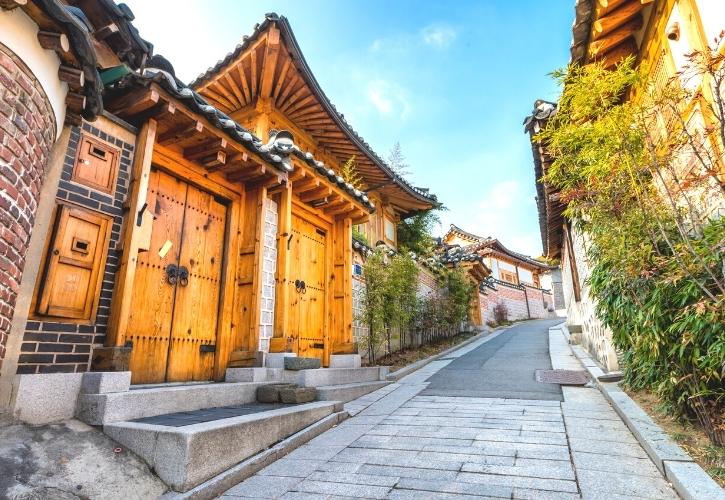 There are several alleyway sections around the village that you can track down leisurely. Visit these cozy spots and see up-close the old-fashioned houses.
Most of these were set during the last dynastic kingdom of Korea―the Joseon Dynasty.
As you travel through the alleyways, you get a peek at how the environment was back in the 13th century.
5. Be impressed with the traditional tiled roofs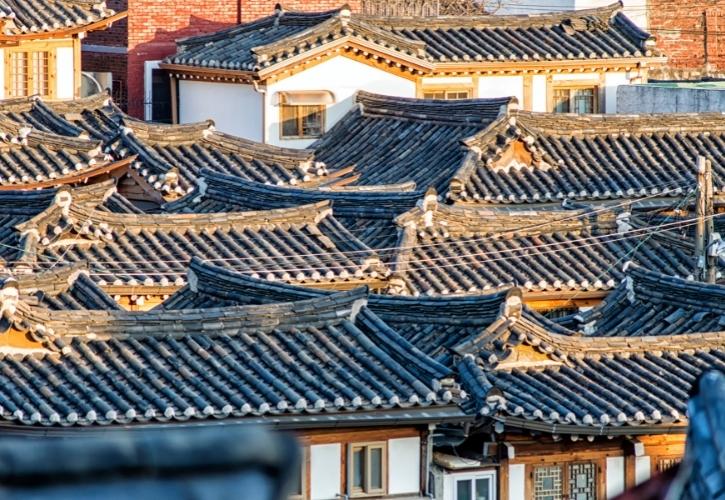 One of the unique features of the ancient Korean houses, or the Hanoks, are the uniquely tiled roofs.
Take a look at these structural wonders that reflect Korea's marvelous architectural practices.
The roof construction is very much distinct compared to the modern ones.
See how the edges of the roof curve slightly upward to create a more inimitable look. And surprisingly, these tiled roofs are durable enough to withstand the changing seasons.
6. Go visit the Baek In-je's House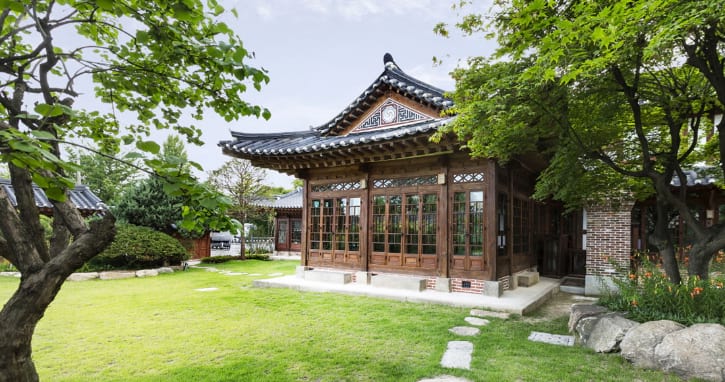 If you're in Bukchon Hanok Village, you simply can't miss the Baek In-je's House.
The popular cultural heritage site was created back during the Japanese colonial era.
Discover the Japanese elements inside this modern hanok and be in awe at how these are perfectly preserved even after many years.
The spacious garden also adds up to its elegance. And because of its relevance to the country's history, the mansion was converted into a museum.
Opening Hours:
9:00 AM to 6:00 PM
*Closed on every Monday
Ticket Prices:
Free
7. Stop by the Cha-teul Traditional teahouse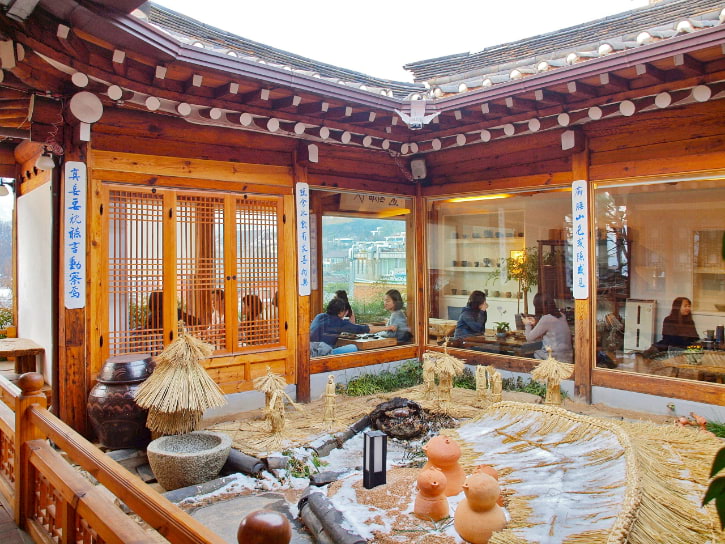 A memorable tea experience awaits you at Cha-teul Traditional teahouse. This famous dining spot is a frequent stop-over location for tourists who want to relax.
Sip your favorite tea while seeing the calming mountain scenery from your seat.
Aside from the relaxing nature views, be sure to explore their garden. This lovely garden is beautifully adorned with miniature figures.
And if you can stay until dusk, try to catch the sunset!
Opening Hours:
Tuesday to Friday – 12:00 PM to 9:00 PM
Saturday to Sunday – 11:00 AM to 9:00 PM
*Closed on every Monday
8. Learn more about Korea through Bukchon Traditional Culture Center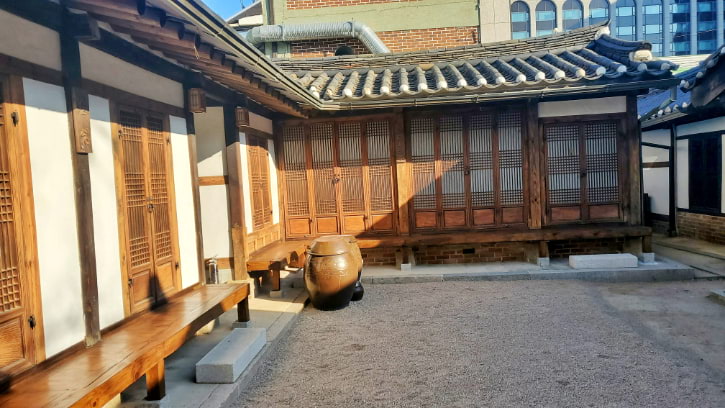 Get to know more about the village's history and culture inside the Bukchon Traditional Culture Center.
There are many cultural programs and educational lectures offered here for every visitor.
If you have extra time, attend one of their interactive activities.
he multipurpose complex comes with calligraphy classes, pansori, tea ceremonies, and other traditional crafts.
Aside from these, the center also hosts several movie screenings and local concerts.
Opening Hours:
Monday to Friday – 9:00 AM to 6:00 PM
Saturday to Sunday – 9:00 AM to 5:00 PM
Ticket Prices:
Free
9. Take a few steps down to Samcheong-dong stone stairway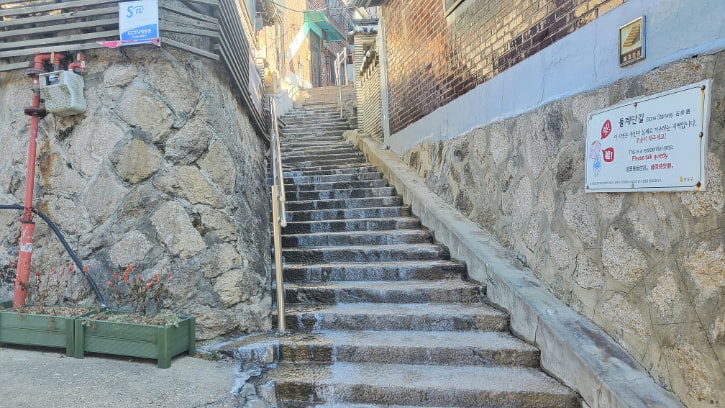 Trek your way down to the well-known Samcheong-dong stone stairway, which is connected to the Bukchon Hanok Village. This is such a lovely place to spend a peaceful time with your family and friends.
And because of the number of steps, it may be best to head to the area after you take your lunch or snacks.
Or you can simply take a photo of the stone stairway that is often included in local films and dramas.
10. Dine in Cafe Onion Anguk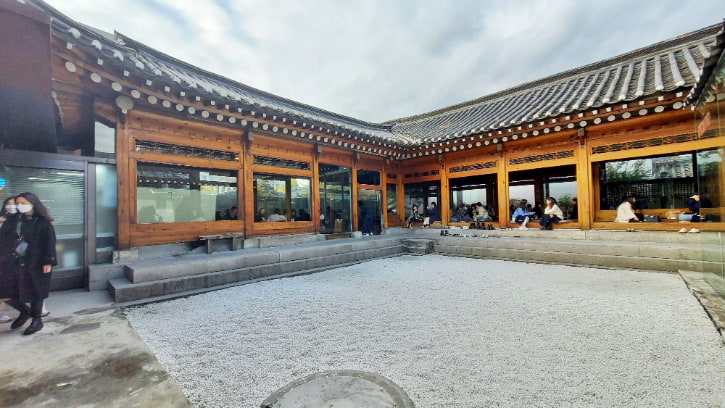 After hours of walking and exploring, it's time to visit the Café Onion Anguk. Find a seat inside the traditional-themed café or you may opt to relax outside.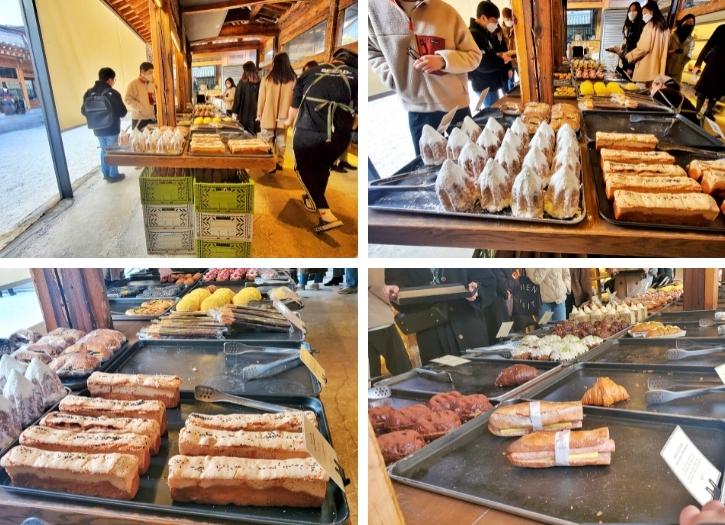 They offer a variety of delectable baked goods and pastries.
And if you want, relish a cup of coffee or some refreshing drinks to brighten up your mood. And of course, the cozy ambiance of the café makes it even lovelier.
Opening Hours:
Monday to Friday – 7:00 AM to 10:00 PM
Saturday to Sunday – 9:00 AM to 10:00 PM
*Closed on every Monday
Bukchon Hanok Village Map and Guide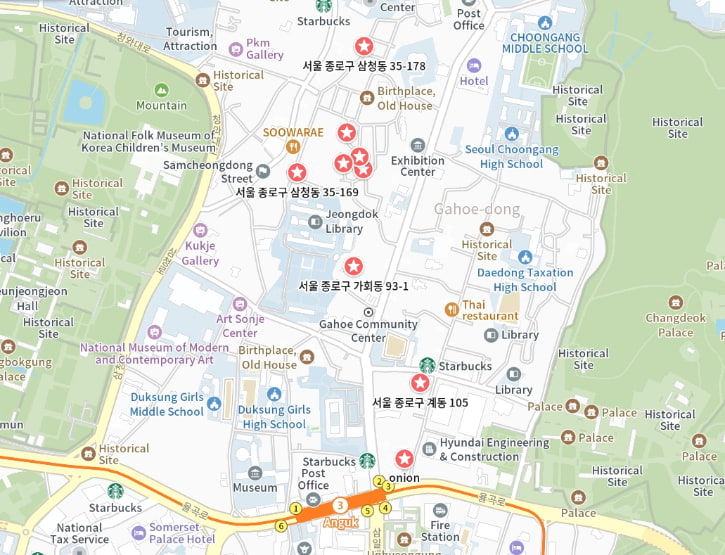 I have marked down the exact locations of the 10 best spots to visit in Bukchon Hanok Village in this document. Hopefully, this can help you in getting to your destination conveniently.
And if you want a more detailed guide to walking around the historical village, don't forget to download the Bukchon village map here.
Tip: You can download the app of KaKaoMap (Android)/ KaKaoMap (iOS) on your phone. This is a great app because it comes with an English language support function, allowing you to navigate the places easily.
Why Visit Bukchon Village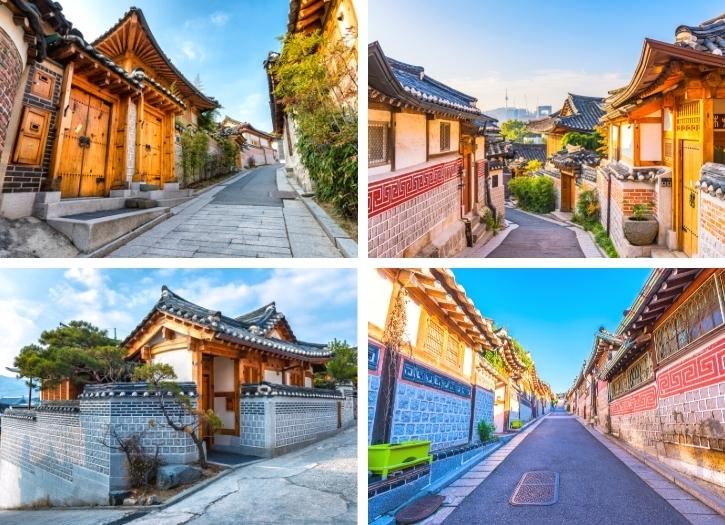 Bukchon Hanok Village serves as the home to more than 900 traditional houses that can be dated 600 years ago. Located in Seoul, South Korea, this is such a beautiful contrast to the busy cityscape.
It offers a glimpse of ancient Seoul during the Joseon Dynasty.
It has a lot of museums and cultural sites to visit.
It is a great location to wander around and relax.
You may then visit the Gyeongbokgung Palace and Insadong Street after exploring the village. These two popular Seoul attractions are very close to the traditional village, so make sure to check them out as well.
How to Go to Bukchon Hanok Village by Subway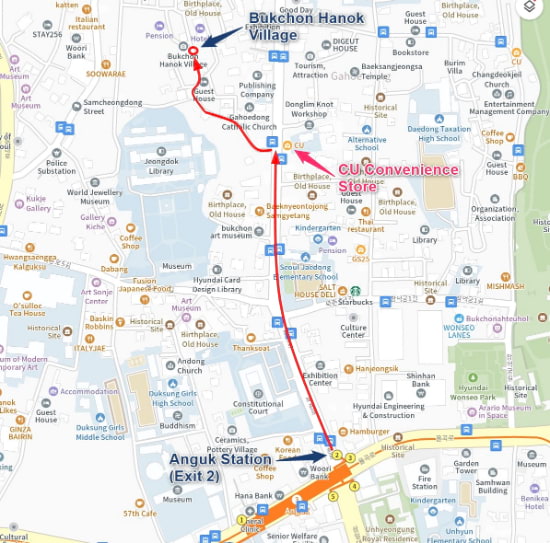 To get to Bukchon Hanok Village, you need to head to Seoul Subway Line 3 and then go to Anguk Station. From there, proceed to Exit 2 and walk for around for 11 minutes to arrive at the village.
You may refer to the above map to get a better idea of the route going to the Bukchon village from Anguk Station.
Important Tips to Know Before Visiting Bukchon
The entrance to Bukchon Hanok Village is free.
Kindly take note that the village is closed every Sunday.
The best time to visit Bukchon Village is 10:00 AM in the morning or 5:00 PM in the afternoon. During this period of time, you can capture the attractions beautifully.
Always be respectful of your surroundings and tone down your voices at all times. It is because the village is still considered a residential neighborhood despite being a tourist site.
If you get lost, don't worry because there are tourist helpers around. They normally stand near the corner of the houses, wearing traditional Korean clothing. You may ask for help from them as they can converse in English.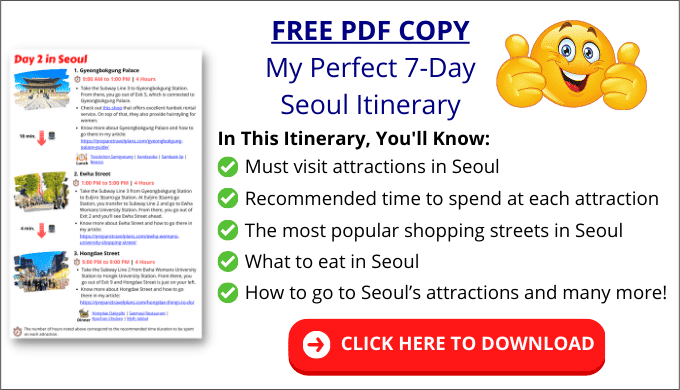 Related Posts
Photo Credits:
nattanaicj © 123RF.com
ake1150 © 123RF.com
Alejandro