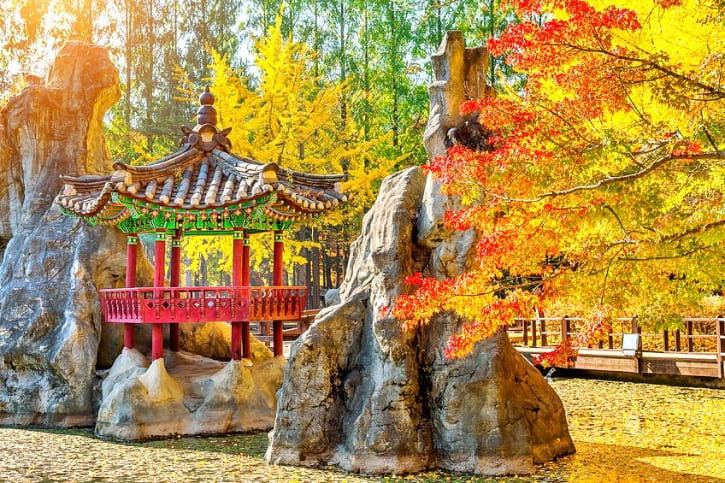 Nami Island or Namiseom in South Korea is a breath-taking place filled with picture-perfect landscapes.
Some of the things to do in Nami Island include strolling along the scenic tree lanes, cycling around the island, and exploring the riverside.
If you want to laze around and just appreciate nature, you'll love the picturesque garden surrounding the place.
So, let me introduce the 17 best things to do and see in Nami Island Korea that will make your trip even more fun and memorable. Also, I've listed the attractions around it that are totally worth a visit. 🙂
If you're planning to depart from Seoul, you can also check out my complete guide on how to go to Nami Island from Seoul.
Pro-tip: It is highly recommended to book this shuttle bus service as it will take you straight to Nami Island which can help you save a lot of time in travelling!
1. Central Korean Pine Tree Lane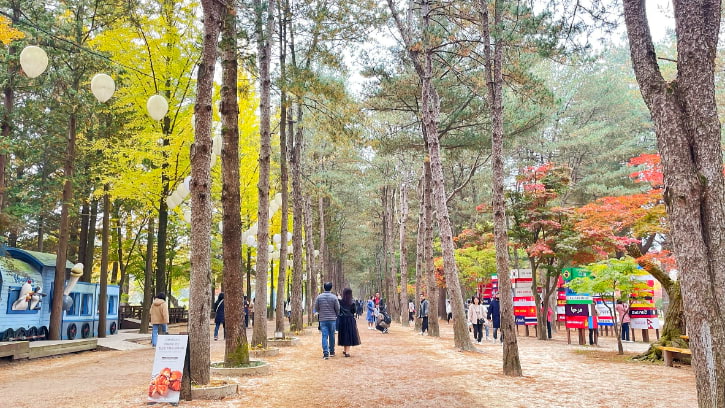 There's no better way to kick off your Nami Island adventure than visiting the famous Central Korean Pine Tree Lane.
During the daytime, you can catch a glimpse of the towering trees and vibrant landscape.
At night, the hanging lamps transform the place into a fairytale-like setting.
2. First Kiss Glass Sequoia Bridge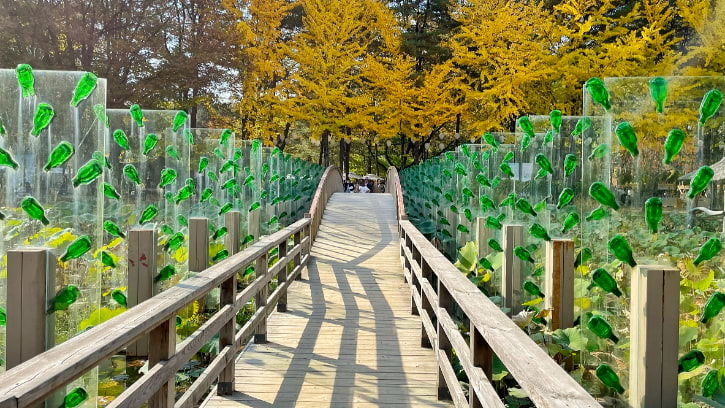 The First Kiss Glass Sequoia Bridge probably is one of the main reasons why Nami Island became very popular.
From the name itself, this is where the lead characters shared their first kiss in the hit Korean drama series, Winter Sonata.
3. The Maple Lane of True Love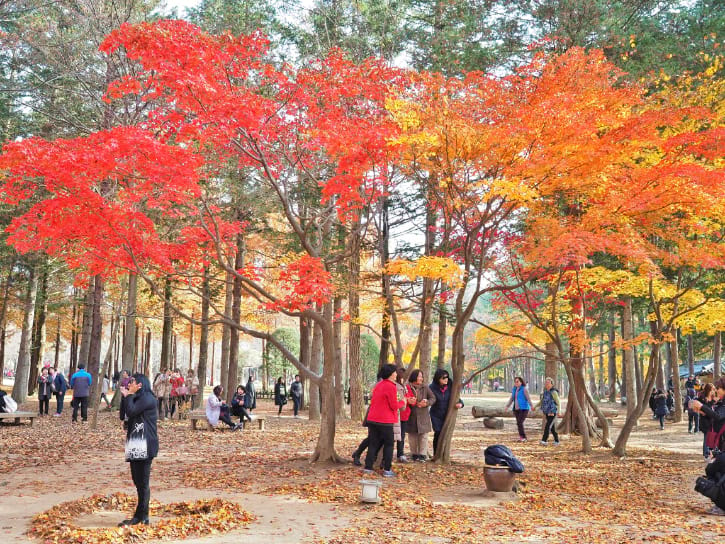 But wait there's more! Another iconic setting from the beloved Winter Sonata drama is the Maple Lane of True Love.
The place can get crowded but don't worry because every corner is worth the shot!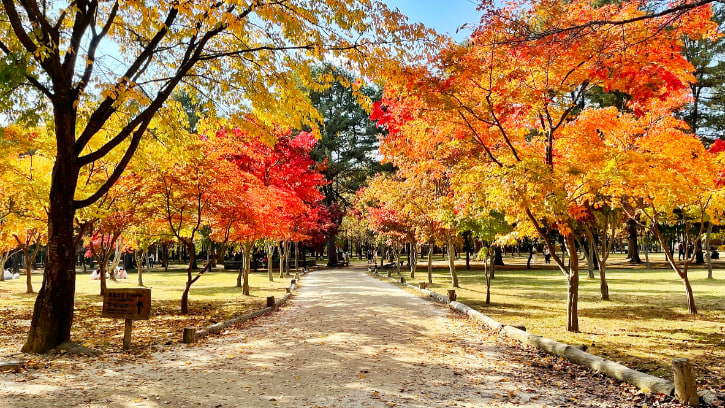 Take shade under one of the maple trees that serve as a lovely background for your photos.
The beautiful colours of orange, red, yellow, and green perfectly complement the relaxing ambience.
4. Dodamsambong Garden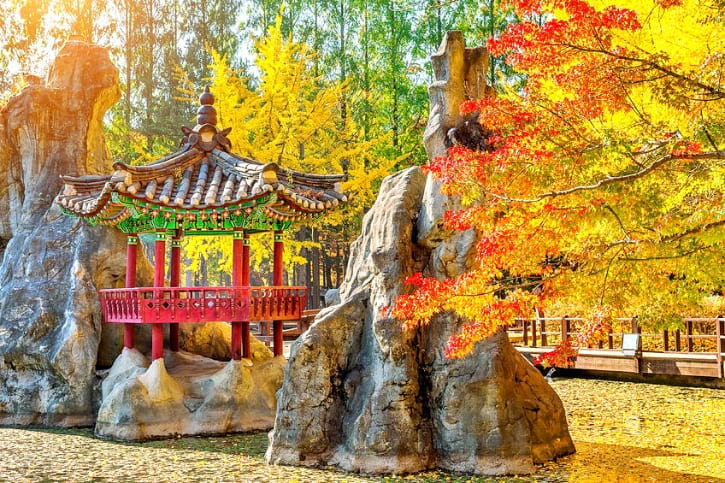 You have lots of options on what to do in Nami Island and this includes visiting the ever-captivating Dodamsambong Garden.
It's not hard to find the Dodamsambong Garden; simply look for the huge stone peaks situated at the Namhangang River.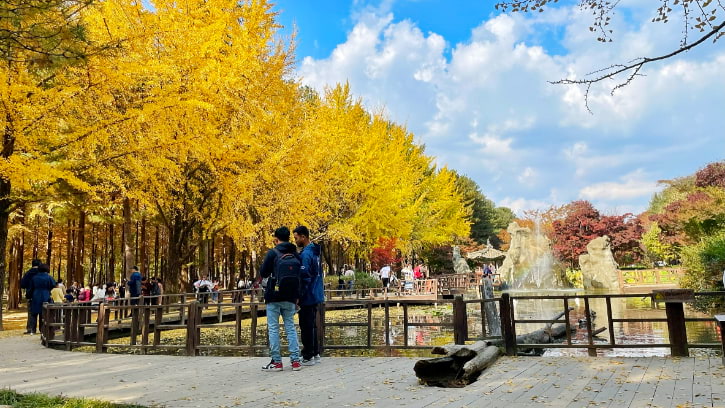 It's hard to beat Nami Island when it comes to lovely nature backgrounds. This is just one of the many picture-worthy spots in the area.
Without a doubt, the Dodamsambong Garden has one of the most scenic sights in the island. You can either walk around or simply enjoy the view.
5. Winter Sonata Statue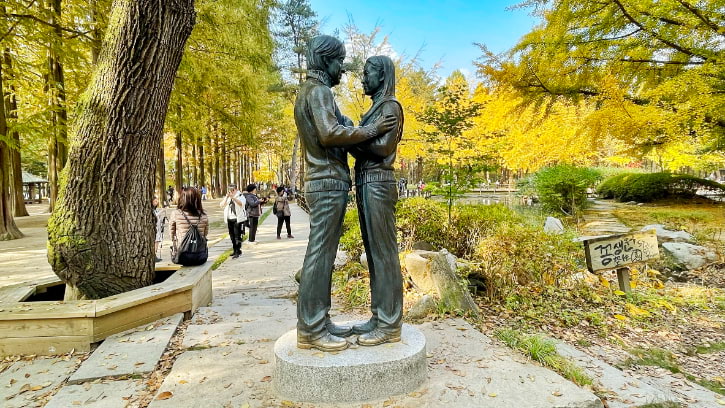 If you are a certified Winter Sonata fan, don't miss to take a picture of the famous K-drama statue – Kang Joon-sang and Jeong Yoo-jin. This towering figure of the lead characters is definitely a must-visit.
Winter Sonata Drama Gallery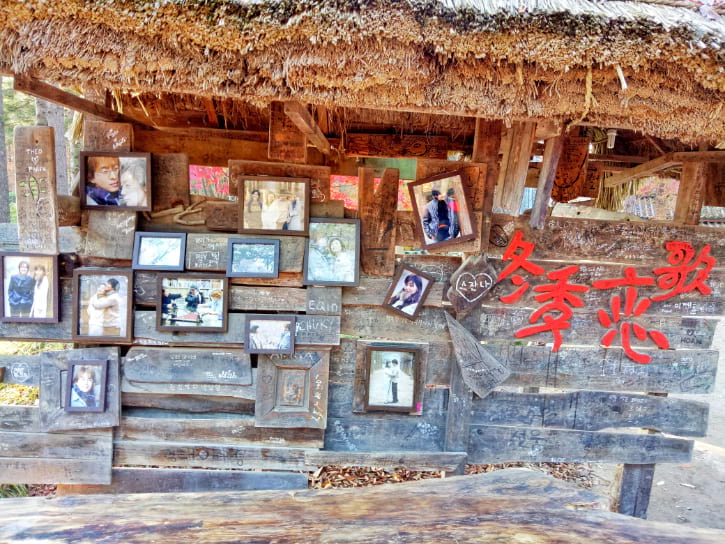 The popularity of Winter Sonata is simply undeniable. In this area, you will find several memorial pictures from the hit television series.
6. Mother-and-Child Statue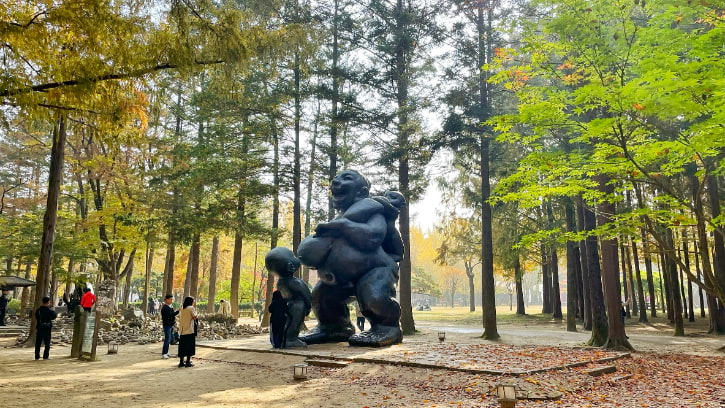 Located just opposite of the Winter Sonata statue is the breastfeeding statue of Namiseom.
This giant statue illustrates the love and care of a mother to her children.
7. Metasequoia Lane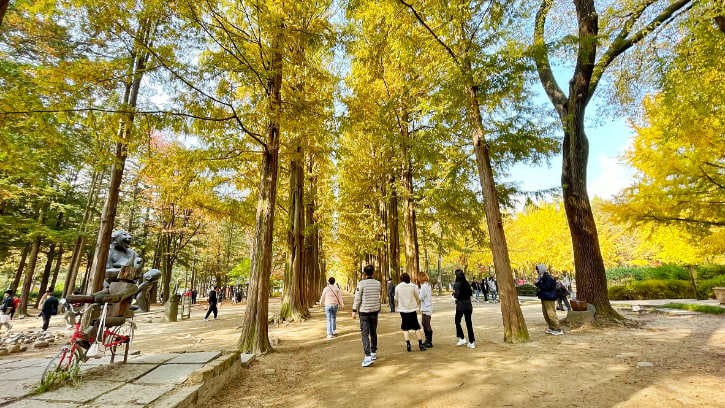 Another postcard-worthy location is the Metasequoia Lane. These soaring trees enclose the entire place with their power and allure.
And did you know that metasequoias are considered as the largest trees in the world?
So, don't miss to engage with nature and walk between these massive metasequoias.
If you're with your partner, grab the opportunity to share an intimate moment and kiss under the sky-high metasequoias.
8. Ginkgo Tree Lane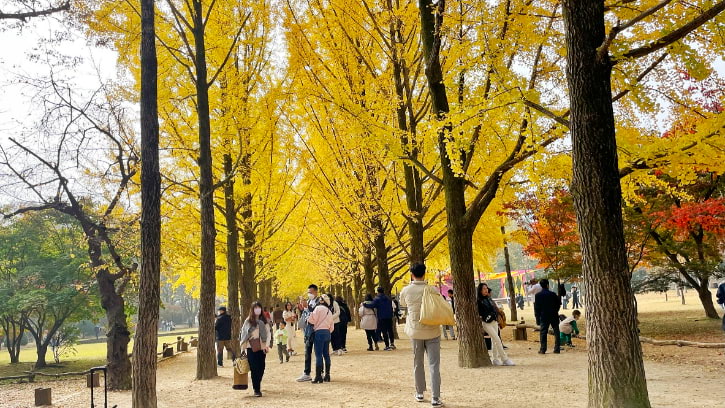 Nami Island Korea never runs out of magnificent paths to surprise travellers.
Aside from maple and metasequoia trees, you'll find a handful of ginkgo trees.
More than its beauty, Ginkgo trees are considered as living fossils. These are also called as the maidenhair trees because of their bushy branches and fan-like leaves.
The Ginkgo Tree Lane offers not just beautiful views but also peaceful vibes. You can laze around the seating spaces after your stroll or picture-taking.
9. Hop aboard the UNICEF Charity Train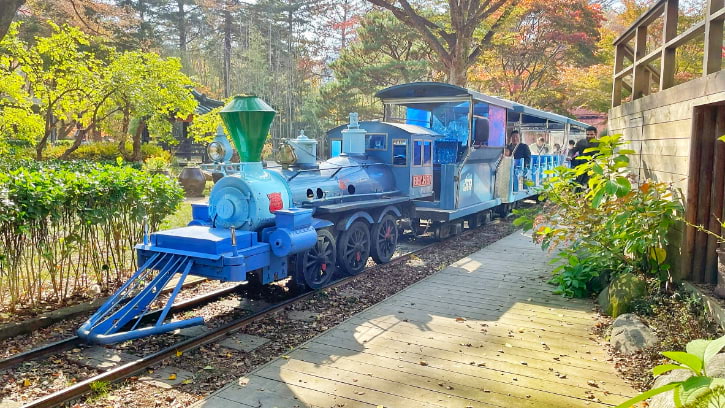 There's so much to see and do in Nami Island. To maximize your time, you can ride the UNICEF Charity Train and enjoy the amazing views from your seat.
The train has 2 boarding points―Nami Wharf Train Station or Central Train Station. You can simply choose your preferred boarding points to start your adventure.
The one-way train fare is 3,000 won per person.
To know more about the exact location of the boarding points, refer to the map below.
10. Bike Center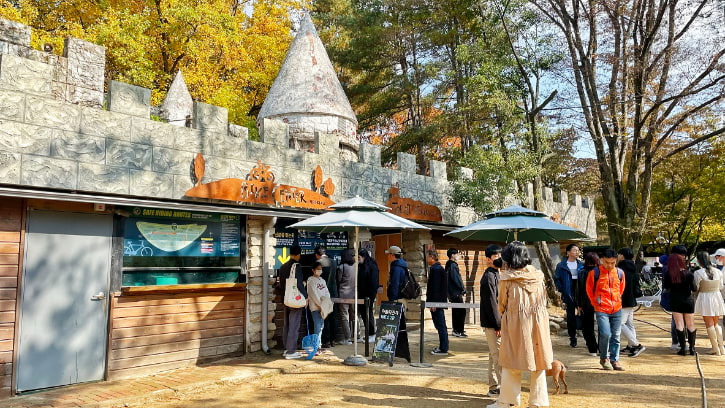 Try to spend time at the Bike Center for a fun-filled experience.
Riding a bike is surely an unforgettable way to capture the spectacular scenery of Nami Island.
You can choose from 3 types of rides―Bicycle, Sky-bike, and Electric Tri-way.
So, let me explain more about this place through the details below.
a. Cycling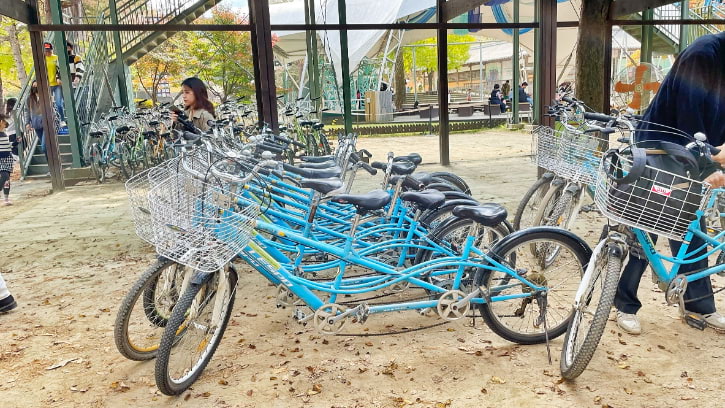 Wander around the breathtaking island by cycling. This is no doubt one of the best things you can do on Nami Island, especially for first-time travellers.
And since you are driving your own transportation, you can seamlessly visit one destination to another.
So, hop aboard your rented bike and explore the beautiful spots with ease.
Bicycle Rental Prices
Single: 5,000 won (30 min), 8,000 won (1 hr)
Couple: 10,000 won (30 min), 16,000 won (1 hr)
b. Sky-bike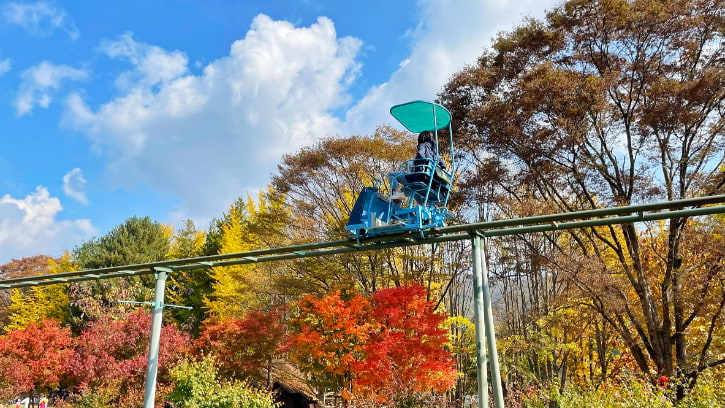 If you want a unique way to cycle, then try the Sky-bike. Unlike the typical biking setup, you need to paddle your way from up above.
Catch a glimpse of the beautiful scenery from your seat and brave your fear of heights!
Sky-bike Prices
Adult: 3,000 won
Child: 2,000 won
c. Electric Tri-way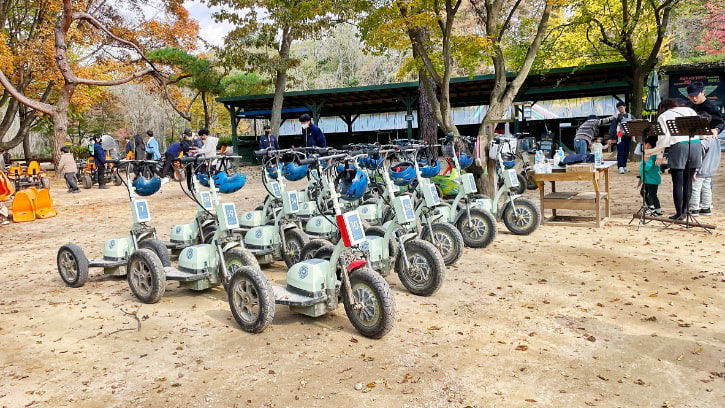 For those looking for an easy-peasy mode of travelling, consider riding the Electric Tri-way.
This is highly recommended if you simply want to stroll around without stepping on the pedal. Just maneuver the grip and brake and you're good to go!
Electric Tri-way Rental Price
12,000 won (30 min), 4,000 won (Overtime charge per 10 minutes)
11. Baekpungmilwon Maple Garden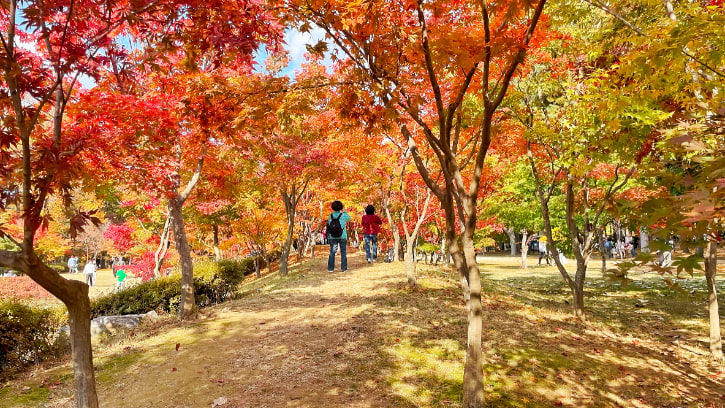 Baekpungmilwon Maple Garden continues to be one of Nami Island's most beautiful gardens.
Bounded by gorgeous views, you can walk around the expanse and appreciate nature to the fullest.
And of course, the towering maple trees are a delight to see. Be in awe of this remarkable foliage and enjoy the peaceful atmosphere of the place.
12. Ostrich Village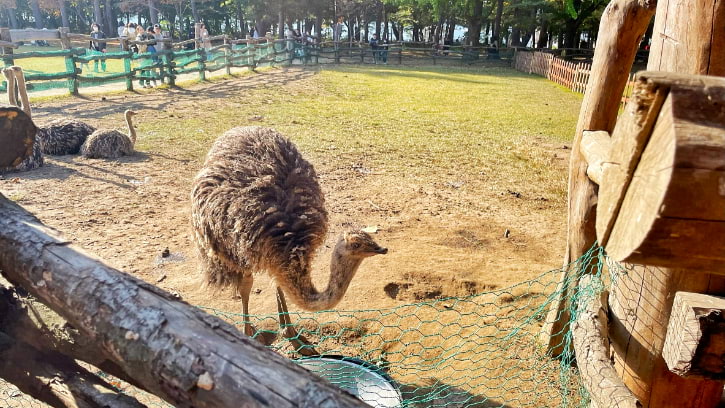 No visit to Nami Island can be complete without seeing the ostriches and other creatures.
Here, you get to meet the biggest birds in the world, freely roaming around the outdoors. Be amazed by their excellent running skills that definitely compensate for their inability to fly!
Aside from ostriches, you'll find some peacocks, rabbits, and squirrels. These animals consider Nami Island as their habitat, so be sure to respect them as well.
13. Moon Hill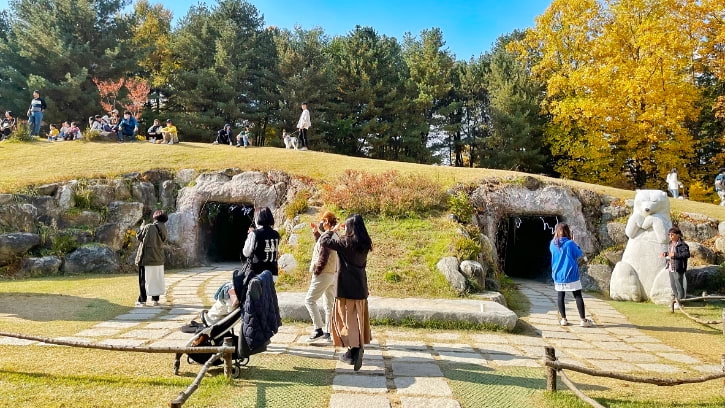 Moon Hill welcomes you to a rather distinct architectural destination. From afar, this appears to be a hill or a moon-like structure.
Surprisingly, there are small tunnels inside this creation. Walk into one of the passageways and capture some beautiful shots.
14. Nami Island Millennium Waterfall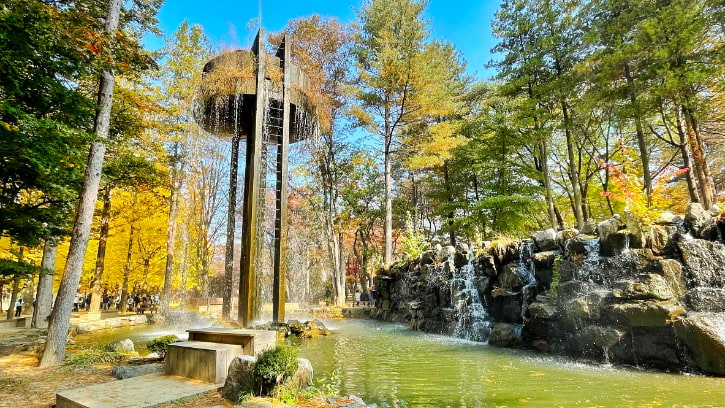 Nami Island Millennium Waterfall is also a popular spot among many visitors. The blue waterscape perfectly complements the green backdrop.
And conveniently, there are several seating spaces in the area.
So, settle yourself from one of the nearby benches and be captivated by the flowing water.
15. Tulip Tree Lane & Weeping Willow Lane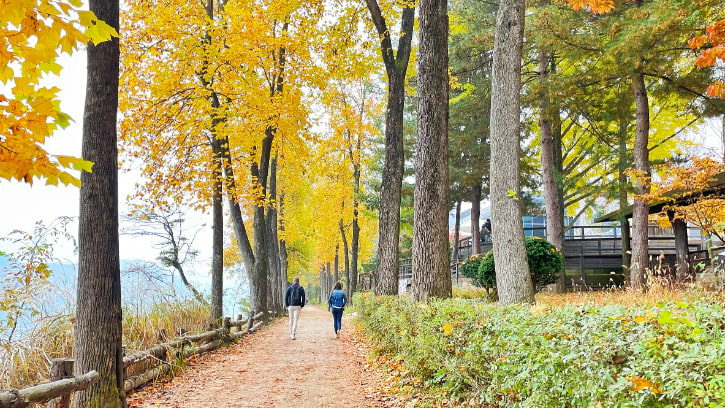 Continue the adventure and journey through Tulip Tree Lane and Weeping Willow Lane. This is a favored spot among lovers and even friends who just want to stroll around.
And since the place is situated along the river, it's definitely way more romantic.
16. Sequoia Family Garden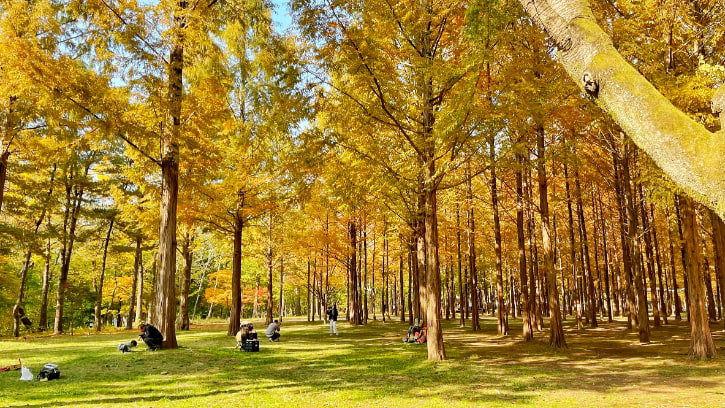 Take your loved ones to Sequoia Family Garden and enjoy a serene day out.
The lofty sequoia trees provide shade for everyone. This means you can comfortably sit on the lush grounds with no worries.
During your stay, munch on some of your favorite snacks. And of course, this is a nice spot to have meaningful conversations with your family.
17. Forest Adventure TreeGo & TreeCoaster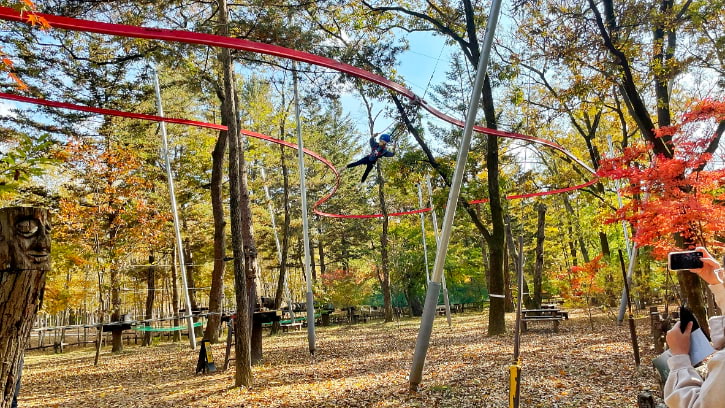 Forest Adventure TreeGo & TreeCoaster is a new attraction in Nami Island that deserves to be part of your day itinerary.
With lots of thrilling activities, kids or even those young at heart will totally love the place.
Take on the Zip-line and make sure not to miss the TreeCoaster. There are also heaps of barrels and trampolines to accomplish as well as ropes for fun courses.
A Map of What to Do in Nami Island Korea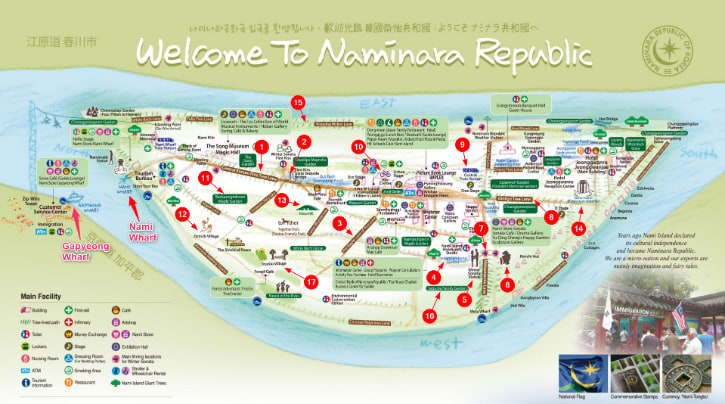 Time-Saving Tip:
If you plan to visit Nami Island from central Seoul, I highly recommend taking the shuttle bus to get there.
Just because it can take you directly to Nami Island, which can save you a lot of travel time! Be sure to book shuttle bus seats here in advance.👍
To conveniently navigate around Nami Island, refer to the provided map above.
Using this map, you won't have to spend long hours researching the best attractions in Nami Island.
This material summarizes everything you need to know about the place, including the overview of the attractions, main facilities, and basic guidelines.
For easier reference, I have marked the locations of the top 17 spots in Nami Island so you can plot your schedules ahead.
Nami Island Official Website: https://namisum-en.imweb.me/
Some Nearby Attractions You Can't Miss
Did you know that you can also visit nearby Nami Island attractions during your trip?
Some of the most beautiful tourist spots near Nami Island are Petite France, The Gardens of Morning Calm and Gangchon Rail Bike.
Get to know more about these three attractions below.
1. Petite France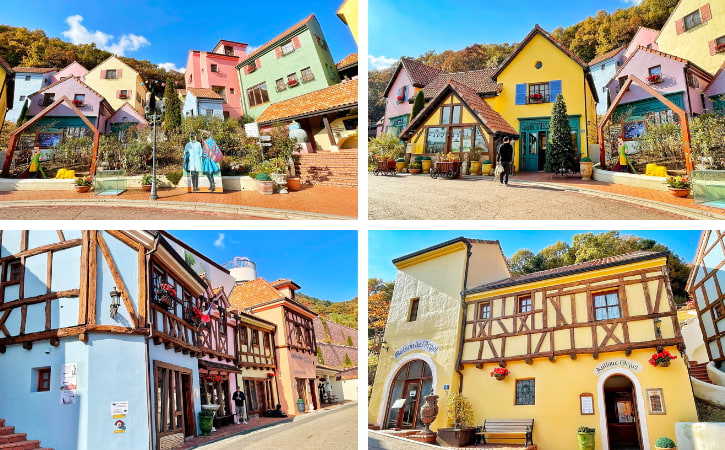 From Nami Island, it will take around 25 minutes to reach Petite France. As you walk your way into the village, you'll be welcomed by vibrant structures and adorable architectural designs.
Ready yourself with a variety of photo opportunities for you and your friends.
More so, the place itself is bounded by a gorgeous lake, adding up to its charms.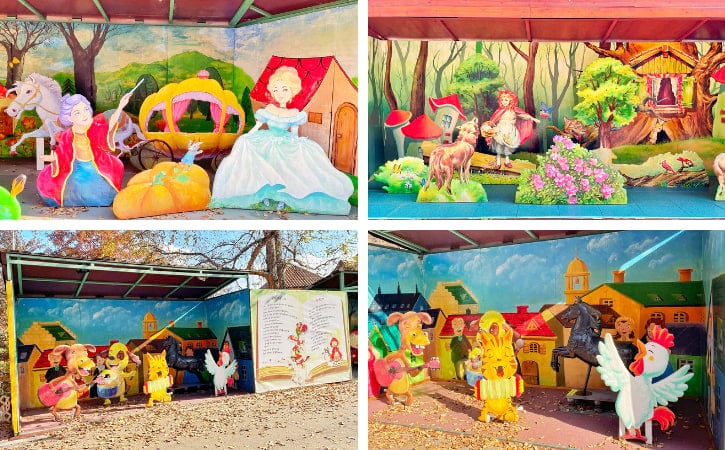 There are so many fancy spots in the village for everyone to explore.
Check out the lovely marionettes at some galleries or visit the outdoor exhibits.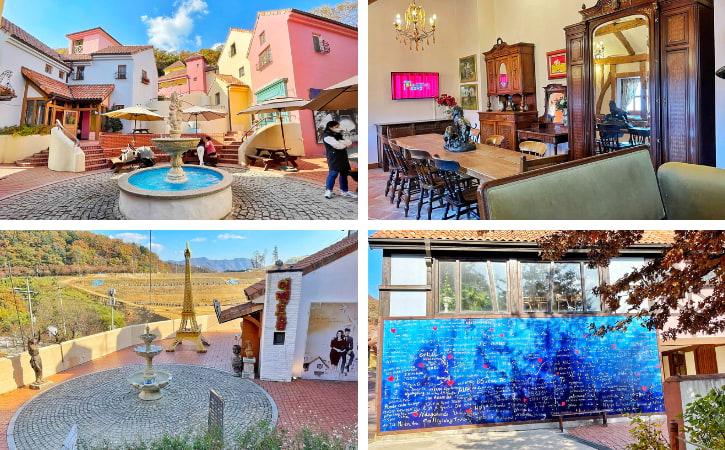 And, you should try entering one of the houses in the village. Inside, you'll be mesmerized by the elegant pieces and classy designs that depict the beauty of French culture.
Truly, it's like you're visiting a country in a country!
2. The Garden of Morning Calm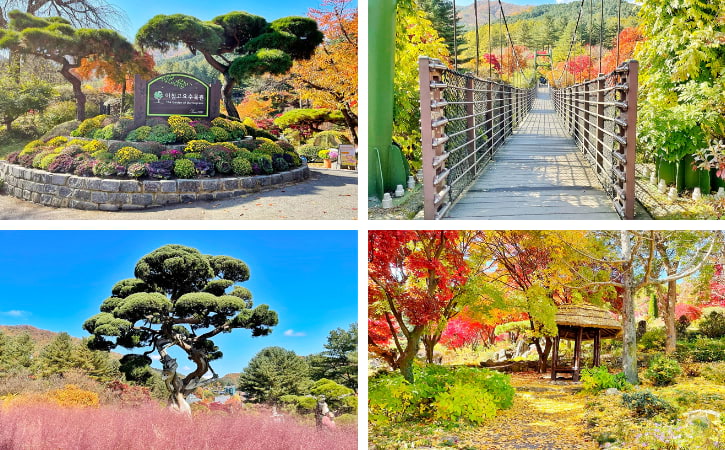 More majestic nature views await your arrival at The Garden of Morning Calm.
This botanical garden is like a real-life painting dotted with brightly-coloured nature arrangements.
In fact, it's a perfect destination if you want a calming retreat away from the busy city!
But more than the beautiful scenery, this park is very unique. It highlights the spectacular Korean horticulture.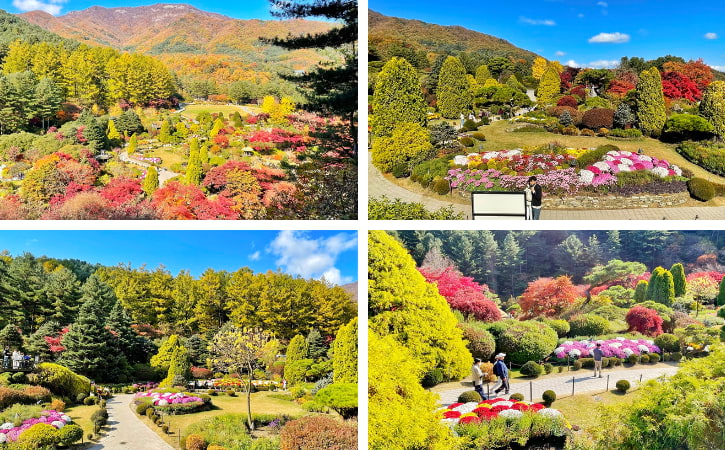 Explore the wide garden filled with vibrant trees, fresh flowers, and lovely structures.
You can take as many photos as you want while wandering around. And, don't miss to take a picture of Chungryeongsan Mountain.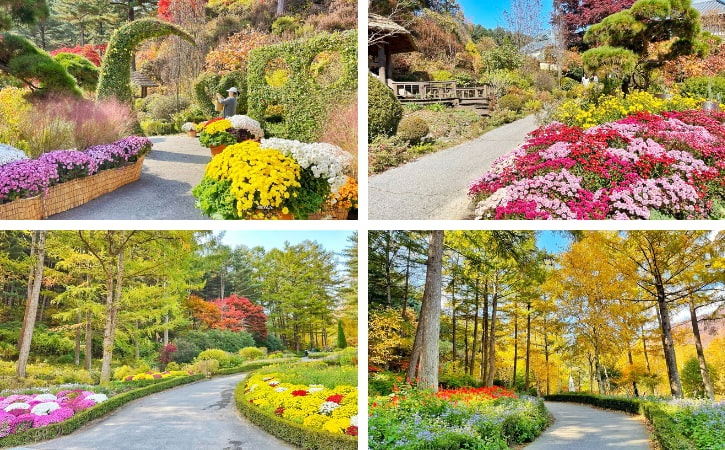 Stroll along the lush pathways surrounded by vivid colors.
During your tour, you will learn more about the history of the place, making your visit more meaningful. You'll also come across different varieties of plants that are distinct to the Gapyeong district.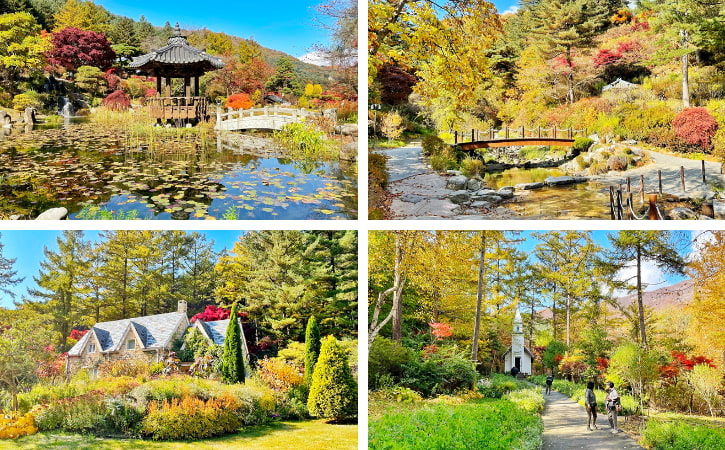 And just like Nami Island, you can tour the place any season you want.
Each season welcomes you with a variety of flower displays, exciting festivals, and stunning exhibits.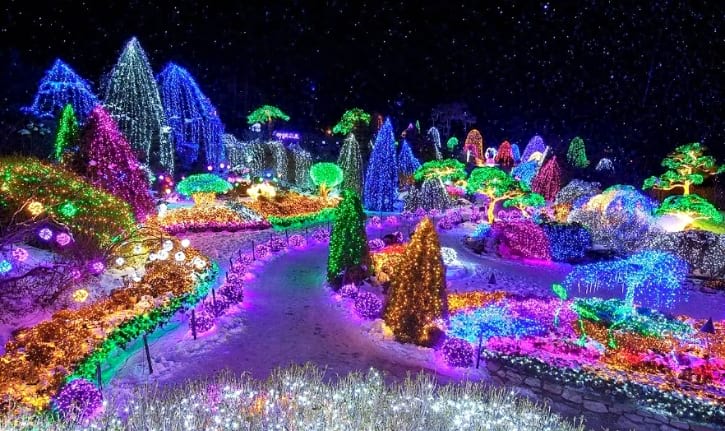 If you stop by The Garden of Morning Calm during winter, don't get disappointed with the withered flowers and trees. There's a lot to look forward to, especially at night!
As soon as the sun sets, the garden is transformed into a glowing and vibrant landscape with animated colours and decors.
3. Gangchon Rail Bike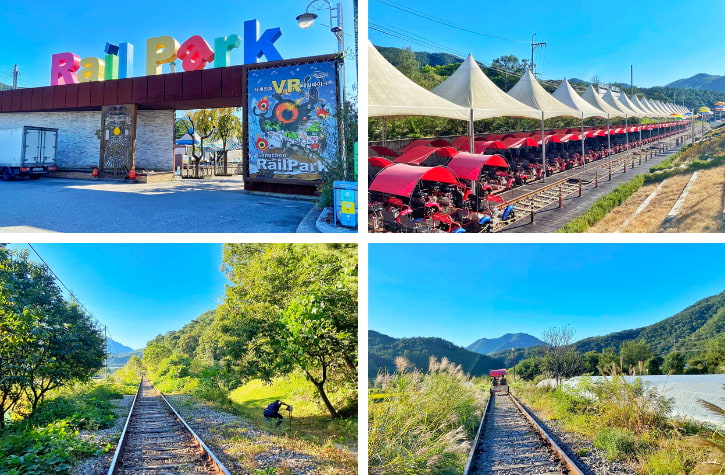 Another famous spot is none other than Gangchon Rail Bike.
This place welcomes you to a unique ride fringed with mesmerizing views, from long stretches of fields to calm rivers.
So, get ready as you embark on a memorable journey with your family and friends.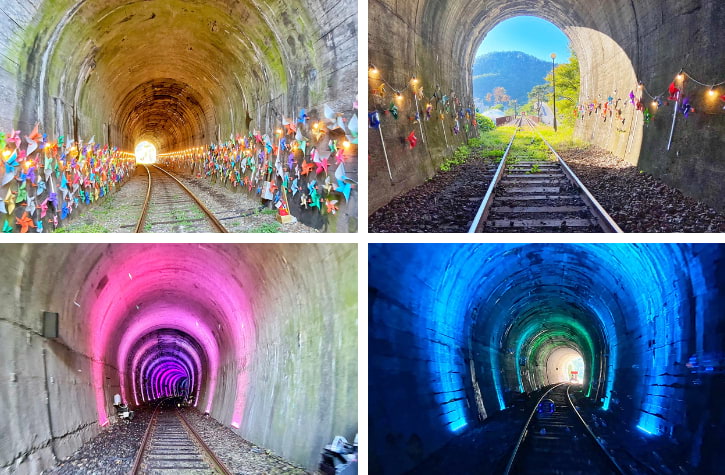 Along the way, you'll enter a series of tunnels with unique decorations. Marvel at the vivid lights that brighten up the dark passageway.
In addition, each tunnel comes with music to awaken your senses.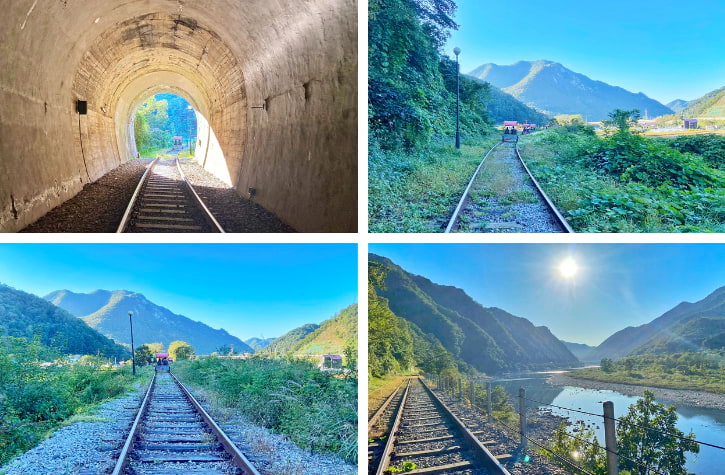 Without a doubt, this is such a notable adventure that you wouldn't want to miss out.
So, try to add this to your list and capture all the beautiful mountain and river vistas.
My Recommended Transportation
Visiting all these popular places in one day via public transport can be very challenging.
That is why it's highly suggested to book a bus tour instead, especially if it's your first time exploring the destinations.
There are two options available, either bus tour 1 or bus tour 2.
Bus tour 1 is the best choice if you want to visit all four spots in one day ―Nami Island, Petite France, The Garden of Morning Calm, and Gangchon Rail Bike.
In addition, the pick-up location is very convenient as you've got three options. These are in Myeongdong, Hongdae, and Dongdaemun.
So, just choose the pick-up spot depending on your convenience.
And before I forget, make sure to reserve the bus tours earlier. There are times when they get fully booked during peak seasons.
And if you're interested in booking a private car or van to Nami Island, just visit this private car's website to check the prices and make a reservation. You will be transported directly to Nami Island from your hotel.
Likewise, you will have the flexibility of choosing the attractions that you want to visit.
The 4 Seasons of Nami Island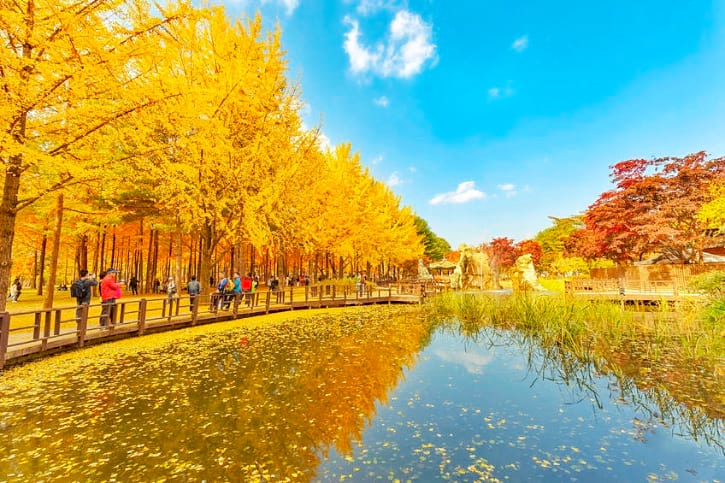 Nami Island is such a stunning destination all year round, which means you don't have to worry about the period when you are visiting.
It remains beautiful and spectacular from one season to another.
And of course, you won't be disappointed with the abundant activities to do in the island.
Summer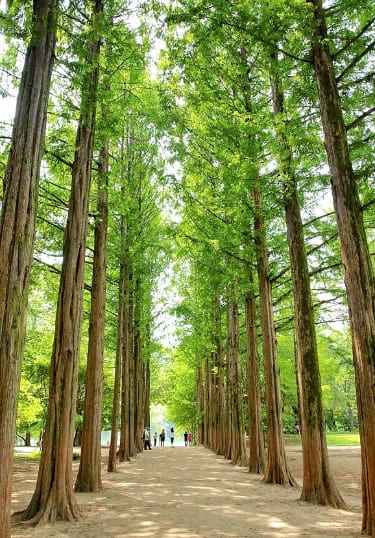 Summers in Nami Island is definitely one for the books.
At this time of the year, the trees and flowers are in full bloom, offering an unparalleled natural landscape.
You can walk along the panoramic paths or rent a bike to save time.
Spring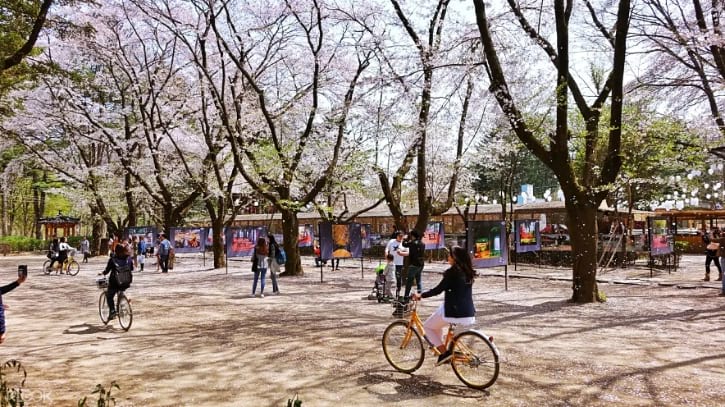 Come springtime, Nami Island becomes a lively destination filled with vibrant landscapes.
The clear blue skies complement the blooming flowers and growing leaves.
Because of the pleasant weather, you can do a lot of things like walking around the tree-lined pathways and touring the famous Winter Sonata locations.
Autumn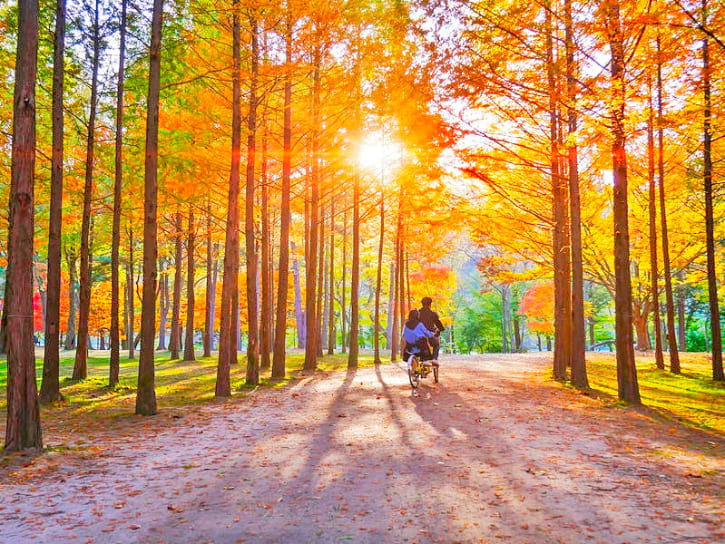 Autumn is definitely a crowd favourite among tourists and locals.
It's because this season brings all the colours of nature, from red to orange and yellow to green. Everywhere you look, the views are magical.
Winter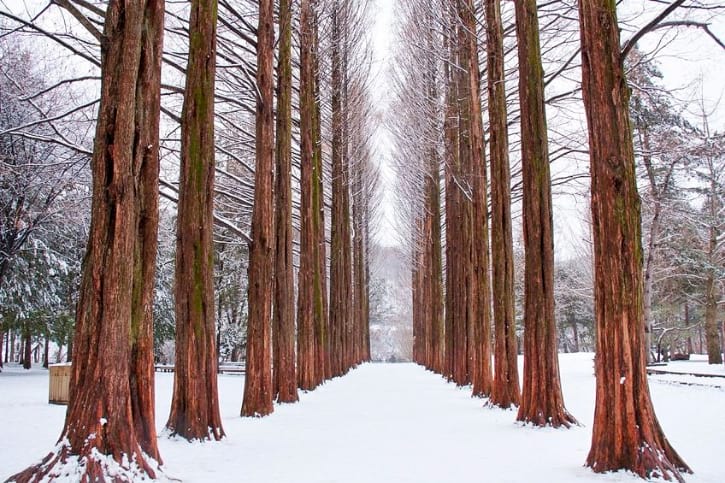 Who says Nami Island is not attractive during winter?
This is a nice season for those who want to explore the island freely. There are lesser crowds so you can roam around while enjoying the icy breeze.
Popular Restaurants and Cafés in Nami Island
1. Gomok

One of the most recommended restaurants on the island is Gomok. This place serves a variety of pasta, sandwiches, and desserts.
Some of their classics are Nami Island Pine Nut Pane Cream Pasta at 18,000 won and Tteokbokki & Fried Squid at 19,000 won. They also have Buffalo Wings & French Fries for 20,000 won.
If you want some snacks, don't miss their Green Tea Cake (7,000 won) and Black Sesamel Roll Cake (7,000 won).
Lastly, their Affogato Ice Cream (6,500 won) and Cookie Latte (8,000 won) are also top-notch.
2. Seomhyanggi

Enjoy some delectable grilled meat at Seomhyanggi. Their popular menu is the Pork Belly Barbecue, which is currently priced at 30,000 won for 2 persons.
On top of that, they have Grilled Duck, Grilled Pork Belly, Grilled Chicken, and Sausages set for 58,000 won (4 persons).
To spice up your dining experience, try their Kimchi Lunch Box for only 7,000 won.
3. Nammoon Korean Restaurant

If you're looking for tasty local cuisines, try Nammoon Korean Restaurant. The place offers lots of mouthwatering options for everyone.
Take a bite of their famous Spicy Pan-Fried Chicken with Rice at 38,000 won. This dish is already good for 2 persons.
You may also want to check out their Korean Prime Beef Soup with Rice (12,000 won).
And of course, you can't miss the Seafood and Green Onion Pancake (16,000 won).
4. Ddanji Pub (Pizza & Pasta)

For those craving some Italian treats, there's Ddanji Pub.
They serve different pizza flavors such as Pepperoni pizza (25,000 won), Margherita Pizza (20,000 won), and Quattro Formaggi Pizza (25,000 won).
Aside from these crowd favorites, they have Carbonara Pasta (18,000 won).
And since this is a pub, you can order refreshing drinks to cap off your dining experience.
5. Asian Family Restaurant Dongmoon

Another recommended food spot in the area is the Asian Family Restaurant Dongmoon.
Go over their appetizing dishes like the Grilled Teriyaki Chicken Rice (14,000 won) and Kimchi Udon (10,000 won).
If you want more, don't worry because there are other Korean cuisines available. You may order their Bulgogi Plate (15,000 won) or Spicy Stir-fried Small Octopus Plate (15,000 won).
6. Snow Cafe

When it comes to tasty drinks and sweet treats, Snow Café is definitely a top choice. Pay a visit to the renowned café and try their thirst-quenching beverages.
Some of their best-sellers are Strawberry Yoghurt Smoothie (6,000 won), Mango Banana Smoothie (6,000 won), and Pine Nut Latte (7,000 won).
They also have ice cream options like Strawberry Gelato (5,500 won), Mango Gelato (5,500 won), and Croiffle Pine Nut Cream (5,000 won).
7. Sonata Café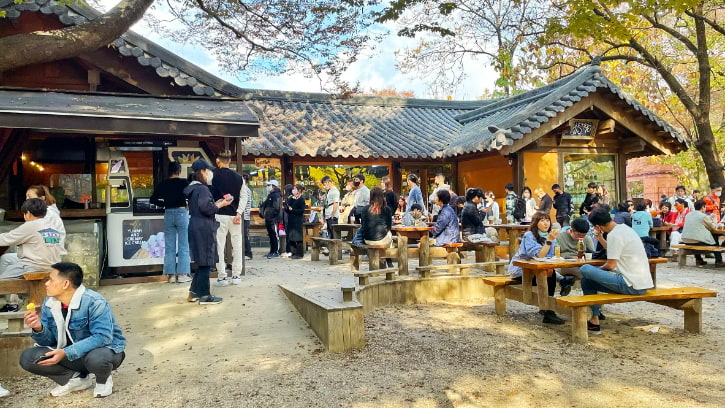 In terms of coffee and tea, Sonata Café brings out a wide selection of drinks for every traveller.
For their coffee menu, they have Americano (5,000 won), Café Latte (5,500 won), Vanilla Latte (5,500 won), and more.
If you want tea, have a taste of their Peach Iced Tea (5,500 won). Their Nami Island Green Tea (5,000 won) is also a classic choice.
8. BookCafe

From the name itself, BookCafe is adorned with a lot of reading materials and food options.
This chic, bright cafe is a popular place for brunch because of its unique bread choices and healthy drinks.
Some of their famous pastries are Garlic Bread (7,000 won), Brown Cheese & Ice Cream Bread (9,000 won), and Honey Bread (7,000 won).
They also offer Café Latte with Malcha Ice (6,500 won), Strawberry Smoothie Ice (6,500 won), and more.
My Final Thought
Truly, Nami Island Korea is a beautiful escape from the busy and crowded city life.
This place is such an attractive destination to visit whatever season you choose. No wonder why Nami Island is a heavy favorite among tourists and even locals.
Thanks a lot for taking your time in reading my best things to do in Nami Island blog!
And, I do hope you get all the valuable information that you need for your Nami Island adventure.
Related Posts
Photo Credits:
Klook
byjeng © 123RF.com
sanephumjan © 123RF.com
casanowe © 123RF.com
prakobkit © 123RF.com