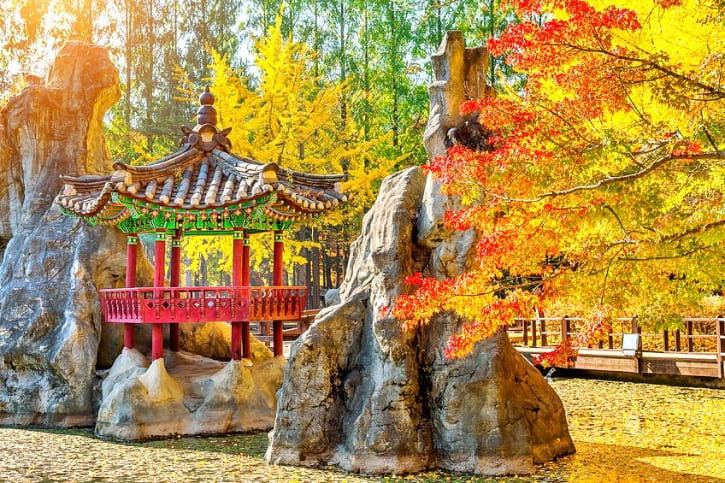 Situated near Seoul, Nami Island or Namiseom is a breath-taking place filled with picture-perfect landscapes. Some of the things to do in Nami Island include strolling along the scenic tree lanes, cycling around the island, and exploring the riverside.
If you want to laze around and just appreciate nature, you'll love the picturesque garden surrounding the place. During your scenic adventure, you might meet some lovable animals, roaming freely in their habitat.
And of course, no visit would be complete without seeing the location of the famous Winter Sonata TV series and many Korean dramas. If you're planning to depart from Seoul, you can check out my complete guide on how to go to Nami Island from Seoul.
So, here are my best picks on the things to do and see in Nami Island to make your trip more fun and unforgettable.

Pro-tip
Highly recommended to
book this shuttle bus service
because it can take you directly to Nami Island which can help you save a lot of travelling time!
1. Central Korean Pine Tree Lane – Walk along the scenic pathway surrounded with pine trees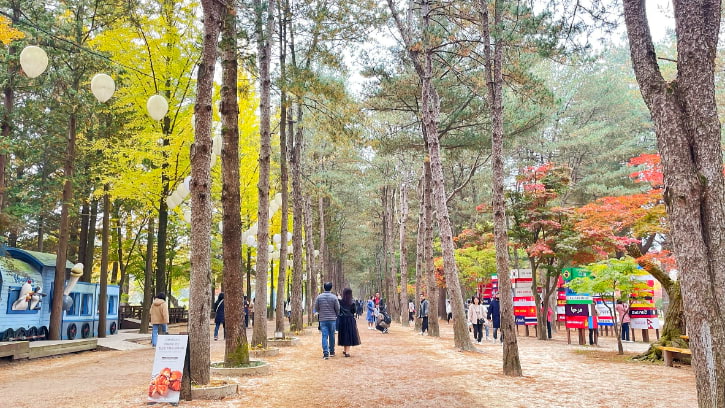 There's no better way to kick off your Nami Island adventure than visiting the famous Central Korean Pine Tree Lane. During the daytime, you can catch a glimpse of the towering trees and vibrant landscape. At night, the hanging lamps transform the place into a fairytale-like setting.
2. First Kiss Glass Sequoia Bridge – Relive your favourite K-drama scene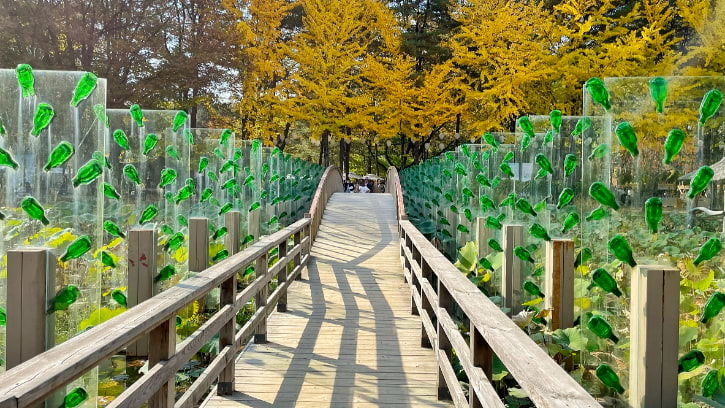 The First Kiss Glass Sequoia Bridge probably is one of the main reasons why Nami Island became very popular. From the name itself, this is where the lead characters shared their first kiss in the hit Korean drama series, Winter Sonata.
3. The Maple Lane of True Love – Reminisce more Winter Sonata moments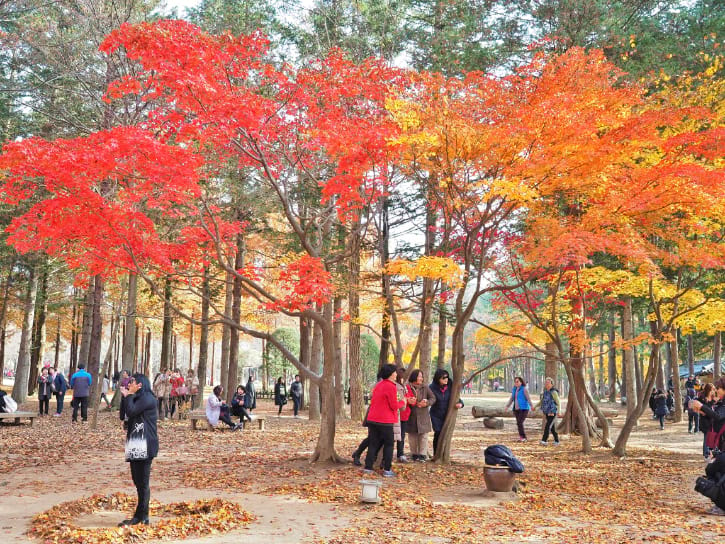 But wait there's more! Another iconic setting from the beloved Winter Sonata drama is the Maple Lane of True Love. The place can get crowded but don't worry because every corner is worth the shot!
Take shade under one of the maple trees that serve as a lovely background for your photos. The beautiful colours of orange, red, yellow, and green perfectly complement the relaxing ambience.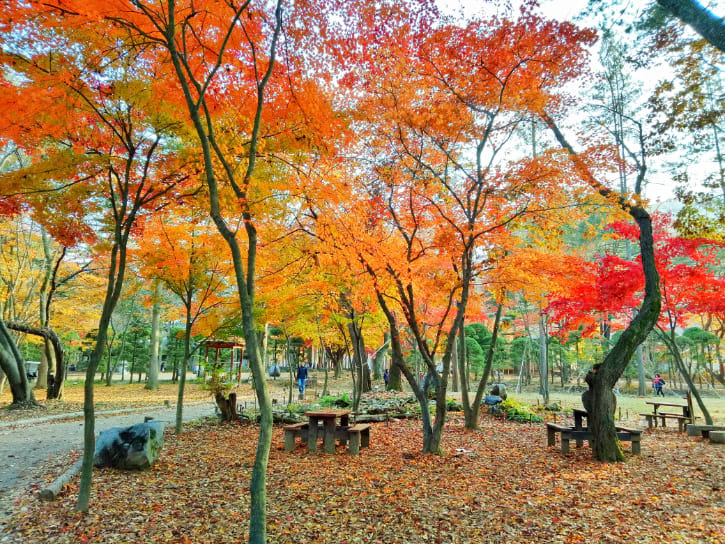 Tired after your picture-taking? Head to this area and loosen up. There are plenty of tables and benches around so you can chill out and better enjoy the view.
4. Dodamsambong Garden – Leave all the stress away as you stroll along the garden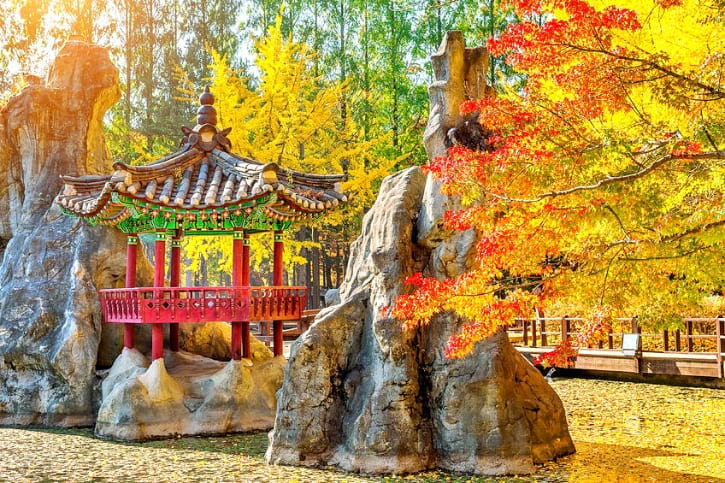 You have lots of options on what to do in Nami Island and this includes visiting the ever-captivating Dodamsambong Garden.
It's not hard to find the Dodamsambong Garden; simply look for the huge stone peaks situated at the Namhangang River.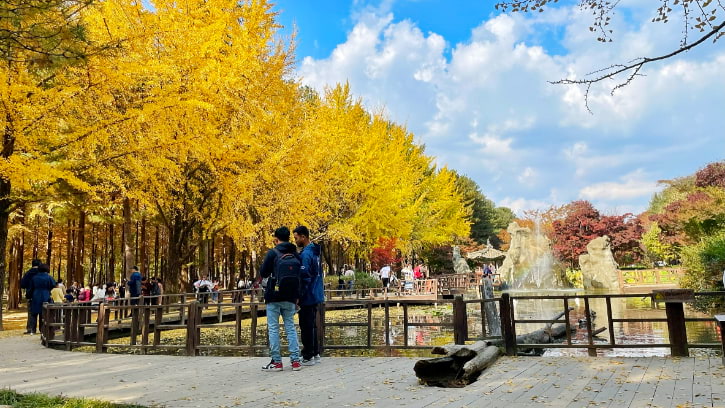 It's hard to beat Nami Island when it comes to lovely nature backgrounds. This is just one of the many picture-worthy spots in the area.
Without a doubt, the Dodamsambong Garden has one of the most scenic sights in the island. You can either walk around or simply enjoy the view.
5. Winter Sonata Statue – Capture the life-size figures of Kang Joon-sang and Jeong Yoo-jin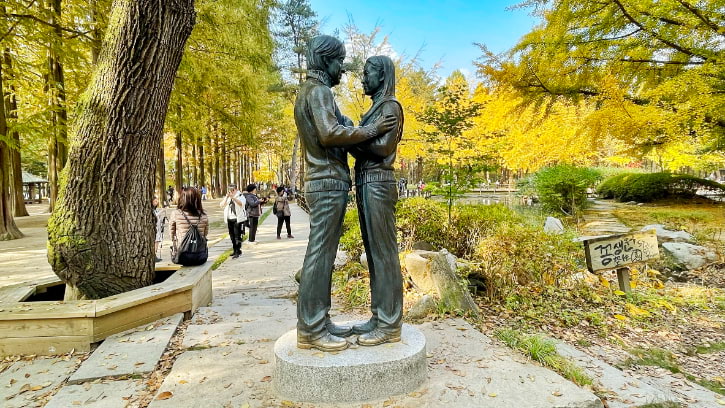 If you are a certified Winter Sonata fan, don't miss to take a picture of the famous K-drama statue. This towering figure of the lead characters is definitely a must-visit.
Because of its popularity, the queue here can be long. But don't worry because it's worth the wait, especially if you're a diehard follower of the TV drama!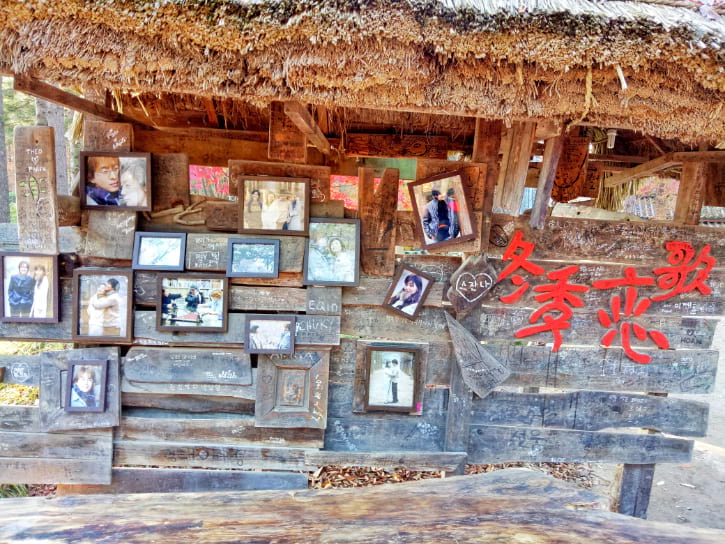 The popularity of Winter Sonata is simply undeniable. In this area, you will find several memorial pictures from the hit television series.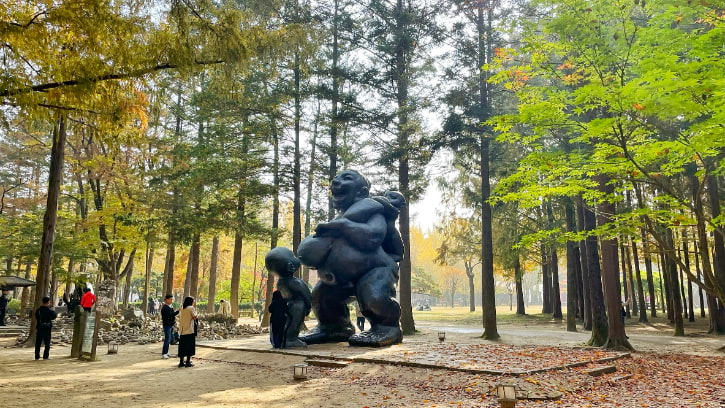 Located just opposite of the Winter Sonata statue is the breastfeeding statue of Namiseom. This giant statue illustrates the love and care of a mother to her children.
6. Metasequoia Lane – Go on a trip with nature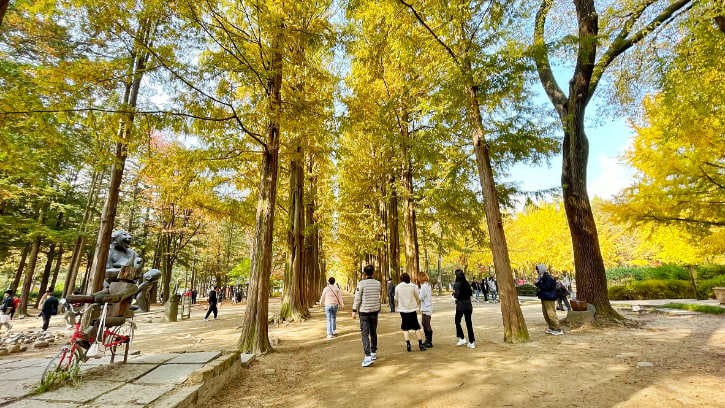 Another postcard-worthy location is the Metasequoia Lane. These soaring trees enclose the entire place with their power and allure.
And did you know that metasequoias are considered as the largest trees in the world? So, don't miss to engage with nature and walk between these massive metasequoias.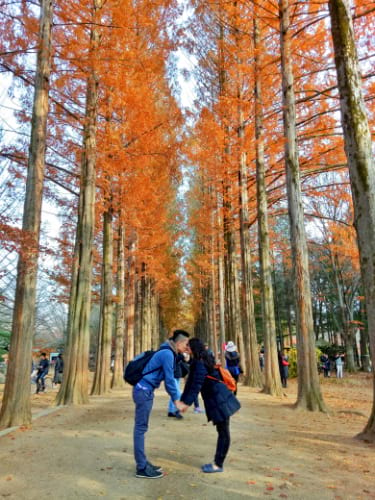 There's no better way to experience the charm of these redwood trees than to pace around the towering tree-lined walkway!
And if you're with your partner, grab the opportunity to share an intimate moment and kiss under the sky-high metasequoias.
7. Ginkgo Tree Lane – A perfect place for an afternoon stroll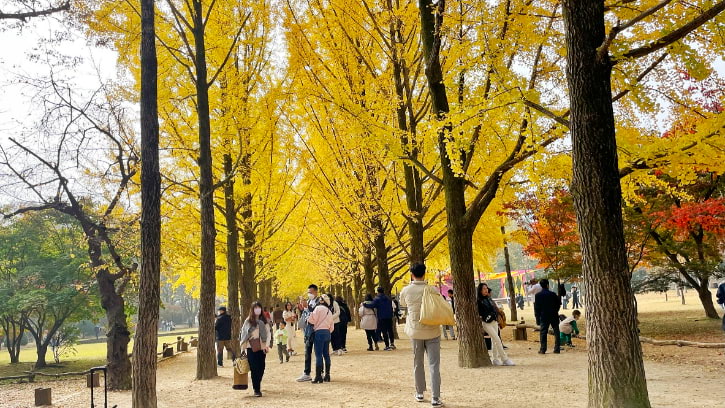 Nami Island never runs out of magnificent paths to surprise travellers. Aside from maple and metasequoia trees, you'll find a handful of ginkgo trees.
More than its beauty, Ginkgo trees are considered as living fossils. These are also called as the maidenhair trees because of their bushy branches and fan-like leaves.
The Ginkgo Tree Lane offers not just beautiful views but also peaceful vibes. You can laze around the seating spaces after your stroll or picture-taking.
8. Hop aboard the UNICEF Charity Train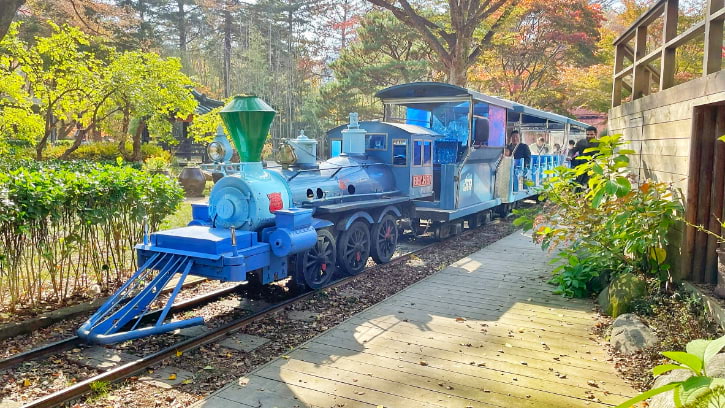 There's so much to see and do in Nami Island. To maximize your time, you can ride the UNICEF Charity Train and enjoy the amazing views from your seat.
The train has 2 boarding points―Nami Wharf Train Station or Central Train Station. You can simply choose your preferred boarding points to start your adventure. The one-way train fare is 3,000 won per person.
To know more about the exact location of the boarding points, refer to the map below.
9. Go cycling and see the spectacular scenery conveniently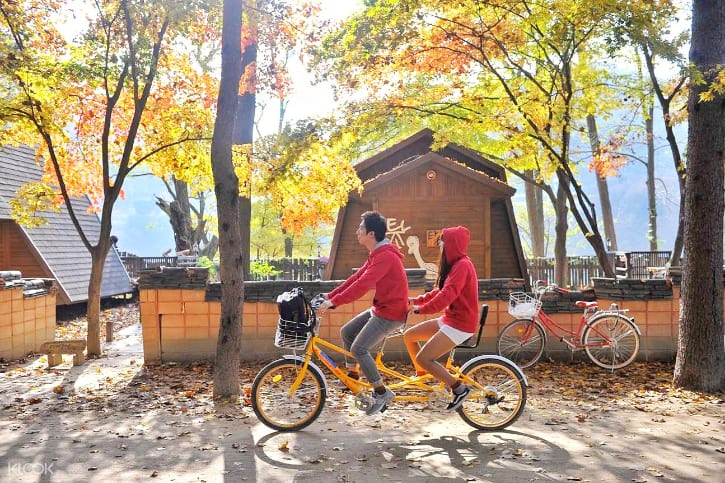 With the abundant tourist spots on the island, it may take a while to visit one attraction to another.
So, if you want to save time and effort, just rent a bicycle. Cycling around the island is one of the best activities to do in the island.
Bicycle:
Single: 4,000 won (30 min), 7,000 won (1 hr)
Couple: 8,000 won (30 min), 14,000 won (1 hr)
10. Meet some ostriches and other adorable animals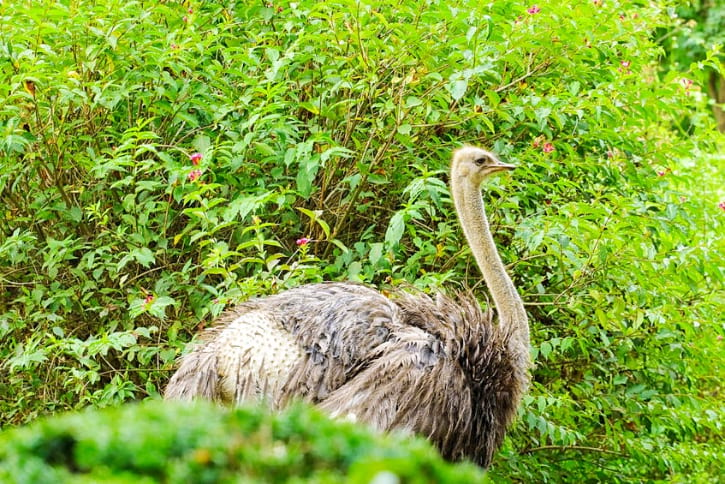 No visit to Nami Island can be complete without seeing the ostriches and other creatures. They freely roam around the island so you have all the chance to take a picture with them. Just don't get too close!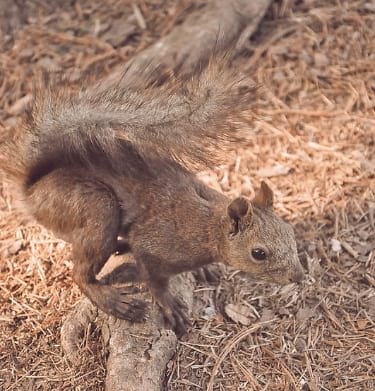 Aside from ostriches, you'll find some peacocks, rabbits, and squirrels. These animals consider Nami Island as their habitat, so be sure to respect them as well.
A Map of What to Do in Nami Island, South Korea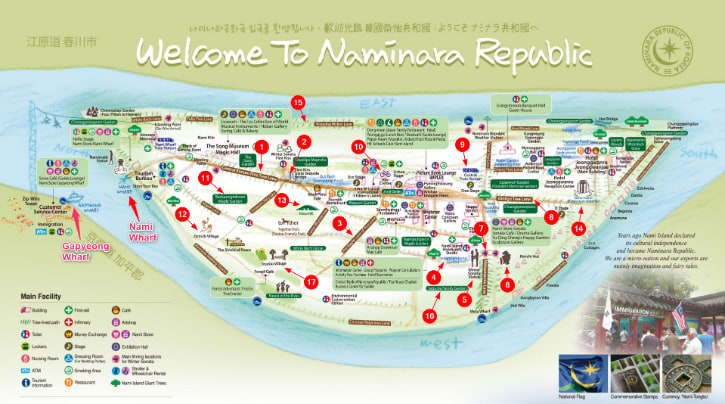 To conveniently navigate around Nami Island, refer to the provided map above. Using this map, you won't have to spend long hours researching the best attractions in Nami Island.
This material summarizes everything you need to know about the place, including the overview of the attractions, main facilities, and basic guidelines.
For easier reference, I have marked the locations of the top 10 spots in Nami Island so you can plot your schedules ahead.
The 4 Seasons of Nami Island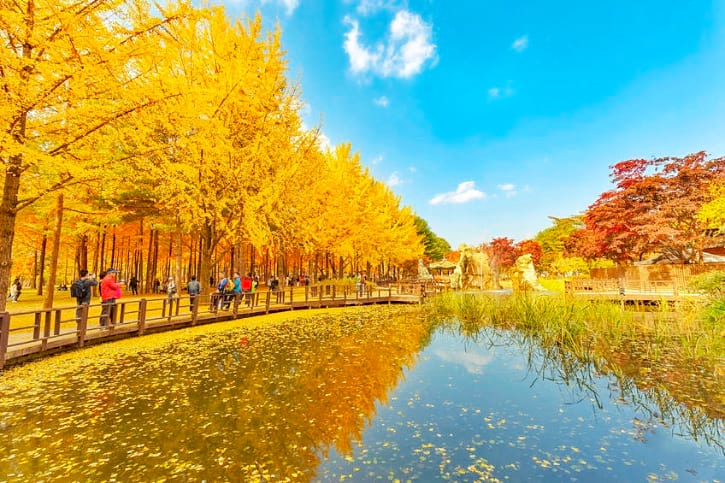 Nami Island is such a stunning destination all year round, which means you don't have to worry about the period when you are visiting. It remains beautiful and spectacular from one season to another.
And of course, you won't be disappointed with the abundant activities to do in the island.
Summer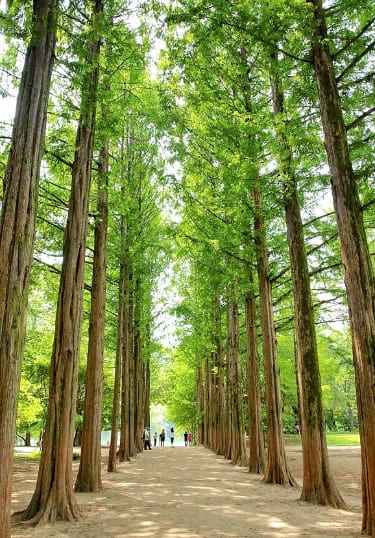 Summers in Nami Island is definitely one for the books. At this time of the year, the trees and flowers are in full bloom, offering an unparalleled natural landscape. You can walk along the panoramic paths or rent a bike to save time.
Spring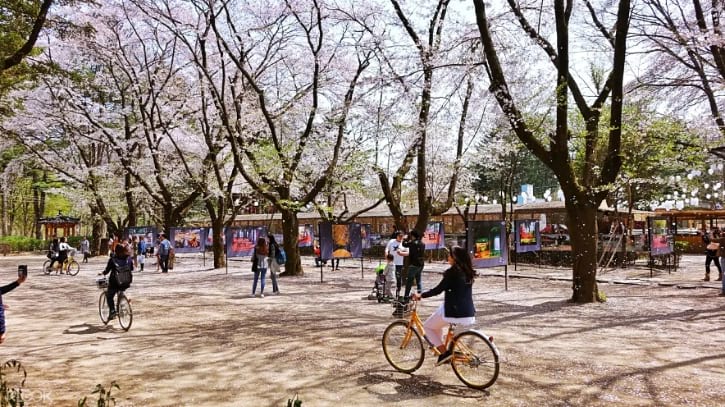 Come springtime, Nami Island becomes a lively destination filled with vibrant landscapes. The clear blue skies complement the blooming flowers and growing leaves.
Because of the pleasant weather, you can do a lot of things like walking around the tree-lined pathways and touring the famous Winter Sonata locations.
Autumn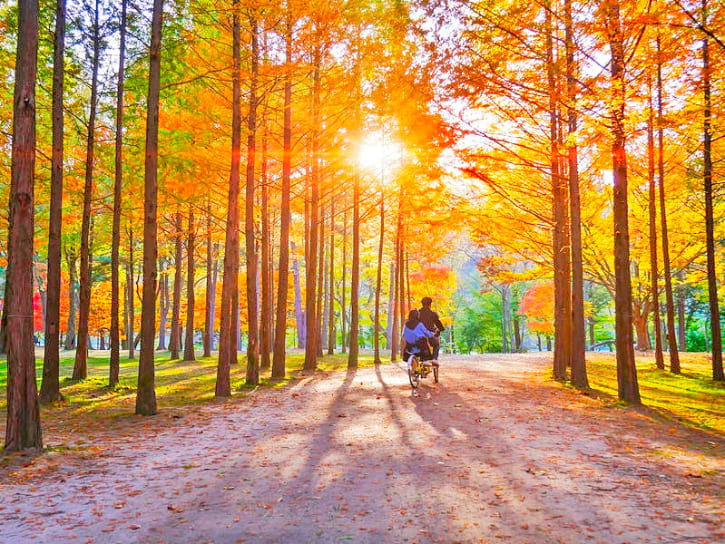 Autumn is definitely a crowd favourite among tourists and locals. It's because this season brings all the colours of nature, from red to orange and yellow to green. Everywhere you look, the views are magical.
Winter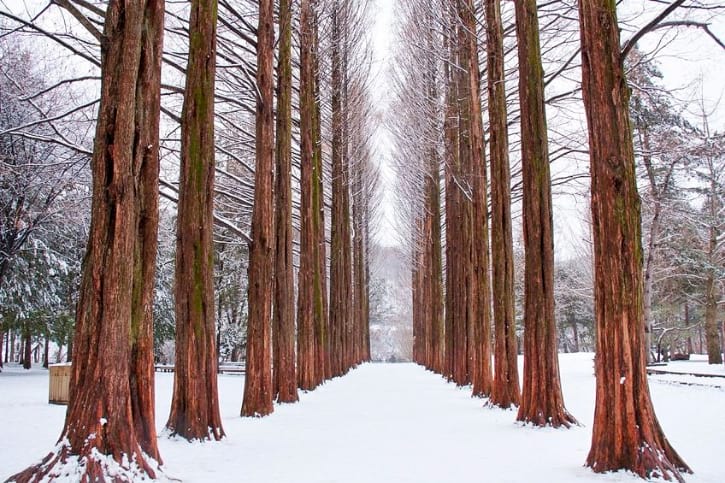 Who says Nami Island is not attractive during winter? This is a nice season for those who want to explore the island freely. There are lesser crowds so you can roam around while enjoying the icy breeze.
Nearby Attractions
Did you know that you can also visit nearby Nami Island attractions during your trip?
Some of the most beautiful tourist spots near Nami Island are Petite France and The Gardens of Morning Calm. Get to know more about these two attractions below.
Petite France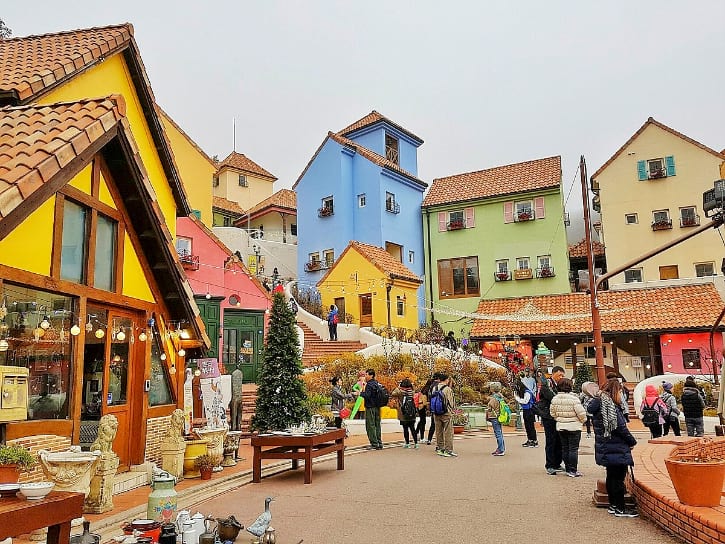 From Nami Island, it will take around 25 minutes to reach Petite France. As you walk your way into the village, you'll be enclosed by vibrant structures and adorable architectural designs.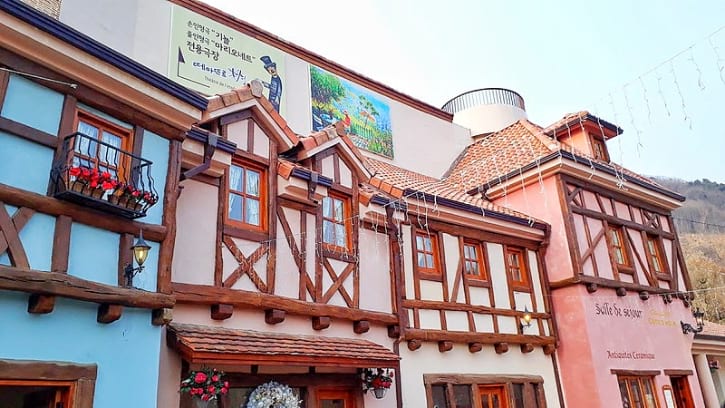 There are several attractions to explore, including the Pond de Fabre Bridge and Saint-Exupery Memorial Hall.
Because of its charming ambience, many K-drama series and reality shows are shot in this village. Some of the most popular ones are My Love From The Star, Secret Garden, and Running Man.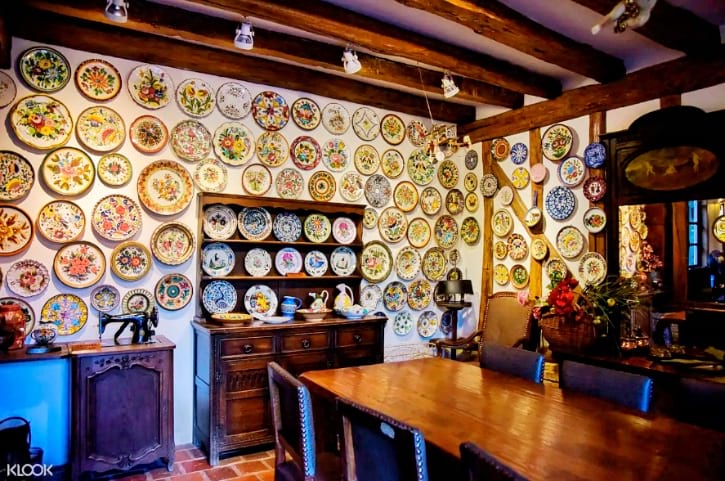 Almost every corner in this village has a touch of France. From elegant rooms to antique pieces, there's so much to see in this famous tourist attraction.
And before you forget, reward yourself with a couple of French souvenirs from the adorable shops in the village.
The Garden of Morning Calm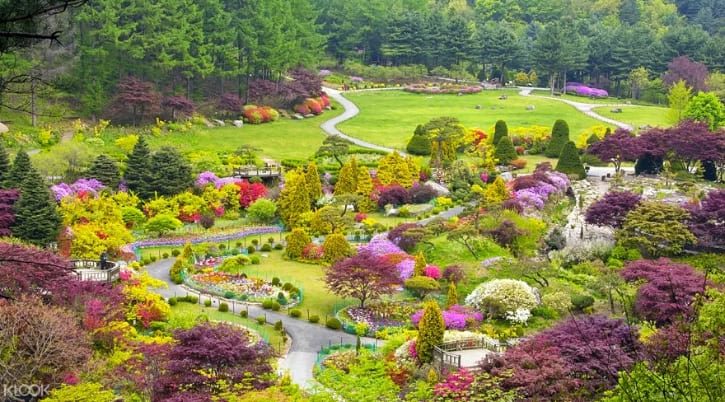 More majestic nature views await your arrival at The Garden of Morning Calm. This stunning botanical garden is like a real-life painting dotted with brightly-coloured nature arrangements.
It's the perfect destination if you want a calming retreat away from the busy city vibes. Explore the wide garden filled with vibrant trees, fresh flowers, and lovely structures.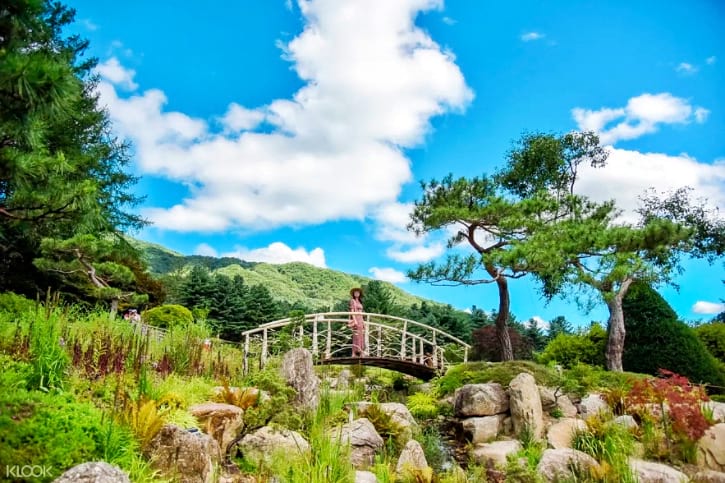 Opened in 1996, this beautiful garden houses more than a thousand plant and flower species. Each themed area represents an important piece of history or culture.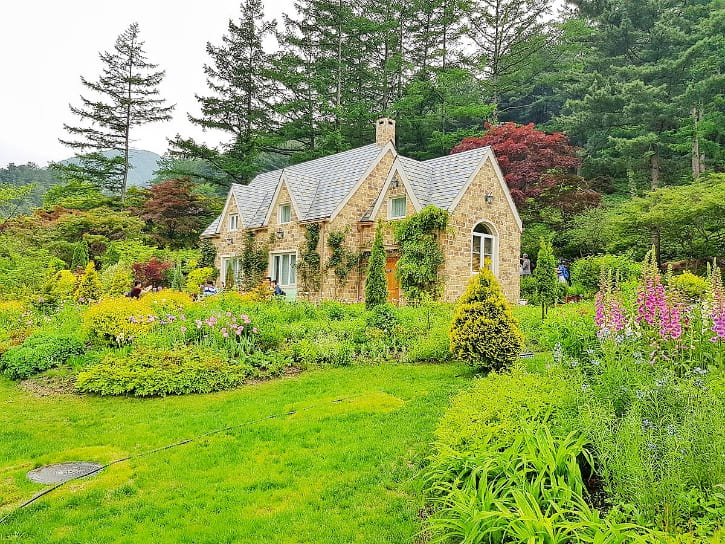 And just like Nami Island, you can tour the place any season you want. Each season welcomes you with a variety of flower displays, exciting festivals, and stunning exhibits.
One of the top attractions you can find here is J's Cottage Garden, a European-inspired house that is worth the visit.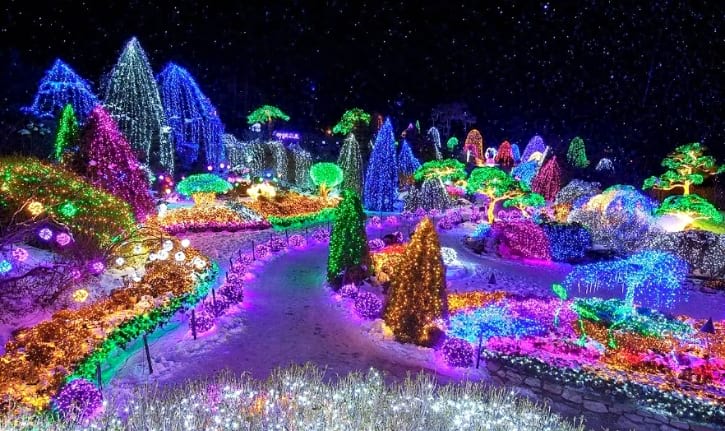 If you stop by The Garden of Morning Calm during winter, don't get disappointed with the withered flowers and trees. There's a lot to look forward to, especially at night!
As soon as the sun sets, the garden is transformed into a glowing and vibrant landscape with animated colours and decors.
My Final Thought
Truly, Nami Island is a beautiful escape from the busy and crowded city life. This place is such an attractive destination to visit whatever season you choose. No wonder why Nami Island is a heavy favorite among tourists and even locals.
Now that you know all the best things to do in Nami Island, are you ready to plan out your visit soon?
But before that, it's important to know the different ways to reach Nami Island from Seoul. I have prepared a more detailed guide on how to visit Nami Island in my other blog.
As an overview, there are actually several transportation options from Seoul to Nami Island. But if you're looking for the easiest method, just take the direct shuttle bus or book a private car.
This way, you will have a stress-free trip to Nami Island and its nearby attractions. To have an idea of the latest shuttle bus rates, existing packages, time schedule, and assembly location, see the table below.
| No. | Bus Tour | Latest Price |
| --- | --- | --- |
| 1. | Nami Island + Petite France | Check Here |
| 2. | Nami Island, Petite France, Garden of Morning Calm, and Gangchon Rail Bike (Popular and Got 7 Choices) | Check Here |
| 3. | Nami Island, Petite France, Garden of Morning Calm, or Gangchon Rail Bike (Most Popular, Got 3 Choices and Cheaper) | Check Here |
And if you're interested in booking a private car or van to Nami Island, check the private car charter price here.
By renting a private car, you will be transported directly to Nami Island from your hotel. Likewise, you will have the flexibility of choosing the attractions that you want to visit.
So, if you want a more convenient and comfortable trip to Nami Island, this one is highly recommended.
Thanks a lot for taking your time in reading my blog! And, I do hope you get all the valuable information that you need for your Nami Island adventure.
Don't forget to bookmark this page so you can easily access this in the future. You can also share this blog with your family and friends to help them out!
Simply repost this through your social media sites like Facebook, Twitter, Gmail, Pinterest, or WhatsApp.
Once again, thank you and I wish you a fun and wonderful holiday in Nami Island!

Photo Credits:
Photo by Klook
Photo
by namisum.com
mailhamdi © 123RF.com
Tawatchai Prakobkit © 123RF.com
Viparat Kluengsuwanchai © 123RF.com
Weerayut Ranmai © 123RF.com
Kampon Warit © 123RF.com
Discover Other Famous Attractions in Seoul