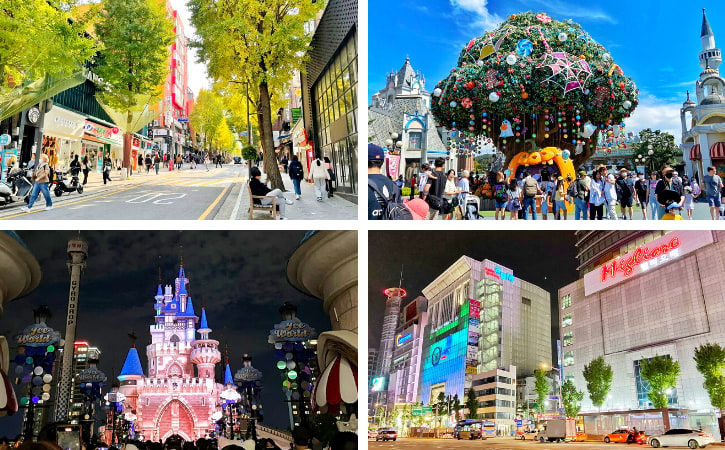 Here's a new Seoul itinerary and the latest Korea travel guide that you can use to plan a wonderful 7-day trip without rushing.
In this article, I'm going to share the top shopping streets and must-visit places in Seoul. Through this guide, you get an idea of how to allocate each place in your own itinerary perfectly.
So, let me walk you through my perfect 7-day itinerary for Seoul (Korea), which would also include some food spots.
Accordingly, you'd know where to eat super delicious Korean foods for your lunch and dinner. 😊
Day 1: Myeongdong and Namsan Seoul Tower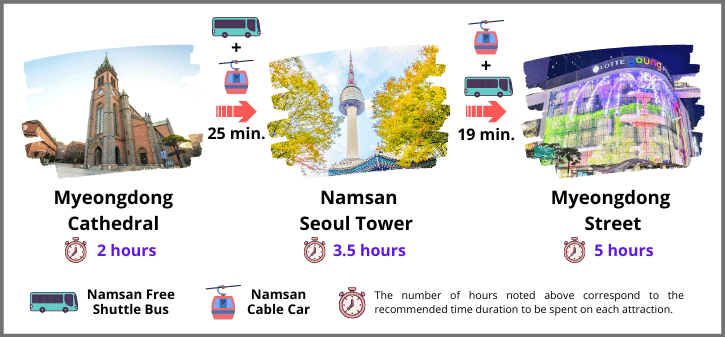 On the first day of this Seoul itinerary, head to Myeondong Cathedral and then to Namsan Tower. And of course, the best way to end the day is at Myeongdong.
I highly recommend starting the first attraction by 11:00 AM so you'll have enough time to check in at your hotel.
1. Myeongdong Cathedral – 2 hours (11:00 AM to 1:00 PM)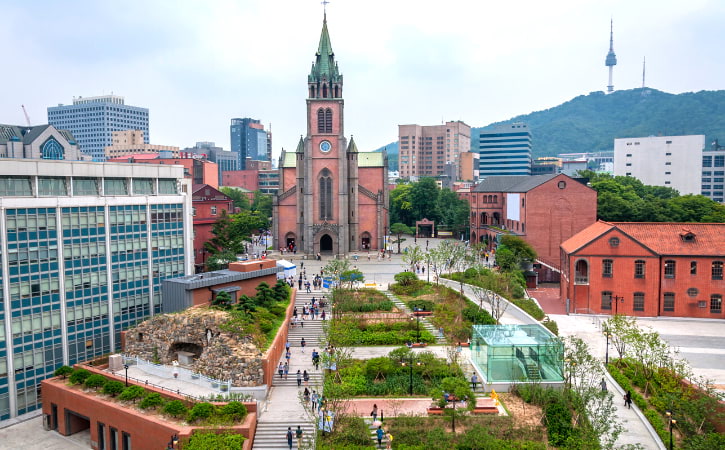 Commence your morning adventure at the Myeongdong Cathedral. This community landmark is where you'll find the symbol of Korean Catholicism. It is also the seat of the Archbishop of Seoul.
Built back in the 18th century, the cathedral is known for its unique architecture.
Fascinatingly, the religious site is created from bricks instead of the usual stones. I have allocated 2 hours because the 1 hour is dedicated to your lunch.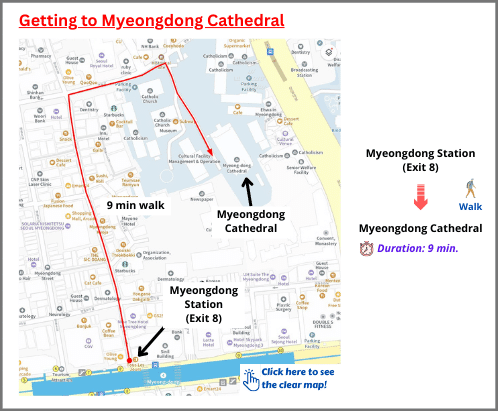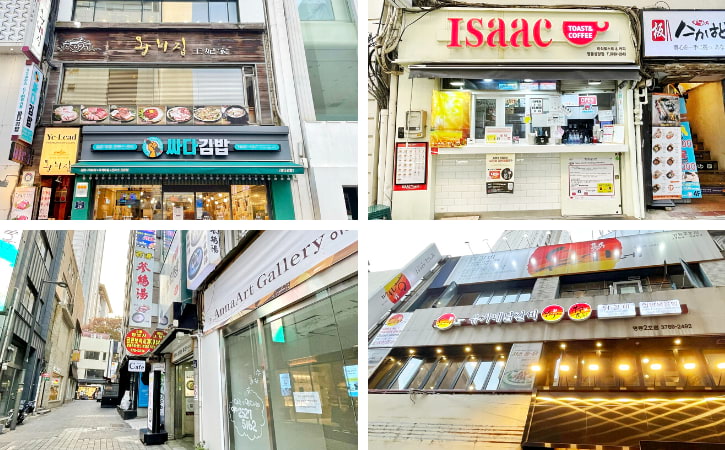 Lunch
Wangbijib. For a traditional Korean barbecue, visit this spot and savor a platter of tender meat. They also serve soup, noodles, and side dishes to satisfy your hungry appetite.
Isaac Toast & Coffee. For sandwich lovers, this is the best site in the area. Try their variety of local sandwiches, from bacon to spicy pork cutlets and more. And, pair your meal with a cup of coffee!
Baekje Samgyetang. Enjoy a bowl of chicken ginseng soup inside this famous restaurant. The authentic and delectable taste of their food makes them very popular in the city.
Yoogane. When it comes to spicy stir-fried chicken, you won't go wrong with this local dining area. Don't forget to order additional fried rice so you can personally combine the rice and chicken according to your liking.
2. Namsan Seoul Tower – 3.5 hours (1:00 PM to 4:30 PM)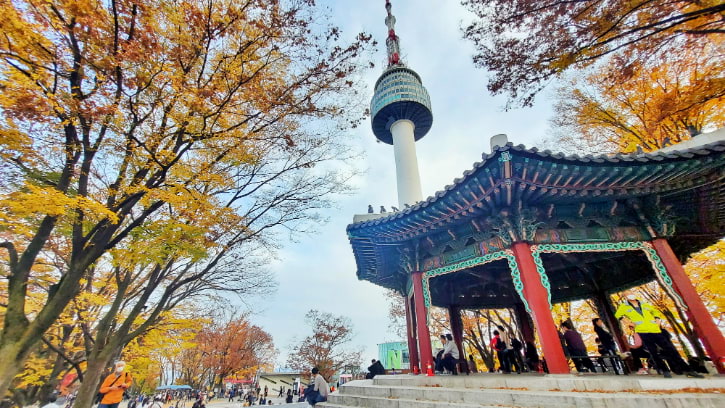 In the afternoon, wander around the breathtaking Namsan Tower. This is a very popular site in Seoul that you should explore with your family and friends.
Find out the full details in this complete guide to Namsan Seoul Tower so you can plot your schedule ahead. This also provides you with information on how to get to the tower and the top things to do there.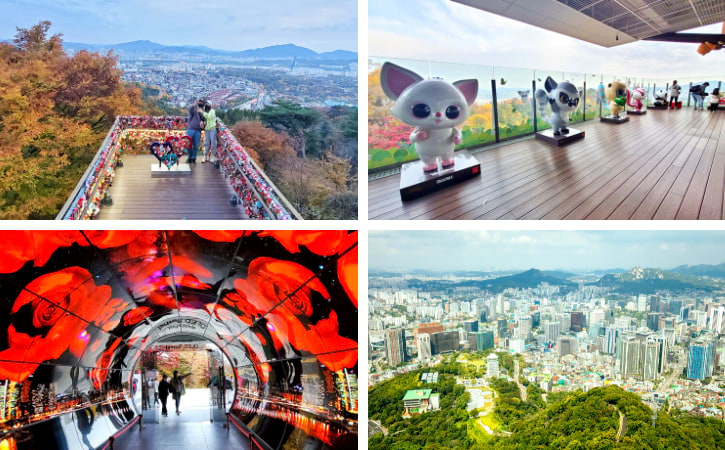 Must-visit Spots in Namsan Tower:
Proposal Staircase: Trek your way to the scenic stairway and marvel at the gorgeous nature views. This is where you'll find a railing full of locks that commemorate the love and affection of lovers all over the world.
Yoohoo Land & Linlin Land: Meet some adorable animal statues and enjoy their charming presence. From lemurs to fennec foxes, these oversized characters are actually some of the world's endangered animals.
Bridge of Love: Another romantic area for lovers is this unique bridge filled with LED lights. Share some dreamy moments with your loved one as you relish the views.
OLED Displays: Find more breathtaking panels scattered around different floor levels. These mesmerizing displays are surely worth the capture.
Observation Decks: Relax at one of the comfy chairs from the observation deck. This is definitely a mesmerizing way to see the beautiful skyline of Seoul from the floor-to-ceiling windows. And, don't forget to get the entrance tickets here and obtain up to 55% OFF!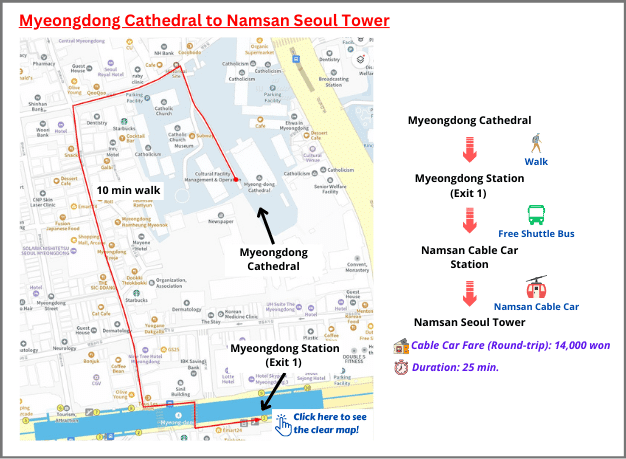 3. Myeongdong Shopping Street – 5 hours (4:30 PM to 9:30 PM)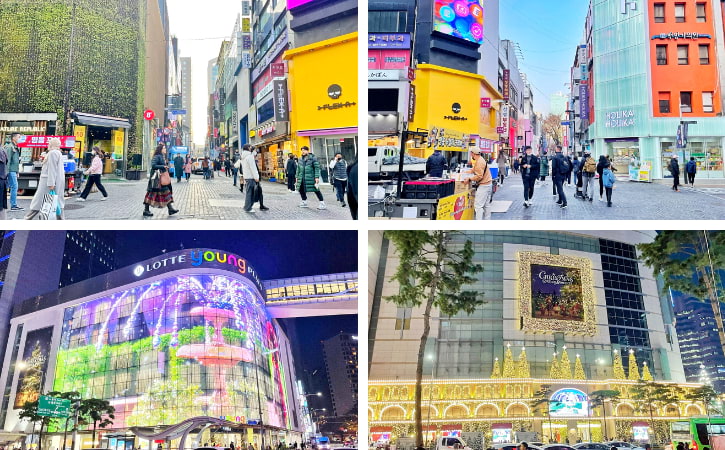 Cap off the first day of your trip by wandering around Myeongdong Street. This is a very famous shopping street not only in Seoul but also in Korea.
Thus, you should explore this vibrant street and have fun until the evening.
Below are some of the best activities you can do in this renowned district.
a. Go strolling, shopping, and food-hopping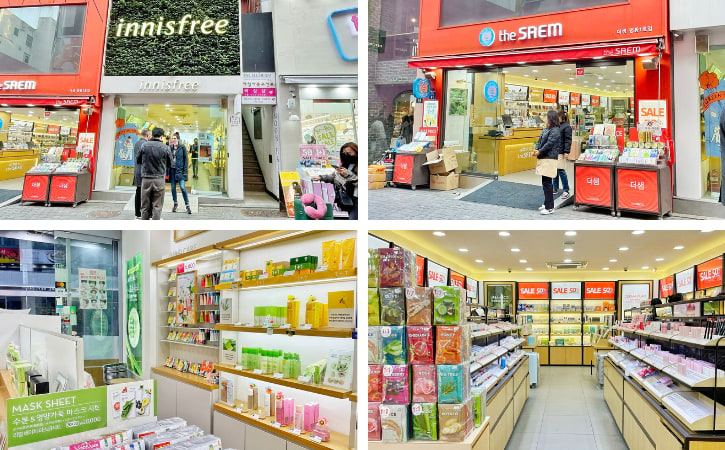 Packed with popular Korean cosmetic brands, this is the best destination for your skincare needs.
Check out a variety of brands like Innisfree, It's skin, Holika Holika, Missha, Etude House, and Nature Republic.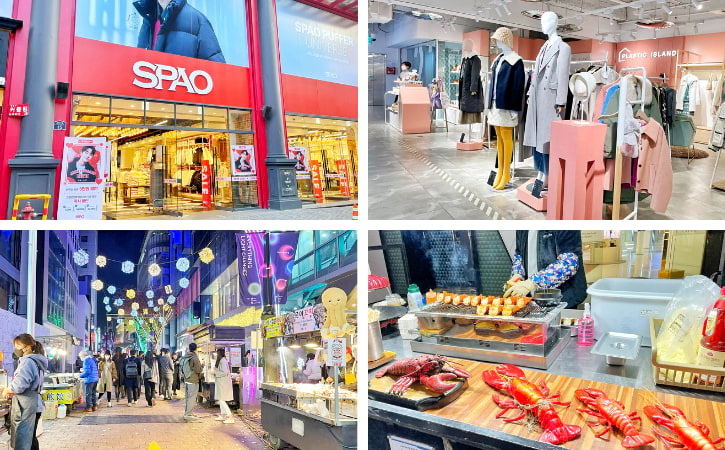 There's so much to uncover on this busy street. So, I suggest that you read my article about Myeongdong shopping street here for reference.
This way, you learn where to buy fashionable clothing and cosmetic products as well as different street foods.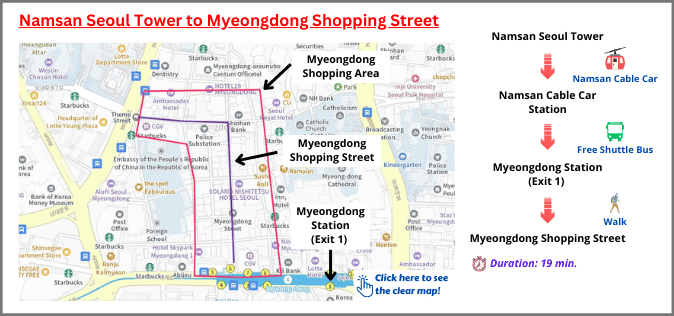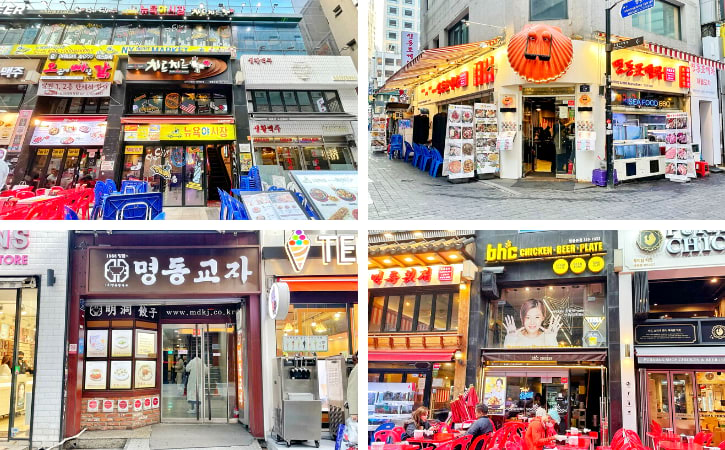 After your shopping spree, you should try to visit one of the best restaurants in the area. Below are some of my most recommended options:
Dinner
Chir Chir Fusion Chicken Factory. Savor a platter of chicken goodness with your pals. This restaurant is truly a top-notch choice when it to comes tasty chicken meals.
Jogabi Seafood Restaurant. If you are on the hunt for some seafood dishes, this is the place to be. Go over their menu of seafood dishes, from ramen to fried rice and steamed meals.
Myeongdong Kyoja. Reenergize your senses as you devour an entire bowl of dumpling soup. As a Michelin-recognized restaurant in the city, they provide an excellent menu focused on dumplings and noodles.
BHC Chicken. Take delight in their collection of fried chicken that would surely make you happy. Plus, they have more food options like cheesy balls, mozzarella sticks, and lots of garnishes.
b. Watch the Nanta Show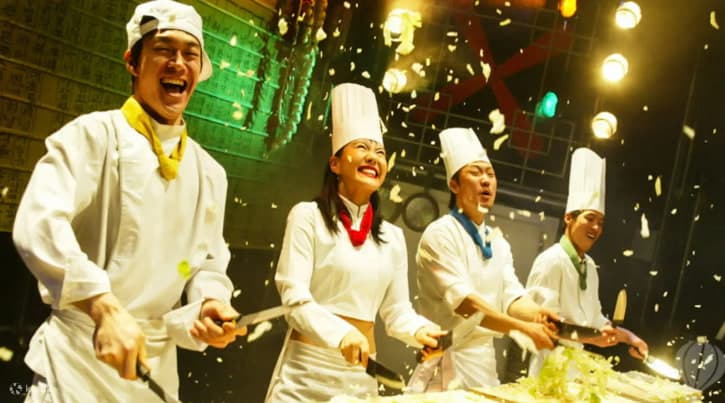 Lastly, make your way to Nanta Show. This is the best way to cap off your visit to Myeongdong.
Share laughter with the audience as the actors do all sorts of amazing acts, from amusing antics to mesmerizing tricks.
So, go check the Nanta Show admission tickets ahead and get up to a 35% discount!
Day 2: Gyeongbokgung Palace, Ewha and Hongdae Street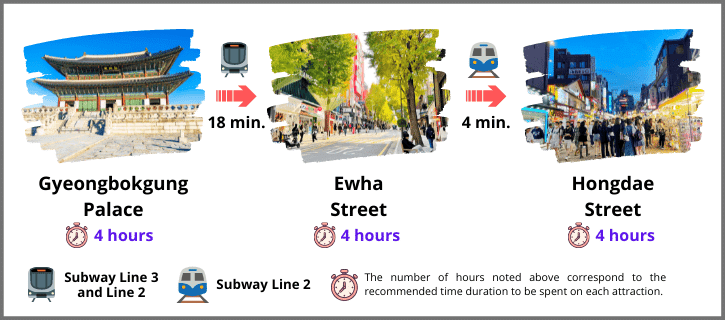 On the second day of your Seoul itinerary, you are scheduled to visit Gyeongbokgung Palace.
After lunch, stroll around Ewha Street. Then, just before the sun sets, navigate around Hongdae Street.
1. Gyeongbokgung Palace – 4 hours (9:00 AM to 1:00 PM)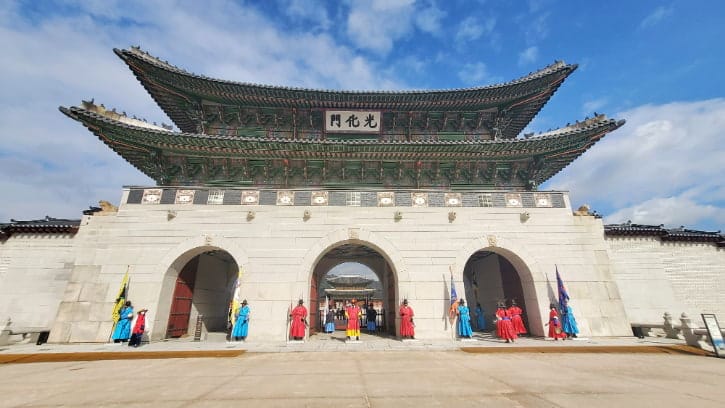 On this day's morning, start off your trip at Gyeongbokgung Palace. This is the most popular palace in Seoul that exudes historical charms.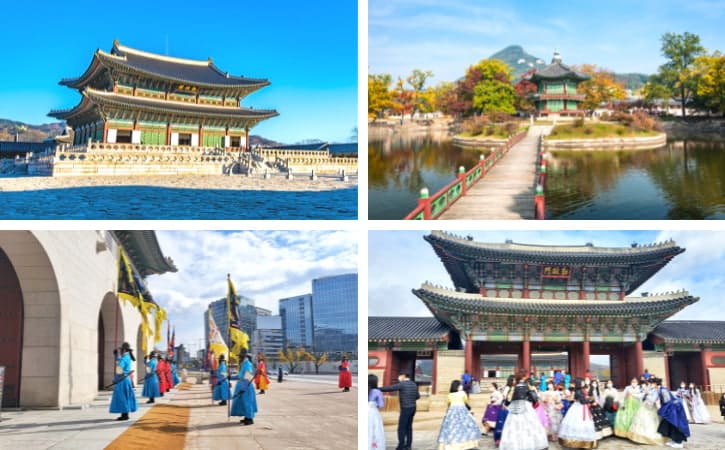 Must Do and See Things in Gyeongbokgung:
Geunjeongjeon Hall: Enter the main hall and pay homage to this historical site. Created during the Joseon dynasty, this area is decorated with ornaments and stone platforms.
Hyangwonjeong Pavilion: Explore the surroundings of the pavilion where you'll find a beautiful pond. There's also a garden that is very pleasing to the eye.
Gyeonghoeru Pavilion: As the largest elevated pavilion in Korea, this is truly remarkable. Take a closer look at the impressive architecture that is bounded by sculptures and ornaments.
Changing of the Guard: This traditional rite is one of the highlights of the complex. Catch the historic event that starts at 10:00 AM.
Wear Hanbok: I truly recommend to check out this shop if you want to feel what it's like to wear a hanbok. In this store, you can rent cheap traditional costumes. Plus, the staff provides superb service.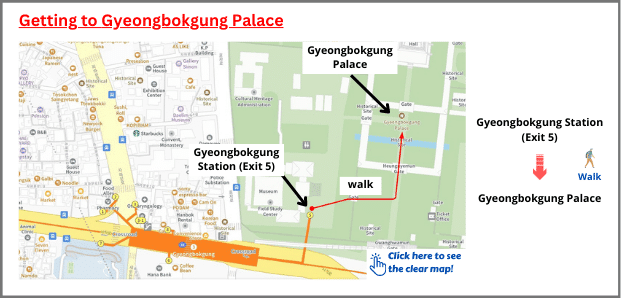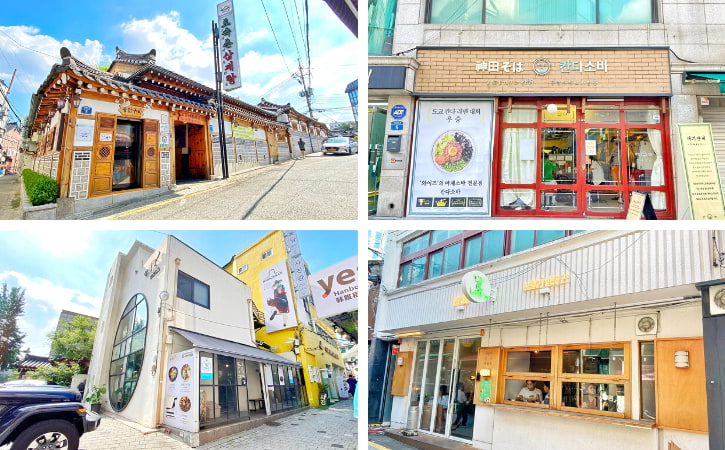 Lunch
Tosokchon Samgyetang. Get some tasty and nutritious food from this local store. Serving healthy ginseng soup and dishes, this is highly recommended for a hearty lunch.
Kandasoba. For some yummy soba noodles, drop by the restaurant and check out their Japanese menu. Don't miss to order a bowl of rice to complement the delectable soup!
Sambaek Jip. From bibimbap to teppanyaki pork, they got a variety of Korean cuisines for you to try. They also serve food sets that come with local side dishes. And, order their bean sprout soup, which is a crowd favorite!
Beezza. Grab a bite of their mouthwatering pizza and slurp a glass of beer! This pizza shop is such a cozy and affordable dining spot that you wouldn't want to miss out.
2. Ewha Street – 4 hours (1:00 PM to 5:00 PM)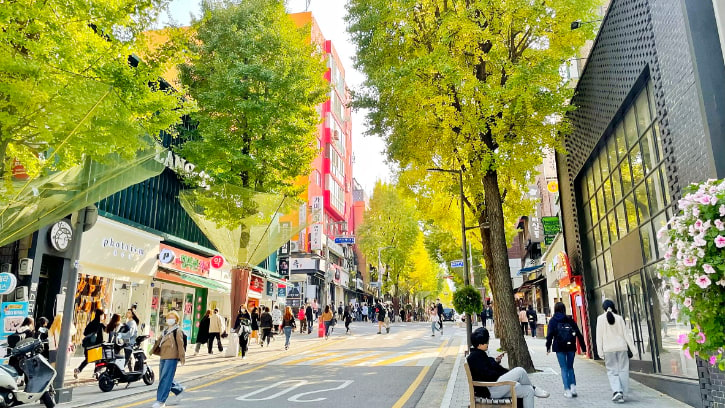 After lunch, spend your afternoon at Ewha Womans University Shopping Street with your loved ones. As one of the vibrant streets in Seoul, for sure you'll never run out of things to explore here.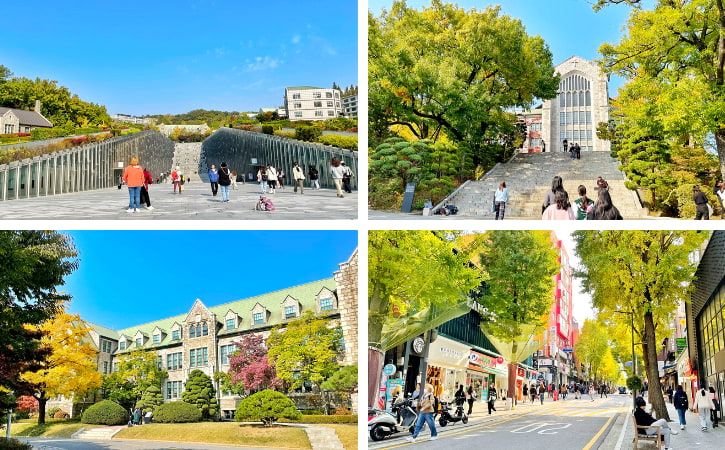 You can stroll around the campus complex and visit different historical destinations. After your adventure, go shopping!
Best Things to Do and See in Ewha:
Ewha Campus Complex: As you enter the campus, you'd be caught off-guard by the gorgeous beauty of the underpass. Strike a pose in front of the architectural wonder before you kick off the exploration.
Welch-Ryang Auditorium: Continue the adventure and drop by this expansive auditorium. This is widely used for special events and community services in the area.
University's Garden: You'd be surprised how this beautiful garden perfectly fits into the campus expanse. Go around the scenic trails and get mesmerized by the well-maintained bushes.
Pfeiffer Hall: Considered the first-ever building on the campus, the hall is brimming with history. Walk into its pathways and take a glimpse of the noteworthy architecture.
Ewha Fashion Street: Shop for some trendy pieces along this busy street. There are lots of local shops that sell stylish clothing and accessories. So, grab this opportunity and elevate your wardrobe with new stuff.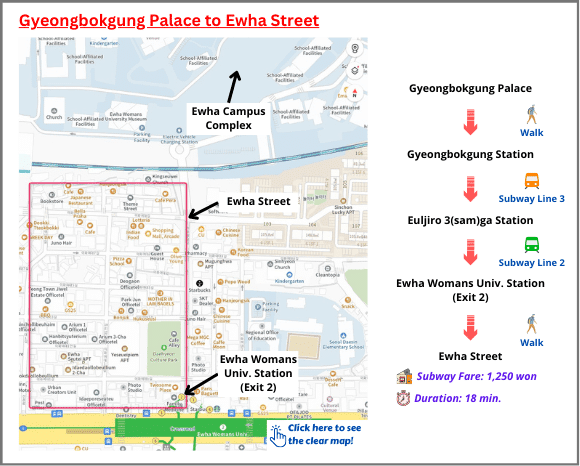 3. Hongdae Street – 4 hours (5:00 PM to 9:00 PM)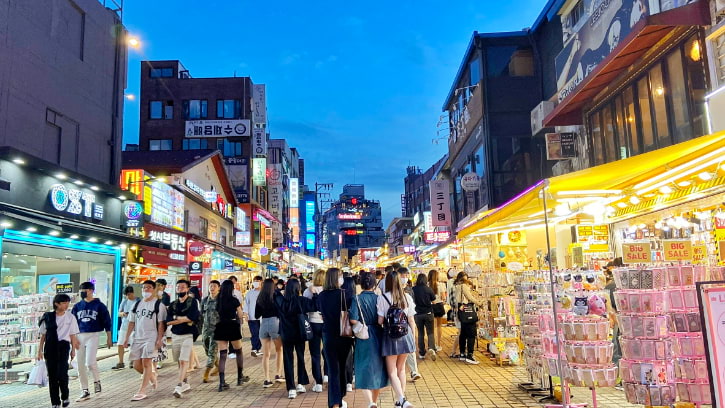 Come evening, go to Hongdae Shopping Street and journey through the stalls filled with all sorts of items.
This neighborhood is definitely a fun destination to visit, especially at night. No wonder it's dubbed as one of the most visited shopping streets in Seoul among international travellers.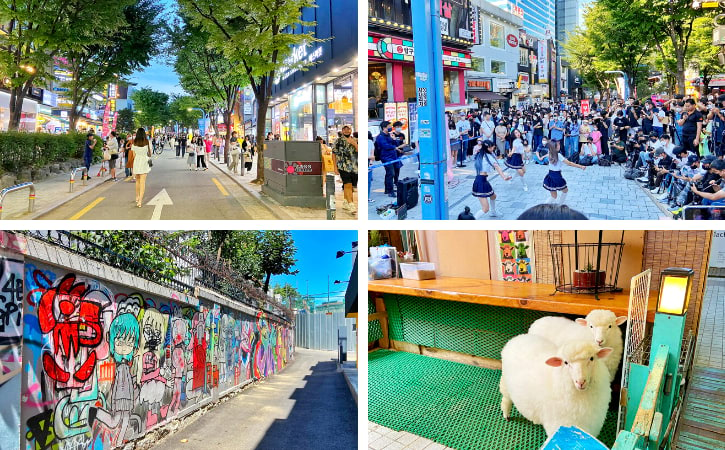 For guidance, below are some of the activities you can do while strolling around the Hongdae street.
Shopping: Shop 'til you drop by the hundreds of local stalls in the area. They sell many fashion pieces, accessories, and souvenirs. So, take your time and check out their impressive displays.
Street Performances: While exploring the street, you might come across some local acts. Watch them showcase their talents, from singing to dancing and more!
Mural Street: Walk by this famous street and marvel at the colorful art along the walls. You may use the mesmerizing murals as your photo background.
Try Some Street Foods: All the shopping and walking would definitely make you hungry. But don't worry because there are plenty of street food stalls scattered around.
Thanks Nature Cafe: Relax and sip a cup of coffee from this unique café. Unlike typical shops, there are two sheep inside the store to welcome you.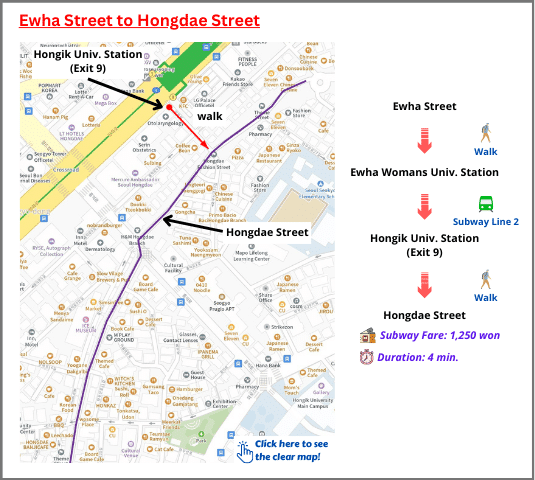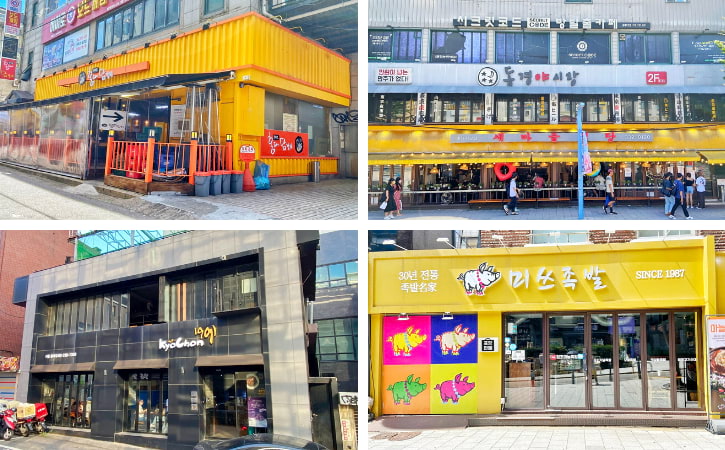 Dinner
Hongdae Dakgalbi. For an authentic dak-galbi in Hongdae, head to this place. You have the option to add cheese to your dak-galbi platter. They also provide different levels of spiciness to make your dining experience more remarkable.
Saemaul Restaurant. Try the famous Korean BBQ in the neighborhood. This restaurant also serves kimchi stew, cold noodles, and other local dishes.
Kyochon Chicken. Satisfy your chicken cravings by dropping by this local food store. From crispy fried chicken to flavored ones, there's something that would surely catch your attention.
Myth Jokbal. Known for its pig trotters, this is another classic favorite among locals and travellers. Fascinatingly, they offer a complimentary soup for every table!
Day 3: Everland or Lotte World Seoul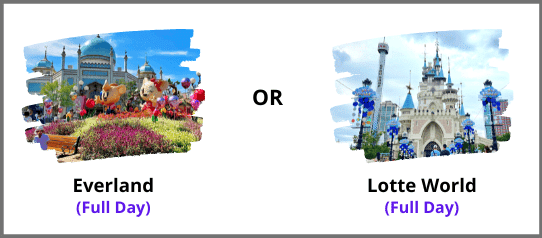 For day 3, you would be spending it either at Everland or Lotte World Seoul.
And for a seamless trip, I created a very detailed comparison between these two parks to help with your decision-making.
Option 1: Everland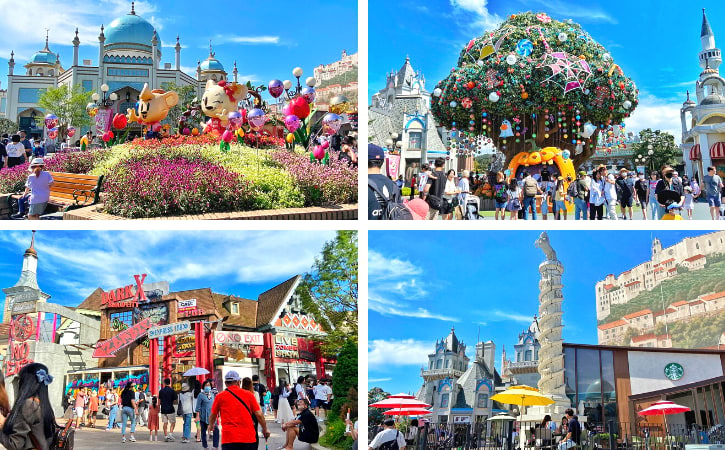 A visit to Everland theme park is a must for all travellers to Seoul, especially those with kids.
As the largest theme park in South Korea, it is filled with exciting roller coasters and fantastic shows. You'd also love the thrilling and non-thrilling games that are suitable for all ages.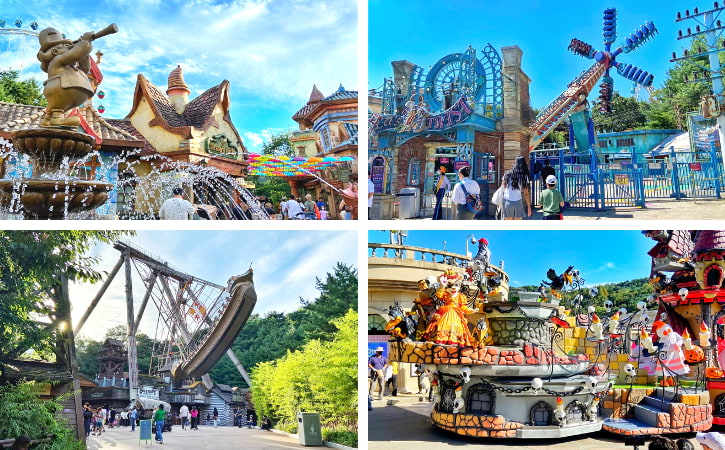 My family personally likes the park because of its beautiful sights and colourful landscapes. Not only that but there are also lush gardens, giving you plenty of photo opportunities.
So, don't miss out on the attractions below when you visit this amazing theme park.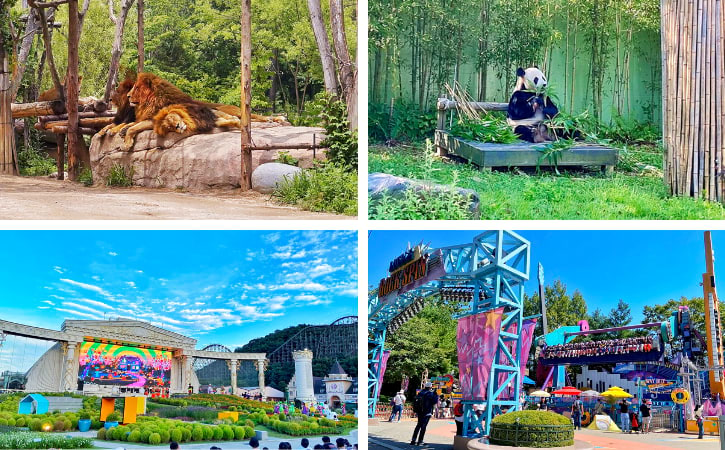 Safari World: Get on the wild tram and have a fun outdoor trip with the wild animals. This offers you a closer look at the top predators of the animal food chain. Meet some white tigers, lions, bears, and more!
Panda World: See the ever-adorable pandas in this special place. This is the sanctuary of the gentle giants who love to feed on bamboo.
Lost Valley: Experience the thrill as you ride this convertible amphibian vehicle. It moves from water to land, allowing you to see at least 150 unique animal species. These include camels, elephants, and zebras. You can also feed giraffes during your visit.
Four Seasons Garden: Get dazzled by the long stretches of beautiful landscapes. The place is filled with manicured shrubs and flowers. This is a nice spot to relax and enjoy the gorgeous views.
Double Rock Spin: This is definitely the most in-demand ride in the park, especially for thrill-seekers. Hop aboard the rollercoaster that gives you a full 360-degree spin.
Tip: Remember to check out Everland tickets here, which can help you save around 44% compared to purchasing the tickets on-site!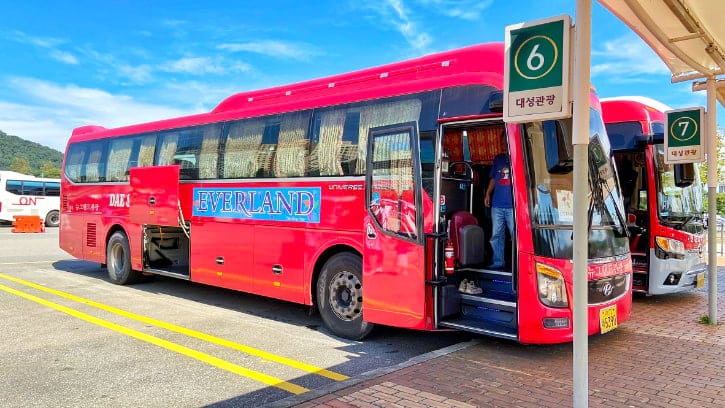 Getting There: Reserve this shuttle bus online for a convenient trip to Everland. Compared to taking the public bus and subway, this transportation is recommended in terms of saving time. The pick-up locations are at Myeongdong Station and Hongdae Station.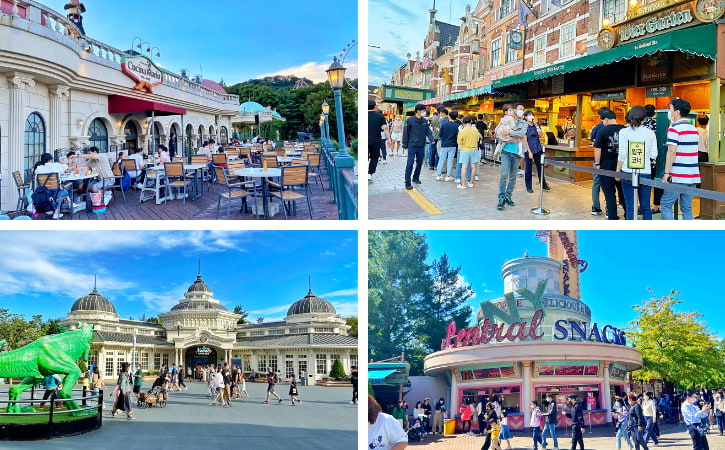 Lunch and Dinner
You won't have a hard time with the food choices in the park. It's because there are many restaurants in Everland that cater to different tastebuds. So, you can conveniently take your lunch and dinner here.
Option 2: Lotte World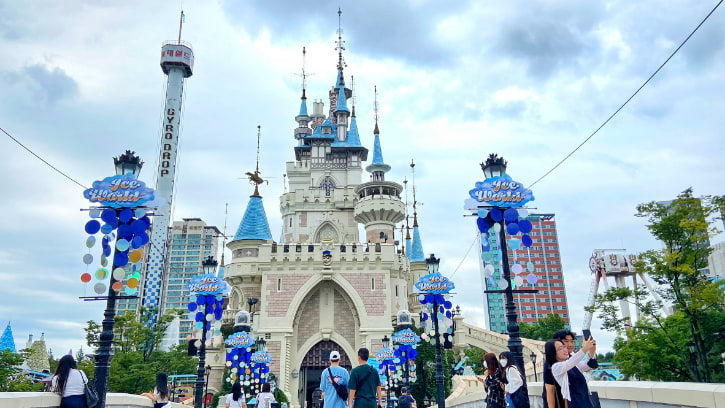 Spend time in Lotte World Seoul, which is the world's biggest indoor amusement park.
Known for their iconic Disney-like castle, it continues to fascinate visitors of all ages.
And of course, you'd love the variety of outdoor and indoor roller coasters as well as fun shows here.
So, below are some of the spots you shouldn't miss when you go to Lotte World.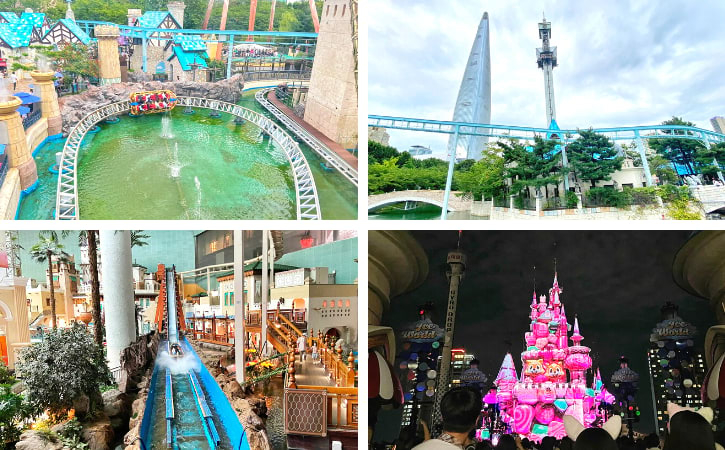 Atlantis: Ready yourself for this fast-paced ride that goes through a cave-like landscape. While onboard, catch a glimpse of the park's landscape.
Bungee Drop: Experience getting propelled up and down with this fun attraction. You will definitely feel the rush as you elevate 34 meters from the ground. Of course, the thrill does not end there as the structure takes a quick dip.
Flume Ride: Be impressed by this water ride that is set in the Jurassic era. During the journey, be prepared for some water splashes.
Magic Castle Lights Up: Cap off the adventure by watching this fantastic light show. Filled with elegant and colorful LED lights, this is truly a memorable experience for everyone.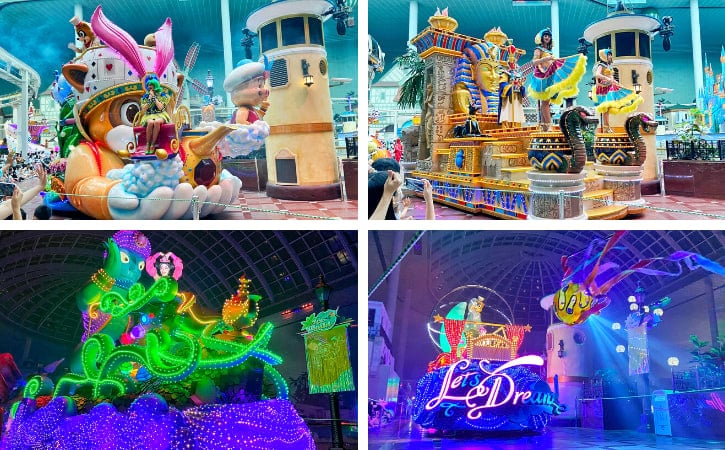 Tip: Before I forget, make sure to book Lotte World tickets here. Purchasing your ticket online gives you an additional 40% OFF on your entrance ticket! So, make use of this chance and get great savings!
Getting There: You may take the subway to Jamsil Station, either by line 2 or line 8. From there, go out of Exit 4, which will then give you direct access to the Lotte World.
Lunch and Dinner
You can take your lunch and dinner in the theme park. There are plenty of restaurants inside to satisfy your hunger. These include Korean, Western, Chinese, and other dining options.
Everland vs. Lotte World
Everland is an outdoor theme park while Lotte World Seoul offers both indoor and outdoor parks.
Both theme parks are very attractive, providing fun rides for visitors. If you have more time in Seoul, it's best that you include the two parks in your itinerary.
Everland is quite known for its breathtaking surroundings with very beautiful landscapes. Plus, it has unique attractions like Safari World, Lost Valley, and Panda World. I believe kids will love this place.
Lotte World Seoul, on the other hand, is more accessible by subway compared to Everland.
But don't worry as you can book a roundtrip shuttle to Everland here. The assembly locations are found at Myeongdong and Hongdae, which are pretty convenient for travellers.
Day 4: Day Trip to Nami Island – Full Day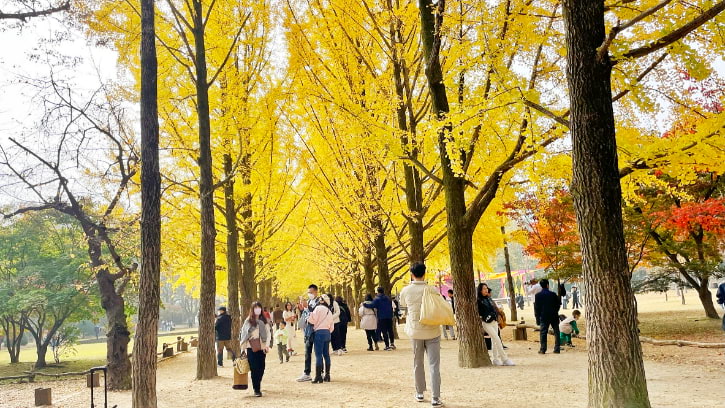 To make a perfect Seoul itinerary, Nami Island should be included in the list. This top-rated attraction in Korea is visited by thousands of people around the world.
Marvel at the gorgeous sceneries that are very relaxing. Without a doubt, it's a perfect place to capture beautiful photos.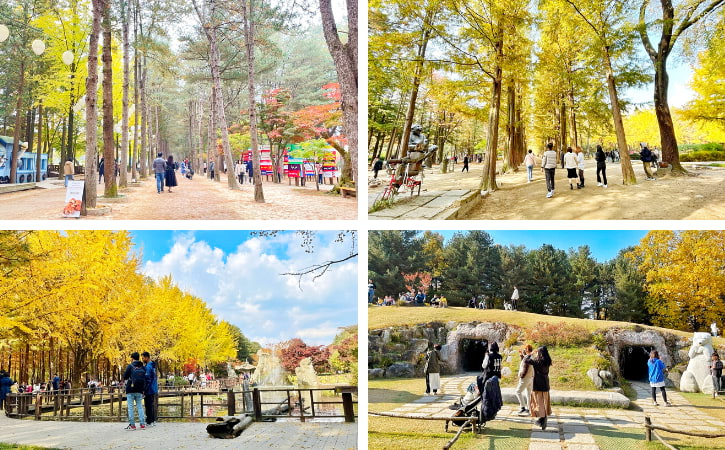 The spectacular tree lanes are one of the highlights of the area. Stroll around the colourful garden and meet some cute animals.
Another remarkable feature here is that you can explore it in whatever season you want.
For more suggestions of what to do there, just check out my best things to do in Nami Island page. This will guide you with the preparations as well as planning your budget in advance.
So, don't hesitate to add this amazing island to your trip. I guarantee that you will have a visit that you won't regret.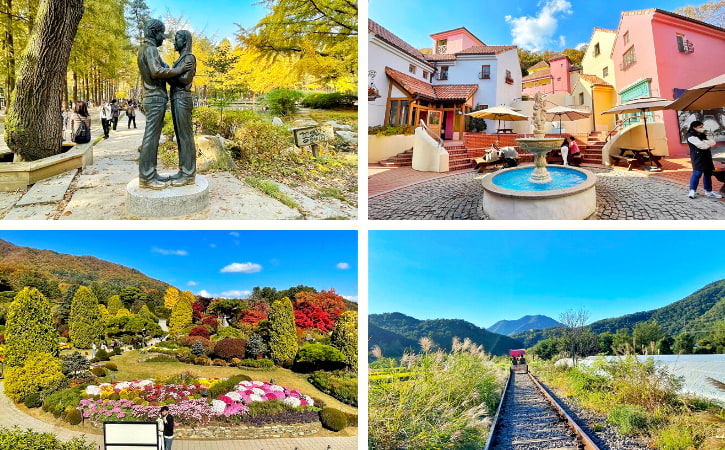 Getting There:
If you take public transport from Seoul to Nami Island, it will be very time-consuming. Thus, it's best to book either bus tour 1 or bus tour 2 here.
You can easily get on these buses either from Myeongdong or Hongdae, making it less stressful.
These two bus options take you to Nami Island and its nearby attractions with ease. These include Petite France, Garden of Morning Calm, and Gangchon Rail Park. All of these destinations are worth the visit.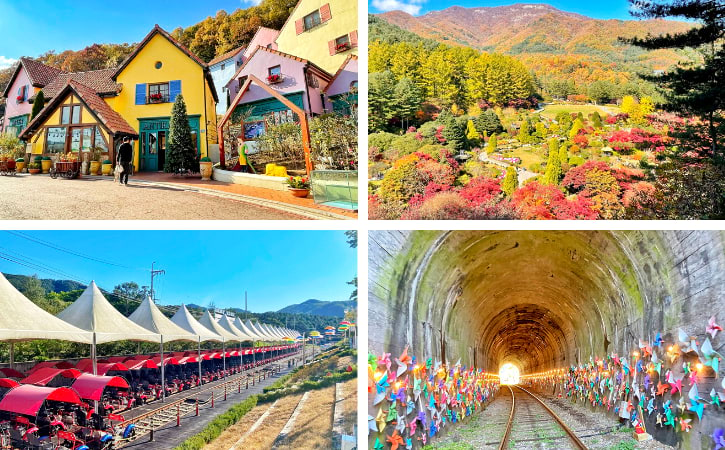 For more information about these famous sites, you can see my Nami Island post. These will cover Nami Island, Petite France, Garden of Morning Calm, and Gangchon Rail Park.
Day 5: Explore Beyond Seoul – Full Day
Allocate your day 5 by spending it outside of Seoul. There are 4 options for you to choose from, and each has its own set of unique features to help you decide.
1. Alpaca World and Legoland Korea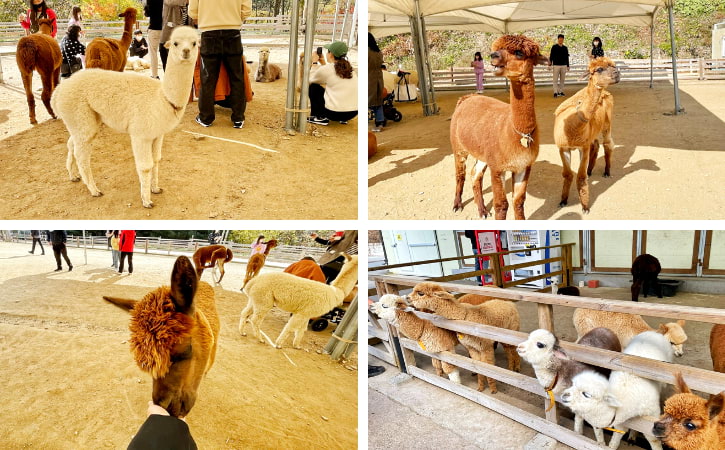 Head to Alpaca World and meet some adorable mammals. Getting to the farm, however, may be a challenge. It's because the area is not easily accessible by public transport.
Thus, I highly recommend that you book this best shuttle bus for a more convenient trip. This will bring you directly to visit the Alpaca World, either from Myeongdong or Hongdae.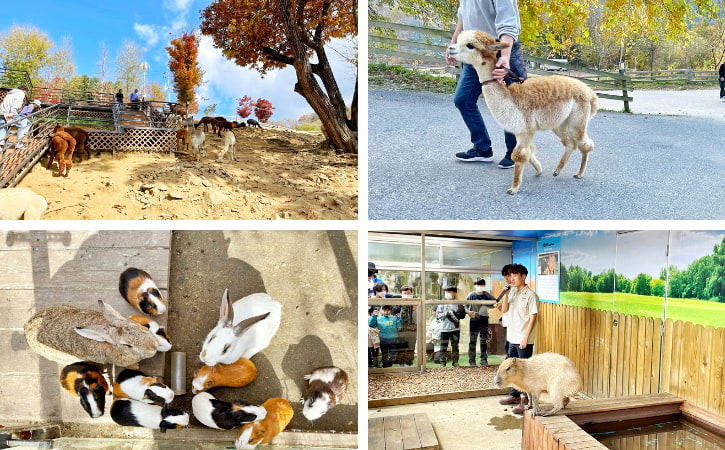 I've written a separate post, sharing more information on what animals you can see at the attraction.
It also includes the process of how to make it easy for travellers to get there. All of these can be found in my detailed Alpaca World Korea post here.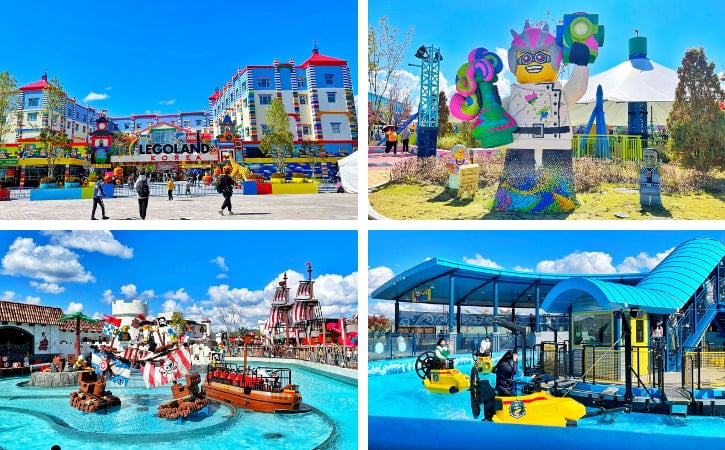 Legoland Korea Resort is a new attraction that also deserves attention.
It is actually the largest theme park in Asia, offering different kinds of activities. Not only that but it is also the world's second largest Legoland theme park after Legoland New York.
If you're interested, you may take this famous shuttle bus from Seoul that covers these 2 attractions in 1 day.
2. Alpaca World and Jade Garden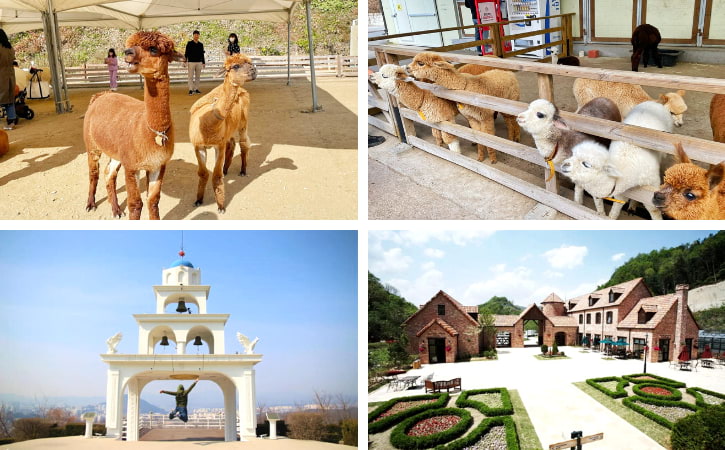 Another option is to explore both Alpaca World and Jade Garden. As mentioned earlier, Alpaca World is a great spot if you want to see some alpacas up close.
Meanwhile, if you prefer some scenic walking tours, then Jade Garden is the best follow-up. You may join this bus tour if you decide on these two attractions.
3. Demilitarized Zone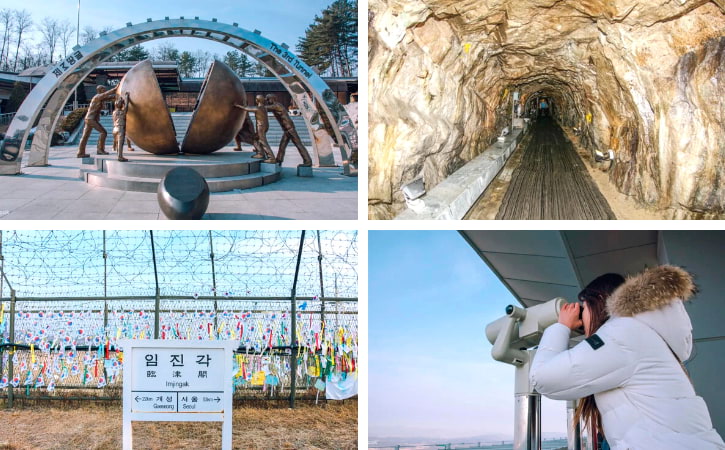 If you are a history buff, then the Demilitarized Zone (DMZ) is a remarkable choice.
This tourist site is considered a peaceful zone between South Korea and North Korea. There are no military personnel or activities around the premises.
Because of its importance to the country, you should get a licensed tour to enter the area.
If interested, you can check out the DMZ tour here. This would give you an idea of the latest rates and itinerary, including the departure time from Seoul.
4. Vivaldi Park Snowy Land (Only Best in Winter)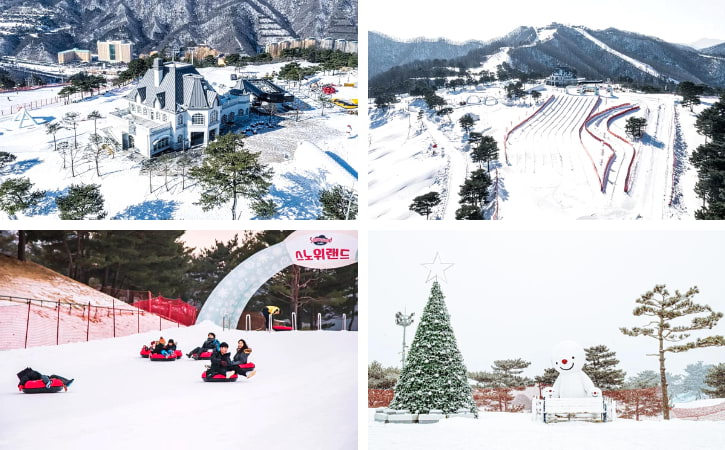 Have a fun day trip in the scenic Vivaldi Park Snowy Land. It's the best destination if you're visiting the place during winter.
There are lots of outdoor activities for everyone, from ice sledding to snowboarding.
You can also go skiing along the splendid hills or visit the igloo village with your family. Another highlight in the area is the snowflake tunnels. You may book here for the round-trip shuttle bus from Seoul.
Day 6: Bukchon Hanok Village, Insadong, and Dongdaemun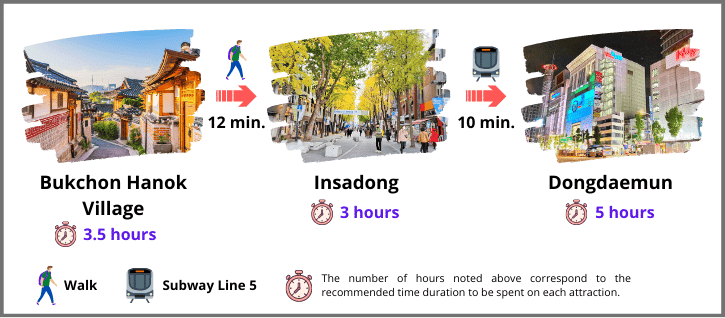 Actualize your Day 6 in Seoul by visiting three tourist sites.
First on the list is Bukchon Hanok Village. Afterward, head to Insadong and Dongdaemun. These destinations provide you with unique activities, from sightseeing to shopping and more!
1. Bukchon Hanok Village – 3.5 hours (10:00 AM to 1:30 PM)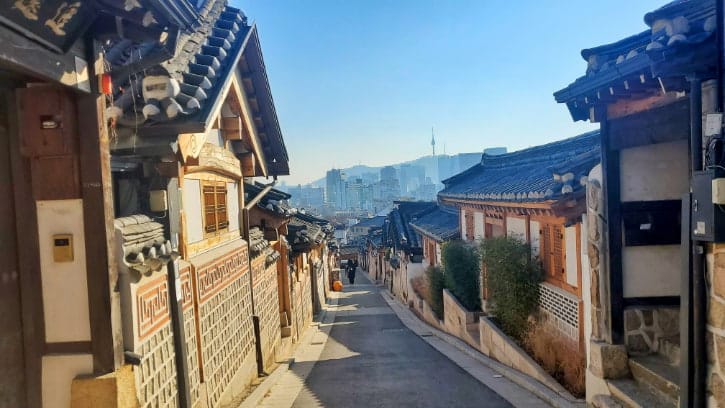 Get on with your morning adventure at Bukchon Hanok Village. This is a must-visit destination in Seoul, especially for those who want to stroll around.
See some traces of history along the alleyways and be amazed at how the people have preserved the beauty of this village.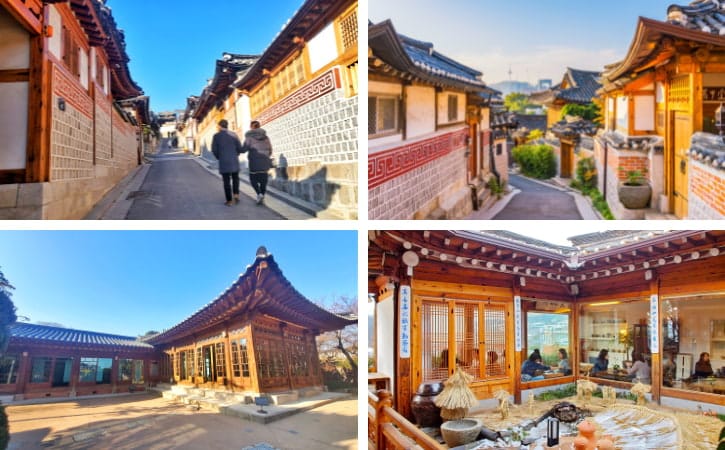 Must-do Things in Bukchon:
Traditional Houses: Navigate around and catch these ancient houses that are centuries old. You'd be surprised how intact and unique these traditional homes are even after many years.
Serene Alleyway: These alleyways are part of the history of the village. So, take a walk down memory lane and experience old Seoul through the pathways.
Uniquely Tiled Roofs: One of the distinct features of the structures here is the tiled roof. If you take a closer look, you'd see the intricate designs adorned on the roof.
Baek In-je's House: Drop by this cultural structure filled with Japanese elements. Currently a museum, the house also has a beautiful garden that welcomes visitors.
Cha Teul Tea House: Try a traditional tea with your loved ones. While enjoying your drink, capture the lovely views around the area.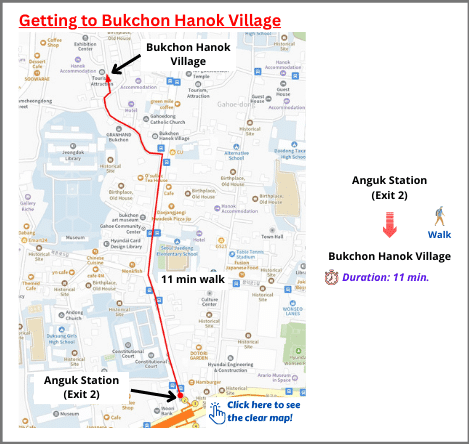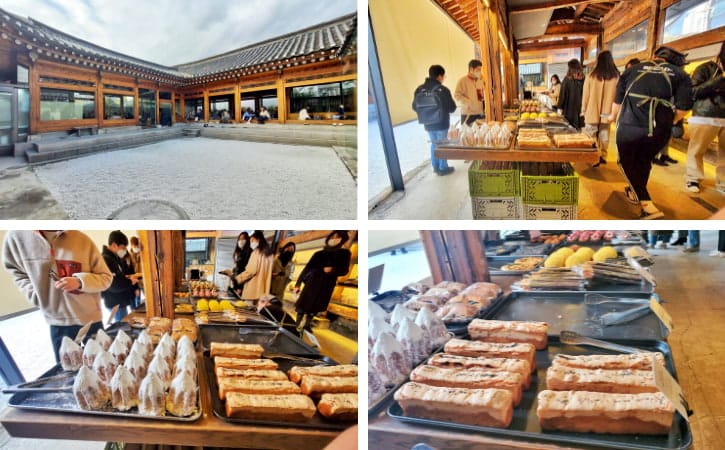 Lunch:
Cafe Onion Anguk. This cosy, Hanok-style café serves fresh pastries that you should try at least once. And before I forget, their coffee is also incredible!
Downtowner Anguk. If you want to relish some hamburger goodness, then this is the spot. Plus, they have some fries to pair with your main snack.
Kkangtong Mandu. Fill yourself with some tasty dumplings. These are traditional ones that are loaded with vegetables and meat. The restaurant also provides side dishes for a satisfying meal.
2. Insadong – 3 hours (1:30 PM to 4:30 PM)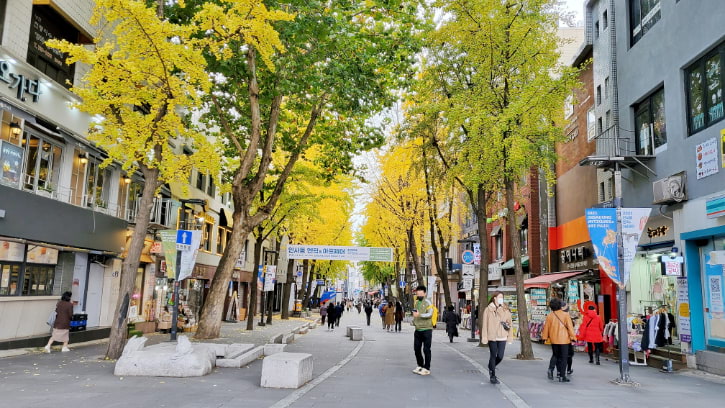 Your next stop would be at Insadong Street.
Here, you can stroll all you want and uncover different tourist destinations. These include a temple, a museum, and a lot more.
There are also alleyways and local shops that are popular among locals and travellers alike.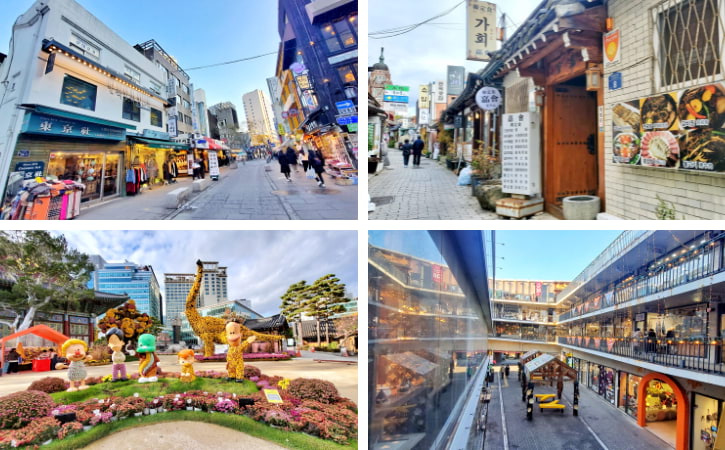 Must-go Places in Insadong:
Strolling Along the Street: Walking around this famous street is one of the highlights of your visit. You'd be amazed how the calm and busy vibes blend perfectly.
Insadong's Alleys: Step into one of the many alleys and catch some old-style establishments. There are plenty of antique shops and makgeolli taverns around.
Jogyesa Buddhist Temple: Pay a visit to one of Korea's Buddhist shrines. Apart from its religious importance, the temple also comes with a gorgeous courtyard.
Ssamziegil Shopping Complex: Treat yourself as you enter this big shopping destination. You won't be disappointed with the variety of shopping items here. They have loads of fashion clothing, accessories, gadgets, and even local foods.
Alive Museum: Play like there's no tomorrow inside this interactive museum filled with optical illusions. Use this opportunity to showcase your creativity and pose like a pro.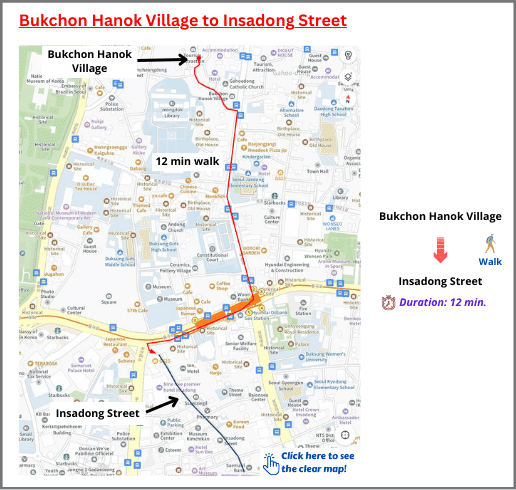 3. Dongdaemun – 5 hours (4:30 PM to 9:30 PM)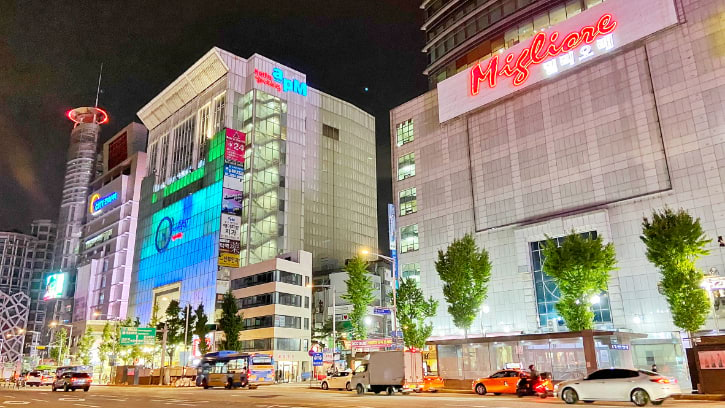 Carry on with the fun and visit Dongdaemun. As the top shopping destination in Seoul, this is favourite spot among shopaholics.
Explore all kinds of trendy clothing, women's accessories, and bags at cheap prices.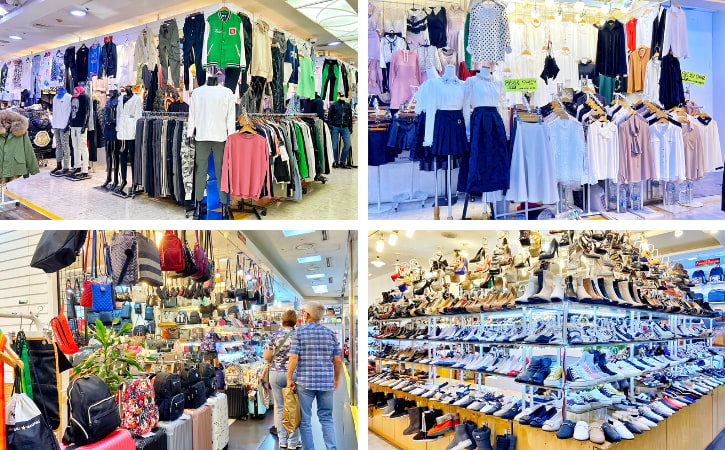 For first-time visitors, don't miss these 2 shopping malls―Migliore and Hello apM. Both offer a lot of beautiful clothes at low prices.
You may see here for my comprehensive guide to Dongdaemun Market and learn more about the place. This will also cover the best shopping malls for wholesale and non-wholesale buyers.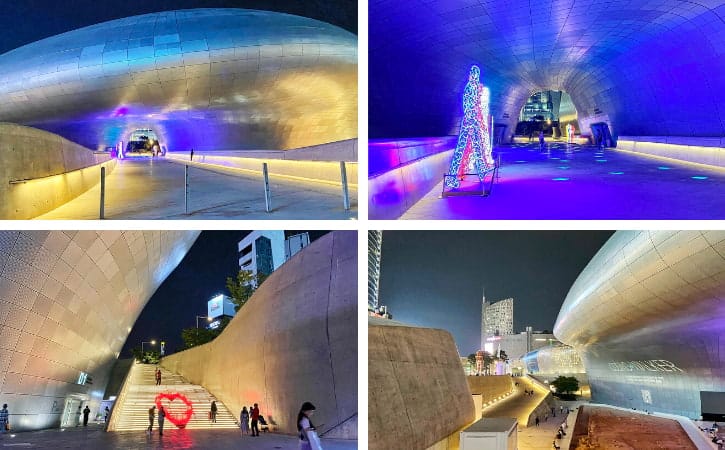 You shouldn't forget to visit Dongdaemun Design Plaza. The exterior design is very gorgeous, especially at night. So, be sure to capture some nice photos there before leaving.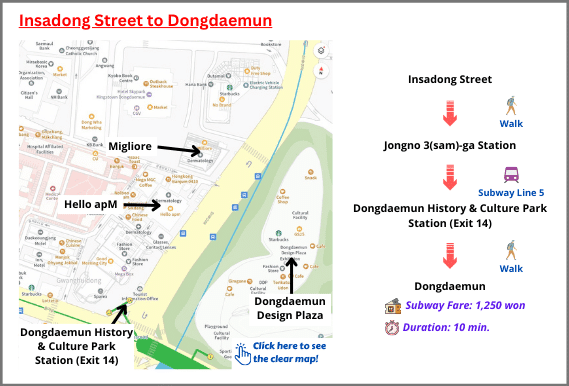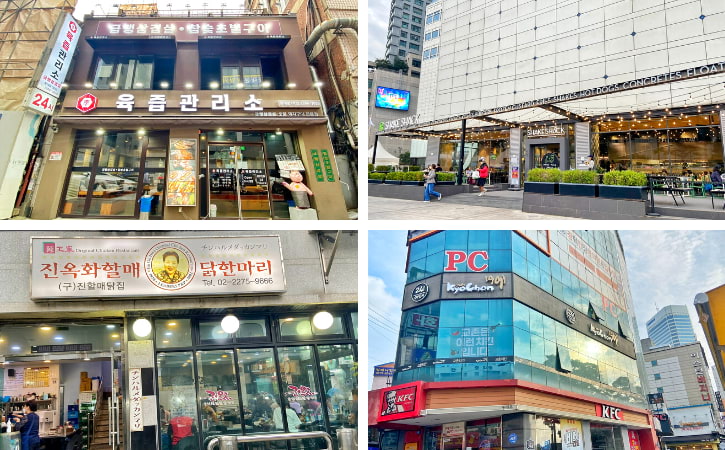 Dinner:
Yukjeup Gwalliso. Enjoy a platter of delicious grilled meat in this restaurant. Munch their side dishes as well to complete your dining experience.
Shake Shack Doota. When it comes to fast-food snacks, you'd get your money's worth here. Try one of their burgers or hotdogs. If you want a heavier meal, they also serve chicken dishes.
Jinokhwa Halmae Wonjo Dakhanmari. Satisfy your appetite with a tasty chicken soup from this local store. Their classic dish is the signature chicken infused with garlic.
Kyochon Chicken. After your exploration, savor some delectable fried chicken. Choose from a variety of flavors or you can go for the plain ones.
Day 7: Deoksugung Seoul, Gwangjang Market and Cheonggyecheon Stream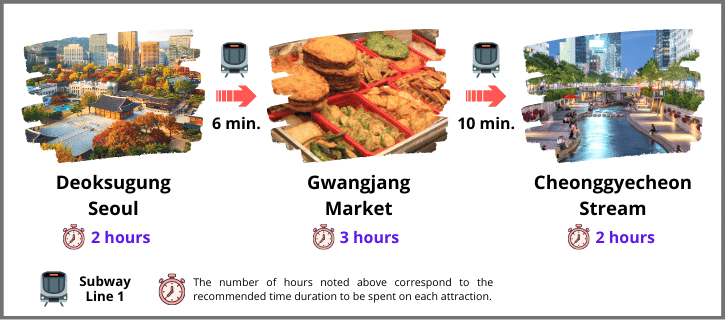 For day 7 of your itinerary, you will journey through Deoksugung Seoul.
After checking out this renowned palace, you are bound to dig into the local market of Gwangjang. Then, come evening, go to Cheonggyecheon Stream and unwind.
1. Deoksugung Seoul – 2 hours (11:00 AM to 1:00 PM)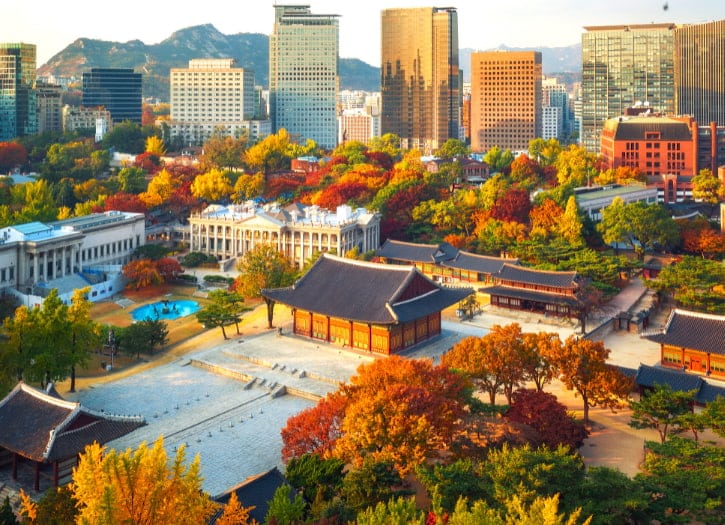 The first stop of the last day's trip is none other than Deoksugung. Swing by the smallest palace in Seoul, Korea, and see its sophisticated interior.
This walled complex is such a nice location to know more about the royal history.
Step into the palace complex and walk around the large expanses bounded by stunning trees. Because of the scenic views, this is also a remarkable area to relax.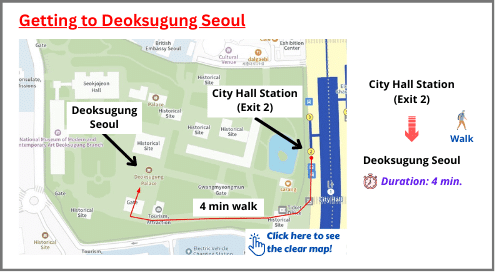 2. Gwangjang Market – 3 hours (1:00 PM to 4:00 PM)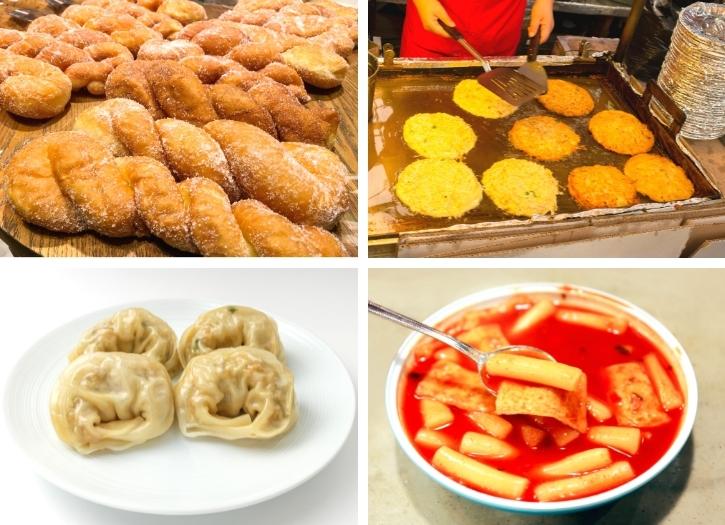 Take your lunch at Gwangjang Market and enjoy the impressive selection of traditional Korean street food. The market is filled with all kinds of local foods, from dumplings to rice cakes and more!
For the best food choices, head to the street that is connected to East Gate, North Gate 2, and South Gate 1. This is the most popular section in the market where you'll find abundant food choices.
Some of the must-try foods here are twisted Korean doughnuts, Bindaetteok, Tteokbokki, and Mandu. So, fill up your stomach and enjoy!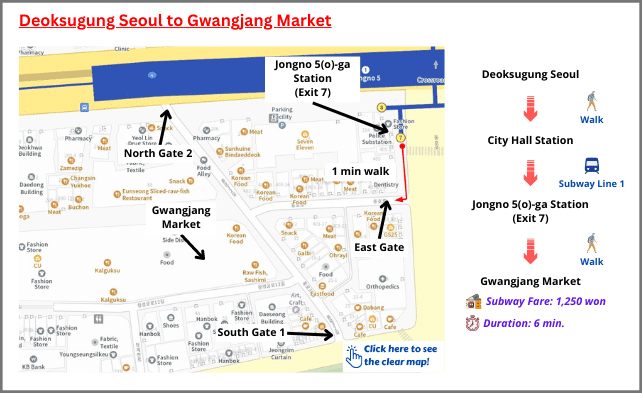 3. Cheonggyecheon Stream – 2 hours (4:00 PM to 6:00 PM)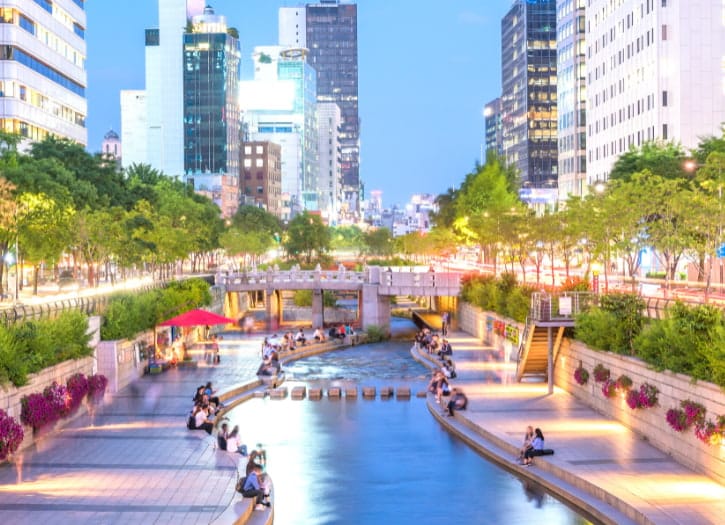 Take a break and head to Cheonggyecheon Stream. This is such a peaceful section of the city, where you can dip your feet and simply relish the views.
The promenade is quite popular among all walks of life, from locals to international travellers. So, if you just want to relax with the running water on your feet, be sure to check this out.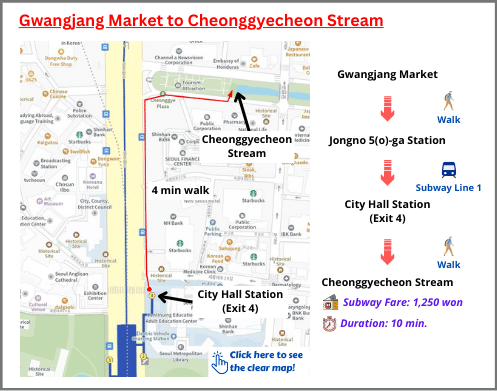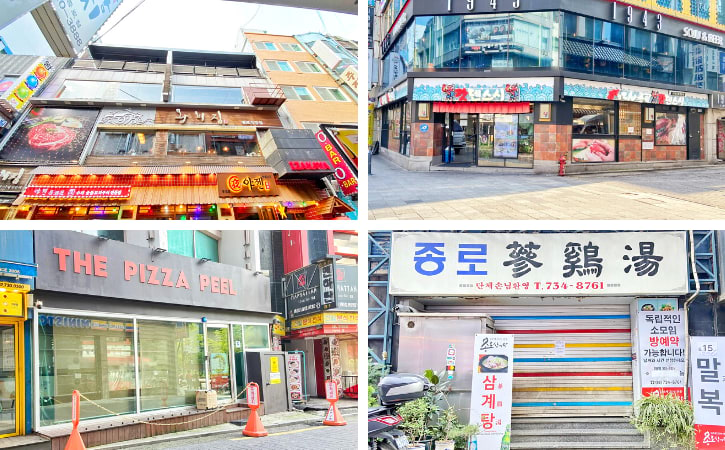 Dinner:
Wangbijib Jongno. Dine in this local restaurant and enjoy their grilled pork and beef. They also have other Korean dishes like Jeon, Naengmyeon, and more!
Gadden Sushi. How about a sushi platter? Offering a selection of fresh and delicious sushi, this store is a must-visit for those who crave Japanese dishes. You'd also love their sashimi, tempura, and seafood delicacies.
The Pizza Peel. Order a large, yummy pizza for you and your friends. You may add some pasta and sides to complement your experience.
Jongno Samgyetang. Savor a bowl of delectable chicken soup inside this restaurant. And of course, you can't miss their homemade kimchi!
Seoul Itinerary 7 Days Map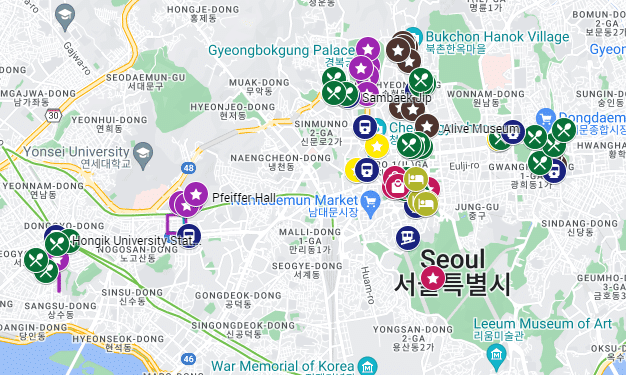 To help you visualize and understand this Seoul 1-week itinerary, I have marked all the must-visit spots in the above map.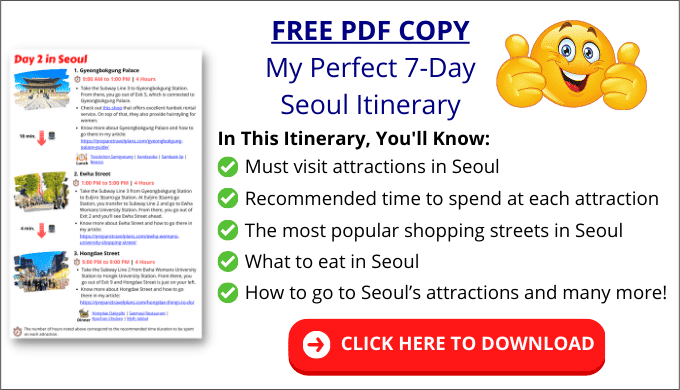 Take Note: Be sure to download my PDF document here for guidance. In this file, I've written a step-by-step guide on how to get to the sights of Seoul, South Korea for the entire seven-day trip. This will save you time when planning for your trip!
Tips for Finding a Location: You may use the KakaoMap and Naver Map apps to assist you in navigating around Seoul. So, download the apps from your smartphone. And don't worry because these apps have the English language option.
The Best Area to Stay in Seoul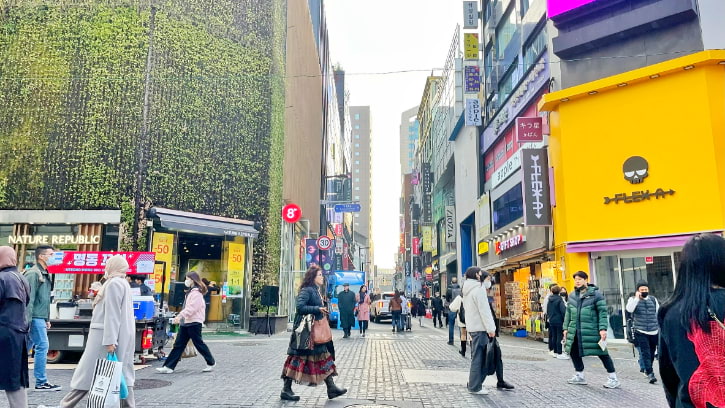 I highly suggest that you stay in Myeongdong. This is located in heart of Seoul, where the most famous Seoul attractions are found.
Staying here will surely save you time from commuting. Apart from that, it is very accessible to many subway stations, including Myeongdong Station and Euljiro 1(il)-ga Station.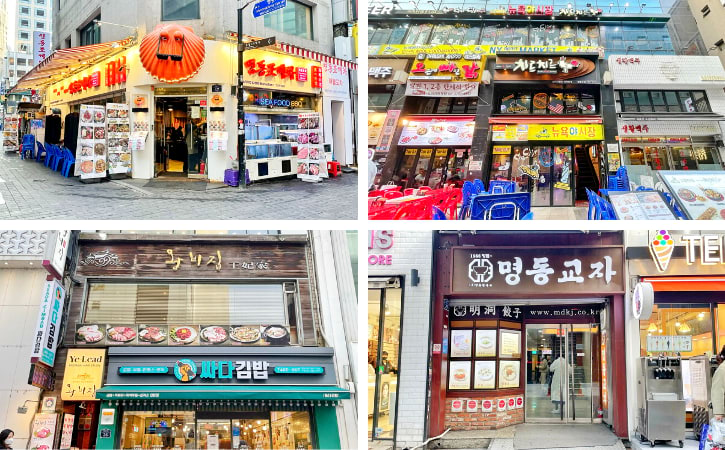 Another remarkable feature of the area is the abundance of restaurants. You won't be disappointed with the food choices around.
To guide you, below are my most recommended hotels within the district. All these hotels are situated in the shopping street of Myeongdong, making it easy for shopping and dining.
Also, don't forget to book your hotel in advance. It's because most hotels here sold out faster compared to other locations in the city.
Recommended Hotels in Myeongdong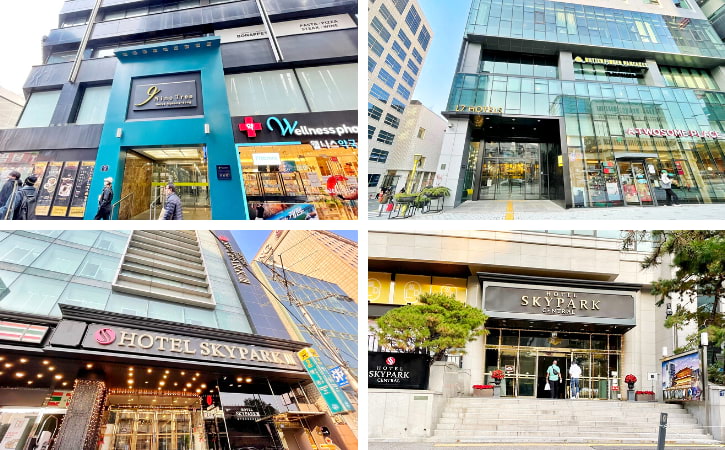 Internet Access

I also recommend that you rent at least one portable Wi-Fi device when travelling to Seoul.
This is important so you can check the subway route anytime you need. Plus, this helps you navigate around the city easily.
You may book this Korea Pocket Wi-Fi online, which already comes with a stable and high-speed internet connection. It also includes unlimited data.
Because of its convenience, it is used by many travellers around the world. If you book it online, you can just pick up the device from Incheon airport.
How to Get Around Seoul
1. Subway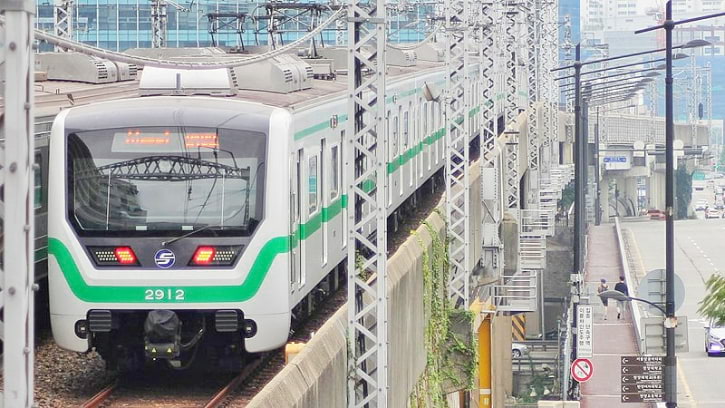 For your Seoul trip, I suggest that you use the subway. This is a cheap and convenient way to get around the city. In addition, most of the attractions are easily accessible by subway.
You can download the "KakaoMetro" or "Korea Subway Info: Metroid" app on your smartphone.
These 2 apps provide the best and shortest route from one subway station to another. Additionally, it covers the travel time and subway fare for your convenience.
Also, I highly encourage you to buy a T-Money Transportation Card. This is the main payment method when using subways and buses in the city. To better understand this, here's why:
Why want to use T-Money Card?
Time-Saving: With this card, there's no need to buy individual tickets for every ride. You just tap your card at a specific panel and take the subways and buses with ease.
Convenient Stores: Use the card to pay purchases in convenience stores like 7-Eleven, CU, GS25, Ministop, and emart24.
Where to top-up a T-Money Card?
You can easily reload the card from convenience stores. Another way to reload is through the ticket vending machines that are located inside the subway stations.
Where can you buy a T-Money Card?
You may also purchase the card from convenience stores such as CU, GS25, and 7-Eleven. These are located inside the airport or in the city center.
2. Hop-on Hop-off Bus Tour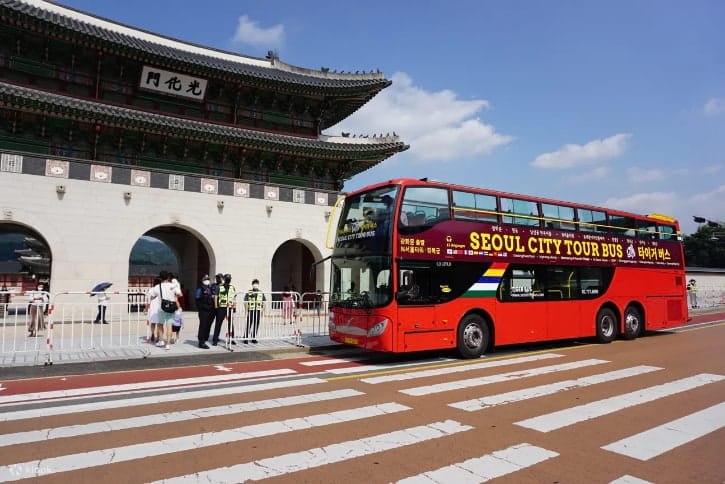 The sightseeing bus tour is a great alternative option when touring around Seoul.
This is a commendable choice if you don't like to use the subway. Because of the setup of the bus, it's also a good way to see an aerial view of the city.
On top of that, the bus covers some of Seoul's major sights. These include N Seoul Tower, Gyeongbokgung Palace, Insadong, Myeongdong, and Dongdaemun.
3. Private Car Charter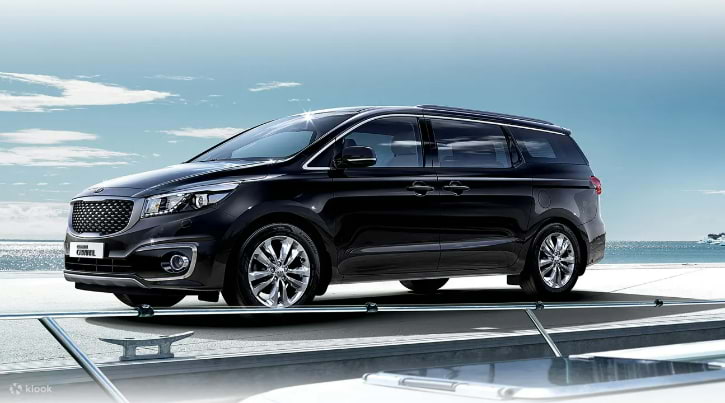 If you want something more personalized, then the private car charter is the best choice.
This is definitely the easiest way of exploring different Seoul landmarks at your preferred time. Not only that but it comes with a professional English-speaking driver.
You just make your request to the driver and he/she will take you to your destination. Because of these features, it's recommended for families and friends without budget constraints, who just want a relaxing trip.
Try to visit the private charter service website to find out more about their services and pricing.
More Days to Spend in Korea?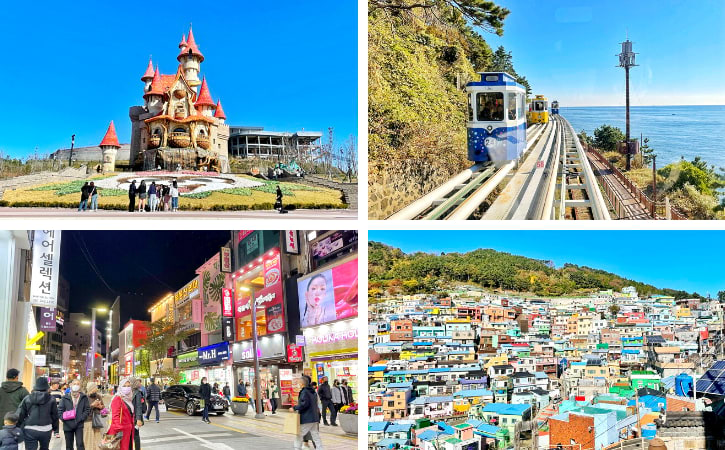 If you've got more time to spend in South Korea, then it's best that you spend it in Busan. This city is packed with traditional markets as well as beautiful seaside beaches that will surely charm you.
Not only that but there is a mural village and a historical temple within the area. So, take your time to read my 3 days in Busan itinerary and make sure you add this to your trip.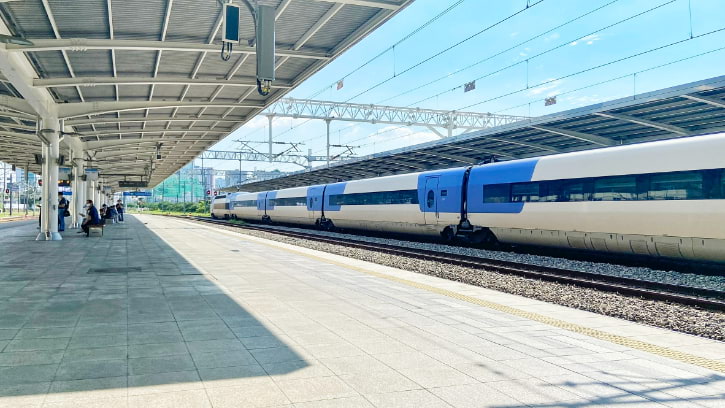 I highly recommend that you take the high-speed rail going to Busan for your convenience.
This transportation is quite popular because of the surrounding views from the comfort of your seat. While onboard, you get to see some beautiful views through the big windows.
For guidance, see here to find out how to go to Busan from Seoul by KTX train and make your preparations in advance. And also from this guide, I'll show how to take the KTX train to Busan.
Accordingly, the travel time would take around 2 hours and 40 minutes. Hence, you need to plan your schedule ahead of time.
And if you're done with Korea, don't hesitate to fill yourself with more adventures. So, is Tokyo your next destination to visit? If yes, don't forget to see my Tokyo itinerary to give you some idea how to plan your trip!
Airport Transfers
1. AREX Express Train
Taking the AREX Express Train is the cheapest way to go from Incheon Airport to Seoul Station. It is a non-stop train that travels for about 50 minutes to reach Seoul Station.
The original ticket price is 9,500 won, but you can actually buy the tickets online to get an extra 20% discount. Plus, you can choose to take the train at Basement 1 of Terminal 1 or Terminal 2.
The first and last trains depart from Terminal 1 at 5:23 AM and 10:48 PM respectively
The first and last trains depart from Terminal 2 at 5:15 AM and 10:40 PM respectively
Trains depart from the airport every 20 to 40 minutes
2. Bus 6015
If you're staying in Myeongdong, you may ride Bus 6015.
The travel time is about 1.5 hours while the bus fare is 17,000 won for an adult and 11,000 won for a child. You can pay the fees using the T-Money Card.
As for the bus stop, it is located at Platform 5, which is within level 1 of terminal 1 (arrival hall).
There is another boarding location found at Platform 32 of basement 1 of terminal 2 (arrival hall).
The bus will drop you at Myeongdong Station.
The first bus is at 6:25 AM
The last bus is at 10:20 PM
The bus interval is 20 to 30 minutes
3. Private Car
A great option if you're looking for a 24-hour airport transfer service is through a private car. With this, you can travel comfortably between the airports and the capital city.
This also means you won't have to stress about very late or early morning airport arrivals. It's because this comfy transportation is available 24/7.
On top of that, you get to enjoy a door-to-door pickup service that will take you directly to your hotel.
If you're interested, check out private car here to see the prices and reviews made by previous travellers.
Now, you've reached the end part of my article, and I sincerely hope that you find my Seoul travel itinerary helpful. So, get started with crafting your own Korea travel plan and make it the most memorable trip ever!
Related Posts