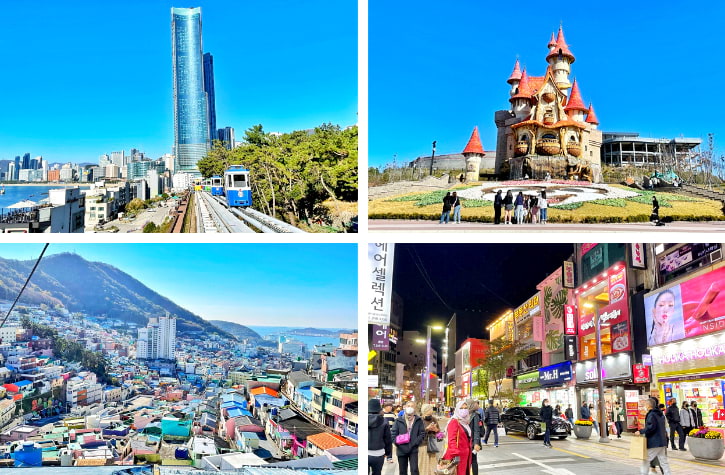 This is an easy-to-follow Busan itinerary for 3 days that will help you plan for a perfect and memorable trip to the city.
In this guide, I'll share the top attractions you must visit in Busan, including some ideas on how to organize them in your own itinerary. Trust me, you'll surely appreciate the detailed list of activities I've prepared.
Also, I'll explain in detail how to get to these attractions by public transport. This will certainly save a lot of time doing research.
Now, let's start checking out my Busan travel itinerary below so you can make the most out of your visit. 😊
Day 1: Haeundae Blueline Park, Haedong Yonggungsa, Oryukdo Skywalk and Haeundae Beach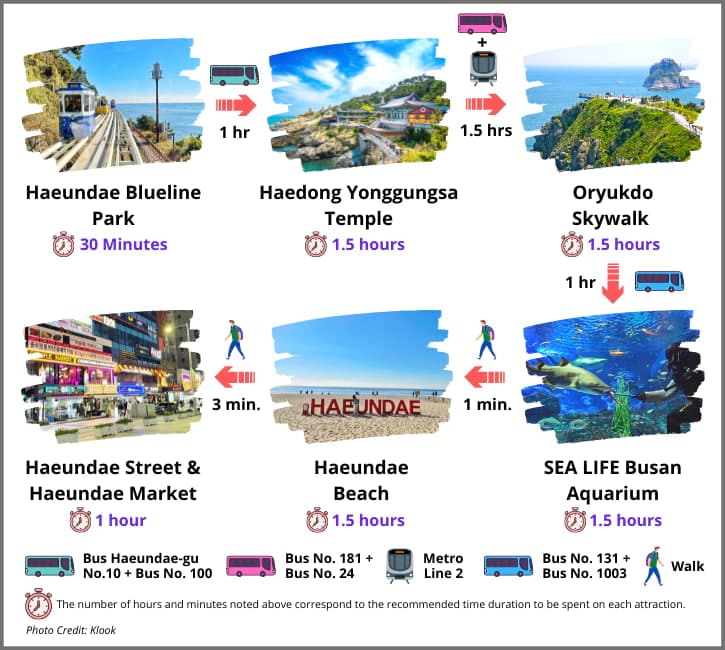 The first day of the Busan itinerary is allocated for some scenic adventures. Visit a seaside park and wander around a historic temple.
You also shouldn't miss the famous skywalk in the area as well as the popular aquarium. Then, complete the fun by going to the beach and shopping.
1. Haeundae Blueline Park – 30 minutes (9:30 AM to 10:00 AM)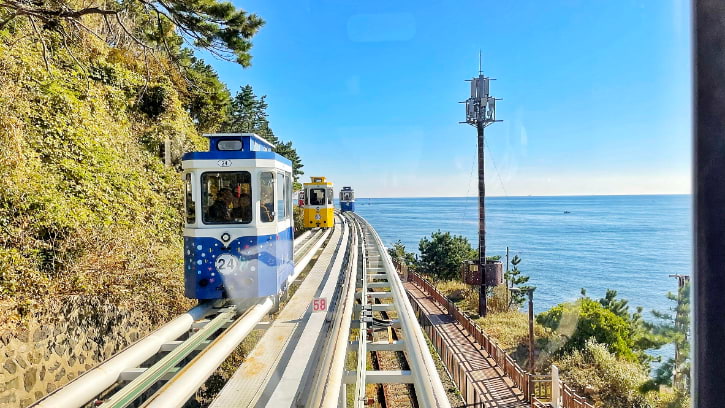 Spend your morning at Haeundae Blueline Park. This new attraction in Busan has been making waves among locals and tourists because of its beautiful seaside views.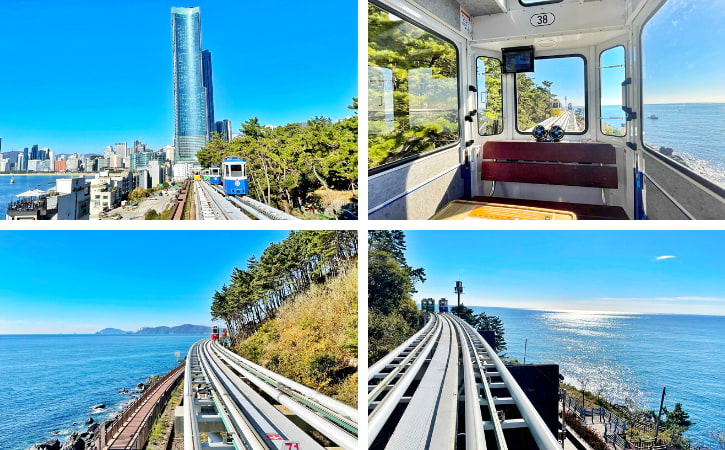 Here, you can take the Haeundae Sky Capsule from Mipo Station to Cheongsapo Station. The one-way trip is around 30 minutes.
During the ride, you'd catch a glimpse of the sea and the beautiful surrounding villages. There are also several bench sections around to relax. You may also go to the stone beach and hike your way down.
Getting There
17 minutes' walk to Haeundae Blueline Park (Mipo Station) from Haeundae Beach. [More Info]
2. Haedong Yonggungsa Temple – 1.5 hours (11:00 PM to 12:30 PM)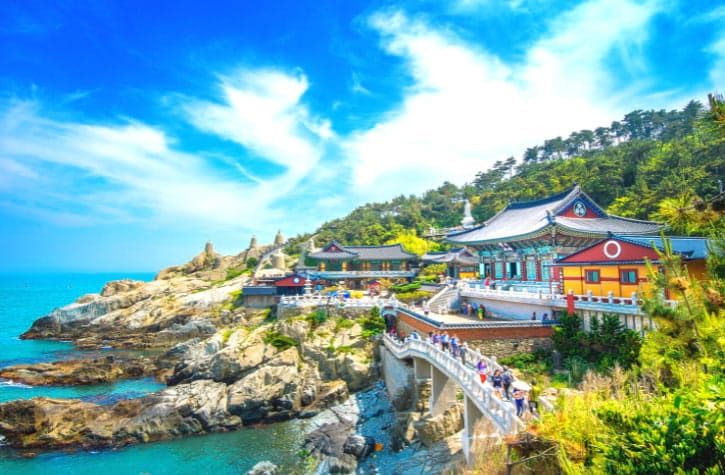 After your scenic ride, it's time to go to Haedong Yonggungsa Temple and explore the Buddhist temple.
Situated along the coast of Busan, the shrine is bounded by breathtaking nature views. No wonder it's a popular spot for photographers.
Take a stroll within the temple grounds and enjoy the views of the ocean. And, don't forget to bring your camera and take plenty of photos during your visit.
Truly, it's a must to include the temple in your itinerary when you visit Busan with your loved ones.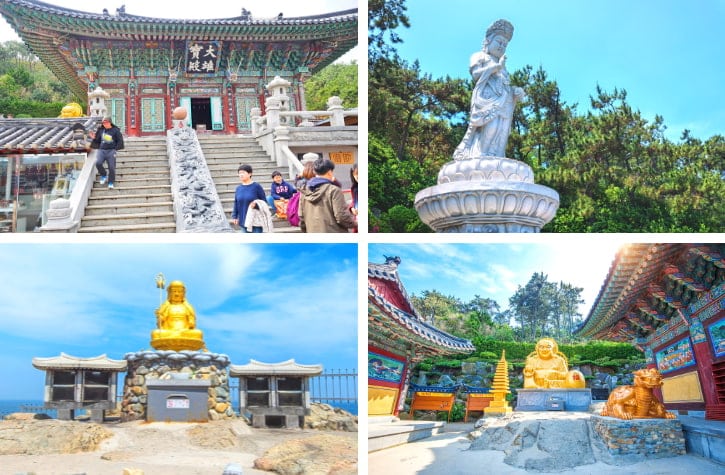 Must-see Spots in the Temple:
Daeungjeon Main Hall: Enter the main hall and see up-close the design of the structure. This is one of the historical areas in the temple that was built in the 16th century.
Seawater Great Goddess Buddha: Pay respect to this religious statue, which is a key figure in the temple. The sculpture is made in veneration of the goddess, Haesu Gwaneum Daebu.
Golden Jijang Bosal Statue: Drop by this golden structure that sits along the coastal section. Behind the statue is the beautiful ocean, adding up to the grandeur of the place.
Laughing Buddha Statue: This is another remarkable religious site that deserves attention. Marvel at the golden sculpture and implore for blessings from the laughing Buddha.
Getting There
Take the Bus Haeundae-gu No.10 from the bus stop of Cheongsapo to Daewoo apartment.
From there, cross the road to the opposite bus stop and take the Bus No. 100 to Haedong Yonggungsa Temple. (Total: 1,200 won) [More Info]
Another way is to ride a taxi from there to the temple. The taxi fare is around 10,000 won.
3. Oryukdo Skywalk – 1.5 hours (2:00 PM to 3:30 PM)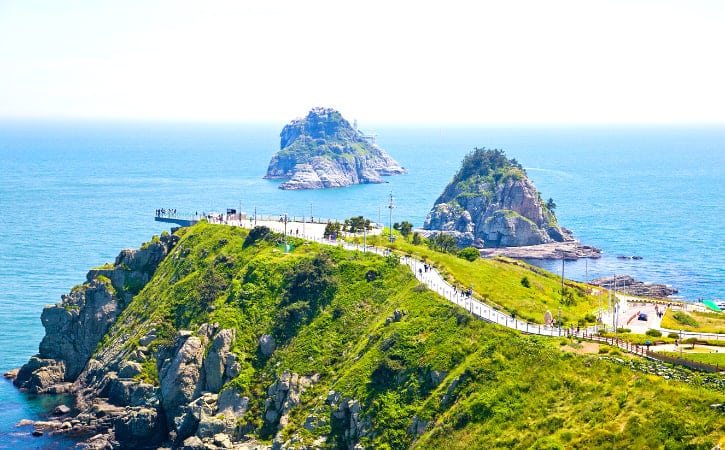 Continue the fun as you wander around the Oryukdo Skywalk. Perched on a 35-meter-high coastal cliff, this attraction comes with a 15-meter glass bridge that you can walk animatedly.
There are 24 glass plates that are designed to elevate your experience.
And of course, you'd fall in love with the picturesque scenes that fringe the coast. If you've got a tough heart, try to stand on the glass-bottomed bridge and look down to see the waves below.
Lunch

You may take your lunch after getting off Bus No. 181 at Haeundae Station. So, before heading to Oryukdo Skywalk, try to fill your appetite with good food. Below are some popular restaurants near the metro station.
Goraesa Fishcake Shop: If you're in the mood for some fishcakes, this is the place to be. Check out their variety of flavors, from seafood to cheese, and satisfy your hunger in an instant!
Haemok: When it comes to a reputed Japanese restaurant in the city, you'd get your money's worth here. They've got sashimi and sushi rice box as well as some tasty desserts for you to try.
Getting There
Take the Bus No. 181 from Haedong Yonggungsa Temple to Haeundae Station. At Haeundae Station, take the Metro Line 2 to Kyungsung Univ. Pukyong Nat'l Univ. Station.
From there, you go out of Exit 5 and walk to the bus stop of Kyungsung University. Afterward, take the Bus No. 24 to Oryukdo Skywalk. (Total: 3,700 won) [More Info]
Alternative Solution:
Join this famous Bus Tour 1 or Bus Tour 2 in Busan. Both cover Haedong Yonggungsa Temple, Busan Skywalk, Gamcheon Culture Village and more!
4. SEA LIFE Busan Aquarium – 1.5 hours (4:30 PM to 6:00 PM)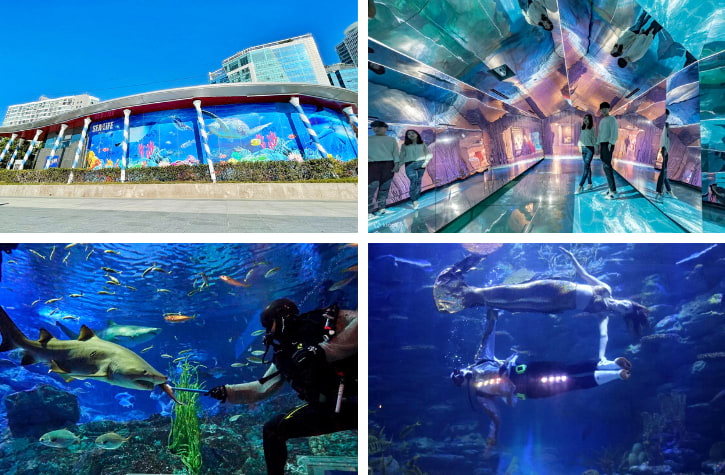 Explore the underwater world with a trip to SEA LIFE Busan Aquarium. This is such a fun place to learn about various marine species.
Here, you can walk through a transparent tunnel surrounded by rich marine life.
Meet some sharks, manta rays, and other colorful fishes. You'd also come across some Korean seahorses, turtles, otters, penguins, and moon jellyfish.
So, be sure to book the aquarium tickets here in advance to get an extra discount!
Getting There
Take the Bus No. 131 from Oryukdo Skywalk to the bus stop of Kyungsung Univ. Pukyong Nat'l Univ. From there, you transfer to Bus No. 1003 and go to Busan aquarium (at Haeundae Beach). (Total: 2,900 won) [More Info]
5. Haeundae Beach – 1.5 hours (6:00 PM to 7:30 PM)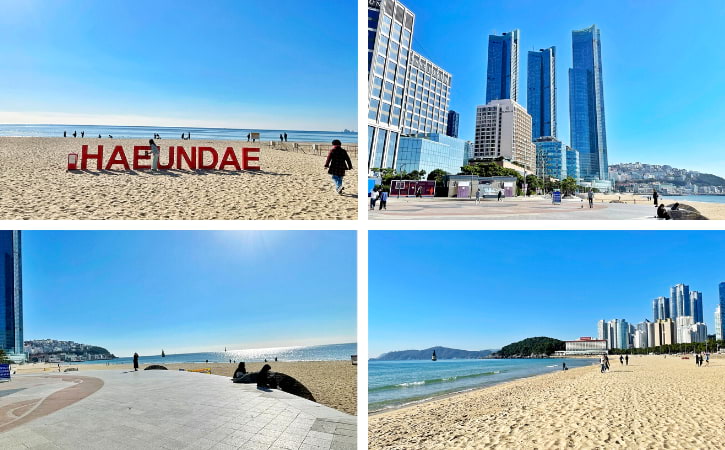 Drop by Haeundae Beach and go swimming in the clear, blue waters. As the most popular beach in Busan, this spot is oozing with vibrant vibes.
You may also take a walk along the beautiful coastline that stretches up to 1.5 kilometers. And, don't forget to try to catch the beautiful sunset!
Getting There
1 minute' walk to Haeundae Beach from SEA LIFE Busan Aquarium.
6. Haeundae Street and Haeundae Market – 1 hour (7:30 PM to 8:30 PM)
a. Haeundae Street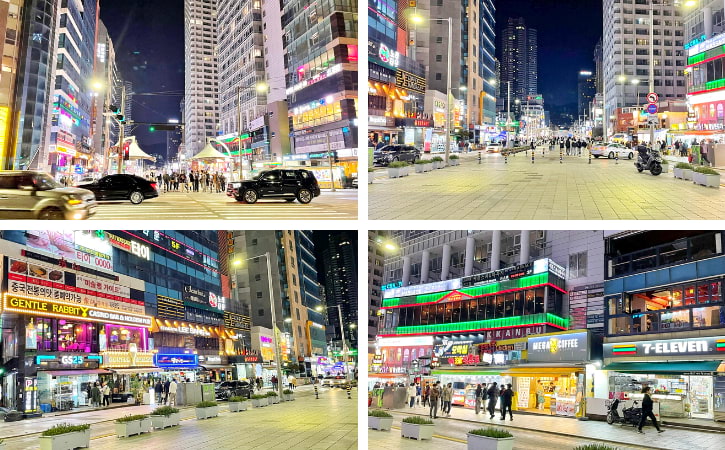 Spend the night at Haeundae Street and experience the lively atmosphere with your family and friends. Surrounded by a wide variety of shops and restaurants, there's a lot to explore in this area.
Plus, you'd be in awe of the impressive range of local and international cuisines. There are plenty of bars and clubs too. No wonder, it's a hotspot for nightlife!
b. Haeundae Market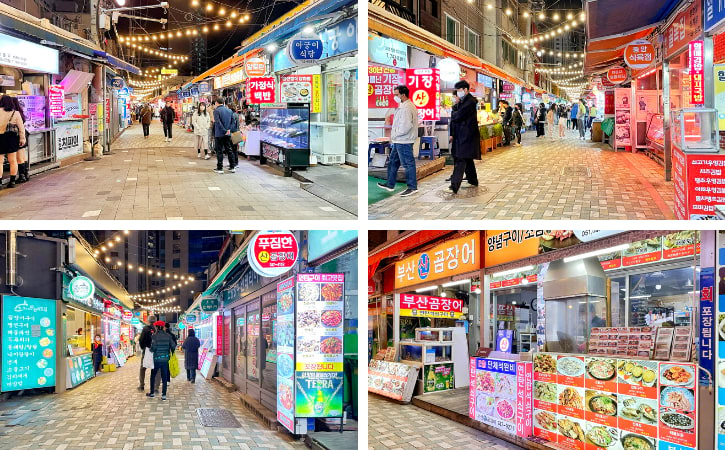 If you're inclined to know more about the culture and traditional life of South Korea, you shouldn't miss visiting the Haeundae Market.
This is a famous place with lots of street vendors selling all kinds of goods, from fresh vegetables to meat and seafood.
There are also plenty of local street foods on display. These include Korean Rice Cake skewers, Korean Fried Chicken, Gamja-Hotdog, and more. So, walk around the street and enjoy the food!
Dinner
Miryang Sundae Dwaeji Gukbap: Head to this popular restaurant and savor their classic pork soup with rice. You can even try to make it your own by choosing your preferred add-ons like bean paste, pork slices, or shrimp.
Oh Banjang: If you want some tasty Korean barbecue, this is the best place to be. They have both pork and beef options and even an unlimited refill of side dishes.
Haeundae Amsogalbi-jip: This is another authentic Korean barbecue restaurant to try. Don't miss their premium meat and treat yourself with some potato noodles at the end.
Geumsu Bokguk: Relish a platter or bowl of puffer dishes. You can choose from a variety of options, from seasoned puffer skin to puffer fish soup. If you've got extra money, order their puffer sashimi!
Getting There
3 minutes' walk to Haeundae Street from Haeundae Beach.
Day 2: Gamcheon Culture Village, Jagalchi Market, Busan Tower, Gwangbokro Street and BIFF Square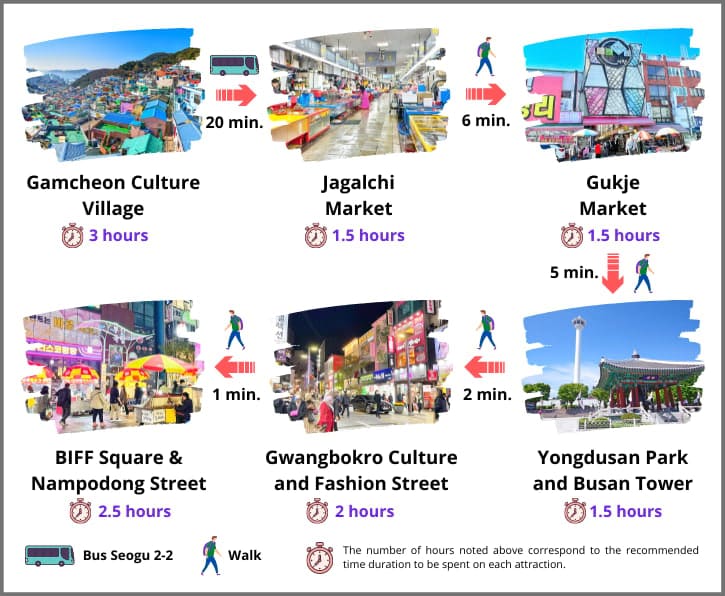 On day 2 of this Busan itinerary, you commence the adventure at Gamcheon Culture Village.
Then, in the afternoon, explore Jagalchi Market, Gukje Market, and Yongdusan Park. Lastly, wander around Gwangbokro Fashion Street as well as BIFF Square and Nampodong Street.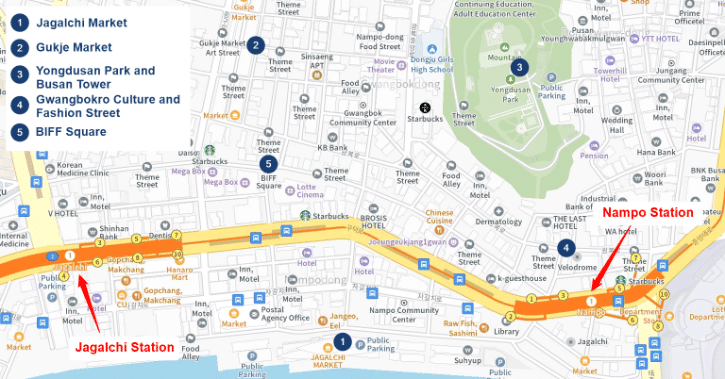 Don't worry because all these spots are very close to each other. This means you can visit all of them in one day. You may refer to the map here to get an idea.
1. Gamcheon Culture Village – 3 hours (9:00 AM to 12:00 PM)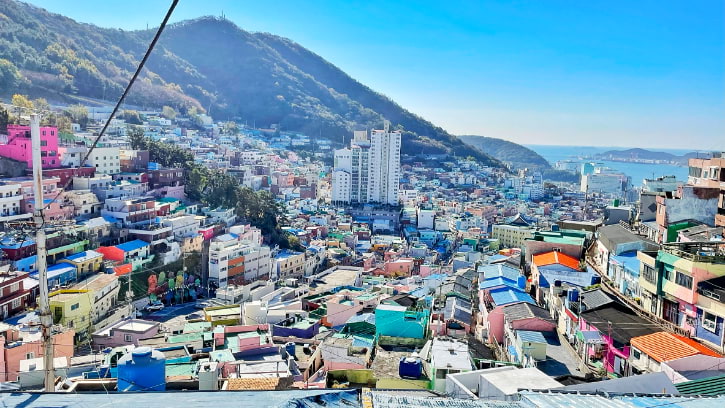 Begin your trip at the famous Gamcheon Culture Village. This colorful village is known for its vivid houses stacked up the side of a hill.
So, walk through the village and admire the beautiful structures and decorations.
During your exploration, take your time to appreciate some murals and sculptures.
Because of the uniqueness and beautiful sights, this place is truly a remarkable tourist spot in Busan.
You may read this Gamcheon Culture Village page to find out the must-visit sights and how to reach the village by public transport.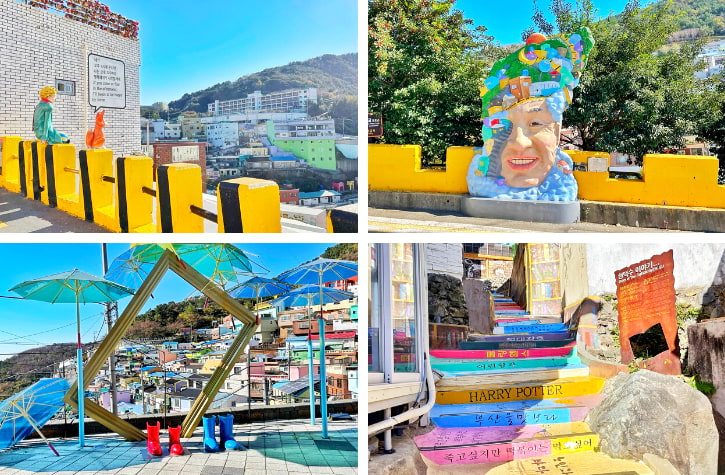 Best Photo Spots in Gamcheon:
Little Prince and the Fox: This is definitely one of the most famous statues in the village. So, take a photo of these two during your trip.
Face of Gamcheon-King Jongsun: Another iconic art piece is none other than this vivid replica of King Jongsun. Painted with vibrant colors, for sure you won't miss this spot!
Gamcheon Sound: The unique design of this art makes it quite popular among tourists. Capture this beautiful piece or use it as your photo backdrop.
Rainbow Stairs: From the name itself, the stairs come with different colors. Pose along the side or try to climb up for a better view.
Tip: Remember to buy a guide map from the tourist information center before you start walking around the village. For only 2,000 won, the map will surely help you get around the place efficiently.
2. Jagalchi Market – 1.5 hours (12:00 PM to 1:30 PM)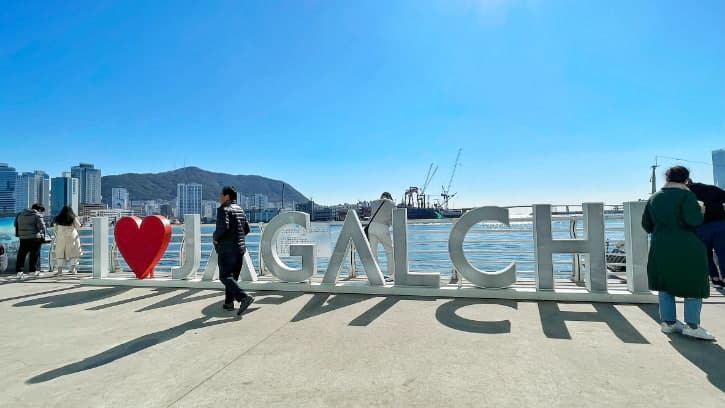 Take your lunch at Jagalchi Market and experience what it's like to dine in the largest seafood market in South Korea.
This bustling port city of Busan is renowned for its immense array of seafood. So, navigate around the variety of stalls and get to see fresh fishes, live octopus, and more!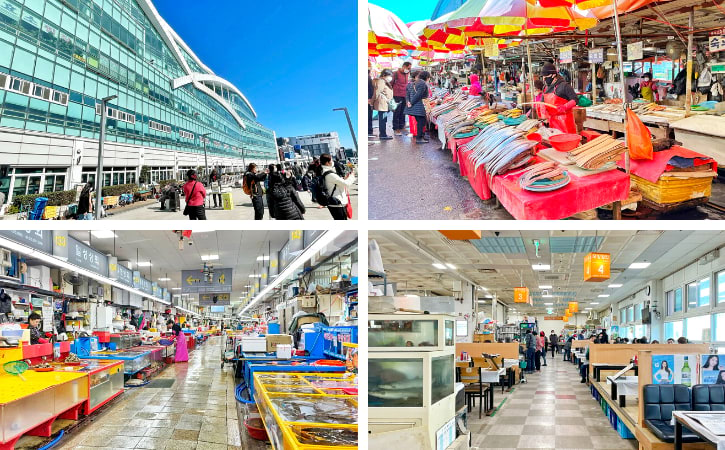 You can find the fresh fish market at level 1 while most of the restaurants are stationed at level 2. Some of the best seafood dishes include raw fish, grilled fish, and seafood soup.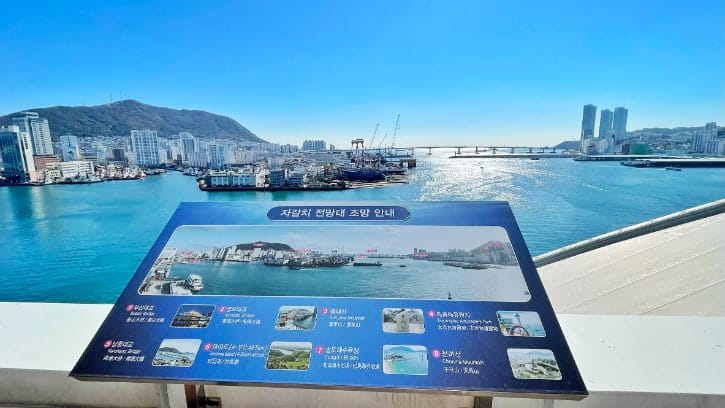 Head to the 7th floor and visit the observatory deck. From the top, you'd be amazed by the amazing city views of the Busan Port.
Lunch
Jacky's Seafood @ Jagalchi Market: Located at level 2 of the market, this is quite popular among locals and tourists. Relish their seafood dishes that are all served fresh.
Daeseong Sashimi: When it comes to sashimi, it's highly recommended to visit this place. Here, you can freely choose the seafood that you want to be cooked.
Nampo Samgyetang: Satisfy your ginseng cravings as you savor their famous ginseng chicken soup. And fascinatingly, they provide you with ginseng liquor to complement your food experience!
Abiko: If you want to try some tasty Japanese cuisines, don't hesitate to drop by this restaurant. Check out their delectable menu or order their classic pork cutlet, curry, and udon noodles.
Getting There
Take the Bus Seogu 2-2 from Gamcheon Culture Village to the bus stop of Chungmu Market. Then walk to Jagalchi Market. (Total: 1,050 won) [More Info]
3. Gukje Market – 1.5 hours (1:30 PM to 3:00 PM)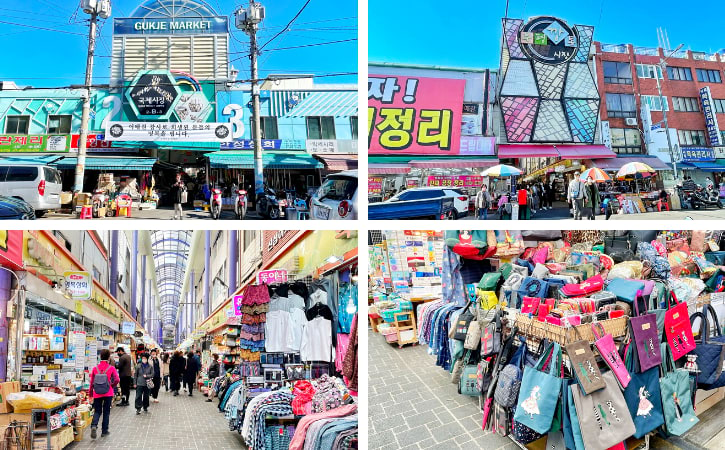 After your lunch, continue the fun at Gukje Market. As one of the largest street markets in Busan, Korea, for sure you'd enjoy shopping here.
Roam around the market and be amazed by the variety of items on display. There are stalls selling clothing, accessories, kitchenware, and even electronic stuff.
Some also sell traditional Korean handicrafts that are perfect as souvenirs.
Getting There
6 minutes' walk to Gukje Market from Jagalchi Market.
4. Yongdusan Park and Busan Tower – 1.5 hours (3:00 PM to 4:30 PM)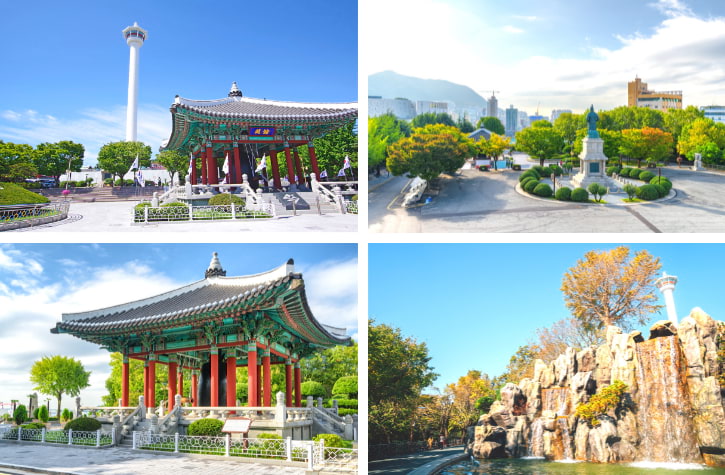 Carry on with the adventure at Yongdusan Park and Busan Tower. Here, you can see a panoramic view of Busan city.
The traditional Korean garden also gives you a more calming vibe so you can relax peacefully. And, don't forget to take a look at the collection of sculptures inside.
Getting There
5 minutes' walk to Yongdusan Park from Gukje Market.
5. Gwangbokro Culture and Fashion Street – 2 hours (4:30 PM to 6:30 PM)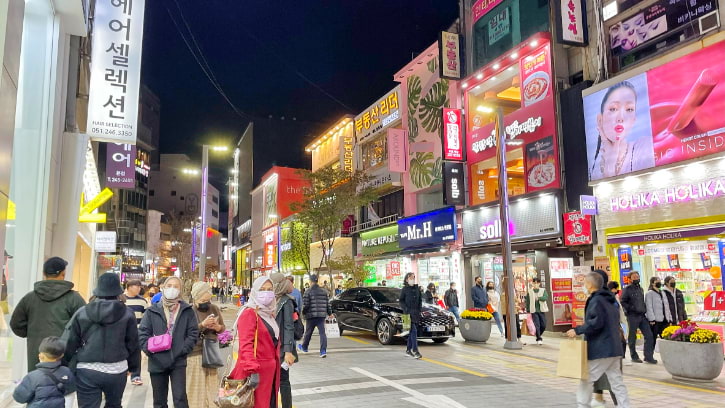 Gwangbokro Culture and Fashion Street is no doubt the liveliest shopping street in Busan. This famous location is home to some international and Korean beauty brands.
These include Holika, Innisfree, Nature Republic, Etude House, The Face Shop, and many more. So, dig into these shops and buy your favorite cosmetics and the latest beauty products.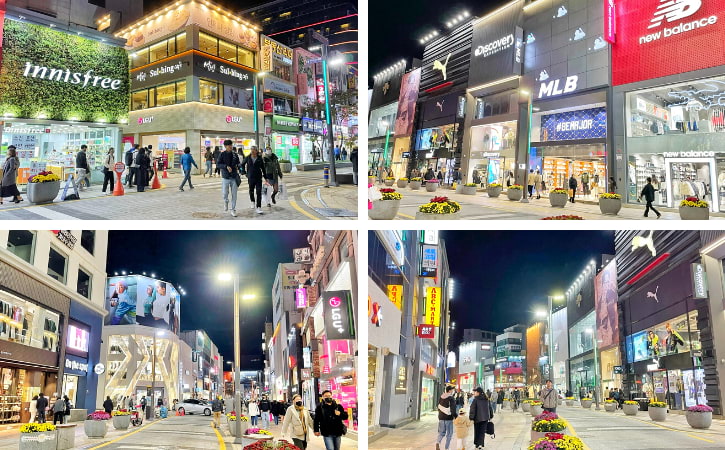 Of course, there are lots of options for clothing, accessories, and shoes too! Go around different shops that offer different fashion choices for both men and women.
Here, you'd find brands like Nike, New Balance, Puma, Adidas, and Skechers.
Getting There
2 minutes' walk to Gwangbokro Fashion Street from Yongdusan Park.
6. BIFF Square and Nampodong Street – 2.5 hours (6:30 PM to 9:00 PM)
a. BIFF Square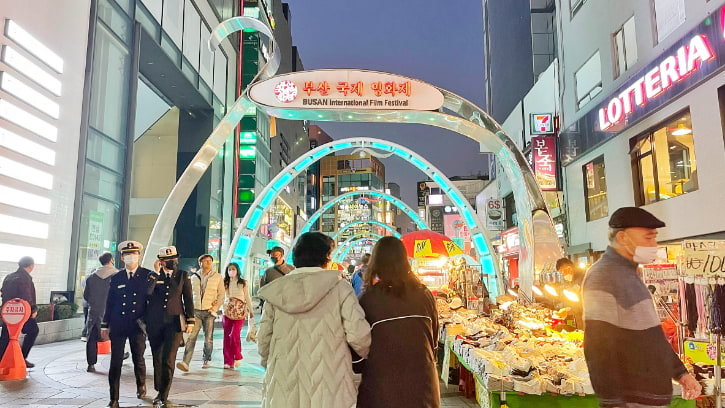 Cap off your day at Busan International Film Festival (BIFF Square) and devour some tasty street food. This place is filled with stalls offering different local treats.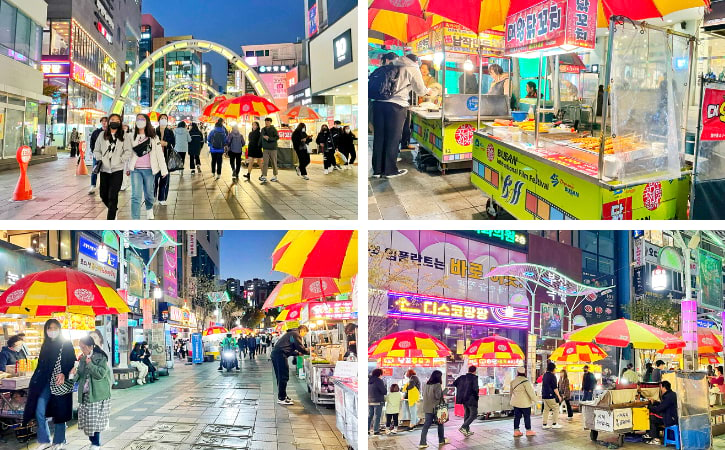 When strolling around, make sure you try some Korean Fried Chicken, Korean Chicken Skewer, and Grilled Scallop. Also, don't miss the classic favorites like the Korean Sweet Pancake and Twist Ice Cream.
b. Nampodong Pojangmacha Street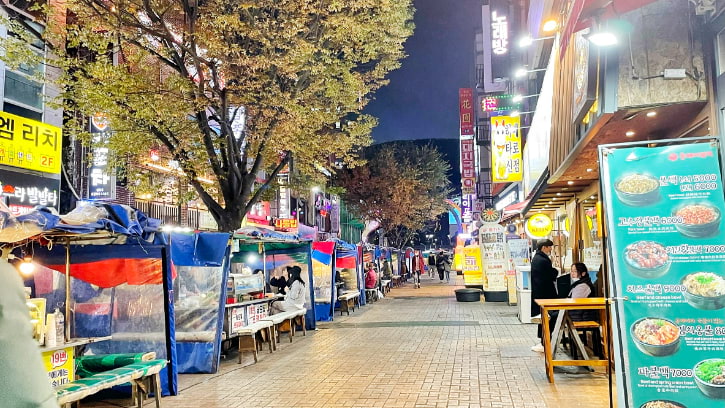 Another must-visit location is Nampodong Pojangmacha Street. Fascinatingly, the word Pojangmacha is a Korean term that means a certain form of a street stall.
Because of its assortment of street food, this place is widely visited by locals and international travellers.
With several tasty foods on display, it's best to eat your dinner here. Choose from one of the many stalls that serve appetizing Korean snacks and drinks.
After your dinner, make sure to take a good rest because tomorrow you will go to the most famous theme park in Busan.
Getting There
1 minute' walk to BIFF Square from Gwangbokro Fashion Street.
Day 3: Lotte World Adventure Busan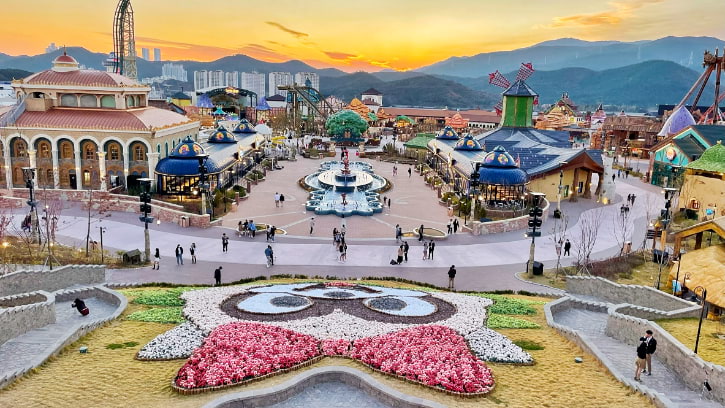 Your last day will be spent at Lotte World Adventure Busan.
As the largest theme park in Busan, it's highly recommended that you allocate an entire day here. This way, you get to enjoy the different attractions, from thrilling rides to interactive shows and fun games.
To help you out, be sure to check out this super detailed guide to Lotte World Busan before your trip. In this guide, I've recorded the best rides in the theme park as well as some tips on how to get there easily.
Also, don't forget to buy your Lotte World Busan tickets here. This will give you up to 15% OFF!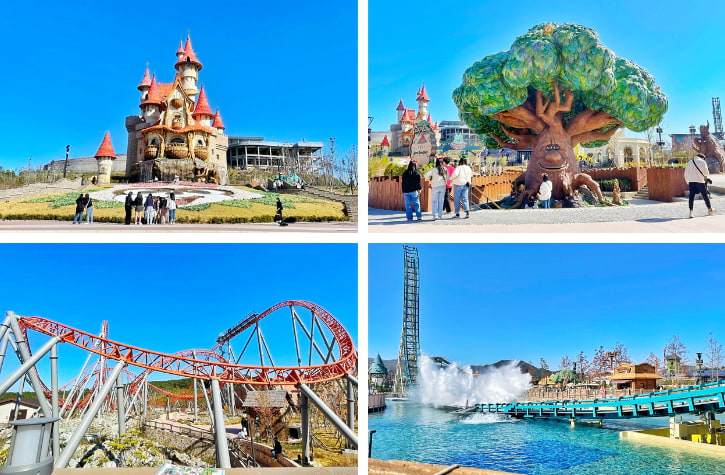 Must-visit Attractions in the Theme Park:
Lorry Castle and Royal Garden: Drop by this scenic area and you'll find the iconic castle of Lorry. The place itself is very picturesque, so make sure you take lots of photos.
Talking Tree: Listen to the voices from this famous tree and you'd be surprised by its alluring sounds. This is such a unique spot in the park that you should visit.
Giant Digger: If you're looking for an exhilarating ride, then this is the answer to your needs. Hop aboard the high-speed rollercoaster and pump up your senses!
Giant Splash: Continue the thrill as you board this water shuttle ride. It's like a rollercoaster journey but with a twist! Here, you need to prepare for both the fast-paced journey and the water splashes.
Giant Swing: Complete your excitement as you get on this swing. Unlike normal swings, this offers dizzying spins and rotations.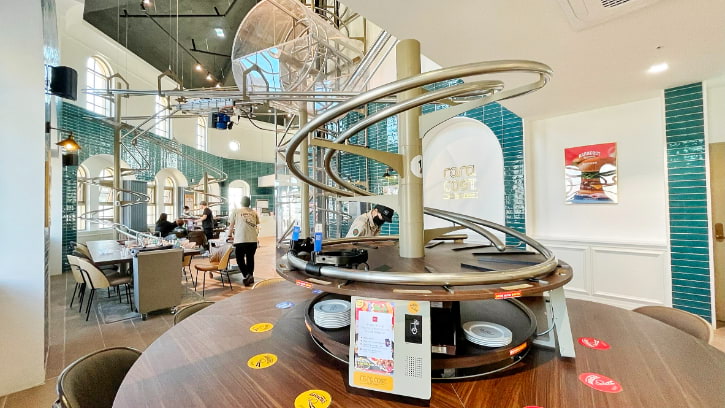 Lunch and Dinner
Take your lunch and dinner at Rollercoaster Restaurant. Also known as Food Drop Restaurant, you can find this unique restaurant within the Royal Garden Zone. Unlike normal restaurants, this place serves its food via rollercoaster tracks. As to their menu, they mostly offer Western food. They've got hamburgers, pasta, steaks, chicken, and more.
Have One More Day in Busan?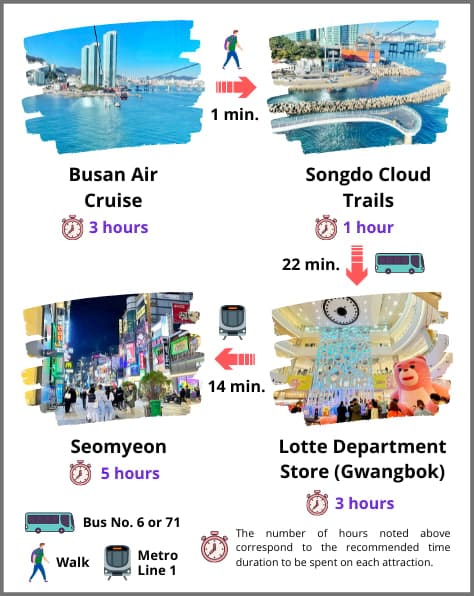 If you have an extra day in Busan, you can check out my suggested itinerary below. This will help you maximize your time better so you can visit more tourist spots.
1. Songdo Sea Cable Car – 3 hours (9:00 AM to 12:00 PM)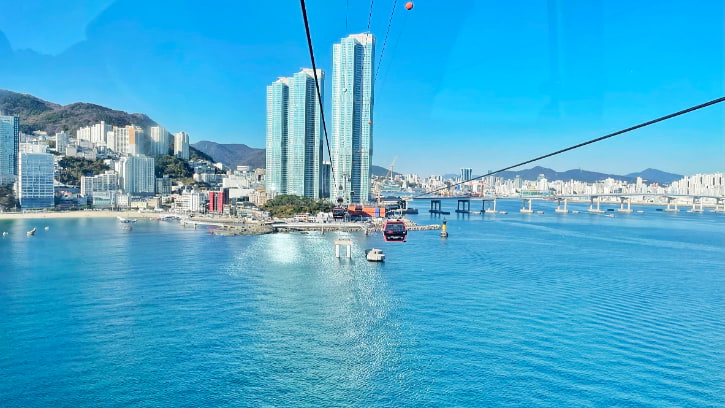 Start your trip by riding the Songdo Sea Cable Car (Busan Air Cruise). This offers you a unique experience as you travel from the city to the sea via a cable car.
If you want, you can take the round-trip journey from Songdo Bay Station to Songdo Sky Park.
Where is the boarding point for the cable car?
The ticket office is located on Level 1 of Songdo Bay Station. Meanwhile, the boarding station is on Level 4.
Recommended:
I highly suggest that you take the Crystal Cruise (Crystal Cabin) so you can see the breathtaking views from the transparent floor. Moreover, try to book the cable car tickets here to enjoy an extra 10% OFF!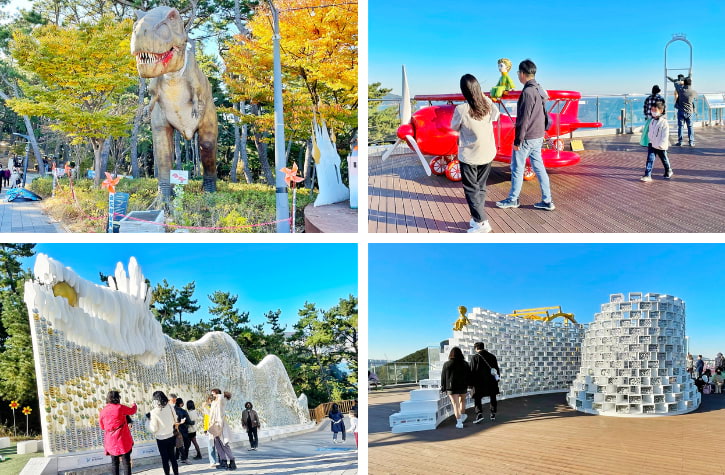 Must-see Sights in Songdo Sky Park:
Dino Adventure: Meet some of these realistic creatures as you navigate around the area. Because of their towering height, you certainly won't miss these statues!
Le Petit Prince: Take a snap of this landmark, which highlights the protagonist of the popular novel, the Little Prince. As one of the crowd favorites, there might be long queues for this spot.
Dragon of Wishes: Drop by this spectacular and let the dragon fulfill your sincerest intentions. The dragon's scales serve as the material where you can write your wishes. So, hope that your desires would come true!
Moment Capsule: Store your favorite memories inside a capsule. This is a rather unique way to save some of your precious moments, so make sure not to miss it!
Getting There
Take your time to read my complete guide to Songdo Sea Cable Car for you to prepare ahead of time. I've written everything that you need to know about getting to the cable car station, including the best photo spots there.
2. Songdo Cloud Trails – 1 hour (12:00 PM to 1:00 PM)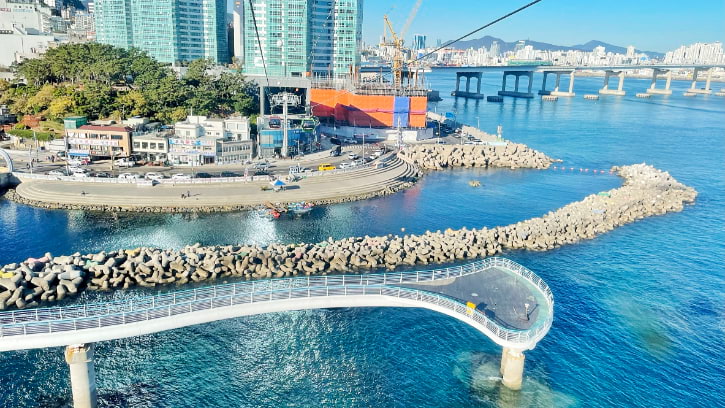 In the afternoon, make your way to Songdo Cloud Trails. This unique skywalk lets you trek through a beautiful pathway with the ocean underneath.
And just above you is the cable car line, adding up to its attractiveness.
The Songdo Cloud Trails is nearby Songdo Bay Station. This means you won't have a hard time finding this during your visit.
3. Lotte Department Store (Gwangbok Branch) – 3 hours (1:30 PM to 4:30 PM)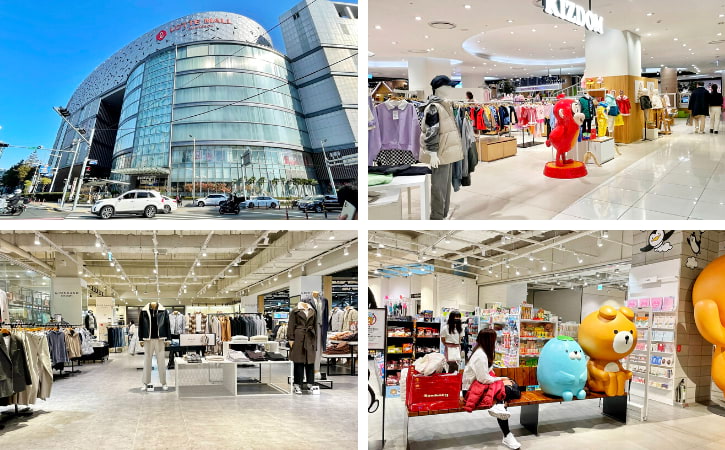 After completing the trails, it's time to head to Lotte Department Store (Gwangbok Branch). This shopping destination is known to be the country's first seaside department store.
So, it's only fitting to drop by the place and check out what it has to offer.
As you enter the department store, you'd be captivated with the array of fashion items. These feature both domestic and international brands to give you lots of options.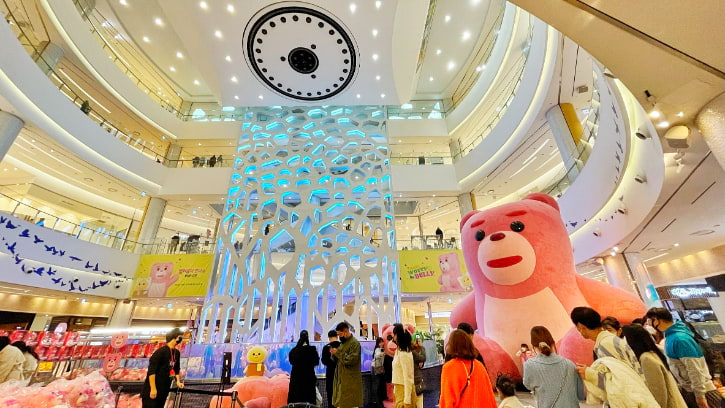 Aside from shopping, this spectacular water fountain is another highlight inside the mall.
In fact, it's one of the largest indoor musical water fountains in the world. So, listen closely to the alluring sounds that perfectly complement with the flashing lights.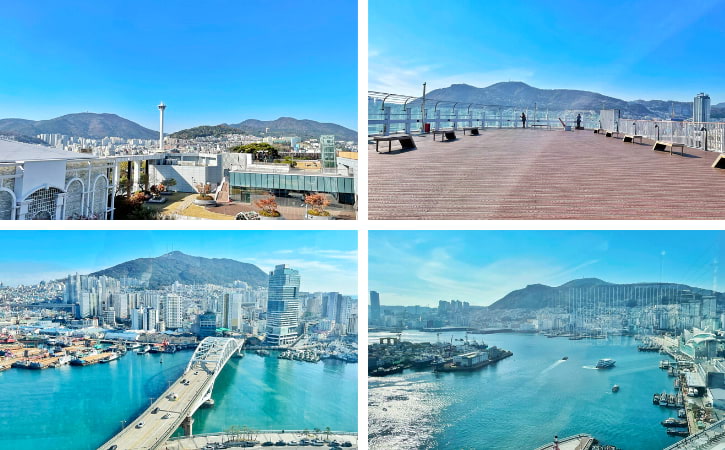 Head to the largest rooftop park in Korea and catch the entire city of Busan from your spot. During your sightseeing, you'd also see the towering Busan Tower.
So, if you want to visit the sky park, make your way to the 11th floor of Lotte Department Store. Meanwhile, the observation deck is located on the 12th floor.
Don't worry because both are accessible to everyone for free! This means you won't be spending extra money to get a bird's eye view of the city.
Lunch
For your lunch, there's no need to fret because there's a food court in the mall. This is stationed at basement 1 of the department store. On top of that, there are several restaurants on level 10 as well.
Getting There
Walk from Songdo Cloud Trails to the bus stop of Amnam Dongbu Community Center. Then, take the Bus No. 6 or 71 to the bus stop near Exit 6 of Nampo Station. From there, walk to Lotte Department Store. (Total 1,200 won) [More Info]
4. Seomyeon – 5 hours (4:30 PM to 9:30 PM)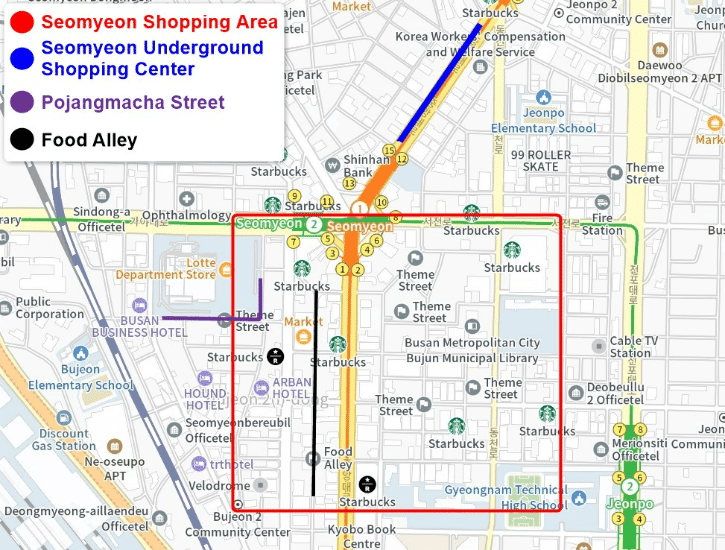 Seomyeon is another vibrant neighborhood in the city of Busan that is popular among visitors.
It's one of the best spots for shopping, dining, and entertainment. Here, you'd find many restaurants and cafes that offer all sorts of local and international cuisines.
On top of that, the nightlife in this spot is remarkable. There are lots of clubs, bars, and karaoke rooms to liven up the night.
Getting There
Take the Metro Line 1 from Nampo Station to Seomyeon Station. Go to Exit 12 for direct access to the shopping center. (Total 1,300 won)
a. Seomyeon Shopping District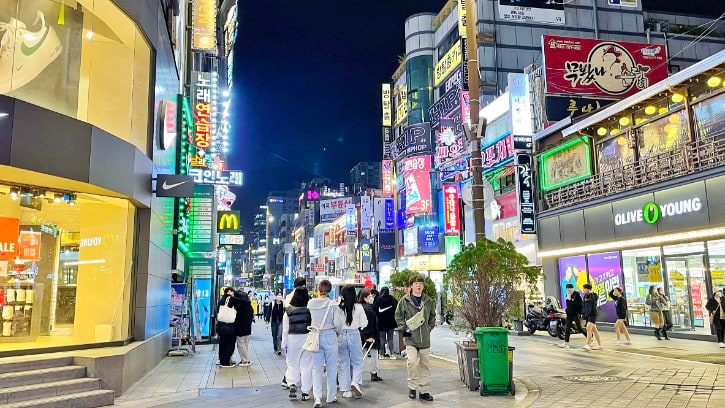 Go around Seomyeon Shopping District and visit some local stores. This is loaded with various kinds of shops, selling fashion items to electronics and more.
You'd also come across some fast-food restaurants in the area.
b. Seomyeon Underground Shopping Center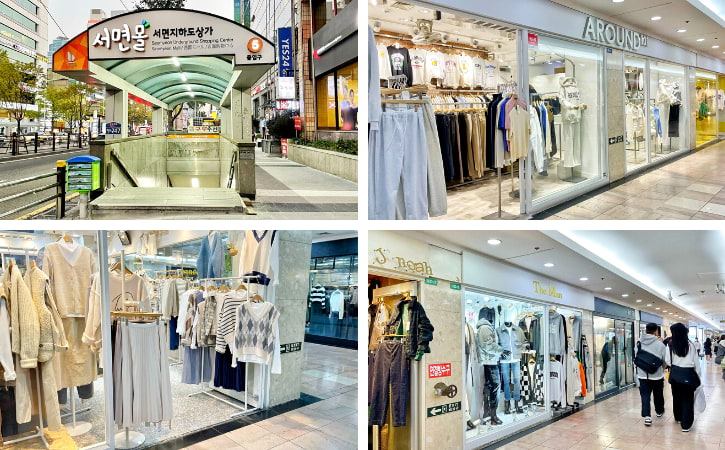 As you enter the Seomyeon Underground Shopping Center, get ready to be dazzled by the number of shops. You'd be surrounded by several stores loaded with trendy apparel and accessories.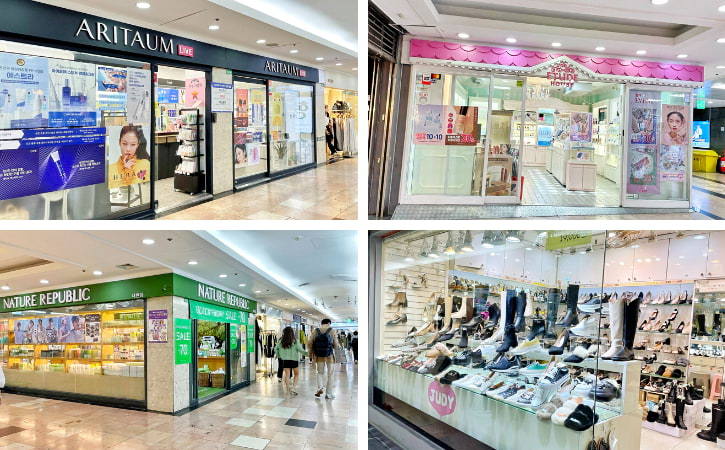 If you're looking for a new pair of shoes or sandals, there are plenty of options here.
And aside from fashion items, you'd also stumble across a series of beauty and cosmetic products. So, take your time to navigate around and have fun in this busy shopping hub.
c. Pojangmacha Street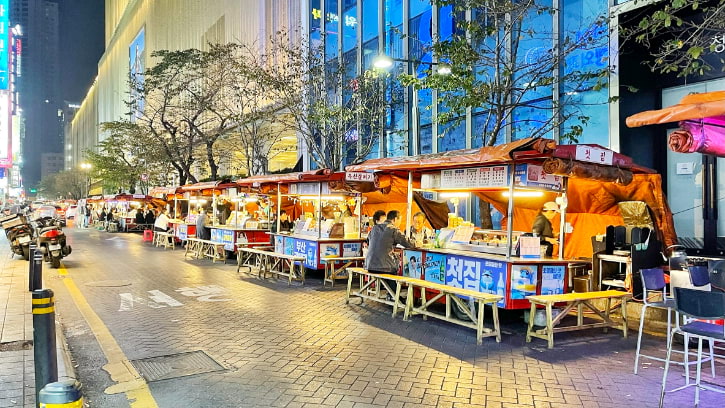 Cap off your night at the famous Pojangmacha Street. This is the best place in the neighborhood to take your dinner.
So, choose from the many food stalls stationed along the street and treat yourself with some local delights.
Busan Itinerary Map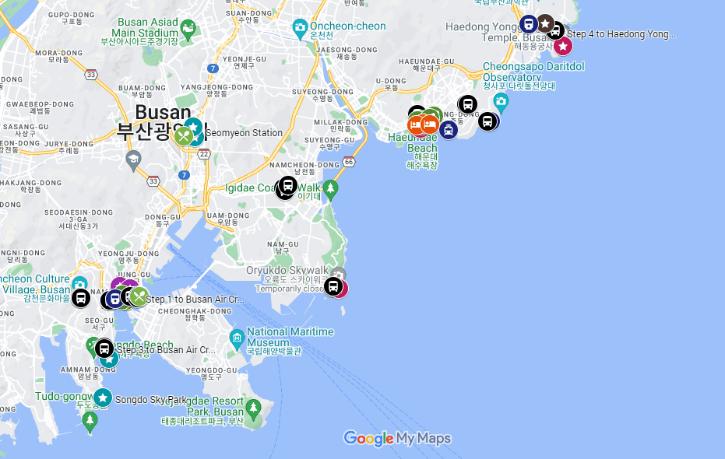 To help you easily understand the travel plan in Busan, I have marked all the must-visit attractions on the above map.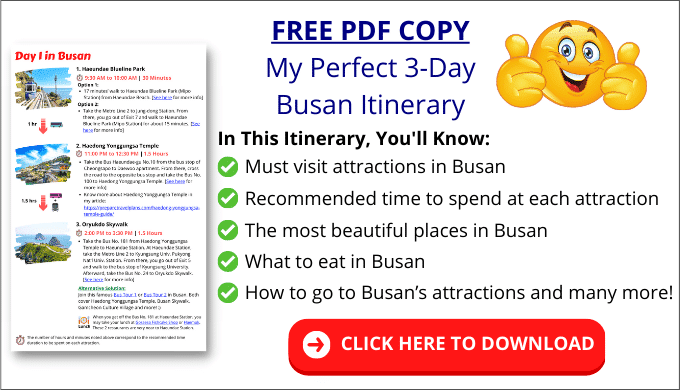 Take Note: For better guidance, you may download my PDF document here. I've summarized the Busan trip to make it more convenient. Hope you like it!
Tips for Searching Tourist Spots: You can use KakaoMap and Naver Map too to assist you in navigating around Busan. Both come with English language options, so be sure to download the apps on your smartphone.
How to Access the Internet in Busan
The most effective way to stay connected online while travelling in Busan is to rent a pocket WiFi device. You can rent the portable WiFi device here and enjoy a fast network speed and unlimited internet access.
On top of that, you are able to connect multiple devices at once. So, avail of the option online and pick it up from the airport.
Where to Stay in Busan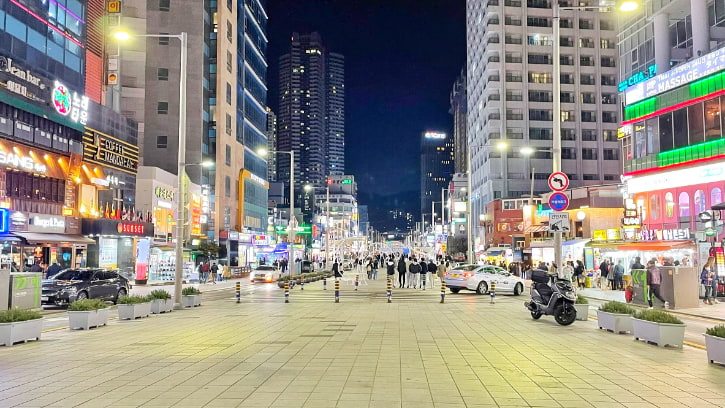 The best place to stay in Busan is no doubt Haeundae. This is very convenient for tourists because it is surrounded by many popular attractions.
Some of the nearby tourist spots include Haeundae beach, SEA Life Aquarium, Haeundae Market, and Haeundae Blueline Park. It is also close to Haedong Yonggungsa Temple and Lotte World Busan.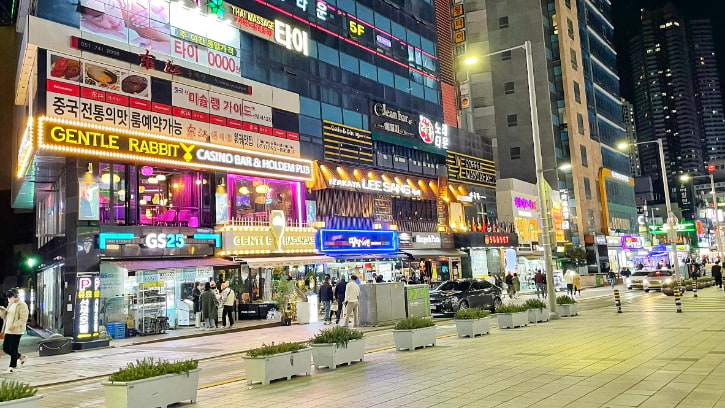 There are also lots of restaurants, cafes, and convenience stores around.
Another remarkable feature of the district is that it has an easy access metro station, which is the Haeundae Station. So, if you're looking for a super relaxing stay, I'd highly recommend this place.
And, don't forget to reserve your preferred hotel in advance. It's because the hotels here often sold out faster, especially during the peak season.
My Most Recommended Hotels in Haeundae
How to Tour Around Busan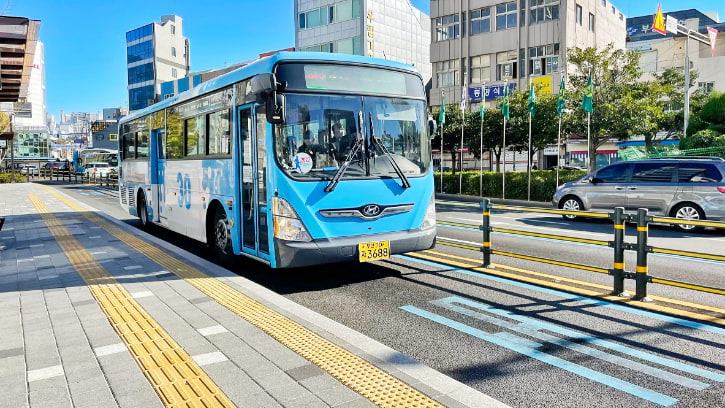 1. Metro and Public Bus
If you want to get around Busan without breaking the bank, metro and public bus are great options!
It's easy to get to the city's most popular attractions with these two public transportations.
For the quickest metro route from point A to B, you can use the KakaoMetro app, as it offers fare and travel time information.
If you prefer to take the public bus, Naver Map app can give you the best route along with associated fares and journey times.
T-Money card
When you're in Busan, make sure to get yourself a T-Money card! This transport card will make your commute through the metro and bus so much easier.
You can easily obtain one from convenience stores like CU, GS25, 7-Eleven, and emart24.
2. Busan Tour Buses
If you're short on time to plan your trip in Busan, you can book one of the best bus tours in the city – Bus Tour 1 and Bus Tour 2.
They both include some of the must-see attractions like Haedong Yonggungsa Temple, Busan Skywalk, and Gamcheon Culture Village.
Plus, the assembly points at Busan Metro Station and Haeundae Metro Station make it super convenient!
3. Private Car Charter
For a stress-free way to explore Busan, you should check out the private car charter here!
It comes with an experienced and English-speaking driver who will tailor the trip to your own schedule.
Just let the driver know where you'd like to go, and they'll take you straight there – it's that easy!
Travelling to Busan from Downtown Seoul Transportation Guide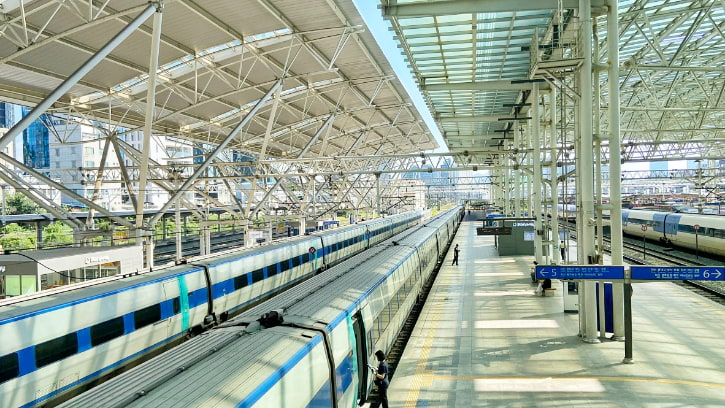 Are you considering a trip to Busan after Seoul?
If so, I highly recommend you take the KTX train for its swift travel time and cozy amenities. It's a super-fast train that connects the two cities.
If you want more info, I have written a guide on how to get to Busan from Seoul using KTX. I'll show you how to ride the train easily.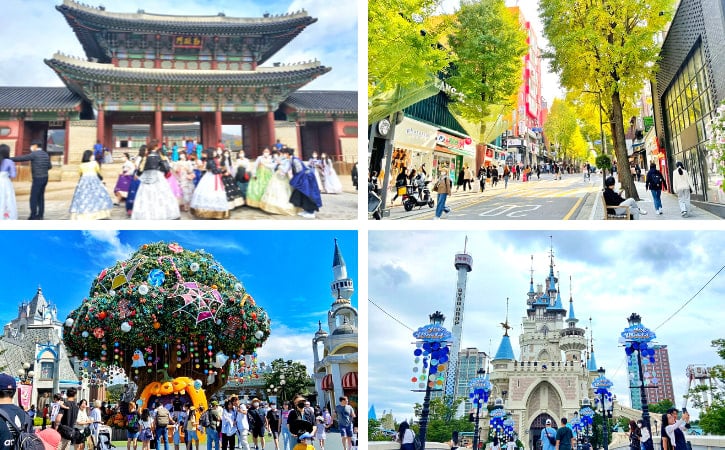 Planning a trip to Seoul? Check out my Seoul 7 Day Itinerary to find out the most amazing spots to explore and learn how to plan your journey perfectly.
Gimhae International Airport Transfers
There are 3 options to get you from Gimhae International Airport to downtown Busan. Let me explain what they are.
There are 3 options to get you from Gimhae International Airport to downtown Busan. Let me explain what they are.
1. Limousine Bus
The Limousine Bus can be boarded at Platform 2, located on the first floor of the international terminal.
A one-way ride to Busan Station will cost 6,000 won and 7,000 won to Haeundae. It takes an hour to Busan Station and 70 minutes to Haeundae.
2. Subway (Metro)
Gimhae Airport to Busan Station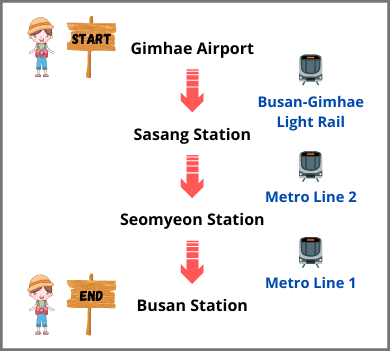 You can ride the Busan-Gimhae Light Rail (Purple Line) from Gimhae Airport to Sasang Station.
At the Sasang Station, you transfer to the Metro Line 2 and go to Seomyeon Station. From there, change to Metro Line 1 and go to Busan Station. The travel time is around 51 minutes and cost 2,000 won.
Gimhae Airport to Haeundae Station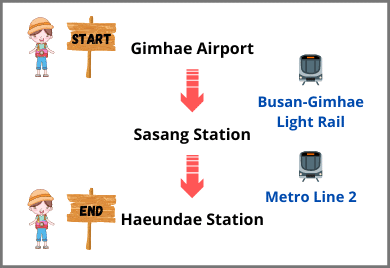 Just board the Busan-Gimhae Light Rail (Purple Line) from Gimhae Airport to Sasang Station. From Sasang Station, you switch to the Metro Line 2 and go to Haeundae Station. One-way trip takes about 1 hour and the fare is 2,000 won.
Where to Take the Metro?
The metro station is located just outside of Gimhae International Airport.
3. Taxi
For a comfortable and stress-free journey between Gimhae Airport and central Busan, a taxi is the best choice.
Pre-book your Gimhae Airport taxi here and avoid any language barrier concerns, as the driver will be waiting for you directly at the airport.
If you are new to Busan and wondering what or where to go, I hope this Busan 3-day itinerary guide has been helpful!
You can also use this guide as a reference for the best places to visit in Busan.
Related Posts