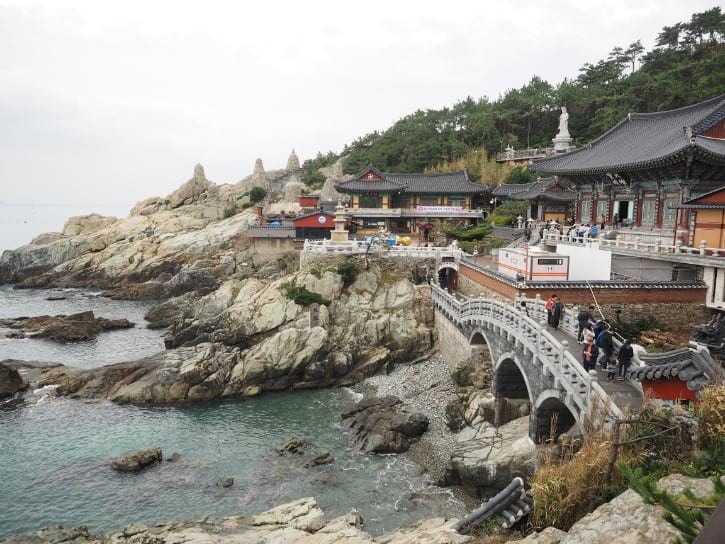 Considered as one of the must-sees in Busan, Haedong Yonggungsa Temple is more than just holy site to pay respect to, but also one of Korea's most scenic spots.
Thus, it doesn't come as a surprise that this 14th-century Buddhist temple is well visited both by locals and international travelers.
Read on and know important information when visiting Haedong Yonggungsa Temple:
What can you see and do in Haedong Yonggungsa Temple ?
How can you get to Haedong Yonggungsa Temple by bus, subway, taxi, and private car ?
How can you visit Haedong Yonggungsa Temple as part of Busan City Tour ?
What is the best option in visiting Busan's famous temple ?
Busan serves as South Korea's 2nd largest city (next to Seoul) and home to many historic attractions. One of them is Haedong Yonggungsa Temple.
This temple is quite unique not just in Busan but all over South Korea due to its location as it is located along the shore, contrary to most temples built in mountains.
The temple is located on the northeastern part of the city. Perfect for all types of travelers, budget travelers can include this temple on their list as this temple is a free attraction in Busan.
What Are The Things You Can See in Haedong Yonggungsa Temple?
---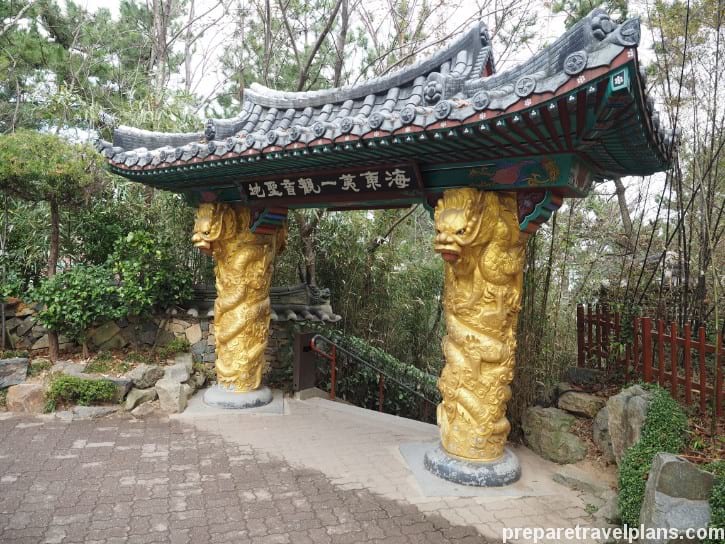 Statues, pagodas, gracious steps and a solemn main sanctuary, the temple's ambiance are made more awe inspiring with dramatic and picturesque nature that blankets the whole temple complex. The temple is surrounded with lush foliage and in spring, visitors can see beautiful cherry blossoms.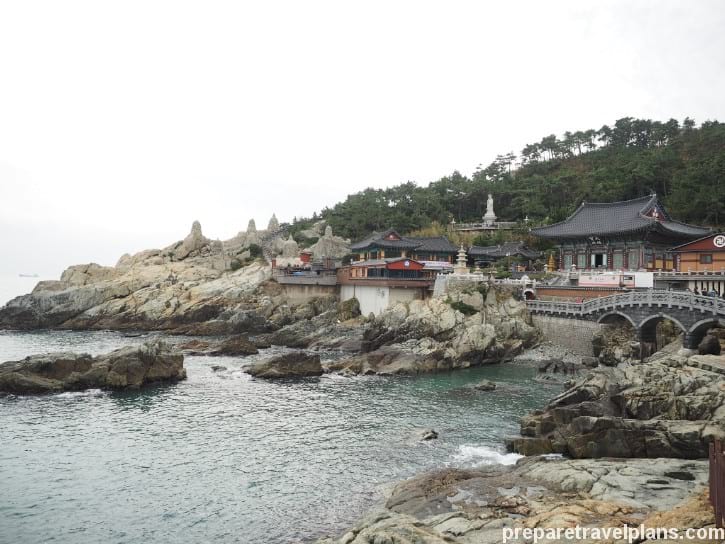 Perched on the cliffs overlooking the vast open sea, Haedong Yonggungsa Temple offers dramatic ocean scenery. With this, this temple has one of the best views in Busan.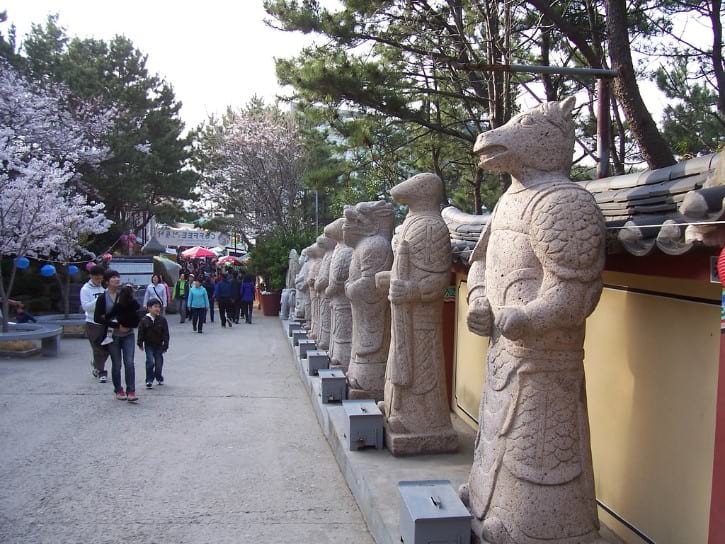 Upon entering the temple complex, the first figures visitors will see are 12 big Zodiac Stone Figures that seem to protect the temple. Visitors often look for their zodiac sign and take a photo.
Buddhist temples are built in accordance to Buddhist beliefs like the 108 steps in the temple. It is more than just a physical challenge but it also represents the 108 Buddhist sufferings.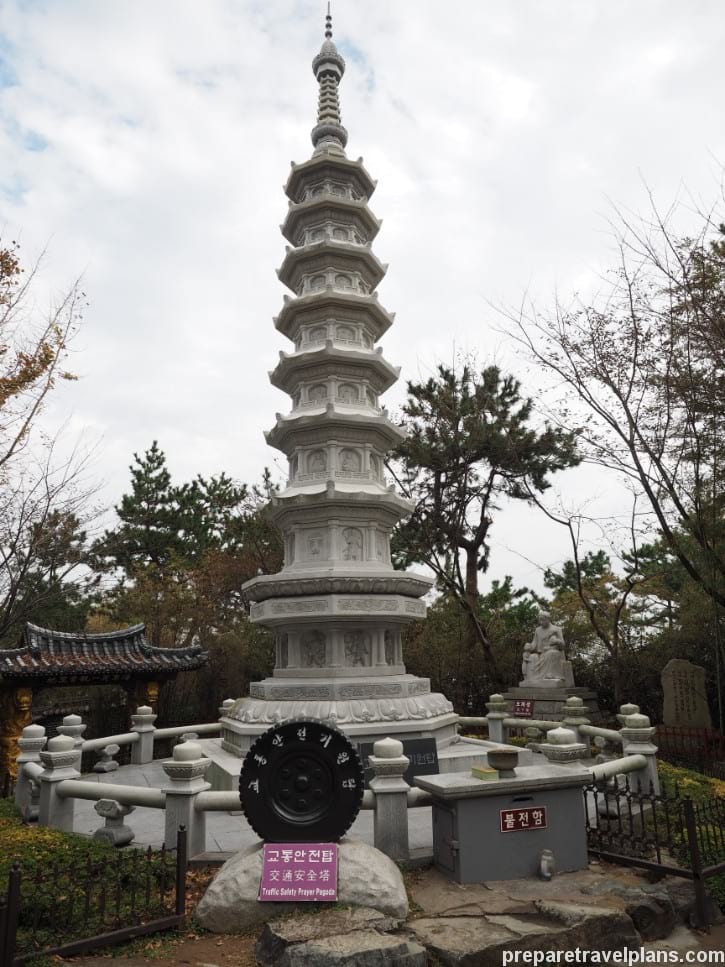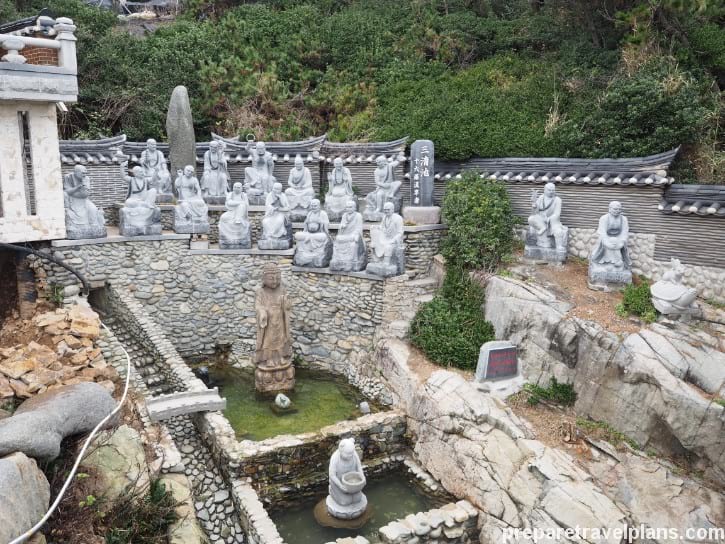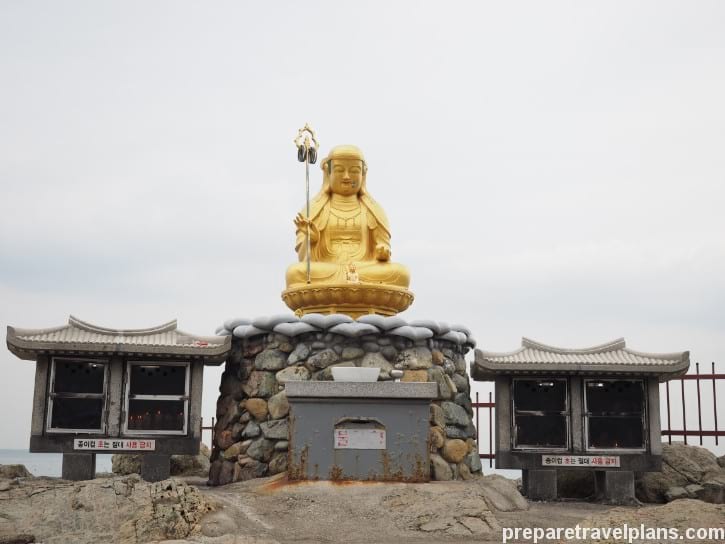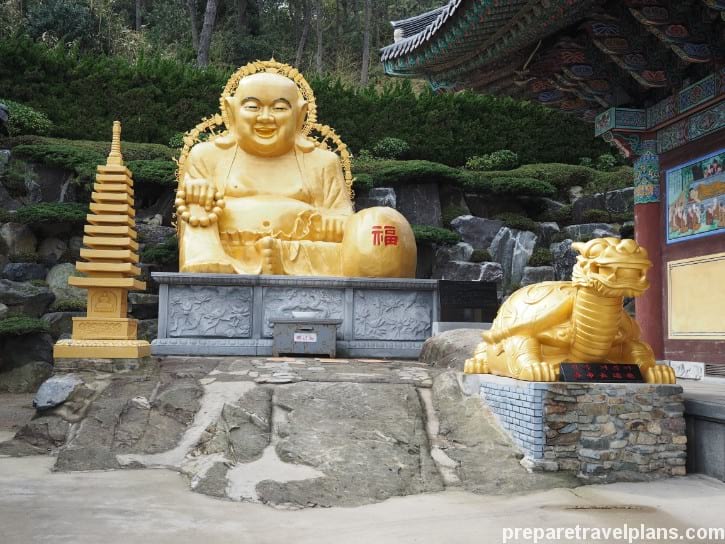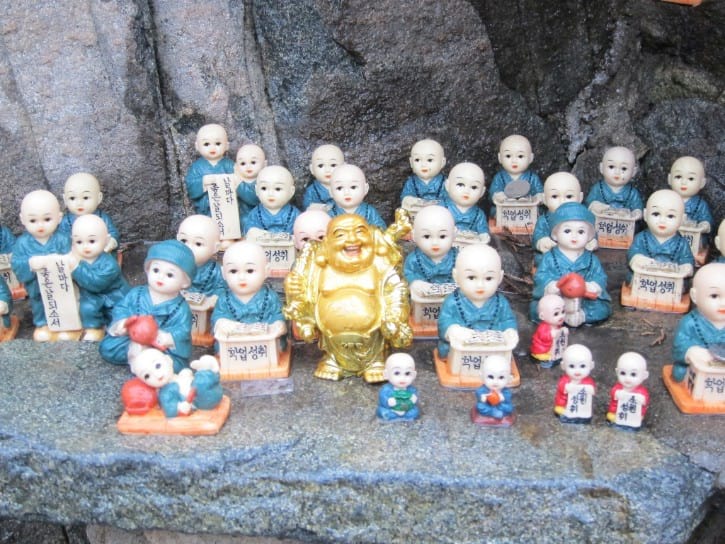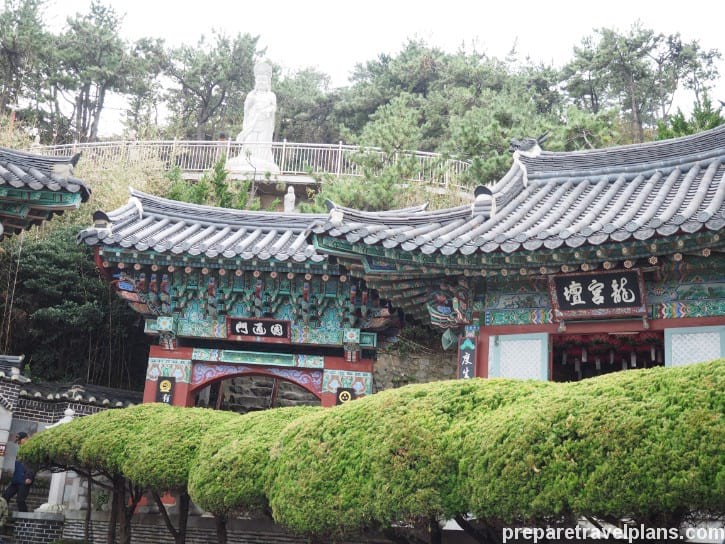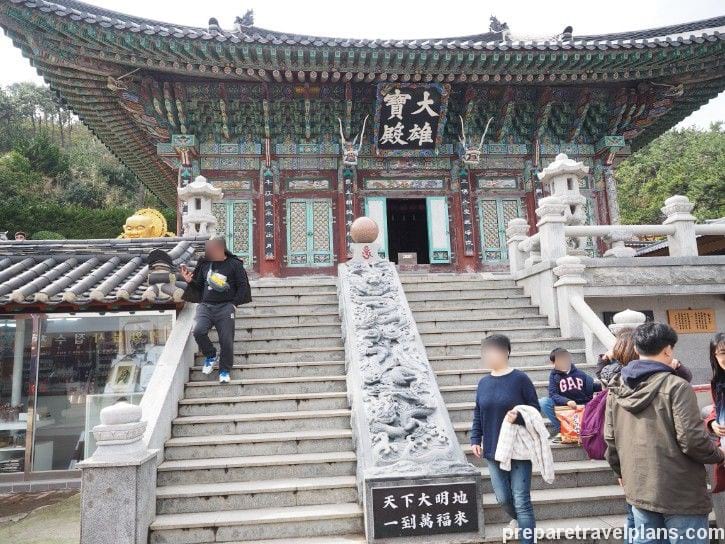 Must see figures in the complex are eight-story pagoda, the dragon, statue of Golden Fat Buddha, mini monks, and the statue of the Seawater Goddess Buddha of Mercy. Observe the solemnity of the shrine hall and Daengjeon Main Sanctuary.
Before leaving, make sure to pick one or two souvenirs from quaint shops nearby. Like most attractions in South Korea, there are street foods within the vicinity.
Don't rush your visit and enjoy the views. Observe the locals or head to the nearby beach of Haeundae beach.
Opening Hours
5:00 AM – 7:00 PM
Best Times to Visit
Morning or Evening
Entrance Fees
Free
Address
86, Yonggung-gil, Gijang-eup, Gijang-gun, Busan
Official Website
Nearby Attractions
Google Maps
Taking The Subway and Public Bus to Haedong Yonggungsa Temple
---

Busan Subway and Public Bus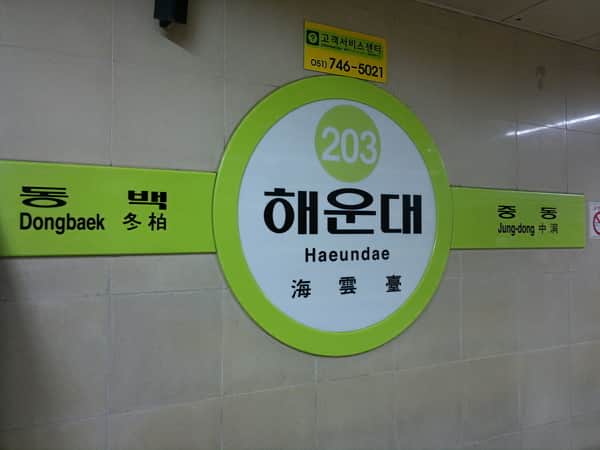 For those who wish to spend less in their transportation going to Haedong Yonggungsa Temple, take the subway and the bus. In fact, this is the most common way of reaching Busan's famous temple.
When taking the subway, take the Busan Subway Line 2 to Haeundae Station. Once you alight from Haeundae Station, go to Exit 7.
From Exit 7, walk straight and find the nearest bus stop. Look for bus 181 which will take you to the temple.
Step 1: Wait Bus 181 at the bus stop which located in front of the Haeundae Station Exit 7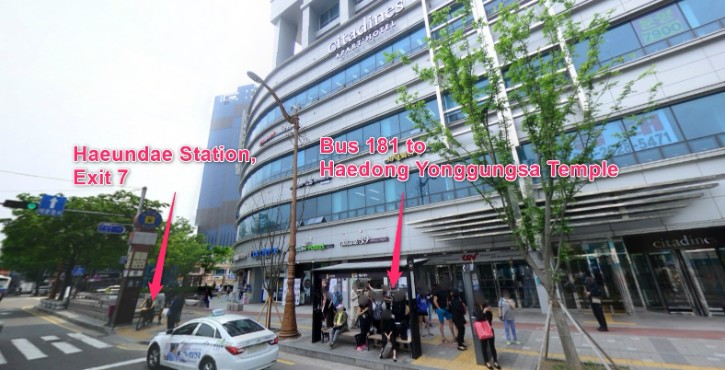 Step 2: Get Off the Bus 181 at Yonggungsa Temple Bus Stop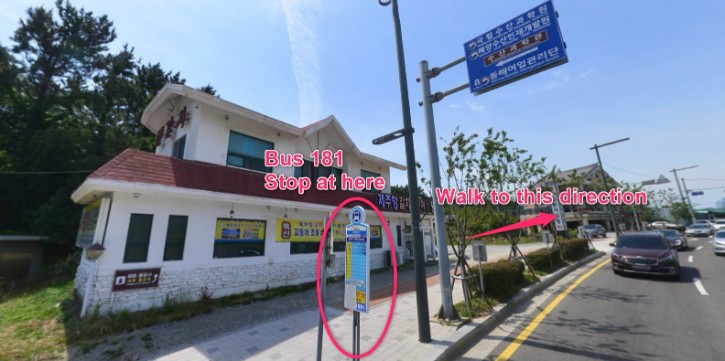 Step 3: Turn left when you reach the first left-hand road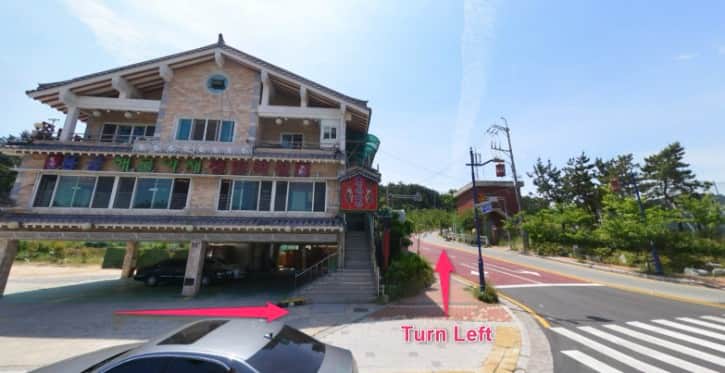 Step 4: Continue straight and walk uphill for a few minutes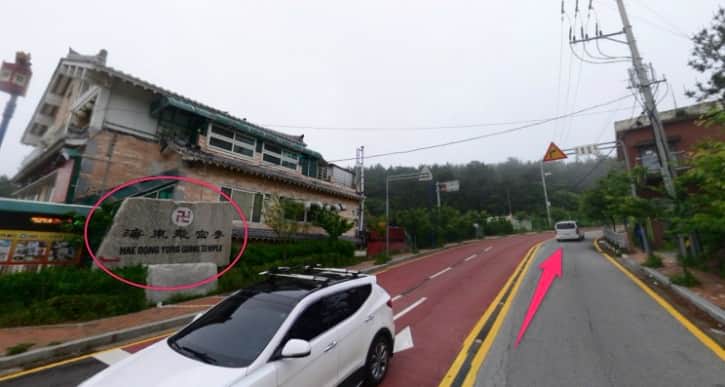 Step 5: Walk straight, you will see the main entrance of the temple soon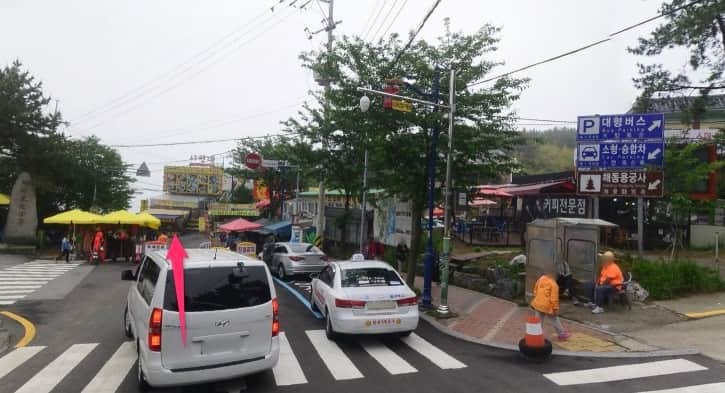 Total traveling and walking time from Haeundae Station to the temple is around 50 minutes.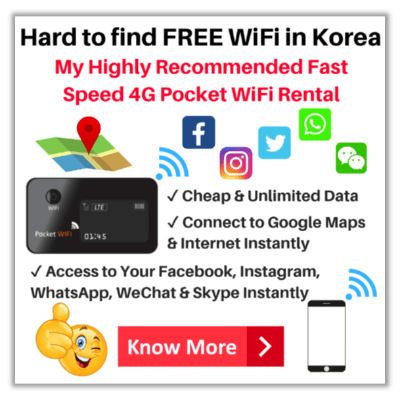 Grabbing a Taxi to Haedong Yonggungsa Temple
---

Busan Taxi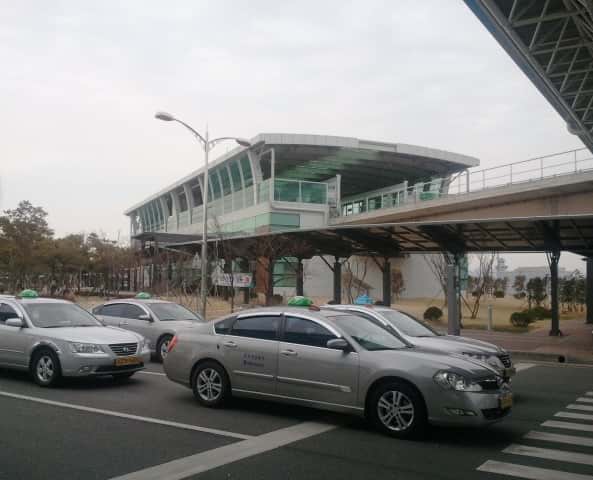 Taking a taxi to any attraction saves time and definitely more convenient. You can pick to take a taxi from your hotel or current location when going to the temple.
Unlike most Asian countries where taxi scams are rampant, South Korea is safer and one of the highly preferred more of transportation among international visitors.
Taking a taxi to the temple has many advantages not just travel and comfort. Unlike taking a bus where you have to walk uphill for a few minutes, the taxi will drop you off right in front of the temple's entrance.
Hence, taxis are recommended for those with small children, elderly or those with mobility issues.
Haedong Yonggungsa Temple: Street View
Korean Name of Haedong Yonggungsa Temple: 해동 용궁사
Korean Address of Haedong Yonggungsa Temple: 부산광역시 기장군 기장읍 용궁길 86
Some tips on taking a taxi to Haedong Yonggungsa Temple:
Visitors can also hail a taxi from Haeundae Station.
Make sure to write the name and address of the temple in Korean and show it to the driver.
Fare is from 10000-15,000 won.
Taxi Fare in Busan
Join Busan City Tour Bus to Haedong Yonggungsa Temple
---

Busan Sightseeing Tour Bus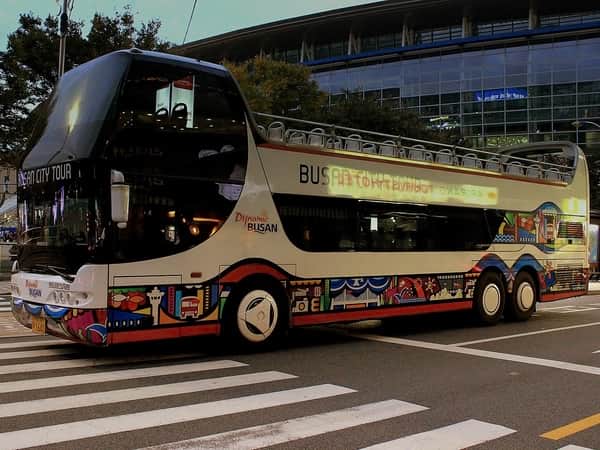 If you want to see more of Busan including Haedong Yonggungsa Temple within a short time, then sign up for a Busan City Tour! Busan City Tour Bus (BUTI) let travelers see major cultural and seashore attractions in the city by riding a hop on and off bus.
This single-decker bus let you cover many attractions and quite convenient. You are assured that you won't get lost when transferring from one attraction to another.
The city tour takes an hour and 18 minutes with trips starting at 10:20am-5:10pm (last trip leaves at 3:50pm). Guides speak English, Korean, Chinese, and Japan.
The city has three lines and the temple is included in the Blue Line. For those who wish to see other sites covered in a different line, guests can transfer within 24 hours.
Find Out More (Sightseeing Bus Tours)
Visiting Haedong Yonggungsa as part of the Busan East Coast Cultural Day Tour
---

Busan East Coast Day Tour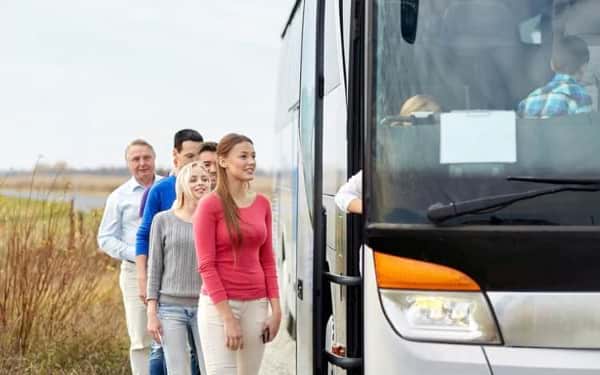 Another guided tour to sign up that includes Haedong Yonggungsa Temple is the Busan East Coast Cultural Day Tour. This whole day tour will take visitors to four main cultural attractions in Busan.
This tour will take guests to the following attractions:
Taejongdae
Gamcheon Culture Village
Songdo Skywalk
Haedong Yonggungsa Temple
It also includes:
Transportation
English-speaking guide
Taejongdae Danubi train ticket
Find Out More (Day Tour)
Book a Private Car Tour to Haedong Yonggungsa Temple to Save Traveling Time
---

Private Car Tour in Busan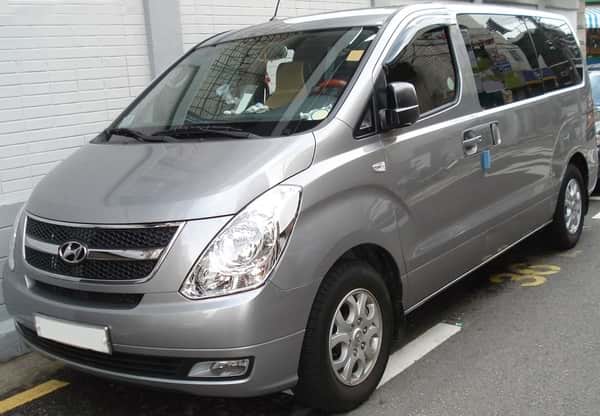 For the ultimate VIP feel when visiting Haedong Yonggungsa Temple, why not charter a private car service? This way, you enjoy flexibility and personalized tours with your own company.
Whether you are a family of four with little children, traveling as a multi-generational family, or in a small tour group – this is the best tour for you! Pregnant women or those traveling with babies will highly benefit from a private car service.
There are different packages to suit your preference and group. You can hire a private van that can accommodate up to 8 people or a minibus for 20 pax!
Feel safe and relaxed with a professional English-speaking driver. You can also hire a private car service that includes a local guide.
Here's what you can have when you hire a private car service going to Haedong Yonggungsa Temple:
Total of 8 hours of private transportation touring around Busan
Pick your own pick up and drop off whether in your hotel or in any location
You can decide to follow your own itinerary
Tour around Busan at your own pace
See more of Busan where public transport can't access
Find Out More (Private Car Tour)
Conclusion
Haedong Yonggungsa Temple serves as one of the top attractions in Busan. From its rich history, stunning views, and impressive architecture, one must visit this temple when visiting the city of Busan.
Highly accessible via public transport or private service, visitors have plenty of options when it comes to how to get to the temple. Visitors can take the bus, subway or hail a cab. Guided tours also include this temple while those who want flexibility and freedom favor private car services.
Whatever you decide to reach the temple like bus or chartered minivan, it only shows that everyone can visit and see Haedong Yonggungsa Temple.
Which transport mode will you take to there ? Share with us in the comments below. 🙂
Want to know where is the best place to stay in Busan? Convenient to visit nearby attractions and you will never go hunger when stay in that area. You can check my complete guide to stay in Busan here!
If you found this guide is useful and able to help your friend to get there, feel free to share to them on social media. Thank You.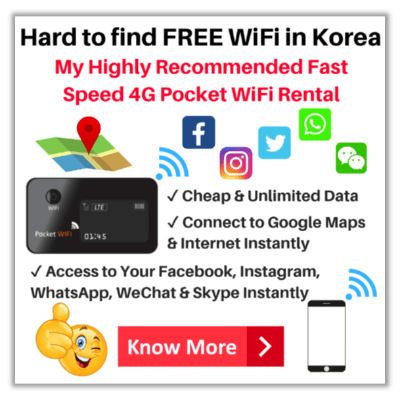 Related Posts
Image Credit
Photo by © Zentangle – Fotolia.com
Photo by © Yael Weiss – Fotolia.com
Photo by © anekoho – Fotolia.com