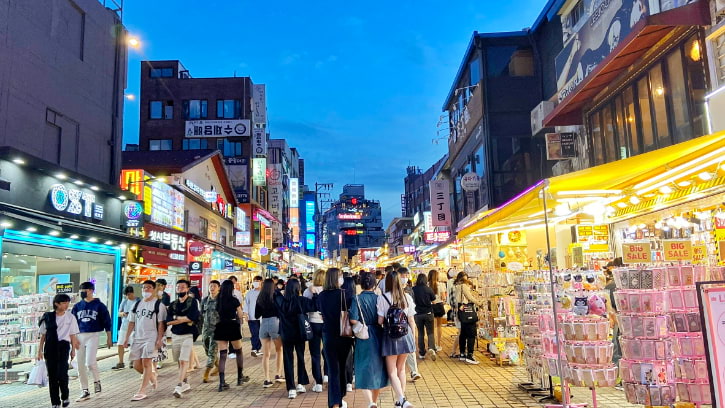 Hongdae shopping street is a vibrant, busy spot in Seoul that is a haven among shoppers. Explore the line-up of stalls and discover all sorts of shopping items and foods.
In this guide, I'll share the latest and best things you can do in Hongdae. Also, this will give you an idea of how to go to Hongdae with ease.
And oh, before I forget, don't miss the ever-popular Myeongdong Shopping Street in Seoul. This is the same as Hongdae, offering plenty of shopping and food options. So, it definitely deserves a visit, especially if you're a first-time visitor!
Without further delay, let's check out the top 12 things to do in Hongdae and make your visit more wonderful! 😊
1. Kick Off the Fun at Hongdae Shopping Street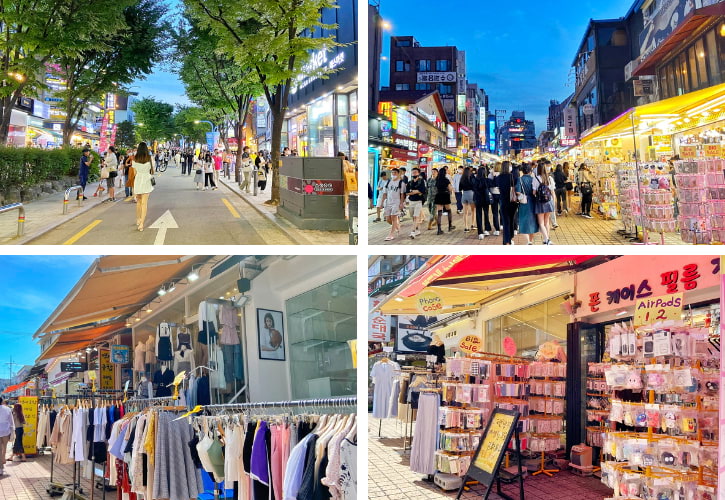 Begin your adventure at Hongdae Fashion Shopping Street.
Here, you'll be mesmerized by the abundant array of clothing stores. Most of the stalls display their items outside so you won't have a hard time.
Walk along the street and see all kinds of clothes and accessories for men and women.
There are also plenty of fashion brands around, offering trendy outfits for all ages.
2. Bring Home Some Cosmetic Products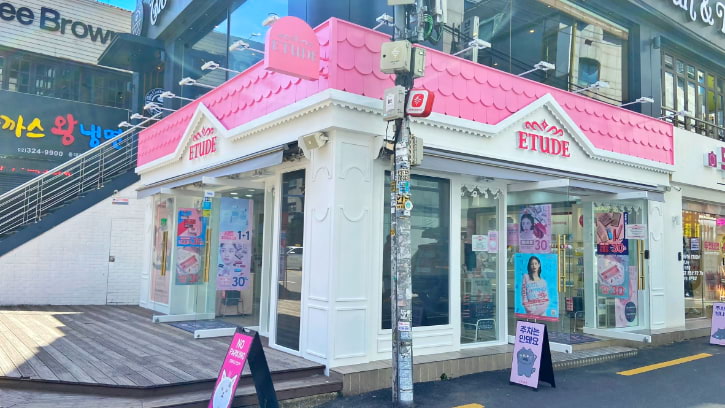 If you're looking for skincare essentials, you won't be disappointed with the choices here. Go around and visit some popular Korean cosmetic brands in the area.
These include Innisfree, Etude House, Olive Young, TONYMOLY, HOLIKA HOLIKA, and more. Each of these shops comes with a variety of products for your needs.
3. Pay a Visit to LINE Flagship Store
Offering a wide range of LINE collectibles, LINE Flagship Store is another must-visit store in the Hongdae.
Check out all the lovely Line characters inside and shop for your favorite items. From adorable stuffed toys to cute accessories, there's truly something for everyone!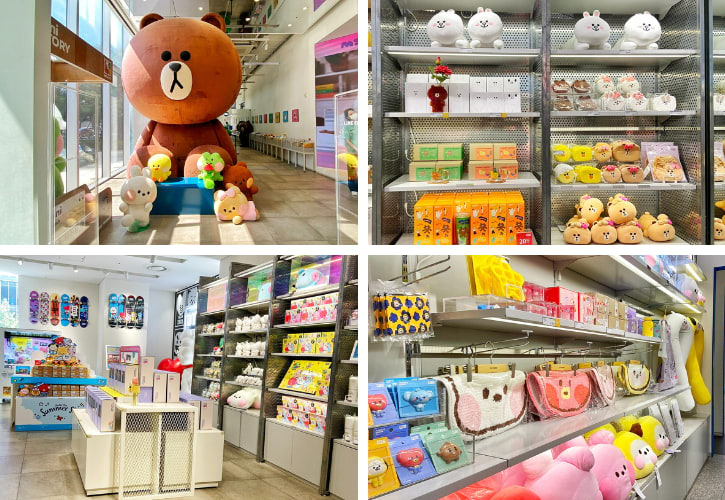 Aside from the remarkable collection of Line characters, you'd also love the life-sized stuffed toys! Station yourself beside each plushie and don't forget to take a photo of these cuties.
4. Drop by Kakao Friends Store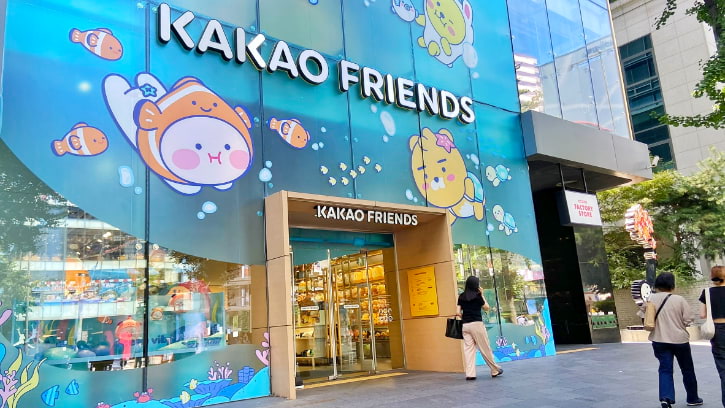 If you want a lot of cute plushies, then take a look at Kakao Friends Store.
This spot is also very popular among tourists, especially those looking for lovely souvenirs. Go over their pile of soft toys that come in different colors.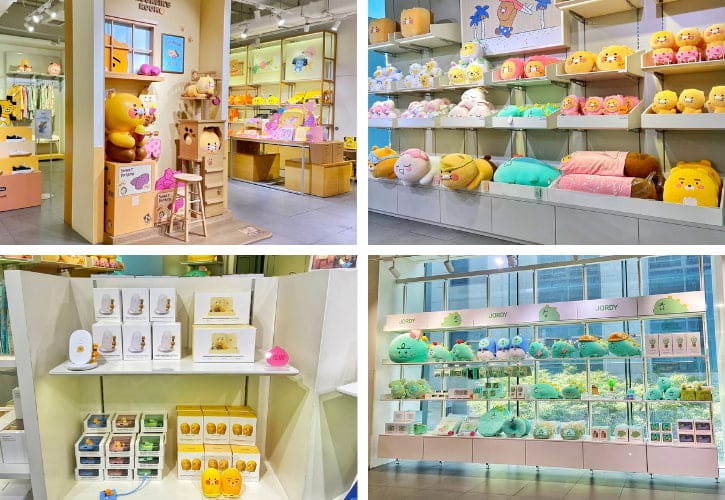 The store also has plenty of accessories as well as electronics like earphones and power banks. So, take your time exploring the shop and for sure you'll end up with a full cart!
5. Catch Some Street Performances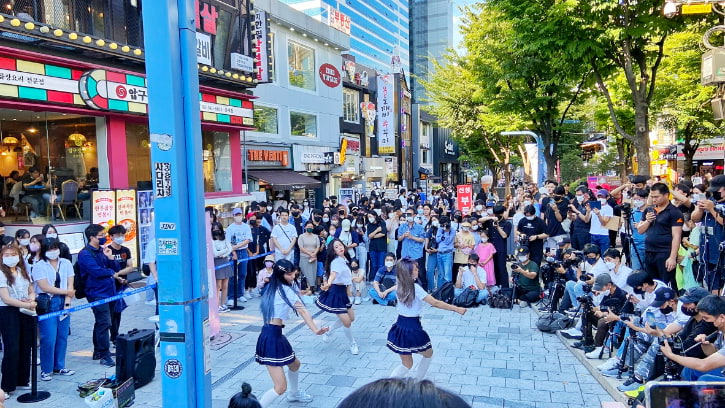 Don't miss the street performances held on the main shopping street of Hongdae. Most of these are just random performances by locals who want to showcase their talents.
Enjoy the dancing and singing acts from different people. And at times, there are also cultural events around to excite the onlookers.
6. Take a Peek at Hongdae Mural Street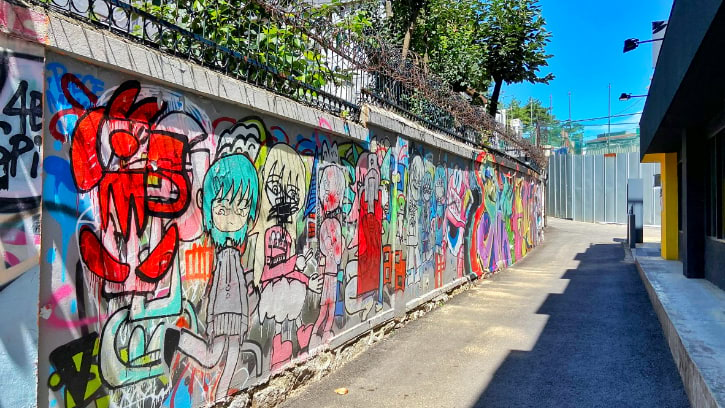 Continue the fun as you wander around Hongdae Mural Street. This is a perfect spot if you're looking for colorful backdrops for your photos.
See the unique mural paintings on the wall that highlight the artistry of the locals. You can find this section in the alley next to Hongik University.
7. Relax at Thanks Nature Cafe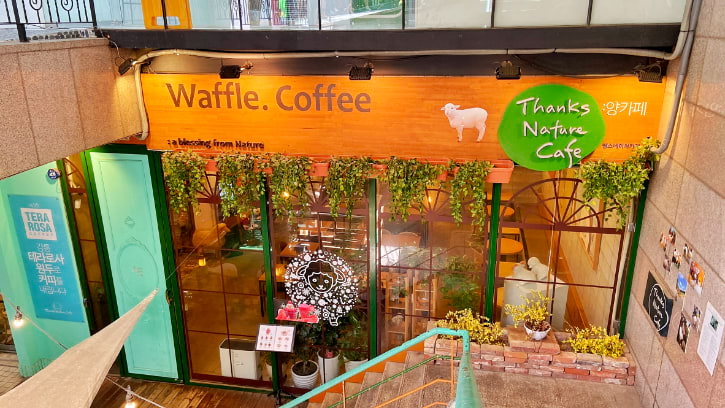 After all the shopping in Hongdae street, it's time to unwind at Thanks Nature Café.
This quirky spot is not your ordinary café as you get to see two adorable sheep within the premises.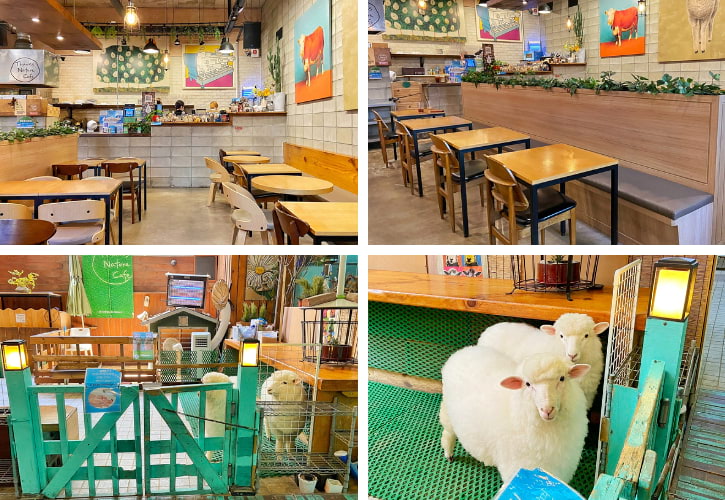 You are even allowed to interact with these cuties while inside. Feed them with straw or pet them affectionately.
And of course, don't forget to check out their various sweet treats and refreshing drinks. All these would perfectly fit your afternoon snack.
8. Explore the Street Food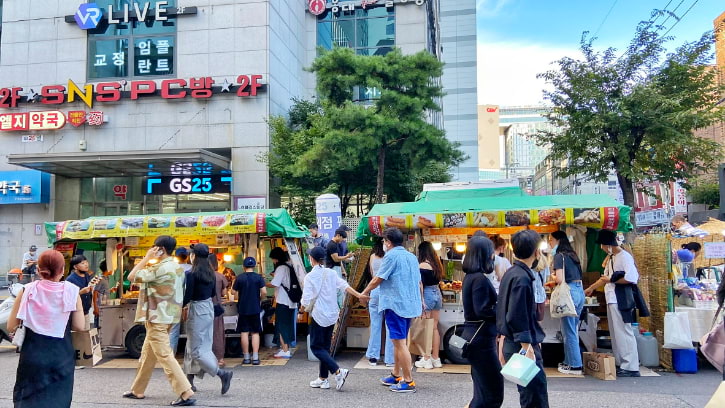 There are plenty of street food choices to keep you energized all throughout your visit. Below are some of my top picks for easy reference.
My recommended street food in Hongdae:
Tokkebi Hot Dog: Also called corn dogs, there are tasty hotdogs on sticks with unique coatings.
Gyeran-ppang: This hot pastry is stuffed with delectable egg in the center, and sometimes it comes with bacon and cheese.
Hotteok: If you're eyeing some traditional pancakes, then this is the best option.
Eomuk: Popularly known as Korean fishcakes, this culinary treat is made from minced seafood mixed with starch, and then fried.
Tteokbokki: These are the local rice cakes that often come in many variations like stir-fried or spicy braised.
Twigim: Another beloved street food is this deep-fried tempura created from different veggies and meat.
9. Go Over the Wide Selection of Shoes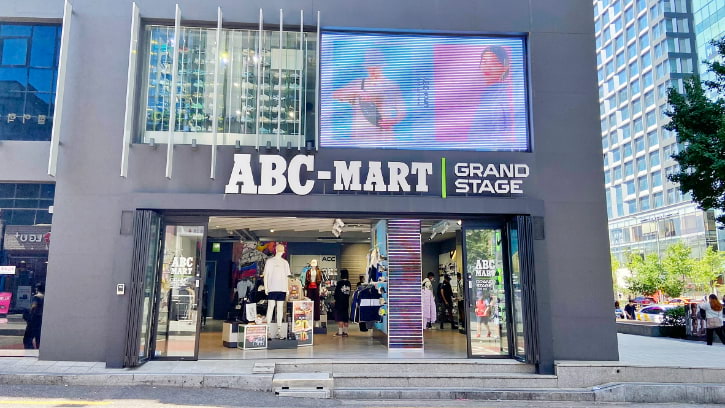 Grab a new pair of sneakers from the famous ABC-MART. As a wholesale footwear distributor, you'll get thousands of options here.
Take a look at the impressive line-up of brands, including Adidas, Vans, Nike, Converse, and Puma.
There are also several other outlets like S-Market Mega Shoeplex as well as New Balance to cater to everyone.
10. Look Around Hongdae Free Market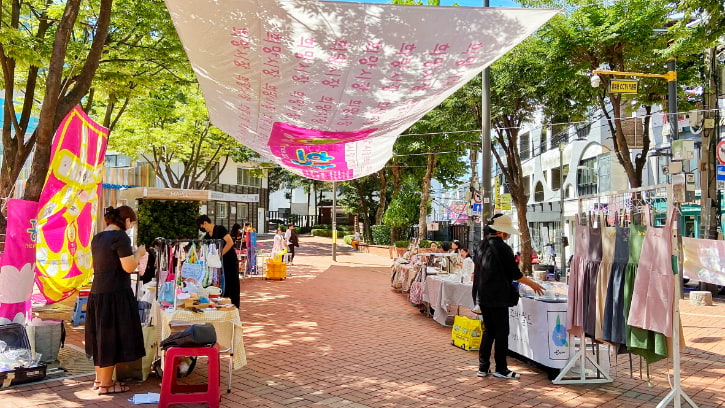 If you plan to visit on Saturday, make sure to spend time at the Hongdae Free Market. This local market is open every Saturday, from 1 PM to 6 PM only.
So, don't miss this opportunity and get a load of their unique displays. Some stalls sell trendy apparel while there are also shops with local foods and drinks.
11. Try at Least One of the Many Restaurants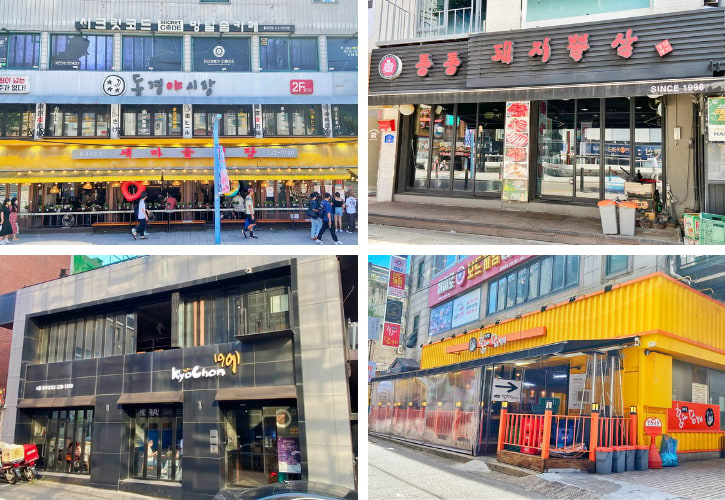 There are several restaurants here to fuel your energy while exploring different tourist spots. To save time, I've gathered some of the top picks.
Recommended Restaurants:
Saemaul Hongik University Seokyo: A popular BBQ restaurant in the area, this is the best option if you want all-you-can-eat dining set up. Aside from this, you may opt for their tasty meat menu sets and ala carte selection like soups and other dishes.
Tong Tong: This is another BBQ spot that deserves a visit. Devour their delectable samgyeopsal and fresh vegetable selection at a reasonable price.
Kyochon Chicken Hongdae: For chicken lovers, head to this restaurant and enjoy their menu of chicken dishes. They've got plain fried chicken as well as flavored ones like spicy, garlic soy, honey, and more.
Hongdae Dakgalbi: From the name itself, this restaurant serves their famous dakgalbi, or stir-fried chicken. And if you want, pair your chicken meal with a cold glass of beer!
12. End the day at Hongdae Club Street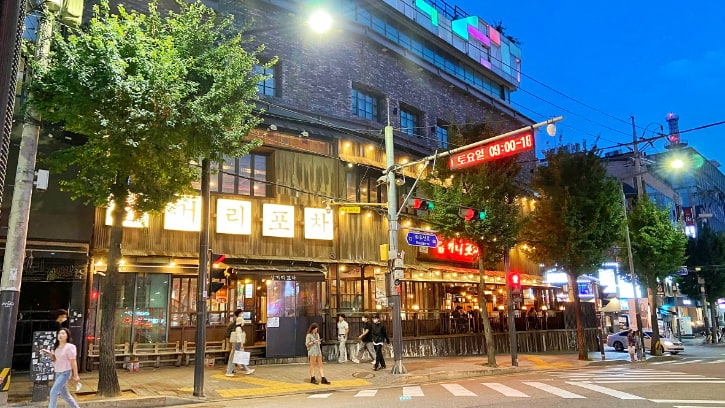 If you think the night is still young, then drop by Hongdae Club Street. Enjoy some good music and delectable drinks inside this popular club along Mapo-gu section.
Sometimes, the club hosts events to spice up the night. So, cap off your adventure here and take delight in the cosy night atmosphere.
Hongdae Shopping Street Map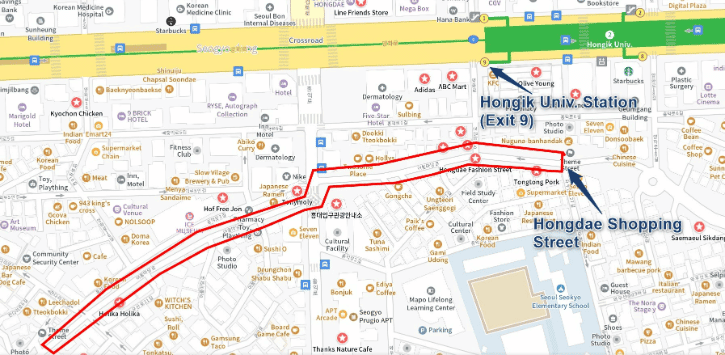 I have noted down in this document the exact locations of the most lively shopping street in Hongdae. I also included the area where street foods are mostly located. You can download this guide so you'll save time finding the places.
Travel Essential Item: Remember to rent a pocket WiFi here for your trip to Seoul. Their pocket WiFi is very easy to use, reliable and high speed internet connection. Plus, the device offers unlimited data usage. Be sure to check it out! 👍
Tip: Try to download the app of KaKaoMap (Android)/ KaKaoMap (iOS) on your phone so you can avail of the English language support function. With the help of this app, you won't have a hard time navigating the place.
My Suggested Travel Plan for You
Do you know that Ewha is very close to Hongdae?
Located just 2 stations away, this spot is also a very popular attraction in Seoul. That's why it's visited by many travelers every year.
I highly suggest you visit Ewha street in the morning or afternoon, and then go to Hongdae in the evening. You can find out more about this amazing place in my guide to Ewha Womans University Shopping Street here.
And before I forget, do you want to plot both Ewha and Hongdae street into your holiday plan perfectly? Simply go here to see my personal Seoul itinerary!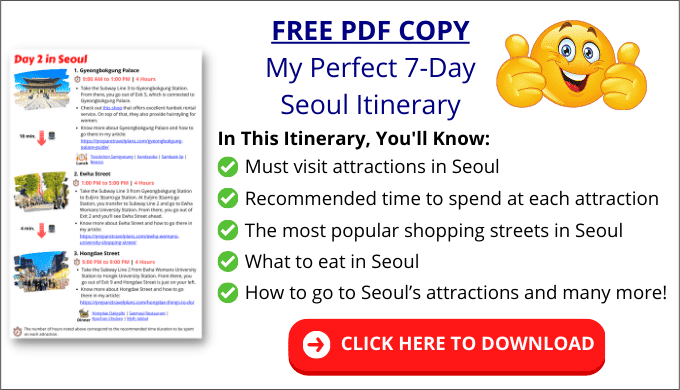 How to Go to Hongdae Street
1. By Subway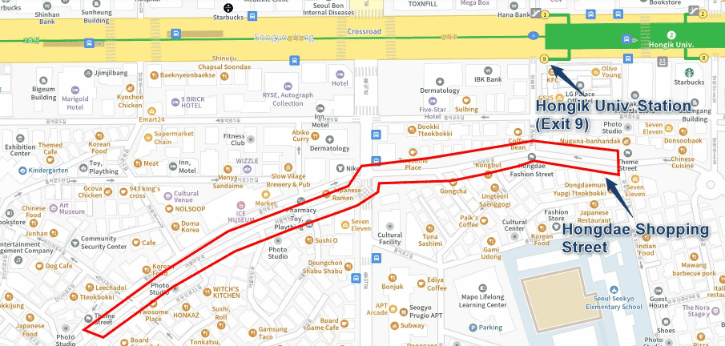 To reach Hongdae main street, simply take Subway Line 2 to Hongik University Station. Right after, go out of Exit 9 and then turn left. Walk for about 1 minute and soon you'll reach the place in no time.
2. By Private Car
If you plan to tour around Seoul by car, it's best that you reserve a private car service. Choosing this option means that you can use the private car to visit several attractions in Seoul in one day, including Hongdae.
Just don't forget to tell the driver where you want to go. By informing the driver ahead, you can visit the destinations comfortably.
3. By Taxi
Meanwhile, if you want to get to Hongdae by taxi, make sure to show the name 홍대 (Hongik University Street) to the driver.
Or you can show this address (서울특별시 마포구 홍익로 20) so the driver can easily locate the place.
This is important as some drivers don't understand and speak English.
Another thing to take note of is the current rate for a standard four passengers' taxi in Seoul. As of now, the fare normally starts at 3,800 won and increases by 100 won for every additional 132 meters traveled.
Tips for Visiting Hongdae Street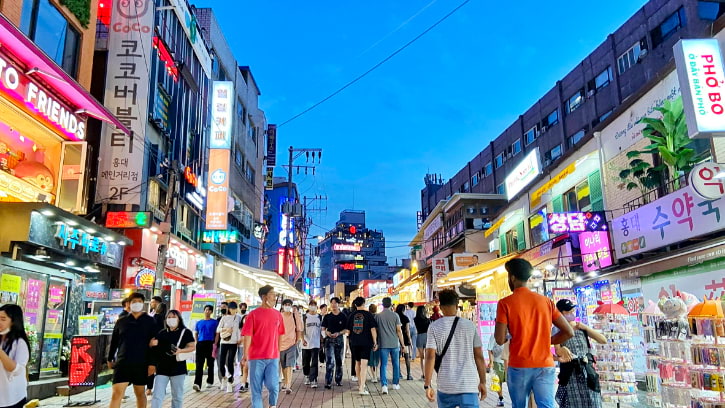 It's highly recommended to visit Hongdae in the evening time, possibly around 5 PM. At this time of the day, there's a lot of happenings in the area. Plus, the atmosphere during night-time is very amiable.
Also, try to schedule your trip to the shopping street on the weekend. On Saturday or Sunday, the streets are livelier, making it ideal for shopping and strolling around.
Don't forget to try some of the tasty street food that are displayed all over the streets.
Lastly, it's best that you allocate at least 4 hours exploring the place.
Other Suggestions:
If you can still spend several days in Seoul, don't miss the Everland. This is a super beautiful theme park in South Korea that is definitely worth a visit.
You may read this very informative guide to getting to Everland to give you an idea beforehand. From this post, you get to discover more about what you can do there and how to reach the place easily.
Also, try to visit the ever-beautiful Nami Island and for sure you won't regret visiting it. Just read my articles here on what to do in Nami Island and how to get from Seoul to Nami Island for reference. These will help you understand more about this romantic attraction.
Related Posts