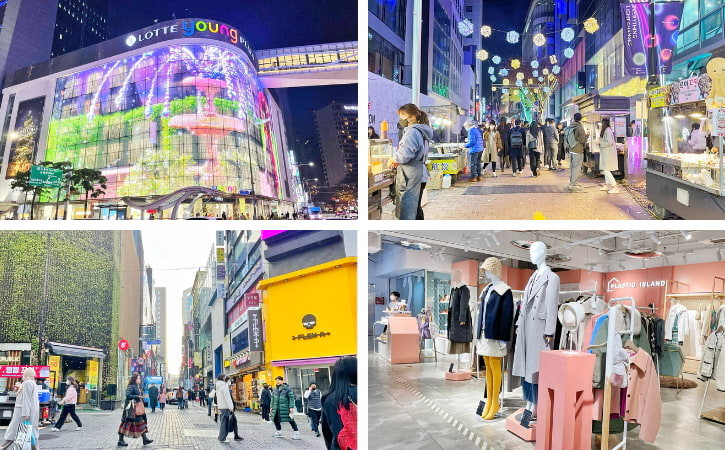 Myeongdong Shopping Street continues to be a popular spot in Seoul for shopaholics. Here, you get to explore different shops filled with stylish clothing and cosmetic products.
In this guide, you'll know the latest things you can do in Myeongdong. These include some helpful tips on what to buy, where to buy, and what to eat in the shopping street.
Also, I'll provide step-by-step instructions on how to go to Myeongdong for a comfortable trip. 🙂
Besides reading this article, I suggest you also check out this super detailed Seoul itinerary page. I will share the best and newest attractions in Seoul that every traveller should visit.
Myeongdong Shopping Street Guide and Map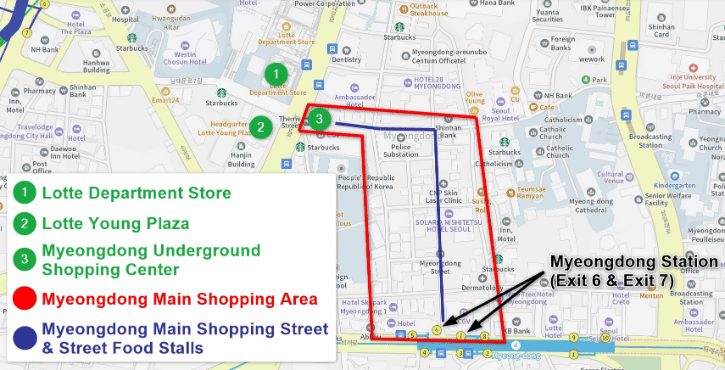 Myeongdong is no doubt a shopping heaven for travellers around the world. Along the street, you'll find a variety of trendy clothing, beauty products, shoes, and bags.
On top of that, there are several mouth-watering street foods on display!
Don't worry because I'll walk you through the important areas one by one.
My below guide will surely help in familiarizing yourself with this shopping district.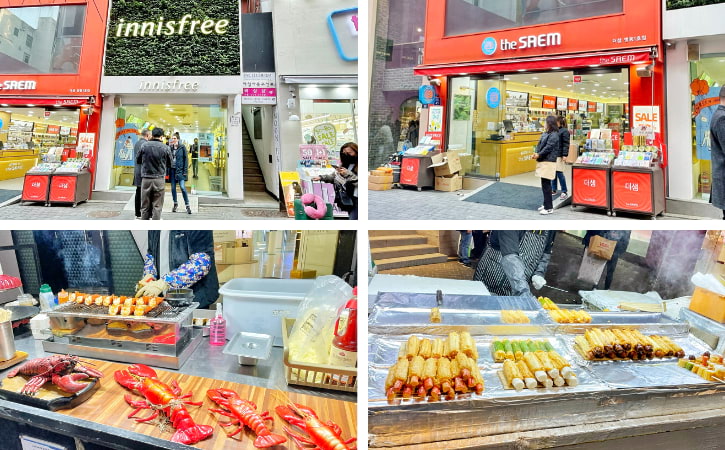 For you to shop around Myeongdong street easily, I have prepared this document, which you can download for reference. Inside the document, I have marked the exact locations that are best for shopping.
This will guide you on where to buy the latest clothing and cosmetic products as well as where to eat in Myeongdong. The locations are accessible via Google Maps and KakaoMap.
When you visit Myeongdong, be sure to watch the NANTA Show.
It's a unique show that combines acrobatics, music, comedy and culinary skills.
I believe you will not regret after watching the performance. For more details and prices, you can check out the NANTA Show website here.
Extra Info:
Aside from Myeongdong, I highly recommend spending a day in Hongdae Shopping Street while you're still in Seoul. It's a great place to stroll around especially at night.
Stylish and Trendy Clothing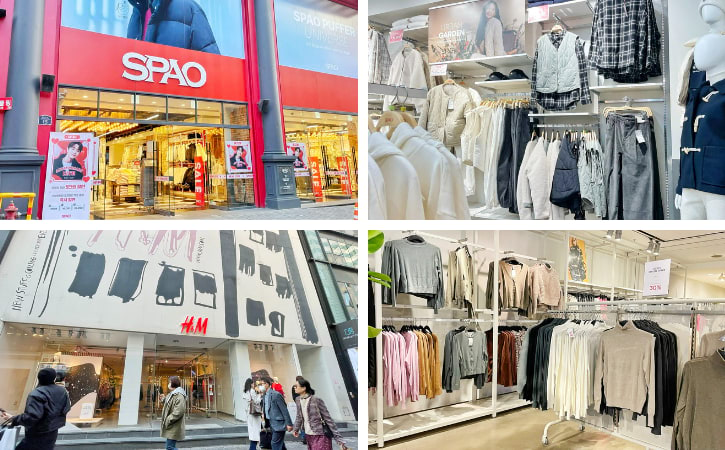 When it comes to shopping for the latest clothing, this place is surely impressive.
Wander around the main street of Myeongdong and see international stores like SPAO, H&M, Top Ten, and Zara.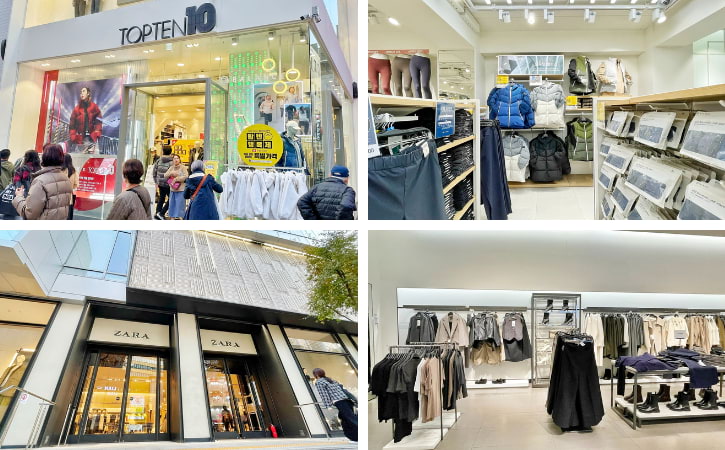 Check out these famous brands and be in awe of their wide collection of apparel.
You can find classic pieces, from tops to trousers and dresses. And of course, there are lots of styles and colors to fit your preference!
Popular Clothing Shops: Teenie Weenie, Mixxo, SPAO, Top Ten, 8 Seconds, H&M, and Zara.
Popular Korean Skin Care Products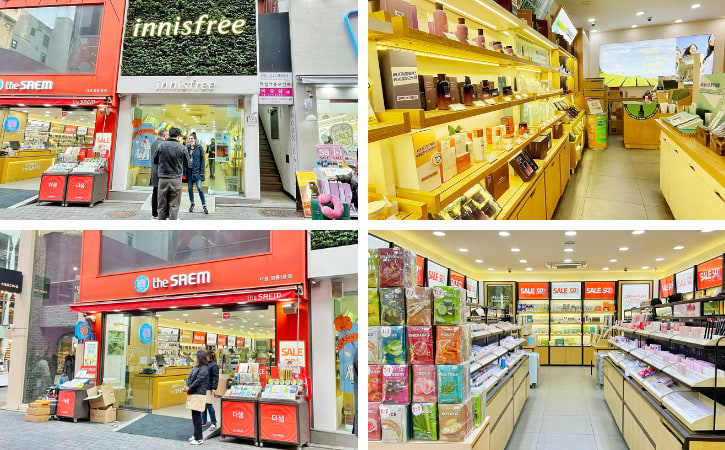 For a great shopping experience on Myeongdong street, don't miss visiting the popular skincare shops in the area.
Check out some famous brands such as Innisfree, the SAEM, Nature Republic, Olive Young, and Missha.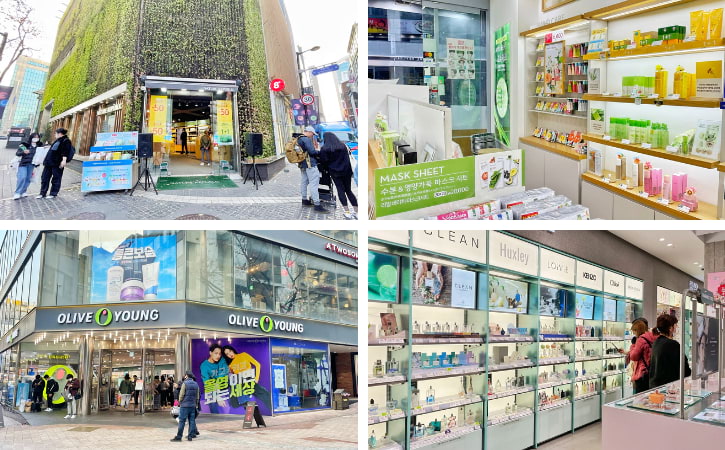 Each store offers a variety of options for your skin needs.
Shop for cleansers, moisturizers, serums, lotions, and a lot more!
There are also plenty of make-up products to choose from. So, take your time and tour the plethora of stores in the area.
Famous Korean Beauty Shops: innisfree, Nature Republic, It's skin, the SAEM, Skinfood, TONYMOLLY, Missha, ARITAUM, Olive Young, Holika Holika and Etude House.
Huge Selection of Footwear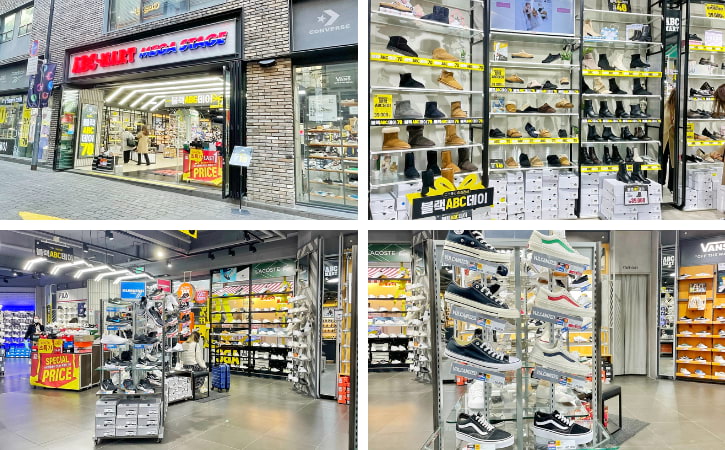 Continue your exploration and purchase a new set of shoes or slippers.
There are several footwear designs and sizes for everyone, including men, women, and even children!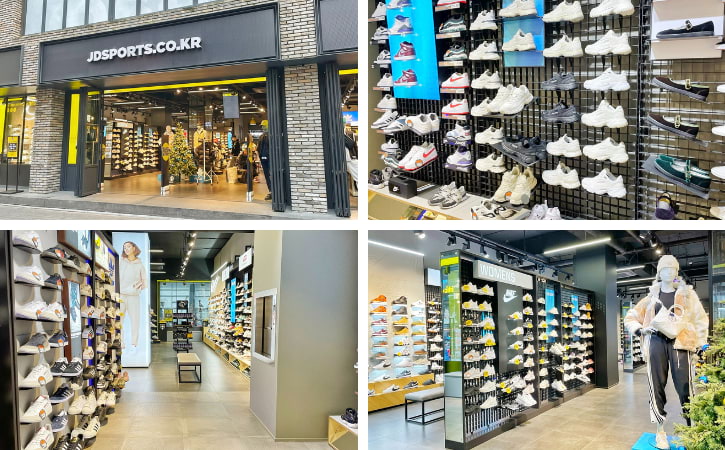 You may trek through some of the most popular stores like ABC Mart, Nike, JD Sports, and Converse. With thousands of options at hand, for sure you won't be disappointed during your visit.
Renowned Footwear Shops: Adidas, New Balance, Converse, Nike, ABC Mart and JD Sports.
Cool Accessories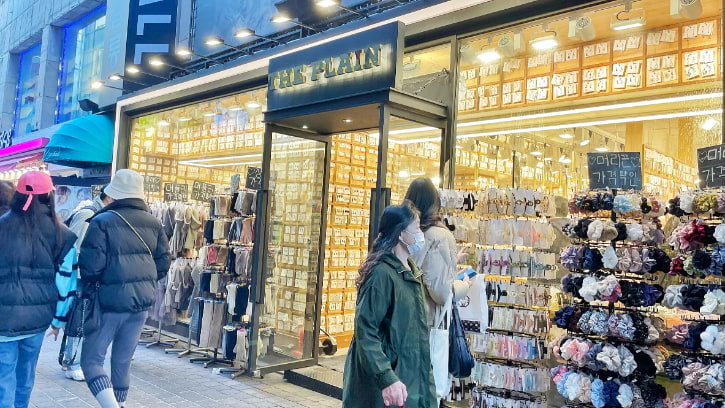 Moving forward, this street in Myeongdong is also packed with stores selling all kinds of accessories.
Go shopping for some cute ornaments and other stuff that you can use for your day-to-day life.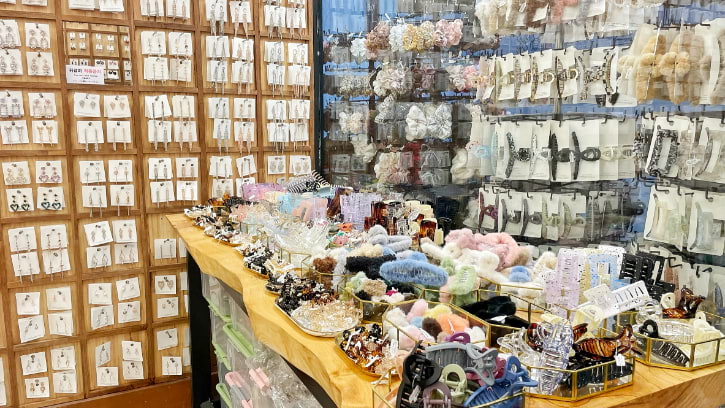 Take a look at the presentation of fancy embellishments.
There are lots of jewelry pieces available, from earrings to necklaces and rings.
Aside from that, you'd find heaps of hair accessories like ties, clips, bands, and more.
Impressive Collection of Bags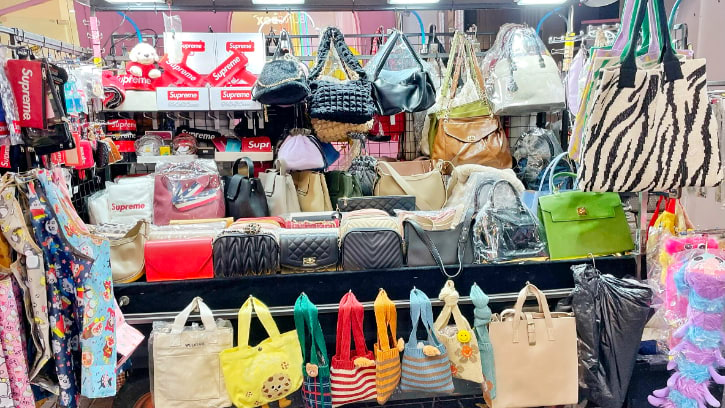 If you're looking for new bags, this place is truly recommended. Along with some international stores, there are plenty of local brands too.
And don't worry because these are not just stylish but also affordable. So, go over the tons of choices and pick your favorite design!
Myeongdong Underground Shopping Center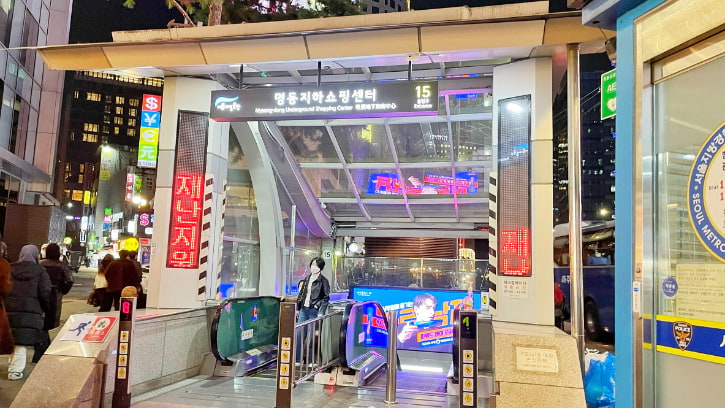 Just in case you do not know, there is also the Myeongdong Underground Shopping Center. Venture to this unique location and uncover more shopping essentials.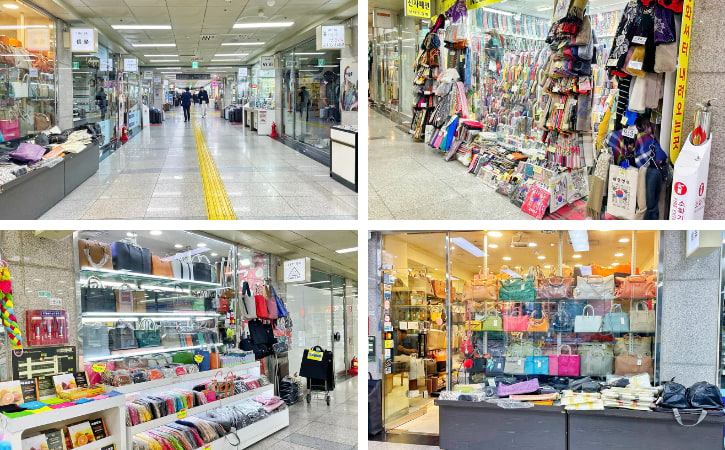 From clothing to accessories, you'll be mesmerized by the abundance of choices here. Go at your own pace as you discover unique finds for yourself and your loved ones.
Opening Hours:
9:00 AM to 11:00 PM
Other Best Shopping Malls
There are other shopping malls located in Myeongdong that are also worth the visit.
Here, I will list down two of the best choices that you can explore after your trip.
1. Lotte Young Plaza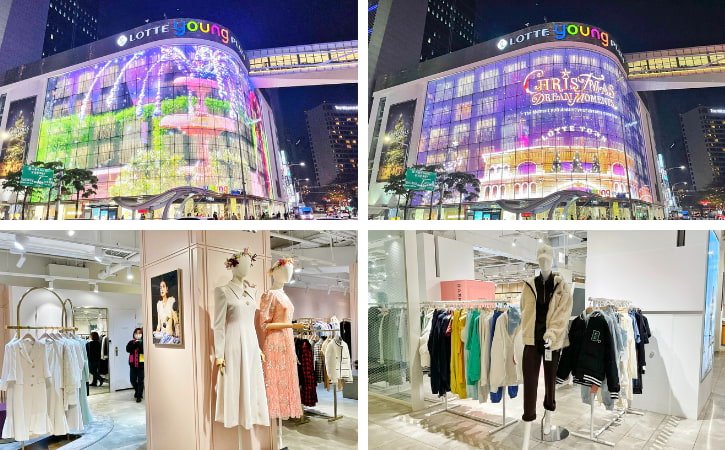 Lotte Young Plaza is a lovely spot if you're on the hunt for some chic fashion. You can find heaps of trendy clothing in basement 1 and level 1 of the store.
Meanwhile, level 1 is for your cosmetic needs and level 3 is for the shoes. There's also Uniqlo situated on level 6.
2. Lotte Department Store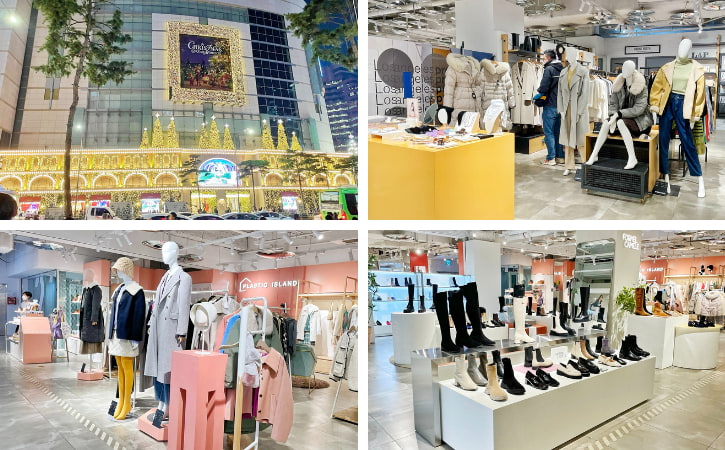 Another remarkable shopping spot is none other than the Lotte Department Store. This place is a favourite location among fashionistas in need of luxury brands.
Some of the top names here are Gucci, Louis Vuitton, Chanel, Prada, Michael Kors, and Burberry. All these are found at level 1.
On the other hand, men's apparel is placed at levels 5 and 6 while women's apparel at levels 2 and 3.
Must-Try Foods in Myeongdong Street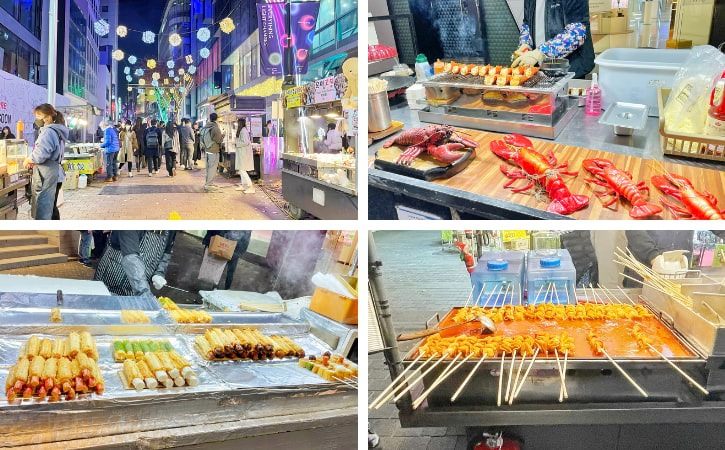 After shopping and strolling around, it's time to reward yourself with the tasty street foods of Myeongdong.
Some of the top choices are Grilled Lobsters, Tornado Potato, Roasted Sweet Potatoes, Burgers, and Fried Chicken.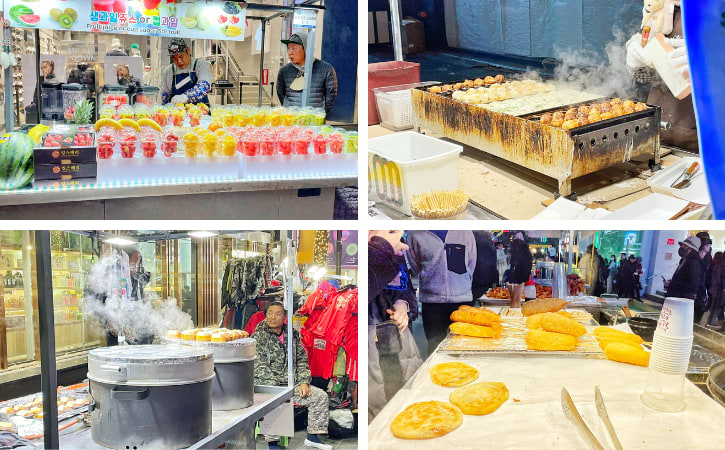 They also have Grilled Abalone, Grilled Scallops, Crispy Crablets, Pomegranate Juice, and Ice Cream. As to the price, it ranges from 2,000 won to 15,000 won.
Other must-try foods are Isaac Toast and Korean egg toast, which come with bacon, cheese, and cabbage. These cost 2,600 won to 4,400 won.
Recommended Restaurants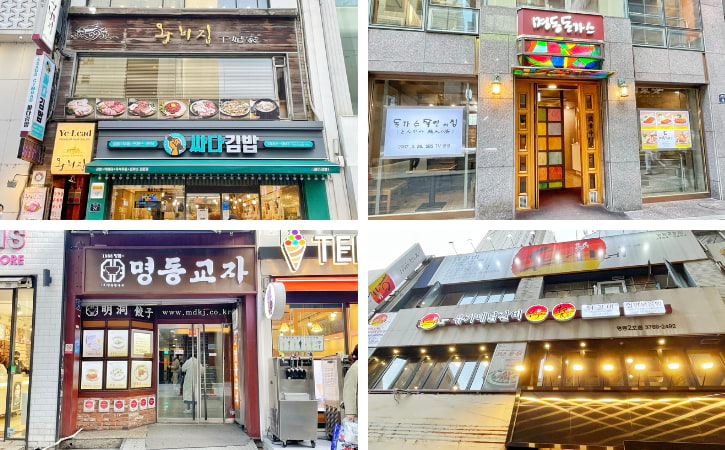 To cap your shopping in Myeongdong, visit one of the best restaurants in the area.
There are several options, but I have gathered some of the finest choices for easy reference.
My Top Pick Restaurants:
Wangbijib: Treat yourself and your pals to this popular BBQ restaurant. Here, they offer tasty grilled dishes and lots of delectable sides to complement your dining experience.
Myeongdong Donkaseu: If you're craving crispy tonkatsu, don't hesitate to drop by this place. Check out their delightful selection of fried foods, from pork to shrimp to fish!
Myeongdong Kyoja: Enjoy a bowl of noodle soup and a platter of dumplings in this famous restaurant. This family-owned dining spot also serves exceptional kimchi that you shouldn't miss.
Hamcho Ganjang Gejang: For those who want to try Korean-style crab dishes, this should be on your list. Order their famous seasoned crabs that exude sweetness and spice.
Yoogane: Munch some traditional spicy stir-fried chicken in this top-rated restaurant. Their menu also includes noodles with vegetables, cold noodles, seafood pancakes, and more.
Watch Brilliant Nanta Show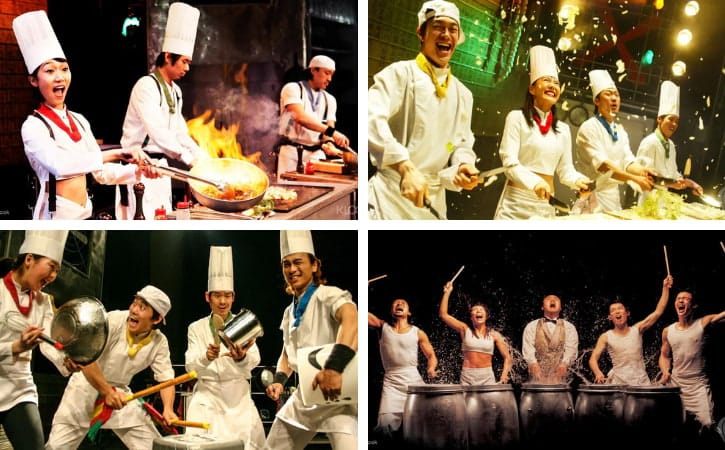 Don't miss the Myeongdong NANTA Theatre and see a spectacular live performance in a kitchen setup.
Be amazed by their comical antics, unique tricks, and magical light show in one amazing show!
For sure, you'd be able to confirm that Myeongdong isn't just about shopping and eating. It's a combination of all things fun and memorable!
Remember to buy NANTA Show tickets in advance here to save up to 35% OFF!
My recommendations for other attractions in Seoul:
When travelling to Seoul, be sure to visit Everland and Lotte World.
These 2 theme parks are super beautiful and entertaining. That is why both are popular among locals and international visitors.
Since each attraction offers a lot of amusing activities, for sure you'd have a fun-filled trip.
To learn more about these 2, see my guide to Everland and also Lotte World Seoul here.
How to Get to Myeongdong Shopping Street
1. By Subway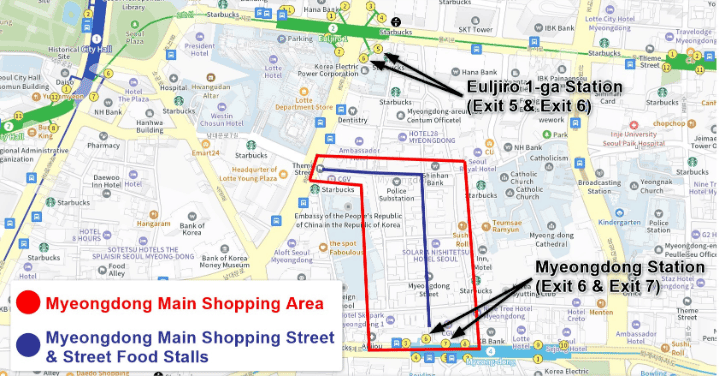 Take the Subway Line 4 to Myeongdong Station. After that, you go out of Exit 6 by stairs or Exit 7 via the escalator. Both exits give you access to Myeongdong main shopping street directly.
Another way is to take Subway Line 2 to Euljiro 1-ga Station. Then, you look for Exit 5 or 6. This option, however, is a bit far from Myeongdong street.
2. By Seoul Sightseeing Bus Tour
There is another method to reach Myeongdong and that is by joining the hop-on and hop-off bus tour. This offers a drop-off section at the shopping street of Myeongdong.
On top of that, this bus provides stops at many important landmarks of Seoul. These include Namsan Seoul Tower, Insadong, and Dongdaemun Market.
So, with just one ticket, you can visit many destinations. This is a great option if you want to skip the subway in Seoul.
You may see the sightseeing bus tour price here, along with the bus route and time interval.
3. By Taxi
If you plan to take a taxi to Myeongdong, you may ask the taxi driver to drop you off at Myeongdong Noon Square. It's because the Myeongdong shopping area is just located there.
Since not all taxi drivers can speak English, you can show this name Noon Square (눈스퀘어) and address (서울특별시 중구 명동길 14) to them.
As to the basic taxi fare, it starts at 3,800 won. Then, you will be charged 100 won for every 132 meters.
4. By Seoul Private Car Charter
The last option would be taking the Seoul Private Car Charter to Myeongdong.
This one is suitable if you want to get around Seoul by car or van. It is also great for those travelling with kids or seniors as you can have a good rest in the car while onboard.
If you want more information, try to check the private car charter price here.
Important Tips for Visiting Myeongdong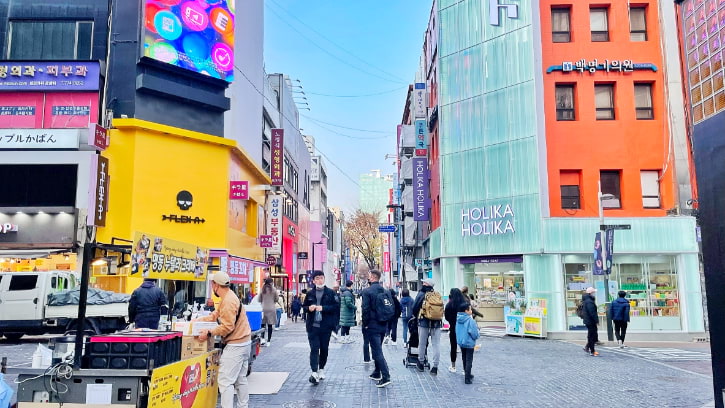 I highly recommend going to Myeongdong in the afternoon, perhaps around 4 PM or 5 PM. This is the best time to go shopping because most of the street food vendors start setting up their stalls along the main street at 5 PM.
Likewise, it's best if you allocate at least 5 hours in the area. This is suggested so you can shop and stroll around comfortably. Plus, this gives you the chance to fully soak up the atmosphere, which typically happens during night-time.
Most of the shops in Myeongdong open at 11 AM. So, if you opt to visit in the morning, try to schedule it after this hour. This way, you can maximize your shopping experience on the street with your family and friends.
Meanwhile, the shops start closing at 9 PM or 10 PM.
Also, remember to bring your passport while shopping in Myeongdong. It's because most shops offer tax refunds for those who spend more than 30,000 won.
Where You Can Go Besides the Myeongdong
After your shopping experience, don't miss the ever-beautiful Nami Island.
This place is known for being picturesque and relaxing with lots of photo opportunities. I guarantee you won't regret visiting this tourist spot!
No idea about this famous attraction?
Don't worry, simply check out my articles here to find out the best things to do and see in Nami Island as well as the easiest way to getting to Nami Island.
These guides will surely help you know more about this place and learn how to reach the site easily.
Related Posts