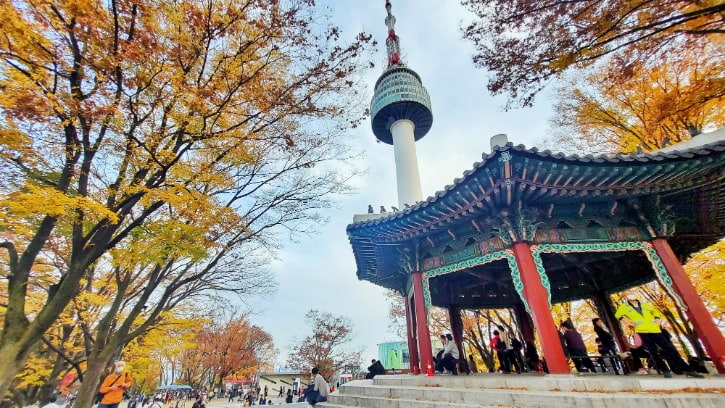 Namsan Seoul Tower or N Seoul Tower is a breathtaking landmark with gorgeous city views and scenic sights. Unwind at the serene areas surrounding the iconic radio wave tower and enjoy nature at its finest.
In this guide, I'm going to share with you a step-by-step guide on how to go to Namsan Seoul Tower by subway and buses. In addition, I will include how to take the Namsan cable car to reach the place.
So, let's start with the 10 most popular spots for photography at Namsan Tower through my list below. Make sure to visit all of them and for sure you won't be disappointed!
Also, go to check out my perfect Seoul itinerary article here for added guidance. It will cover the top attractions as well as the recommended time to spend at each site. 😊
1. Proposal Staircase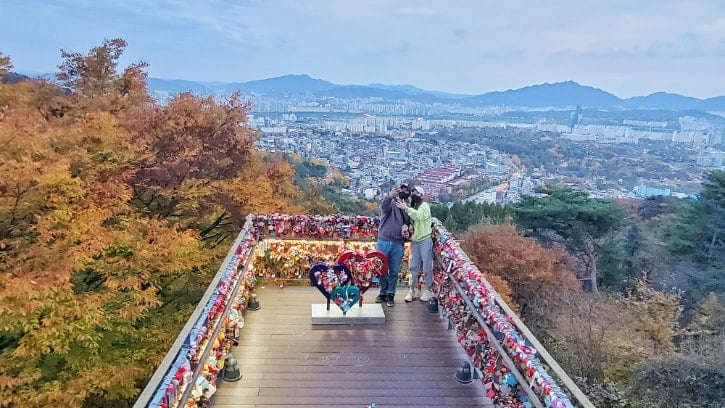 Take your special someone to one of the scenic areas in Namsan Seoul Tower, the Proposal Staircase.
This is the perfect spot to declare your love to your partner. While at the landing site, catch sight of the lush nature views and towering cityscapes.
And if you want, you may lock your vows in the colorful heart-shaped ornaments decorated in the railings.
You can find this photo zone outside the lobby that connects with Level 1.
2. Linlin Land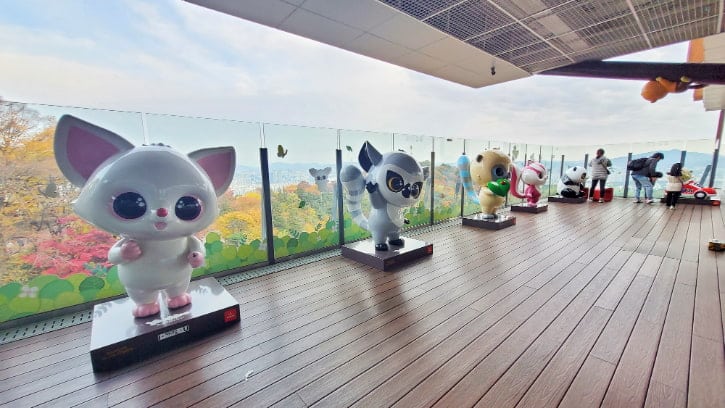 Meet these cute statues at Linlin Land! Yoohoo & Friends are the main attractions in the area, with Linlin panda as the leader of the pack.
Other lovely characters that you shouldn't miss are Bush Baby, Fennec Fox, Capuchin Monkey, Lemur, and Red Squirrel.
Stand beside these charming figurines that actually represent some of the world's endangered species.
And because of their rarity, this could be a great chance to see these scarce animals―even in their animated appearance!
3. Larva Zone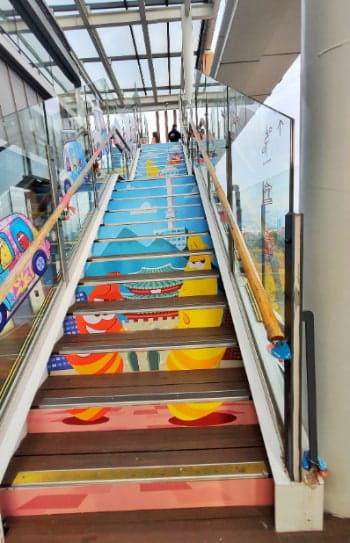 Don't miss these vibrant characters embedded on the Level 2 and Level 4 stairs of the tower.
You may take a photo of the cute designs or simply marvel at the unique artwork. But since these are imprinted on the stairs, keep an eye on the visitors!
4. Bridge of Love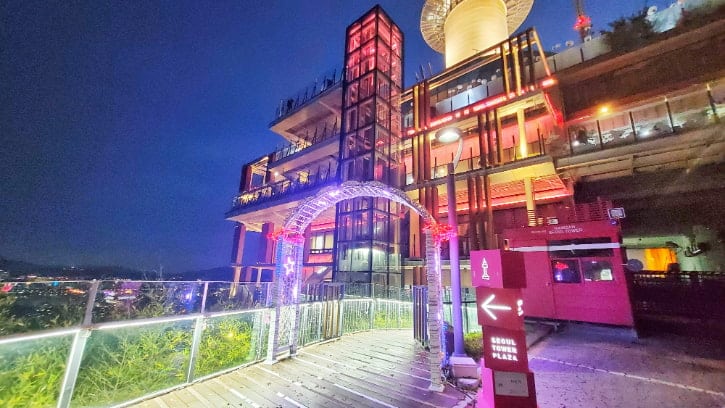 Head to the Bridge of Love that connects Level 2 and Level 3 of Namsan Tower. This eastern structure is quite a popular area among lovers who want to share a memorable moment.
See the sparkling LED lights and walk under the bridge with your loved one! And perhaps, one of these day, your wishes might come true!
5. Tunnel of Love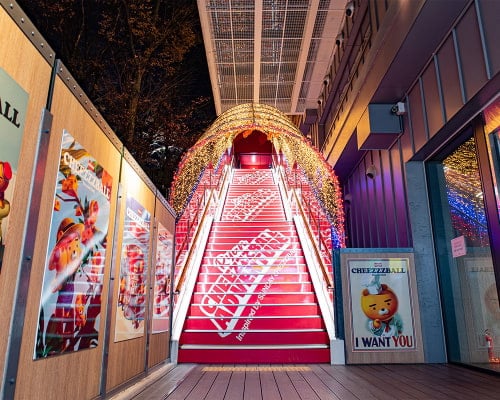 With its shimmering lights, Tunnel of Love is another eye-catching spot that deserves a visit.
Take a pose along these beautiful stairs that binds the Level 4 and T1 of the tower.
Aside from seeing the beautiful LED illuminations, you may also share some love messages on the wall! You can find a dedication section below the steps of the stairs.
6. Sunset Zone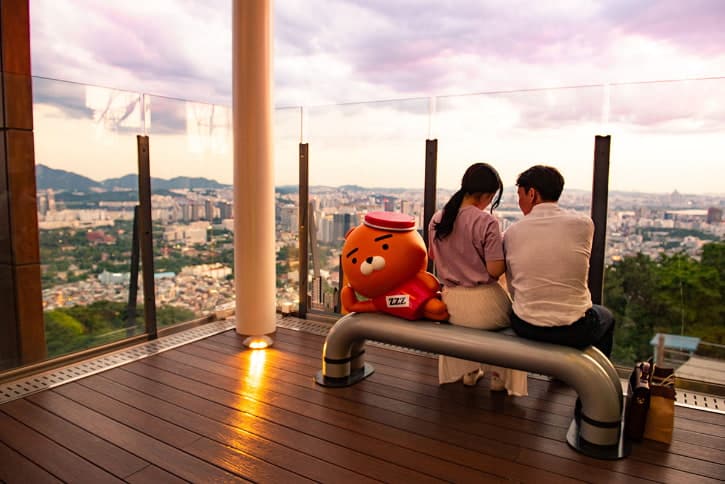 Before the night falls, go to the Sunset Zone and capture the stunning sunset with your partner or friends!
This is definitely the best section of the tower to see the sun slowly fading away to the horizon.
Try to head to the terrace of Level 4 as early as possible so you can choose your preferred spot.
While waiting, photograph the cute statues sitting on the outside seats.
7. Yoohoo Land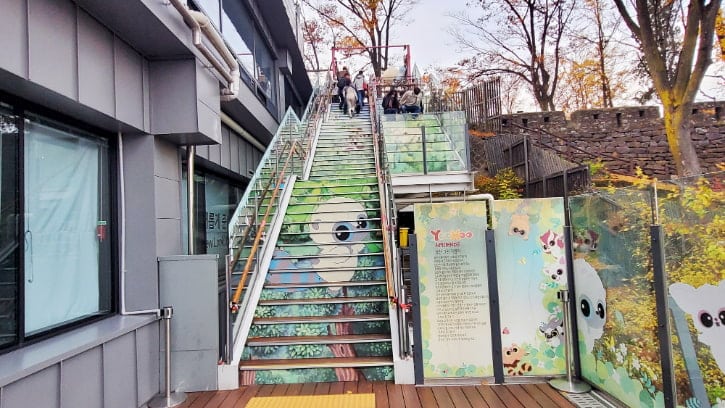 Continue with your Namsan Seoul Tower adventure at Yoohoo Land.
The characters are the same as what you can see at Linlin Land―but even more animated and in greater quantity!
Catch Linlin, along with the adorable lemurs, bush babies, capuchin monkeys, fennec foxes, and red squirrels.
Situated on the 4th floor, these cute animals have their own poses like riding a shoe, climbing, or simply lazing around.
8. Beautiful Display of OLED Panels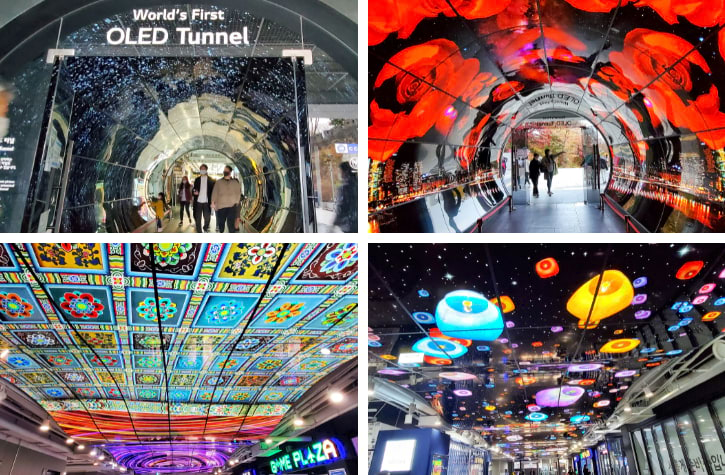 Be amazed by the OLED Panels scattered around the Seoul Tower. These glamorous digital art structures are all over the building, from 1st to 2nd and 4th floors.
There are a total of 5 types of OLED Displays for everyone. These include OLED Tunnel, Panorama OLED, OLED Circle, OLED Waves, and 3D World.
Get to know more about these stunning pieces through the list below:
OLED Tunnel: Step into this beautiful pathway and be surrounded by splendid illuminations. The red rose petals are the first thing you'll notice once you enter the tunnel-like track.
Panorama OLED: As you wander further, you'll catch a glimpse of this beautiful curved artwork. This digital piece showcases the historical Gyeongbokgung Palace and Gwanghwamun Gate.
OLED Circle: Moving to the 2nd floor of the tower, you'll see this round-shaped display. Get mesmerized by the vibrant patterns that continuously change over time.
OLED Waves: Find this wavy art piece at level 4 and be stunned with its animated decorations. See digital images of the unique Dancheong patterns that outline the cityscape.
3D World: Just beside the wave-like structure, you'll catch this remarkable technological creation. Watch some amazing 3D videos and enjoy the presentation from different angles!
9. Love Locks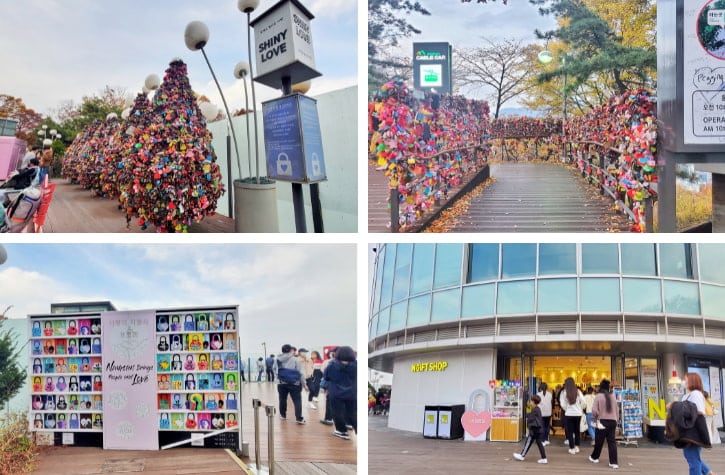 Make sure to visit Love Locks and seal your loyalty to your partner! You can buy the lock from the souvenir shop in the area. And, don't forget to write a short message before attaching it!
Aside from sealing your devotion to your loved one, this is also a nice spot to relax. You can enjoy the beautiful views here with your family and friends.
10. Observation Deck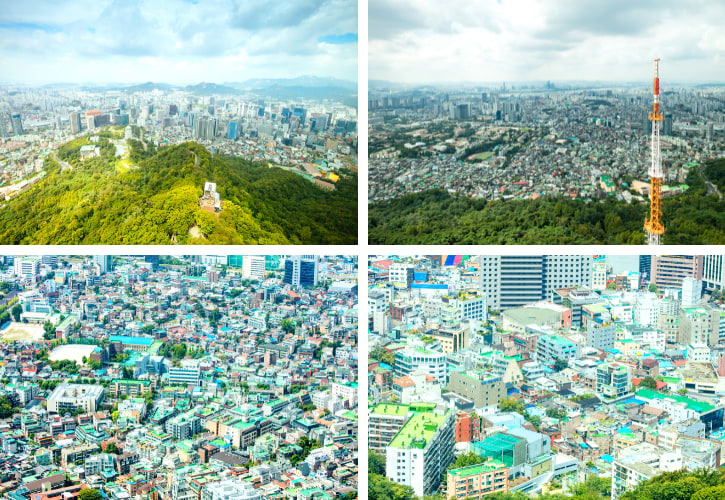 Capture the entire cityscape at the Observation Deck of N Seoul Tower.
With the floor-to-ceiling windows, you'd get a 360-degree view of the metropolitan from the 4th floor of the building.
There are also several comfy chairs around so you can unwind while seeing the panoramic view.
The main observation deck truly gives you an exceptional experience, so be sure not to miss it!
Important Tips for Visiting N Seoul Tower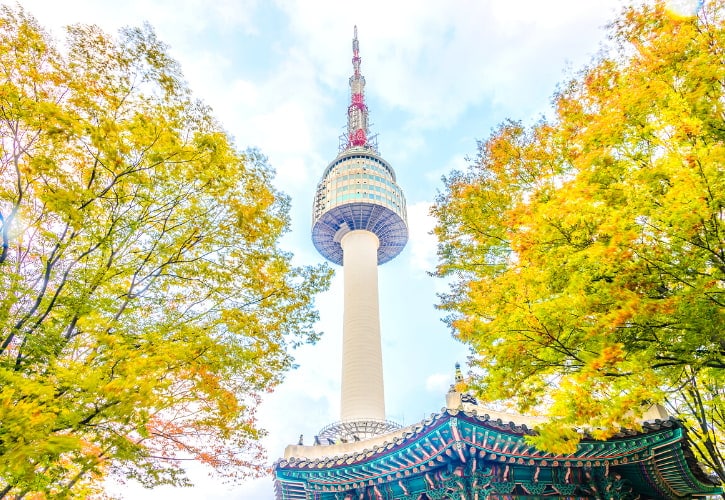 It's highly recommended to visit Namsan Seoul Tower on a weekday to avoid the crowd.
Go to buy your Seoul Tower tickets here and enjoy up to 55% OFF!
Allocate at least 3 to 4 hours so you have sufficient time to enjoy all the attractions.
The daytime and night-time views of Namsan Tower are equally great. If you plan to visit in the evening, better come before 6 PM to be ahead of other visitors.
If you opt to visit the tower at night-time, don't stay until the closing hours. It's because the queues for the last cable cars may be longer because of the crowd.
Travel Important Item: It is highly recommended that you rent a pocket WiFi router when you travel to Seoul, so you can surf the internet anytime, anywhere. You can book your portable WiFi in advance. It comes with super fast internet connection and unlimited data! 👍
Namsan Seoul Tower Map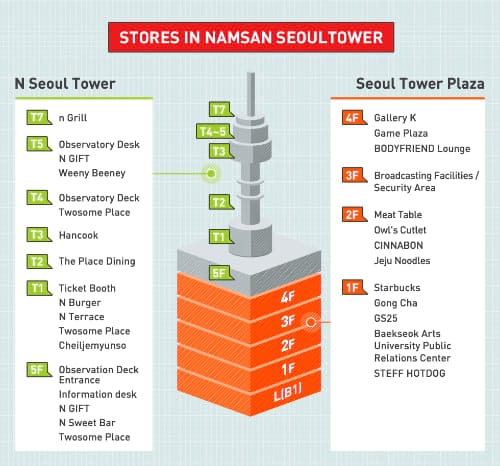 Before your visit, don't forget to download the tower map here. This is helpful so you visit the tourist spots smoothly and quickly.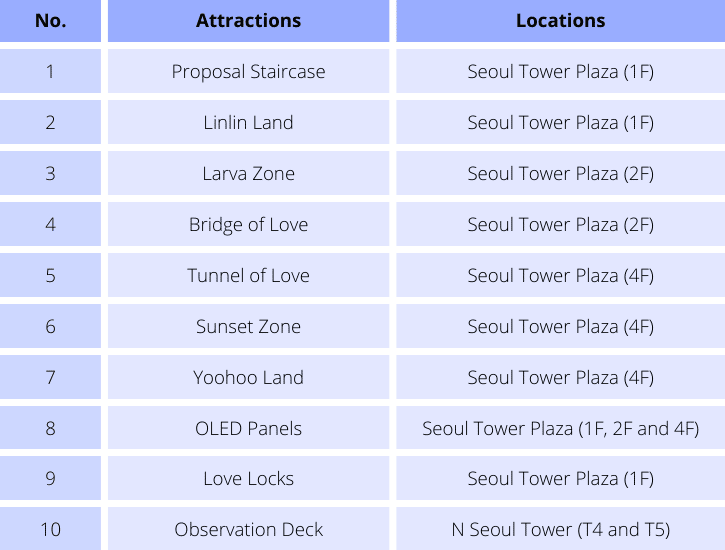 How to Go to Namsan Seoul Tower (5 Simple Methods)
There are 5 methods to reach Namsan Seoul Tower, which you can pick according to your needs. These include via cable car, shuttle bus (No. 01), Seoul city tour bus, taxi, or private car service.
To further understand, let me walk you through each of the 5 transport options below.
1. By Namsan Cable Car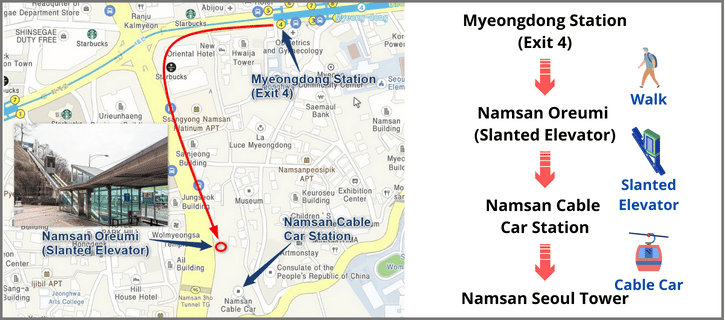 Option 1:
To get to Namsan Seoul Tower, ride Subway Line 4 to Myeongdong Station. Then, go out of Exit 4. From there, walk for about 8 minutes and you will find the slanted elevator (Namsan Oreumi).
Take the elevator going up to Namsan cable car station. Don't worry because the slanted elevator is free of charge. At the cable car station, you take the cable car to the tower.
The total time when getting from Myeongdong Station to Namsan Tower is around 15 to 20 minutes.
Tip: Download the app of KaKaoMap (Android)/ KaKaoMap (iOS) on your phone. This comes with an English language support function so you can navigate the place easily.
Operating Hours of Slanted Elevator (Namsan Oreumi):
– 9:00 AM to 11:00 PM
*Closed on Monday (9:00 AM to 2:00 PM) for maintenance.

Option 2:
The second way is to ride the free shuttle bus (with the label "NAMSAN CABLE CAR"). This takes you from Myeongdong Station (Exit 1) to the cable car station. Afterward, hop aboard the cable car going to Namsan Seoul Tower.
The bus operates about every 30 minutes. You may check the timetable of the bus below.

Cable Car Operating Hours:
– 10:00 AM to 11:00 PM
Cable Car Ticket Prices:
Adult (Round-trip & Aged 13 to 64) – 14,000 won
Adult (One-way & Aged 13 to 64) – 11,000 won
Child (Round-trip & Aged 3 to 12) – 10,500 won
Child (One way & Aged 3 to 12) – 8,000 won
Senior (Round-trip & Aged 65 and above) – 10,500 won
Senior (One way & Aged 65 and above) – 8,000 won
2. By Shuttle Bus (No. 01)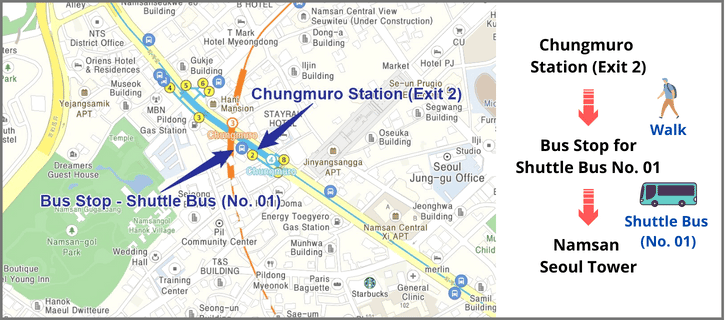 Option 1:
Board the Subway Line 3 or Line 4 heading to Chungmuro Station. Take the shuttle bus (No. 01) from Exit 2 of the station to Namsan Seoul Tower. The bus fare is 1,100 won and the travel time is around 15 minutes.
Option 2:
Another method is to take Subway Line 3 to Dongguk Univ. Station. From there, go out of Exit 6, and then hop aboard the shuttle bus (No. 01) to Namsan Tower. The one-way cost is 1,100 won and the journey time is about 10 minutes.
Bus Operating Hours:
– 6:30 AM to 11:00 PM
– Run every 9 minutes
Bus Route (No. 01):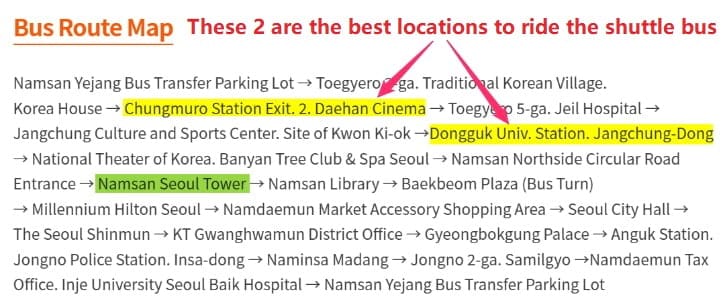 3. By Seoul City Tour Bus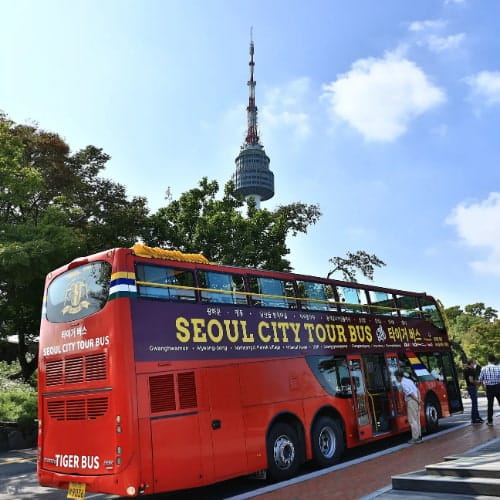 If you prefer an easy and worry-free method of going to N Seoul Tower, then the Seoul City Tour Bus is the best choice.
It can bring you directly to the Seoul tower, hence you won't have to bother knowing what public transport to ride.
Plus, the price is quite affordable, so might as well take advantage of this ride.
The hop-on and hop-off bus tour not only covers Namsan Tower but also other major attractions in Seoul. These include Gyeongbokgung Palace, Changdeokgung Palace, and Myeongdong Shopping District.
You may find out more information about the bus route here and its latest pricing.
4. By Taxi
Before anything else, it's important to know that taxis are restricted to enter the Namsan Seoul Tower.
Therefore, if you plan to ride a taxi, just ask the taxi driver to drop you off at the cable car station.
From there, you take the cable car going to Namsan Tower. If the taxi driver doesn't understand English, show this name 남산케이블카 (Namsan Cable Car) for easy reference.
Seoul's standard taxi rate starts at 3,800 won, with an additional 100 won per 132 meters traveled.
5. By Private Car Service
The fastest transport option is to take a private car service. However, this can only send you up to the Namsan cable car station.
Just like taxis, cars are prohibited to enter the tower as well. So, once you reach the cable car station, take the cable car to the Namsan Tower.
This private car charter offers 10 hours of service, which means you can visit other attractions aside from N Seoul Tower.
You just need to inform the driver where you want to go. Then, the driver will transport you to your destination directly.
You may check out the private car service price here for more information.
Summary of Transportation Options Going to Namsan Tower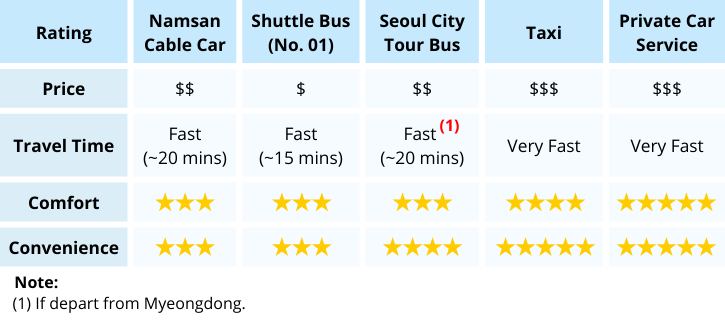 The Namsan cable car and shuttle bus No. 01 are the most common ways for travelers to go to Namsan Seoul Tower.
If you are looking for a convenient way of getting there at an affordable price, Seoul City Tour Bus is a great option. It's because the cost of the tour bus is quite the same as the cable car. You can check here for tour bus price.
If you plan to visit Seoul tower by taxi or private car charter, ask the driver to drop you off at the cable car station. Because, as mentioned earlier, taxis and cars are not allowed to enter the tower.
Other Attractions You Can't Miss When Traveling to Seoul
Aside from Namsan Seoul Tower, I highly suggest including the below attractions in your Seoul travel itinerary.
Everland is a must-go theme park that has a lot of amazing sites like Safari World and Panda World. Just go to check out this complete guide to how to get to Everland theme park and for sure you won't regret visiting the park.
Nami Island is another a must-visit place during your trip to Seoul because of its scenic nature views. To know how to get to the place, simply see my very detailed guide on getting to Nami Island post.
If you have more time, Lotte World is also worth seeing, especially for those with family and friends. Try to read my article about Lotte World Seoul Theme Park here to have an idea of the things you can do and see there.
Visitor Information
Opening Hours for Observatory:
– Monday to Friday: 12:00 PM to 10:00 PM
– Saturday to Sunday: 11:00 AM to 10:00 PM
Ticket Prices for Observatory:
– Adult (Aged 13 to 64): 21,000 won
– Child (Aged 4 to 12): 16,000 won
– Elderly (Aged 65 and above): 16,000 won
Money Saving Tip:
It is highly suggested to buy the tickets online if you're planning to go to N Seoul Tower. Aside from its convenience, you also get up to a 55% discount compared to buying the tickets at the ticketing counter.
Official Website:
https://www.nseoultower.co.kr:8501/eng/visit/use2.asp
Address:
105, Namsangongwon-gil, Yongsan-gu, Seoul
Related Posts
Photo Credit:
Photo
by Wei-Te Wong/ CC BY-SA 2.0