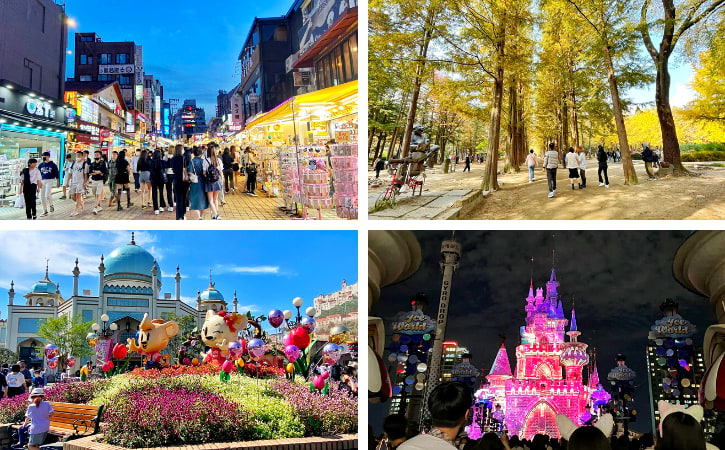 Are you looking for the best Seoul attractions you can't miss this year? There's so much to explore in this famous city for both locals and travelers alike.
And don't worry because you've come to the right place. Here, I'll be showing you the most beautiful photography spots and the best places to visit in Seoul.
I promise that you will not regret visiting all the tourist attractions in Seoul that I will introduce below. So, be sure to add them to your Seoul itinerary! 🙂
1. Gyeongbokgung Palace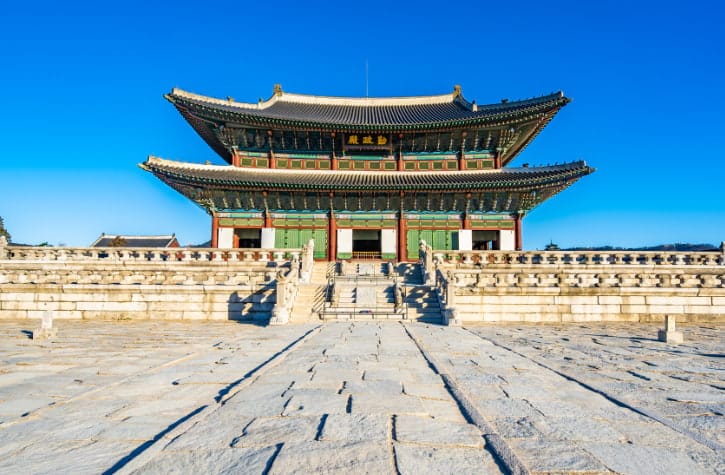 Gyeongbokgung Palace is a very popular place to go in Seoul. In fact, it is visited by many tourists every year.
So, kick off your exploration by wandering around the palace grounds and seeing all the historical structures.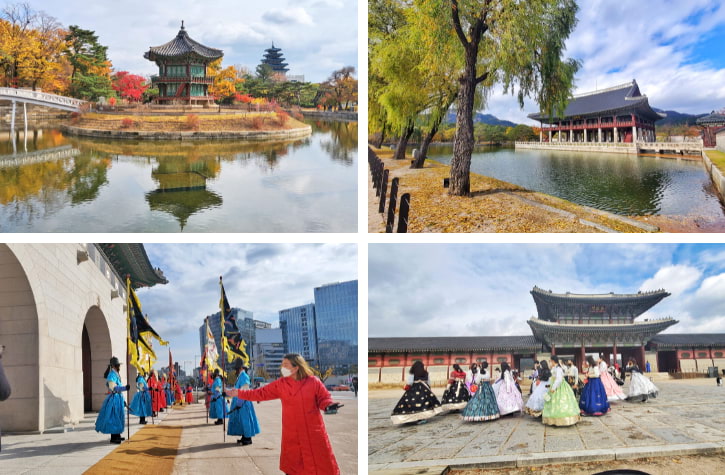 If you like to wear hanbok in the palace, fret not because you can rent from this shop. They offer a lot of Hanbok choices for your convenience.
On top of that, renting a hanbok from this store also comes with free hairstyling for women. For sure, their service is highly recommended, plus the cost of renting hanbok is very affordable.
2. Lotte World Seoul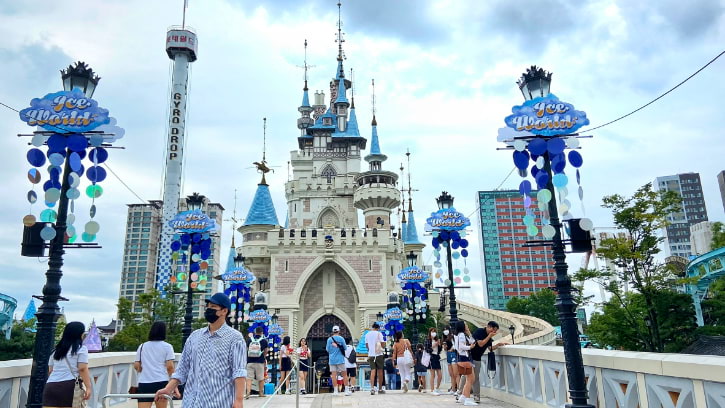 When traveling to Seoul, one of the top tourist attractions you should not miss is Lotte World.
This park is such a fun place to go, especially for those travelling with kids. Here, you get to enjoy a variety of rides and unique spots for all ages.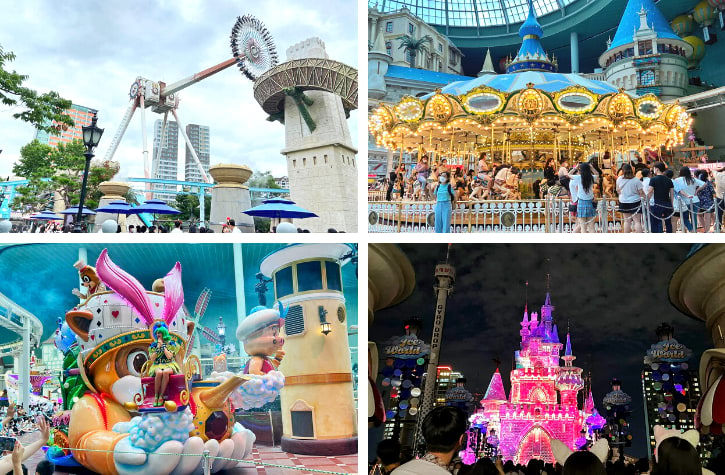 Be sure to check out my popular article on the best rides at Lotte World Seoul for reference.
And remember to buy Lotte World tickets here before your visit. Purchasing your tickets online helps you save up to 40%, so don't forget about it!
3. Hongdae Street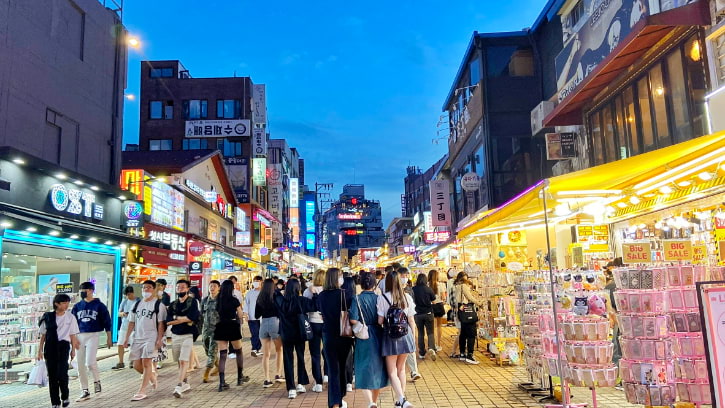 Hongdae Shopping Street takes up a spot in terms of the most visited tourist places in Seoul.
In this section of the city, there are several stores to explore. Check out the selection of local shops and international brands that sell all kinds of products.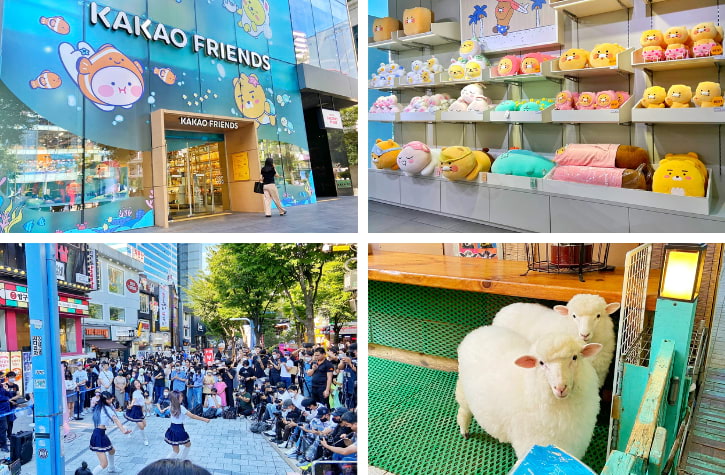 Be amazed by the abundant display of clothing, accessories, shoes, cosmetics, plushies, and many more.
Aside from your shopping escapade, you'd find a lot of cafés and restaurants too. So, for your shopping needs and food cravings, don't hesitate to plan a visit to this famed street.
4. Nami Island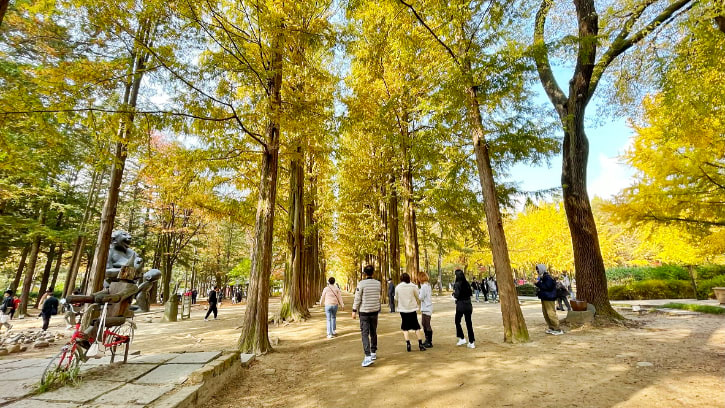 Nami Island Korea welcomes you to a breathtaking trip with nature. Take your family and friends on a relaxing journey and chill around this beautiful island.
Stroll along the scenic pathways or hike your way to the beautiful gardens. There are also plenty of fun activities here, from visiting the ostrich village to heading to the adventure section.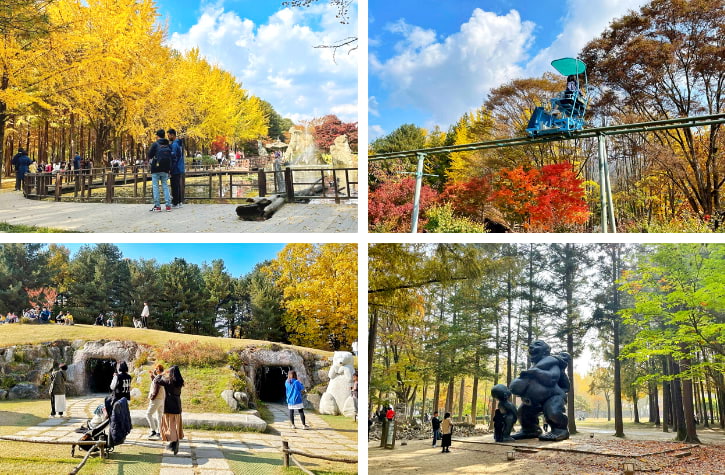 The easiest way to go to Nami Island is to take a shuttle bus from downtown Seoul. So, if you want to plan your trip ahead, you can book your shuttle bus seat here.
This transportation takes you directly to Nami Island, which can save you a lot of travel time.
Moreover, the boarding locations are in Myeongdong and Hongdae. This means that it's very convenient for passengers.
5. Namsan Seoul Tower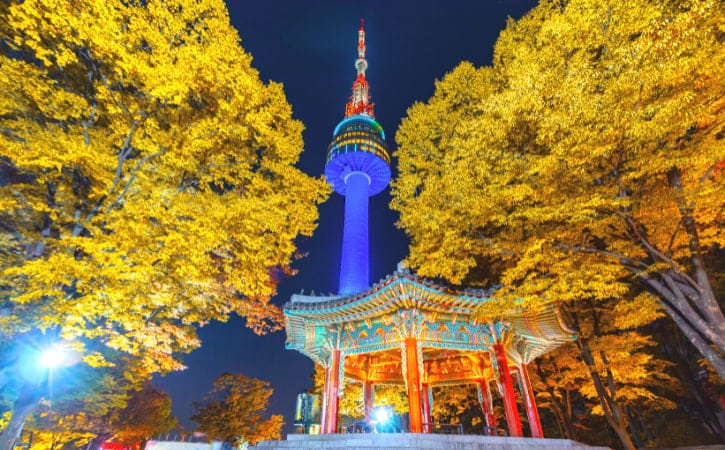 Namsan Seoul Tower continues to be one of the most striking attractions in the city. Set in an elevated expanse, this place is bounded by breathtaking natural landscapes and panoramic city views.
You'll also love the zones filled with adorable animal statues. Meet the famous Linlin and her friends, and make sure to take lots of pictures!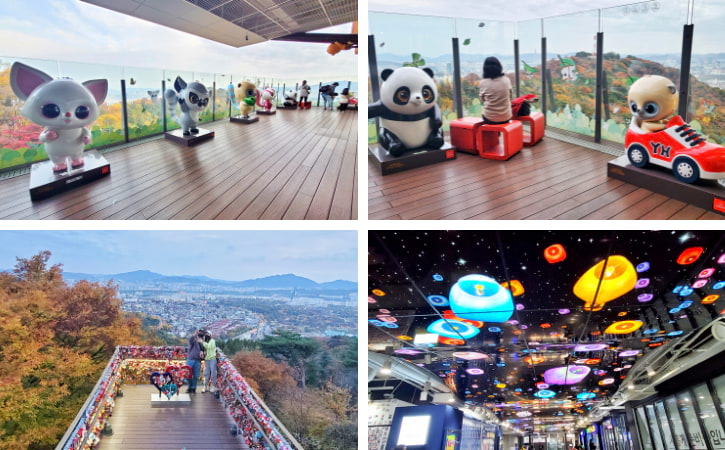 And of course, you can't miss the unique LED displays and fascinating artworks all over the area. There's even an observation deck to catch the sunset with your loved ones!
6. Bukchon Hanok Village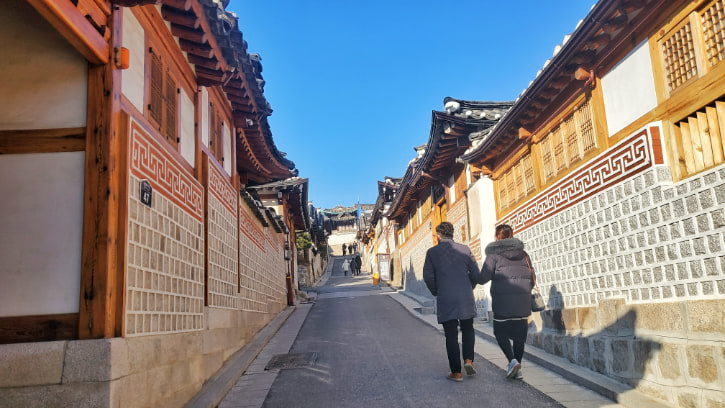 Bukchon Hanok Village gives you a chance to explore a historical landmark in the city. Take this opportunity to see this famous site bounded by traditional houses and rustic charms.
The peaceful ambience is also another element that draws visitors from all over the world. And during your trip, discover traces of the past―from the cultural center to a teahouse.
7. Ewha Womans University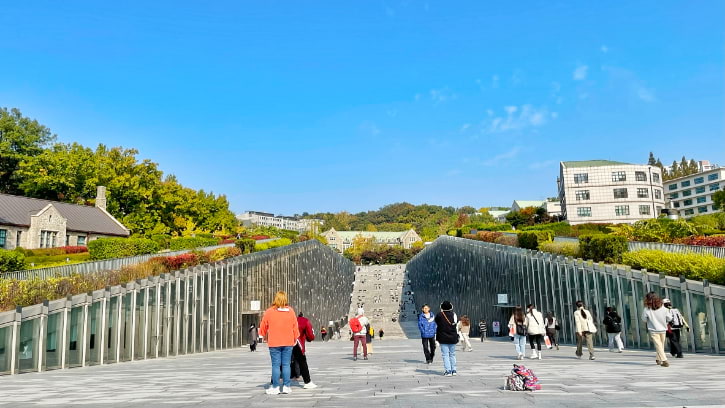 One of the famous photography spots in Seoul is none other than Ewha Womans University.
As you step into this popular landmark in the city, you'll find yourself surrounded by elegant structures. Stroll around the scenic campus and drop by some historical sites.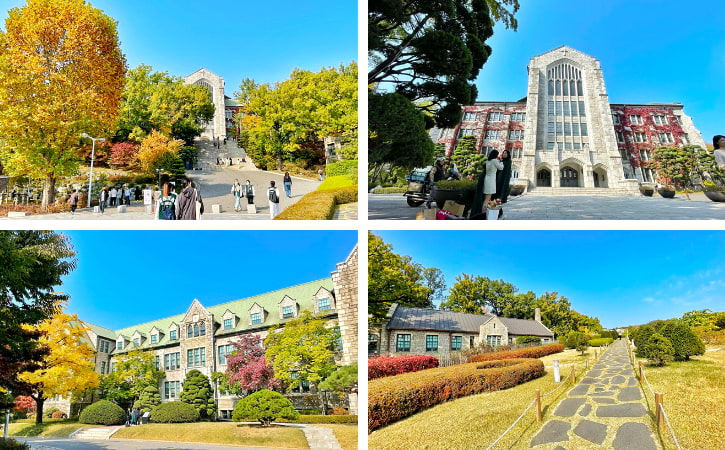 There are several places to visit here, including the auditorium and the ancient halls. Take a closer look at these remarkable structures that are beautifully preserved over the years.
And don't forget to journey through the university garden! Without a doubt, the classical constructions complement well the lush scenery.
8. Ewha Shopping Street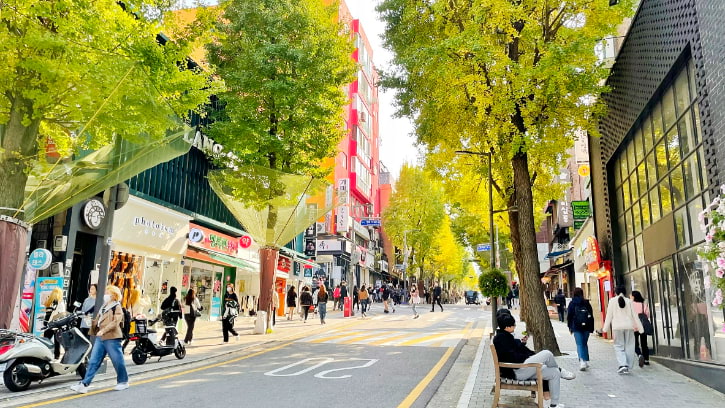 Continue the adventure and navigate around Ewha Shopping Street. This is such a great place to go shopping with your family and friends.
Walk around the street and catch a glimpse of the local stores along the street.
Each shop comes with an impressive collection of products, from clothing to shoes and even accessories. Likewise, you'll find several cosmetic stores and cafes in the area.
9. Everland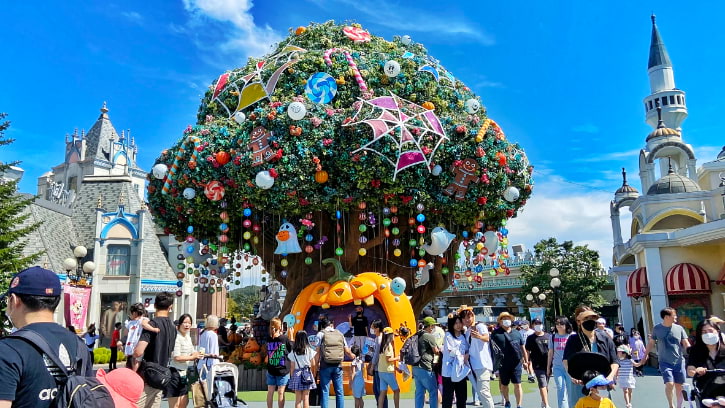 When it comes to the must-visit Seoul attractions, it must include the Everland.
Loaded with gorgeous sights and fun adventures, the park is highly recommended for adults and kids.
Stroll around the picturesque gardens and try one of the many rides available.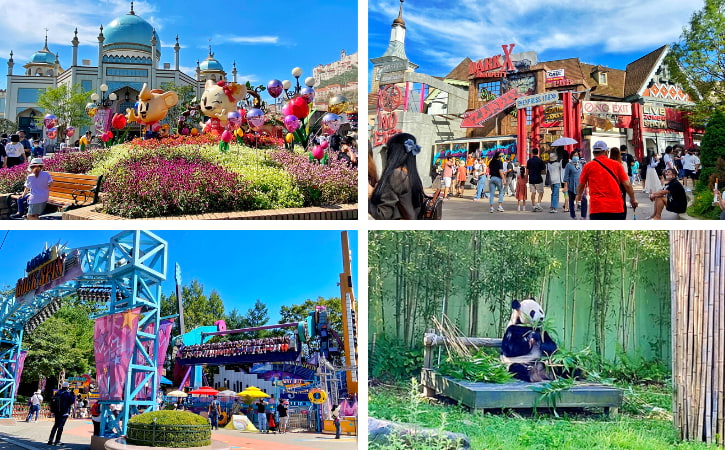 Make sure to read my Everland theme park page to help you with the planning. In this guide, I will share more about the top rides you shouldn't miss during your visit.
Also, try to book your Everland tickets here for you to get up to 44% extra discount on admission!
Do take note that the theme park is not easily accessible by subway, so I suggest that you reserve the Everland shuttle bus in advance. The bus can send you straight to the theme park from central Seoul.
10. Myeongdong Street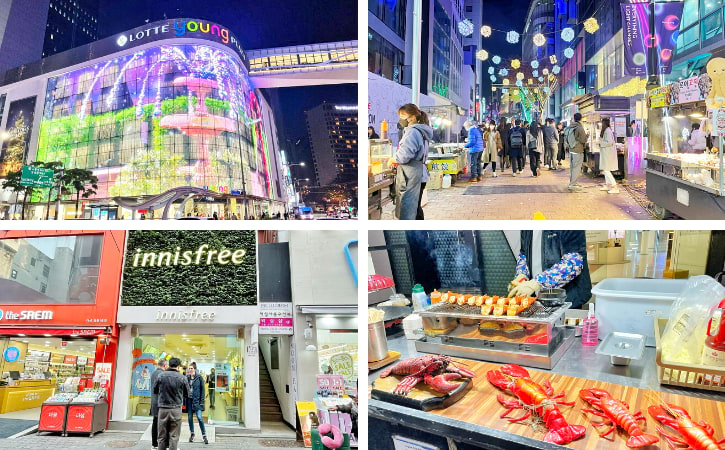 Myeongdong Shopping Street is another great shopping destination in Seoul that should be on your list.
The place itself is a favorite among shopaholics and fashionistas. Here, you'll be mesmerized by the abundance of stylish clothing and trendy accessories!
Aside from these, there are plenty of stores with beauty and cosmetic products. Luxury items are also available, so explore the shops during your visit.
11. Jogyesa Buddhist Temple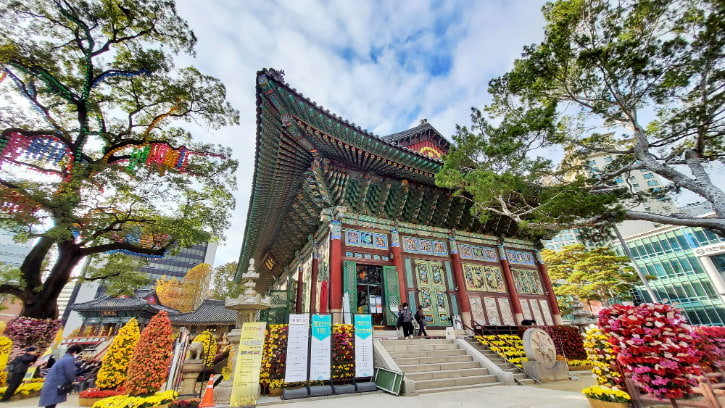 Speaking of a must-see temple in Seoul, it's definitely worth to mention Jogyesa Buddhist Temple. Built in the 14th century, this shrine serves as the main temple of Korea's Zen Buddhism.
So, drop by the sanctuary and seek out the historical charms of the place. Since this is a religious site, you can pay homage or simply say your prayers.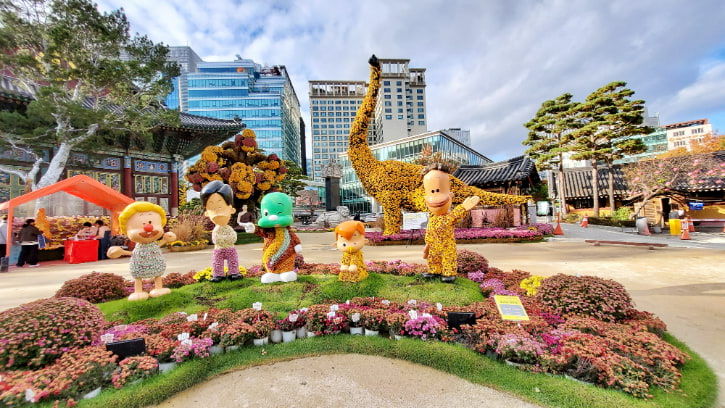 Apart from the antique shrine, you'll also appreciate the fantastic designs within the temple grounds.
See the vibrant lanterns and the flower-filled statues scattered all over the place. Often than not, the trees are also beautifully adorned during important celebrations.
12. Dongdaemun Market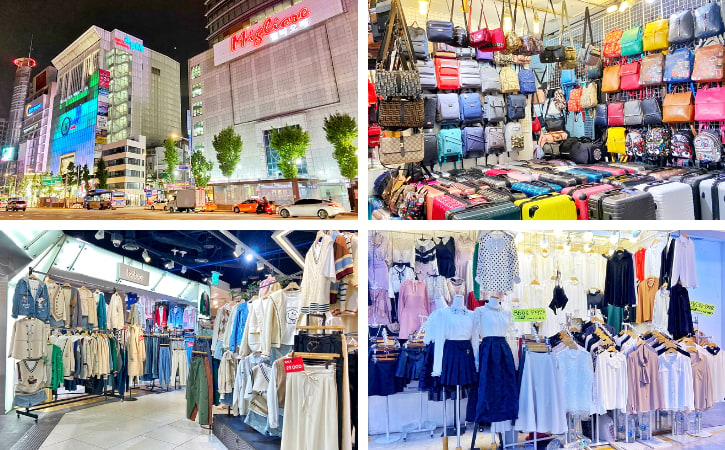 Dongdaemun Market in Seoul is the top pick for wholesale buyers.
The shopping site sets out a wide variety of local shops that are perfect for budget shoppers. Go over the selection of malls with abundant fashion clothing, bags, and accessories.
Apart from the affordable shopping options, there are also high-end stores. So, spend some time in this shopping destination like there's no tomorrow!
13. Watch Nanta Show in Myeongdong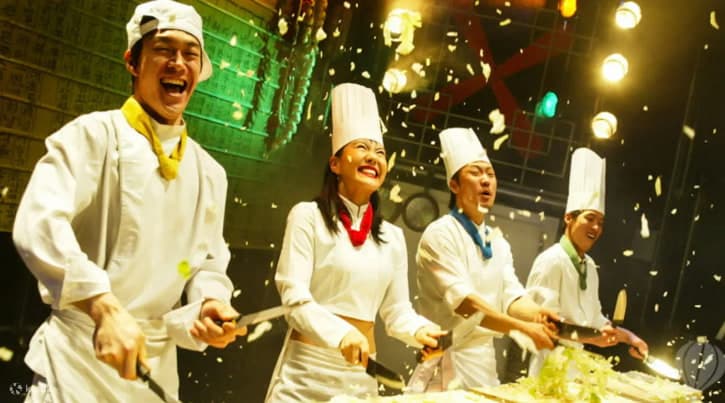 A trip to Seoul always includes the highly entertaining Nanta Show. This attraction welcomes you to a performance filled with nonstop laugh-out-loud moments.
Be entertained by the amazing acting, funny tricks, and even impressive acrobatics. Plus, the show itself is very interactive, adding more fun and depth to the entire act.
For Nanta Show seat reservation, it is better to book the tickets here in advance so you can enjoy up to 35% OFF.
14. Insadong Street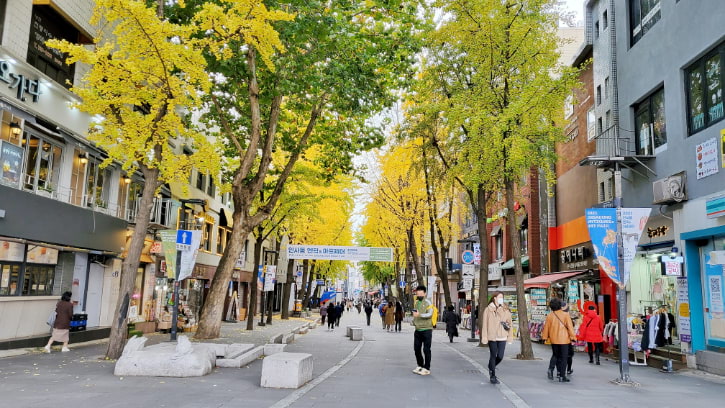 Hang around Insadong Street for a couple of hours and discover its beauty through the fascinating alleyway. Hike around the side streets and uncover local shops selling unique finds.
There are even areas here that are surrounded by amazing decorations. After all the walking, step into one of the restaurants and have a memorable dining experience.
15. LOTTE World Aquarium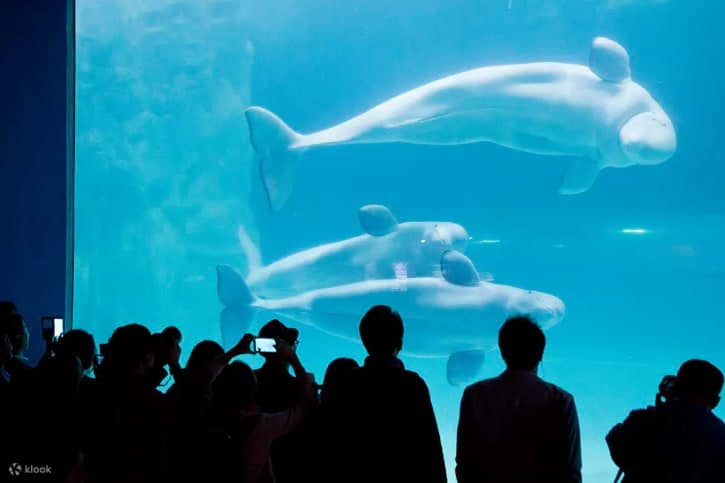 LOTTE World Aquarium is truly an entertaining place for families with kids. Inside this gigantic marine museum, you get the chance to see thousands of sea creatures.
Meet all kinds of aquatic animals, from sea lions to whales and penguins. And of course, you'd be stunned by the abundance of fish species swimming across their vast habitat.
16. Dongdaemun Design Plaza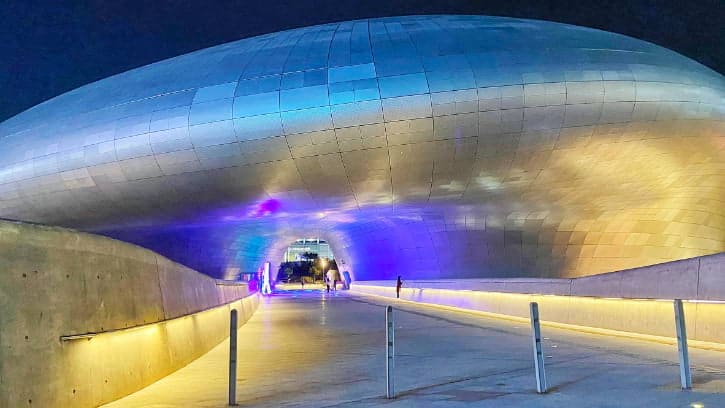 When you talk about a must-see spot in Seoul, the Dongdaemun Design Plaza is always part of it. This cultural hub is such a great place for photography.
Use the spectacular architectural wonder as your backdrop and take as many pictures as you want. On top of that, this place is very cosy, which means you can walk around the area and simply relax.
17. LEGOLAND Korea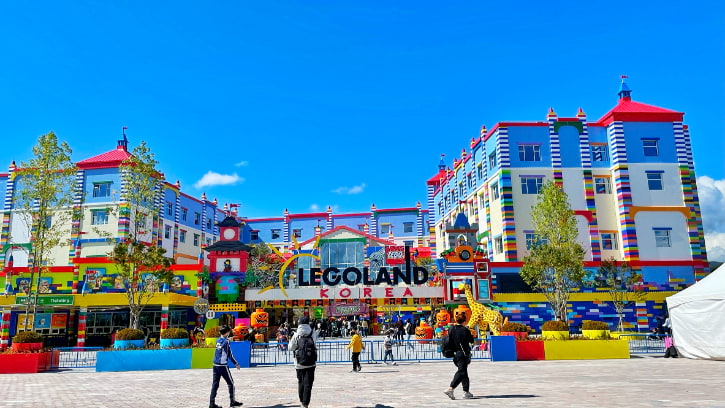 LEGOLAND Korea Resort should also be included in your itinerary. With lots of fun activities, it's a great choice for those with toddlers and kids.
Check out their impressive selection of rides, from mild ones to thrilling adventures.
Besides the entertaining experiences, you'd be amazed by the abundance of dining and shopping options.
And since LEGOLAND is about a 2-hour away from Seoul, the most convenient way is to ride a shuttle bus.
Shuttle bus seat reservations can be made through this shuttle website. As to the bus pick-up point, you have the option to choose either Myeongdong Station or Hongik Univ. Station.
18. Cheonggyecheon Stream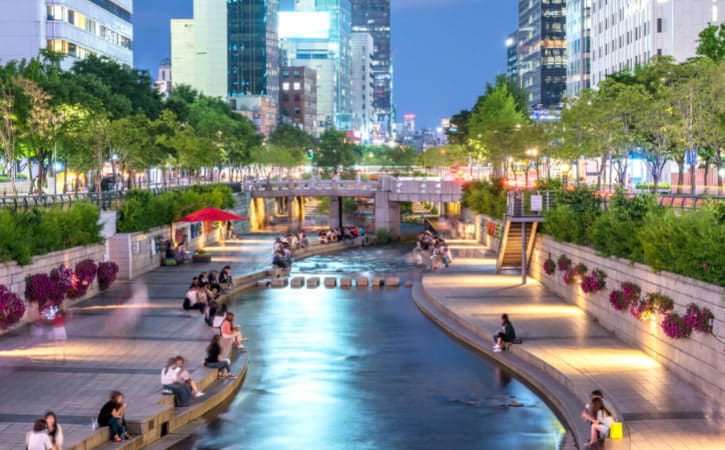 Cheonggyecheon Stream has always been a favorite among locals and even international travellers. This modern public leisure space in the heart of Seoul lets you unwind and simply enjoy the views.
So, if you're tired from all the adventure or shopping, this is a nice spot to cool down.
Sit on the steps and dip your feet into the water. Or you may go for late-night walks and complete your daily run in this beautiful expanse.
19. Alive Museum & Dynamic Maze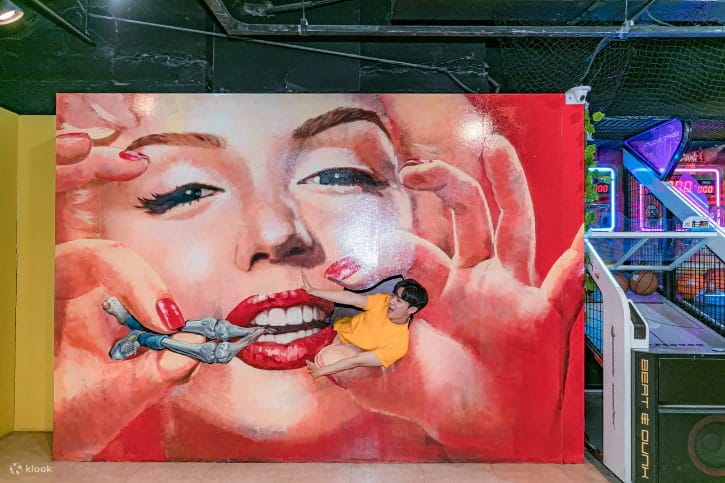 Get on with your city adventure at Alive Museum. This is a recommended spot for art lovers or anyone who'd love to have fun with some artsy decorations.
Showcase your acting skills as you pose together with the life-sized displays. There are lots of striking photo-op exhibits too for a memorable visit.
20. Alpaca World Korea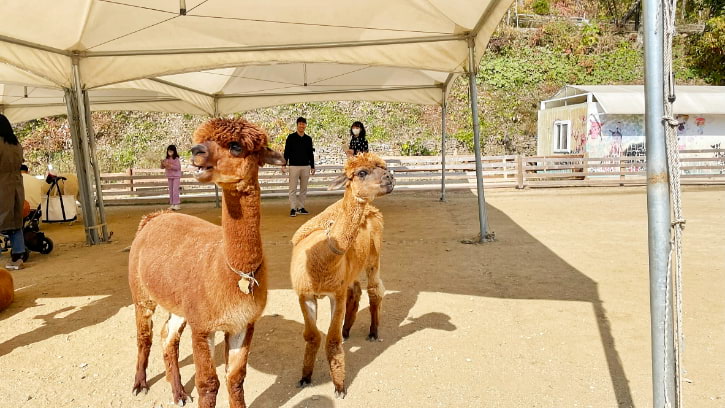 Alpaca World Korea, of course, is the best way to cap off your exploration.
Although the animal farm is a bit far from Seoul, don't worry because the transportation is such a breeze. You just hop aboard a shuttle bus from Hongik University Station and Myeongdong Station.
So, make sure to book the Alpaca shuttle bus seat here before heading to Alpaca World.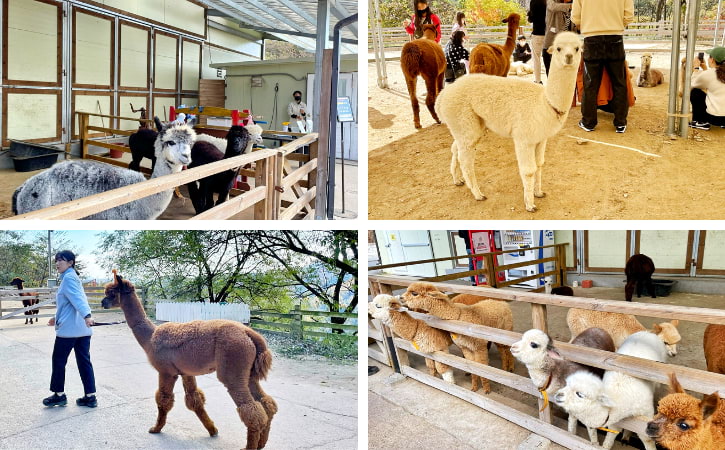 Once you reach the place, you'll be in awe of the number of amazing activities on offer. Walk with an alpaca or see some baby mammals in their habitat.
Likewise, there are specific sections for birds, from peacocks to owls and eagles.
Now, you've come to the ending section of my list of Seoul tourist attractions. I sincerely hope that you get relevant insights from my article so you can plan your trip smoothly and end it successfully.
Related Posts