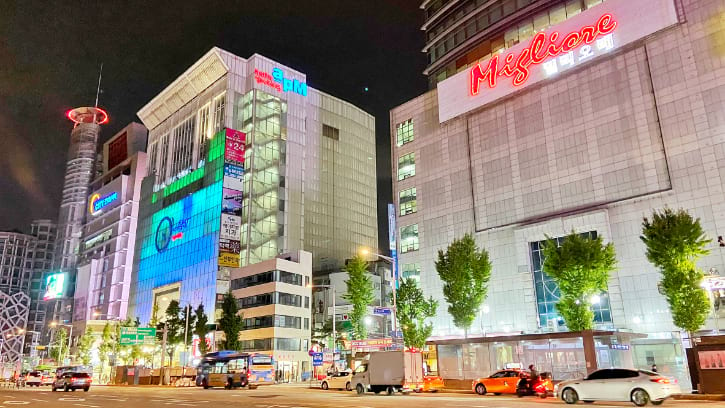 Dongdaemun Market is such a famous shopping district in Seoul. It is a fun place to visit, especially for budget shoppers and wholesale buyers.
Here, you can explore the latest clothing and unique finds at affordable rates.
In this guide, I'll list down the tips on where you can buy fashion items in the market at a cheap price.
I'll include some recommendations on where to eat after shopping in Dongdaemun. Surely, this can be very helpful so you can plan carefully before you go there.
In addition, I'll help you in preparing how to go to Dongdaemun shopping malls through the below guide. 😊
And before I forget, I highly suggest that you also visit Myeongdong Street while in Seoul. This lively street is full of fashion clothing and street foods, making it another popular spot among shoppers.
Dongdaemun Market Shopping Guide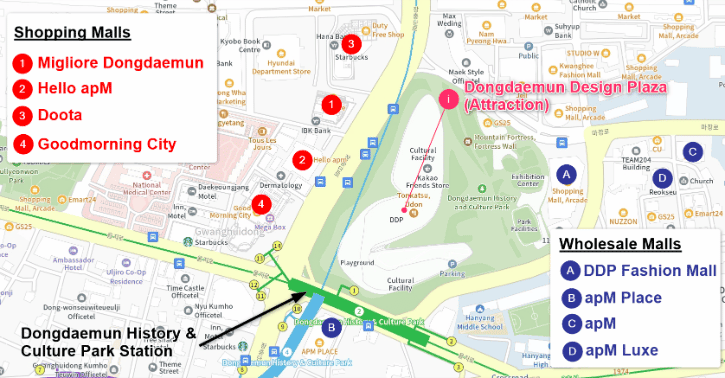 Dongdaemun is certainly the best market in terms of shopping for all kinds of products. From trendy clothing to fashionable bags, accessories, and shoes, there's something for everyone.
And one of the remarkable features of Dongdaemun Market is that most of the items are sold at a low price.
So, if you're looking for affordable products or even luxury fashion brands, this is the place to be.
To assist you in navigating the market easily, you may download this document for guidance. In this file, I have recorded the exact locations of each mall. This is accessible via Google Maps and KakaoMap.
Additionally, I have listed down the key features of all shopping malls in Dongdaemun.
So, make sure you check out the list below to maximize your shopping time.
Recommended Reading: Are you staying in Seoul for a few days? Find out my most comprehensive Seoul 7-day itinerary here. I'll share all the must-visit attractions in the city, together with some tips on how to travel around the place by public transport.
1. Migliore Dongdaemun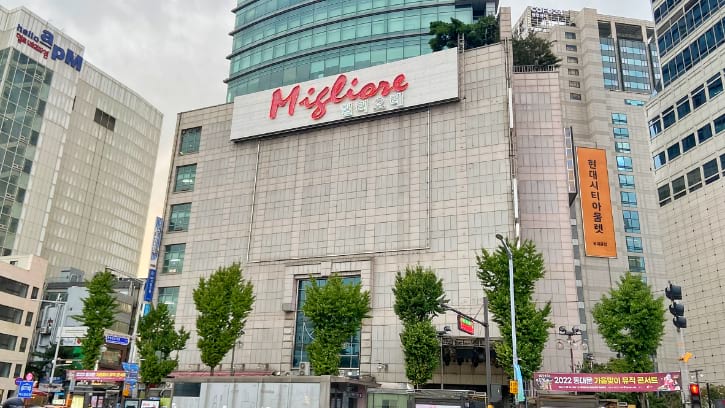 Migliore Dongdaemun welcomes you to an exciting shopping experience.
Take a look at their collection of trendy clothes, modern bags, and the latest shoes at a cheaper price.
Truly, this is highly recommended if you plan for shopping in the market of Dongdaemun.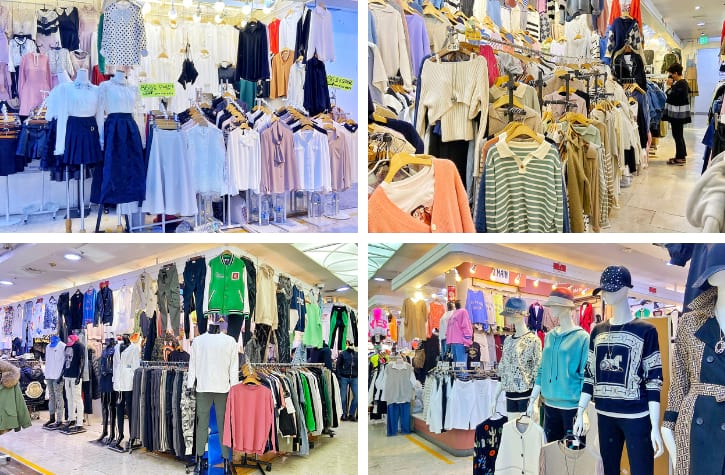 Walk around and see one stall one at a time. You've got several choices at hand for all your fashion needs.
Tip: Make sure you compare prices from several shops before buying an item. Also, don't forget to negotiate the price with the vendors. Who knows, you'll get around 10% to 20% discount!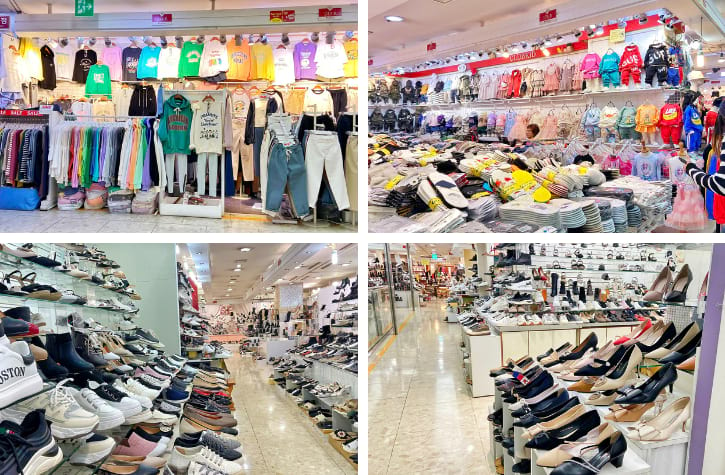 Highlight: In this mall, there are lots of apparel suitable for young people. And conveniently, they do not have minimum number of pieces required. So, if you're on the hunt for low-priced fashion pieces of great quality, pay a visit to this place.
2. Hello apM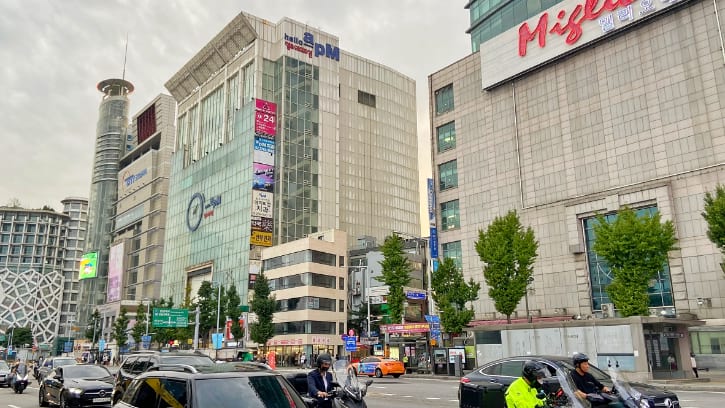 No list of the best Dongdaemun shopping malls would be fulfilled without Hello apM. There are at least 700 stores here to cater to all your wants.
And because of the terrific array of products, it's definitely one of my favorite malls to go to whenever I visit the market in Dongdaemun.
Also, this shopping mall is just next to Migliore, which means it's easy to continue your shopping escapade.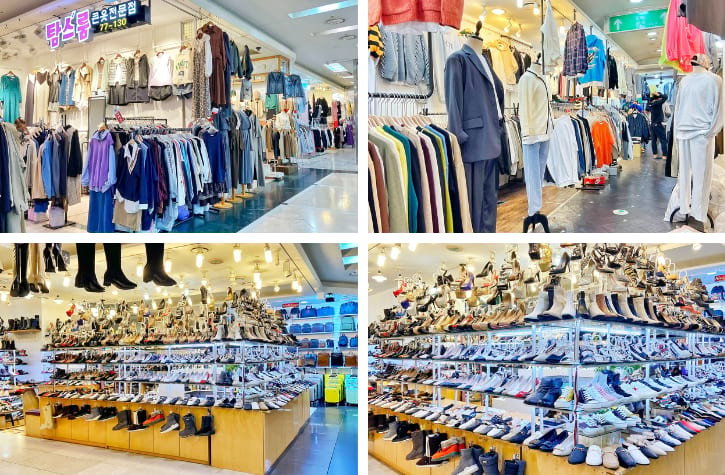 Like Pratunam Market Bangkok, this mall is packed with different sorts of shopping essentials.
Search into their stalls and be amazed by the assortment of casual wear, shoes, accessories, belts, and bags for both men and women.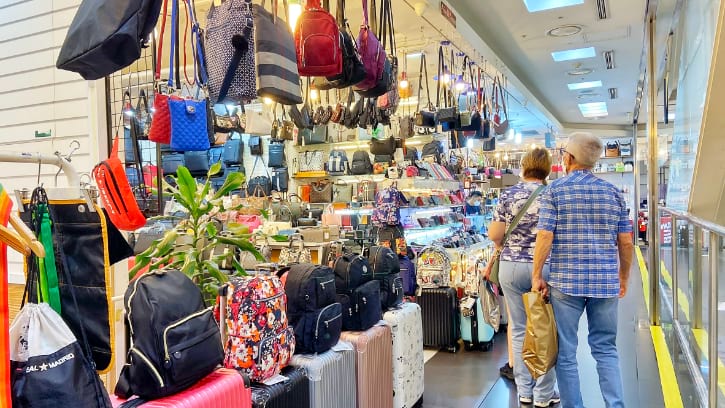 There's also a section dedicated to kid's clothing. And don't fret because all these are priced affordably.
Highlight: Do take note that most items sold here lean towards the youth. Thus, it's surely worth a visit for shopaholics who are looking for stylish clothing with fine quality and affordable rate.
3. Doota Shopping Mall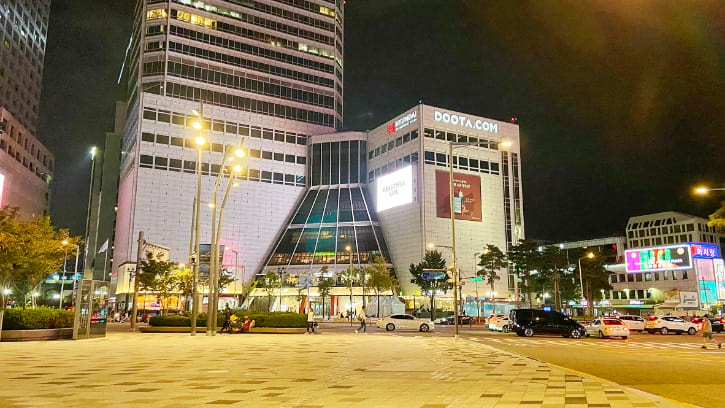 Doota is a renowned fashion shopping mall in Dongdaemun that you shouldn't miss out on.
Filled with designer shops, luxury stores, and restaurants, this place got everything you need.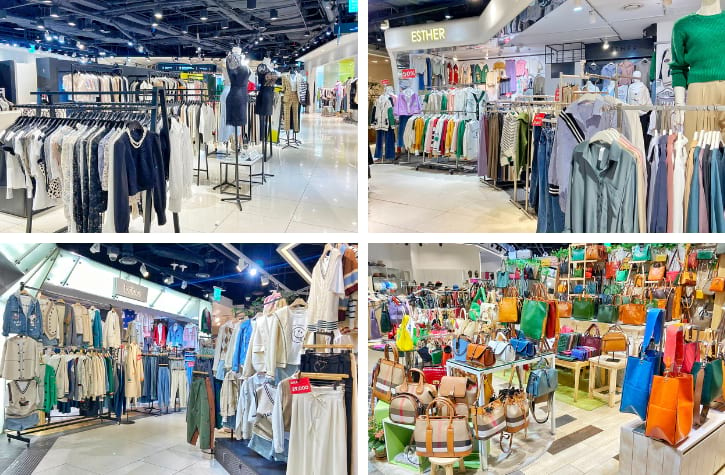 Go over the selection of Korean handbags and clothing from both local and international brands.
You can find a series of women's fashion essentials and lots of designer shops at levels 2 and 3.
Ladies' accessories are located at level 4 while men's fashion clothing is at level 5.
Most shoe brands such as Adidas, Sketchers, and New Balance are stationed at basement 1.
After all the shopping, head to basement 2 and see the food court and restaurants. There's also a tax refund counter here.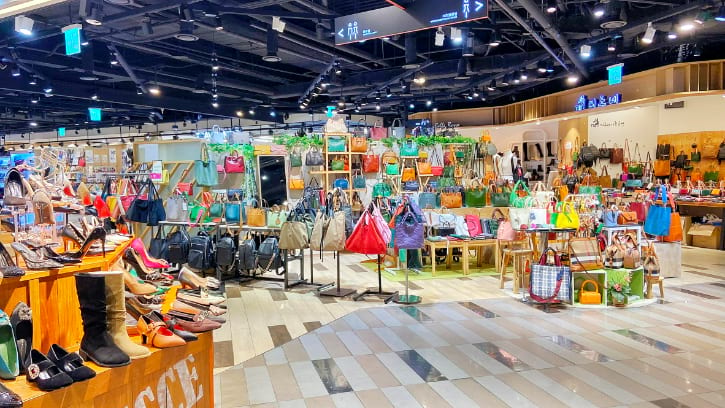 Highlight: The majority of the stores in the mall sell mid to high-end products. A lot of these are Korean brands, so if you're looking for a unique find, you'll have several choices at hand.
4. Goodmorning City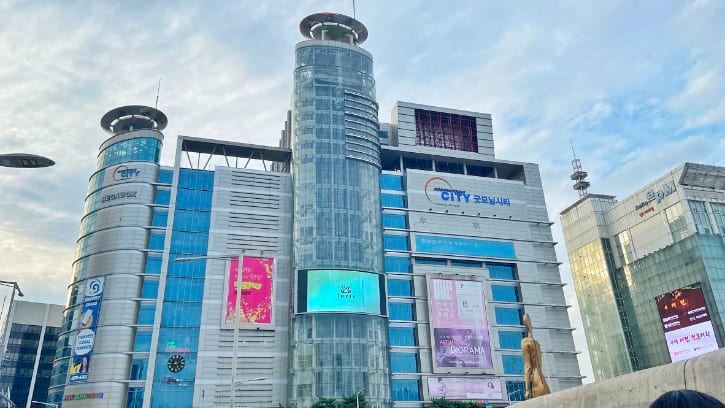 Goodmorning City is another top shopping spot for both locals and tourists. It got a variety of options, including clothing, accessories, jewelry, electronics, and more!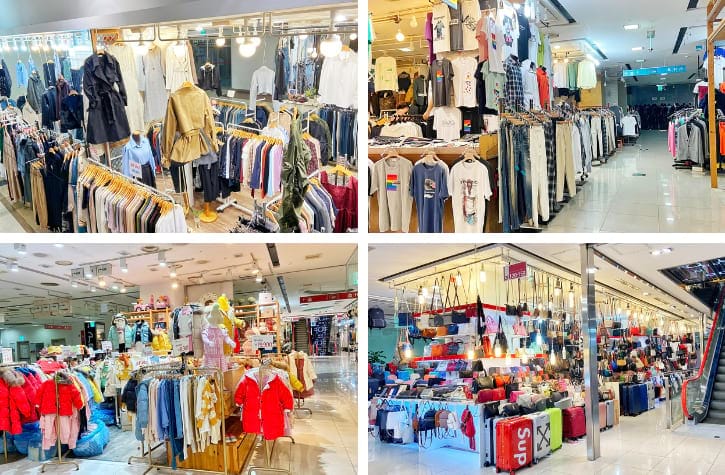 With around stores, you won't be disappointed with the huge clothing selection.
Wander around basement 1 to 1st floor for some women's wear. Meanwhile, the 3rd floor is dedicated to men's wear.
And if you want a new set of accessories and jewelry, go directly to the 2nd floor.
For children's apparel, these are situated on the 4th floor.
Lastly, the entire basement 2 is loaded with luxury and sports brands as well as different electronic items.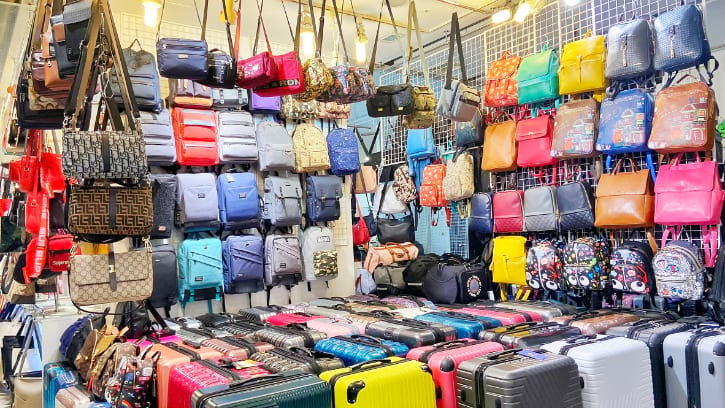 Highlight: As the largest shopping center in South Korea, it's very easy to find this mall. It's located at the subway station's exit, making it very convenient for shoppers.
5. DDP Fashion Mall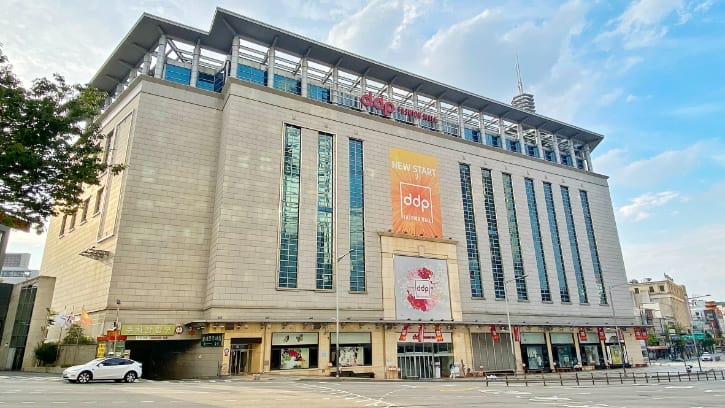 Venture to DDP Fashion Mall and enjoy some wholesale discounts! This famous wholesale mall in Dongdaemun is perfect for those who want to buy women's clothing in bulk.
So, if you're planning to have matchy outfits with your sister or best friend, make sure to pop by this area.
The amazing collection of fashionable tops, trousers, skirts, and dresses is surely worth the visit!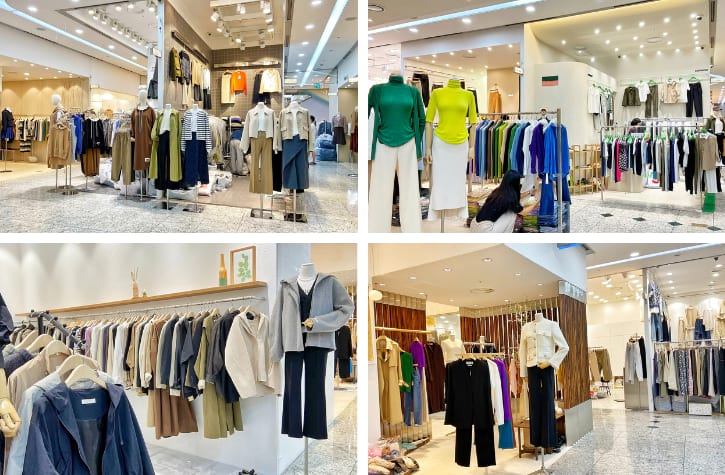 Highlight: Since this is a wholesale mall, there are certain guidelines you need to know beforehand. In general, buyers are required to purchase at least 2 pieces with the same design. Therefore, it's not highly recommended for non-wholesale buyers.
6. apM Place, apM and apM Luxe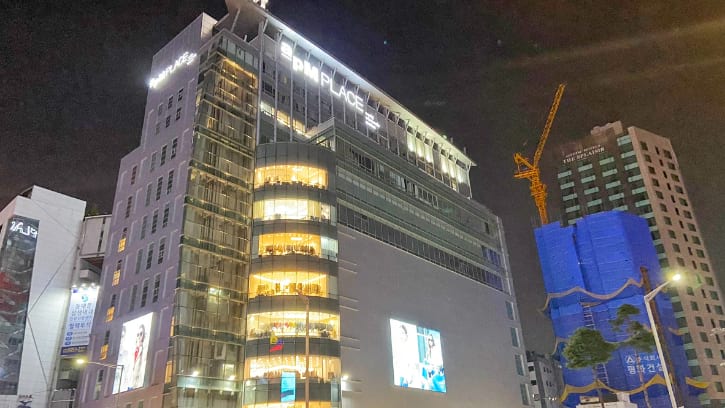 Take your time and go around apM Place, apM and apM Luxe. As a famous shopping spot in Dongdaemun wholesale apparel market, there's a free shuttle bus going to the area.
The bus is available from 8:00 PM to 5:00 AM, and leaves every 5 minutes.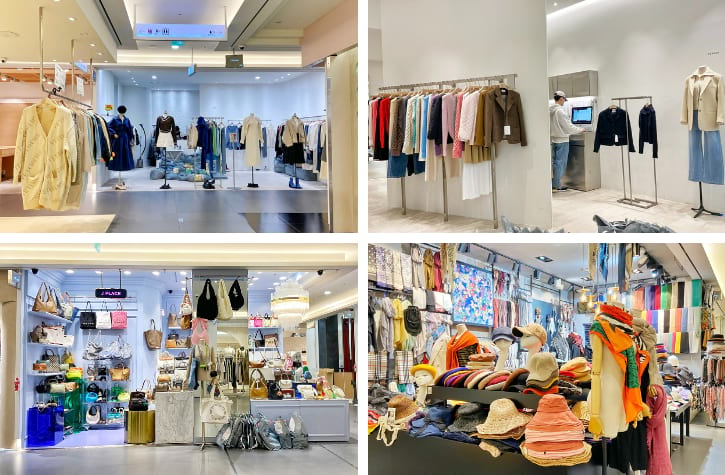 apM Place: For accessories, shoes, and bags, check out B1 and B2. Meanwhile, women's clothing choices are scattered from 1F to 8F.
apM: If you're looking for wholesale clothing for women, check out B1 up to 3F. On the other hand, men's apparel is located from 4F to 7F.
apM Luxe: Wander around 1F to 6F, which is considered the women's fashion zone. Because of the impressive selection, this is popular among young people. Likewise, you try to visit B1 and B2 if you need bags and shoes.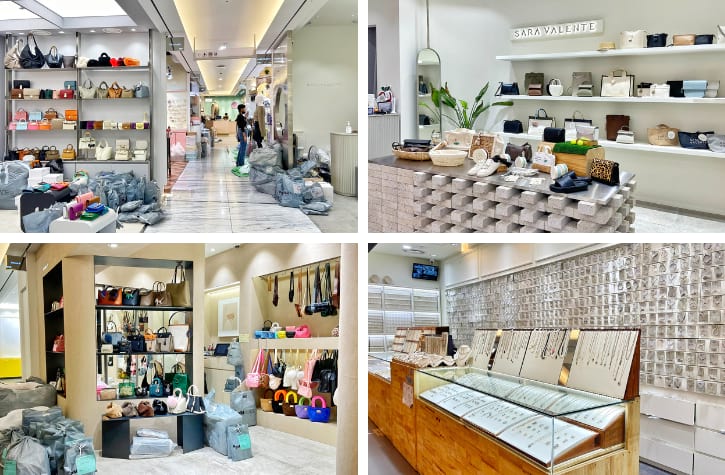 Highlight: Just like most wholesale malls, you aren't allowed to buy just a single piece. Thus, this place is best for wholesale buyers who prefer bulk purchases.
Dongdaemun Design Plaza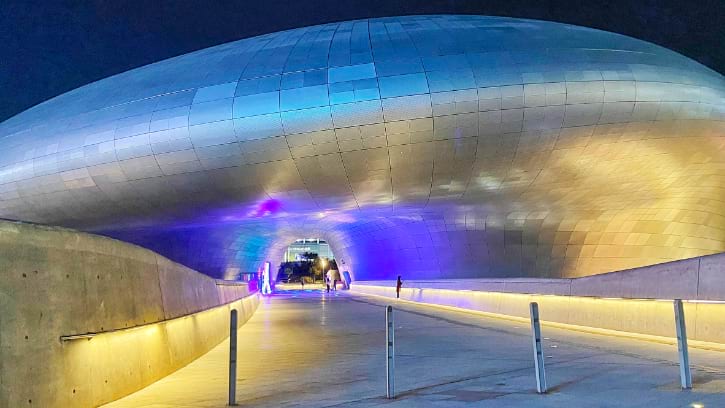 Drop by Dongdaemun Design Plaza after your shopping escapade.
The design of this cultural hub is very sophisticated, which means it can be a perfect backdrop for your photos.
Discover the different sections of the plaza and be in awe of the spectacular structures.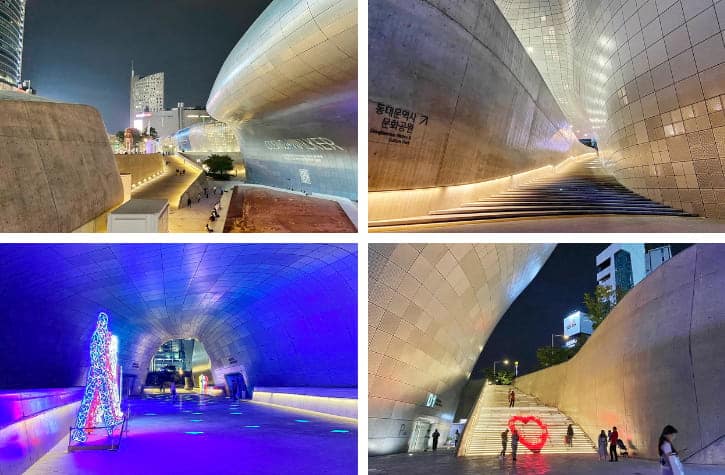 Aside from the building style, the lighting elevates the aura of the place. Capture the beautiful lights and simply enjoy the surroundings.
Truly, this is a great spot to just stroll around and relax at night.
Where to Eat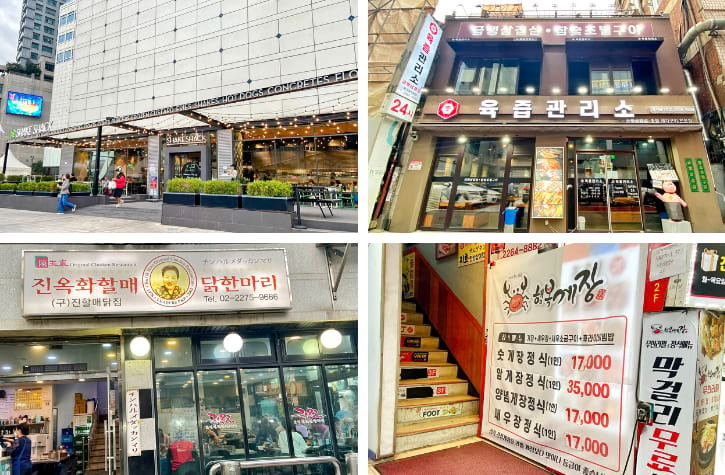 Once you're done with your shopping in Dongdaemun and trip to the plaza, it's time to have dinner.
Below are my suggested restaurants for your reference:
Shake Shack: If you're craving burgers, chickens, and flat-top dogs, don't miss this restaurant. It is located on the 1st floor of Doota mall, serving a variety of fast-food menus.
Yukjeup Gwalliso: This place is highly suggested for those who want tasty and juicy pork cuts. They serve quality grilled meat and local side dishes.
Jinokhwa Halmae Wonjo Chicken: When it comes to delectable chicken soups, this restaurant is no doubt a crowd favorite. Order their signature chicken boiled with garlic essence and some rice cakes.
Sunmine Haengbok Gejang: Savor a platter of crabs marinated in soy sauce in this restaurant. This is an all-you-can-eat setup, making it a favored spot among crab lovers.
My Recommendations:
Aside from going to Dongdaemun, try to include Hongdae Shopping Street as well as Ewha Street in your itinerary. These 2 famous attractions are visited by many travelers every year because of their unique shopping options.
How to Go to Dongdaemun Market
1. Subway
Take the Subway Line 2/4/5 to Dongdaemun History & Culture Park Station. From there, go out of Exit 14 to reach Goodmorning City shopping mall, Hello apM, Migliore, and Doota.
If you want to drop by Dongdaemun Design Plaza (DDP), head to Exit 1.
Meanwhile, if you are planning to go to apM Place, take the Exit 10. And for both apM and apM Luxe, hop aboard the free shuttle bus at apM Place.
2. Hop-on Hop-off Bus Tour
Do you know that you can actually take the Seoul Hop-on Hop-off Bus Tour to Dongdaemun? This is recommended if you don't like to ride the subway.
This sightseeing bus offers a stop at the Dongdaemun Design Plaza (DDP). Conveniently, the bus stop is just located on the opposite side of Hello apM shopping mall.
It also has a lot of drop-off points too, so you can visit several tourist spots in Seoul. These include Namsan Tower along with Gyeongbokgung Palace. Try to find out bus tour here for more information about the latest rates and its routes.
3. Seoul Taxi
Another option is to take a taxi to Dongdaemun fashion market.
Moreover, try to request the taxi driver to drop you off at Hello apM. It's because this area houses Migliore, Good Morning City, and Doota, making it easier to start your shopping.
You may show this one "헬로에이피엠" (Hello apM) to the taxi driver in case they don't understand English.
As to the taxi rate, the initial charge is 3,800 won. It then increases by 100 won for every 132 meters.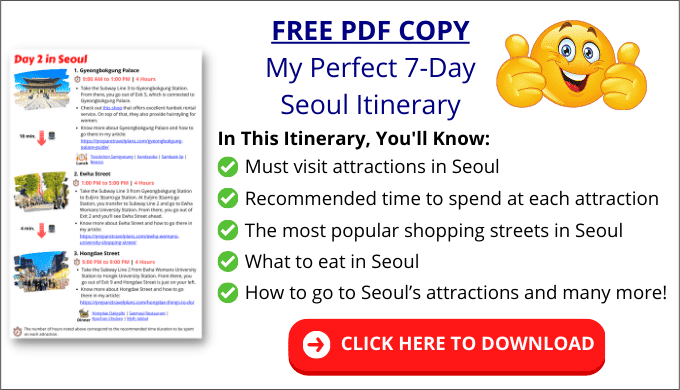 Related Posts