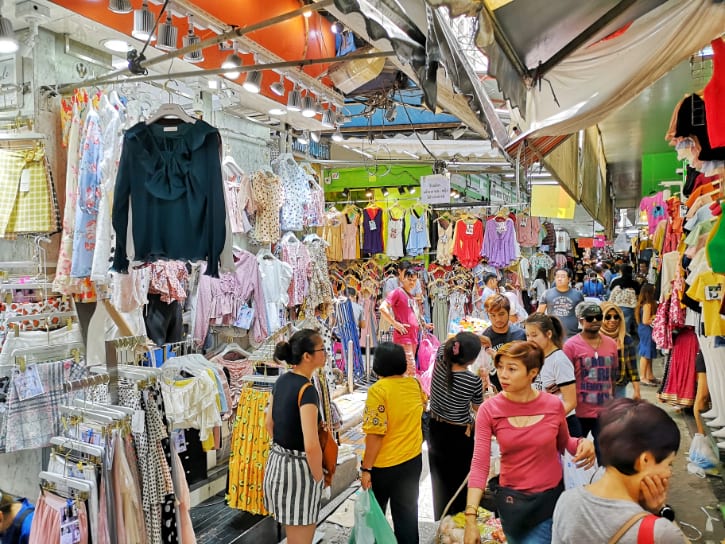 Pratunam Market is among the best shopping destinations in Bangkok for stylish clothing and accessories.
This popular marketplace has all kinds of fashion essentials. These range from trendy clothes to shoes, bags, and footwear. And generally, these are sold at a very cheap price.
Since Bangkok's Pratunam Market is quite big, I've prepared some exclusive tips about this market. These include ideas on what you can buy well as its exact location to help you shop around the market conveniently. 😊
And if you're a self-confessed shopaholic and food lover, I have some tips for you too.
I recommend that you read my article on 12 best markets to visit in Bangkok to uncover the top markets for budget shopping and dining.
Pratunam Market Shopping Guide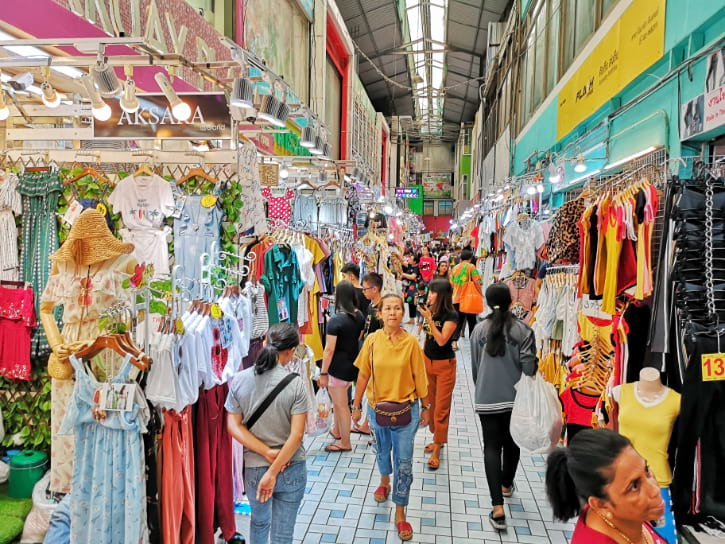 Get your fashion fix at Pratunam Market. This vibrant spot in Bangkok is always a fun place to explore if you've got a thing for trendy clothes and accessories.
When buying clothes, you need to purchase a set of 3 or more from one vendor to avail of the wholesale price. Normally, the wholesale price is around 50 Baht to 350 Baht per piece.
If you buy a single item, you need to pay the retail price, which ranges from 100 Baht to 400 Baht. Bargaining is also possible.
However, this might not be necessary because the rates are already cheap.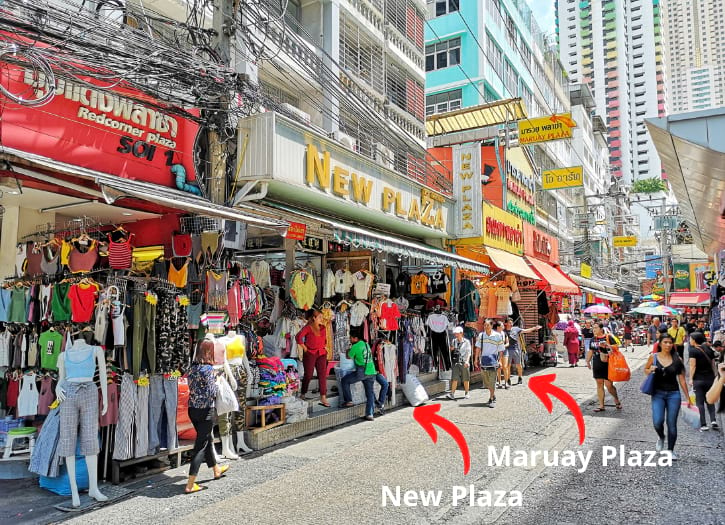 Kick off your shopping adventure at Soi Phetchaburi 21 in Pratunam Market.
This alley is the best starting point because of the abundant fashion stalls around.
Each shop is loaded with chic dresses, jeans, shirts, shoes, bags, and accessories―all at cheap prices.
Also in this section, you'll see the New Plaza and Maruay Plaza, which are famous fashion spots in the area.
These two are located next to each other, so make sure to pop by these shopping centers and check out their amazing display.
Here are the exact locations of Soi Phetchaburi 21, New Plaza, and Maruay Plaza.
What Can You Buy There
To make your trip more convenient and enjoyable, below are the things you can find at Pratunam Market.
1. Trendy Dresses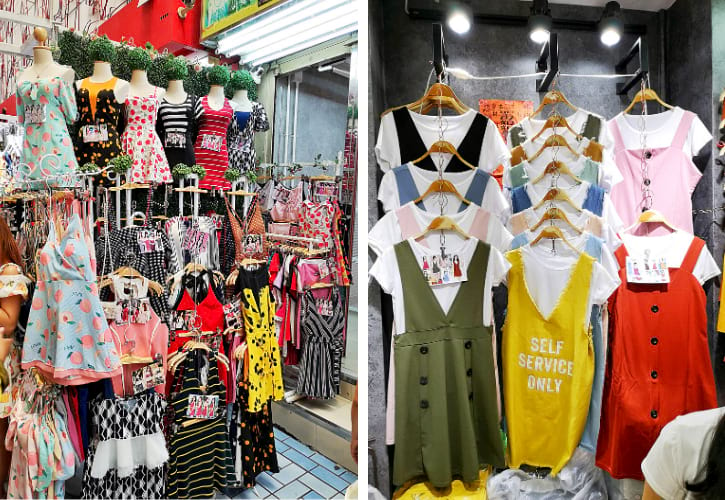 Get ready for a fun-filled shopping adventure! This wholesale market offers a variety of dresses for all ages.
These trendy clothes come in different sizes, colors, and styles to cater to different fashion tastes.
There are even choices for young adults and kids.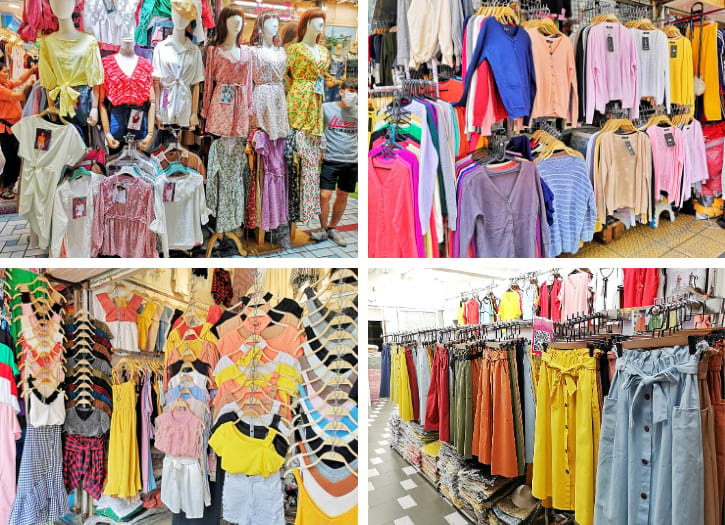 Get lost in the endless array of stylish items from head to toe.
There are comfy cardigans, floral blouses, and fancy tops for every trendsetter.
Most of these have unique colors and prints so you won't run out of options.
2. Stylish Skirts and Jeans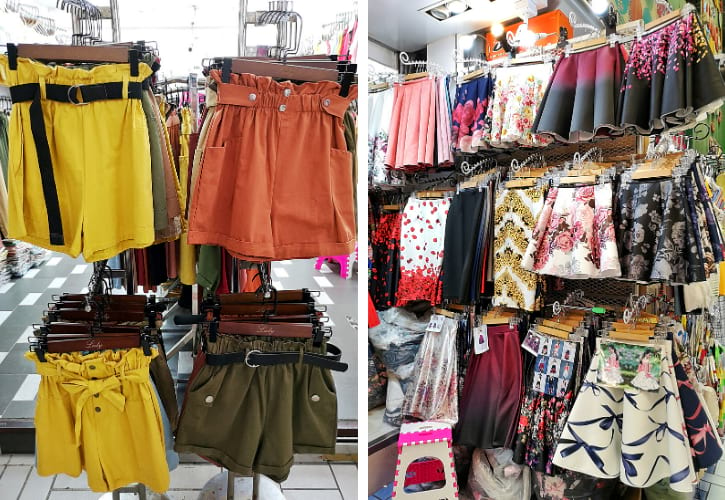 The market is also a nice place to shop bulk orders of fashion skirts.
With the huge variety of skirts, you'd find pretty much anything for all seasons here.
There are solid colors as well as beautiful prints that are definitely worth checking out.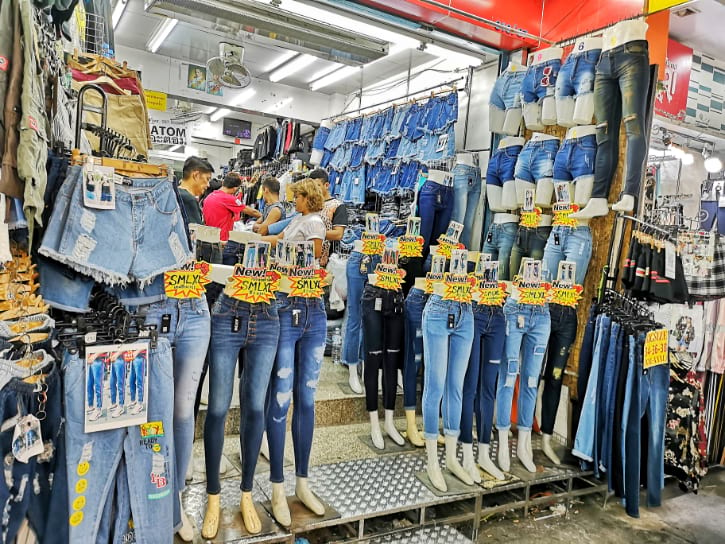 From jeans to shorts to skirts, you'd definitely fall in love with the abundant display of jeans.
Surely, the market is one of the best spots to upgrade your wardrobe essentials. And of course, the quality of the clothing is on par with the price!
3. Cute T-Shirts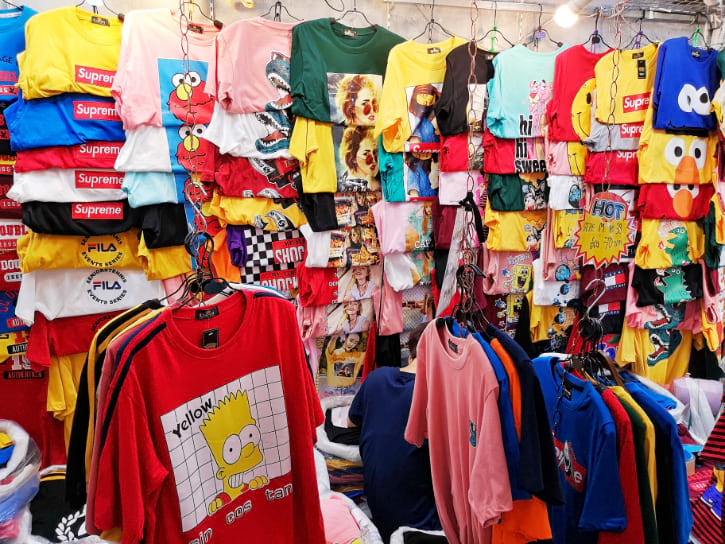 How about some colorful and charming shirts?
These stalls will surely catch your attention while exploring the market.
Scan through the collection and find your favorite TV character on display. And don't worry because there are plenty of designs available.
4. Cheap Sleeping Wears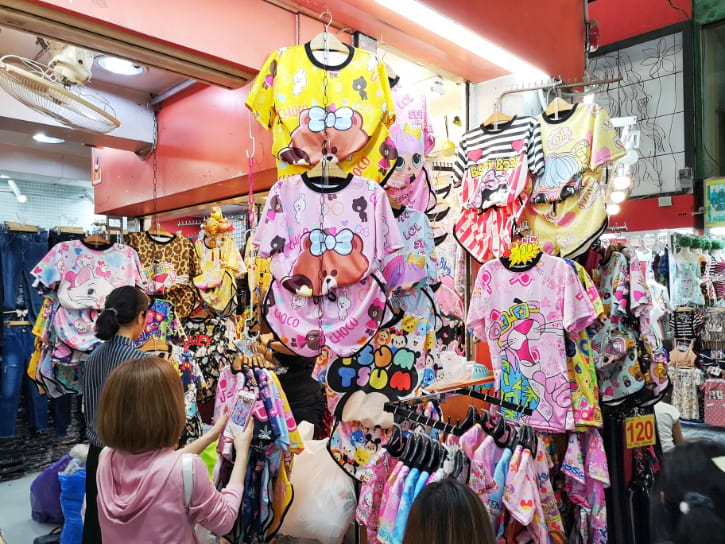 If you're looking for cheap yet cute sleeping wears, you're right on cue.
Look around the marketplace and you'll find shops full of cosy pajamas at an affordable price.
Plus, there are a lot of styles to choose from.
5. Chic Accessories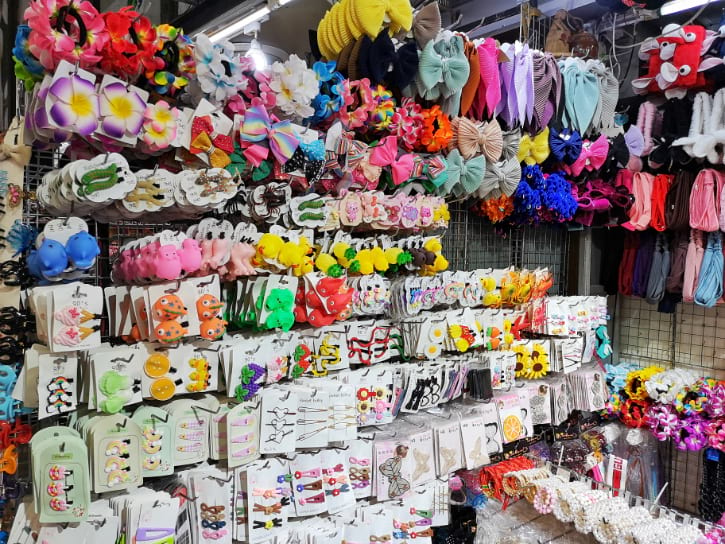 Top off your style with some cute and colorful hairpins. These accessories can make you look super chic without trying.
So, browse through the range of colorful pieces and add them to your bag.
6. Footwear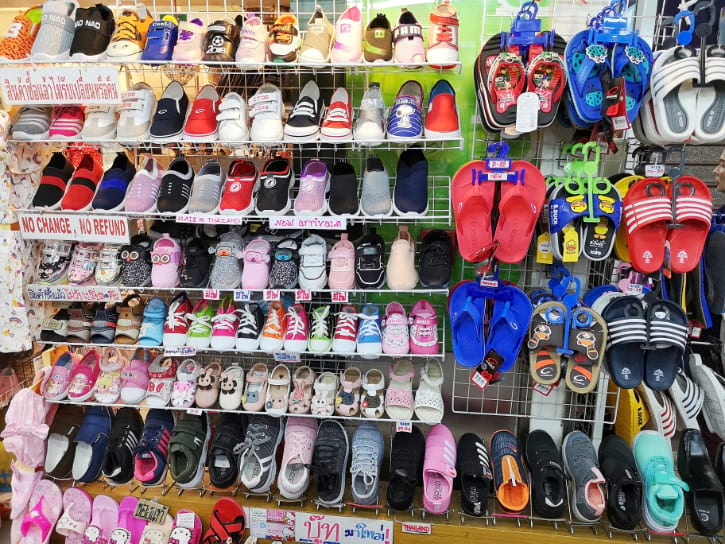 Aside from fashion clothes and trendy accessories, you'd also come across different footwear styles. From slippers to rubber shoes to formal ones, everything you need is well accounted for.
My Suggestion
If you can't find the clothes that you want at Pratunam Market, you can visit Bangkok's Chatuchak Market instead.
This market also has a spectacular selection of stylish clothing. All key information is elaborated in my detailed guide to Chatuchak Weekend Market, so be sure to check it out.
Don't forget to also check out this recommended Bangkok 5-day itinerary for more ideas on where to explore the city. This guide uncovers all the top attractions in Bangkok that every visitor should visit.
Opening Hours
Pratunam Market is open 24 hours. However, most shops do not open before 11:00 AM in the morning.
So, if you want to maximize your time, it's best to shop between 11:00 AM and 4:00 PM.
During this period, the market is very lively with locals and tourists. It's a perfect time to explore the stalls.
Something to Take Note Of
1. Bring enough cash
Most of the vendors at the market do not accept credit cards. So, prepare your cash ahead for easier transactions.
2. Learn the basic Thai language for shopping
Here are some common Thai phrases used for shopping.
Hello – Sawadee Krap (Male)/ Sawadee Ka (Female)
How Much – Thao Rai
Discount – Loht
Yes – Dai
No – Mai
Thank You – Khop Khun Krap(Male)/ Khop Khun Ka (Female)
3. Keep an eye on pickpockets
It's recommended that you wear your backpack on the front to keep your belongings more secure. And, avoid putting smartphones in your back pocket.
How to Get to Pratunam Market
1. By BTS Skytrain
First Option (Recommended and Easiest):
The nearest BTS station to Pratunam Market is Ratchathewi Station. And to get there, you just go out of Exit 4 and then walk to the market for about 13 minutes.
Second Option:
The other BTS Station close to the market is Chit Lom Station. Simply head to Exit 1/ Exit 6 and then walk to the market for around 15 minutes.
Third Option:
If you think these 2 stations are still far from the market, you can take the BTS Skytrain to Phaya Thai Station.
From there, you have to transfer to Airport Rail Link and go to Ratchaprarop Station. Afterward, you will walk for about 5 minutes to reach the market.
From Airports:
If you plan to get to Pratunam Market from Bangkok airports, there are transportation options too. Just check my guides on Suvarnabhumi Airport to Pratunam and Don Muang Airport to Pratunam to guide you out.
Maps:
I have created a personalized Google map for each of the methods listed above. You can refer to my customize maps below to get a better idea of the routes.
2. By MRT
To reach Pratunam Market, you have to take the Bangkok MRT to Phetchaburi Station and then walk to Makkasan Station. Subsequently, you need to board the Airport Rail Link to Ratchaprarop Station.
A Guide Map of Pratunam Market in Bangkok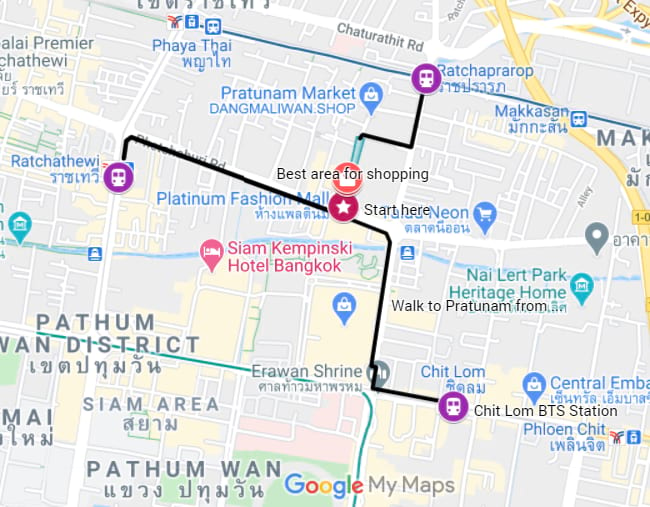 To easily shop around Pratunam Market, I have indicated the best starting point on the Google Maps above.
You can also find the recommended areas to buy trendy clothes, shoes, bags, and accessories on the map.
Plus, I have marked the routes in going to the market from different stations. These include Chit Lom BTS Station, Ratchathewi BTS Station, and Ratchaprarop Station.
So, we've reached the final part of the article. I hope you find my Pratunam Market blog post informative.
And I also hope that it will help you when planning for your future visit to the Bangkok. Wishing you a delightful and amazing shopping experience! 😊
Related Posts