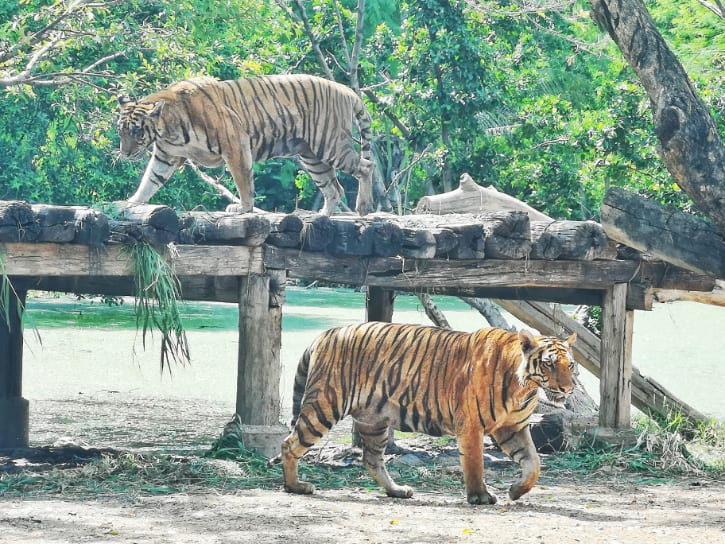 Safari World Bangkok is a top-rated destination with 2 unique themes, the Safari Park and the Marine Park. Both parks have different sets of animals and spectacular shows to look forward to.
I just visited Safari World together with my wife and it was definitely a fun adventure. We had an amazing experience touring the zoo.
And in this Safari World Bangkok review, I will provide you an idea of the animals and shows there. I will also share our personal experiences along with a detailed guide on how to go to Safari World Bangkok easily.
Now, let's get on to one of my favourite things to do in Bangkok and that is exploring this spectacular park. 🙂
Safari World Bangkok Overview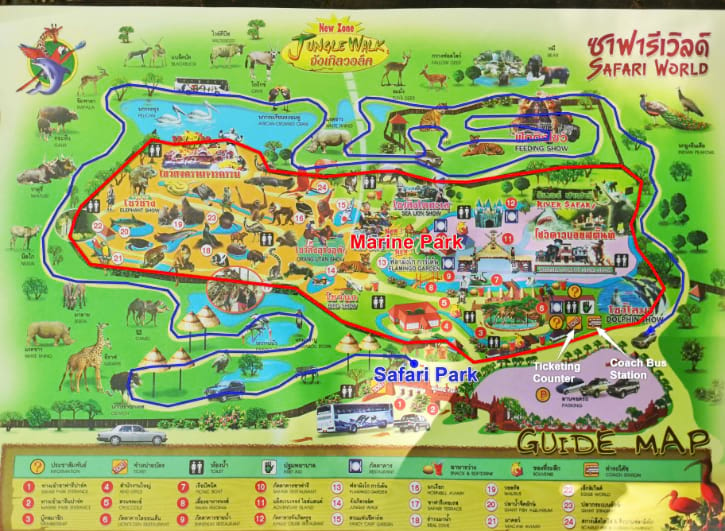 Safari World Bangkok has been around since 1988. It's conveniently located 40 km away from downtown Bangkok.
Unlike other parks, this one comes with two spectacular themes—the Safari Park and the Marine Park.
Safari Park is actually a coach bus ride that runs for up to 45 minutes. This allows you to see wild animals as well as watch feeding shows for both lions and tigers.
The Marine Park is where you'll find plenty of fantastic shows. Likewise, this one has a lot of animals to catch up to by foot.
So, let me walk you through the animals and shows you'll see in these parks with the photos and relevant information below.
Animals at Safari Park
Safari Park takes you to a fun and informative journey. This one-of-a-kind ride opens your curiosity to the beauty of the African-like wilderness.
While on-board the Safari World Bangkok's coach bus, you'll closely see the zebras, white rhinos, camels, deers, lions, tigers, and more!
1. Hoofed Mammals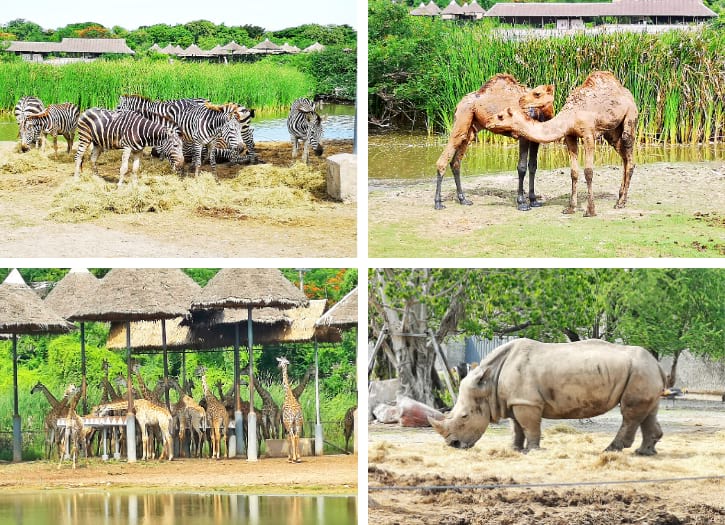 Are you ready to meet some of the most impressive land mammals?
Safari Park is the home to the wild's fast-runners―zebras, giraffes, and white rhinoceros. Make sure you also catch up with the laid-back camels.
2. Giant Birds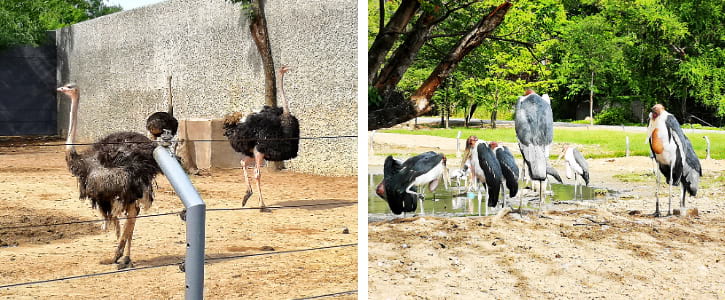 Take a photo of these large bird species!
Unlike normal birds, ostriches and marabou storks can grow from 5ft to 9ft! Because of their unusual height, they are considered some of the tallest birds in the world.
3. Massive Horned Animals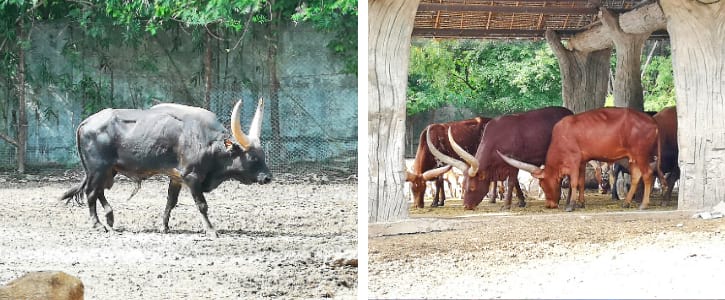 Now, it's time to spot some gaur and watusi. These animals have compact bodies and pointed horns.
Despite their massive structure, they are mainly herbivores. They feed on leaves, grass, fruits, and other plants.
4. Other Horned Animals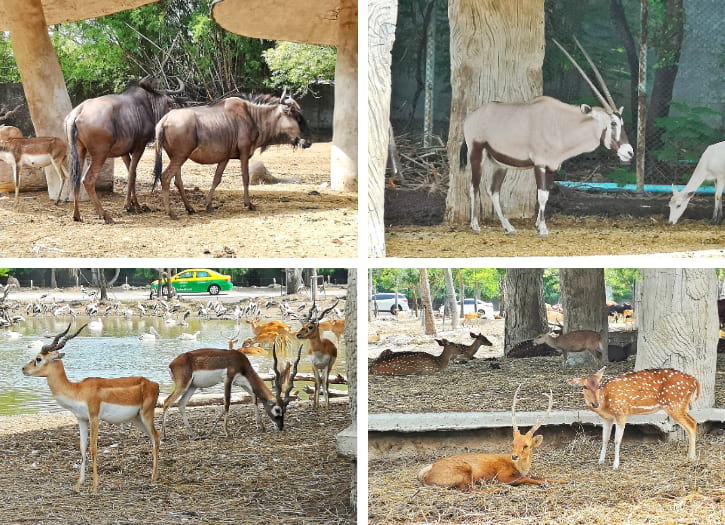 Also in the area are cattle-like creatures such as wildebeests and oryxes.
There are also smaller horned animals like the impalas and fallow deers. All of these are easily recognized by their horn structures.
5. The Kings of the Jungle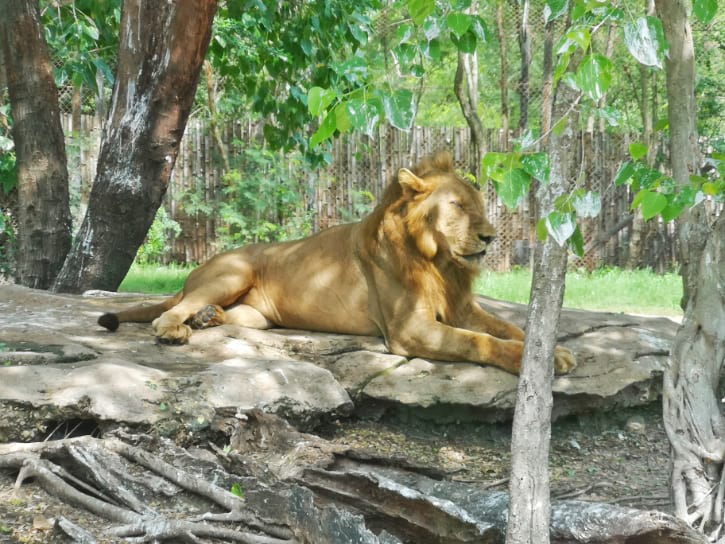 This park also shelters some giant cats like the lions. Watch them stroll around or sleep under the trees.
Sometimes, they play around with their own species.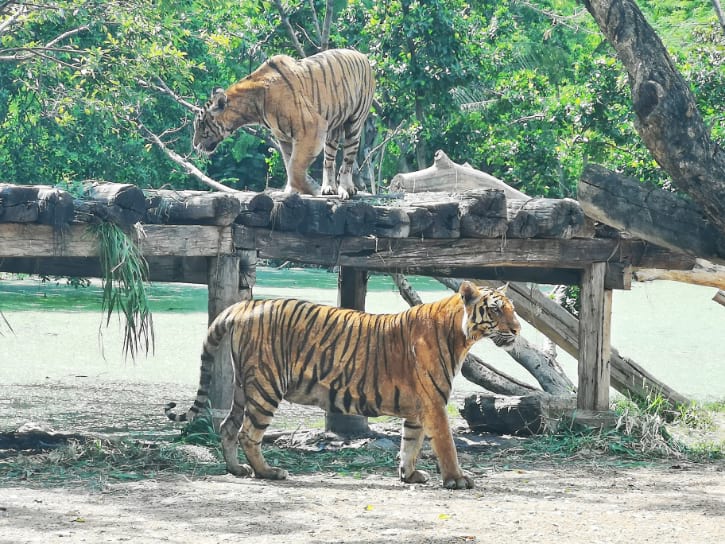 As you continue your trip to the Safari Park, you'll come across these dominant felines. Tigers are the only cats with stripes all over their body.
6. Different Bear Species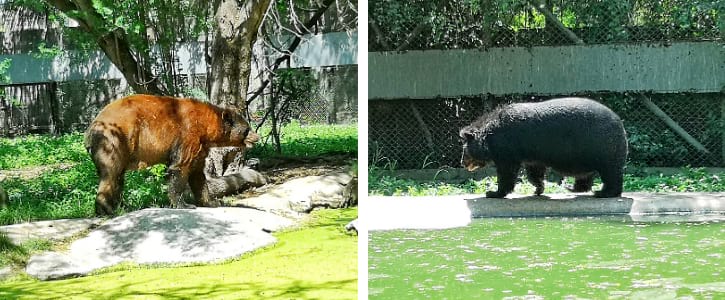 Bears are the animals that complete the Safari Park section. These massive mammals love to eat different foods, from fish to fruits to honey!
And, they use their sharp claws to easily catch their food.
Best Shows to See at Safari Park
Safari Park of Safari World Bangkok fascinates visitor with its 2 amazing shows. These are the feeding shows for lions and tigers.
1. Lion Feeding Show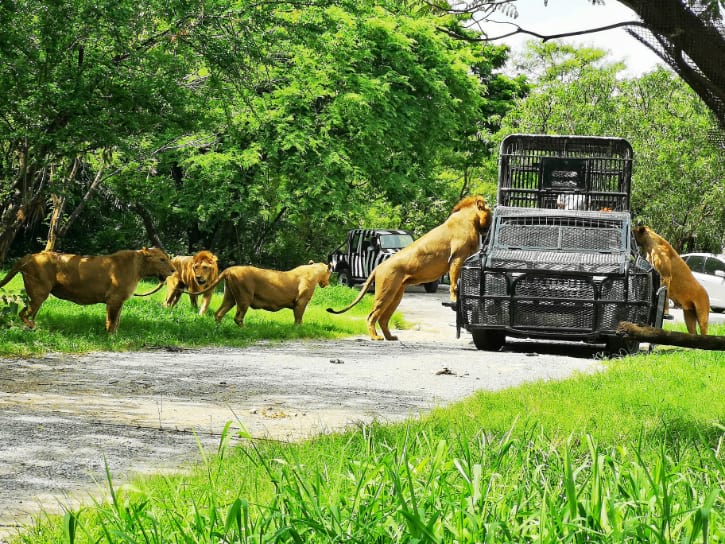 Witness a live lion feeding show from the bus at Safari Park. Seeing these massive beasts consume their daily meat is quite a sight to see!
As playful as they are, lions would climb on the feeding vehicles to get their tasty share.
2. Tiger Feeding Show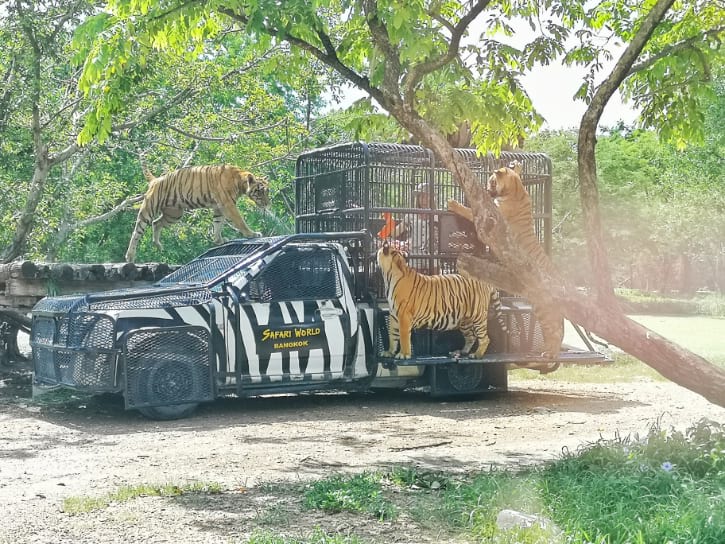 Watch in awe as the park staff feeds the tiger with their favourite meat.
Just like how the lions are fed, these powerful animals get their food from the steel cage.
They also love to play around and go up on the vehicle.
Animals at Marine Park
Safari World Bangkok's Marine Park is the best stop after Safari Park. This area gives you more freedom to roam around and see the animals closer.
1. Try Giraffe Feeding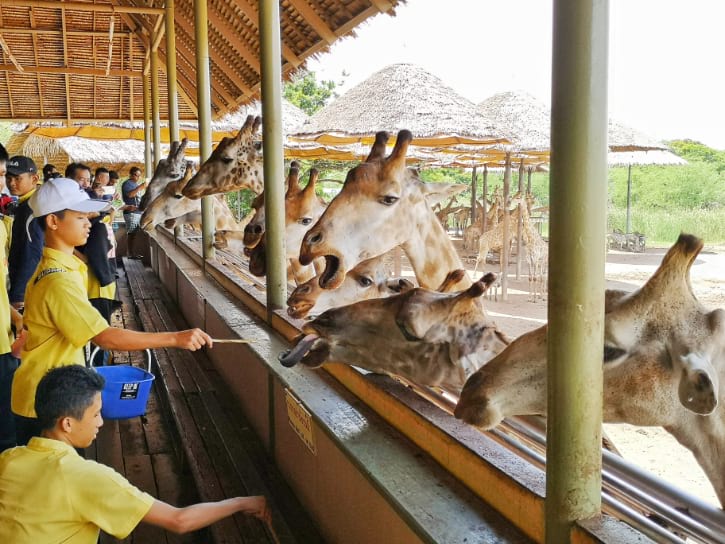 One of the best activities to look forward to here is the giraffe feeding.
You can meet these charming and tall creatures at Marine Park.
By paying an additional of 100 Thai Baht, you can be closer to the giraffes and feed them with bananas.
2. Monkey Species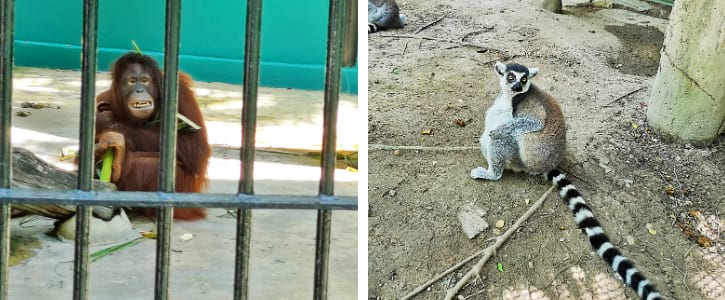 Come across this adorable orangutan. These monkey species have the same level of intelligence and even number of teeth as humans.
Also in this area are the ring-tailed lemurs, who are known for their long and striped tails.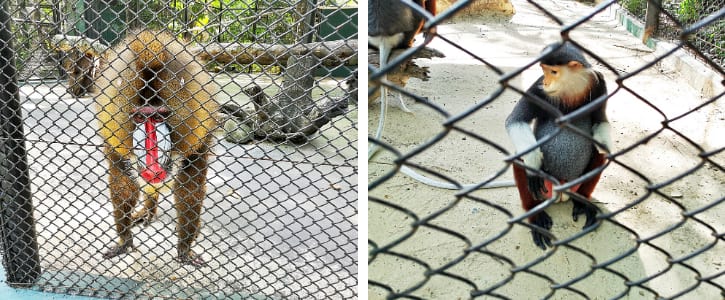 These particular monkeys are definitely a head-turner because of their colors.
Both have unique features that add up to their popularity. In particular, mandrills are much bigger than the douc langurs.
3. The Giant Rodents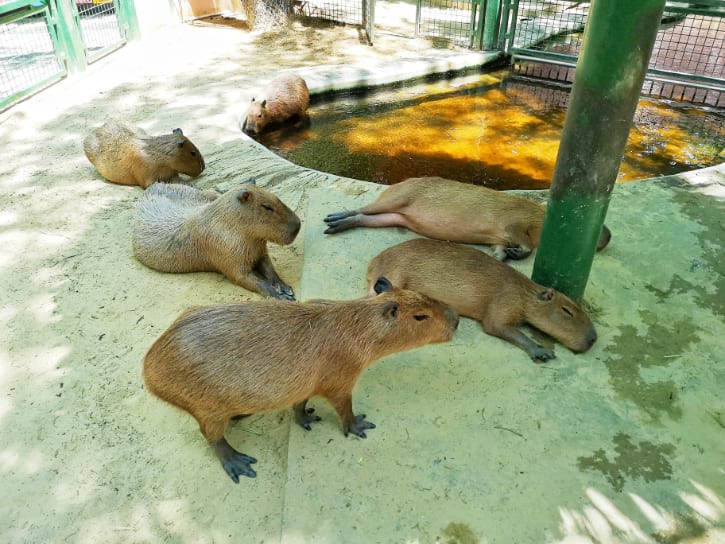 Often, capybaras can be found near the water area of the park.
You might found them walking or simply sleeping on the ground together.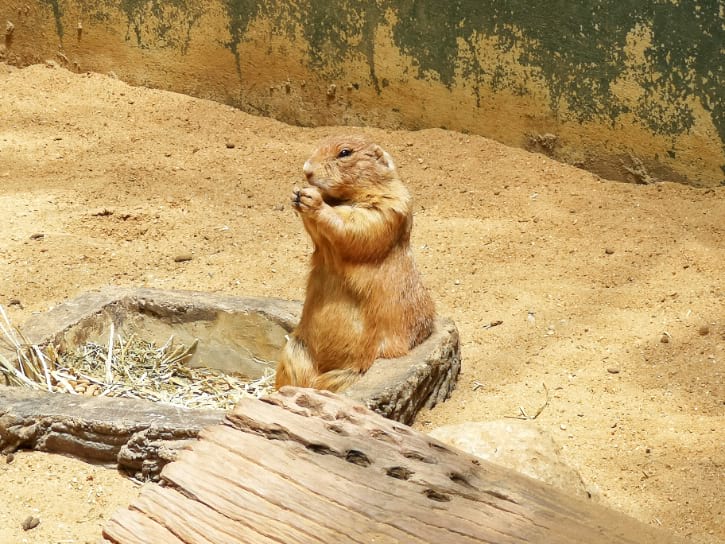 During your visit, you might catch them digging soil or eating munching some snacks.
These lovable small creatures spend most of their time inside underground holes. It's because the below-ground is their home.
4. Huge and Powerful Tigers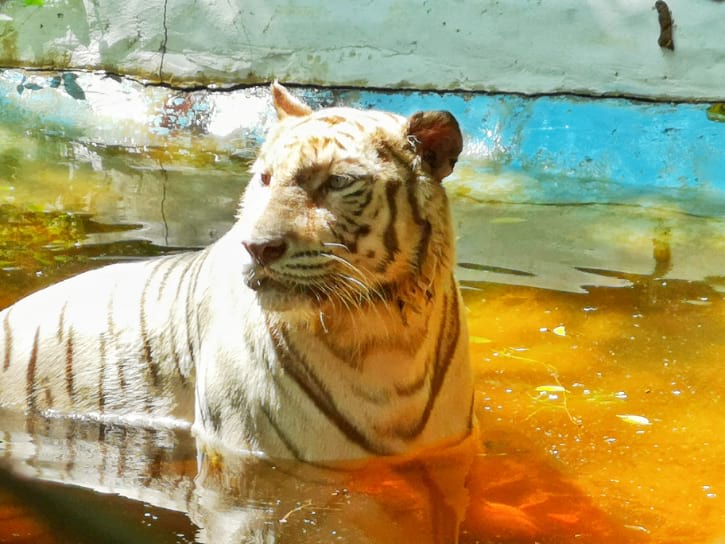 As you pursue with your exploration, you'll encounter these striking tiger species.
They stand out among other animals because of their light brown fur and brown stripes. And of course, their bright, blue eyes are very mesmerizing.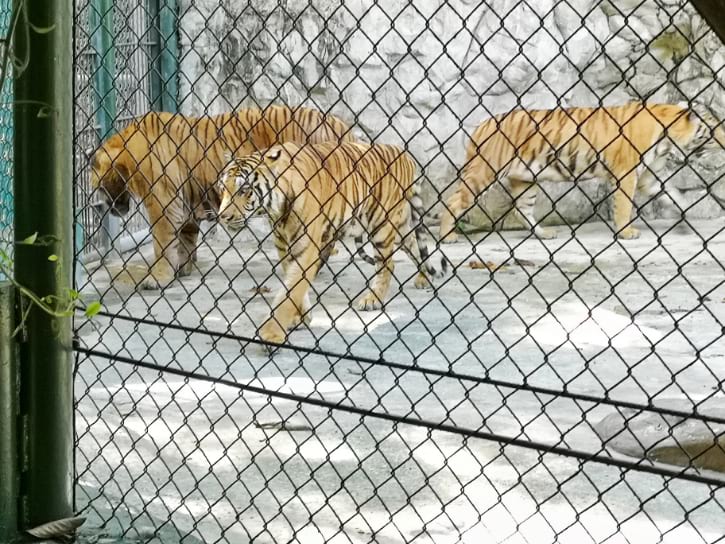 And of course, you can't miss the Malayan tigers. Their commanding presence makes them very eye-catching during your tour.
Compared to other huge felines, they are more skillful and powerful.
5. Fast-running Animals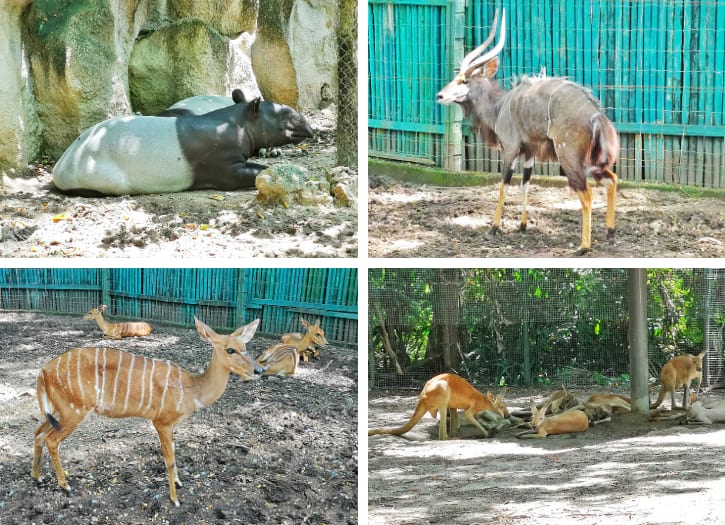 Another highlight in this area of Safari World Bangkok are these fast animals. Kudus, fallow deer, and agile wallabies, in particular, can easily gallop and run because of their body built.
6. Short-legged Horses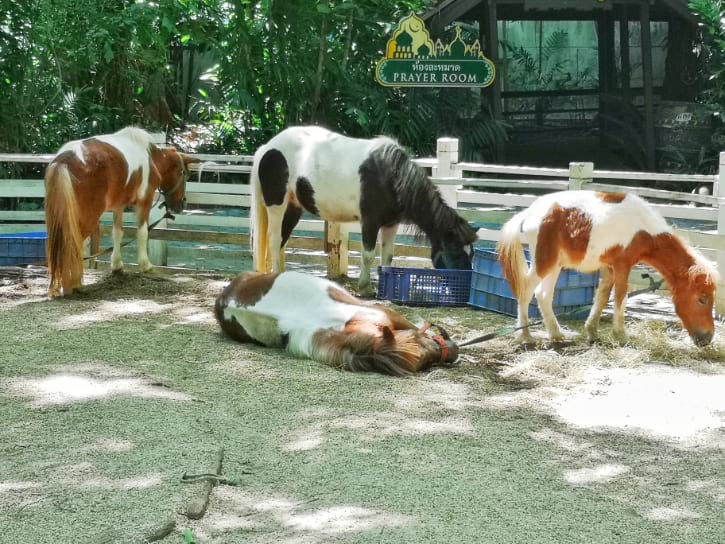 Look at these adorable ponies! Often, you'll catch them eating their favourite grass and relaxing on the ground. These animals are small horses with short legs but thick hair.
7. Charming Sea Mammals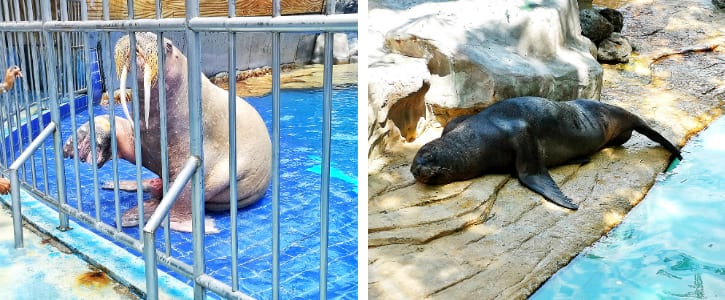 Spend some quality time with these cute animals! Walruses and sea lions are easily recognized because of their dog-like features.
Plus, their chubby skin makes them very adorable. During daytime, they love to sunbathe on the ground or even in the water.
8. Powerful Predators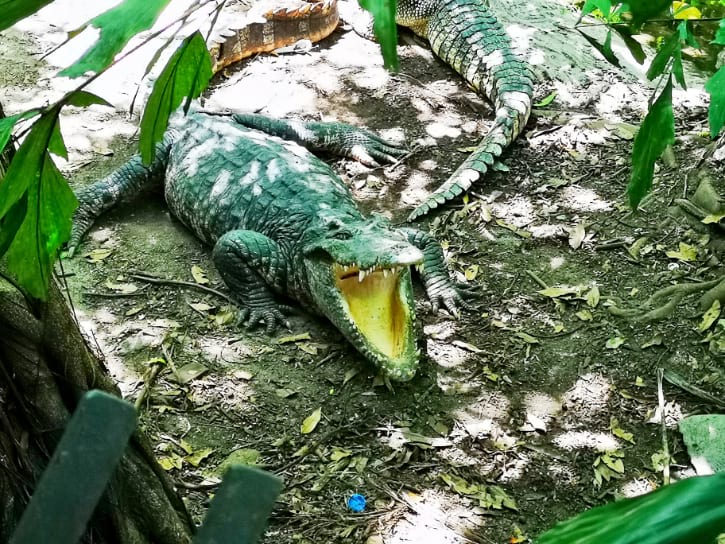 If you want a little bit of excitement, go to the crocodile section. These big reptiles are very good predators because of their unique physical features.
9. Different Bird Species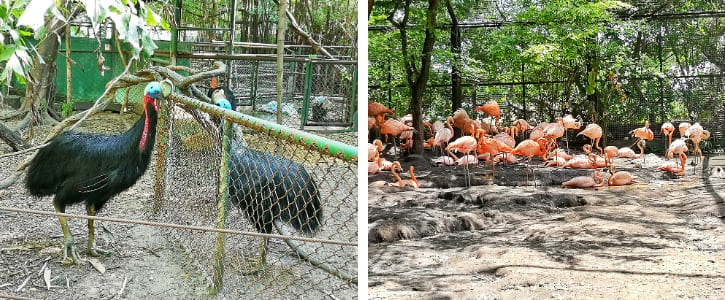 Both cassowaries and Cuban flamingo are some of the biggest birds in Marine Park. These birds mainly flock together along damp areas.
Aside from their massive height, they have vibrant colors that make them more attractive.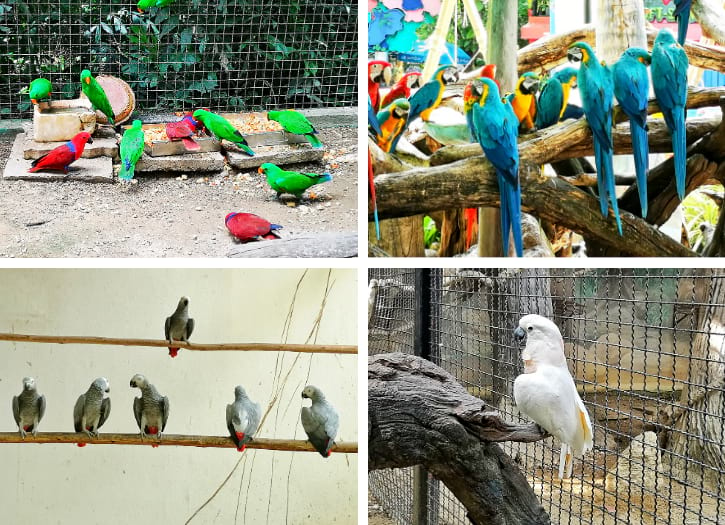 But of course, you can't ignore these colorful birds. Each of these species has a unique combination of colors. Most of these animals are very talkative too.
So, if you drop by this area, you'll definitely hear a lot of chirping and even mimicking of voices.
10. Egg World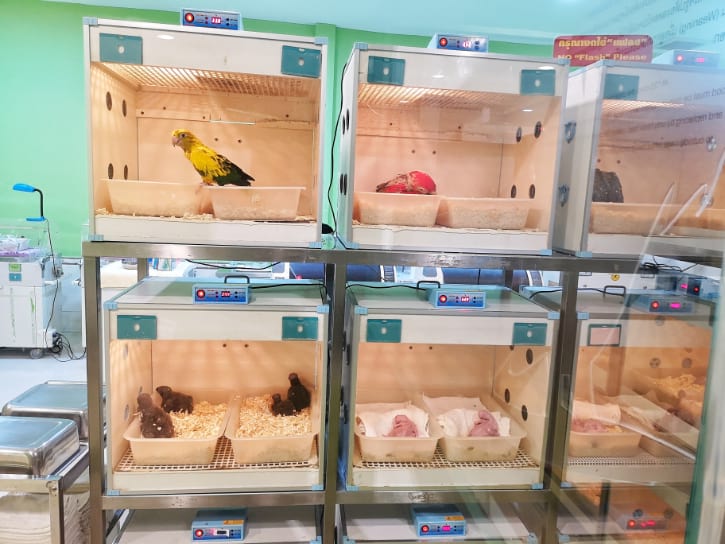 Eggs World is another must-visit section. It's a discovery centre that showcases the life cycle of different eggs.
One of the highlights here is the development of a chicken embryo. There's also a parrot incubator, where you get to learn their growth process.
11. Tiger Cub Feeding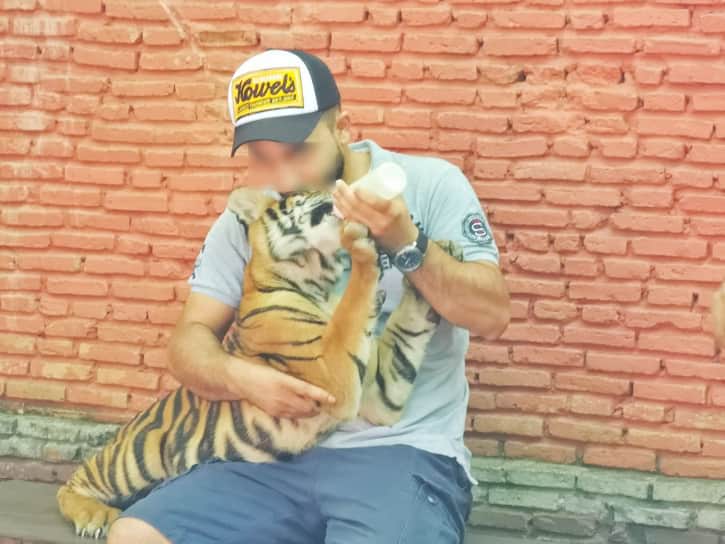 Nursing a tiger cub definitely a once in a lifetime moment! In this area, you are given the chance to hold and cuddle a baby tiger. Plus, you can take a photo of your experience!
Best Shows to See at Marine Park
Marine Park is also a favored spot in Safari World Bangkok because of its must-watch shows.
Here, you have 5 fantastic shows to see. Check them out below.
1. Dolphin Show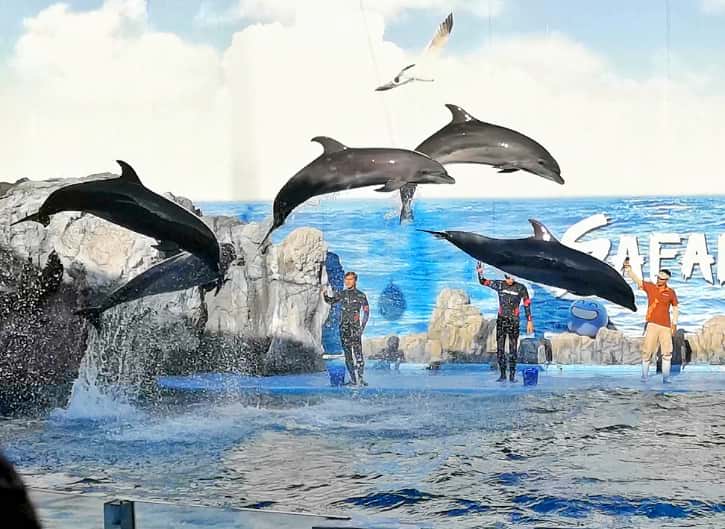 First on the list is the dolphin show. This is such an entertaining presentation of their skills and natural mental power.
They can easily follow instructions like twirling in the water or jumping up in the air.
Sometimes, they even sing in unison! Surely, there's never a dull moment when you spend your time with these adorable creatures.
2. Sea Lion Show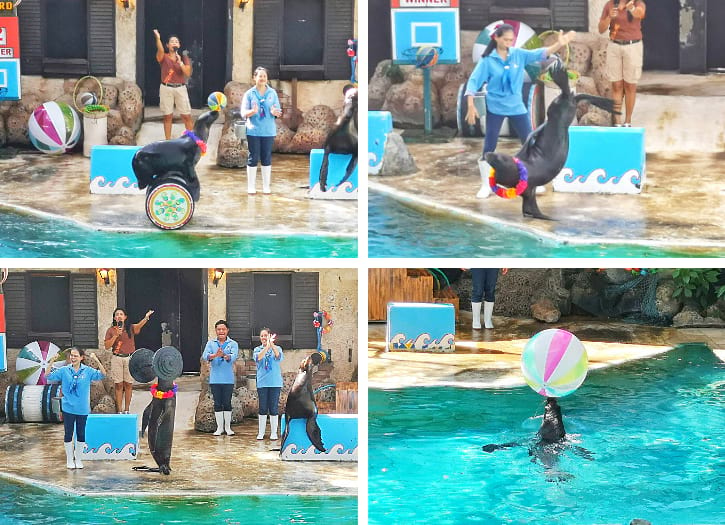 Continue your way to the sea lion show and meet these charming animals. Just like dolphins, these mammals are known to be great sea entertainers.
They can balance a ball using their nose, dance with their hands, and do all sorts of tricks. So, make sure to appreciate their talents by cheering on them.
3. Orangutan Show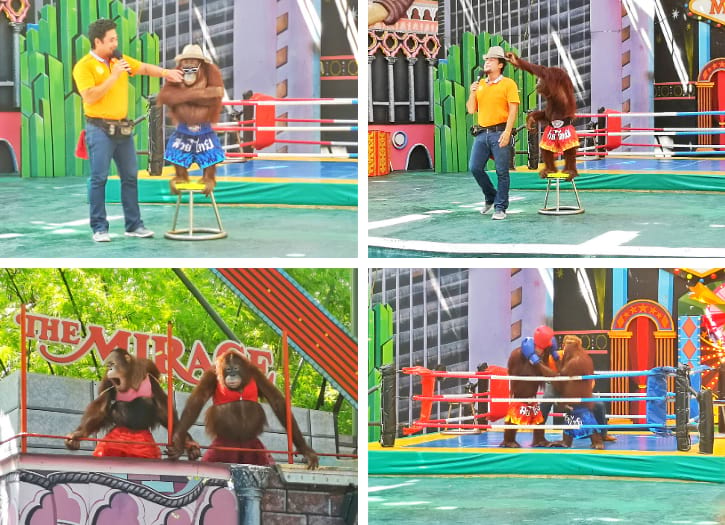 Another crowd favourite at Marine Park are the orangutans! They are simply lovable because they act like humans.
They would show their incredible moves while dancing to the music.
Not only that but they are also very hilarious! See their boxing match and you'll be surprised how good they are at throwing cute punches.
4. Elephant Show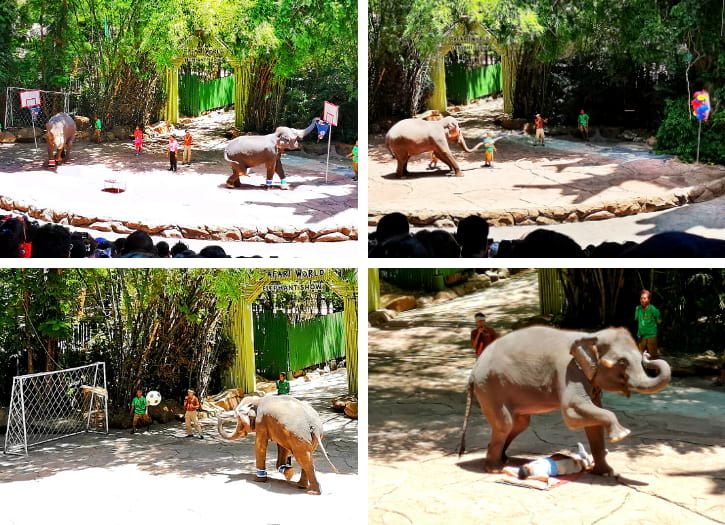 If you love these gentle giants, head to the elephant show and watch their incredible skills.
Even with their massive size, elephants are extremely talented mammals! They can easily balance, either on both feet or with just one foot!
These playful animals are also very playful. Catch them popping balloons and shooting a ball using their trunks.
5. Hollywood Cowboy Stunt Show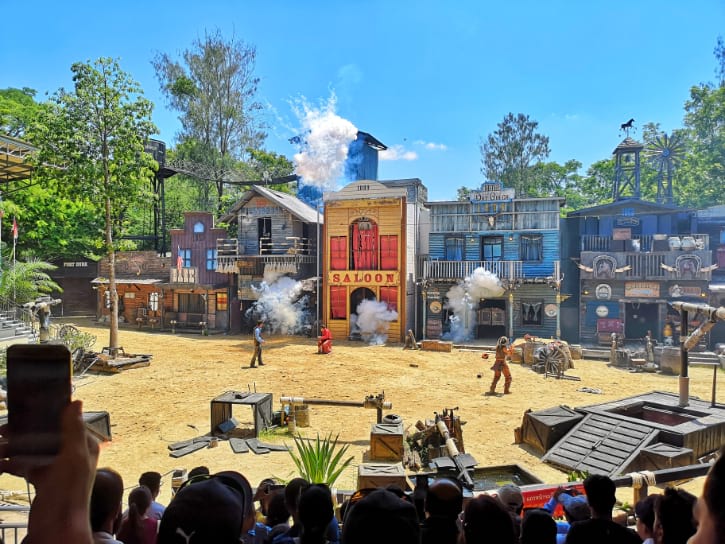 After the fun animal shows, it's time for the Hollywood Cowboy Stunt Show. This is a live, comical presentation of a cowboy's life.
Set your eyes on their exciting routines and amusing battle fights. Some of them even ride horses.
And of course, there are fake gunshots and smokes to add more excitement to the show.
Where to Buy Discounted Safari World Bangkok Tickets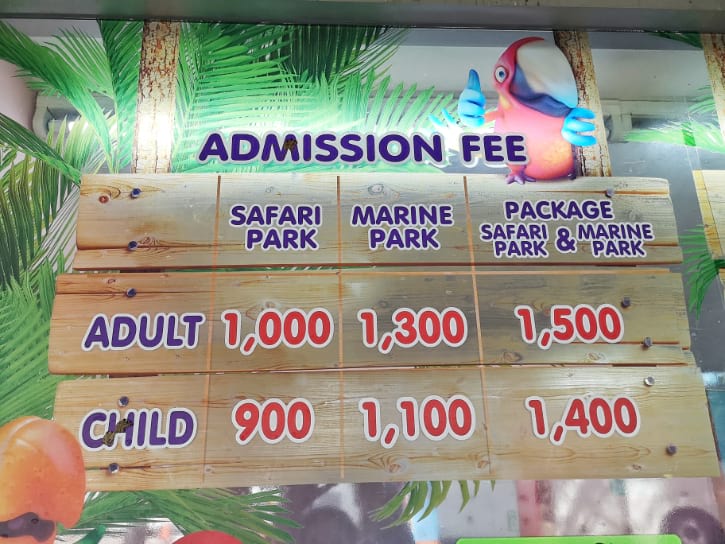 There are different prices when buying Safari World tickets on-site.
For Safari Park, it costs 1,000 Thai Baht for an adult and 900 Thai Baht for a child (aged between 2 and 12).
For Marine Park, the ticket prices are 1,300 Thai Baht for an adult and 1,100 Thai Baht for a child.
For both parks, the rate is 1,500 Thai Baht for an adult and 1,400 Thai Baht for a child.
If you want to save money and get up to 40% discount, then book Safari World tickets online here. This is what we did before visiting the zoo and it really made our trip more cost-effective.
My Comment
Our trip to Safari World Bangkok was definitely a fun and memorable experience.
We enjoyed watching all the animals as well as the amazing shows.
To make the most out of your visit, I'd recommend that you visit both parks. We spent about 7 hours, exploring around the zoo.
During our trip to the zoo, we took a shuttle bus because there's no BTS station close to it. We didn't choose the public bus because it's super slow.
If you want to follow what we did, you can book the popular shuttle bus here. This will take you directly to Safari World, which is quite convenient since it won't take too much of your time.
This shuttle bus service also come with the "drive through Safari Park" and lets you watch the feeding shows for lions and tigers at a closer distance.
So, you don't need to spend 45 Thai Baht for riding a coach bus to experience the "drive through Safari Park" and watch the shows.
Where to Explore Next
Aside from visiting Safari World, I suggest that you visit SEA LIFE Bangkok. This is a massive aquarium that comes with spectacular exhibits. Find out more about this place in my detailed guide to SEA LIFE Bangkok Ocean World.
Both Safari World and SEA LIFE Bangkok are just part of my Bangkok trip. To get more ideas, simply read my personal 5 days in Bangkok itinerary here and discover all the amazing Bangkok sights. This guide will help you enjoy every moment without rushing your time.
If you have plans going to Singapore, don't forget to see my articles on Singapore Zoo and River Safari. These 2 famous zoos are highly recommended for first-time visitors.
Are you going to Korea? Don't miss Alpaca World Korea, a unique animal farm that lets you interact with cute alpacas. Also, you can meet other animals like capybaras, fennec foxes, eagles and more.
Safari World Bangkok Map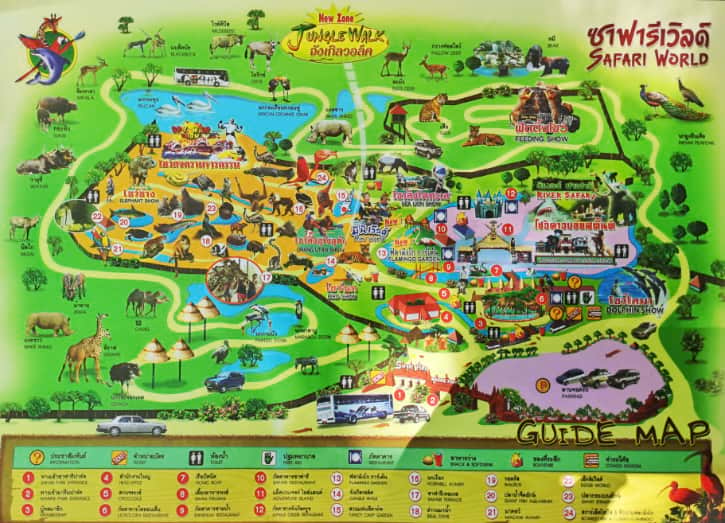 Before kicking off your Safari World Bangkok tour, get a copy of the schedule sheet and guide map.
The map features all the sections of the two parks to help you navigate easily.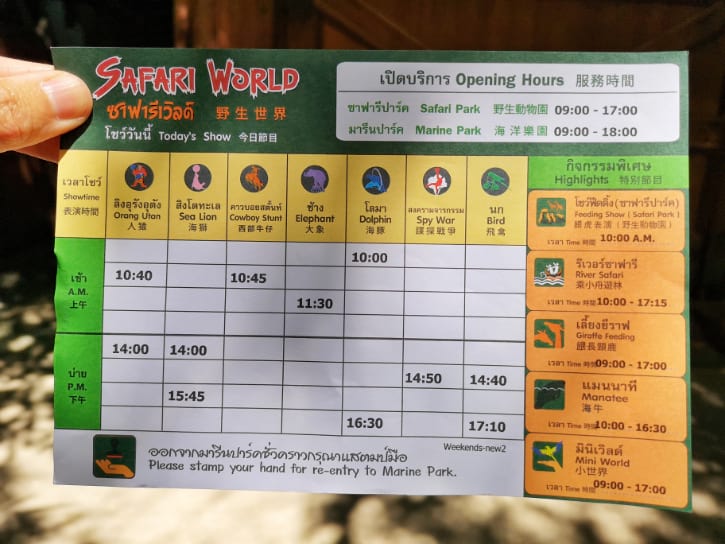 On the other hand, the timesheet provides you with a detailed schedule of the shows in each park.
Both schedule sheet and guide map are available at the front deck of the ticketing counter.
So, be sure to pop by the entrance to get these essential materials.
Opening Hours
Safari Park
Tuesday to Friday: 9:00 AM – 4:30 PM
Saturday to Sunday: 9:00 AM – 5:00 PM
Marine Park
Tuesday to Friday: 9:00 AM – 5:00 PM
Saturday to Sunday: 9:00 AM – 5:30 PM
*Both parks are closed on Mondays.
For the latest operating hours, check out the official website of Safari World.
How to Go to Safari World Bangkok
Once you've decided to visit Safari World Bangkok, you're given 3 transportation options, with downtown Bangkok as the starting point. These 3 ways are: By BTS Skytrain & public bus, shuttle bus and taxi.
1. By BTS Skytrain and Public Bus
There's no direct BTS or MRT train going to Safari World Bangkok, so you need to take the train first. Right after, hop aboard the public bus.
Here's a step-by-step guide on how to get to Safari World via BTS train, then public bus: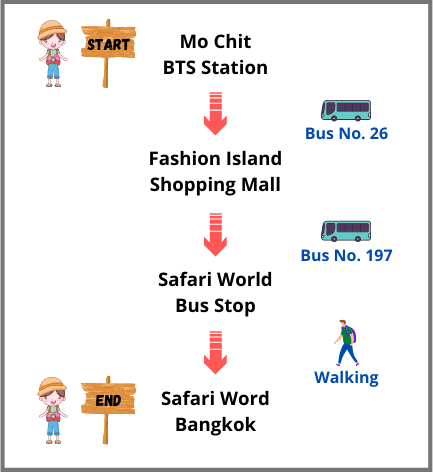 Take the Sukhumvit Line to Mo Chit BTS Station.
From there, go out the Exit 1 and then hop on the Bus No. 26 go to Fashion Island Shopping Mall.
After get off the bus at the shopping mall, take another Bus No. 197 go to Safari World bus stop. And then, walk to the park in 10 minutes.
The entire journey takes around 2 hours from Mo Chit BTS Station to Safari World Bangkok.
2. By Shuttle Bus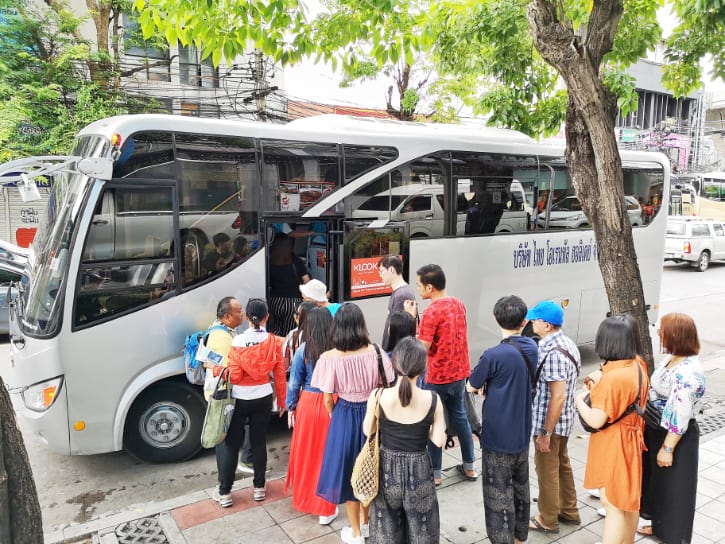 The best option is the shuttle bus from downtown Bangkok to Safari World. This air-con ride is not just the most convenient but also the safest mode of transportation.
Conveniently, the assembly location for the shuttle bus is just located outside of Central World shopping mall.
3. By Taxi
The last option is by taking a taxi to Safari World Bangkok. This is the comfortable and fastest way of getting there.
Unfortunately, this is also the priciest, considering the traffic jam in Bangkok.
So, if you're planning to take a cab, better check with the driver first if their meter is working. If not or if they refuse to use the taxi meter, find another one―it's better safe than sorry.
Planning go to Safari World by private car instead of taxi?
Visit this website to reserve a car for the animal park. The driver can send you to the attraction directly!
Now, we have come to the end part of my article. I sincerely hope you enjoyed reading this Safari World guide and you find it useful.
Safari World Bangkok is undeniably a fun place to visit, especially for animal lovers.
Families with kids will also appreciate this park because of its remarkable display of animals and incredible shows.
So, give it a go and for sure you'll enjoy every moment in the park.
Wishing you a delightful and memorable journey to Safari World Bangkok! Goodbye! 🙂
Related Posts