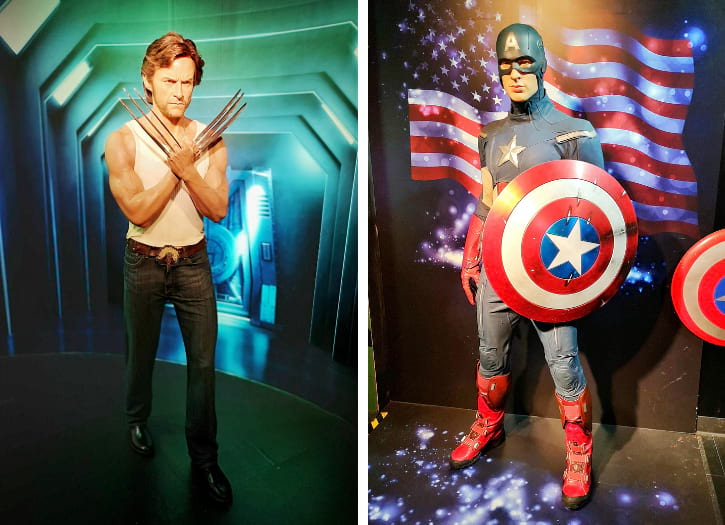 Wondering how good Madame Tussauds Bangkok is? Let me share my Madame Tussauds Bangkok review here so you can know whether it is worth your visit.
Madame Tussauds Bangkok is a top-rated attraction in Bangkok featuring an impressive collection of lifelike figures. Here, you get to take pictures with life-sized figures from famous leaders to movie actors and other sport legends and even buy some take-home souvenirs.
To help you decide if the Madame Tussauds Bangkok is worth your time and money, I'm going to share with you my experience of visiting the wax museum and also what wax statues you can see in there through this blog.
Let's check out what you can expect from Madame Tussauds Bangkok now! 🙂
What to Expect at Madame Tussauds Bangkok
---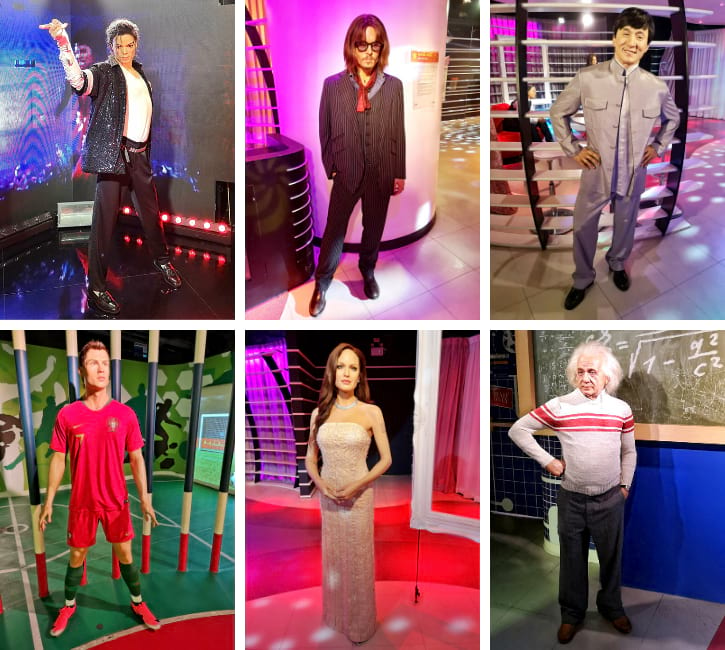 History – Take a walk down the memory lane and meet some of the world's historic people
---
1. Diana (Princess of Wales)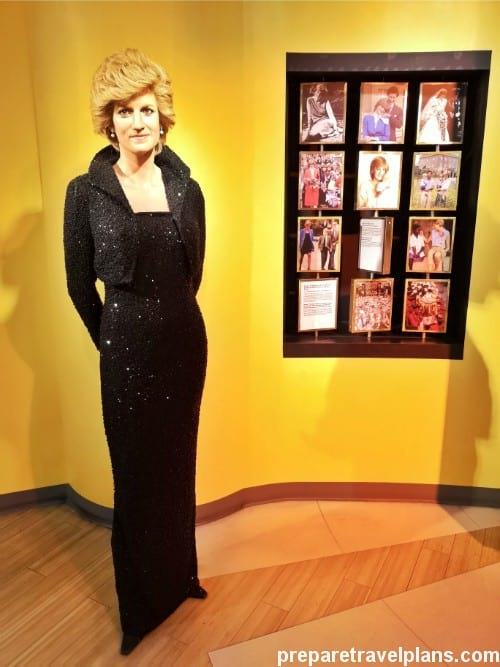 Beautiful, kind, generous, and elegant―these are the well-loved features of Diana, Princess of Wales. Her life mostly revolved around charity works, making her the most beloved princess of all time, even after her death.
2. Field Marshal Plaek Phibunsongkhram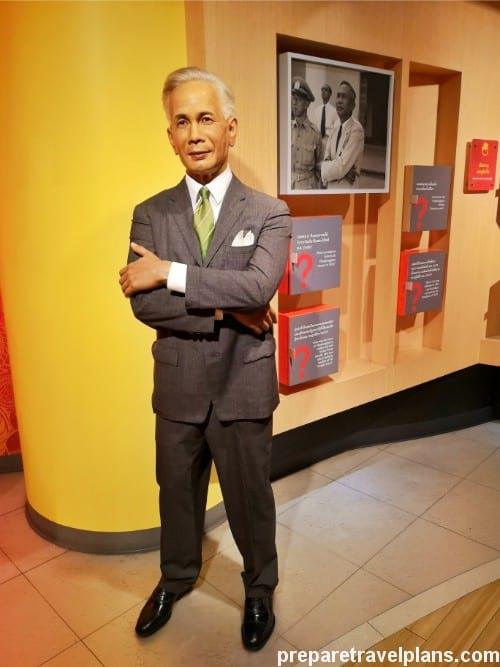 Being in service for 15 years, Field Marshal Plaek Phibunsongkhram is considered as the longest-serving official of Thailand. Because of his extensive service, he has been one of the key persons of country's economic growth.
3. Mahatma Gandhi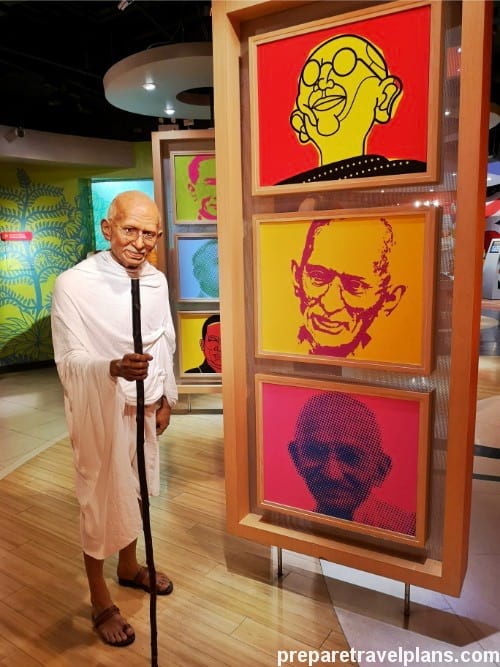 His manner of revolution has always been historic; it did not feature any kind of violence and abuse. Instead, Mahatma Gandhi focused on peaceful resistance that led to the successful independence of India from British control.
4. Mao Zedong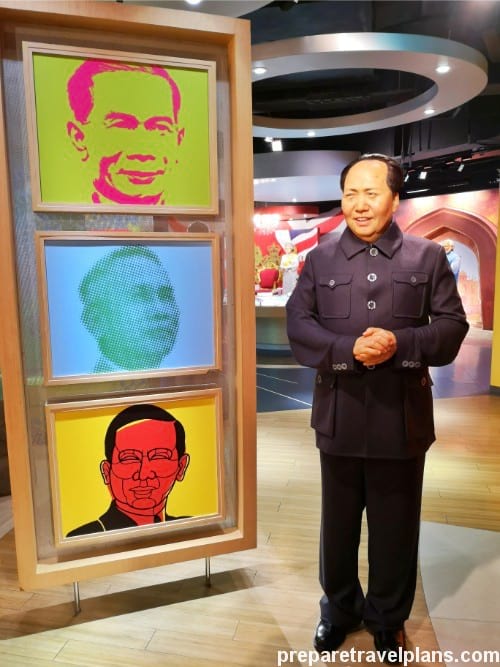 Dubbed as the father and liberator of modern China, Mao Zedong served the country from 1949 to 1976. Because of this governance as a communist chairman, he has become one of the most notable and powerful Chinese leaders.
5. Seni Pramoj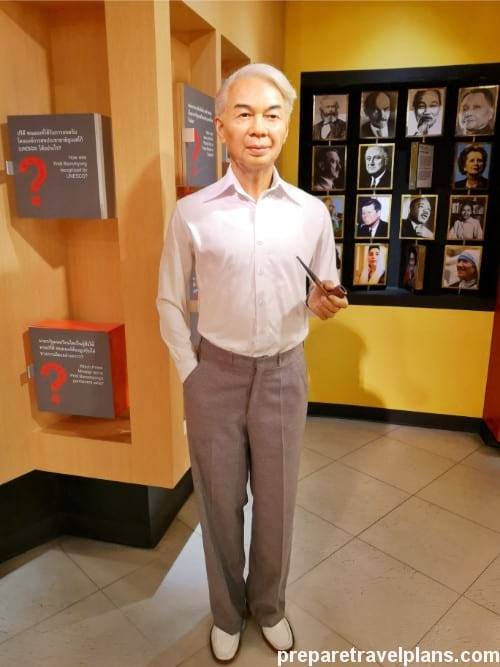 For three times, Mom Rajawongse Seni Pramoj was appointed as the Prime Minister of Thailand. Aside from being a public servant, a lawyer, and a professor, he was also part of the Thai royalty. He was a successor of King Rama II.
6. Sukarno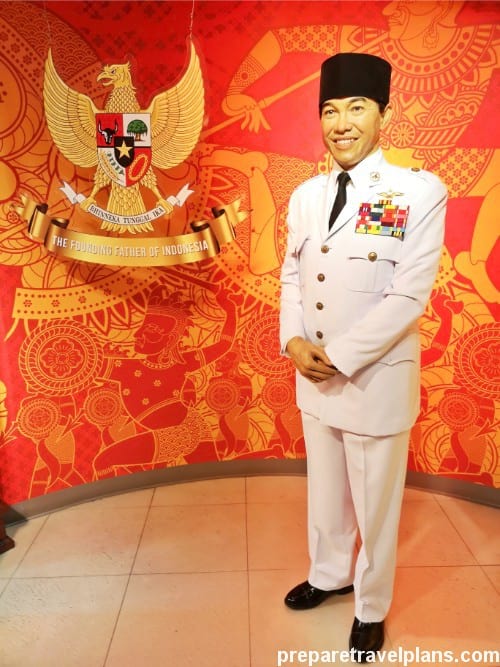 As the first president of Indonesia, Sukarno was an outstanding leader that governed the country towards freedom from the Netherlands. He served the nation from 1945 to 1967 and was known to be the head of the country's nationalist movement.
7. Buddhadasa Bhikkhu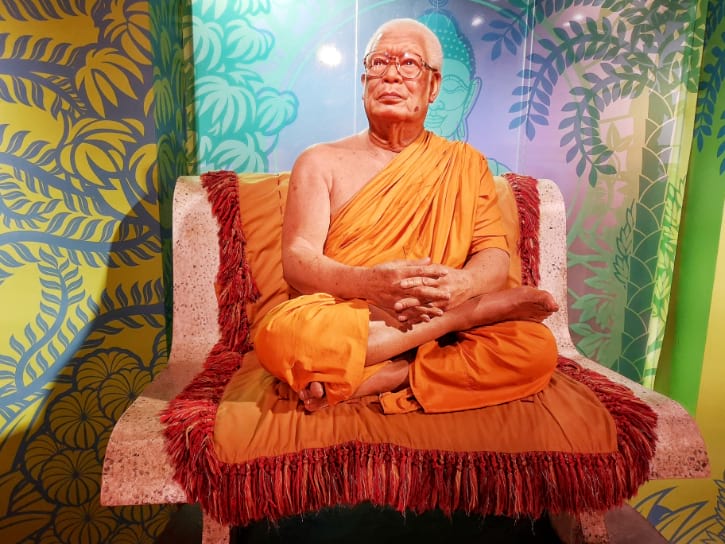 Buddhadasa Bhikkhu is more than just a Thai monk. He was also a popular, contemporary re-interpreter of Buddhism in the country. With his reputable teachings, he has reshaped the traditional perception of Thai folk beliefs.
World Leader – Have a personal encounter with the top leaders of the world
---
1. Barack Obama and Michelle Obama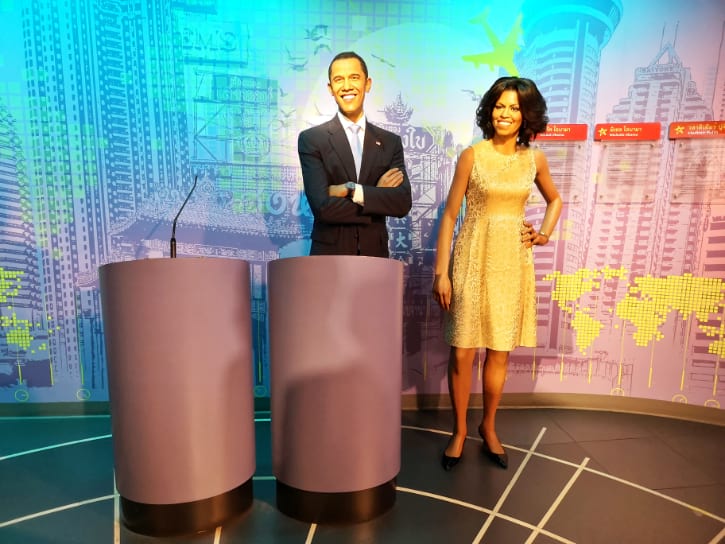 The power couple, Barack Obama and Michelle Obama, is one of the most remarkable leaders in American history. Barack Obama, in particular, was the president of the United States for 13 years, from 2009 to 2017.
2. Xi Jinping and Peng Liyuan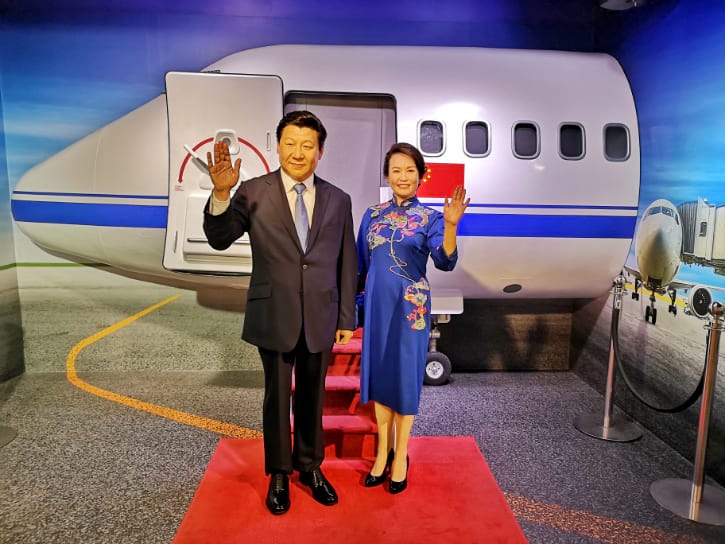 Another couple that graces your visit to the museum is Xi Jinping and Peng Liyuan. The two have been married for more than three decades. Xi Jinping is currently the president of the People's Republic of China.
3. Queen Elizabeth II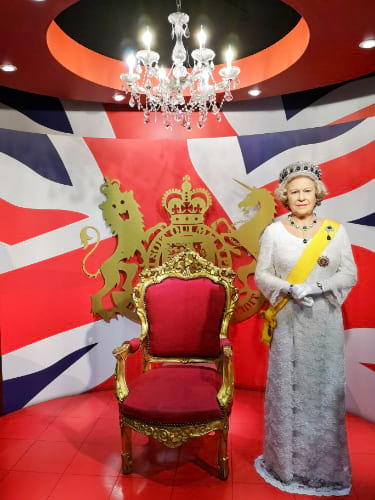 As the queen of the United Kingdom, Queen Elizabeth II holds a rather significant value in the country. Did you know that she's the only member of the royal family who has served the army? Aside from that, she's currently the longest-reigning ruler in British history.
4. Vladimir Putin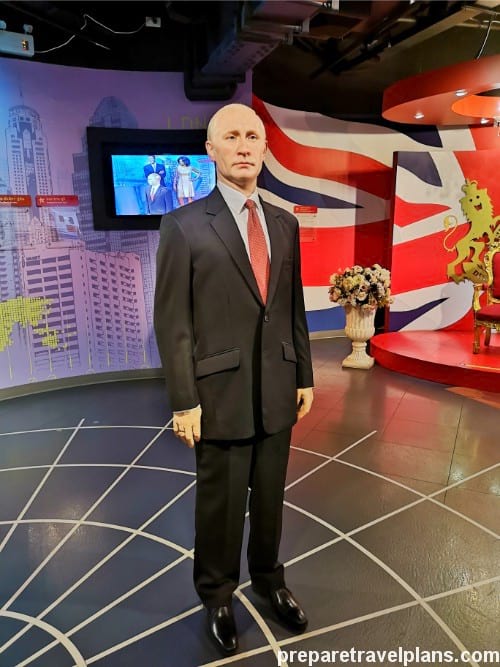 Before becoming the President of Russia, Vladimir Putin was a renowned Russian intelligence officer. He is well recognized because of his calmness and firmness even under challenging times.
5. Lee Hsien Loong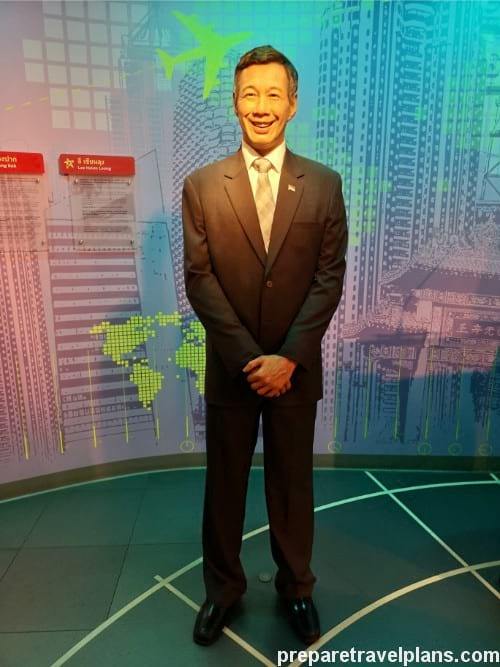 As the present Prime Minister of Singapore, Lee Hsien Loong has proven his leadership for quite some time. Before his distinguished rank, he was part of Singapore Armed Forces. He then became a Deputy Prime Minister from 1990 to 2004.
6. Narendra Modi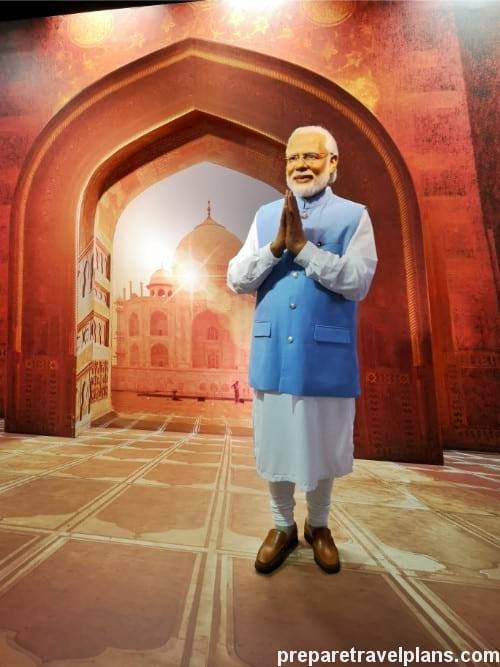 Another world leader on display is India's current Prime Minister, Narendra Damodardas Modi. He took office in 2014 and was the first official that succeeded the country after the British government. With his command, he led the nation towards economic privatization.
7. Aung San Suu Kyi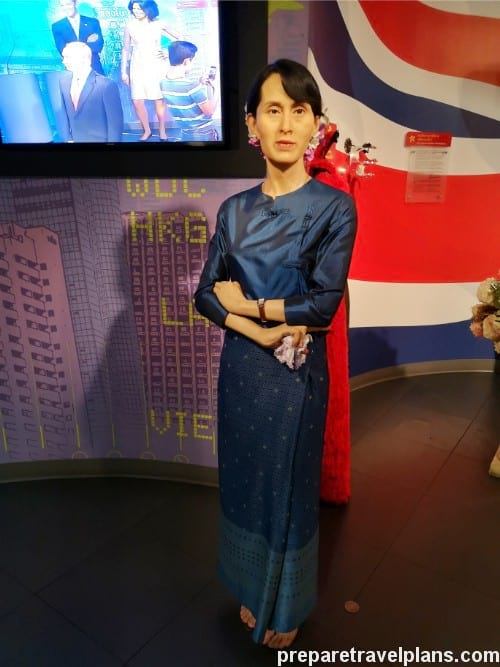 Even with her old age, Aung San Suu Kyi continues to amaze the people around the world. With her non-violent way of bringing democracy, she has become a highly-respected Burmese politician and a Nobel Peace Prize winner. At present, she is the State Counsellor of Myanmar.
8. General Prem Tinsulanonda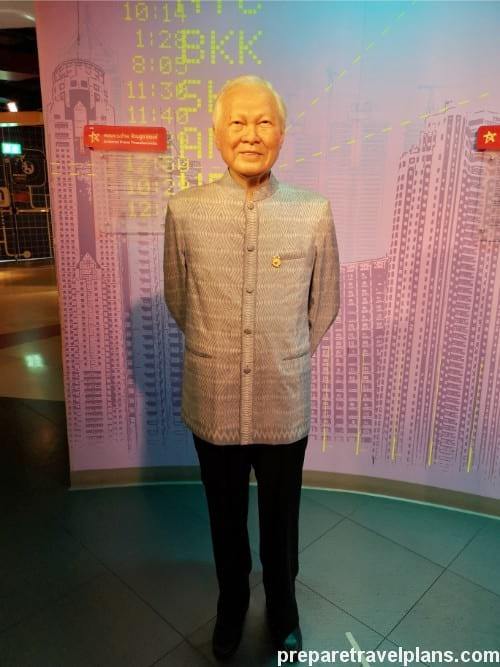 Take a picture of the General Prem Tinsulanonda, a famous Thai military officer who has also served as a politician. He was Thailand's Prime Minister for eight years, from 1980 to 1988, and was recognized for ending the communist revolution.
9. Tun Dr Mahathir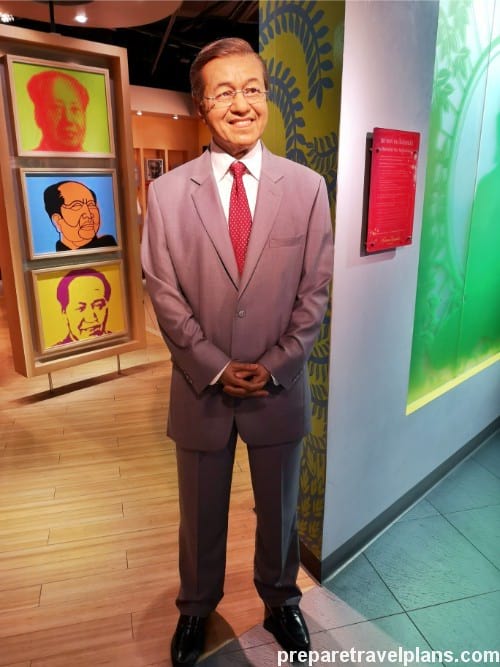 Another figure to look forward to in the museum is Tun Dr. Mahathir. He is the current Prime Minister of Malaysia. Throughout his administration, he has shaped the country into an industrial centre in Asia.
10. Lee Myung-bak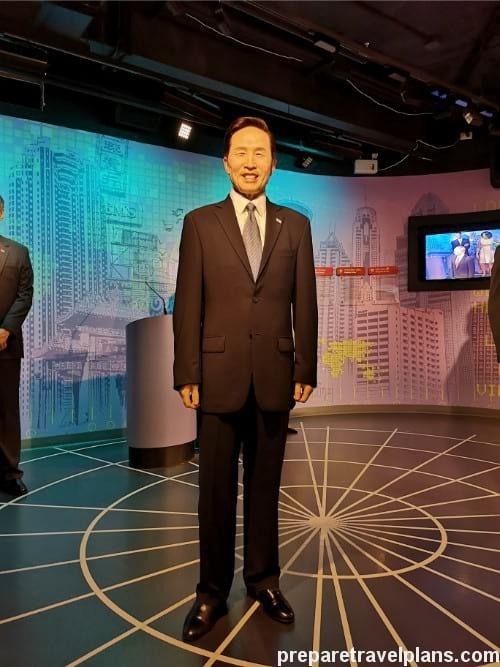 Lee Myung-bak was once the CEO of Hyundai before he moved into public service as the president of South Korea. He served from 2008 to 2013. Unfortunately, he is currently convicted of abuse of power and bribery.
Arts & Science – Come across some of the favourite artists and professionals
---
1. Albert Einstein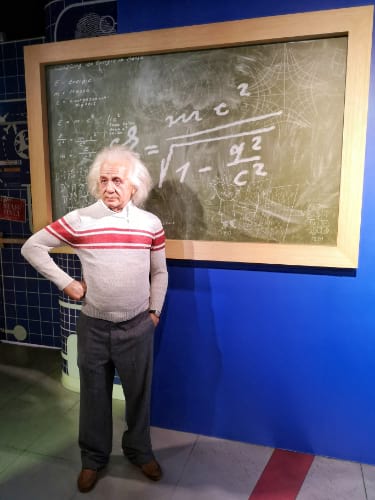 From his theory of relativity and his E=MC2 equation, Albert Einstein is truly a noteworthy individual that deserves all praises. His significant scientific theories have outlined the current philosophy of science.
2. Mark Zuckerberg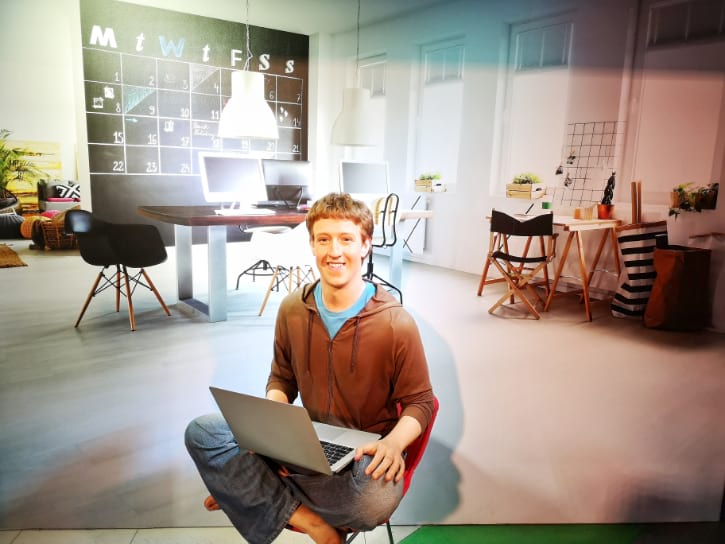 At some point in his career, Mark Zuckerberg wanted to create an income-generating platform for social communication. And that gave way for the birth of Facebook, a famous social media app used by millions of people worldwide.
3. Luciano Pavarotti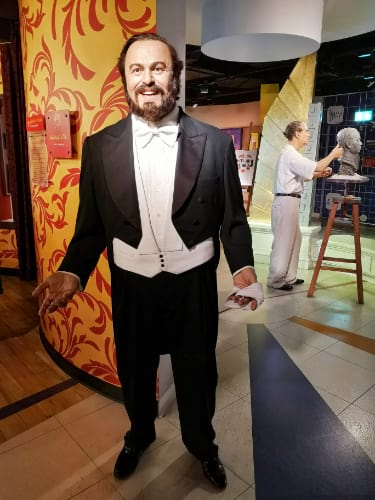 When it comes to tenor voice, Luciano Pavarotti is definitely on top of the list. Born in Italy, he is considered as one of the greatest opera stars in the world. His musical career features several opera house performances as well as celebrity duets.
4. Pablo Picasso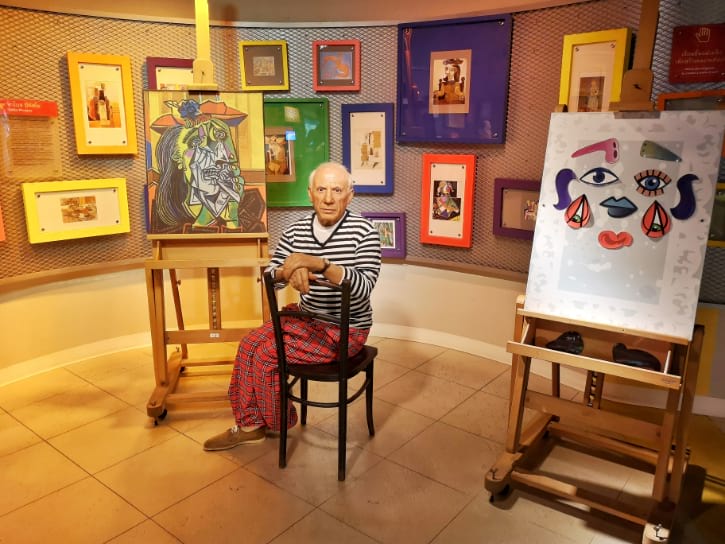 In the field of arts, Pablo Picasso is a household name who has created well-known pieces and artworks. This famous painter and sculptor is the person behind legendary paintings like Guernica, Les Demoiselles d'Avignon, and The Old Guitarist.
5. Ludwig-van Beethoven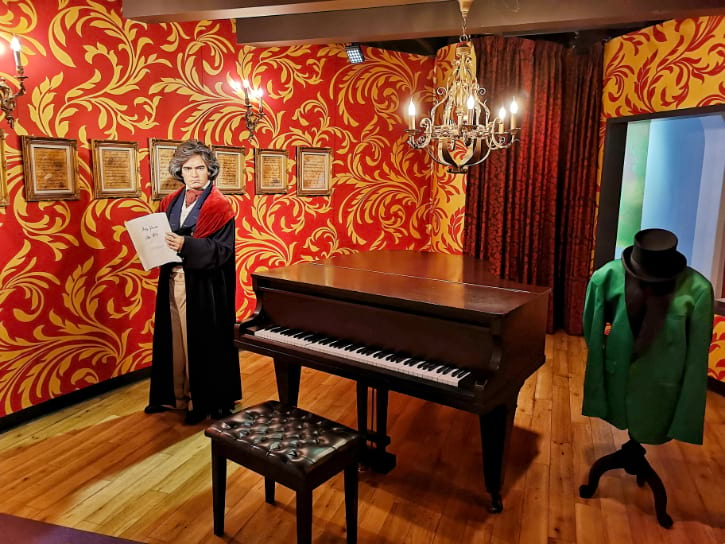 As one of the finest composers of all time, Ludwig van Beethoven is a notable figure in the musical industry. Some of his greatest music compositions include Symphony No. 9, Symphony No. 5, Piano Sonata, and Fur Elise. Up to now, his music is being performed at many concerts.
6. Silpa Bhirasri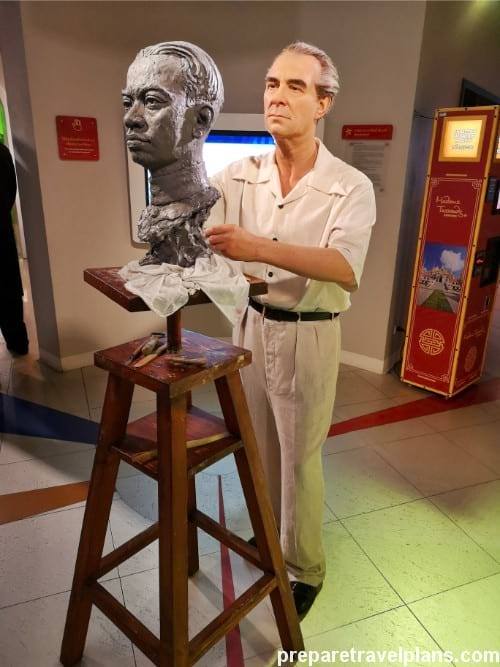 A famous Thai sculptor, Silpa Bhirasri is dubbed as the 'father of modern art in Thailand'. Over the course of his existence, he has created 18 notable monuments in the country. Some of his famous works include Victory Monument, Democracy Monument, and King Rama I statue.
7. Kukrit Pramoj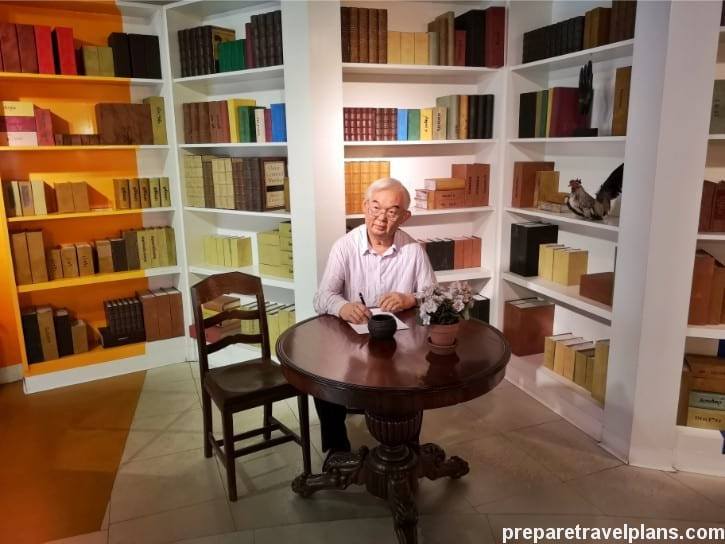 Also on the list is Kukrit Pramoj, a distinguished Thai politician. He was previously the Prime Minister of Thailand, who served from 1975 to 1976. Aside from being a prominent public figure, he was also a professor.
8. Sunthorn Phu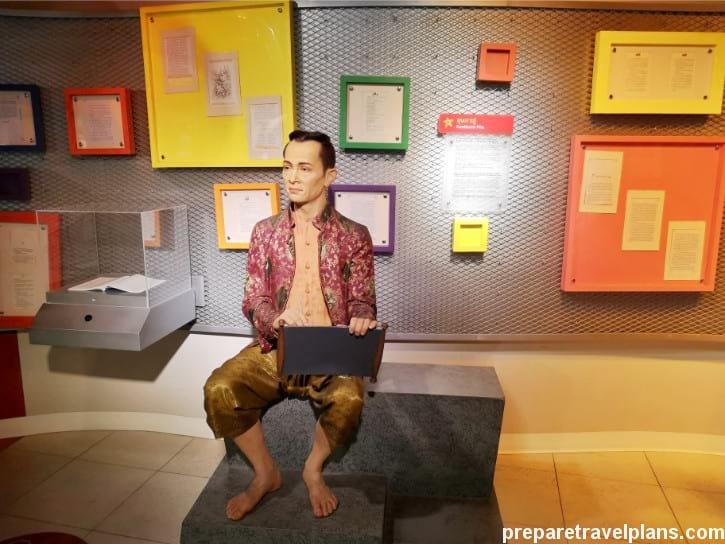 One of Thailand's beloved royal poets, Sunthorn Phu started his poetry works during the rule of King Rama II. Soon after the death of the king, he also retired from his duty and converted into a monk.
9. Luang Wichitwathakan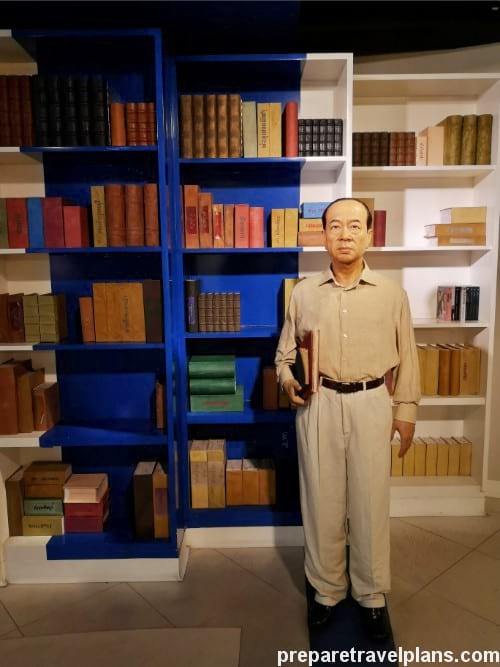 On top of being a well-renowned Thai politician, Luang Wichitwathakan was also a great historian. And one of his remarkable contributions was the transition of the country's name from Siam to Thailand.
Sports – Get physical and strike a pose with your favourite players
---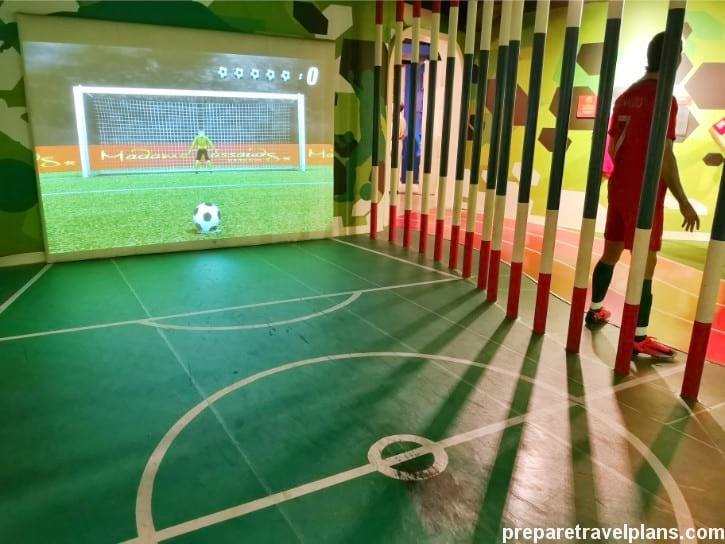 Before you start meeting some of the world's most popular players, warm up and enjoy this online soccer game. This virtual entertainment is such a perfect start-up activity before you get yourself busy.
1. David Beckham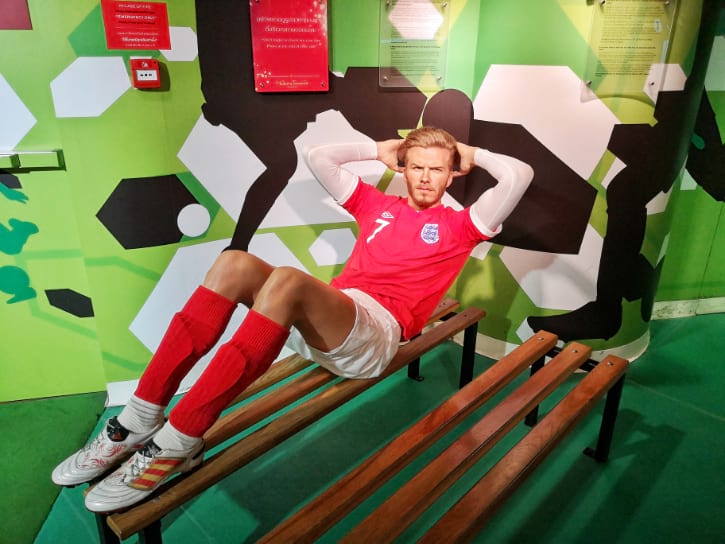 One of the most distinguished football players of all time is right inside this museum. See David Beckham up-close and personal. Now is the perfect time to do some quick workout, right beside this soccer superstar!
2. Cristiano Ronaldo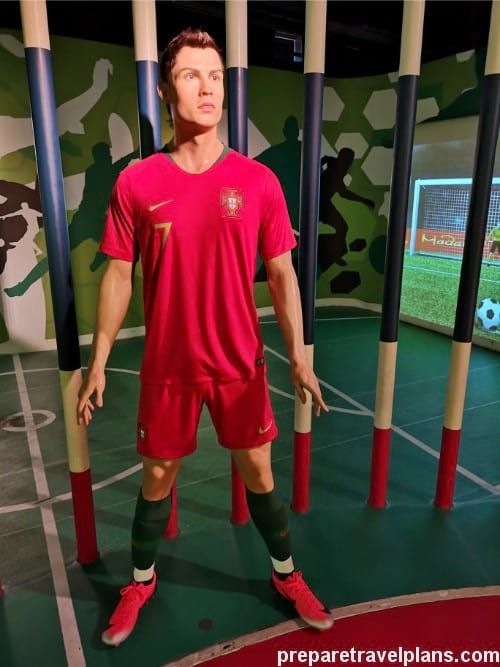 Be prepared to meet one of the world's best football players―Cristiano Ronaldo! This Portuguese player currently plays for Juventus F.C. He is also the captain of Portuguese national football team. With his impressive skills, he scored over 500 goals in his football career!
3. Steven Gerrard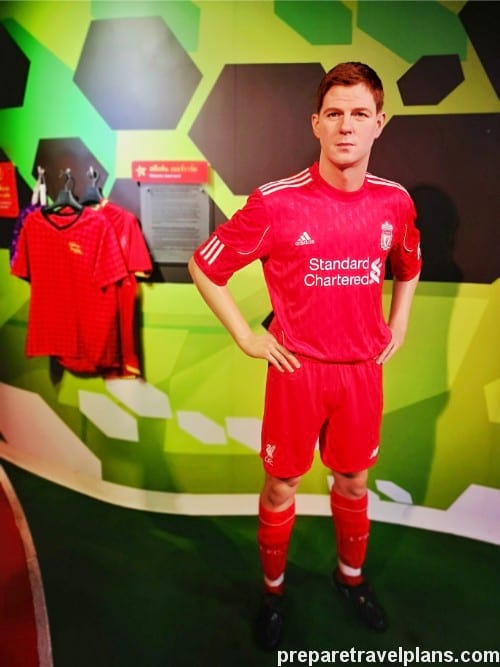 Another famous football player on exhibit is Steven Gerrard. Though already retired, he has created a name for himself, making him one of best players during his time. This professional player was also the captain of the England national team.
4. Wayne Rooney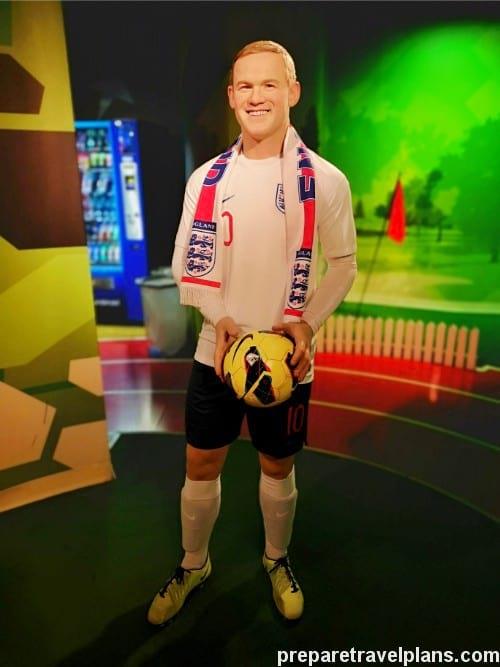 Currently part of D.C. United, Wayne Rooney has always been a skilful football player. Because of such skills, he holds the record of having the most goals for the England national team. In total, he has 53 goals and even counting!
5. Serena Williams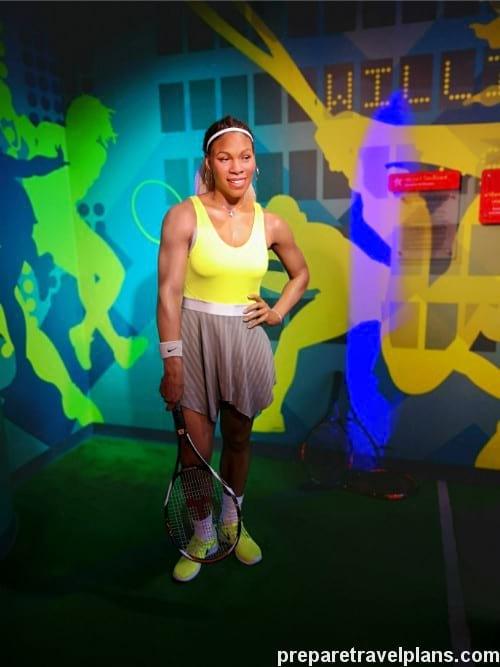 In the field of tennis, it's just too hard to ignore the name 'Serena Williams'. For many years, she has dominated women's tennis with more than 20 single titles! And even after many decades of playing this sport, this American professional tennis player is still in great shape.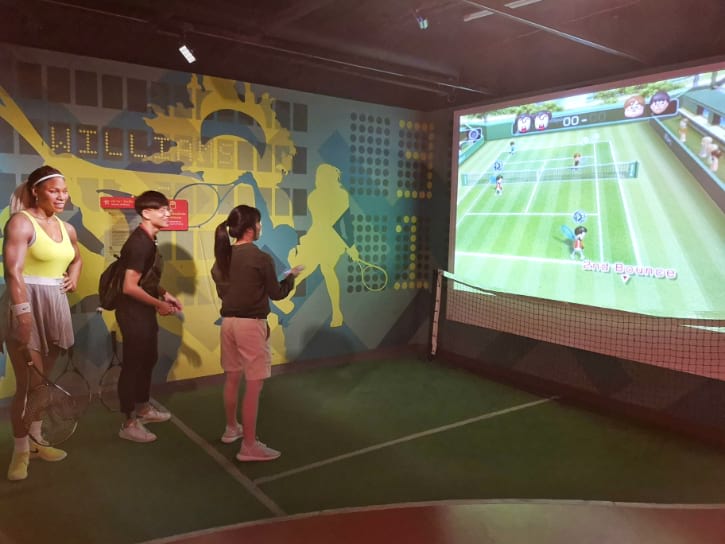 If you want to unleash your inner 'Serena Williams', you are on the right spot. Have the time of your life playing this virtual tennis game!
6. Tiger Woods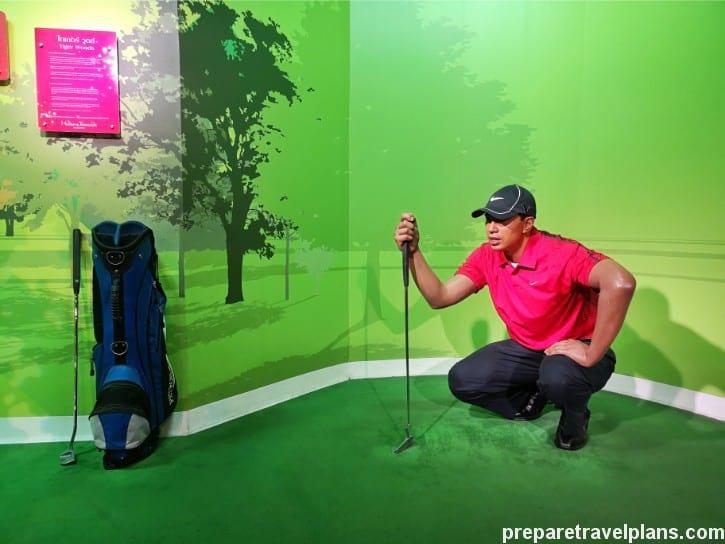 Unto the next sports category, Tiger Woods is definitely a famous name when it comes to golf. Having earned several golf records, he is truly one of the best golfers of all time.
7. Virat Kohli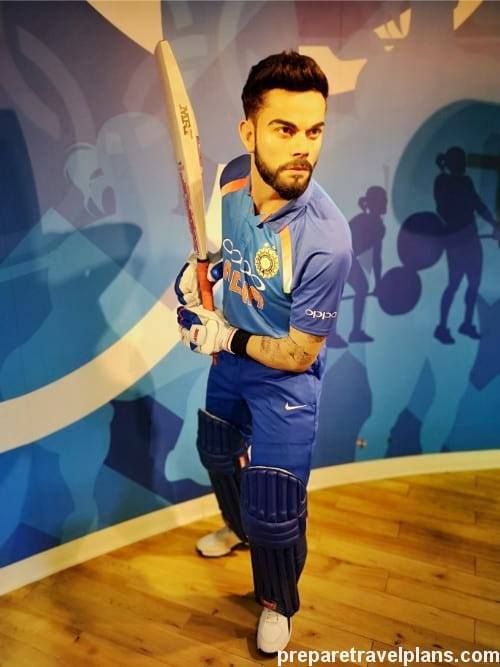 In terms of the sports cricket, Virat Kohli is no doubt a top-rated name. He's the current captain of Indian cricket national team and is considered to be part of the world's greatest batsmen.
8. Yao Ming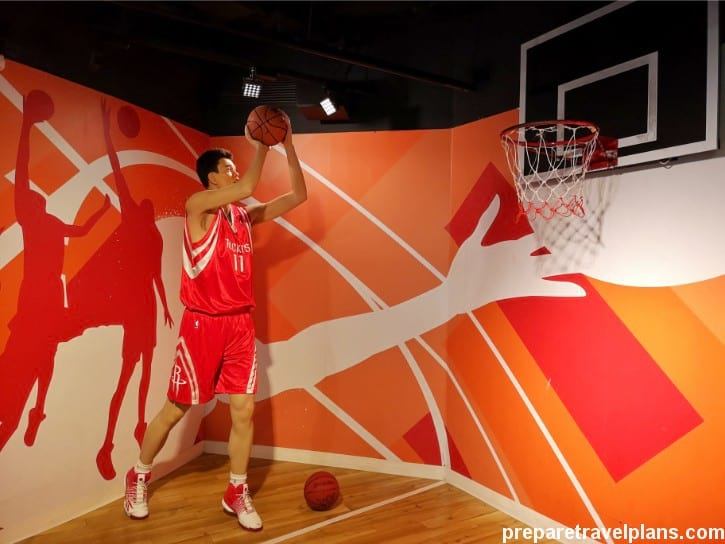 At 2.29 m, it's easy to spot Yao Ming among the crowd. This ex-NBA player previously played for Houston Rockets. Now a retired player, he continues to be a well-renowned Chinese basketball executive.
9. Khaosai Galaxy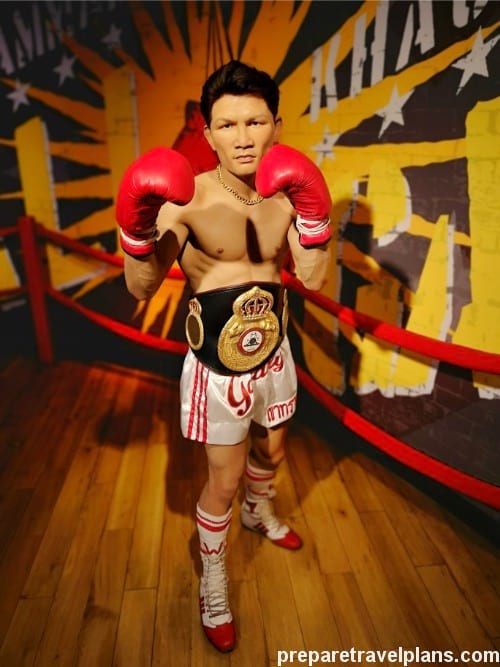 Having defended his WBA world titles for more than 15 times, Khaosai Galaxy is definitely a decorated boxer. Because of his remarkable skills, he is often dubbed as the 'Thai Tyson'. Aside from that, he is also a professional Muay Thai kickboxer.
10. Pawina Thongsuk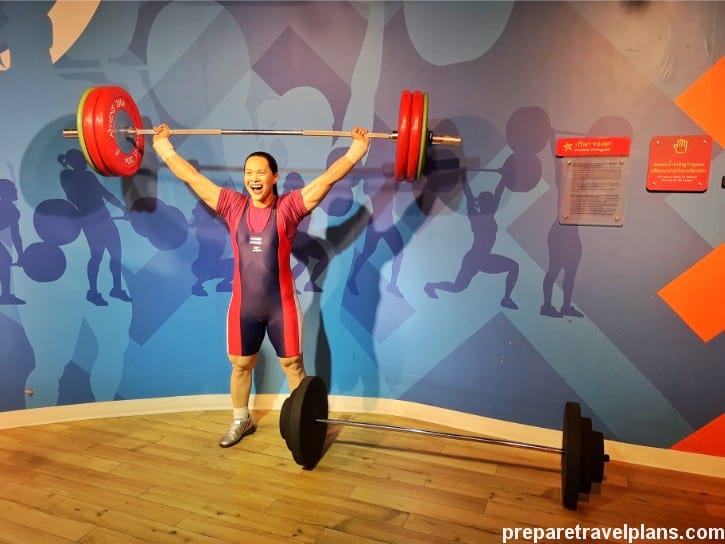 During the 2004 Summer Olympics in Athens, Pawina Thongsuk won the most coveted gold medal for women's weightlifting. Her hard work further paid off as she won the World Weightlifting Championship the next year.
Music – Step into the musical field and get closer to the musical stars
---
1. Michael Jackson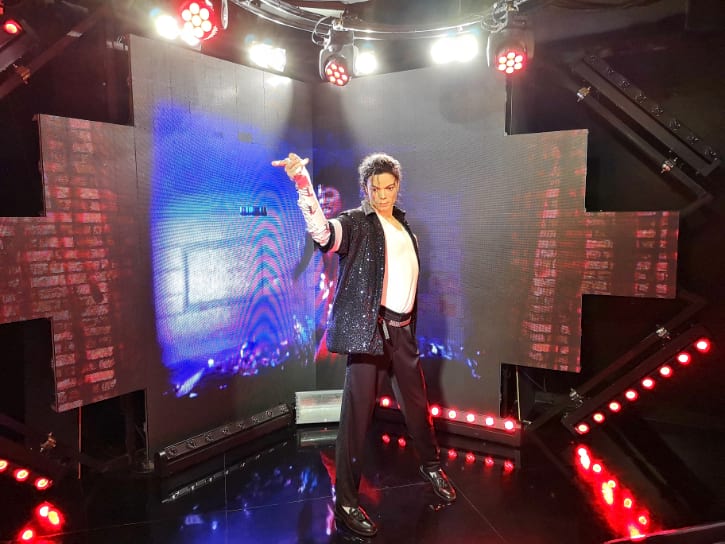 Truly the 'King of Pop', Michael Jackson transformed the music industry with his singing skills and signature moves. Some of his famous songs include Billie Jean, Thriller, Man in the Mirror, and You Are Not Alone.
2. Ariana Grande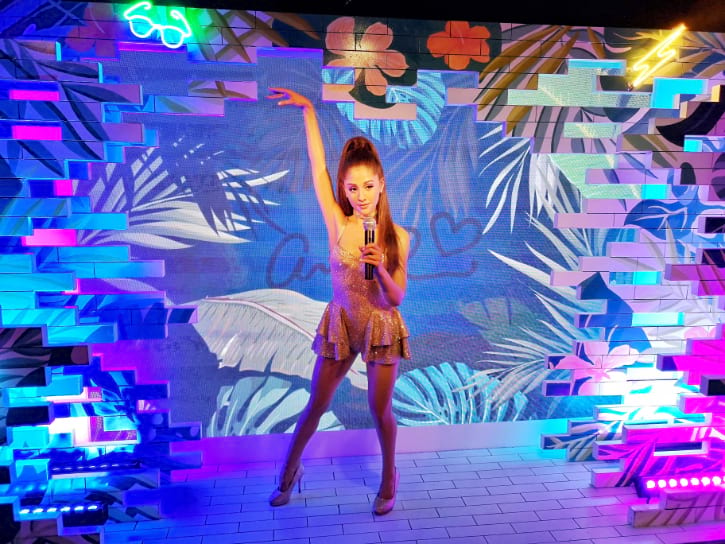 Born in Florida, Ariana Grande is one of the most influential singers of the present generation. She's an award-winning artist with hit songs like Bang Bang, thank u, next, Problem, Boyfriend, and Side to Side.
3. Katy Perry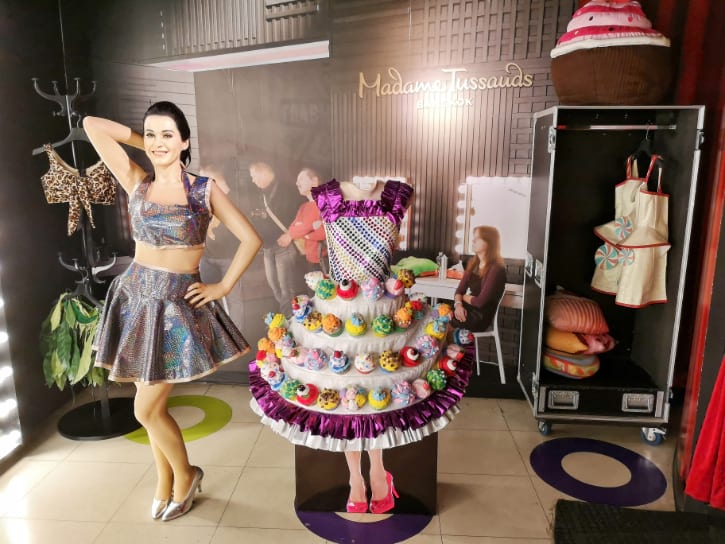 A renowned American singer-songwriter, Katy Perry was once a choir member in their church. When she was a teenager, she took gospel music, then transitioned into pop/ rock songs in her latter years.
4. Lady Gaga and Madonna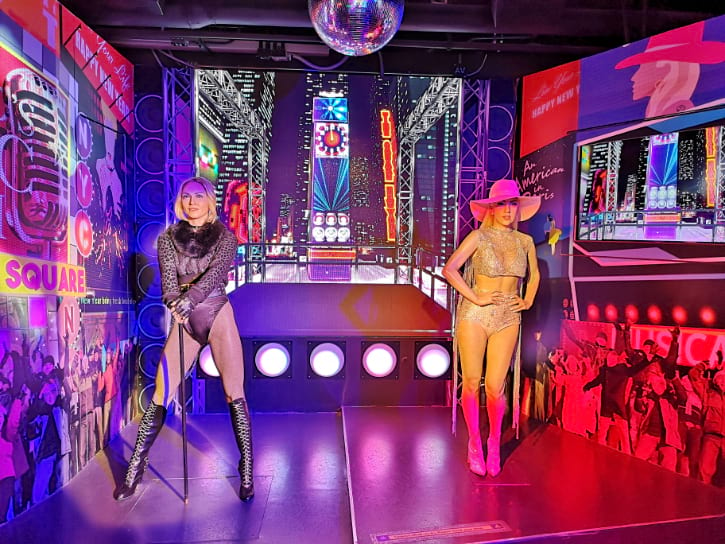 These two highly-respected artists definitely represent women power in the pop music industry. Both Lady Gaga and Madonna have created their own name in the international scene, entertaining everyone with their remarkable skills.
5. One Direction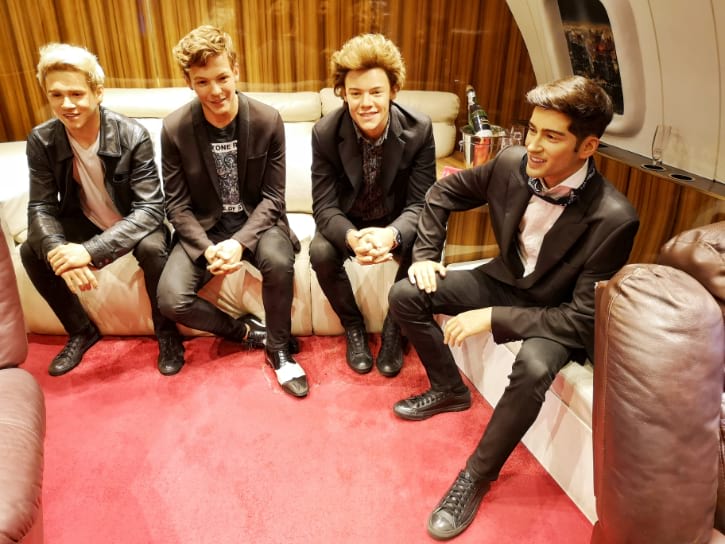 Certainly one of the most popular boy bands in the world, One Direction was composed of five talented members. These were Harry Styles, Zayn Malik, Niall Horan, Liam Payne, and Louis Tomlinson.
6. Tata Young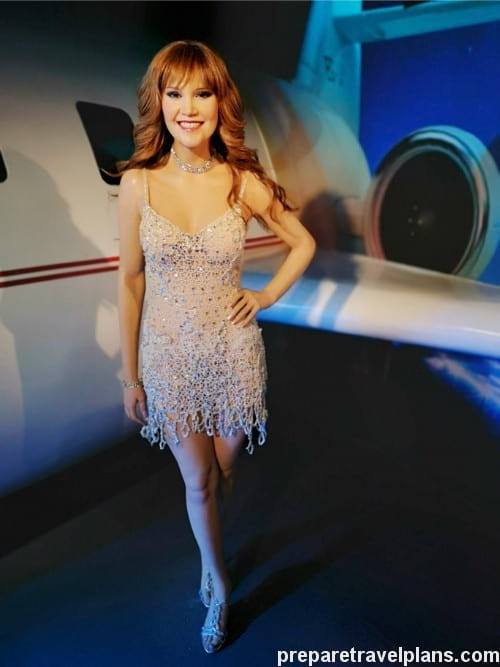 At a young age of 11, Tata Young amazed the crowd with her spectacular singing skills. From there, she has become a celebrated Thai/ American singer who has sold several albums. She's now happily married and has a child.
7. Jay Chou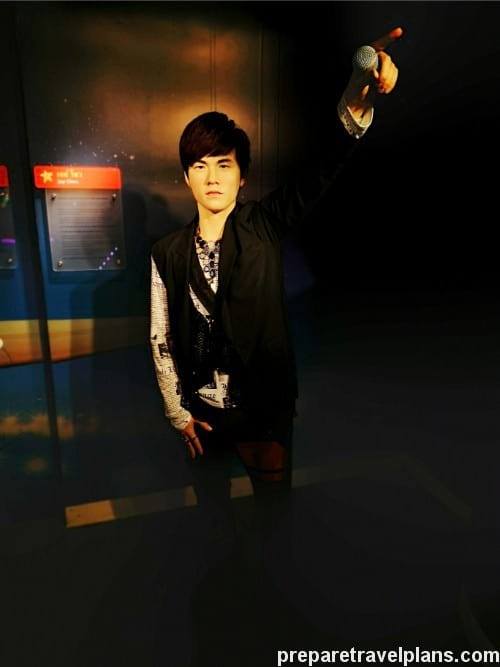 Jay Chou is no doubt one of Taiwan's most recognized singers, with around 20 albums to date. Aside from being a talented musician, he is also an actor, director, and even a film producer.
8. Nichkhun Horvejkul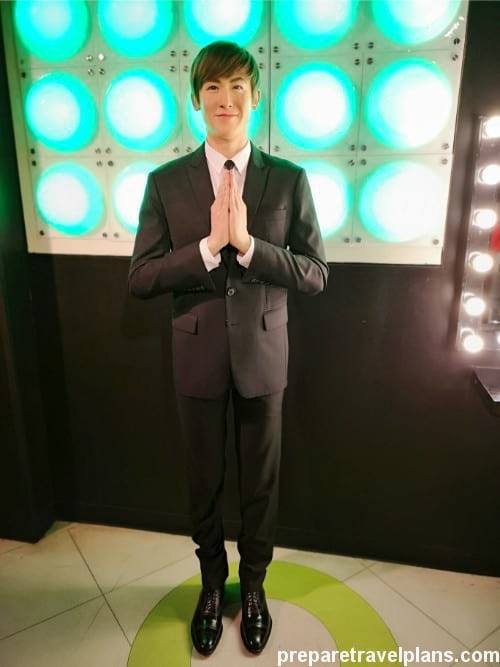 Calling some K-Pop fans! Here you can find a member of the South Korean boy band, 2 PM. Nichkhun Horvejkul isn't a Korean but rather a Thai American based in South Korea.
Film – Pose together with your film favourites
---
1. Bruce Lee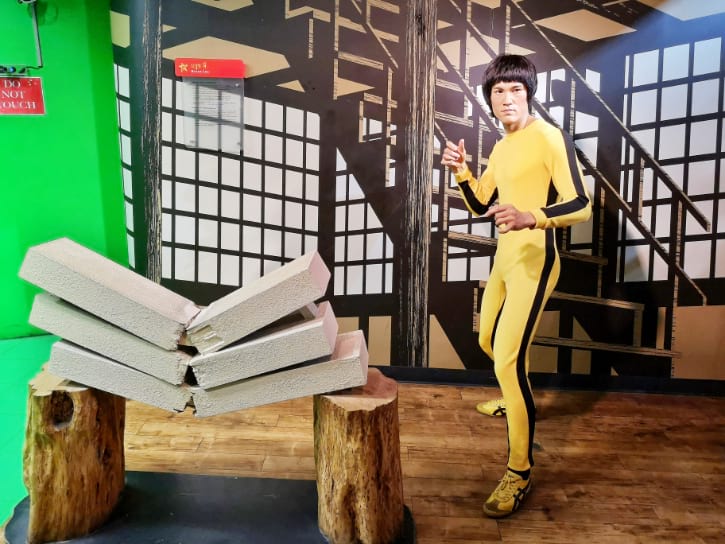 With hit movies like Enter the Dragon, Game of Death, and Fist of Fury, Bruce Lee is truly an icon. This legendary actor has established the beauty of martial arts into his films.
2. Spiderman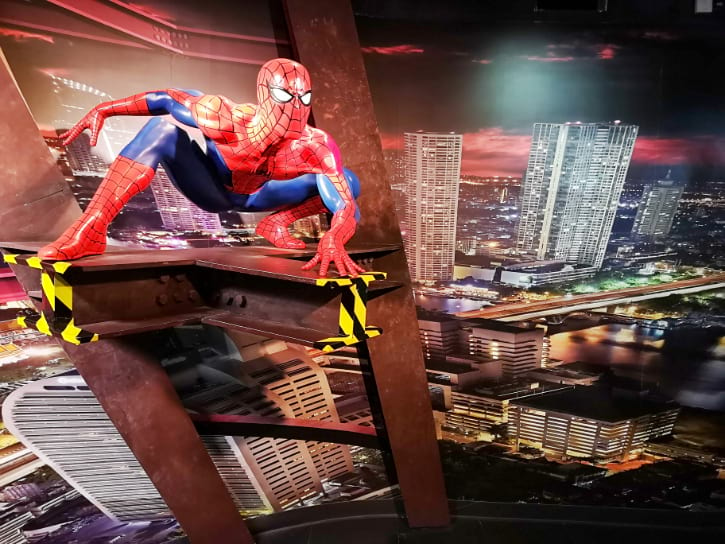 If this swinging/ climbing hero is your favourite, you've given yourself a favour! Spot Spiderman in this area and don't forget to give your best shot!
3. Captain America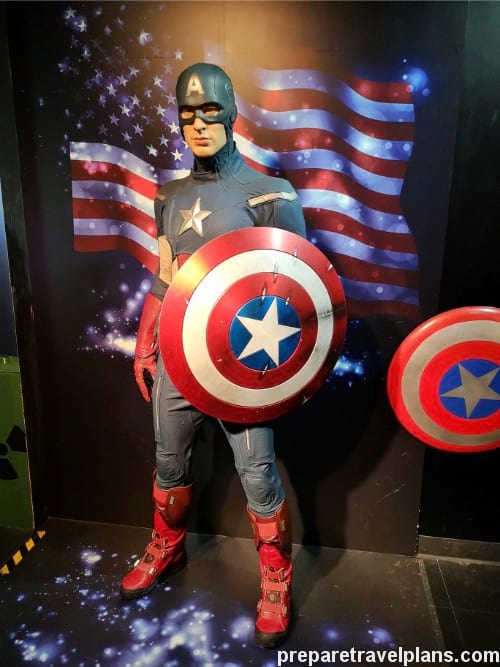 Another superhero in attendance is the ever-dashing Captain America! Representing all the colours of the United States, this well-known protector is known for his strength and speed.
4. Hugh Jackman (Wolverine)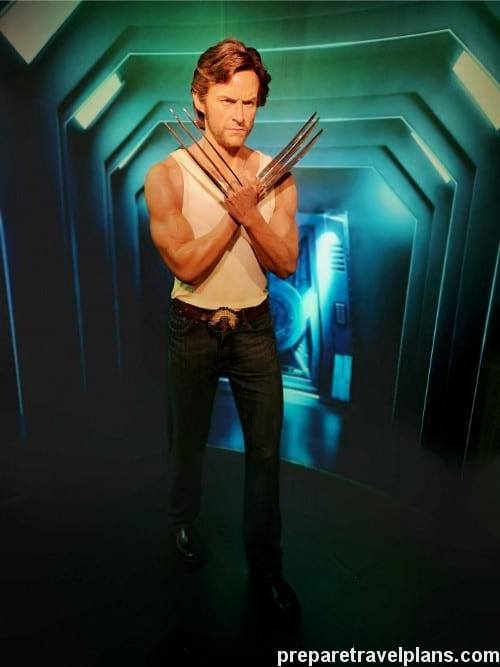 Wolverine is in the house! Take a picture of Hugh Jackman, the famous actor who played Wolverine. This superhero is recognized for his remarkable senses, amazing physical features, and healing factor.
5. Prahbhas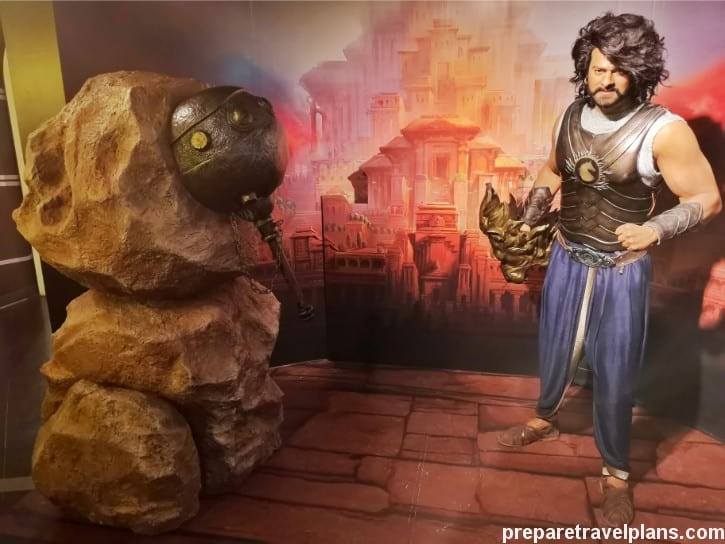 Prahbhas is considered one of the best actors in Indian film and cinematography. He has won a lot of awards for his amazing acting skills in films like Mirchi and Darling. And, he's the first-ever Indian actor to have a wax figure at Madame Tusssauds Bangkok.
6. Mario Maurer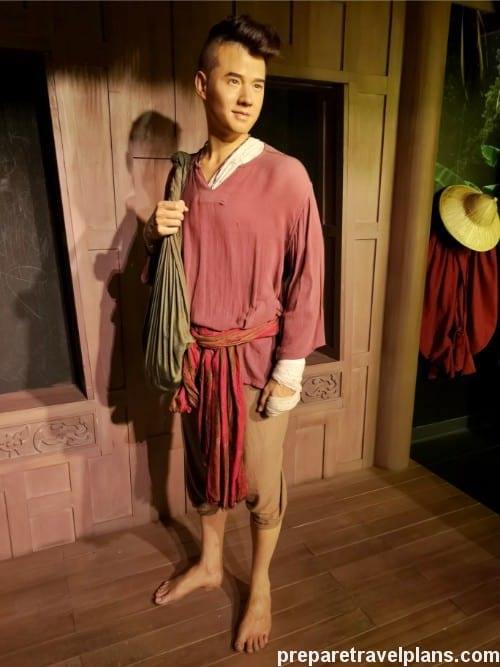 Top-grossing films like The Love of Siam and First Love have put Mario Maurer on the spotlight. This award-winning Thai actor is also part of the country's highest earning film of all time―Pee Mak.
7. Wanchana Sawasdee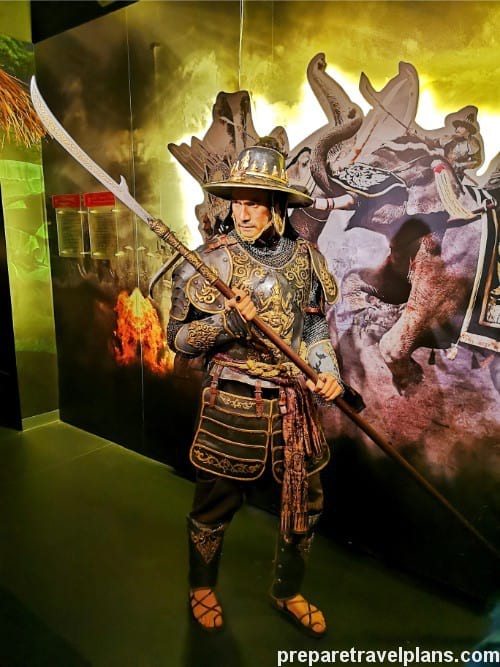 Wanchana Sawatdee is the actor behind the popular film The Legend of King Naresuan. With his amazing portrayal, it's so hard to make a distinction of his real self from the movie.
T.V. – Be with your fave TV personality!
---
1. Ann Thongprasom and Ken Theeradeth Wonpuapan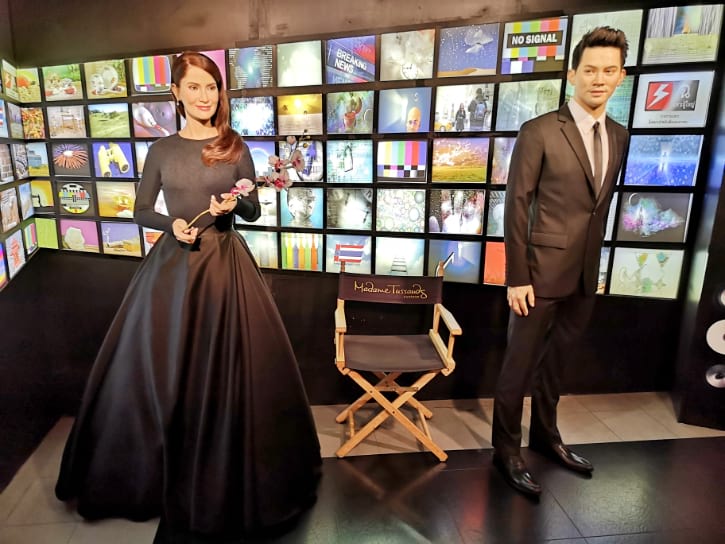 Relieve the excitement you've felt after watching the film Rang Gnaow, staring both Ann Thongprasom and Ken Theeradeth Wonpuapan. Stand in between the two stars and give your best smile!
2. Katrina Kaif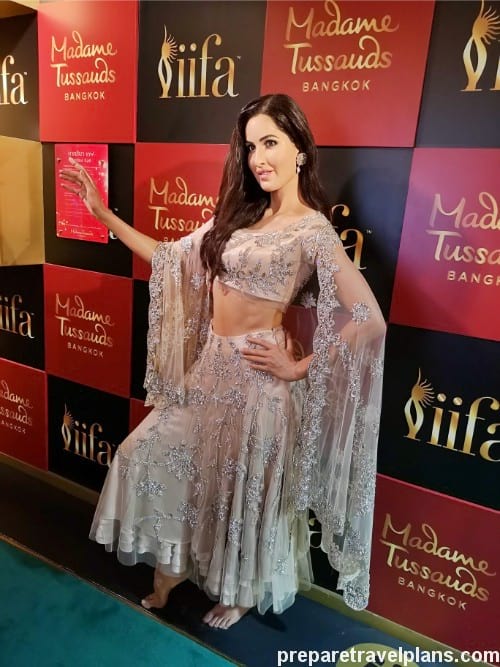 You won't look twice and recognize the stunning Katrina Kaif once you encounter this beautiful waxwork. She is simply eye-catching in her luxurious attire and aura. Props to Madame Tussauds for perfectly capturing the English actress' striking beauty!
3. Ranbir Kapoor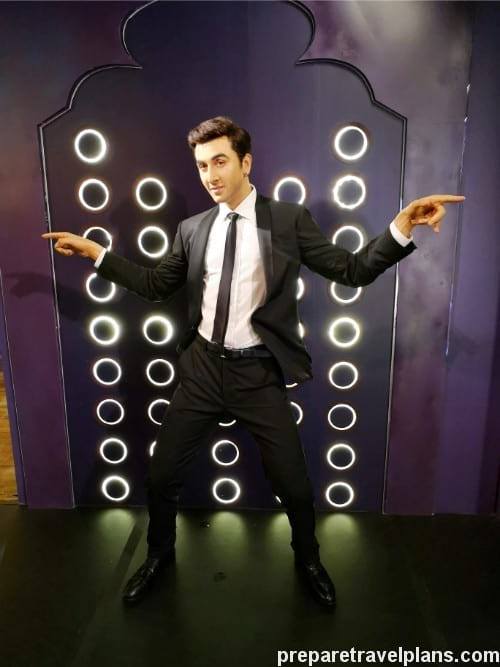 Get playful with the sought-after Hindi actor and film producer, Ranbir Kapoor, while striking your best pose! There are only a few places in the world where you can happen to get a close glimpse of the world-famous stars.
4. Shah Rukh Khan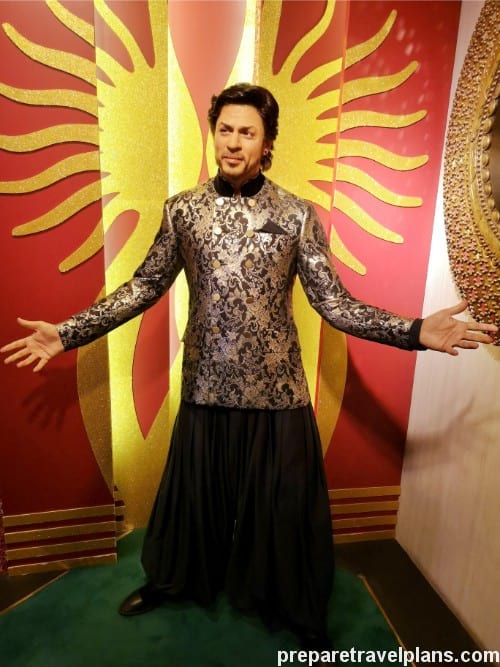 Even only with this realistic handiwork, you'll sense the undeniable acting ability of Shah Rukh Khan. If meeting the King of Bollywood seems like an impossible thing in real life, at least, get comforted by his presence in this awesome wax figure!
Superstars – Spend some quality time with the superstars!
---
1. Jackie Chan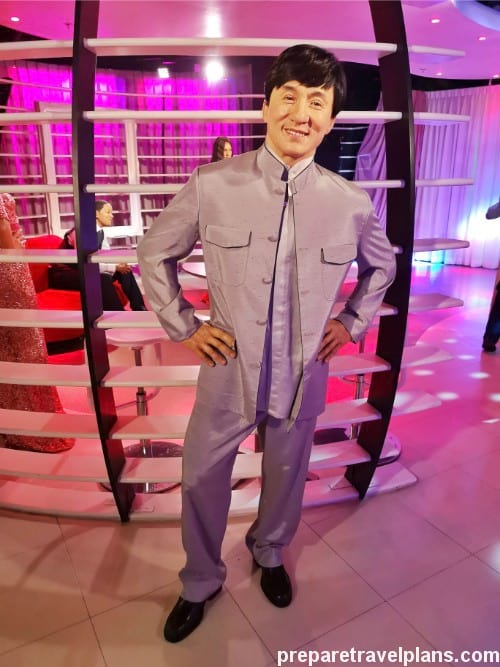 See the worldwide star casually posing with a friendly smile in the celebrated museum! Jackie Chan is as charming and lovable as he can get, but be warned—he might kick in his fighting style moves in no time!
2. Daniel Craig (James Bond)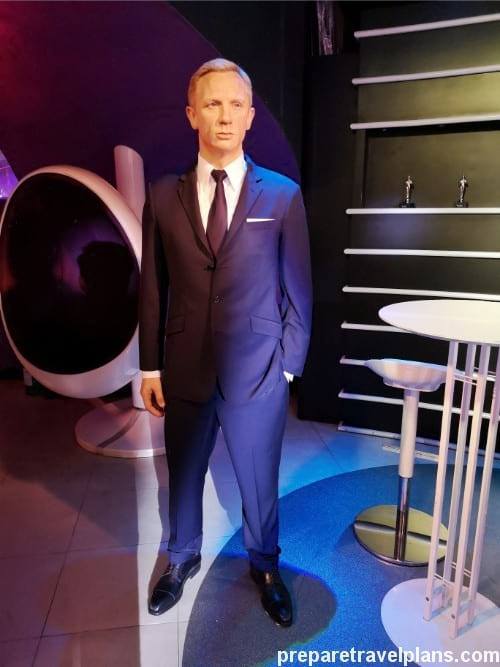 Stand next to the British icon and share a few glances! The sleek and charming actor proves he's more than just James Bond. He is the kind and talented Daniel Craig after all—definitely the real deal!
3. Johnny Depp (Pirates of the Caribbean)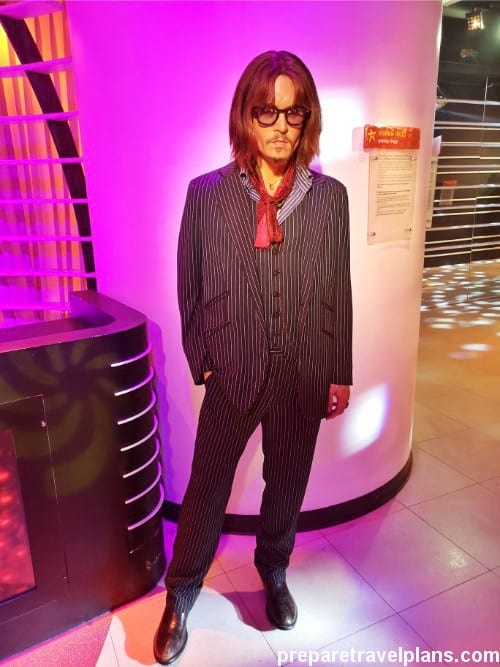 You won't believe your eyes if you happen to catch the award-winning star inside the place. With this real-life image of the Johnny Depp, it will be hard to tell the difference between the real one.
4. Leonardo DiCaprio (Titanic)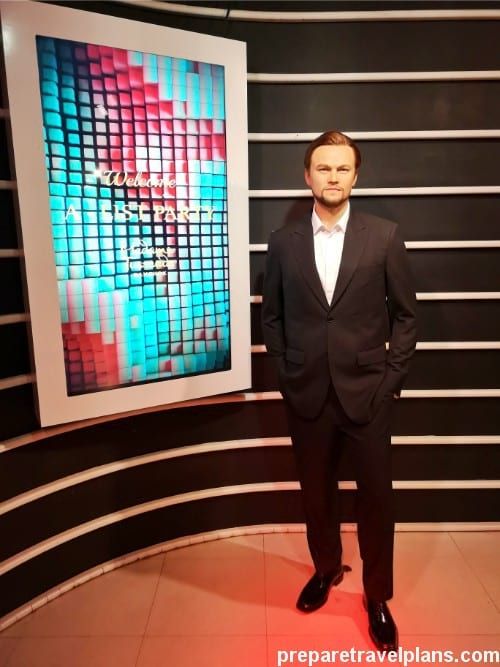 Try not to get starstruck by the strikingly talented and good-looking Leonardo DiCaprio. This life-like work of art will have you asking the actor for an autograph!
5. Nicolas Cage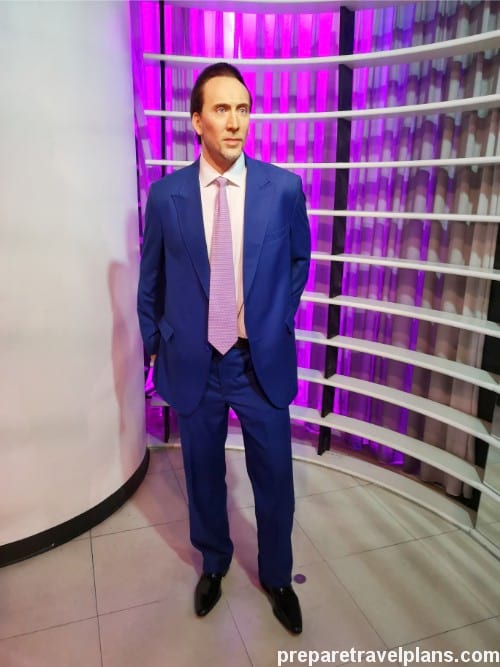 This similarity of Nicolas Cage will have your friends fooled it was actually him. Well, who wouldn't? This masterful imitation of the brilliant actor is just purely amazing.
6. Will Smith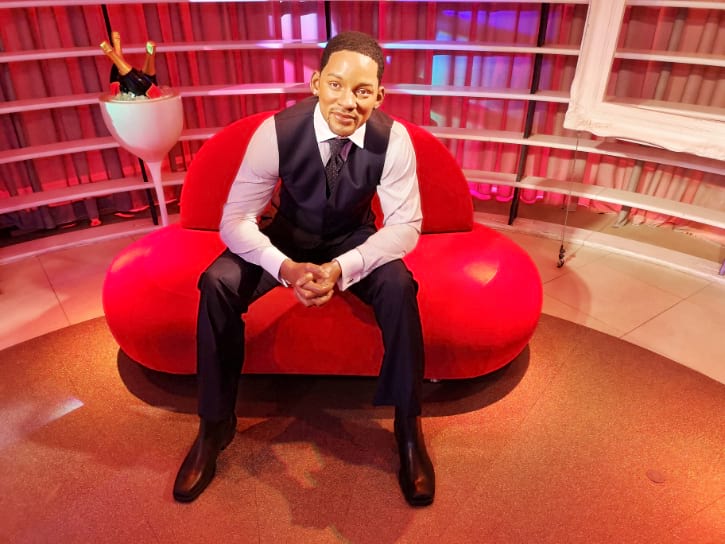 Come and get close with the multitalented and ever charismatic, Will Smith! With his radiant and spirited energy, it's so hard not to sit beside this actor.
7. Brad Pitt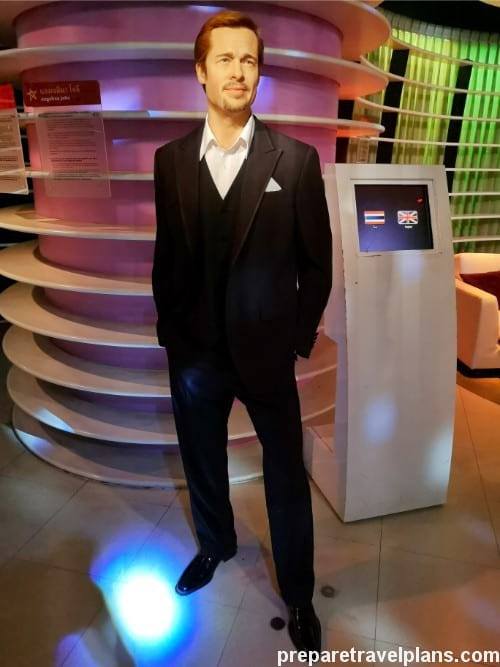 You can't miss one of Hollywood's most legendary stars. He might look like he's looking from afar, but he's got his eyes on you. Brad Pitt gets more and more irresistible with age.
8. Angelina Jolie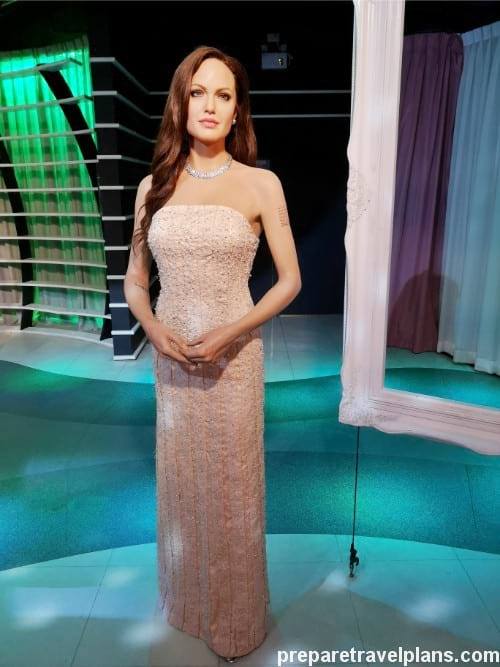 Her elegance and gorgeousness surely catches your eye. Angelina is no doubt one of the most in-demand actresses of all time. Well, she's not just all beauty and skills. She's has a kind heart!
9. Julia Roberts'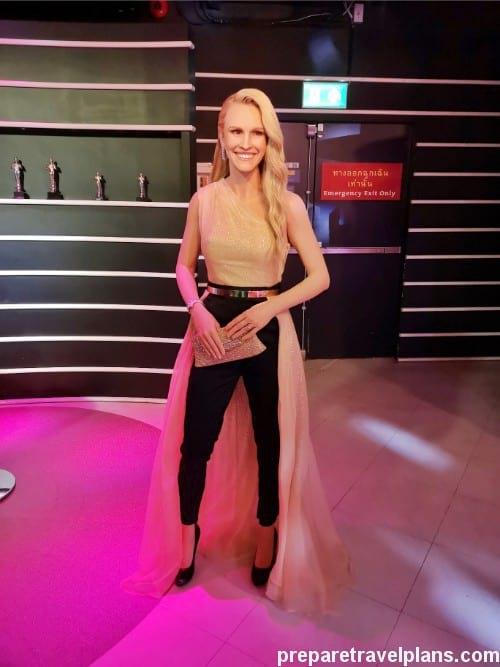 Look at that priceless smile that had the whole world smile too! Even if you're still standing far from it, you'll immediately recognize its Julia Roberts'. Just don't get too star struck or you'll forget to take a photo!
10. Nicole Kidman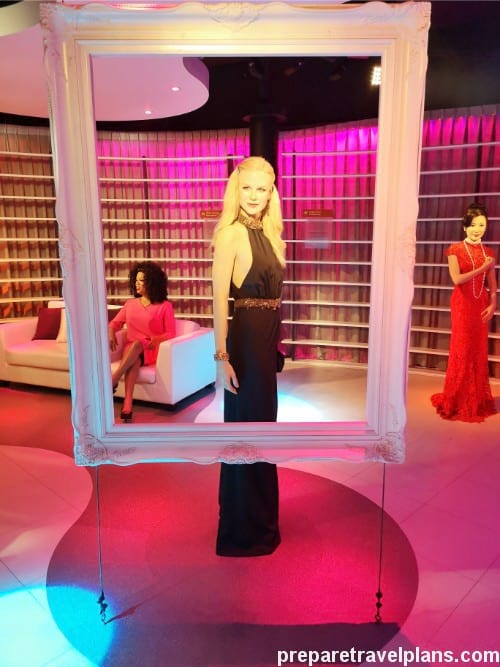 Ever wanted to know how it feels like to be in the same room with the award-winning Nicole Kidman? Wish granted. With this spectacular waxed version of her, you'll feel as if you're meeting the real one!
11. Oprah Winfrey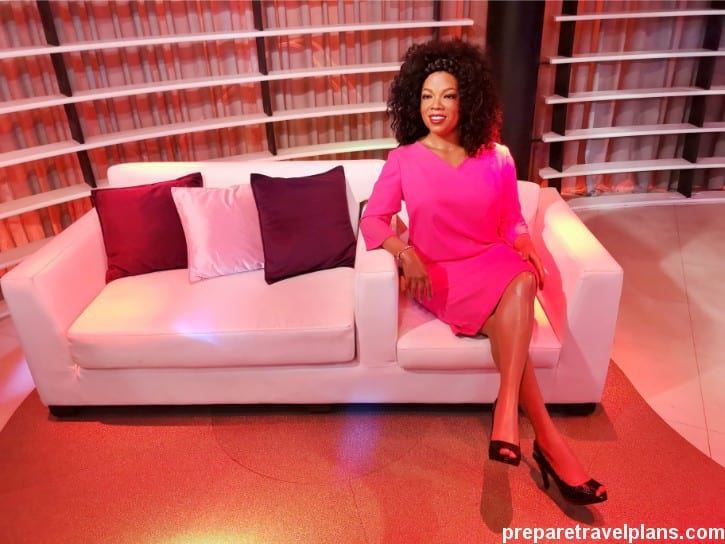 Feel as if you're sharing an unforgettable talk show with the one and only Oprah Winfrey! An empty seat invites you to share the company of this influential woman. Now, sit next to her and pretend you're the celebrity of the day!
12. Khemanit Jamikorn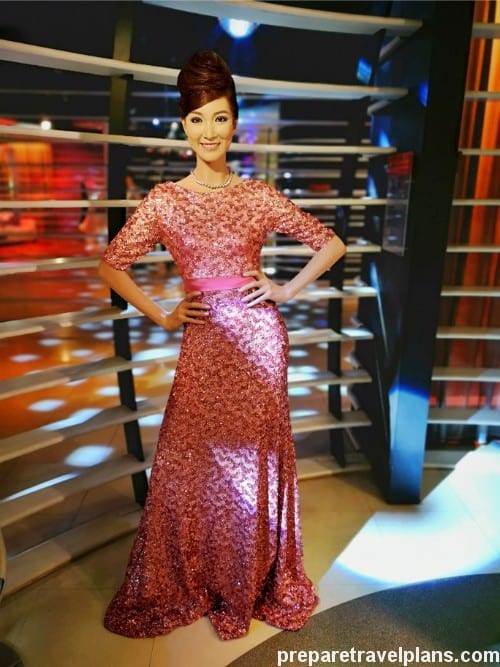 Standing elegantly before you is one of Thailand's finest celebrities, Khemanit Jamikorn. The famous actress and model is a remarkable sight to gaze at. Her pleasing aura is caught exactly in this figure.
13. Michelle Yeoh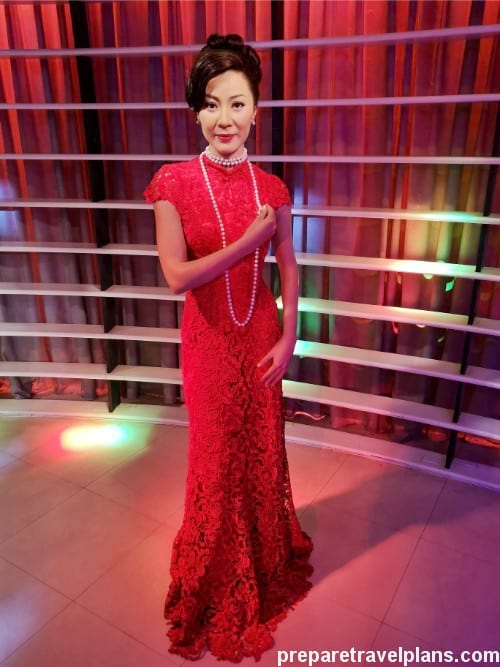 The Malaysian queen of martial arts is as graceful in her replicate as she is on the worldwide screen. Representing fierceness in a gorgeous red dress, here is but one proof of her ageless charm.
Authentic History – Meet the woman behind the famous wax museum
---
1. Marie Grosholtz (Madame Tussauds)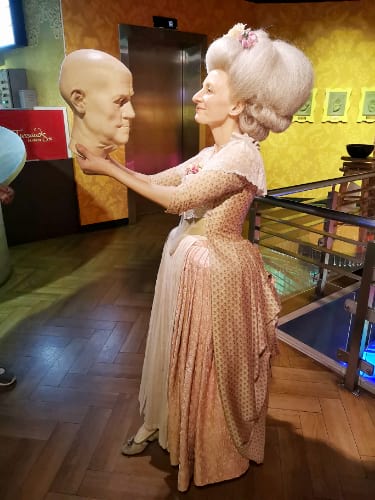 Behold, the ever-skilful Madame Tussauds! She is the woman that started it all. As a child, Madame Tussauds or Marie Grosholtz was already exposed to wax modelling. It was because her mother worked for a physician who was also a skilled wax sculptor.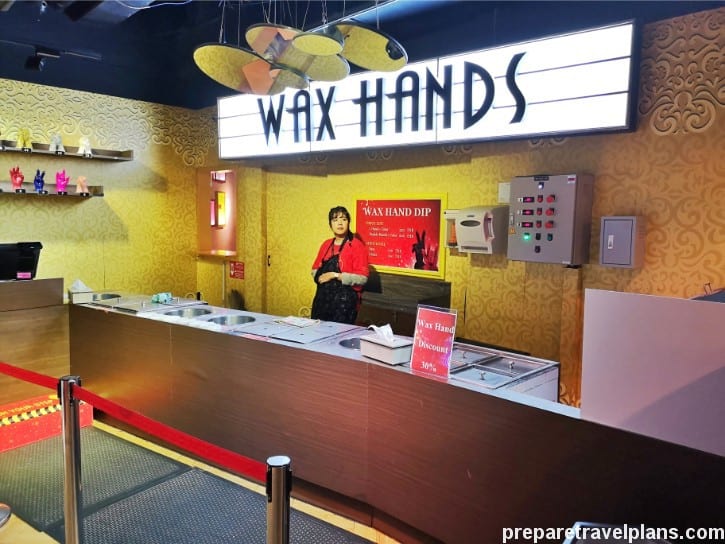 And if you've quite an interest in sculpted artworks, this museum is a great start. Here, you can get a wax copy of your hands and even do whatever hand style you want!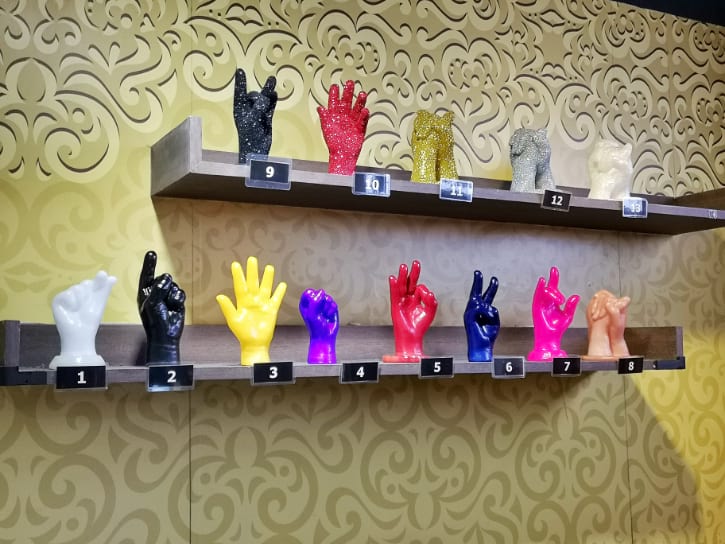 Not only that, you have the option to pick your preferred colour!
Ice Age 4D Movie
---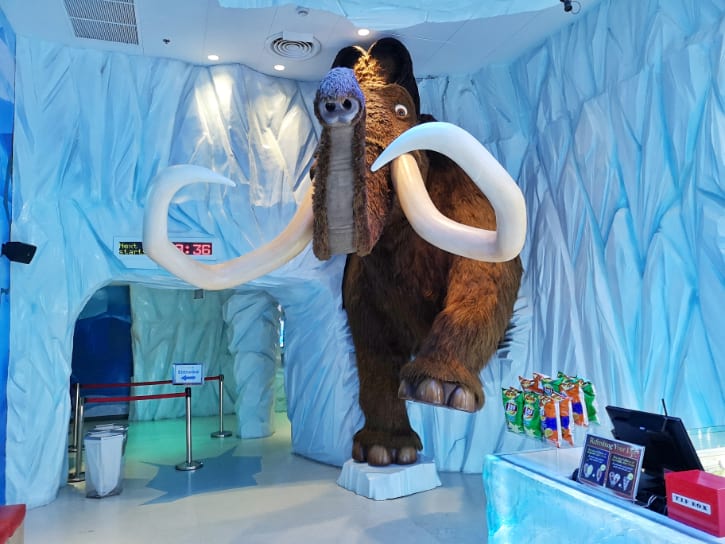 Another attraction to look forward to at Madame Tussauds Bangkok is this Ice Age 4D movie. But before watching the film, don't forget to pose together with the life-sized Manfred near the entrance.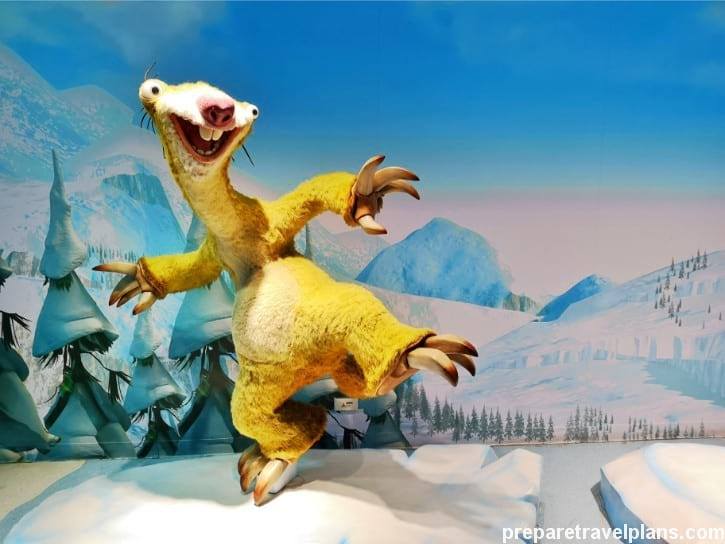 Of course, the Ice Age adventure wouldn't be complete without Sid! This lazy yet loyal animal makes everything more fun and memorable with his funny antics.
Gift Shop
---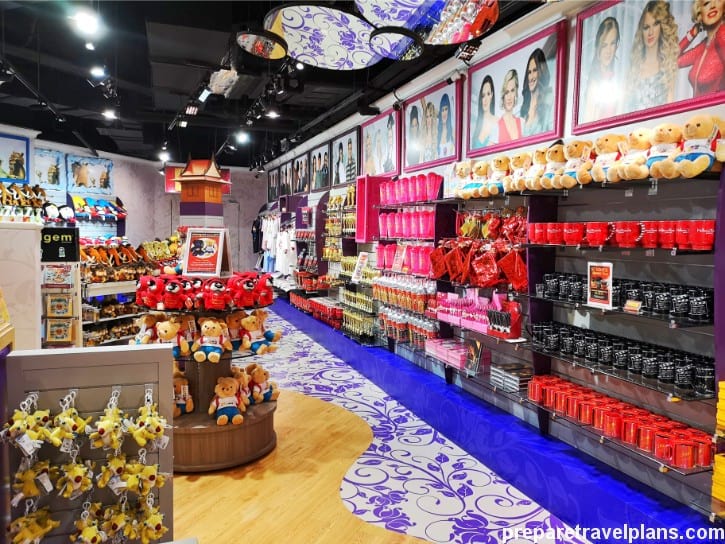 Madame Tussauds Bangkok comes with a gift shop that has all sorts of souvenirs you can think of. From golden trophies to cute stuff toys, there's something that will surely keep you entertained.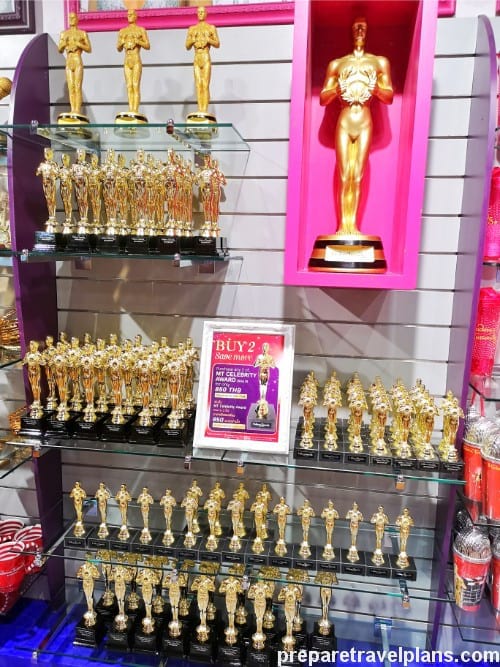 Take home one of these golden trophies, which are quite similar to the famous Oscar trophy. These come in different sizes, from small to medium to large. So, if you've always wanted to get this famous reward, get yours at Madame Tussauds!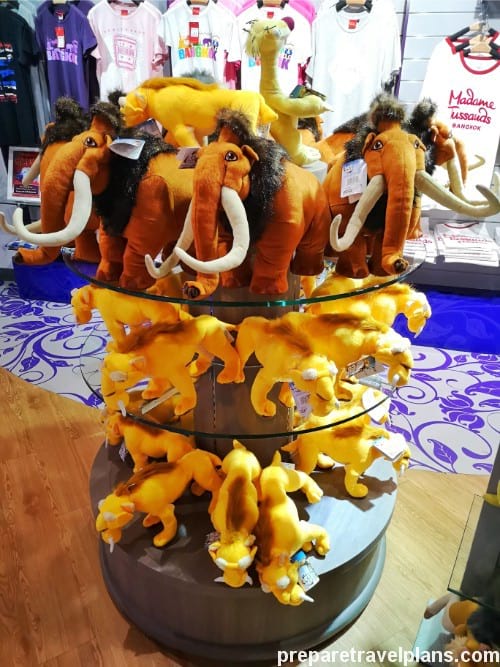 For certified fanatics of Ice Age movies, you'll fall in love with the variety of stuff toys in this shop. Some of the many options you have here are Manfred and Diego.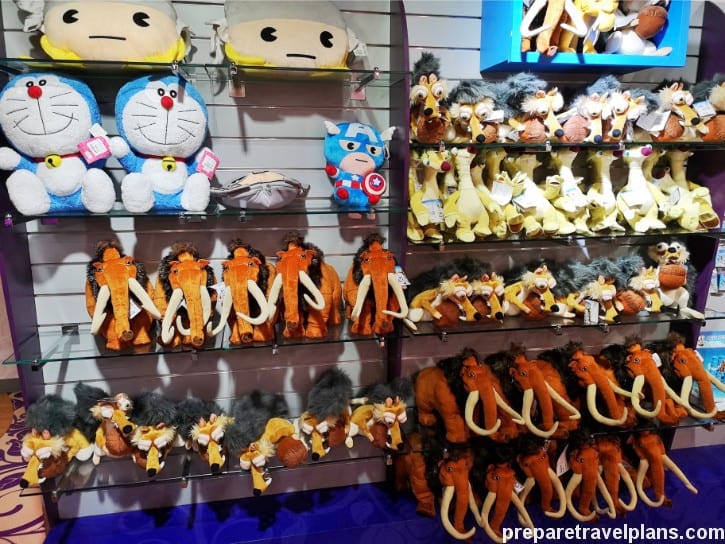 In this area, you can see an attractive display of some Ice Age characters like Manfred, Sid, and Scrat. More than that, there's also a nice array of other cute stuff toys such as Doraemon, Captain America, and more.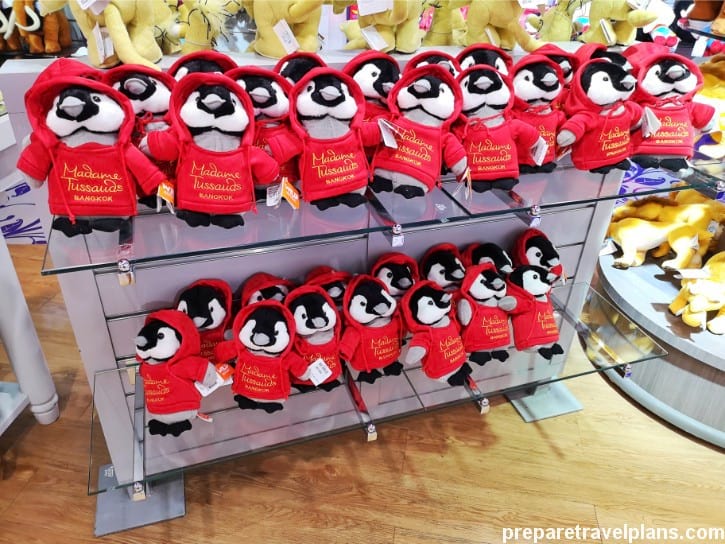 If Ice Age isn't your thing, don't worry because there are other stuff toys on selection. Other cute souvenirs on exhibit are these charming penguins that are meant for everyone.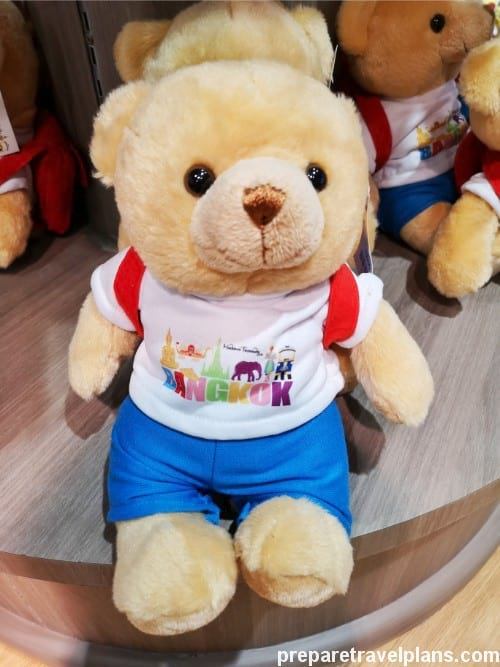 Bring home this adorable teddy bear wearing a lovely Bangkok shirt. This charming souvenir is just too cute to ignore!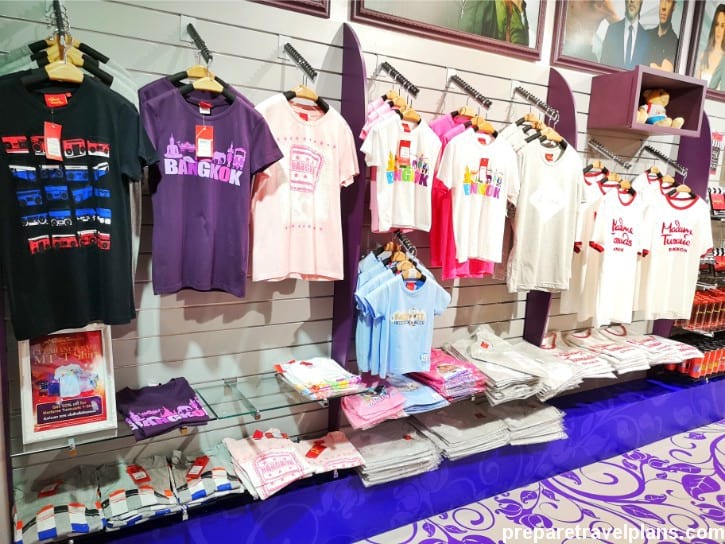 Aside from stuff toys and golden trophies, this shop is also loaded with T-shirts of various colours. There are different sizes for all ages, from kids to adults. These Bangkok shirts are a great memory of your trip to this place.
Madame Tussauds Bangkok – Opening Hours and Ticket Prices
---
Opening Hours
10:00 AM – 9:00 PM (Last admission: 8:00 PM)
Ticket Prices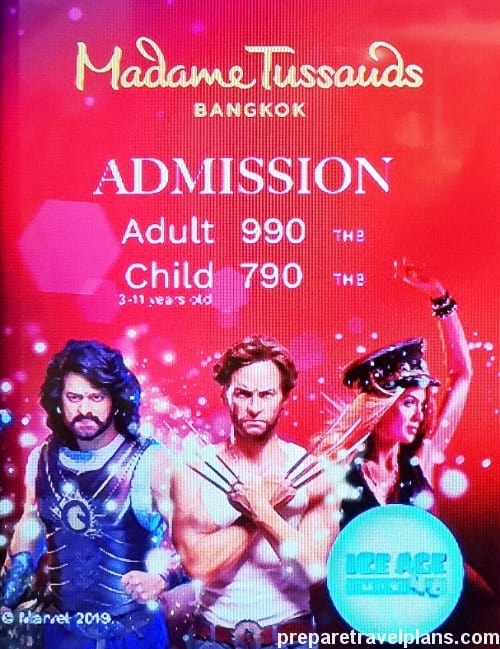 Normal Ticket Prices:
Adult (12 and above): 990 Thai Baht
Child (3 – 11): 790 Thai Baht
Highly recommended to buy your Madame Tussauds Bangkok ticket online. Here's why.
Did you know that buying your ticket at the ticketing counter of Madame Tussauds Bangkok is pricier than purchasing online? If you buy your tickets online, you get a 34% discount, which means great savings for those on a budget!
Moreover, there are also other attraction packages on offer like SEA LIFE Bangkok Ocean World + Madame Tussauds Bangkok. So, if you want to enjoy some huge discounts, better book your tickets online and avail of the combo package. You'll not just save money but also get to visit two attractions!
To know more about this online ticket packages, check out the link below for the latest discounted ticket rates.
4 Ways to Get to Madame Tussauds Bangkok
---
Option 1: By BTS Skytrain
---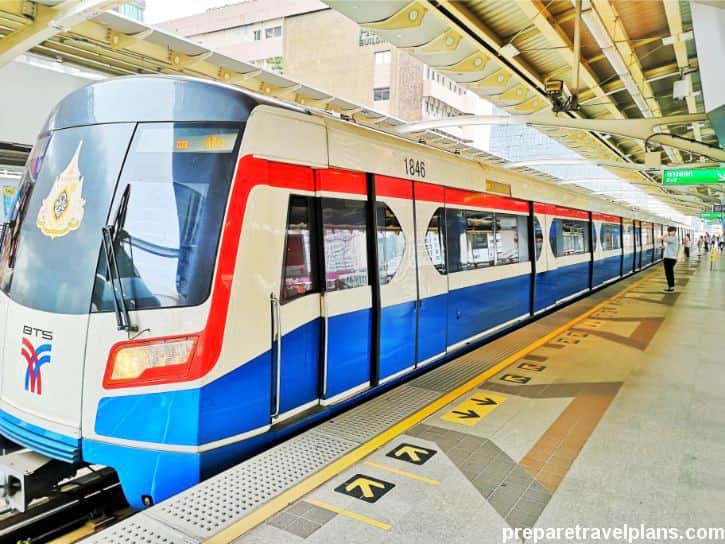 If you want to save money without sacrificing convenience, choose the BTS Skytrain. This is the cheapest yet comfiest way to reach the Madame Tussauds Bangkok.
The nearest BTS Stations to this museum are Siam BTS Station (Exit 1) and National Stadium BTS Station (Exit 3).
Simply alight from one of the above-mentioned BTS Stations, then walk your way to Madame Tussauds Bangkok. The attraction is conveniently located inside Siam Discovery shopping mall, on the 6th floor.
Option 2: By MRT
---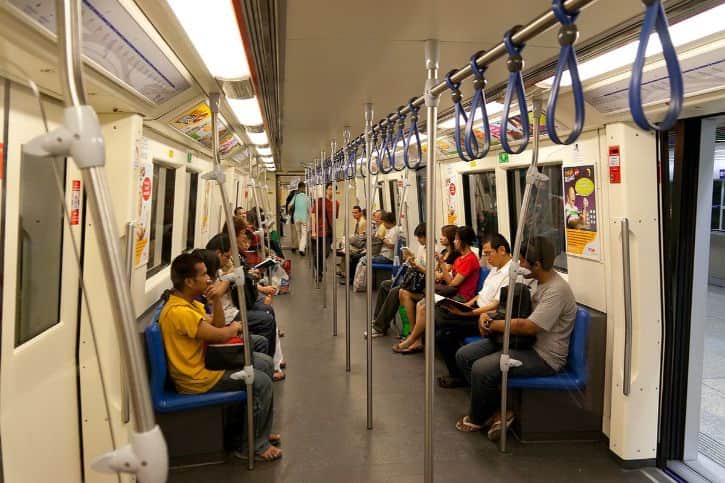 If you are staying near an MRT station, you can also maximize this mode of transportation. Just hop aboard the MRT going to Silom MRT Station/ Sukhumvit MRT Station/ Chatuchak Park MRT Station. Right after, transfer to the BTS Skytrain and follow the same steps noted on option 1.
Option 3: By Public Bus
---
Another option if you're not close to an MRT or BTS station is to take the public bus. You have lots of options for this public transport, including Public Bus 16, 25, 73, 79, 204, 501, or 508. All these have a stopover at Siam Paragon Bus Stop. And, the Bus Stop is just a walking distance to Siam Discovery shopping mall where Madame Tussauds Bangkok is located.
Option 4: By Taxi
---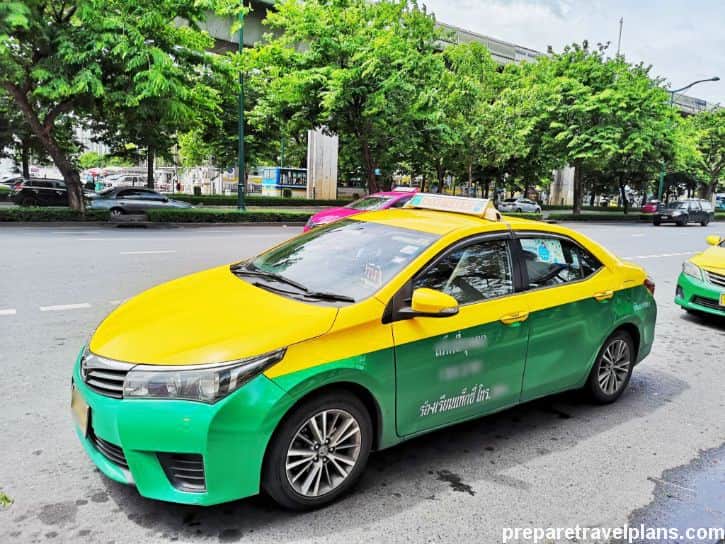 If you want to get to Madame Tussauds Bangkok as fast as you can, take a taxi. Simply inform the taxi driver to drop you at Siam Discovery shopping mall. From there, you just take either the elevator or escalator to Level 6.
My Final Thought
Truly, Madame Tussauds Bangkok is a top-rated attraction that is worth your time and money! This famous tourist spot gathers all your much-loved stars and personalities in one museum.
So, if you want to meet your favourites (at least their wax figures), this is definitely a must-visit. Go get your tickets online and take advantage of a 34% discount.
And to save more money, avail of the SEA LIFE Bangkok Ocean World and Madame Tussauds Bangkok combo package. Purchasing your tickets online for these two attractions are way cheaper compared to buying on-site.
Take a glimpse of the latest discounted ticket prices of Madame Tussauds as well as some combo package deals below.
I appreciate the time you spent reading my Madame Tussauds Bangkok review. Thank you and hope you find this informative and helpful for your upcoming Bangkok trip. Make sure you include this attraction to your itinerary!
You can bookmark this page for future reference.
Or, you can also share this online via Facebook, Twitter, Pinterest, Gmail, or WhatsApp.
Once again, thank you and have the most enjoyable and memorable day tour at Madame Tussauds Bangkok. 🙂
Discover Other Famous Attractions in Bangkok