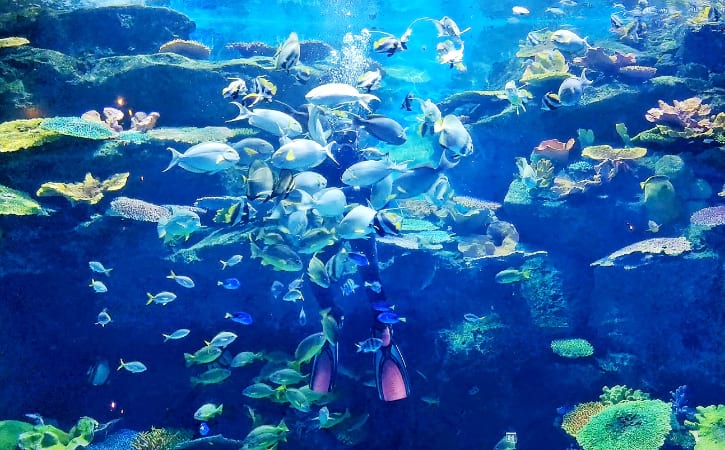 SEA LIFE Bangkok Ocean World, or previously known as Siam Ocean World, welcomes you to a unique underwater encounter. With its diverse marine habitats and exhibits, it's labelled as the biggest aquarium in Southeast Asia.
Because of its popularity, it makes my list of 30 best things to do in Bangkok for every traveller. You can easily find this massive oceanarium in the basement 1 of Siam Paragon shopping mall.
And in this SEA LIFE Bangkok Ocean World review, I will share some beautiful photos of the sea creatures on display. Accordingly, this guide will help you whether or not the attraction is worth the visit.
I just visited this top-rated aquarium together with my wife, and we certainly had fun.
To make your trip more memorable, here are all the important things you need to know about this place. 🙂
What You Can See at SEA LIFE Bangkok Ocean World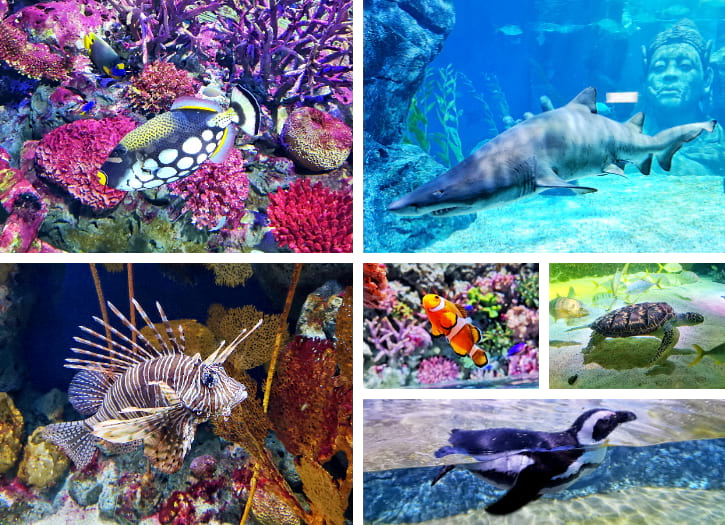 The SEA LIFE Bangkok Ocean World consists of 12 zones, with over 30,000 sea creatures on exhibit.
These include some popular ocean predators like the sand tiger sharks and giant pacific octopus.
You'll also meet a variety of fish species such as clownfish, lionfish, and many more.
On top of that, there are seahorses, green sea turtles, and penguins!
We personally explored each zone during our visit. Plus, we have taken a lot of beautiful photos of the different marine creatures.
So, let me share with you all the 12 zones through my collection of pictures below.
1. Coral Reefs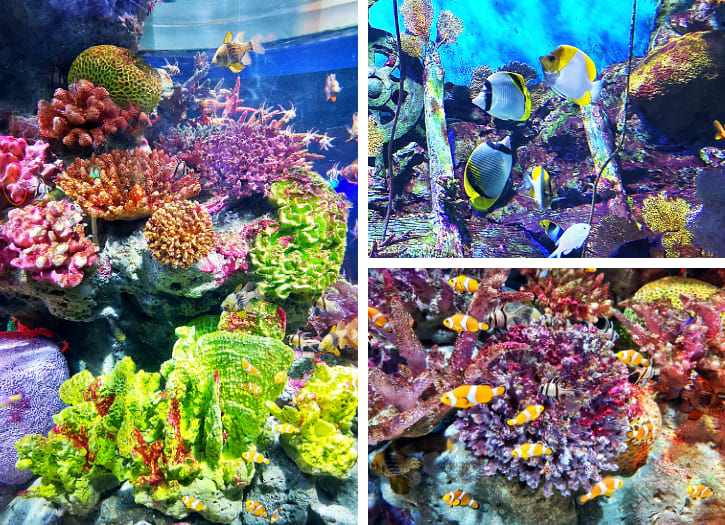 Kick off your SEA LIFE Bangkok Ocean World adventure at Coral Reefs. This section is loaded with many vibrant corals.
And of course, corals are the home to many fishes. So, take time to capture all the fish species here.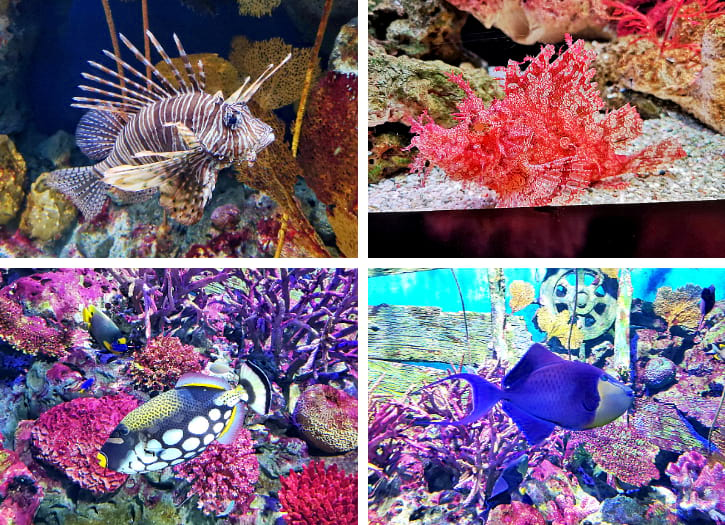 This area is also known for its tricky predators with unique body designs.
Spot these strange-looking creatures navigating through their habitat while hunting small fishes.
To give you an overview, these are the lionfish, scorpionfish, and triggerfishes.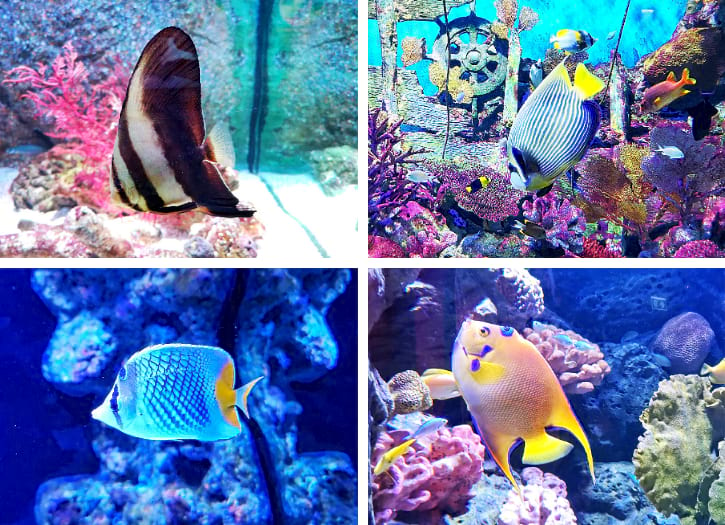 These fish species are some of the most vivid-looking creatures in the aquarium.
And because of their pulsating colors and delicate features, they are very much admired by aquarium lovers.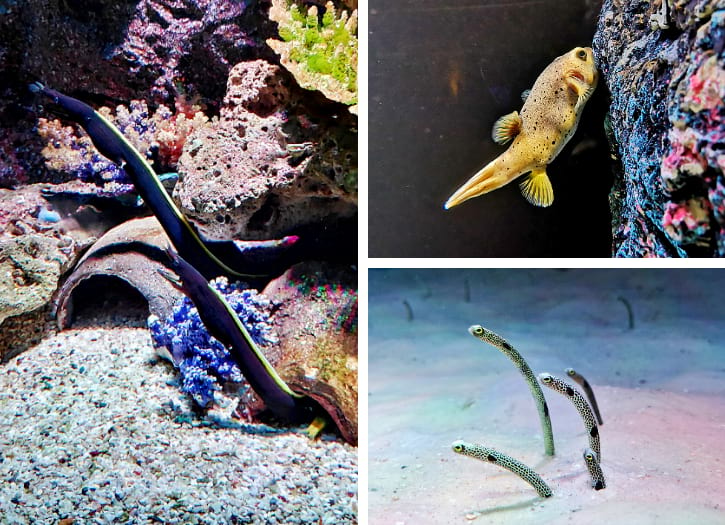 Also on display are two types of eels―ribbon eels and spotted garden eels.
And of course, you can't miss the dog-faced pufferfish. These species come with special features that make them highly interesting.
2. Rocky Shore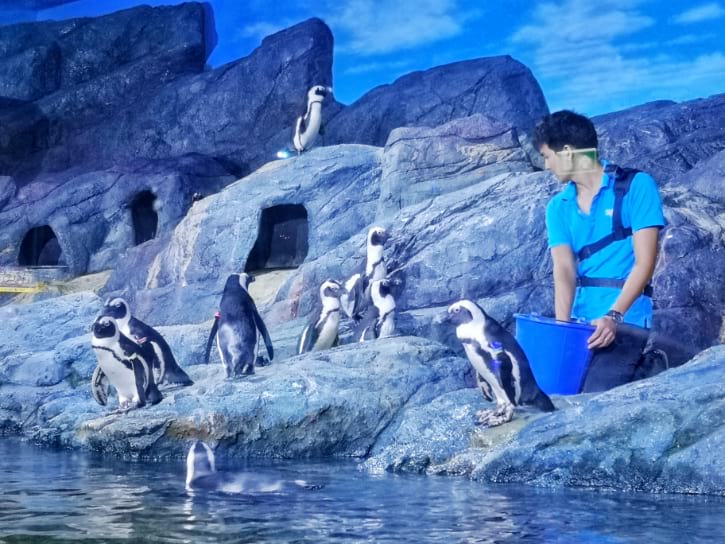 Step into Rocky Shore and witness these adorable creatures doing their daily routines. You can often find them wandering on the ground or swimming under the water.
On top of that, you can catch the jackass penguins being fed with small fishes.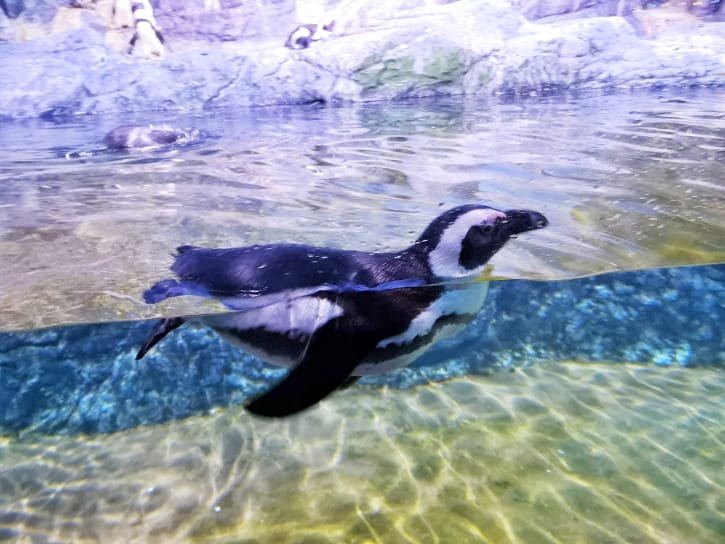 Just like most penguins, they love to dive deep and spend most of their time swimming―alone or in a group.
Plus, these animals communicate animatedly. You might even be surprised by their donkey sounds!
3. Ocean Tunnel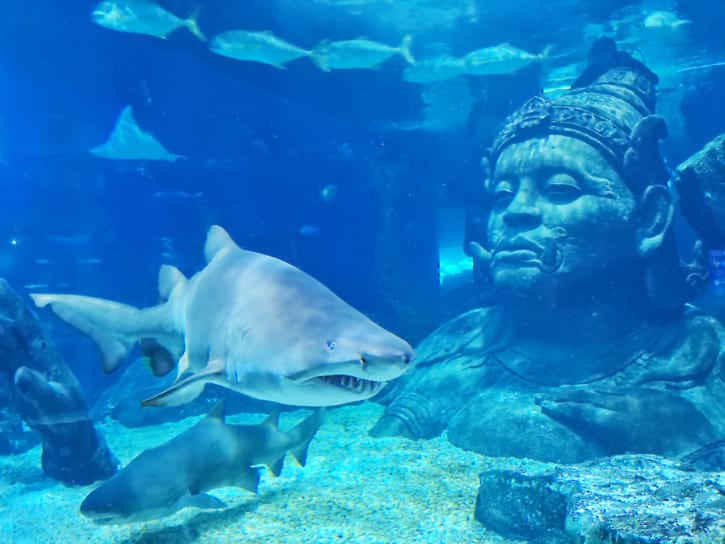 Stroll around the Ocean Tunnel and have a personal encounter with the famous predators of SEA LIFE Bangkok Ocean World.
One of the many animals here are the sand tiger sharks, which are known for their creepy eyes and pointed snouts.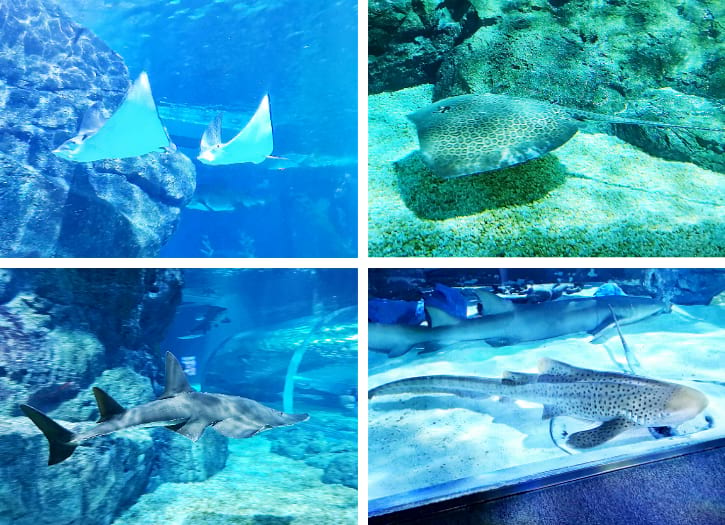 Also in this area are different rays such as eagle rays, leopard whiprays, and shovel nose rays. Each of these has its own unique body pattern.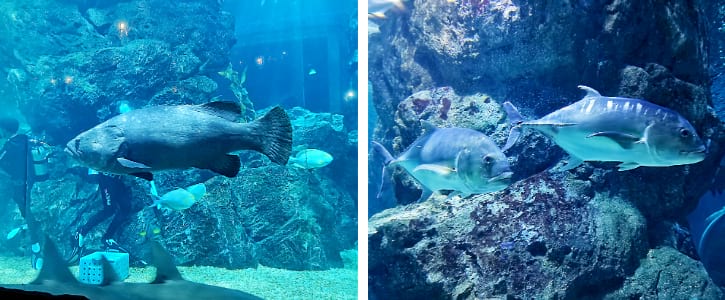 These animals are quite easy to distinguish because of their size.
The giant bluefin tuna, in particular, is the largest tuna species while the giant goliath grouper can grow up to 8 feet.
4. Shark Shipwreck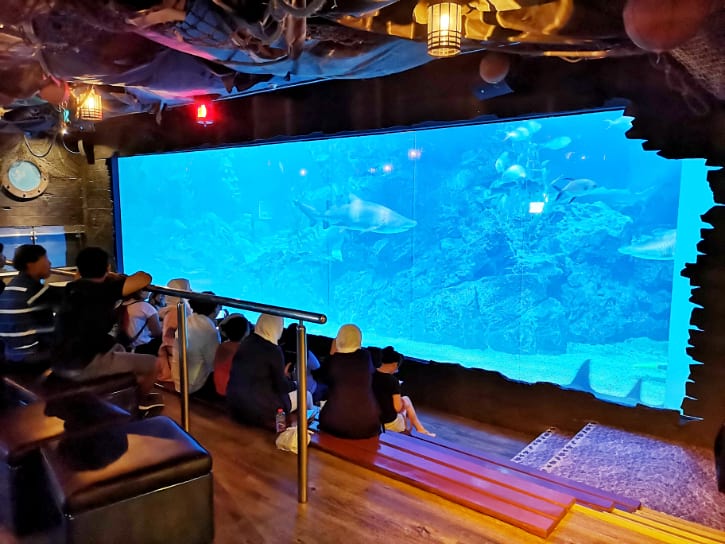 If you're interested in large marine predators, simply head to Shark Shipwreck.
In this part, you will have a chance to come across different shark species.
From your seat, you can watch the divers swim together with these dangerous creatures.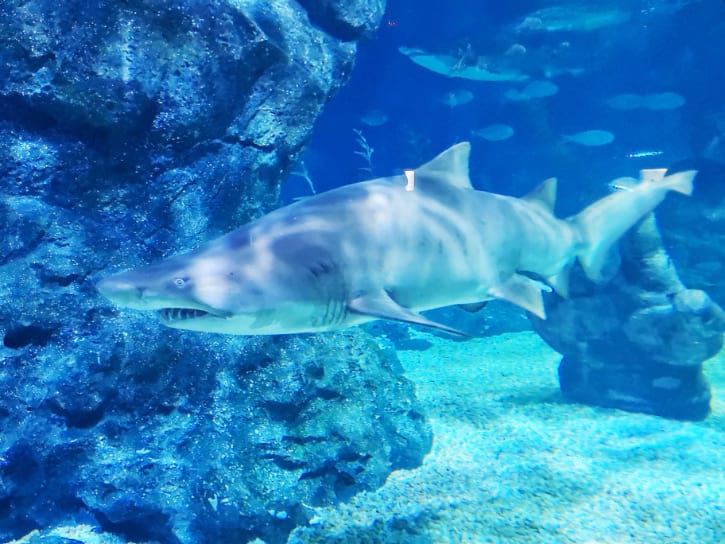 Most of these sharks have frightening physical appearance and massive size. However, not all of them are tough predators.
So, if you want an exceptional experience, don't miss this amazing man-made shipwreck in SEA LIFE Bangkok.
5. Tropical Ocean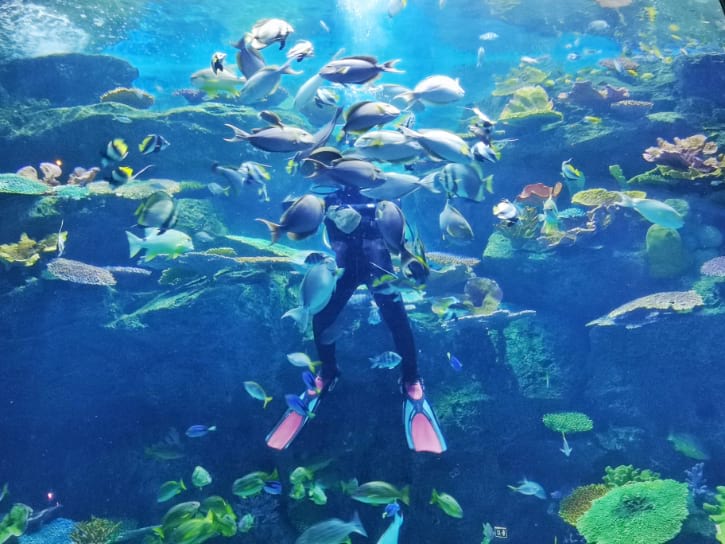 Tropical Ocean is another must-visit aquarium because of its vivid fishes.
Take time to see the Longfin Bannerfishes and appreciate its beautiful colors of white and yellow.
There are also the yellowfin surgeonfishes that change colors as they age.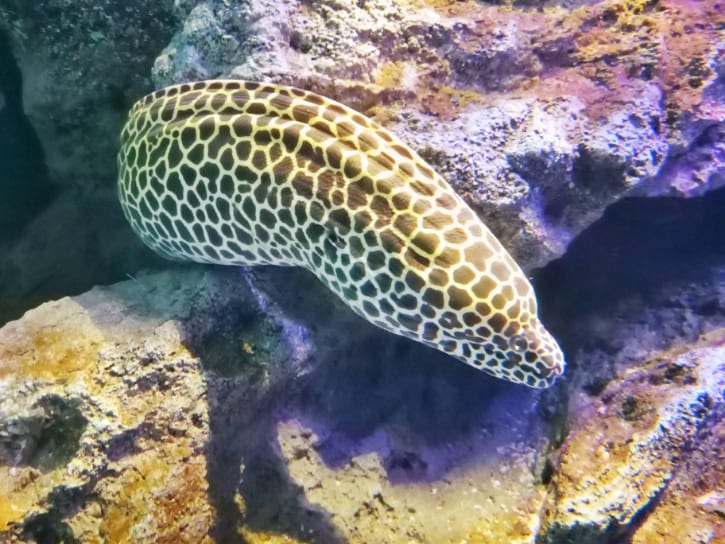 On the other hand, the honeycomb moray eels are very eye-catching. You won't have a hard time distinguishing these creatures because of their body pattern.
Surprisingly, these particular eels also come with large teeth that make it easy for them to catch their prey.
6. Seahorse Kingdom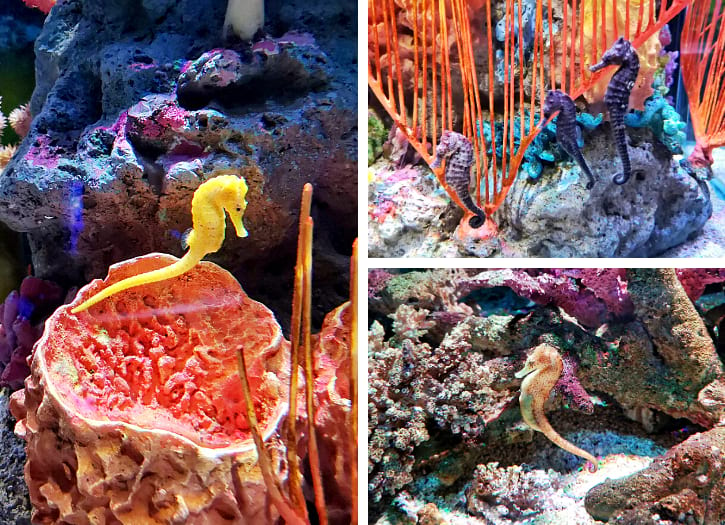 Now, it's time to explore the Seahorse Kingdom. This zone is the home to some special marine species―the seahorses.
Catch them swimming upright and copying the color of the sea plant to avoid marine predators.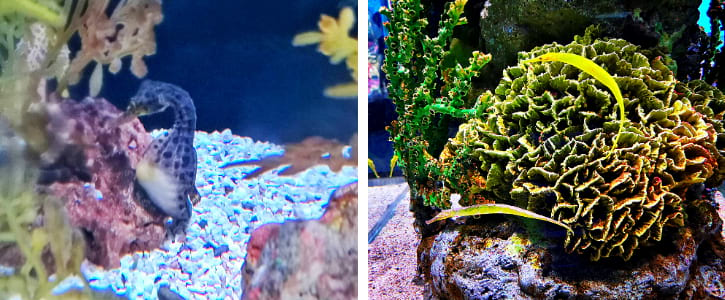 This particular area in the SEA LIFE Bangkok Ocean World aquarium also shelters the big-belly seahorses. Because of their protruding belly, they appear to be pregnant.
Another highlight you'll see here are the alligator pipefishes.
7. Rainforest Adventure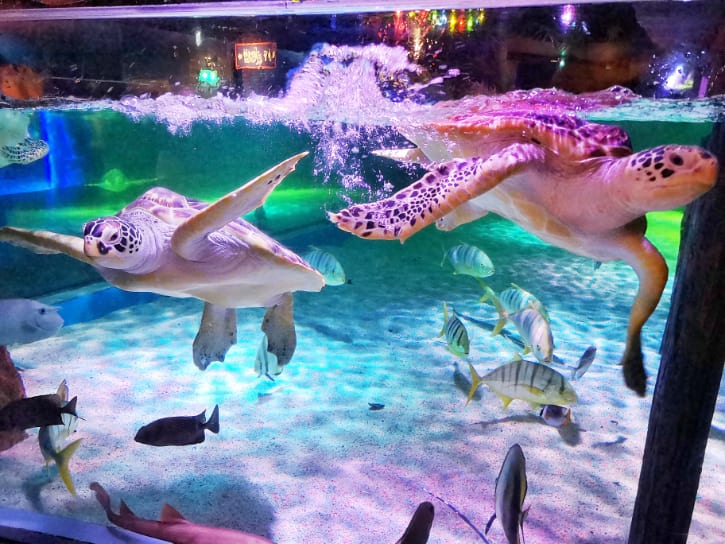 Continue the fun and visit the Rainforest Adventure. This section takes you to a special experience with various tropical creatures.
And as you wander through the man-made rainforest, you'll run into the largest turtle species in the world, the green sea turtles.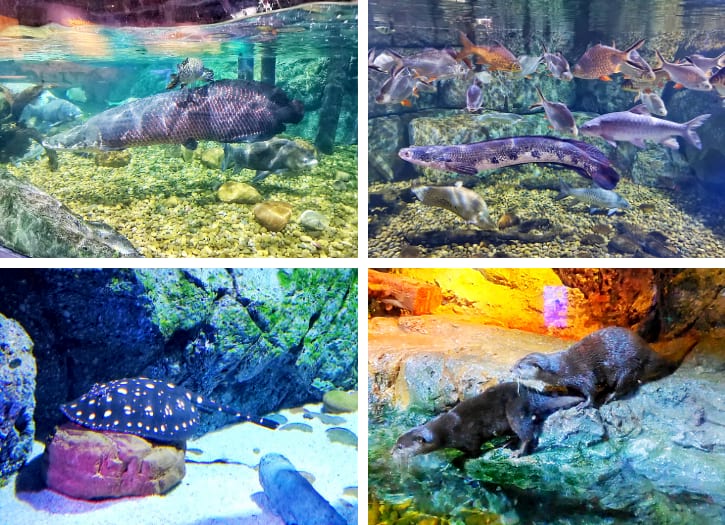 Some marine animals inside this tank are the arapaimas, khela mahseers, and black diamond stingrays.
Also in attendance are the oriental small-clawed otters, which are dubbed to be the smallest of its species.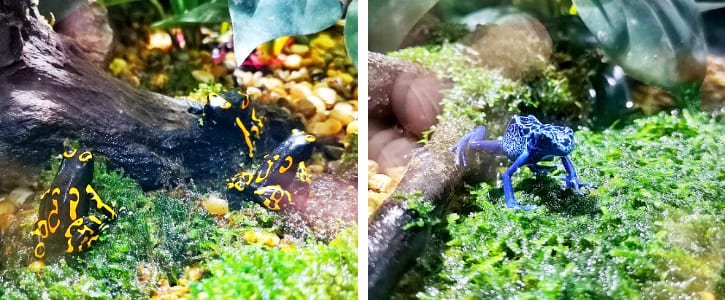 Don't be fooled by their vibrant colors! The bumblebee dart frogs and blue poison dart frogs are some of the most poisonous frogs in the SEA LIFE Bangkok aquarium.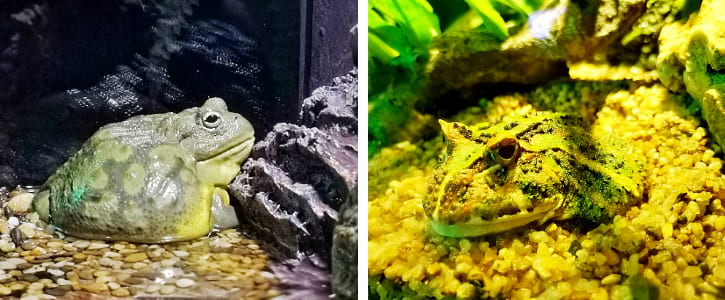 The bullfrog and Argentine horned frog are also two of the many frog species you'll encounter here.
These animals are known for their immense size and unique body features.
Despite their massive structure, these two are quite inactive and often laze around.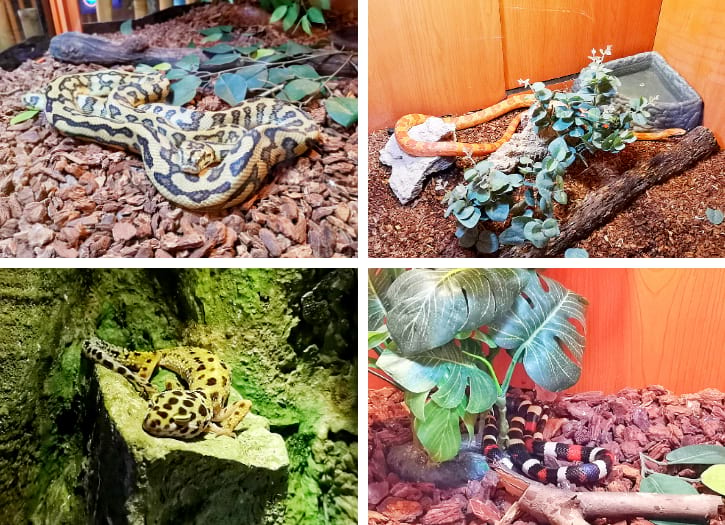 Aside from fishes and frogs, this place is also loaded with a variety of snakes and lizards.
To give you an overview, these include jaguar carpet python, corn snake, milk snake, as well as leopard gecko. All these creatures vary in size, color, and patterns.
8. Penguin Ice Playground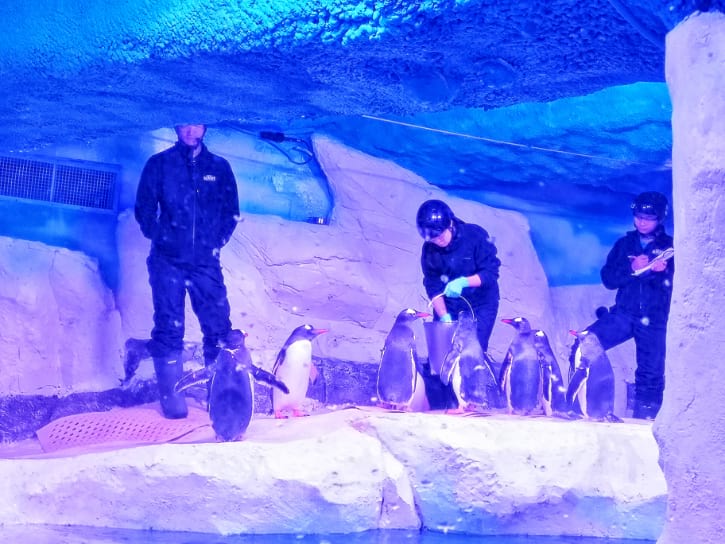 Have fun with the adorable creatures at Penguin Ice Adventure.
In this SEA LIFE Bangkok Ocean World zone, you'll meet the Gentoo penguins.
Watch them swim and showcase their incredible underwater movements. Because of their skills, they can even dive at least 400 times a day!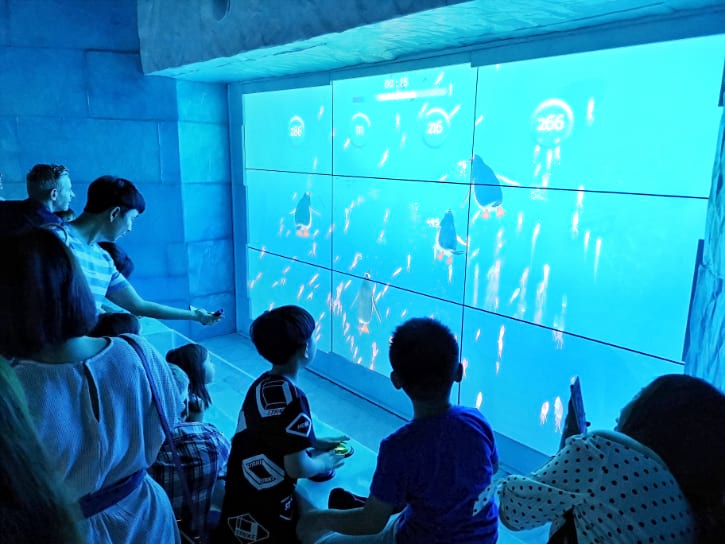 Aside from seeing the Gentoo penguins, make sure you drop by the penguin gaming area.
This is a great entertainment site for those families with kids. Let them play with the life-like creatures on the screen.
9. Rocky Hideout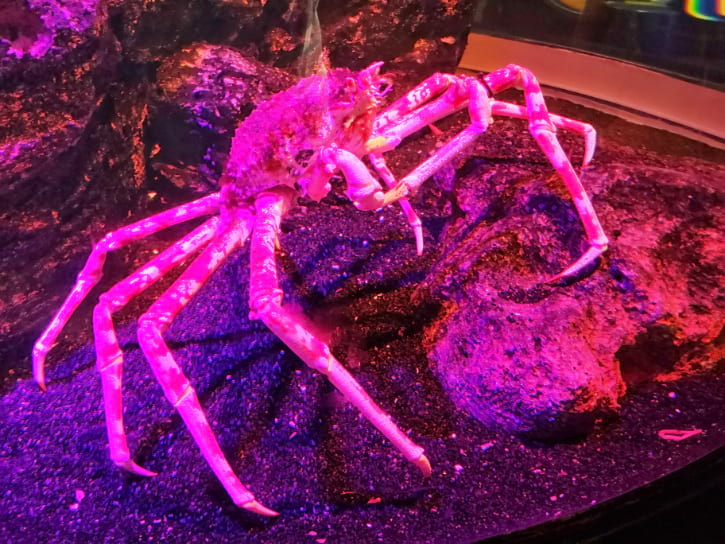 Rocky Hideout is the beautiful sanctuary of many massive marine creatures like the giant spider crabs.
Because of its remarkable features, it takes the name of both spider and crab!
And there's nothing to worry about these large marine crabs because they are not poisonous.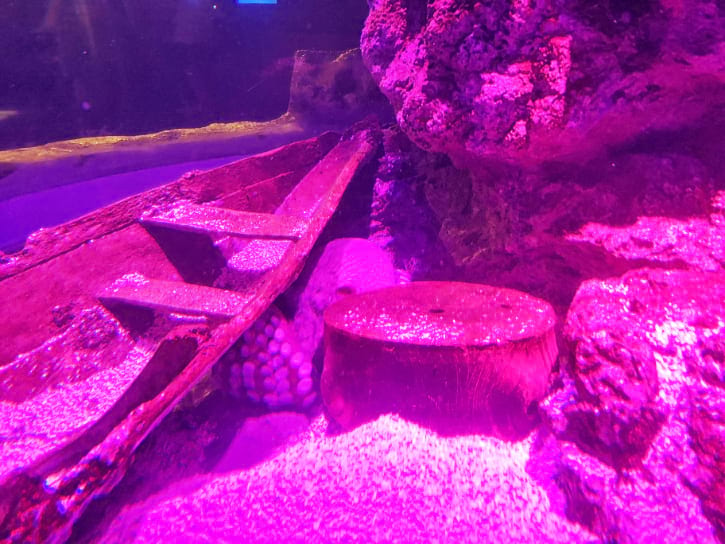 Another noteworthy creature to look out for is the giant pacific octopus.
This huge sea mollusk, however, certainly knows how to play hide-and-seek. So, keep your focus and catch sight of this ocean giant!
10. Rockpools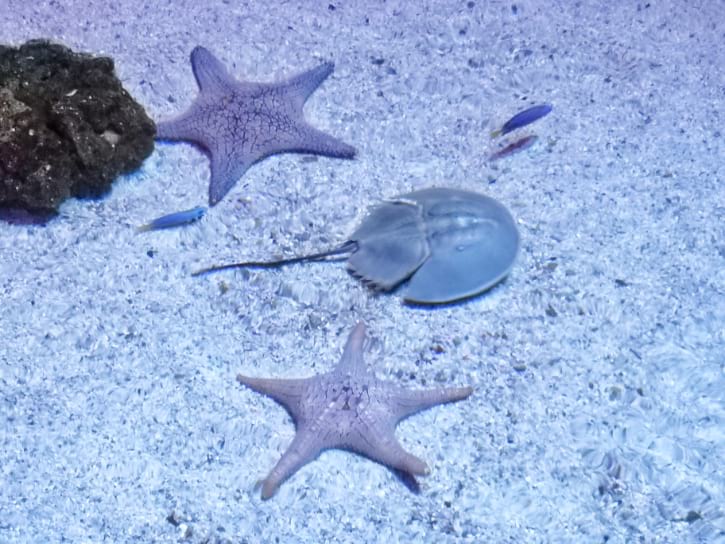 Be up-close with the horseshoe crabs and sea stars at Rockpools.
In this section, you are given the opportunity to get more personal with these creatures. You can play with them for a couple of minutes too!
Just make sure you just softly touch them and not take them out of the water. Remember to let them stay in their habitat with ease.
11. 4D Cinema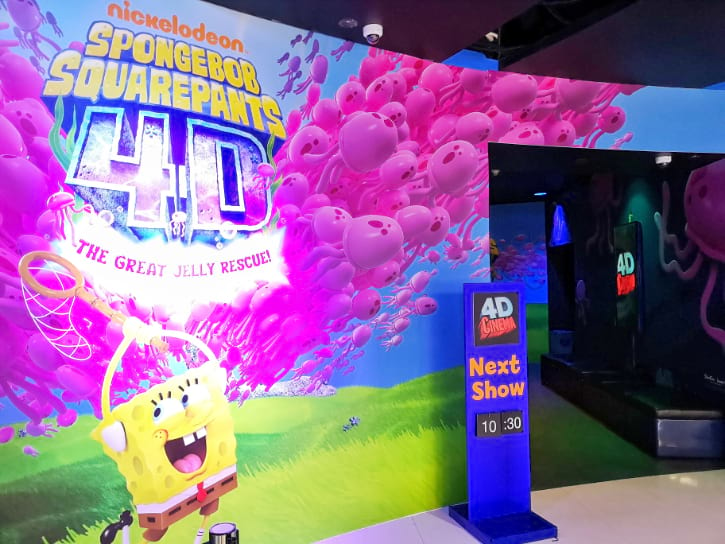 The 4D Cinema of SEA LIFE Bangkok Ocean World adds more fun and excitement to your visit.
Ready yourself as you follow the breath-taking jellyfish journey of SpongeBob Squarepants.
The incredible and realistic effects make this movie highly entertaining.
So, be sure to catch this magical film experience together with your family and friends.
12. Glass Bottom Boat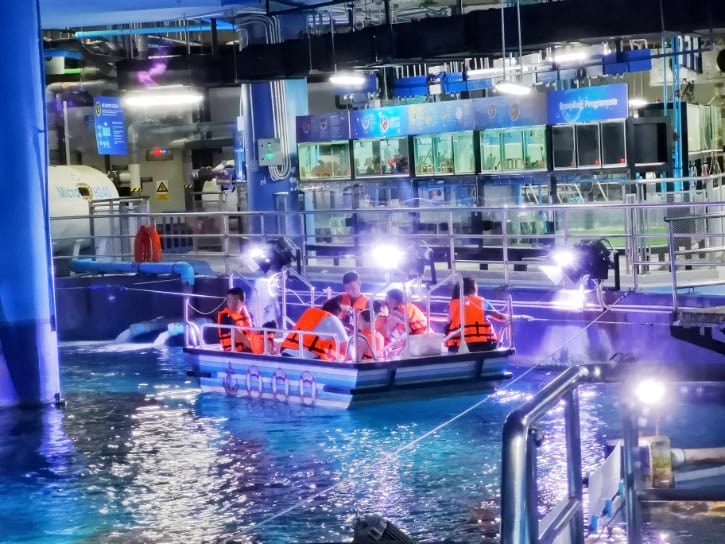 Get more personal with the sharks at Glass Bottom Boat. This experience allows you to have fun with the ocean's predators and other marine species.
So, if you've got a daring heart, for sure you'll love this unique encounter. And don't worry because this exciting ride is safe for the entire family.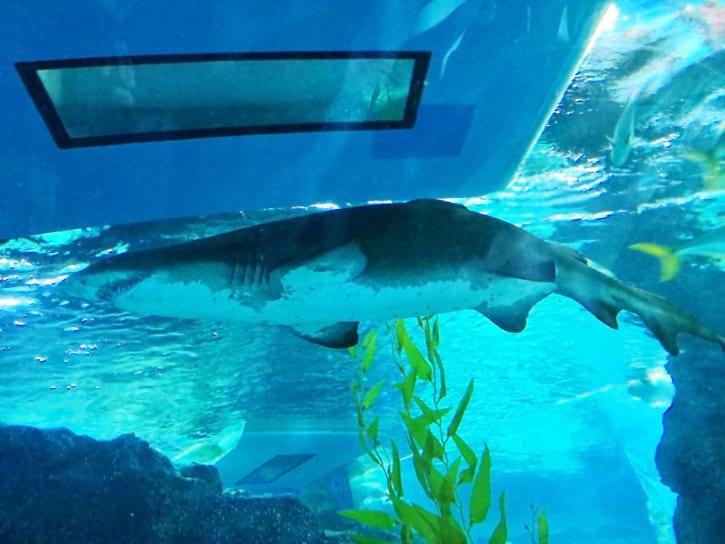 In each boat, there will be one or two SEA LIFE staff that will assist you.
And the tour guides will even show you how to feed the fishes by hand! Watch in admiration as hundreds of fishes gather in one area to devour their food.
My Review
Our trip to SEA LIFE Bangkok Ocean World was something fun and memorable. All the exhibits were worth-visiting.
Plus, there are a lot of aquariums with unique marine creatures to fuel your interest.
Without a doubt, this attraction is highly recommended―most especially to touring families and friends.
During our trip,
we spent around 3 hours navigating around the marine displays
. This is the suggested time duration if you want to complete all exhibits.
Also, make sure to buy the SEA LIFE Bangkok tickets online here before going so you'll save up to 40% discount.
Aside from the cheaper rate, online tickets provide you speedy access to the park.
After reading my SEA LIFE Bangkok post, I suggest that you check out my posts on Madame Tussauds Bangkok and Safari World Bangkok as well.
I have personally visited these 2 famous tourist spots during my Bangkok trip. And I think these 2 attractions also deserve to be part of your itinerary.
For more ideas, don't forget to read my 30 top things to do in Bangkok here and my perfect 5-day itinerary for Bangkok.
And if you plan to have a holiday in Singapore, do visit the aquarium there. Find out more details about this place in my guide to SEA Aquarium Singapore.
Visitor Information and Ticket Prices
Opening Hours:
10:00 AM – 7:00 PM
Normal Ticket Prices:
Adult (11+): 1090 Thai Baht
Child (3 – 11): 890 Thai Baht

Money Saving Tips:
Book discounted SEA LIFE Bangkok tickets here (SAVE up to 40%)
Official Website:
https://www.visitsealife.com/bangkok/en/
4 Ways to Get to SEA LIFE Bangkok Ocean World
1. By BTS Skytrain
Take the BTS Skytrain and you'll reach SEA LIFE Bangkok Ocean World in no time. This train is the cheapest and easiest way to get to this famous attraction.
The nearest BTS station to the aquarium is at Siam BTS Station. So, simply head to Exit 5, which will take you to Siam Paragon. And conveniently, this aquarium is located at the Basement 1 of Siam Paragon mall.
Here's a detailed guide in going to SEA LIFE Bangkok Ocean World from Siam BTS Station.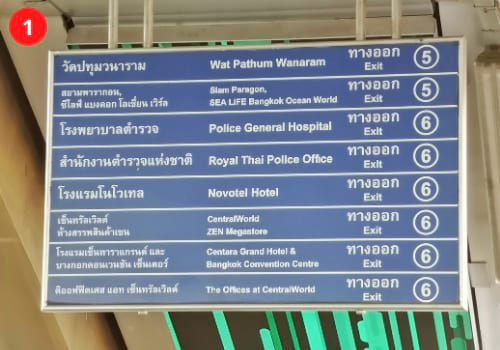 1. Firstly, take the BTS Silom Line/ BTS Sukhumvit Line to Siam BTS Station. After you get off the BTS Skytrain, follow the direction board of Exit 5. It will lead you to SEA LIFE Bangkok Ocean World.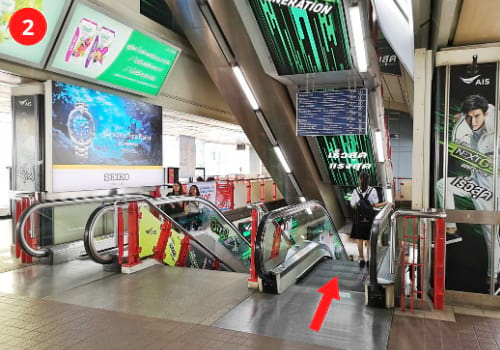 2. Follow the Exit 5 direction board and then take the escalator down at Siam BTS Station.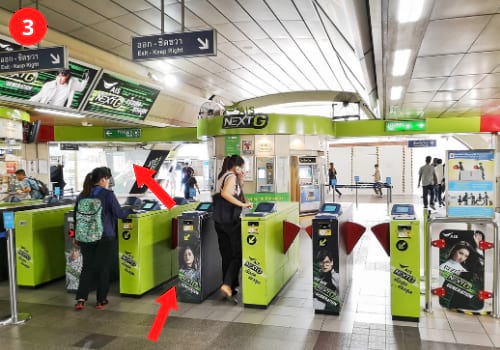 3. You should go out the ticket gate of Siam BTS Station and then turn left. The Siam Paragon shopping mall just located on your left.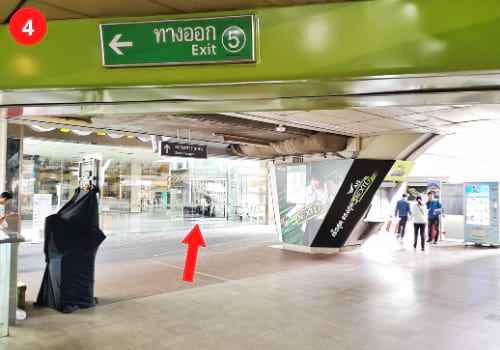 4. Enter the Siam Paragon shopping mall and then take the escalator down which is located on your right-hand side.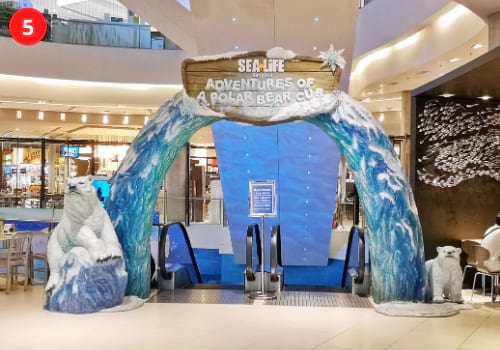 5. You'll see the escalator to SEA LIFE Bangkok Ocean World. Take the escalator down for you to reach the aquarium.
2. By MRT
If you're staying near an MRT Station, this one is another option before you take the BTS Skytrain. You can take the MRT to Silom MRT Station/ Sukhumvit MRT Station/ Chatuchak Park MRT Station, depending on your location.
Once you reach one of the MRT Stations, you can now change to BTS Skytrain. Then, follow the guidelines above on how to reach SEA LIFE Bangkok Ocean World via BTS Skytrain.
3. By Public Bus
Another way is to take the public bus 16, 25, 73, 79, 204, 501, or 508. These public buses stop over Siam Paragon Bus Stop, which is just a walking distance to Siam Paragon. So, once you get to the shopping mall, you simply take the escalator down to Basement 1 where SEA LIFE Bangkok Ocean World is located.
4. By Taxi
If you want a convenient transportation option, you can also take a cab.
Just let the taxi driver drop you off at Siam Paragon since the SEA LIFE Bangkok Ocean World is located inside.
And don't forget to check the meter first before hopping inside to avoid taxi scam.
Now, you've reached the end part of my article. I really hope that you find this SEA LIFE Bangkok article easy-to-read and helpful.
SEA LIFE Bangkok Ocean World is such a great destination for all ages. And all its marine exhibits are totally impressive.
So, make sure to explore this place during your trip to Bangkok.
Thank you and I wish you an enjoyable SEA LIFE Bangkok Ocean World experience. Goodbye! 🙂
Related Posts