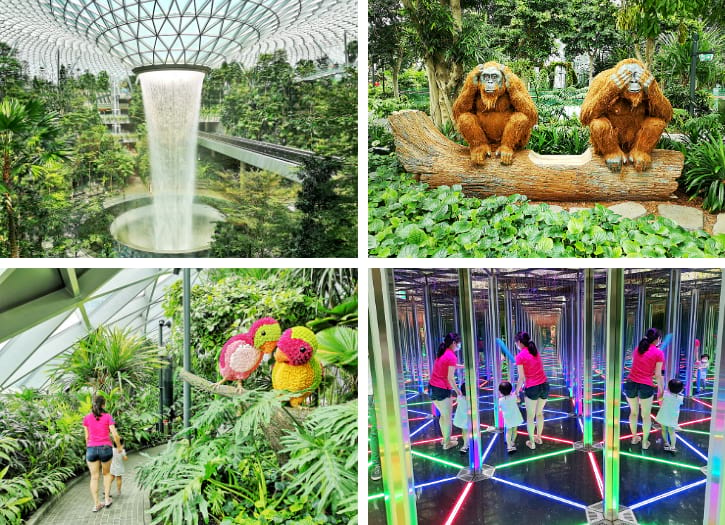 Canopy Park is one of the best theme parks in Singapore that is located on Level 5 of Jewel Changi Airport (Terminal 1).
This famous destination offers a lot of scenic nature experiences for every visitor. You can also enjoy some fun activities like net bouncing, sky net walking, and canopy walking. Plus, there are a lot of indoor trails to explore and beautiful scenes to capture.
I visited Jewel Changi Airport's Canopy Park recently, together with my wife and kid. And I can say that we really had fun touring the place. To guide you better, below are the 9 best attractions you can find in Canopy Park. 😉
Money-Saving Tip:
Check out here
for discounted Canopy Park tickets to get up to 10% OFF!
1. Topiary Walk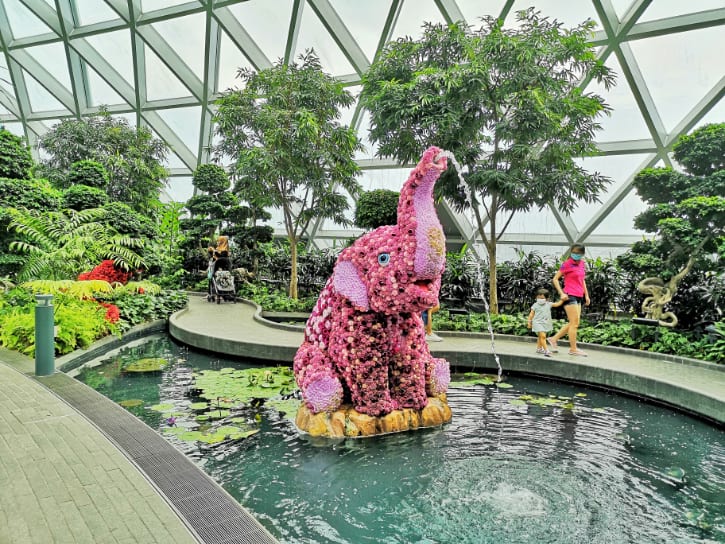 Topiary Walk is a popular walking trail in Canopy Park. It is loaded with eye-catching topiary animals to brighten up your day. These ornamental figures are scattered around, adding more color to the place.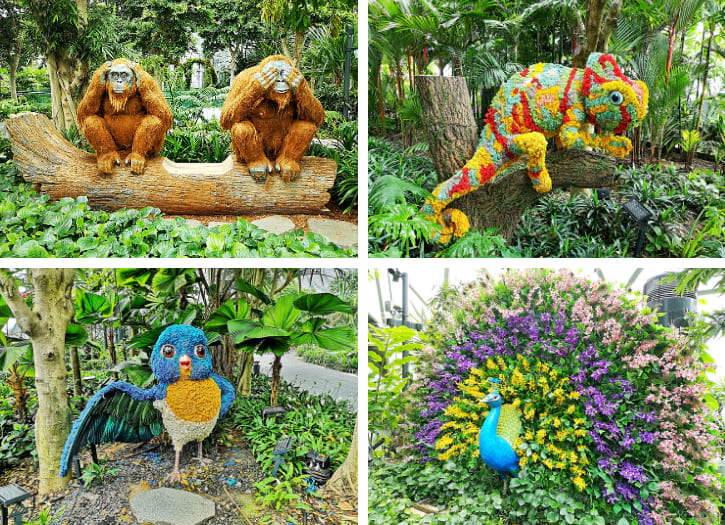 There are plenty of lifelike creatures in this place. Catch sight of the orangutans, birds, peacock, and chameleons during your stroll. For real orangutans, you can see at Singapore Zoo.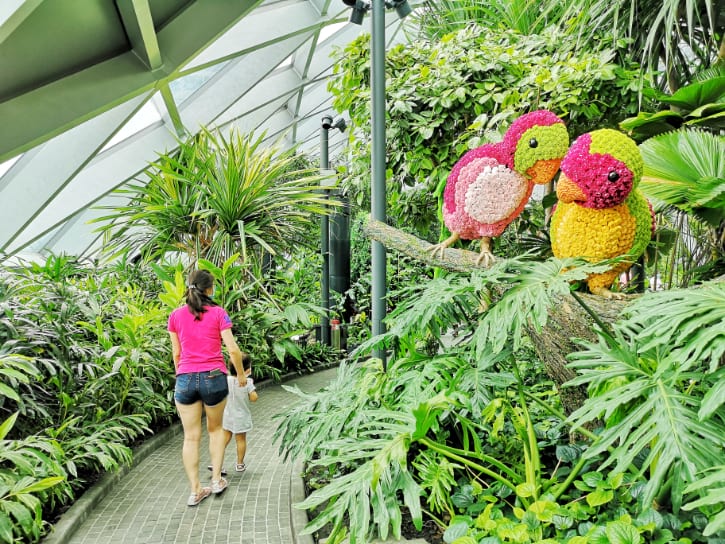 Stroll along the peaceful pathways and enjoy the scenic views. Don't forget to stop by for a minute and appreciate the topiary animals in between.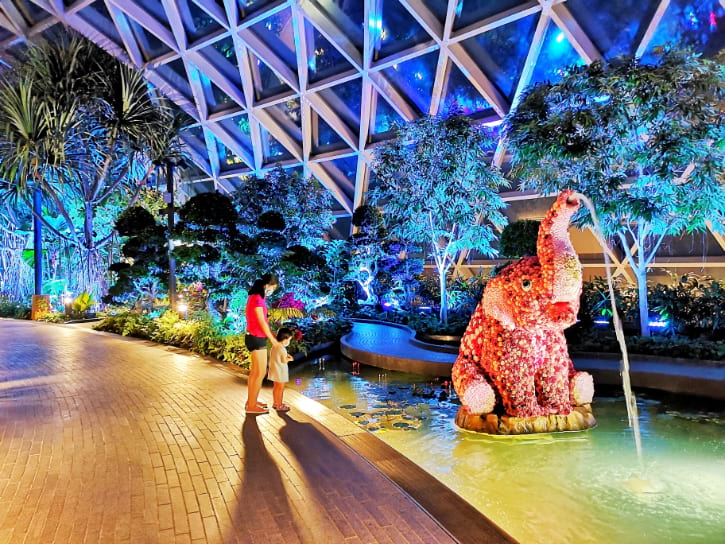 Come nighttime, the Topiary Walk becomes more colorful and magical. It's because the night lights illuminate the entire area.
2. Petal Garden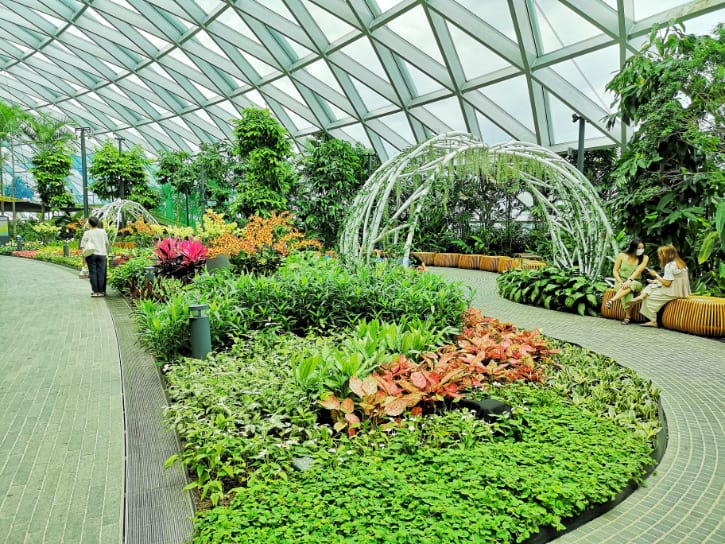 Petal Garden is a perfect place to unwind and simply enjoy the beauty of nature. That's why it's a popular chill spot in Canopy Park. There are seating spaces scattered so you easily chitchat with your family and friends.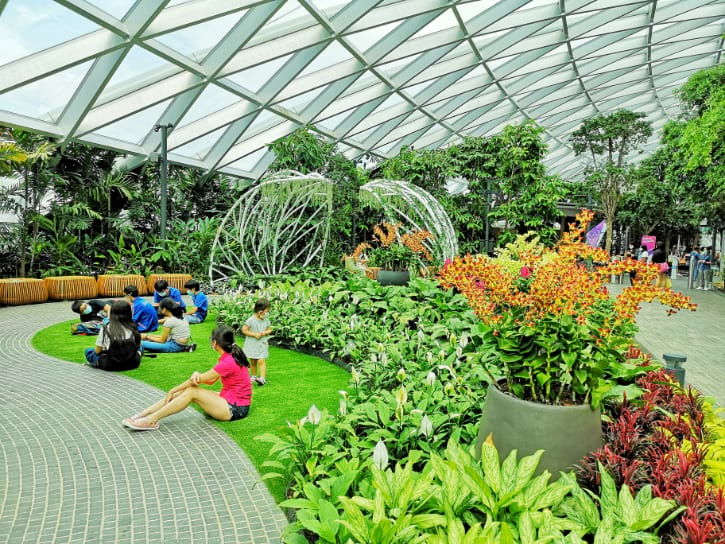 Because of its beautiful features, Petal Garden is dubbed as a mini counterpart of the Gardens by the Bay, which is located in Marina Bay Sands. So, if you just want to have a peaceful moment while enjoying some lovely nature scenes, add this to your list.
3. Mirror Maze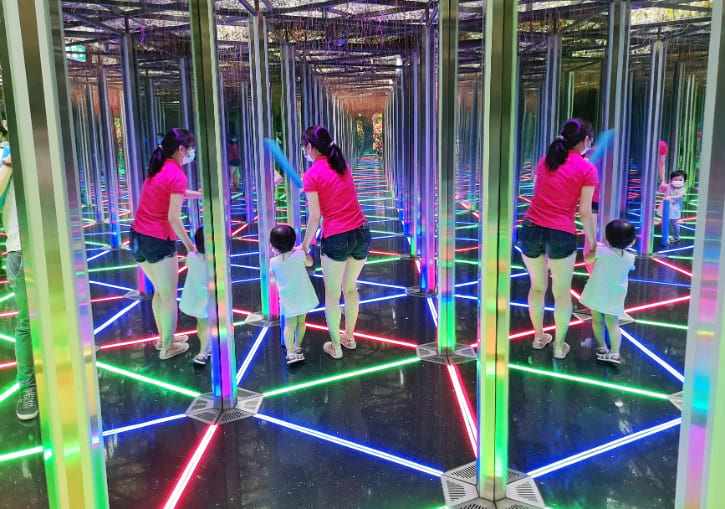 Mirror Maze offers a unique Canopy Park adventure. It tests your navigation skills but in an entertaining way.
Take your kids and circle around the endless maze of mirrors. During your search for the exit, capture the infinite reflections surrounding the hallways.
And, make sure to prepare yourself for the surprising twists and turns that await every corner. Without a doubt, the Mirror Maze is a mind-blowing masterpiece that deserves a visit.
4. Hedge Maze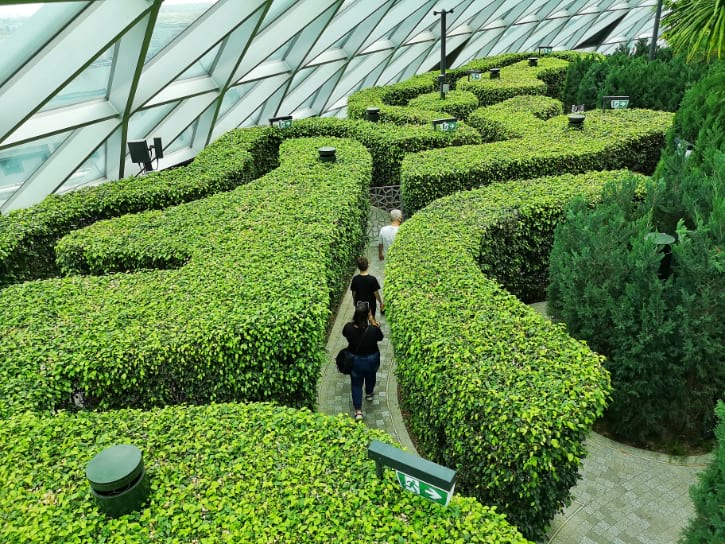 Hedge Maze is as fun as the Mirror Maze. However, this attraction comes with more picturesque nature sights. Instead of mirrors, you will be fenced by towering gardens of green. And along the way, you'll come across some beautiful flowers on the hedges.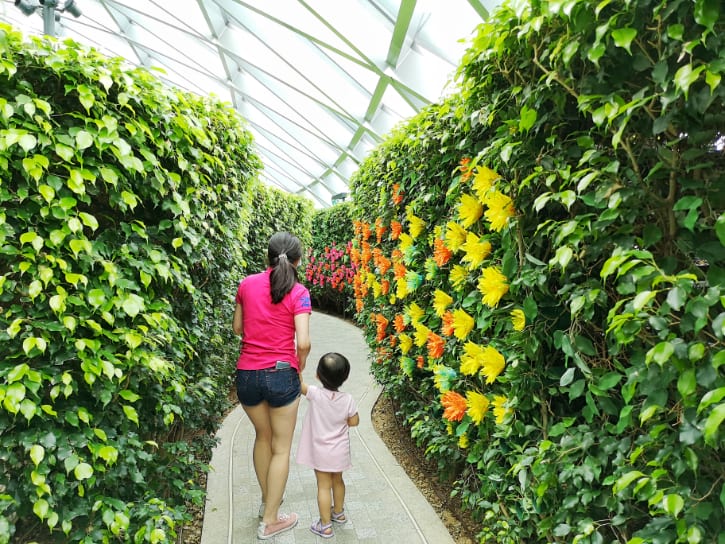 Make the most out of your maze challenge by appreciating the beautiful surroundings. You can stop and stare at the decorations once in a while. You might even bump into some visitors while completing the maze.
And don't worry because there's no time limit completing this particular Canopy Park attraction. So, enjoy the adventure from start to finish!
5. Manulife Sky Nets – Bouncing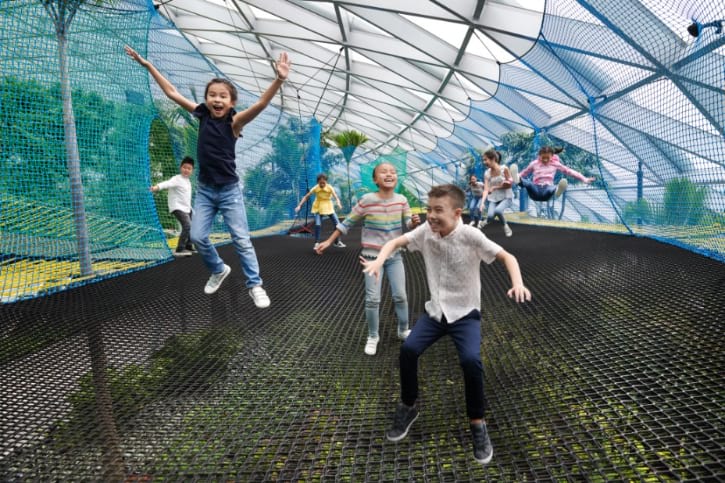 If you want a more exciting activity in Canopy Park, Manulife Sky Nets Bouncing is a great option. This bouncing net is such a fun place to stimulate your senses.
It's highly recommended for families travelling with kids and young adults. Here, you are given an opportunity to jump all day long. Or you can challenge your friends to know who the highest jumper is.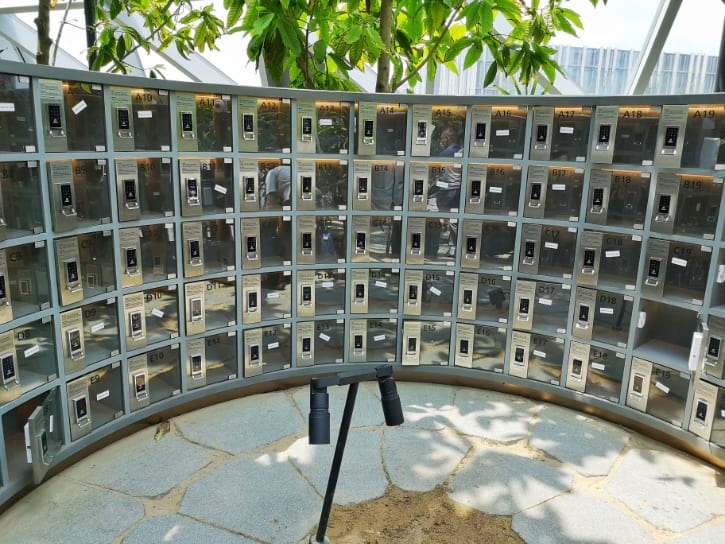 Before you start with your bouncing agenda, make sure to keep your things secured. You can put your belongings and other stuff in the designated, free lockers.
6. Manulife Sky Nets – Walking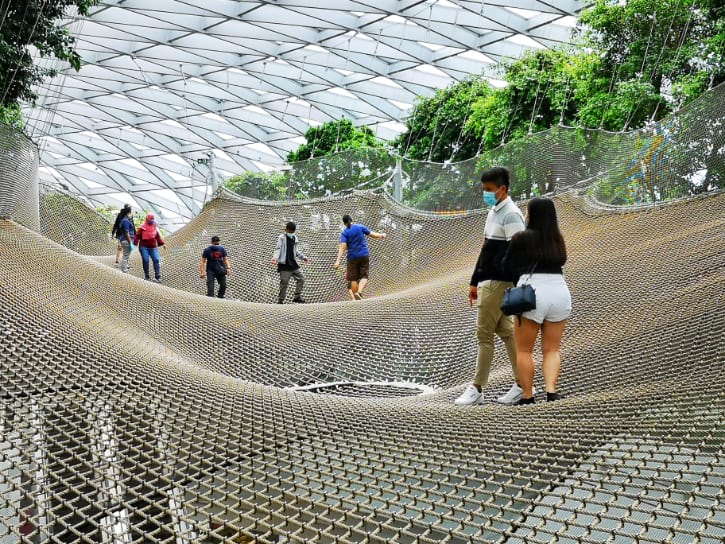 Continue the fun at Manulife Sky Nets Walking. It's considered the suspended walking trail that offers you an exceptional kind of sensation. It's like strolling on the ground but in a lighter way.
And do prepare yourself beforehand because the nets are hanged 25 metres above the ground. So, if you've got a fear of heights, this walking Sky Nets in Canopy Park is something that will really challenge you. And to fully enjoy the walk, you can leave your things in the lockers.
7. Foggy Bowls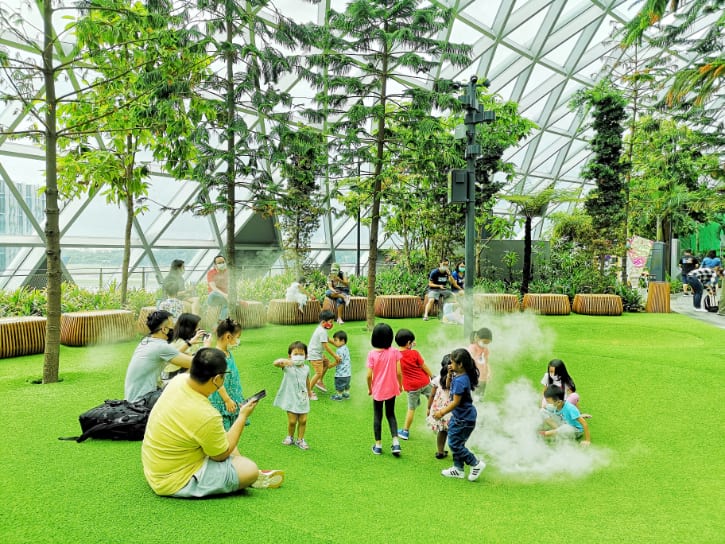 Foggy Bowls is a playground that surprises visitors with its cloud-like charms. These puffs of mist sprout out of nowhere, adding more excitement to the dreamy setting. Be attentive when these clouds appear so you can cup it in your hands.
This place is suitable for all ages, though it's highly recommended for children visiting Canopy Park. Here, they can play with the realistic clouds and with other kids. For your part, you can sit on the ground and capture the smiles of your child.
8. Discovery Slides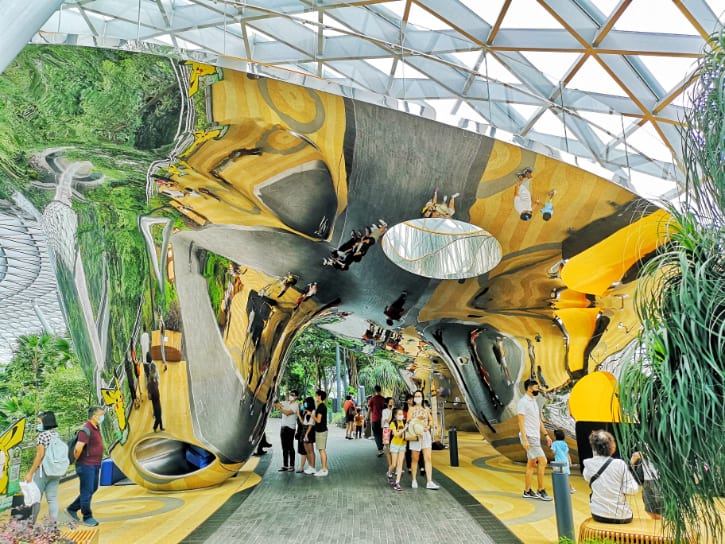 Discovery Slides is quite a unique attraction in Canopy Park. Instead of the usual playground with simple slides, this one is a sculptural work of art. It's a giant play area that also serves as a perfect background for your photos.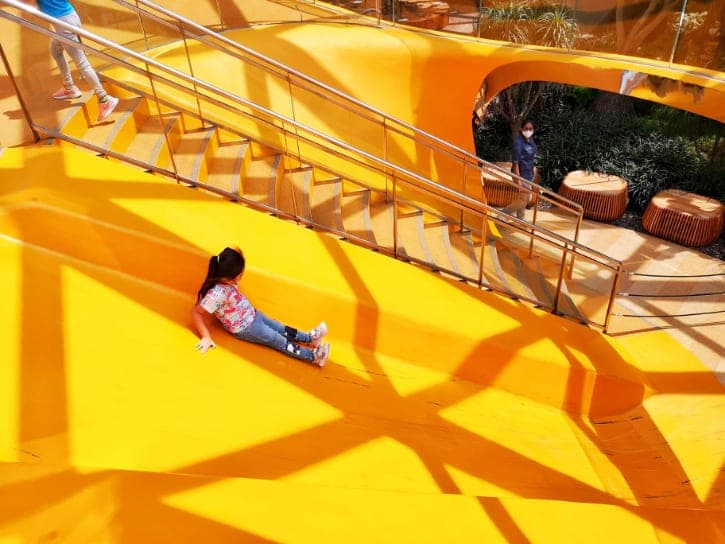 Distinctively, this one has its own viewing deck. So, make your way to the top deck and catch some beautiful views before you glide down.
Because of its amazing features, it holds the title of Singapore's first-ever interactive playscape. Truly, this spot is recommended to anyone looking for a fun, scenic, and artistic attraction.
9. Canopy Bridge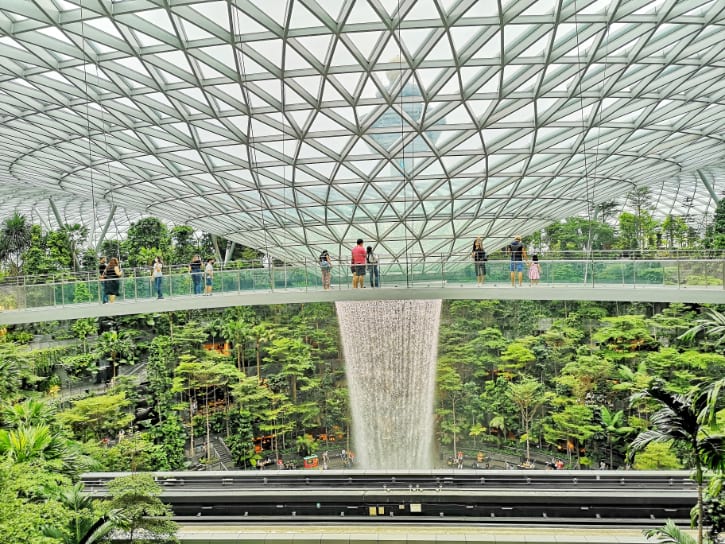 Canopy Bridge completes the list of must-visit attractions in Canopy Park. This location offers you a spectacular view of the entire park and its surrounding attractions. Because of the lush nature scenes, the bridge is always loaded with visitors passing by.
The spot also provides you with plenty of photo opportunities. You can use the picturesque nature view as your backdrop. And from the bridge, you'll also catch sight of the towering HSBC Rain Vortex.
My Review
Our trip to Canopy Park was definitely entertaining. We enjoyed all the attractions as well as the photo opportunities. Aside from that, we really had fun because of the unique set of activities for all ages.
We started our adventure at Canopy Park in the morning, maybe around 10:00 AM. It took us about 5 hours to complete all the attractions above.
And if you want to make your visit more convenient, make sure to buy your Canopy Park tickets here before you go. Since we purchased our tickets online instead at the ticketing counter, we saved a lot of money. On top of that, we had speedy access to the park.
Moreover, don't forget to bring your own drinking bottle. There are a lot of free water dispensers near the washroom, so you can just refill your bottle anytime. It's also advisable to wear covered shoes if you want to play around at Manulife Sky Nets.
I highly recommend that you include this theme park on your Singapore trip. You can take a look at my Singapore 5 days itinerary to know how to fit Canopy Park into your travel plan.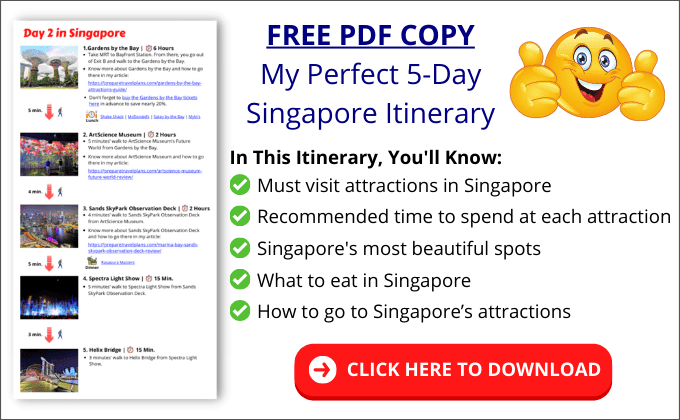 Canopy Park Ticket Prices
Normal Ticket Prices:
Topiary Walk, Petal Garden, Foggy Bowls and Discovery Slides – SGD $5
Mirror Maze – SGD $15
Hedge Maze – SGD $12
Canopy Bridge – SGD $8
Manulife Sky Nets (Bouncing) – SGD $22
Manulife Sky Nets (Walking) – SGD $15
If you're planning to visit Canopy Park, you can buy individual tickets or ticket bundles in advance.
It's recommended to purchase the Canopy Park tickets online here so you get an extra discount and save money. Compared to buying from the ticketing counter, online tickets are way cheaper.
Dining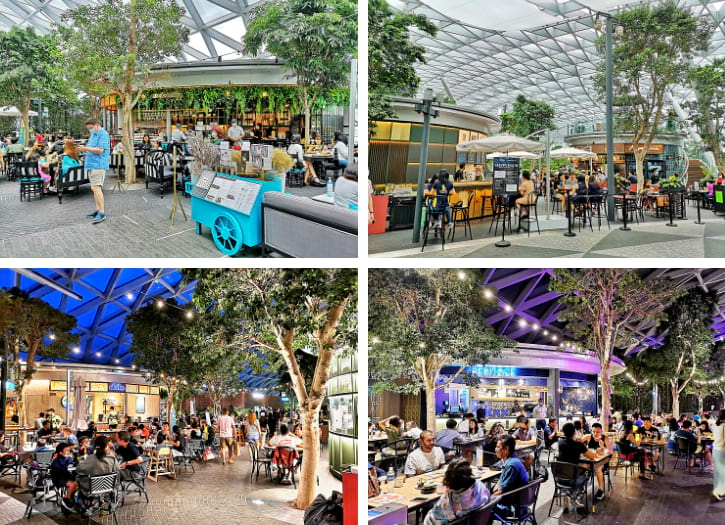 After the scenic experiences at Canopy Park, satisfy your cravings from one of the restaurants at Jewel Changi Airport. These dining spots offer a variety of dishes to cater to different preferences.
If you just want a quick break, there are also plenty of eateries located on the same floor as the Canopy Park.
And for those who are on a tight budget, you'll get a lot of options too. You can take your lunch or dinner at the food court. You can find this in basement 2 of Jewel Changi Airport.
Other Things to Explore
After having fun at Canopy Park, you can carry on with your adventure and explore other attractions at Jewel Changi Airport. These are all located in the same place, which means you can visit them in one day.
1. HSBC Rain Vortex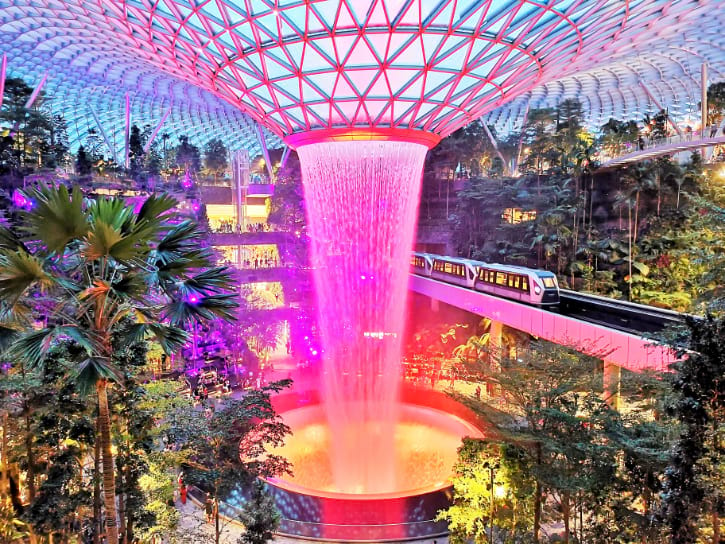 HSBC Rain Vortex is no doubt the highlight attraction in Jewel Changi Airport. Standing at 40 metres high, this structure will definitely catch your attention. Because of its massive height, you can see this even if you're at Canopy Park.
In fact, it's considered the tallest indoor waterfall in the world. So, if you're looking for the most Instagrammable places in Singapore or best things to do in Singapore at night, this place is highly recommended.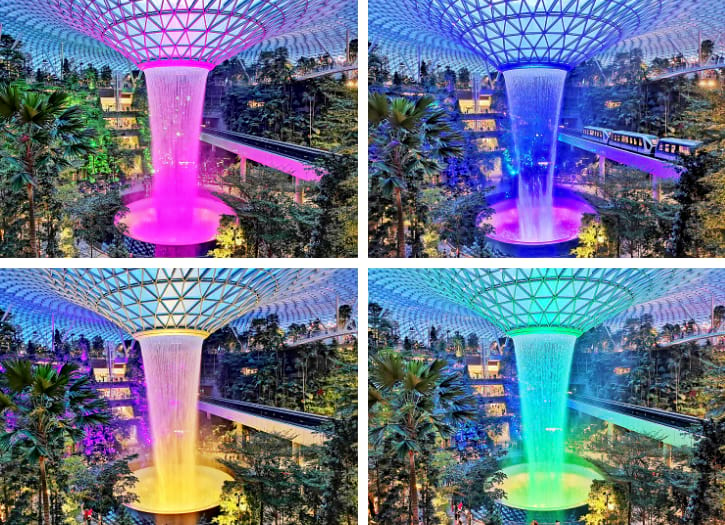 Because of its captivating design and changing colors, this waterfall is a crowd favorite. And if you have extra time, catch the light-and-sound show of HSBC Rain Vortex. This is one of the most popular light and sound shows in Singapore that you shouldn't miss.
The schedules for this famous show are 7:30 PM, 8:30 PM, 9:30 PM, 10:30 PM, and 11:30 PM. And nothing to worry about because you can watch this show for free.
2. Shiseido Forest Valley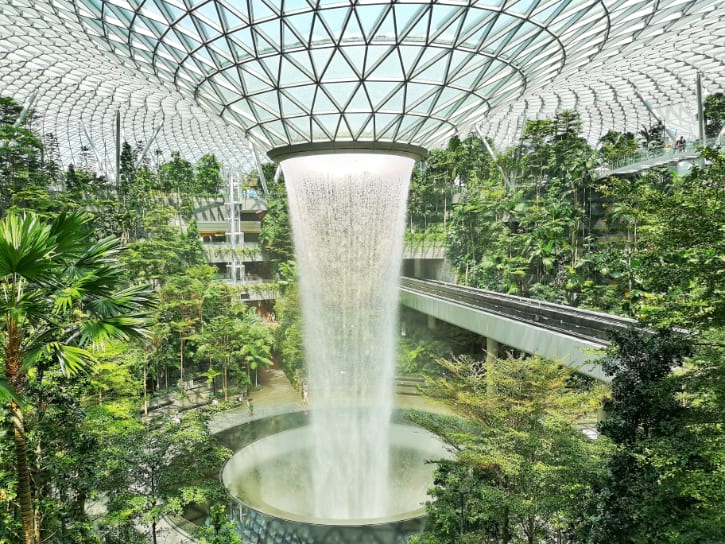 Step into the scenic world of Shiseido Forest Valley. This place takes you to a calming retreat with nature. This is also where you'll find the towering, indoor waterfall that is surrounded by lush views.
As you explore this stunning wonderland, you'll come across all sorts of plants and flowers. There are over 900 trees and palms in this beautiful garden, together with some 60,000 charming shrubs.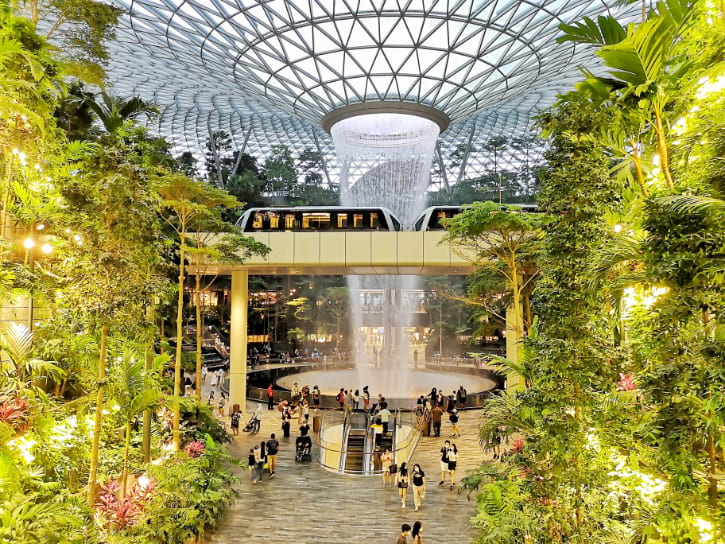 Aside from capturing some lovely sights, you can also exercise your feet here. Go for a gentle hike from Shiseido Forest Valley to the Canopy Park. And the best part? You can enjoy all these for free.
If you're a nature lover, you have another option to be included on your list. Make sure to visit Sentosa Island in Singapore and explore its lush rainforests, sandy beaches, and themed attractions.
3. Changi Experience Studio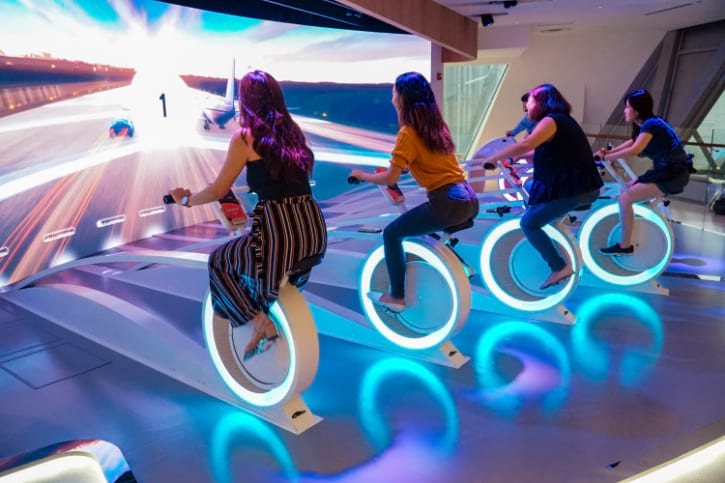 Changi Experience Studio is another unique attraction you can visit after exploring Canopy Park. This place is filled with virtual adventures, so gather your friends and engage in different interactive games.
This digital attraction lets you enjoy a variety of immersive activities. These include entering the airport operating scenes and trying some airport stimulating functions. There are also virtual games for everyone.
To find the Changi Experience Studio, you just go downstairs from the Canopy Park, which is the 4th level of Jewel Changi Airport. If you purchase at the ticketing counter, the standard ticket price is SGD $25. But if you book Changi Experience Studio tickets here , you will enjoy a 25% discount.
4. Shopping at Jewel Changi Airport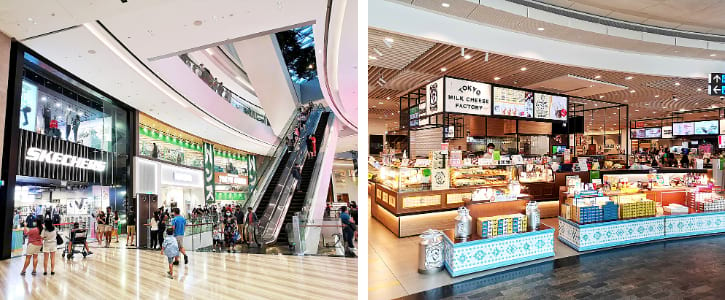 If you do not want to go to Changi Experience Studio after Canopy Park, you can go shopping at Jewel Changi Airport. There are plenty of shops and stalls here to satisfy your needs.
Walk around the vast shopping expanse and discover the wide array of items on display. These include fashion items, trendy accessories, electronics, home essentials, stationery, and more.
If you're looking for some branded products, this place is also loaded with options. There are a lot of luxury stalls here, along with some high-end stores.
How to Go to Canopy Park
If you plan to visit Canopy Park, just head to the Level 5 of Jewel Changi Airport, Terminal 1. The steps going to Jewel Changi Airport aren't that difficult.
You can find the detailed information of getting to Jewel here. In this website, you have options on how to reach Jewel from Changi Airport via MRT and Bus.
So, this is the end of the article. And, I hope you enjoyed reading this Canopy Park guide and it will help make your plans easier.
Canopy Park is definitely a scenic destination that you should visit in the future. It's highly recommended for those who want to explore beautiful spots and try unique activities.
I wish you will have a fun and memorable trip to Canopy Park. Thank you and good bye! 😊
Related Posts
Photo Credits:
Photo by Jewel Changi Airport