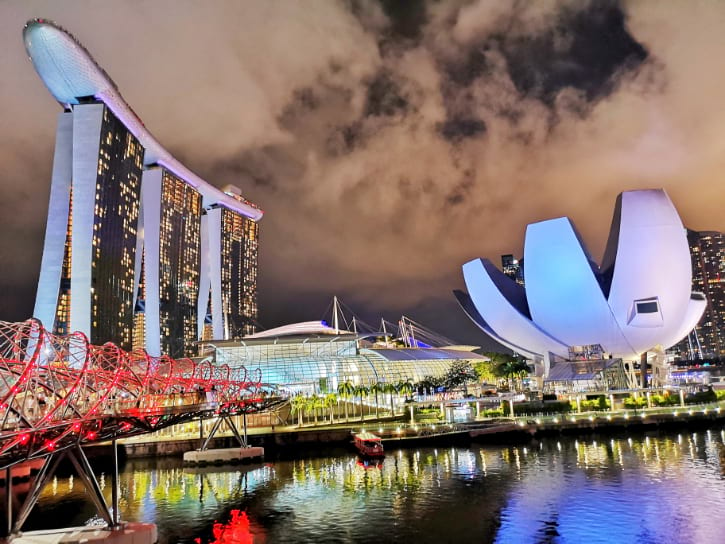 Want to know the best things to do in Marina Bay, Singapore? Let me introduce to you the most beautiful photography spots and top-rated attractions in Marina Bay that are worth visiting.
Marina bay is definitely one of the highly-visited attractions in Singapore. You're able to discover the beauty of Singapore as you explore the vibrant district and go around the variety of recreational spots.
This area has almost everything under the sun from attractive attractions to shopping to dining. No wonder it's a traveller favourite!
So, let me share with you my best picks of things to do in Marina Bay to make your trip even more special and enjoyable.
Top 15 Things to Do in Marina Bay, Singapore
---
1. Gardens by the Bay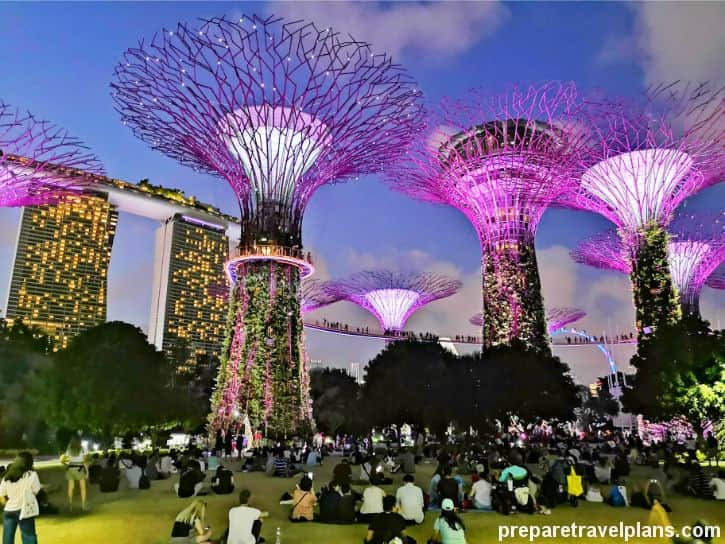 A mesmerizing combination of natural charms and man-made wonders, Gardens by the Bay is an attractive attraction nestled within Marina Bay. But there's more to this famous indoor forest than its abundant plant species.
It shelters 18 gigantic, tree-shaped gardens, or the Supertree Grove, which are approximately 25 to 50 meters tall. And living along these soaring groves are thousands of plants, including the likes of ferns, orchids, vines, tropical flowers, and various bromeliads.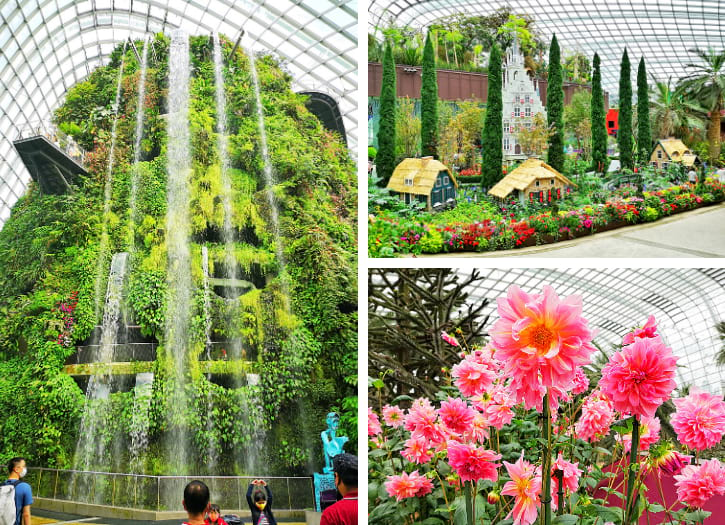 Visit the nature park early in the morning to witness the consuming beauty of nature and silence. Stroll from one garden to the next or cycle within the garden grounds. Also within the park is the 35 meters man-made indoor waterfall, which is the tallest in the world.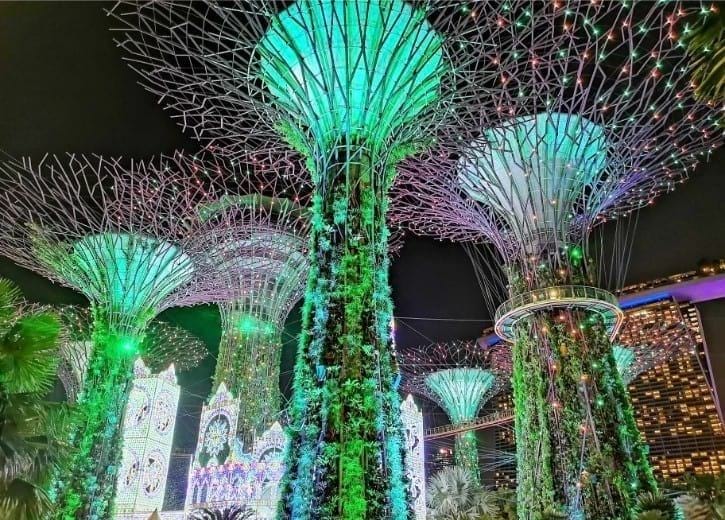 Because of its towering height and vast plant life, the Supertrees are like out of the world creations―something you'd imagine from science fiction or fantasy movies like Star Wars or Avengers.
At night, these massive vertical gardens light up the entire Singapore cityscape with its eye-catching illuminations. So, if you want to have a laid-back kind of evening, then surround yourself with the whimsical beauty of these sparkling giant trees. Then, watch the dazzling Garden Rhapsody (Gardens By The Bay Light Show) as it transforms the iconic trees into dazzling, dancing beauties.
Whilst it's not hard to miss the Supertrees, Gardens by the Bay is also the home to other attractions. Visit the Flower Dome and Cloud Forest either in the morning or afternoon so that you'll see the its magnificent beauty up-close. At night, visit the OCBC Skyway for a more captivating scene of the Supertrees.
Know more about Gardens by the Bay, its attractions, and how to go there through the guide below.
➔ A Complete Guide to Gardens by the Bay for New Visitors

Money Saving Tips
Normal Ticket Prices
Flower Dome + Cloud Forest:
Adult (13+): SGD $28
Child (3 – 12): SGD $15
Child (Under 2): Free
OCBC Skyway:
Adult (13+): SGD $8
Child (3 – 12): SGD $5
Child (Under 2): Free
Address
18 Marina Gardens Drive, Singapore 018953

2. Marina Bay Sands SkyPark Observation Deck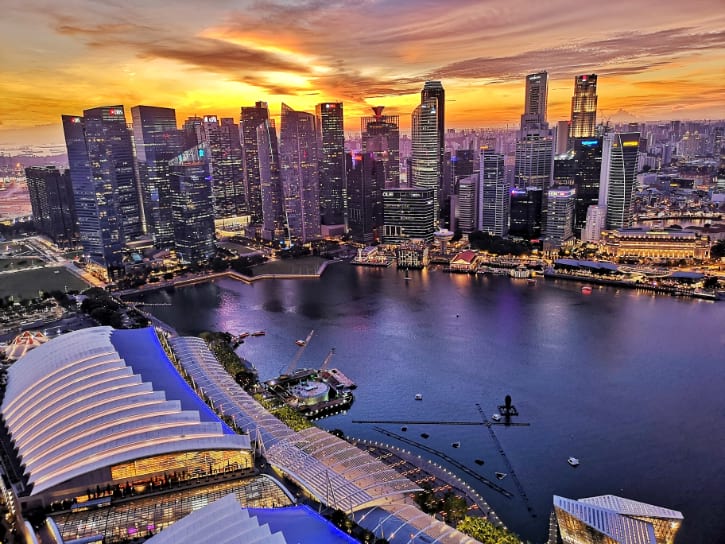 Nestled on the 57th floor of the Marina Bay Sands, the Sands SkyPark Observation Deck is just the perfect place to relax after a fun-filled day. See the impressive sight of towering buildings scattered along the scenic Marina Bay and witness the sun slowly fading back to its horizon.
With panoramic and bird's eye views of the entire city, no wonder it's a favorite place among first-time travellers looking for the right place to unwind. Take your spot on the wooden deck and spend a couple of hours gazing down the beautiful Singapore cityscape.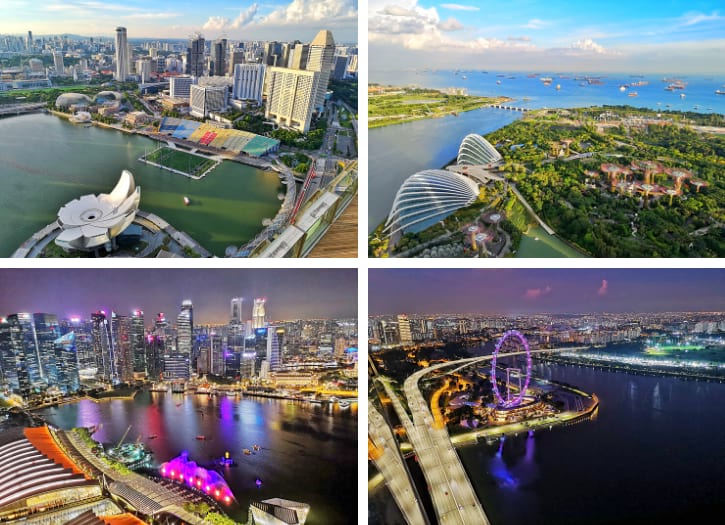 With no time limit, you can relax comfortably on the gleaming expanse that becomes one of the best areas in the city for sunset watching.
Do take note that this breath-taking observation deck is quite jam-packed every day, especially during sunset. So, if you want to have the best spot, come before the crowd surges.
For more information about Sands SkyPark Observation Deck, check out the blog post below.
➔ The Ultimate Guide to Sands SkyPark Observation Deck

Money Saving Tip
Opening Hours
Monday to Thursday:
9:30 AM – 10:00 PM
Friday to Sunday:
9:30 AM – 11:00 PM
Normal Ticket Prices
Adult (13+): SGD $23
Child (2 – 12): SGD $17
Child (Under 1): Free
Address
10 Bayfront Avenue, Singapore 018956 (Marina Bay Sands Hotel Tower 3, Level 57)

3. Spectra – Marina Bay Sands Light and Water Show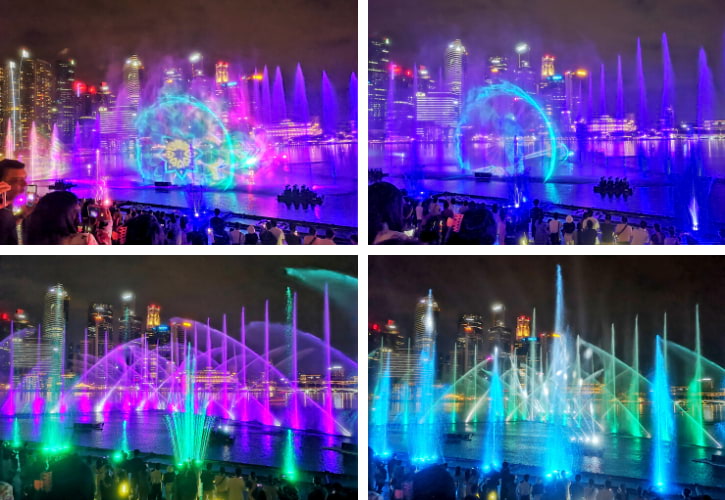 Marina Bay Sands Singapore also holds a rather spectacular open-air display―Spectra, the famed Marina Bay Sands Light and Water Show. This outdoor entertainment dazzles the public with its stunning symphony of light, water, and music, all in one.
The best part of this outdoor exhibition is that it is open to the public. Yes, it's totally free! Just head to the Event Plaza near the promenade and see before your eyes the stirring story-line that dances in unison with the glittering lasers and fountain jets.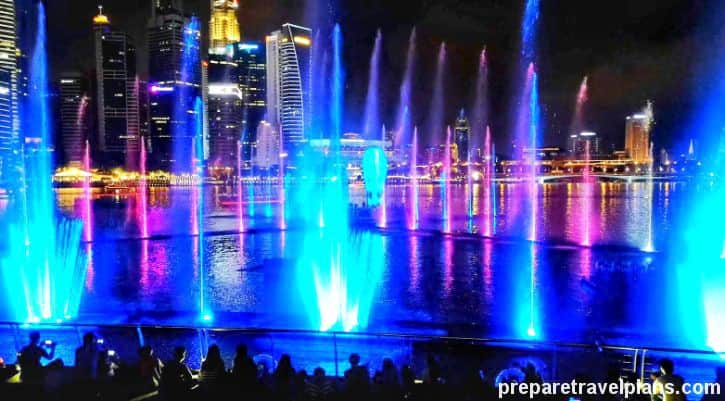 The Spectra is displayed every night but at specific times only. So, make sure to check the schedule ahead so that you can be on the place before it starts.
But don't worry because there are two performances from Sunday to Thursday and three from Friday to Saturday.
Take your entire family and friends and see the stunning Spectra overflowing with colors, tones, and illuminations. Truly, this is one of the most relaxing and fascinating ways to end your day.
Check out the video below for a glimpse of the spectacular Spectra.
Show Times
Sunday to Thursday:
08:00 and 21:00
Friday to Saturday:
08:00, 21:00 and 22:00
Address
10 Bayfront Avenue, Singapore 018956

4. ArtScience Museum Future World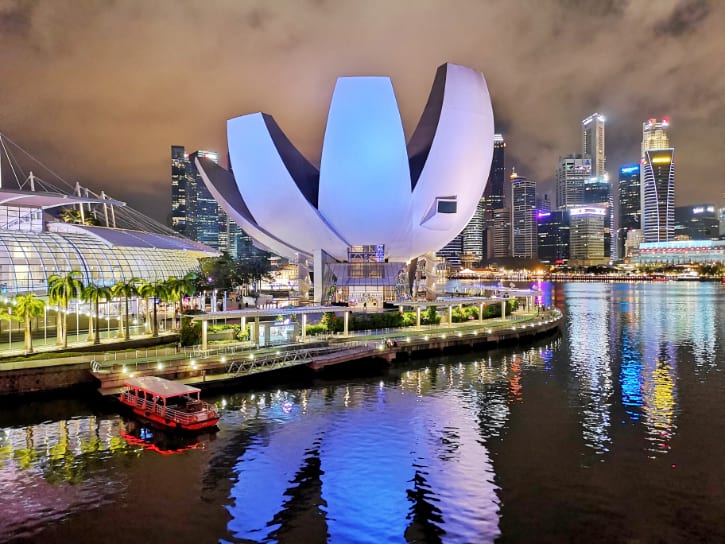 Aside from breath-stealing sceneries, Marina Bay Sands houses a rather distinct attraction for history buffs and art lovers. ArtScience Museum Future World is a futuristic avenue that is filled with picture-perfect shots and mind-boggling art pieces.
Pop by the museum and prepare yourself for a series of charming attractions worth a spot on your Instagram feed!
From high-tech collections to immersive digital art installations, there's something for every type of travellers. Teaming up with the award-winning teamLab, the Future World is endlessly updated to highlight new pieces and designs.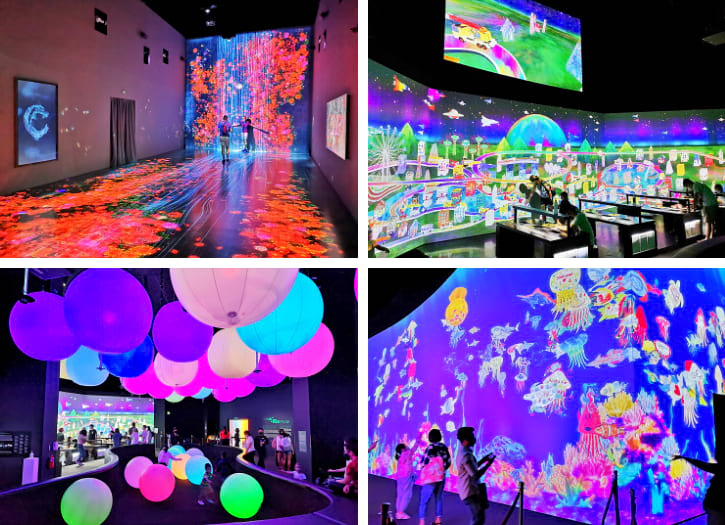 As soon as you enter the museum, you will be greeted with the whopping 6-meter high life-like waterfall. This colorful beauty spills vivid colors and lights that are totally mesmerizing. And in time, these virtual flowers and butterflies die―just like in reality.
Walk your way into the zone and be fascinated with the stimulating animations that transport you to a digital world of art and science. From the color-changing flowers to digitally-controlled lights, be absorbed in a realm of cutting-edge technology charms.
And if you intend to have a peace of mind, then there's an oasis of relaxation that allows you to reflect and meditate in silence.
Know more about the individual attractions that co-exist within the Future World here.
➔ ArtScience Museum Review and How to Get There by MRT

Money Saving Tip
Opening Hours
10:00 AM – 7:00 PM
To ensure each visitor will have the best experience in each interactive display at Future World, the number of visitors are controlled. Here is the schedule of entry – 10:00, 11:30, 13:00, 14:30, 16:00 and 17:30 (last entry)
Normal Ticket Prices
Adult (13+): SGD $19
Child (2 – 12): SGD $14
Child (Under 1): Free
Address
6 Bayfront Ave, Singapore 018974

5. Singapore Merlion Park and Statue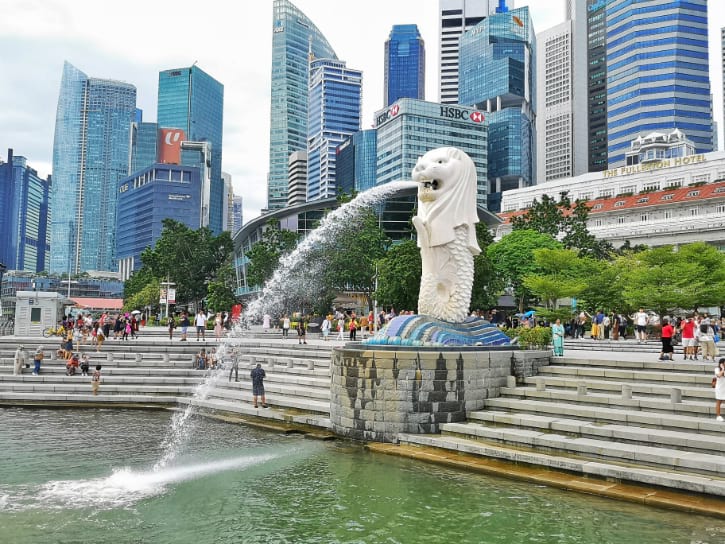 But of course, a trip to Singapore will never be complete without the ever-popular Singapore Merlion. So, make sure to add this into your list of things to do in Marina Bay. This iconic landmark is no doubt one of the most photographed pictures in every Singapore visit.
Without even asking, Singapore's national icon is no doubt the half-fish and half-lion statue, or widely known as the Merlion.
For those who don't know, this mythical Merlion is not just a simple representation. The fish body highlights the country's modest origin as a fishing village while the lion head symbolizes the original name of Singapore, which is Singapura or the "lion city".
This iconic structure was created by the talented Lim Nang Seng and was later unveiled in 1972 by the late Prime Minister Lee Kuan Yew. After many decades, the Merlion became Singapore's more loved mythical symbol.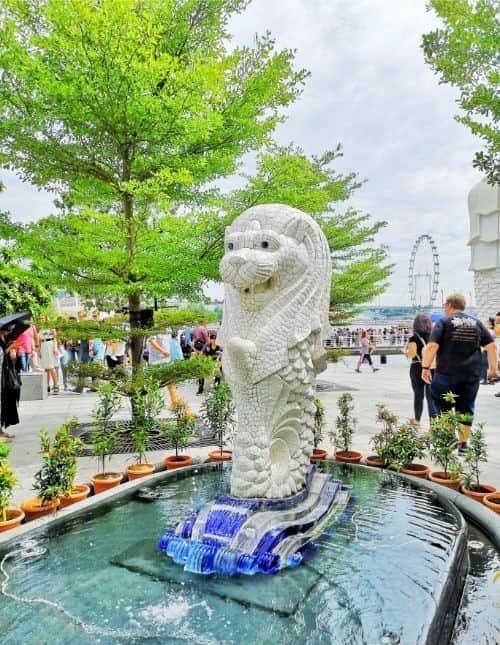 Now, there are two Merlion statues within the Merlion Park, which is situated near the riverside at Marina Bay. The first Merlion statue with the panoramic Singapore skyline as the backdrop stands at around 29 ft. while the other one is at 6.5 ft.
With its rather unique design, splashing water from its mouth, the Merlion is such an illustrious epitome of the country's humble history. So, pop by the park and strike a pose beside or in front of this prominent icon.
Address
1 Fullerton Road, Singapore 049213
6. Singapore Flyer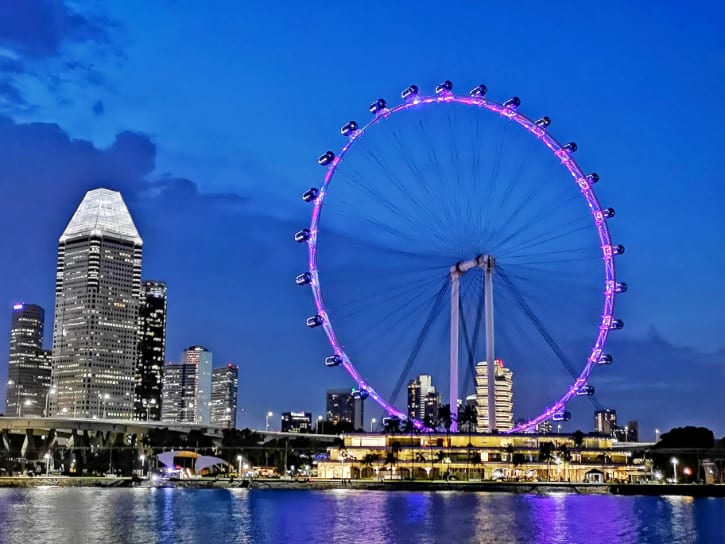 Take a trip to the largest Ferris wheel in the country―the Singapore Flyer. But there's more to Singapore Flyer than its famous observation wheel.
This top-rated attraction features both dining and breath-taking experiences.
Jump aboard your own Flyer 360+ for the most memorable 30 minutes of your life. In this one of a kind trip, you get to know more about the cultural beauty of Singapore.
Or, you can take their Flyer Lounge and enjoy a romantic dinner above. Soak up all the incredible views surrounding the Singapore skyline and relax under the moonlit sky.
Clearly, this top Marina Bay attraction is more than just the view.
Opening Hours
8:30 AM – 10:30 PM (Last admission: 10:15 PM)
Ticket Prices
Adult (13 – 59): SGD $33
Child (3 – 12): SGD $21
Senior (60 and above): SGD $24
Address
30 Raffles Ave, Singapore 039803

7. Marina Bay Waterfront Promenade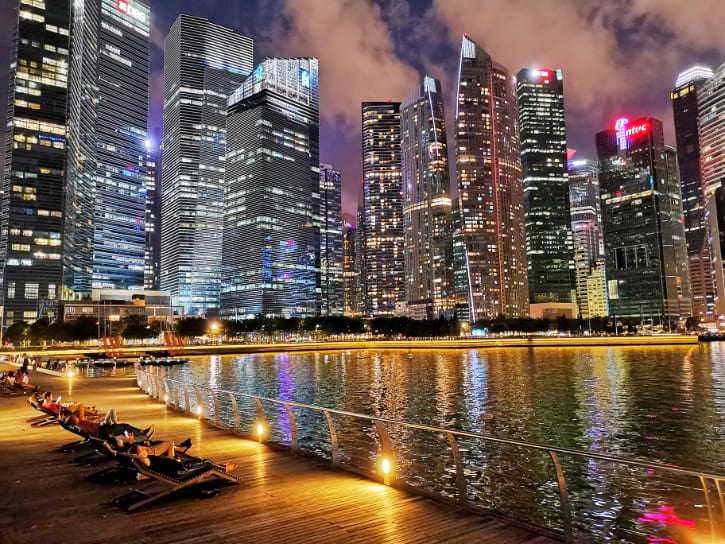 Wander around the Marina Bay Waterfront Promenade and let the giant structures dwarf you in magnificence.
This 3.5-kilometer recreation area is such a suitable destination for simple hikes, outdoor yoga, or simply a relaxing stroll. All these are cost-free activities settled within the lush environment-friendly expanse.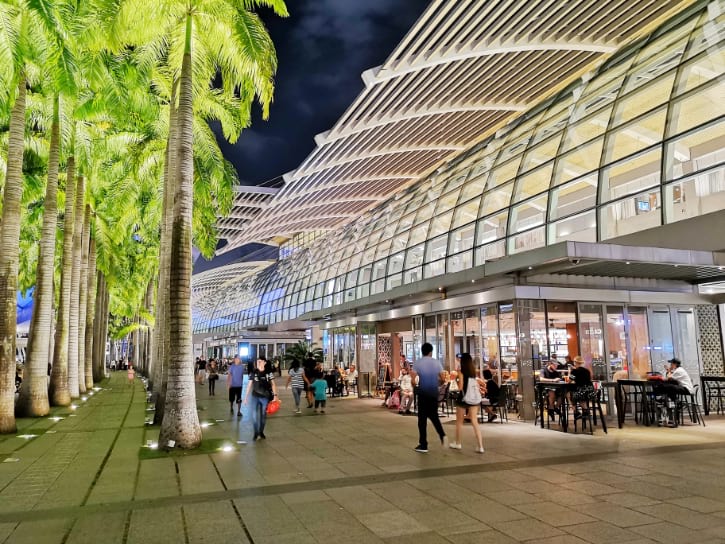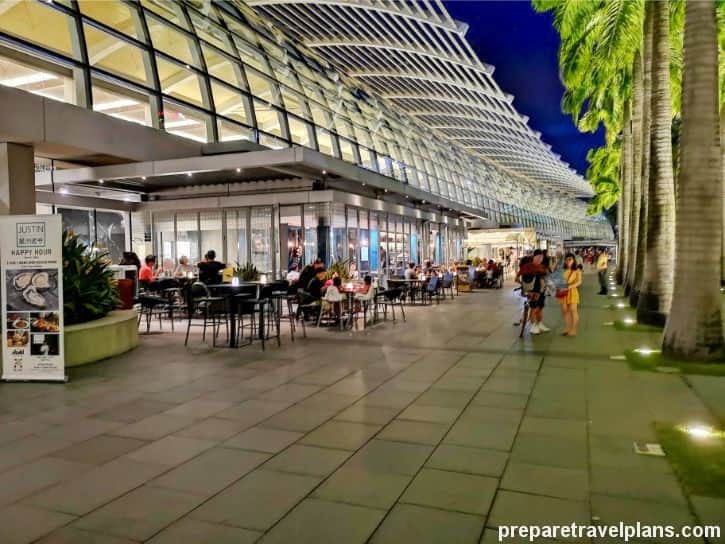 Looping around the massive Marina Bay Sands, you'll see from afar some awe-inspiring structures like the Helix Bridge, SkyPark, and ArtScience Museum.
So, whether you are going for a stimulating morning or laid-back afternoon, there's something to enjoy while you are around Marina Bay Waterfront Promenade. And at night, visitors are given the chance to get dazzled by a laser show.
Address
10 Bayfront Avenue, Singapore 018956
8. Helix Bridge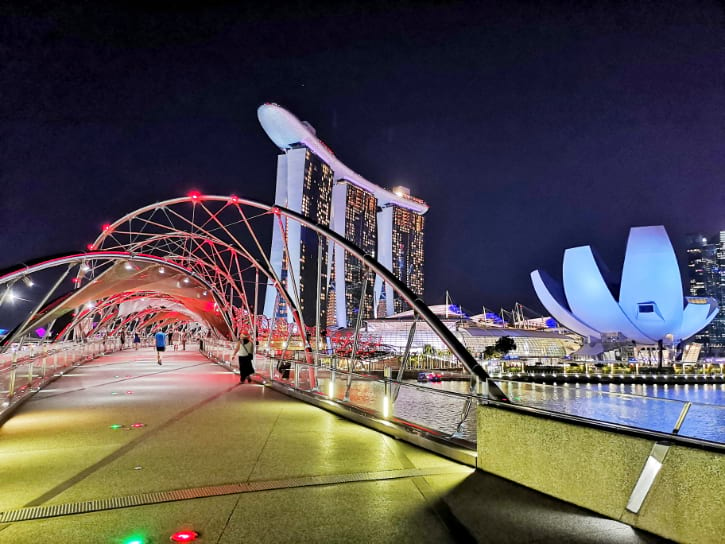 This eye-catching pedestrian bridge connecting Marina Center to Marina South is surely a remarkable structure not to miss. Helix Bridge is tagged as the world's first-ever curved bridge.
Since it links the Marina Bay Sands with the Marina Center, this provides easy access to visitors wanting to hop from the shopping center to the famed hotel accommodation.
And because of its convenient location, it is one of the best areas to gaze at the magnificent Singapore skyline from afar and the mesmerizing Marina Bay Sands from atop.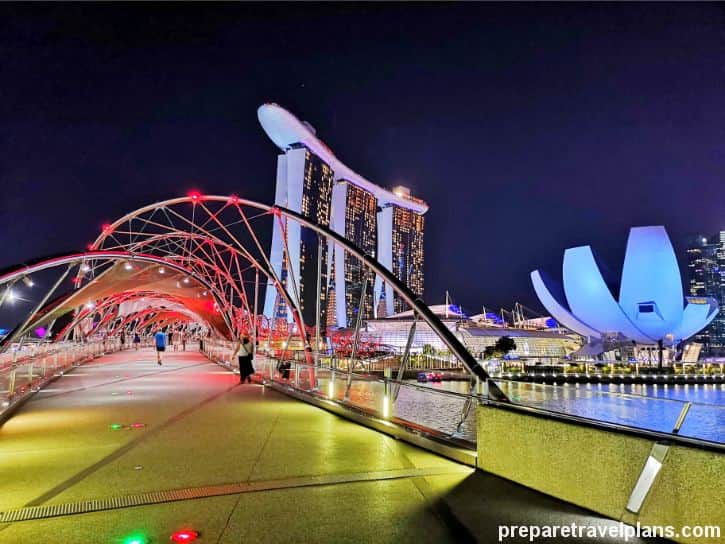 It may look quite delicate but the structural design is top-notch through the integration of glass and perforated steel in double helix strategy.
And even if the bridge is not lit up, you'll still get some impressive views because of its unique architectural design. It's unlike any other bridge in the world. The structure itself is a sight to unravel―like a spectacular geometric DNA arrangement. Plus, there are viewing pods along the bridge that allows you to witness a 360 landscape of the cityscape.
But for a more surreal experience, visit the place at night and be filled with excitement as you stroll along the Helix Bridge. Illuminated by the dazzling LED lights, it's truly a one of a kind creation that's worth the visit in Marina Bay.
Address
Bayfront Avenue, Singapore 018956
9. The Shoppes at Marina Bay Sands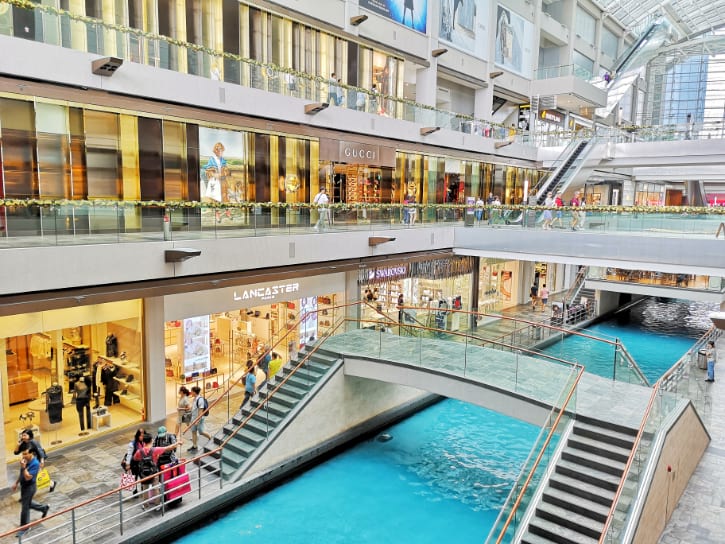 From luxury brands to high-end retail stalls, The Shoppes is every shopaholic's dream destination. Shop your hearts out with the wide-ranging collection of notable fashion lines including the likes of Bottega Veneta, Alexander McQueen, Dior, Armani, Gucci, and Burberry.
Aside from that, pick your favorite jewelry pieces and accessories from Chopard, Tiffany & Co, Cartier, Mikimoto, Bulgari, and Piaget.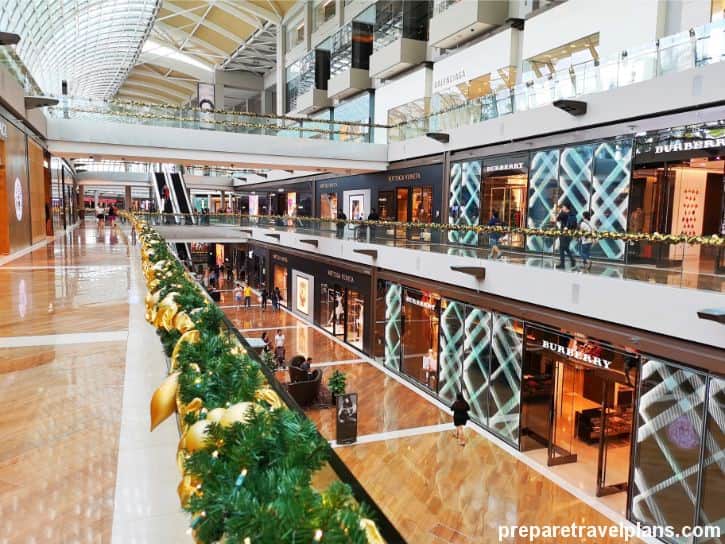 As the flagship shopping district within the vast Marina Bay Sands, The Shoppes is also outlined with stunning architectural design. So, aside from preparing your budget ahead of time, you need to get ready with your OOTD too! The Shoppes gathers some stunning backdrops for your photos!
Opening Hours
Sunday to Thursday:
10:30 AM – 11:00 PM
Friday to Saturday:
10:30 AM – 11:30 PM
Address
10 Bayfront Avenue, Singapore 018956
10. Digital Light Canvas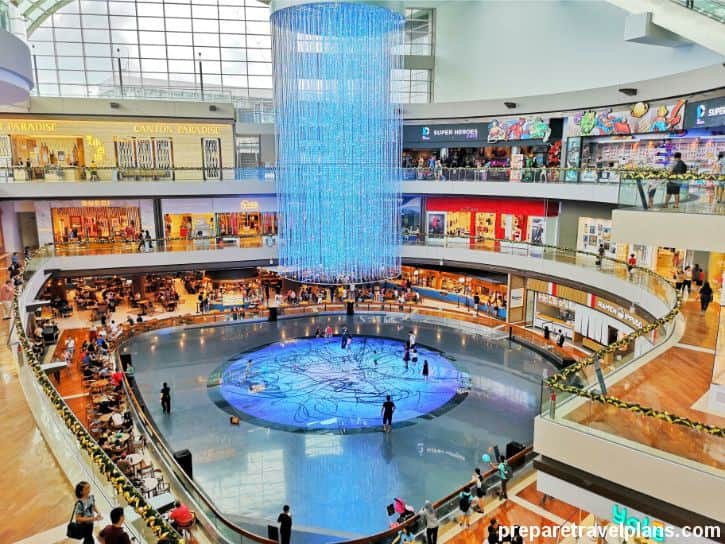 Come day and night, Digital Light Canvas is a permanent attraction that features striking elements of lights and colors in one multi-sensory charm. This gorgeous digital installation allows you to create your own calligraphic design from your own footsteps.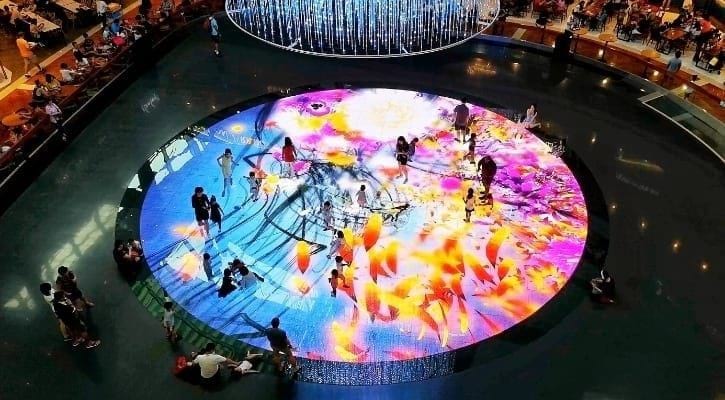 Also presented in partnership with teamLab, Digital Light Canvas immerses visitors in a once in a lifetime interactive experience. Marvel at how your touches blossom into life and how the lights paint a thousand colors.
And if you are with a 1-year old child, then they can enjoy the attraction for free. Also, all ArtScience Museum Future World ticket holders are free of charge too! So, for travellers wanting a step-up interactive fun, the Digital Light Canvas can exceed your expectation.
See the video below to witness the breath-taking Digital Light Canvas.
Opening Hours
Sunday to Thursday:
11:30 AM – 9:00 PM
Friday to Saturday:
11:00 AM – 10:00 PM
Ticket Price
Ages 2 and above: SGD $5
*ArtScience Museum Future World ticket holders are free of charge.
Address
Marina Bay Sands, Level B2, Skating Ring, 10, Bayfront Avenue, 018956 (Near to the Rasapura Masters Food Court)
11. Marina Bay Sands Casino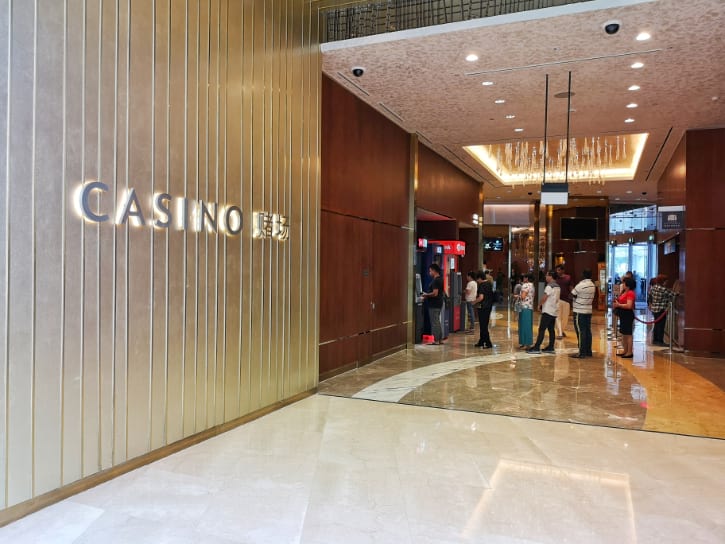 For a lavish gaming experience, set your foot to Marina Bay Sands Casino that offers top-rated entertainment and gourmet feats. The place exudes every bit of sophistication and style.
With its distinct interior design, the Casino is considered one of the most stunning structures across the city-state. It features the largest Swarovski crystal chandeliers in the world.
Choose and play among the extensive selection of slot machines and table games that fill the four-level gaming floor space. And for casino loyalists, Marina Bay Sands rewards a striking loyalty program.
Aside from entertainment, visitors are also presented with an impressive selection of fine dining options perfect for a romantic date or a highly important occasion.
Address
Marina Bay Sands (Casino), 8, Bayfront Avenue, 018955
12. Rasapura Masters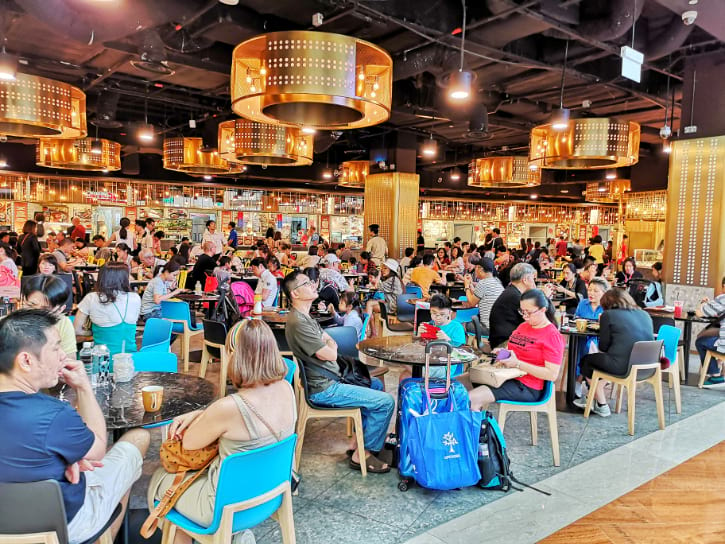 If you're looking for the best dining spot inside the vast Marina Bay Sands, Rasapura Masters gives you a rather splendid eating experience. It is a cosmic food court that highlights the country's cultural food heritage.
And the great thing about this food spot is that it gathers a number of dishes from countries all around the world. Offering an array of delicious cuisines, from Singaporean to Chinese to Thai, no doubt this restaurant is a favored pick among locals and travellers.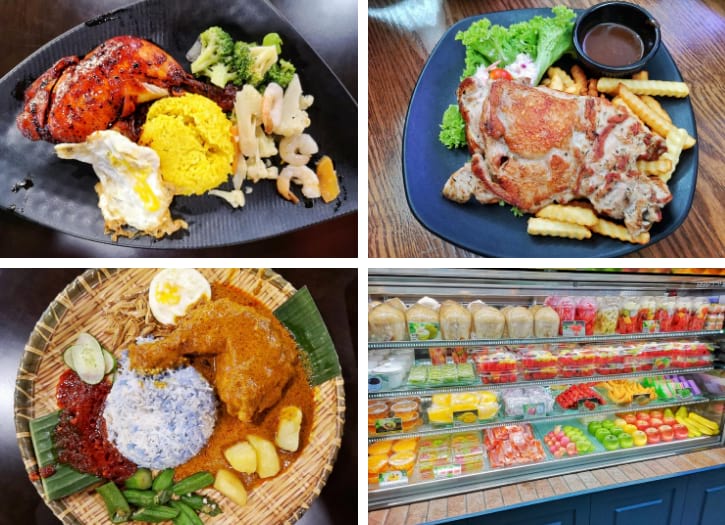 This popular cheap food to eat at Marina Bay Sands gives lots of options for all types of travellers. You can feast on their classic chicken chop, flavorsome Rendang chicken, tasty Peking duck, sweet Thai Mango salad, and a lot more.
Whatever you crave, for sure there's something for your taste buds to love. Revel in the wide food choices that make Rasapura Masters a food paradise for everyone!
Address
B2-50, Canal Level, The Shoppes at Marina Bay Sands
13. Fountain of Wealth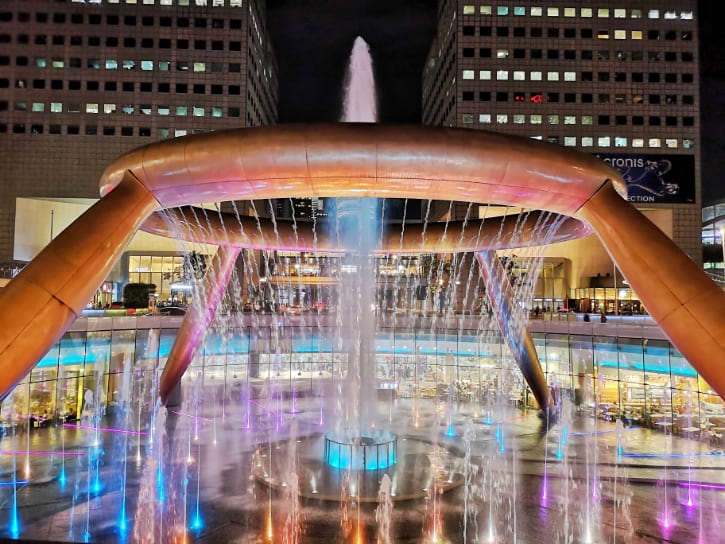 Do you want to witness the world's largest fountain? Set out your direction to the Fountain of Wealth located in Suntec City.
As the biggest fountain not just in Singapore but also in the world, this amazing attraction is highly visited.
With 13.8 metres in height and an area of 1,683 square metres, this structure is worth a second look. Plus, all the splashing waters around this fountain make it a literal head-turner.
At times, the main fountain is intentionally turned off so visitors can get some water splashes from the mini fountain. Many believe that the water from the fountain can shower you with good luck.
Come to night time, the fountain filled with colourful lights.
Opening Hours
9:00 AM – 10:00 PM
Daily Touch Water Sessions:
10:00 AM – 12:00 PM
2:00 PM – 4:00 PM
6:00 PM – 7:30 PM
Address
3 Temasek Blvd, Singapore 038983

14. Makansutra Gluttons Bay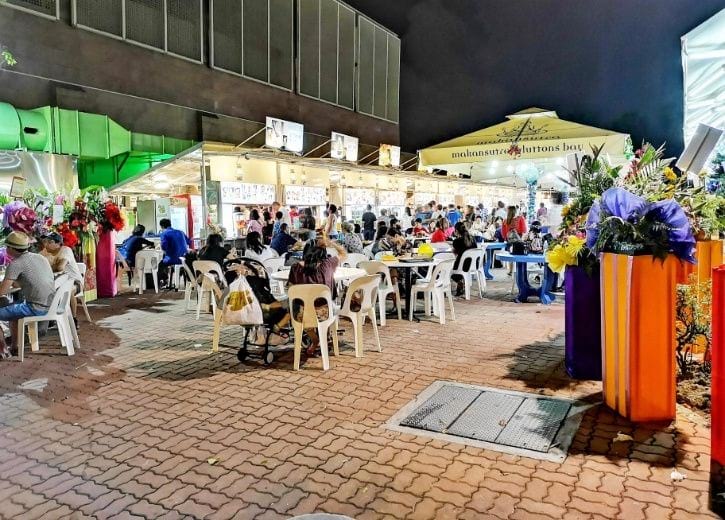 For more affordable dining selection, there's the Makansutra Gluttons Bay at the Esplanade. Located at one of Singapore's busiest areas and within the Marina, you'll get a great deal of savings from this place compared to the restaurants at The Shoppes at Marina Bay Sands.
With its reasonable rates, this highly popular eat station is flocked by tourists and locals year-round. So, expect for a quite crowded Makansutra, especially during weekends and holidays.
But even with several minutes of table and food waiting, eating here is worth the wait. It is because you'll not just fill your stomachs with the delectable range of dishes but also load your eyes with the overlooking attractions nearby.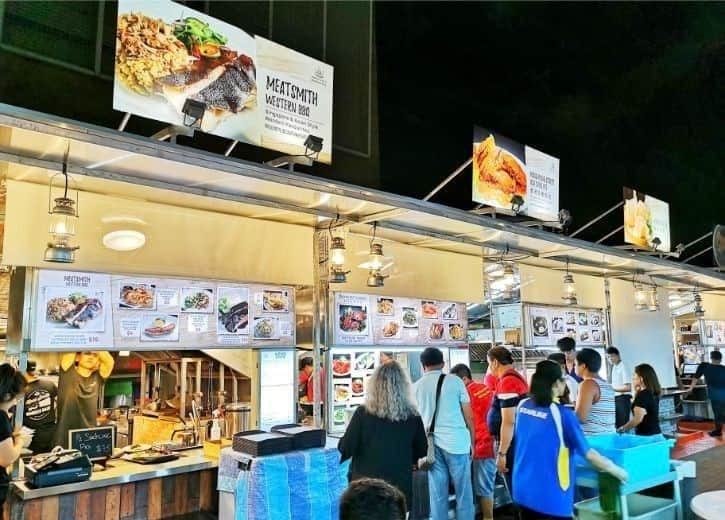 Get overwhelmed with the impressive choices, from chicken rice to grilled squid to barbecued chicken wings and a lot more! If you've got a taste for some exotic dishes, don't miss the famous chili stingray. And of course, the best sweet treat to complete your alfresco dining is the all-time favorite local delicacy―the fried carrot cake.
With a great variety of local foods and its prime location, Makansutra Gluttons Bay continues to be a sought-after dining destination for first-time visitors and seasoned travellers. This outdoor food court experience is definitely iconic in terms of delivering Singapore's signature street food dishes and delights!
Opening Hours
Monday to Thursday:
5:00 PM – 2:00 AM (Next Day)
Friday to Saturday:
5:00 PM – 3:00 AM (Next Day)
Sunday:
4:00 PM – 1:00 AM (Next Day)
Address
8 Raffles Avenue #01-15, Singapore 039802 (Esplanade Mall)
15. Esplanade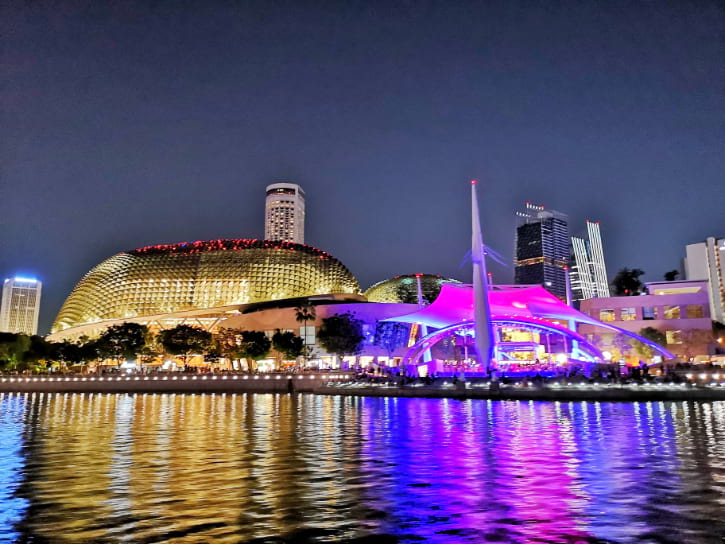 A notable multi-purpose art complex, Singapore's Esplanade has totally created an impact on the country's arts and cultural heritage. It was proposed in 1989 but was opened to the public after 13 years. Officially established in 2002, the Esplanade has then become an iconic landmark.
Set along the sweeping Marina Bay, this massive art center stands out because of its impressive visual arts display and striking exterior design. Often tagged as "the Durian", the prickly dome-shaped structure was inspired by the noteworthy Sydney Opera House.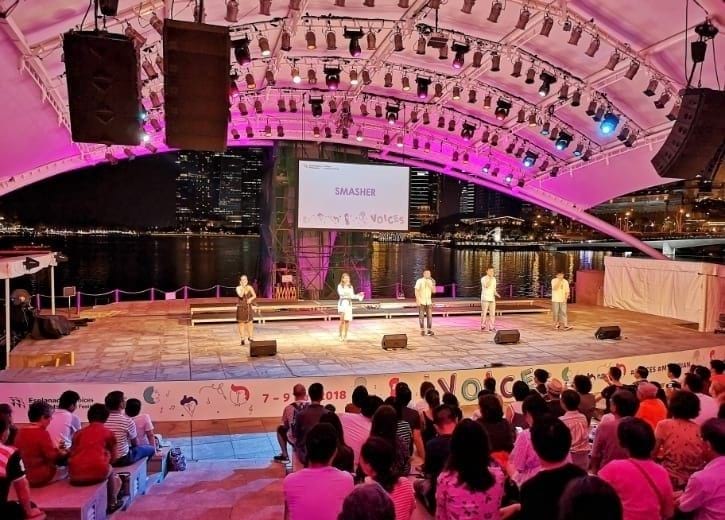 Featuring a concert hall, a theater, outdoor performance art venue, and a mall, it is one of the most popular go-to destinations among families and friends. Because of its non-stop live shows, fantastic shopping and dining options.
Gather the entire family for an evening of arts and culture. Enjoy the outdoor performances―from local live bands to traditional dances―that are mostly free of charge.
Worldwide concerts and recitals are also featured inside the 2,000-seater theatre and 1,600-seater concert hall. From classic musicals to cultural plays to pop and rock band concerts, everyone will love the combination of art, music, and culture.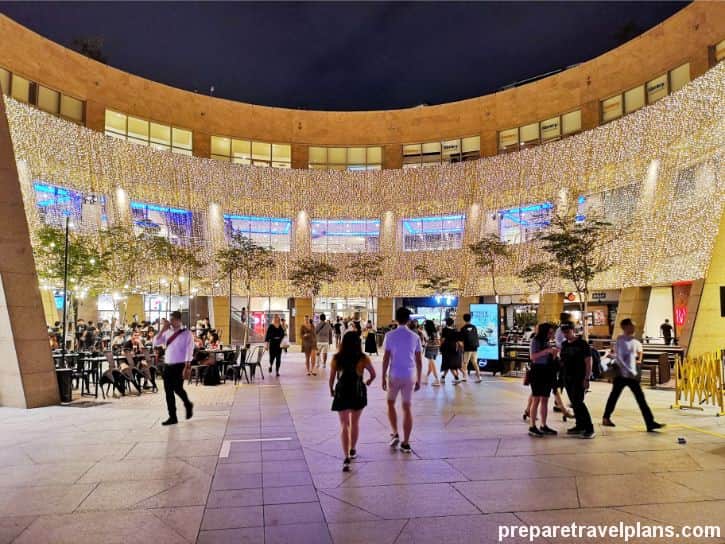 After all the remarkable performances inside and outside, feed your hungry appetite from one of the cafes or restaurants scattered along the complex vicinity. Plus, you can squeeze a quick shopping spree from the array of retail outlets and local stalls.
Opening Hours
8:00 AM – 2:00 AM (Next Day)
Address
1 Esplanade Drive, Singapore 038981
A Map of What to Do in Marina Bay
---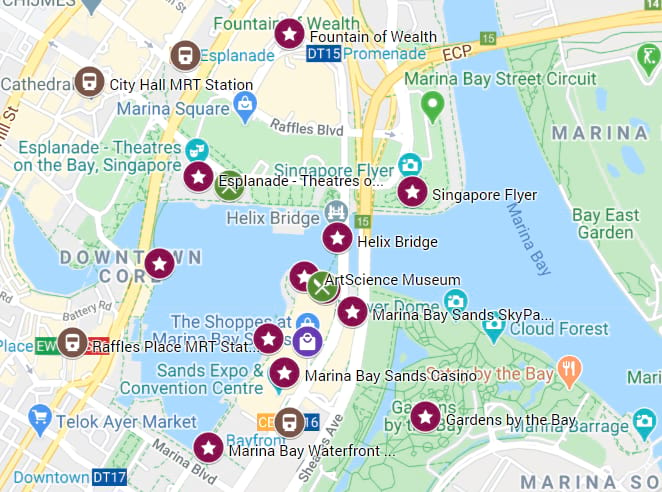 If you are a first-time travellers visiting Singapore, chances are, you might get lost around this immense city expanse. And going out of track of your daily itinerary is something you wouldn't want to happen.
Since Marina Bay is dubbed as the ultimate gateway of most major attractions like the Gardens by the Bay, Sands SkyPark Observation Deck, ArtScience Museum Future World, and a lot more, knowing the locations beforehand is important.
But don't worry, here is the map features all the best things to do in Marina Bay and also all major transportations, top-rated attractions, and other recreational facilities within the Marina Bay vicinity.
I hope that my sharing map can help you to wander around the city conveniently and save your research time. To have an idea of the locations ahead of time, you can check the Google Maps above.
MRT Station Exits for Marina Bay Attractions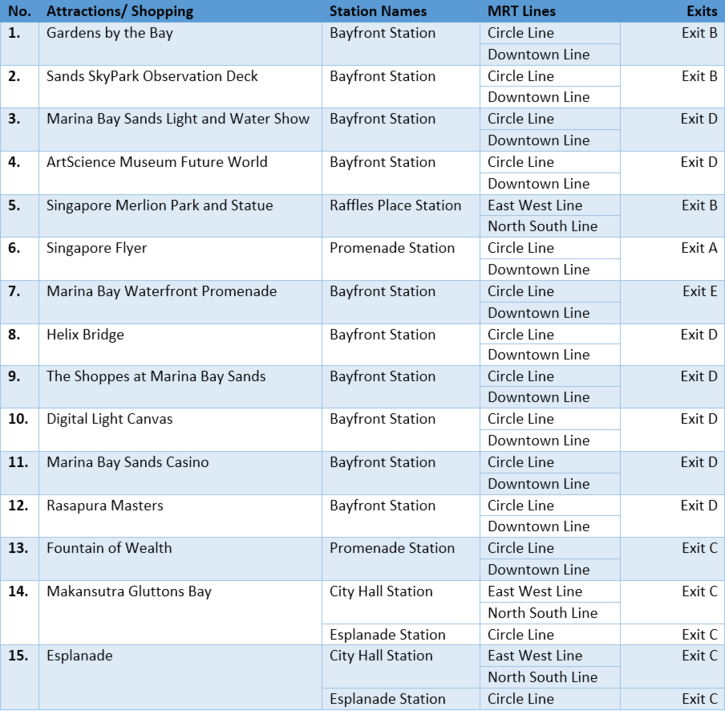 Singapore SIM Card for Tourists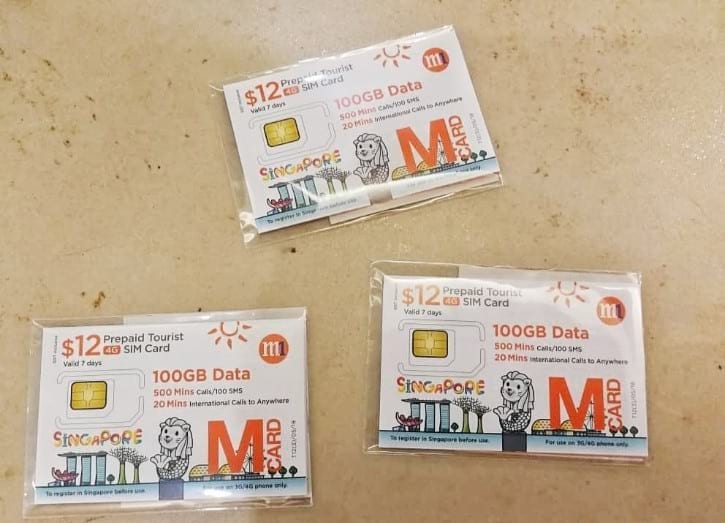 Wherever you go, furnishing yourself with a reliable Sim Card can help you complete your trip on a high note. And if you're planning to visit Singapore, then getting a Sim Card before starting your adventure is a must.
Since Singapore is filled with lots of attractions, traveling around can be pretty challenging. But with the help of a Sim Card, you can explore the city with ease. Plus, you can maximize your exploration without getting lost.
Through this Sim Card that features 100 GB data, you can connect anytime and everywhere you want. With this rather big data inclusion, you can connect to Google Maps in no time, as well as post your splendid snaps to Instagram, Facebook, and Pinterest directly!
Also, enjoy the 500 minutes local calls and 20 minutes international calls that allow you to easily contact your hotel or any other tourist spots in advance. With so much comfort and convenience at your fingertips, you can begin your Singapore escapade as soon as you pick-up your 4G sim card at Changi Airport.
Get your Sim Card at a cheaper rate via the link below.
Conclusion
The Marina Bay is one notable destination every travellers should pay a visit. Right at the heart of the city, you'll find yourself covered with so many attractions.
Its fast-paced advancement continues to define the history and culture of this thriving multicultural city-state. So, if you're planning on what things to do in Marina Bay, this guide will surely help you prepare ahead.
Marina Bay's central location makes it a top choice for locals and travellers alike.
The famous Marina Bay Sands offers one of a kind luxury accommodation and entertainment for the entire family.
It is surrounded by the sweeping Singapore skyline and abundant attractions.
It features a wide range of tourist spots for all kinds of travellers ―from history lovers to art aficionados and food enthusiasts to nature admirers.
Plenty of shopping and dining options are dotted along the scenic vicinity.
Thank you for spending your time to read my blog. I wish that the guide in here able to help you get a better idea of what to do in Marina Bay. Don't forget to bookmark this page for your future reading if you think it was useful to you.
Feel free to share this blog to your friends and family via Facebook, Twitter, Pinterest, WhatsApp or Gmail.
Wishing you a very happy vacation in Singapore! 🙂
Discover Other Famous Attractions in Singapore