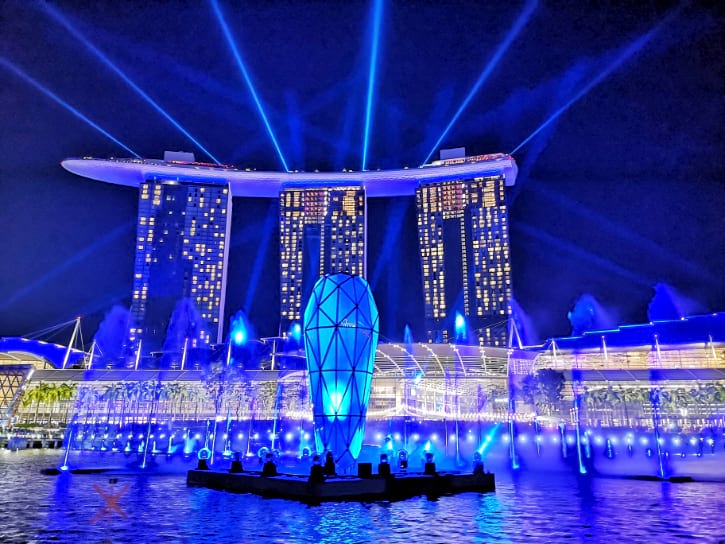 Make your visit more memorable as you explore all the best things to do in Singapore at night. Singapore is always a fun place to travel around because of the abundant night attractions for all ages.
You can have a cosy night-out while seeing some breath-taking views. Or you can discover unique adventures with your family and friends. There are also a lot of shopping destinations that are open from daytime 'til night-time. And of course, you can't miss the incredible night shows around the country.
So, let me introduce you to the Singapore's most popular night-time activities and attractions. All the options below will definitely add more delight to your trip.
Top Activities to Do in Singapore at Night
Are you looking for a fun-filled adventure after sunset? Well, you won't be disappointed because there are plenty of night-time activities on offer. Without any delay, here are the most recommended things to do in Singapore at night.
1. Night Safari Singapore – Meet up with the wild animals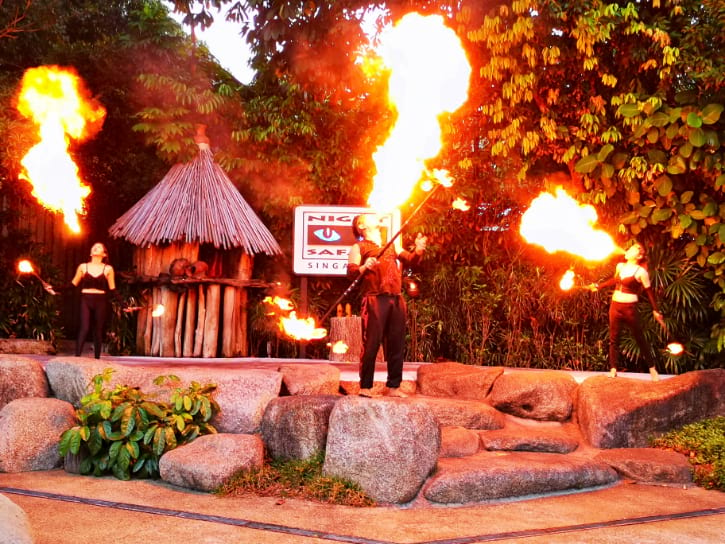 What about a visit to the zoo with a twist? Make your way to one of the most unique and famous theme parks in Singapore – the Night Safari Singapore! Instead of the usual day tour, this attraction welcomes visitors starting 7 PM.
Here, you'll come across diverse kinds of animals, from big cats to wallabies and a lot more. And, there's an array of interactive activities and spectacular shows to watch out for.
So, if you're still planning on where to go in Singapore at night, you should make this a priority. Likewise, you can check my full Night Safari Singapore review article for a more detailed outline.
Money Saving Tips:
Book Night Safari Tickets Online
2. Gardens by the Bay – Witness the majestic night scenes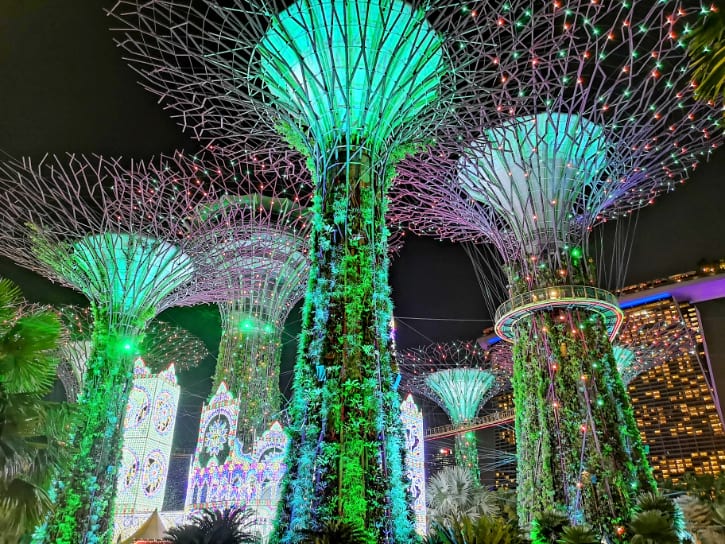 If you think Gardens by the Bay is vibrant during daytime, you should also visit it at night-time. It transforms into an animated scene as soon as darkness sets in. Surely, this makes Gardens by the Bay part of my highly recommended things to do in Marina Bay Sands.
Set your eyes on the Supertree Grove that brings thousands of lights and colors into action. The towering structures come alive to brighten up everyone's mood.
With its magical vibes, it has become a fantastic avenue for family get-togethers. Enjoy a picnic with your loved ones while catching the electrifying light show.
And if you're planning to visit this well-regarded attraction, you can check out my tips for visiting Gardens by the Bay's light show and other attractions beforehand. This will give you instructions on how to get there via MRT and other relevant information.
Money Saving Tips:
Book Gardens by the Bay Tickets Online
3. Clarke Quay – Immerse yourself in a scenic adventure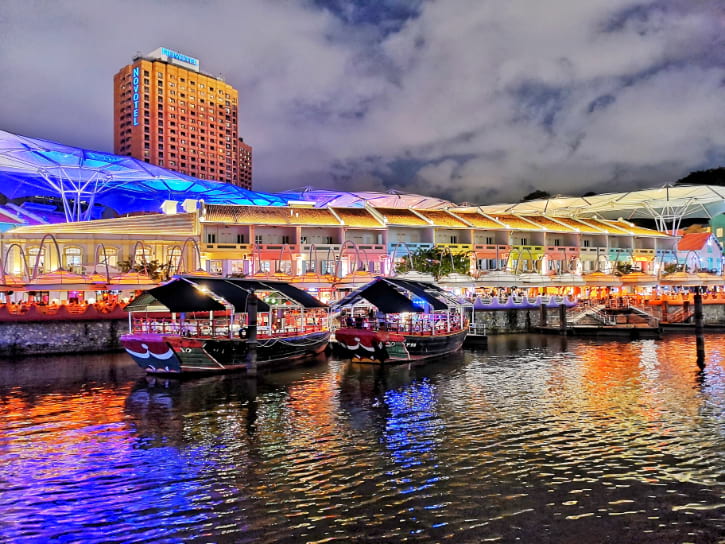 Clarke Quay is a beautiful blend of vibrant scenes, exciting activities, and expansive food selection. With so many awesome things to do in Clarke Quay, no wonder it's a favorite among many locals and even tourists.
Start your adventure as you wrap yourself with the picturesque river views. And because of the gorgeous waterscape, alfresco dining is such a popular option here. There's an exciting variety of restaurants around, including Japanese, Thai, Indian, and Western.
After your scenic dine-out, explore the wide range of stylish clubs and pubs. For nightclubs, you have to visit Zouk Singapore, Attica Nightclub, and Canvas Nightclub. And for the best pubs, Shuffle Bistro Bar, Le Noir Clarke Quay, and Crazy Elephants are the most recommended.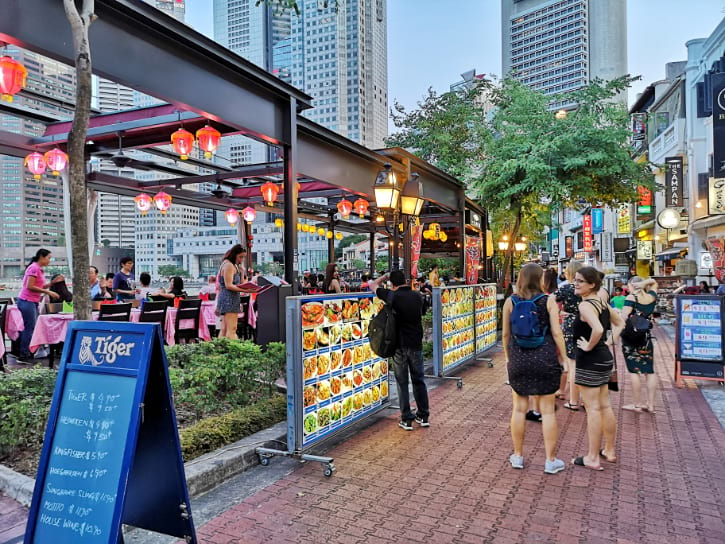 Just across Clarke Quay is the more peaceful yet still mesmerizing Boat Quay. This is a great alternative for those who prefer a laid-back night ambience. You can simply stroll around and enjoy the views.
There are also plenty of cosy bars on selection, including the Skinny's Lounge, Harry's Boat Quay, Molly Malone's Irish Pub, and RedDot BrewHouse. And of course, you should swing by one of the many seafood restaurants and stylish eateries along the riverside.
4. Skyline Luge Sentosa – Pump up the fun at night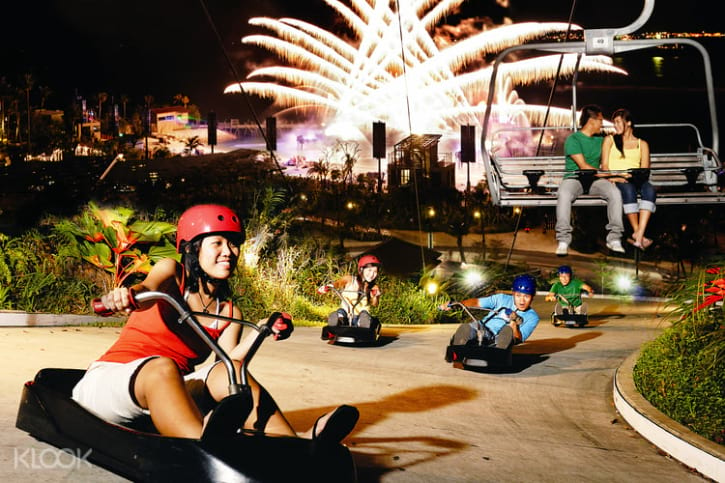 Skyline Luge Sentosa is a must-visit spot for anyone looking for exciting night adventures. They've got four trails to choose from including Kupu Kupu, Expedition, Jungle, and Dragon. Whatever you choose, you're guaranteed of a fast-paced kind of ride.
And if you want more thrill, don't miss the Skyride. This takes you to a panoramic journey up above the gorgeous landscapes.
Skyline Luge Sentosa is just one of the attractions in Sentosa Island. Make sure to catch all fun rides at Universal Studios Singapore to SEA Aquarium and more.
You can simply refer to my list of fun things to do in Sentosa Island to learn more about the attractions. Also, I have created a guide on getting to Sentosa by MRT for you to reach Skyline Luge Sentosa easily.
Money Saving Tips:
Book Skyline Luge Tickets Online
5. Sands SkyPark Observation Deck – Gaze at the breath-taking cityscape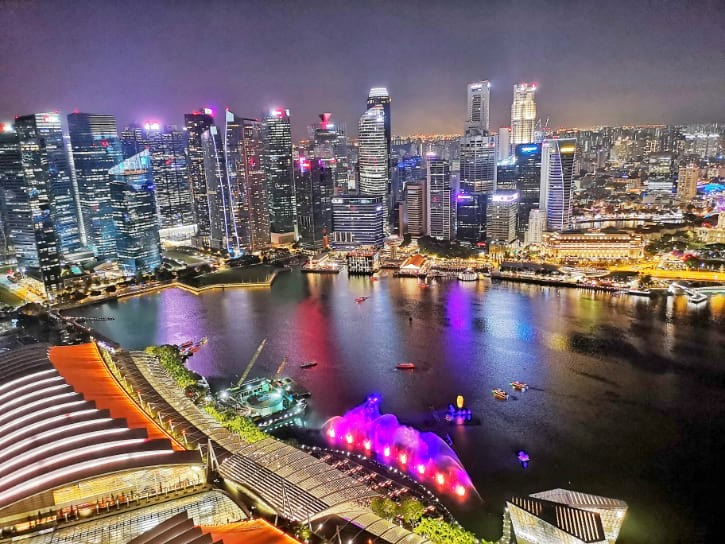 The Sands SkyPark Observation Deck is truly a lovely destination at night. It's a nice location to capture the panoramic cityscape filled with beautiful skyscrapers.
From above, you can spot some iconic landmarks such as the durian-shaped Esplanade and the lotus-outlined ArtScience Museum.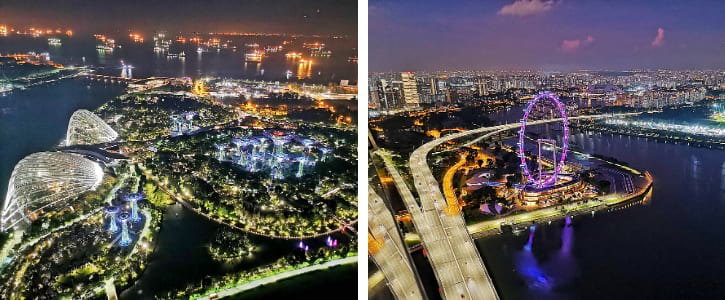 On top of that, you'll see the gigantic Singapore Flyer and the vibrant Gardens by the Bay. After your scenic viewing, liven up your night and head to the CE LA VI bar. This is also located on the 57th floor of the hotel.
The picturesque rooftop bar offers a fusion of culinary delights and cocktail drinks. So while enjoying the lovely night scenes, you can listen to the pulsating music or simply dance the night away.
And for easier navigation, read my comprehensive guide to Sands SkyPark Observation Deck to know the routes beforehand.
Money Saving Tips:
Book Sands SkyPark Tickets Online
6. Jewel Canopy Park – Relax and have fun with nature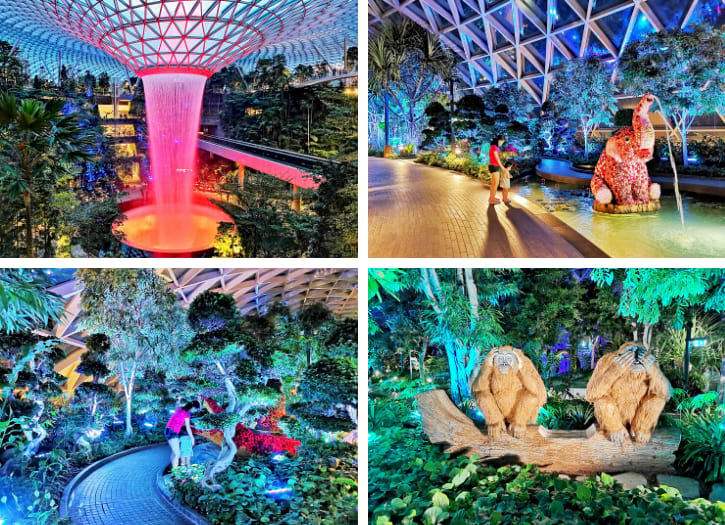 Do you want to have a relaxing nature experience at night? You've got plenty of options at Jewel Canopy Park! Get started with the indoor garden trails that are loaded with topiary animals and seasonal flowers.
Kids can enjoy the giant slides and play around the puffs of clouds. For the adults, there are maze games to try too. And don't forget to take some photos, particularly the mesmerizing waterfall. Surely, this is a heart-warming place to be at leisure, whether you're alone or with your loved ones.
Money Saving Tips:
Book Jewel Canopy Park Tickets Online
7. Singapore River Cruise – Ride the iconic bumboat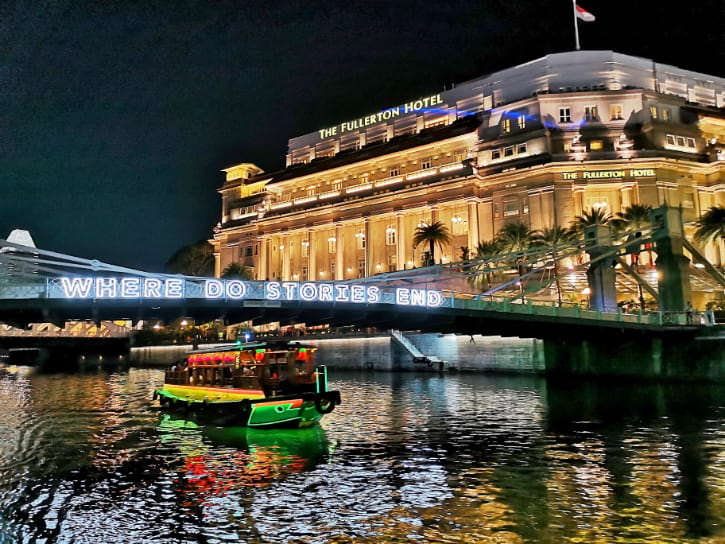 Looking for a scenic or romantic way to spend your night in Singapore? Hop aboard the historic Bumboat and enjoy the relaxing Singapore River Cruise.
The cruise commences at Clarke Quay and then voyages through the striking Singapore River. It continues all the way down to Marina Bay and then back to Clarke Quay.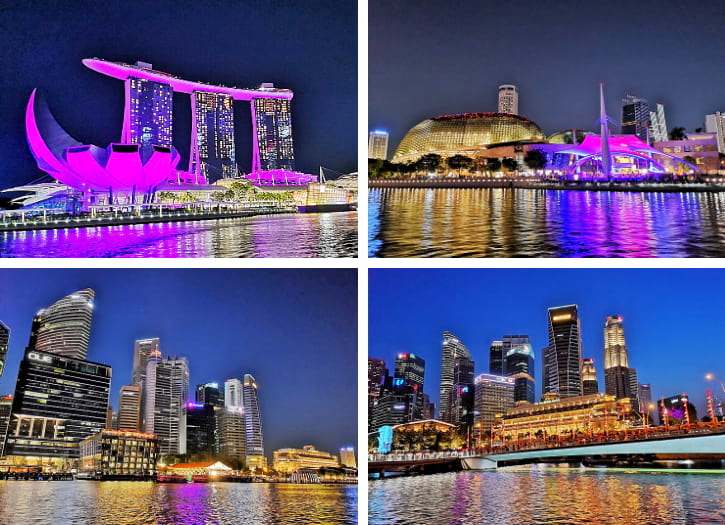 Relish the water journey while seeing some iconic landmarks. From Clarke Quay, you'll be impressed with the colorful display of nightlife charms.  As the boat travels through Marina Bay, you'll spot the ArtScience Museum and the Esplanade. And of course, don't miss the crowd-favorite Merlion statue.
So if you want to skip the busy vibes on land, this offers you a magical expedition that is worth your while.
Money Saving Tips:
Book River Cruise Tickets Online
8. Spectra – Catch the incredible light and water show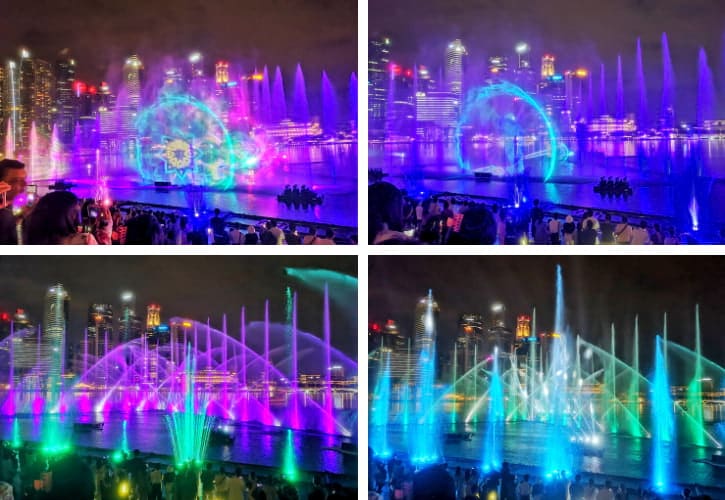 Held every night, the Spectra is a notable night attraction among locals and tourists alike. This fantastic outdoor display is just amazing from start to finish.
Watch this light presentation that portrays the country's historical quest. You'd definitely be amazed how the fountain jets and advanced lasers move in sync with the orchestral music.
The best part of this night show is that it's free and definitely entertaining. So, catch this beautiful exhibit that reveals the transition of Singapore into a thriving, economic hub.
Show Times:
Sunday to Thursday
8:00 PM and 9:00 PM
Friday to Saturday
8:00 PM, 9:00 PM and 10:00 PM
9. Esplanade Bridge – Stroll along the panoramic structure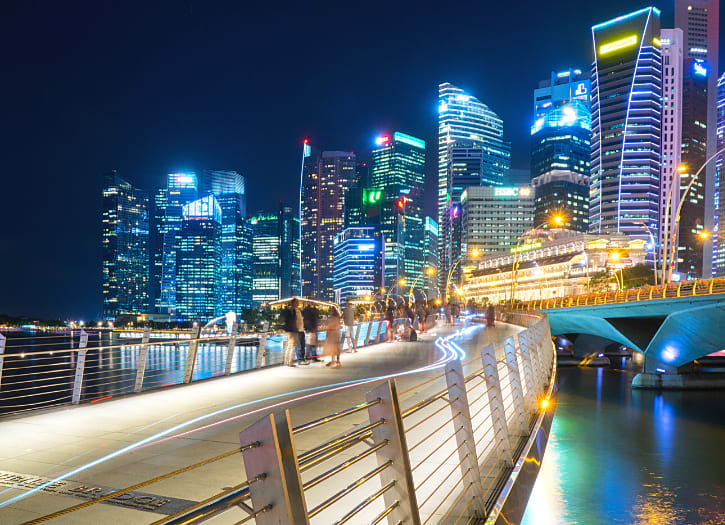 Esplanade Bridge is a brilliant masterpiece that crosses the Singapore River. It's an iconic structure that links the Esplanade – Theatres on the Bay and Merlion Statue.
Aside from its knockout design, the bridge is a favorite among health enthusiasts. Walk around the long stretch and capture the geometrical lines of the bridge. Or you can simply enjoy the picturesque location filled with scenic night views.
10. Singapore Flyer – Hop aboard a panoramic ride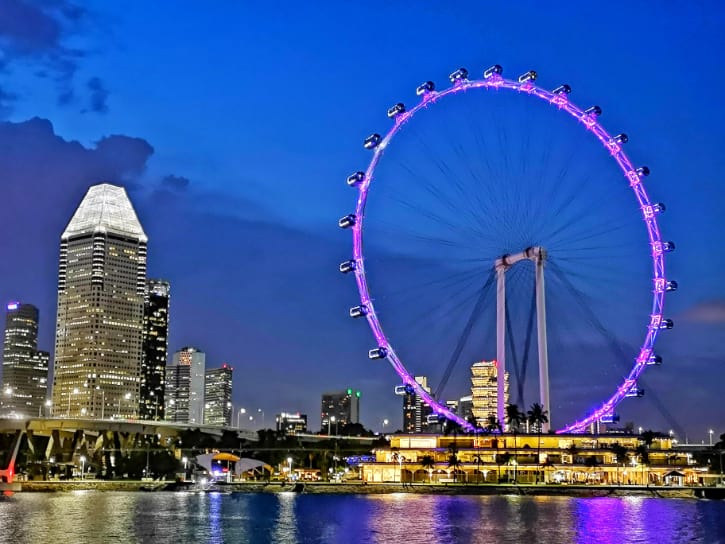 Spend your most memorable night to date at the Singapore Flyer! This 165-meter tall observation wheel offers you a picturesque ride inside a capsule-like structure.
From your seat, you'll see the breath-taking cityscape, along with the Singapore River, Helix Bridge, and F1 Circuit. You'll also spot the Marina Bay Sands Integrated Resort and the Merlion Statue up above.
With its Premium Sky Dining Flight, you can enjoy a romantic dinner for two.  They also provide unique a champagne experience with the entire city as your view.
Money Saving Tips:
Book Singapore Flyer Tickets Online
11. Wings of Time – Peep at this outdoor night show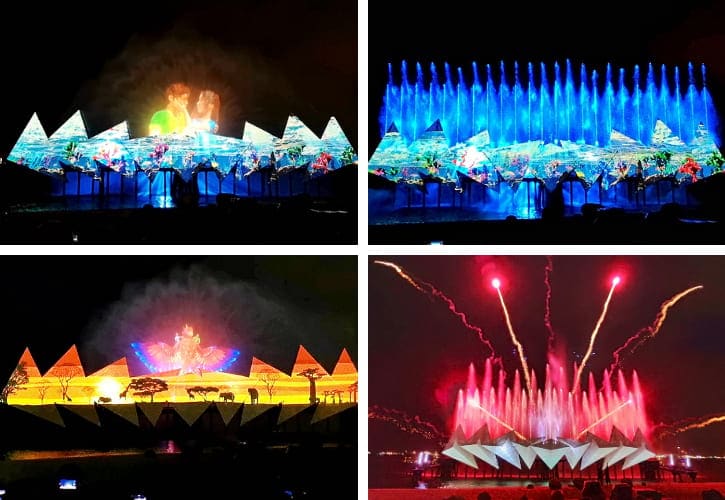 In terms of Singapore must-see light shows, Wings of Time always tops the list. This light show combines laser, water, and fire effects into one incredible presentation.
More than that, it illustrates the power of friendship through a blend of virtual effects. Follow the story of Rachel, Felix, and Shahbaz as they go through a magical experience. And at the end of the show, don't miss the breath-taking firework display.
Money Saving Tips:
Book Wings of Time Tickets Online
Show Times:
7:40 PM and 8:40 PM
12. Singapore Sightseeing Night Bus Tour – Experience a unique sightseeing tour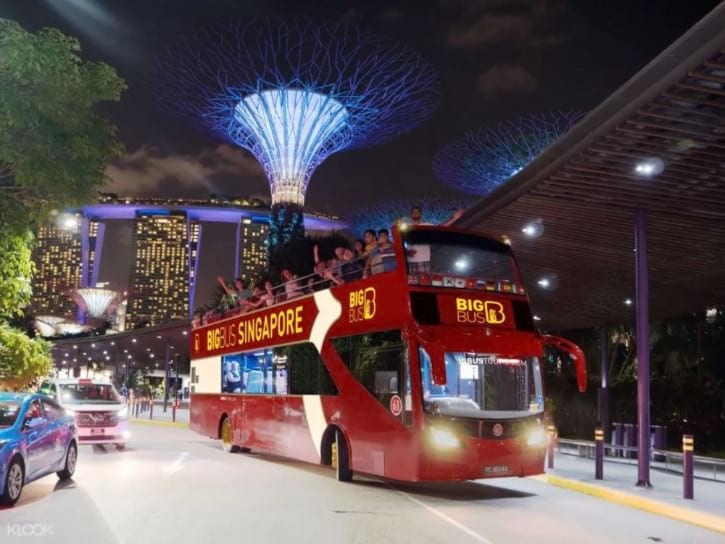 Skip the typical tour and take the unique Singapore Sightseeing Night Bus Tour! This is a special activity that goes around the city at night.
The open-top double-decker bus takes you to the iconic Gardens by the Bay Light Show. So, ready your cameras and snap some spectacular scenes from the famous outdoor exhibit. While onboard, you'll also come across vibrant shopping destinations such as Bugis Street and Orchard Road.
Lastly, the tour offers you an opportunity to try various local cuisines at Chinatown Food Street. Just make sure you avail of the $5 voucher on top of the normal ticket rate.
Money Saving Tips:
Book Sightseeing Night Bus Tour Tickets Online
Other Places to Go in Singapore at Night
Got more time to spend for a night out? Don't worry because there are other places to visit in Singapore at night that guarantee you a fun evening experience. You can try some unique adventures, dine in various restaurants, or simply chill around.
13. Chinatown – Shop and drink the night away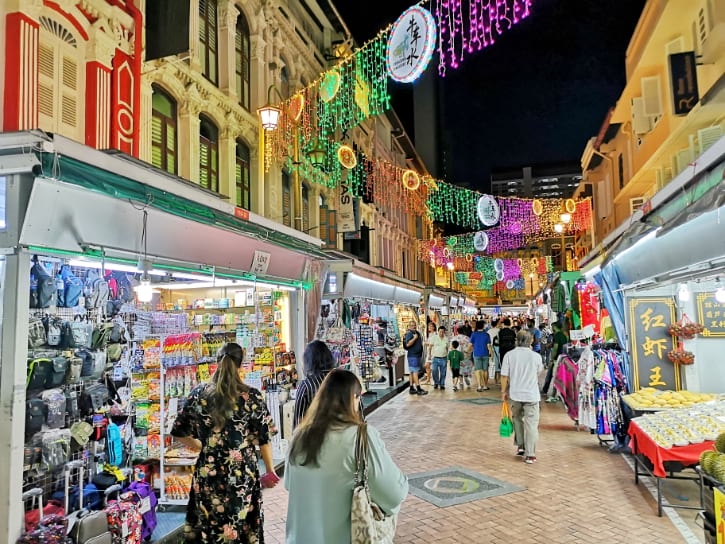 For after-hours entertainment, Chinatown is no doubt a favored choice among locals and tourists. Commence your adventure at the bustling Chinatown Street Markets. Here, you can shop like there's no tomorrow.
Then, proceed to Club Street where you'll find a lot of dining options for all types of budget. Not only that but it's also brimming with cocktails bars and live entertainment.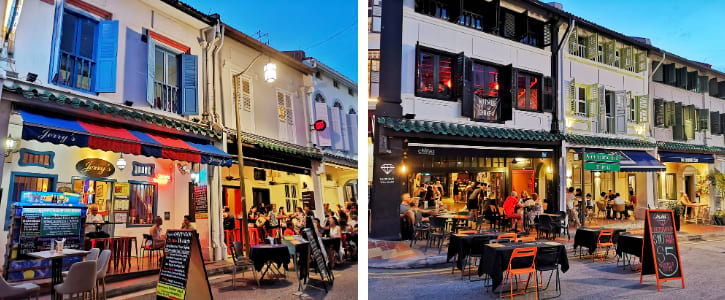 Continue your way to Ann Siang Hill and try one of the famous nightlife spots. If you're looking for energetic vibes with Victorian-theme architecture, go straight to Gem Bar & Lounge. The Screening Room, on the other hand, is perfect for those who want to watch their favorite classic flicks and see some lovely city views.
So, for a memorable adventure, hook this in your top things to do in Chinatown and enjoy the night away.
14. Henderson Waves Bridge – Navigate around this captivating bridge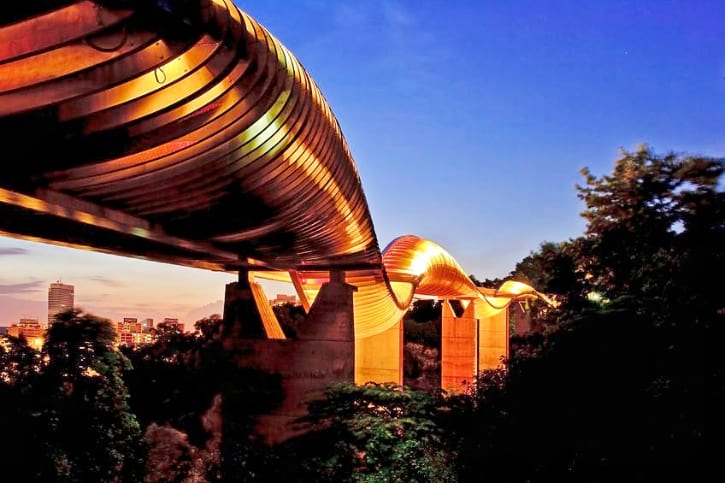 This isn't your ordinary bridge. Henderson Waves takes pride in its state-of-the-art design. Even from afar, you'll easily get captivated by its ripple-like structure.
And that's not all this unique structure has to offer. Wait until night-time when the bridge gets illuminated with LED lights. You'll be more in awe with its wave-like feature.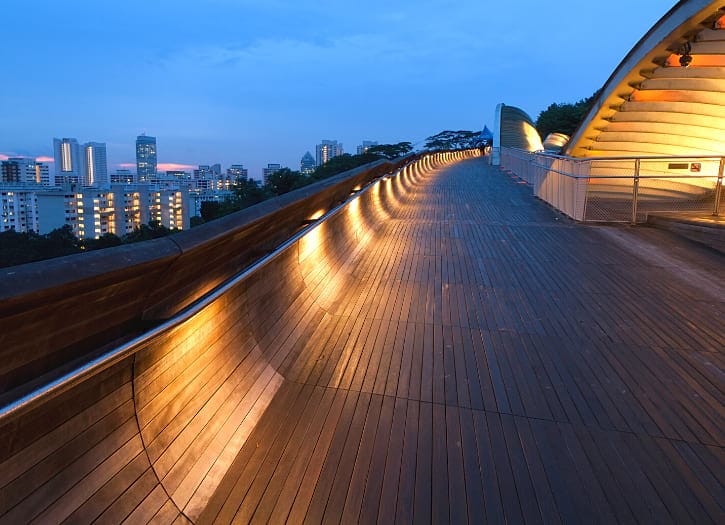 And of course, the Henderson Waves Bridge is also a great location for chilling out or strolling around. Stop and sit in the alcoves on your way from or to the Mount Faber Park and Telok Blangah Hill Park.
15. K Bowling Club – Get yourself energize with sports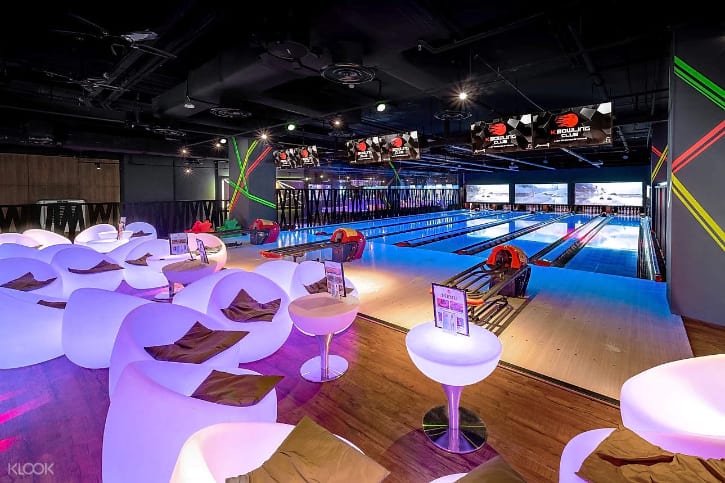 If staying up late for some night activities in Singapore is your plan, the K Bowling Club is such a perfect option. This vibrant bowling alley features a variety of exciting games and cocktail options.
Get taken away into the world of bowling or challenge your partner with a dart match. For extra fun, try the claw machines, video games, and electronic hoops at the Arcade area. And course, you can't leave without singing your hearts out at the KTV booths.
Money Saving Tips:
Book K Bowling Club Online
16. Tanjong Beach Club – Revel in an epic night party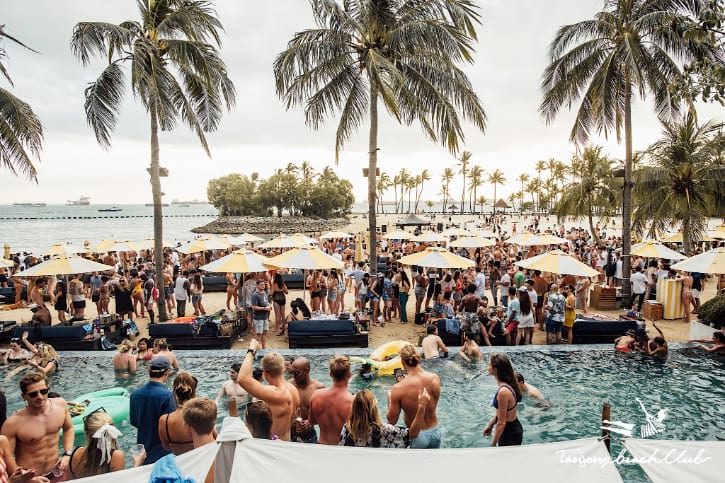 For beach lovers who are looking for gorgeous water views, go straight to Tanjong Beach Club. This is definitely the best spot for epic beach parties and full-moon celebrations.
With the entertaining atmosphere and lively music, it's easy to get drawn with the people around. So, grab your drink and party like no other. But more than its electrifying vibes, it's also a great location for those who want to some scenic views. Enjoy the picturesque beach scenes with your buddies and new-found friends.
With such beautiful combination of fun and relaxation, no wonder it's included in Singapore's top beaches that you should visit.
17. iFly Singapore – Try indoor skydiving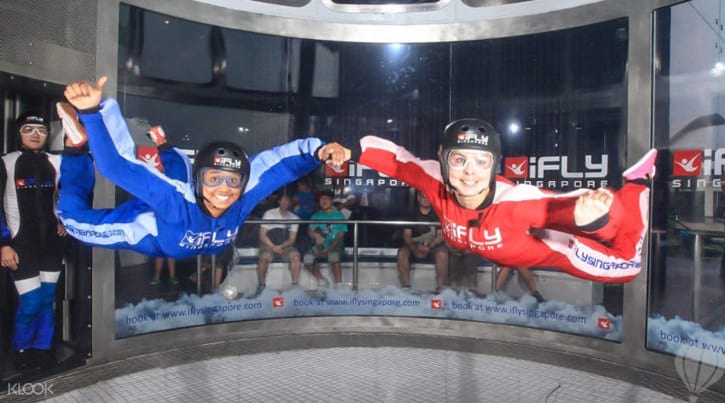 Do you want to experience flying? Fly for real at iFly Singapore―the world's biggest wind tunnel suitable for indoor skydiving. At any rate, newbies and seasoned skydivers will surely love this attraction.
Ready your heart as you free-fall from a 56.5 feet tall tunnel. Apparently, that is like jumping from a five-storey high building! And while being suspended in the air, you can do some movements. Not only that but you'll also catch a glimpse of the South China Sea from afar!
Money Saving Tips:
Book iFly Singapore Tickets Online
Shopping at Night in Singapore
But of course, shopping should be part of your list of what to do in Singapore at night. Hunt down some great bargains at Bugis Street Night Market and Mustafa Centre. Or shop for unique Japanese finds at Don Don Donki. Lastly, there's the Orchard Road, which is a classic shopping destination.
18. Orchard Road – Shop like there's no tomorrow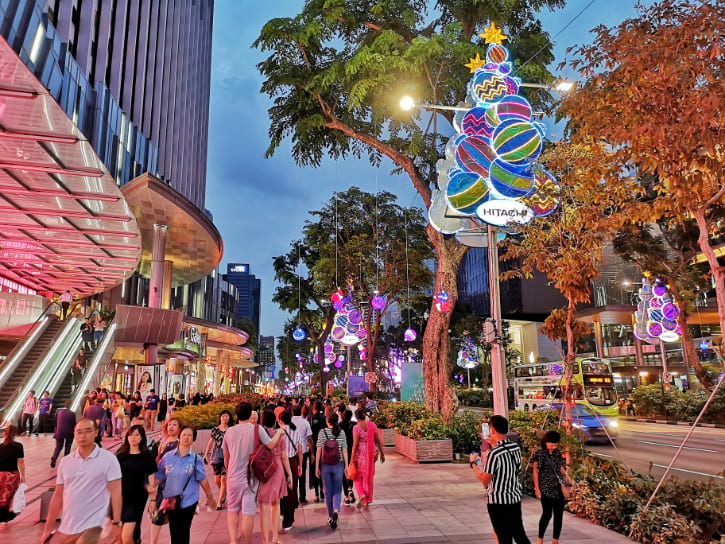 As always, Orchard Road is a popular choice when it comes to night shopping in Singapore. This vibrant area is covered with bustling shopping choices for everyone.
Start your adventure at the [email protected] Mall, which is a modern shopping spot loaded with local and international retailers. If you're looking for some high-end brands, pop by ION Orchard or Paragon Shopping Centre.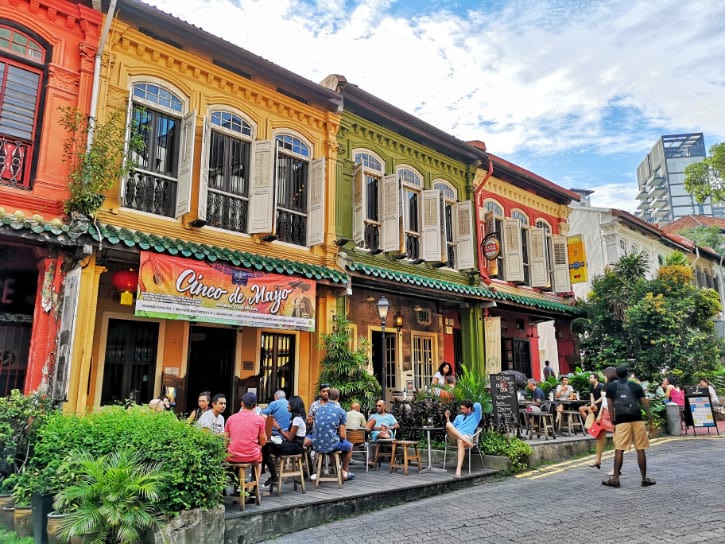 And just behind the Orchard Central, you'll find a charming little area called the Emerald Hill Road. Explore the row of vibrant shops that offer amazing cocktails and draft beers.
When you're in Orchard Central, don't miss the Alley Bar Singapore, which is a classy cocktail bar with rustic charms. There's also the Hard Rock Cafe, a favorite spot among music enthusiasts and western food lovers.
19. Bugis Street Night Market – Dine and shop 'til you drop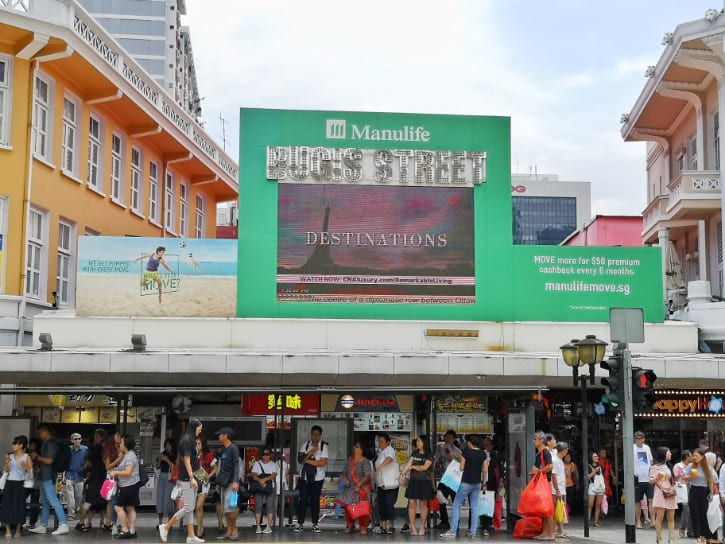 If you're hunting down the best things to do in Bugis, don't forget this famous shopping destination on your list. Bugis Street Night Market is a cult favorite for bargain shoppers and food lovers.
Explore the place at night and see the impressive stall selection. You'll find a wide range of items, from clothes to electronics and a lot more.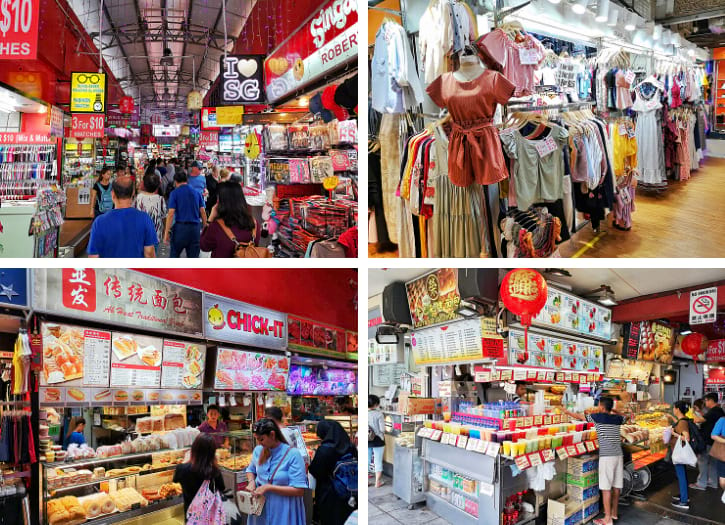 On top of being a popular shopping avenue, it is a celebrated foodie spot. Check out the variety of restaurants around, including Asian, Japanese, Korean, and Western. Surely, this place won't leave you hungry because all sorts of dining options are right within your reach.
And just a walking distance from Bugis Street Night Market are other top-rated shopping malls―Bugis+ and Bugis Junction. These two shopping malls are top choices when it comes trendy clothing and accessories.
20. Don Don Donki – Purchase your favorite Japanese goodies here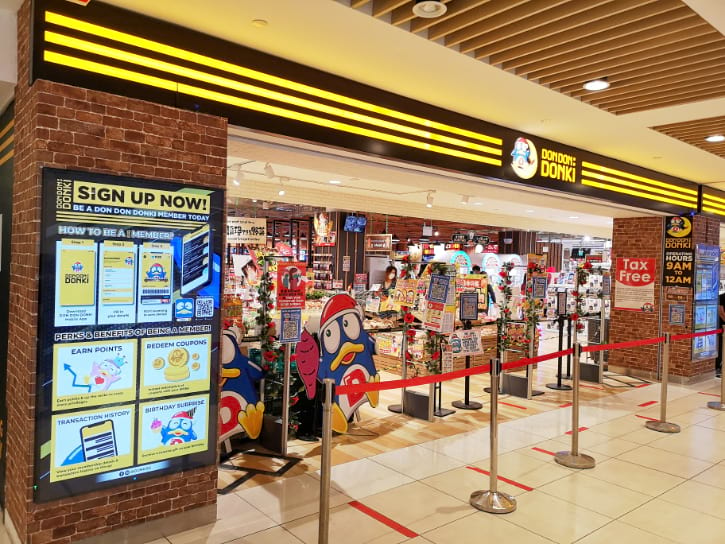 Don Don Donki is another well-loved option when it comes to late-night shopping. It's a known discount chain store that originated in Tokyo, which means they focus on Japanese products.
Choose from one of the many Don Don Donki stores in Singapore. They have branches in Farrer Park, Clarke Quay, and Jurong East. These locations are normally open until 11 PM or 12 AM. If you want nonstop shopping, head straight to the Orchard Central branch, which is open 24 hours a day.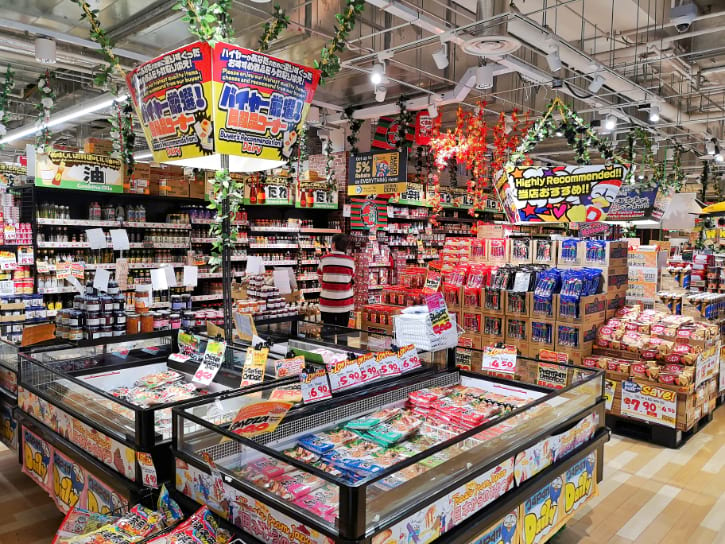 All Don Don Donki stores come with legit Japanese items, including basic groceries, clothing, and electronics. Plus, they have an impressive display of Japanese treats like instant noodles, snacks, sushi, and even bento boxes.
So, if you're looking for your favorite Japanese treat, there's a high chance of getting it here.
21. Mustafa Centre – Enjoy affordable shopping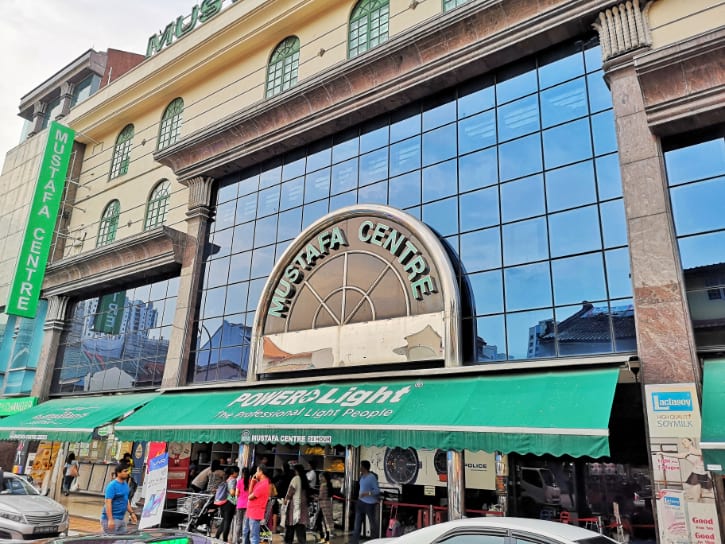 If you're looking for ideas on what things to do in Little India, make sure to include Mustafa Centre. This 24-hour mall offers a terrific range of affordable products. Kick off your shopping at the Basement 2, where you'll discover a variety of toys, home appliances, and other electronic devices.
From Basement 1 to Level 2, you'll be presented with all kinds of apparel, jewellery, grocery, and such. Lastly, Level 3 and Level 4 are for household items, hardware stuff, art essentials, and stationery.
The Best Areas to Stay in Singapore
For abundant night activities and attractions, it's highly recommended to stay in Clarke Quay, Bugis, Orchard, or Marina Bay. All these locations got something to make your night more fun and unforgettable.
But if you prefer shopping, opt for Orchard or Bugis. On the other hand, Marina Bay is the most popular pick for those looking for beautiful night scenes. And if you're interested in fancy clubs, cosy bars, and vibrant pubs, Clarke Quay is the best option.
To learn more about these locations, just refer to my best places to stay in Singapore article. This will also provide you with the pros and cons of each area so you can pick the right place for your needs. On top of that, you'll know my personal hotel recommendations in every area, from budget to mid-range to luxury.
Related Posts
Photo Credits:
vichie81 © 123RF.com
Photos by Klook
Photo
by Scribbling Geek