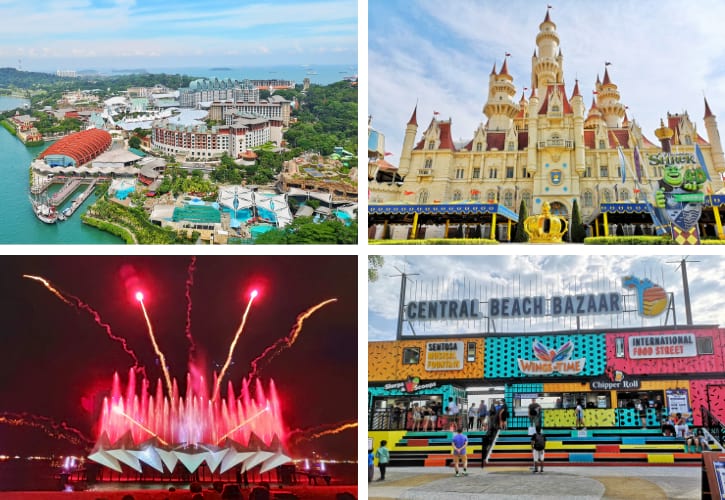 Searching for the best things to do in Sentosa Island, Singapore? Look no further! This guide is filled with fun activities that promise both excitement and relaxation.
I've visited Sentosa numerous times and am excited to share its best attractions with you. My personal favorite spots are included too, ensuring you don't miss out on anything this vibrant island has to offer.
Additionally, I'll also guide you with the ideal routes and practical itineraries for a smooth and stress-free visit. Let's dive in and start exploring now! 😊
Explore Sentosa: A Guide to the Best Things to Do on Singapore's Fun Island!
1. Universal Studios Singapore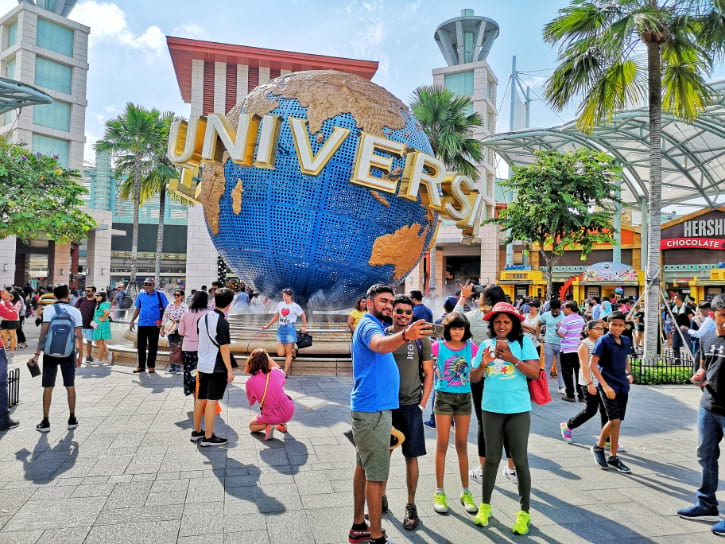 Sentosa Island is full of things to do, but one place you really must try is Universal Studios Singapore. It's a top spot full of fun attractions and exciting rides.
From thrilling roller coasters to amazing shows, there's something for everyone. Trust me, a visit to Universal Studios will make your trip to Sentosa truly unforgettable.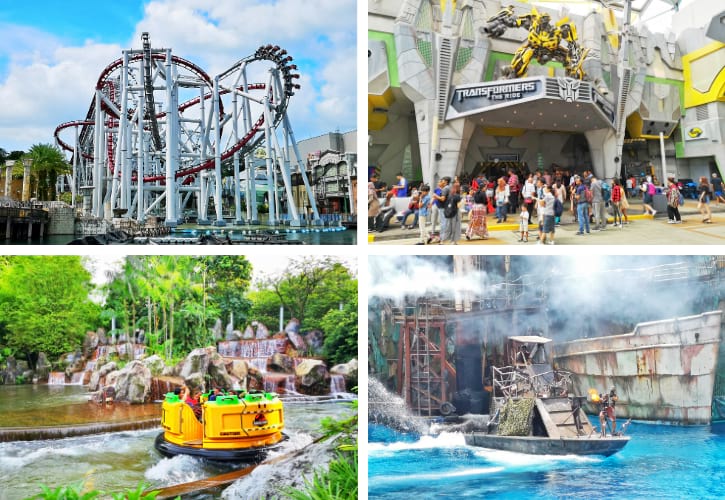 Be sure to check out the rides and the show below during your visit to this theme park.
Transformers The Ride: It's a 3D thrill ride where you're immersed in the Transformers universe, experiencing intense action as you battle alongside the Autobots.
Jurassic Park Rapids Adventure: This water ride is a must-try. You'll go through a dinosaur-filled jungle and finish with a thrilling splash. Be prepared to get a little wet!
WaterWorld Show: Definitely see this spectacular live show, which is based on the movie "WaterWorld". The performance is filled with incredible stunts, explosions, and water effects. It offers an action-packed experience that's great for all ages.
An important tip: make sure to book your Universal Studios tickets online and get e-tickets. This lets you enter the park with your phone and skip the long ticket counter lines. It's a faster way to enjoy the fun!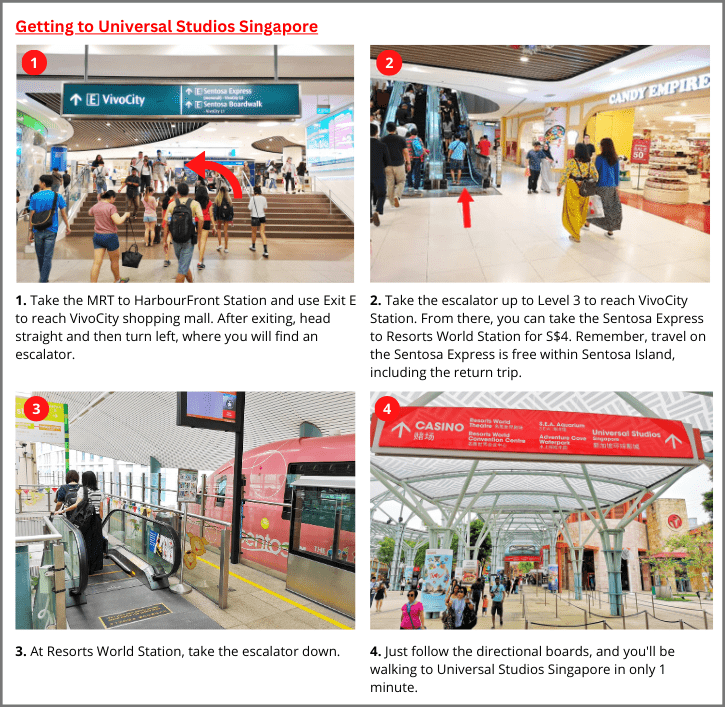 2. Sentosa Skyline Luge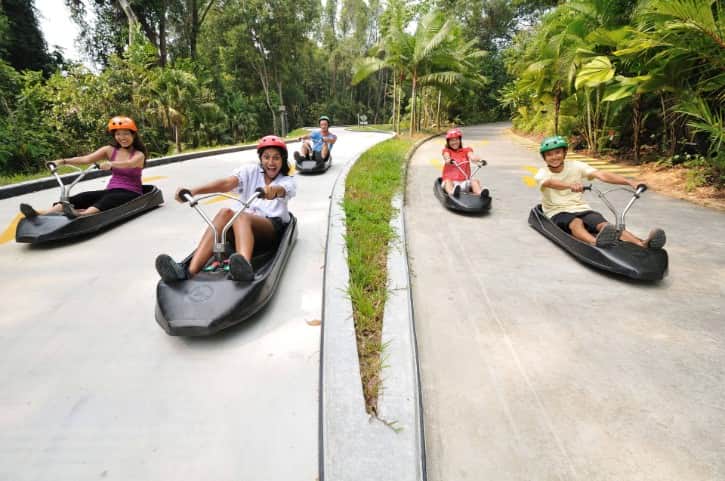 Sentosa Skyline Luge is an activity you simply must do when visiting the island. When planning your Singapore itinerary, make sure this attraction is put in your list.
You'll experience a thrilling ride down a hill in a luge cart, with the freedom to control your own speed and level of excitement.
The ride has various tracks to choose from, each offering a unique experience.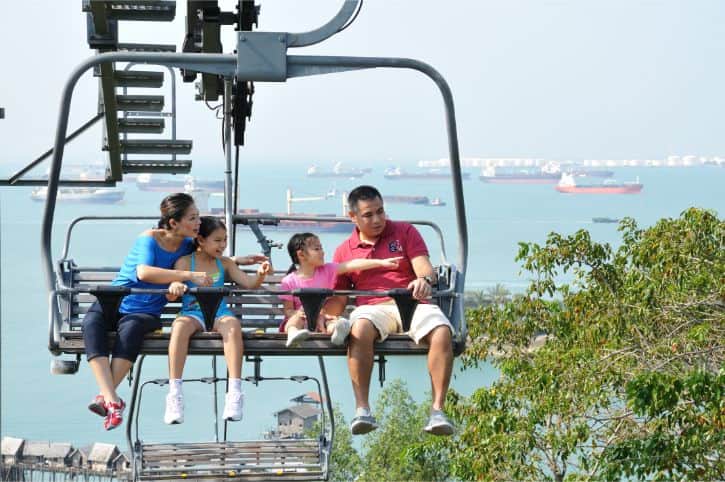 Plus, there's the Skyride, a chairlift that gives you a fantastic view of Sentosa Island and the Singapore skyline.
Remember to buy your Sentosa Skyline Luge e-tickets here to avoid long lines. Since it's a popular attraction, having advance tickets means you can get in quicker and start having fun right away!

3. S.E.A. Aquarium Singapore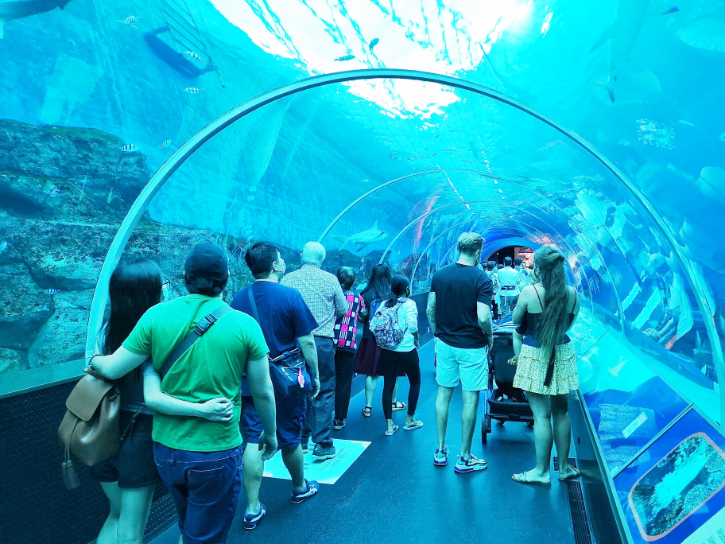 One of my favorite things to do in Sentosa Island is visiting the S.E.A. Aquarium Singapore.
It's one of the world's largest and best aquariums with over 100,000 sea creatures. You'll be amazed and educated!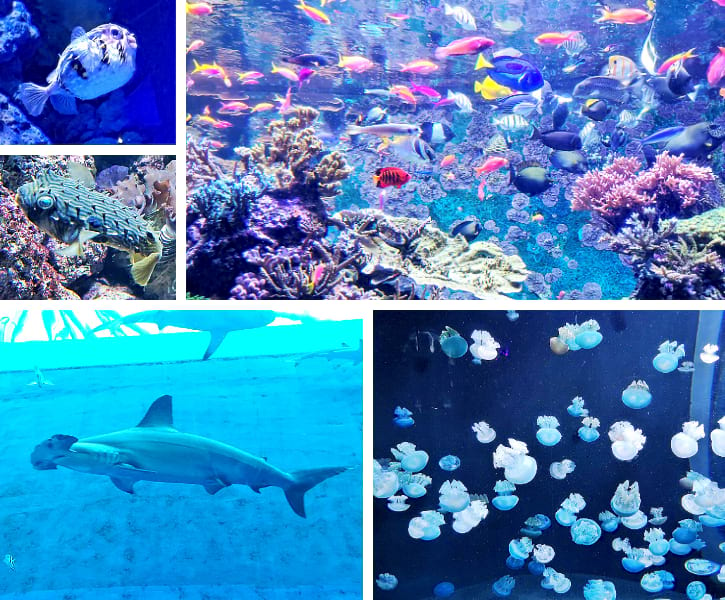 As you explore around this famous underwater world, you will meet vibrant fish species, colorful corals, and even some terrifying sharks.
Don't miss out on must-see zones like the Shark Seas Habitat and the Dolphin Panel Touch Pool, among many others.
Here's a little suggestion: Book your aquarium tickets online. This way, you can bypass the long queues and head straight in to start exploring the amazing underwater world!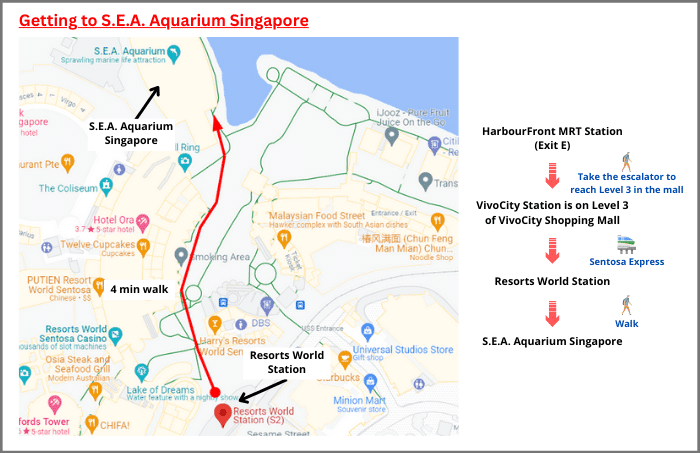 4. Trick Eye Museum at Southside Sentosa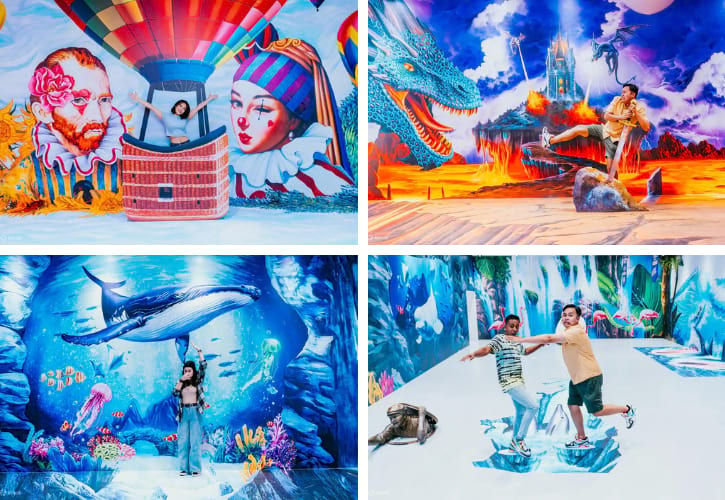 Trick Eye Museum is one of the most photogenic activities to experience on Sentosa Island.
Unlike typical museums in Singapore, it's famous for its mind-bending optical illusions that turn ordinary art into extraordinary experiences.
Here's what you can do: Use your phone's augmented reality (AR) features to bring these fantastic artworks to life, transforming them into spectacular backdrops for your photos.
The best part? There are endless picture-perfect spots in this upgraded 3D museum.
Many travelers share their photos after visiting the museum, so you can explore the incredible pictures here.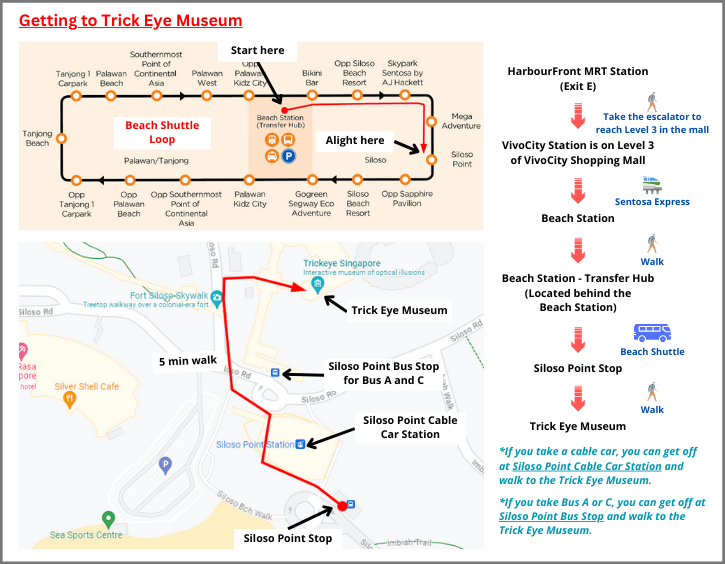 5. Wings of Time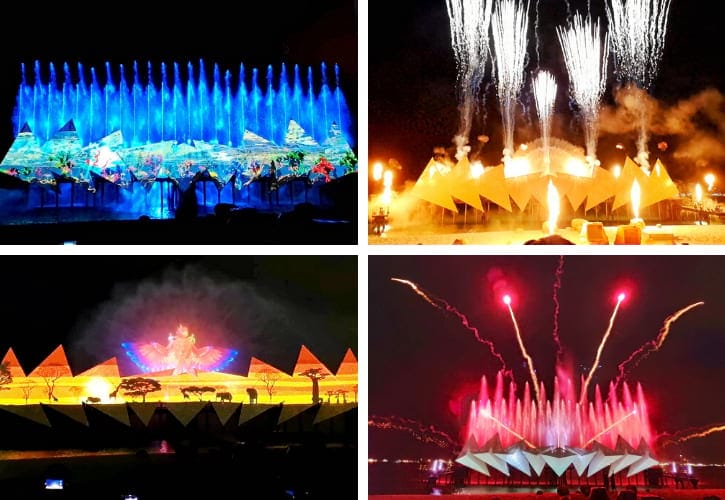 Experience an amazing thing to do at night in Sentosa with "Wings of Time", a breathtaking performance that combines lights, water, and magic.
It is a spectacular outdoor light and water show in Singapore that set along the open sea.
This 20-minute multi-sensory show is more than just lights and effects. It's an artistic story of friendship and bravery with animated characters in a dreamlike adventure.
Without a doubt, the Wings of Time is a must-watch show to cap off your Sentosa adventure. And the best part―it's suitable for all ages.
Show Times:
Daily: 7:40 PM and 8:40 PM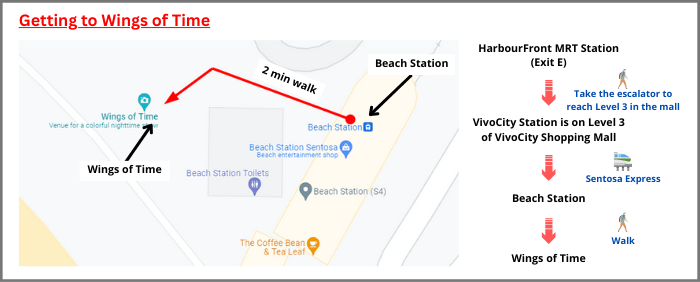 6. SkyHelix Sentosa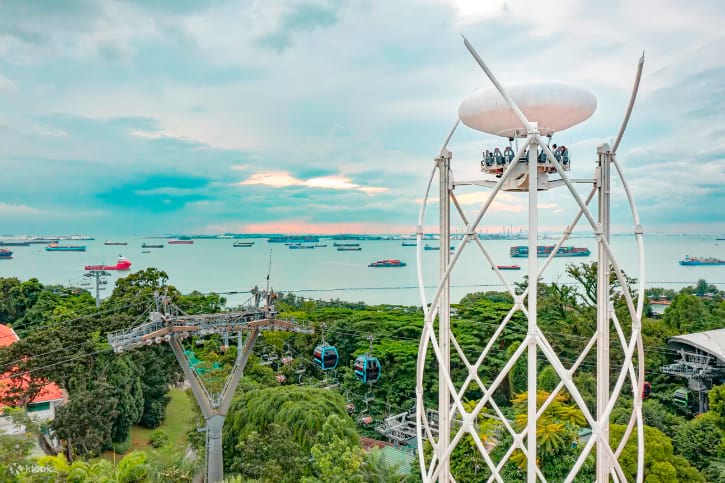 For a unique and breathtaking experience, make sure to check out SkyHelix Sentosa.
This extraordinary attraction offers a one-of-a-kind experience where you sit in an open-air gondola that gently spirals upwards.
As you rise, you'll be greeted with stunning 360-degree views of Sentosa and the Southern Islands – a scene so picturesque, you'll want to capture every moment.
Once you're at the top, you can relax with a refreshing drink. They have a nice selection of beverages, making it a perfect spot to chill out.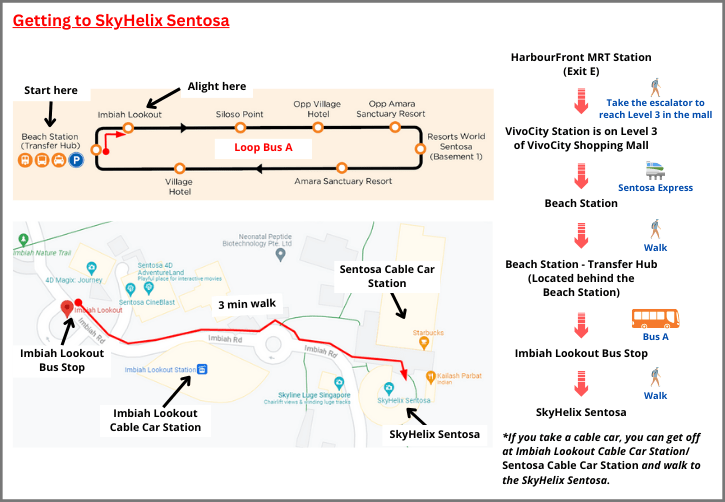 7. Madame Tussauds Singapore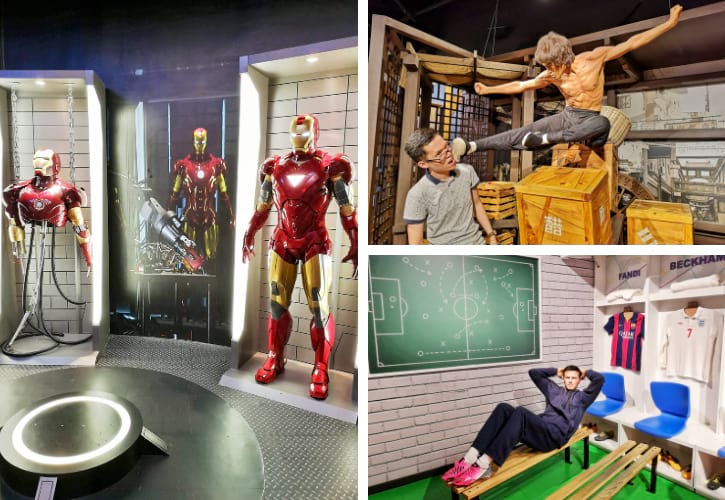 The Madame Tussauds Singapore is the place to be if you want to see the life-like wax figures of your favourite stars.
This museum offers a rare opportunity to come face-to-face with numerous top action stars and notable leaders.
Here, you can find incredibly realistic figures of sports legends like Cristiano Ronaldo and David Beckham.
The museum also features iconic actors such as Johnny Depp and Vin Diesel, along with renowned musical artists including Michael Jackson.
You'll even encounter figures of popular fictional characters, like Iron Man, and more.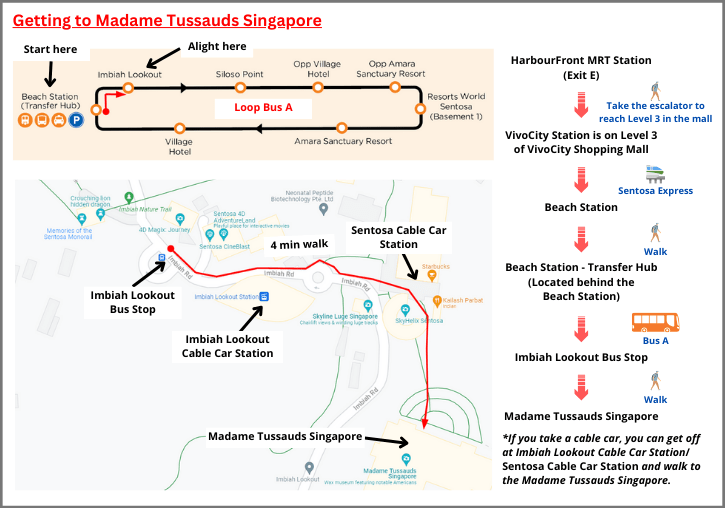 8. Skypark Sentosa by AJ Hackett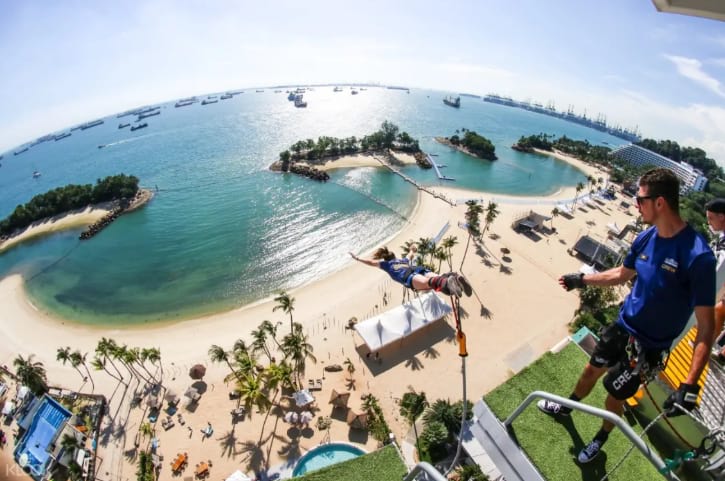 Skypark Sentosa by AJ Hackett offers the opportunity to embrace the thrill of diving into the air from a high platform, securely harnessed to a bungee cord. Here're the things you can do:
Bungy Jump: This is where you jump from a platform with a safety harness and bungee cord. It feels like flying! You'll experience a few moments of free fall, then bounce back. It's safe and fun, and experts are there to watch over you.
Tandem Bungy Jump: If you're looking to share the excitement, the tandem bungee jump is perfect. You and a partner, attached to the same cord, will jump together. It's a great way to bond and share an incredible moment.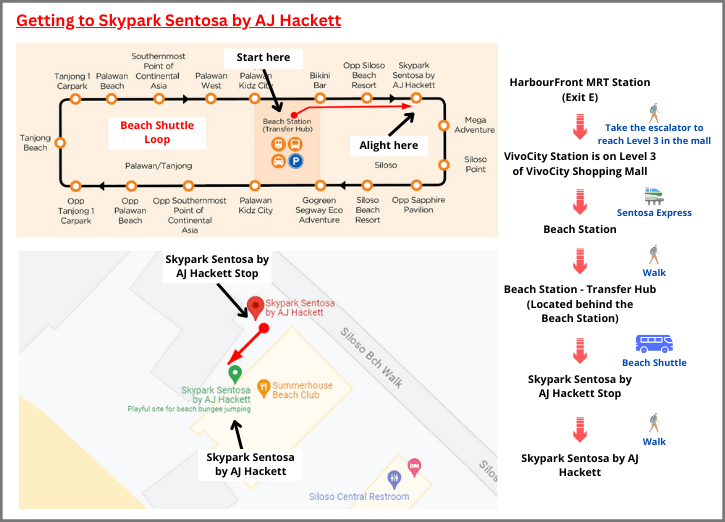 9. Mega Adventure Park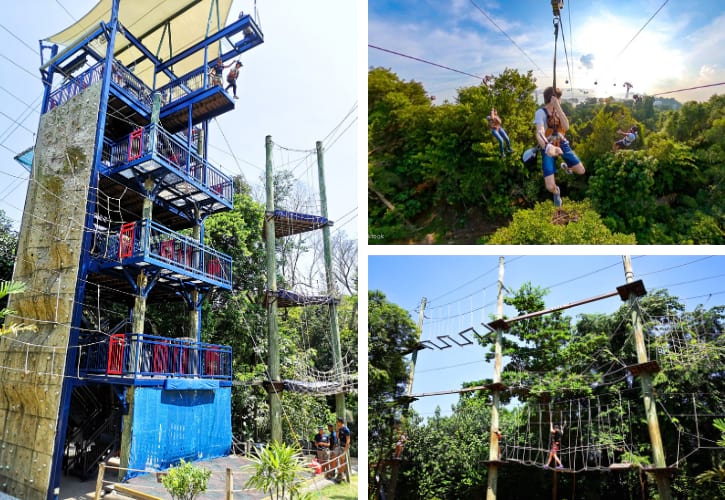 Mega Adventure Park in Sentosa is a fantastic attraction for fun outdoor activities and enjoying nature. Here's a quick look at what they offer:
MegaClimb & MegaJump: These are great for climbing and jumping. In MegaClimb, you climb high ropes and go through obstacles in the trees – it's a fun challenge! MegaJump is where you jump from a high spot and feel like you're free falling. It's really exciting!
MegaZip: Now, this is my favorite! MegaZip is a fast zipline that flies you over the forest and the beach. The speed and views are incredible.
MegaBounce: Perfect for those who aren't up for extreme heights. MegaBounce is a bouncy jumping mat where you can jump really high with the help of bungee cords.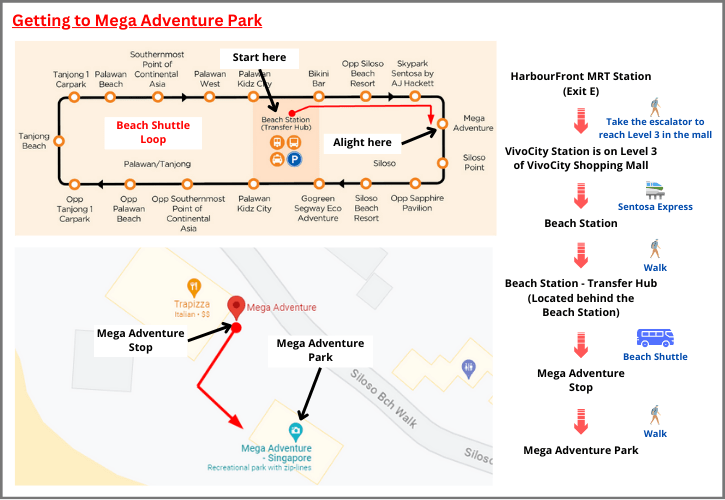 10. Sentosa 4D AdventureLand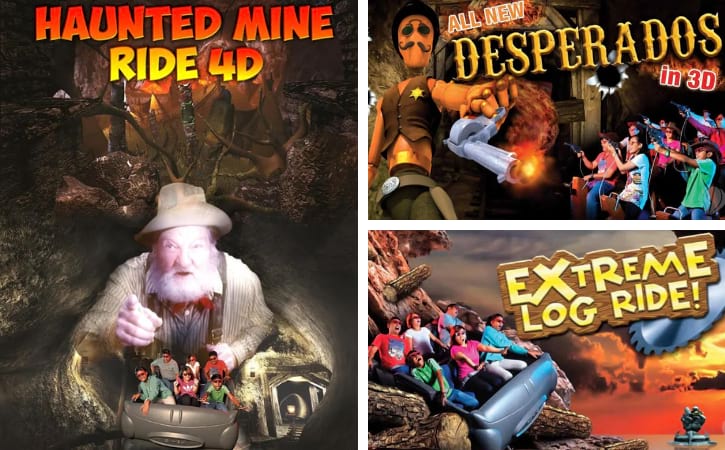 If you're planning a day of fun and excitement, 4D AdventureLand on Sentosa Island should be at the top of your things to do list.
This place offers a thrilling blend of 4D movies, virtual roller coaster rides, and interactive shooting games. It features four exciting entertainment options:
Desperados: An interactive 4D shooting game where you play a cowboy or cowgirl, aiming and shooting in a virtual wild west scenario.
Extreme Log Ride: A virtual 4D rollercoaster providing a unique and thrilling experience.
Haunted Mine Ride 4D: Travel along a spooky path encountering lifelike scary creatures.
Journey 2 The Mysterious Island: A highly entertaining sci-fi comedy movie experience.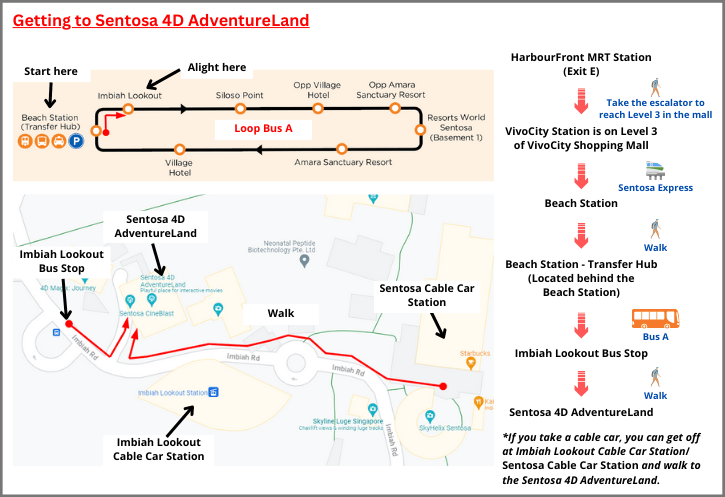 11. Headrock VR Sentosa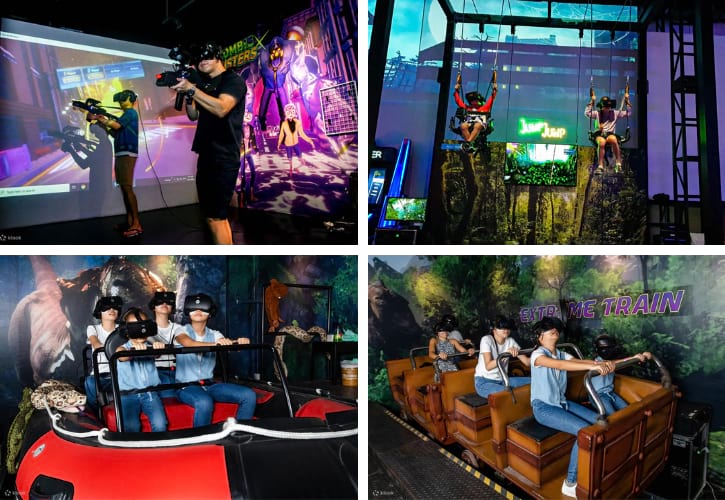 HeadRock VR Sentosa is a virtual reality theme park that brings an array of exhilarating experiences to life.
You can immerse yourself in action-packed adventures, such as fighting off zombies in a virtual world, which is both thrilling and challenging.
Additionally, the park offers unique experiences such as Jungle Rafting. In this adventure, you navigate through rapid waters and avoid a T-rex.
Another exciting attraction is the Extreme Train, which takes you on a journey to a secret treasure island high in the skies.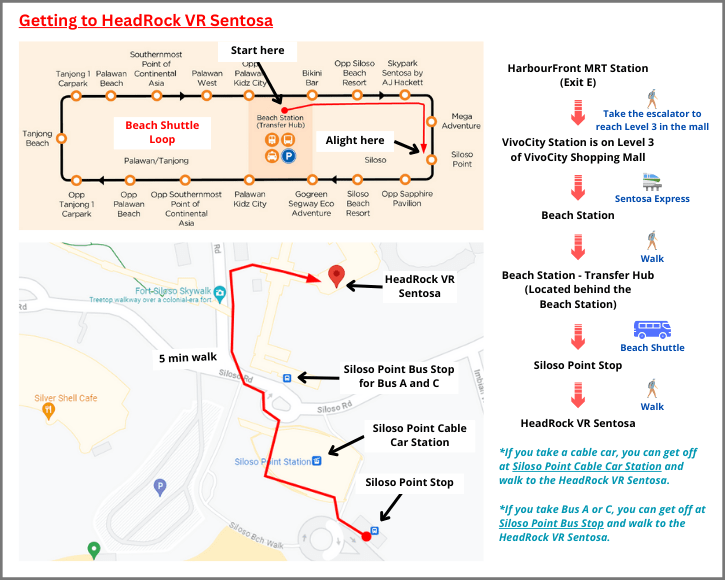 12. Adventure Cove Waterpark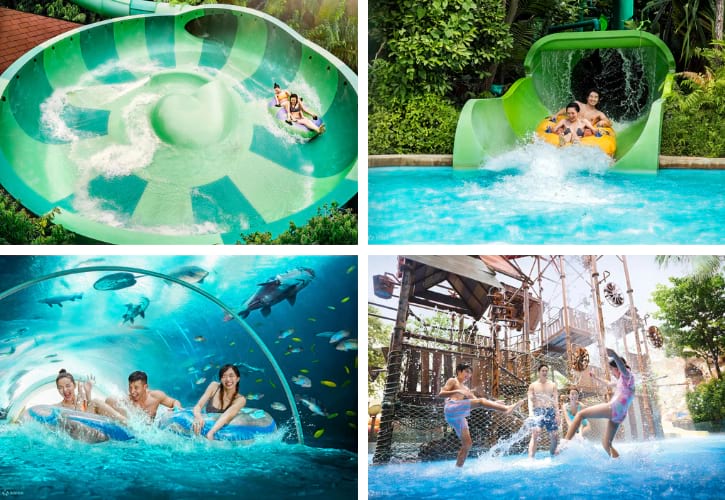 Adventure Cove Waterpark is an amazing spot for anyone who loves water fun.
It's filled with exciting slides and pools. You can zoom down high-speed water slides and relax in the lazy river.
If you're seeking thrills, don't miss the Riptide Rocket. And for a more relaxed time, the wave pool is perfect to just kick back and enjoy.
It's a great spot for a fun day out, especially if you enjoy splashing around and cool water adventures!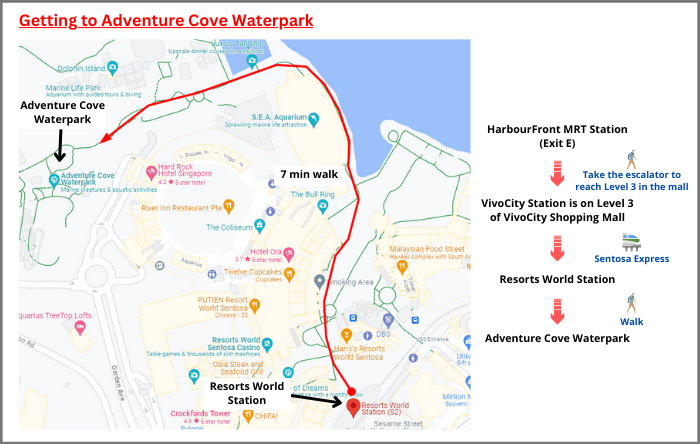 13. iFly Singapore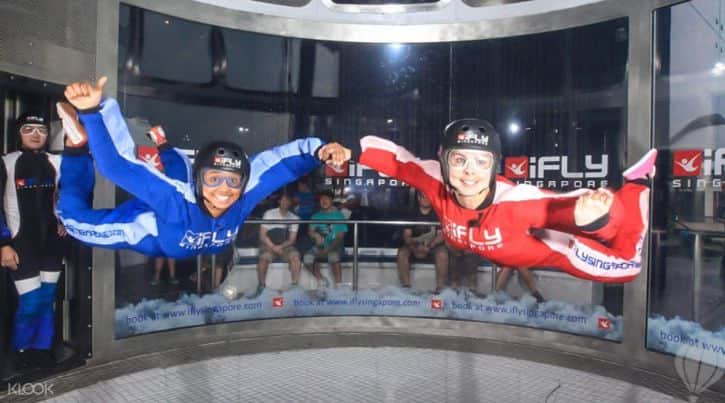 If you're in search of a special indoor activity in Sentosa, iFly Singapore offers an unforgettable indoor skydiving experience.
This activity simulates skydiving within a wind tunnel, allowing you to enjoy the thrill of freefall without the need to jump from a plane.
It's safe, fun, and perfect for those who want to experience the sensation of flying.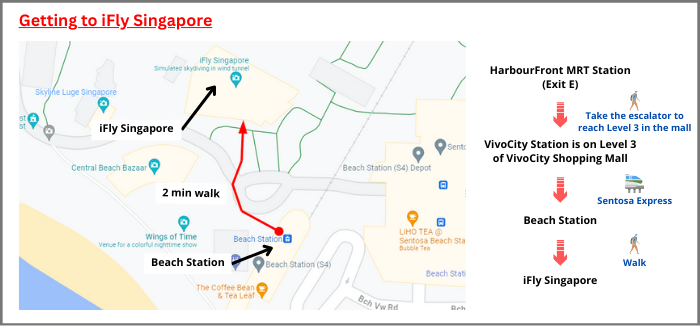 14. HydroDash Singapore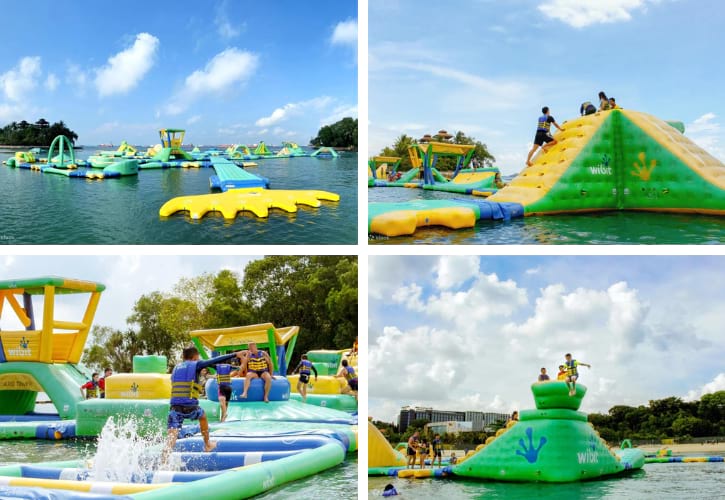 HydroDash Singapore is an exciting inflatable aqua park located in Sentosa. It's a great attraction for families and friends to enjoy a variety of water-based activities.
Here, you can challenge yourself on obstacle courses and jump from the action tower.
Additionally, you can experience the thrill of bouncing on giant inflatable shuttlepolines and sliding down expansive water slides.
It's a perfect place to cool off and have some fun, especially if you're up for a bit of adventure!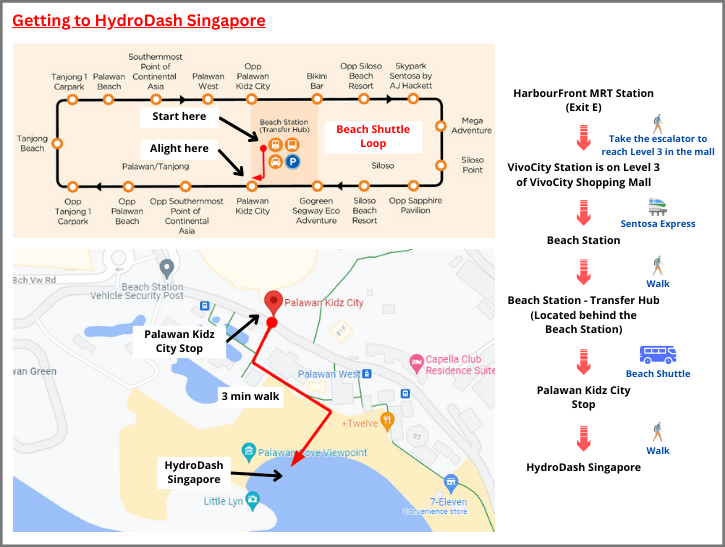 15. HyperDrive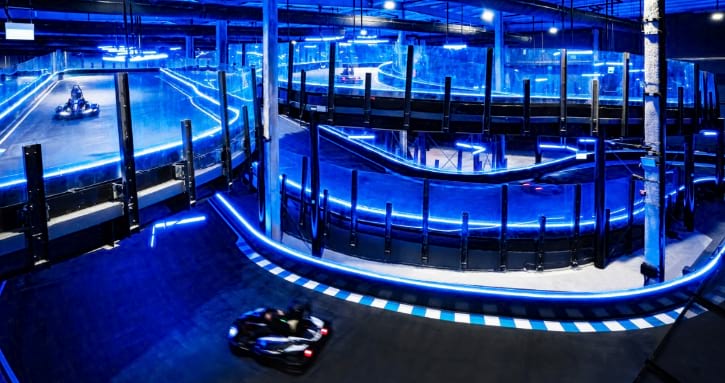 If you're into cars and racing, you've got to check out HyperDrive! This cool place lets you race go-karts on a super fun track.
You can choose your own kart and race against your friends or family. They even have different levels, so whether you're a beginner or a pro, you'll have a great time.
My advice? Go for it and see how fast you can race around the track. It's a blast!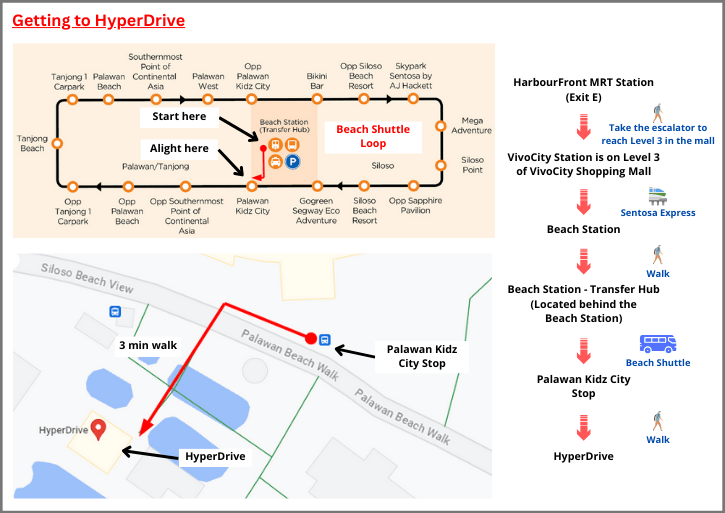 16. Scentopia Sentosa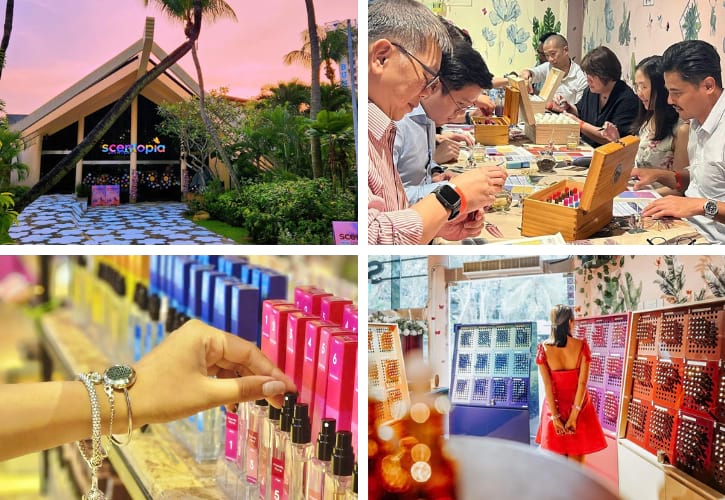 If you love fragrances, Scentopia Sentosa is a must-visit. This venue offers a one-of-a-kind opportunity to craft your own perfume.
They have lots of scents to choose from, and you can mix them to make something that's just right for you. It's really fun and you get to take home your own custom perfume.
My tip? Be creative and experiment with different scents to find your perfect match. It's a cool experience!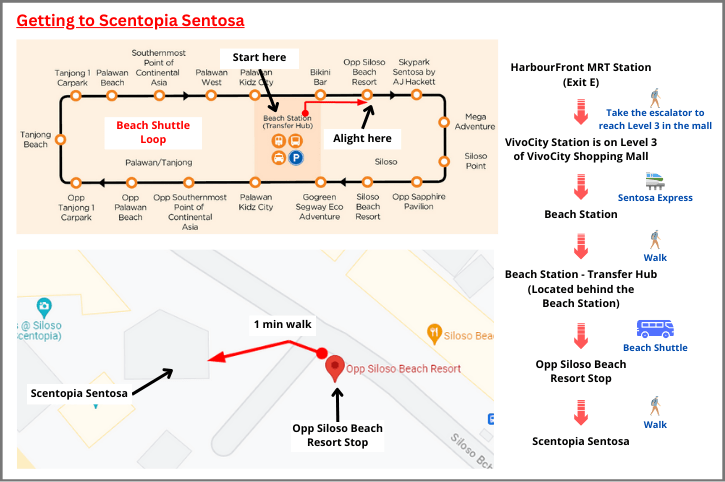 17. Palawan Beach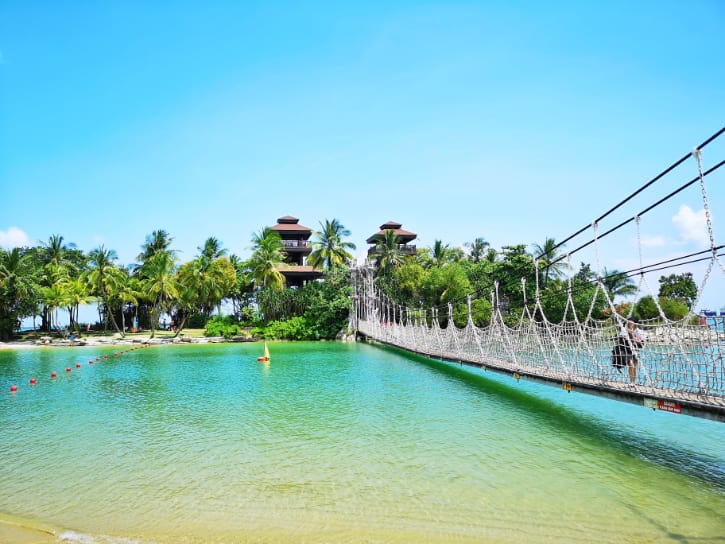 Exploring the exciting activities on Sentosa Island and relaxing at Palawan Beach offers the perfect blend of adventure and leisure.
At Palawan Beach, you can chill on the soft sand, swim in the clear waters, or even try some water sports.
There's a cool suspension bridge to a small island that you can walk across. It's great for taking photos! Plus, there are plenty of places to grab a bite or a drink.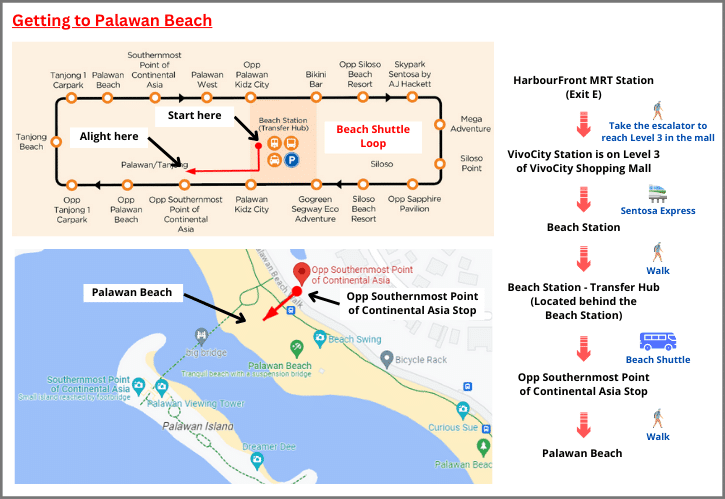 18. Tanjong Beach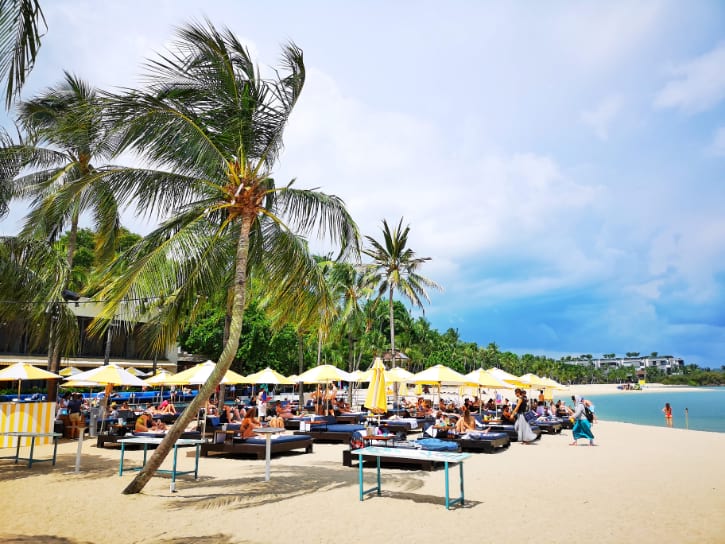 Tanjong Beach is known for its peaceful scenery and laid-back vibes, making it a perfect place to unwind in Sentosa Island.
Lounge on the soft, white sand or recline in a chair, basking in the peaceful atmosphere of the beach. Or, you can build your own sandcastle and play with your companions.
As the day transitions to night in Singapore, Tanjong Beach transforms into a cool spot with lively beach clubs, where you can enjoy music and drinks under the starlit sky.
Remember to bring a towel, some snacks, and enjoy a peaceful day by the sea. And if you stay into the evening, the beach club scene is really fun!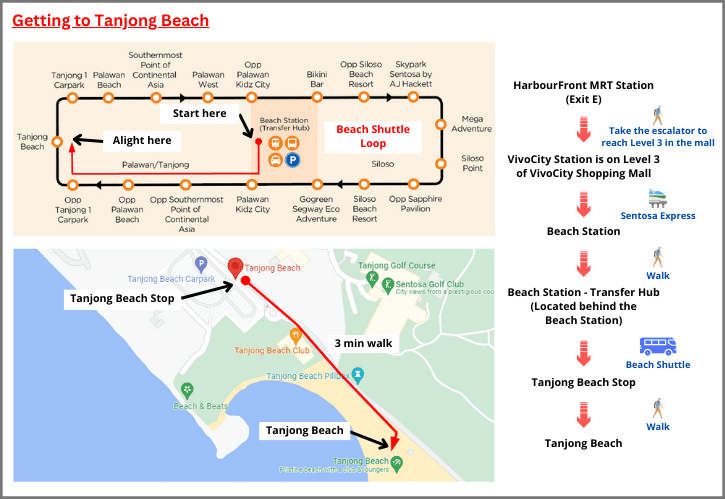 19. Siloso Beach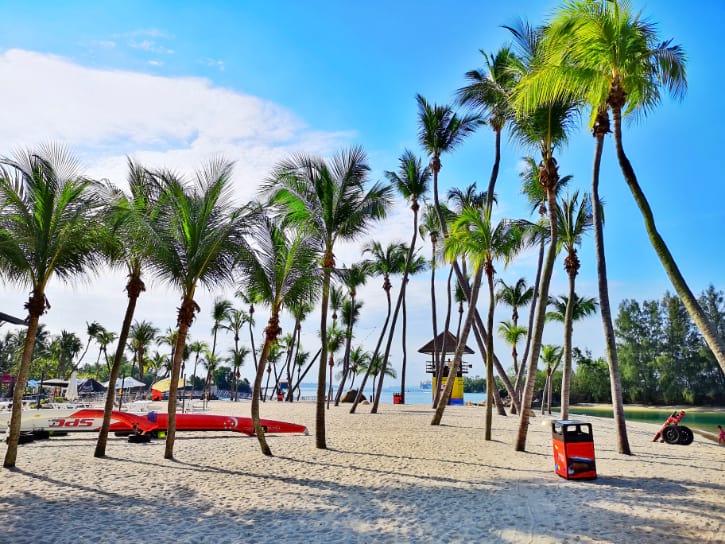 Siloso Beach offers a range of family-friendly activities on the southwest coast of the island. This destination is famous for its lush palm trees and the prominent "SILOSO" sign.
Here, you can play beach volleyball, go kayaking, cycling, or even build sandcastles.
Furthermore, indulge in an impressive array of restaurants, bars, and local stalls along the coastline, where you can savor diverse cuisines, enjoy tropical cocktails, and relax by the beach.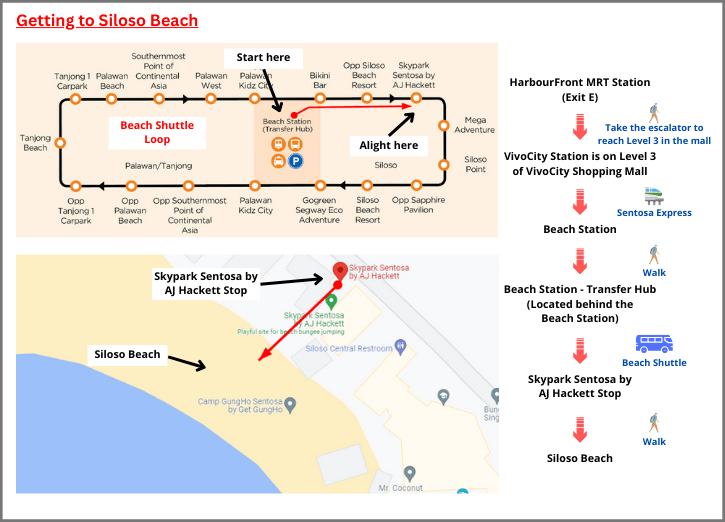 20. Fort Siloso Skywalk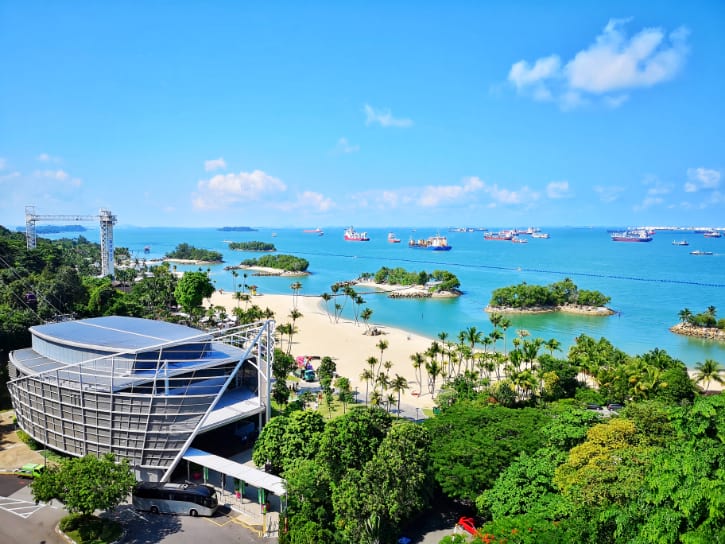 If you're looking for stunning views, you've got to visit the Fort Siloso Skywalk!
Start by entering the Siloso Skywalk Tower and take the lift to the 11th floor to access the skywalk bridge.
From up above, you'll catch a breathtaking view of the vast Siloso Beach and its equally beautiful islands.
Take a stroll along the extensive bridge surrounded by gorgeous sweeps of green and blue.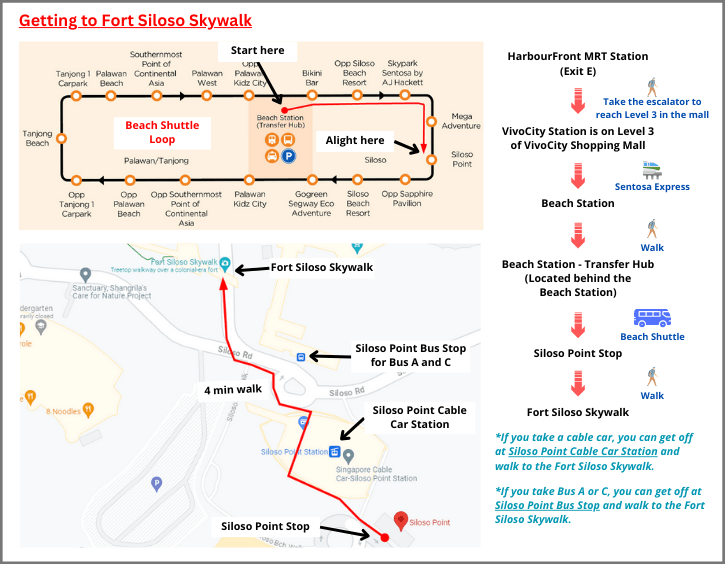 Things to Do in Sentosa Island (Summary)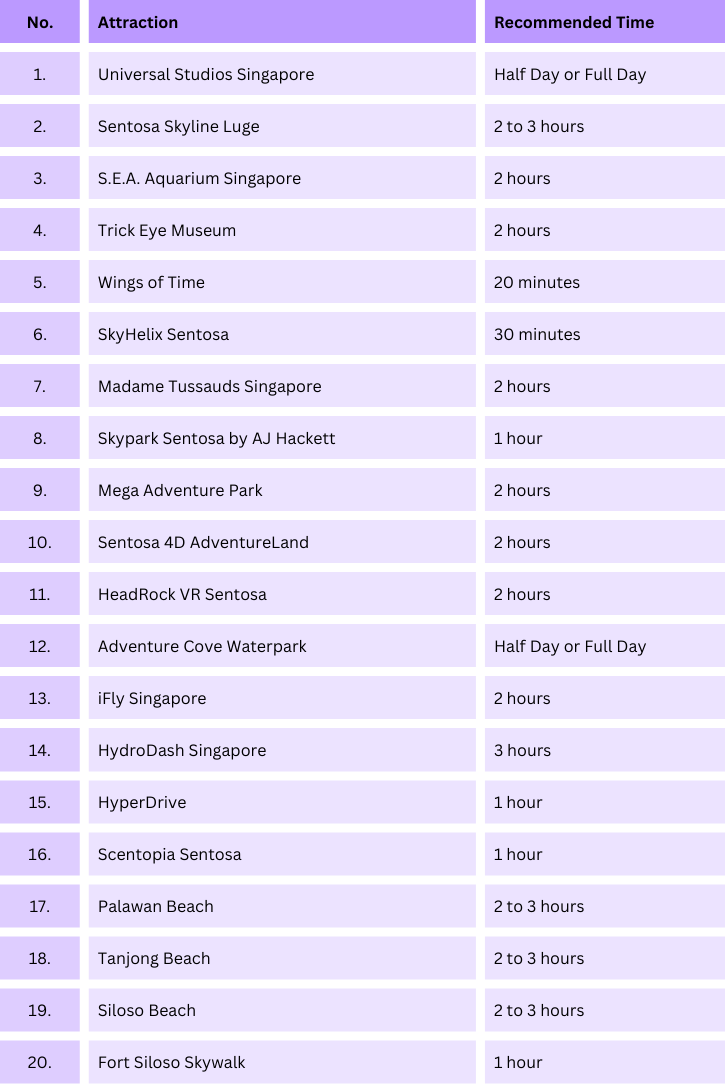 Since Sentosa Island offers so many things to do for visitors, let me provide you with a summary to help you easily decide which attractions are great for you to visit.
If you ask me which activities are the best to explore on the island, I would suggest Universal Studios Singapore, Sentosa Skyline Luge, S.E.A. Aquarium, Trick Eye Museum, and Wings of Time.
Thrill Seekers
Sentosa Skyline Luge – Exciting downhill ride.
SkyHelix Sentosa – Open-air panoramic ride.
Skypark Sentosa by AJ Hackett – Bungee jumping adventure.
Mega Adventure Park – Zip-lining and high-element courses.
Adventure Cove Waterpark – Water rides and slides.
iFly Singapore – Indoor skydiving experience.
HydroDash – Aquatic obstacle course.
Kids and Family
Universal Studios Singapore – Family-friendly theme park with various attractions.
Mega Adventure Park – Adventure activities suitable for older children.
Adventure Cove Waterpark – Waterpark fun for all ages.
Sentosa 4D AdventureLand – Interactive and immersive experiences for families.
Unique Experiences
Trick Eye Museum at Southside Sentosa – Interactive art installations.
Wings of Time – Unique nighttime light and sound show.
Sentosa 4D AdventureLand – 4D interactive shows.
Technology and Innovation Enthusiasts
HeadRock VR Sentosa – Virtual reality experiences.
HyperDrive – Racing simulation technology.
iFly Singapore – State-of-the-art indoor skydiving.
Nature and Scenic Lovers
Palawan Beach, Tanjong Beach, Siloso Beach – Natural beaches for relaxation.
Fort Siloso Skywalk – Scenic views and nature walk.
SkyHelix Sentosa – Scenic views from an elevated point.
Aquatic Adventures
Adventure Cove Waterpark – Diverse water-based activities.
HydroDash – Floating aqua park.
E.A. Aquarium Singapore – Marine life exploration.
Relaxation and Leisure
Palawan Beach, Tanjong Beach, Siloso Beach – Ideal for leisurely beach activities.
Scentopia Sentosa – Aromatic and sensory experience.
Historical and Cultural Enthusiasts
Madame Tussauds Singapore – Wax figures of historical and cultural figures.
Aside from Sentosa Island, you can also visit Canopy Park at Jewel Changi Airport.
I highly recommend this place because of its beautiful spots that are really picturesque and relaxing. Read my post on Canopy Park's top attractions, it will give you more ideas on what things to explore in there.
Sentosa Island Itinerary: My Top Picks for the Best Activities
Planning a trip to Sentosa Island can sometimes be overwhelming due to its vast array of attractions.
To help you navigate this exciting destination, I've crafted sample itineraries that streamline your planning process. Hopefully, these can help you out.
Itinerary Option 1: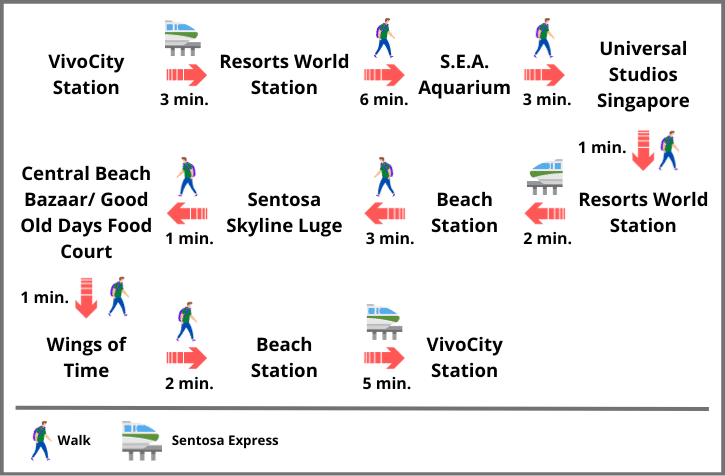 9:00 AM – S.E.A. Aquarium Singapore
11:00 AM – Universal Studios Singapore + Lunch
5:00 PM – Sentosa Skyline Luge
7:00 PM – Central Beach Bazaar/ Good Old Days Food Court (Dinner)
7:40 PM – Wings of Time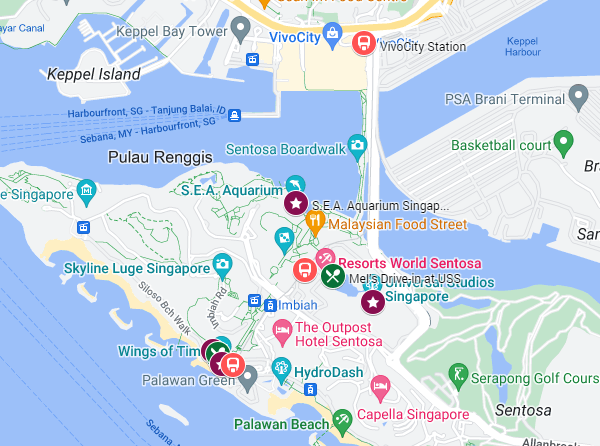 Itinerary Option 2: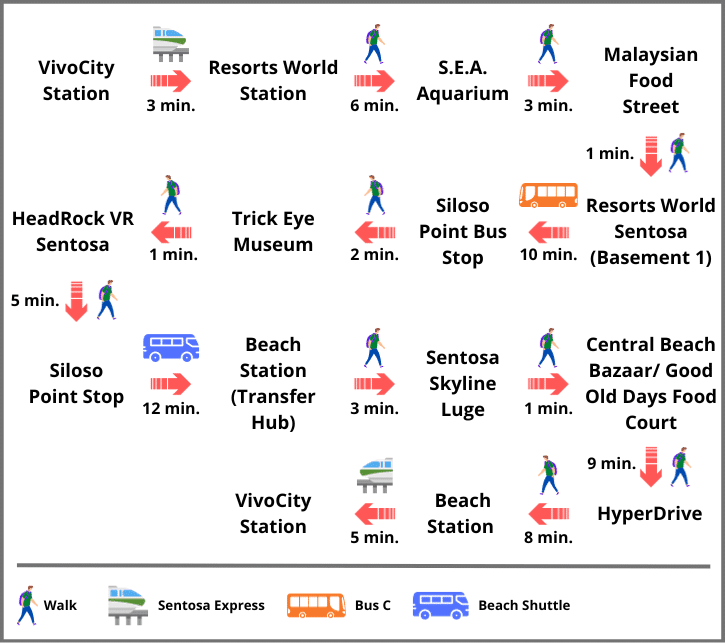 10:00 AM – S.E.A. Aquarium Singapore
12:00 PM – Malaysian Food Street (Lunch)
1:00 PM – Trick Eye Museum
3:00 PM – HeadRock VR Sentosa
5:00 PM – Sentosa Skyline Luge
7:00 PM – Central Beach Bazaar/ Good Old Days Food Court (Dinner)
8:00 PM – HyperDrive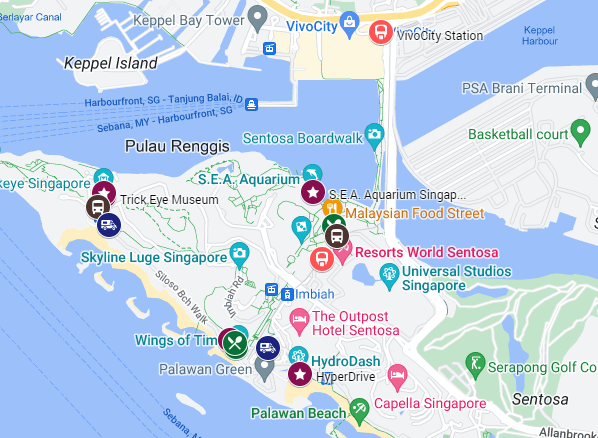 Itinerary Option 3: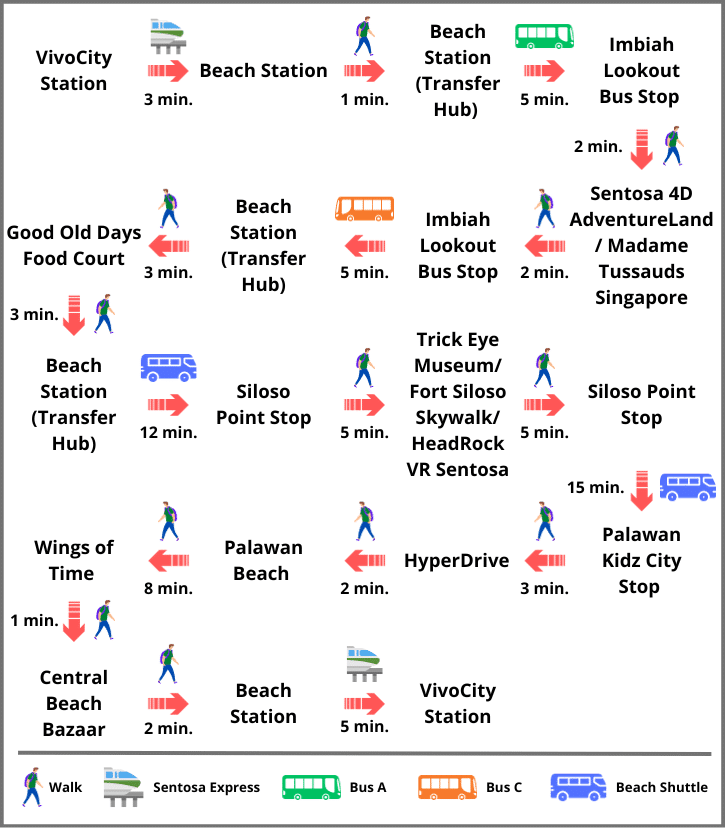 10:00 AM – SkyHelix Sentosa
10:30 AM – Sentosa 4D AdventureLand/ Madame Tussauds Singapore
12:30 PM – Good Old Days Food Court (Lunch)
1:30 PM – Trick Eye Museum/ Fort Siloso Skywalk/ HeadRock VR Sentosa
3:30 PM – HyperDrive
5:30 PM – Palawan Beach
7:40 PM – Wings of Time
8:00 PM – Central Beach Bazaar (Dinner)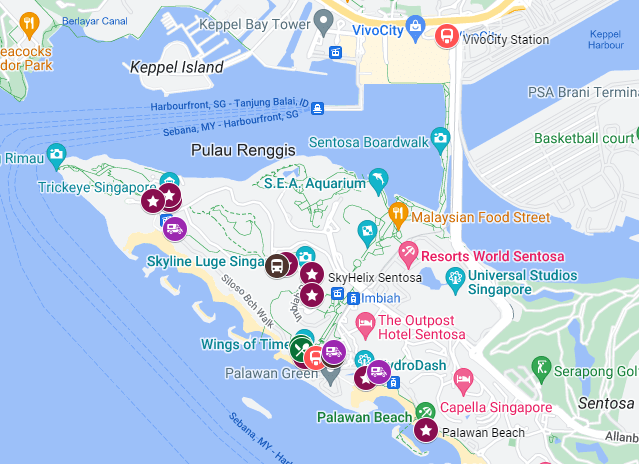 Itinerary Option 4: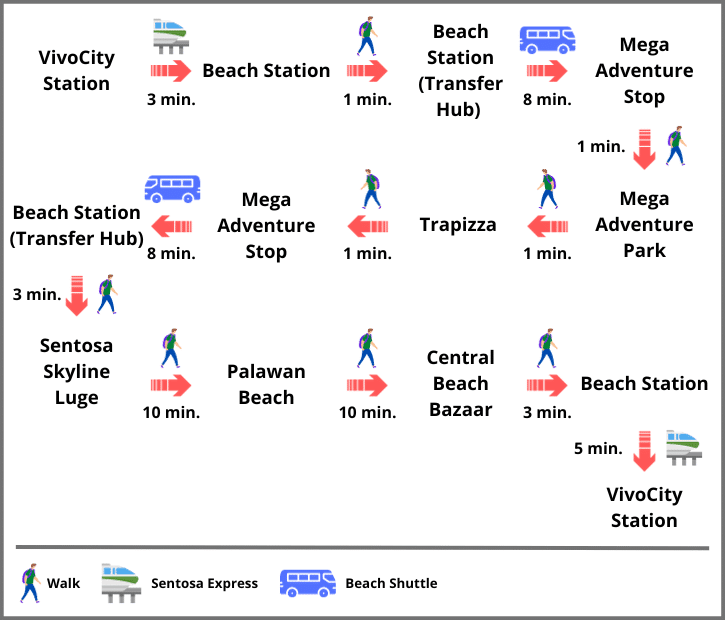 11:00 AM – Mega Adventure Park
1:00 PM – Trapizza (Lunch)
2:00 PM – Sentosa Skyline Luge
4:30 PM – Palawan Beach
7:30 PM – Central Beach Bazaar (Dinner)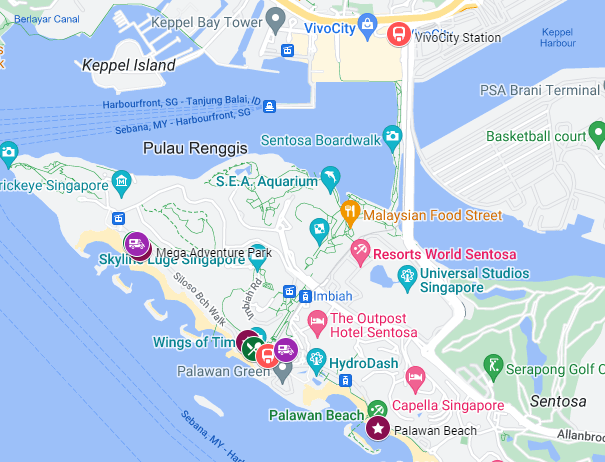 How to Tour Around Sentosa Island
You can traveling around Sentosa using the Sentosa Express, buses, beach shuttles, or a cable car.
All these transport modes are free to use within the island, except for the cable car.
Let me guide you through how to navigate around the island, as described below.
And for a comprehensive guideline on how reach Sentosa, you can also check my how to get to Sentosa by MRT or cable car blog.
1. Follow the Directional Signs When on the Island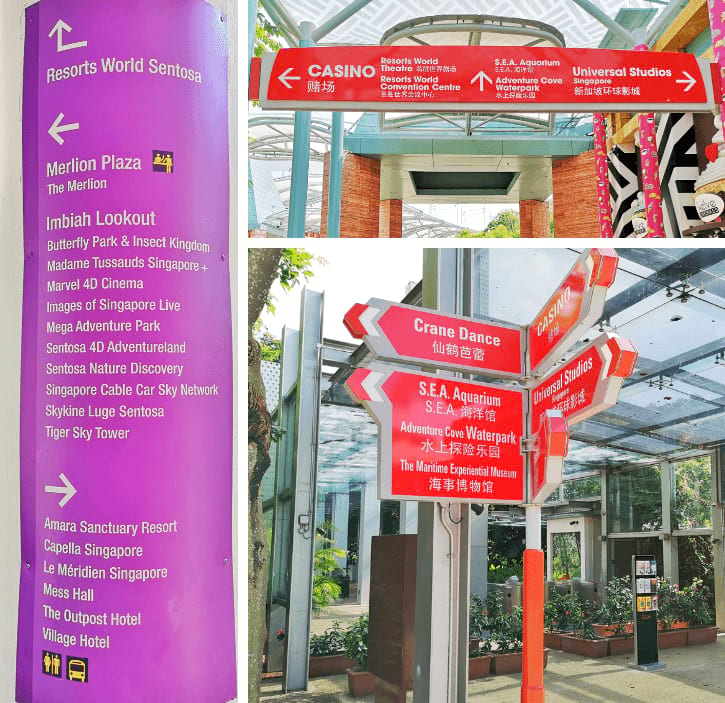 When you are in Sentosa, keep an eye out for the directional boards. These are installed throughout the island to provide quick reference and easy navigation to various attractions.
2. Sentosa Express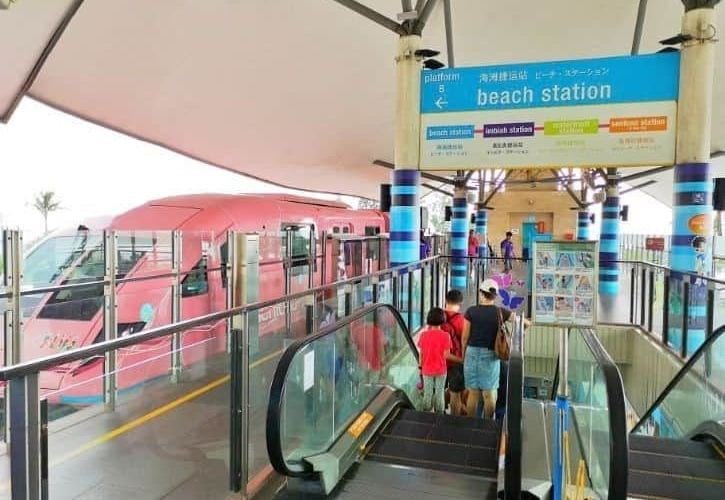 By paying SGD $4, you can easily travel from Singapore to Sentosa Island via the Sentosa Express.
Once on the island, you can hop between stations for free using the monorail. Additionally, there's no charge for leaving the island if you depart by monorail.
These monorail stations are conveniently located near major Sentosa attractions, including Universal Studios Singapore, S.E.A. Aquarium, Wings of Time, and Adventure Cove Waterpark.
Operating Hours: 7:00 AM – 12:00 AM daily

3. Beach Shuttle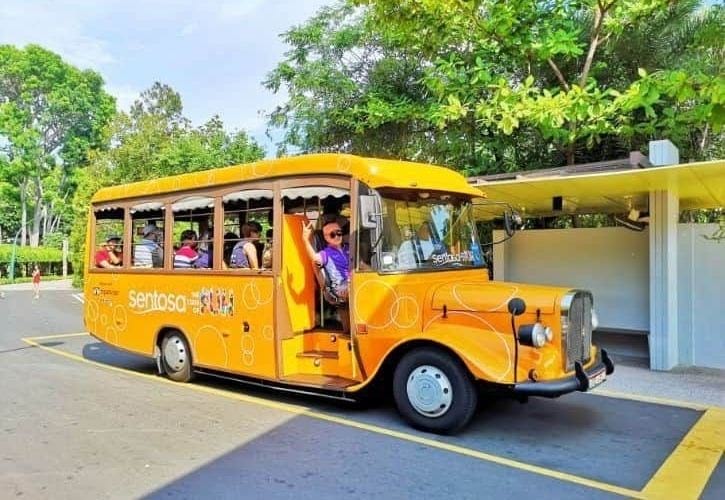 The Beach Shuttle is a great transportation option on Sentosa Island.
It runs along the coast, connecting major beaches such as Siloso, Palawan, and Tanjong. This is ideal for those who want to enjoy the scenic beaches without excessive walking.
Plus, it's a convenient way to access attractions close to the beach, like Skypark Sentosa by AJ Hackett and Mega Adventure Park.
Operating Hours: 7:00 AM – 12:00 AM daily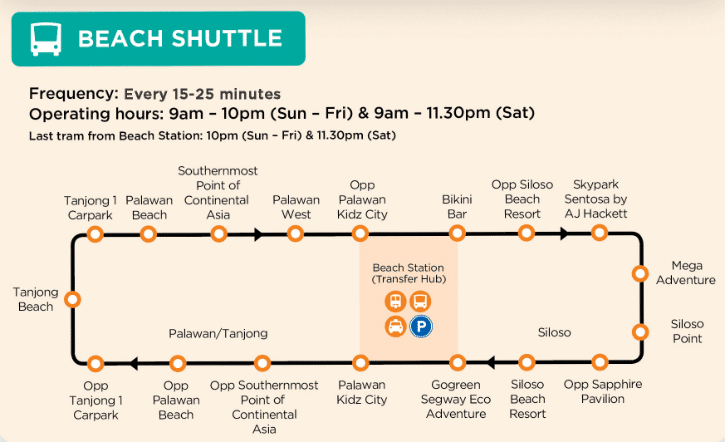 4. Bus A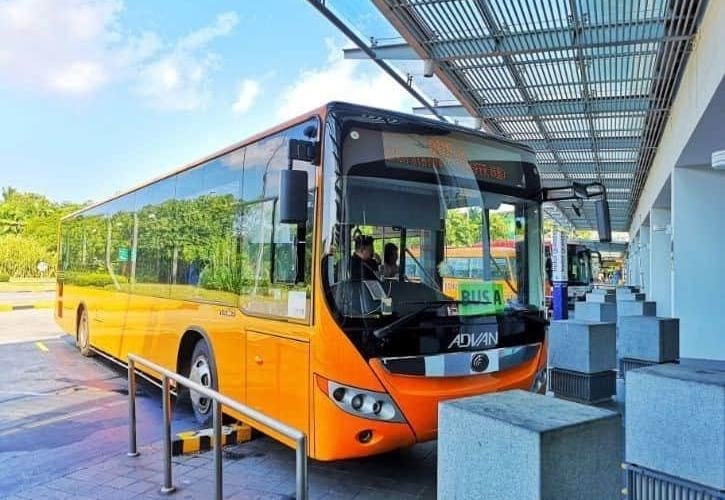 Bus A covers essential areas like Resorts World Sentosa, Siloso Point, and Imbiah Lookout. It's a convenient option for those looking to visit these popular spots without much walking.

5. Bus B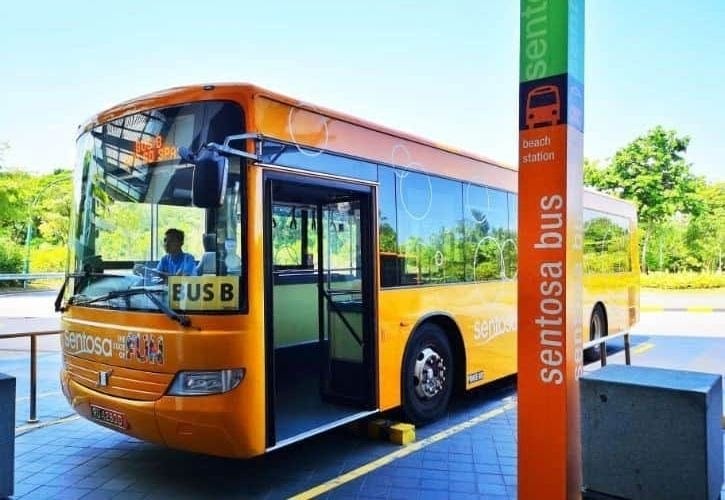 Bus B stops at locations like W Hotel, Quayside Isle, and Sentosa Golf Club, among others. Perfect for accessing upscale dining, world-class golf facilities, and luxurious accommodations.

6. Bus C

Bus C takes you to key destinations including Siloso Point, Imbiah Lookout, Village Hotel, and Amara Sanctuary Resort.
7. Cable Car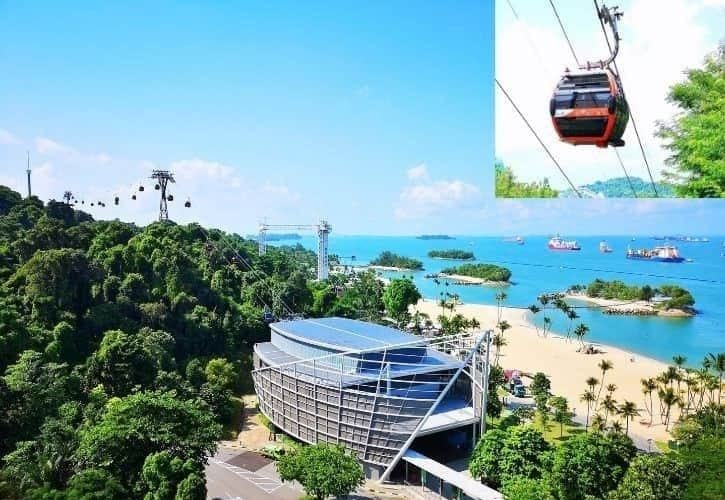 Another way to see the beauty of Sentosa is by riding the cable car. Take note that this is not a free ride.
And if buy your tickets from the physical counter, the ticket price is SGD $35 (Adult) and SGD $25 (Child). To save money, book your cable car tickets online here and enjoy a 20% discount!
Here's the cable car route for both Mount Faber Line and Sentosa Line.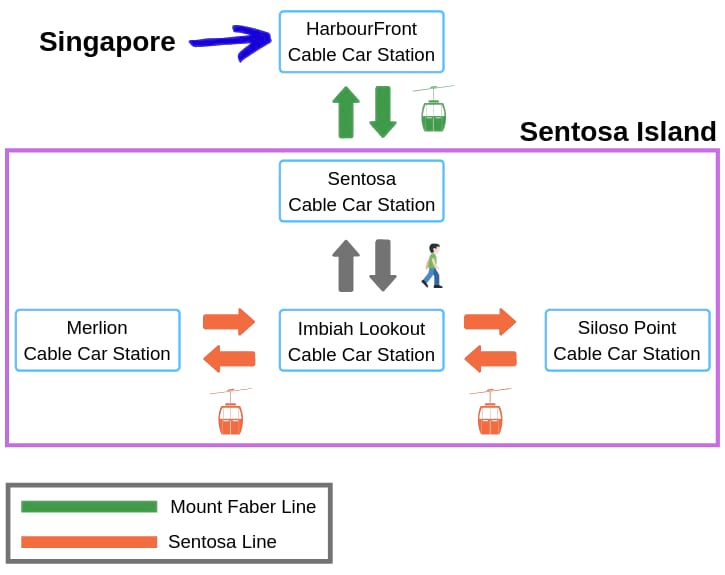 Sentosa Map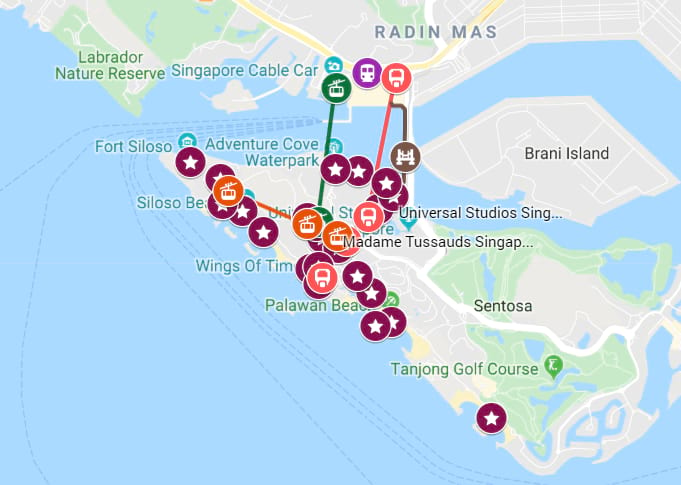 To get a clearer picture of what to do in Sentosa and to make your trip more convenient, you may refer to the map above.
Where to Go after Sentosa
After exploring the amazing attractions of Sentosa Island, set your sights on another array of beautiful destinations in Singapore.
1. Marina Bay Sands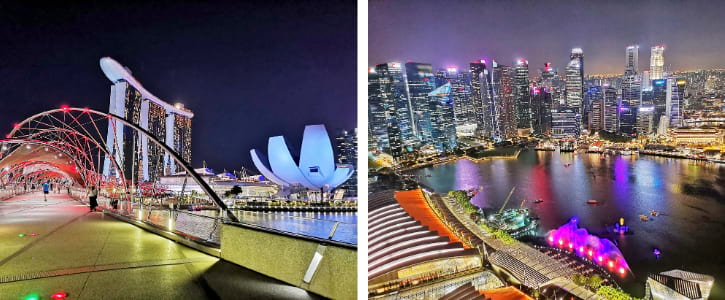 Marina Bay Sands is beautifully surrounded by unique scenes. These include Gardens by the Bay, Sands SkyPark Observation Deck, ArtScience Museums, and so much more.
For other top-rated spots, simply refer to this post on Marina Bay Sands must visit attractions and plan your tour ahead.
2. Bugis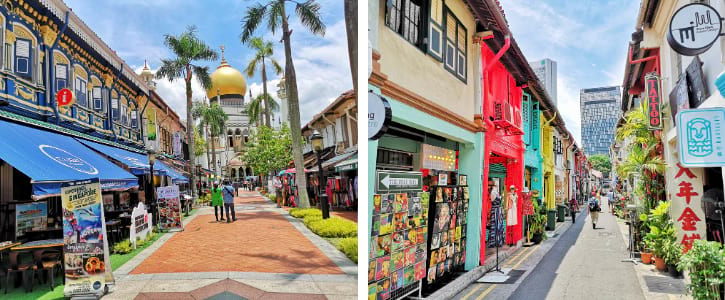 From breath-taking temples to colorful murals and jam-packed shopping malls, Bugis is no doubt a well-liked destination. If you want to know more about this vibrant site, see my guide to the top things to do in Bugis and reveal all its beautiful charms.
3. Gardens by the Bay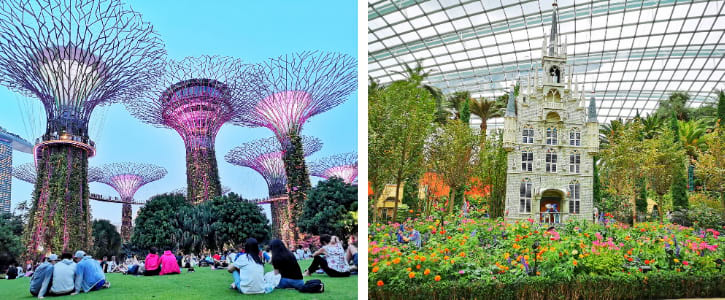 If you want to capture both nature and technology, spend your day at the Gardens by the Bay. This place is filled with mesmerizing flower fields, greenhouses, and vertical gardens.
Related Posts
Photo Credit:
Photos by Klook