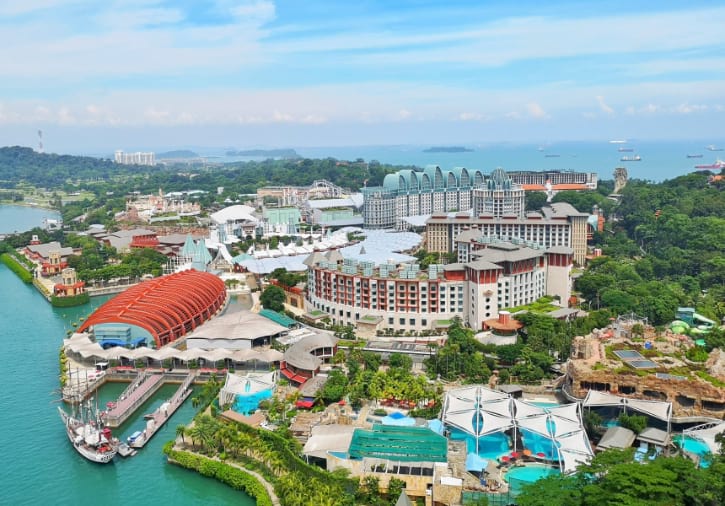 Sentosa Island is a vibrant destination in Singapore with lots of fun activities and top attractions. Surely, you won't run out of things to do in Sentosa Island.
You can hit the beaches and relax under the sun with your family and friends. For marine and art lovers, the massive aquarium and stunning art museum await your visit.
If you want more excitement, there are theme park and waterpark for everyone. Without a doubt, Sentosa is one of the best places to visit in Singapore for all ages.
Now it's time for me to walk you through the best things to do in Sentosa Island that can make your trip even more special and enjoyable. 😉
Table of Contents
*Do take note that Sentosa Merlion, Sentosa Crane Dance, and KidZania Singapore are no longer open for public. These attractions are already permanently closed. Therefore, you won't find them in the article.
1. Universal Studios Singapore – Have fun with different rides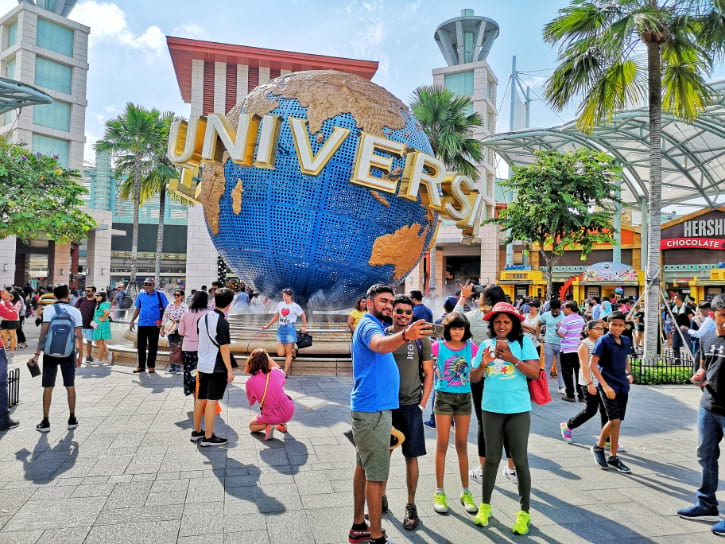 Universal Studios Singapore is no doubt one of the most visited attractions in Sentosa Island.
It is loaded with remarkably fun activities and unique experiences for visitors of all ages.
For thrill-seekers, check out Battlestar Galactica: HUMAN vs. CYLON, Revenge of the Mummy, and Jurassic Park Rapids Adventure.
And if you're looking for some chill rides, you can start with Madagascar: A Crate Adventure, and then continue with Sesame Street Spaghetti Space Chase and King Julien's Beach Party-Go-Round.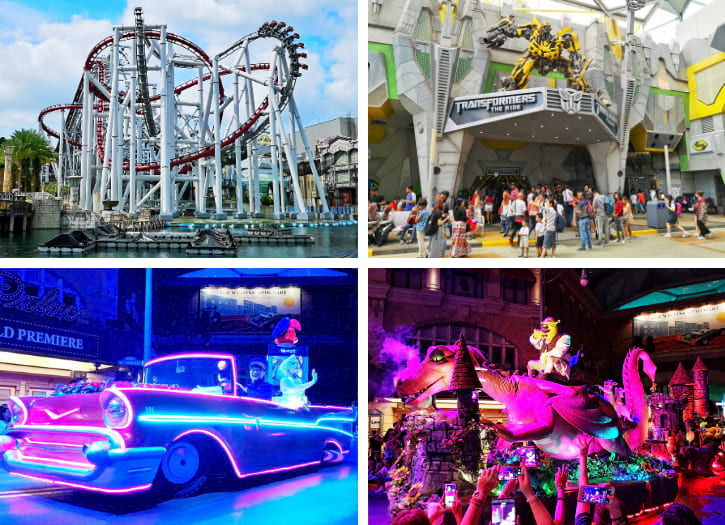 Aside from the thrilling adventures and relaxing rides, there are plenty of exciting shows to watch.
Find out more in my super detailed guide to the 15 best rides and attractions at Universal Studios Singapore here.
So, for a memorable trip in Sentosa, don't miss the ever-popular theme park in the island.
Money Saving Tip: Check out here for Universal Studios Singapore tickets and this gets you up to an extra 20% discount! 🙂
2. S.E.A. Aquarium Singapore – Explore the underwater world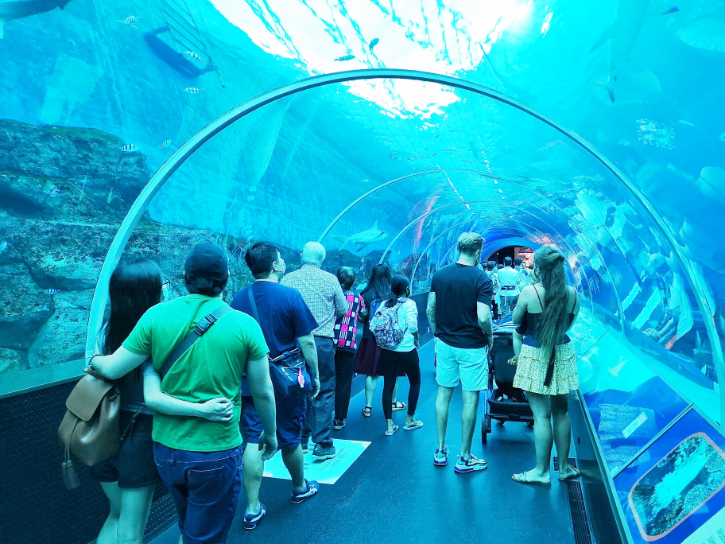 S.E.A. Aquarium is listed among the most fun things to do and see in Sentosa Island.
It's not just a great place for aquatic entertainment but also for education.
And, you won't get disappointed at all with the variety of sea creatures inside. Why?
It's because this popular Sentosa aquarium is actually one of the biggest and best aquariums in the world with over 100,000 inhabitants!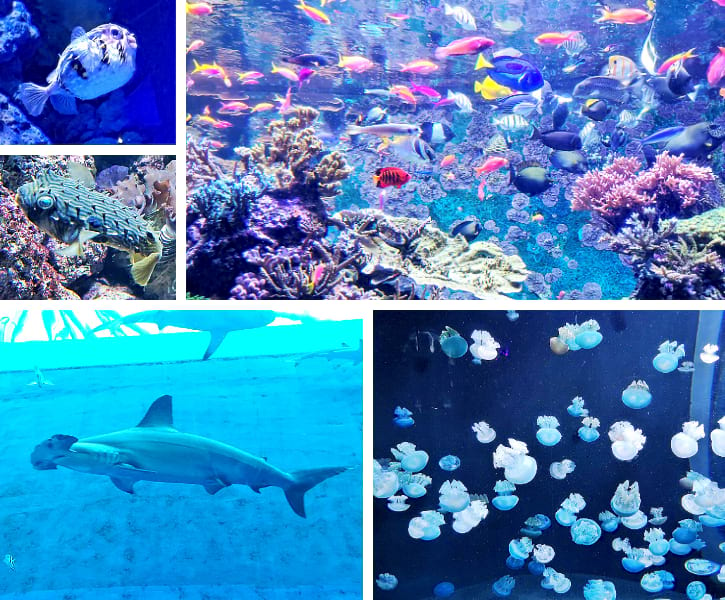 As you explore around this famous underwater world in Sentosa, you will meet vibrant fish species, colorful corals, and even some terrifying sharks.
The animals are classified into different habitats, and each of these has its own set of marine wonders.
Some of the must-see zones include Shark Seas Habitat, Dolphin Panel Touch Pool, and many more.
See my full SEA Aquarium Singapore review to know more about this eye-opening aquarium and why it's worth visiting.
Tip: Don't forget to book here for S.E.A. Aquarium tickets so you'll get an extra discount!
3. Madame Tussauds Singapore – Hang out with your favorite stars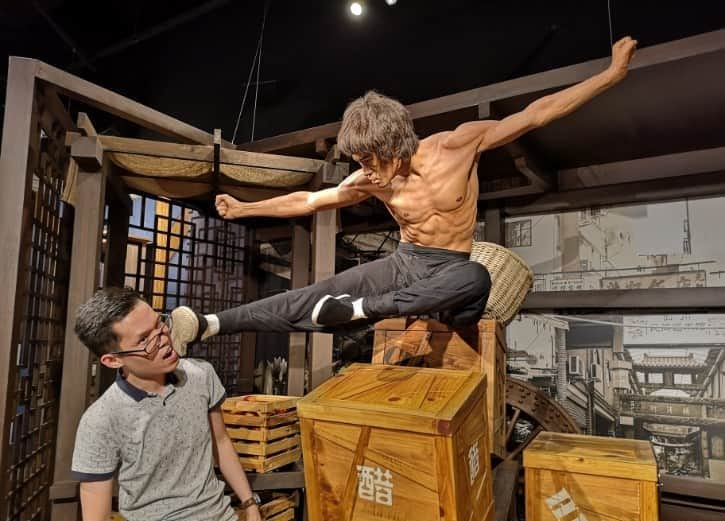 The Madame Tussauds Singapore is the place to be if you want to see the life-like wax figures of your favourite stars.
This museum is your rare chance to see eye to eye a lot of top action stars and notable leaders.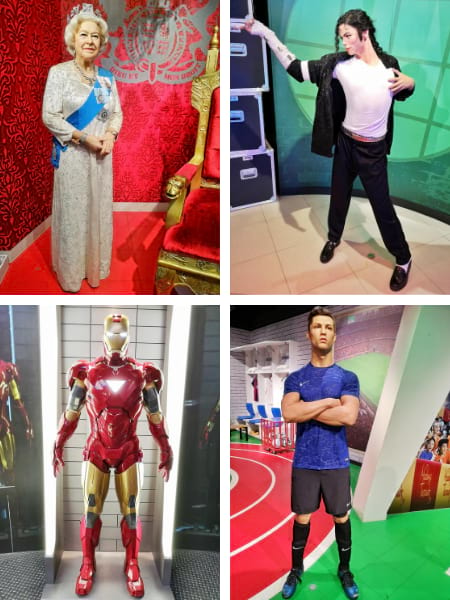 You'll also come across some sports legends, popular musical artists, and famous TV personalities.
And surprisingly, Madame Tussauds Singapore is not just about wax figures. They have a series of interactive activities for every visitor.
Don't miss the Spirit of Singapore Boat Ride and Marvel 4D Experience that spells out ultimate thrill and fun.
Check out my review of Madame Tussauds Singapore for more information on what you can explore in the museum.
4. Sentosa Skyline Luge – Enjoy the outdoors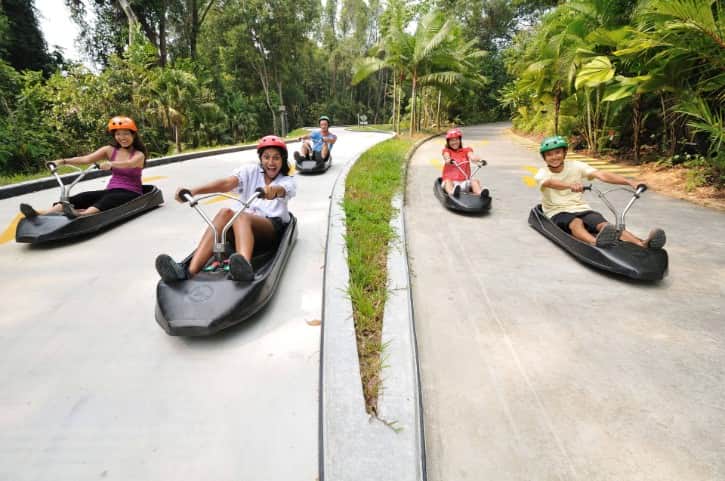 Sentosa Skyline Luge is truly a great destination for nature lovers and those with a heart for adventure.
It offers a unique kind of outdoor experience in Sentosa Island through its 4 different trails―Jungle, Kupu Kupu, Expedition, and Dragon Trails.
Each of the tracks has its distinct level of thrill and fun so you easily pick accordingly to your preferences.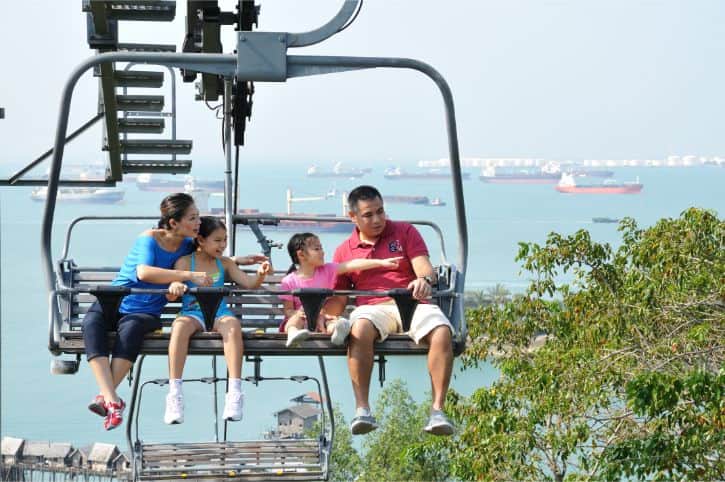 After the exciting trails, you can opt for the more relaxed Skyride and enjoy some chill time.
This breath-taking ride is a remarkable way to see the scenic Sentosa skyline as well as the vast South China Sea.
And if the odds in your favour, you might spot some endearing cockatoos on your trip.
Tip: Remember to buy the admission tickets online here and get around an additional 10% OFF on your entrance ticket.
5. Wings of Time – Watch the spectacular light show at night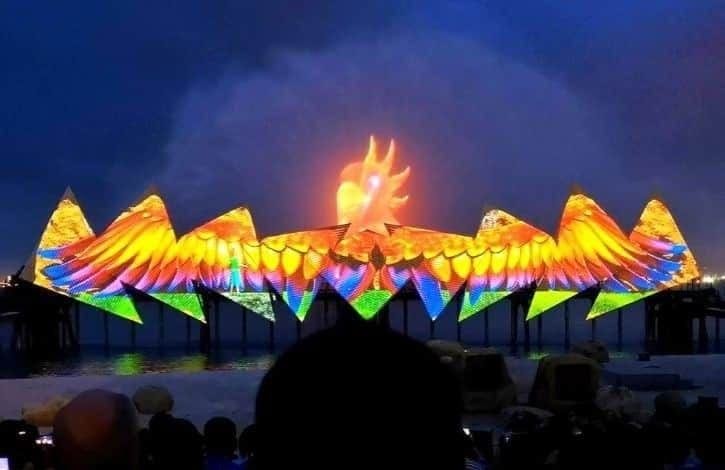 Undeniably, one of the must-see things in Sentosa Island at night is the ever-amazing presentation―The Wings of Time.
It is a spectacular outdoor light and water show in Singapore that set along the open sea.
Combining both water and laser effects, ready yourself for a majestic pop of colours and illuminations.
This 20-25-minute multi-sensory show is not just a simple display of colours, lights, and special effects.
It is actually an artistic portrayal of friendship and bravery through different animated characters in a dreamlike adventure.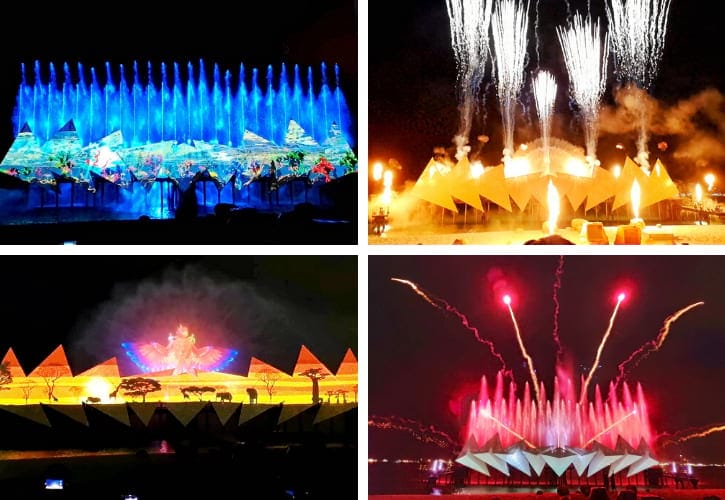 Watch as the main characters travel across different historical backdrops like the Silk Road, African Savanna, Underwater World, and Mayan Pyramids.
Each scene is definitely jaw-dropping so don't blink an eye or else you'll miss something!
Without a doubt, the Wings of Time is a must-watch show to cap off your Sentosa adventure. And the best part―it's suitable for all ages.
If you want to get a glimpse of this 20-25-minute water and light show, check out this YouTube video below:
Show Times:
Monday to Friday
7:30 PM
Saturday and Sunday
7:30 PM and 8:30 PM
6. AJ Hackett Sentosa – Enjoy some thrilling outdoor fun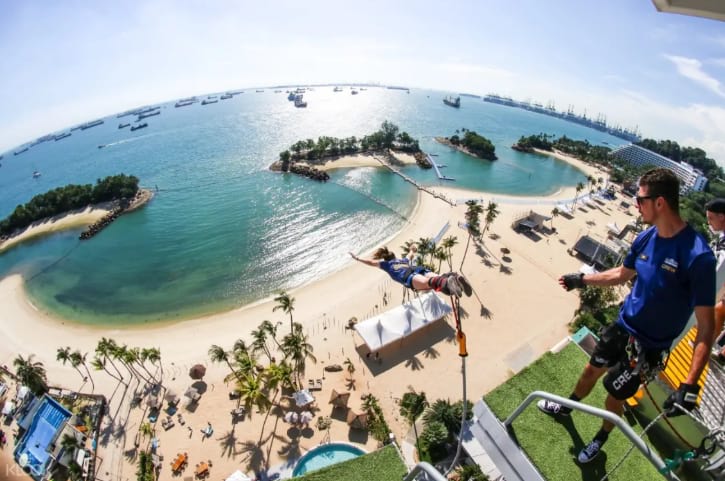 AJ Hackett Sentosa is a thrill-seeker's paradise. It's an incredible place to experience outdoor fun like no other.
To fulfil your daring heart's wishes, there are 3 activities to choose from―Bungy Jump, Giant Swing, and Skybridge.
To kick off your adventure with a bang, start with the Bungy Jump that stands at 50 metres above the Sentosa's Siloso Beach.
This activity lets you free your mind and pump up your adrenaline at the same time.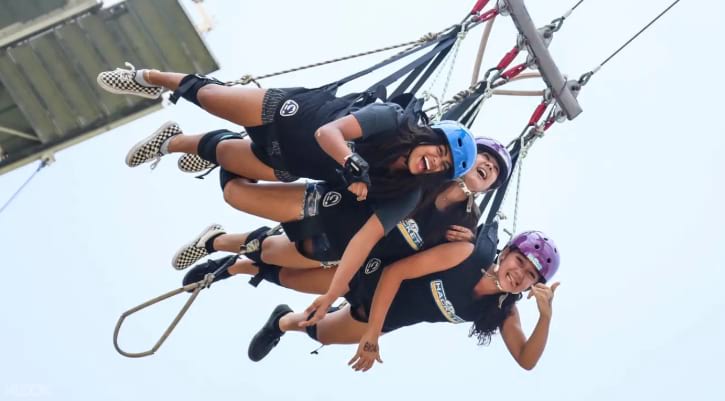 Giant Swing is another terrifying yet satisfying ride. But unlike Bungy Jump, it's more manageable because you have your friends on your side.
Yep, this one can carry up to three people up on the air so you equally share the excitement and shock to your companions!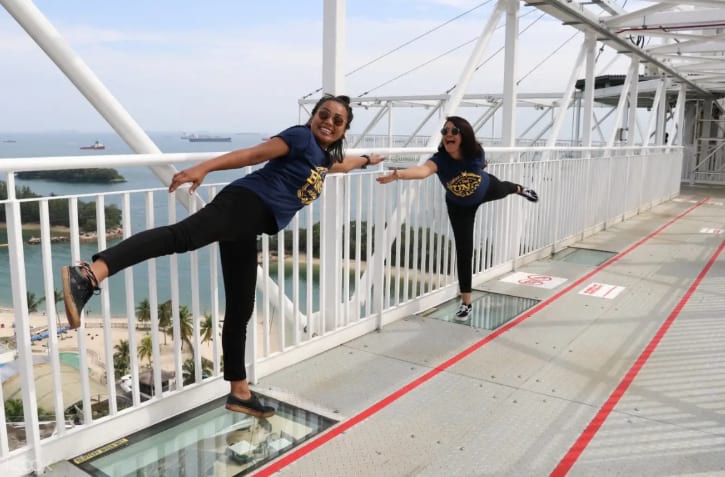 If you're not as strong as you think, don't worry because you can still enjoy your visit through the Skybridge.
This 40-metre path lets you walk through a glass floor, which offers amazing and slightly chilling views below.
Money Saving Tips:
– Get Discounted Bungy Jump Tickets Here
– Get Discounted Giant Swing Tickets Here
7. Adventure Cove Waterpark – Go on a water adventure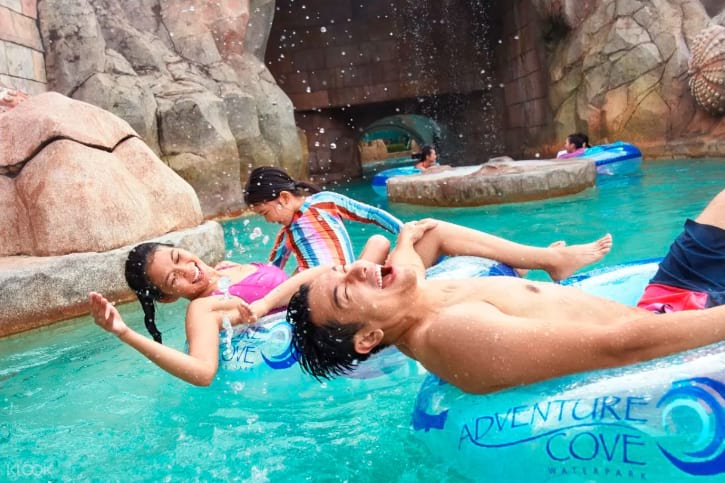 The Adventure Cove Waterpark is the ultimate destination in Sentosa for a fun, family adventure.
This Singapore's water theme park in Sentosa offers a lot of choices, from exciting rides to spectacular marine encounters. No wonder it is one of the top waters parks in Asia.
Starting the amusement is the 620-metre long Adventure River that travels you through an underwater tunnel, lush rainforest, bat cave, and more.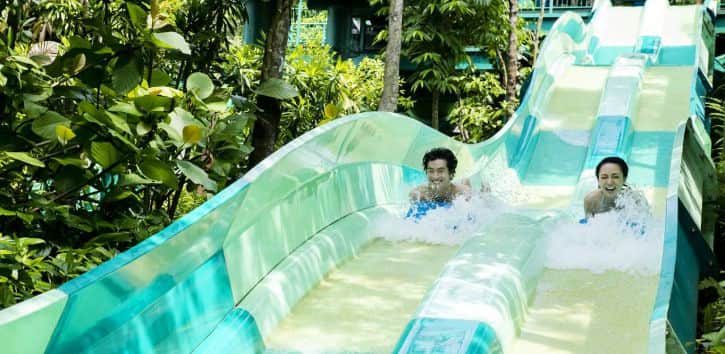 Take your competitive skills to test as you take the Dueling Racer, a high-speed slide with a steep plunge.
Or, you can try the adventure-packed Pipeline Plunge, Riptide Rocket, and Spiral Washout.
For more excitement, get your groove right with all the twists and turns of the Whirlpool Washout.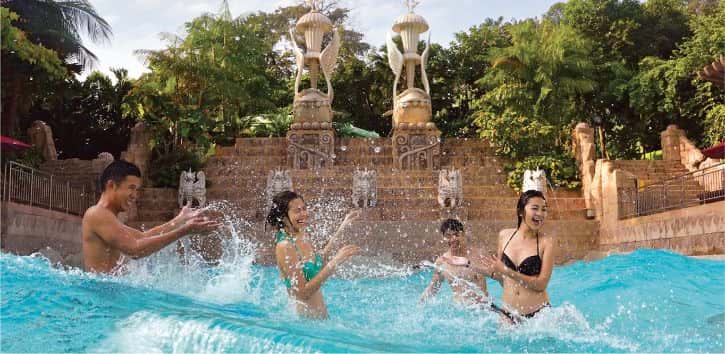 Another destination for the entire family is the Bluewater Bay―a place loaded with exciting, man-made waves.
So, if you want entertainment and adventure at the same time in Sentosa Island, don't miss the Adventure Cove Waterpark.
8. Mega Adventure Park – Get energized with nature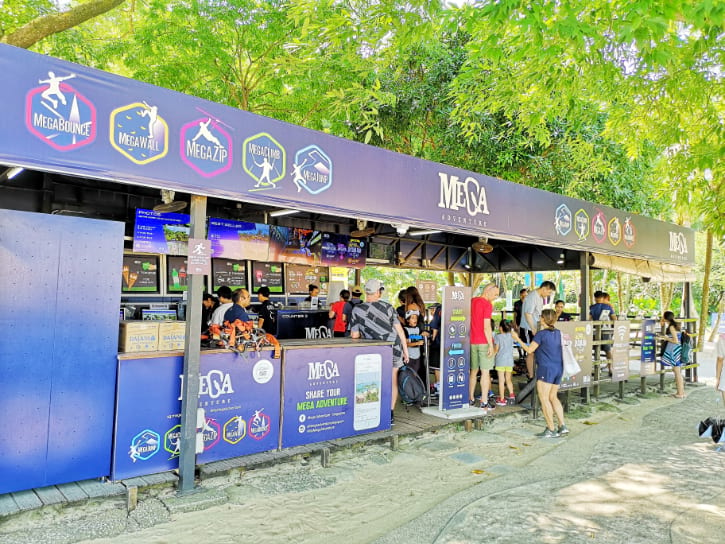 Mega Adventure Park is a popular outdoor park for those who want to enjoy some nature views while having fun in Sentosa Island.
This family-friendly spot offers each visitor with scenic landscapes and exciting activities.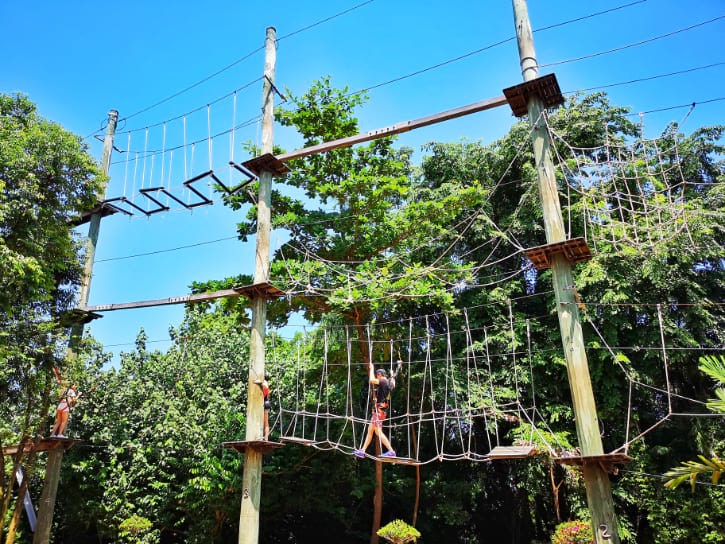 MegaClimb keeps you in high spirits while also giving you some relaxing nature vibes. This is a great activity to showcase your balancing abilities.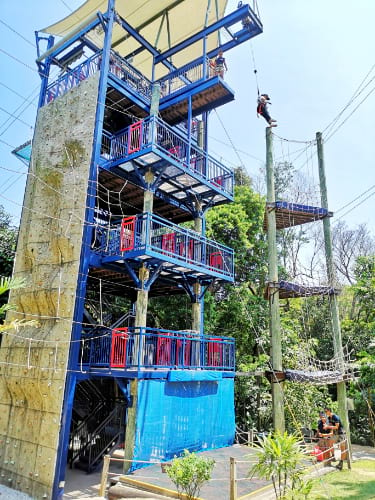 If you've got a thing for heights, then MegaJump is for you.
This nerve-wracking site is like jumping off a helicopter. Surely, it's a great leap that will intensify your senses.
Just a piece of advice though―the MegaJump features a free fall from a 15-metre structure.
This means you'll go swinging for a couple of seconds, so better prepare your heart before you jump!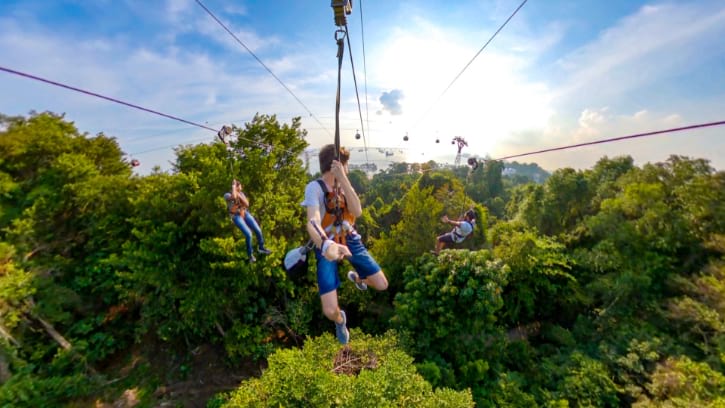 What about a thrilling yet satisfying journey above the lush backdrops and blue waters of Sentosa Island?
At 60kph, MegaZip suspends you up in the air for a couple of minutes.
Accordingly, Mega Adventure Park is a fantastic place to go in Sentosa for adventurous families and friends.
9. Trick Eye Museum – Have fun with art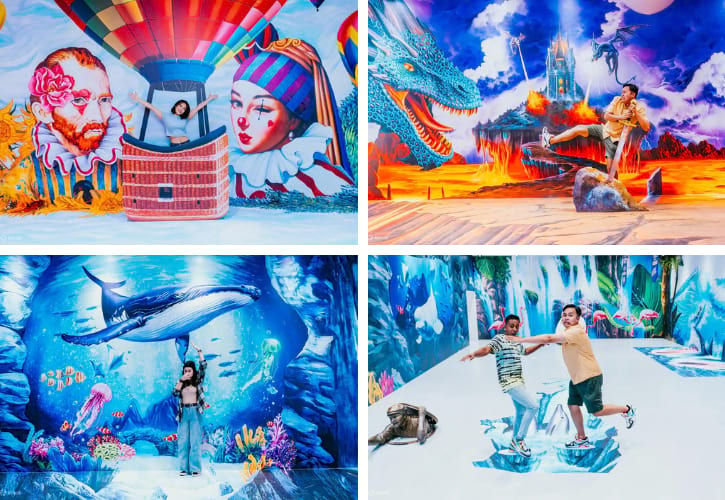 Trick Eye Museum is one of the most Instagrammable things to do in Sentosa Island.
This museum is unlike other museums in Singapore. It's known for its Instagrammable optical illusions that give an amazing twist to regular art exhibits.
Instead of normal backgrounds, these transform fantastic artworks into spectacular backdrops through its AR (augmented reality) features.
Surely, all the wonderful sketches are meant to heighten your photography skills.
And don't worry, because you'll never run out of picture-perfect spots in this upgraded 3D museum.
10. Headrock VR – Enter the virtual world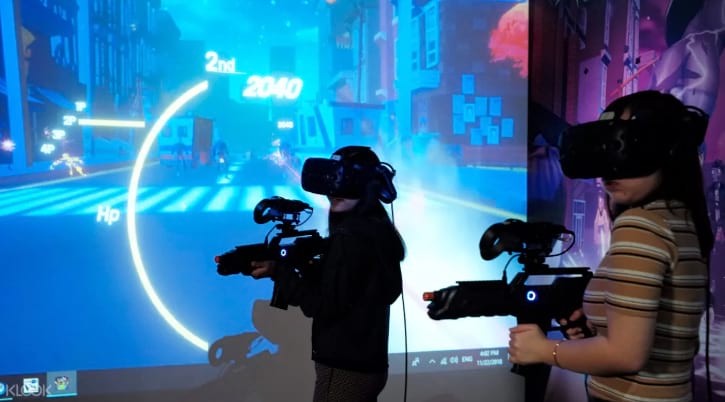 Headrock VR is a must visit attraction in Sentosa for those who love virtual games. This isn't like your normal computer or mobile entertainment.
It's the first-ever VR theme park in Singapore that features a total of 11 exciting activities, games, and rides.
The theme park has 3 distinct zones―Blue, Orange, and Green.
Each of these sections has its own set of games.
So, be sure to add this to your Singapore itinerary if you want an exceptional combination of cool virtual games and electrifying rides.
11. Sentosa 4D AdventureLand – Check out this high-tech zone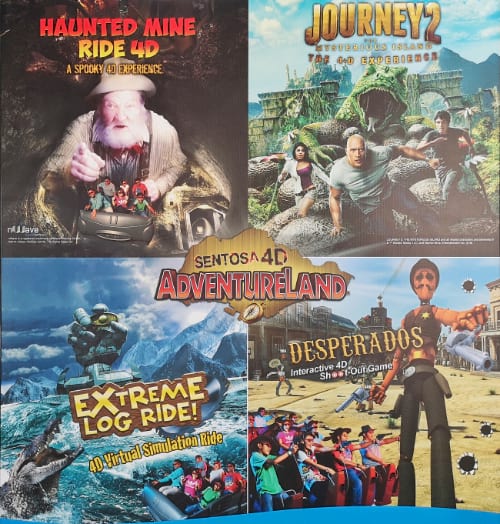 Sentosa 4D AdventureLand is a crowd favourite when it comes to 4D entertainments.
It comes with 4 entertainment packages―Desperados, Extreme Log Ride, Haunted Mine Ride 4D, and Journey 2 The Mysterious Island.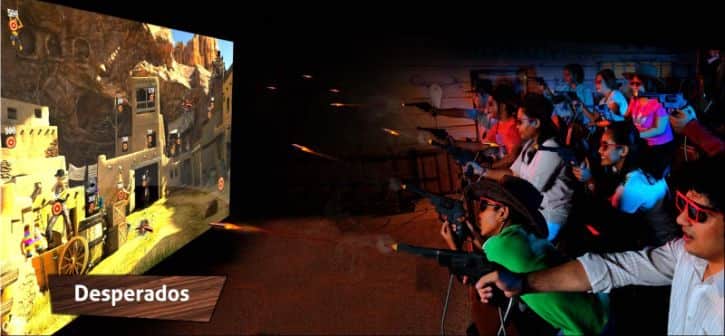 First on the list is Desperados, a fast-paced, interactive shootout game that lets you have full control of a toy gun to combat your enemies.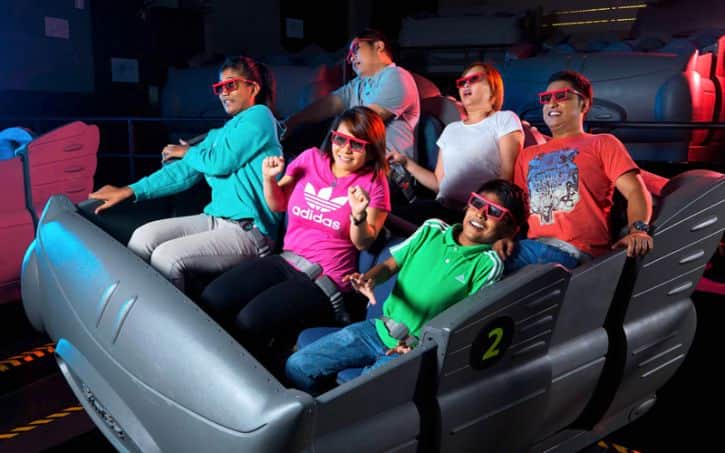 Extreme Log Ride, on the other hand, is a virtual 4D rollercoaster that offers a unique and thrilling virtual journey.
For Haunted Mine Ride 4D, you get to travel around a spooky path and meet some scary lifelike creatures.
Lastly, there's the Journey 2 The Mysterious Island, which is a highly entertaining sci-fi comedy movie.
12. iFly Singapore – Try indoor skydiving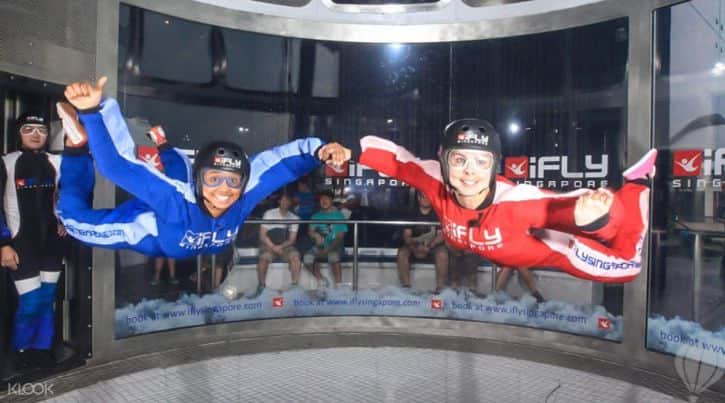 Offering you a rare chance of indoor skydiving, iFly Singapore is no doubt one of the most unique Sentosa activities.
Yup, that means you get to fly inside a capsule-like container for a couple of minutes, either once or twice!
And just in case you do not know, iFly Singapore features the largest themed wind tunnel in the world for an epic free-falling.
This amazing activity can be a great alternative for the electrifying outdoor skydiving. Plus, it's much cheaper compared to the real one!
So, if you're up for a challenge, prepare yourself to fly at 12,000 ft. and then fall at 3,000 ft.
13. Gogreen Segway Eco Adventure – Tour around the beaches with ease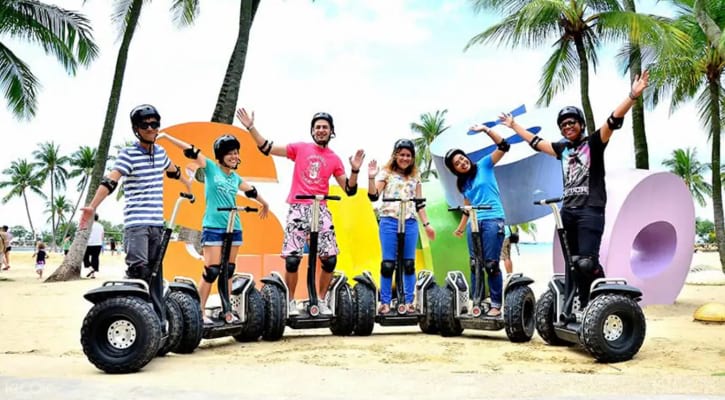 Certainly, one of the modern and exciting activities to do in Sentosa is the Gogreen Segway Eco Adventure.
This one is pretty popular among families and working professionals who want to enjoy a scenic adventure.
Using the Segway, you can go around the lovely Sentosa beaches conveniently.
The ride lasts up to 30 minute and departs on a scheduled time, starting from 10:15 AM until 6:45 PM.
14. Wave House Sentosa – Take a surfing lesson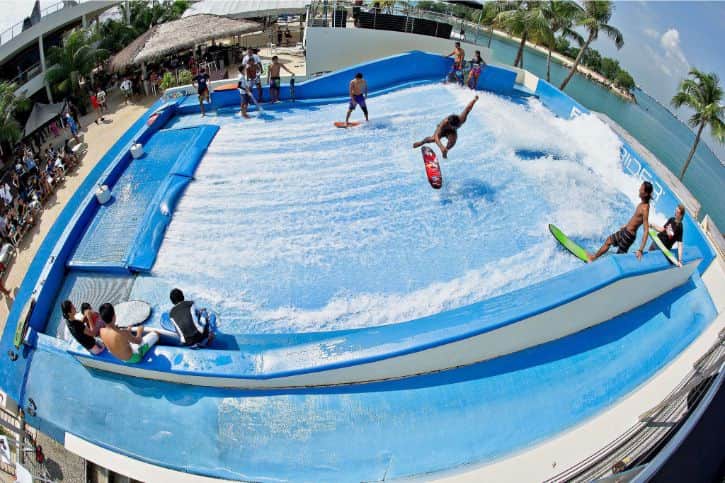 Wave House Sentosa is a great beach substitute if you just want to catch some man-made waves.
This awesome place lets you surf like a pro through its FlowRider.
Show your amazing surfing tricks and enjoy the endless stream of water that flows at roughly 32 km/hr.
But beware because this sport can be addictive and you might end up catching waves all day long! Hence, if you want a distinct surfing destination, this one is a fantastic option.
15. Palawan Beach – Embrace the beach vibes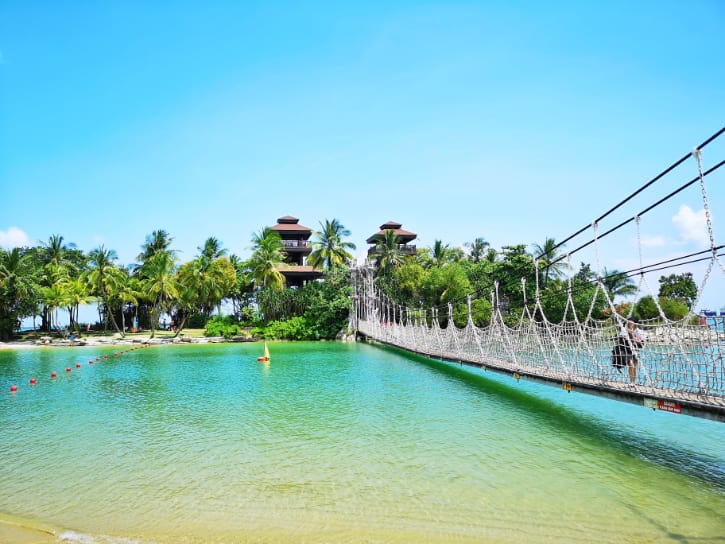 Palawan Beach is such a popular spot on the southwest part of the Sentosa Island.
With the lush landscapes and fine sands, you can comfortably relax and enjoy the soothing views with your family and friends.
Linking the Palawan Beach and the Southernmost Point of Continental Asia is a narrow hanging bridge.
Though this bridge swings and sways a lot, don't worry because it is only suspended by a few metres above the water.
And at the Southernmost Point of Continental Asia, you'll find two look-out towers that give a bird's eye view of the Sentosa Island and Singapore Port.
Ultimately, Palawan Beach is a beautiful beach destination in Singapore for everyone.
16. Tanjong Beach – An epic and scenic night destination in Sentosa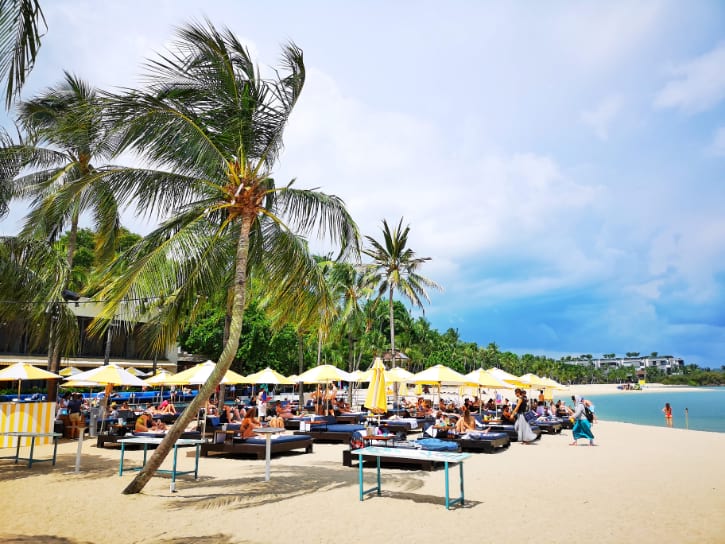 Tanjong Beach is known for its peaceful scenery and laid-back vibes, making it a perfect place to unwind in Sentosa Island.
And the best feature of this beach? You can even take your adorable four-legged pets here!
Lay on the long stretch of fine, white sand while breathing in the serene vibes. Or, you can build your own sandcastle and play with your companions.
If want more excitement, try angling and catch some fishes.
And of course, a visit to this place wouldn't be complete without the epic night parties and beach celebrations at Tanjong Beach Club.
This is such a great spot for a night full of drinking cocktails and dancing to funky beats. There is also an outdoor Jacuzzi and a bar along the beach.
For more night-time activities beyond Sentosa Island, see my details list of 21 best things to do in Singapore at night.
17. Siloso Beach – Enjoy a picnic under the sun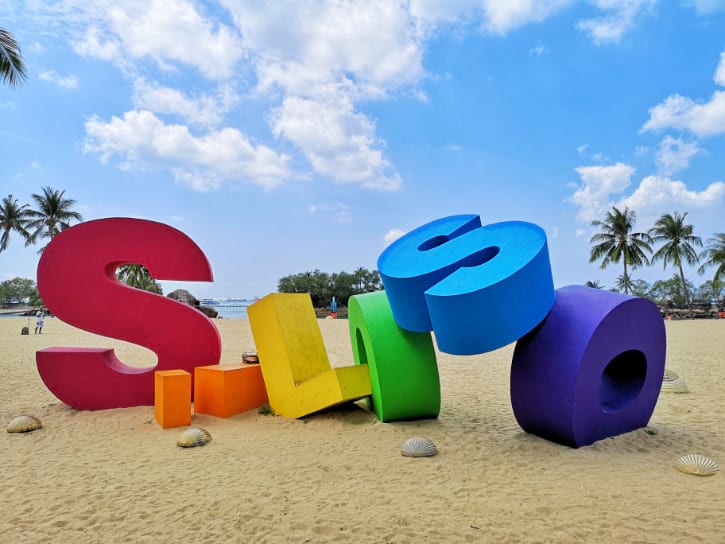 Siloso Beach is another family-friendly destination on the southwest coast of the island.
It's a famous picnic spot in Sentosa every weekend because of its lush setting and towering palm trees.
And of course, you can't miss this beach because of its colourful landmark that literally spells out "SILOSO".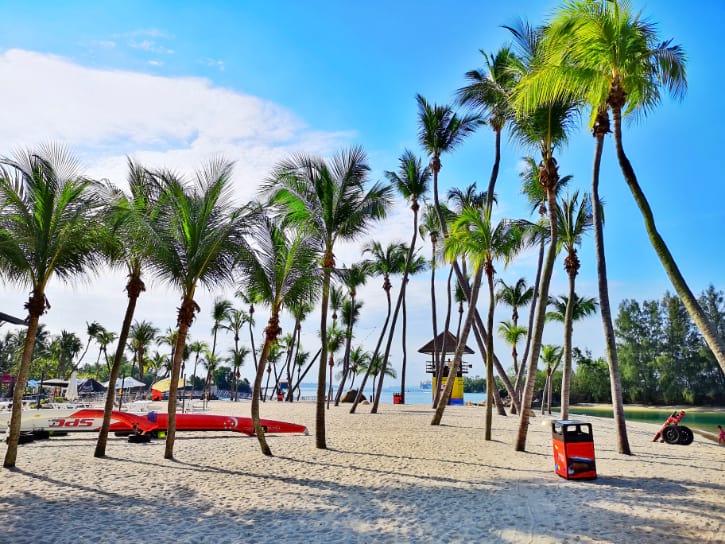 Siloso offers lots of outdoor activities in Sentosa Island like sandcastle building, beach volleyball, kayaking, cycling, skim-boarding, and more.
There's even a nice playground for your kids. Surely, you'll never run out of things to do in this beautiful place.
And for your convenience, the beach has a fantastic line-up of restaurants, bars, and local stalls along the coastline. This means you can totally enjoy your visit because of the surrounding amenities.
18. Butterfly Park & Insect Kingdom – Meet some adorable butterflies and insects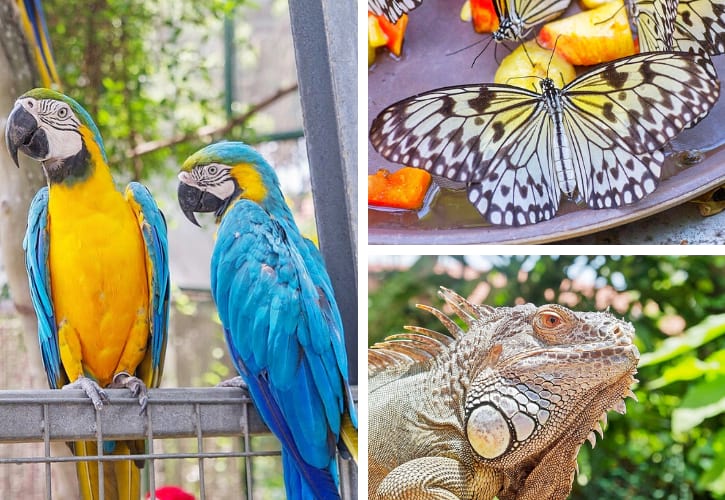 Butterfly Park & Insect Kingdom is a cheerful spot in Sentosa Island for kids and even adults. Within this lush nature expanse, you'll find beautiful butterflies and insects.
In addition, there's a giant iguana that makes its presence known through its scaly skin and commanding aura.
You'll also catch a glimpse of a brightly-coloured parrot living here.
19. Animal and Bird Encounters – Have a meaningful encounter with animals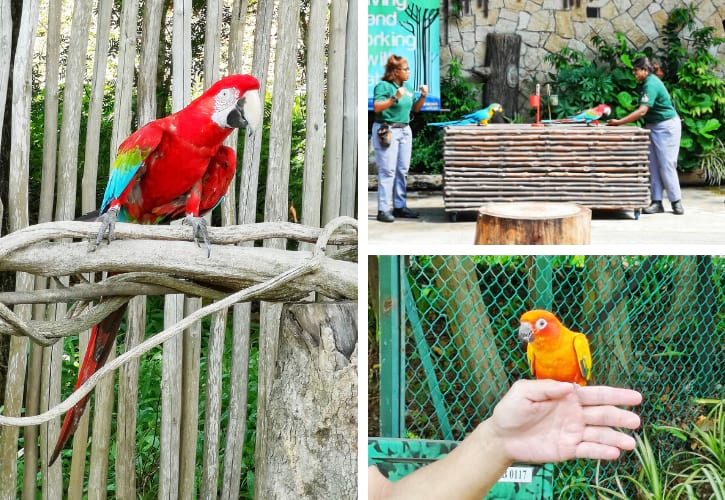 Sentosa Island never fails to surprise visitors with its unique set of activities.
Catch the amazing collection of animals at the Animal and Bird Encounters. Don't miss the funny parrot competition at Bird Encounters.
After that, head to Close Encounters at 4 PM to meet these adorable bird species personally! And luckily, you can take photos together with the parrots after the show.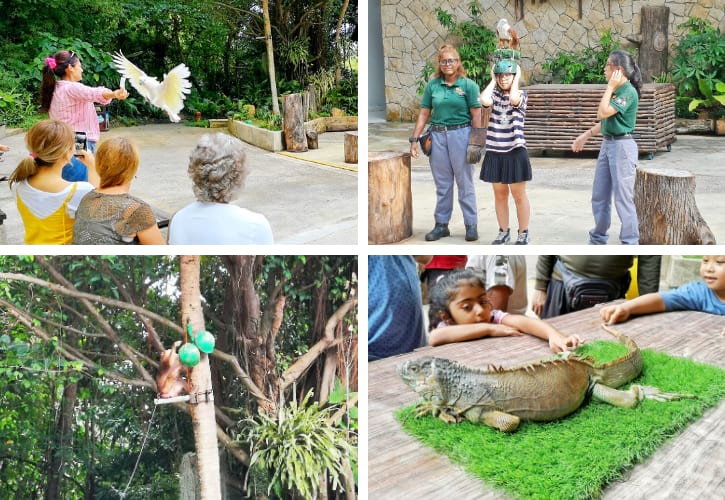 Now, On the Wild Side, there's the cockatoo, which is a total fan favourite too! Be amazed by how this bird creature carefully listens to the instructions.
Also, in attendance is the king of all birds, which is the eagle!
Further, there's a hamadryas baboon, who would go climbing and swinging all around the tall trees. To top off the meet and greet, say hi to the giant iguana.
Schedule:
Animal Encounters Timetable
Ticket Price:
Free
20. Fort Siloso Skywalk and Fort Siloso – Relive the history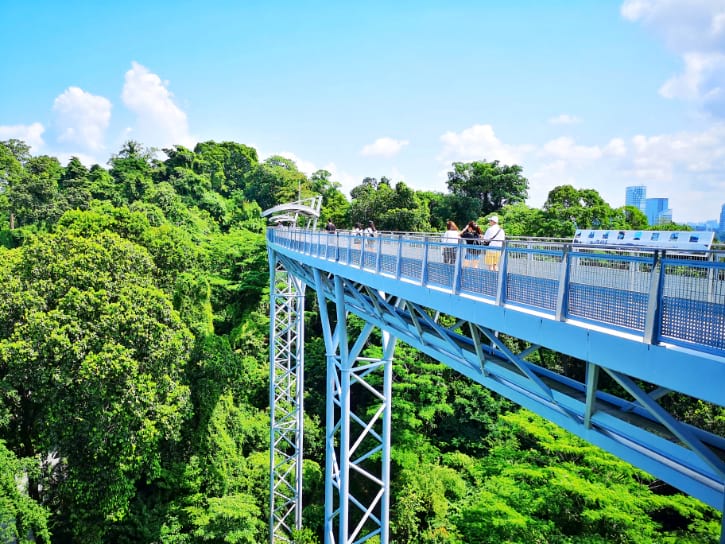 The Fort Siloso Skywalk and Fort Siloso are two scenic and historical place in Sentosa.
Start the adventure at Fort Siloso Skywalk by stepping into the Siloso Skywalk Tower and taking taking the lift going to the 11-storey trail.
For more historical sites besides Fort Siloso Skywalk and Fort Siloso, you can find in my list of attractive historical places in Singapore.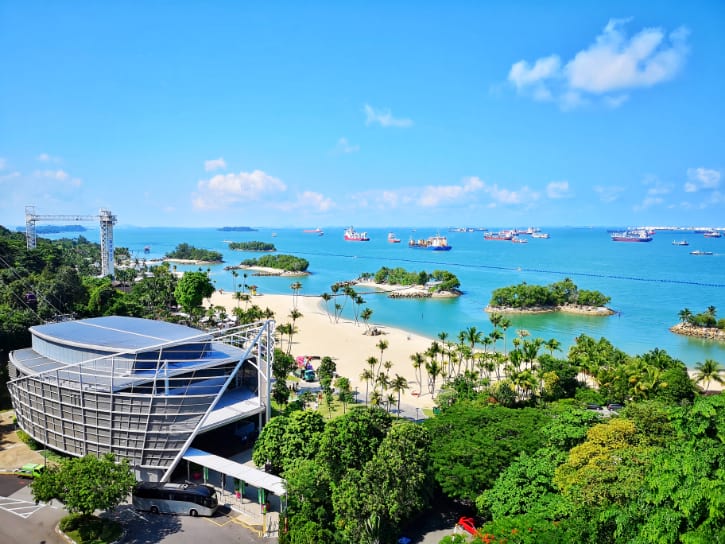 From up above, you'll catch a sight of the vast Siloso beach and its equally beautiful islands.
Walk your way to the extensive bridge surrounded by gorgeous sweeps of green and blue.
Just follow the trail and it will lead you to the historic Fort Siloso. There are Fort Siloso maps plastered around the walkway for easy navigation.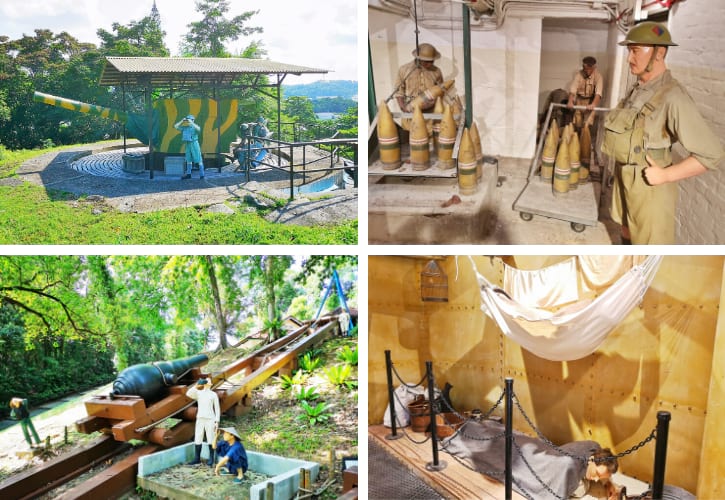 One of the many exhibits here is the gun collection and you'll also discover a piece of parbuckling equipment, which was used to efficiently move heavy objects in the past.
Therefore, if you want a scenic and historical trip at the same, the Fort Siloso Skywalk and Fort Siloso easily grant your wishes.
Ticket Prices:
Free
Map:
Fort Siloso Map
Summary of Things to Do in Sentosa Island
From thrill rides to scenic beaches to unique sights, Sentosa Island is definitely a fun-filled spot in Singapore. Clearly, one day is not enough to enjoy all the things in the island.
But with the help of the tips below, it will be easier for you to plan your itinerary ahead.
Most beautiful photography spots: Universal Studios (#1), S.E.A. Aquarium (#2), Madame Tussauds (#3), Wings of Time (#5), Trick Eye Museum (#9), Palawan Beach (#15), Tanjong Beach (#16), Siloso Beach (#17), Fort Siloso Skywalk (#20)
Best for outdoor activities: Universal Studios (#1), Skyline Luge (#4), AJ Hackett (#6), Adventure Cove Waterpark (#7), Mega Adventure Park (#8), Gogreen Segway Eco Adventure (#13), Wave House (#14), Butterfly Park & Insect Kingdom (#18), Animal and Bird Encounters (#19), Fort Siloso (#20)
Best for indoor activities: S.E.A. Aquarium (#2), Madame Tussauds (#3), Trick Eye Museum (#9), 4D AdventureLand (#11), iFly (#12)
Fun places to go with kids: Universal Studios (#1), S.E.A. Aquarium (#2), Skyline Luge (#4), Wings of Time (#5), Adventure Cove Waterpark (#7), Mega Adventure Park (#8), 4D AdventureLand (#11), iFly (#12), Butterfly Park & Insect Kingdom (#18)
Top beaches in Sentosa: Palawan Beach (#15), Tanjong Beach (#16), Siloso Beach (#17)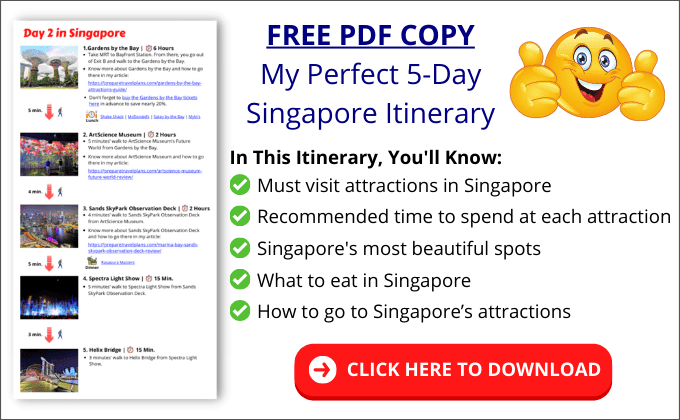 Planning a trip around Singapore? Check out here for my detailed Singapore itinerary for 5 days and also my complete list of 47 best places to visit in Singapore. These articles will show you the latest trendy sights and how to tour around the country in the most efficient way.
Aside from Sentosa Island, you can also visit Canopy Park at Jewel Changi Airport.
I highly recommend this place because of its beautiful spots that are really picturesque and relaxing. Read my post on Canopy Park's top attractions, it will give you more ideas on what things to explore in there.
Sentosa Map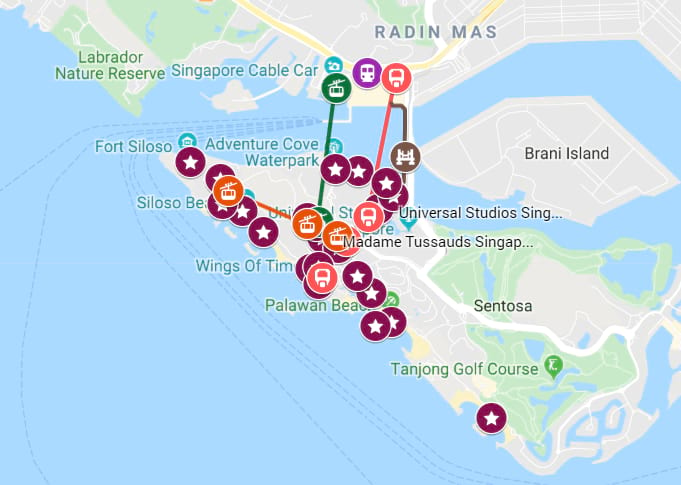 To get a clearer picture of what to do in Sentosa and to make your trip more convenient, refer to the map above.
Guide to Getting Around Sentosa Island
There are different ways to travel around Sentosa. You can explore the island via monorail, bus, beach tram, or cable car.
To help you with your choices, here's a detailed list of instructions on how to navigate around Sentosa Island easily.
And for a comprehensive guideline on how reach Sentosa, you can also check my how to get to Sentosa by MRT or cable car blog.
1. Get a Sentosa Map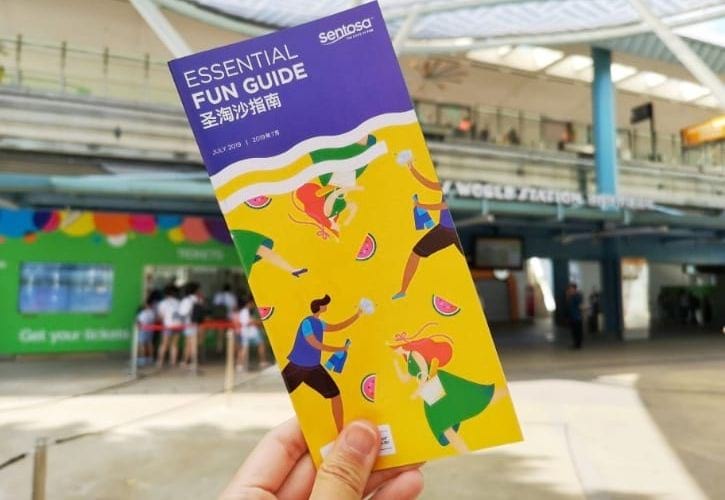 Cost: Free
First things first, you need to provide yourself with a Sentosa Island Map. This map covers all the sights on the island so you can easily explore the island.
You can get this essential document at any Sentosa Express Monorail Stations, Cable Car Stations, and Sentosa Boardwalk―for free!
2. Follow Direction Boards When Inside The Island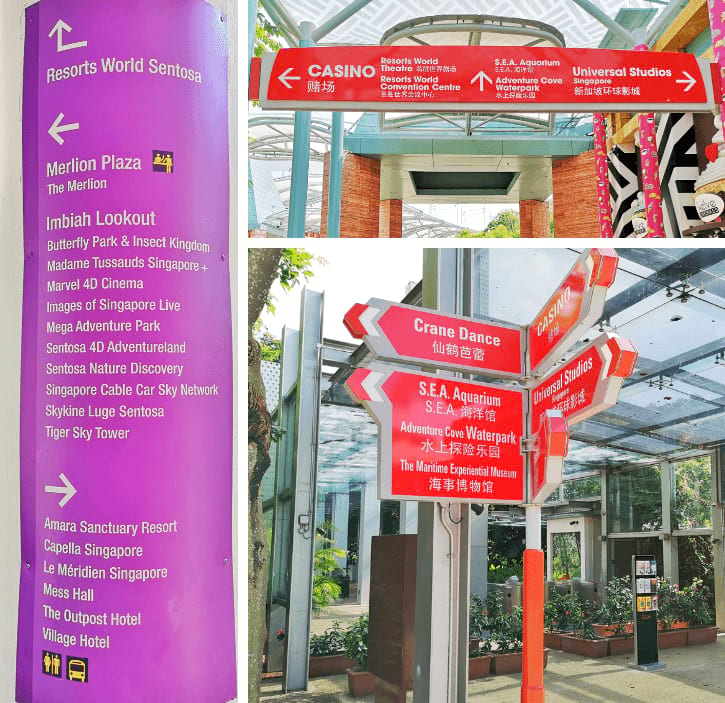 During your Sentosa trip, keep an eye on the direction boards. These boards are installed around the island for quick reference and easy navigation of different Sentosa tourist spots.
3. Sentosa Express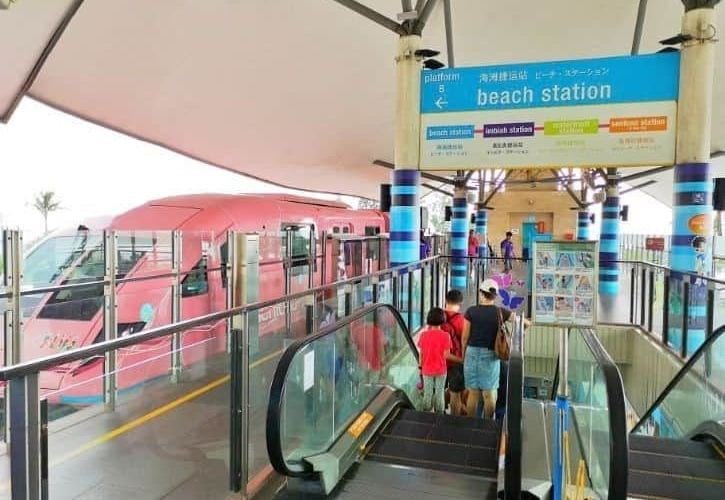 Cost: Free (Inside the Island)
Cost: SGD $4 (Transfer from Singapore to Sentosa Island)
Operating Hours:
7:00 am – 12:00 am daily
Every 4 to 8 minutes

One of the most convenient ways to get around the island is to take the Sentosa Express monorail.
By paying SGD $4, you can transfer from Singapore to Sentosa Island with ease.
Once you arrive on the island, you can hop from one station to another for free via the monorail. There's even no charge when leaving Sentosa Island if you ride the monorail!
In addition, these monorail stations are near major Sentosa attractions such as Universal Studios Singapore, S.E.A. Aquarium Singapore, Wings of Time, Adventure Cove Waterpark and more.
Tip:
If you use other ways to go to Sentosa Island like walking/ cable car/ taxi, then you don't need to pay the monorail fare of SGD $4. But, you're free to use the Sentosa Express monorail inside island and also for the return trip.
4. Beach Tram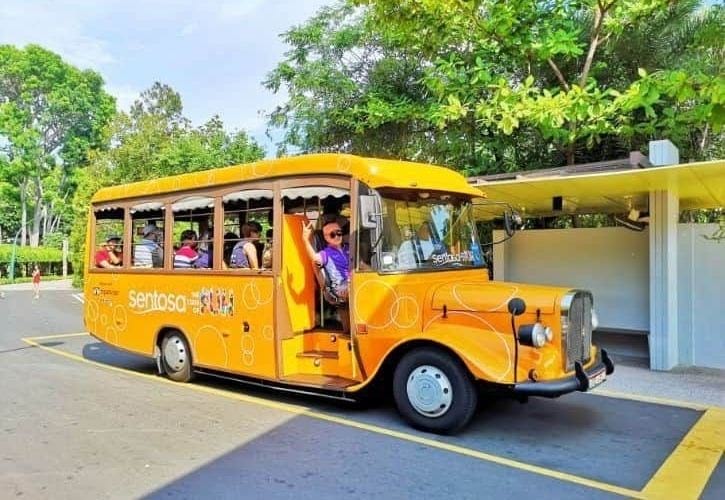 Cost: Free
Operating Hours:
Sunday to Friday 9:00 am – 10:30 pm
Last Beach Tram from Beach Station leaves at 10:00 pm
Every 10 minutes
Saturday 9:00 am – 12:00 am
Last Beach Tram from Beach Station leaves at 11:30 pm
Every 10 minutes
The Beach Tram is another great transportation feature in Sentosa Island. It's a nice option for visitors who want some laid-back vibes while touring by the beach.
The vehicle transports you to the popular family-friendly beaches framing the island―Palawan Beach, Siloso Beach, and Tanjong Beach.
And did you know that the Beach Tram is for free?
Yes, just hop aboard the vehicle and you're off to your beach destination.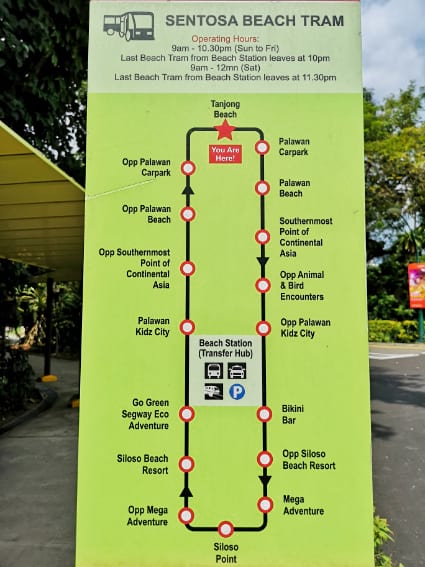 5. Bus A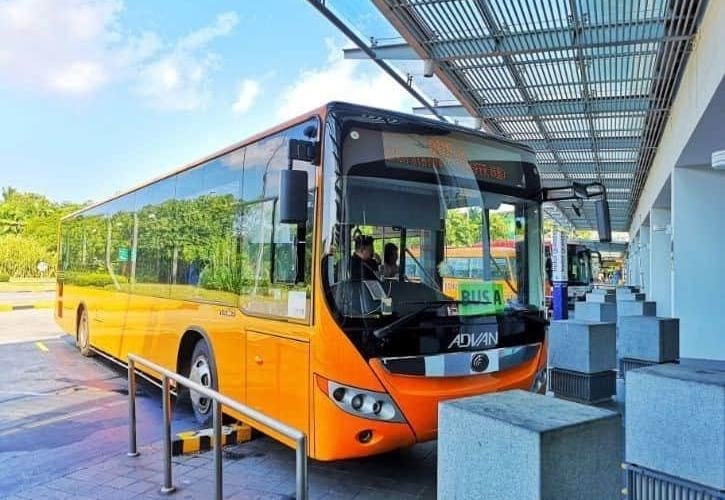 Cost: Free
Bus A lets you tour around Sentosa Island conveniently without any cost and it's available every 7-15 minutes.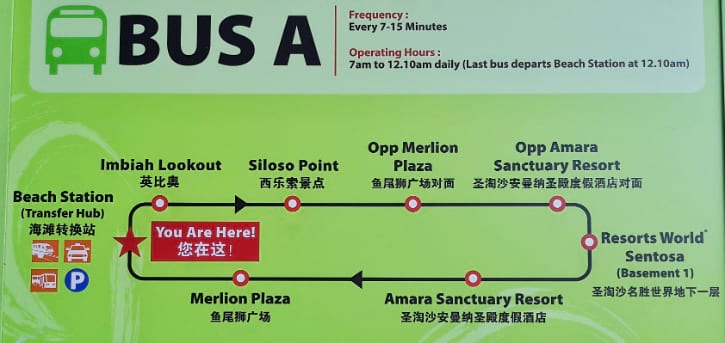 The picture above shows the Bus A route. It starts and ends at Beach Station, with seven pick-up/ drop-off points.
6. Bus B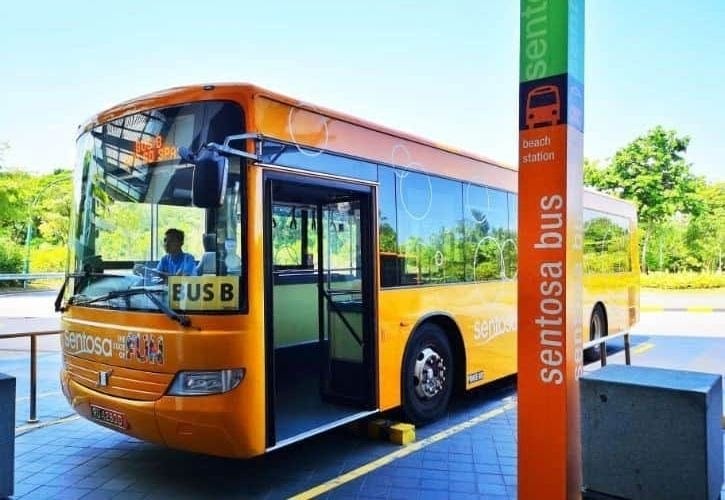 Cost: Free
In case Bus A is fully occupied, there's another option―Bus B, which is also free.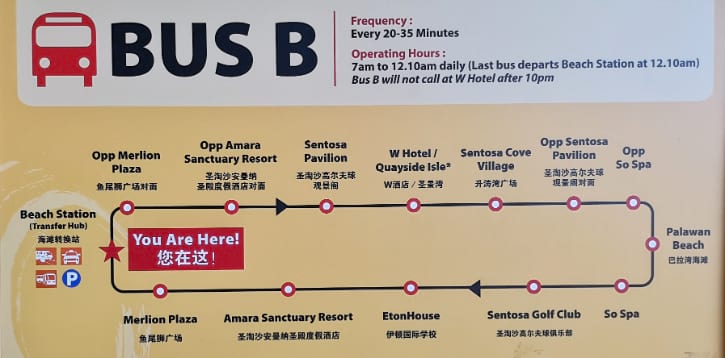 Compared to Bus A, Bus B has a longer frequency, which is every 20-25 minutes. But, it has more pick-up points, making it more convenient.
7. Sentosa Line Cable Car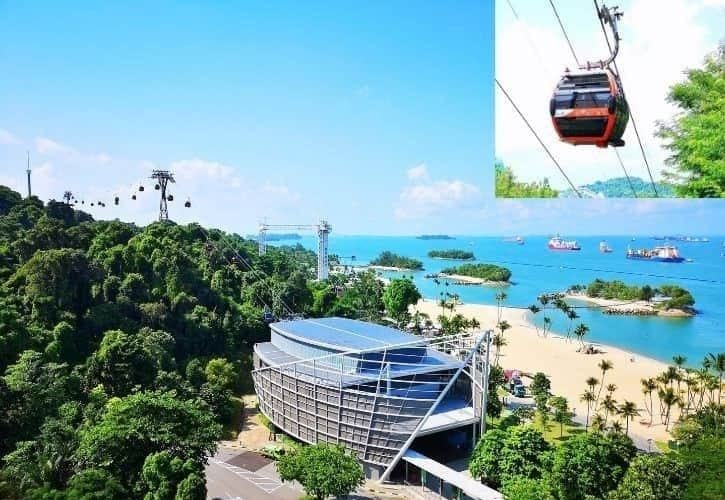 Cost: Not Free
Another way to see the beauty of Sentosa is by riding the cable car. Take note that this is not a free ride.
And if buy your tickets from the physical counter, the ticket price is SGD $35 (Adult) and SGD $25 (Child). To save money, book your cable car tickets here and enjoy a 30% discount!
Here's the cable car route for both Mount Faber Line and Sentosa Line.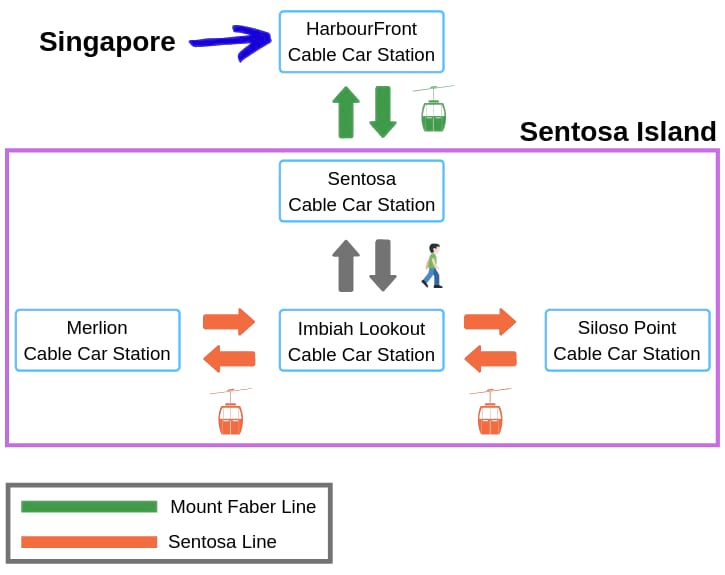 My Opinion:
For me, the best and easiest ways to explore around the island are through the Sentosa Express and Beach Tram.
The Cable Car is optional, though it's still popular because of its convenience and panoramic views. Plus, you'll see the stunning beaches, vibrant rainforests, and beautiful skyline.
To make it easier, you can just skip both Bus A and Bus B. And, focus on Sentosa Express, Beach Tram, and Cable Car (Optional). These are actually enough to cover all the sights in the island.
Where to Go after Sentosa
After exploring the amazing Sentosa Island attractions, make way for another set of beautiful destinations in Singapore.
1. Marina Bay Sands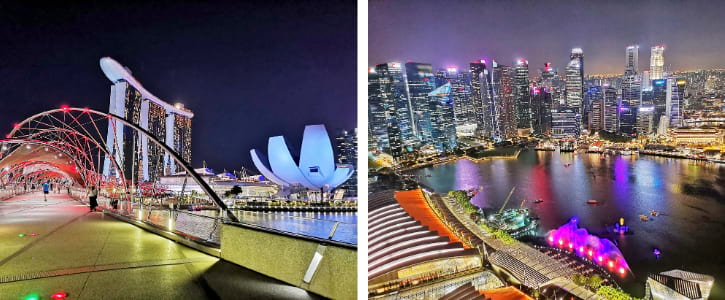 Marina Bay Sands is beautifully surrounded by unique scenes. These include Gardens by the Bay, Sands SkyPark Observation Deck, ArtScience Museums, and so much more. For other top-rated spots, simply refer to this post on Marina Bay Sands must visit attractions and plan your tour ahead.
2. Bugis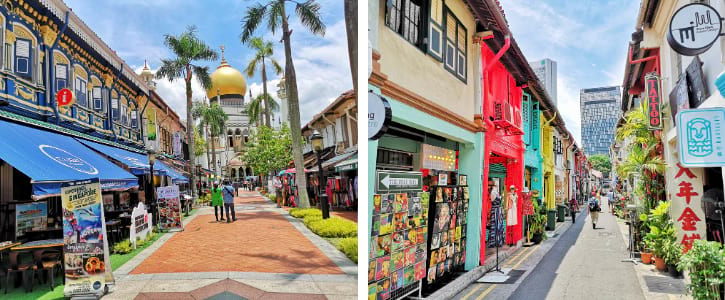 From breath-taking temples to colorful murals and jam-packed shopping malls, Bugis is no doubt a well-liked destination. If you want to know more about this vibrant site, see my guide to the top 10 things to do in Bugis and reveal all its beautiful charms.
3. Gardens by the Bay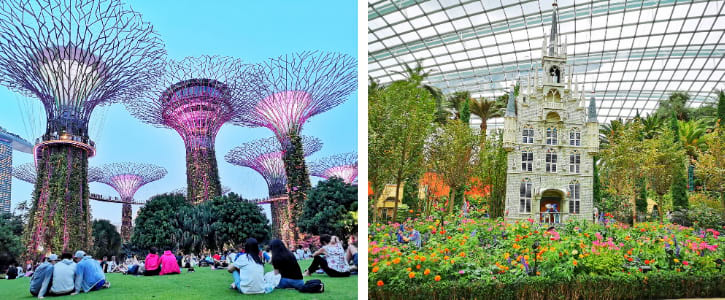 If you want to capture both nature and technology, spend your day at the Gardens by the Bay. This place is filled with mesmerizing flower fields, greenhouses, and vertical gardens. Read my article on Gardens by the Bay and learn more about its unique sights.
Thank you for taking your time to read my list of must do things in Sentosa Island Singapore. And I hope that this detailed guide is useful when planning for your future visit. Have a memorable and enjoyable trip! 🙂
Related Posts
Photo Credit:
Photo
by Maksym Kozlenko
Photos by Klook