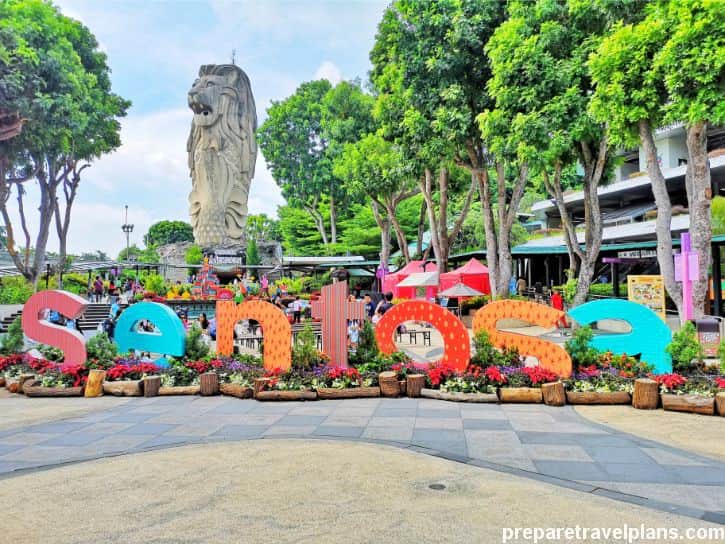 Wondering what are the best things to do in Sentosa Island, Singapore? Let me share with you what to do in Sentosa to help you make the most out of your visit.
In this guide, I will also introduce to you the top-rated attractions in Sentosa along with beautiful spots that are very picturesque and definitely deserve your time!
A sought-after destination in the thriving city-state of Singapore, Sentosa Island is just overwhelming with beauty and charms. This melting pot of different cultures and exciting flavors also features a collection of fascinating attractions and spectacular sights.
From Universal Studios Singapore to S.E.A. Aquarium Singapore to Resorts World Sentosa, there's surely a place for all types of traveller.
So, let me walk you through my best picks of things to do in Sentosa together with all the amazing attractions. 🙂
20 Best Things to Do in Sentosa Island, Singapore
---
1. Universal Studios Singapore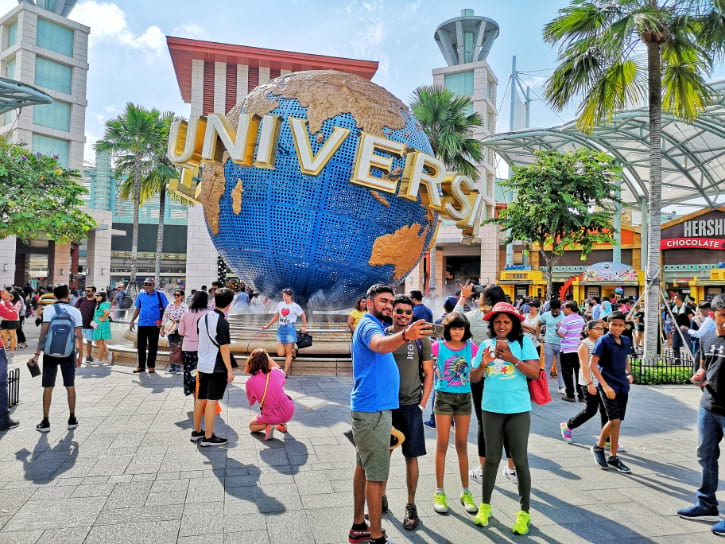 Knowing that the list of activities in Sentosa Island is abundant, the best way to start your adventure is to spend a full day in Universal Studios Singapore.
This celebrated theme park is unarguably one of the most visited attractions in Sentosa Island, especially if you've got a thing for thrilling rides and unique experiences.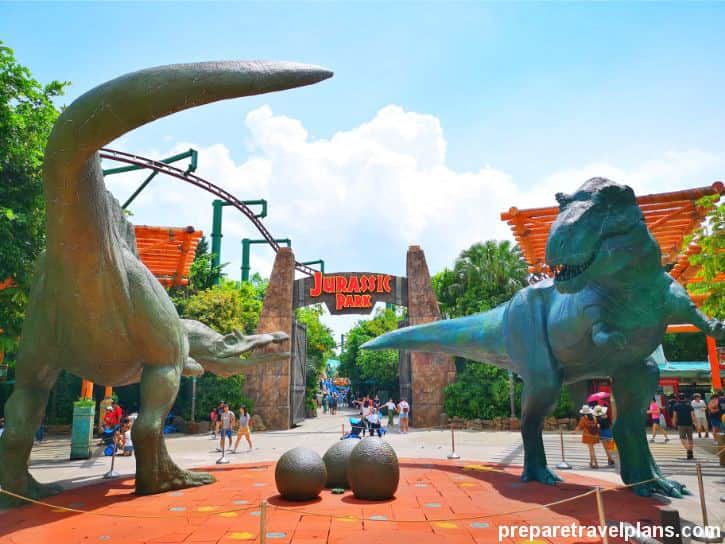 Universal Studios Singapore is Southeast Asia's first-ever theme park and continues to be the most famous choice in this sub-region. It's impossible not to love this place because it offers 24 different rides and a wide line-up of captivating attractions and performances. With seven themed zones, visitors get to enjoy a mix of activities all day long.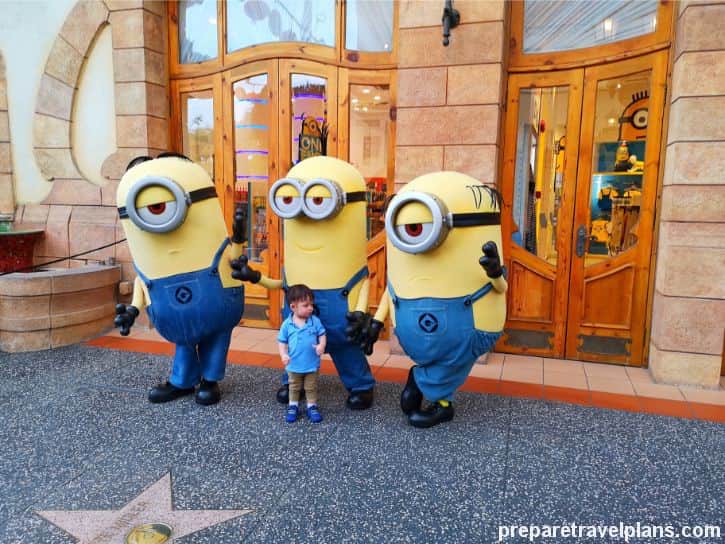 See your favorite characters like Gru, Minions, Pinocchio, and Elmo in their specific zones. Make sure you check their schedule first so that you'll catch them on time.
Then, you can take the kids to Sesame Street Spaghetti Space Chase or Madagascar: A Crate Adventure. If you want relax rides for the entire family, don't miss Dino-Soarin, Magic Potion Spin, Treasure Hunters, and King Julien's Beach Party-Go-Round.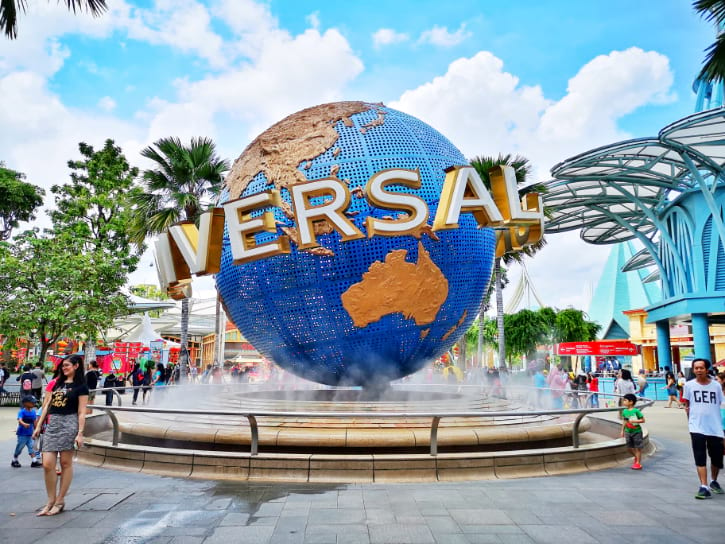 The Shrek 4-D Adventure is also something to forward to. Watch this one of a kind 4D experience as Shrek and Fiona, together with their lovable friends, go on an adventure. This unique movie is beaming with remarkable special effects that spell out fun and excitement.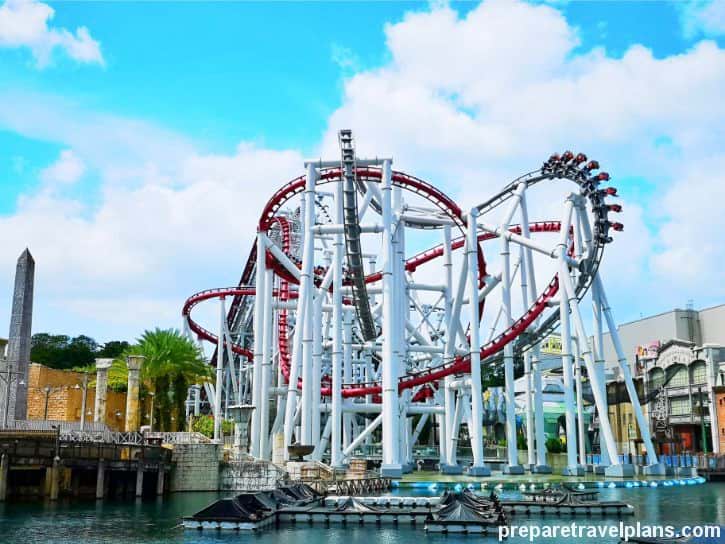 For thrill-seekers, you'll get heaps of options too, starting with the heart-stopping Battlestar Galactica: HUMAN vs. CYLON down to the head-spinning Accelerator.
And, are you a fan of intergalactic wars? Proceed to TRANSFORMERS The Ride: The Ultimate 3D Battle and travel through the stirring ride covered with jaw-dropping effects.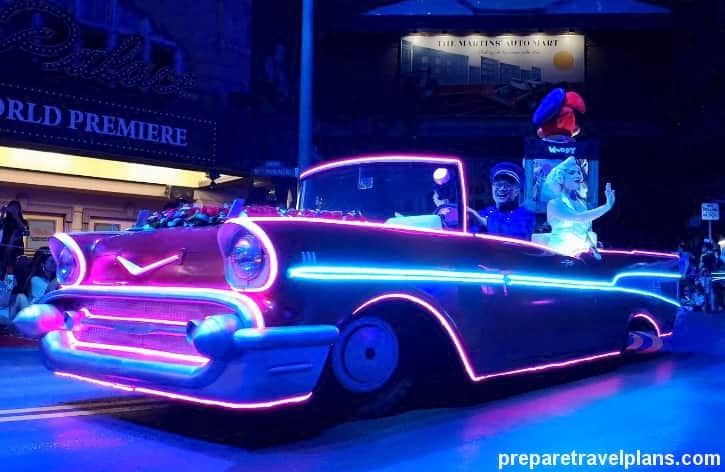 Come to evening time, Universal Studios Singapore transforms into a magical paradise filled with night-time shows and spectacular fireworks display. The Hollywood Dreams Light-up Parade gathers all your favorite characters into one dazzling procession. And to cap off the day, the Lake Hollywood Spectacular lights up the entire theme park with its bright colors and beautiful illuminations.
Read more:
How to Go to Universal Studios Singapore
2. S.E.A. Aquarium Singapore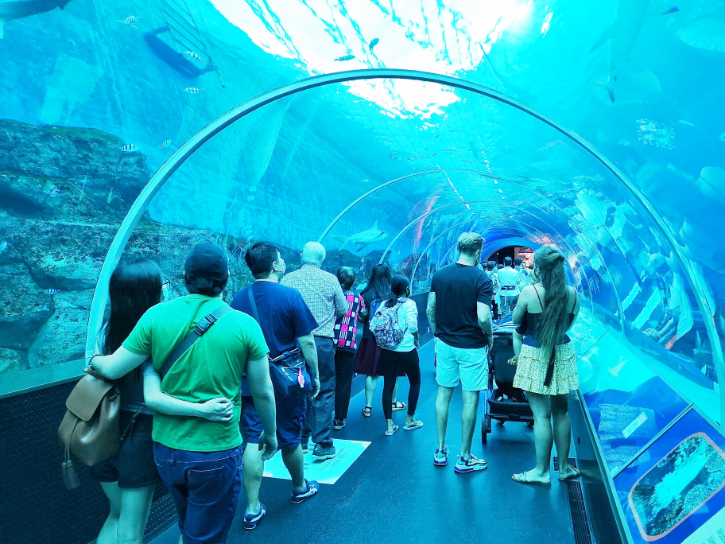 If you have around 2 to 3 hours to spare, then a visit to S.E.A. Aquarium Singapore is surely worth your time. This famous Sentosa underwater world is a dream destination for marine lovers.
And if you're travelling with your kids, start them young and tour them around this distinguished tourist spot that offers both marine entertainment and education.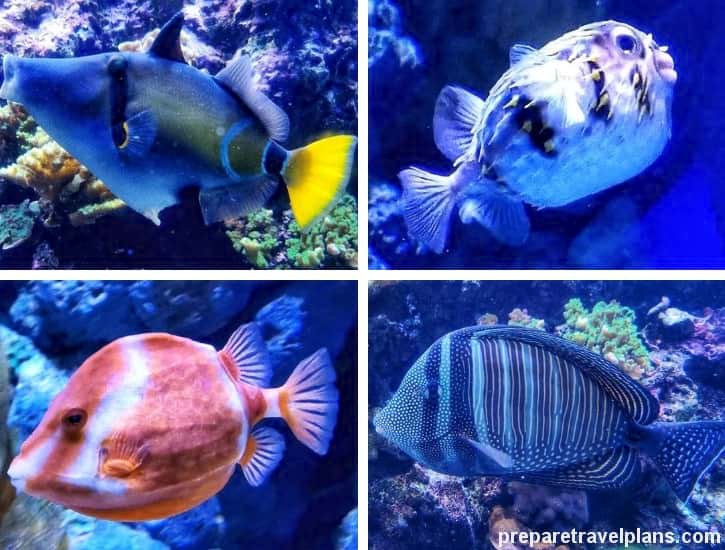 As one of the biggest and best aquariums in the world, you'll certainly fall in love with all the marine wonders gathered into one spectacular spot within Sentosa Island. The panoramic viewing panel gives you a more life-like experience, watching the striking sea creatures wandering around their habitat.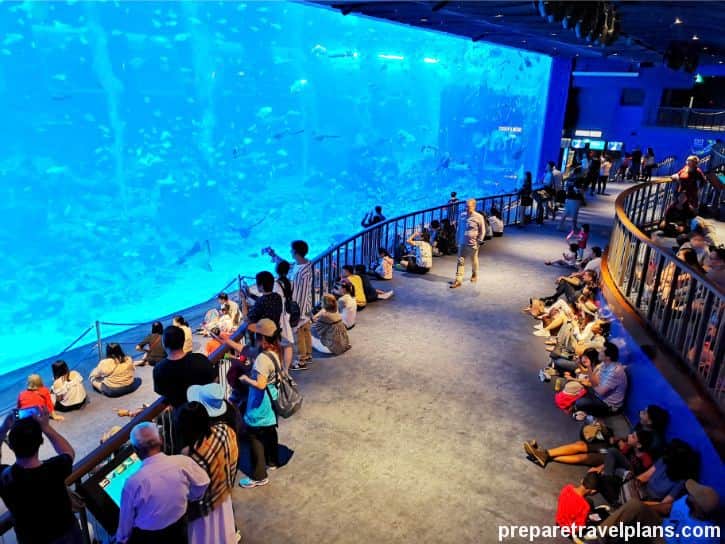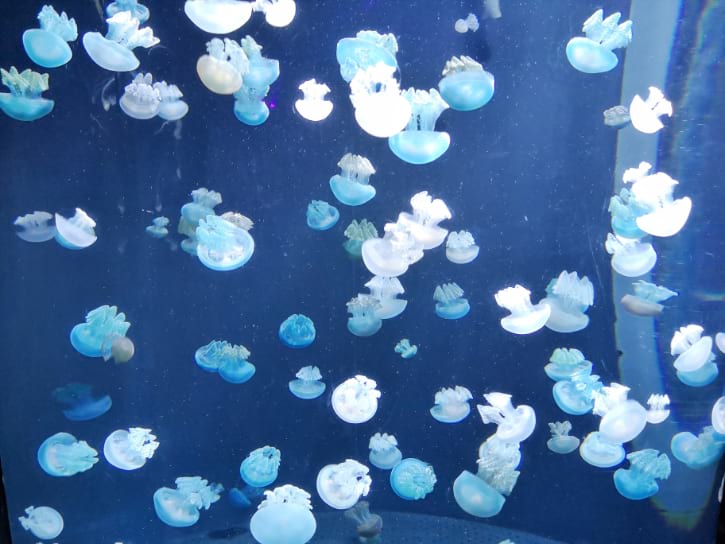 Step into this underwater beauty with 50 habitats. Each habitat shelters different marine species, from sharks to manta rays to goliath grouper and a lot more!
To give you an overview of the beautiful habitats inside the S.E.A. Aquarium Singapore, this includes
Shark Seas Habitat
Live Coral Habitat
Central and South American Habitat
Australian Sea Dragons
Open Ocean Habitat
Jellyfish
Giant Crab
Schooling Fish Habitat
Indo-pacific Bottlenose Dolphin
Coral Garden Habitat
Sea Dragon & Seahorse
Shipwreck Habitat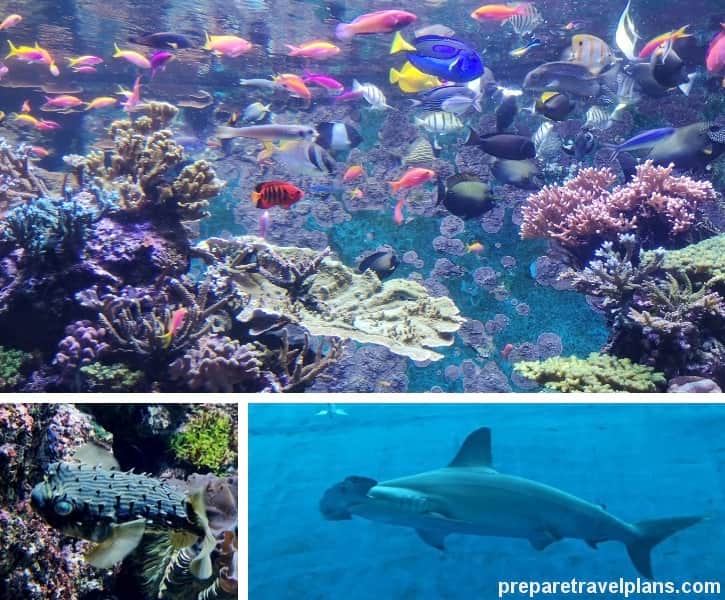 The Live Coral Habitat shelters some of the most vibrant marine species such as the Blue Tang, Unicornfish, White-Barred Boxfish, Surgeonfish and Globefish. These colorful fishes swarm the coral reefs for an animated water experience.
Do you want to get a closer view of the Pufferfish or the Hammerhead Shark? Pop by the Coral Garden Habitat and see some of these bloated-looking fish with spikes. Then, head over to Shark Seas Habitat and witness these large creatures with unique head shape, swimming together with the other wildest ocean predators.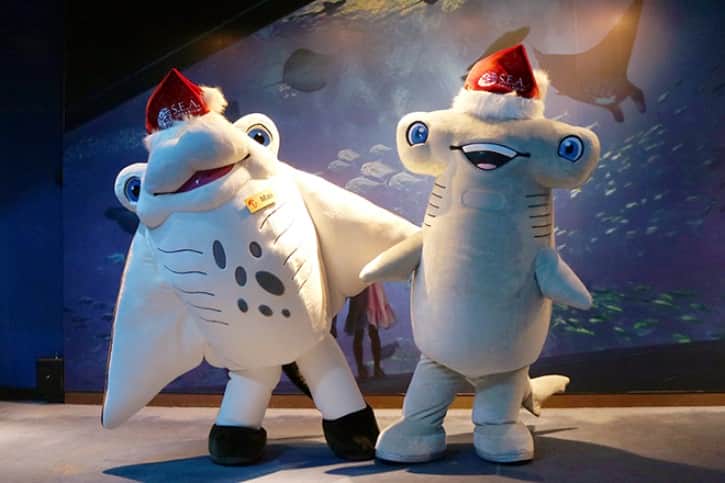 For those who simply want a cuddly shark meeting, Sam the Shark and Mai the Manta Ray are just around the corner. You can give them a tight embrace to dismiss your fears.
There's a more to experience and enjoy at S.E.A. Aquarium Singapore. So, here's the S.E.A. Aquarium blog post that will give you a more comprehensive guide to help you prepare for your visit.
Read more:
My Review of S.E.A. Aquarium Singapore and How to Go Guide
3. Madame Tussauds Singapore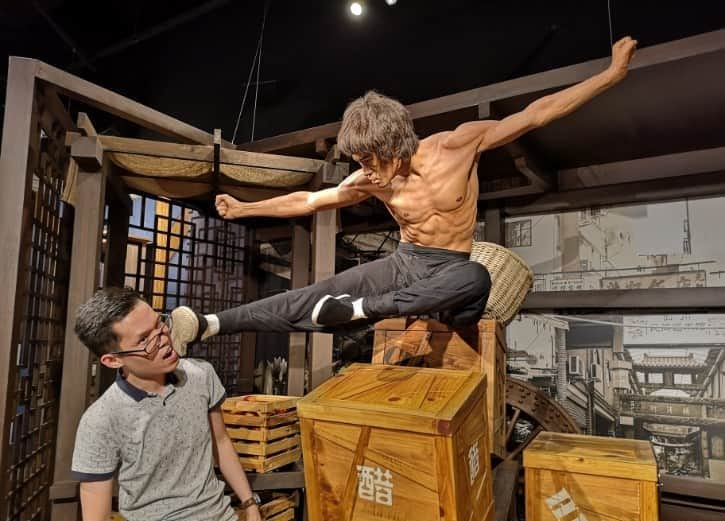 Offering a collection of life-like wax figures and a series of interactive activities, Madame Tussauds Singapore is surely the place to go to meet your favorite stars and have a memorable day!
This close-up encounter is your rare chance to see eye to eye some of the world's top action stars like Bruce Lee and Jackie Chan. For the athlete's category, you'll meet some sports legends such as Cristiano Ronaldo, David Beckham, Muhammad Ali, and Yao Ming.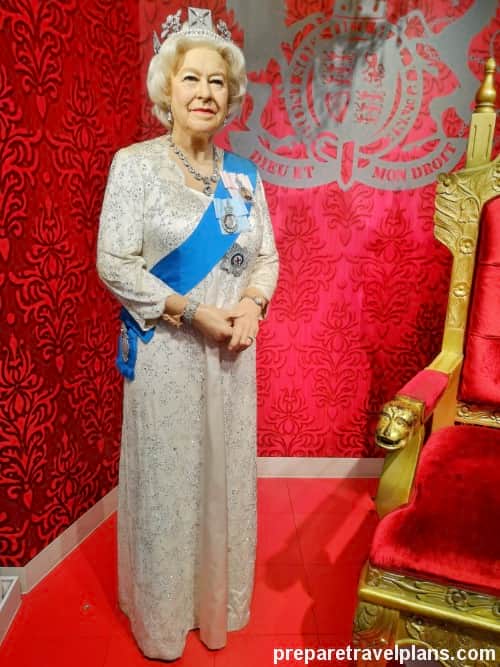 Make way for some notable leaders including Barack Obama, Lee Kuan Yew, Kwa Geok Choo, Lee Hsien Loong, and Queen Elizabeth II as they pose in prominence.
Also in attendance are Chairman Mao Zedong, Narendra Modi, Yusof Bin Ishak, Dr. H.C. IR. Soekarno, who have all led their nations into greatness.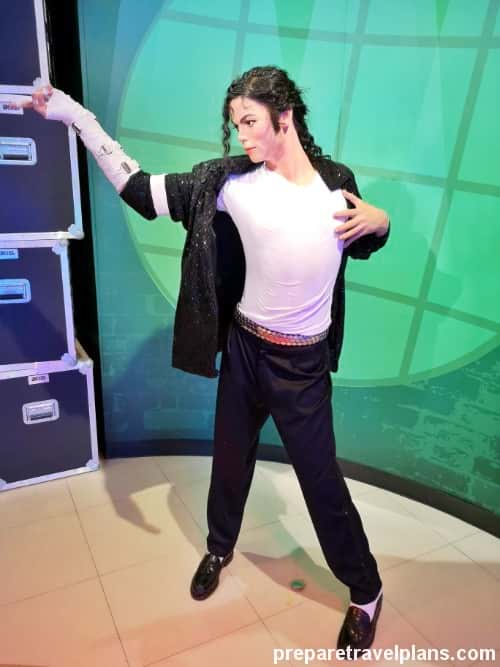 And, what about some of the best artists from the music industry like Michael Jackson, Ariana Grande, Taylor Swift, Katy Perry, and Madonna? For sure you'll go gaga over your dearest artist!
Snap some pictures together with your favorite TV and film personalities like Oprah Winfrey, Gurmit Singh, Marilyn Monroe, Johnny Depp, Daniel Craig, Leonardo Dicaprio, and Arnold Schwarzenegger.
Then, experience the green carpet brilliance through the IIFA (International Indian Film Academy) Awards Experience. Strike a pose together with Kajol Devgan, Madhuri Dixit-Nene, and Aishwarya Rai Bachchan.
And of course, to complete the list of wax figures is the woman behind this world-renowned museum―Madame Tussauds herself.
Surprisingly, Madame Tussauds Singapore is not all about wax figures. It also takes pride in other interactive attractions. There's the Spirit of Singapore Boat Ride that takes you to a colorful and historical water journey, accentuating the country's cultural identity.
There's also the Images of Singapore Live, where live actors and actress re-live the beautiful history of Singapore through theatrical storytelling and audience interaction.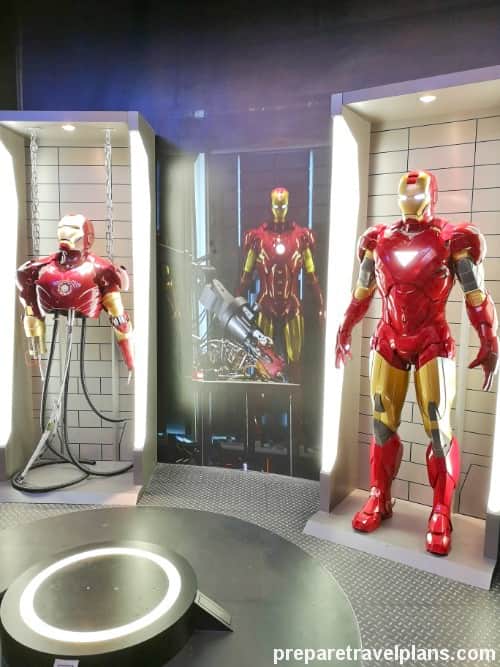 For Marvel fanatics, be enthralled with the epic Marvel 4D Experience that spells out ultimate thrill and fun. Make sure you drop by the museum's gift shop and take home some unique souvenirs like an Oscar trophy or a golden microphone.
With all the attractions speckled inside the museum, better yet spend around 2 hours. If you want to plan ahead your trip to the museum, check out the Madame Tussauds Singapore blog post for more important details.
Read more:
My Review of Madame Tussauds Singapore and How to Go Guide
4. Sentosa Skyline Luge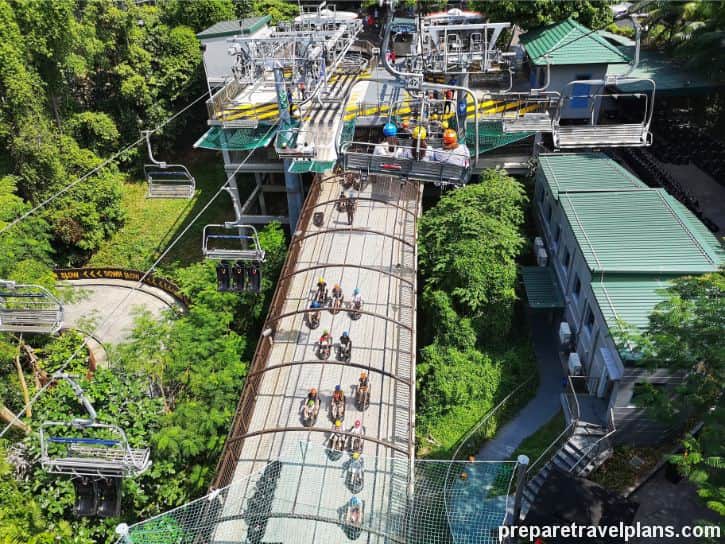 For a unique kind of outdoor experience, cruise around Skyline Luge & Skyride. Set in a scenic setting, take on one of the trails or even all!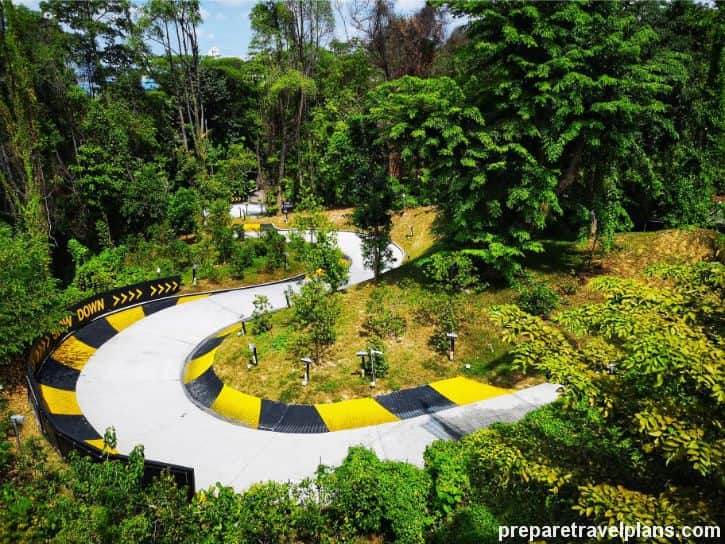 Everyone can choose from 4 different and exciting trails ―Jungle, Kupu Kupu, Expedition, and Dragon Trails. These tracks and slopes offer distinct thrill and fun for everyone.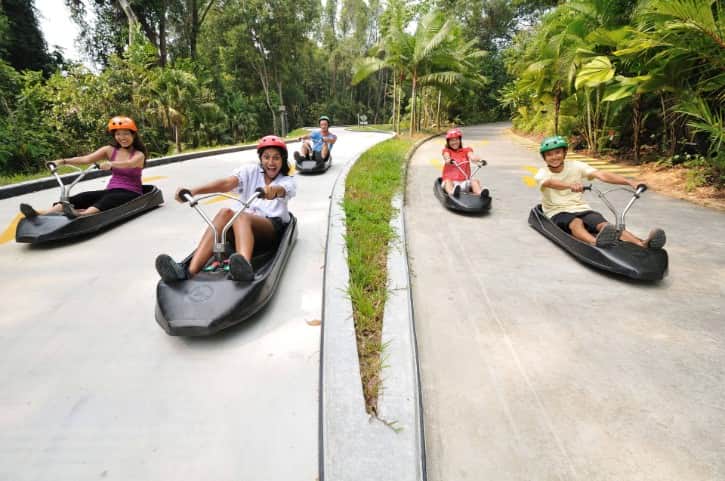 The Kupu Kupu Trail is one of the newest trails, featuring a 638-metre pathway surrounded by lush forest and beautiful sights. Another latest add-on is the Expedition Trail with 658 metres that travels through stirring tunnels and corners.
The Jungle Trail, on the other hand, is the shortest with 628 metres trail to complete. Still, this one is fringed by spectacular sceneries of green and blue. Last track is the Dragon Trail that runs along a lush rainforest with a hint of surprises. Some mythical dragons perhaps?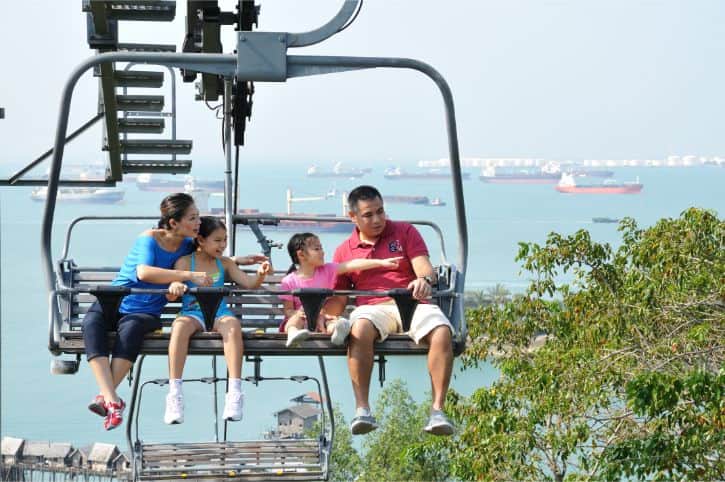 Hop on the Skyride and gaze at the beautiful Sentosa Island up above. See from afar the breath-taking Singapore skyline as well as the vast South China Sea. And, you might get lucky and spot some endearing cockatoos welcoming you to their habitat. This one is the perfect option if you just want to relax and have a chill time on a 4-seater chair, dangling in mid-air.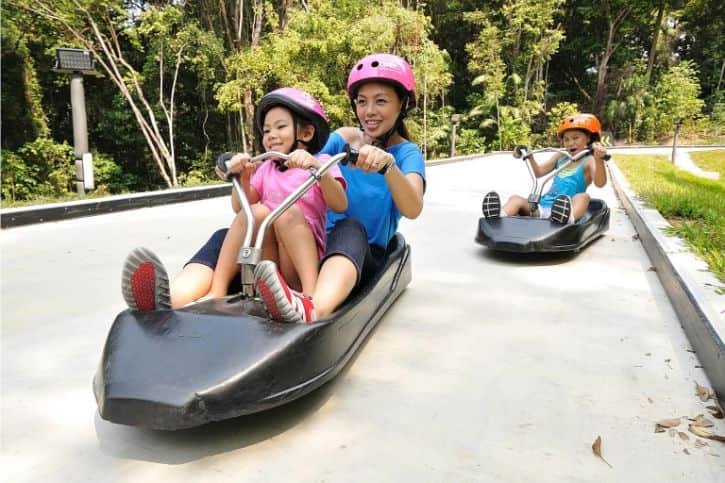 After, take the Skyline Luge cart and manage your way down. To enjoy all the stimulating rides, allocate at least 1 to 2 hours.
Skyline Luge & Skyride is open morning until night time. Accordingly, if you are on a tight schedule, there's no need to worry because they are open from 10 AM to 9:30 PM.
So, if you love the vibrant nature colors peaking while you control your gears, visit during day time. But if you want some romantic vibes, take your ride under the bright moon and stars. Don't forget to add this amazing ride into your list of things to do in Sentosa Island.
5. Wings of Time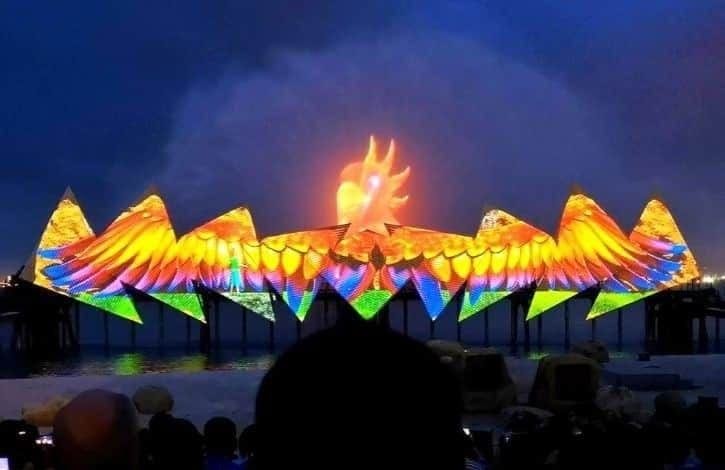 Certainly, one of the best things to do and see in Sentosa at night is the totally amazing outdoor show―Wings of Time. With the sweeping open sea as the background, this award-winning water presentation makes everything more magical.
Combining both water and laser effects, be fascinated with majestic pop of colors and illuminations. Hence, dropping your jaws could be an understatement.
Prepare for a show that will take you to the edge of your seats!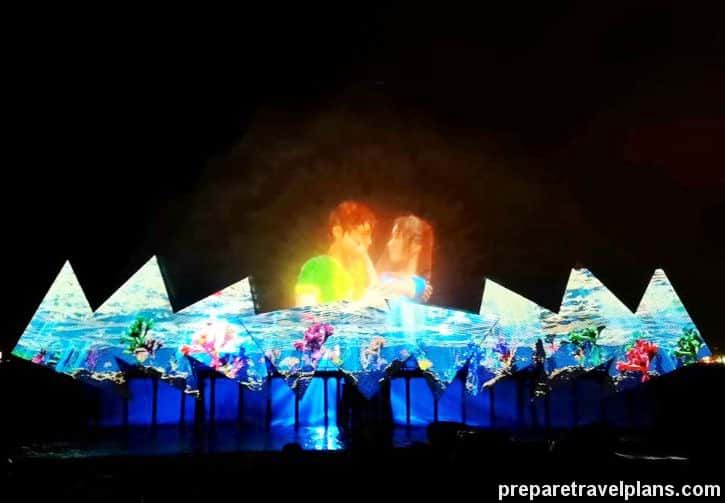 This multi-sensory exhibit is not just a simple display of colors, lights, and special effects but also a portrayal of a beautiful story that revolves around friendship and bravery. Follow the animated characters as they take you to a dreamlike adventure.
Welcoming the magical conquest is Shahbaz, the fabled wing-creature, who was exposed by two friends, Rachel and Felix. Together, the three traveled across different historical scenery like the Silk Road, African Savanna, Underwater World, Mayan Pyramids, and more.
And as they uncover more truths about themselves, the artistic presentation becomes more and more impressive.
So, don't blink an eye or else you'll miss something! If you want to get a glimpse of this 20-25-minute water show, check out this YouTube video (Wings of Time).
6. Sentosa Merlion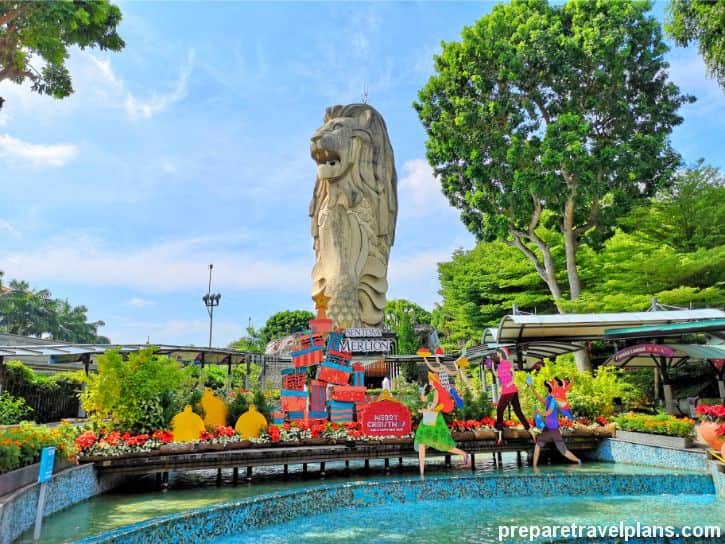 *Kindly take note: Sentosa Merlion is permanently closed. The Merlion Statue was demolished. 🙁
But of course, you can't visit Sentosa Island without popping by this well-known landmark―the Merlion. This giant statue stands at 121 feet, towering all other Merlion statues in the city-state.
Enter the park and be at awe with the famous mythical creature that holds a quite unique tale. Legend says that this half lion, half fish animal is the guardian of prosperity of Singapore. Through its magical powers, the Merlion protected the island from a fierce storm. Up the present time, many Singaporeans continue to believe that this enormous being continues to guard the nation.
The unique features of Merlion also depict Singapore's fascinating history. It was once a fishing village, hence the tail. The lion head outlines the state's original name, which is 'singapura' that means lion city.
Surrounded by lush backdrops and vibrant colours, this is a great destination for those looking for a quick, peaceful getaway.
And the best thing? Wandering outside of the Sentosa Merlion is free―unless you go into the Sentosa Merlion Tower, which requires a paid ticket.
Step inside Sentosa Merlion Tower and a staff will guide you to a video presentation in English. This animated video gives you a peek of Singapore's colourful past.
Know more about the interesting history of Sentosa Merlion with the plastered galleries along the corridor.
And, did you know that you can actually go inside the mouth of the Sentosa Merlion?
Yes, and this is the spectacular view that awaits your arrival at the very mouth of this towering, historic creature.
Be amazed by the vast expanse of panoramic sights surrounding the giant Merlion. See how the gorgeous skyline creates a beautiful contrast with the natural landscapes and the colourful structures.
Right after the sightseeing at the mouth of the Merlion, don't forget to strike the bell for some blessings!
7. Adventure Cove Waterpark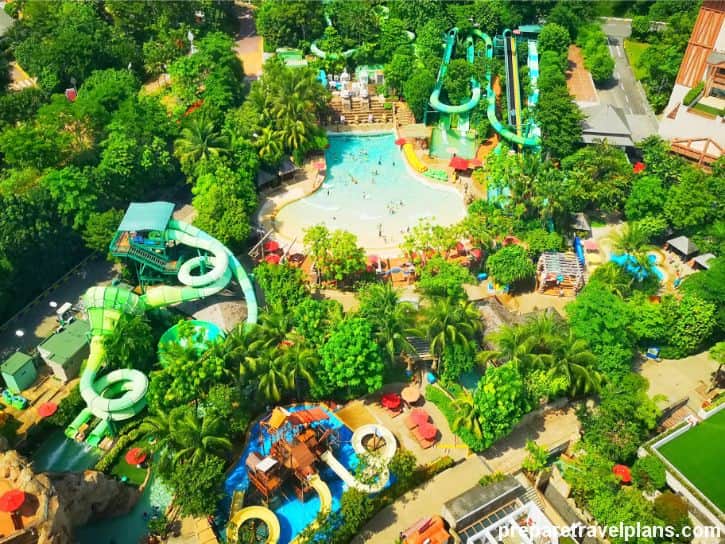 For the ultimate family fun and adventure, come and discover the beauty of outdoor at Adventure Cove Waterpark Singapore.
This water theme park offers a lot of choices, from exciting rides to laid-back journeys to spectacular marine encounters. No wonder it is one of the top waters parks in Asia and best things to do in Sentosa.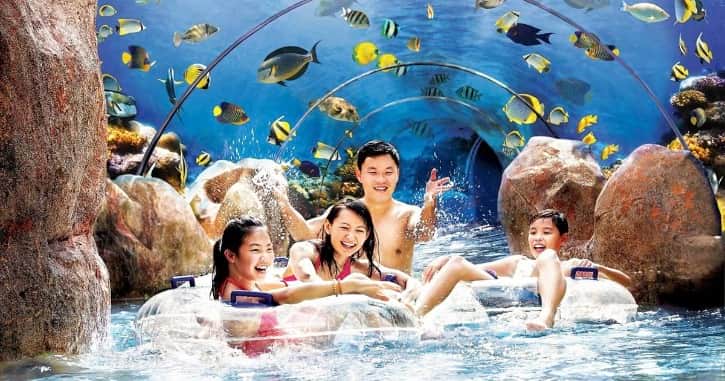 Starting the amusement is the Adventure River that travels you through different landscapes, including an underwater tunnel, lush rainforest, bat cave, and more. And, be ready for a rather extensive ride down the river because this one is 620-metre long.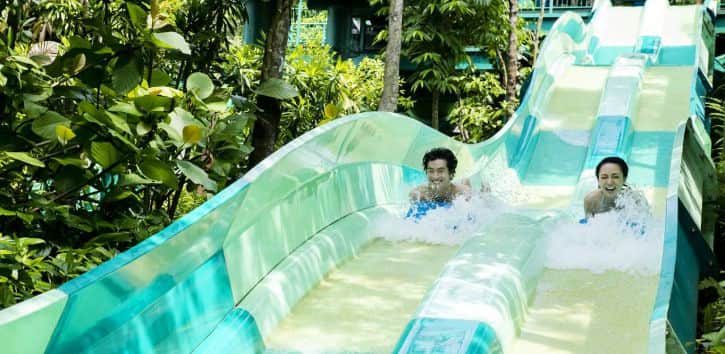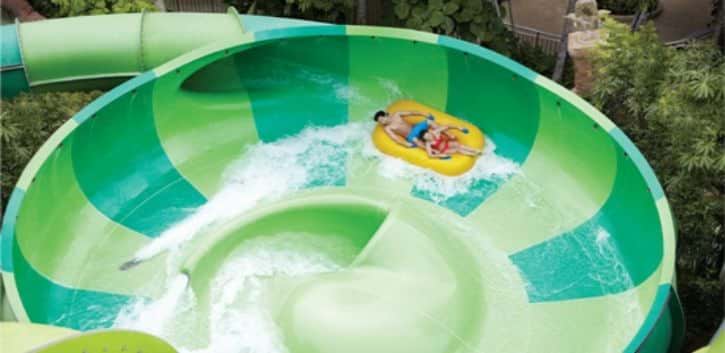 Take your competitive skills to test as you take the Dueling Racer, a high-speed slide with a steep plunge.
For adventure-seeking travellers, you'll not be disappointed with the Pipeline Plunge, Riptide Rocket, and Spiral Washout. All three gives you that heart-thumping experience of a lifetime.
Have a blast at Tidal Twisters or get your groove right with all the twists and turns of Whirlpool Washout.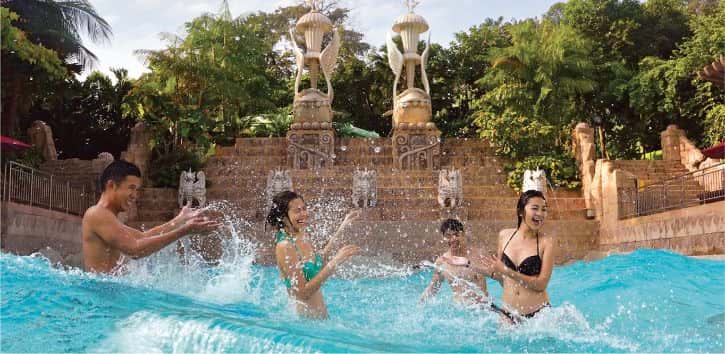 Another immersive yet equally exciting destination for the entire family is the Bluewater Bay―a place where you'll catch some action-packed waves.
The Big Bucket Treehouse is a favorite among kids because it's like a giant water playground. Big water splashes are showered continuously for nonstop fun times. For a quick break, there's a giant yellow slide for everyone to try.
Without a doubt, Adventure Cove Waterpark is such a popular option, especially for families.
8. Trick Eye Museum
This isn't like any other museums. Trick Eye Museum in Sentosa is such a charm because of its Instagram-worth optical illusions.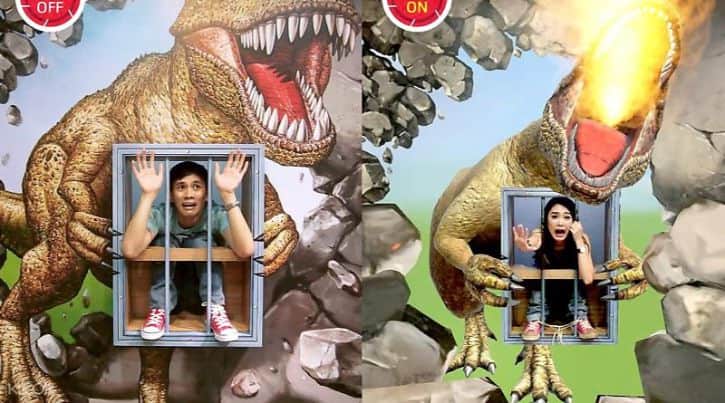 This unique attraction gives an amazing twist to normal museums. It transforms fantastic artworks into spectacular backdrops.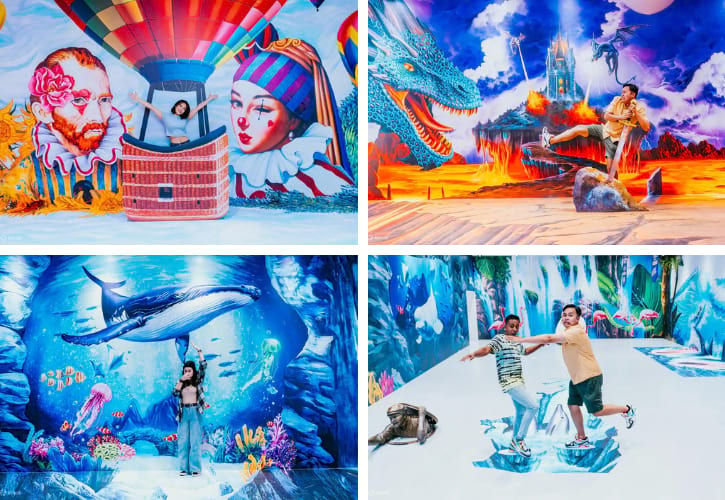 Here, you need to let out your imagination and act like you're into it.
All the wonderful sketches will surely heighten your photography skills! Don't worry, because you'll never run out of picture-perfect spots in this upgraded 3D museum.
With its AR (augmented reality) features, all the exhibits are truly Instragrammable! So, don't miss all the fantastic optical illusions that are scattered all over the museum.
9. Mega Adventure Park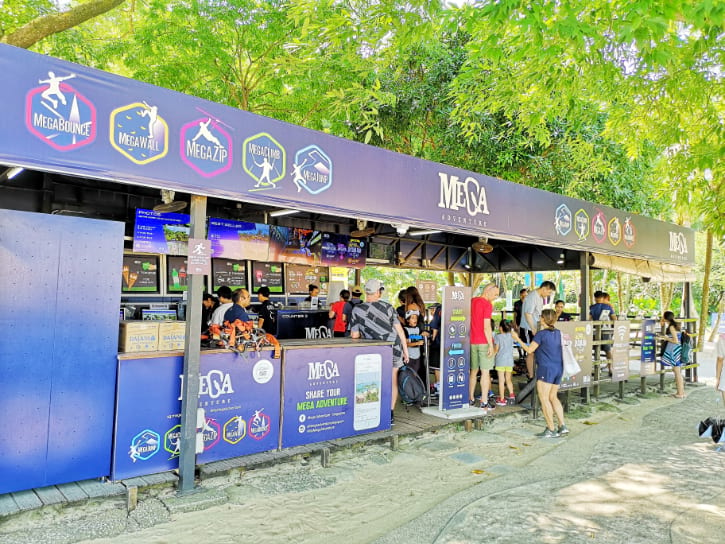 Mega Adventure Park is a family-friendly spot in Sentosa Island that offers you amazing views and exciting attractions.
MegaClimb
---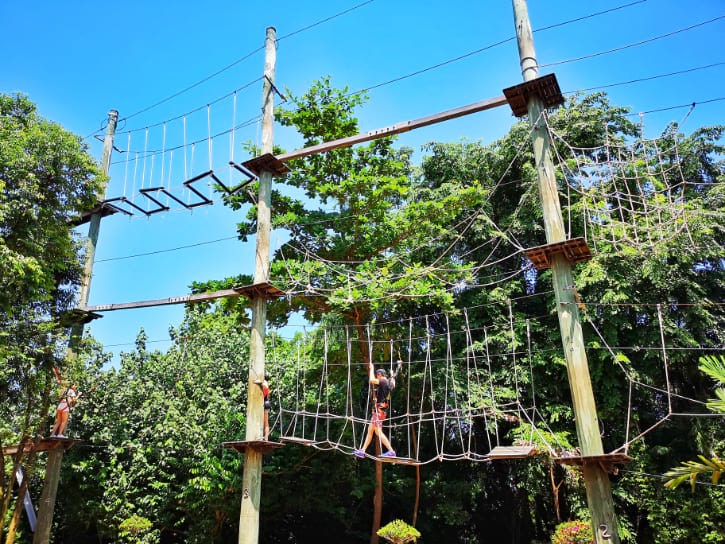 MegaClimb is one of its most popular things to do in this scenic nature park.
Navigate your way on top and catch a glimpse of the relaxing views surrounding the elevated pathway. Ranging from 5 to 15 meters high, this fun and adventurous rope course is definitely a must-try.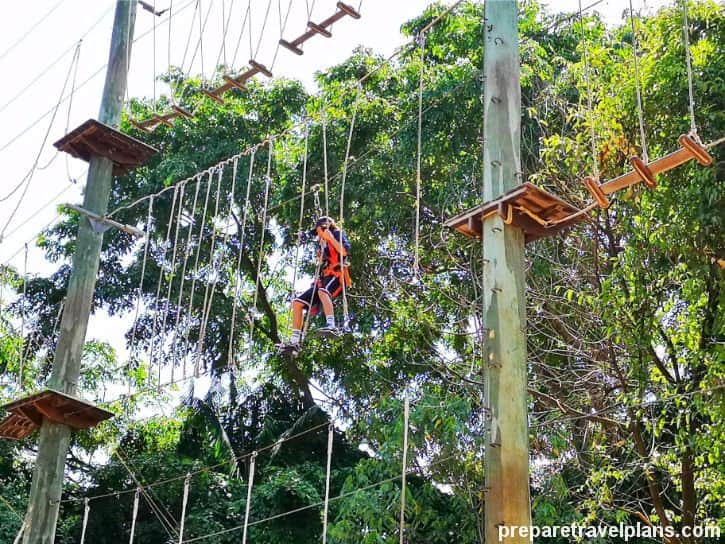 Conquer your fear of heights as you complete all the soaring obstacles. And, don't forget to showcase your balancing abilities!
Truly, MegaClimb keeps you in high spirits while also giving your relaxing nature vibes.
MegaJump
---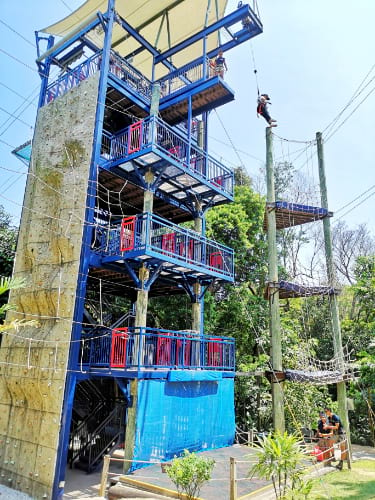 If you've got a thing for heights, then MegaJump is for you. This nerve-wracking attraction is like jumping off a helicopter. Surely, it's a great jump that will intensify your senses!
Prepare your heart as you free fall from a 15-metre structure and go swinging for a couple of seconds.
MegaZip
---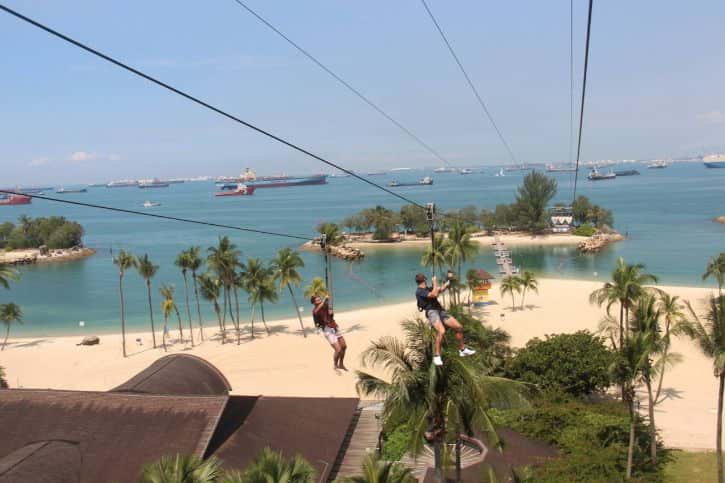 And, what about a thrilling yet satisfying journey above the lush sceneries and the blue waters?
MegaZip is great for adventurous families and friends who want to get suspended up in the air. At 60kph, this one is truly a remarkable zipline experience.
10. Sentosa 4D AdventureLand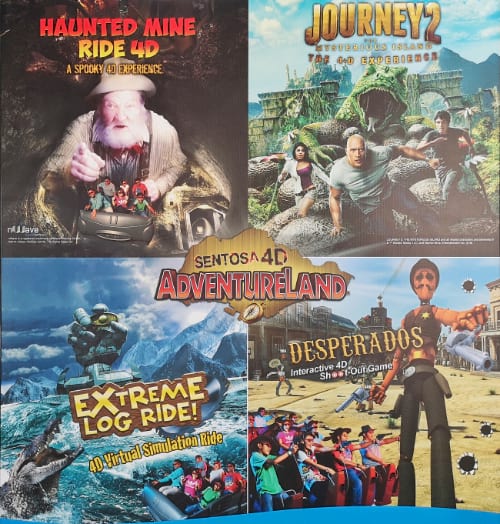 Want to have a memorable 4D experience? Sentosa 4D Adventureland gives you a whole lot of fun with its fantastic range of entertainment packages.
For you to fully enjoy this high-tech zone, choose the Sentosa 4D AdventureLand (4-in-1 unlimited) package. But if you're on a tight budget, you can have the Sentosa 4D AdventureLand (3-in-1) package.
Desperados
---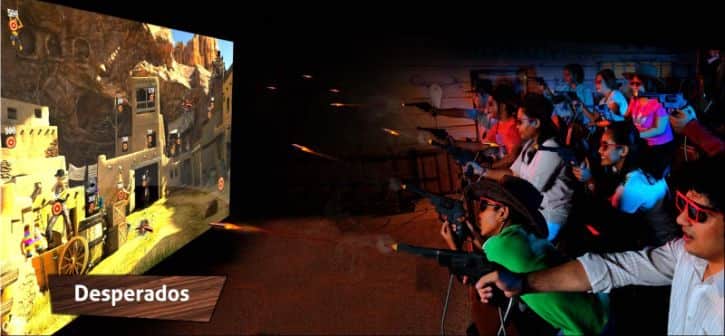 Be thrilled with Desperados' fast-paced, interactive shootout game.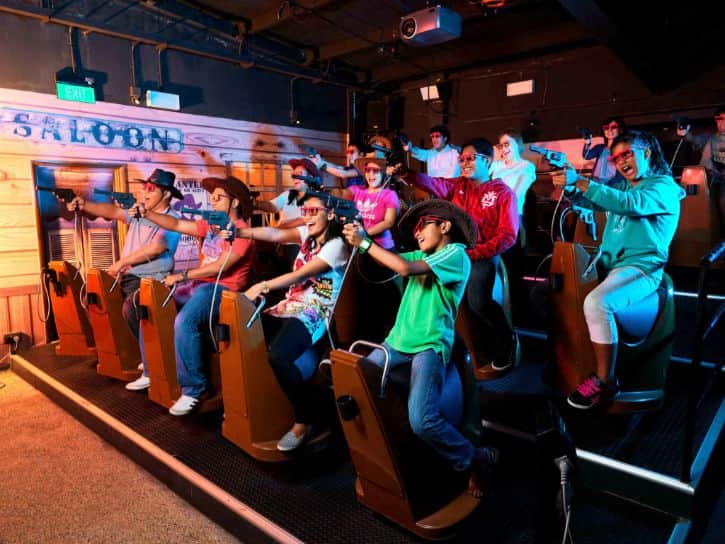 Aim your toy gun to the enemies and win the game, which is full of intellectual and tactical challenges.
Journey 2 The Mysterious Island
---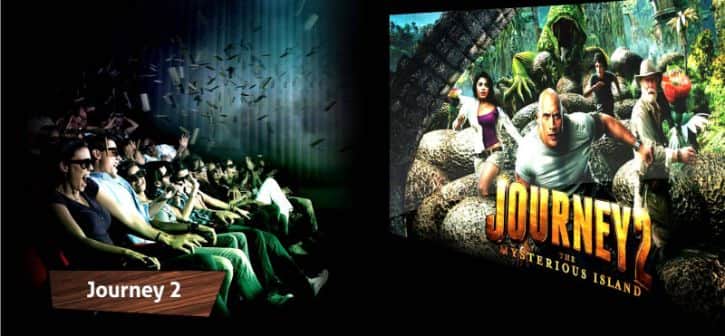 Another must-see 4D movie is Journey 2 The Mysterious Island―a highly entertaining sci-fi comedy movie.
Extreme Log Ride
---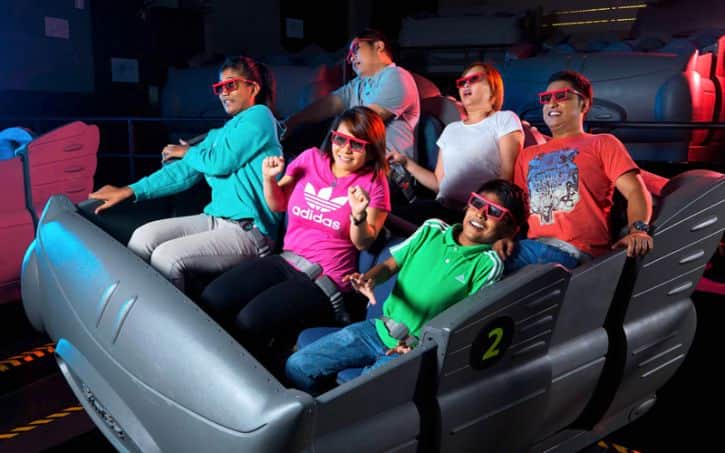 And for a more stirring kind of entertainment, there's the Extreme Log Ride. This virtual 4D rollercoaster is such a favourite amongst the brave hearts.
Haunted Mine Ride 4D
---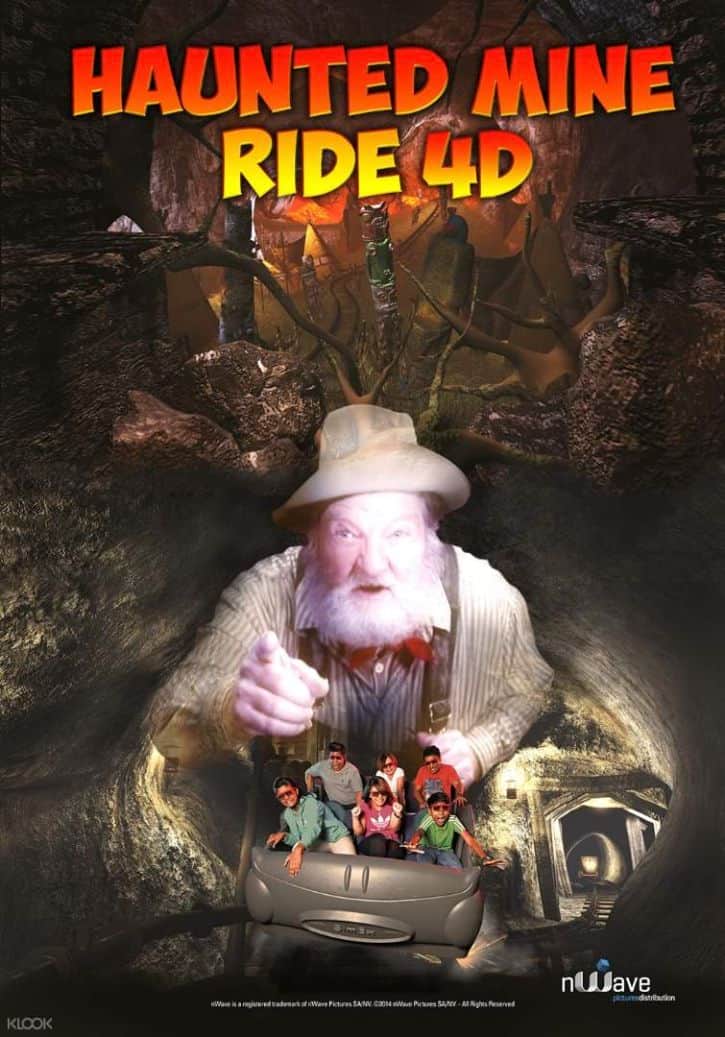 To complete the stimulating adventures, head to Haunted Mine Ride and meet some lifelike creatures!
And there's nothing to worry because both Extreme Log Ride and Haunted Mine Ride are not actual rollercoasters! These are just virtual 4D rides that aren't that fast-moving and totally scary compared to the real ones.
11. iFly Singapore
iFly Singapore is one of a kind experience gives you a rare chance to try indoor skydiving. Yup, that means you get to fly for a couple of minutes―once or twice―if you're a first-timer!
This amazing activity can be a great alternative for the electrifying outdoor skydiving. Plus, it's much cheaper compared to the real one!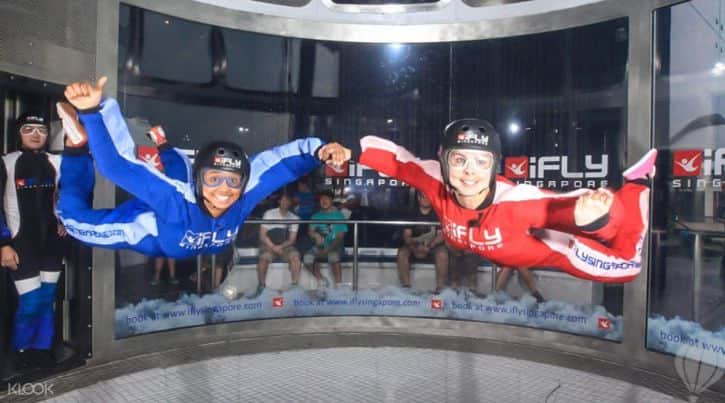 And just in case you do not know, iFly Singapore features the largest themed wind tunnel for an epic free-falling. Here, you get to fly at 12,000 ft., then fall at 3,000 ft.! How cool is that?
12. Butterfly Park & Insect Kingdom
Within this lush nature expanse, you'll find beautiful butterflies and insects. The Butterfly Park & Insect Kingdom is a fun-filled spot for kids and even adults.
This lush landscape is filled with captivating and multi-coloured butterflies.
This giant iguana also makes its presence known with its scaly skin and commanding aura.
There's also a brightly-coloured parrot living here, which is another sight to see. And don't forget to send your regards to these vibrant parrots!
13. Animal and Bird Encounters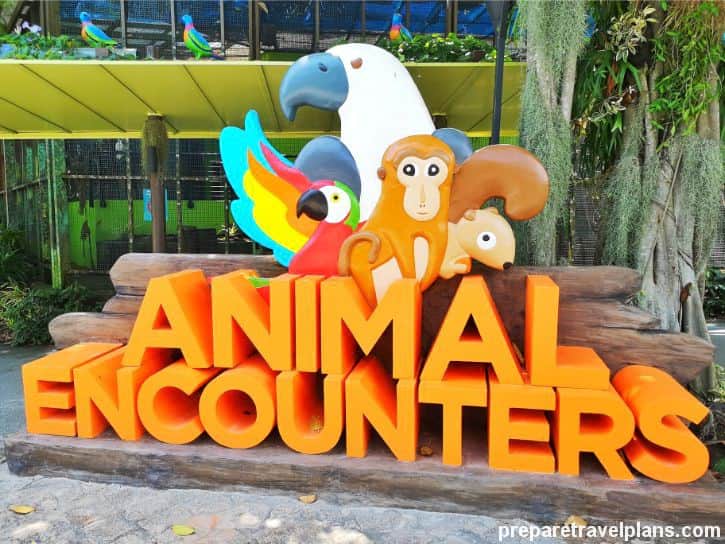 The creatures at Animal and Bird Encounters never fail to surprise travellers with their awareness, charm, and intelligence!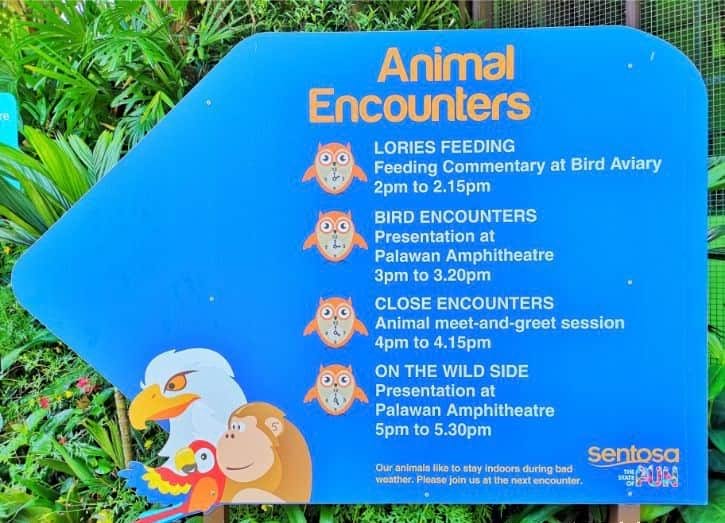 Check out the Animal Encounters schedule ahead so that you can maximize your time.
Bird Encounters
---
Enjoy the funny parrot competition at the Bird Encounters. See who wins the amusing battle between the blue-and-yellow and red parrots!
Close Encounters
---
At 4 PM, head to the Close Encounters and meet the parrots, once again!
First on the list is the red parrot that literally stands out because of its vibrant colours―and charms.
Next in line is the highly intelligent ringneck parrot. And if you love these two parrot species, you're lucky because you can take photos with these colourful birds.
On the Wild Side
---
Now, On the Wild Side, there's the cockatoo, which is a total fan favourite too!
Be amazed by how the cockatoo carefully listen to the instructions given to them.
Also, in attendance is the king of all birds―the eagle!
Further, there's the hamadryas baboon who would go climbing and swinging all around the tall trees.
To top off the meet and greet, say hi to the giant iguana. You can touch this giant lizard as well as take a photo of the eagle right after the show.
14. Wave House Sentosa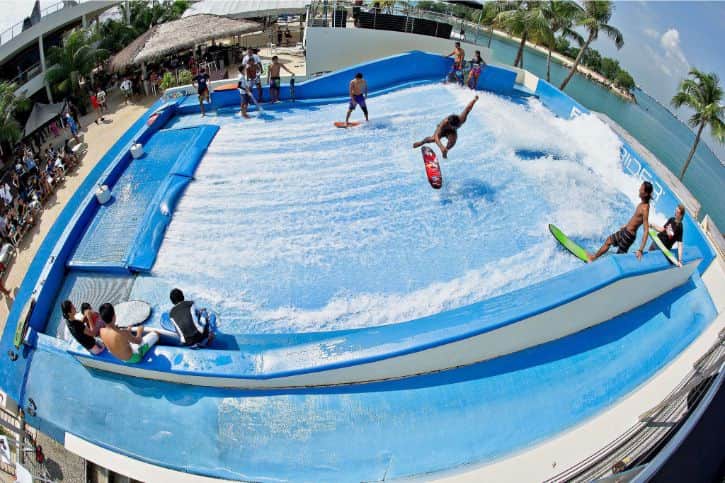 Skip the beach and catch some mad-made waves at Wave House Sentosa. This awesome place lets you surf like a pro through its FlowRider.
Show your amazing surfing tricks and enjoy the endless stream of water that flows at roughly 32 km/hr. But beware because this sport can be addictive and you might end up catching waves all day long!
15. KidZania Singapore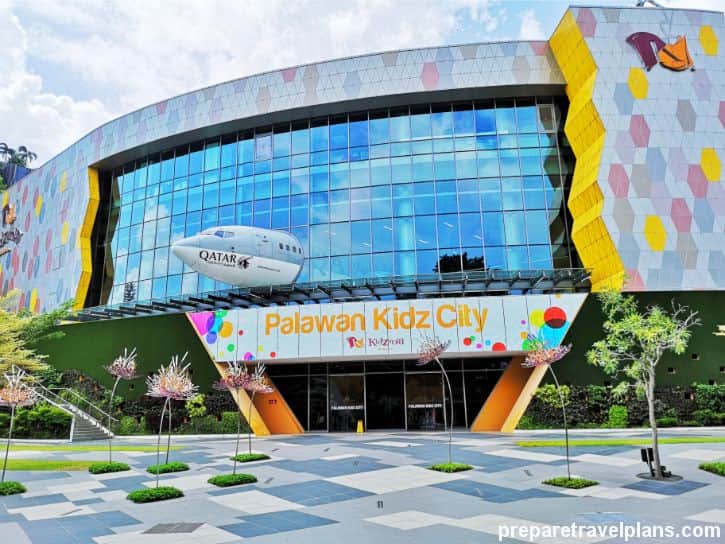 *Kindly take note: KidZania Singapore is permanently closed. 🙁
If you're travelling with kids, then KidZania Singapore is a must-visit. It is a large, indoor destination in Sentosa that offers lots of kid-friendly attractions and activities.
Welcome aboard! Let the kids wear their aviation uniform and act like they run a real plane.
Or, if they want to be a future chef, let them prepare and cook their own barbecue meat.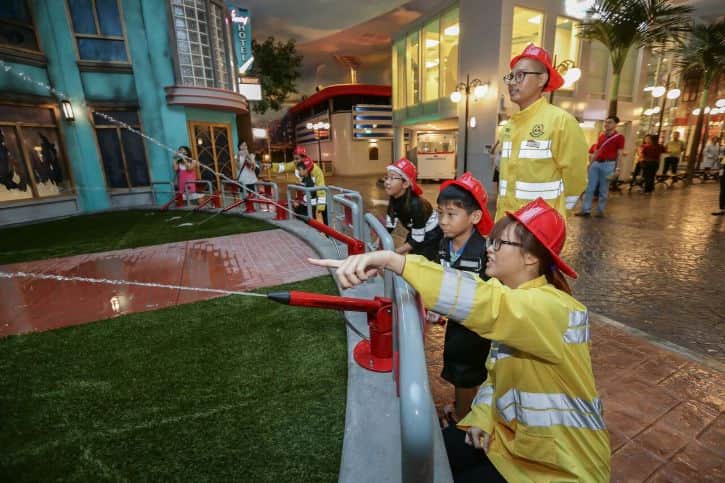 The fire station is another hit are in KidZania Singapore, where kiddos can learn how to use the water hose.
And for the soon-to-be scientists, there's the science laboratory complete with all sorts of scientific stuff.
16. Sentosa Crane Dance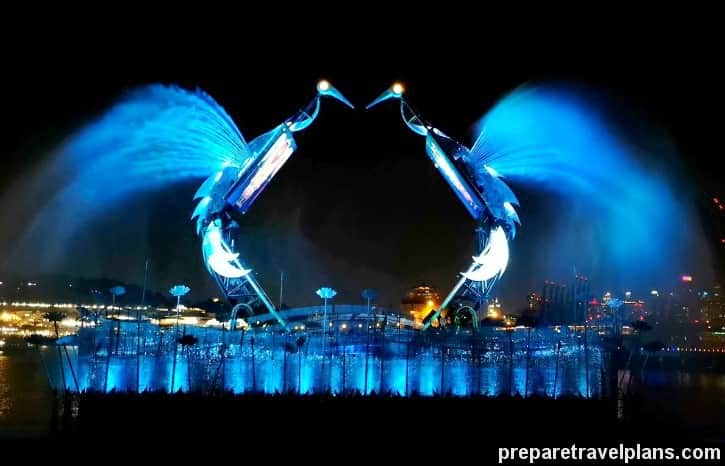 Held every night at 8 PM, the Sentosa Crane Dance is considered one of the beautiful animated shows in the island.
It underscores ground-breaking technology advancements and astounding technical skills―both creating a one of a kind visual performance. And, the spectacular animatronics and sound drama surely adds a whole new dimension to the show.
Be amazed by how these two mechanical cranes dance gracefully. And if you don't have an idea that these are technology-powered creations, weighing at least eighty tons each with a height of a ten-storey building, you'll think that these are simply giant skillful dancers in sync with the beat.
But behind the beautiful movements and spectacular effects of water jets and light illuminations lies a rather unique love story between two power-driven cranes.
Follow the distinct tale of the two enormous cranes as they both transformed into real birds through the magic of love. This lyrical presentation is such a sight to see at night because it also highlights the charm of Asian folklore in a digital setting.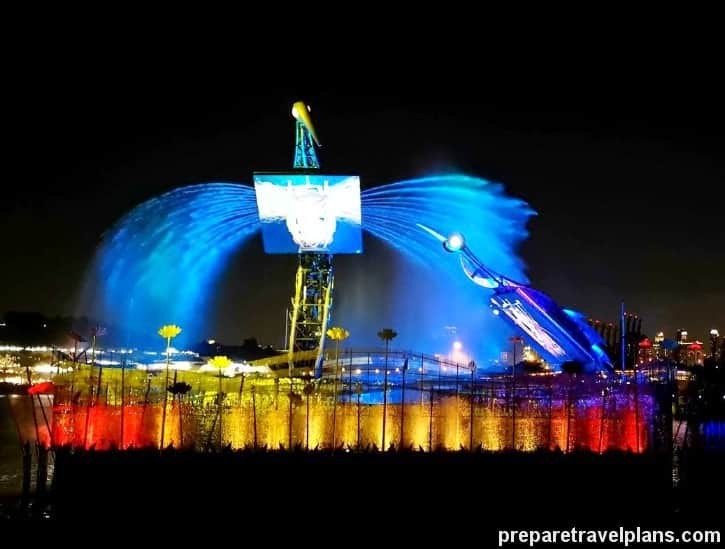 Sentosa Crane Dance only lasts around 10 minutes. And it comes with open-air seating.
So, gather your family and friends and behold the amazing courtship ritual by two steel cranes set in the midst of the glistening water illusion. Don't worry because there's no need to spend another dollar for a world-renowned attraction like this because it's for free! This epic night show is definitely a great catch for travelers!
Here's a quick look of what this spectacular performance is all about: Sentosa Crane Dance video (Youtube).
17. Fort Siloso Skywalk and Fort Siloso
One of the things to do in Sentosa Island is to visit Fort Siloso. The Fort Siloso Skywalk and Fort Siloso are two historic and scenic spots in Sentosa.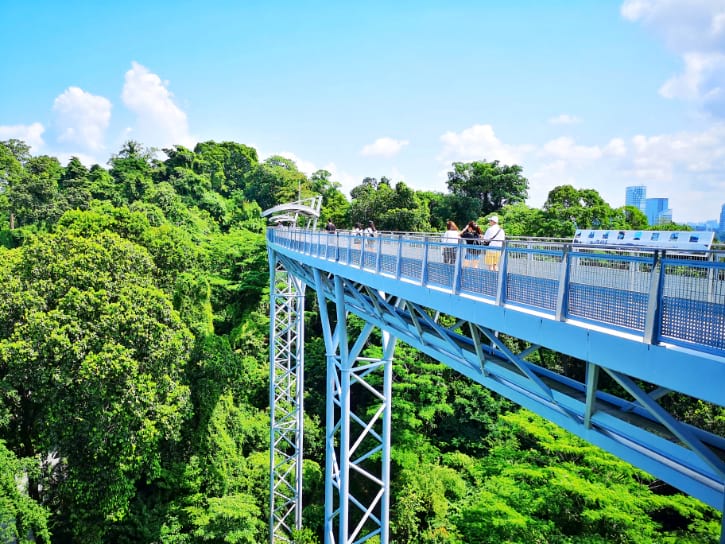 Start the adventure at Fort Siloso Skywalk.
Step into the Siloso Skywalk Tower and take the lift dangling up to 11-storeys high.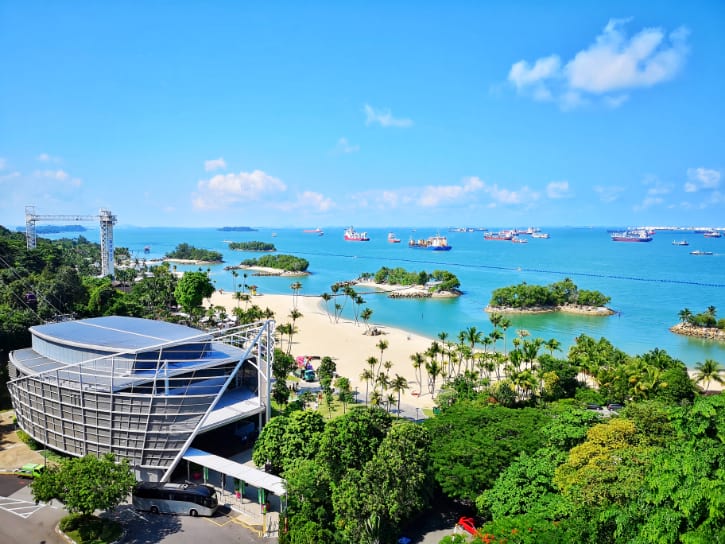 From up above, you'll catch a sight of the spectacular Siloso beach and its equally beautiful islands.
Walk your way along the extensive bridge surrounded by gorgeous sweeps of green and blue. Just follow the trail and it will lead you to the historic Fort of Siloso.
There are Fort Siloso maps plastered around the walkway for easy navigation.
One of the many gun collections is the famous 25-pounder howitzer gun. It was considered as a main field gun during World War II.
Then, there's the replica of a 7-inch RML gun that fires QF Fixed Ammunition.
The Battery Command Post is the place where communications between soldiers and commanders were exchanged.
Breech load guns are also in display. These guns are not loaded directly to the barrel but rather at the breech end.
You can't miss the 6-Inch QF emplacement with its pedestal mounted gun because of its bright colours.
In this room, you can picture out how the soldiers load gun shells for the 6-inches gun.
In contrast to all the guns, mortars, cannons, there's the parbuckling equipment, which was used to efficiently move heavy objects.
Beyond their courageous journeys, this is the life of the brave soldiers on the battlefield.
The barrack-room is where the soldiers sleep after a long and tiring battle.
The cookhouse gives you a preview of how meals for soldiers were prepared during the early time.
To wander around the historic coastal fort, use this Fort Siloso Map as reference. And there's no need to worry because these maps are installed in Fort Siloso for easy exploration. This will surely help you go to the attractions conveniently.
18. Siloso Beach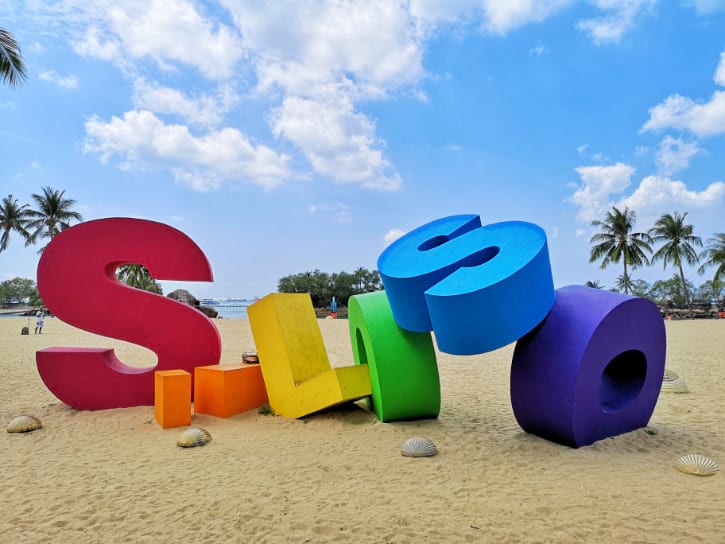 Another family-friendly destination at the south-western coast of Sentosa is the Siloso Beach. A famous picnic spot every weekend, don't miss the playground and enjoy some beach games.
This eco-resort is also a favorite playground among children and kids at heart. Get active with all the outdoor activities at hand like sandcastle building, beach volleyball, kayaking, cycling, skim-boarding, and more.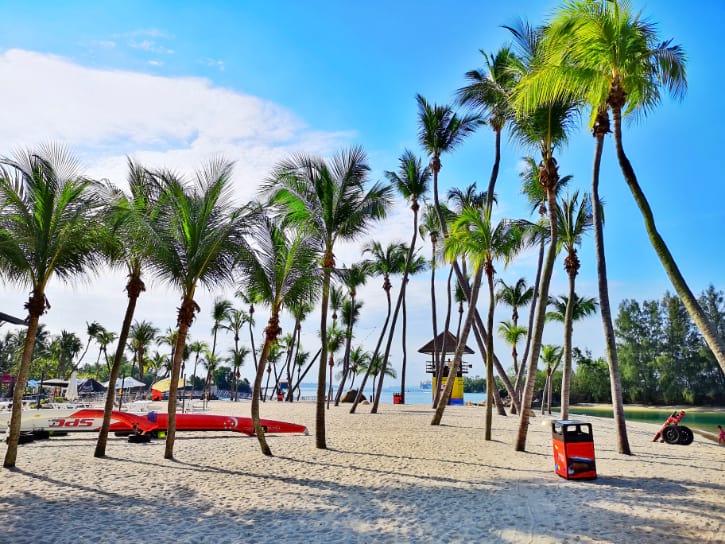 For your convenience, there's a fantastic line-up of restaurants, bars, and local stalls along near the coastline. Whether you want to go on a fun-filled adventure with your family or simply bask along the sands, Siloso Beach is such a perfect destination.
19. Palawan Beach and Southernmost Point of Continental Asia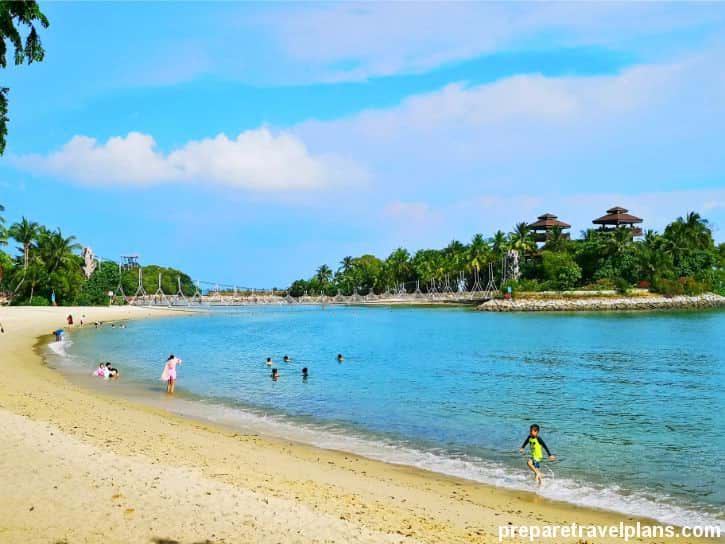 Trying all the exciting and fascinating activities in Sentosa Island can sore your muscles. So, relax under the sun at Palawan Beach. Refresh your tired feet and enjoy the scenic waters and towering palm trees.
This beautiful beach in the southwest part of the island is such a popular spot for families and friends. It is abounded by immaculate white sands and lush landscape as well as a variety of shops and food stalls surrounding the area.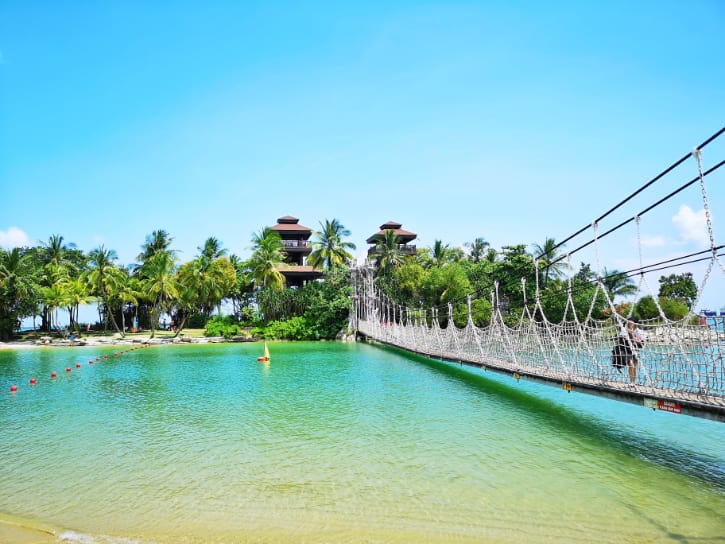 Linking the Palawan Beach and the Southernmost Point of Continental Asia is a narrow hanging bridge. Though this bridge swings and sways a lot, especially if there are lots of people crossing by, don't worry because it is only suspended by a few metres above the water.
At the Southernmost Point of Continental Asia, there are two look-out towers that give bird's eye view of the Singapore Port. Observe how freight ships make their way to the waters.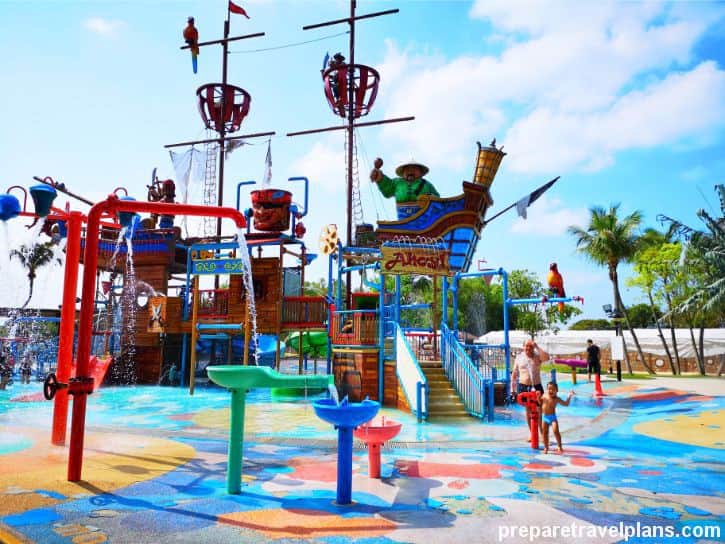 Built for children 3 to 10 years old, the Palawan Pirate Ship is another fun spot in the area. For sure, they'll love the spectacular pirate designs, spouting fountains, and amazing slides. Plus, this play area is for free, so bring your kids here for some water splashing adventure!
20. Tanjong Beach
Finish your beach escapades with a trip to Tanjong Beach.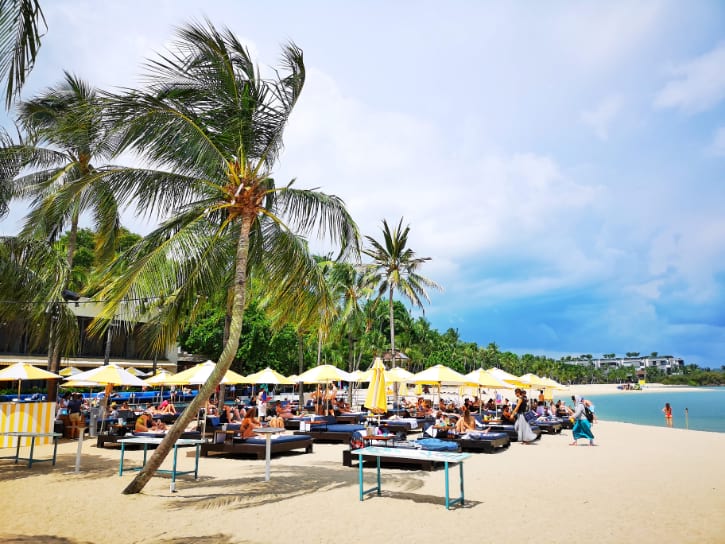 Known for its serene scenery and laid-back vibes, the Tanjong Beach Club is the place to go to unwind. You can even take your adorable four-legged pets here!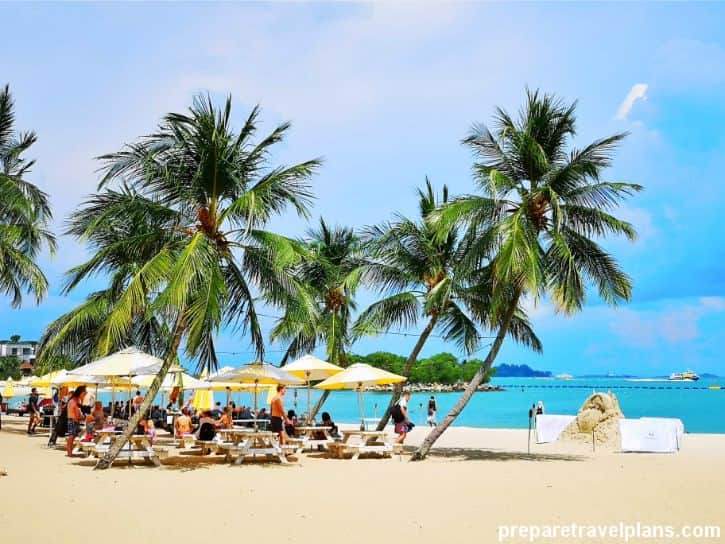 Aside from the long stretch of fine, white sand, get entertained by the outdoor Jacuzzi and the beach bar that offers an all-day menu for everyone.
Take in the calmness as you build your own sandcastle. And you can even go angling in Tanjong Beach. It is actually a favored spot to catch some fishes. So, swim, relax, and enjoy this tranquil beach sanctuary located in Sentosa Island.
A Map of What to Do in Sentosa Island
---
To get a clearer picture of what things to do in Sentosa Island and to make your trip more convenient, refer to the map below. This Google Maps shows the exact locations of the attraction and stations in Sentosa Island.
I've marked all the top 20 attractions, including the monorail stations, cable car stations and Sentosa Boardwalk for easy reference.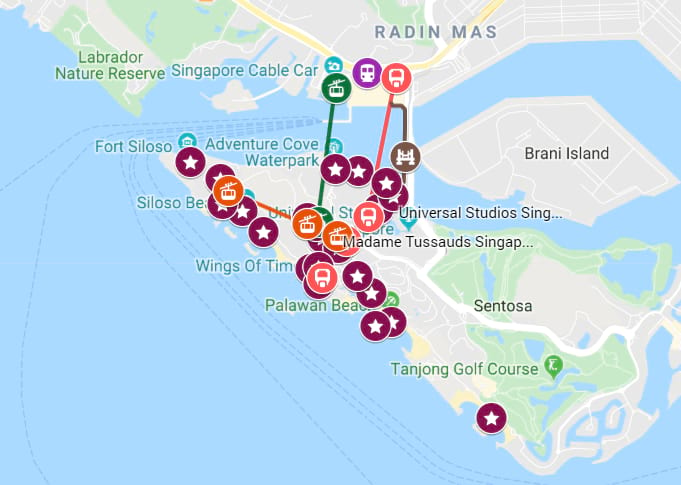 How to Get Around Sentosa Island?
---
1. Get a Sentosa Island Map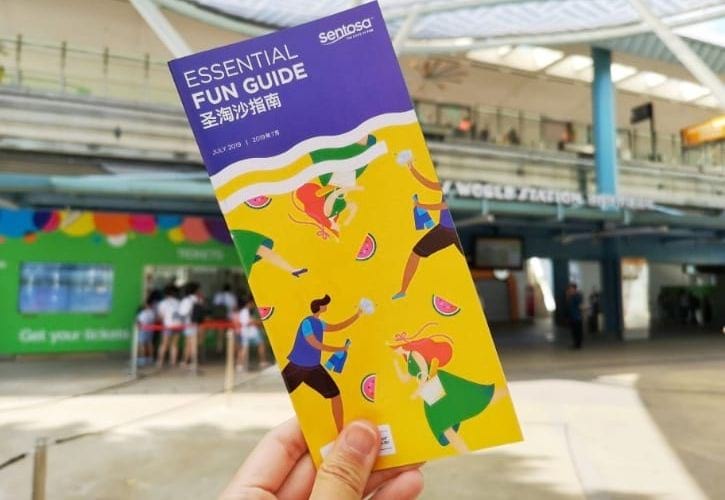 Cost: Free
First things first, you need to provide yourself with a Sentosa Island Map. This map cover all the things to do in Sentosa Island and also able to assist you navigate around the island. You can get this essential document at any Sentosa Express Monorail Stations, Cable Car Stations, and Sentosa Boardwalk―for free!
2. Follow Direction Boards When Inside The Island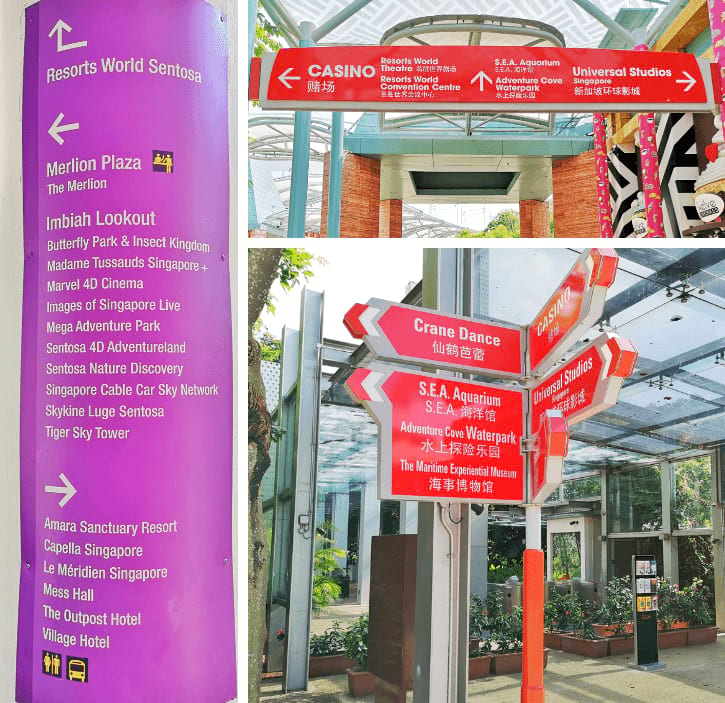 Exploring around Sentosa Island might be a bit challenging but not if you keep an eye on the direction boards. You can find these boards installed around Sentosa Island for quick reference and easy navigation.
3. Sentosa Express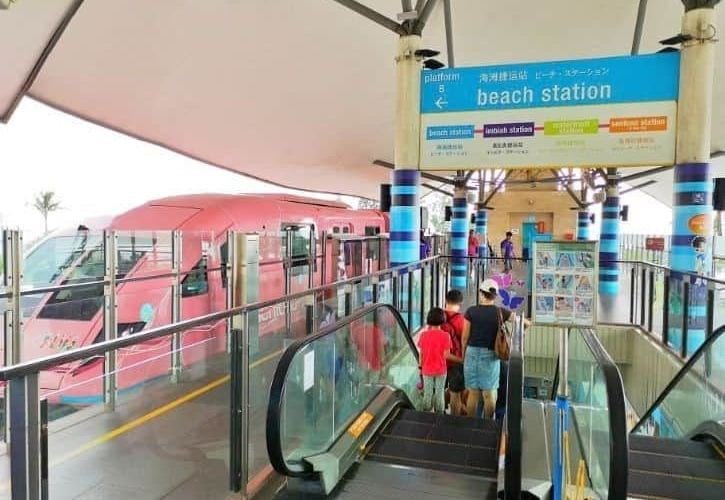 Cost: Free (Inside the Island)
Cost: SGD $4 (Transfer from Singapore to Sentosa Island)
Operating Hours:
7:00 am – 12:00 am daily
Every 4 to 8 minutes

One of the most convenient ways to travel around Sentosa Island is to take the Sentosa Express monorail.
By paying SGD $4, you can transfer from Singapore to Sentosa Island with ease. Once you get to the island, you can hop from one station to another, from Resorts World Station to Imbiah Station to Beach Station, and back and forth.
Surprisingly, these trips are all for free! And even when you leave Sentosa Island via Sentosa Express monorail, there's actually no charge.
4. Beach Tram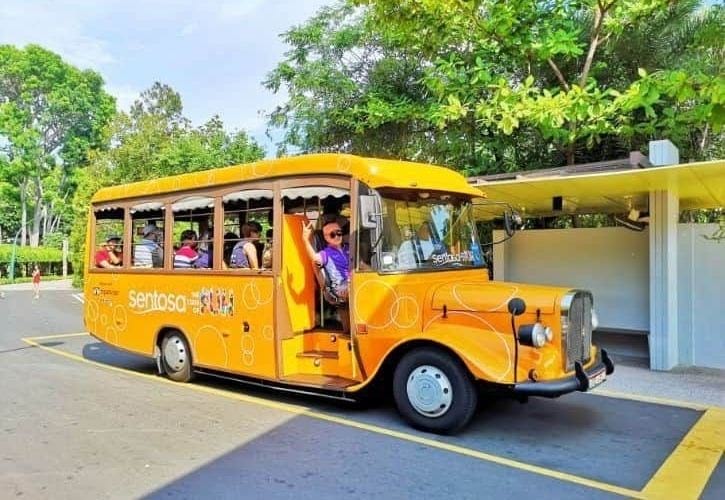 Cost: Free
Operating Hours:
Sunday to Friday 9:00 am – 10:30 pm
Last Beach Tram from Beach Station leaves at 10:00 pm
Every 10 minutes
Saturday 9:00 am – 12:00 am
Last Beach Tram from Beach Station leaves at 11:30 pm
Every 10 minutes
The Beach Tram is another great transportation feature in Sentosa Island. It caters to travelers looking for some laid-back vibes by the beach.
The vehicle transports you to the popular family-friendly beaches framing the island―Palawan Beach, Siloso Beach and Tanjong Beach. These beaches are suitable for a quick and chill getaway.
Aside from the picturesque blue vistas, everyone will love the surrounding amenities of the beaches, from picnic spots to restaurants to playgrounds.
So, if you are in need of a relaxing retreat from all the electrifying adventures, the scenic beaches are open for everyone.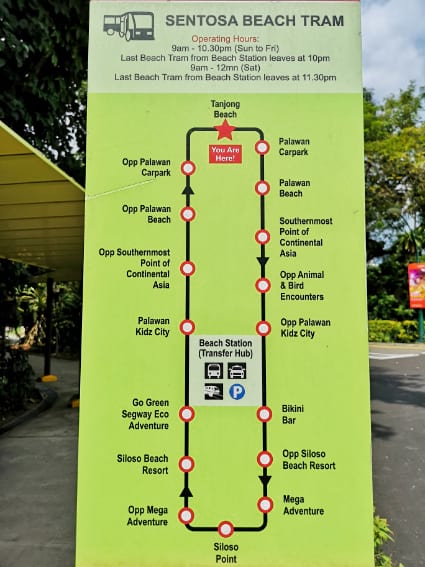 And did you know that the Beach Tram is for free? Yes, just hop aboard the vehicle and you're off for some soothing beach escapades.
Make sure to take into account the operating hours daily and the last trip of the tram so that you'll not mess up your plans. Also, know ahead the stop points of the Sentosa Beach Tram to make your trip more organized.
5. Bus A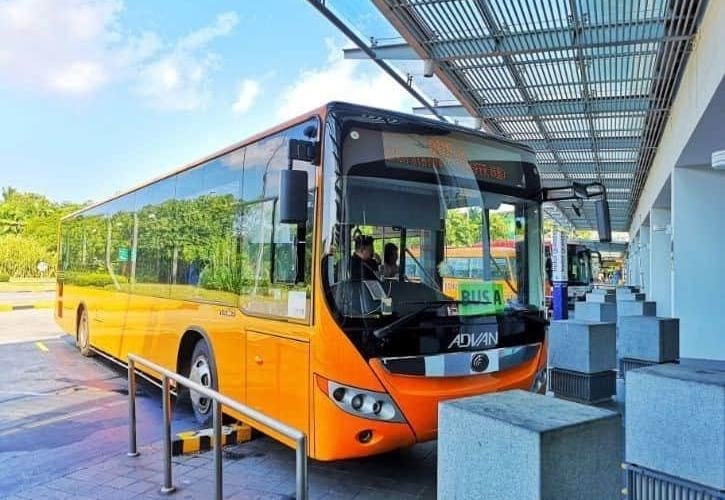 Cost: Free
Bus A lets you tour around Sentosa Island conveniently without any cost.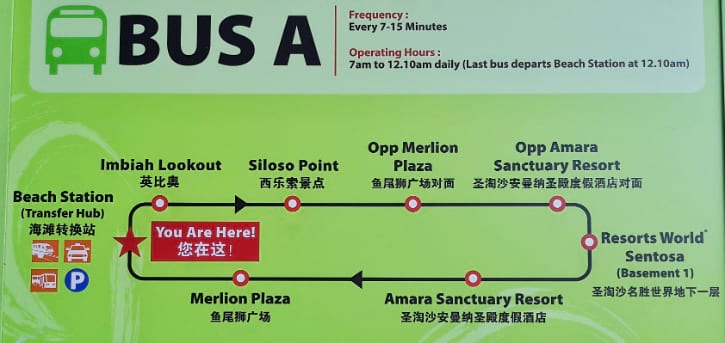 The picture above shows the Bus A route. It starts and ends at Beach Station, with seven pick-up/ drop-off points. The bus becomes available every 7-15 minutes, so it's suitable for those who are on a tight schedule.
6. Bus B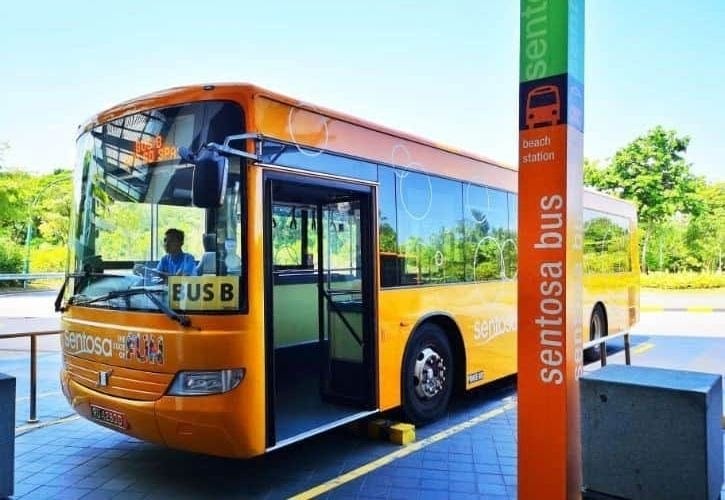 Cost: Free
In case Bus A is fully occupied, there's another option―Bus B, which is also free.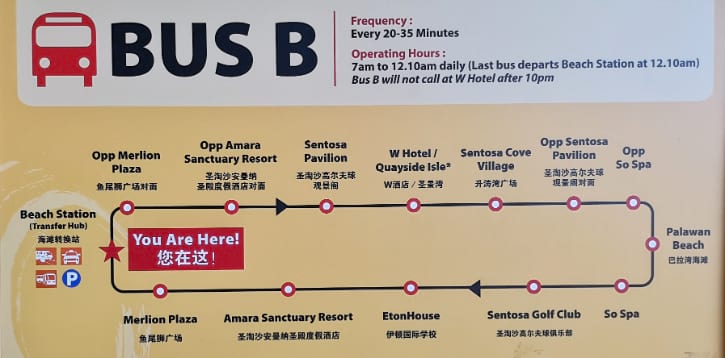 Compared to Bus A, Bus B has a longer frequency, which is every 20-25 minutes. But, it has more pick-up points, making it more convenient.
7. Sentosa Line Cable Car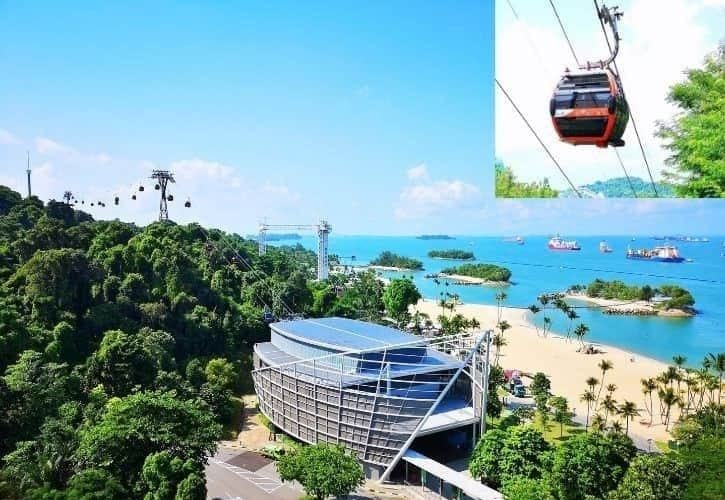 Cost: Not Free
Another way to see the beauty of Sentosa is by hopping aboard a cable car. Take note that this is not a free ride.
And if buy your tickets from the physical counter, the ticket price is SGD $35 (Adult) and SGD $25 (Child).
To save money, book your cable car tickets here and enjoy a 30% discount! Online car cable tickets are definitely much cheaper compared to buying on-site.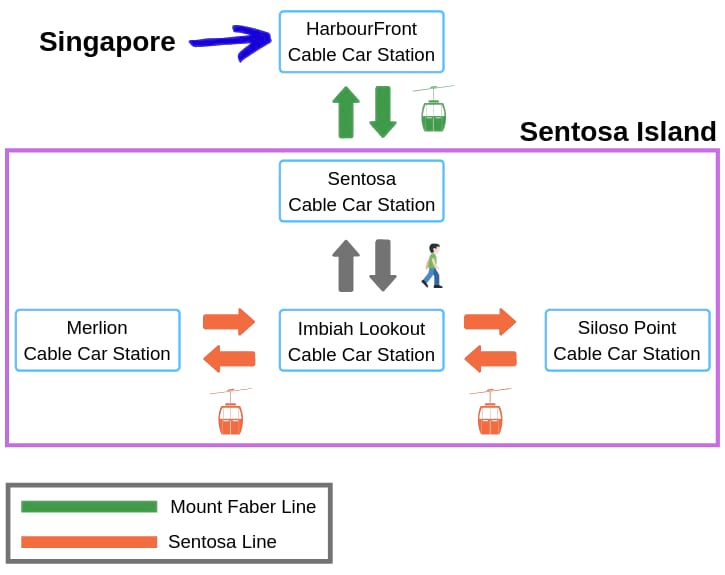 Here's the cable car route for both Mount Faber Line and Sentosa Line.
Conclusion
Knowing that Sentosa is overflowing with tourist spots, no wonder why travelers continue to flock this tiny yet abundant island in the south.
You'll never be disappointed with all the Sentosa Island activities because there's something for every type of traveller. Whether you are with your family or friends or a sole backpacker!
Sentosa Island is easily accessible, just a few minutes away from Singapore City.
The island is brimming with lush landscapes and outstanding skyline.
Theme parks and recreational areas are everywhere, from Universal Studios Singapore to S.E.A Aquarium Singapore and more.
Whilst Singapore is known for its fascinating technology wonders, there are a couple of nice beaches surrounding Sentosa Island.
Simply, there's a lot to visit and things to do in Sentosa Island. Make the most out of everything and enjoy all the best attractions in Sentosa Island!
Thanks a lot for spending your time to read my travel blog. I sincerely hope that the guide in here can help you to get a better idea of what to do and see in Sentosa as well as how to get around there.
Don't forget to bookmark this blog for your future reference.
Feel free to share this guide to your friends and family via Facebook, Twitter, Pinterest, Gmail or WhatsApp.
Lastly, wishing you a great and enjoyable holiday in Sentosa Island! 🙂
Discover Other Famous Attractions in Sentosa and Singapore