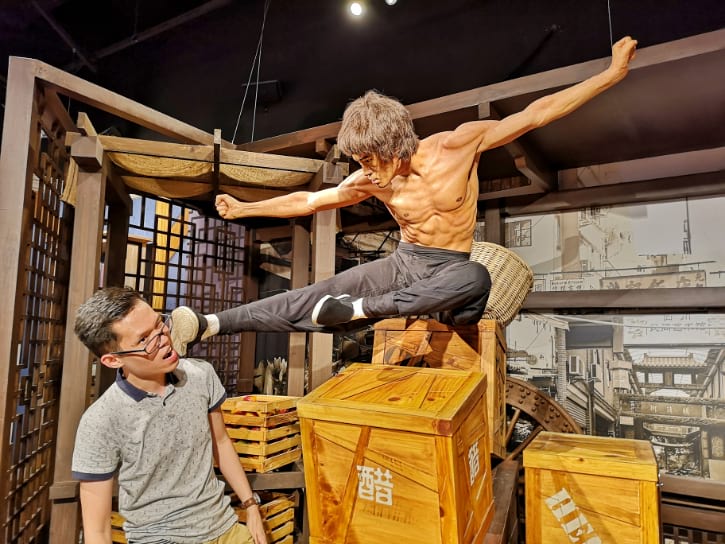 Madame Tussauds Singapore is one of the fun and interactive museums in Singapore that you shouldn't miss.
This place offers you a realistic encounter with your favorite stars. Meet some famous celebrities, sports legends, and other notable personalities.
I just visited this wax museum together with my wife, and we really had fun seeing the wax figures.
And in this Madame Tussauds Singapore review, I will share our personal experiences. These include the attractions you'll see inside and also how to get to Madame Tussauds Singapore by MRT or Cable Car. 🙂
You can also read this top 20 things to do in Sentosa Island guide for attractions near the wax museum.
What to Expect at Madame Tussauds Singapore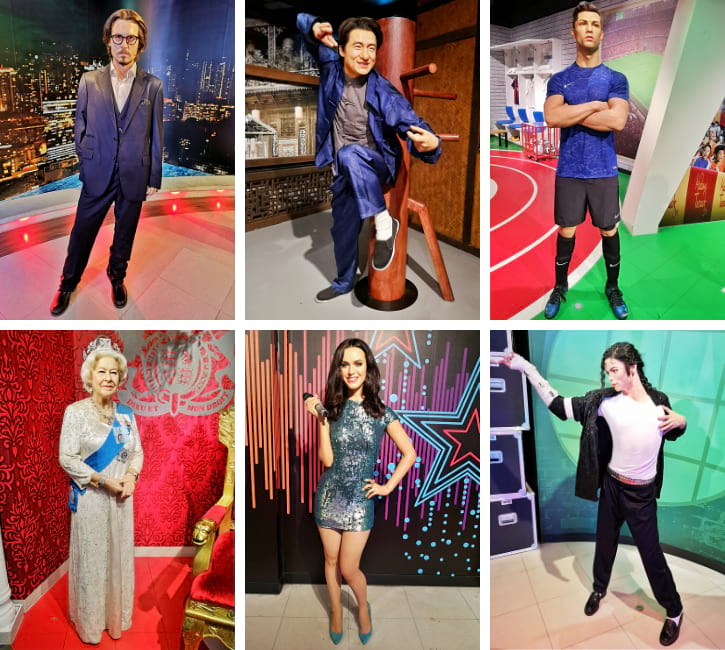 Madame Tussauds Singapore puts on a fantastic display of wax figures. These range from famous singers to A-list actors to local artists.
Not only that but you'll also catch some renowned political figures and athletes.
There are 12 attractions inside the museum, all of which are unique and eye-catching. Explore every section and get mesmerized by the realistic features of the wax statues.
And during our visit, we went through all the exhibitions and took a lot of photos.
So, here are the attractions you'll see at Madame Tussauds Singapore. The list below will give you a better idea of the things you can do here.
1. Spirit of Singapore Boat Ride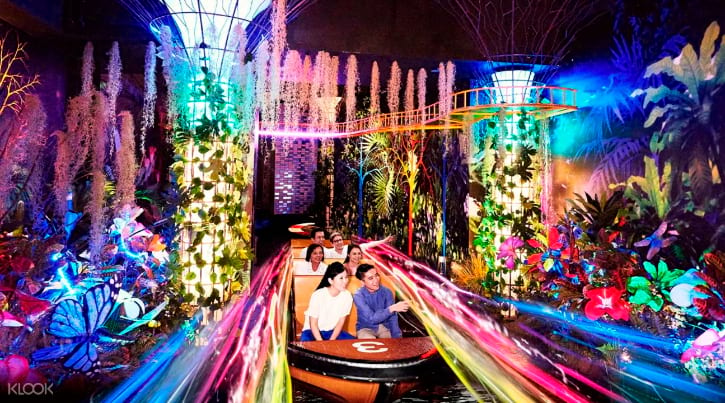 Spirit of Singapore Boat Ride is a special water journey that makes you appreciate Singapore's cultural identity.
Go through the colorful scenes and capture the beautiful attractions surrounding you.
While onboard the 8-seater boat, you will pass by a tropical jungle that outlines the scenic Gardens by the Bay.
Then it drifts to the spectacular Singapore flyer and the Singapore Grand Prix. At this point, you'll hear epic speeding car sounds.
The ride lasts about 3 minutes, so don't dare bat an eye or else you'll miss the breath-taking wonders in between.
2. Music Artists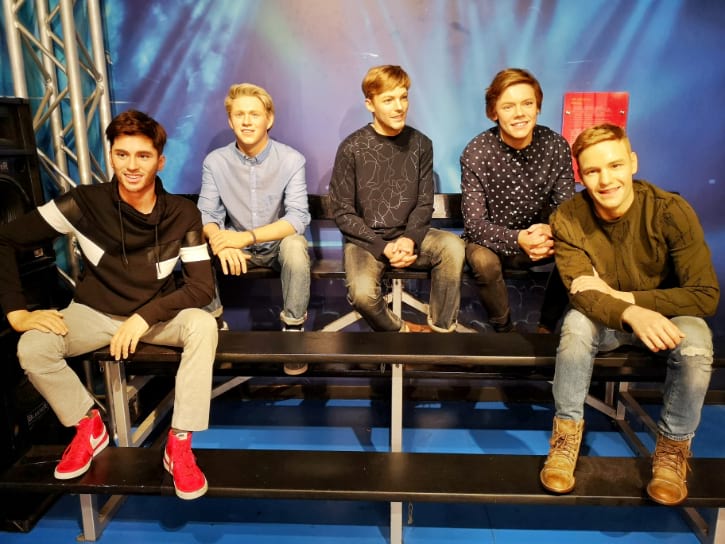 Music artists like One Direction dominate this section in the museum. Take this once in a lifetime moment to meet the complete cast of your favorite pop boy band.
Catch up with Harry Styles, Liam Payne, Niall Horan, Louis Tomlinson, and Zayn Malik.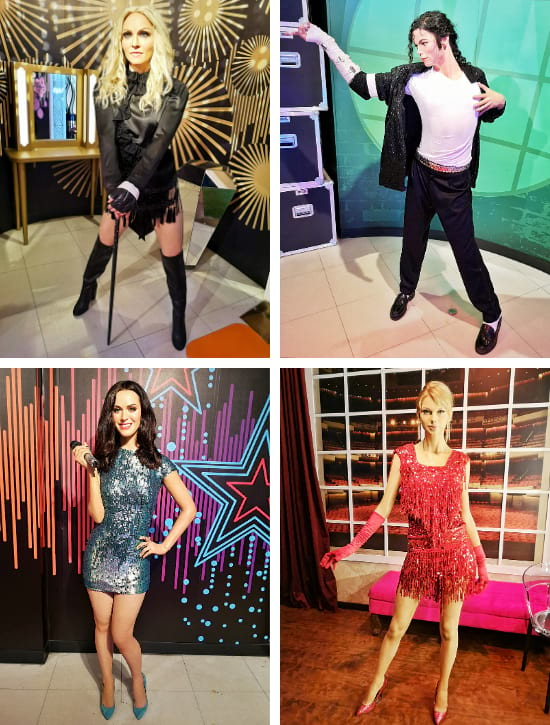 Of course, the music industry won't be complete without the King of Pop, Michael Jackson.
On top of that, you'll come across top artists like Taylor Swift, Katy Perry, and Madonna. These female singers have their own kind of music that makes them unique.
3. Bollywood Stars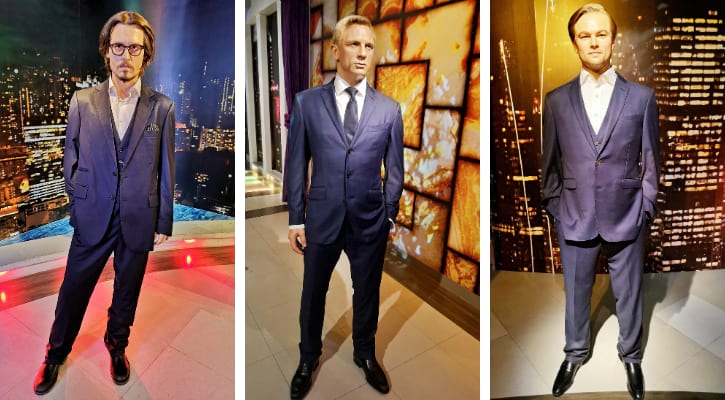 Bollywood Stars are also crowd favorites in the museum.
Meet Johnny Depp and take a look back at his popular films like Fantastic Beasts, Sweeney Todd, and Pirates of the Caribbean.
Right after, head straight to the wax figures of Daniel Craig and Leonardo Dicaprio. Have the time of your life taking pictures of these ever-talented actors.
And don't worry because you can take as many photos as you want!
4. Marvel 4D Experience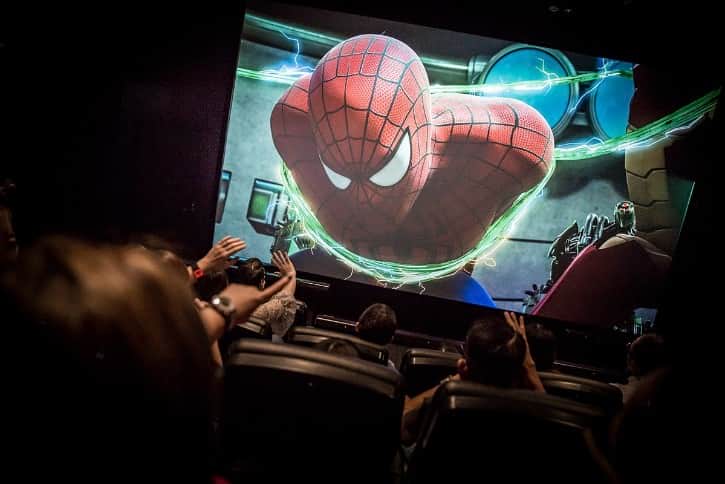 The Marvel 4D Experience is a perfect treat for die-hard fans of Marvel movies.
Don't miss this rare opportunity of seeing your favorite Marvel heroes on a big, realistic screen.
Follow the Avengers squad as they battle against the villains.
And you might be surprised because the locations in the movie are set in different areas in Singapore.
Plus, the realistic effects will surely have you shouting and gripping your seats.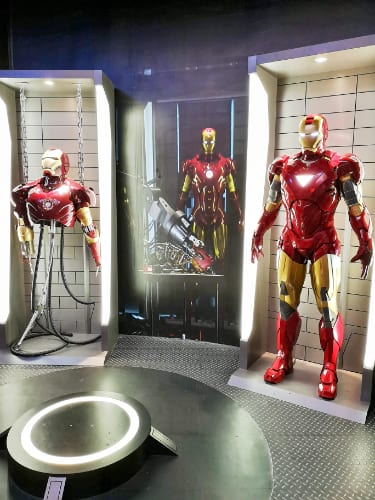 Aside from the breath-taking 4D film, there's a live exhibition of your favorite Marvel heroes. Be amazed at the life-size figure of Iron Man.
Surprisingly, you can even be Iron Man even for a minute. Try to wear Tony Stark's prized combat suit and slip on his powerful chest piece.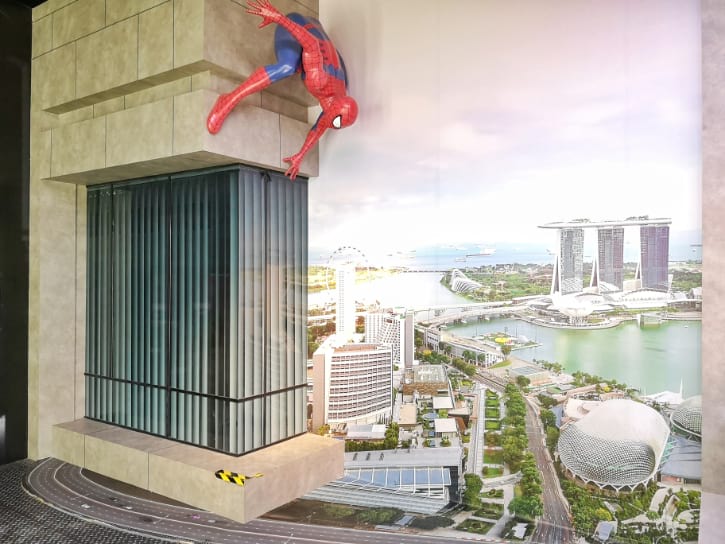 Spiderman in an up-side-down position is another highlight in this attraction. Show your acting skills as you pose with the dangling hero behind you.
5. Sports Legends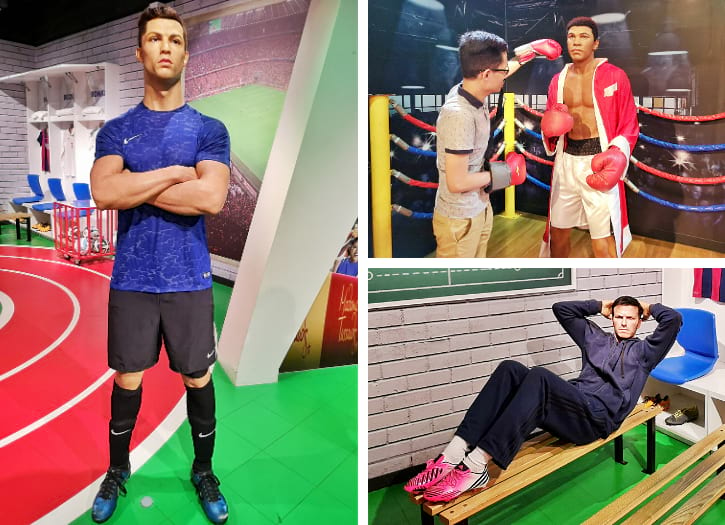 Sports legends deserve worldwide recognition so they've got a place in the museum.
Strike a pose together with the greatest soccer players of all time such as Cristiano Ronaldo and David Beckham. These two have carved a name in their entire football career.
And of course, Muhammad Ali never goes unnoticed! Dubbed as 'The Greatest' in boxing history, he has changed the course of boxing in history.
Aside from that, he was a remarkable activist and philanthropist.
6. Martial Arts Actors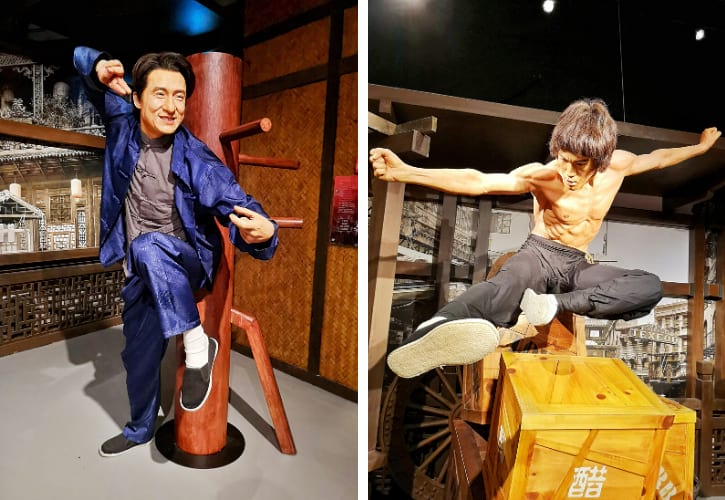 What about a flying kick from the legendary Bruce Lee? Or a Kung Fu movie from Jackie Chan?
These two are considered some of the greatest martial arts actors of all time.
Each of them has its own style that made them popular in the film industry. Relive their best movies as you stand in front of their wax figures.
Make sure you also show your Kung moves to create a legendary picture.
7. World Leaders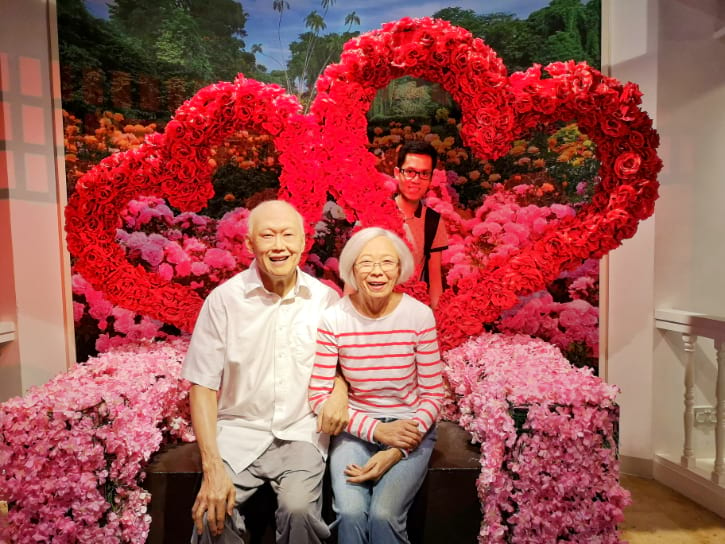 At World Leaders, you'll have a chance to see Singapore's beloved political personalities.
Lee Kuan Yew and Kwa Geok Choo are two of the most important figures that helped develop the country.
Aside from their works, they are known for their timeless portrayal of love.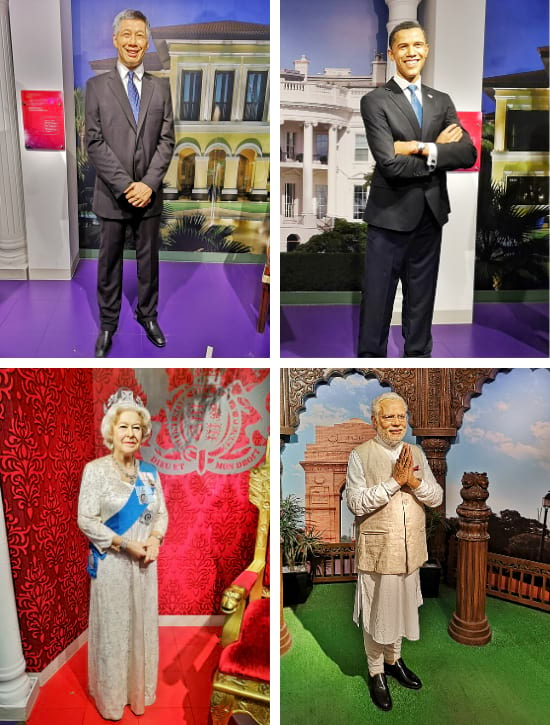 Continue with your tour and you'll find some of the world's top leaders. Gracing the list are Singapore's and India's current prime ministers, Lee Hsien Loong and Narendra Modi,
You'll also spot Barack Obama and Queen Elizabeth II. Surely, these people deserve appreciation for their distinct leadership.
8. TV and Film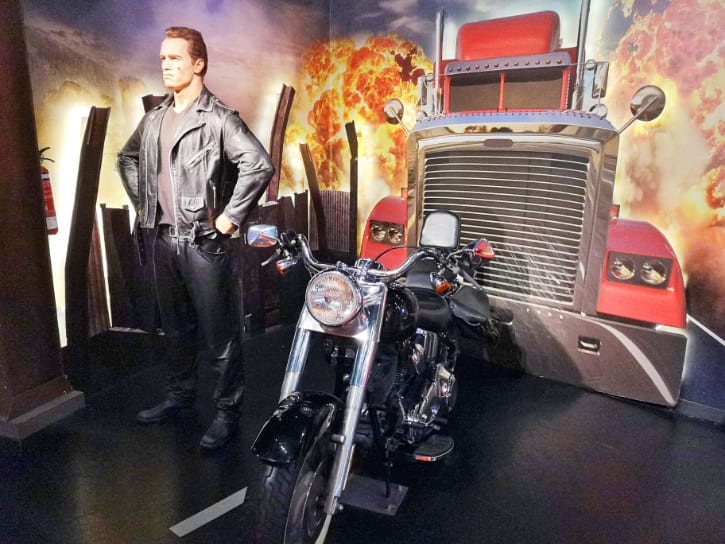 The TV and Film area is another must-visit attraction because of its display of famous actors.
Get amazed by the realistic features of Arnold Schwarzenegger. Aside from capturing his ruggedly handsome look, you can take a ride on his big bike!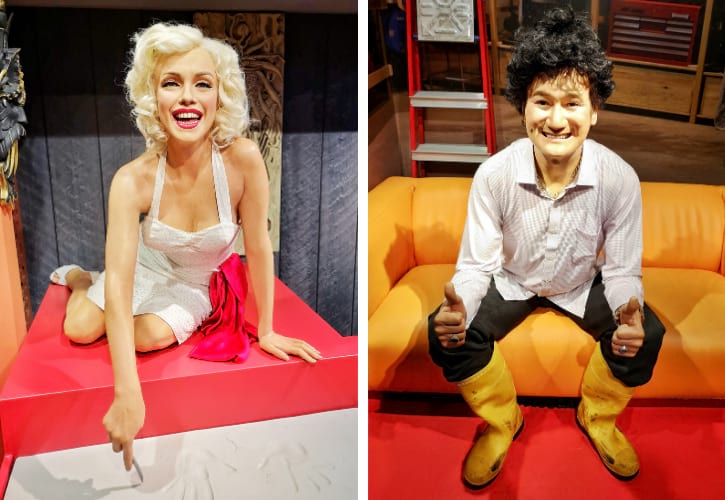 Don't forget to snap some pictures with the blonde bombshell, Marilyn Monroe.
Singapore's renowned comedy performer, Gurmit Singh, or also called Phua Chu Kang, is in the house too!
9. VR Racing Experience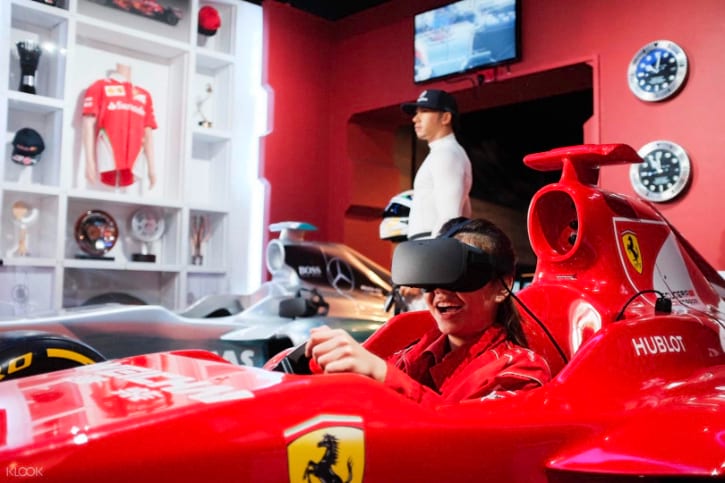 If you're looking for extra fun, take the VR Racing Experience. This ride will surely pump up your senses and keep you energized all throughout.
This virtual reality attraction lets you feel the rush of riding a real racing car.
And to make your VR adventure more unforgettable, you will be joining some of the world's best car racers. This is your chance to keep up with the skillful Lewis Hamilton and his team.
10. IIFA Awards Experience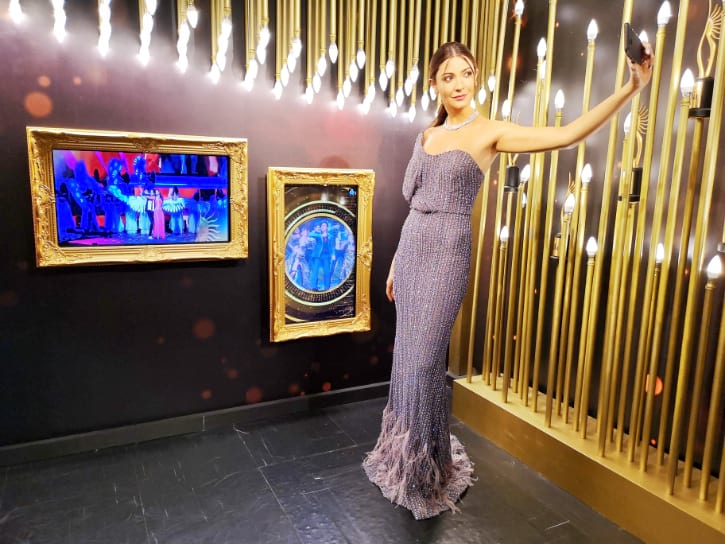 Take the spotlight with you as you walk down the green carpet. The IIFA Awards Experience lets you experience the glamor of Bollywood vibes.
Here, you'll witness some award-winning stars like Madhuri Dixit-Nene, Kajol Devgan, and Aishwarya Rai Bachchan.
And don't forget to snap a selfie with the life-like Anushka Sharma. Compared to other wax figures, this one talks like the real Anushka Sharma.
And for your information, this is considered the first-ever interactive wax statue in the country.
11. Madame Tussauds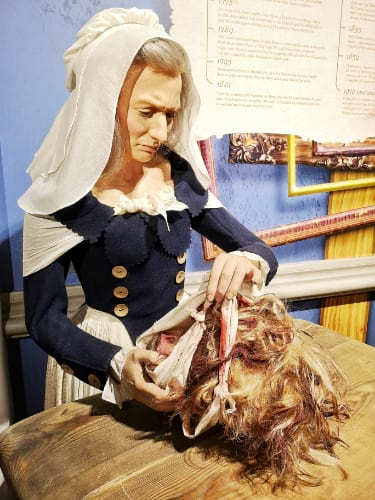 Madame Tussauds Singapore would not be complete without the woman behind its success.
Catch a glimpse of Madame Tussauds before her work as a wax sculptor.
Born as Anna Maria Grosholtz, she worked first as a housekeeper for the Curtius family. From there, it ignited her passion for wax modeling so she opened her first museum in London.
Some of her famous portraits include Voltaire, Jean-Jacques Rousseau, and Benjamin Franklin. Because of her incredible skills, her legacy still exists even up to this day.
12. Images of Singapore Live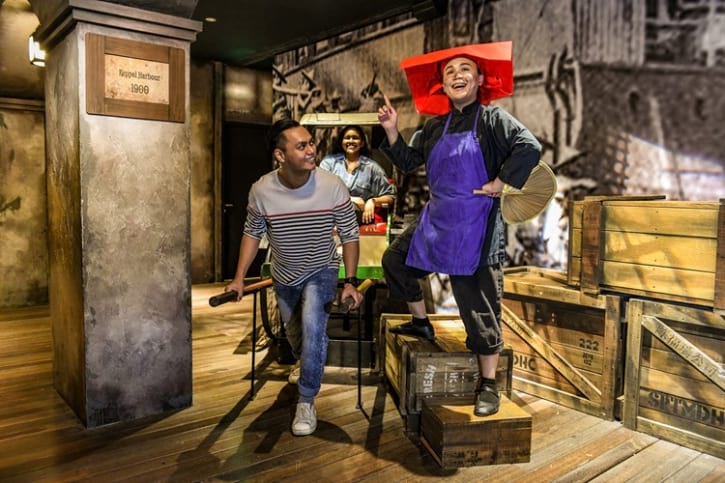 Images of Singapore Live completes the set of attractions in Madame Tussauds Singapore.
This special documentation shows you how the country transformed into one of the most flourishing nations in the world.
Re-live Singapore's history through this fun and theatrical interaction. Enjoy the live storytelling of the actors and get amazed by the production's special effects.
Truly, this is one of the highlights of your visit to the museum, especially for history buffs.
Not only that but it's also an engaging activity for the children. Let the kids participate the live drama and make them understand the history and culture of Singapore.
My Comment
Our visit to Madame Tussauds Singapore was really enjoyable. We started exploring the museum around 2 PM and spent around 3 hours there.
Because of the variety of attractions inside, we had an amazing time during our visit.
The wax figures are highly impressive and most of these are very realistic. Plus, there are other attractions to look forward to aside from the wax exhibition.
You can try the scenic boat ride and learn more about the country's past. Or you can watch the 4D movie and have fun with the VR experience right after.
And since we availed of the Madame Tussauds Singapore tickets online, this made our trip more convenient. We easily entered the museum and even saved 40% of the original price.
Truly, we enjoyed our visit to this museum and it's something that we highly recommend.
Visitor Information and Ticket Prices
Opening Hours:
10:00 AM – 8:30 PM (Last Admission at 7:00 PM)
Normal Ticket Prices:
Adult (13+): SGD $42
Child (3 – 12): SGD $32
Money Saving Tips:

Do you want to save time and money during your visit to Madame Tussauds?
Make sure to purchase your tickets online. Buying online tickets offers you 40% discount and lets you skip the long queues at the on-site counter.
So, here's a link to avail of the cheaper tickets and easy access to the museum.
Address:
Madame Tussauds Singapore, 40 Imbiah Road, Imbiah Lookout, Sentosa, Singapore, 099700
Official Website:
https://www.madametussauds.com/singapore/
Where to Go after the Wax Museum
Make the most out of your trip and explore other top-rated spots in the country.
To give you an idea for your next adventure, below are some attractions to visit in Singapore.
Both Universal Studios and S.E.A. Aquarium are very near Madame Tussauds Singapore. So, you can schedule these attractions before or after your trip to the wax museum.
1. Universal Studios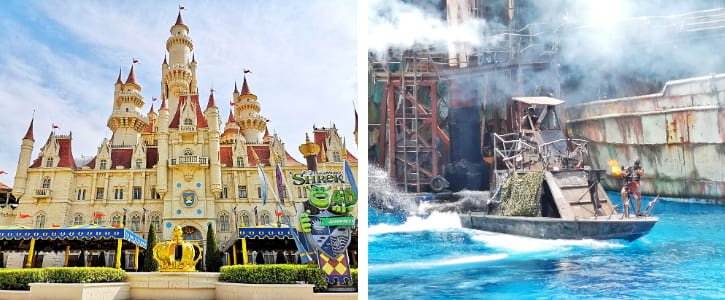 Universal Studios is the best place for adventurous rides and family-friendly attractions.
Take a look at my complete guide to Universal Studios Singapore to know the top attractions and must-see shows. Plus, it will provide you with details on how to go there by MRT.
2. S.E.A. Aquarium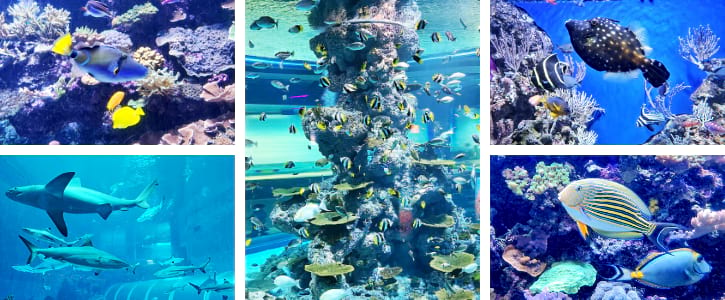 S.E.A. Aquarium is a famous oceanarium that shelters thousands of marine animals. Tour around the aquariums and see various aquatic creatures up-close.
You can read this full guide to SEA Aquarium Singapore and review for a better grasp of this attraction.
3. ArtScience Museum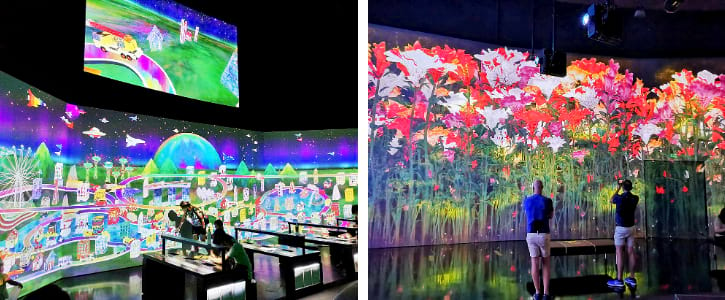 ArtScience Museum is a popular destination among art and technology lovers. Explore all the amazing and interactive exhibitions with your family and friends.
And if you're planning to visit soon, my detailed ArtScience Museum's Future World article is very helpful.
2 Simple Ways to Go to Madame Tussauds Singapore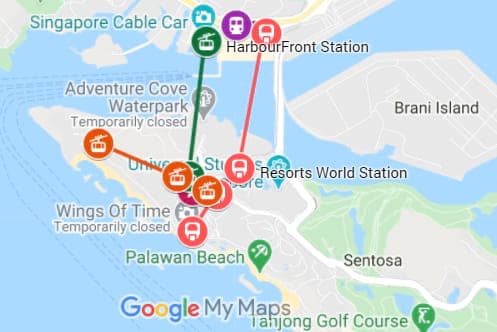 The nearest MRT station to Madame Tussauds Singapore is HarbourFront MRT station. Upon reaching HarbourFront MRT station, you have 2 ways to go to Madame Tussauds Singapore. These are via Sentosa Express (monorail) or via cable car.
The first option is the fastest and most convenient one. The second choice, on the other hand, is slower but can provide more beautiful scenery going to the museum.
If you want more detailed information about these 2 methods, you can refer to my guide below. This will help you choose the right transportation method according to your preference.
1. How to Get to Madame Tussauds Singapore by MRT and Sentosa Express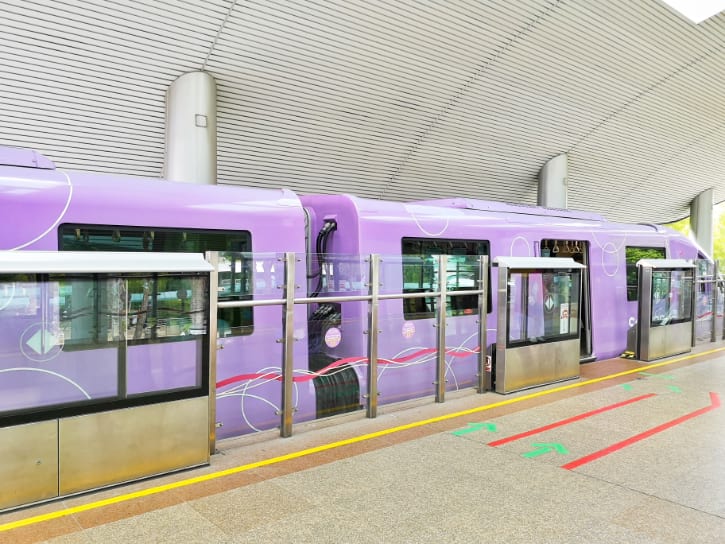 The easiest and fastest ways to go to Madame Tussauds Singapore is to take MRT and Sentosa Express (monorail).
First, take the MRT to HarbourFront MRT Station and then go to the level 3 of VivoCity shopping mall. From there, you can take Sentosa Express to Madame Tussauds Singapore. The travel time is around 4 minutes via Sentosa Express and it costs SGD $4.
Below is the step-by-step guide on how to take MRT and Sentosa Express to Madame Tussauds Singapore.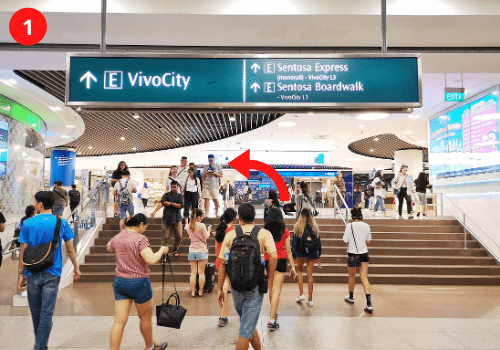 1. The first step is to take Circle Line or North East Line to Harbourfront MRT Station. After you alight at Harbourfront MRT Station, you should look for the Exit E. Follow the guidepost of Sentosa Express, go up the stairs and then turn left.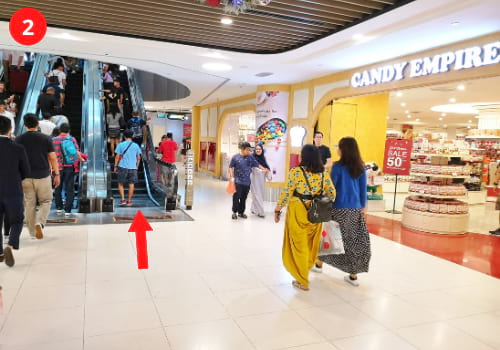 2. After you turn left, you should take this escalator to the level 3 of VivoCity shopping mall.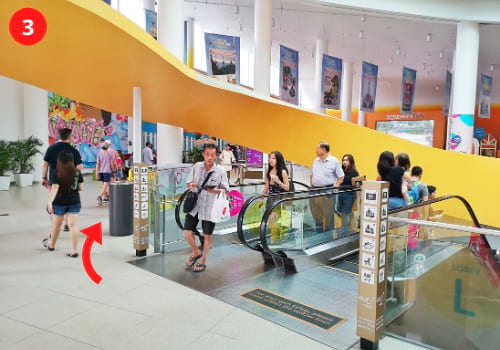 3. This is the level 3 of VivoCity shopping mall where you can take Sentosa Express to Madame Tussauds Singapore.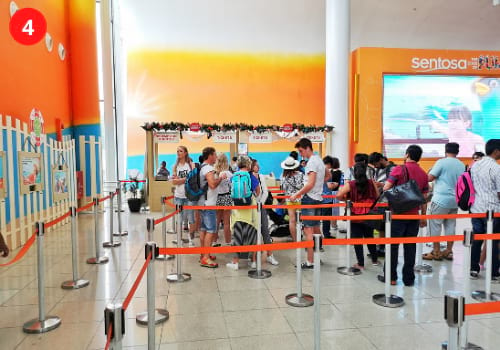 4. Purchase your Sentosa Express ticket at there. The monorail fare is SGD $4 per person and it can be paid via Cash, NETS and Credit Cards.
If you have EZ-Link card or NETS Flash card, you don't need to queue up to buy the monorail ticket. You can use one of these cards to ride the monorail.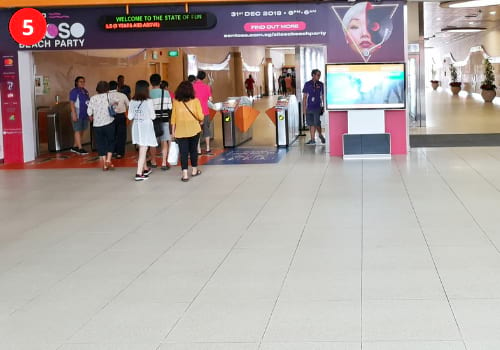 5. Scan your monorail ticket or EZ-Link card/NETS Flash card at the boarding gate of VivoCity Station.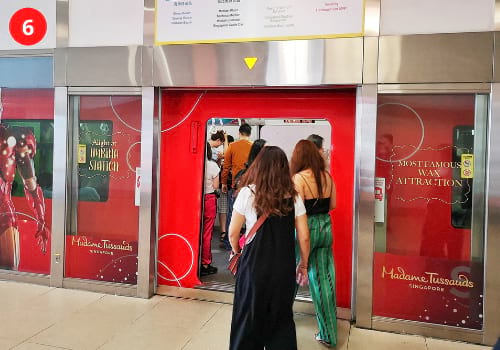 6. Board the monorail at VivoCity Station to Imbiah Station.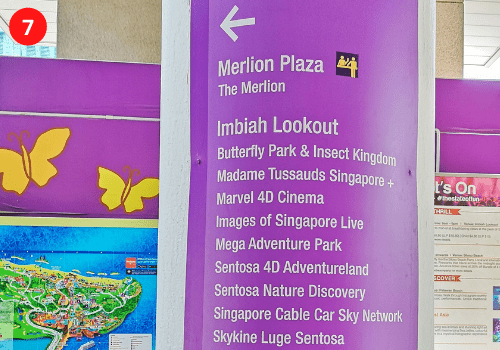 7. After you get off the monorail at Imbiah Station, you should turn left. Just follow the guidepost for Madame Tussauds Singapore at Imbiah Station.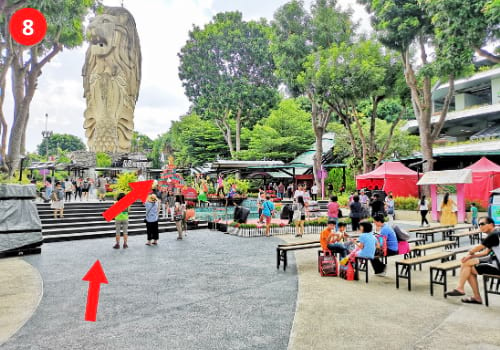 8. Go straight and you'll see the escalator for the wax museum soon.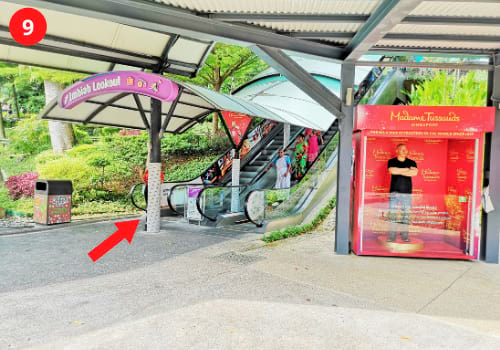 9. Take the escalator up which will lead you to the museum.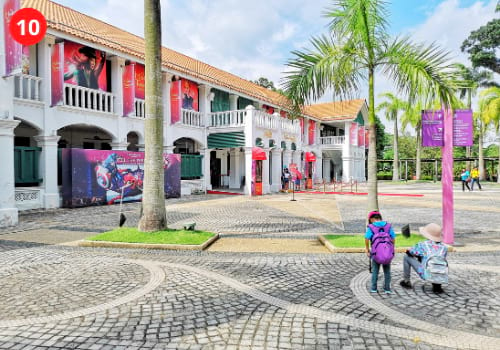 10. This is the main entrance of Madame Tussauds Singapore. For the return trip, just reverse the steps above.
2. How to Go to Madame Tussauds Singapore by Cable Car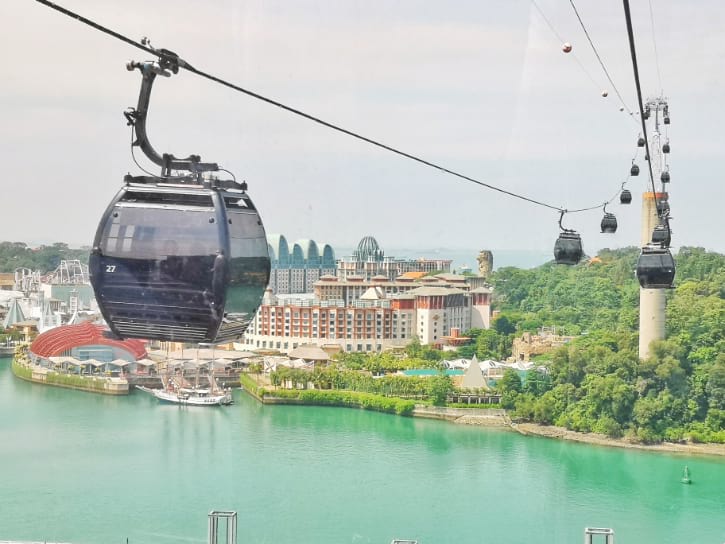 If you want to see the beautiful views of Singapore while travelling to Madame Tussauds Singapore, then you should take a cable car.
The most convenient place for you to ride a cable car to Madame Tussauds Singapore is HarbourFront Cable Car Station. The travel time is about 25 to 30 minutes via cable car and it costs SGD $35.
Below are some of the photos I took when I ride the cable car to the museum.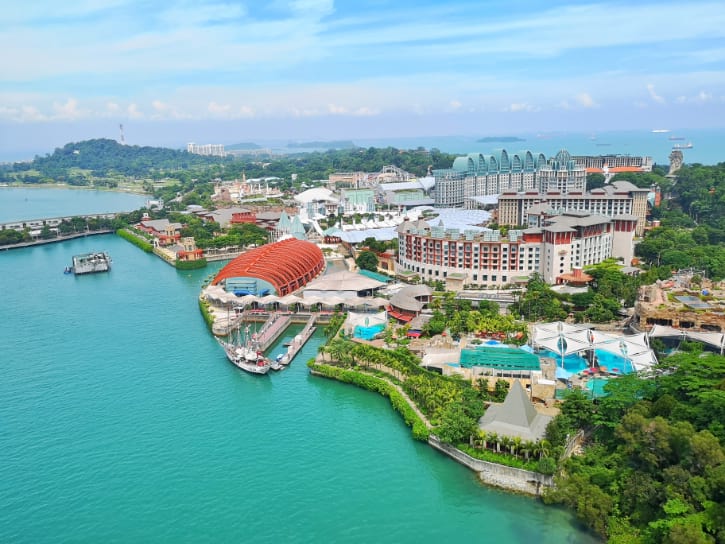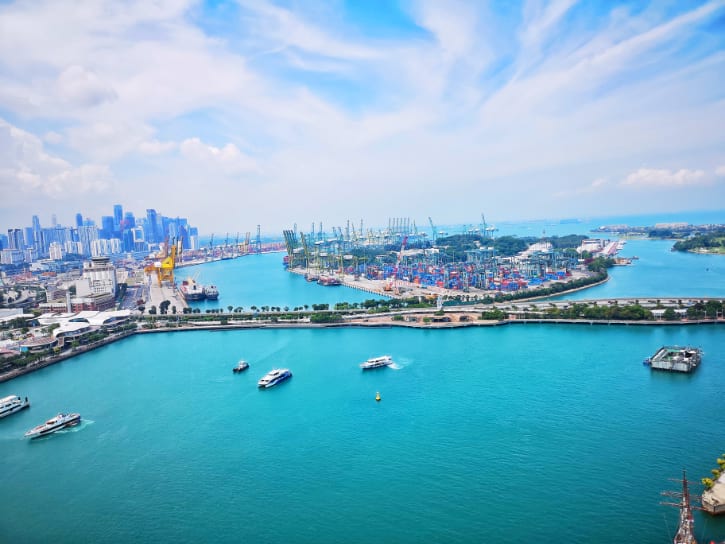 The below guide will show you how to take a cable car from HarbourFront Cable Car Station to Madame Tussauds Singapore.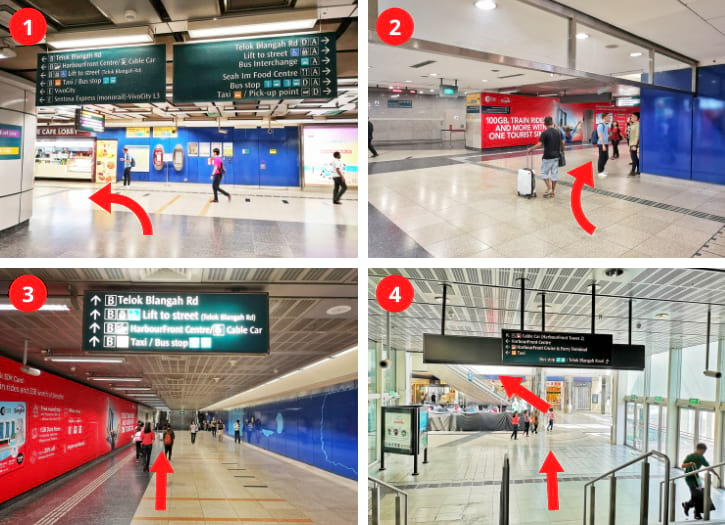 1. Take the North East Line or Circle Line to HarbourFront MRT Station. After that, you should go out the Exit B and then turn left.
2. Turn right and then go straight.
3. Go until the end for you to take an escalator up.
4. Go straight and then go up the escalator again.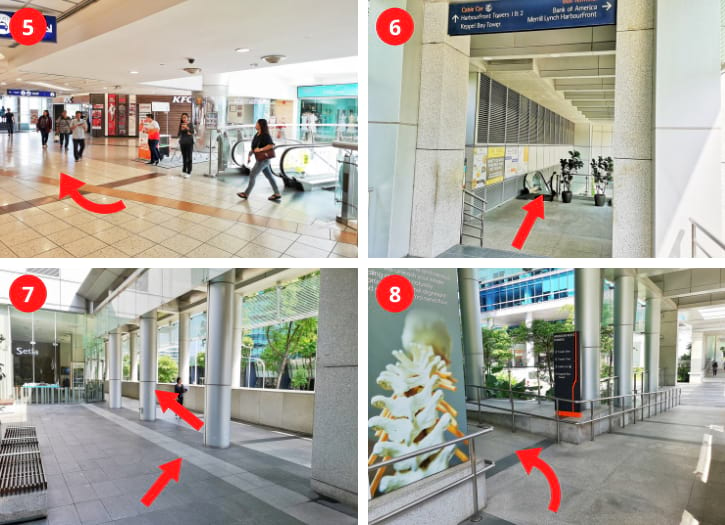 5. After you go up the escalator, you should turn right and then heading toward the link bridge.
6. Go down the escalator after you cross the bridge.
7. Turn right and then go straight.
8. Turn left and then go straight on until you reach the Harbourfront Tower 2. Harbourfront Cable Car Station is situated at the level 15 of Harbourfront Tower 2.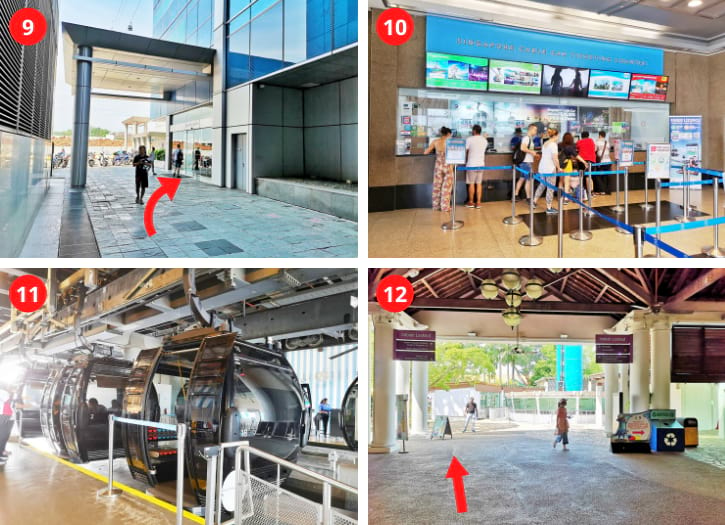 9. Turn left to enter the Harbourfront Tower 2.
10. This is the ticketing counter of cable car. You have 2 options to buy your cable car ticket.
The first option is you can buy the cable car ticket at the ticketing counter over there which is SGD $35 for Adult (13 and above) and SGD $25 for Child (4-12).
The second option is you can buy the cable car ticket online to get an extra 30% discount.
11. After you get your cable car ticket, head to the level 15 for you to board the Mount Faber Line to Sentosa Cable Car Station.
12. When you reached the Sentosa Cable Car Station, go straight and you'll reach the Madame Tussauds Singapore in less than 1 minute.
Related Posts