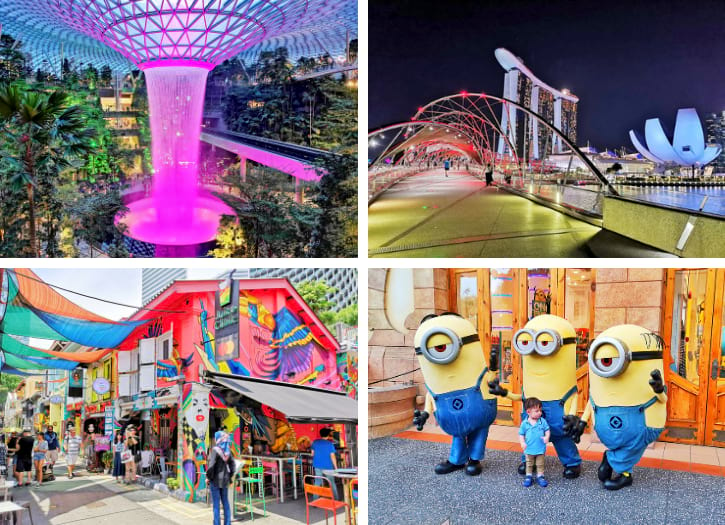 Are you planning to travel around Singapore anytime soon? Then, this guide can be of great help when preparing for your Singapore itinerary.
Based on my experience, I can say that spending 5 days in Singapore is the perfect plan. It's because you can explore historical sites, visit scenic gardens, enjoy various theme parks, and more in a much relaxed and enjoyable manner.
So, here's my personal 5 days in Singapore itinerary to help you visit all the beautiful attractions without running short on time while also enjoying every moment of the trip.
Also in this itinerary, you'll get an idea on where to eat, where to stay, how to get around, and other important travel tips.
Before we get started with my itinerary, I encourage you to download the MRT station exits cheat sheet here to easily find the nearby station exits of each attraction. 🙂
Day 1: Explore Canopy Park, Jewel Waterfall, and Orchard Road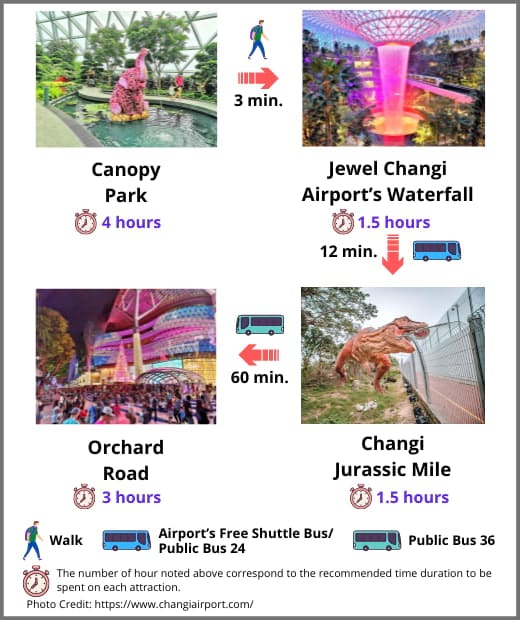 On day 1 of this Singapore itinerary, you can kick off the fun at Canopy Park.  And then, continue your exploration at Jewel Changi Airport's Waterfall. For the last stop, explore Orchard Road.
1. Canopy Park – 6 hours (9:00 AM to 3:00 PM)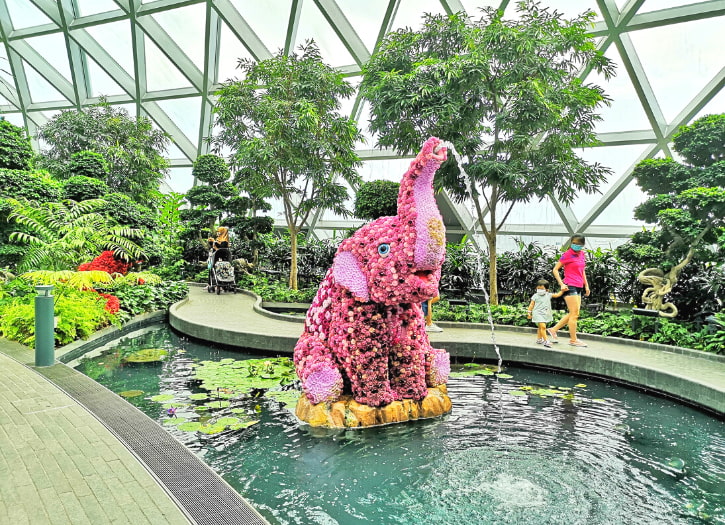 In the morning, start your adventure at the best indoor theme park in Singapore – Canopy Park. This beautiful spot is located at level 5 of Jewel Changi Airport.
Here, you can try a lot of fun activities such as canopy walking, sky net walking, and the like. There are also plenty of lovely scenes to capture.
Plus, it is surrounded by various restaurants, so you can conveniently take your lunch. Another option is to go to basement 2 and dine in at the food court.
Since there are many things to do here, I recommend that you check out this Canopy Park article for detailed information. And to save money, you can book discounted Canopy Park tickets here and get up to 10% discount.
2. Jewel Changi Airport's Waterfall – 2 hours (3:00 PM to 5:00 PM)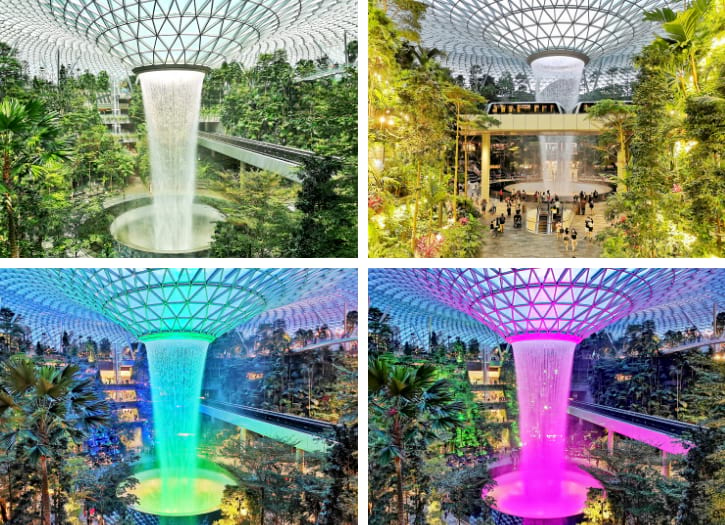 After your scenic trip at Canopy Park, make your way to the stunning waterfall at Jewel Changi Airport. You can actually visit this place anytime because the day view and night view are equally beautiful.
And with its unchanged scenery, no wonder it's one of the most photographed sights in Singapore. Once you're done with your sightseeing, you can shop around the shopping mall at Jewel Changi Airport. The shopping mall is located in the same area as the waterfall.
3. Orchard Road – 3 hours (6:00 PM to 9:00 PM)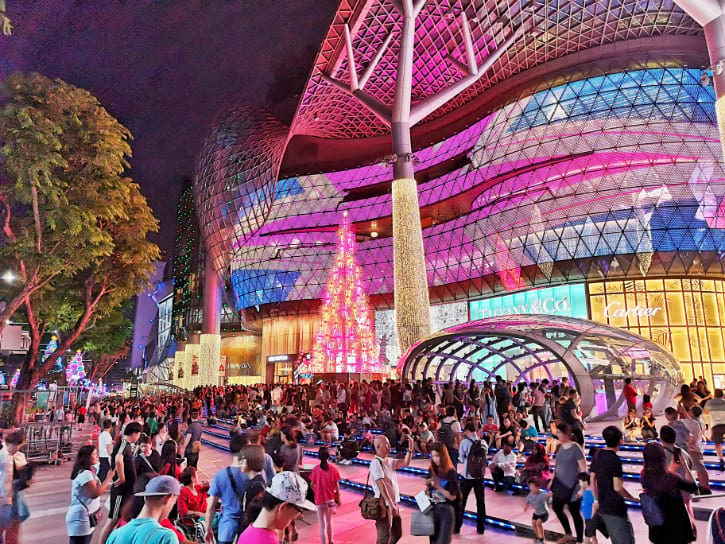 In the evening, head to Singapore's top shopping district, Orchard Road, and explore its shopping hubs. You can start at [email protected] shopping mall, which offers an amazing display of international fashion items. There are also plenty of top-rated restaurants to try too.
One tip is to dine in at Food Republic, which is located at level 5 of [email protected] shopping mall. This is a huge food court that serves different kinds of food at an affordable price. These include Chinese, Indian, Malay, Western foods, and many more.
Orchard Road is just one of the best night time spots in this country. And if you want to know more about the other choices, simply read my extensive blog post on 21 best things to do in Singapore at night.
Day 2: Tour around Singapore's Marina Bay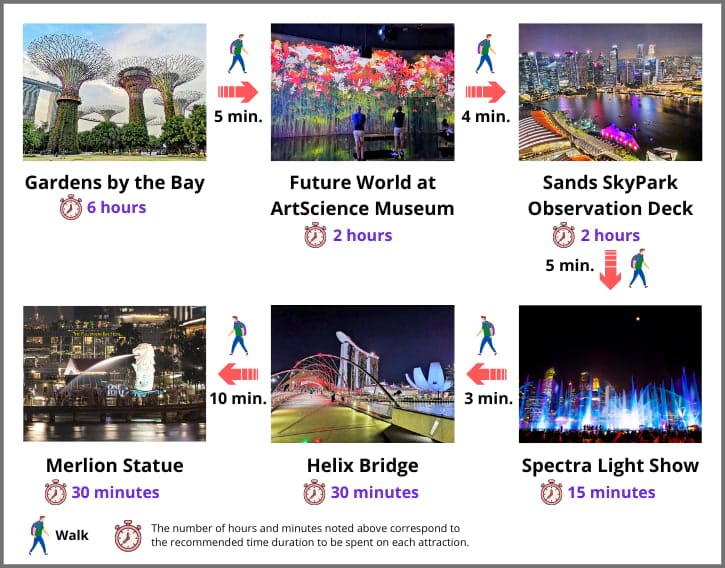 For day 2 of your Singapore itinerary, travel around Marina Bay and visit some top-rated destinations. These include Gardens by the Bay, Future World at ArtScience Museum, Sands SkyPark Observation Deck, and others.
1. Gardens by the Bay – 6 hours (9:00 AM to 3:00 PM)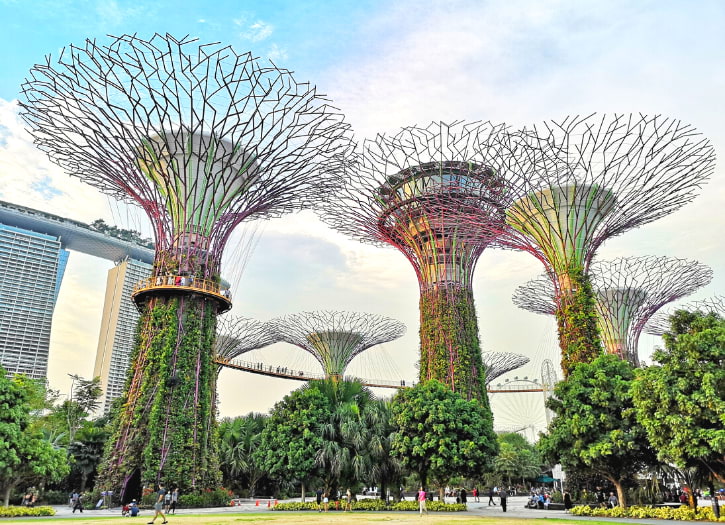 Start your morning with a visit to Gardens by the Bay. This place offers 15 amazing sights waiting to be explored.
Here, you can stroll around the scenic Supertree Grove and OCBC Skyway. Don't forget to explore the Floral Fantasy, Flower Dome and Cloud Forest too. Find out more in my super detailed guide to must-see attractions at Gardens by the Bay.
Don't forget to avail of this online admission ticket to get an extra 10% OFF and skip the long lines.
And for my suggested dining option, you can take your lunch at SuperTree Food Hall, which is located just beside the Supertree Grove.
2. Future World at ArtScience Museum – 2 hours (3:00 PM to 5:00 PM)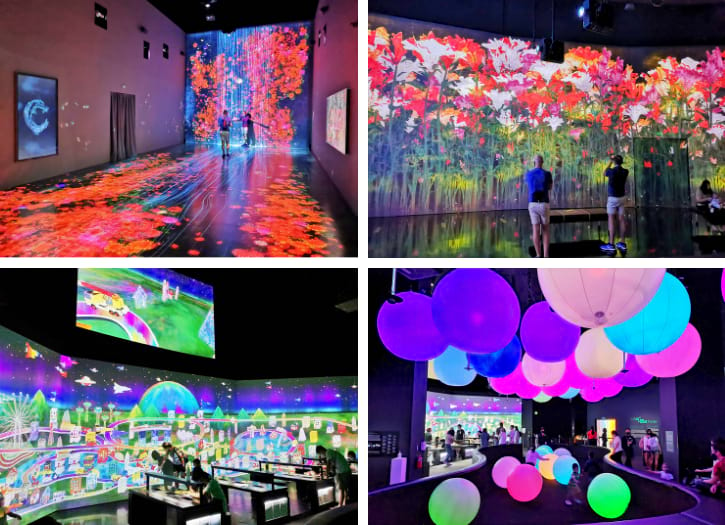 In the afternoon, go to ArtScience Museum, which is the most interesting and unique museum in Singapore for every art and technology lover. The Future World exhibition, in particular, features an incredible display of animations.
These are categorized into 4 themes namely ― A Garden, Sanctuary, Park, and Space. Each section has its own set of virtual charms to fascinate every visitor. These include various interactive installations as well as fun artworks.
You can read my ArtScience Museum's Future World guide to learn more about the hidden gems of this coolest museum.
3. Sands SkyPark Observation Deck – 2 hours (5:00 PM to 7:00 PM)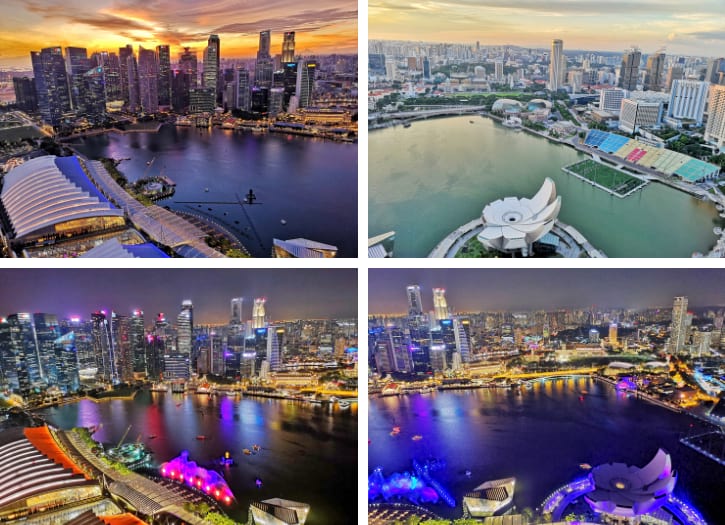 The next stop would be Sands SkyPark Observation Deck. This is a perfect spot to see the entire cityscape and catch the sunset. You can check my post on things to see from the Sands SkyPark Observation Deck for a more detailed guide.
And by booking your Sands SkyPark tickets in advance, you get to enjoy up to 25% discount. So, if you want to save money, get your tickets online.
After seeing the breath-taking Singapore skyline, head to Rasapura Masters and take your dinner. This is a very famous food court located at The Shoppes of Marina Bay Sands shopping mall.
4. Spectra – 15 minutes (8:00 PM to 8:15 PM)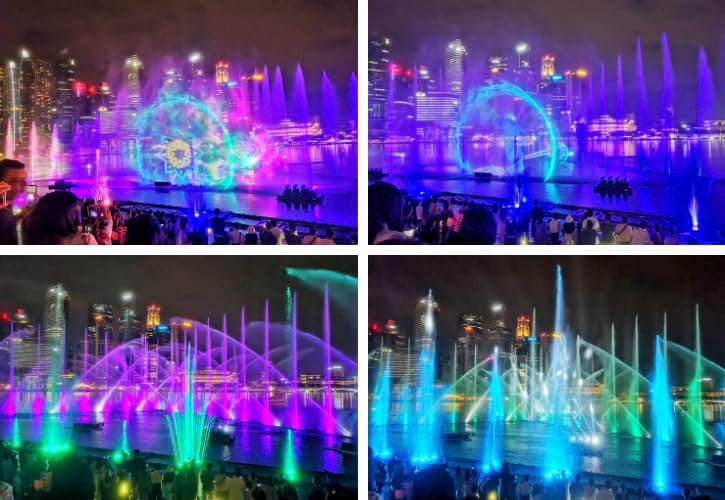 After your dinner, catch the fascinating light show called Spectra. Don't worry because this 15-minute outdoor presentation is for free.
From Sunday to Thursday, you can catch the 8:00 PM or 9:00 show. From Friday to Saturday, there are three show times ― 8:00 PM, 9:00 PM, and 10:00 PM.
5. Helix Bridge – 30 minutes (8:15 PM to 8:45 PM)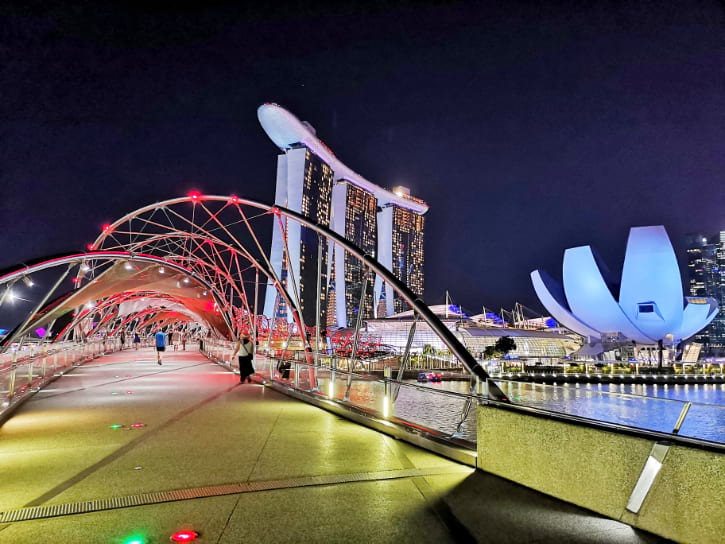 Helix Bridge is another must-visit place because of its unique architectural design. So, after watching Spectra, head to this bridge and enjoy its beautiful views. Here, you can catch a glimpse of the towering Marina Bay Sands and other Singapore landmarks.
6. Merlion Statue – 30 minutes (8:45 PM to 9:15 PM)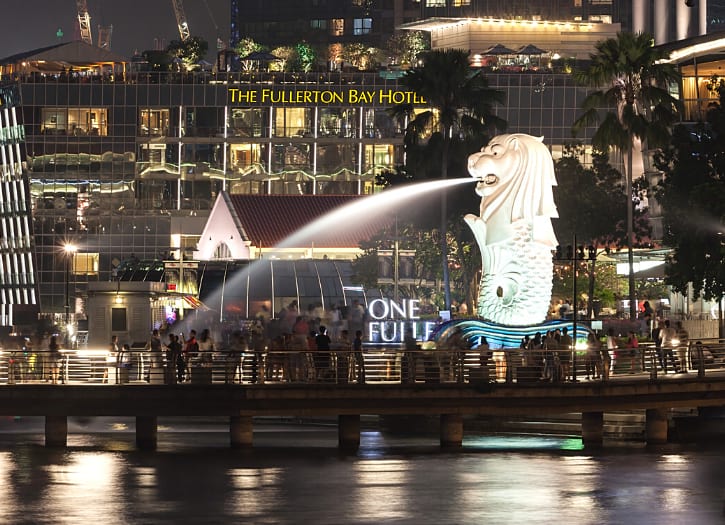 Catch this Singapore's most important landmark ― the Merlion Statue. This iconic structure that has a head of a lion and a tail of a fish represents the historical past of the country.
So, don't forget to take a photo of this towering figure during your trip to Singapore. Beside this landmark is a long expanse of stairs, where you can laze around and converse with your friends.
Day 3: Discover all the fun spots of Sentosa Island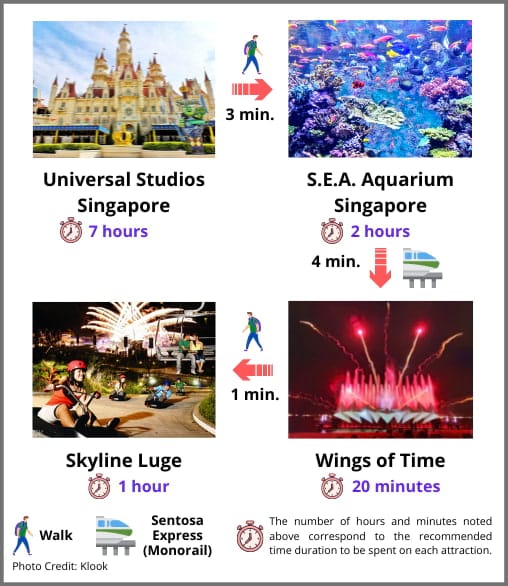 Make the most out of your Singapore trip by visiting Sentosa Island. This is the best destination for anyone looking for exciting activities and scenic beaches.
You can start touring around Universal Studios Singapore, then S.E.A. Aquarium Singapore, and so forth. For a comprehensive guide, below is my recommended timetable for day 3.
1. Universal Studios Singapore – 7 hours (10:00 AM to 5:00 PM)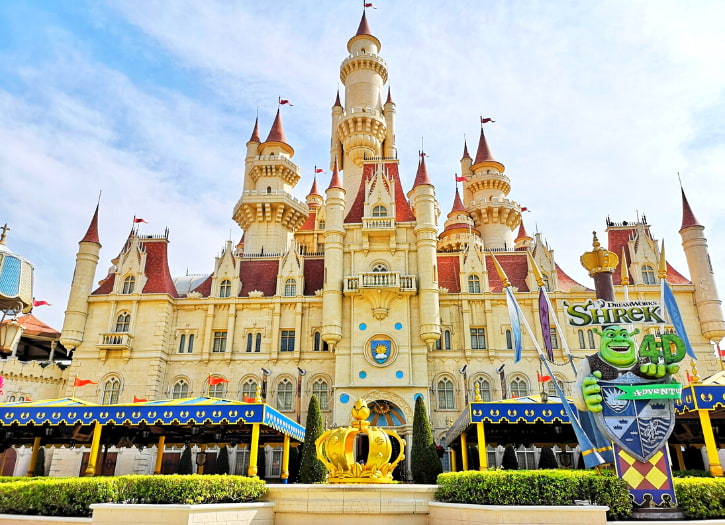 There are a lot of amazing activities to try in Universal Studios Singapore. You can try different exciting rides, watch some jaw-dropping shows, and enjoy the street entertainment.
So, make sure to add this on your Singapore itinerary. I also suggest that you read my 15 best Universal Studios Singapore rides and attractions article to help you out.
And don't forget to check out discounted Universal Studios tickets here so you'll save money and even skip the long queues.
Another thing when visiting this place is the abundance of dining options. You can choose from the many restaurants inside to satisfy your cravings and keep your energized.
2. S.E.A. Aquarium Singapore – 2 hours (5:00 PM to 7:00 PM)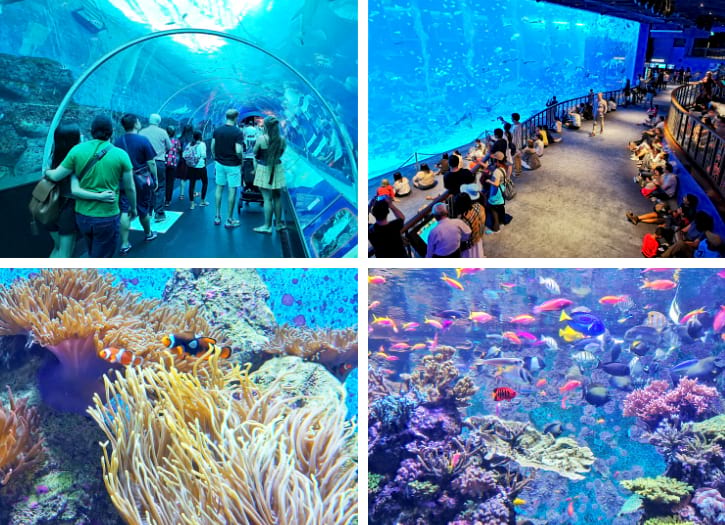 Carry on with your exploration and visit the S.E.A. Aquarium. This place is loaded with unique marine habitats, featuring different oceanic creatures.
This is your chance to meet some sharks, dolphins, jellyfish, and colorful fishes, up-close! See more details in my guide to SEA Aquarium Singapore.
Just in case you don't know, buying your aquarium tickets online is actually cheaper. It's because you get nearly 15% OFF for the entrance fee.
After touring this massive aquarium, you can take your dinner at Malaysian Food Street. This food hub is located very near the aquarium.
Once you're done, hop aboard the monorail from Resorts World Station to Beach Station. This transportation takes you to the next must-watch show―Wings of Time.
3. Wings of Time – 20 minutes (7:40 PM to 8:00 PM)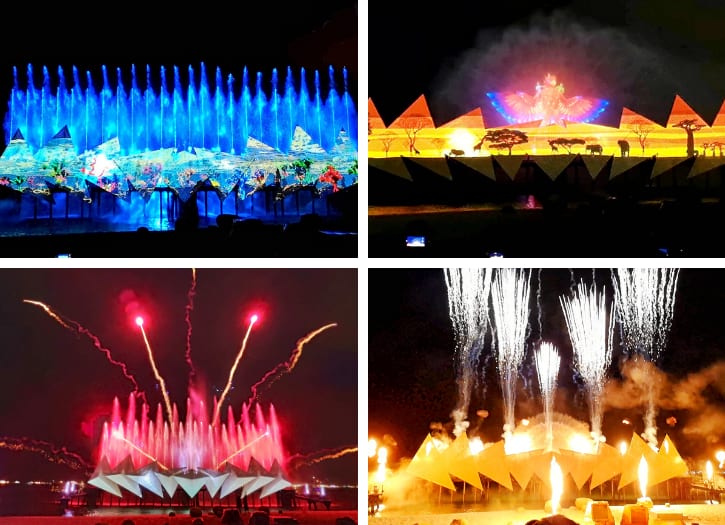 Wings of Time is a highly anticipated light show in Sentosa Island. It's because this outdoor exhibit comes with breath-taking virtual effects and laser projections. So make sure you watch it from start to finish for a more magical experience.
Aside from its incredible animation, this one follows a unique storyline of friendship.
4. Skyline Luge – 1 hour (8:00 PM to 9:00 PM)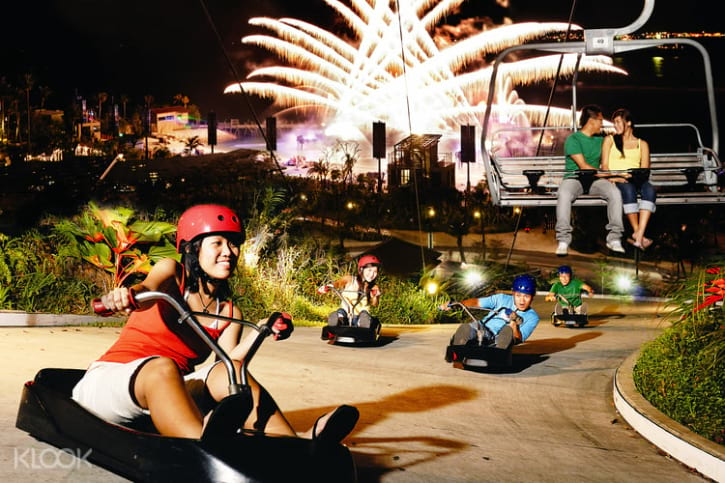 Finish off the adventure by visiting Sentosa Skyline Luge with your family and friends. This is a great destination for those eyeing for a fun-filled night activity.
Try one of their four luge tracks that come with unique kinds of thrill. Another must-try activity is the Skyride, which offers a very scenic journey.
5. Other Places to Explore in Sentosa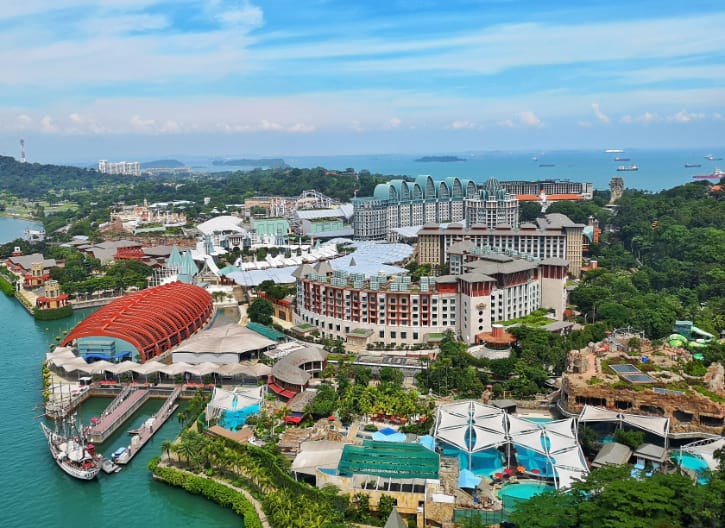 Do know that spending only one day in Sentosa Island is definitely not enough. This island offers many eye-catching attractions and lovely beaches.
So, if you have more days in Singapore, I recommend that you allocate at least 2 days on this island. If you're still unsure, check out this full list of 20 best things to do in Sentosa Island and discover how great this place is.
To give you an idea, some of the best sights on the island are Madame Tussauds Singapore, Adventure Cove Waterpark, and AJ Hackett Singapore. All these should be added to your list if you have extra time.
Day 4: Visit Little India, Bugis, Chinatown, and Clarke Quay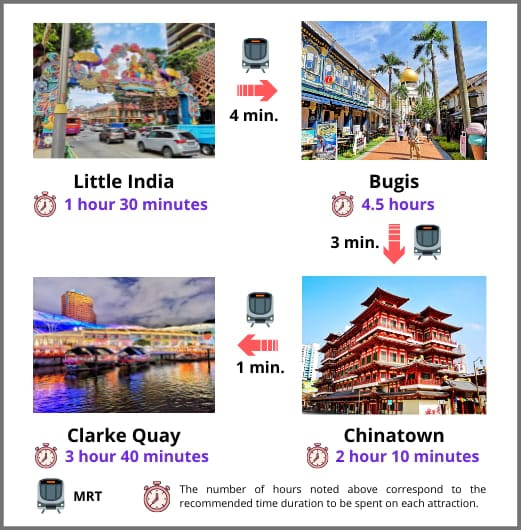 For day 4, it's suggested that you start off with Little India, then Bugis, Chinatown, and Clarke Quay. All these are a perfect treat for history lovers and cultural enthusiasts.
1. Little India – 1 hour 30 minutes (9:00 AM to 10:30 AM)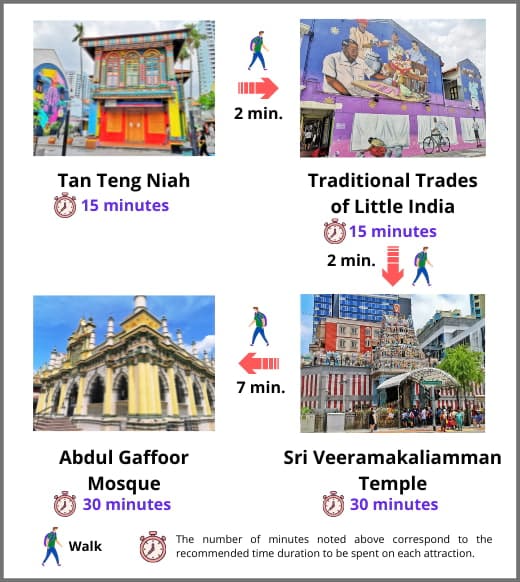 Little India is such a vibrant area to explore because of its unique cultural spots. In the morning, discover some of the top things to do in Singapore's Little India like Tan Teng Niah and Traditional Trades of Little India. Afterward, visit the Veeramakaliamman Temple and Abdul Gaffoor Mosque.
i) House of Tan Teng Niah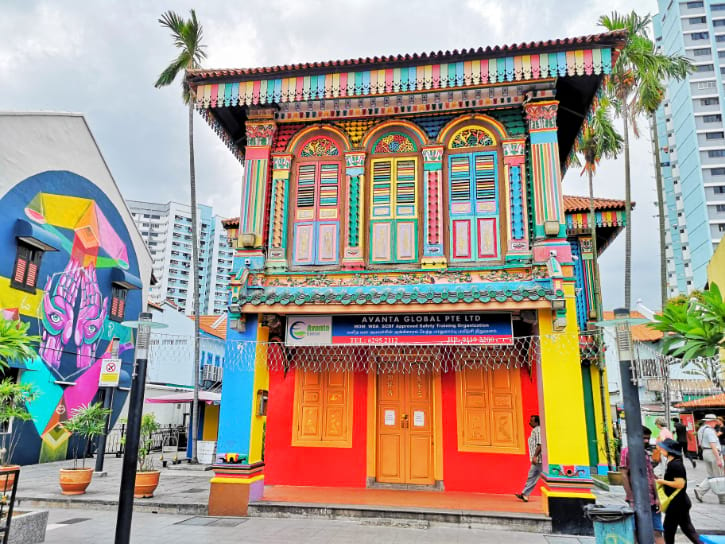 Begin your fun-filled trip by visiting Tan Teng Niah. It's hard to miss this historical structure because of its vibrant colors. Aside from its eye-catching exterior, this one is also noteworthy being the last Chinese villa in Little India.
ii) Traditional Trades of Little India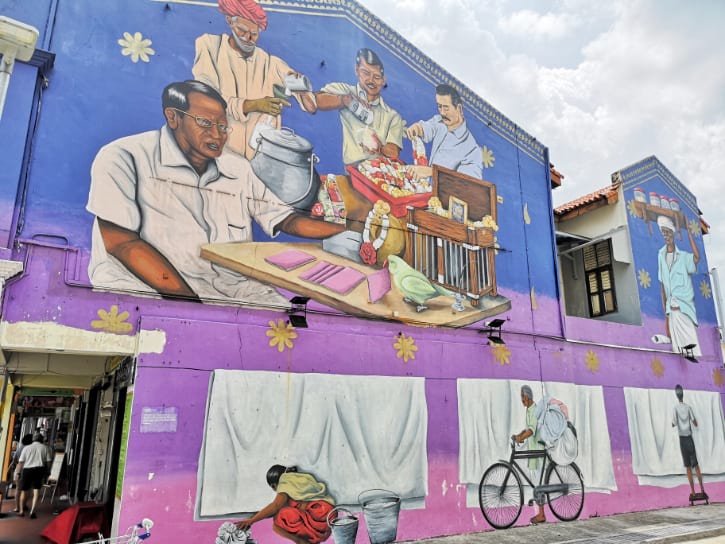 Traditional Trades of Little India is another head-turner that deserves your attention. This amazing mural demonstrates the occupations of the early locals. These include people selling street snacks, doing laundry, trading items, and making garlands.
iii) Sri Veeramakaliamman Temple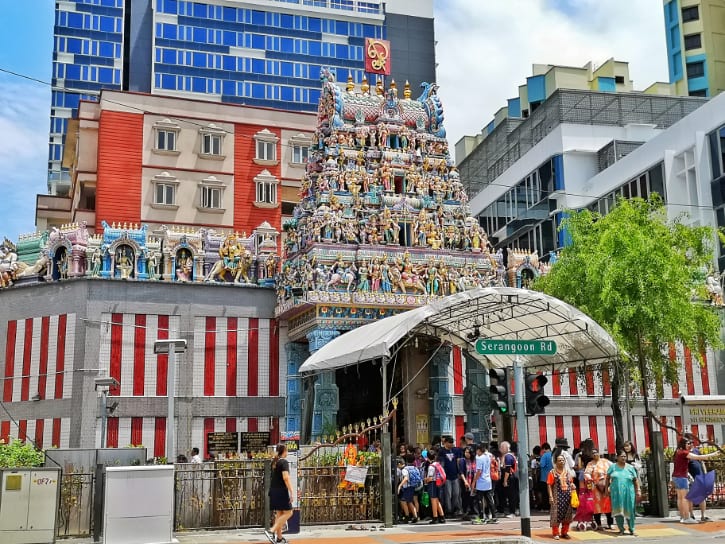 With its unique architectural design, Sri Veeramakaliamman Temple will surely fascinate you. The iconic landmark in Singapore is a prominent Hindu shrine for many Indian locals. And aside from that, this popular house of worship shelters a number of Hindu gods' statues.
iv) Abdul Gaffoor Mosque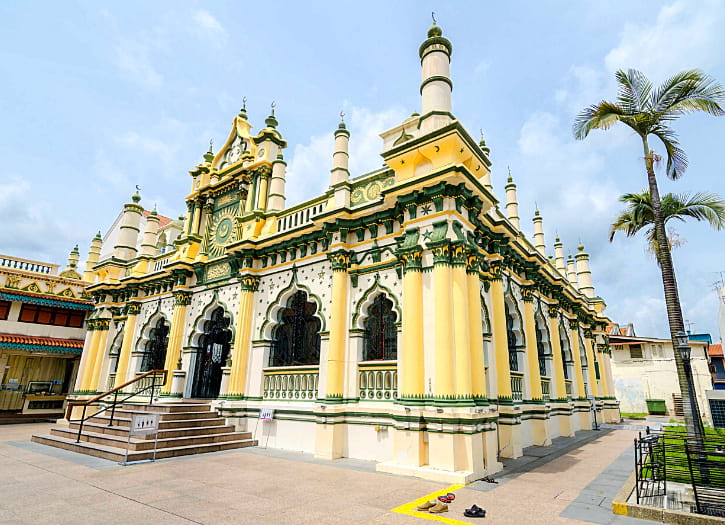 Abdul Gaffoor Mosque should also be part of your agenda. This religious site is not just any other mosque in the country. In fact, it's tagged as a national monument.
Be amazed by the exterior of the temple that highlights different cultural styles. And of course, the interior is as good as the outside designs.
2. Bugis – 4 hours 30 minutes (10:30 AM to 3:00 PM)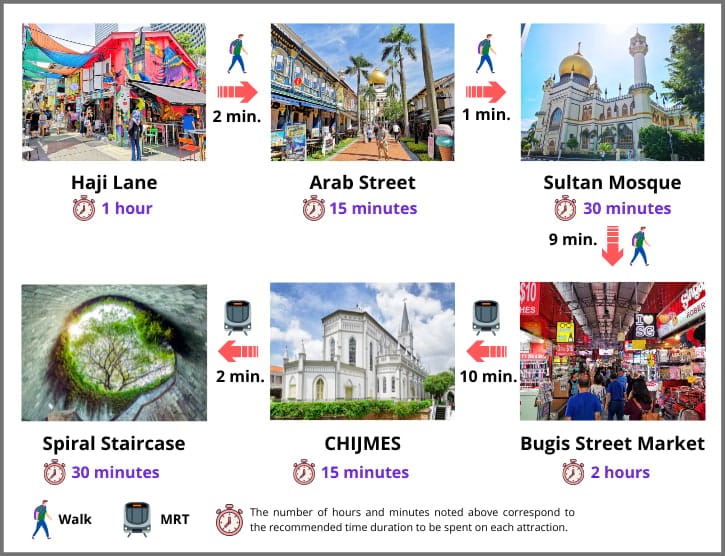 When it comes to colourful street and wall paintings in Singapore, make sure to explore Bugis. There's a lot of to discover here, from street markets to historical centres and more. So, let me introduce the must-visit spots through the list below.
i) Haji Lane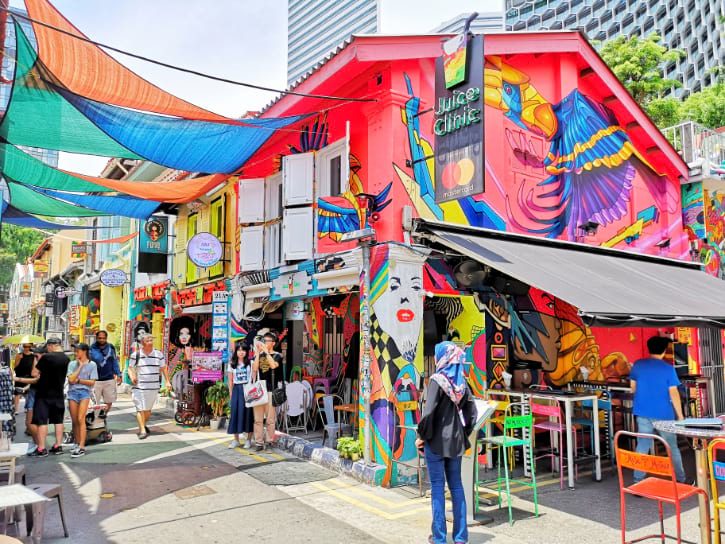 Start your Bugis escapade at Haji Lane. This area welcomes you to a lively array of boutiques and cafes. The murals in each shop are also very striking. So, don't forget to incorporate this into your Singapore itinerary.
ii) Arab Street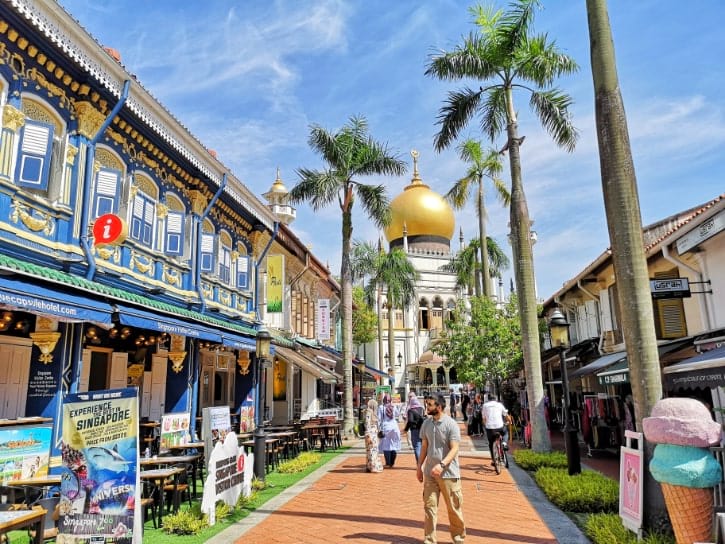 Next on your list should be Arab Street, where you'll be surrounded by more colorful shops. This is another favorite among locals and travellers because of the dining options.
You can take your lunch from one of the top-rated restaurants such as Lepak @ Rayz and Kampong Glam Cafe.
iii) Sultan Mosque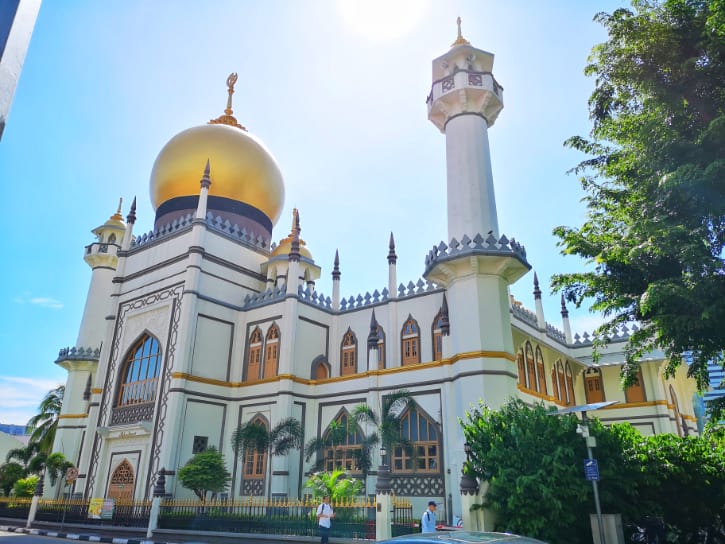 Sultan Mosque is well-acknowledged because of its stunning structural design. And, you won't have a hard time finding this mosque. Just look for the towering spires and golden domes.
Moreover, this religious complex is very important among the Muslim community in Singapore.
iv) Bugis Street Market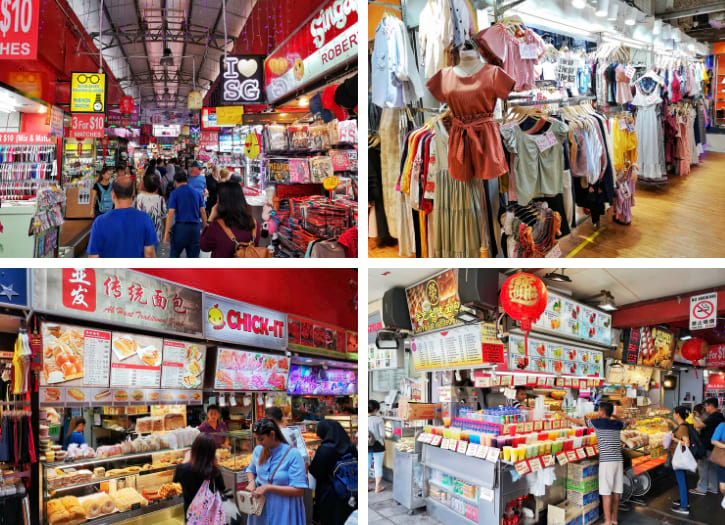 If you're eyeing for some bargain hunting, Bugis Street Market is the best choice. This market is filled with all sorts of fashion items, accessories, and electronics at a cheaper price.
After your shopping adventure, take your lunch at one of the restaurants in Bugis Junction shopping mall. There are plenty of choices here, so no need to worry. And, this mall is just located on the opposite side of Bugis Street Market.
v) CHIJMES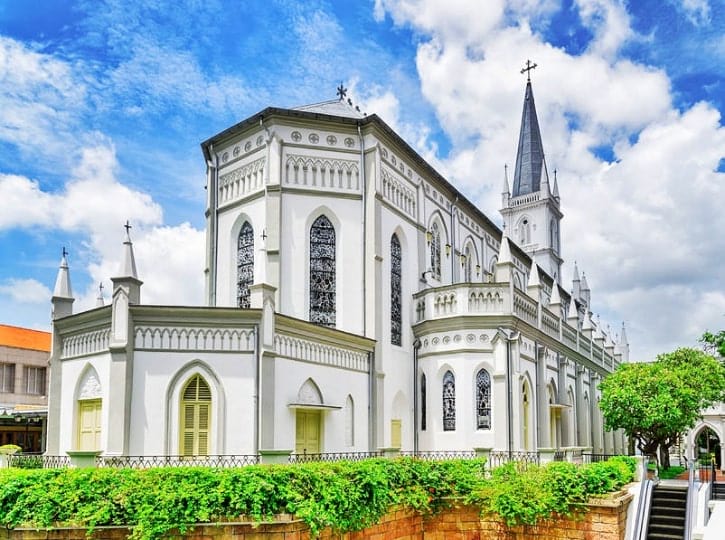 CHIJMES is undeniably iconic because of its sophisticated design. The white-washed exterior makes this structure a famous photography spot among visitors. Aside from that, it's a popular food centre in Singapore.
vi) Spiral Staircase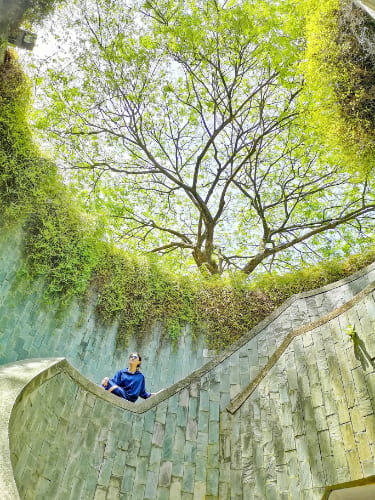 The last Bugis destination is the Spiral Staircase of Fort Canning Park. This is such a marvelous area for photo opportunities.
3. Chinatown – 2 hours 10 minutes (3:00 PM to 5:10 PM)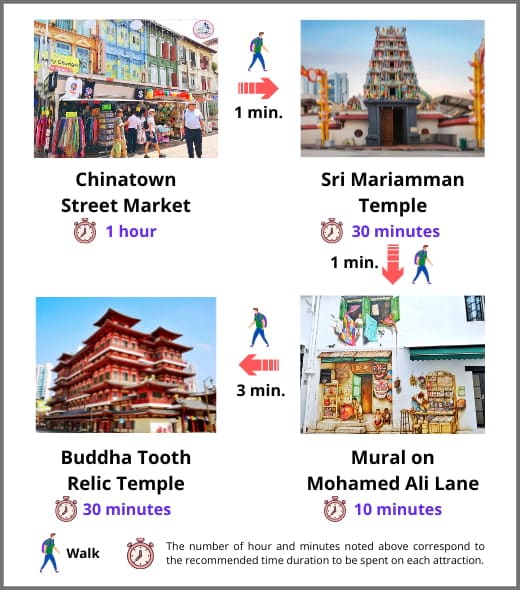 Chinatown is a relevant part of the country's colorful past. That's why you should take your time to unearth some of its relevant attractions.
Actually, there are 15 top things to do in Chinatown Singapore but since you have a limited time, I have filtered them out. Below are the must-visit ones.
i) Chinatown Street Market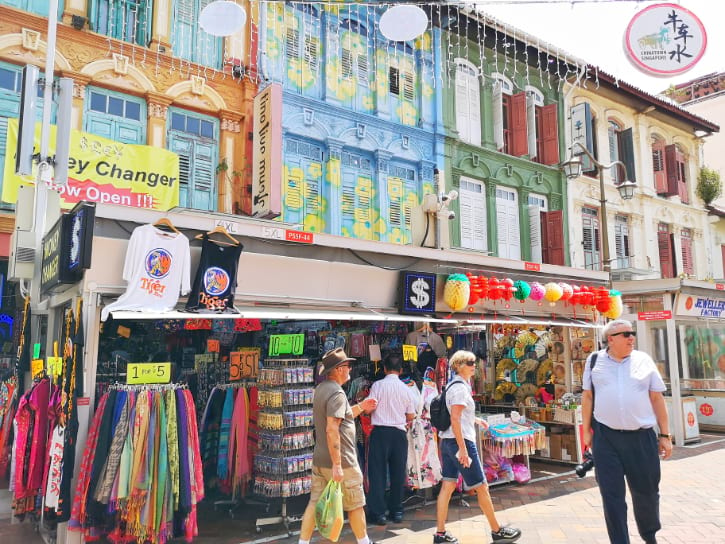 Start the fun at Chinatown Street Market. This vibrant destination features plenty of local stalls selling unique items, from clothing to souvenirs and more. So if you want to buy some trendy apparel or cute mementos, wander around the street market.
ii) Sri Mariamman Temple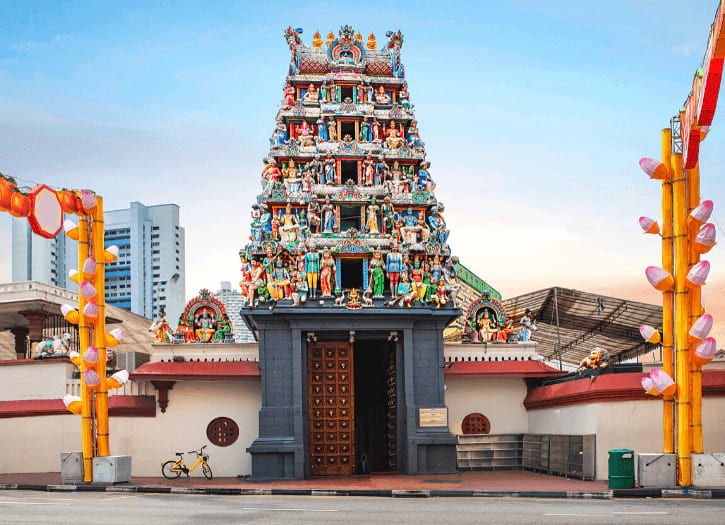 Discover the remarkable Sri Mariamman Temple. With its bright exterior, it beautifully complements the vivid landscapes of Chinatown.
And as the oldest Hindu temple in Singapore, this site is very important among the Hindu community. Consequently, most sacred ceremonies are held inside.
iii) Mural on Mohamed Ali Lane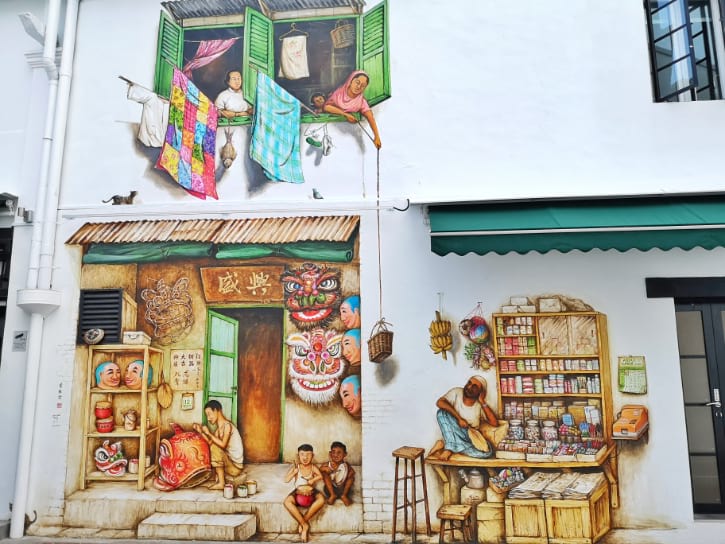 The wall painting on Mohamed Ali Lane is also a crowd favorite. This section showcases the life of ancient merchants. And some of the highlights here are the paper mask and puppets as well as the Mamak store.
iv) Buddha Tooth Relic Temple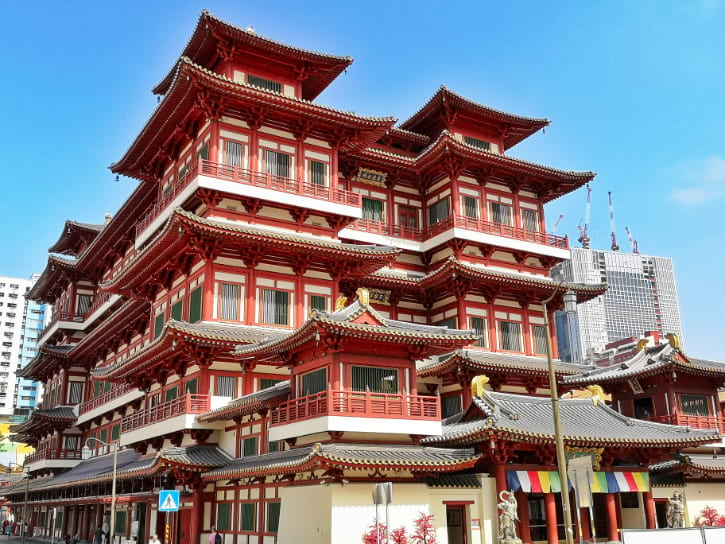 Buddha Tooth Relic Temple is one of the iconic landmarks not just in Chinatown but also in Singapore. It houses an incredible collection of Buddha artefacts, including his canine tooth. And of course, the distinct Chinese style makes this even more spectacular.
4. Clarke Quay – 3 hours 40 minutes (5:10 PM to 8:50 PM)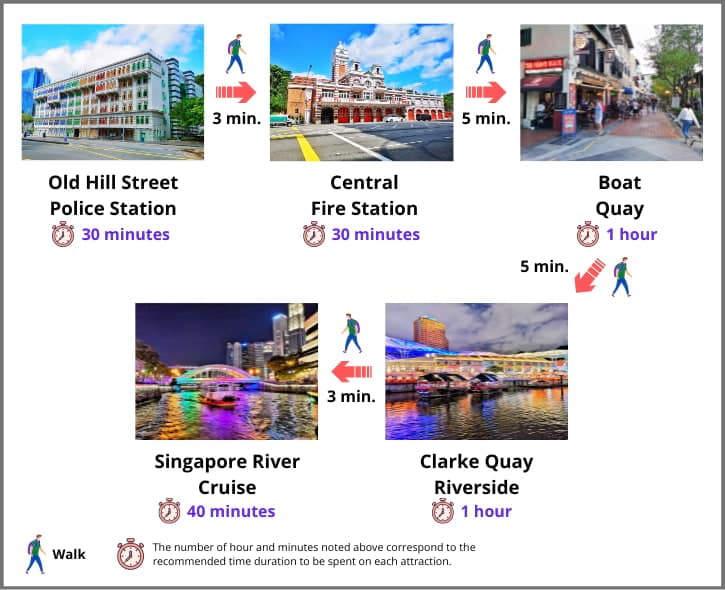 Clarke Quay is the best destination for late afternoon activities. Here, you can explore the historical Old Hill Street Police Station and Central Fire Station.
Then, you can spend some time along Boat Quay and go around Singapore's scenic Clarke Quay Riverside. Lastly, take the River Cruise.
I have written an article covering the 10 best things to do in Clarke Quay, so you can check it out if you want.
i) Old Hill Street Police Station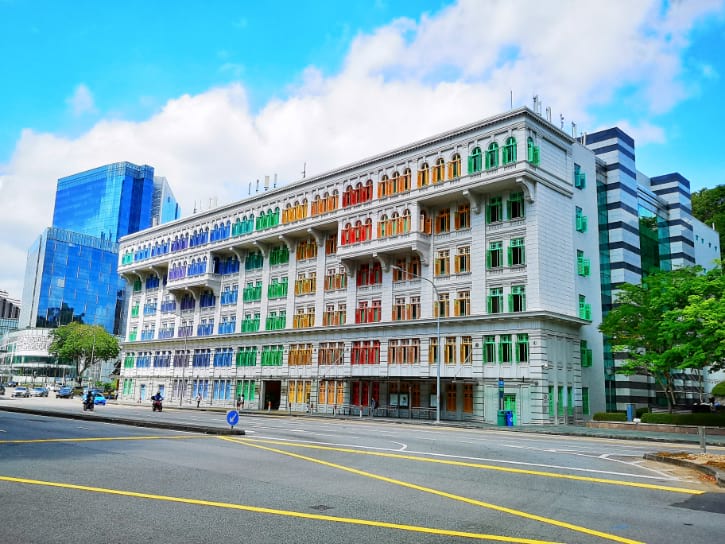 Old Hill Street Police Station is one of the colorful historical places in Singapore that you should see. This structure served as the first-ever jail in the country.
On top of that, it is known for its attention-grabbing exterior. And because of its vibrant design, it's a great backdrop for your photos.
ii) Central Fire Station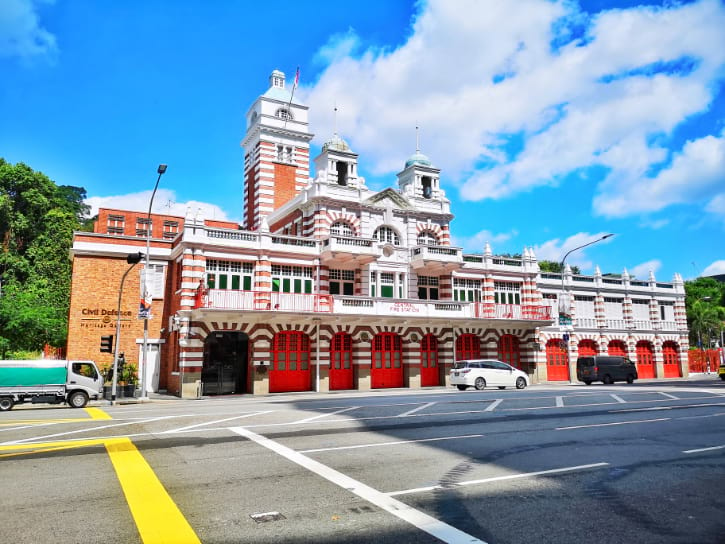 If you're interested in the livelihood of Singapore Civil Defense Forces, the Central Fire Station is the answer. Inside this museum, you'll get to know more about the history of local firefighters.
Journey through the wonderful collection of fire equipment such as water pumps, fire engines, and more. And surprisingly, this museum offers some interactive activities to make your trip more fun.
iii) Boat Quay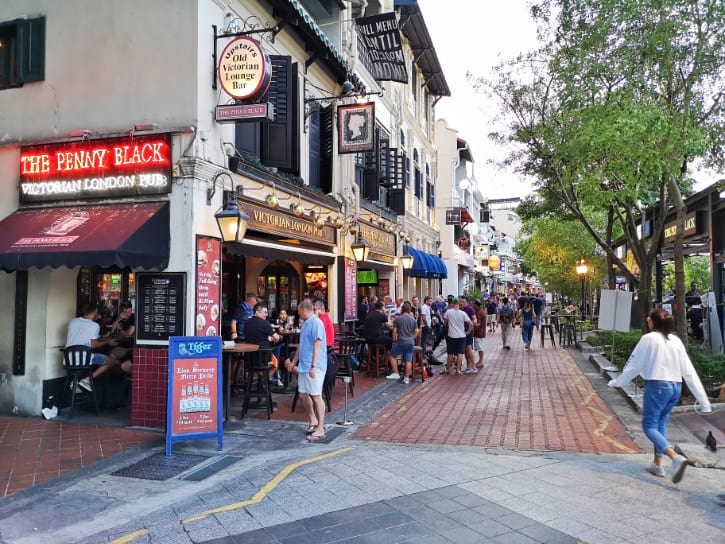 Boat Quay is a favored area when it comes to lazy walks or cosy drinking sessions. There are several pubs and even dining spots along the riverside. Without a doubt, this is the best destination for those who just want to chill out.
iv) Clarke Quay Riverside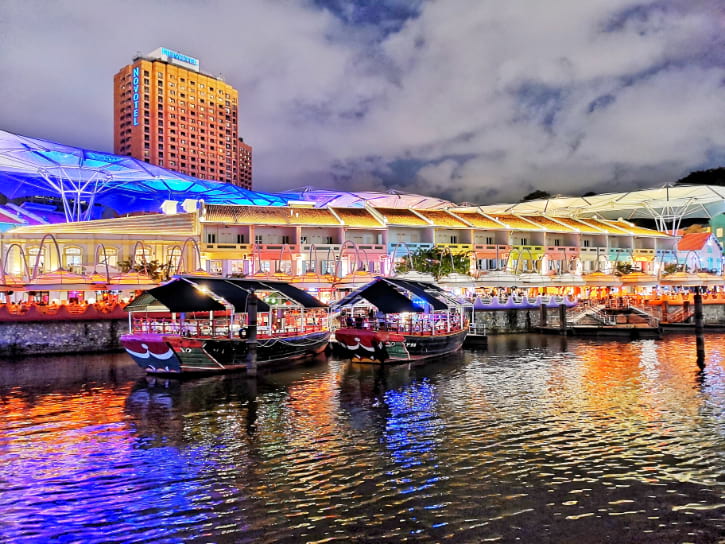 Clarke Quay riverside is the most recommended choice for a scenic and satisfying dinner treat. There are many restaurants around the vicinity so there's no need to worry.
If you're looking for the best Japanese ramen in Singapore, dine in at Ramen Keisuke Lobster King. For the best western food, there's ASTONS Specialties. And for the best seafood, opt for JUMBO Seafood.
After your dinner, stroll around the area and simply enjoy the views. The surroundings here are definitely more magical and vibrant at night-time.
v) Singapore River Cruise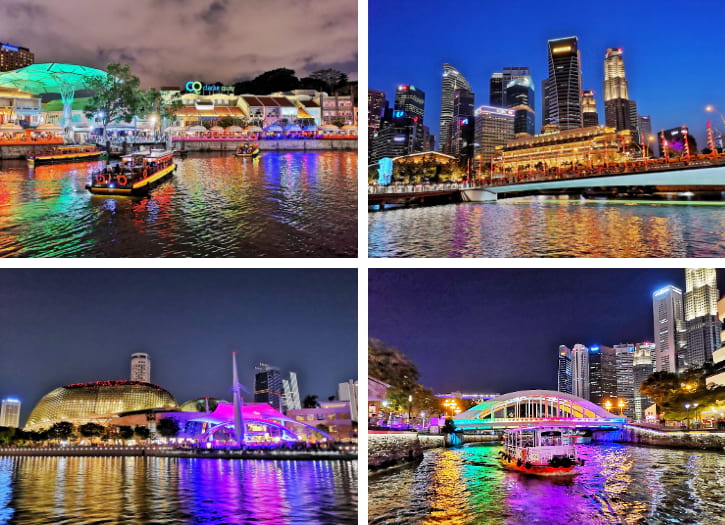 But of course, you shouldn't miss the Singapore River Cruise! This is the best way to wrap up your day 4. Here, you will simply laze around and take in the amazing night views.
You can hop aboard the bumboat at this location. And, don't forget to book your River Cruise tickets here to save nearly 10%.
Day 5: Explore Botanic Gardens, Singapore Zoo, and Night Safari

Day 5 of this Singapore itinerary will be loaded with lovely garden scenes and adorable animals. You will start with the picturesque Singapore Botanic Gardens. Afterward, explore the best animal parks in the country, which are Singapore Zoo and Night Safari.
1. Singapore Botanic Gardens – 3 hours (8:00 AM to 11:00 AM)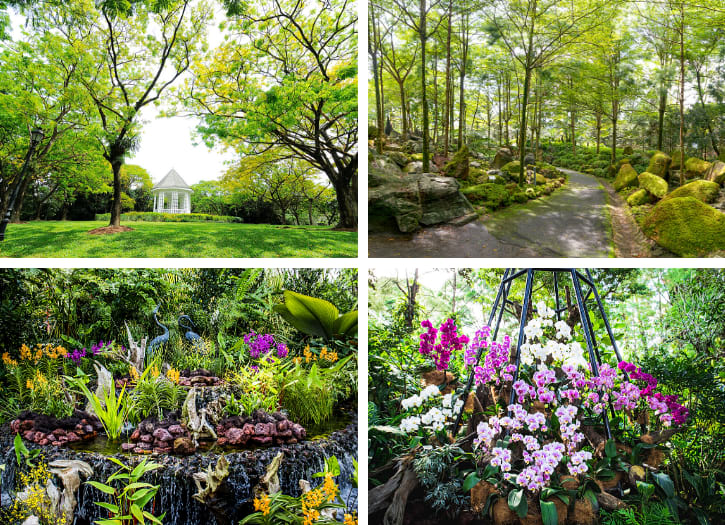 If you're looking for a soothing escapade with nature, Singapore Botanic Gardens is a great option. This huge outdoor park is simply breath-taking. It comes with a lot of photo opportunities that will surely fascinate you.
On top of that, it's a nice spot for relaxation. You can just lounge around while capturing the views.
2. Singapore Zoo – 6 hours (12:00 PM to 6:00 PM)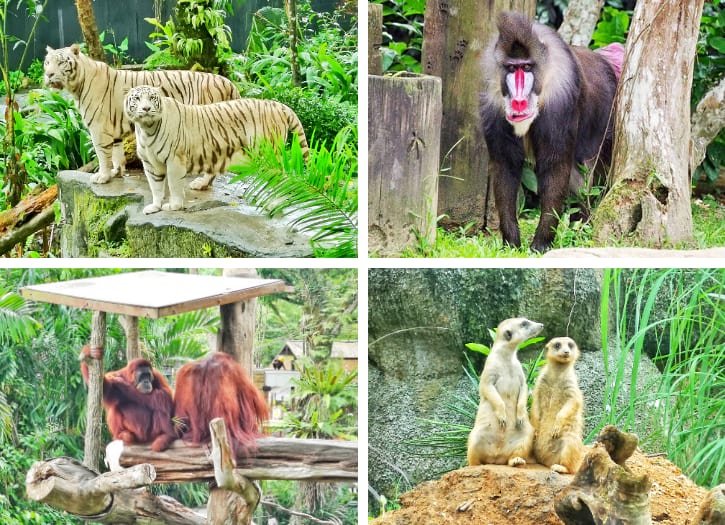 Proceed to Singapore Zoo and enjoy an amusing afternoon with the animals. The zoo shelters all kinds of creatures, from mammals to reptiles to amphibians.
You can read this guide to Singapore Zoo and review to have an idea of the animals you'll encounter. This article will show you how to reach the park as well.
To save money, order your Singapore Zoo tickets online. This will also help you maximize your time because you won't have to line up at the ticketing counter.
Also, when visiting the zoo, you can take your lunch inside the zoo. There's also a food court and a KFC restaurant just beside the entrance of Singapore Zoo.
3. Night Safari Singapore – 3 hours (7:15 PM to 10:15 PM)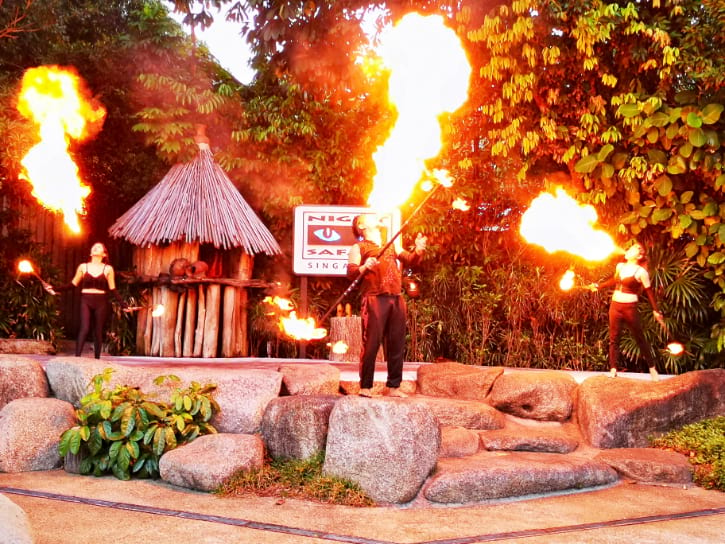 Complete your day 5 trip with a visit to Night Safari Singapore. This one offers a unique kind of experience with the animals.
For one, they have a tram ride that allows you to witness special animal exhibits. You can also walk around the trails for a more personal encounter. And of course, you can't miss the incredible shows.
Find out more about this zoo in my detailed guide to Night Safari Singapore and review. And be sure to use it as your reference when preparing for your trip. For you to save up to 28%, you can book discounted Night Safari tickets here.
My list didn't include the River Safari Singapore, which is also located nearby Night Safari and Singapore Zoo. River Safari is also a great destination, however, visiting all three zoos in one day is not enough. So, if you only have a limited time to explore, I'd suggest that you pick Singapore Zoo and Night Safari.
How to Save Money on Your Singapore Trip
When visiting Singapore attractions, it's better to book the admission tickets in advance online. It's because purchasing tickets online are much cheaper compared to buying from the ticketing counters. Plus, it will save you time from the long queues.
You can book the admission tickets from this world's leading booking platform. By choosing this site, you get to save around 5% to 30% for each entrance ticket.
Singapore Itinerary 5 Days Map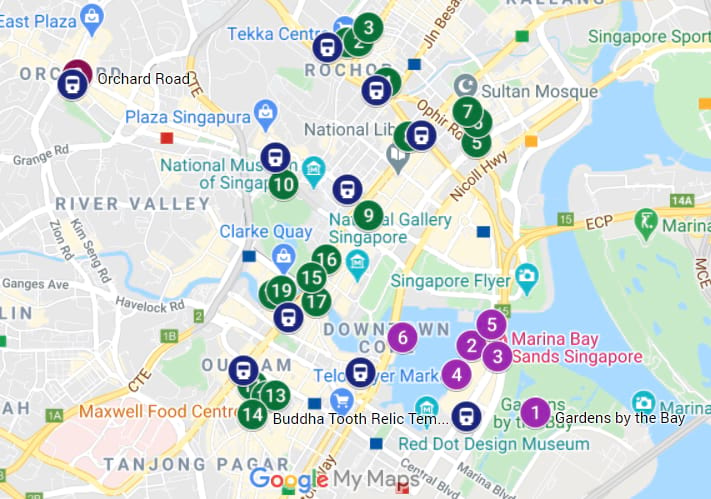 For reference, I have marked all the top Singapore tourist spots and nearby MRT stations in my customize Singapore map above. With this map, hopefully you can navigate around the country easily.
Tips for Travelling Around Singapore
Singapore's MRT system is very superb as it can take you to almost any location in the country. That is why it is a very popular transport option among locals and travellers. And to help you get around Singapore like a pro, here are some important tips you can use as a reference.
1. NETS FlashPay Card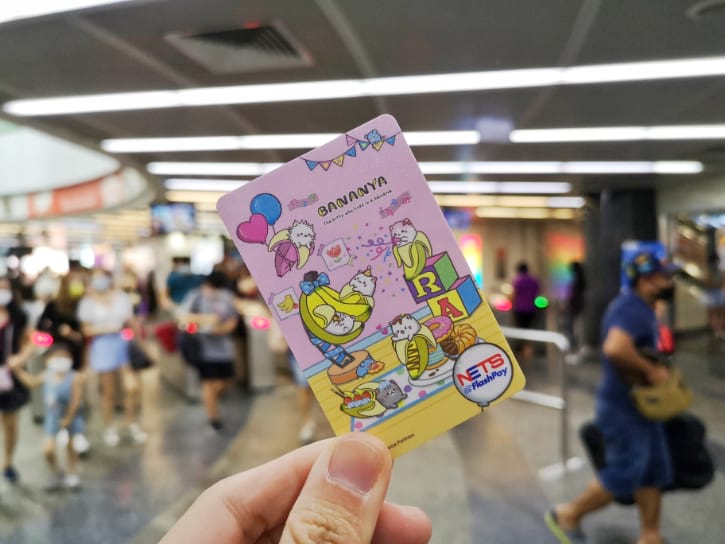 If you plan to spend several days in Singapore, it's best to have a NETS FlashPay card. This multi-purpose stored value card allows you to travel via MRT and buses easily.  And here are the main reasons why this smart card is an essential item.
Why should you use this travel card?
Using this card when riding public transport is very convenient. It lets you to travel with ease since there's no need to queue up at the ticketing counter. Plus, you won't have to carry spare change for your payment. It's because Singapore buses only accept the exact amount for the ticket fee.
And did you know this card actually gives you an additional discount? So compared to cash, this will help you save money.
How to Use?
You simply just tap the card on a panel every time you get on and off the Singapore MRT and buses. Surely, using this card is pretty straightforward.
Where to Top Up?
You can easily top up your balance at any General Ticketing Machines in MRT stations and bus interchanges via cash or credit cards.
Where to Buy?
For those staying in the Philippines, Malaysia, Indonesia, Vietnam, and Taiwan, you can buy your NETS FlashPay card in advance. Then, make sure to have it mailed before your trip.
If you're not part of the listed countries, don't worry. You can still get the card at the TransitLink Ticket Offices of the MRT stations.
The card is also available at top-rated convenience stores in Singapore like 7- Eleven and Cheers. Generally, the NETS FlashPay cards are priced at $12. This amount is already inclusive of $7 stored value.
2. GoThere.SG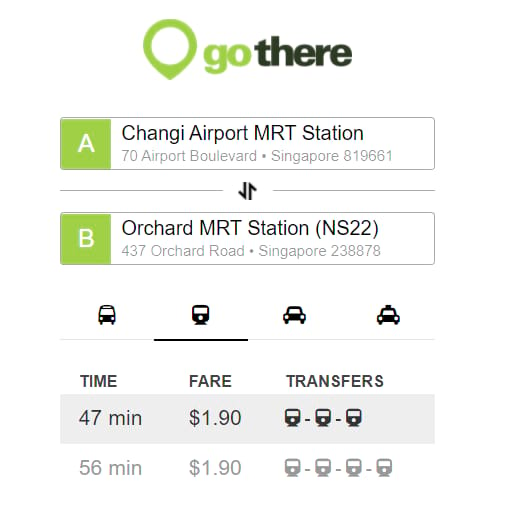 I suggest that you use https://gothere.sg/m when exploring around in Singapore. This particular site helps you find the best route from one MRT station to another to make your trip more convenient.
It also provides you with the fastest and cheapest route, including the fare and time duration.
Internet Access in Singapore for Tourists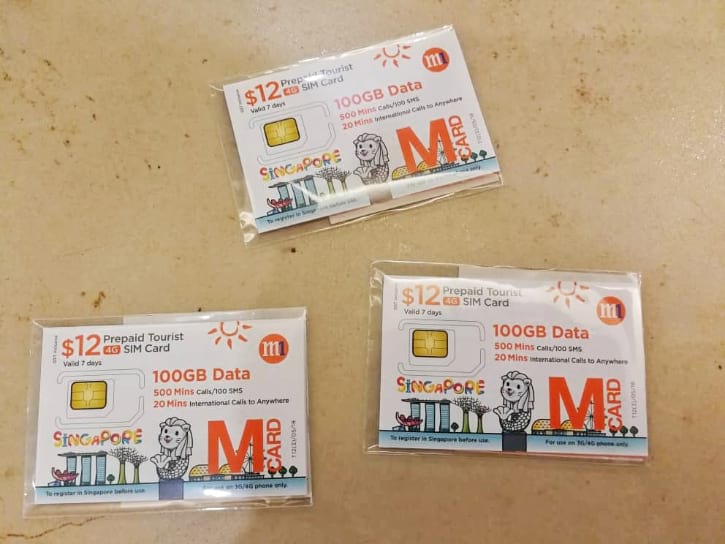 With the Singapore prepaid SIM card, you can smoothly connect to the internet. This prepaid SIM card comes with 100 GB data and a 4G internet speed. It also includes free 500 minutes local calls and another 20 minutes for international calls.
For easy exploration, I recommend you to buy at least one SIM card. You can use this when checking out directions via Google Maps as well as train routes.
You can check the latest price of SIM card here.
The Best Hotels and Areas to Stay in Singapore
No matter how many days you plan to stay in Singapore, I highly suggest that you stay in Orchard, Clarke Quay, or Bugis areas.
These are my top 3 locations because of their proximity to many major Singapore tourist spots in the country. So, if you want to save time, simply choose from the 3 choices mentioned.
For my most recommended hotel in Orchard, I'd pick YOTEL Singapore. If you'll stay in Clarke Quay, I'd suggest the Holiday Inn Express. For Bugis, you can stay at Ibis Singapore on Bencoolen.
And for luxury travellers, the best option is no doubt the Marina Bay Sands Hotel. This hotel is not just known for its fancy accommodation but also its remarkable amenities and nearness to iconic landmarks.
For more detailed info, read my extremely helpful guide to where to stay in Singapore in advance. This guide lists down the best neighbourhood and hotels for each budget range.
Changi Airport to City Centre Guide
There are 4 ways to get to the city of Singapore from Changi Airport. These are via train, bus, taxi, and private airport transfer.
1. Train
You can easily take the train at Changi Airport MRT Station. This is connected directly to the airport terminal 2 and 3. If you arrive at terminal 4, simply take a free shuttle bus that leads you to terminal 3.
2. Bus
For terminals 1, 2, and 3, the bus stops are positioned at the basement bus bays. You can choose from the following bus numbers ― 24, 27, 34, 36, 53, 110, and 858.
For terminal 4, simply head to the bus stop next to Car Park 4B. From there, pick one of from the many bus choices, including 24, 34, 36, and 110.
3. Taxi
Taxis are also available for hire. You can find them at the taxi stands in the Arrival areas of Terminal 1 and Terminal 3. The travel duration from the airport to the city is about 30 minutes.
All fares are metered, and it will normally cost you around S$ 20 to S$ 40. For more details about this transport option, you can check the taxi information here.
4. Private Airport Transfer
If you want less hassle, it's suggested that you avail of the private airport transfer. This is actually the easiest way to reach the city centre because it offers door-to-door service. Plus, it provides a 24-hour transfer service from Singapore airport.
So, if you want to be transported directly to your hotel, this is the best option. You can check the private airport transfer price here.
Now, you've come to the last section of my Singapore itinerary. Thank you so much for taking your time to read the entirety of my article.
And, I hope that this comprehensive guide can help you when planning for your 5 days in Singapore. Wishing you a fun and stress-free trip! 😊
Related Posts
Photo Credits:
Photo
 by pelican
Photos by Klook