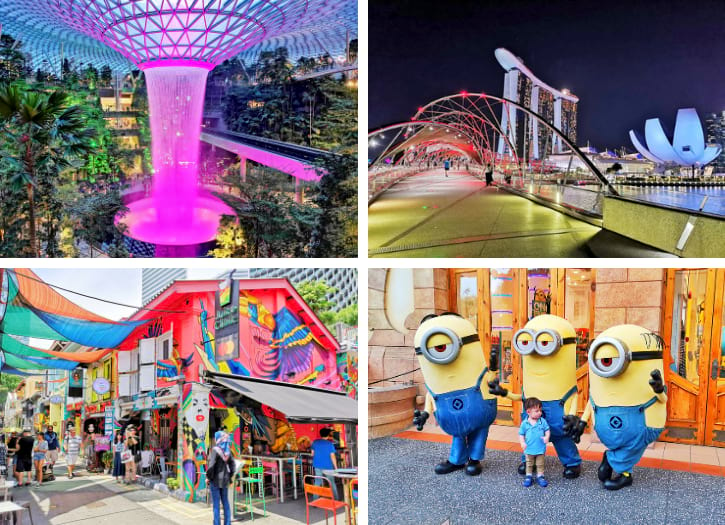 This Singapore itinerary is crafted for a full 5 days of exploration and is ready for you to enjoy. Just follow this guide for a hassle-free trip.
I'll show you the best route for each day to explore Singapore's stunning attractions, so you can enjoy more of your visit and spend less time in transit.
Plus, you'll get clear, step-by-step directions for reaching each attraction. This will save you time when you're preparing your travel plan.
Trust me, the Singapore 5-day itinerary set out below will make your trip truly unforgettable. 🙂
Discover the Best of Singapore with This Super Detailed Itinerary
Day 1: Canopy Park, Jewel Waterfall, and Orchard Road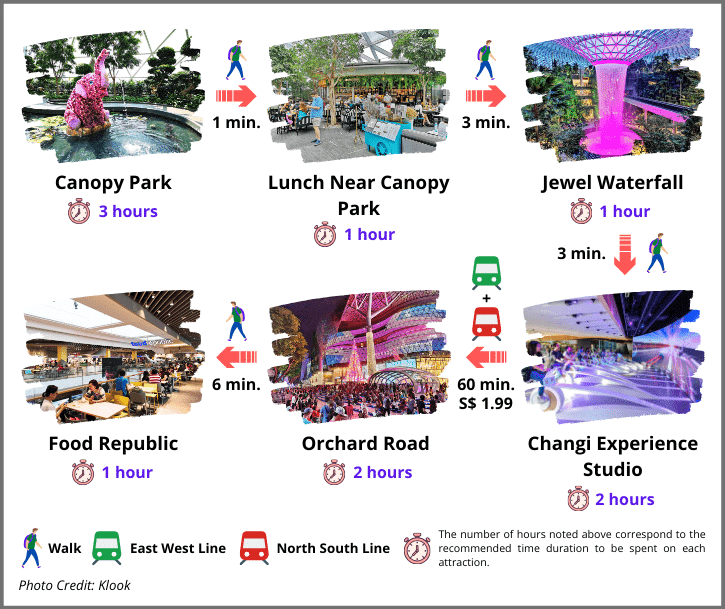 Singapore Itinerary Day 1 Summary – An Overview of Key Activities and Destinations:
10:00 AM: Canopy Park
1:00 PM: Having Lunch Near Canopy Park
2:00 PM: Jewel Changi Airport's Waterfall
3:00 PM: Changi Experience Studio
6:00 PM: Orchard Road + Check-in Hotel
8:00 PM: Dine in at Food Republic
In terms of accommodation, I suggest staying in Orchard for convenient access to other places in Singapore.
Luggage Storage at Changi Airport
Once you arrive at Singapore's airport, leave your luggage at the luggage counter in Jewel. For costs and details, visit the airport's luggage storage website.
1. Canopy Park – 3 hours (10:00 AM to 1:00 PM)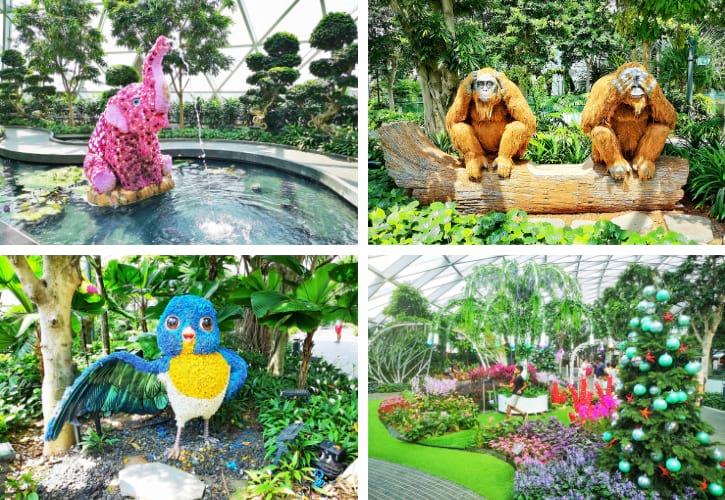 Begin your Singapore trip with Canopy Park, and be sure to add this spot to your travel itinerary.
It's a place where you'll experience the excitement of nature mixed with cutting-edge attractions, providing an unforgettable start to your journey.
On top of that, there are plenty of lovely scenes that are worth the capture.
This park is located on level 5 of Jewel Changi Airport.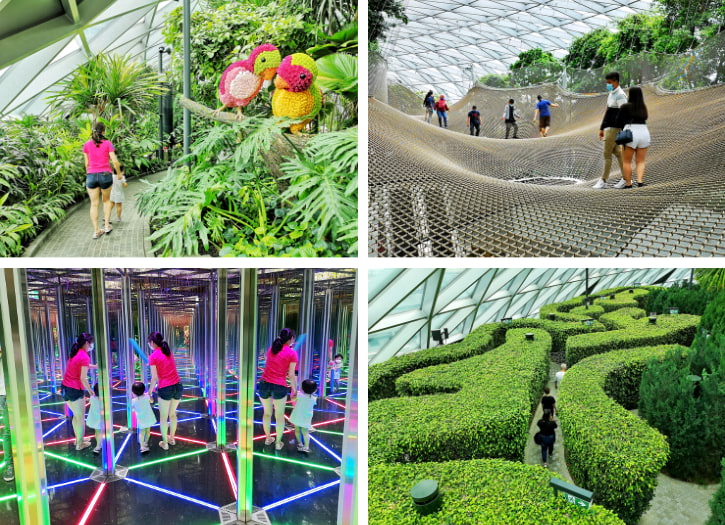 While visiting the park, be sure to try fun activities below.
Topiary Walk: Walk around this beautiful area and meet some adorable topiary animals. From monkeys to birds, there are a lot of ornamental figures to look forward to!
Sky Nets Walking: Try to balance yourself while navigating around the suspended walking nets. Or you may bounce all you want and catch a peek of the people down below.
Mirror Maze: Complete the challenge while also enjoying this unique maze experience. Here, you get to see multiple versions of yourselves!
Hedge Maze: Go on a scenic maze adventure and have fun with the beautifully manicured landscapes. Just be careful not to get lost in the breathtaking nature scenes!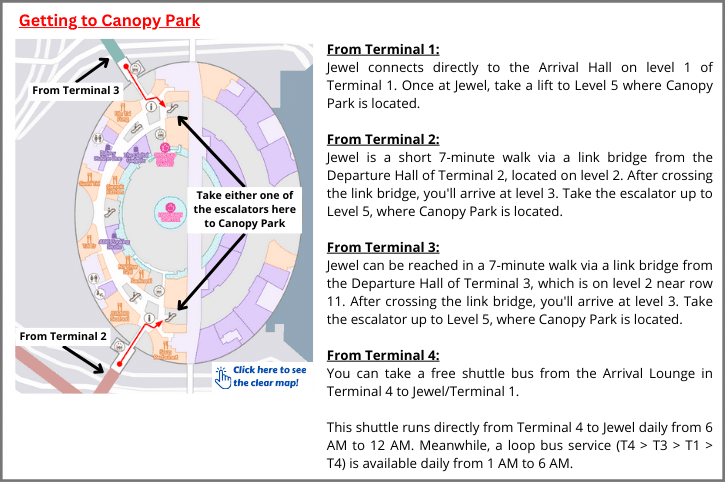 2. Having Lunch near Canopy Park – 1 hour (1:00 PM to 2:00 PM)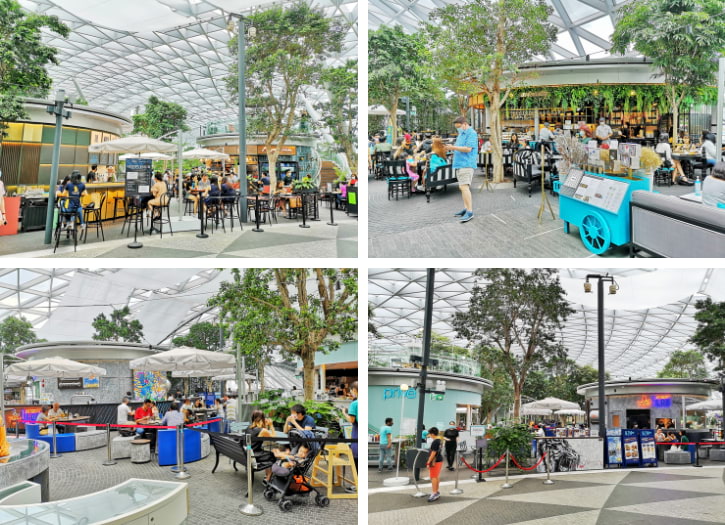 For lunch, try Arteastiq Depatio or Hitoyoshi Izakaya next to Canopy Park.
If you're on a budget, simply take the lift from Canopy Park down to basement 2, where the Food Republic food court offers cheaper meals.
Arteastiq Depatio:
Menu options: Pasta, Pizza
Price range: SGD 20 – SGD 30
Hitoyoshi Izakaya:
Offers Yakitori, Sashimi, Tempura, Ramen
Grilled Chicken Set, Salmon Mentai Set, Grilled Saba Set
Average price: SGD 25 per dish/set
Food Republic:
Local dishes: Chicken Rice, Mala Hot Pot, Malay Chicken Rice, Beef Noodle, Fish Noodle, and more
Between SGD 8 and SGD 12 per meal
3. Jewel Changi Airport's Waterfall – 1 hour (2:00 PM to 3:00 PM)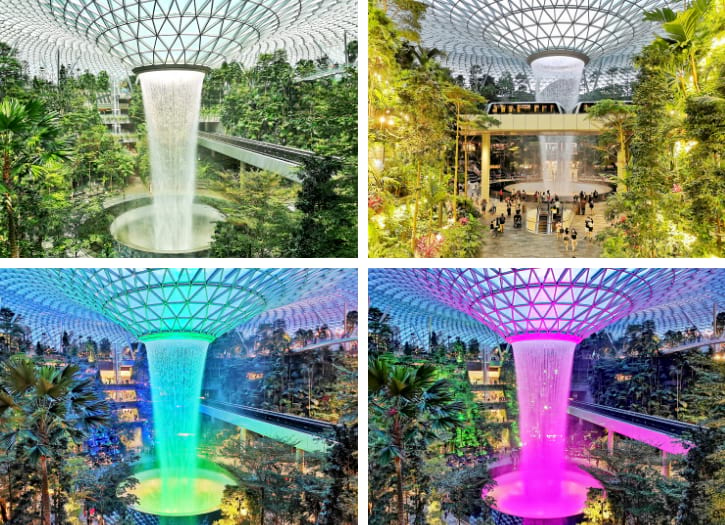 When you come to Singapore, don't miss the amazing Waterfall. It's called the Rain Vortex, and it's the world's tallest indoor waterfall.
Trust me, it's a sight to behold! You can watch the water cascade down seven stories right in the middle of the airport.
Here's a tip: For the best views of the waterfall in Jewel Changi Airport, find a spot on level 2 to take photos. After that, head down to level 1 to explore the waterfall area further.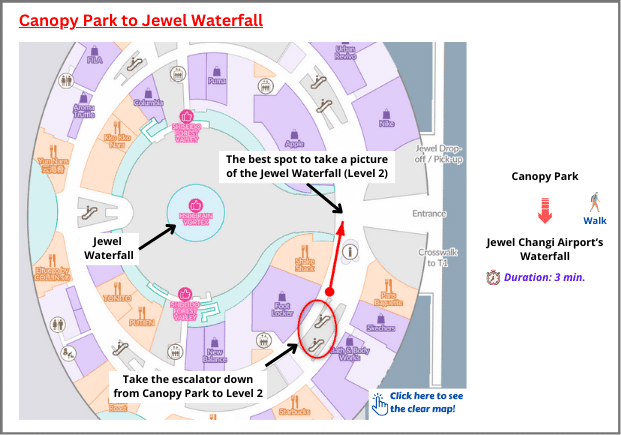 4. Changi Experience Studio – 2 hours (3:00 PM to 5:00 PM)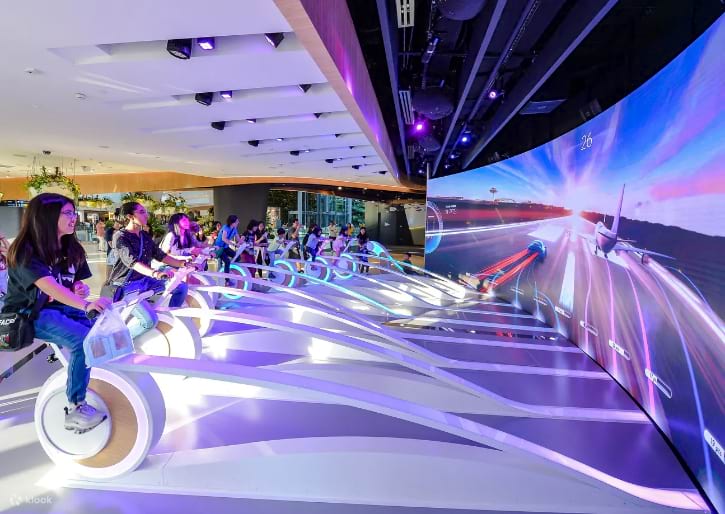 Next, be sure to drop by the Changi Experience Studio on the 4th floor; it's just a short walk from the waterfall.
This place is packed with exciting interactive games. Start with the Time Tunnel, where you'll dive into the history of Singapore's airports.
Don't miss out on the runway race. You can jump on a stationary bike and race against a car or a plane to see who's the fastest.
Also, don't forget to check out the Sky Deck, where you can watch planes taking off and landing on huge screens. It's an amazing way to see the action up close.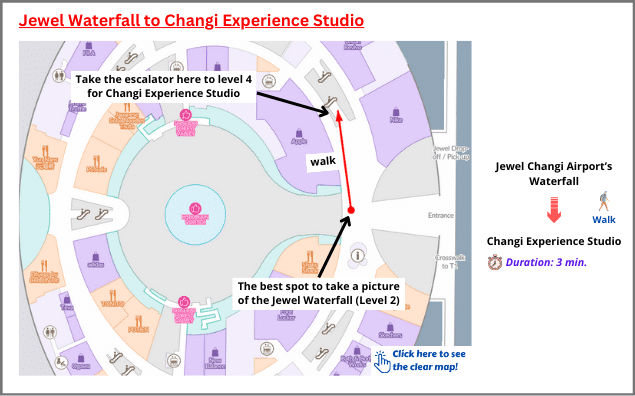 5. Orchard Road – 2 hours (6:00 PM to 8:00 PM)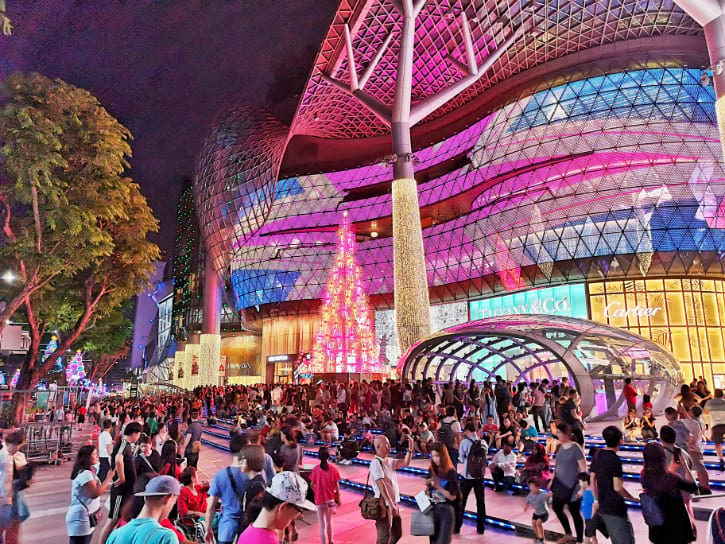 When preparing an itinerary to Singapore, make sure Orchard Road is on the list.
It's the busiest spot in Singapore with loads of shopping malls, delicious food, and a fun vibe that really shows you what Singapore is like.
You can buy pretty much anything, from famous brands to special finds. Places like 313@Somerset, ION Orchard, and Takashimaya Shopping Centre offer a wide variety of options.
When you want a coffee or something to eat, there are lots of cafes and restaurants to pick from.
Plus, watch out for the street performers—they're super fun and really make the place more exciting.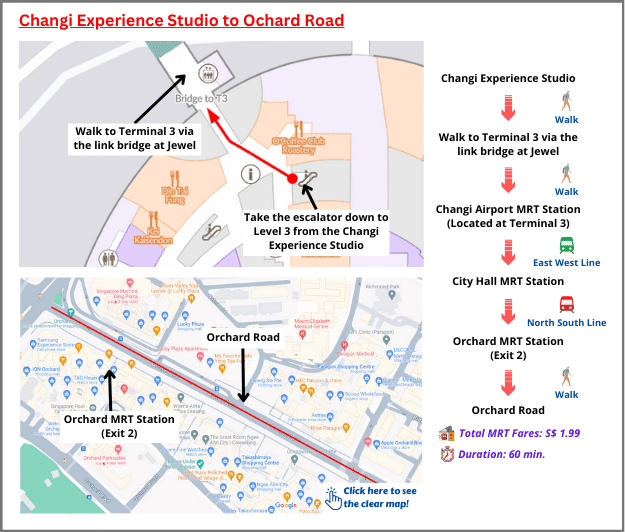 6. Dine in at Food Republic – 1 hour (8:00 PM to 9:00 PM)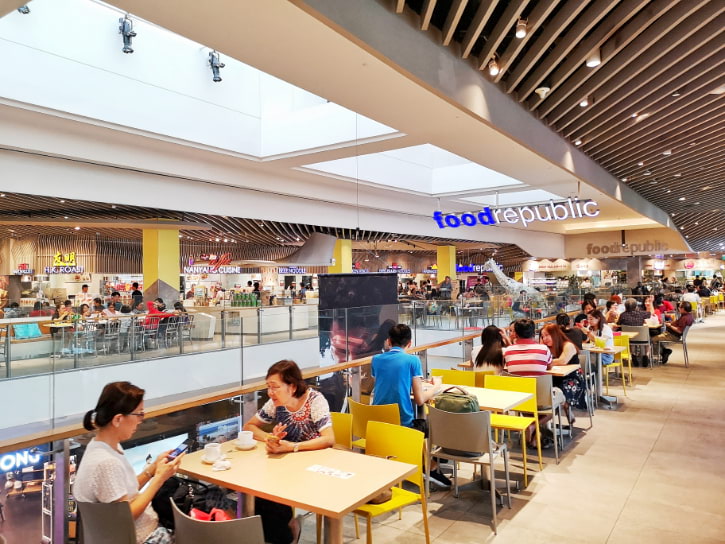 As dinnertime arrives, make your way to Food Republic, located on level 5 of the 313@Somerset shopping mall.
It's a large food court that serves up a range of dishes at affordable prices, with options including Chinese, Indian, Malay, Western, and Japanese foods.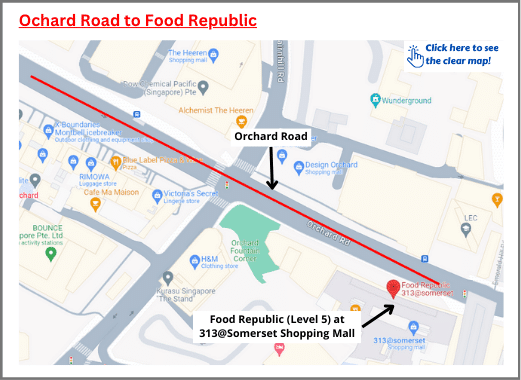 Day 2: Marina Bay Sands, Spectra and Singapore Flyer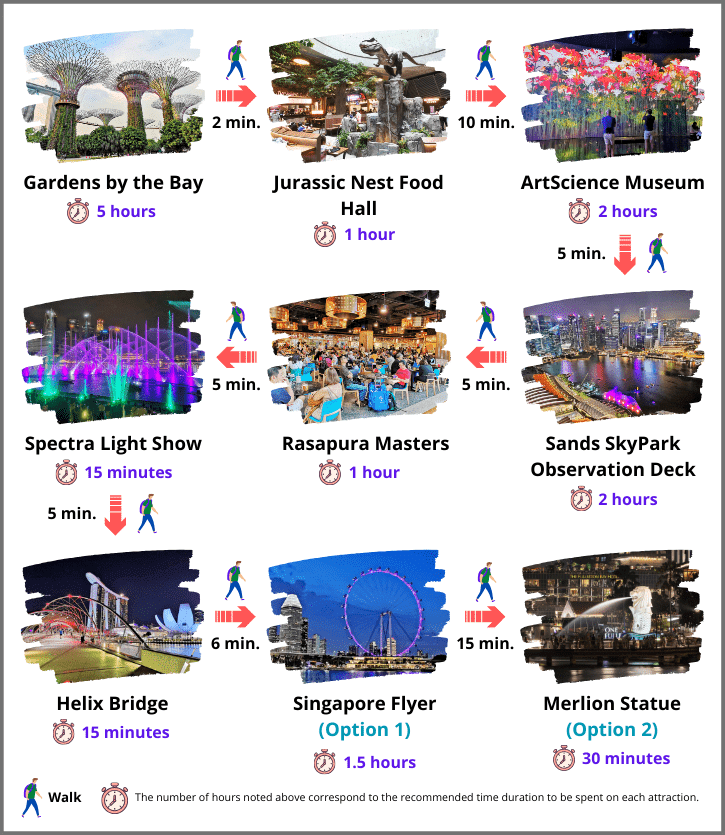 Our Singapore Itinerary for Day 2 – A Quick Overview of the Places to Visit:
9:00 AM: Gardens by the Bay
1:00PM/ 2:00 PM: Having Lunch at Jurassic Nest Food Hall
3:00 PM: Future World at ArtScience Museum
5:00 PM: Sands SkyPark Observation Deck
7:00 PM: Enjoy Dinner at Rasapura Masters
8:00 PM: Spectra Light Show
8:15 PM: Helix Bridge
8:30 PM: Singapore Flyer (Option 1)
8:30 PM: Merlion Statue (Option 2)
1. Gardens by the Bay – 5 hours (9:00 AM to 2:00 PM)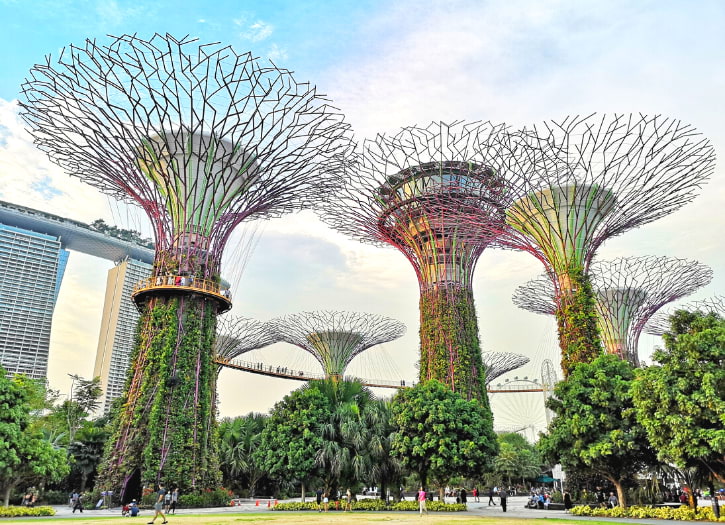 Start your morning with a visit to Gardens by the Bay. This big, colorful park is in the center of Singapore and great for everyone.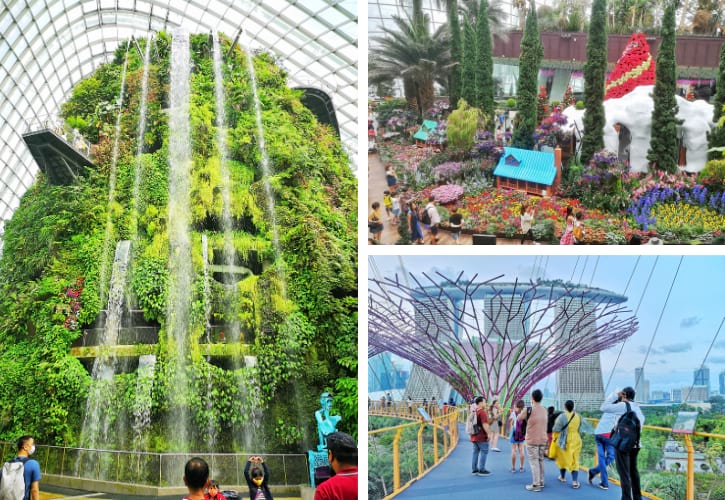 The best part? There's so much to do! You must check out the 4 main attractions below. Each place is really beautiful and a great spot for taking pictures.
Cloud Forest: Enter this greenhouse-like glass dome to capture the tallest indoor waterfall in the world. The stunning architecture, along with the spiraling walkways also deserves your attention.
Flower Dome: You get to see lots of pretty flowers and plants in this flourishing garden. Have your camera or phone ready – you'll want to take lots of pictures!
Supertree Grove and OCBC Skyway: These huge tree-like structures are amazing to see! You can walk on a path called the OCBC Skyway up in the trees and get a fantastic view of the park and the city.
Floral Fantasy: This is a fun place with flowers and art mixed together. You'll see flowers dancing in the breeze and even hanging from the ceiling! It's like stepping into a fairy tale, and it's a great spot for some magical photos.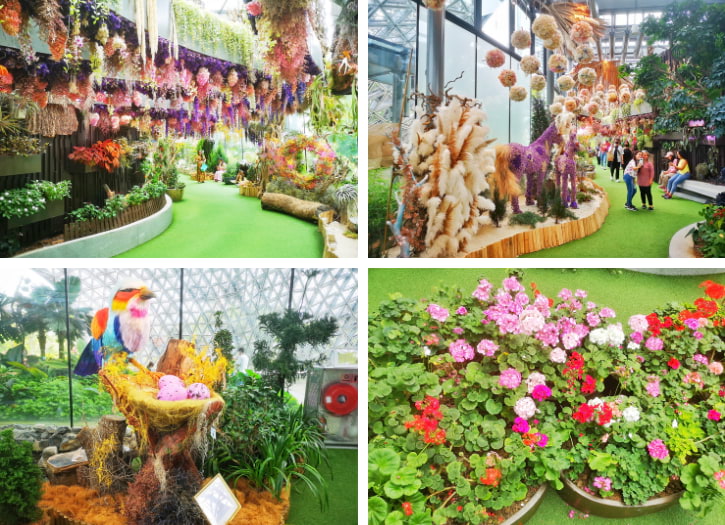 Quick Tip
The Flower Dome, Cloud Forest, and Floral Fantasy are top spots at Gardens by the Bay. Be sure to book your tickets online here before you visit. So, you can use the QR code on your phone to get in quick and skip the long lines at the ticket counter.
When you buy your tickets using the link I've given you, click on "Combo deals". Choose the package with "Flower Dome & Cloud Forest + Avatar: The Experience + Floral Fantasy".
Entry to the Supertree Grove is free. For the OCBC Skyway, you can purchase tickets when you get there. It costs SGD 12 for adults and SGD 8 for children aged 3 to 12 years old.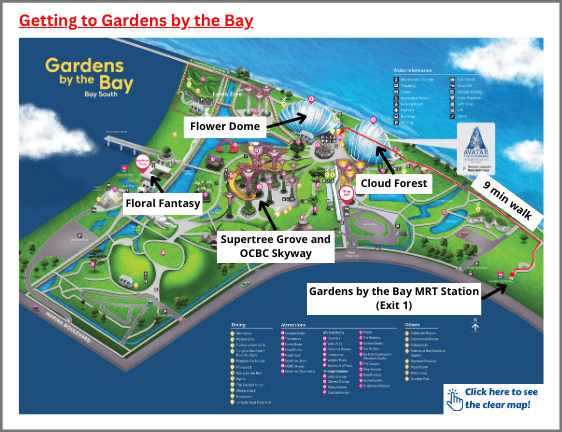 2. Having Lunch at Jurassic Nest Food Hall – 1 hour (1:00 PM/ 2:00 PM)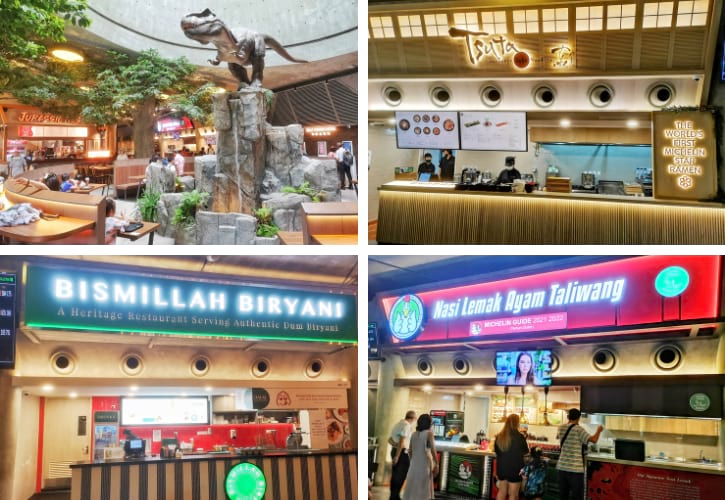 When you start to feel hungry, head over to Jurassic Nest Food Hall in Gardens by the Bay for lunch. It's got a bunch of tasty options that won't disappoint.
There are six different food spots here, and four have gotten high praise from Michelin.
You've got options like Hawker Chan's chicken rice, Tsuta's ramen, Bismillah Biryani's Indian food, and Indonesian dishes from Nasi Lemak Ayam Taliwang. These are tasty and won't cost you much – just between SGD 8 and SGD 12.
If you want something else, like a salad, pasta, sandwich, waffle, or ice cream, the Jurassic Nest Cafe has all that, too.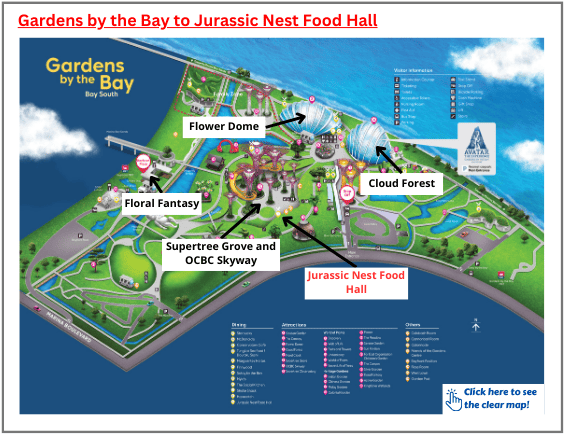 3. Future World at ArtScience Museum – 2 hours (3:00 PM to 5:00 PM)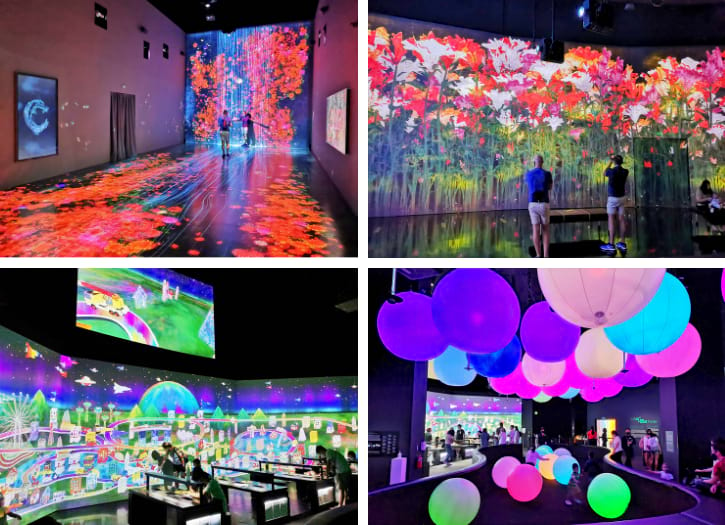 In the afternoon, go to the ArtScience Museum to see the Future World exhibit, a unique museum experience in Singapore.
Inside, you can play with art that moves and changes – like making waves on a screen or watching your drawings turn into animations.
It's a place to explore and have fun with what you see and touch.
Take it slow and enjoy every bit. It's great for all ages. And make sure your phone's ready – you'll want to snap lots of pictures here!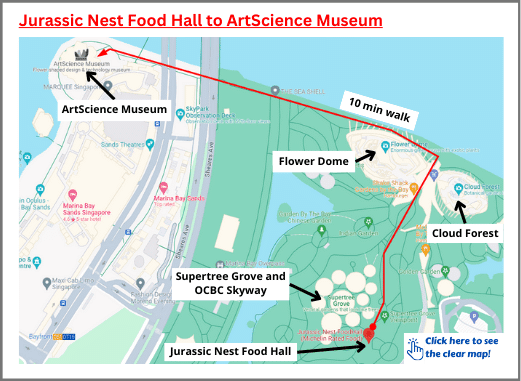 4. Sands SkyPark Observation Deck – 2 hours (5:00 PM to 7:00 PM)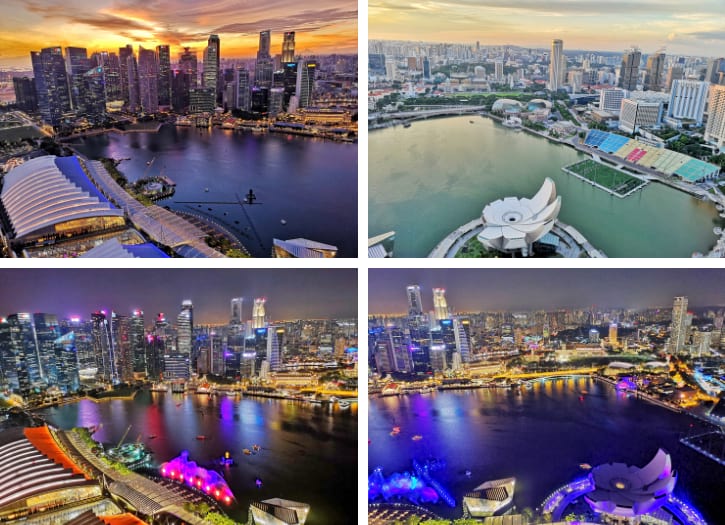 The next stop would be Sands SkyPark Observation Deck. This is a perfect spot to see the entire Singapore cityscape and catch the sunset.
If you can, aim to visit during the late afternoon. You'll catch the daylight, the golden hour, and then the city lights flickering on at dusk. It's like watching Singapore come alive for the night, and it's absolutely magical.
Make sure to buy your tickets for Sands SkyPark early to secure the timeslot you prefer. Entry is based on timeslots and they can fill up quickly, especially in the evening.
Access: Check out my guide here for directions to Sands SkyPark from the ArtScience Museum.
5. Enjoy Dinner at Rasapura Masters – 1 hour (7:00 PM to 8:00 PM)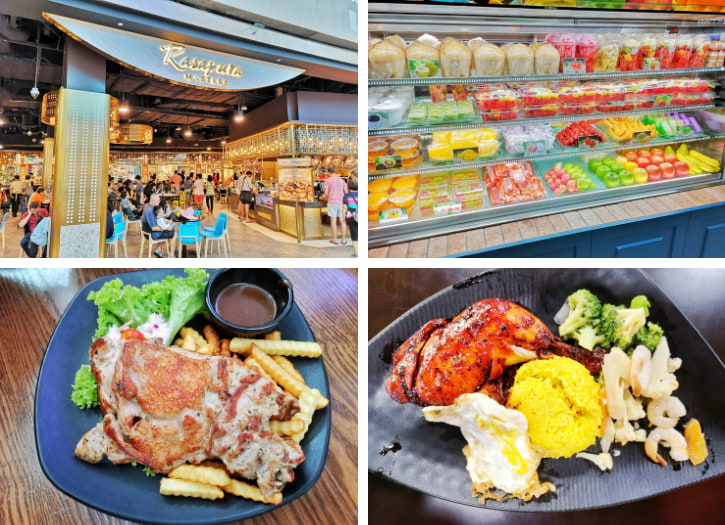 For dinner, walk over to Rasapura Masters on Basement 2 of The Shoppes. It's connected to Sands SkyPark, so you can easily get there.
They have lots of different foods like Chinese, Japanese, Korean, Western, Indian, and Malay dishes.
You can find things like dim sum, ramen, Korean BBQ, chicken chops, curry, or nasi lemak.
The food is good and not too expensive, with most dishes costing between SGD 7 and SGD 12.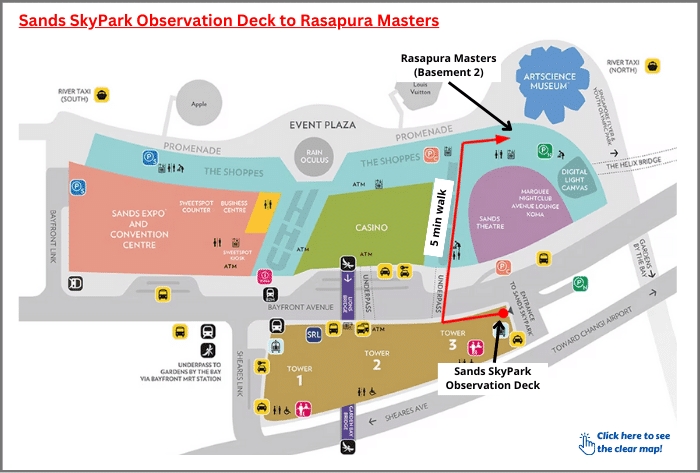 6. Spectra Light Show – 15 minutes (8:00 PM to 8:15 PM)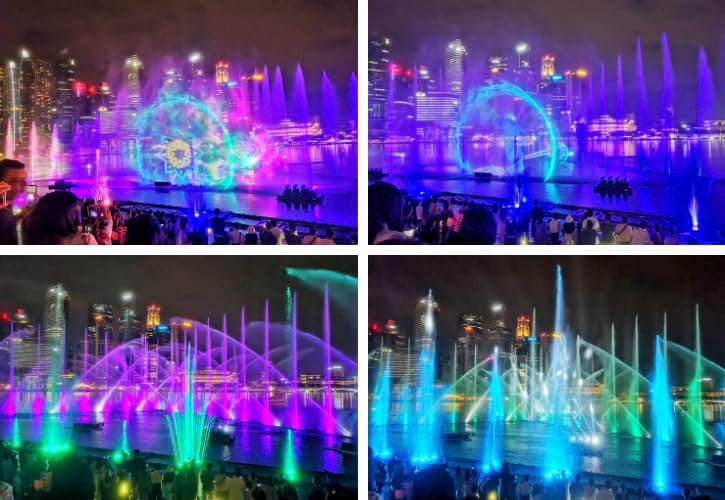 After dinner, don't miss the captivating light and water show in Singapore known as Spectra. Don't worry because this 15-minute outdoor presentation is for free.
From Sunday to Thursday, you can catch the 8:00 PM or 9:00 show. From Friday to Saturday, there are three show times ― 8:00 PM, 9:00 PM, and 10:00 PM.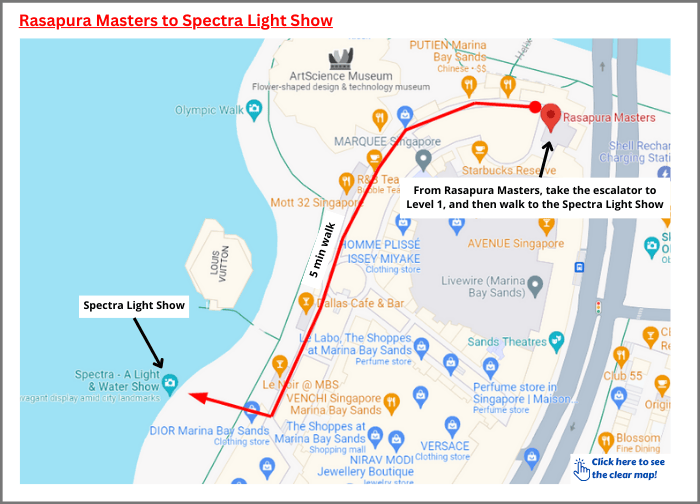 7. Helix Bridge – 15 minutes (8:15 PM to 8:30 PM)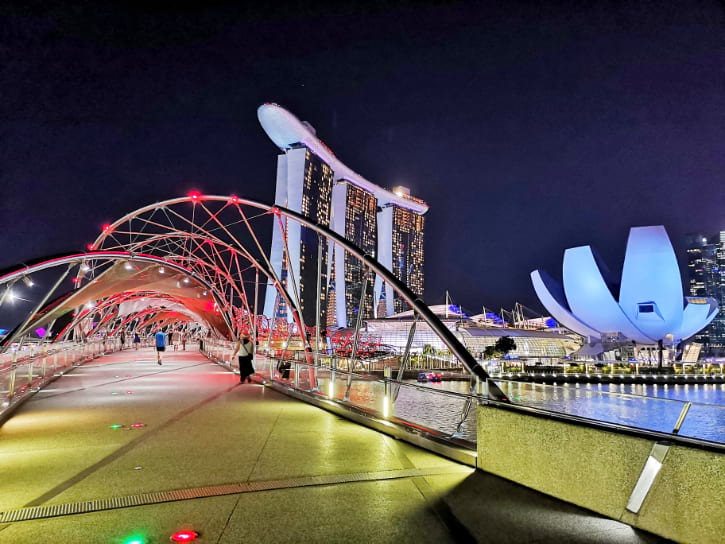 The Helix Bridge in Singapore is a must-visit for its unique architectural design.
So, after watching Spectra, head to this bridge and enjoy its beautiful views. Here, you can catch a glimpse of the towering Marina Bay Sands and other Singapore landmarks.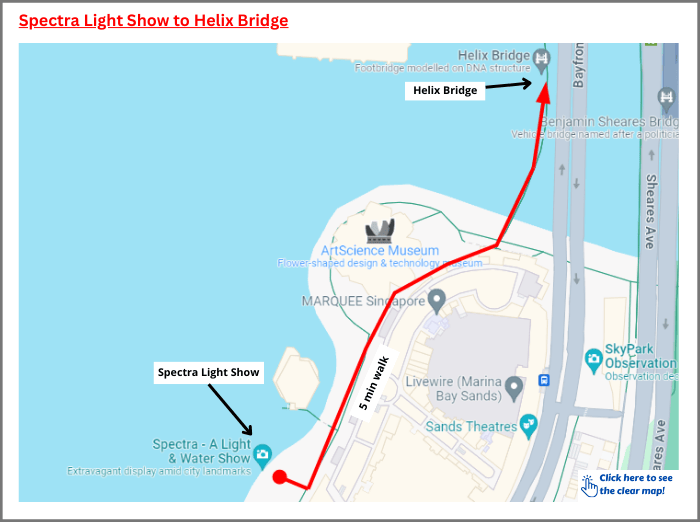 8. Singapore Flyer

(Option 1)

– 1.5 hours (8:30 PM to 10:00 PM)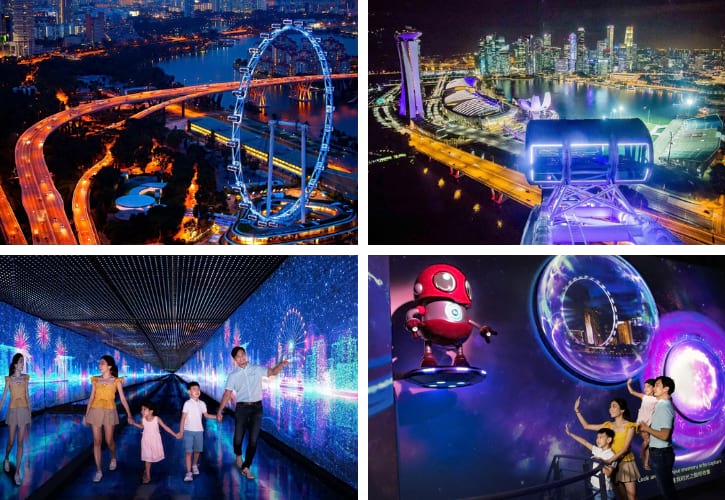 To experience the Singapore Flyer at its best, go for a ride at night. The whole city lights up like a sea of stars – it's truly stunning!
Hop into one of the big, comfortable pods and take it all in as you rise up into the sky. The view of the city's lights from up there is unbeatable.
Here's a little tip: Book your Singapore Flyer tickets online to skip the long queues at the ticket booth. You can simply show the QR code from your phone to get in quickly.
For the return trip, just take the MRT from Promenade Station, which is close to this attraction.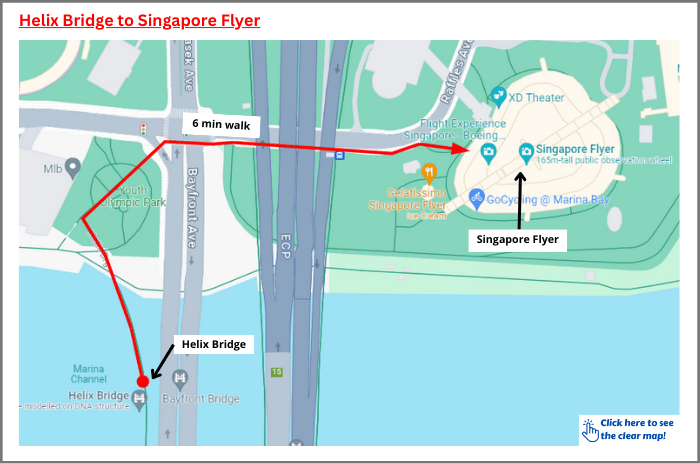 9. Merlion Statue (Option 2) – 30 minutes (8:30 PM to 9:00 PM)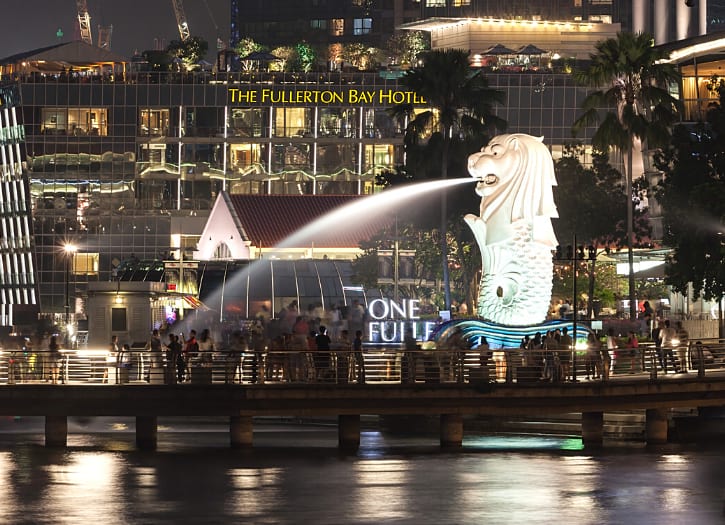 Another option to consider is visiting the Merlion Statue. It's a famous fountain with a lion's head and a fish's body, and it holds great significance in this area – it's like the symbol of Singapore!
When you go, take your camera. You can take some really fun photos with the Merlion in the background.
And, if you stand at the right spot, it can look like the Merlion is spraying water right into your mouth – it makes for a pretty funny picture!
The closest MRT station to the Merlion Statue is Raffles Place Station. You can take the MRT from there to return to your hotel.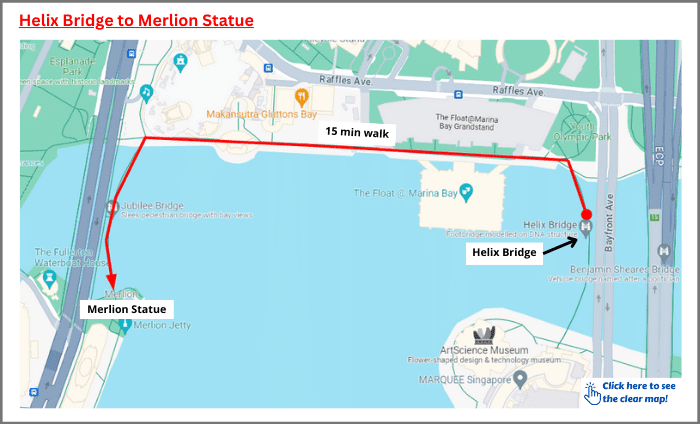 Day 3: Discover all the fun spots of Sentosa Island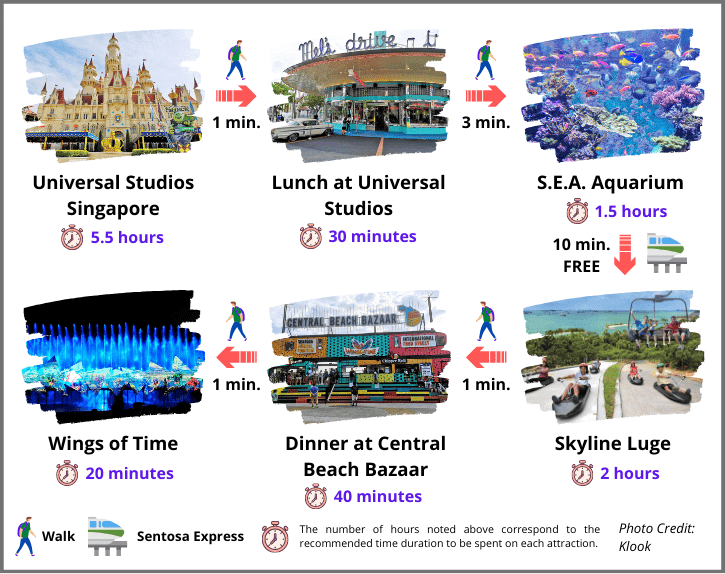 The Day 3 itinerary in Singapore takes you to explore the popular things to do in Sentosa Island. Here's a brief schedule for today.
10:00 AM: Universal Studios Singapore
1:00 PM: Having lunch at Universal Studios
3:30 PM: S.E.A. Aquarium Singapore
5:00 PM: Skyline Luge
7:00 PM: Dinner at Central Beach Bazaar or Good Old Days Food Court
7:40 PM: Wings of Time
*Sometimes, Universal Studios Singapore only opens at 11 AM. In such cases, you can visit the SEA Aquarium first, as it opens at 9 AM.
1. Universal Studios Singapore – 5.5 hours (10:00 AM to 3:30 PM)
You should go to Universal Studios Singapore. It's a really fun park with exciting rides and shows. Believe me, it's totally worth a visit.
When you're there, don't miss the Transformers ride. It's like being in a movie with lots of action.
Also, go on the Jurassic Park ride. You'll see dinosaurs and it feels like you're in their world.
Watch the WaterWorld show too. It's full of cool stunts and big bangs, and you'll see people riding very fast on jet-skis.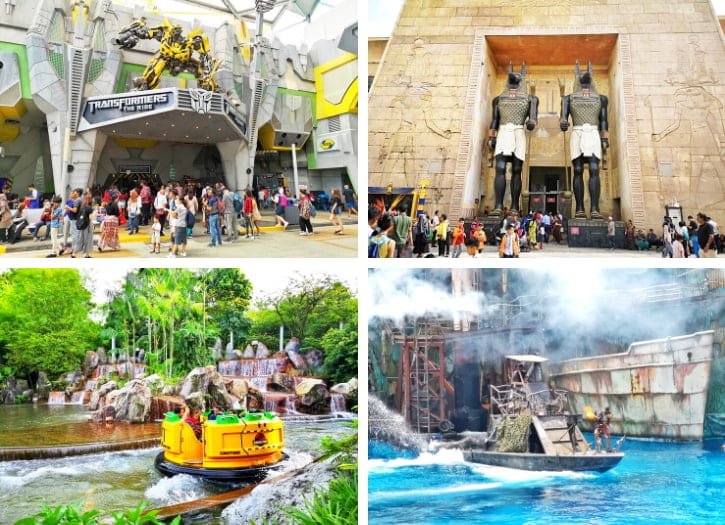 Don't forget to walk down Hollywood Boulevard. It feels like you're a famous movie star and it's a great place to take pictures.
Book Online for Fast Universal Studios Entry
It's best to book your Universal Studios tickets online here to save time and avoid the long lines at the ticket booth. Once you've booked, simply scan your e-tickets from your phone at the gate for quick and easy entry!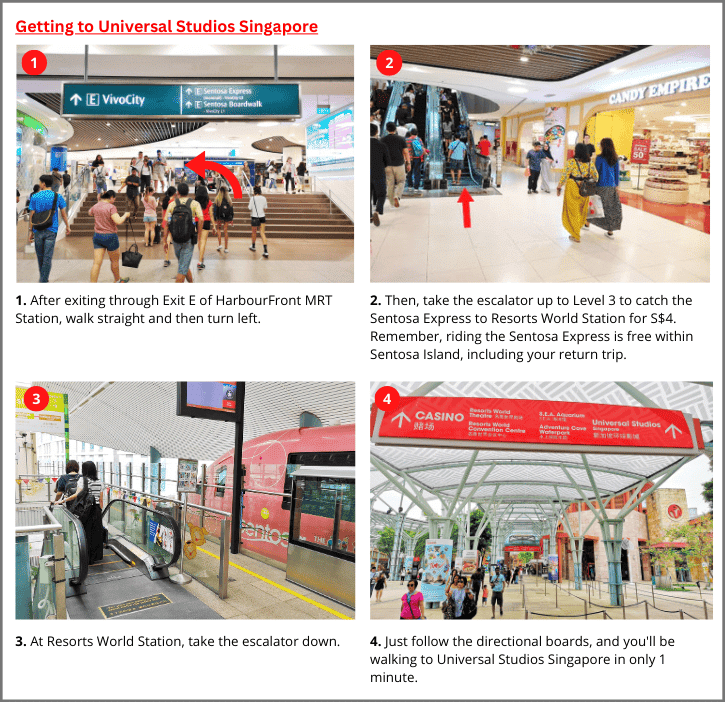 2. Having lunch at Universal Studios – 30 minutes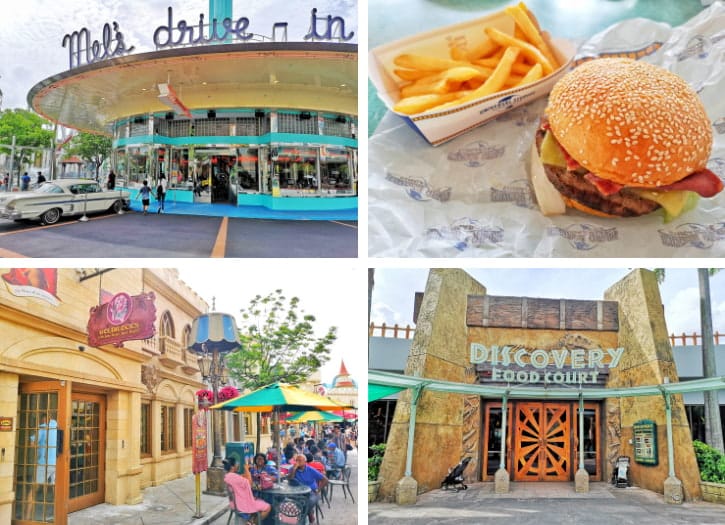 There are several popular restaurants inside Universal Studios Singapore, so you don't need to worry about finding a place to eat.
Goldilocks offers delicious fried chicken that shouldn't be missed.
At the Discovery Food Court, you can enjoy Singaporean delights such as Mee Soto, smoky grilled Chicken Satay, and more.
For a taste of Italian-American cuisine, stop by Loui's NY Pizza Parlor for pizza and spaghetti with meatballs.
And if you're in the mood for all-American favorites, Mel's Drive-In serves up classic burgers, fries, and milkshakes.
3. S.E.A. Aquarium Singapore – 1.5 hours (3:30 PM to 5:00 PM)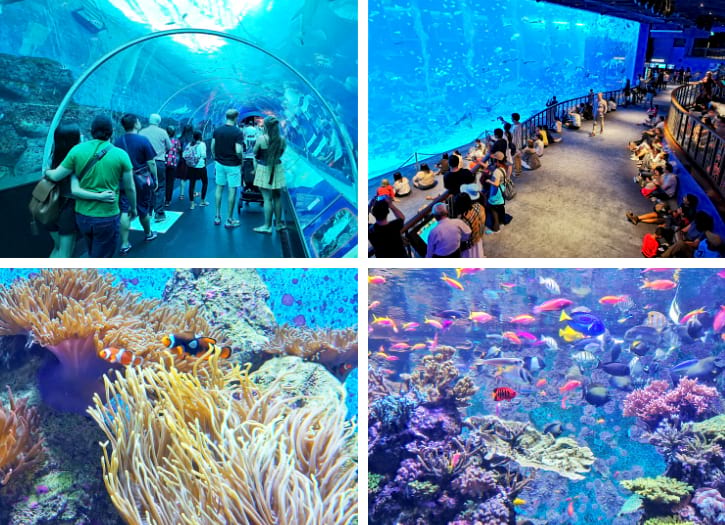 The S.E.A. Aquarium Singapore is a place you'll want to add to your itinerary. It's an underwater world that's just amazing to see.
Why visit? It's home to more than 100,000 marine animals, and you really feel like you're walking under the ocean.
The big glass tanks let you see all sorts of sea creatures, from colorful fish to big sharks.
And there's more – purchasing your aquarium tickets online, you won't have to wait in long lines. Plus, you can save even more when you visit with a group. Check out the link I've shared to find out more.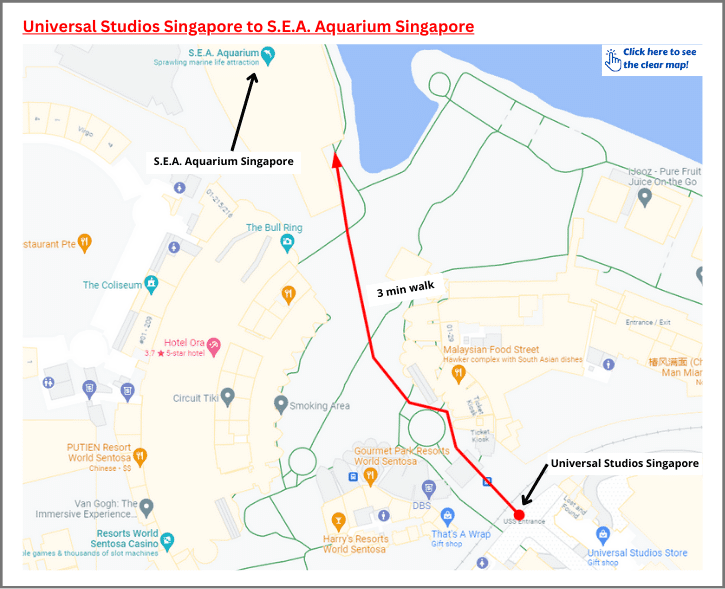 4. Skyline Luge – 2 hours (5:00 PM to 7:00 PM)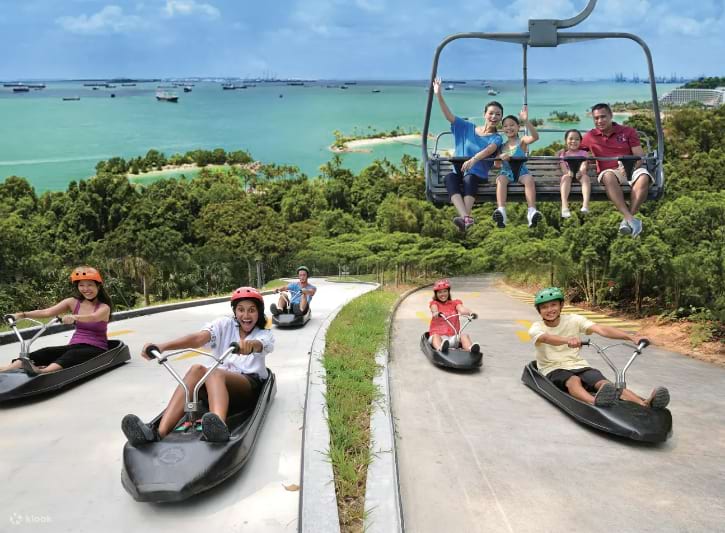 Next, you've got to try the Skyline Luge! It's kind of like a cool downhill go-kart that you can steer yourself.
Here's what you do there: you sit in a small cart called a luge and slide down a hill on a curvy path. You can go as fast or slow as you like, so it's exciting but also safe.
Before you race down, you'll ride up the hill in a chairlift, which lets you see all the beautiful sights from up high.
I'd suggest riding down the track more than once because the fun really does increase with each run.
To avoid long waits, it's recommended to buy your Skyline Luge tickets here in advance. This attraction is very popular, and lots of people want to experience the ride.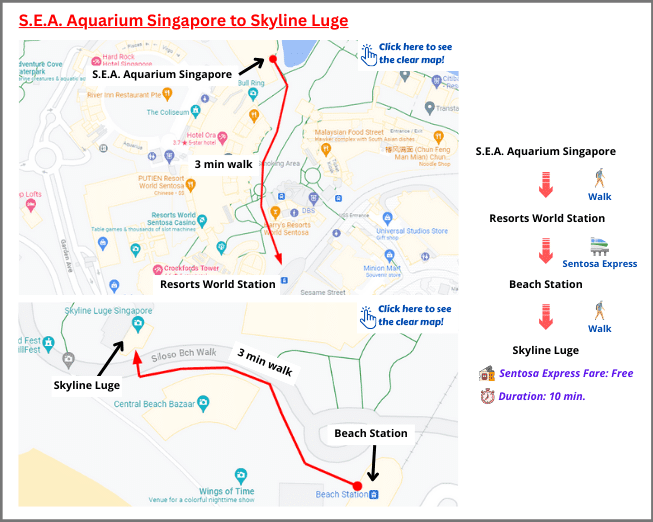 5. Dinner at Central Beach Bazaar or Good Old Days Food Court – 40 minutes (7:00 PM to 7:40 PM)
a) Central Beach Bazaar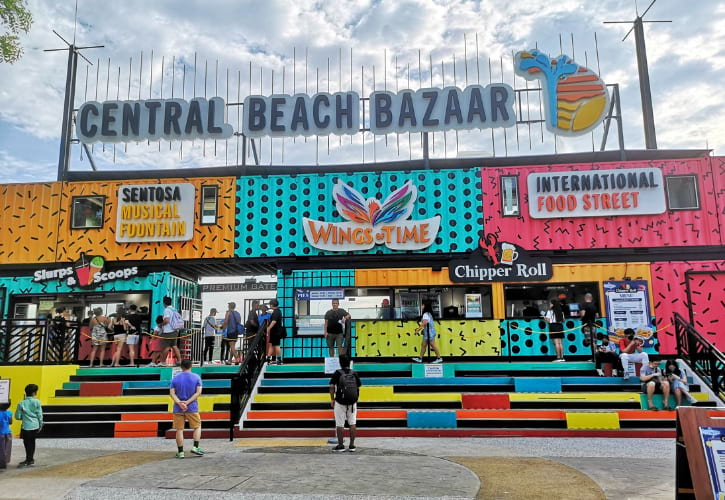 At Central Beach Bazaar, you'll find a lineup of colourful food trucks parked right by the sand, all ready to serve you delicious street food from around the world.
You can try different foods like Mexican-Indian tacos, Japanese grilled chicken sticks, crispy fish and chips, and tasty hotdogs and burgers. Most dishes cost between SGD 6 and SGD 10.
b) Good Old Days Food Court
This restaurant offers a selection of both Western and local cuisines at affordable prices. You'll find grilled specialties as well as crowd favorites like Nasi Biryani and Mushroom Spaghetti on the menu.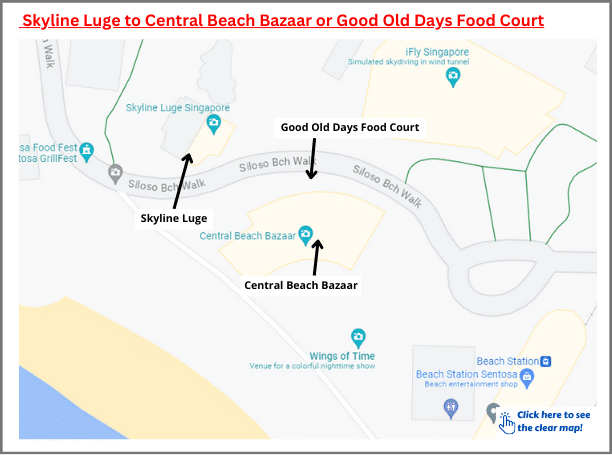 6. Wings of Time – 20 minutes (7:40 PM to 8:00 PM)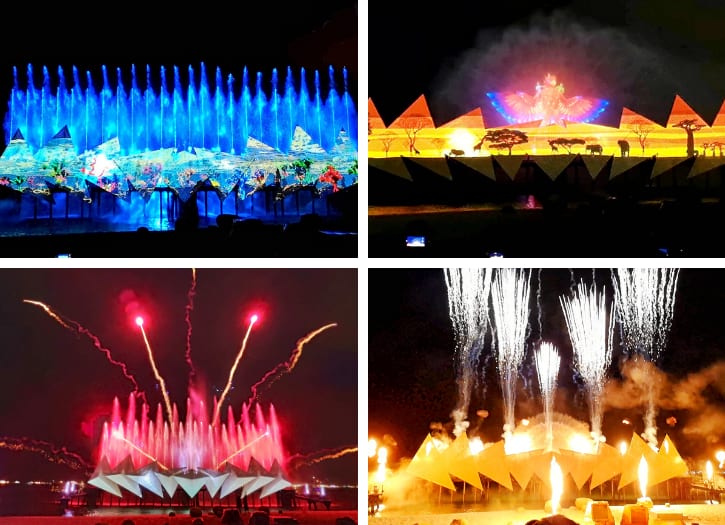 Wings of Time is a highly anticipated light show in Sentosa Island.
It's because this outdoor exhibit comes with breath-taking virtual effects and laser projections.
So make sure you watch it from start to finish for a more magical experience.
Aside from its incredible animation, this one follows a unique storyline of friendship.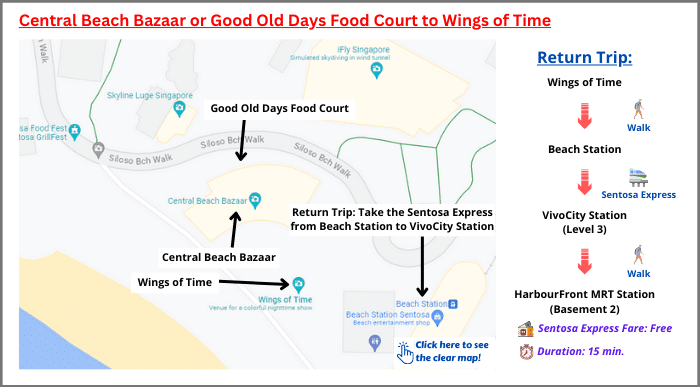 Return Trip:
After watching the show, you can take the Sentosa Express from Beach Station to VivoCity Station for free. Once at VivoCity, use the escalators or a lift to reach basement 2, where you'll find the HarbourFront MRT Station.
Day 4: Little India, Bugis, Spiral Staircase, Chinatown, and Clarke Quay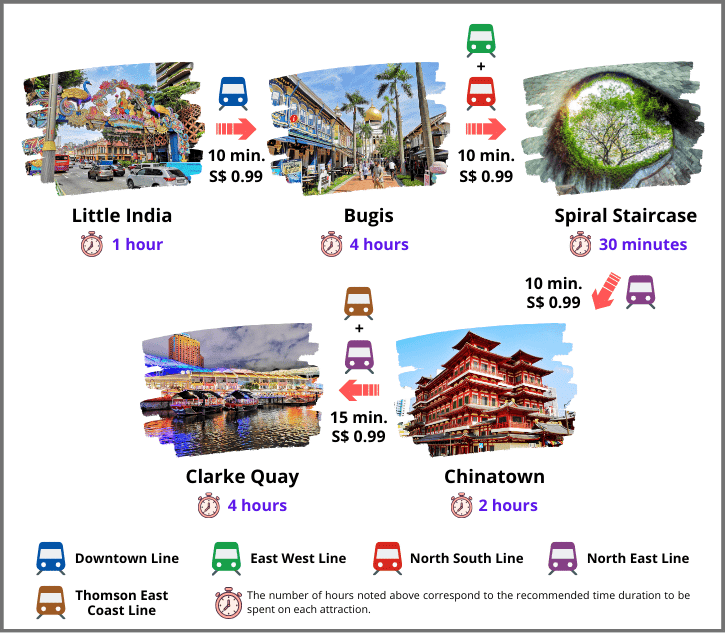 Below is a list of attractions you will be visiting on Day 4 of the itinerary:
9:30 AM: Little India
10:40 AM: Bugis + Lunch
2:50 PM: Spiral Staircase
3:30 PM: Chinatown Singapore
5:45 PM: Clarke Quay + Dinner
1. Little India – 1 hour (9:30 AM to 10:30 AM)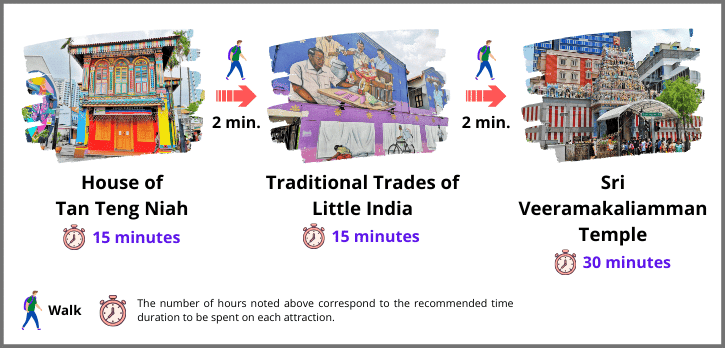 Little India Singapore is such a great area to explore because of its unique cultural spots.
In the morning, discover some of the popular attractions in the area like Tan Teng Niah and Traditional Trades of Little India. Afterward, visit the Veeramakaliamman Temple.
9:30 AM: House of Tan Teng Niah
9:45 AM: Traditional Trades of Little India
10:00 AM: Sri Veeramakaliamman Temple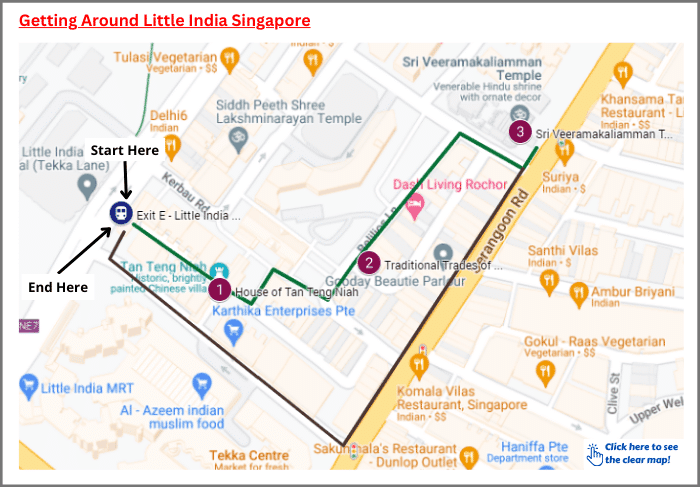 a) House of Tan Teng Niah – 15 minutes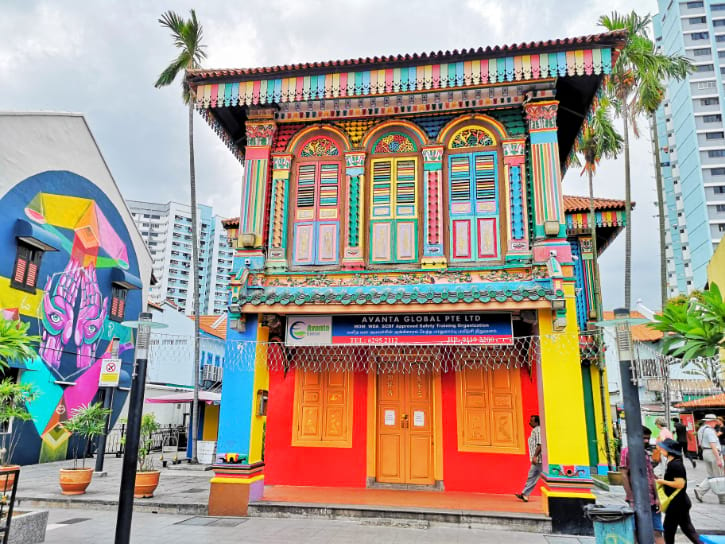 The House of Tan Teng Niah is really colorful and it stands out in Little India.
It's actually a Chinese house that has been around for a long time. Grab your camera for some vibrant photos here.
b) Traditional Trades of Little India – 15 minutes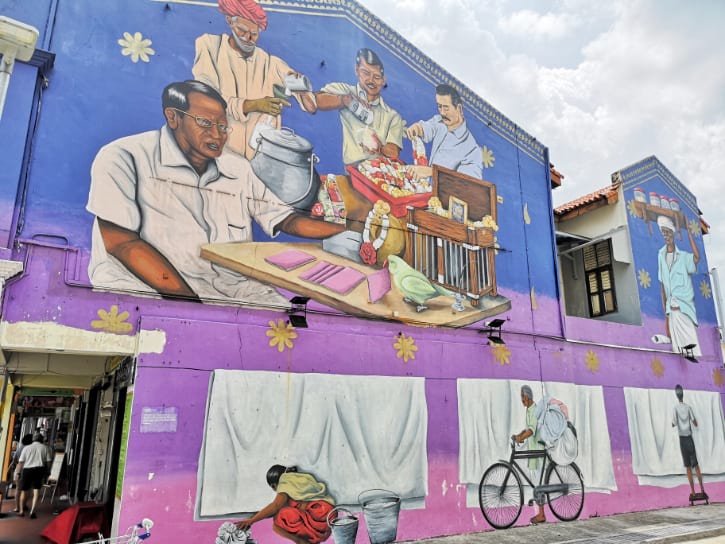 Traditional Trades of Little India is another head-turner that deserves your attention.
This amazing mural demonstrates the occupations of the early locals. These include people selling street snacks, doing laundry, trading items, and making garlands.
c) Sri Veeramakaliamman Temple – 30 minutes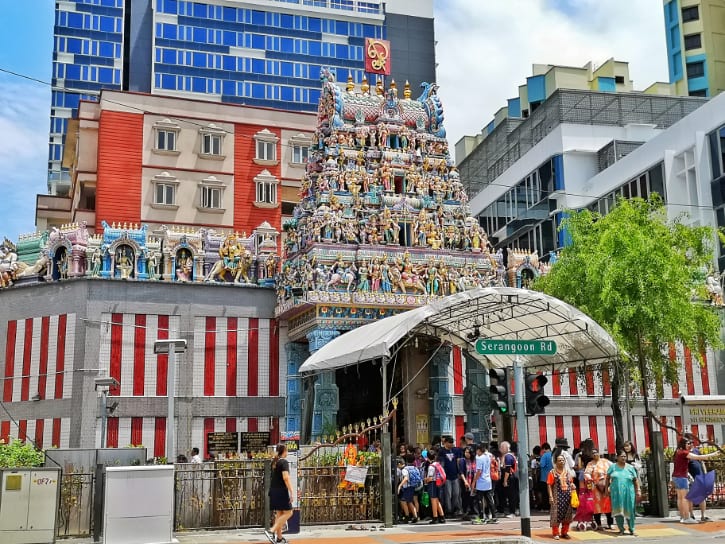 When you visit Sri Veeramakaliamman Temple, you'll be amazed by its beautiful design.
This temple is a special place in Singapore, and it's important to many Indian locals.
Inside, you can see colorful statues and learn about Hindu traditions.
2. Bugis – 4 hours (10:40 AM to 2:40 PM)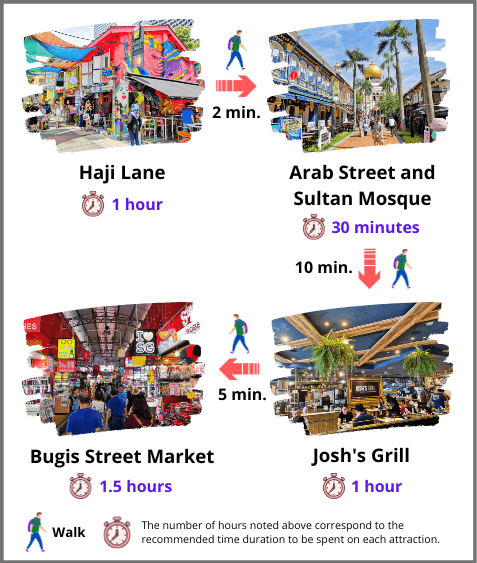 When it comes to colourful street and wall paintings in Singapore, make sure to explore Bugis.
There's a lot of to discover here, from street markets to historical centres and more. So, let me introduce the must-visit spots through the list below.
10:40 AM: Haji Lane
11:40 AM: Arab Street and Sultan Mosque
12:10 PM: Lunch at Josh's Grill
1:10 PM: Bugis Street Market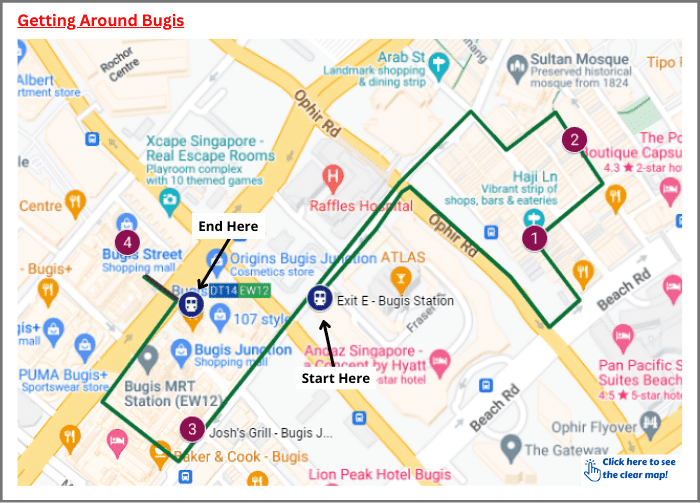 a) Haji Lane – 1 hour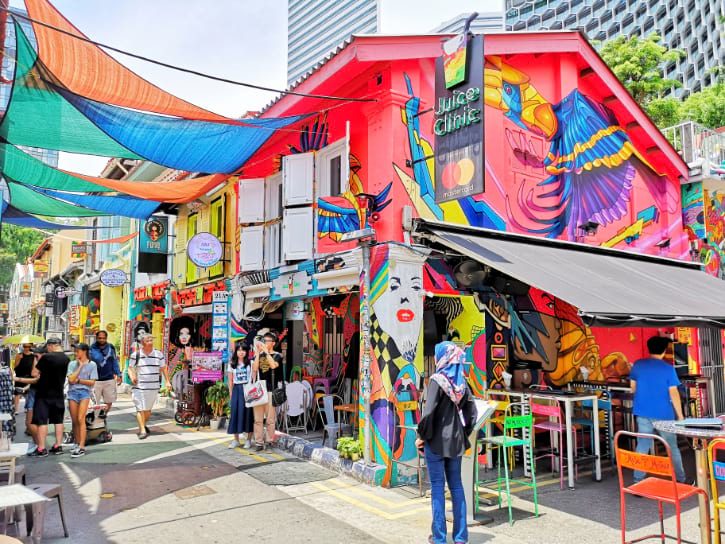 Start off your Bugis adventure at Haji Lane, where you'll find a bustling mix of boutiques and cafes.
Each shop here features striking murals, so be sure to capture plenty of photos.
b) Arab Street and Sultan Mosque – 30 minutes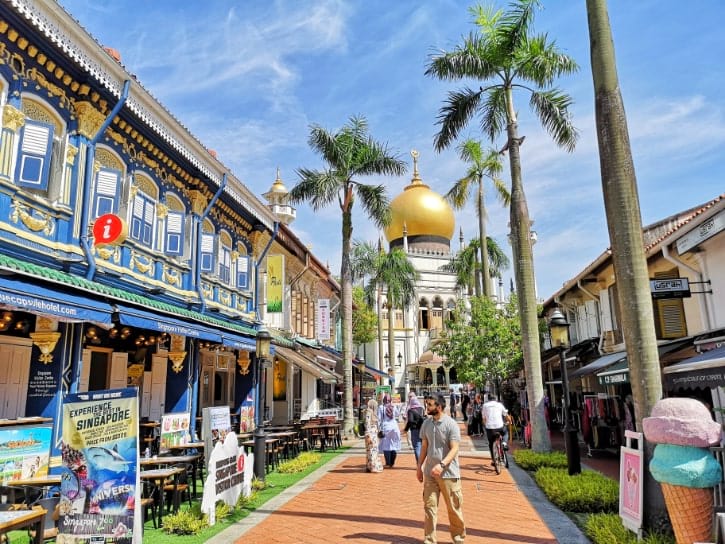 Next on your list should be Arab Street, where you'll be surrounded by more colorful shops. This area is another favorite among locals and travelers because of its picturesque charm.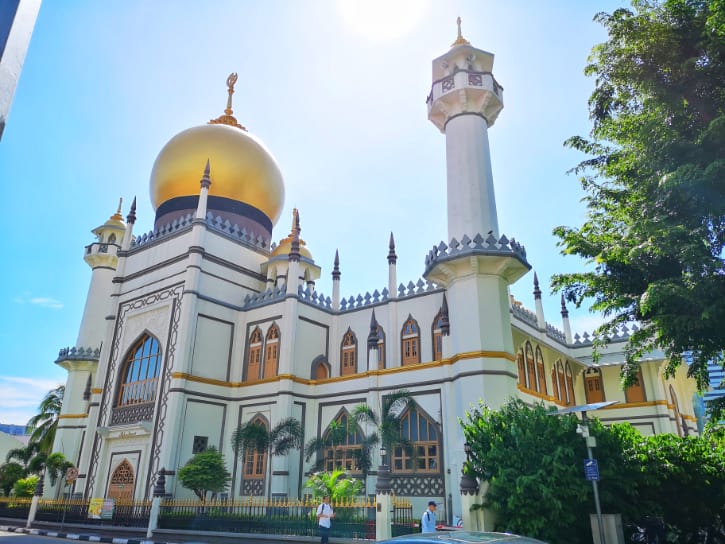 At the end of the street, you'll find Sultan Mosque, a significant religious and cultural landmark in Singapore.
Its stunning structural design, with towering spires and golden domes, is truly awe-inspiring.
c) Lunch at Josh's Grill – 1 hour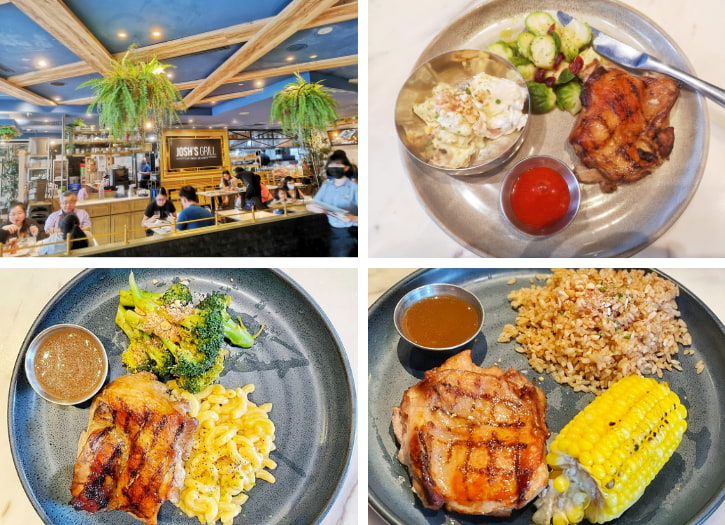 You can have your lunch at Josh's Grill, a highly popular Western food restaurant.
They offer a variety of delicious dishes such as Chicken Chop (SGD 12.90), Crispy Battered Fish (SGD 13.90), Grilled Salmon with Spaghetti (SGD 18.90), Lamb Ribs with BBQ Sauce (SGD 25.90), and Steak (SGD 23.90).
d) Bugis Street Market – 1.5 hours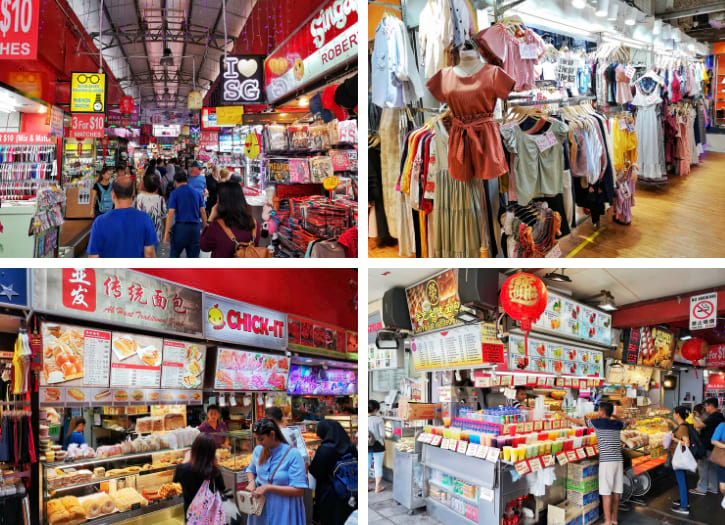 If you're eyeing for some bargain hunting, Bugis Street Market is the best choice.
This market is filled with all sorts of fashion items, accessories, and electronics at a cheaper price.
In short, visiting here gives you a taste of Singapore's vibrant street culture. You'll also find great shopping and yummy street food all in one spot.
3. Spiral Staircase – 30 minutes (2:50 PM to 3:20 PM)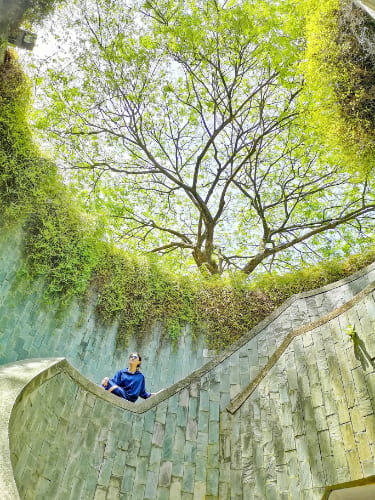 The Spiral Staircase in Singapore is a hot spot for photos and nature lovers.
When you stand at the bottom, you'll be surrounded by lush greenery, making it perfect for cool photos.
Many folks come here for wedding shots and to soak up the nature vibes.
If photography is your thing, you'll definitely want to check out this place!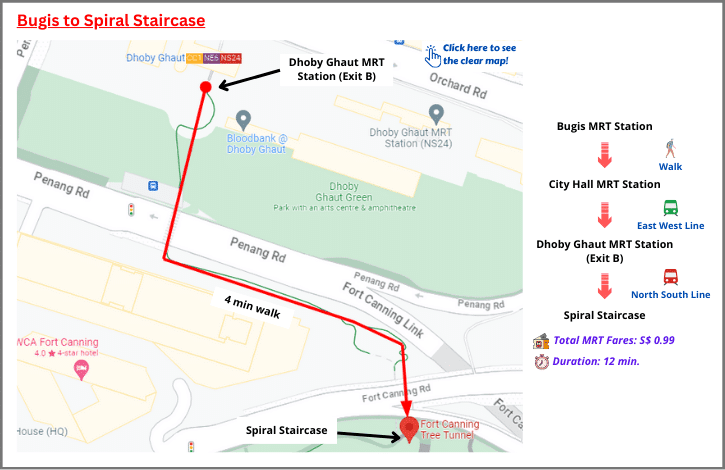 4. Chinatown – 2 hours (3:30 PM to 5:30 PM)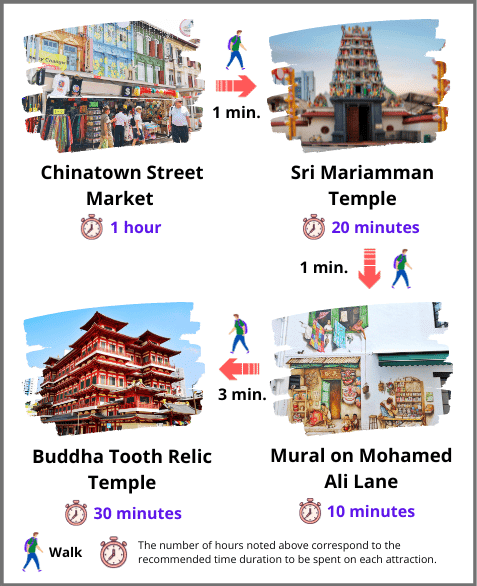 Vibrant Chinatown is a piece of Singapore's colorful past. It's a neighborhood where you can experience the rich traditions and flavors of the Chinese community.
Here are a few things you absolutely shouldn't miss.
3:30 PM: Chinatown Street Market
4:30 PM: Sri Mariamman Temple
4:50 PM: Mural on Mohamed Ali Lane
5:00 PM: Buddha Tooth Relic Temple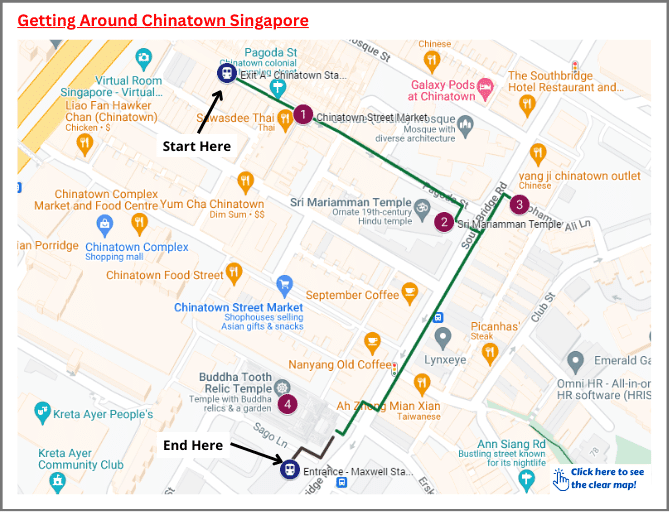 a) Chinatown Street Market – 1 hour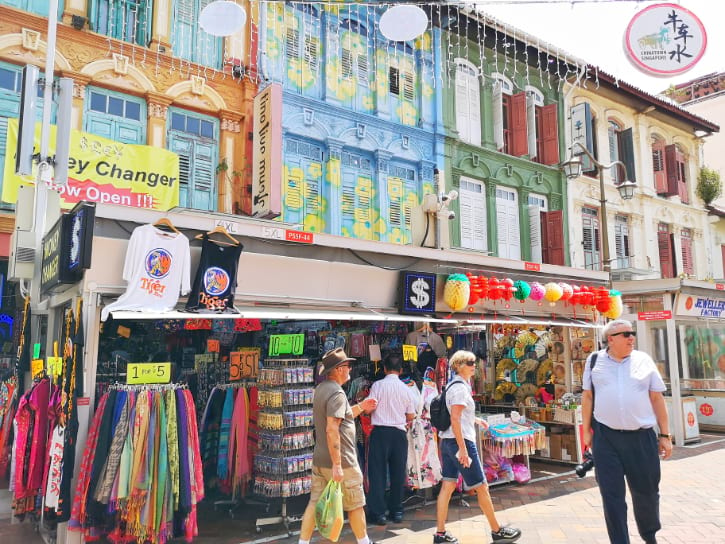 Commence your adventure at Chinatown Street Market. This destination features plenty of local stalls selling unique items, from clothing to souvenirs and more.
So, if you want to buy some cute mementos, wander around the street market.
b) Sri Mariamman Temple – 20 minutes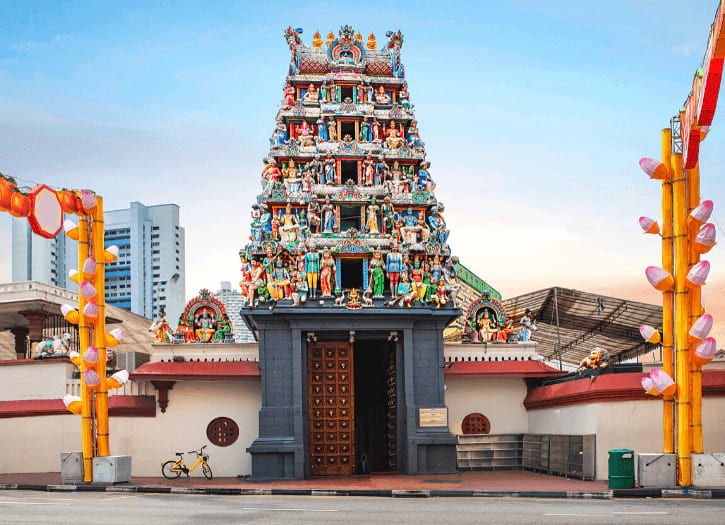 Explore the stunning Sri Mariamman Temple, whose colorful exterior perfectly matches the lively surroundings of Chinatown.
And as the oldest Hindu temple in Singapore, this site is very important among the Hindu community.
c) Mural on Mohamed Ali Lane – 10 minutes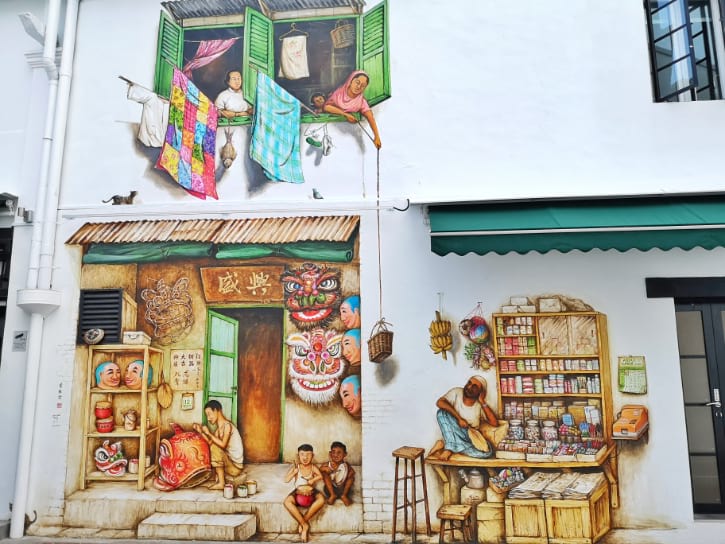 The wall painting on Mohamed Ali Lane is also a crowd favorite. This section showcases the life of ancient merchants.
And some of the highlights here are the paper mask and puppets as well as the Mamak store.
d) Buddha Tooth Relic Temple – 30 minutes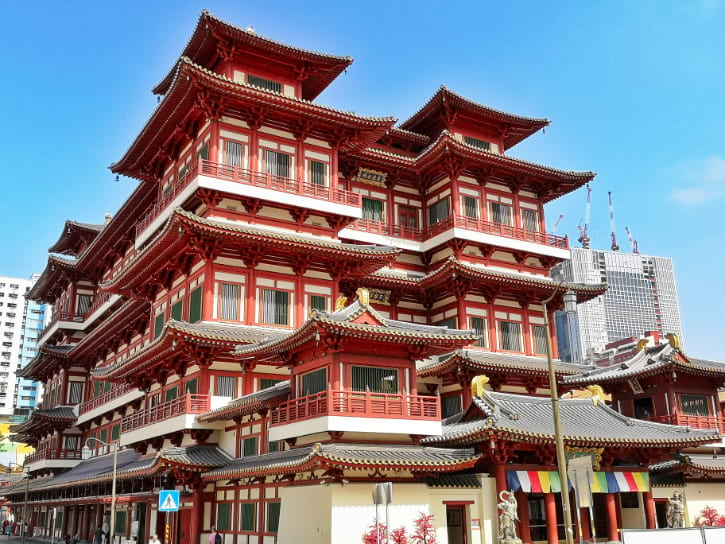 The Buddha Tooth Relic Temple stands out as an iconic landmark, not only in Chinatown but also in all of Singapore.
Inside, you'll discover an amazing collection of Buddha artifacts, including a precious canine tooth.
5. Clarke Quay – 4 hours (5:45 PM to 9:45 PM)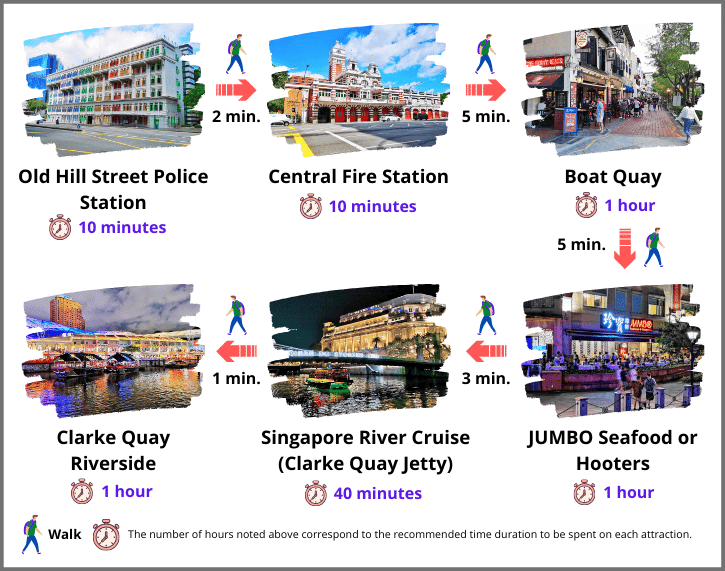 Clarke Quay Singapore is the best destination for late afternoon activities. Here, you can explore the historical Old Hill Street Police Station and Central Fire Station.
Then, you can spend some time along Boat Quay and go around scenic Clarke Quay Riverside. Lastly, take the River Cruise.
5:45 PM: Old Hill Street Police Station
5:55 PM: Central Fire Station
6:05 PM: Boat Quay
7:05 PM: Dinner at JUMBO Seafood or Hooters
8:05 PM: Singapore River Cruise
8:45 PM: Clarke Quay Riverside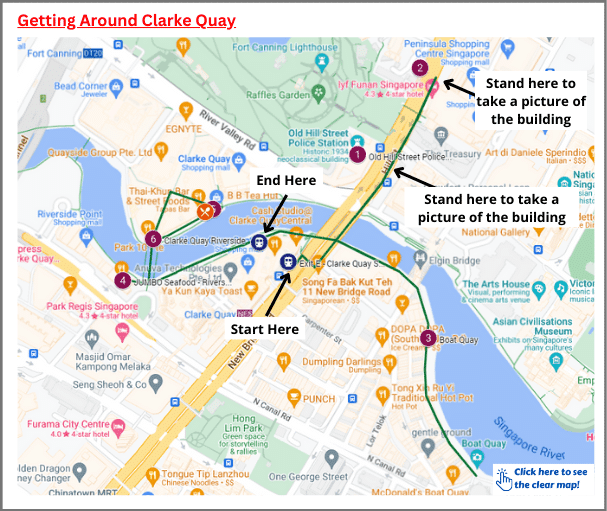 a) Old Hill Street Police Station – 10 minutes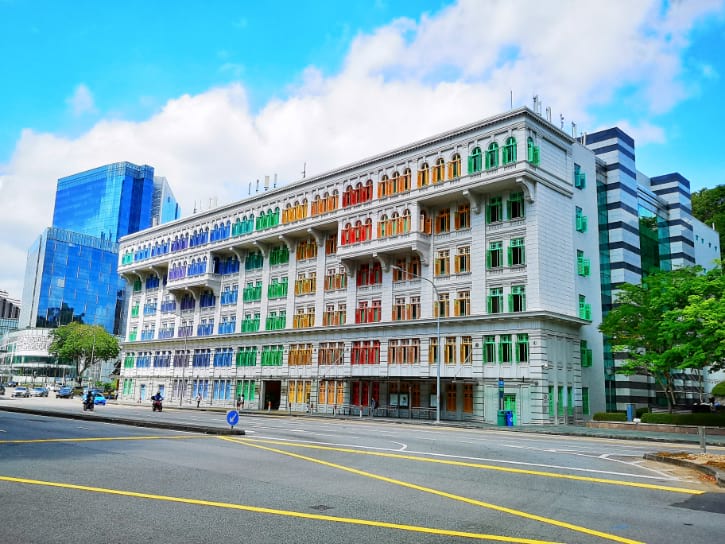 The Old Hill Street Police Station is an important and colorful historical place in Singapore that you should definitely visit. It was the first jail in the country.
Moreover, it's famous for its brightly colored windows. This makes it a great backdrop for your photos.
b) Central Fire Station – 10 minutes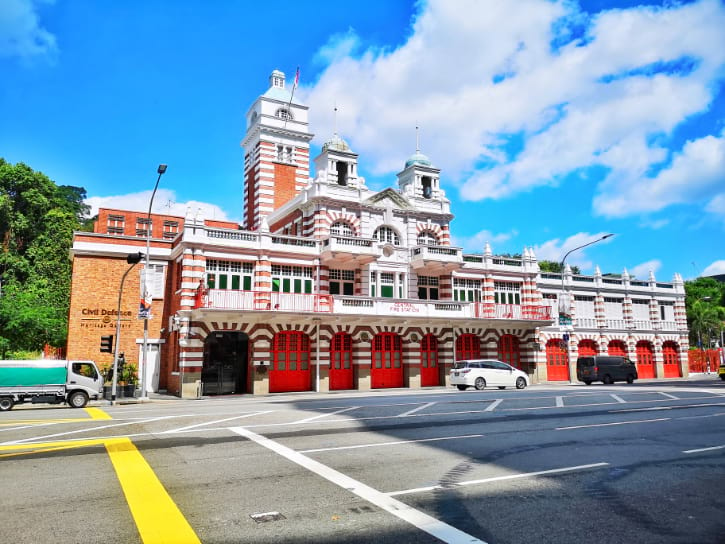 The Central Fire Station in Singapore certainly deserves a visit for its distinctive red-and-white facade.
Additionally, it holds the status of being the oldest operational fire station in the country.
c) Boat Quay – 1 hour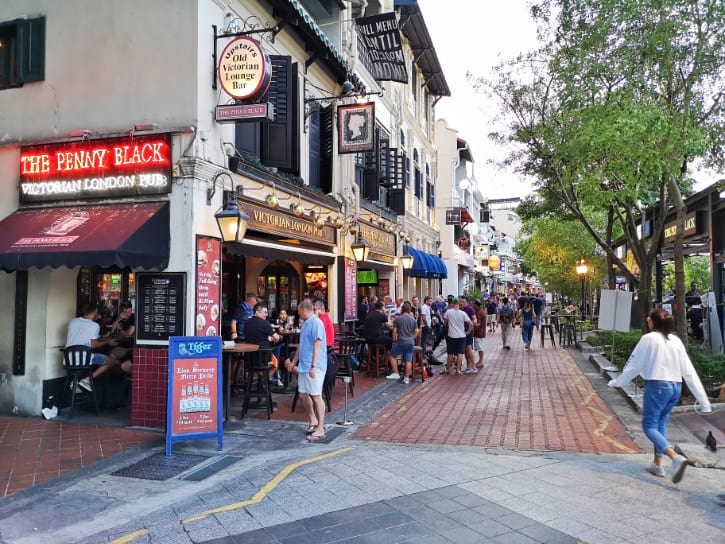 You'll find Boat Quay to be the perfect spot for leisurely strolls or cozy drinks. Along the riverside, numerous pubs and dining places await you.
Without question, it's the ideal destination if you're looking to just relax and unwind.
d) Dinner at JUMBO Seafood or Hooters – 1 hour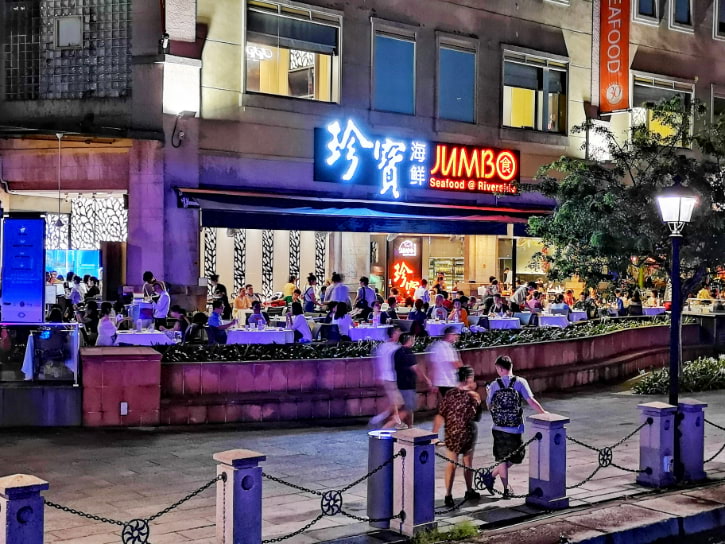 JUMBO Seafood (Riverside Point):
Menu options: Seafood (like Crabs, Prawns, Lobster), Pork Ribs, Fried Rice, Squid, Chicken, Fishes, Vegetables
Price ranges: Food prices at JUMBO Seafood may vary based on your choices. Simply visit the JUMBO Seafood website, and scroll down to "Riverside Point" to view the menu.
This restaurant is famous for its Chilli Crab and Black Pepper Crab.
Hooters:
Menu options: Mile High Burgers, Sandwiches, Buffalo Wings, Chicken Breast Strips
Price ranges: Mile High Burgers at around SGD 17.90, Sandwiches at about SGD 18.90, 10 pc Buffalo Wings for SGD 14.90, and Chicken Breast Strips for SGD 11.90
For a complete meal, I'd recommend trying their famous buffalo wings or one of the Mile High Burgers.
e) Singapore River Cruise – 40 minutes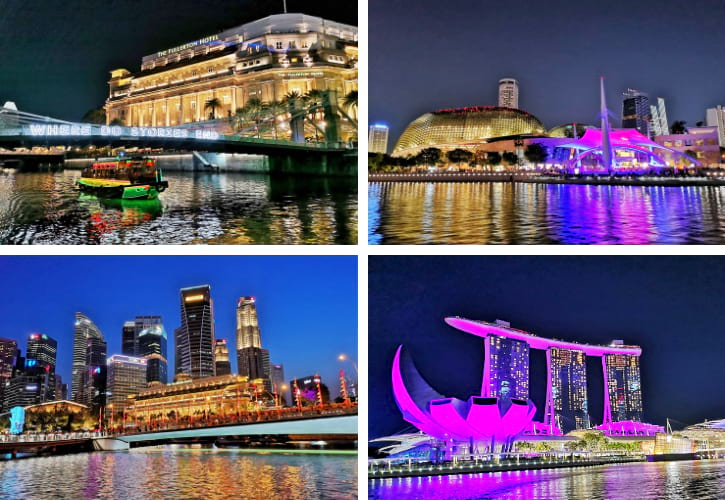 When touring around Singapore at night, you must try the river cruise. It's an easy and enjoyable way to see the city.
You can easily hop on a boat at Clarke Quay jetty. Once you're on, you can just relax and watch the city's famous spots pass by.
I'd recommend going in the evening when the buildings are all lit up – it's really something special. Don't forget to snap some photos; you'll want to remember the views!
Secure your river cruise tickets here on the web ahead of time to avoid the queues, as it's very popular with both locals and tourists.
f) Clarke Quay Riverside – 1 hour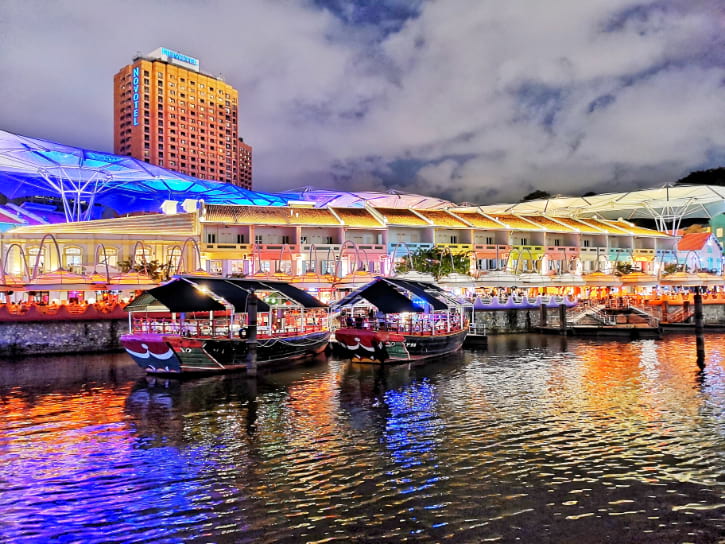 As night falls, Clarke Quay Riverside becomes even more enchanting with its lights and lively atmosphere.
It's the perfect time for a stroll along the river, where you can see boats and the city lights reflecting on the water.
There are many cafes and bars here, making it a nice place to have a drink or ice cream and watch the river.
Day 5: Explore Singapore's Wildlife Parks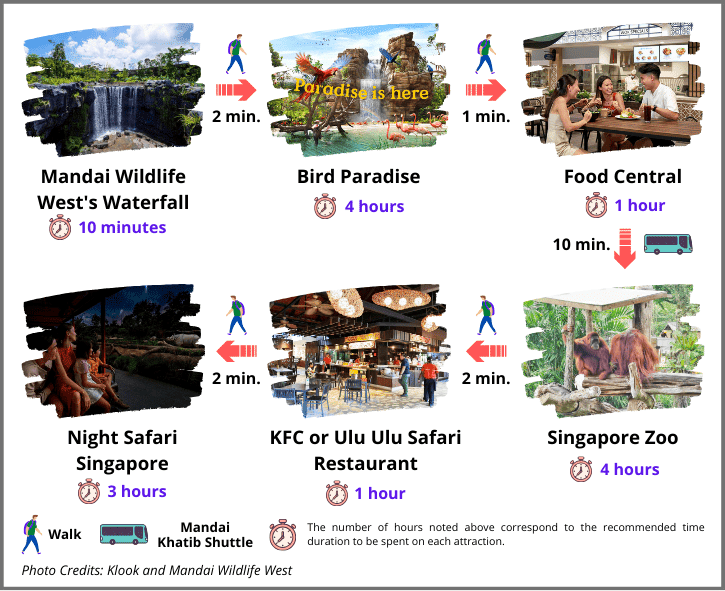 A Brief Insight into What Day 5 Holds in the Singapore Itinerary:
8:50 AM: Take a Selfie at Mandai Wildlife West's Waterfall
9:00 AM: Bird Paradise
1:00 PM: Having Lunch at Food Central
2:00 PM: Singapore Zoo
6:00 PM: Dinner at KFC or Ulu Ulu Safari Restaurant
7:15 PM: Night Safari Singapore
1. Take a Selfie at Mandai Wildlife West's Waterfall – 10 minutes (8:50 AM to 9:00 AM)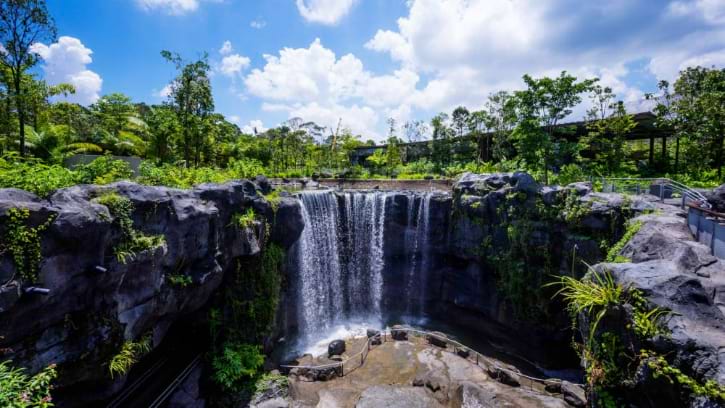 When you're visiting Mandai Wildlife West, make sure to take a selfie at the waterfall. It's a really pretty place.
Just stand in front of the falling water, grab your phone, and take that picture. You'll love looking back at it!
2. Bird Paradise – 4 hours (9:00 AM to 1:00 PM)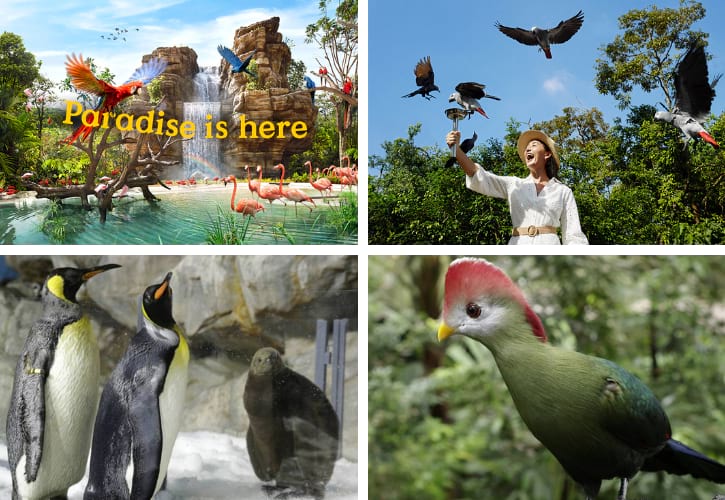 When visiting Singapore, Bird Paradise should be on everyone's itinerary. With over 3,500 birds, it's a great place to see and learn about different bird species. Here's what you can do:
Walk on Bird-Watching Trails: These paths are easy to walk on and great for seeing many kinds of birds. Bring a camera to take pictures of the colorful birds.
Feed the Birds: In the feeding area, you can get close to the birds and even feed them. It's really fun and exciting when they eat from your hand.
Trust me, you're going to love this bird park – it's an experience you won't regret!
Bird Paradise is a crowd favorite, and it's advisable to secure your admission online for this bird park. By doing so, you'll gain quick access and bypass the long queues.
3. Having Lunch at Food Central – 1 hour (1:00 PM to 2:00 PM)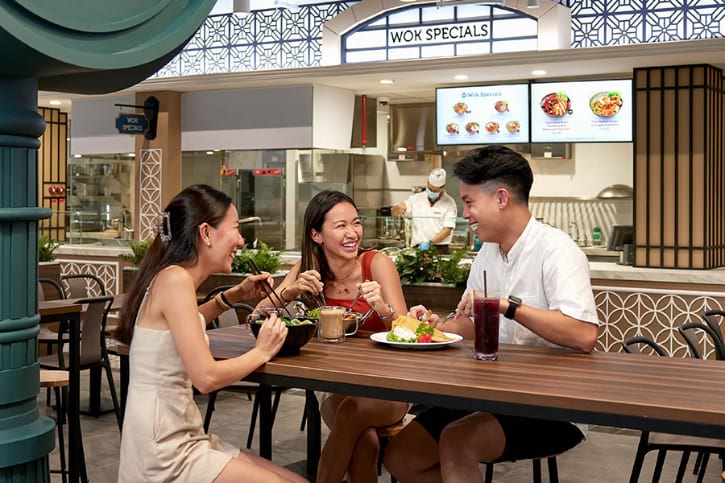 After you finish touring around Bird Paradise, you can enjoy a delightful lunch at Food Central. It's the ideal spot to relax and refuel.
At Food Central, you'll find a range of tasty options, from local favorites like Hainanese chicken rice to various Western delights and more!
4. Singapore Zoo – 4 hours (2:00 PM to 6:00 PM)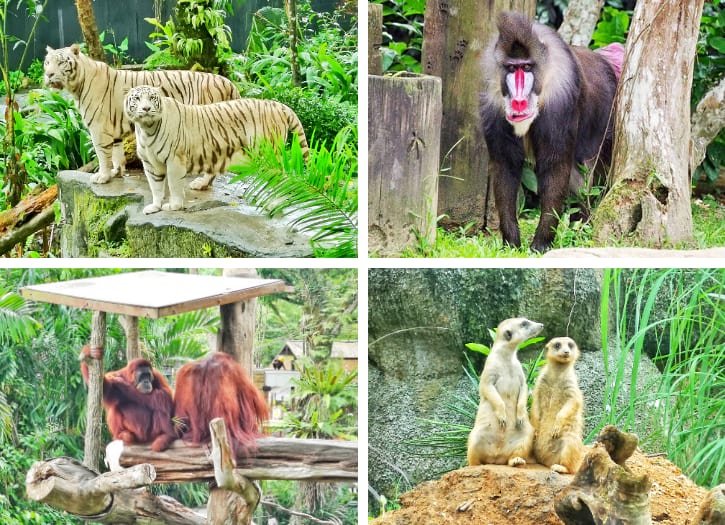 Singapore Zoo is home to a big family of animals, more than 4,200 of them!
You've got to visit it to experience the wonders of wildlife from all around the globe. You can see large white tigers, playful orangutans, and meerkats standing tall on the lookout.
As you walk around, you'll encounter all kinds of creatures, each living their unique way of life. And don't miss the mandrill, whose bright colors are incredible to see up close.
Remember to take lots of pictures; it's a fantastic place to create lasting memories.
5. Dinner at KFC or Ulu Ulu Safari Restaurant – 1 hour (6:00 PM to 7:00 PM)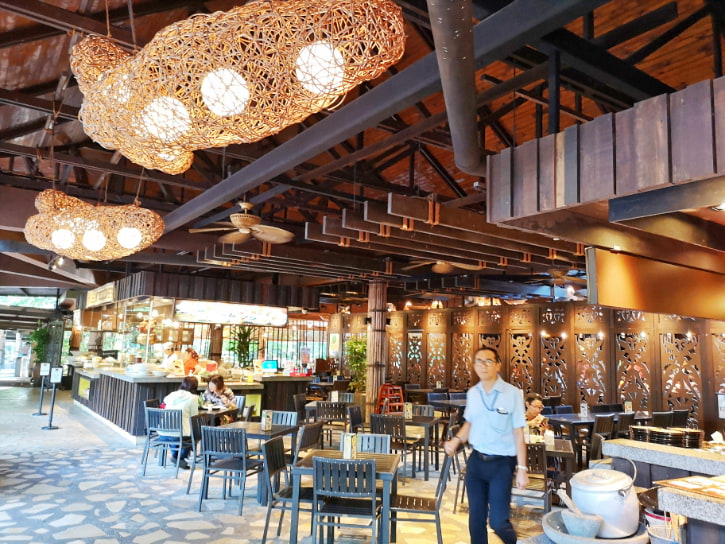 For dinner, you can visit the KFC near the entrance of Singapore Zoo.
Alternatively, just a short walk away is the Ulu Ulu Safari Restaurant located in the Night Safari, where you can enjoy a variety of dishes from local to international cuisine.
Try the Chicken Tandoori for SGD 14.90, Mutton Curry for SGD 13.90, or local favorites like Char Kway Teow and Laksa for SGD 12.90 each, Prawn Mee Soup for SGD 13.90, and the classic Chicken Rice for SGD 13.90.
6. Night Safari Singapore – 3 hours (7:15 PM to 10:15 PM)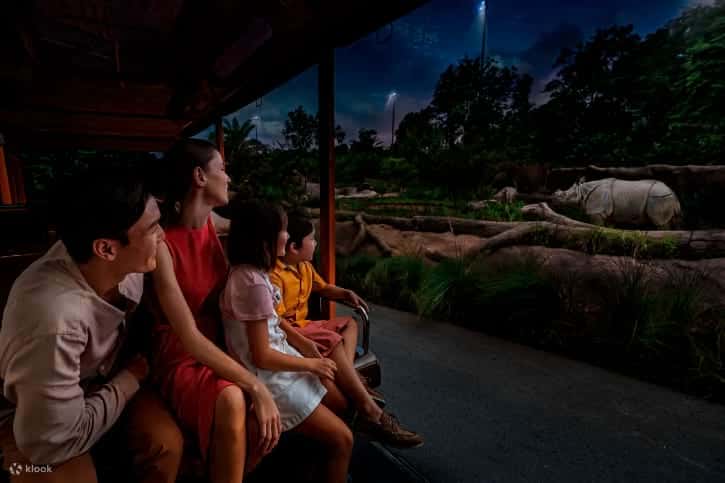 Night Safari Singapore is super special because it's the world's first nocturnal wildlife park, home to over 2,500 animals that come alive at night.
I suggest taking the tram ride first; it's a good way to see lots of animals quickly. You'll spot lions, elephants, and more.
Then, take a stroll on the walking trails to see more animals up close in their habitats.
And don't forget, to save some pocket money, book the discounted Night Safari tickets right here.
Personal Opinion:
My itinerary didn't include River Wonders Singapore, which is also located nearby Night Safari and Singapore Zoo. The reason is that I think this park is not as good as the three parks I recommended to you.
Getting to Singapore's Wildlife Parks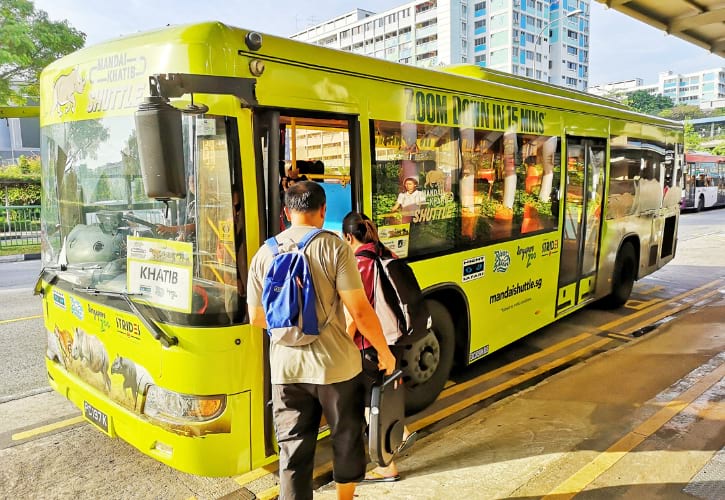 To visit Singapore's Wildlife Parks affordably, take the MRT to Khatib Station and exit at Exit A.
From there, catch the Mandai Khatib Shuttle, which costs SGD 2 per trip and runs every 10 to 20 minutes.
This shuttle offers a loop service from Khatib Station to Bird Paradise, Singapore Zoo, River Wonders, and Night Safari.
Services begin at 8:00 AM from Khatib and the last shuttle from the parks is at 12:00 AM midnight.
Return Trip:
For your return trip, take the shuttle to Khatib Station and then board the MRT to your hotel.
Take Note:
The shuttle doesn't take cash; instead, use an EZ-Link or NETS FlashPay card. Purchase these from Changi MRT Station or shops like 7-Eleven, Buzz, and Cheers. These cards also work for MRT and public bus.
Getting Around:
To get around the wildlife parks, including Mandai Wildlife West, Bird Paradise, Singapore Zoo, and Night Safari, you can use the Mandai Khatib Shuttle at no extra cost.
Maximizing Savings on Singapore Attractions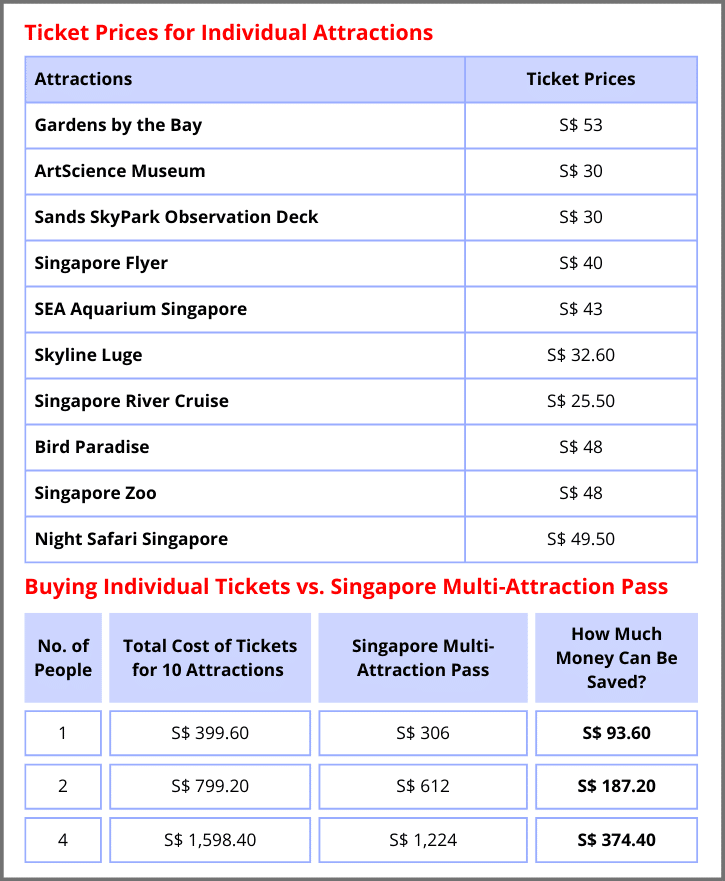 I recommend getting the Singapore Multi-Attraction Pass for visiting attractions, as it offers significant savings.
For example, if you visit the attractions I've listed above, the total cost with separate tickets would be SGD 399.60.
However, with the 10-Attraction Pass, it's only SGD 306, saving you SGD 93.60 per person. For two people, the savings increase to a total of SGD 187.20.
The pass provides access to up to 36 attractions in Singapore. Options include a 2-Attraction Pass, 3-Attraction Pass, and more, with prices starting at only SGD 77.40!
Visit the link below to find out about the attractions covered by the pass and to help you save more on your trip!
Singapore Itinerary 5 Days Map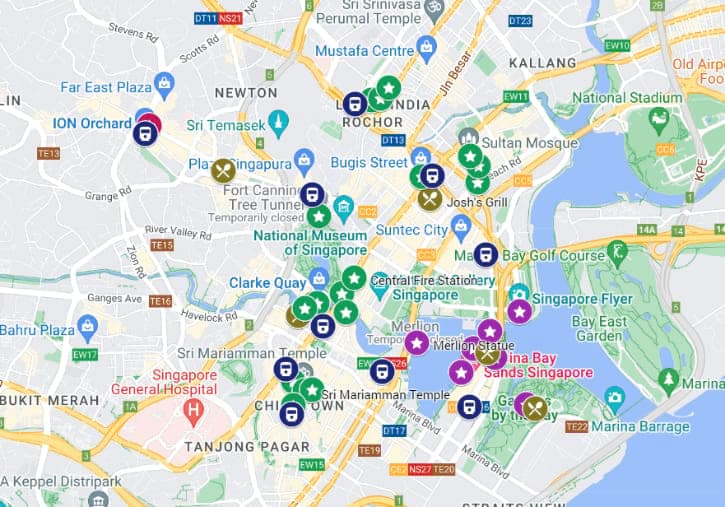 To simplify itinerary planning for Singapore, I've marked all the top tourist spots and nearby MRT stations on the map above. Hopefully, this will save you time when planning your trip.
The Best Hotels and Areas to Stay in Singapore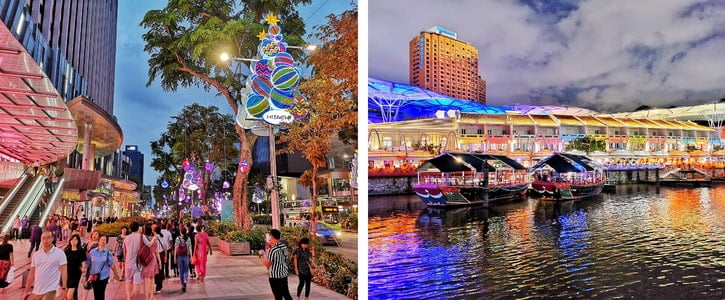 No matter how many days you plan to stay in Singapore, I highly suggest that you stay in Orchard or Clarke Quay area.
These locations are ideal because of their proximity to many major tourist spots. Below are my most recommended hotels.
How to Travel Around in Singapore
Singapore's MRT system is very superb as it can take you to almost any location in the country.
And to help you get around Singapore like a pro, here are some important tips you can use as a reference.
1. NETS FlashPay Card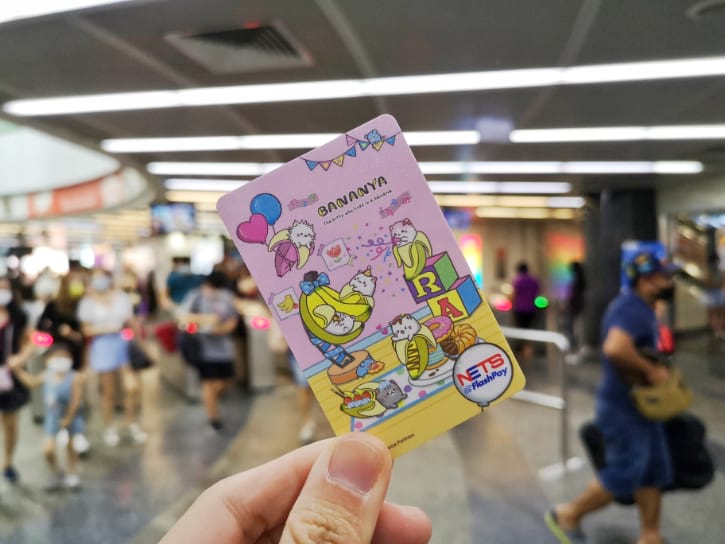 If you're spending several days in Singapore, having a NETS FlashPay card is advisable. This multi-purpose stored value card allows you to travel via MRT and buses easily.
You just tap the card on a panel when you board and disembark from the MRT or buses.
The card can be purchased at MRT stations and convenience stores in the airport, such as 7-Eleven and Cheers.
Generally, the NETS FlashPay cards are priced at $12. This amount is already inclusive of $7 stored value.
2. Download the Singapore MRT and LRT Offline App
When searching for MRT routes in Singapore, I suggest using the "Singapore MRT and LRT Offline" App. This app provides the fastest routes and time durations.
Internet Access for Tourists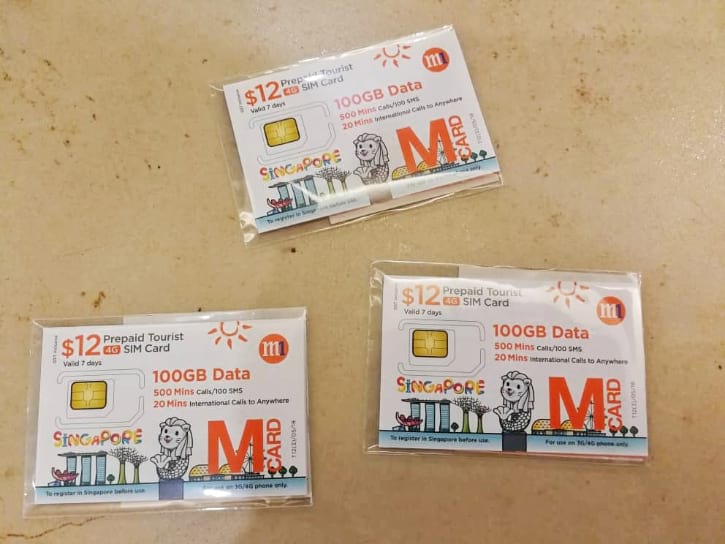 With this Singapore prepaid SIM card, you'll have smooth internet access.
It offers 100 GB of data at high speed, 500 minutes of local calls, and 20 minutes for international calls.
I recommend buying at least one SIM card for easy navigation, especially for using Google Maps and checking attraction locations.
Changi Airport to City Centre Guide
There are 4 ways to get to the city of Singapore from Changi Airport. These are via train, bus, taxi, and private airport transfer.
1. Train
You can catch a train at Changi Airport MRT Station located in Terminals 2 and 3. If you arrive at Terminal 4, just take a free shuttle bus to Terminal 3.
2. Bus
For Terminals 1, 2, and 3, the bus stops are located at the basement bus bays. You can choose from the following bus numbers: 24, 27, 34, 36, 53, 110, and 858.
For Terminal 4, go to the bus stop next to Car Park 4B. From there, you can select from a variety of bus options, including 24, 34, 36, and 110.
3. Taxi
Taxis are also available for hire. You can find them at the taxi stands in the Arrival areas of Terminal 1 and Terminal 3. The travel duration from the airport to the city is about 30 minutes.
All fares are metered, and it will normally cost you around S$ 20 to S$ 40.
4. Private Airport Transfer
If you want less hassle, it's suggested that you avail of the private airport transfer. This is actually the easiest way to reach the city centre because it offers door-to-door service.
Plus, it provides a 24-hour transfer service from Singapore airport.
So, if you want to be transported directly to your hotel, this is the best option. You can check the private airport transfer price here.
My Singapore travel itinerary for a 5-day adventure in the Lion City has come to an end. I hope you have a wonderful trip to this amazing country.
Related Posts
Photo Credits:
Photo
by pelican
Photos by Klook