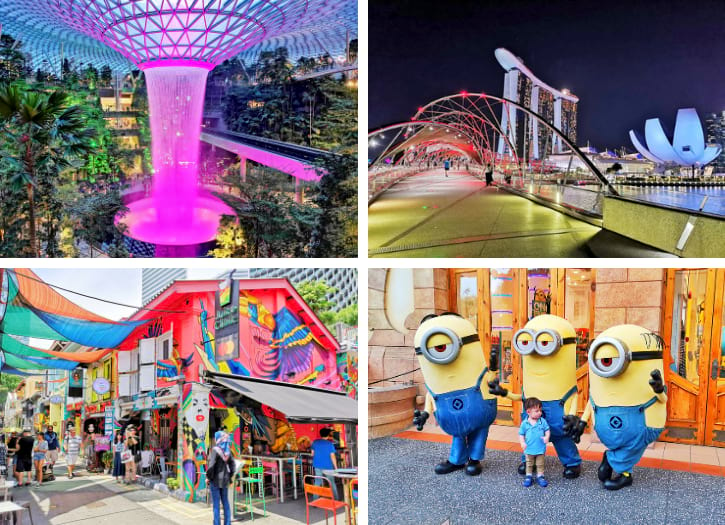 This is a complete and easy-to-follow Singapore itinerary. This travel guide can be of great help in preparing for your trip to the country.
In this post, I'll share my personal Singapore 5 day itinerary to help you visit all the beautiful attractions without running short on time while also enjoying every moment of the trip.
Also in this itinerary, you'll get an idea on where to eat, where to stay and how to get around Singapore efficiently. 🙂
Day 1: Explore Canopy Park, Jewel Waterfall, and Orchard Road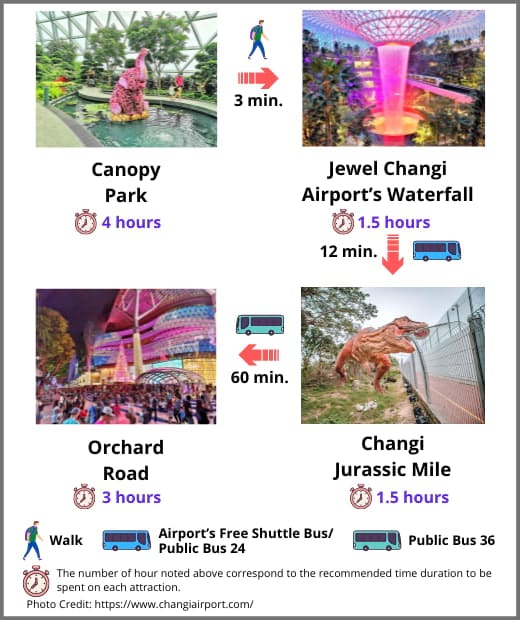 On day 1 of this Singapore itinerary, you can kick off the fun at Canopy Park.
And then, continue your exploration at Jewel Changi Airport's Waterfall and Jurassic Mile. For the last stop, explore Orchard Road.
1. Canopy Park – 4 hours (10:00 AM to 2:00 PM)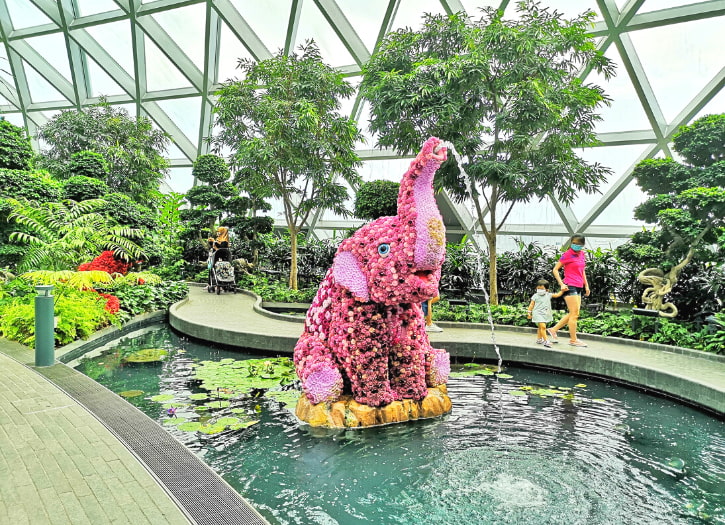 In the morning, start your adventure at the best indoor theme park in Singapore – Canopy Park. This should definitely be included in your itinerary, especially if you are a first-time traveler.
This beautiful spot is located at level 5 of Jewel Changi Airport.
While visiting the park, be sure to try fun activities below. On top of that, there are plenty of lovely scenes that are worth the capture.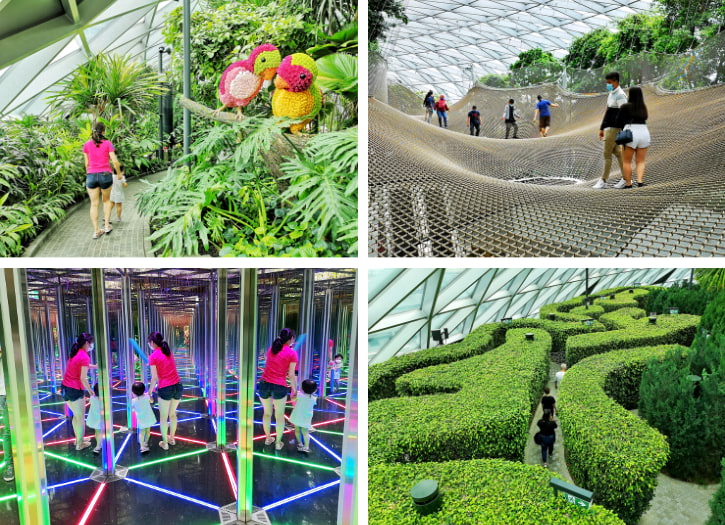 Topiary Walk: Walk around this vibrant area and meet some adorable topiary animals. From monkeys to birds, there are a lot of ornamental figures to look forward to!
Sky Nets Walking: Try to balance yourself while navigating around the suspended walking nets. Or you may bounce all you want and catch a peek of the people down below.
Mirror Maze: Complete the challenge while also enjoying this unique maze experience. Here, you get to see multiple versions of yourselves!
Hedge Maze: Go on a scenic maze adventure and have fun with the beautifully manicured landscapes. Just be careful not to get lost in the breathtaking nature scenes!
Discovery Slides: Take delight in this multi-dimensional playground with stairs and slides. If you want an extra thrill, complete the rope climb.
Since there are many things to do here, I recommend that you check out this Canopy Park article for detailed information. And to save money, you can book discounted Canopy Park tickets here and get up to 10% discount.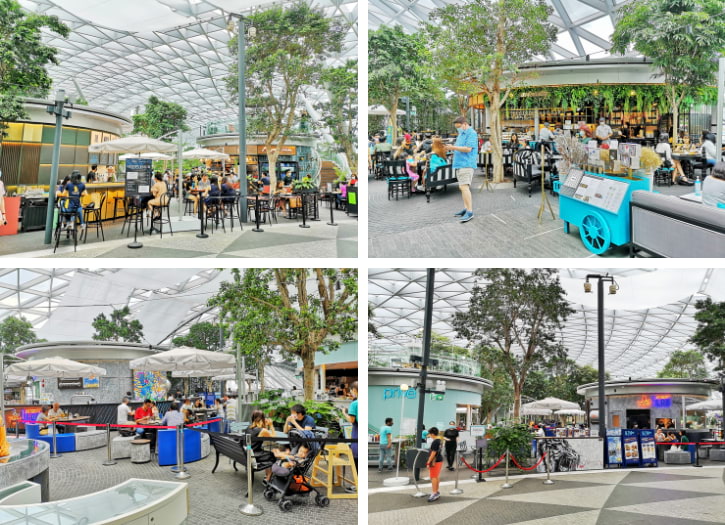 Lunch
The Canopy Park is surrounded by various restaurants, so you can conveniently take your lunch. Another option is to go to basement 2 and dine in at the food court.
2. Jewel Changi Airport's Waterfall – 1.5 hours (2:00 PM to 3:30 PM)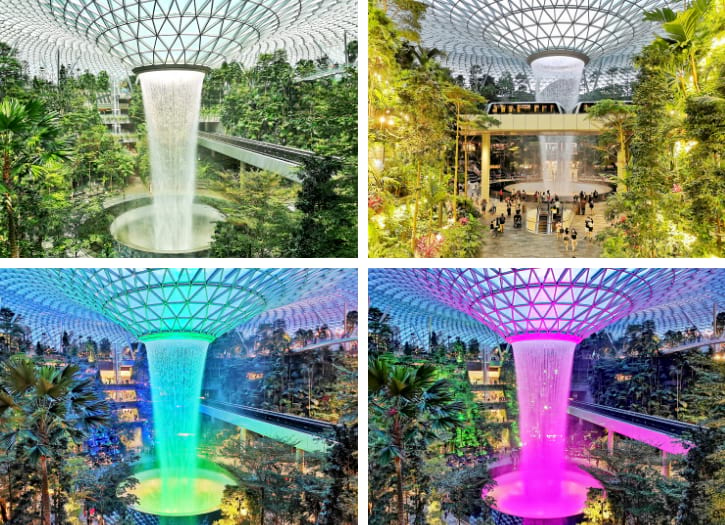 After your scenic trip at Canopy Park, make your way to the stunning waterfall at Jewel Changi Airport.
You can actually visit this place anytime because the day view and night view are equally beautiful.
And with its unchanged scenery, no wonder it's one of the most photographed sights in Singapore.
Once you're done with your sightseeing, you can shop around the shopping mall at Jewel Changi Airport. The shopping mall is located in the same area as the waterfall.
3. Changi Jurassic Mile – 1.5 hours (3:30 PM to 5:00 PM)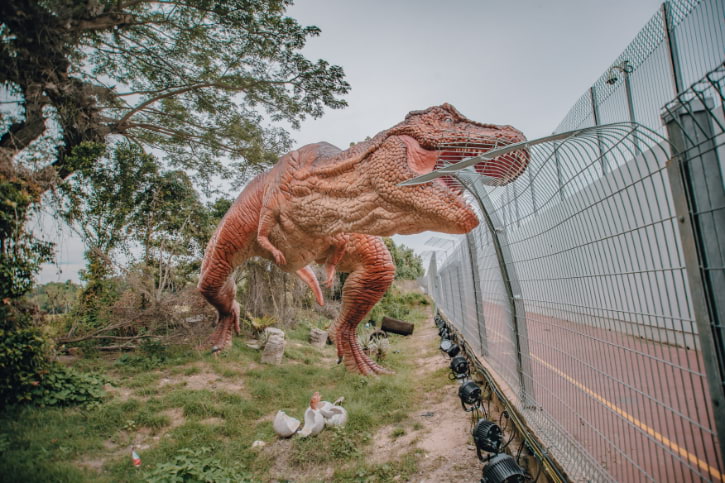 Venture to Changi Jurassic Mile and have a good time with some life-sized dinosaurs.
This attraction connects both Changi Airport and East Coast Park. This means you can actually choose your preferred starting point!
During your visit, capture the prehistoric creatures while walking along the track.
There are nine unique species all over the area. And because of the scenic surroundings, the place is popular among cyclers as well!
4. Orchard Road – 3 hours (6:00 PM to 9:00 PM)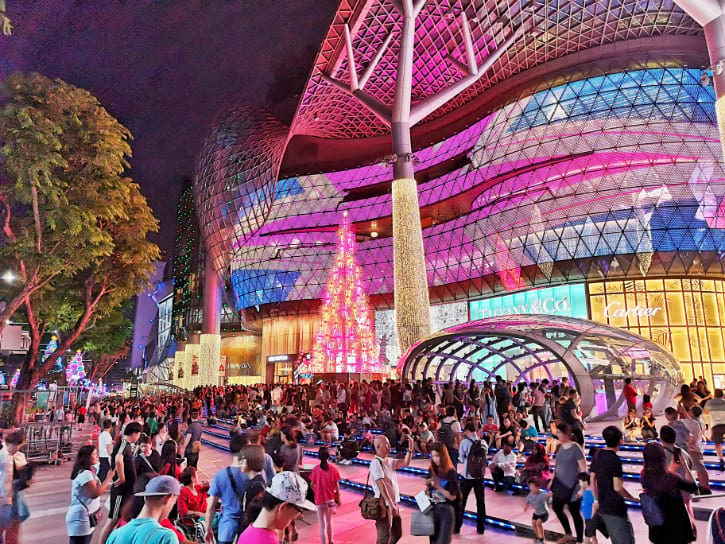 On the first evening of the itinerary, head to Singapore's top shopping district, Orchard Road, and explore its shopping hubs.
[email protected]

: Pop by this famous mall and check out its amazing display of international fashion items. There are several top-rated restaurants to try too like Potato Corner and Josh's Grill. You'll also find Ichikokudo Hokkaido Ramen and Chir Chir Chicken Fusion Factory in the area.
ION Orchard: If you're looking for some luxury brands, this area is full of elegant boutiques. Swing by different luxury shops like Prada, Miu Miu, Gucci, Dior, Guess, and many more.
Takashimaya Shopping Centre: This is another top choice for international brands. For a different variety of bags, backpacks, shoulder bags, and wallets, proceed to level 2. After shopping, go to basement 2 and feast on some Japanese sweets and cookies. Other international foods are also available in many stalls.
Exploring Orchard Road is truly one of the best things to do in Singapore at night.
Aside from all the shopping activities, it becomes very lively as soon as the sun sets. So, stroll along the streets and have a merry night!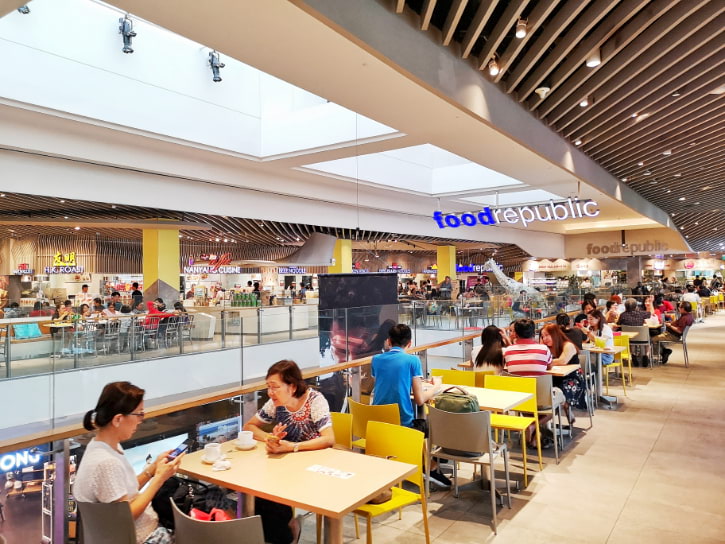 Dinner
Dine in at Food Republic, which is located at level 5 of [email protected] shopping mall. This is a huge food court that serves different kinds of food at an affordable price. These include Chinese, Indian, Malay, Western foods, and many more.
Day 2: Tour around Singapore's Marina Bay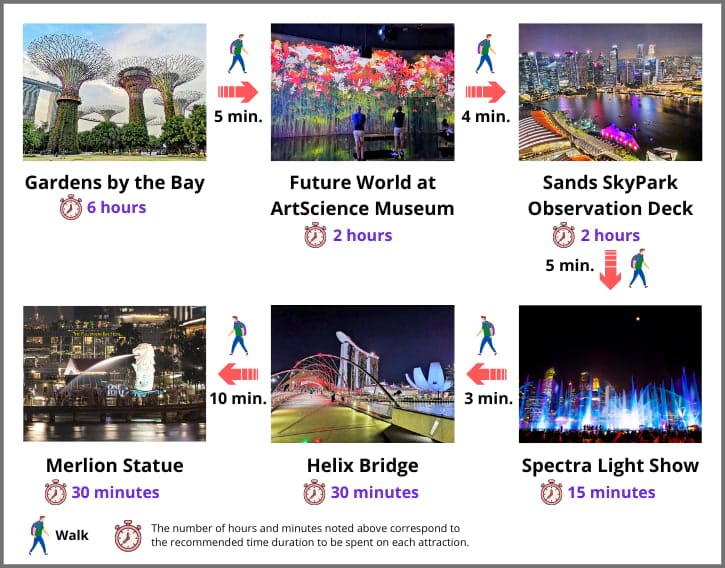 For day 2 of your Singapore itinerary, travel around Marina Bay and visit some top-rated destinations.
These include Gardens by the Bay, Future World at ArtScience Museum, Sands SkyPark Observation Deck, and others.
1. Gardens by the Bay – 6 hours (9:00 AM to 3:00 PM)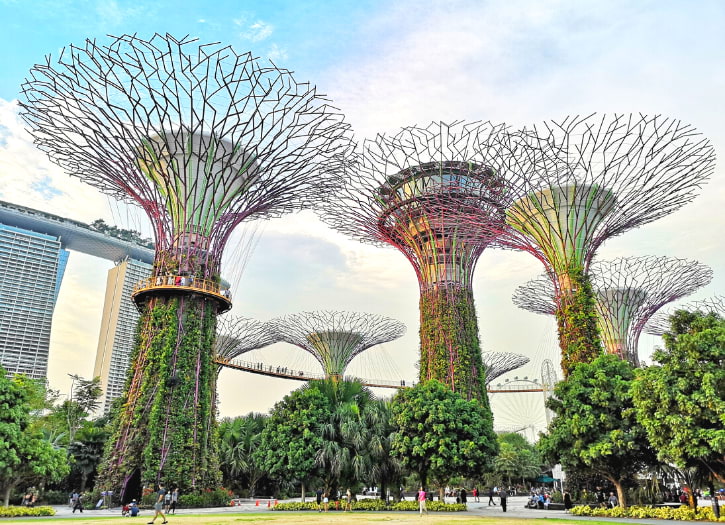 Start your morning with a visit to Gardens by the Bay. This place offers 15 amazing sights waiting to be explored.
Make sure you don't miss out on the 4 main attractions below. Each of the four sites is very beautiful and is ideal for photography. For sure, you won't regret visiting all of them.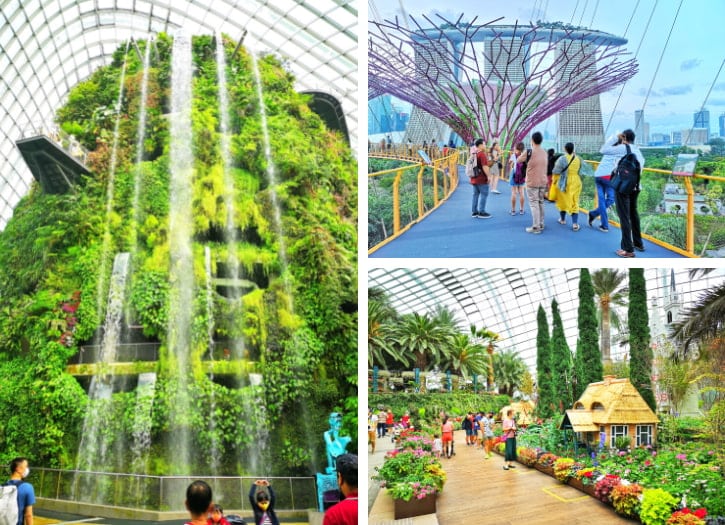 Supertree Grove and OCBC Skyway: Marvel at the giant trees that light up the entire park and make sure to take a scenic walk on the aerial walkway. The breathtaking landscape perfectly blends with the gorgeous backdrop of Marina Bay.
Floral Fantasy: Experience a magical escape and be surrounded by lovely floral arrangements.
Flower Dome: Continue your floral adventure in this gorgeous place. Here, you get to see thousands of flower species in this vibrant garden.
Cloud Forest: Enter this greenhouse-like glass dome to capture the tallest indoor waterfall in the world. The stunning architecture, along with the spiraling walkways also deserves your attention.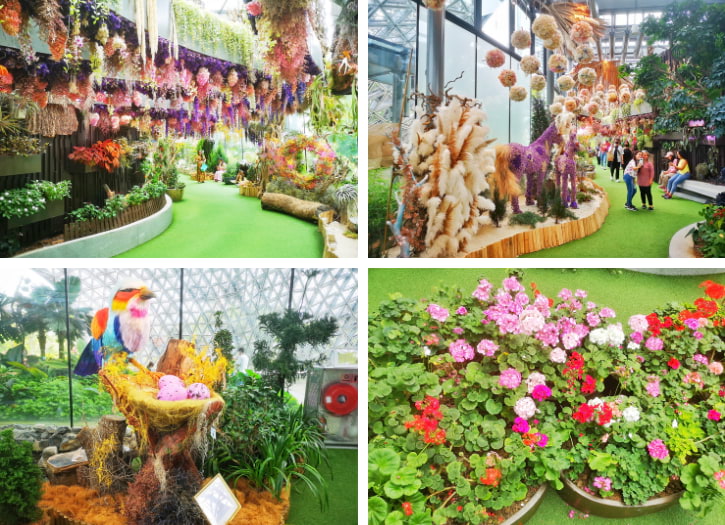 Find out more in my super detailed guide to must-see attractions at Gardens by the Bay. Don't forget to book the admission tickets online here, you'll get an extra 20% OFF and skip the long lines.
Lunch
Shake Shack: From burgers to chicken sandwiches, this food stall is a great option for delicious snacks.
McDonald's: If you need some on-the-go foods without hurting your budget, you can't miss this popular fast-food resto.
Satay by the Bay: For local delights, check out this famous food spot and try their BBQ chicken wings. They also have an array of seafood cuisines as well as some tasty Indian foods and Malay foods.
Mylo's: Drop by this glasshouse café and enjoy a relaxing ice cream treat! Aside from their wide variety of gelato, they also serve a lot of warm goodies and chocolatey desserts.
2. Future World at ArtScience Museum – 2 hours (3:00 PM to 5:00 PM)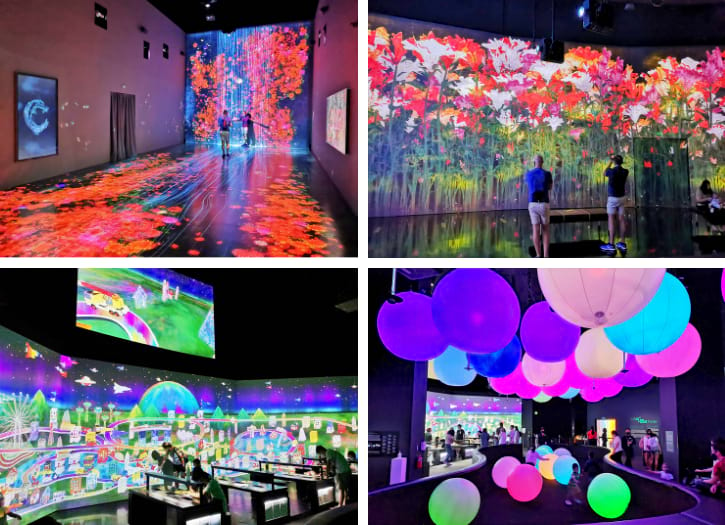 In the afternoon, go to ArtScience Museum, which is the most interesting and unique museum in Singapore for every art and technology lover.
The Future World exhibition, in particular, features an incredible display of animations.
These are categorized into 4 themes namely ― A Garden, Sanctuary, Park, and Space.
Each section has its own set of virtual charms to fascinate every visitor. These include various interactive installations as well as fun artworks.
You can read my ArtScience Museum's Future World guide to learn more about the hidden gems of this coolest museum.
3. Sands SkyPark Observation Deck – 2 hours (5:00 PM to 7:00 PM)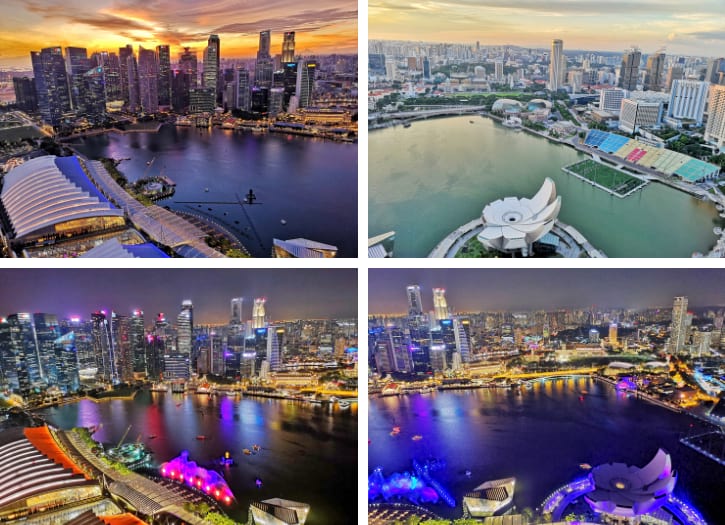 The next stop would be Sands SkyPark Observation Deck. This is a perfect spot to see the entire Singapore cityscape and catch the sunset.
You can check my post on things to see from the Sands SkyPark Observation Deck for a more detailed guide.
Remember to check out the tickets here before going to the Sands SkyPark because it can let you enjoy up to 25% discount!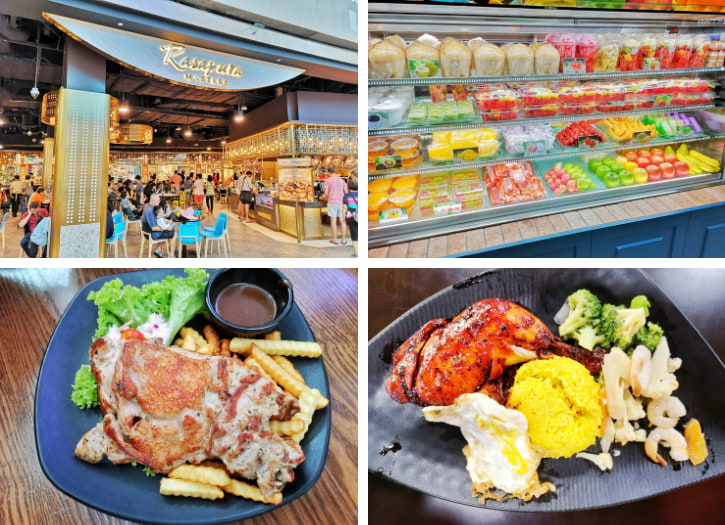 Dinner
After seeing the breath-taking Singapore skyline, head to Rasapura Masters and take your dinner. This is a very famous food court located at The Shoppes of Marina Bay Sands shopping mall.
4. Spectra – 15 minutes (8:00 PM to 8:15 PM)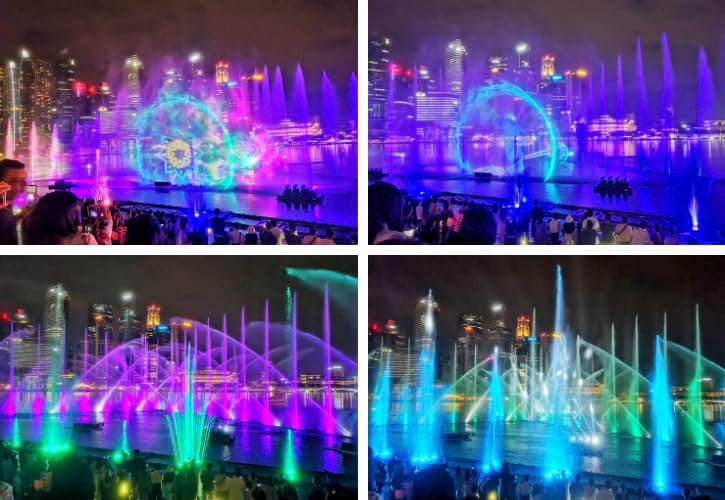 After your dinner, catch the fascinating light show called Spectra. Don't worry because this 15-minute outdoor presentation is for free.
From Sunday to Thursday, you can catch the 8:00 PM or 9:00 show. From Friday to Saturday, there are three show times ― 8:00 PM, 9:00 PM, and 10:00 PM.
5. Helix Bridge – 30 minutes (8:15 PM to 8:45 PM)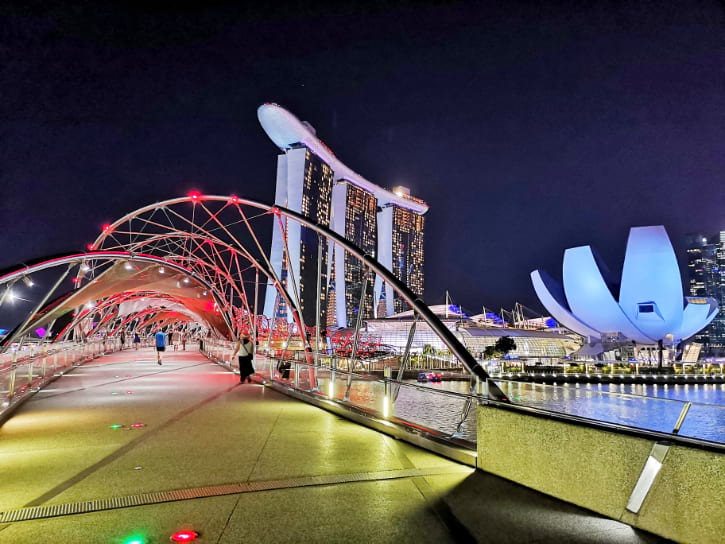 Helix Bridge is another must-visit place because of its unique architectural design.
So, after watching Spectra, head to this bridge and enjoy its beautiful views. Here, you can catch a glimpse of the towering Marina Bay Sands and other Singapore landmarks.
6. Merlion Statue – 30 minutes (8:45 PM to 9:15 PM)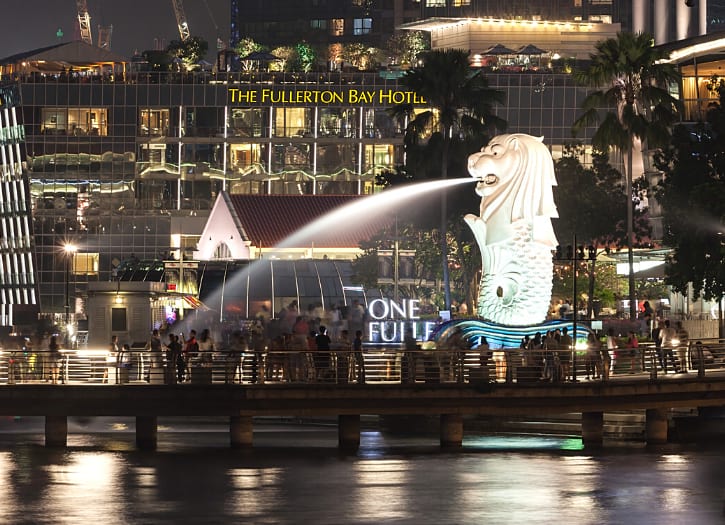 Catch this Singapore's most important landmark ― the Merlion Statue. This iconic structure that has a head of a lion and a tail of a fish represents the historical past of the country.
So, don't forget to take a photo of this towering figure during your journey to Singapore.
Beside this landmark is a long expanse of stairs, where you can laze around and converse with your friends.
Day 3: Discover all the fun spots of Sentosa Island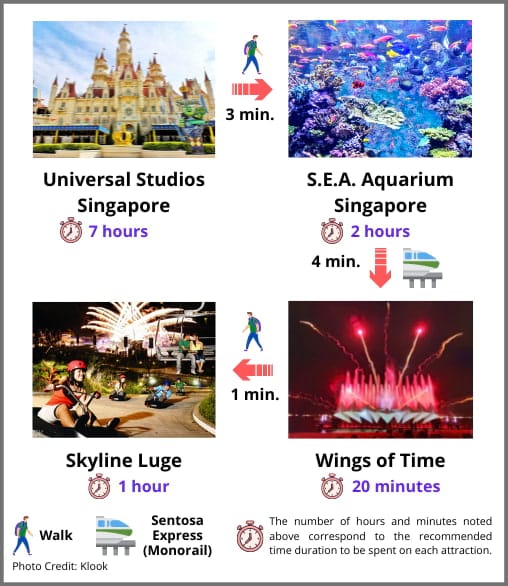 Make the most out of your Singapore trip by visiting Sentosa Island. This is the best destination for anyone looking for exciting activities and scenic beaches.
You can start touring around Universal Studios Singapore, then S.E.A. Aquarium Singapore, and so forth.
For a comprehensive guide, below is my recommended itinerary for day 3.
1. Universal Studios Singapore – 7 hours (10:00 AM to 5:00 PM)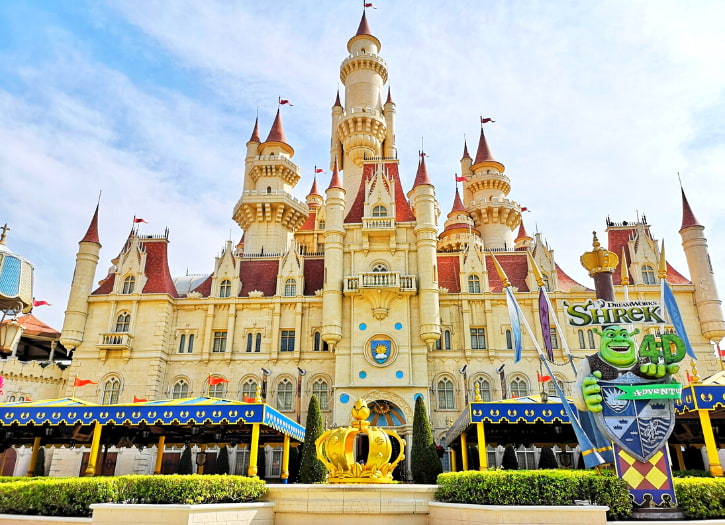 There are a lot of amazing activities to try in Universal Studios Singapore. You can try different exciting rides, watch some jaw-dropping shows, and enjoy the street entertainment.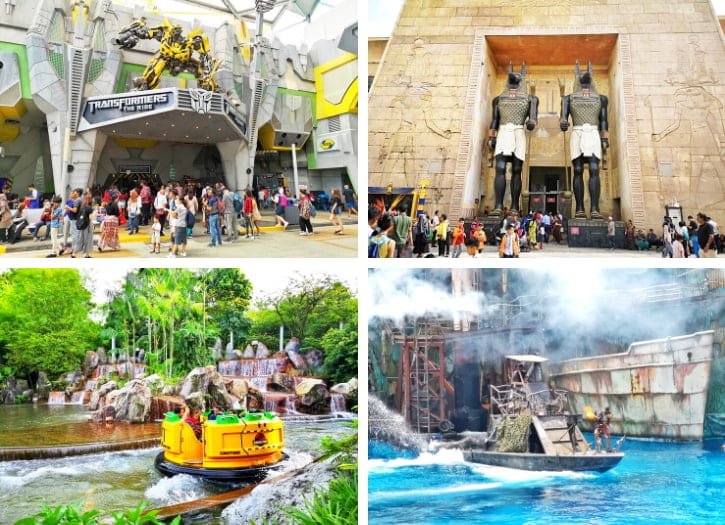 My Top Pick Attractions at USS:
TRANSFORMERS The Ride: Get into a hyper-realistic experience with your favorite robots. Here, you can expect a very suspenseful ride that is loaded with highly immersive virtual actions.
Revenge of the Mummy: Prepare yourself for a thrilling rollercoaster ride that is full of surprising twists. While on board, try to see some of the electrifying mummy statues.
Jurassic Park Rapids Adventure: Hop aboard this wild ride and see some prehistoric creatures on the loose! With some unexpected twists and falls, be sure you don't forget your raincoat!
WaterWorld: Watch an action-packed performance full of dramatic scenes and special effects. This outdoor presentation takes you to a theatrical water chase with remarkable artistry!
Shrek 4-D Adventure: Another crowd-favorite is this adorable attraction that is perfect for all ages. Take your seat and follow the virtual adventures of Shrek and his charming companions.
So, make sure to add this on your itinerary. I also suggest that you read my very informative guide to Universal Studios Singapore to help you make the most out of your visit.
And don't forget to check out Universal Studios tickets here in advance so you'll get an extra up to 20% discount!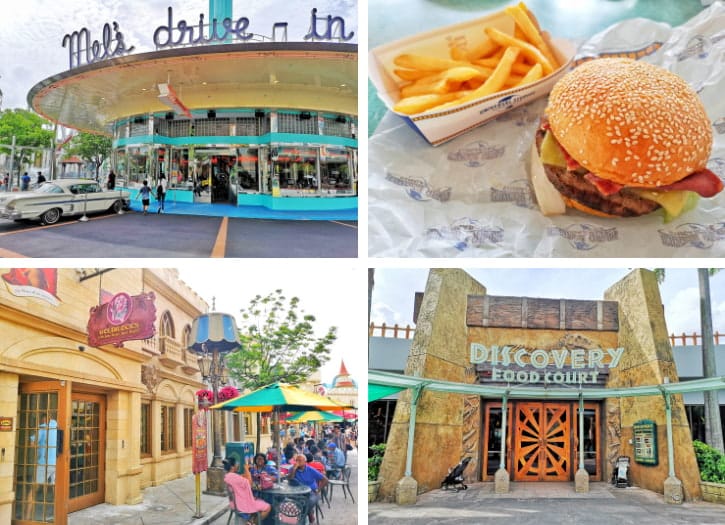 Lunch
There are several popular restaurants inside the theme park, so nothing to worry about. You can easily take your lunch from one of the many options or you may check out some of the highly recommended food spots below.
Mel's Drive-In: Indulge in some quick and tasty meals from this American diner. They have burgers, fries, nuggets, sundaes, and cold beverages.
Goldilocks: If you are craving fried chicken, this is the place to go. Choose from their variety of chicken meals, along with different burgers, fries, and waffles.
Loui's NY Pizza Parlor: For pizza and pasta lovers, you get your money's worth here. Their bestsellers include pepperoni pizza, mac and cheese, mushroom soup, and themed desserts.
Discovery Food Court: Take your lunch in this popular food spot among the locals. Try some of the Singaporean signature dishes like roasted chicken rice and nonya laksa.
2. S.E.A. Aquarium Singapore – 2 hours (5:00 PM to 7:00 PM)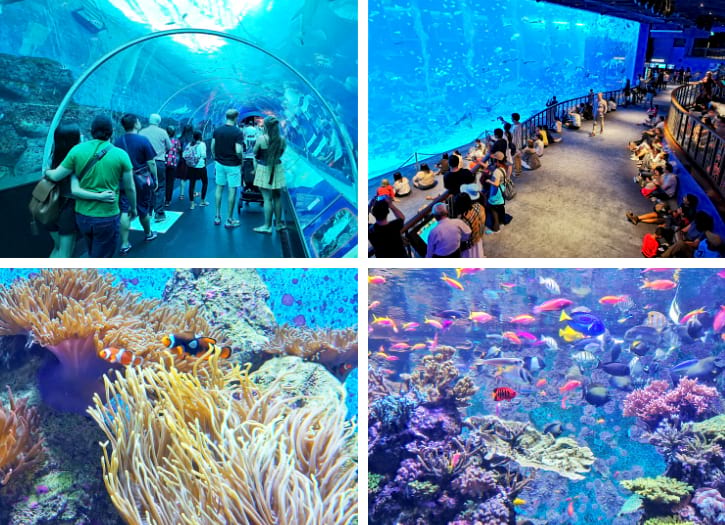 Carry on with your exploration and visit the S.E.A. Aquarium. This place is loaded with unique marine habitats, featuring different oceanic creatures.
This is your chance to meet some sharks, dolphins, jellyfish, and colorful fishes, up-close! See more details in my guide to SEA Aquarium Singapore.
Just in case you don't know, buying your aquarium tickets online is actually cheaper. It's because you get nearly 15% OFF for the entrance fee!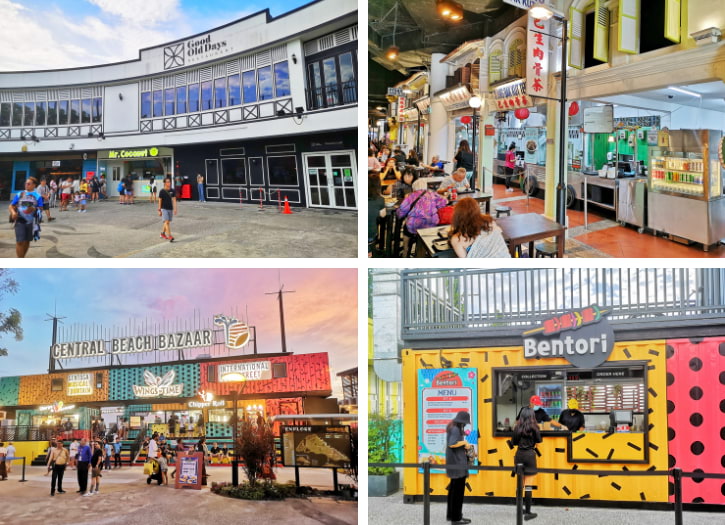 Dinner
After touring this massive aquarium, you can take your dinner at one of the restaurants below.
Good Old Days Food Court: Look into their selection of western and local cuisines all at affordable prices. They serve grilled dishes as well as crowd-favorites like Nasi Briyani and mushroom spaghetti.
Malaysian Food Street: Offering authentic Asian dishes, this is another perfect spot after a day full of adventures. Go over their menu of Singaporean, Malaysian, Indian, and Chinese foods.
Texas Chicken: If you want a menu of chicken meals and snacks, opt for this restaurant. Pick from their extensive choices of chicken sandwiches, burgers, wraps, and side dishes.
3. Wings of Time – 20 minutes (7:40 PM to 8:00 PM)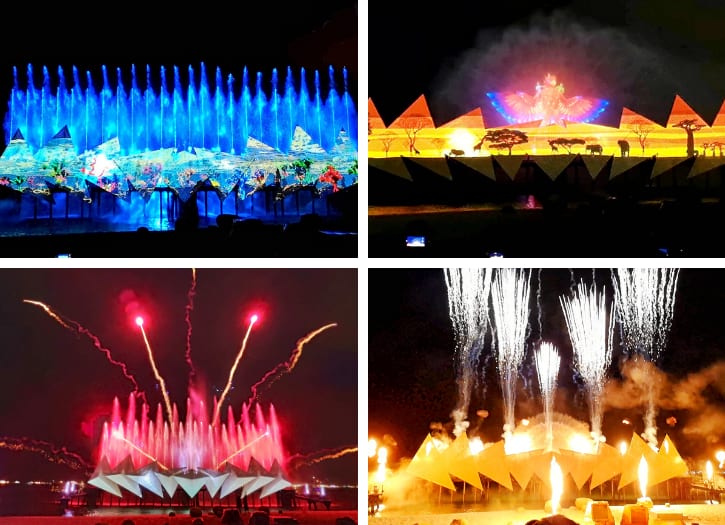 Wings of Time is a highly anticipated light show in Sentosa Island.
It's because this outdoor exhibit comes with breath-taking virtual effects and laser projections.
So make sure you watch it from start to finish for a more magical experience.
Aside from its incredible animation, this one follows a unique storyline of friendship.
4. Skyline Luge – 1 hour (8:00 PM to 9:00 PM)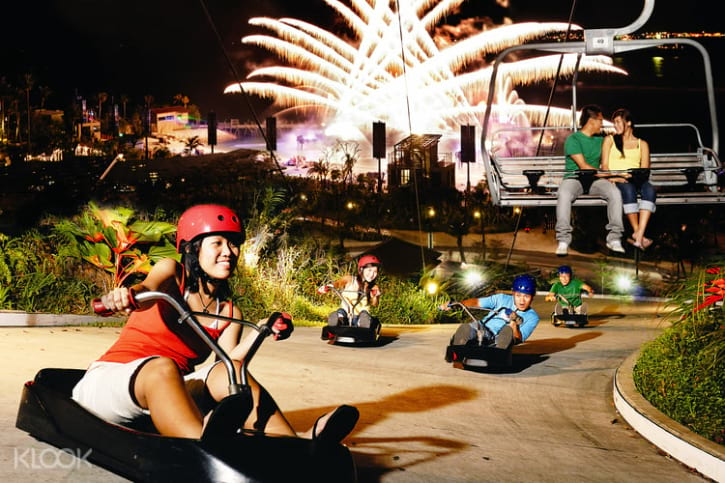 Finish off the adventure by visiting Sentosa Skyline Luge with your family and friends. This is a great destination for those eyeing for a fun-filled night activity.
Try one of their four luge tracks that come with unique kinds of thrill. Another must-try activity is the Skyride, which offers a very scenic journey.
Day 4: Visit Little India, Bugis, Chinatown, and Clarke Quay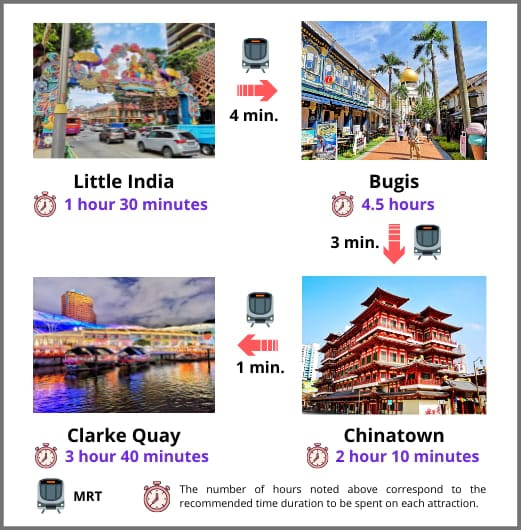 For day 4, it's suggested that you start off your itinerary at Little India, then Bugis, Chinatown Singapore, and Clarke Quay. All these are a perfect treat for history lovers and cultural enthusiasts.
1. Little India – 1 hour 30 minutes (9:00 AM to 10:30 AM)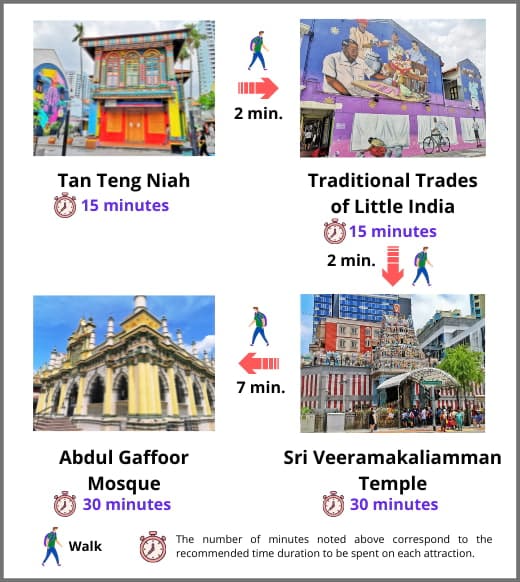 Little India is such a vibrant area to explore because of its unique cultural spots.
In the morning, discover some of the popular attractions in Little India like Tan Teng Niah and Traditional Trades of Little India.
Afterward, visit the Veeramakaliamman Temple and Abdul Gaffoor Mosque.
i) House of Tan Teng Niah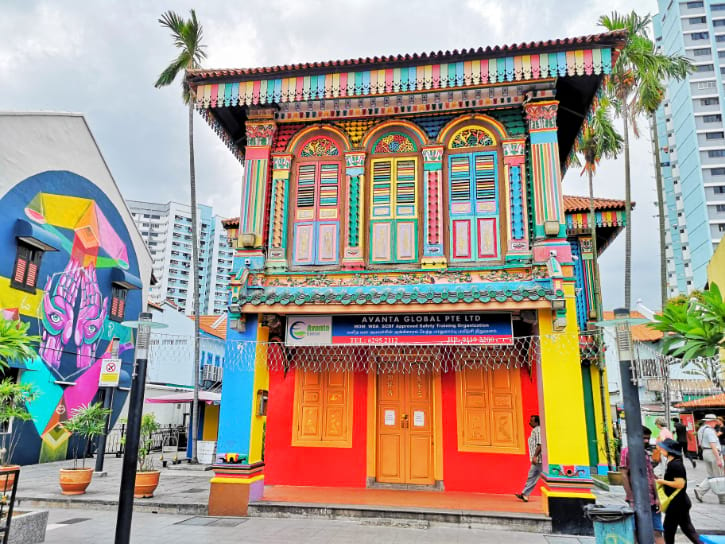 Begin your fun-filled trip by visiting Tan Teng Niah. It's hard to miss this historical structure because of its vibrant colors.
Aside from its eye-catching exterior, this one is also noteworthy being the last Chinese villa in Little India.
ii) Traditional Trades of Little India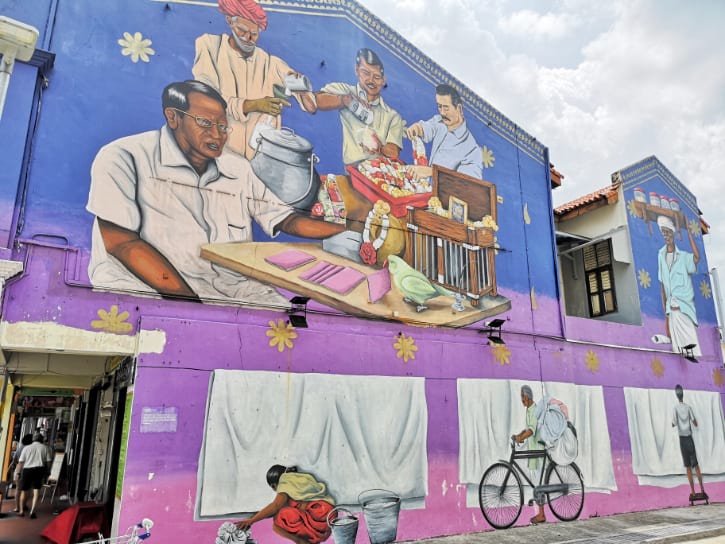 Traditional Trades of Little India is another head-turner that deserves your attention.
This amazing mural demonstrates the occupations of the early locals. These include people selling street snacks, doing laundry, trading items, and making garlands.
iii) Sri Veeramakaliamman Temple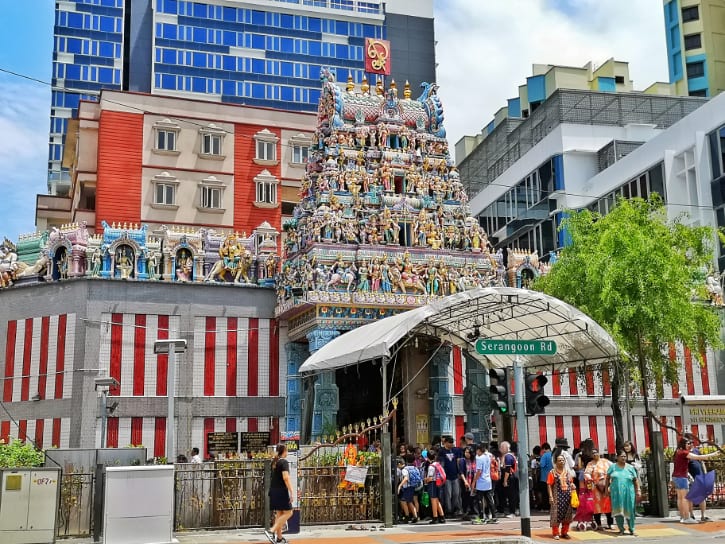 With its unique architectural design, Sri Veeramakaliamman Temple will surely fascinate you. The iconic landmark in Singapore is a prominent Hindu shrine for many Indian locals.
And aside from that, this popular house of worship shelters a number of Hindu gods' statues.
iv) Abdul Gaffoor Mosque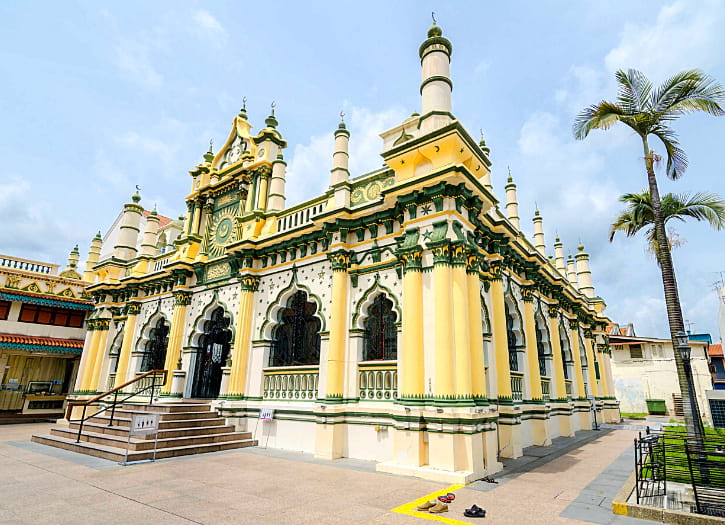 Abdul Gaffoor Mosque should also be part of your Singapore itinerary. This religious site is not just any other mosque in Singapore. In fact, it's tagged as a national monument.
Be amazed by the exterior of the temple that highlights different cultural styles. And of course, the interior is as good as the outside designs.
2. Bugis – 4 hours 30 minutes (10:30 AM to 3:00 PM)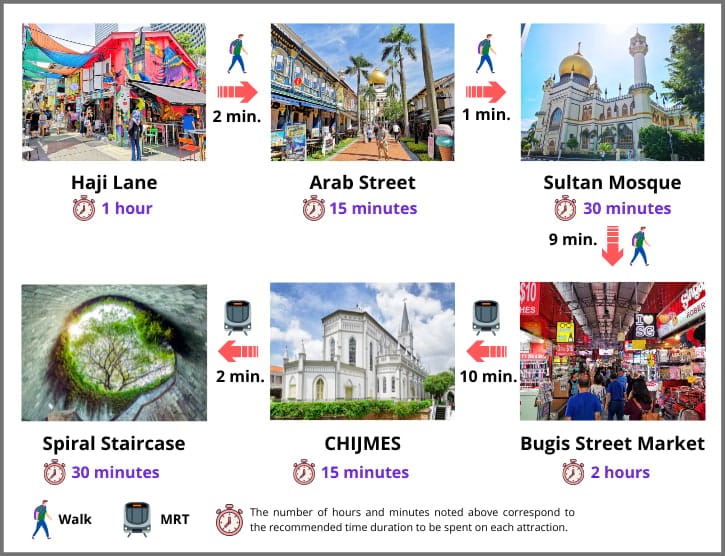 When it comes to colourful street and wall paintings in Singapore, make sure to explore Bugis.
There's a lot of to discover here, from street markets to historical centres and more.
So, let me introduce the must-visit spots through the list below.
i) Haji Lane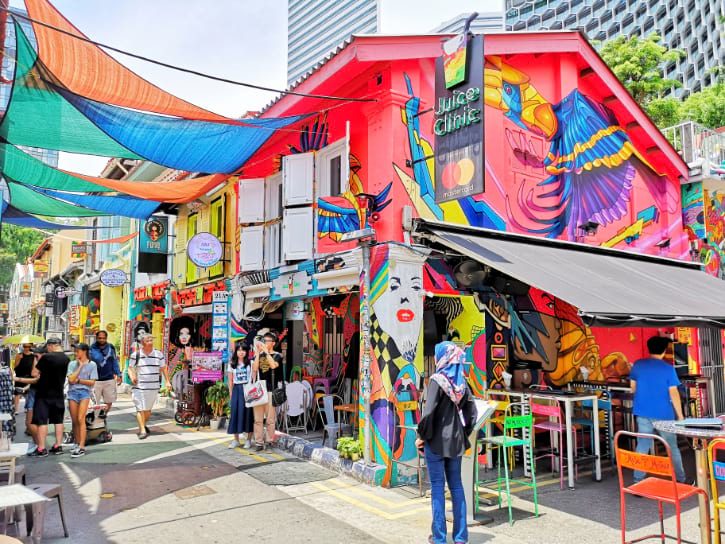 Start your Bugis escapade at Haji Lane. This area welcomes you to a lively array of boutiques and cafes.
The murals in each shop are also very striking. So, don't forget to incorporate this into your itinerary.
ii) Arab Street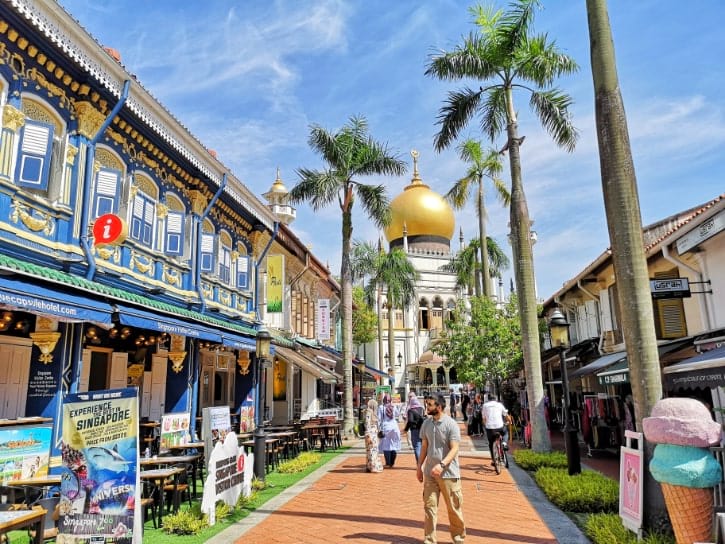 Next on your list should be Arab Street, where you'll be surrounded by more colorful shops. This is another favorite among locals and travellers because of the dining options.
iii) Sultan Mosque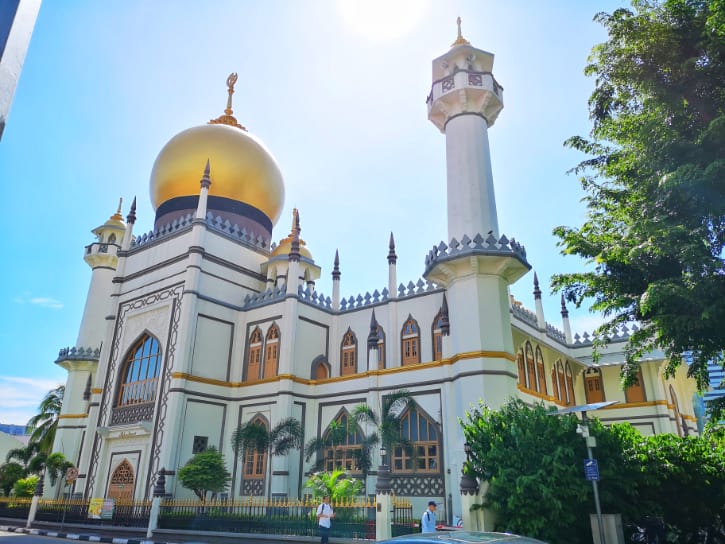 Sultan Mosque is well-acknowledged because of its stunning structural design. And, you won't have a hard time finding this mosque. Just look for the towering spires and golden domes.
Moreover, this religious complex is very important among the Muslim community in Singapore.
iv) Bugis Street Market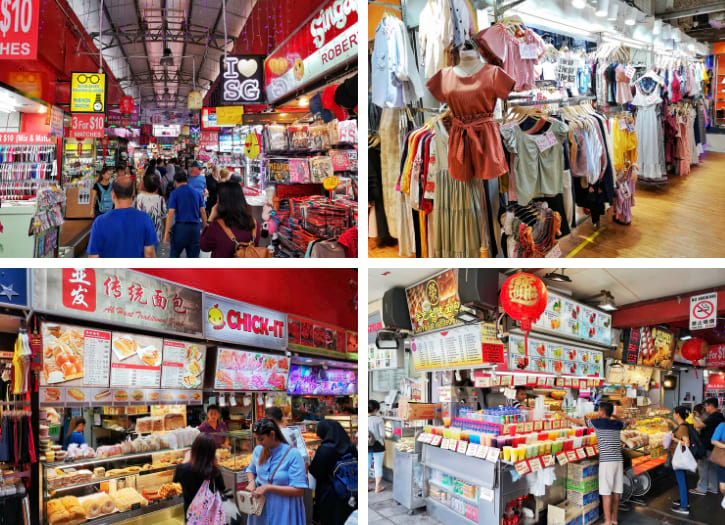 If you're eyeing for some bargain hunting, Bugis Street Market is the best choice. This market is filled with all sorts of fashion items, accessories, and electronics at a cheaper price.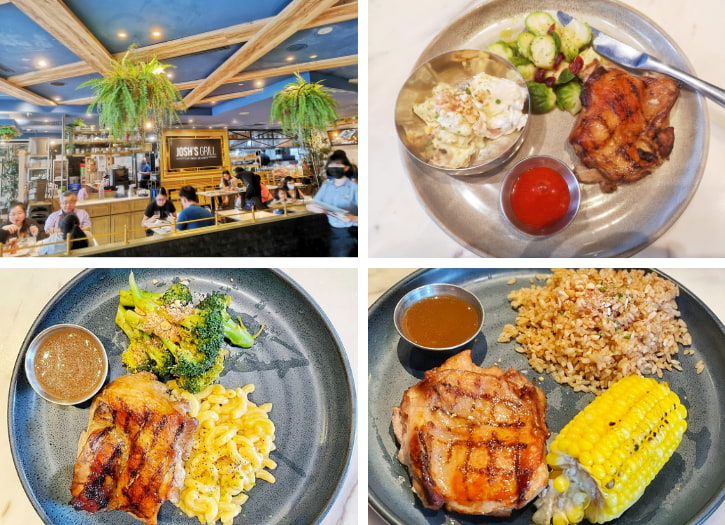 Lunch
Take your lunch at one of the restaurants in Bugis Junction shopping mall. There are plenty of choices here, so no need to worry. And, this mall is just located on the opposite side of Bugis Street Market.
Josh's Grill: For an affordable dining option with style, this restaurant is highly recommended. Take a feast on their grilled meats, fish & chips, and other western dishes.
Nando's: A great place for chicken lovers, this restaurant has all sorts of chicken dishes. You may choose from their classic PERi-PERi chicken or build your own chicken bowl!
Monster Curry: Devour some curry treats from this Japanese specialty house. If you're unsure what to pick, go after their signature meals like monster curry, cheese omelette curry, and chicken katsu curry.
Big Fish Small Fish: If you're on the hunt for some seafood goodness, don't think twice and visit this café. They have surf & turf platters for families as well as grilled fish and chicken dishes.
McDonald's: Hit up this internationally-known food chain for a tasty yet affordable lunch. Just like any other branch, they serve chicken meals, burgers, and snacks.
v) CHIJMES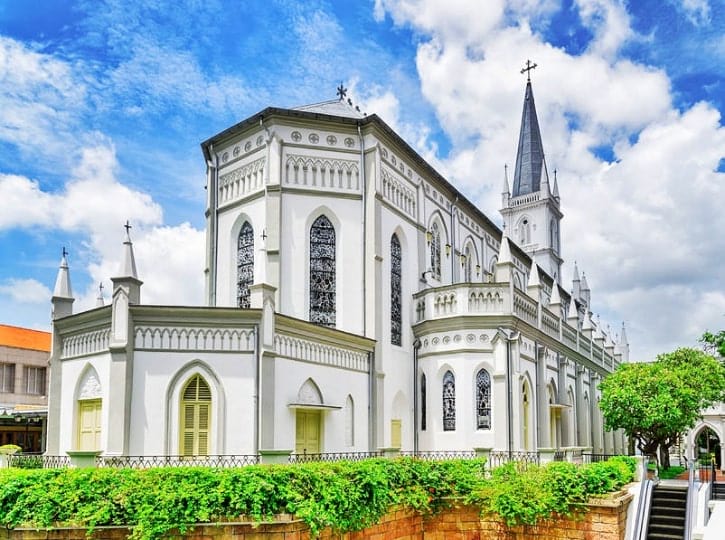 CHIJMES is undeniably iconic because of its sophisticated design.
The white-washed exterior makes this structure a famous photography spot among visitors. Aside from that, it's a popular food centre in Singapore.
vi) Spiral Staircase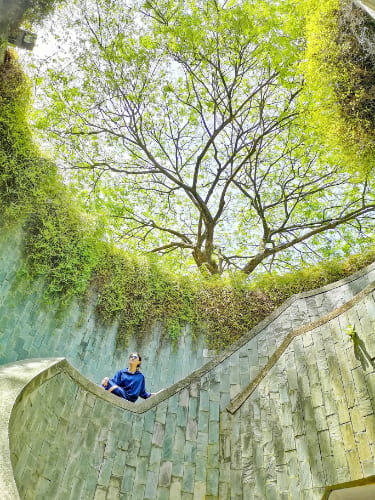 The last Bugis destination is the Spiral Staircase of Fort Canning Park. This is such a marvelous area for photo opportunities.
3. Chinatown – 2 hours 10 minutes (3:00 PM to 5:10 PM)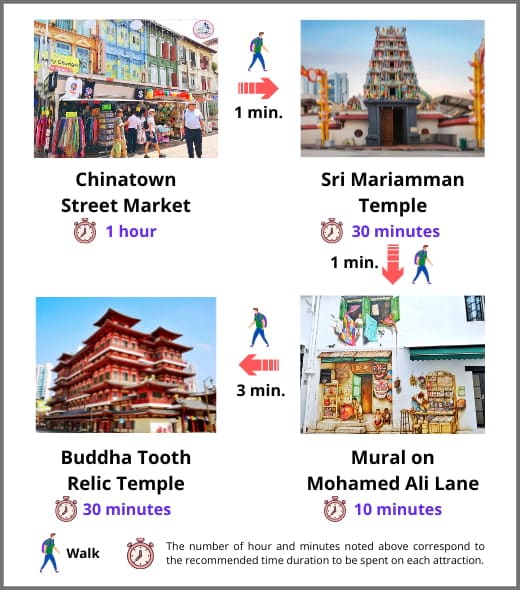 Chinatown Singapore is a relevant part of the country's colorful past. That's why you should take your time to unearth some of its relevant attractions.
i) Chinatown Street Market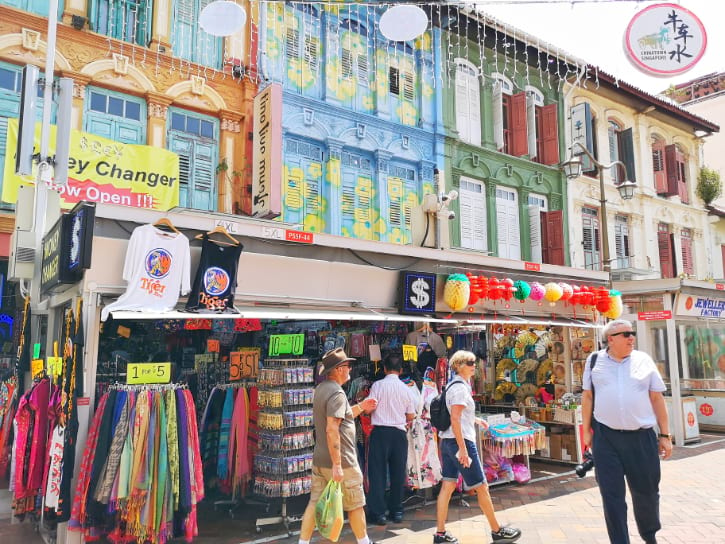 Start the fun at Chinatown Street Market. This vibrant destination features plenty of local stalls selling unique items, from clothing to souvenirs and more.
So if you want to buy some trendy apparel or cute mementos, wander around the street market.
ii) Sri Mariamman Temple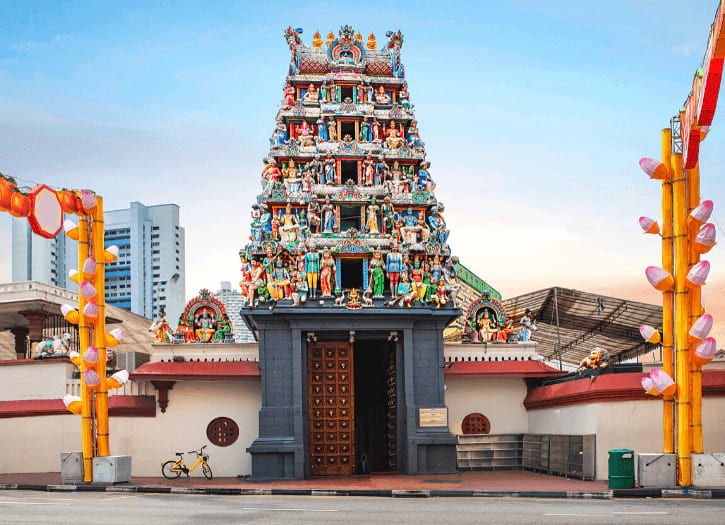 Discover the remarkable Sri Mariamman Temple. With its bright exterior, it beautifully complements the vivid landscapes of Chinatown.
And as the oldest Hindu temple in Singapore, this site is very important among the Hindu community. Consequently, most sacred ceremonies are held inside.
iii) Mural on Mohamed Ali Lane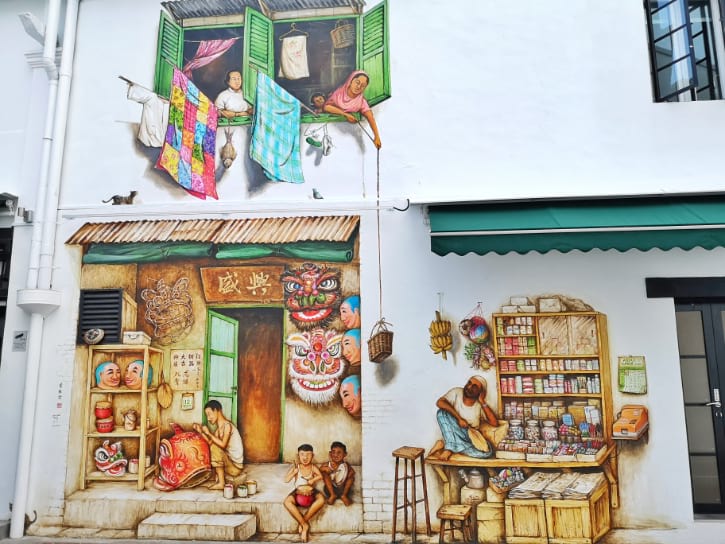 The wall painting on Mohamed Ali Lane is also a crowd favorite. This section showcases the life of ancient merchants.
And some of the highlights here are the paper mask and puppets as well as the Mamak store.
iv) Buddha Tooth Relic Temple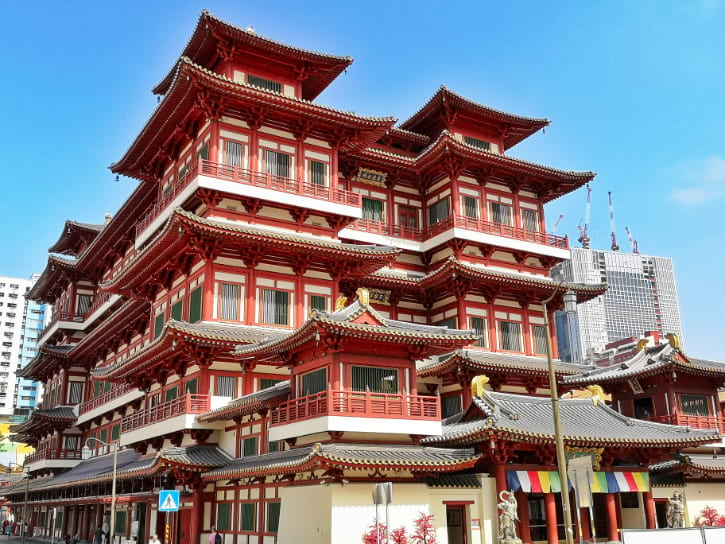 Buddha Tooth Relic Temple is one of the iconic landmarks not just in Chinatown but also in Singapore.
It houses an incredible collection of Buddha artefacts, including his canine tooth. And of course, the distinct Chinese style makes this even more spectacular.
4. Clarke Quay – 3 hours 40 minutes (5:10 PM to 8:50 PM)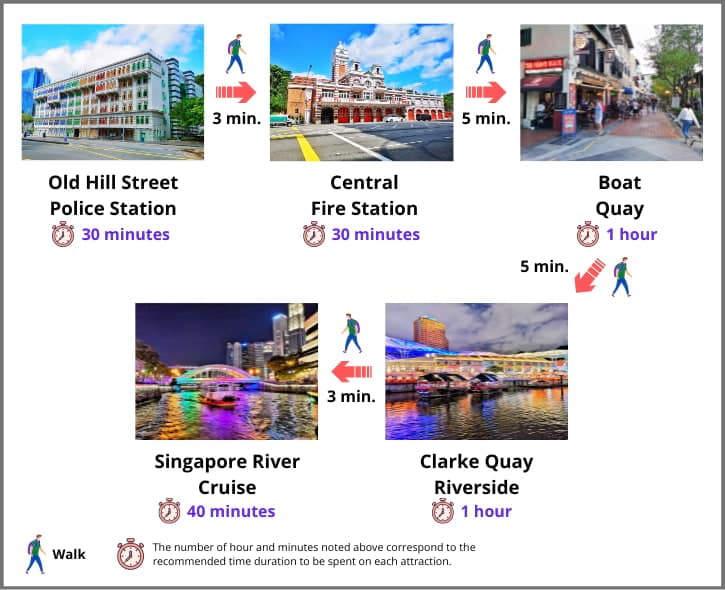 Clarke Quay Singapore is the best destination for late afternoon activities. Here, you can explore the historical Old Hill Street Police Station and Central Fire Station.
Then, you can spend some time along Boat Quay and go around scenic Clarke Quay Riverside. Lastly, take the River Cruise.
i) Old Hill Street Police Station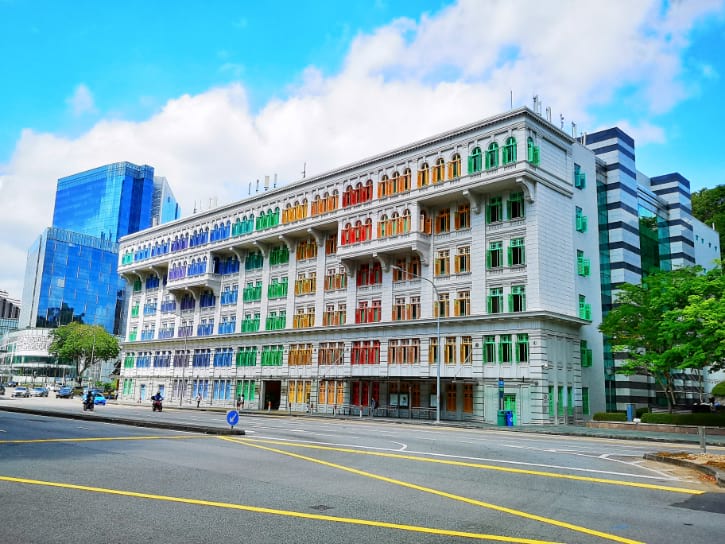 Old Hill Street Police Station is one of the colorful historical places in Singapore that you should see. This structure served as the first-ever jail in the country.
On top of that, it is known for its attention-grabbing exterior. And because of its vibrant design, it's a great backdrop for your photos.
ii) Central Fire Station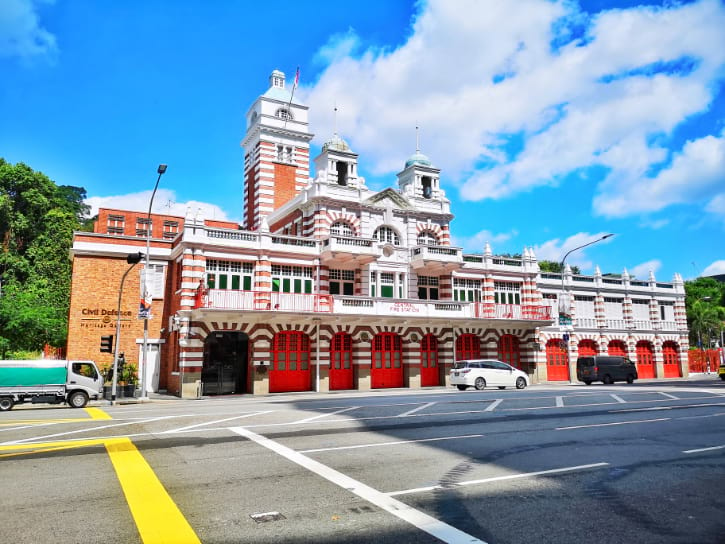 If you're interested in the livelihood of Singapore Civil Defense Forces, the Central Fire Station is the answer.
Inside this museum, you'll get to know more about the history of local firefighters.
Journey through the wonderful collection of fire equipment such as water pumps, fire engines, and more.
And surprisingly, this museum offers some interactive activities to make your trip more fun.
iii) Boat Quay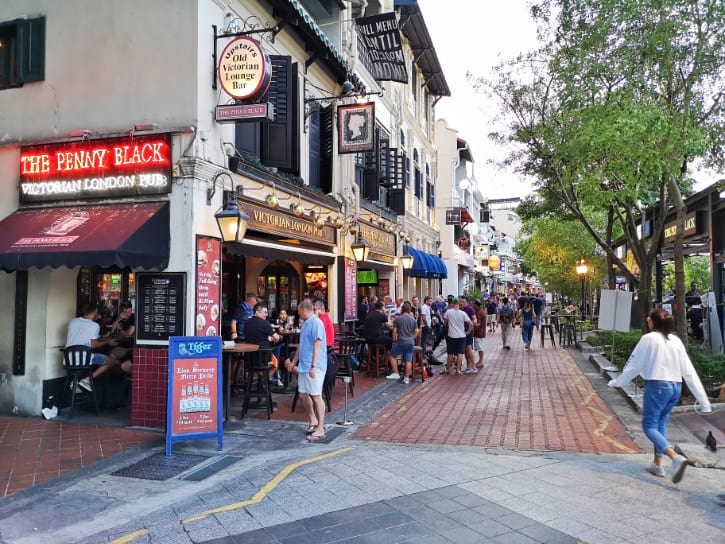 Boat Quay is a favored area when it comes to lazy walks or cosy drinking sessions. There are several pubs and even dining spots along the riverside.
Without a doubt, this is the best destination for those who just want to chill out.
iv) Clarke Quay Riverside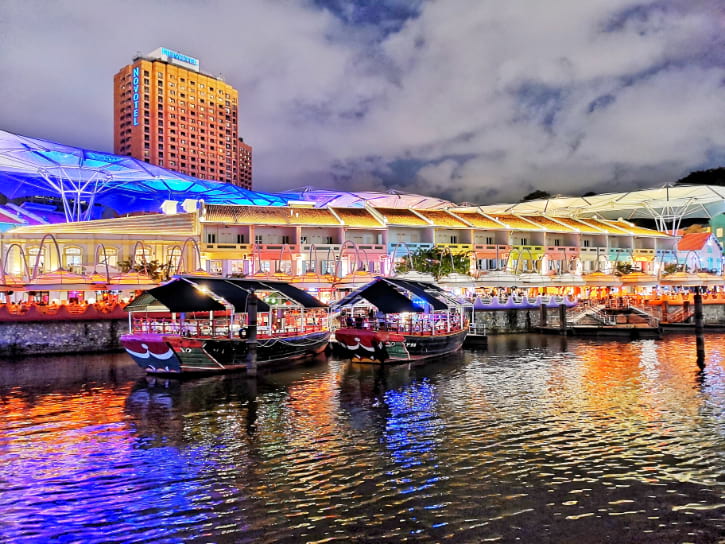 Clarke Quay riverside is the most recommended choice for a scenic and satisfying dinner treat. There are many restaurants around the vicinity so there's no need to worry.
After your dinner, stroll around the area and simply enjoy the views. The surroundings here are definitely more magical and vibrant at night-time.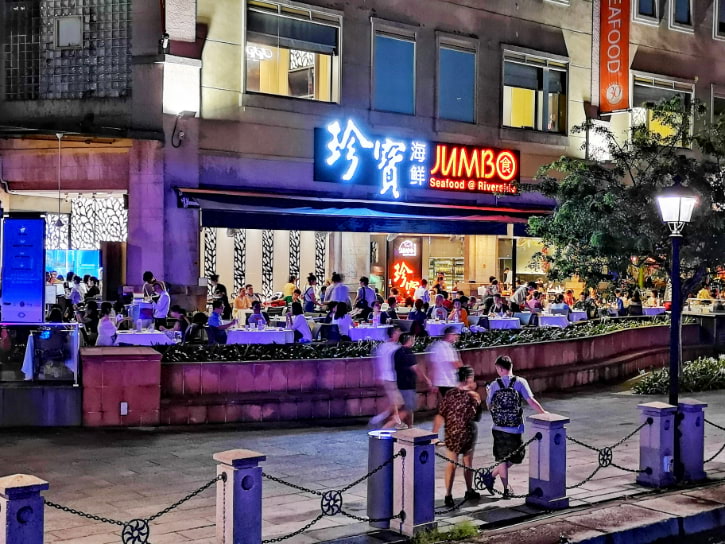 Dinner
Hooters: Satisfy your buffalo wings' cravings in this restaurant. You are given the option to pick your preferred level of spiciness. Plus, they also offer seafood, sandwiches, salad, and more.
Highlander: If you're in the search of a restaurant and a bar in one, you're right on cue! Browse through their menu of European meals or go for their classics like smoked salmon, grilled chicken, and spicy seafood pasta.
Hanjip Korean Grill House: For those in need of some tasty, classic Korean dishes and soups, this is the place for you. This authentic Korean restaurant also serves excellent Australian wagyu and USDA prime beef.
Hokkaido Ramen Santouka: Take a sip from their specialty ramen and don't miss their bento meals. If you're still hungry, a pork rice belly would be the best add-on.
JUMBO Seafood: Savor some seafood delights from this popular restaurant. They've got a number of delectable dishes, including roasted duck salad, crispy fried baby squid, chili crab, and steamed lobster.
v) Singapore River Cruise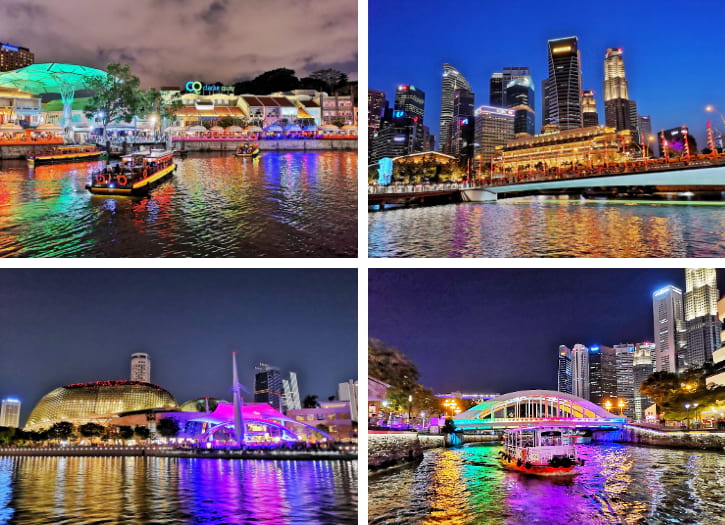 But of course, you shouldn't miss the Singapore River Cruise! This is the best way to wrap up your day 4. Here, you will simply laze around and take in the amazing night views.
You can hop aboard the bumboat at this location. And, don't forget to book your River Cruise tickets here to save nearly 10%.
Day 5: Explore Botanic Gardens, Singapore Zoo, and Night Safari

Day 5 of this Singapore itinerary will be loaded with lovely garden scenes and adorable animals.
You will start with the picturesque Singapore Botanic Gardens.
Afterward, explore the best animal parks in the country, which are Singapore Zoo and Night Safari.
1. Singapore Botanic Gardens – 3 hours (8:00 AM to 11:00 AM)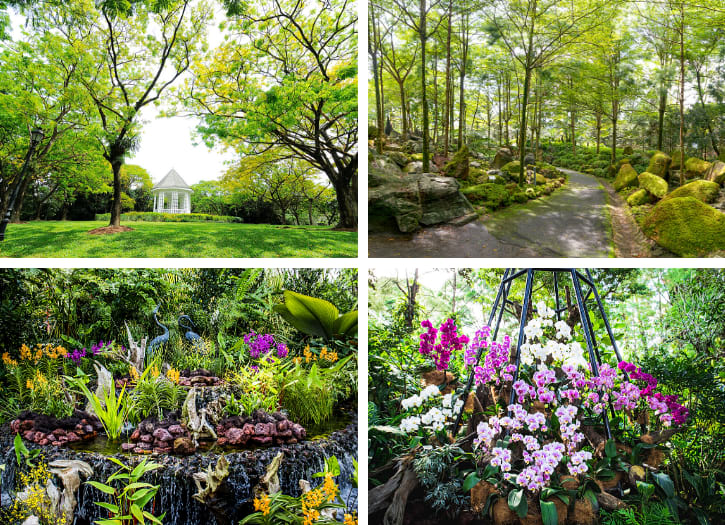 If you're looking for a soothing escapade with nature, Singapore Botanic Gardens is a great option.
This huge outdoor park is simply breath-taking. It comes with a lot of photo opportunities that will surely fascinate you.
On top of that, it's a nice spot for relaxation. You can just lounge around while capturing the views.
2. Singapore Zoo – 6 hours (12:00 PM to 6:00 PM)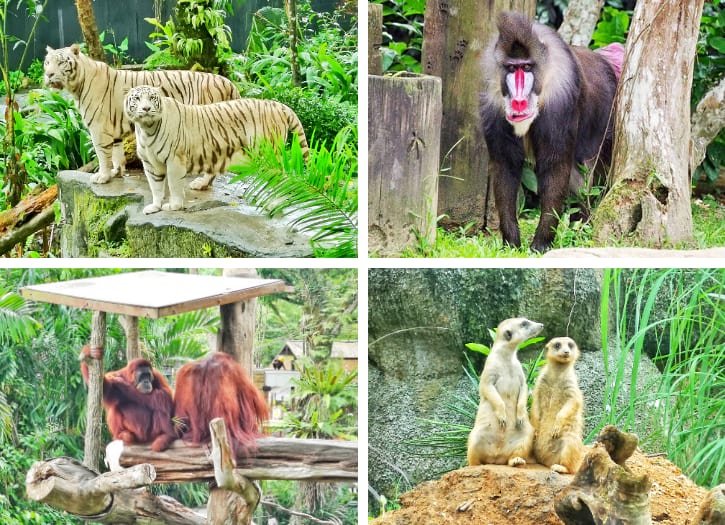 Proceed to Singapore Zoo and enjoy an amusing afternoon with the animals. The zoo shelters all kinds of creatures, from mammals to reptiles to amphibians.
You can read this guide to Singapore Zoo and review to have an idea of the animals you'll encounter. This article will show you how to reach the park as well.
To save money, order your Singapore Zoo tickets online. This will also help you maximize your time because you won't have to line up at the ticketing counter.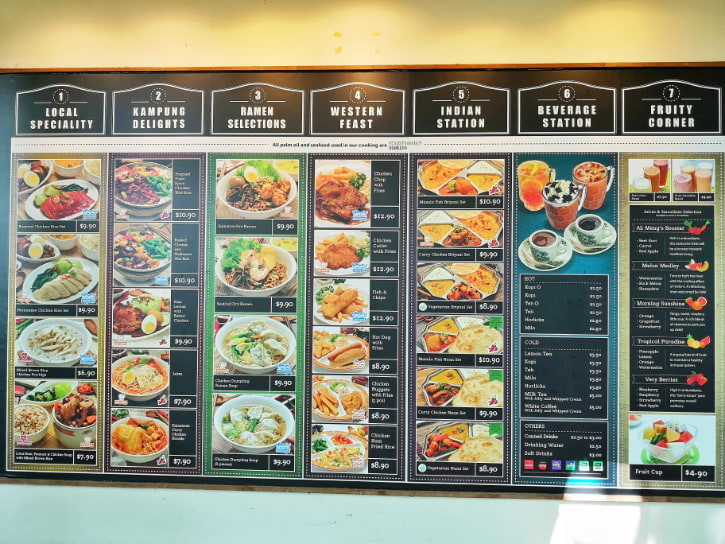 Lunch
When visiting the zoo, you can take your lunch inside the zoo – Ah Meng Restaurant. There's also a food court and a KFC restaurant just beside the entrance of Singapore Zoo.
3. Night Safari Singapore – 3 hours (7:15 PM to 10:15 PM)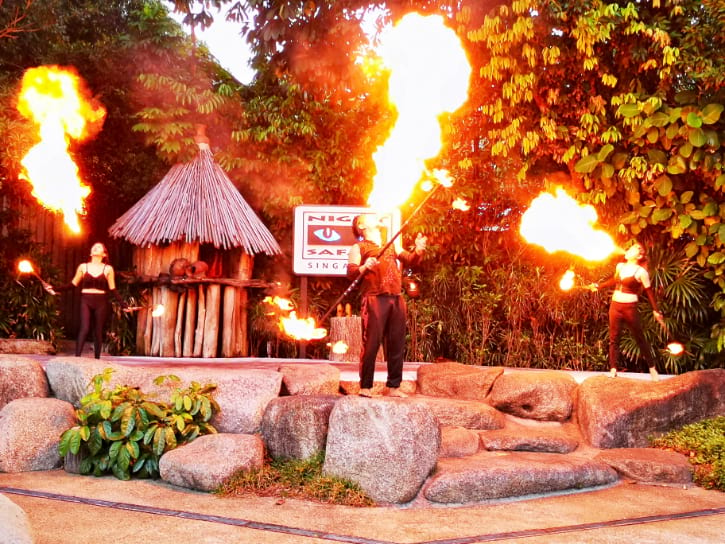 Complete your day 5 itinerary with a visit to Night Safari Singapore. This one offers a unique kind of experience with the animals.
For one, they have a tram ride that allows you to witness special animal exhibits. You can also walk around the trails for a more personal encounter. And of course, you can't miss the incredible shows.
Find out more about this zoo in my detailed guide to Night Safari Singapore and review. And be sure to use it as your reference when preparing for your trip. For you to save up to 28%, you can book discounted Night Safari tickets here.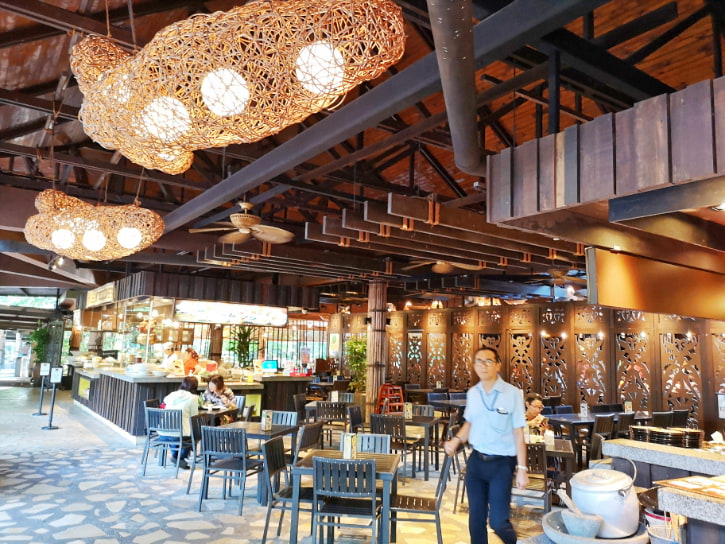 Dinner
Option 1: You can take your dinner at the food hub, which is located near the main entrance of Singapore Zoo.
Option 2: Another great recommendation is the Ulu Ulu Safari Restaurant, which is right beside the entrance of Night Safari. This buffet-style restaurant offers a variety of Singaporean, Indian, Japanese, and Korean dishes. Plus, they have several options for vegetarians.
My itinerary didn't include the River Wonders Singapore, which is also located nearby Night Safari and Singapore Zoo.
River Wonders is also a great destination, however, visiting all three zoos in one day is not enough.
So, if you only have a limited time to explore, I'd suggest that you pick Singapore Zoo and Night Safari.
Singapore Itinerary 5 Days Map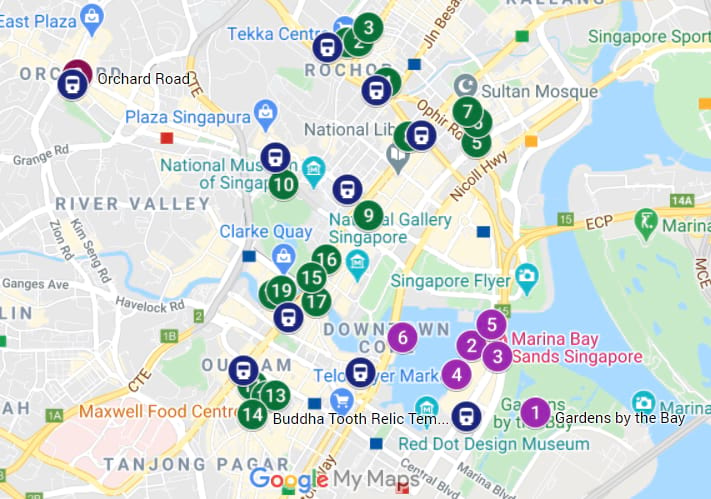 For reference, I have marked all the top tourist spots and nearby MRT stations for this itinerary in my customize Singapore map above. With this map, hopefully you can navigate around the country easily.
Take Note: Remember to download my comprehensive document here because I have written down step-by-step how to go to Singapore's attractions on this 5 day trip. 🙂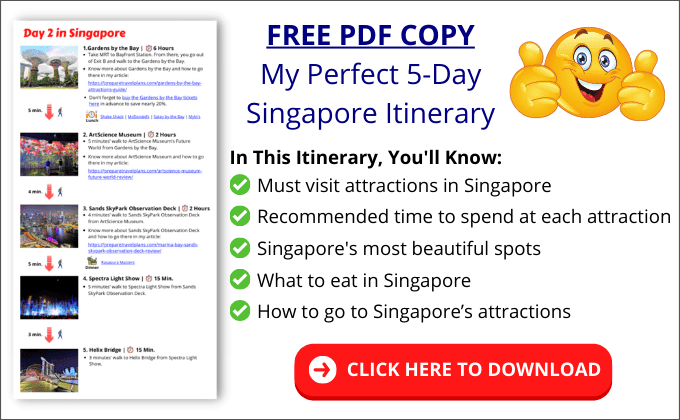 Maximizing Savings on Singapore Attractions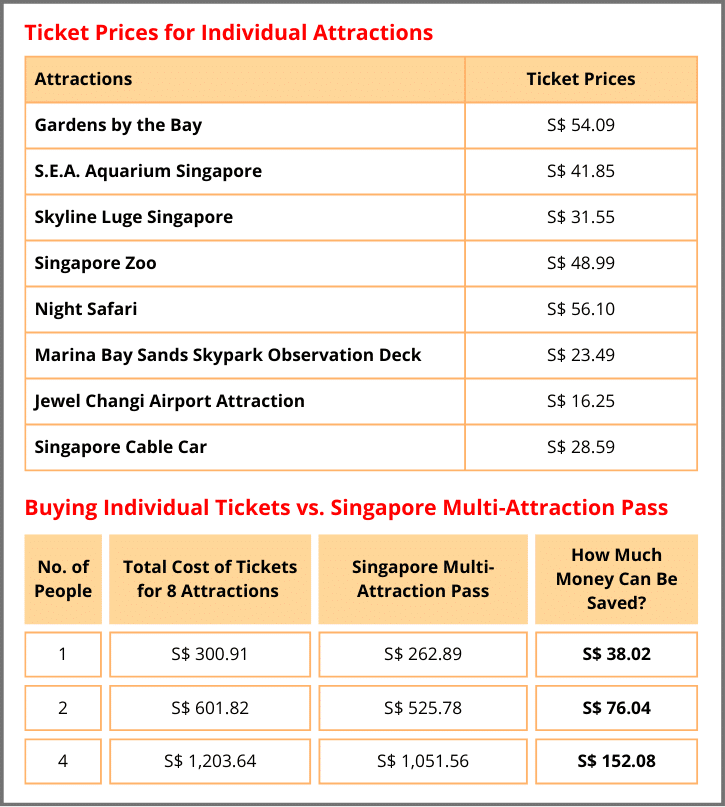 Consider getting a Singapore Multi-Attraction Pass instead of individual tickets for attractions in Singapore.
For example, if you plan to visit Gardens by the Bay, S.E.A. Aquarium, Skyline Luge, Singapore Zoo, Night Safari, Sands Skypark Observation Deck, Jewel Changi Airport Attraction, and Singapore Cable Car, the total cost for separate tickets would be S$ 300.91.
However, with the multi-attraction pass, you only pay S$262.89, saving S$38.02.
Traveling with 2 people? You save even more, a total of S$ 76.04!
The pass allows entry to up to 32 attractions, you can find more information via the links provided below.
More Days to Spend in Singapore?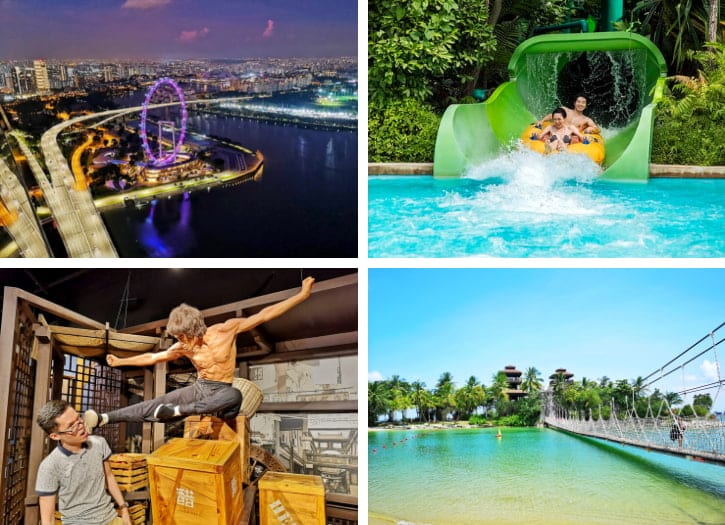 If you have more time to visit Singapore, you can consider to add the below attractions into your itinerary.
Singapore Flyer: Step into this capsule-like ride and marvel at the gorgeous Marina Bay from afar. As the largest observation wheel in Asia, this attraction is definitely a must-visit.
Adventure Cove Waterpark: If you've got at least half a day to spare, head to this waterpark and have fun under the sun. There are plenty of outdoor activities for everyone. Go snorkeling, conquer different slides, and take a dip in the pools.
Mega Adventure: Challenge yourself and hop aboard the well-known MegaZip flying fox. This zipline attraction lets you soar over the breathtaking Sentosa landscapes and beaches.
Madame Tussauds Singapore: Get a chance to meet many famous personalities in their realistic wax figures. This wax museum also offers a series of interactive activities for the visitors.
Siloso Beach: Relax on this scenic beach that comes with several bars and restaurants. This resort is a nice spot to laze around and just enjoy the views.
Palawan Beach: Another top choice is this beautiful beach that has a hanging rope bridge. Try some watersports and climb up the watchtower. Or you may simply swim in the gorgeous waters.
The Best Hotels and Areas to Stay in Singapore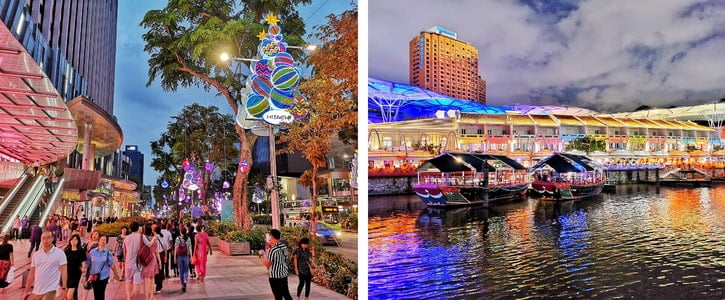 No matter how many days you plan to stay in Singapore, I highly suggest that you stay in Orchard or Clarke Quay area.
These are my top 2 locations because of their proximity to many major Singapore tourist spots. With their closeness to the attractions, this makes your itinerary less stressful as you won't have to commute longer.
Below are my most recommended hotels.
How to Travel Around during your Itinerary in Singapore
Singapore's MRT system is very superb as it can take you to almost any location in the country. That is why it is a very popular transport option among locals and travellers.
And to help you get around Singapore like a pro, here are some important tips you can use as a reference.
1. NETS FlashPay Card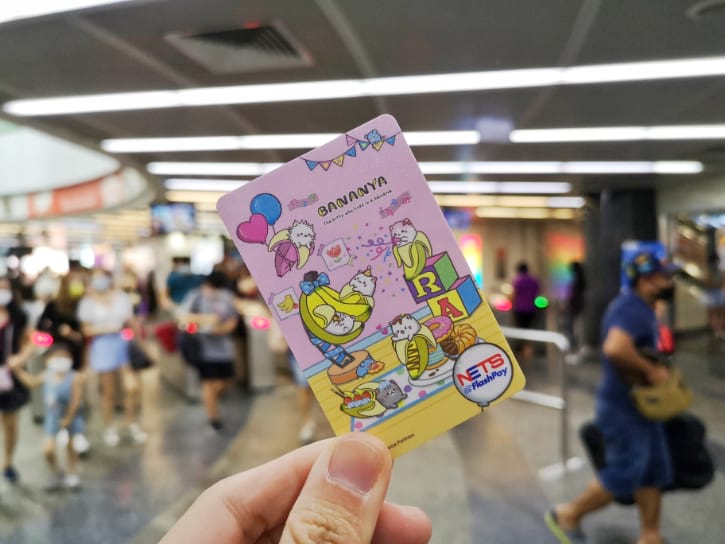 If you plan to spend several days in the lion city, it's best to have a NETS FlashPay card. This multi-purpose stored value card allows you to travel via Singapore MRT and buses easily.
And here are the main reasons why this smart card is an essential item.
Why should you use this travel card?
Using this card when riding public transport is very convenient. It lets you to travel with ease since there's no need to queue up at the ticketing counter.
Plus, you won't have to carry spare change for your payment. It's because Singapore buses only accept the exact amount for the ticket fee.
And did you know this card actually gives you an additional discount? So compared to cash, this will help you save money.
How to Use?
You simply just tap the card on a panel every time you get on and off the Singapore MRT and buses. Surely, using this card is pretty straightforward.
Where to Top Up?
You can easily top up your balance at any General Ticketing Machines in MRT stations and bus interchanges via cash or credit cards.
Where to Buy?
For those staying in the Philippines, Malaysia, Indonesia, Vietnam, and Taiwan, you can buy your NETS FlashPay card in advance. Then, make sure to have it mailed before your trip.
If you're not part of the listed countries, don't worry. You can still get the card at the TransitLink Ticket Offices of the MRT stations.
The card is also available at top-rated convenience stores in Singapore like 7- Eleven and Cheers. Generally, the NETS FlashPay cards are priced at $12. This amount is already inclusive of $7 stored value.
2. GoThere.SG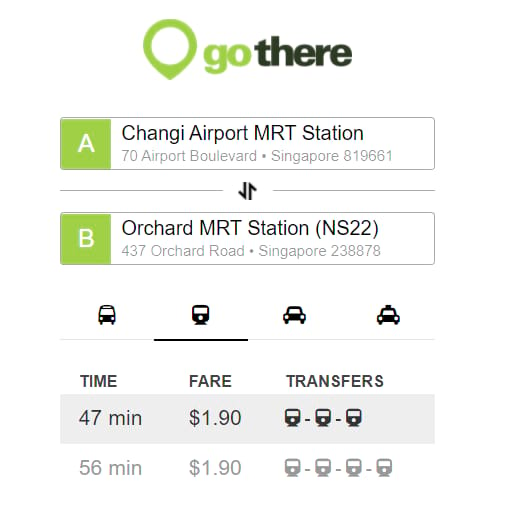 I suggest that you use https://gothere.sg/m when exploring around in Singapore. This particular site helps you find the best route from one MRT station to another to make your trip more convenient.
It also provides you with the fastest and cheapest route, including the fare and time duration.
Internet Access for Tourists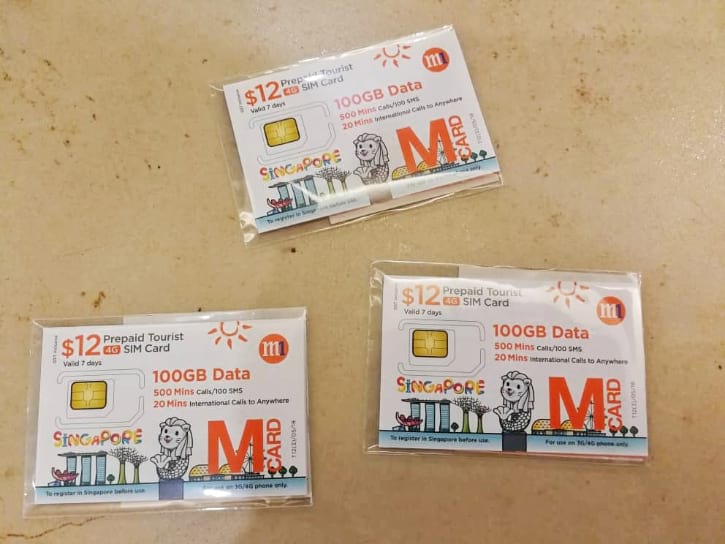 With the Singapore prepaid SIM card, you can smoothly connect to the internet. This prepaid SIM card comes with 100 GB data and a 4G internet speed.
It also includes free 500 minutes local calls and another 20 minutes for international calls.
For easy exploration, I recommend you to buy at least one SIM card. You can use this when checking out directions via Google Maps as well as train routes.
You can check the latest price of SIM card here.
Changi Airport to City Centre Guide
There are 4 ways to get to the city of Singapore from Changi Airport. These are via train, bus, taxi, and private airport transfer.
1. Train
You can easily take the train at Changi Airport MRT Station. This is connected directly to the airport terminal 2 and 3. If you arrive at terminal 4, simply take a free shuttle bus that leads you to terminal 3.
2. Bus
For terminals 1, 2, and 3, the bus stops are positioned at the basement bus bays. You can choose from the following bus numbers ― 24, 27, 34, 36, 53, 110, and 858.
For terminal 4, simply head to the bus stop next to Car Park 4B. From there, pick one of from the many bus choices, including 24, 34, 36, and 110.
3. Taxi
Taxis are also available for hire. You can find them at the taxi stands in the Arrival areas of Terminal 1 and Terminal 3. The travel duration from the airport to the city is about 30 minutes.
All fares are metered, and it will normally cost you around S$ 20 to S$ 40. For more details about this transport option, you can check the taxi information here.
4. Private Airport Transfer
If you want less hassle, it's suggested that you avail of the private airport transfer. This is actually the easiest way to reach the city centre because it offers door-to-door service.
Plus, it provides a 24-hour transfer service from Singapore airport.
So, if you want to be transported directly to your hotel, this is the best option. You can check the private airport transfer price here.
Now, you've come to the last section of my Singapore itinerary. Thank you so much for taking your time to read the entirety of my article.
And, I hope that this comprehensive itinerary can help you when planning your 5-day trip to Singapore! 😊
Related Posts
Photo Credits:
Photo
by pelican
Photos by Klook