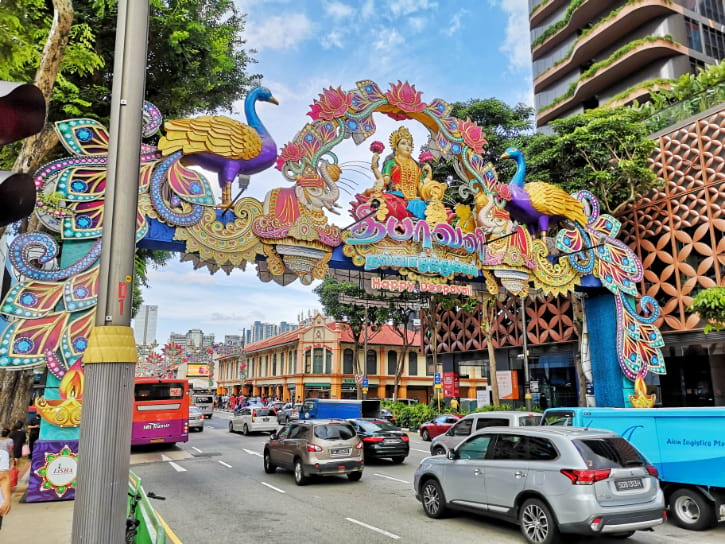 Ever wondered about all the nice things to do in Little India Singapore? No need to worry, because here's a handy list of what to do in Little India!
Little India in Singapore is like a beautiful nation within a nation. Set along the eastern side of Singapore River, this colorful and historical district has always been one of touristy spots in the country. From left to right, you will get a glimpse of India's different facets―vibrant stores, quirky cafes, local eateries, and spectacular temples.
So, time to get going and tour around Little India in Singapore like a pro with the help of the listed attractions below.
Top 11 Things to Do in Little India Singapore
---
1. Sri Veeramakaliamman Temple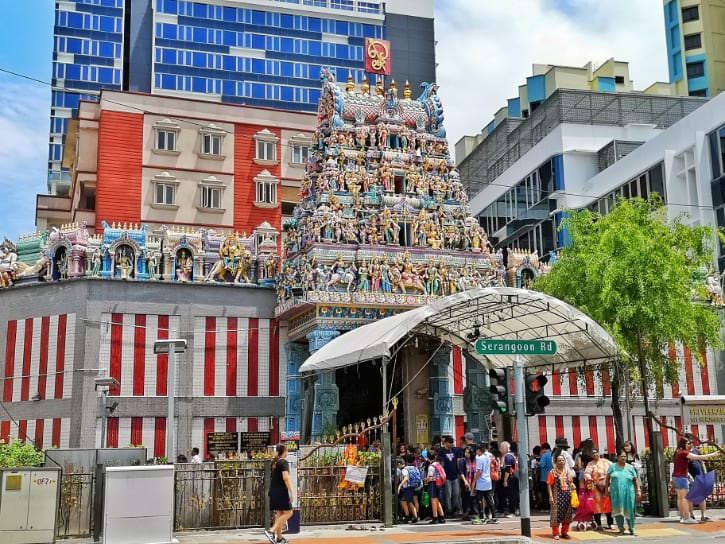 What's most striking about Sri Veeramakailiamman Temple is not only the fact that it is among the oldest Hindu temples in the country but also its remarkable architecture. The facade already speaks a lot about the details and diligence put in the temple's structure and design.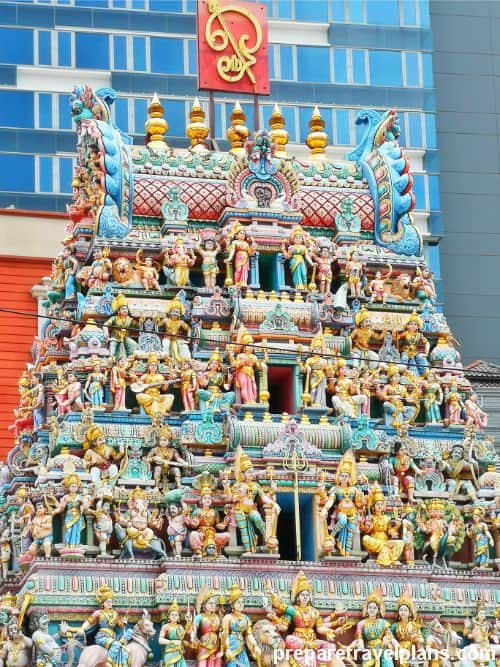 If you're only walking down Serangoon Road for a pleasurable stroll, the vision of the Sri Veeramakaliamman Temple will most likely catch your attention in the most sweepingly, natural way. Forming the grand entrance are different statues of great importance in Hinduism—a testament of Indian diversity and faith.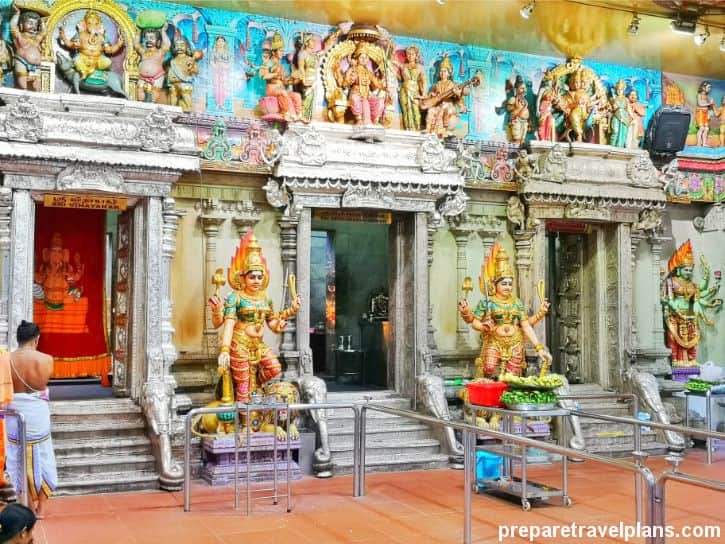 But other than its exterior architecture, the tales behind the structure also makes it all the way more interesting. Built in honor of the Goddess Sri Veeramakaliamman, or most commonly known as Kali, the temple has become an oasis for the early Indians who settled in the country.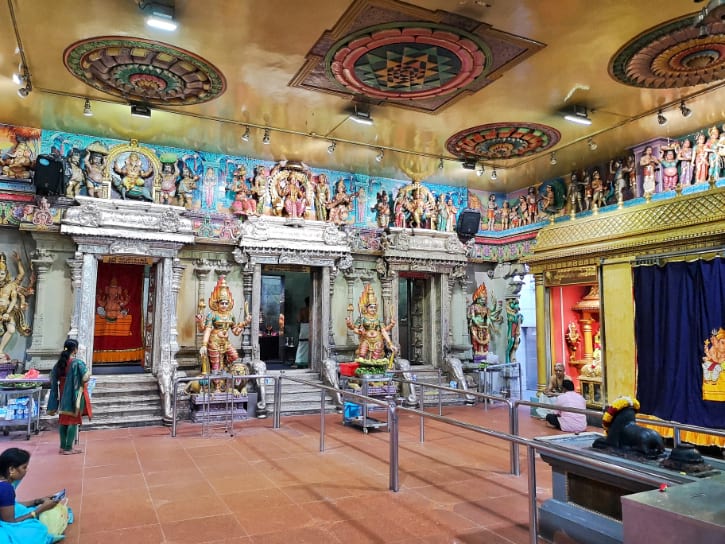 It served as their protection while journeying in an unfamiliar land, by seeking the guidance of Kali, the destroyer of evil. And back in the unfortunate times of the Second World War, the temple served as a sanctuary to many people.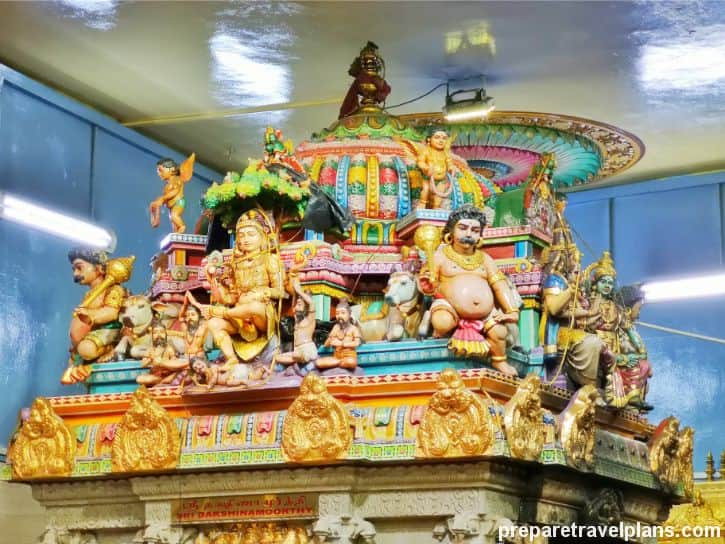 The colors and complexity of the exterior and interior designs are, without a doubt, a sight to behold. All statues and structures inside the temple hold a beautiful combination of colors that keeps on turning heads.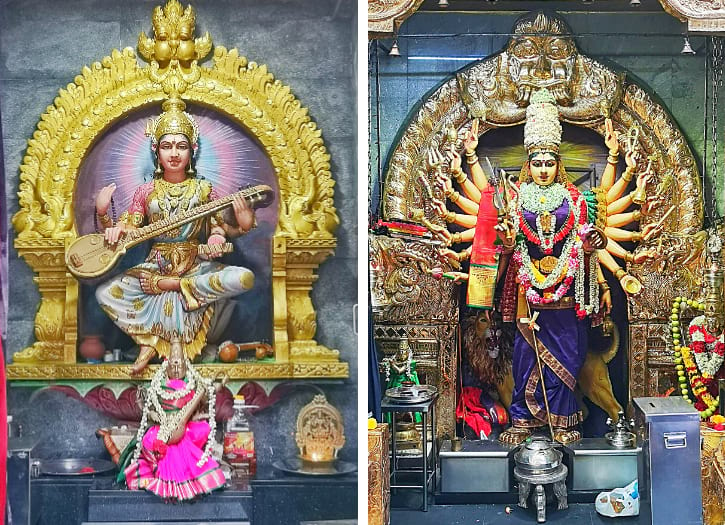 Inside, you'll witness the Saraswati statue and other religious sculptures, making the building one of the most prominent symbolisms of its early beginnings and history.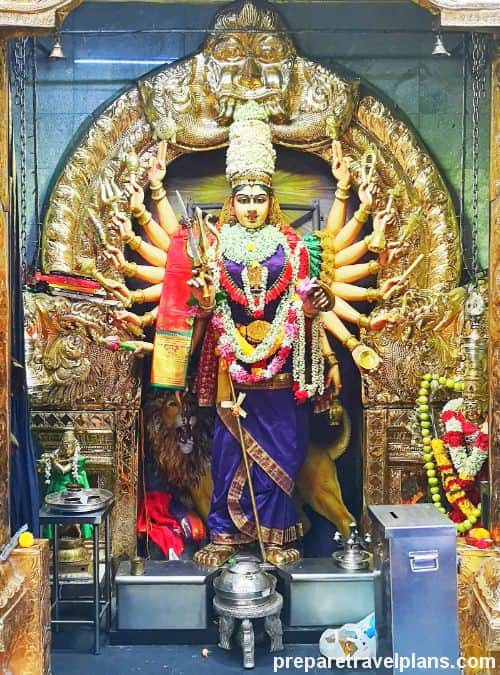 Until this day, you can get a preview of its notable figures like the Sri Lakshmi Durgai, among others. So, if you want to have a peak of one of the earliest and most notable temples in Singapore, don't miss Sri Veeramakaliamman―a historical stand-out in Little India.
Opening Hours
5:30 AM – 12:30 PM
4:00 PM – 9:30 PM

Address
141 Serangoon Road, Singapore 218042

2. Indian Heritage Centre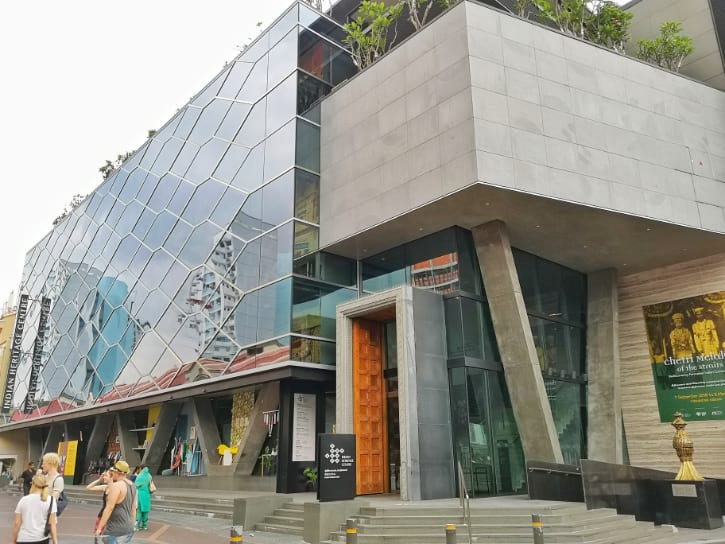 The entire framework of the Indian Heritage Centre showcases the traditional and modern blend of architecture. For travelers, being inside the museum is a great way to learn about the Indians' role in molding the country from the past up to the present days.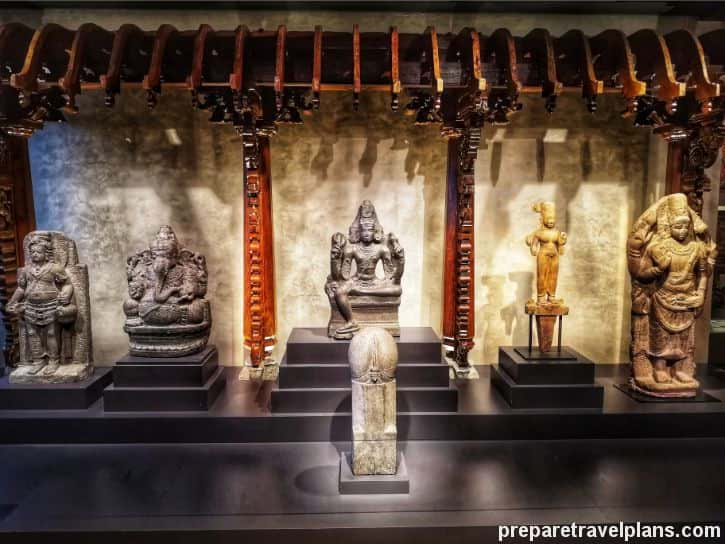 It's also a good place to discover the similarities shared by Southeast Asian countries, most evidently in terms of religion, culture, and architecture. Take a grasp about the religious mark of the Indian community in Singapore as you find your way to the statues of the gods Agastya, Ganesha, and Sadashiva.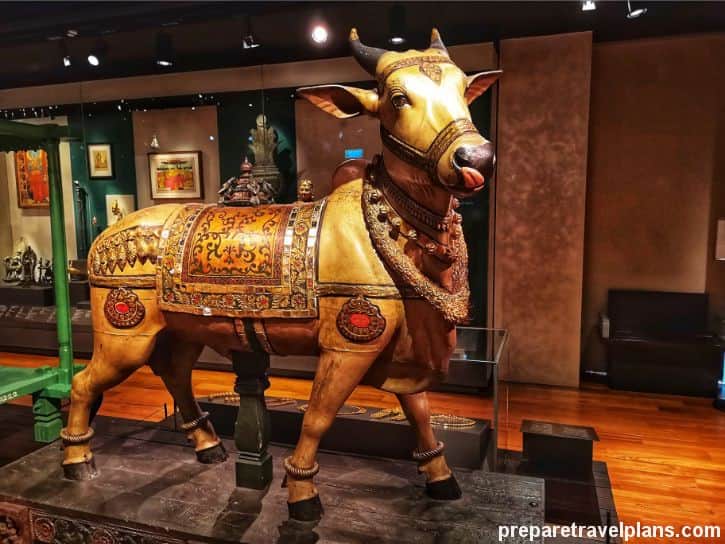 Also inside the museum is the sacred bull, Nandi, which was always part of any Shiva temple.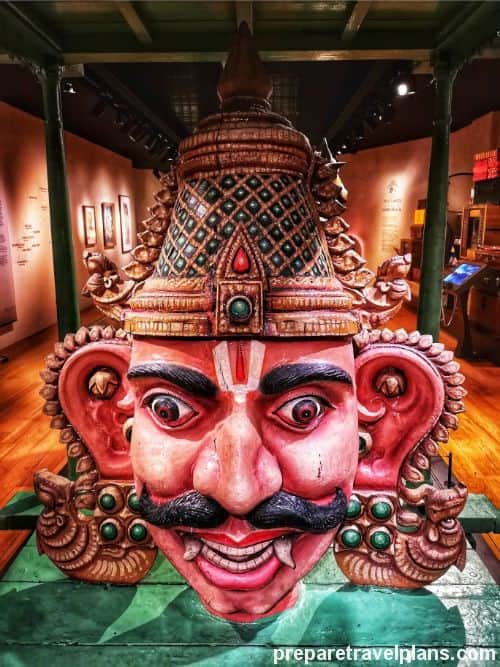 Among the best statues you can witness inside is the museum, which reveals stunningly intricate details, is the Aravan.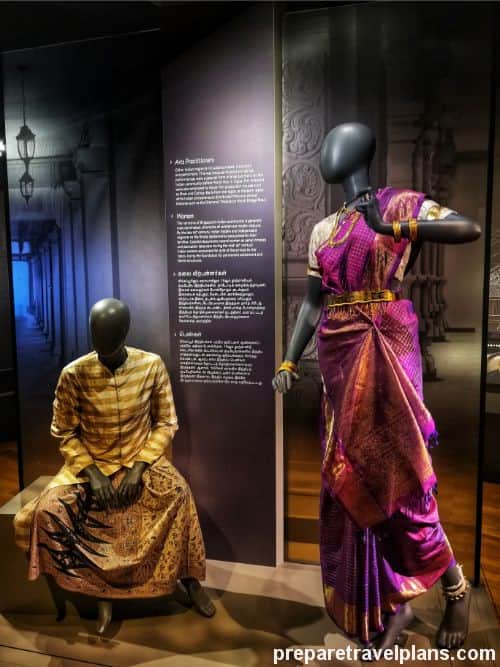 Like other cultural buildings constructed in Little India, this heritage centre illuminates the history of the Indian migrants who have come to settle and work as traders and merchants in Singapore.
Here, you will learn just how diverse the Indian community is by tracing the gallery surrounded by arts practitioners.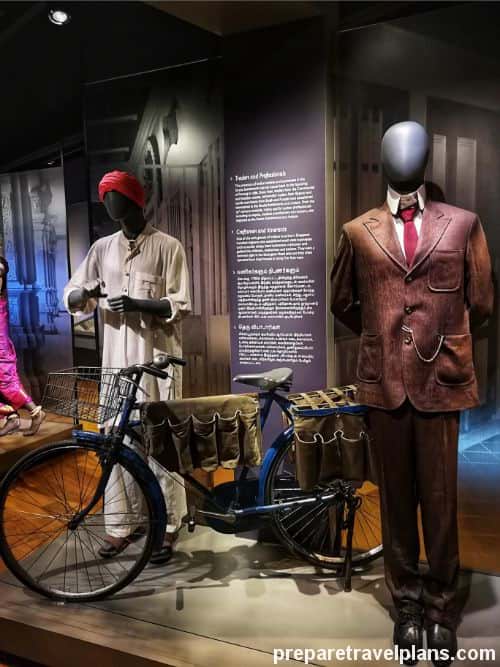 Not only that, different figures of the early craftsmen and professionals are put into display, giving travelers a hint of Indian's professional roots.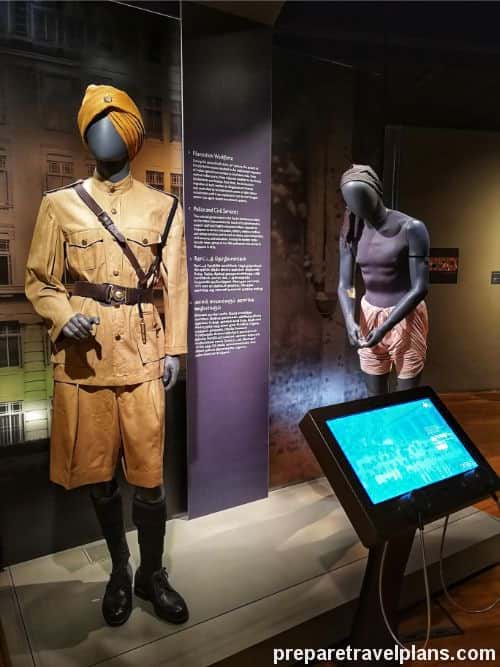 The sculptures of police and plantation workforce will show you traces of diverse influences and interesting stories of the past.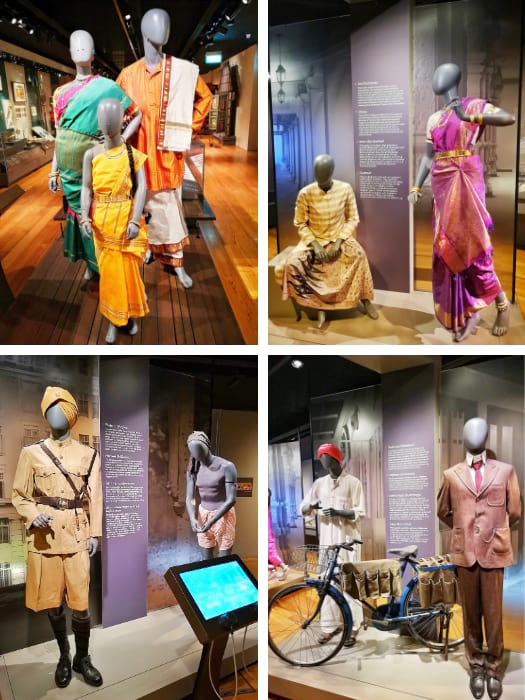 Further exhibited in the museum are Indian traditional costumes like the colorful saris, sherwanis, and accessories, which depict the vivid Singapore Indian Heritage. Most of these historical clothing are worn by the pioneering Indians.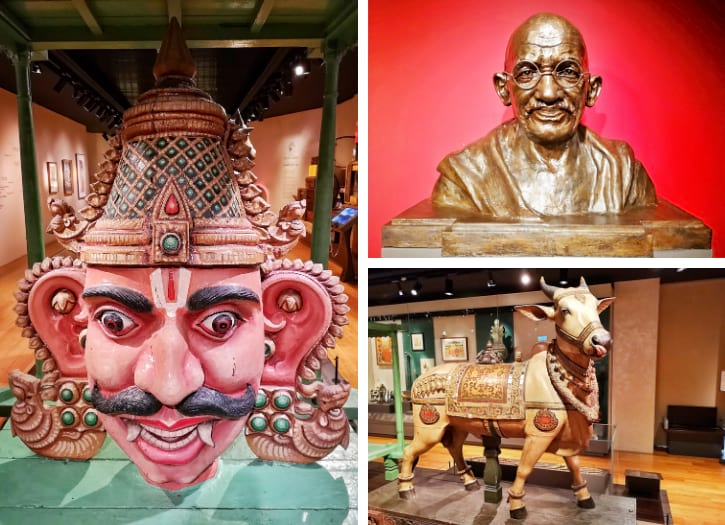 Save the best for the last as you take sight of the most well-known face of India― Mahatma-Gandhi.
So, if you've decided to include this in your itinerary, you can buy your ticket online. Actually, online tickets are much cheaper than buying at the counter. Plus, these can be used for up to 3 months because they are open-dated.
Get your Indian Heritage Centre ticket here and simply claim it at the Ticketing Counter of Indian Heritage Centre.
Opening Hours
Tuesday to Thursday:
10:00 AM – 7:00 PM
Friday to Saturday:
10:00 AM – 8:00 PM
Sunday or Public Holidays:
10:00 AM – 4:00 PM
Closed: Monday

Normal Ticket Prices
Adult: SGD $6
Child (Aged 6 and Below): Free

Address
5 Campbell Lane, Singapore 209924

3. Tan Teng Niah House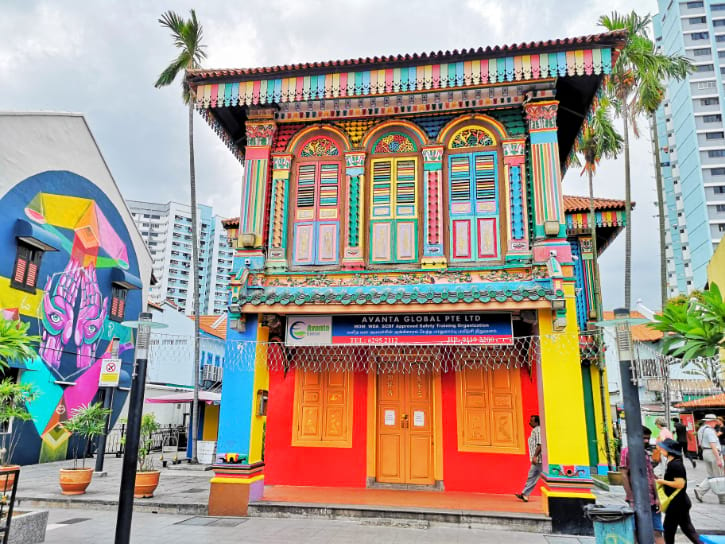 Once you arrive at Little India MRT Station, the road welcomes you to a lot of tourist attractions. One place you can first go to is the well-visited Tan Teng Niah―Little India's only remaining Chinese villa.
This Chinese villa is the opposite of a minimalist house design. It's a structure bursting with colors, hence you won't have any trouble finding where this house is. Thanks for its extremely spirited hues that truly stand out from the rest of the houses built next to it. And there's even no need to carry a map with you, just let the colors guide you to the right door!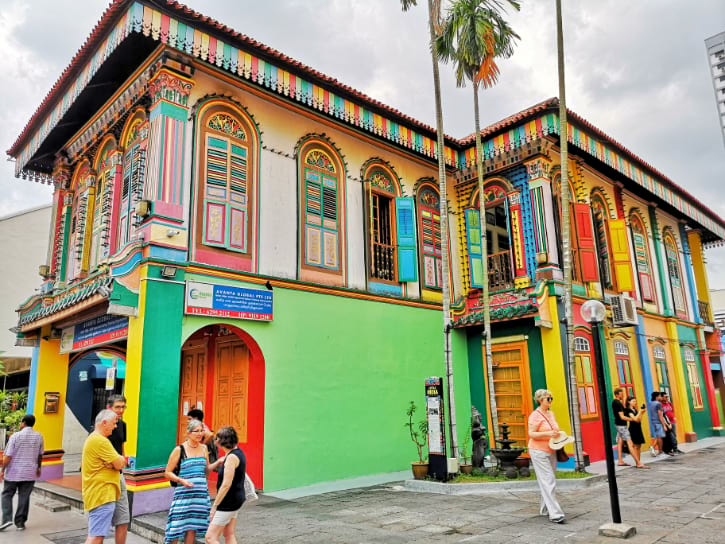 The house is named after Tan Teng Niah, a Chinese businessman famous for his factories. As vibrant as the colors painted in the house, so is Tan Teng Niah's love for his wife, which he dedicated the house to.
Other fascinating features of the house are its swinging door, graphic tilted roof, and vivid windows. The windows, doors and all the way to the roof are decorated in varied colors.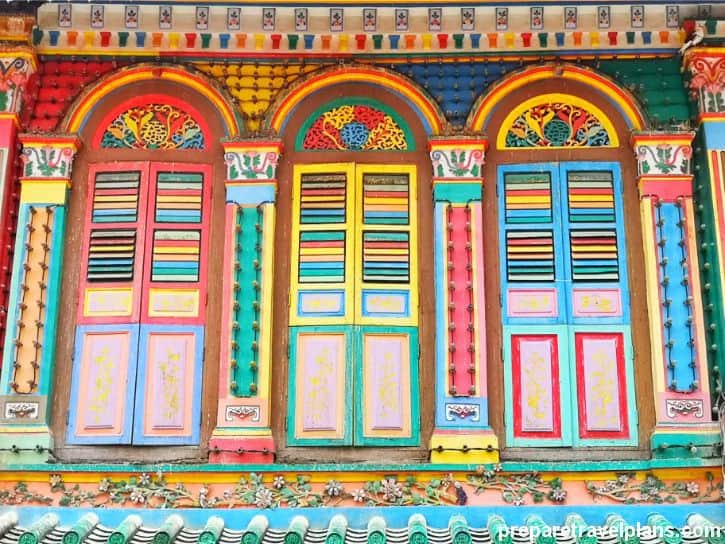 A little bit of history―back in 1991, it bagged the Singapore Institute of Architects Honourable Mention Award for its delightful architecture. Truly, every side of the house is up for a good Instagram photo. So, it is worth adding this into your list of things to do in Little India.
Address
37 Kerbau Road, Singapore 219168

4. Traditional Trades of Little India Mural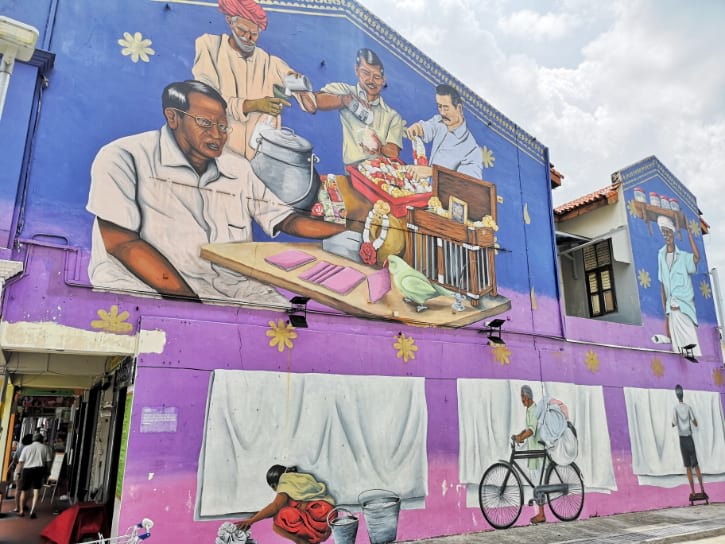 Most murals you can spot in Singapore do not just reveal creativity but a nostalgic narrative of how people back in the early days of the country lived. Like the ones you can discover along Little India, these murals offer an interesting story of the past through the creations of the local artists.
One of them is Psyfool, who created the huge mural that is known as the 'Traditional Trades of Little India'. Using the right amount of light and dark colors, the artist successfully brings a wave of emotion into the people he portrays in the painting. As you closely observe the mural, the people are engaged in each of their daily livelihood.
To mention these include giving parrot astrology, making garlands, selling street snacks, and doing the laundry. These make up the traditional trades that the Indians have taken part in while building their lives in Singapore. Psyfool's mural is just one of the many beautiful paintings that capture people's attention day by day.
Address
Belilios Lane, Singapore 219958

5. Serangoon Road (Little India's Main Street)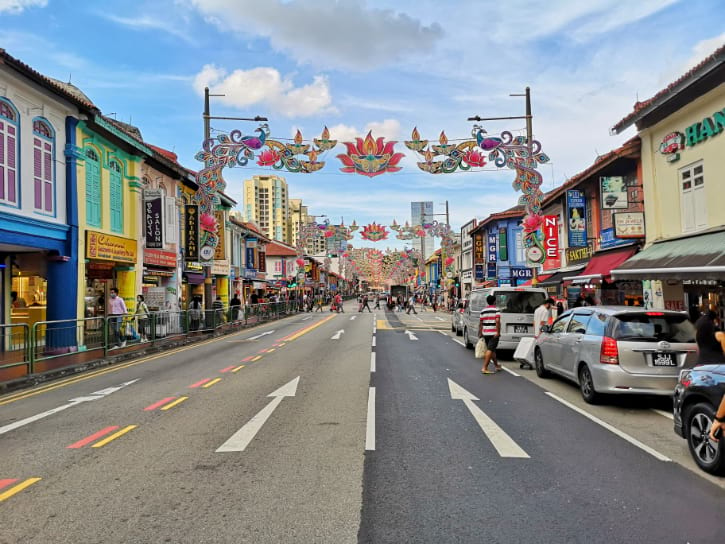 India is as grand as you can imagine—its diversity, population, and culture. But somewhere in Singapore, in a place named Little India, you can experience the country as much as your five senses allow!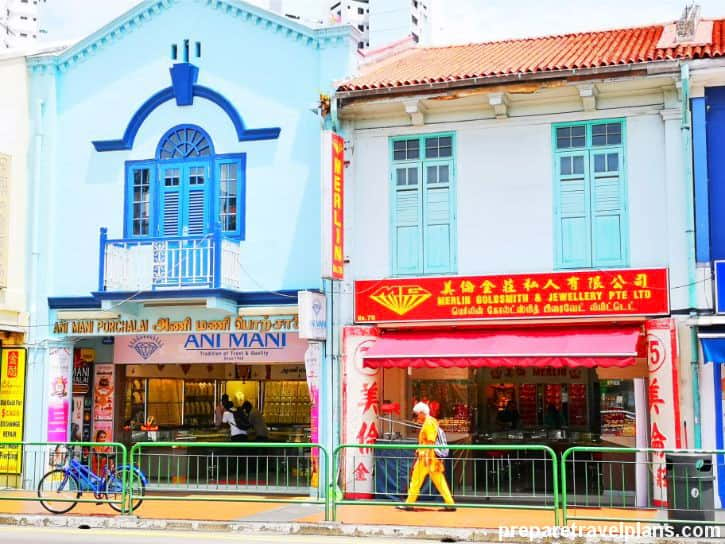 At Serangoon Road, the soul of India is very much transported at every road shop. In contrast to the high-rise buildings and malls surrounding the progressive nation of Singapore, humble and vibrant shops await in Little India, like these gold and jewelry souvenir shops.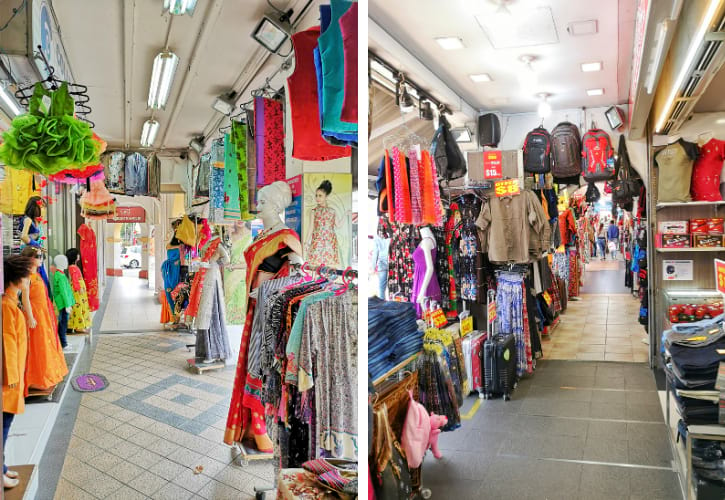 And like a curtain waiting to be flipped open for locals and tourists, Serangoon Road is a neighborhood overflowing with life. Here, you'll fall in love with souvenir shops filled with every treat you need!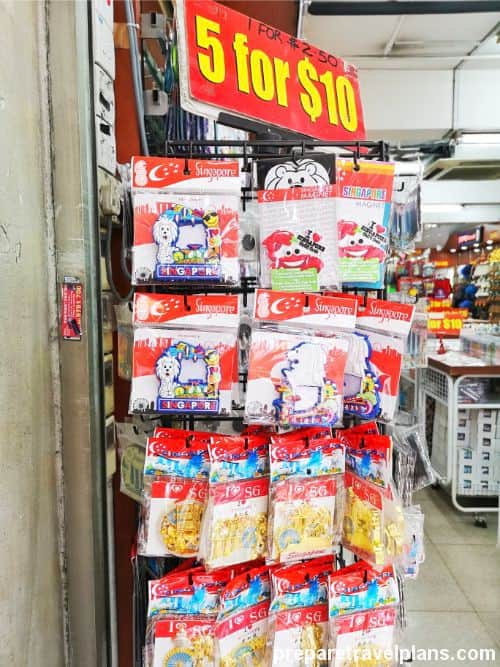 Aside from foods and tasty delicacies, there's an amazing array of souvenirs for you to take home. Conveniently, these are decently priced to fit your budget!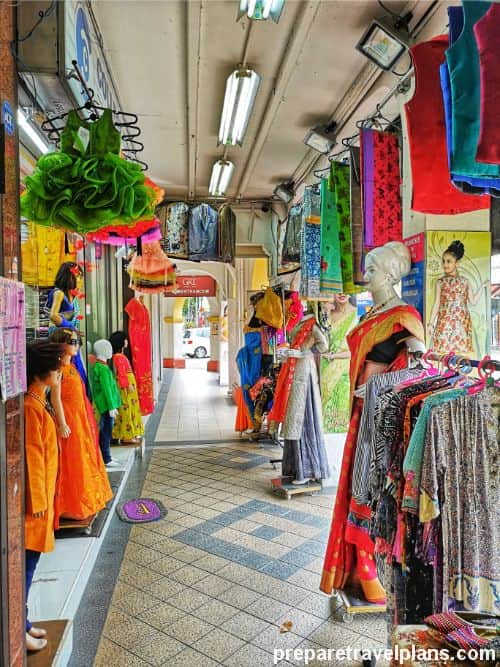 Of course, a series of shops filled with Indian traditional dresses and garments are plastered along the shops. So, if you've always wanted to wear an Indian costume, then this might be your chance!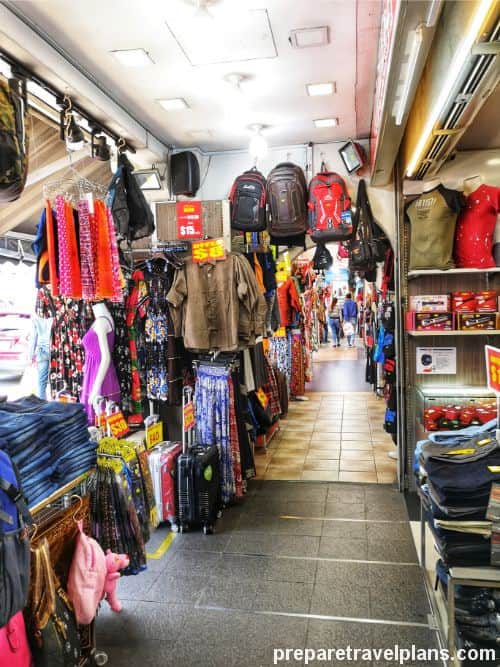 Lastly, you'll get an amazing selection of bags and other accessories to choose from. So, make sure to prepare your budget ahead of time!
6. Little India Arcade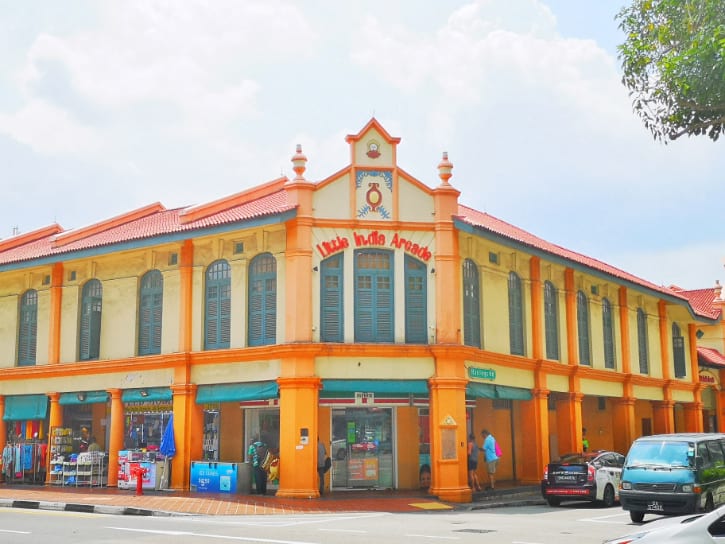 Don't leave the Little India Arcade unchecked from your list. A charge of colors representing India's rich culture and art will welcome you in this 20th-century shop-house building.
Travelers from many countries and even local Singaporeans visit here from time to time to marvel at the cuisine, clothing, and accessory booming in this area.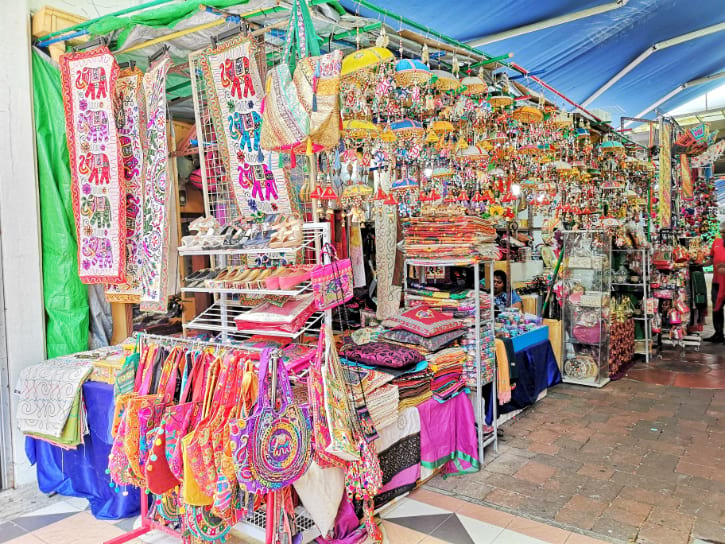 You can pick among the selection of souvenirs that are sold in each shop. If you think this place is only all about shopping modish items, then you should try another crowd-pleasing activity.
Aside from collecting Indian souvenirs that you can keep for yourself, you can personally try the most captivating body art offered by henna artists.
If you get to visit the place during famous festivals like Deepavali and Pongal, then getting this beautiful art is even more memorable.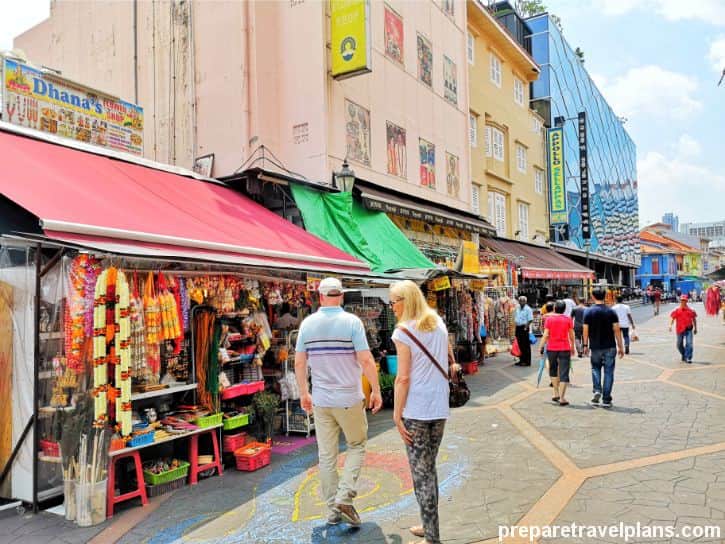 The Campbell Lane represents a rich part of the commerce and life of the early Indian dwellers. Over the years, it has remarkably carved its own mark in the Little India district, being one of the most visited spots.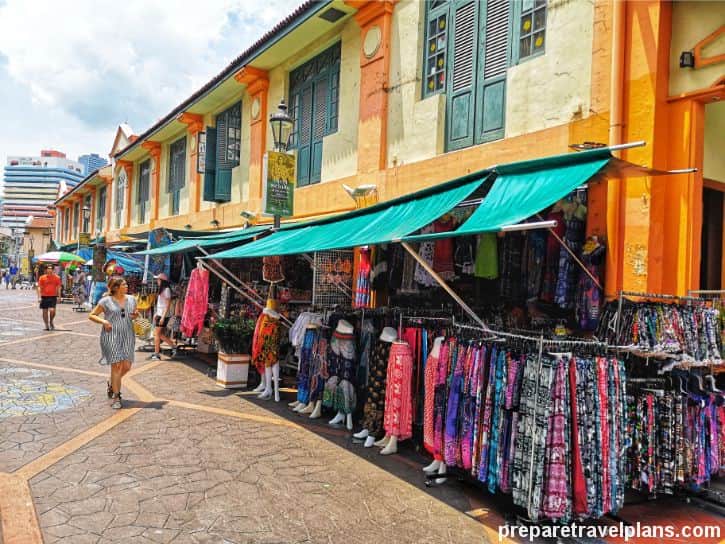 Here's a glimpse of the extensive collection of stalls in the area. This is a nice place to treat yourself with the most glowing and multicolored traditional Indian clothes. Variety of these are suitable for any occasion—wedding, party, or for any of your casual days.
Allocate some time in Little India Arcade and learn just why it is loved by many! And one more thing—don't forget to bring out your bargaining skills!
Opening Hours
9:00 AM – 10:00 PM

7. Abdul Gaffoor Mosque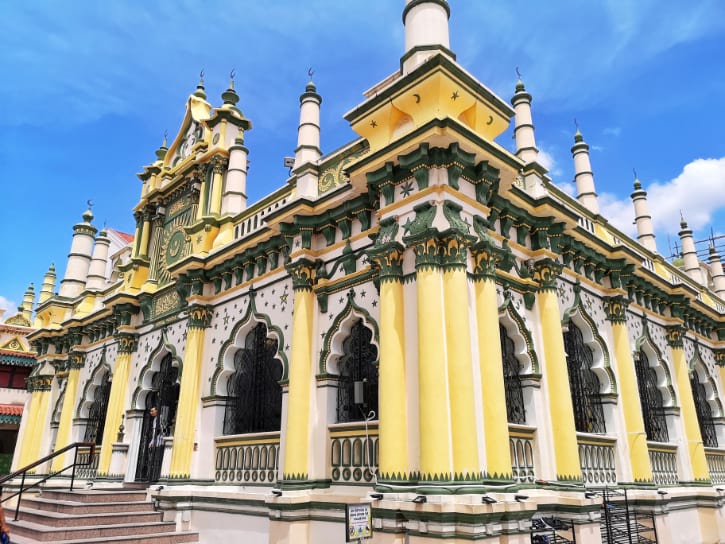 In Little India, there are a lot of temples, mosques, and places of worship that give you a preview of the roots and uniqueness of different religions. If you happen to walk around Dunlop Street, then you're close to the one of a kind mosque that is admired by many observers.
Due to its distinctive architecture, Abdul Gaffoor Mosque has been recognized as one of the country's national monuments. It is a combination of both Asian and European styles, specifically, Moghul, Victorian, and Southern Indian.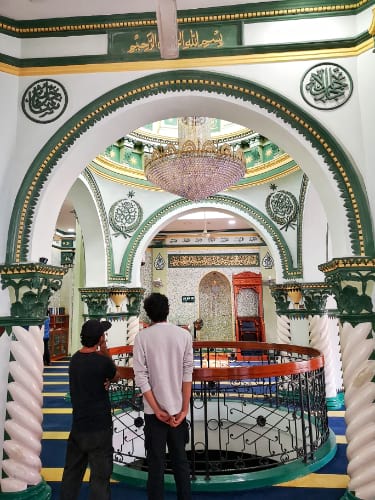 Upon entering the mosque, you'll be joined by several visitors as the place can accommodate at least 3000 people. And if you are an architecture buff, then you will notice how the Neoclassical and Saracenic details are stirred in the building.
Aside from that, the tiny elements of the star motifs and the crescent moon will also catch your eye.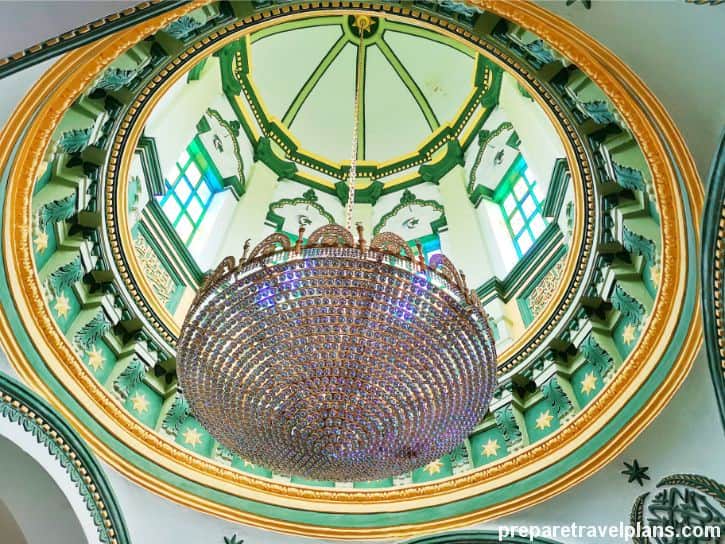 Visitors are not only interested in the architecture of the building but as well as its historical and cultural substance. Moreover, the mosque is more than just a place to practice your religious belief but also where you can learn Tamil.
If you plan to learn this Dravidian language, you can take its madrasah classes to better understand the culture. You can wear modesty cloaks inside while you attend either religious or Tamil classes, or simply while you pay respect to the historical building.
Opening Hours
Saturday to Thursday:
10:00 AM – 12:00 PM
2:00 PM – 4:00 PM
Friday:
2:30 PM – 4:00 PM

Address
41 Dunlop Street, Singapore 209369

8. Sri Srinivasa Perumal Temple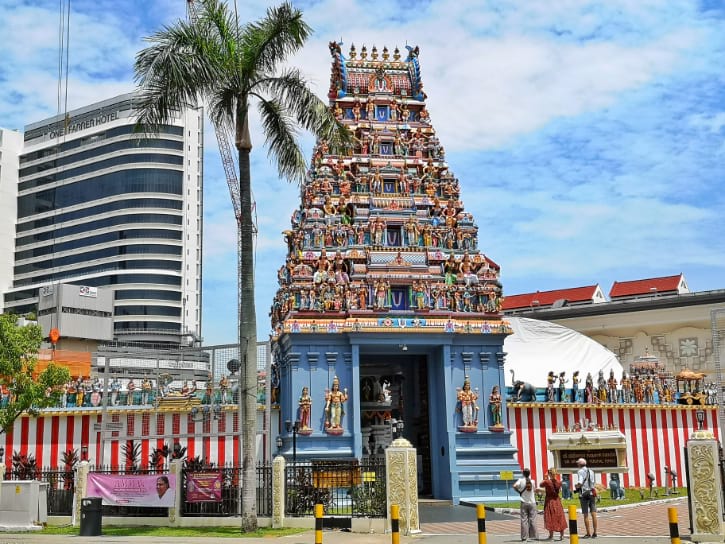 Serangoon Road does not run out of attractions to commemorate the spirit of Indian style, culture, and beliefs. The Sri Srinivasa Perumal Temple is the beacon of Singapore's Little India.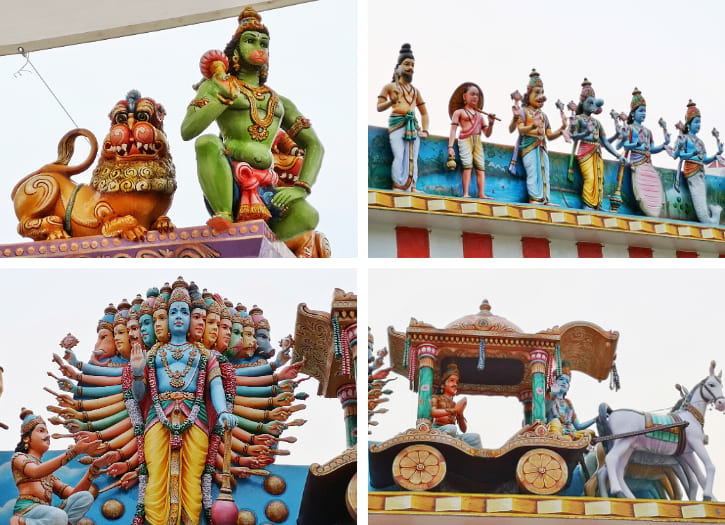 As the earliest Hindu temple built in the nation's soil, visiting here is also similar to being transported to the beginnings and accomplishments of the Indian community on the foreign land. This was built to pay honor to Vishnu or Sri Perumal, the famous Hindu deity.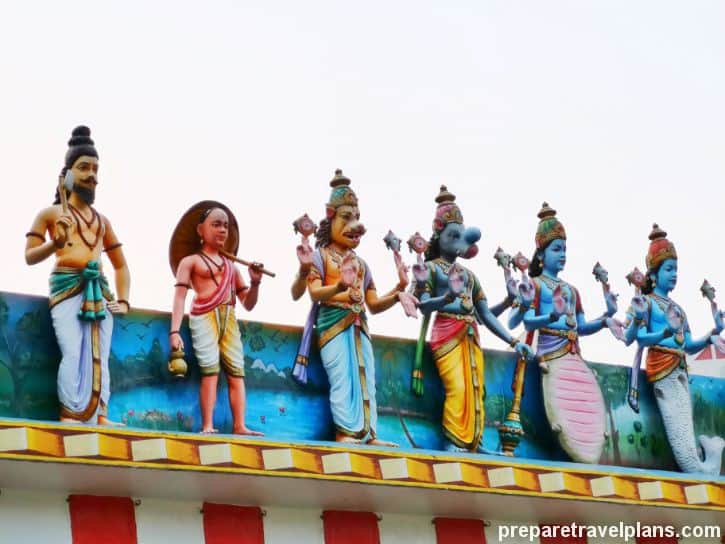 This is a five-tier entrance tower that is detailed out in both abstract and floral motif. Decorated here are different figures of Hindu deities and avatars, which symbolize a great value to the devotees.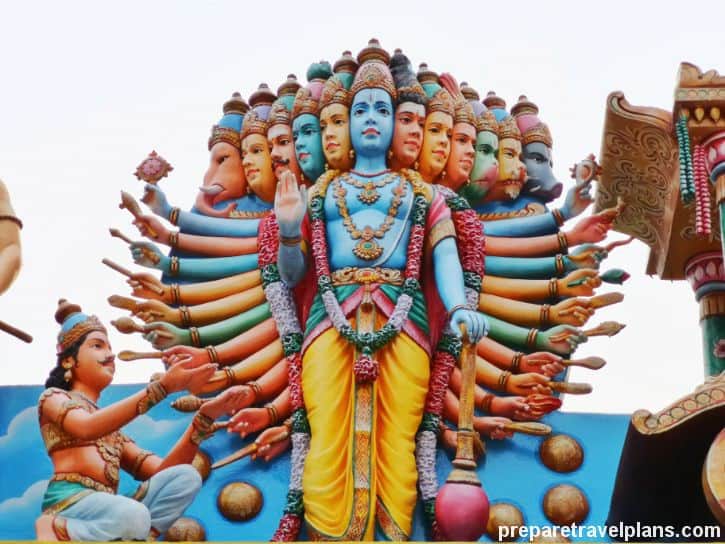 Even from afar, you can already sight the unique tower of the temple. Surely, the very first thing you can perceive while staring at the soaring height of the temple is its gopuram. And of course, the statue of the god with many faces and arms also stand out.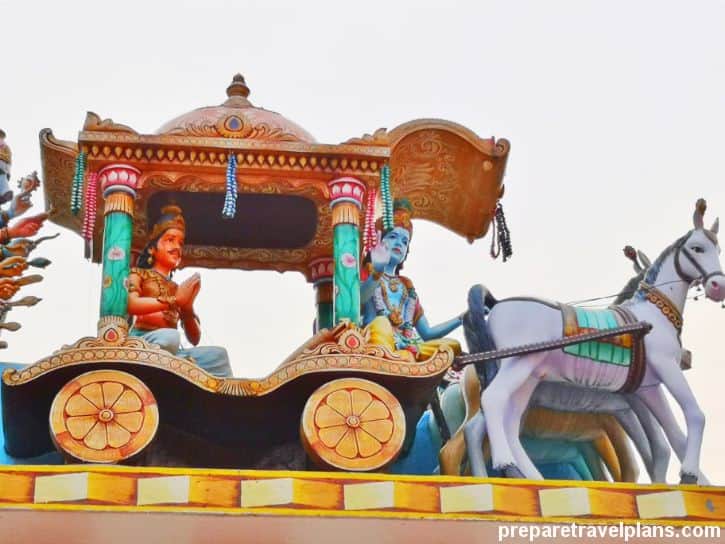 Just by staring at it from a distance is a way for the devotees of the Hindu community to say their prayers.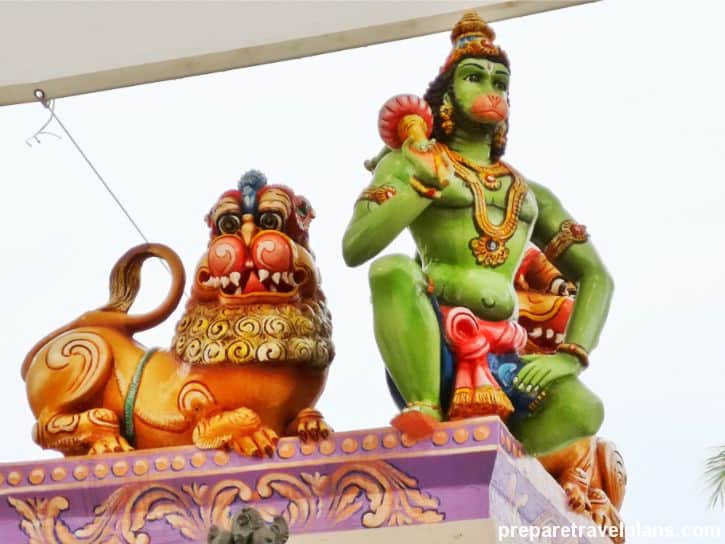 In addition, the temple is also an important setting in marking the Thaipusam festival. And as a way of honoring Lord Murugan, devotees pierce their bodies and gather at the temple.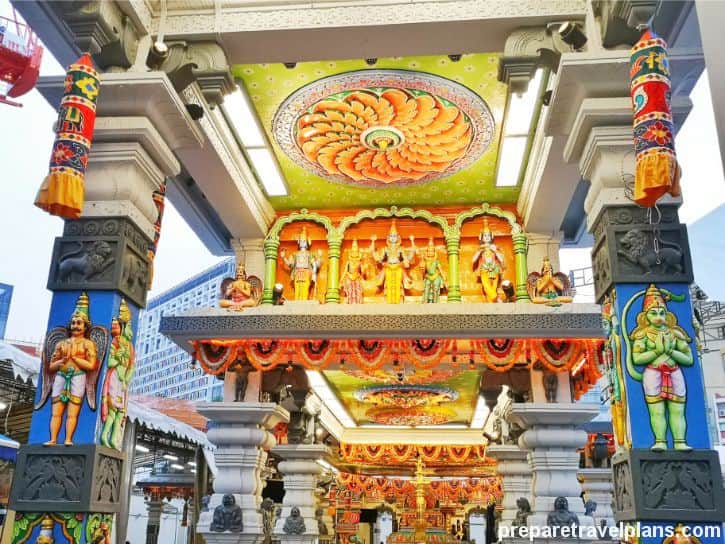 Sri Srinivasa Perumal features the charm of traditional South Indian architectural style. But just when you thought you've seen it all, the interior design of the temple is just as stunning as the outside.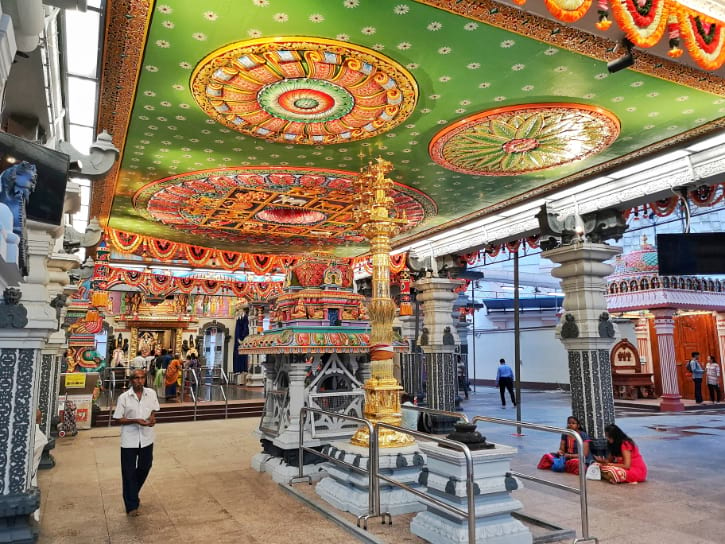 Wander your eyes at the mandalas, relief carvings, and statues that kept peacefully inside. Just by watching the vivid interior landscapes and colorful designs is a therapeutic activity. It's a definite must on things to do in Little India.
Opening Hours
6:15 AM – 12:00 PM
6:00 PM – 9:00 PM

Address
397 Serangoon Road, Singapore 218123

9. Sakya Muni Buddha Gaya Temple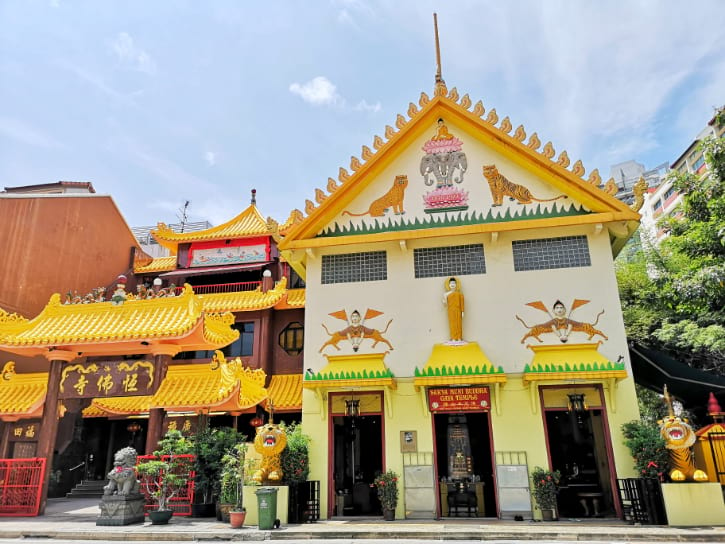 Otherwise known as the Temple of a Thousand Lights, this spot is a place visited by many people because of its virtual and spiritual beauty. Founded in 1927, the spirit of Buddhism still lives in the temple, making it among the well-visited destinations of the country.
At first glance, you can spot delicate details of Asian architecture. Further, you'll get a hint of Chinese, Thai as well as Indian marks dotted all throughout the structure.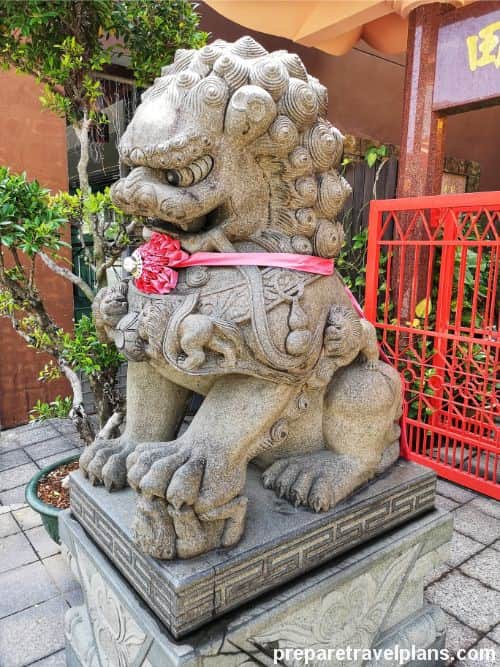 At the entrance, the Chinese Stone Lion welcomes you to the Sakya Muni Buddha Gaya Temple. Other than that, there are also different paintings that depict the life of Buddha.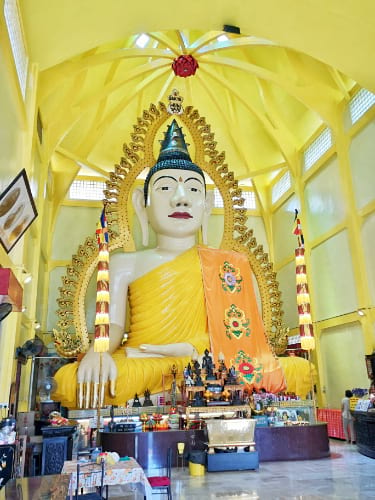 As you enter, take time to feel the peaceful atmosphere inside while moving your eyes from the marvels of its architecture like the tall Buddha statue.
The 15-meter-high figure of Buddha, weighing 300 tons is the largest you can find in the country. The Buddhist cultural spot is surrounded with hundreds of icon lamps that bring more life to the large Buddha statue.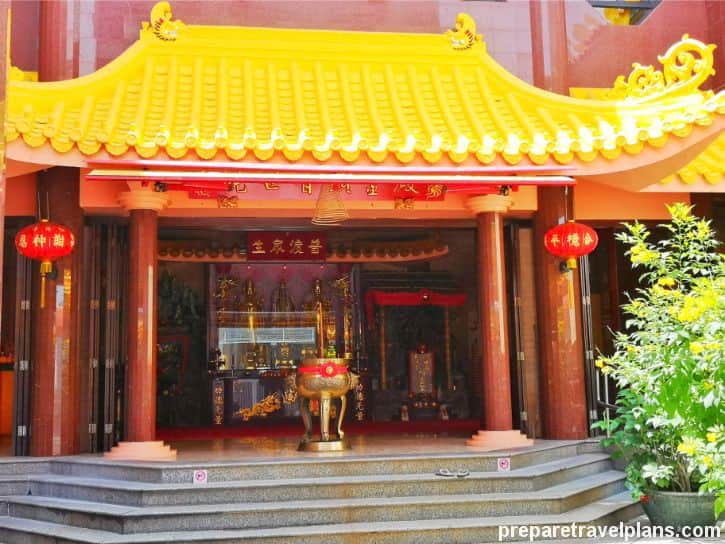 Aside from the towering Buddha statue, there's a spot in the area for the Chinese Goddess of Mercy. It's not hard to find this because it features a bright, yellow-colored roof.
Opening Hours
8:00 AM – 4:45 PM

Address
366 Race Course Road, Singapore 218638

10. Mustafa Centre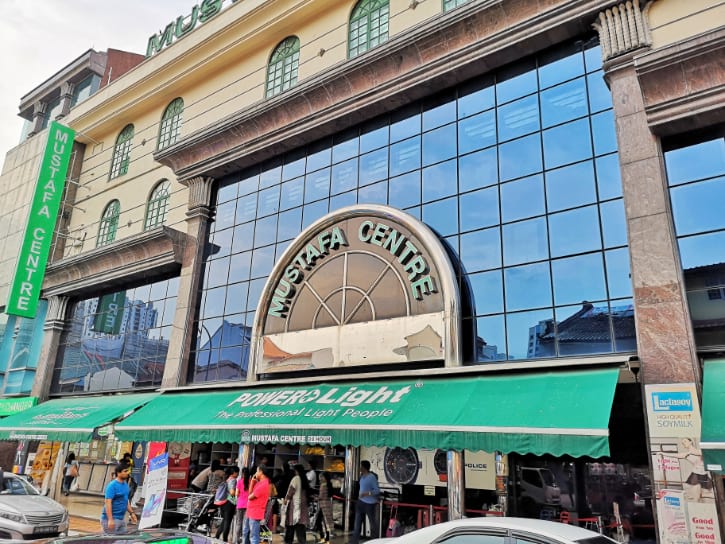 But of course, the Mustafa Centre is simply irresistible, especially if you are self-confessed foodie and shopaholic. This shopping district is just the perfect spot for all your needs! Well, it's not hard to find the place as it is filled with locals and tourists every day!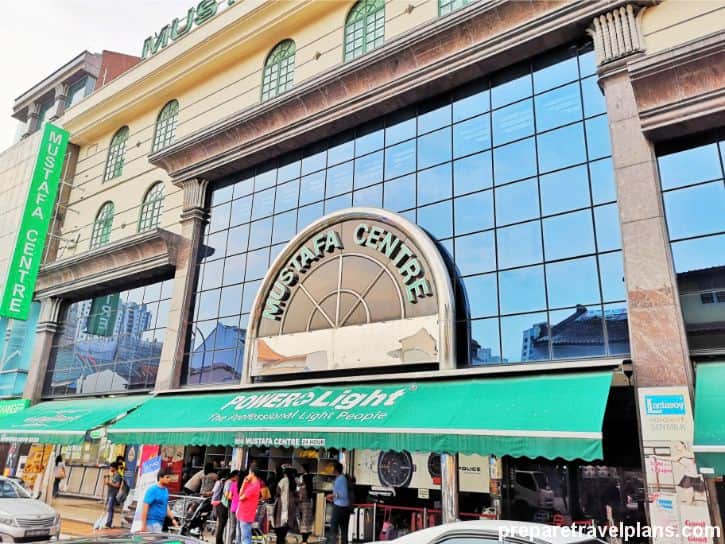 Name everything you're looking for, and this shopping complex may possibly have it all lined up in one corner. So, better prepare your shopping bag!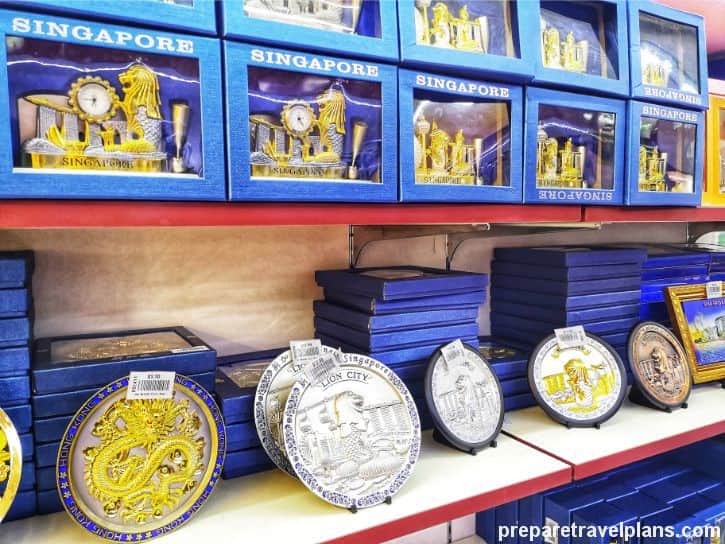 For the lovers of souvenirs, local items, jewelry, and anything under this umbrella, don't worry, there's a whole section catered for you. These are sold at cheap prices and some are marked with ethnic designs.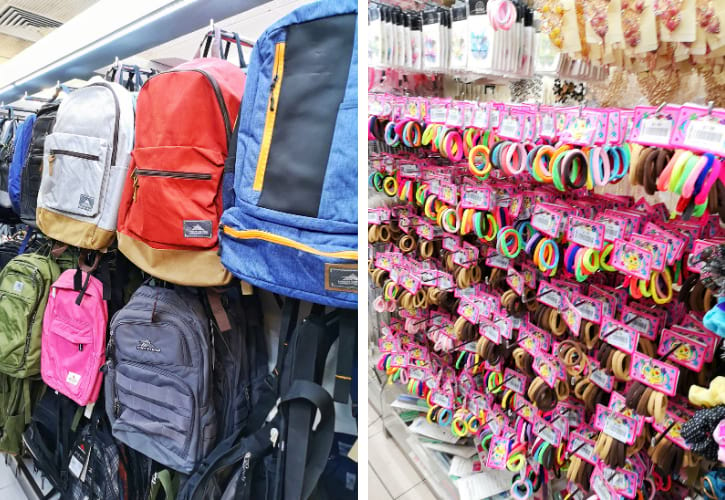 Also, you'll probably be shelling some cash out as you come across a wide range of bags. From colorful backpacks to handy bags, there's something for all ages!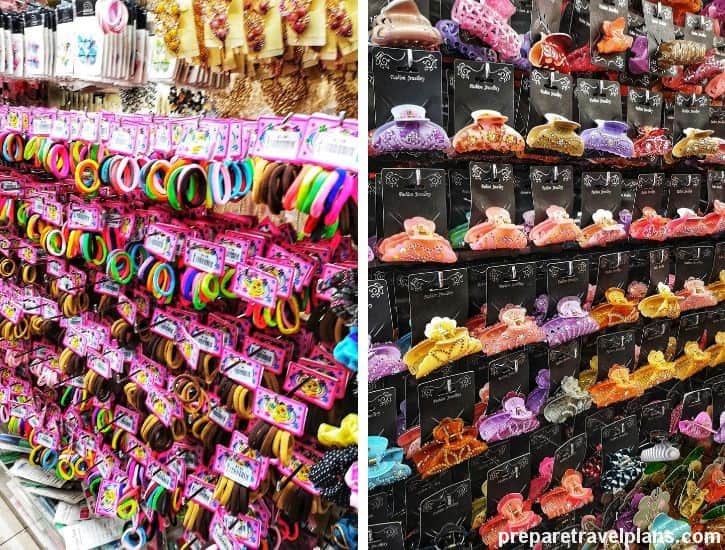 For those looking for some great girl accessories like hairbands, clips, bangles and the like, there are also heaps of choices here.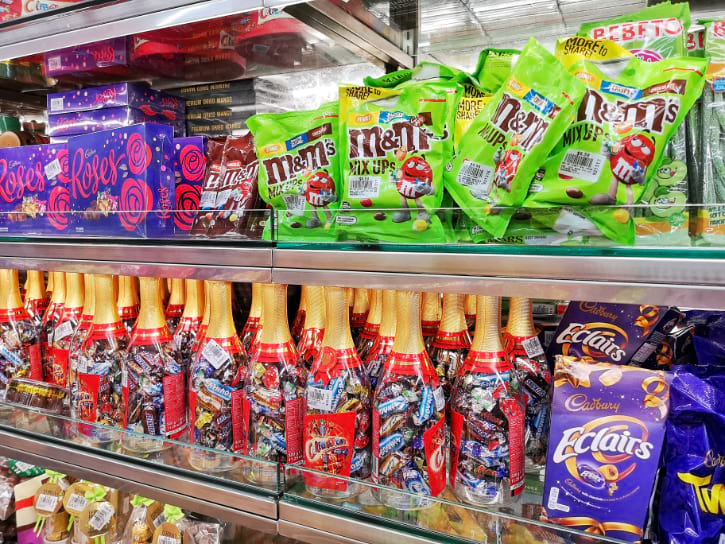 For your sweet fix, you'll not be disappointed with the amazing range of sweet treats. Chocolates and candies are everywhere! All the label products displayed here are not only Indian-made but from across many countries.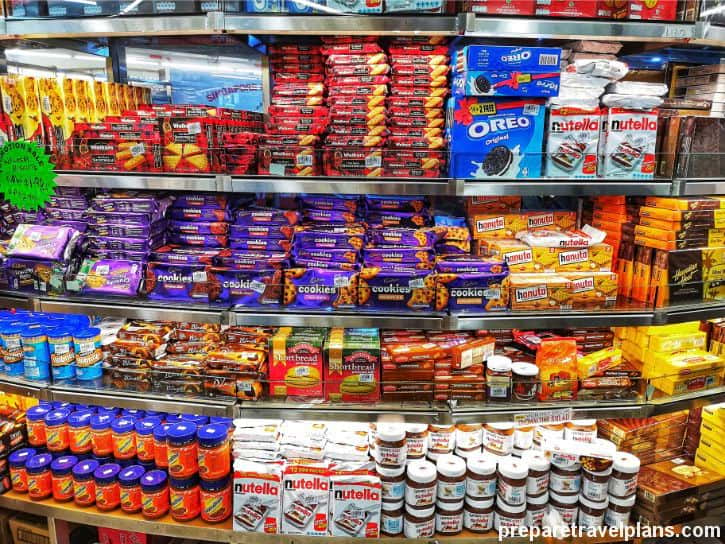 If you're running out of time, just grab one of the many delectable cookies. Aside from the sugary delicacies, there are also healthy finds like vegetable, fruits, and frozen foods. Conveniently, the centre is open 24/7 so you can access all of its products with ease.
Address
145 Syed Alwi Road, Singapore 207704

11. Tekka Centre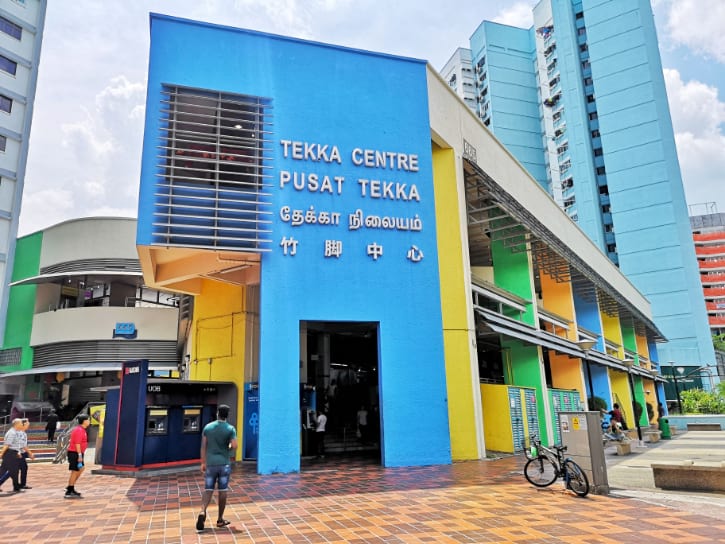 Another place worth burning a hole in your pocket is the popular shopping site situated at Bukit Timah Road. Tekka Centre brings to life the beauty of wet market, food centre, and shops―all in one stroll.
At Tekka Centre, about 284 stalls make up the entire wet market. A variety of fresh products and spices are displayed here and sold even in the late afternoon.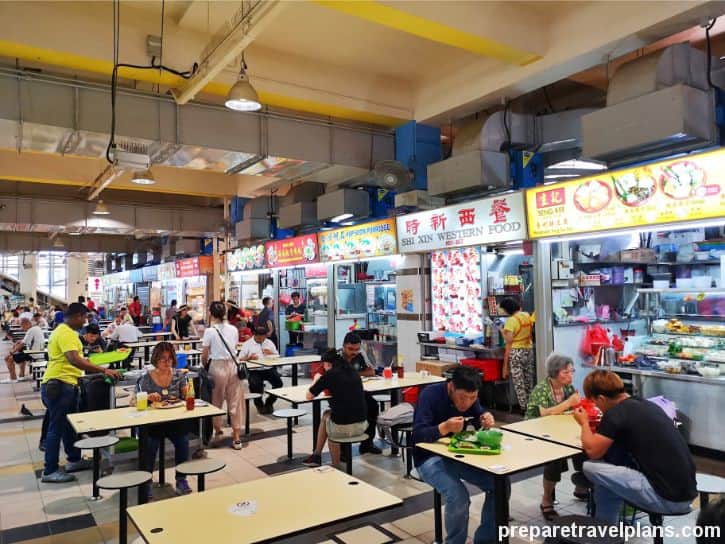 After finding some fresh finds, keep exploring and you'll see a range of food stalls that will introduce you to tasty cuisines sold at affordable prices. Begin your foodie journey as you get your mouth full with appetizing Chinese foods and a lot more!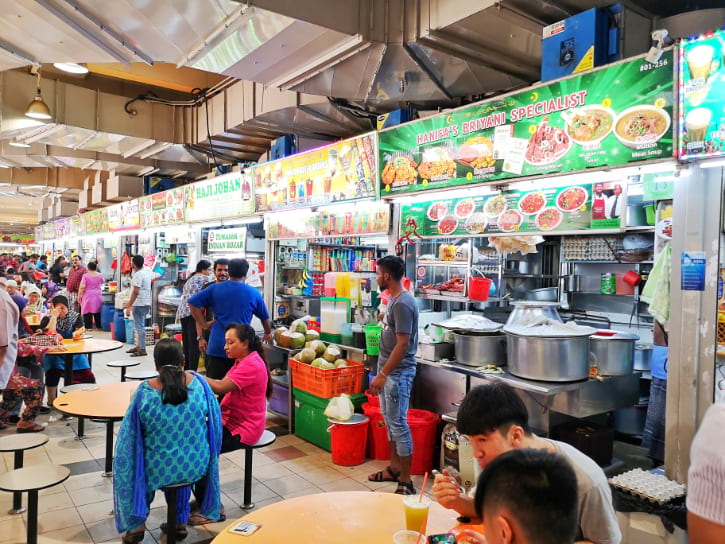 If you're not into Chinese cuisines, then you can proceed to another highlighted spot in the food centre―the Indian food area. Well, nothing is more fitting than to indulge in a hearty, Indian dish!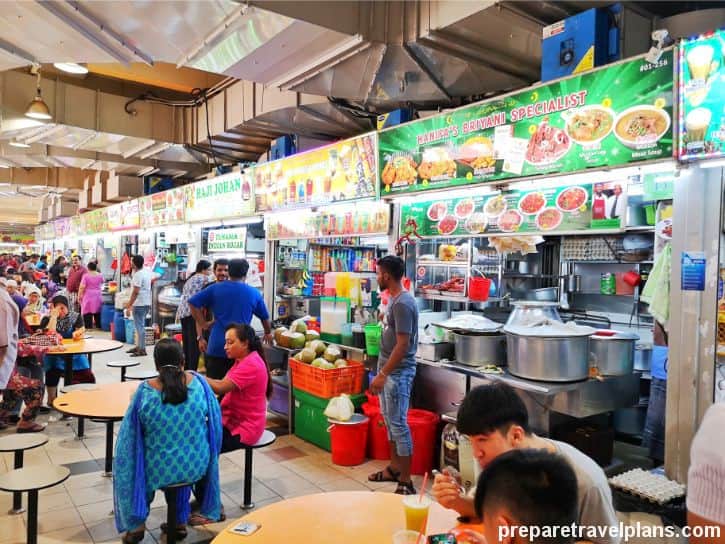 And you don't need to worry at all because, in here, you have all the day to choose your favorite Indian dishes! There's no slowing down as you go on hunt for the tastiest local cuisines, all prepared freshly.
Opening Hours
6:30 AM – 9:00 PM

Address
665 Buffalo Road, Singapore 210665

A Map of What to Do in Little India
---
To assist you further, I have created a Google Maps that indicates the locations of all attractions, and even the nearest MRT stations. Accordingly, this personalized map will give you a better picture of what things to do in Little India to make your planning more efficient.
And hopefully, you'll be able to utilize the Google Maps in exploring the most popular attractions in Little India.
MRT Station Exits for Little India Attractions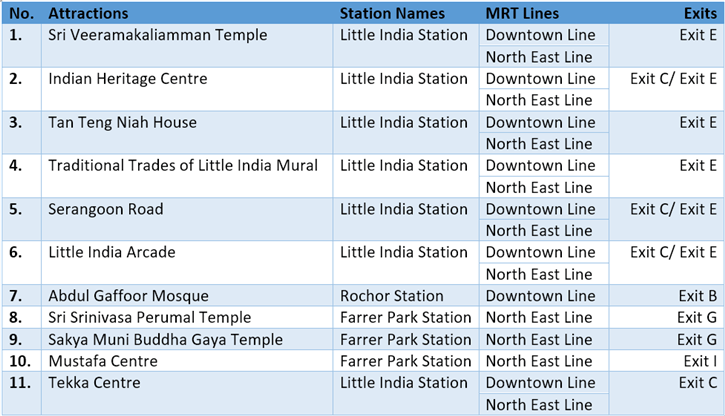 Singapore SIM Card for Tourists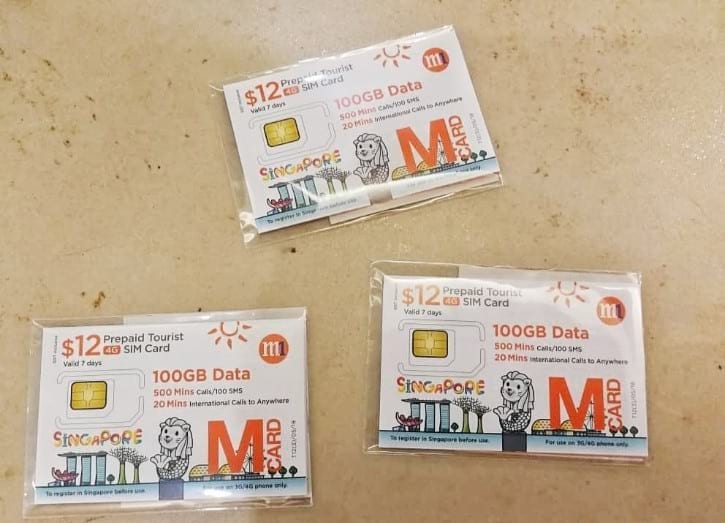 But of course, you need something that will make your Little India trip more convenient. And that is the Singapore SIM Card for tourists. Having this easy-to-use SIM Card gives you more time to stroll around the colorful streets. Simply use the Google Maps and hop on one attraction to the other.
The Singapore SIM Card also allows you to update your family, friends, and followers. Post your best pictures to Instagram, Facebook, and Pinterest with the 100 GB data and fast 4G connection. And with the free 500 minutes local calls and 20 minutes international calls, you can easily communicate anyone in instant.
Know more about this amazing and useful Singapore SIM Card that can be picked up at Changi Airport through the link below.
– – – Conclusion – – –
Now that you have an idea on what things to do in Little India Singapore, are you ready for a fun-filled holiday?
A great spot for travelers wanting legit, delectable Indian cuisines
An amazing destination for history buffs and art lovers.
It is surrounded by all sorts of attractions, from religious sites to heritage centres to local shops.
Little India in Singapore is simply a place full of cultural and historical charms that are worth the visit.
Other than Little India, here are the popular attractions you can also visit in Singapore.
I hope that this blog can help you plan a good trip to Little India in Singapore. Remember to bookmark this blog for your future reference.
Feel free to share this blog to your family and friends via Facebook, Twitter, Pinterest, Gmail or WhatsApp.
Wishing you a very happy and enjoyable holiday in Singapore! 🙂
Discover Other Famous Attractions in Singapore