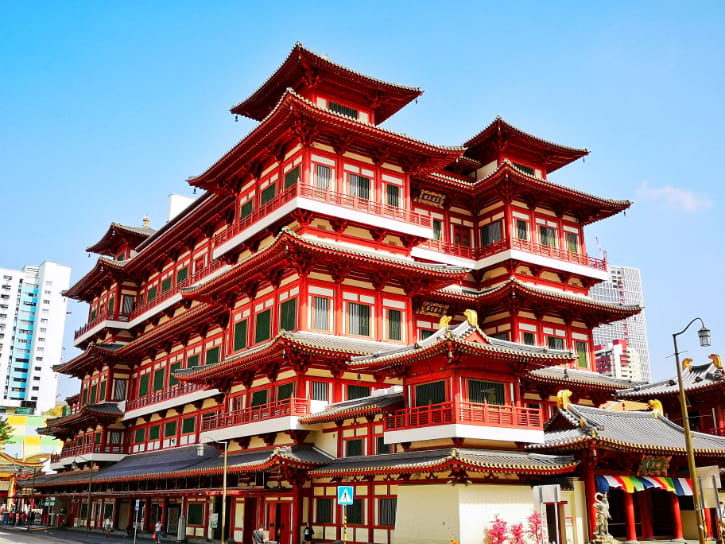 Chinatown is a beautiful historical place in Singapore with unique cultural beauty. In this ethnic spot, you'll see vibrant wall paintings, impressive temples, and street markets. And because of the abundant things to do in Chinatown Singapore, it's always a popular choice among visitors.
For many years, Chinatown serves as a beautiful contrast to the bustling city life. It has preserved the traditional charms of the area, making it very fascinating.
So, if you're looking for a reference on what to do in Chinatown, my below guide can definitely help you. I will be listing all the important attractions that you need to explore along with the things that you shouldn't miss. 🙂
Also, don't forget to check out my list of top 47 Singapore attractions.
1. Chinatown Heritage Centre – Get to know more about Chinatown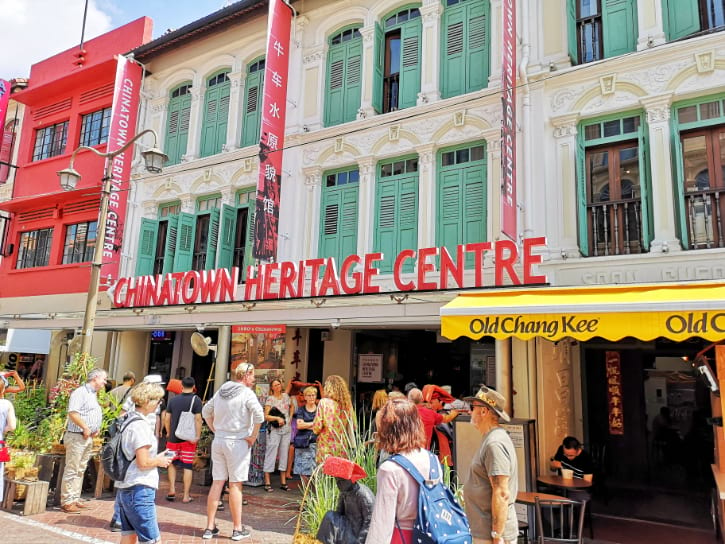 Chinatown Heritage Centre is a top place to visit for history lovers. This cultural site offers you a glimpse of the life of the early locals through its historical rooms. Each section comes with collections from ancient Chinese families.
For one, there's the Tailor Working Area that showcases the significant pieces of the early tailors. You'll also find some tools used by ancient barbers and hairdressers.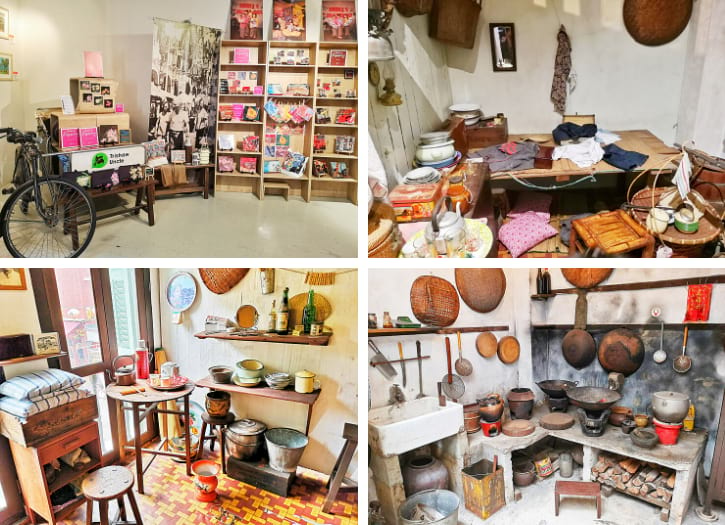 Another striking spot within the museum centre is the age-old kitchen. This area features some distinct Chinese cooking elements like woks and bamboo baskets.
So, if you want to immerse yourself with the past of Singapore's Chinatown, this heritage centre is the place to be. For other top-rated cultural museums, see my list of the best museums to visit in Singapore.
Money Saving Tips:
Book Chinatown Heritage Centre Tickets Online (13% Discount)
Address:
48 Pagoda Street, Singapore 059207
2. Buddha Tooth Relic Temple – Visit the famous cultural complex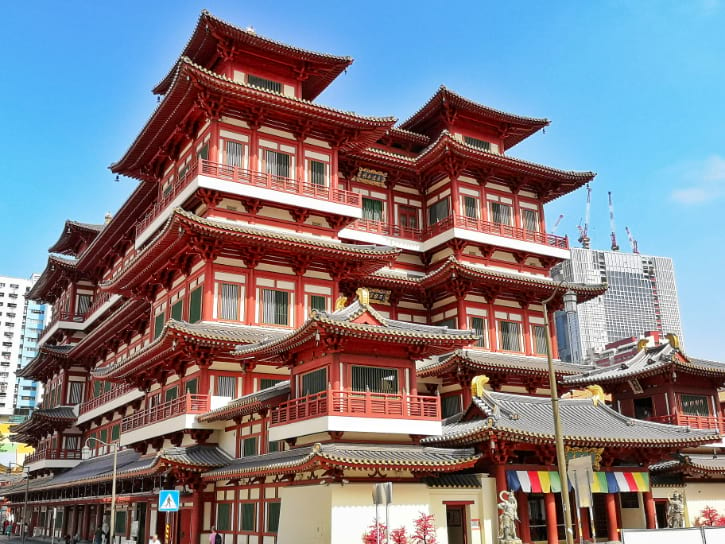 Buddha Tooth Relic Temple is one of Chinatown's most beautiful attractions. It's also included in the list of the most iconic Buddhist temples in Singapore because it shelters a part of Buddha. And that is his left canine tooth, which was obtained from his funeral pyre.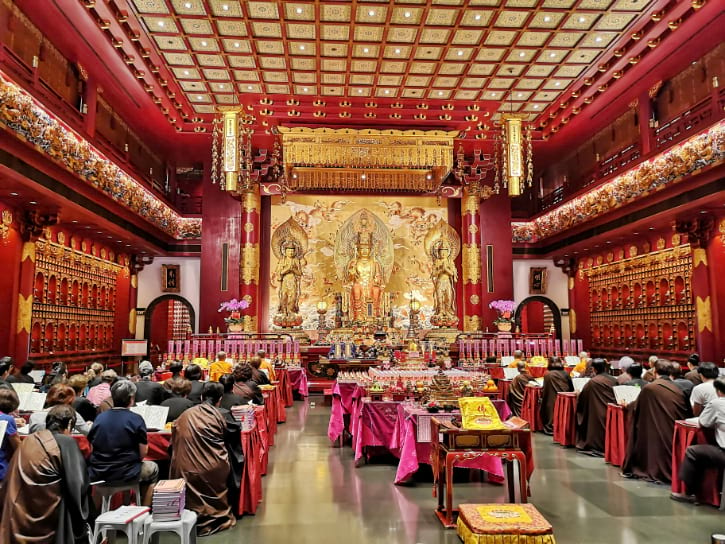 Once you enter the temple, you'll be surrounded by its impressive architectural designs. On top of that, there are plenty of valued artefacts on display, which includes the revered Buddha Maitreya.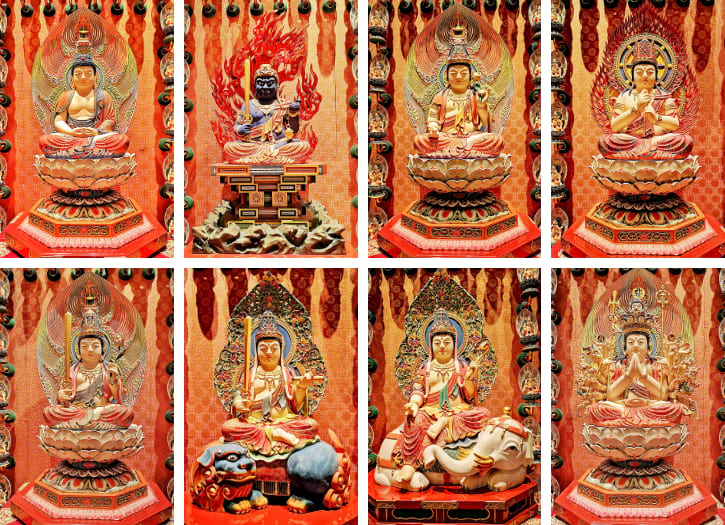 Other important figures inside the temple are Samantabadra, Manjushri, Akasagarbha, and Avalokitesvara. Each of these statues embodies different mantras and practices that outline Buddhism.
And if you're planning to visit Chinatown in Singapore any time soon, make sure to include this spectacular temple. You definitely won't regret exploring this religious site because of its grandeur and style.
Address:
288, South Bridge Road, Singapore 058840
3. Chinatown Street Market – Stroll along the vibrant stalls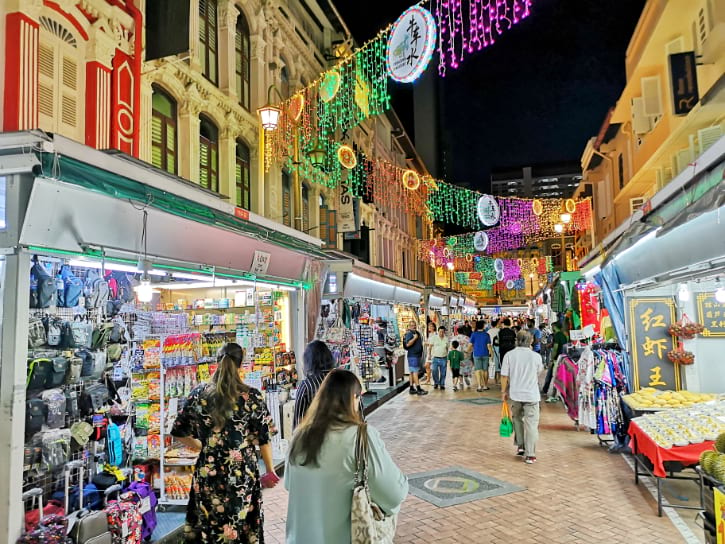 Chinatown Street Market is such a fun place to shop around. It's sprinkled with vibrant shops offering stylish items and cheap souvenirs. So, make sure to stop by each section so you won't miss anything.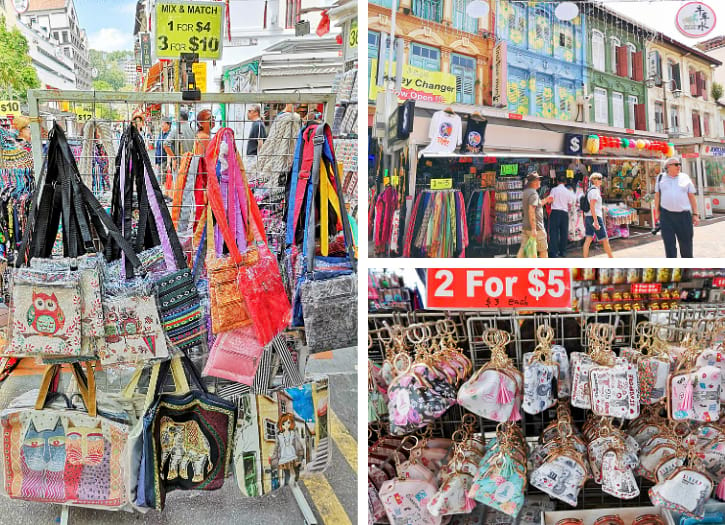 Here you can find some colorful mini bags, key chains, and wallets in different sizes. These mostly come with printed styles and pastel colors.
Clearly, exploring this market is one of the top things to do in Singapore Chinatown. And aside from shopping, this place is also loaded with food stalls.
Address:
Chinatown Pagoda Street and Surrounding Street
4. Sri Mariamman Temple – Wrap yourself with the stunning architecture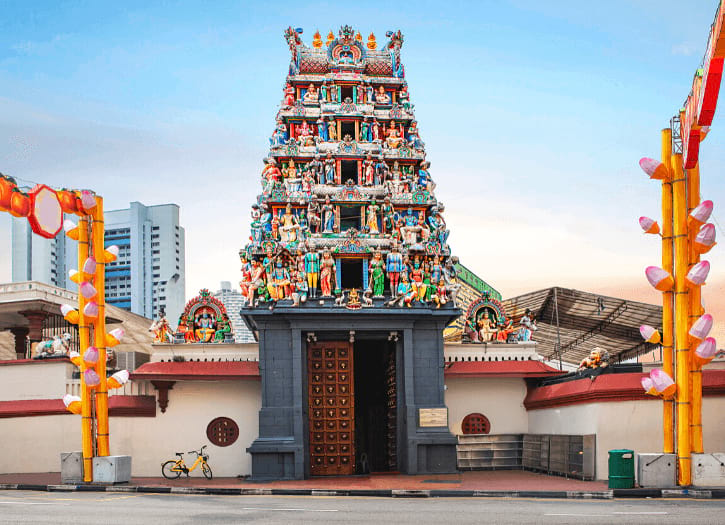 Chinatown is also recognized for its Sri Mariamman Temple. This religious site enfolds both architectural and cultural significance. In fact, it's the oldest temple in the country.
From afar, you can see the colorful deities enveloping the entrance tower. These beautifully reflect the vibrant heritage of the Hindu people. And as a sacred site, the temple often conducts religious ceremonies like marriage.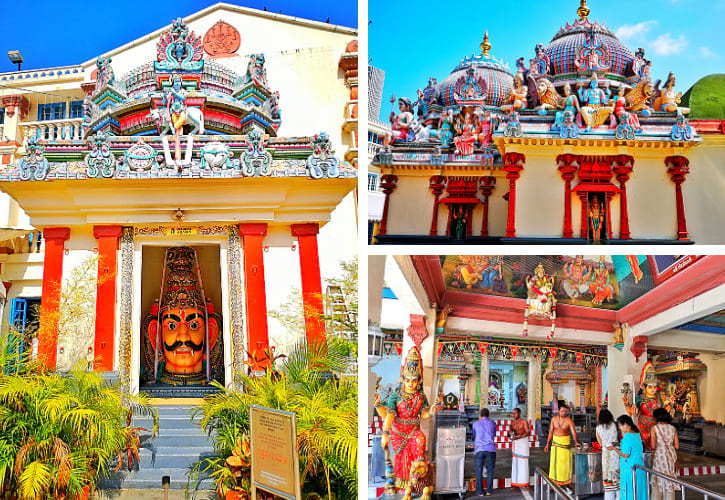 Inside the temple is an array of Hindu statues like Sri Aravan, Sri Madurai Veeran, and Sri Periyachi. These religious figures are complemented well with the sophisticated ceilings and colorful designs. And at the main prayer hall, you'll uncover the main shrine of Mariamman, the Goddess of rain.
Address:
244 South Bridge Road, Singapore 058793
5. Mural on Mohamed Ali Lane – Walk your way to the murals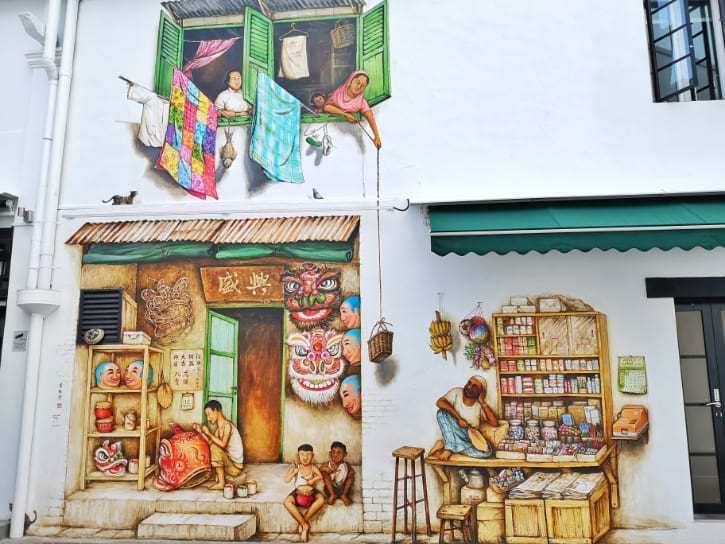 Mural on Mohamed Ali Lane is one of the most popular photography spots in Chinatown. This area is surrounded by beautiful and eye-catching street arts. For one, there's the portrayal of the dance head maker and Abdul Kadri at the "Mamakshop".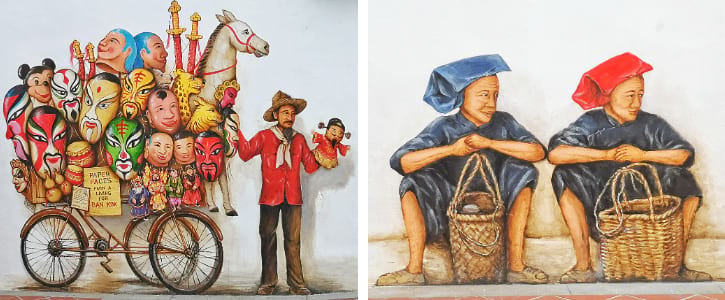 Continue seeing the realistic drawings at this Chinatown Street and discover more about the life of early merchants. And you might be surprised that all historical paintings are painted by only one person. And that is the famous artist, Yip Yew Chong.
Address:
Mohamed Ali Lane, Singapore
6. Masjid Jamae (Chulia) – Pay homage to the Muslim community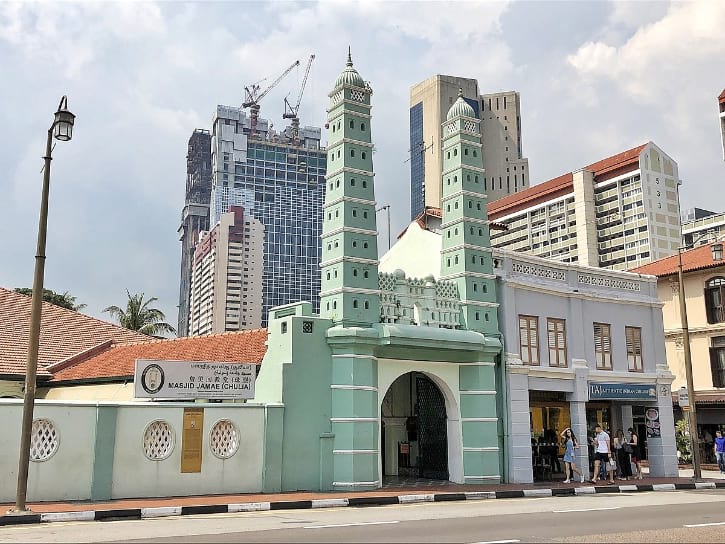 Masjid Jamae's history can be traced back to the 18th century. Because of that, it's labelled as one of the oldest mosques in the country. Since this is a religious place, a lot of sacred activities are conducted here, including sermons and seminars.
More than its history, this Chinatown site is well-recognized for its distinct architectural style. So before you enter the mosque, lay your eyes on the pastel-colored structure. For sure, this will fascinate you even from afar.
Visiting Hours:
Saturday to Thursday
10:00 AM to 6:00 PM
Friday
10:00 AM to 12:00 PM
2:30 PM to 6:00 PM
Address:
218 South Bridge Road, Singapore 058767
7. Thian Hock Keng Temple – Step inside this place of worship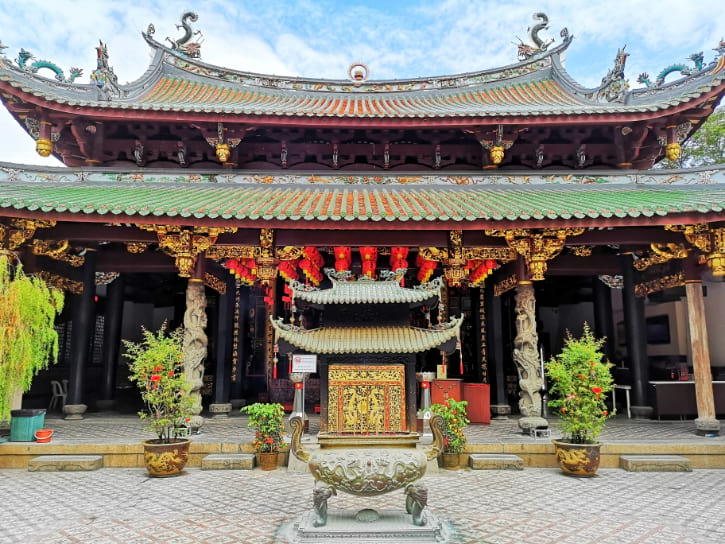 Are you interested in exploring a spectacular historic temple in Chinatown? Then you should add Thian Hock Keng Temple to your must-visit list.
Constructed in honor of the Chinese sea goddess, Mazu, this site is a significant place of worship among Hokkien locals. Additionally, it's considered the oldest Chinese temple in Singapore.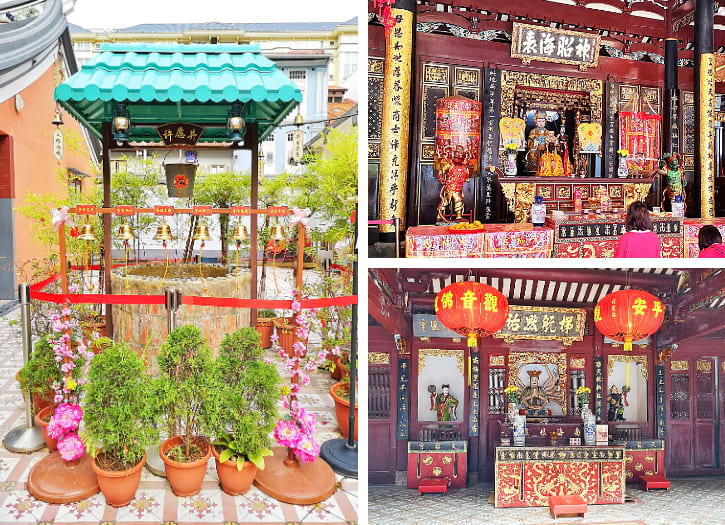 The temple is quite known because of its peaceful vibes and unique features. Inside the temple complex are different religious statues and a wishing well, where you can pray for your intentions. After making a wish, ring the bell and hope for the best!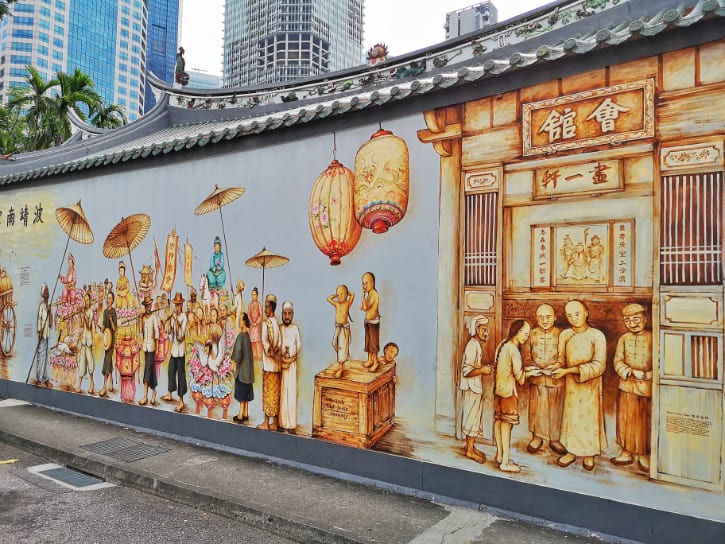 Just outside the temple is the Thian Hock Keng Mural. So, after your tour inside, head to the outside rear wall and catch this painting.
Address:
Thian Hock Keng, 158 Telok Ayer Street, Singapore 068613
8. Ann Siang Road and Club Street – Enjoy a calming night out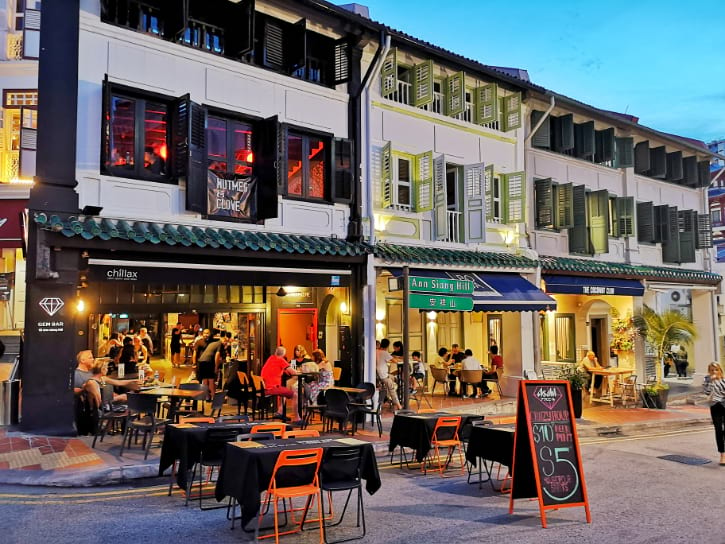 Ann Siang Road and Club Street is one of the most popular things to do in Chinatown at night because of its vibrant vibes. Different boutiques, bars, and restaurants are beautifully dotted along the streets to charm you.
These two spots are very famous because it combines both traditional and modern designs. And if you're a certified nightlife lover, be sure to see my article on 21 best activities to do in Singapore at night.
Address:
Ann Siang Road, Singapore 069702
9. Chinatown Food Street – Treat yourself with more traditional dishes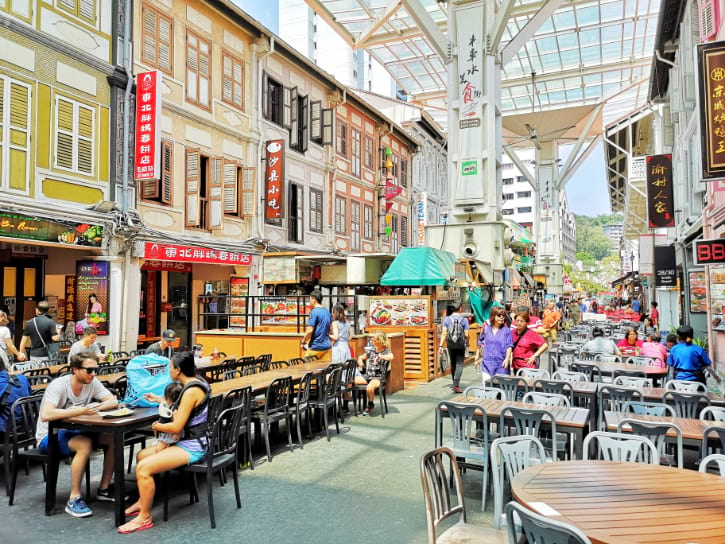 Chinatown Food Street is a nice dining spot for visitors who prefer a casual and quick food trip. Go around the different stalls and try some local desserts in small bites. You can easily carry these foods while you make your way to your next destination.
And if you're in the mood for a more intimate native food experience, there's nothing to worry about. Spend your time in one of the local restaurants around the corner.
Address:
Smith Street, Chinatown, Singapore
10. Chinatown Complex – Choose from the multiple food stalls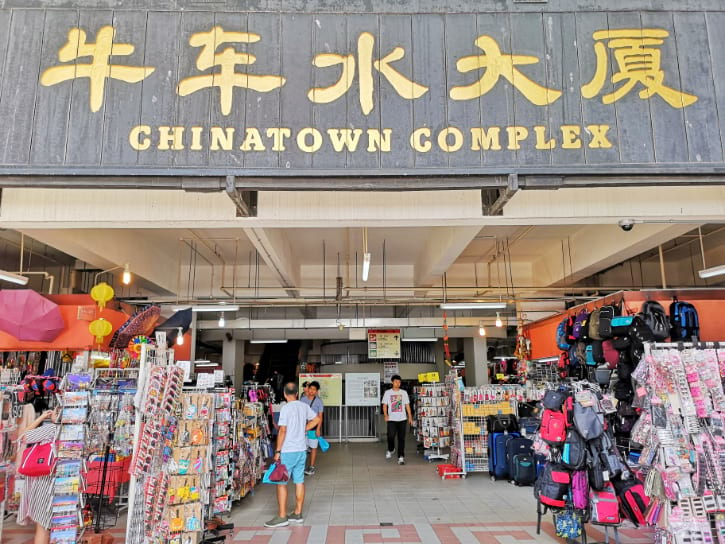 The Chinatown Complex is a top-notch option for quality yet inexpensive items.  This complex got an amazing display of trendy clothes, accessories, and more!
After shopping, choose among the hundreds of food stalls around to fill your appetite. These shops have an incredible food selection for everyone.
Make sure to get your hands on the tasty chili crab, prawn noodles, and pork intestine. And of course, don't miss some desserts, particularly the ice kachang and carrot cake.
Address:
335 Smith Street, Singapore 050335
11. Chinatown Mural – Appreciate the paintings along the road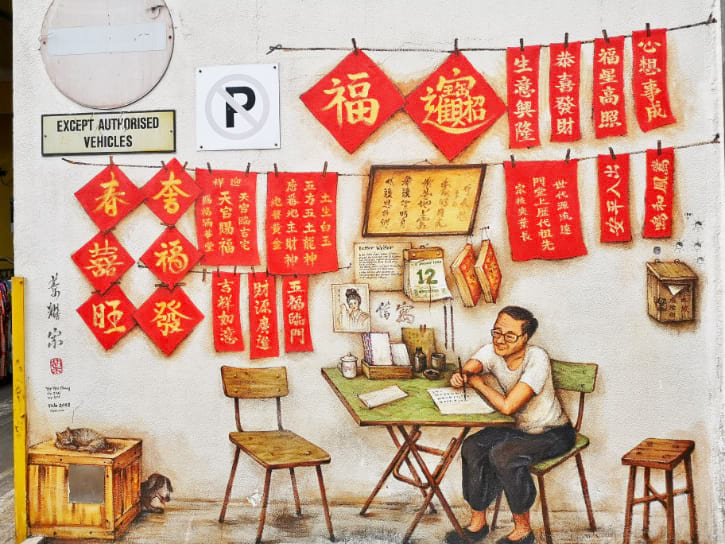 If you want to capture some realistic wall paintings, you should drop by the Chinatown Mural. There are 6 murals on display that illustrate how migrants communicate with their loved ones back in the day. Each of these brings a nostalgic air to anyone walking around.
Truly, this is an Instagram-worthy place in Chinatown. So, don't forget to include this on your itinerary.
12. Singapore City Gallery – Learn more about the country's past
Know more about the country's dramatic development through Singapore City Gallery. Inside this attraction are interactive exhibits. These showcase the historical changes that happened over the past decades.
This 3-storey building in Chinatown also features a massive replica of the entire central region of Singapore. Here, you will see all the buildings and top-rated spots in one breath-taking display.
Make your visit more fascinating by playing the "Shaping Singapore" game. This allows you to create your own future Singapore by adding unique features on the screen.
Address:
45 Maxwell Road, The URA Centre, Singapore 069118
13. Maxwell Food Centre – Dine in like a local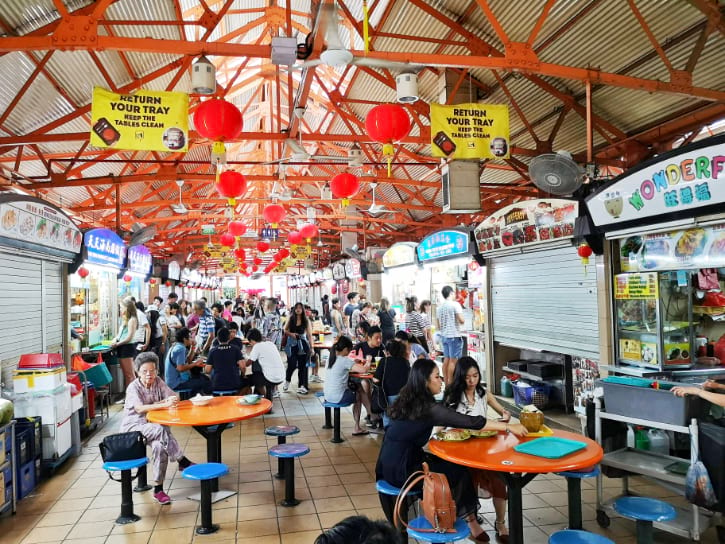 Maxwell Food Centre is one of the best places to eat in Chinatown for those on a budget. This area features an array of food stalls for everyone. Some of the must-try stalls are Tian Tian Chicken Rice and Ah Tai.
There's more to Maxwell Food Centre aside from its tasty meal choices. If you want to have a quick coffee time, the Hangar Coffee Express is only a walk away. Then, complement your drink with an Oyster Cake, Hum Chin Peng, Tapioca Cake, or Weng Pancake.
Address:
1 Kadayanallur Street, Chinatown, Singapore 069184
14. Liao Fan Hawker Chan – Indulge in a delicious noodle break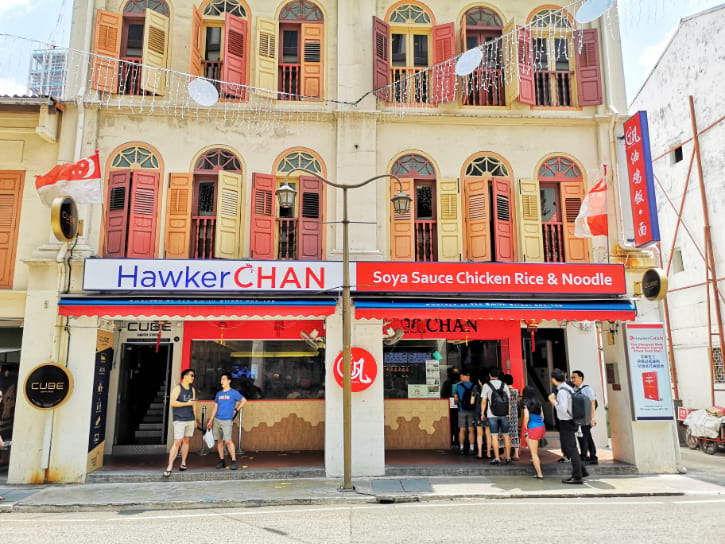 Enjoy the signature dishes from this internationally-acclaimed restaurant. Over the years, Liao Fan Hawker Chan captivates visitors with its delectable local cuisines.
One of their best-sellers is the soya chicken served with rice, sauteed nuts, and side dishes. Aside from that, you should give their roasted pork and other vegetable dishes a try.
You can find this famous food spot along 78 Smith Street in Chinatown. And do take note that this restaurant can get crowded during lunch and dinner, so plan your visit ahead.
Address:
78 Smith Street, Singapore 058972
15. Keong Saik Road – Take your time in this street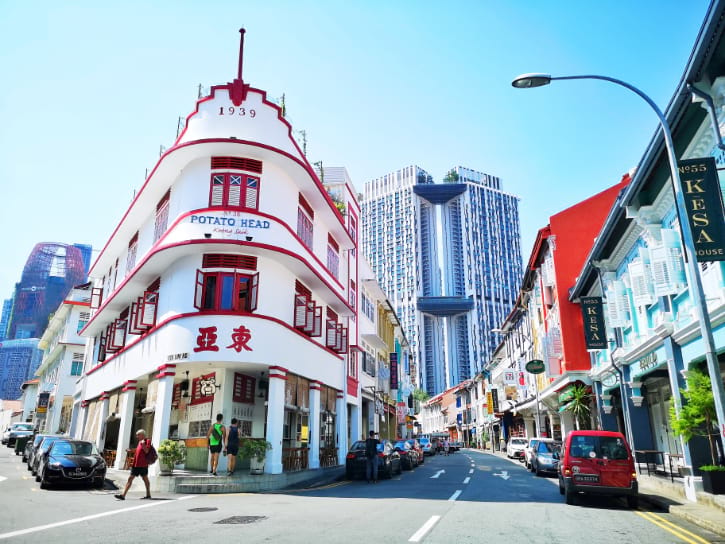 The Keong Saik Road is such a famous destination for chill night outs and laid-back dining. So, if you're looking for a memorable evening with your family and friends, you've got a lot of options here. Explore the impressive line-up of restaurants that serve local and international cuisines.
And of course, this specific area in Chinatown is also known for its award-winning bars and pubs. So, be sure you drop by one of the coolest nightspots and try their unique selection of cocktails and beers.
Address:
Keong Saik Road, Singapore 089118
Summary of Things to Do in Chinatown, Singapore
To help you decide on what things you can do and see in Chinatown, here's a summary of all the attractions. These are categorized accordingly to make you selection process much easier.
Best photography places: Chinatown Heritage Centre (#1), Buddha Tooth Relic Temple (#2), Chinatown Street Markets (#3), Sri Mariamman Temple (#4), Mural on Mohamed Ali Lane (#5), Masjid Jamae (#6), Thian Hock Keng Temple (#7), Chinatown Mural (#11), Keong Saik Road (#15)
Best for dining: Chinatown Food Street (#9), Chinatown Complex (#10), Maxwell Food Centre (#13), Liao Fan Hawker Chan (#14)
Best for shopping: Chinatown Street Markets (#3) Best for drinking at night: Ann Siang Road and Club Street (#8)
Most beautiful historic buildings: Buddha Tooth Relic Temple (#2), Sri Mariamman Temple (#4), Masjid Jamae (#6), Thian Hock Keng Temple (#7)
Best place to learn the lives of Chinatown's early citizen: Chinatown Heritage Centre (#1)
Best place to learn the past and today's Singapore: Singapore City Gallery (#12)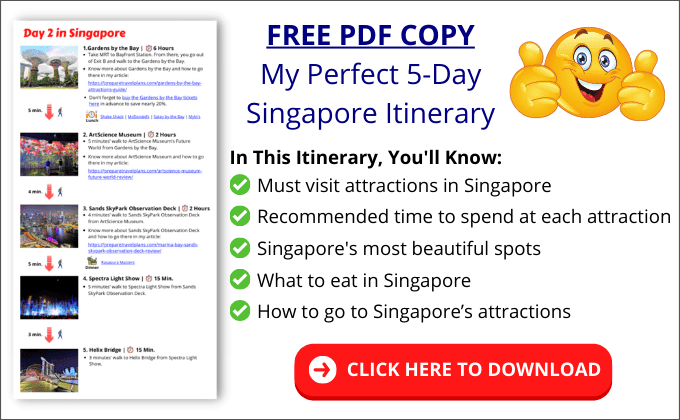 This dedicated Chinatown guide is part of my complete five-day itinerary for Singapore and 47 most beautiful attractions in Singapore. So, be sure to check out these two famous posts to maximize your trip in Singapore.
Or, take a look at my blog posts on Clarke Quay, Bugis and Little India. These 3 attractions are very near Chinatown.
Chinatown Map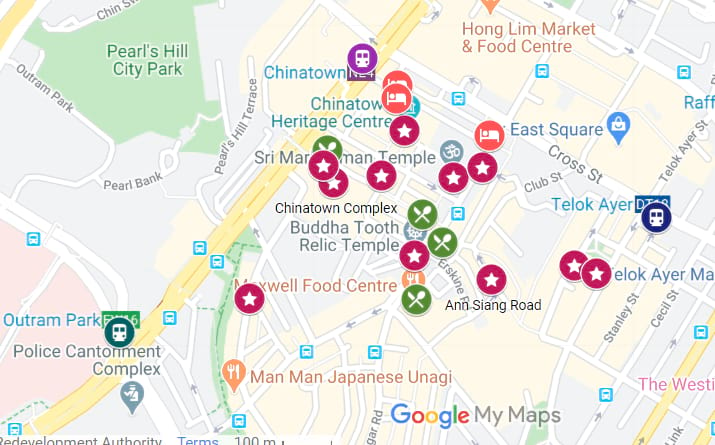 To help you navigate around Chinatown easily, you can check out my comprehensive map. I have marked all the top Chinatown sightseeing spots and nearby MRT stations on the map above.
You can use this material as your reference when preparing for your itinerary. And I hope that this will be beneficial during your actual trip to Singapore.
MRT Station Exits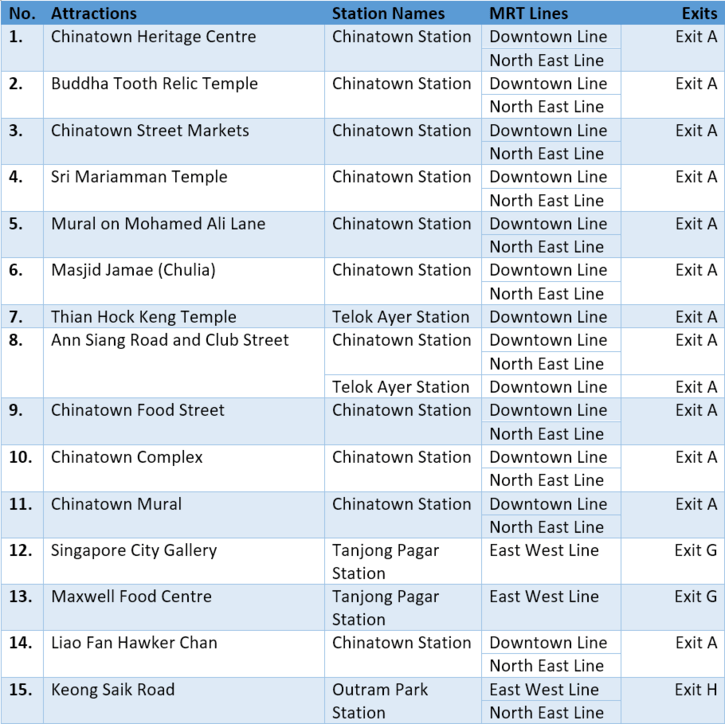 So, we've come to the end of my article for things to do in Singapore Chinatown. I hope this detailed guide provides you an idea on where to go in Chinatown so you will have a convenient trip. Thank you and I wish you the best during your Singapore adventure. 😊
Related Posts