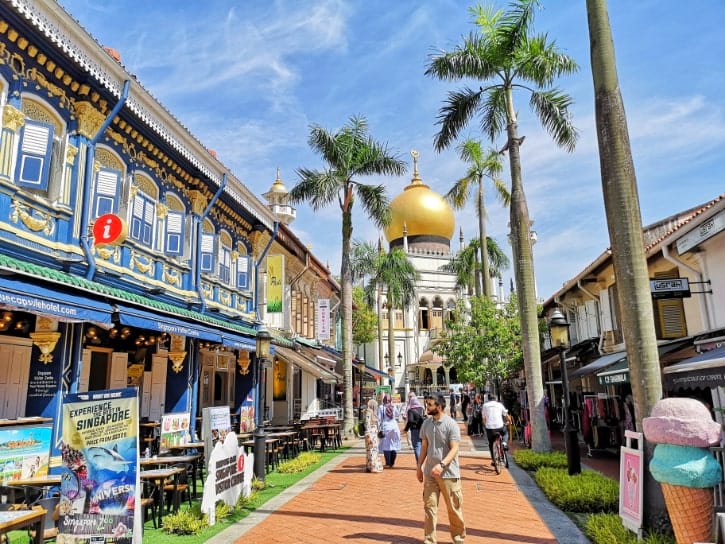 Thinking of what things to do in Kampong Glam and Bugis on your first visit? Let me introduce to you the best tourist spots in Kampong Glam and Bugis.
Kampong Glam and Bugis are the go-to places for those looking for vibrant bazaars, colourful cafes, and anything artsy. These two districts are bursting with cultural and heritage beauty that attracts all sorts of travellers.
Just in case you do not know, these 2 popular tourist spots are located close to each other. Thus, you can visit these places in just one day!
So, let me give you the top attractions of Kampong Glam and Bugis to help you make the most out of your visit. 😊
Top 10 Things to Do in Kampong Glam and Bugis
---
1. Sultan Mosque – Visit the spectacular religious complex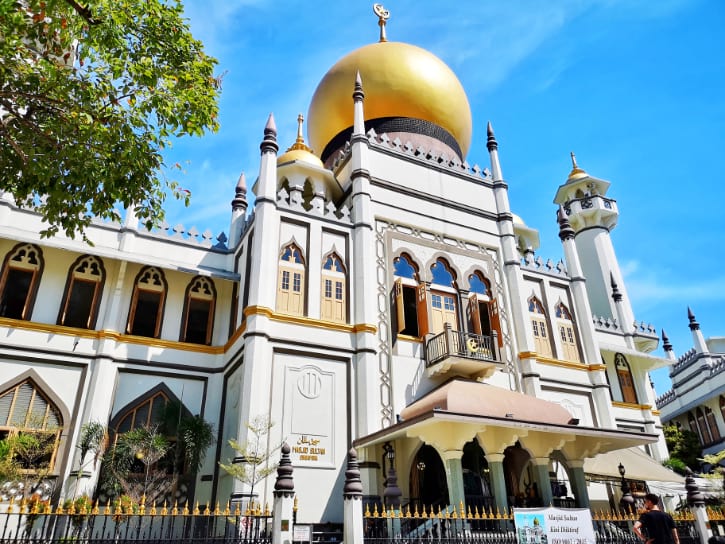 A breath-taking religious site nestled along the Muscat Street and Northbridge Bridge Road, the Sultan Mosque is a postcard-worthy attraction. This spectacular structure is a national monument that is recognized for its golden domes and towering spires.
This large complex within the Kampong Glam district is fringed with vibrant mix of gold, orange, blue, and green. Hence, it's too easy to spot this majestic shrine because of its brightly-coloured exteriors. But there's more to its regal appearance.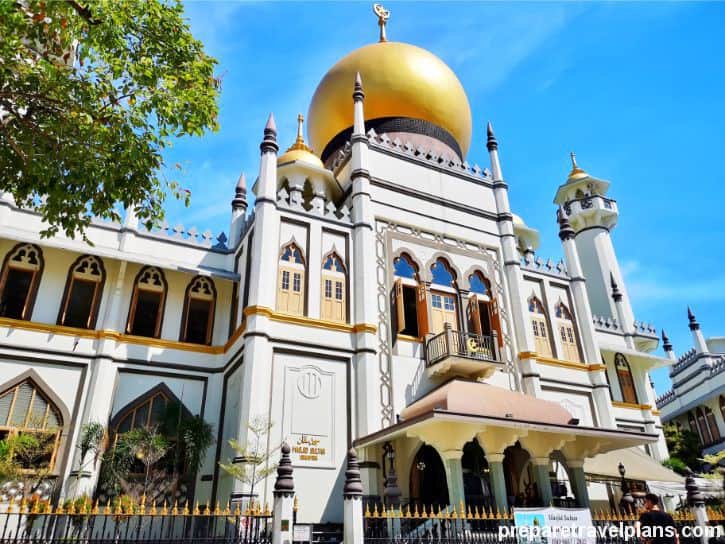 The Sultan Mosque was built in honour of the first-ever sultan of Singapore, Sultan Hussian Shah. Then in the 1920s, the museum took on the rebuilding phase. Pioneered by Denis Santry, it now features the Saracenic design, together with the traditional domes, which can be seen up to the present time.
The entrance hall welcomes you to a more impressive and intricate styling. Just make sure to wear decent clothes prior to entering the sacred site. Don't worry because there are robes and other appropriate attires you can choose from.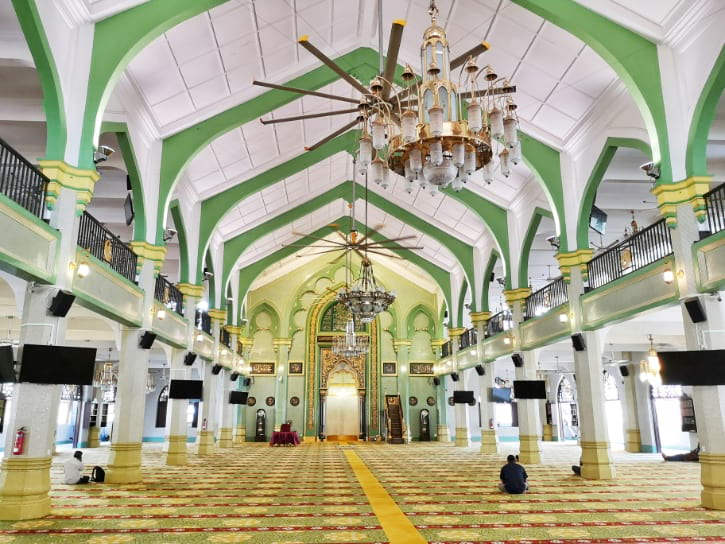 The mosque's main prayer hall is amazingly large. Its sheer size can cater to up to 5, 000 people, allowing many worshipers to pray and wander around the mosque in comfort. For first-time visitors, you can read up some of the historical writings inside and get to know more about the important Indian and Islamic traditions.
Because of its significance as a place of worship and a national landmark, the Sultan Museum is often jam-packed with locals and tourists.
Opening Hours
Monday to Thursday
10:00 AM – 12:00 PM
2:00 PM – 4:00 PM
Friday
2:30 PM – 4:00 PM
Saturday
10:00 AM – 12:00 PM
2:00 PM – 4:00 PM
Closed on Sunday and Public Holidays

Address
3 Muscat Street, Singapore 198833

2. Haji Lane – Choose from the many vintage-style cafes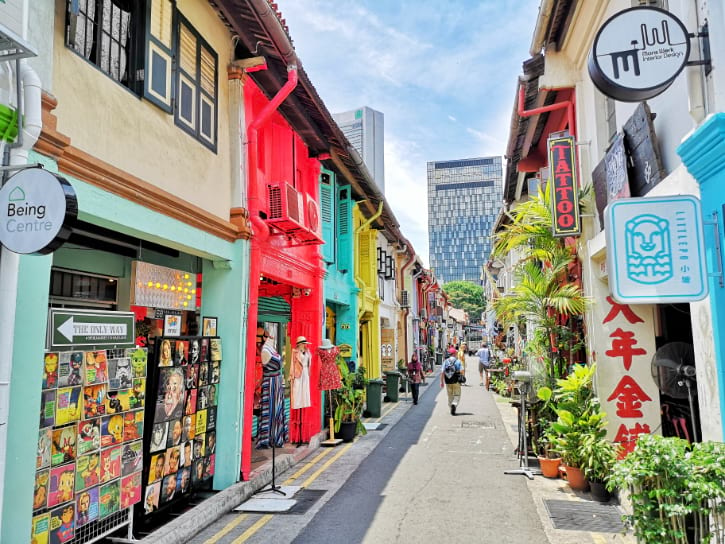 Another amazing street in the Kampong Glam is the Haji Lane. This brightly-coloured area is a favorite spot among young people. Well, what's not to love about this animated neighbourhood filled with everything you want?
The amazing display of street art is something to look forward while in Haji Lane. In here, you'll be amazed by finest creativity along the cafes' and boutiques' exterior. So, if you're looking for some legit Instagram-worthy spots, there's an array of options here. Left and right, everything is just colourful! It is worth adding this into your list of things to do in Kampong Glam.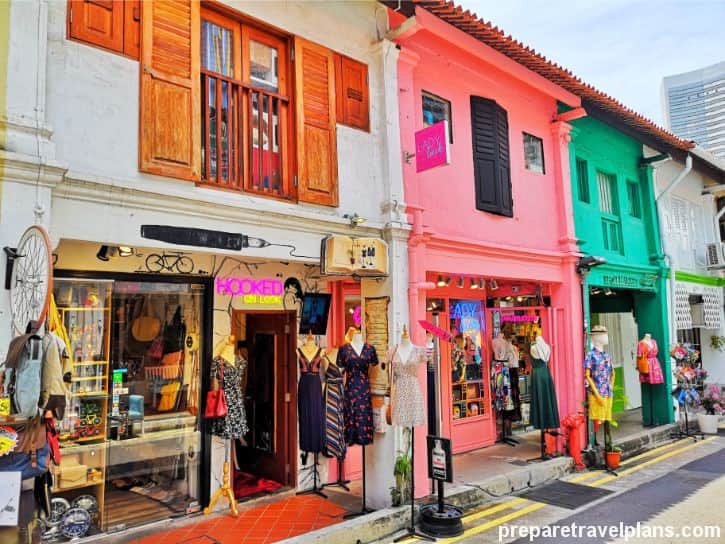 The boutique shops in the area are also one of the reasons why visitors keep coming back to Kampong Glam.
All the coloured shop houses are packed with different travel essentials, from trendy clothes to fancy accessories.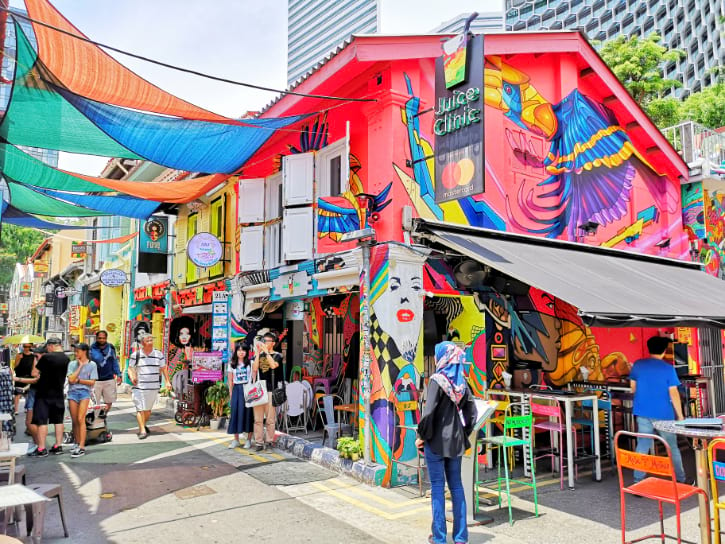 Aside from hole-in-the-wall boutiques and craft stalls, Haji Lane is also stuffed with hip cafes and cool bars. One famous spot for those who prefer a cosy afternoon snack or an artsy night out is the [email protected] Italian Risto-Bar.
Similarly, the Funq Bar is another tourist favorite because of their spectacular live music and good food selection.
For those who want a nostalgic-inspired ambiance, then the Singapura Club can be your go-to destination. This vintage-style bistro gives you the beauty of both worlds.
Juice Clinic Bar might just be your new much-loved spot if you need outright detoxification―literally! This cosy place serves a wide range of healthy drinks and foods for health-conscious wanderers.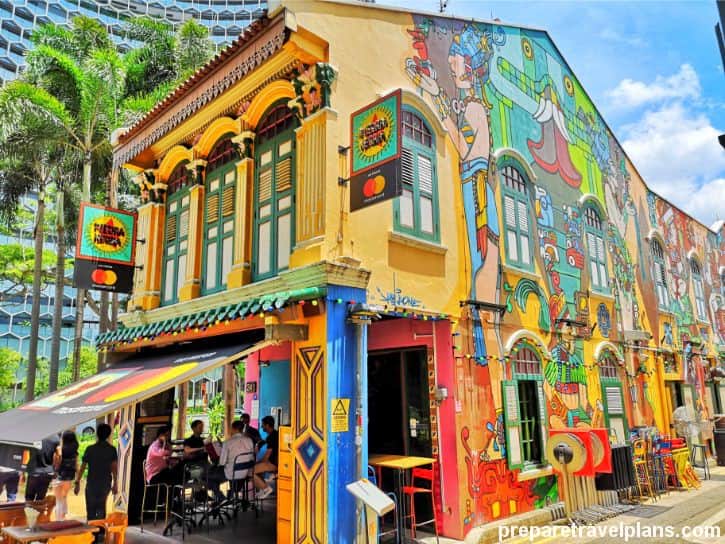 If you're hunting for tasty Latin American and Mexican snacks and dishes, head straight to Piedra Negra Café. Don't miss their delectable mango ceviche, guacamole, and frozen margarita.
This funky place is not just known for their great menu but also their head-turner murals.
Opening Hours
Best time to visit:
Between 11:00 AM – 7:00 PM

Address
Haji Lane, Singapore

3. Bussorah Street – Stroll around the colourful street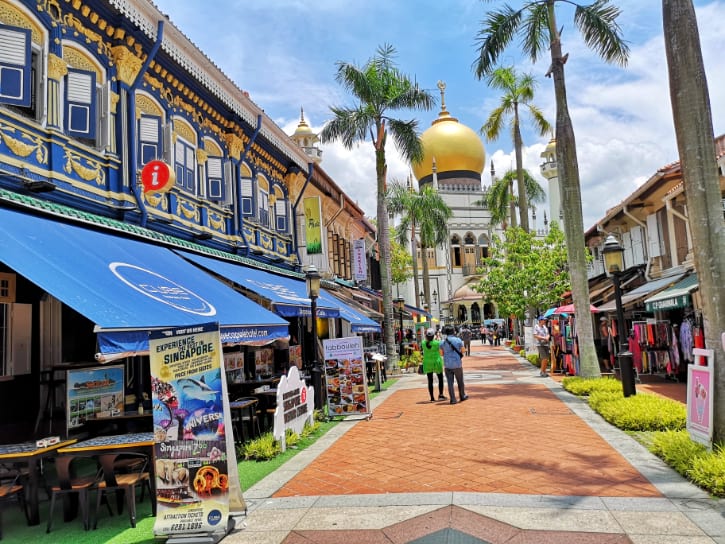 Strolling around Bussorah Street is like walking down the memory lane. Formerly known as Kampong Kaji, this significant path was once the pilgrim area back in the 1970s. Pilgrims from neighbouring countries would flock and wait at the Bussorah Street to see the pilgrim ship or the kapal haj.
Now, this historic street attracts all passers-by because of its vibrant aura and multi-coloured shop houses and restaurants.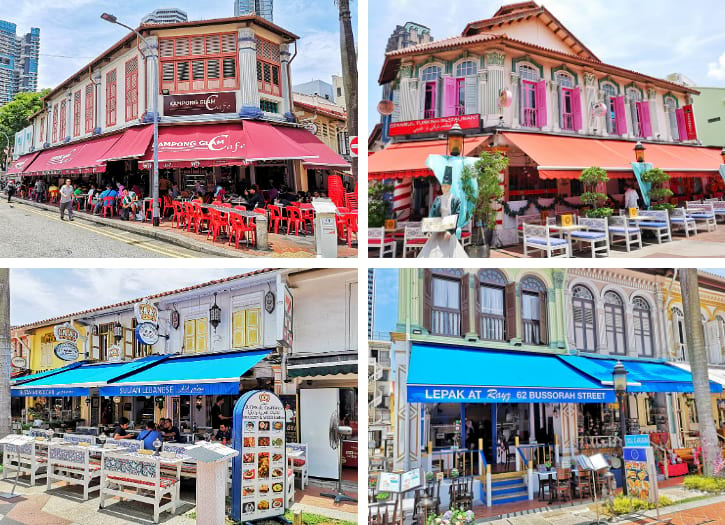 Kampong Glam Cafe is a well-known food spot in Bussorah Street because of its large selection of authentic and tasty Kampung dishes. It's definitely your go-to place in case you're in a rush. Just pop by this jam-packed cafe, pick your favorite treat, and you're off to go.
For a halal-friendly menu, there's the Sultan De Casablanca, a popular Moroccan and Mediterranean restaurant serving healthy and delectable middle-eastern cuisines. Take a bite of their finest picks like the chicken kebab, lamb mandi, and chicken tagine. All these foods are worth a try!
Another halal option in Bussorah Street is LePak At Rayz. This hipster bistro offers affordable Western and Asian delights. Their best-seller dishes include the rib eye steak, chill crab pasta, mee chelop, and braised beef ribs.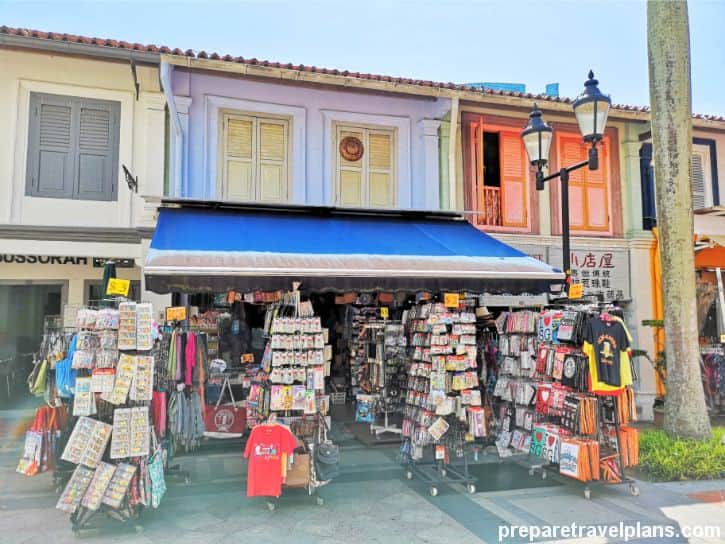 Souvenir shops are also on full parade along the Bussorah Street. This will give you plenty of options for souvenir-shopping. Hop from one stall to another and try to bargain if you can!
From key chains to bags to caps, for sure you can bring home heaps of goodies from here. Great thing too is that all these souvenirs are decently priced so you can spend more money on different items.
Opening Hours
Best time to visit:
11:00 AM – 8:00 PM

Address
Bussorah Street, Singapore

4. Arab Street – Drop by this vibrant city section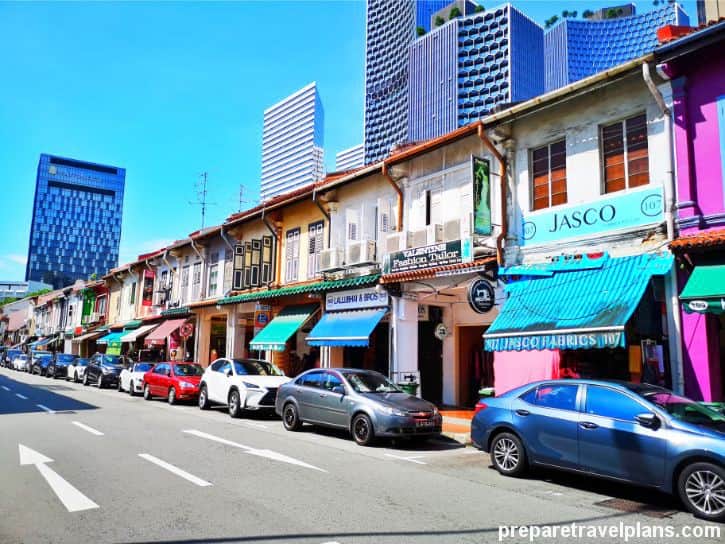 Being part of the always vibrant Kampong Glam, Arab Street radiates that lively ambiance you can enjoy day until night. Along this street is an amazing selection of textile shops, fabric stalls, and more. Here, bargaining is fun and even recommended if you want to save money!
Because of its vibe and range of shops, parking along the street is a normal sight as more and more visitors make a stopover every single day.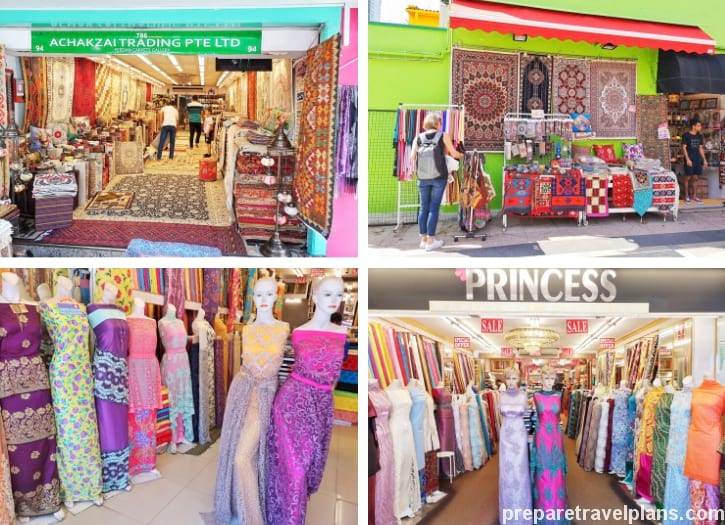 Among the most visited spots in the area is the Persian carpets shop, where you can find gorgeously crafted mats and other floorings. These items can even be a great souvenir for your parents and home-improvement partner!
If you're on a tight budget, there are cheaper rugs and carpets scattered just along the street. Choose among the display of fabrics filled with spectacular designs and upbeat colours. You'll not be disappointed though because these colourful finds are worth the price!
There are also plenty of fabric shops waiting your arrival. These shops give you a glimpse of the rich cultural heritage of Singapore, featuring different traditional costumes. From bright colours to gorgeous prints and patterns, it's not hard to get stuck here for a couple of hours.
Princess is one fabric shop that you can visit to see beautiful, tailored dresses. Igniting your resourcefulness and creativity, this shop has an abundant supply of different fabric colours and types for all your needs. Walk pass through the long display of stalls and shop at your heart's desire!
Opening Hours
Best time to visit:
11:00 AM – 8:00 PM

Address
Arab Street, Singapore

5. Malay Heritage Centre Museum – See some historical and cultural wonders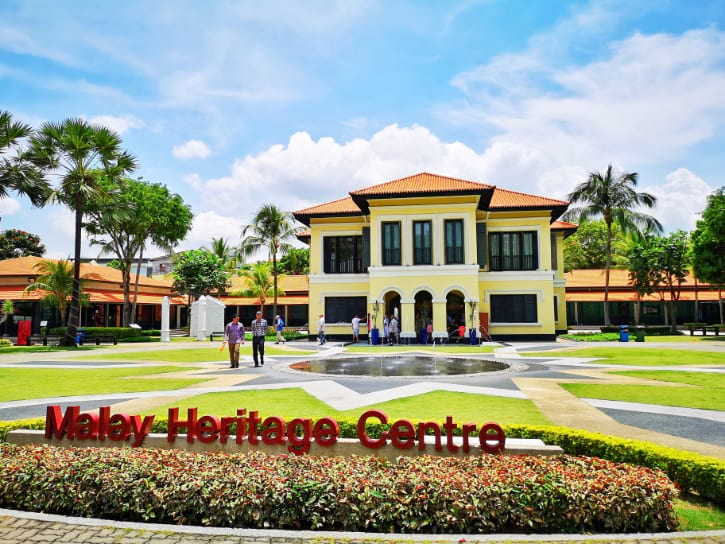 Somewhere at Kampong Glam, a historical structure showcasing the cultural mark of Malay Singaporeans lives on. Setting foot on this museum is lifting the curtain that keeps the interesting heritage of the Malay population across many aspects.
Inside, you'll get not just a glimpse but a deeper personal experience of the Malay world, as seen through its different displays related to clothing, film, art, and others of historical importance.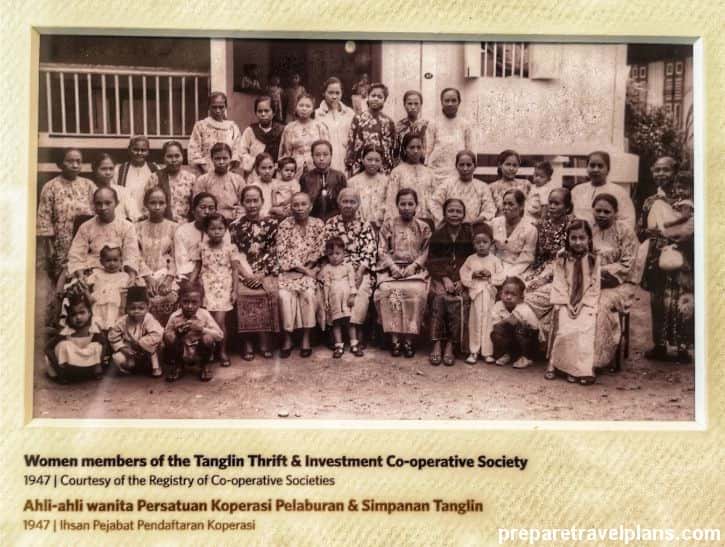 For travellers who are really interested in educating themselves about the Malay population in the country, the cultural centre is a large open book you can read.
Here, visitors are expected to learn about the remarkable figures of the community such as the Tanglin Thrift Investment Cooperative Society with its female members.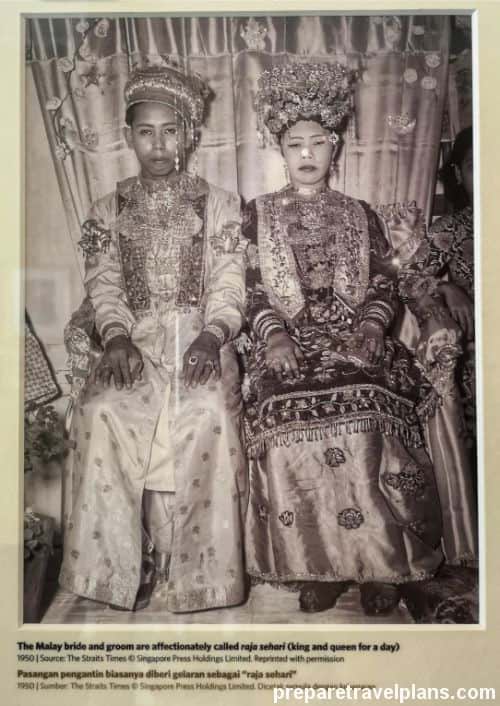 One thing you can notice is a monochrome portraying a newly-wed couple in their traditional wedding clothes inside the building.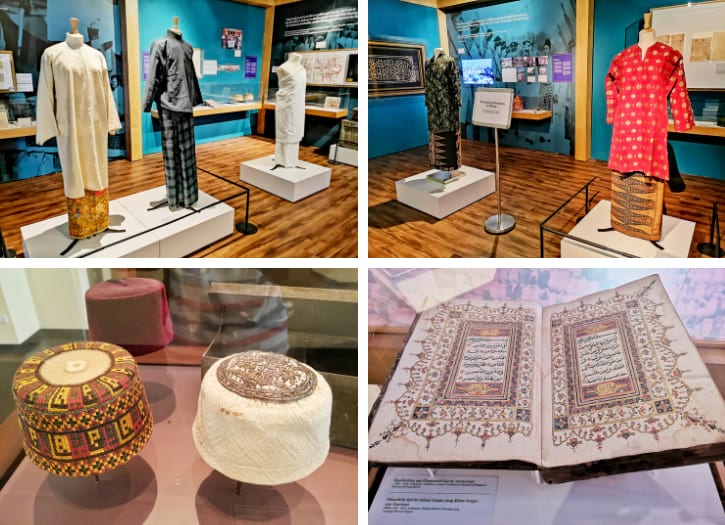 Malays' most celebrated items of clothing also shine on one of its galleries. The Batik Sarong Surjan and the Ihram Cloth are few to mention.
Continue walking around the galleries and find the famous and well-designed outfits: Songket Baju Kurung as well as Puan Hajjah Noor Aishah!
Take a peak of the creative hats, Haji Yusof Talin Pinggang, embellished in fine and detailed patterns.
A handwritten and illuminated Quran Manuscript lays open for the curious and attentive eyes.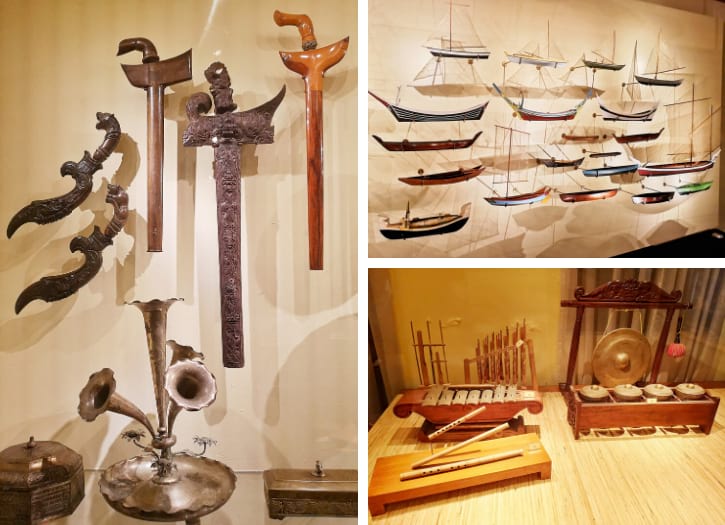 Another exhibit focuses on the Kolek, Jongkong, Sampan, East Coast Boats in different structures and colours.
Pause and observe the hanging weapons placed in one of its several exhibitions. Aside from these, items that symbolize the culture of the community are put on view.
Music has also been a large part of the Malay Singaporeans' heritage. This is evident in their Seruling, Canang, Angklung, and Upright Gong instruments.
Planning to visit the Malay Heritage Centre?
Book your ticket online to get cheaper rate. Yep, you read it right. Getting your ticket online is more affordable than buying it at the physical store. Plus, these are open-dated so you can use it up to 3 months!
Get your Malay Heritage Centre tickets via the link below and claim at the ticketing counter.
Opening Hours
Tuesday to Sunday
10:00 AM to 6:00 PM
Closed: Monday

Normal Ticket Prices
Adult: SGD $6
Child (Aged 6 and Below): Free

Address
85 Sultan Gate, Singapore 198501

6. Kwan Im Thong Hood Cho Temple – Take a break and pray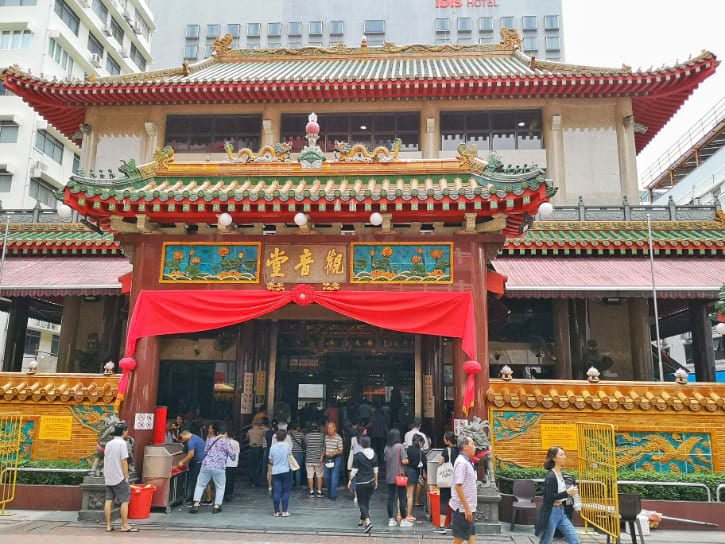 Taking refuge in this peaceful place is a relaxing venture for people who are drained from the rushing crowd of the cosmopolitan area. Almost every visitor who happens to spend some time in the Kwan Im Thong Hood Cho has experienced the calmness of praying inside the temple.
Worshippers who want to connect to Kuan Yin, the goddess of mercy, go all the way here from various places in the country as well as from across the world, to pray and put their minds and hearts at ease.
The temple is as magnificent as its early days back in 1884. Visitors from different walks of life go out untroubled after visiting the temple.
Before you enter the temple, you will spot a number of people inviting visitors to buy their flowers and Chinese fortune sticks. But despite the crowd of devotees and vendors, especially during Chinese New Year, the stillness present inside always leaves the people undisturbed and peaceful.
Looking at the facade of the building alone will give you an immediate understanding of its enduring and sensational architecture. Kwan Im Thong Hood Temple is a physical and solid remembrance of the history and culture of the Bugis area, before and after the WWII.
This is one of the tourist attraction in Bugis that emphasizes the lasting beauty of traditional oriental temples. Let the majestic appearance of the statue and the temple itself, send peace to you as you offer your prayers.
Opening Hours
6:00 AM to 6:00 PM

Address
178 Waterloo Street, Singapore 187964

7. Bugis Street Market – Go around the jam-packed shopping district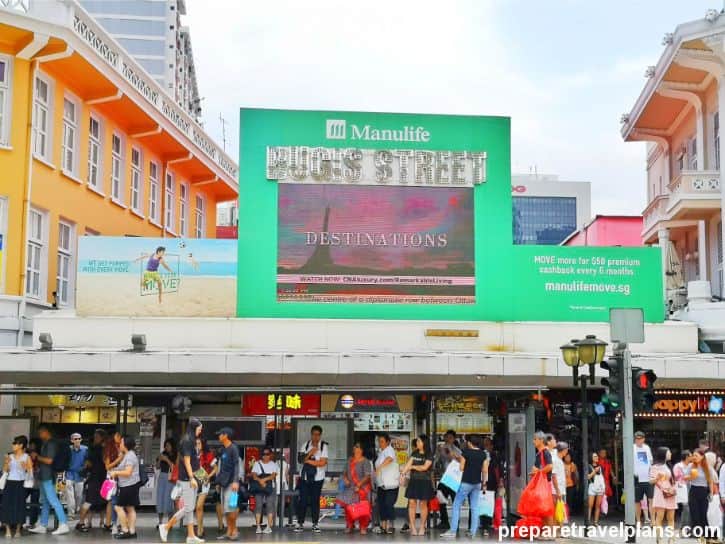 As the largest shopping district in Singapore, Bugis Street consists of over 800 shops. This is such a dream destination for bargain-hunters and even foodies. Hence, it's one of the best things to do in Bugis for travellers.
From day to night, Bugis Street is always a lively scene filled with trendy finds and cheap street eats. There's something that will surely catch your attention while exploring this animated marketplace.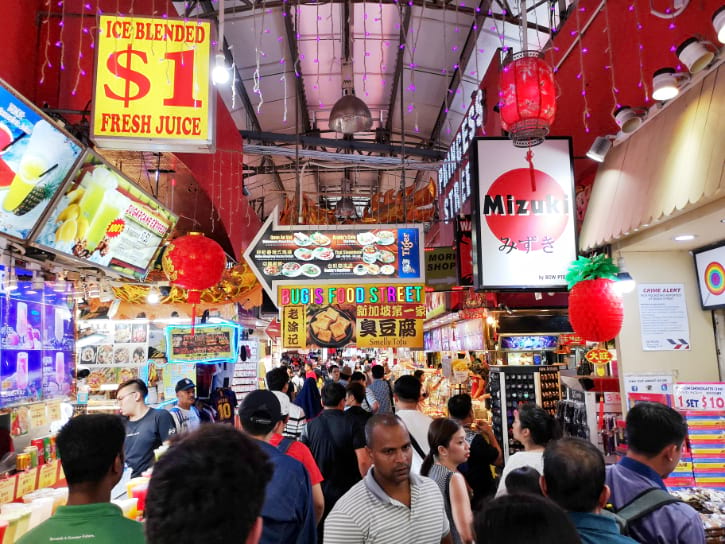 Inside the Bugis Street market, you will see an amazing array of souvenir shops, fashion stalls, and a lot more!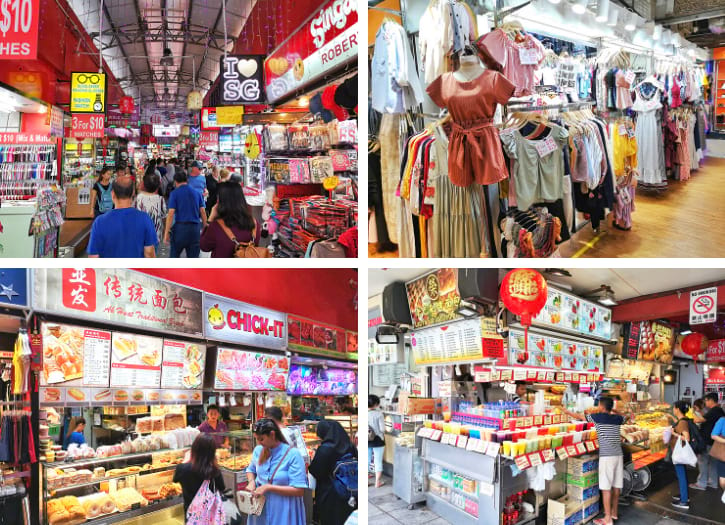 A visit to Bugis Street means getting a glimpse of different fashion apparel and stylish accessories.
The choices here are endless, so you might need to spend an hour or two just to take in the impressive display of trendy and affordable clothes.
If you are in need of a new pair of sandals or slippers, then you are in the right place! This pocket-friendly spot has a great selection of footwear to choose from.
Aside from footwear, spend a quick retail therapy around the Korean fashion stalls, offering beautiful fashion finds at lower prices.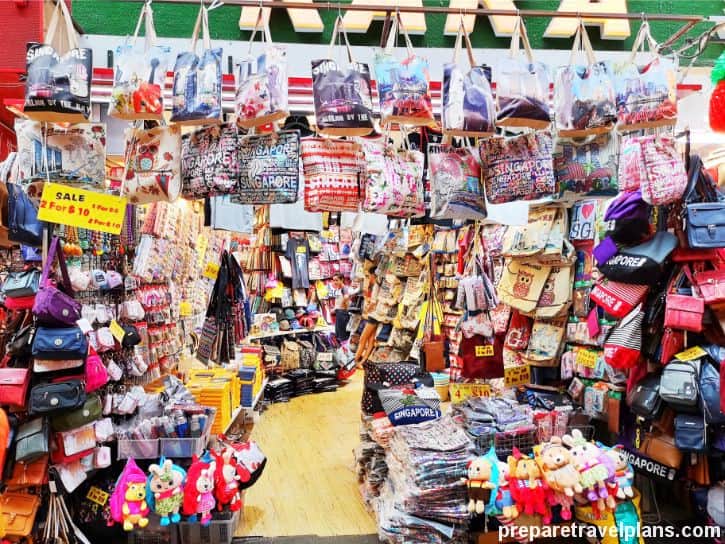 Then, move your way to the colourful souvenir stalls filled with local delights and cheap finds you can take home.
With heaps of souvenir items in each stall, for sure you'll find yourself in complete admiration.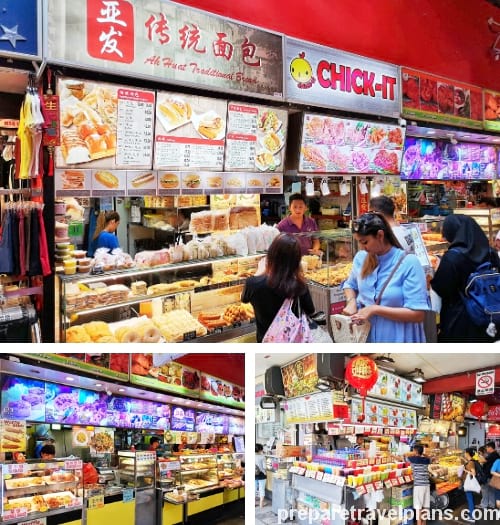 After all the shopping, time for some food hunting. Start at Ah Huat Traditional Bread Food Stall, a classic food spot serving tasty old-school snacks like the kaya butter toast and traditional bread buns.
Munch in some flavourful snacks like curry puffs, oyster cakes, or Taiwan sausages―all gathered in one appealing display.
Cap off your day with a refreshing fruit juice from one of the stalls in Bugis Street Market.
Opening Hours
11:00 AM – 10:00 PM

Address
3 New Bugis Street, Singapore 188867

8. Bugis Junction Shopping Mall – Get the latest fashion essentials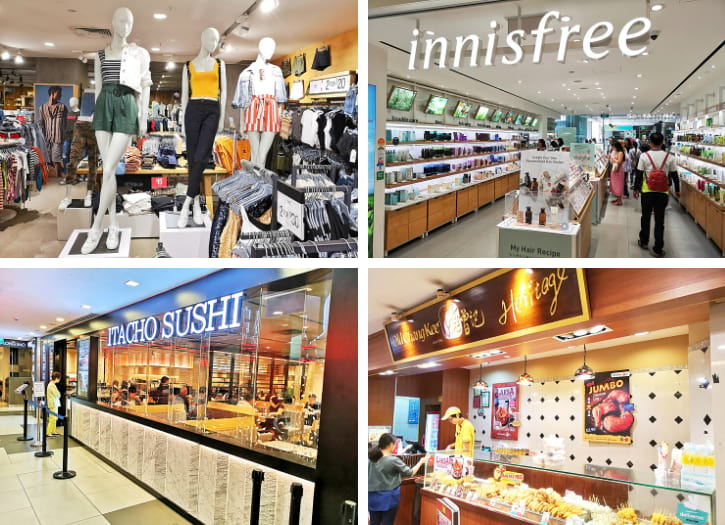 Bugis Junction is a modern shopping mall. It's a favored spot for shoppers to buy trendy clothing, bags and shoes.
This fashion shopping mall has many retail shops with the vibes of the street market. Situated near to Bugis Street Market, no wonder the place is a top priority when it comes to shopping and dining.
Souvenir stalls are also scattered along the Bugis Junction. So, if you need some last-minute finds, you'll get something valuable and affordable here.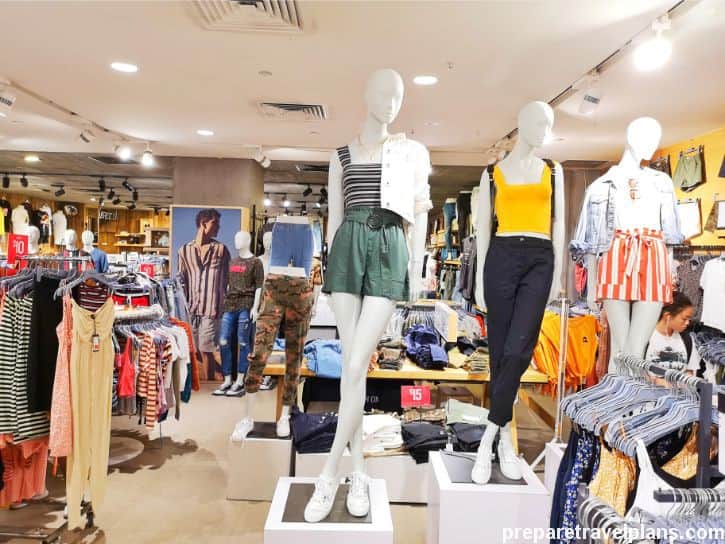 Inside the mall, your stylist heart will surely be happy. International retailers and local boutiques stores surround the entire complex. This is a great place for you to get lots of fashion-forward finds that are worth the splurge.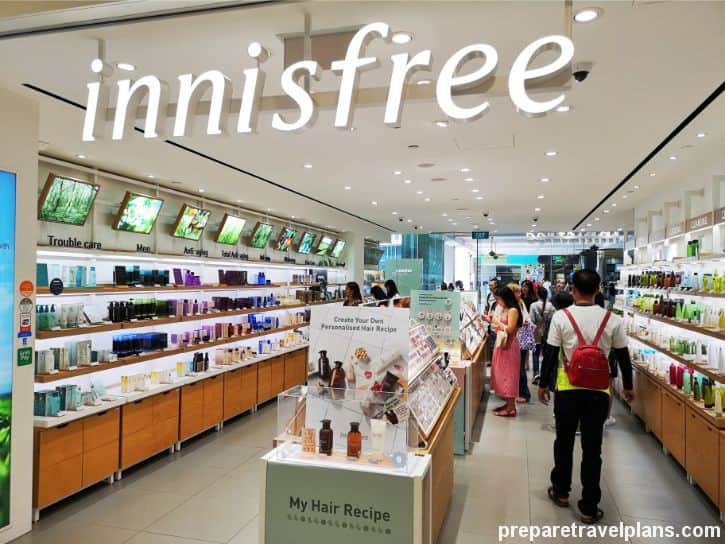 You might need some skin and beauty pamper while in Bugis Junction. So, make sure to shop your favorite Korean cosmetics at Innisfree. This brand is known for its products solely made from Jeju Island's natural wonders.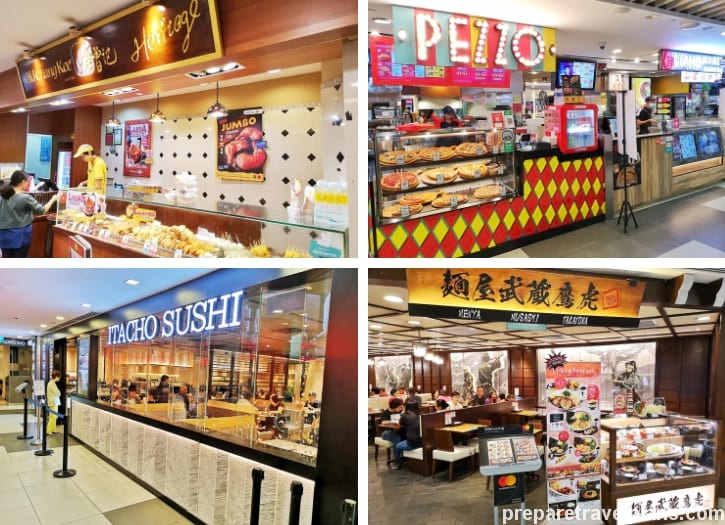 But of course, a trip to Bugis Junction wouldn't be complete without some food expeditions. To start, satisfy your snack cravings at Old Chang Kee and enjoy their curry puffs and tasty, local delights.
Pezzo Pizza is a top-rated choice for pizza lovers. Surprisingly, they are one of the few pizza stores that offer halal-friendly pizzas. Their mouth-watering slices are more than enough to fill your hungry tummy!
And if you're in dire need of delectable sushi and sashimi, Itacho Sushi is the place to go. For ramen lovers, get your ramen fix at Menya Musashi, which is probably the best ramen restaurant not just in Bugis Junction but in Singapore.
Opening Hours
10:00 AM – 10:00 PM

Address
200 Victoria Street, Singapore 188021

9. Bugis+ Shopping Mall – Shop 'til you drop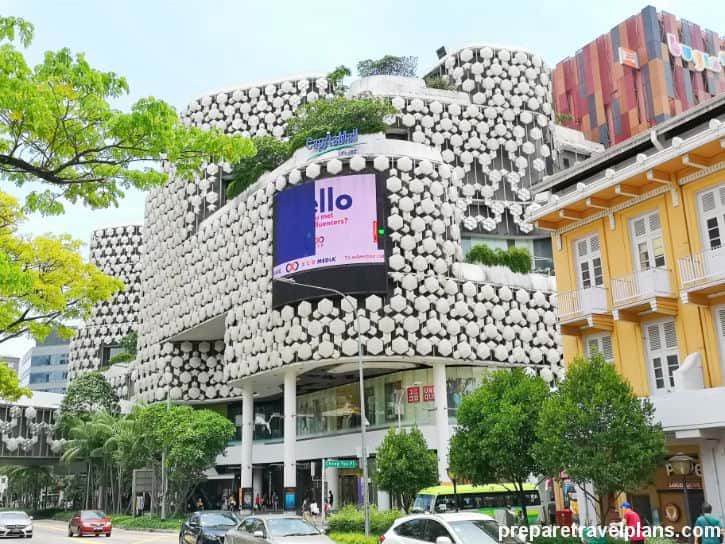 Another crowd favourite for those who enjoy fashion shopping is Bugis+. The famous Bugis+ is a spot crammed with all the right food & beverage, fashion, beauty and wellness stores.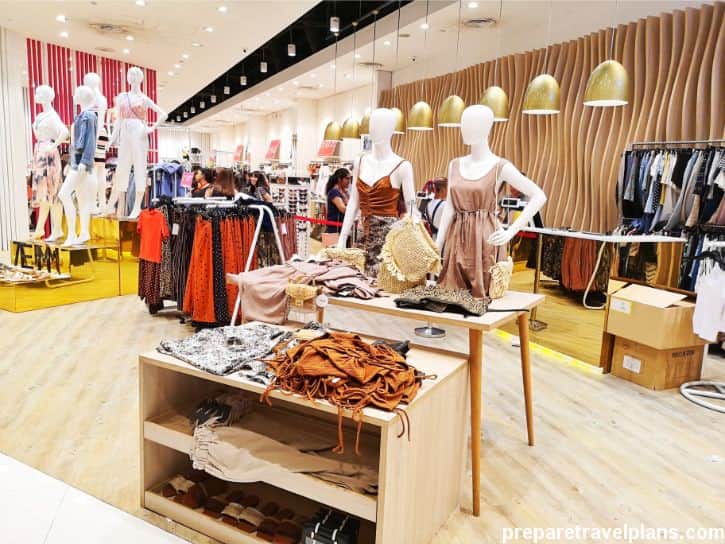 The world is your runway when you're in Bugis+ as the many fashion stores shining before your eyes will keep your love for clothes alive. Many retail stores at this mall will tease both the thrifty and shopaholics with their display of trendy and stylish clothing items.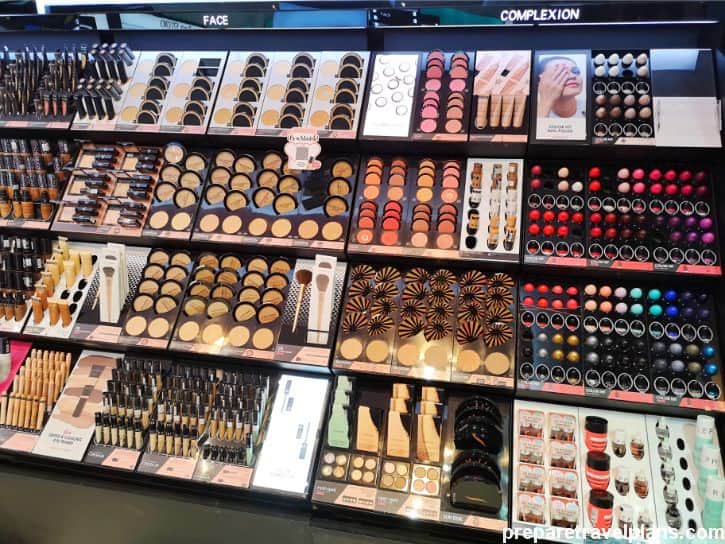 Has walking the streets of Singapore under the heat of the sun melted your makeup already? Let Sephora take good care of that business. Add new ones to your collection and choose the beauty products that will accompany you until the last days of your trip!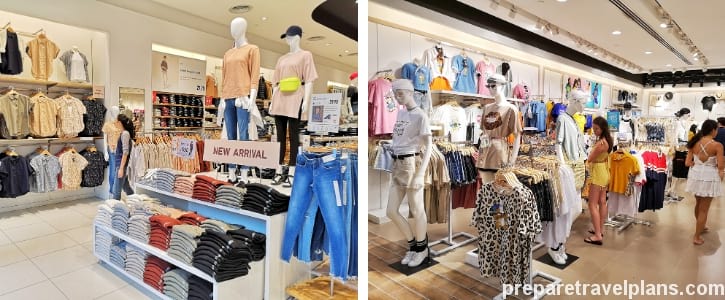 Yet another shopping place to offer you fashionable clothes while enjoying a long travel feat is Uniqlo. In case you've run out of fashionable clothes to keep up with your daily OOTDs and Instagram-worthy pictures, purchase your travel essentials here at affordable prices!
Walking around Bugis+ will lead you to fashion shops, and guess what—more fashion shops! Yishion offers something that you probably haven't found in other fashion stores. Look inside and discover more items that are worth your penny!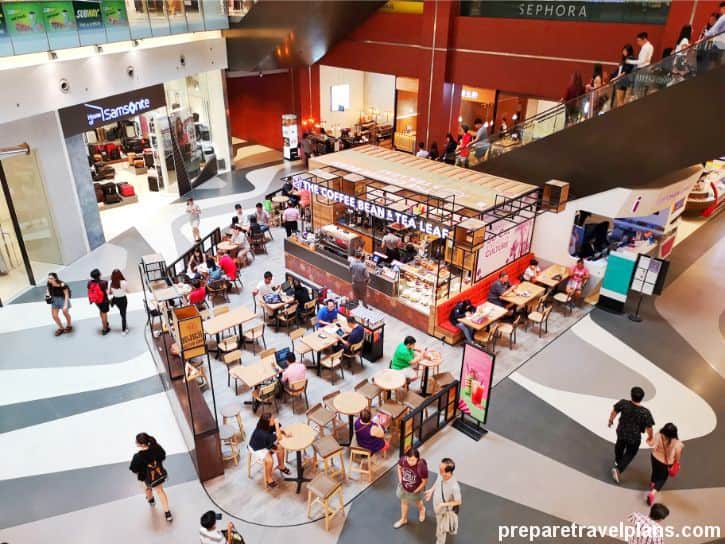 Now, it's time to invigorate your senses with a delicious drink right at The Coffee Bean and Tea Leaf. Pretty sure you've exhausted yourself from the long line of shopping stores situated inside Bugis Plus. Make sure you're all packed-up and lively as you leave the place for more energetic trail waiting outside Bugis Plus!
Opening Hours
10:00 AM – 10:00 PM

Address
201 Victoria St, Singapore 188067

10. Albert Centre Market & Food Centre – Explore the food stalls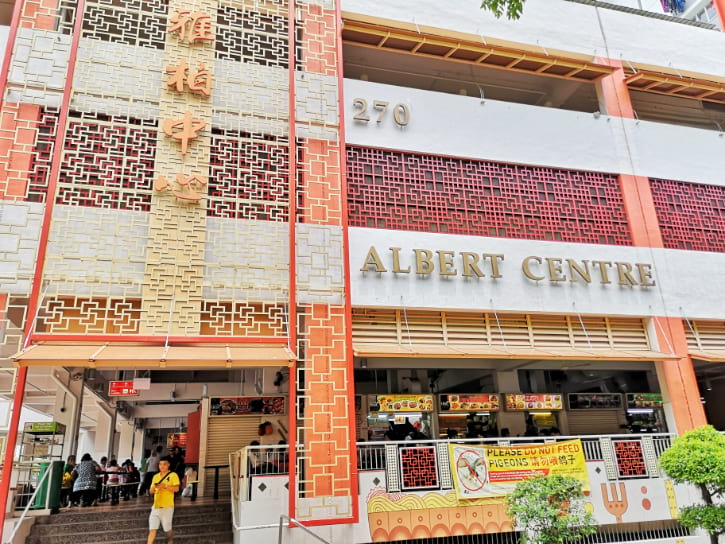 Dig a little deeper and you'll find the vibrant Albert Centre Market & Food Centre―a legit place for foodies. Located in Bugis-Rochor area, between Bugis Junction and Sim Lim Square, this famous centre draws both shoppers and worshippers.
A little bit of history, this popular food centre was named after Prince Albert of England. Though there's no longer a trace of royalty in this place, it continues to a renowned spot for Singaporeans.
Now, Albert Centre is one of the most visited places in the country for its cheap and delectable treats. The choices here are remarkable as you got options from snacks to heavy meals. Whatever time of the day, you can find something that will surely please your taste buds.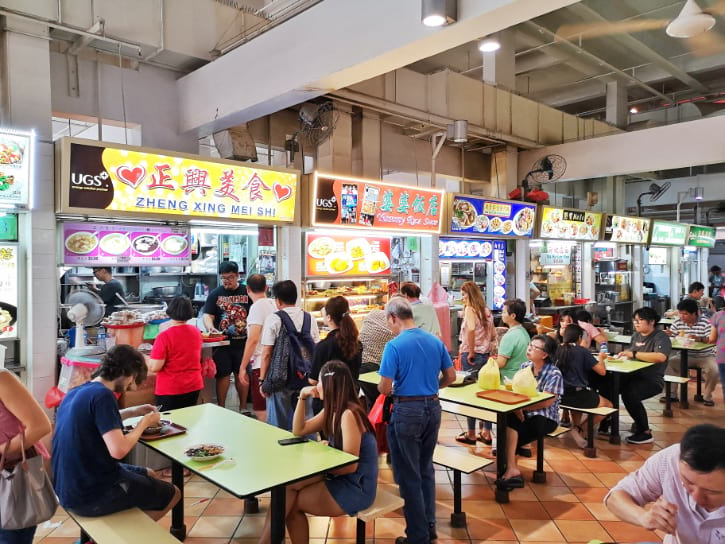 Bai Nian Niang Dou Fu is one of the popular stalls that serve delicious hot bowls of Yong Tau Foo. If you want some tasty meat noodles and fish ball kway teow, then there's Ah Seng Bak Chor Mee. On the other hand, Hock Lee Fishball Noodle offers appetizing fishball mee while Fortune Food Popiah serves delectable popiah.
And, you don't have to worry because all these food stalls are reasonably priced! So, if you're looking for cheap yet tasty cuisines, Albert Centre Market & Food Centre can be your favourite destination here in Singapore.
Opening Hours
6:00 AM – 9:30 PM

Address
270 Queen Street, Singapore 180270

A Map of What to Do in Kampong Glam and Bugis
---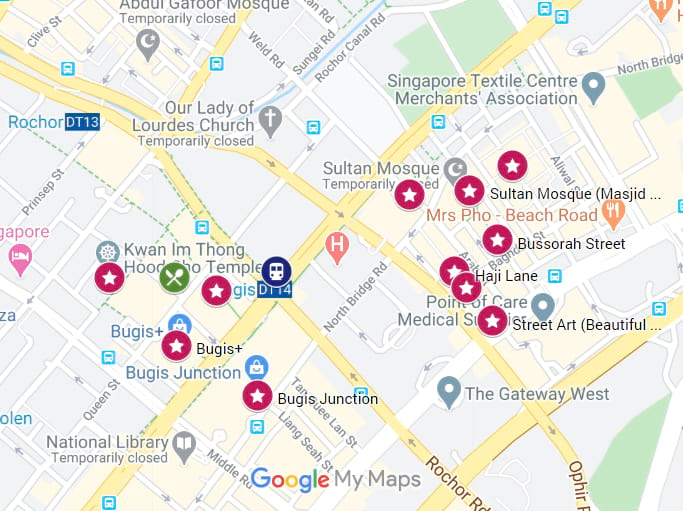 I've prepared a custom-made Google Maps that highlights the top-rated attractions in Kampong Glam and Bugis.
With this map, you'll have an idea of the location of the attractions and nearby MRT train stations. So, to have a clearer view of what things to do in Kampong Glam and Bugis area, simply check out the customized Google Maps above.
And hopefully, it will guide you when you personally visit these popular spots and train stations during your trip.
MRT Station Exits for Kampong Glam and Bugis Attractions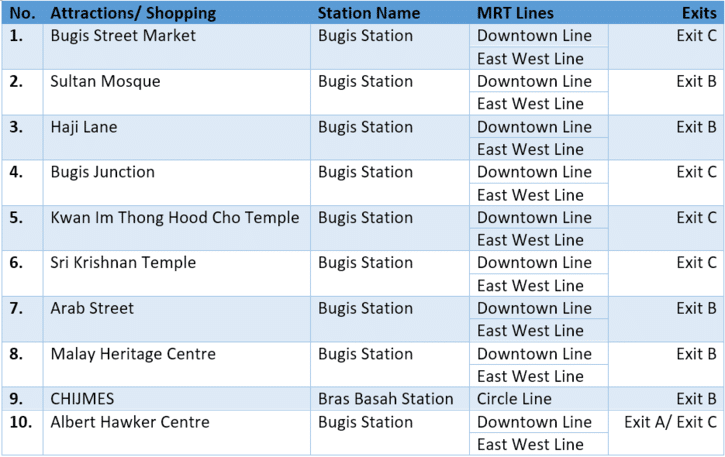 Singapore Sim Card for Tourists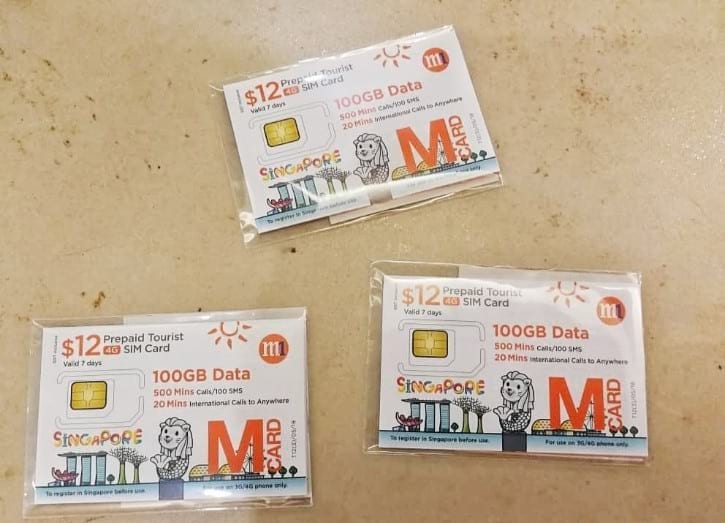 Aside from the Google Maps, make sure to buy a Singapore Sim Card to make your trip more efficient.
Contact your family and friends with ease using the Sim Card that comes with 500 minutes local calls and 20 minutes international calls. And with the 100 GB free data, you can connect easily to different social media sites like Instagram, Facebook and Pinterest.
If you've decided to make your Singapore trip a visit to remember, check out the below link and book online. This Singapore Sim Card is not just cheaper but also easy to pick up at Changi Airport.
– – – Conclusion – – –
Kampong Glam and Bugis have carved its reputation as two of the most vibrant places to visit in Singapore. And having an idea of what to do in Kampong Glam and Bugis is definitely a plus factor.
Both Kampong Glam and Bugis are two colourful districts, giving amazing murals and artsy backdrops.
It is an ultimate shopping destination for travellers of different budgets, from street markets to luxury retail spaces.
It features historical beauty through museums and temple.
I hope that this blog can give you a valuable information of what things to do in Kampong Glam and Bugis.
Other than Kampong Glam and Bugis, here are the popular attractions you can also visit in Singapore.
Don't forget to bookmark this page for your future reference and share this to you travel partners through Facebook, Twitter, Pinterest, Gmail or WhatsApp.
Lastly, wishing you have a nice and wonderful holiday in Singapore! 🙂
Discover Other Famous Attractions in Singapore