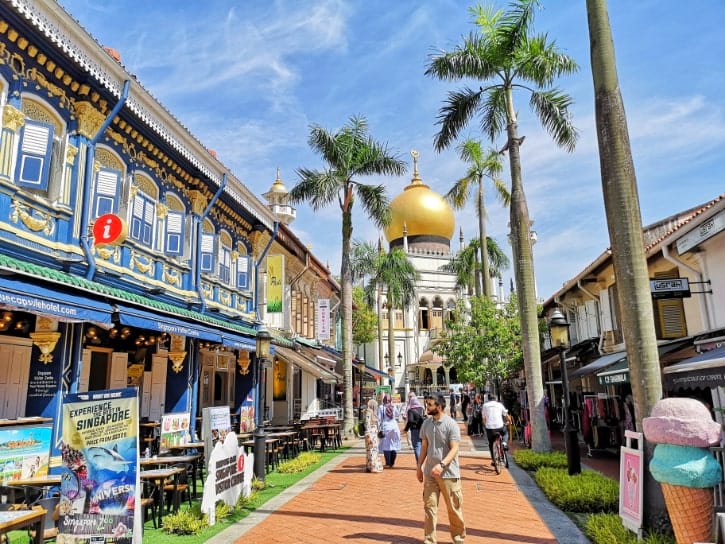 Bugis is a must-visit in Singapore, especially known for its unique cultural vibe. Clearly, there's no shortage of things to do in Bugis Singapore.
One thing you definitely shouldn't miss during your trip is the vibrant streets lined with colorful murals and shops.
Let me guide you through what to do in Bugis and highlight the attractions you can't miss.
Additionally, I'll offer some tips on how to seamlessly incorporate Bugis into your Singapore travel itinerary, ensuring you make the most of every moment.
Bugis Highlights: Explore the Top Things to Do in This Cultural Hub!
1. Bugis Street Market: Go Around the Jam-packed Shopping District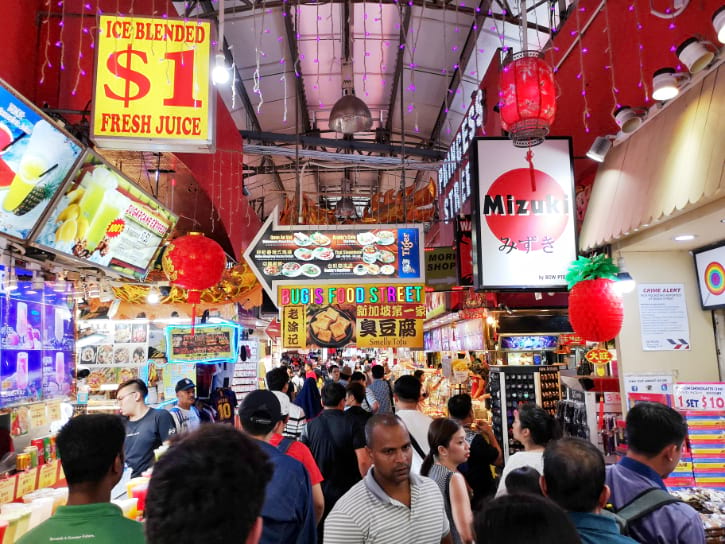 Bugis Street Market is my go-to spot in Singapore for shopping and eating. With more than 800 shops, it's a paradise for bargain hunters and food enthusiasts like me.
Walking through this market is always fun; it's full of life and energy. You'll find everything from cool fashion stalls to unique souvenir shops.
Trust me, every corner has something exciting to offer – I always end up discovering something new and trendy!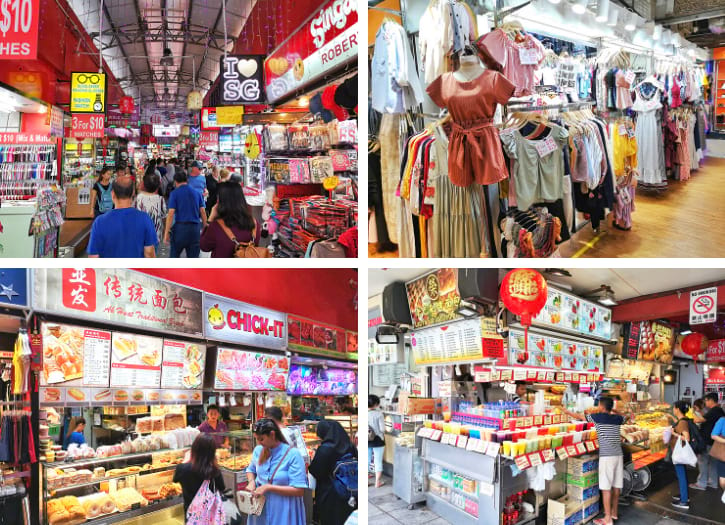 Check out some trendy apparel from the fashion stalls. On top of that, you'll be impressed by the broad selection of stylish accessories.
After all the shopping, it's time for food hunting.
There are many food stalls serving tasty old-school snacks like the kaya butter toast and traditional bread buns. Or you might want to try some curry puffs, oyster cakes, and Taiwan sausages.
Address:
3 New Bugis Street, Singapore 188867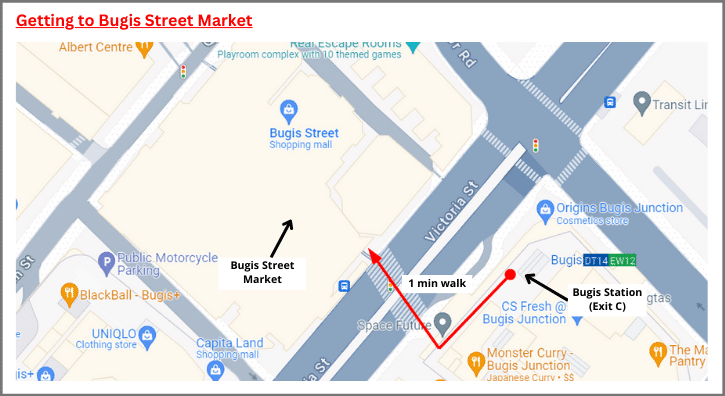 2. Sultan Mosque: Visit the Spectacular Religious Complex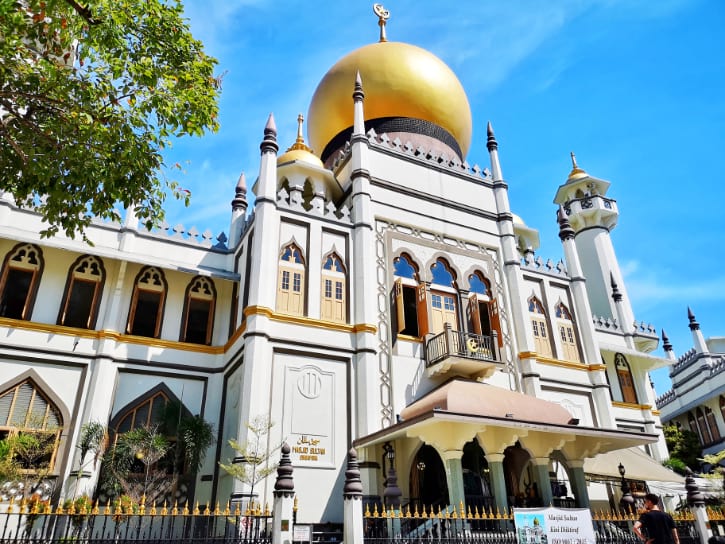 Sultan Mosque is one of the top tourist attractions in Bugis. It's also labelled as the most attractive Singapore historical place because of its architectural design.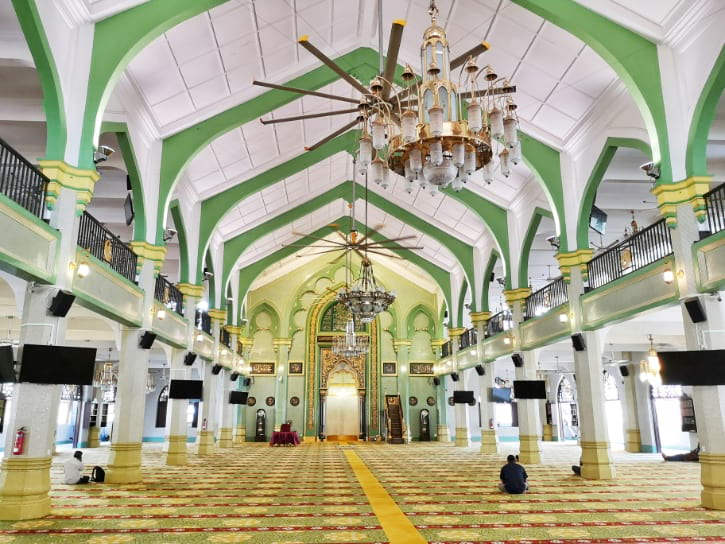 When you step into Sultan Mosque, you can feel its majestic atmosphere right away.
It's more than just a pretty sight; it's a national monument famous for its golden domes and tall spires.
Inside, the main prayer hall is stunning with its bright gold, orange, and green colors, and it's huge – big enough for 5,000 people.
So, make sure to see this breathtaking religious site of Bugis and appreciate this iconic building.
Opening Hours:
Saturday to Thursday:
10:00 AM – 12:00 PM & 2:00 PM – 4:00 PM
*Closed on Friday
Address:
3 Muscat Street, Singapore 198833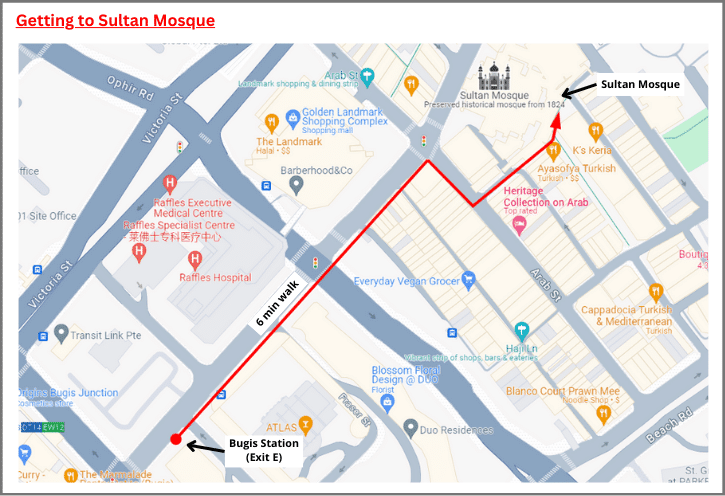 3. Haji Lane: Discover This Cheerful, Colorful Section of Bugis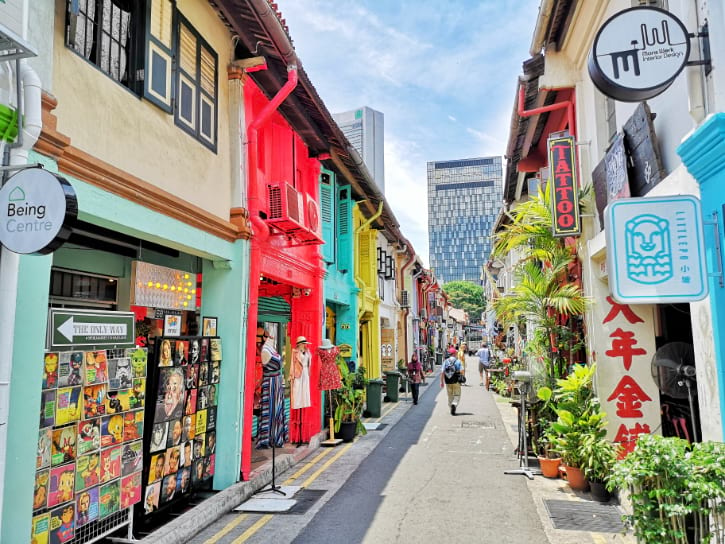 One of the best things to do in Bugis Singapore is to explore Haji Lane. This place is a burst of color and creativity with its street art.
Walking through, you'll see amazing artwork decorating the cafes and boutiques.
It's a real treat for the eyes, and if you love photography, this place is a dream. The mix of colors here makes every corner picture-perfect.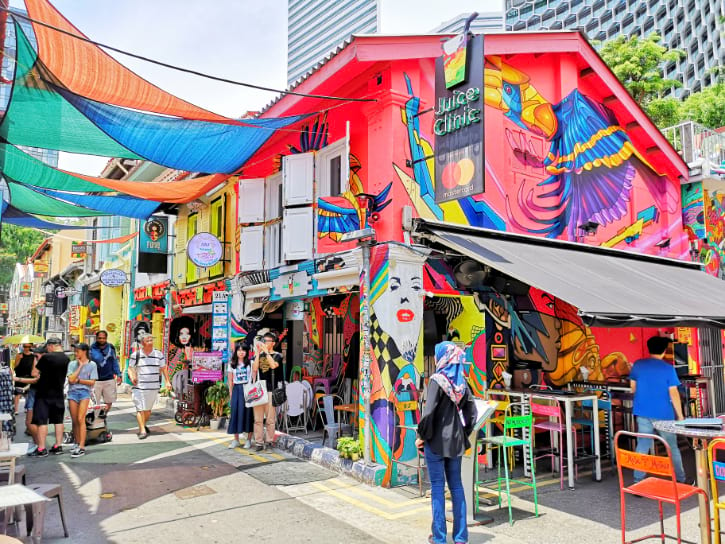 Aside from fancy boutiques and craft stalls, Haji Lane is also stuffed with chill spots.
Enjoy a cosy late morning or a vibrant artsy afternoon from one of the many hip cafes and cool bars.
Address:
Haji Lane, Singapore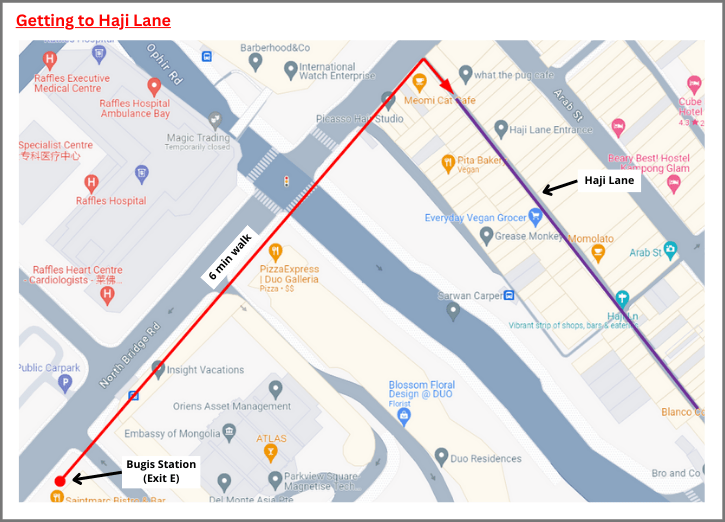 4. Bugis Junction: Shop 'til You Drop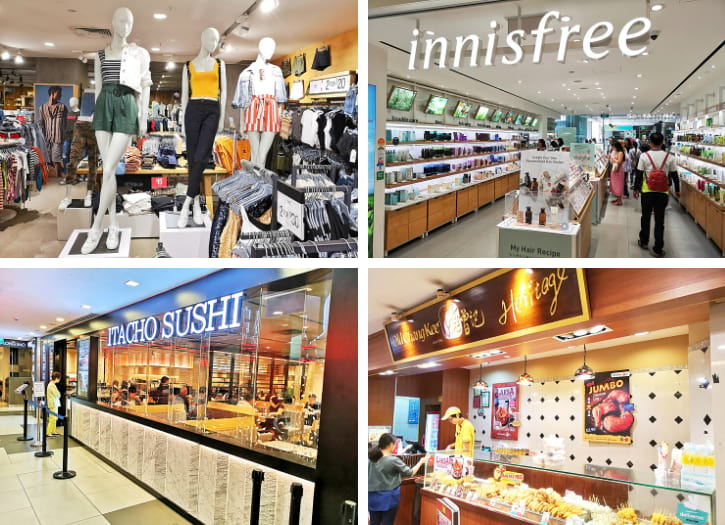 Bugis Junction is a modern shopping centre on the opposite side of Bugis Street Market. Inside this famous mall are retail shops and local boutiques of all kinds.
Check out the impressive variety of fashion apparel, trendy accessories, bags, and shoes. There are a lot of stylish finds here, so make sure to include this place when you visit Bugis.
And of course, a trip to Bugis Junction wouldn't be complete without some food expeditions.
Grab a snack from the array of food stalls that serve local and international treats located on basement 1 of the mall.
Access: When you arrive at Bugis Station, head for Exit C; it takes you straight to Bugis Junction shopping mall.
Address:
200 Victoria Street, Singapore 188021
5. Kwan Im Thong Hood Cho Temple: Take a Break and Pray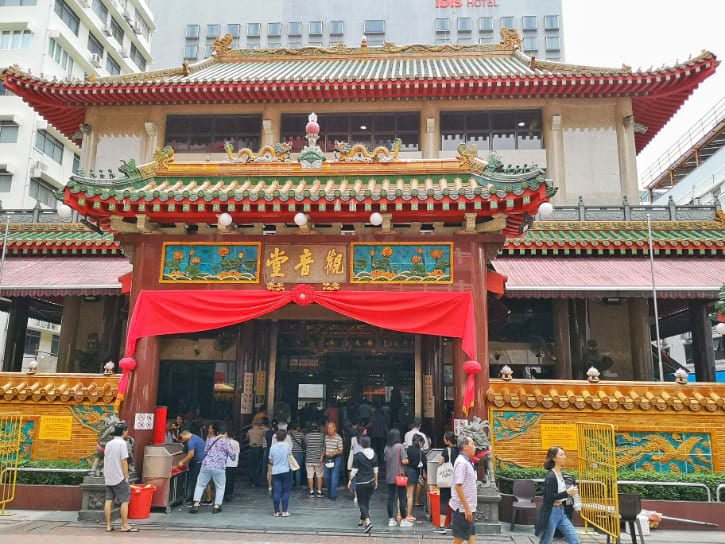 Kwan Im Thong Hood Cho Temple is a peaceful spot in the Bugis area of Singapore. This temple is for the Goddess of Mercy, Kwan Im. It's old and has a lot of history.
The temple's architecture is beautiful. Inside, it's calm, with people praying and lighting incense. You can join them or just watch.
You can also take part in temple activities like making a small donation or getting your fortune read.
Nearby, there are many shops selling religious items and vegetarian food. This is a great way to experience local culture and find unique souvenirs.
Address:
178 Waterloo Street, Singapore 187964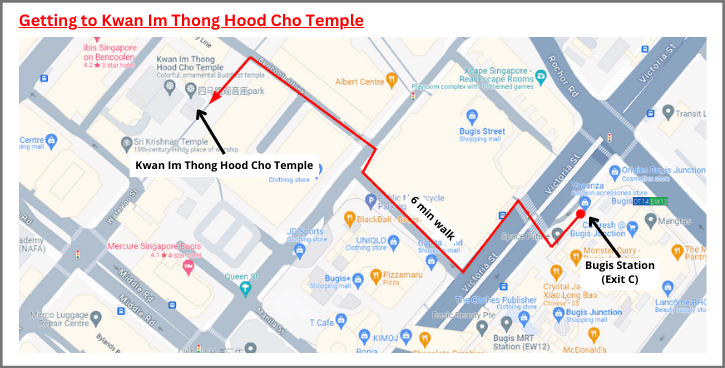 6. Sri Krishnan Temple: Get Fascinated by the Indian Heritage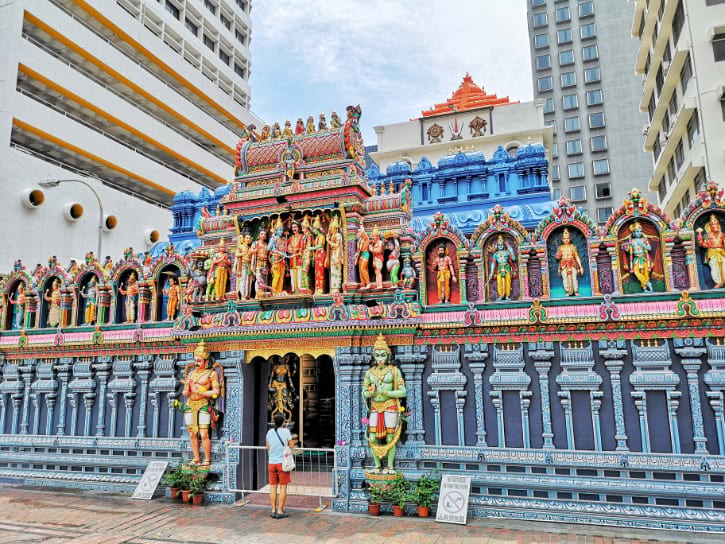 Sri Krishnan Temple is a very beautiful Hindu temple in Bugis that is recognized for its multi-colored exterior.
The temple looks like it's from South India, especially the main tower with many colorful statues.
Inside, there's a big prayer hall with gold and copper decorations. You'll see many Hindu statues and old things there.
Besides this temple in Bugis, you can find more stunning Hindu temples in Little India Singapore. It's a great place for anyone who loves seeing different cultures and beautiful buildings.
Address:
152 Waterloo Street, Singapore 187961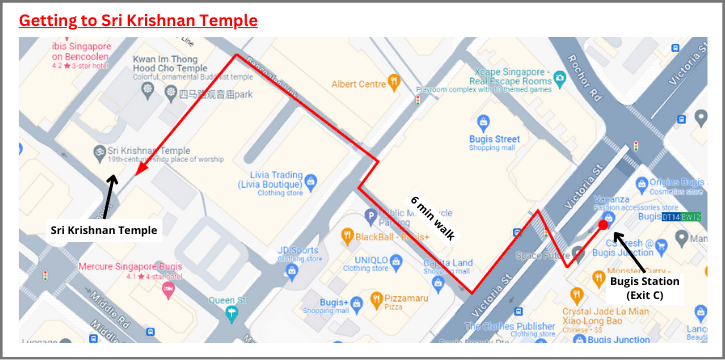 7. Arab Street: Experience an Epic Cultural Adventure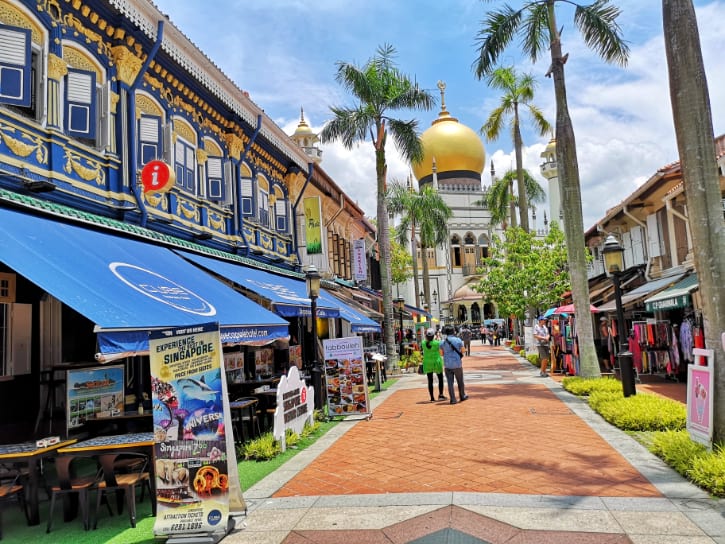 Arab Street is a top Bugis sightseeing spot from daytime 'til nighttime. The area is a feast for the senses with its lively cafes and charming local shops.
Don't forget to snap some pictures with the stunning Sultan Mosque in the background. It makes for an amazing photo opportunity.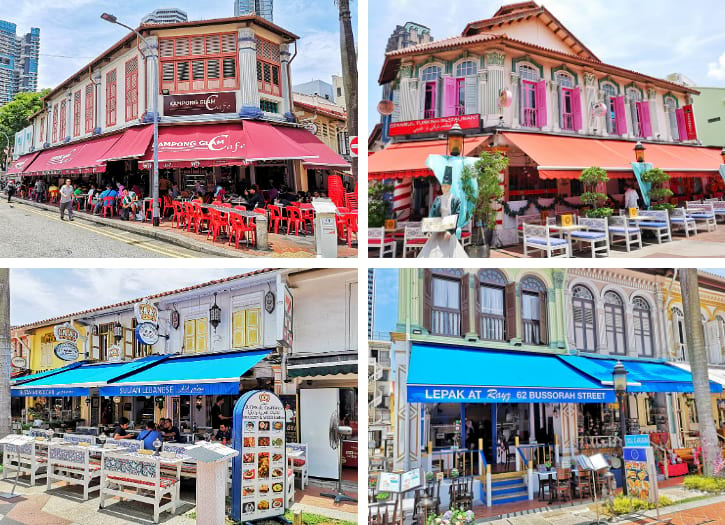 When hunger strikes, head over to Lepak @ Rayz or Kampong Glam Cafe.
Lepak @ Rayz serves up mouthwatering nasi goreng and satay, offering a true taste of local cuisine.
Meanwhile, Kampong Glam Cafe is a gem for dishes like mee rebus, nasi lemak, and nasi goreng kampung. These meals are not only delicious but also ideal for a quick, satisfying meal.
Address:
Arab Street, Singapore
8. Vintage Camera Museum: Exploring Photography's Timeless Treasures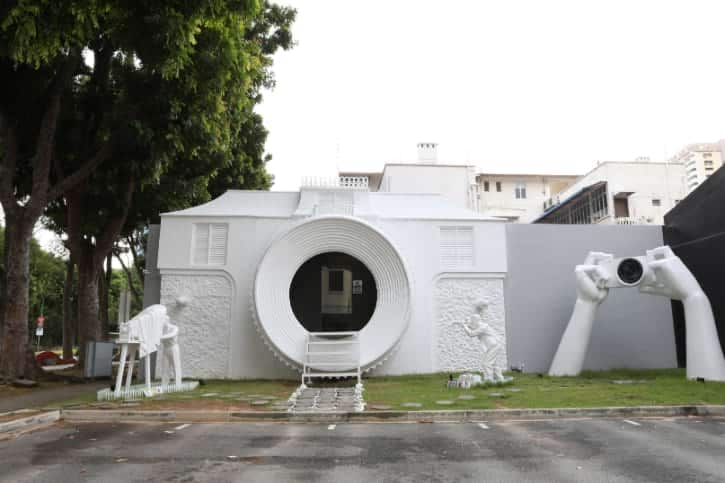 If you're into photography, the Vintage Camera Museum is a must-see. It's like a treasure trove of old cameras.
When you visit, you can see all kinds of cameras, from really old ones to more modern types. They even have cameras shaped like guns and robots!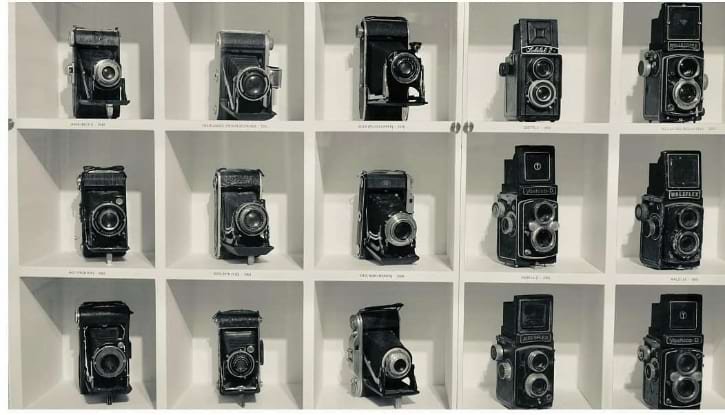 It's not just looking at cameras, though. You can learn about the history of photography and see how cameras have changed over time.
So, if you love cameras or just want to see something different, this museum is definitely worth checking out.
Address:
No. 8c & 8D Jalan Kledek,
Singapore 199263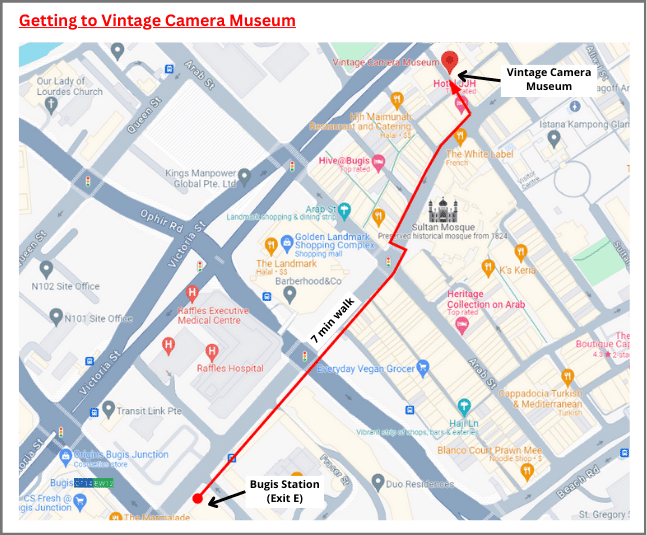 9. CHIJMES: Be Enthralled by This Classical Structure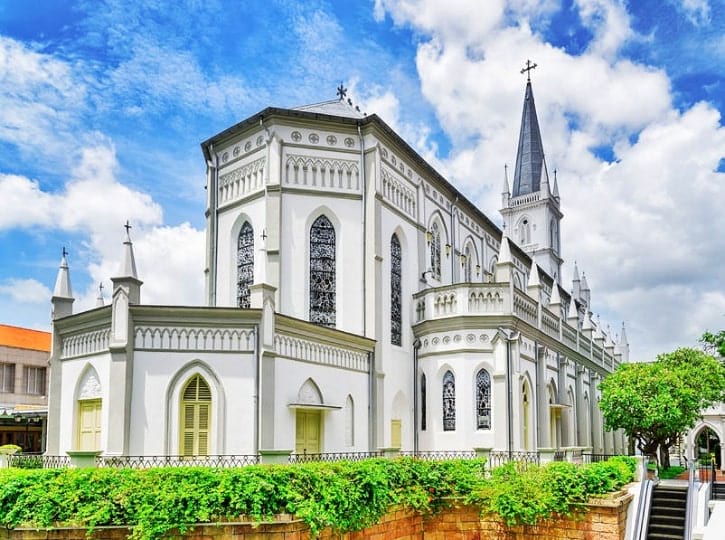 CHIJMES is a popular destination in Bugis for wonderful photo opportunities.
This majestic landmark easily stands out because of its elegant architectural design. You can make use of this white-washed structure as your backdrop.
Before becoming a famous cultural spot, CHIJMES was previously used as a town convent.
Centuries later, the building is now utilized as a food centre. Here, you can catch the vibrant food scene that perfectly complements the cosy surrounding.
Address:
30 Victoria Street, Singapore 187996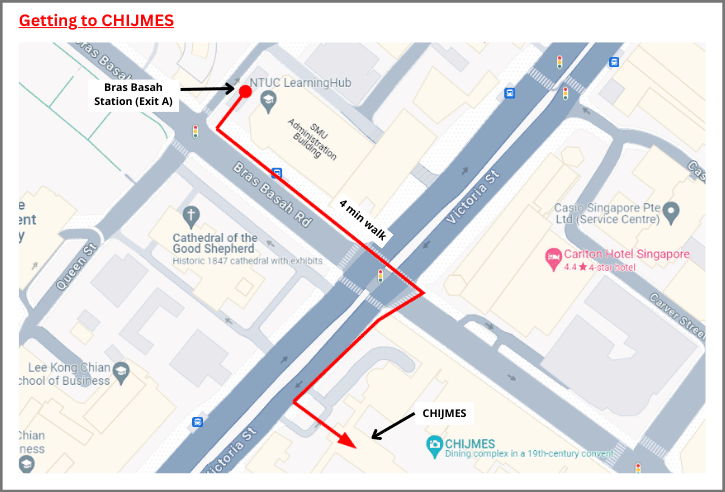 10. Albert Hawker Centre: Explore the Food Stalls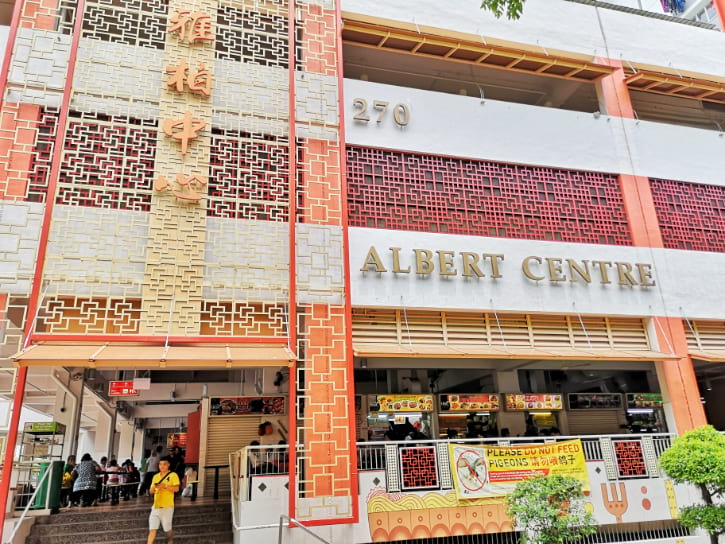 Albert Hawker Centre is located in Bugis-Rochor area, between Bugis Junction and Sim Lim Square.
This popular food centre offers a wide range of cheap and tasty treats.
Try one of the delicious hot bowls at Yong Tau Foo. Or if you want some tasty meat noodles and fish ball kway teow, pick Ah Seng Bak Chor Mee.
Other highly recommended foods here are the fishball mee from Hock Lee Fishball Noodle and the popiah from Fortune Food Popiah.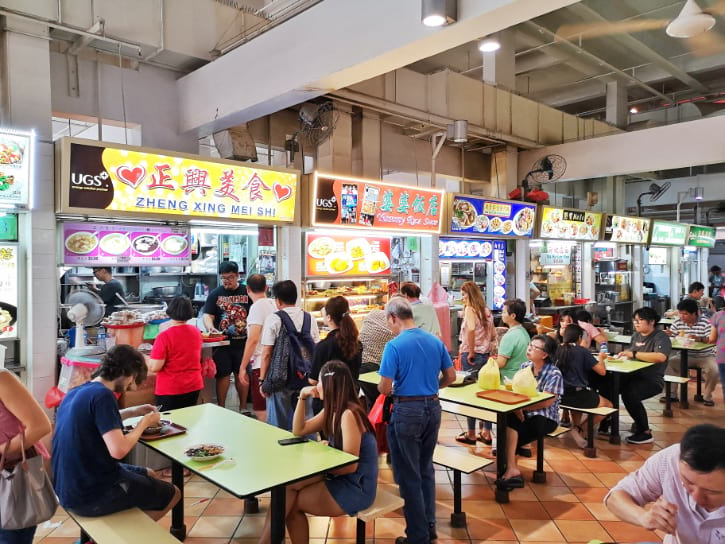 Because of its variety of food, Albert Hawker Centre has become Bugis' top dining spot.
So, if you're on the hunt for some reasonably-priced meals and snacks, this place won't disappoint you.
Address:
270 Queen Street, Singapore 180270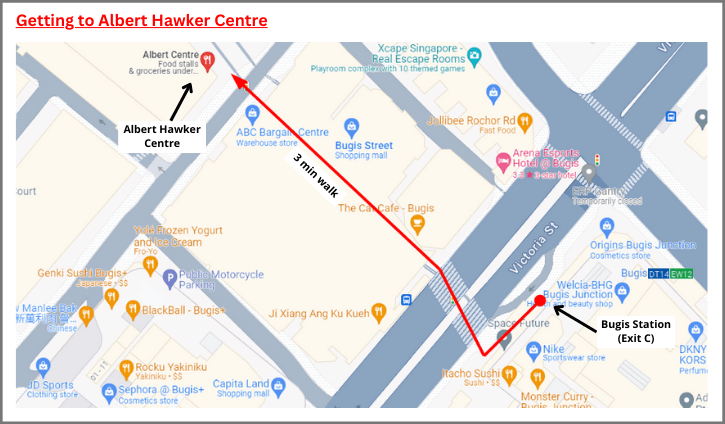 Things to Do in Bugis Singapore: Summary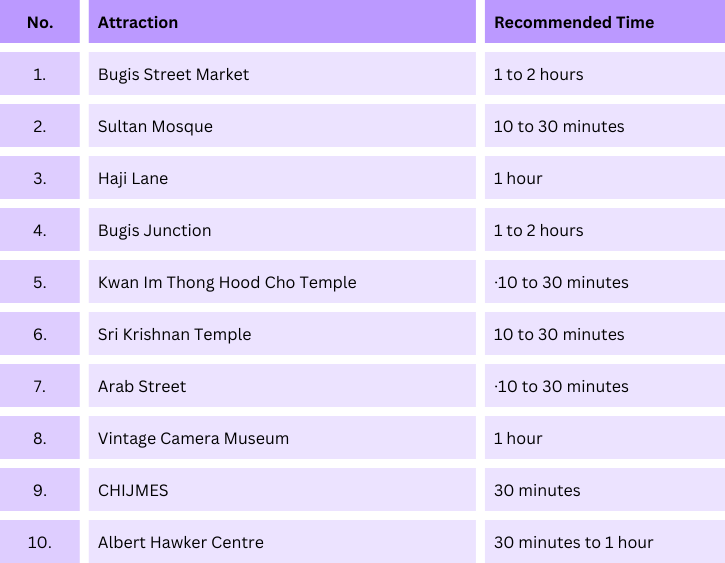 I've created a summary of what to do in Bugis through the list below. I've categorized them accordingly so you can easily choose depending on your preferences.
Shopping and Markets:
Bugis Street Market
Bugis Junction
Heritage and Arts:
Haji Lane
Arab Street
Vintage Camera Museum
Religious and Cultural Sites:
Sultan Mosque
Kwan Im Thong Hood Cho Temple
Sri Krishnan Temple
CHIJMES (historical building with a gothic-style chapel, now a multipurpose space)
Food and Cuisine:
Albert Hawker Centre (known for local Singaporean street food)
Also, check out my two helpful articles for a great Singapore trip. They cover the best things to do in Sentosa Island and Clarke Quay. Take a look at them when you're planning!
My Suggested Itinerary
I've put together two sample itineraries for exploring Bugis to help you plan your Singapore trip with ease. Take a look at these suggestions to make the most of your visit!
Plan 1: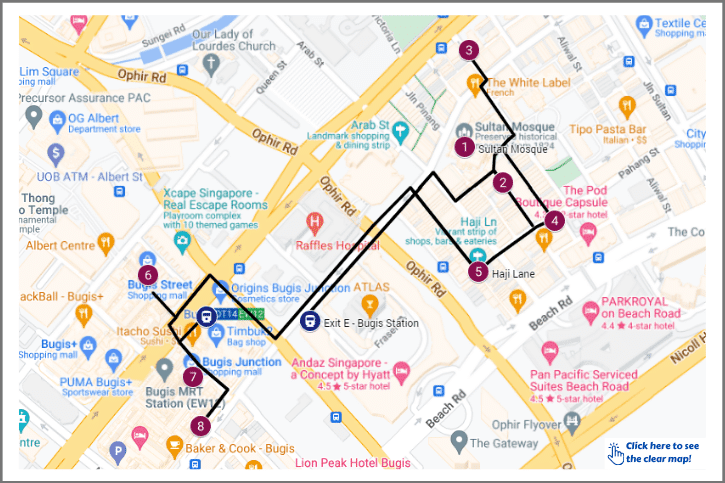 10:00 AM – Sultan Mosque
10:30 AM – Arab Street
11:00 AM – Vintage Camera Museum
12:00 PM – Kampong Glam Cafe (Lunch)
1:00 PM – Haji Lane
2:30 PM – Bugis Street Market
4:30 PM – Bugis Junction
6:30 PM – Josh's Grill (Dinner)
Plan 2: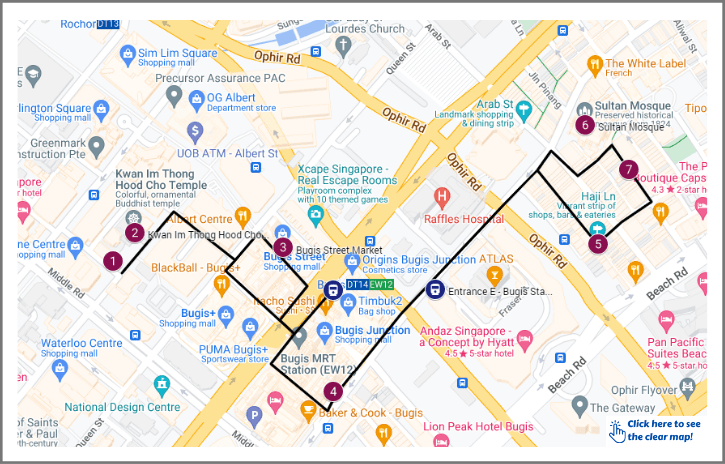 10:00 AM – Sri Krishnan Temple
10:30 AM – Kwan Im Thong Hood Cho Temple
11:00 PM – Bugis Street Market
12:30 PM – Josh's Grill (Lunch)
1:30 PM – Haji Lane
3:00 PM – Arab Street
3:30 PM – Sultan Mosque
Bugis Singapore Map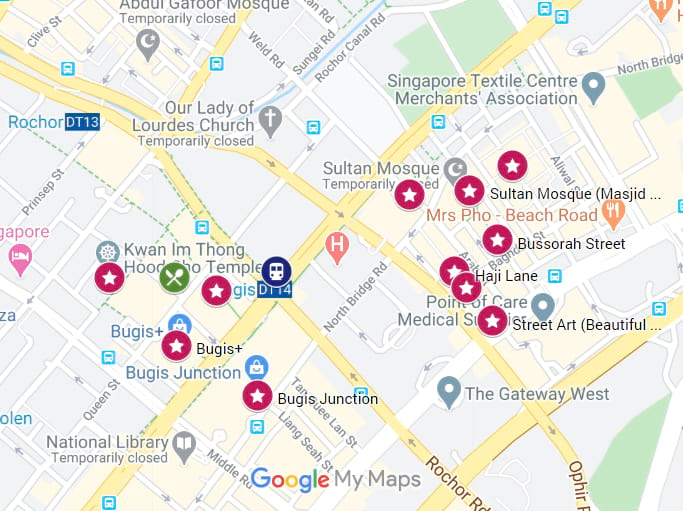 Discovering Bugis Attractions: Your MRT Station Exits Guide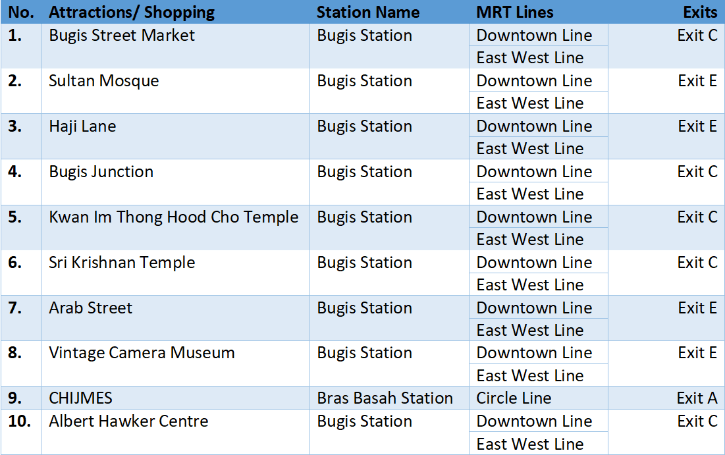 Related Posts