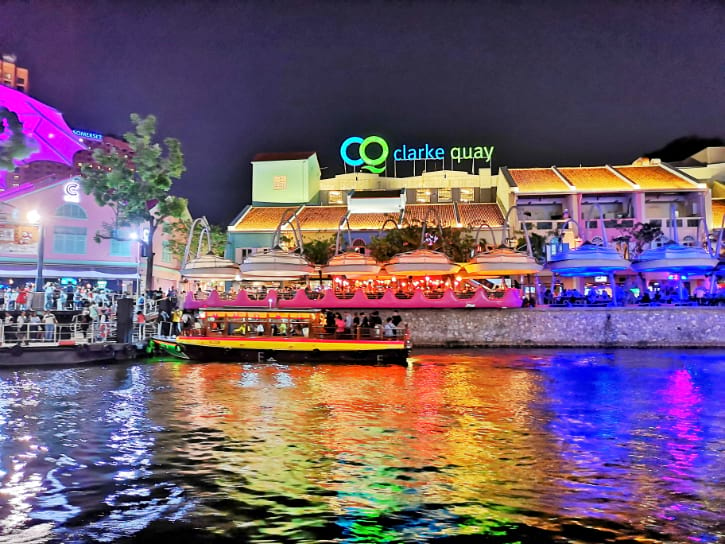 The things to do in Clarke Quay Singapore are simply exciting and amusing. So, don't miss this chance to visit all the Clarke Quay top-rated attractions and have a memorable trip.
Bounded with breath-taking water views and nightlife scenes, Clarke Quay, together with its surrounding Riverside, is tagged as one of the best night-time activities in Singapore.
But aside from the spectacular scenery, visitors are presented with a range of attractions, hotels, and eateries.
So, here are the best things you shouldn't miss out during your visit to Clarke Quay.
1. Clarke Quay Riverside – Enjoy the river views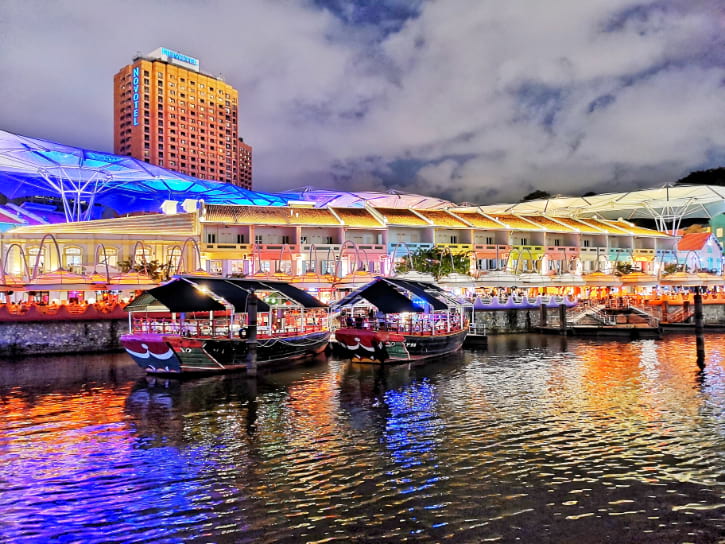 Clarke Quay Riverside is beautifully filled with wonderful sights and attractions. Because of its location, it holds some of Singapore's best nightlife activities.
Warm up your senses by strolling along the scenic riverside.
While walking around, you'll witness the vibrant scene from the restaurants and entertainment venues.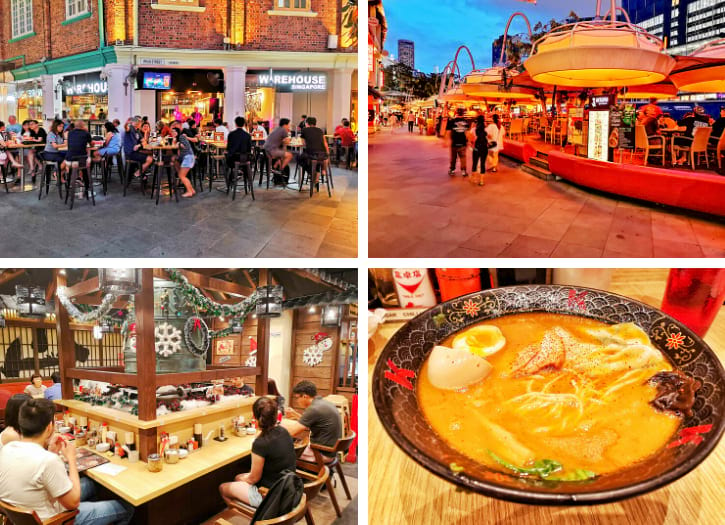 After your relaxing stroll, it's time for an exciting night session. Choose from one of the best clubs in the area such as Zouk, Canvas, and Attica.
There are also some cosy bars around the area for those looking for a chill night.
And of course, this place is a favorite destination among food enthusiasts.
Feed your appetite from one of the many restaurants that serve Japanese, Indian, Chinese, Thai, and Western foods.
For the best ramen in Clarke Quay, don't miss Ramen Keisuke Lobster King and try their best-selling Japanese noodles.
Opening Hours:
12:00 PM – Late
Address:
3 River Valley Road, Singapore 179024
2. Singapore River Cruise – Experience a scenic boat cruise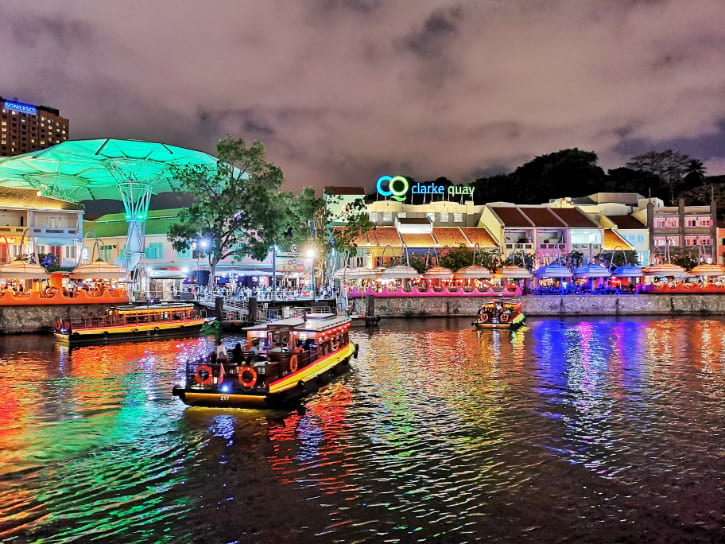 Do you want to experience a scenic tour along the panoramic Singapore River?
Take a ride with the historical Bumboat and enjoy the relaxing Singapore River Cruise.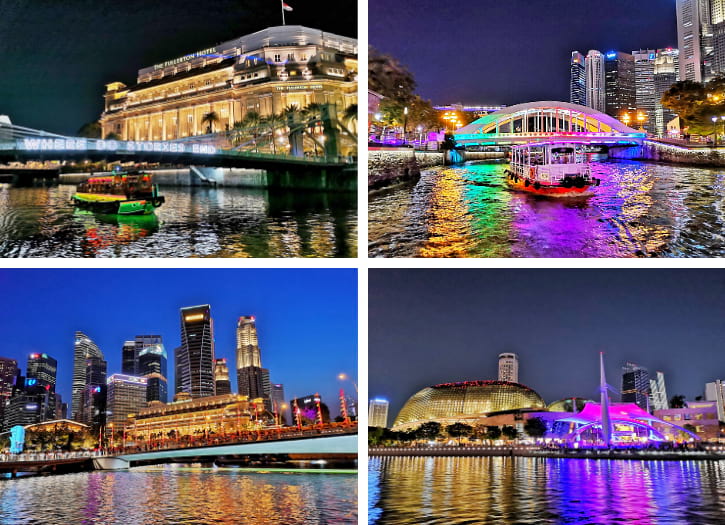 While onboard, ready your cameras to capture the iconic Singapore Merlion Statue and majestic Marina Bay Sands.
Other famous landmarks you'll witness from afar are the ArtScience Museum, Fullerton Hotel, and Esplanade Theatre.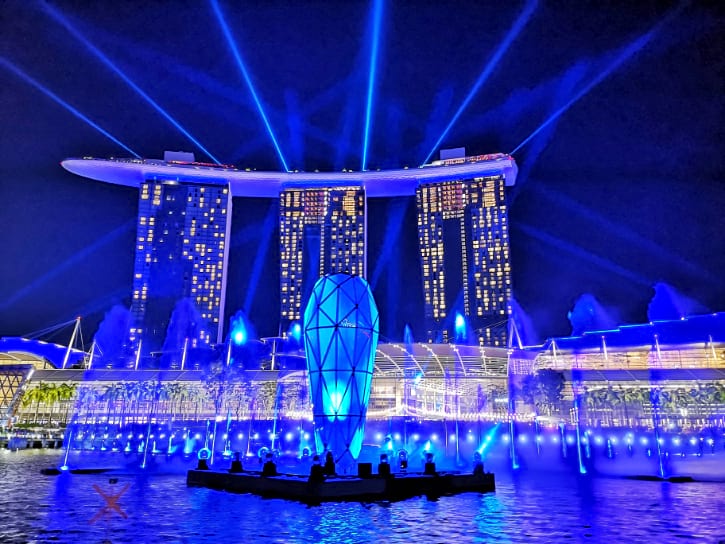 For a more memorable trip, ride the boat during night-time, ideally at 7:30 PM. And, it's best to pick a boat that is located at Clarke Quay jetty.
If you pick this option, your adventure commences at Clarke Quay and then voyages through the striking Singapore River.
It continues all the way down to Marina Bay and then back to Clarke Quay.
The entire river cruise takes around 40 minutes, so make the most out of your water journey.
Opening Hours:
9:00 AM – 11:00 PM (Last Boat: 10:30 PM)
*Departs every 30 minutes
Normal Ticket Prices:
Adult (13+): SGD $25
Child (3 – 12): SGD $15
Money Saving Tips:
Book here for Singapore River Cruise tickets so you'll obtain an extra up to 10% discount!
Address:
30 Merchant Road, Singapore 058282
Google Maps:
Clarke Quay Jetty Location
3. Boat Quay – Indulge in the abundant food options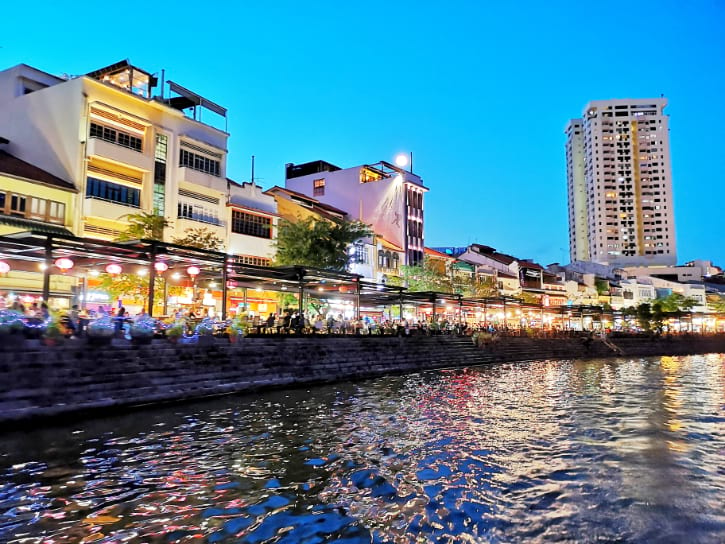 If you're looking for a more relaxed yet still exciting night out, a trip to Boat Quay is an incredible choice.
This vibrant spot is a popular destination among foodies and nightlife enthusiasts.
Here, you can leisurely walk around and savor the lovely water views. And because of its location, there are a lot of alfresco restaurants in the area.
Choose from the wide selection of food spots and seafood eateries along the riverside. These restaurants also serve a variety of cuisines, including Indian, Korean, Japanese, and Western.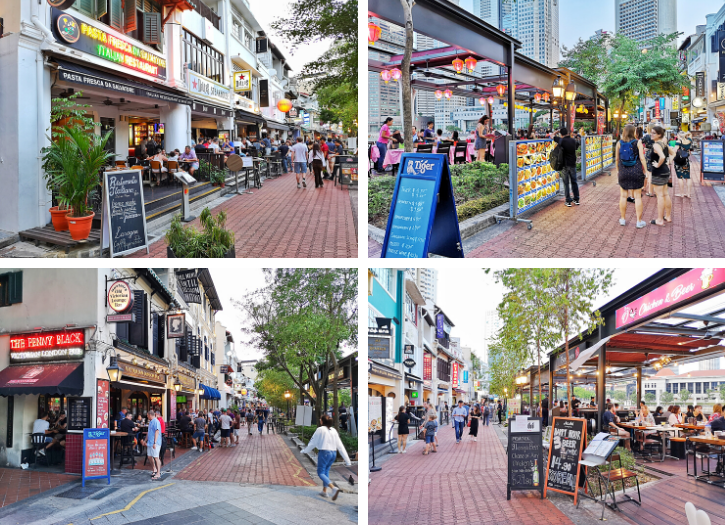 And of course, your Boat Quay tour would never be complete without the ever-pulsating nightlife scene.
Enjoy a fun drinking session from one of the many pubs around the area.
Each of these spots got something to offer you, from flavorful cocktails to delectable foods.
Opening Hours:
Prefer visiting at night after 7:00 PM
Address:
Bonham Street, Singapore 049782
4. G-Max Reverse Bungy – Pump up your adrenaline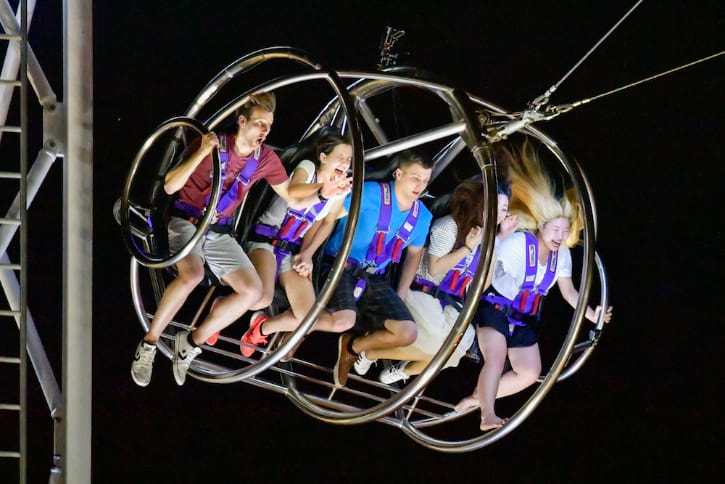 Do you want to add some excitement to your Clarke Quay visit?
Get your senses hyped up with the electrifying G-Max Reverse Bungy.
This ride is perfectly designed for adventurous individuals who want a heart-pumping experience.
Enjoy every moment as you get thrown in the air back and forth. Or if you're brave enough, try to open your eyes while you're dangling hundreds of feet up in the air.
Do take note that the speed of the ride reaches up to 200 kilometers per hour. So, this attraction is definitely not for the faint-hearted!
Opening Hours:
11:00 AM – Late
Ticket Price:
Ticket Information
Address:
3 River Valley Road, Singapore 179024
5. Old Hill Street Police Station – Catch the rainbow-coloured structure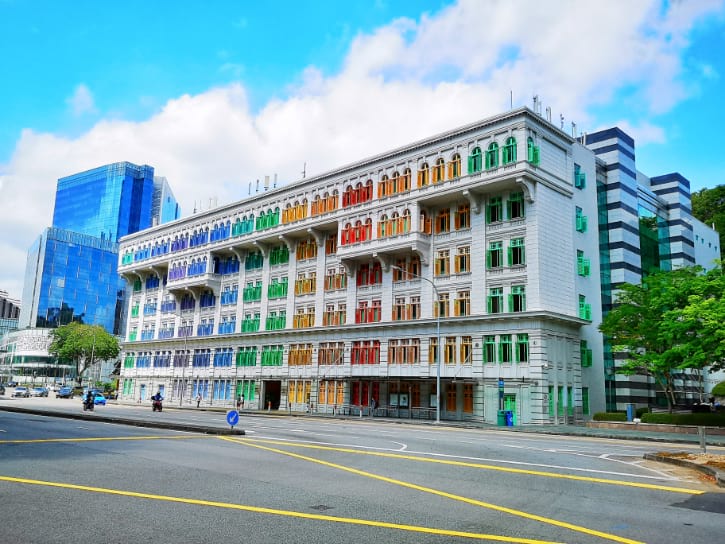 Welcome to the rainbow-painted structure in Clarke Quay!
The Old Hill Street Police Station is such a sight to see at whatever time of day and even up to night-time.
Because of its colorful exterior, it has become a popular background for photos. Find your angle as you pose in front of this architectural charm.
On top of its eye-catching facade, this multi-colored building also holds a significant part of history.
The Old Hill Street Police Station has shaped a part of the country's police force.
It was built in 1934 serving as the first jail in the country. It also housed several police officers and their families back in the days.
So, if you want to know more about this remarkable building, make sure to add this to your itinerary.
You can also refer to my list of Singapore's most charming historical buildings for other must-visit sites.
Address:
140 Hill Street, Singapore 179369
6. Cavenagh Bridge – Stroll along the historic bridge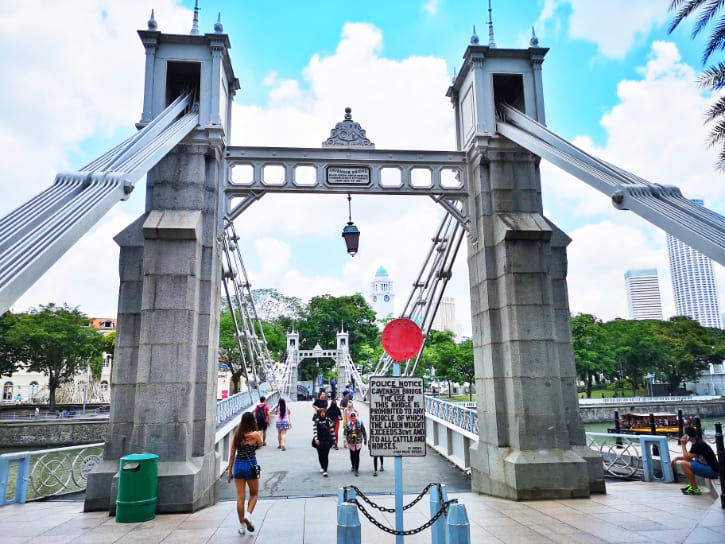 The Cavenagh Bridge brings a different light to your trip. It's a place for relaxation and cultural appreciation.
Walk your way towards the iconic bridge that is always filled with locals and visitors.
This suspension bridge was created back in the 18th century, making it one of the oldest bridges in the country.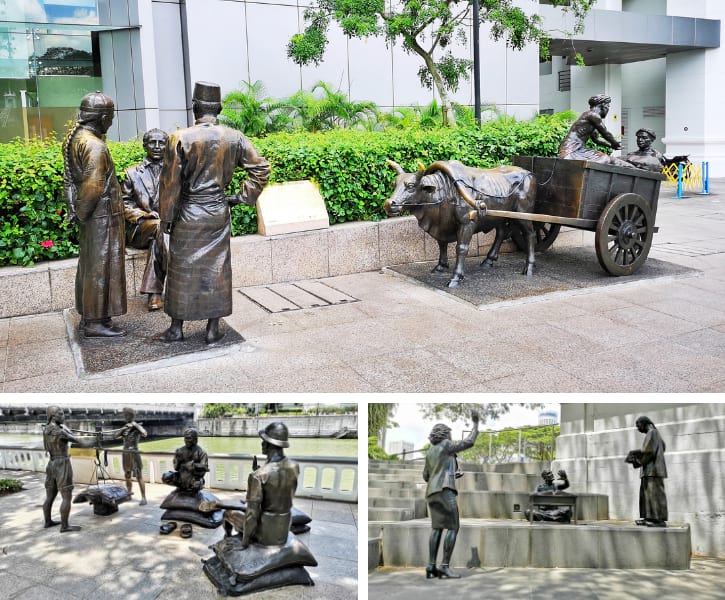 Continue your exploration and you'll come across some remarkable structures along the riverside.
Among these figures are The River Merchants, From Chettiars to Financiers, and A Great Emporium. All these statues represent a part of Singapore's history.
Opening Hours:
24 Hours
Address:
1 Fullerton Square, Singapore 049178
7. Asian Civilisations Museum – Amuse yourself with cultural pieces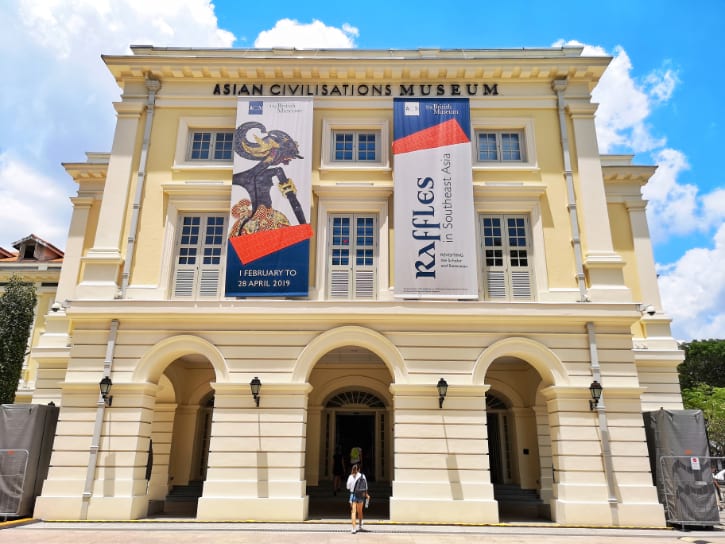 If you're interested in some well-known museums in Singapore, you've got to pay a visit to the Asian Civilisations Museum.
This building features a classic architectural style that makes it a standout.
Inside the museum are pieces of the past that represent the country's growth, along with other Asian nations.
Move your eyes from one relic to another and capture its unique charms.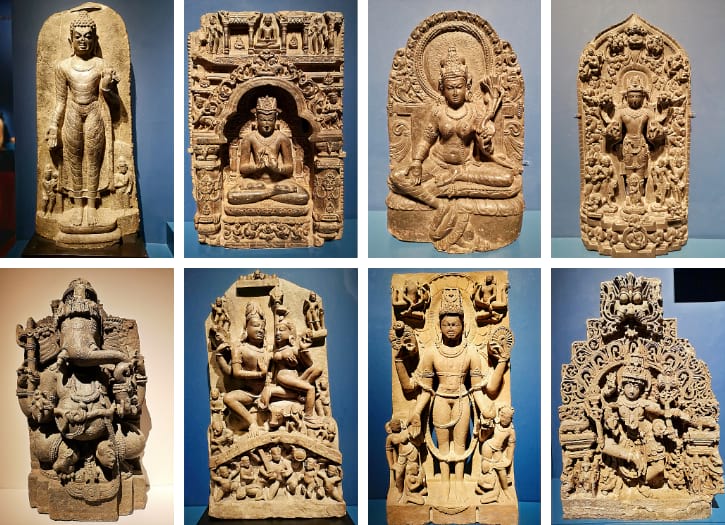 Take a look at the impressive display of sculptures, painting, and ritual items.
These are various traces of different religions including Buddhism, Jainism, Hinduism, Islam, and Christianity.
There is also a portion allocated for the items used by early scholars.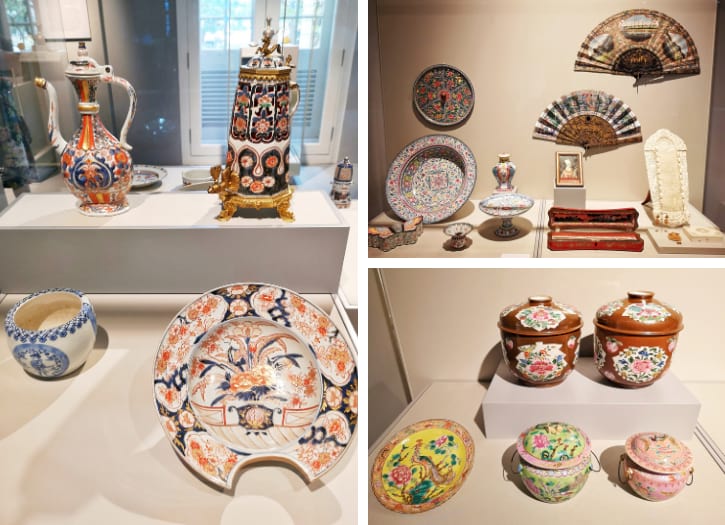 Continue with your tour and witness the majestic ceramic collection including basins, pots, plates, covered jars, and container boxes.
On top of that, you'll find a variety of jewelry items and textiles gathered from ancient communities.
Opening Hours:
Saturday to Thursday
10:00 AM – 7:00 PM
Friday
10:00 AM – 9:00 PM
Ticket Price:
SGD $8
Address:
1 Empress Place, Singapore 179555
8. Fort Canning Park – Get tangled with history and nature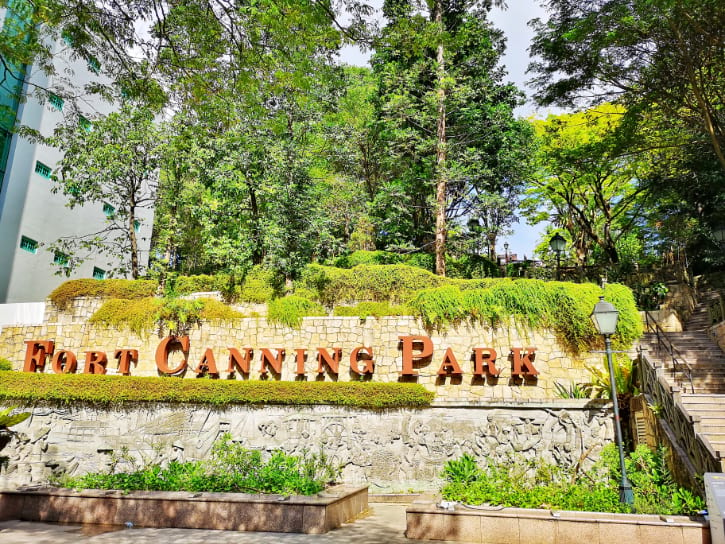 Fort Canning Park is known for its calmness and vibrant nature scenes. Here, you can relax from one of its many picturesque spots.
But did you know that this famous attraction is more than just a scenic park?
It's a place imprinted with history.
So, get to know more about the country through its vast collection of ancient exhibits.
i. Sally Port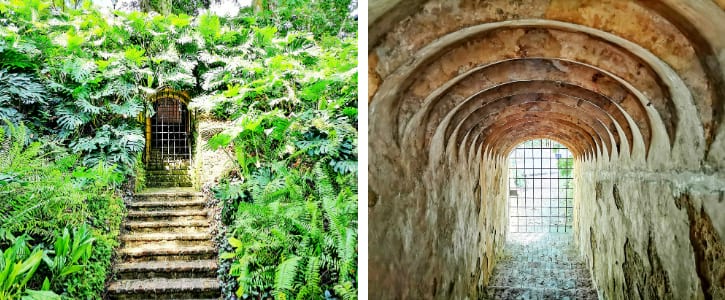 Get into the fort through the Sally Port. This spot is a hidden entrance to other locations in the park.
Because of its obstructed view and narrow path, the place served as the escape route of the soldiers during the war.
Before, there were three Sally Ports, but only one remained after many decades.
ii. The Spiral Staircase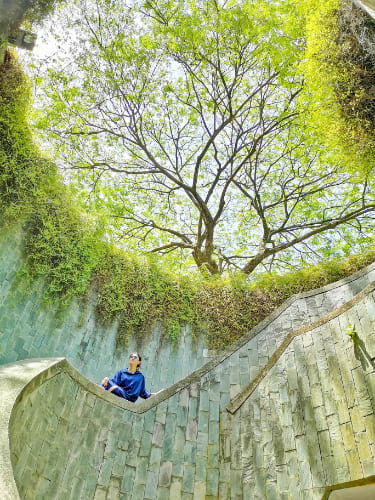 If you're eyeing for some Instagram-worthy places in Singapore, you shouldn't miss the Spiral Staircase.
This attraction is no doubt a picturesque spot that is also a great location to exercise your legs.
Climb the majestic staircase that leads to the park.
And don't forget to strike a pose with the brilliant nature as your backdrop!
iii. The Battlebox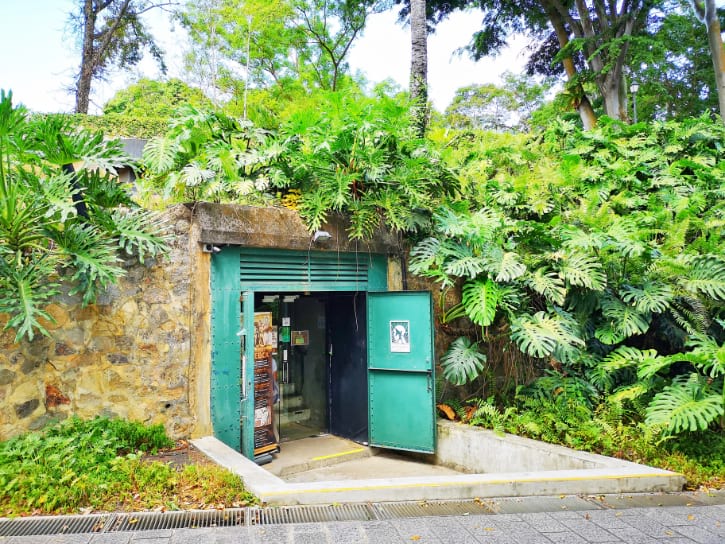 If you want to see the underground command center during World War II, head to The Battlebox.
This place functioned as a bunker during the war. Now, it houses some historical pieces during the country's darkest period.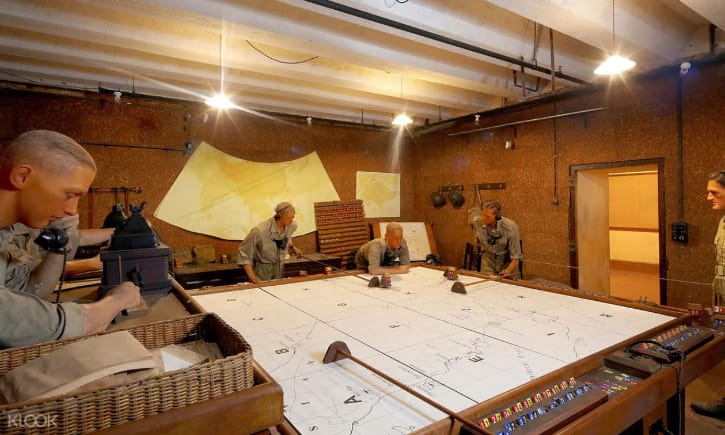 Walk around the museum that served as the headquarters of the Malaya Command and the British Empire.
Unfortunately, this is also the place where the fall of Singapore happened and the start of the Japanese regime.
Money Saving Tips:
Book The Battlebox Tour Online (SAVE 10%)
iv. Raffles House, Fort Canning Lighthouse and 9-Pound Cannon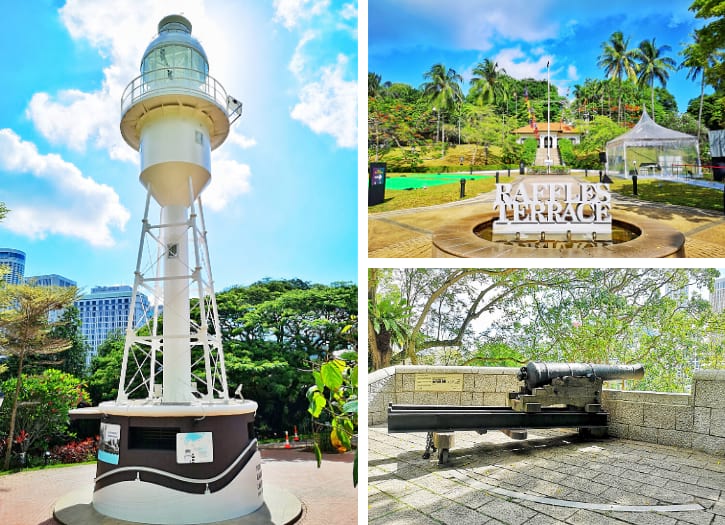 Drop by the Raffles House that now acts as a location for weddings and other important ceremonies.
On the other hand, there's the Fort Canning Lighthouse, a significant structure during the war.
Just beside the lighthouse is the 9-Pound Cannon. Before, it is used as part of the weaponry. After many years, it still served its purpose― not for war but rather as a greeting salute.
v. Fort Canning Arts Centre, Cupolas and Gothic Gate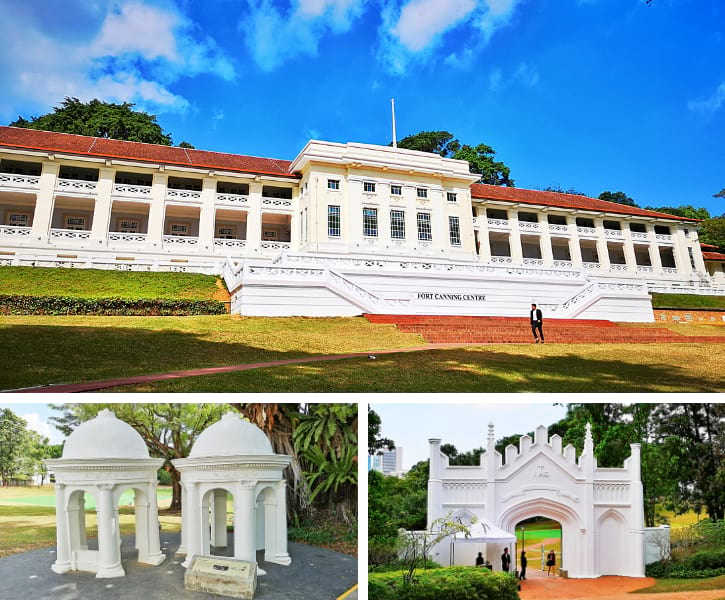 Looking for an iconic photo backdrop?
Make use of the Fort Canning Park Arts Centre as your background.
This classical building is an important part of the 18-hectare Fort Canning Park. It is used as the main location for important historical events.
Within the area, you'll also find some eye-catching structures such as the Cupolas and the Gothic Gate. It's not hard to spot these though because of their all-white colors.
Opening Hours:
24 Hours
Address:
Bounded by Hill Street, Canning Rise, Clemenceau Avenue and River Valley Road, Singapore 179618
9. Civil Defence Heritage Gallery – Check out this unique museum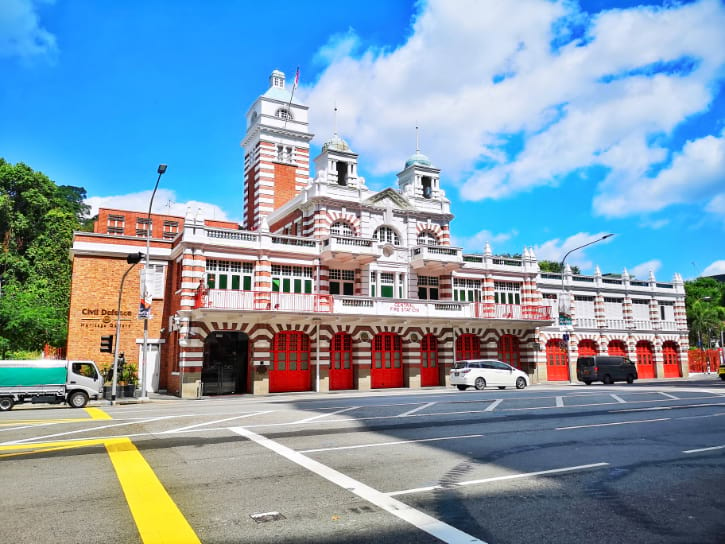 Civil Defence Heritage Gallery gathers all the key equipment of the Singapore Civil Defense Forces. So, if you're interested in knowing more about this part of history, this is the attraction to visit.
Discover the tools used by firefighters starting from the 19th century to the present day.
There are plenty of amazing equipment on display, including fire engines, water pumps, and motorcycle uniforms.
You'll also capture some historical photos from various rescue operations.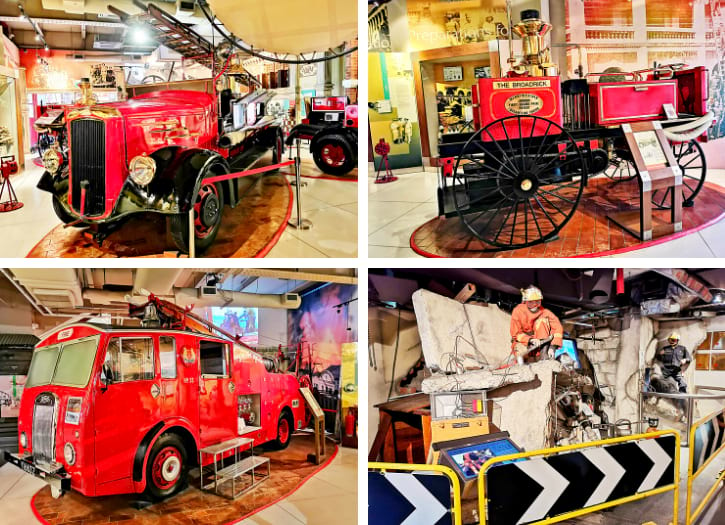 Catch up with real firefighters and get a glimpse of their daily job as modern-day heroes.
You may even have a chance to experience first-hand how to handle different fire equipment.
Surely, this unique museum is a great place for kids who want to become a firefighter. So, bring them into this amazing attraction and fuel up their dreams.
Opening Hours:
10:00 AM – 5:00 PM
Closed: Monday
Ticket Price:
Free
Address:
62 Hill Street, Singapore 179367
10. Hong San See Temple – Stop by the famous temple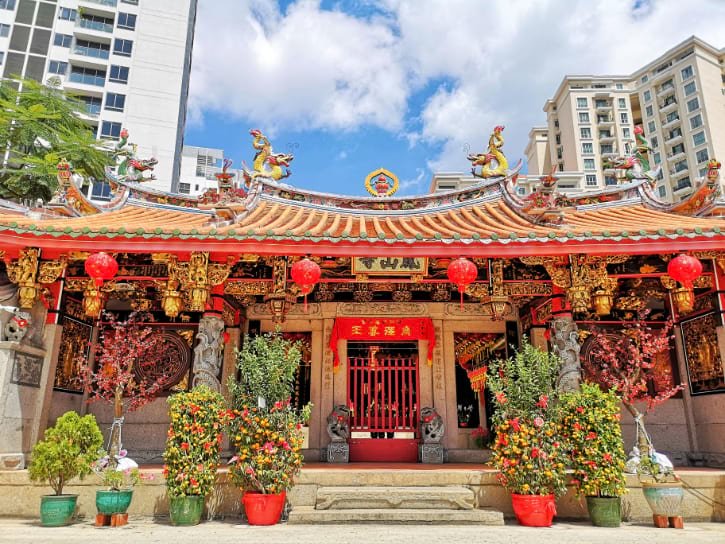 If you wish to explore some of the best picturesque Buddhist temples in Singapore, you should include the Hong San See Temple.
This religious site is stunningly surrounded by tall, modern buildings, which makes it a unique attraction.
From afar, you'll be greeted by its ancient and solemn vibes.
Stroll around its historical grounds and capture its traditional architectural style.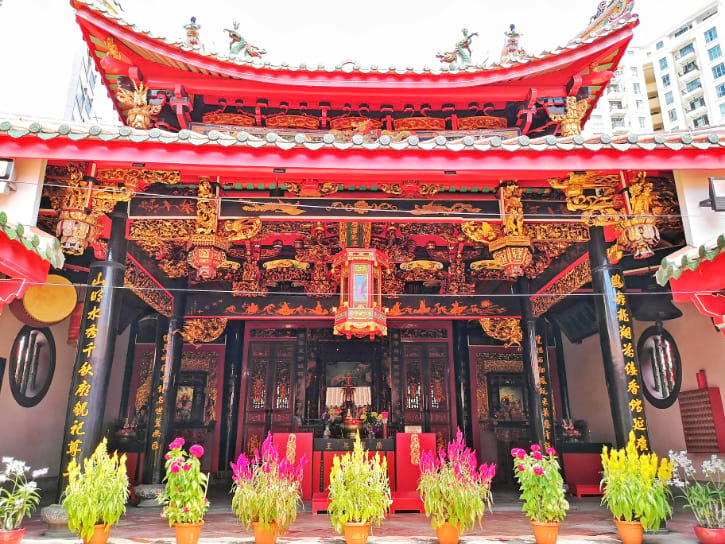 As you enter the temple, you'll even sense a more antique atmosphere through the sophisticated carvings, columns, and statues.
Look closely at the granite columns that feature intricate designs of dragons, birds, phoenixes, and flowers.
Because of its cultural significance, it has been recognized by UNESCO Asia-Pacific Heritage in 2010. It became the first-ever building in Singapore to be granted such an award.
So, if you want to take a breather or you just want to pray, the Hong San See Temple is a beautiful choice.
Opening Hours:
8:00 AM – 6:00 PM
Address:
31 Mohamed Sultan Road, Singapore 238975
Summary of Things to Do in Clarke Quay Singapore
Truly, Clarke Quay offers you an unforgettable and entertaining adventure.
So, here's a summary of the most recommended things to do and see in Clarke Quay that are surely worth your time.
For each attraction, I've included their numbers that correspond to the list above. This will help you navigate through the article easily.
The most Instagram-worthy spots in Clarke Quay: Clarke Quay Riverside (#1), Singapore River Cruise (#2), Old Hill Street Police Station (#5), Cavenagh Bridge (#6), Asian Civilisations Museum (#7), The Spiral Staircase of Fort Canning Park (#8), Civil Defence Heritage Gallery (#9)
The most beautiful historic buildings in Clarke Quay: Old Hill Street Police Station (#5), Cavenagh Bridge (#6), Asian Civilisations Museum (#7), Fort Canning Park (#8), Civil Defence Heritage Gallery (#9), Hong San See Temple (#10)
Top drinking places in Clarke Quay at night: Clarke Quay Riverside (#1), Boat Quay (#3)
Top places to go in Clarke Quay at night: Clarke Quay Riverside (#1), Singapore River Cruise (#2), Boat Quay (#3), G-Max Reverse Bungy (#4)
After reading my Clarke Quay guide, I recommend you to read this Singapore itinerary for 5 days, which elaborates on all the most iconic attractions in the country. Plus, it will help you visit many sights without being rushed.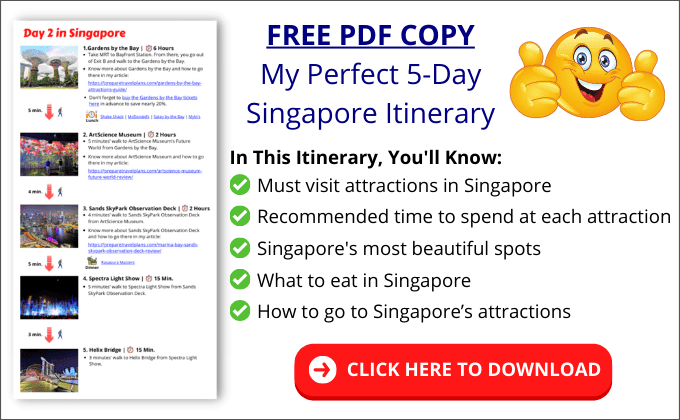 Clarke Quay Map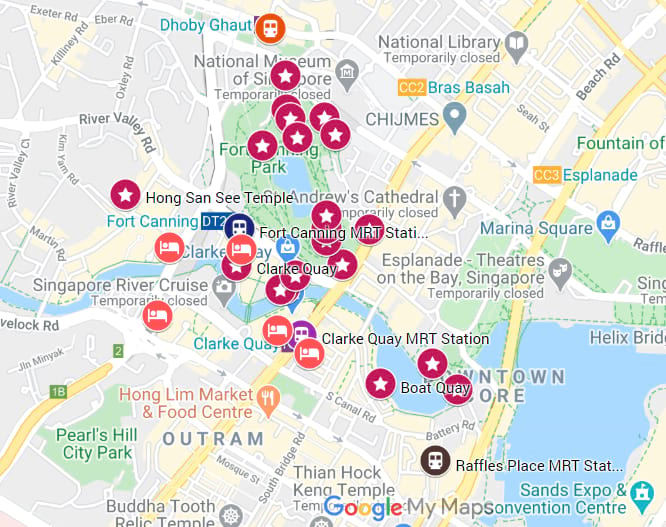 With the Clarke Quay map, you'll find the exact locations of all the best attractions to visit.
On top of that, my customized Google Maps provide you with the nearby MRT train station of the attractions. This will surely aid you in getting to your destination efficiently.
Plus, using the map will give you a bigger and clearer picture of what to do in Clarke Quay.
And I hope that this will make your preparation much easier because you already know the locations of the attractions. 😊
MRT Station Exits for Clarke Quay Attractions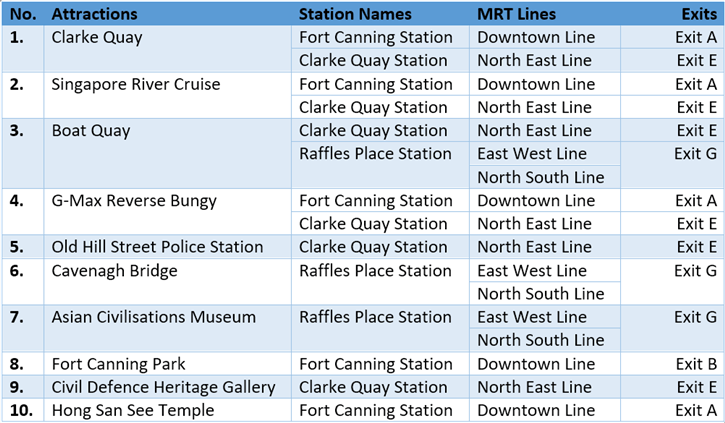 Where to Go after Clarke Quay
If you're done with the best attractions in Clarke Quay, you've got a whole lot of wonderful places to explore!
Level up the fun through my article on 47 top places to visit in Singapore and discover other incredible spots in the country.
1. Marina Bay Sands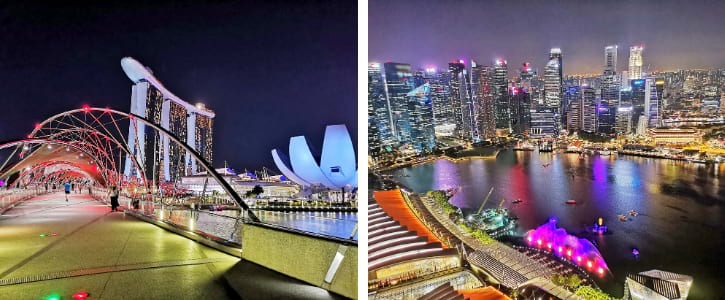 Marina Bay Sands is undeniably a spectacular location with all kinds of entertainment. If you want to visit the place sooner, make sure to check this complete Marina Bay Sands to-do list ahead of time.
2. Sentosa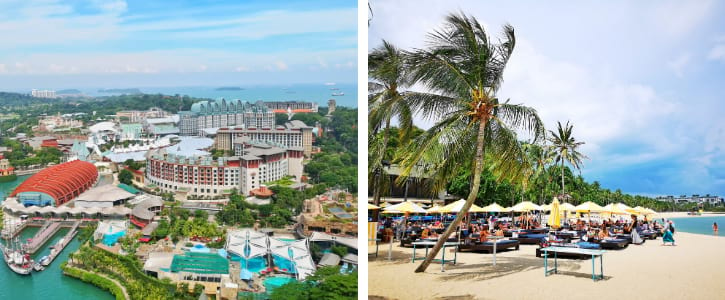 For outdoor enthusiasts and nature lovers, Sentosa is no doubt a top-notch destination. You can read my post on 20 top things to do in Sentosa Island to get some ideas on the places to visit.
3. Bugis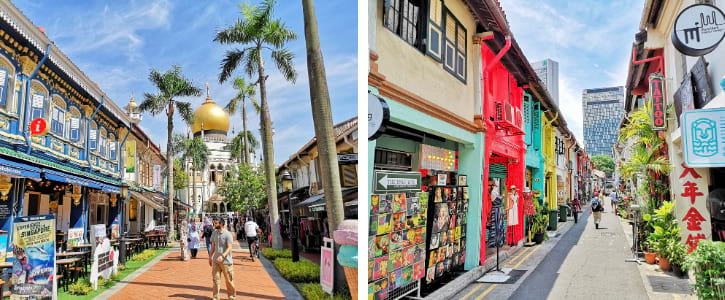 You can't miss Bugis if you're looking for colorful murals, beautiful temples, unique shopping malls, and amazing food options. For more information of the attractions, refer to this article on the exciting things to do in Bugis and learn more about this top-rated spot.
4. Universal Studios Singapore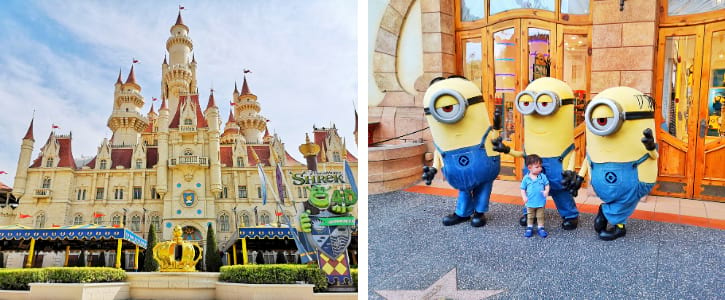 Universal Studios Singapore is the perfect spot for epic family adventures. It's also a recommended place for thrill-seekers. And to visit this attraction conveniently, you are given with 3 transport methods. These options are discussed in my detailed article on getting to Universal Studios Singapore, so make sure to check it out.
Where to Stay in Clarke Quay
On top of the beautiful attractions in Clarke Quay, there are also lots of hotels nearby.
But, I'll show you the famous hotels which are close to the MRT Station―Fort Canning MRT Station.
Clarke Quay is one of the popular places to stay in Singapore because it's just 3 stations away from Harbourfront MRT Station.
The Sentosa Island is just opposite of Harbourfront MRT Station. In short, Clarke Quay is quite near to Sentosa Island.
Other near attractions are Chinatown, Little India and Marina Bay Sands.
Plus, there are plenty of food choices along the area, including Chinese, Indian, and Thai restaurants. There are also Western foods, Japanese cuisines, and fast-food options like McDonald's.
So, here are the top 2 recommended hotels in Clarke Quay that are worth the mention.
1. Park Hotel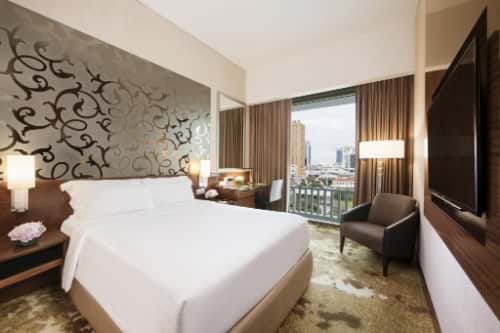 A scenic, sophisticated accommodation awaits traveler in Park Hotel Clarke Quay. This tropical spot is truly a relaxing home within the central district.
Unique, upscale exteriors. Park Hotel is known for its signature red roofs that spell out the beautiful Singaporean history.
Breath-taking outdoor pool with Jacuzzi. Relax comfortably in the outdoor pool that has a poolside bar with grill and cabanas.
Magnificent river and city views. See the gorgeous Singapore skyline and river from your room window.
Great amenities. They have a free shuttle and parking as well as restaurants, gym, and business hub.
Nearest MRT Station:
Fort Canning Station
Exit A
Check the Best Rate on:
Klook
2. Holiday Inn Express Singapore Clarke Quay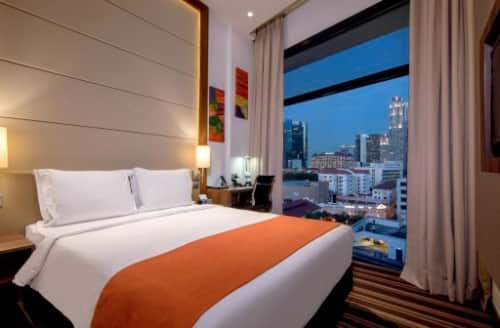 Right at the center of different major attractions and shopping areas, Holiday Inn Express Singapore Clarke Quay is the place to unwind if you're looking for sleek exteriors and urban style hotel.
Overlooking Clarke Quay and Singapore River. The 24-hour rooftop area has a sun lounger and an outdoor swimming pool with a see-through slide.
Distinct architectural style. The geometrical exterior, featuring steel and glass, makes this hotel a sight to behold even from afar.
Chic room designs. Each room comes with a colourful and cheerful touch because of the charming, modern interior.
Great room views. See some amazing views from your room with the panoramic floor-to-ceiling windows.
Nearest MRT Station:
Fort Canning Station
Exit A
Check the Best Rate on:
Klook
Related Posts