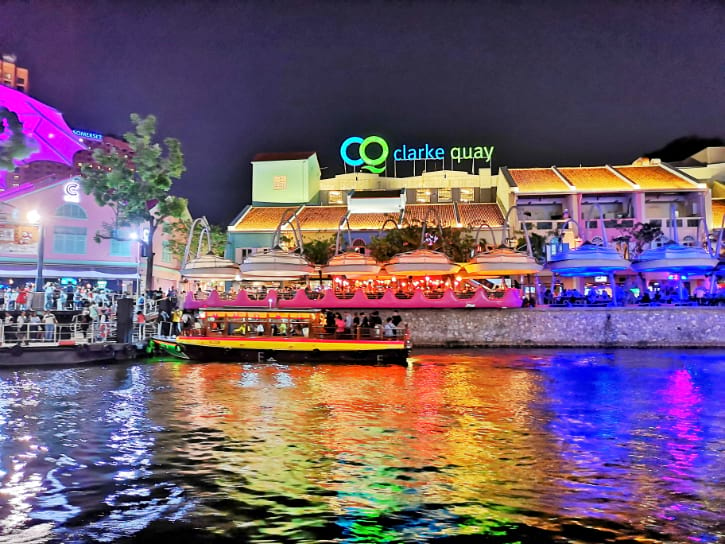 The things to do in Clarke Quay Singapore are simply exciting and amusing. So, don't miss this chance to visit all the Clarke Quay top-rated attractions and have a memorable trip.
Bounded with breath-taking water views and nightlife scenes, Clarke Quay, together with its surrounding Riverside, is tagged as one of the best night-time spots in Singapore.
But aside from the spectacular scenery, visitors are presented with a range of attractions, hotels, and eateries. So, here are the best things you shouldn't miss out during your visit to Clarke Quay.
10 Best Things to Do in Clarke Quay Singapore
---
1. Clarke Quay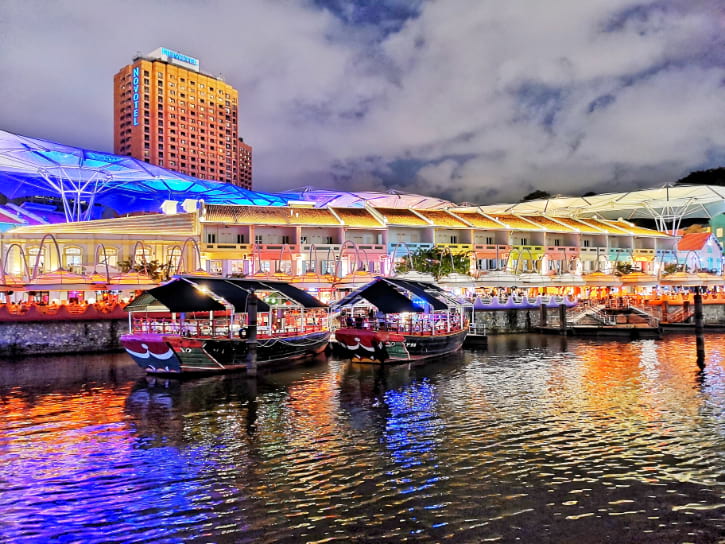 For a night filled with amazing sights and attractions, head to Clarke Quay and you'll not be disappointed with everything it has to offer. This historical Riverside holds some of Singapore's best nightlife venues and food spots that are totally worth the visit.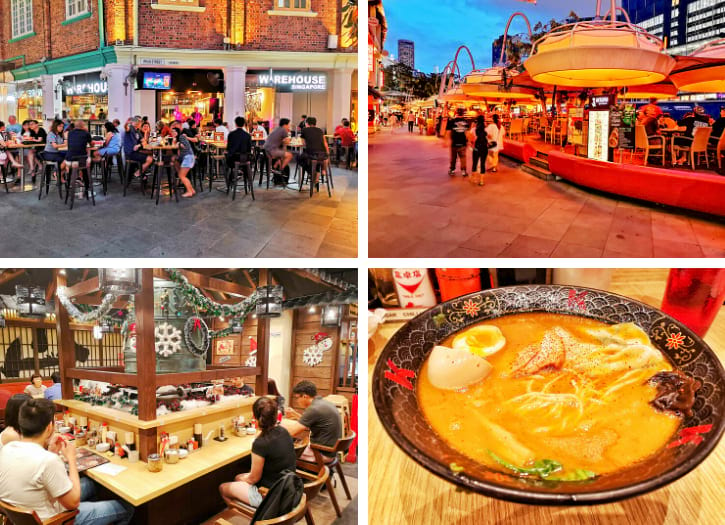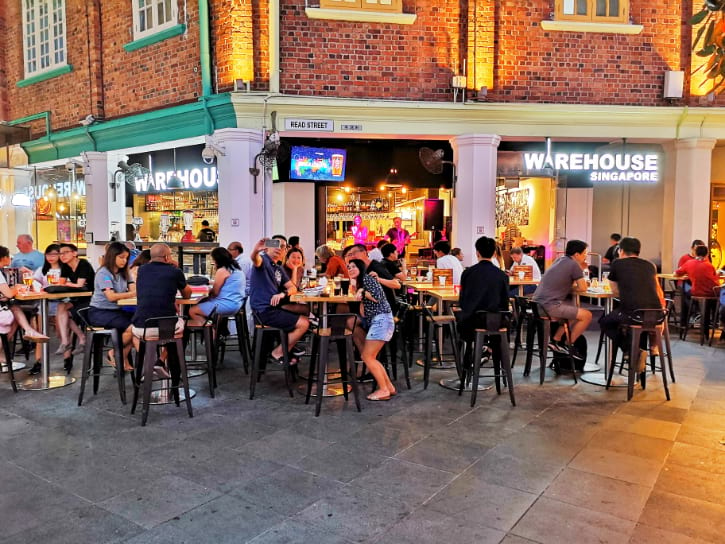 The network of bars and pubs nestled at the Riverside transforms the entire area into a dazzling nightlife district.
No wonder, it draws serious attention to nocturnal wanderers because this is where Singapore comes into life at night. Locals and tourists consider Clarke Quay as the ultimate destination to pump up their senses and fill their stomach.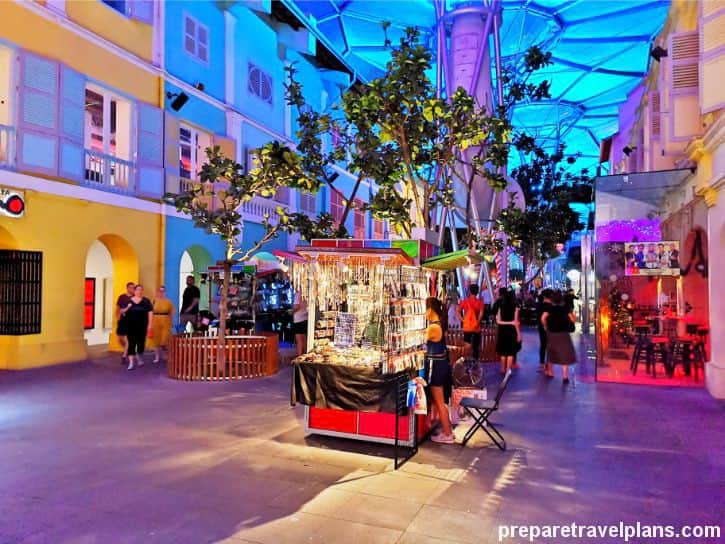 Dance the night away and sip a couple of drinks with your friends and some new pals.
The endless entertainment options allow you to go bar hopping and groove to the music beat. Come and experience both glamour and fun in Clarke Quay and you might just go back for more. Some of the best clubs in the area include Zouk, Canvas, and Attica.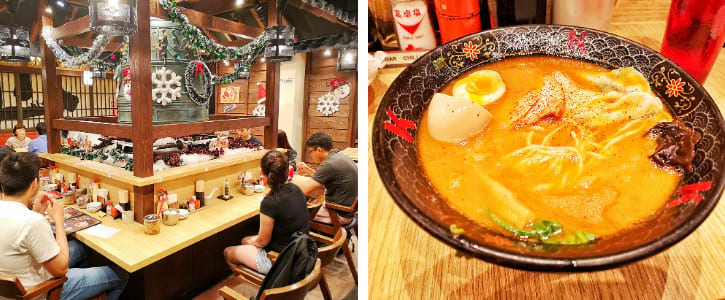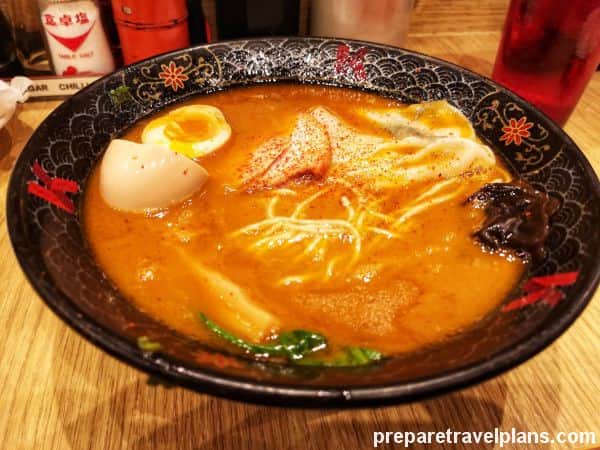 And after all the dancing and drinking, there are a lot of restaurants and food stalls scattered in the area. So, in a nutshell, Clarke Quay is not just a clubber's destination but also a food paradise, with an impressive variety of Japanese, Western, Indian, Chinese, and Thai foods.
Opening Hours
12:00 PM – Late

Address
3 River Valley Road, Singapore 179024

2. Singapore River Cruise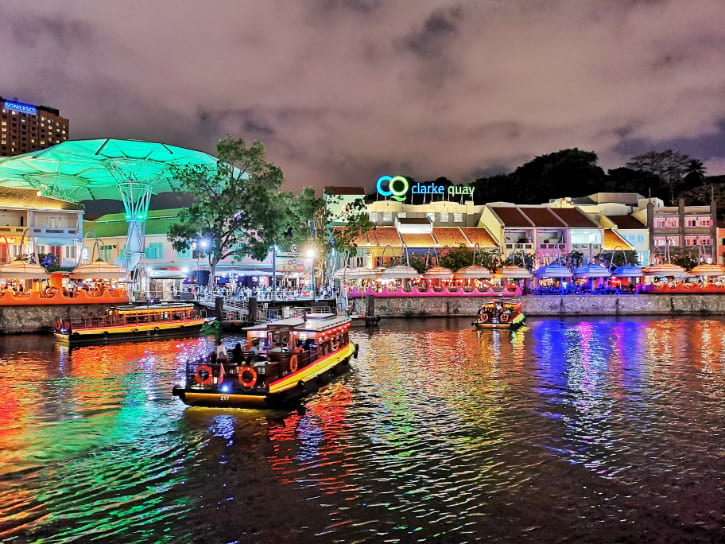 Taking the Singapore River Cruise is seeing Singapore in its most bustling and sparkling light.
If you're looking for a clash of entertainment and calmness by the waters, a sweet cruise along the nation's central business district is the answer.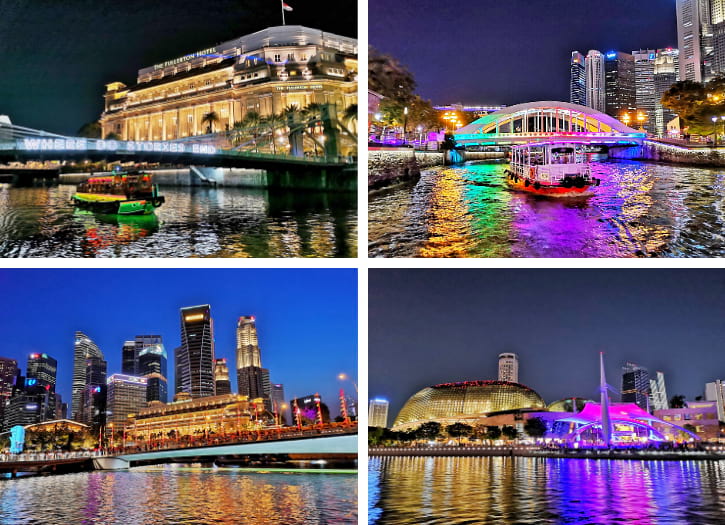 The river cruise usually begins with the sight of the quay. The Clarke Quay Boat Ride is the right spot to get entangled in the traditional and modern balance of the metropolis. Before your very eyes are dazzling lights illuminating from top-rated restaurants, retail shops, towering financial buildings, and the iconic Singapore Merlion Statue.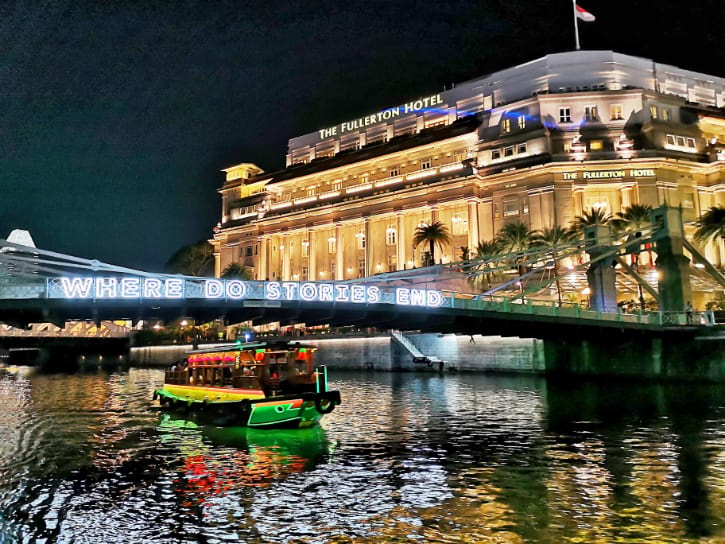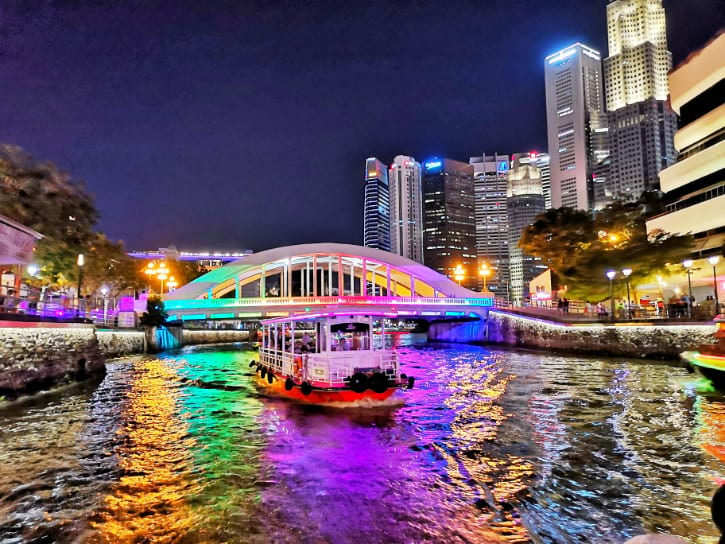 Energizing the cruise is the abundance of entertainment scenes that will invite you as you pass by some of its iconic sights. The Fullerton Hotel and Elgin Bridge is a panoramic beauty at both daylight and night.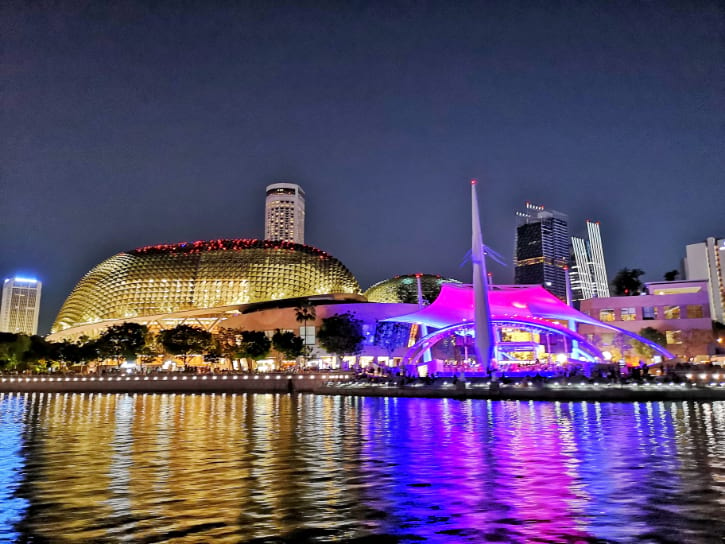 During your cruise, you'll find yourself getting charmed by the nearby selection of wine bars, bright-colored condos, shop houses, and boutique shops.
And of course, you can't miss the glowing, durian-shaped structure―the Esplanade Theatre. This distinct attraction is connected to the Esplanade Bridge, which also lights up at night for a mesmerizing beauty.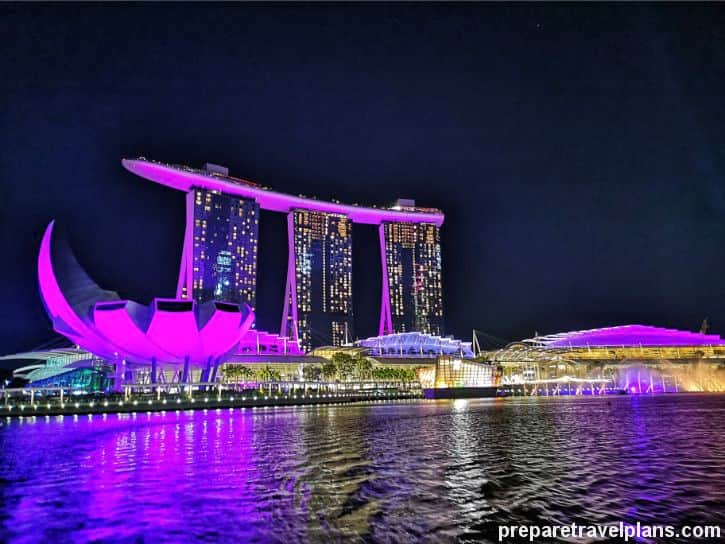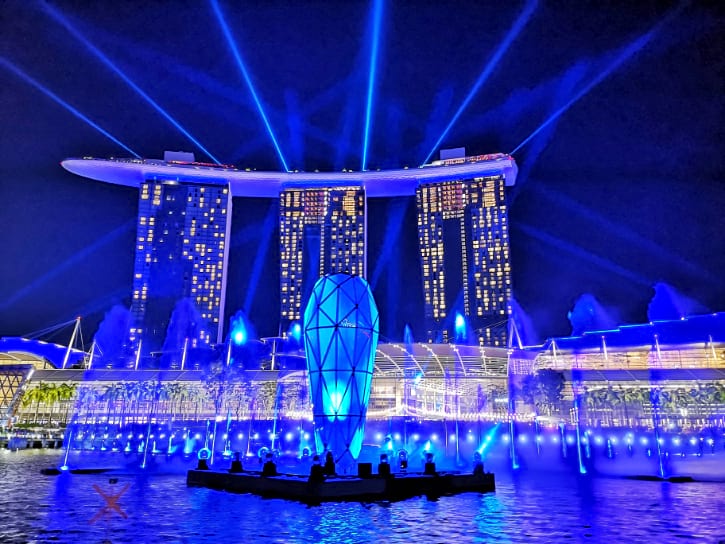 The entire cruise features the golden route of the olden times. The ancient trading port full of ships and bum-boats is even more alive now, with countless tourists occupying the large tour boats, to gaze at the brilliant colors of the towering hotels like the Marina Bay Sands.
Not only that, you can spot the ArtScience Museum, which is known for its lotus-like shape.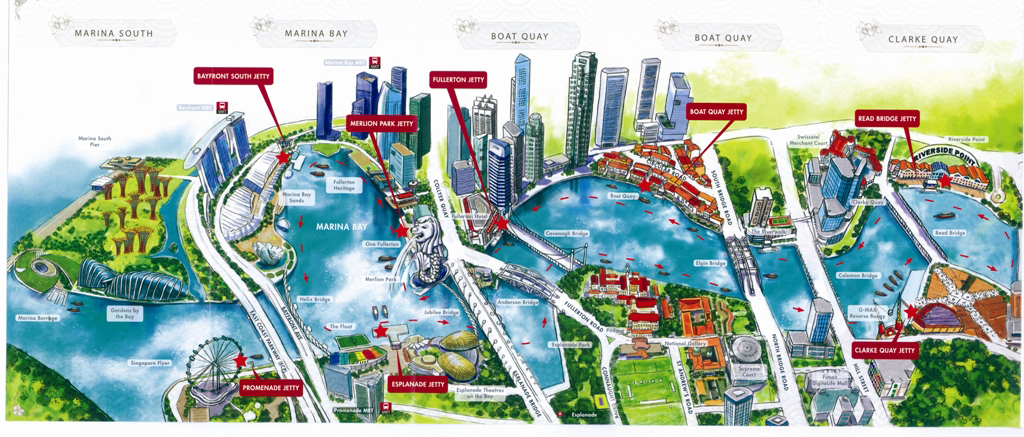 Above is a map of the Clark Quay area that is surrounded by the Singapore River. It is best to ride the boat at night time, preferably at 7:30 PM, so that you'll see the amazing lighting.
Though there are lots of jetty along the area, it's recommended to ride the boat at Clarke Quay Jetty for you to experience the entire major landmarks of Singapore. The entire ride lasts about 40 minutes.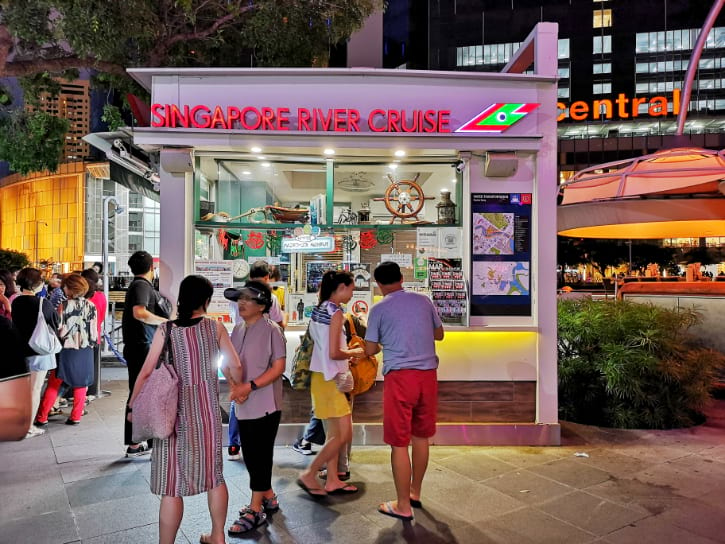 The location for you to get on the river cruise is just beside the ticketing counter. Buy your open-dated ticket online to save money.
Here's a great ticket option, which you can easily claim at the Clarke Quay Jetty Ticketing Counter and at the same time enjoy discount rate via booking online.
Opening Hours
9:00 AM – 11:00 PM (Last Boat: 10:30 PM)
*Departs every 30 minutes

Normal Ticket Prices
Adult (13+): SGD $25
Child (3 – 12): SGD $15

Address
30 Merchant Road, Singapore 058282

3. Boat Quay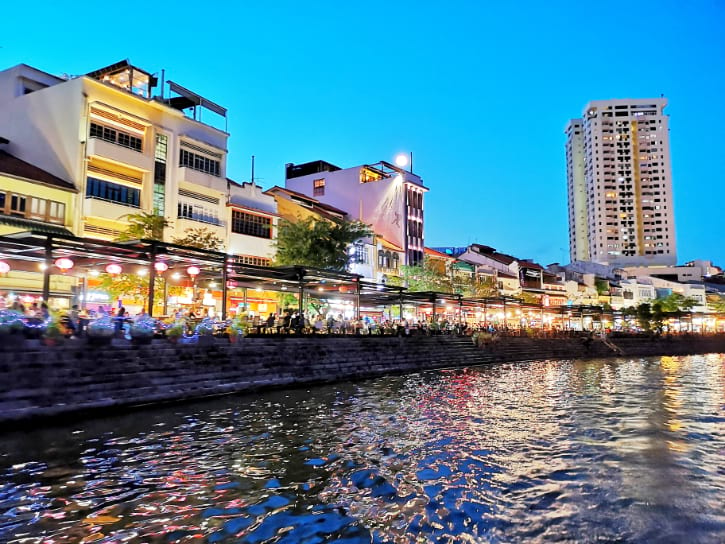 Boat Quay offers a high-end beauty to your eyesight, touch, and taste buds. It's a course that will introduce you to a series of delectable cuisines through many international restaurants. Plus, there's no better view than the swaying waters of the river as you reach for one more gulp of a tasty dish and a sip of fine wine.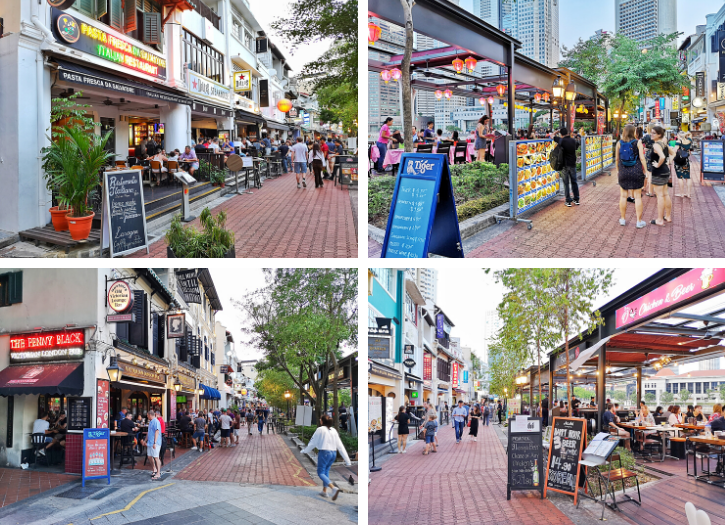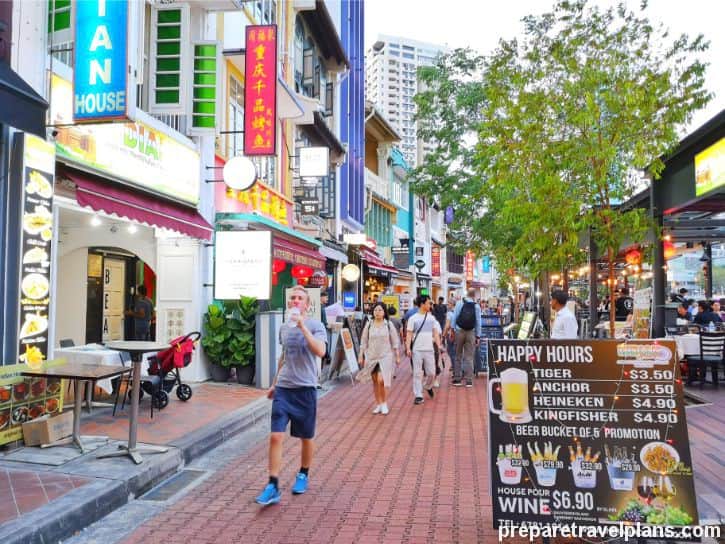 As the boat sweeps along the waters, the vision of vibrant tall buildings offers you a grand sightseeing tour.
Once you are done savoring the river cruise, you can then hop on each of the many pubs and restaurants, and experience its flavorful cocktails and foods. You can choose among the wide selection of seafood restaurants as well as Indian, Korean, Japanese, and Western cuisines.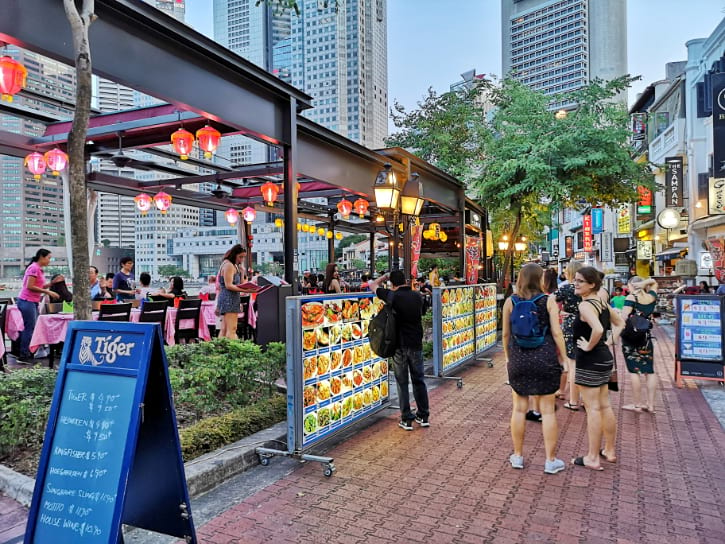 Since the 1800s, Boat Quay has been among the centre for commerce, mainly on shipping business. Now, it's a thriving spot for cuisine-lovers to hang out. International names of restaurants will sweep you no sooner than later as you grace the pedestrian streets!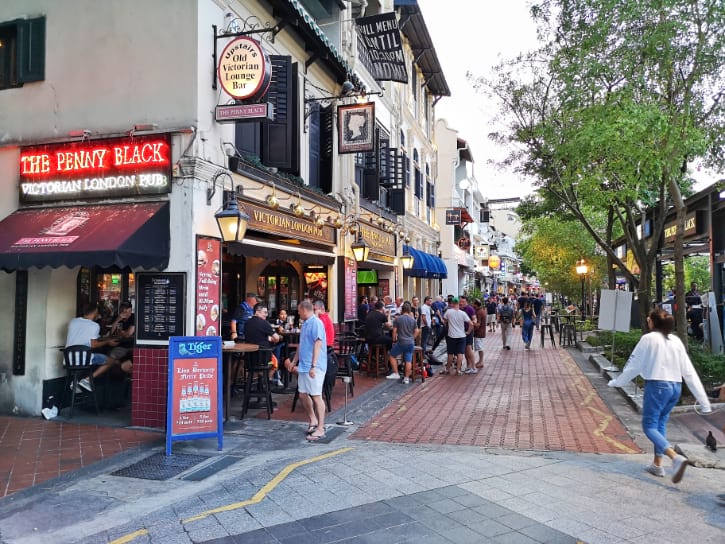 Yep, spending some time on the river cruise will definitely persuade you to shell out your money for a worthwhile taste of its array of restaurants, galleries, pubs, and hotels. It is not enough to travel by the eyes―a food trip will make your Singapore escapade truly memorable!
Opening Hours
Prefer visiting at night after 7:00 PM

Address
Bonham Street, Singapore 049782

4. G-Max Reverse Bungy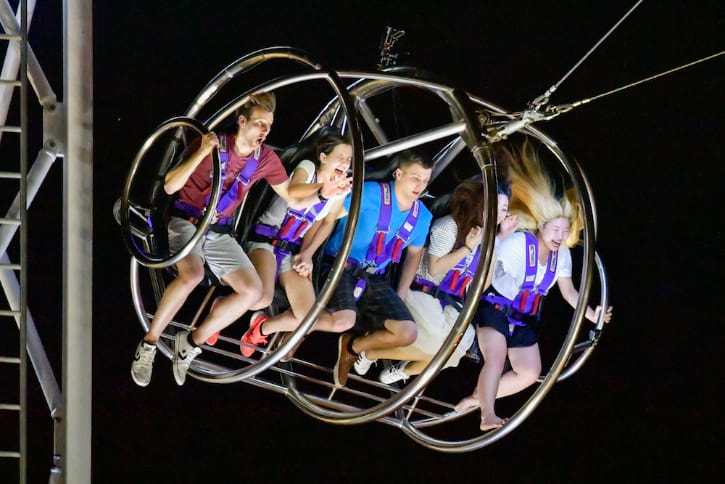 Along the scenic river display, there's one thrilling ride that continues to be an attraction among adventurous travelers. The G-Max Reverse Bungy gives you that heart-pumping experience―you'll love or regret later! It's like being thrown in the air back and forth. And the air flips? It will surely take your breath away for a minute or two.
The bungee ride is supervised by professionals to ensure you with a fun, electrifying, and safe experience. But do take note that this isn't for the faint-hearted. Designed for adrenaline junkies, the ride is incredibly fast that will shake your minds within a matter of seconds. Its speed reaches up to 200 kilometers per hour.
And while you are dangling hundreds of feet up in the air, try to open your eyes and see the breath-taking river views. But of course, this might be a challenge because of the fast-paced ride that bounces up and down.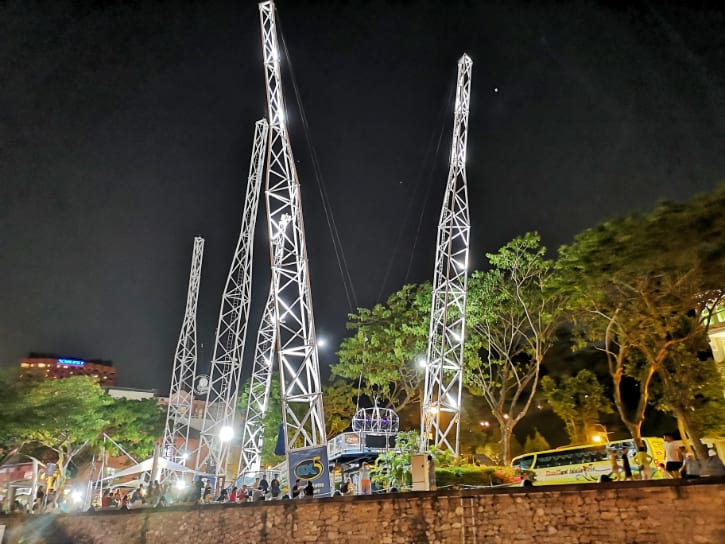 So, if you've decided to try this once in a lifetime excitement, just follow the path going to the soaring metal structures.
At night, there's no way to miss this attraction because its white metal towers dazzle the entire river scene. And, in case of bad weather, the ride may be cut short or becomes non-operational.
Opening Hours
11:00 AM – Late

Address
3 River Valley Road, Singapore 179024

5. Old Hill Street Police Station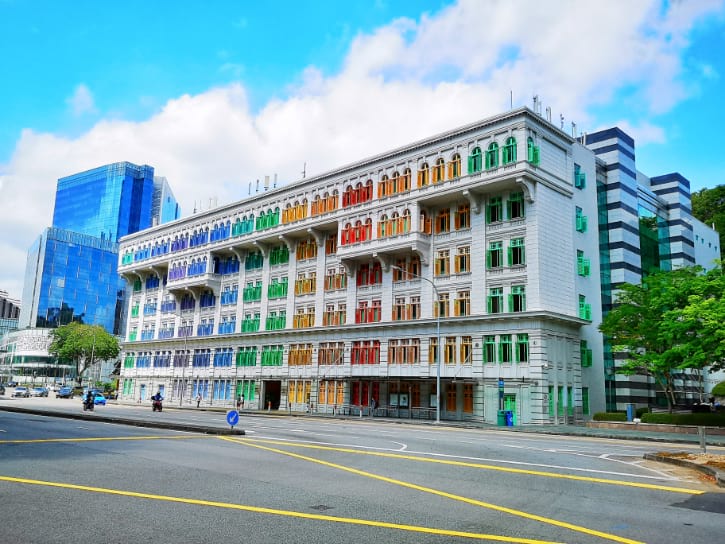 Let the synchronized colors of the rainbow-painted windows welcome you to Singapore's historical monument. The Old Hill Street Police Station has stolen several eyes and interest since the day it was built, back in 1934.
Throughout history, it has been restructured and recognized among the country's iconic sites, as it housed several police officers and their families. In addition, it was considered as the largest government building. Although the windows were colored grey with a little hue of brown back in the day, not as vibrant as to what it is now, it still attracted several occupants.
But more than its historical significance, it is also celebrated for its architectural charm. At night, the building is a sheer temptation to the eyes. Even the most inattentive ones can stop by and get carried by the scene-stopping gleam of the colorful windows.
The entire building is one of the figures that has shaped the Singaporean history—a historical structure that continues to endure the test of time. Though the chance to live at the historic building has been denied by time, visiting it is not! Even watching the monument from afar is a sight to behold.
Address
140 Hill Street, Singapore 179369

6. Cavenagh Bridge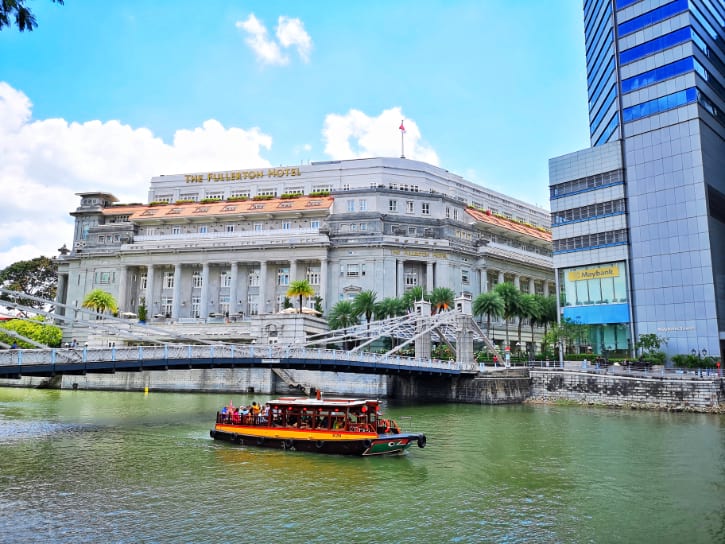 While the other side of the Singapore River is a collection of amusement spots, the Cavenagh Bridge brings a different light to your trip. It's a place for relaxation at the same time appreciation of the river's beauty and the special features that come along with it.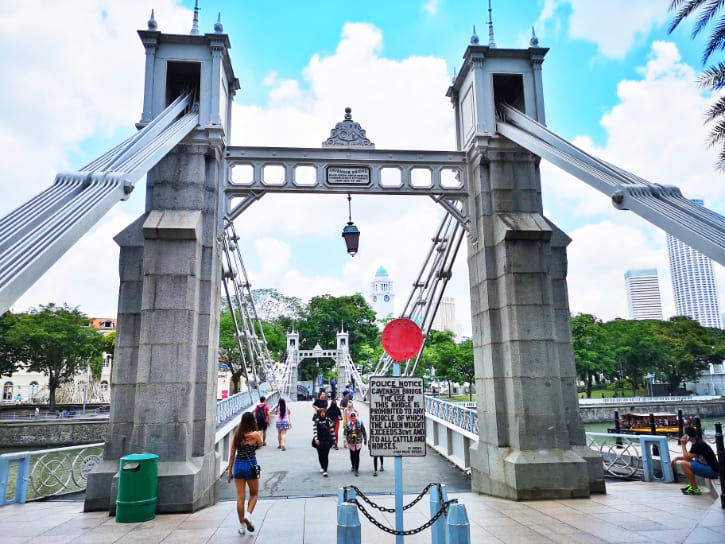 If you're not taking the river cruise, strolling along one of the country's oldest bridges is definitely another leisure way to learn more about the place. The river cruise boat is joined by other ferries filled with people who wish to plunge into the calmness of the river.
Walking along the bridge allows you to witness the animated scene of visitors and locals wandering around.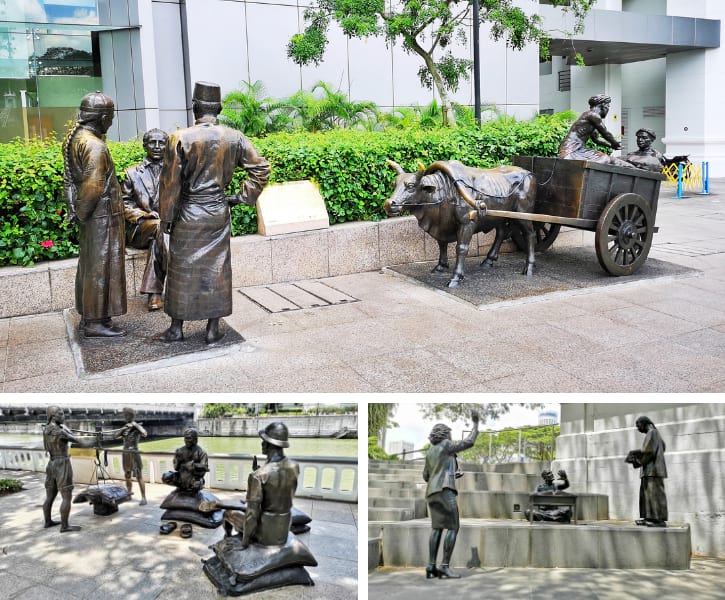 And as you continue to walk forward, you'll be able to meet a number of remarkable sculptures erected in different river areas. Among the figures you can come across are The River Merchants, From Chettiars to Financiers, and A Great Emporium sculptures.
All three depict the various trade activities conducted around the Singapore River in the 19th century. Intricately made to remember the hurting heart of the river, these sculptures are widely popular and signify Singapore's history and culture.
Address
1 Fullerton Square, Singapore 049178

7. Asian Civilisations Museum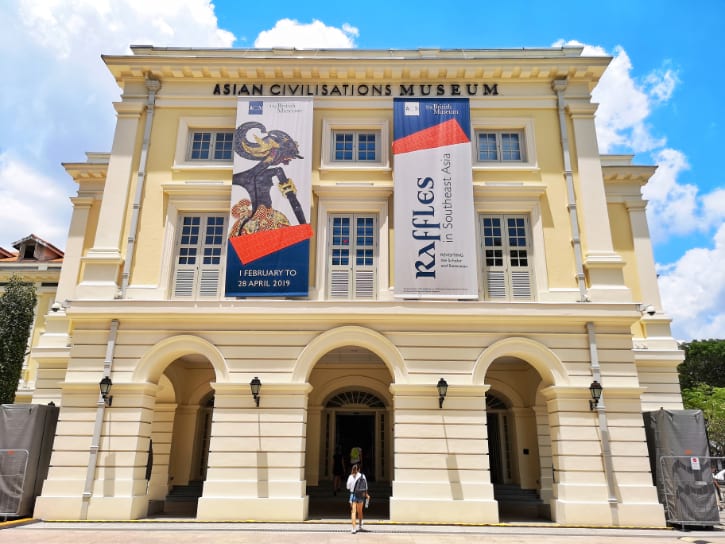 Everyone knows Singapore is a melting pot of various cultures. The Asian Civilisations Museum is where the seeds of Asian nations that helped bloomed the country's diverse culture are gathered. It lies on the bank of the popular Singapore River, another top destination to follow after a series of travel hopping.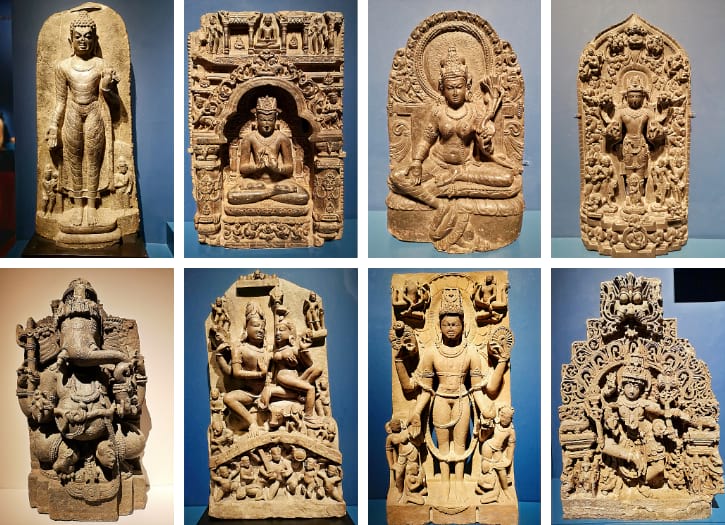 Preserved in this museum are ancient collections that represent the Asian Civilizations. Buddha is one prominent artifact to find during your tour.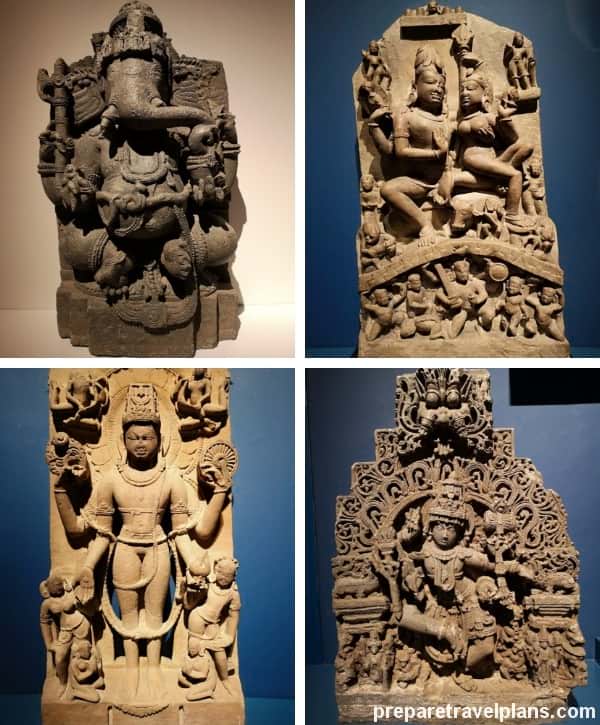 The statue of Ganesha, a well-known deity in Hinduism can also be observed inside. Its spiritual nature marked by its elephant head and human body pull you closer to its distinctive symbolism.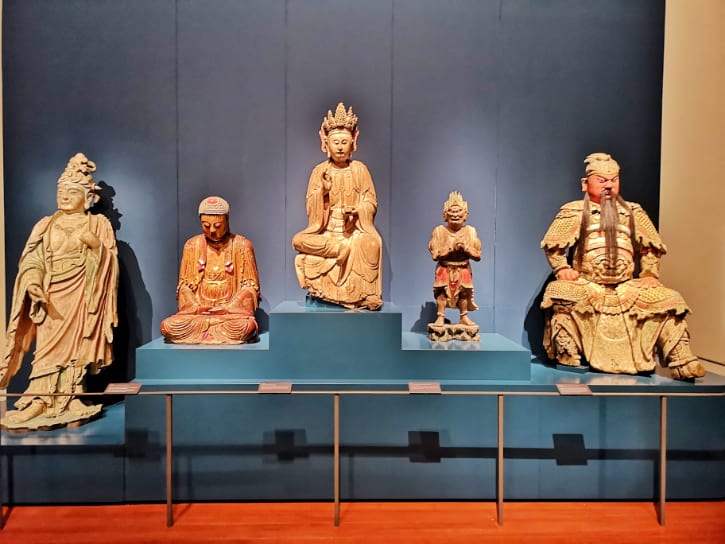 Figures representing ancient religions are organized in one of the museums' ten galleries. These mainly trace the beginnings of Hindu and Buddha beliefs, which were helped shaped by these famous figures. Among these are the statues of Shi Ho Guanyin from Chin and Guan Gong, a powerful general of the late Han Dynasty. Other figures include Luosha, Buddha, and Bodhisattva.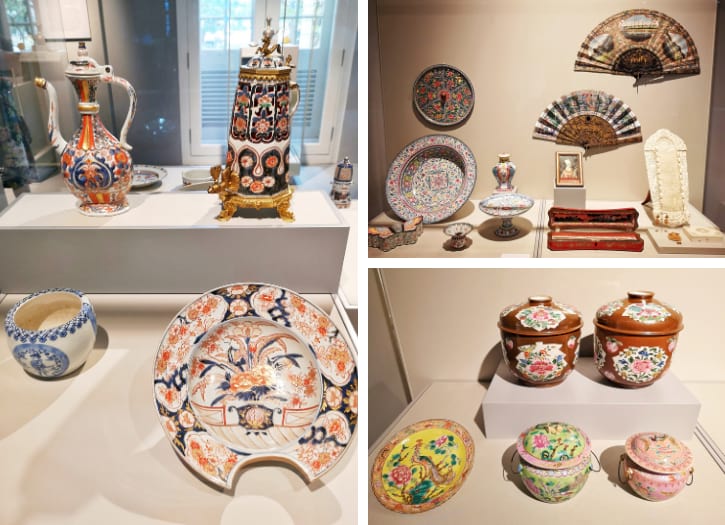 Arranged in beautiful sets are ceramics of beautiful and delicate designs. Here, you'll find basins and coffee pots of different kinds.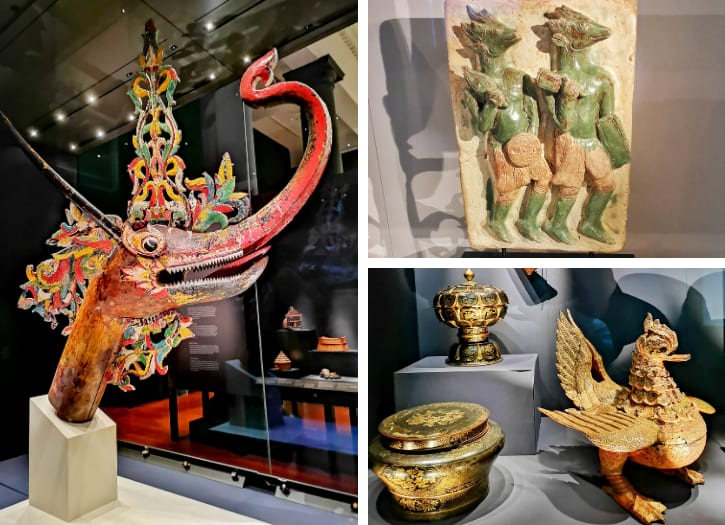 Move your eyes from one relic to another with the sight of Makara Palanquin Ornament, Tea Caddy, Kamcheng, Spittoon, Tazza, Canton Enamel, and Jewellery with ivory box.
Other than these, you can find the Palembang Lacquerware and container box, shaving basin, calling card holder, brazier, plate, and a pair of covered jars.
And if you haven't had enough, you can behold the statues of goddesses and gods Tara, Surya, Vishnu, Shiva Nataraja, Stele with Buddha, Umamaheshwara as well as a pair of demons.
Opening Hours
Saturday to Thursday:
10:00 AM – 7:00 PM
Friday:
10:00 AM – 9:00 PM

Address
1 Empress Place, Singapore 179555

8. Fort Canning Park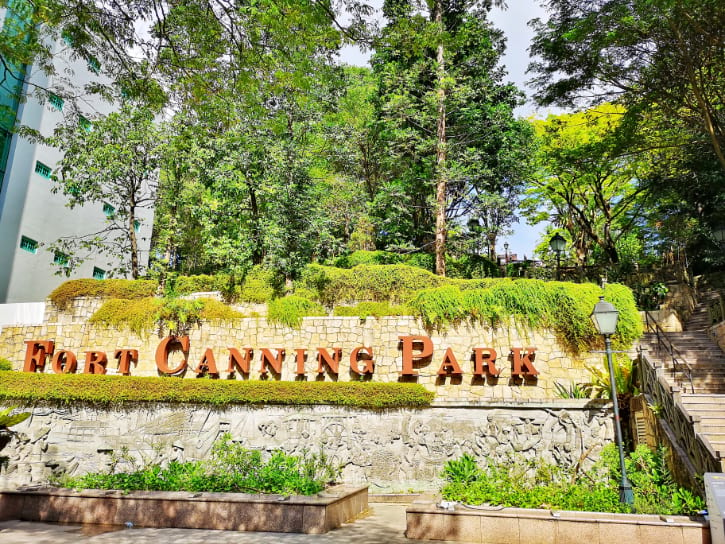 It takes no history enthusiast to get a buzz out of the Fort Canning Park. This is actually not just an ordinary park—it is a park imprinted in history.
Singapore sure has a number of attraction spots that breathe the very life of the city. But for people who prefer to be consumed by the calming and graceful dance of the leaves as well as the sparkle of flowers in the garden, this is the ideal place.
Sally Port
---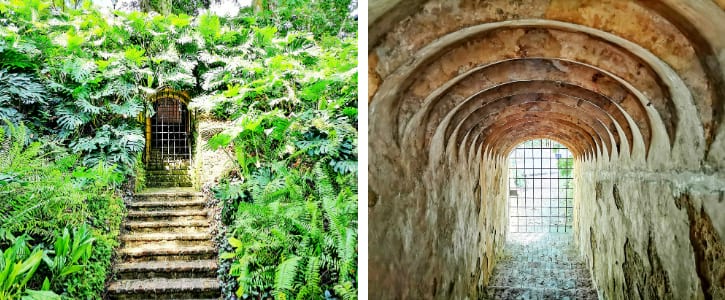 Get into the forts through the striking entrance of Sally Port. These serve as splendid, small doors in accessing the forts.
The Spiral Staircase
---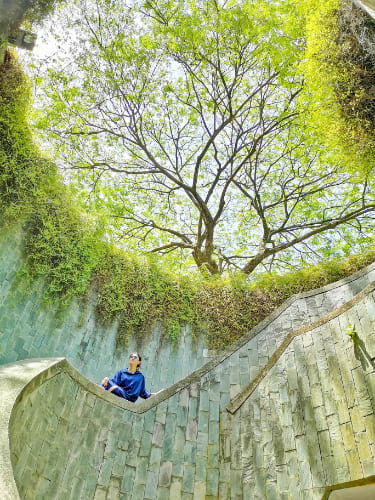 The Spiral Staircase is not just an Instagram-worthy place but an undeniable haven for pleasure-seeking mortals!
The Battlebox
---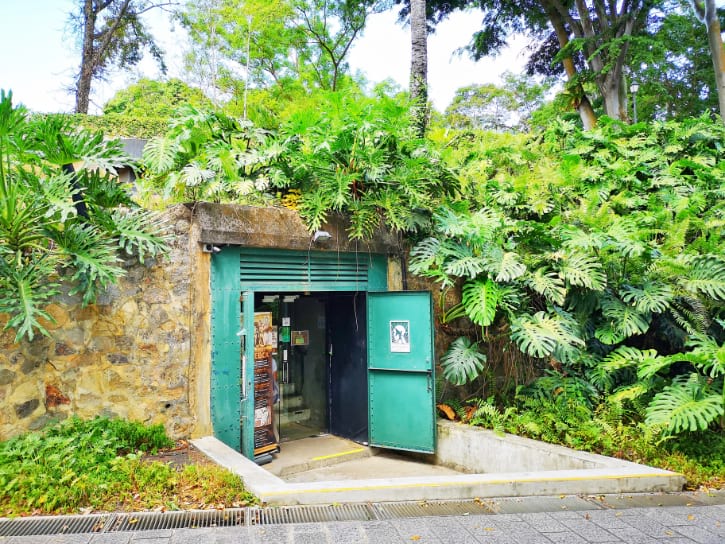 The Battlebox, a bunker now used as a museum, showcases the remnants of World War II, and its importance in Singaporean history.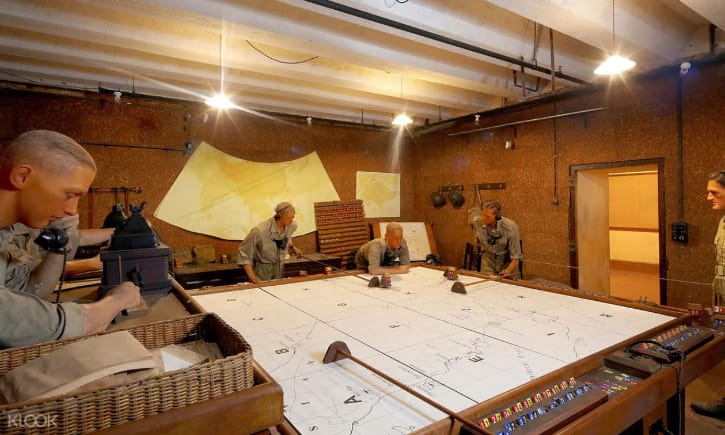 This underground command center holds the depressing and darkest history of the nation. It is where the Malaya Command and the British Empire gathered to create strategies to safeguard Singapore. Unfortunately, it is also the where the fall of Singapore happened and the start of the Japanese regime.
By booking online, you can take a historical tour inside while availing a cheaper price.
Raffles House, Fort Canning Lighthouse and 9-Pound Cannon
---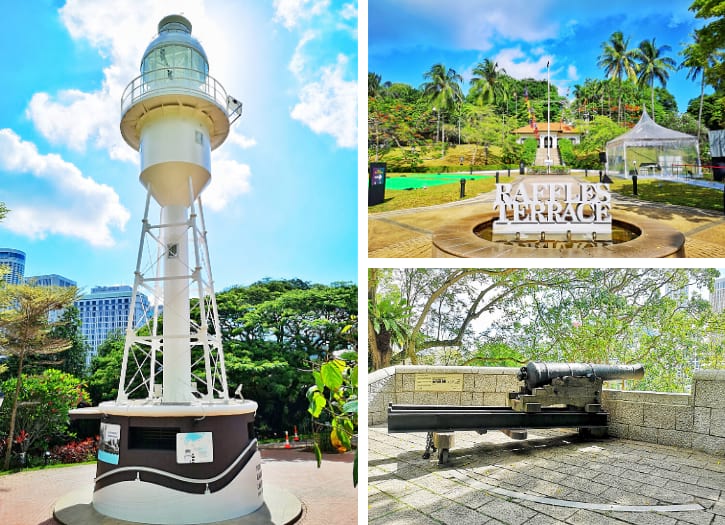 Raffles House is a classic place to conduct various ceremonies such as weddings. It includes a wide lawn and a cozy indoor area.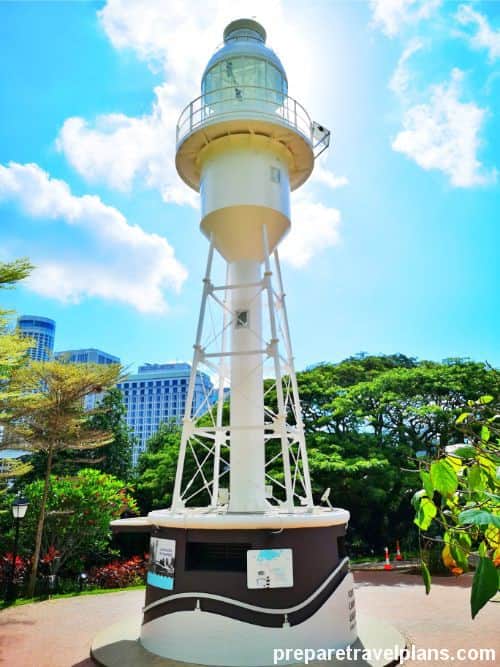 The Fort Canning Lighthouse is not just celebrated for its simple yet picturesque built but also for its historical role during World War II.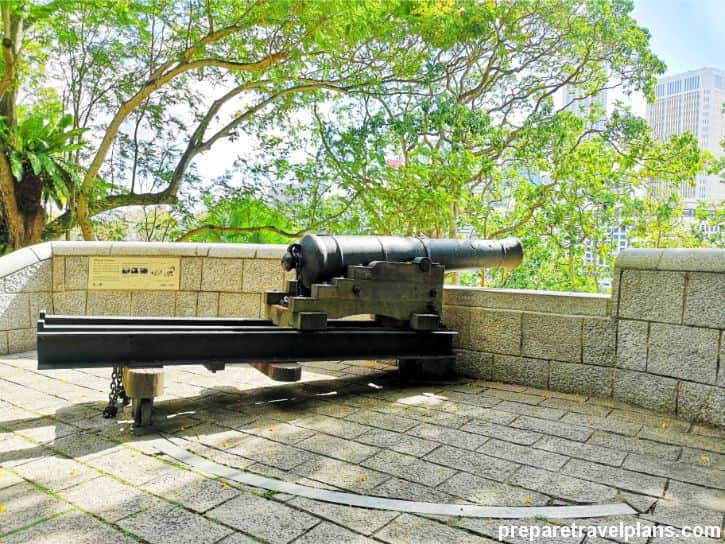 Beside it is the 9-Pound Cannon, a weapon now used as a greeting salute to reputable visitors of the place.
Fort Canning Arts Centre, Cupolas and Gothic Gate
---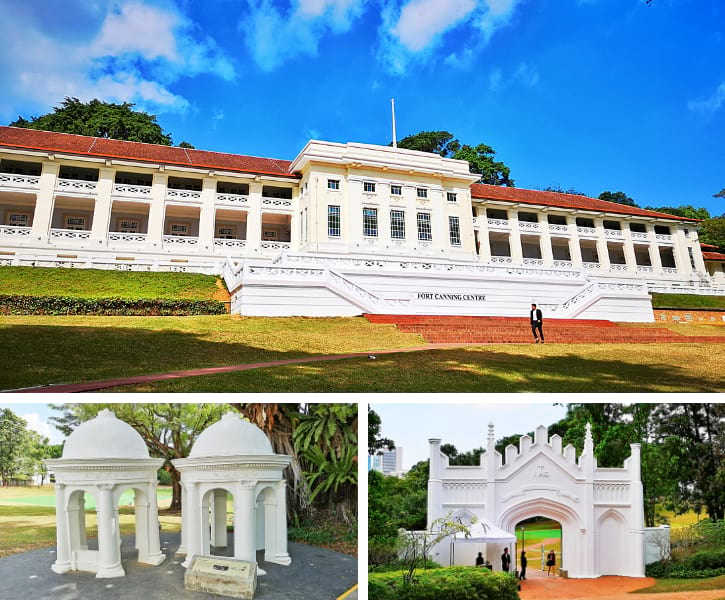 Situated at the top of the 18-hectare park is the dashing Fort Canning Arts Centre. Nowadays, this is mainly used to host important events.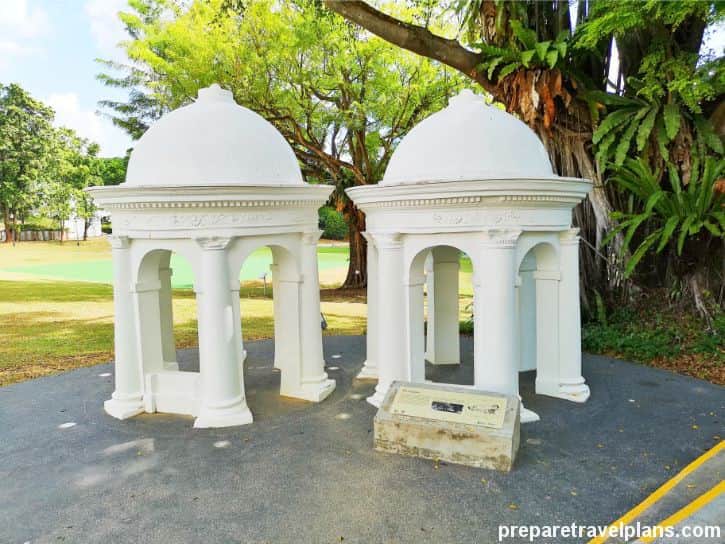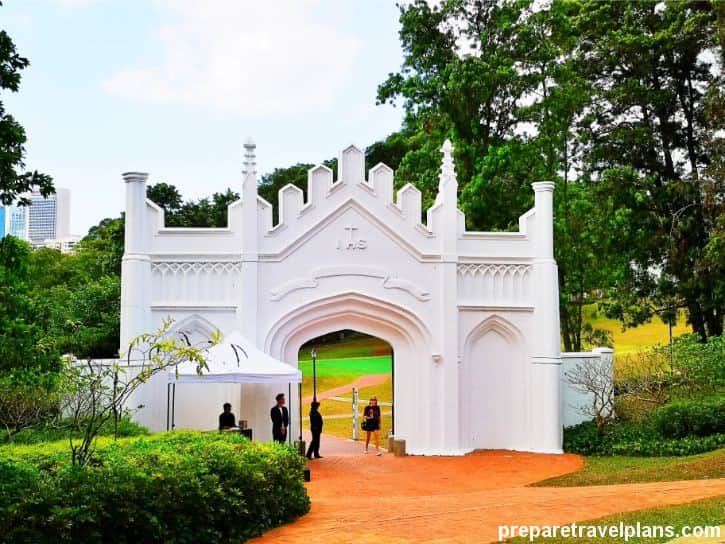 Aside from these, Cupolas and the Gothic Gate are featured in the historical Fort Canning Park.
Address
Bounded by Hill Street, Canning Rise, Clemenceau Avenue and River Valley Road, Singapore 179618

9. Civil Defence Heritage Gallery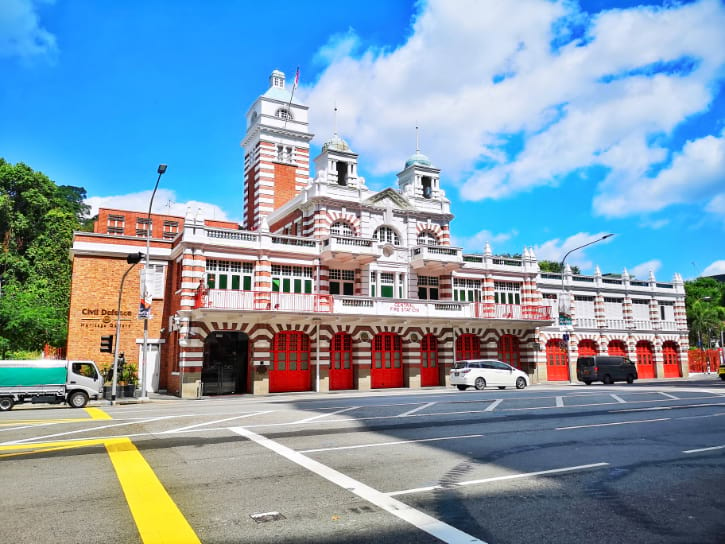 Singapore hosts a number of interesting museums that offer great learning and amusing experience to visitors. Count the Civil Defence Heritage Gallery in the list. This museum sums up the historical pace of equipment, starting from the 19th century to the present day. In fact, it portrays the long history of the Singapore Civil Defense Forces, together with its role in the country.
The Central Fire Station, for instance, is a famous attraction to both foreigners and locals. From 10 am, you can have the chance to see and experience first-hand the antique and modern equipment.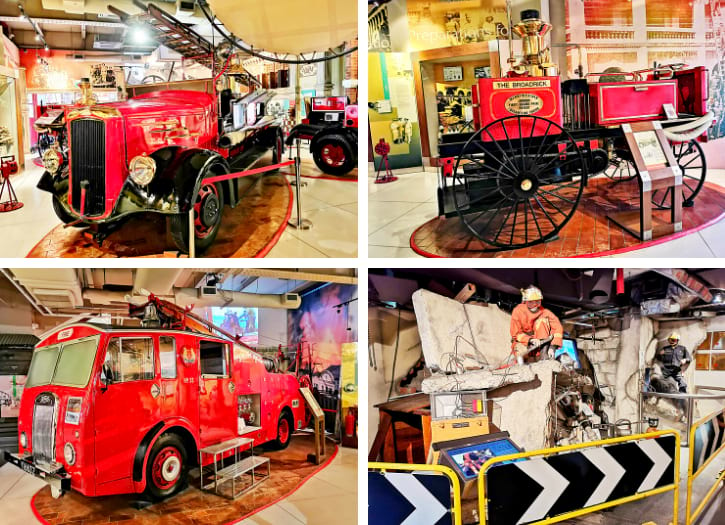 Walk together with real firefighters and experience how they do about their daily jobs on top of the 30 meter-tall tower! Kids are likely to see this place as a wish-granting destination where dreams of becoming a firefighter are turned into reality.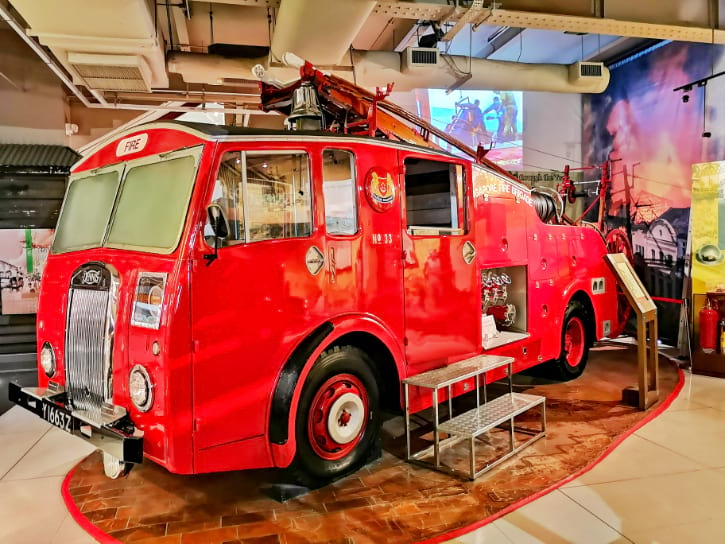 You can bring your kids to tour around the museum and see old-school fire engines, motorcycles uniforms, ambulances, water pumps, and the rest of the pieces needed to complete a firefighter's puzzle. Or, you can simply bring out the child in you!
Opening Hours
10:00 AM – 5:00 PM
Closed: Monday

Address
62 Hill Street, Singapore 179367

10. Hong San See Temple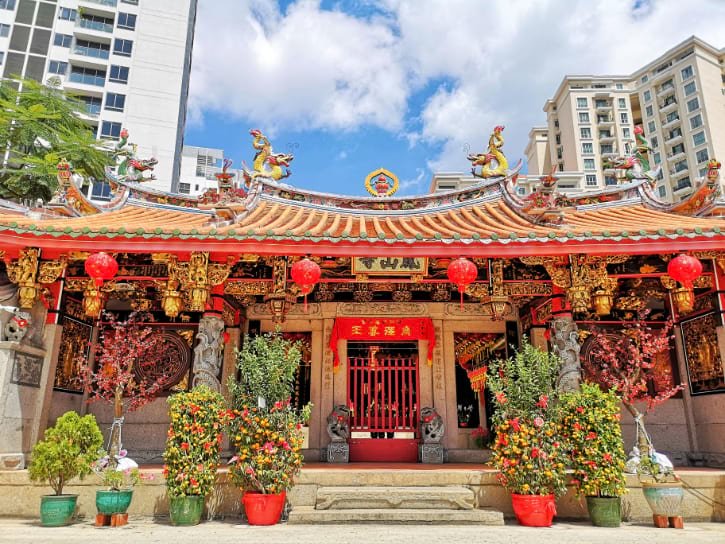 Among the tall and lavish buildings surrounding the Singapore River, the Hong San See Temple remains an attraction of great power and solitude. If you wish to find a picturesque temple featuring Southern China's finest style, this temple is near to Fort Canning MRT Station.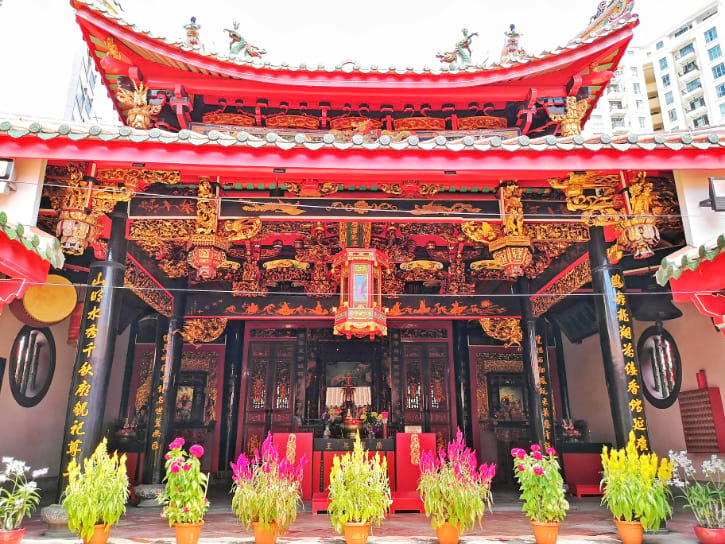 Although you can no longer witness the immense Singapore River on top of the temple, its architecture is something to make it up. The temple has been greatly admired through the years as the first-ever building in Singapore to be granted the Award of Excellence of UNESCO Asia-Pacific Heritage Awards in 2010.
Once inside, you'll be wrapped by the sophisticated carvings, columns, and statues found in the temple. If you look closely, the granite columns are precisely fashioned in the form of a dragon, magpie, along with peonies and phoenixes.
Opening Hours
8:00 AM – 6:00 PM

Address
31 Mohamed Sultan Road, Singapore 238975

A Map of What to Do in Clarke Quay
---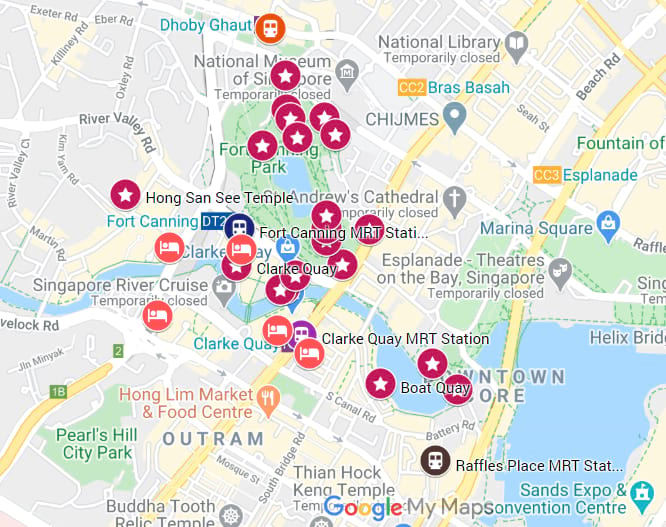 With the Clarke Quay map, you'll find the exact locations of all the best attractions to visit. On top of that, my customized Google Maps provide you with the nearby MRT train station of the attractions. This will surely aid you in getting to your destination efficiently.
Plus, using the map will give you a bigger and clearer picture of what things to do in Clarke Quay. And I hope that this will make your preparation much easier because you already know the locations of the attractions. 😊
MRT Station Exits for Clarke Quay Attractions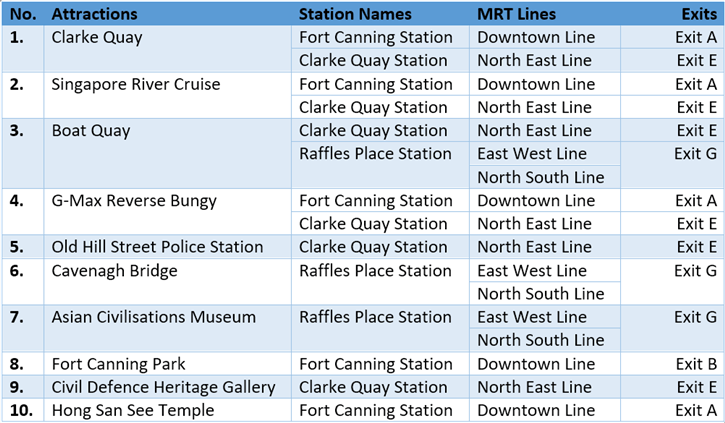 Singapore SIM Card for Tourists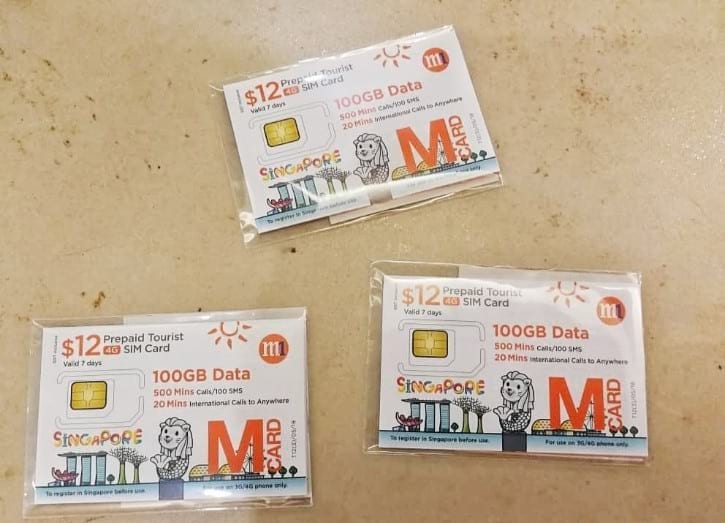 Before starting your Singapore adventure, make sure that you avail of the fast 4G speed SIM Card online and claim it easily at Changi Airport.
The SIM Card gives you comfort while wandering around the city-state because it already comes with 100GB data, 500 minutes local calls, and 20 minutes international calls. This means that you can smoothly connect to any of your social media apps like Pinterest, Instagram, and Facebook, and even to Google Maps!
Plus, the free local and international calls give you the freedom to communicate with your family and friends while abroad or confirm your hotel or restaurant bookings conveniently.
Here's the link for you to book the 4G SIM Card online so that you can get cheaper price than you buy at Changi Airport.
My Recommended Hotels in Clarke Quay
---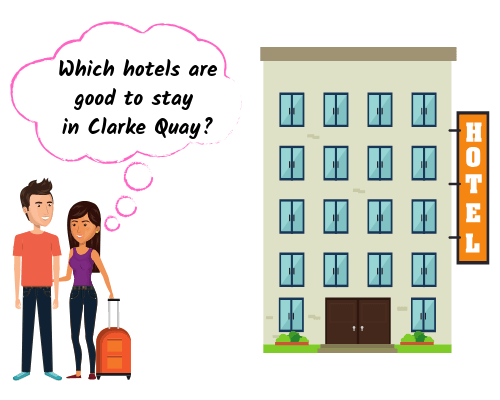 On top of the beautiful attractions in Clarke Quay, there are also lots of hotels nearby. But, I'll show you the famous hotels which are close to two MRT Stations―Clarke Quay MRT Station and Fort Canning MRT Station.
Clarke Quay is one of the best area to stay in Singapore because it's just 3 stations away from Harbourfront MRT Station. The Sentosa Island is just opposite of Harbourfront MRT Station. In short, Clarke Quay is quite near to Sentosa Island.
To know more about the things to do and how to go to Sentosa Island, check out the best things to do in Sentosa Island blog.
Other near attractions are Chinatown Singapore and Marina Bay Singapore. Plus, there are plenty of food choices along the area, including Chinese, Indian, and Thai restaurants. There are also Western foods, Japanese cuisines, and fast-food options like McDonald's.
So, here are the top 5 recommended hotels in Clarke Quay that are worth the mention.
1. Park Hotel Clarke Quay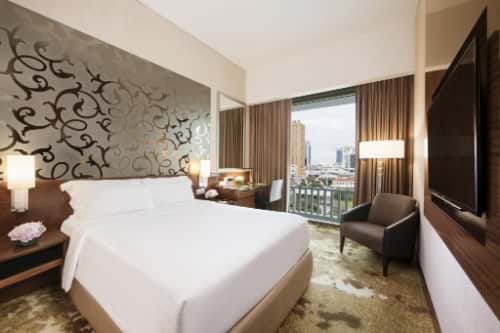 A scenic, sophisticated accommodation awaits traveler in Park Hotel Clarke Quay. This tropical spot is truly a relaxing home within the central district.
Unique, upscale exteriors. Park Hotel is known for its signature red roofs that spell out the beautiful Singaporean history.
Breath-taking outdoor pool with Jacuzzi. Relax comfortably in the outdoor pool that has a poolside bar with grill and cabanas.
Magnificent river and city views. See the gorgeous Singapore skyline and river from your room window.
Great amenities. They have a free shuttle and parking as well as restaurants, gym, and business hub.
MRT Station
Fort Canning Station
Exit A

Read Reviews and Check Room Prices at:
Agoda | Booking.com
2. Novotel Singapore Clarke Quay Hotel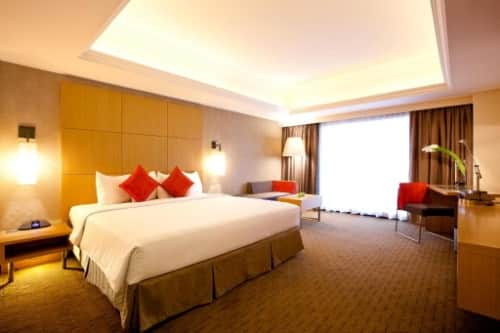 Set within the historic and colourful Riverside, Novotel Singapore Clarke Quay Hotel offers modern and fully-furnished rooms that are equipped with everything you need.
A mix of history and hip vibes. The location of Novotel Singapore Clarke Quay radiates that laid-back and vibrant atmosphere.
Family-friendly perks. The hotel is also a playground paradise for children because of its kid's club and an outdoor pool.
Close to shopping malls. Conveniently, Novotel is connected to Liang Court, which makes it easier for you to shop your daily needs.
Abundant food selection. Aside from their 2 indoor restaurants, there are plenty of food choices outside the hotel doors.
MRT Station
Fort Canning Station
Exit A

Read Reviews and Check Room Prices at:
Agoda | Booking.com
3. Holiday Inn Express Singapore Clarke Quay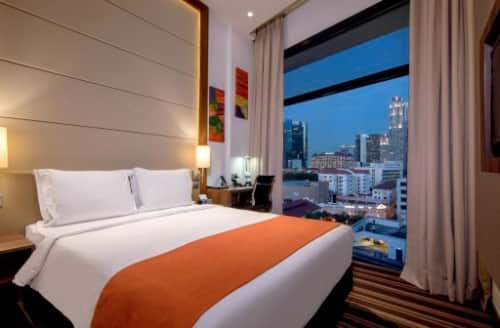 Right at the center of different major attractions and shopping areas, Holiday Inn Express Singapore Clarke Quay is the place to unwind if you're looking for sleek exteriors and urban style hotel.
Overlooking Clarke Quay and Singapore River. The 24-hour rooftop area has a sun lounger and an outdoor swimming pool with a see-through slide.
Distinct architectural style. The geometrical exterior, featuring steel and glass, makes this hotel a sight to behold even from afar.
Chic room designs. Each room comes with a colourful and cheerful touch because of the charming, modern interior.
Great room views. See some amazing views from your room with the panoramic floor-to-ceiling windows.
MRT Station
Fort Canning Station
Exit A

Read Reviews and Check Room Prices at:
Agoda | Booking.com
4. Fragrance Hotel – Riverside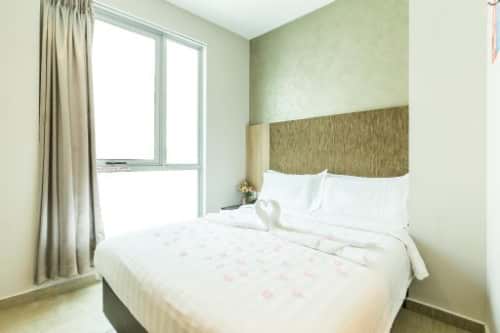 For a great budget hotel near Clarke Quay MRT Station, Fragrance Hotel – Riverside can be your go-to place without breaking the bank.
Budget yet quality accommodation. Fragrance Hotel – Riverside is a relaxed, economical hotel with cosy rooms.
Quality amenities. Amenities include a business centre, rooftop swimming pool, fitness room, and restaurant.
Convenient location. The hotel is just minutes away from the Clarke Quay MRT Station and different shopping and entertainment venues.
Great for families. If you're travelling with your kids and you're on a tight budget, this one is such a great catch.
MRT Station
Clarke Quay Station
Exit E

Read Reviews and Check Room Prices at:
Agoda | Booking.com
5. Swissotel Merchant Court Hotel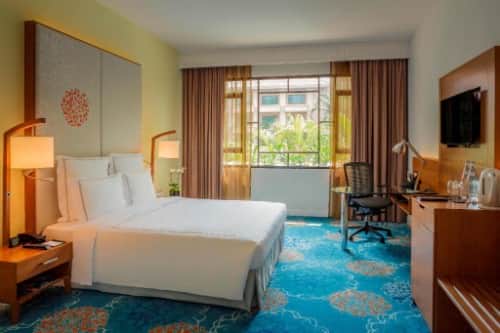 Experience a taste of luxury at Swissotel Merchant Court Hotel. This deluxe hotel along the Singapore River is situated at the heart of Clarke Quay and its surrounding attractions.
Posh accommodation. If you're looking for a one of a kind luxury experience, the Swissotel Merchant Court Hotel is a top-notch choice.
Plenty of room options. They have more than 400 rooms and suites that cater to different travelers.
The 'Handy Phone' feature. Distinctively, each room has a handy smartphone that comes with unlimited local call and selected IDD calls.
Impressive facilities. Aside from the spectacular outdoor swimming pool, they have a contemporary bar, fitness center, and luxury Swiss spa.
MRT Station
Clarke Quay Station
Exit E

Read Reviews and Check Room Prices at:
Agoda | Booking.com
Conclusion
Now that you know what things to do in Clarke Quay, start preparing your Singapore trip and make sure to include the place in your itinerary.
Clarke Quay and its Riverside offer some of the most scenic views in Singapore.
It holds the beauty of both worlds―historical wonders in a modern setting.
It is a food paradise with abundant cuisine selection.
Nightlife in Clarke Quay is surely one for the books.
Want to save money and time? Get your Singapore River Cruise Discount Ticket now and avail some discounts!
Thanks a lot for taking your time to read my travel blog. I hope that my sharing guide in here able to help you to plan a great vocation in Clarke Quay, Singapore.
Feel free to bookmark this page for your future reference.
Don't forget to share this blog to your friends or family via Facebook, Twitter, Pinterest, Gmail or WhatsApp.
Lastly, wishing you have a nice and happy holiday in Singapore! 🙂
Discover Other Famous Attractions in Singapore