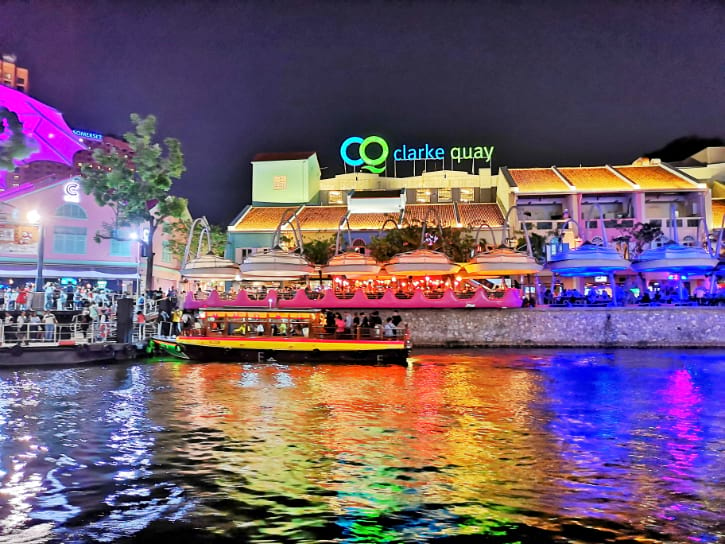 The things to do in Clarke Quay Singapore, are truly exciting and amusing. Be sure to explore all the top attractions there for a memorable trip.
Clarke Quay stands out with its breathtaking water views and vibrant nightlife. It's an essential stop for any Singapore itinerary, especially for those looking to experience the city's lively evening atmosphere.
Here's a guide to the best things and attractions you definitely shouldn't miss during your visit to Clarke Quay.
Journey to Clarke Quay: A List of the Most Exciting Things to Do!
1. Clarke Quay Riverside: Enjoy The River Views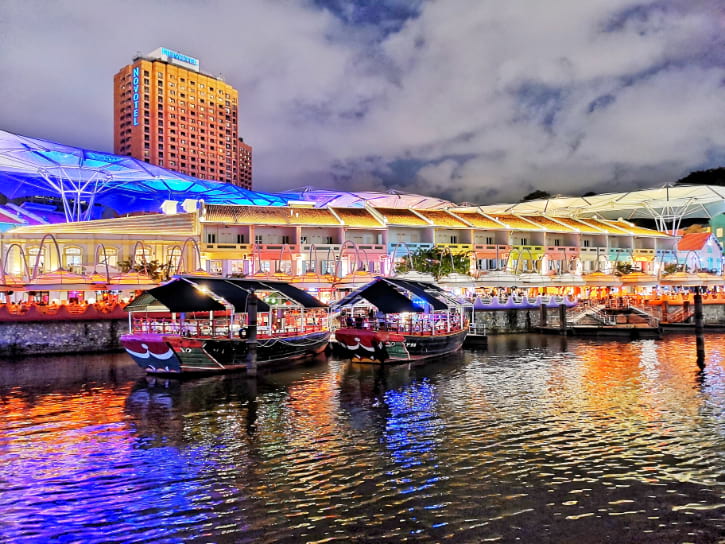 Clarke Quay Riverside, known for its beautiful sights and attractions, is a hotspot for Singapore's lively nightlife.
Start with a stroll along the scenic riverside to take in the vibrant atmosphere from the bustling restaurants and entertainment spots.
Then, gear up for an exciting evening. You can pick from top clubs like Zouk and Yang Club Singapore for a night of fun.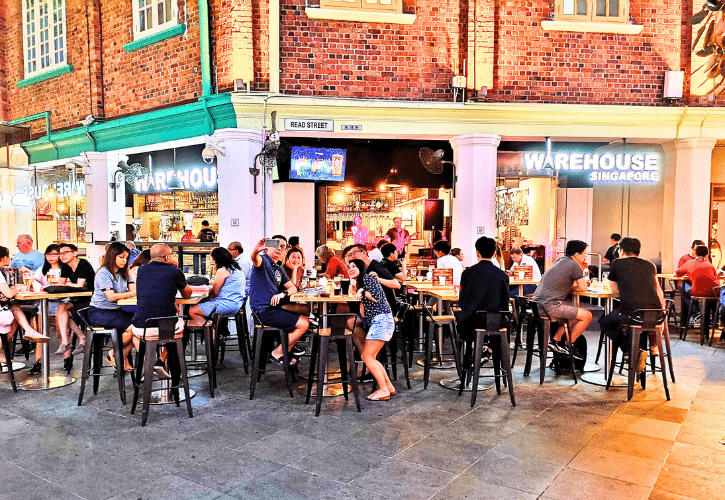 If you prefer a more laid-back experience, there are cosy bars around too.
You can try Warehouse Bar, Level Up – an arcade and live music bar or Chupitos. Each offers a unique atmosphere, perfect for winding down.
Opening Hours:
12:00 PM – Late
Address:
3 River Valley Road, Singapore 179024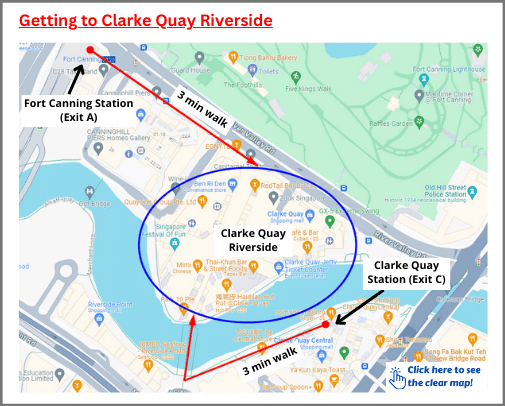 2. Singapore River Cruise: Experience A Scenic Boat Cruise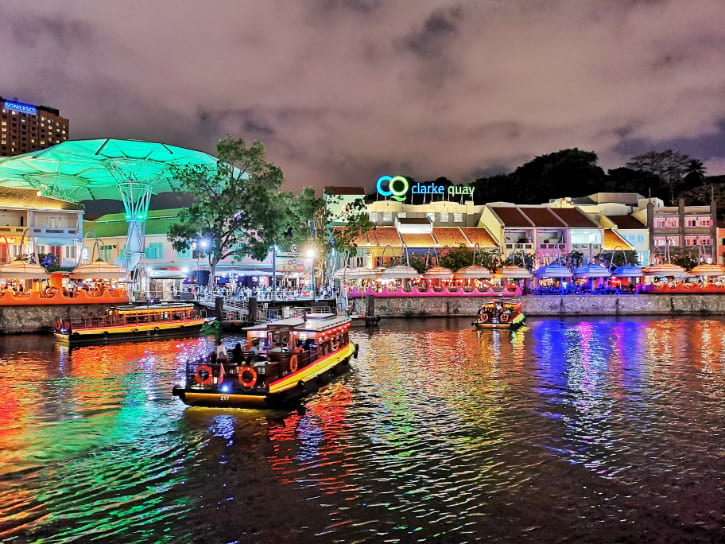 When you come to Clarke Quay, make sure to experience the Singapore River Cruise.
It's a fantastic way to see Singapore's skyline, landmarks, and history while enjoying a relaxing boat ride.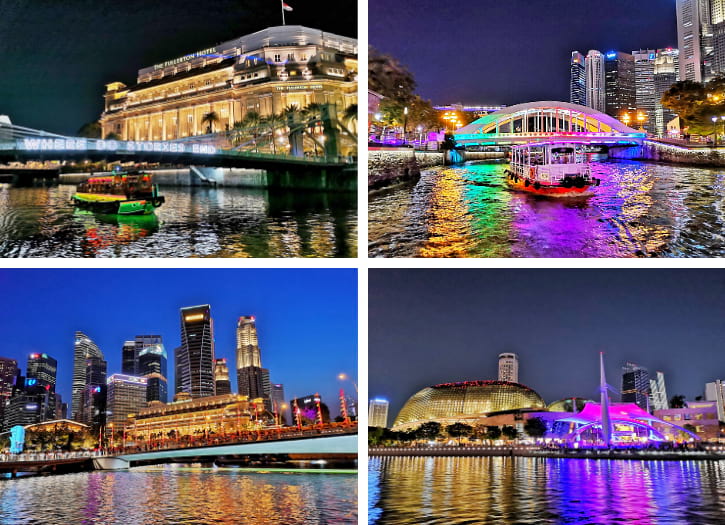 While onboard, ready your cameras to capture the iconic Singapore Merlion Statue and majestic Marina Bay Sands.
Other famous attractions you'll witness from afar are the ArtScience Museum, Fullerton Hotel, and Esplanade Theatre.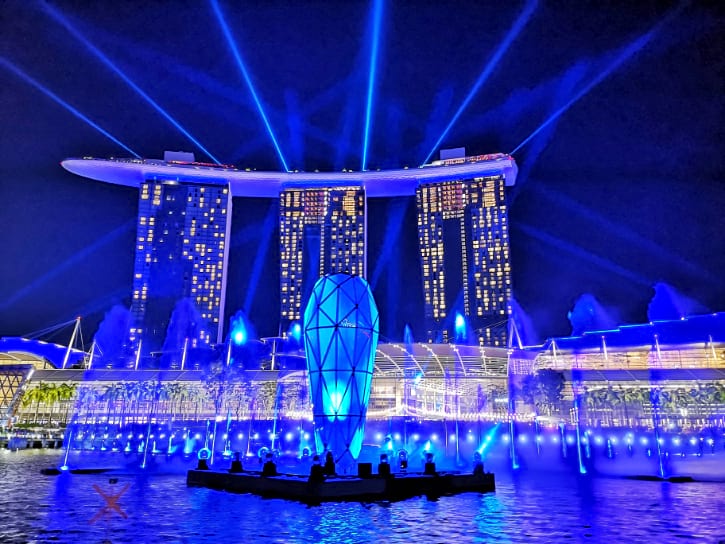 For a memorable experience, consider taking the boat at night. You can board it at Clarke Quay jetty.
The river cruise lasts about 40 minutes, so enjoy it to the fullest. I suggest booking your cruise tickets online to avoid long lines at the counter.
Address:
30 Merchant Road, Singapore 058282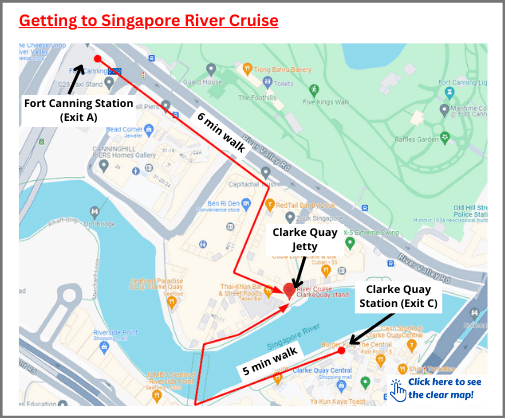 3. Boat Quay: Indulge In The Abundant Food Options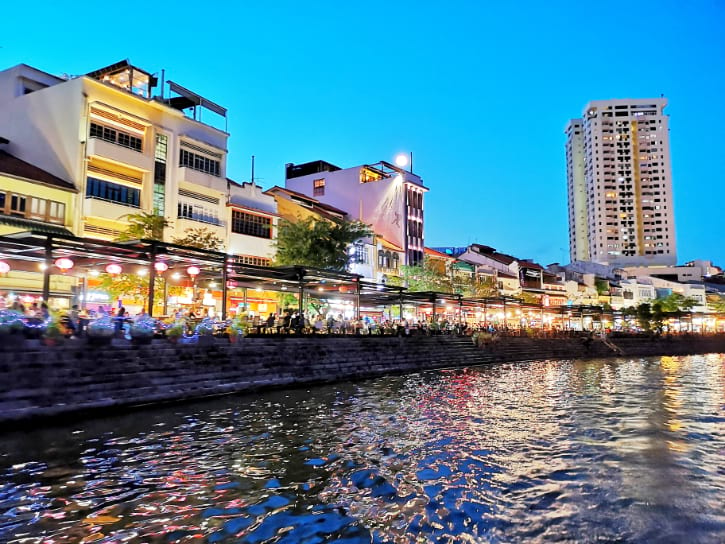 If you're seeking a more relaxed yet still enjoyable night out, consider heading to Boat Quay. It's a lively place favored by food lovers and those who enjoy nightlife.
You can stroll along the waterfront and enjoy the beautiful views of the water. Plus, there are many outdoor restaurants in the area.
You'll find a wide range of dining options, including seafood restaurants, Indian, Korean, Japanese, and Western cuisine, right by the riverside.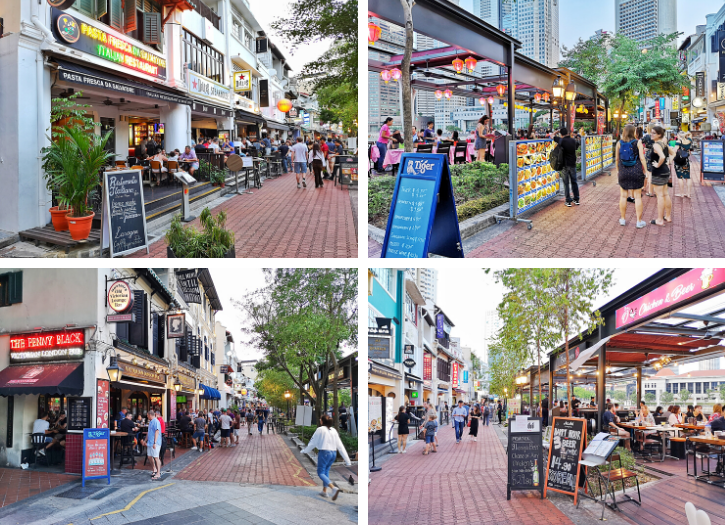 For an excellent experience, I recommend heading to one of the local pubs in the area after 5 PM.
These pubs have a lot to offer, from delicious cocktails to mouthwatering food. Enjoy a memorable evening out!
Address:
Bonham Street, Singapore 049782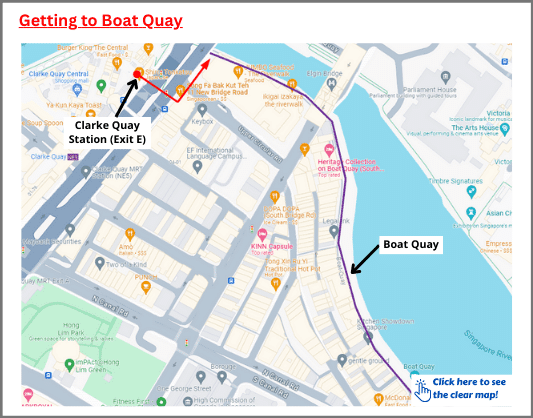 4. G-Max Reverse Bungy: Pump Up Your Adrenaline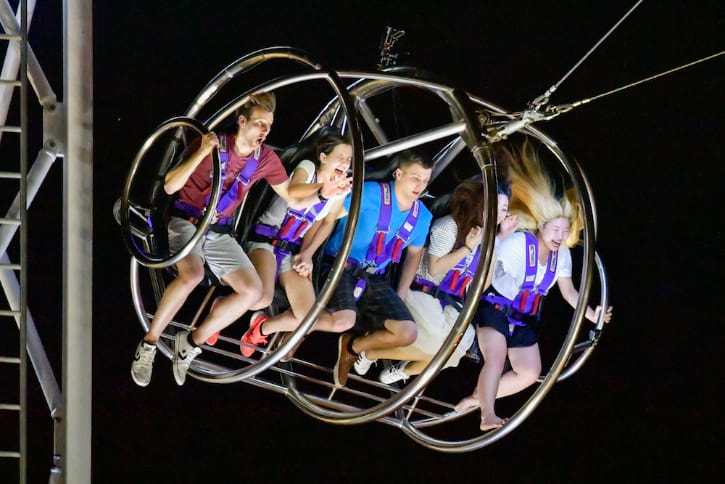 If you find yourself at Clarke Quay in Singapore, one thing you've got to try is the GX-5 Extreme Swing.
This isn't just any ordinary swing; it catapults you high into the air, giving you a breathtaking view of the city and the Singapore River like you've never seen before.
The feeling? It's a mix of thrill and awe as you zoom back and forth over the quay.
The evening is the best time to try this attraction. Clarke Quay lights up at night with bright lights and a fun atmosphere, which makes the swing ride even more exciting.
Opening Hours:
4:30 PM – 11:30 PM
Address:
3 River Valley Road, Singapore 179024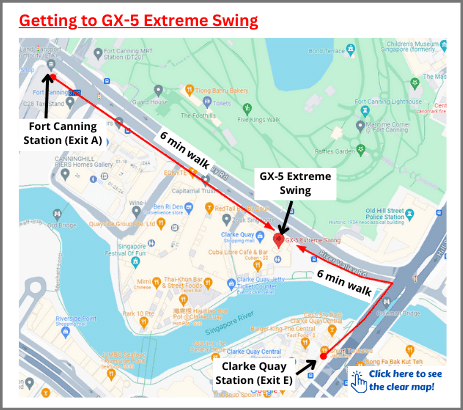 5. Old Hill Street Police Station: Catch The Rainbow-Coloured Structure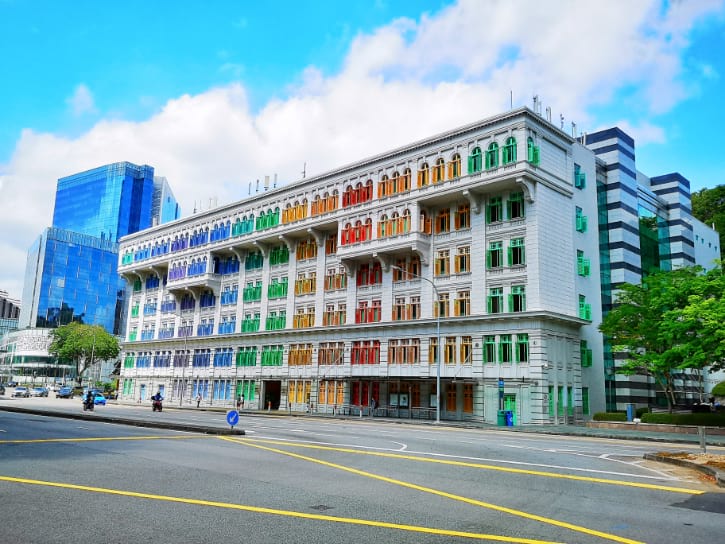 Right near Clarke Quay, you'll find the vibrant, rainbow-colored Old Hill Street Police Station. It's a great spot for photos any time of day, with its bright, multi-colored exterior.
This historical building isn't just about looks; it's a piece of history too. Built in 1934, it was the country's first jail and home to many police officers and their families.
Address:
140 Hill Street, Singapore 179369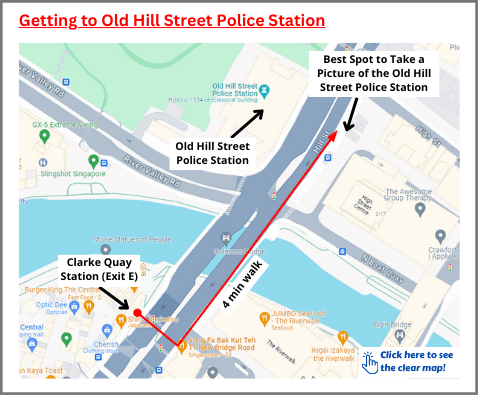 6. Cavenagh Bridge: Stroll Along The Historic Bridge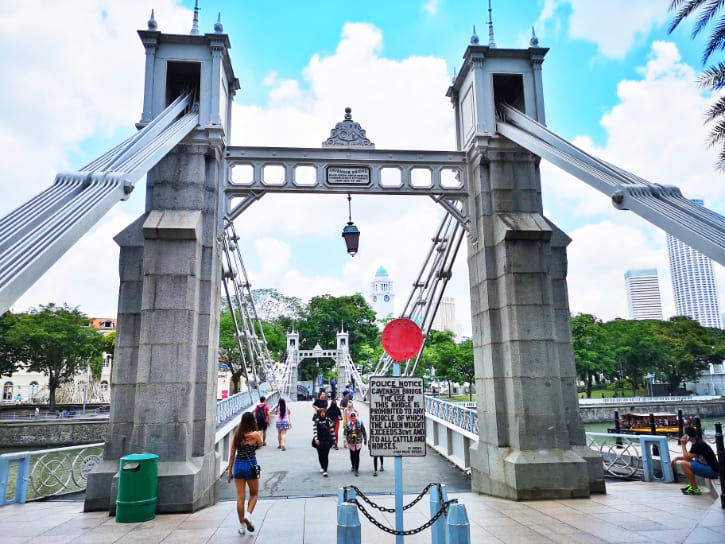 The Cavenagh Bridge brings a different light to your Clarke Quay trip. It's a place for relaxation and cultural appreciation.
Walk your way towards the iconic bridge that is always filled with locals and visitors.
This suspension bridge was created back in the 18th century, making it one of the oldest bridges in Singapore.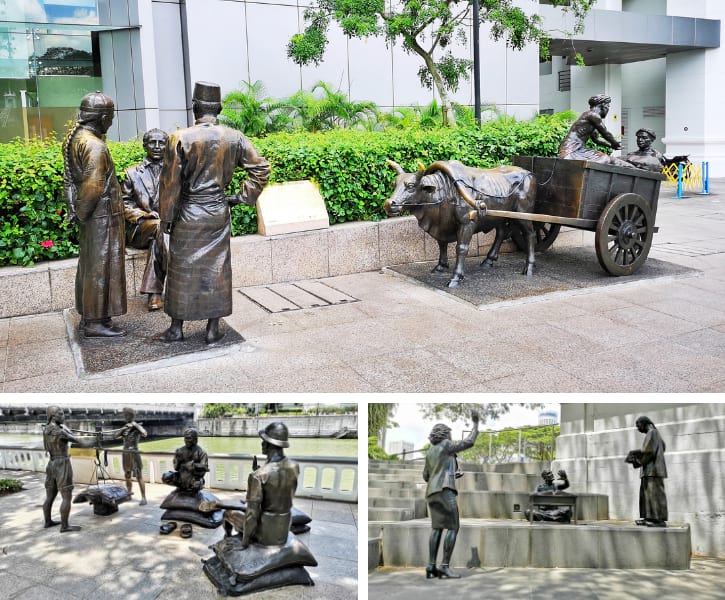 Continue your exploration and you'll come across some remarkable structures along the riverside.
Among these figures are The River Merchants, From Chettiars to Financiers, and A Great Emporium. All these statues represent a part of Singapore's history.
Opening Hours:
24 Hours
Address:
1 Fullerton Square, Singapore 049178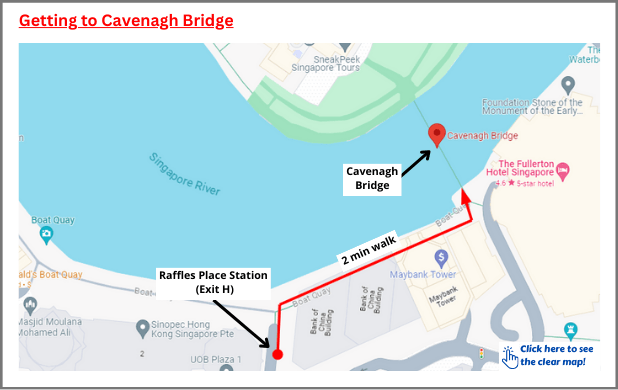 7. Asian Civilisations Museum: Amuse Yourself With Cultural Pieces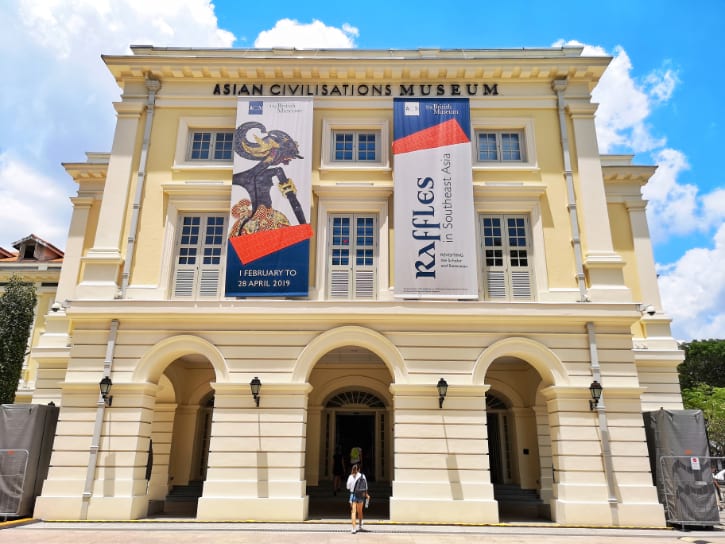 In your exploration of Clarke Quay, you can include a visit to the Asian Civilisations Museum.
This cultural and historical museum in Singapore displays various arts, traditions, and historical aspects from different Asian regions.
It's a great place to learn about the area's cultural diversity and history.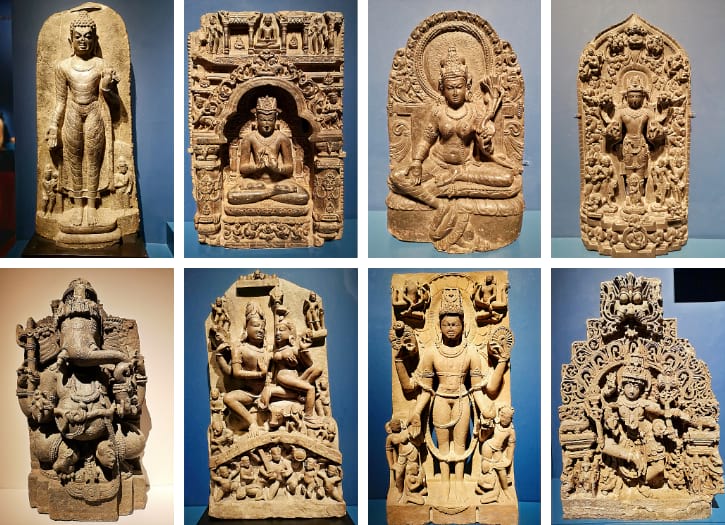 Take a look at the impressive display of sculptures, painting, and ritual items.
These are various traces of different religions including Buddhism, Jainism, Hinduism, Islam, and Christianity.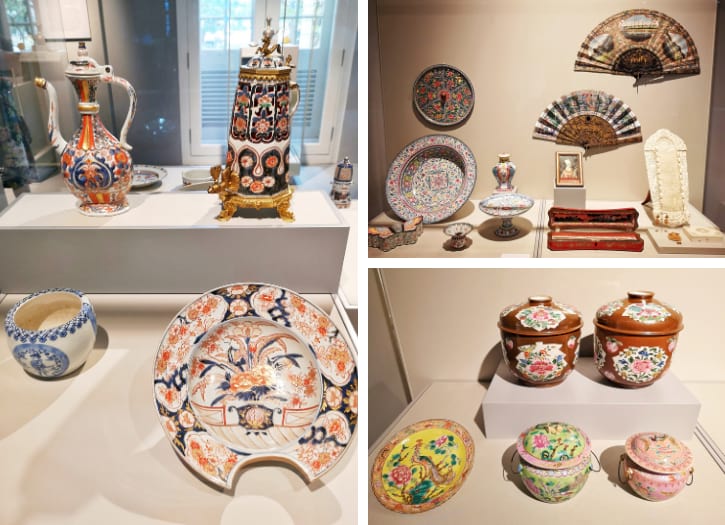 Continue with your tour and witness the majestic ceramic collection including basins, pots, plates, covered jars, and container boxes.
On top of that, you'll find a variety of jewelry items and textiles gathered from ancient communities.
I recommend taking your time to explore the galleries. They're filled with everything from ancient sculptures to modern artworks.
Opening Hours:
Saturday to Thursday
10:00 AM – 7:00 PM
Friday
10:00 AM – 9:00 PM
Ticket Price:
SGD $15
Address:
1 Empress Place, Singapore 179555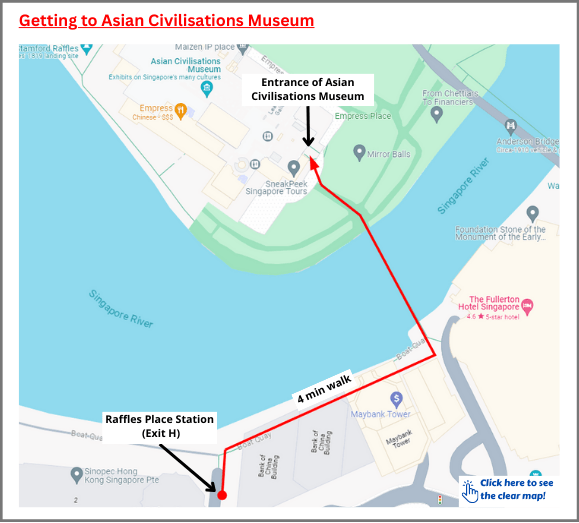 8. Fort Canning Park: Get Tangled With History and Nature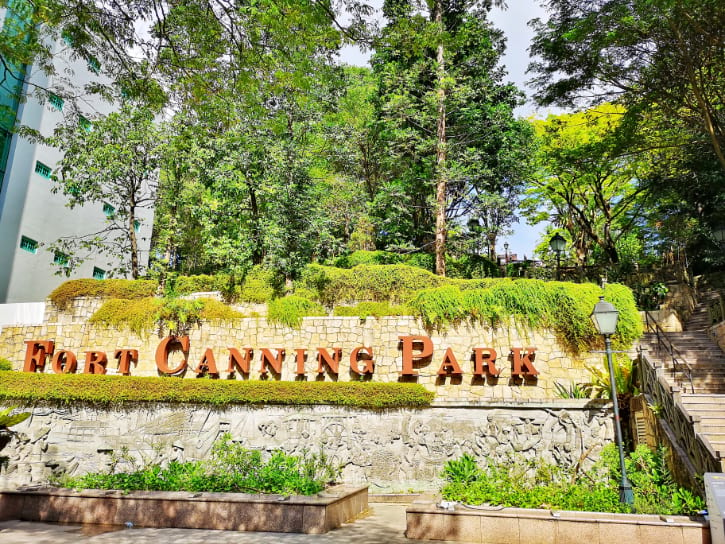 Right behind Clarke Quay is Fort Canning Park, a spot famous for its serene atmosphere and lively natural scenery.
This park is rich in history, filled with ancient artifacts and historical buildings waiting to be explored.
Let's explore Singapore's past through the exhibits in Fort Canning Park.
a. Sally Port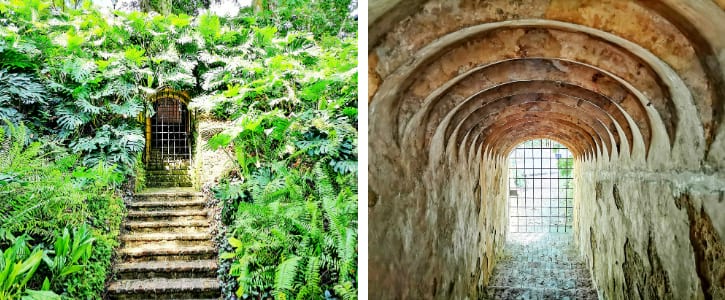 One thing you shouldn't miss in the park is the Sally Port.
This historical gem takes you back in time to the 19th century when it served as a gate for the old fort.
Make sure to bring your camera along as the Sally Port provides excellent photo opportunities.
b. The Spiral Staircase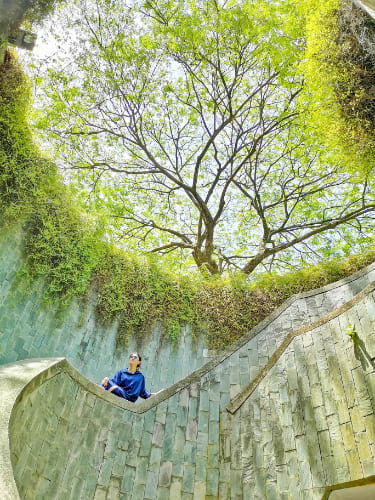 If you're looking for Instagram-worthy places in Singapore, don't miss the Spiral Staircase. It's undeniably picturesque. Strike a pose with the beautiful natural backdrop!
c. The Battlebox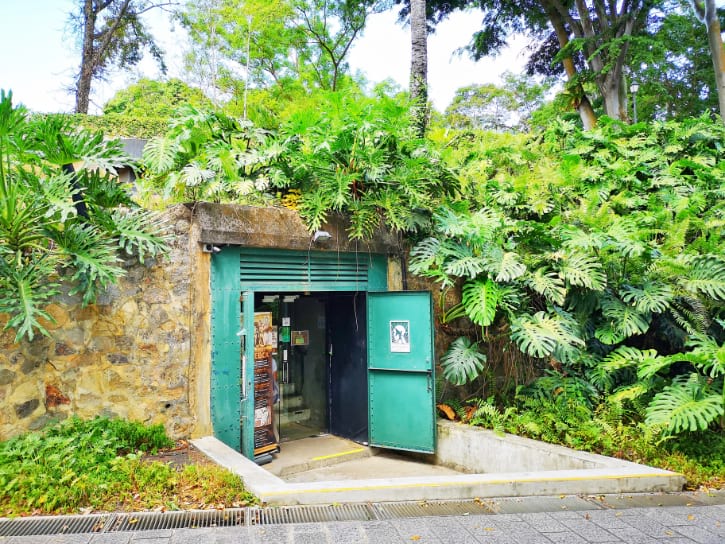 If you want to see the underground command center during World War II, head to The Battlebox.
This place functioned as a bunker during the war. Now, it houses some historical pieces during the country's darkest period.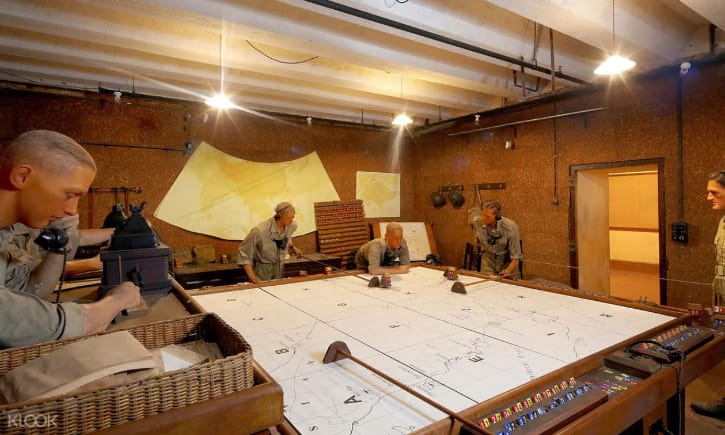 Walk around the museum that served as the headquarters of the Malaya Command and the British Empire.
Unfortunately, this is also the place where the fall of Singapore happened and the start of the Japanese regime.
d. Raffles House, Fort Canning Lighthouse and 9-Pound Cannon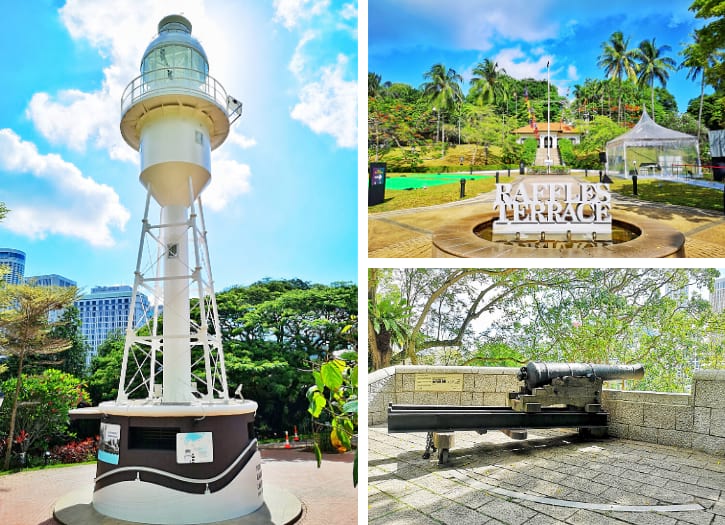 Drop by the Raffles House that now acts as a location for weddings and other important ceremonies.
On the other hand, there's the Fort Canning Lighthouse, a significant structure during the war.
Just beside the lighthouse is the 9-Pound Cannon. Before, it is used as part of the weaponry. After many years, it still served its purpose― not for war but rather as a greeting salute.
e. Fort Canning Arts Centre, Cupolas and Gothic Gate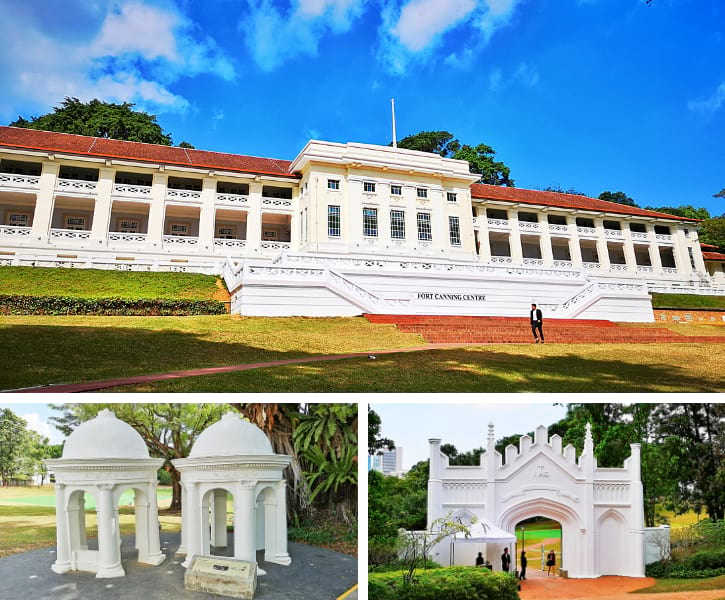 Looking for an iconic photo backdrop? Make use of the Fort Canning Park Arts Centre as your background.
This classical building is an important part of the 18-hectare Fort Canning Park. It is used as the main location for important historical events.
Within the area, you'll also find some eye-catching structures such as the Cupolas and the Gothic Gate. It's not hard to spot these though because of their all-white colors.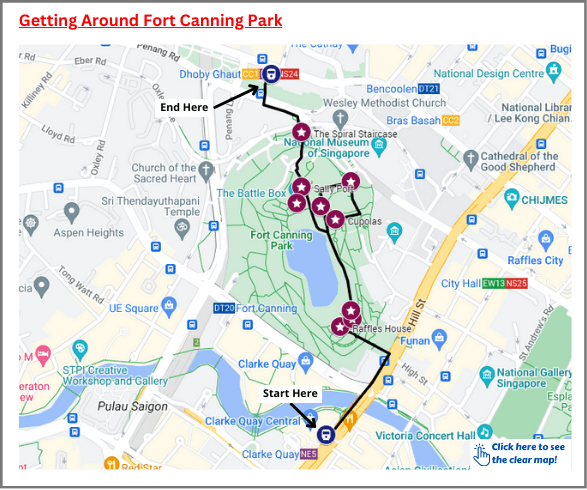 9. Civil Defence Heritage Gallery: Singapore's Emergency History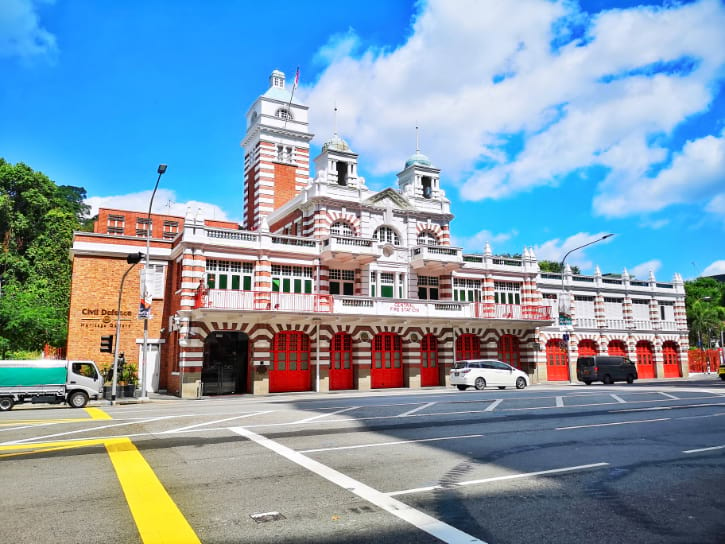 The Civil Defence Heritage Gallery has all the important equipment used by the Singapore Civil Defense Forces. If you want to learn about this part of history, this is the place to go.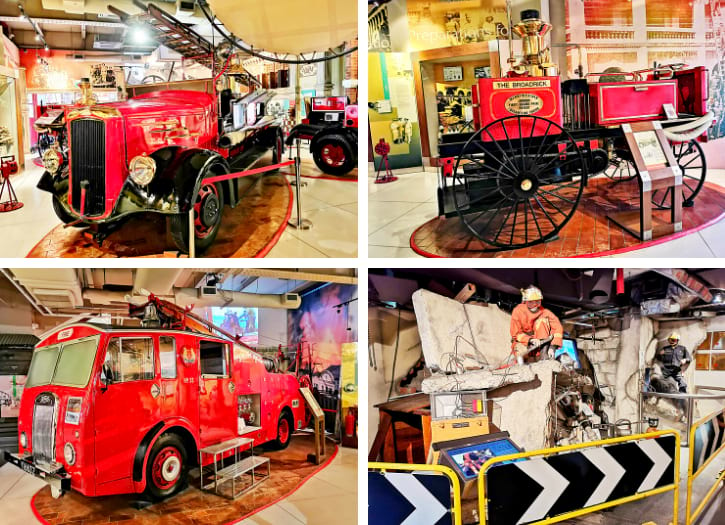 You can see the tools that firefighters have used from the 19th century until today.
There are many interesting things to see, like fire trucks, water pumps, and the uniforms that motorcycle riders wear.
You can also see old pictures from rescue missions. It's a great way to learn about how things used to be in the past.
Opening Hours:
10:00 AM – 5:00 PM
*Closed: Monday
Ticket Price:
Free
Address:
62 Hill Street, Singapore 179367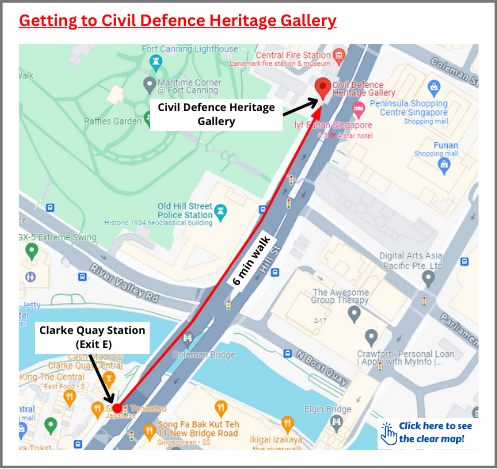 10. Hong San See Temple: Stop By The Famous Temple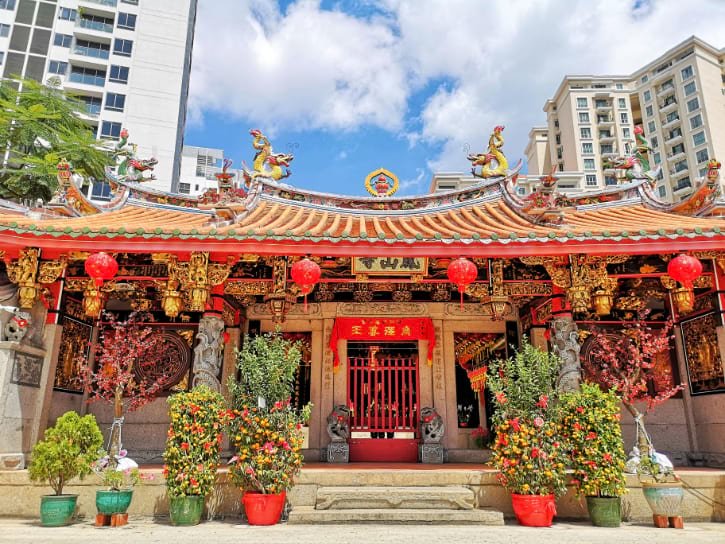 Just a 10-minute walk away from Clarke Quay, you'll discover Hong San See Temple. It's a fantastic spot with plenty to see and do.
When you're there, take some time to wander around the temple grounds. You'll come across beautiful statues and a stunning main hall with an impressive altar.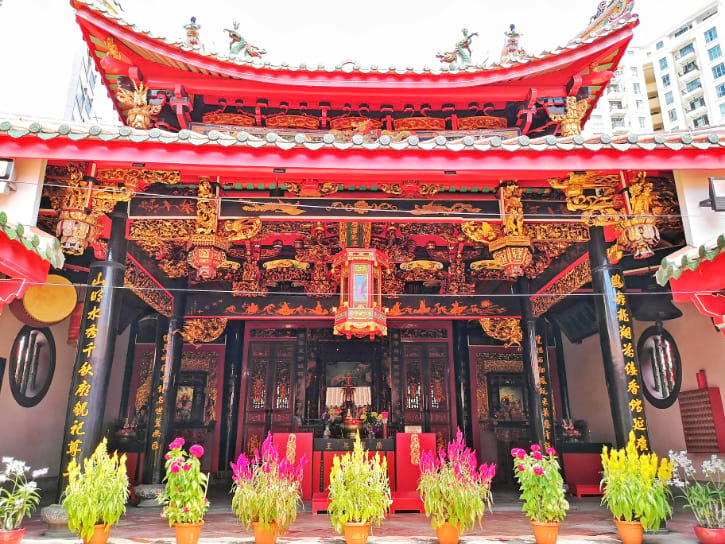 As you step inside the temple, you'll immediately sense its antique atmosphere with intricate carvings, columns, and statues.
Look closely at the granite columns that feature intricate designs of dragons, birds, phoenixes, and flowers.
Because of its cultural significance, it has been recognized by UNESCO Asia-Pacific Heritage in 2010. It became the first-ever building in Singapore to be granted such an award.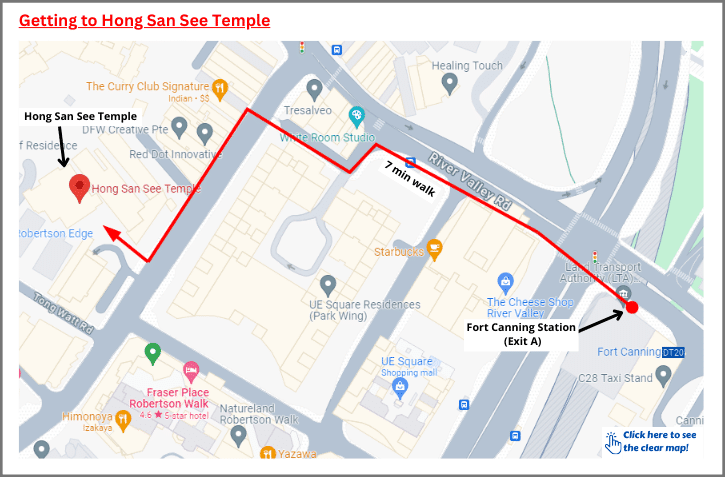 Things to Do in Clarke Quay Singapore: Summary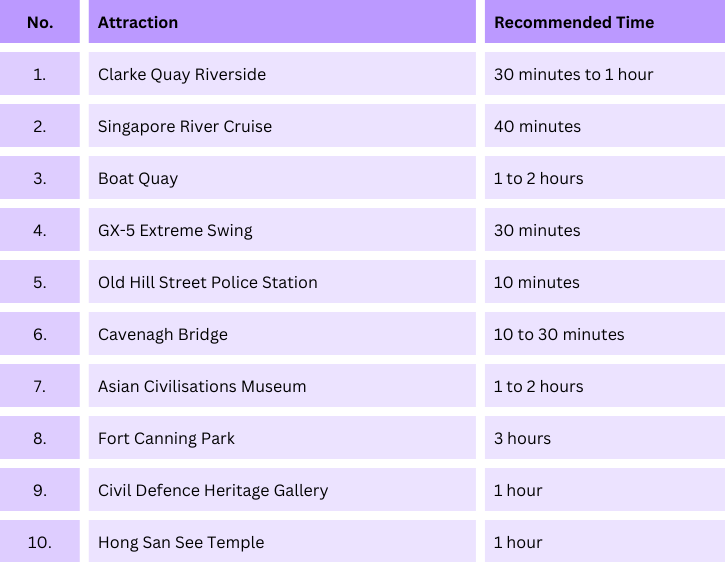 Truly, Clarke Quay offers you a wide range of things to do and see.
To make your visit to Clarke Quay more enjoyable and straightforward, I've sorted the best attractions into specific categories.
This way, you can quickly find what interests you the most, whether it's scenic views, thrilling activities, or cultural and historical explorations.
Here's a look at each category to help you decide where to start your adventure.
Waterfront and Scenic Views:
Clarke Quay Riverside
Singapore River Cruise
Boat Quay
Adventure and Thrills:
Historical and Cultural Sites:
Old Hill Street Police Station
Cavenagh Bridge
Asian Civilisations Museum
Fort Canning Park
Civil Defence Heritage Gallery
Hong San See Temple
My Recommended Itinerary for Clarke Quay
Let me provide you with some sample itineraries to help you easily plan your trip to Clarke Quay. You can also explore my easy-to-follow Singapore itinerary, tailored to assist you in effortlessly planning your journey in this dynamic country.
Plan Option 1: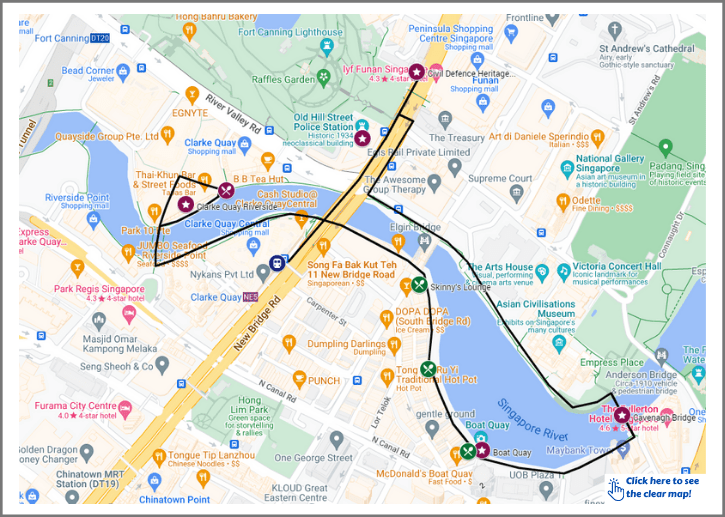 4:00 PM – Civil Defence Heritage Gallery
5:00 PM – Old Hill Street Police Station
5:20 PM – Cavenagh Bridge
5:40 PM – Boat Quay
6:00 PM – Harry's Boat Quay/ Skinny's Lounge/ Kinara Boat Quay (Dinner)
7:00 PM – Clarke Quay Riverside
7:30 PM/ 8:00 PM – Singapore River Cruise
Plan Option 2: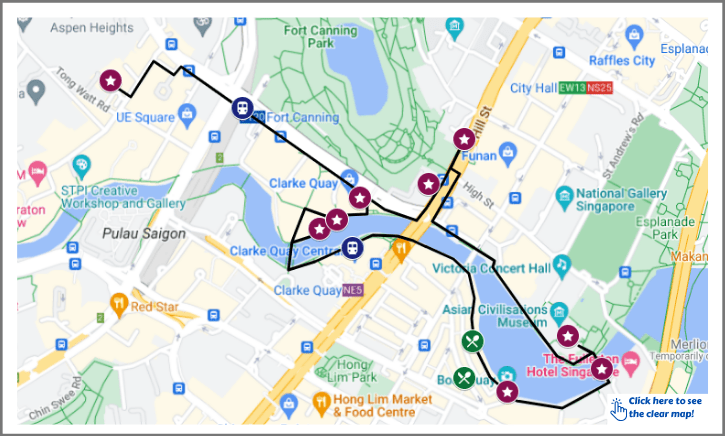 1:00 PM – Hong San See Temple
2:30 PM – Civil Defence Heritage Gallery
3:30 PM – Old Hill Street Police Station
4:00 PM – Asian Civilisations Museum
5:30 PM – Cavenagh Bridge
6:00 PM – Boat Quay
6:30 PM – Shrimp Prawn Seafood/ Tendon Kohaku (Dinner)
7:30 PM – Clarke Quay Riverside
8:00 PM – GX-5 Extreme Swing/ Singapore River Cruise
Clarke Quay Map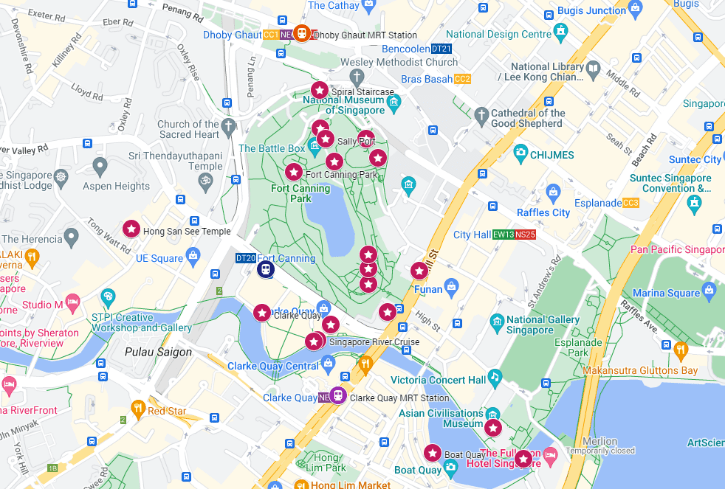 Clarke Quay Singapore offers a variety of places to discover. For your convenience, refer to the above map. It shows the precise locations of popular attractions, including the closest MRT stations.
Clarke Quay Attractions: Navigating MRT Station Exits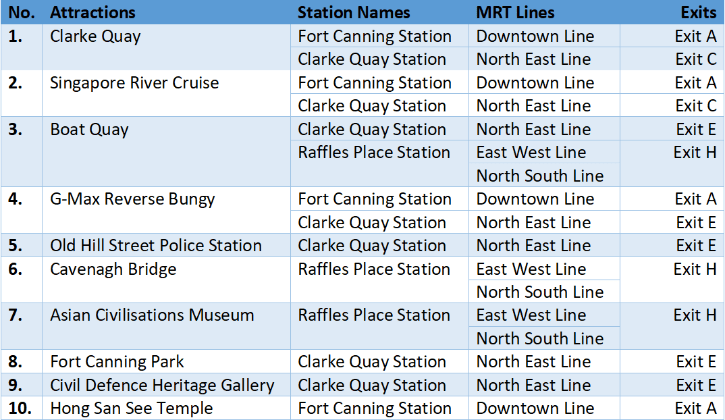 Where to Go after Clarke Quay
After exploring Clarke Quay, you have more exciting places to visit.
I highly recommend visiting Marina Bay Sands. It's known for its stunning architecture and offers a unique museum and beautiful gardens.
Sentosa Island is another great choice, especially if you're looking for a mix of fun and relaxation. It offers theme parks, adventure activities, and tranquil beaches, catering to visitors of all ages.
And if you love colorful street art, don't miss Bugis. This neighborhood is famous for its colorful murals, adding a unique and artistic touch to your Singapore experience.
Related Posts