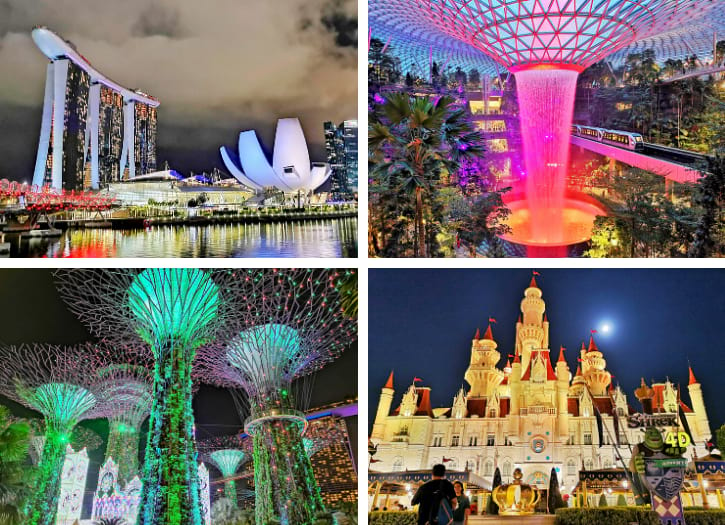 Singapore is one of the most beautiful country in the world. There are so many best places to visit in Singapore with your family and friends.
This well-loved destination offers a lot of tourist attractions including attractive historical spots, top-notch theme parks, spectacular museums, stunning temples and vibrant murals!
And to give you an idea of the top places to go in Singapore, here are my most recommended choices. 🙂
Best Places to Visit in Singapore
When in Singapore, you've got a lot of remarkable places to visit. And each of these sights distinctively highlights the beauty of the nation.
So, let me welcome you to the most iconic Singapore attractions that are worth the visit.
If you're wondering how to fit the below places into your trip, simply check my perfect 5 day Singapore itinerary here!
1. Singapore Merlion Statue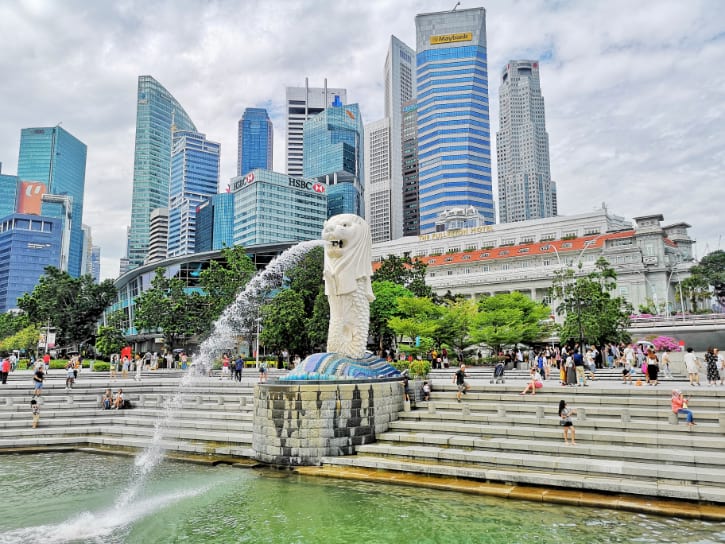 When we talk about Singapore, it's often associated with the Merlion Statue.
This mythical creature is not just any other sculpture. It's a representation of the country's humble beginnings and historical past.
So, it's best to kick off your adventure by capturing this significant landmark in Singapore.
Just head to the United Overseas Bank Plaza and you'll see the towering statue sputtering water from its mouth.
Stroll along the area or simply sit on the vast stretch of stairs. The relaxing vibes surrounding the statue makes it a favorite chill spot among locals.
2. Marina Bay Sands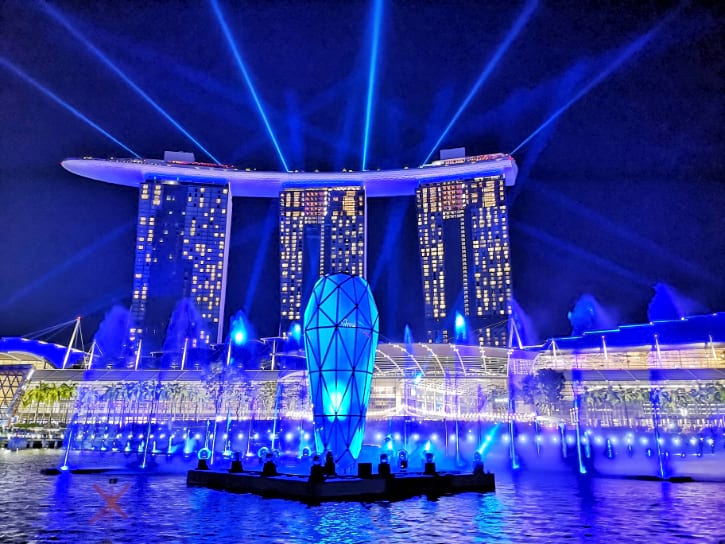 Some of the top places that you must visit in Singapore are located in Marina Bay Sands.
These include the picturesque Gardens by the Bay and the family-friendly ArtScience Museum.
For evening activities, you have Sands SkyPark Observation Deck, Singapore Flyer, and Esplanade.
And if you're planning to visit this place, check out my 15 favourite things to do in Marina Bay Sands Singapore article.
It will lead you to the most important attractions and best activities you can do in this top-rated place.
3. Sentosa Island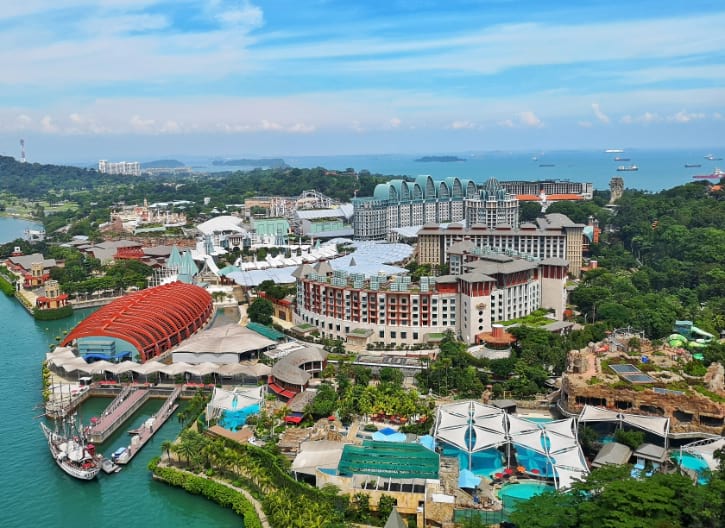 Another much-loved place in Singapore is Sentosa Island. This breath-taking island resort got plenty of amazing things to do and see.
Start with the thrilling rides at Universal Studios Singapore and Adventure Cove Waterpark.
Then, spend another day touring the spectacular S.E.A. Aquarium Singapore.
If you want more excitement, proceed to AJ Hackett Sentosa, Headrock VR, or iFly Singapore.
And to cap off the night, watch the fantastic outdoor show―Wings of Time.
See my list of top 20 things to in Sentosa for more information about the fun and exciting activities on offer.
Likewise, I have prepared an article with photos and details on how to go to Sentosa by MRT or cable car to further guide you.
4. Jewel Changi Airport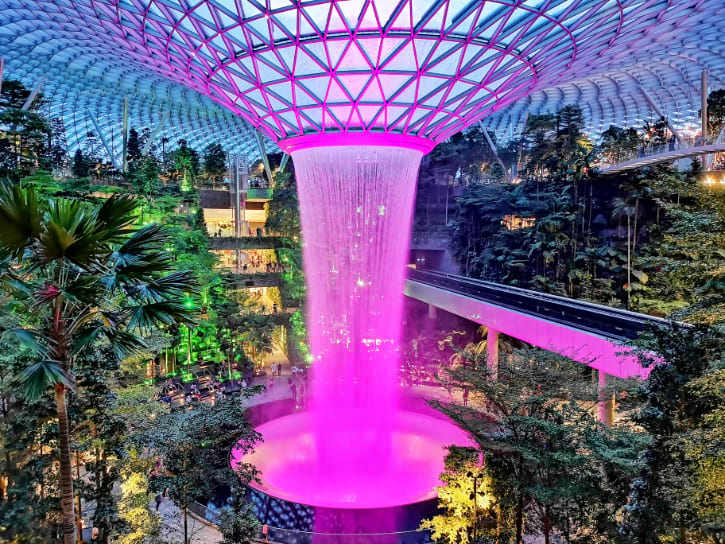 No list of the best Singapore attractions can ever be complete without visiting the Jewel Changi Airport. This famous place is surrounded by all sorts of entertainment.
Try one of the amusing attractions like net bouncing, sky net walking, or canopy walking.
And of course, the highlight of this place is no other than the HSBC Rain Vortex, which is the world's tallest indoor waterfall.
Aside from the lovely nature scenes and fun activities, Jewel Changi Airport is also an impressive shopping and dining place in Singapore.
Dig into its fantastic range of international retail shops and sophisticated restaurants.
Recommended Reading: A Complete Guide to Canopy Park (It's a very beautiful theme park at Jewel Changi Airport, be sure to check out this guide!)
5. Universal Studios Singapore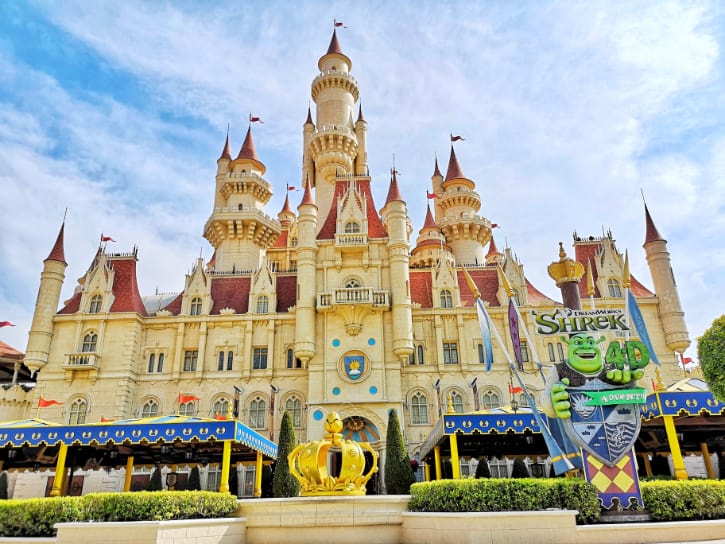 Universal Studios Singapore is a top-notch choice for visiting when it comes to entertainment.
From heart-pumping rides to comical shows, this huge theme park has definitely something to offer.
If you've got an eye for a thrill, try the TRANSFORMERS The Ride: The Ultimate 3D Battle or Battlestar Galactica: HUMAN vs. CYLON.
For first-rate shows, don't miss Elmo's TV Time, WaterWorld, Donkey Live, and Lights, Camera, Action.
Take a look at my full list of the top rides at Universal Studios Singapore to know about what you can do and see at there. This will also provide you with some tips and tricks for your personal visit.
6. Gardens by the Bay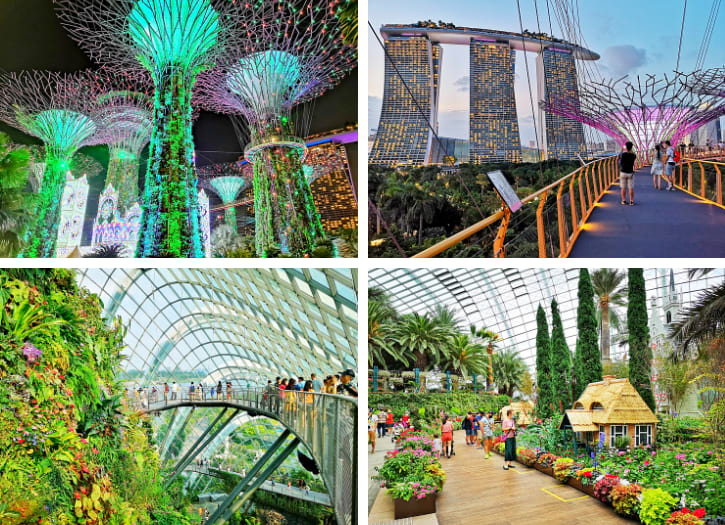 Gardens by the Bay is one of the most visited places in Singapore for tourists and nature lovers.
Walk around its scenic gardens, particularly the Flower Dome. This lovely garden shelters a stunning collection of flowers and plants from all over the world.
Other must-visit spots here are the OCBC Skyway, Cloud Forest, and Art Sculptures.
Lastly, a trip to Gardens by the Bay wouldn't be complete without seeing the majestic Supertree Grove.
To maximize your time, check my comprehensive guide to Gardens by the Bay beforehand.
7. S.E.A. Aquarium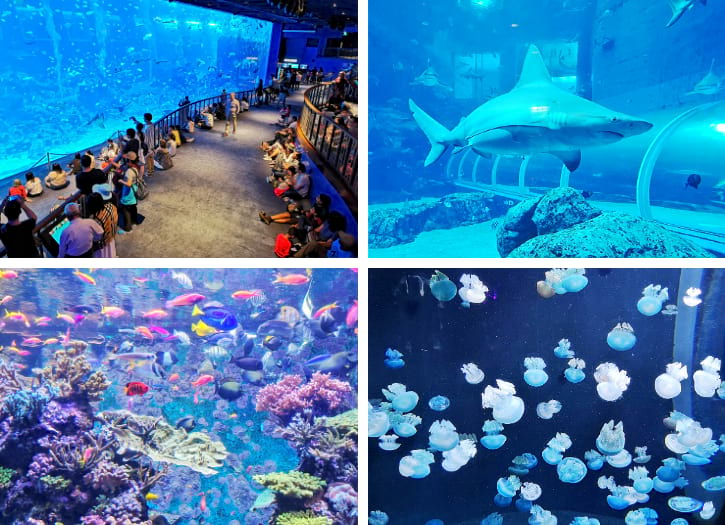 S.E.A. Aquarium is a great place to go in Singapore for all marine lovers. This aquarium got something for all your aquatic wishes.
Wander around the vast underwater exhibit that showcases various kinds of marine animals.
Get a glimpse of the ocean's powerful predators at the Shark Seas Habitat.
Continue your way to the Live Coral and Open Ocean Habitats to see some vibrant corals, colorful fishes, and unique-looking creatures.
For more information about this world-famous underwater world, read my complete guide to SEA Aquarium Singapore and review. This article also delivers the important details on how to visit the place easily via MRT.
Must Visit Heritage and Historical Sites in Singapore
Bounded by its rich history, Singapore has plenty of heritage sites that deserve a visit. These beautiful historical places in Singapore uniquely represent the culture of early communities.
So, if you're interested in knowing the country's vibrant past, check out the list below.
8. Chinatown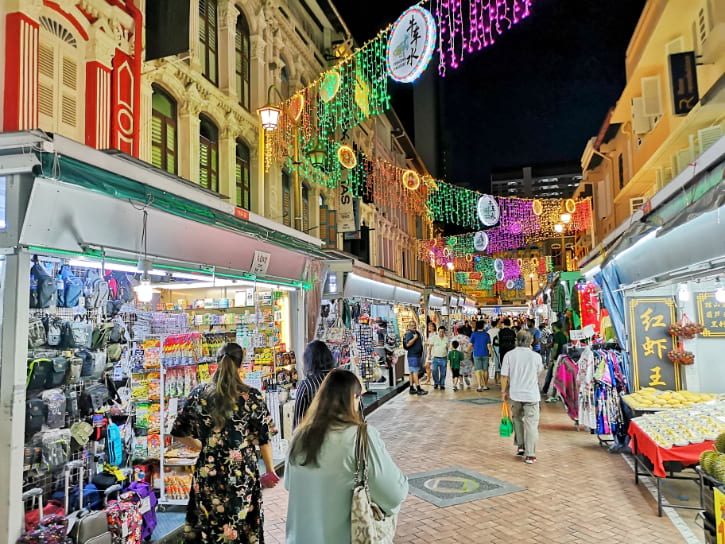 Chinatown Singapore is a historic district that is enveloped by street markets, unique murals, and notable museums.
A top place on the visiting list is the Chinatown Heritage Centre, where you'll get to see the life of early locals.
Go on with your trip and capture the beautiful murals on the Thian Hock Keng Wall and along the Mohamed Ali Lane.
For notable religious sites, pay a visit to the Buddha Tooth Relic Temple and Sri Mariamman Temple.
9. Little India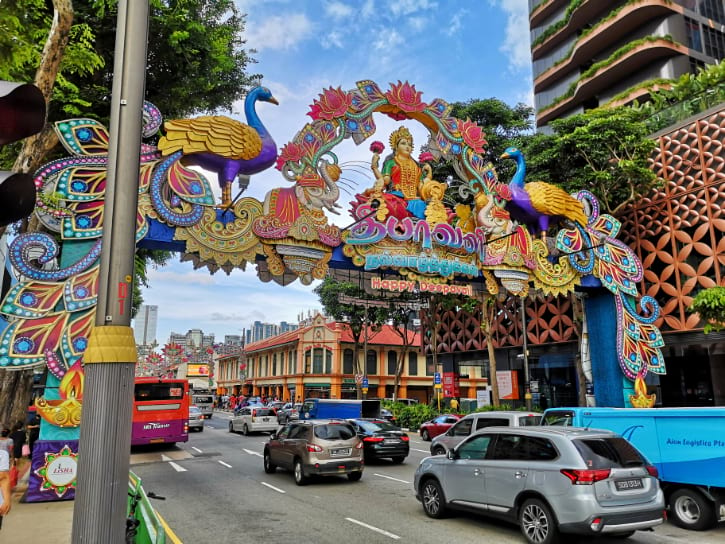 Little India Singapore is highly regarded because of its vibrant landmarks that depict a rather unique blend of history and culture.
Commence your tour at the Indian Heritage Centre. Here, you will learn more about the ancient Indian legacy through its vast exhibit of statues and cultural pieces.
Another Little India to-do list is visiting sacred sites such as Sri Veeramakaliamman and Sri Srinivasa Perumal.
And as you walk around this ethnic district, you'll come across some notable traces of history. Make sure to drop by the Tan Teng Niah House, Serangoon Road, and Little India Arcade.
10. Bugis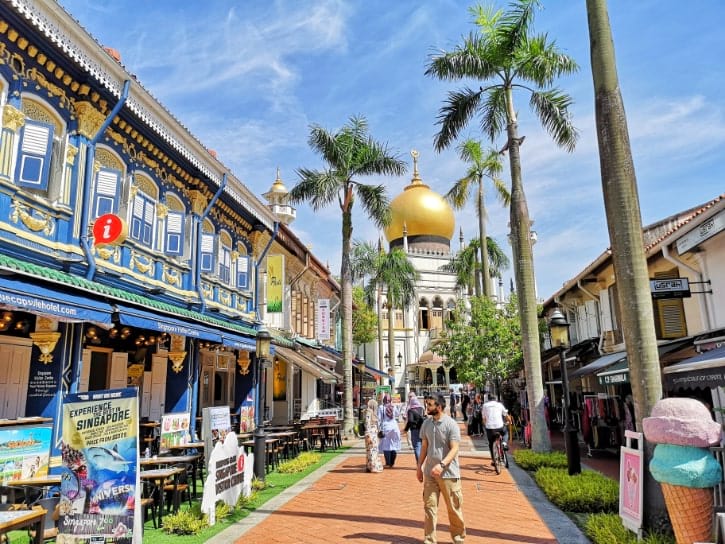 It's hard to deny the vibrance of Bugis that overflows from its animated streets and artistic sites.
This Singapore's iconic place filled with vintage-style cafes and unique shophouses.
And if you want to know some of the unmissable things to do in Bugis Singapore, you can begin your visit at Sultan Mosque.
Then, travel around the ever-colorful Haji Lane and Arab Street.
While in Bugis, you should spend some time visiting its street markets. And of course, you can't miss their top shopping places namely Bugis Street Market, Bugis Junction Singapore and Bugis+ shopping mall.
11. National Gallery Singapore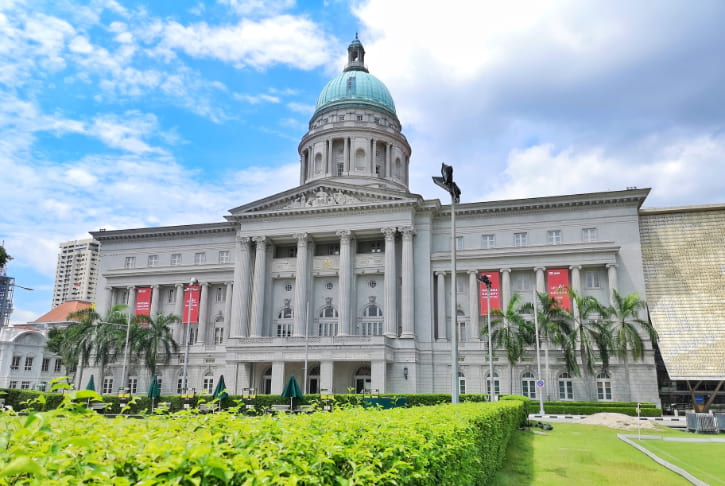 For art lovers, you should make the National Gallery Singapore as one of your priorities.
This distinguished museum accommodates thousands of artworks and cultural pieces. And these aren't just from Singapore.
The impressive art collection consists of creations from neighboring Southeast Asian countries. These include Brunei, Cambodia, Malaysia, Indonesia, the Philippines, Vietnam, Thailand, Laos, and Myanmar.
On top of the vast art display, National Gallery Singapore also offers a series of interactive activities. Likewise, they have artistic performances, historical productions, and unique workshops.
12. CHIJMES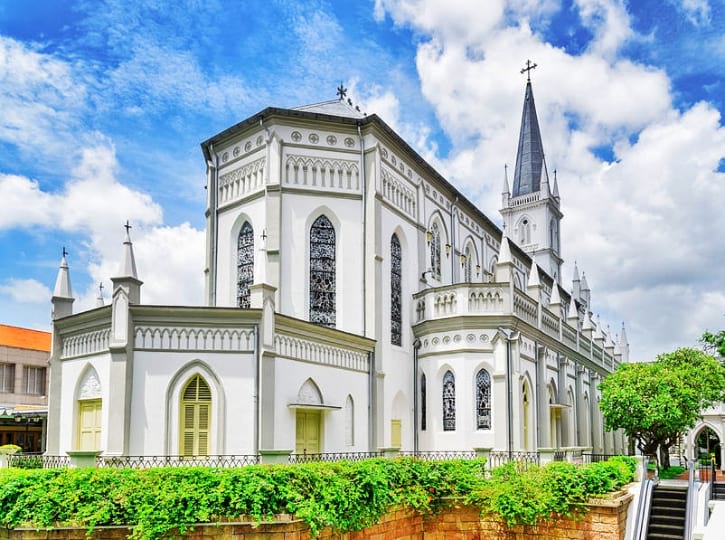 Before becoming an architectural wonder, CHIJMES was an old convent school for girls. Centuries later, it has beautifully transformed into a heritage landmark.
Not only that, this historic structure is now a popular place because of its wide array of restaurants and drinking options.
So, if you want a cosy spot with a hint of classic vibes, this is such a lovely place to be.
Explore the massive cultural complex during daytime.
Then come night-time, you can savor their tasty food choices or simply grab a drink and appreciate the views.
Must Go Places at Night in Singapore
The fun never stops in Singapore. There are still a lot of best places to visit even when darkness sets in.
And if you want to know more, read my separate post on 21 things to do in Singapore at night which cover more details on what you must do and see in the country at night.
13. Clarke Quay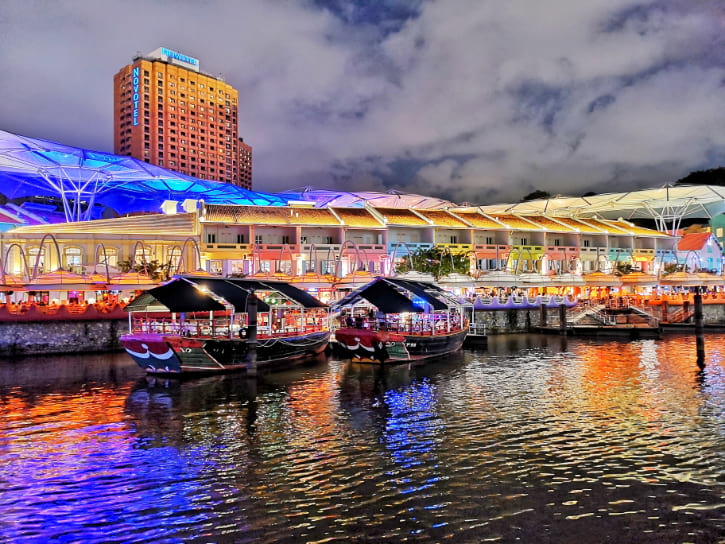 Clarke Quay is always jam-packed with locals and tourists at night. Why?
It's because of its scenic river views and lively nightlife.
Here, you can enjoy alfresco dining while satisfying your appetite. There are also plenty of cocktail bars and cosy pubs on array.
If you're up for an exciting night in Singapore, head to the best clubs in the area. You can even ride the G-Max Reverse Bungy if you want something more daring.
For other unique activities, refer to my complete list of the top 10 Clarke Quay attractions and plan out your visit ahead.
14. Skyline Luge Sentosa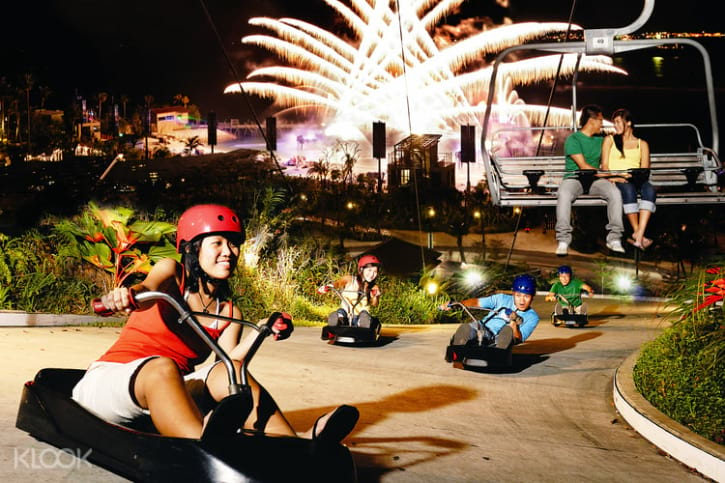 Skyline Luge Sentosa is the place to be if you're looking for a thrilling nature quest at night.
This attraction offers amazing activities for different types of people.
If you want an electrifying adventure, choose from one of the four trails and experience an outdoor ride like no other. Whatever trail you pick though, you are guaranteed of pumping night action.
On top of the fast-paced trails, you have the option to relax and enjoy the views from the 4-seater chairlift.
As part of Skyline Luge Sentosa, Skyride provides a more soothing way to see the lovely nature scenes.
15. K Bowling Club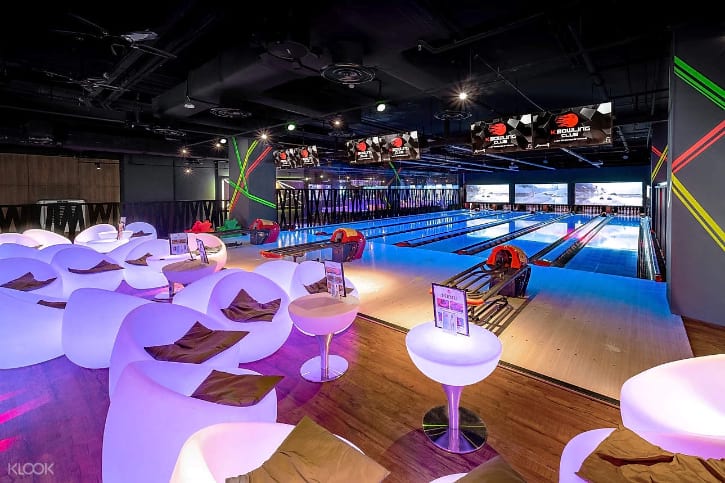 Bowling with a twist? Plan a get-together with your friends at K Bowling Club and experience an epic night out in Singapore.
This top-rated bowling alley gathers unique kinds of entertainment options for everyone.
For music enthusiasts, belt your favorite songs inside their karaoke booth.
Likewise, there are arcade games and dart machines to energize you and your pals.
For the highlight of the night, there's the classic bowling game that will surely bring out your competitive side!
And while having fun, you can dig in some of their tasty dishes and sip a cocktail drink of your choice.
16. Spectra – Light and Water Show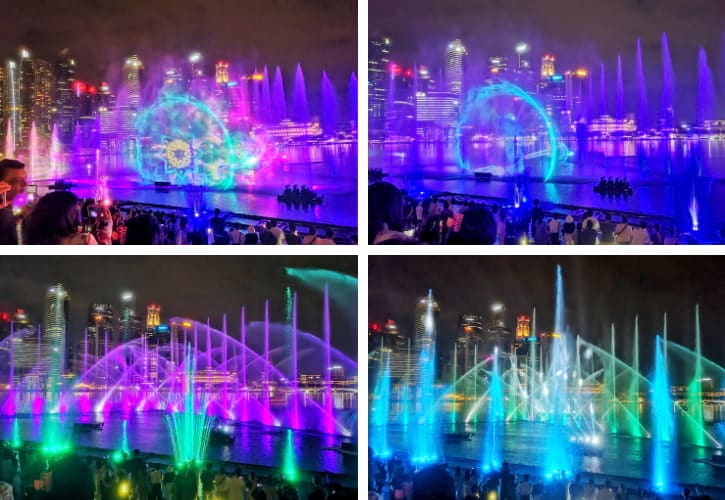 When it comes to the must-watch light shows in Singapore, Spectra – Light and Water Show is always part of the visiting list.
From the name itself, this outdoor presentation is nothing short of spectacular.
In fact, it's one of the best night shows that beautifully reflects Singapore's rich history. And you won't have to worry at all because Spectra is open to anyone.
There's no entrance fee or whatsoever, and it is held every night with two time slots.
So, make sure to allocate 15 minutes of your time to catch this amazing display of lights, colors, and sounds.
Show Times:
Sunday to Thursday
8:00 PM and 9:00 PM
Friday to Saturday
8:00 PM, 9:00 PM and 10:00 PM
17. Singapore River Cruise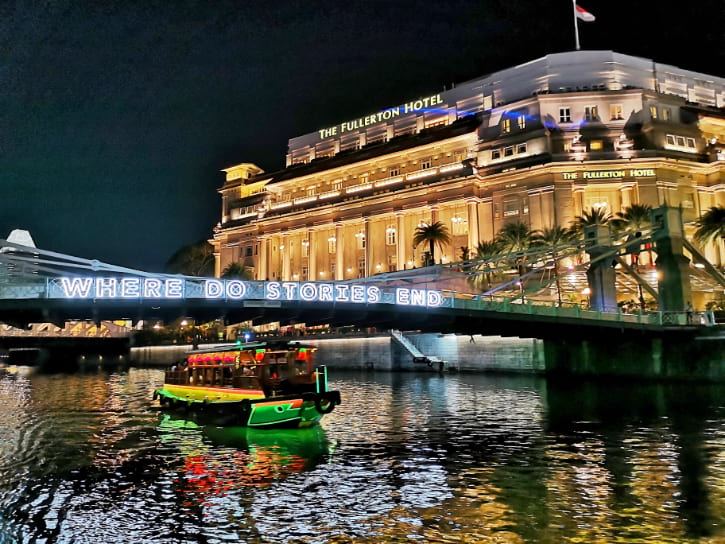 But of course, there's nothing more romantic than to ride the traditional Bumboat with your partner.
The Singapore River Cruise lets you travel through the magnificent waters and see the vibrant nightlife.
The journey begins at Clarke Quay, then voyages through the Marina Bay, and back to Clarke Quay.
From your seat, you'll see the dazzling metropolis surrounded by giant structures and illuminated buildings.
You'll even come across some iconic Singapore landmarks like the Esplanade, ArtScience Museum, and the Merlion Statue.
So, ready your cameras and snap these beautiful places while onboard.
18. Helix Bridge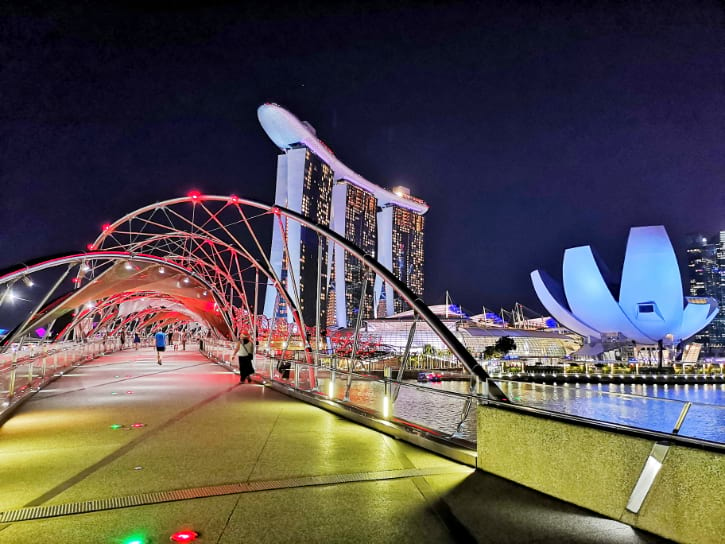 Helix Bridge is a breath-taking curved bridge in Singapore that conveniently connects the Marina Center to Marina South.
So, if you want to transition from shopping to visiting the famous hotel, you can take this route.
More than that, this structure has been a favored place for leisure activities.
Stroll around or run along the stunning pedestrian bridge while taking in the lovely city sights.
Or if you just want to relax, Helix Bridge can be your go-to destination too.
Must Visit Places in Singapore for Animal Lovers
Are you interested in meeting some animals? Why not visit some best animal parks in Singapore to enjoy your trip better?
You've got a couple of top places to visit, so I've gathered the most recommended ones to make it easier.
19. Singapore Zoo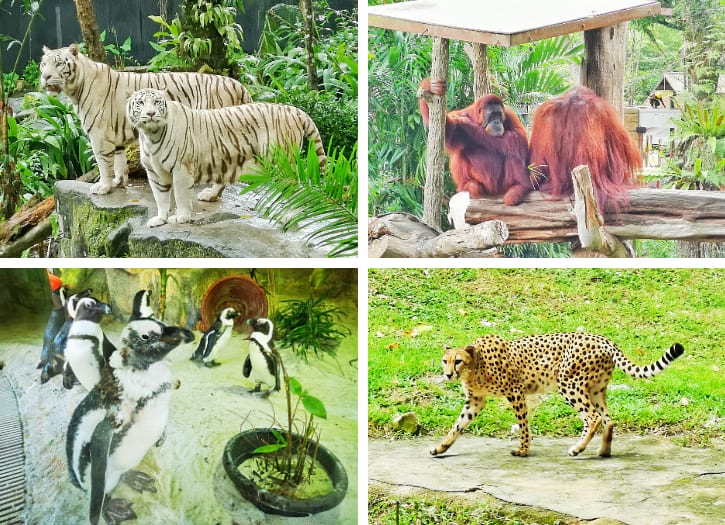 Singapore Zoo is a place worth visiting for all ages. It's an immense park that shelters thousands of wild animals into their care.
During your animal tour, you'll meet some white tigers, mandrills, orangutans, lions, giraffes, and penguins.
There are also live animal shows to watch out for such as Splash Safari, Elephants of Asia, and Rainforest Fights Back.
You can read my complete guide on how to get to Singapore Zoo to give you more information about this zoo. With the listed tips and other relevant details, this will help you maximize your visit.
20. Night Safari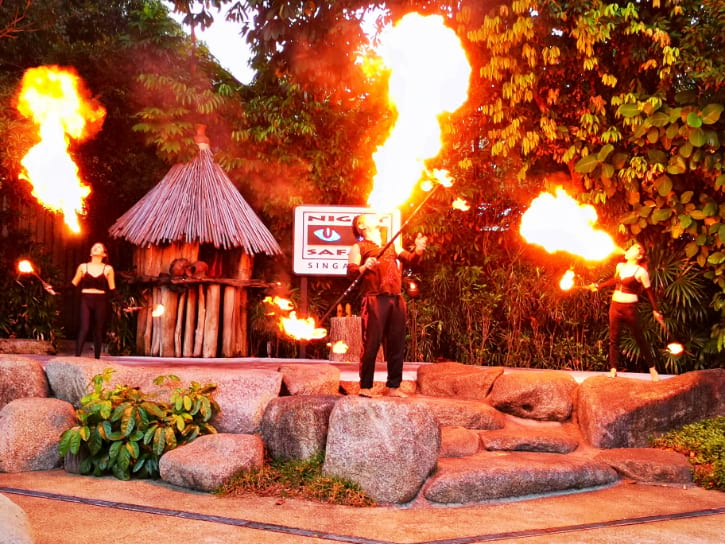 If you want a distinct animal tour, visit Night Safari Singapore.
It's unlike traditional animal parks where you meet the animals from morning until afternoon. Here, you get to see them when the sun sets.
More so, you are given two fantastic choices―riding on a tram or walking around the trails.
The first pick is recommended if you want to see special animal exhibits. The second option is also a nice choice if you want a closer encounter with tigers, lions, sloth bears, and the like.
And for better guidance, simply refer to my recent Night Safari Singapore review and get an idea of the animals and shows featured.
21. River Safari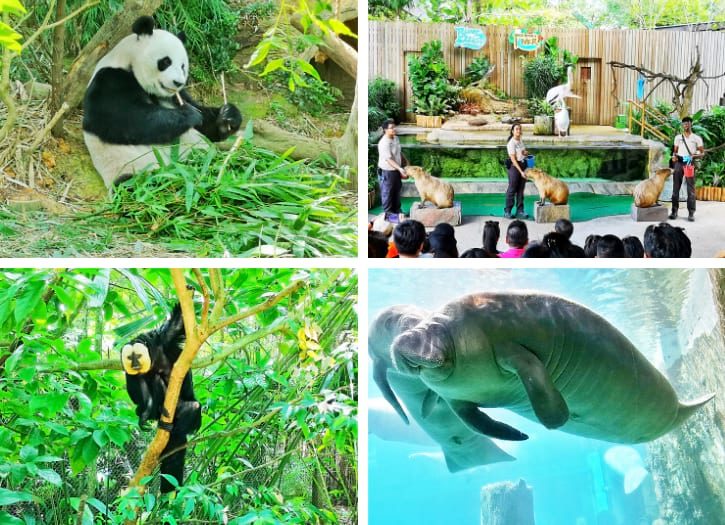 River Safari (River Wonders) is one of the best places to visit in Singapore because of its unique setup of habitats.
It actually follows a river-themed arrangement, which allows it to add freshwater exhibits and even a boat ride.
Explore the amazing zones of River Safari such as Amazon Flooded Forest, Giant Panda Forest, Congo River, Wild Amazonia, and a lot more.
And for a more extraordinary experience, ride the Amazon River Quest and meet some wild animals up-close.
22. Jurong Bird Park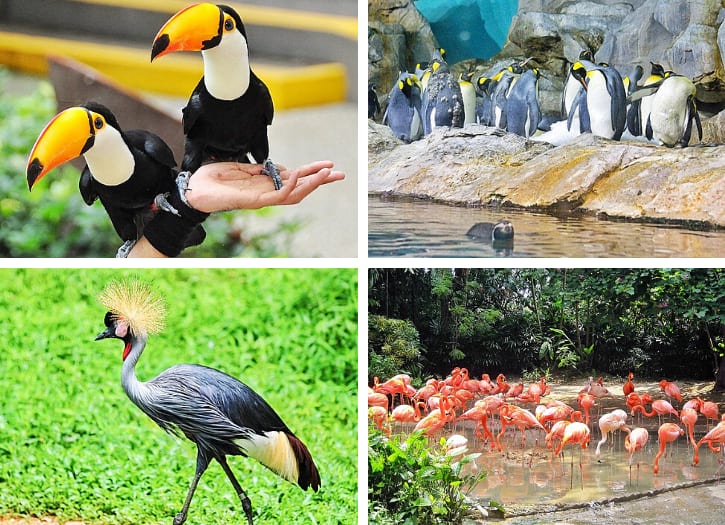 For bird fanatics, you'll get your money's worth at Jurong Bird Park. This animal theme park has more than 10 animal zones that feature different kinds of bird species.
Catch the home of the lovely, long-legged birds at the Flamingo Lake and Flamingo Pool. You can also navigate the Waterfall Aviary and meet some singing and highly reserved birds.
For some endangered flying creatures, these are sheltered in the Wings of Asia.
And if you're a fan of parrots, penguins, pelicans, and swans, there are also specific zones for these animals.
Top Museums to Go in Singapore
Explore the finest art exhibits and unique creations from the best museums in the country.
These museums are not just spectacular in terms of collection but also with their architectural style.
So, here are some of the famous museums that are worthy of international recognition.
23. ArtScience Museum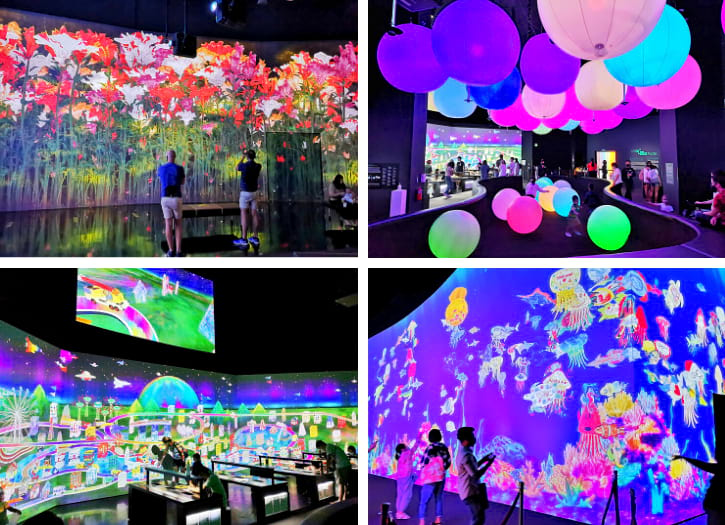 ArtScience Museum is such an admirable place for art lovers.
Compared to other museums in Singapore, this site combines art with technology. And this is made possible through its Future World: Where Art Meets Science exhibit.
As the centrepiece of the museum, this permanent exhibit gathers the most beautiful art installations and sounds.
Witness and experience the interactive display that transports you to a spectacular journey. There are different setups to choose from, and each of which are downright mesmerizing.
24. Trick Eye Museum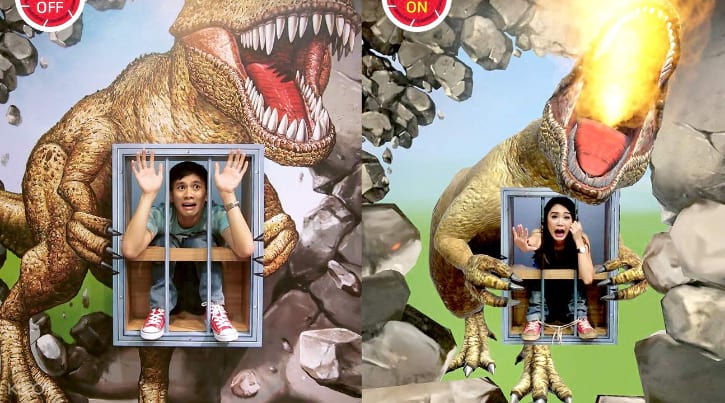 Are you ready to unleash your artsy side?
The Singapore's Trick Eye Museum got a whole lot of art display for your amusement.
Inside this museum are not just your typical art pieces.
Instead, these are eye-catching 4-D pictures that allow you to pose like part of the real art. These range from lovely Disney movies to thrilling sensations and even tricky exhibits.
This means that you definitely also need to level up your drama skills so you perfectly fit the photos.
Interact with the amazing optical illusions and show your best poses to the camera.
25. National Museum of Singapore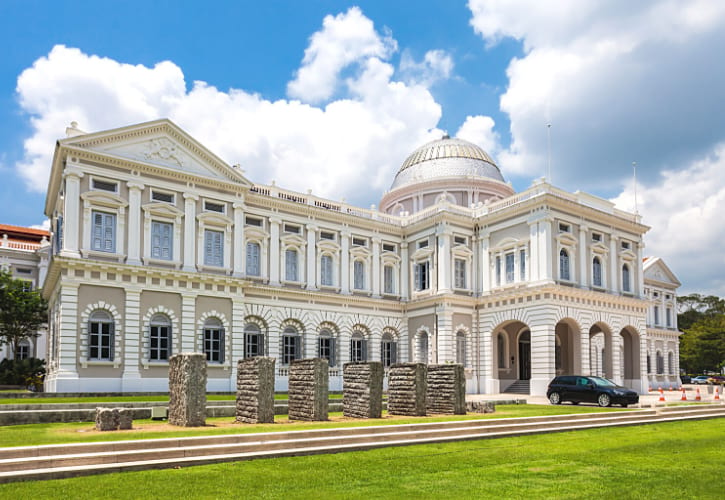 Established in 1849, the National Museum of Singapore goes deep into the history of the country. In fact, it's the oldest museum in Singapore.
Aside from its historical significance, it highlights an impressive art and heritage collection.
Start your tour from the basement, then up to the 3rd floor. Here, you'll come across a lot of incredible galleries, beautiful murals, and even digital presentations.
More so, the museum has its own restaurants that offer you unique dining experiences. They also have a retail store for you to shop around.
26. Madame Tussauds Singapore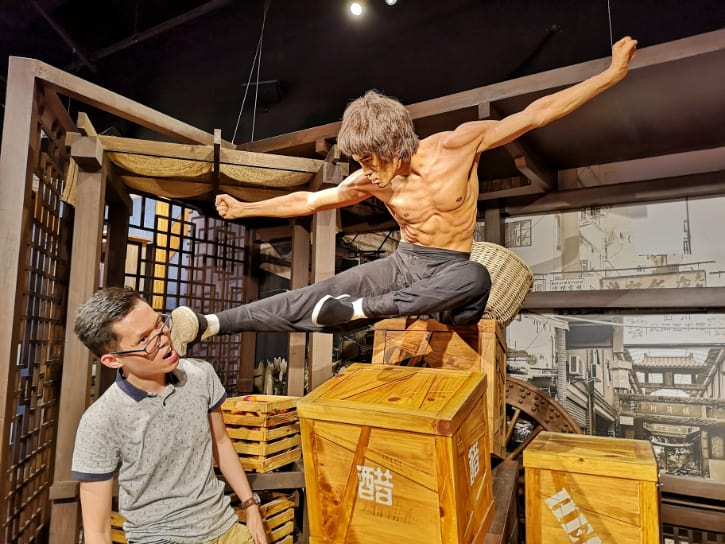 If you don't want to get broke while meeting your favorite stars, why not see their duplicities?
Madame Tussauds Singapore grants your wishes by putting on display a variety of wax figures.
See the wax collections of different celebrities, sports legends, and even world leaders.
And because of the impressive sculpting skills, it's quite hard to distinguish reality from the replicas!
To add more fun to your visit, Madame Tussauds offers animated exhibits for everyone. Learn the history of the country through the Spirit of Singapore Boat Ride.
Best Spiritual Places to Visit in Singapore
Since we're done with animal theme parks, historical places, and unique museums, let's move on to the next category.
Unlock the best Buddhist and Hindu temples in Singapore with the help of the list below.
27. Buddha Tooth Relic Temple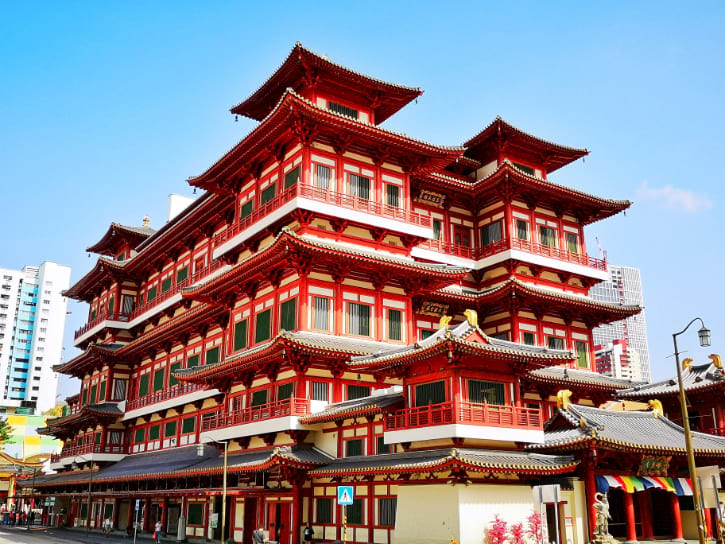 Beautifully located within the vibrant Chinatown district, the Buddha Tooth Relic Temple is such a sight to see.
Capture this national landmark that highlights a rather unique architectural style.
Outside the complex, you'll already feel its sophisticated vibes.
And once you enter the temple, you'll get an even better view of its breath-taking interior designs and relevant items.
And the most important piece inside is the canine tooth of Buddha. Take a peek at this remarkable relic, which paved the way for the temple to become one of the holiest Buddha sanctuaries in Singapore.
28. Thian Hock Keng Temple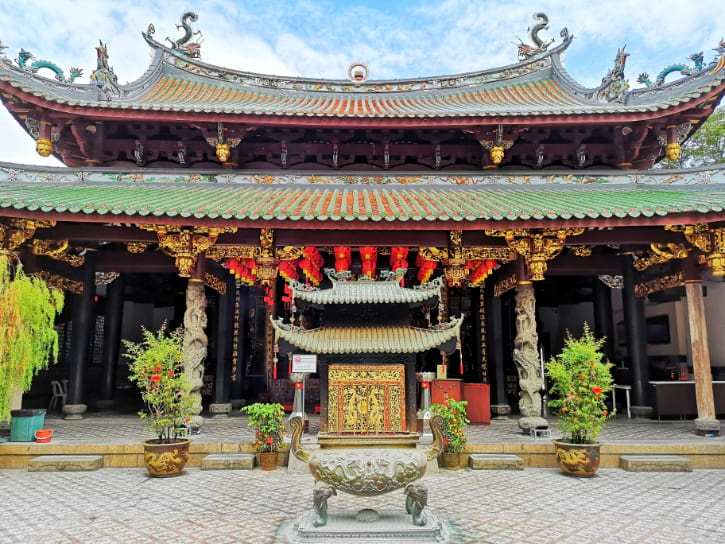 Another well-loved religious place in Singapore is Thian Hock Keng Temple. This place of worship was established in honor of Mazu, the Goddess of the Sea.
Aside from Buddhism, it has embraced interrelated religions such as Ancestral Worship and Confucianism.
Step inside the temple and say a little prayer. And if you want, you can avail of their free guided tours to better understand its history and heritage.
Then, cap off your tour by seeing the murals on the walls of the exterior complex.
29. Sri Veeramakaliamman Temple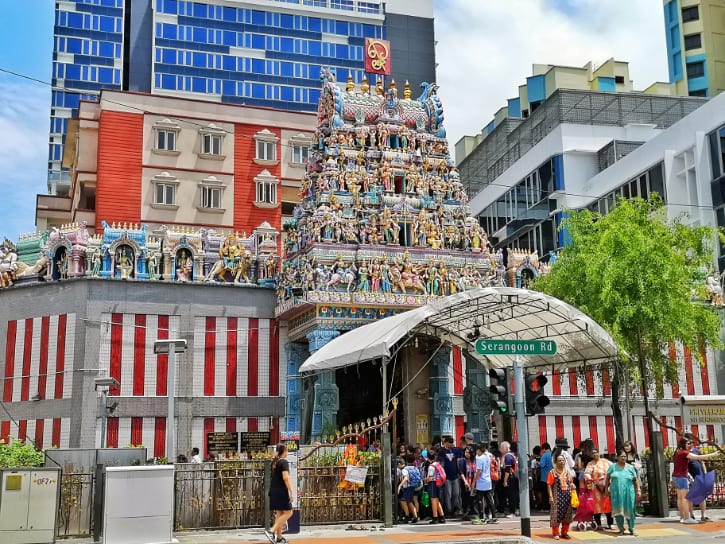 Sri Veeramakaliamman Temple is a magnificent Hindu temple right in the heart of Little India.
Because of its multi-colored designs, it's hard not to notice this vibrant structure. It beautifully stands out despite the modern buildings surrounding the area.
Take a closer look at this religious site as you enter its premises.
Inside, you will see the brilliance of Indian heritage through the collection of deity statues. These include Sri Periachi, Sri Visalatchi, Lord Vinayagar, and Sri Veeramakaliamman.
30. Sri Mariamman Temple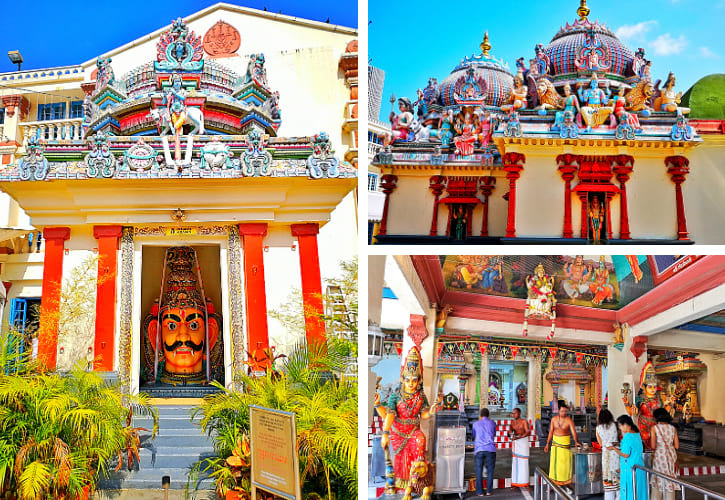 Step into the oldest temple in Singapore ― the Sri Mariamman Temple. Created in 1827, this religious place mainly represents the Hindu culture and history in the country.
Many Hindu communities visit the temple to pray and give respect to Mariamman, the goddess of disease and protection.
Likewise, the place has become more popular because of its elaborative and colorful designs.
The spectacular sculptures and historical pieces add up to the notable reputation of Mariamman Temple.
No wonder, it continues to be one of the finest Hindu temples in Chinatown and in the entire country as well.
Top Spots for Outdoor Activities
Who says Singapore is just about technological advancements?
There are actually beautiful outdoor places scattered around the Singapore. These locations are perfect for a chill day out or if you just want to escape the busy city life.
31. Singapore Botanic Gardens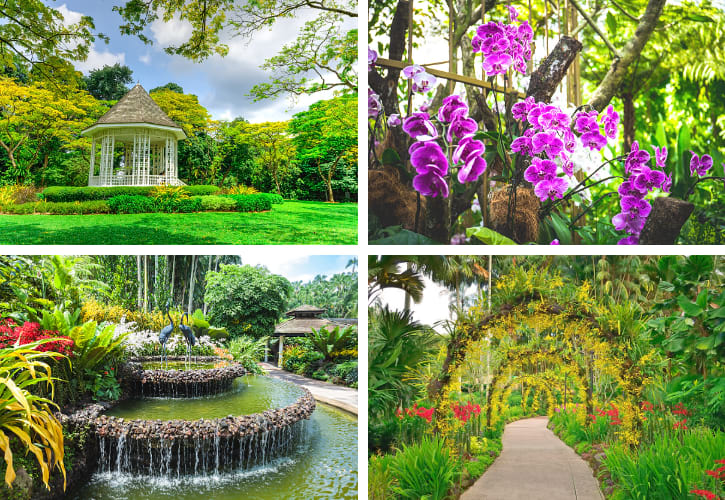 There's no need to travel far just to experience nature. Singapore Botanic Gardens is strategically located within the bustling Orchard Road.
And for your convenience, there are four entrances to the park that leads to different yet equally beautiful gardens.
Drop by this lovely botanic garden and see why it's recognized as the first-ever UNESCO World Heritage in Asia.
Just make sure to spend extra time if you really want to capture all its scenic charms.
Once you're inside the area, it's easy to fall in love with its stunning landscape and tropical gardens. Enjoy the nature scenes and breathe in the calm vibes!
32. Sentosa Beaches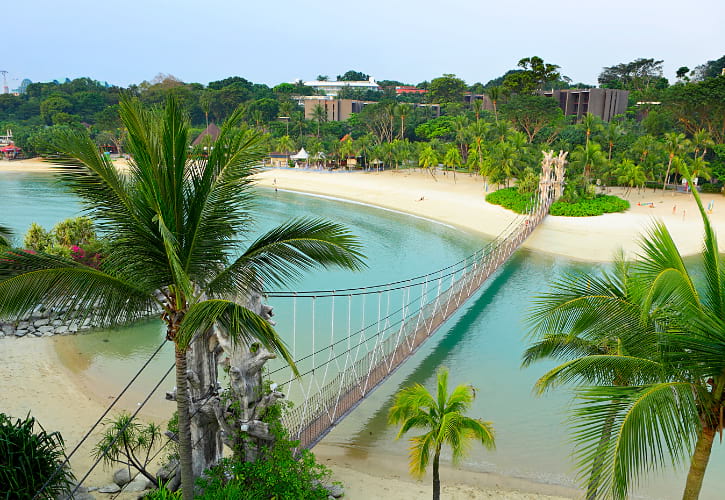 But of course, you can't miss the must-visit beaches in Singapore, particularly Palawan, Siloso, and Tanjong.
These 3 beaches, along with the Southernmost Point of Continental Asia, are great beach destinations in Sentosa Island.
Spend the entire day here and enjoy the picturesque nature scenes.
Most of these beaches have its own set of recreational facilities. These include playgrounds, restaurants, bars, a hanging bridge, and a lot more.
And the best part? The beaches are easily accessible via the beach tram, which is a free transport vehicle that takes you to different Sentosa beaches.
33. Chinese Garden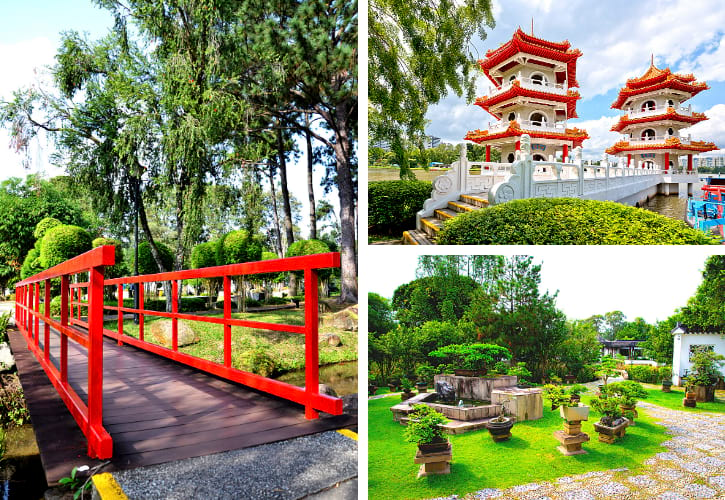 The Chinese Garden is a charming natural place along the scenic Jurong East.
It's one of the two collective gardens that comprise the Jurong Gardens. The other half is the Japanese Gardens.
As soon as you go in the garden, a beautiful blend of Chinese gardening art welcomes you.
Witness the unique architectural features that are scattered around the vast expanse. These include the stone lions, pagodas, pavilions, bridges, and more.
So, if you want a chill get-together with your family and friends in Singapore, the Chinese Garden is a lovely place you can pick.
34. Adventure Cove Waterpark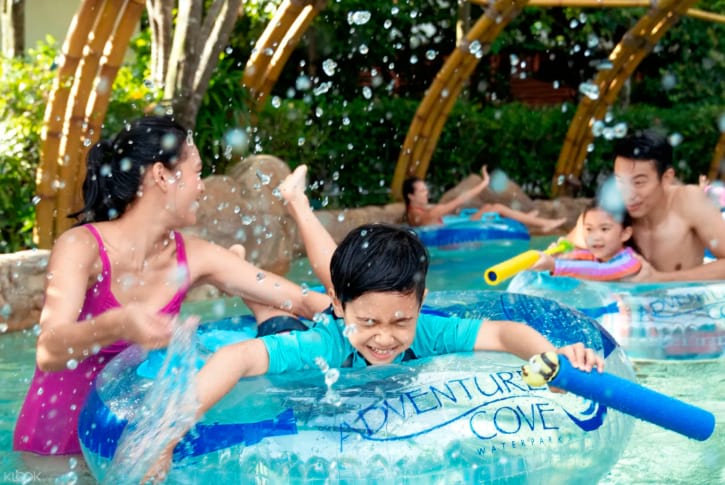 Adventure Cove Waterpark is simply one of the best places for outdoor amusement. The number of exciting water facilities here is quite hard to beat.
Get started with the heart-pumping slides, particularly the Dueling Racer and Pipeline Plunge.
If you can't get enough of the thrill, try the Riptide Rocket, Tidal Twister, and Spiral Washout.
Along with these stimulating rides, there are fun attractions for all ages.
Enjoy the Splashworks, Wetmaze, and Adventure River. To seal the deal, meet some rays and other tropical fishes through its special interactive activities.
35. Forest Adventure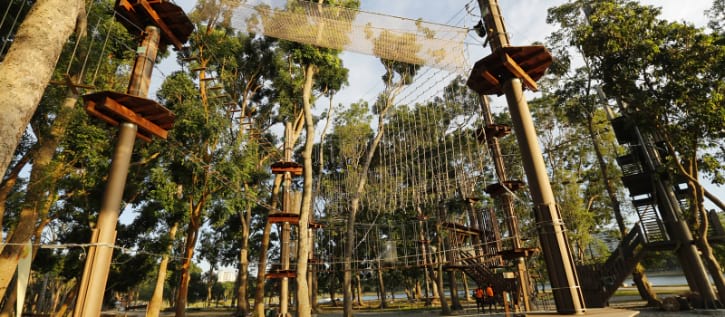 What about some action-packed activities in Singapore? Forest Adventure is bursting with treetop adventures for all ages.
Pick from the three obstacle courses on offer―Grand, Junior, and Kid. These courses are meant for different levels of thrill and fun, with the first option as the most challenging one.
Whatever you choose, you are assured of exciting outdoor entertainment.
And before I forget, there's a 300m zip line that lets you experience the joy of flying.
36. Mega Adventure Park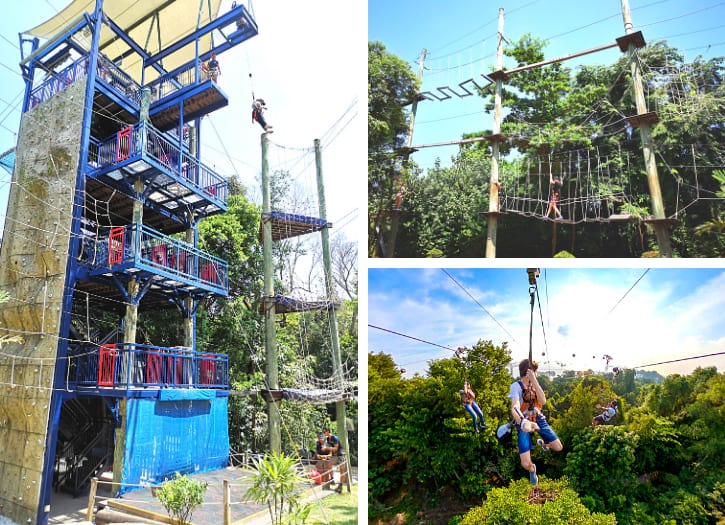 There's no better way to face your fear of heights than completing the thrilling attractions at Mega Adventure Park.
This adventure-based park got an incredible selection of activities to share with your family and friends.
First on the list is the MegaBounce that lets you bounce up in the air like there's no tomorrow.
Another pumping activity is the MegaJump, which is similar to a parachute jump.
If you want more, travel through the air with the MegaZip. You can also test your balancing skills at 8m high through the MegaClimb.
37. East Coast Park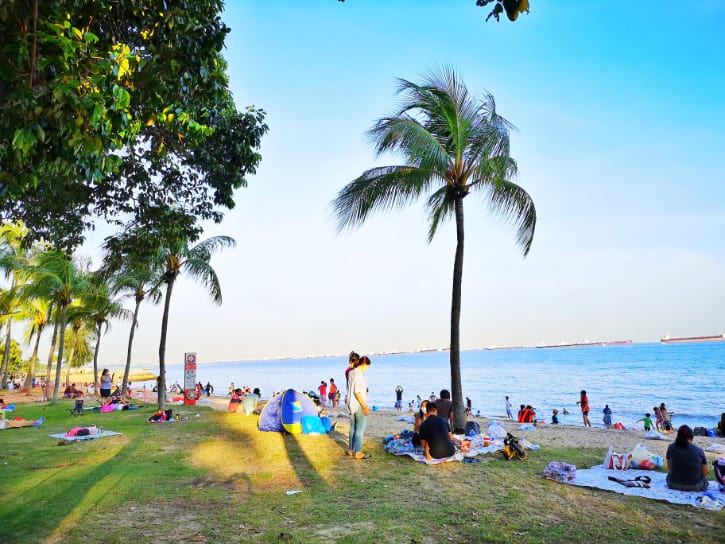 From recreational sports to dining options, East Coast Park is truly a top-notch outdoor place in Singapore.
There are several fun things to do while visiting this beach expanse.
Relax under the scenic palm trees and enjoy a picnic with your loved ones.
If you want some fun, you can go cable skiing or cycling. There's also a notable skate park within area.
And if you think that's all this treasured park could give, you're wrong.
East Coast Park is still lively even at night. Plenty of restaurants offer alfresco dining. Or you can enjoy a barbecue party and relish the cool breeze.
Best Spots for Indoor Activities
Not a fan of outdoor entertainment?
No worries because there are plenty of best indoor places in Singapore for you to visit too!
Whether you're interested in science, literature, or sports, you've got something to look forward to.
38. Science Centre Singapore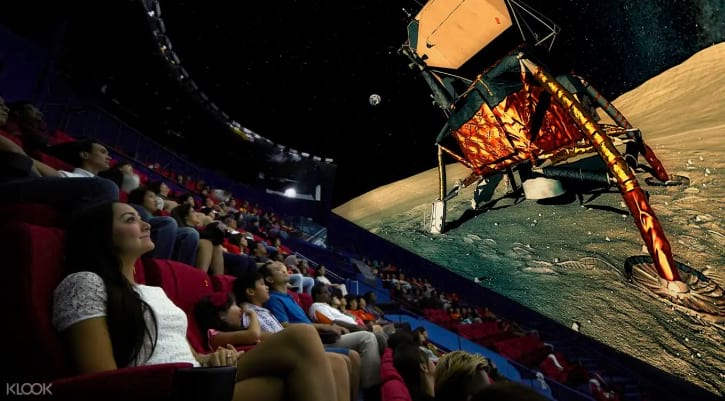 Science Centre Singapore is such a favorite place among science enthusiasts. Inside this large institution are thousands of exhibits and educational displays.
Go over the fantastic collection of science-related stuff such as climate change, engineering works, and plants & animal habitats.
They even feature the life stages of a butterfly as well as the evolution of sanitation.
After the fun exhibits, you can continue your way to the live demos. These interactive shows are not just entertaining but also beneficial for all ages.
39. Library @ Orchard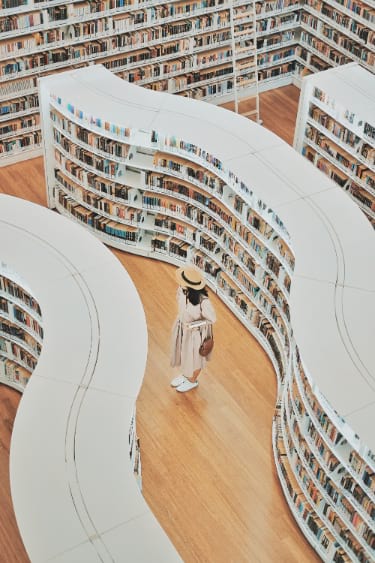 If you're a book lover, you should make Library @ Orchard as your top priority place to visit in Singapore.
Widely acclaimed for its unique interior style, this place lodges around 100,000 book titles.
Discover new knowledge through the vast literary choices on display. The books are beautifully arranged according to their genre.
Likewise, there are designated spots for peaceful pursuits as well as for learning sessions.
And even if you're not a fan of books, you're still welcome inside this iconic public library.
Grab a book and strike a pose along its Instagrammable shelves.
40. Climb Central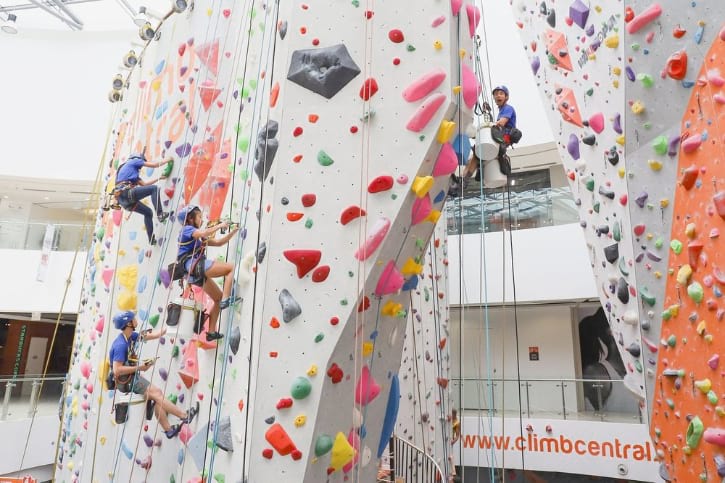 Are you looking for a new sport in Singapore but would prefer something indoor?
The Climb Central might just be the perfect place for you to go.
Offering an indoor activity, the place welcomes beginners and even experts into a unique kind of climbing experience.
See how far you can go as you challenge yourself to climb your way to the top. There are provided safety features to make your adventure more secured and memorable.
And you won't have to worry about the weather because the entire complex is air-conditioned. This means you enjoy the activity whether it's rainy or sunny!
41. Snow City Singapore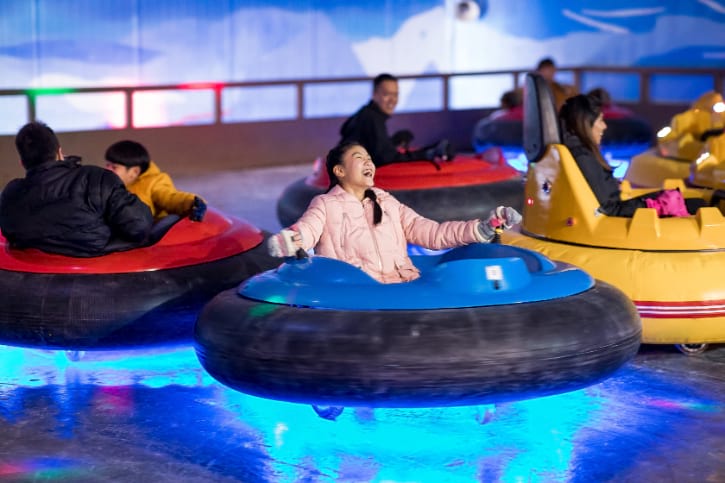 An indoor snow experience?
Yes! Snow City Singapore opens its vast centre to anyone who wants to escape the unbearable heat.
Because of this real-like snow encounter, there's no need to wait for the winter season or fly out of Singapore. Simply go to this indoor snow centre and embrace the cold.
And to make your visit more unforgettable, the place offers heaps of fun activities and enriching programs for everyone.
Ride the bumper cars, enter the snow house, go winter shooting, or climb the vertigo wall.
42. Pororo Park Singapore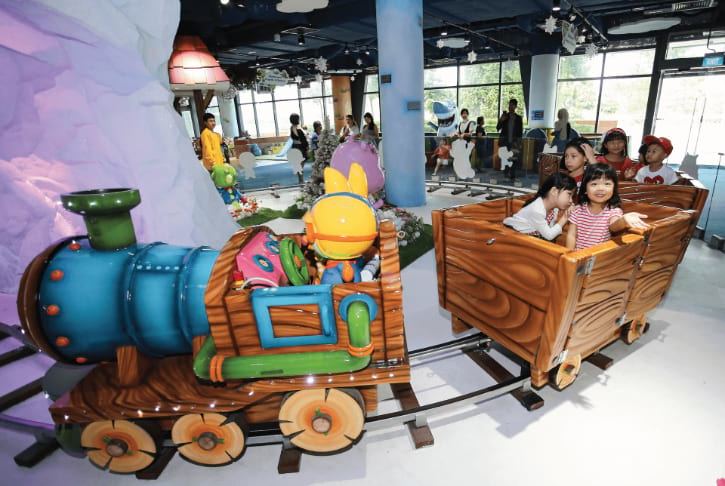 For kids and even those kids at heart, Pororo Park Singapore opens up a whole range of child-friendly rides.
This indoor playground provides a line-up of charming activities.
Take your kids to the Hinoki Pit and let them practice their multi-sensory skills.
For your little girls, there's the Petty Supermarket, which allows them to interact with other kids in a market-like setup.
And of course, you can't miss the adorable Pororo House and Pororo Express Train.
So, if you want your kids to have a fun-filled adventure, this place should be on your top visit list.
43. HeadRock VR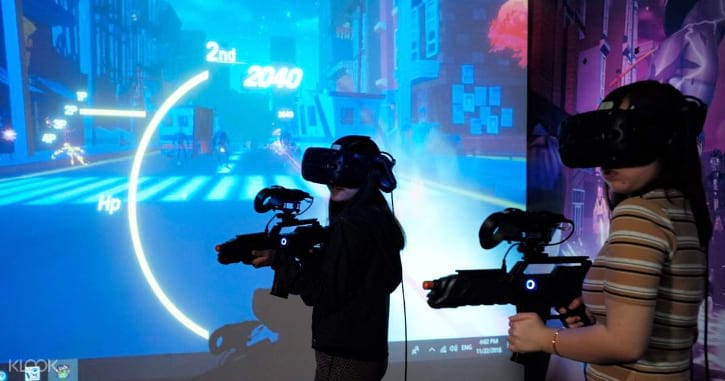 HeadRock VR takes you to one of a kind VR experience. This indoor attraction of Singapore is highly recommended for gamers and tech enthusiasts alike.
There are three zones, each with exceptional VR setups. If you're eyeing for storm blizzards, flying, and jumping, pick the Blue Zone.
On the other hand, the Orange section is meant for those who want extreme train ride, horror escapade, and such.
Lastly, there's the Green area, which features some zombies and other VR charms.
All in all, there are 11 attractions scatted in 3 different zones. So, choose your VR battle and enjoy!
Top Shopping Destinations to Visit in Singapore
Make the most out of your Singapore trip by exploring the best shopping destinations.
And you won't be upset with the options on offer. There are budget-based stalls as well as high-end malls you can choose from.
44. Orchard Road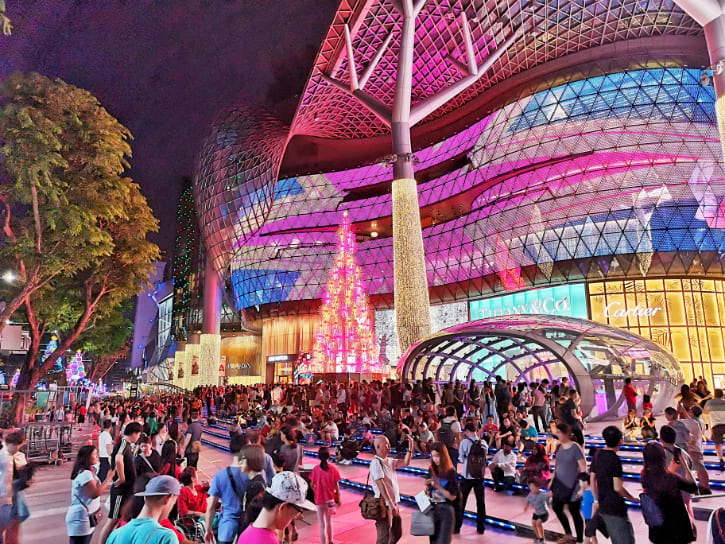 If you're a certified shopaholic, visit the Orchard Road. As the retail heart of Singapore, this place got everything for all your shopping needs.
Uncover the long list of discount outlets, trendy boutiques, and high-end stores.
If you're on the hunt for some fashion pieces and dining options, start with the 313@Somerset Mall.
For luxury brands and such, you can stop by Paragon Shopping Centre and ION Orchard. These two malls are dubbed to be Singapore's most sophisticated shopping places.
And also within the area is the cosy Emerald Hill Road. This part features a beautiful blend of Chinese shophouses and casual pubs.
45. Bugis Street Market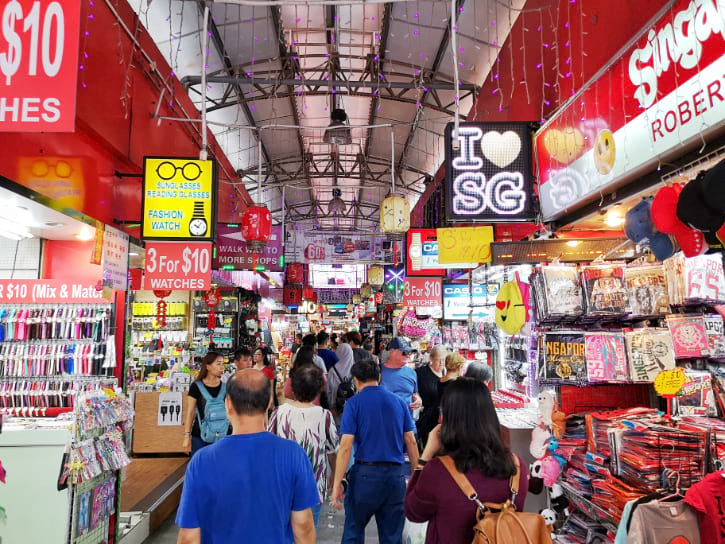 Eyeing for an affordable shopping in Singapore?
Save money and explore the busy stalls of Bugis Street Market. There are more than 800 shops within this vast shopping district, which means you won't get restricted with your choices.
If you're in need of new trendy clothes, they have a lot on offer. Interested in some phone accessories and other electronic stuff, they have plenty of options too!
Aside from bargain shopping, Bugis Street Market got a striking selection of cheap treats. These include amazing local dishes and some international delights.
So, simply choose whatever floats your boat!
46. VivoCity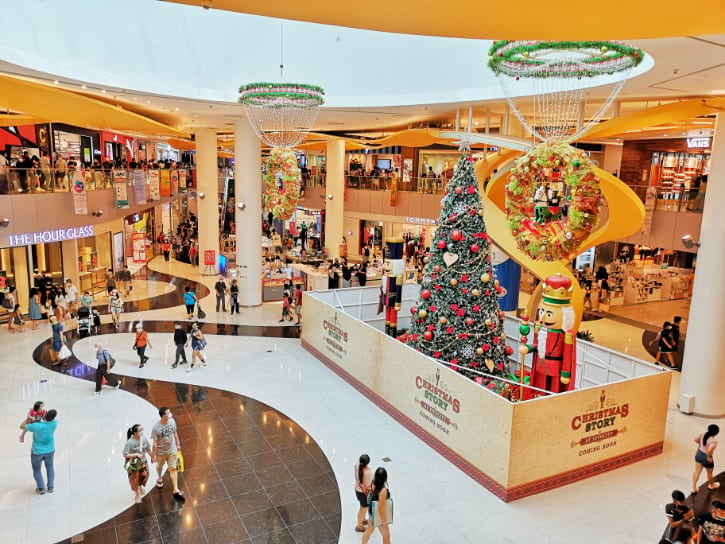 You can't miss to visit the largest shopping mall in the Singapore. VivoCity stretches more than a hundred thousand square metres.
Because of its massive area, this structure has 2 basement levels and three floors.
As an iconic shopping complex, you'd be surprised by its incredible offerings.
Stroll around the wide spaces of retail stalls that feature all varieties of international and local brands.
It's even recommended to check out their official shopping guide first before visiting so you can maximize your time efficiently.
After a day of shopping, feed your appetite from one of the many restaurants on display.
47. Don Don Donki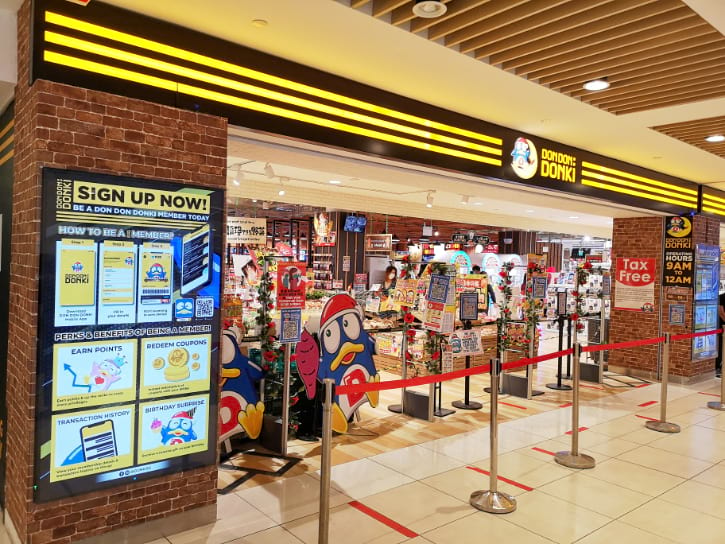 For the finest Japanese products and treats, aim for Singapore's Don Don Donki.
This Tokyo-originated shop gathers all kinds of Japanese items in one place. Check out their vast display of Japanese-made items, from electronics to clothing.
Another unique feature of Don Don Donki shops is that they are mostly open until 11 PM or 12 AM.
They even have a branch that is open 24 hours. Hence, if you're craving for legit Japanese snacks or goodies late in the evening, head straight to one of their stores.
Now, we've come to the end section of where to go in Singapore post. I hope you've enjoyed reading this article.
What are your favourite spots to visit in Singapore? Let me know in the comments below! 😊
Related Posts