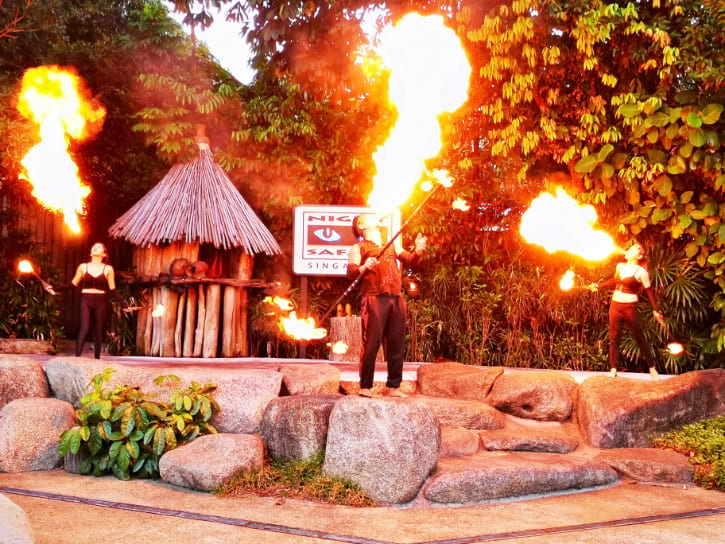 Night Safari is the world's first nocturnal wildlife park in Singapore. It shelters more than 2500 nocturnal animals from over 130 species.
I just visited the Night Safari with my wife, and we fully enjoyed this park because of its impressive variety of animals. There are also night shows to look forward to.
And in this Night Safari Singapore review, I will share our personal experiences, along with the attractions you'll see there.
I will also include a very detailed guide on how to go to Night Safari Singapore by MRT and Bus so you can navigate easily
Exploring this place is one of the interesting and unique things to do in Singapore at night together with your loved ones. So, make sure to add this on your trip and start plotting your plans through the information below.
What is Night Safari Singapore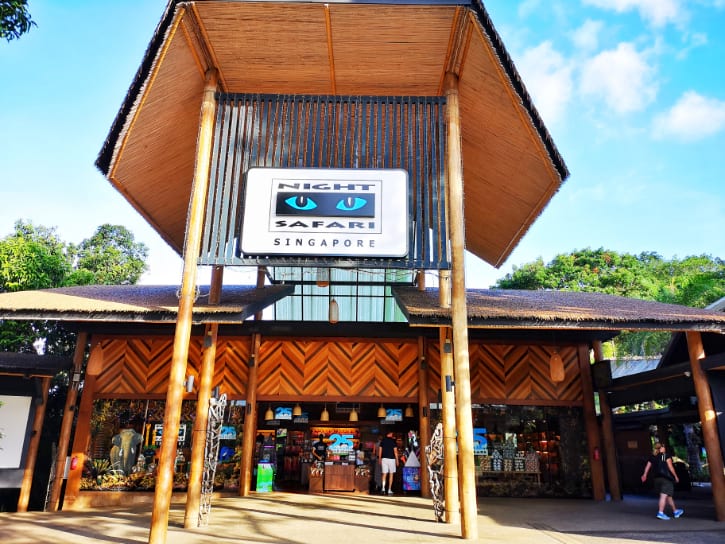 Night Safari Singapore is such an entertaining night destination for animal lovers. That's why it's part of the list of the best theme parks in Singapore that are worth the visit.
Plus, the park offers two amazing experiences for visitors.
The first choice is by riding on a tram and watching different special animal exhibits. Here, you'll meet some Malayan tiger, White African lions, elephants, Axis deers, Rhinoceros, and many more.
The second one is walking around the trails and enjoying a close encounter with sloth bears, lions, tigers, fishing cats, and Asian otters! And of course, there are animal shows to watch out for.
So, let me share more details about the tram ride, walking trails, and shows with the help of the list below.
Guided Tram Ride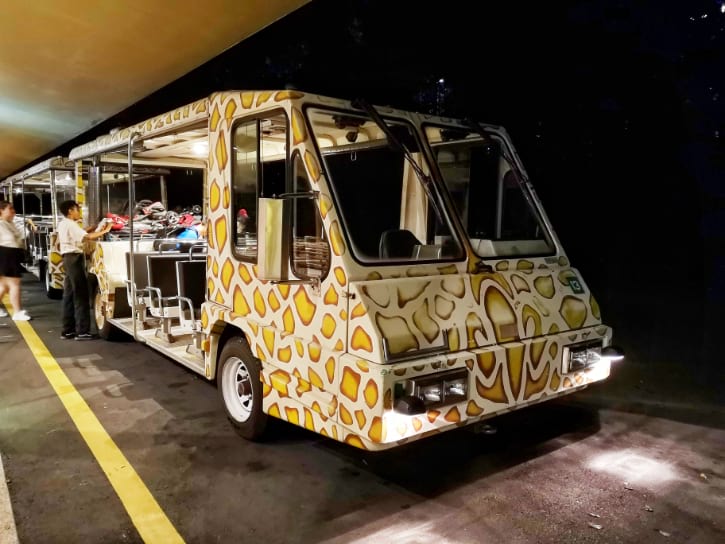 There are 2 types of tram services at Night Safari. You can choose between the normal tram and the express tram.
Both trams offer 40 minutes ride to go around the park and see various animals.
The main difference between the two is that the express tram allows you to skip the long queues. So, if you don't want to line up and wait, you just have to pay an extra SGD $10.
This is recommended for those who want to save time. You can purchase the express tram ticket at the reception counter in the park.
Walking Trails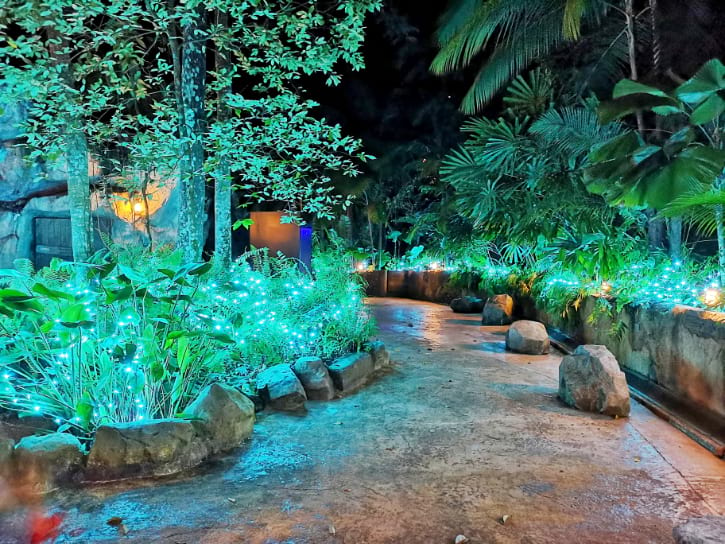 The Night Safari Singapore offers 4 walking trails that allow you to see the animals up-close. These are Leopard Trail, Fishing Cat Trail, East Lodge Trail, and Wallaby Trail.
Each trail comes with a variety of animals. So, you just have to pick the trail that you are interested in.
But nothing to worry about because whatever trail you pick, you are guaranteed a fun and memorable experience. You can even explore all trails if you want!
1. Leopard Trail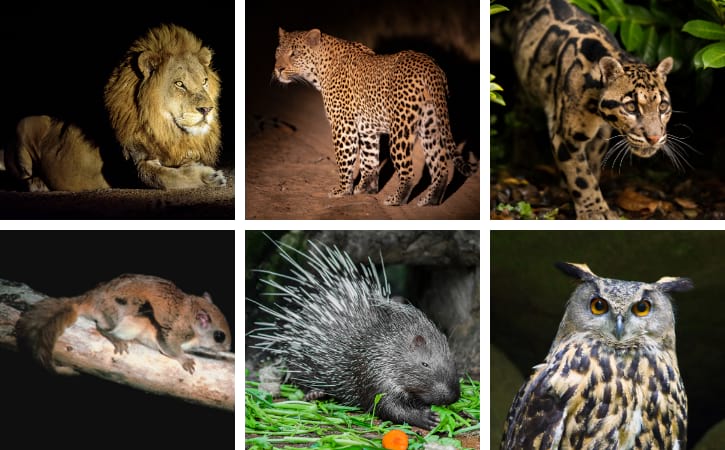 Leopard Trail gives you a glimpse of the life of nocturnal animals.
Here you'll see the nightly routines of some of the world's most popular cats. These include the Sri Lankan leopards, clouded leopards, golden cats, civet, and lions.
Surprisingly, this path isn't just filled with furry cats. Take a further stroll and you'll meet other wild animals.
You might come across some porcupines, eagle owls, giant flying squirrels, and fruit bats during your walk.
2. Fishing Cat Trail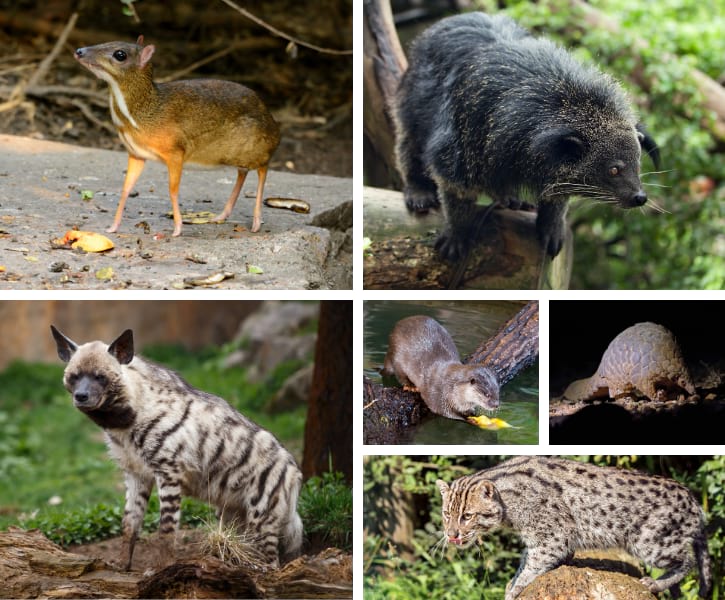 Fishing Cat Trail is the home to some of the wild's furry predators like striped hyenas and fishing cats. These creatures are very attentive to their surroundings. They calculate their move strategically so they can target their next prey.
So, make sure you don't blink an eye while you are watching them. Capture their moves and get awe by their amazing abilities.
Other wild species you can find around are binturongs, pangolins, Asian otters, and more!
3. East Lodge Trail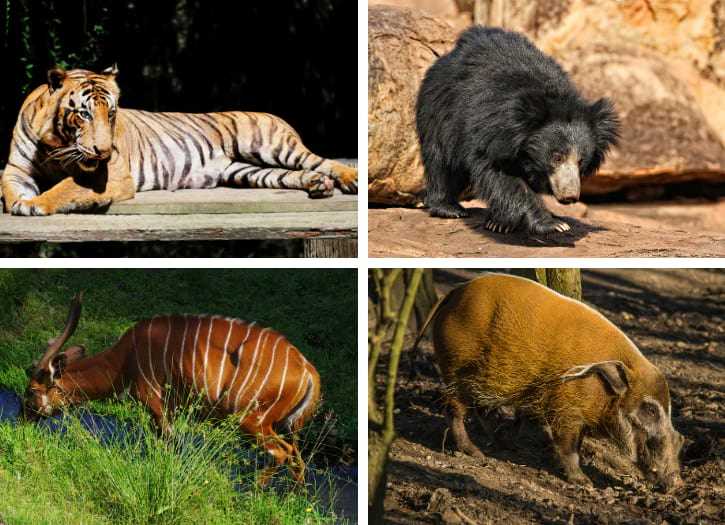 East Lodge Trail is a path that combines both wild trails of Africa and Asia. In this place, creatures from the tropics and grassland live in harmony.
Residing here are the Malayan Tigers, serval cats, sloth bears, and spotted Hyena.
Other distinct creatures that deserve a second look are the babirusas, anoas, and bongos.
So, if you're a fan of these animals, pick this trail and meet your favorites along the way.
4. Wallaby Trail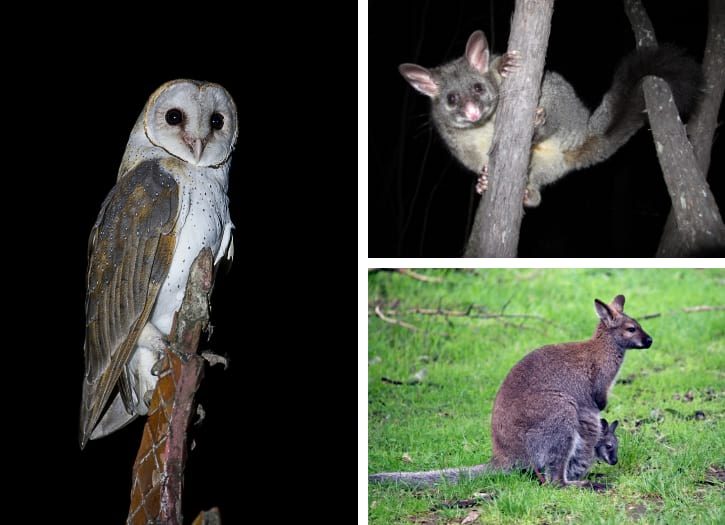 Wallaby Trail is another fun track to visit. Dive into this rare opportunity of seeing wallabies in action. At times, you'll catch them jumping with their babies on their pouch.
And there's more to expect in this wallaby zone. The trail highlights other animals from Australia, New Guinea, and New Zealand.
Meet some natural charmers like sugar gliders, barn owls, and possums. The white-lipped Python is also in attendance.
Shows
Singapore's Night Safari also comes with 2 amazing shows that are definitely worth the hype. These are the Thumbuakar Performance and the Creatures of the Night.
Both shows are spectacular to watch, so you shouldn't miss them when visiting this nocturnal wildlife park.
1. Thumbuakar Performance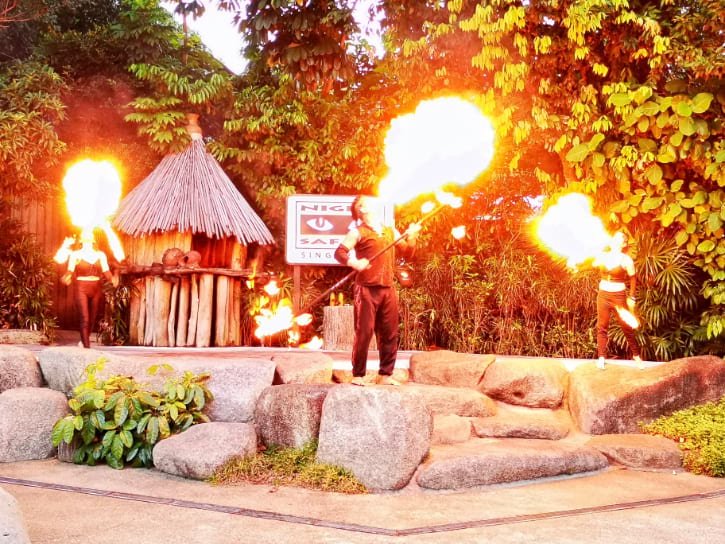 Thumbuakar Performance is a thrilling outdoor spectacle that will surely catch your attention. This is presented at the park's entrance, serving as a welcome greeting to visitors.
Get mesmerized by the extremely talented pyro warriors showcasing their talents.
Watch closely as they demonstrate different amazing fire-twirling talents and fire-eating acts.
Their movements perfectly go with the beat, adding more intensity to their performance.
Without a doubt, this show will definitely fuel your interest to explore the park.
Location: Entrance Courtyard
Duration: 7 Minutes
Available Show Time: 6:45PM/ 8:00 PM / 9:00 PM / 10:00 PM
*10:00 PM show only available on Friday, Saturday and Public Holiday.
2. Creatures of the Night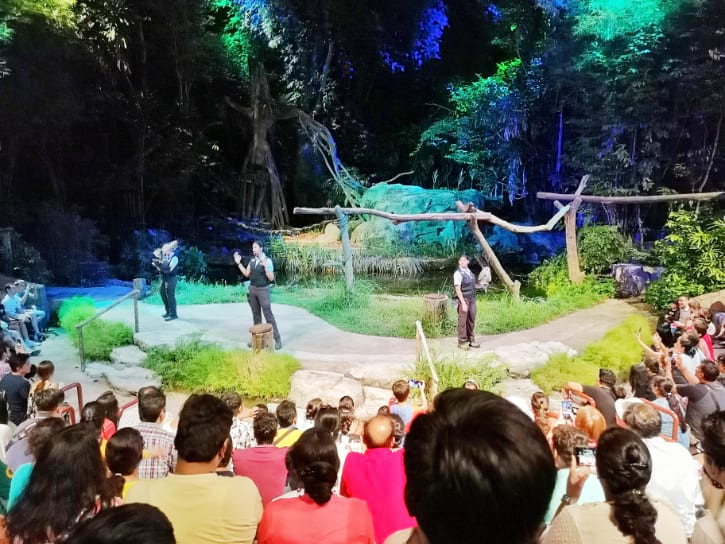 Creatures of the Night is another show that should be included in your itinerary.
This fun and informative show puts into the spotlight some talented animals.
Get entertained by the owls, civets, and fennec foxes. Watch as these charming creatures entertain the visitor with their adorable antics.
Also crowd favorites are otters. They'll amaze you with their unique skills in segregating trashes.
Plus, it's hard not to crack a smile as you see them refusing some orders.
Location: Amphitheatre
Duration: 25 Minutes
Available Show Time: 7:15 PM / 8:30 PM/ 9:30 PM / 10:30 PM
*10:30 PM show only available on Friday, Saturday and Public Holiday.
Admission Times
Night Safari Singapore offers four different time slots to enter the park. These are 7:15 PM, 8:15 PM, 9:15 PM, and 10:15 PM.
It's highly recommended that you book the earliest time slot, which is 7:15 PM because:
It gives you enough time to visit all the attractions at Night Safari.
It's easier to spot the animals during this time where the sky is not yet too dark.
At this time, more animals are still active compared to later time slots. As a result, you have higher chances of seeing and spending time with high-energy animals.
Where to Buy Discounted Tickets
If you want to save money for your Night Safari trip, purchase the tickets online.
The normal ticket prices are SGD $49 (Adult) and SGD $33 (Child – Ages 3 to 12), if bought at the on-site ticketing counter.
But if you purchase it online, you'll get a 28% discount.
And if you want to secure the first admission time slot (7:15 PM), make sure to book in advance. It's because this time slot sells fast and is often fully booked.
Get a 28% discount as well as secure the best time slot by purchasing your Night Safari tickets through the link below.
My Comment
Our visit to Night Safari Singapore was fun and memorable. We truly enjoyed the variety of attractions on offer.
We entered the park at 7:15 PM and spent about 3 hours exploring the park.
We started with the tram ride and then watched the amazing shows right after.
After the amazing performances, we continue with our adventure and took the 4 walking trails.
You should know beforehand that the earliest tram ride often has long queues. It's because at this time the animals are easier and clearer to see.
So, it's best that you line up at the entry gate at 6:30 PM so you won't have to deal with the waiting game. Plus, this will guarantee that you will catch the earliest tram ride.
I highly recommend you to visit Night Safari with your family or friends. And if you're planning on your Night Safari visit, don't forget to check out my 5 days in Singapore itinerary!
Night Safari Singapore Map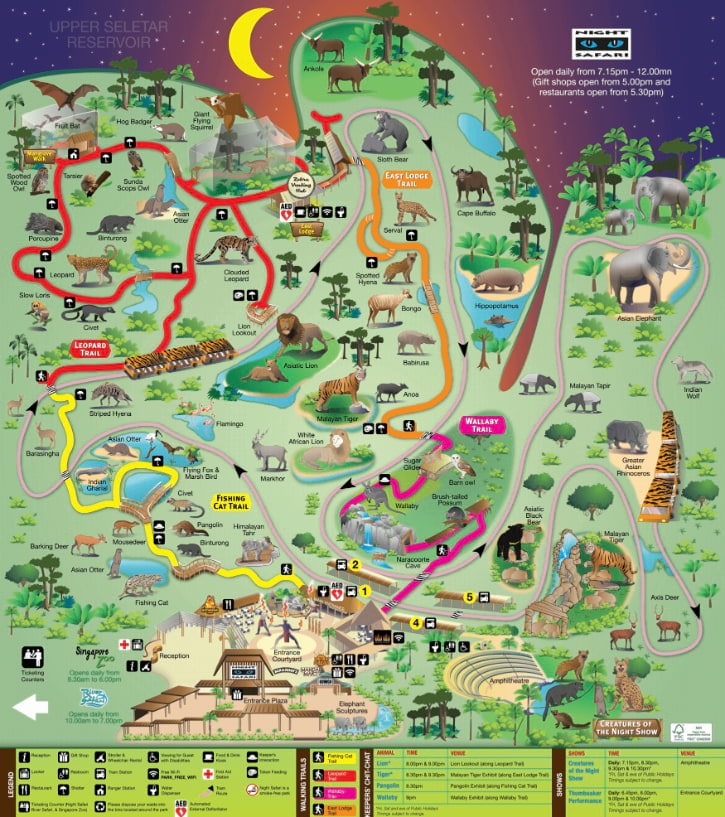 To easily navigate Night Safari Singapore, I recommend that you download the Night Safari Map here. This will help you explore the park conveniently by just using your smartphone.
It's not advisable that you use a hardcopy map because it can be very hard to see and read it at night.
My Suggested Itineraries
For a better and more convenient trip to Night Safari, check out my recommended itineraries below.
These options will help maximize your visit for a more enjoyable and memorable tour.
Itinerary (Normal Tram Rider):
6:30 PM – Queue up at the entry gate of Night Safari
7:15 PM – Enter Night Safari and hop on the tram ride
8:00 PM – Watch Thumbuakar Performance (7 Minutes Show)
8:30 PM – Watch Creatures of the Night show (25 Minutes Show)
9:00 PM – Stroll along Wallaby Trail, East Lodge Trail, Leopard Trail, and Fishing Cat Trail
*Remember to have your hand stamped at the Exit Gate before going out to watch the Thumbuakar Performance. You need to present your stamp when you re-enter the park after watching the show.
Itinerary (Express Tram Rider):
6:45 PM – Watch Thumbuakar Performance (7 Minutes Show)
7:00 PM – Queue up at the express entry gate of Night Safari
7:15 PM – Enter Night Safari and hop on the tram ride
8:30 PM – Watch Creatures of the Night show (25 Minutes Show)
9:00 PM – Stroll along Wallaby Trail, East Lodge Trail, Leopard Trail, and Fishing Cat Trail
Things to Bring
Being in the wild at night can expose you to mosquitoes and other insects. Be sure to apply mosquito repellent before starting your adventure or you can bring one inside the park.
Also, don't forget to bring a drinking bottle. There are free water dispensers located near the washroom to refill your bottles.
Something to Take Note Of
Another thing to take into account is you can't use flash photography while in the park. This restriction might give you lesser chances of getting clearer photos of the animals. But, it's for the best.
As a visitor, you need to exercise extra caution because the camera flash can hurt them―even worst, cause permanent blindness. Make use of this rare opportunity to enjoy each moment with these captivating creatures in a more personal note. 😊
Dining
1. Jungle Rotisserie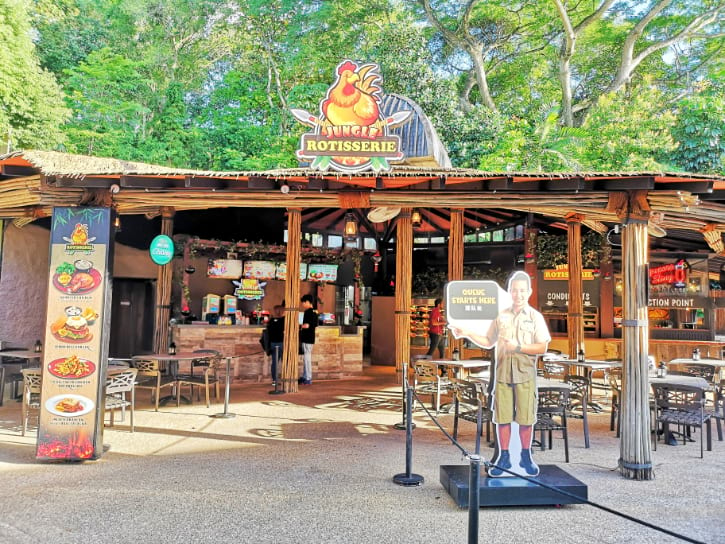 A scenic, open-air restaurant, Jungle Rotisserie serves up fresh, flavoursome roasted chicken with a sauce of your choice.
Pick your side dishes that include a bowl of soup, coleslaw, fries, and mashed potato.
The restaurant is positioned right at the entrance courtyard, which gives you amazing views from the Thumbuakar Performance.
Enjoy your tasty meal while watching the fantastic moves of the pyro masters.
2. Ulu Ulu Safari Restaurant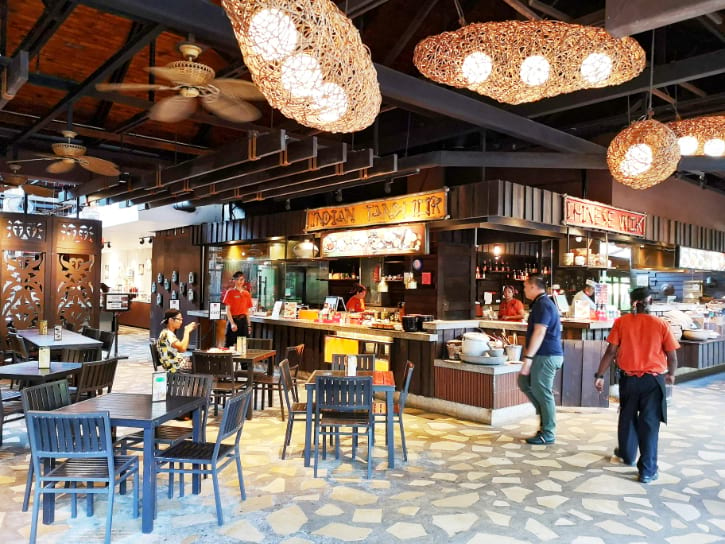 Another dining option located at the main entrance, Ulu Ulu Safari Restaurant offers two buffet options.
Choose between the taste of Asian and Indian dishes that include chicken tandoori, biryani, chicken rice, ice kacang, and more.
This delightful dining experience also gives you two dining choices. Dine under the natural-looking and relaxing interior or feast under the open sky.
3. Safari Sizzles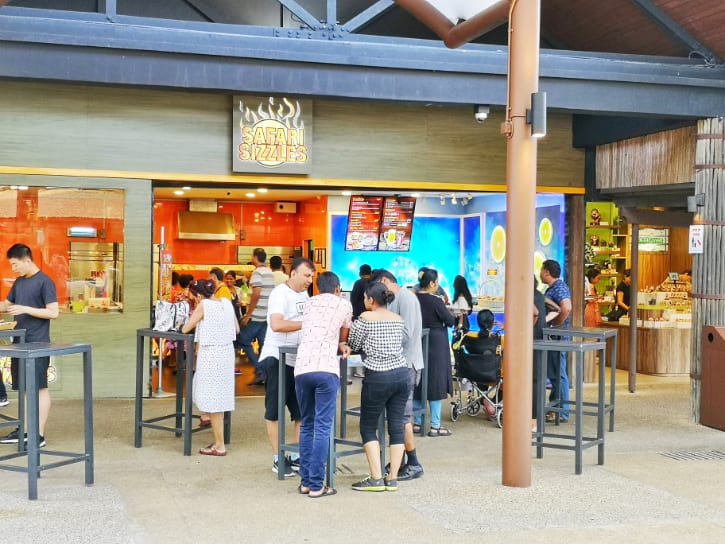 Safari Sizzles has everything you need for a quick yet filling bite. Situated along the main entrance of the park, they've got an amazing range of crispy snacks and gourmet hotdogs.
Plus, this is a great spot for vegetarians! Enjoy their chapati rolls, vegetable kathi roll, and aloo bun. Complete your snack with their tasty beverages and alcoholic drinks.
Nearby Attractions
Before visiting Night Safari Singapore, you can explore either Singapore Zoo or River Safari first. These two animal parks are very close to Night Safari, maybe a 1 to 2-minute walk only.
To know more about the two animal parks, refer to the guides below.
1. Singapore Zoo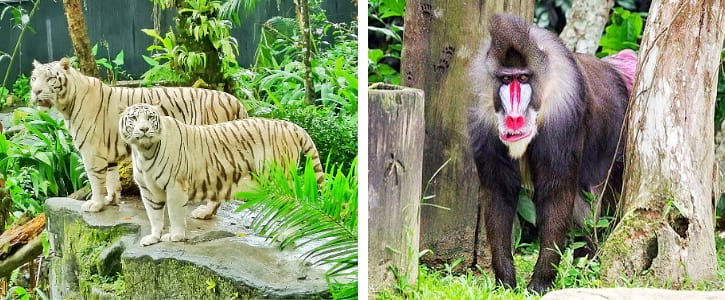 Explore all 14 zones of Singapore Zoo and meet animals from different species. Right after, you can catch the amazing shows that showcase the spectacular talents of sea lions, dogs, cats, elephants, and more. Simply check my full guide to Singapore Zoo and review here.
2. River Safari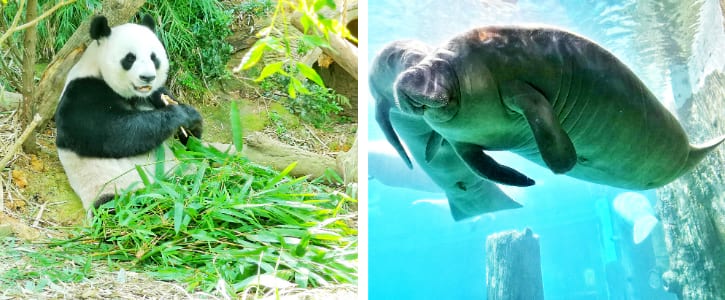 Grab this opportunity to see some adorable pandas at River Safari Singapore. This famous animal theme park is also known for its river-themed attractions that come with a unique set of animals.
Not only that but this zoo also has a lot of scenic photo spots that are worth the capture. Make use of this complete guide to River Safari Singapore and review to save time in researching.
How to Go to Night Safari Singapore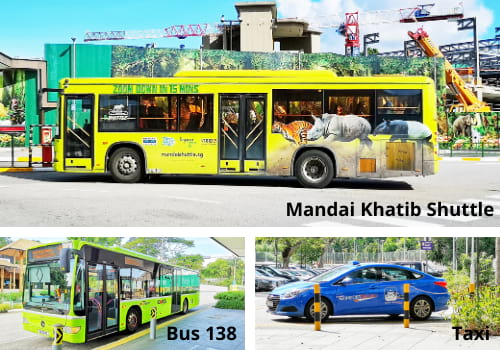 Even if there's no MRT station that takes you directly to Night Safari Singapore, no need to worry! You can easily reach the place from the MRT station then by bus.
1. By MRT and Mandai Khatib Shuttle
The best way to go to Night Safari is by MRT and Mandai Khatib Shuttle especially for first-time visitors.
You can take the MRT to Khatib MRT Station. At the station, you head for the Exit A for you to hop aboard the Mandai Khatib Shuttle go to Night Safari. It takes about 15 minutes and costs SGD $1 from Khatib MRT Station to Night Safari.
This bus operates from 8:00 AM to 7:00 PM (Monday to Wednesday) and operates until 10:00 PM (Thursday to Sunday). The service runs every 20 minutes within those times.
Kindly take note that the Mandai Khatib Shuttle only accept EZ-link or NETS Flash card and it didn't accept cash.
2. By Bus 138
If you're staying close to Ang Mo Kio area, you can board the bus 138 go to Night Safari. The bus fare is SGD $1.64 (if pay by EZ-link or NETS Flash card) and SGD $2.50 (if pay by cash). The one-way trip will take around 39 minutes.
To get on the bus 138, you can go to Ang Mo Kio bus terminal. The Ang Mo Kio bus terminal is connected to the Exit C of Ang Mo Kio MRT Station.
The bus 138 runs every 8 to 14 minutes from 6:30 AM to 11:45 PM.
3. By Taxi
If you want a comfortable way to get to Night Safari, then you can take a taxi. To save some money, you can take a taxi from the Exit A of Khatib MRT Station and it costs around SGD $13.
We've come to the end part of my review of Night Safari Singapore. I hope that you find this helpful when planning for your itinerary. Thank you and have a fun and memorable adventure! 🙂
Related Posts
Photo Credits:
Photo
by pelican