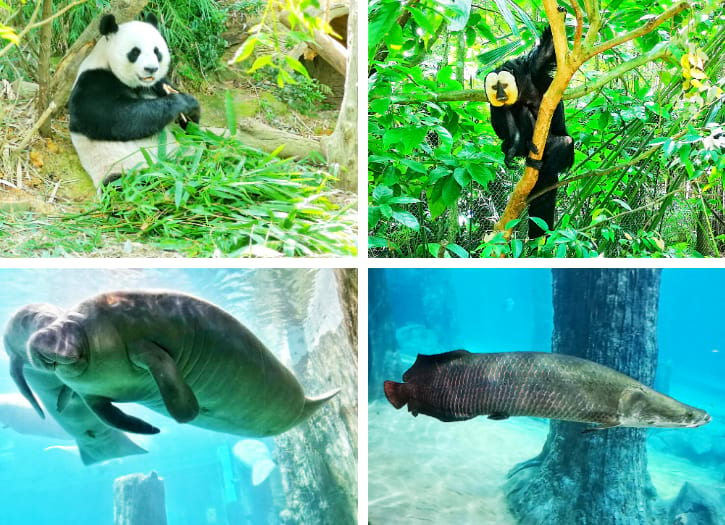 The River Wonders, or previously known as River Safari is a river-themed wildlife park in Singapore with distinct animal zones. Plus, it comes with a riverboat ride and reservoir cruise for a unique kind of adventure.
I visited the park, together with my wife and kid, just recently. And our trip was undeniably memorable and entertaining.
In my River Wonders Singapore (formerly known as River Safari Singapore) review, I will share our personal experiences during our visit as well as the animals in each zone.
In addition, I will provide you with information and tips on how to go to River Wonders (River Safari) Singapore by MRT and Bus.
So, without any delay, here's everything you need to know about this popular destination.
What Animals You Can See at River Wonders (River Safari) Singapore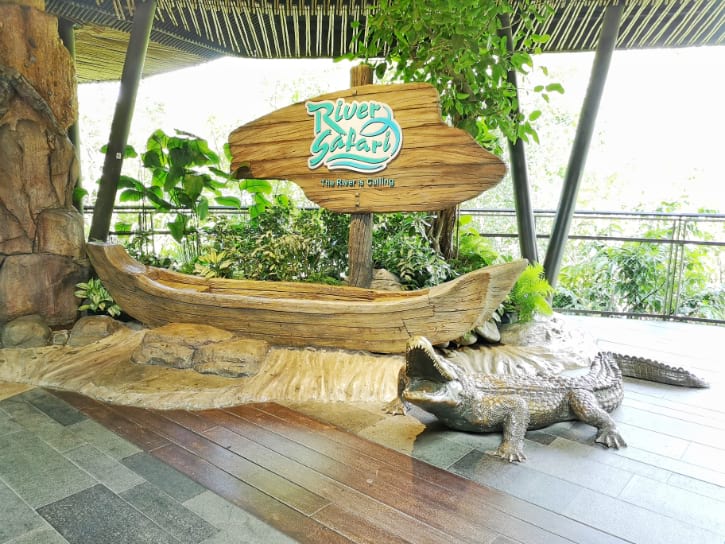 River Safari Singapore is the home to over 6,000 animals, including 40 threatened species.
There are 11 zones for you to explore and 1 amazing show for you to look forward to.
The highlight in the park are the giant pandas. On top of that, you'll also see some Caribbean flamingos, jaguars, manatees, capybaras, pelicans, electric eels, and alligators.
During our trip, we went through all zones and also watched the show.
I will include some of the photos we took in each zone so you'll have an idea of the animals there (make sure to check out below).
And if you want to know other must-visit places, don't worry. Get ideas from my suggested five days itinerary for Singapore and 47 top places to go in Singapore so you can plan your dream trip.
1. Giant Panda Forest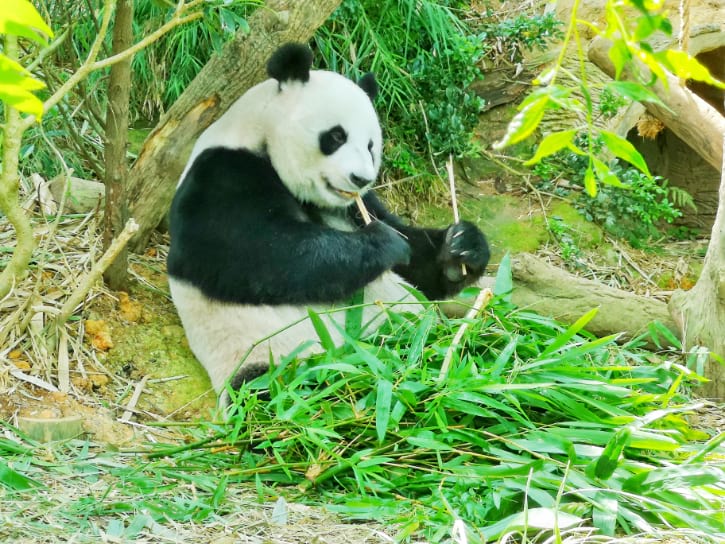 Giant Panda Forest is definitely the most anticipated zone at River Safari Singapore. You can't miss these fluffy creatures roaming around their habitat.
Giant pandas like Jia Jia loves to eat bamboo. In fact, they can consume at least 28 pounds every day!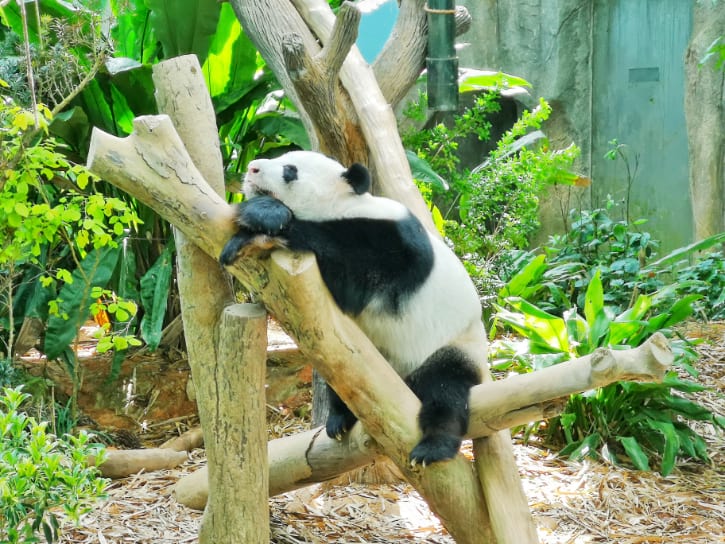 Here is Kai Kai, having the time of his life hanging around the tree.
If you can't find him eating bamboos or climbing trees, he is most likely rolling on the ground.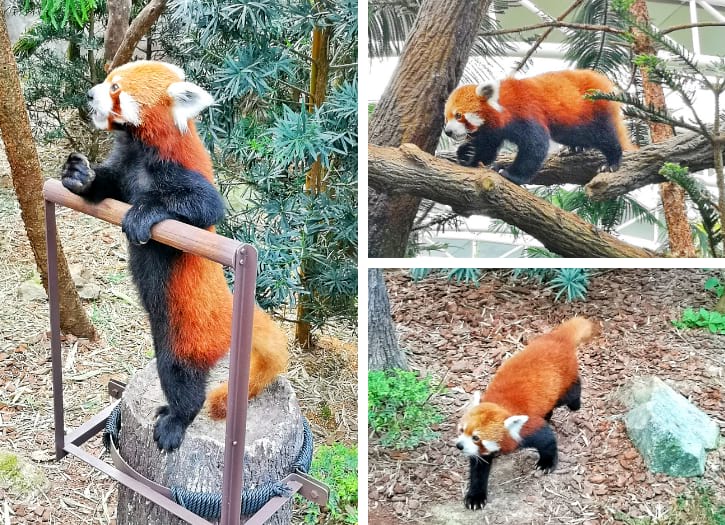 Red Pandas, on the other hand, are quite notable because of their colors. Instead of the usual black and white, they have brown, black, and white fur combination.
But just like giant pandas, they love eating bamboos and climbing around.
2. Wild Amazonia
Wild Amazonia is one of the most popular River Safari attractions. It offers two unique zones for you to explore.
The first one is the Amazon River Quest, which is a captivating river cruise. The second one is the Squirrel Monkey Forest.
i. Amazon River Quest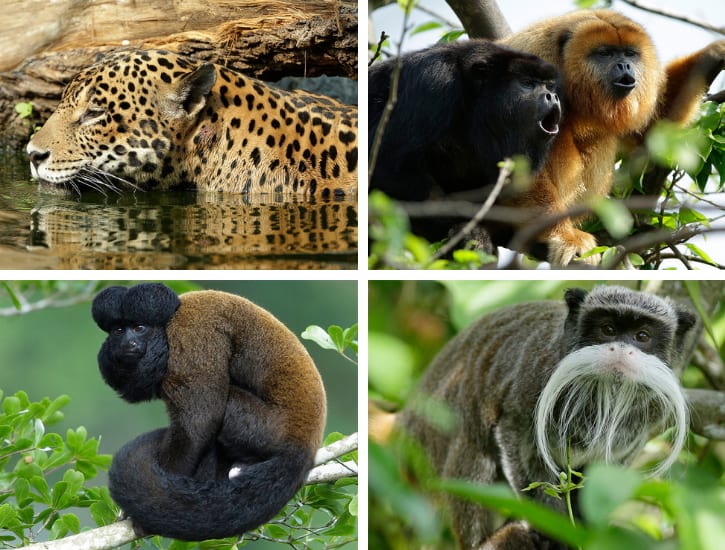 The Amazon River Quest is one of the most memorable zones in Wild Amazonia. This river ride offers you a fantastic water escapade.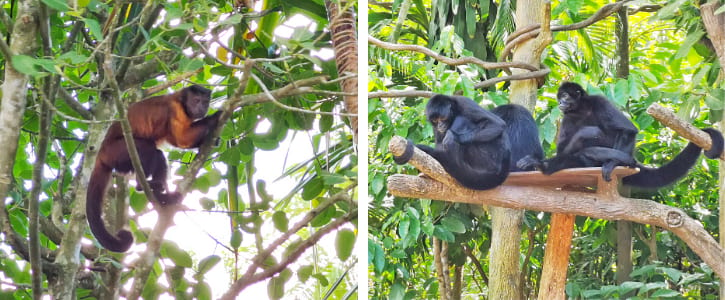 Catch these monkey species dangling on the trees. Because of their structure, they can easily hang and jump from one branch to another.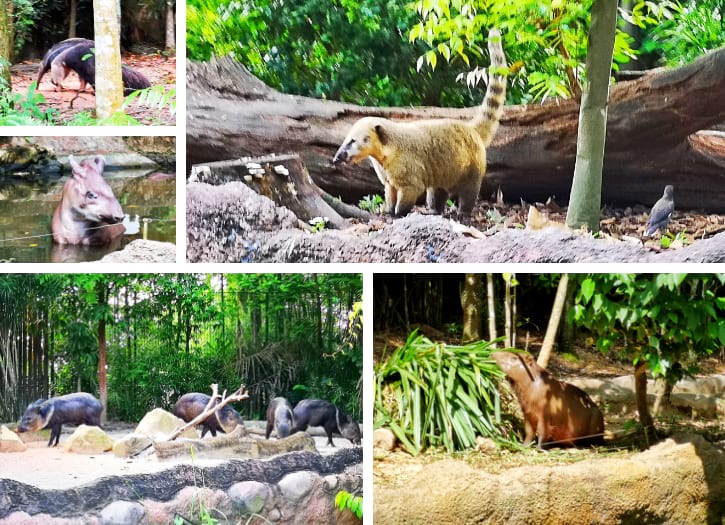 Aside from monkey species, you'll also see some giant anteaters and collared peccaries during the boat ride features.
Other distinct animals in this section are Brazilian tapir, coatimundis, and capybaras.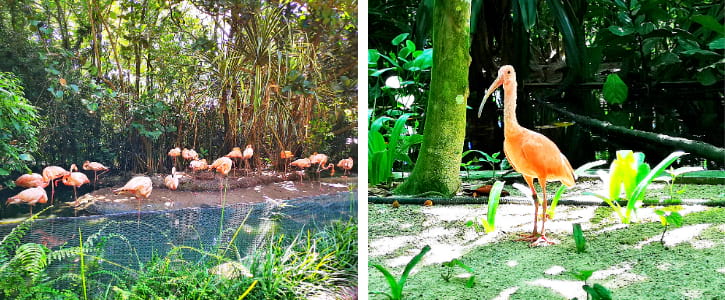 Also present are the ever-vibrant and eye-catching Caribbean flamingos and scarlet ibis. These give them the reputation of being the brightest bird species.
ii. Squirrel Monkey Forest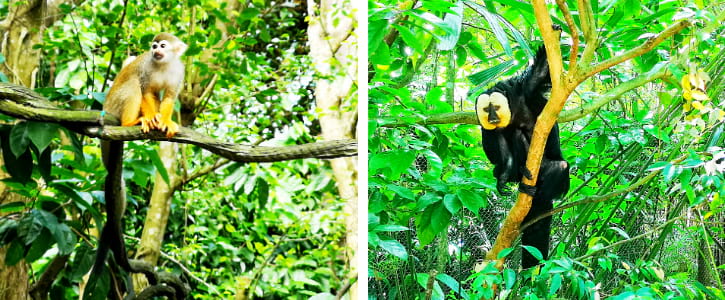 Another nice place to tour around River Safari is the Squirrel Monkey Forest.
In this area, you'll spot some squirrel monkeys that are known for their vibrant colors.
The Saki Monkeys, on the other hand, have the most distinct face among all other monkeys. It's because the color of their face differs from their entire body.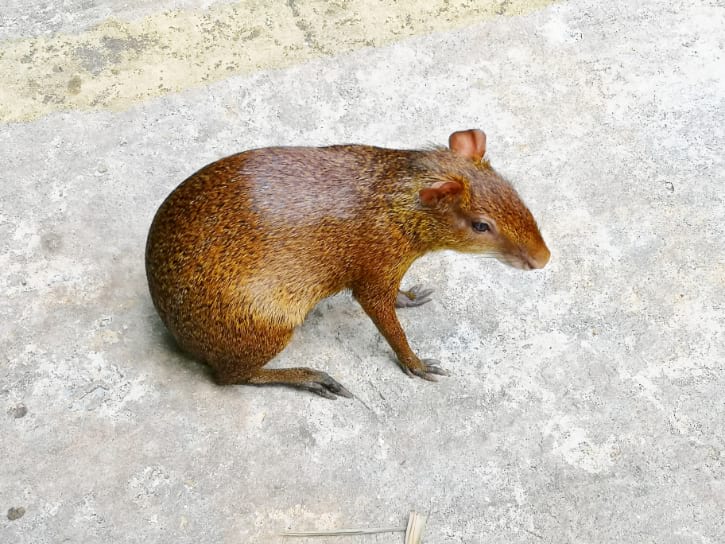 If you love the adorable Capybara on your Amazon River Quest, you have another chance to see them again here.
Because of their appearance and size, these cute animals look like puppies!
3. Amazon Flooded Forest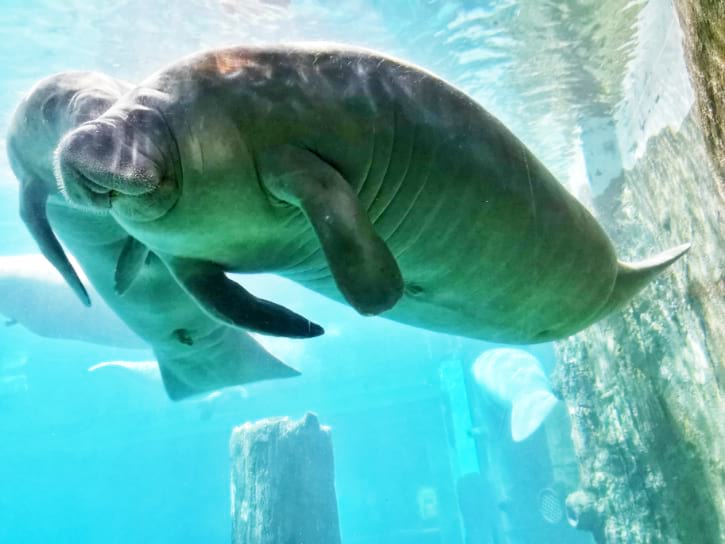 Amazon Flooded Forest is another top-notch zone in River Safari.
Here, you will meet many sea animals, particularly the manatees, or the sea cows.
These large mammals weigh around 600 kgs. Despite their immense size, manatees are mainly slow, plant-eaters.
And, they just prefer swimming in shallow waters and lazing around.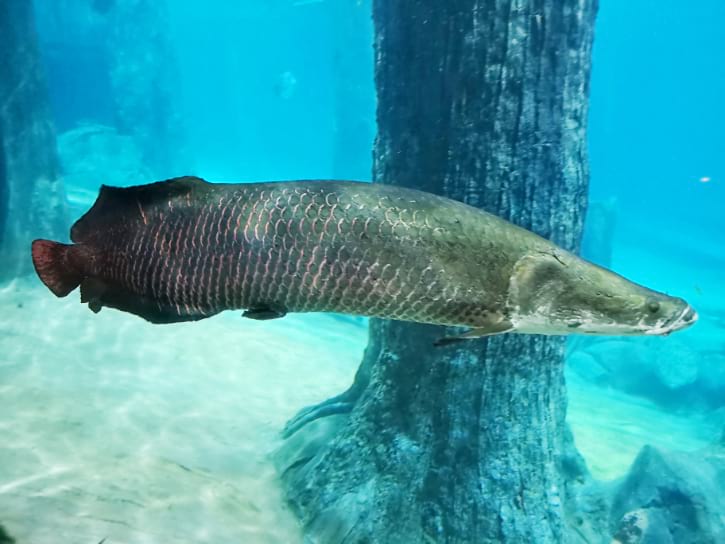 You will also see arapaimas, which are known for their super scaly bodies and pointed head.
As one of the world's biggest freshwater fishes, they can reach as much as 9 ft wide and weigh up to 200 kgs.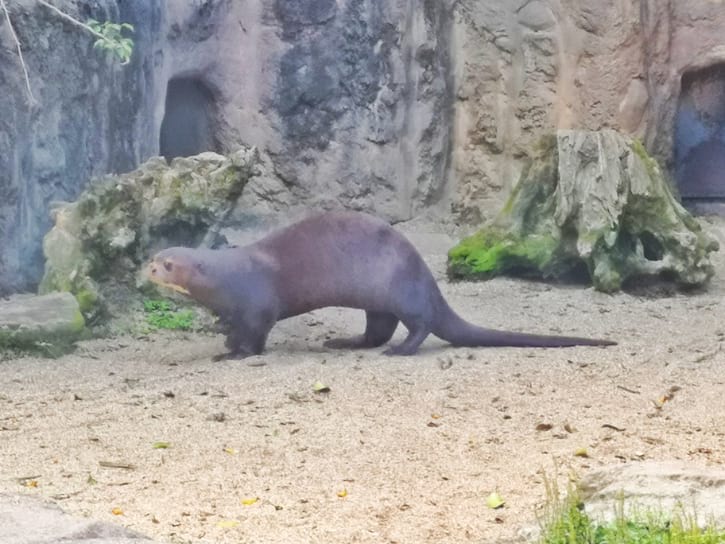 The Giant River Otters are heavier and bigger compared to typical otters. They follow an amphibious lifestyle, wherein they can easily adapt to both water and land.
And it's not hard to find them as they often relax on the ground or sometimes on the river stream.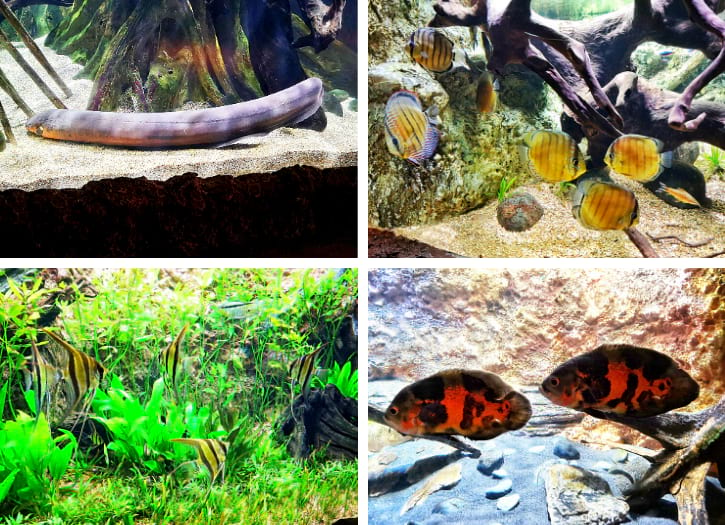 Did you know that electric eels are actually not eels but rather knifefish?
They have electric organs that create dangerous discharges to sting their prey.
Aside from these slimy creatures, you'll also catch a glimpse of different fish species. These include blue discus fishes, altum angelfish, and red oscars.
And if you're a die-hard fan of sea creatures, you shouldn't miss the SEA Aquarium. This place is a massive underwater world located in Sentosa Island.
Simply refer to my article of SEA Aquarium Singapore for relevant information and tips about this place.
4. Mekong River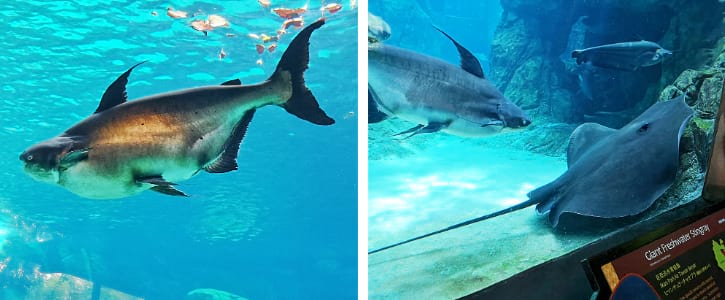 Mekong River is the home to the Mekong Giant Catfish. Just so you know, this massive freshwater fish is already considered an endangered species.
Studies show that there are only around 100 remaining of these rare fishes.
So, if you spot this huge creature, be sure to appreciate them before they're gone forever.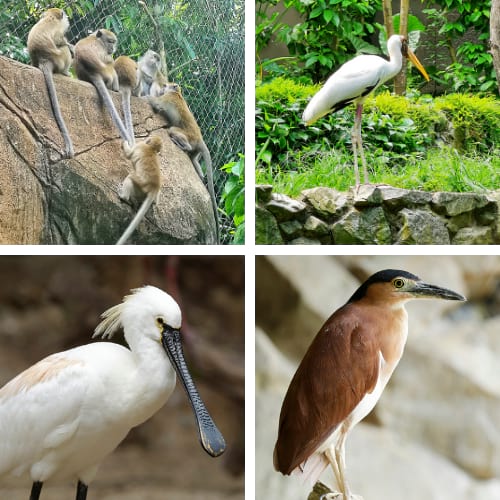 Surprisingly, the Mekong River isn't just for catfishes and stingrays. It also has an impressive collection of distinct-looking animals like the crab-eating macaques.
They even have painted storks, Eurasian spoonbill, and rufous night heron.
5. Mary River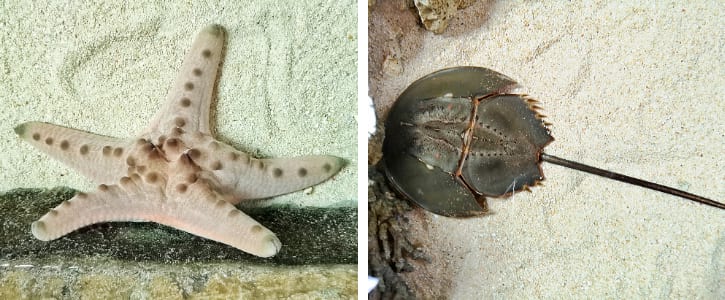 At Mary River, you get to meet and interact with some sea stars and horseshoe crabs. This is fun activity that you should try during your River Wonders/River Safari trip.
Both chocolate chip sea stars and horseshoe crab are very fascinating to look at because of their shapes.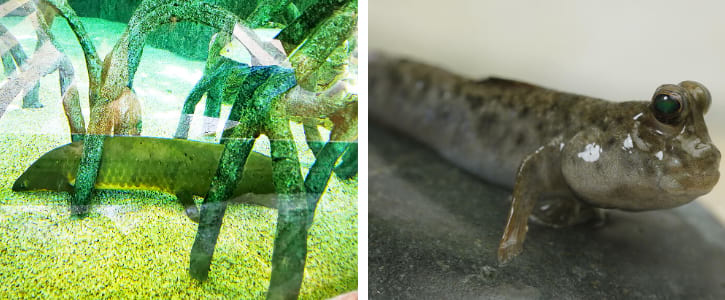 Australian Lungfishes are highly interesting because of their exceptional breathing feature.
These slow-paced creatures who love deep waters can breathe air using only one lung!
On contrary, mudskippers are the only fish species that can walk on lands! These amphibious creatures look like a fish with some frog-like characteristics.
6. Nile River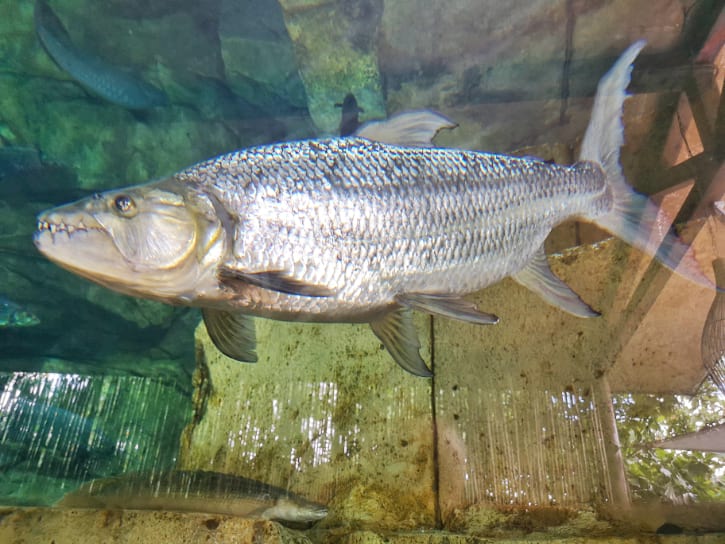 Get amazed by various fish species in the Nile River. In this section, you will notice the massive goliath tiger fishes.
These freshwater fishes are famous for their razor-like teeth and muscular body. Because of their physical features, they are one of the river's ultimate predators.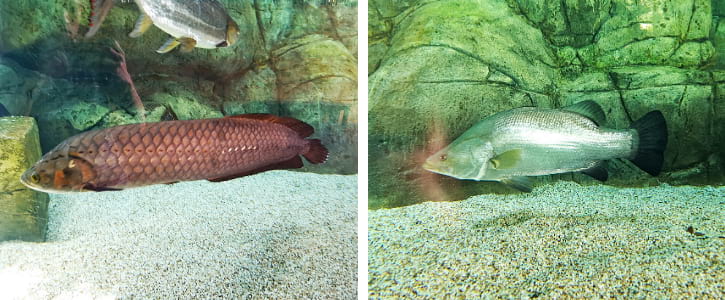 As you continue with your tour, you will get a glimpse of the African arowanas. These creatures have an elongated body with huge yet almost proportionate scales.
Additionally, you will have the chance to meet some Nile perches.
These are freshwater fishes who love warm waters. They feed on different fishes, insects, mollusks, and even smaller perches.
7. Mississippi River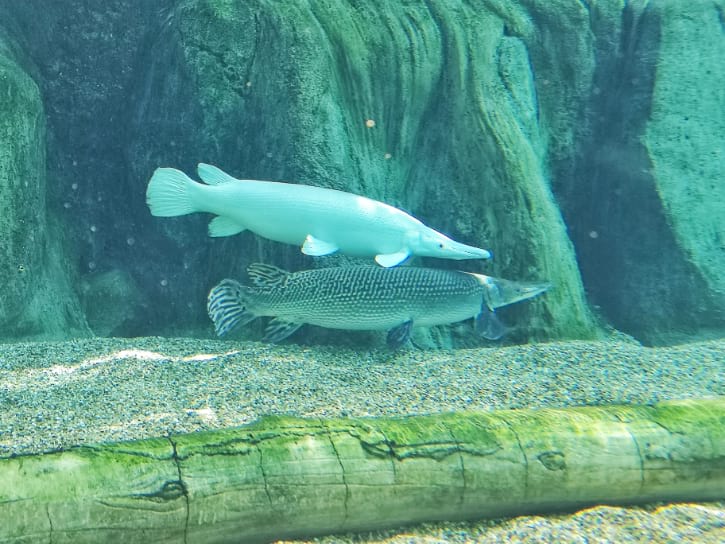 Another must-visit section in River Safari Singapore is the Mississippi River.
This is where you'll see alligator gars, alligator snapping turtles, and common snapping turtles.
The alligator gars are quite eye-catching because of its alligator and fish features.
These creatures are also considered one of the longest-living freshwater fishes in the world.
8. Yangtze River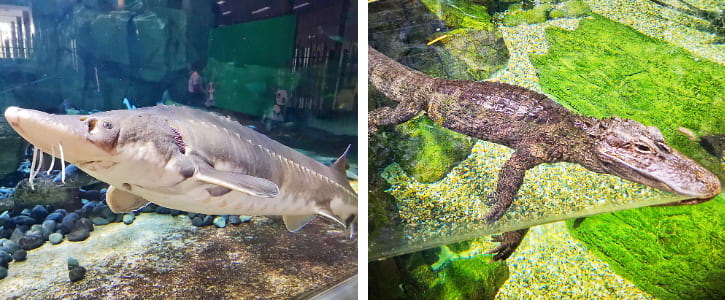 Yangtze River is the habitat of sturgeon fishes. These ancient creatures commonly live in rivers, coastlines, and lakes.
You can easily identify them because of their sharp-edge bodies and long snouts.
Yangtze alligators are recognized for their rock-like body structure. They often swim in the water or spend time hiding around the rocks.
9. Congo River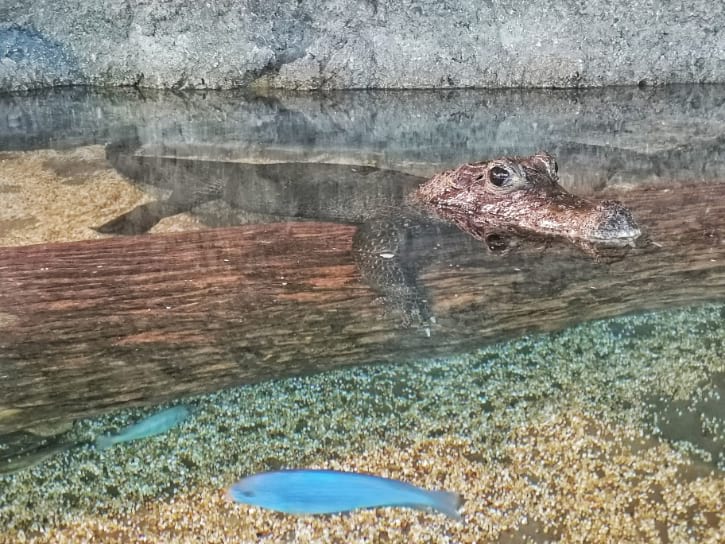 At Congo River, you will come across the African dwarf crocodiles. These reptiles grow up to 5 ft. long, making them one of the smallest crocodilians in the world.
They have a small, bony structure that allows them to climb easily on lower tree branches.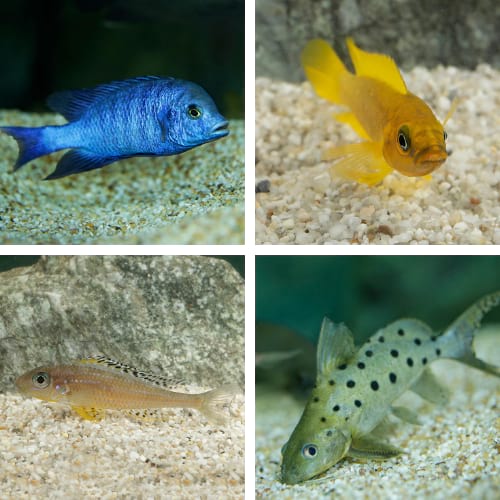 Aside from crocodiles, this place also has a lot of colorful fishes from the cichlid species. These are the blue cichlid, lemon cichlid, Tanganyikan butterfly cichlid.
There are also large spot catfishes swimming around.
10. Ganges River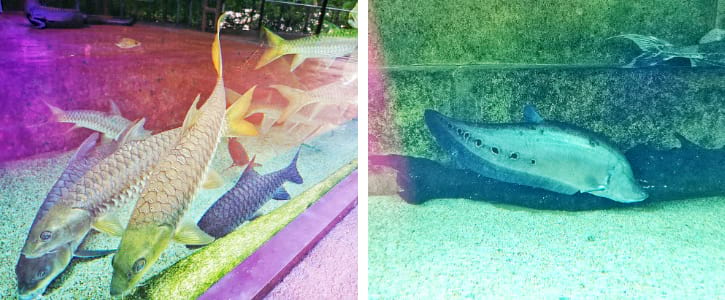 Continue with your tour at Ganges River. This is the place where you'll find the big-mouth Indian golden mahseers.
The clown knifefishes also occupy a part of this zone. Both species have special physical characteristics that make them stand out.
11. River Gems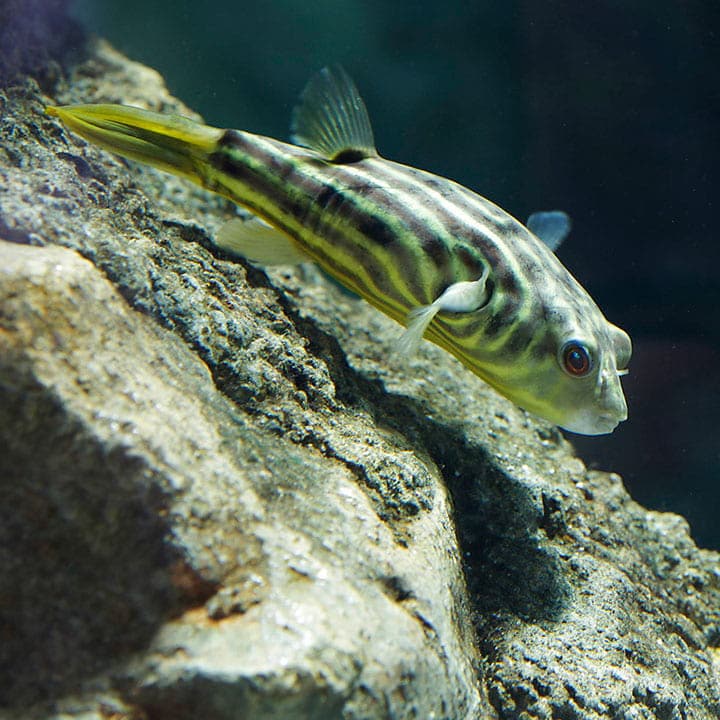 River Gems houses a couple of fahaka pufferfishes. Just like other puffers, these creatures inflate themselves when they sense danger.
Generally, they just feed on snails and freshwater mussels
Other fishes in this particular River Safari Singapore zone are cardinal tetras and black phantom tetras.
On top of that, there are also rummy-nose tetras and rainbow sharks.
Once Upon A River (Show)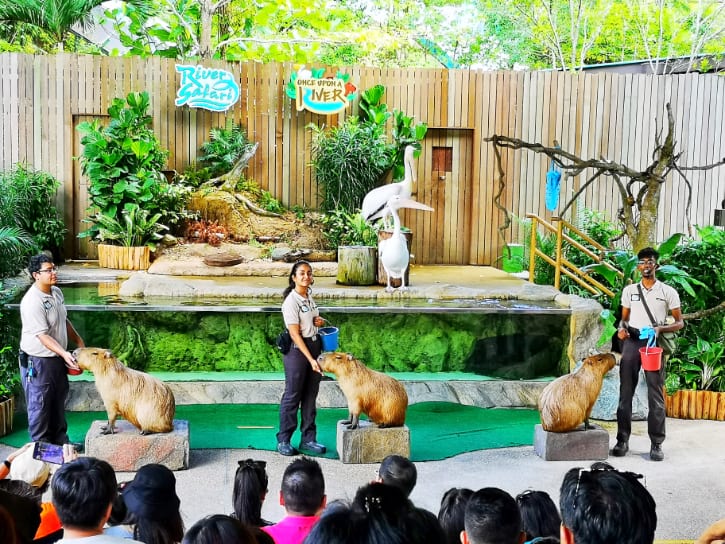 Once Upon A River showcases the talents of the animals at River Safari. This animal presentation runs for 20 minutes.
And, it highlights the skills of capybaras, pelicans, ball python, and hedgehog.
All these creatures got their own set of charms to captivate the crowd.
At the end of the show, you'll gain valuable knowledge about these animals. Not only that but you'll also get a chance to meet them up-close!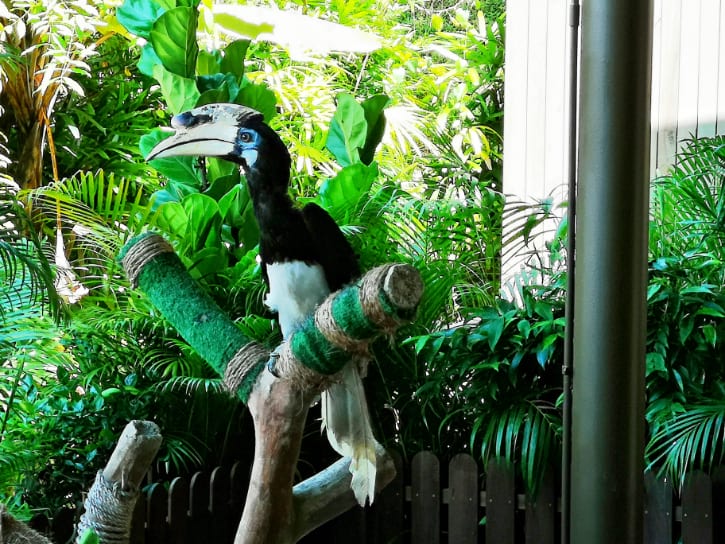 The hornbills are also in the spotlight because of their smartness. Plus, their laugh is very unique and contagious.
Monday to Friday:
11:30 AM and 4:30 PM
Saturday to Sunday and Public Holidays:
11:30 AM, 2:30 PM and 4:30 PM
Reservoir Cruise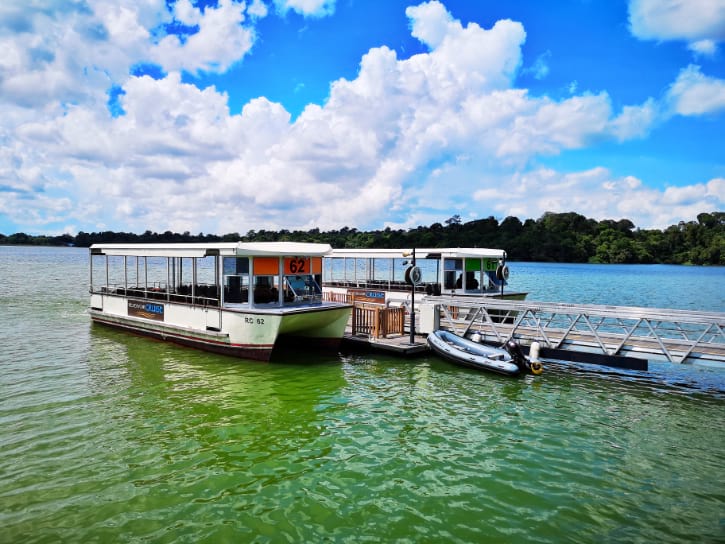 In between animal encounters and interactive shows, you can squeeze in the 15-minute Reservoir Cruise.
Enjoy this scenic water journey with your family and friends and fall in love with nature even more.
As it sails around the Seletar reservoir, don't forget to take photos of the beautiful landscapes around.
And conveniently, this is a wheelchair-friendly cruise that can cater up to 40 persons in one trip.
Where to Eat at River Wonders (River Safari)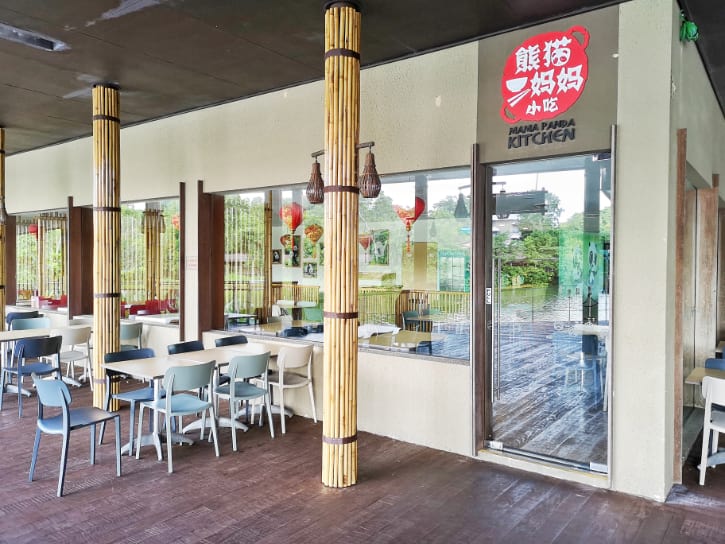 Take your lunch at Mama Panda Kitchen Restaurant inside the River Safari park.
This is the only dining spot in the park, which is just beside the viewing Panda area.
This fast-food restaurant is unique because of its panda-themed food and bamboo-framed photos.
However, the restaurant is quite crowded during lunchtime.
To avoid the waiting game and skip the long queues, you can take your lunch earlier or later.
The best time to go to the restaurant is either 11:30 AM in the morning or 2:00 PM in the afternoon.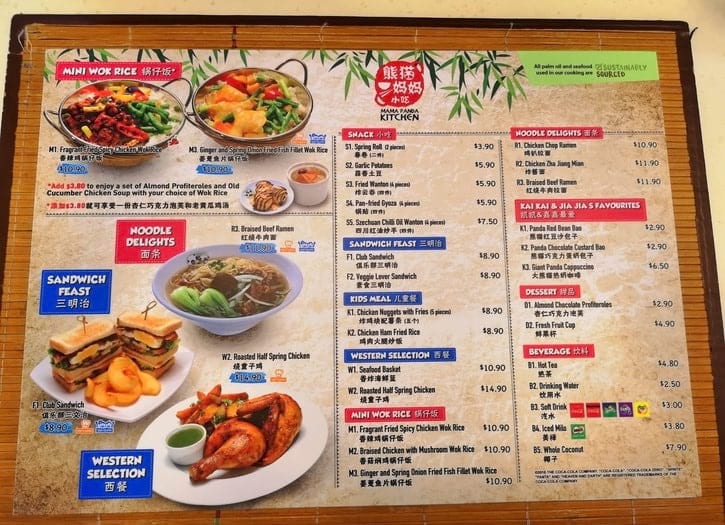 Mama Panda Kitchen's menu largely consists of Chinese dishes. They have ramen, steamed buns, wanton, and wok rice.
In addition, they have western selection that includes seafood basket and roasted chicken. And for dessert, they serve fresh fruit cups and almond chocolate profiteroles.
My Comment
Our visit to River Wonders Singapore (previously known as River Safari) was definitely a great experience.
We enjoyed touring around each zone and meeting different animals.
We recommend that you prioritize Giant Panda Forest and Amazon River Quest boat ride. It's because these 2 attractions are the most popular at River Safari.
During our trip, we started around 3:00 PM in the afternoon and spent 3 hours inside the park.
A tip when visiting the park is to bring your own drinking bottle. There are free water dispensers near the washroom to refill your water bottles.
Make sure you also bring a mosquito repellent, hats, and sunblock.
Also, we bought our River Safari tickets online and actually saved money.
Not only that but we also entered the park conveniently. It's because we just presented the soft copy of our tickets at the entrance of the park.
To wrap it up, this famous river-them zoo is highly recommended to anyone who wants to have a fun-filled adventure with the animals.
Visitor Information and Ticket Prices
Opening Hours:
10:00 AM – 7:00 PM (Last Admission at 6:00 PM)
Normal Ticket Prices:
Adult: SGD $41
Child (3 to 12): SGD $24
*Included Amazon River Quest Boat Ride
Money Saving Tips:
To save money and get speedy access to the park, buy your tickets online here.
Address:
80 Mandai Lake Road, Singapore 729826
Official Website:
https://www.wrs.com.sg/en/river-safari.html
Where to Go after River Wonders (River Safari)
Are you done with your River Safari Singapore tour?
You can explore Singapore Zoo or Night Safari right after because these two are just a 1-2 minute walk from River Safari.
1. Singapore Zoo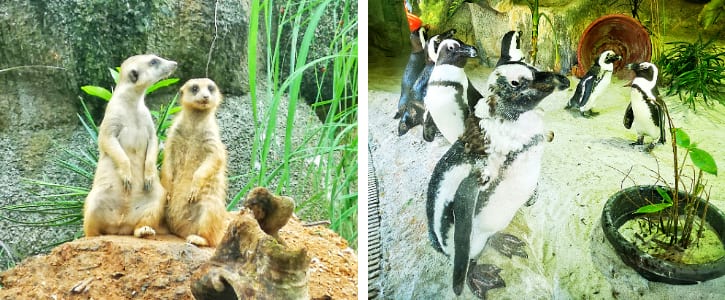 Explore this popular animal park together with your loved ones. This place comes with distinct animal zones as well as spectacular shows for everyone.
Just see here for a complete guide to Singapore Zoo and review and start kicking off with your plans.
2. Night Safari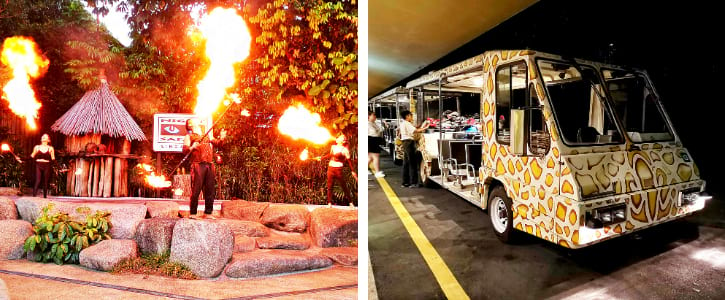 Have a unique encounter with the wild animals at Night Safari. As the world's first night zoo, this place provides you with an unforgettable animal experience.
Here are my tips for visiting Night Safari and review that are very helpful when planning.
Other than Singapore Zoo and Night Safari, Sentosa Island is also a great place to visit for nonstop adventures.
Here, you can explore some family-friendly beaches, try different outdoor activities, or simply enjoy the views.
Find out more about this destination in my super detailed guide on what to do in Sentosa.
If you're planning to travel to Bangkok, there's also a famous zoo that should be part of your itinerary. Get more information about this place in my detailed Safari World Bangkok article and start plotting your plans now.
How to Go to River Wonders (River Safari) Singapore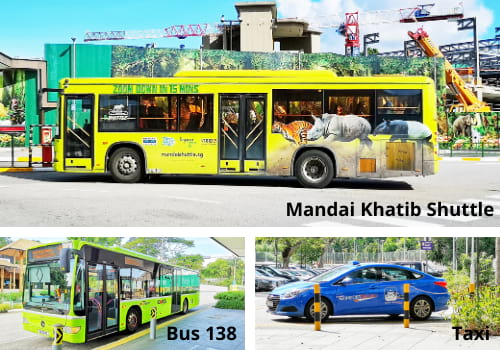 There's no MRT station near River Safari Singapore. But there's nothing to feel sad because you can easily reach the river-themed wildlife park by MRT then bus.
Basically, there are 3 easy ways to go there and let me show you in details below.
1. By MRT and Mandai Khatib Shuttle
To get to River Safari Singapore, you can take the Mandai Khatib Shuttle from Exit A of Khatib MRT Station.
The bus runs every 20 minutes from 8:00 AM to 7:00 PM (Monday to Wednesday) and 8:00 AM to 10:00 PM (Thursday to Sunday).
This is a direct bus go to River Safari in 15 minutes and it costs SGD $1 only.
Kindly take note that the bus only accept EZ-link or NETS Flash card without accepting Cash.
2. By Bus 138
Another method to reach River Safari is to take the bus 138 from Ang Mo Kio Bus Terminal.
The service runs every 8 to 14 minutes from 6:30 AM to 11:45 PM. The one-way ticket costs SGD $1.64 (via EZ-link or NETS Flash card)/ SGD $2.50 (via Cash).
It takes around 39 minutes to reach River Safari.
To reach Ang Mo Kio bus terminal, you can take the North South Line to Ang Mo Kio MRT Station. From there, you go out the Exit C which will give you direct access to Ang Mo Kio Bus Terminal.
3. By Taxi
Take a taxi to River Safari Singapore is the easiest way but it can be expensive. If you plan to take a taxi, you can ride it from Exit A of Khatib MRT Station.
It costs about SGD $13 and you'll reach there in 10 to 15 minutes.
Related Posts
Photo Credits:
Photos by Wildlife Reserves Singapore