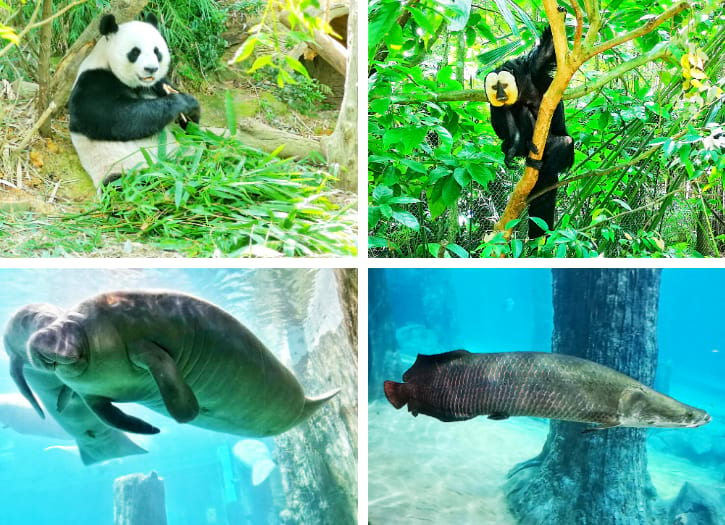 Are you looking for a full review of River Safari Singapore? Wondering what animals you can see at River Safari and how to maximize your time over there?
In this blog, I'm going to share with you everything I know about River Safari Singapore.
Soon, I'll walk you through the beautiful and adorable animals that you're able to see in the park with pictures and helpful information. This will help you to decide whether a visit to River Safari Singapore is worth your time and money.
Other than this, I'll guide you on how to get to River Safari Singapore easily according to my experiences of living in Singapore.
Overall, this comprehensive guide will help you to get to know the animals that you can see at River Safari Singapore. Plus, how to get there easily.
Let me start introducing River Safari Singapore to you! 😊
Why You Should Visit River Safari Singapore
---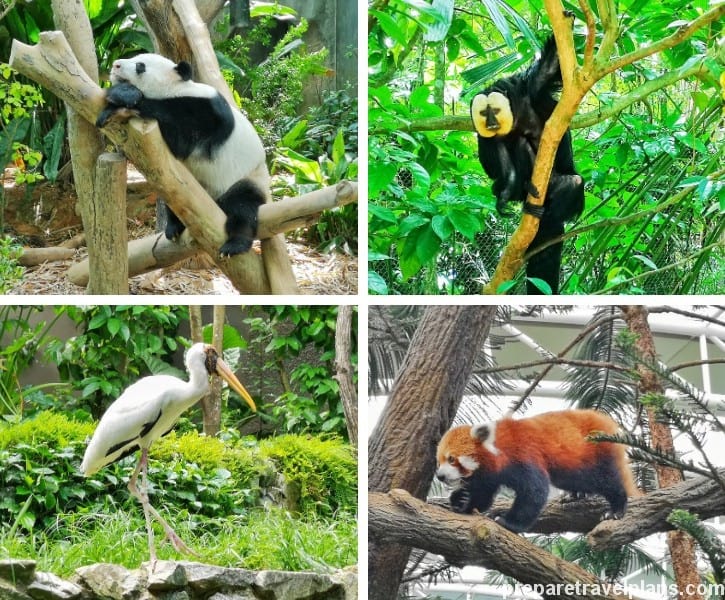 Strolling around the first-ever river-themed zoo in Asia―the River Safari Singapore. Did you know that this is the only tourist spot in Singapore that shelters some super adorable pandas?
So, if you want to meet these giant but cutest Pandas, then you should visit this park.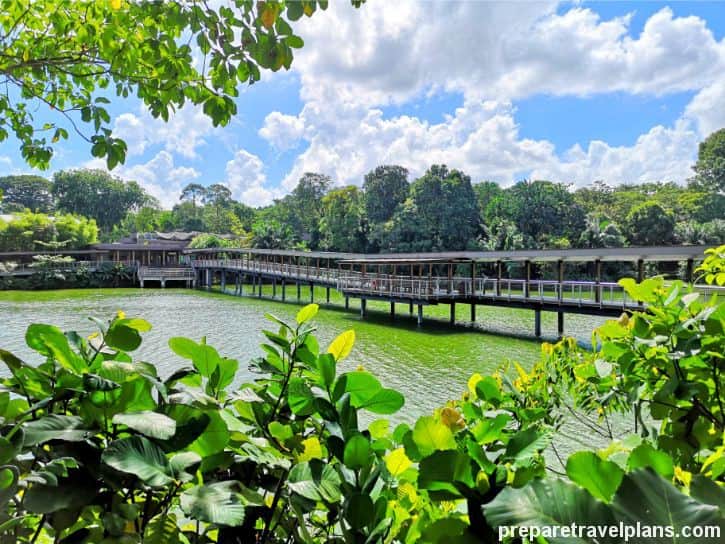 The above picture shows the bridge that links the two sides of River Safari Singapore. It's a nice viewing deck surrounded by scenic waterscape and lush vegetation for great photo opportunities. So, don't miss a chance to visit this place.
8 Important Tips Before Going to River Safari
---
Tip #1: Get Your River Safari Guide Map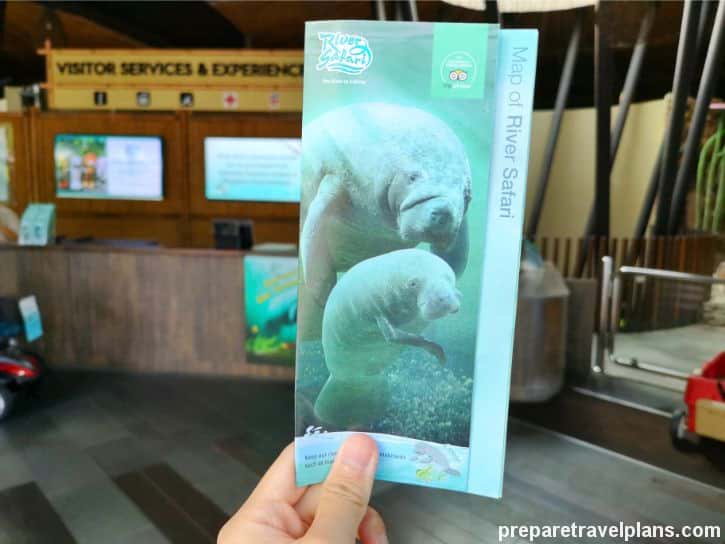 Welcome to River Safari Singapore! Before you start the fun, pick up your River Safari Map from the Visitor Services counter. This valuable piece is located just beside the entry gate.
The park map is a must-have so that you can smoothly navigate around River Safari and avoid getting lost.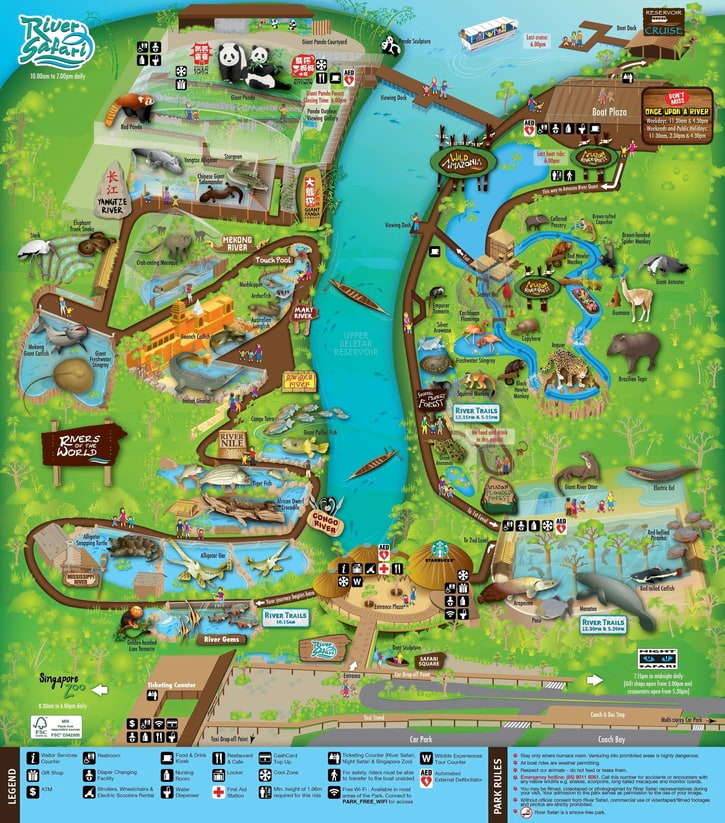 If you want, you can simply download the River Safari Map here. So, in case you forget to take the physical map, there's no need to get back to the gate. Just access the file from your smartphone and start your River Safari tour!
Tip #2: Visit the River Safari on a Weekday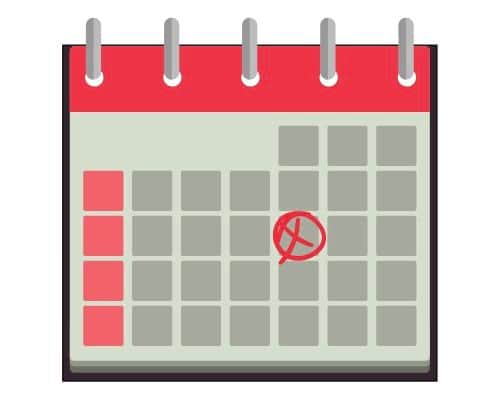 There's so much to see and do at River Safari. So, if you prefer to have the time of your life wandering around, it's highly suggested to visit during weekdays.
From Mondays to Fridays, this famous attraction is less crowded giving you more space and time to explore the area. With lesser people and more leisure time, you can tour around comfortably with your family and friends.
Tip #3: Visit the River Safari in the Morning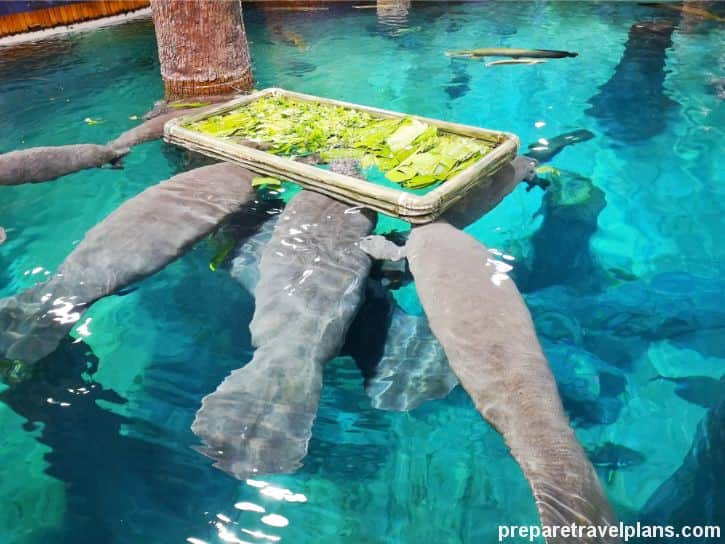 Apparently, the best time to go River Safari is in the morning, where the animals are more cheerful and lively. Also, this gives you the chance to see the animals being fed, which is done in the morning.
Since you need to allocate at least half a day in the park, it's recommended to start in the morning. Visiting during daytime also provides you extra time to spend on each attraction as well with the animals.
Opening Hours:
10:00 AM – 7:00 PM (Last Admission at 6:00 PM)
*For the latest operating hours, you can check the official website of River Safari.
Tip #4: Get Your Mosquito Repellent Ahead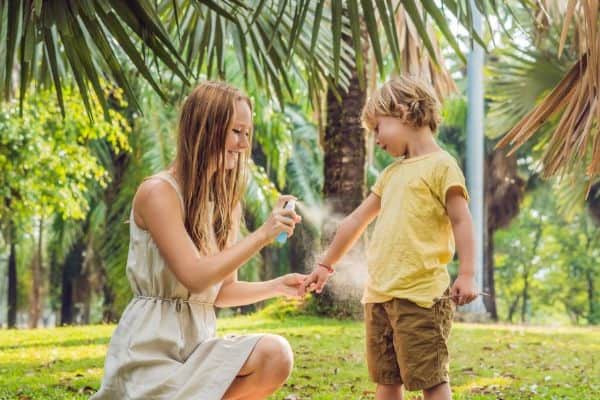 Strolling around this wild, open space for a day means you are prone to mosquito bites. But, of course, you can avoid these unwanted bites and marks on your skin.
Before you enter the park, make sure to apply your mosquito repellent ahead. You can also bring one for you to reapply while inside.
Tip #5: Bring Your Own Water Bottle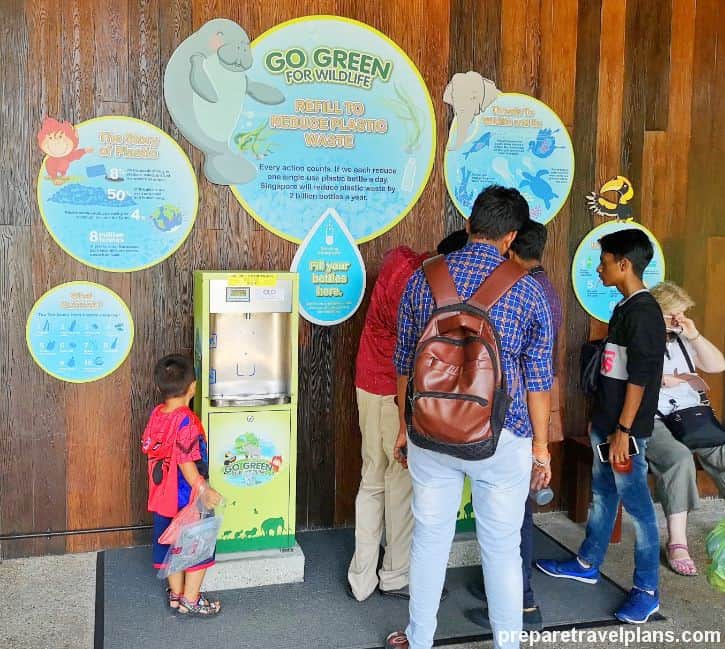 Go green by bringing your own water bottle. You are not just helping nature but you are also saving money while staying hydrated.
Water dispensers in the park are located near the washroom. These are for free, which means you can re-fill nonstop!
Tip #6: Take Your Lunch Either Earlier or Later at Mama Panda Kitchen Restaurant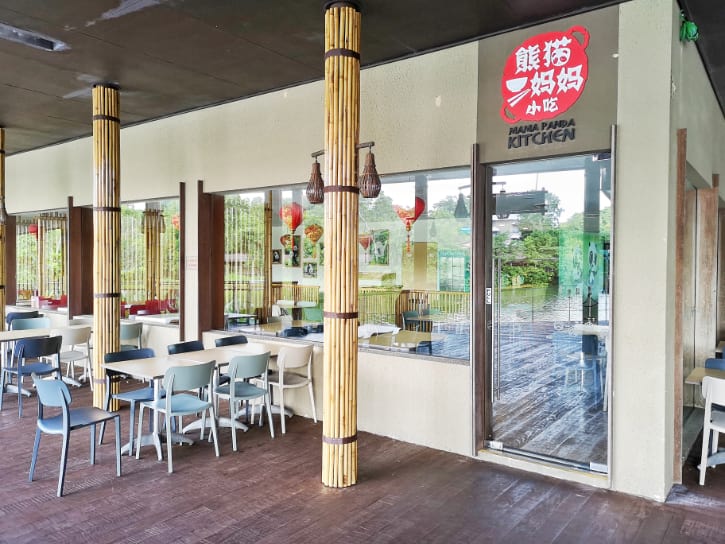 Mama Panda Kitchen Restaurant is one of the must-try food spots in the area―especially if you are panda lover!
This fast-food restaurant is decorated with all sorts of panda designs, from panda-themed food to bamboo-framed pictures. You have the option to dine inside the air-conditioned restaurant or at its open-air space.
However, the restaurant is quite crowded during lunchtime. To avoid the waiting game and skip the long queues, you can take your lunch earlier or later. This also gives you the choice to pick your preferred seat as well as spend more time exploring the park.
The best time to go to the restaurant is either 11:30 AM in the morning or 2:00 PM in the afternoon. If you've decided to eat your lunch later, bring some snacks that can fill your stomach while waiting. Just make sure to stay away from Monkey area when taking your snacks because they are known to steal foods.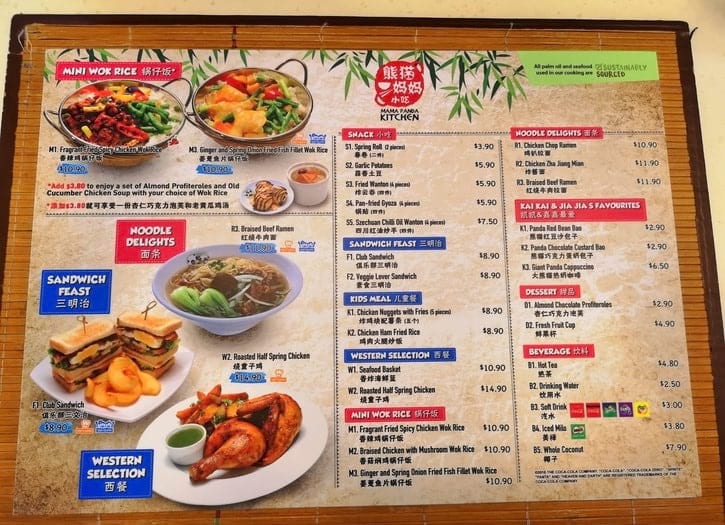 Mama Panda Kitchen's menu largely consists of Chinese dishes. They have ramen, steamed buns, wanton, and wok rice.
In addition, they have western selection that includes seafood basket and roasted chicken. And for dessert, they serve fresh fruit cups and almond chocolate profiteroles.
Tip #7: Put Priority on Giant Panda Forest and Amazon River Quest Boat Ride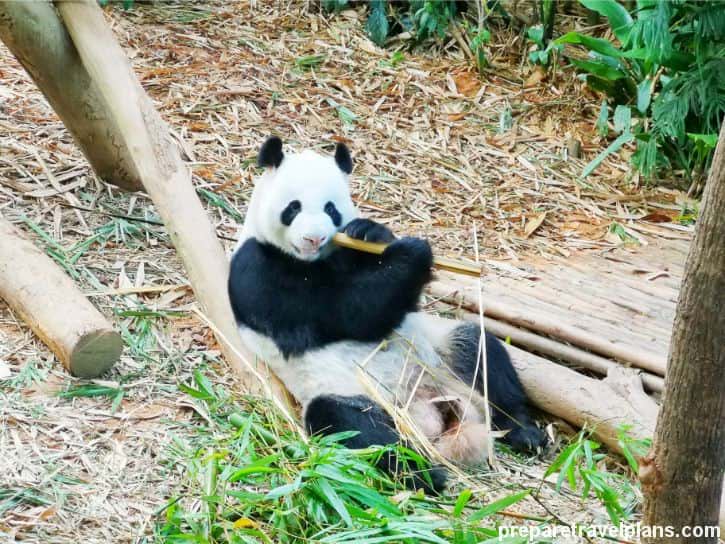 As soon as the park opens at 10:00 AM, prioritize you way to the Giant Panda Forest first. This is the main attraction at River Safari that's why it is always jam-packed with visitors.
And because of its popularity, you may need to wait for the queue, hence lessening your adventure time. So, if you want to see the cute pandas, possibly eating bamboo, head towards this attraction first.
Right after watching the pandas, proceed to Amazon River Quest Boat Ride, which is another sought-after attraction by many visitors.
This famous boat ride starts at 11:00 AM, so better visit the Giant Panda Forest first, then Amazon River Quest.
Tip #8: Buy Your River Safari Tickets Online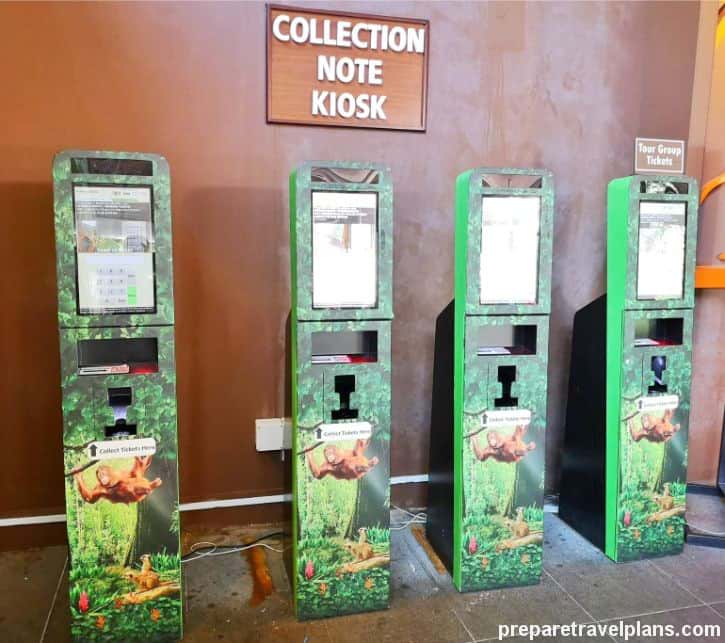 Ticket Prices
Normal Ticket Prices
Adult: SGD $39
Child (3 to 12): SGD $26
*Included Amazon River Quest Boat Ride
Save money by purchasing your River Safari Tickets online. Compared to buying on-site, which is SGD $39, online tickets let you save 15%. Plus, there's no need to line up at the ticketing counter since you can claim your tickets at the kiosks.
Don't miss this opportunity to avail this amazing discount and benefits by booking online in advance.
What Animals You Can See at River Safari
---
Giant Panda Forest
---
1. Panda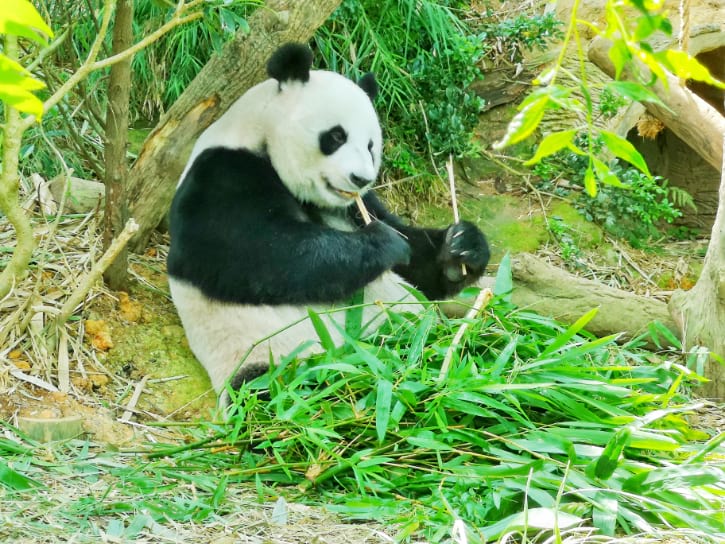 They are the most popular of all pandas, featuring white and black fur colours and chubby bodies. Giant pandas like Jia Jia super love bamboo, wherein they'd consume at least 28 pounds every day.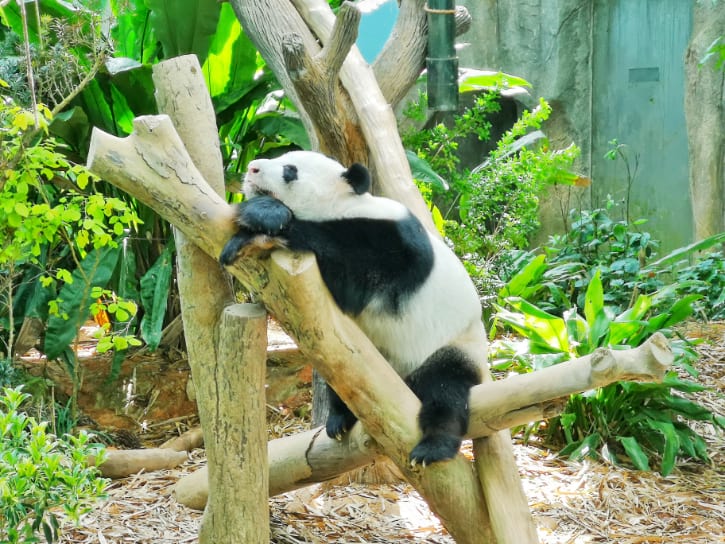 Here is Kai Kai, relishing his bamboo while hanging around different trees and rolling around the ground.
2. Red Panda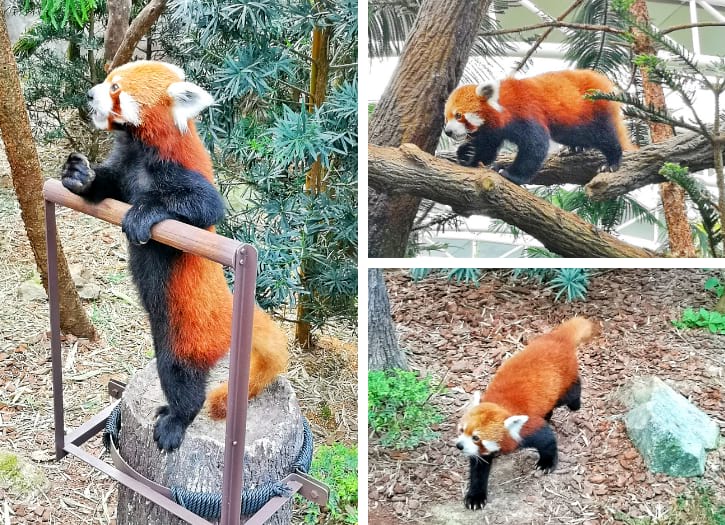 Red Pandas, on the other hand, are quite distinct animals because it features both characteristics of giant pandas and raccoons. With its brown, black, and white fur combination, there's no chance you can't miss these multi-coloured creatures. Just like giant pandas, Red Pandas are love eating bamboos and climbing around.
Amazon River Quest
---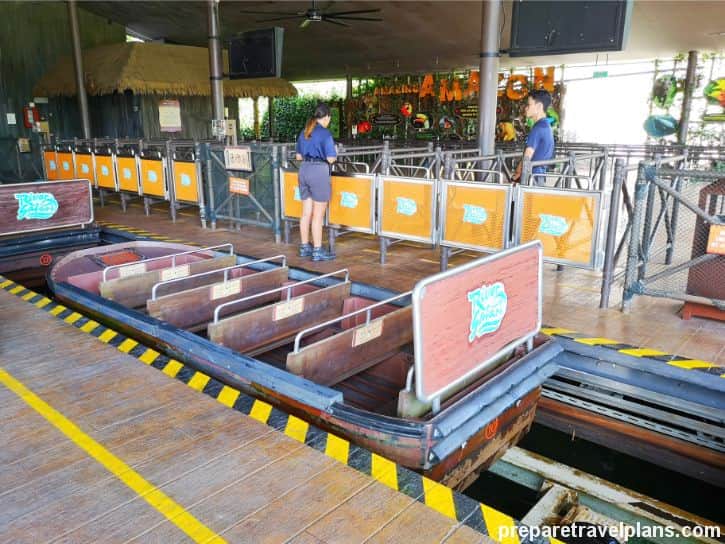 Go on a captivating river ride as you catch sights of different wild animals―roaming and relaxing around their habitat. Amazon River Quest is truly a beautiful and at the same time mysterious water journey.
1. Collared Peccary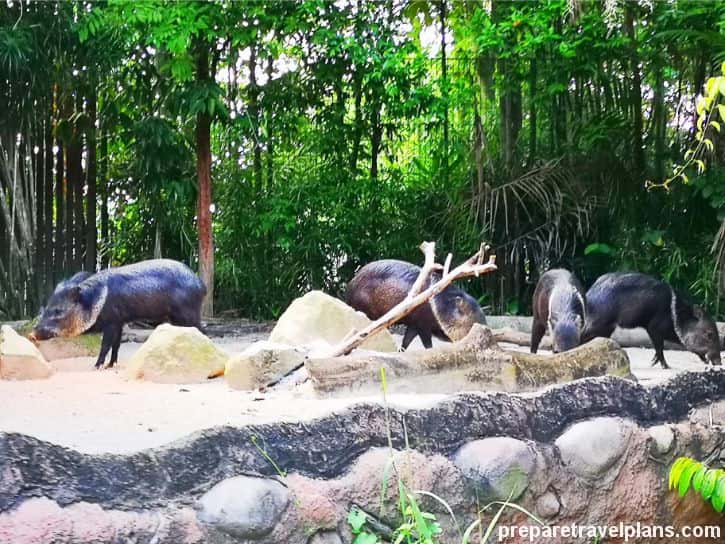 Also known as musk hogs, these mammals have the features of a pig. But in comparison, Collared Peccary comes with a more rough and thick fur. These pig-like creatures have an appetite for berries, fruits, and nuts.
2. Brown-tufted Capuchin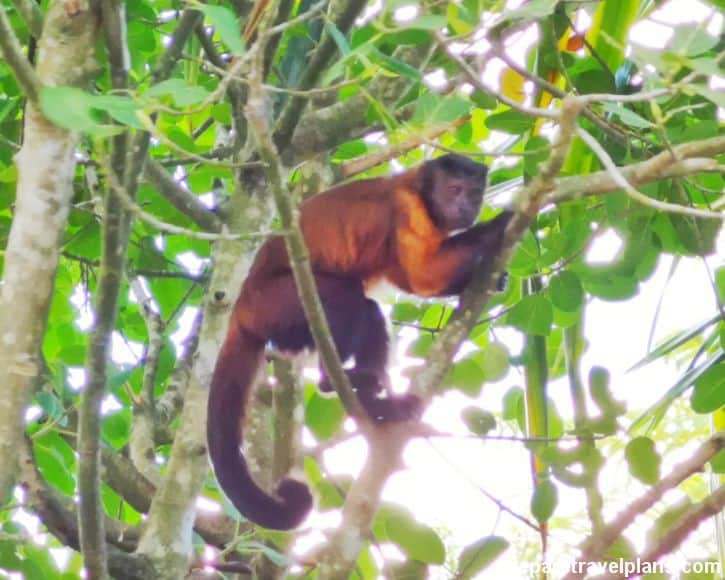 Brown-tufted Capuchins are part of the monkey species. It's easy to spot them because of their unique head and body coloration that displays black and brown colours. The Brown-tufted Capuchins are more powerful than other capuchins but are highly afraid of large birds.
3. Spider Monkey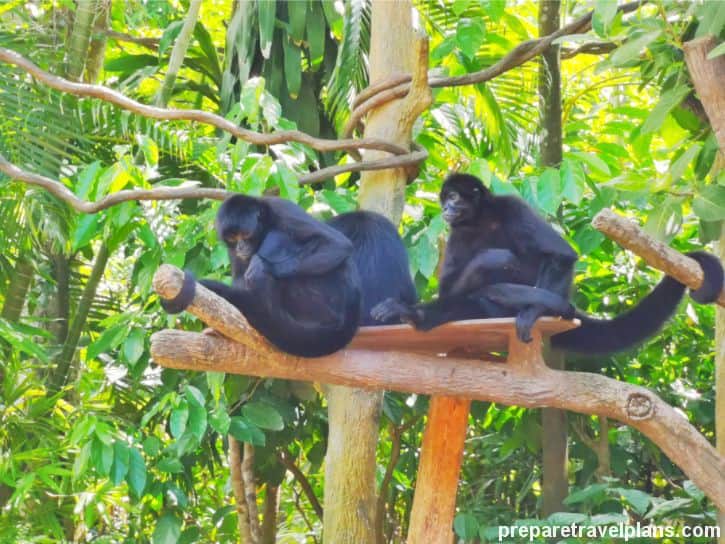 Have you ever heard of Spider Monkeys? These animals have longer limbs and stronger tails that allow them to move back and forth on trees. Whether on trees or on the ground, Spider Monkeys love to eat fruits, leaves, and flowers.
4. Giant Anteater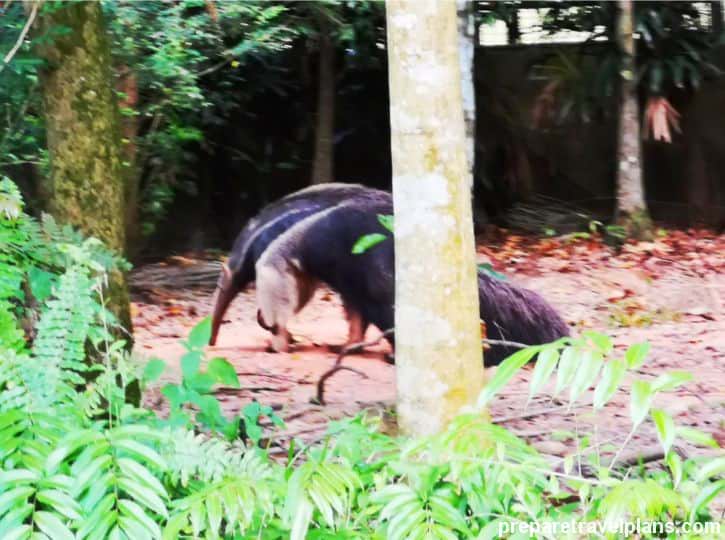 Its long narrow head and hairy body make the Giant Anteater a literal eye-catcher. Because of their bushy exterior, it seems like they are wearing a fur coat. These mammals often stroll around, looking for food with the help of their elongated nose and tongue.
5. Brown-nosed Coatimundi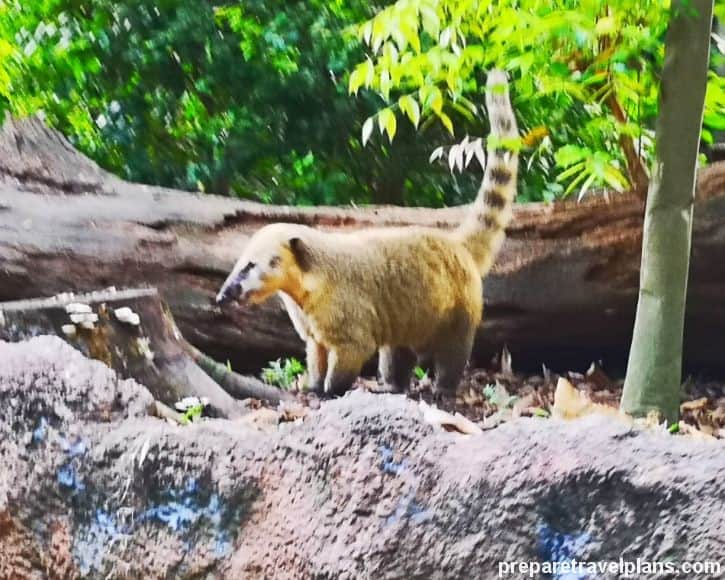 If you spot some raccoon-like creatures with a long nose and ringed tail, chances are, you're seeing a Brown-nosed Coatimundi. From the coati species, these animals have amazing ankle joints. These allow them to climb down with their heads first.
6. Brazilian Tapir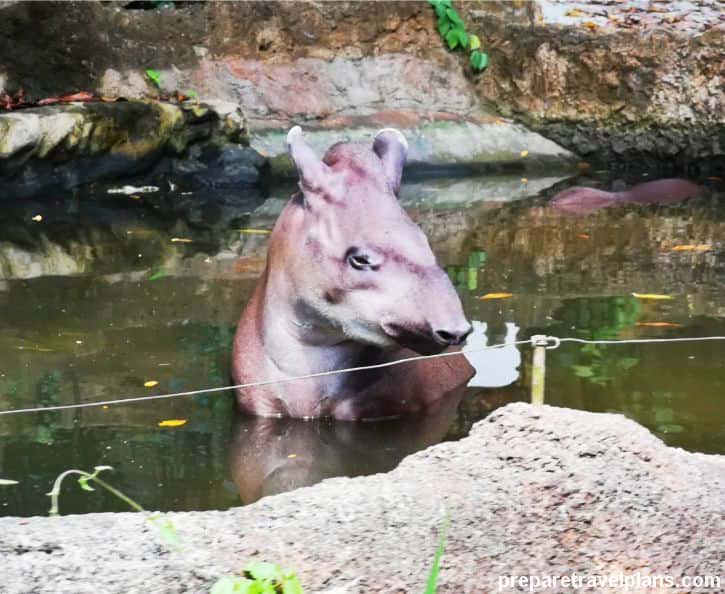 You can find the Brazilian Tapirs mostly soaking near or in the water. Their nose also acts as their snorkel that helps them submerge in the water for a long time. And did you know that these plant-eating animals are twice faster when they are on the water than on land?
7. Caribbean Flamingo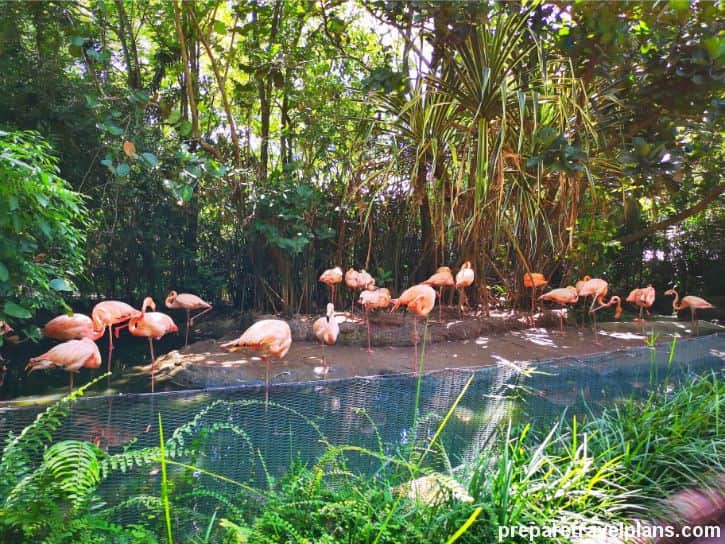 If you want to see some long-legged birds, you can get amazing views of the Caribbean Flamingos here. These flamingos stand about 4 ft. or more and weigh around 3 kgs. Because of their vibrant colour in deep red, pink, and orange, they are considered the brightest among all other flamingos.
8. Capybara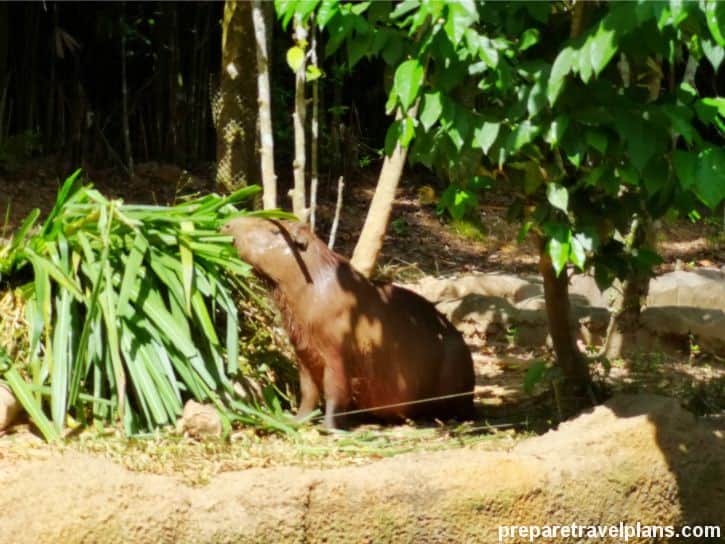 Do you want to get a glimpse of the world's largest rodent? You're lucky because Capybaras are lazing around in one of Amazon River Quest's areas, maybe munching their favourite leaves. These semi-aquatic animals act so chill and can even pass as one of your pet dogs.
9. Scarlet Ibis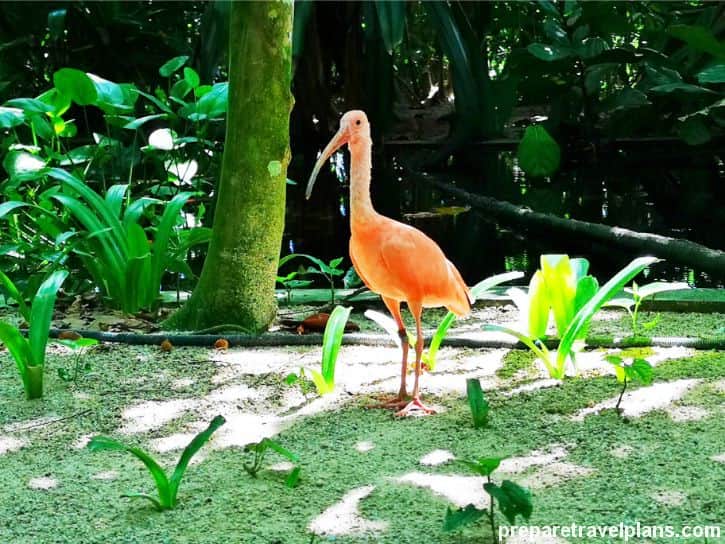 Another vibrant creature you can see during your river trip is the Scarlet Ibis. These bright birds are defined by their scarlet features and long, sharp bill. And because of the shape of their bill, it's easy for them to take food even in soft mud.
Squirrel Monkey Forest
---
1. Little Capybara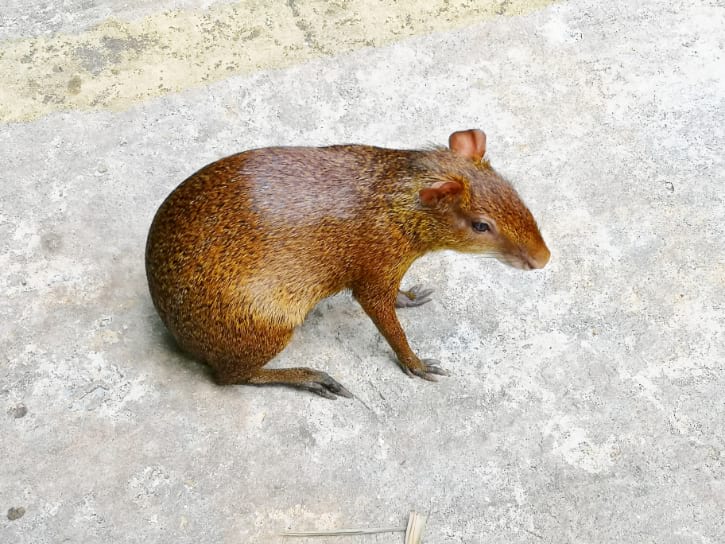 If you love the adorable Capybara on your Amazon River Quest, you have another chance to see them again. You can spot these rodents―but in smaller sizes in Squirrel Monkey Forest. Because of their appearance, these cute animals look like puppies with a hint of being a rat.
2. Squirrel Monkey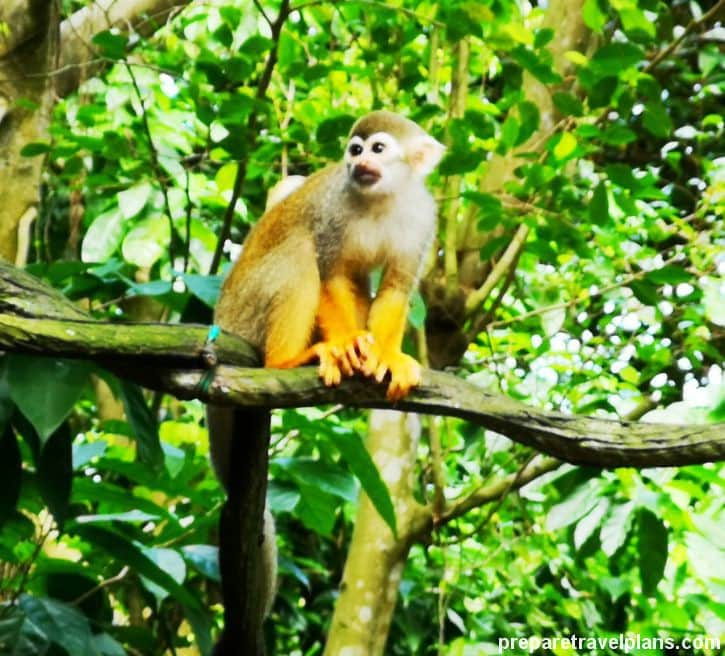 If there are Spider Monkeys, there are also Squirrel Monkeys. Though they look quite adorable, you might not want to have them as pets because they're very clever. Plus, these monkeys are two times hyper during the day, which will surely tire you out.
3. Saki Monkey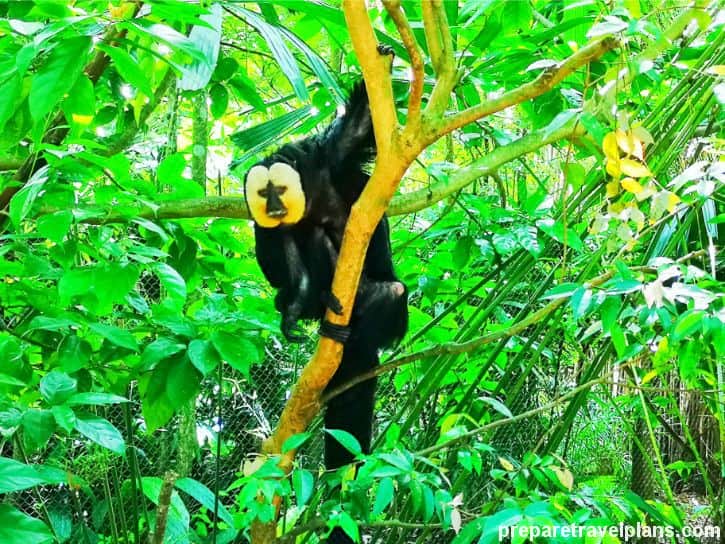 The Saki Monkeys, apparently, have the most distinct face among all other monkeys. It's because the colour of their face differs from their entire body. And, they are bushier, which makes you think they have beards.
Amazon Flooded Forest
---
1. Manatee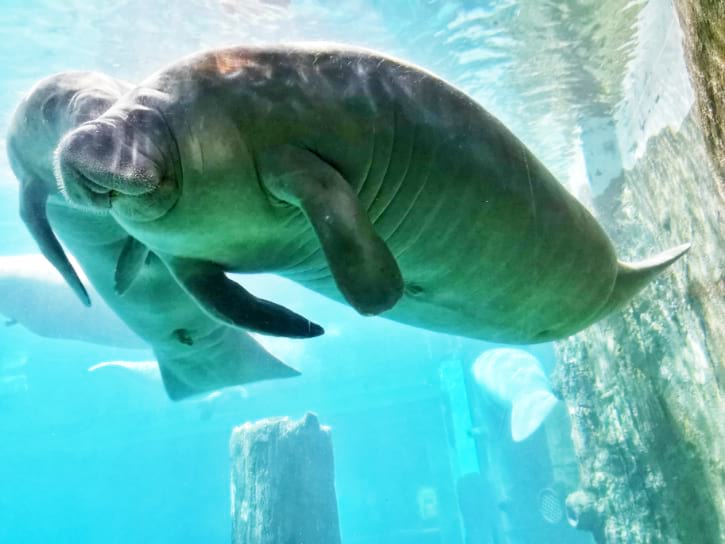 Dubbed as the sea cows, Manatees are large mammals that weigh around 600 kgs. Despite their immense size, manatees are mainly slow, plant-eaters. And, they just prefer swimming in shallow waters and lazing around.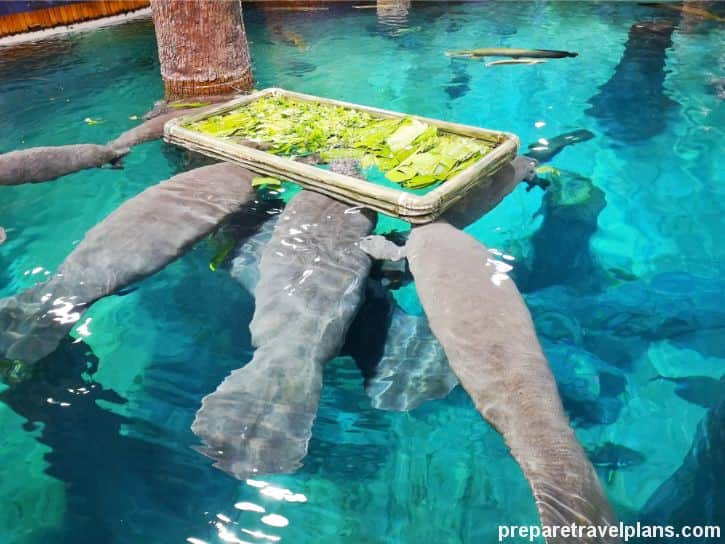 The Manatees in the park consume banana leaves as part of their diet. Other possible foods they can eat include sea plants, mangrove leaves, and such. So, there's nothing to be afraid of because these are gentle giants.
2. Arapaima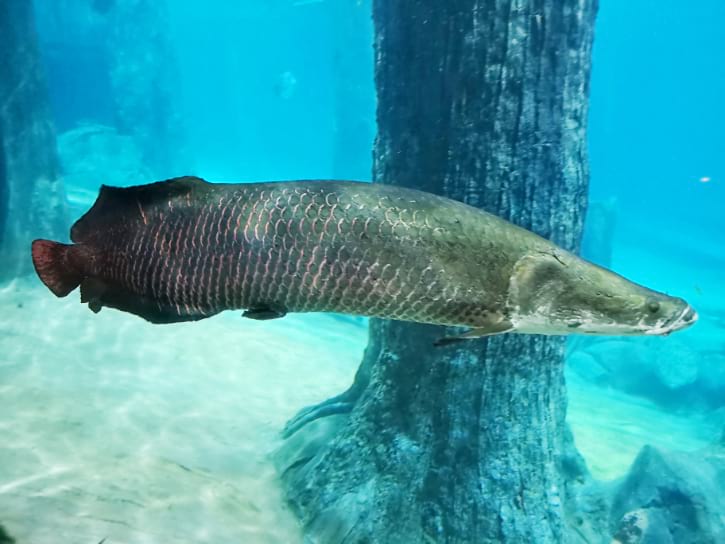 Arapaima, or sometimes called as paiche, is considered as one of the world's biggest freshwater fishes. It can reach as much as 9 ft wide and weigh up to 200 kgs. More than its large size, Arapaimas are known for their super scaly bodies and pointed head.
3. Giant River Otter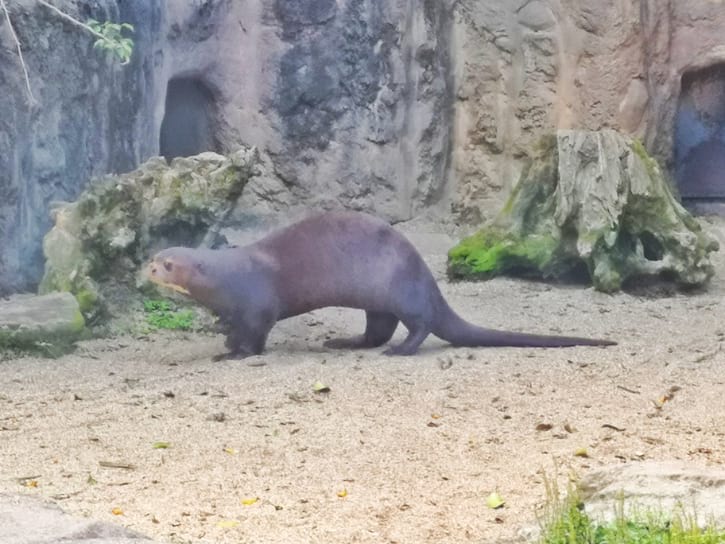 Giant River Otters are heavier and bigger compared to typical otters. These animals from the weasel family feature an amphibious lifestyle, wherein they can easily adapt to both water and land. And it's not hard to find them as they often relax on the ground or sometimes on the river stream.
4. Electric Eel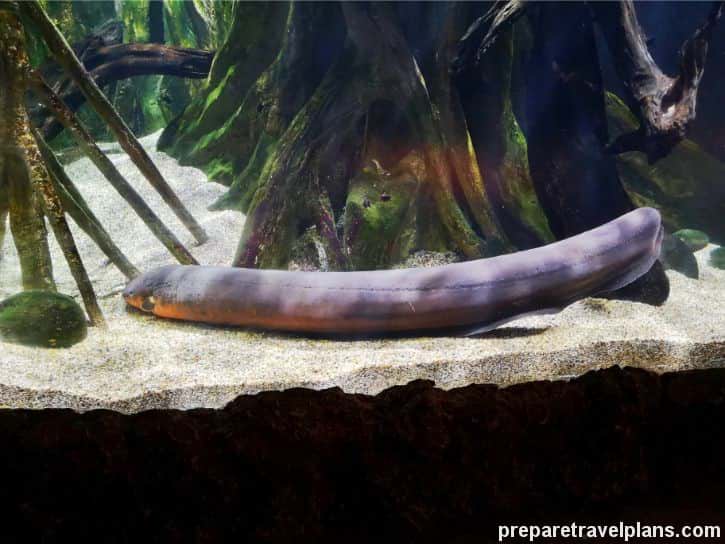 From the name itself, it means that you clearly can't touch these species, not unless you want to get stung. They have large electric organs that create dangerous discharges to sting their prey. And a little trivia here―Electric Eels are not actually eels but rather knifefish!
5. Blue Discus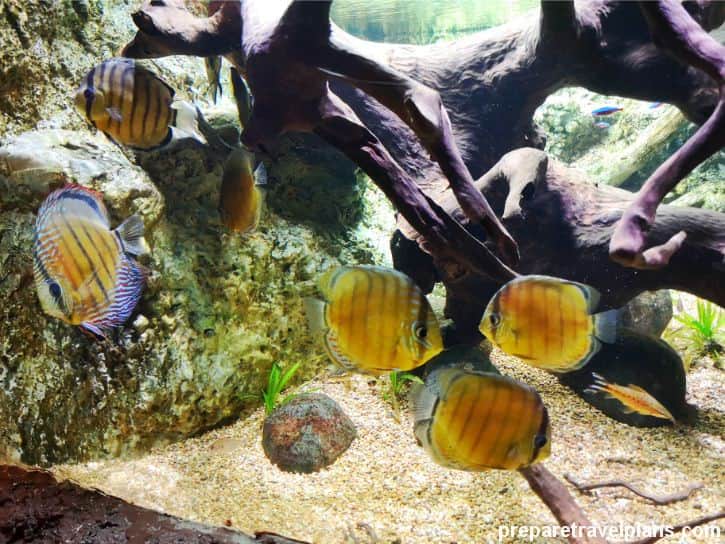 Their vivid colours make them easy to spot even with other fishes around. Blue Discus, aside from their colour, is very noticeable because of their body structure, which is in oval-shaped form. As a result, these animated fish species is a favourite among fish hobbyists.
6. Altum Angelfish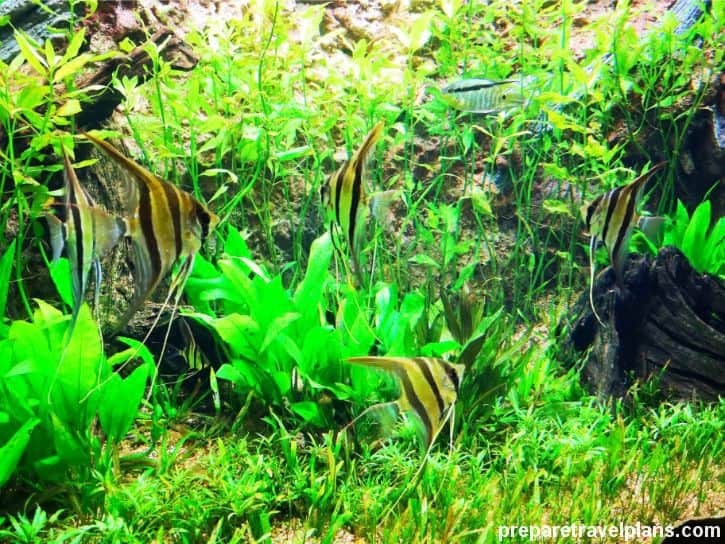 These are literally one of the brightest and most elegant fishes you can find in the Amazon Flooded Forest. They are very graceful with their movements, making them the most peaceful among all other Angelfishes. These multi-coloured creatures often sport a combination of different shades, including yellow, black, silver, and sometimes pink.
7. Red Oscar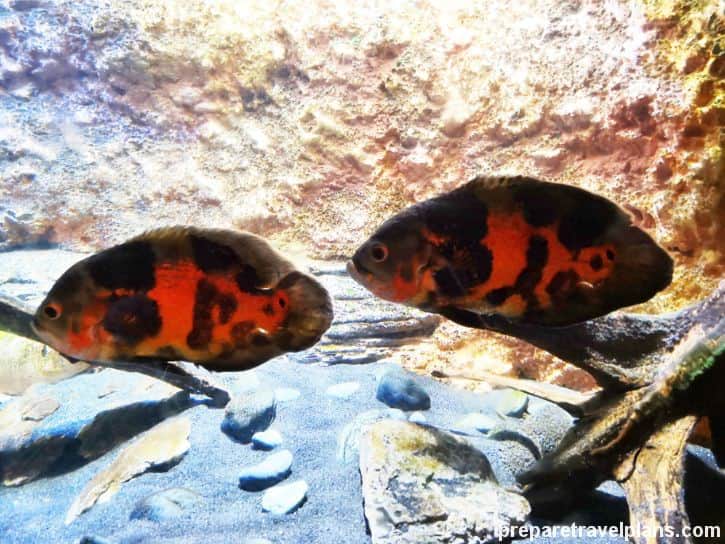 Red Oscars may look so graceful when they swim, but don't let their elegant appearance fool you. They can be a bit aggressive, bold, and sometimes territorial, making them quite hard to handle. So, in case you've decided to have them as your pet, be sure you have a separate tank for them.
Mekong River
---
1. Mekong Giant Catfish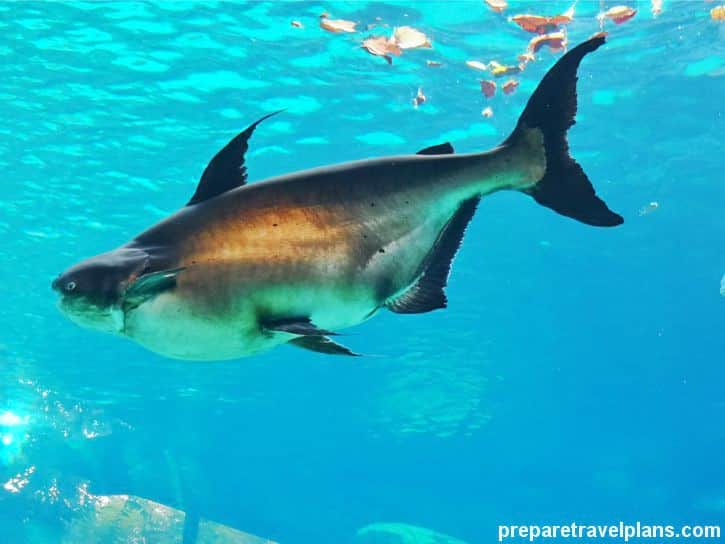 Another massive freshwater fish is the Mekong Giant Catfish, which is now considered an endangered species. Studies show that there are only around 100 remaining of these rare fishes, which can be found in Asian countries. So, if you spot this huge creature, be sure to appreciate them before they're gone forever.
2. Giant Freshwater Stingray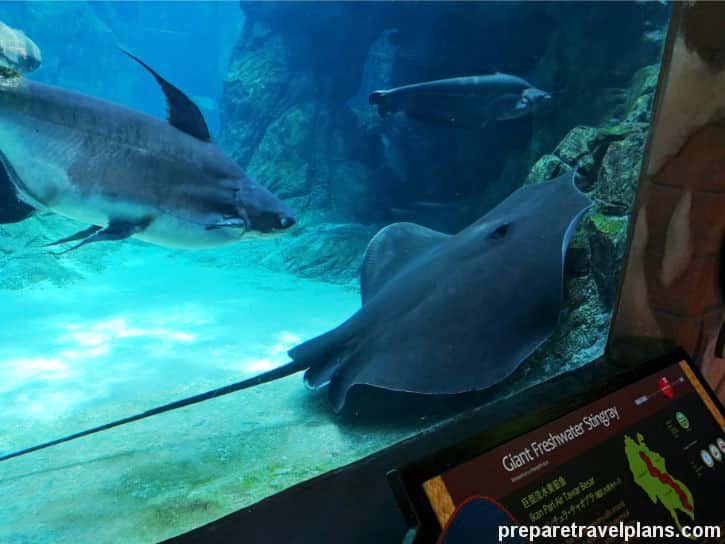 Stingrays are one of the most popular fish species in the world because of their unique shape. The Giant Freshwater Stingray is such a sight to see because of its round, thin body shape. Considering their massive size, most of the Giant Freshwater Stingrays can easily pull a boat upside-down.
3. Crab-eating Macaque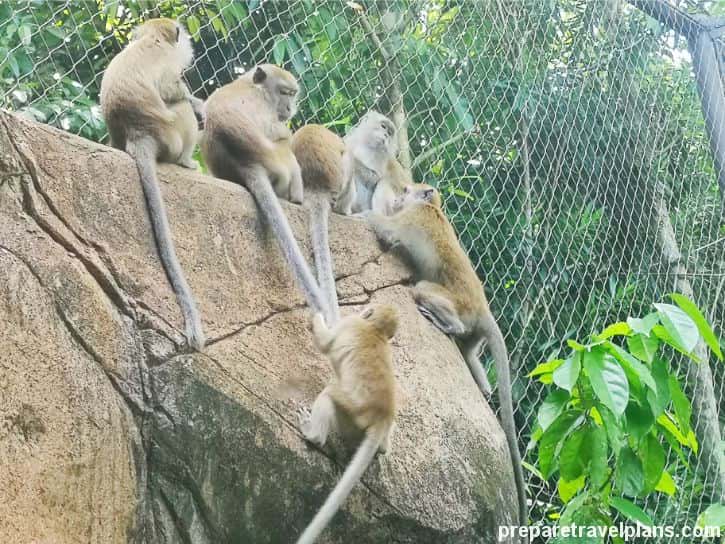 Even with their name, Crab-eating Macaques do not eat crab but rather feast on different plants and small vertebrates. These include nuts, seeds, rice, fruits as well as small lizards, frogs, bird chicks, and bird eggs. Crab-eating Macaques outline their short arms and legs and longer tails, giving them the appearance of most typical monkeys.
4. Milky Stork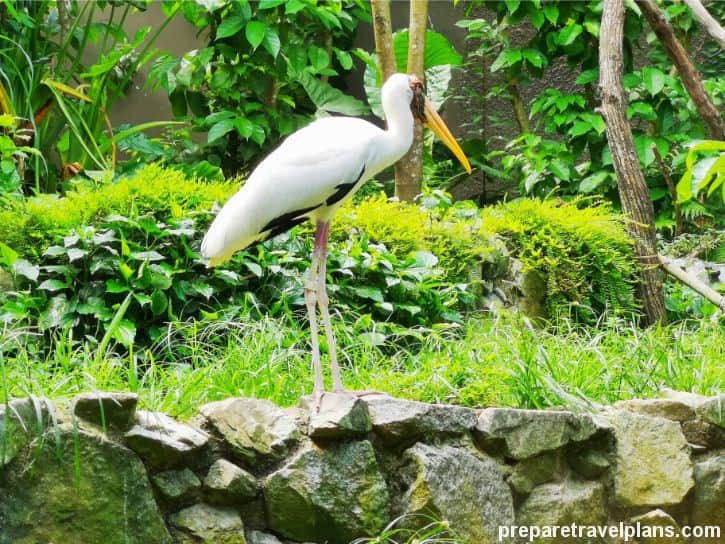 Milky Storks' white colour is contrasted with black feather streaks and yellowish-brown bills. These large birds often take shelter in mangroves, which is also their breeding area during the dry season. Normally, Milky Storks breed by group, by which female ones will turn bright red and their bill becomes vibrant orange.
Mary River
---
1. Chocolate Chip Sea Star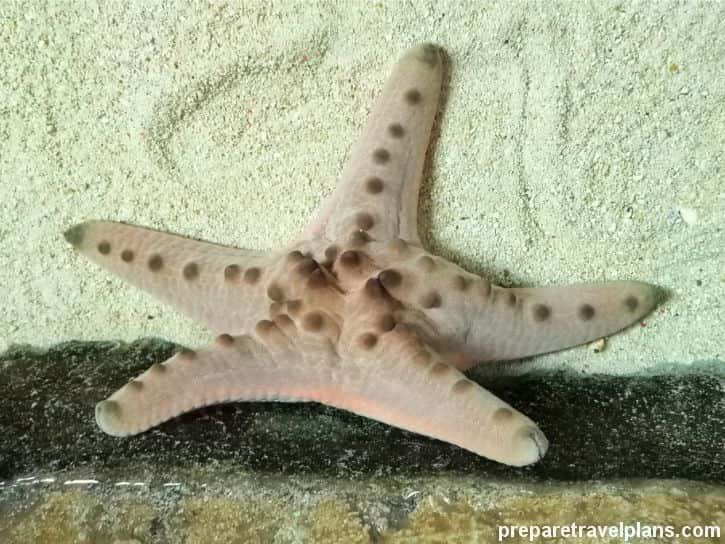 If you want to personally feel and interact with some sea creatures, head to Touch Pool located in Mary River. One of the animals you can touch is the Chocolate Chip Sea Star, which is normally used in aquarium trade. Because of its peaceful attitude, these attractive sea stars can be kept together with other fishes.
2. Horseshoe Crab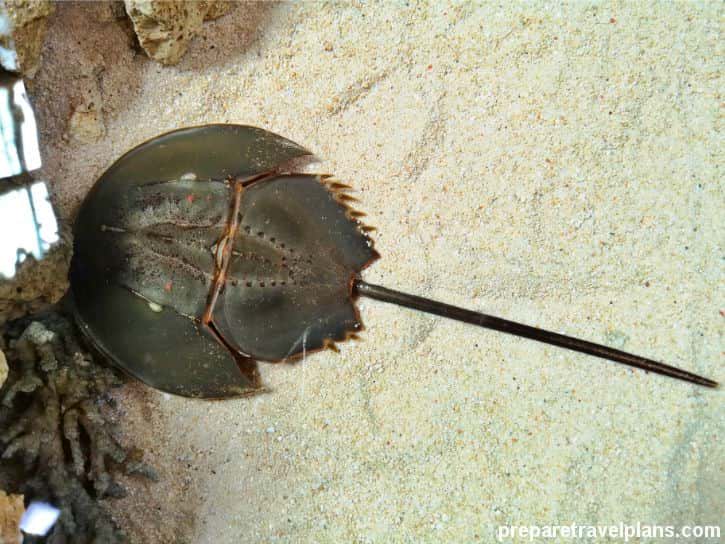 This crab isn't anything ordinary because it has a rather distinct body like that of a horseshoe, hence the name! Its large, round shell with spiky shell comes with two eyes that allow them to detect different lights. You can see these unique-looking creatures on muddy bottoms and sometimes shallow coastal waters―when they breed.
3. Archerfish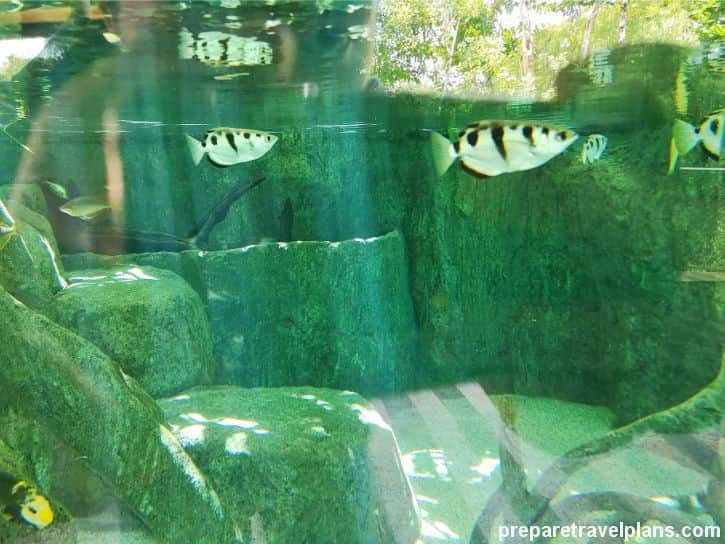 Unlike most fishes, Archerfishes often don't feed on creatures beneath the water but rather those above the surface. Through their water-spitting mouth that shoots a number of droplets, they can easily trap and kill their prey. And if you're wondering what prey they eat, these are mostly plant-based insects that would go on rivers and mangroves.
4. Australian Lungfish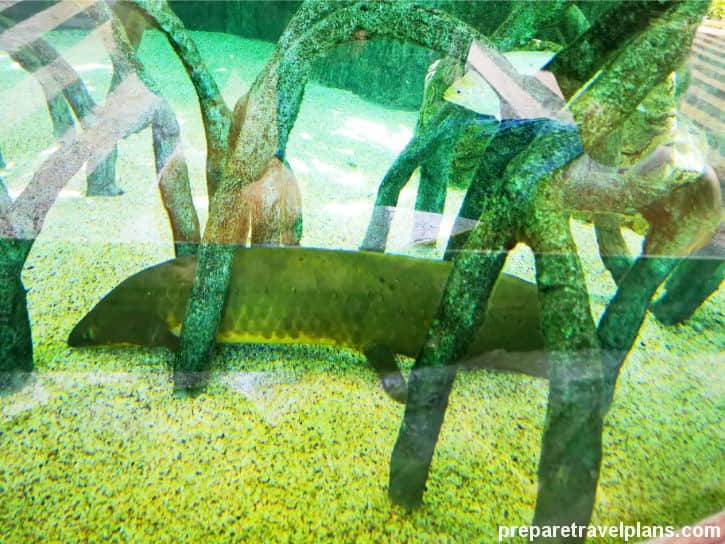 Sometimes called as the Queensland Lungfish, the Australian Lungfish is highly interesting because of its unique breathing feature. These slow-paced creatures who love deep waters can breathe air using only one lung. So, even if the water temperature changes, especially during dry season, the Australian Lungfishes can still live comfortably.
Ganges River
---
1. Indian Golden Mahseer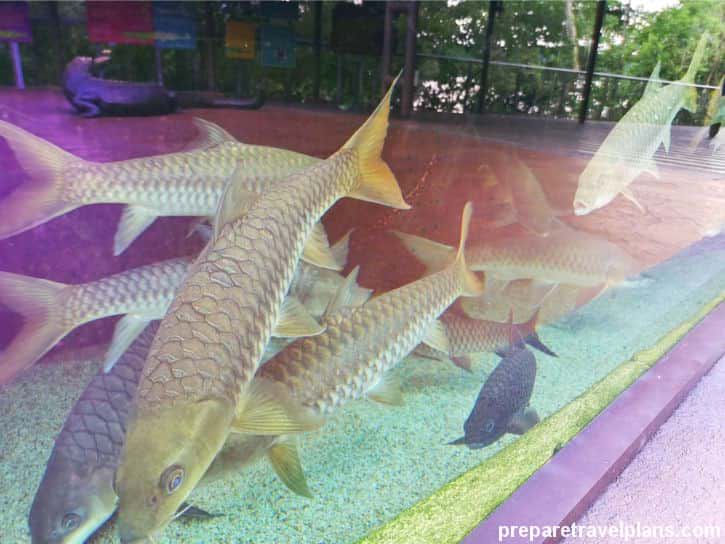 In India, these big-mouth species are tagged as one of the best sport fishes, particularly in angling. The Indian Golden Mahseer is characterized by their large, elongated body with thick scales and pointed snout. Masheer comes from the word mahi and sher, which means fish and tiger―making them a tiger fish.
2. Clown Knifefish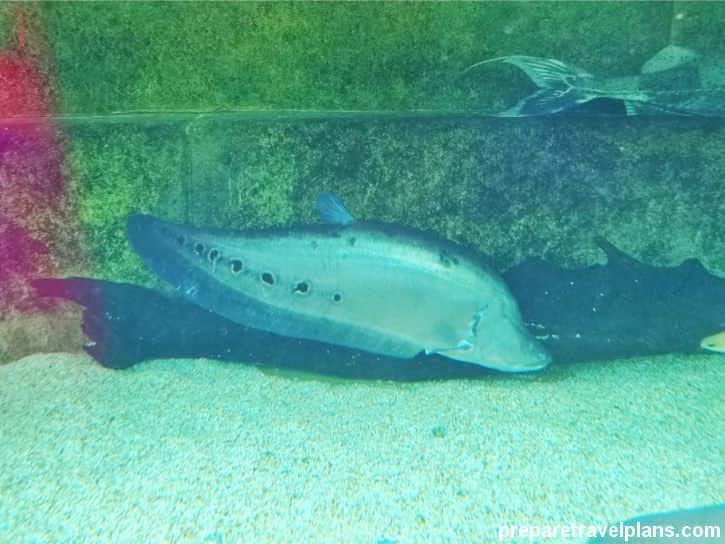 Clown Knifefish is often called as Clown Featherback, which features its unique, curved in appearance. With its uncommon shape, these fish species are loners―but great predators that often hunt at night along warm rivers. Using their small yet many teeth, they can catch their prey as they swim forward and backward with ease.
Nile River
---
1. Goliath Tiger Fish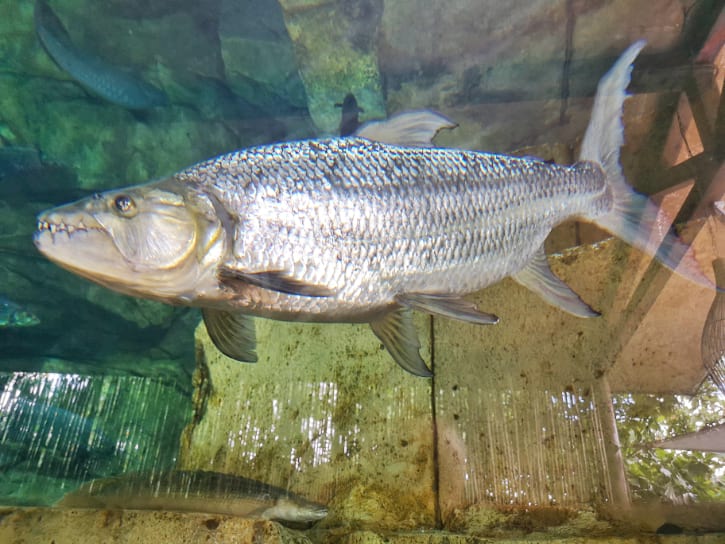 With a name like Goliath, it's certain that Goliath Tiger Fish is a massive creature that never goes unnoticed. These freshwater fishes with razor-like teeth and muscular body love chaotic waters because they can easily swim back and forth. And with their built and features, these make them one of the ultimate predators among small fishes.
2. African Arowana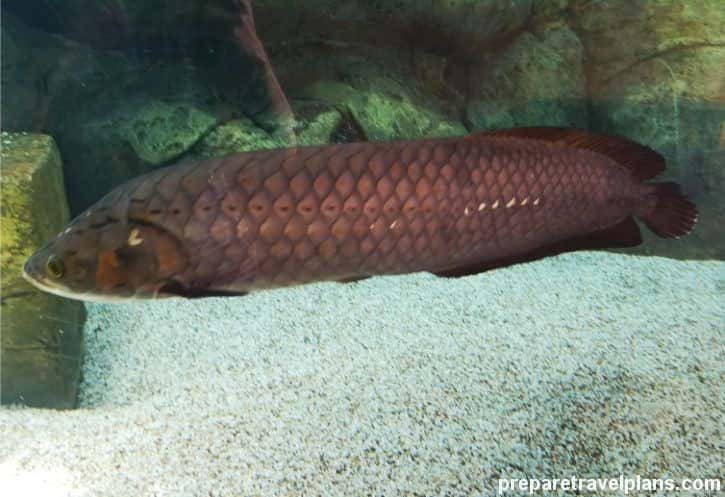 Often feeding on smaller particles, the African Arowana is one of the most unique and challenging fishes to pet. They have an elongated body with an air-breathing body part that allows them to survive waters with limited oxygen. And one feature that separates them from other fishes is their large yet almost proportionate scales.
3. Nile Perch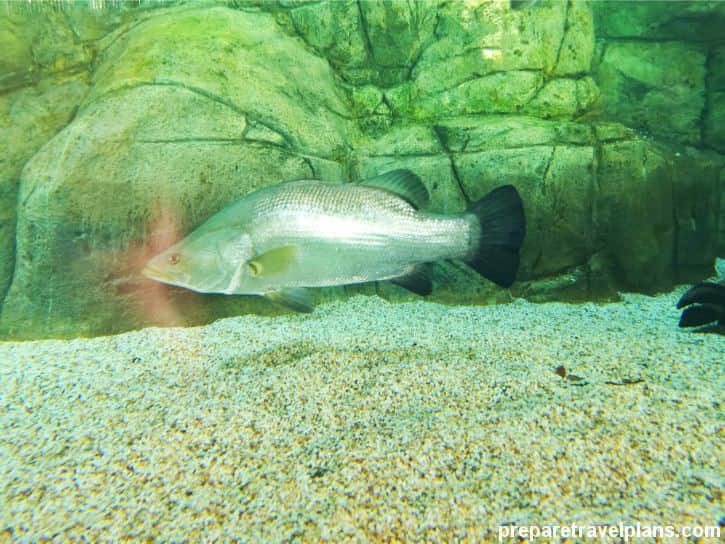 A valued catch for most fishermen, Nile Perch is a freshwater fish that loves warmer water. These powerful and versatile fishes eat various creatures, including fishes, insects, mollusks, and sometimes smaller perch too. Because of their size that could go up to 6 feet and around 226 kgs, they are very dominant predators.
Congo River
---
African Dwarf Crocodile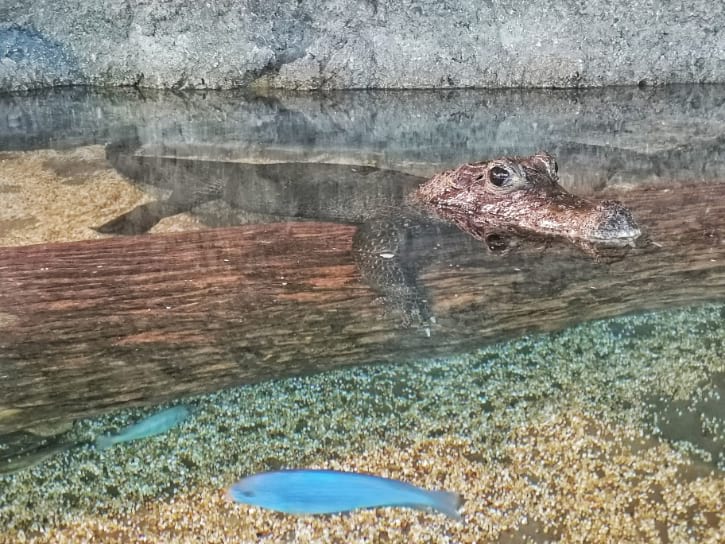 If you are not quite ready to see big, commanding crocodiles, you might want to start with the little ones. The African Dwarf Crocodiles grow up to 5 ft. long, making them one of the smallest crocodilians in the world. They have a small, bony structure that allows them to climb easily on lower tree branches.
Mississippi River
---
Alligator Gar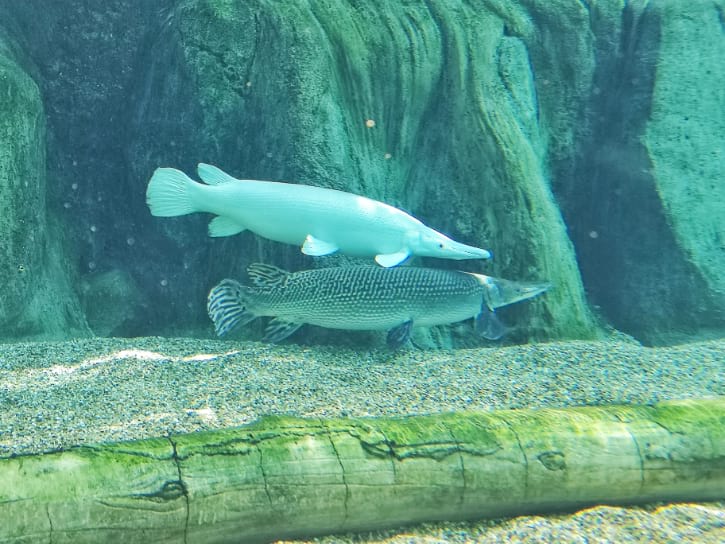 Featuring both features of an alligator and a fish, the Alligator Gars have really long nose and sharp teeth. These large fish species are as ancient as the dinosaurs, with fossils noted from 215 million years ago. Accordingly, Alligator Gars are considered as one of the largest and longest-living freshwater fishes in the world.
Yangtze River
---
1. Sturgeon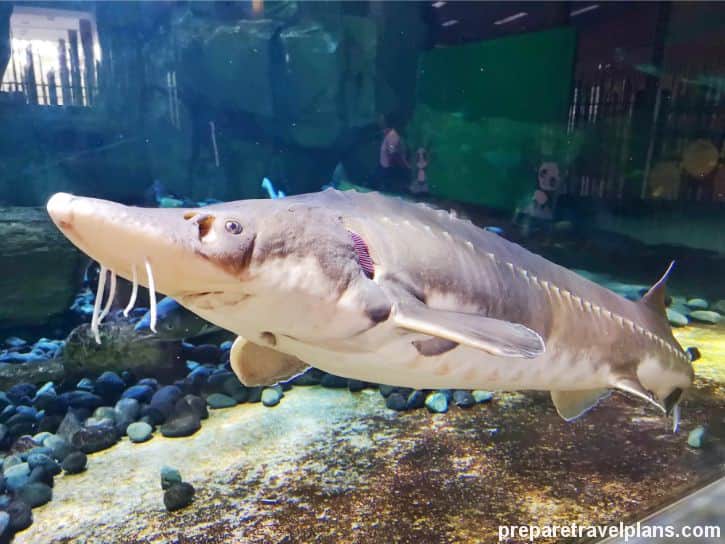 Living in the ocean as well as in freshwater, Sturgeon fishes are prehistoric species with an early fossil record. They habitually live in rivers, coastlines, and lakes and can easily be seen with their sharp-edge body and long snout. Sturgeons are well-loved because of their flesh, which is mostly traded fresh, smoked, and sometimes pickled.
2. Yangtze Alligator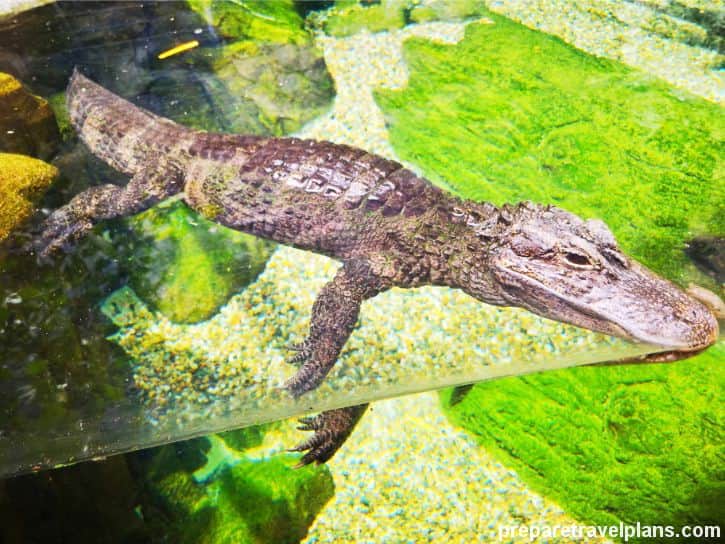 Yangtze Alligators are smaller compared to most American alligators, though they have their own distinct features. These secretive alligators appear to be on a full-body suit with their rock-like body structure. You can either find the Yangtze Alligators swimming in the water or spending their time hiding around the rocks.
Reservoir Cruise
---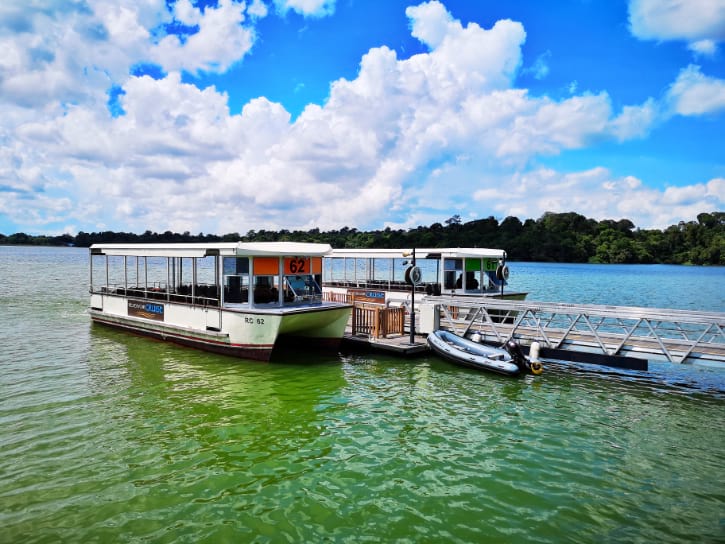 Cruise Ride: Free
In between animal encounters and interactive shows, you can squeeze in the 15-minute Reservoir Cruise. Enjoy this scenic water journey with your family and friends.
It is a wheelchair-friendly attraction suitable for all ages. Conveniently, it can cater up to 40 persons in one trip.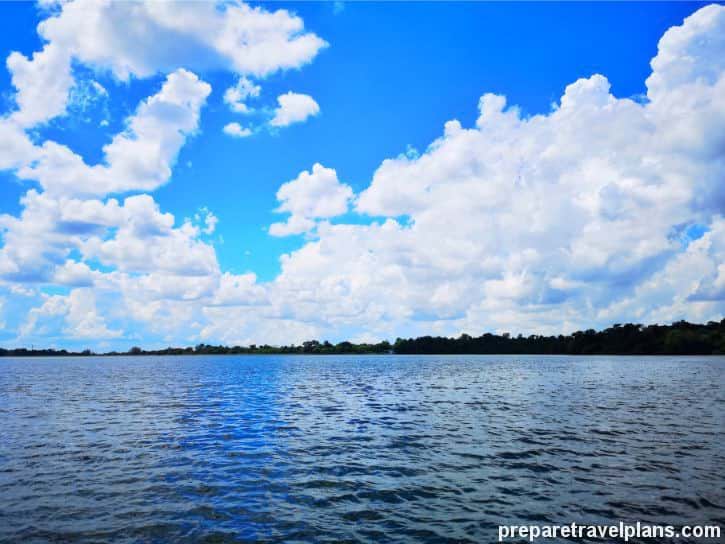 Fall in love with nature even more as the boat sails around the Seletar reservoir. Breathe in the relaxing air and take photos of the picturesque landscapes surrounding you. The last schedule for this cruise is at 6 PM daily.
What Animal Show You Can See at River Safari
---
Once Upon A River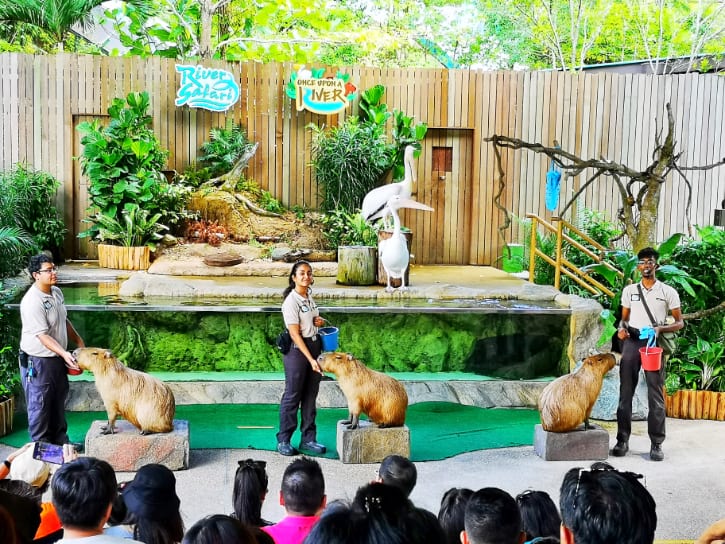 Monday to Friday:
11:30 AM and 4:30 PM
Saturday to Sunday and Public Holidays:
11:30 AM, 2:30 PM and 4:30 PM
Enter this fun-filled animal presentation that features a lot of animals taking shelter in the River Safari park. Through this 20-minute interactive show, you'll gain valuable knowledge about various species and possibly get more up close with them.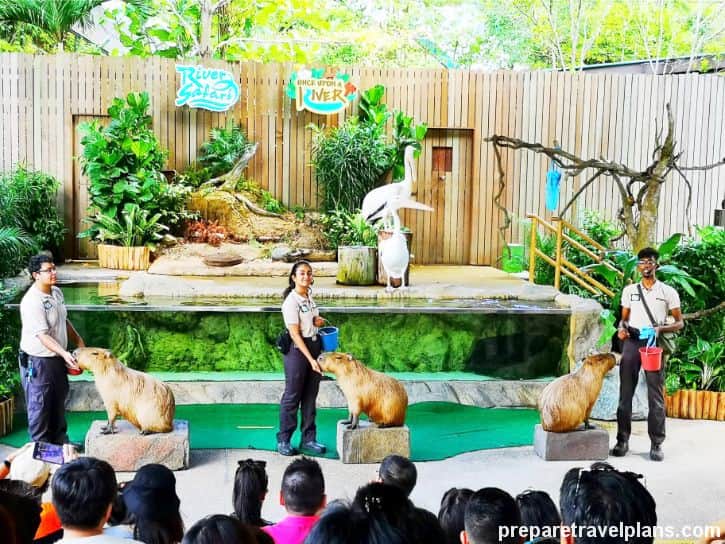 Laugh together with the crowd as the adorable capybaras steal the show with their charming eating skills. More than that, you can get a rare opportunity to feed them after the show!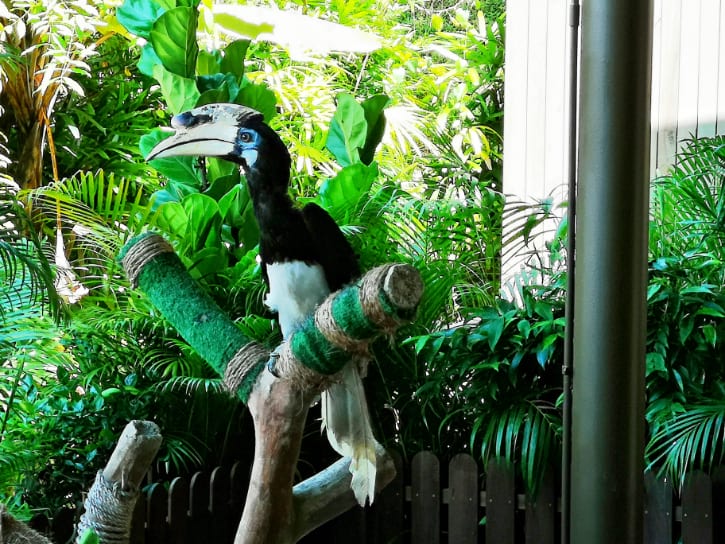 The hornbills are also on the spotlight as they prove their intelligence to the crowd of tourists. Other animals that showcase their charms are the pelicans, ball python, and hedgehog.
And since the show follows the first-come, first-served rule, you might want to include this show in your priorities.
How to Go to River Safari Singapore by MRT and Bus
---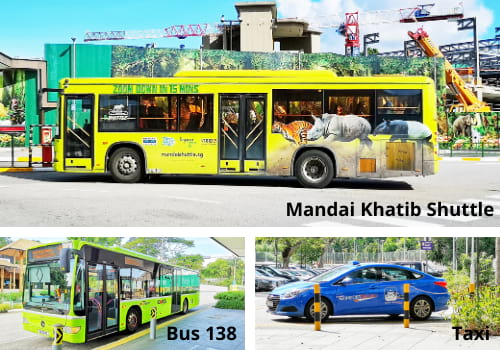 Have you decided to go to River Safari Singapore? If yes, you should know the transportation going back and forth to this famous attraction.
First and foremost, be it known that there is no MRT Station near to River Safari Singapore. But there's nothing to feel sad because you can easily reach River Safari by train then bus.
Know more about going to River Safari via MRT Train and then bus through my Singapore Zoo article. Here, you will get specific directions as well as learn that River Safari is just beside the Singapore Zoo.
Check out the quick guide below to have an idea of how to get to River Safari Singapore.
Option 1: Khatib MRT Station + Mandai Khatib Shuttle Bus (The Best and Easy Way)
Board the North South Line to Khatib MRT Station.
Go out the Exit A of Khatib MRT Station.
After that, take the Mandai Khatib Shuttle Bus to River Safari Singapore.
When arrived the destination, follow the direction boards for River Safari. It's just a 1 or 2-minute walk to River Safari.
Operating Hours:
➢ 8:00 AM to 5:20 PM & 7:40 PM to 10:20 PM (Every 20 minutes)
➢ 5:20 PM to 7:40 PM (Every 10 to 20 minutes)
Travel time:
➢ Around 15 minutes
Bus Fare:
➢ SGD $1
*The Mandai Khatib Shuttle Bus only accept EZ-link or NETS FlashPay Card without accepting Cash.
Option 2: Ang Mo Kio MRT Station + Bus 138
Catch the North South Line to Ang Mo Kio MRT Station.
You should walk out the Exit C of Ang Mo Kio MRT Station for Ang Mo Kio Bus Interchange.
Board the Bus 138 at Ang Mo Kio Bus Interchange to River Safari Singapore.
Once arrived the destination, take a short walk to River Safari in 1 or 2 minutes. Just follow the signposts for River Safari.
Operating Hours:
➢ 6:30 AM to 8:30 AM (Every 10 to 11 minutes)
➢ 8:31 AM to 7:00 PM (Every 8 to 11 minutes)
➢ 7:01 PM to 11:45 PM (Every 8 to 12 minutes)
Travel time:
➢ Around 39 minutes
Bus Fare:
➢ SGD $1.55 (Pay by EZ-link or NETS FlashPay Card)
➢ SGD $2.30 (Pay by Cash)
*Accept Cash/ EZ-Link Card/ NETS FlashPay Card
Conclusion
---
There's so much to love at River Safari Singapore, making it a must-see attraction in the country. It's a highly entertaining river park that has all sorts of animals you can ever think of.
The attractions are not just limited to wildlife tours but also include interactive show and scenic boat rides. All in all, River Safari Singapore is a worthy tourist spot that deserves a visit!
And if you're planning to visit River Safari sooner, get your tickets online and enjoy amazing discounts. Plus, booking online makes everything more convenient as you skip the long queues at the ticketing counters.
There's no need to line up because you can easily redeem your tickets from one of the park's kiosks. And if you're still undecided whether to book online or not, check the link below. You'll see the massive number of travellers who opted to book their River Safari tickets online to avail their discounted price.
Thank you for reading my River Safari Singapore review and I sincerely appreciate the time you spend here. I hope you gain significant knowledge as well as valuable tips before you begin your River Safari trip.
Bookmark this page so you can use it for future reference and share this with your family and friends.
You can repost this through different social media apps like Pinterest, Twitter, and Facebook, Gmail and WhatsApp to help more travellers.
Once again, thank you and I hope you'll have an enjoyable and memorable moments at River Safari Singapore! 🙂
Related Posts
---