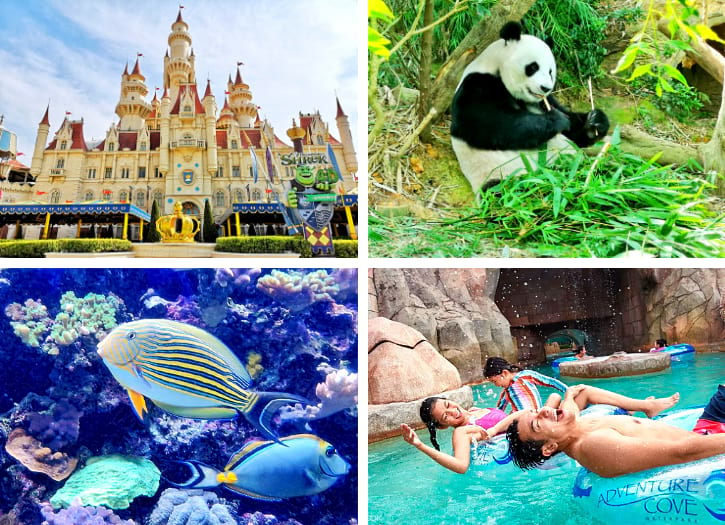 Go on an entertaining and exciting adventure at some of the best theme parks in Singapore. The choices here are quite extensive, so nothing to worry about!
These range from unique theme parks to outdoor water parks that cater to all ages. And of course, you won't get disappointed with the options because these are surely top-notch.
It will either relive your precious childhood memories or help you create a new set of electrifying experiences. So, if you are looking for fun places to visit in Singapore, don't think twice and get started with these places.
Now, it's time to unlock the most popular Singapore's theme parks through the list below. This will definitely make your trip more memorable and less stressful. 🙂
1. Universal Studios Singapore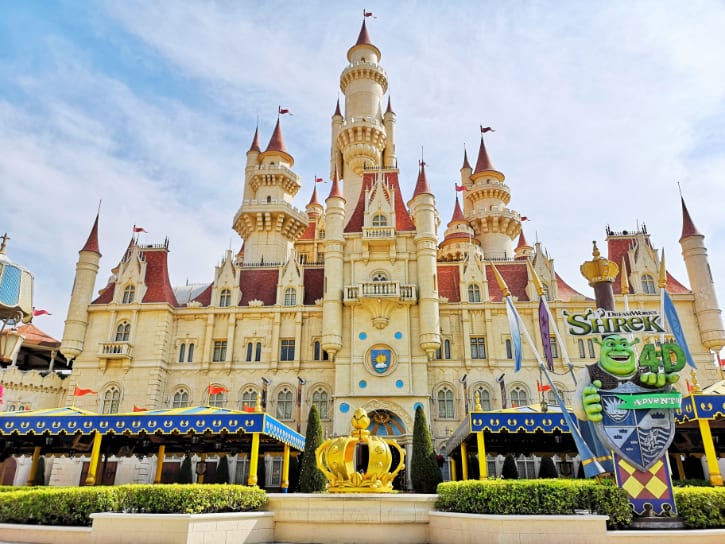 The Universal Studios Singapore is no doubt every theme park lover's dream. It brings out the best kinds of rides that guarantee you a fun-filled day. So, if you're still unsure of what to do in Sentosa, this is a great place to commence your adventure.
Some of the must-try rides are TRANSFORMERS The Ride: The Ultimate 3D Battle, Jurassic Park Rapids Adventure, Battlestar Galactica: HUMAN vs. CYLON, and Revenge of the Mummy. See more details in my article on 15 best Universal Studios Singapore rides.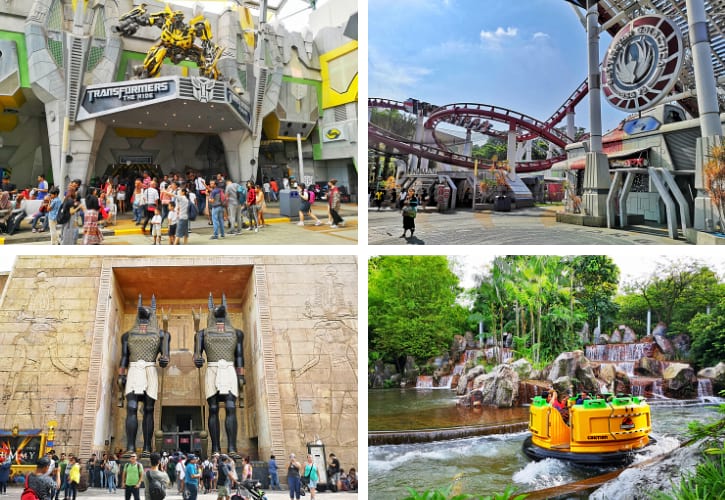 And there's more to Universal Studios Singapore than its adventure and non-adventure rides. It presents a whole lot of entertainment selection through its amazing shows and spectacular street performances.
That being said, this place is not just for the thrill-seekers; it's a spot for anyone who wants to have fun. Certainly, this incredible attraction deserves the number one spot in the list of the most famous theme parks in the country.
Opening Hours:
10:00 AM to 10:00 PM
Money Saving Tips:
Book Universal Studios Singapore Tickets Online
Address:
Universal Studios Singapore, 8 Sentosa Gateway, 098269
2. Canopy Park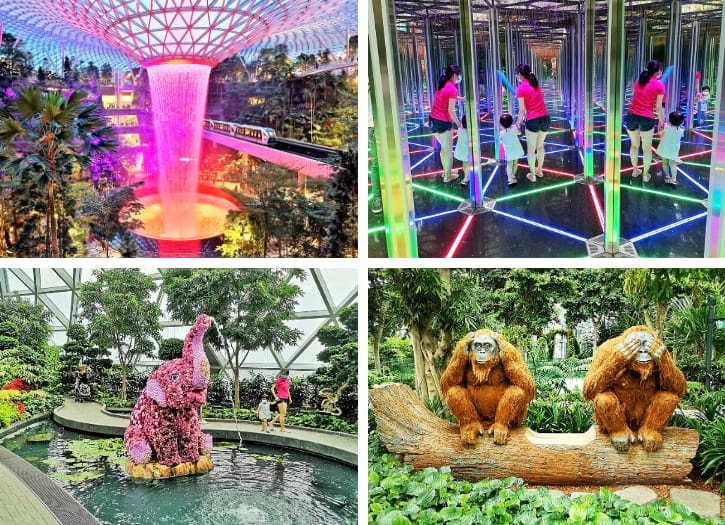 Canopy Park is one of Singapore's beautiful theme parks with plenty of scenic wonders and fun activities. Here, you can explore the picturesque Petal Garden and track down the lush Topiary Walk. If you want extra adventure, don't miss the maze challenges.
There are also other must-try experiences like the Manulife Sky Nets, Foggy Bowls, and Discovery Slides. Find out more details in my complete guide to Canopy Park.
On top of that, it is strategically located at Jewel Changi Airport. I highly recommend this park to anyone travelling the country. Make sure to include this in your Singapore itinerary so you'll have a memorable visit.
3. Singapore Zoo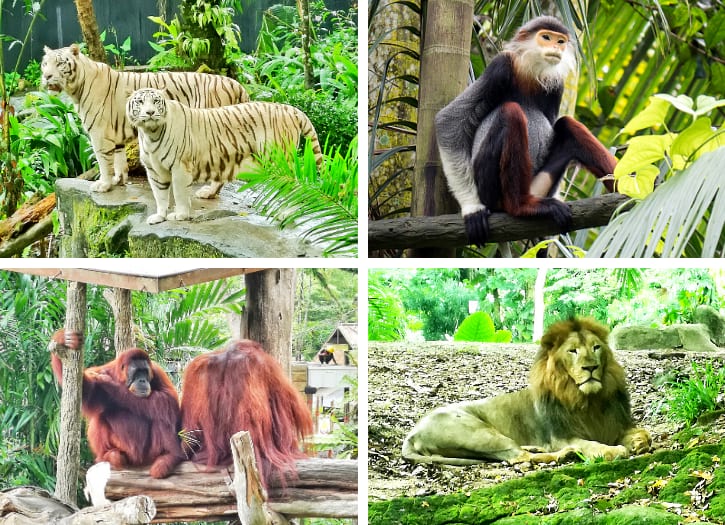 The Singapore Zoo is surely an animal lover's paradise. Gear up for an immersive adventure across all 12 animal zones that replicate different habitats around the globe.
If you're a fan of reptiles and amphibians, you have three must-visit spots―Reptile Garden, RepTopia, and Tortoise Shell-ter. For a peep of the marsupials like kangaroos and wallabies, make your way to Australasia.
Other exciting habitats to explore include Fragile Forest, Primate Kingdom, Wild Africa, Rainforest KidzWorld, and many more. There are also several shows and activities to watch out for in this animal theme park in Singapore.
Simply check out my detailed guide on getting to Singapore Zoo and review to get more ideas on the beautiful animals you'll meet over there.
Opening Hours:
8:30 AM to 6:00 PM
Money Saving Tips:
Book Singapore Zoo Tickets Online
Address:
Singapore Zoo, 80 Mandai Lake Road, Singapore 729826
4. Adventure Cove Waterpark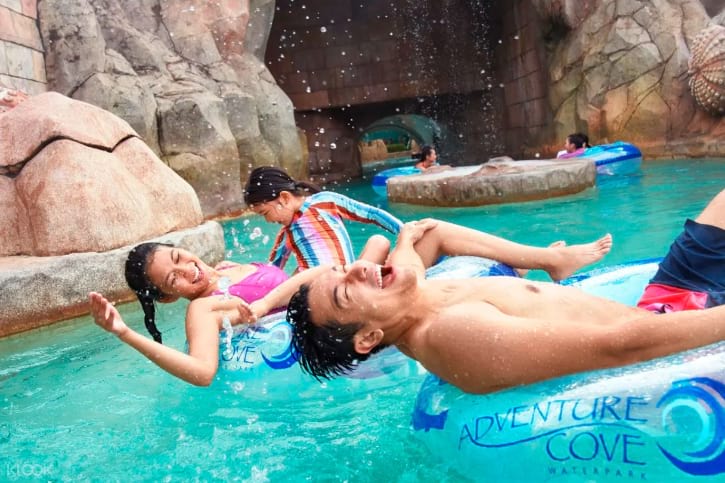 Adventure Cove Waterpark wouldn't be part of the top-rated Singapore water parks for nothing! It uncaps a collection of outdoor charms for all ages, from stimulating rides to relaxing spots.
Discover the multitude of exciting activities that will keep you busy all day long. Kick off with the high-speed slides such as the Dueling Racer, Pipeline Plunge, and Riptide Rocket.
If you want extra flush of excitement, try the Whirlpool Washout, Tidal Twister, and Spiral Washout.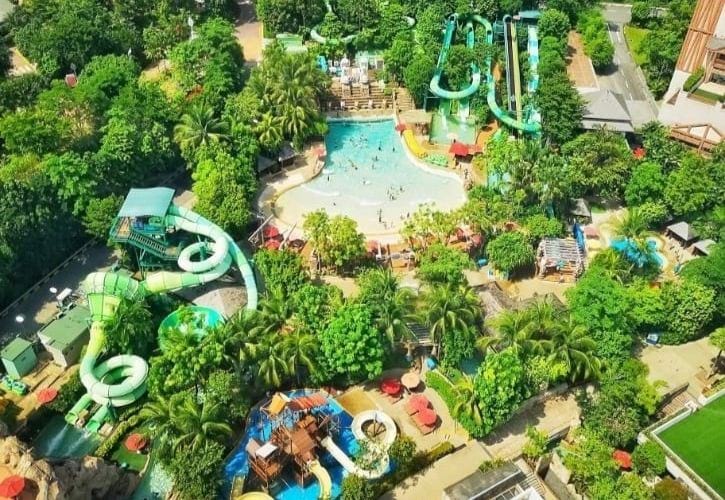 And of course, you shouldn't miss the Adventure River, where you will go through a series of nature scenes while floating around the water. For those who just want to chill out, there are several cabanas available for rent.
Opening Hours:
10:00 AM to 6:00 PM
Money Saving Tips:
Book Adventure Cove Waterpark Tickets Online
Address:
Adventure Cove Waterpark, 8 Sentosa Gateway, 098269
5. Haw Par Villa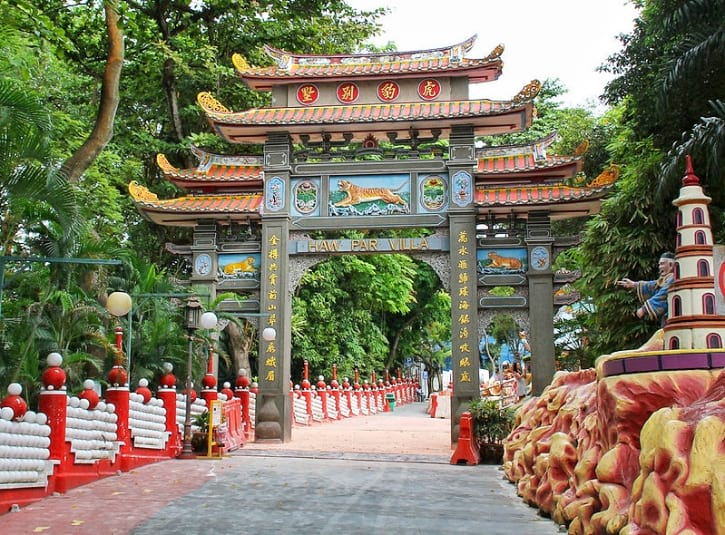 Haw Par Villa parades the beauty of Chinese folklore through its assortment of vibrant statues and cultural pieces. Within this vast Singapore outdoor park that stretches up to 8.5 hectares, you get to journey through the Asian heritage, along with its religious beliefs and traditions.
Established in 1937 as "Tiger Balm Garden", this Singapore's art gallery is a lovely cultural spot for history lovers and art enthusiasts.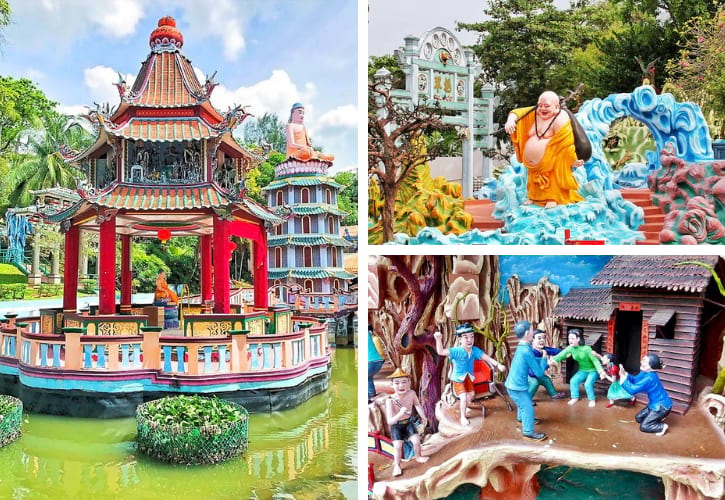 You can personally explore the gorgeous landscape filled with iconic Chinese works. Or if you want a more interactive adventure, you can avail of their guided tours.
There are two tours on offer―Finding your Tao in Haw Par Villa (day tour) and Journeys to Hell (twilight tour). The former is recommended for visitors who want to know more about Chinese culture and folklore. The latter, on the other hand, is suggested for those with a penchant for dioramas that represent that Ten Courts of Hell.
Opening Hours:
9:00 AM to 7:00 PM
Address:
262 Pasir Panjang Road, Singapore 118628
6. River Safari Singapore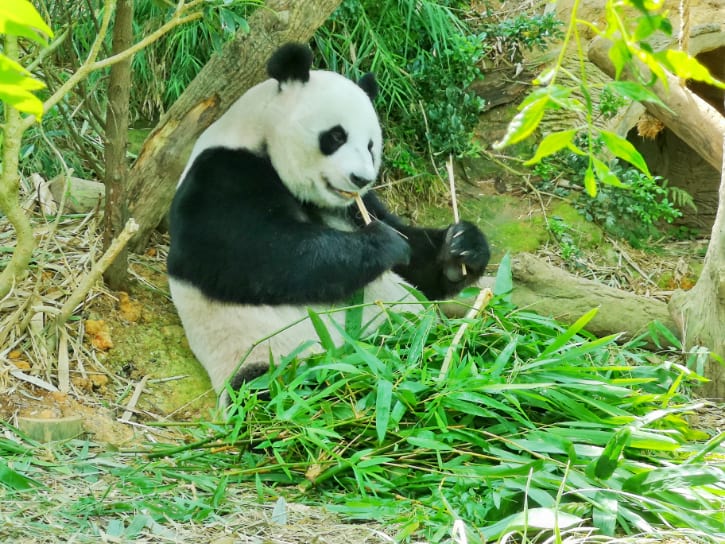 River Safari isn't your typical animal park. In fact, it's a unique river-themed wildlife park in Singapore that provides a variety of river zones for different kinds of animals.
First on the list is the Amazon Flooded Forest, a spot made for manatees, river otters, electric eels, arapaima, and other fishes. After, you can head to the Yangtze River and meet the adorable pandas named Kai Kai and Jia Jia.
Next stop is the Amazon River Quest, which a spectacular water voyage that gives you a glimpse of the giant anteater, Brazilian tapir, and jaguar. And lastly, cap off your adventure at the park's viewing deck.
For more information and other tips about this one-of-a-kind attraction, simply refer to my review of River Safari.
Opening Hours:
10:00 AM to 7:00 PM
Money Saving Tips:
Book River Safari Tickets Online
Address:
River Safari, 80 Mandai Lake Road, Singapore 729826
7. S.E.A. Aquarium Singapore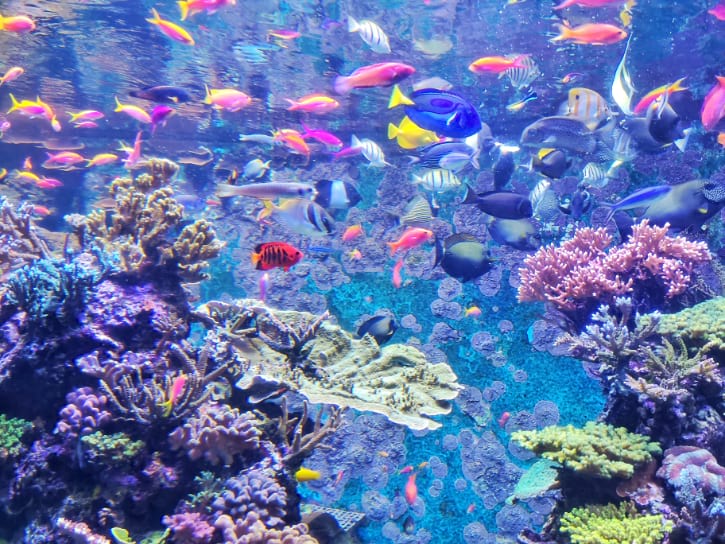 An unforgettable journey awaits you at Singapore's aquatic theme park―the S.E.A. Aquarium.
This colossal oceanarium has a lavish collection of marine species, making it one of the world's largest aquarium. Learn more about the underwater realm through the spectacular habitats loaded with all sorts of sea creatures.
For example, there's a zone specially allotted for the ocean's scariest predators―sharks. Or if you want a meaningful encounter with some jellyfish and sea stars, march your way to the Sea Jellies Habitat and Touch Pool. And, you can also check out the adorable fishes and colourful reefs at the Live Coral Habitat.
To guide you on how to get to the place via MRT, you can look up to my recent SEA Aquarium Singapore review article. This will also provide you with the information about the ocean creatures you will see.
Opening Hours:
10:00 AM to 7:00 PM
Money Saving Tips:
Book S.E.A. Aquarium Tickets Online
Address:
S.E.A. Aquarium, 8 Sentosa Gateway, Sentosa Island, Singapore 098269
8. Jurong Bird Park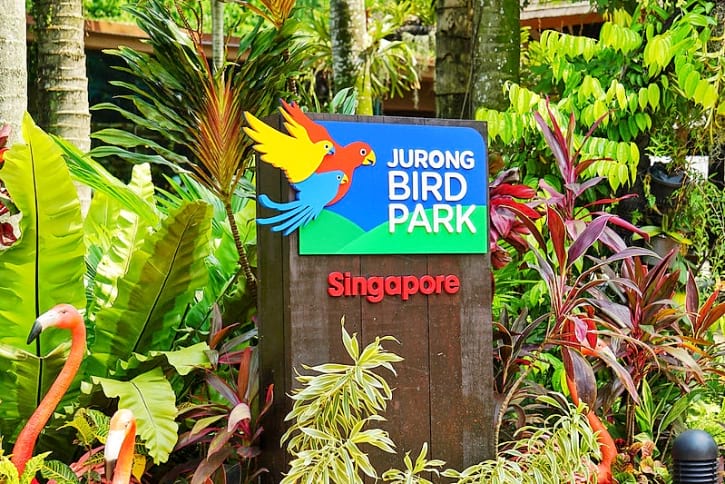 Singapore's Jurong Bird Park is a paradise for bird lovers. With over 10 animal zones, you get to see a wide array of bird species.
Birds of Prey gathers all raptors, or those that primarily feed on smaller vertebrates. These include powerful birds such as the African white-backed vulture, the Marabou stork, and the Philippine eagle.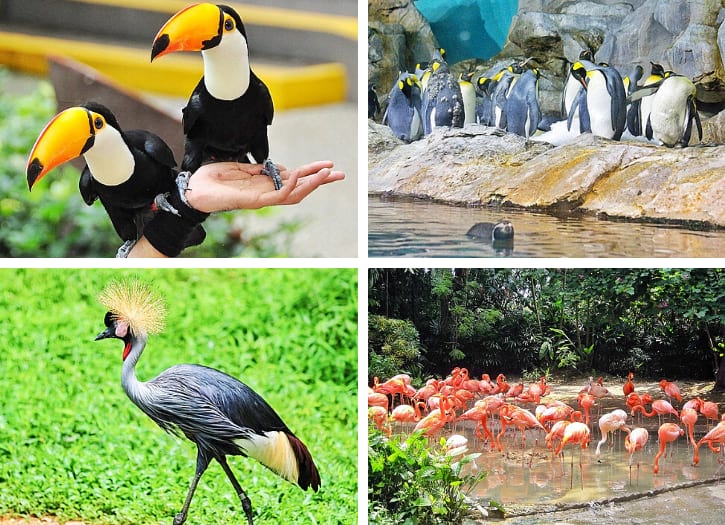 If you want to meet the ever-vibrant, long-neck birds, these can be found at the Flamingo Pool and Flamingo Lake. There's also the Penguin Coast that shelters different penguin kinds like Humboldt, macaroni, rockhopper, and of course, the king penguin.
Continue with your trip and explore other sections like Parrot Paradise, Hornbills and Toucans, Pelican Cove, and Waterfall Aviary. On top of the amazing exhibits, there are a lot of interactive shows.
Plus, the park has its own breeding and research centre that educates you on the incubation process and nursery guidelines of the birds.
Opening Hours:
8:30 AM to 6:00 PM
Money Saving Tips:
Book Jurong Bird Park Tickets Online
Address:
2 Jurong Hill, Singapore 628925
9. HydroDash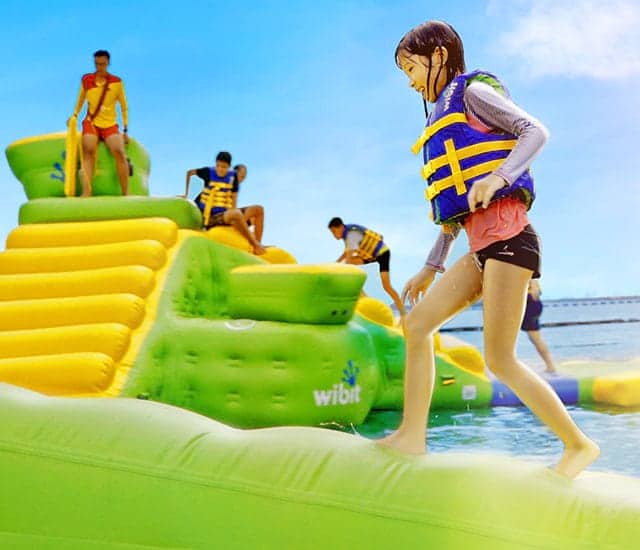 HydroDash is a new water park in Singapore that is surely worth the mention. Set in Palawan Beach, this inflatable playground is such a perfect treat for thrill-seekers, both young and old. Even the vibrant colors add more excitement to the atmosphere!
Climb the walls, try the monkey bars, enjoy the slides, and run like there's no tomorrow. The obstacle course is remarkably designed for an action-packed holiday.
If you want a wilder quest, unleash your competitive side and challenge your family members and friends. Complete the obstacle course without tumbling down or falling into the water!
Opening Hours:
Monday to Friday
12:00 PM to 6:00 PM
Saturday and Sunday
10:00 AM to 2:00 PM
3:00 PM to 7:00 PM
Address:
HydroDash, Palawan Beach, 098498
10. Wild Wild Wet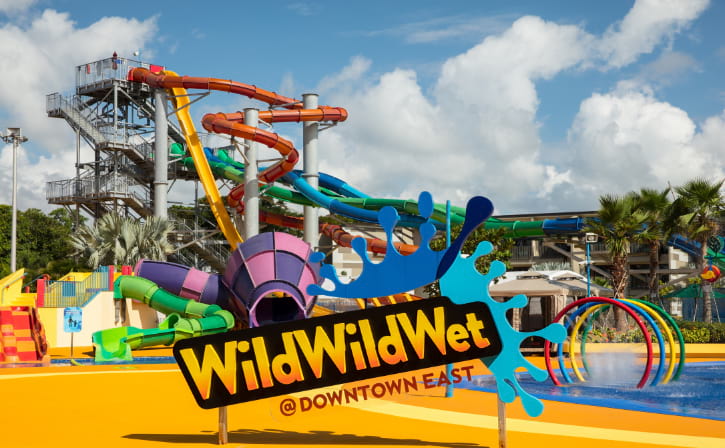 Wild Wild Wet is like a vibrant playground with a twist! Instead of the typical slides and easy rides, this Singapore's water amusement park comes with a whole lot of kick and entertainment.
Fuel your energy by taking either the Slide Up or the Royal Flush. Or if you want to challenge yourself, aim for the Free Fall and Torpedo.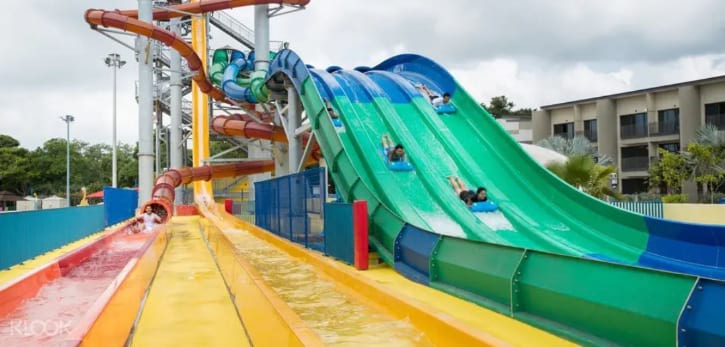 Challenge your friends as you glide your way through the Kracken Racers. For a dash of adrenaline, try the Vortex and complete all its electrifying twists and turns.
For in-betweens, you can just relax at one of the cabanas while letting your kids play at Professor's Playground. They can also have the time of their lives at Splash Play and enjoy the fun water sprays and jets.
If you're bringing a toddler, Yippie is such a warm, lovely spot packed with play essentials.
Opening Hours:
12:00 PM to 6:00 PM
*Closed on Tuesday and Wednesday
Money Saving Tips:
Book Wild Wild Wet Tickets Online
Address:
1 Pasir Ris Close, Singapore 519599
11. Pororo Park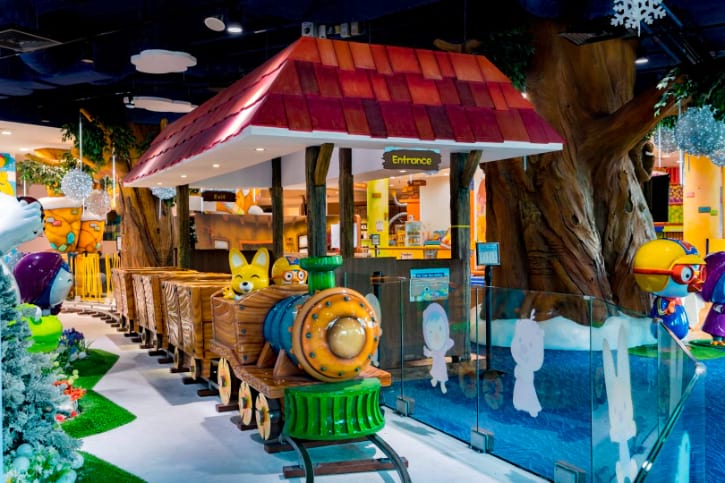 Pororo Park is another crowd-favorite, especially for families with kids. This indoor theme park in Singapore brings into life a variety of adorable rides and attractions for an endless, charming adventure.
The Hinoki Pit, for instance, is one of the best spots to practice your child's sensory skills. Another one is the Paroro's House, which is a life-sized replica of the little penguin's cute home.
There's also the Pororo Train, which is an amusing ride for your children. And if you want to personally meet Pororo and his adorable friends, just head to Tong Tong's Little Theatre.
Opening Hours:
10:30 AM to 6:30 PM
Money Saving Tips:
Book Pororo Park Tickets Online
Address:
6 Raffles Boulevard, Marina Square #02-29, Singapore 039594
12. Night Safari Singapore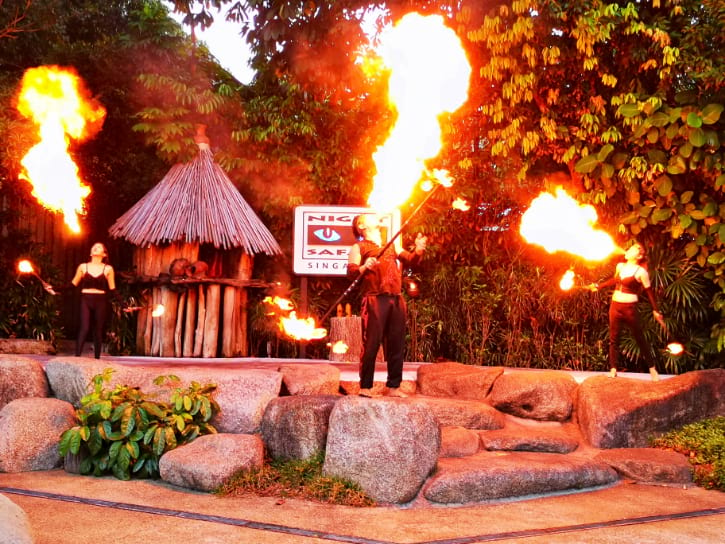 Planning on where to go in Singapore at night? Get on a rare meet-up with some wild animals at Night Safari Singapore. Unlike traditional animal parks that open at day time, this one rolls out a rather special animal encounter as they welcome visitors at night.
This means you will come in contact with various species when the sun is not on its peak. Surely, this makes your visit more extraordinary. To maximize your visit, make sure to scan through my complete Night Safari review and get tips for your own planning.
There are rails that shelter different sets of animals, including Fishing Cat, Leopard, East Lodge, and Wallaby. You can just pick your preferred path to follow or pursue all trails so you won't have regrets!
Opening Hours:
7:00 PM to 11:00 PM
Money Saving Tips:
Book Night Safari Tickets Online
Address:
Night Safari, 80 Mandai Lake Road, Singapore 729826
Theme Parks in Singapore (Summary)
Best amusement parks for fun lovers: Universal Studios Singapore (#1), Canopy Park (#2), Pororo Park (#11)
Best water play spots for everyone: Adventure Cove Waterpark (#4), HydroDash (#9), Wild Wild Wet (#10)
Best places for animal lovers: Singapore Zoo (#3), River Safari Singapore (#6), S.E.A. Aquarium Singapore (#7), Jurong Bird Park (#8), Night Safari Singapore (#12)
Best spot for history buff: Haw Par Villa (#5)
Related Posts