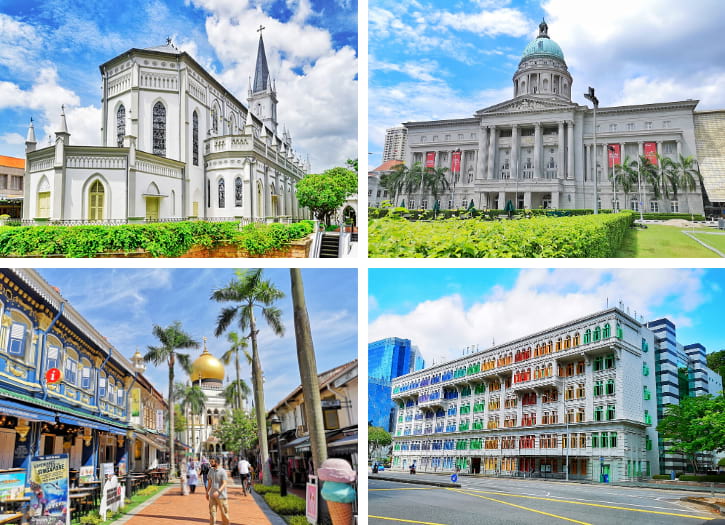 If you've got an eye for history, explore the most beautiful historical places in Singapore. There are a lot of unique fragments from the past that are still visible up to now. And for many years, these attractions continue to charm people from all walks of life.
See the ancient traces of various communities including Malays, Indians, and Chinese. These cultural bits are scattered in memorial sites, ancient buildings, museums and temples. With so many places to visit in Singapore, one day is not enough to discover all these unique attractions.
So, if you want to make the most out of your holiday, here's a rundown of Singapore's best historical sites. 🙂
Picturesque Historical Spots in Singapore
Singapore shelters a wide range of picturesque historical places that deserve worldwide recognition. These take form in galleries, older structures, traditional houses, and a lot more. So, let's start uncovering the most scenic spots in Singapore with a rich history.
1. CHIJMES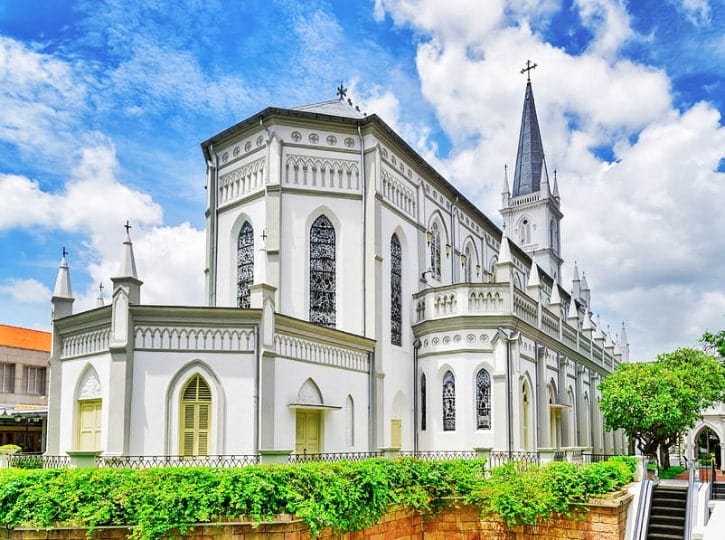 Set in the heart of the city, CHIJMES is a magnificent landmark that was founded in the 18th century. It was once a town convent ― Convent of the Holy Infant Jesus Middle Education School (CHIJMES). This means that its current name is actually the abbreviation of its previous title.
For years, it has transformed into a popular cultural venue with lots of gastronomic options. At night time, you can catch its vibrant food scene or simply enjoy its cosy surrounding.
And of course, CHIJMES' brilliant architectural design is still as fascinating as ever. It truly stands out in beauty and style. No wonder it's a popular choice when it comes to the best historical places in Singapore.
Opening Hours:
24 Hours
Access:
Bras Basah MRT Station, Exit B/ City Hall MRT Station, Exit D

Address:
30 Victoria Street, Singapore 187996
2. National Gallery Singapore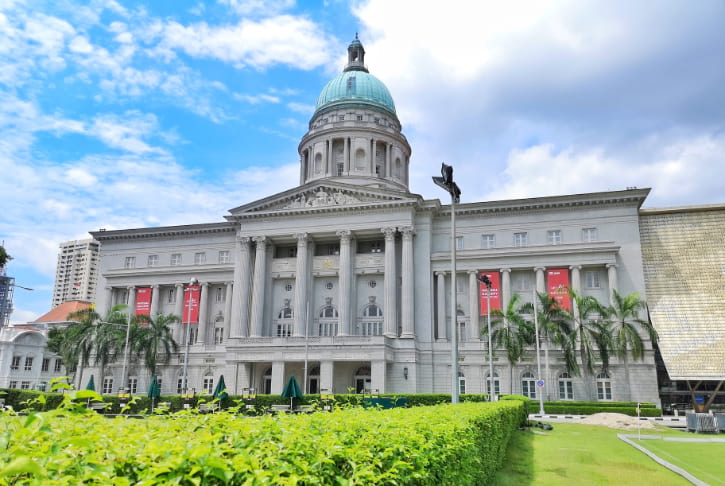 There are a lot of historical museums in Singapore but the National Gallery Singapore is one of a kind. It was opened in 2015 after converting the former Supreme Court and City Hall. With the two structures combined, it shelters the biggest modern art collection in Southeast Asia.
At present, there are more than 8,000 artworks on display. These are not just from Singapore but also from other countries. Uncover the works of local artists such as Liu Kang, Chen Chong Swee, and Georgette Chen. And don't forget to discover the art pieces from international artists all over the world.
Aside from the impressive exhibits, there are interactive activities for all ages. Surely, this is a perfect avenue for arts and history lovers. It's a great way to learn more about the country's legacy together with its neighboring nations.
Opening Hours:
10:00 AM – 7:00 PM
Access:
City Hall MRT Station, Exit B
Address:
1 St Andrew's Road, Singapore 178957
3. Old Hill Street Police Station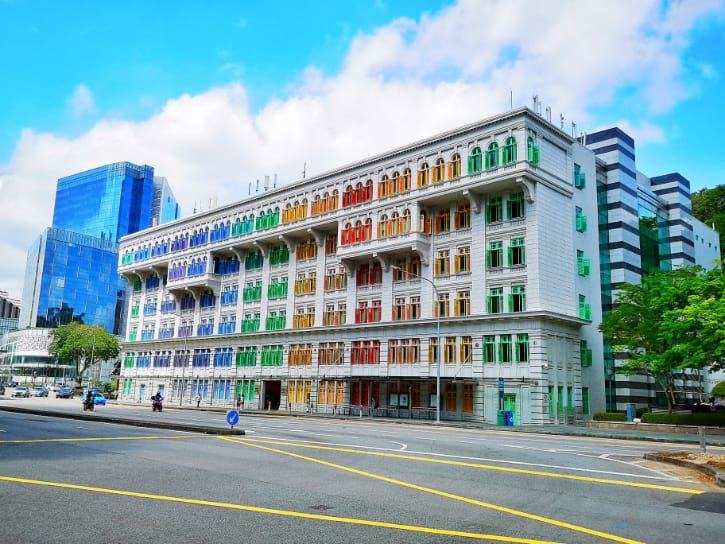 The Old Hill Street Police Station is more than just a vibrant visual heritage. Located very near Singapore's Clarke Quay, this colorful structure holds a prominent history. It was built in 1934, serving as the former station of the Singapore Police Force. It was also the country's first jail site.
Capture the beautiful blend of blue, green, red, and yellow from this 6-storey building. There are 927 windows, with the same level of colors from the first up to the fourth floor. In contrast, the fifth and sixth floors have deeper colors to highlight the upper balconies.
With its bright fuse of colors, you simply can't miss this historical landmark. It's a picturesque backdrop for your photos. So, if you're looking for a vivid landmark within the central district, this is a famous option.
Opening Hours:
24 Hours
Access:
Clarke Quay MRT Station, Exit E
Address:
140 Hill Street, Singapore 179369
4. Peranakan Houses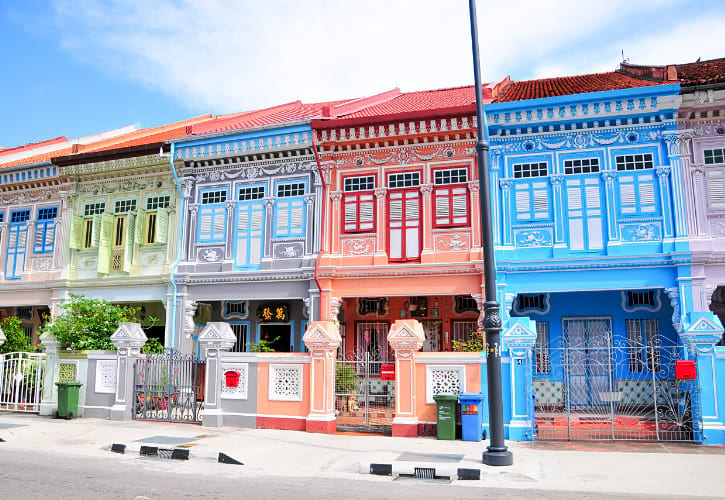 These pastel-colored structures aren't just created to catch your attention. Peranakan Houses are part of Singapore's rich historical places.
The Peranakan are Chinese descendants who migrated to Singapore in the 15th century. This area, in particular, was once a vast expanse for coconut plantations. Centuries later, it has become a residential suburb.
Stroll along the Joo Chiat Road and get a glimpse of the lifestyle of the ancient communities. Each of these historic houses highlights the distinct culture of the Peranakan people.
At present, the Peranakan Houses are now converted into homes, hotels, and shops. But even with the transformation, it's hard to deny the cultural beauty of these ancient houses.
Access:
Take MRT to Dakota MRT Station and then catch the bus 33 to Peranakan Houses.

Address:
287 Joo Chiat Road, Singapore 427540
5. Civil Defence Heritage Gallery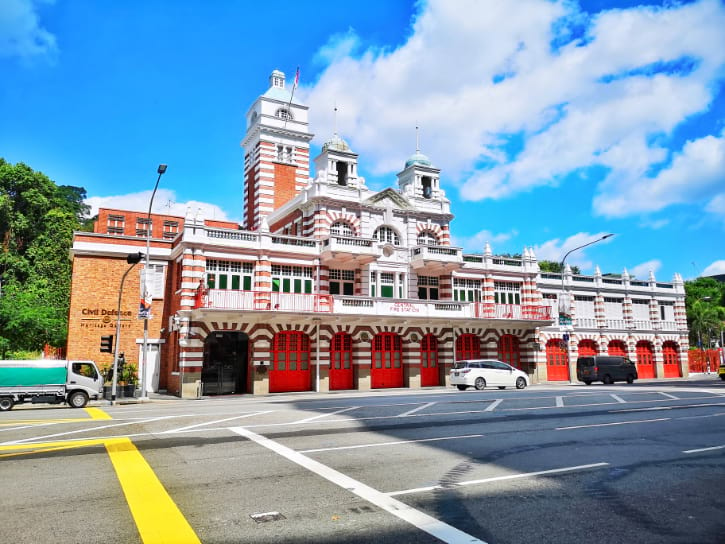 Civil Defence Heritage Gallery holds a splendid collection of fire trucks and other fire equipment. It is located in the Central Fire Station, with a history dating back to the 19th century.
Explore the ground floor and see the impressive exhibits of the fire department. Continue your way to the second floor for some visual and interactive activities. Here, you'll discover some historic rescue missions of former firemen of the country. There are also video presentations for different fire fighting techniques.
So, if you want to learn more about Singapore's firefighting history, this is the place to visit.  And the best part when visiting this museum? You can catch these galleries and demonstrations for free!
Opening Hours:
10:00 AM – 5:00 PM
*Closed on Monday
Access:
Clarke Quay MRT Station, Exit E
Address:
62 Hill Street, Singapore 179367
6. Tan Teng Niah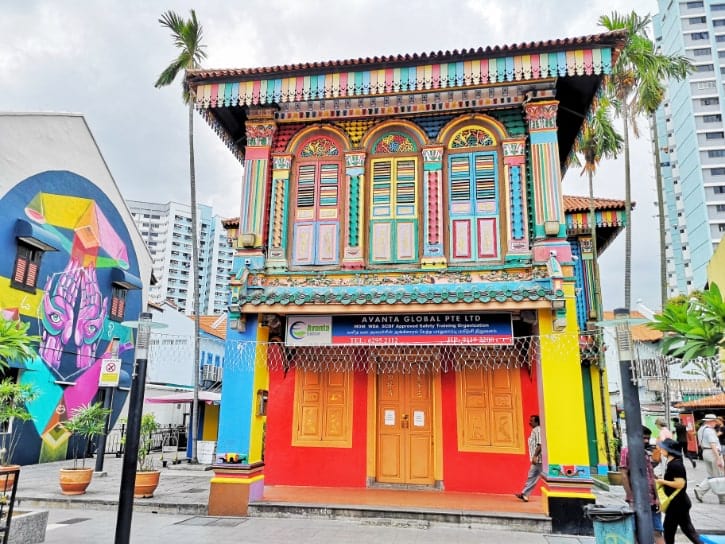 Located within the modern Kerbau Road, Tan Teng Niah is a cultural gem that deserves appreciation. It's one of the many residential villas that were built during the 19th century. It was named in honor of the local businessman who created the structure―Tan Teng Niah.
But unlike other houses, this beautiful 2-storey house stood the test of time. In fact, it is the last known Chinese Villa in the vicinity. So, if you're going over the list of best things to do in Little India, you shouldn't miss this one out.
Catch a glimpse of Chinese and Indian cultures through its architectural style. And don't forget to snap up the bright colors of Tan Teng Niah from afar.
Opening Hours:
24 Hours
Access:
Little India MRT Station, Exit E
Address:
37 Kerbau Road, Singapore 219168
7. Victoria Theatre and Concert Hall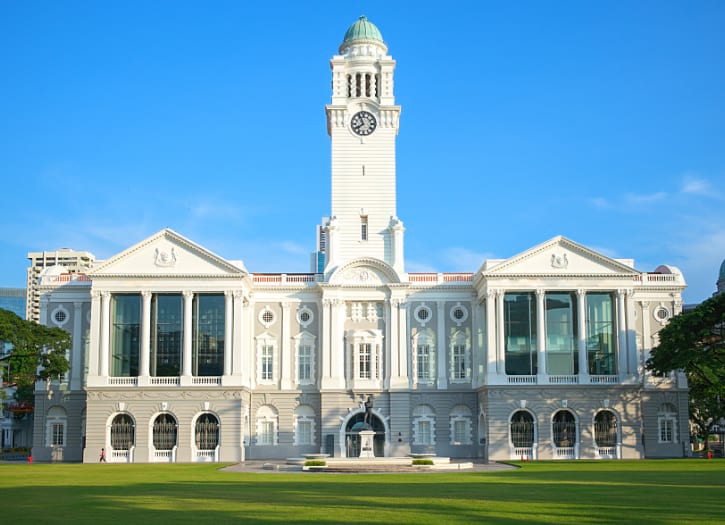 Victoria Theatre and Concert Hall is an architectural sensation that radiates sophistication. It was initially built during the 18th century with just one building. In 1909, another structure was added to complete the entire complex.
At present, this elegant building continues to amaze visitors with its elegant exteriors. Lay your eyes on the palace-like attraction that acts as a cultural hub for local and international artists.
There are over 600 seats in the cultural center and another 600 in the performance hall. Because of its vastness, it accommodates most of the country's theatrical plays.
So, if you've got a thing for cultural presentations and neoclassical styles, you should pop by this place. It's definitely a must-visit heritage centre in Singapore.
Opening Hours:
10:00 AM – 9:00 PM
Access:
Raffles Place MRT Station, Exit H
Address:
9 Empress Place, Singapore 179556
If you're in the middle of preparing for your Singapore holiday, don't forget to check out my
Singapore itinerary
.
Must-See Historical Religious Sites in Singapore
Singapore is not just loaded with attractive antique spots. It also rolls up a number of religious sites that are both beautiful and historic. And to give you a peek at these impressive yet sacred attractions, check out the list below.
8. St. Andrew's Cathedral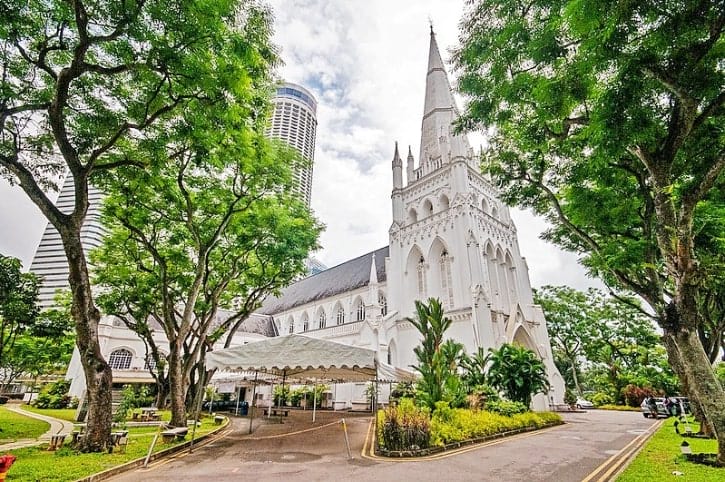 The St. Andrew's Cathedral is a historic treasure surrounded by modern structures. It existed since 1836, serving as the main cathedral of the Anglican Diocese in the county. Because of its significance, it is considered as one of Singapore's national monuments.
Another reason why it's very popular is because of its majestic facade. It's easy to get drawn to this beautiful landmark clothed in white and grey. And even if you're not an Anglican, you are still welcomed to visit the place and see its gorgeous designs.
Head inside the Anglican cathedral and you'll be amazed by its breath-taking shades of white and blue. Without a doubt, the interior of the cathedral is surely a work of art.
Opening Hours:
9:00 AM – 6:00 PM
Access:
City Hall MRT Station, Exit B
Address:
11 St Andrew's Road, Singapore 178959
9. Sultan Mosque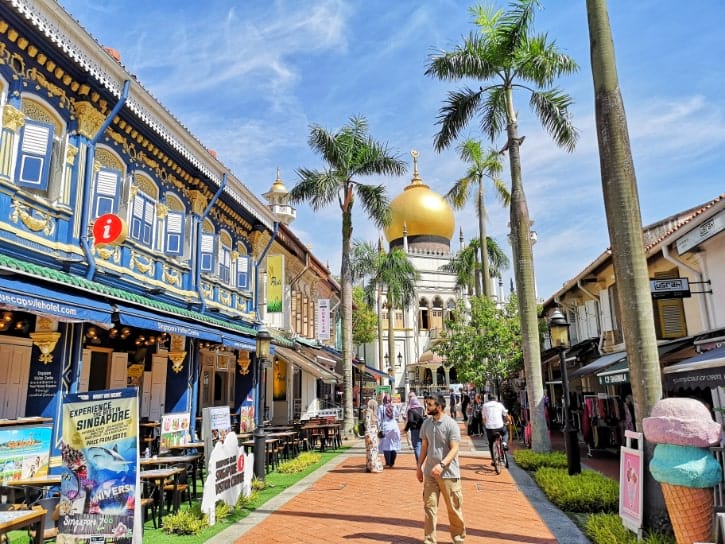 Sultan Mosque is a sacred site that easily turns heads because of its golden domes. Constructed in 1824, it was initially built for Singapore's first sultan―Sultan Hussein Shah. With that, it has become a part of Singapore's famous historical monuments.
Now, the mosque functions as the central point of the Muslim communities in the country. And distinctively, it embraces both Islamic and Indian traditions.
Aside from its historical relevance, it's well-recognized because of its eye-catching exterior. Gaze at the onion-shaped domes that are beautifully decorated with glass bottles from various Muslims.
So, if you're still figuring out what things to do in Bugis, this is an incredible option. You will never be disappointed with its majestic architectural designs.
Opening Hours:
Monday to Thursday
10:00 AM – 12:00 PM
2:00 PM – 4:00 PM
Friday
2:30 PM – 4:00 PM
Saturday
10:00 AM – 12:00 PM
2:00 PM – 4:00 PM
*Closed on Sunday and Public Holidays
Access:
Bugis MRT Station, Exit B
Address:
3 Muscat Street, Singapore 198833
10. Thian Hock Keng Temple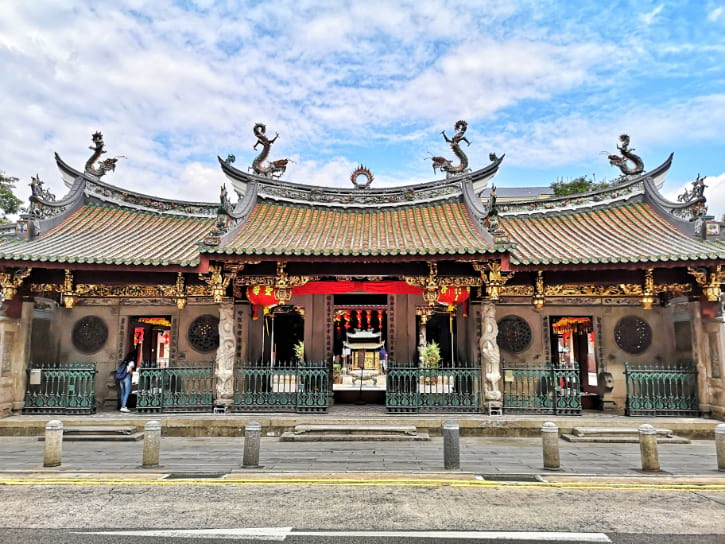 As the oldest Chinese temple in Singapore, a visit to Thian Hock Keng Temple is definitely a must. It's a cultural masterpiece that can be traced back to the 1800s. At that time, a group of seamen created the temple as a gift for their safe passage. It was in honor of the Chinese sea goddess, Mazu.
Explore this religious sanctuary that underscores the uniqueness of Chinese heritage. Aside from capturing the authentic Chinese culture, you can also pray inside the temple.
And if you still have time, make sure to dig into other attractions around the area. There are many best things to do in Chinatown that await your arrival.
Opening Hours:
7:30 AM – 5:30 PM
Access:
Telok Ayer MRT Station, Exit A
Address:
Thian Hock Keng, 158 Telok Ayer Street, Singapore 068613
11. Sri Mariamman Temple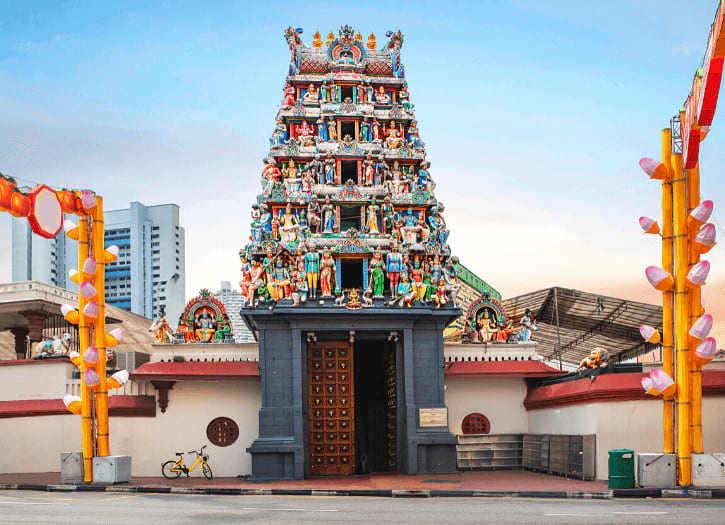 Sri Mariamman Temple serves as the sacred sanctuary of many Hindu Singaporeans. Dating back to the 18th century, it was created for Mariamman, the Hindu deity for health.
Aside from that, the temple is known for its pulsating colors and intricate designs. The vibrant exterior is something you can't miss while strolling around Chinatown district. All these add up to the reason why it's part of the most beautiful Hindu temples in Singapore that's worth seeing.
Opening Hours:
Morning: 5:30 AM – 12:00 PM
Evening: 6:00 AM – 9:00 PM
Access:
Chinatown MRT Station, Exit A
Address:
244 South Bridge Road, Singapore 058793
Fort and Military Parks in Singapore
If you're interested in ancient military happenings, there are several fort and military parks you can visit. These notable historical places in Singapore are not just any other attraction. In fact, these are part of Singapore's history.
12. Fort Canning Park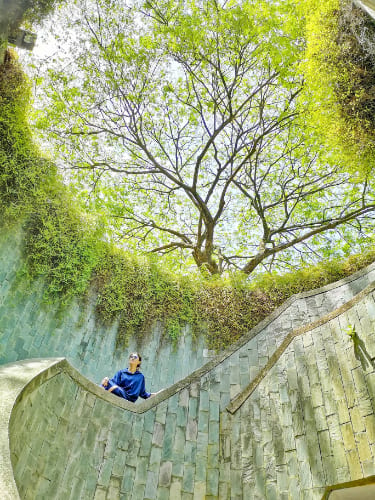 Fort Canning Park takes a large portion of the nation's past. Long before its military traces, it was the home of 14th century monarchs. Later on, it functioned as the headquarters of the Far East Command Centre as well as the British Army Barrack. It is also in this place where the British surrendered to the Japanese invaders during the 1942 attack.
In this 18-hectacre expanse, you'll learn more about the country's military undertakings. Explore the massive park filled with ancient exhibits, lovely gardens, and picturesque structures. And since it's nestled on a small hill, it's a cosy spot to trek and to take pictures.
So, if you're a history buff or a nature lover, you better add this to your must-see historical sites of Singapore. It's truly a nice place to explore because of its remarkable history and scenic greenery.
Opening Hours:
24 Hours
Access:
Fort Canning MRT Station, Exit B

Address:
River Valley Road, Singapore 179037
13. Fort Siloso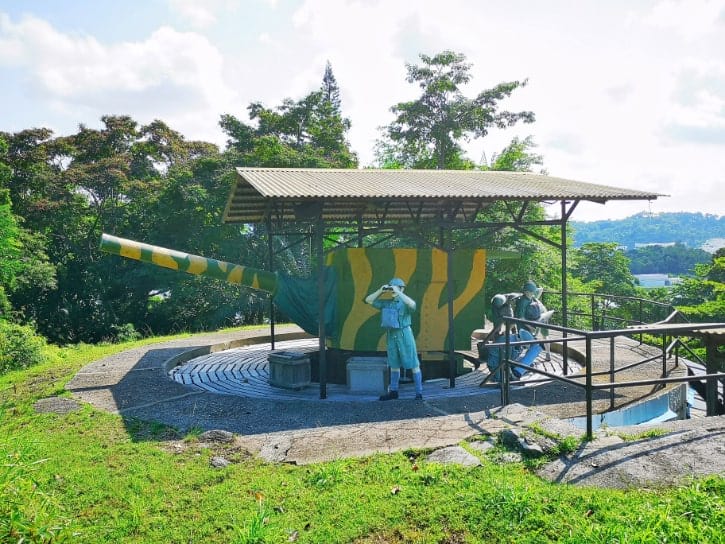 Fort Siloso is a famous historical site of Singapore that brings you to a picturesque journey. It was built back in the 18th century and served as the nation's defense fortress in 1965.
Because of that, it holds a lot of interesting WWII facts through ancient equipment and tools. Discover the artefacts displayed in the barracks, command post, museum, and surrender chambers.
And of course, the sweeping coastal views of Fort Siloso are hard to miss. It's set on an island where blue vistas and green landscapes are existent. After, you can explore other attractions in Sentosa for a fun-filled adventure.
Opening Hours:
10:00 AM – 6:00 PM
Access:
Take MRT to HarbourFront MRT Station and then go to the level 3 of VivoCity. From there, take the Sentosa Express monorail to Beach Station. At the Beach Station, catch the beach tram to Fort Siloso.
Address:
Siloso Road, 099981
War-related Sites in Singapore
Singapore has its fair share of sweet and bitter historical imprints. Be it good or bad, all these have outlined the country's present phase. So, let's explore some of the war-related sites that provide you with a deeper grasp of history.
14. Kranji War Memorial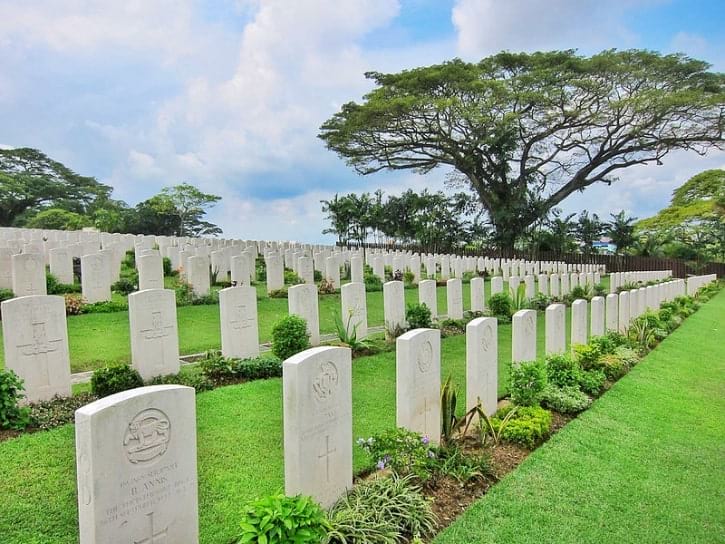 Kranji War Memorial is a serene spot that acts as a hillside cemetery. It opened in 1946 to pay respect to the people who died during the first and second World Wars.
So even if there are several historical places in Singapore, this attraction is something that you need to visit. Honor the brave heroes who sacrificed their lives for the country's future.
Opening Hours:
8:00 AM – 6:30 PM
Access:
Take MRT to Kranji MRT Station and then catch the bus 160 or bus 960 to Kranji War Memorial.
Address:
9 Woodlands Road, Singapore 738656
15. The Civilian War Memorial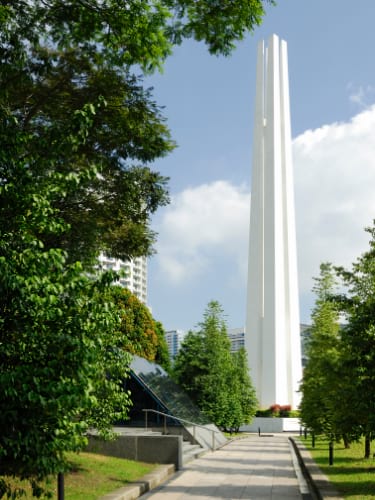 The Civilian War Memorial completes my picks of Singapore's historical sites. It is a noteworthy structure that signifies the lives affected during World War II.
Presented in 1967, the memorial was also the place where the country's main ethnic groups united. These are the Chinese, Indian, Eurasian, and Malay.
With its historical importance, make sure to include this on your itinerary. It's one of the best ways to acknowledge the sacrifices of the victims of the Japanese regime.
Opening Hours:
24 Hours
Access:
Esplanade MRT Station, Exit E
Address:
Bras Basah Road and Beach Road intersection, Singapore 189701
Related Posts
Photo Credit:
efired © 123RF.com