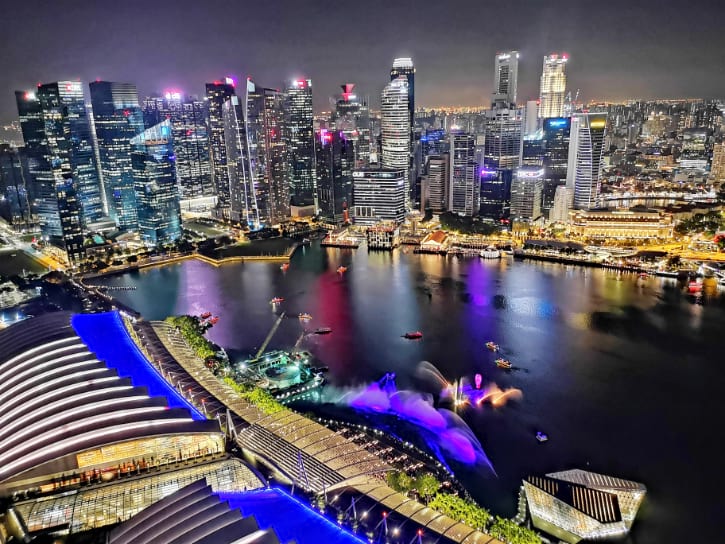 The Sands SkyPark Observation Deck offers you a panoramic view of the entire cityscape.
It's one of the best places to see the breath-taking Marina Bay along with other beautiful landmarks in the country. Or you can simply laze around its vast area and chitchat with your family and friends.
My wife and I just visited the place recently and we really enjoyed it. And in my Sands SkyPark Observation Deck review, I will share our personal experience during our visit.
I will also include some of the photos so you'll have an idea of the things you'll see there. Likewise, you'll know how to get to Sands SkyPark Observation Deck by MRT in my article as well. 🙂
For other attractions around the area, simply check my guide to the best 15 things to do in Marina Bay Sands for detailed reference.
What You Can See from the Sands SkyPark Observation Deck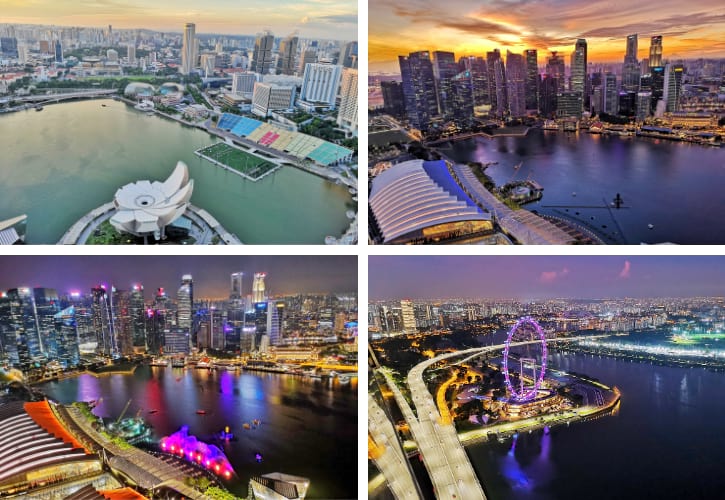 There's so much to see in the Sands SkyPark Observation Deck.
Witness the beautiful Singapore skyline loaded with towering buildings and unique structures.
Snap some iconic attractions such as the Singapore Flyer, Merlion Statue, and more.
We visited the observation deck in the late afternoon and stayed until nighttime.
Hence, we were able to catch all amazing views, from daytime to sunset to night-time. The sceneries are just spectacular as ever.
So, here are some beautiful sights waiting for you at the 57th floor of the Marina Bay Sands.
Daytime Views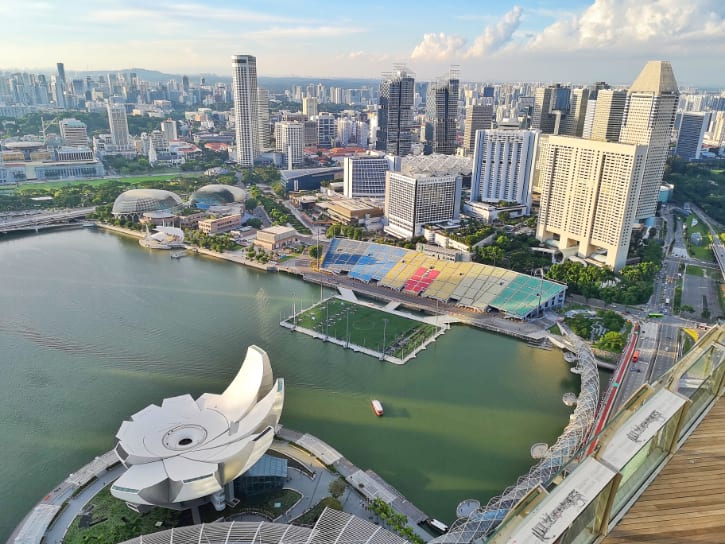 During the day, it's easy to appreciate the lively scenes surrounding the entire city. Enjoy the beautiful blend of colors, from green to blue to silver.
Plus, you won't have a hard time identifying different landmarks below.
These include the top museums in Singapore such as the ArtScience Museum, which is known for its lotus-shaped exterior.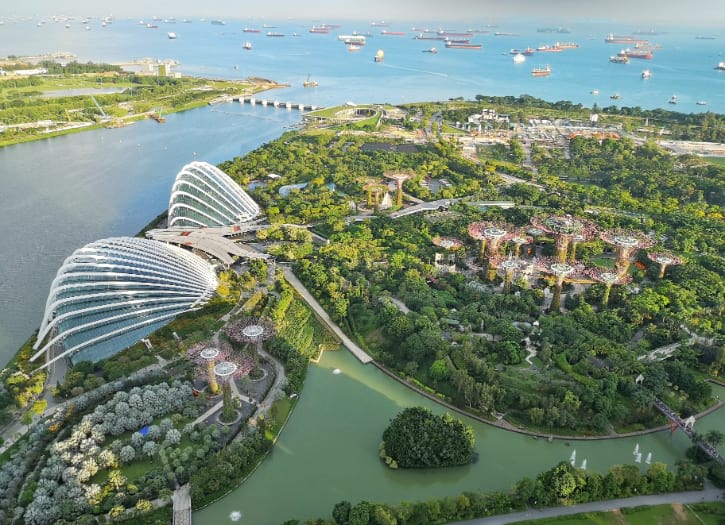 You'll even catch a glimpse of the ever-colorful Gardens by the Bay. So, ready your camera ahead to capture the animated scenes from the highest part of the hotel.
And since we visited the place around 5 PM, we were able to see these vibrant sights.
But of course, you can also explore it earlier. So, if you prefer some daytime views, you can schedule your tour starting 11 AM.
Sunset Views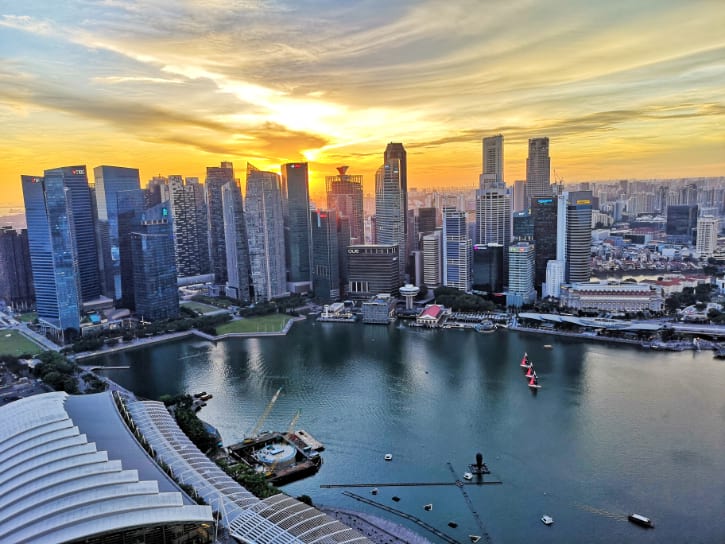 Another remarkable time to visit the Sands SkyPark Observation Deck is during sunset.
Though there are a lot of places to watch the glorious setting of the sun, this place is just breath-taking.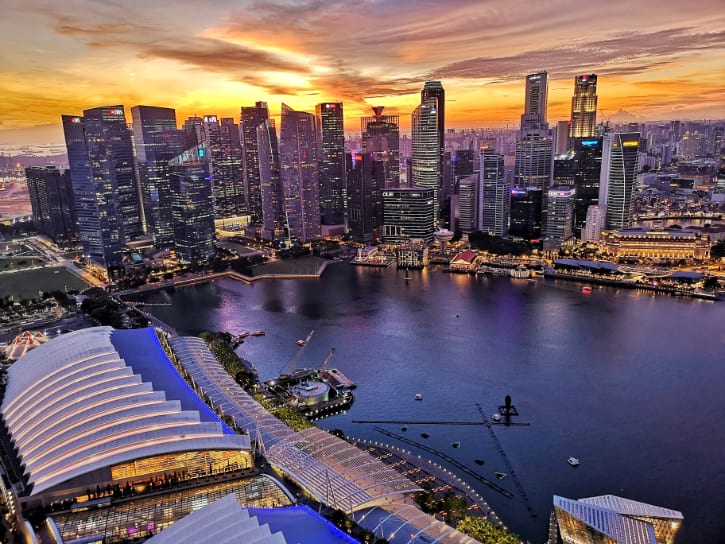 See the majestic sunset from this high-rise building together with your partner. Or you can gather your pals and relax under the orange-lit sky.
And while viewing the last rays of sunshine, you can capture the entire view of the city.
Truly, this is an experience that is best shared with your loved ones.
One of the reasons why it's recommended to explore this place by sunset is because of the gorgeous views.
At this time of the day, the sun rays reflect the cityscape and illuminate to the towering buildings.
And of course, the vast Marina Bay adds up to the already spectacular view.
Night Views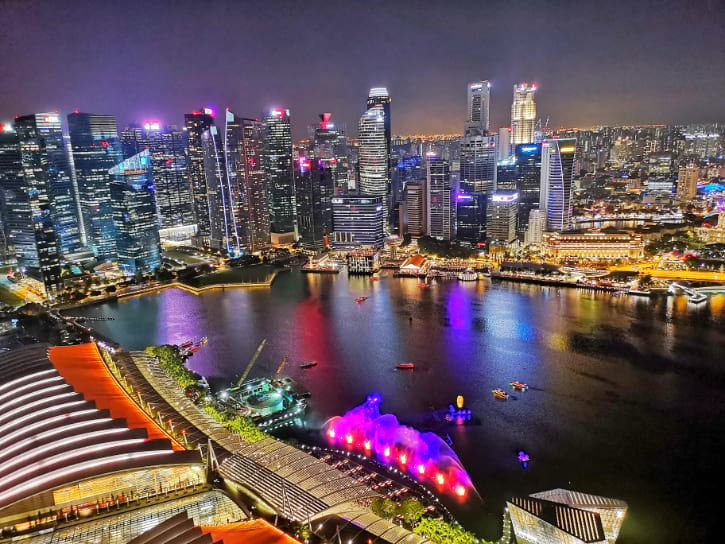 Come night-time, the view from the 57th floor becomes more majestic. The towering buildings start to light up the entire city.
Aside from visiting the Sands SkyPark Observation Deck, there are other attractions to explore at night.
You can refer to my list of beautiful night-time attractions in Singapore for more exciting activities.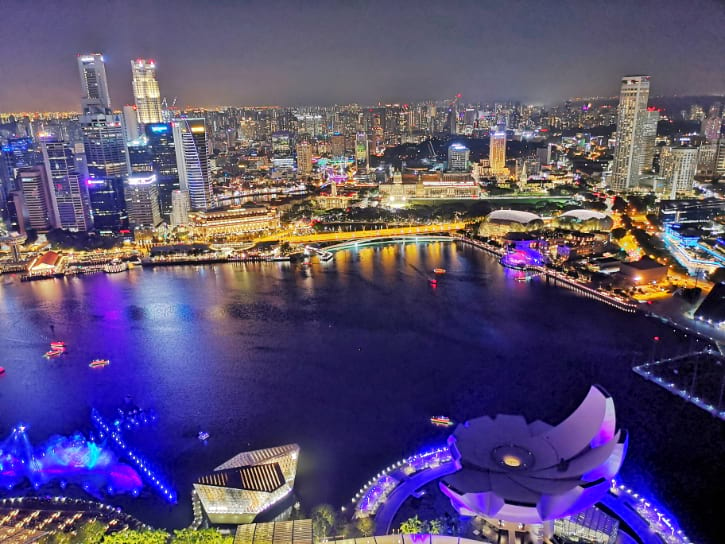 Even at night, you still have a chance to see some famous landmarks up above. And of course, these are more striking because of the surrounding city lights.
From your spot, capture one of Singapore's most iconic historical places―the National Gallery Singapore.
The Esplanade Theatres is also easy to identify because of its durian-shaped exterior.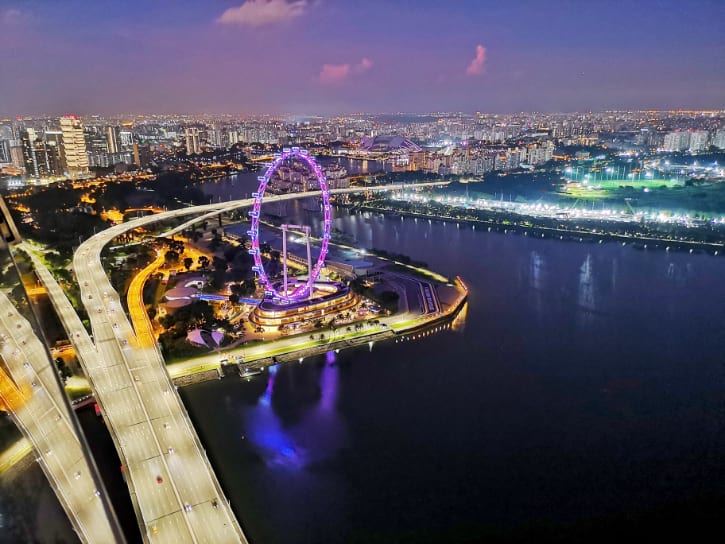 Another famous attraction you'll witness is the Singapore Flyer. Snap a photo of this giant observation wheel from your location.
After seeing the beautiful sights, you can head to the 1st floor of Event Plaza and watch Spectra. As a beautiful water and laser show in Singapore, this outdoor presentation is a crowd favorite.
You can choose from the two showing times, at 8:00 PM or 9:00 PM daily. There's an additional show every Friday and Saturday at 10:00 PM.
My Comment
During our trip to Sands SkyPark Observation Deck, my wife and I really had a great time.
We visited the place at around 5 PM in the afternoon and spent about 2 hours enjoying the views.
Without a doubt, all the views from daytime to sunset and night-time were spectacular!
If you're planning to visit during sunset time, make sure to arrive at least an hour. This will help you avoid the crowd and pick your preferred spot.
And if you want to save money and get speedy access just like what we did, buy your SkyPark tickets online here. You can also check out here to know the sunset time.
Another thing to take note of is that those staying in Marina Bay Sands hotel enjoy free access to Sands SkyPark Observation Deck. This hotel is one of the top hotels in Singapore with 5-star rating.
Truly, our visit to Sands SkyPark Observation Deck was one for the books. It's unforgettable and highly recommended.
Aside from my Sands SkyPark blog post, I have written another super detailed post about Singapore itinerary, which you can use to make your trip more fun and convenient.
Plus, you'll get insights on how to spend less time travelling around and more time exploring the main attractions in this country.
Visitor Information and Ticket Prices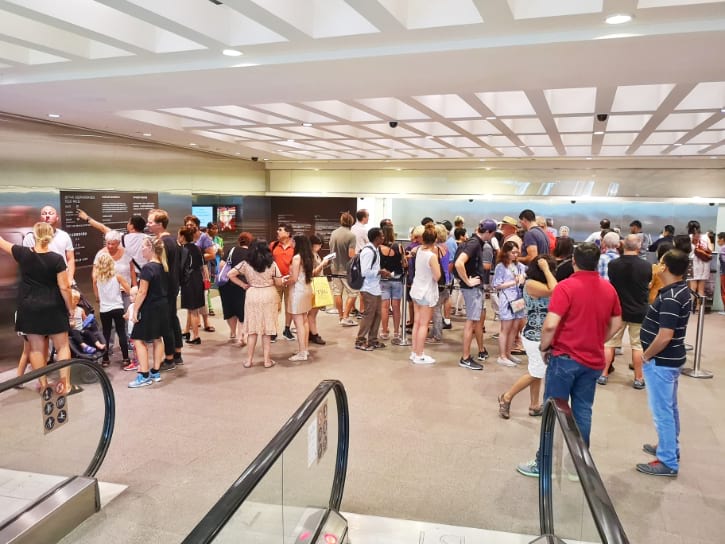 Opening Hours:
11:00 AM – 9:00 PM
Normal Ticket Prices:
Adult (13+): SGD $32
Senior (> 65): SGD $28
Child (2 – 12): SGD $28
Child (Under 1): Free
Money Saving Tips:

Do you want to enjoy an
extra 23% discount
for your Sands SkyPark Observation Deck tickets?Then, it's best that you buy your tickets online.
Compared to the ones at the ticketing counter, purchasing online is definitely much cheaper.
So, if you want to save money and skip the long queues, see the link below.
Nearest MRT Station:
Bayfront Station, Exit B
Address:
Marina Bay Sands Hotel Tower 3, Level 57
Official Website:
https://www.marinabaysands.com/attractions/sands-skypark.html
Where to Go after Sands SkyPark
Now that you're done with Sands SkyPark Observation Deck, you can hop on other attractions in the country.
Continue your adventure at the Gardens by the Bay and ArtScience Museum. These two are also located in Marina Bay and are near the SkyPark.
Another top-rated attraction is the S.E.A. Aquarium, which is located in Sentosa.
Below are the three attractions I've mentioned. But if you want to know more, here is my list of the 47 best places to visit in Singapore.
1. Gardens by the Bay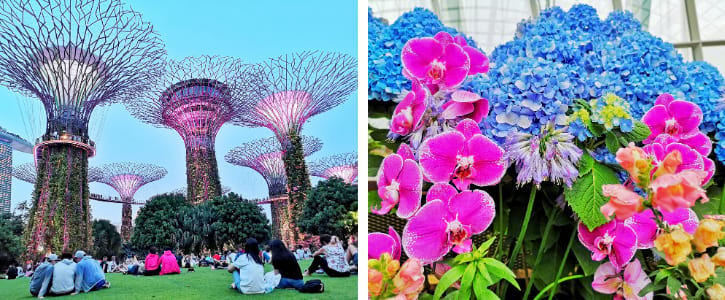 Gardens by the Bay is such a scenic destination. Walk around its picturesque conservations namely the Flower Dome and the Cloud Forest.
Or you can walk around the Supertree Grove and OCBC Skyway.
See this detailed Gardens by the Bay guide to know more about this attraction.
2. ArtScience Museum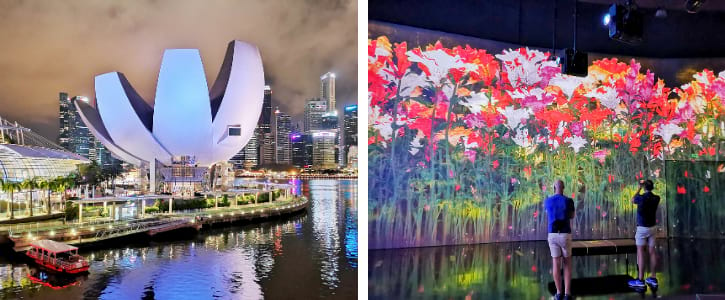 For art lovers and technology enthusiasts, there's the ArtScience Museum.
Enjoy its unique exhibit called the Future World and have fun with all digital interactions and virtual charms.
You can refer to my recent ArtScience Museum's Future World review article for more information and other relevant tips.
3. S.E.A. Aquarium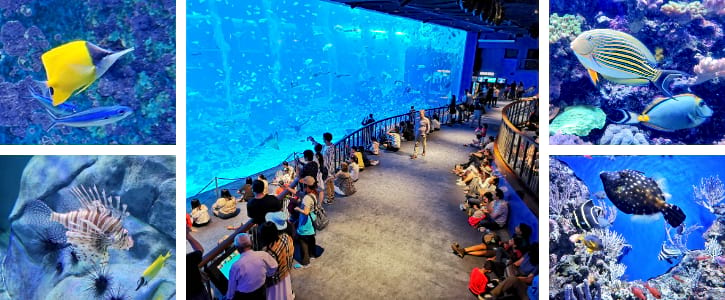 The list wouldn't be complete without a visit to the S.E.A. Aquarium. This popular underwater world offers fascinating marine exhibits and entertainment.
Check out this detailed guide to SEA Aquarium Singapore to plan out your trip earlier.
How to Go to Sands SkyPark Observation Deck by MRT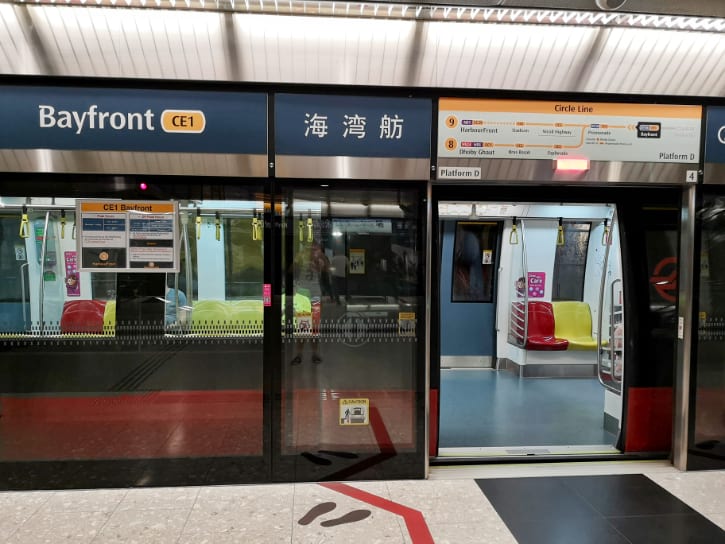 The cheapest and convenient ways to get to Marina Bay Sands SkyPark Observation Deck is by taking MRT. The nearest MRT station to Sands SkyPark is Bayfront Station.
Below is the step-by-step guide on getting to Sands SkyPark from Bayfront MRT Station.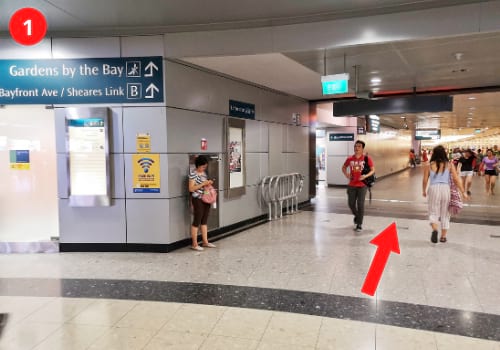 1. Take Circle Line/ Downtown Line to Bayfront MRT Station and look for the Exit B.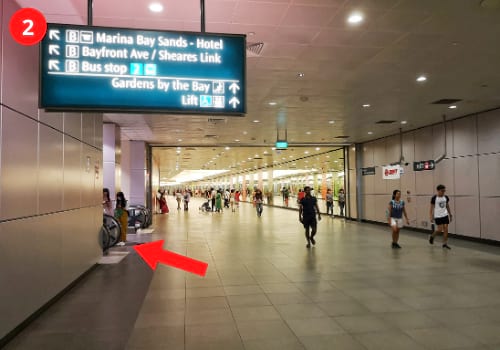 2. Follow the direction board of Exit B. Go up the escalator when you spot it on your left-hand side.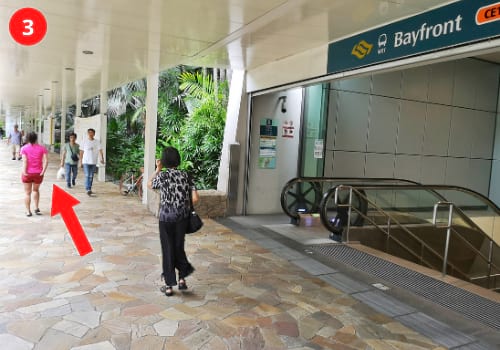 3. You should turn right after you go out the escalator.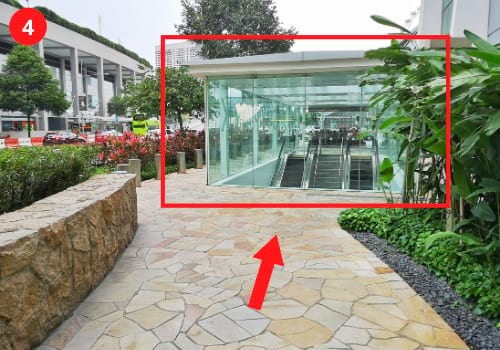 4. Go along the walkway until you find the escalator. It just 1-minute walk to the escalator.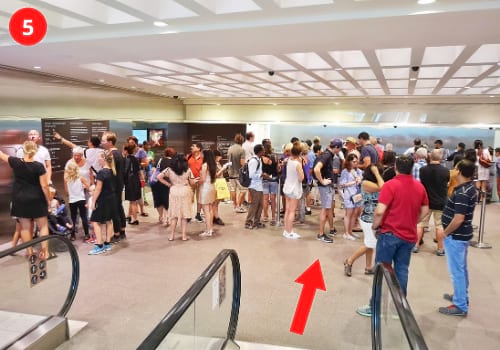 5. Take the escalator down and you'll see the ticketing counter of Sands SkyPark Observation Deck.
How to Walk to Sands SkyPark from ArtScience Museum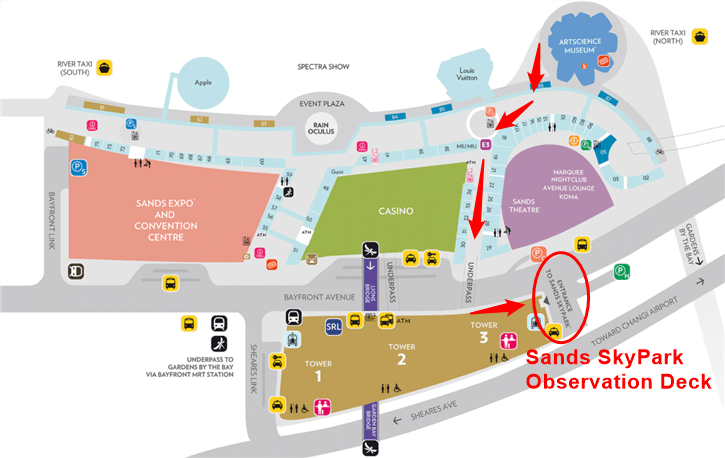 If you want to know how to get to Marina Bay Sands SkyPark Observation Deck from ArtScience Museum on foot, here're the easiest ways of getting there.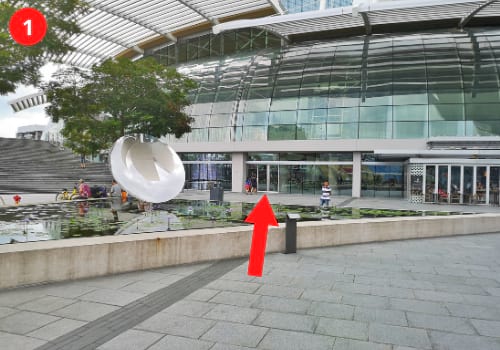 1. When you go out the main door of ArtScience Museum, you should turn right and then go straight for The Shoppes at Marina Bay Sands shopping mall.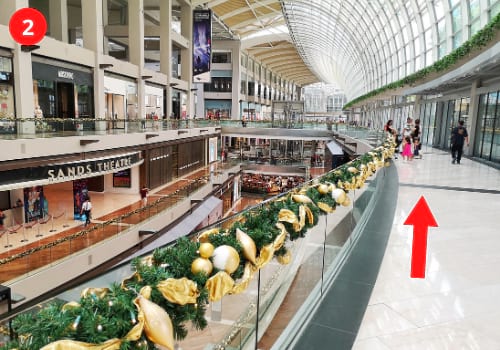 2. Turn right after you enter the shopping mall.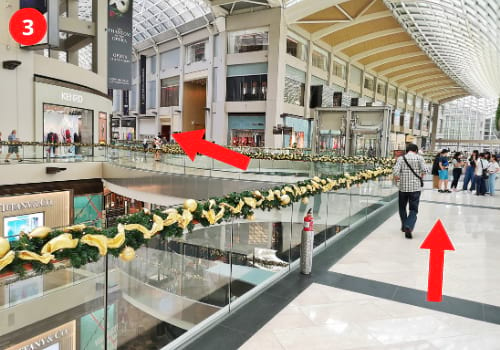 3. Head straight and then turn left when you meet the roundabout.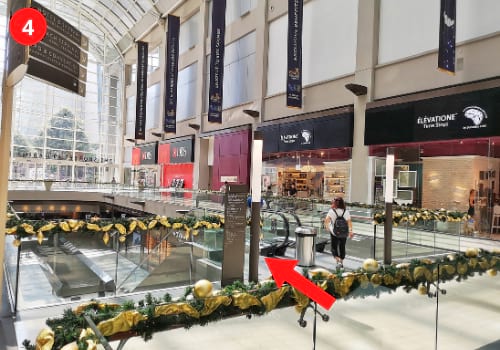 4. Take the escalator down to the basement 1.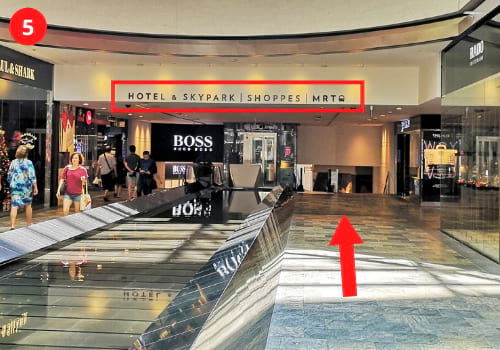 5. After you go down the escalator, follow the signpost for SKYPARK.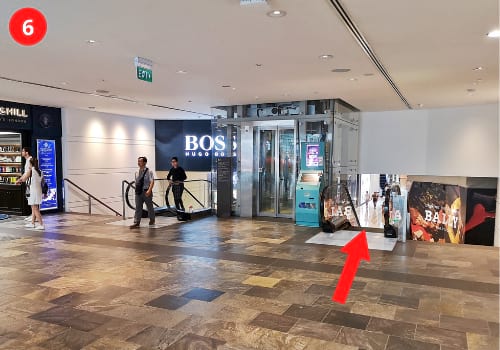 6. Take the escalator down again and continue straight you will discover another signpost for SKYPARK soon.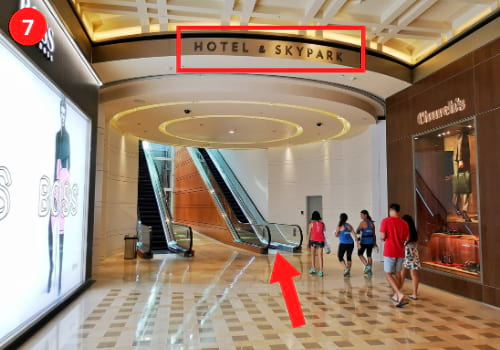 7. Take the escalator up to Marina Bay Sands Hotel Tower 3.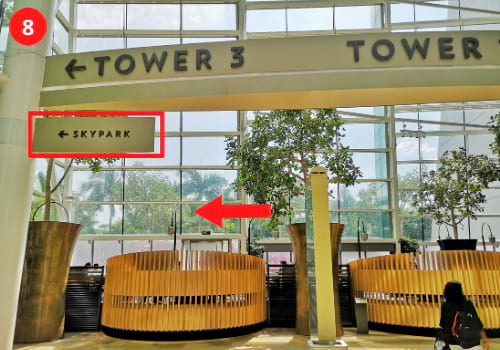 8. Turn left after you go up the escalator.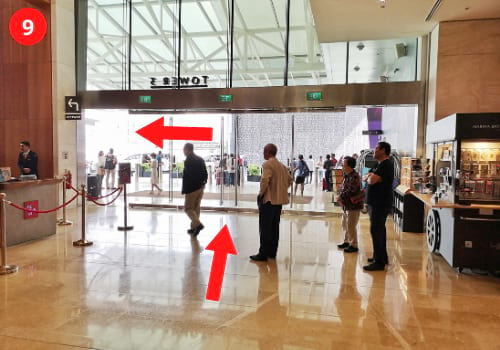 9. Go out the door of the hotel and then turn left for you to get to Sands SkyPark.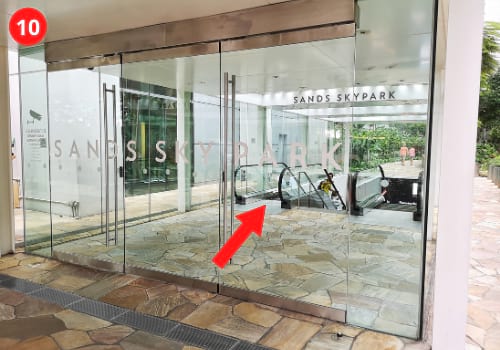 10. This is the entrance of Sands SkyPark Observation Deck. Take the escalator down and you'll spot the ticketing counter there.
Related Posts