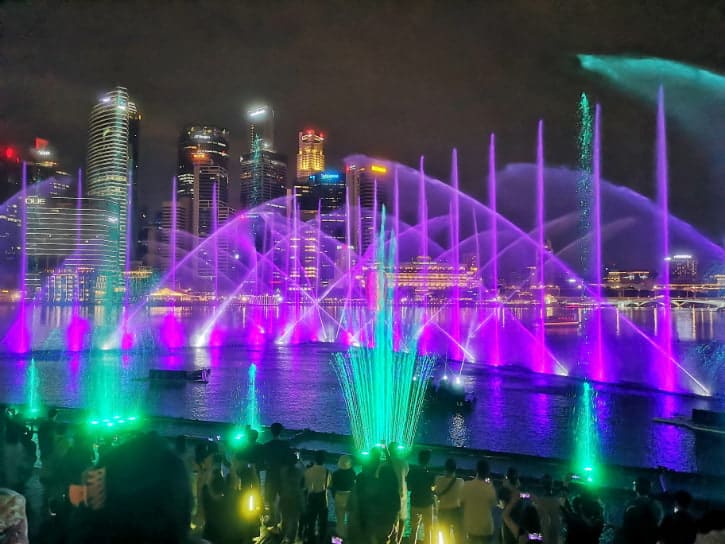 Make your trip more special by seeing the 3 popular light shows in Singapore, which are located at Gardens by the Bay, Marina Bay Sands, and Sentosa. And these are no other than―Garden Rhapsody, Spectra, and Wings of Time.
If you're around Marina Bay, catch the Garden Rhapsody at Gardens by the Bay's Supertrees or Spectra – Light and Water Show. And if you are exploring Sentosa Island, you shouldn't miss the Wings of Time.
Each of these has different kinds of digital charms and breath-taking presentations. So, it's best that you see all three shows together with your family and friends. And for sure, you won't get disappointed with the fantastic displays of vibrant colours, beaming lights, and lively music.
To know more about the best Singapore light shows, check out the list below.
1. Garden Rhapsody – A Mesmerizing Night Exhibition at Gardens by the Bay's Supertrees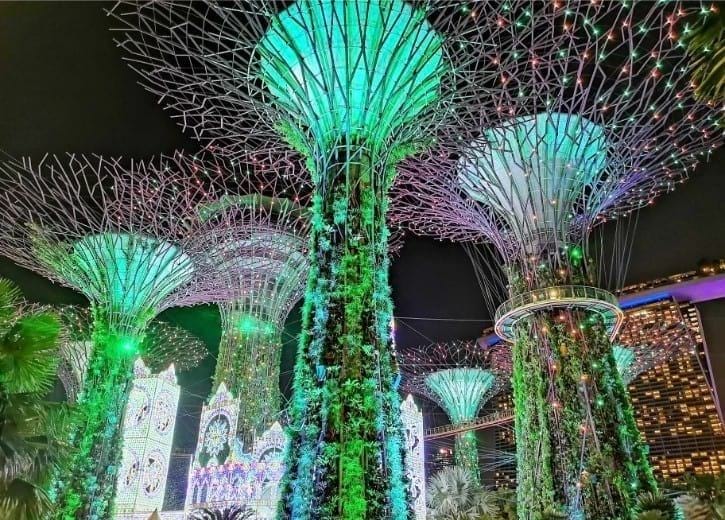 There's more to love with these giant, vertical gardens situated at Supertree Grove of Gardens by the Bay. At night, the Supertrees transform the entire place into a dynamic and festive landscape filled with magical colors and sounds. And that signals the start of the ever-spectacular light show―the Garden Rhapsody.
This impressive light and sound exhibit add more life to the already vibrant scenery. Here, you'll witness the towering gardens dancing to the beat of the music. All the colours surrounding the Supertrees also give extra charm to everyone watching. Without a doubt, the Garden Rhapsody is definitely a must-watch attraction at Gardens by the Bay.
There are two shows every night to give a chance to all visitors. Each show runs for about 15 minutes. And the best part? You can watch it for free! Aside from this popular light show, there are other night-time activities in the country. You can simply check out my article on the most famous things to do in Singapore at night for a more comprehensive guide.
So, if you're looking for a memorable way to conclude your Marina Bay trip, don't forget to include Garden Rhapsody in your Singapore itinerary. Surely, you'll enjoy a once in a lifetime experience seeing the beautiful and brilliant Supertrees in action.
Show Times:
7:45 AM and 8:45 PM
Entrance Fee:
Free
Nearest MRT Station:
Bayfront MRT Station, Exit B
Google Maps:
Garden Rhapsody Location
2. Spectra – Watch Light and Water Show at Marina Bay Sands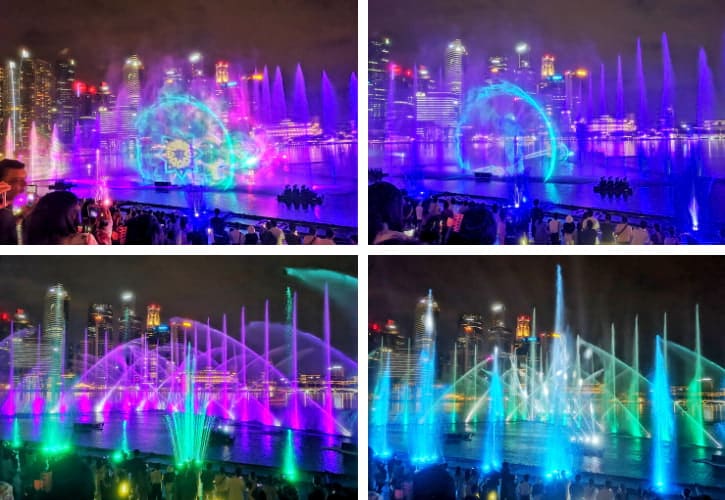 Aside from Garden Rhapsody, one of the top Marina Bay attractions at night is Spectra – Light and Water Show. You can find this amazing show in front of The Shoppes at Marina Bay Sands shopping mall.
More than its impressive display of digital arts and colours, Spectra actually takes into account the country's humble beginnings to its modern innovations. It narrates the history of Singapore in four parts through beautiful visual presentations, stunning laser effects, and sparkling fountain jets.
The number of shows varies depending on the schedule. From Sunday to Thursday, there are two shows, while there are three shows every Friday and Saturday. Each show lasts up to 15 minutes.
So, if you want to see a spectacular combination of light, water, and sound show in Singapore, don't think twice and watch Spectra.
Show Times:
Sunday to Thursday
8:00 PM and 9:00 PM
Friday and Saturday
8:00 PM, 9:00 PM and 10:00 PM

Entrance Fee:
Free

Nearest MRT Station:
Bayfront MRT Station, Exit D
Google Maps:
Marina Bay Sands Light Show Location
3. Wings of Time – Fantastic Light Presentation at Sentosa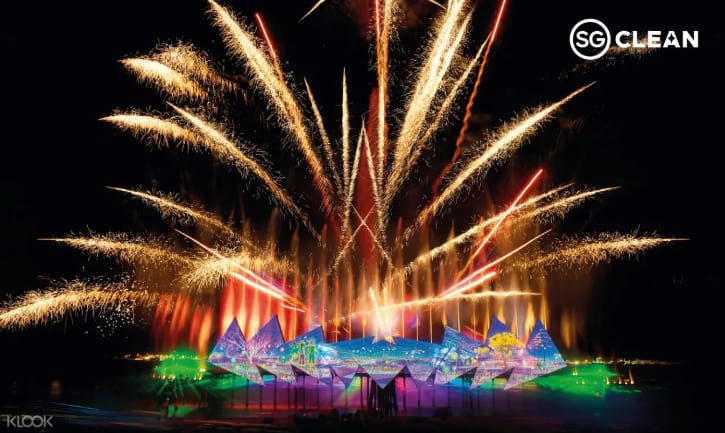 One of my favourite things to do in Sentosa is to witness the Wings of Time. With the picturesque Sentosa beach as the backdrop, it's hard not to fall in love with the visually incredible presentation.
The unique projections, advanced lasers, and fire effects create a brilliant animated show that is suitable for all ages. To make it more magical, Wings of Time revolves around a remarkable story of friendship.
Follow the characters as they go through different adventures in a span of 15 minutes. Because of its moving narration and majestic visuals, this show might even deserve a standing ovation. You can choose from the two time slots, though the fee is just for one show.
And to top all other light shows, Wings of Time ends the presentation with a bang through its incredible fireworks display. So, if you want a magical light show that has everything, from awe-inspiring animation to majestic soundtrack to stunning fireworks, this is no doubt one of the best contenders.
Show Times:
Monday to Friday
7:30 PM
Saturday to Sunday
7:30 PM and 8:30 PM
Entrance Fee:
Standard Seat – SGD $18
Premium Seat – SGD $23
Money-Saving Tip:
Book your tickets here in advance and get up to an extra 10% OFF!
How to Get There:
Take MRT to HarbourFront Station. At HarbourFront Station, walk to the 3rd floor of VivoCity so that you can board the Sentosa Express to Beach Station in Sentosa Island. Once you reach Beach Station, you just need to walk to Wings of Time in 1 minute.
Google Maps:
Wings of Time Location
Related Posts
Photo Credit:
Photo by Klook