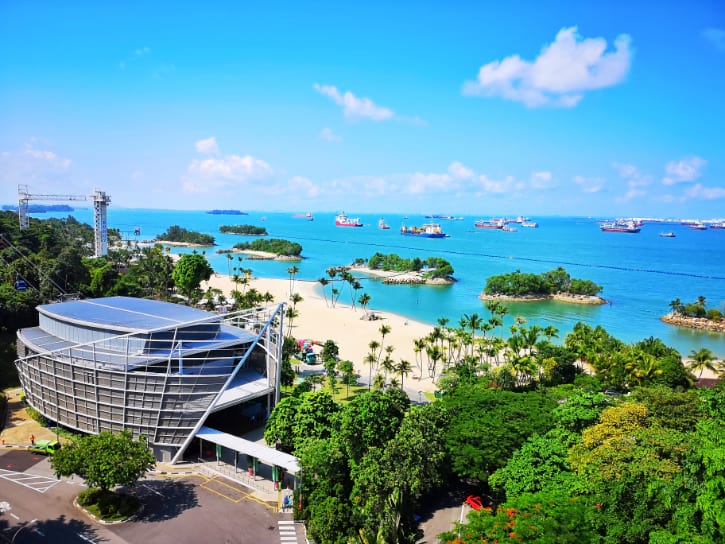 Beat the heat and visit some of the best beaches in Singapore. Surprisingly, there are plenty of beach destinations in the country for a quick beach fix. So, if you want to steer clear of the bustling city vibes, don't worry because you have lots of options to choose from.
The beach spots are mainly divided into two―the ones on the eastern side and the beaches located on Sentosa. In terms of fun activities and outdoor entertainment, Sentosa beaches are top-notch. But if you're eyeing for a more laid-back trip, you'd love the eastern beaches.
Generally, these beach attractions offer not just picturesque nature views but also comfort to every visitor. That is why going to the beach has always been one of my favorite places to go in Singapore.
To know more about these scenic places, check out the list below for the most popular Singapore beaches.
1. Palawan Beach – Well-loved beach destination in Sentosa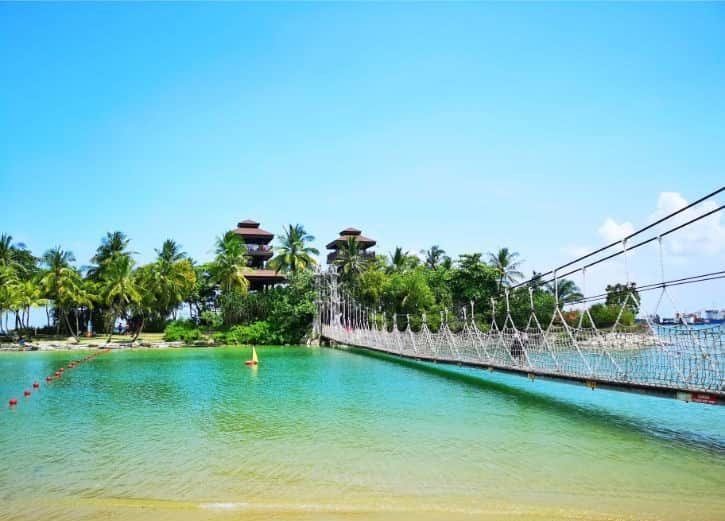 Palawan Beach is beautifully situated at the heart of Sentosa. More than its strategic location and scenic views, the beach is loaded with outdoor entertainment, making it one of the top-rated family-friendly beaches in Singapore.
If you want more adventure, visit the Port of the Lost World―a famous pirate-themed water park suitable for kids. For added thrill, you can walk along the suspension bridge that connects to the Southernmost Point of Continental Asia.
After all the exciting outdoor pursuits, you can laze around the white sand. There are also beach bars, restaurants, coffee shops, and souvenir stalls around the area.
2. Siloso Beach – A vibrant spot in Sentosa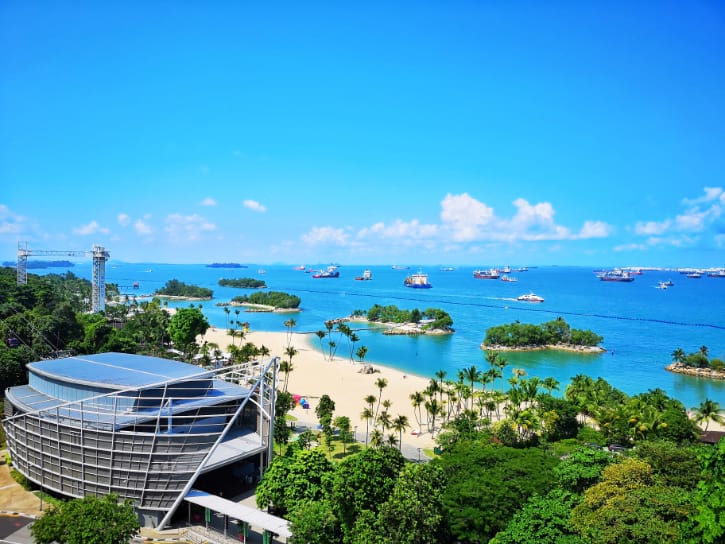 If you're looking for a lively and picturesque beach in Singapore, Siloso Beach is surely a top contender. This vibrant beach is always jam-packed with visitors because of its wide range of entertainment, from outdoor sports to late-night festivities.
During the daytime, you can play frisbee or volleyball with your friends. You can also try horse riding, canoeing, and rollerblading. Siloso Beach is enveloped by Sentosa top-rated attractions such as Wave House Sentosa, iFly Singapore, and AJ Hackett. This means exciting outdoor activities like flow riding, bungee jumping, banana boat riding, and skydiving!
As soon as the sun sets, Siloso becomes a livelier. It's a perfect party place for beach-goers eyeing for a fun night-out and hip celebrations. And of course, there are plenty of food stalls and restaurants around the beach.
So, if you want nonstop entertainment, from day 'til nigh, Siloso Beach is the answer to your wishes.
3. East Coast Park – A family-favourite beach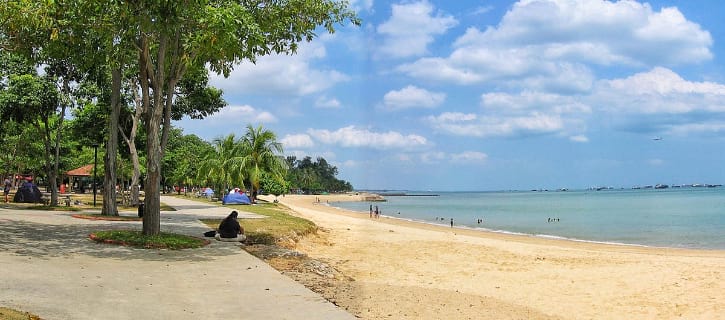 East Coast Park is more than just a beach spot. It's actually a recreational park on the eastern side. With the theme "Recreation for All", you'll get to experience a variety of outdoor pursuits for all ages.
Stretching from Changi Airport to Marina, this vast park has its own volleyball court, playground, fitness area, and camping site.
And of course, the East Coast Park is well-known for cyclists as it offers exclusive circuits for both beginners and experienced cyclists. Aside from that, you can pop by Singapore's international skate park―Xtreme SkatePark.
For some water sports, try windsurfing, kayaking, and paddle boarding. You can also barbeque along the beachside or just dine in from one of the many food spots. Surely, the abundance of leisure activities makes this place a popular choice among locals. However, do take note that the sands here aren't powdery white and the views may be obstructed by some container ships.
4. Tanjong Beach – The ultimate nightspot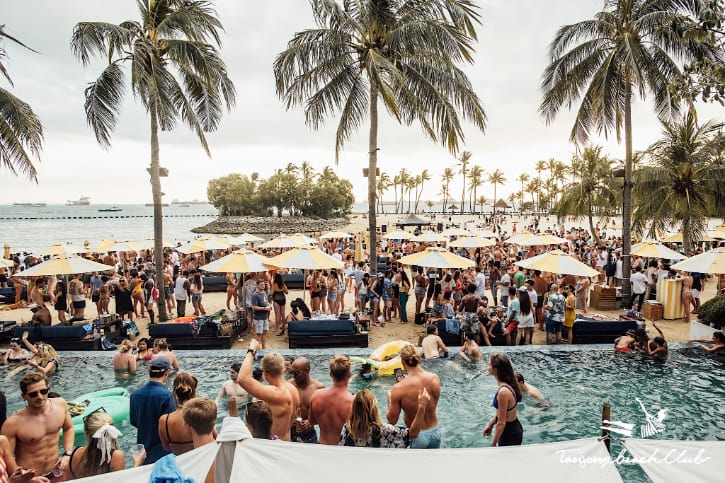 A breath-taking combination of tropical vibes and night-life charms, Tanjong Beach is a great place to relax and have fun at the same time. This classy beach is also known for its moon-shaped coastline and powdery sands. Because of the gorgeous views and refined shores, this place has become one of Singapore's famous beaches.
You have lots of options here like cycling, kayaking, swimming, fishing, and stand-up paddling. Sometimes, there are yoga sessions and outdoor movies for everyone. If you just want to have a chill time, there are plenty of sunbeds around the beach.
And when it comes to Singapore's lively night-time activities, Tanjong Beach Club is always a popular pick. This major attraction at the southern part of Sentosa is known for its epic parties and full moon celebrations.
The place is always loaded with people dancing the night away and enjoying the lively music. They also offer an extensive menu of cocktails for everyone. So, if you want to have a laid-back daytime and fun-filled night, Tanjong Beach Club surely does not disappoint.
5. Changi Beach Park – A famous local hangout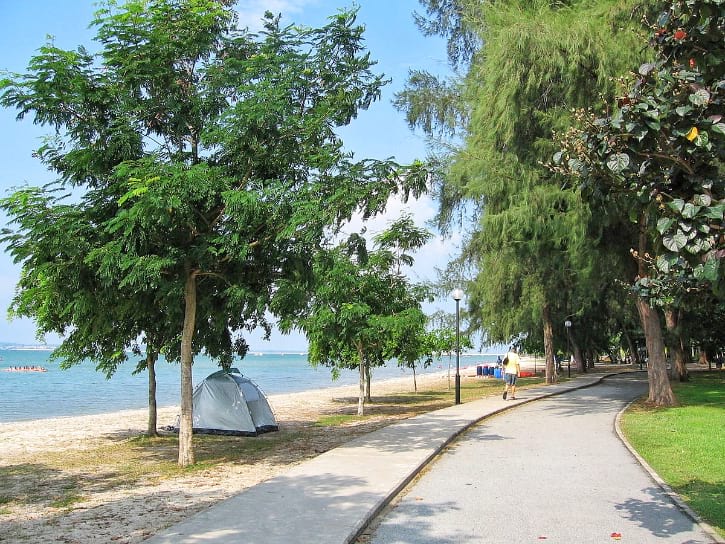 Changi Beach Park is known to be a weekend destination among locals. But unlike normal beaches, this one features a rather unique scenery. Aside from the calm waters, people visit Changi Beach because of the awe-inspiring views of flying planes. Plane spotting is one of the most popular activities in this area, along with cycling and hiking. There are distinct coastal walks to choose from, which stretch up to 2 km.
Also, this place is ideal for weekend picnics, beachside barbecues, and camping adventures. So, if you're just looking for a nice place to relax and spend quality time with your family and friends, Changi Beach is a great option.
6. Coney Island – A scenic, unspoiled beach escapade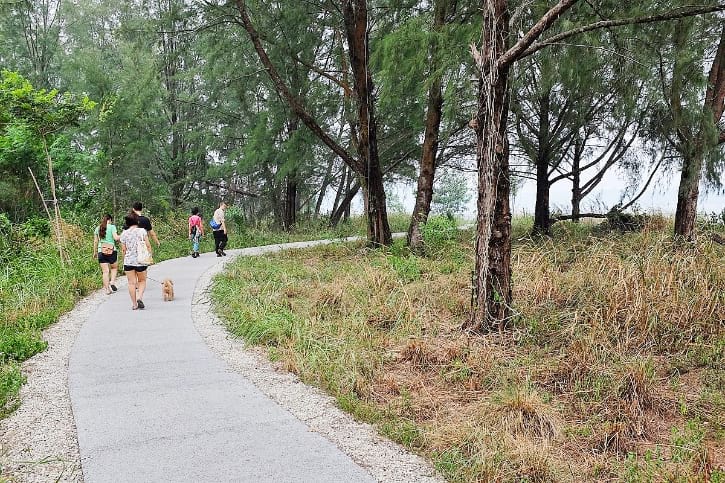 A nature lover's destination, Coney Island is beautifully outlined by lush landscapes and soothing waters. The trip going here might be a challenge, but it's definitely worth it. The limited facilities, along with the almost untamed flora and fauna, make the place more dreamy. And because of its serene vibes, it's such a perfect spot for a peaceful, weekend getaway.
This environmentally-rich island is also an excellent spot for outdoor adventures. You can cruise along different cycle paths, go on a picturesque hike, or try the obstacle course.
Wildlife spotting is another favourite attraction while on the island. There are many animals freely wandering around the area like Brahman Bull, squirrels, and monkeys. And, a myriad of vibrant bird and butterfly species also consider Coney Island as their habitat.
Clearly, if you're looking for unspoilt nature views, coastal forests, and off-beaten tracks, this is the place to be.
7. Punggol Beach – A relaxing and historical retreat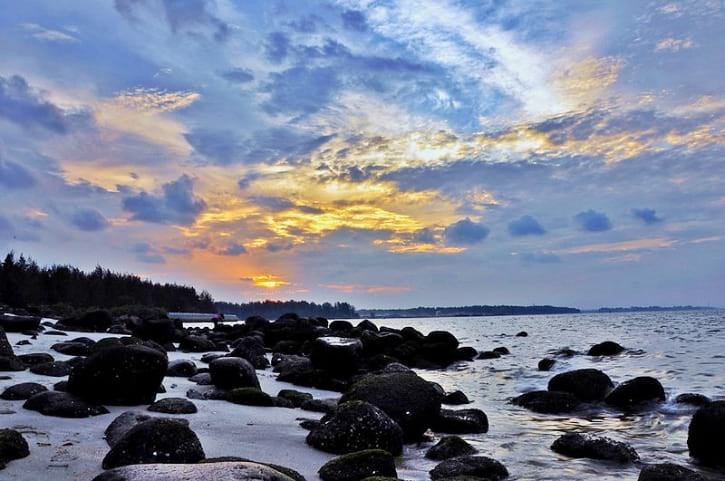 Punggol Beach is a beautiful spot known for its fine white sands and huge black boulders. It's a haven for those who want to stay away from the crowd and just want a chill time.
You can also indulge in various water activities such as kayaking, wakeboarding, and boating. Riding a carriage and strolling along the scenic Punggol Promenade are also recommended. And before I forget, the beach offers you a glimpse of the neighbouring country, Malaysia.
Another fascinating feature of Punggol Beach is its historical past. The beach was the site of the unfortunate Sook Ching massacre that happened during WW-2. So, if you want a breath-taking destination with a trace of history, you'd get your money's worth by visiting this place.
8. Pasir Ris Park – Wonderful beach and camping site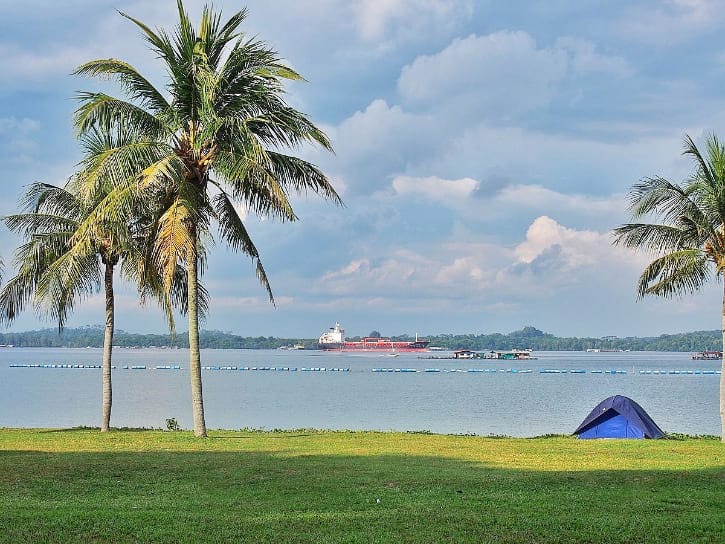 Pasir Ris Park is an incredible choice when it comes to a chill day out. This family-friendly spot highlights a delightful expanse of coastline that is surrounded by all sorts of facilities, including a playground, barbecue pits, and sheltered areas.
Besides the usual cycling route and mangrove hiking, you can try skating at the designated skate area at Pasir Ris Park. Or, you can check out different bird species from the watching tower or go horseback riding.
And, make sure to catch the spectacular sunset while lazing around the beach stretch. With the abundant amenities, Pasir Ris Beach is definitely one of the best options for families in need of a quick getaway.
9. Sembawang Park – A peaceful day and night out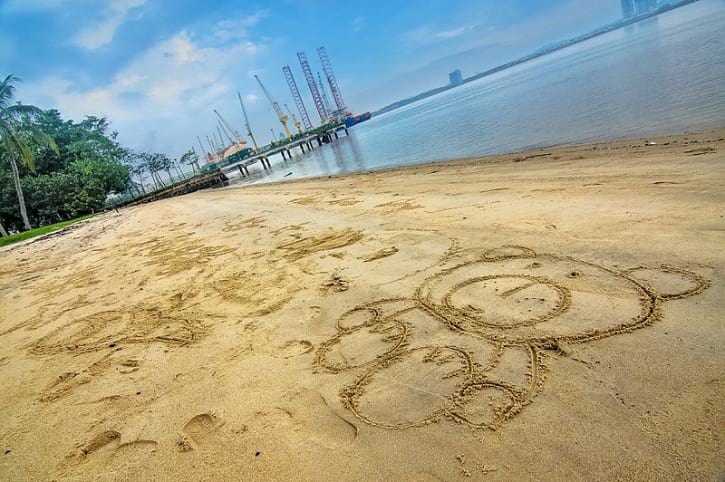 Sembawang Park is a great location if you prefer a peaceful and preserved natural beach. It is beautifully situated adjacent to the Strait of Johor, offering you gorgeous seaside views.
As one of the few remaining natural beaches in the country, you'll surely love the tranquil atmosphere enclosing the area. Loosen up and stroll along the coastline or go swimming in the azure waters.
To make the most out of your visit, explore the nearby historical attractions like the Beaulieu House, Seletar Pier, and Sembawang Jetty. After a fulfilling day out, enjoy alfresco dining from one of the cafes and resorts. If you want, you can prepare your own food as there are several BBQ pits around.
In a nutshell, Sembawang Park is a remarkable option when it comes to calming seaside vibes and barbecue nights.
10. Pulau Ubin – Rustic beach destination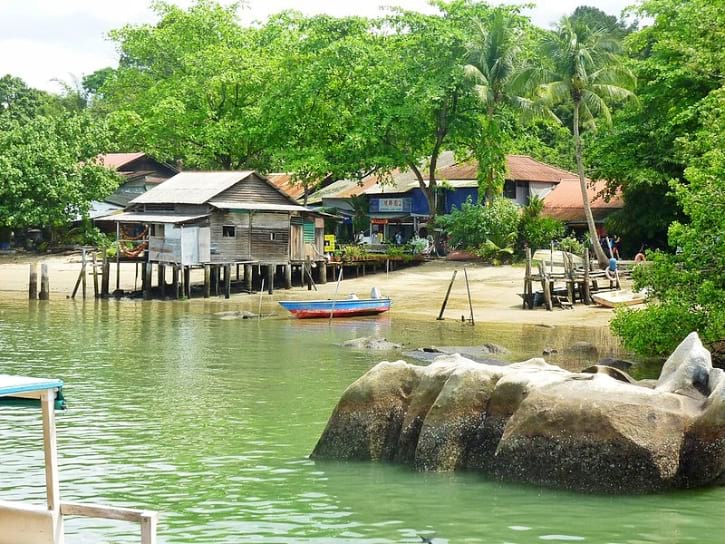 An awesome place for those eyeing for a simple and calming trip, Pulau Ubin offers exclusivity and tranquillity at its finest. This peaceful spot is the last kampong or traditional village in the country, which means the residents here live using traditional household methods.
Visiting this place is like a trip to a tropical paradise engulfed by the comforting nature landscapes. On top of its secluded beach area and village-like ambiance, the place is known for its authentic food choices.
So, if you want a rustic beach escapade with overflowing traditional delicacies, say no more because Pulau Ubin got you covered!
Related Posts