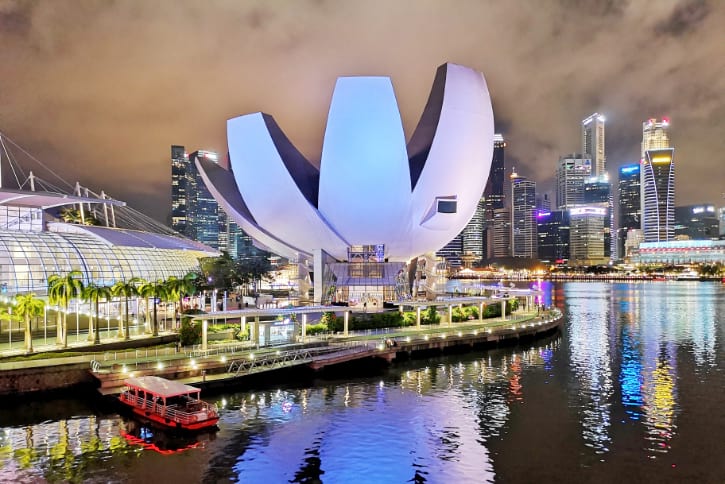 ArtScience Museum's Future World exhibition is a must-visit for art lovers and technology enthusiasts. This permanent exhibition combines arts and technology through its series of digital attractions.
And recently, I visited the place together with my wife and kids. I can say that it's really a great family-friendly museum in Singapore. That's why I created this article to share our own experiences, along with some other relevant tips. 🙂
I have also included the ways on how to get to ArtScience Museum by MRT to make it much easier.
ArtScience Museum is just one of the many places to explore around Marina Bay. You can find out more in my blog post on what to do in Marina Bay Sands to get more ideas on other must-do activities in that area.
The Future World Exhibition at ArtScience Museum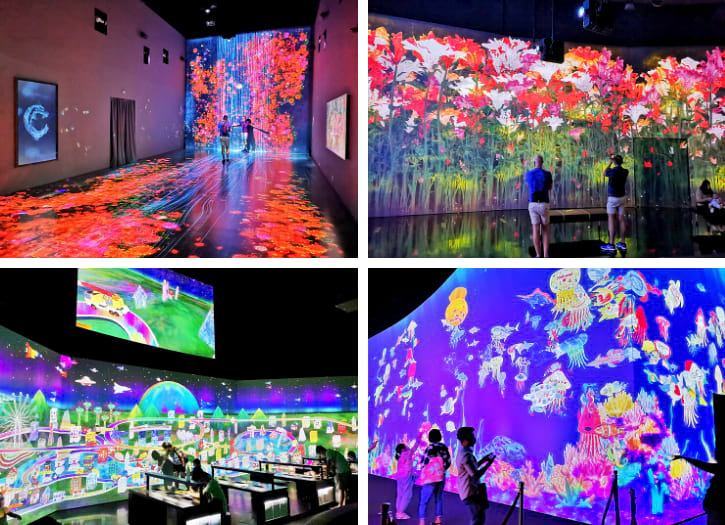 When we talk about ArtScience Museum, it's always associated with the Future World exhibition.
This permanent display welcomes visitors uniquely through its breath-taking and vibrant animations.
No doubt, it's a favorite among families and even groups of friends.
Explore all 4 themes in this exhibition namely the City in A Garden, Sanctuary, Park, and Space. Each of these themes comes with distinct yet equally stunning features.
So, here are the 14 best attractions at the Future World waiting for your arrival.
The list below will help you get more idea of the things to see and do in this exhibition.
1. Transcending Boundaries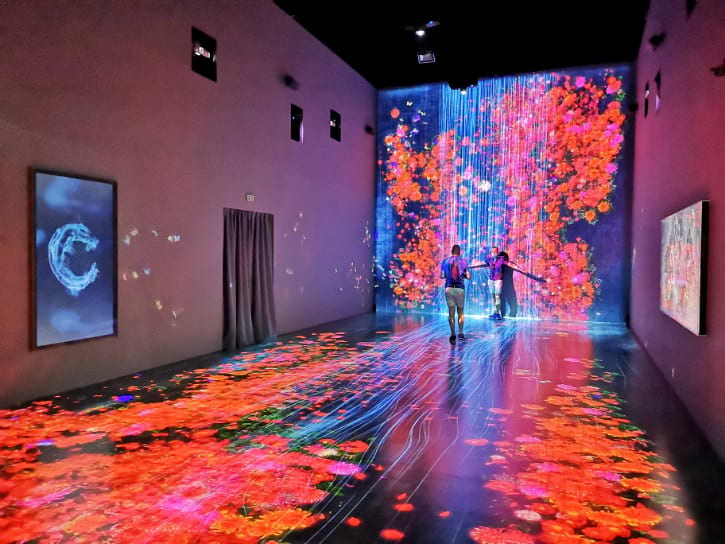 Get yourself immersed in a highly magical exhibit of interactive artworks.
Transcending Boundaries is like a sanctuary filled with nature-like spectacles.
And as you explore all its six installations, you'll witness how one image dissolves and connects to the next display.
Each of the artworks showcases a unique scene interrelated with one another.
Truly, this place lives up to its name. It perfectly exceeds the boundaries of art through technology.
2. Sketch Town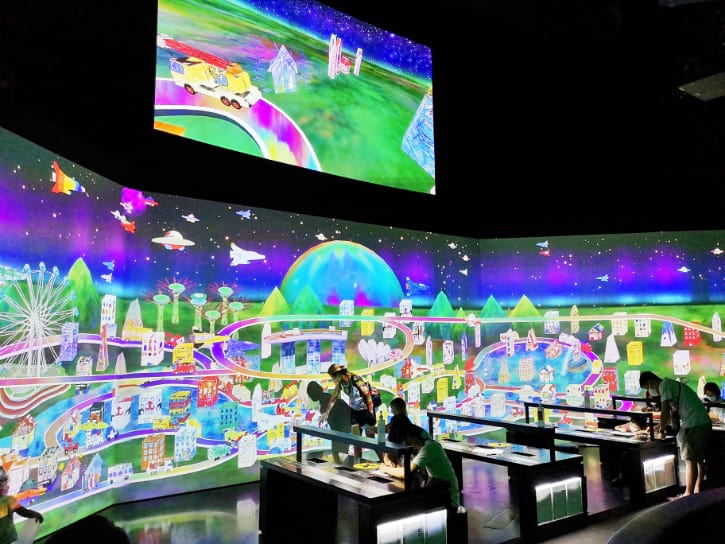 At the Park section, there's the fun and interactive Sketch Town. Enter this fictional Singaporean town that is surrounded by iconic landmarks.
Here, you'll spot the famous Merlion and the ArtScience Museum from the vibrant screen display.
Another thing that makes this place unique is that your drawings can actually be part of the virtual town.
With the provided paper and crayons, you'll have a chance to transform your art into reality!
3. Sliding through the Fruit Field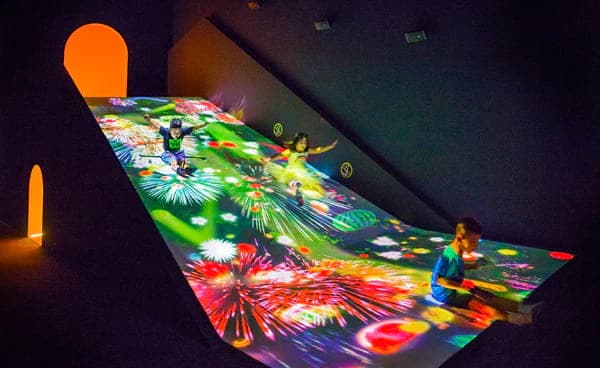 Are you looking for a fun playground in the City in A Garden?
Sliding through the Fruit Field combines physical activity with technology that's why it's a favorite among children.
Let your kids glide down on the colorful slide powered by digital installations. Each descending motion transforms into a beaming display of arts.
Here, you'll capture the unfolding of fruits and flowers in every slide.
4. Inverted Globe, Giant Connecting Block Town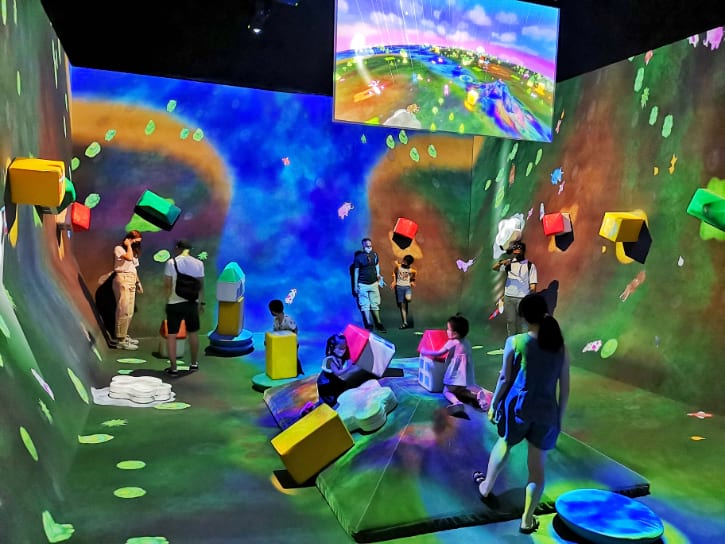 Another kid-friendly spot in the City in A Garden is the Inverted Globe, Giant Connecting Block Town.
This area allows you to create your own transport system and preferred cityscape.
Develop your kids' imagination as they project different vehicles such as cars, trains, boats, and planes.
They can also use giant blocks to design some transport systems like rivers, railways, and roads.
5. Sketch Aquarium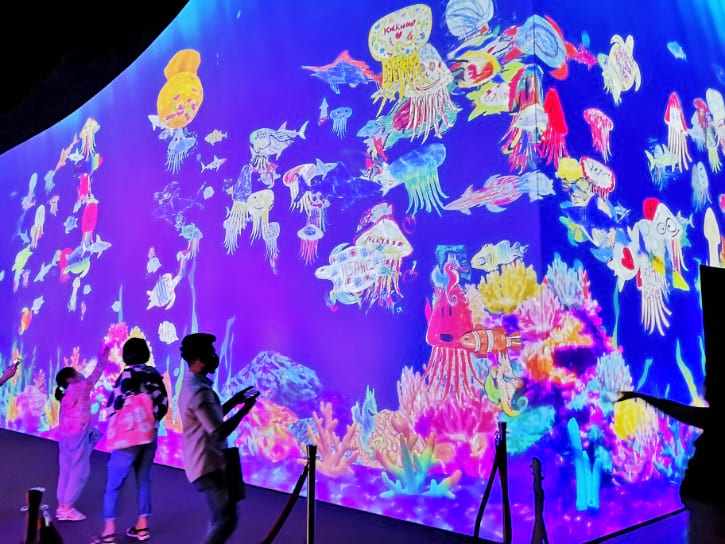 If you're a marine and art lover, then Sketch Aquarium should be on your priority.
Enjoy this virtual underwater world loaded with different kinds of aquatic species. However, this isn't just your normal marine display.
From the name itself, you can actually personalize these sea creatures through your drawings.
Then, these are digitally brought into life so you'll see your creation swimming on the screen.
6. Light Ball Orchestra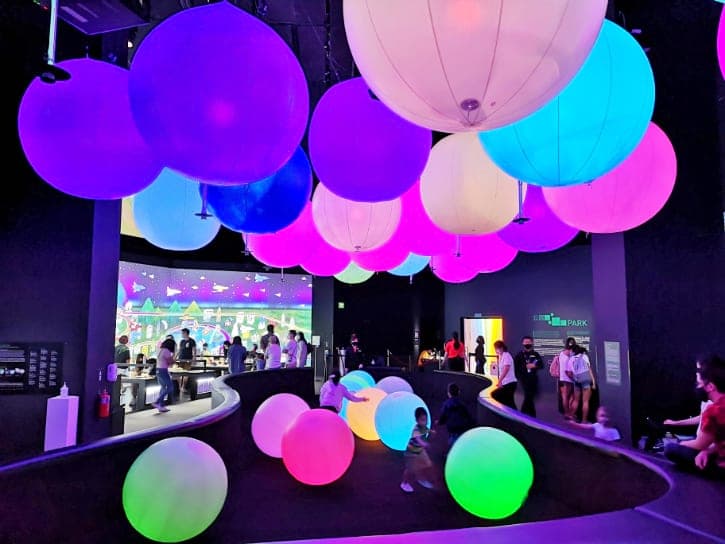 What about combining both colors and sounds?
At Light Ball Orchestra in the Park, you can play with these beach-sized balls that change color when touched.
And once you come into contact with these objects, it produces a unique sound.
So, collaborate with other people to create more beautiful harmony!
Surely, this is a fun activity for all ages. Plus, it's a nice way to put your teamwork to the test!
7. Create! Hopscotch for Geniuses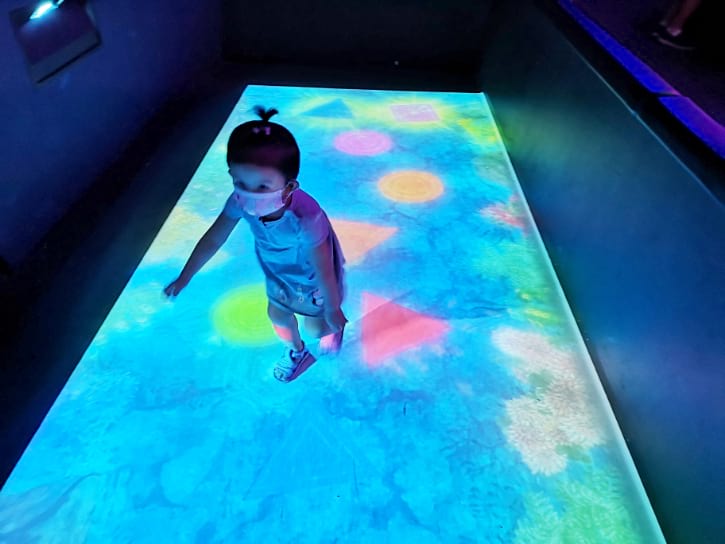 Relive your childhood as you make your own hopscotch game. Create! Hopscotch for Geniuses is meant to energize your senses and enjoy your surroundings at the same time.
With the provided electronic tablet, you can outline your desired hopscotch layout. Move the shapes and customize their arrangement accordingly.
Once done, your game design will be displayed on the floor! Each successful landing on the shape yields stunning colors and sounds, so do your best when hopping!
8. 100 Years Sea [running time: 100 Years]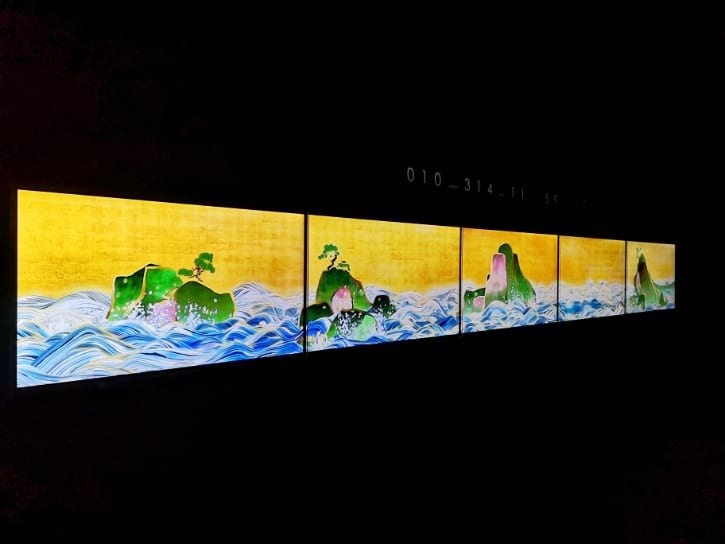 The
100 Years Sea [running time: 100 Years]
is not just a lovely digital display but also an informative one.
See the effects of global warming through an eye-catching video featuring Japanese art.
This virtual animation highlights the increase in sea levels due to climate change.
And more importantly, it is backed up by scientific data via WWF so gain valuable information.
9. Proliferating Immense Life – A Whole Year per Year
Welcome to one of the newest additions to the City in A Garden, the Proliferating Immense Life – A Whole Year per Year!
This installation is such a mesmerizing presentation of the cycle of flowers.
Witness how the flowers blossom, grow, and die in response to the changing seasons for the year.
And when you touch them, they scatter and create a new set of flowers.
10. Sketch Piston – Playing Music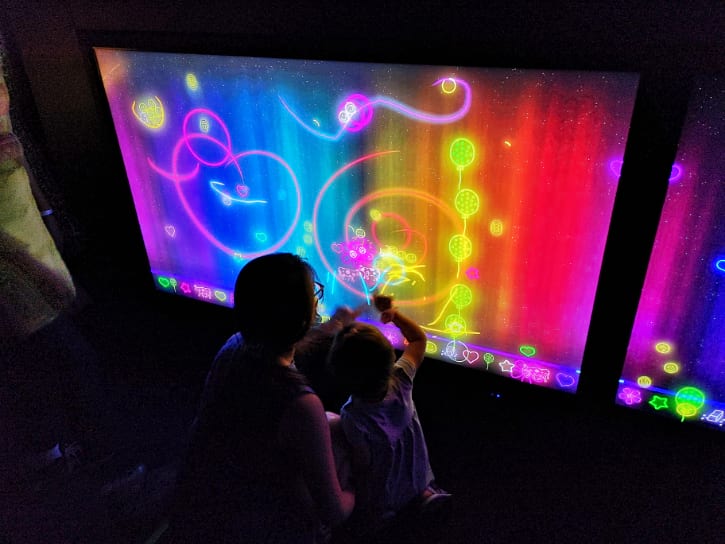 Unleash your musical skills with Sketch Piston – Playing Music!
In this exhibit, you create your own melody through the colorful installations on the screen. These digital icons feature different sounds so you can choose whatever you want.
And if you want to make a fascinating symphony, gather your family and friends for help.
Teamwork is definitely highlighted here if you want to produce a musical masterpiece.
11. A Table Where Little People Live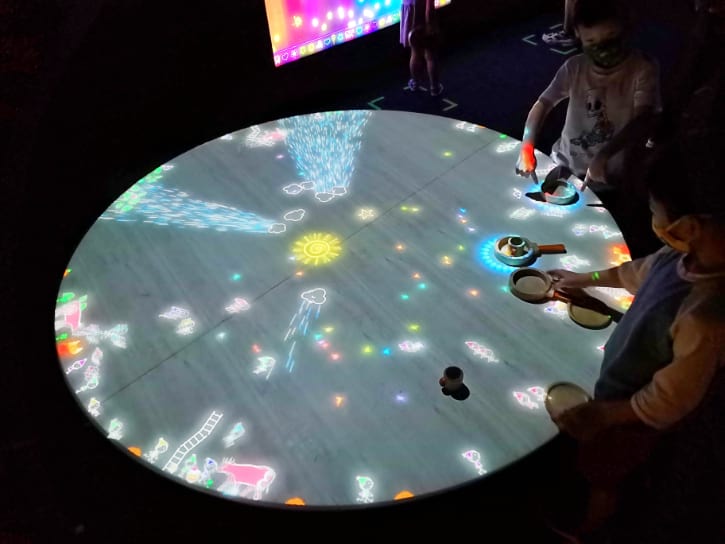 Enter the world of the miniature characters. A Table Where Little People Live is a unique attraction that allows you to interact with small, virtual people on the table.
Simply place your hand on the screen and see how the digital characters react to your movements.
Their actions vary depending on the objects created. The shape and color also affect the animation of their world.
12. Story of the Time When Gods Were Everywhere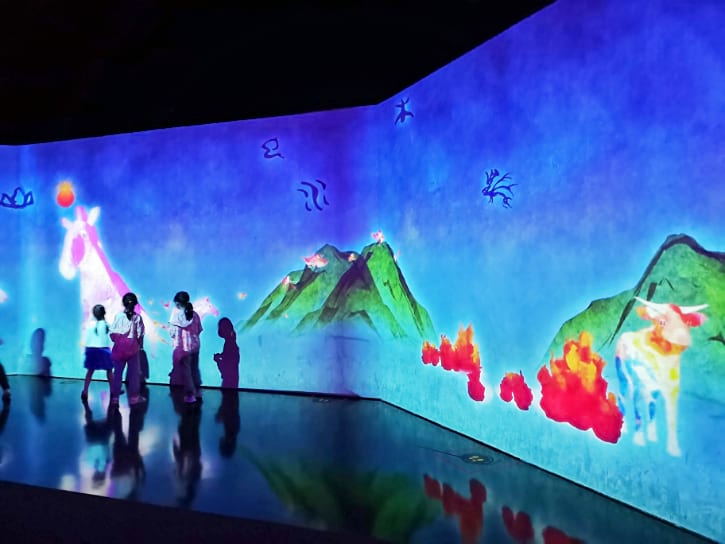 Put your creativity into action as you go into this digital world.
The Story of the Time When Gods Were Everywhere lets you to craft something like it's your first day in the universe.
And don't worry because there are no restrictions on what you draw.
Create your own elements including the rain, mountains, flowers, stars, and everything you can think of. Transform the screen into a virtual world of your own.
13. Crystal Universe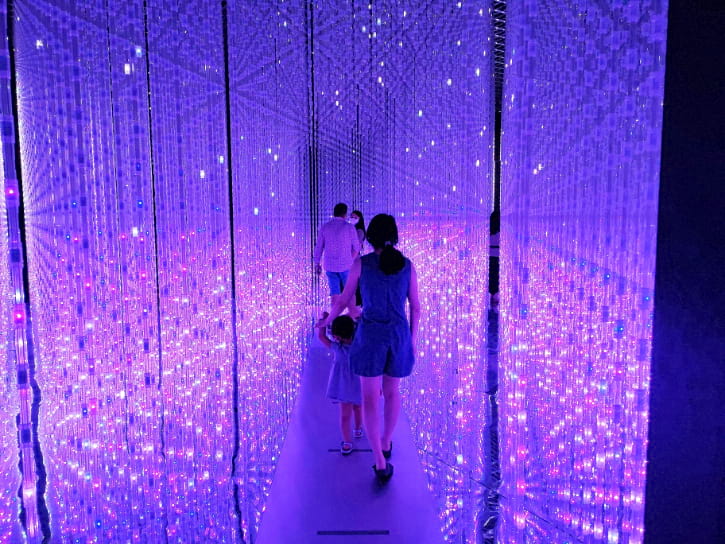 Surrounded by bright light particles, Crystal Universe is the highlight in the Space theme.
Step inside this sparkling sanctuary that is powered by more than 170,000 LED lights.
Because of the thousands of illuminations, it creates a jaw-dropping illusion of moving stars.
Surprisingly, every move you make while inside this spot affects the digital presentation. You can also change the display through the smart devices in the area.
14. The Way of Birds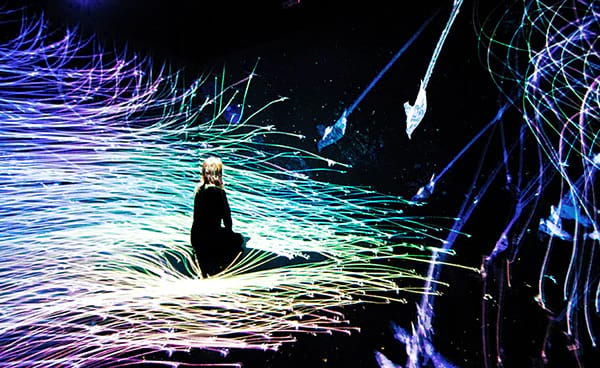 The Way of Birds is the first installation in Sanctuary.
As soon as you enter this place, you'll already feel its tranquility. Embrace its calm vibes as you watch the movement of digital birds.
These creatures react to the presence of the viewers. They fly gorgeously and even avoid the viewer's area before they disappear.
So, if you just want to relax and do nothing, this wonderland is a perfect sanctuary.
My Review
We visited the ArtScience Museum in the afternoon and spent around 2 hours touring around.
Because of the fun attractions in the Future World, my kid really enjoyed the place. And of course, my wife and I also had a great time exploring the exhibits.
It's a nice place for entertainment and education. Plus, the virtual displays in the Future World are diverse and very interactive.
No wonder, it's always included in the most visited places in Singapore because of its impressive variety of attractions for all ages.
During our visit,
we bought the ArtScience Museum tickets online
and
save money
. Not only that but it also made our trip much easier.
The online tickets gave us speedy access to the museum.
Besides reading my ArtScience Museum article, I encourage you to check this extremely helpful Singapore itinerary to learn how to visit many beautiful tourist spots in Singapore without wasting your travel time. So, if you want to make the most of your visit, don't forget to check it out.
Visitor Information and Ticket Prices
Opening Hours:
10:00 AM – 7:00 PM
Normal Ticket Prices:
Adult (13+): SGD $19
Child (2 – 12): SGD $14
Child (Under 1): Free
Money Saving Tips:

If you want to save money and time, it's
highly suggested that you buy your tickets online
. Why?
It's because online tickets are actually 25% cheaper than the on-site ones.
So, here's the link that will let you get a discount of 25% and help you skip the long queues.
Nearest MRT Station:
Bayfront Station, Exit D
Address:
10 Bayfront Avenue, Singapore 018956
Official Website:
https://www.teamlab.art/e/artsciencemuseum/
Where to Go after Future World
Below are some attractions that you can consider adding to your itinerary.
Both Gardens by the Bay and Sands SkyPark are very near ArtScience Museum, so you can visit them after ArtScience Museum.
If you're travelling in Sentosa, then you should pop by Madame Tussauds and SEA Aquarium.
1. Gardens by the Bay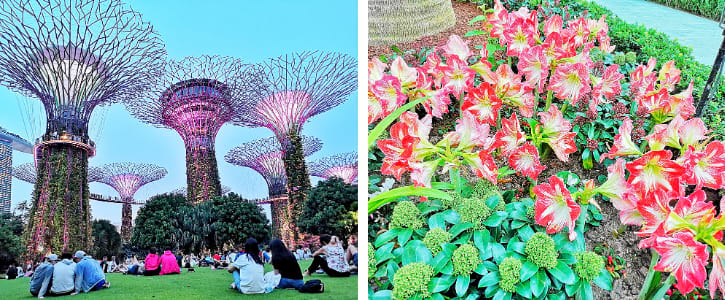 Unwind at the scenic spots of Gardens by the Bay. You can start with Flower Dome & Cloud Forest and then the Supertree Grove and OCBC Skyway.
You can check out this full guide to Gardens by the Bay to make your preparation more efficient.
2. Sands SkyPark Observation Deck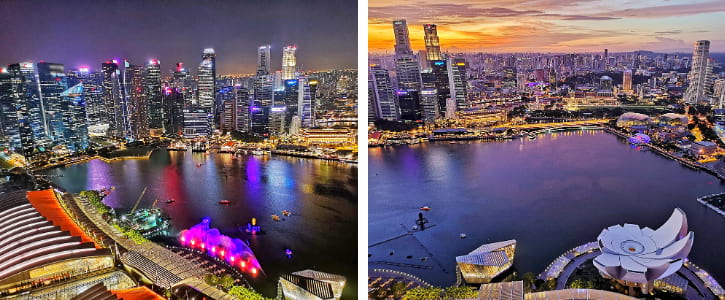 Capture the entire cityscape from the Sands SkyPark Observation Deck. Before you visit this spot, here's my recent Sands SkyPark Observation Deck review that lists down all relevant information.
3. S.E.A. Aquarium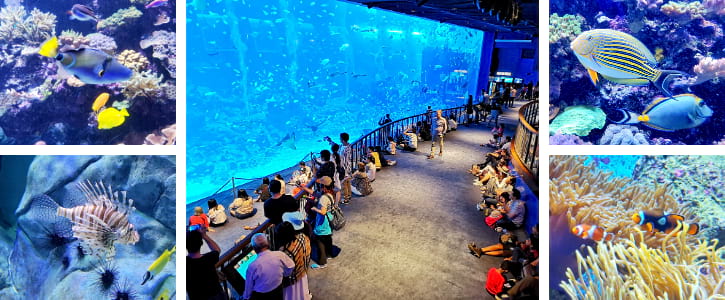 Take your kids to the S.E.A. Aquarium and let them explore the aquariums filled with various sea creatures.
And if you want to tour this place soon, just read my complete guide to SEA Aquarium Singapore for more details.
4. Madame Tussauds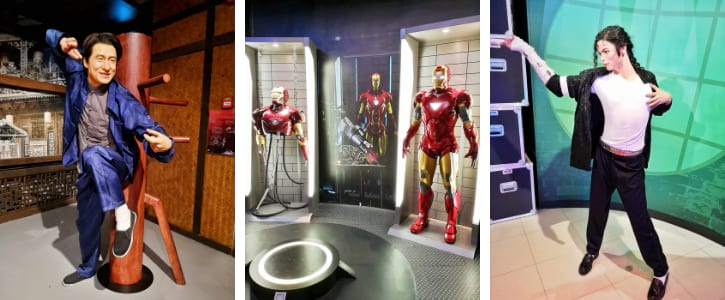 Get up-close with the wax figures of your favorite stars at Madame Tussauds.
To make your trip much easier, be sure to scan this detailed guide to Madame Tussauds Singapore ahead of time.
How to Go to ArtScience Museum by MRT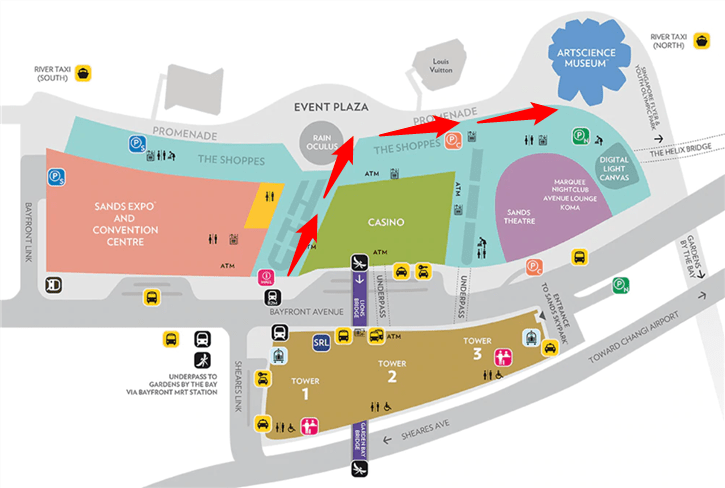 The best way to go to ArtScience Museum at an affordable price is by taking MRT.
The closest MRT station to ArtScience Museum is Bayfront MRT Station.
When you reach the Bayfront MRT Station, just head for the Exit D. From there, you can walk to ArtScience Museum in 5 minutes.
To guide you, here're the detailed steps on how to walk from Bayfront MRT Station to ArtScience Museum.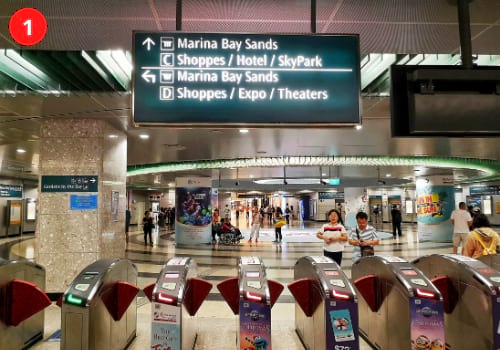 1. Take the Circle Line or Downtown Line to Bayfront MRT Station and then look for the Exit D.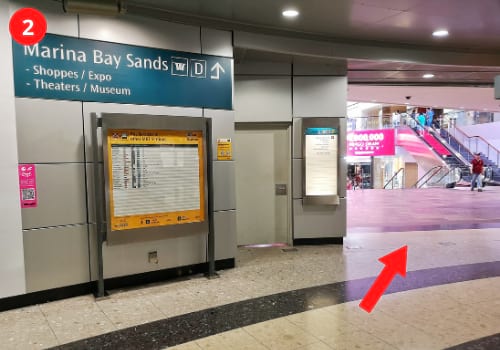 2. Follow the Exit D direction board for museum.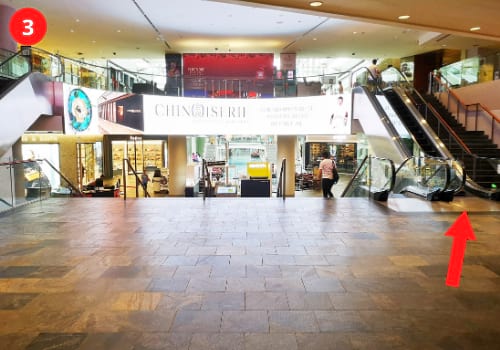 3. Take the escalator up to the level 1.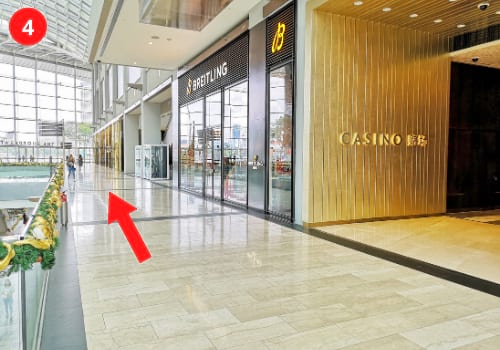 4. Going straight on until the end.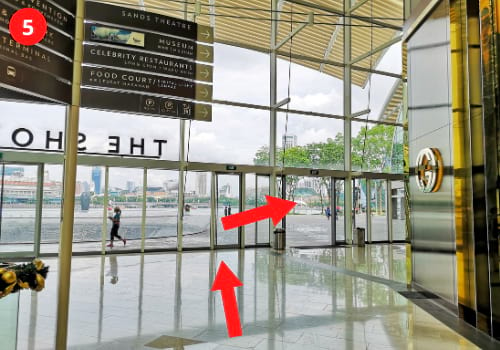 5. Turn right after you go out of the door of The Shoppes shopping mall at Marina Bay Sands.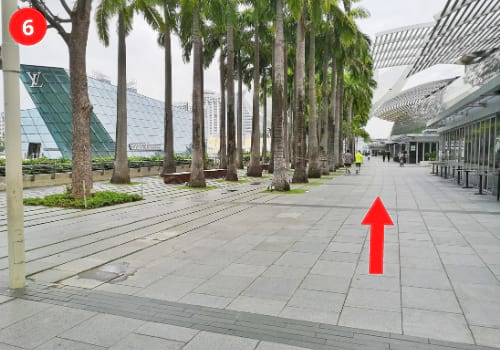 6. Head straight and soon you will see the ArtScience Museum.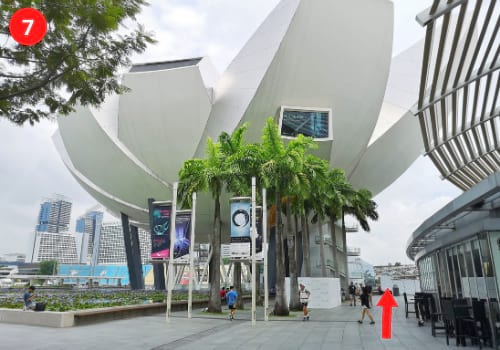 7. You're closer to the museum now.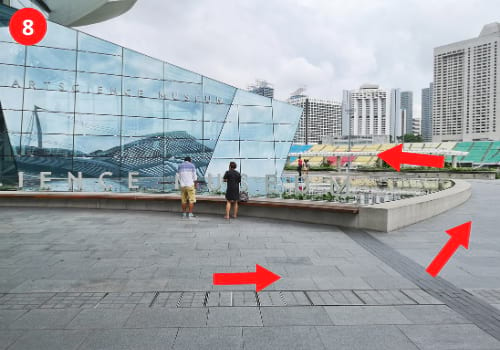 8. At this point, you should turn left.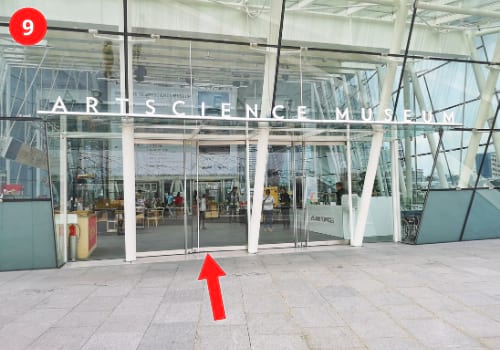 9. Here's the entrance of ArtScience Museum.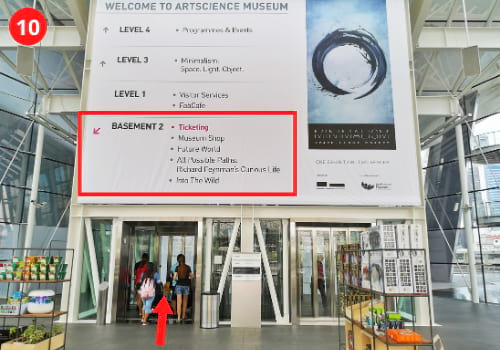 10. Go in and then take the elevators to the basement 2 for Future World exhibition.
Related Posts