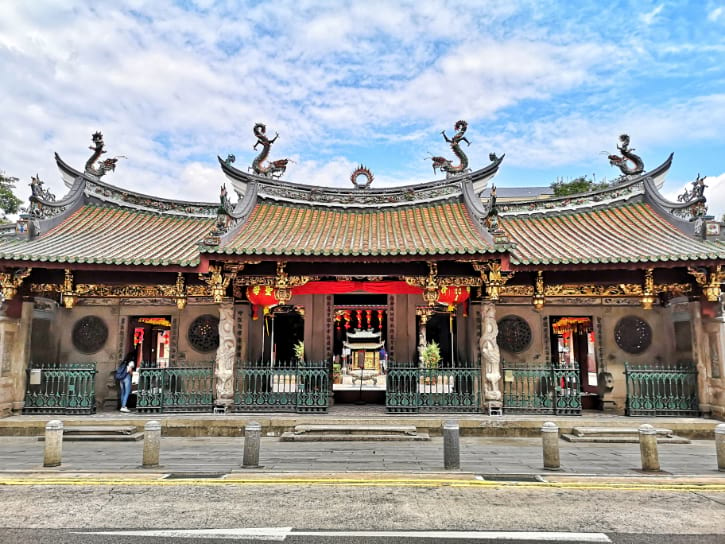 Expand your cultural and spiritual knowledge through my list of beautiful Buddhist and Hindu temples in Singapore. Exploring these religious spots is a great way to spend your day in Singapore. It offers you not just gorgeous backdrops but also interesting bits and pieces of history.
More so, these attractions are known for their architectural designs that highlight a distinctive religion. Unravel the beliefs of the locals through different Taoists, Buddhist, and Hindu temples scattered in the country.
Apart from visiting these spectacular temples, there's an impressive array of places to visit in Singapore. But for now, let me enumerate the most attractive temples in Singapore and discover its beauty and history. With the help of the collection below, you can smoothly plan out your schedule before your holiday.
Gorgeous Taoist and Buddhist Temples
Both Taoism and Buddhism occupy a portion of the country's religious sector. Though these religions coexist, there are still certain distinctions between the two. Let's have a better familiarity with these popular beliefs as I set out seven Taoist and Buddhist temples in Singapore.
1. Thian Hock Keng Temple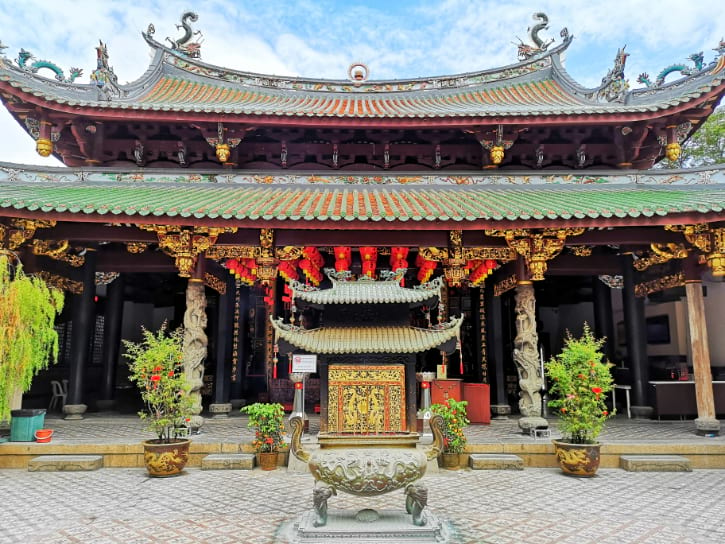 The Thian Hock Keng Temple is more than just a house of worship. Since its construction, it has become a remarkable attraction among the locals and even international visitors because of its majestic design. It sophisticatedly outlines the uniqueness of the Chinese architectural style, from the temple facade up to its interior.
This Taoist temple was primarily built for the Goddess of the Sea ― Mazu. Even so, it encompasses other associated religions such as Buddhism, Confucianism, and Ancestral Worship. As a result, it has gained popularity from various dialect groups, making it to the list of the most historical places in Singapore.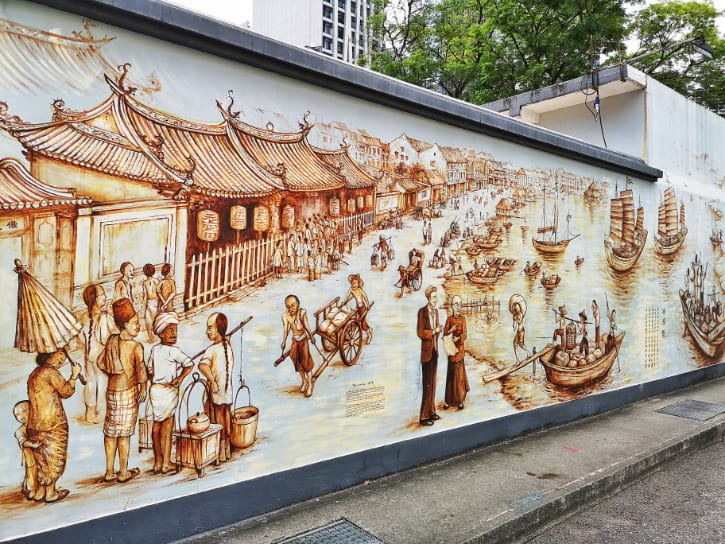 There are guided tours to assist you in learning more about the history of the temple, along with its relevant customs and heritage. Aside from these free tours, you can personally walk around the vicinity of the temple, where you'll find a piece of the past.
The murals presented on the outside wall of the structure portray the story of the early Hokkien immigrants who moved to Singapore.
Opening Hours:
7:30 AM – 5:30 PM
Access:
Telok Ayer MRT Station, Exit A
Address:
Thian Hock Keng, 158 Telok Ayer Street, Singapore 068613
2. Buddha Tooth Relic Temple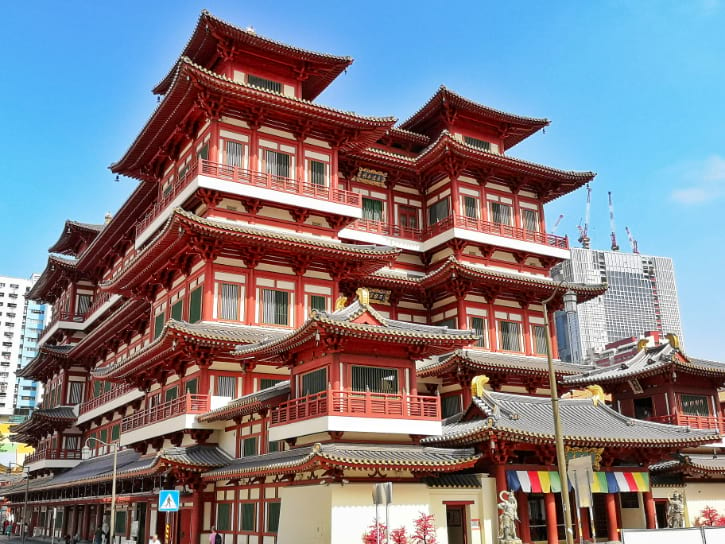 Buddha Tooth Relic Temple is both a national landmark and an architectural wonder. Even from afar, you'll already feel the grandeur of this stunning religious site. Set in the bustling Chinatown district, the temple is actually part of a vast museum complex in Singapore that serves as a repository for Buddhist relics.
And from the name itself, you'll have an idea of its more revered artefact, which is Buddha's canine tooth. This important piece was extracted during his funeral pyre in India and is now being exhibited in the temple.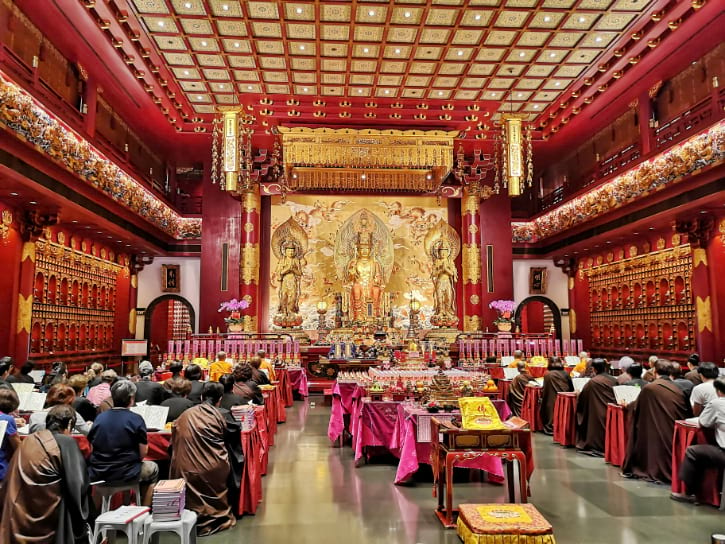 Because of its prominence, it has become a must-see Buddhist temple in Singapore for every local and tourist. People from all walks of life visit the site to pay homage to Buddha and pray.
Explore the cosmic interiors that feature elegance and holiness. After touring the museum complex, there are still several things to do in Chinatown. So if you have extra time, make the most out of your visit.
Opening Hours:
7:00 AM – 7:00 PM
Access:
Chinatown MRT Station, Exit A
Address:
288, South Bridge Road, Singapore 058840
3. Sakya Muni Buddha Gaya Temple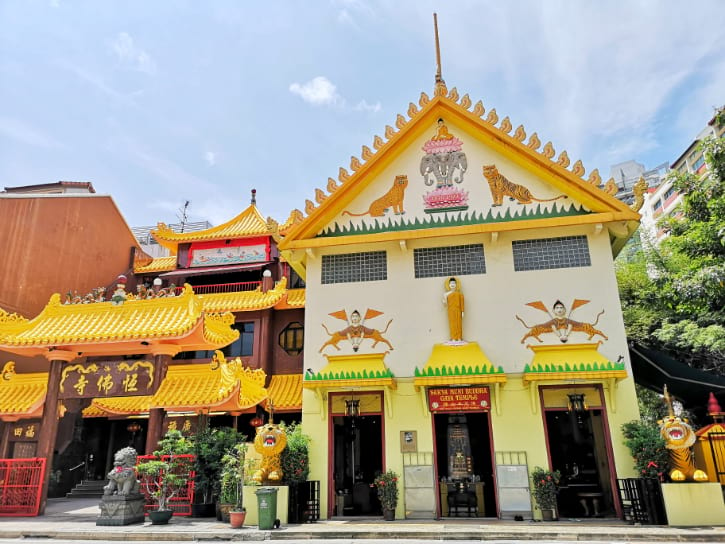 Escape the crowd and head to Sakya Muni Buddha Gaya Temple. You can't miss this monastery because of its vivid colours that represent various cultures, including Chinese, Indian, and Thai. Featuring a bright architectural design, the temple is situated along the Race Course Road.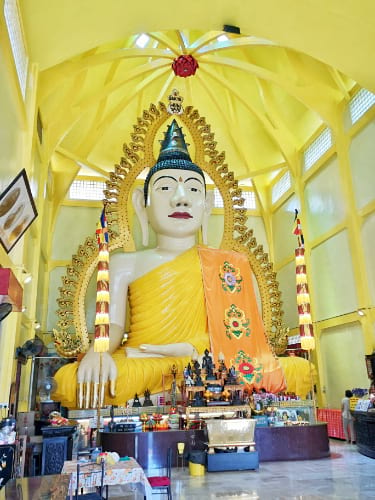 Just like its exterior, the interior of Sakya Muni Buddha Gaya Temple is such a sight to see. Inside, you'll come across a giant Buddha statue that stands at 15 feet and weighs over 3000 tons. At the foot area is a mural that demonstrates the life events of Buddha.
Together with the 1000 colorful lamps surrounding the massive statue, the place is rimmed with several illuminations. Because of this, it's often called the "Temple of Thousand Light". Continue to walk around and discover more beautiful Buddhist exhibits that depict some historical and cultural facts.
Opening Hours:
8:00 AM – 4:45 PM
Access:
Farrer Park MRT Station, Exit G
Address:
366 Race Course Road, Singapore 218638
4. Kwan Im Thong Hood Cho Temple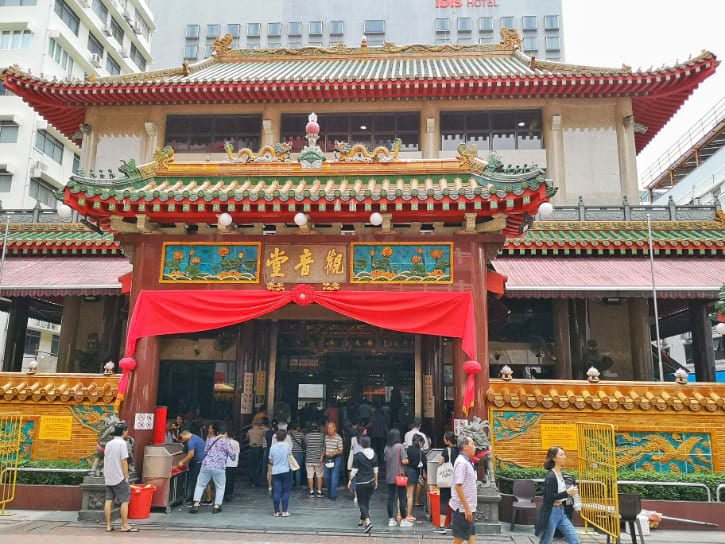 Kwan Im Thong Hood Cho Temple is a remarkable place of worship nestled along Waterloo Street. With its convenient location, it has become one of the famous attractions in Bugis. Venture to this famous Chinese temple that was established in veneration for the Chinese goddess of mercy ― Guan Yin.
Constructed in 1884, the structure is always regarded for its philanthropy. Every 1st or 15th day of the Chinese New Year, devotees gather to Kwan Im Thong Hood Cho Temple to pray for Guan Yin. During these days, the vicinity of the temple is surrounded by stalls selling flowers and incense.
Opening Hours:
6:00 AM to 6:00 PM
Access:
Bugis MRT Station, Exit C
Address:
178 Waterloo Street, Singapore 187964
5. Hong San See Temple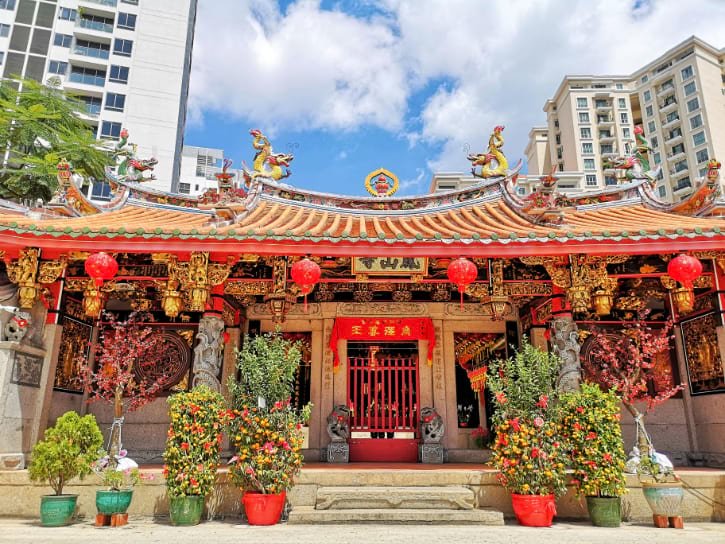 The uniqueness of the Hokkien immigrants is beautifully depicted in the Hong San See Temple. Get a load of the elegant architecture that exudes sophistication and tranquillity. The dancing dragons, phoenixes, peonies, granite columns, and porcelain ornaments illustrate the excellence of Chinese cultural style.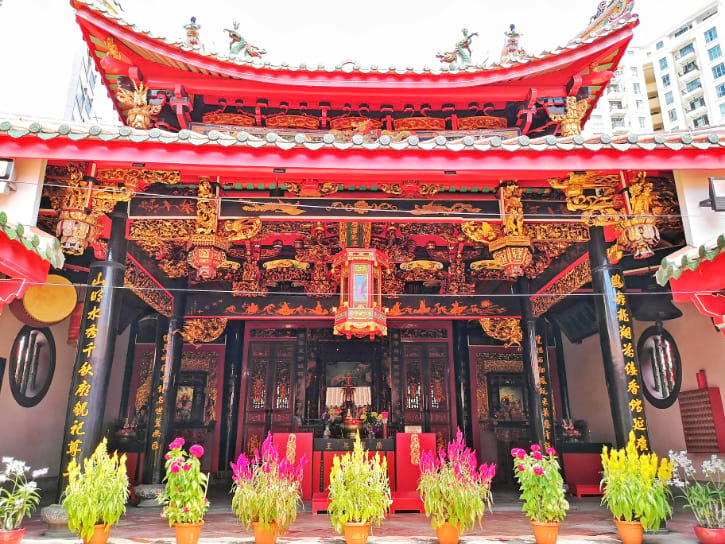 Aside from its refined decors, this Chinese temple is strategically set within the Central Area, along the Mohamed Sultan Road. So, if you're exploring Singapore's Clarke Quay, this is a good place to visit.
With its location, it is surrounded by high-end apartments, restaurants, and bars.  But did you know that the Hong San See Temple once had an unobstructed seascape? Long before Singapore's economic development, the place was perched on a small hill to provide gorgeous water views. Despite the commercial alterations, it remains to settle on high ground. Hence, visitors have to hike the long stair flight.
Opening Hours:
8:00 AM – 6:00 PM
Access:
Fort Canning MRT Station, Exit A
Address:
31 Mohamed Sultan Road, Singapore 238975
6. Lian Shan Shuang Lin Monastery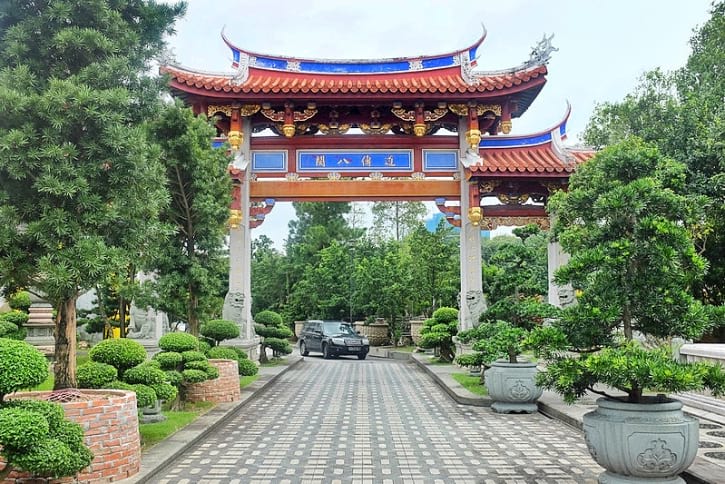 Lian Shan Shuang Lin Monastery, or Siong Lim Temple, is a scenic and serene place of worship. Unlike most temples in the city, this hidden gem is situated near the Pan Island Expressway. It stands out even with the towering apartments surrounding the block.
Adding to its uniqueness is the fact that the architect of the structure continues to be unknown. Based on its design, it is said to outline the Xi Chan Si temple in China, where you'll find prominent wood carvings and beams.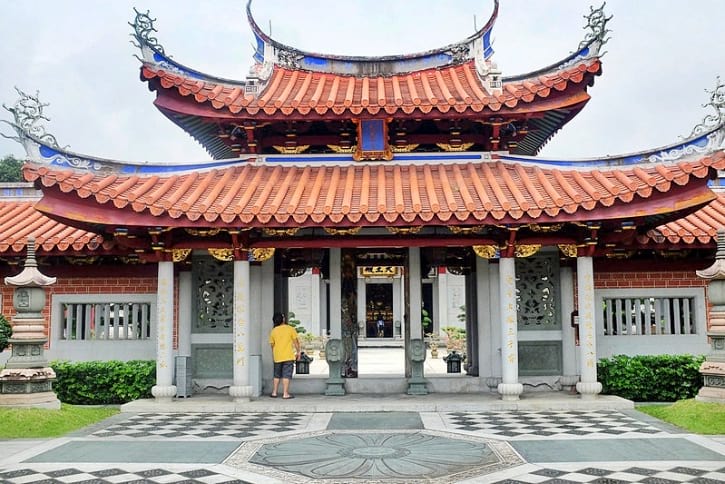 Another focal point within this vast holy expanse is the seven-storey pagoda in gold. But before you can enter the monastery, you have to go through the beautifully decorated pathway that leads the monastery's courtyard.
As the country's oldest monastery, its architectural structures hold a historical value, particularly the Mahavira Hall and Hall of Celestial Kings. Both portions of the monastery are considered as National Monuments.
Opening Hours:
8:00 AM – 5:00 PM
Access:
Take MRT to Toa Payoh MRT Station, and then catch bus 238 or 235 to Lian Shan Shuang Lin Monastery.
Address:
184 Jalan Toa Payoh, Singapore 319944
7. Kong Meng San Phor Kark See Monastery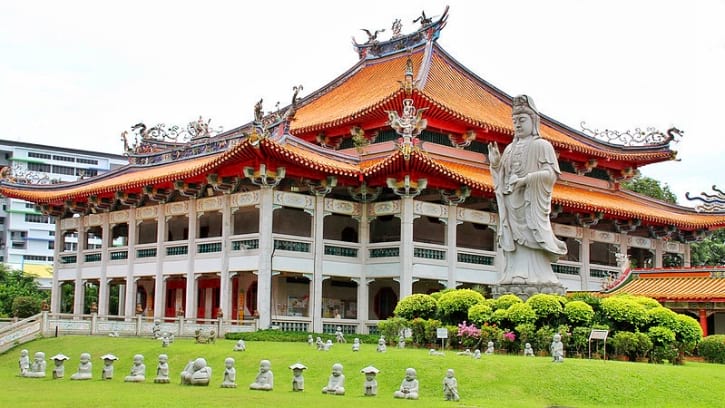 The Kong Meng San Phor Kark See Monastery is a 20th century religious complex that settles in the midst of industrial and residential buildings. Even so, it gives off a rather grandiose ambience because of its expansive grounds, making it the biggest Buddhist temple in Singapore.
Furthermore, it offers not just a worshipping place but also lodging for monks. There are also several shrine and ancestral halls, as well as a memorial area within the compound.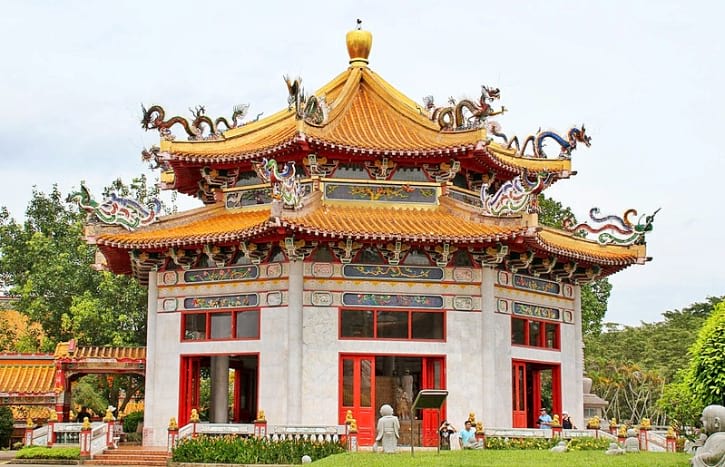 Also called the Bright Hill Temple, the Kong Meng San Phor Kark See Monastery offers a lot of services and activities. They have counselling services, meditations, retreats, health & wellness, refuge taking, Dharma learning, and more. Lastly, the monastery celebrates various events such as Chinese New Year, Vesak Day, Qing Ming Festival, Ullambana, and Shui Lu.
Opening Hours:
9:00 AM – 4:00 PM
Access:
Take MRT to Bishan MRT Station, and then catch bus 52 or 410 to Kong Meng San Phor Kark See Monastery.
Address:
88 Bright Hill Road, Singapore 574117
Stunning Hindu Temples
Hinduism takes up more than 5% of the country's total population. Even with the lesser percentage, there are quite a number of Hindu temples in Singapore. Below are some of the must-visit shrines that inimitably reflect the uniqueness and vibrance of this particular religion.
8. Sri Mariamman Temple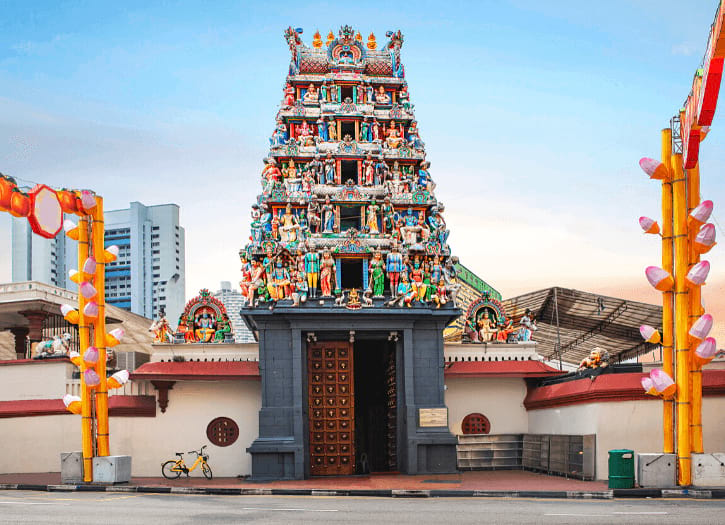 Sri Mariamman Temple is no doubt an impressively imposing temple that turns heads. The colors and intricate designs charting the temple prove its worth as a must-visit place in Chinatown. Likewise, this multi-colored structure is considered as a national monument.
Aside from its lively atmosphere and cultural significance, the Sri Mariamman Temple is also labelled as the oldest temple in Singapore. It was constructed back in 1827 by an Indian trader named Naraina Pillai. Since then, it has undergone many renovations to keep its historical value at its peak.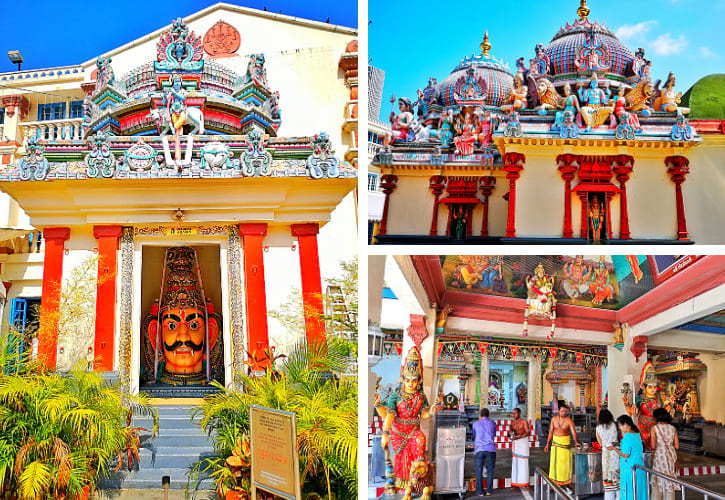 Now, the temple continues to be a well-known spot for those who want to honor the goddess of protection and disease ― Mariamman.
During your visit, make sure to stop by the Gopuram, which is covered with elaborative ornaments. See up-close the intricate sculptures of mythological creatures and deities surrounding the grand tower entrance.
Opening Hours:
Morning: 5:30 AM – 12:00 PM
Evening: 6:00 AM – 9:00 PM
Access:
Chinatown MRT Station, Exit A
Address:
244 South Bridge Road, Singapore 058793
9. Sri Veeramakaliamman Temple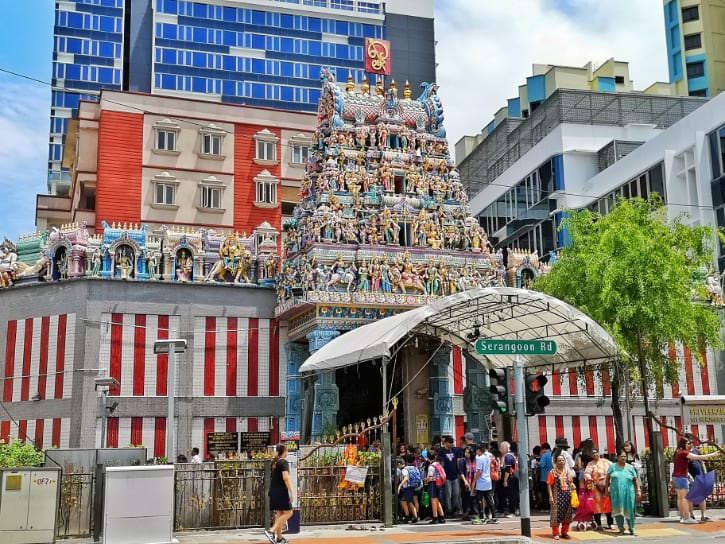 Sri Veeramakaliamman Temple is undeniably another beautiful representation of Dravidian architecture.  This is characterized by the main temple tower enclosed by a compound wall, with an entrance gateway in the centre. This religious complex was put up by Indian pioneers who first worked and settled in the Serangoon area.
During the early times, it was once called the "Temple at the Lime Village" or "Soonambu Kambam Kovil". After years of reconstruction, this colorful shrine remains to a breath-taking vision in the bustling Little India. All the intricate designs still stand out, showcasing the brilliant artworks of Hindu deities such as Sri Periachi, Sri Visalatchi, Lord Vinayagar, and more.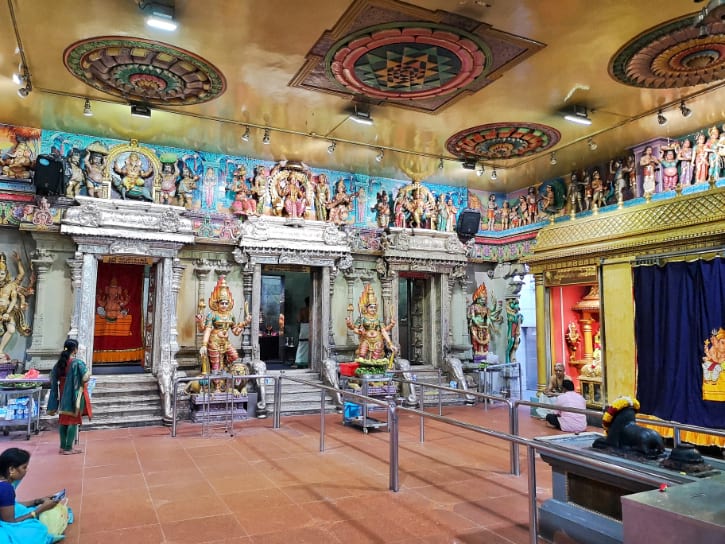 Even with the number of deities honoured, Sri Veeramakaliamman Temple considers Sri Veeramakaliamman, the destroyer of evil, as its chief divinity. It is believed that her power and presence helped the early Indian migrants.
Opening Hours:
5:30 AM – 12:30 PM
4:00 PM – 9:30 PM
Access:
Little India MRT Station, Exit E
Address:
141 Serangoon Road, Singapore 218042
10. Sri Srinivasa Perumal Temple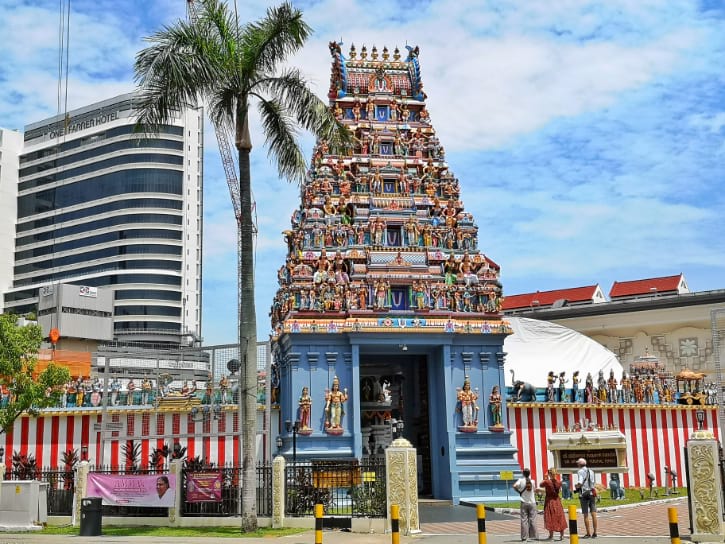 The Sri Srinivasa Perumal Temple is almost the same as Sri Veeramakaliamman Temple in terms of architectural style. However, they differ with their main deity. Previously called as Sri Narasimha Perumal Temple, it was the first temple built in honor of Sri Perumal, or famously known as Lord Vishnu.
Tracing its history, the temple was created out of the aspirations of prominent community leaders to have a Vaishnavite place of worship. Their goal was materialized during the late 1800s, together with the help of East India Company.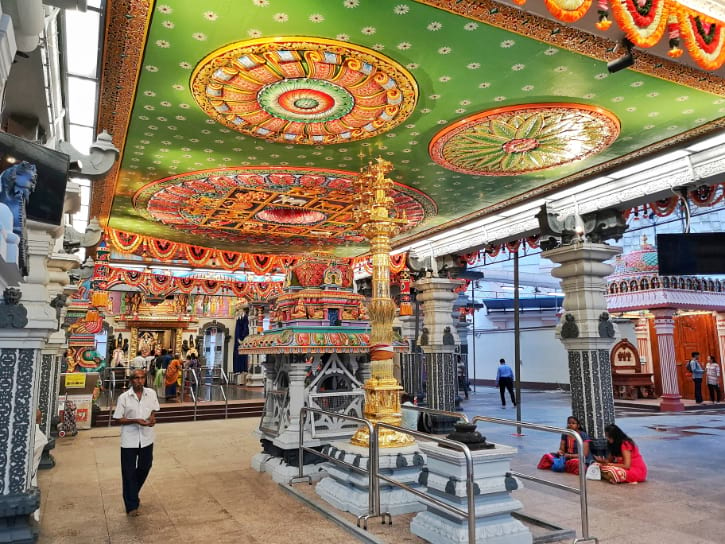 At present, the temple stunningly illustrates Hinduism through its rich ornamental designs and sculptural embellishments. Apart from being considered as a place of worship for Lord Vishnu, it celebrates different festivals such as Brahmotsavam, Purattasi Sani, and Vaikunda Ekathesi. You can find the Sri Srinivasa Perumal Temple within Little India, along the Serangoon Road.
Opening Hours:
6:15 AM – 12:00 PM
6:00 PM – 9:00 PM
Access:
Farrer Park MRT Station, Exit G
Address:
397 Serangoon Road, Singapore 218123
11. Sri Krishnan Temple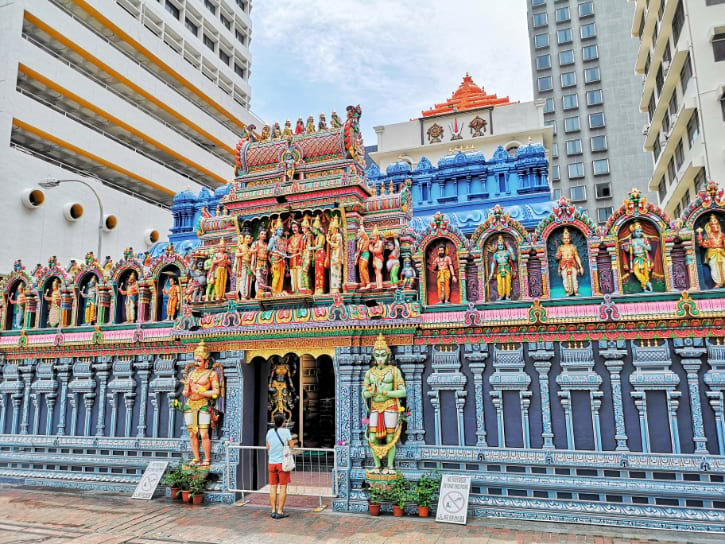 A religious spot established for Sri Krishna and his trusted consort, the Sri Krishnan Temple is situated on Waterloo Street. Around the vicinity, you'll find another famous temple ― the Kwan Im Thong Hood Cho Temple.
Erected during the 18th century, the Sri Krishnan Temple features the traditional, Southern Indian architecture. Its main entrance is fringed with the incarnations of Lord Vishu, together with other relevant events. For the main tower, you'll witness an array of colorful statues decorated with semi-precious stones. Aside from the spectacular gopuram, the temple complex has a prayer hall and a four-storey annex with rooms.
Opening Hours:
6:30 AM – 12:30 PM
5:30 PM – 9:00 PM
Access:
Bugis MRT Station, Exit C
Address:
152 Waterloo Street, Singapore 187961
12. Sri Senpaga Vinayagar Temple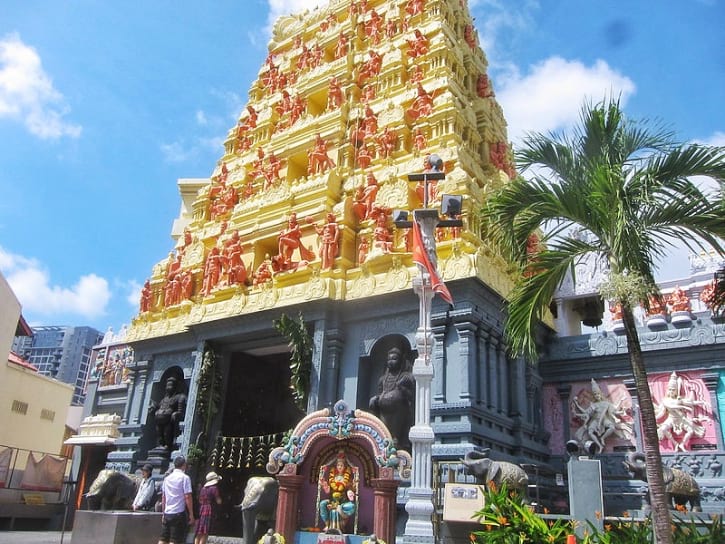 A representation of Ceylonese Hindus, the Sri Senpaga Vinayagar Temple originated from the early Ceylonese community in the country. Its history can be traced back during the 18th century, when a stone figure of Hindu god, Vinayagar was recovered along a stream bank near a chempaka tree.
From there, the Ceylonese or Tamil inhabitants constructed the now Sri Senpaga Vinayagar Temple, which is located at the Ceylon Road. Standing at 21-metre tall, the entrance tower is clothed in gold and decorated with deity images. One of the highlights in the temple is the musical pillar that creates beautiful melodies when tapped.
Opening Hours:
6:30 AM – 12:00 PM
6:30 PM – 9:00 PM
Access:
Take MRT to Dakota MRT Station, and then catch bus 10 or 32 to Sri Senpaga Vinayagar Temple.
Address:
19 Ceylon Road, Singapore 429613
13. Sri Thendayuthapani Temple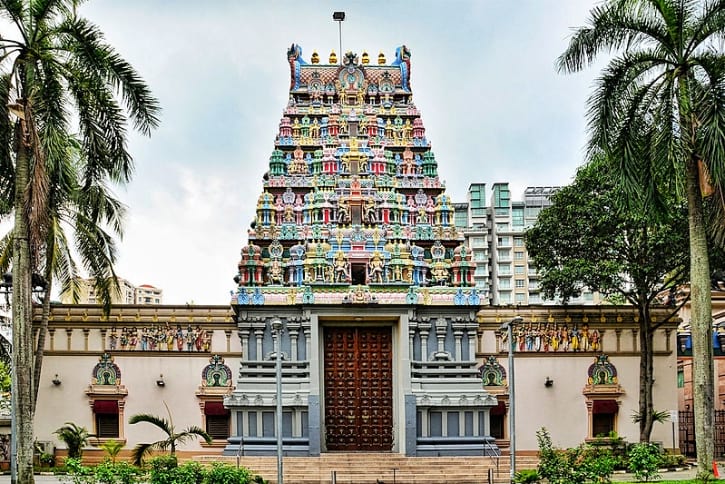 Sri Thendayuthapani Temple, or sometimes called the "Chettiars' Temple", is considered as a national monument. Constructed in 1859 A.D, it holds a reputation as one of the first Hindu temples in the country.
Inside this sprawling expanse are religious relics in honour of Lord Sri Thendayuthapani, or also known as Murugan. Also within the temple grounds is a vast, beautifully-designed stage that serves as a venue for special occasions.
Annually, the Sri Thendayuthapani Temple hosts significant festivals including Thaipusam, Skantha Shashti, LetchaArchanai for Meenakshi Amman, Durgai Amman, Thiru Karthig, and Navarathri. During these festivals, the place exudes a vibrant vibe bounded by colourful designs and bountiful offerings.
Opening Hours:
8:00 AM – 12:00 PM
5:30 PM – 8:30 PM
Access:
Fort Canning MRT Station, Exit A
Address:
15 Tank Road, Singapore 238065
14. Sri Sivan Temple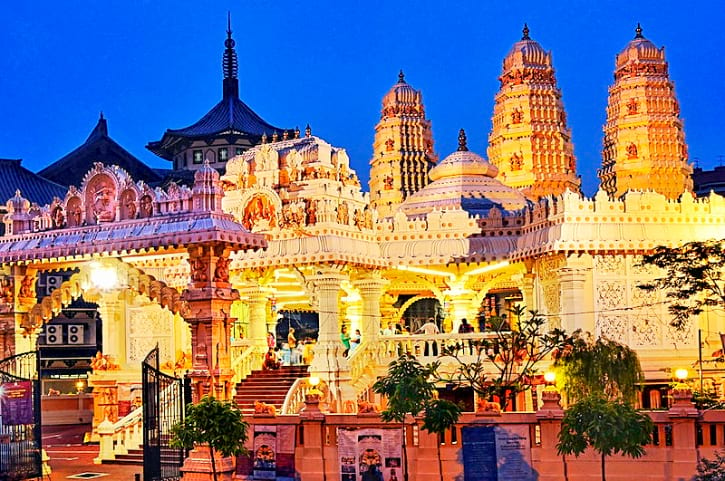 The Sri Sivan Temple is another Hindu place of worship that deserves your attention. Draped in white and beige colors, it's easy to spot this temple along Geyland East Avenue 2. But before its permanent location, Sri Sivan Temple was relocated several times, including areas such as Dhoby Ghaut MRT station, Potong Pasir, and MacDonald House.
This splendid structure was built during the 18th century in honor of the god Shiva. Many centuries later, the place continues to be a remarkable site for people who want to spend a holy time. And if you want, you can attend the morning and evening prayers, which are held every day.
Moreover, the temple pays respect to important Hindu festivals such as Vinayagar Sathurthi, Maha Sivarathiri, Vaikasi Visakam, Guru Peryarchi, Thirukarthigai, Thiruvembavai Vizha. It's also considered as a venue for post-death rituals.
Opening Hours:
8:30 AM – 11:30 AM
6:30 PM – 8:30 PM
Access:
Paya Lebar MRT Station, Exit C
Address:
24 Geylang East Avenue 2, Singapore 389752
15. Sree Maha Mariamman Temple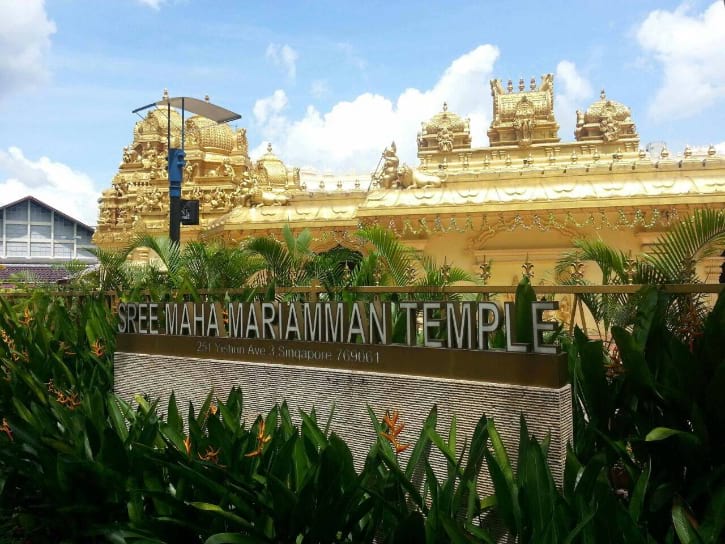 Sree Maha Mariamman Temple is incontestably the most extravagantly designed Hindu shrine. From its golden colors to its elegant design, it's hard not to notice this place that settles in between two religious spots.
Uniquely, the temple features the sophistication of Italian and Spanish ornaments into its architectural structure. Enclosing the main complex are Hindu statues, precious stones, and beautiful carvings. Inside, you'll see a lot of hand-painted pieces that illustrate early Hindu events.
Centuries ago, the Sree Maha Mariamman Temple was established by Tamil immigrants who wanted solace after a demanding work as contract laborers. The construction then began in 1873.
After many years, the temple continues to provide serenity to people looking for spiritual enlightenment. They have even expanded, offering community and social services to the locals. Surely, this solemn place with inspiring and intricate designs is worth the visit.
Opening Hours:
Timings
Access:
Take MRT to Yishun MRT Station, and then catch bus 811 to Sree Maha Mariamman Temple.
Address:
251 Yishun Avenue 3, Singapore 769061
Related Posts