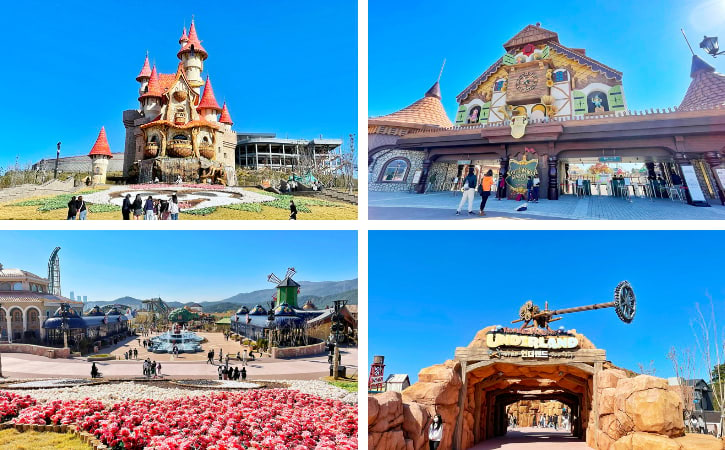 Lotte World Adventure Busan is jampacked with fun rides and memorable shows to entertain every visitor.
This new theme park in Busan is definitely recommended, so you shouldn't miss it during your trip.
In this guide, I will share with you the 14 best attractions and rides in Lotte World Busan theme park. All spots not just offer a unique experience but are also very remarkable for picture-taking.
In addition, I will explain how to go to Lotte World Busan. You've got 3 ways to get to the theme park. And don't worry because I'll share all options in this post.
Without any delay, let's get started with our list! 😊
1. Giant Splash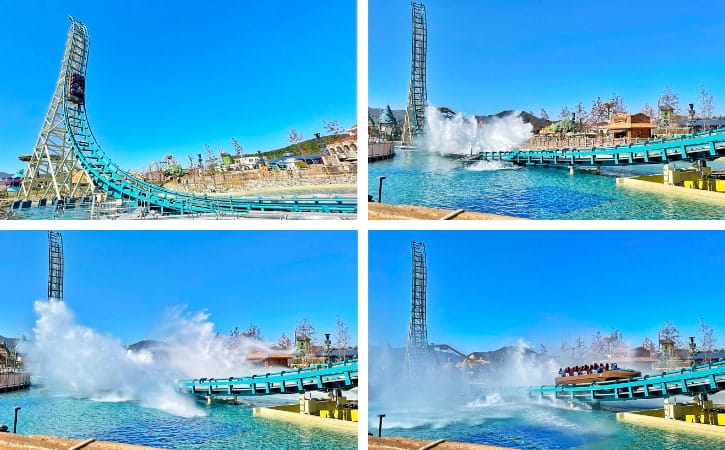 At the top of the list of best Lotte World Busan rides is no other than the Giant Splash. Here, you get to enjoy a fast-paced ride in a water set-up!
Experience the thrill as the vehicle travels from one side to another. And of course, you need to prepare yourself in advance because you'll certainly get wet.
2. Giant Digger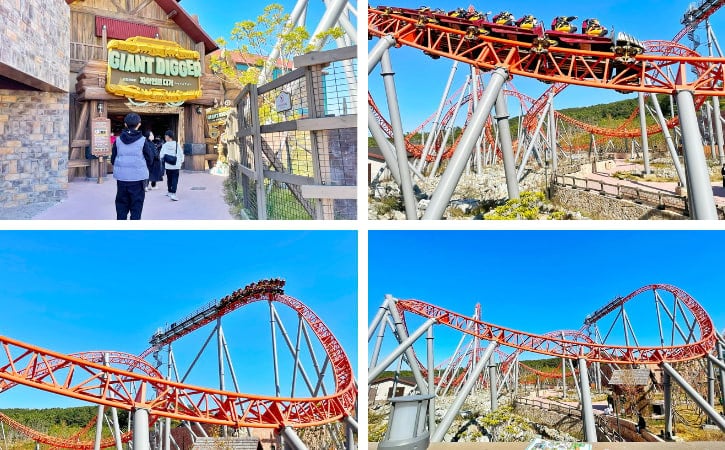 Giant Digger is a rollercoaster that surely excites your senses.
In fact, this ride is one of the must-try attractions at Lotte World Busan theme park, especially for thrill-seekers.
So, get ready as you embark on a high-speed journey with your friends. And, be sure to marvel at the beautiful surroundings as you navigate through the tracks.
3. Giant Swing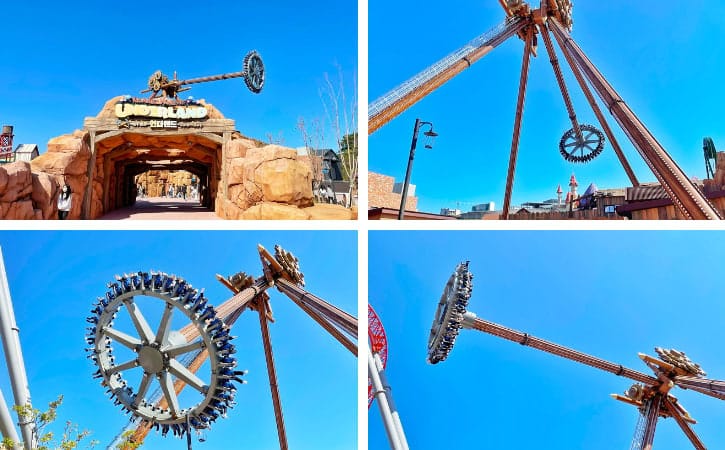 Giant Swing is another famous ride that keeps you energized.
From afar, this may appear very plain and uninteresting. But, don't underestimate the constant swivels that would make your head dizzy.
So, step into your seat and wait for that slow yet electrifying swings.
4. Cookie Train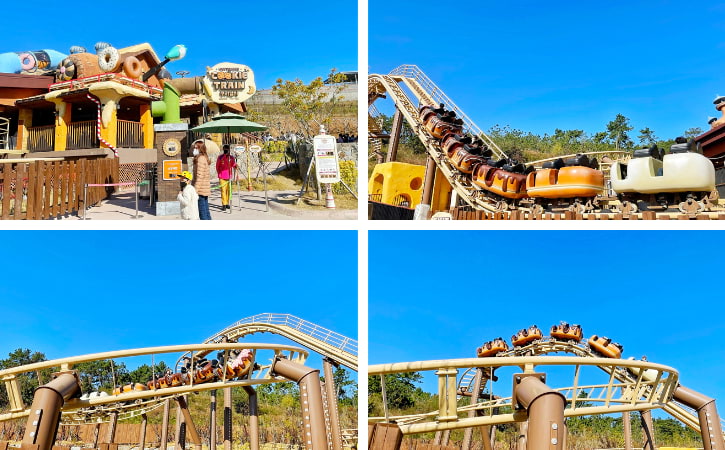 Cookie Train is one of Lotte World Busan's most popular family-friendly rides that should be part of your list.
Riding this rollercoaster may not be as challenging as the other options, but it's still commendable!
Have fun with the exciting slopes and see the breathtaking views from your seat. And before I forget, you will be riding on a donut-shaped cart!
5. Spinning Swing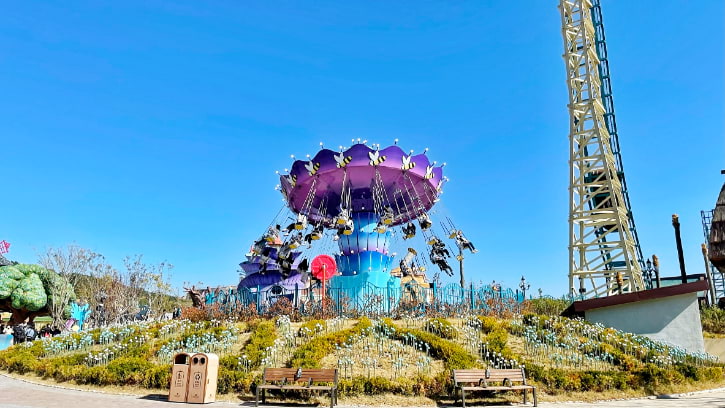 The Spinning Swing is no doubt an upgrade to the normal swing. This ride offers you an exhilarating adventure through the delightful swaying movements.
And because of the momentum, the cool breeze adds up to your experience. So, revel in the magical experience and feel every swinging motion.
6. Dancing Pony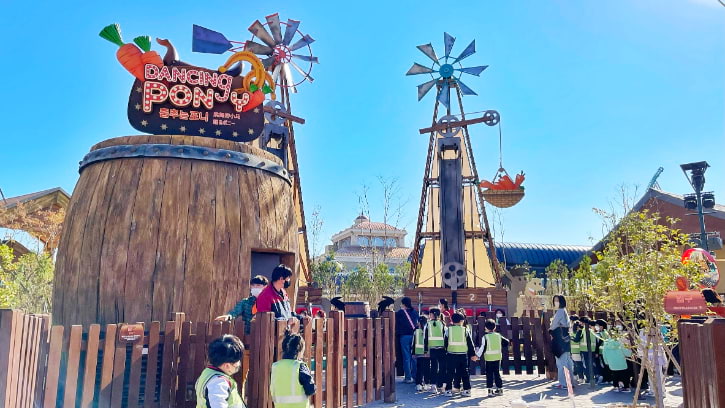 Dancing Pony is such a fun ride for those travelling with kids. Let your children take joy in the adorable pony movements.
And you might be wondering what's the reason for the pony's excitement. Well, it's actually because of his favorite food―the carrot!
7. Lorry Castle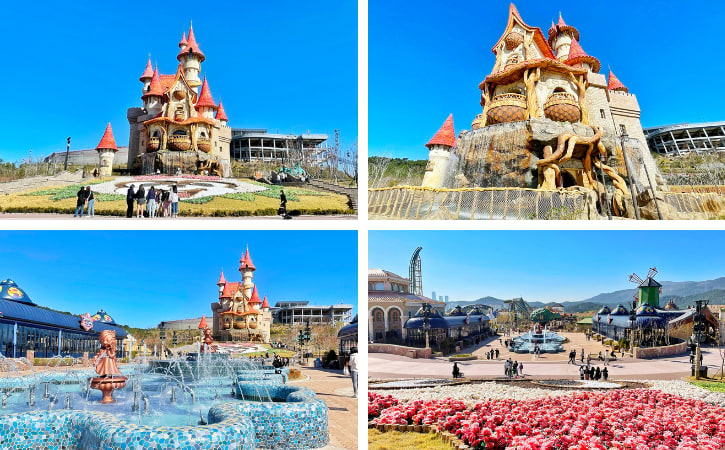 Lotte World Adventure Busan attractions are always remarkable, and that includes Lorry Castle.
As one of the main characters in the park, it's only fitting for Lorry to have her own castle.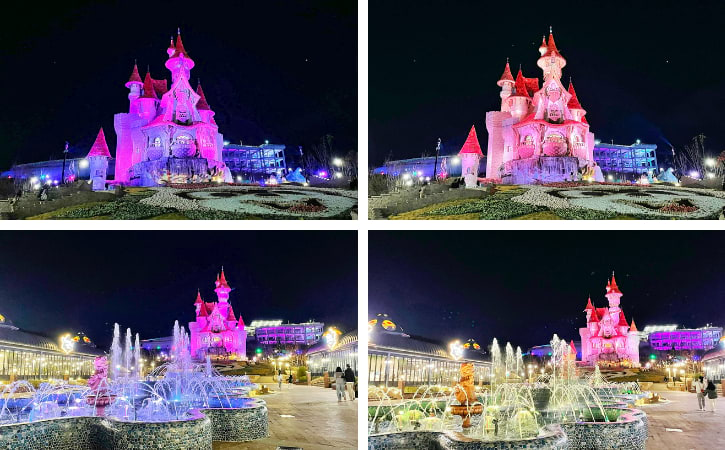 At night, this beautiful castle lights up. So, make sure to catch a glimpse of the glittering scene with your family or friends.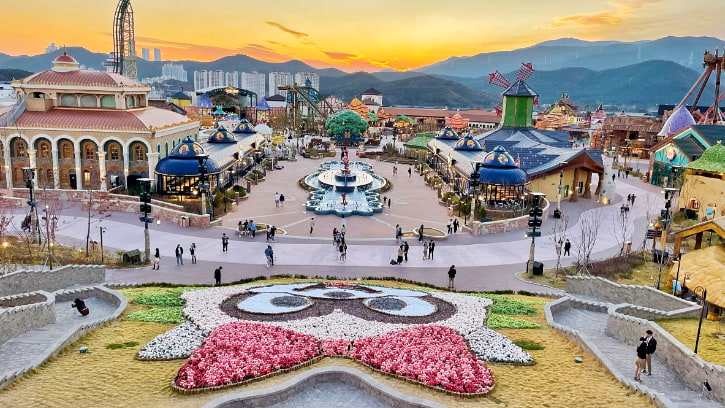 If you want a better sight of the castle's entrance, head to the observation deck. Here, you also get to see the nearby sites.
8. Talking Tree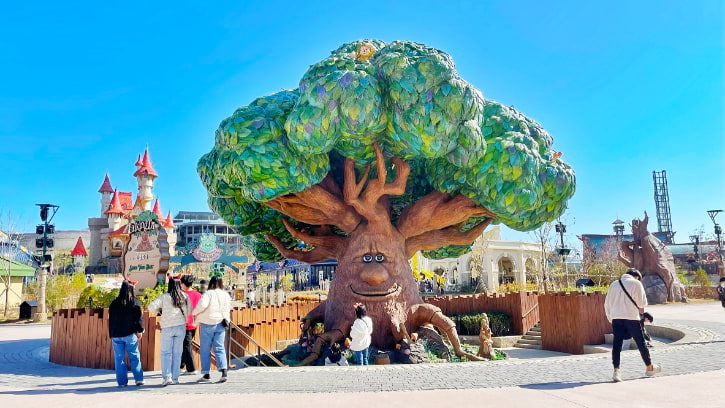 Talking Tree is undeniably a must-visit spot in the theme park. From the name itself, there would be voices from this towering tree.
So, listen closely to what this giant structure tells you. And, you may talk back if you want!
9. Run Goat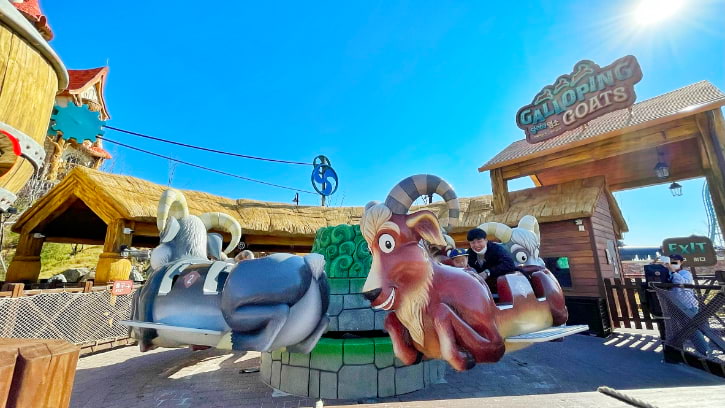 Climb onto the Run Goat and have fun with their circling movements. This is a perfect option for those who want a slow yet still amusing experience.
And since the vehicle itself is like a real goat, don't forget to take a picture!
10. Candy Train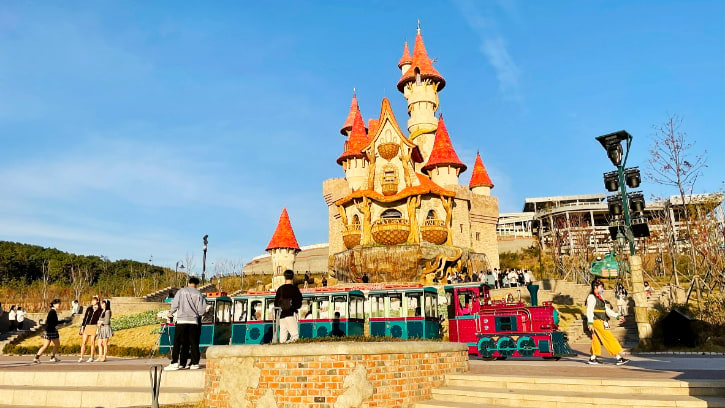 If you're looking for relaxing rides at Lotte World Busan theme park, go directly to Candy Train.
This one is pretty much mild, taking you outdoors and letting you see the beauty of the village.
While riding the train, ready your cameras and snap as many photos as you like.
11. Swan Lake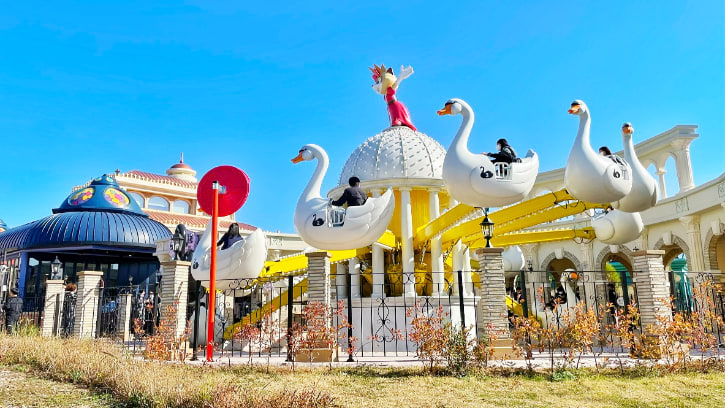 Swan Lake welcomes you to a gorgeous site full of beautiful bird structures. But aside from the beautiful scenes, you can actually ride these gorgeous swans!
And you might be surprised that these creatures are Lorry's pets!
So, jump aboard one of the swans and experience how it feels to be half-flying.
12. Merry-go-round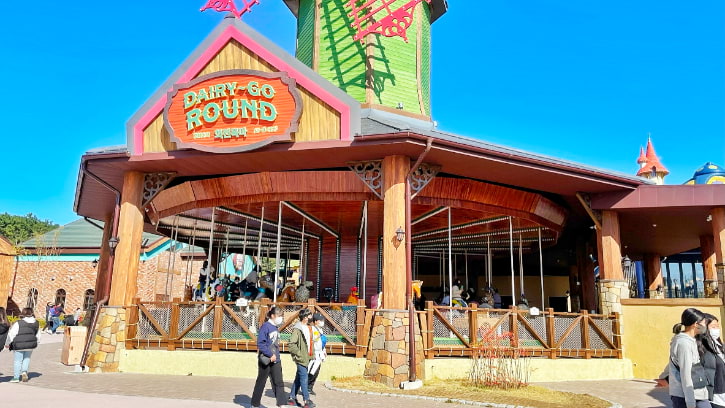 Continue with your exploration by riding the Merry-go-round. Although this is a typical section in most parks, you'd be fascinated by the seats.
Instead of all horses, expect a variety of farm animals. Choose from the collection of cows, chickens, pigs, and more!
13. Fly Away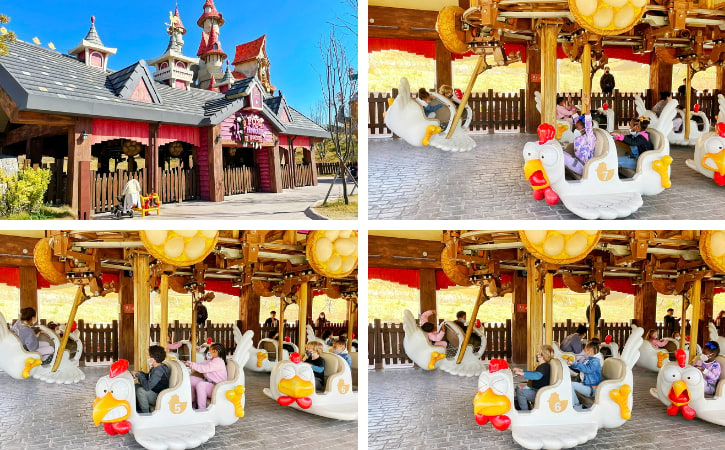 Fly Away ushers you into a ride full of chickens! To spice things up, each chicken has a unique face!
Pick from the assortment of emotions that fit your mood. Once you're all set, take your seat and enjoy the flying motion like a pro.
14. Fight of Sheep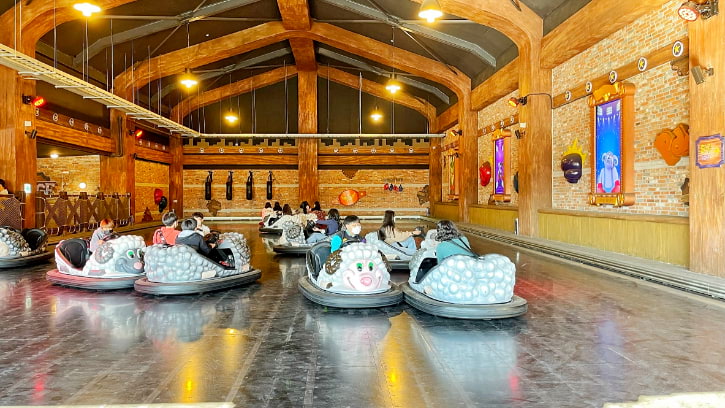 Fight of Sheep is like bumper cars with a twist! Here, you'd be riding these cuties to battle.
The sheep cars are not only adorable but also dependable when it comes to clashes. Race through other sheep and bump them along the way.
The Best Lotte World Busan Rides and Attractions (Summary)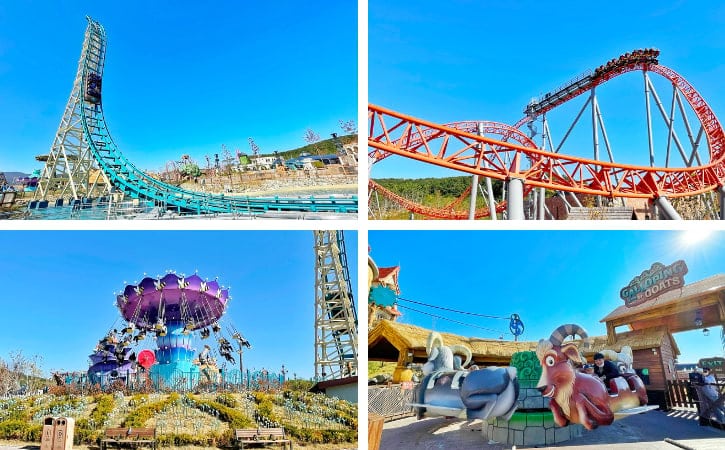 Must-try Rides for Thrill Seekers: Giant Splash (#1), Giant Digger (#2) and Giant Swing (#3)
Perfect Rides for Families and Non-Thrill Seekers: Cookie Train (#4), Spinning Swing (#5), Dancing Pony (#6), Run Goat (#9), Candy Train (#10), Swan Lake (#11), Merry-go-round (#12), Fly Away (#13) and Fight of Sheep (#14)
Must-not-miss attractions: Lorry Castle (#7), Talking Tree (#8)
Money-Saving Tip: Book your Lotte World tickets here before going to the park. This will help you get up to 15% extra discount!
My popular article: Check out my super detailed Busan itinerary here. From this guide, you'll discover the best and new things to do in Busan. This also includes the process of how to get to the sights by using public transportation.
Must See Parades
Aside from the rides in the theme park, don't forget to watch the following most famous parades at Lotte World Adventure Busan.
All these are truly magical, so for sure you won't regret seeing them.
1. Lotus Magic Forest Parade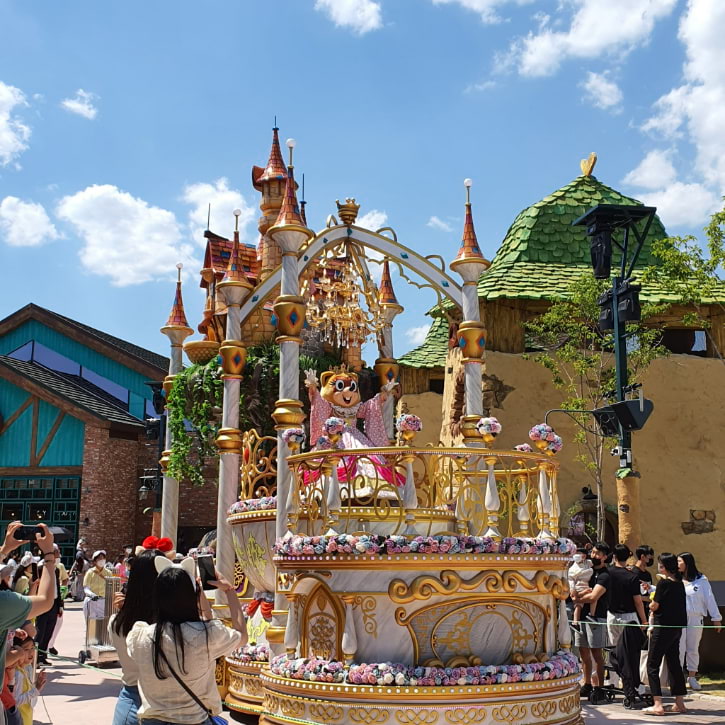 Lotus Magic Forest Parade showcases a magical performance of a lifetime.
With stunning designs and energetic vibes, this is definitely a must-watch parade in Lotte World Busan theme park.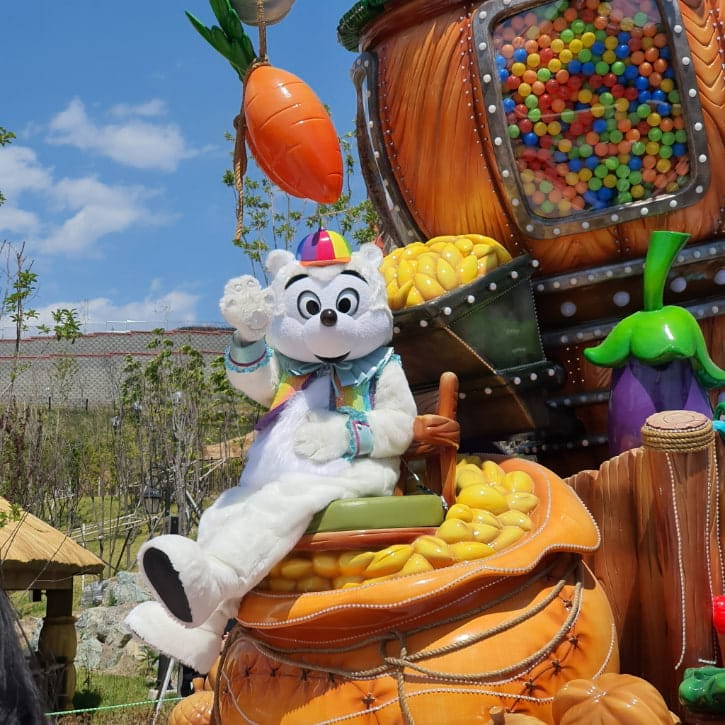 See up close the giant mascots, dancing to the beat of the music.
Without a doubt, this parade gathers all the famous characters into one amazing show.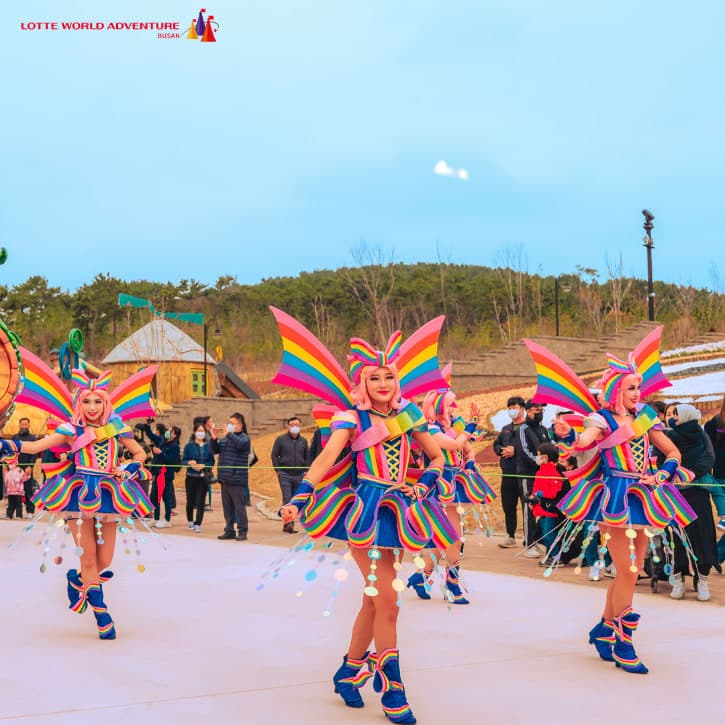 Aside from the adorable mascots, you'd also see several artists in beautiful costumes. So, have fun with the amazing showcase of talents!
2. Night Parade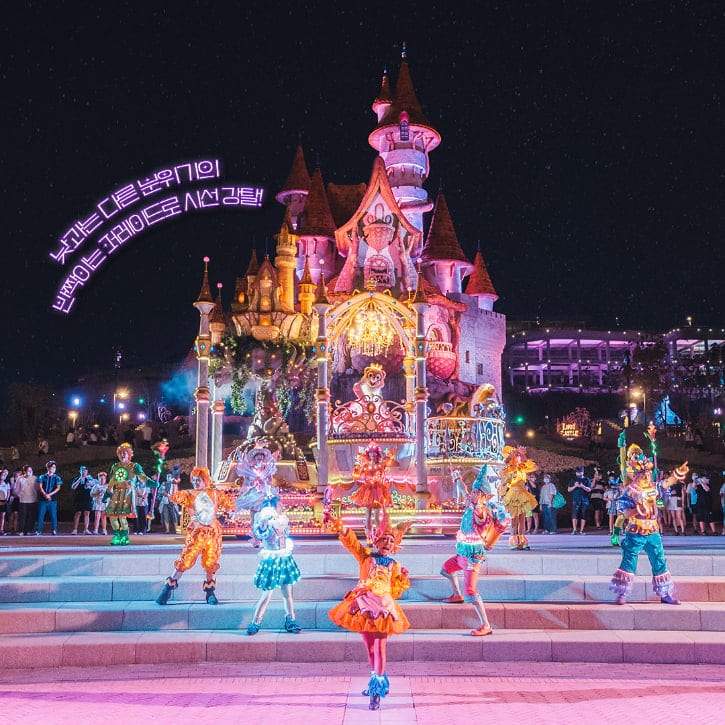 If you miss the day procession, don't worry because there's the night parade.
Be mesmerized by the dazzling presentations full of singing and dancing.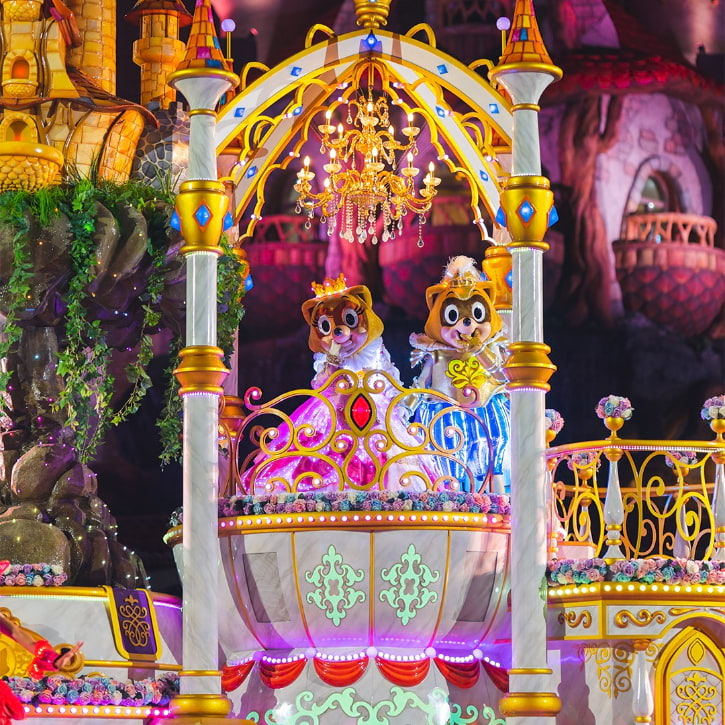 But of course, you can't miss the main characters of the parade. Watch Lotty and Lorry entice the crowd with their striking aura.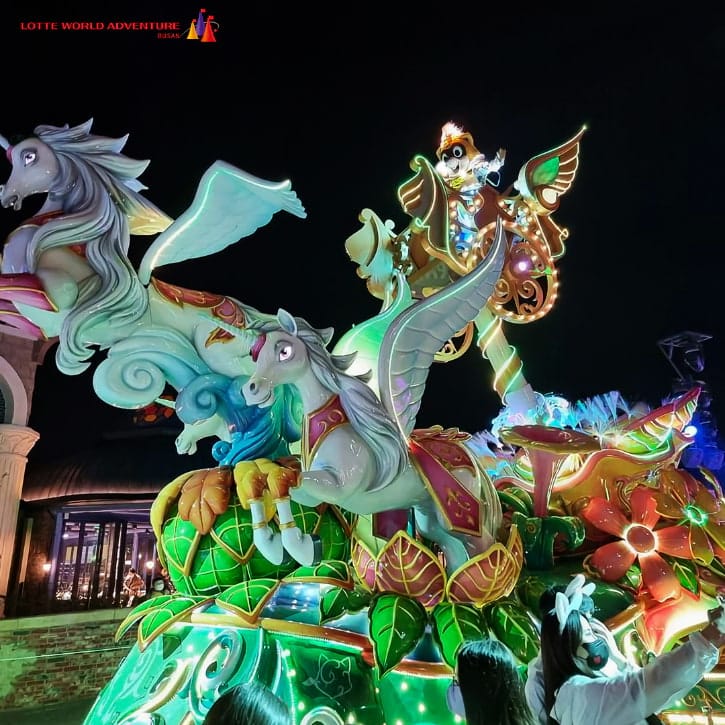 During the parade, take a peek at the intricate architectural style of each float. And for sure, you'd be fascinated by the gorgeous designs!
Lotte World Busan Theme Park Map

Don't forget to get the Lotte World Busan English map from the Guest Services counter. This is located just beside the entrance gate of the theme park.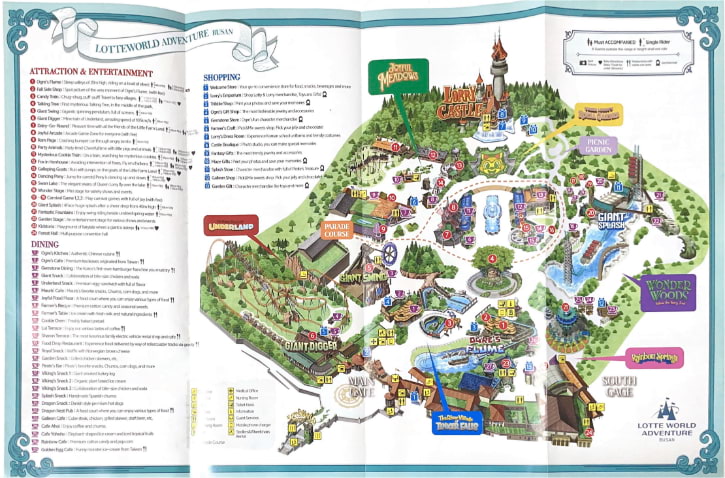 I have taken a picture of the Lotte World Busan map for your reference. You can download the map here.
How to Go to Lotte World Adventure Busan
1. By Subway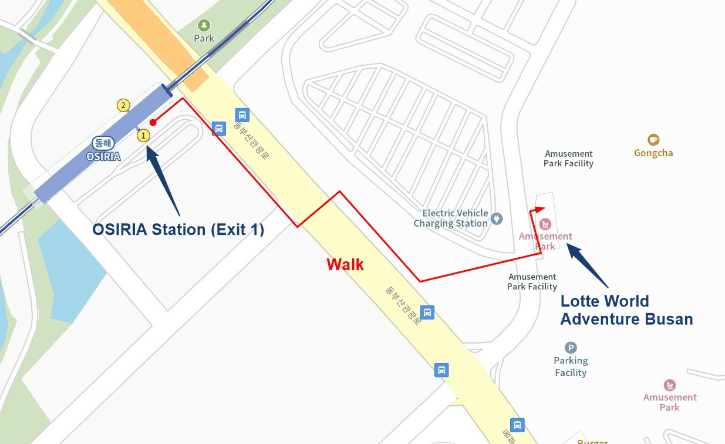 Board the Metro Line 2 from Haeundae Station to BEXCO Station. Then, transfer to Donghae Line and go to OSIRIA Station. The one-way trip takes about 36 minutes and costs 1,300 won. From there, you take Exit 1 and follow by 10 minutes' walk to Lotte World Adventure Busan.
Tip: Check out the Lotte World tickets online and you can get up to an additional 15% OFF!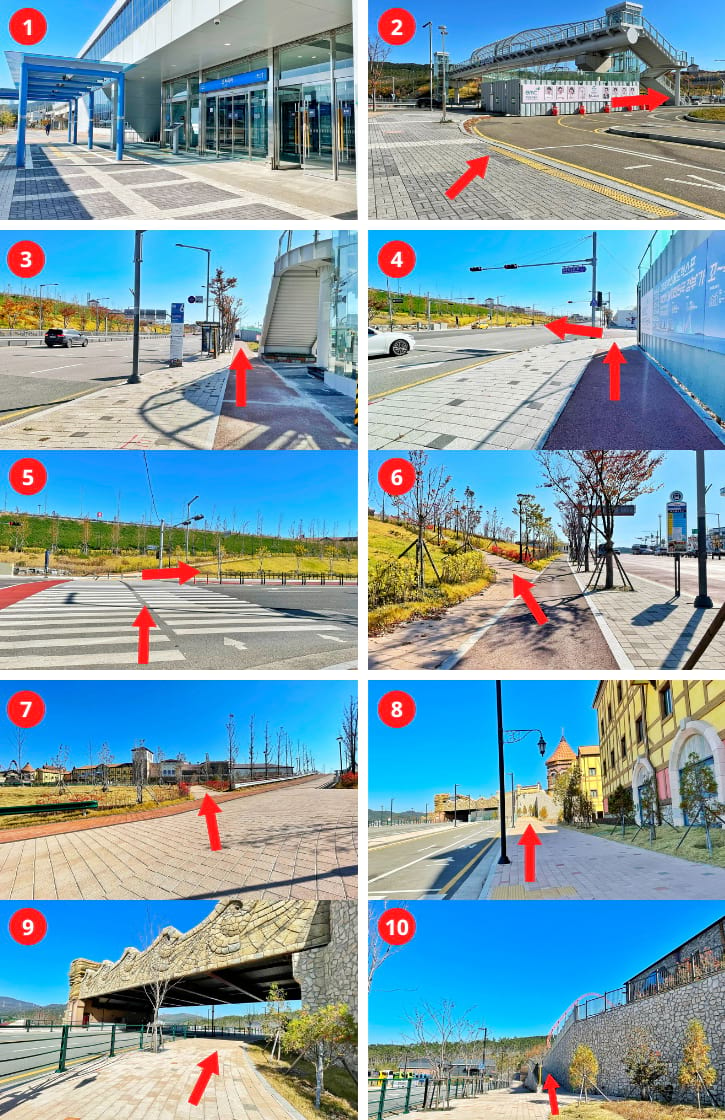 Busan Station to Lotte World Busan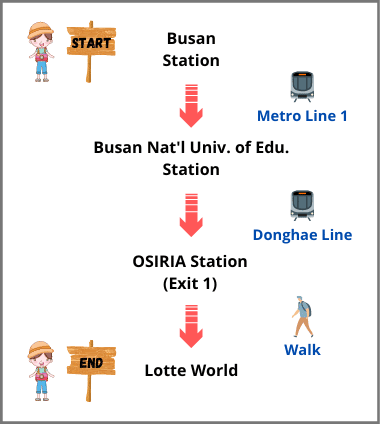 Take the Metro Line 1 from Busan Station to Busan Nat'l Univ. of Edu. Station.
From there, you switch to Donghae Line to OSIRIA Station.
The whole trip takes roughly 58 minutes and costs 1,500 won.
Seomyeon Station to Lotte World Busan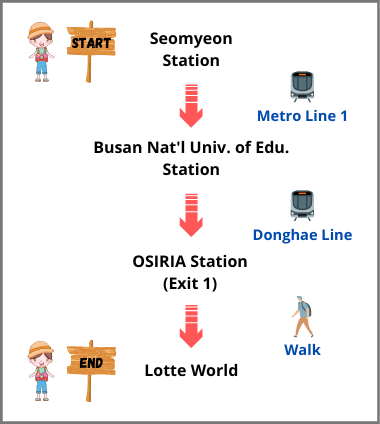 Catch the Metro Line 1 from Seomyeon Station to Busan Nat'l Univ. of Edu. Station.
At Busan Nat'l Univ. of Edu. Station, you change to Donghae Line and get off the train at OSIRIA Station.
The travel time is about 47 minutes, and one way fare is 1,500 won.
2. By Bus No. 1001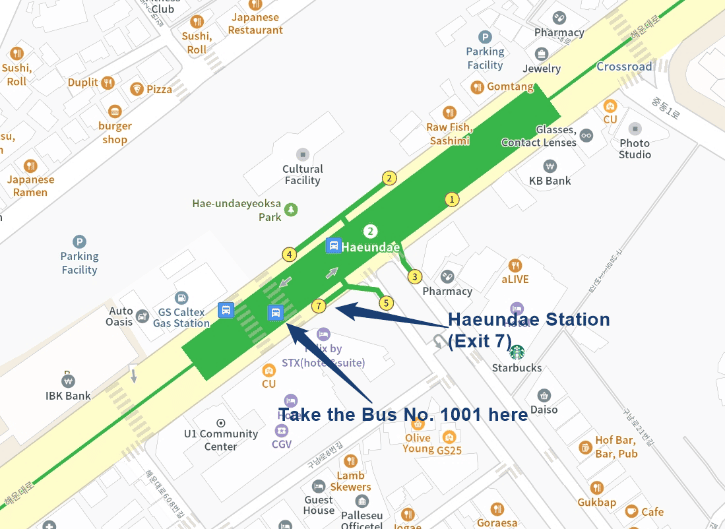 Take Bus No. 1001 from the bus stop near Exit 7 of Haeundae Station to OSIRIA Station (33 minutes trip, 11 bus stops, and 1,700 won). From there, it's about an 8-minute walk to Lotte World Busan theme park.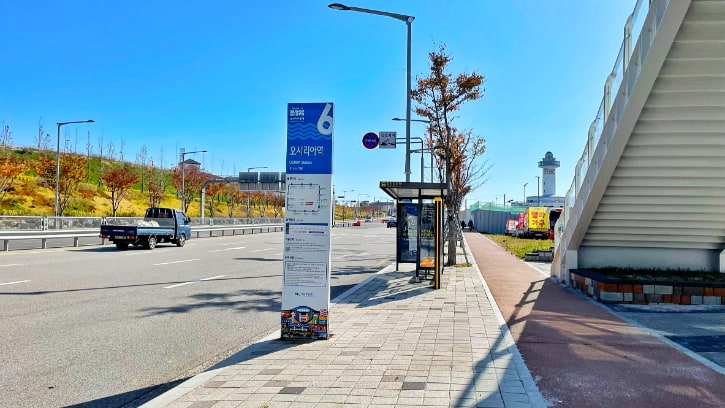 3. By Taxi
The taxi fare from Busan Station to Lotte World is priced at around 28,000 won. And, it would normally take about 33 minutes to reach the theme park.
Meanwhile, if from Haeundae to Lotte World, it is roughly 12,000 won while the travel duration is around 17 minutes.
If the taxi driver doesn't understand English, don't worry. You may show this phrase "부산롯데월드" (Lotte World Busan) to the taxi driver.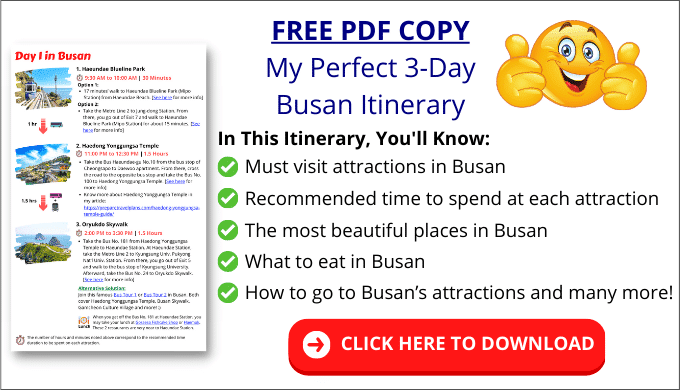 Lotte World Adventure Busan Overview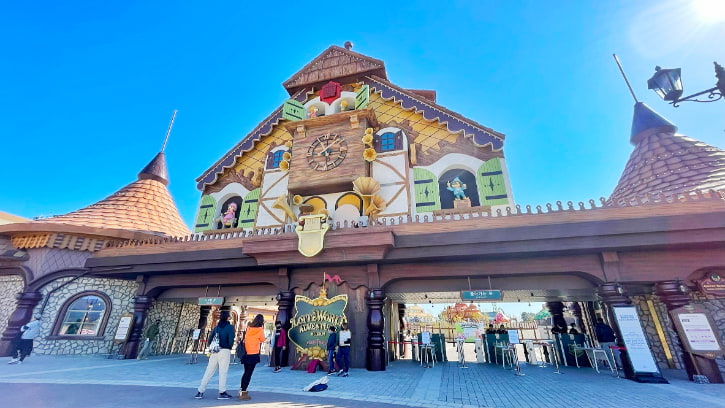 Lotte World Busan is divided into 6 zones. And these are Tinker Falls, Royal Garden, Underland, Joyful Meadows, Rainbow Springs, and Wonder Woods.
All in all, the theme park comes with 17 rides and attractions that are ideal for both adults and kids.
So, let me introduce the things you can do and see in the 6 zones of the theme park through my list below.
1. Tinker Falls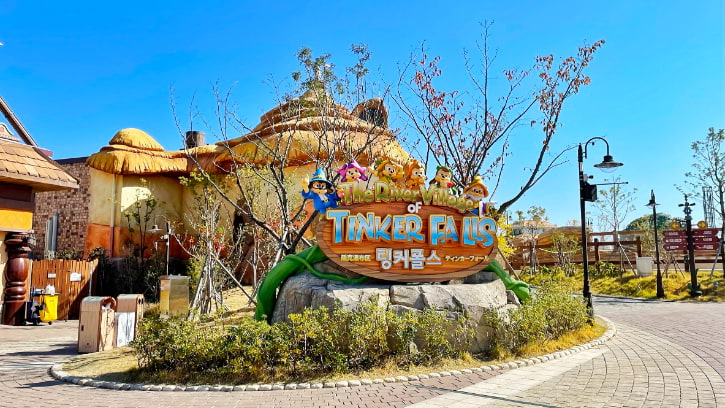 Tinker Falls is the home to some entertaining rides like Candy Train and Ogre's Flume.
This is also the zone that shelters the Talking Tree.
Hence, if you just want to have a good time with your family, wander around this section and try the different attractions.
2. Royal Garden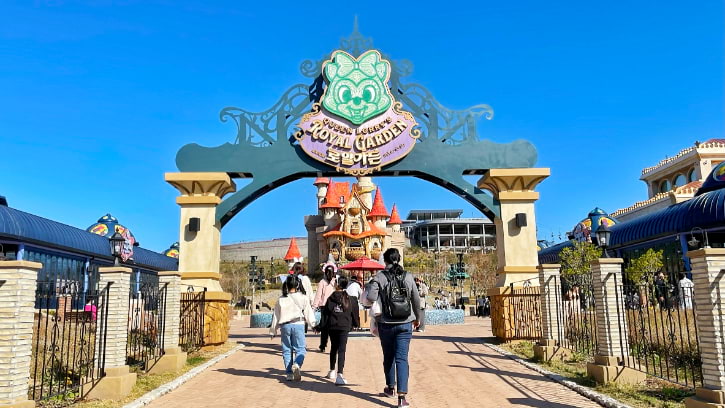 Royal Garden gives emphasis to the word elegance. In fact, this is where you'll find Lorry Castle, which serves as one of the most famous landmarks in the park.
You'd also see Swan Lake here! So, explore this stylish zone and capture all the beautiful spots.
3. Underland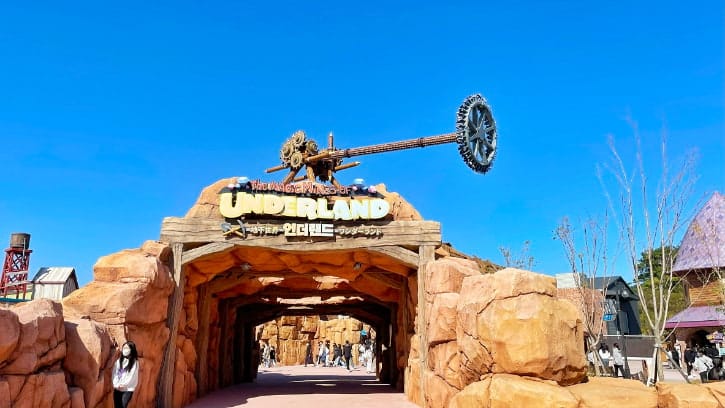 Underland, on the other hand, is all about thrilling escapades.
If you want a nerve-wracking rollercoaster, take the Giant Digger. And of course, the best way to cap off this zone is through the Giant Swing!
4. Joyful Meadows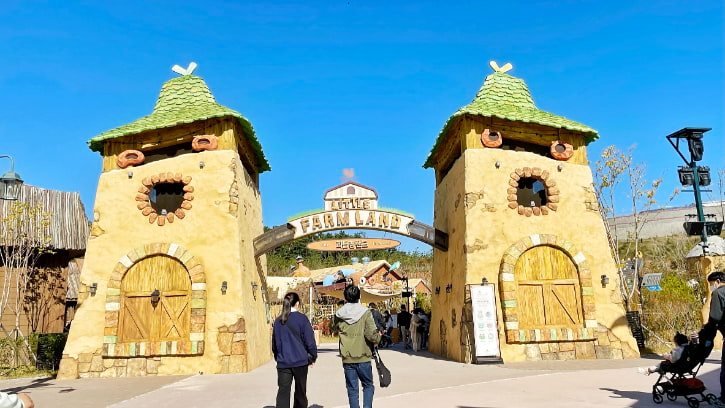 Joyful Meadows truly lived up to its name. This place offers a variety of jubilant experiences for all ages.
For some laid-back attractions, go for the Merry-go-round, Run Goat, Fly Away, and Dancing Pony.
Meanwhile, if you prefer an extra thrill, try the Fight of Sheep or Little Pig Bumper car.
The Cookie Train is another commendable option for a milder rollercoaster.
5. Rainbow Springs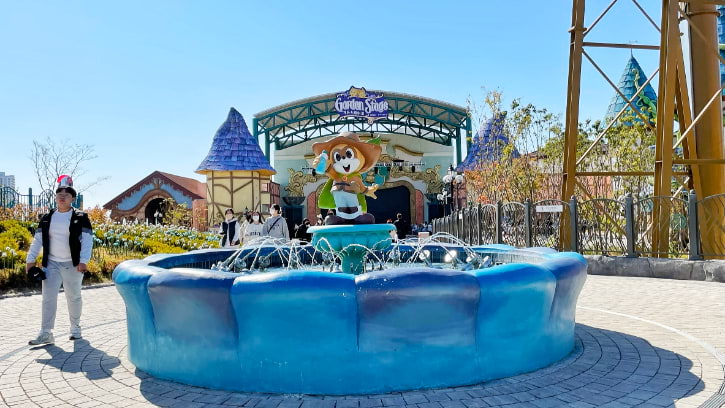 Rainbow Springs is a place highly suitable for those travelling with kids. Go over the Spinning Swing and be fond of the swinging motions.
Afterward, head to Kidstoria, which is an indoor playground filled with slides and unique designs.
6. Wonder Woods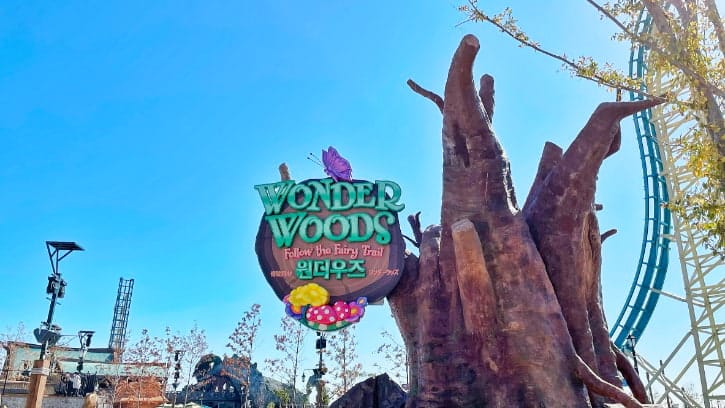 Wonder Woods is characterized by a forest setup with a wide river-like section.
The fascinating design fits perfectly well with the Giant Splash, which is a famous attraction for park-goers.
So, before you start with the water adventure, explore the zone for a while.
Popular Restaurants
1. Food Drop Restaurant (Lara Coast)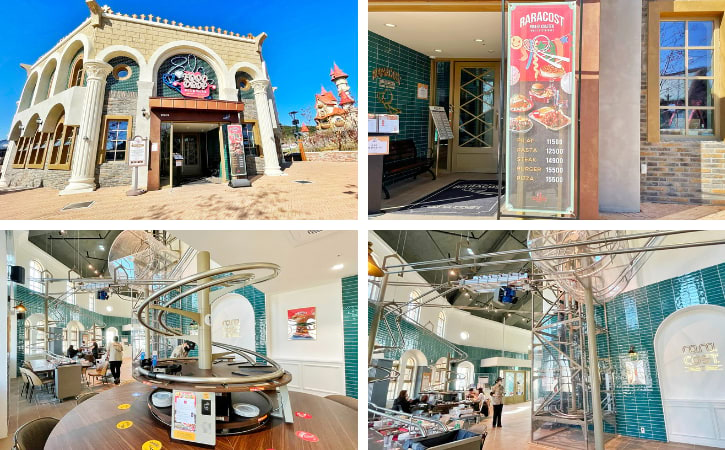 Food Drop Restaurant is such a popular option in Lotte World Adventure Busan.
Some of the crowd favorites are Pasta (12500 won), Steak (14900 won), Burger (15500 won), and Pizza (15500 won).
Aside from their delicious food, the restaurant's stirring architecture is very captivating.
So, while waiting for your order, take a closer look at the interiors and enjoy the ambience.
2. Joyful Food Plaza (SKY31 Food Avenue)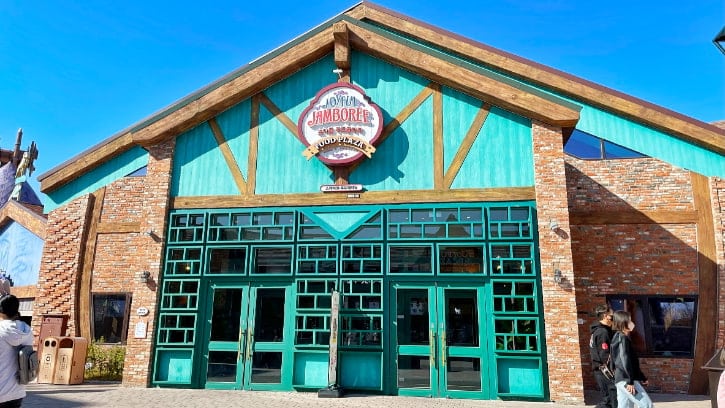 Joyful Food Plaza is situated within the grounds of Joyful Meadows. So, after your fun rides, head to the food court and check out their tasty menu.
Here, you've got a variety of dishes to choose from, from local treats to international dishes.
3. Ogre's Kitchen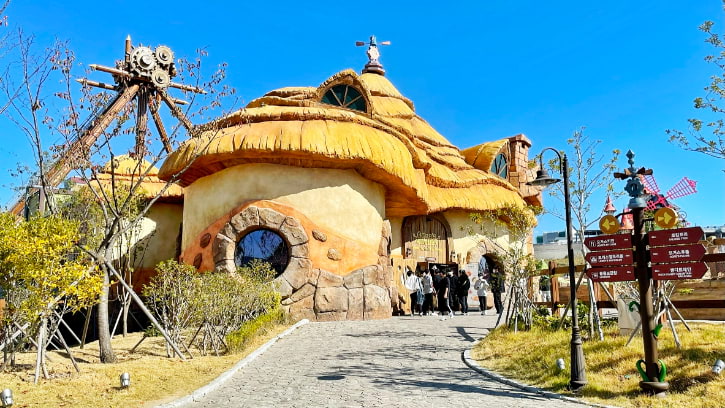 How about a trip to Ogre's Kitchen? This is another option for those who want to have a hearty meal at Tinker Falls zone.
Offering a delectable selection of authentic Chinese cuisine, the place is truly a must-visit for park-goers.
Must-Try Snacks and Treats
1. Cookie Oven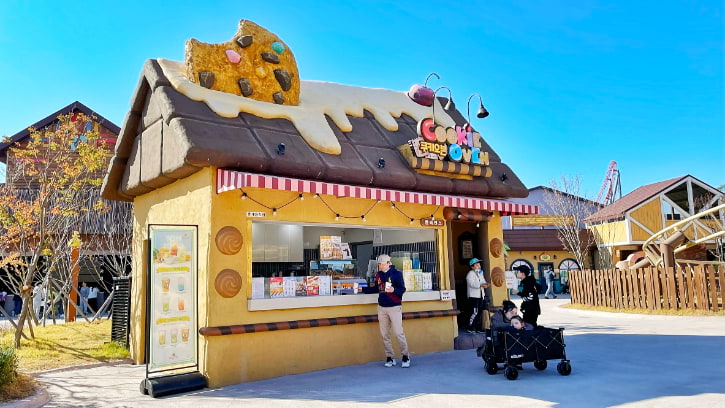 For some freshly baked goodies in Lotte World Busan, you can't miss the Cookie Oven. This is a famous spot those craving for hot pretzels.
Just pick from the variety of pretzel flavors and continue with your expedition.
2. Giant Snack (BHC)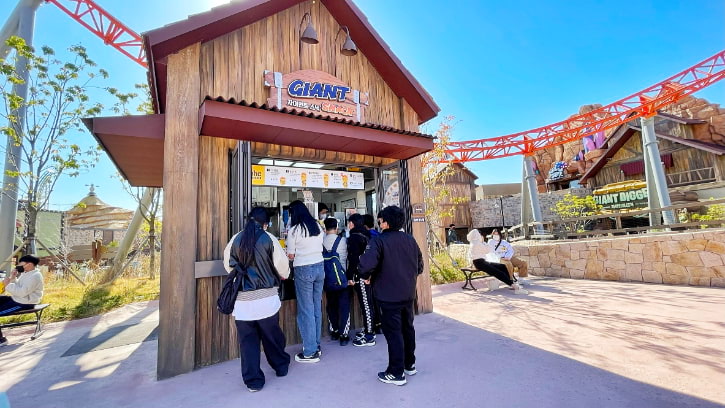 Another recommendation is none other than Giant Snack.
They serve both chicken and soda, which is a perfect combination after your rollercoaster and swing encounters.
So, if you're looking for a quick snack, visit this spot and satisfy your hunger!
3. Underland Snack (Egg Drop)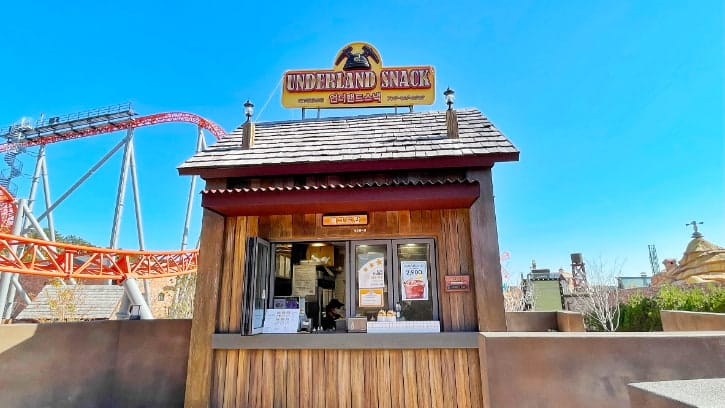 Go to Underland Sand and try their coveted egg sandwich. Located at Underland, this is the best choice if you want a more satisfying treat.
You'd love the premium flavors of the ingredients that burst at every bite!
4. Farmers' Table (Emac & Bolios)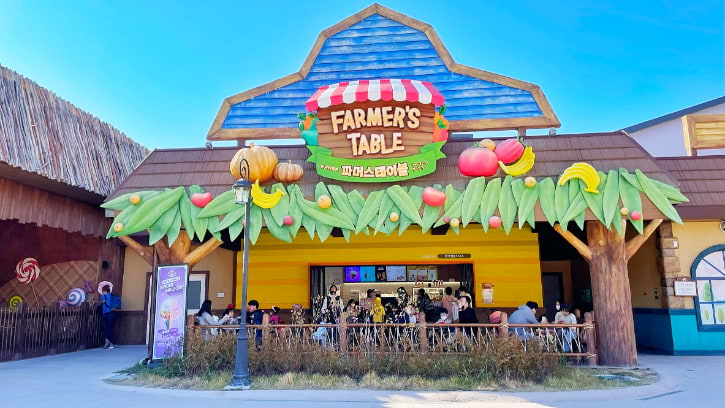 Moving forward, there's the Farmers' Table. People love this place because of their mouthwatering ice cream flavors.
Not only that but this food spot in Lotte World Busan takes pride in naturally-made cold treats. So, make sure to give them a try!
5. Dragon Snack (Stef's Hot Dog)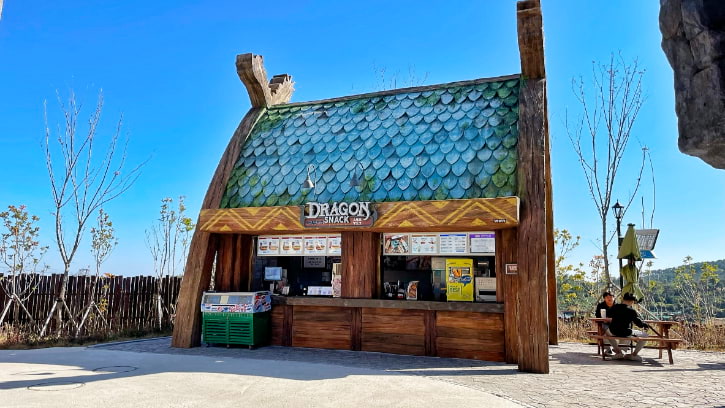 Dragon Snack is another go-to option for visitors looking for tasty snacks. And these aren't just any other treats. They serve the finest Danish hotdogs!
So, if you want something that you can munch immediately, you won't be disappointed here.
6. Mauris Café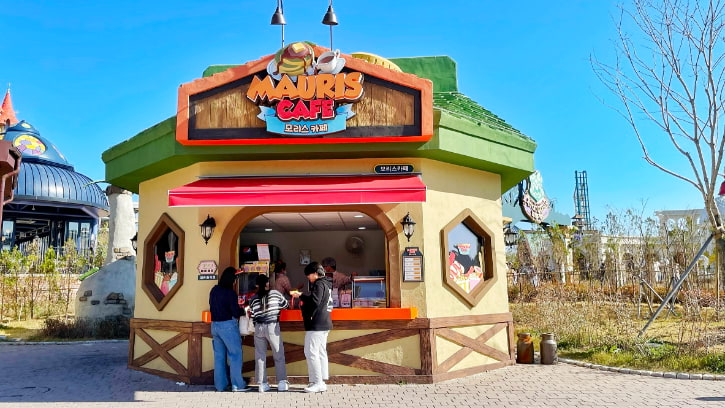 Mauris Café welcomes you to another remarkable snacking experience. Go over their menu of delicious snacks that you can eat while walking around.
Their churros and corn dogs are no doubt the crowd favorites.
7. Garden Snack (Western Grill)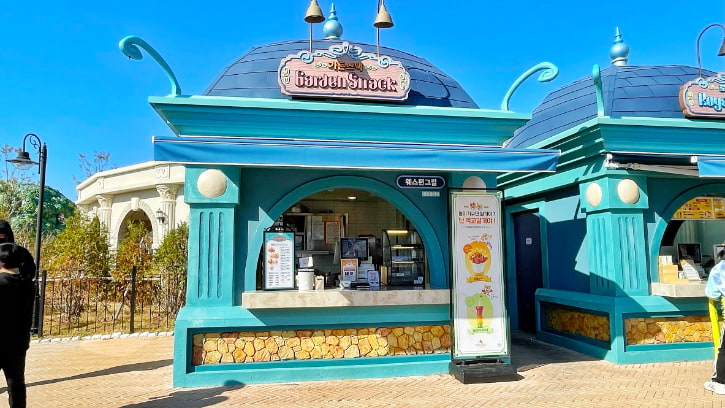 For the last suggestion, I'd say Garden Snack. This is the best snack bar serving delectable grilled skewers in the park.
Aside from their classic skewers, they have more local snack options for everyone.
Merchandise Stores
1. Loris Dressing Room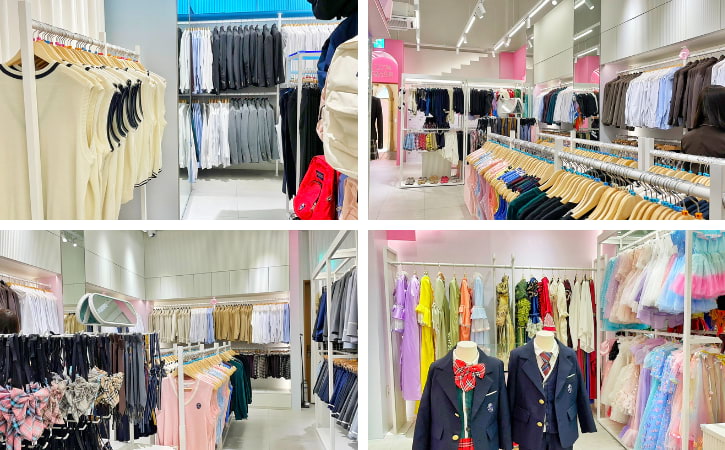 Loris Dressing Room is the place where you can buy trendy Korean outfits.
Check out their collection of Korean school uniforms that are perfect for cosplays. They also have lots of trendy costumes for everyone.
2. Loris Emporium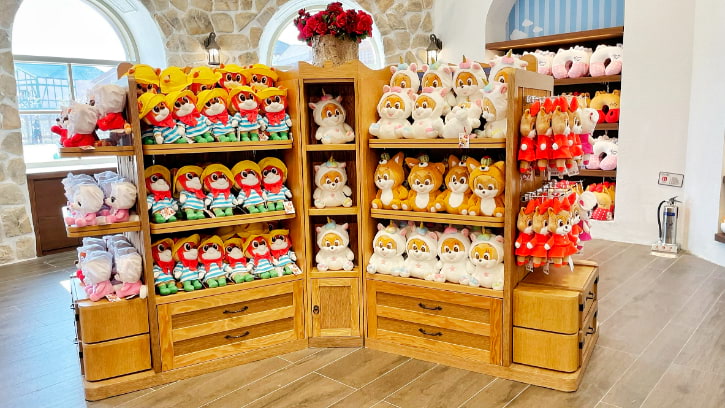 When it comes to adorable stuff, Loris Emporium is highly recommended. Explore all corners filled with Lotty and Lorry merchandise.
They sell various toys and accessories too, which are ideal as souvenirs for your loved ones.
3. Splash Store (Mirpia)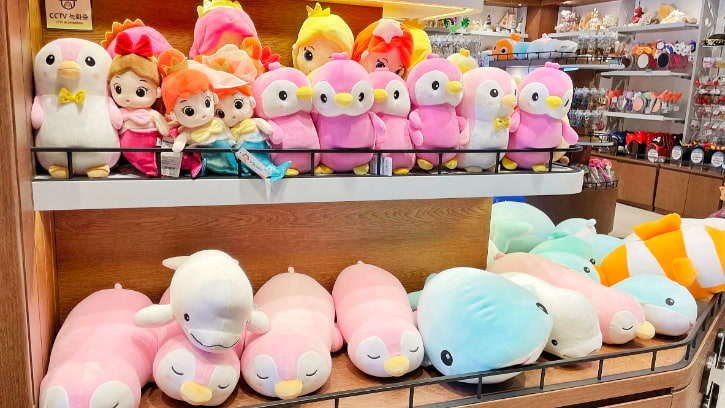 If you're on the hunt for some cute character plushies, Splash Store has a lot in store for you.
On top of that, you'd be surprised by their collection of unique finds. So, make sure to spend time here and see all the adorable stuff.
4. Garden Gift (Play Nature)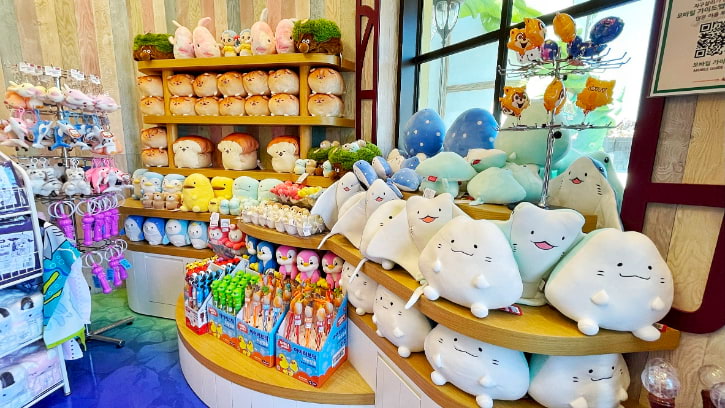 Garden Gift is another must-visit store for character stuffed toys.
Take a look at their display of cute plushies that are too hard to ignore. Aside from these, you can buy plenty of souvenir items in the shop.
5. Galleon Shop (Winnie Beanie)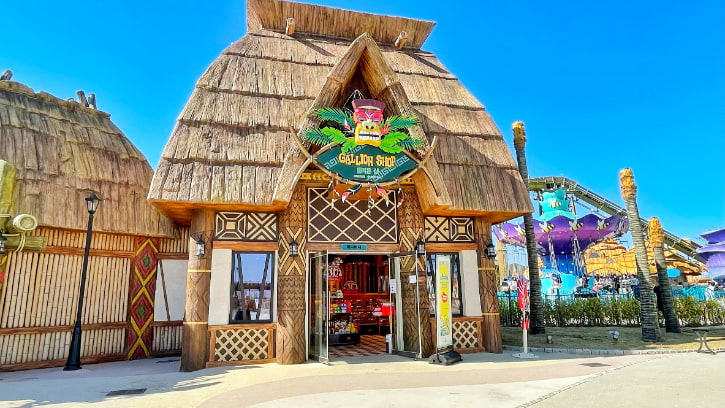 Galleon Shop is surely the favorite spot among sweet tooth!
Here, you get the chance to mix and match some sweets. Choose from the variety of chocolates and jelly and make your own creation!
6. Maze Gift (Photo Shop)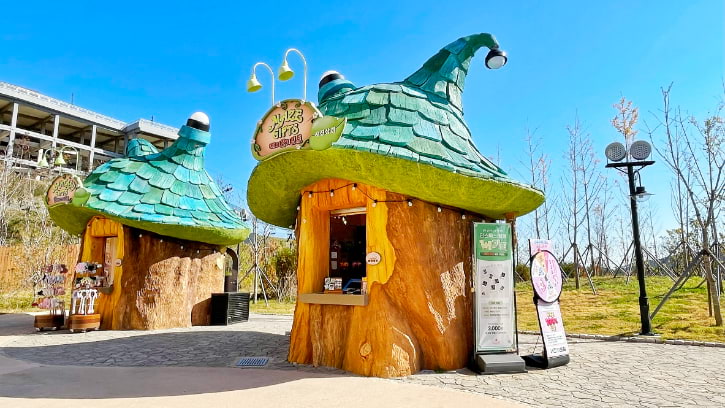 Maze Gift offers you a unique way to engrave memories during your visit!
They actually provide printing services to visitors. This means you can have a physical copy of your precious experiences in an instant.
Related Posts