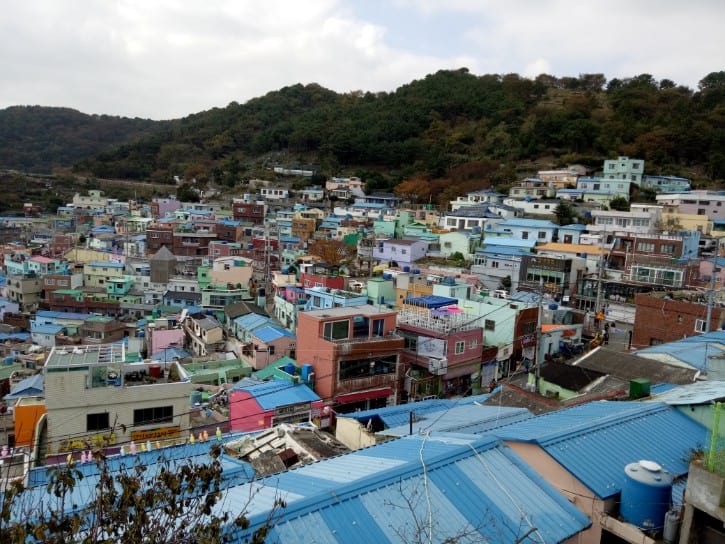 If you want to master how to go to Gamcheon Culture Village and what things to see and do in there, you come to the right place.
In here, you can get to know more about this amazing village and detailed information of going there either by using public transport or join tour.
With its pastel-colored houses by the foothills overlooking the sea, Gamcheon Culture Village has reaped quite few titles like, "Machu Picchu of Busan", "Korean Santorini", and "Lego Village".
It can be overwhelming to know that this top attraction in Busan has a seemingly dark past. After all, before this has become mecca for photographers and artists, the village was a slum.
Read and get important information for your visit to Gamcheon Culture Village:
What are the things to see and do in Gamcheon Culture Village?
How to get to Gamcheon Culture Village by subway, bus, private car?
How to visit Gamcheon Culture Village as part of the Busan East Coast Cultural Day Tour?
What is the best option in seeing and visiting Busan's artistic village?
It has a contrasting landscape to the sky-rise buildings in Korea, but it used to be the residential enclave of refugees fleeing the Korean War.
It's a residential area with plenty of activities brought by tourism, it used and still called by some as "Taegukdo Village", many of its residents are believers of the religion, Taegukdo.
As a poor community, many of its residents left to look for better opportunities. To revive the village, artists were asked to stay in one of the homes free of rent and in return, provide art works.
Today, sculptures, murals, and different works of arts are scattered all over Gamcheon luring travelers and Instagram-lovers visiting Busan.
Gamcheon Culture Village is a success story on how art not just revive a sleepy and almost "ghost" village but turning it into one of the most visited places in Busan.
The tiers of box-like houses are arranged and planned in accordance to the belief of the Taegukdo religion. At the village, no home is blocking another, giving each an opportunity to prosper.
What Are The Things You Can See and Do at Gamcheon Culture Village?
---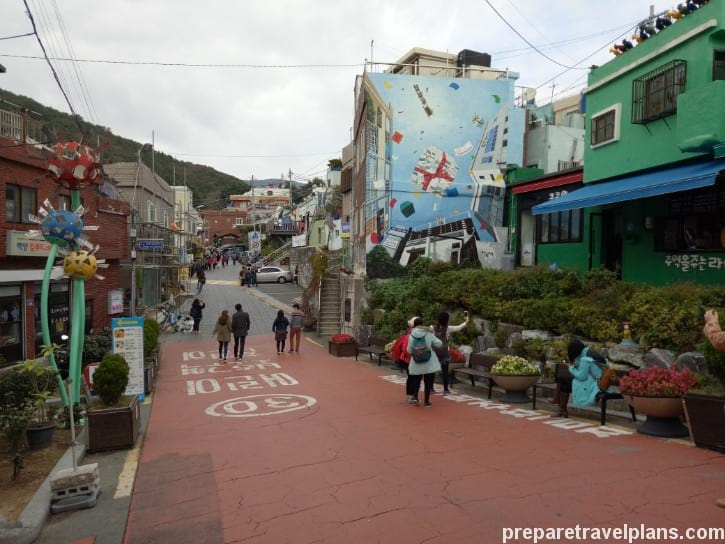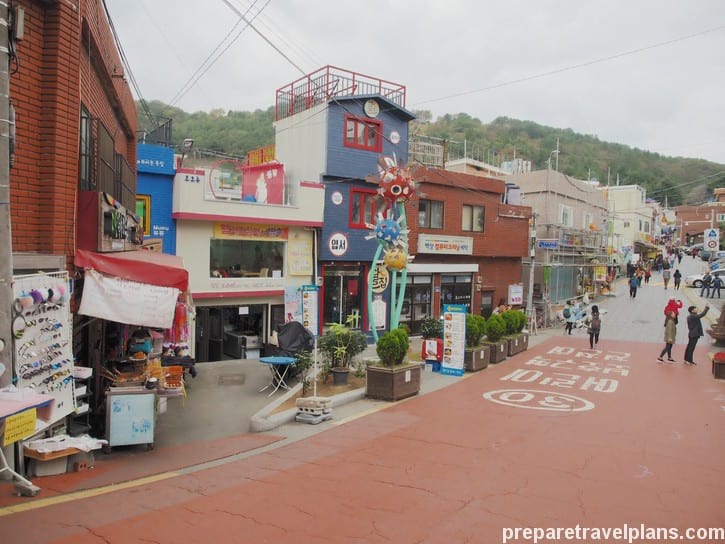 See another side of Busan's local life when visiting Gamcheon. Wear your most comfortable walking shoes and get lost as you explore its alleys, corners, and streets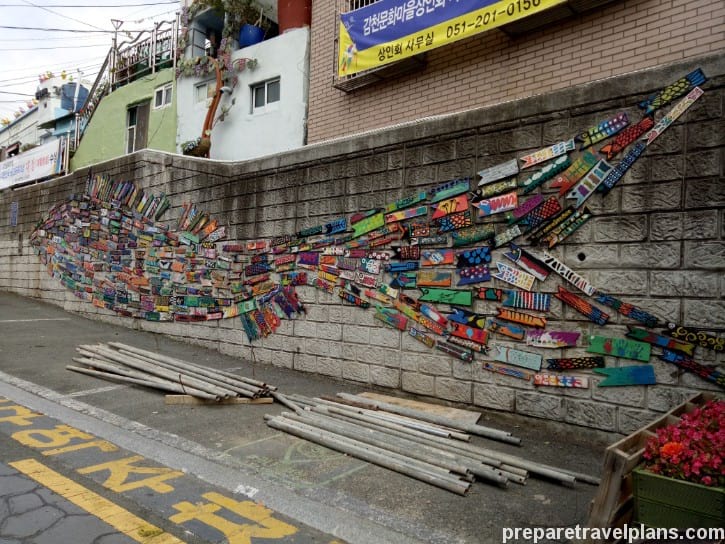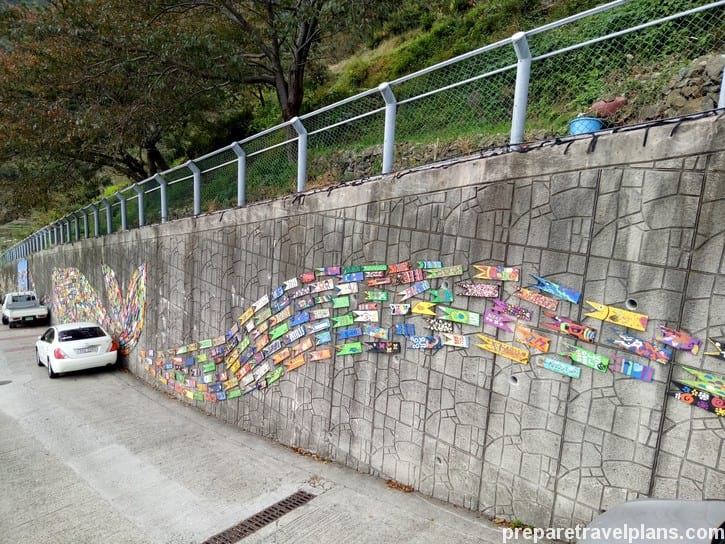 If you're weary of getting lost, just "follow the fish", a fish-shaped route marker for visitors to follow, leading them to major attractions within Gamcheon.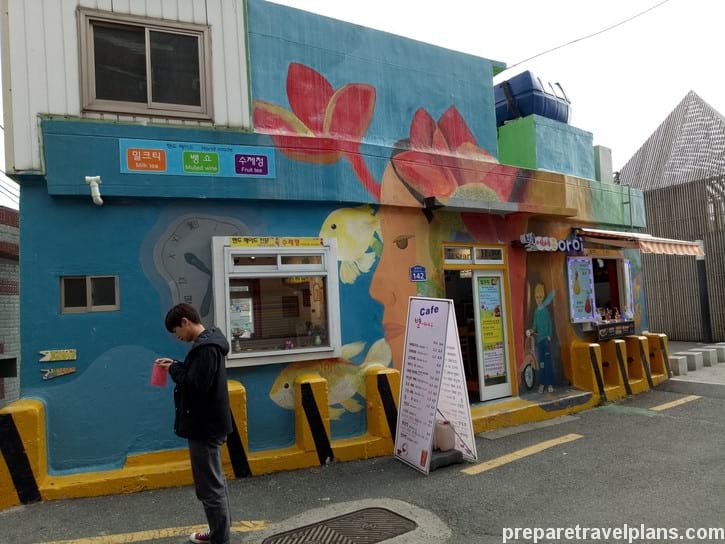 As a village revived by art, street arts are found everywhere! Yes, Gamcheon is one Instagram-worthy place in Busan! From iconic murals and sculptures like the Little Prince and the Desert Fox, you can be unique from other social media images taken from Gamcheon.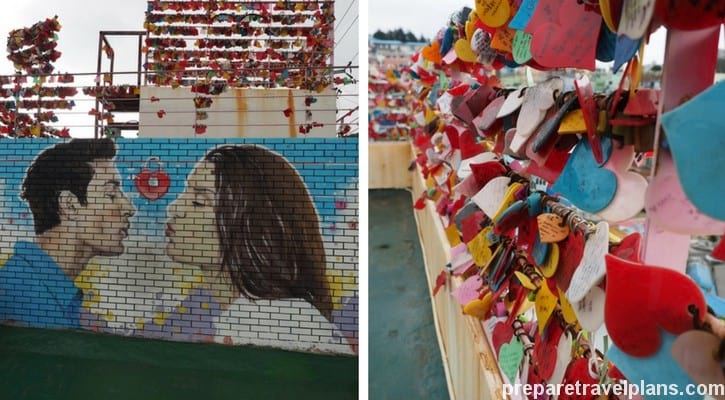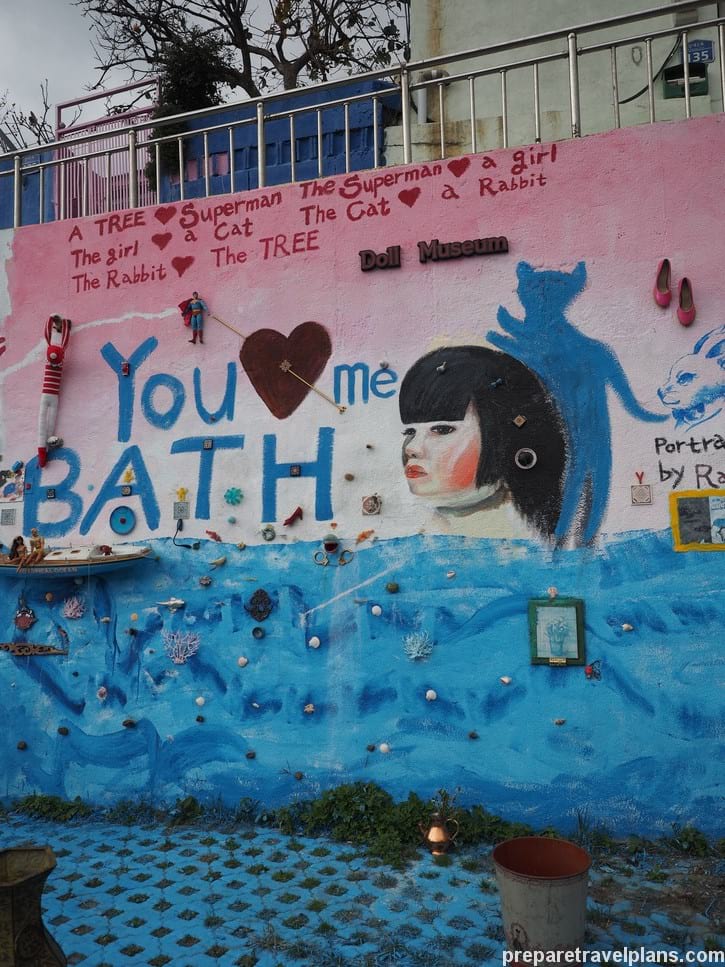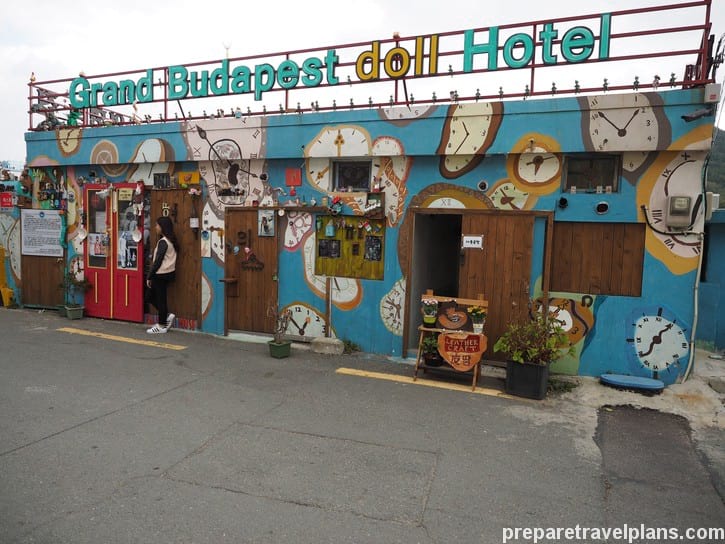 Look for any painting or artwork along the way, find an intriguing house painting – you will never run out of places to strike a pose or photography subject in this village.
There are buildings that you can check out like the former hot spring – turned library. Of course, it has some quirky statues and sculptures. Don't skip the Little Museum that will give you a clear glimpse of how the village was transformed. You can also see everyday things that residents use.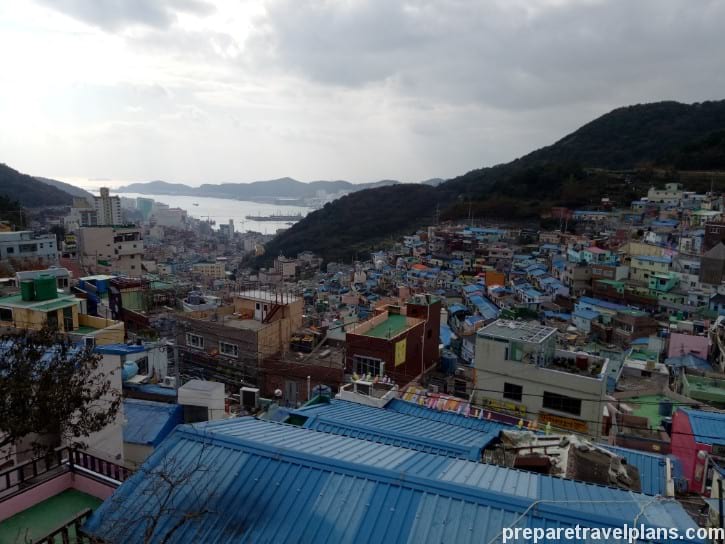 With its topography, it can be a good workout as you walk uphill but try going to the observation deck. Here, you'll get a panoramic view of the whole village with sea views. Waiting for you are the Little Prince and Desert Fox for the iconic shot from Gamcheon Culture Village.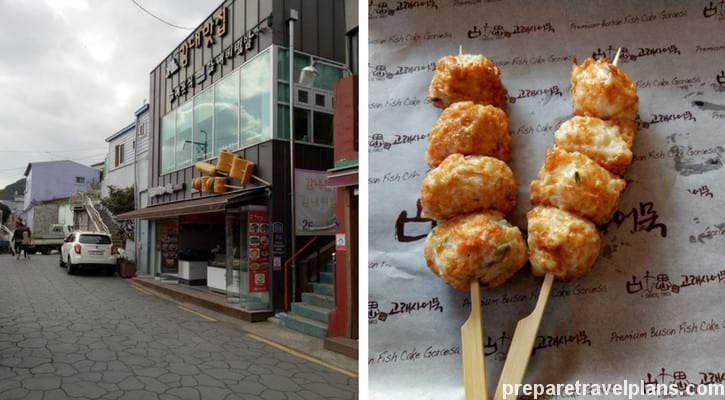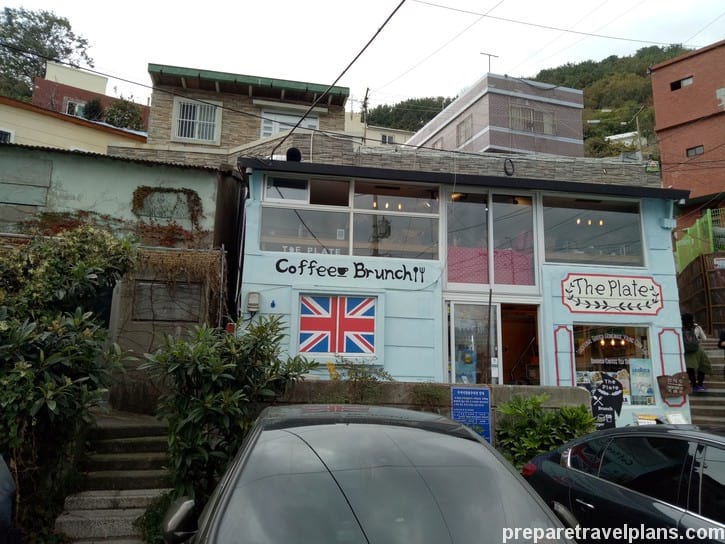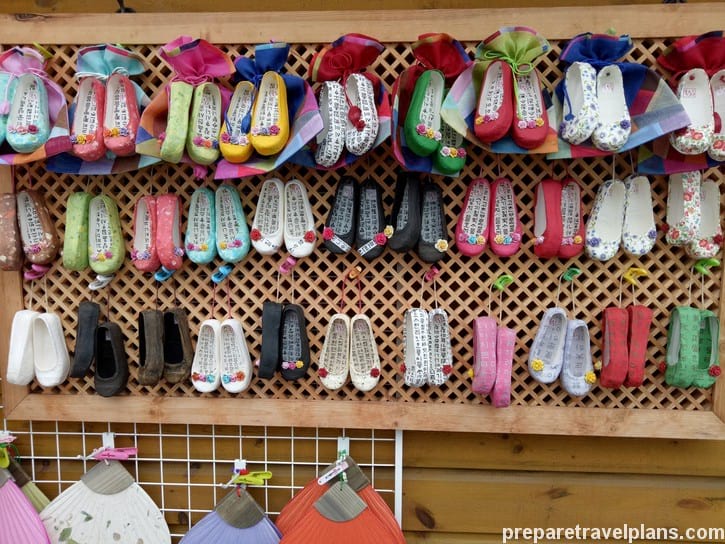 Together with the various street art, dainty cafes and shops make Gamcheon Culture Village hip and interesting. Drop by to buy souvenirs or for some drinks and bites. Check out street food for some fuel-up after your walk around the village.
Opening Hours
9:00 AM to 6:00 PM
Best Time to Visit
Morning
Entrance Fees
Free
Address
203, Gamnae 2-ro, Saha-gu, Busan
Nearby Attractions
Google Maps
Taking The Subway and Local Bus to Gamcheon Culture Village
---

Busan Subway with Local Bus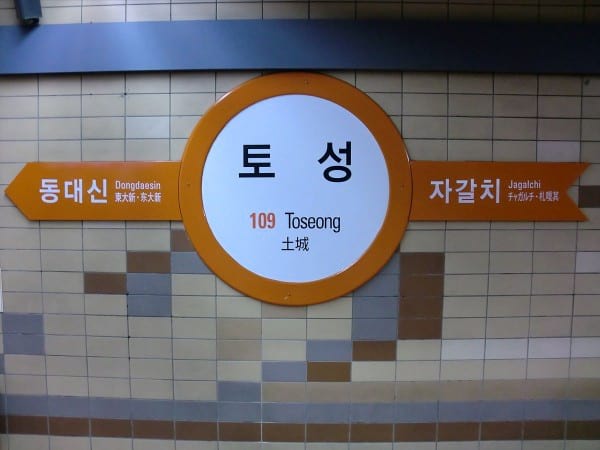 Like most attractions in Busan, Gamcheon is easy to get to and access. The most common and affordable way to reach the village is by subway and local bus.
Take the subway to Toseong Station (Line 1). Once you alight from the train, head to Exit 6.
Step 1: Walk straight after get out the Exit 6 of Toseong Station and then make a right turn when you reach the road intersection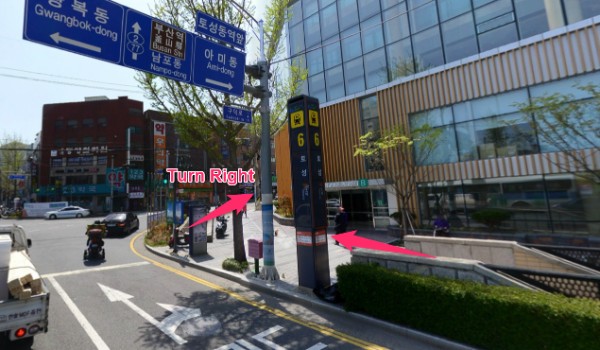 Step 2: After turned right, go straight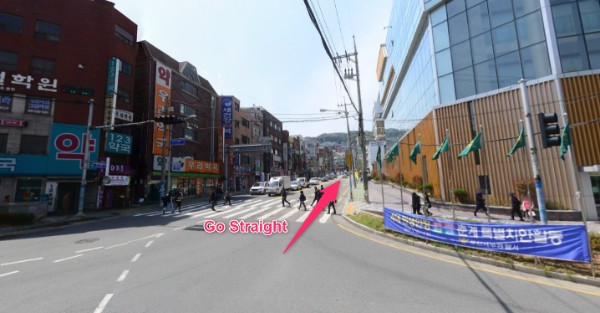 Step 3: Continue straight and you will see the Pusan National University Hospital on your right soon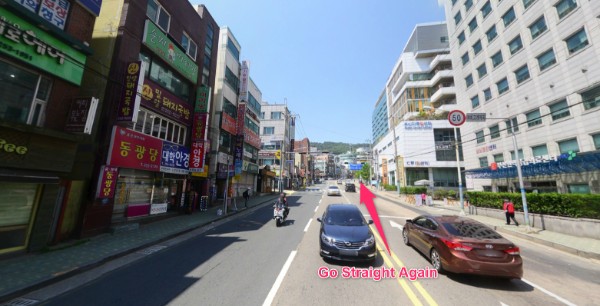 Step 4: You will see the bus stop just located in front of the Pusan National University Hospital. Take Bus No. 2/ Bus No. 2-2/ Bus No. 1-1 to Gamcheon Culture Village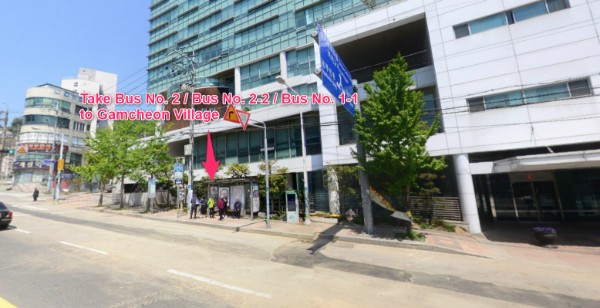 Step 5: Alight at Gamcheon Elementary School and you will see the main entrance of Gamcheon Culture Village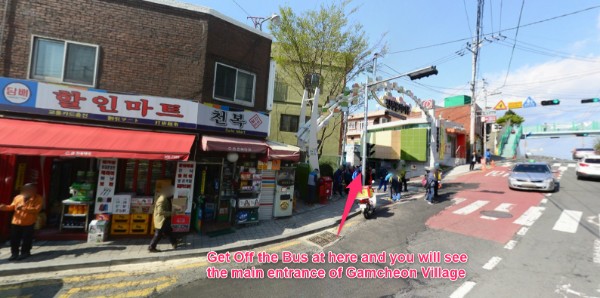 Bus No. 2-2: 4 bus-stops ahead of Gamcheon Village. (Estimated travelling time – 12 minutes)
Bus No. 2: 10 bus-stops ahead of Gamcheon Village. (Estimated travelling time – 15 minutes)
Bus No. 1-1: 10 bus-stops ahead of Gamcheon Village. (Estimated travelling time – 15 minutes)
Cost: 1,050 Won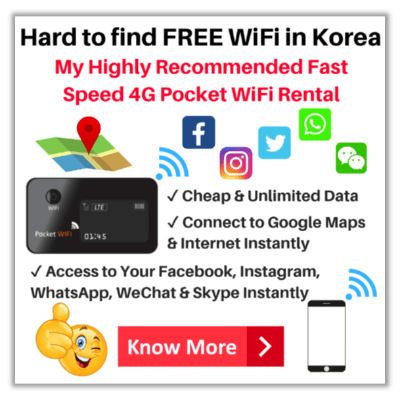 Riding a Taxi to Gamcheon Culture Village
---

Busan Taxi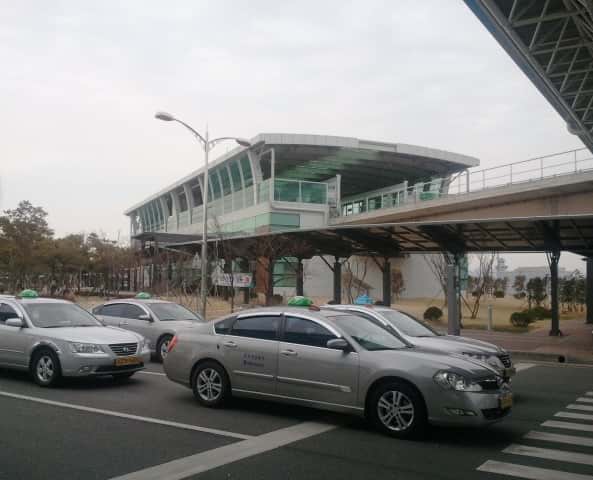 Those with extra cash and want some convenience can take a taxi to Gamcheon Culture Village. Some might opt to hail a taxi from their respective hotels or get on a subway and take a taxi instead of a bus.
Taking a taxi from the station is great – it can more affordable than riding a taxi from your hotel (given your hotel is farther than the stations) and more comfortable and convenient than taking a local bus. With a taxi, there is no need to wait at the bus stop or ride a bus full of tourists.
If you are a group of three, it can be cheaper to ride a taxi then taking a local bus to Gamcheon Village. If you are coming from Toseong Station, a taxi costs around 3,300 Won (approximately 10 minutes) while from Busan Station, it will cost 5,800 Won(estimate).
Gamcheon Culture Village
Street View: See Here
Korean Name: 부산 감천문화마을
Korean Address: 부산광역시 사하구 감내2로 203 (감천동)
Taxi Fare in Busan
See Gamcheon Culture Village with Busan East Cultural Day Tour
---

Busan East Coast Day Tour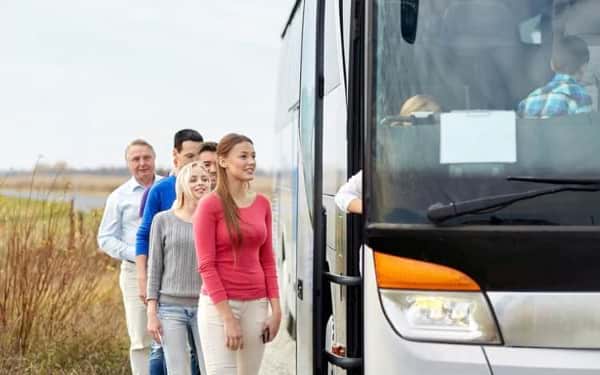 Book a guided tour to see more places within a short time. One of the best tours to sign up is Busan East Coast Cultural Day Tour. For this tour, you will visit four of the top attractions in Busan like Taejongdae, Songdo Skywalk, Yonggungsa Temple, and of course, Gamcheon Culture Village.
What will you get with this tour?
Included in the Busan East Cultural Day Tour are:
Guided tour to four attractions in the city of Busan
English-speaking guide
Transportation
Find Out More (Day Tour)
Book a Private Car Service To Take You To Gamcheon Culture Village for a VIP Experience
---

Private Car Tour in Busan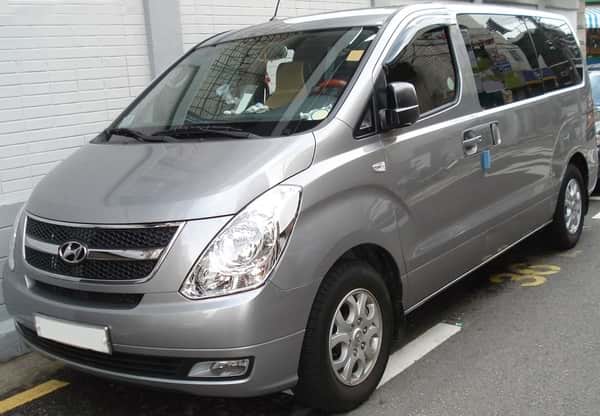 Save your time and energy by hiring a private car that will take you directly to Gamcheon Culture Village. Such convenience will make a big difference in your overall experience.
Private car service is highly recommended for those who always travel in style. Are you a luxury traveler? Of course, a private car service is certainly the only option for you to travel to Gamcheon.
Seasoned traveler who always indulge in every trip only take private car services brought by the convenience of having your own chauffeur for your trip to Gamcheon.
A private car service is also highly recommended for groups like family and friends. No need to hail or wait for a taxi. Private car service also gives high end vehicles for your group to use during your trip.
Expecting mothers, families with small children or elderly, or those who want to their group or family trip run perfectly smooth, hire a private car.
No need to worry if you have a big group. Vehicles are available for 8 Pax and even for 20 Pax! Manning the wheels are professional English-speaking driver, who might give you some tidbits about the village and Busan as a whole.
Or why not include a travel guide in your private car service package? Traveling with a group in Busan has never been this good with a private vehicle.
Find Out More (Private Car Tour)
Conclusion
A village rich in history and regarded as an artistic haven in Busan, Gamcheon Culture Village should be on everyone's list when in South Korea's seaside city. An urban success, find picture perfect spots and discover quaint cafes and shops.
Like many attractions, everyone can conveniently go to Gamcheon Village. Whether you want to take the usual route of subway and local bus or taking a taxi – coming here won't cost that much and effort.
For those who want convenience without spending too much, join a day tour like Busan East Coast Cultural Day Tour that already includes key attractions in the city like Gamcheon Village.
On the other hand, if money is not an issue or if you are willing to spend, nothing beat hiring a private car service.
Whatever you choose, Gamcheon, as a top attraction in Busan, it not hard to find and explore even on your own. See the other side of Busan, know an important part of Korea's past, see how art can save a whole village – visit Gamcheon Culture Village!
Don't forget to share this blog post to your friend on social media if you found it was helpful to them. 🙂
How do you plan to get there ? Let me know in the comments below.
Related Posts
Image Credit
Photo by © Zentangle – Fotolia.com
Photo by © Yael Weiss – Fotolia.com
Photo by © anekoho – Fotolia.com