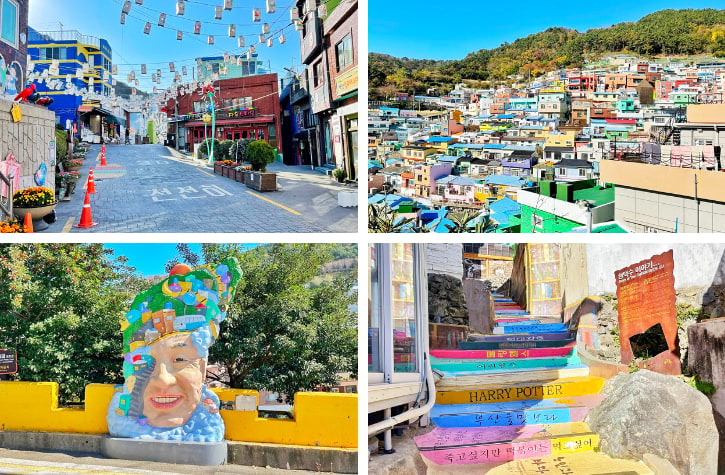 Gamcheon Culture Village is a one-of-a-kind village in Busan surrounded by colourful houses. Set along the coastal mountain, the structures are built like that of a staircase design.
In this guide, I'm going to share with you how to get to Gamcheon Culture Village easily. This is definitely helpful in making your trip more seamless.
Also, I have listed down the 26 best things to do and see in the village. These include the best photography spots there for a fun and memorable trip. 😊
And before I forget, I recommend you to read this Busan Itinerary page as well. I'll share the most beautiful sights in the city and how to use public transportation to visit Busan's most popular attractions.
1. The Breathtaking Gamcheon Culture Village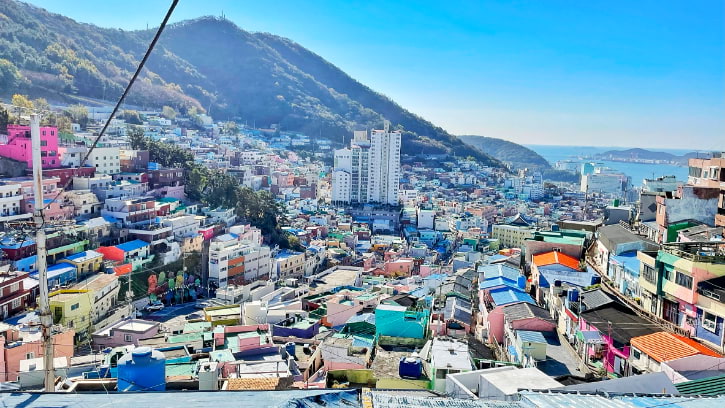 Gamcheon Culture Village offers you a unique experience that you shouldn't miss out.
Step foot into this historic neighbourhood and see the breathtaking scenery. This place is filled with vibrant houses bounded by lush expanse.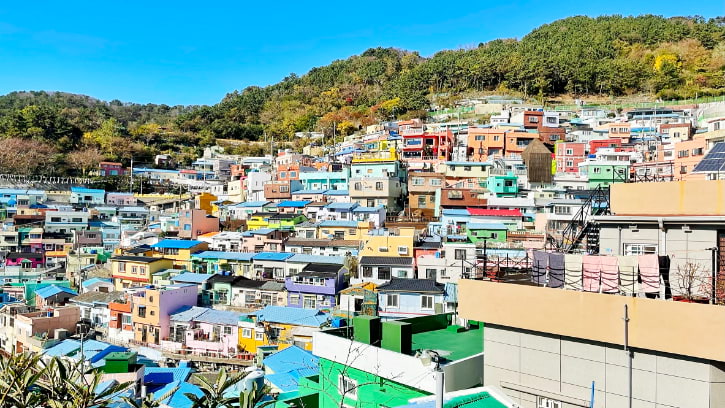 Explore this cultural village with your family and friends. There are several alleyways around that are perfect for your day exploration. And of course, the place itself is brimming with cultural vibes!
2. Peaceful Atmosphere of Gamcheon Village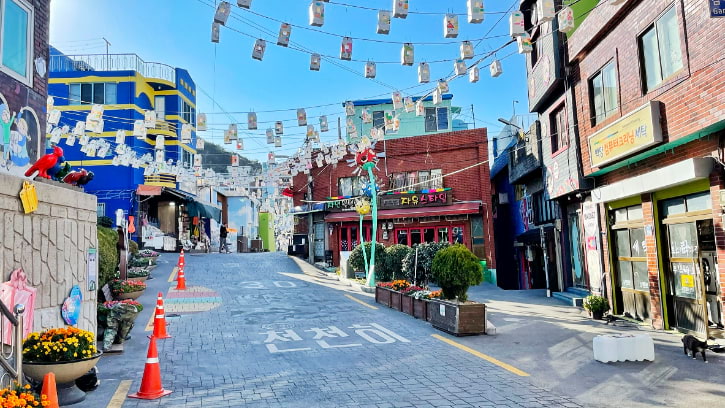 Walk around Gamcheon Culture Village and experience a unique sense of adventure.
Discover the nooks and crannies of this local village on foot.
Along the way, you'd see beautiful art murals that are perfect as photo backdrops. So, capture these beautiful photo spots and enjoy!
3. Face of Gamcheon-King Jongsun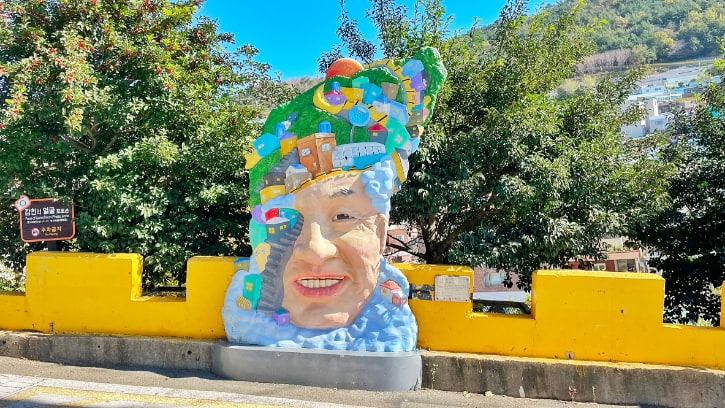 One of the most popular landmarks in the area is none other than the Face of Gamcheon-King Jongsun.
Featuring a big, bright smile, this portrait is such a welcoming spot for visitors. Plus, the yellow ledge around the statue makes this striking mural very popular among tourists!
4. Fish Swimming Through the Alley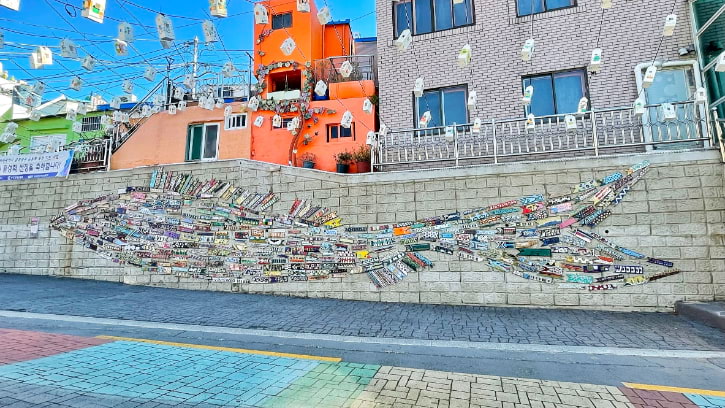 Catch a glimpse of the Fish Swimming Through the Alley while strolling around.
As you take a closer look, you'll be surprised at how intricate this creation is. The mural is made of individual art designs that are combined to create a masterpiece that fascinates visitors.
5. Message of Hope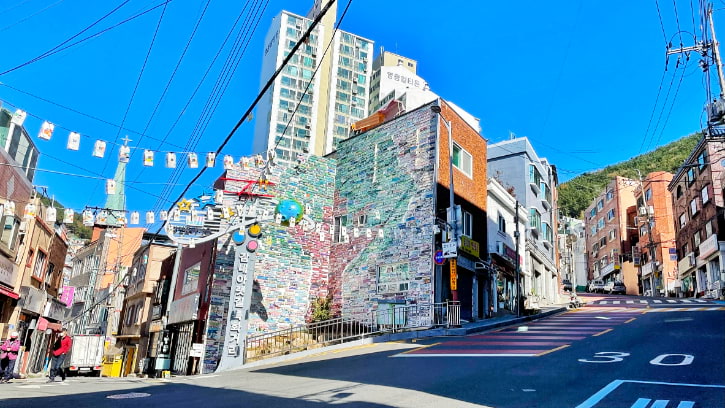 Get some inspiration from the Message of Hope artwork. This section covers the entire wall with meaningful messages from different people.
Thus, go over to this area and read some quotes to brighten your day. And for sure, you'll be inspired by this beautiful mural!
6. Tasty Ice Cream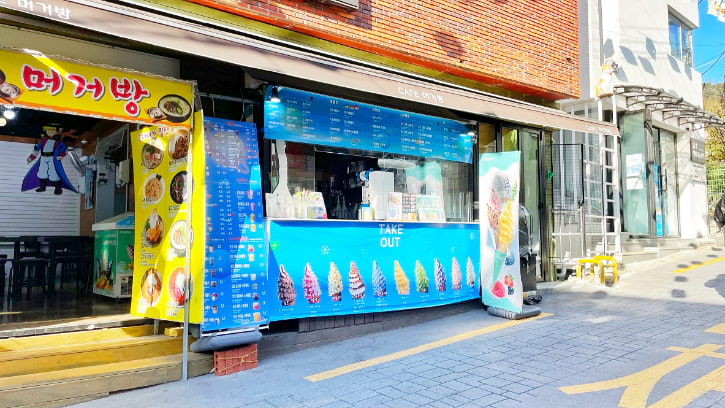 While wandering around the village, enjoy some ice cream from this food stall.
This is such a perfect way to cool your senses after all the walking adventures. Here, you get lots of flavors to choose from. So, take your time and enjoy the cold treat!
7. Art Version of the Village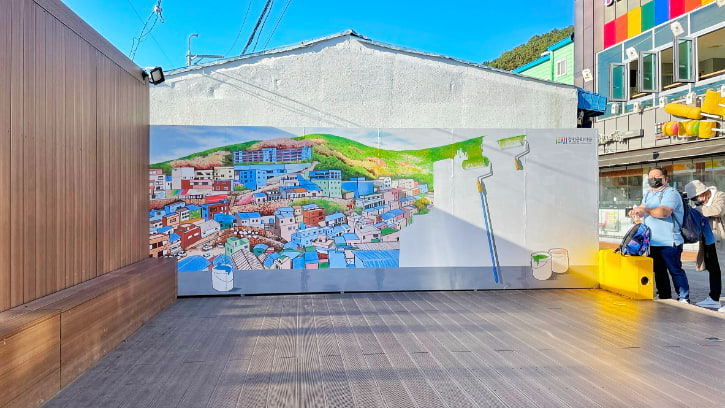 Did you know that there's a specific section that mimics the landscape of the village?
Drop by this special mural and see how realistic the art is.
From afar, it appears that the painting is like an unfinished canvas. But if you look intently, you'd be surprised that it's all part of the art!
8. Grand Budapest Doll Hotel
Uncover the unique charm of the Grand Budapest Doll Hotel.
This small yet mesmerizing museum is filled with a collection of dolls from a notable person named Ray. Inside, you'd come across a personal collection of beautiful and distinct dolls from the owner.
9. Little Prince and the Fox Statues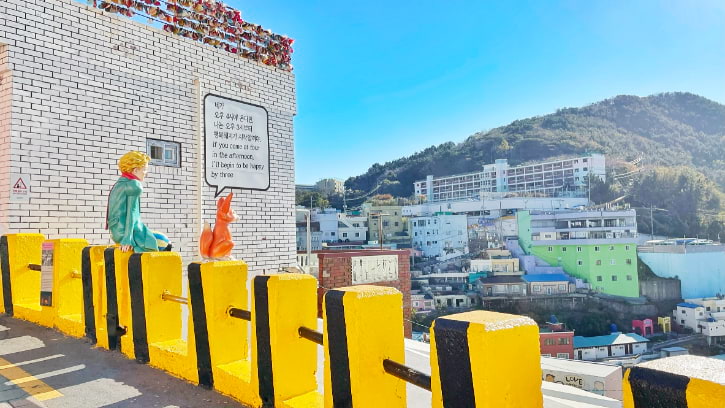 Continue the fun at Gamcheon Culture Village and meet the Little Prince and the Fox!
Set along the rails, the location of this art piece is definitely exceptional. So, take a pose with the two statues and be mesmerized by the scenic views from afar.
10. Realistic Statues Along The Way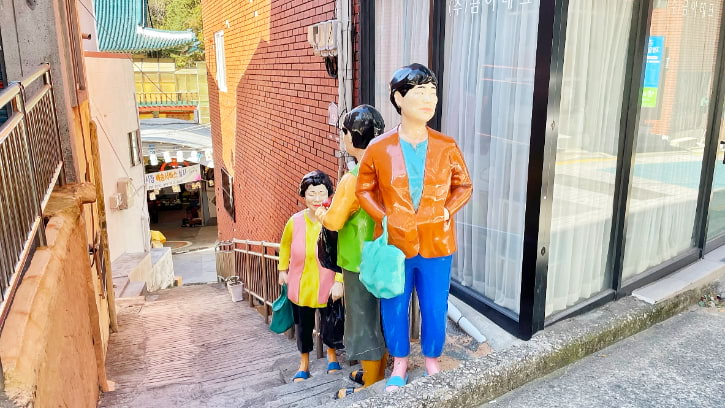 There are lots of unique art stuff scattered around the village.
Hence, during your trip, try to see these colorful statues stationed at one of the corners of the alleyway. With vivid colors, these figurines are something that would catch your attention.
11. Gamcheon Sound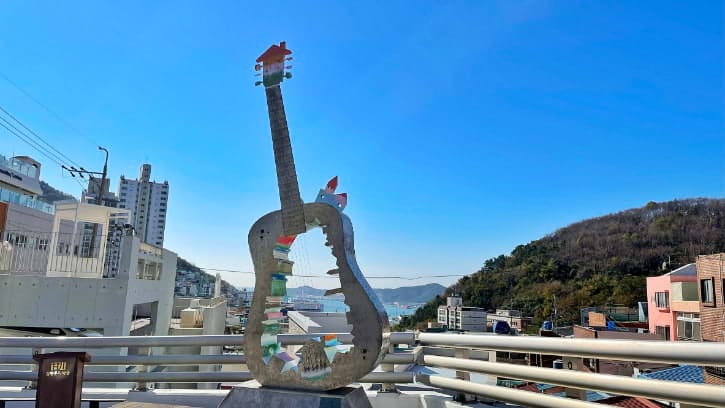 Take a photo of the towering Gamcheon Sound with your pals. This gigantic guitar statue is perfectly surrounded by vibrant houses and lush nature.
Aside from that, the piece itself comes with a remarkable height and realistic design. No wonder why this continues to amaze tourists!
12. Frame-like Art Piece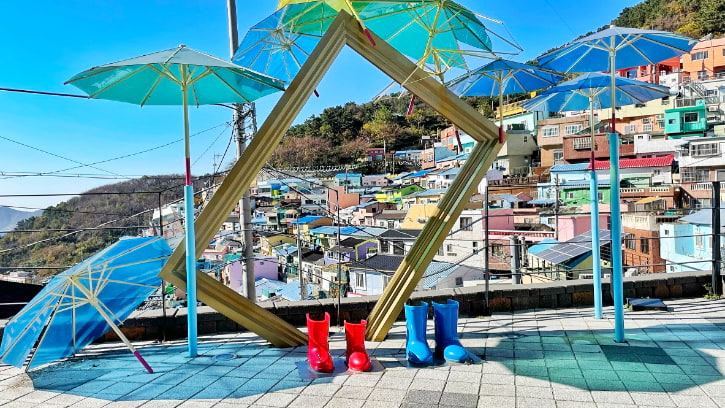 This art portrayal is another great spot to test your creative skills. Act like you are inside the frame and showcase your fun poses!
The umbrellas enclosing the frame add up to the uniqueness of the art. So, try to maximize this stuff for some DIY photoshoot!
13. Exceptional Art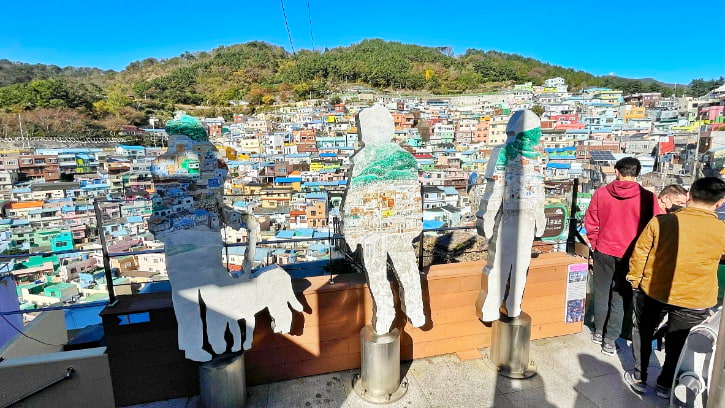 As soon as you'd see these illustrations, perhaps you'd wonder why these sculptures look like these. Accordingly, the design signifies the connection between art and the village of Gamcheon.
Thus, the statues are painted with the same designs as the houses from afar. This gives the illusion that the art is part of the community.
14. Love Locks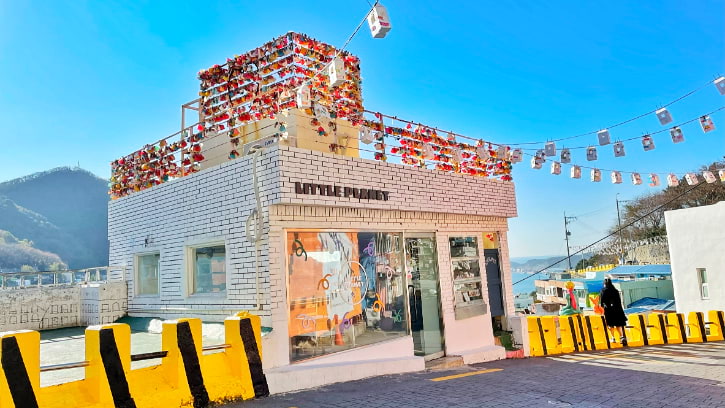 Another favorite spot in the village is the Love Locks. You can easily distinguish this section because the colorful locks are placed on the balcony of the store.
Capture a photo of this lovely area and use it as your beautiful backdrop!
15. Gamnae Matjip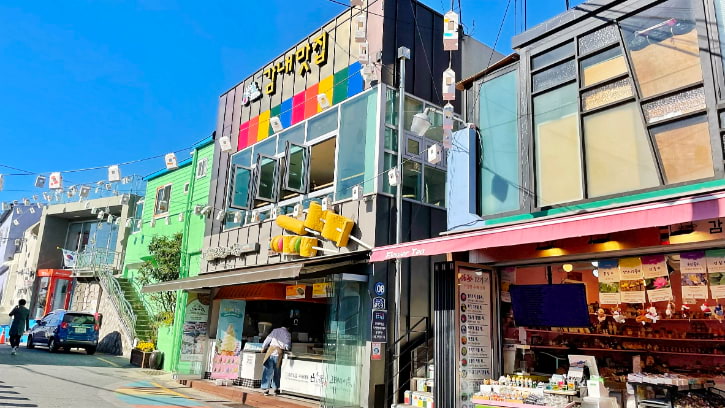 Fill your appetite with some tasty bibimpap from Gamnae Matjip. This renowned restaurant is also known for its mouthwatering fish cakes!
What's more appealing is that they offer lots of varieties, from cheese to seafood and more! So, order one and enjoy the delightful Busan-style goodness!
16. Jungkook and Jimin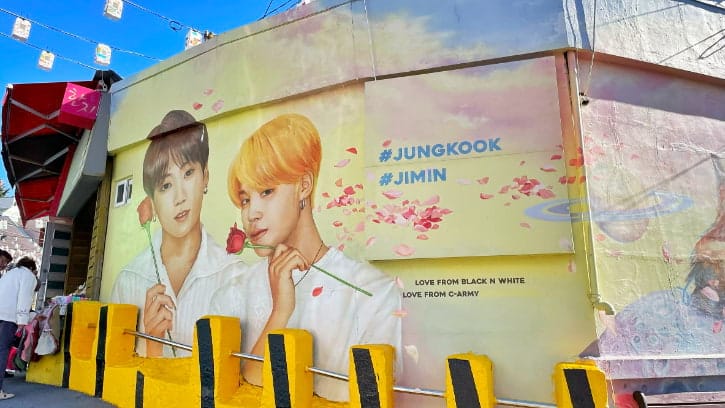 Check out the huge illustration of BTS members, Jungkook and Jimin. You can't miss this section because of the huge, vibrant poster.
Hence, if you're a fan of these two, this is your chance to see their banner in their own hometown!
17. Rainbow Stairs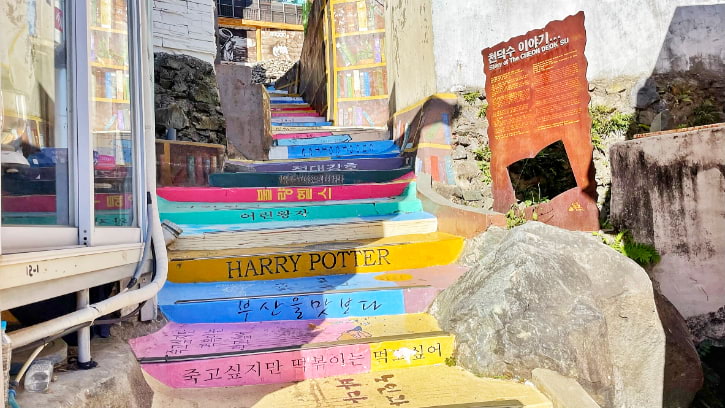 If you visit Gamcheon Culture Village, you should pop by the Rainbow Stairs for a while.
You can also climb the stairs to pump up your senses. Adorned with different colors, this spot easily captivates visitors in an instant.
18. Stone Architecture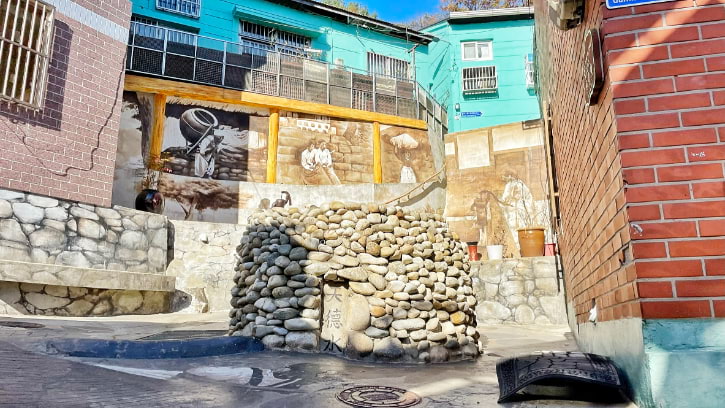 Don't forget to take a snap of this special site together with your friends.
Equipped with hundreds of stones, this piece of art also deserves to be captured. And just around the structure are some local paintings that depict the traditional lifestyle of the locals.
19. Lighthouse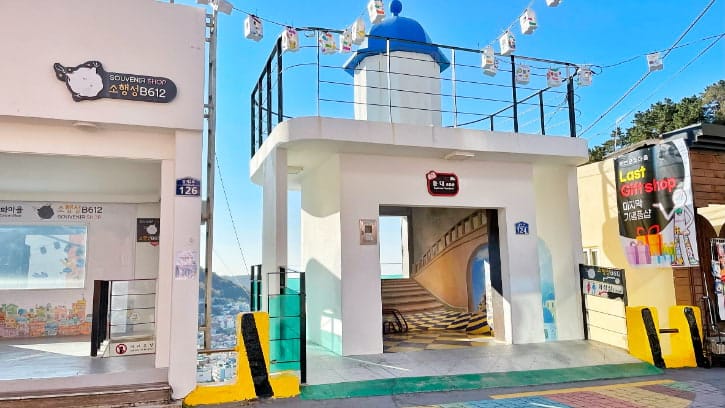 The Lighthouse is definitely a crowd favorite, especially with its simple yet sophisticated aura.
With just the white and blue combination, the site can be a great background for your pictures. So, grab this opportunity and stand in front of the beautiful structure!
20. I Love Gamcheon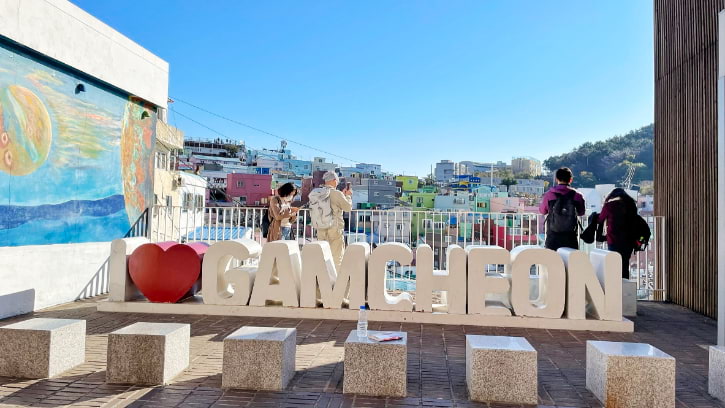 But of course, your visit to the village won't be complete without the iconic Love Gamcheon sign!
Head to the famous landmark and imprint your visit with a pose. Because of its popularity, there might be several people around, waiting for their turn to capture the area!
21. One of the Many Local Stores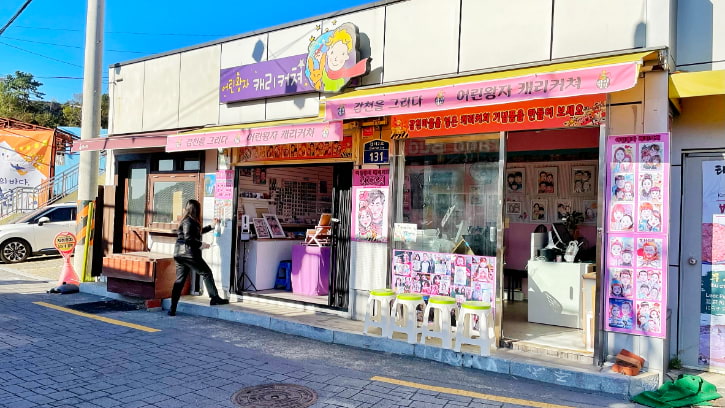 There are lots of shops within the village that are bound to make your trip more memorable. These offer unique kinds of stuff, from creating photo flip books to turning yourself into a caricature.
For first-time visitors, be sure to visit one of the local stores and have fun!
22. Gamcheon Culture Station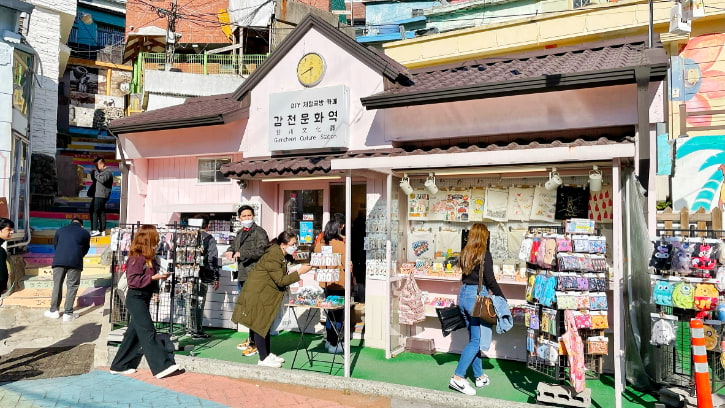 Gamcheon Culture Station is a remarkable spot in the village when it comes to souvenir shopping. This shop is loaded with stunning crafts and art pieces that you can take home.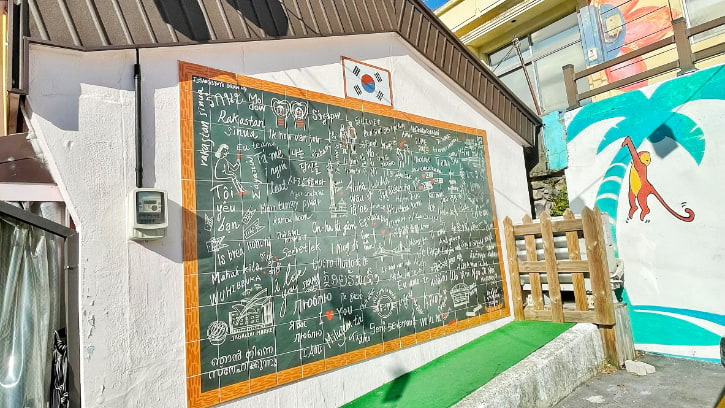 With the extensive options at hand, just take your time and check the variety of local items on their display. And before I forget, try to drop by this board filled with writings from all walks of life.
23. A Selection of Souvenirs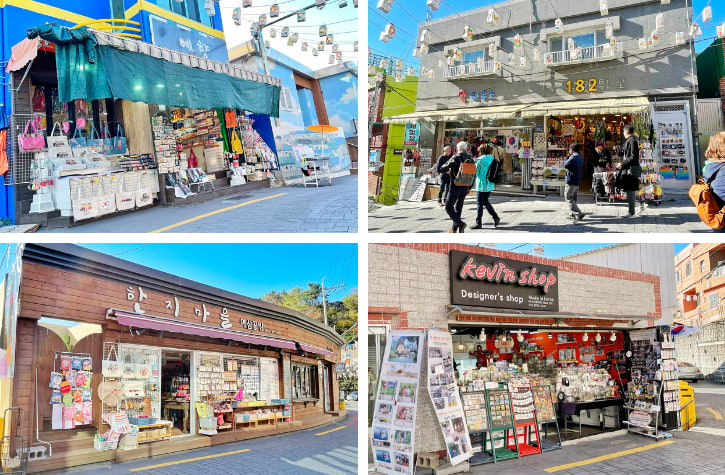 During your trip, be sure to buy some souvenirs from one of the local stores. There are plenty of choices here, hence the need to walk around the village and explore.
You can find beautiful art stuff and lots of unique items for remembrance.
24. Colourful Bags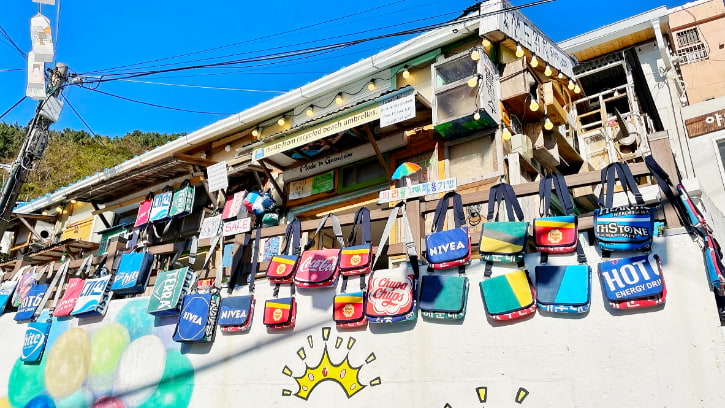 Have a look at this colourful spot and be amazed by the design. From afar, you might think that this is just an ordinary collection of bags.
But surprisingly, these materials are made from recycled beach umbrellas! Take a peek closer and get mesmerized by the intricacy of these pieces.
25. Avant Garde. Café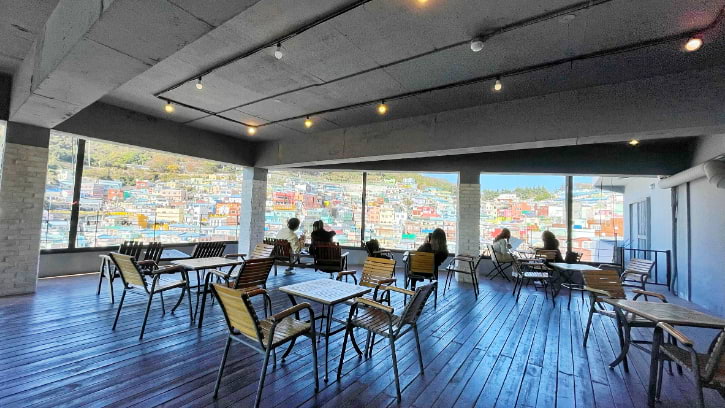 Have a relaxing stop at the Avant Garde. Café. This place offers one of the best views of the entire Gamcheon Culture Village.
Aside from that, the café serves a nice set of drinks for everyone. They have coffee and refreshing smoothies to energize you.
26. The Plate Café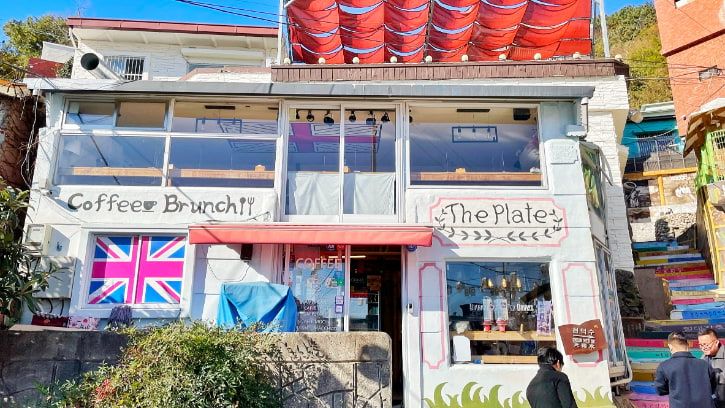 Take your lunch at the famous The Plate Café and feed your cravings. The restaurant primarily features a Western menu, serving burgers, pasta options, and some rice meals.
Another highlight of the place is the cosy ambience that adds to its popularity.
Tips for Visiting Gamcheon Culture Village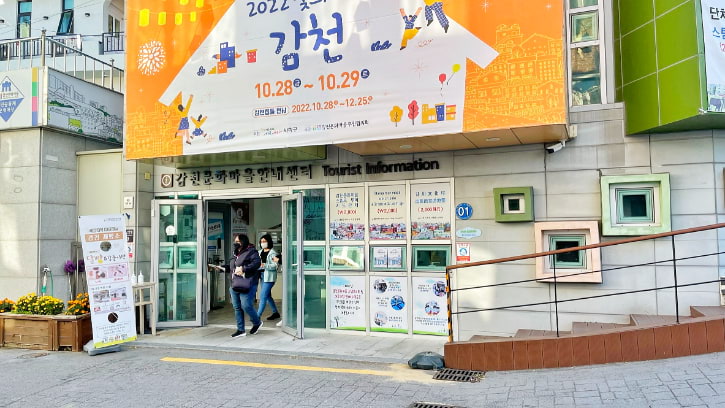 Make sure you buy a Gamcheon Culture Village map from the tourist information centre. Price at 2,000 won, this material is very helpful when navigating the place.
And don't worry because there are no other fees because the entrance to the village is free. It's also highly recommended that you visit in the morning to avoid the crowds. The village opens at 9:00 AM.
How to Get to Gamcheon Culture Village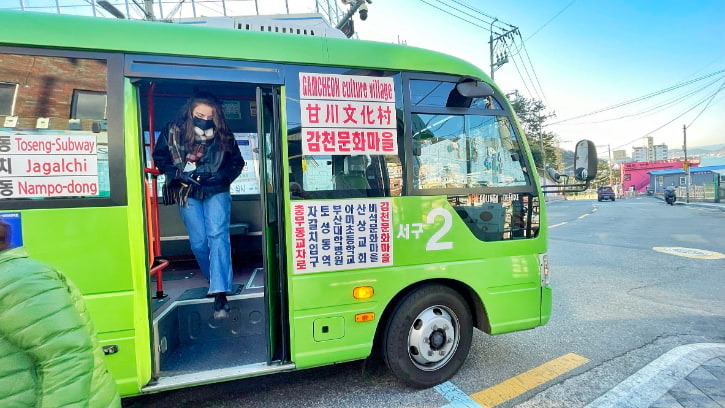 Take the Metro Line 1 to Jagalchi Station. From the station, go out of Exit 1 and ride the Bus Seogu 2/ Seogu 2-2 to Gamcheon Culture Village. The travel time is about 11 minutes whereas the cost is 1,050 won.
Here's my step-by-step guide when going to the village for your reference.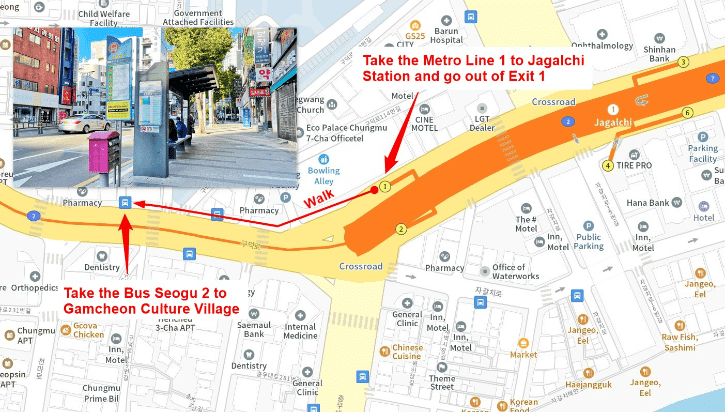 Step 1: Take the Bus Seogu 2/ Seogu 2-2 from the Exit 1 of Jagalchi Station to Gamcheon Culture Village.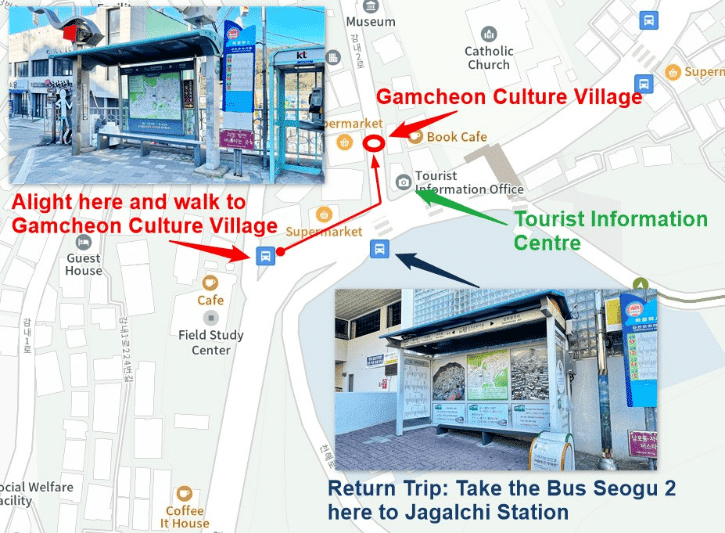 Step 2: Afterward, get off the bus. You just need to walk to the village for a minute.
Alternative Way:
If you don't have time to plan your trip to Busan, no need to fret! You can just book one of these popular Bus Tour 1 or Bus Tour 2 here.
These buses provide smooth transportation by taking you to the most famous attractions in Busan. These include Gamcheon Culture Village, Haedong Yonggungsa Temple, and others. The first bus tour will also cover the Songdo cable car attractions.
The locations to get on the buses are also convenient. These are stationed at Busan Metro Station and Haeundae Metro Station.
Gamcheon Culture Village Overview
Gamcheon Culture Village truly offers an exceptional adventure of a lifetime. Known for its colorful houses and unique art pieces, this village is such a remarkable way to see and experience the local culture.
There are also plenty of stores and cafes to elevate the fun. So, explore the alleyways and see the lovely attractions with your loved ones!
Related Posts