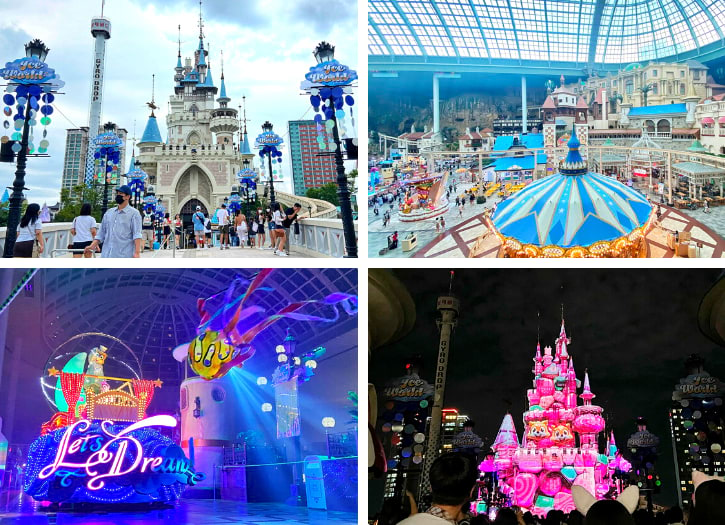 Seoul Lotte World theme park is jam-packed with amazing rides, shows, and attractions for all ages. Here, you get to discover its 2 major theme parks―the Magic Island (Outdoor Park) and the Lotte World Adventure (Indoor Park).
In this guide, I'm going to share with you the 15 best Lotte World rides for adults and kids. I will also include all the must-visit attractions in the theme park.
In addition, I will give you an idea of how to go to Lotte World by subway, either from Myeongdong, Hongdae, or any place in Seoul.
For sure, this guide will help you plan your trip ahead of time. So, let's get started! 😊
1. Atlantis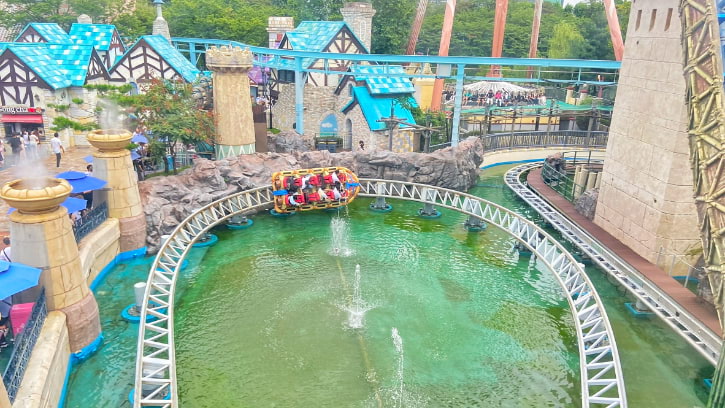 One of the top rides in Lotte World theme park is no doubt the Atlantis. Brace yourself for a heart-pumping journey from start to finish.
This is highly recommended to anyone who wants to enjoy an ultra-fast drive.
Experience the thrill as you journey through a cavernous structure. And then, you get to see the park landscape while onboard before diving back into the hollow space once again.
2. Bungee Drop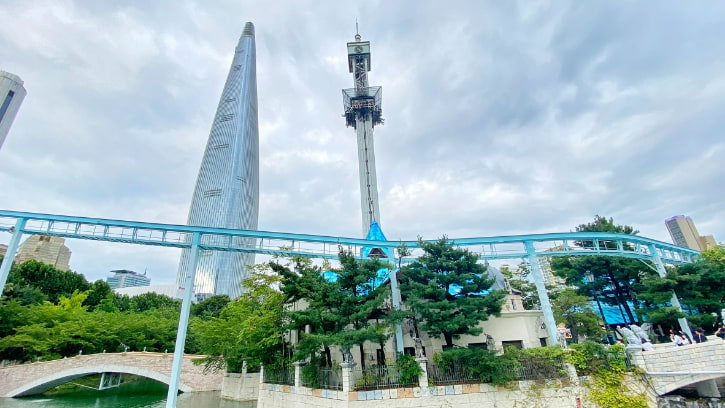 Bungee Drop is another crowd favorite when it comes to Lotte World's most scary rides.
Get your adrenaline pumping as you plunge from an elevated height of 34 meter.
And just when you thought it was done, your seat goes back to the top for another drop at a speed of 90km/h!
So, if you love the ecstasy of getting propelled up and down, this is definitely a must-try.
3. Balloon Ride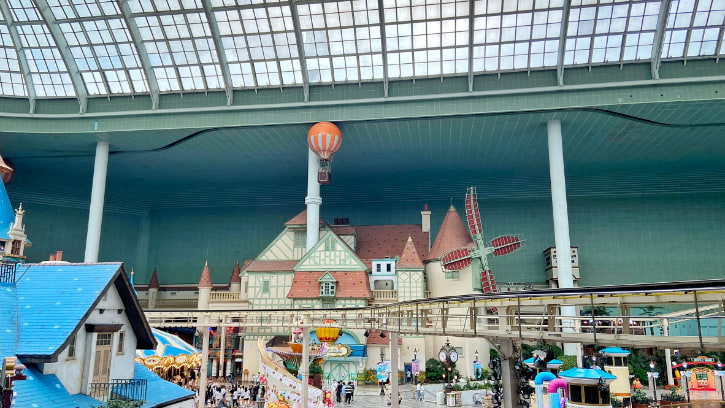 Balloon Ride takes you on top for a panoramic view of the indoor theme park.
As you hop aboard the balloon-like conveyer, ready yourself for a scenic and beautiful ride.
Catch a glimpse of the bright and colorful spots below and take as many aerial photos as you want.
Or you can just simply enjoy the picturesque moment that is truly one for the books.
4. The Adventures of Sinbad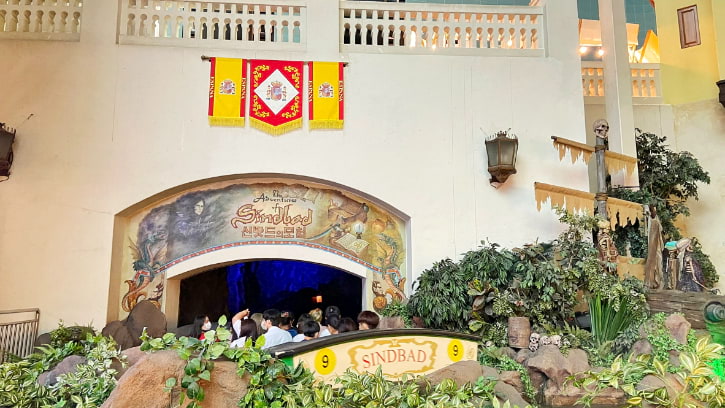 The Adventures of Sinbad is another top-notch ride that you shouldn't miss during your visit.
Sail through the underground escapade and see all kinds of scenery. These include some eye-catching temple walls, scary creatures, and even glittering treasures!
The narration and background music also elevate your entire experience. And, try to prepare yourself in advance as there are some drops that might catch you off-guard!
5. Flume Ride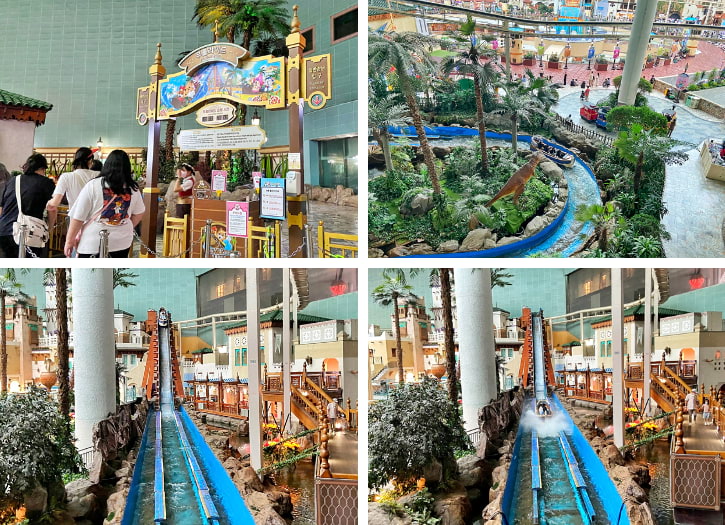 Flume Ride takes up another spot among the most popular rides in Lotte World. Set in the Jurassic period, this water journey is surrounded by lush scenes and some life-sized dinosaurs.
Before you ride the 4-seater log, do take note that you might get wet along the way. So, wrap your electronic devices in advance.
6. Gyro Swing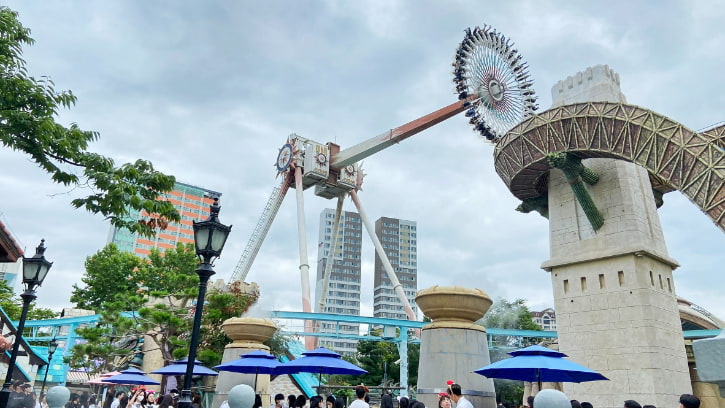 Gyro Swing is such a perfect treat for anyone looking for a nerve-wracking ride.
This massive spinning vehicle takes up to 40 people, swaying and twisting for a couple of minutes.
Aside from the intense movements, you need to take into account the elevated height.
So, if you're up for something that would literally awaken your senses, don't miss this ride!
7. Moonboat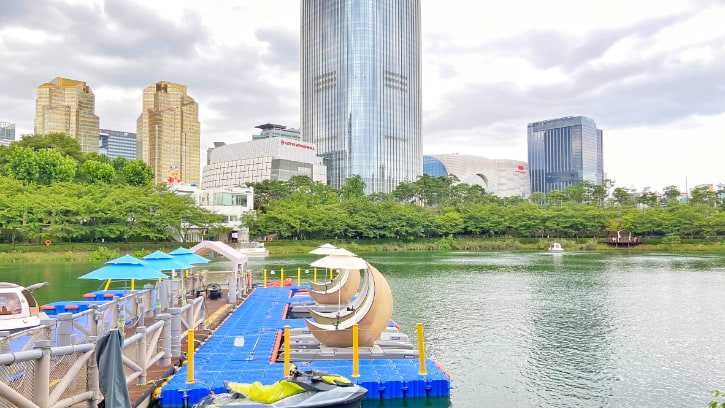 The most relaxing Lotte World rides in the theme park would never be complete without the Moonboat.
This is probably the best choice if you just want to unwind and appreciate the views of Seokchon Lake.
Using high-end technology, the boat is controlled by different arrow keys, so you can explore the waterscape easily.
You can even alter the colors as well as connect music while aboard.
8. Wild Valley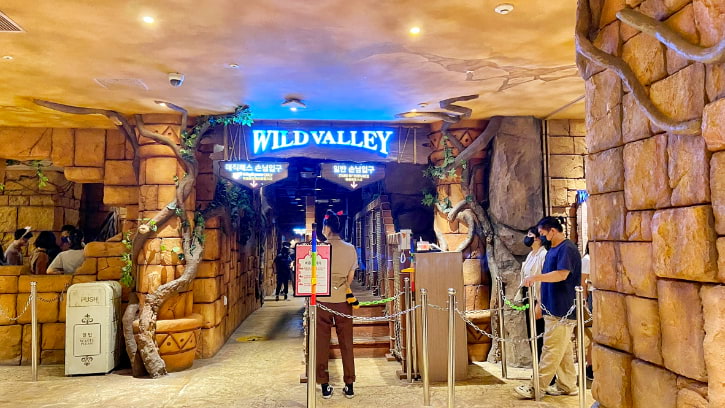 Get on a realistic rafting adventure with Wild Valley. This is a thrilling pursuit that activates your senses as if you're part of the chase.
Enjoy the immersive features that let you travel through a cave-like tunnel and then to the open wild.
As the journey unfolds, you get to meet a lot of creatures and even see some breathtaking scenes.
9. Comet Express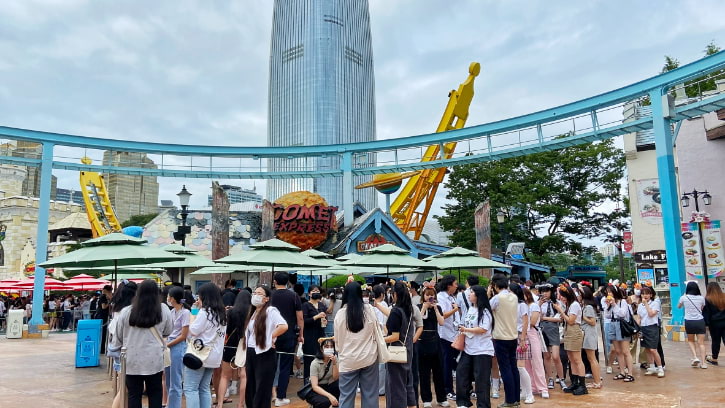 Experience what it's like to be in space through Comet Express. This fast-paced ride welcomes you to the dark yet fascinating intergalactic space.
And don't forget that this is a roller coaster, which means there are lots of twists and turns!
So, if you want a futuristic exploration with a dash of excitement, this won't disappoint you.
10. French Revolution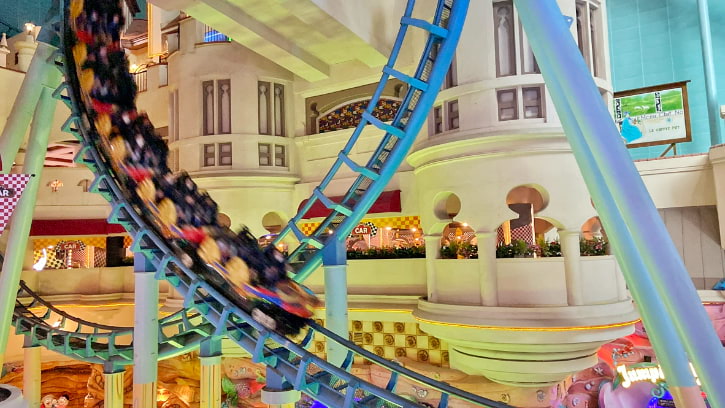 French Revolution is a famous roller coaster you can find indoor of the Lotte World theme park. And just like other rollercoasters, you can't underestimate this ride.
Anticipate for some massive rotations that could go up to 540 degrees at full speed. So, gear yourself up for a non-stop exhilaration!
11. Haunted House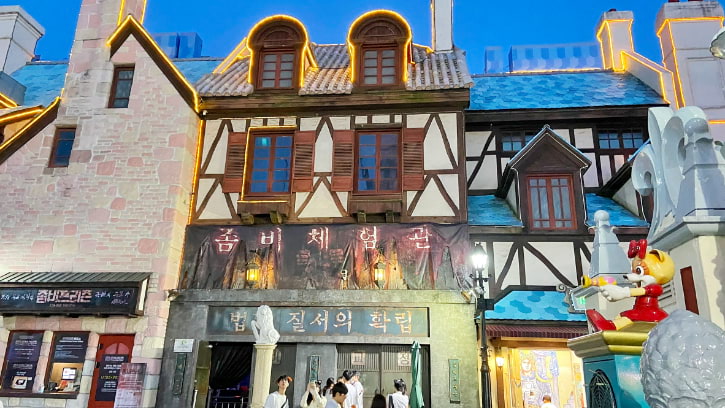 Enter the Haunted House for a ghostly adventure! This 3D horror theater takes you to a realistic turn of events that would really make you shout out of fear.
It's best to complete the terrifying journey with your friends so you can share the fun and thrill. But a piece of advice―this is not for the faint heart!
12. Conquistador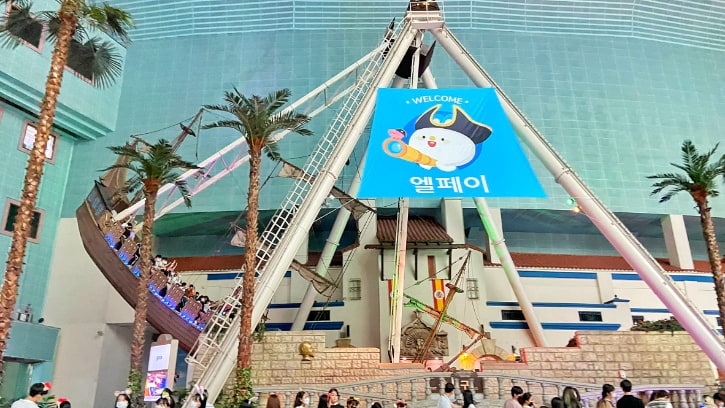 Rock your world by riding the Conquistador! From above, this may not appear to be that thrilling as it just rocks back and forth.
But once you step into the boat, the excitement and suspense are more than enough to drive your adrenaline further.
Plus, you've got to prepare your stomach because of the nonstop swinging motion.
13. Across Dark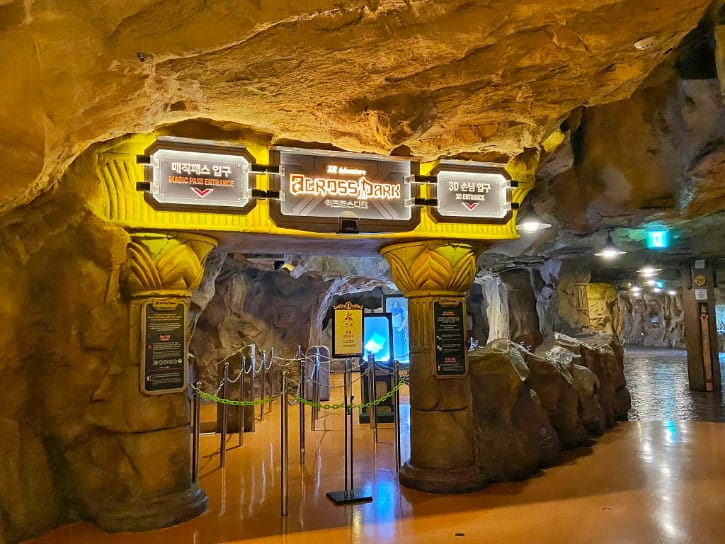 Across Dark introduces you to a movielike adventure with impressive cinematic techniques.
Join Mia, the story's main character, as she explores space in search of her father.
Throughout the journey, you'll be in awe of the remarkable graphics and breathtaking media elements.
No doubt, this is VR presentation is a popular choice in the indoor theme park.
14. Fly Venture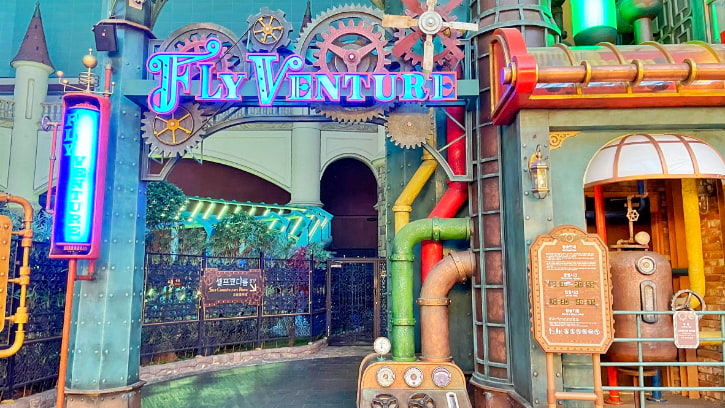 When it comes to the most popular Lotte World attractions, Fly Venture definitely takes a spot on the list.
This is recommended to anyone who wants to experience the thrill of flying and seeing Korea's fictional worlds.
Be filled with excitement as you travel across all sorts of scenes.
Catch sight of the beautiful mountains, moving rocks, molten lava, and even disastrous tornadoes.
15. Camelot Carousel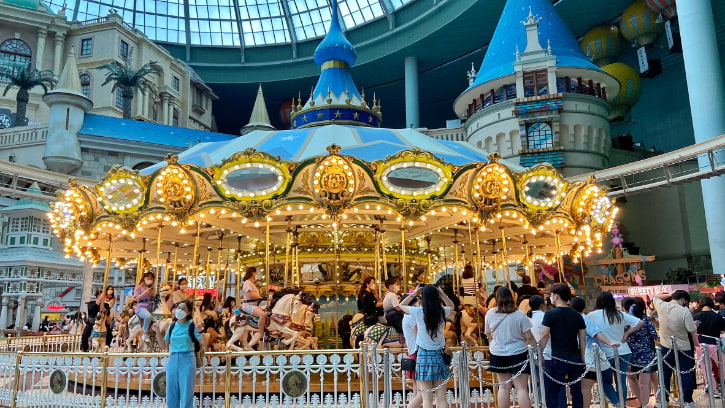 Camelot Carousel is the best way to complete your ride exploration. Loosen up as you mount on one of the beautiful wooden horses.
As the ride moves around, music fills the entire scene with dreamy aesthetics.
So, if you're travelling with kids, don't miss this magnificent spot that takes you back to your childhood.
The Best Seoul Lotte World Rides and Attractions (Summary)
Most Popular Thrill Rides: Atlantis (#1), Bungee Drop (#2), Flume Ride (#5), Gyro Swing (#6), Comet Express (#9), French Revolution (#10), Haunted House (#11), Conquistador (#12)
Top Rides for Non-Thrillers and Kids: Balloon Ride (#3), The Adventures of Sinbad (#4), Moonboat (#7), Wild Valley (#8), Across Dark (#13), Fly Venture (#14), Camelot Carousel (#15)
Money-Saving Tip: Remember to buy your Lotte World tickets here. Purchasing online offers an additional 35% OFF on your entrance ticket, so be sure to check it out!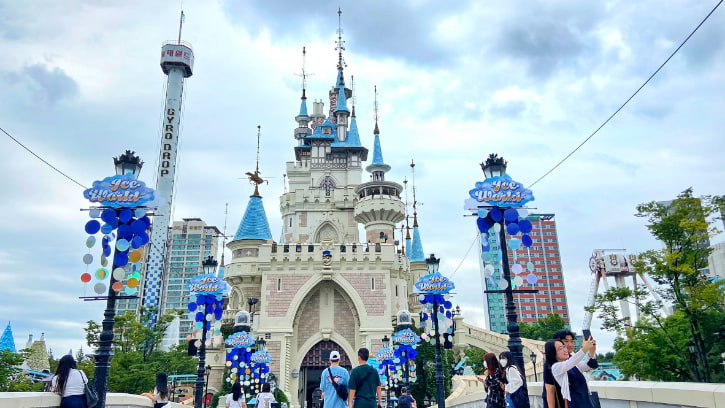 Extra Tip: Don't forget to take some photos of Magic Castle on Magic Island. Located at the outdoor section of Lotte World theme park, this castle is such a sight to see. And because of its gorgeous exterior, it resembles the popular castle in Tokyo Disneyland.
Recommended reading: If you have no idea how to arrange your trip, just go to check my Seoul sample itinerary here for easy reference. This will give you lots of ideas on where to go and how long should you stay at each location.
Must-Watch Shows and Parades
1. Lotty's Adventure Parade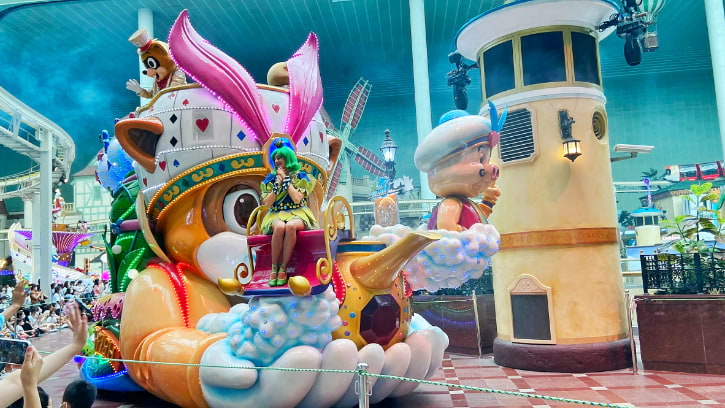 Lotty's Adventure Parade is a must-watch parade when visiting the theme park.
Be mesmerized by the vibrant display that features the top tourist spots that perfectly portray Lotte World.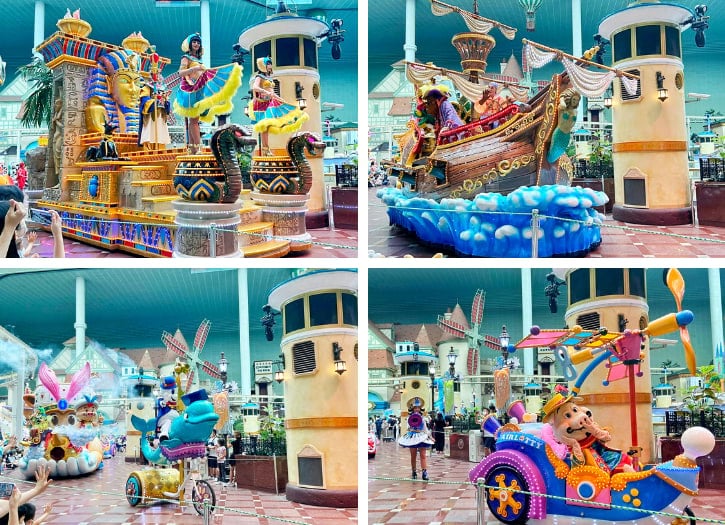 This fantasy parade gives life to Lotte and his adorable friends. So, gather your family and friends to see this captivating exhibition of mascots and floats.
2. Let's Dream Night Parade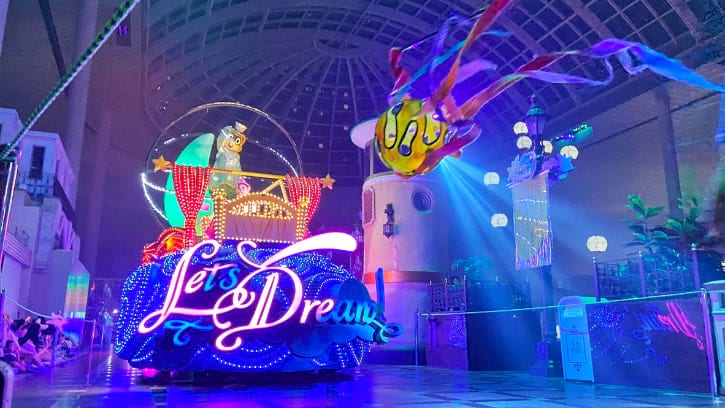 Let's Dream Night Parade welcomes you to a fantastic night show that is one for the books.
Fix your eyes on this animated multimedia show and get to see some breathtaking sights.
And, say hi to the lovely mascots and remarkable performers!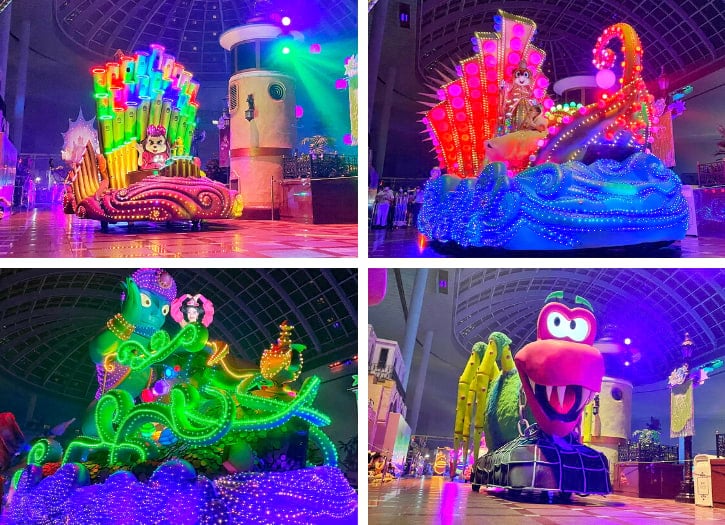 And of course, you can't miss the dancing princesses and the eye-catching creatures moving to the beat of the music.
Without a doubt, this night presentation is truly phenomenal.
3. Magic Castle Lights Up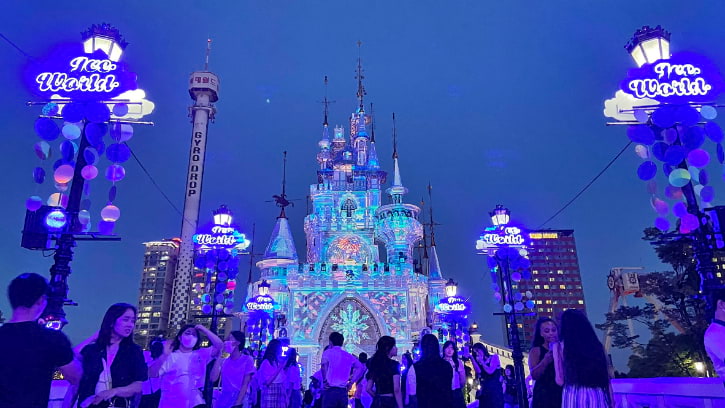 After a fun-filled adventure, catch the Magic Castle Lights Up. Be enchanted by the colorful LED illuminations that light up the castle.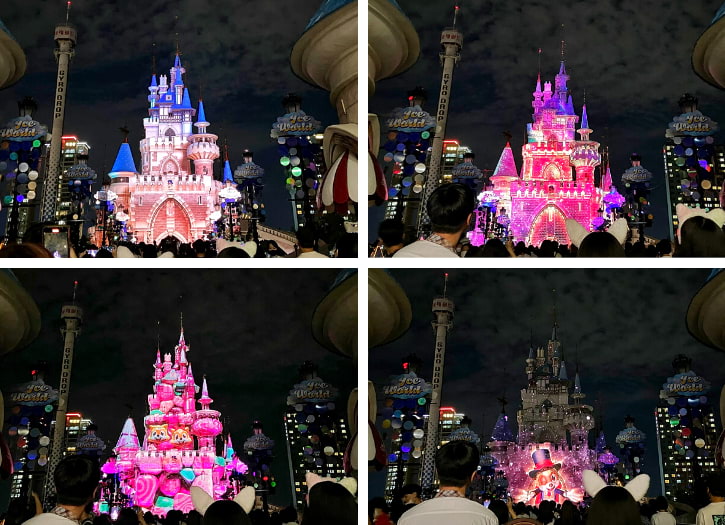 The amazing cinematics brings life to some of the park's favorites.
And the glittering scenes at the end serve as the perfect way to cap off your visit to the park.
Seoul Lotte World Theme Park Map

Don't forget to obtain a Lotte World Seoul map located near the guest relations counter, which I highlighted above.
This is a very helpful item so you can easily find the rides and attractions in the theme park.
Unfortunately, the online map is written in Korean without an English version.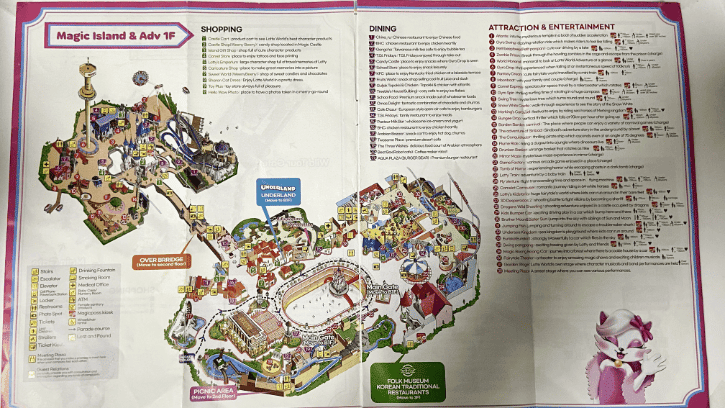 You may refer to the photos of the Lotte World map that I got during my visit. 😊
How to Get to Lotte World in Seoul (The Easiest Way)
Take the Subway Line 2 or Line 8 to Jamsil Station. From there, you go out of Exit 4, which is connected to Lotte World.
1. Myeongdong to Lotte World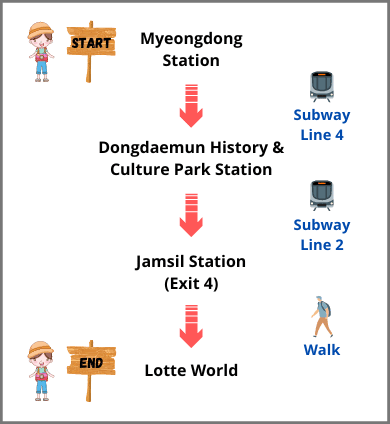 Take the Subway Line 4 from Myeongdong Station to Dongdaemun History & Culture Park Station. From there, you change to Subway Line 2 and go to Jamsil Station. Then look for Exit 4 for direct access to Lotte World. The travel time is about 26 minutes and one-way trip costs 1,350 won.
2. Seoul Station to Lotte World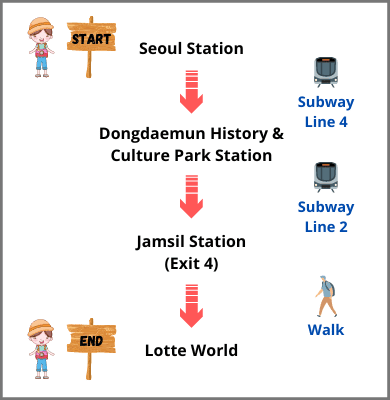 Board the Subway Line 4 from Seoul Station to Dongdaemun History & Culture Park Station. Then you transfer to Subway Line 2 and head to Jamsil Station. From Jamsil Station Exit 4, you can directly access Lotte World. The journey takes around 31 minutes and costs 1,450 won.
3. Hongdae to Lotte World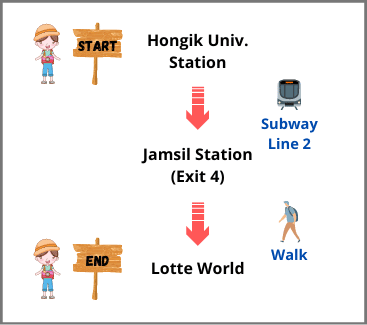 Catch the Subway Line 2 from Hongik Univ. Station to Jamsil Station. And then, you head for the Exit 4 which is directly connected to the theme park. The one-way travel is about 38 minutes, and the fare is 1,450 won.
Tips for Visiting Lotte World Seoul
1. Reserve your tickets in advance
The smartest way to save money for your trip is to reserve the Lotte World tickets here beforehand.
Booking your tickets online instead of buying from the physical counter means you get to enjoy up to 35% discount!
2. Kick off your adventure in the morning
It's highly suggested to visit the Lotte World in the morning so you have enough time to enjoy the rides.
Or you may spend the entire day here because the theme park is quite big. Hence, there are a lot of things to see and do.
3. Don't forget to check the maintenance announcements
Another significant thing is to know that some rides in the theme park may close for maintenance.
Therefore, you should check Lotte World's attractions closure date before going. This is so you can plan what to visit ahead of time.
4. Download the Lotte World app
Download the Lotte World app (Android/ iOS) so you have an idea of the schedule of the performances on a specific day.
This is important so you won't miss the shows and you can head to the area before it begins.
5. Schedule your visit during the weekdays
And for the last tip, visit the park on weekdays. Choosing to visit from Monday to Friday is the best option to avoid crowds.
Other Popular Attractions in Seoul
Besides going to Lotte World in Seoul, I highly suggest visiting Namsan Seoul Tower and Nami Island.
These 2 are very famous places in South Korea, especially for those traveling with family and friends.
Find out more information about these 2 incredible attractions with the help of my other articles. Simply refer to my complete guide to Namsan Seoul Tower and the must-see attractions in Nami Island post.
Where to Explore Next
After completing all your favorite rides in the Lotte World, you may also consider visiting the attraction below.
This beautiful spot is just situated at the same place, perhaps 3 to 5 minutes walking distance.
Lotte World Aquarium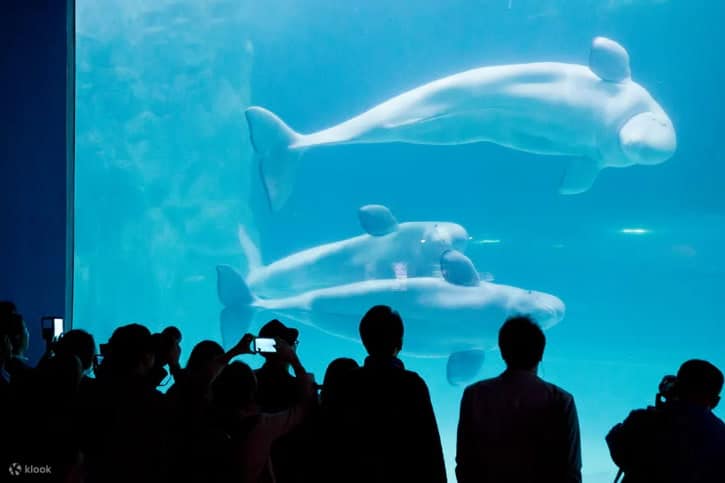 Head to Lotte World Aquarium for an unforgettable underwater experience. Meet at least 55,000 marine life forms in this vast marine museum.
Through different programs, you get to learn more about their history as well as their eating habits and daily lives in general.
As the largest ocean ecology reservoir in the world, you'd be amazed by the variety of aquatic animals here.
Meet some whales, sea lions, penguins, and all kinds of fish species.
Online Reservation (Enjoy Up to 35% Discount!):
Lotte World + Aquarium Combo Tickets
Visitor Information
Opening Hours:
10:00 AM to 9:00 PM
Ticket Prices:
– Adult (Aged 19 to 64): 59,000 won
– Youth (Aged 13 to 18): 52,000 won
– Child (Aged 3 to 12): 46,000 won
– Child (Below 3): Free
– Elderly (Aged 65 and above): 46,000 won
Official Website:
https://adventure.lotteworld.com/eng/main/index.do
Address:
240, Olympic-ro, Songpa-gu, Seoul
Related Posts