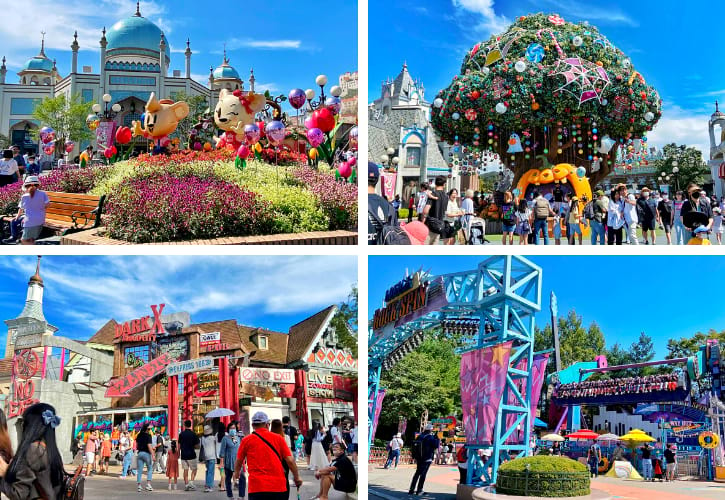 Everland theme park in Korea is filled with fun rides and unique attractions for everyone. No doubt, this is a remarkable place to visit if you want all kinds of adventures.
In this guide, you'll get very detailed information on how to go to Everland from Seoul, Myeongdong, and Hongdae.
There are a total of 5 ways to get there so you can choose the best option. These are Public Bus No. 5002, Everland shuttle bus, Seoul subway, private car charter, and taxi. I will discuss all choices, including my most recommended one.
Also, I've listed down the most beautiful attractions and best rides in Everland theme park.
Make sure you don't miss all my recommendations if you want a fun-filled and memorable adventure. So, let's start checking out them now! 😊
How to Go to Everland from Seoul (5 Methods)
1. By Public Bus No. 5002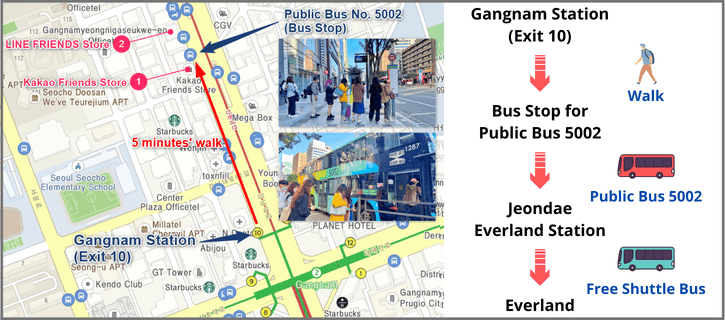 Take the Public Bus No. 5002 at the Exit 10 of Gangnam Station. It is 10 stops away from the Jeondae Everland Station and costs 2,800 won. The travel time is about 1 hour.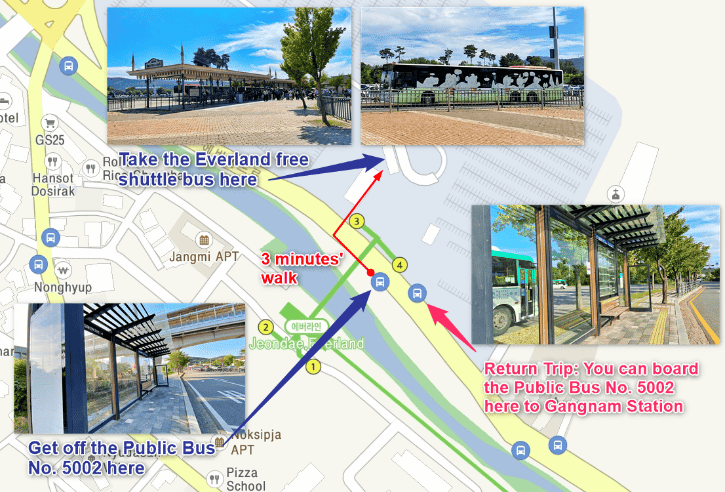 Once you reach the station there, transfer to the free shuttle bus, which leads you to Everland. The journey time is roughly 5 minutes.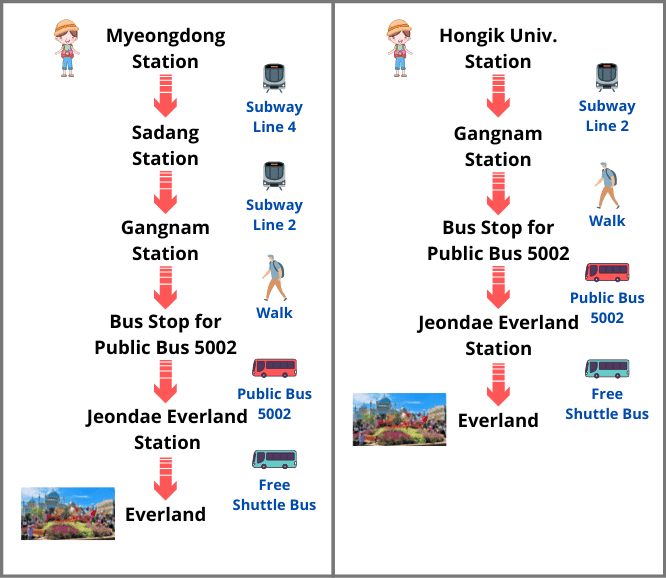 If you depart from the city centre of Seoul like Myeongdong or Hongdae, taking the public bus going to Everland can be very time-consuming.
It's because you need to take a subway to Gangnam Station and then transfer to Public Bus No. 5002 to get there. Thus, the total travel time would take up to 2 hours.
Take Note: Also, be reminded that public buses do not allow passengers to stand inside the bus. Therefore, if the seats are already fully occupied, it means you need to wait for the next bus, which is quite a hassle.
Everland Free Shuttle Bus Operating Hours:
5:30 AM – 11:30 PM
2. By Shuttle Bus

(Easy, Fast and Cheap)

Solution 1 (Shuttle Bus):
The best and easy method to save time and even money is to take the shuttle bus from downtown Seoul to Everland.
The bus brings you to the bus terminal. From there, you can ride the free shuttle bus to Everland with a travel time of around 5 minutes only.
It should be noted that the entrance ticket to the theme park is not included here.
But no worries because you can buy your Everland tickets here. This site offers you up to 44% OFF, so take advantage of it!
Aside from that, the shuttle bus provides multiple pick-up locations.
These include Myeongdong Station, Hongik Station, Seoul Station, and more. Thus, you can choose from one of the locations mentioned, according to your convenience.
Here is the link for you to:

Solution 2 (Express Bus + Entrance Ticket Package):
The second solution is to ride the express bus with entrance ticket package to Everland theme park. If you pick this option, you'd be sent directly to the main door of Everland.
This means that you won't have to transfer from one bus to another. The assembly locations for this express bus service are Myeongdong, Dongdaemun, and Hongdae.
To get more information about this, find out express bus here and know the pricing, assembly places, and schedule beforehand.
3. By Subway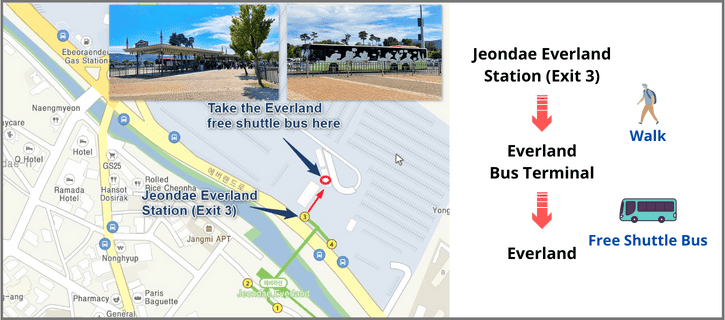 Board the subway from Seoul to Giheung Station. At Giheung, take the Yongin EverLine to Jeondae Everland Station (27 minutes, 1,650 won). From there, you go out of Exit 3 and take the free shuttle to Everland (5 minutes).
The travel duration to Everland is approximately 2 hours. Meanwhile, the one-way cost is 2,450 won if you come from Myeongdong or Hongdae.
Although taking the subway is the cheapest way to get to Everland from Seoul, this can be very tiring.
It's because you'll have to deal with more than 45 stops before reaching the Jeondae Everland Station. Therefore, it's not recommended.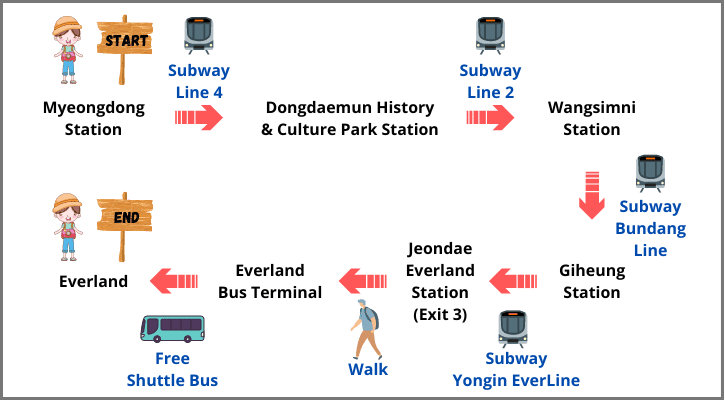 From Myeongdong to Everland
Take the Line 4 from Myeongdong Station to Dongdaemun History & Culture Park Station.
From there, change to the Line 2 and go to Wangsimni Station.
At Wangsimni Station, switch to the Bundang Line to Giheung Station.
From there, you change to Yongin EverLine and go to Jeondae Everland Station.
The trip takes about 1 hour 57 minutes and costs 2,450 won.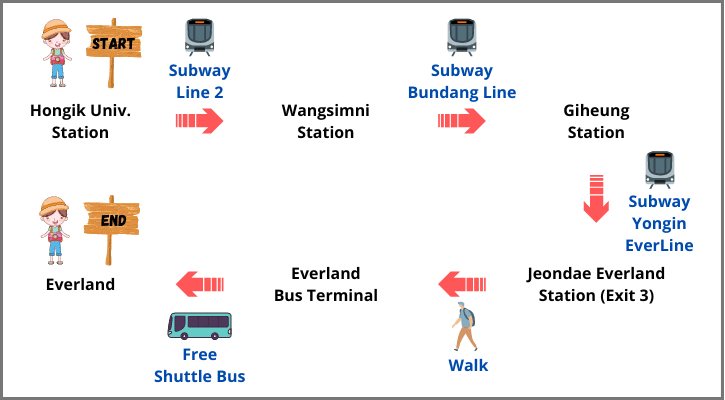 From Hongdae to Everland
Catch the Line 2 from Hongik Univ. Station to Wangsimni Station.
Alight at Wangsimni Station and then change to Bundang Line go to Giheung Station.
From there, you transfer to Yongin EverLine and head to Jeondae Everland Station.
The one-way journey takes roughly 2 hours 8 minutes and the subway costs 2,350 won.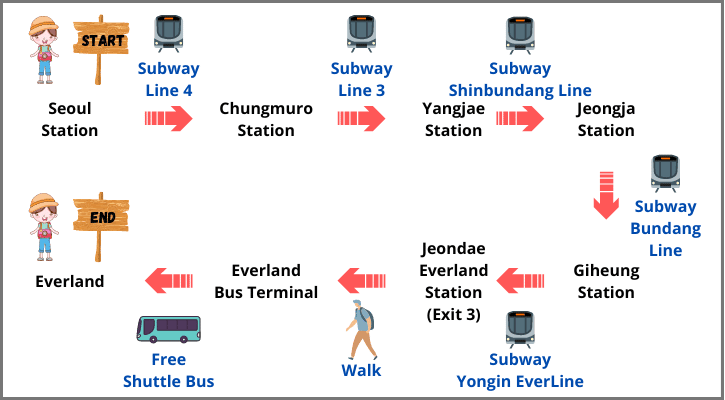 From Seoul Station to Everland
Take the Line 4 from Seoul Station to Chungmuro Station.
At Chungmuro Station, switch to Line 3 and go to Yangjae Station.
From Yangjae Station, you change to Shinbundang Line to Jeongja Station.
After you get off at Jeongja Station, you catch the Bundang Line and head to the Giheung Station.
From there, you switch to Yongin EverLine and go to Jeondae Everland Station.
The single trip takes around 1 hour 56 minutes and costs 3,450 won.
4. By Private Car Charter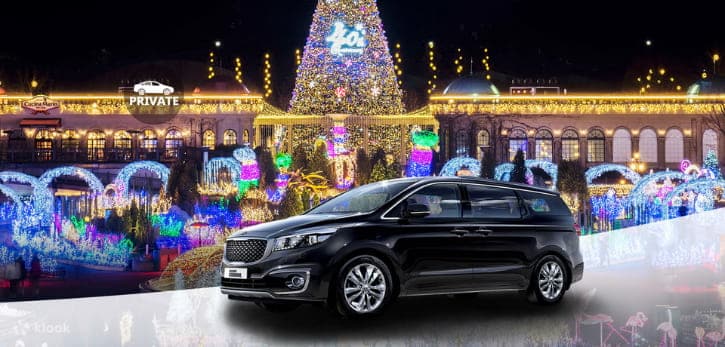 The fastest way to go to Everland from the city of Seoul is through a private car charter. This one got a hotel pickup service so you'll be transported directly to Everland.
Hence, if you're looking for a super convenient and smooth trip, this is the best option. It's also a great choice for families with kids and senior citizens or even groups of friends.
Try to check private car service prices here and make a reservation.
5. By Taxi
Taking a taxi to Everland might not be the best solution as most taxi drivers are not familiar with English. Thus, you might encounter problems with communication if you ride one.
But if you prefer riding a taxi, you can show this name 에버랜드 (Everland) to the taxi driver. This will really be helpful in case the taxi driver doesn't understand English.
The basic fare for a regular taxi is 3,800 won. It then increases by 100 won every 132 meters.
Summary of Transportation Options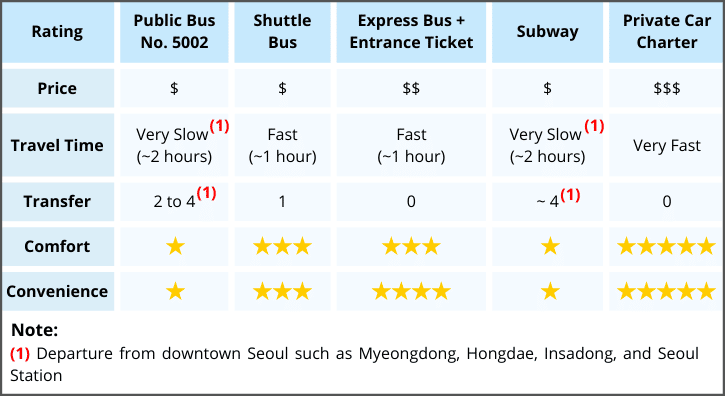 Public Bus No. 5002: It's the cheapest option yet slow and time-consuming to get to Everland. If you start from Myeongdong, Dongdaemun, and Hongdae, you need to take the subway. From there, you are required to transfer several times to reach the public bus in the Gangnam
Shuttle Bus: If you want to be sent directly to the Everland bus terminal, this is a good choice. From there, you can ride the free shuttle bus to Everland which is just 5 minutes away from the theme park. You may reserve the shuttle bus online. And, don't forget to book your Everland tickets here and get up to 44% extra discount compared to purchasing the tickets on-site!
Express Bus: This express bus comes with the entrance ticket for Everland. So, if you prefer convenience above all, this is highly suggested.
Subway: This is the cheapest but extremely slow option. You need to allocate around 2 hours to reach Everland if you are from Seoul.
Private Car: Lastly, the Everland private car service is the fastest and most comfortable choice. This is suitable for a group of friends or family members travelling with small kids and seniors. However, do take note that this can be slightly expensive.
Recommended Reading: Do also read my personal tried and tested 7 day Seoul itinerary to make your trip more fun and enjoyable.
6 Must-Visit Attractions in Everland
1. Four Seasons Garden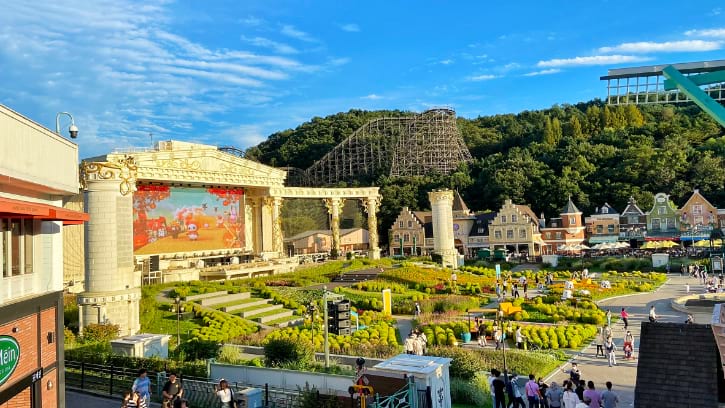 One of the most popular Everland attractions is undeniably the Four Seasons Garden.
Get mesmerized by the stunning arrays of flowers and topiary plants that make up the majority of the ornamental landscape.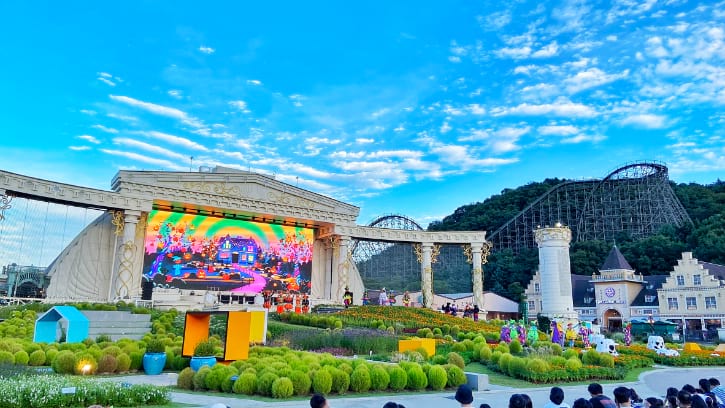 During your exploration, you might come across this outdoor presentation. Take a look at the elegant display while enjoying the calm atmosphere.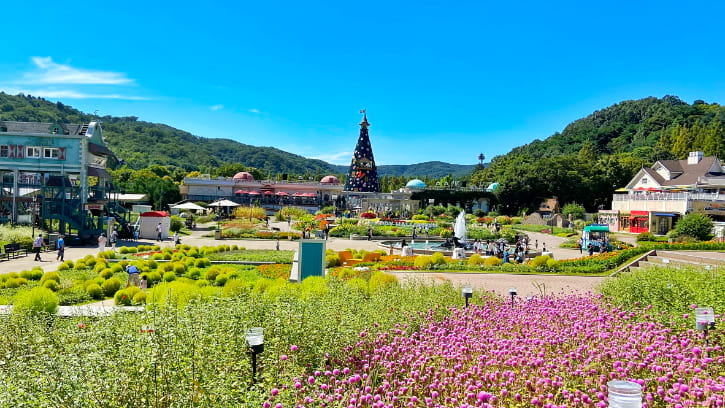 Continue to stroll around and discover various flowers, from tulips to roses and more!
Truly, this is the best way to kick off your morning and even the perfect spot to cap off your adventure.
2. Rose Garden and Rose Castle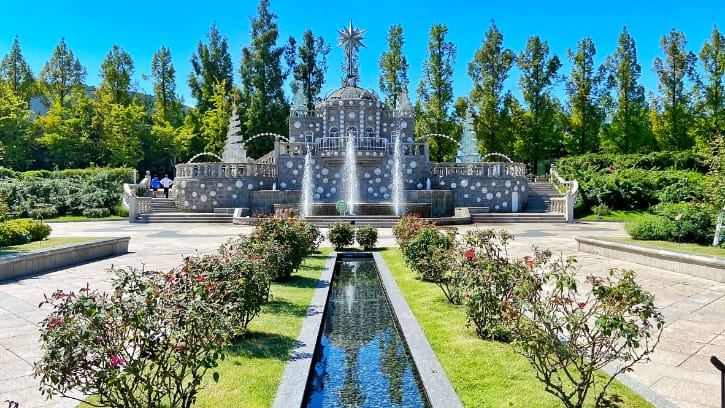 Set foot into the Rose Garden and Rose Castle and be captivated by the majestic surroundings.
The castle itself is such a sight to see, standing amidst the lush green landscape.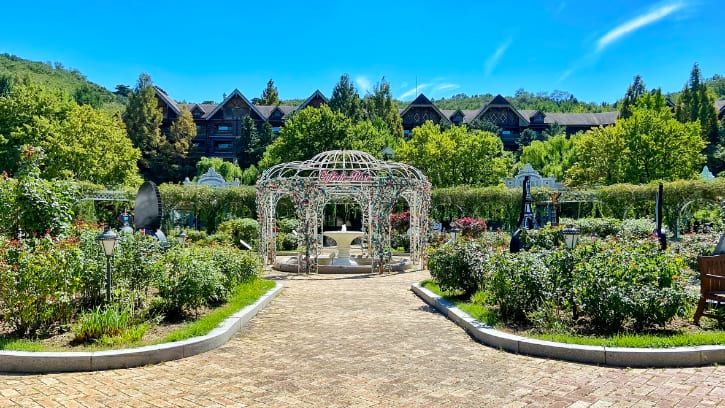 Carry on with your journey and see the expansive stretches of flowers in different colors.
There are red, pink, and violet hues that allure every visitor. Take many photos as you want and let this lovely memory imprint forever in your mind.
3. Safari World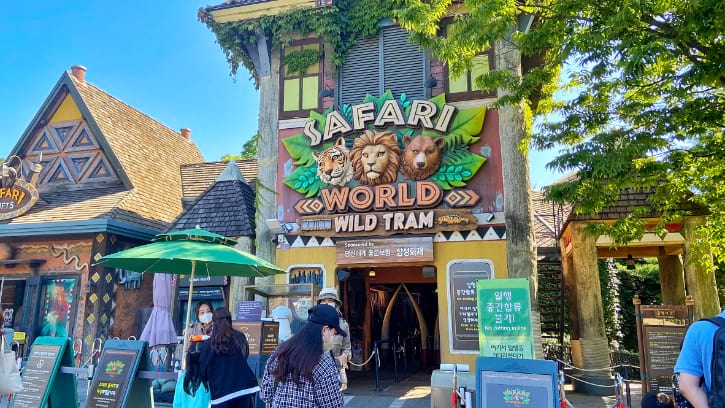 Safari World is also part of Everland's most visited attractions. Here, you will experience an outdoor animal tour while onboard. Get ready as you meet some of the top predators and hunters in the wild.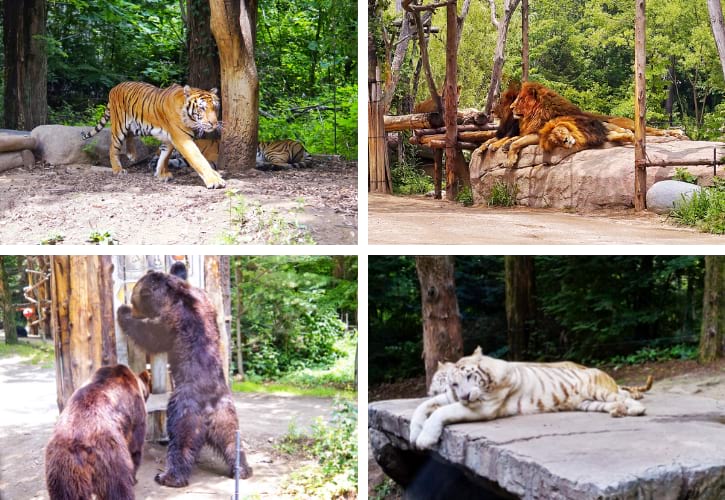 Catch a glimpse of these predators who often wander around their forest-like environment.
Some animals, including lions, tigers, and bears, would walk in your direction. But don't worry because you're completely safe while inside the vehicle.
4. Lost Valley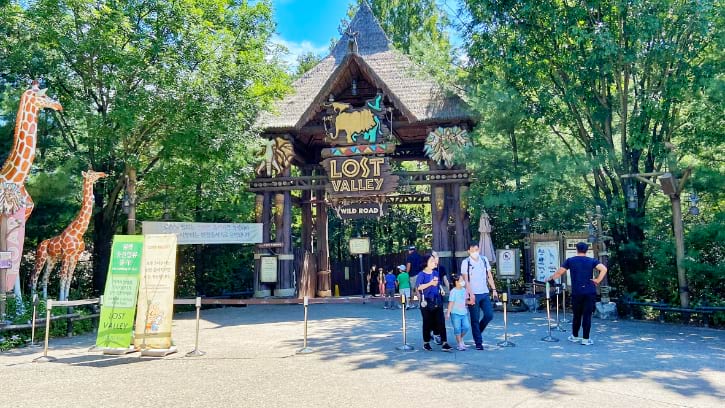 Lost Valley, on the other hand, takes you to the home of some mammals and even exotic animals.
The journey begins with a water trip and then courses through a land expedition. While onboard, spot some rare species that freely wander around the wild.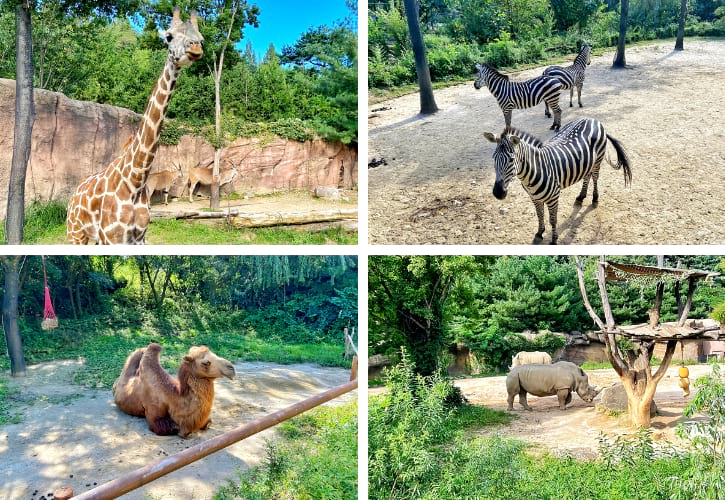 Take a peek at the gentle giraffes or meet the patterned zebras. There are also camels, rhinoceros, elephants, and various bird species.
Another Popular Article of Mine:
See my
Alpaca World Korea
post. This is a beautiful animal farm where you can interact and feed the adorable alpacas. Worth a visit!
5. Panda World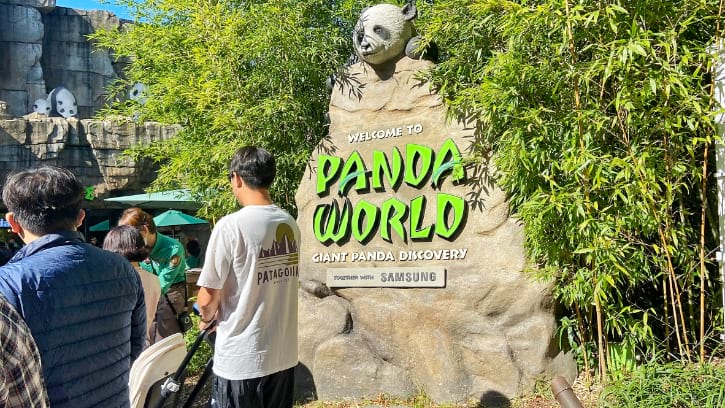 Get on with your Everland trip and meet some adorable pandas at Panda World.
As the sanctuary of these cute creatures, you'll be seeing the pandas in their own habitat. This place also helps you be more knowledgeable about their traits and daily routines.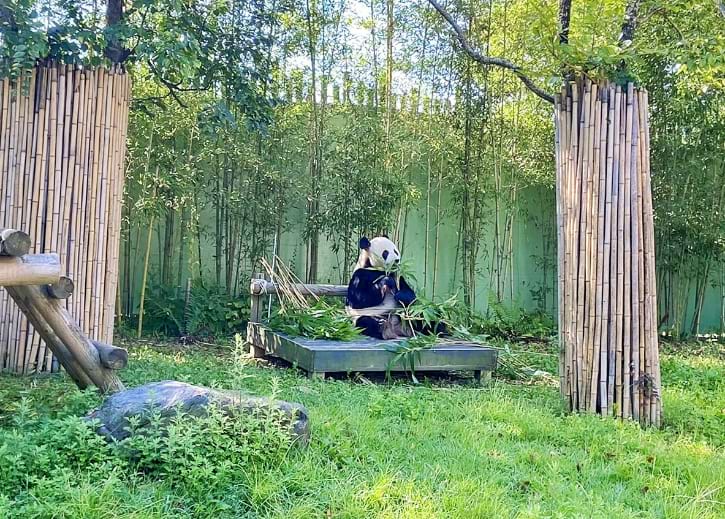 Aside from watching the pandas doing their daily activities, don't miss the musical series. Watch 'Panda Le Bao's Adventure' show and learn more about pandas in general.
6. Magic Tree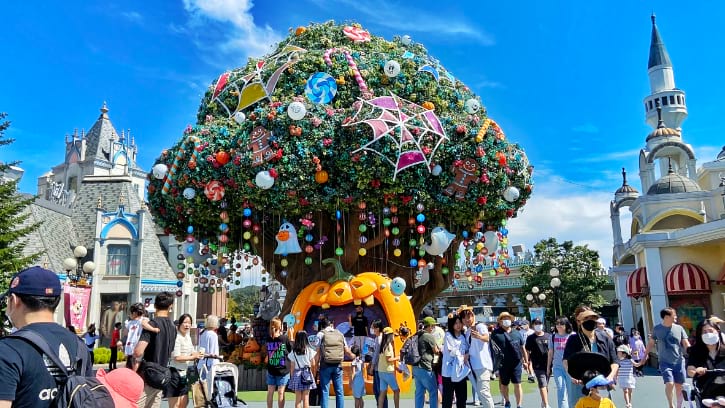 Take a photo of the famous Magic Tree. This is certainly a popular landmark among first-time visitors to the park.
Fascinatingly, the artificial tree is clothed with unique designs depending on the season. This means you can expect something different whenever the season changes!
The 9 Best Rides in Everland for Thrill Seekers
1. Double Rock Spin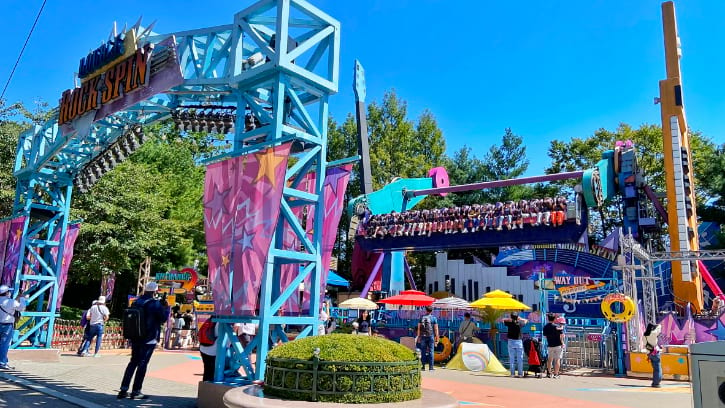 No list of top Everland rides would ever be complete if you miss the Double Rock Spin.
Taking you on top and spinning you for a couple of minutes, this is a perfect option for anyone who wants a legit thrill.
And don't underestimate this ride because it actually rotates you to a full 360 degrees! So, be prepared for an unforgettable spin!
2. Let's Twist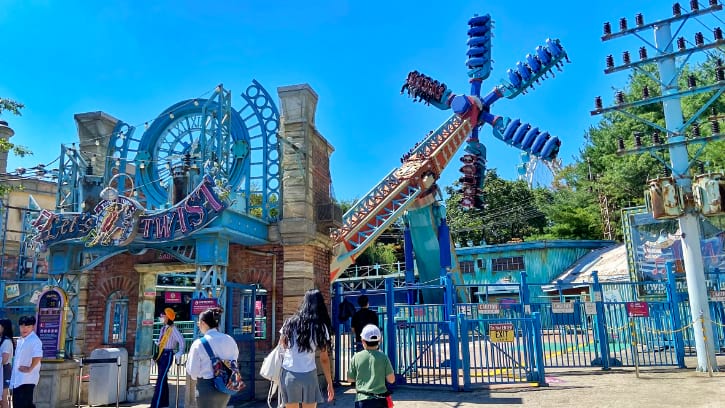 Keep up with the fun and ride the Let's Twist. This is pretty much similar to the first one, but with a more intense movement!
In fact, the twists and turns are definitely dizzying.
Plus, expect to get continuously twisted all throughout the duration. So, better ready yourself in advance!
3. Columbus Adventure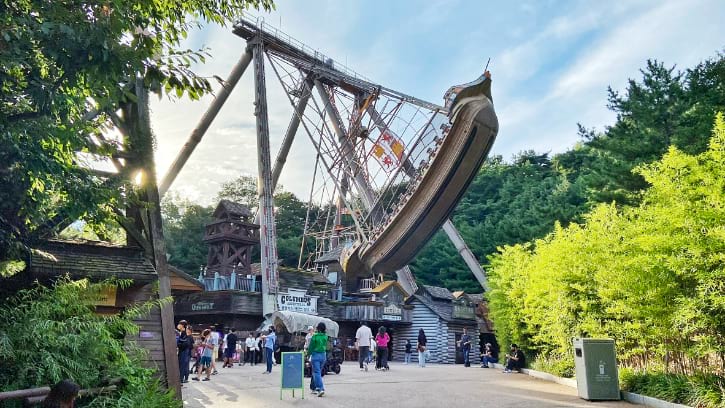 One of the must-try rides in the Everland theme park for adventure seekers is none other than Columbus Adventure.
From afar, it might seem like just a normal boat, rocking back and forth.
But as soon as you board this ship-like structure, you get to experience a gripping sensation. The constant swinging would definitely make you lightheaded!
4. Rolling X-Train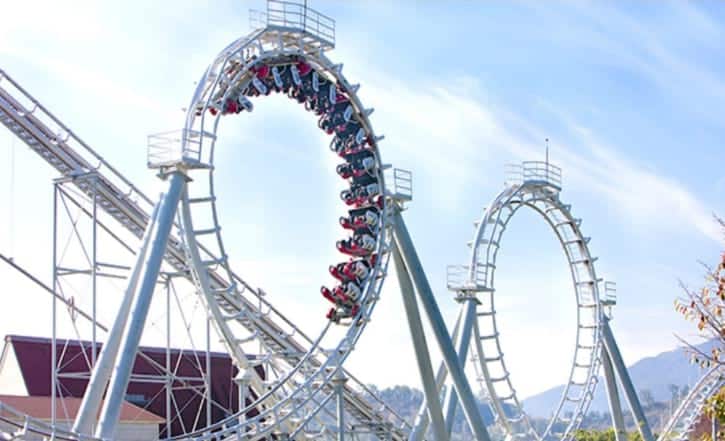 Rolling X-Train is a top-notch roller coaster at Everland that should be on your radar.
Enjoy this fun and electrifying ride that would surely pump up your senses.
But of course, you need to know that this isn't just a normal switchback!
This is one of the steepest rollercoasters in Asia. So, loosen up beforehand for a challenging expedition!
5. Gyro VR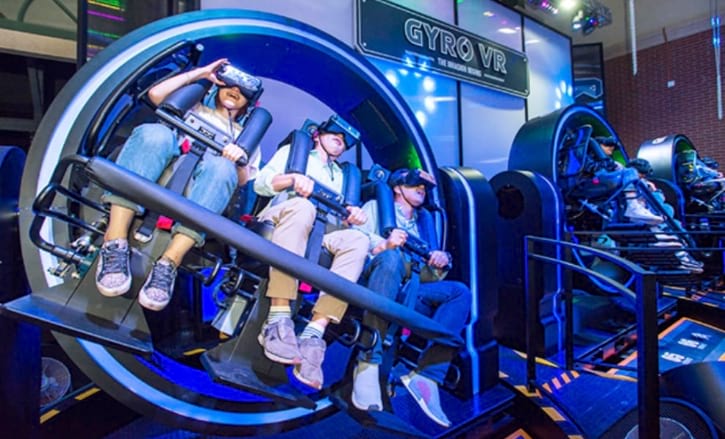 If you want a combination of high technology and thrill, then Gyro VR is the answer. Experience this exceptional ride that gives you the chance to become a fighter pilot!
Get on a thrilling journey to outer space, which involves lifelike backdrops and fighting scenes.
And before I forget, you should ready yourself for some 360-degree spins.
6. Thunder Falls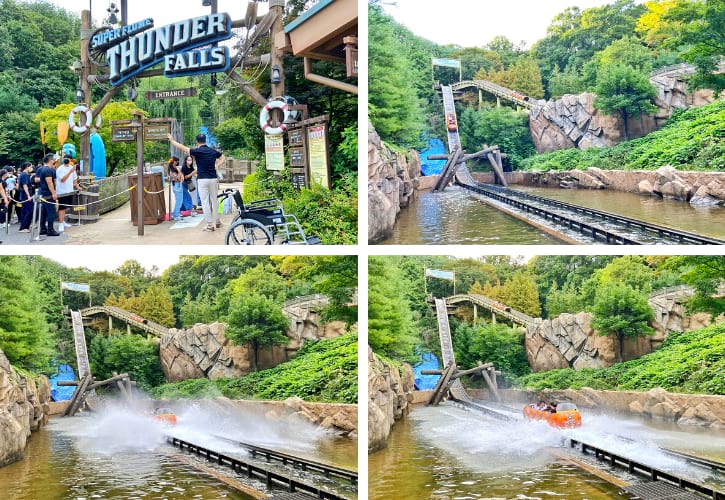 Prep for Thunder Falls and get amused by this classic yet riveting coaster!
Don't let the picturesque nature scenes fool you though. It's because there could be drops that would catch you off-guard.
Plus, the water splashes might shock you! So, be guarded by the little surprises along the way.
7. T Express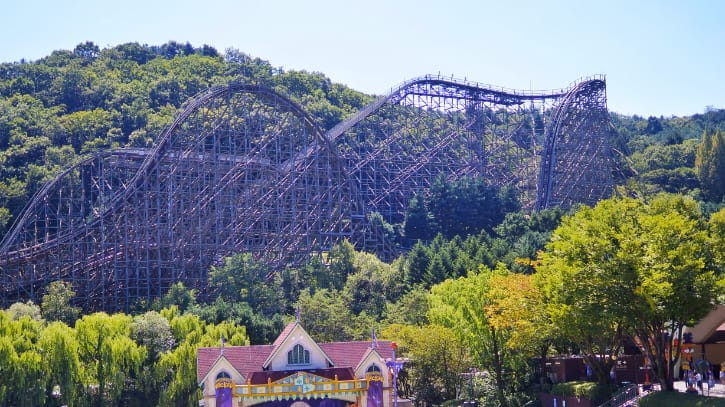 T Express is definitely a special mention being one of Everland's most scary rides. From the looks itself, this ride is something that would give you the thrill of a lifetime.
All the complex outlines of the coaster give you a preview of what to expect while onboard. These include terrifying drops, fast-paced turns, and high-speed loops.
Lastly, its location makes it much more breathtaking.
8. Hurricane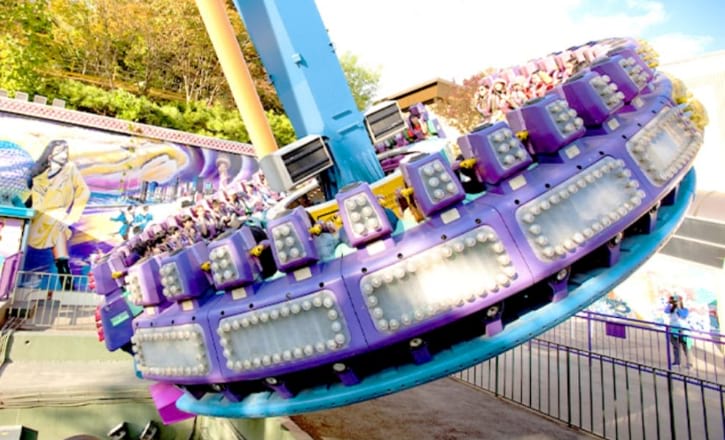 Get swirled continuously at high speed with Hurricane. The bright colors and the designs might seem charming but don't underestimate this ride though!
It is actually another electrifying section in the park suitable for venturesome individuals.
Be entertained as the pendulum-like structure goes swinging from one side to another.
9. Amazon Express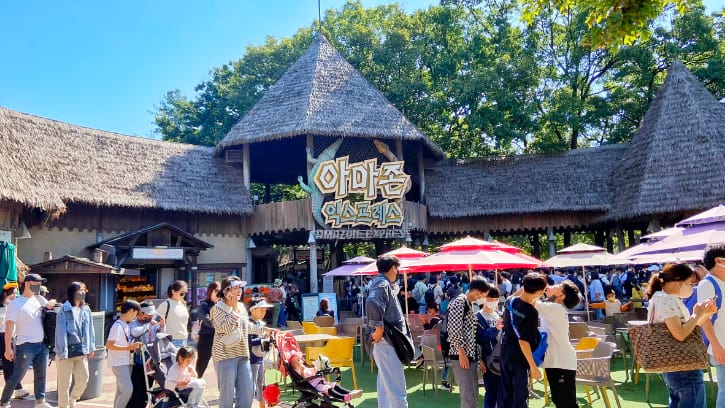 Go on an amazing river ride with Amazon Express. This one is pretty much the same as the one at Universal Studios Singapore theme park.
Thus, you can anticipate for a fast-paced drive with some sharp turns and exciting drops.
Lastly, the lush nature views beautifully complement this high-speed adventure.
Top 9 Family-friendly Rides
1. Magic Cookie House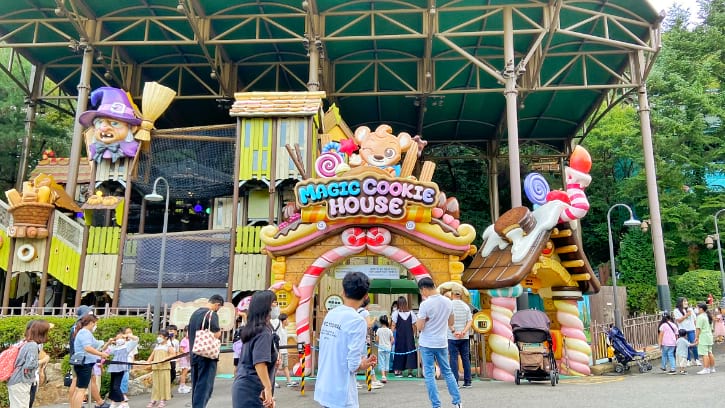 If you want to see the home of Hansel and Gretel, then you should drop by the Magic Cookie House. Similar to the famous fairytale, this place is like the gingerbread house but with a twist!
Instead of just charming candy designs, there are lots of things to do here.
Let your kids enjoy the fun activities. Plus, don't miss to accomplish the obstacle course.
2. Sky Way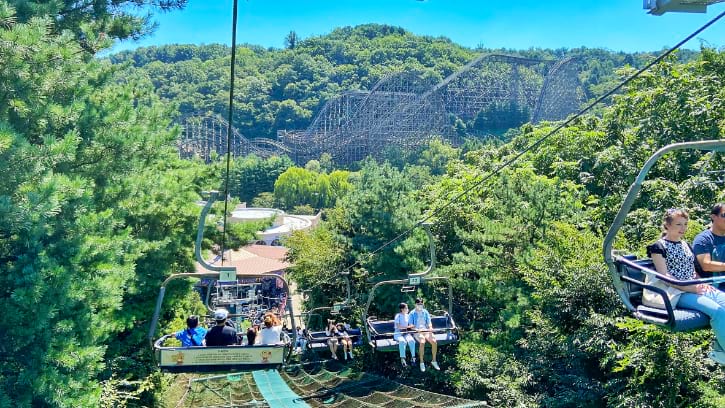 How about a scenic ride that provides a nice view of the theme park?
Sky Way is definitely one of the best choices in Everland if you just want to unwind from up above.
While onboard, take delight in the gorgeous nature scenes of the park's hilly area.
Since this isn't a fast-paced journey, you'll appreciate the beautiful surroundings even more!
3. Secret Jouju Airplane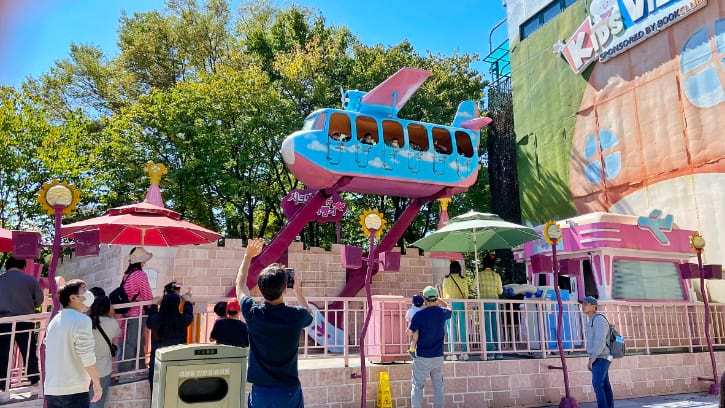 Get on the Secret Jouju Airplane and be amused by this moderate yet fun ride for everyone. The pink and blue colors perfectly complement the vibes of the place.
This one is also not that fast, so for sure this would be a favorite among your kids! So, try to squeeze this into your itinerary and make your children happy.
4. Flying Elephant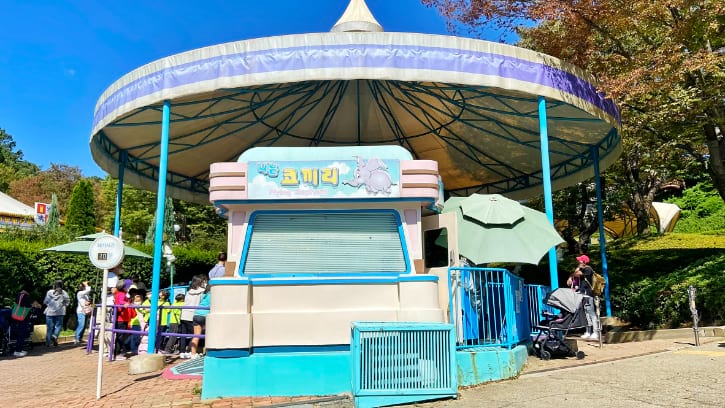 Instead of a horse, Flying Elephant gives you the chance to be carried by these cute giants!
Sit on these adorable elephants that go round and round for a few minutes. This is definitely a suitable option for kids and even those young at heart!
5. Magic Swing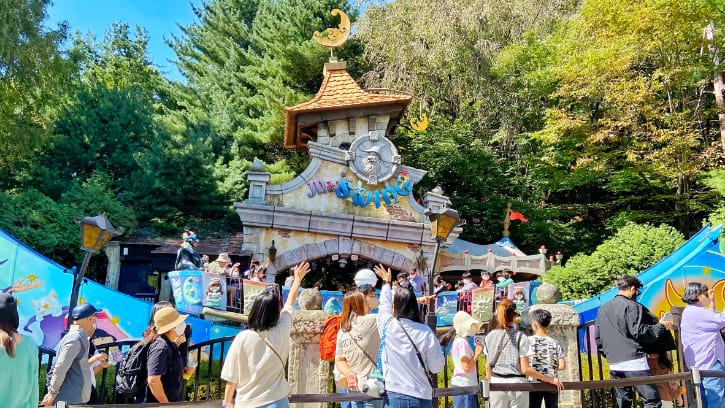 You might think that Magic Swing is just a simple back and forth movement.
But ready yourself as there are some surprise rotations that would certainly make this more fun and memorable!
So, if you can't handle Columbus Adventure, this might be a great alternative. Here, you can anticipate the revolving twists and be entertained by the speed.
6. Dragon Coaster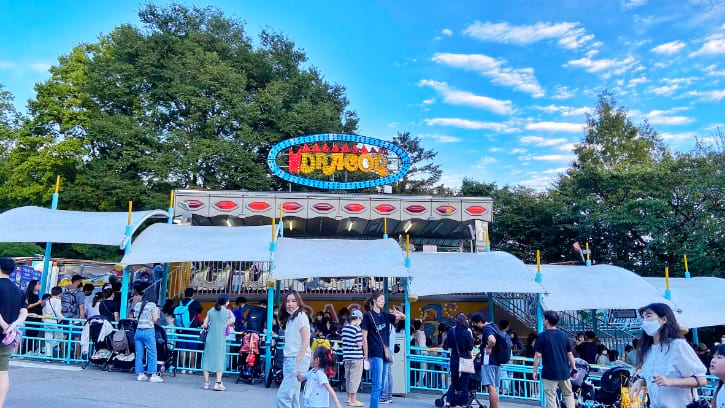 If your kids are too young for the big rollercoasters, then Dragon Coaster is the best ride for them. Take satisfaction from the moderate journey with fewer twists and turns.
So, for those looking for a milder version of the heart-pumping coasters, you'd get your money's worth here. This is just the perfect option to elevate your energy without terrifying you.
7. Royal Jubilee Carousel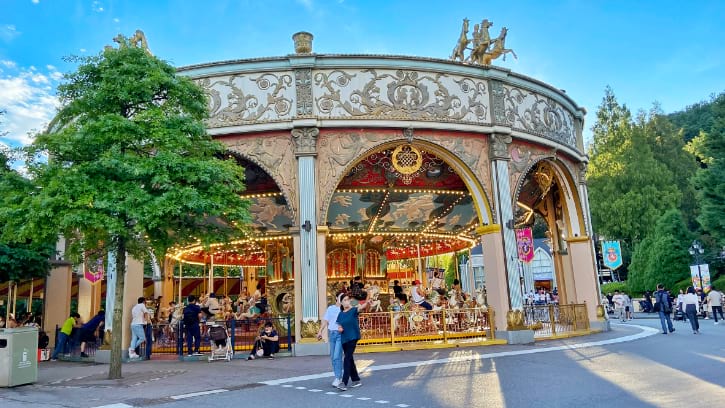 Royal Jubilee Carousel is simply a majestic ride that you should try at least once.
From the golden lights to the gorgeous interiors, this is highly suggested for kids. Revel in the slow yet magnificent drive that would relax your senses for a bit.
8. Festival Train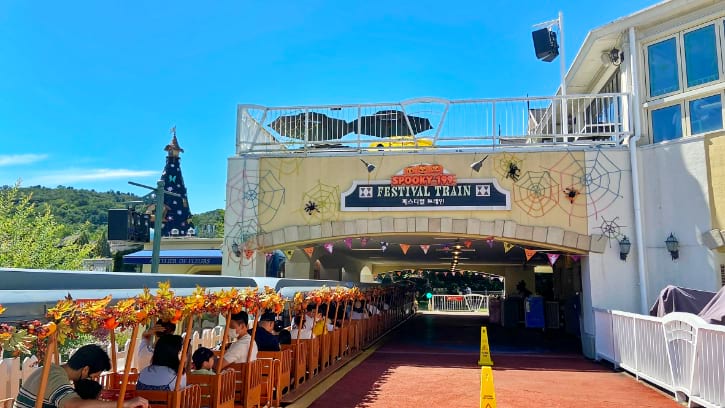 If you're in Everland, make sure you include Festival Train in your must-visit rides.
This miniature railway passes through several outdoor sites in the park.
So, while in your seat, catch a glimpse of the beautiful garden and all the other popular spots.
9. Shooting Ghost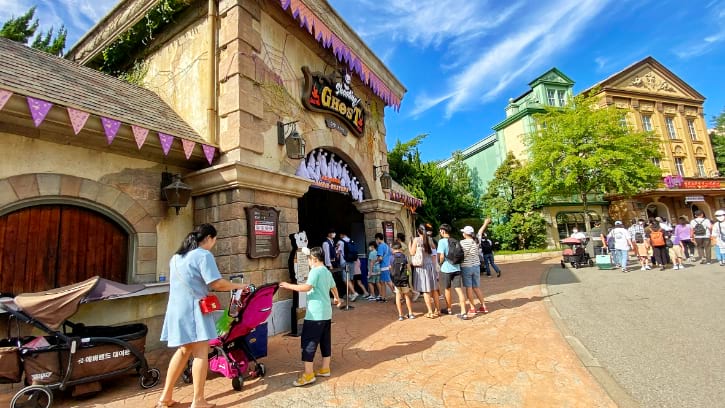 To complete the list, head to Shooting Ghost and get on some exciting adventures! The realistic designs make it more entertaining.
But of course, there might be a couple of surprises along the way. So, aim to fight the ghosts virtually while also enjoying the spooky vibes.
Must-Watch Parades
1. Parade at Carnival Square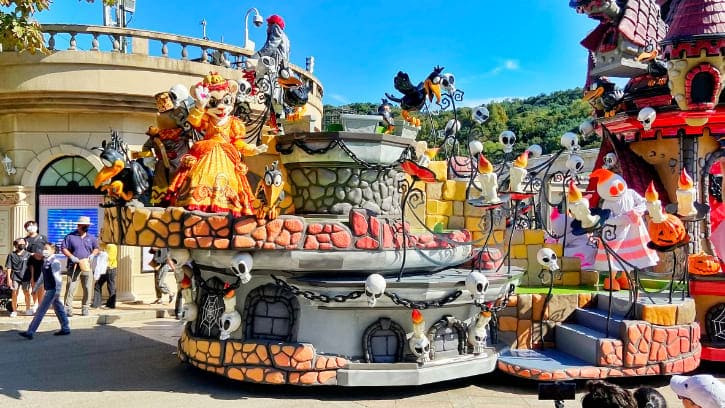 The parade at Carnival Square is surely a favorite among parkgoers in Everland.
Be enthralled by the impressive floats that journey through the expansive space of the theme park.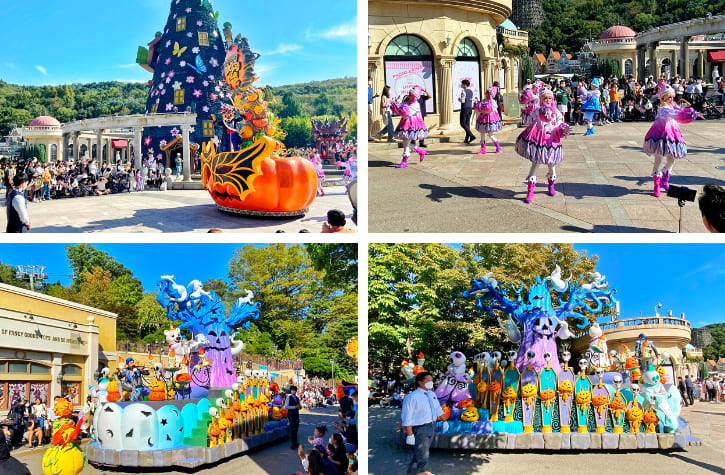 Aside from the remarkable floats, you'll also be captivated by the dancers on the street. Watch them showcase their talents while enjoying the beat of the music.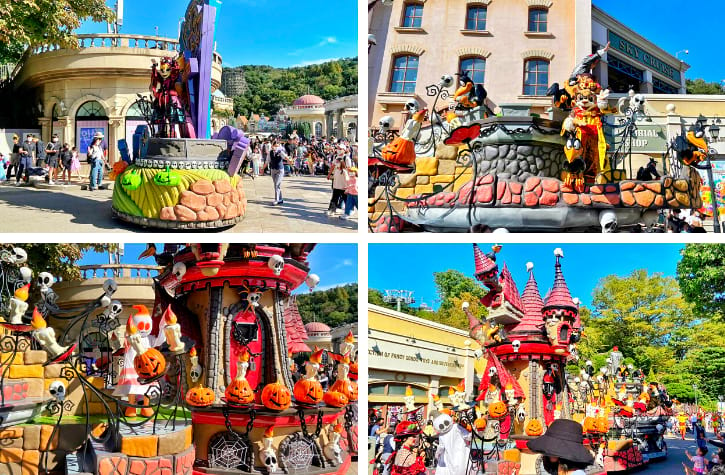 Ready your cameras to capture the gigantic and moving rides. And onboard, you'll see some of the famous characters in the park.
2. Moonlight Parade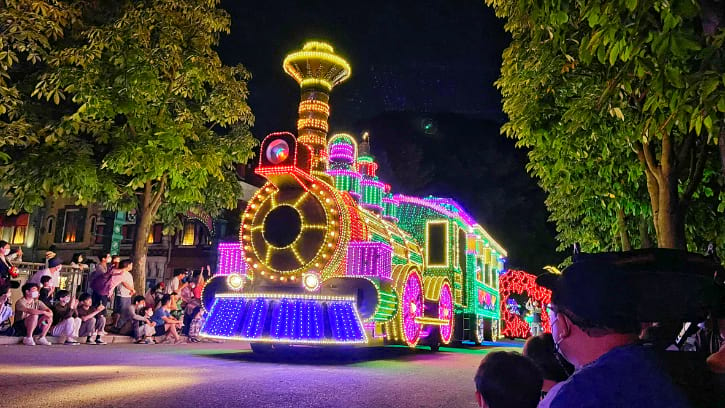 At night, the Moonlight Parade illuminates the entire park with its colored lights. Check out the changing scenery as the float passes one by one.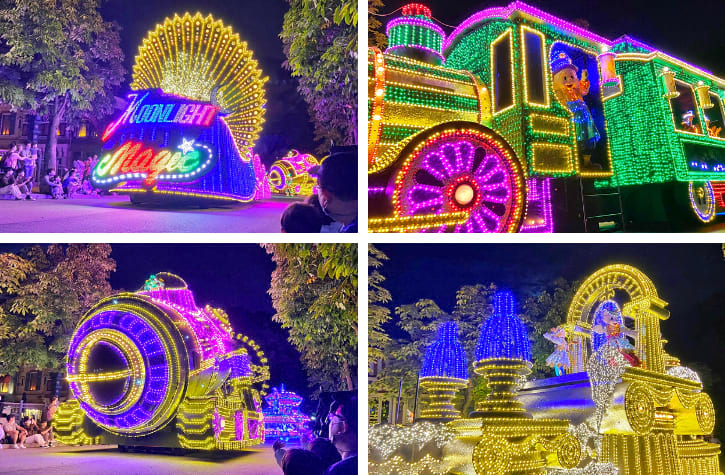 Take delight in the unique decorations that highlight the vibrancy and uniqueness of the park.
And aside from the dazzling lights, you'll also be fascinated by the animated sounds.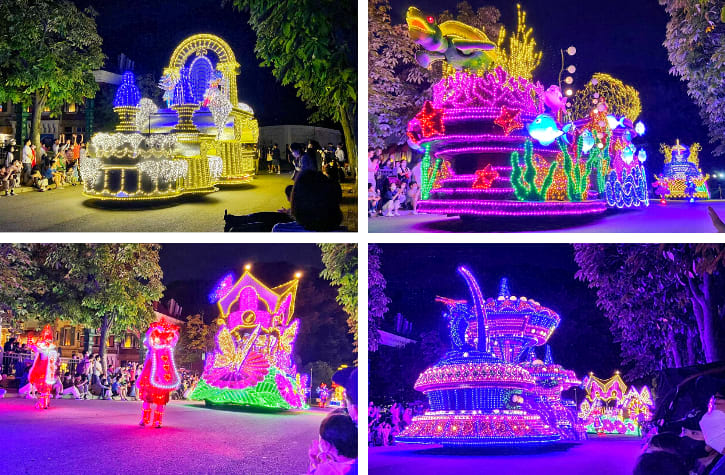 Without a doubt, this show illustrates top-notch creativity that should be witnessed by all visitors. So, don't dare miss this once-in-a-lifetime event!
Everland Theme Park Overview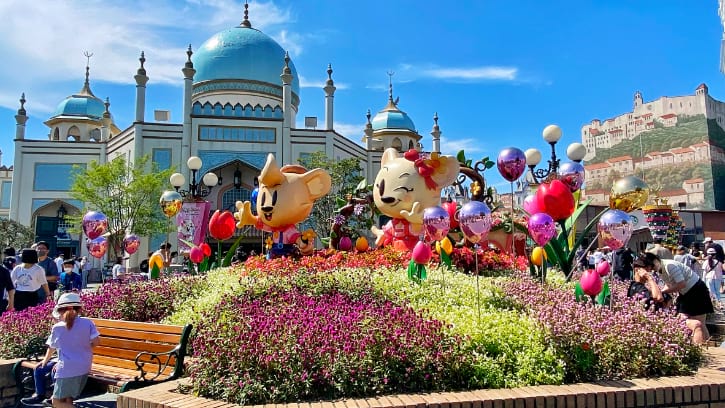 Everland Resort is known as the largest theme park in South Korea. There are 5 theme zones namely European Adventure, Magic Land, American Adventure, Zootopia, and Global Fair.
Packed with all sorts of adventures, this is notably a perfect destination for adults and kids alike.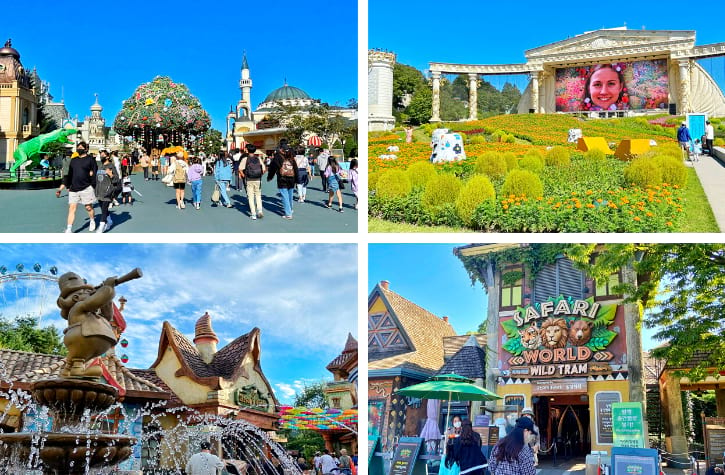 Global Fair: As the first section in the park, this venue welcomes you with cheerful music and architectural charms. Discover the unique cultures along the beautiful streets and ready yourself for the next theme.
European Adventure: Get lost in this gorgeous setting that brings the beauty of European style to the park. Stroll around the scenic village as you take sight of the beautiful flowers in the gardens.
Magic Land: Step into the realm of fantasy and meet your favourite fairy tale characters. Outlining the famous Aesop's Village, there are plenty of fun rides for your kids too.
American Adventure: Brace yourself for an exhilarating adventure packed in this zone. With a classic American theme, you'll be surrounded by thrilling rides and more!
Zootopia: Enter the world of animals and enjoy a memorable journey into the wild. From giraffes to bears, there are so many creatures to uncover here.
Dining Options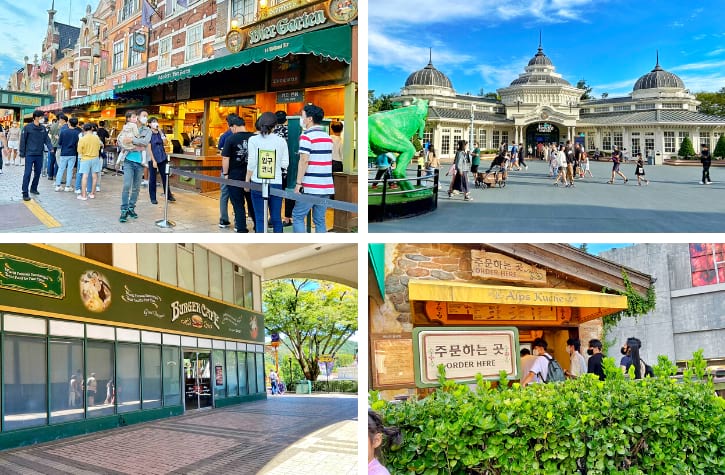 Holland Village: Munch on some tasty snacks and meals in this famous food spot. Some of their classics include Chop Steak Fried Rice (19,800 won), BBQ plate (39,900 won), and Udon (11,900 won). And of course, another favorite, the Heineken Draft, 16 oz (9,000 won).
Oriental Noodle Restaurant: If you're craving some delectable noodles, then this is recommended. Try their Shrimp Tempura Udon (9,800 won) or opt for the Pork Broth Ramen (11,800 won).
Burger Café Europe: When it comes to burgers, this place gives you a lot of options. They have Shrimp Burger (8,800 won), Spicy Chicken Burger (6,900 won), and Cream Cheese Beef Burger (8,300 won).
Alps Kuche: For some appetizing European cuisines, you'd certainly love this restaurant. Check out their menu, which includes Jumbo Garlic Chicken (5,900 won), Smoked Sausage (4,000 won), and Sprinkled Cheese Chicken Skewer (6,300 won).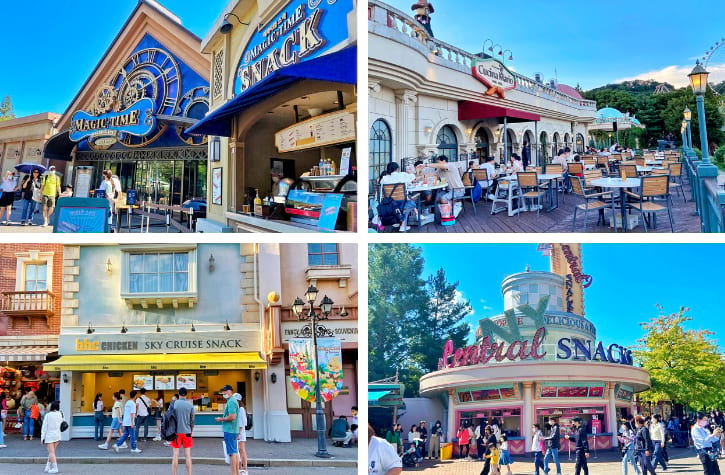 Magic Time Restaurant: Devour some appetizing bento sets in this resto. They have Pork Cutlet Curry Bento Set (12,900 won), Beef Bento Set (12,500 won), and a lot more.
Cucina Mario: This place is highly suitable if you want a hint of Italian goodness. Try their Bacon Quattro Funghi pizza (19,900 won), Bacon Cream Pasta (14,900 won), or Carbonara (15,900 won).
BHC: What about some chicken treats? Here, you'll get delicious options such as their Crispy Boneless Chicken (21,000 won), Mini Colpop Chicken (4,700 won), and Cheese Ball (6,000 won).
New York Central Snacks: Go over their mouthwatering snacks that would give energy to your trip. They sell Churros (3,500 won), Honey Soy Sauce Fried Chicken Skewer (5,000 won), and Hurricane Chicken (7,500 won).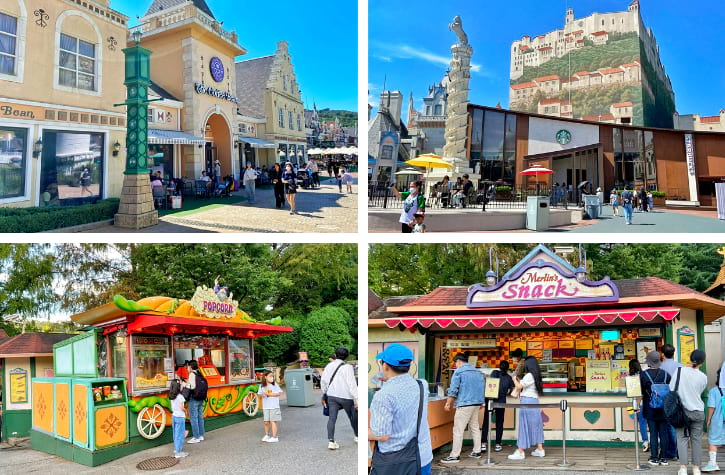 Coffee Bean: In need of a coffee break? Visit this renowned café and go for their café favorites. These include Vanilla Bean Oat Black Dimon (7,000 won), Black Dimon Iced Coffee (6,000 won), and Black Dimon Café Latte (6,500 won).
Starbucks: Of course, this café is a staple when it comes to hot and cold coffee drinks. Some of the best options are Caffe Latte (5,000 won), Caffe Americano (4,500 won), Frappuccino (6,300 won, and Dark Chocolate Mocha (7,000 won).
Popcorn Cart: Grab a bag of popcorn at 6,000 won from this famous snack stall in the park.
Merlin's Snack: If you want more snacks, explore the variety of choices in this food spot. They have Churros (3,500 won), Star Hot Dog (4,800 won), Smoked Sausage (4,000 won), and so much more.
Everland Amusement Park Map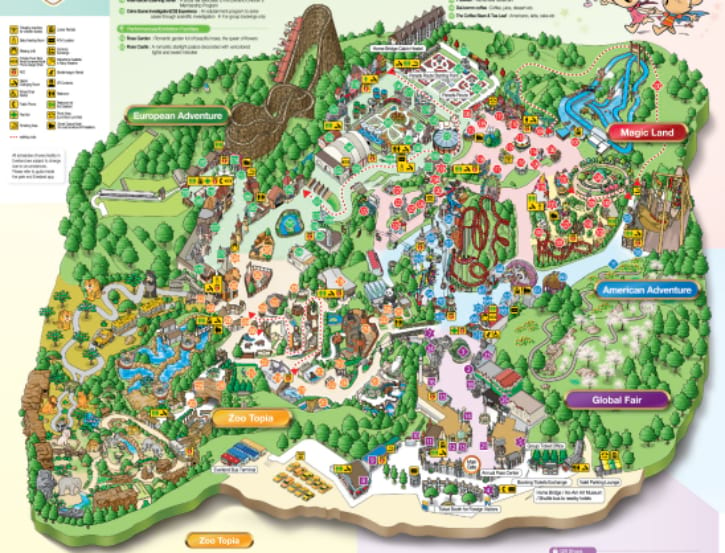 You can download the Everland map here to serve as your guide throughout your journey. This is very helpful in saving time and effort, especially since the park is quite extensive.
Recommended Place to Visit During Your Trip to Seoul
Other than visiting Everland theme park, try exploring Nami Island as well. This is a very popular place with beautiful natural scenery and lots of amazing tourist spots. The breathtaking scenes are surely great for photography.
If you're interested, make sure to check out the top things to do in Nami Island page for more details. You may also read my very informative article about how to get to Nami Island from Seoul here to assist you with the travel.
Souvenir Shops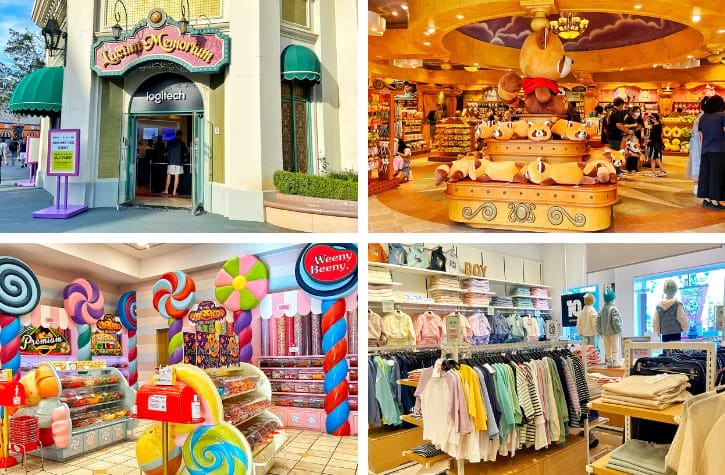 Laciun Memorium: Visit this famous store for some cute character stuff toys and adorable decorations. There are also lots of stationary options here.
Grand Emporium: From plushies to accessories, this is the biggest retail shop in the park. So, make sure to pop by the place for your shopping needs.
Candy & Cookie: Get your sweet fix and hoard all your favorite snacks. They have candies, chocolate, cookies, and more!
Magic Gifts: Filled with amazing gift ideas, this is one of the best places to buy souvenirs for your loved ones. Check out their collection of clothes as well as some unique items for all ages.
Storage Lockers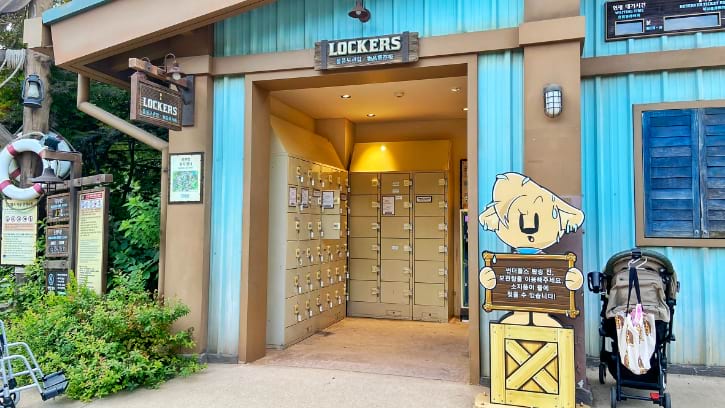 Keep your personal belongings secured inside the storage lockers. And conveniently, these amenities are available in every zone in Everland. Moreover, you've got two options to choose from―small at 1,500 won and large at 2,000 won.
Stroller and Wheelchair Services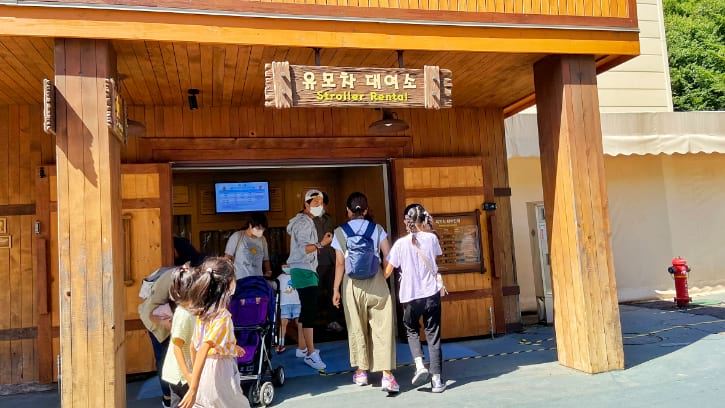 Aside from storage lockers, the park also offers stroller and wheelchair rentals. This is located in the American Adventure zone, just near Magic Tree. As to the stroller rental fee, it costs 5,000 won (deposit 1,000 won). Meanwhile, the kids' wagon is priced at 30,000 won (deposit 50,000 won).
The wheelchair, on the other hand, is 3,000 won. However, this would be free of charge if you present a disabled registration card.
Important Tips for Visiting Everland
Be sure to book your Everland admission e-tickets online before heading to the place. By doing this, you enjoy direct access to the theme park just by using a QR code. Plus, you can save nearly half of the original ticket prices if you avail of this option.
See the Everland opening hours In addition, go to the park in the morning so you have sufficient time to explore and play around.
Visit the park during weekdays to avoid crowds.
Where to Explore Next
During your visit to Seoul, drop by Myeongdong Street, Hongdae Street, and Dongdaemun. These 3 places are loaded with all kinds of local stalls and dining spots, making them ideal for shopping. Not only that but these are perfect for strolling around, especially during night-time.
If you are planning to visit Namsan Tower, remember to consult my detailed guide to getting to Namsan Seoul Tower here. This will show you step-by-step instructions on how to reach the tower.
Visitor Information
Ticket Prices:
– Adult (Aged 19 to 64): 56,000 won
– Teenager (Aged 13 to 18): 47,000 won
– Child (Aged 3 to 12): 44,000 won
– Elderly (Aged 65 and above): 44,000 won
Official Website:
https://www.everland.com/web/multi/english/everland/main.html
Address:
199, Everland-ro, Cheoin-gu, Yongin-si, Gyeonggi-do, South Korea
Related Posts